Spring is finally here! So you know what that means—it's time to get bright and creative with your May nails this year!
Are you looking for some fresh ideas for your next spring nail art? Well, you're in luck! It's time to put away the winter blues as we enter the new season and replace it with something lighter and brighter.
Here you'll find everything from cutesy floral patterns, and French tips in vibrant colors, to lovely pastel hues. You might even peep at some bolder, more vibrant patterns that you can also use for the summer!
As you may already know, spring is all about renewal and regeneration. And that theme also affects my wardrobe, my makeup styles, and my nails. That's why this makes May the ideal month to experiment with new, fresh nail colors. After all, the warming temperatures and clear skies allow you to throw away the mittens and show off your best spring manicure.
One of the best things about curating nail ideas is that it's so much pleasure to get all these fun designs for some inspiration. Whether I'm doing them myself or visiting a salon, I always get so excited to try out a fresh, new manicure!
May is one of the ideal months for a new manicure because some of you are already enjoying summer weather while others are still in the spring. It's truly the perfect month to either continue using pastels or to start experimenting with some of the more vibrant colors!
May Nail Designs & Ideas

To help you choose the look you want to try, I've put together a list of my favorite designs. There are so many stunning patterns to pick from for May if you enjoy getting your May nails done every month.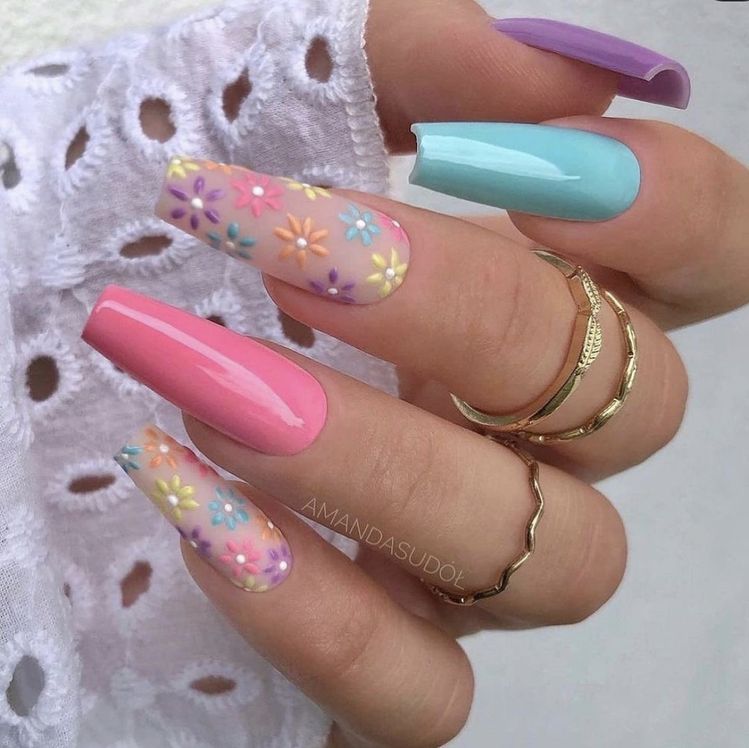 Florals may not be the most groundbreaking idea for spring, but floral May nails are so versatile and you can easily spruce them up to fit your personal style. This particular design mixes these dainty flowers with bright pastel nail colors that are just perfect for spring.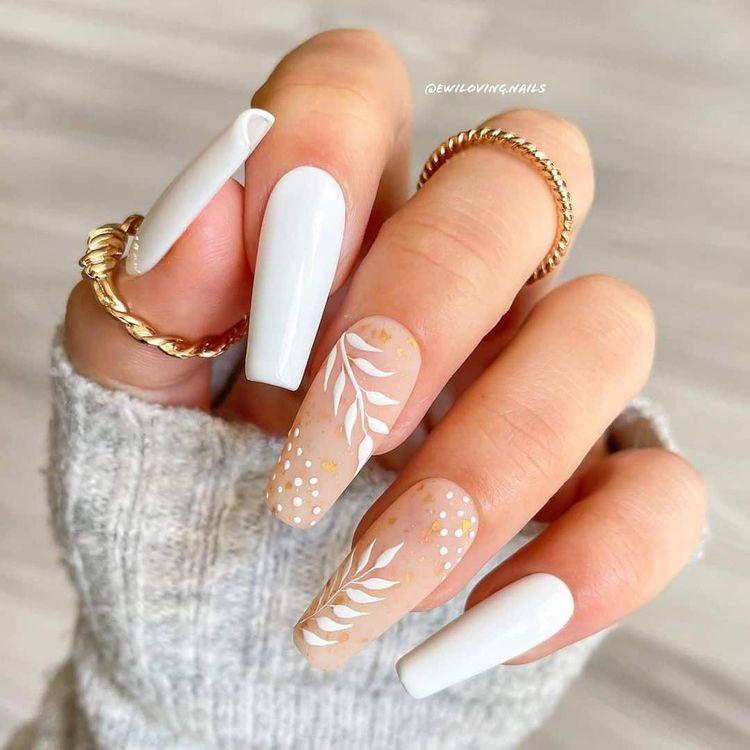 A white manicure effortlessly gives your May nails a classy and sophisticated manicure that's ideal for any occasion. Pair them up with an intricate and delicate nail for an elegant look on your May nails! This may not be the most beginner-friendly nail art, but that's what press-on May nails are for!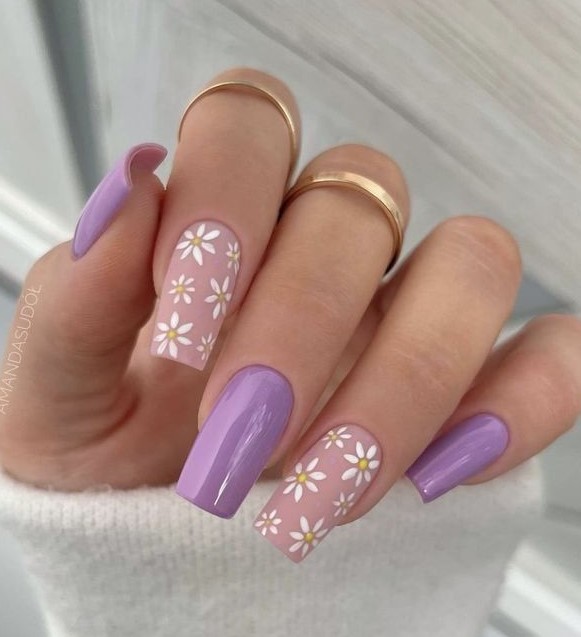 Here's a May nail idea for those who love a cute, purple manicure for spring. Opt for different shades of violet as well as a mix of glossy and matte finishes to create these soft and interesting dimensions before topping them off with some ditsy florals.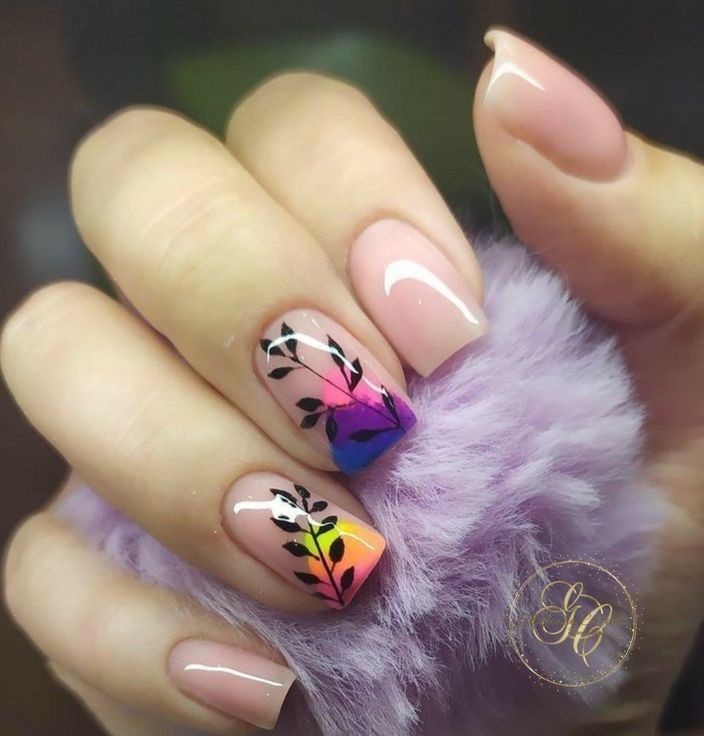 For a more understated look that you can wear both in the springtime and summertime, paint on some tropical patterns with vibrant colors around your accent nails while your base coat and the rest of your nails remain natural.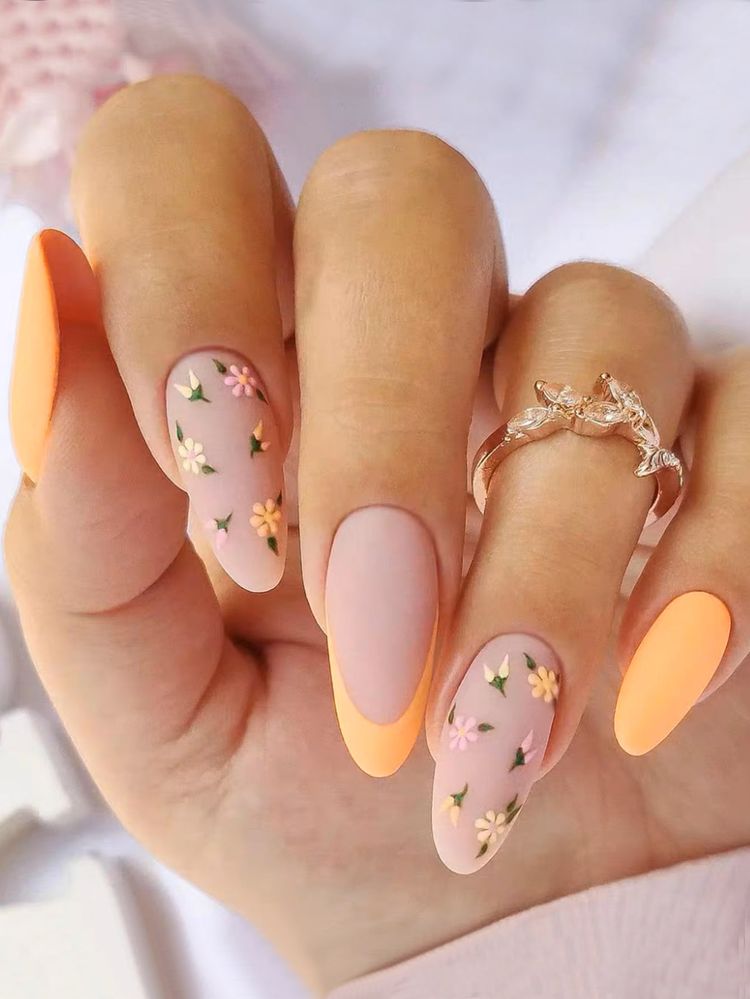 I love how soft this orange floral manicure is! If you want a May nail design that you can wear both for spring and summer, this is a nail art you can definitely consider. The bright orange is so summery but the dainty florals give it a spring touch.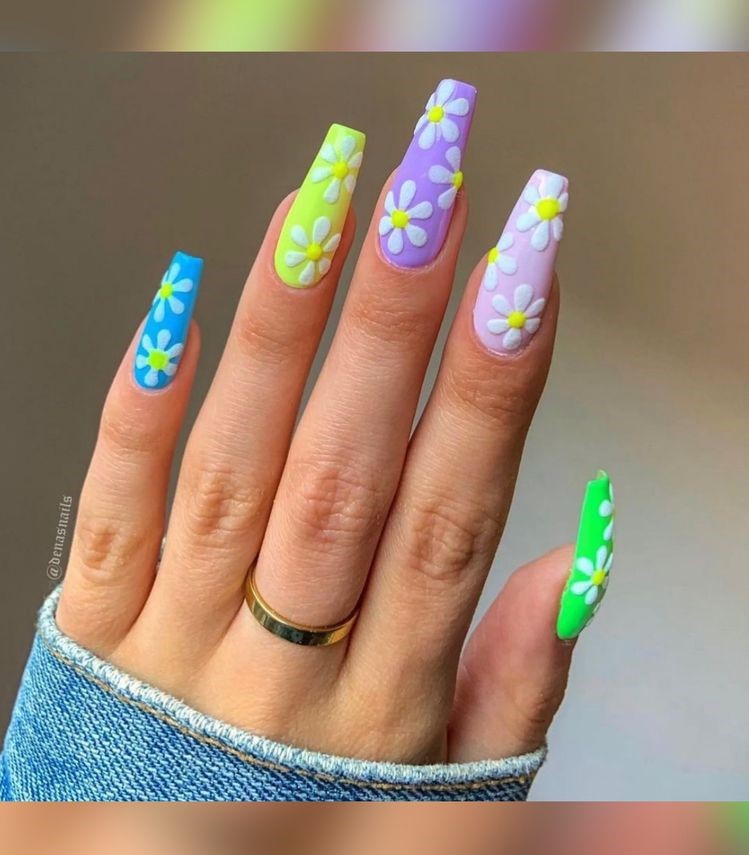 If you're a little tired of the usual pastels for spring, why not go neon? If it's a little too vibrant for your taste, you can soften these colors with some floral patterns.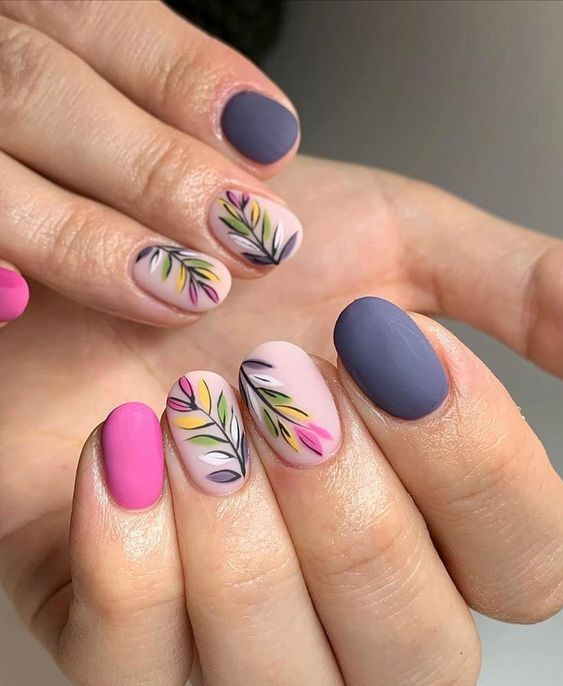 I'm loving these graphic and colorful May nails for a spring manicure! It's such a good opportunity to play with different color combinations and practice your nail art skills too!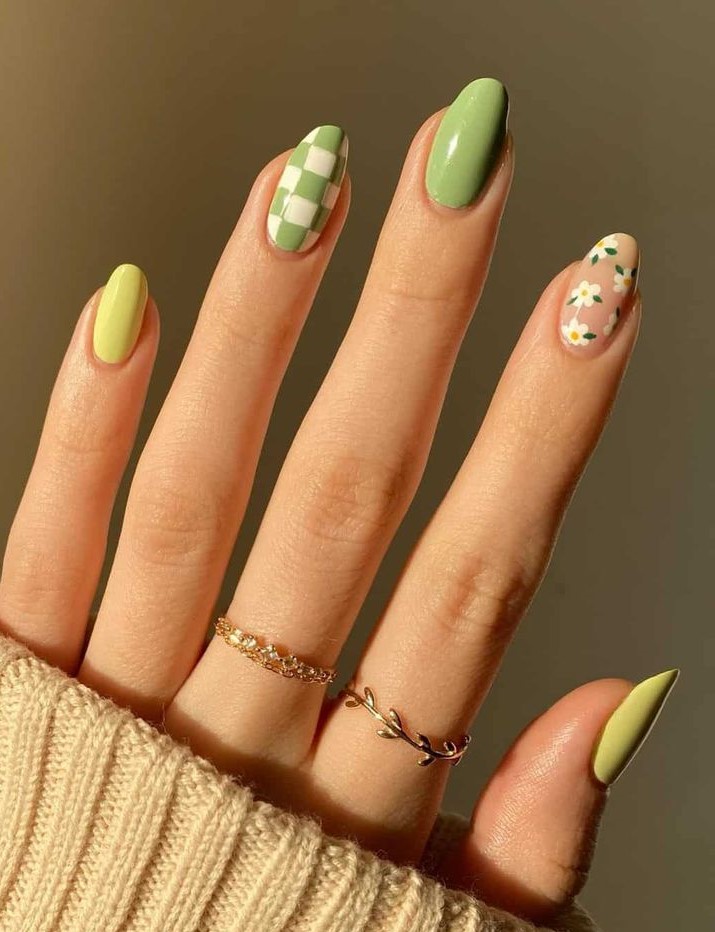 Looking for May nail designs that feel like nature? Green is one of my favorite colors ever and I love them even more on my nails. If you love this particular color too, this is one of the cutest May nail ideas you can wear for spring! Each nail gets a different design for a unique look.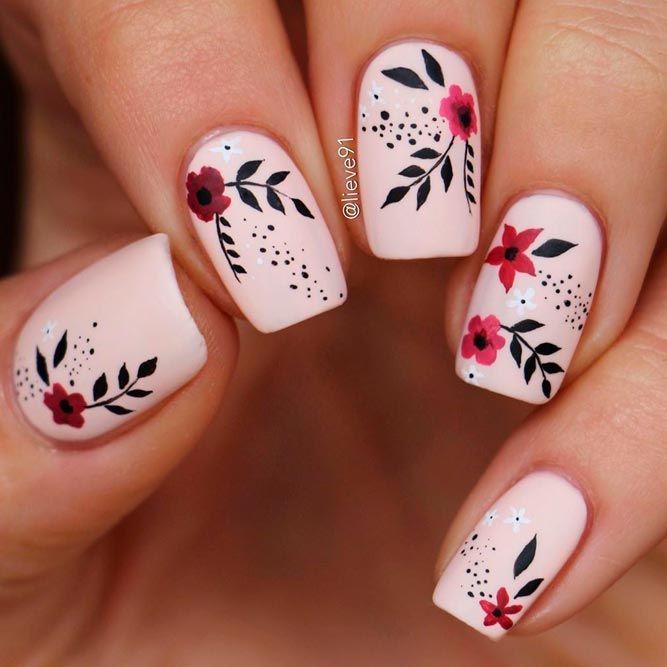 Pink is such a versatile color and it fits the spring season so well. For a gorgeous contrast of colors, you can use deeper colors to paint on your floral nail art on top of a light pink base coat. This is one of my favorite May nail designs this year!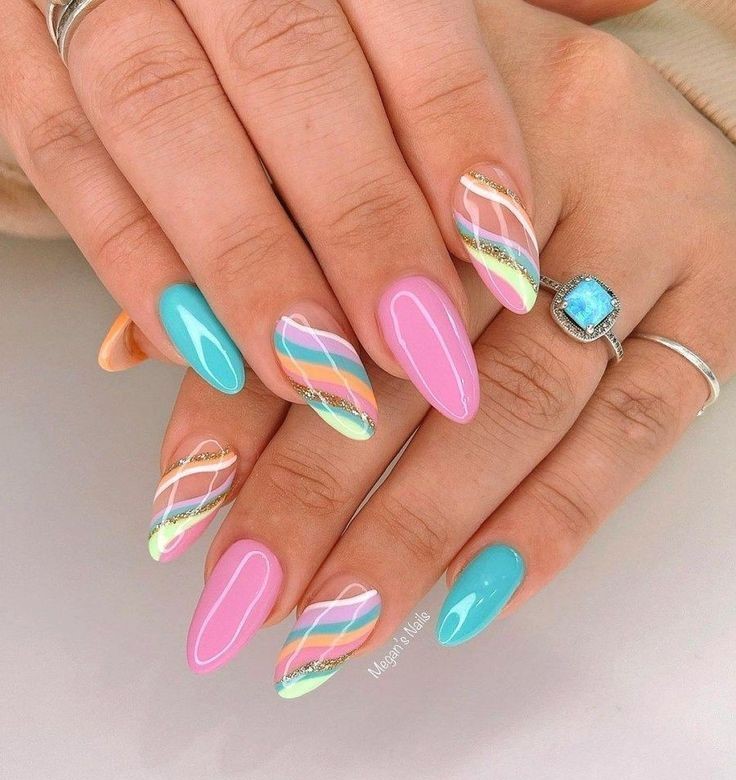 These bright, pastel colors just really give me such nice springtime feels! Something about this manicure makes me think of vibrant candies and popsicles on a warm day.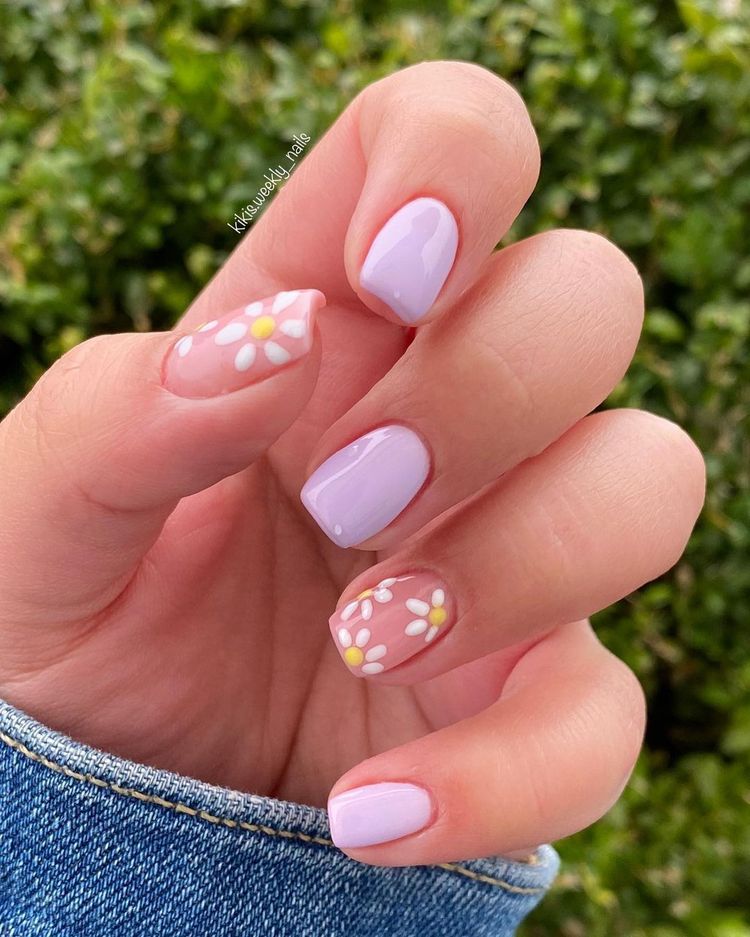 I'm obsessed with anything violet. Though for spring, I like to go for a softer shade like lilac or lavender. You can match them with practically almost any design. But for a classic look, you can never go wrong with some pretty daisies.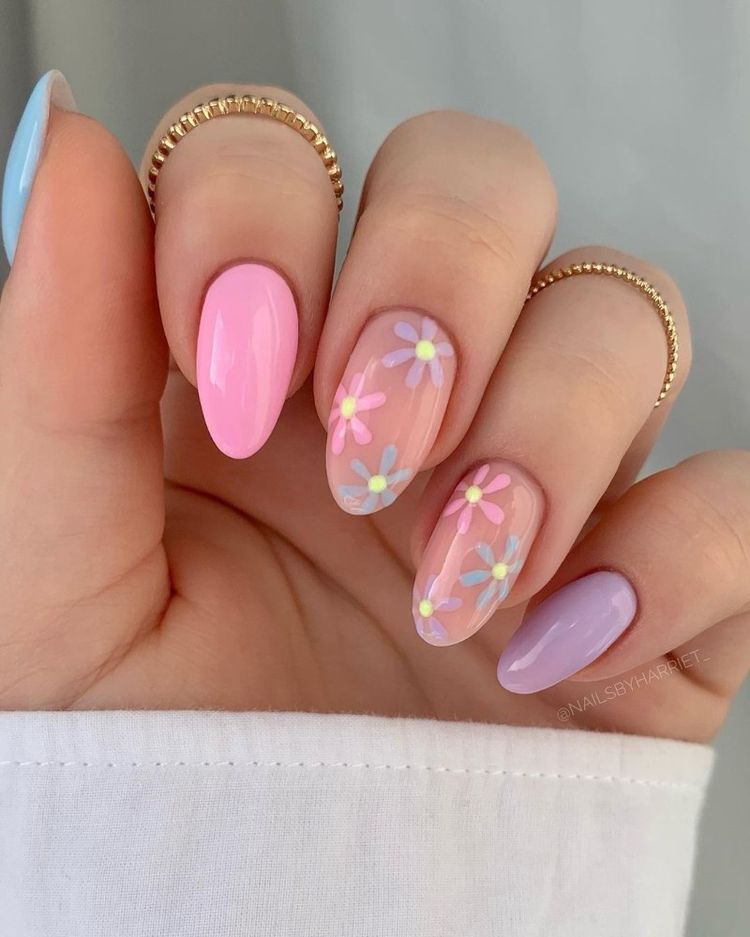 Looking for floral May nail ideas? If you don't like sticking with just one color, why not go for lavender and pink for one of your May nail designs? Opt for a classic floral pattern and you're good to go!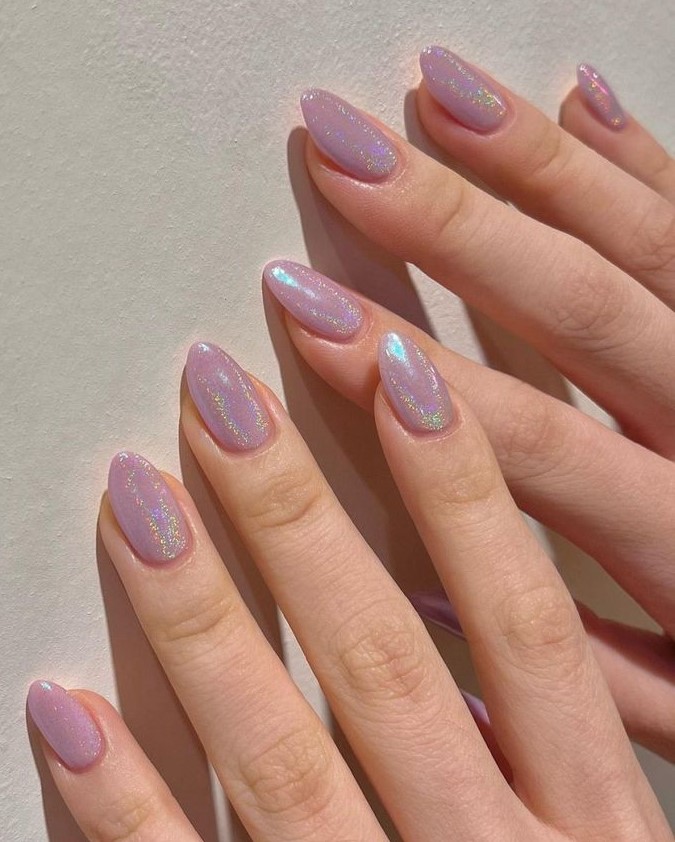 For a simple, sparkly nail, this is one of my absolute favorites on this list. I love the soft, iridescent sheen on each nail! The best part? This May nail design pairs well with almost any shape of nails, whether long or short.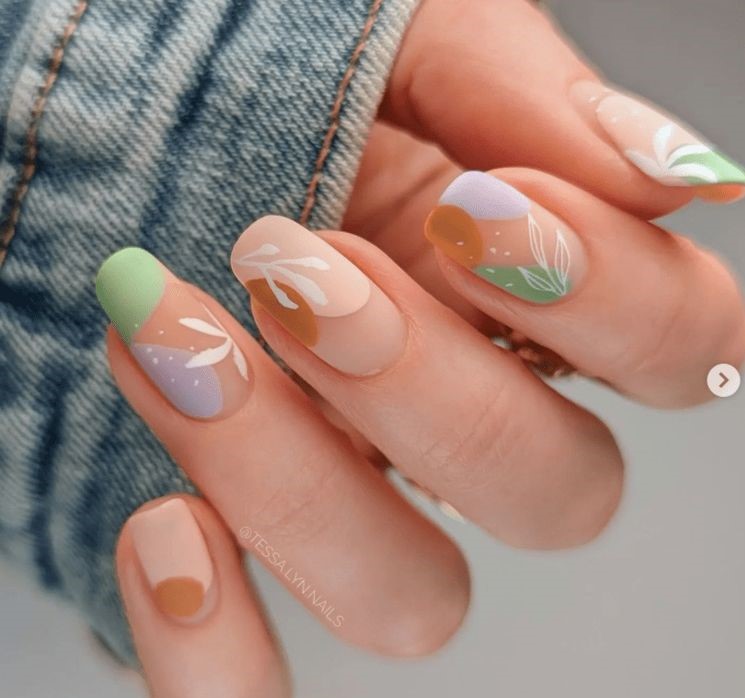 For a cute, color-blocking moment for your springtime manicure, use really soft, pastel colors like green, blue, and a few nude shades. For your accent nails, use white polish to draw on those dainty leaves. How gorgeous are these May nail designs?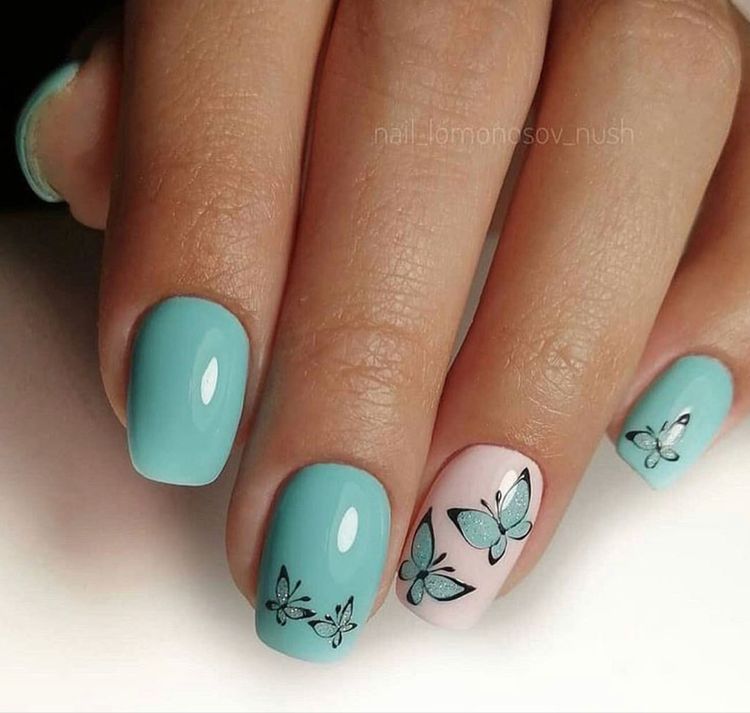 This particular teal color honestly reminds me of the iconic Tiffany's color. It just oozes classiness and elegance. For a springtime touch, you can use nail stickers for some beautiful butterfly patterns.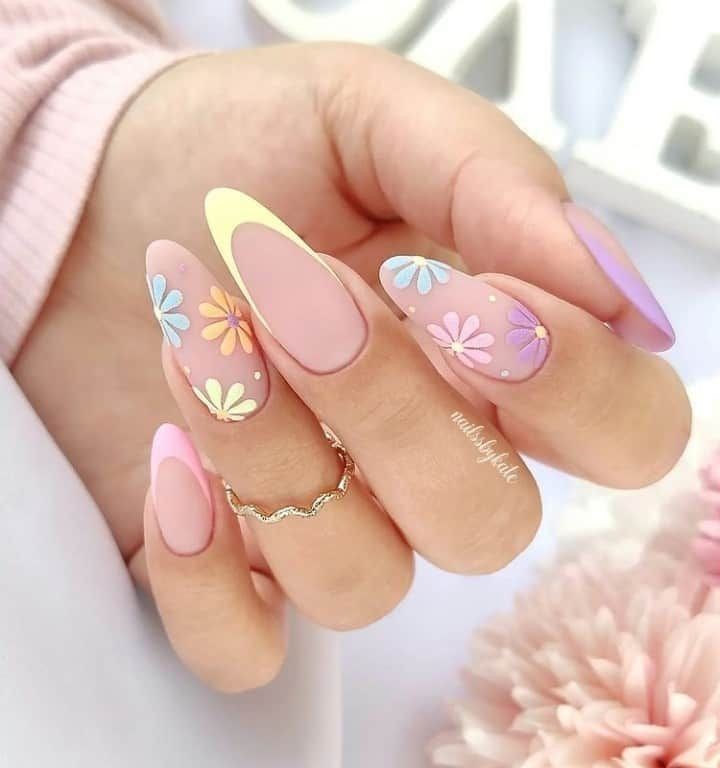 One of the best ways to recreate a dainty-looking manicure is by making use of negative space or keeping a nude base coat for your floral nail designs. The negative space gives your nails a cleaner look and won't make your nail art too overwhelming.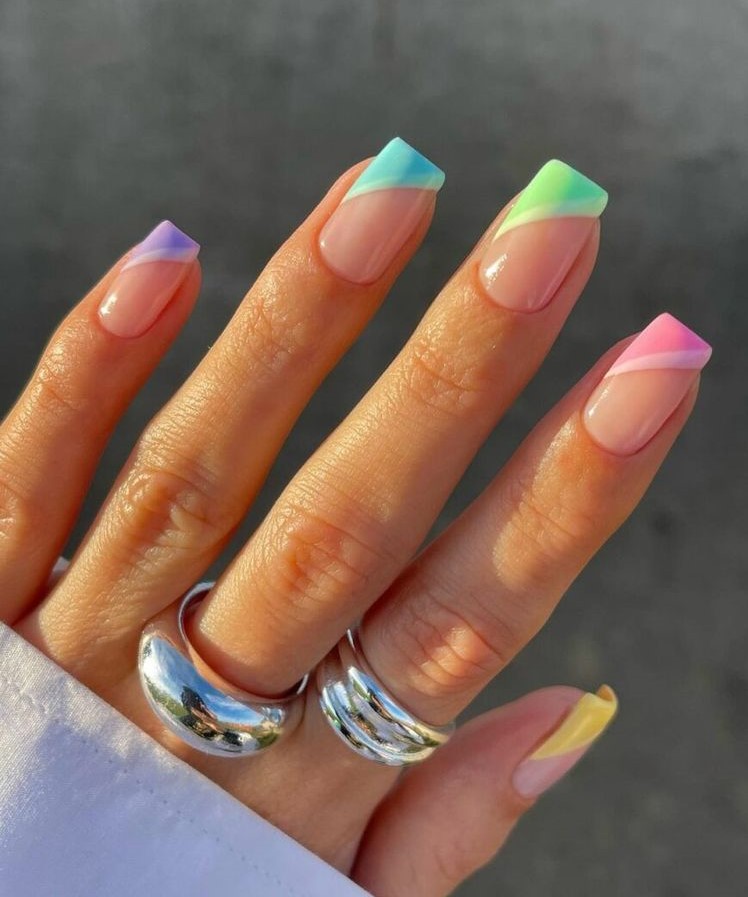 For those who want to try something different than your usual French manicure, try out these asymmetrical French tips. Use springtime colors to match the mood of the season.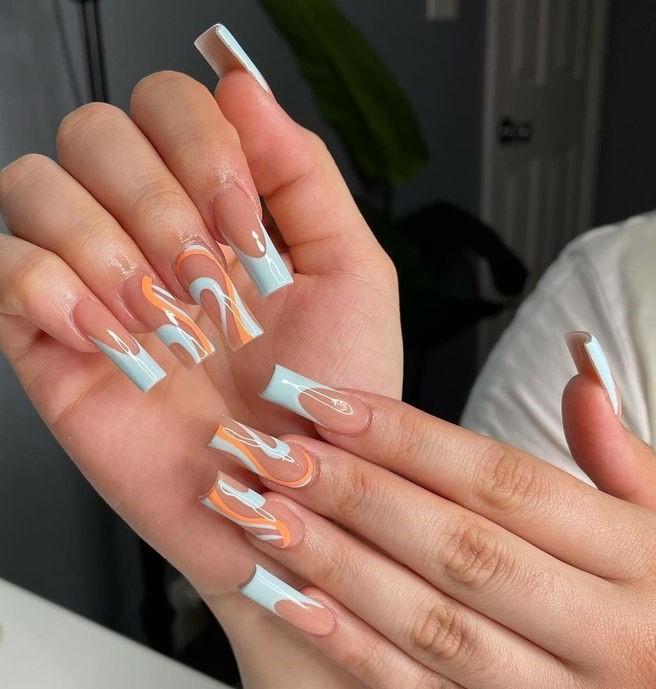 I love this modern and chic take on the classic French manicure. While the rest of your nails get a classic French tip, your accent nails get a gorgeous abstract pattern that's totally unique and you won't see from many other springtime manicures.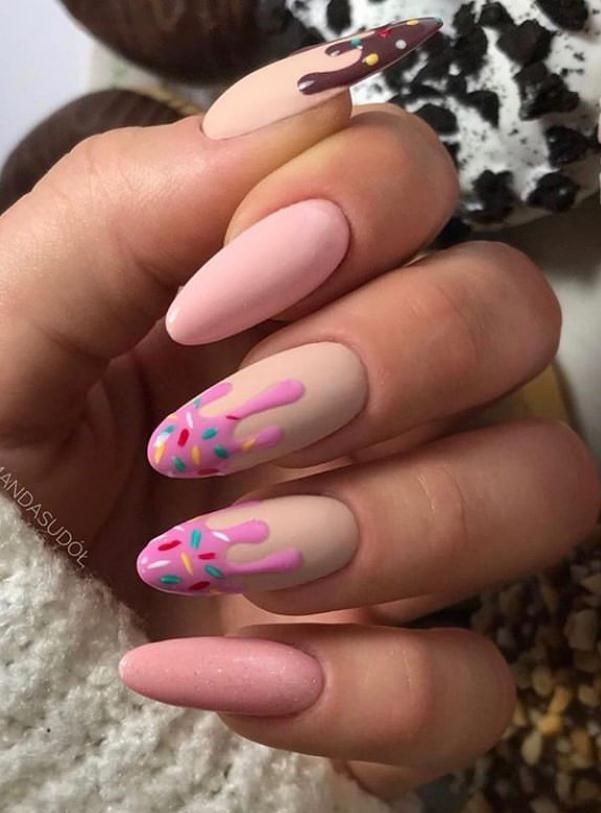 Looking for May nail ideas that feel a bit more like summer? Depending on where you are, it might feel a little hotter now than when we were still feeling the remnants of the winter season. But to keep things cool and fresh (at least for your nails), why not try out this sickly sweet ice cream-themed nail art?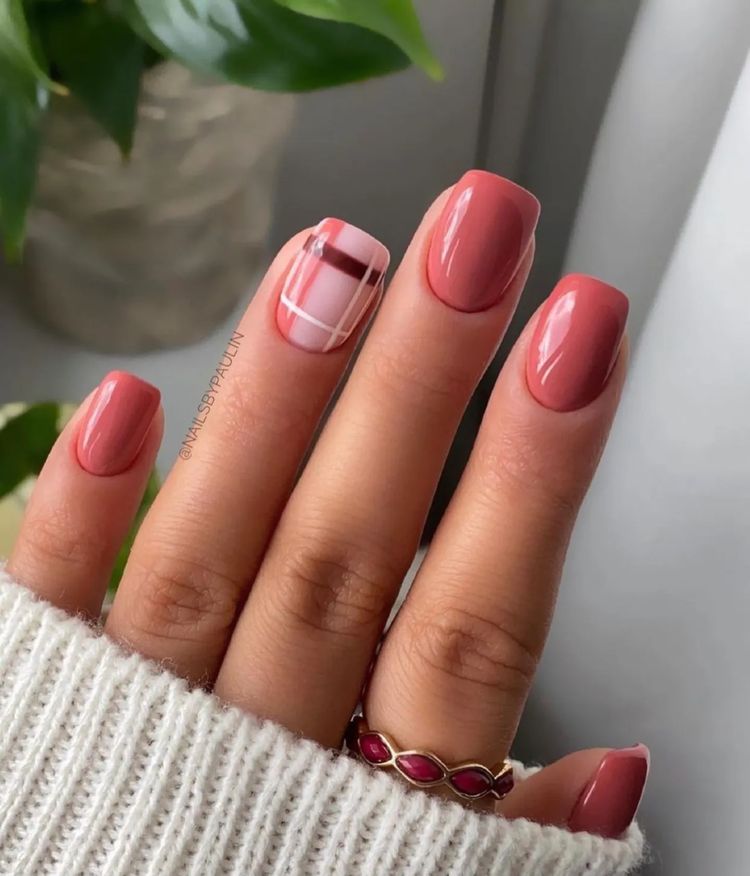 If you're missing checkered prints this May, try out this stunning tartan nail art for your next manicure appointment. It looks so sophisticated and I love the combination of different shades of pink.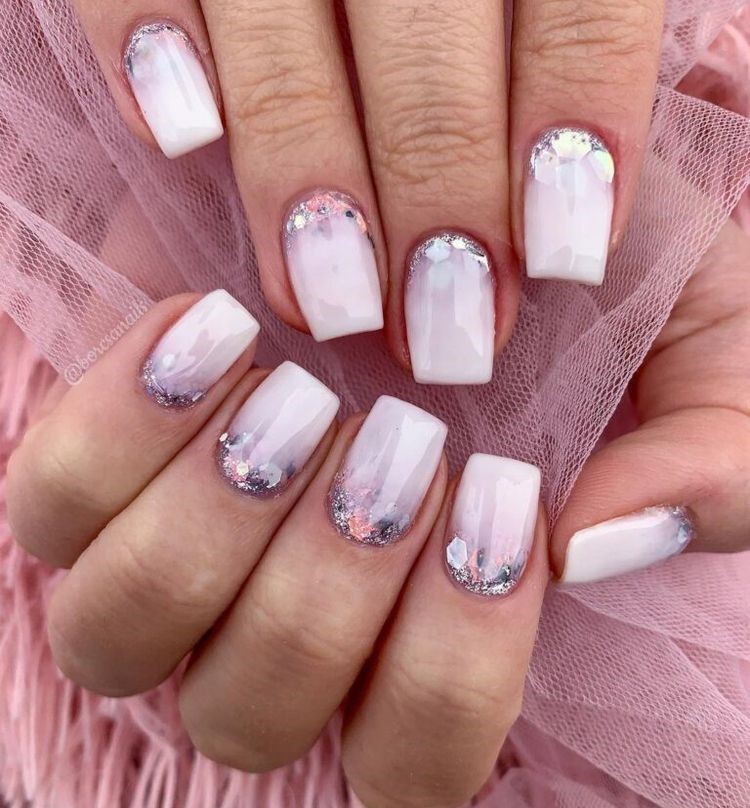 I get some of us would prefer the cool chill of winter, so why not keep those feels with your nails? These icy, lavender nails are just utterly gorgeous!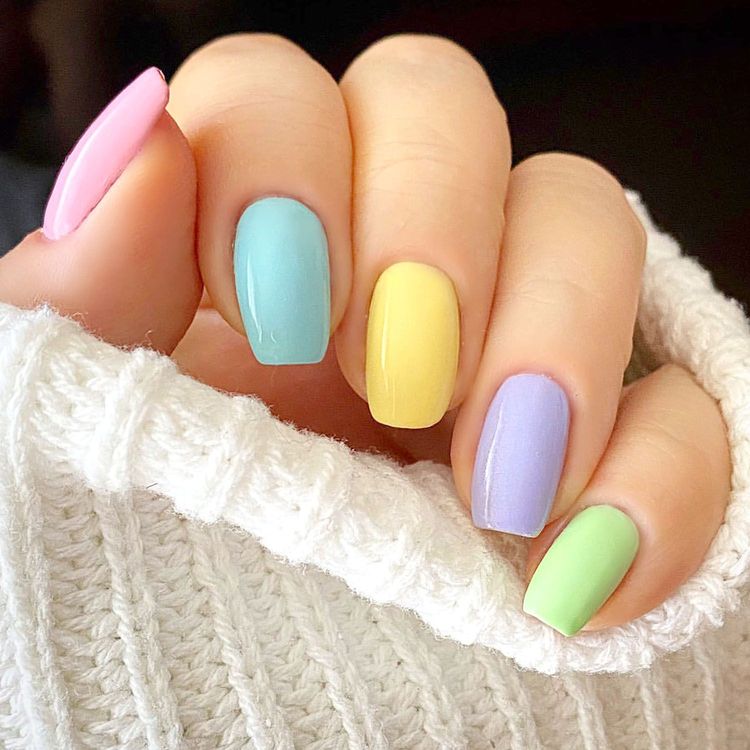 For a simple pastel manicure that you can do in the comfort of your home, you should give these multi-colored nails a try!
A nice shade of powder blue might just be all you need for your springtime nail base coat. You can either opt to do the vintage floral nail art yourself or use nail stickers for something less fuss-free.
Looking for your next springtime manicure for an event? These sparkly nails will certainly give you the most luxe and glam look to match your outfit!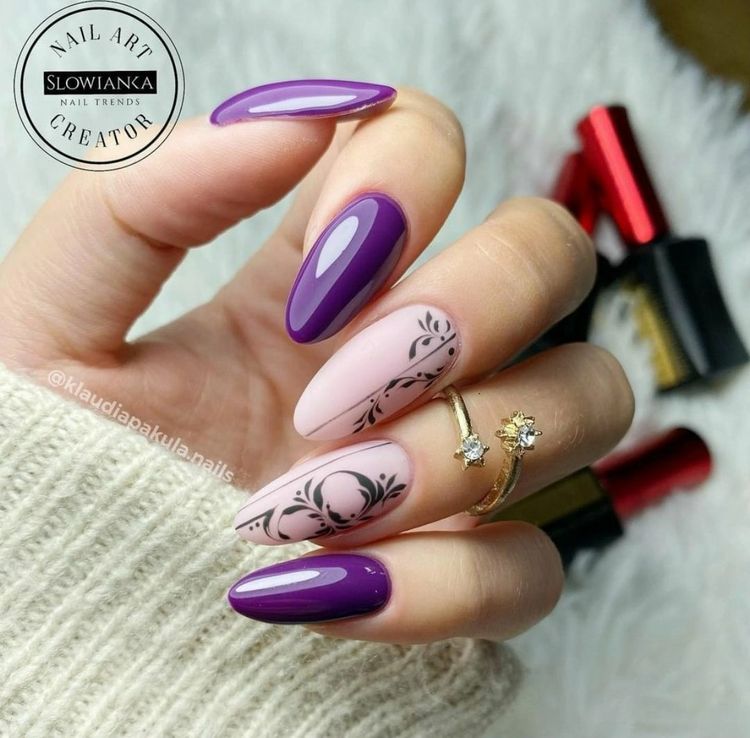 Deep, moody colors aren't usually the first thing I pick for my May nails this spring. But if you're looking for something a little edgy but keeping things feminine, this is a manicure you should consider!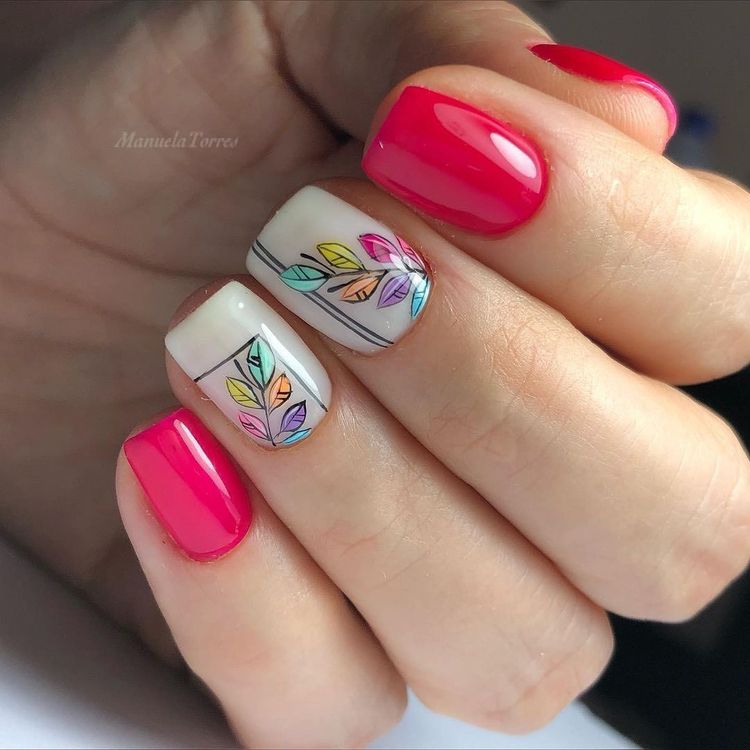 Hot pink nails are utterly pretty. But if you want to tone them down a little bit, you can mix them with these white accent nails.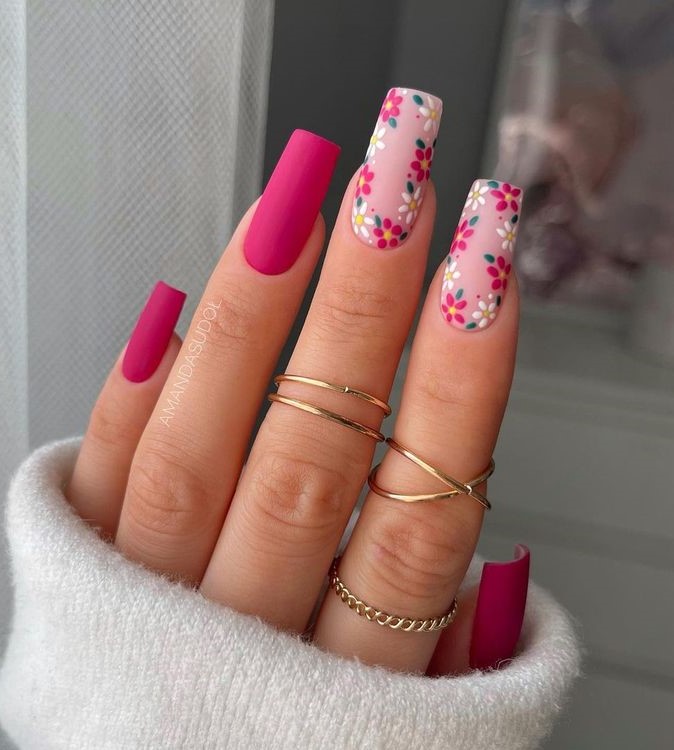 Here's another set of pretty pink nails you might love for the spring season! Use a softer shade of pink for your accent floral nails to recreate gorgeous dimensions.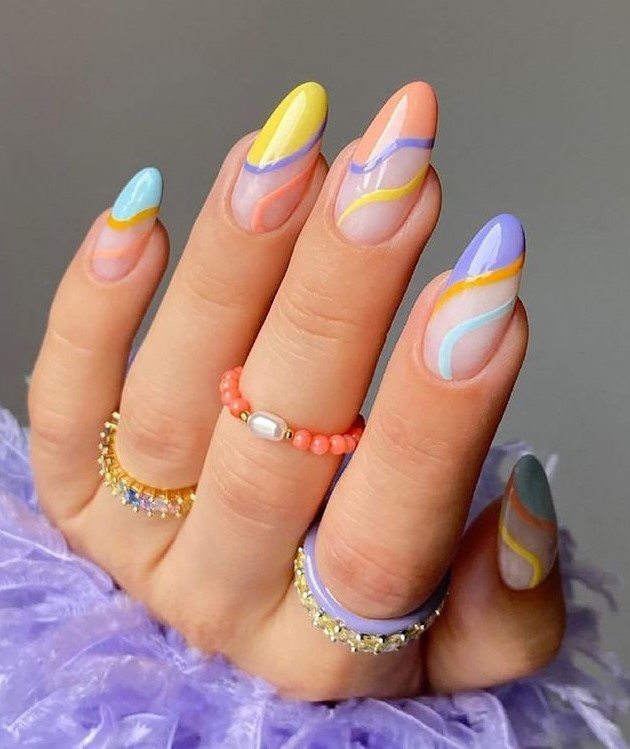 I love these pastel graphic nails! Not only are they unique, but they're so much fun to do! You can even mix and match different color combinations as you like.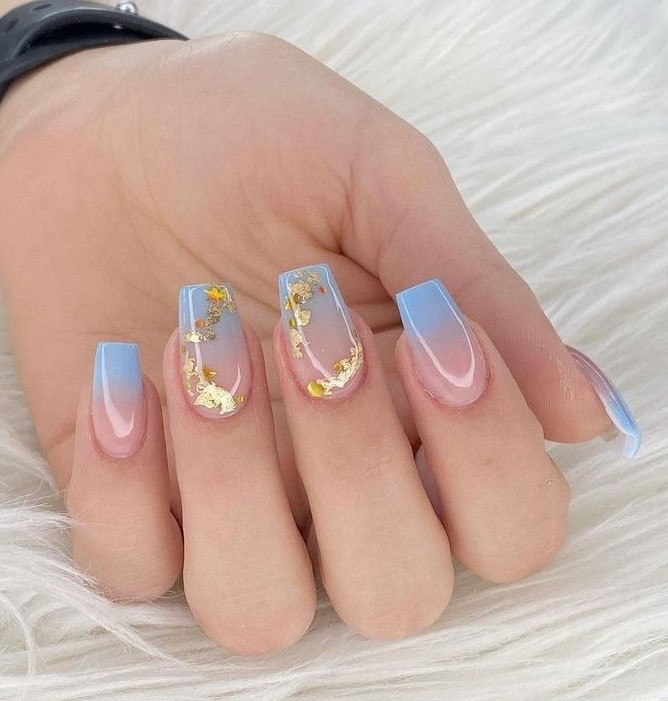 For a touch of sparkle, add some golden foils to your already gorgeous pastel gradient nails.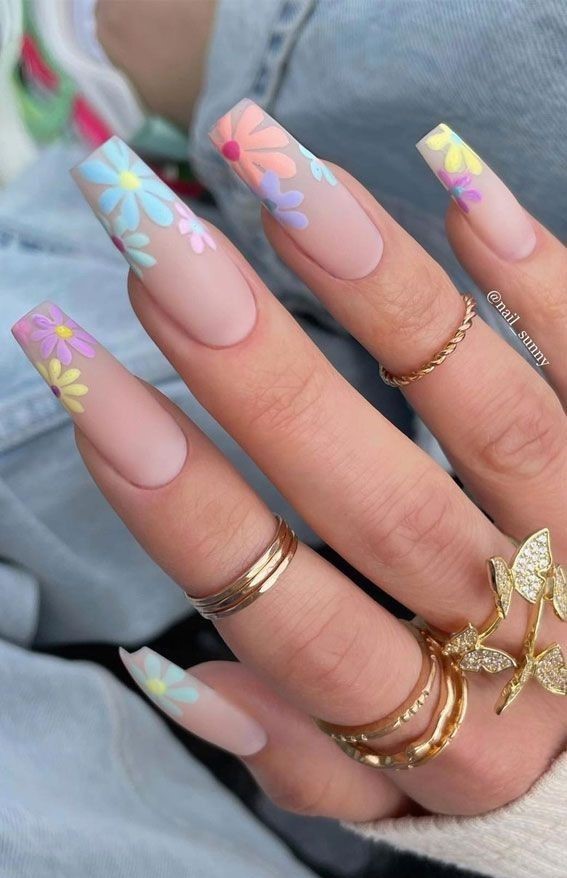 Forego the usual French manicure this spring and use flowers for the tips of your nails. This would go so well with longer-shaped nails too!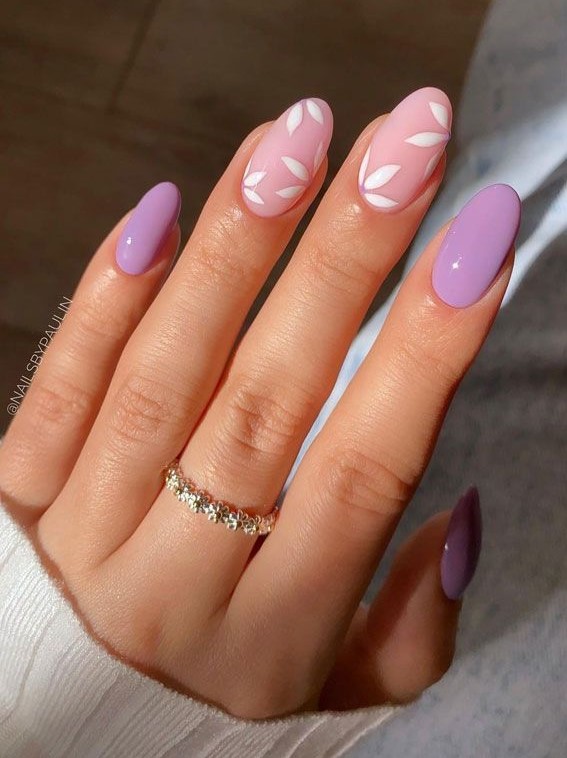 Here's a springtime manicure that you can practice your nail art skills on! Use a pastel purple for the majority of your nails while keeping your accent nails' base coat natural before adding those dainty daisy nail petals.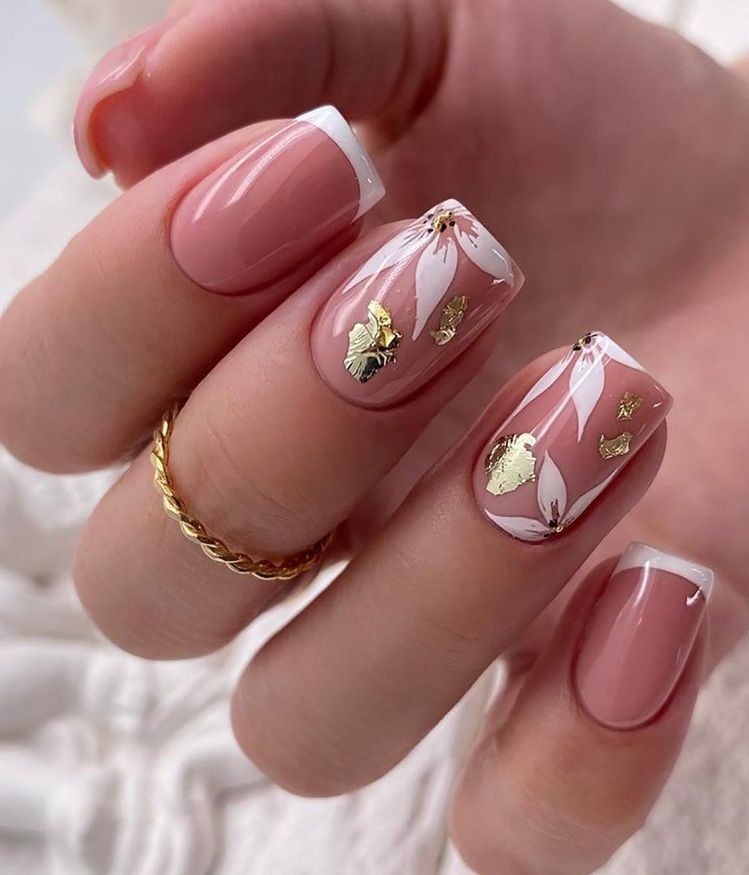 Here's another manicure you can use your gold foils on! Spruce up your usual French floral manicure by adding these gilded accents for a sophisticated and elegant look.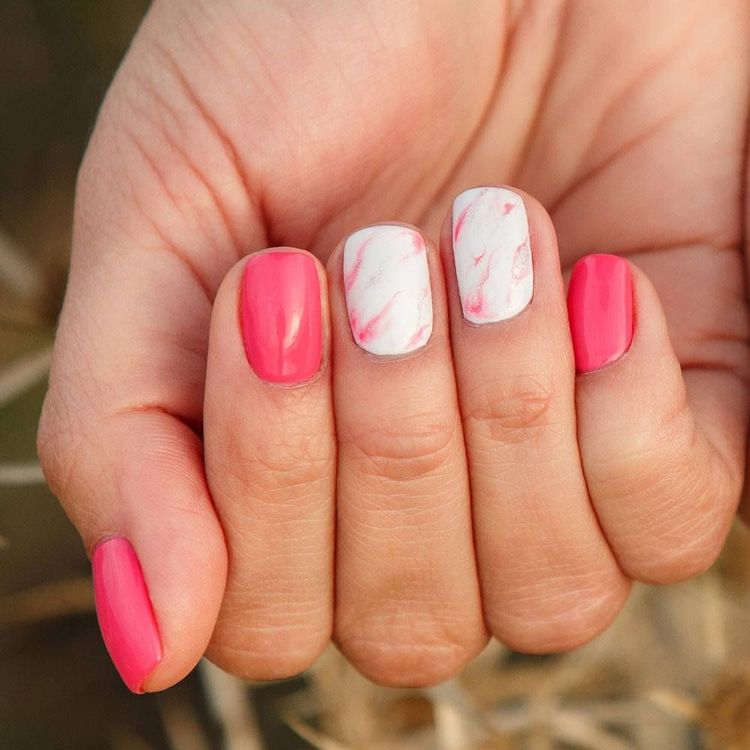 If you want to go all out with a bright pink manicure that is sure to catch everyone's eye, this is a manicure you should check out for your May nail designs.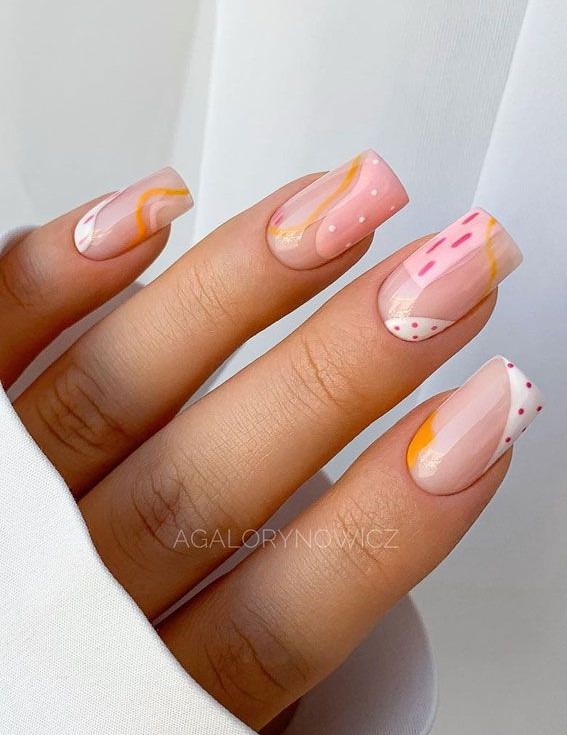 I just love these abstract, modern patterns on the nails. The best thing about them is how they're so unique and you can customize them so the style is a lot more personal to your taste.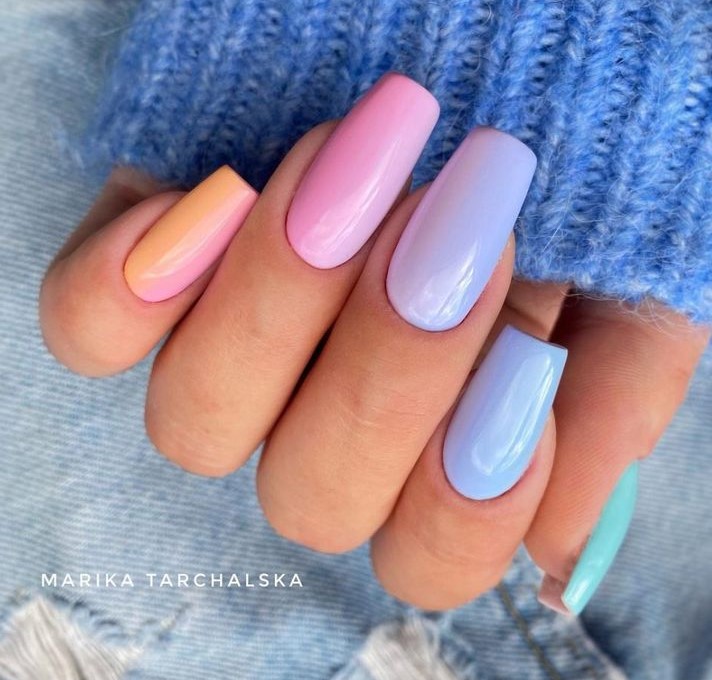 I'm loving these gradient nails! They're utterly gorgeous and so perfect for the spring season this month of May.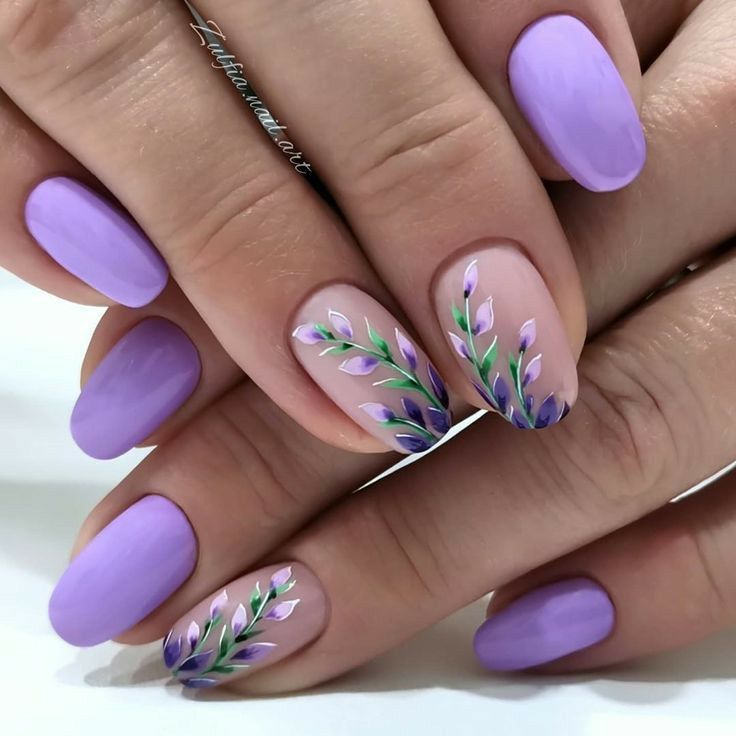 What better way to express your love for the color violet than by putting them on your nails? You can even add some violet florals to your accent nails for a springtime look.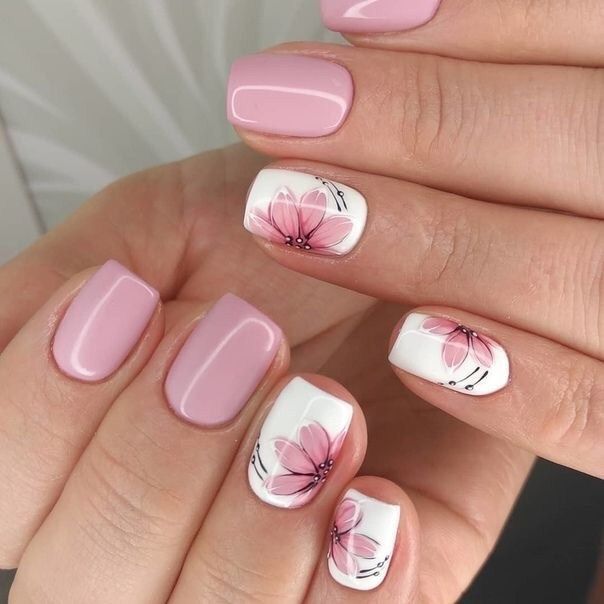 If bright, bold hot pinks aren't your thing, maybe you'll consider these muted pinks instead. They're classy, not too distracting, and perfect for office wear too!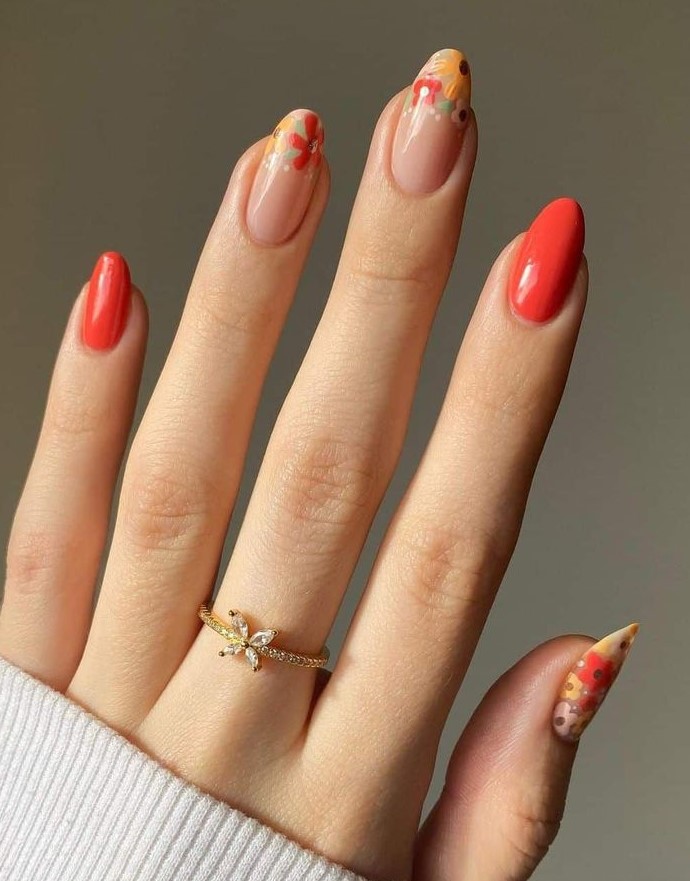 This has got to be one of my favorite nail art on this list. From the color combination of oranges, yellow, and hints of green, I'm utterly in love!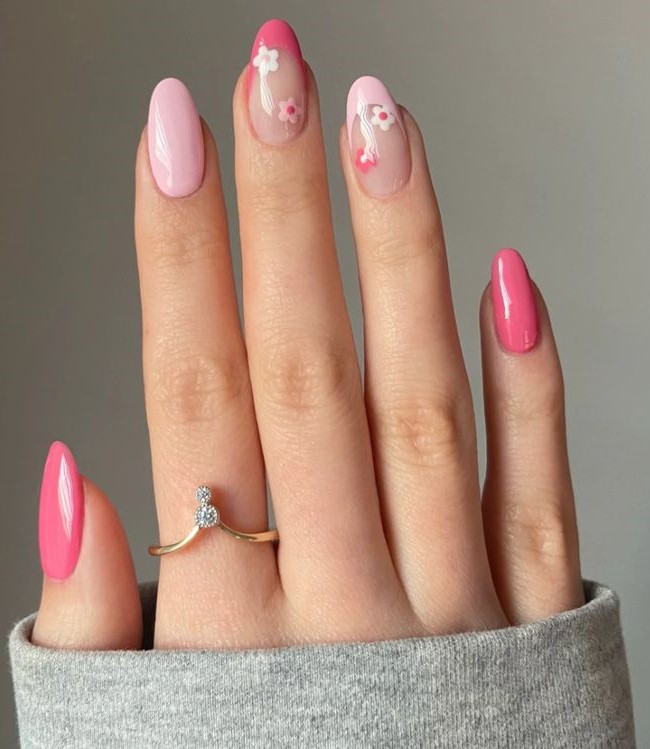 If you can't get enough of the color pink, this might just be your new springtime manicure. I love the different shades of pink and florals on these nails!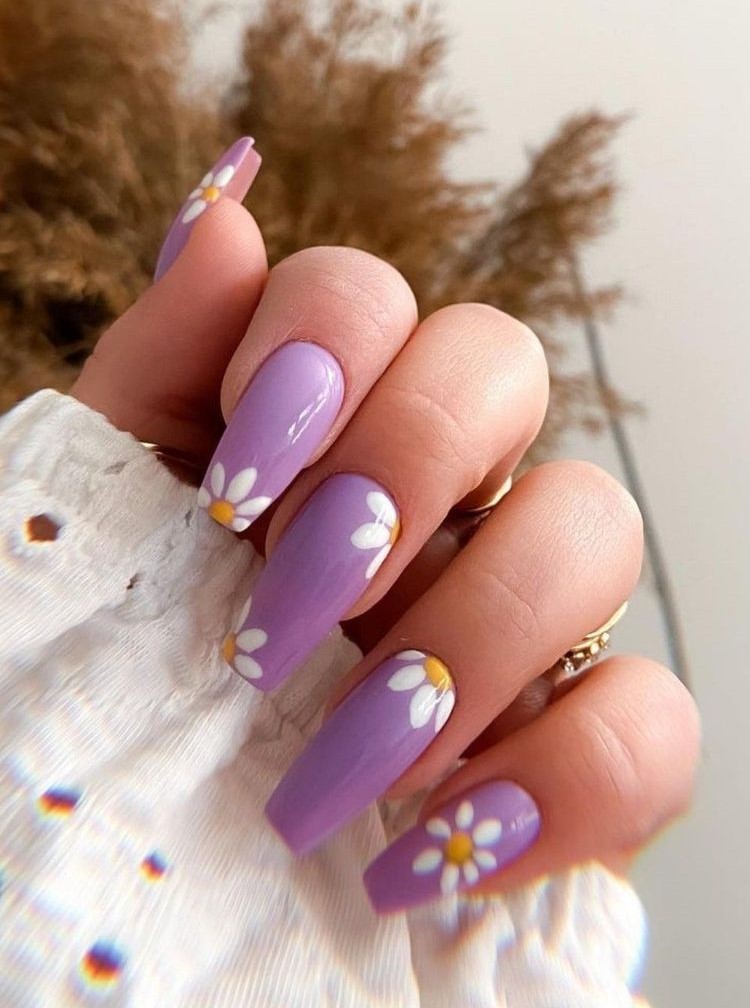 Here's an easy and colorful floral manicure you can do on your nails at home! Even better, you can do these both on short and long nails.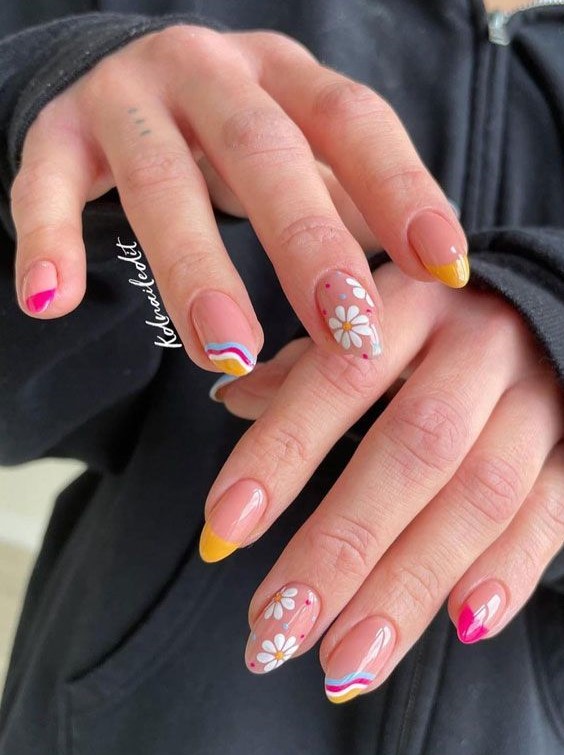 I find that practicing florals are some of the easiest ways to practice my nail art skills. If you've gotten your florals down, you can do other patterns next like these squiggly lines and polka dots. Opt for different colors for a vibrant and quirky look.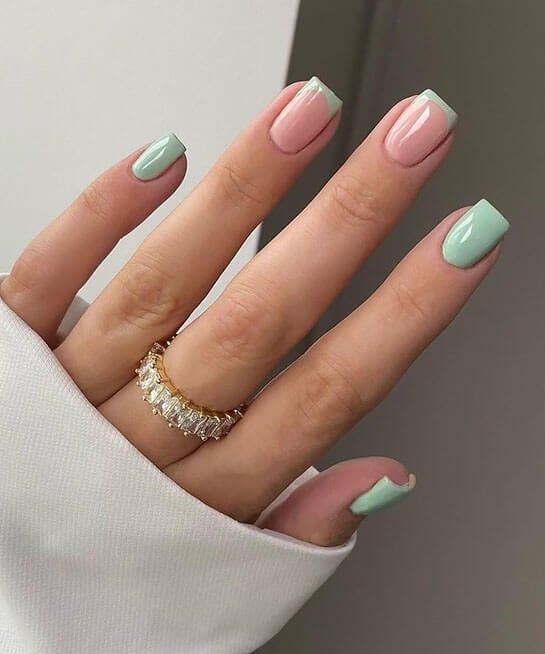 This pretty mint green manicure is so gorgeous! The simple, classic design is so easy to do too!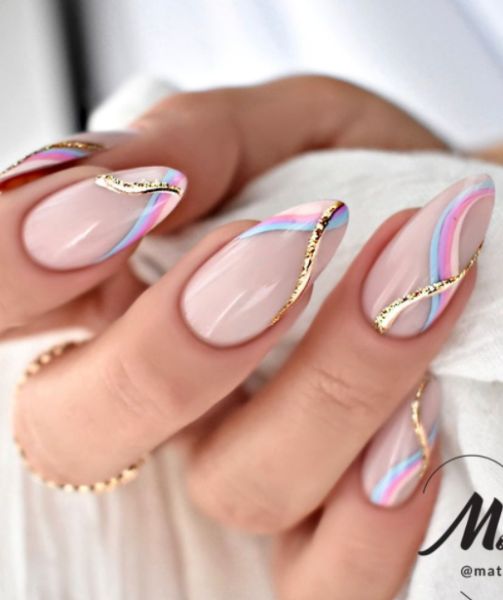 For a classy and glamorous manicure in the springtime, check these gilded nails out! The gold linework really makes this manicure look so luxe!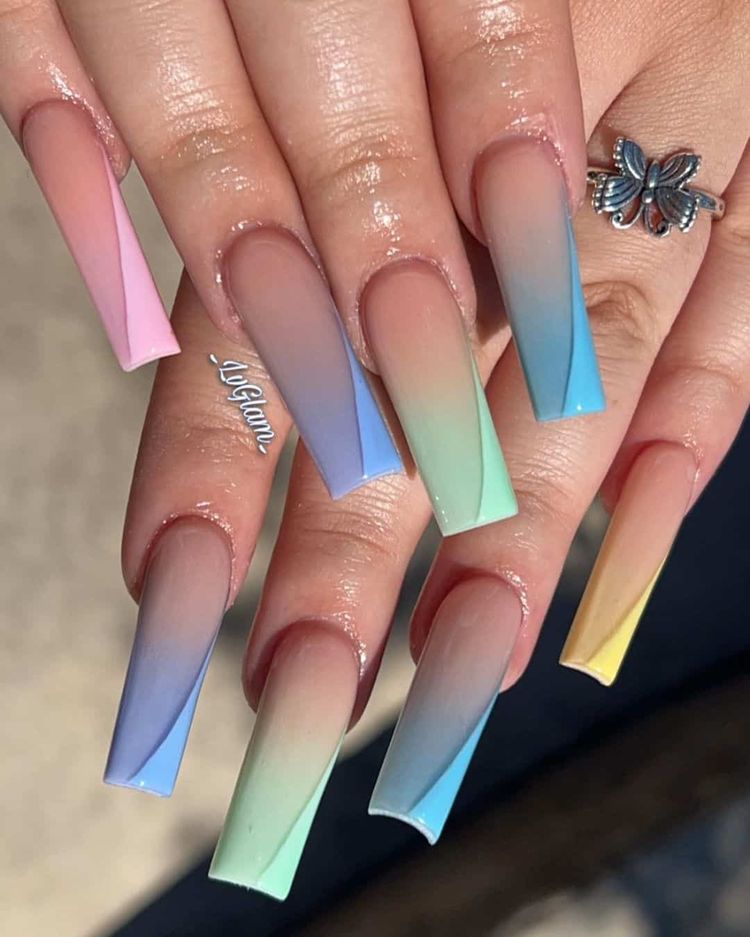 If you want to do gradient and asymmetrical French tips, here's an idea of what you'll get! You can also ask your manicurist for extra-long nails using acrylics or soft gel.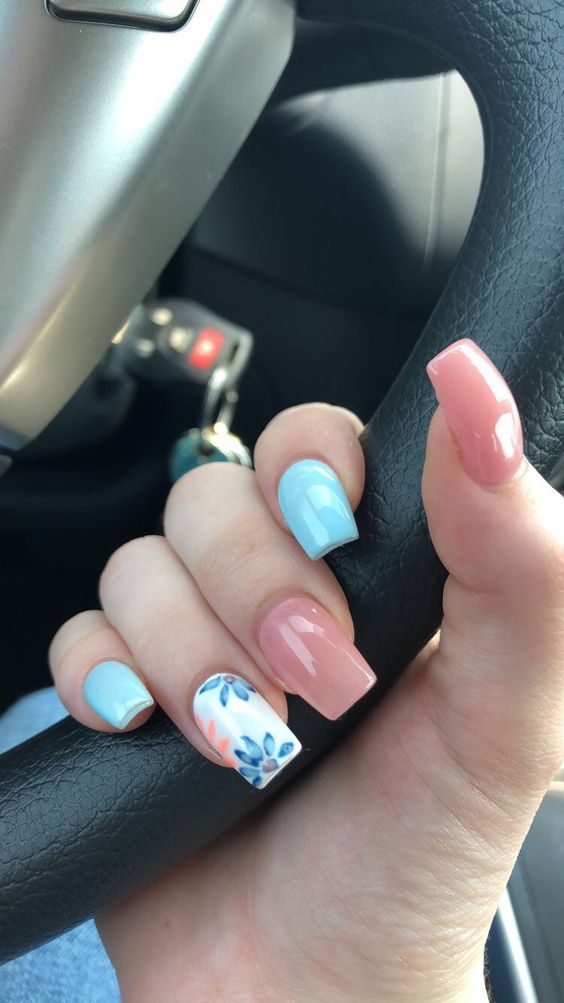 These soft blue nails are so refreshing on the eyes! Add some natural pink and white floral accent nails to recreate this whole manicure.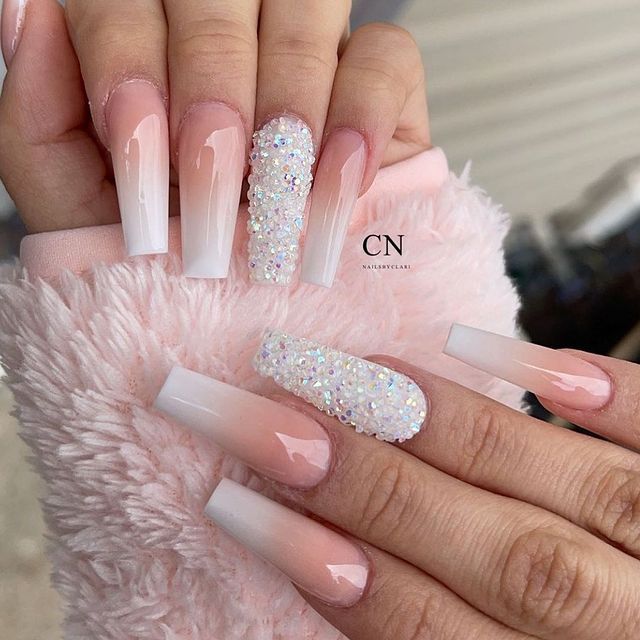 Apart from the chic gradient French manicure, those sparkling accent nails are utterly gorgeous! I would totally wear this to a special event during the spring.
This combination of colors would just look so good for your next springtime manicure. But you can also wear this for the summer season!
For a classy, vintage manicure for your May nails, I would recommend this one. I love the art style for the flowers and the muted green gives off such a sophisticated feel.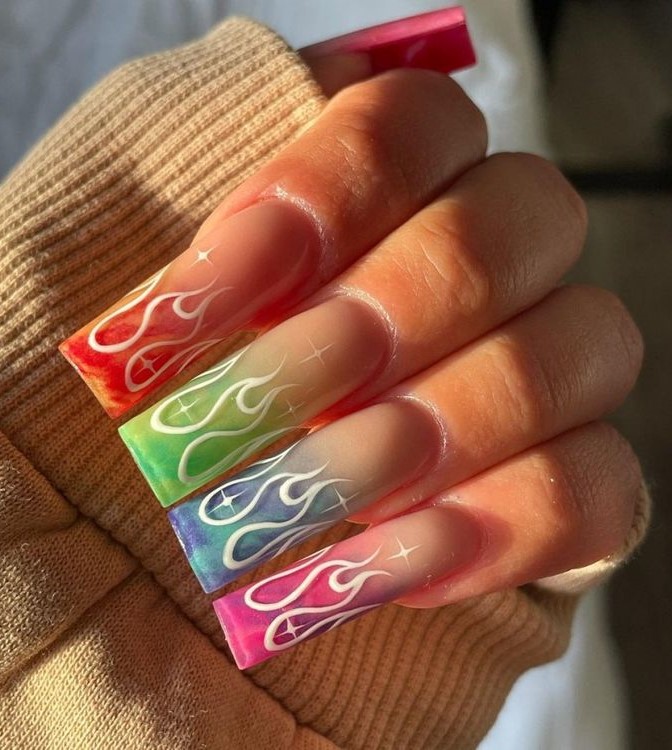 Keep things hot and fiery with these multi-colored flames for your next manicure appointment. These are sure attention-grabbers!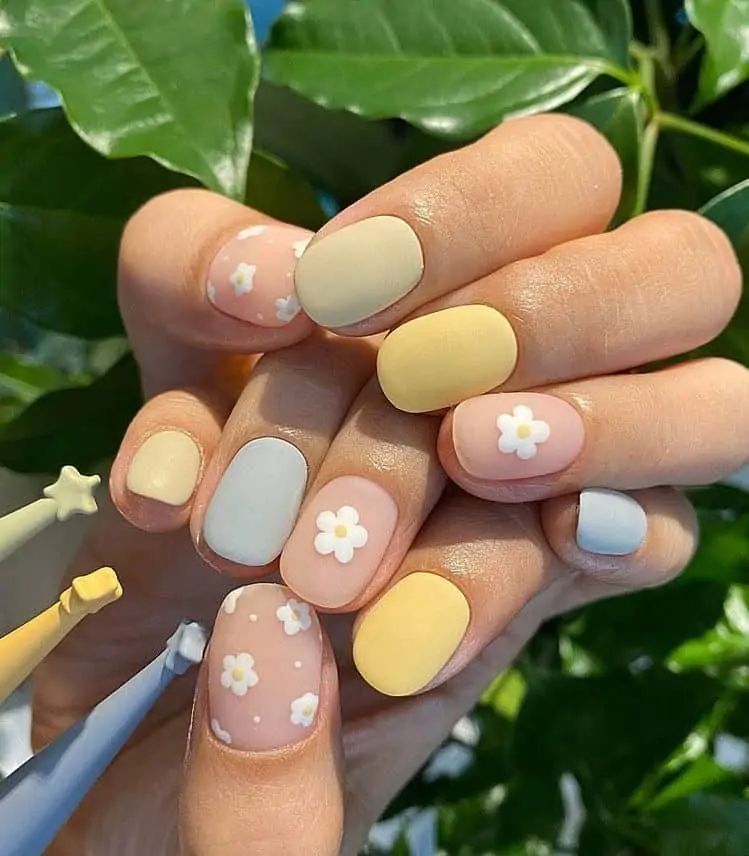 For a softer, more feminine manicure without using the color pink, here's a cute, floral, spring-themed look for your nails!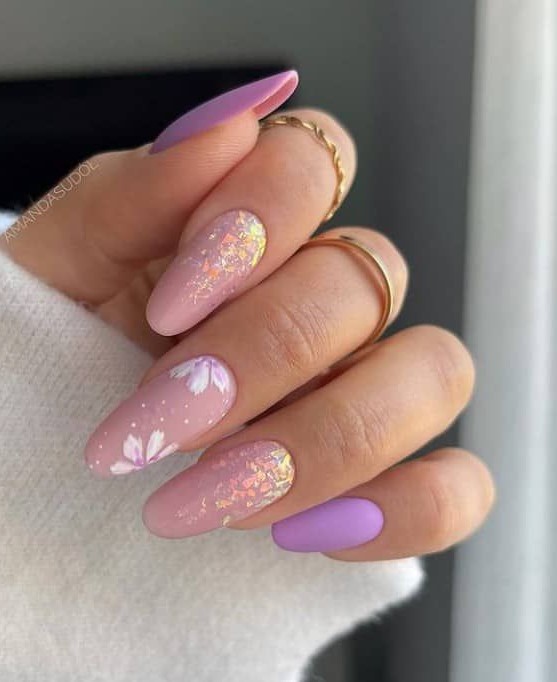 These iridescent nails are utterly beautiful! I love the subtle shine and sparkle this will give your hands for the spring season.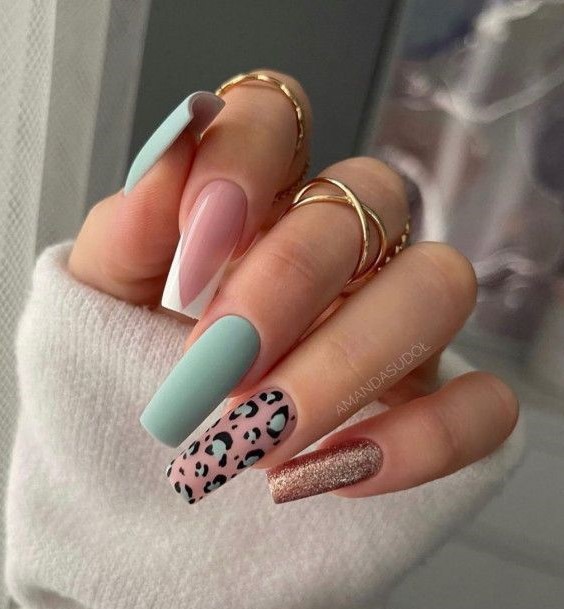 If there's a trend that never goes out of style, it's animal prints. So if you're looking for nail art that will look chic and cute, try out these pink and green leopard prints on your nails.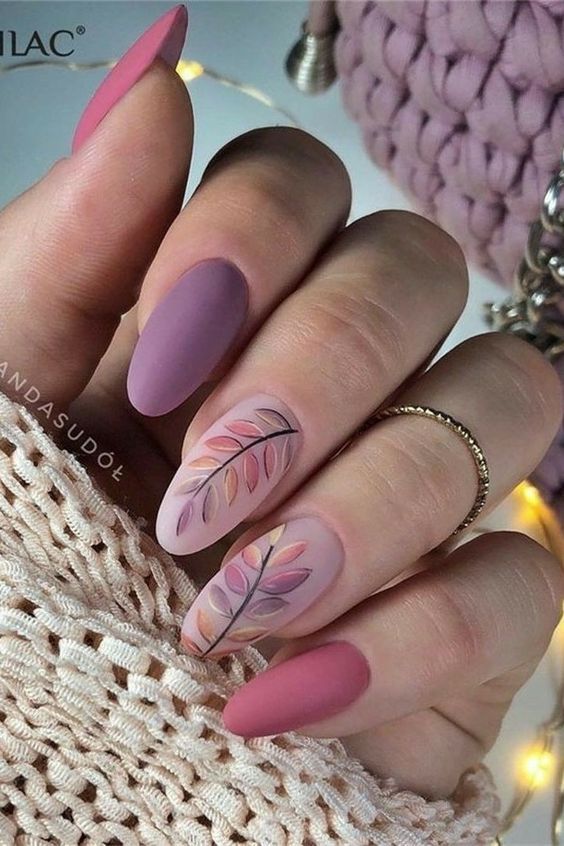 I love this color combination of pink and plum! To keep it in theme with the spring season, add some pastel-colored leaves for your accent nails.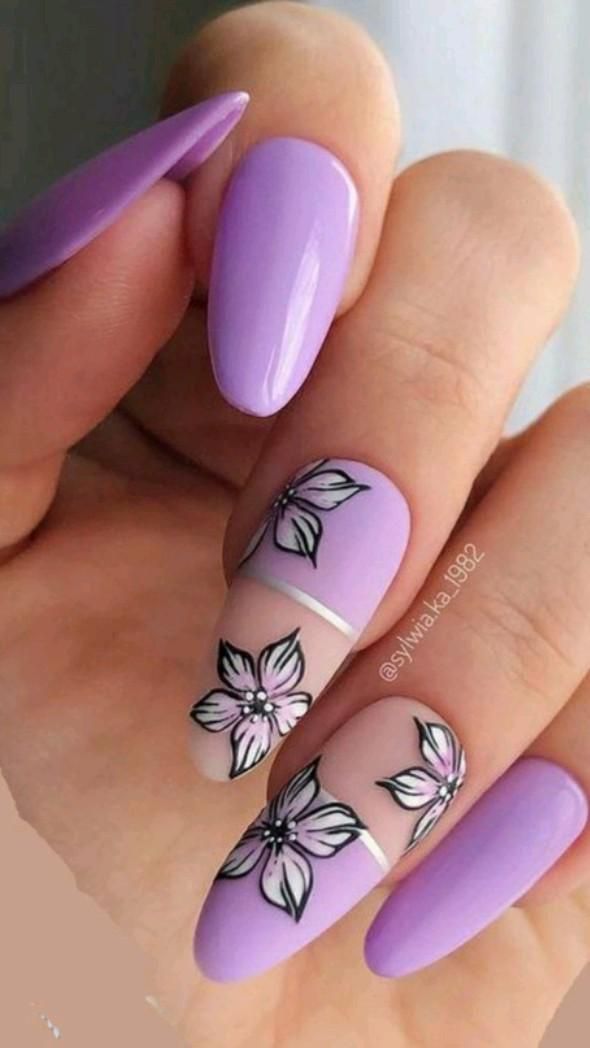 I love this graphic floral design! And the bright purple color makes it even look better!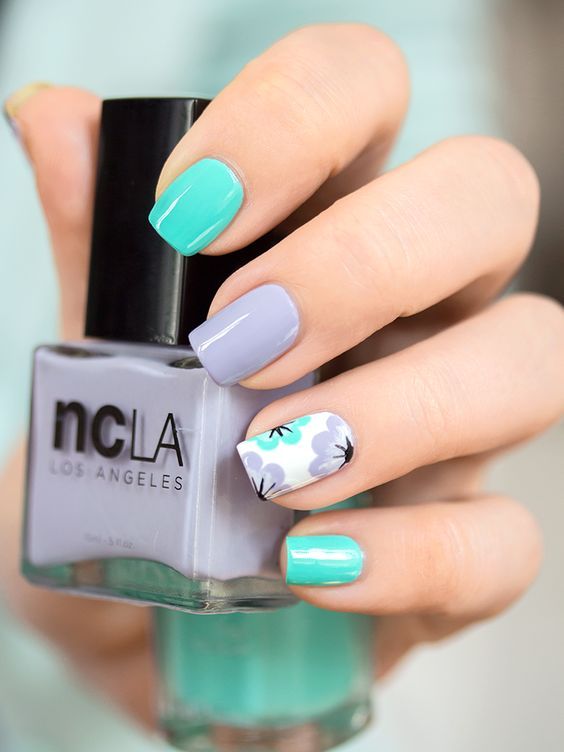 Purple and green isn't a color combination I thought would look this good but now I'm definitely curious to try it out!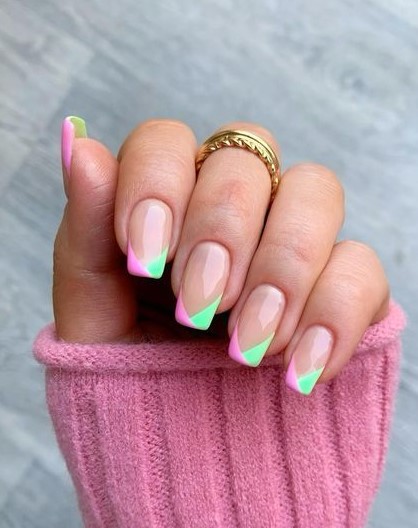 This remixed version of your classic French tips is utterly cute! Pick your favorite color combo or go for a pink and green color scheme like on this picture!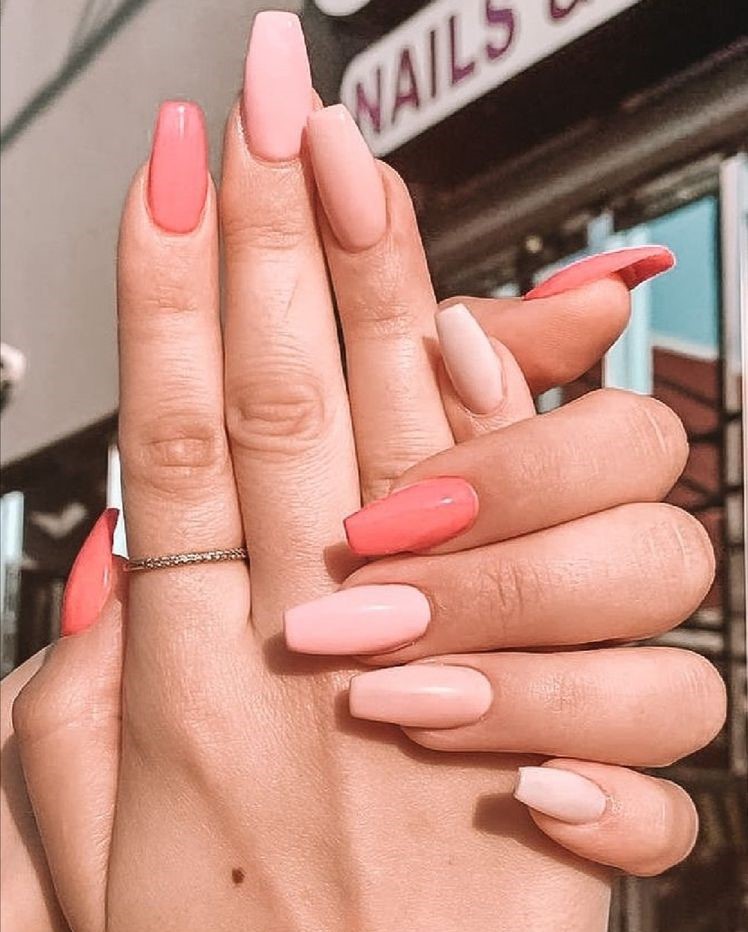 This muted combination of pinks would be so perfect for any woman who's looking for a timeless and feminine manicure they can wear all throughout the spring season.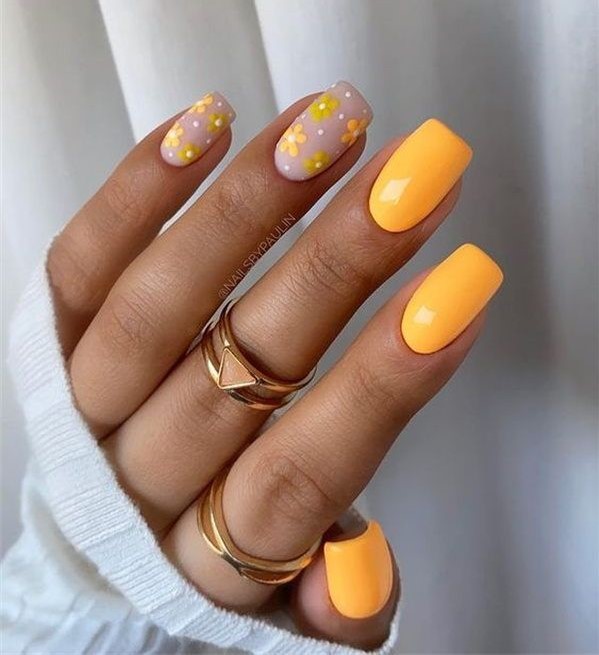 I'm loving how bright and bold this yellow manicure is! These are sure to give your nails those perfect springtime vibes.