Whether you're looking for your next summer or spring nail art, these daisy nails are here to give your manicure a delicate and romantic touch!
This year, flower-adorned nails will be all over everyone's feed. Last spring, elaborate floral nail art was all the trend. But this year, it seems that nail artists are favoring a simpler, daintier look such as daisy nail designs.
On Pinterest, you can browse the daisy nails tag to see various interpretations of this particular flower art.
This delicate flower is surely having its moment in the spotlight, from square nails with flowers on a monochrome background to transparent bases with colorful daisies. But whatever variation you choose, your nails will definitely look dainty and sweet!
What's more, you don't necessarily require artistic skills to create your own daisy manicure. Daisy-print nail art is not only cute to look at but also relatively easy to freehand, even for a nail-art newbie.
You can DIY the design in under an hour using any polish you happen to have on hand, and your manicure will be photo-ready to show off to the world!
But if doing it freehand intimidates you, don't worry! That's what nail stickers are for! You can also opt to use a nail dotter to easily mimic those delicate daisy petals on your nails.
Daisy Nails
See some of the best daisy nail designs you can find online in my list below for some springtime and summertime ideas.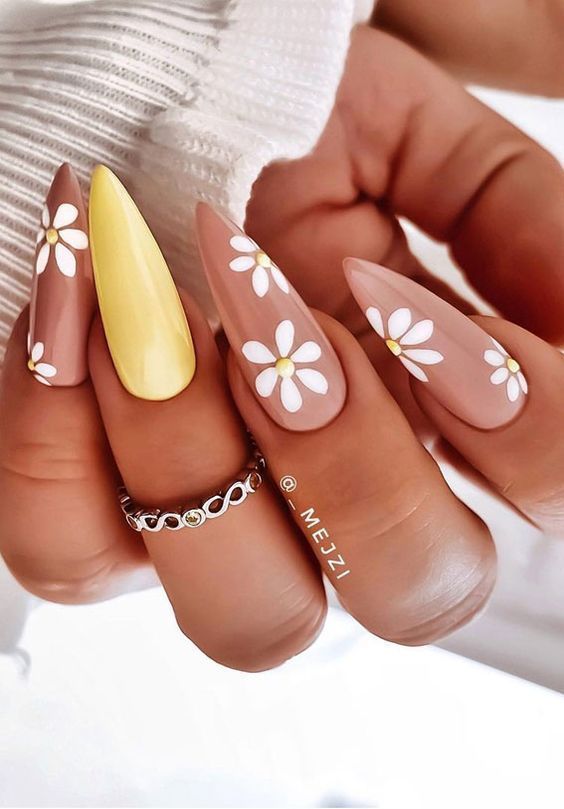 Just in time for spring and summer, this bright yellow shade combined with those dainty daisies would be the perfect manicure during these colorful seasons!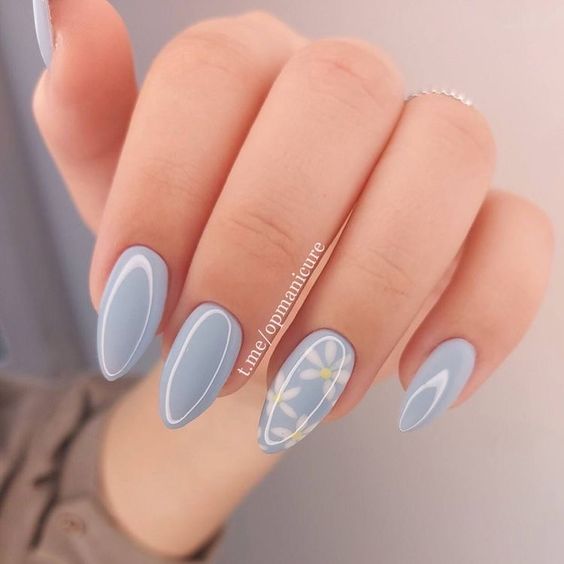 But if you want something a little less vivid and want to be more subtle, then you can use this beautiful soft shade of pastel blue with your daisy nails! This is such a pretty color!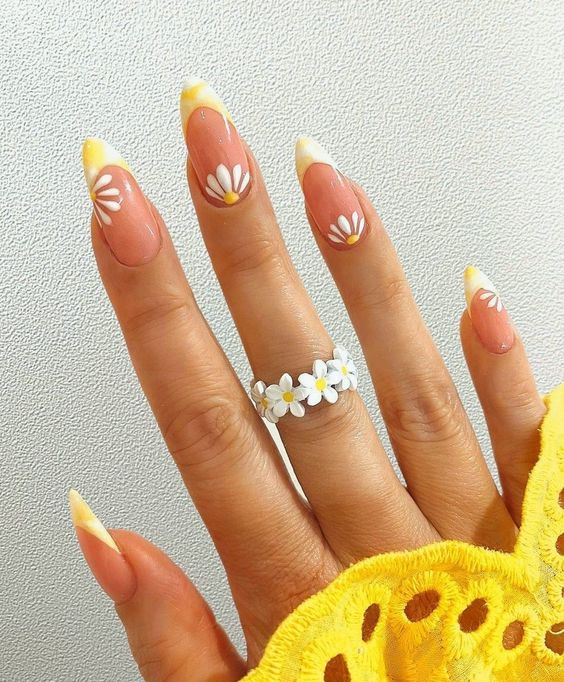 Create your own iteration of a modern French tip by doing gradient yellow tips and putting daisies in different placements around your stunning nails.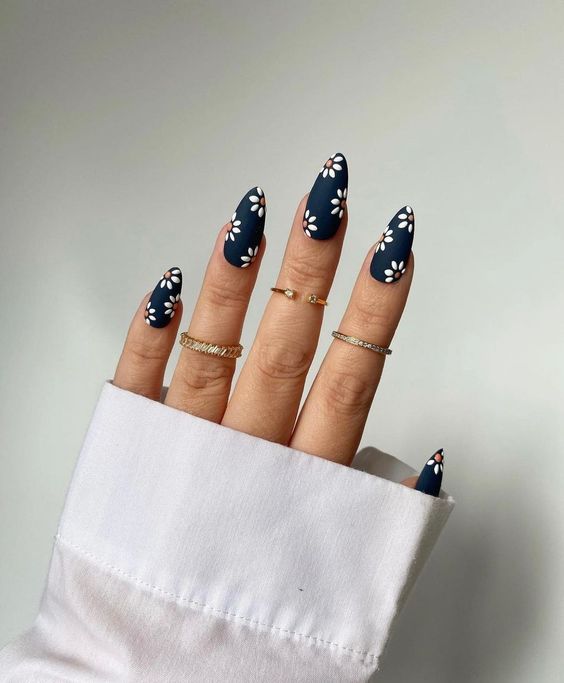 For a moodier and chic effect, try mixing those bright, white daisies with a deeper polish color for your base coat. The contrast will be undeniably gorgeous!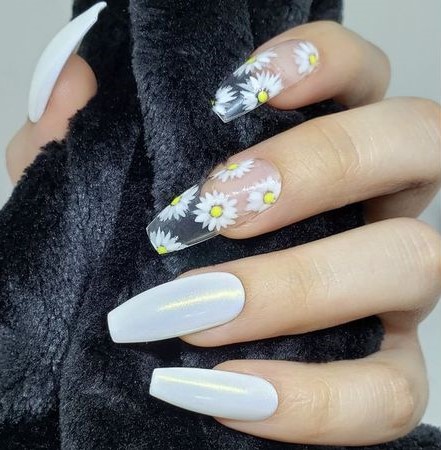 There's just something utterly ethereal about this particular set of daisy nails. Perhaps the iridescent sheen on the solid white nails gives it a rather icy look.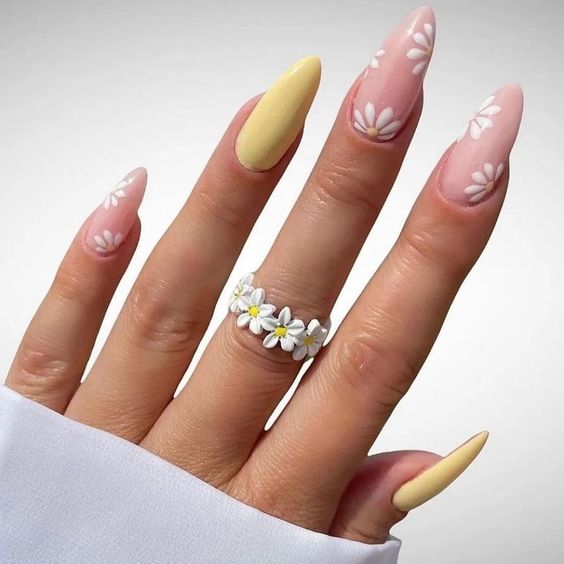 I am loving this combination of yellow and pinky nude base coats for daisy nail designs. It's utterly perfect for the spring season!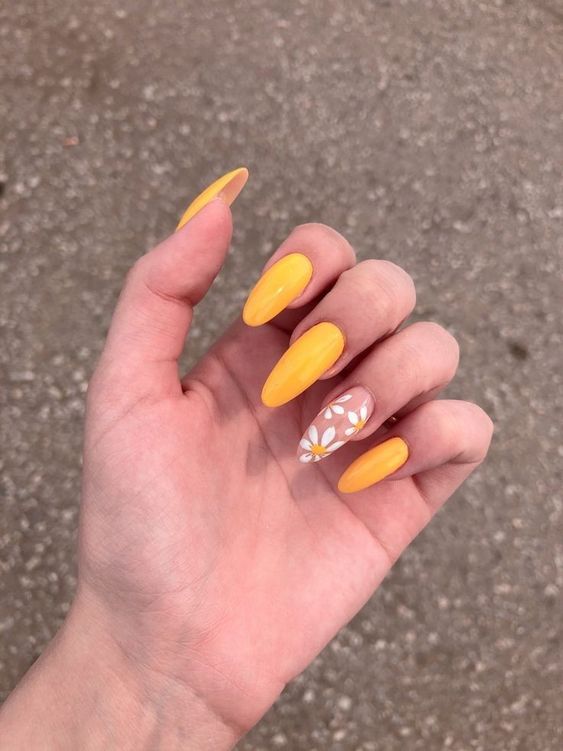 For a truly eye-catching set of daisy nails, use this bright orange polish for your base coat! To not make it too overwhelming, you can either leave your accent daisy nails transparent or put on a nude shade instead.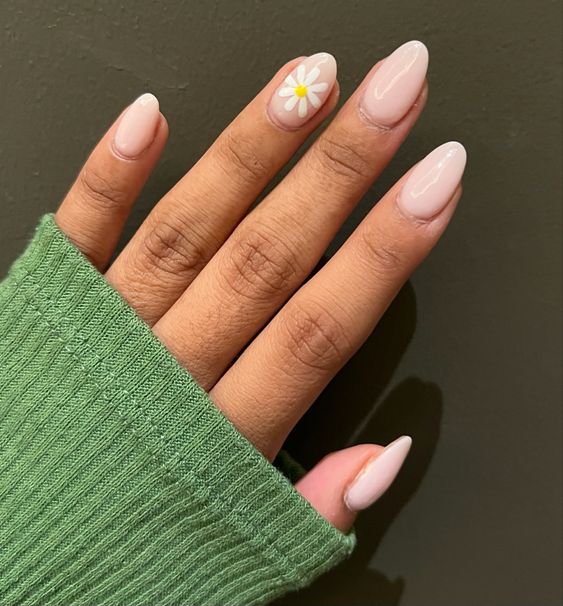 I love how this nude daisy nail design has this glowy, jelly effect! I find that this is a trend quite popular in South Korea and I can totally get the hype! This is one of my favorite minimalist daisy nail ideas right now.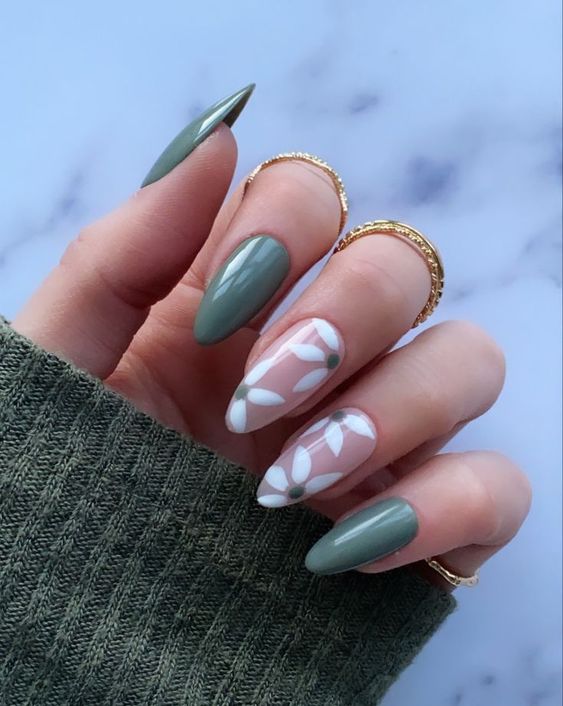 Perfect for a springtime manicure, these green daisy nails are such a refreshing sight to see after a long, dreary winter.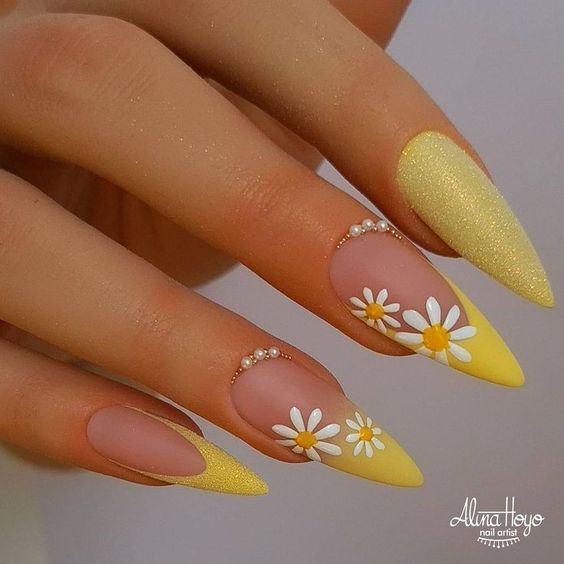 For a different finish than the usual glossy texture, you can also opt to ask your nail technician to do a soft matte finish. Or perhaps, a shimmery one for a touch of glam!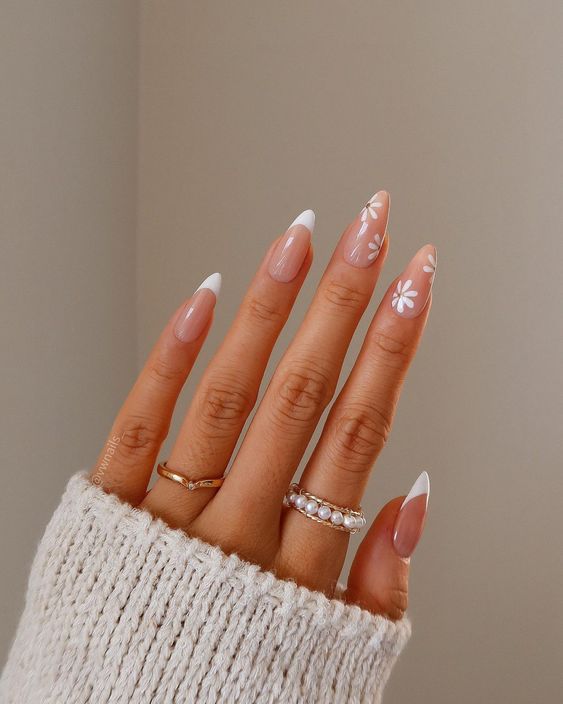 For sophisticated and timeless daisy nail designs, pair it with a classic manicure like the French tip! Use the traditional white polish to give it that elegant and dainty look. This is one of my favorite minimalist daisy nail ideas for the year!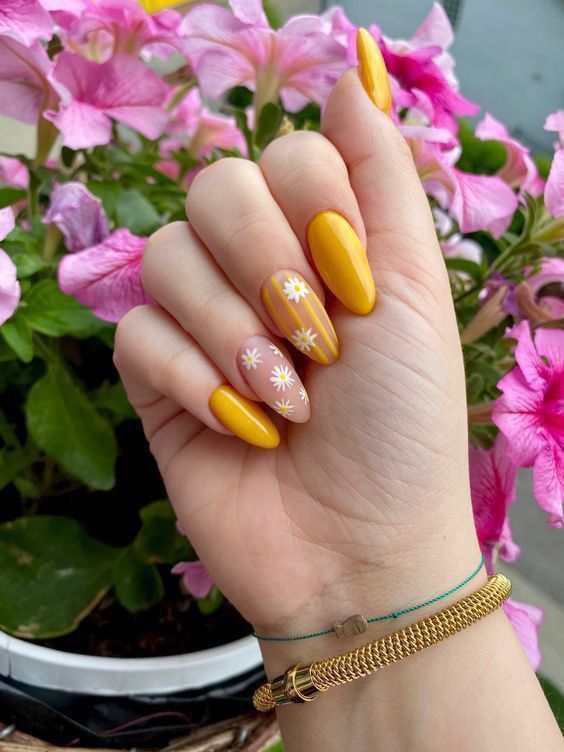 But if you're looking for something a lot more vibrant, then you'll certainly adore this bright, yellow daisy nail design. Peep that stripey yellow accent nail too! So unique and creative!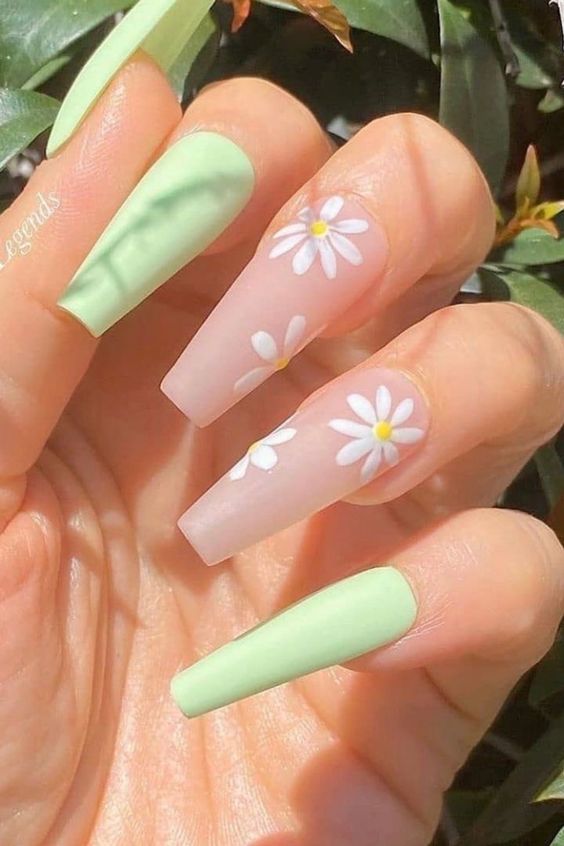 Pastels are truly the colors of spring! For a unique pastel look for your daisy nails, opt for this pretty, soft green shade! Use a matte finish and a coffin cut for your nails to give it that flirty effect.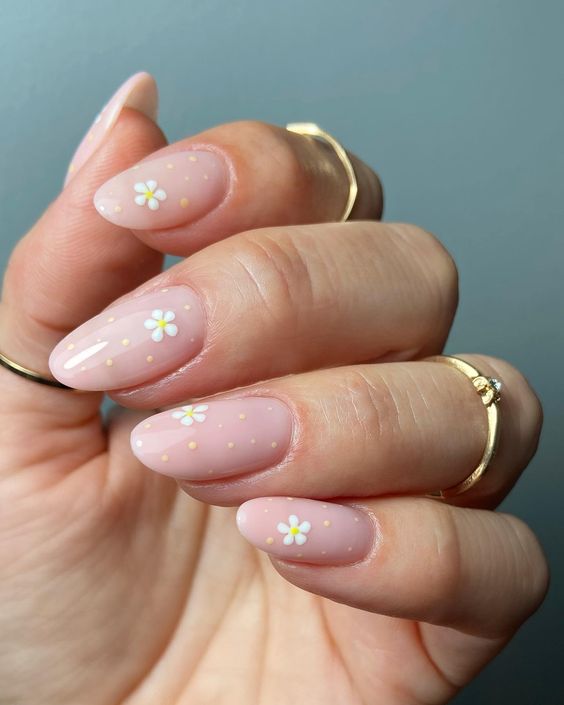 So dainty and delicate, I'm obsessed with this particular iteration of the daisy nail designs! The tiny polka dots give it a rather sparkly look without using any shimmery texture. Plus, I love the understated and subtle nude base color that was used on these nails.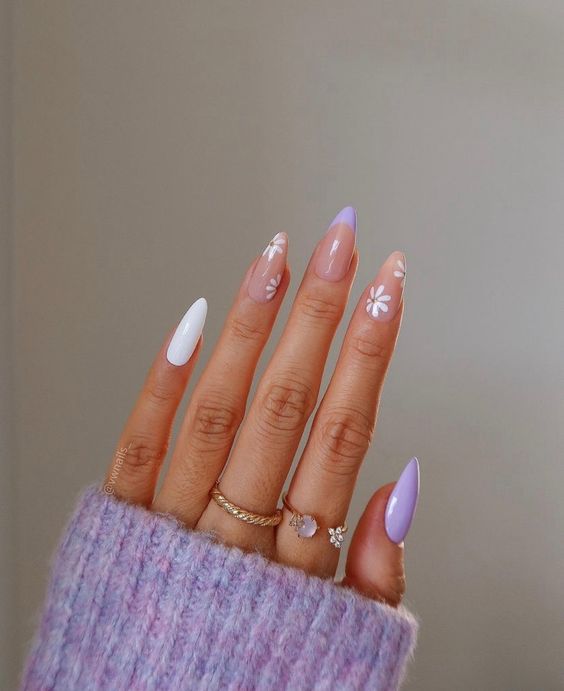 So bright and fun, these pastel lilac nails are to die for! Mix it with a white nail accent to make your manicure pop even more!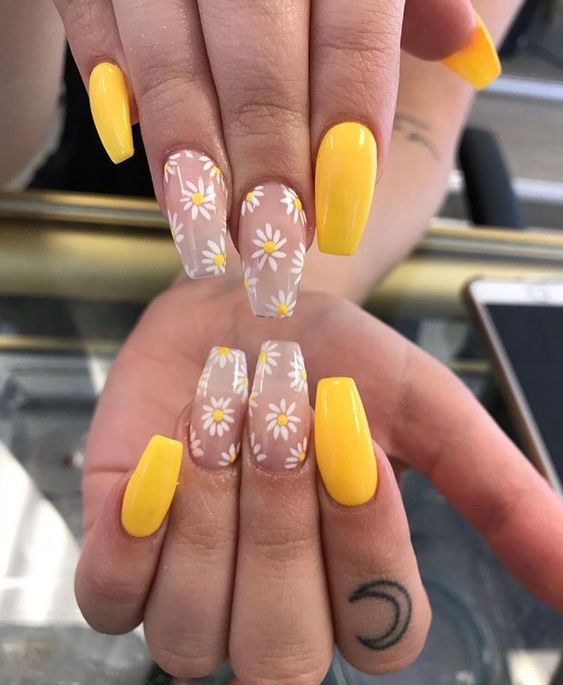 I love the coffin-shaped cut on these bright yellow daisy nails! The sheer, milky accent nails also make the vibrant colors stand out even more without taking the spotlight away from those beautifully painted daisies.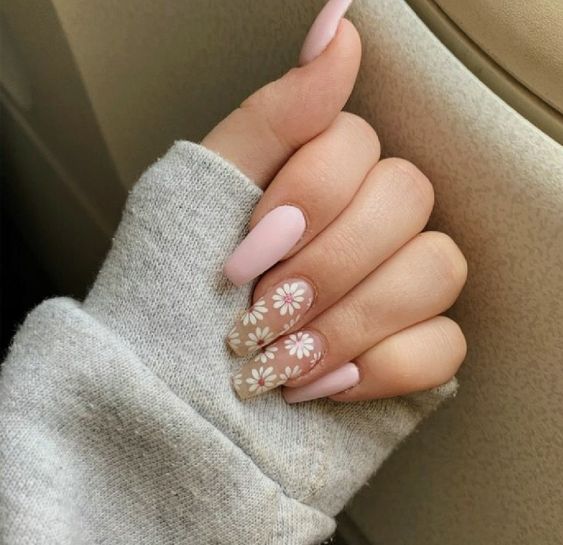 Pink is definitely one of my favorite colors, especially if it's pastel pink. So you can only imagine my excitement seeing these pretty daisy nails!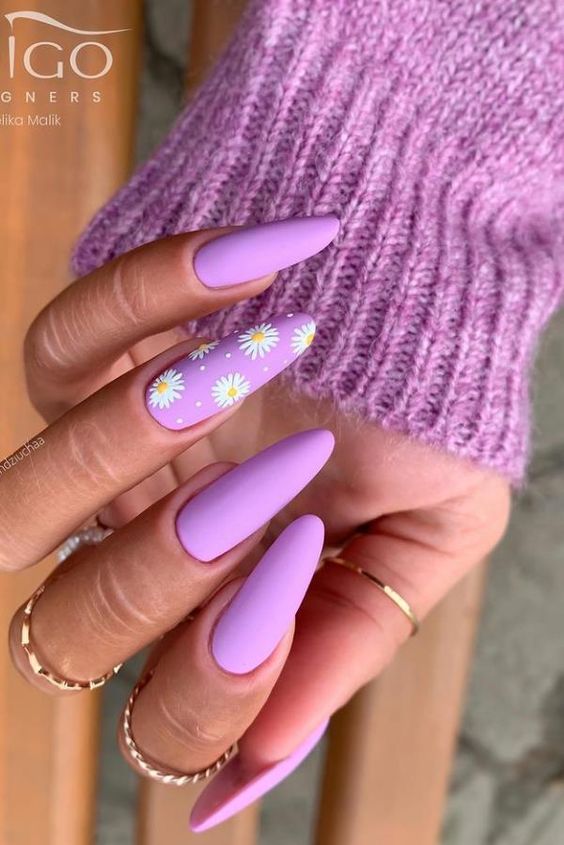 It's no secret I love the color purple, so when I saw this I knew I had to include this on this list. Just look how bright and vivid this shade of purple is! It's so vibrant and the matte finish just really adds to how stunning this daisy manicure is!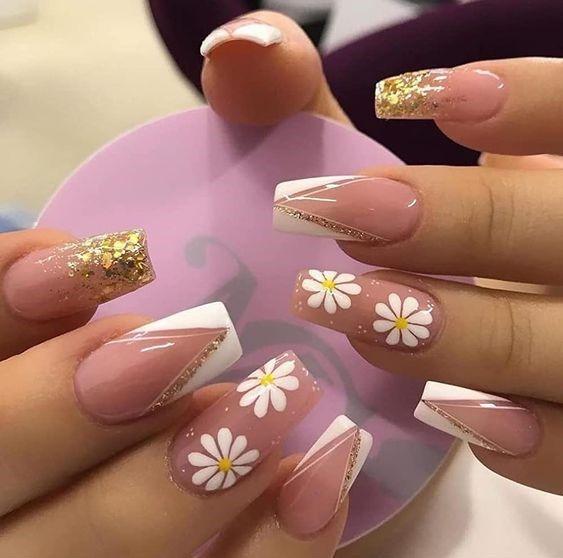 If you want that glam vibe for your nails, add some shimmery polish to your manicure. You can put them around the tips of your nails or use them to accentuate those unique geometric patterns to really make those details sparkle!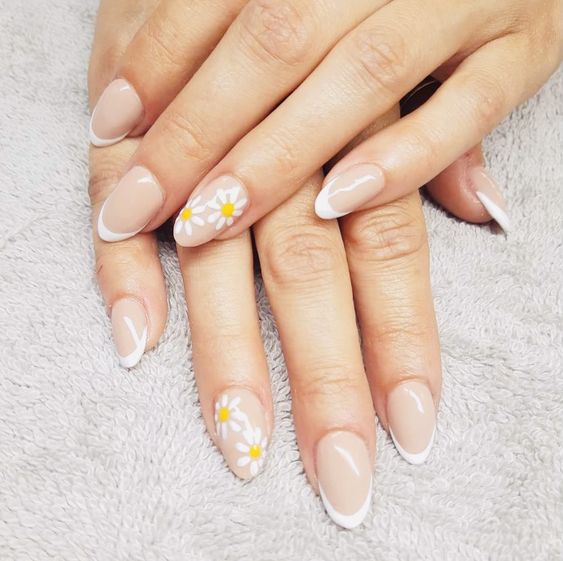 For a subtle and understated daisy manicure, you'll surely appreciate these French-tip daisy nails! It's classy and chic, and you can wear this any time of the year!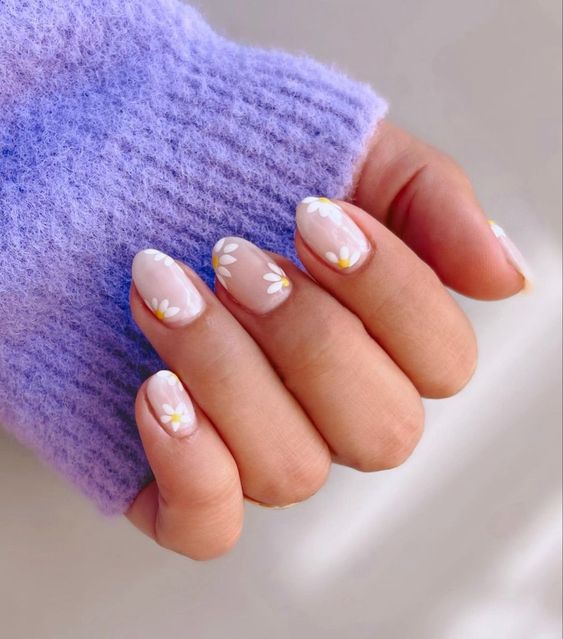 If you want another subtle daisy manicure without the French tip, then you can go for this manicure instead! Use a nude base color, then top it off with some delicate daisies all over your nails.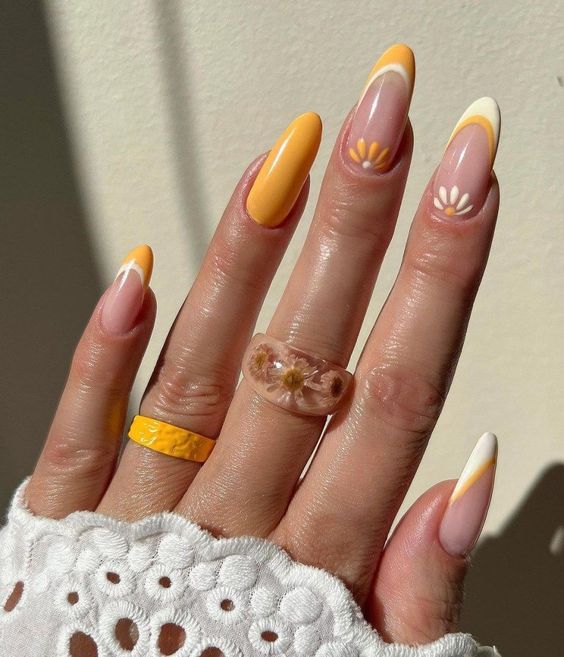 I love this creative twist on classic French nails. Add a second color to the bottom part of your French tips and you'll easily be able to achieve this gorgeous daisy nail art!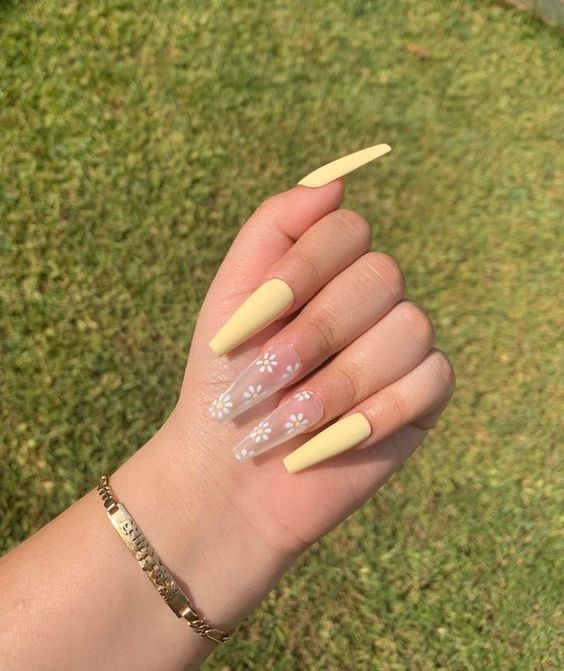 If doing nail art by yourself seems a bit difficult, you can always go for nail stickers or press-on nails! Luckily for you, there are hundreds of daisy nail designs you can choose from!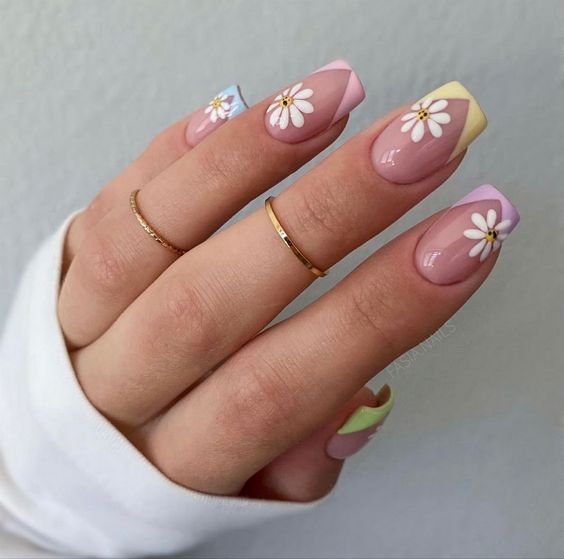 Forego the usual French tip, and instead, give it a unique geometric twist along with some dainty daisy patterns for a more feminine touch.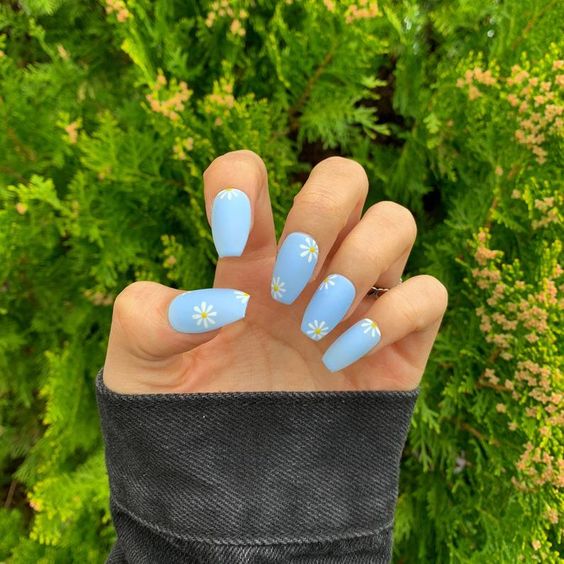 This bright sky-blue color is just the perfect shade for summer! It's vibrant and effortlessly eye-catching!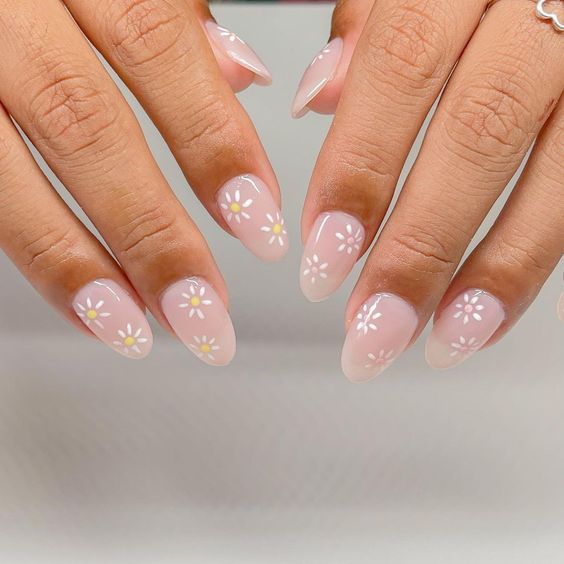 I just love the jelly look on these nails! They give such a feminine and youthful touch to any manicure. Not to mention, they pair so well with those dainty daisy designs!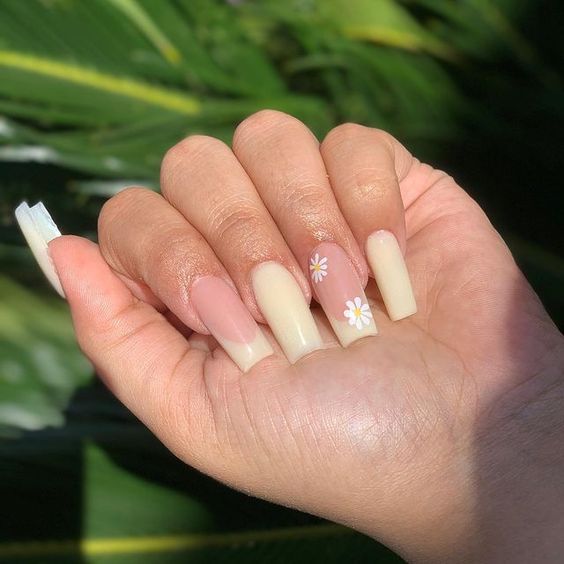 If you want a yellow daisy manicure but don't like the usual vibrant shades, then you'll certainly love this muted pastel tone! It looks so milky and soft, making your nails look more feminine and just perfect for spring.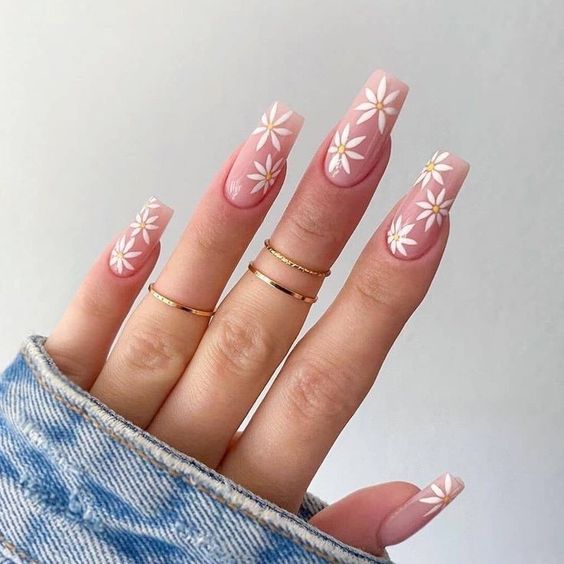 I'm loving these transparent daisy nails! I just love putting on dainty daisy nail designs on negative space around the nails. It gives such a sophisticated and fresh look!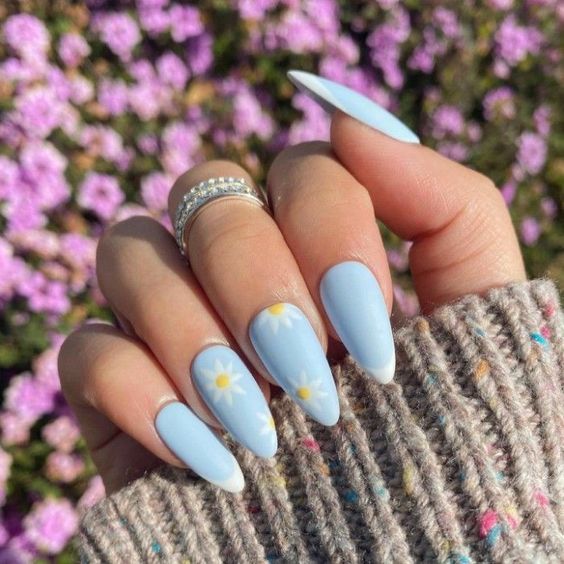 These pastel blue daisy nails are utterly gorgeous and so ideal for spring! I love the added French tips too, giving it a sophisticated vibe.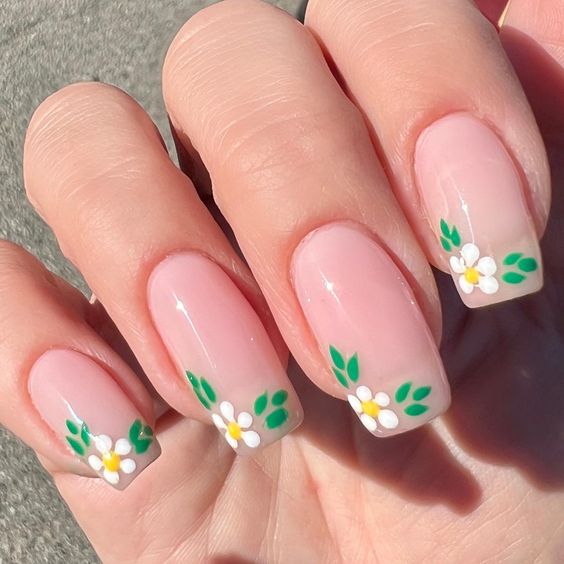 Want something a little more subtle and minimalistic for your daisy nais design? Try out this one for fuss-free nail art! You can use a transparent base coat then paint on some daisies and leaves with your nail dotter.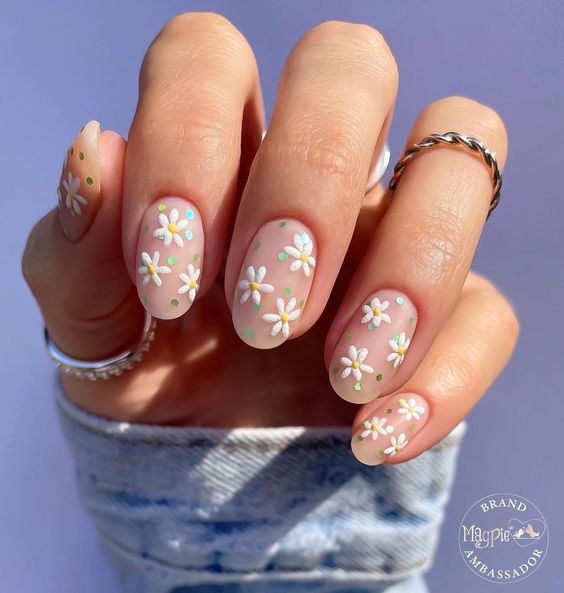 Here's another dainty yet subtle daisy nail art that you might like. I just love doing nail art on transparent base coats. It really makes the design stand out!
For a manicure that's reminiscent of nature, try putting on a green base coat before topping it off with pretty daises. The colors will provide a beautiful contrast as well!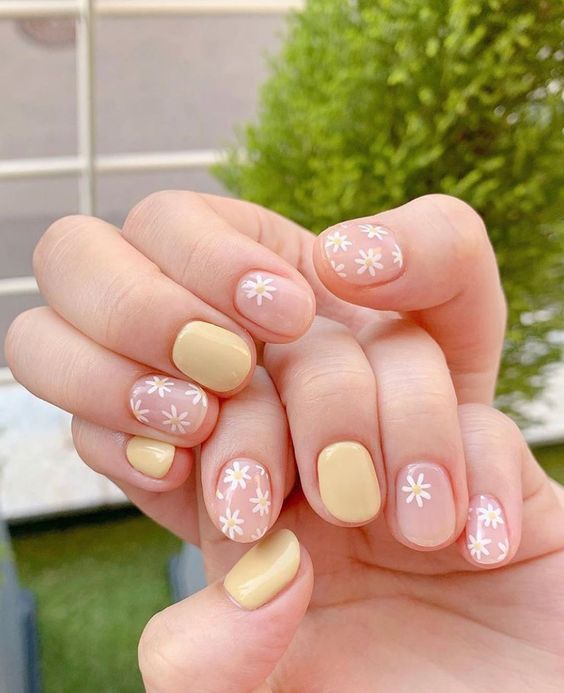 Just in time for the spring season, I love this muted shade of yellow. It also perfectly matches the pollens on the daisies, giving the manicure a more cohesive look.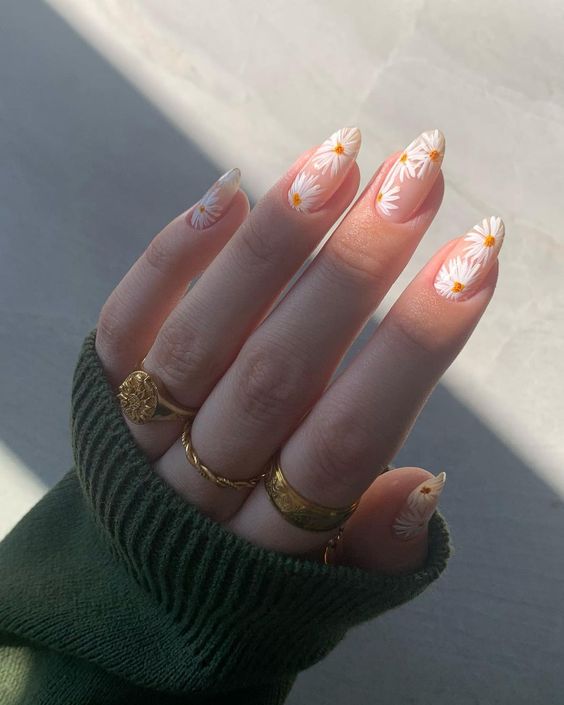 If you don't have a nail dotter on hand, then you might want to try this kind of design for your daisy nails. Instead of dotting the flowers, you can do streaks for the petals for this gorgeous effect!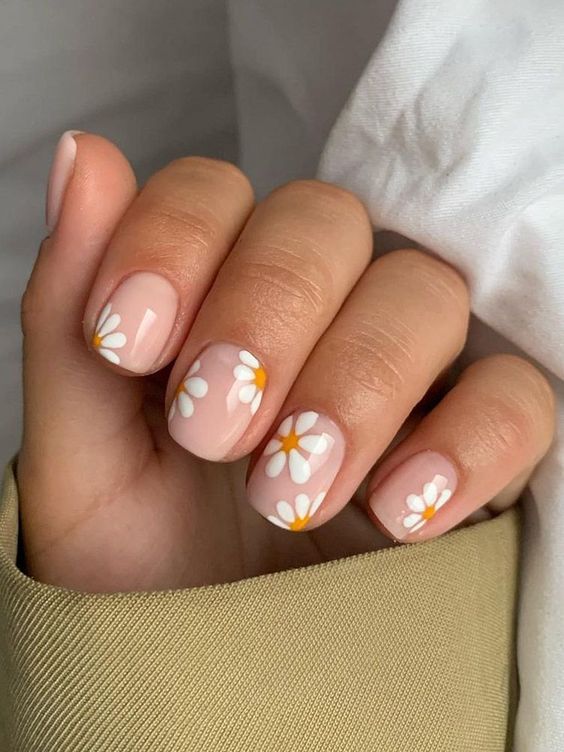 Here's my favorite daisy nail design on this list. I usually keep my nails short so this kind of design is just perfect for me.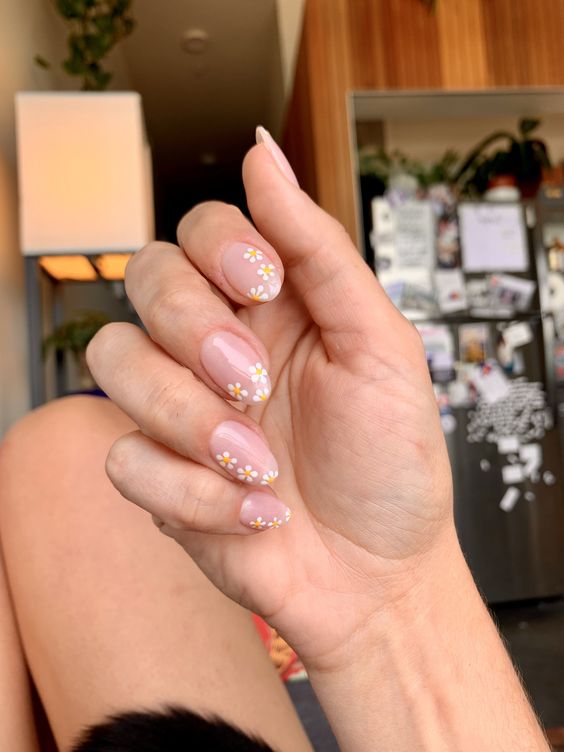 Apart from the previous manicure, this is another favorite of mine. You can easily get creative with your daisy placements on your nails to achieve this cute manicure!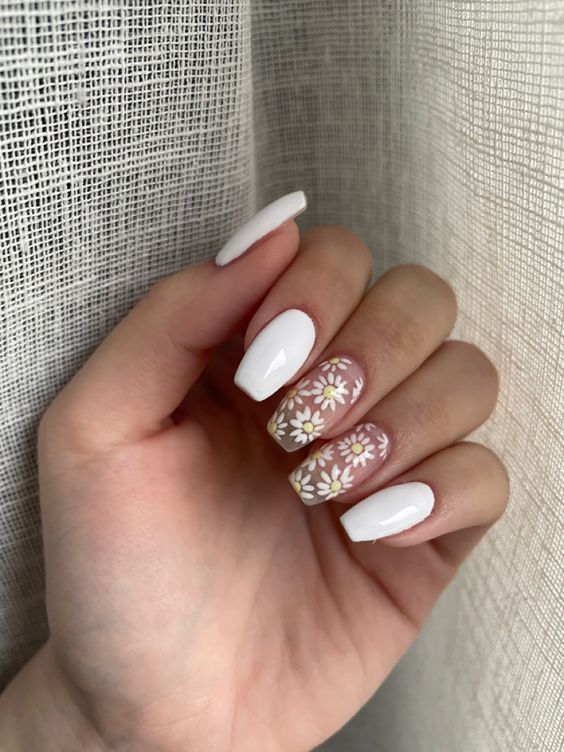 If you don't like too much color on your manicure and prefer to stick to little color as possible, then you can use the same nail polish you used on your daisies for the rest of your nails!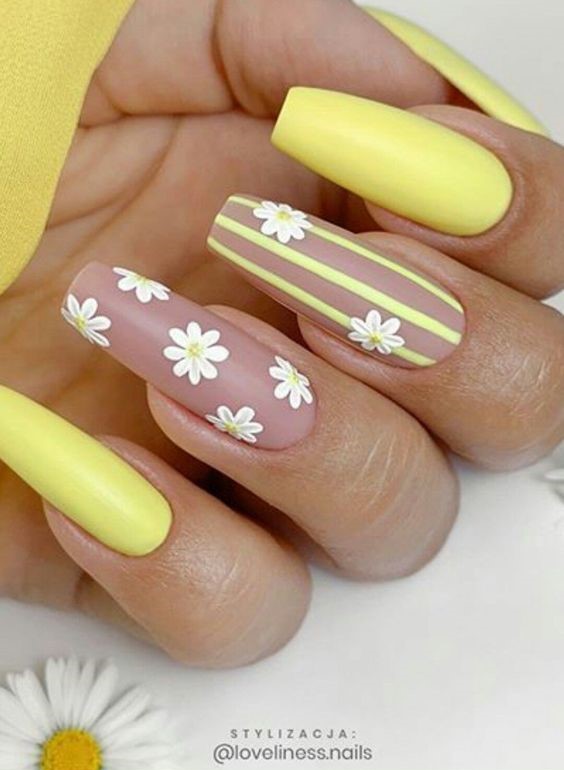 These yellow daisy nails are just so perfect for the summertime! You can also opt to use varying patterns on each nails to give it a design that's more unique and personal to your preferences.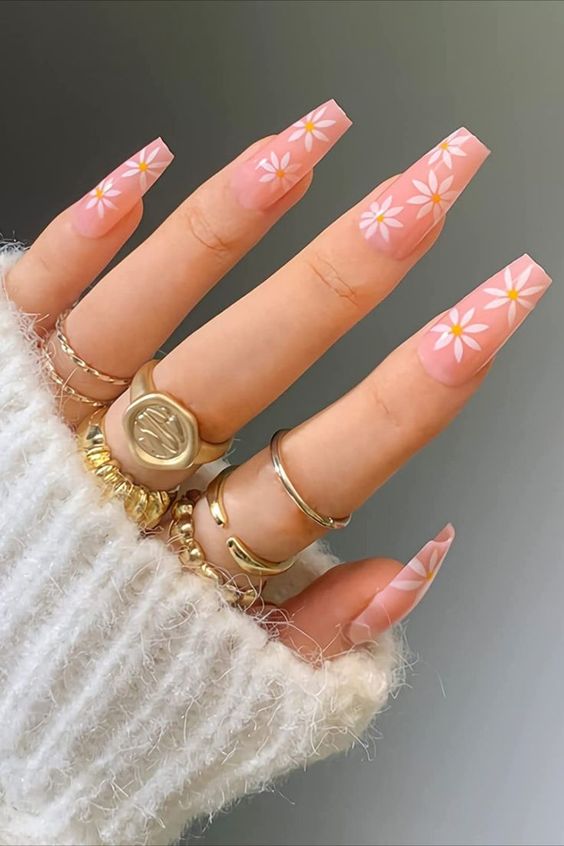 This kind of daisy nail design just oozes sophistication! I can see this being the star of the show as you go out for brunch or even as your daily manicure for work.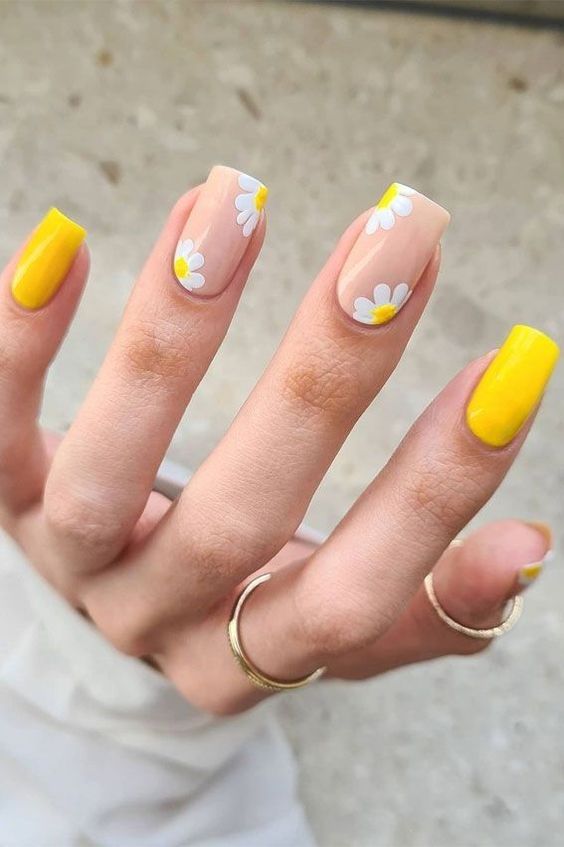 Here's another summertime daisy nail design you'll surely love! This manicure is as bright as sunshine and just as beautiful!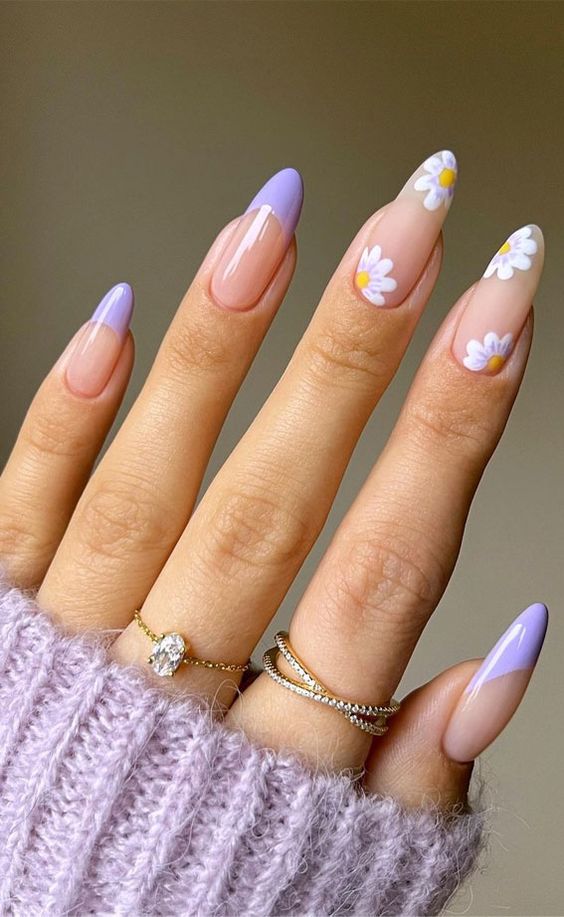 Purple and daisies just fit so well together, I'm honestly obsessed! If you don't want the color to be too overwhelming, you can always opt for a French manicure instead for the rest of your nails.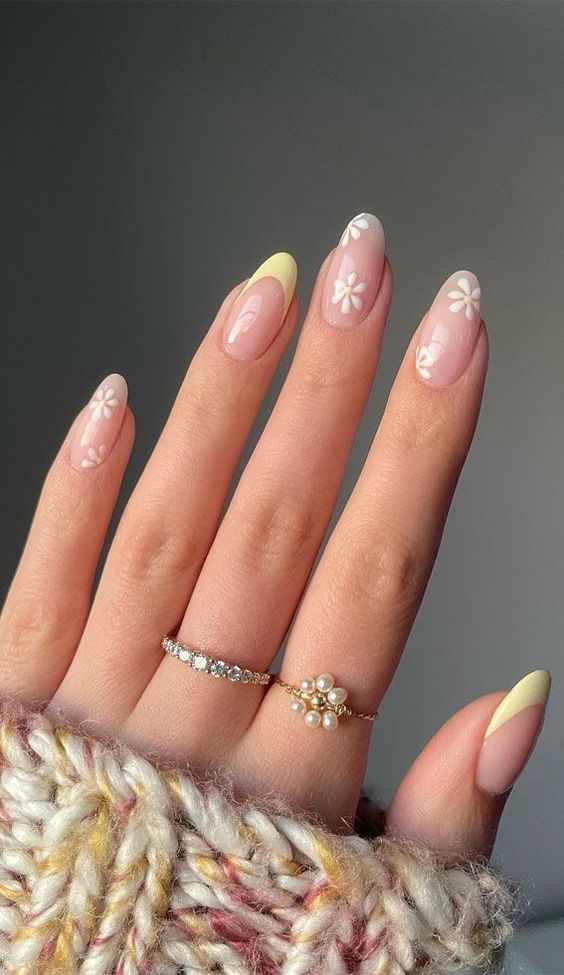 Dainty and minimalistic, this daisy-themed French manicure is both elegant and timeless! What's more, this is so easy to DIY in the comfort of your home.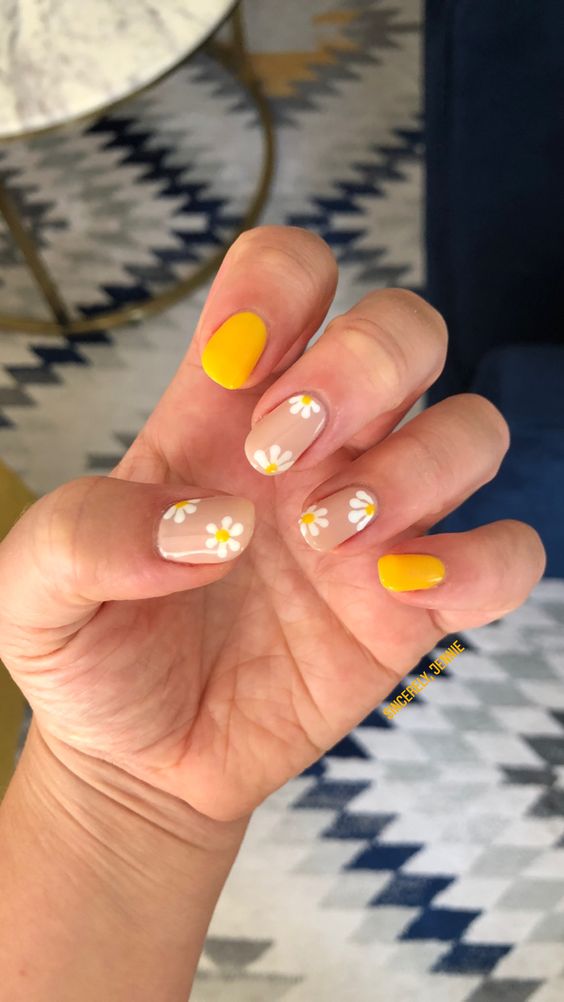 Get your hands on a metal nail dotter and you'll be painting daisies on your nails like a pro in no time! Pick your preferred colors, though to suit the springtime theme, I suggest choosing bright and vibrant colors like yellow.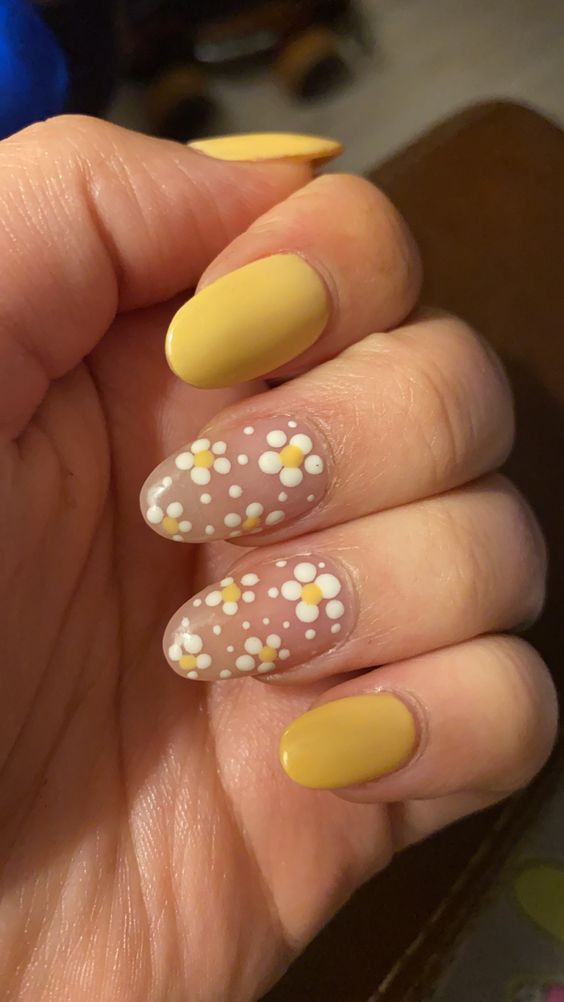 Here's another yellow daisy nail that you'll appreciate. Along with daisy accent nails, you can also pair it with tiny polka dots to create interesting finishes!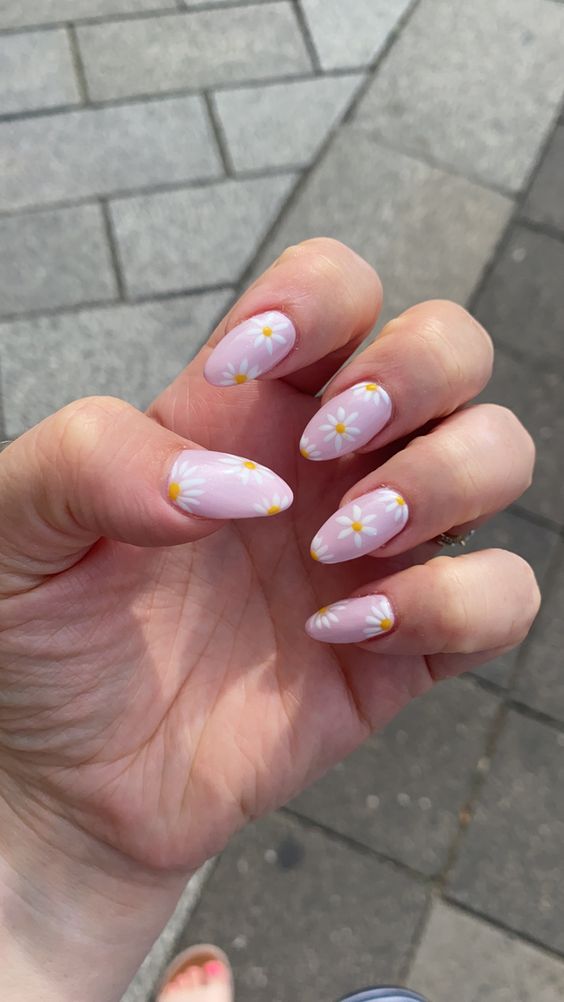 This is definitely an instant favorite as well on this list! I just love how the pastel pink and white daisies blend so seamlessly together on the nails. They look so fun and flirty to look at!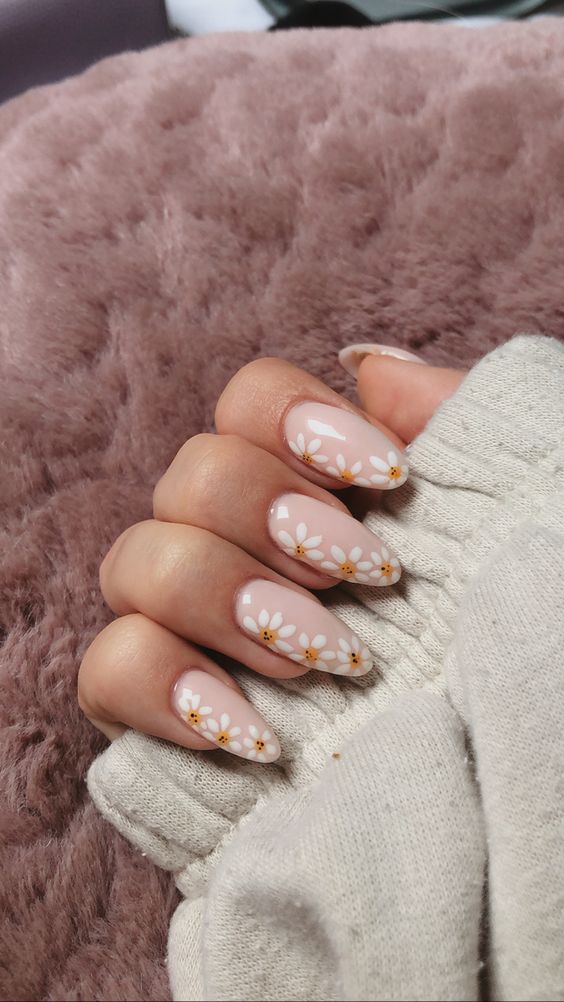 If you want a more elegant vibe to your daisy nails, then you should check this manicure out. Instead of putting the daisies all over your nails, you can just place them on the sides to achieve this look.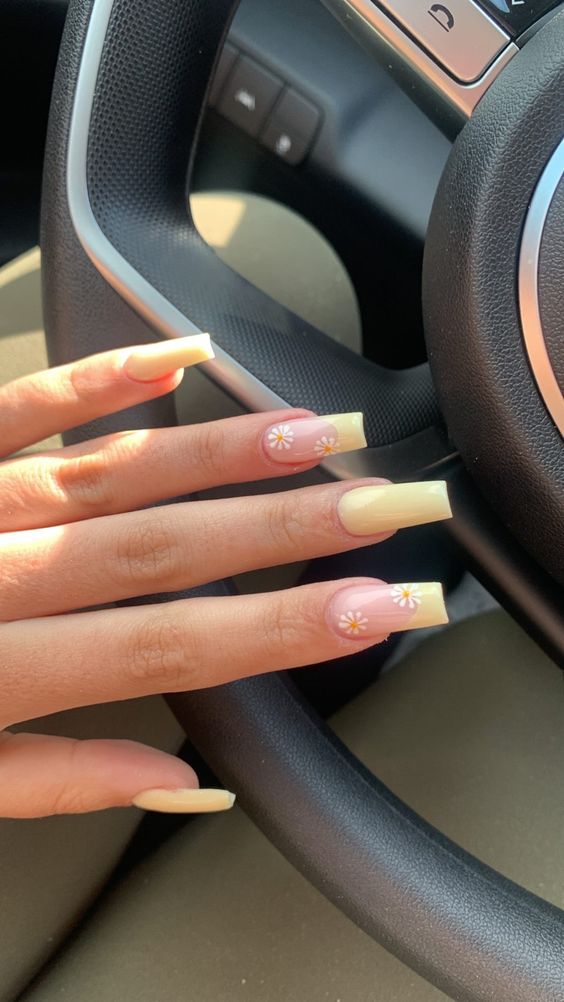 Longer nail shapes instantly give any manicure a more feminine and quirky vibe. But pairing it with these dainty daisies definitely softens the overall look.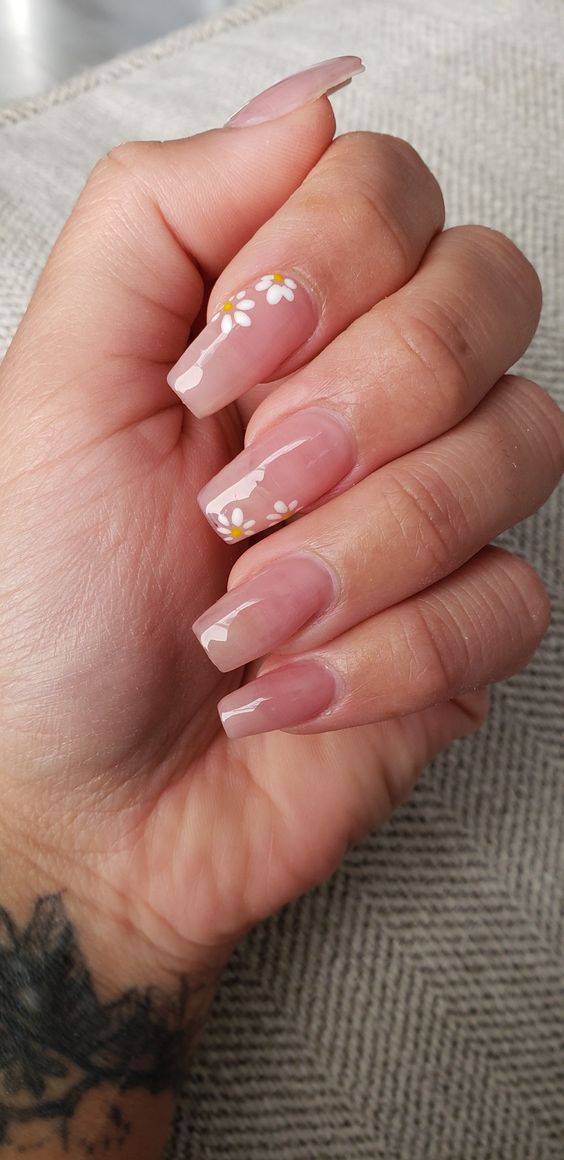 For a sleek and clean daisy manicure, this is the one for you. The minimalistic design gives off such a subtle chicness to your nails. It's definitely another fave!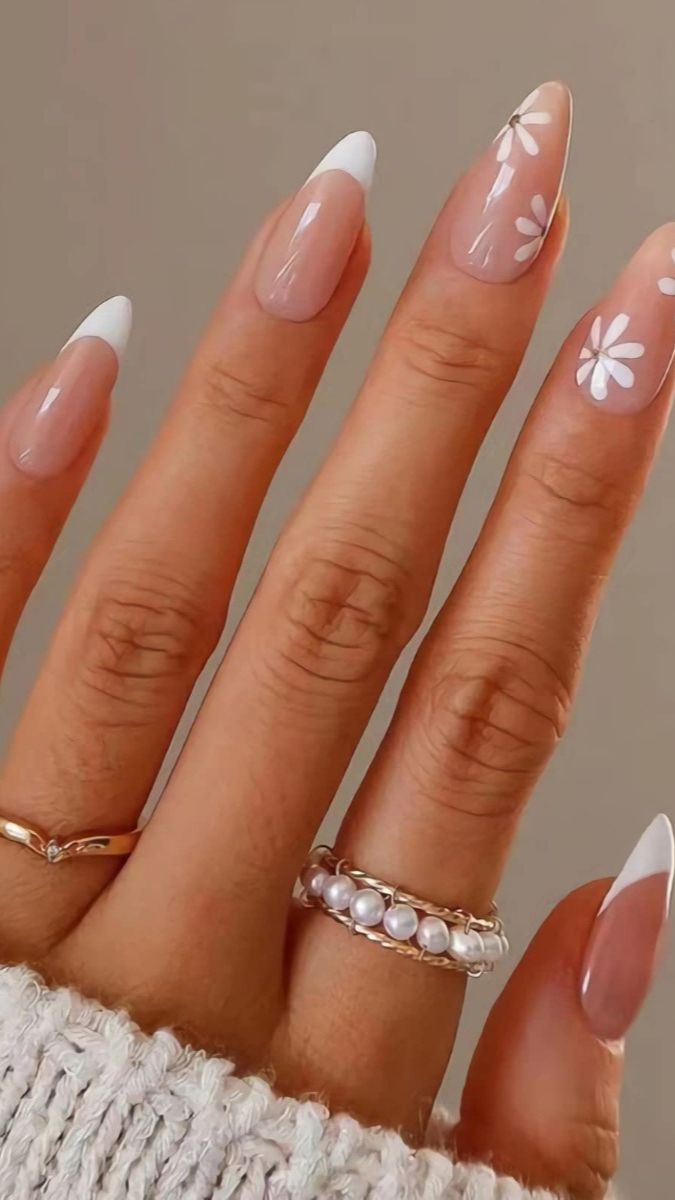 You can never go wrong with a French manicure. They're a classic for a reason. So why not match them with your daisy nails to elevate your manicure to sheer classiness?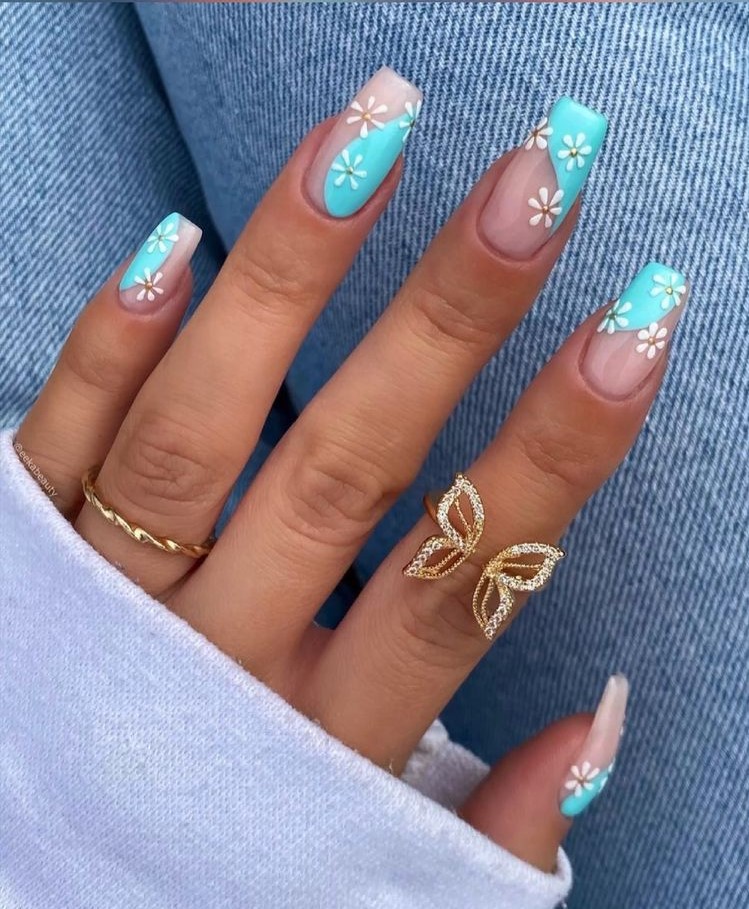 This vibrant blue color gives me tropical vibes that are ideal for a summertime manicure. I can totally see this being worn by the beach!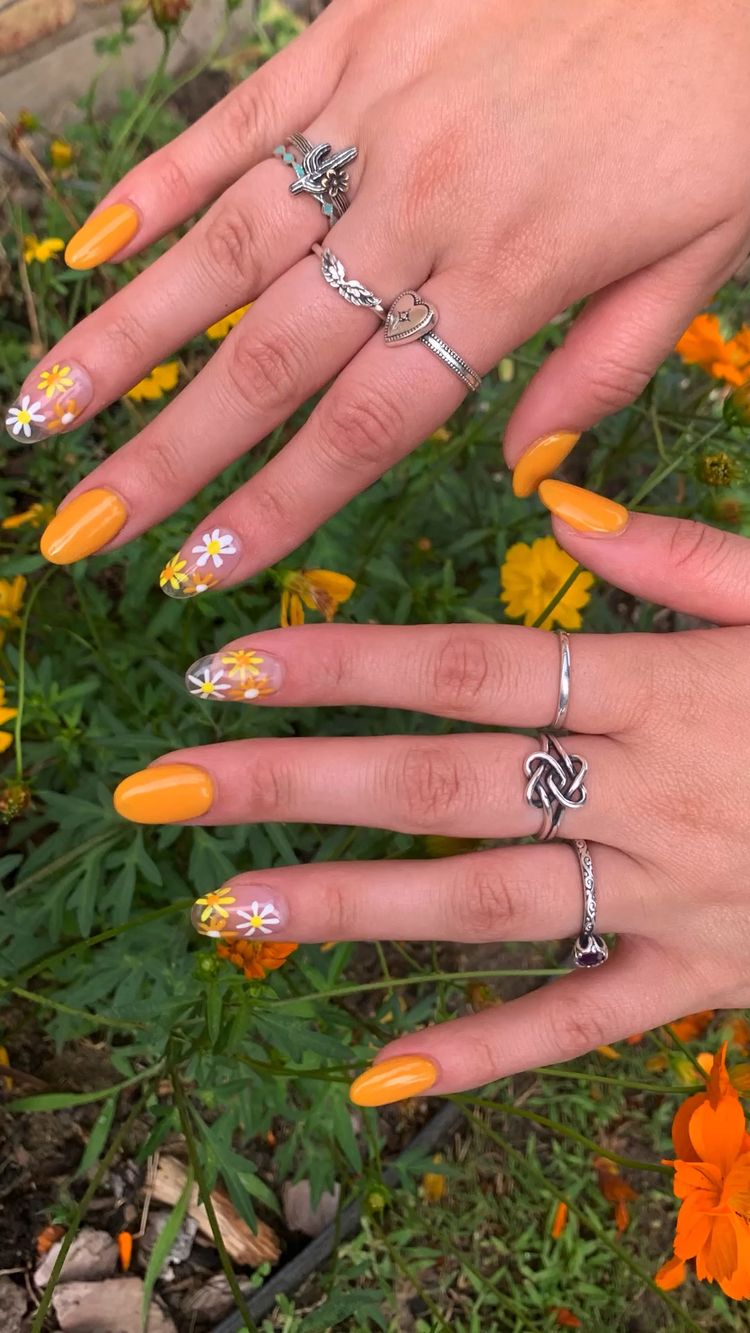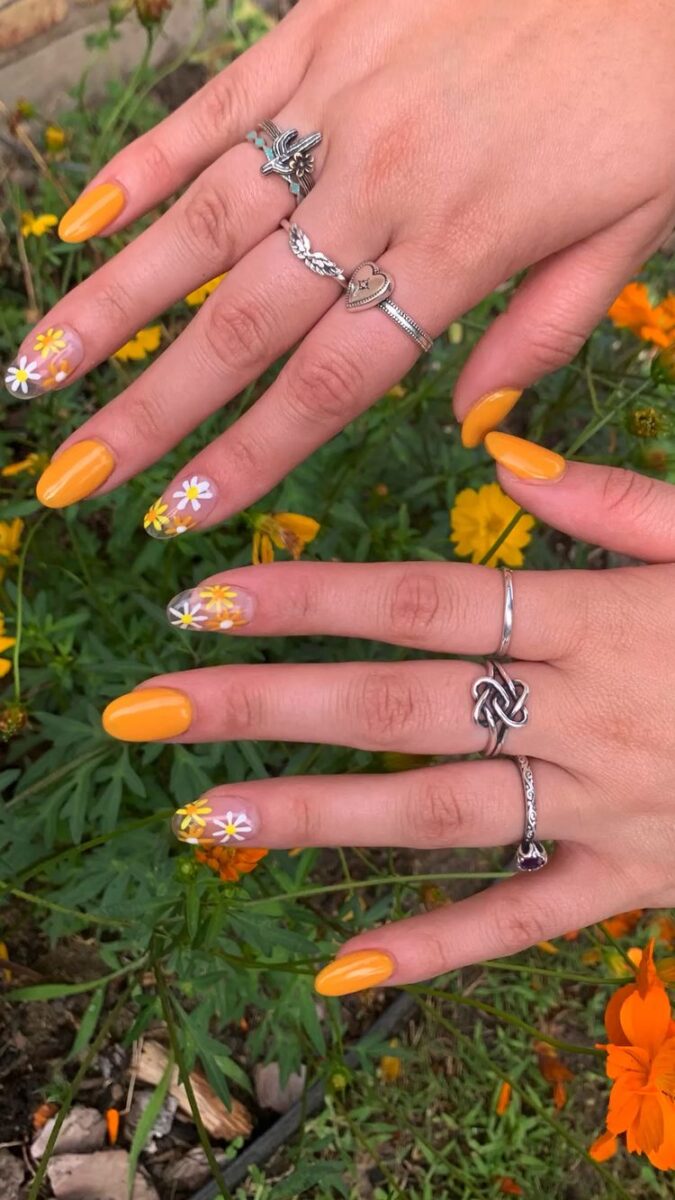 While daisy nail designs are usually reserved for the spring and summer seasons, you can still do them around the fall too!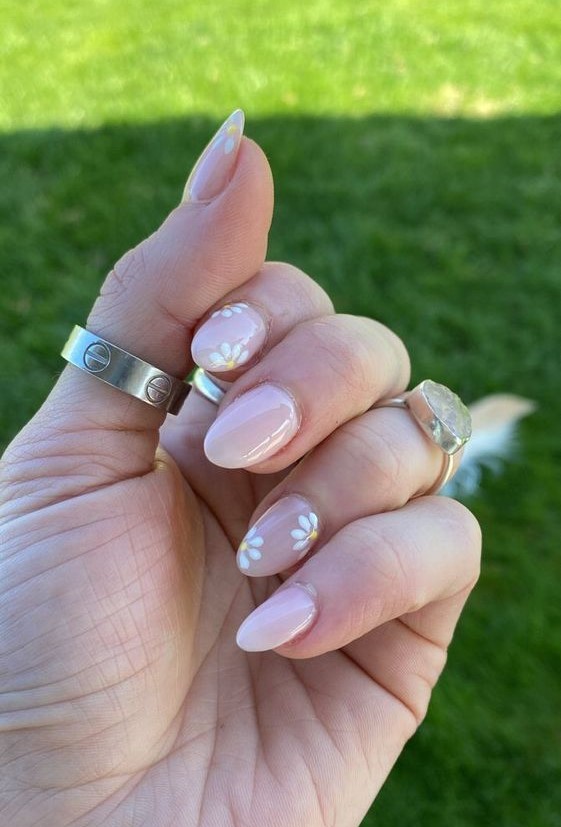 Here's another clean and subtle daisy nail design you might like if you're looking for something understated for your spring manicure.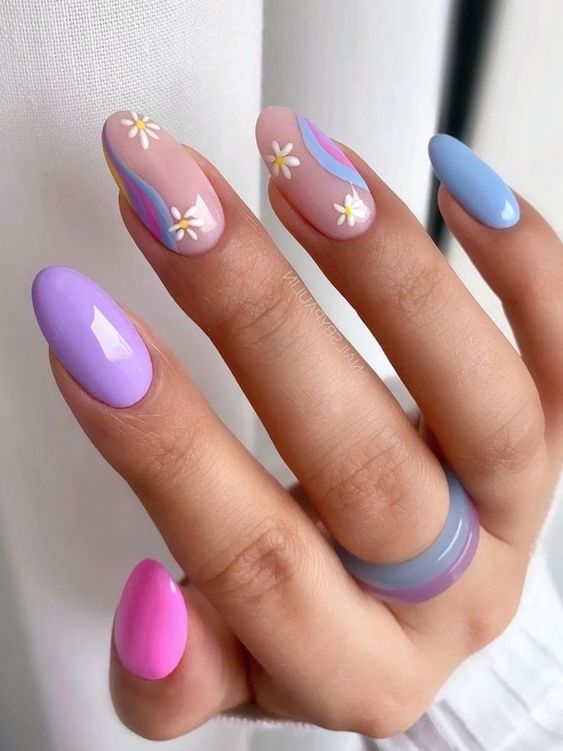 Mix and match different pastel colors for your springtime nails! Top it off with some daisy patterns to complete the look!