You've just marched at your graduation ceremony, threw your cap into the air, and now you're ready to party! And a big celebration like this one deserves graduation cakes as grand as you are. So check out some of the best graduation cake ideas below!
For some, graduation is a very important event and milestone in our lives. After all, it's the culmination of many years of effort and hard work just so we can achieve our dreams. It's a significant occasion to recognize all the successes that we, as students, have had.
More than that, it's also a bittersweet moment about bidding our academic lives farewell and welcoming a new, promising future. With that being said, I do believe that such a thing calls for a spectacular graduation party. You totally deserve it and it's also one of the few moments you get to celebrate before you start college or head on to your new work.
But what is a party without a cake, right?
The days of plain graduation cakes are long gone. Don't get me wrong, nothing's wrong with a plain graduation cake. Sometimes simple is best. But I do believe that such a huge event in your life should be marked with a cake that matches your achievements.
Lucky for you, graduation cakes these days can be designed in an infinite number of ways, from stunning multi-tiered graduation cakes to simple yet gorgeous single-layer cakes.
I've curated a list here where you are likely to find some graduation cake ideas that you're sure to love, whether you want something more extravagant or to keep it traditional.
Graduation Cake Ideas:
If you're a little worried about your baking and piping skills in the kitchen, don't worry! You can always just hire a professional baker and ask them to customize your ideal graduation cake for you.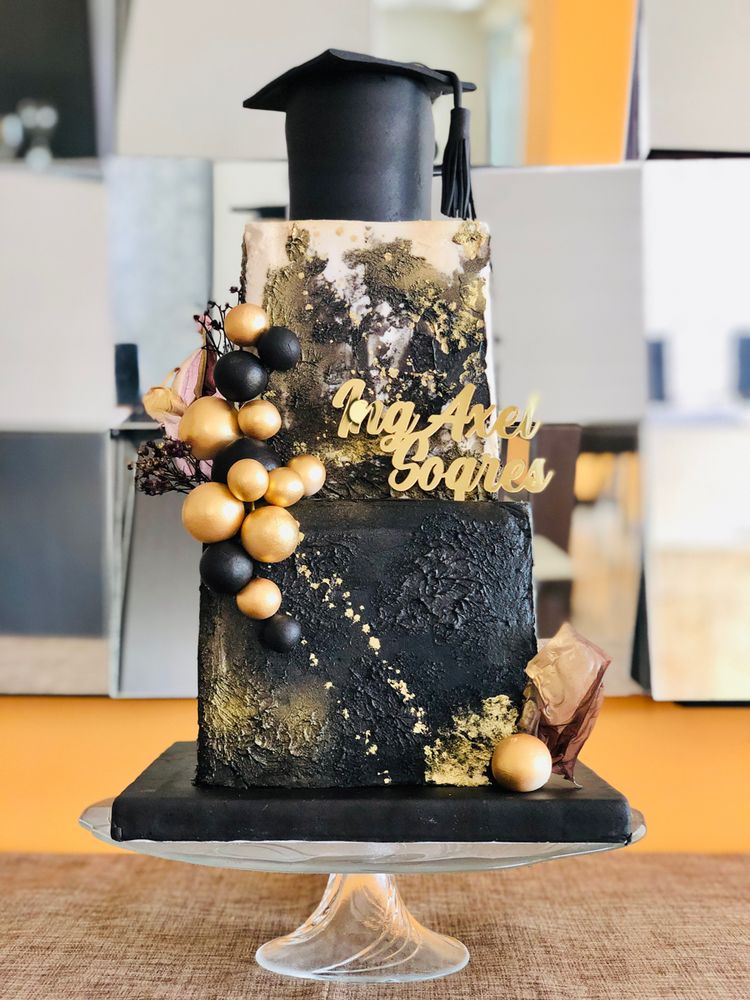 Gold and black are such a classy color combination to use for your graduation cakes. It has an effortless glam and sophisticated look that's perfect to welcome your bright future ahead as a maturing woman.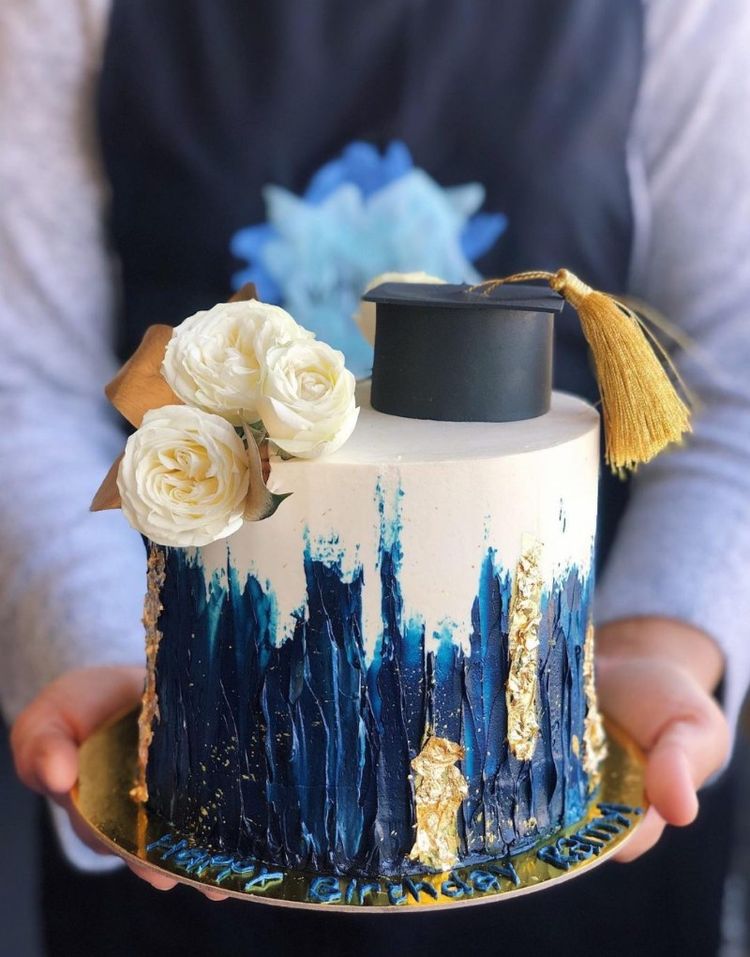 This white, gold and blue cake is utterly magical to look at! If you're not too fond of multi-tiered graduation cakes, why not go for a tall, single-tiered cake? Add some floral accents and you'll have yourself an enchanting cake to tie your whole party together.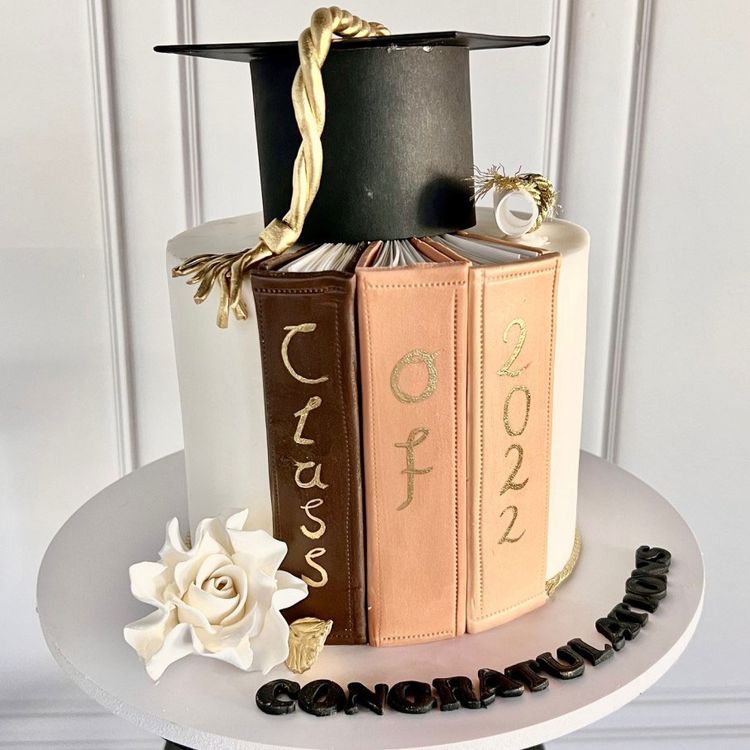 Tall graduation cakes like this one really give you lots of room to get creative because of the amount of space you can insert details and ornaments on. This book-themed graduation cake is sure to be appreciated by bookworms alike.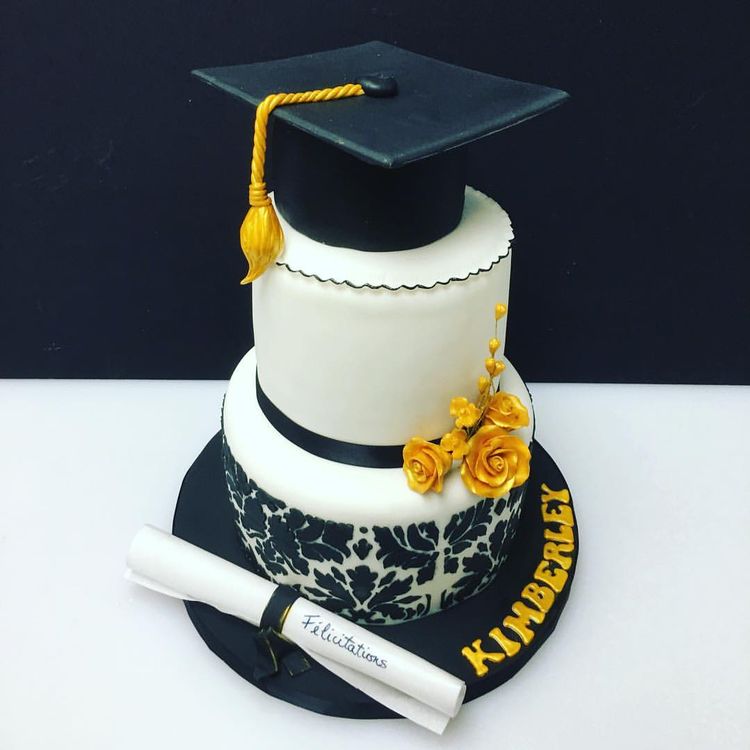 When you're unsure what color or theme to go with for your graduation cakes, you can never go wrong with a black-and-white theme. It's a classic color combination and you can ask for intricate floral details and some gold ornaments. Top it off with a graduation hat cake topper and a diploma and you're all set!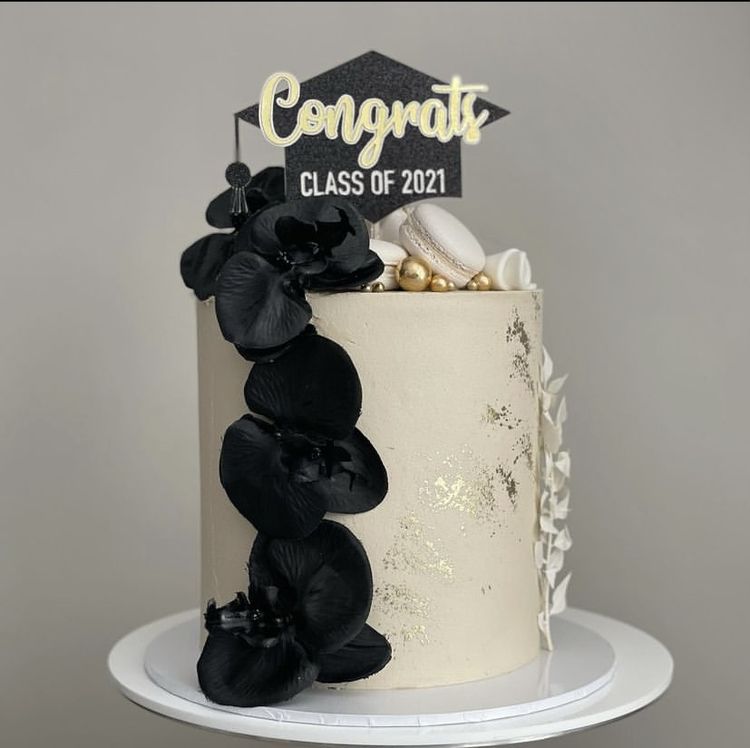 I love how elegant and sophisticated this graduation cake is! It's so chic and modern with that subtle sparkle to the icing. And if you love the minimalistic aesthetic, this is totally for you. The macaroon toppings and gold beads also really make the whole cake so classy.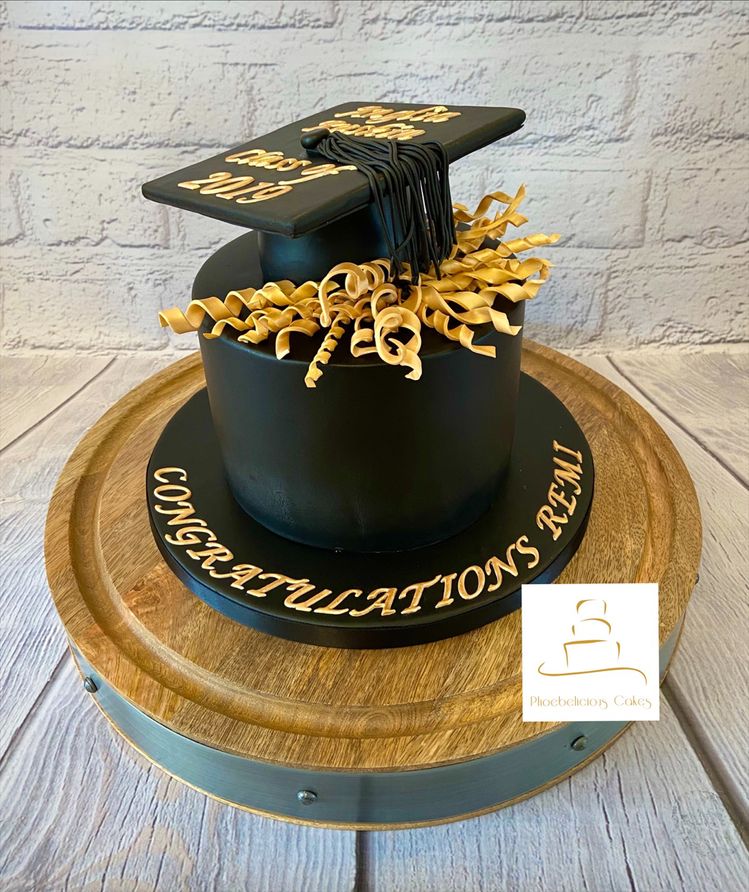 This monochrome graduation cake gives you the perfect mixture of festive and edgy with the all-black icing and gold detailing.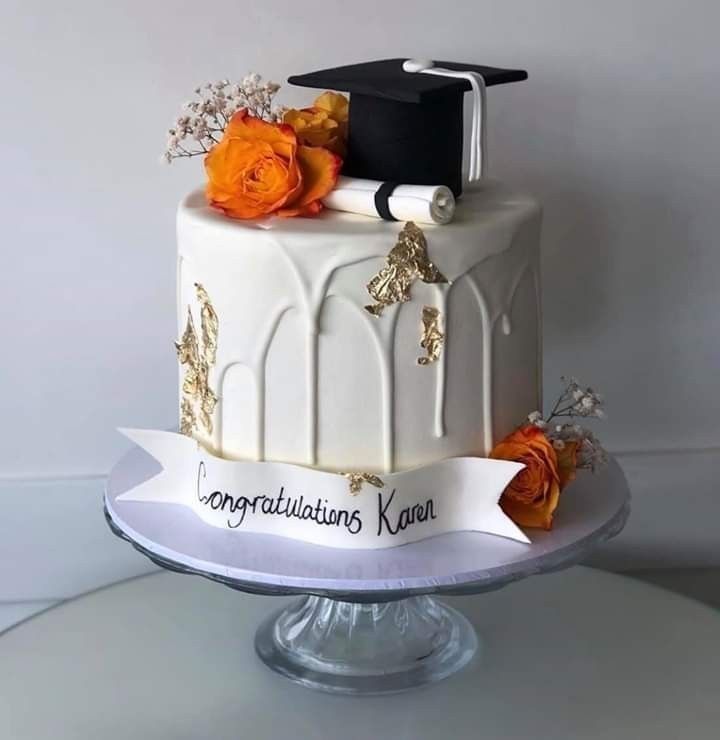 A classic, white cake is one of the easiest graduation cakes to decorate when it comes to looking for graduation cake ideas. There are so many options you can do with a white cake. From floral ornaments to gold foils, and so much more.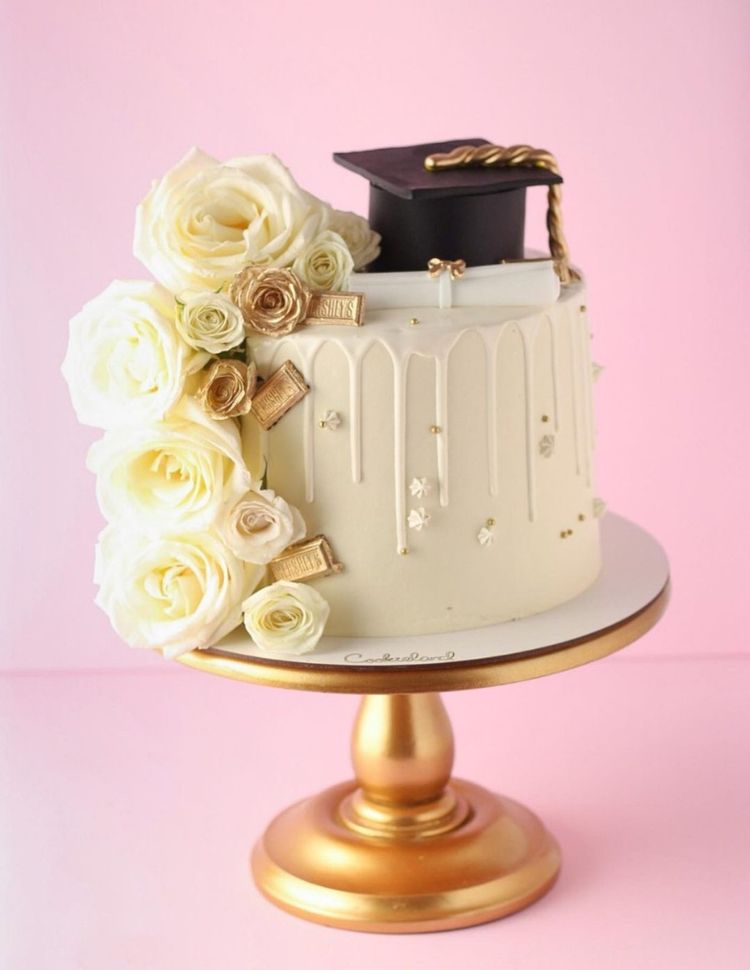 Here's another white cake that oozes sophistication. Keep things minimal with your colors and stick with neutrals like soft gold and a pop of black with your graduation hat cake topper.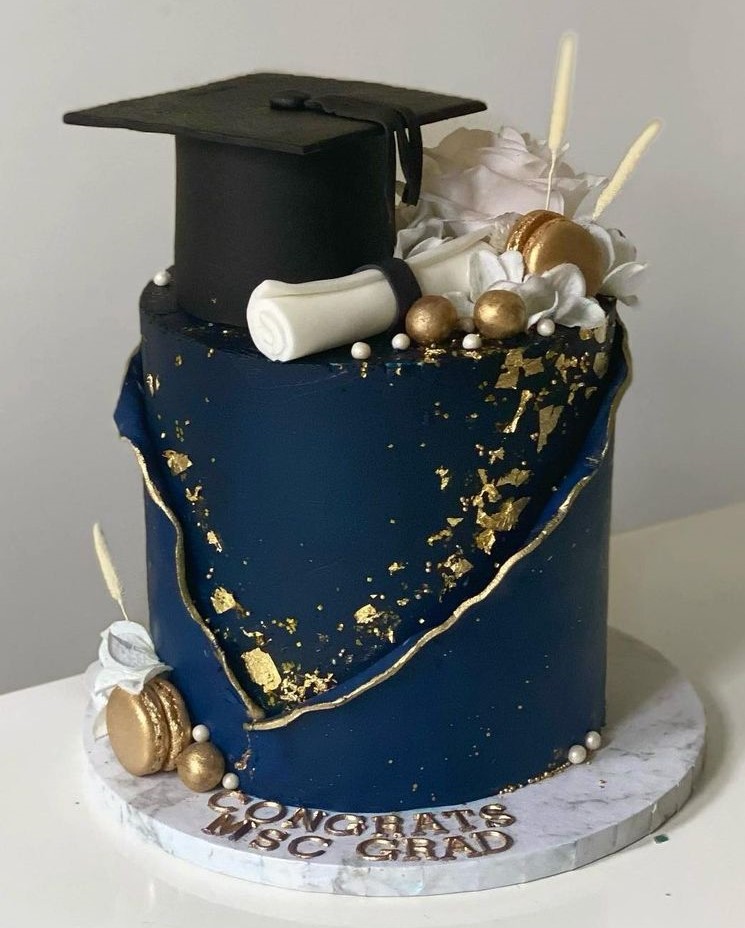 If you want something eye-catching, go for a deep-colored graduation cake like this navy blue and gold ensemble!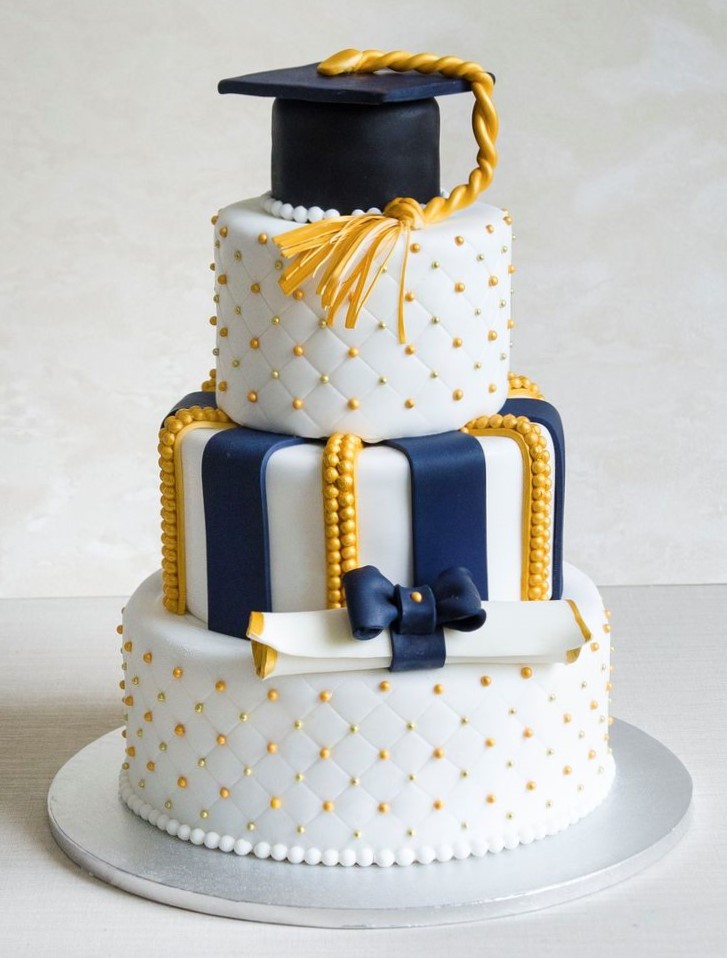 Multi-tiered cakes are really trendy right now and it's really one way to make a statement at your graduation party. This white, gold and blue graduation cake is something akin to a work of art.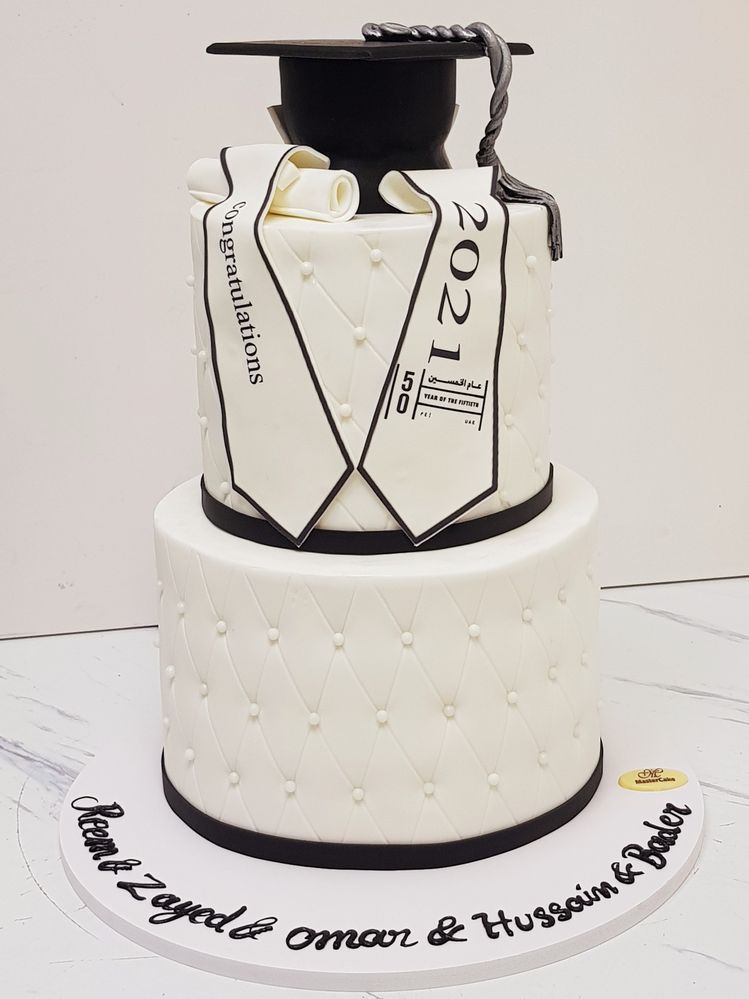 This double-layered cake is utterly gorgeous. I love the simple black-and-white color scheme. It's classy and it's hard to go wrong with a design like this one. You can even model the sash on the cake to the one you'll be wearing at your ceremony!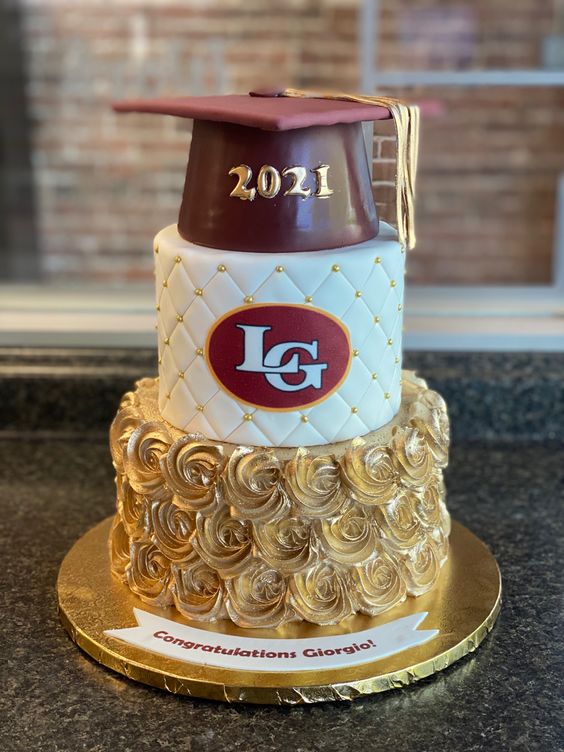 If you like the look of opulence, then this gilded graduation cake might just be the one you're looking for! Those golden roses are totally stunning and it's a perfect way to cherish these golden moments in your life.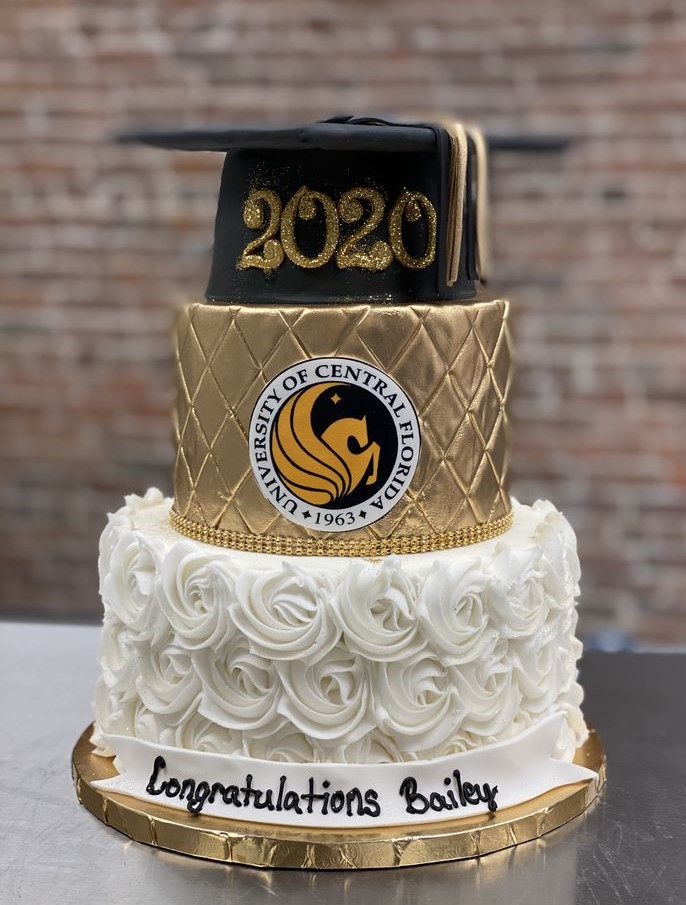 Here's another gilded graduation cake you can go for at your party. I love the look of those white roses too on the bottom layer too! They just look so fluffy, elegant, and chic.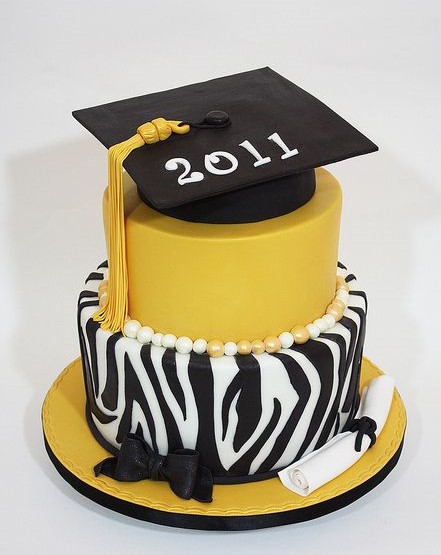 For a unique cake that is sure to keep your guests on their toes, then you should put this one on your list of graduation cake ideas. I love the unique color-blocking and the combination of zebra stripes against the plain yellow icing.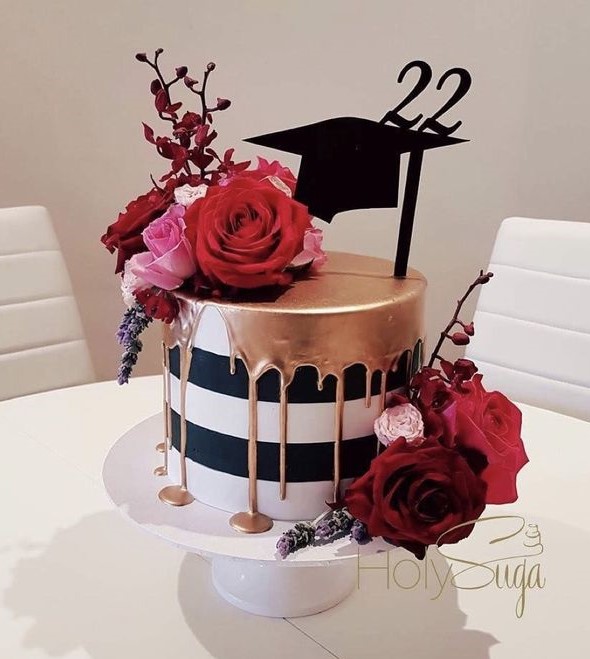 This melted icing design on the striped, black-and-white cake is so gorgeous! The vibrant, red florals definitely tie the whole look together.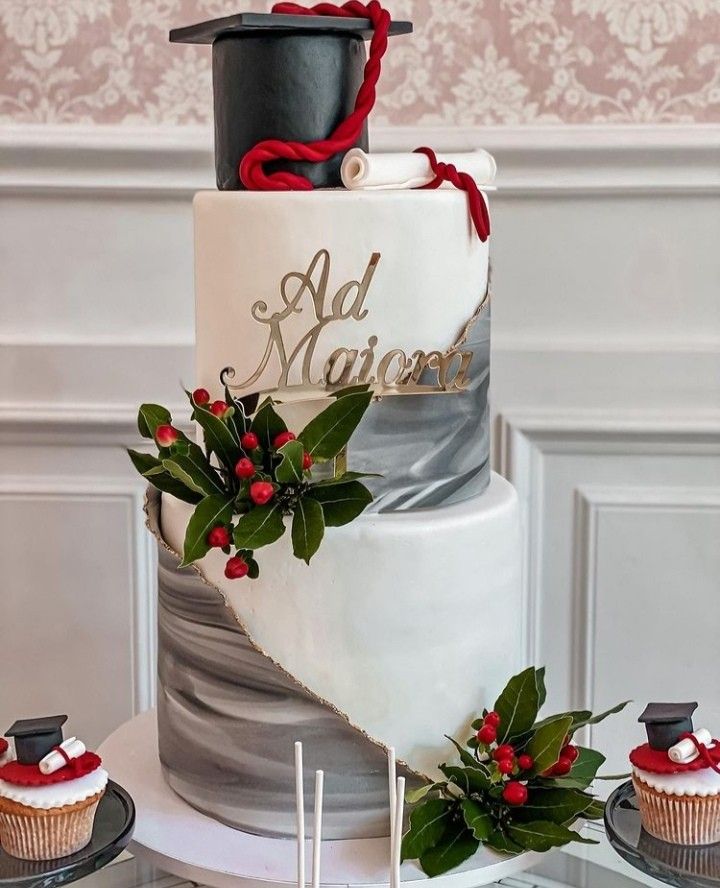 This gray, brush-stroked cake looks completely stunning against the stark white, plain icing. I love the modern design and the pops of colors from the berries. This is sure to make your party a whole lot chicer!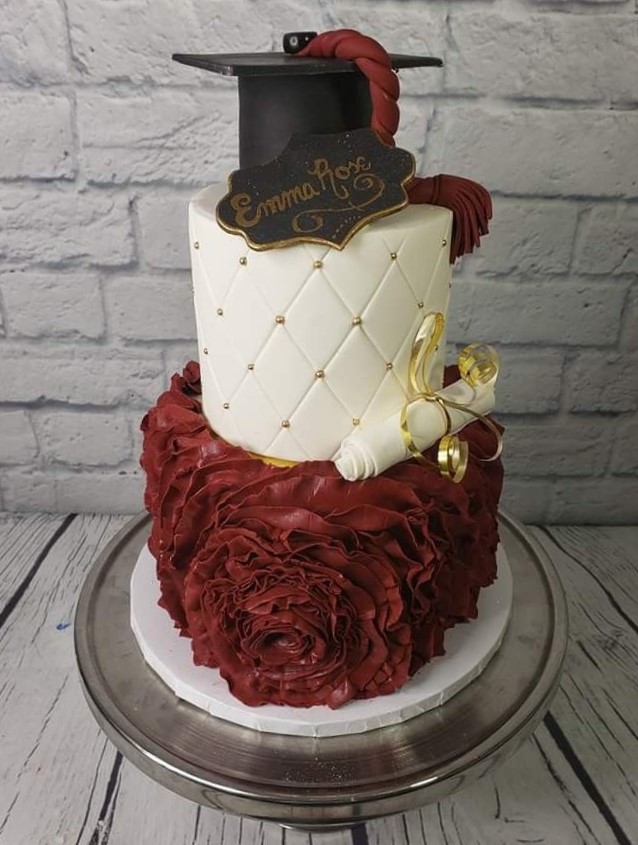 If you love roses and their look of them, what better way to design your graduation cake than after your favorite flower? The deep, red color of the petals looks so gorgeous!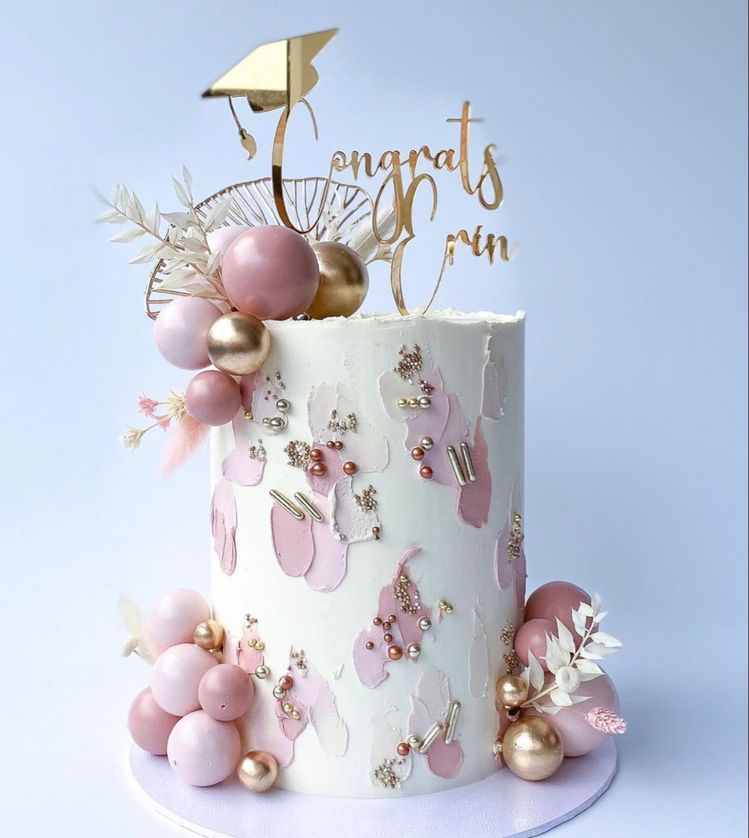 Pink, white, and gold is the color combination for your graduation cake if you want something soft, feminine, and elegant.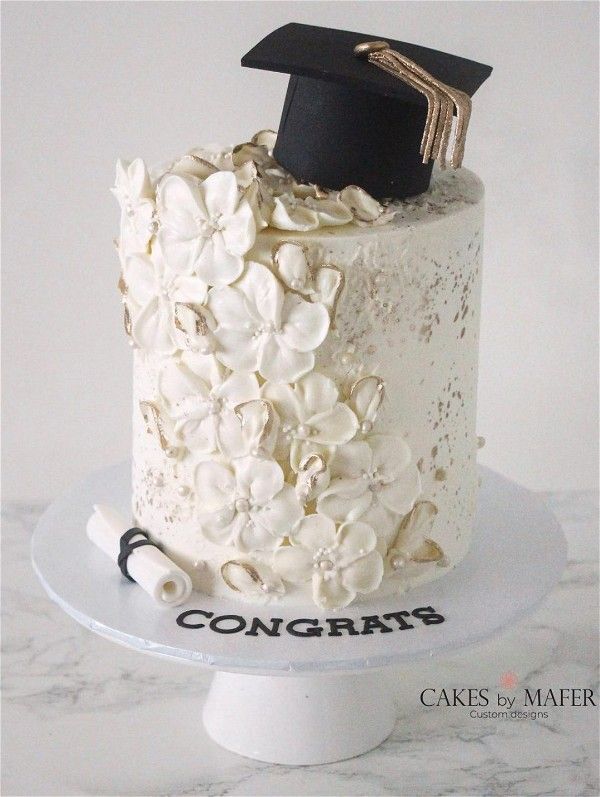 This all-white graduation cake is absolutely stunning! If you don't want to put a lot of color on your icing, then this is certainly a cake you should consider. The dainty beads and pearls along with the floral pipings give this cake such a nice sparkle too!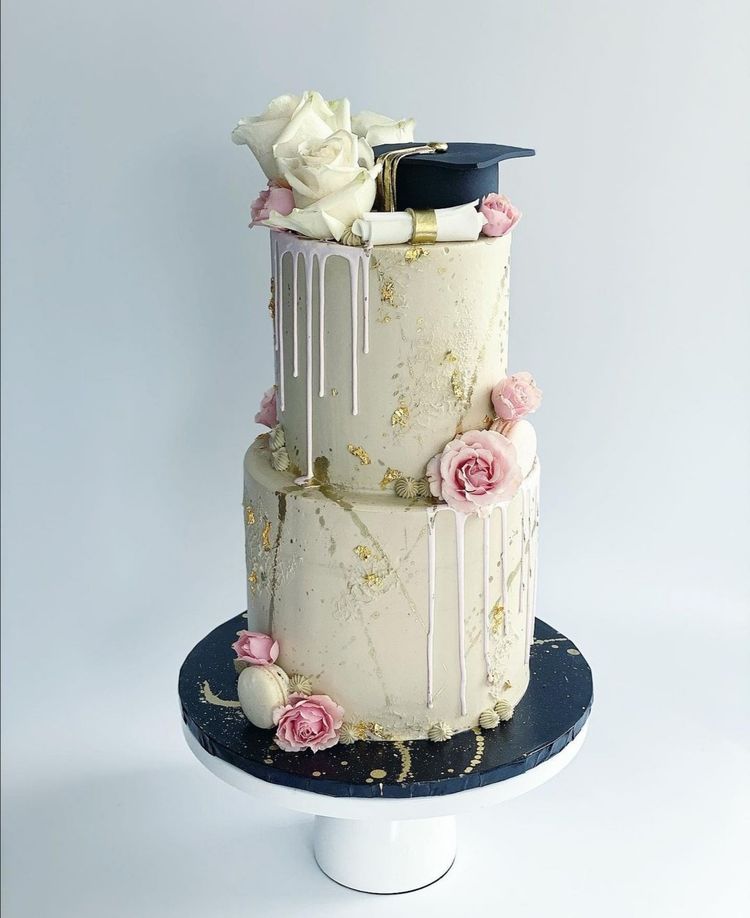 This multi-tiered cake is so pretty! The pink and white florals, macaroons, and gold foils give this sweet delight such a delicate touch at your grad party.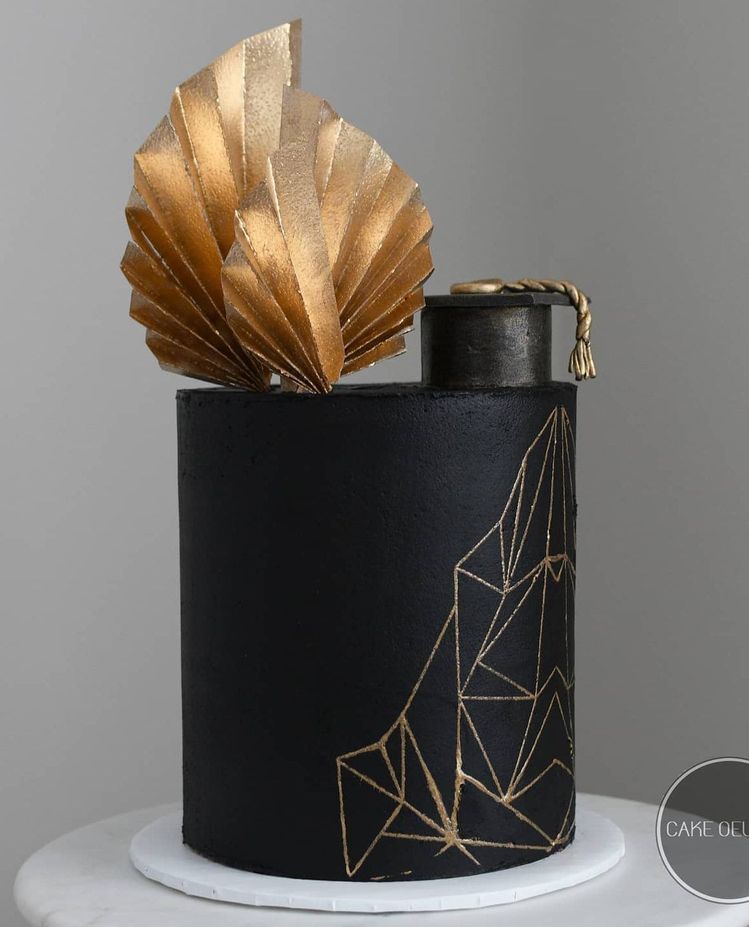 If you want a cake that's all black with dainty geometric patterns, you should check this one out! Top it off with a unique, golden ornament along with your graduation cap cake topper to match your graduation party.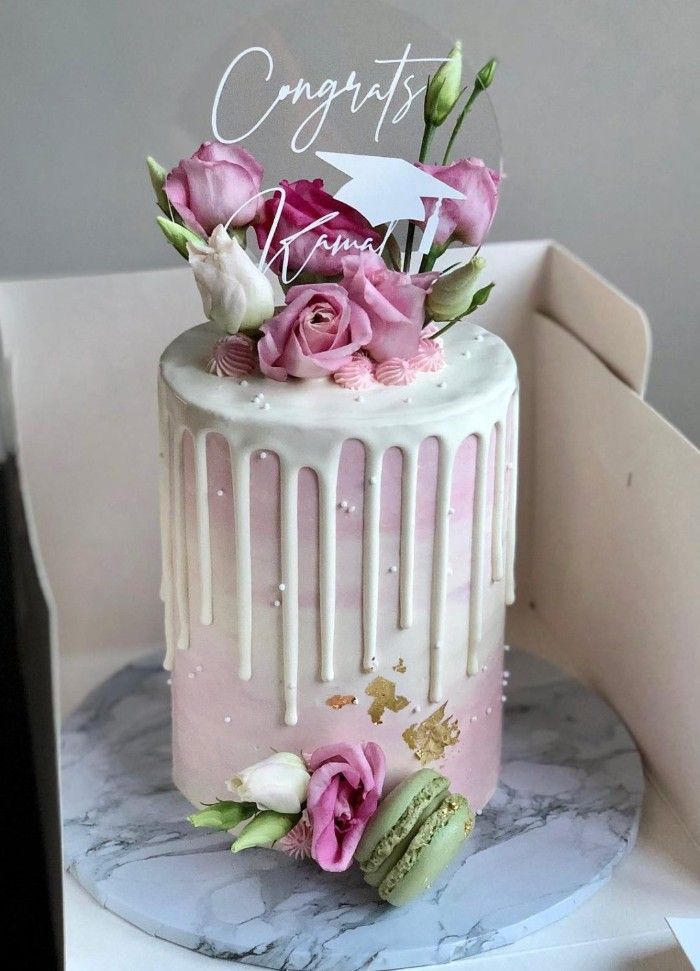 I love how whimsical this pink and white graduation cake looks! The florals and the green accents give this such a cute, cottagecore look.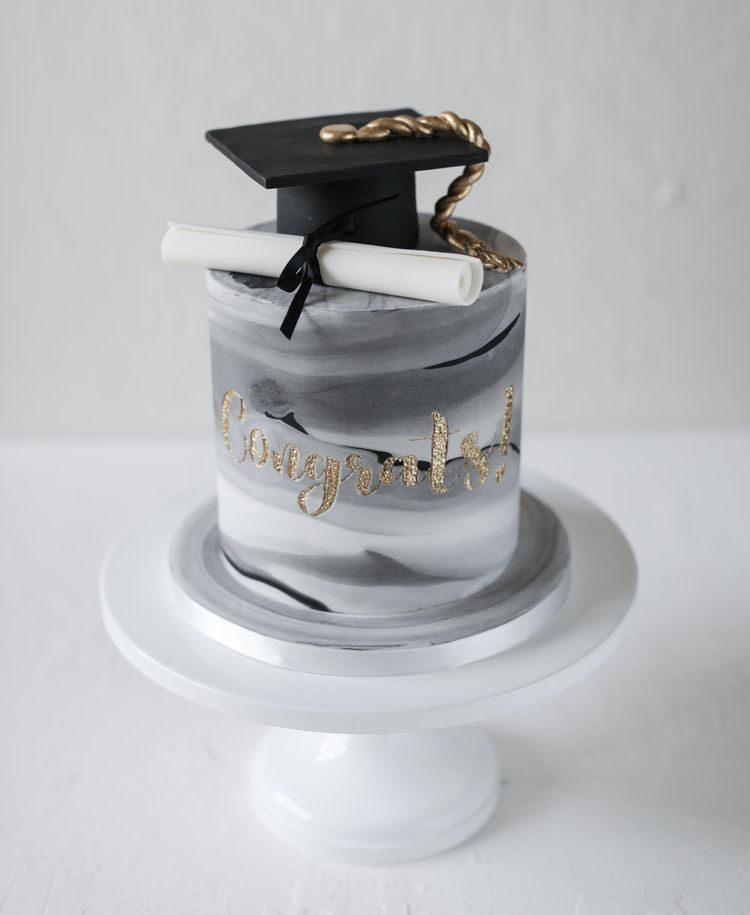 Make your cake match your glam-chic graduation party. What's more, the neutral colors will easily fit any party theme too! It's stylish and really trendy!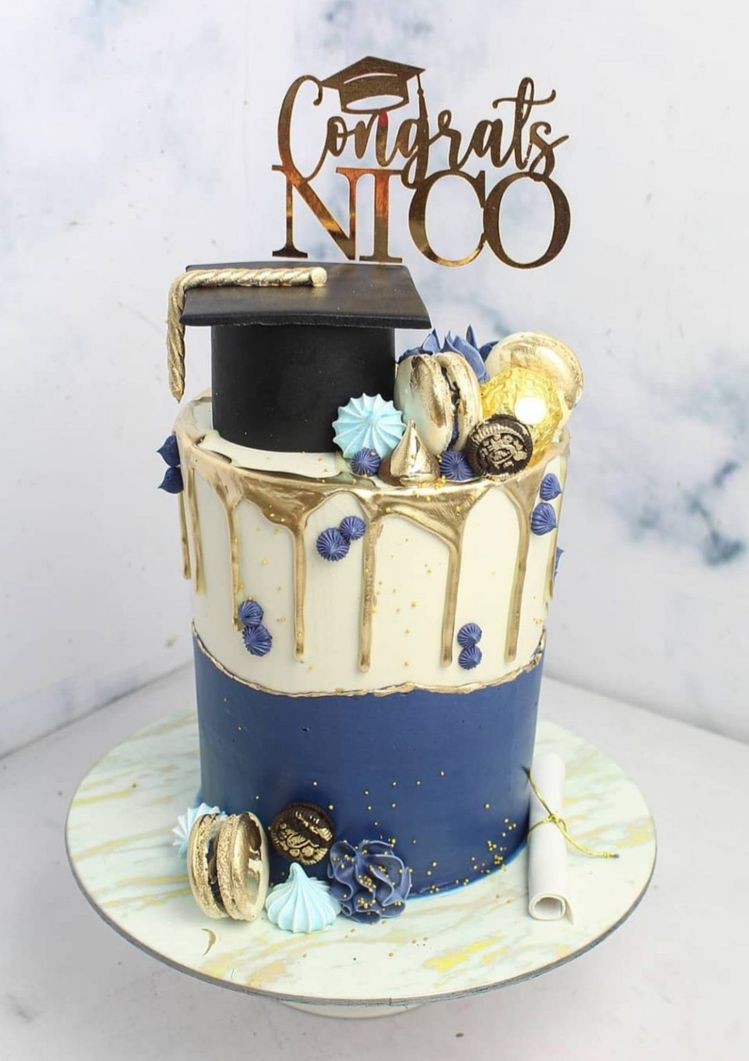 To create stunning contrasts with your graduation cake, you can use this white and blue color scheme with some gold accents. You can even turn this into an under-the-sea-themed cake that's perfect for any summer graduation party!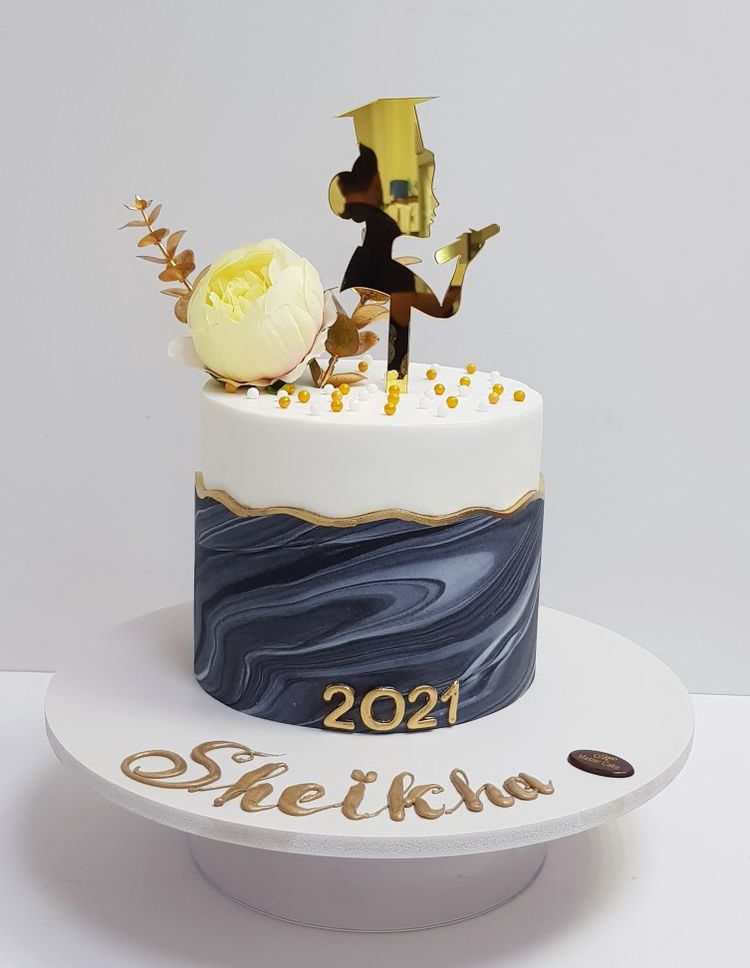 Here's another gorgeous contrast of light and dark colors for your graduation cake. I love how the bottom part has a deeper and busier design while the top is left almost bare, apart from the cake toppings.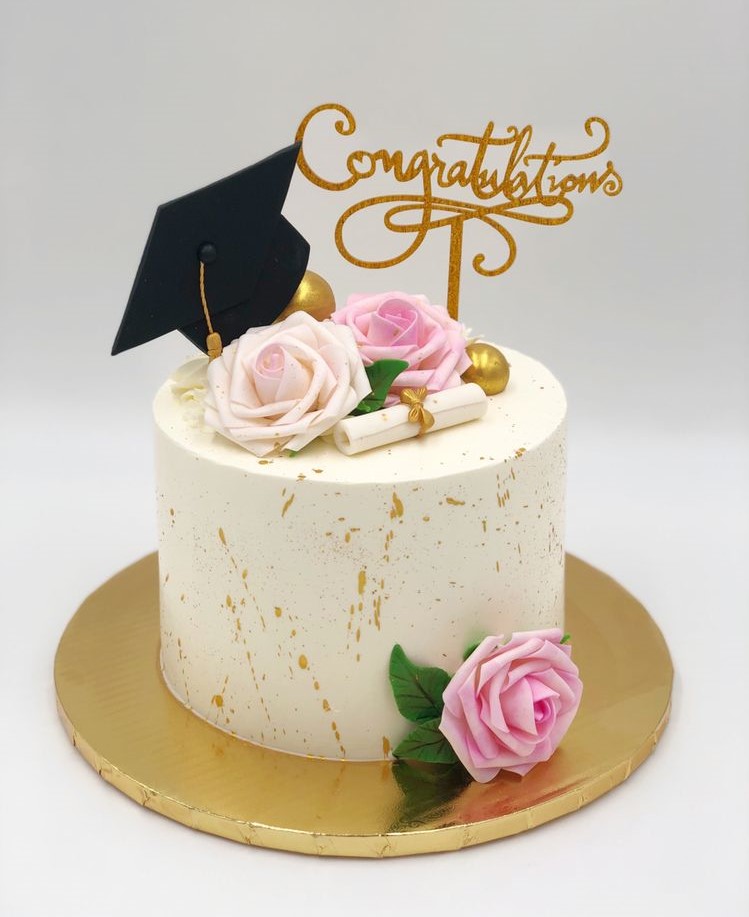 If you're looking to bake your own cake but want to try something easy for your graduation party, this is one design you can definitely practice on! It's chic with the white and gold theme, then just add some flowers for more color.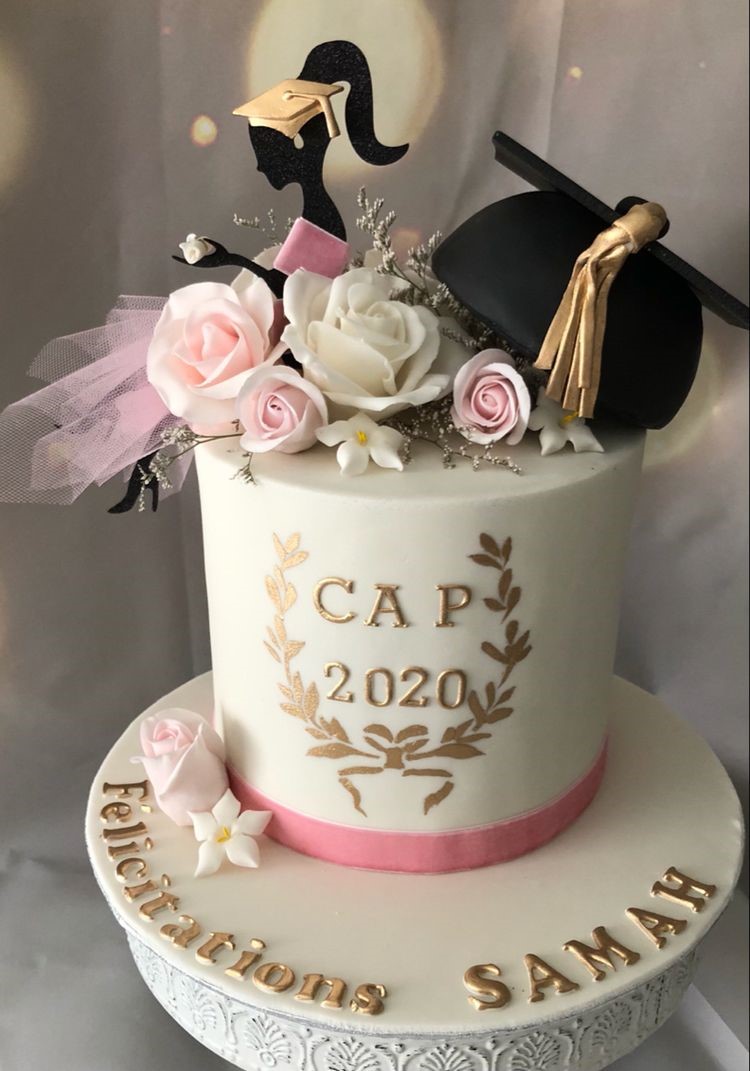 This design is so cute and girly! For those who thought you can't be both smart and love the color pink, this cake and your achievements will surely prove them wrong!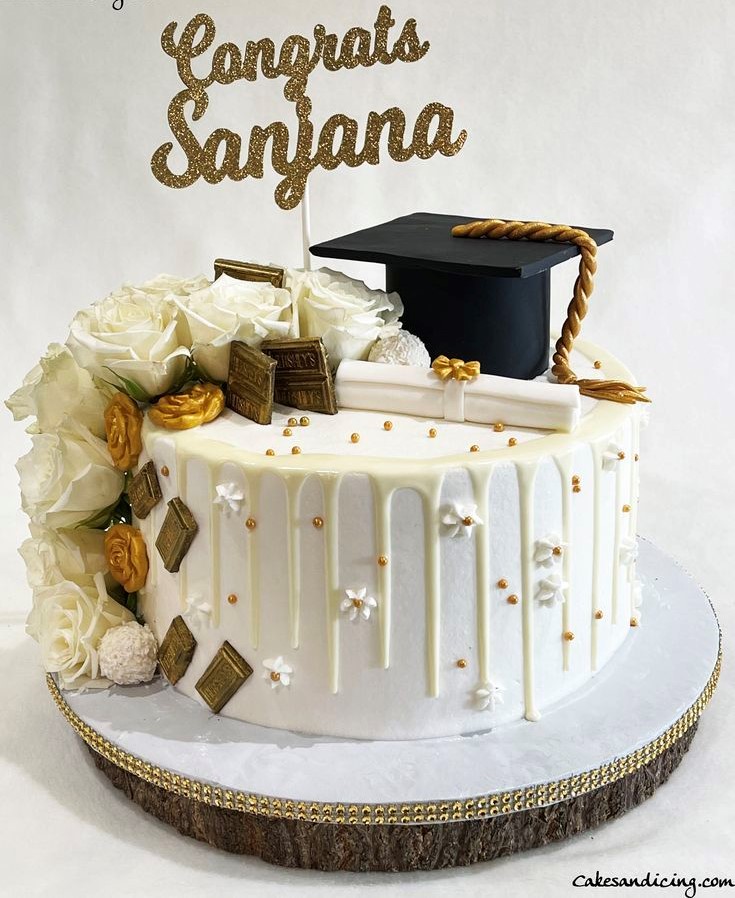 For a cake that fits royalty, this is the one for you! Both dainty and large floral patterns adorn this cake with golden accents.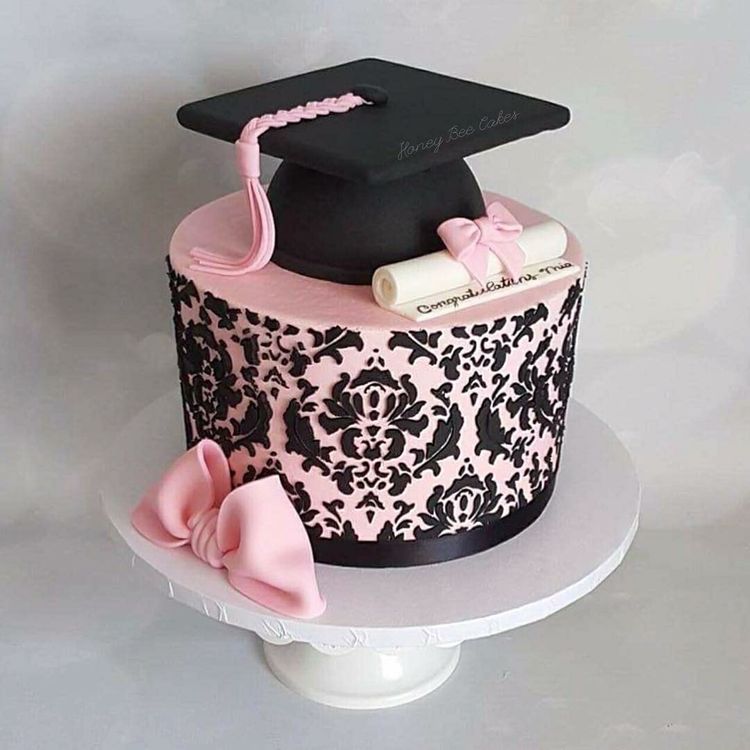 Black and pink look so good together. It's so fun and flirty! And the bright pink against the black, lacy patterns create such a stunning contrast fit for an edgy princess!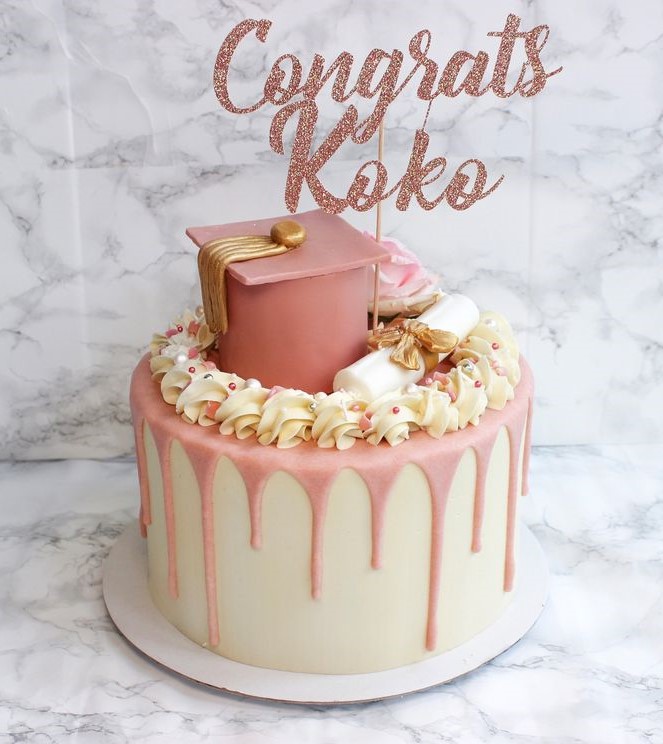 If black and pink are a bit too much for you, white and pink are always a great color combination to make a pretty graduation cake. A melting pattern around the cake with some gorgeous piping and graduation-themed toppings would really add an elegant look to your graduation party.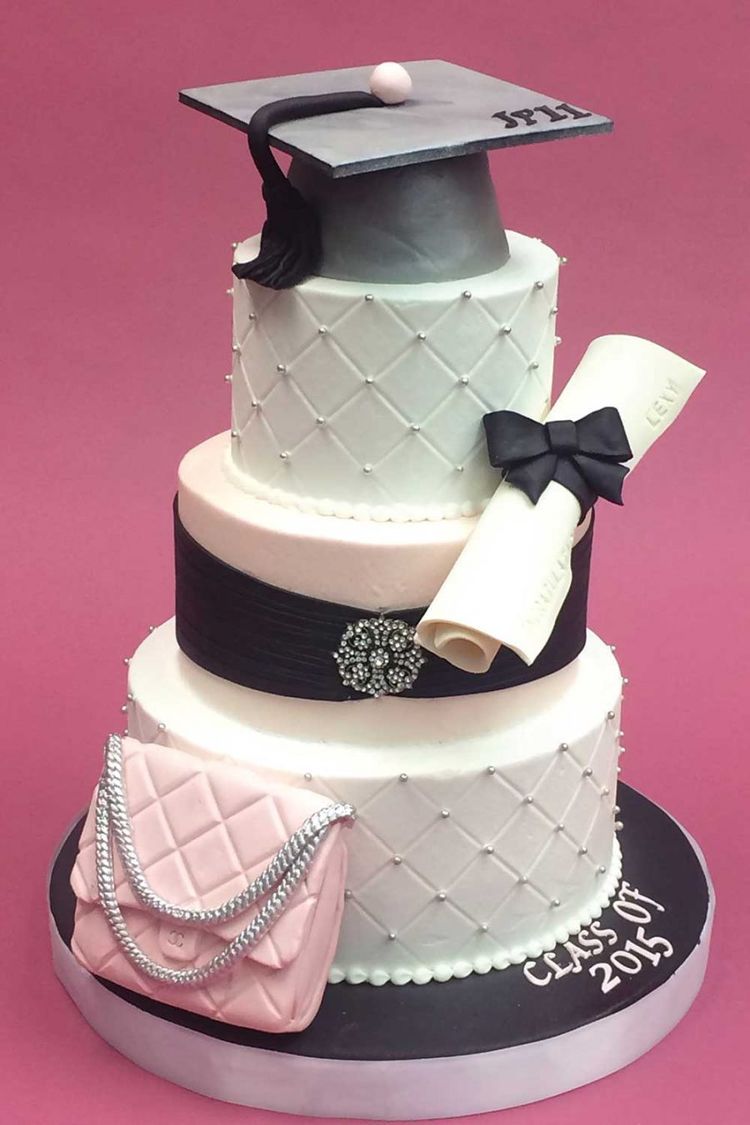 This graduation cake is so gorgeous and classy! It's utterly perfect for girls who love high-end brands and a glamorous life.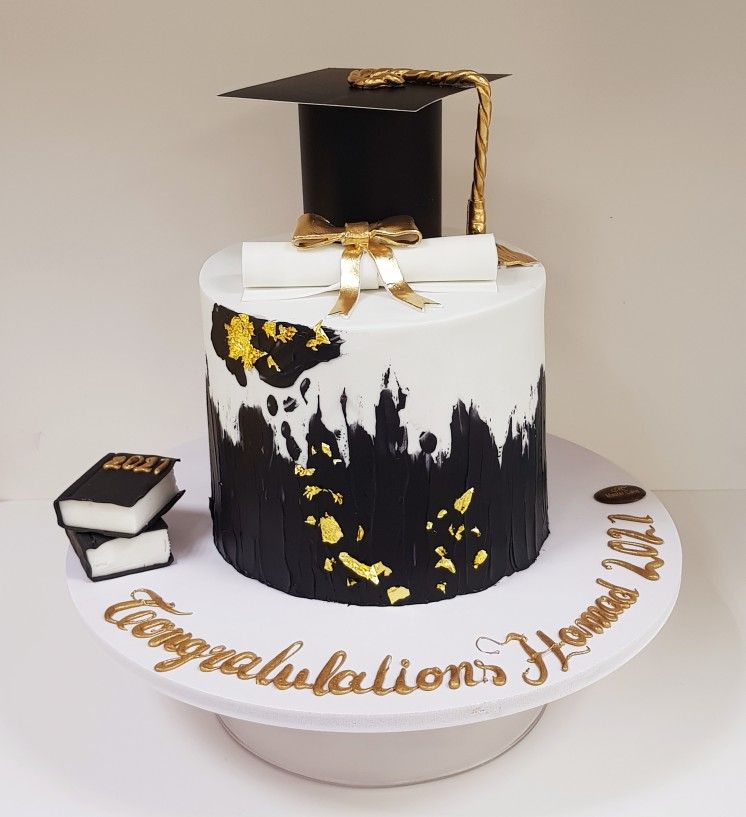 Tall, layered cakes are so trendy right now. And the number of ways you can decorate them is practically endless. But if you want to go on a classic route, this black-and-white theme with gold accents would be ideal for you.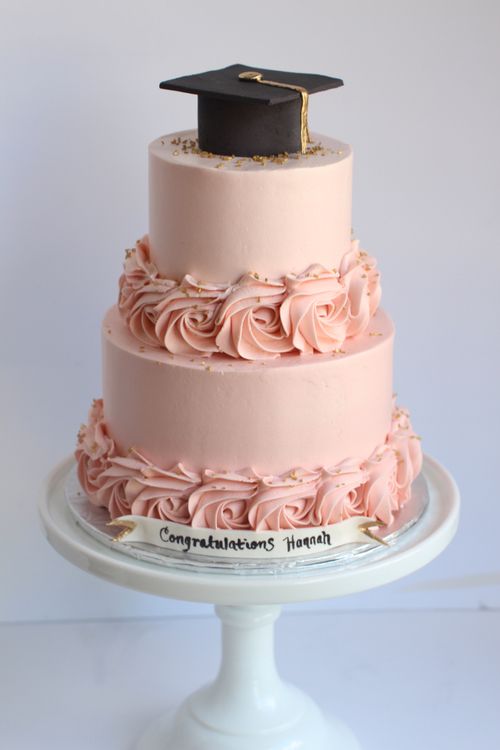 This pink, minimalistic cake is so stunning! I love the simplicity and how gorgeous the piping is around the cake. Add a graduation cap cake topper and you're ready to party!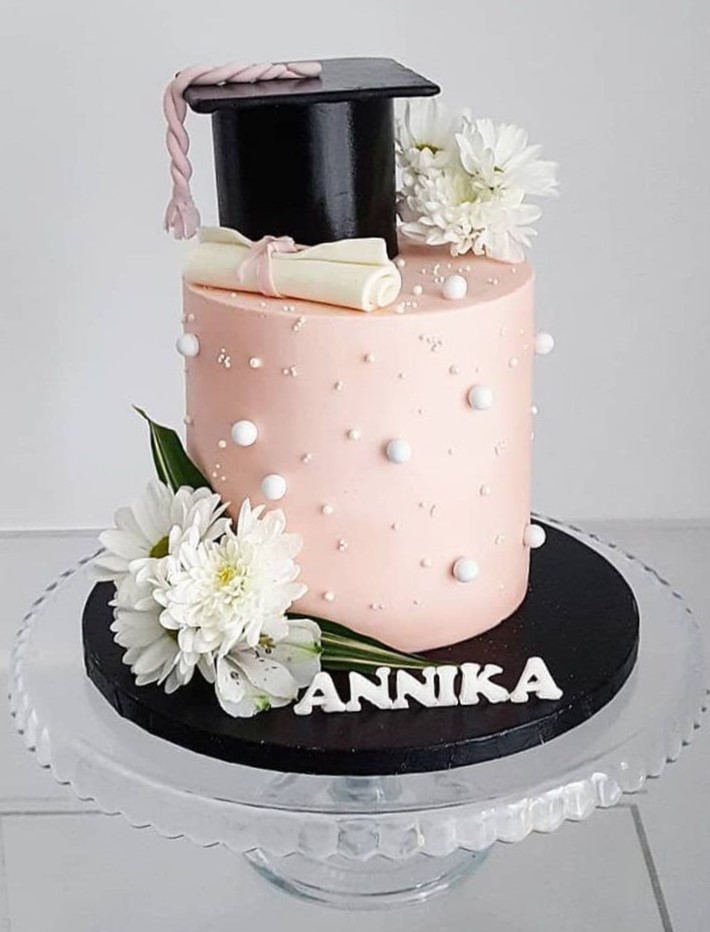 But if you don't like the minimalistic theme, you can always opt for a design similar to this one! Place pearls and flowers all over your cake to give it a classy feel.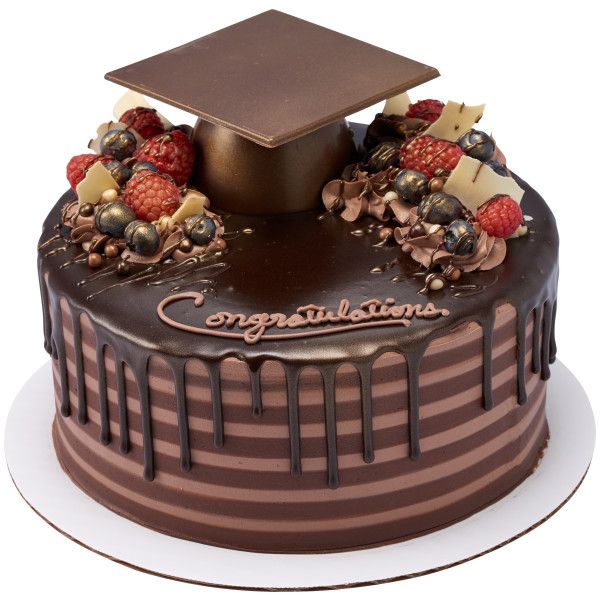 For those who prefer a classier look on their cake, this yummy chocolate cake is for you. I can only imagine how decadent this would be in each bite!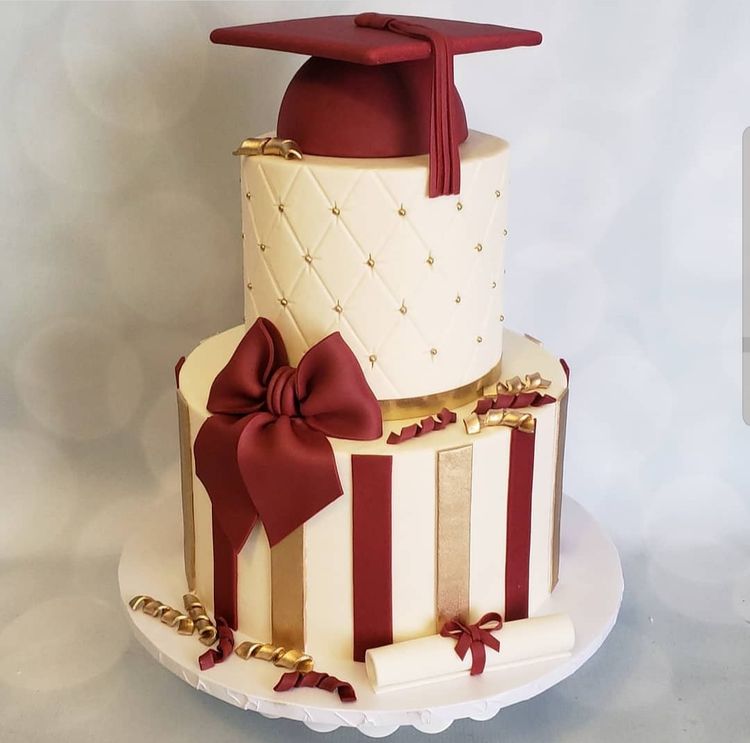 I love this combination of red, white, and gold! Add a bow to your graduation cake along with other graduation-themed toppings and you might just recreate this gorgeous cake at your party!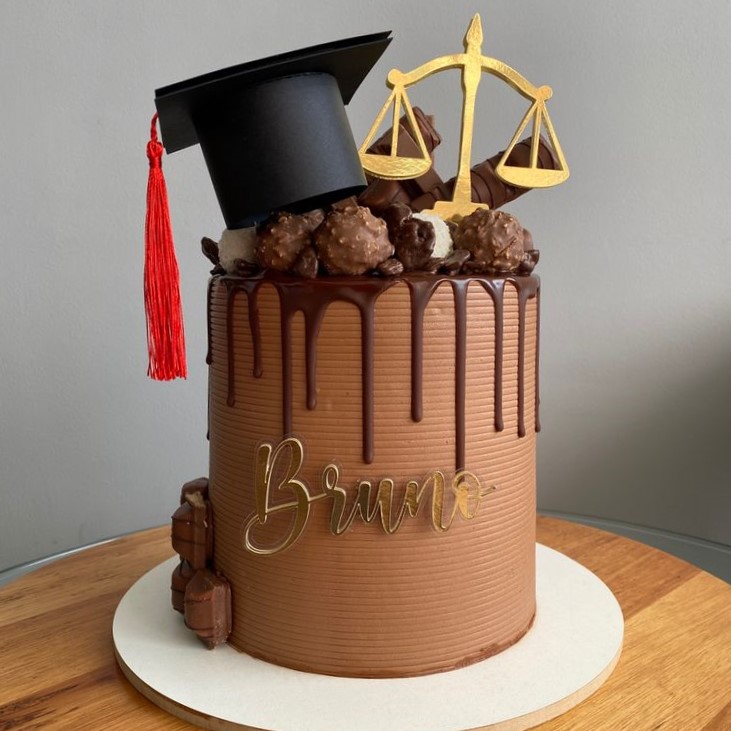 Chocolate lovers are surely going to be delighted to have a graduation cake exactly like this at their party! You can even opt to add your favorite chocolate brands as your cake's toppings.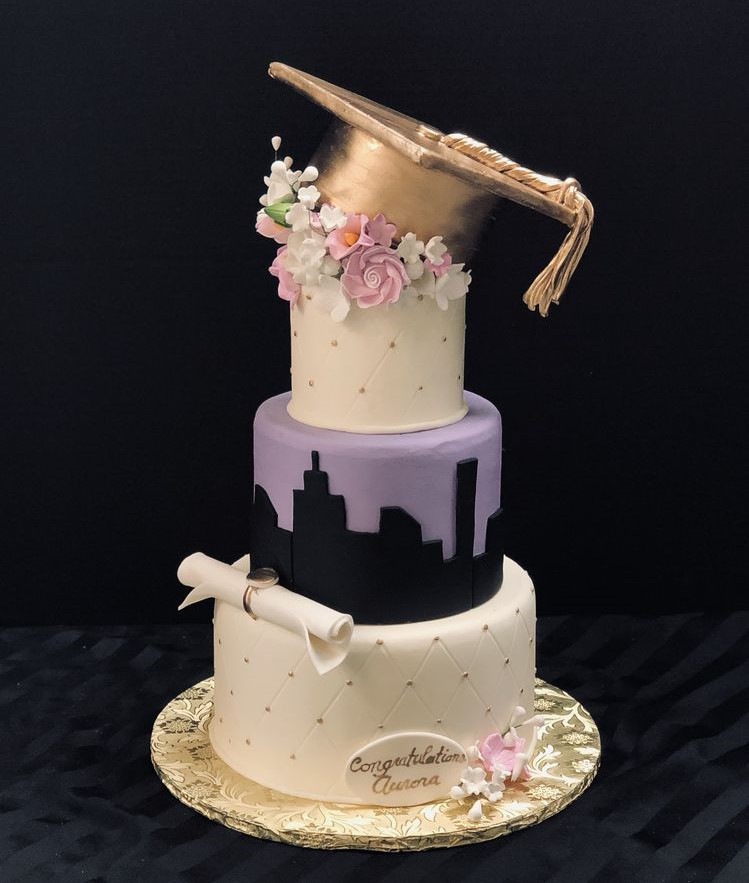 This city skyline-themed cake is so cute and fun to look at! I love the color-blocking moment of the white and the purple and black. It gives such an eclectic vibe!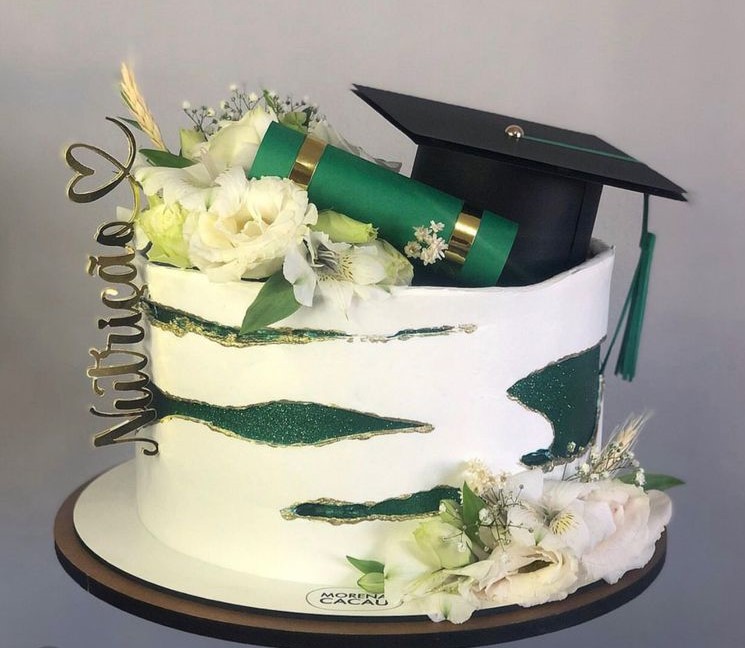 Is green your favorite color? Then you might love this gorgeous white and green graduation cake! Even better if green is your school's color.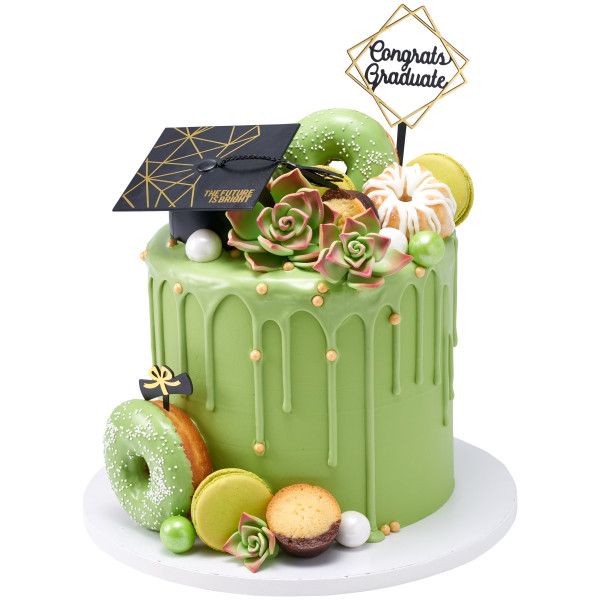 Here's another green-themed graduation cake with a more whimsical design than the last one. This is so cuter and you can put all your favorite green snacks as decoration.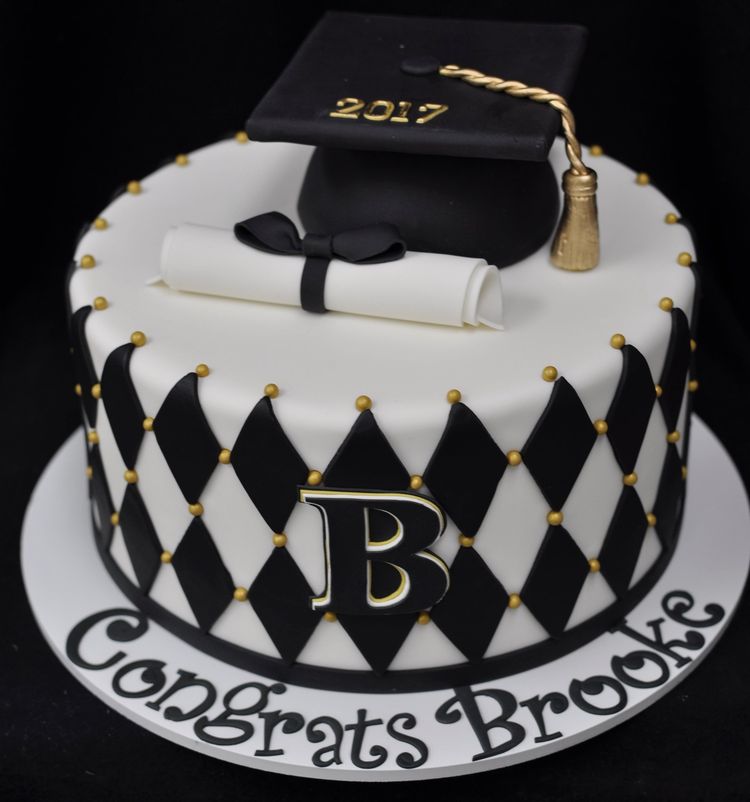 Without a doubt, black and white is definitely one of the most popular graduation cake colors. If you want to get in with the trend, here's another design you might like from this list.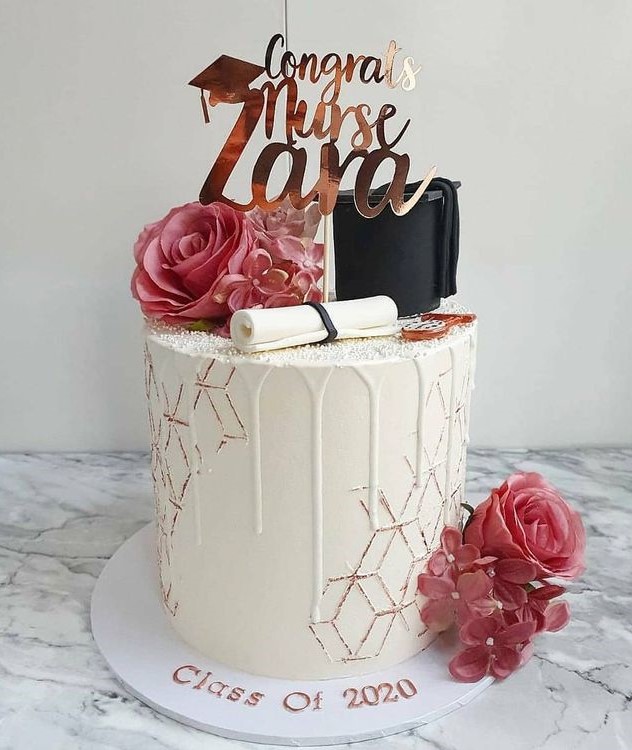 If you love geometric patterns and florals, why not get the best of both worlds and combine them for your graduation cake? Honestly, I didn't expect both patterns to look so good together!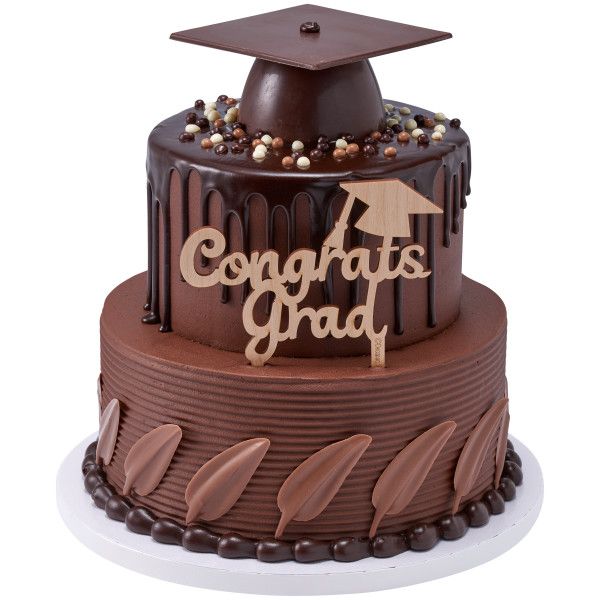 Here's my favorite chocolate cake design on this list. It's so cute and I love the monochrome brown look!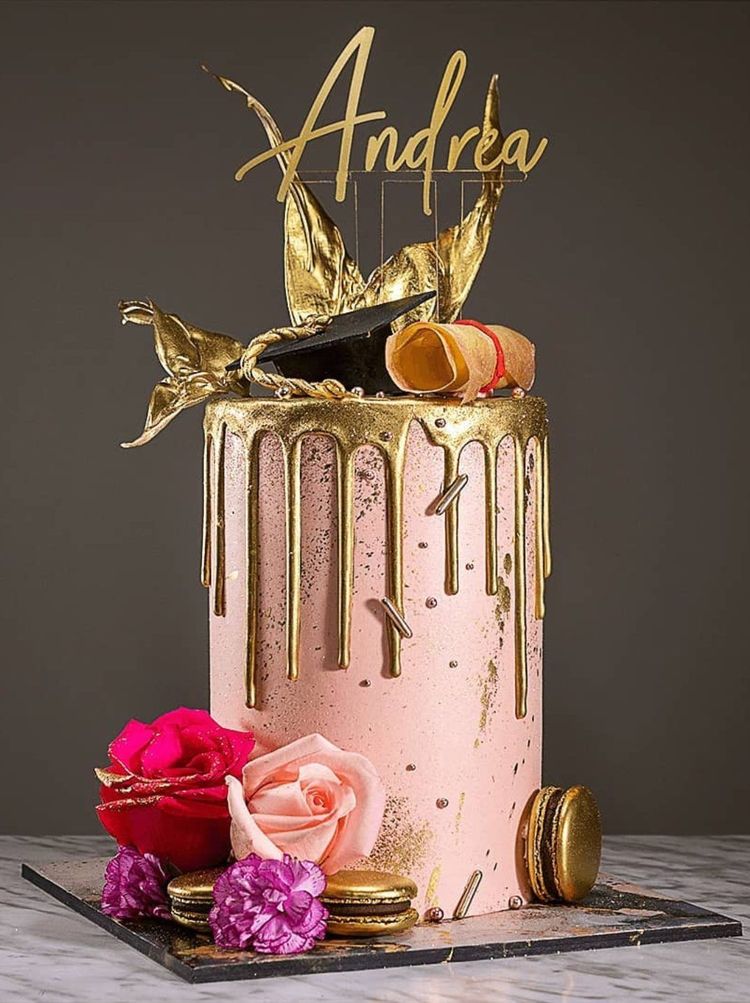 For a gilded graduation cake, you're certainly going to love this one! The gold accents against the pink icing look utterly stunning. You can personalize this cake even more by adding your name as a cake topper.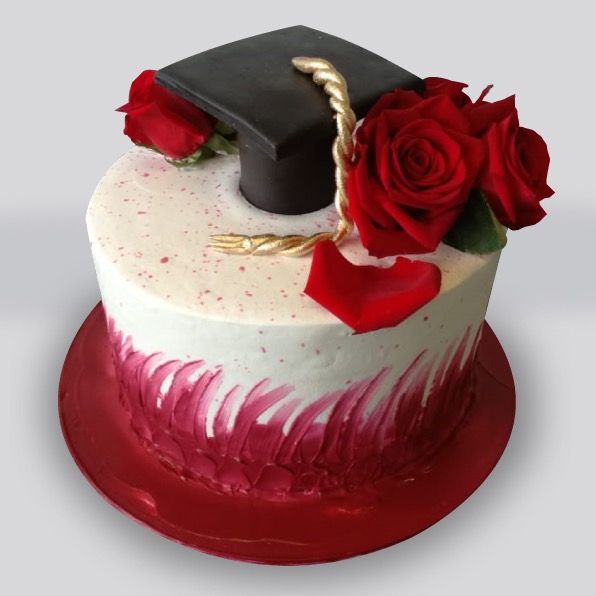 Red velvet is one of the most popular cake flavors around and if you want the outside to match the inside, here's a cake design you might want to try out for your graduation party.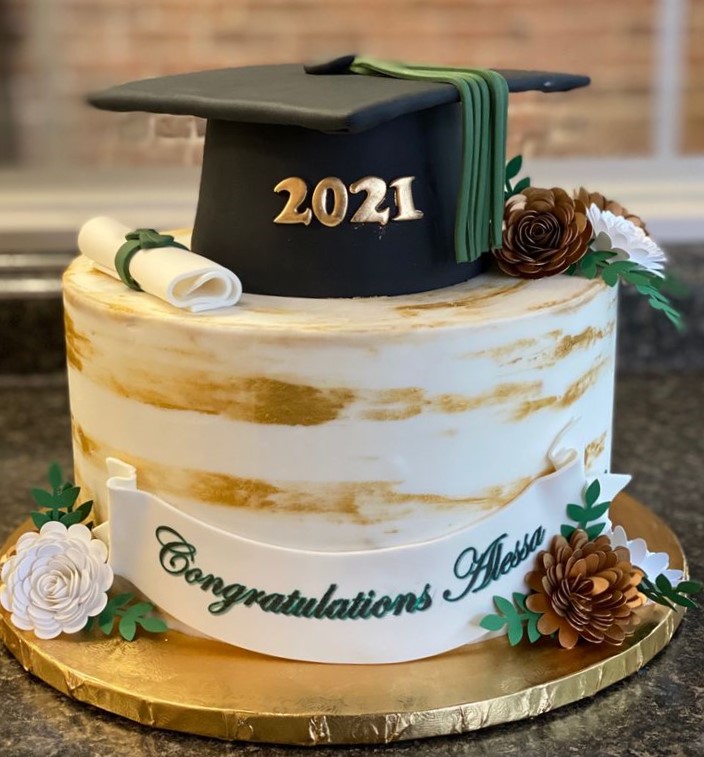 Simple yet classy, this white and gold cake is perfect for those who don't want a lot of fuss around their graduation cakes.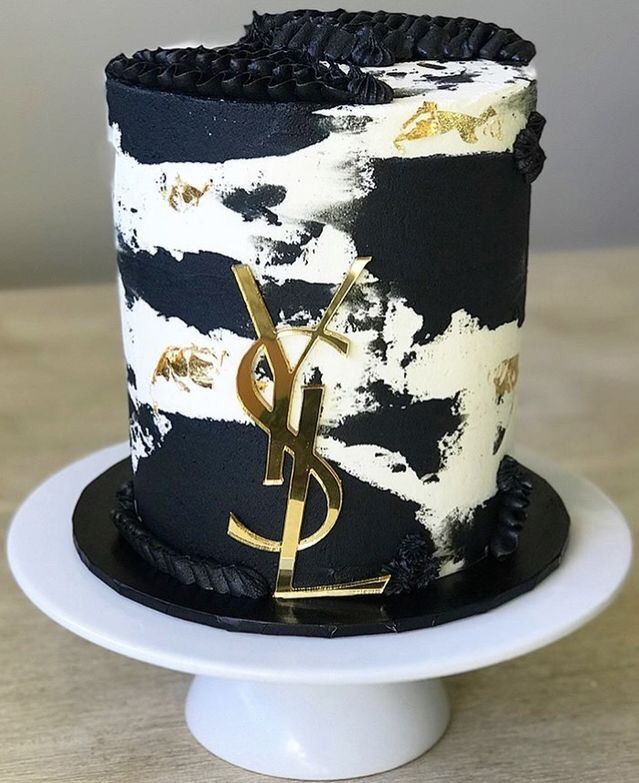 If you love high-end brands or perhaps you're dreaming of working for these luxury companies in the future, why not manifest it on your graduation cake?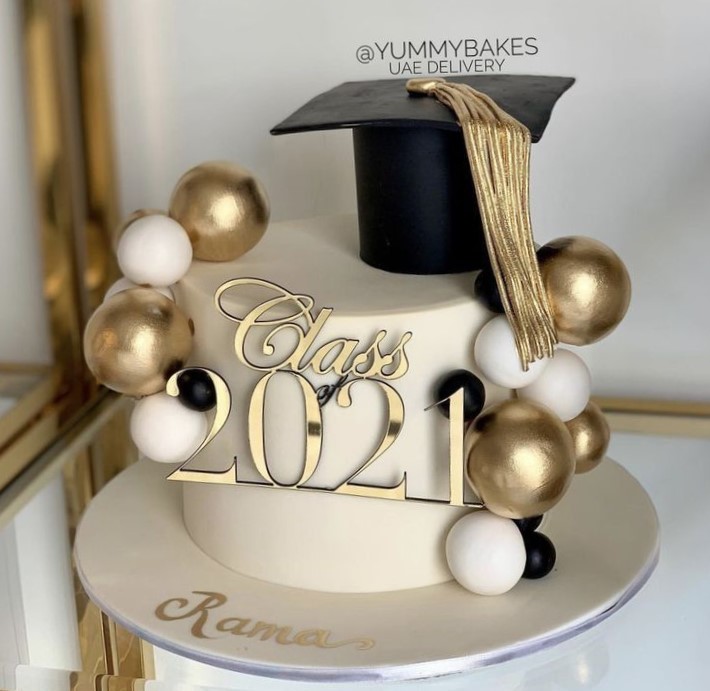 Out of all the black, white, and gold cakes on this list, this is my absolute favorite. The round ornaments give such a nice, classy look to the minimalistic cake.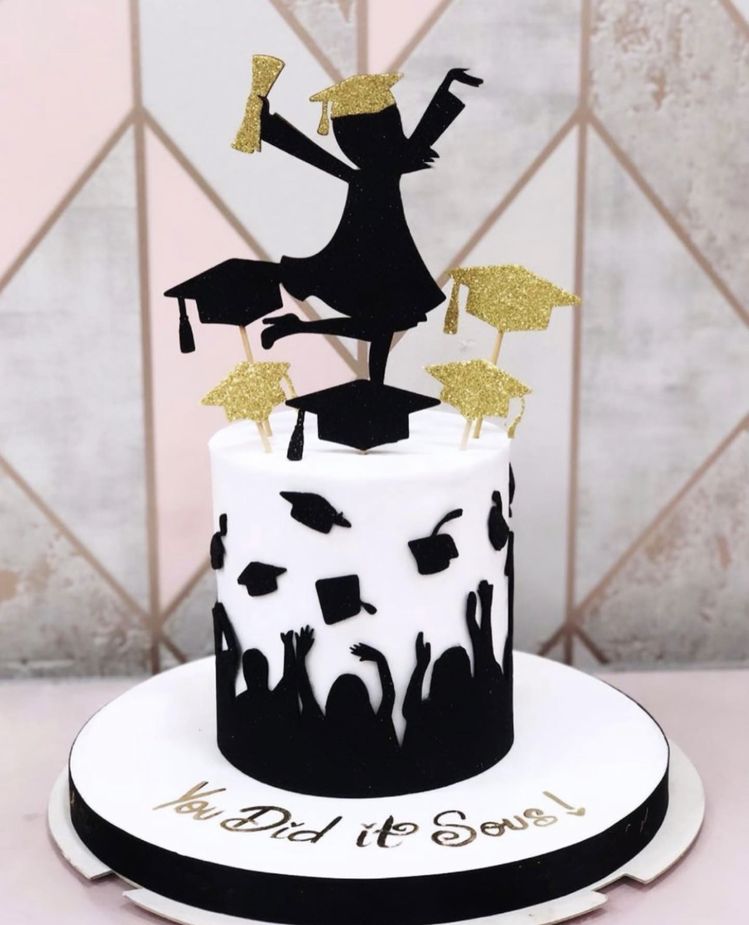 For a graduation cake that's full of fun, you might want to give this a look! The cute, celebratory silhouette patterns really add a festive feel to this cake.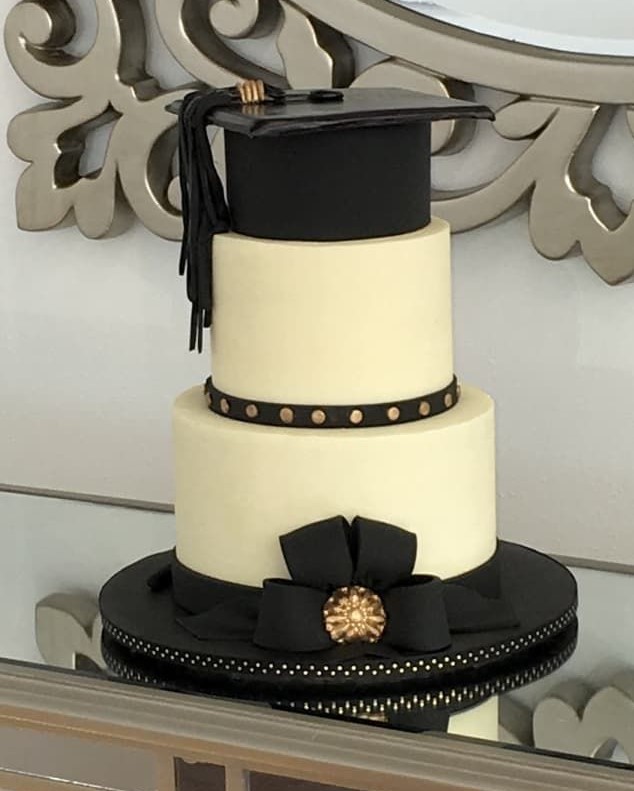 Here's another favorite of mine out of all these graduation cakes. The minimalistic white cake along with that gorgeous bow and graduation cap is utterly beautiful! This is so perfect if your party is a little more on the formal side.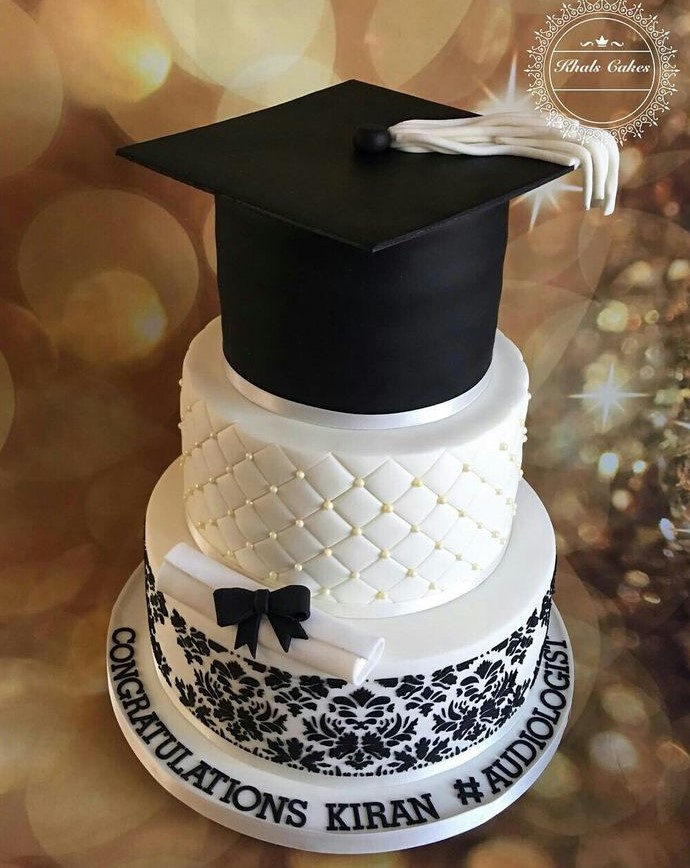 Another way to make your black and white graduation cake interesting is by adding some pretty, lacy patterns around each tier.
This muted, soft pink graduation cake is so beautiful! The dainty and delicate white details and patterns just make this cake look even more feminine and elegant.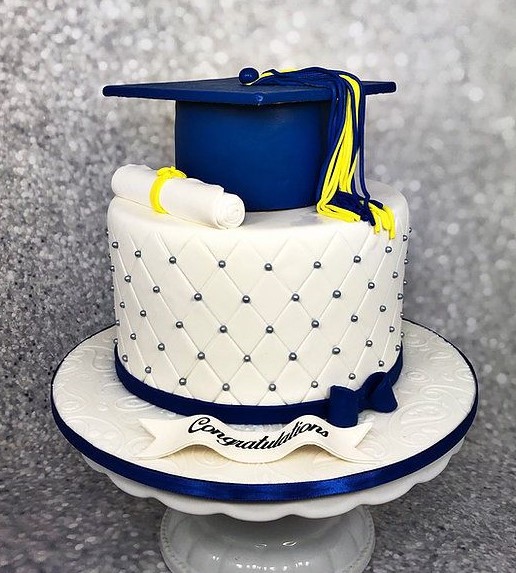 One way to decorate your graduation cakes is by using your school colors. Show off your school pride during your graduation party!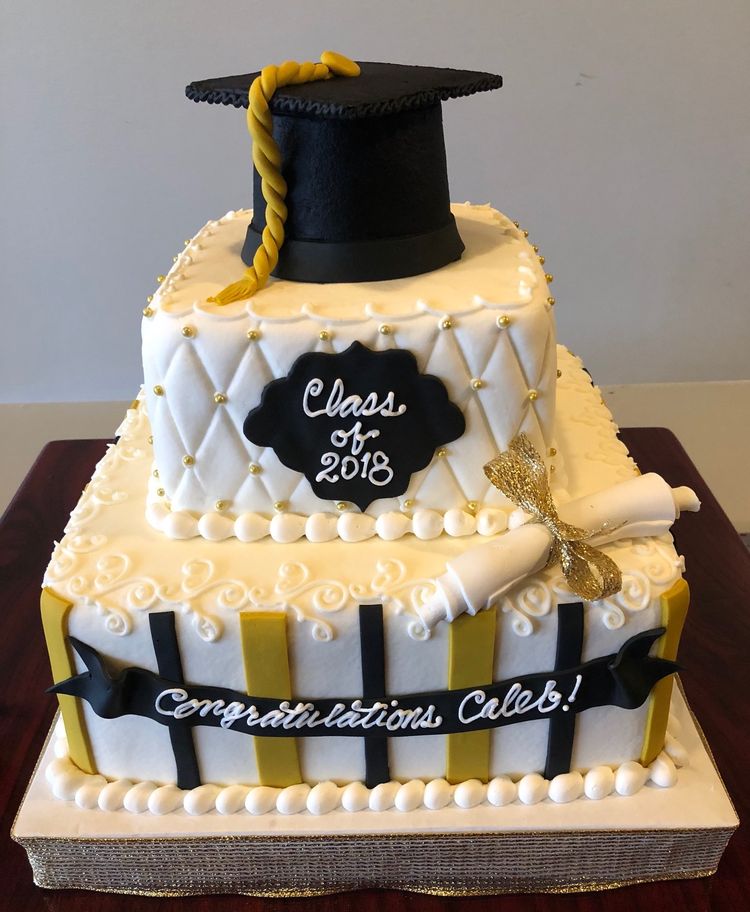 The combination of designs and patterns on this cake is so cute! If you can't settle on just one, why not add all of them?
I love the beautiful contrast of red and white on this cake. It looks so gorgeous and moody. Perfect for those who want grown-up and classy graduation cakes for their party.