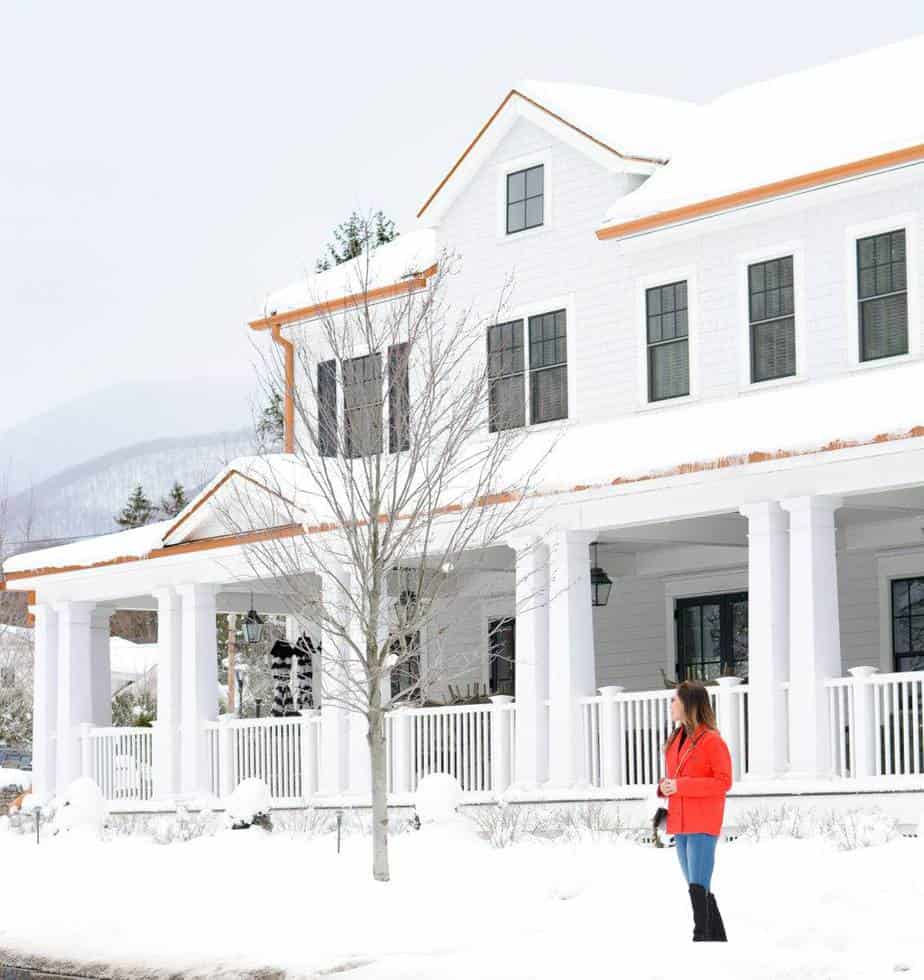 Anyone who knows me can tell you winter isn't always my favorite season. March always makes me a little antsy, but staying at the Kimpton Taconic in Manchester VT really made me love winter again! I was actually so glad I was able to experience the hotel in a snowy season because it was so so beautiful. We got a huge snowstorm right before my weekend getaway, making it extra magical; I arrived at night and the hotel had tons of outdoor white lights and a fire pit going. Talk about cozy New England life!
There's a variety of Manchester VT hotels in the area, but just from driving up, I was already glad to be staying at the Kimpton Taconic. It has a lot of amenities but manages to be cozy at the same time.
Related Posts:
The Taconic Hotel Manchester VT: Our Room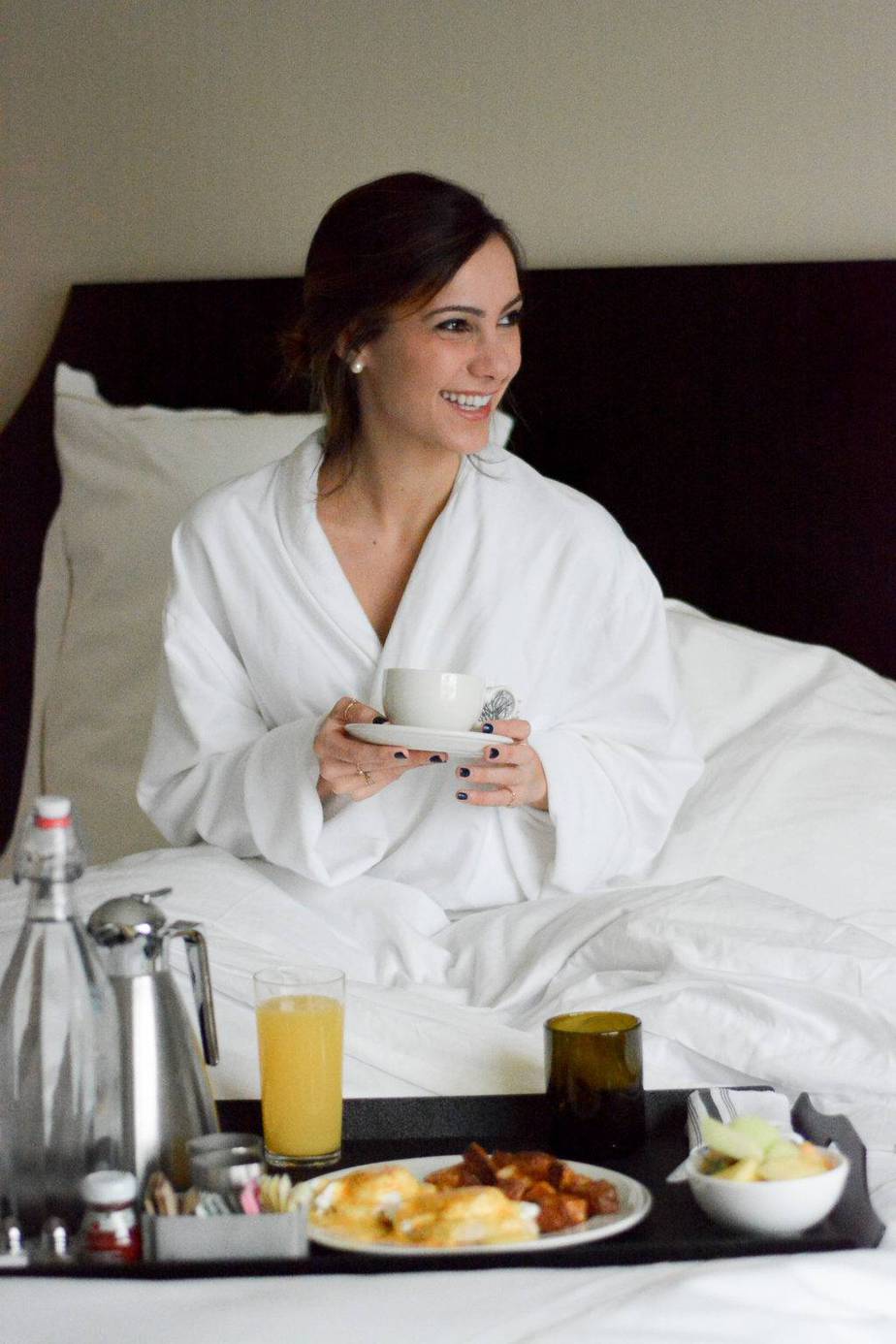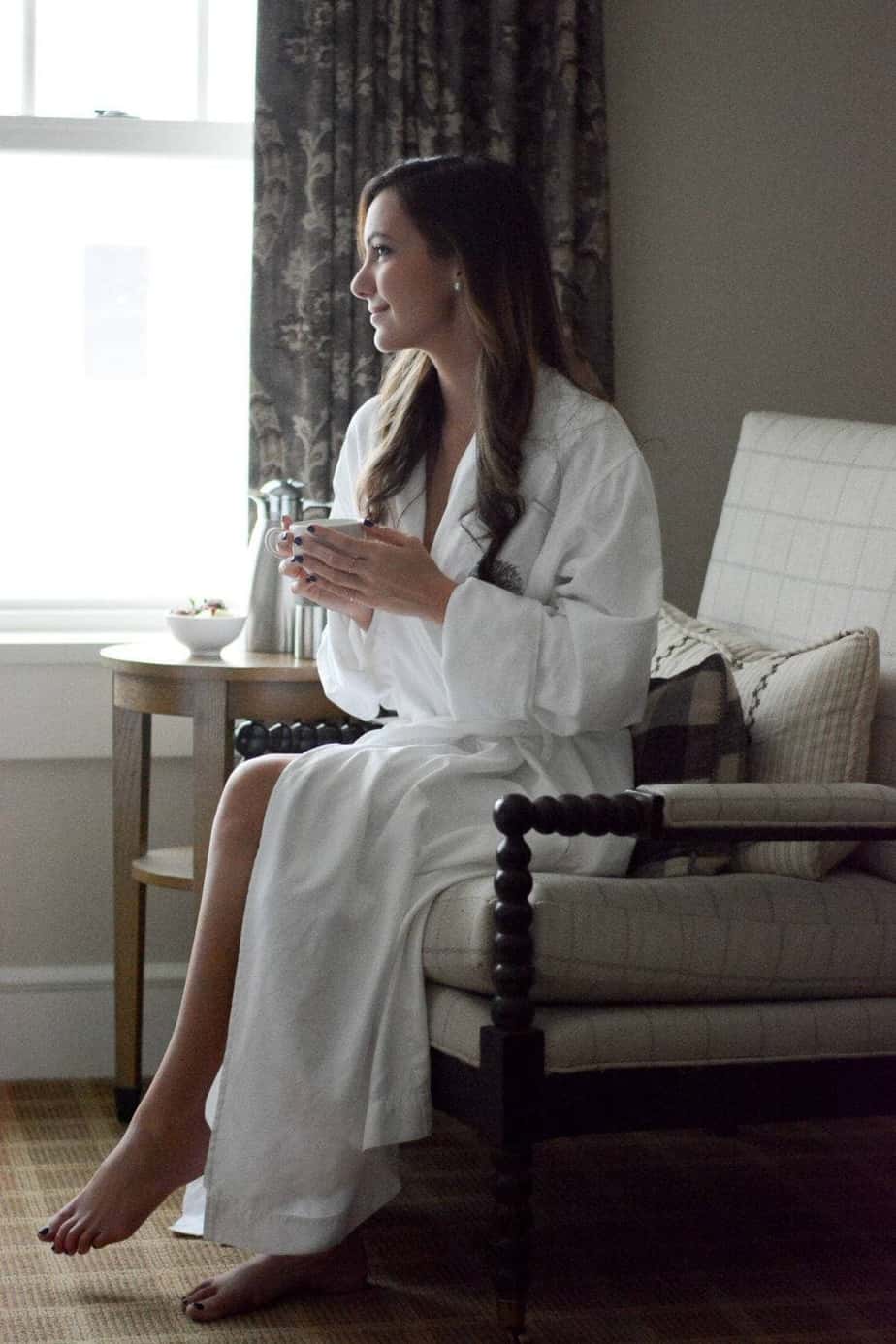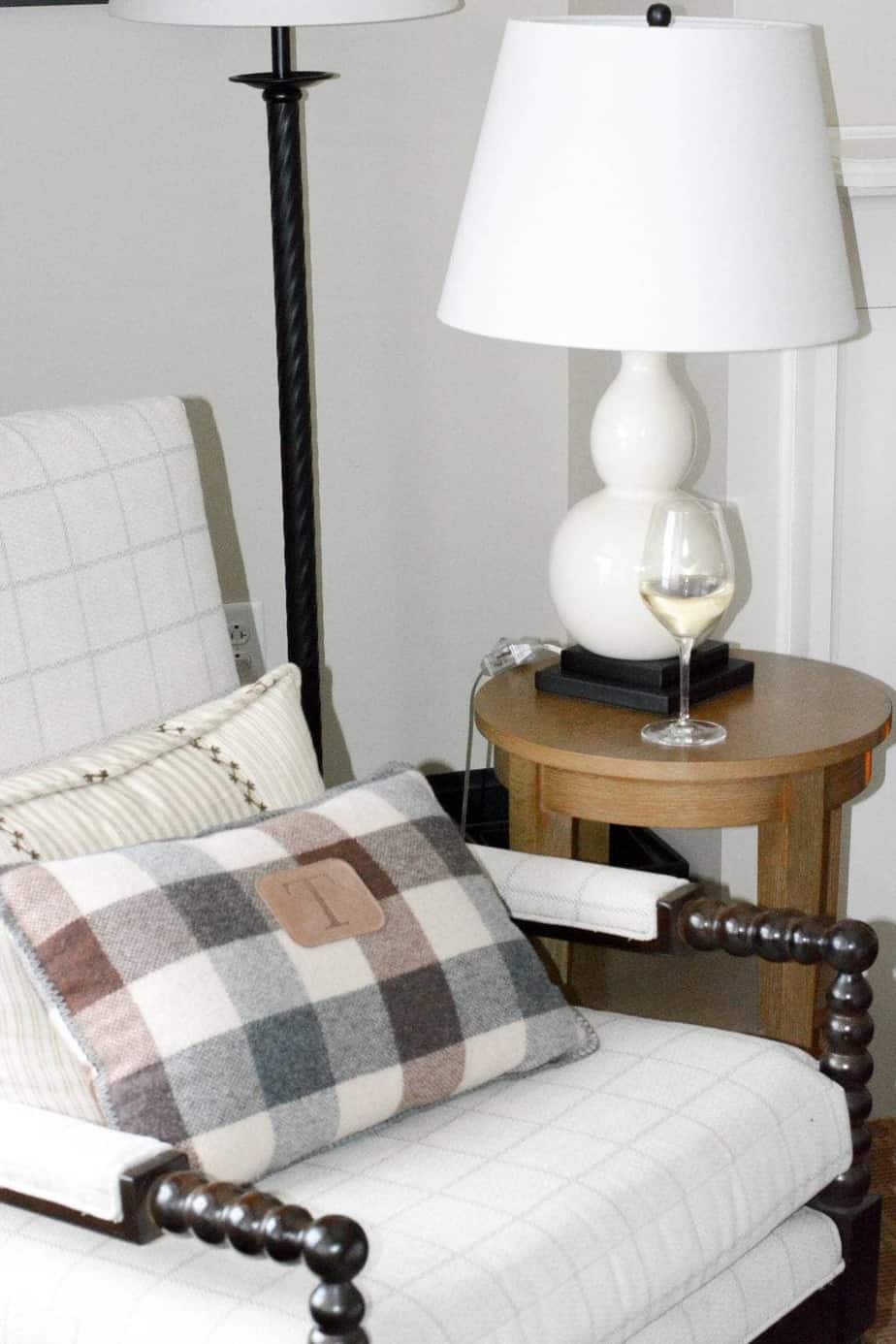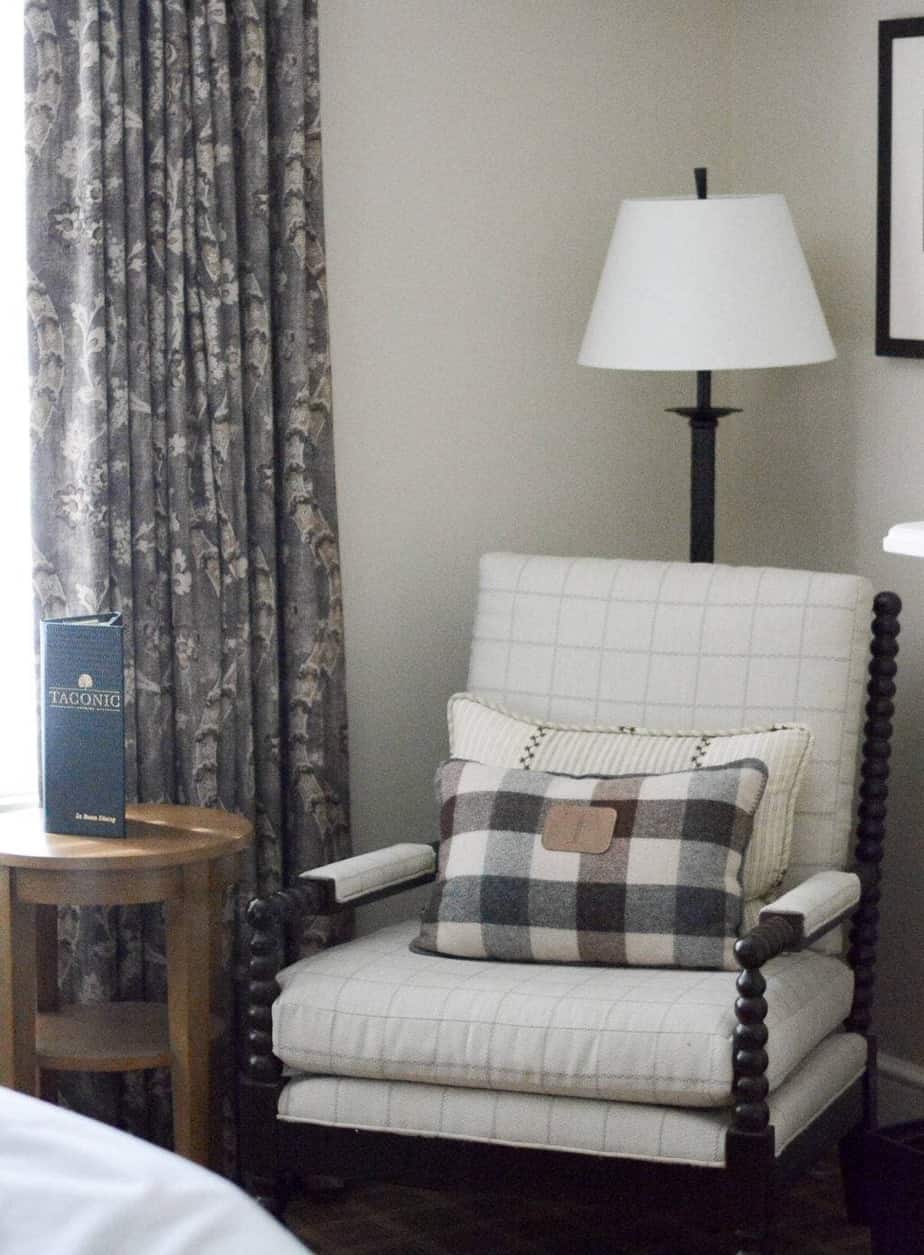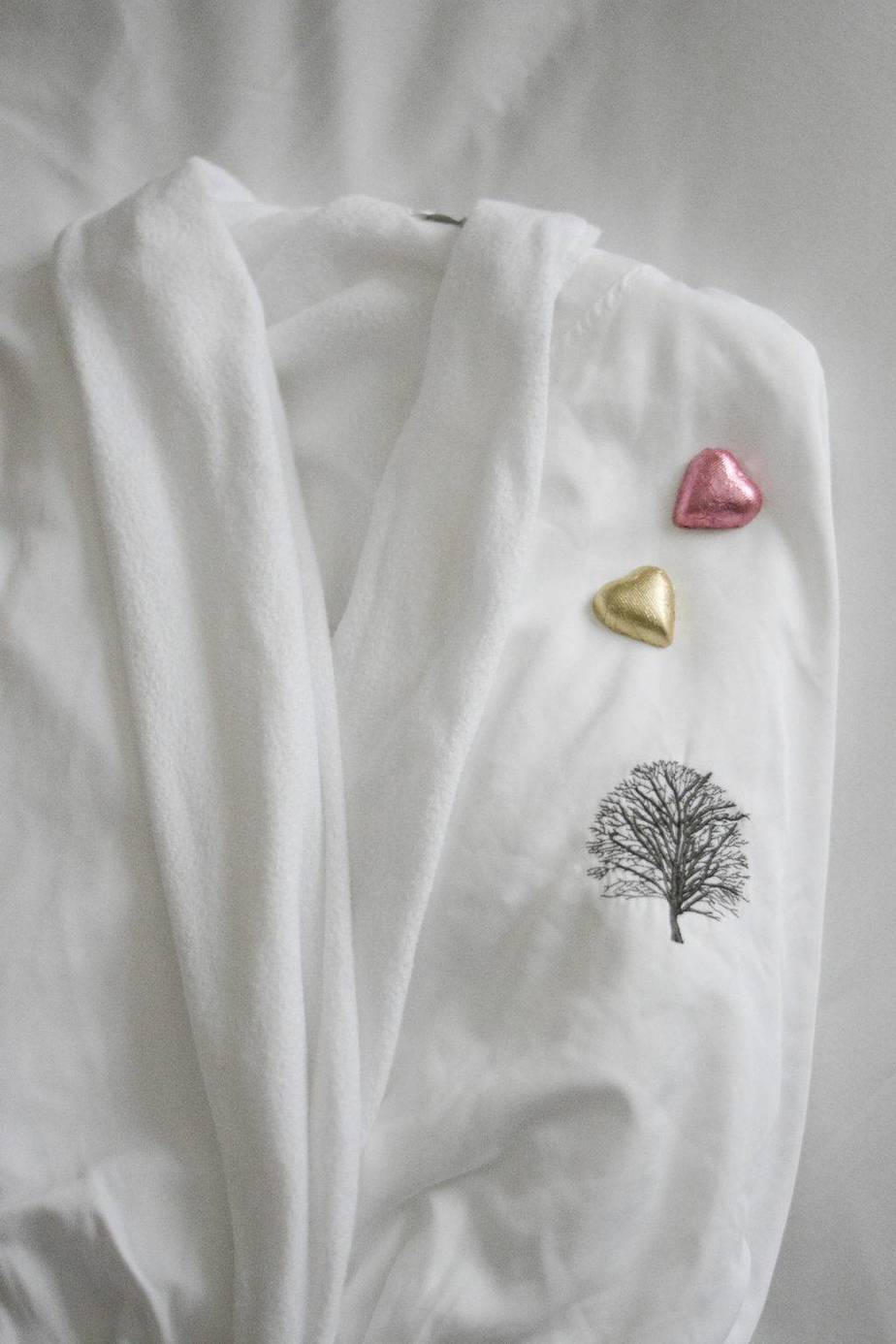 The hotel upgraded us to a Fireplace King Room which was so so cute! The fireplace was gas (really easy to use) and gave off a lot of warmth during the night. The bed was really comfy with extra squishy pillows. There were two bathrobes in the closet that are possibly the softest ever – I have like 8 bathrobes at home and am relatively picky so trust me on this one. There was also a yoga mat in the room that I totally would have used if I was staying longer!
The Taconic offers a huge array of complementary items if you forget anything (they brought me some toothpaste within 5 minutes of asking for it). The amenities in the room are also pretty sweet: there's tons of oversized towels in the bathroom, free WiFi, a well-stocked mini-fridge with a basket tray full of snacks, and even two outlets on each nightstand so you don't have to lean too far out of bed to charge your phone.
The Taconic Hotel Manchester VT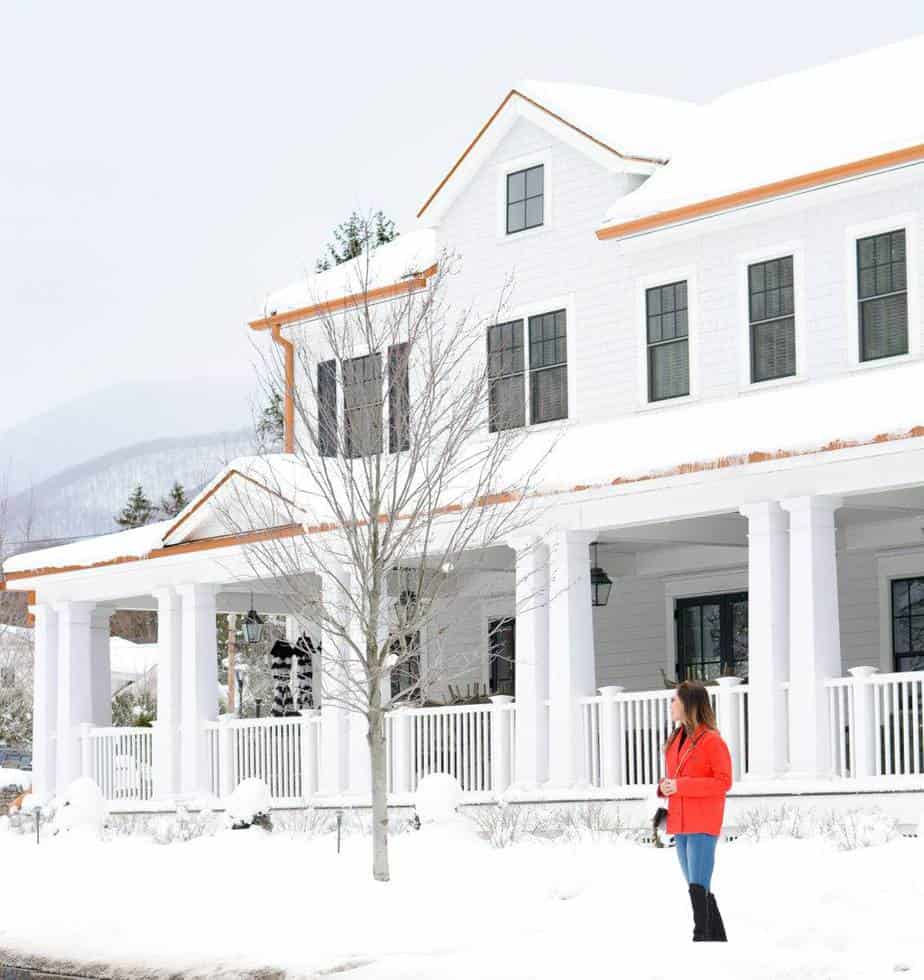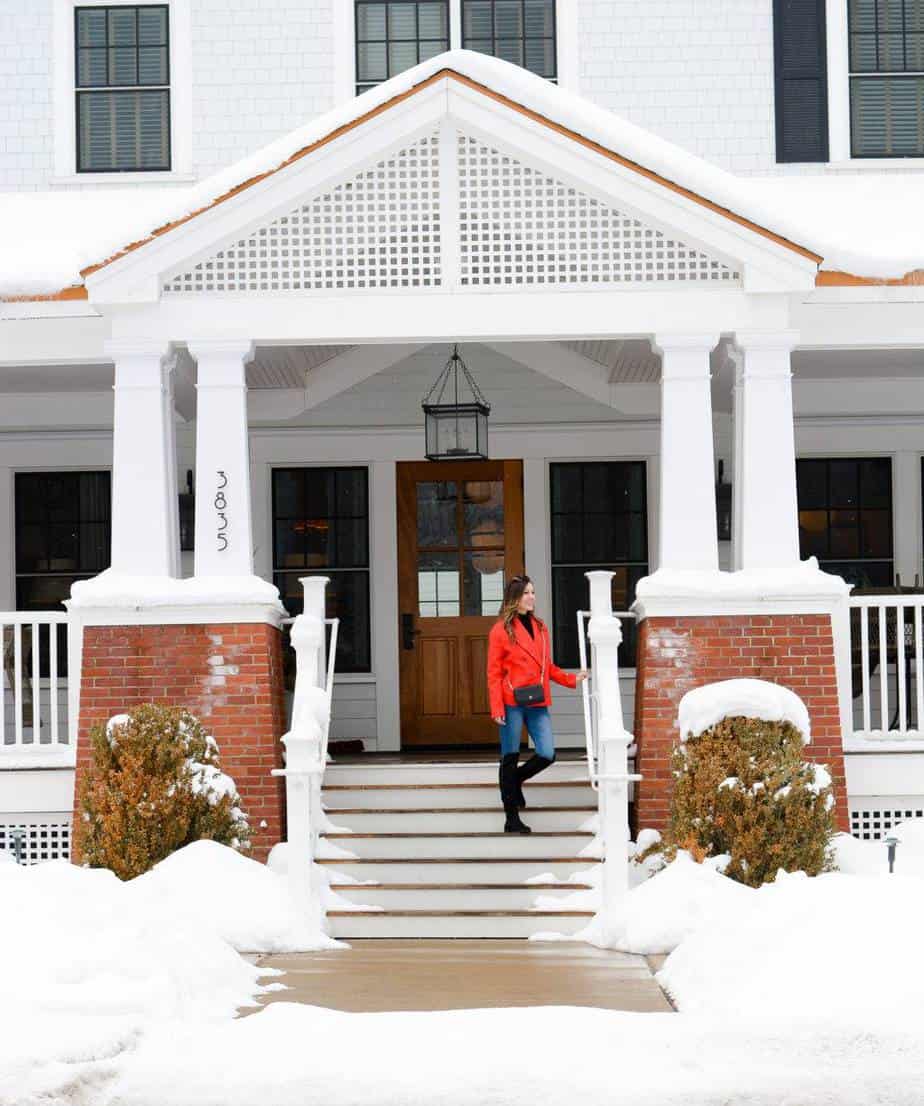 When we first pulled up, I was wowed by how gorgeous the hotel is! It has a rustic feel with soft Christmas lights and huge stacks of firewood, but was built only 3 years ago so the actual functionality of the hotel is really modern.
As you enter, you're immediately hit by a strong pine smell that makes you feel at home. The wide pine floors run throughout the first floor. There's a fireplace with tons of cozy chairs in the lobby that give the hotel a lodge feel, but it's also new and clean with impeccable high end decor. I can't say enough about how gorgeous the design was! Seriously, I want whoever did the decorating to do my house next. It was a Pinterest dream! I don't think any of the other Manchester VT hotels could hope to compete on this end.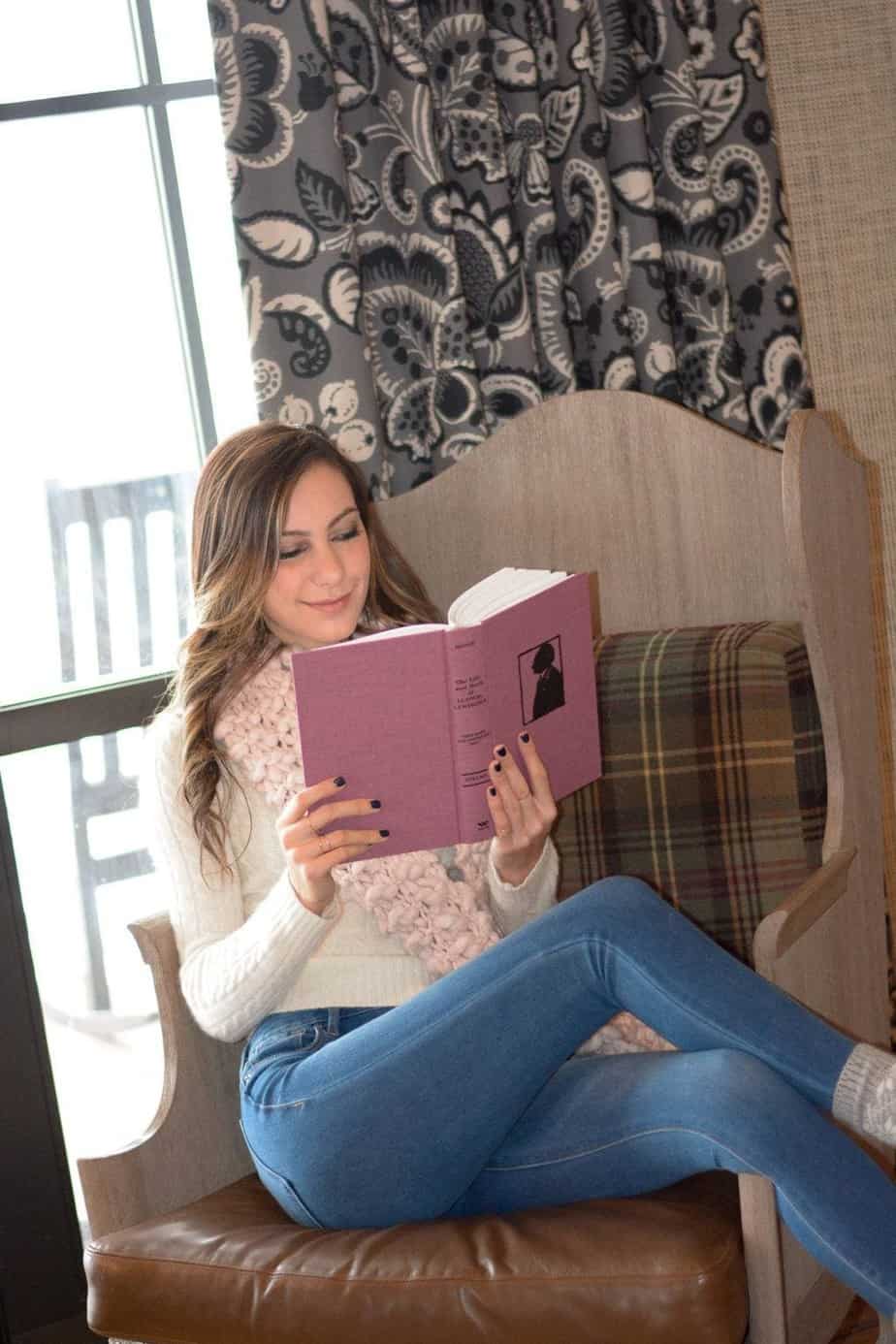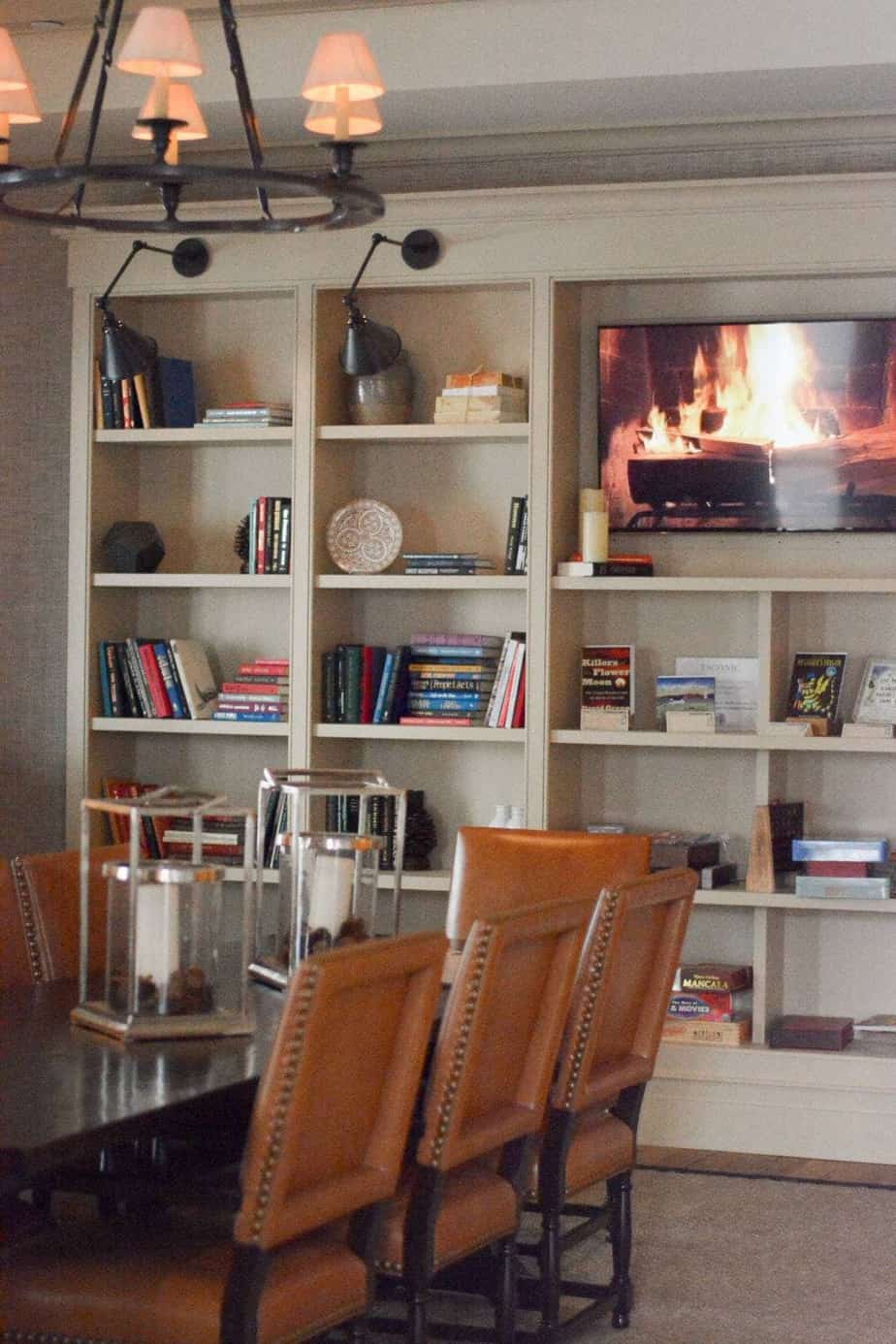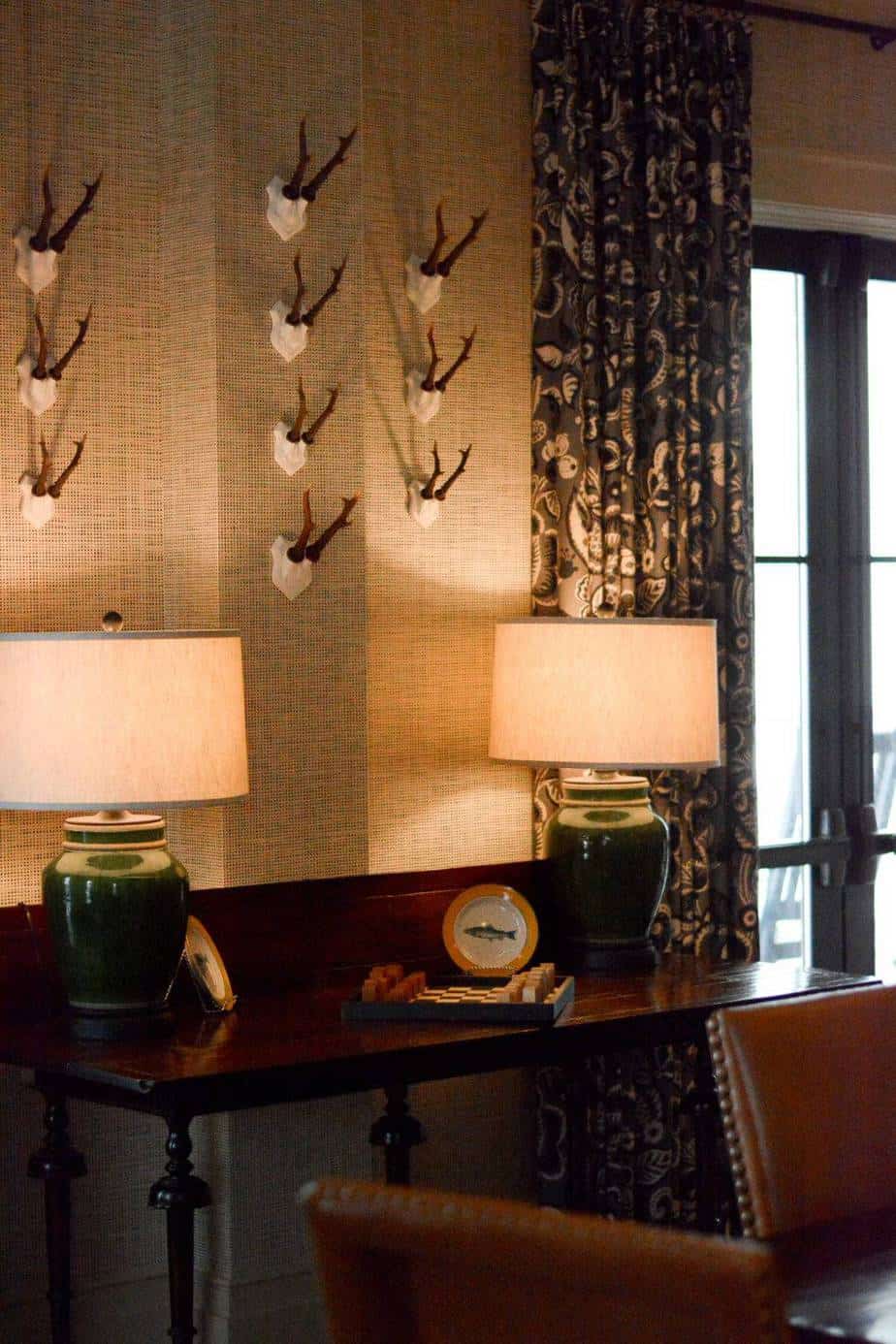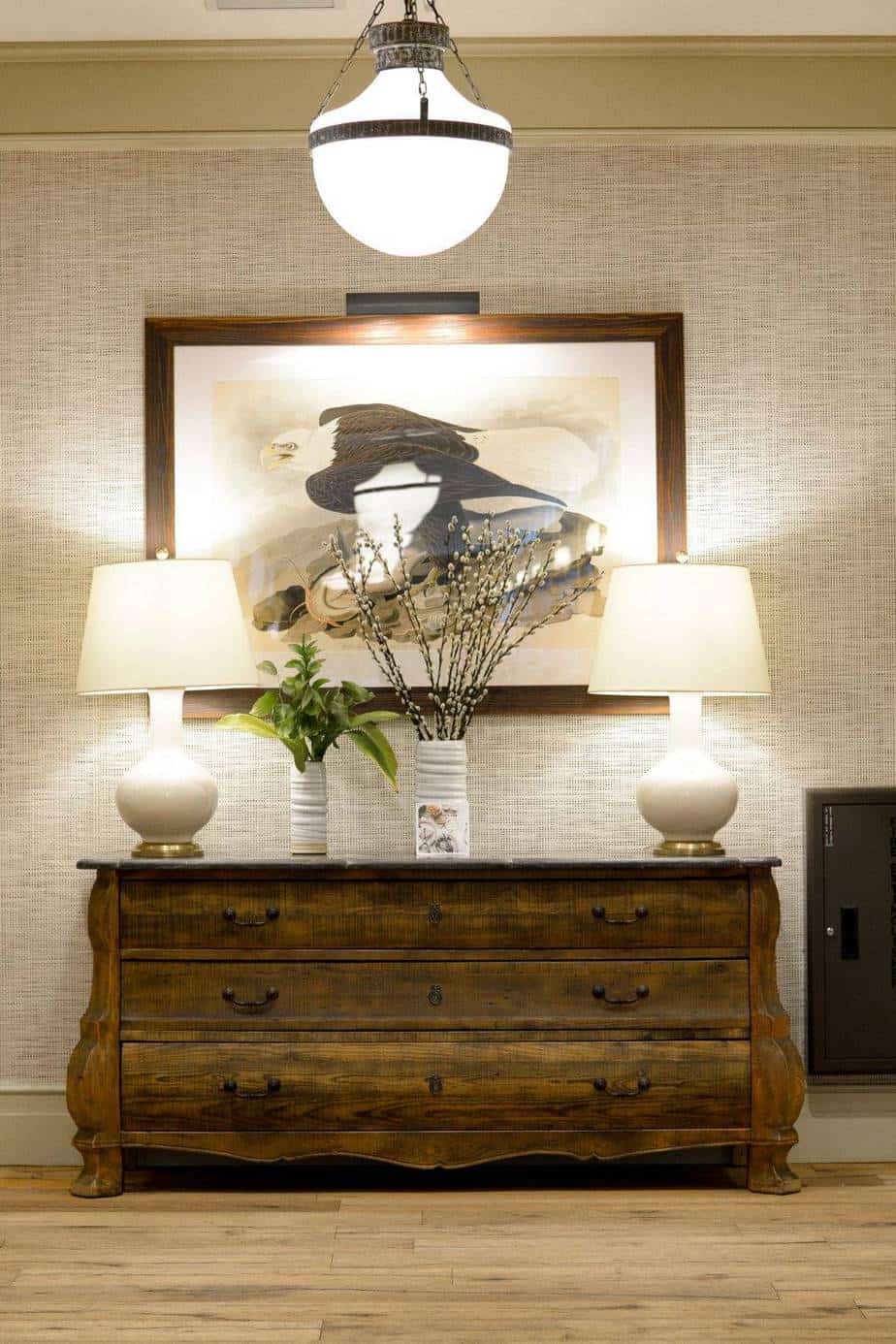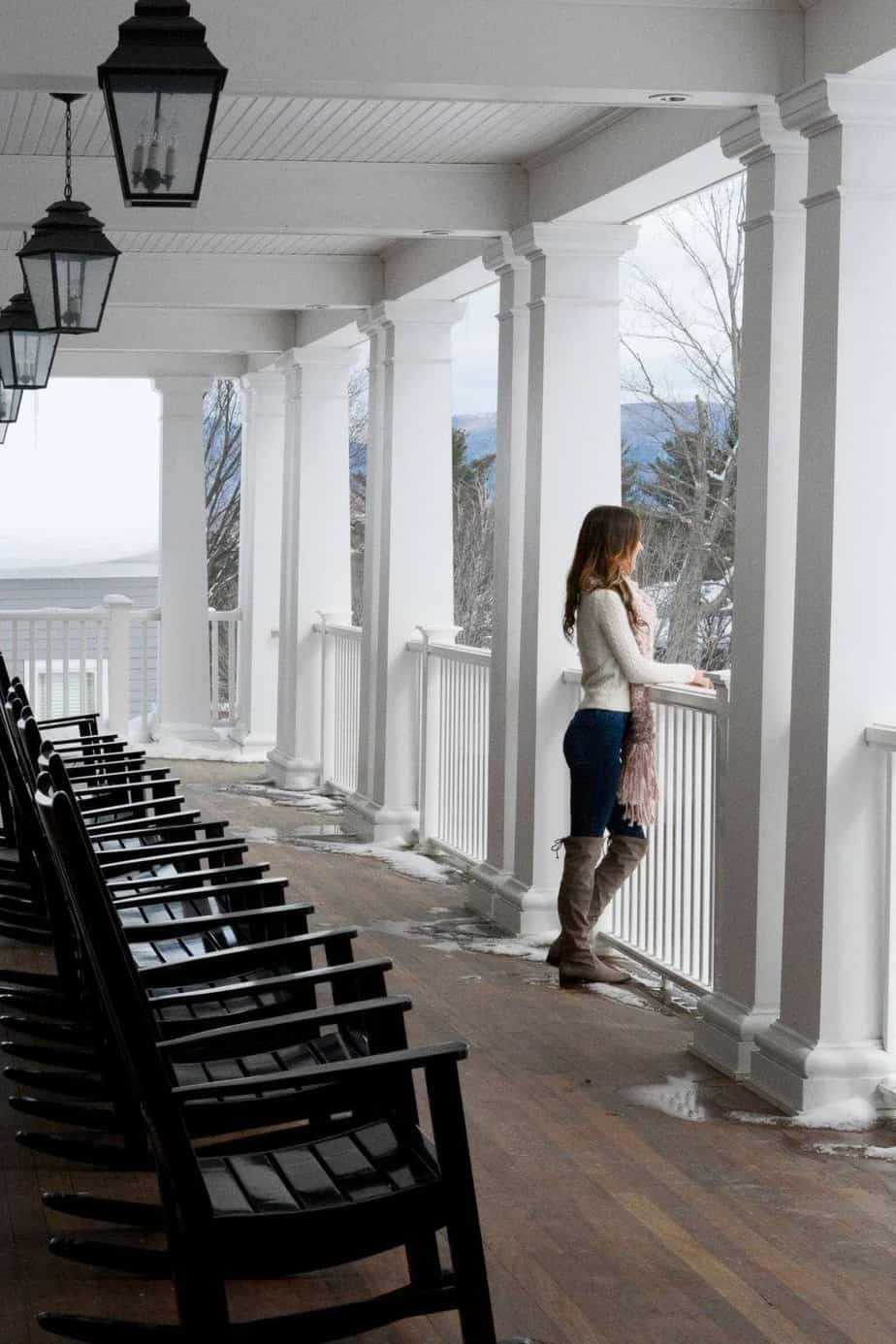 Just down the hall from the lobby is a small library. It's surrounded by huge windows with a bunch of different unique cozy chairs and a good selection of books. I actually spent a lot of my time there! There's morning coffee and organic tea in the lobby that I had fun sipping on while reading – so warm and comfy.
The porch is filled with wood rocking chairs. During the summer months, I can imagine this would be a beautiful place to hangout. The view is incredible and the porch is a perfect spot to check it out! In the warmer months, there would be no way you could drag me away from the heated pool with mountain views. I'm definitely coming back to check out the hotel in a different season as well.
One huge perk for me (a wine lover) was the 5pm social hour. Each guest receives a complementary glass of red or white. This is a perfect opportunity to meet some of the other guests. I loved how friendly everyone was – it felt like your local hopping happy hour. While sipping on my Chardonnay, I checked out the boutique, located right off the lobby. They had a lot of high end, cute items – my favorites were the local handmade pottery mugs and the adorable plaid dog coats.
One thing I really liked about the hotel is how pet friendly it is; if you're traveling with your pup, I think the Taconic takes the cake between all of the Manchester VT hotels for being so accommodating to pets. Although I didn't bring either of my pups, it seemed like half the hotel guests did. A nice convenience is that there were water bowls all around the property. We often ran into hotel attendants walking some of the guests' dogs and it was so nice to see how affectionate they were to them. I would absolutely feel very comfortable bringing my dog, knowing that they would be well taken care of. There's no weight or size restriction (I met a few gentle giants I wanted to take home). I'm not even kidding, there's a Director of Pet Relations. Being a huge fan of dogs, this made me want to come back even if I don't actually bring mine. It's definitely a hotel that isn't just dog friendly in name alone!
There's also an amazing fitness room that I checked out but didn't actually have time to use. Apparently the hotel is extremely accommodating about setting up local yoga classes for guests, something I really want to try next time.
Eating at The Copper Grouse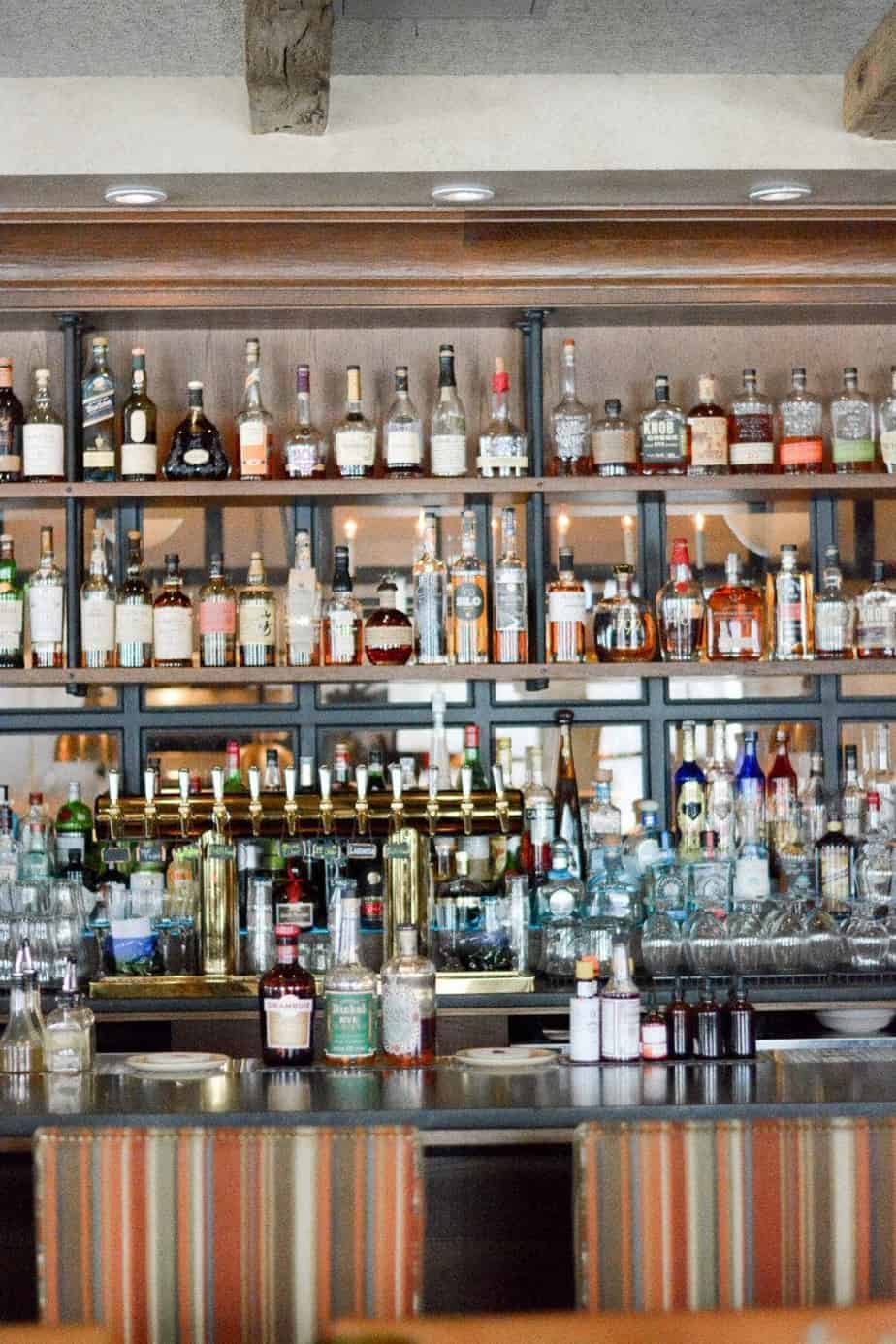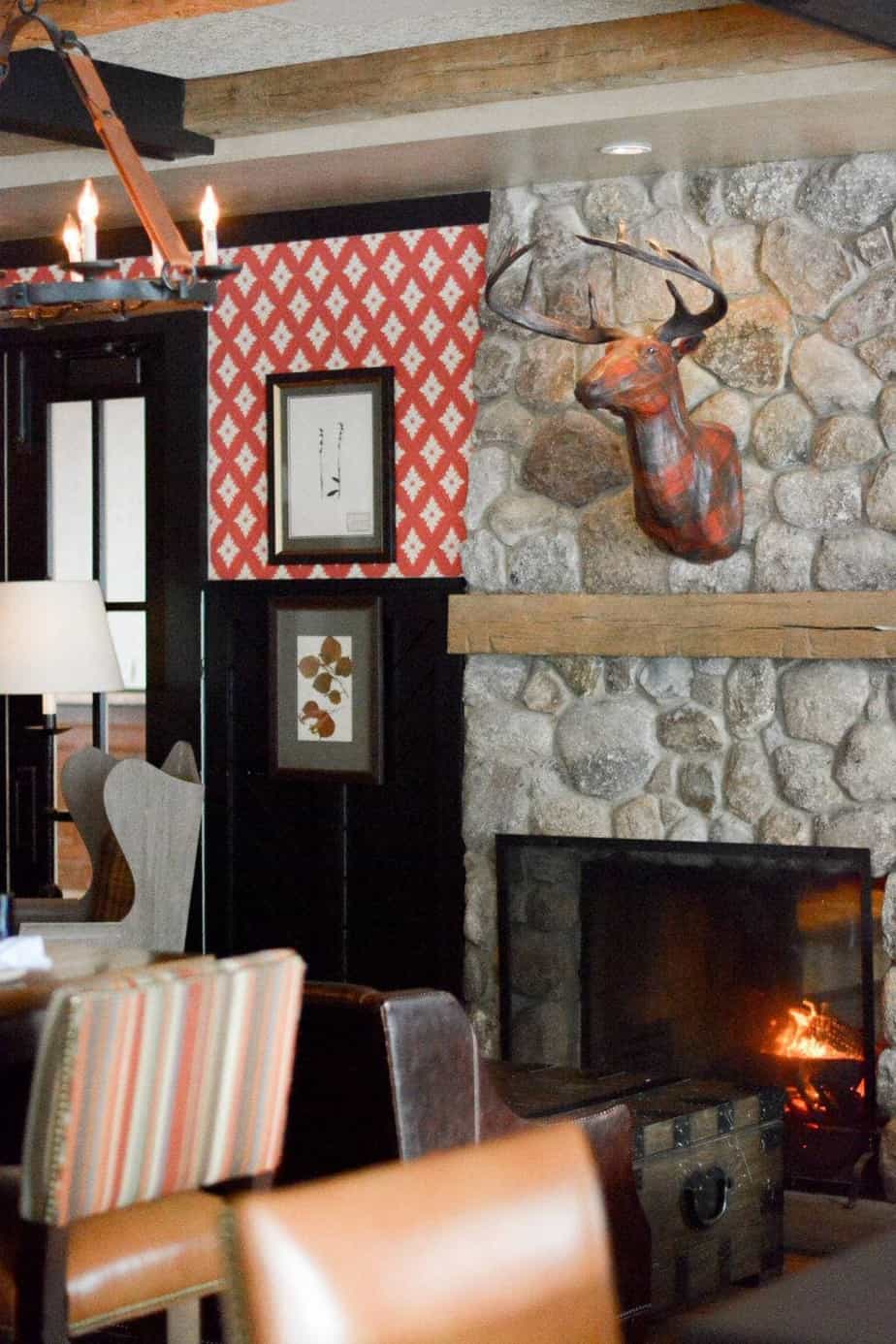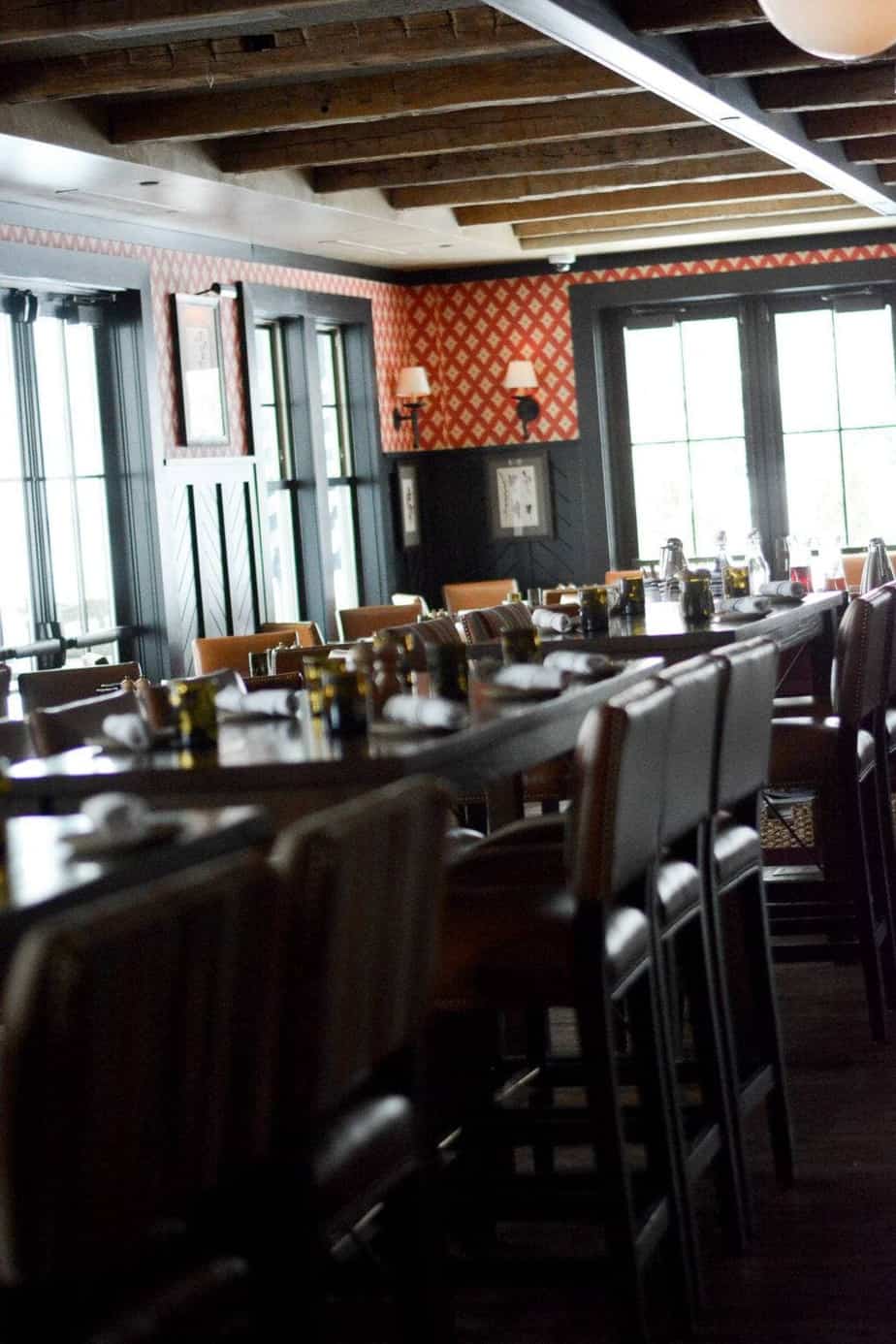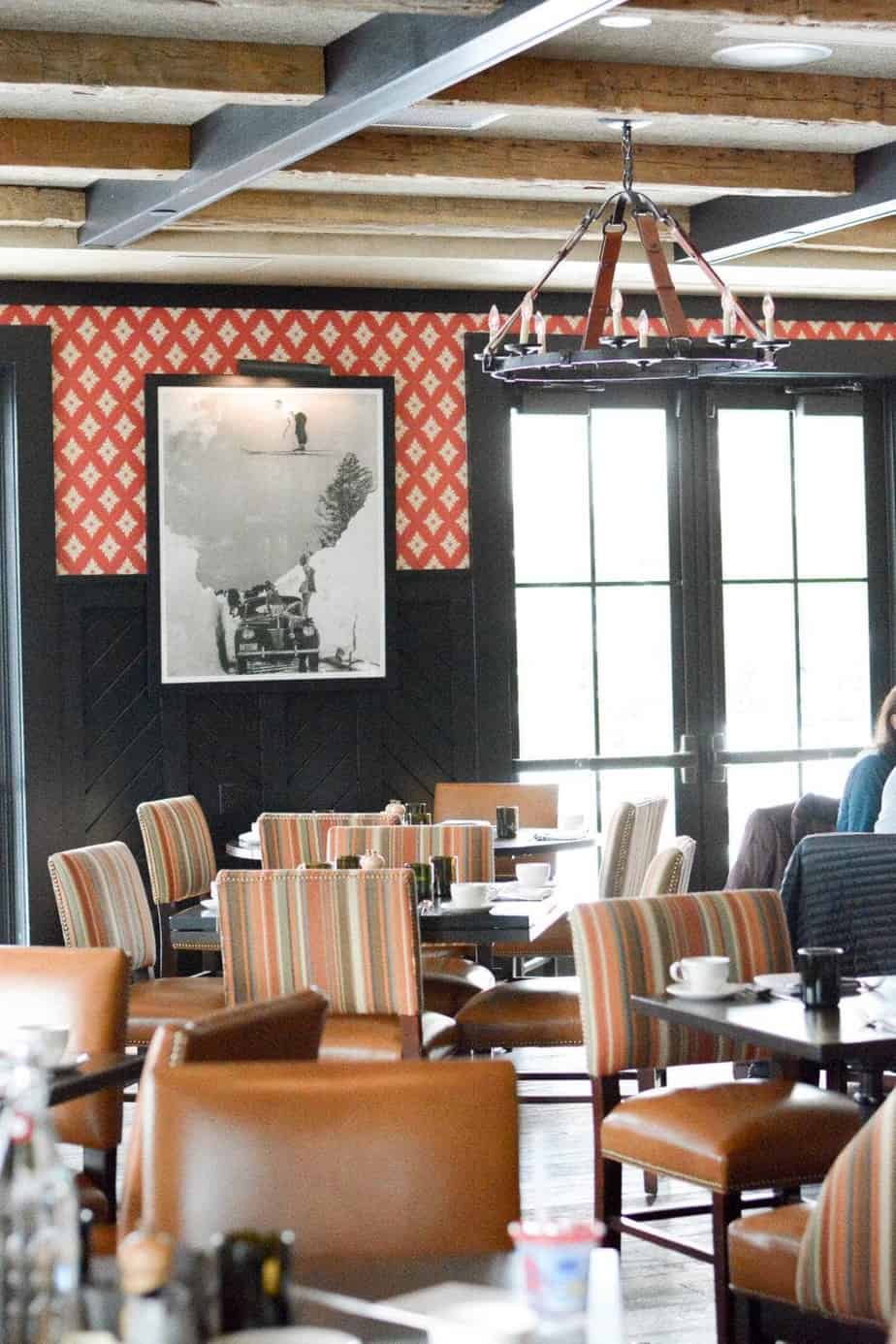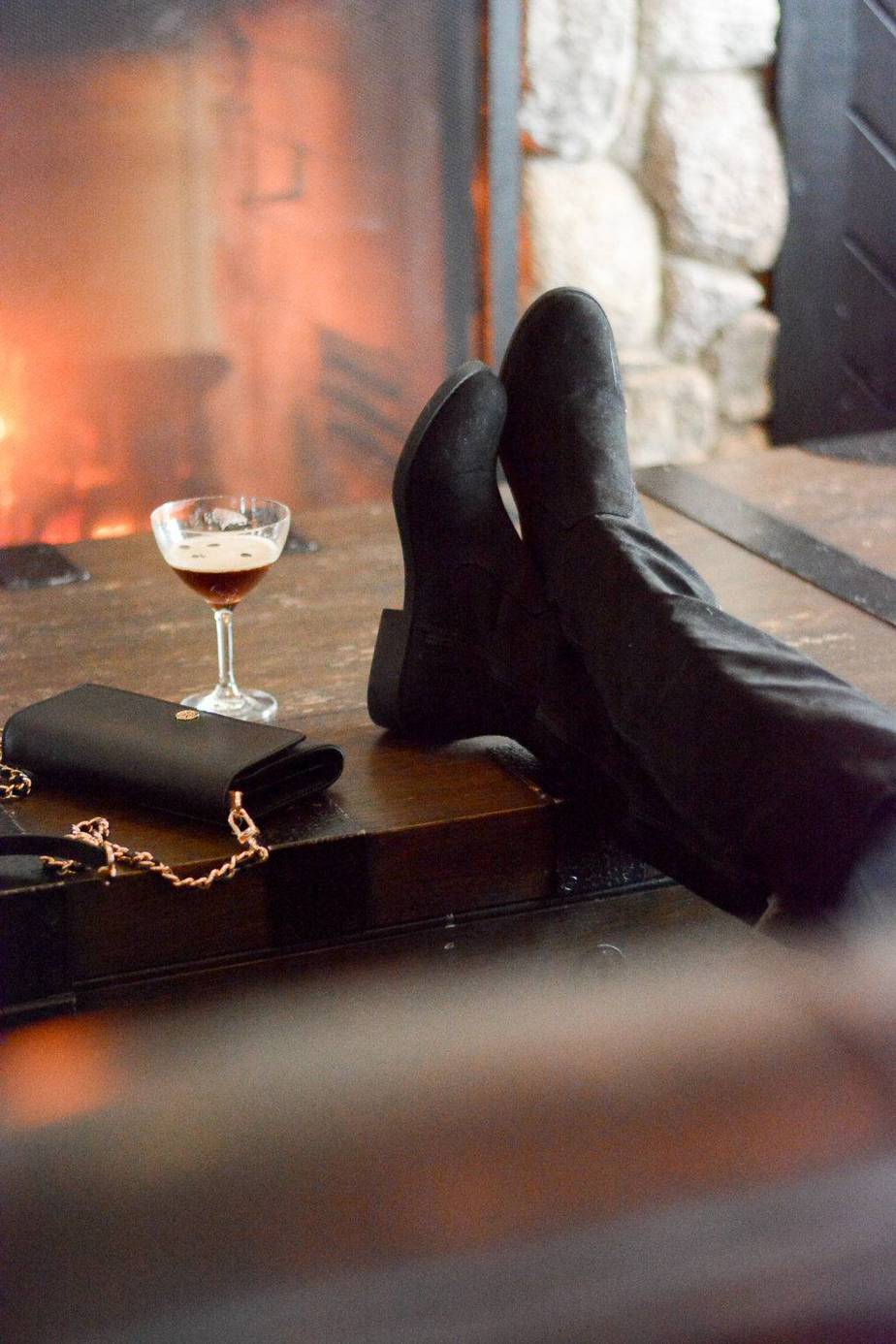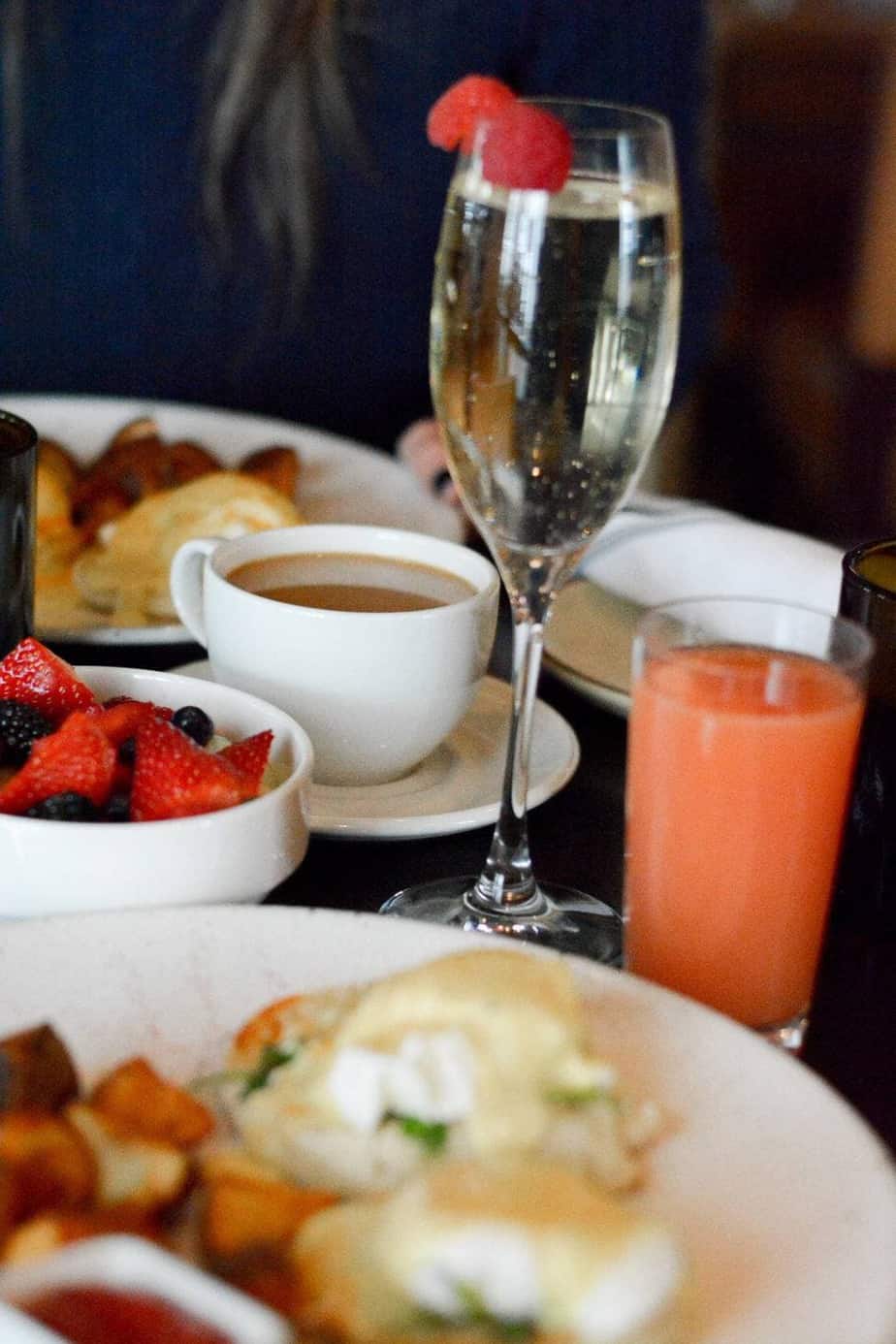 Located right off the lobby, The Copper Grouse is super easy to get to and if it's busy, there are plenty of cozy spots by the fire to wait with a drink. It's open for breakfast, lunch, and dinner, and has all-day room service hours as well. The first night we had a pasta dish, the mussels, and a salad. All of it was really good (the mussels were SO fresh) but I have to say that the bread was literally the most amazing I've ever had. It was a tiny bit sweet but super hearty with really fresh Maple Vermont butter.
There's a wide selection of wine and unique cocktails. I had an Espresso Martini made by Regina – definitely ask for her if you're planning on getting one of these! It was icy cold and gave me enough of a caffeine boost to get through the entire day. We also tried Sunday brunch and I'm still raving about the hollandaise sauce. I'm super picky but it was a perfect thickness!
Nearby Activities Around Manchester VT Hotels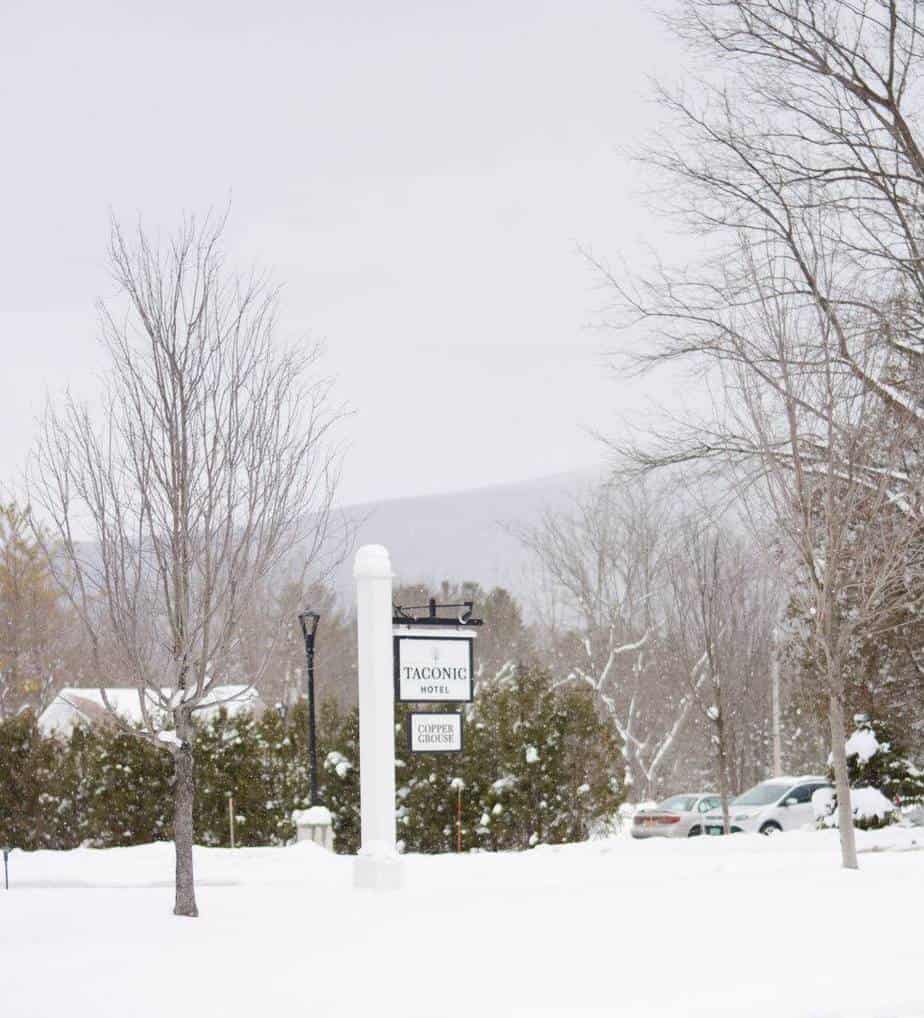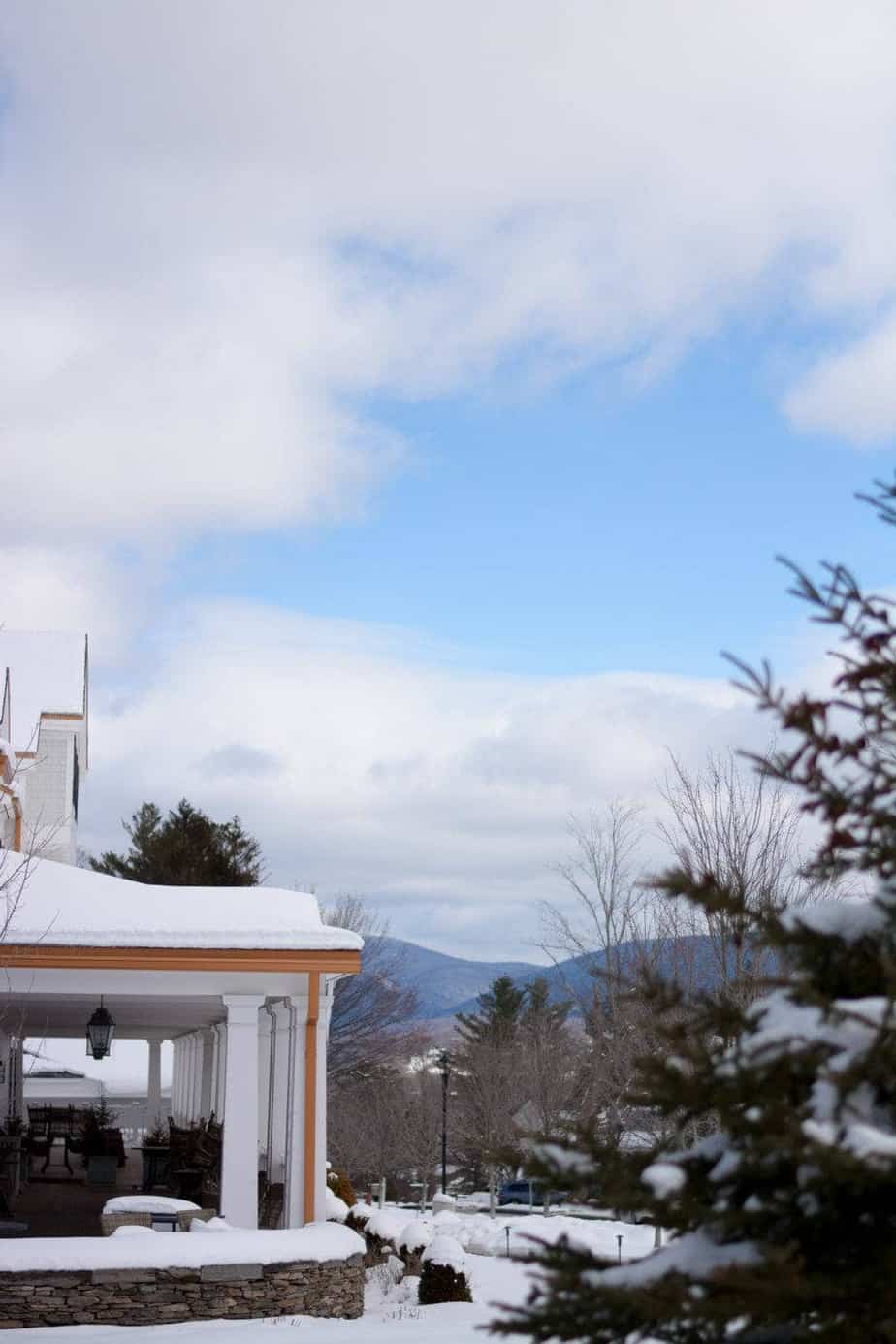 The Kimpton Taconic is right near the downtown (next to most of the other Manchester VT hotels), so it's walkable to almost everything. There's mountains on both sides for a gorgeous view almost wherever you look. Some people went skiing or did other winter activities during the day, but they're far enough away that there's still a quiet, relaxing feel in the town.
There's a section of town that's filled with great designer outlets with amazing prices. I went to Kate Spade, Vineyard Vines, and Patagonia (all the classics), but also noticed Brooks Brothers, J. Crew, Michael Kors, Ralph Lauren, and Theory.
There's also a few restaurants downtown right near most of the Manchester VT hotels that looked good. The emphasis seems to be on pubs and craft beer, so if that's your thing that you'll be set. Otherwise, there's a few higher end restaurants, but it really seemed like the Copper Grouse was one of the best. Keep in mind that there was no Uber in town, but luckily everything is relatively close so you can bundle up and walk!
So so many thanks to The Kimpton Taconic in Manchester, Vermont for generously hosting me! If you're interested in staying at The Taconic, visit their website at http://www.taconichotel.com or https://www.ihg.com/kimptonhotels. All opinions and images are my own.