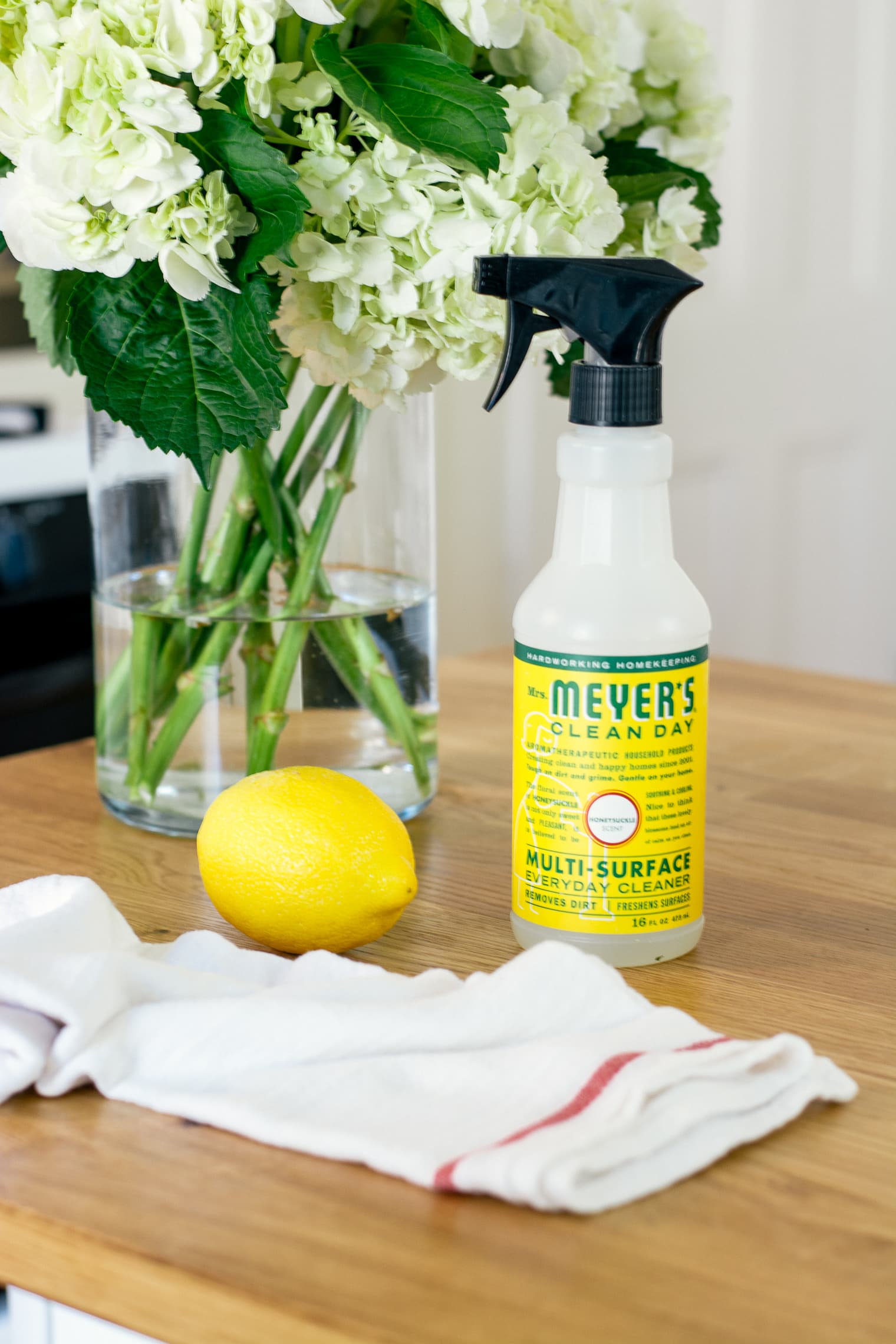 Once in a while, I get into the cleaning mode and go haywire around my house. And it's great, because every room will sparkle by the time I'm done! But what about the rest of the time? If you're anything like me, you probably find yourself wondering how to get motivated to clean and declutter, especially when you're just not motivated to clean.
For me, the rest of the time is hard. I can make myself write a blog post, cook dinner, and even go running, but for some reason, I have so much more trouble trying to force myself to clean.
Of course, this means that the house gets cluttered and dusty within a few days. Dishes pile up, dirt is tracked in, and it's pretty obvious that it's time for another deep clean.
There are months or even years straight that I'm on and focused, but there are other times when I'm just not feeling it. I might have a cold, be going through a friend breakup, or just had a bad day at work.
Whatever it is, the end result is the same: a dirty house. We all say that we don't care about a little mess, but let's be real: we enjoy living in cleanly conditions.
After a lot of trial and error, I've come up with a bunch of methods that work for me when I need motivation to clean. I decided to put together a guide all about how to get motivated to clean and declutter.
I figured that at least some of my readers have these same issues! After all, getting motivated to clean is a day-to-day skill, not an accident. Motivation is something most of us weren't born with, but something we have to learn.
My hope is that one of these 12 ideas sparks something within you and gives you that tiny, tiny push you need to actually start cleaning and decluttering!
1. Start Small
If your house is a complete disaster, cleaning feels like climbing a mountain. To actually get started, you need to break it down and pick one or two small tasks that will make a difference. The #1 thing you should remember if you're wondering how to get motivated to clean is exactly this: start small!
When my house is that bad, I know I need to start with clutter. It's really difficult to do a deep clean around the clutter, so I organize one small area.
For example, my vanity in my bedroom gets bad really quickly. There will be makeup all over it, beauty products, self-tanners, and a variety of other stuff that doesn't even go on the vanity and accumulated there.
It only takes about 5 minutes to clean off my vanity on the worst of days. Everything that ends up on it has a place (I spent a lot of time organizing my bedroom and assigning a spot for every single item), but starting this process seems so hard.
When I choose to clean just my vanity instead of the whole bedroom, the task is almost nothing. Amazingly, the room looks so much cleaner after this simple 5 minute activity. I often end up cleaning more because I notice how much happier I feel with less clutter.
Choose one small area and expect nothing more out of yourself. One of the biggest reasons we can't actually get started with cleaning is because we know that once we do start, cleaning an entire home (especially a messy one) is a never-ending task.
Some other areas I like to choose are the coffee table, the island, one kitchen counter, both nightstands, the kitchen sink, the bathroom sink, etc. The possibilities are endless, but try to choose an area that is simple and easy for you to clean but is also visible. You want to see the results of your work immediately! This will motivate you to continue cleaning each day.
Even if you only clean one small area a day until you're out of the cleaning slump, that's huge progress and will make your home feel a million times happier!
2. Set a Timer
No joke: the timer on my phone is my best friend in the world.
I use it for a lot of things, from cooking to BBG workouts to – you guessed it – cleaning.
A timer is, in my opinion, the best way to get myself up and moving. I always set it for a small amount of time (usually between 10 and 20 minutes) and choose an area that I require myself to finish during that time.
I'm competitive at heart, even against myself, so I end up running around to finish the whole area before the timer goes off.
If you'd like to touch up a few rooms so that they look more presentable, set a 10 or 15 minute timer for each room and do as much as you can. I guarantee that each room will feel like it got a makeover and the process will take you less than an hour total!
3. Routinely Clean the Same Thing Every Day
After reading the Fly Lady's book (which I highly recommend – it got me up and moving more than anything else), I started cleaning my kitchen sink every night before bed.
She says that you can't start the day without a clean sink, and this is something I've come to agree with. The rest of the house might be in awful condition, but that sink will be shiny and sparkling.
Sure, we all go through ups and downs, and I'll be honest: there have been some nights when I left a few dishes in the sink. Even after I read this book, I just couldn't keep it perfect, but I did find that incorporating the routine of cleaning one thing every single day kept me on track long term.
Choose something central that you need to keep clean every day. I personally loved keeping my sink clean because it's one of the first things you see when you enter my home, but other great ideas are your nightstand, the countertops, the coffee table, the island, or an area where you usually stack junk paperwork.
4.Use a Checklist
If you're doing a once over of each room (or one room a day), I like to use a checklist.
I find that a checklist gives me really clear instructions about what I need to clean. Unlike a timer, I can go as fast or as slow as I want, but I tend to speed things up so that I can get through the checklist and be done.
One of the biggest roadblocks when you need motivation to clean is not having an end in sight. Both a timer and a checklist give you a finish line to look forward to.
Something about actually checking off that box on a physical piece of paper works for me. The more boxes I check off, the more motivated to clean I become. I always prefer actually printing out the checklist rather than just looking at it on my phone or computer. The physical piece of paper is definitely what motivates me!
I use a checklist when I need to clean specific things in a room. For example, if I want to clean my kitchen until it's done and complete certain tasks, I'll use a checklist and push myself to finish it off.
If I just want to get into the habit of cleaning or make a bit of general progress, then I'll use a timer.
Both methods work really well for me and I use them each depending on what I'm looking to accomplish!
5. Make a Weekly Schedule
Something about knowing that you don't need to do it all today helps. I like to make a schedule for Monday through Friday and include a lot of my day-to-day life details on it.
I also schedule in a few cleaning intervals each day. For example, on Monday I go grocery shopping and clean out the fridge, but the floors get scrubbed on Wednesday. I don't clean the bathroom until Thursday so that it's ready for the weekend.
I generally put the larger tasks on a weekly schedule. These include dusting, changing the sheets, vacuuming the house top to bottom, cleaning the stove, etc. The smaller day to day tasks (such as washing dishes) aren't included and are just kept up as the day progresses.
If you're wondering how to get motivated to clean long term, I recommend a weekly schedule. Not only has it kept me on track with cleaning and given me more motivation to clean, but I'm extra efficient in other areas of my life as well. When you only have 30 minutes on the schedule to accomplish a task, you're more likely to start doing it right away!
6. Tack Up a Cleaning Quote In Each Room
Motivational quotes are popular for a reason! I found a few sayings that really resonated with me, printed them out, and stuck them up around my house.
I actually framed a quote and hung it up as a piece of mini-artwork in the bathroom. Now, whenever I'm washing my hands, brushing my teeth, or doing my hair, a motivational and uplifting reminder to clean is staring at me.
There's quite literally millions of quotes on Pinterest, but here are some of my personal favorites to give you some great motivation to clean:
"Taking care of yourself also means taking care of your environment."
"The way to get started is to quit talking and start doing." -Walt Disney
"For every minute spent in organizing, an hour is earned." -Benjamin Franklin
"Time is non-refundable. Use it with intention."
"Cleaning and organizing is a practice, not a project." -Meagan Francis
7. Invest In Products You Enjoy
I know I sound like a total nerd, but when I buy new cleaning products that I really love (which are usually the most expensive ones, naturally), I'm excited to get started.
I'm a huge fan of Meyer's right now, but I also love making my own vinegar cleaner (1/2 vinegar, 1/2 water) in a pretty glass spray bottle.
If you're struggling to clean lately and haven't gotten any new products in a while, then it's time to invest $50. That's probably less than one dinner out, and you'll use these products for the next 3-6 months!
For me, the items that made the biggest difference were my vacuum (it's cordless!), an automatic spray Swiffer mop, a great multi-purpose cleaner, a magic eraser, and bleach.
These products aren't even that crazy! They certainly weren't expensive, but having my favorite products laying around when I need to clean does give me an extra boost of motivation.

8. Have a Cleaning Caddy Ready to Go
A nice cleaning caddy makes everything easier. If you can fit all of your medium to small cleaning products in it, then you can grab it and go to whatever area of the house you're working on.
Using a cleaning caddy works especially well for me when I'm cleaning with a timer. I find that it helps me move faster and get myself motivated to clean more easily!
It's super easy to find a cheap and cute cleaning caddy. Similar to buying products that you like, this will 100% help you perk up to clean!
9. Watch a Cleaning Youtube Video
Sometimes, I find myself scrolling through Instagram or YouTube to put off actual chores. What I do to get myself out of this mindlessness is to watch a cleaning Youtube video.
I know this sounds kind of weird, but when I watch a quick YouTube video of someone else successfully cleaning their home, it motivates me to do the same.
I love How Jen Does It. She often cleans her entire house on camera but also shows simple cleaning methods for a morning routine, afternoon cleanup, etc.
10. Download the Fly Lady App
I live by the Fly Lady app. It's available on the Apple store and potentially for other types of phones as well, although I'm not positive.
There are multiple routines that you can personalize on the app. I currently have a morning routine with 7 tasks, an afternoon routine with 5 tasks, and an after dinner/before bed routine with 7 tasks.
All of these tasks are insanely easy and quick! They're items such as make your bed, get dressed with shoes on, drink your water, and declutter for 15 minutes. Each routine takes 10-15 minutes. The app will send you reminders before each routine so that you get it accomplished.
There are also zone lists. For example, my kitchen zone has 12 tasks that I'll do once a week or so. There's tons of zones and some are monthly or seasonal tasks, such as polishing the furniture in the living room den.
The app is a great way to keep everything in one place, from daily upkeep to seasonal cleaning!
The Fly Lady book is also a great read if you want to overhaul your life and try a completely new cleaning routine.
11. Watch a Show Or Listen to Music
This one might be a little controversial, but I actually put Netflix on when I clean. I'm really into Hart of Dixie right now, and it's the best cleaning buddy I could imagine.
When I'm cleaning the living room, I put it on the TV and bop around. Otherwise, I pull up Netflix on my phone or laptop and prop it up somewhere I can easily see it.
You might be thinking that this is super counterproductive, but my rule is that I can only watch even a few seconds of a show while I'm actively cleaning. If I sit down for even an instant, the show gets paused.
I usually get caught up in cleaning and end up missing parts of the show, so I recommend choosing a show that you don't need to pay insanely close attention to. Game of Thrones might not be the best choice, but any comedy or reality show usually works.
Watching a show is especially useful while organizing or decluttering! When I'm going through my clothing drawers, I can watch at least an episode without running around and still get a lot done.
When I want to watch a show, I follow the rule that I need to start cleaning, and this pushes me to actually do it. I also like listening to music or podcasts to get me going!
Making a playlist that's a certain amount of time is similar to an actual timer, and a podcast is the same idea but you can learn something cool while being productive. I especially love Rachel Hollis for motivation.
12. Reward Yourself
At the end of the day, sometimes you need a good old-fashioned reward to get going.
There are so many rewards you could choose! I pick small things like grabbing my favorite cocktail on Friday afternoon, getting a coffee out in the mornings, or ordering a new swimsuit.
I like to tack up my weekly reward on the fridge, right next to my schedule. If I can manage to complete each cleaning task that's on the schedule for each weekday, then I get my reward!
You can also pick smaller daily rewards. If I'm really in a slump, I do this to jumpstart myself. For example, if I can finish all three of my 15 minute timers, then I get to watch a half hour episode of the show I'm currently on while relaxing.
Whatever you choose, make sure that it works for you and is something you'll really push for!
I hope that this post gave you something useful that will help you motivate yourself. These are all of the tactics that work for me in real time, but you only need to use one of them to get going.
At the end of the day, we all have to just get up and doing it. Literally standing up is the hardest part, but once you get going, you'll find that it's not as bad as you thought.