This shop has been compensated by Dial®. #SnuggleScentShakes #ShakeUpYourScents #sponsored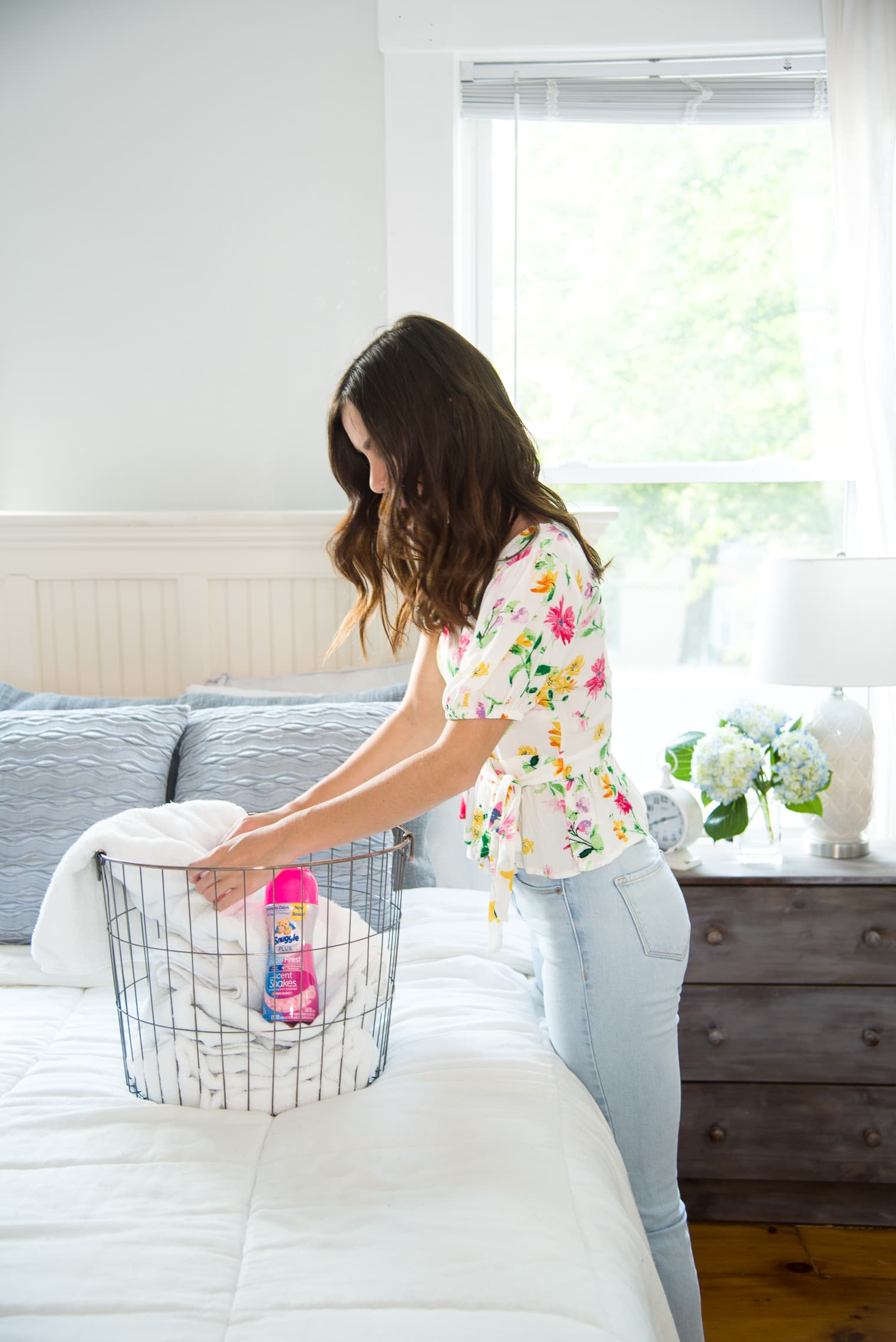 Houseguest season: I love it and I hate it. While I'm always really excited to see family or friends for an uninterrupted stretch, it's also stressful to try and provide everything another adult needs for a few days.
As someone who has been a house guest more than a few times, I know that I personally hate having to ask for anything. If I can't find a bottle of water, I definitely don't want to ask for it, so as a host, I try to have everything set out that guests could possibly need.
It's a common misconception that you need to clean every nook and cranny before having guests. Sure, they might notice if your windowsill is a little dusty, but it won't directly impact their visit. Things like basic amenities (toilet paper, towels, etc.), food/drinks, and odors definitely will change their perception of the stay.
When preparing for overnight guests, I recommend focusing on the areas that will actually impact your visitors before doing a huge deep clean. Here are all of the ways I try to make having house guests easier for both myself and my overnight guests!
Write Out The WiFi Password
Let's not pretend that WiFi is anything less than super important. Instead of having each guest individually ask you for the WiFi password, it's much easier to print it out and showcase it somewhere central.
I like to find a cute printable that includes both the WiFi network and password and then frame it. I recommend keeping one frame in a general area (like the living room or kitchen) as well as one in the guest bedroom.
Have Water Accessible
Is there anything more basic than water? I can't tell you the number of times we've been overnight guests and found ourselves really thirsty in the middle of the night.
In my opinion, your best bet is to set up a little water area in the guest bedroom. This can even just be on the dresser or nightstand, or in a guest mini-fridge if you're fancy. I generally use water bottles because they're easy, but you could also set out a pitcher with glasses as long as you remember to change it daily.
Create a Snack Area
Your overnight guests might get hungry at different times than you. One of the toughest parts of having house guests is figuring out where their schedule might be different from yours, but if you have some snacks always available to guests, you won't have to worry about that.
This might be as simple as putting some chips and trail mix in the guest room, or dedicating one shelf in the fridge to snacks and letting guests know ahead of time that they can help themselves.
Eliminate Odors
There's nothing worse than walking into someone's home and smelling a funky scent. It definitely doesn't help to create excitement about staying over!
I use Snuggle® Scent Shakes® Blue Sparkle® and Snuggle® Scent Shakes® SuperFresh® Spring Burst to keep items in my home smelling fresh and clean for overnight guests. Snuggle® believes the extra care we give makes a big difference. Sometimes smell or touch is all we need. So having clean washed linens with Snuggle® Scent Shakes™ will make your guest feel "at home."
Have a Mirror Handy
A mirror is a really underrated tool that guests absolutely love. No one wants to hog the bathroom while getting ready and placing a small mirror somewhere in the guest rooms takes care of this issue. It's even better if the mirror is full length!
Lay Out Extra Towels and Wash Cloths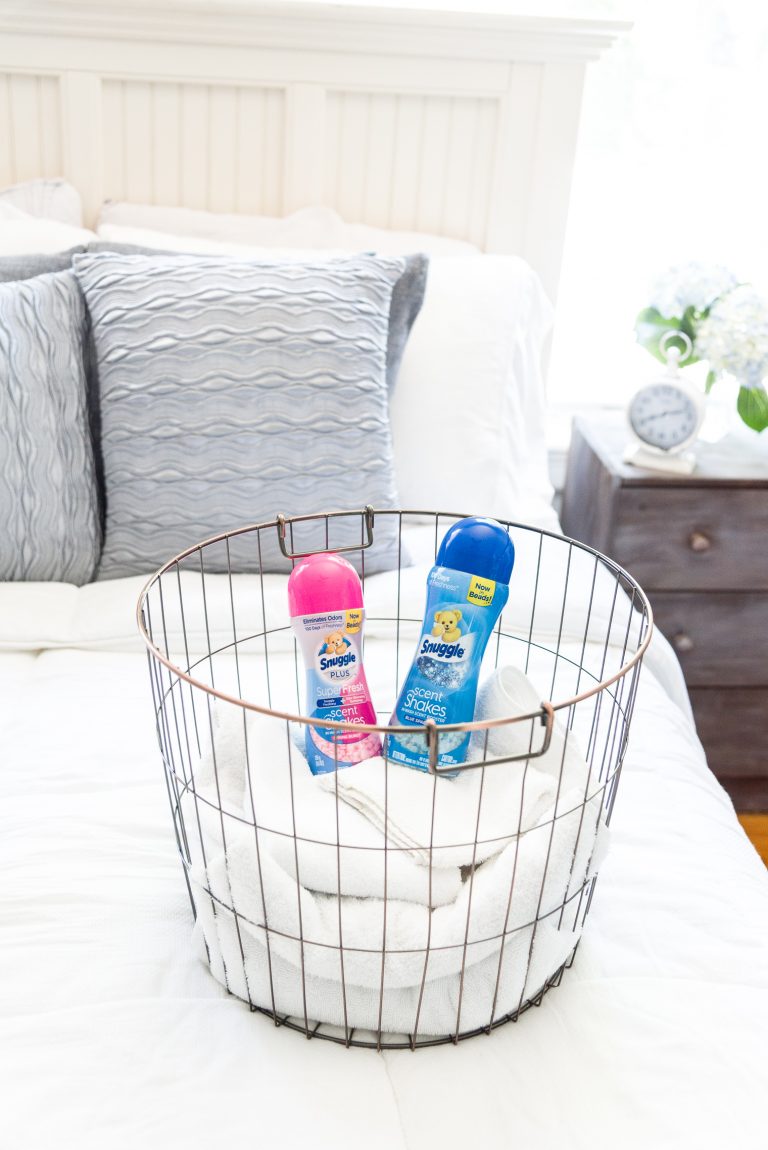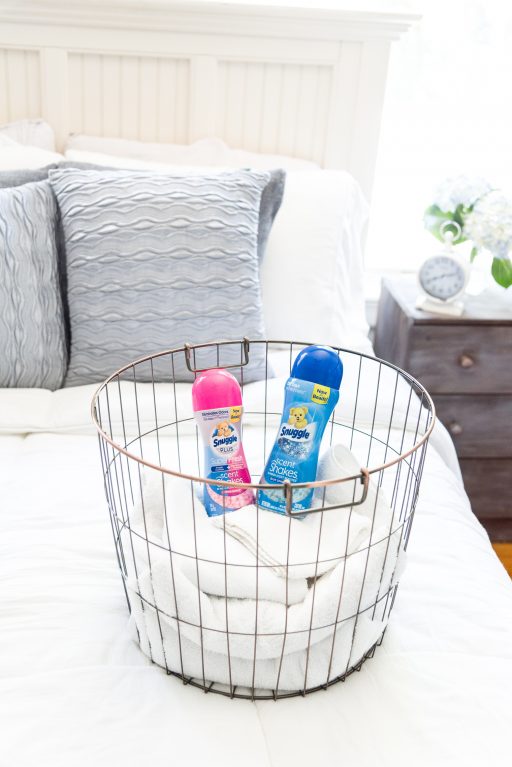 I almost never get a washcloth when I'm an overnight guest at someone's home, and I always need one. I'm one of those people who can't go to bed without washing my face.
Dark colored towels and washcloths are best so that they don't show stains like makeup. I always leave a large pile of each in the guest room so that guests don't have to wait for me to provide each towel during the day or night.
I use Snuggle® Scent Shakes™ to keep my guest towels smelling clean. I like that I don't have to switch them out beyond the original washing (they don't go stale) and that they help towels and washcloths smell amazing for my overnight guests.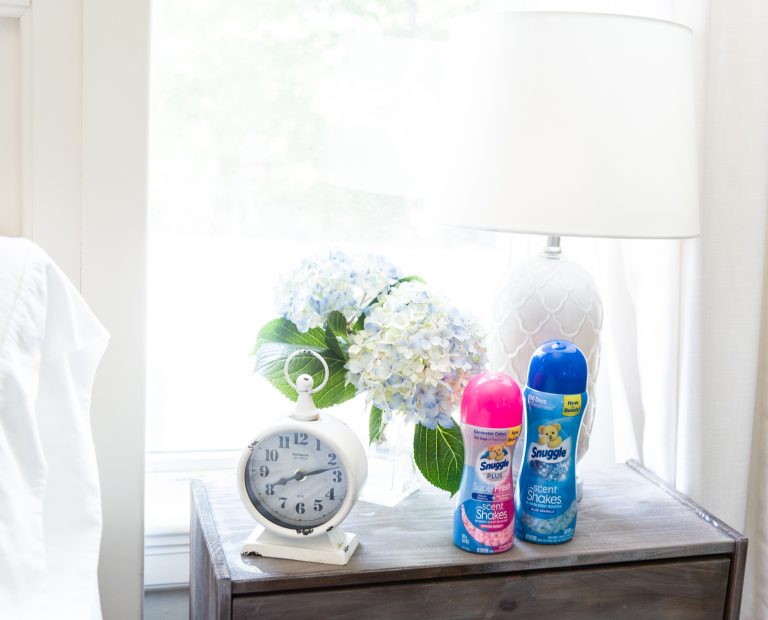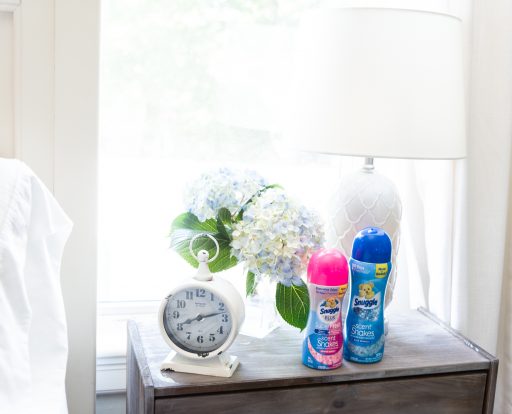 I purchase my Snuggle Scent Shakes at Dollar General, but these products are also available at other retailers like Walmart, Kroger, Family Dollar, and Target.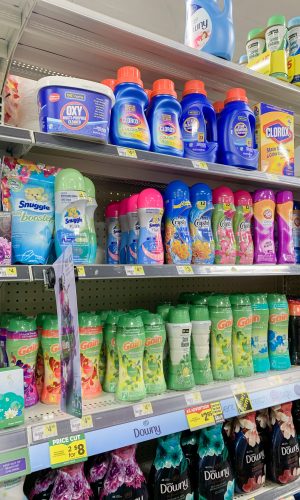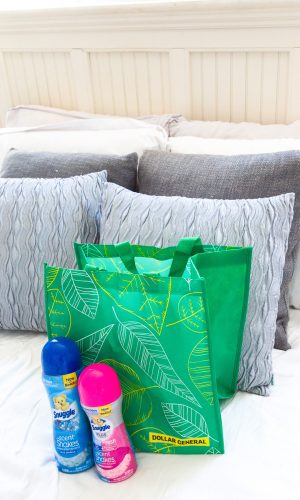 Stock Other Bathroom Amenities
If you have a specific guest bathroom, make sure to leave a generic shampoo and conditioner, toothpaste, spare toothbrush, etc. so that guests can easily have everything they need without asking you for items they may have forgotten.
Leave Wipes Out
Wipes are probably the most underrated amenity that most hosts don't think to offer. Whether something spills, a suitcase gets dirty, or overnight guests just want to wipe their hands off, wipes will do the job.
Baby wipes, food wipes, natural kitchen wipes – they're all great and are super easy and cheap to provide.
Provide a Phone Charger
I'm one of those people who always forgets a phone charger, so offering one in the guest room is the way to go just in case. Guests will definitely feel guilty if they have to ask you for one, and you can easily find a cheap charger for under $10.
Put a Power Strip In The Guest Bedroom
I also like to include a power strip near the guest bedroom nightstand. Overnight guests will probably need to charge a variety of items, and a few outlets might not cut it.
Provide Clean And Fresh Sheets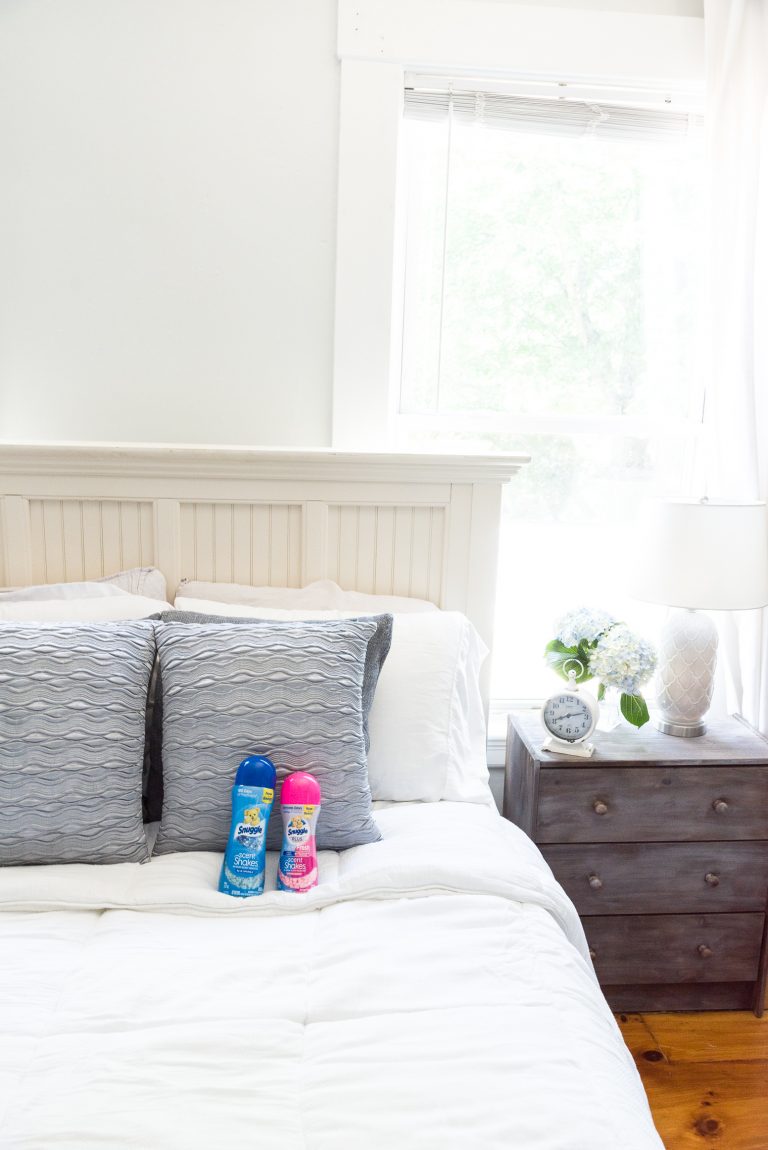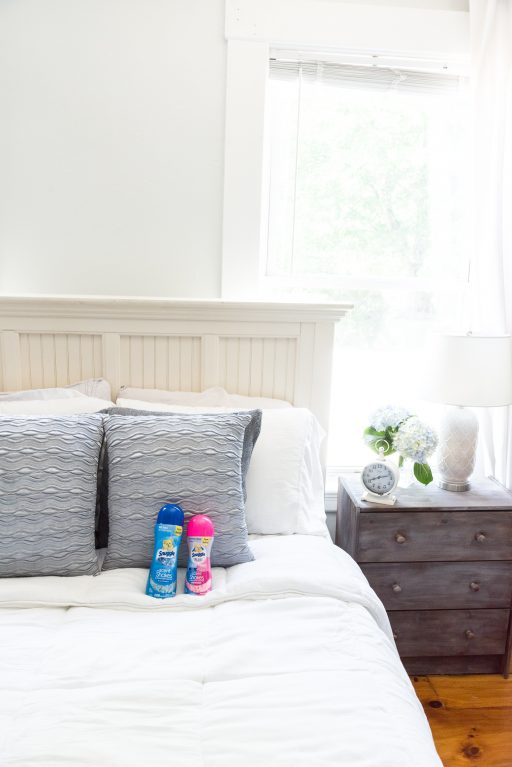 Sheets can go stale after a few weeks of a bed being made, so wash them just before your guests come for extra freshness, even if no one has slept on them.
Snuggle® Scent Shakes™ provides up to 100 days of freshness out of storage, so using these scent shakes is an easy way to keep your sheets smelling clean well before overnight guests arrive.
Have A Coffee Plan
Some guests will wake up earlier than you, so you want to make sure that they know how to use the coffee maker and find anything that they may need for their coffee routine. I like to go over this the night before so that guests are aware.
If you don't have a coffee maker or don't want other people using it, then point out a few local coffee shops (preferably within walking distance) that guests can head to should they wake up early.
Set Out Flowers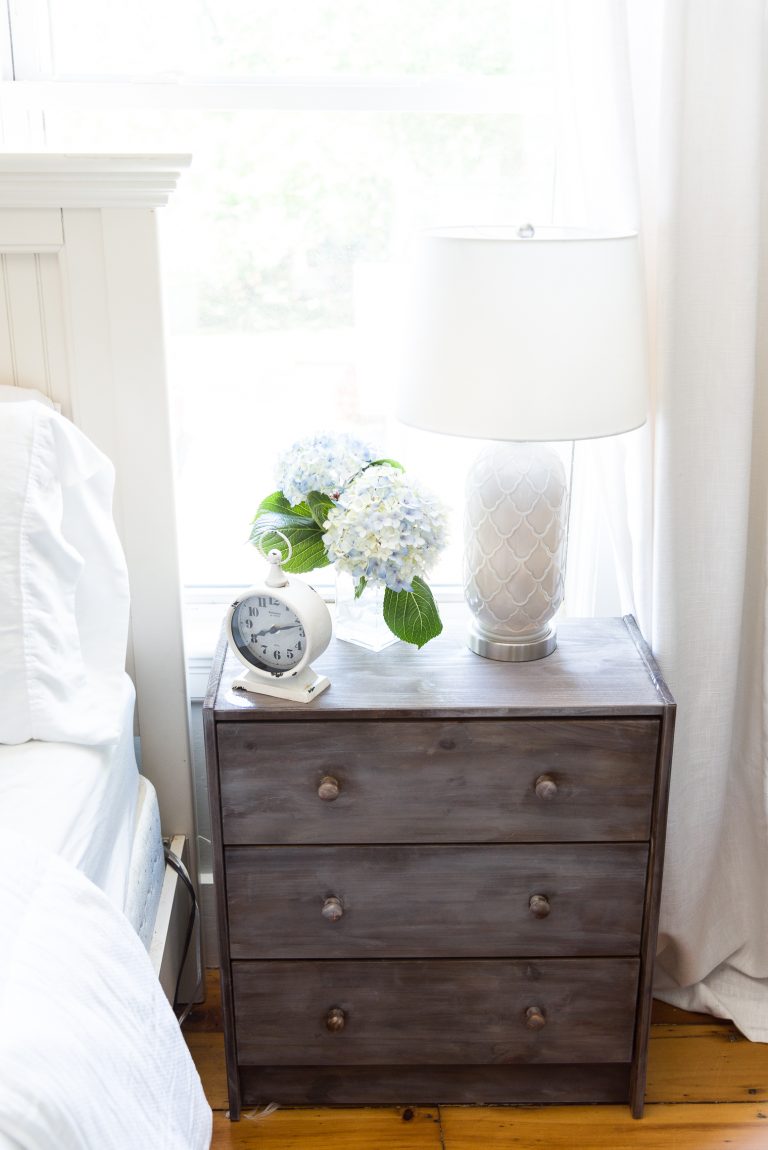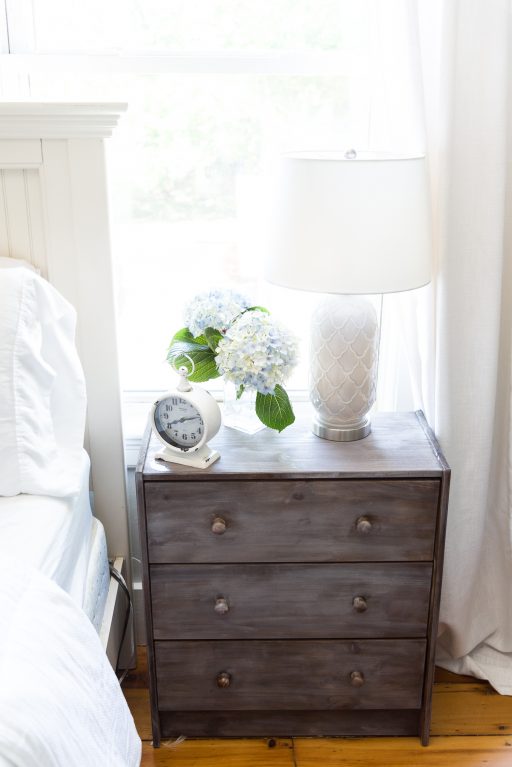 Flowers really do make everything happier, and this includes your home while hosting overnight guests! Not only do I set out flowers in the kitchen and living room, but I like to add a small bouquet in the guest room as well.
This says that you were thinking of your guests and their comfort and wanted to freshen up your home for their arrival!