Looking for the top Christmas tree ideas for inspiration? We've compiled over 100 gorgeous Christmas tree ideas that you're sure to love!
Every year, I so enjoy decorating my Christmas tree differently. The inspiration for Christmas tree decor is honestly endless and the trends change so rapidly!
Last year, I flocked my own real Christmas tree, but this year I'm planning to go with a fake tree and buy it pre-flocked.
I always try to have a Christmas tree design in mind before I actually buy the tree. It's really easy to end up with a tree that just looks mismatched.
Nowadays, I always look online for inspiration before planning anything on my own. There are so many gorgeous Christmas tree ideas out there that it's hard to pick!
Today I'm compiling my favorite Christmas tree ideas from awesome home decorators who really like to go all out. I linked the full post below each picture, so feel free to click on it and check out what products they use.
My style tends to lean toward classic, elegant, and simple, so most of these trees follow that trend. These are all pretty simple ideas that you can accomplish on any budget.
Where To Shop For Affordable Christmas Tree Decor:
Because I like to change my Christmas tree decor every year, I tend to spend a good chunk of change on ornaments.
I purchased my tree this year from Walmart (literally the best fake trees out there and also the most affordable), but that's only the base.
Here are my favorite ultra-affordable places to shop for Christmas tree ornaments and other tree decors:
Crate and Barrel have some awesome ornament options, and most packages are under $25 (I only needed two packages to do my whole tree last year). I really love the gold, white, and silver options because I'm a huge fan of the elegant Christmas tree, but there are all sorts of ornaments for every style!
Weirdly enough, H&M has some really cute Christmas ornament options, especially those that look homemade/made out of paper. They're really affordable and add a unique touch.
Of course, Target is the place to go if you want a massive variety of ornaments at an affordable price. From upscale, elegant, crystalline ornaments to winter animal pieces, Target has it all.
Christmas Tree Ideas:
Scroll through and check out these 40+ trees! There are many different color schemes to choose from. I linked the original posts below each picture if you want to read more on the respective blogger's site and see what products they used.
Note: I tried my best to link the source of these photos, but some are from really obscure places/I couldn't find the original photographer. Please contact me to add more specific credit or for immediate photo removal.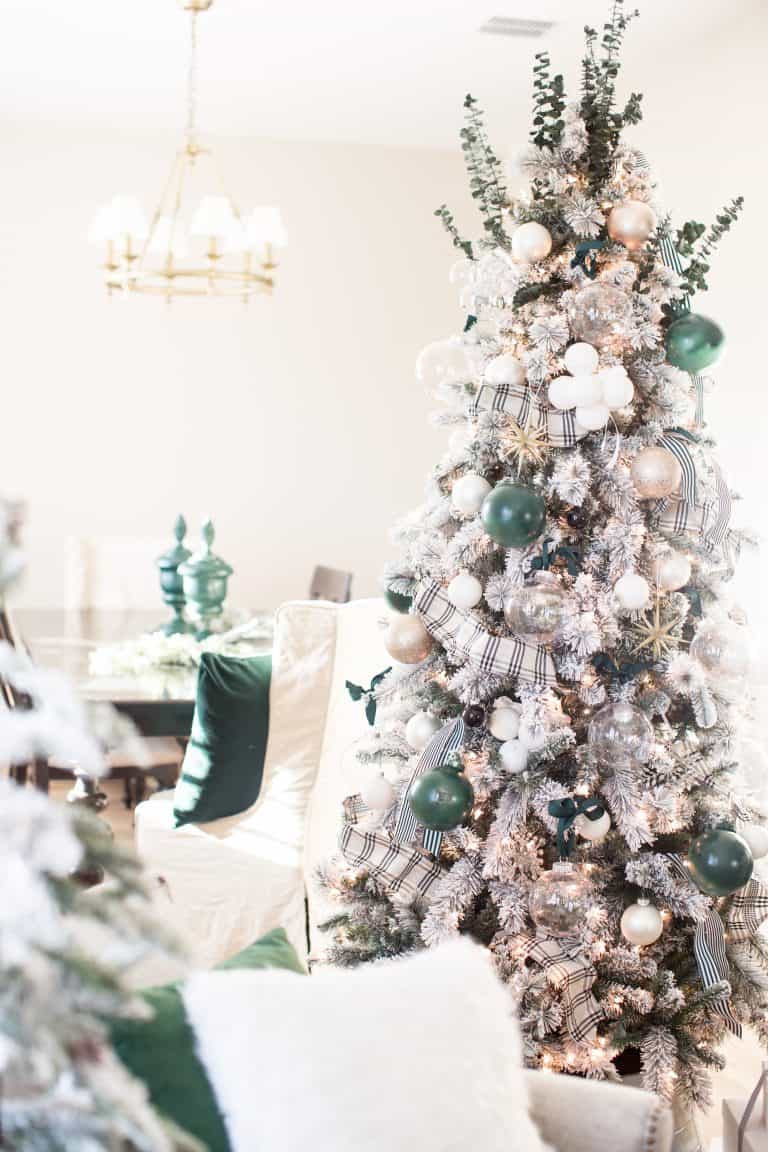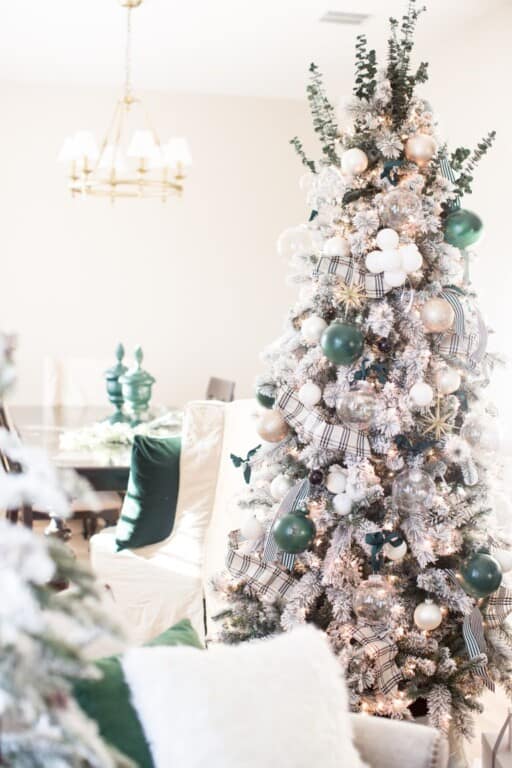 If you're looking for a touch of green in your Christmas tree this year, then take a page from this beautiful hunter-green Christmas tree theme!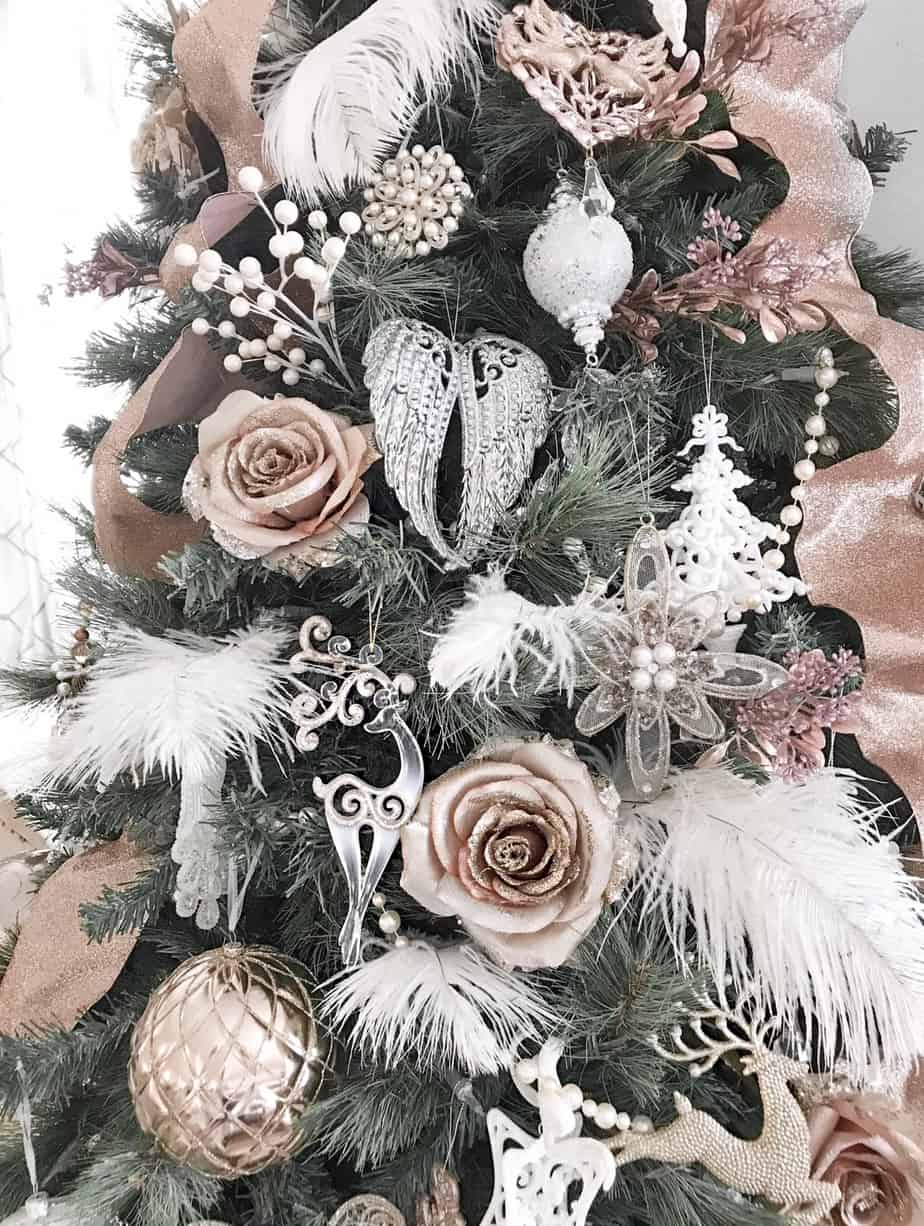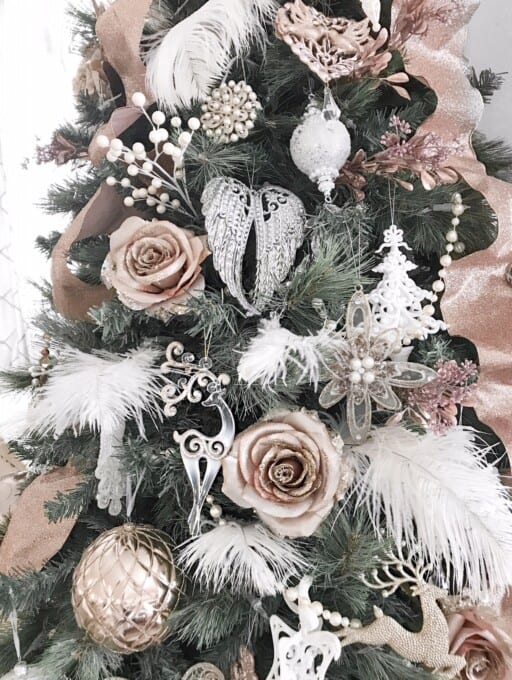 So elegant and classy, your Christmas tree will be utterly gorgeous with this glittery blush rose ornaments!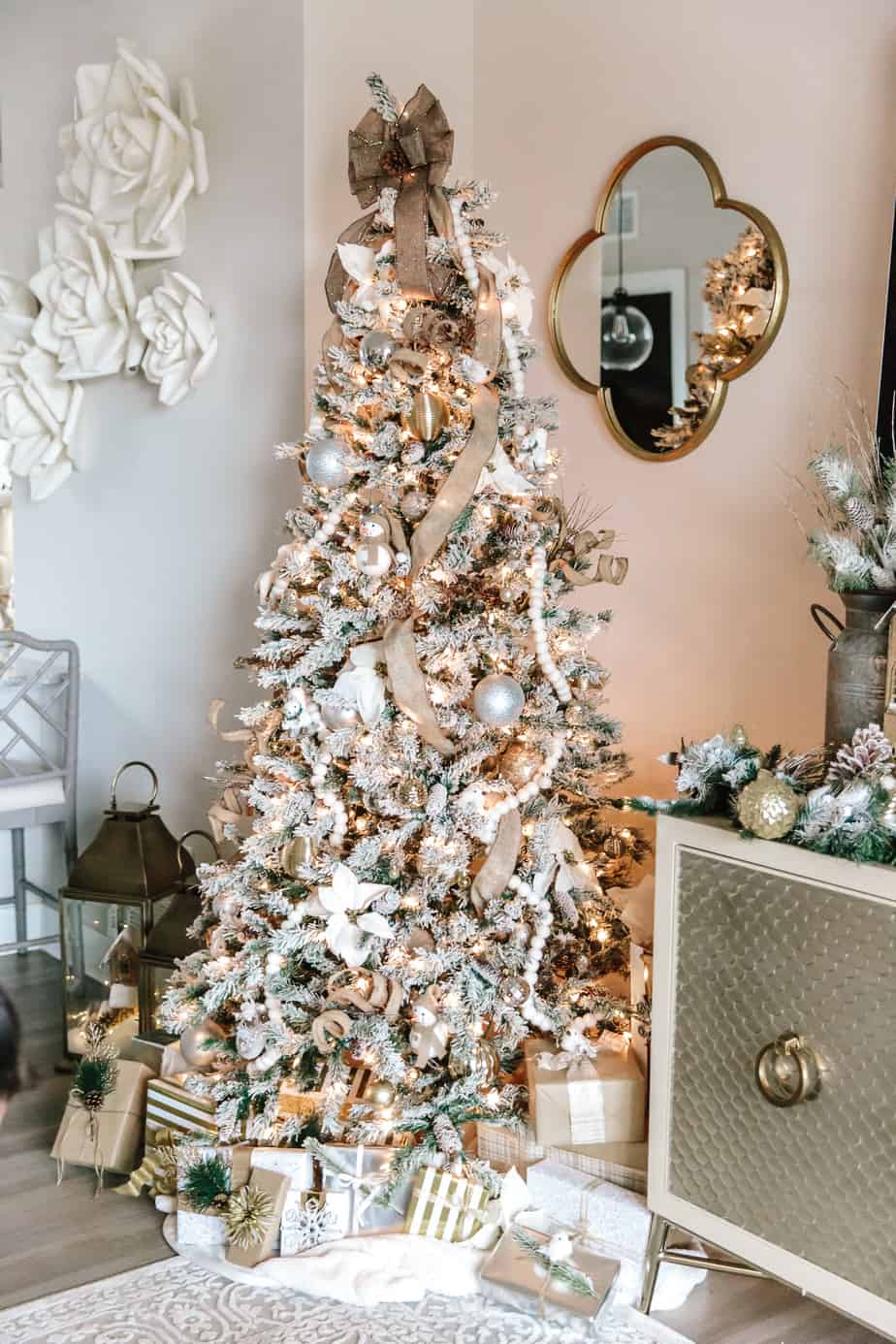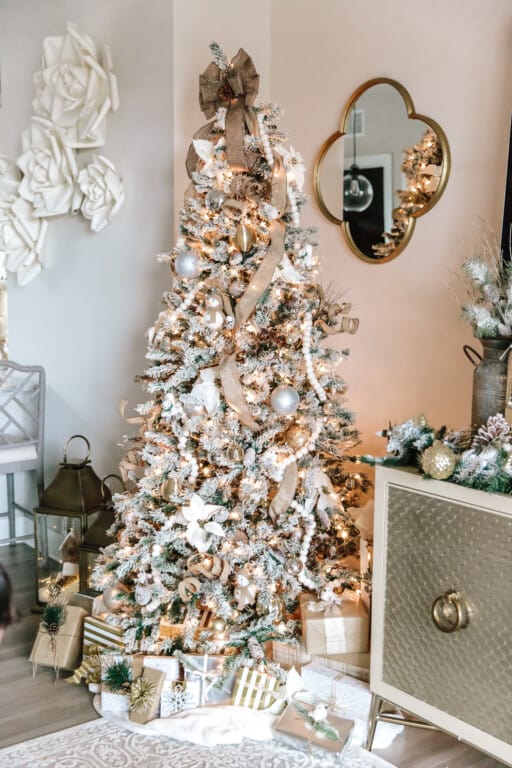 Don't be afraid to mix glam and cozy elements with your Christmas tree this holiday season and you might just end up with something special like this one!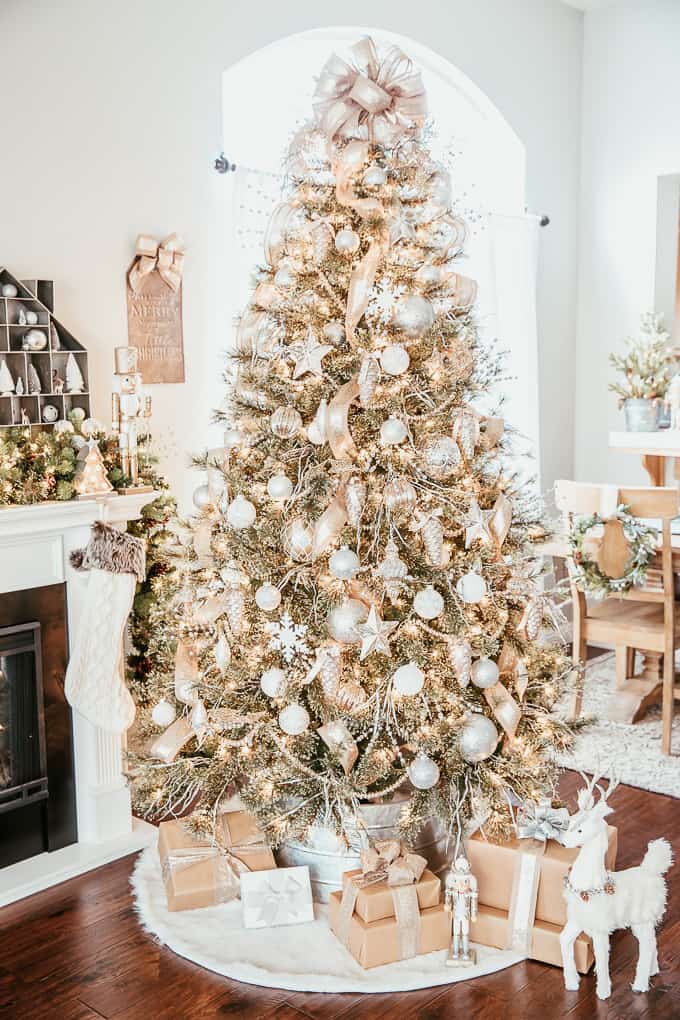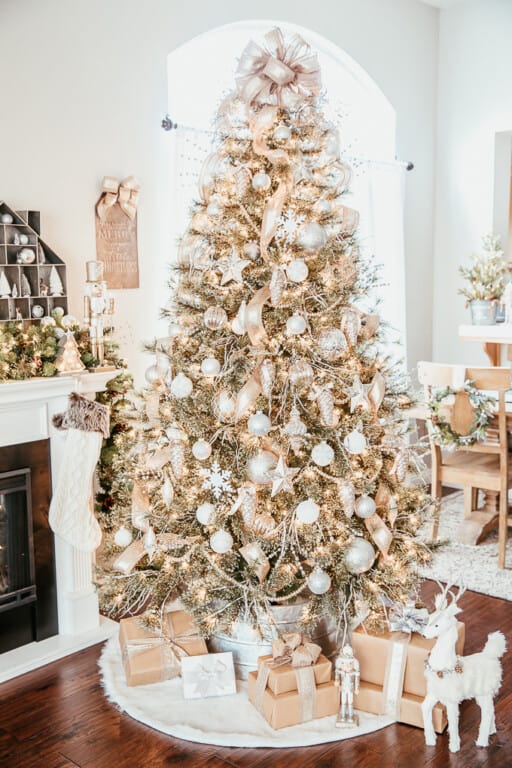 You can never go wrong with a classic silver and gold Christmas tree! It's elegant, it's glamorous, and will never be out of style. So you know you can easily reuse the materials for future years.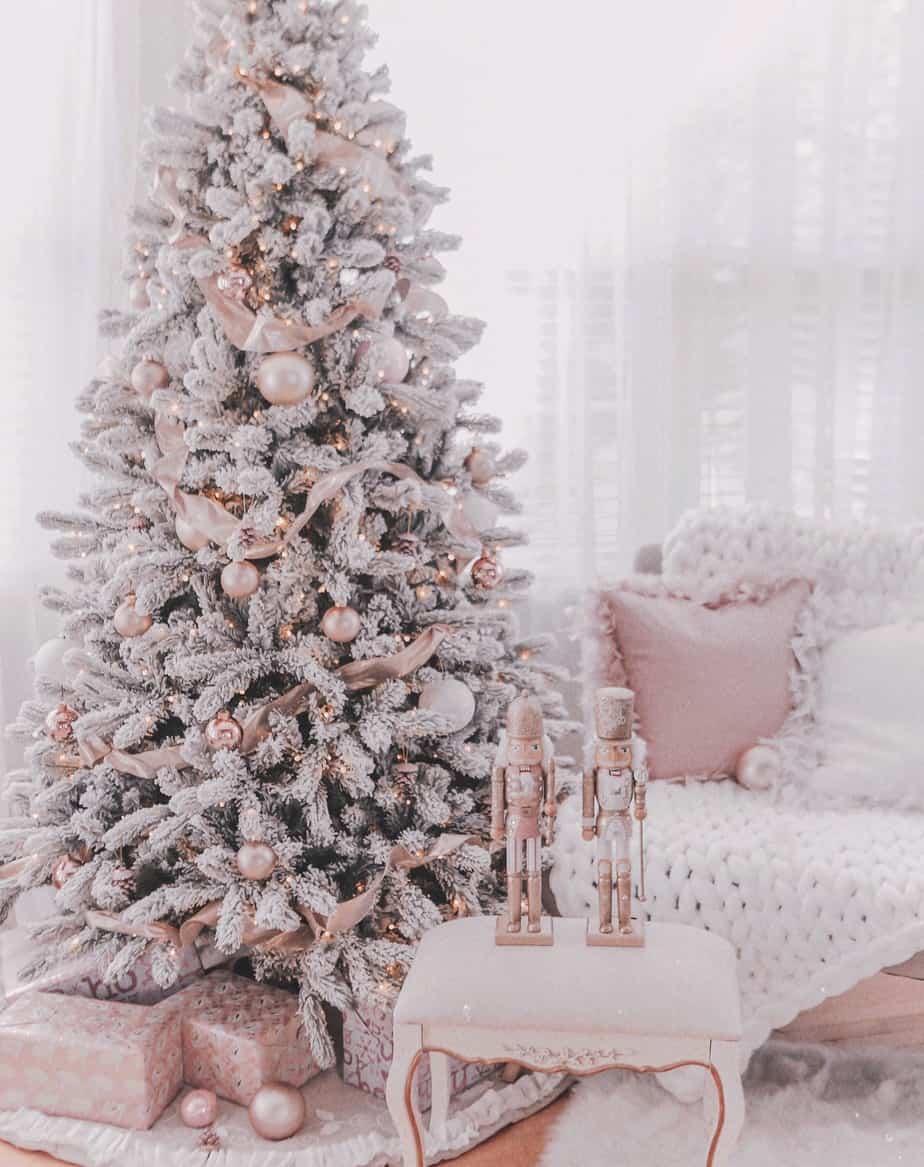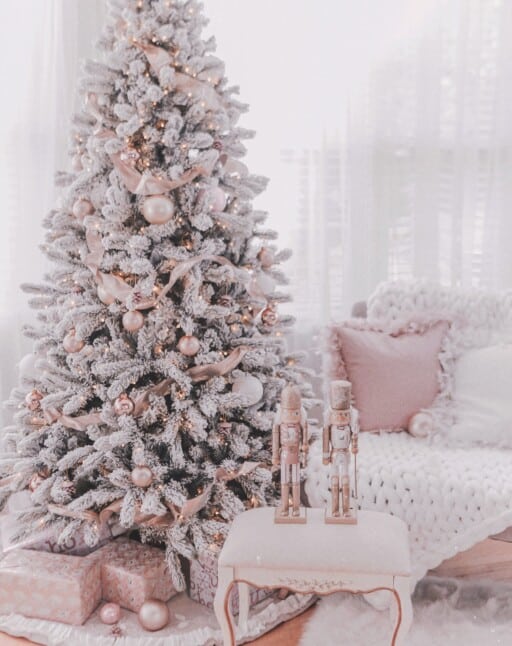 This beautiful, frosted, rose gold Christmas tree is just stunning! It has that, fluffy, delicate, and feminine touch that is just undeniably gorgeous.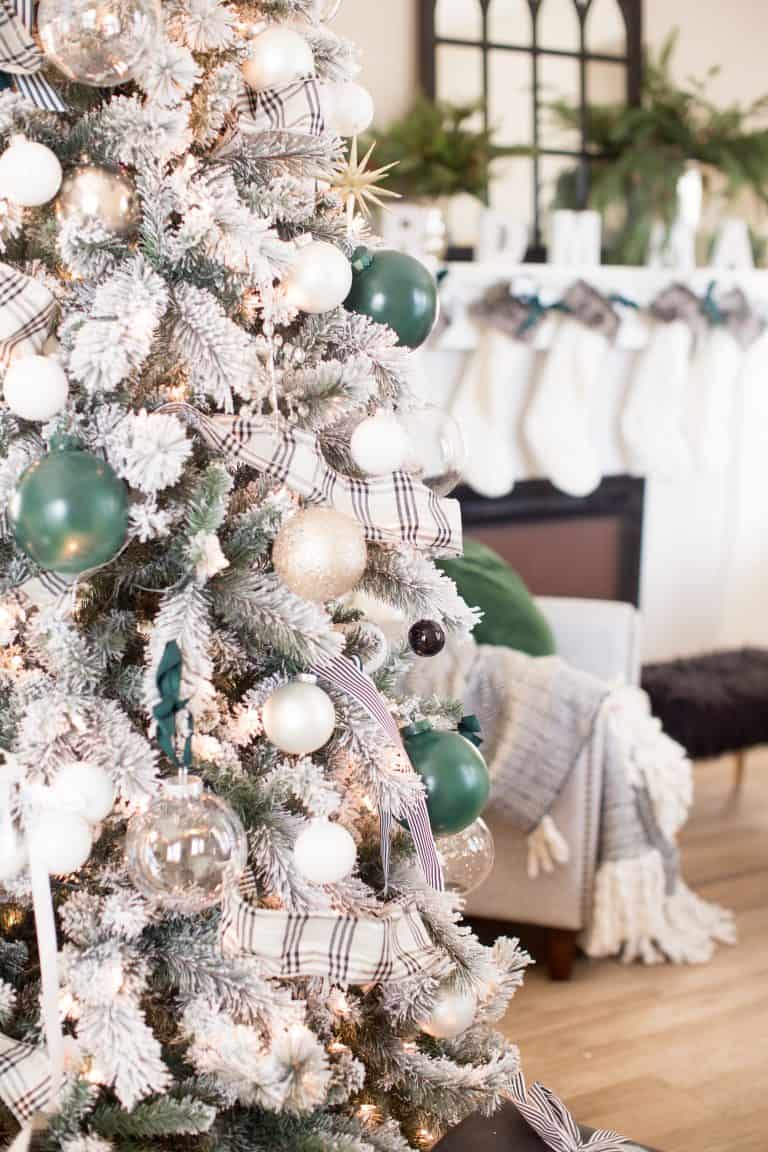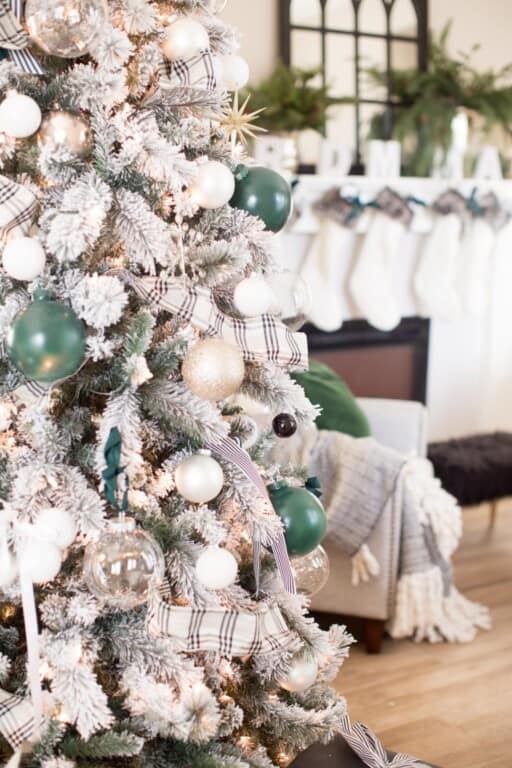 Add pops of color to your Christmas tree this holiday season with these gorgeous green ornaments! They'd make such nice contrasts against the overall neutral colors.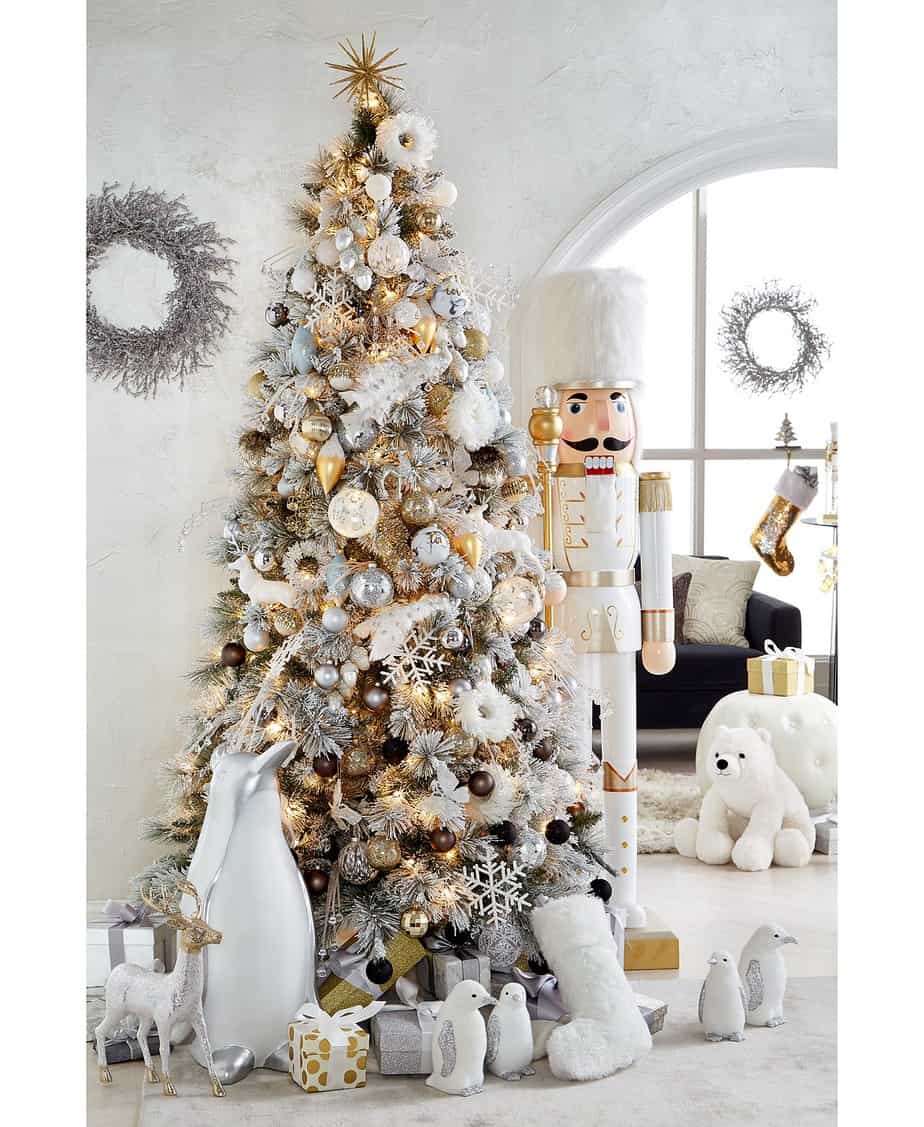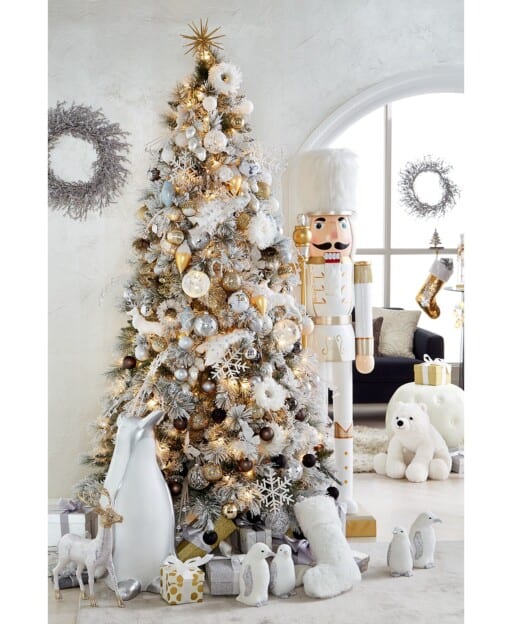 The Shine Bright ornament collection by Holiday Lane will entice you for a unique twist on your Christmas tree decorations with its high shine, crisp finishes, and mixed metallic palette.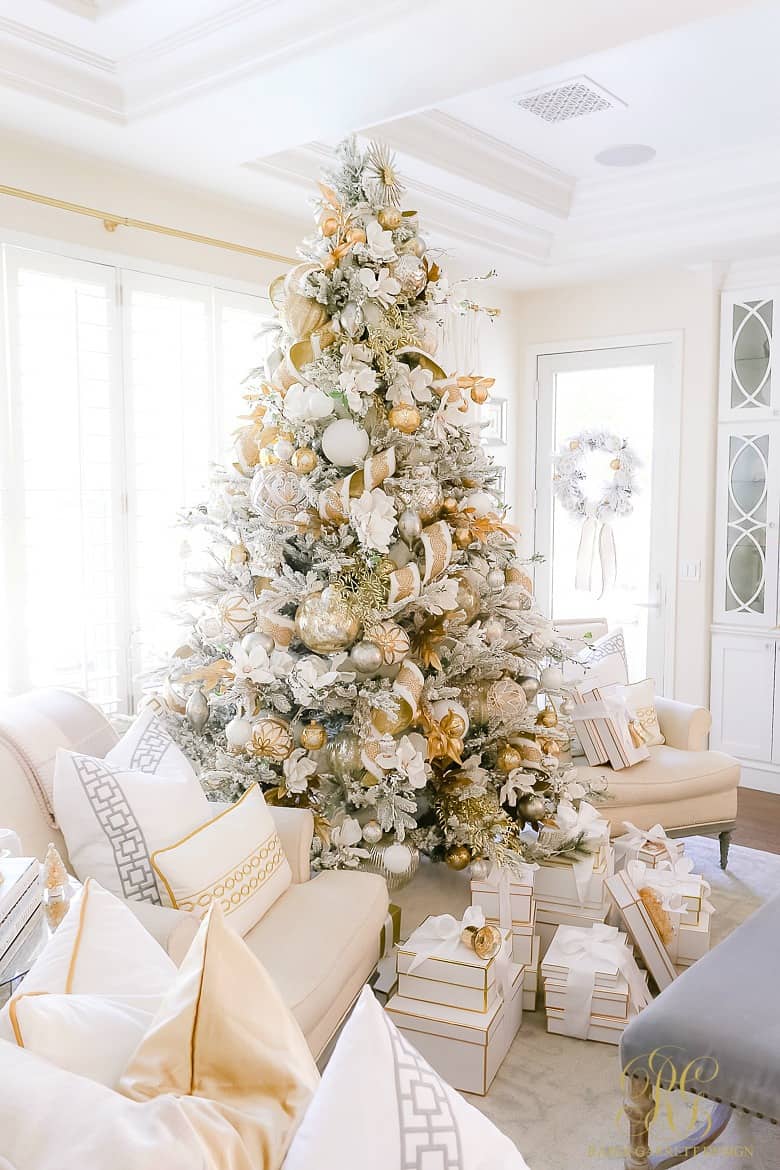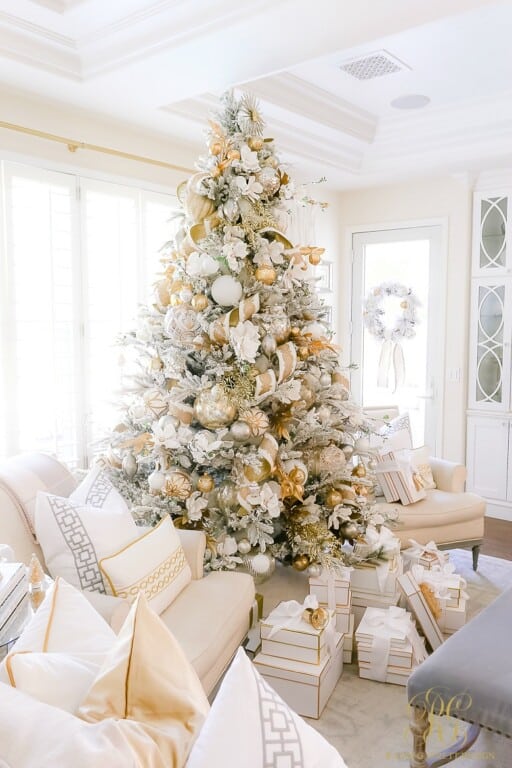 Warm, golden, and elegant are the words I would describe this dazzling Christmas tree. Made with different finishes and textures from a variety of ornaments such as twinkling lights, candy canes, and nativities, this is one of the most beautiful Christmas trees I've come across!
Related Posts: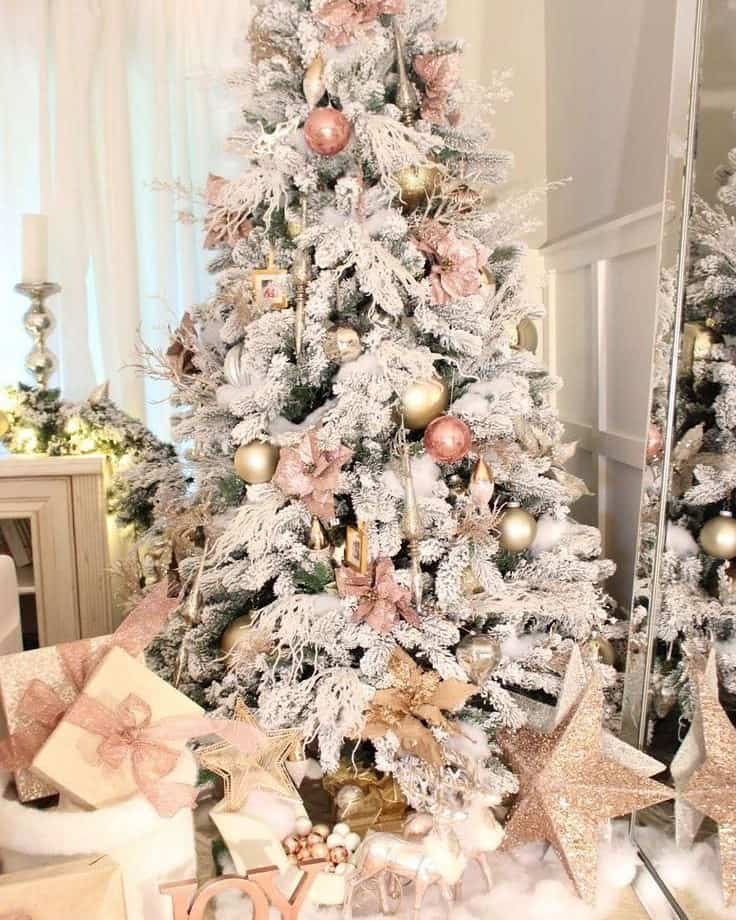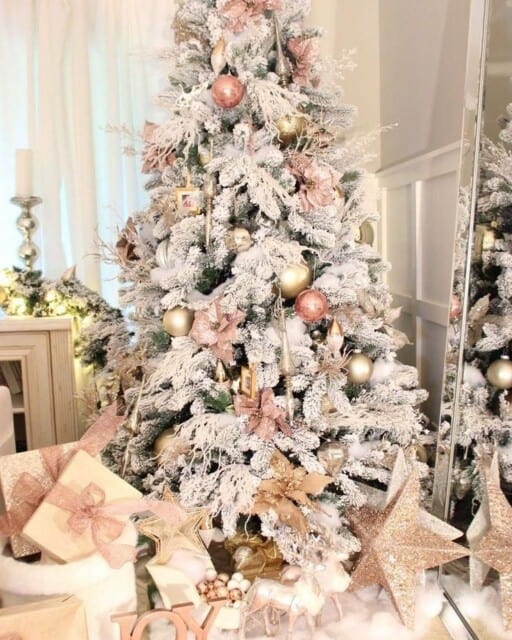 Frosted yet cozy, this Christmas tree gives off a lot of shine and dazzle that will make your living space the envy of many!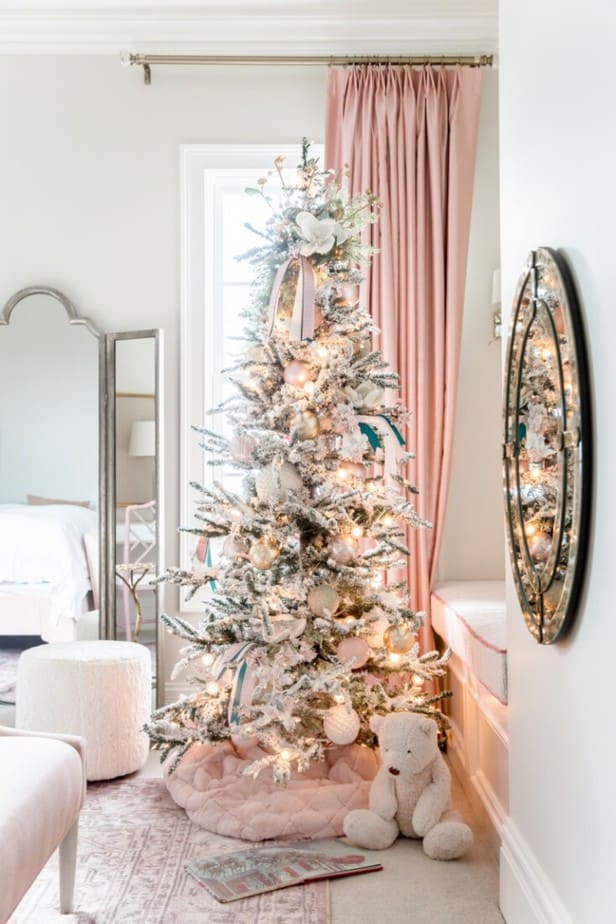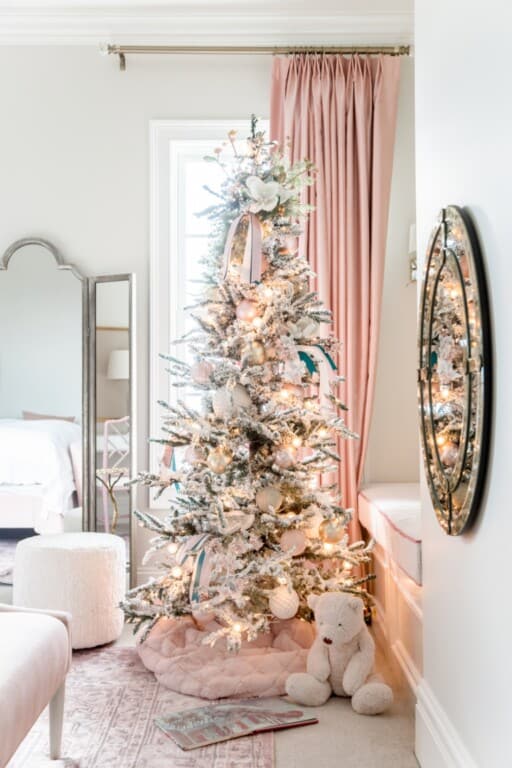 Add a dash of cuteness to your Christmas tree this holiday season by placing a beloved teddy bear as part of its decor. Not only is it adorable, but will add a layer of coziness to your overall theme.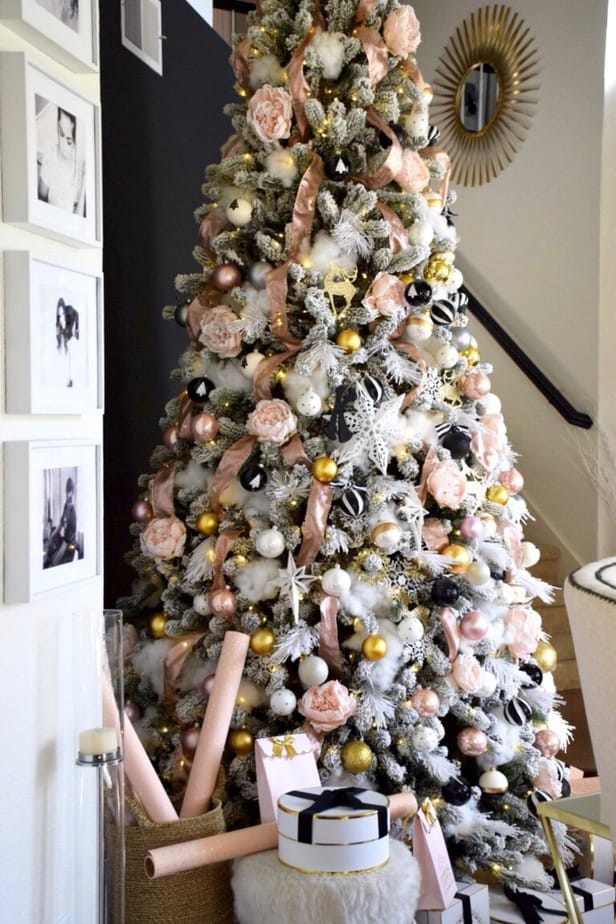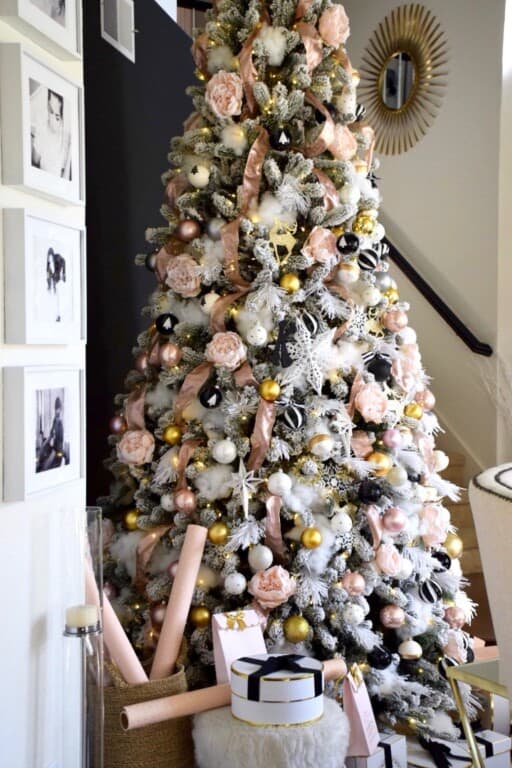 With such a unique color combination of pinks, blacks, and whites, this Christmas tree reminds me of luxury and classiness. It also has a hint of softness thanks to the beautiful roses adorning the tree.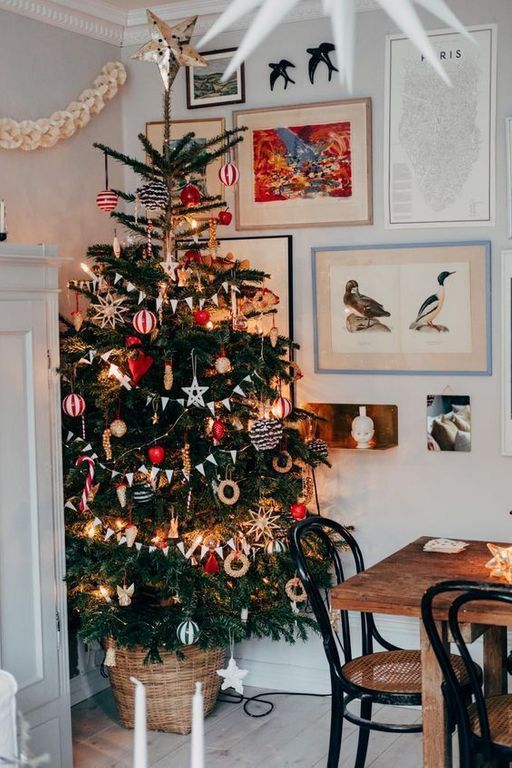 If you don't have much space to spare in your home, then worry not! You can take some ideas from this mid-sized Christmas tree and adorn it with classic Christmas ornaments.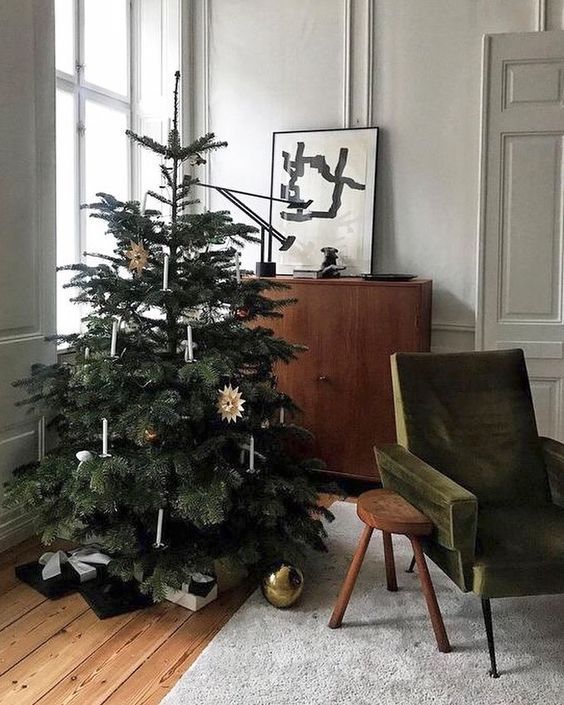 Minimalistic and modern, this Christmas tree is perfect for anyone who doesn't want a lot of fuss when it's time to put up their holiday decorations.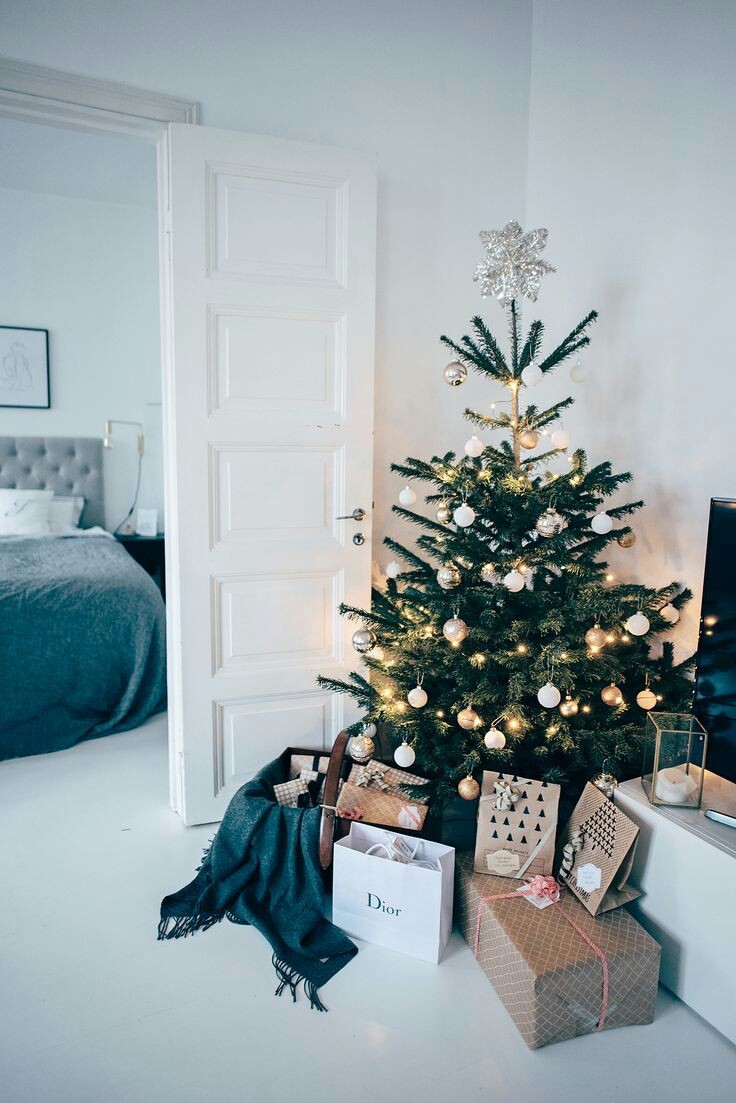 If the previous Christmas tree is a bit too simple for your taste and still want to add some decorations (but not too much), then this Christmas tree's design could be perfect for you. You only need some ornaments, lights, and a tree with a suitable size for your home.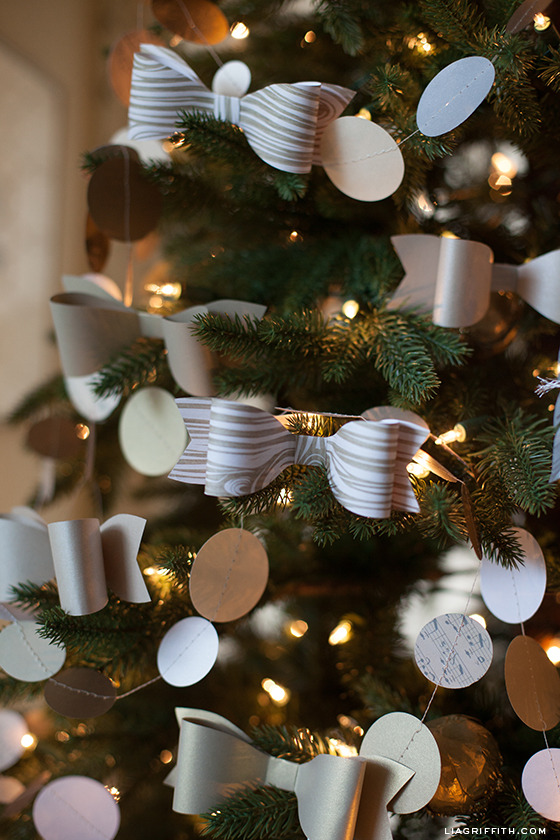 Dainty, pretty, and unique, you should definitely try decorating your Christmas tree with ribbons and bows this holiday season!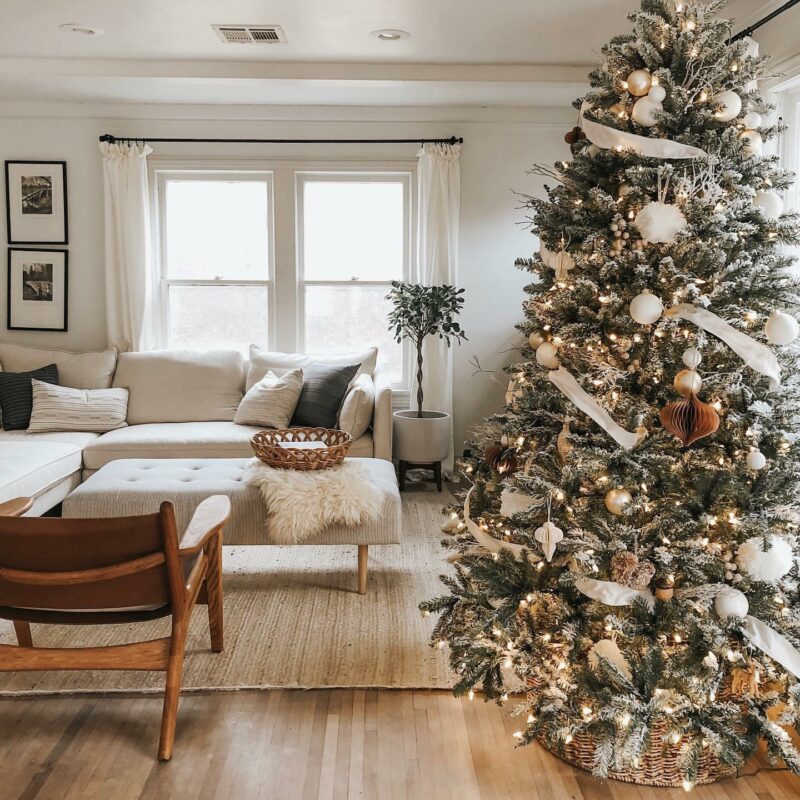 I just love a pretty neutral Christmas tree. The colors all blend so well together and this particular one reminds me of a cozy winter wonderland!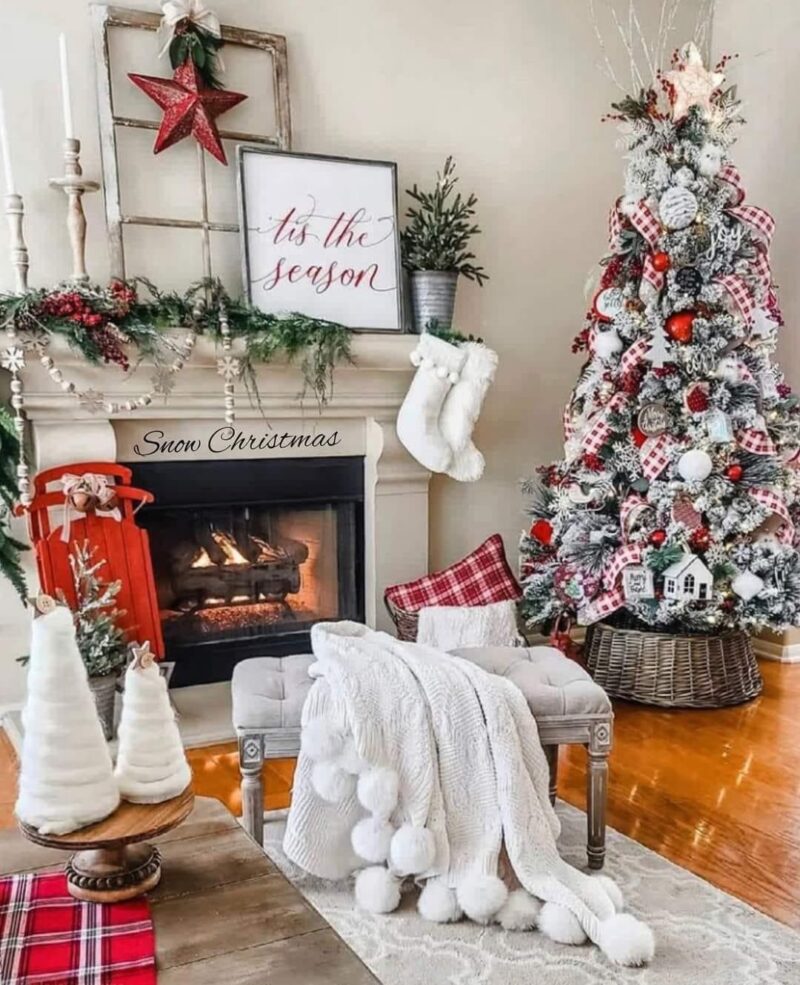 Fill your Christmas tree with red and burgundy ornaments, traditional beaded garland, and thick plaid ribbon to bring a vibrant splash of color into your house this holiday season.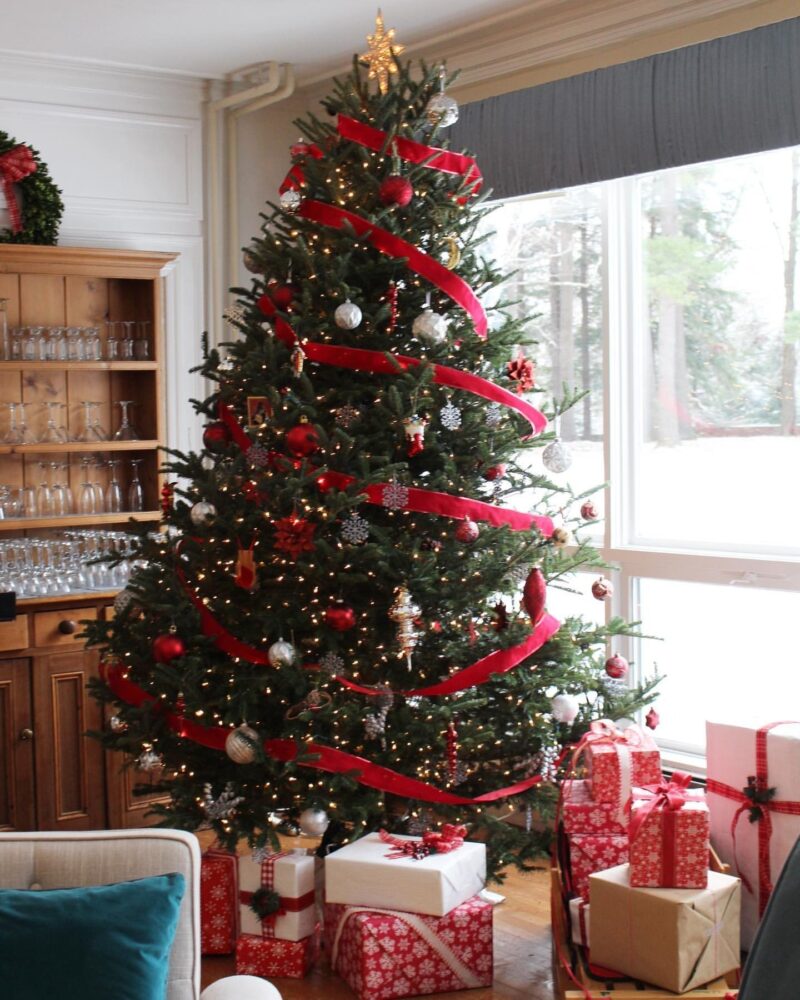 I love the twinkling lights and the shiny, silver ornaments on this Christmas tree! And the red ribbon just really ties everything together.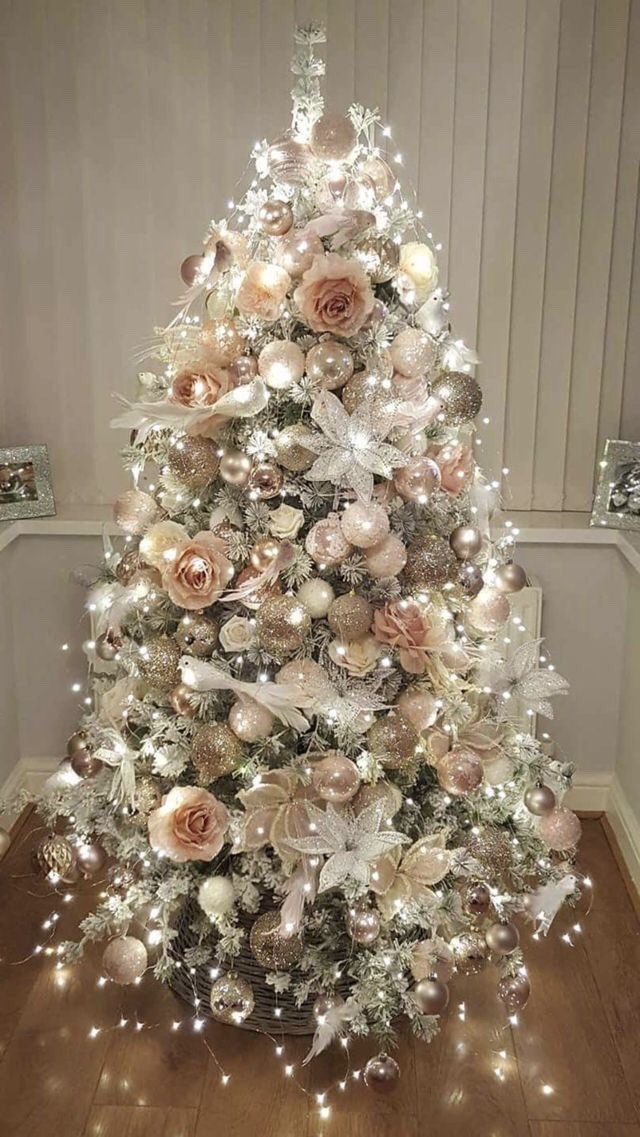 If you love florals then there's no reason not to incorporate them on your Christmas tree. They would add such a soft and delicate touch to your decorations that will just be absolutely stunning!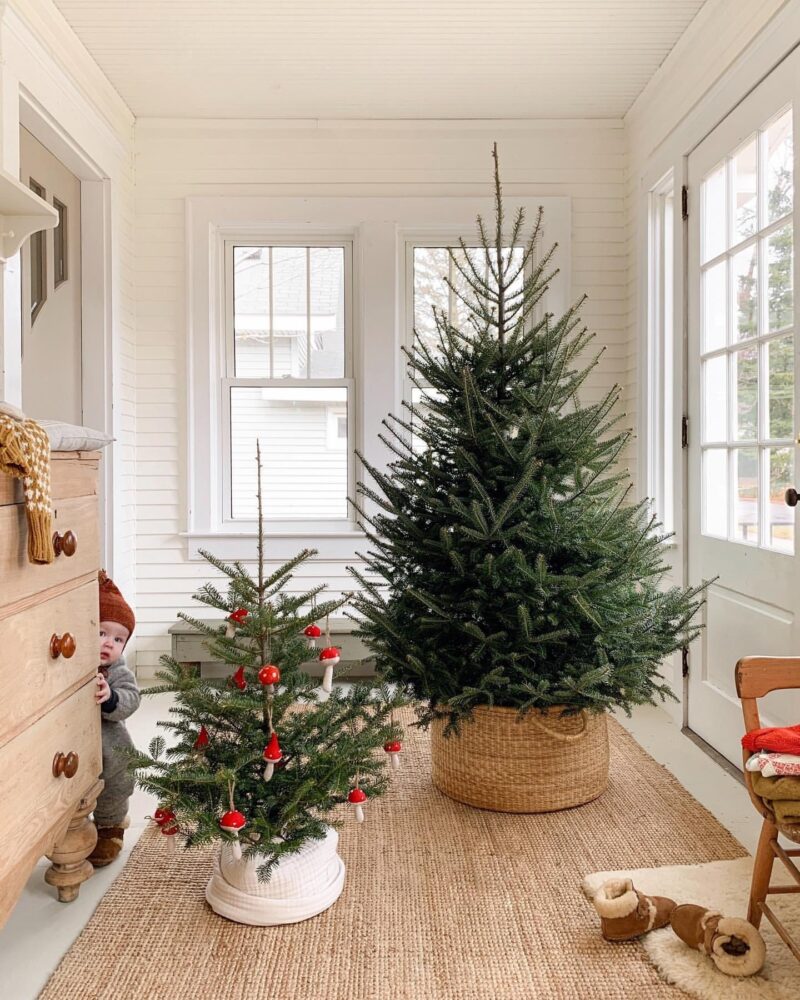 Sometimes, you just gotta let your Christmas tree do the talking! Refreshing and unique, you can always go for a bare look this holiday season and maybe get a tiny version of it with very minimal decor.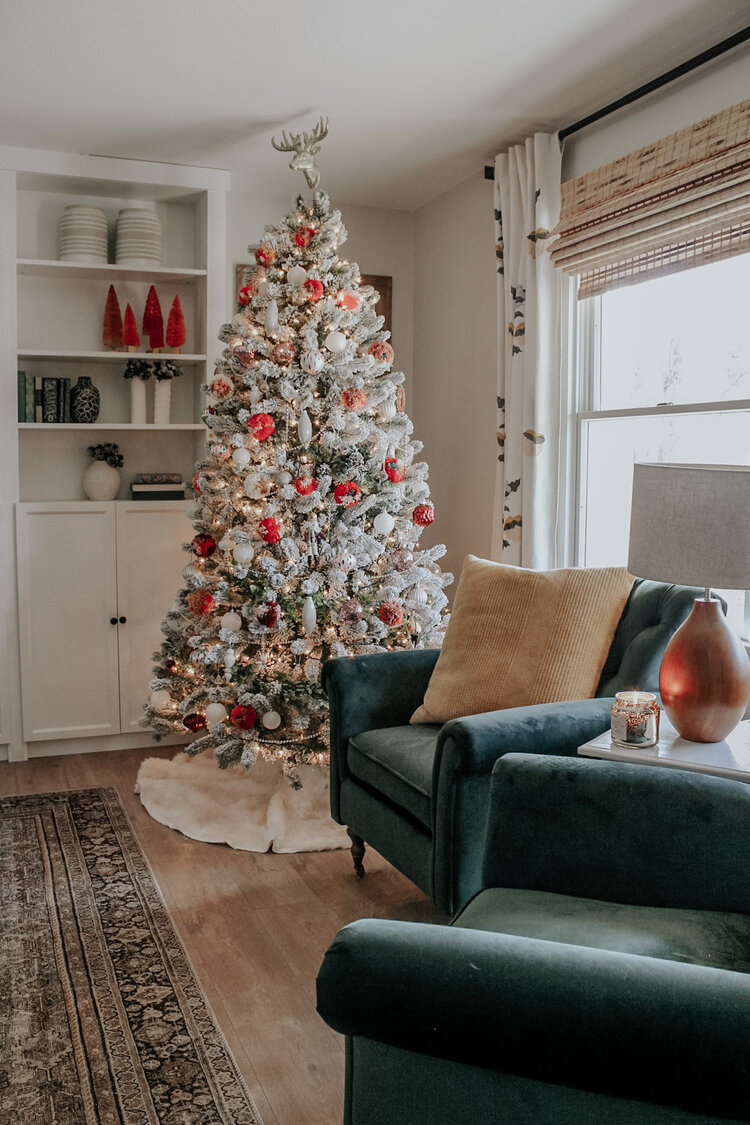 This frosted Christmas tree is utterly beautiful with its vibrant red ornaments!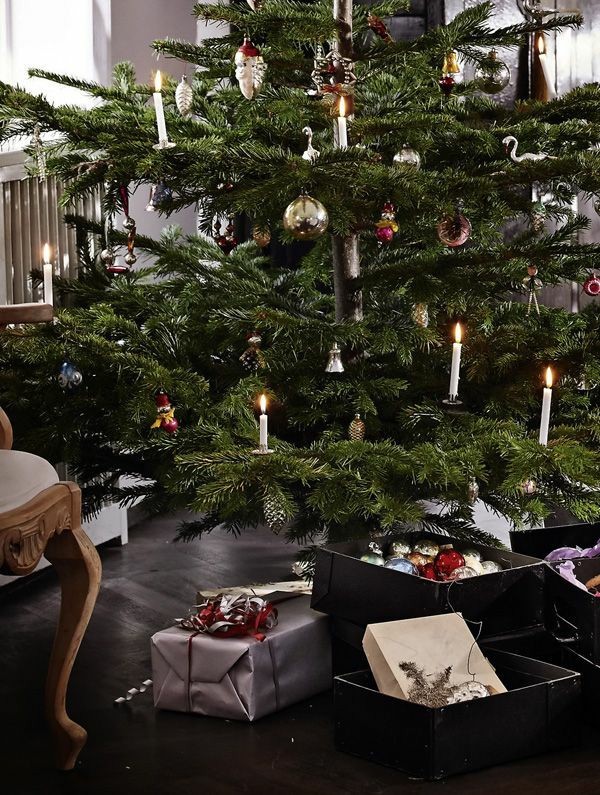 Sometimes, less is definitely more. Especially with this gorgeous and minimalistic Christmas tree theme!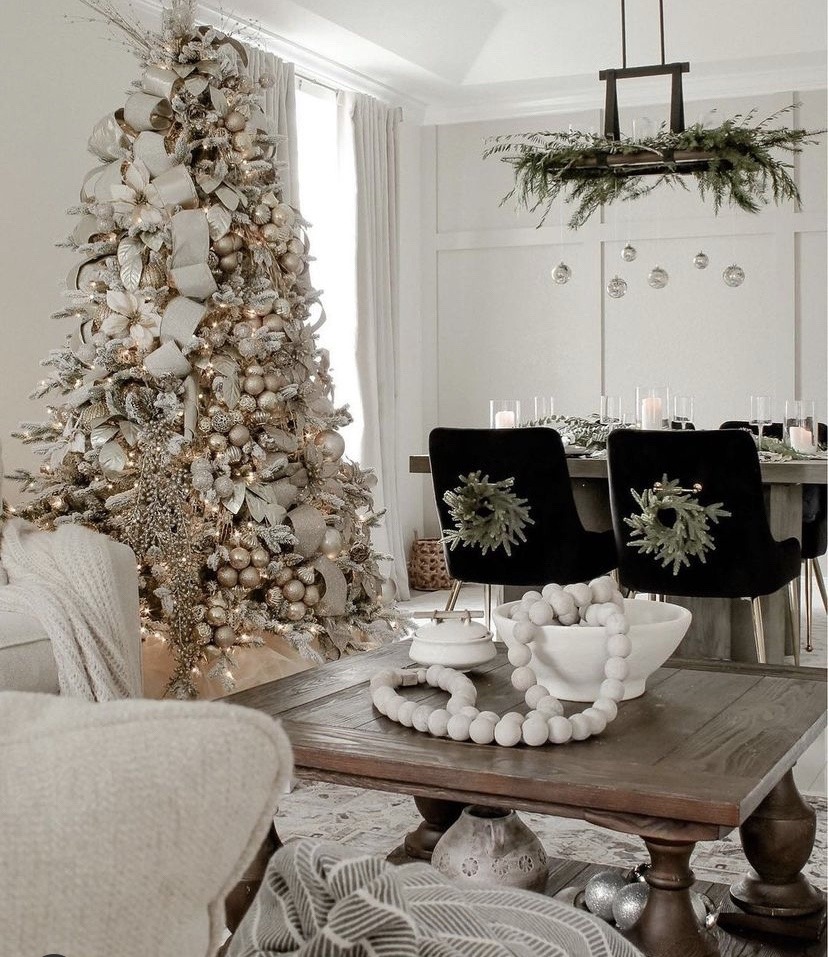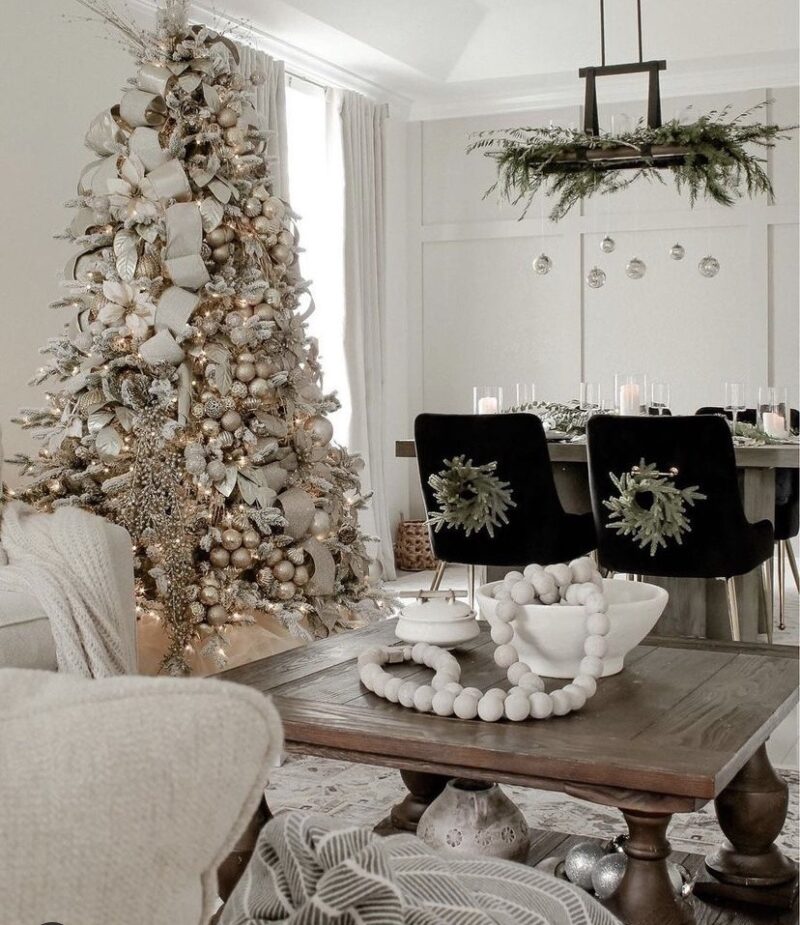 A white Christmas tree is just utterly gorgeous for almost any household, and with the right amount of varying textures and ornaments, you can make it even more special!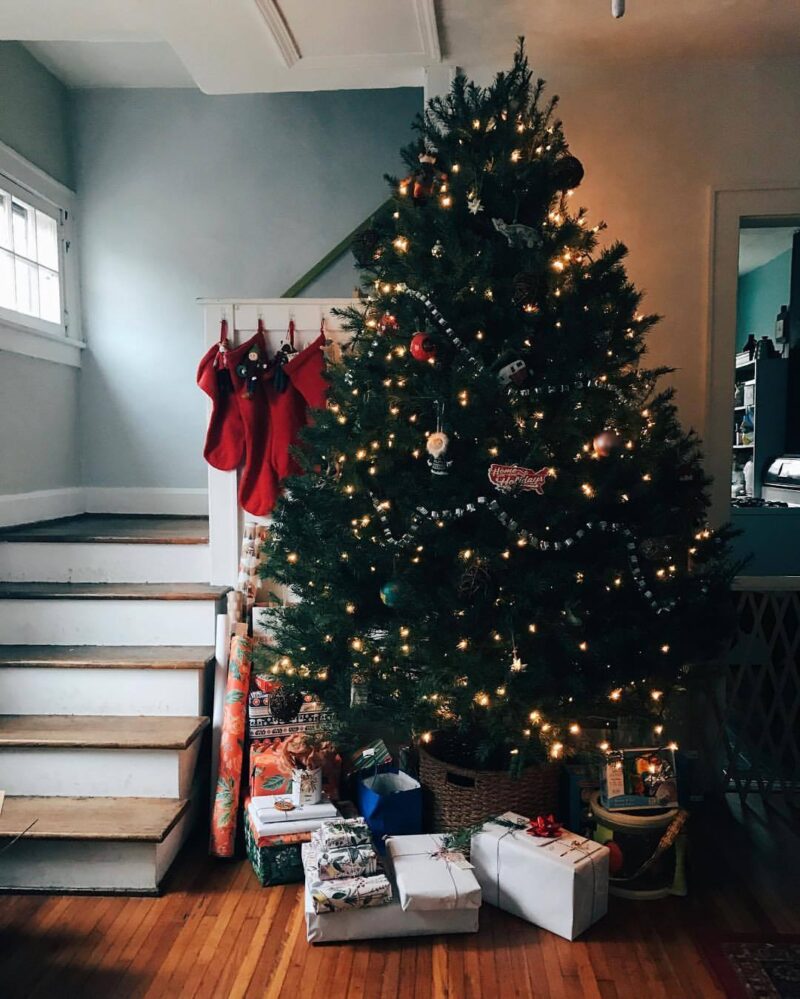 Here's another beautiful simplistic Christmas tree idea you can copy this Yuletide season! All you need are some lights and ornaments of your choice.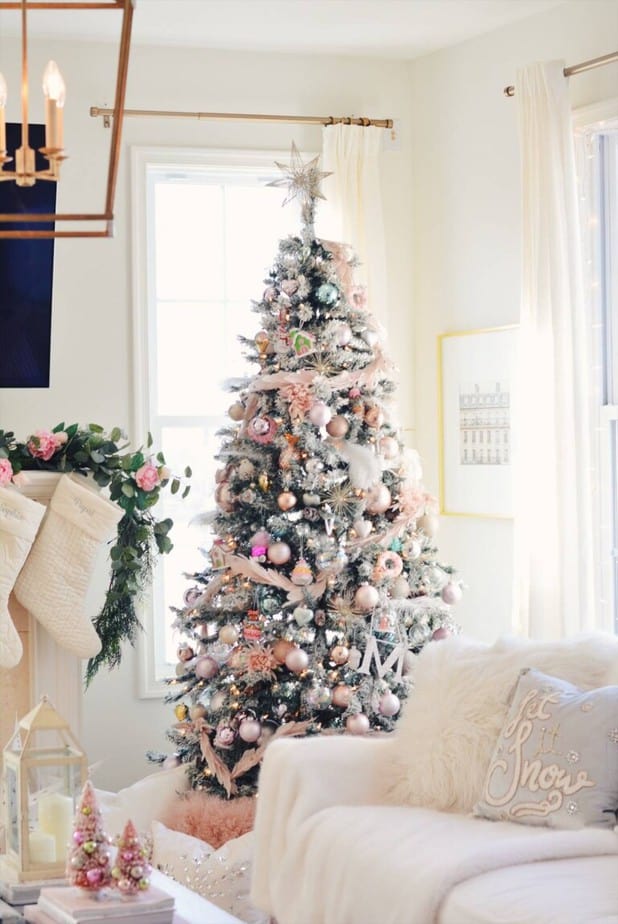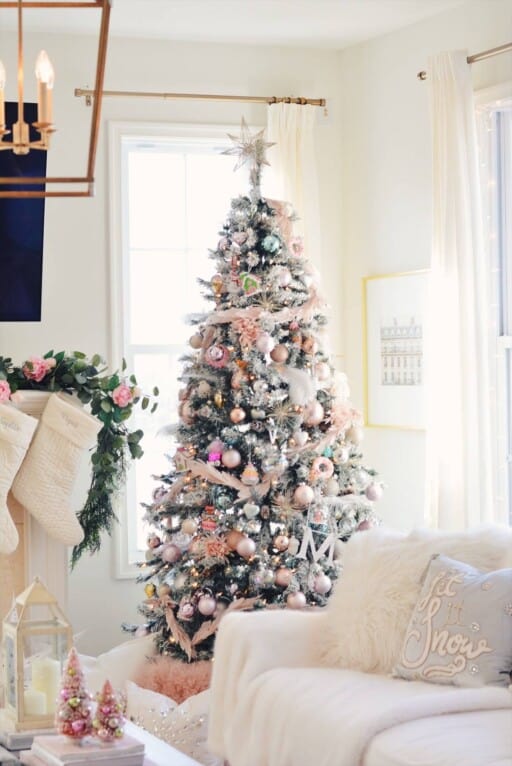 Pretty in pink is what I would call this Christmas tree! It's just so gorgeous and girly!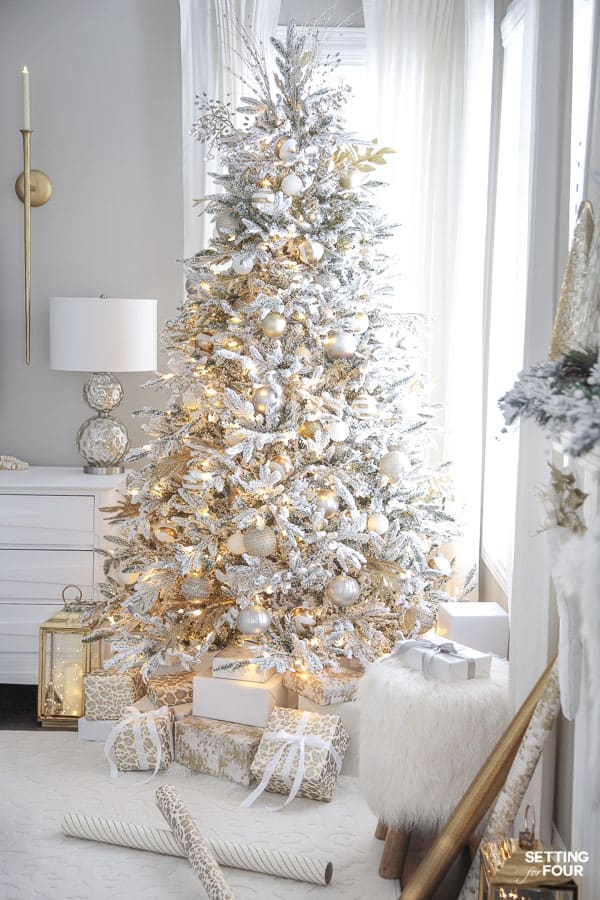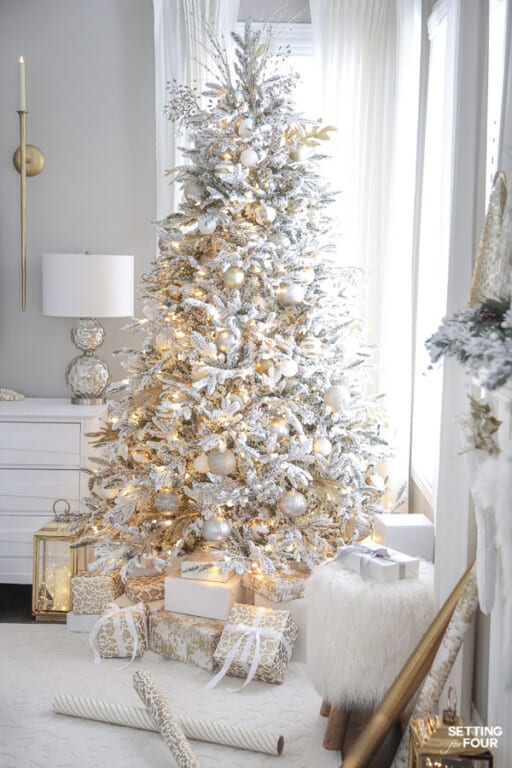 White and gold just look so good together! And you can definitely see how elegant and classy they look on this Christmas tree!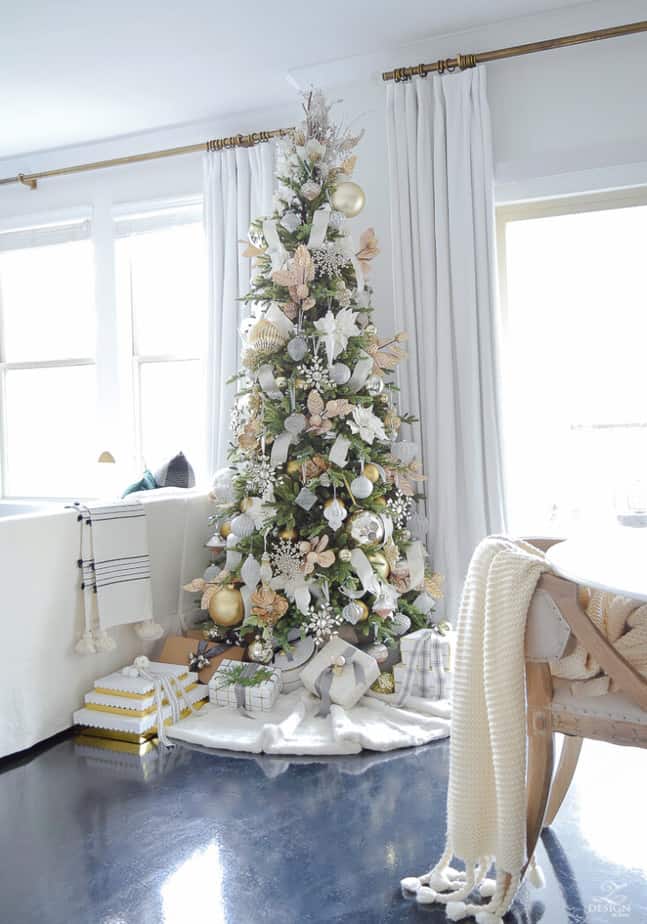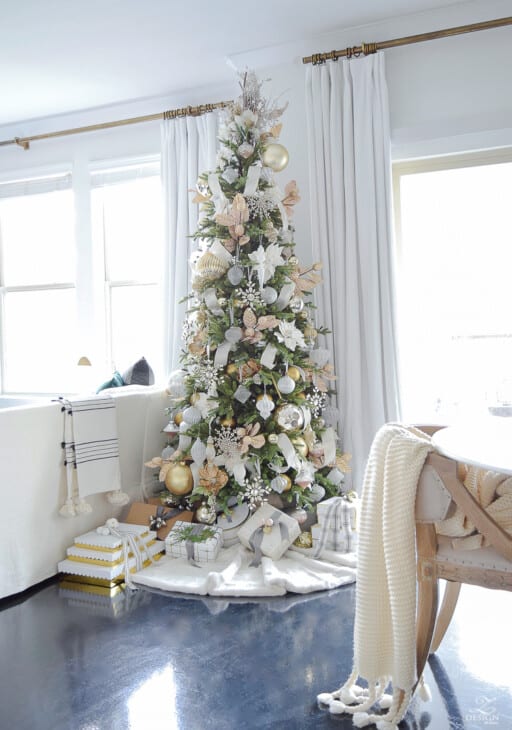 Another beautiful white and gold theme! If the previous one was a bit too much for your taste, then this one has a more understated style that can easily fit into any home.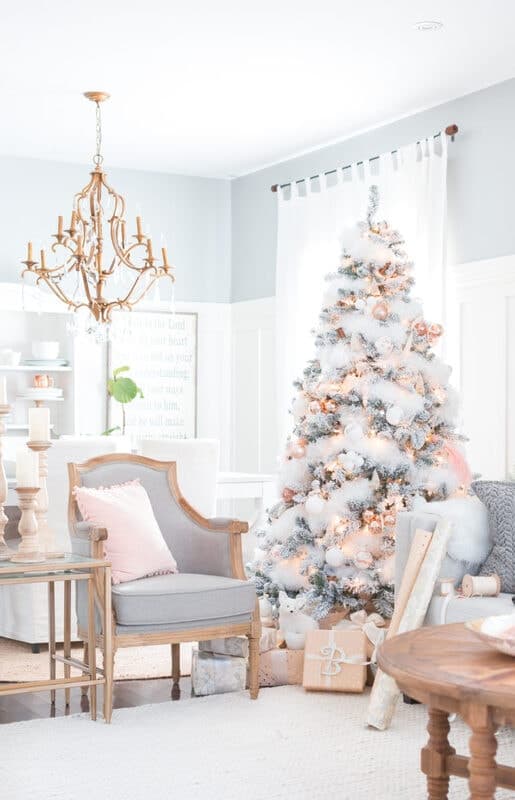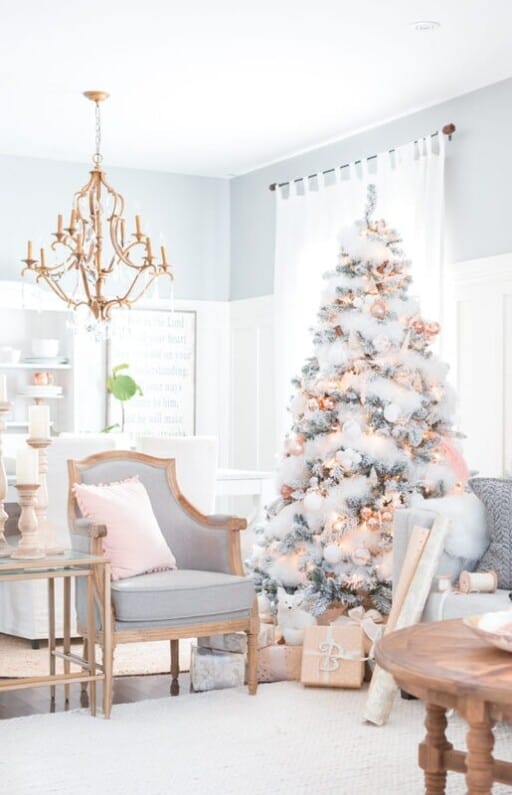 This particular Christmas tree just reminds me of trees after the snow had just fallen and they're now covered in it. It's perfect for anyone who is planning a winter wonderland theme this holiday season.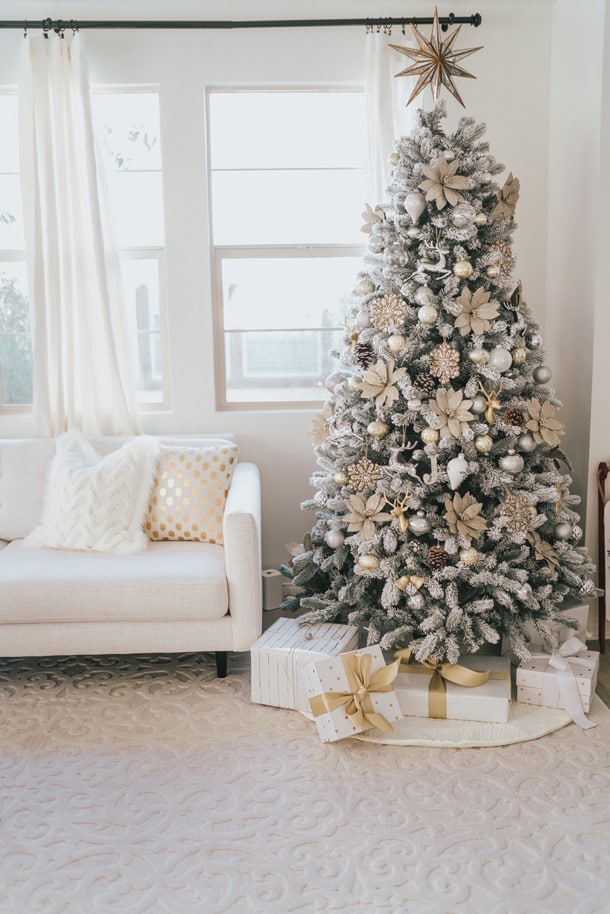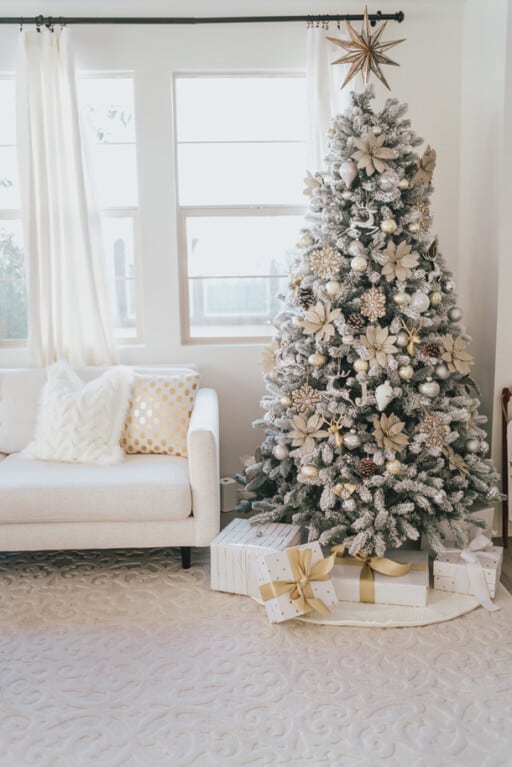 Just like this Christmas tree, maybe you all need some pretty gold glitter poinsettia flowers to make your tree shine!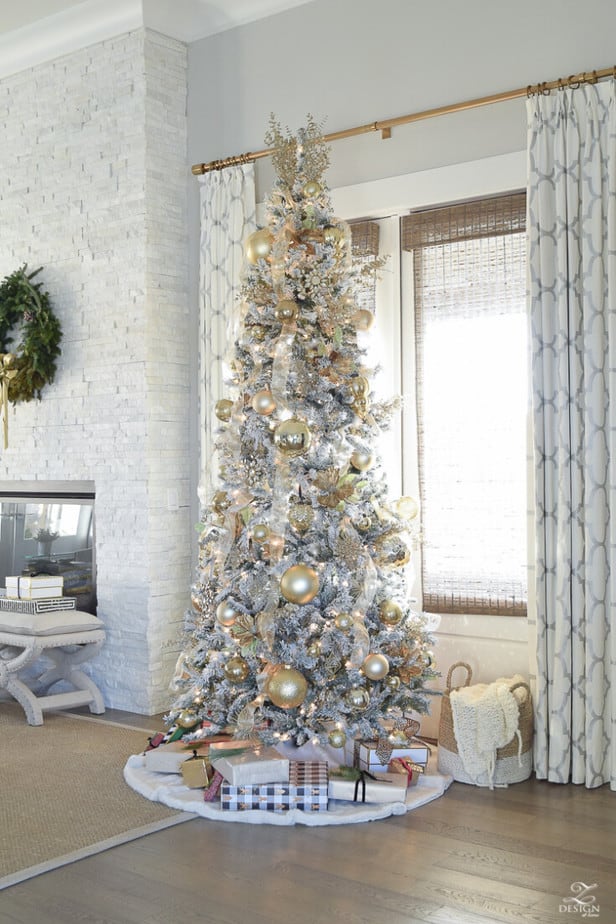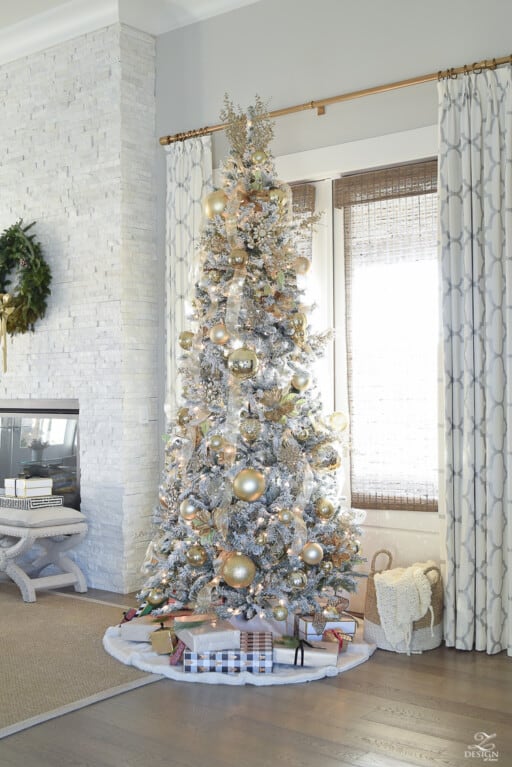 Perhaps you can also take inspiration from this Christmas tree and make your decorations more personal and intimate by using sentimental objects to adorn your tree?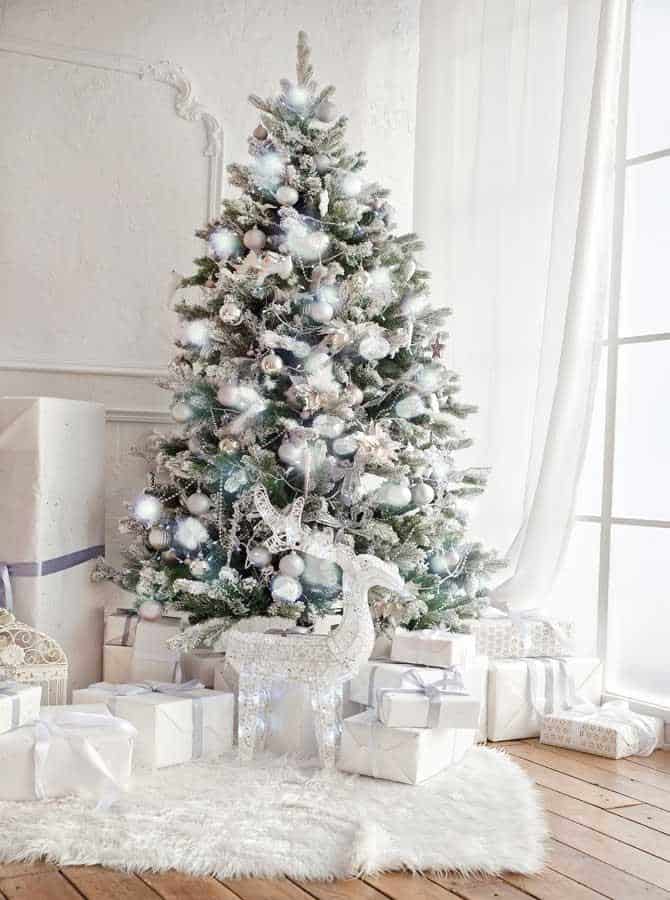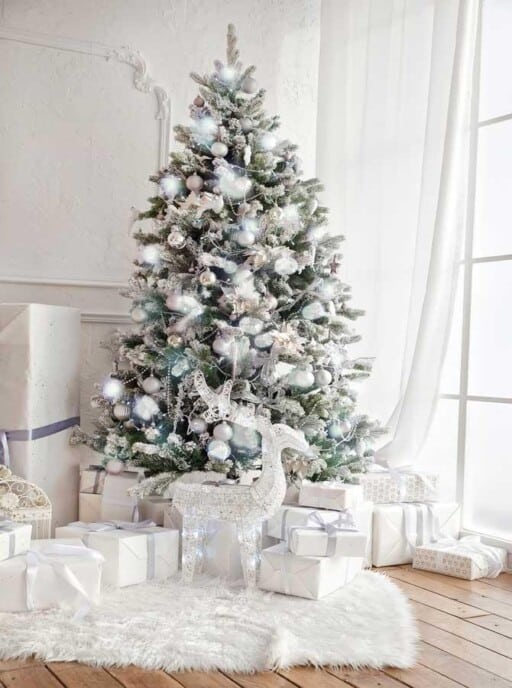 Here's another glittery and sparkly Christmas tree you can take inspiration from!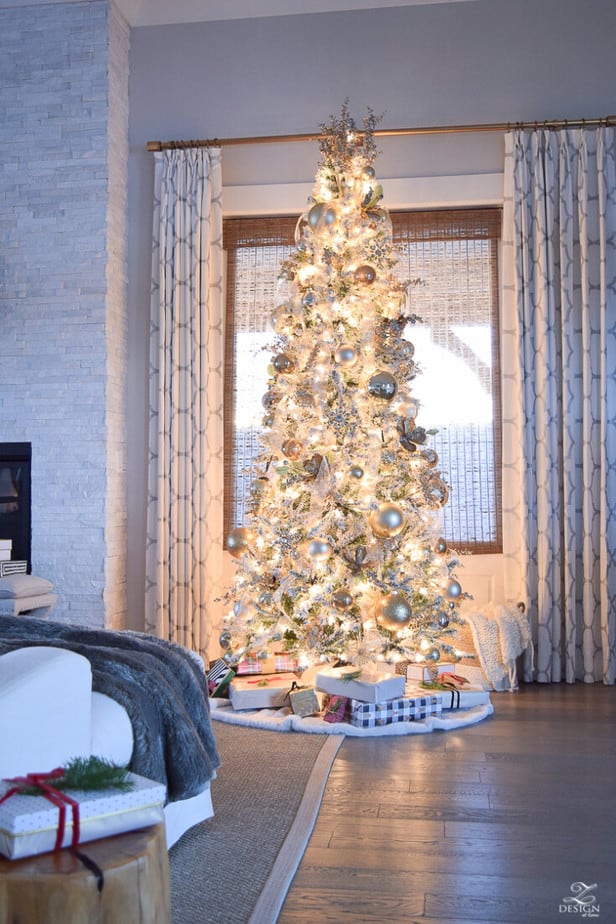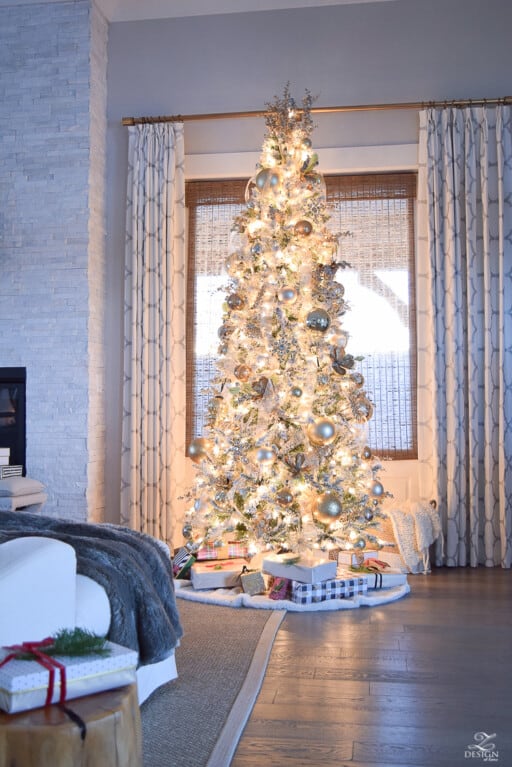 Make your Christmas tree pop with some beautiful lights and flowers!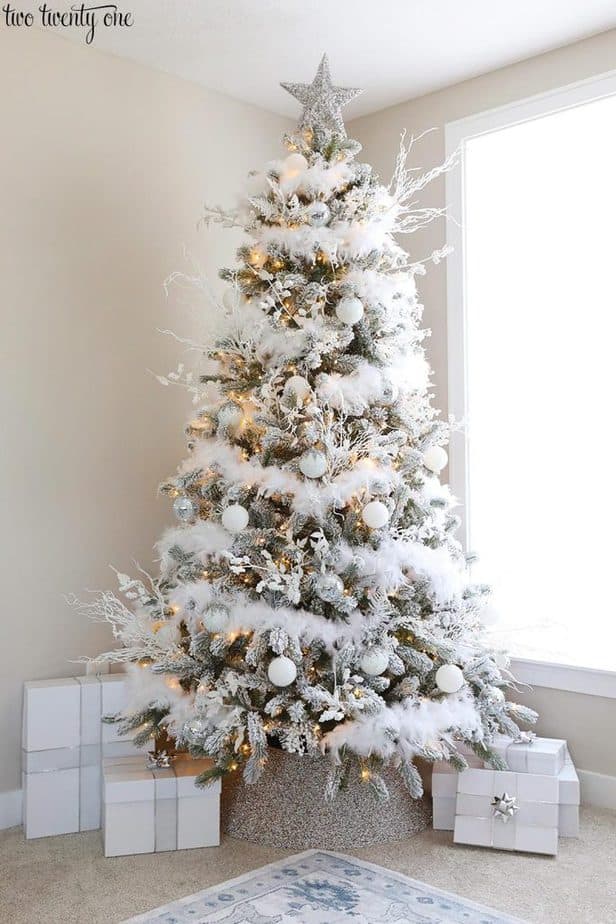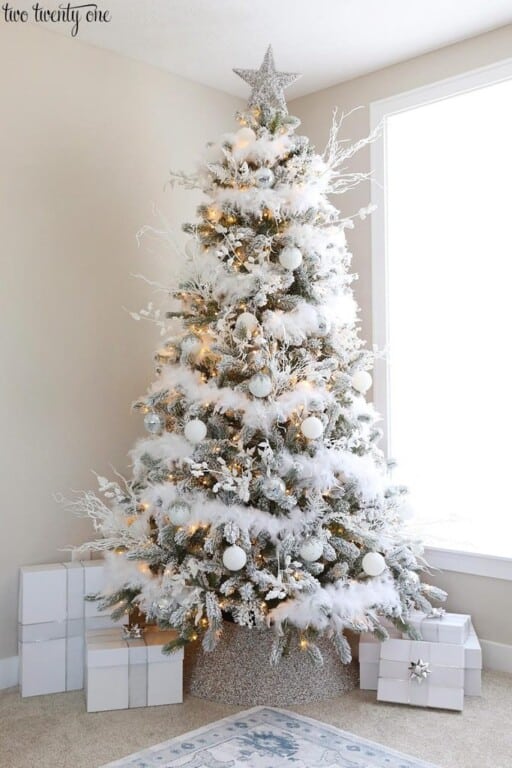 Emulate fresh snow around your Christmas tree with some white feather boas and create your very own winter wonderland!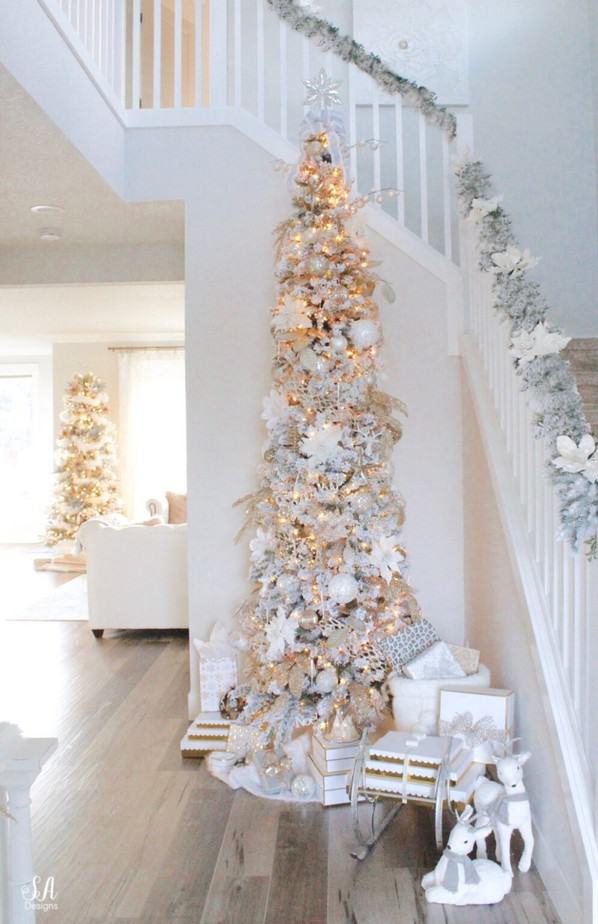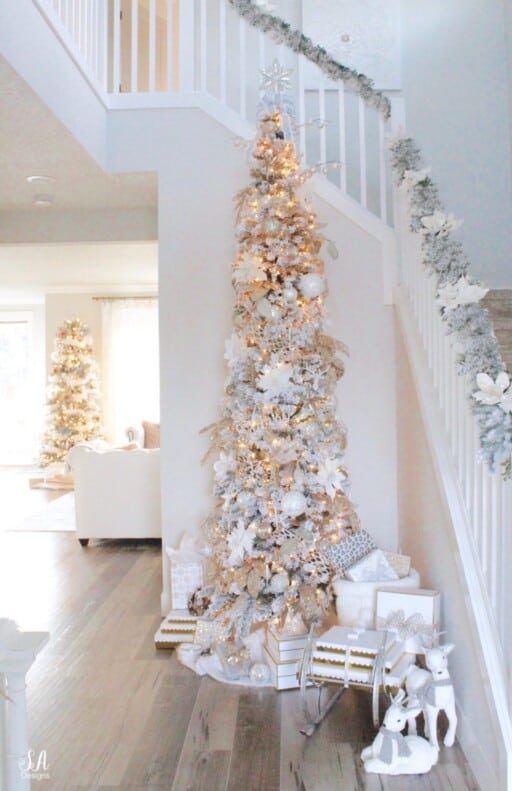 Flocked Christmas trees are just so gorgeous and this one is no exception!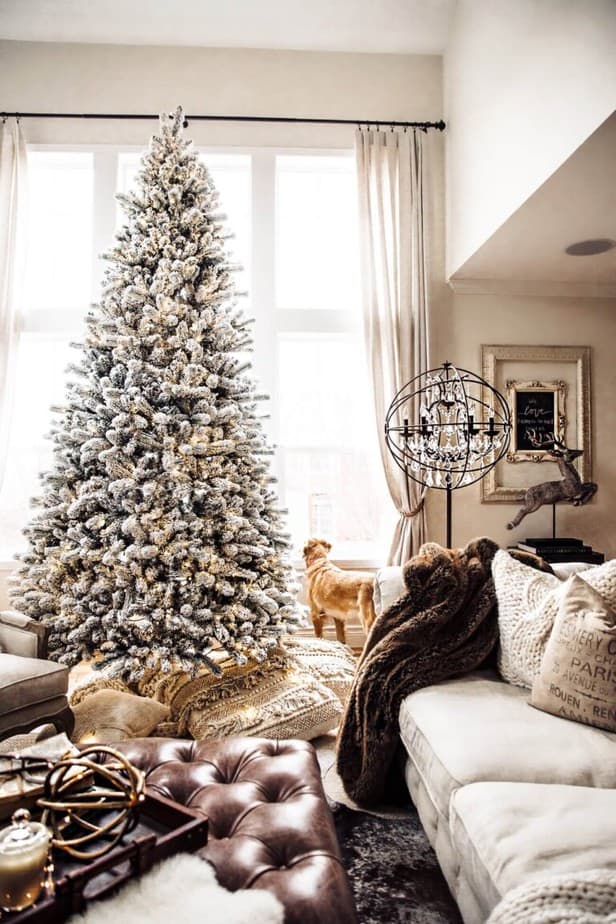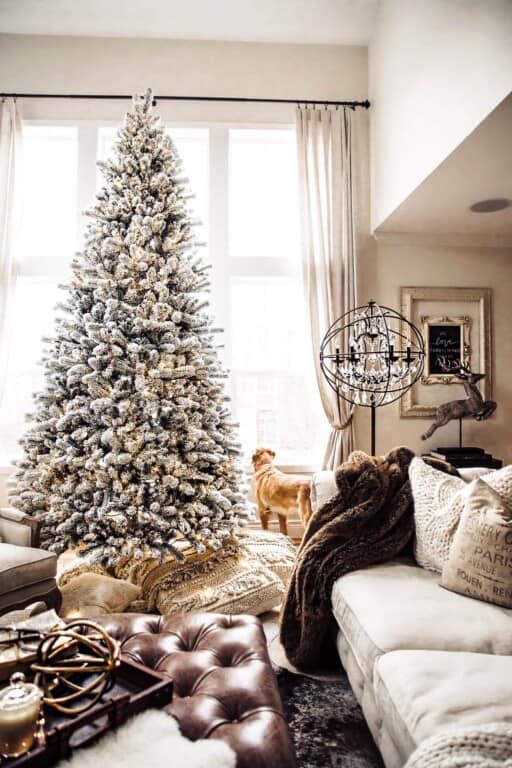 Make your Christmas tree look a lot more cozy, warm, and inviting by placing some soft throw pillows underneath it!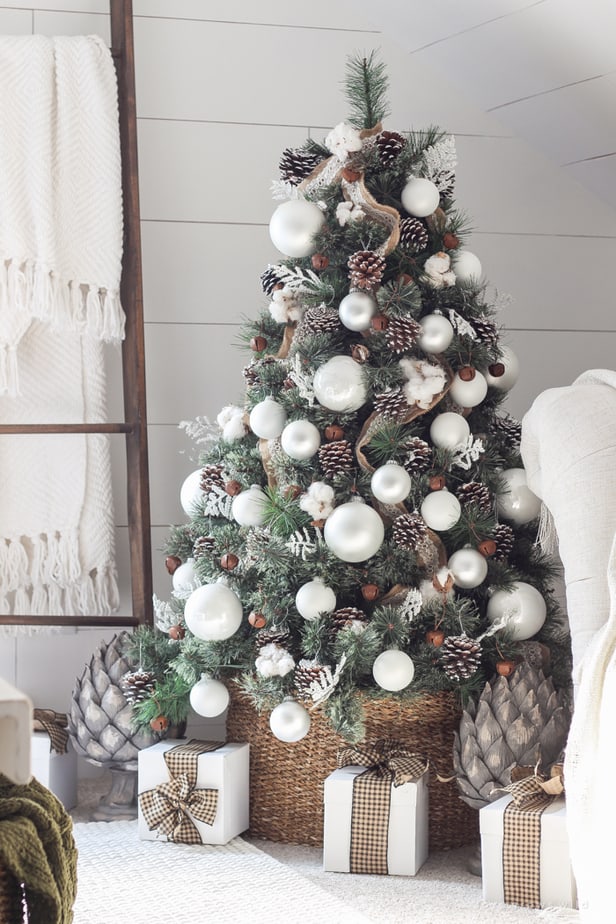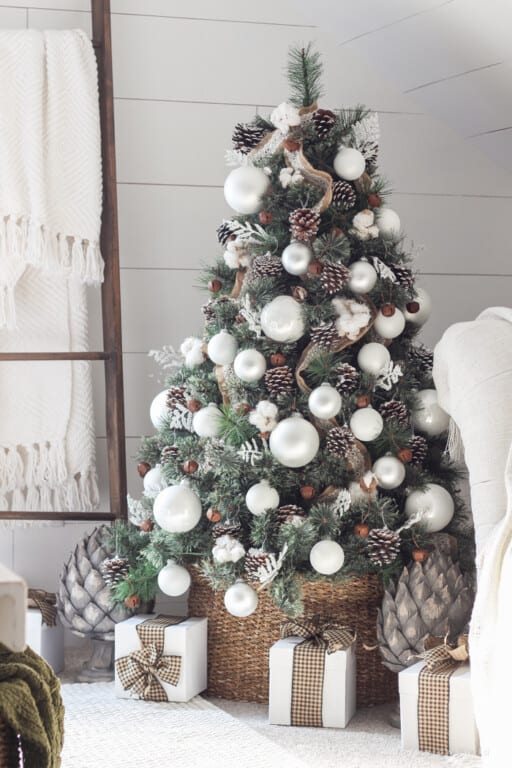 This Christmas tree is undoubtedly one of my favorites on this list. It is decorated with enormous white ornaments, snow-covered pinecones, rusty, ancient bells, lace, and burlap ribbon woven between the branches.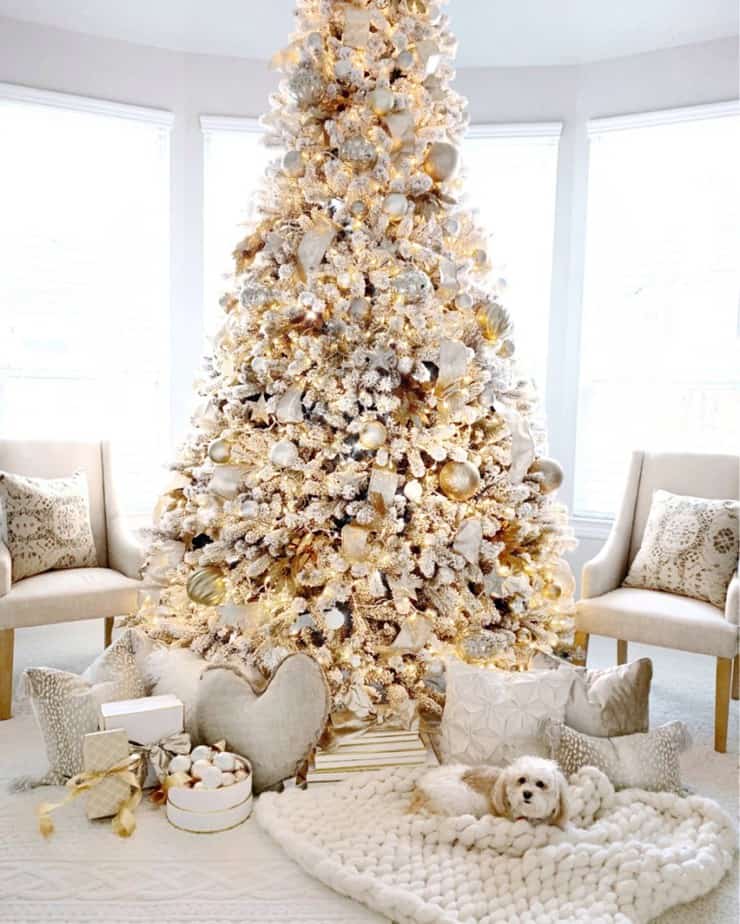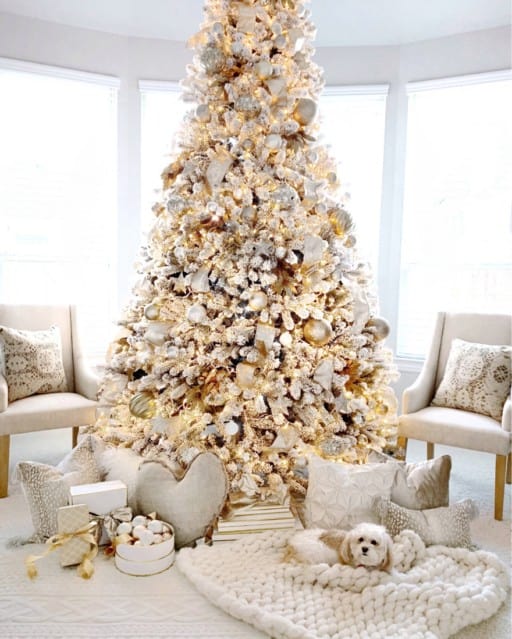 If you're not too confident about having a neutral palette for your Christmas tree, then try adding a ton of lights, shimmery objects made of gold and silver, and texture. This will contribute to a lovely and joyful neutral Christmas decor!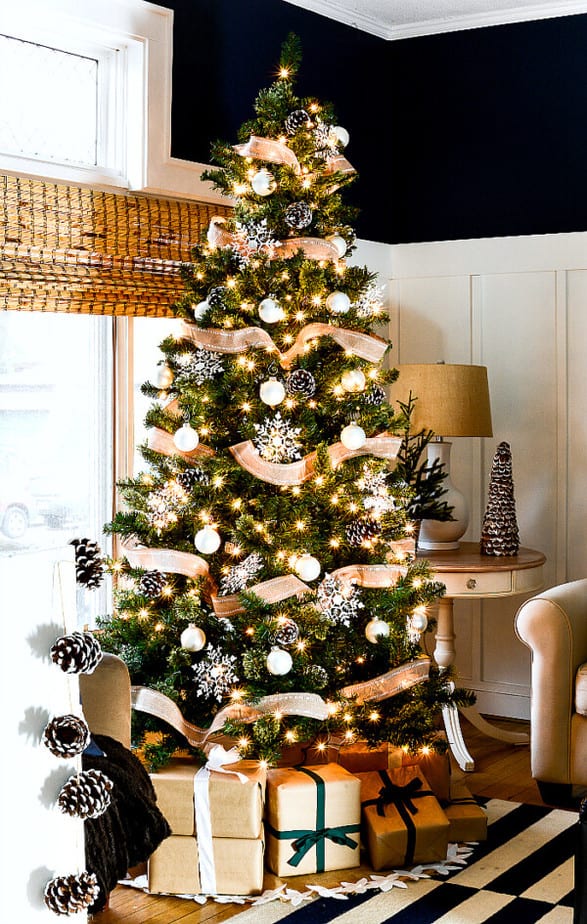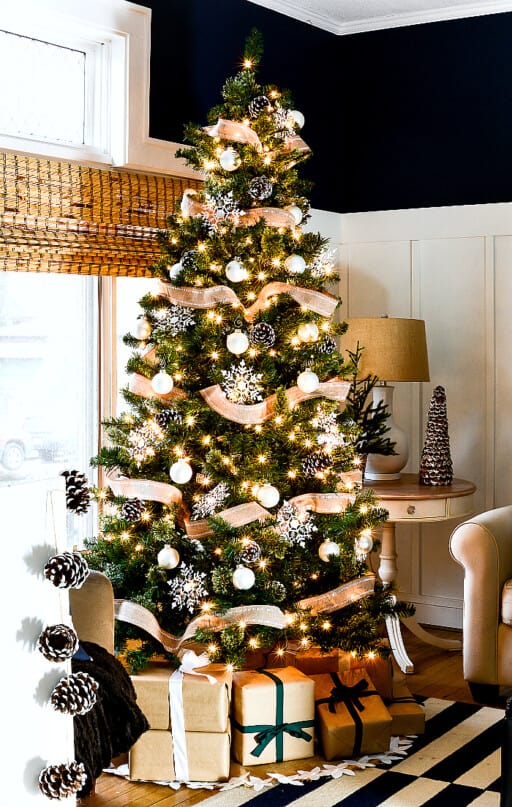 This beautiful and eclectic Christmas tree is a definite must-try this holiday season! It's just utterly gorgeous!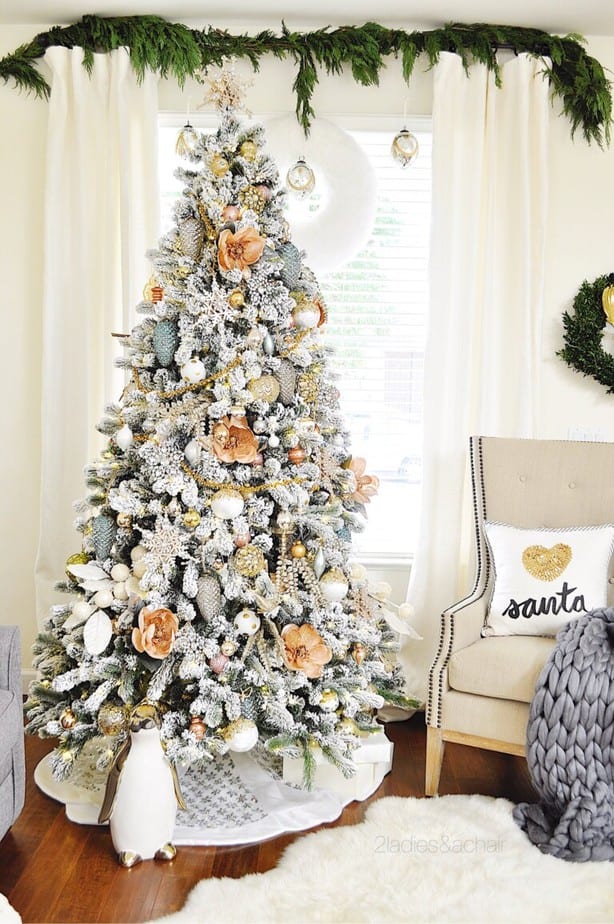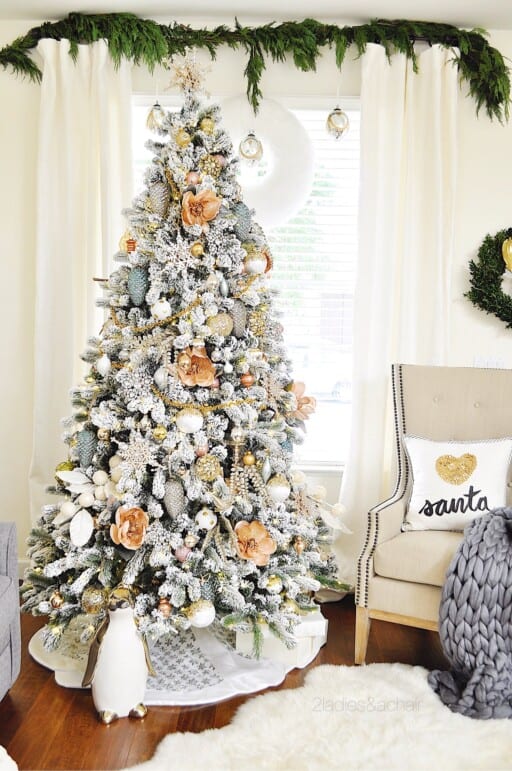 By adding some sparkling silver ferns and coppery gold flowers, you can recreate this beautiful frosted Christmas tree!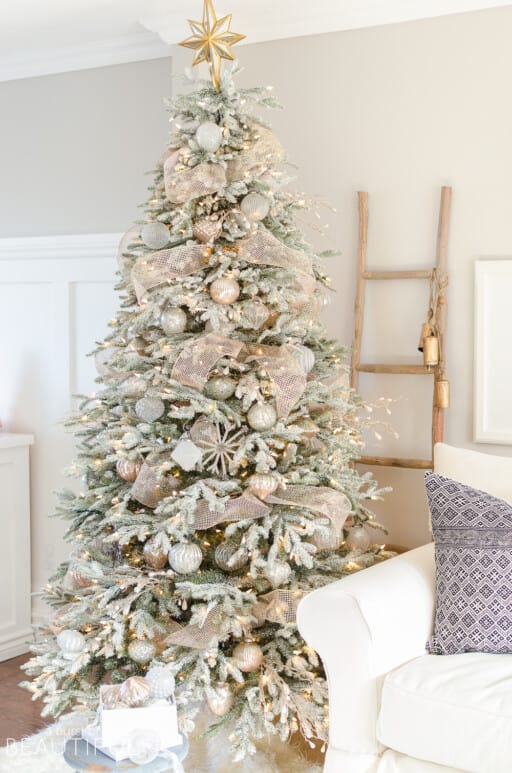 There's truly something ethereal with how pine trees look after it just freshly snowed. So if you're wanting to emulate the same look, then this snowy Christmas tree could be your next inspo!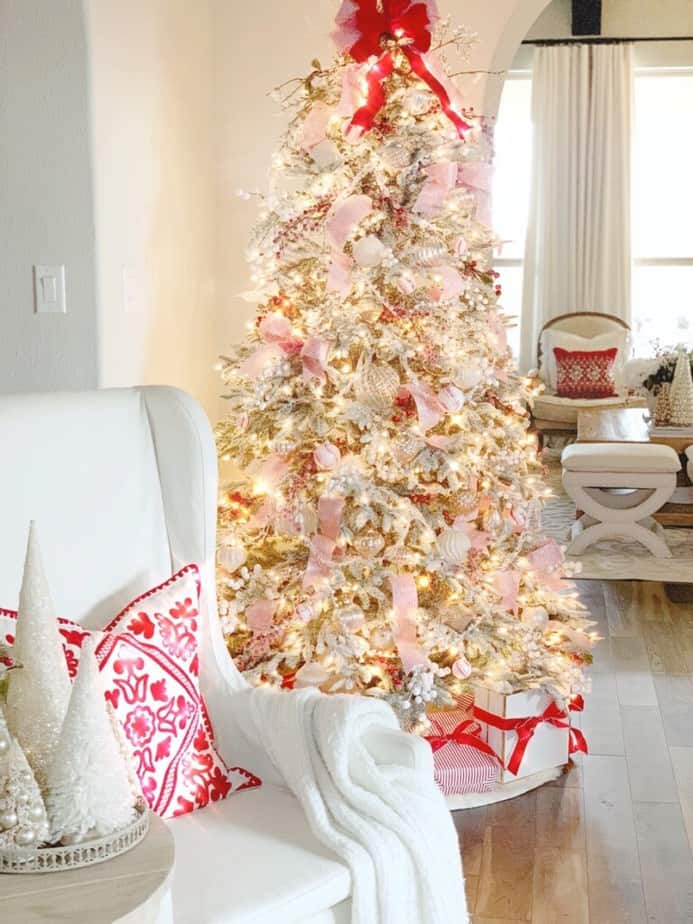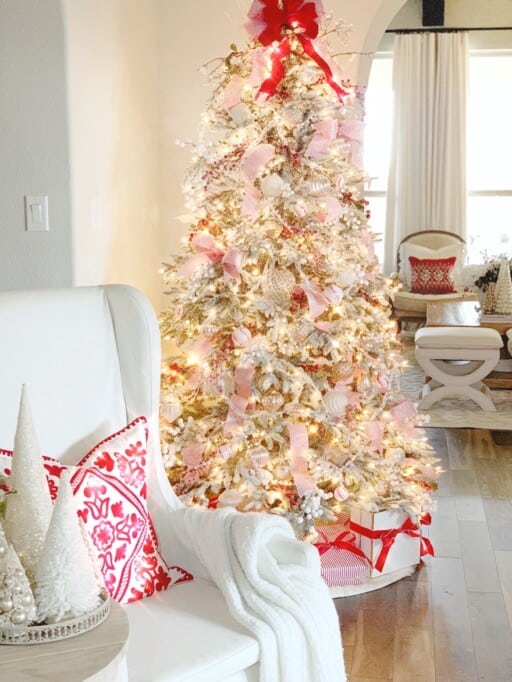 By using your usual Christmas ornaments, striped ribbons, beaded garlands, and some jeweled picks, you can recreate this sparkly Christmas tree with vibrant pops of red.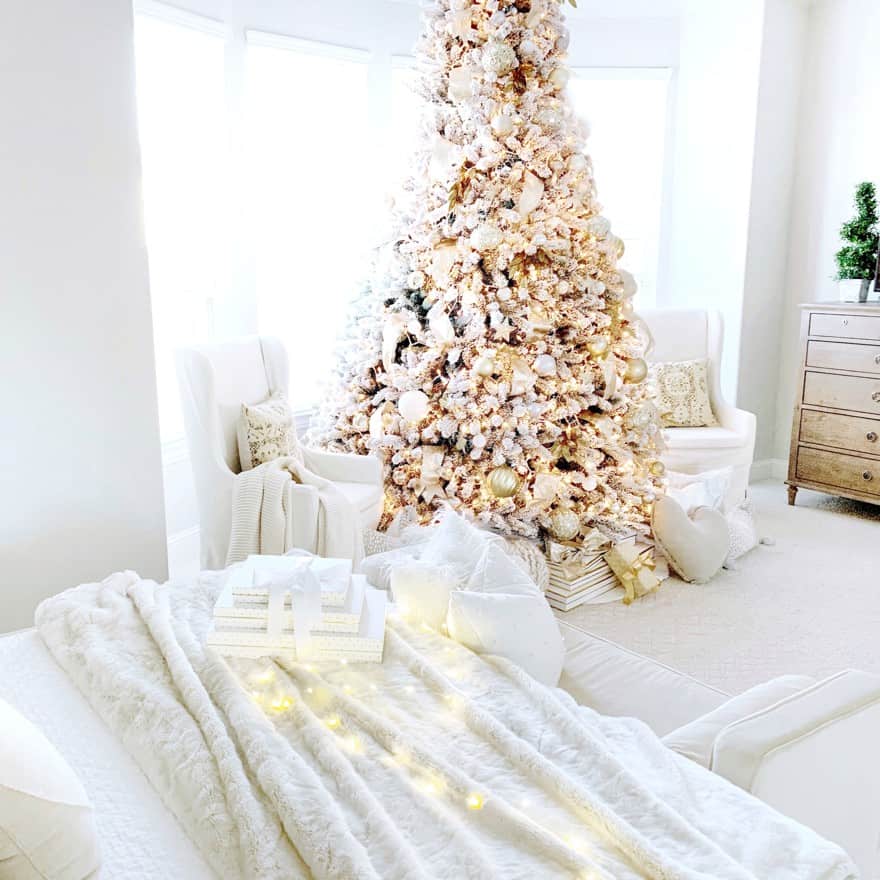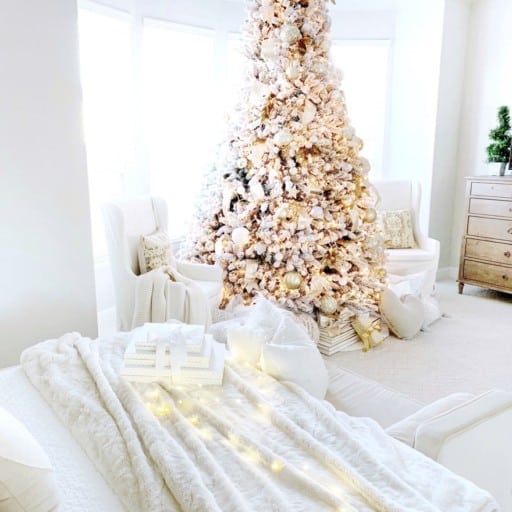 This beautiful, neutral farmhouse Christmas tree is just perfect!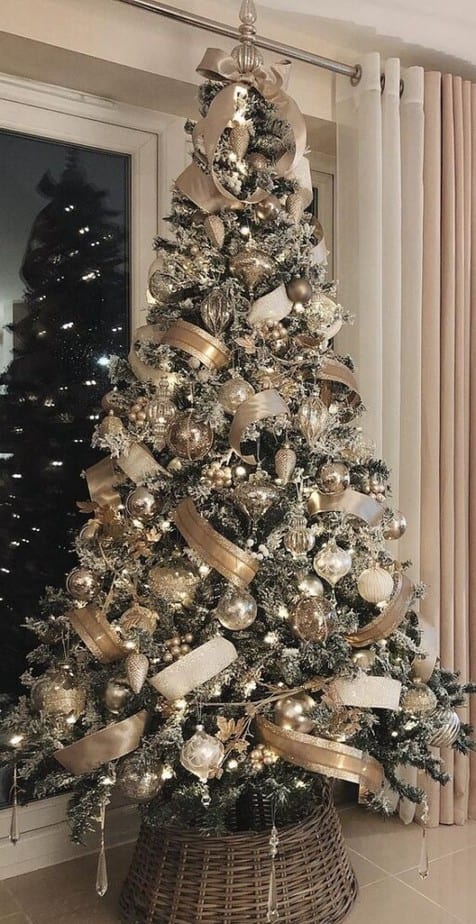 There's something about this particular tree that just looks so timeless and elegant, perfect for anyone celebrating a royal-themed Christmas this year!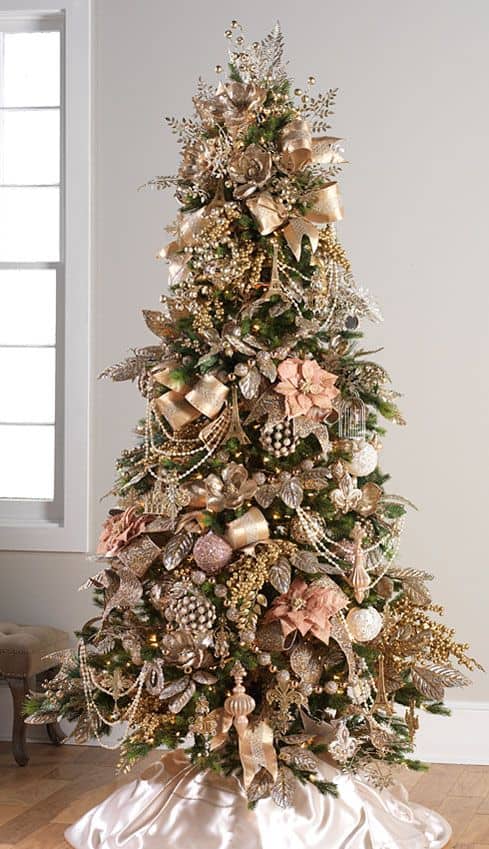 Add some shine and sparkle to your Christmas tree with some glittery flowers, pines, and ornaments!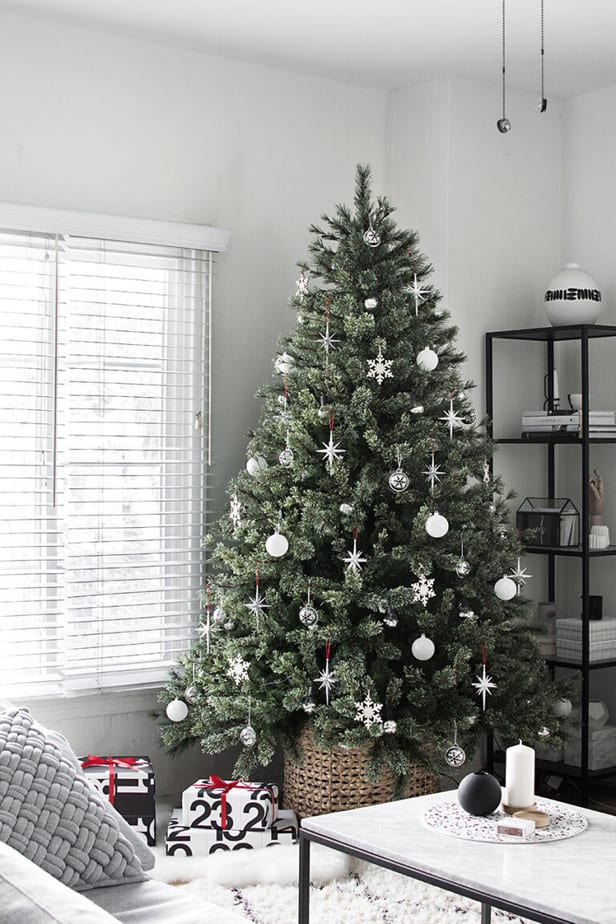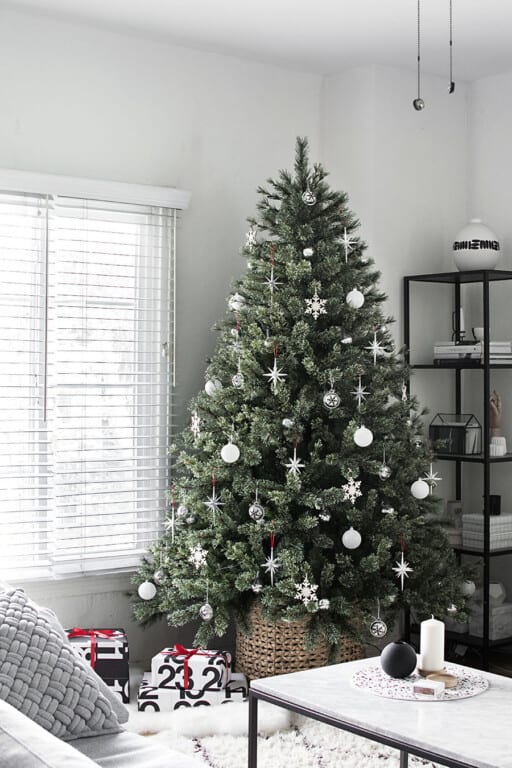 This Christmas tree has a fresh and minimalistic theme that is perfect for any modern home!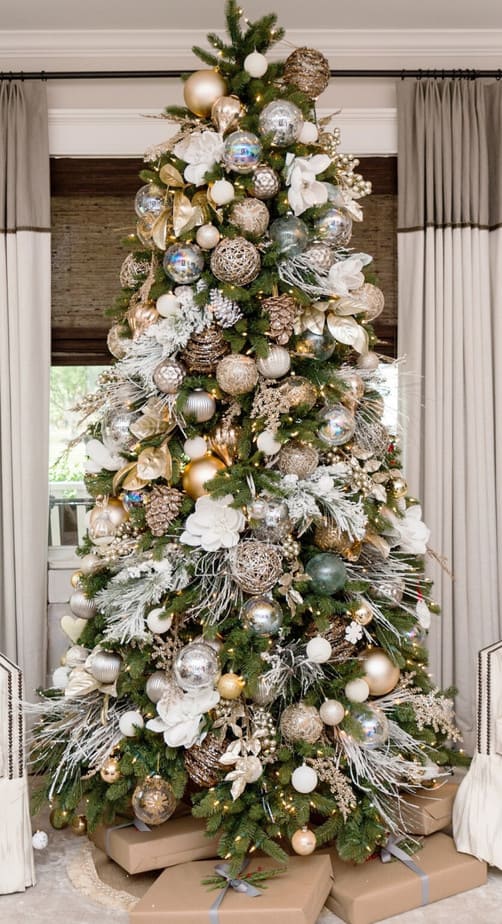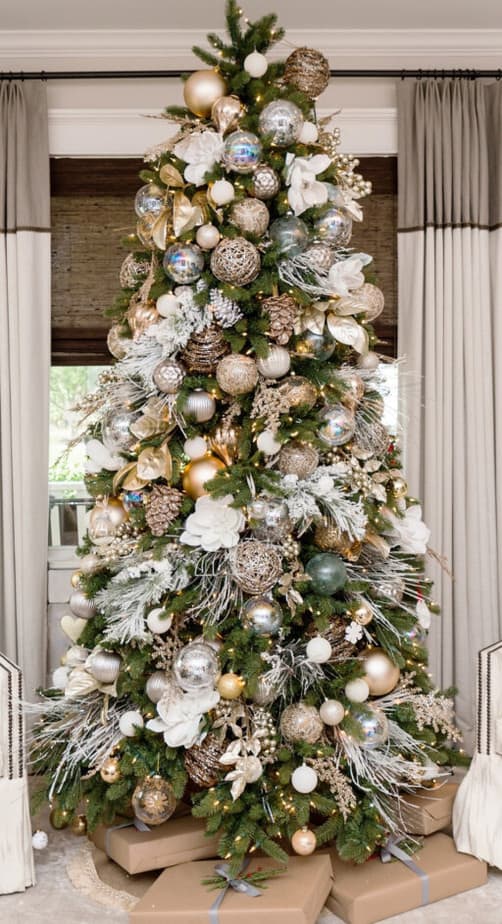 I am so obsessed with the white flowers adorning this Christmas tree! There's something about it that looks so heavenly and romantic.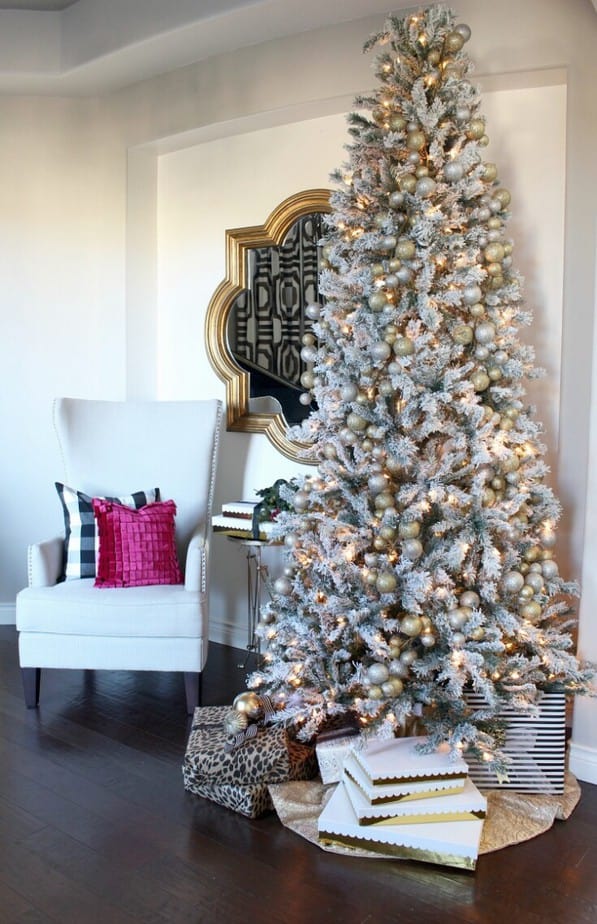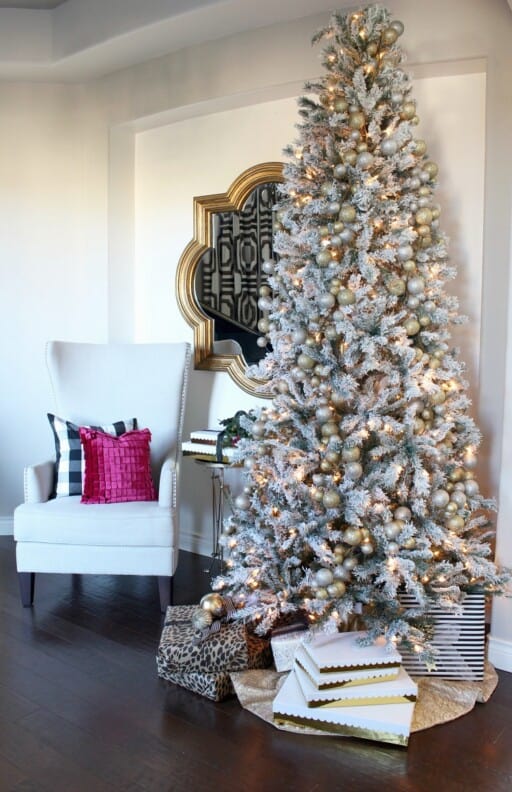 Get this beautiful look of rustic glam by mixing different textures of gold and silver against a neutral color scheme!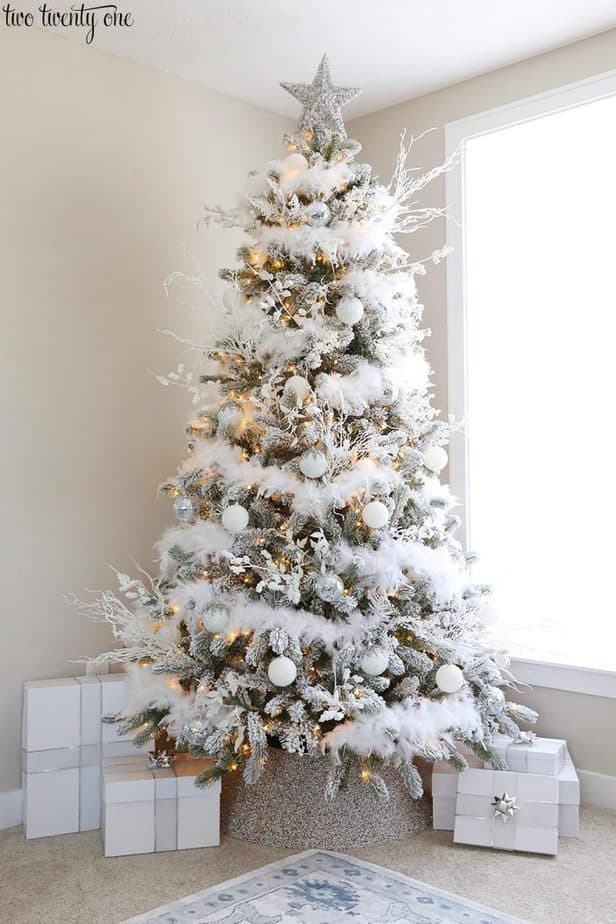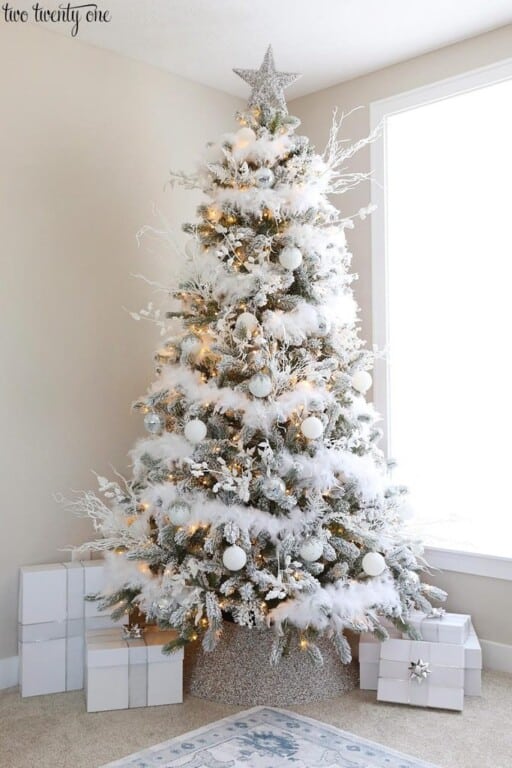 Glamorous in white, this Christmas tree hits all the right spots when it comes to looking elegant and cozy at the same time.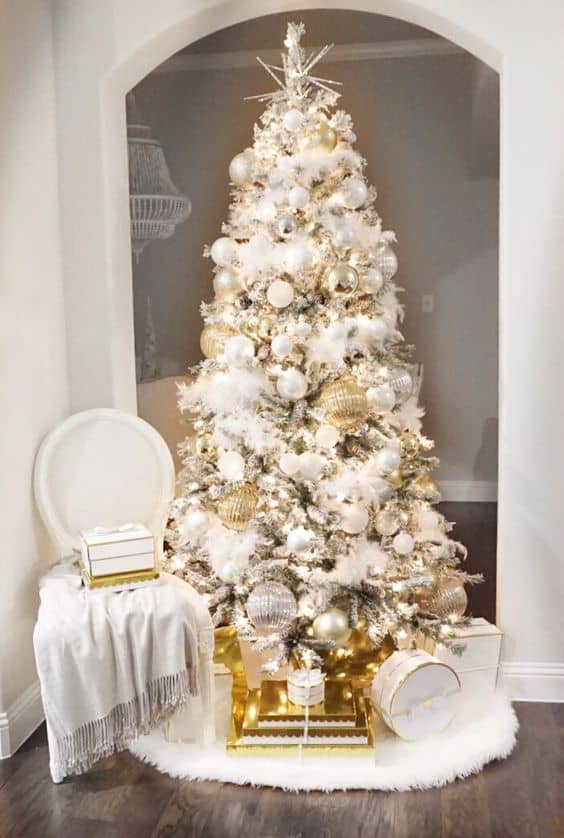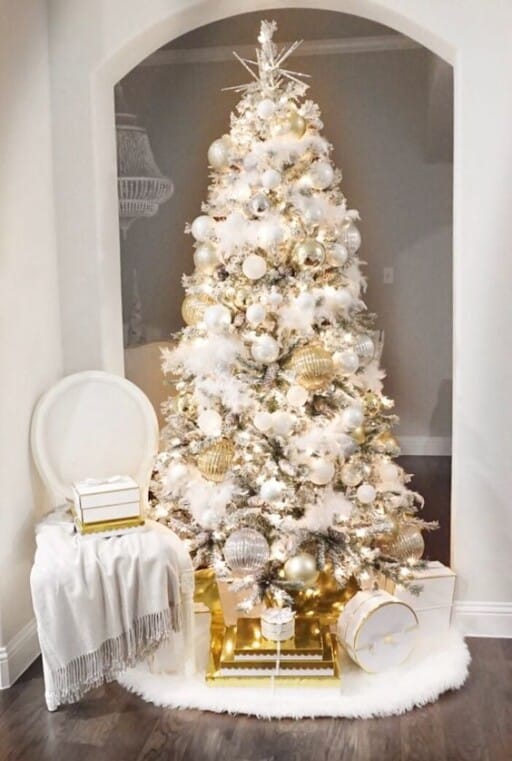 Add layers upon layers of shine to your Christmas tree by playing with beautiful metallic colors!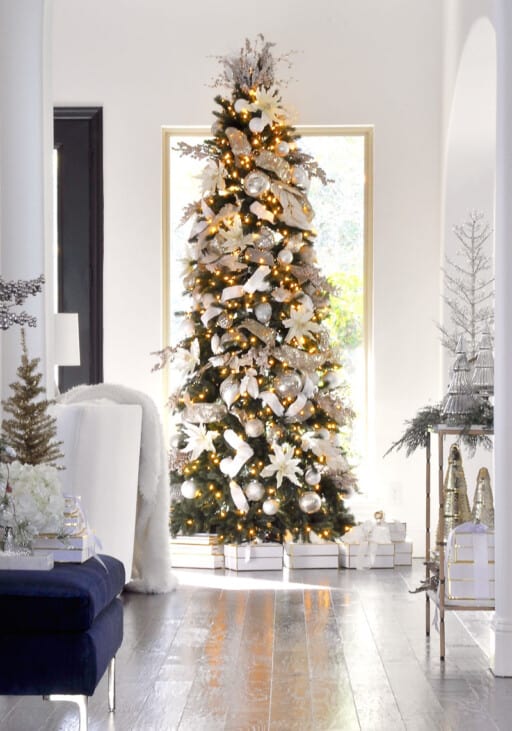 Ann all-white Christmas tree decor can be a little intimidating but definitely worth every effort once you get to the finished product.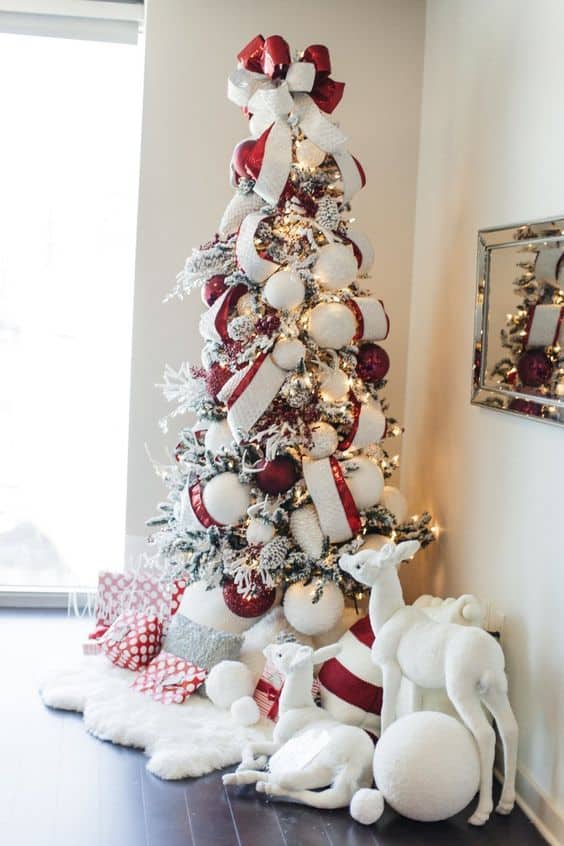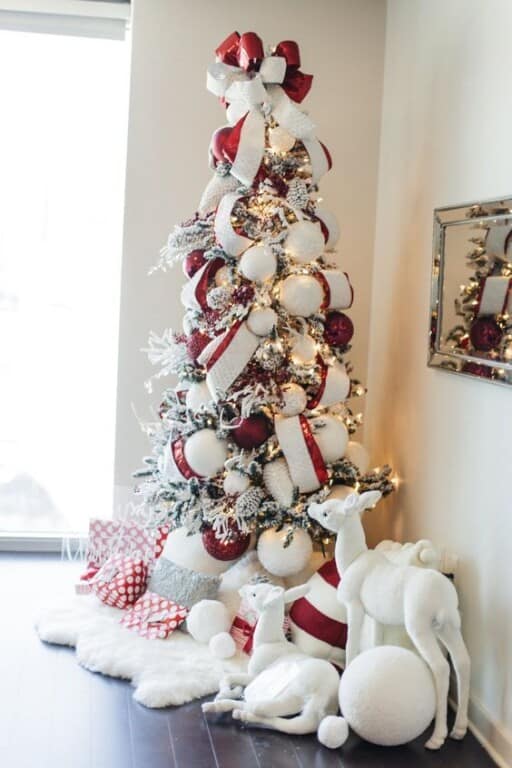 This Christmas tree reminds me of a candy cane and it looks just as sweet!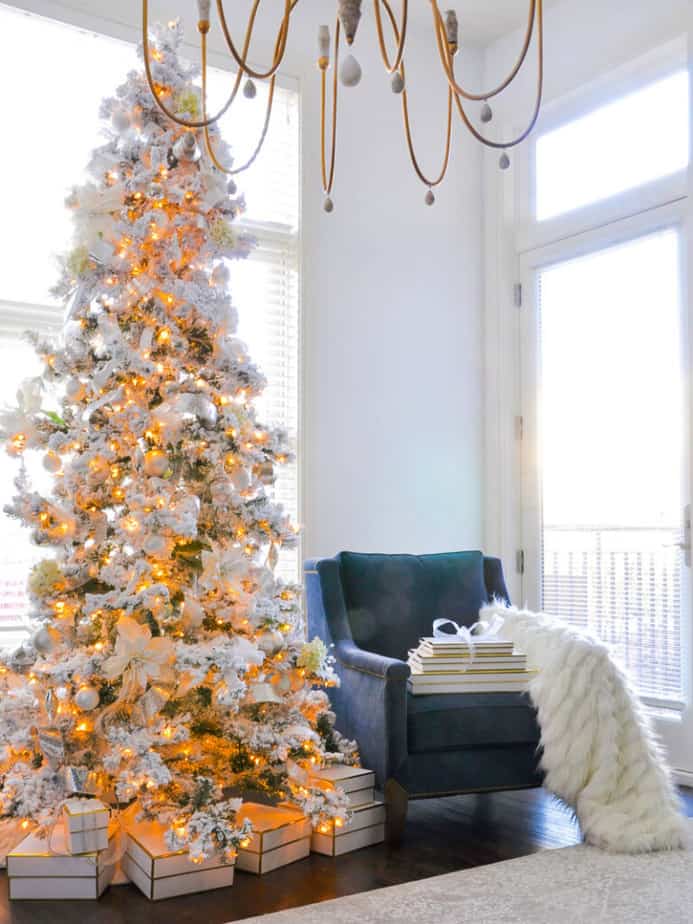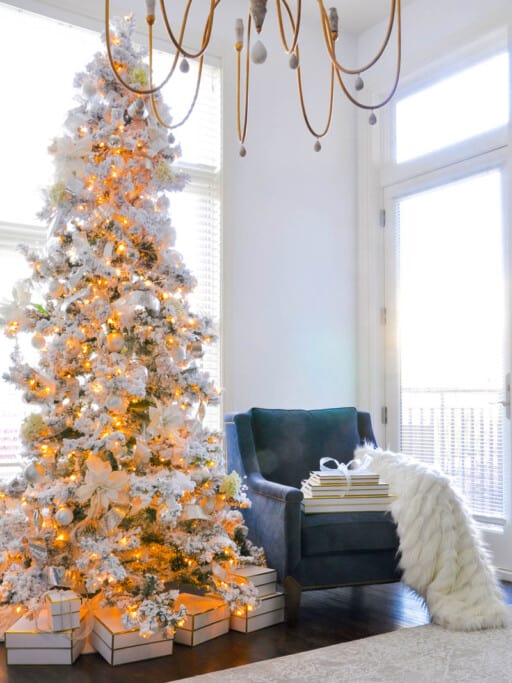 This heavily flocked Christmas tree has one of the best "snowed in" looks I have seen! The decorations are just so on point!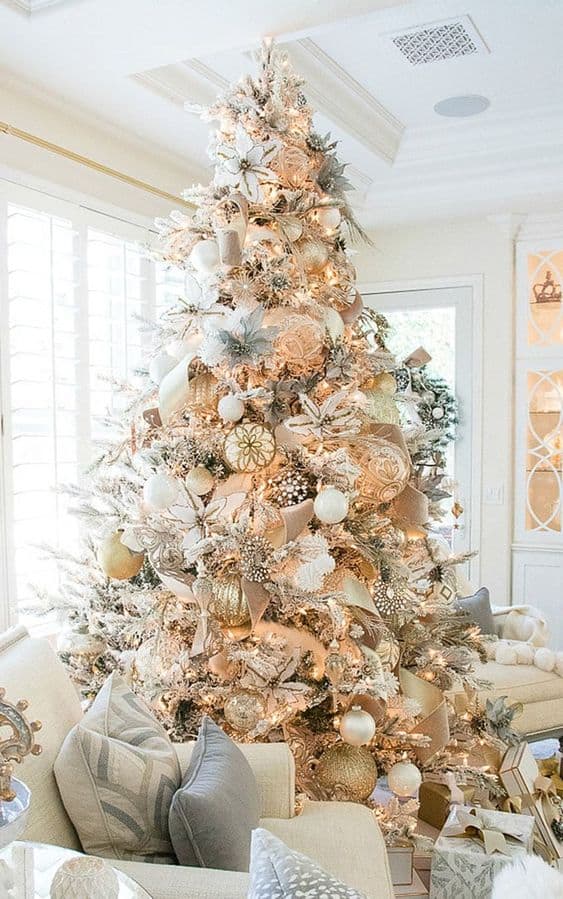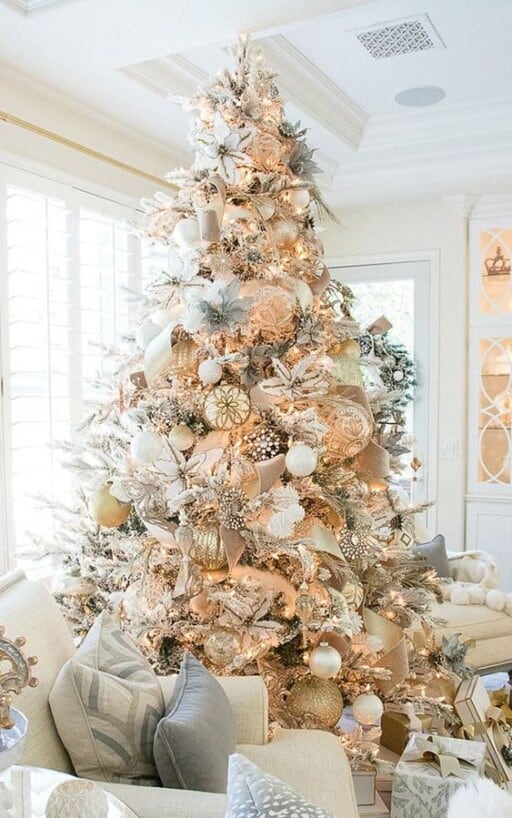 There's no such thing as too much during the holiday season and you can see how maximalist decor can be so beautiful on this Christmas tree!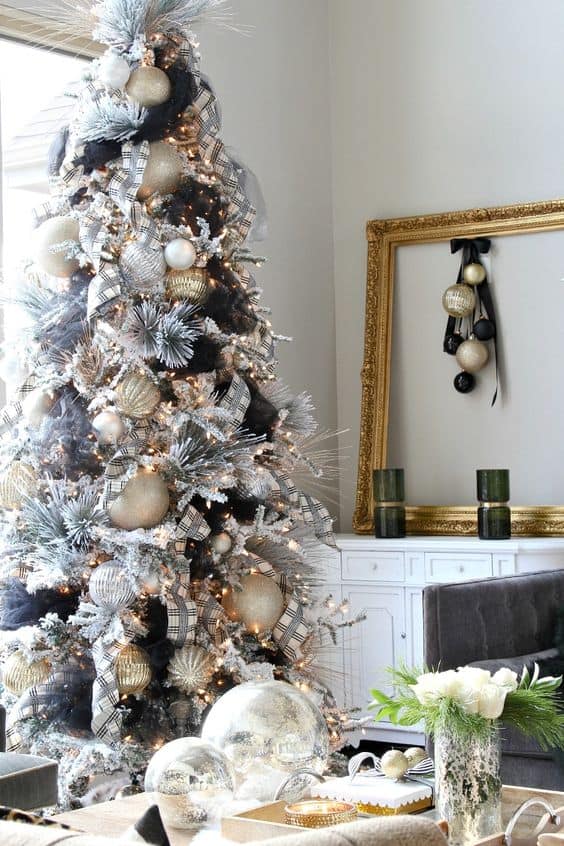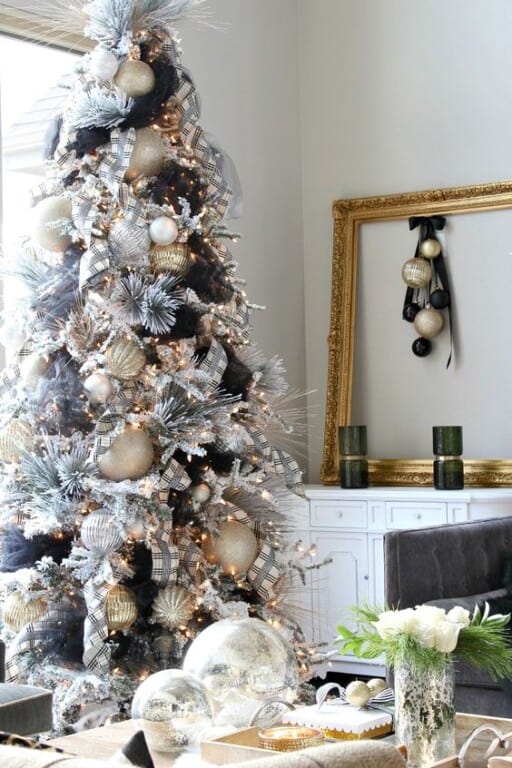 I absolutely adore this particular Christmas tree theme! I just love how classy the black and white colors are together!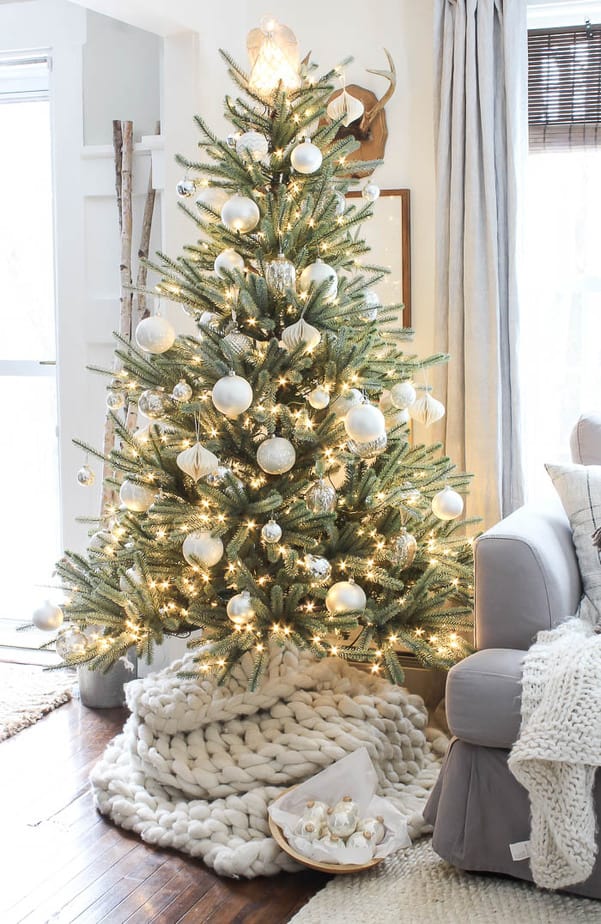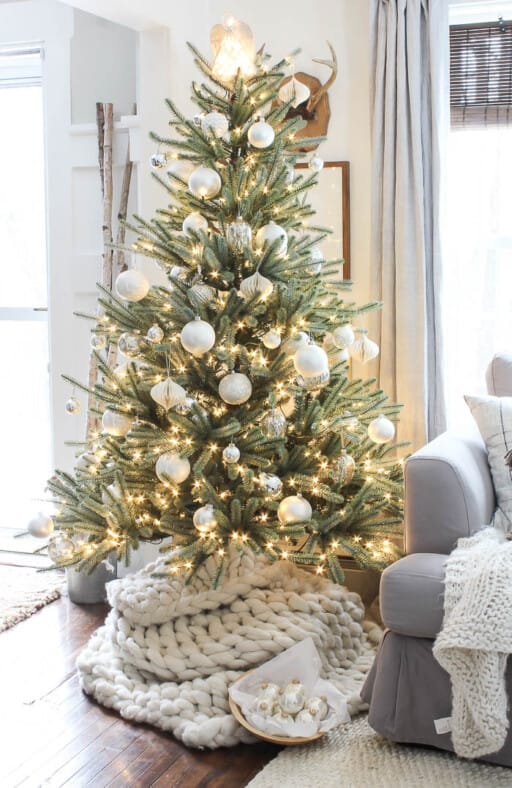 The complete opposite of the previous Christmas tree is this minimalistic decor. It's quite stylish without compromising its cozy vibe.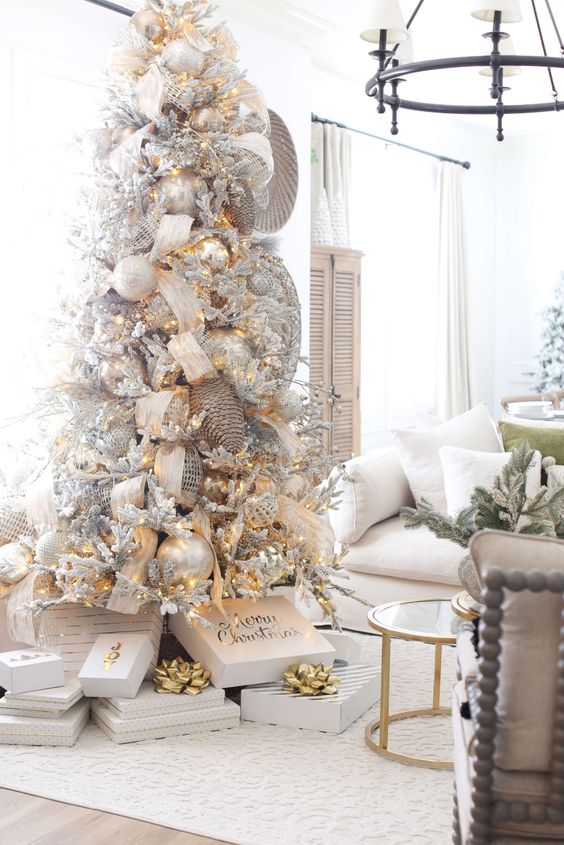 Dazzle everyone with your decoration skills by taking some inspiration from this beautiful silver and beige Christmas tree!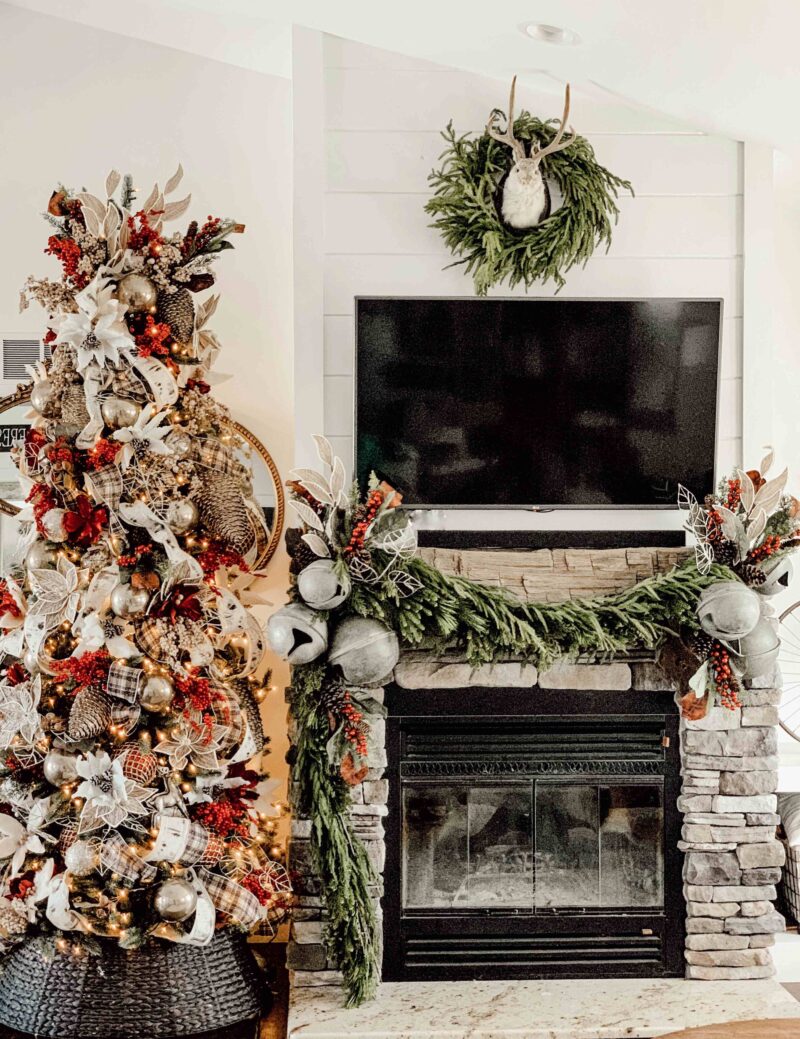 This has got to be one of the coziest and most inviting Christmas trees I have seen! It's just so perfect!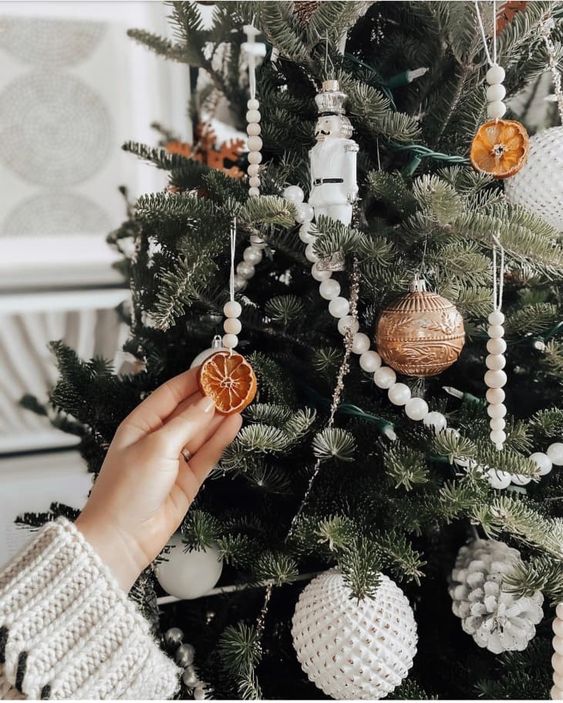 Try an eclectic approach to your Christmas tree theme this year if you're looking to bring out something completely out-of-the-box!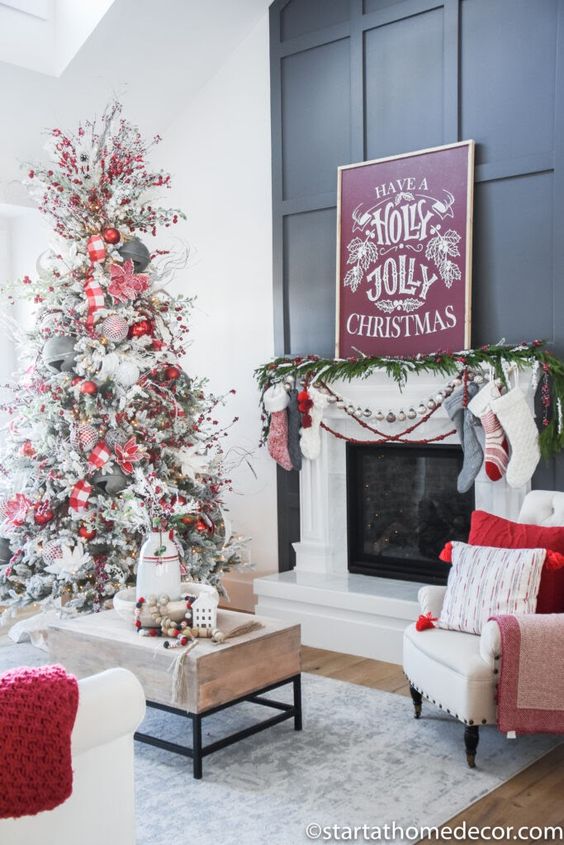 Red is definitely one of the staple colors of Christmas and it just gives off a lot of happy vibes at this time of the year.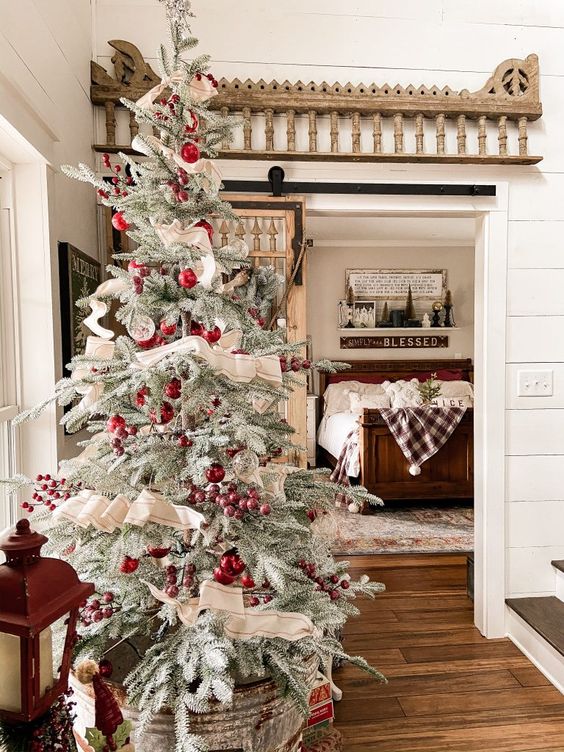 Another favorite of mine is this gorgeous flocked Christmas tree. I just love the pops of red berries adorning the leaves as well as the frosted look.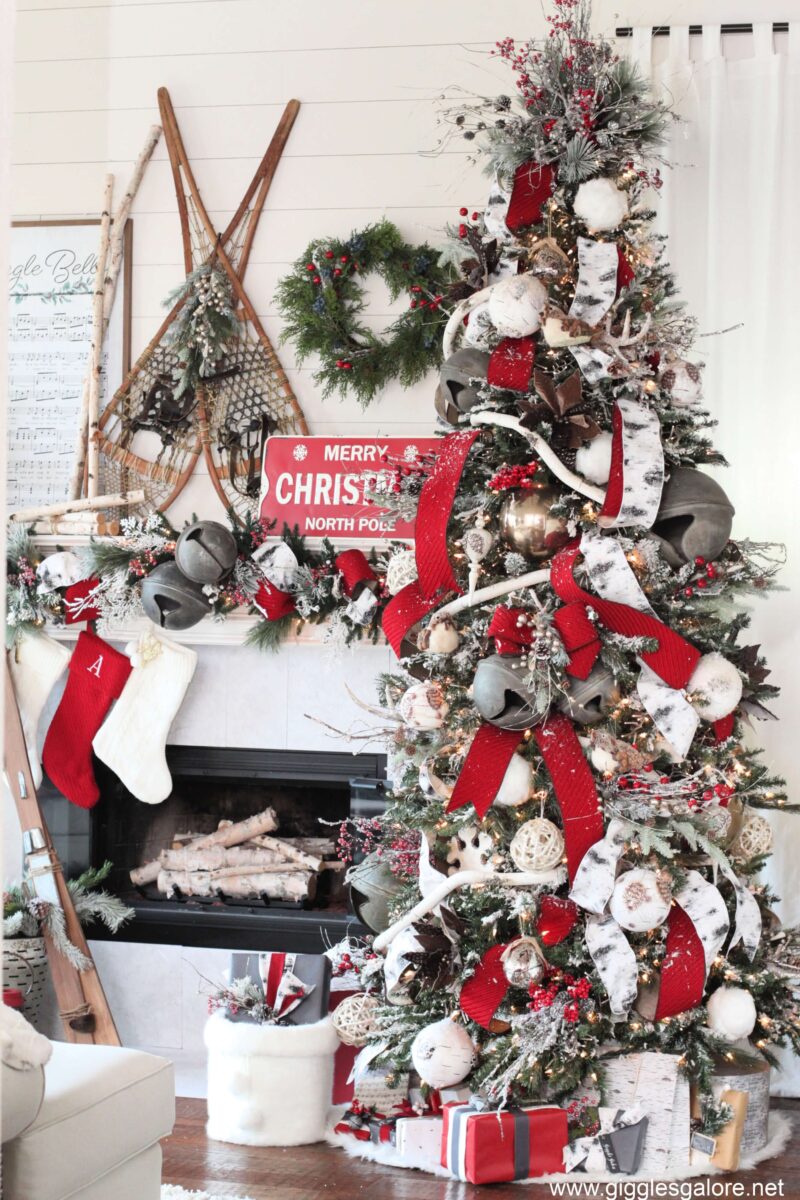 Go big or go home just like this beautifully adorned Christmas tree! I just love how gigantic its decorations are!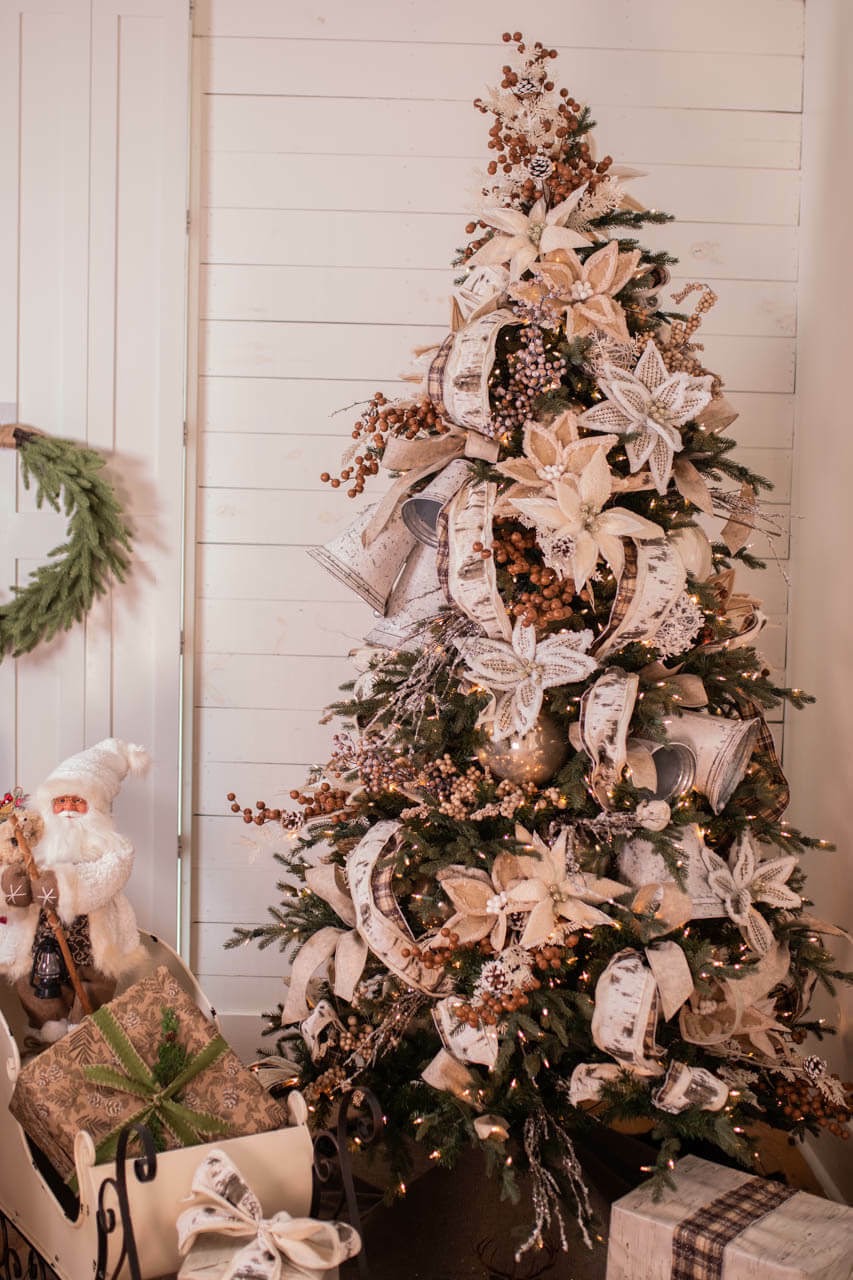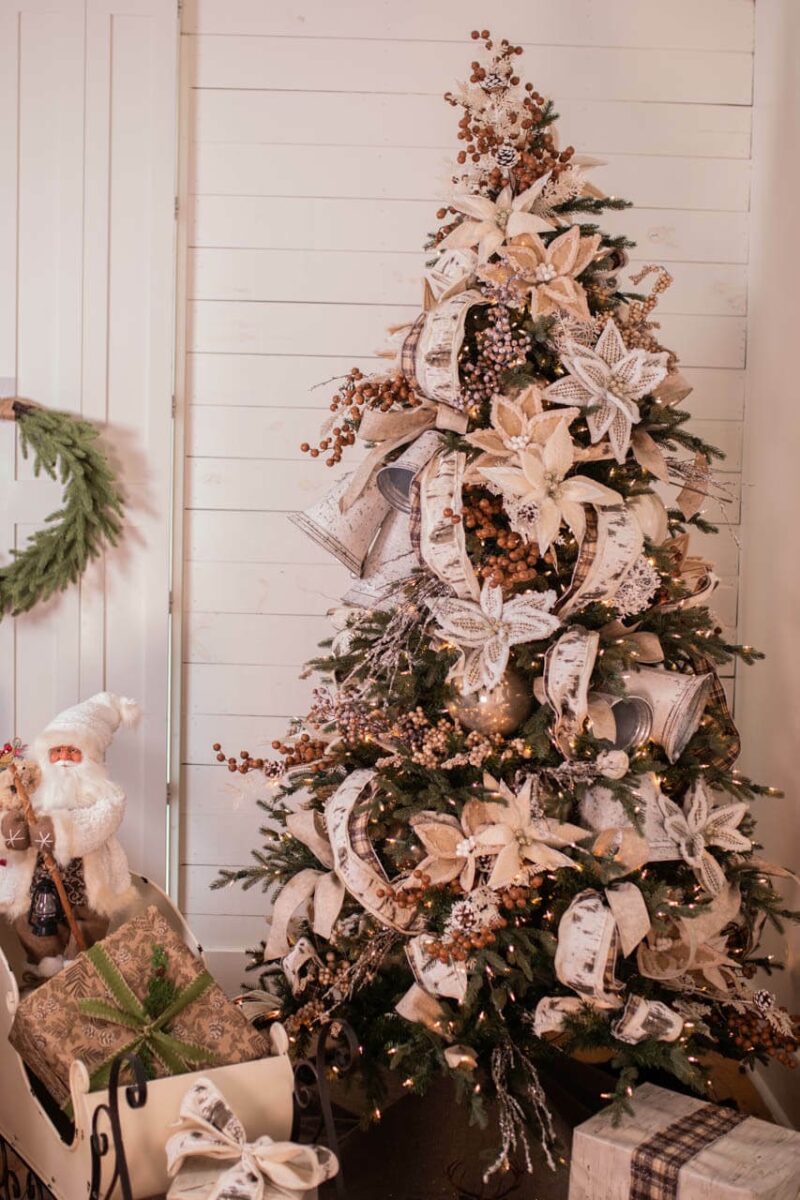 If you can't get enough of putting flowers around your Christmas tree then you can definitely take more inspiration from this decor.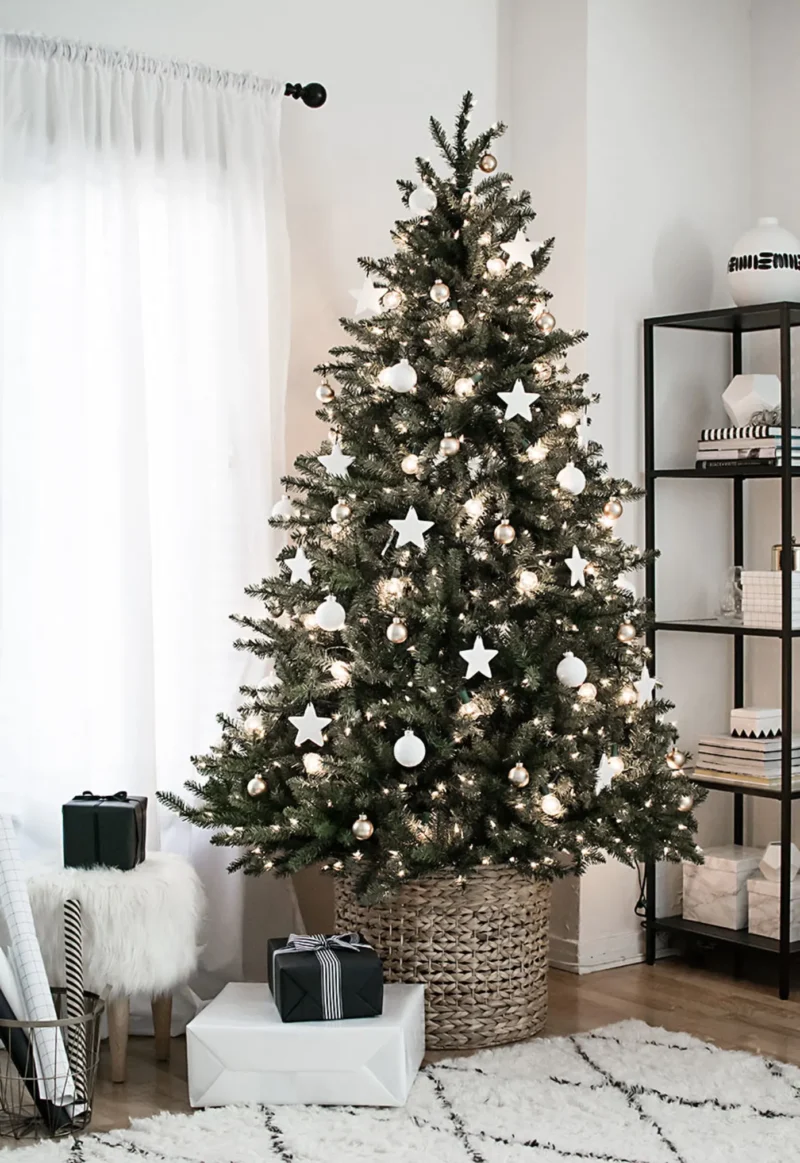 This white and minimalistic Christmas tree decor is the perfect theme for anyone who is looking for something that won't take up too much time to decorate.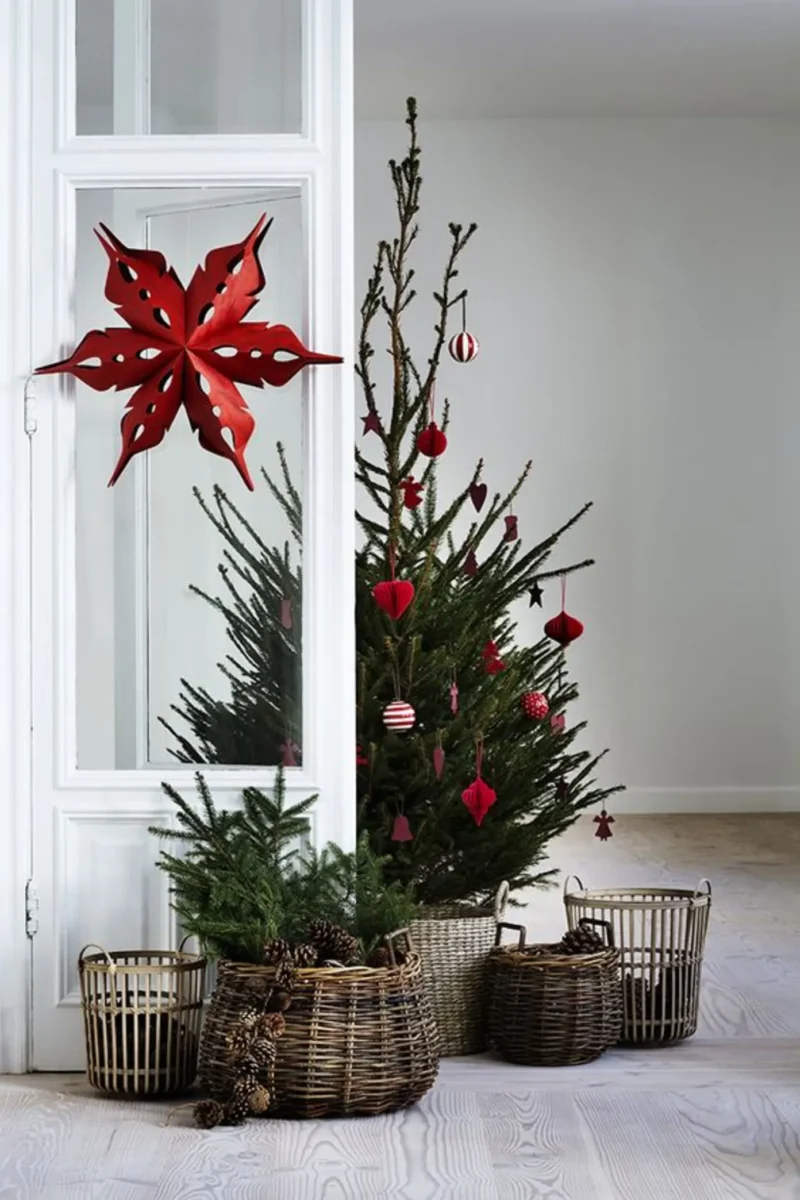 This particular Christmas tree would be the ideal tree for your bedroom or for anyone who might not have a lot of space for a full-sized Christmas tree in their house. It also doesn't require too much decor!