Flocked Christmas trees have become super popular for a reason! To me, a slightly flocked tree represents the beautiful quietness of the outdoors as snow starts to fall.
I've spent a lot of time wondering how to flock a real Christmas tree, so I finally took the plunge and did it. Minor flocking is what I went for (I personally like the less-is-more approach, especially for a real tree) but the process is easy and you can quickly make the tree look more or less flocked.
It also takes less than 15 minutes to flock a real Christmas tree and all of the necessary items to do it are available on Amazon Prime!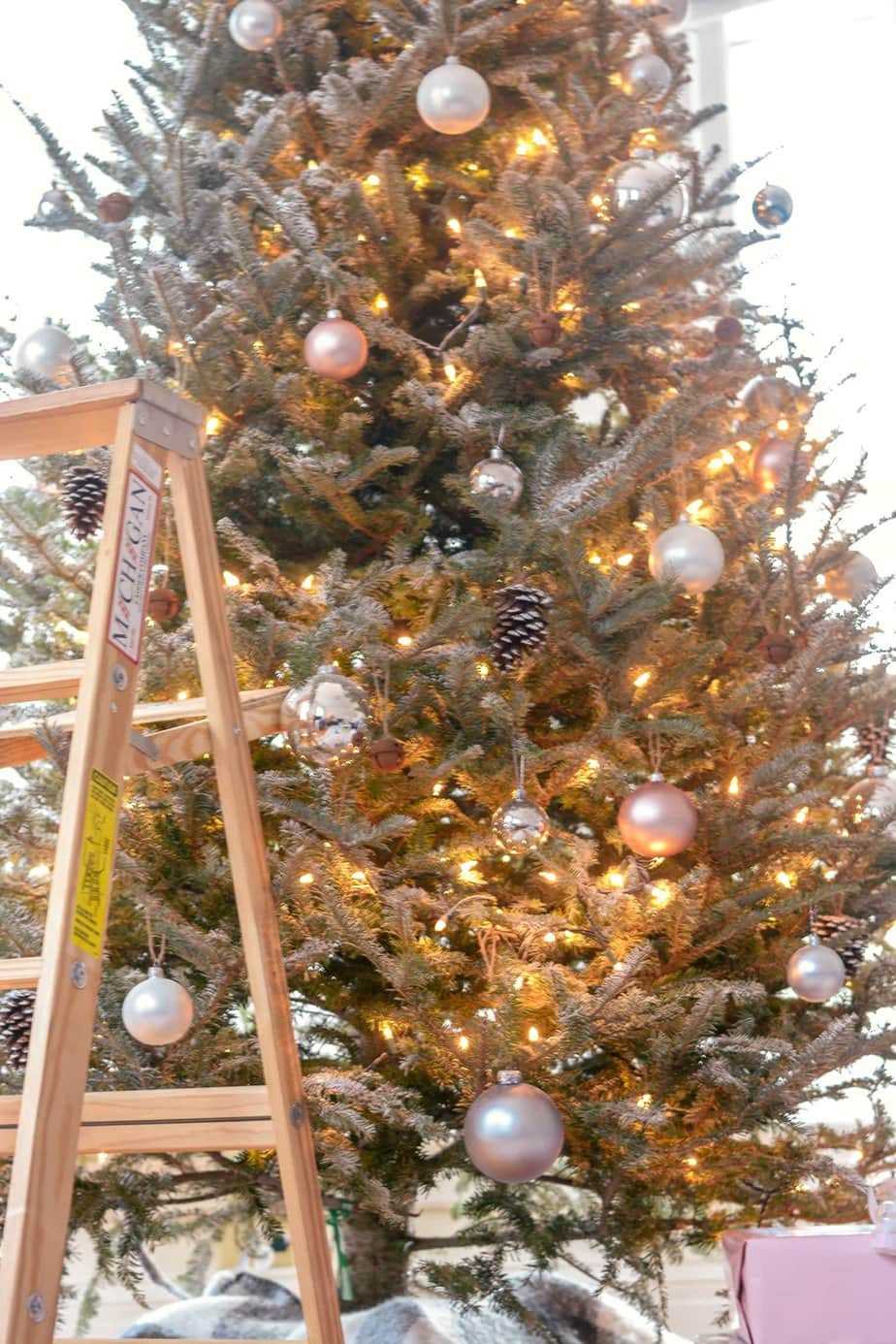 If you look closely, you'll see that this tree is lightly flocked. That's how we wanted it, but I could have kept adding layers until the snow was extremely thick.
Check out this next picture for a close up: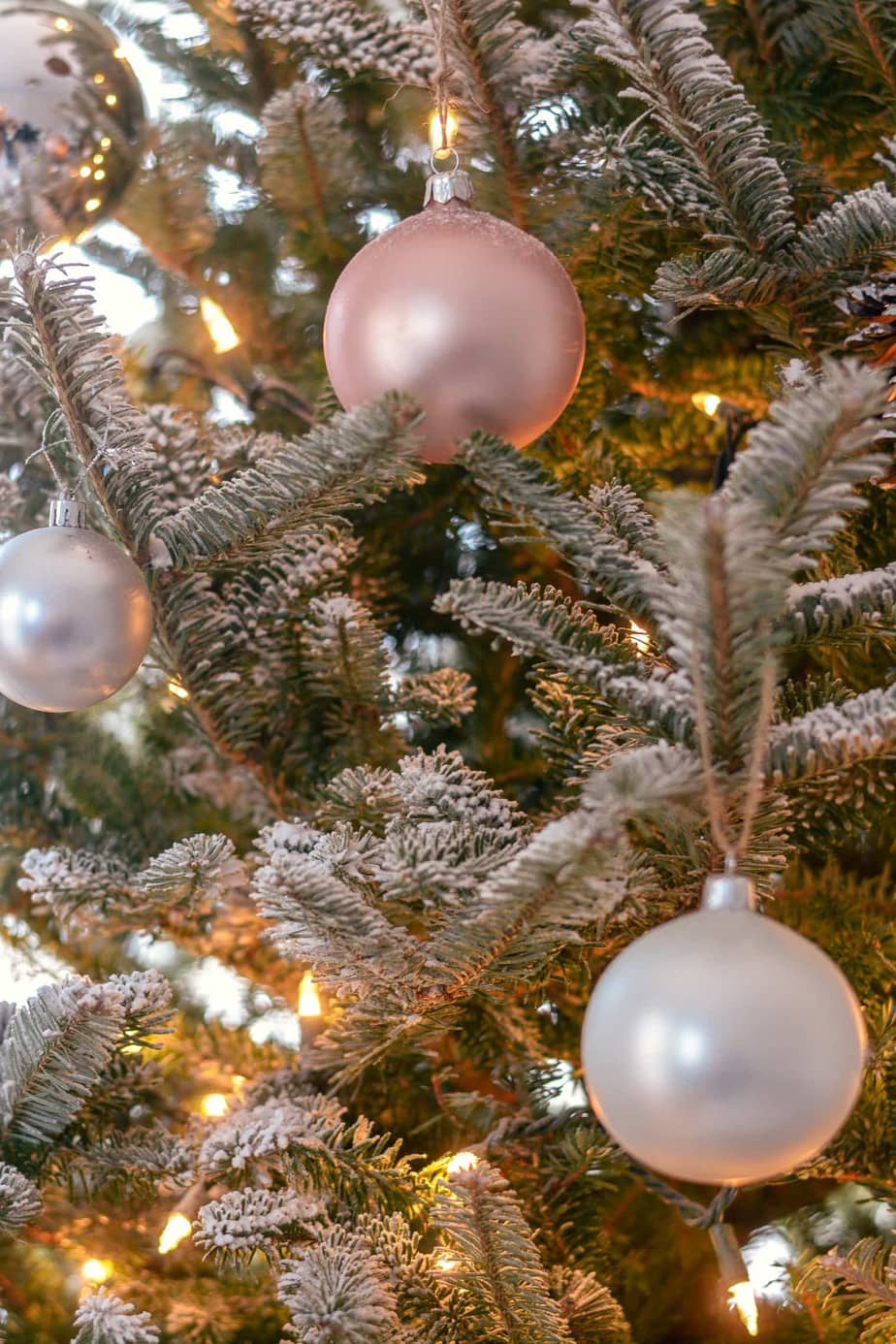 It is a messy process, so adding more fake snow would have certainly added to the mess. It's also a bit difficult to decorate, but you can't put ornaments on the tree until after the tree is flocked.
If you have kids, you'll need to teach them how to put ornaments on over the flocking. Make sure that you're not wearing anything super valuable when doing this process!
You can either put the lights on before or after the flocking process. If you want to save the lights for next year then you should put them on after, since the SnoFlock will stick to the them.
We put the lights on before because we didn't care about saving the lights and it made the process way easier.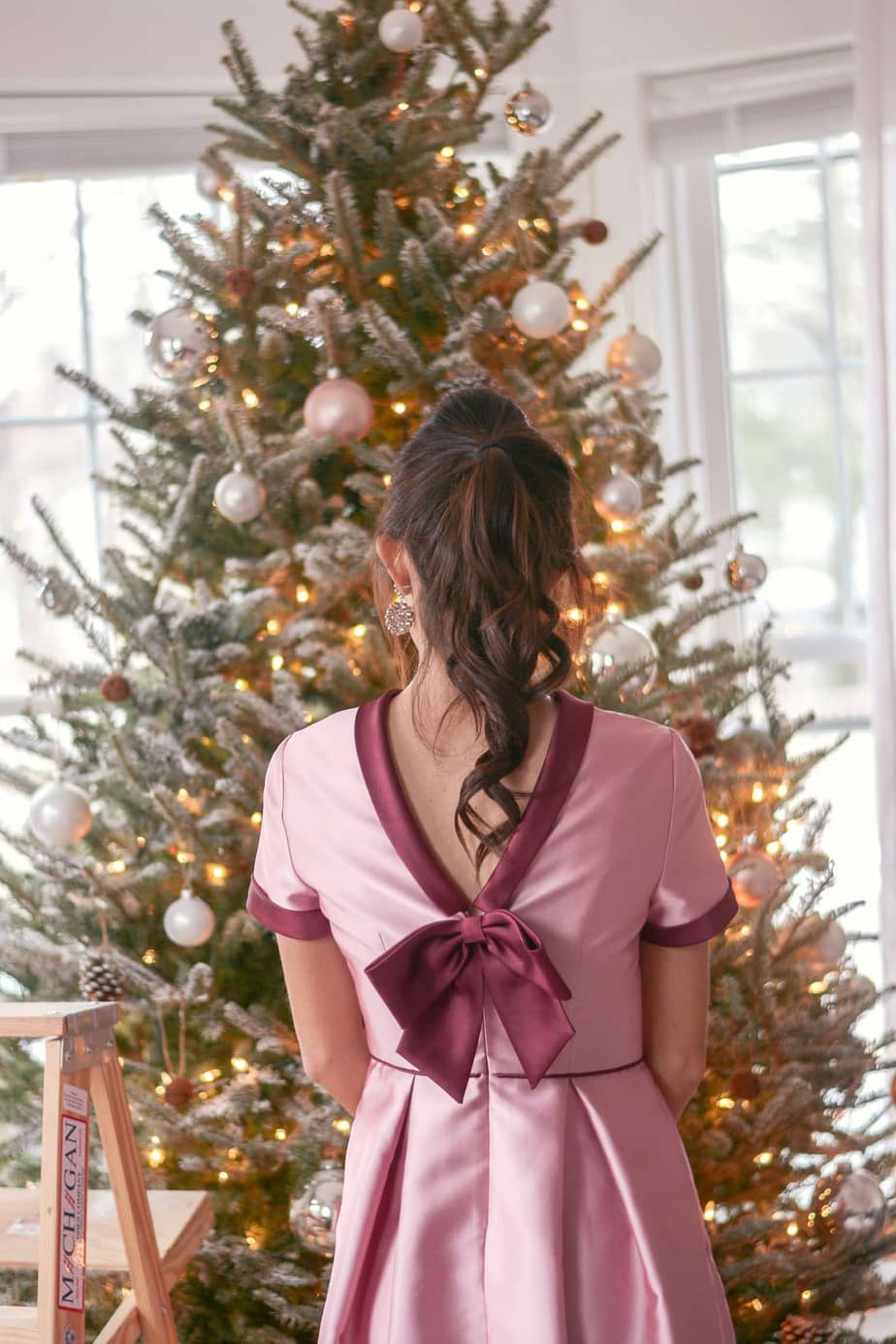 Materials For Flocking:
You don't need many things to flock a real Christmas tree. The most important material is obviously the fake snow. I linked the brand I used below, but you can find many options on Amazon; I'm sure they all work similarly.
I do recommend reading reviews to make sure your flocking agent will actually stick. I have heard some stories of it falling off a day after the tree was flocked. This SnoFlock was super sticky and lasted for about a month and a half.
1 bag of SnoFlock (a single bag was enough for my medium sized 7 foot tree: I actually had almost a half of the bag left over. If you want to flock your tree more or it's over double the size of mine, get two)
Obviously, you also need a real Christmas tree, but for the purpose of this post I'll assume you already have that.
You'll want to flock your real Christmas tree as soon as you can after you get it. You need to flock the tree then let it sit before you decorate it, so plan that into your schedule.
Keep in mind that this is a messy procedure. You'll want to make sure you don't have any valuable rugs or furniture around your tree. This SnoFlock is basically glue once it dries.
Next time, I'm planning to use a white tree skirt so I don't need to worry about cleaning it.
How to Flock a Real Christmas Tree:
You can start anywhere you want on the tree; it makes no difference. You basically spray a good amount of water onto a branch then sift the SnoFlock through the sifter on top of the branch. A good amount of it will catch and will look like snow on the brand.
The rest of the SnoFlock will fall to the floor, which is what makes it so messy.
If you want your tree to be more heavily flocked, then use a coarser sifter. I used a finer sifter for a more subtle look. You can also just dump a bit of the SnoFlock on branches you want to be especially white.
There's no rhyme or reason to how much SnoFlock you put on each branch. It can be a little disoriented, because snow doesn't fall perfectly in nature.
I did one round one each branch, then I went back over the tree and added more powder to branches that didn't look while enough. You can do this as many times as you'd like over the course of a few days. The only limit is the amount of SnoFlock you have, so I recommend purchasing extra just in case.
What About Flocking A Fake Christmas Tree?
The process is basically the same whether you're wondering how to flock a real Christmas tree or a fake one.
If you have it in the budget, it probably makes sense to buy a fake Christmas tree pre-flocked rather than learn how to flock a Christmas tree at home, but this is personal preference.
The one thing to note is that if this SnoFlock falls onto the ground and hardens, it basically turns into cement. I was able to get it off with my heavy duty sink cleaner, but if you have delicate floors, then you might want to put a tarp or a blanket down.
At the very least, I recommend using a large, white Christmas tree skirt while flocking. All in all, flocking a real Christmas tree at home isn't hard by any means, but it is messy. Even after the SnoFlock dries, touching the tree will cause bits to fly off, so prepare for the area to be messy for the rest of the season.
Lastly, the tree will be difficult to get out of the house after Christmas without making a huge mess. We only have to go through one room and absolutely love the flocked look (as well as the smell of a real Christmas tree), so it was totally worth it, but that's an individual choice!
Questions? Comments? Drop a line below and I'll be sure to answer ASAP!
Related Posts: