You've done your Easter crafts and prepped your Easter meals, and now the only thing left to do is your Easter nails! We're sharing the top Easter nail designs trending this year.
When it comes to choosing my next manicure design, I love to stick with a theme depending on the current season, holiday, any special event, or to simply match my mood. With Easter quickly approaching, I've compiled a list of the cutest and most chic Easter nails you can do this year.
These Easter nail designs range from your favorite staple florals, pastels, polka dots, and even quirky bunny-themed nail art and so much more. If there's one thing that's sure to put you in a festive Easter mood, it would be these seasonal manicures.
There are tons of options around Easter for nail designs! Try out doing Easter egg-themed patterns, cute bunny drawings, spring florals, or perhaps something abstract with your favorite pastel shades. Whatever your preference is, I hope you find something you'll like from this list!
This year, show off your creativity and your style with these Easter nails!
Easter Nails For 2023
Keep scrolling to check out my curated list of the best Easter nails you can try out for 2023. All sources have also been linked below each photo for your reference. Enjoy!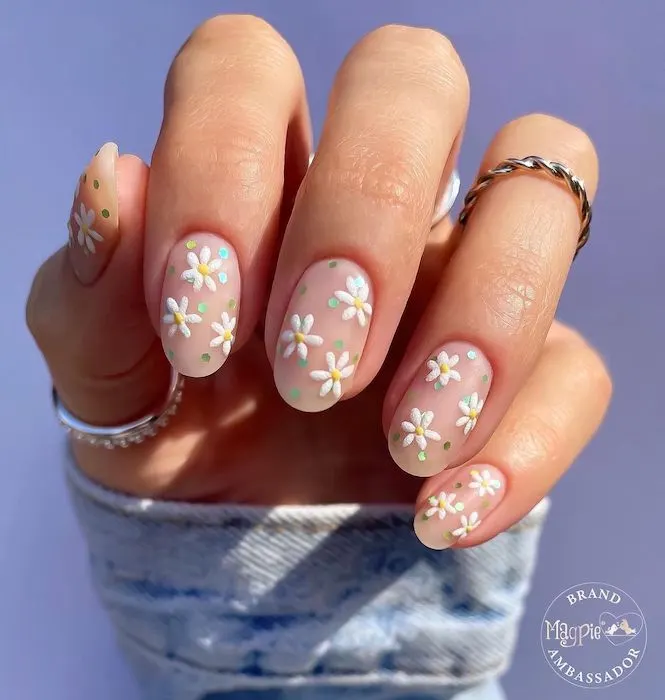 To start off this list, let's go with classic and staple florals. You can pick a type of flower like daisies to get that dainty and feminine vibe.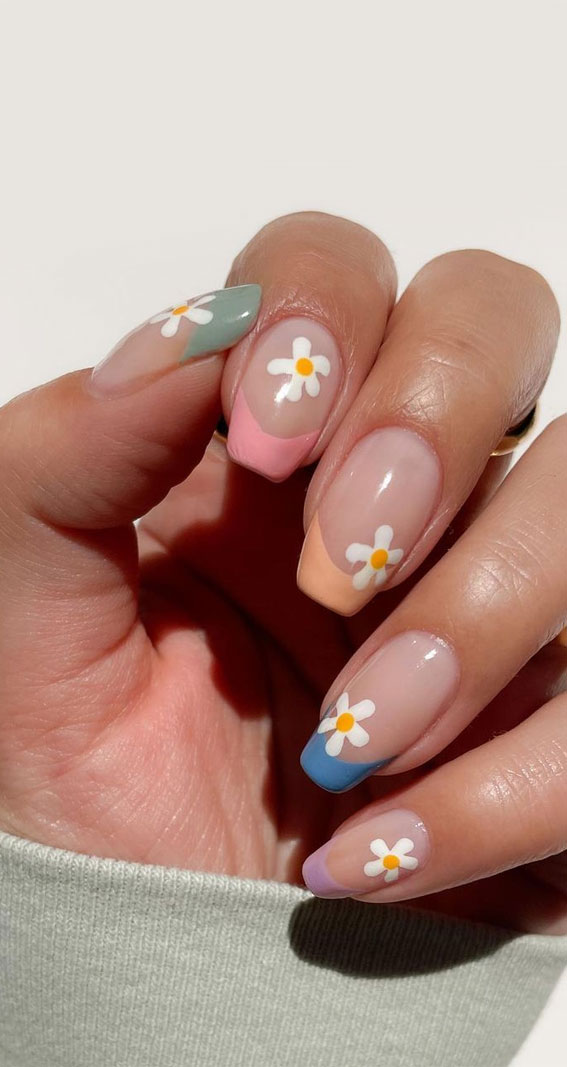 You can also spruce up your usual French manicure by adding dainty daisies around it. Forego the traditional white tips and paint your tips with soft pastel shades instead. You can pick a different color for each nail.
What better way to celebrate the upcoming Easter and spring than by doing these gorgeous butterflies on your nails? Pair it with some pink French tips and you're good to go!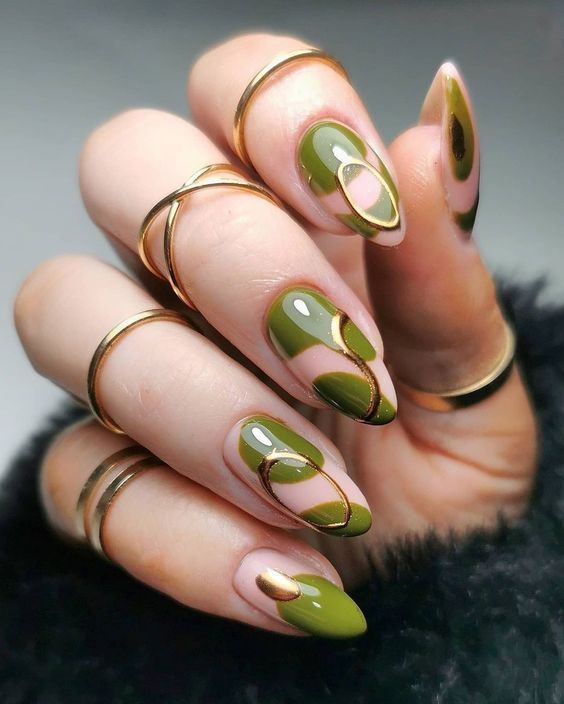 If you want something a bit moodier this spring and looking for nail art with some chic abstract patterns, this one is for you. These Easter nail designs really work any time of year so you can get them just before the holiday and wear these nails throughout April!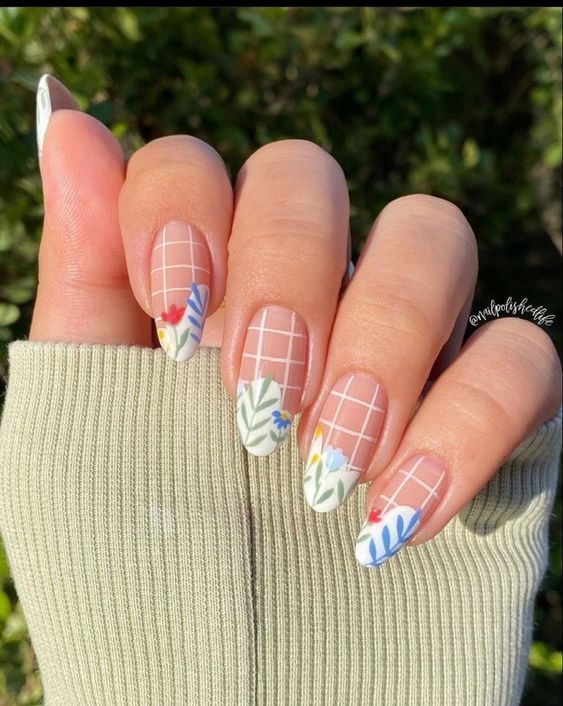 I love the creativity of this particular manicure! From the intricate grid lines to the quirky take on the classic French manicure. To give it that spring and Easter touch, don't forget to add those flowers.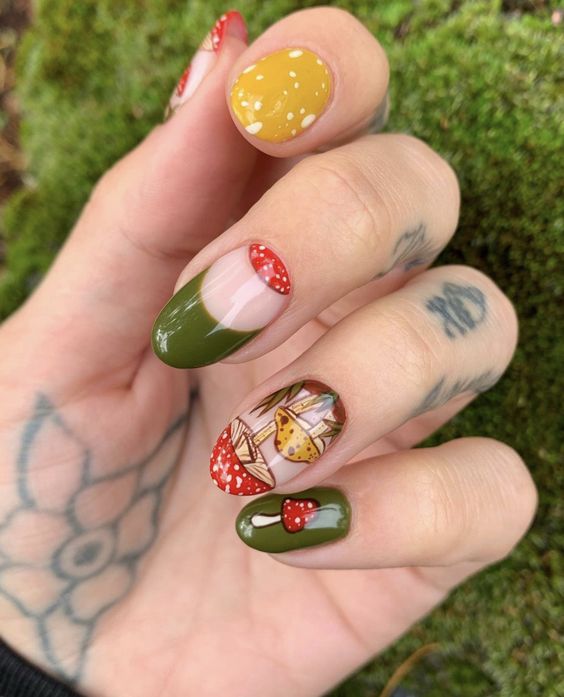 When I think of Easter, I think of going egg hunting and enjoying what nature has to offer. So these mushroom-themed nails are just so on point!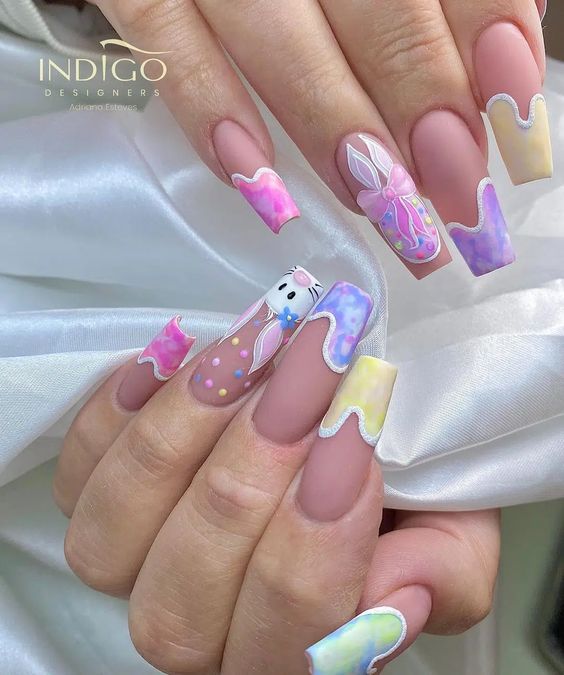 This trendy swirly French tip nail art honestly reminds me of nails being dipped into melted ice cream and I love it! Make it even more unique by adding Easter elements to it with bunnies, polka dots, and more.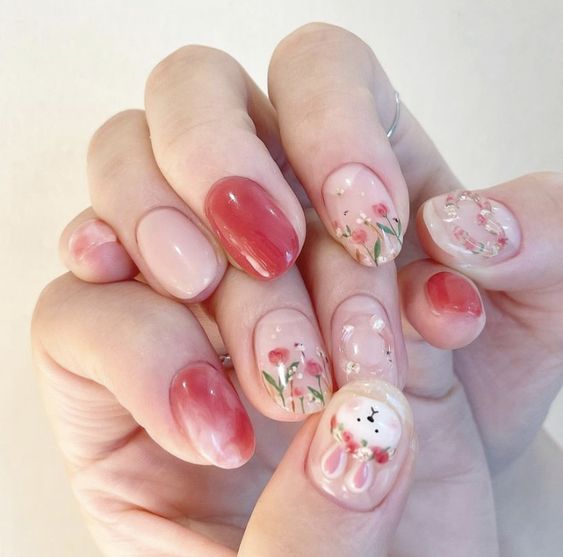 Who says you can't do intricate nail art with short nails? This manicure has got to be one of my favorites on this list. From the rosy pink and red color scheme to the adorable bunnies and flowers, it's the ideal Easter manicure for me!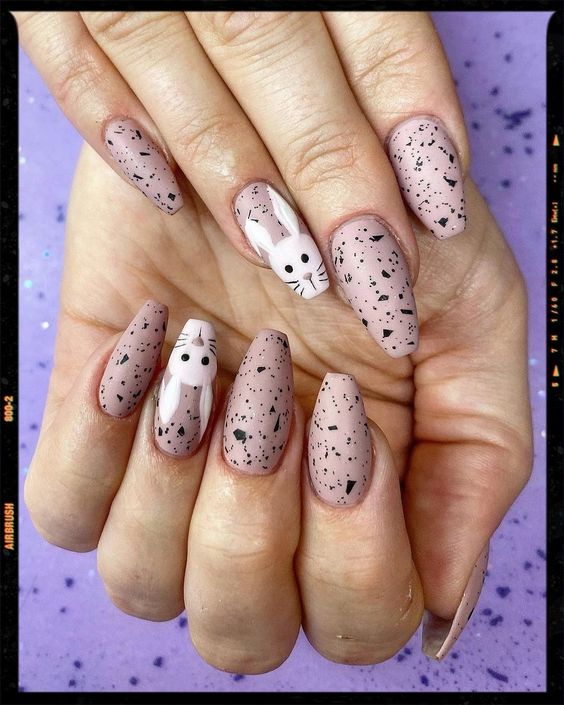 These black speckles on this particular nail art sort of remind me of quail eggs. And I do find it quite adorable and creative. You can either use it as it is or add bunny nail art to really get into that Easter mood.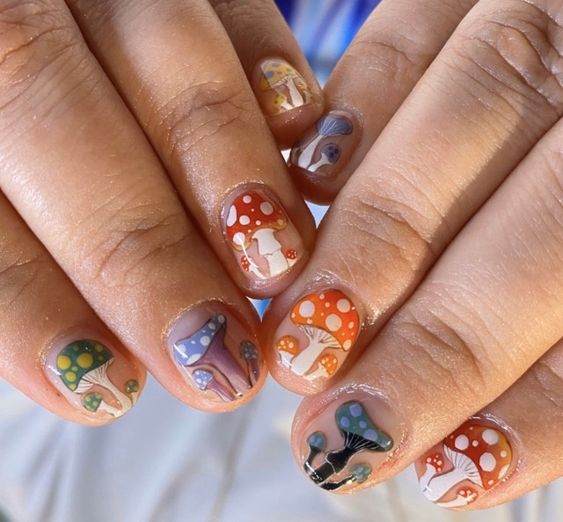 Here's another mushroom-themed nail art that you might like for your nails this spring. This can also give you an idea to hide your Easter eggs around these cute sprouts.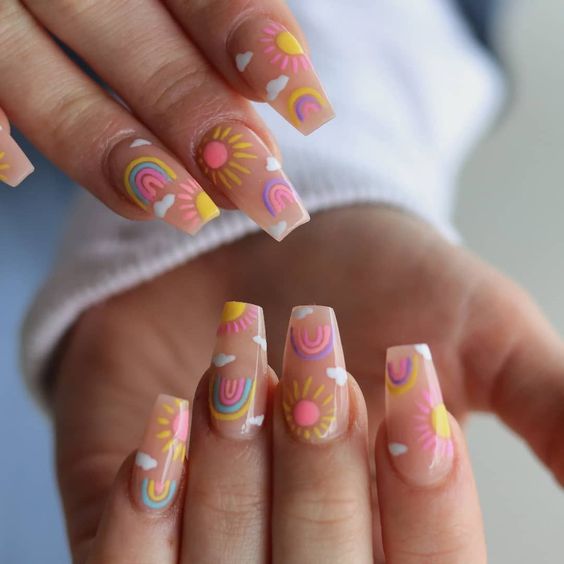 As spring arrives, it reminds me of the sun finally coming out to shine after months of dreary winter. Which is why I really like the sunny and rainbow patterns on this particular manicure. It can also be fitting for the summer season.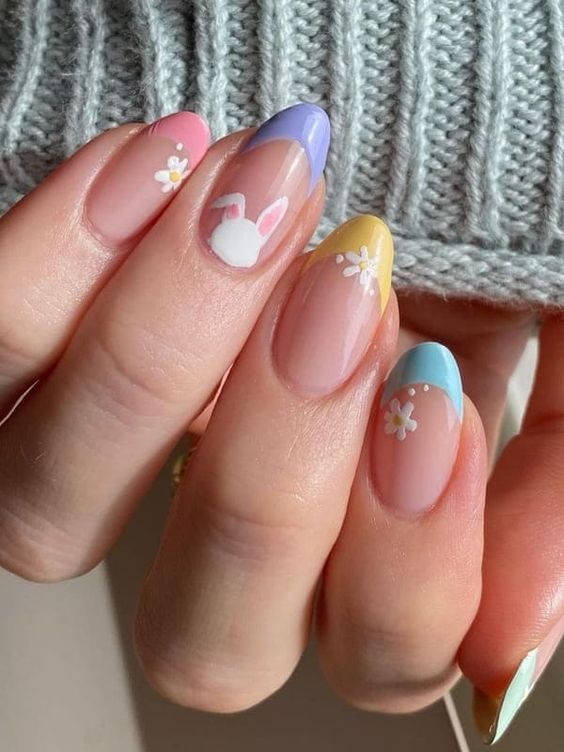 Aside from the combination of florals and a classic French manicure, you can also add hints of Easter to it by adding bunny nail art on the base of your accent nails.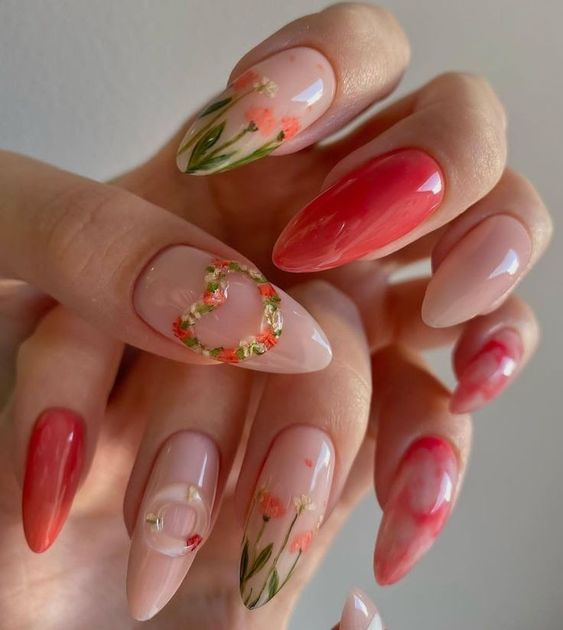 I know florals for spring aren't as groundbreaking as one might think. But if your nails are going to look this good, how can you say no?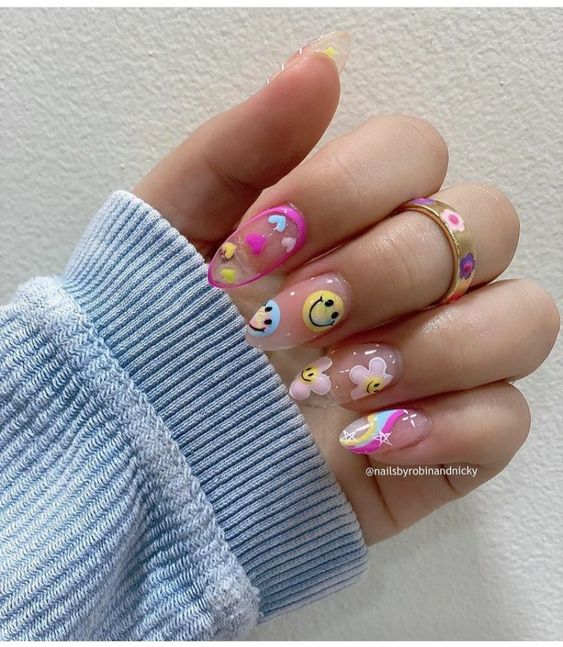 If you find yourself in a rather damp mood, maybe these smiley faces on your nails will help brighten your day and cheer you up?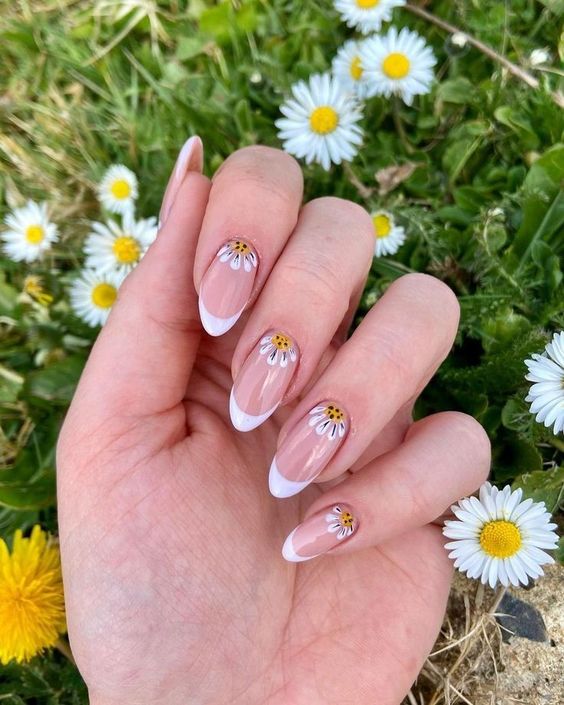 I can't think of a better pairing than daisies and French manicures, especially when you use an all-white color scheme for your nails. They just look so classy and elegant.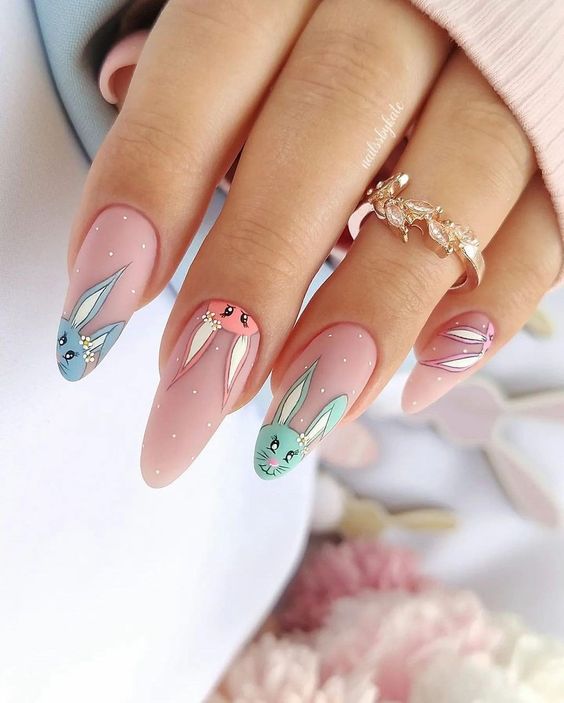 Just how adorable this bunny nail art is?! Put each bunny in different corners as if they're peeking out of your nails. Add tiny polka dots to give it a dainty touch.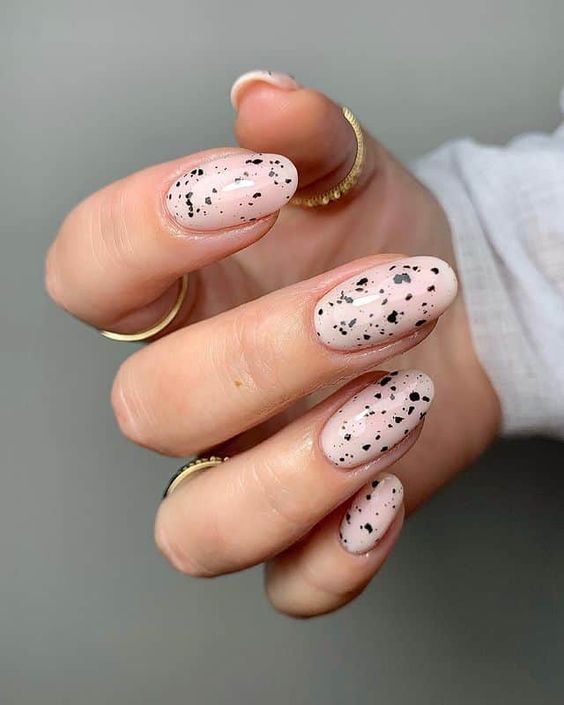 These black-speckled spots kind of remind me of cookies and cream ice cream. But it also reminds me of quail eggs. Either way, these nails would look so good for your next Easter event.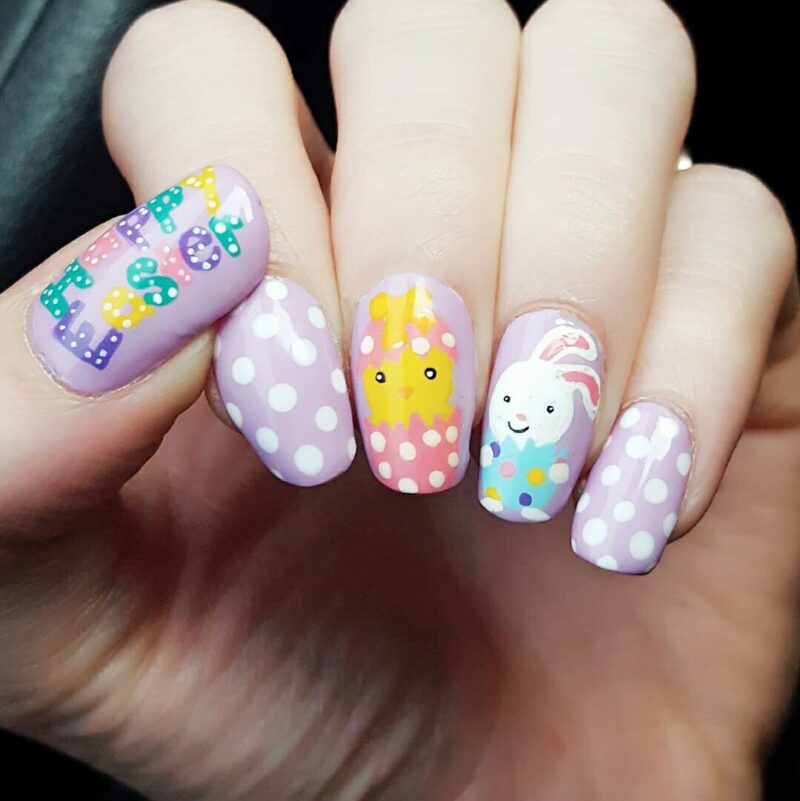 So quirky and unique, these nails are such a classic Easter manicure. The bunnies and the chick nail art look so good together along with these soft, pastel shades and polka dot patterns.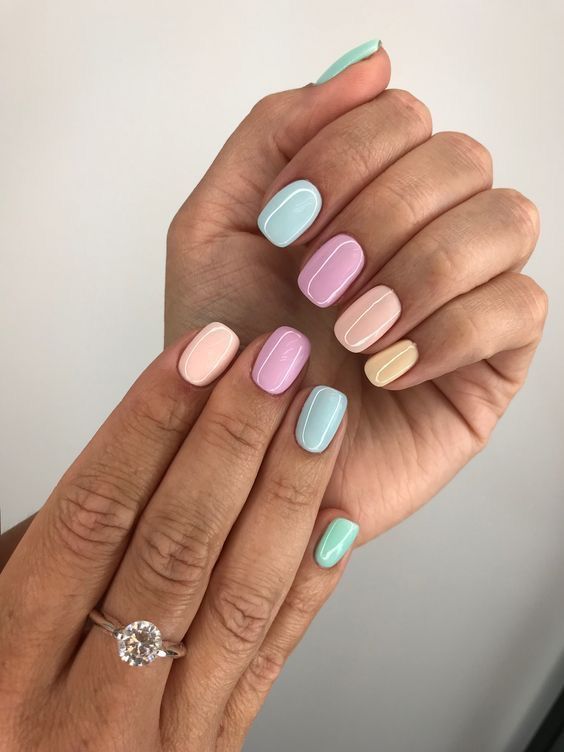 For a simple yet classic manicure for this upcoming spring season, you might want to do these nails. No nail art skills are required so you can definitely achieve this at home. All you need are a variety of pastel shades for your nail polish.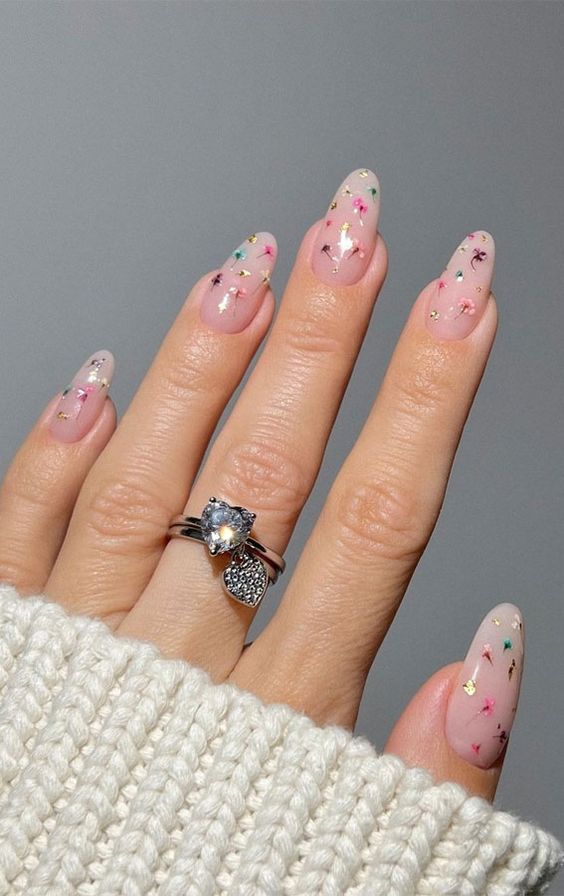 These pressed-on flowers manicure is utterly gorgeous! They look so dainty and pretty. So if you're looking for a minimalist spring manicure this Easter, this is for you.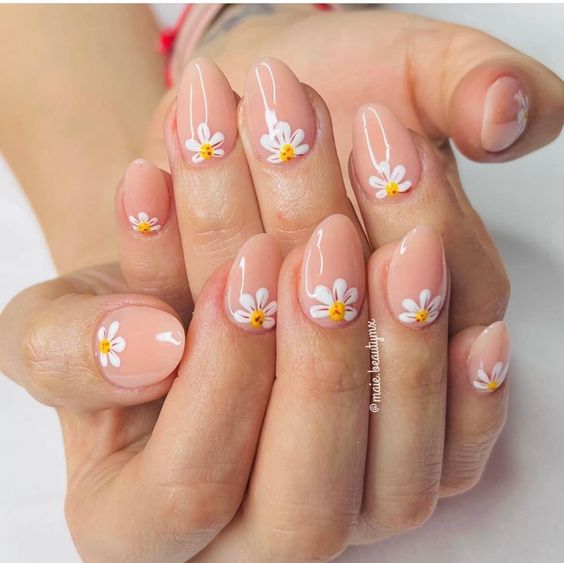 For a natural manicure that's ideal for spring, check this particular set of nails out! I love the dainty daisies on the base of each nail. Opt for a natural base coat so the manicure won't look too overwhelming on the nails.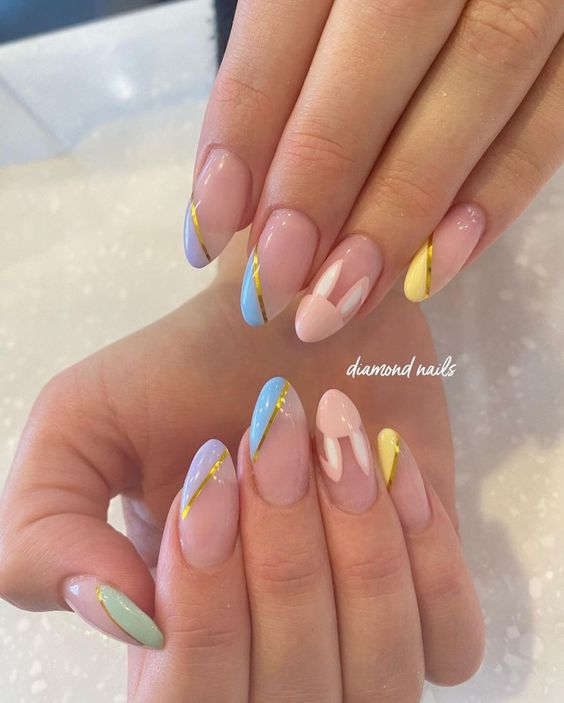 Aside from the usual bunnies and modern variation of the classic French tip, you can also add other patterns and designs to your current manicure like this classy gold linework.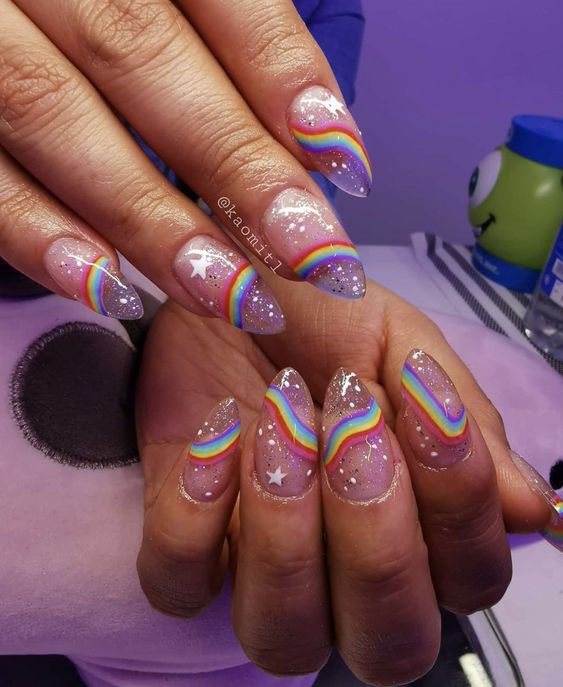 I am honestly in love with this rainbow-themed manicure! Add some glitter and shimmery polish to make your nails sparkle all spring long.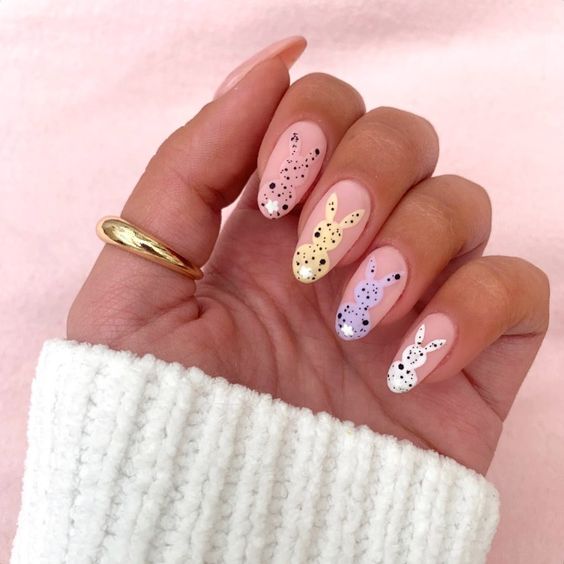 Accentuate your bunny nail art by adding some black speckles around them. I suggest using pastel colors for the base colors to create a nice contrast.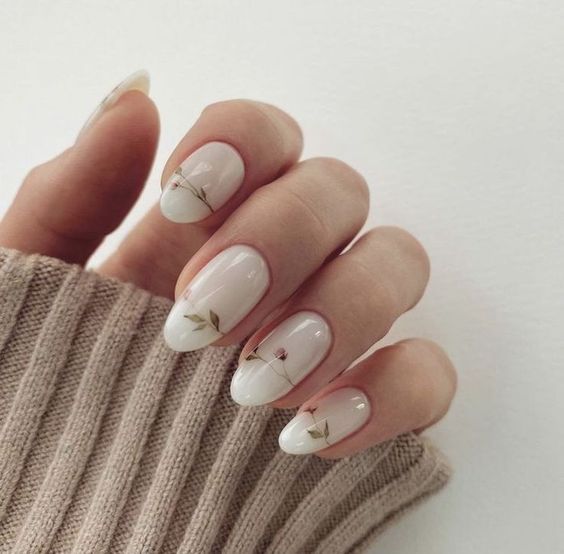 For something minimalistic and subtle, this dainty white floral nail art is utterly stunning! The milky white base color only adds to its elegance even more.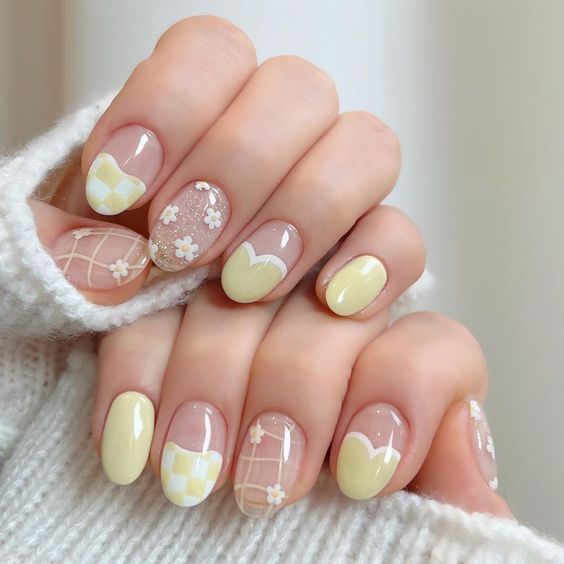 If there's a color that resonates with spring, it's definitely yellow for me. Can't decide on a particular pattern? Don't be afraid to mix and match different patterns and designs for a unique manicure!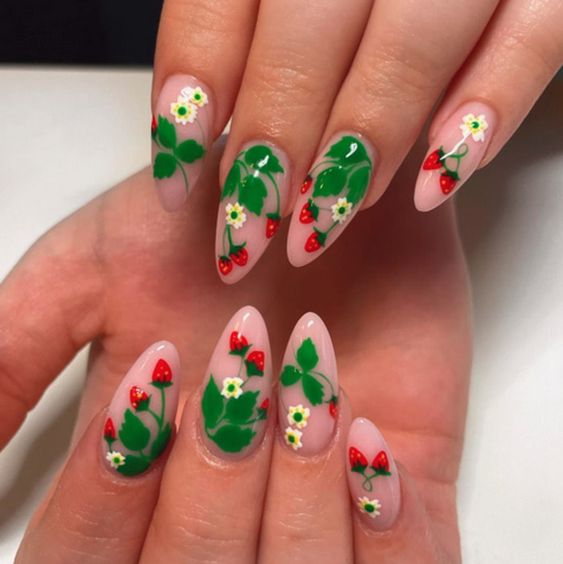 What better way to show off your seasonal manicure than by putting seasonal fruits onto your nails? These strawberries are so cute and adorable!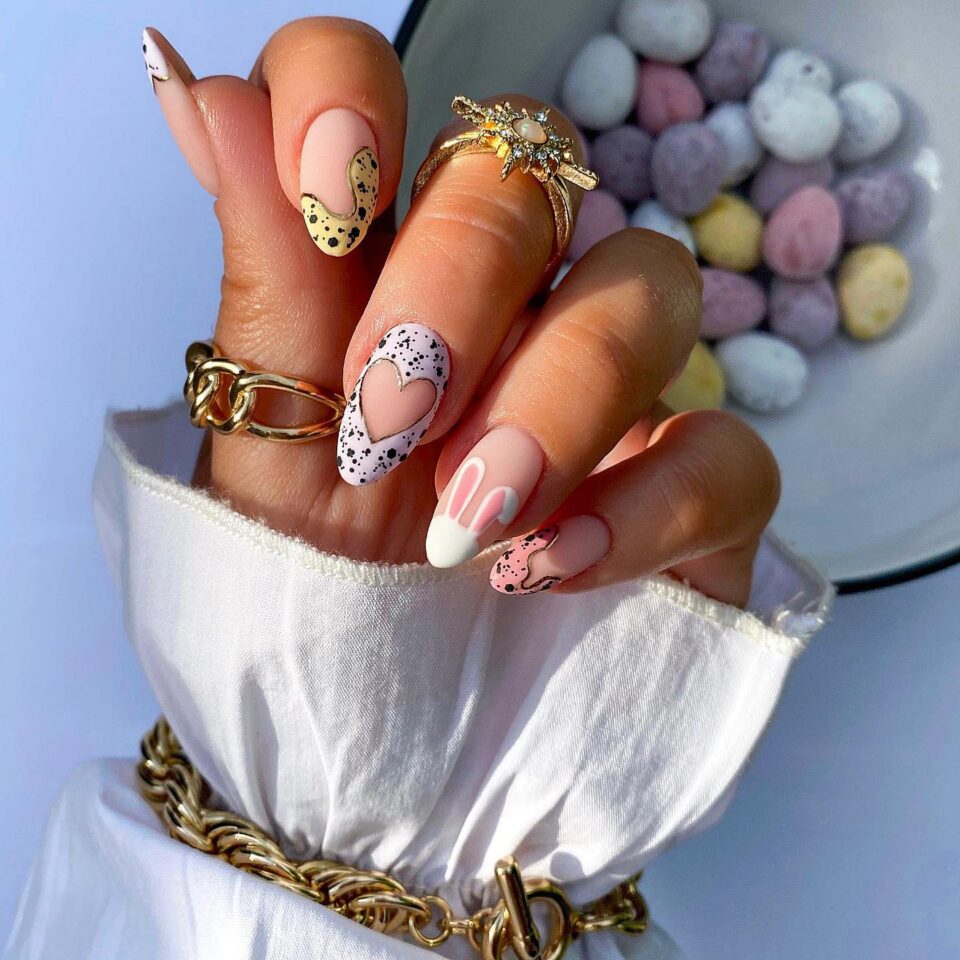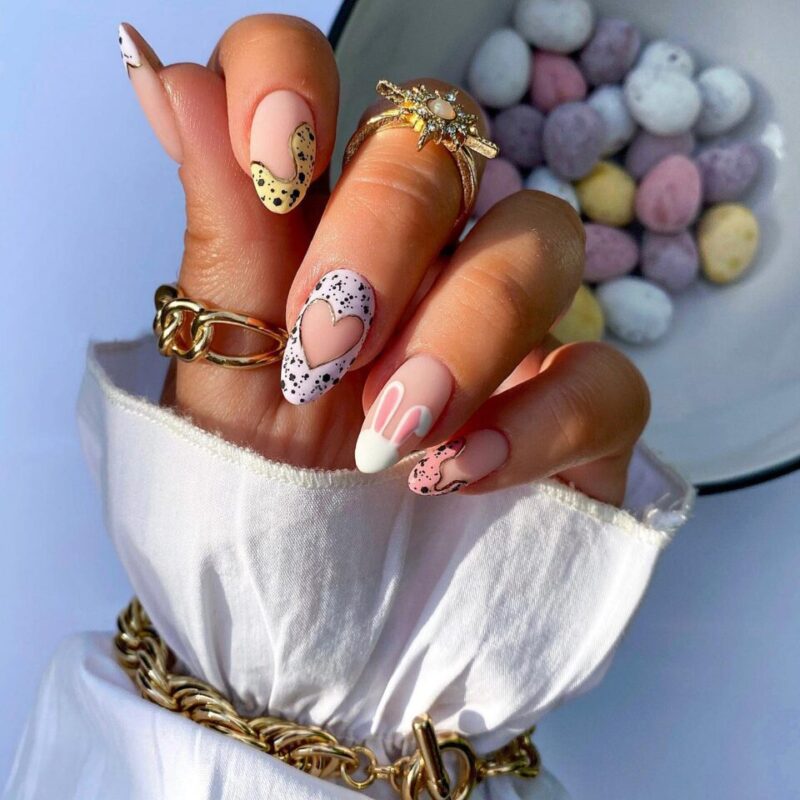 I'm loving this combination of black speckles and pastel colors as well as Easter elements like the bunny nail art. If you don't want to paint your nails all over, you can try these quirky patterns out instead and leave negative spaces around your nails.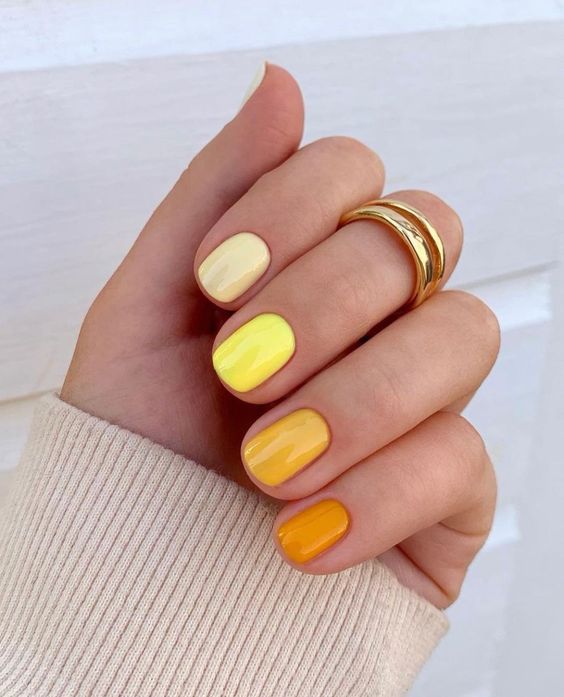 If you like the color yellow just as I do, you might want to try out this particular manicure. Use different shades of yellow for each nail to recreate this gorgeous gradient pattern on your nails.
This chick-themed nail art is utterly adorable! I love the subtlety of it too and how it doesn't look tacky at all. The bright yellow is so eye-catching and vibrant.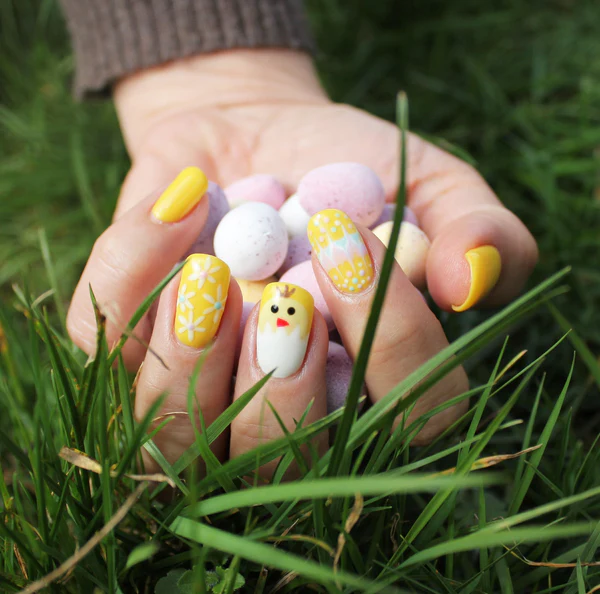 Here's another chick-themed nail art you might like. Aside from the chick-themed nail accent, you can also pair it with dainty florals, polka dots, and other springtime patterns.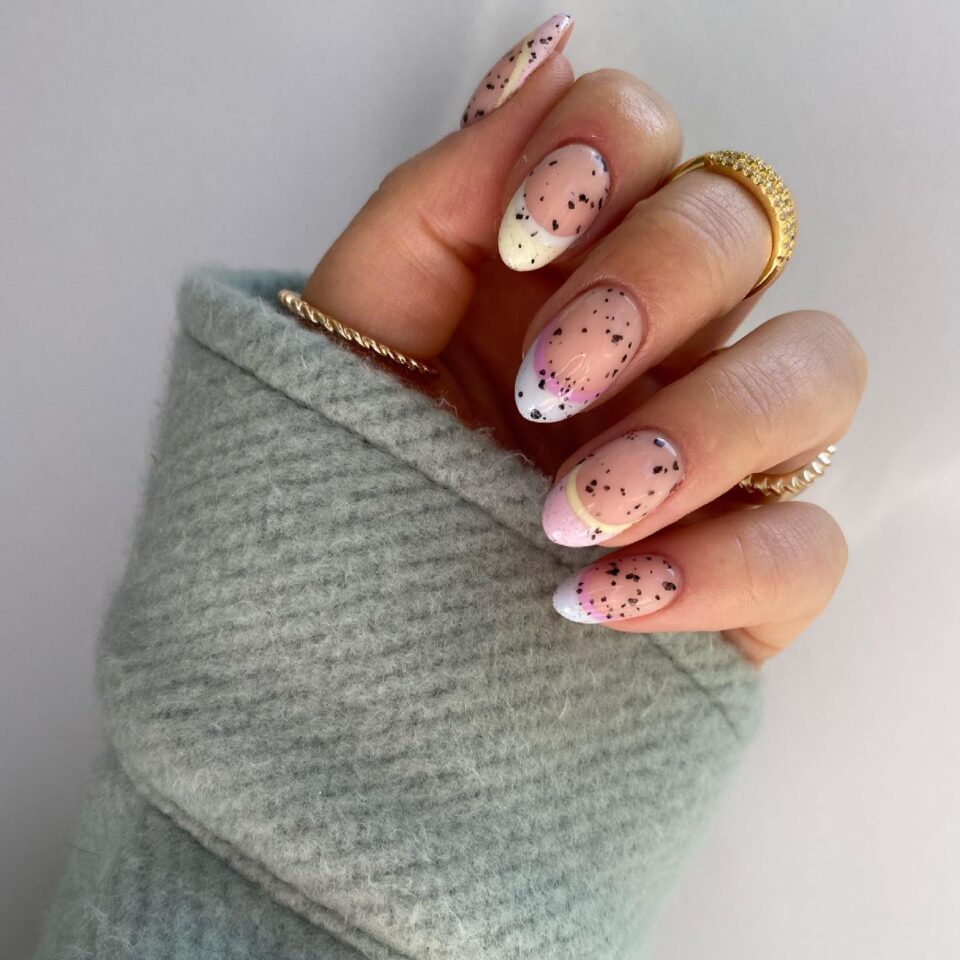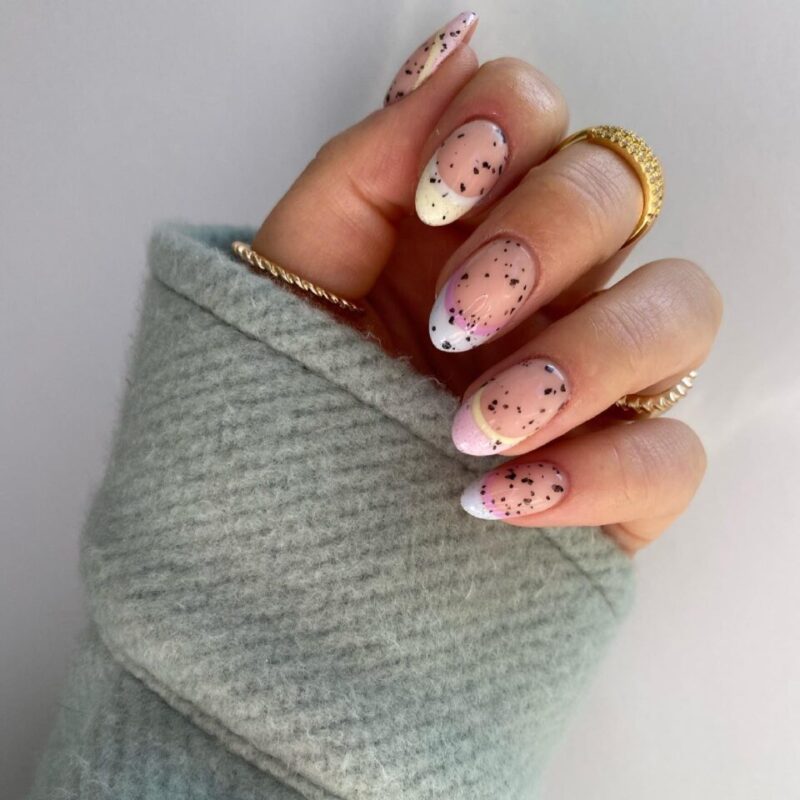 Aside from this stunning gradient French manicure, you can also top it off with pretty black speckles for the ideal Easter nails.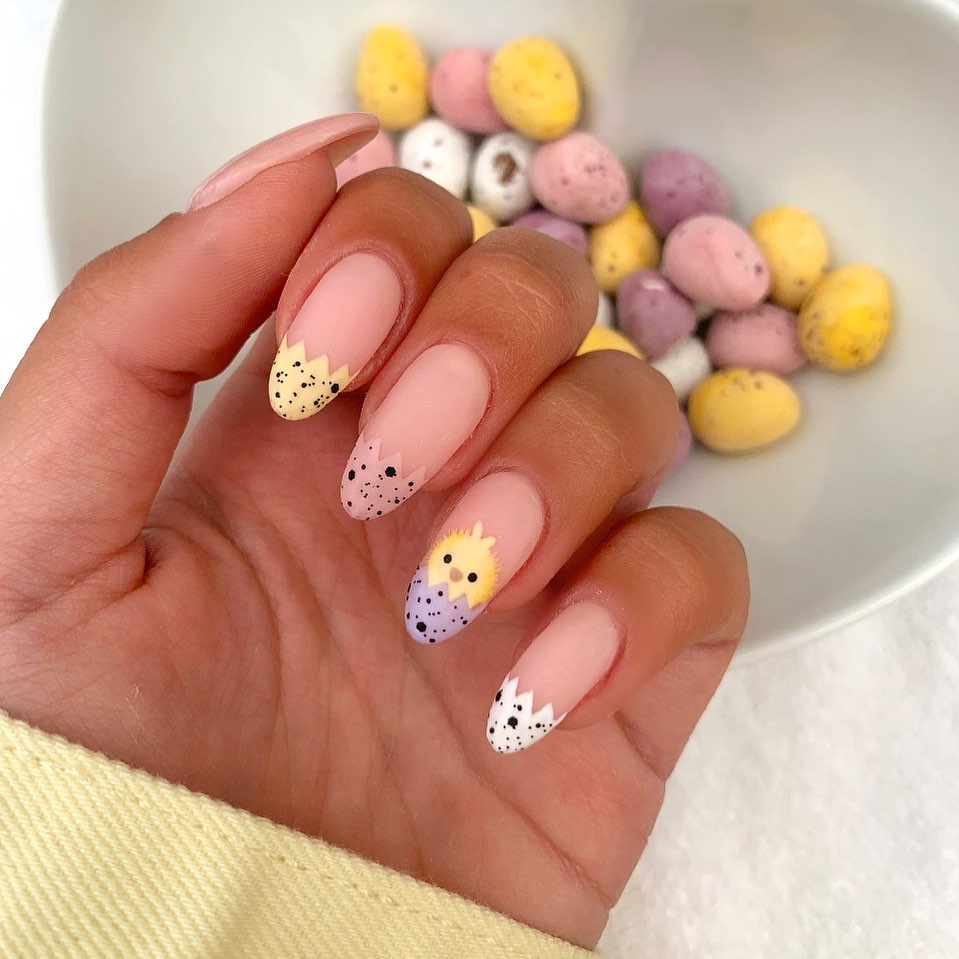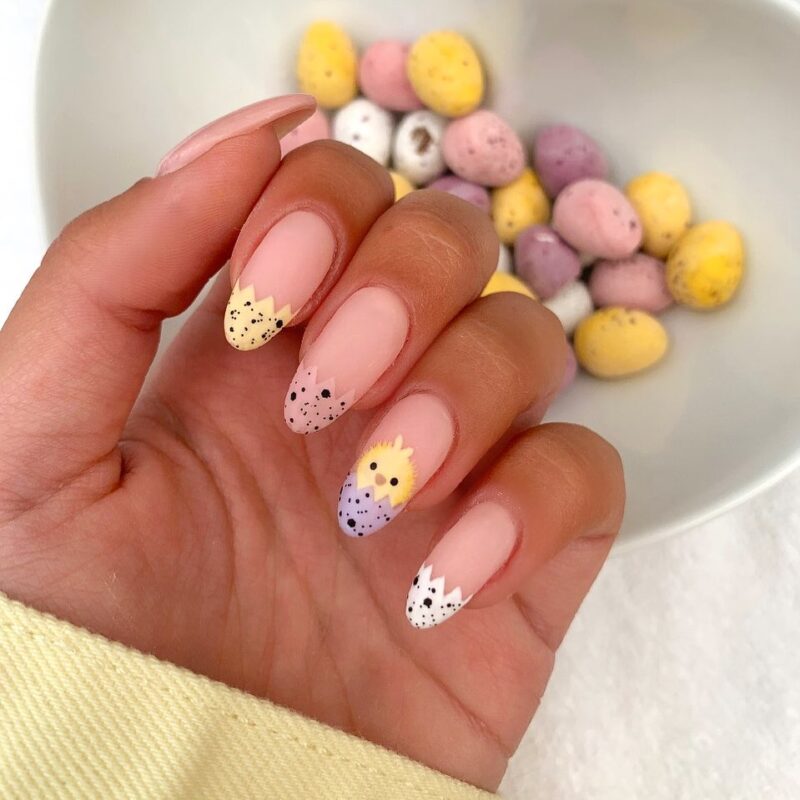 Give your French manicure an Easter twist by recreating your tips to look like eggshells like this manicure right here! You can even opt to add a chick nail art on top of it to add another layer of cuteness to your nails.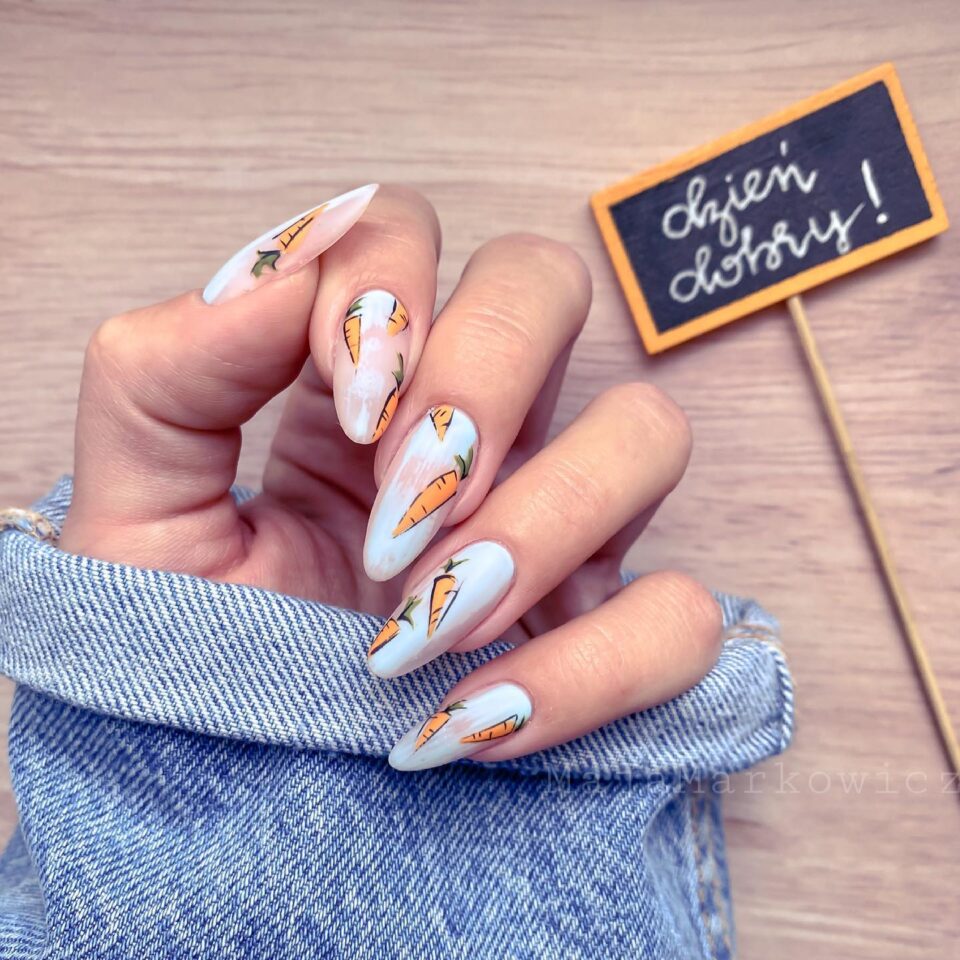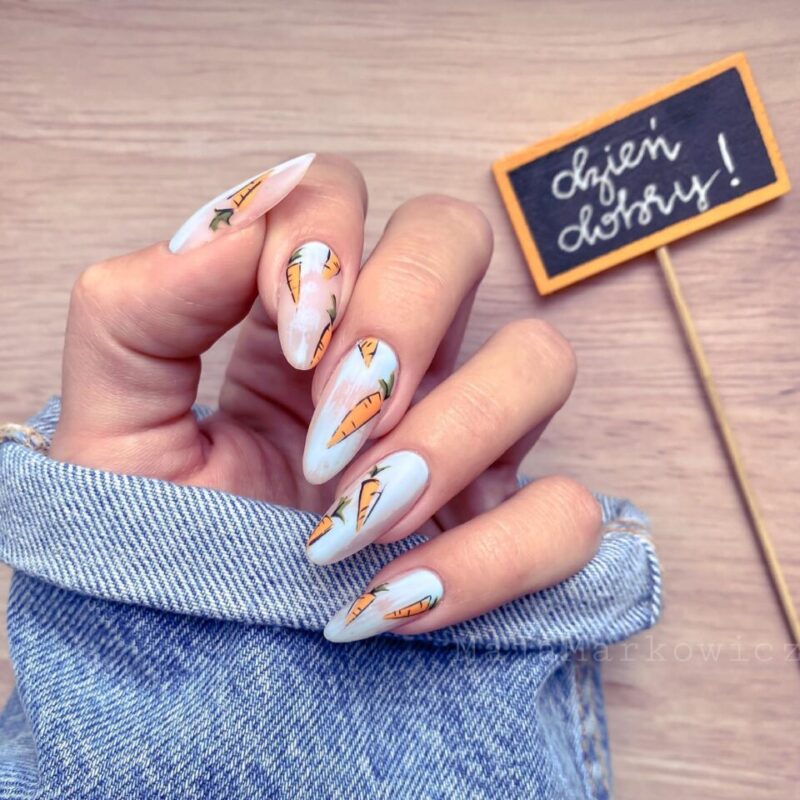 If you're tired of seeing bunnies and other Easter animals for your Easter nails, you can try out this carrot-themed manicure! Just look how cute and intricate this nail art is!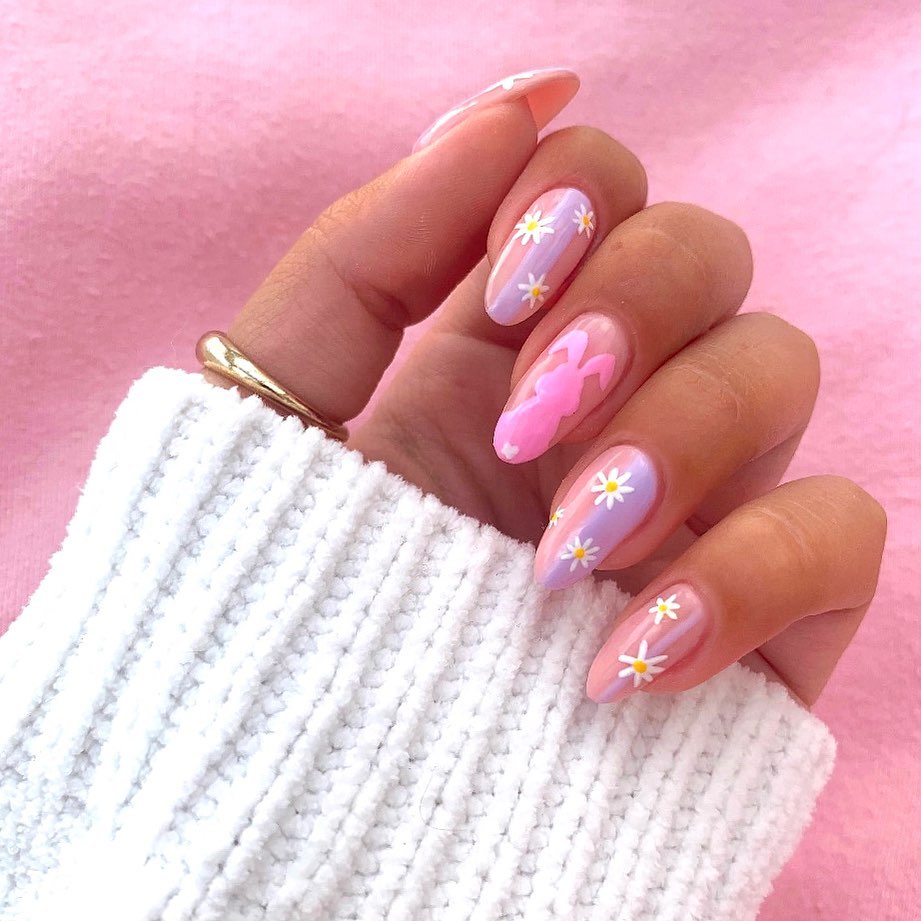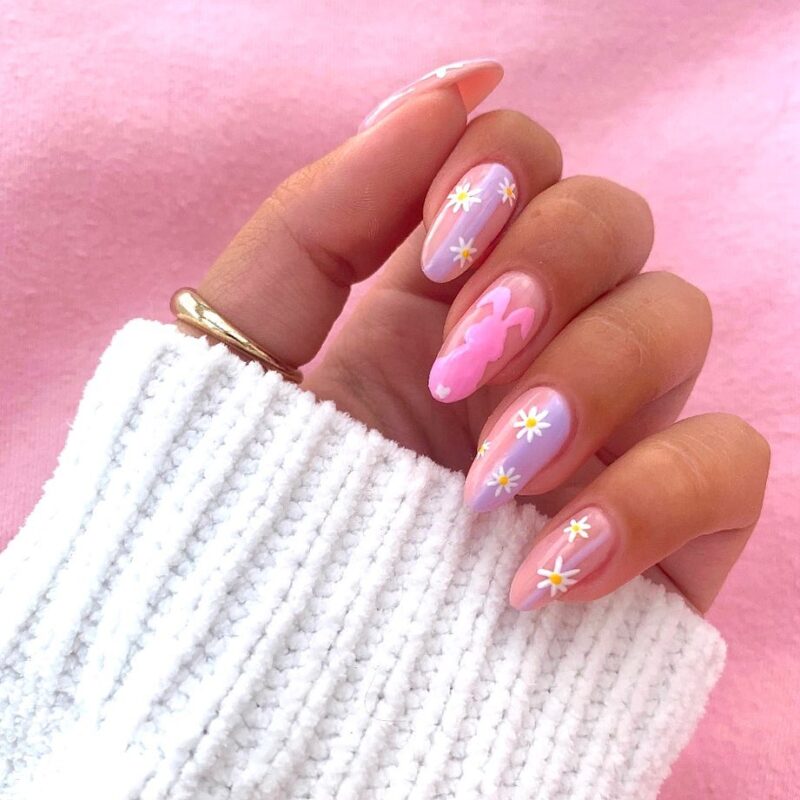 Top off your Easter nails with pretty daisy patterns to give them more springtime vibes. A pastel purple and pink color scheme will look perfect for this manicure as well!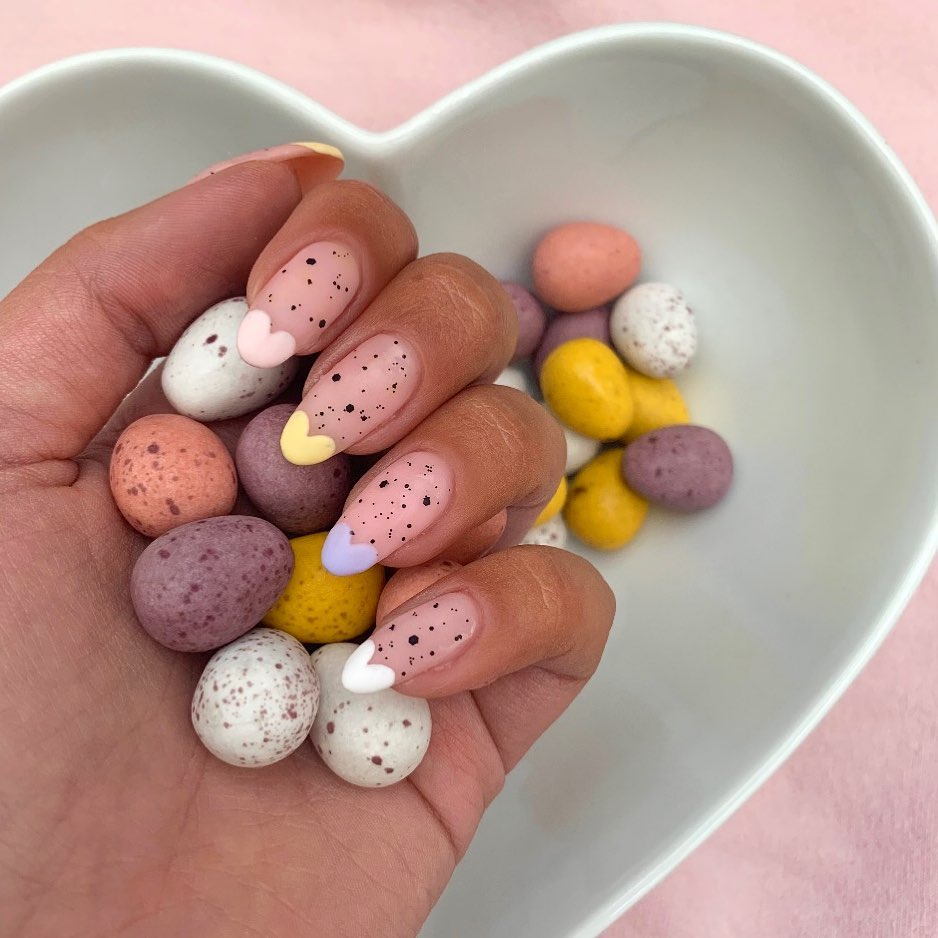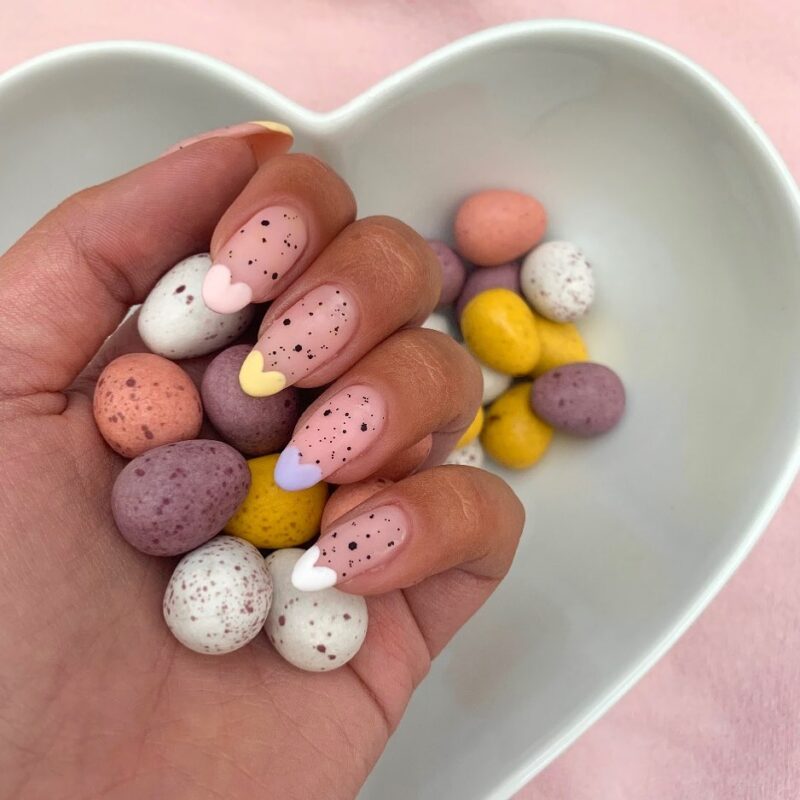 These heart-shaped tips are so adorable! Paint the rest of your nails with black speckles to match your manicure with your quail eggs this Easter.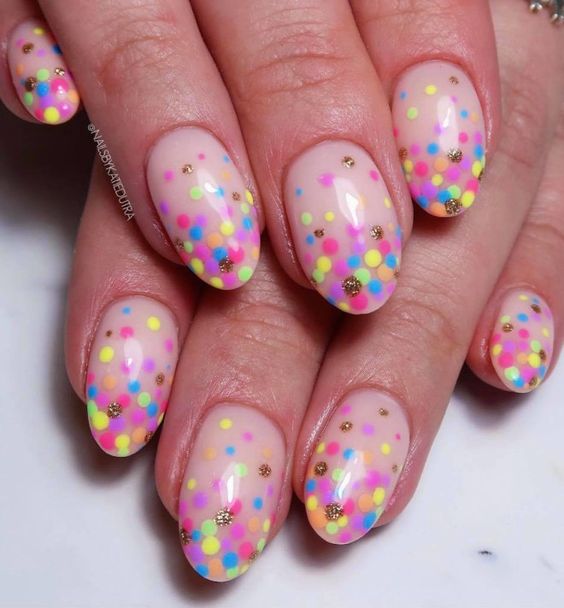 There's something about polka dots that remind me of parties and confetti. Add some glittery accents to give your manicure a touch of sparkle for your upcoming Easter gathering.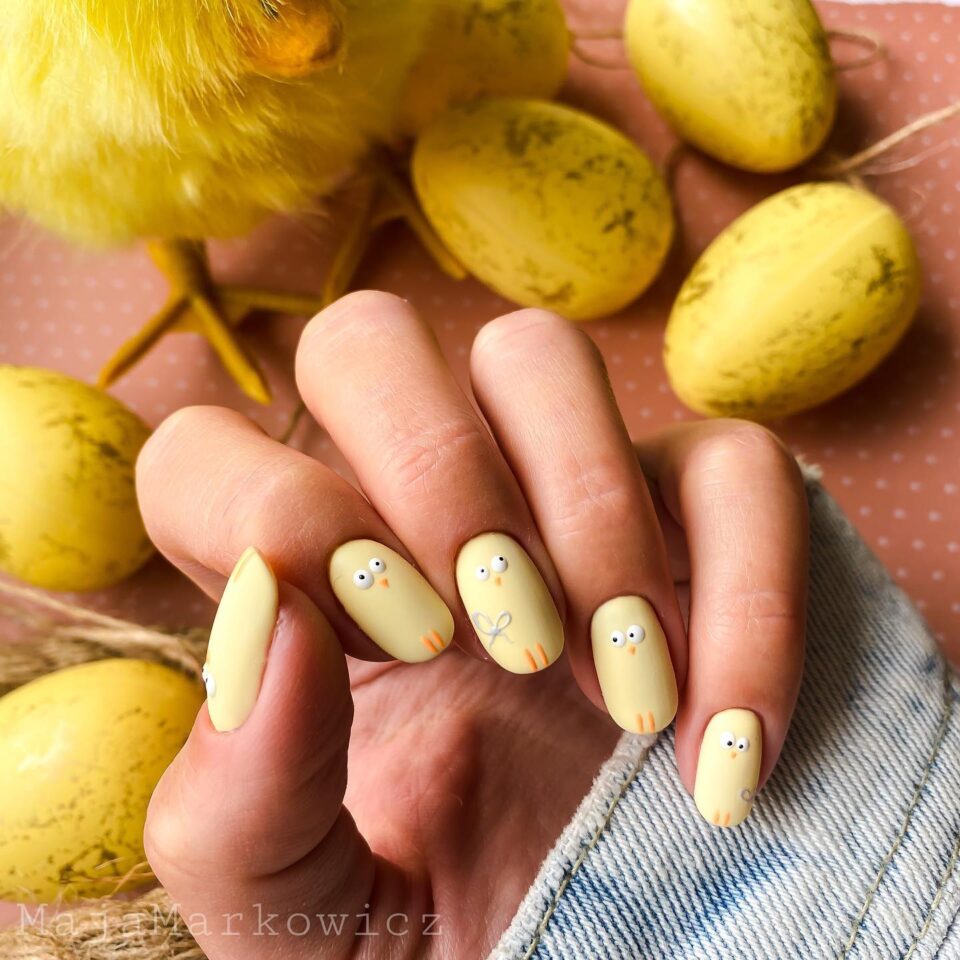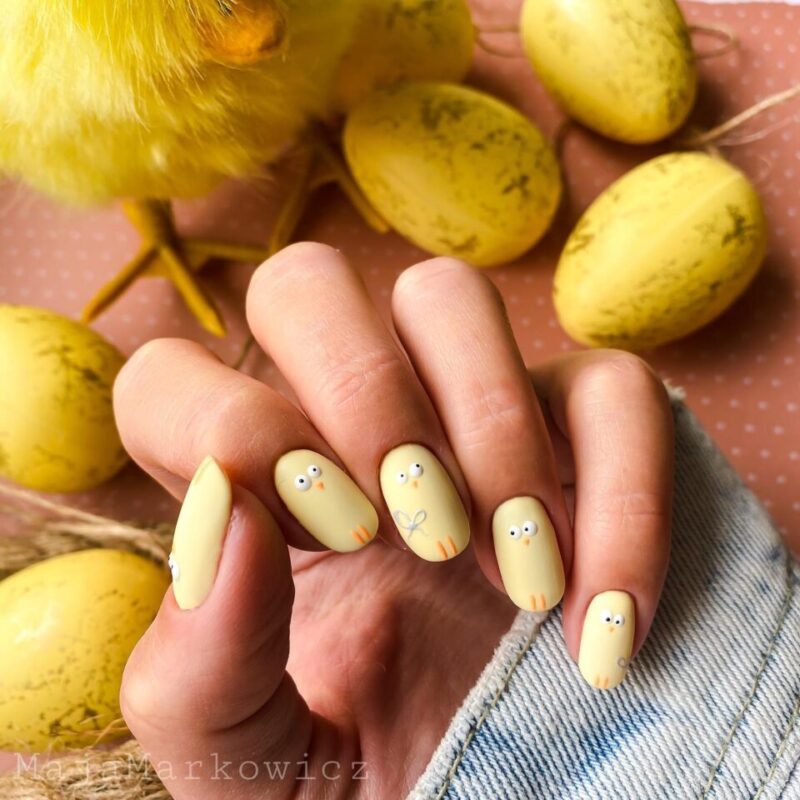 Here's another subtle and understated chick-themed nail art that won't make your nails look tacky. This one features a softer yellow shade if you prefer something less eye-catching.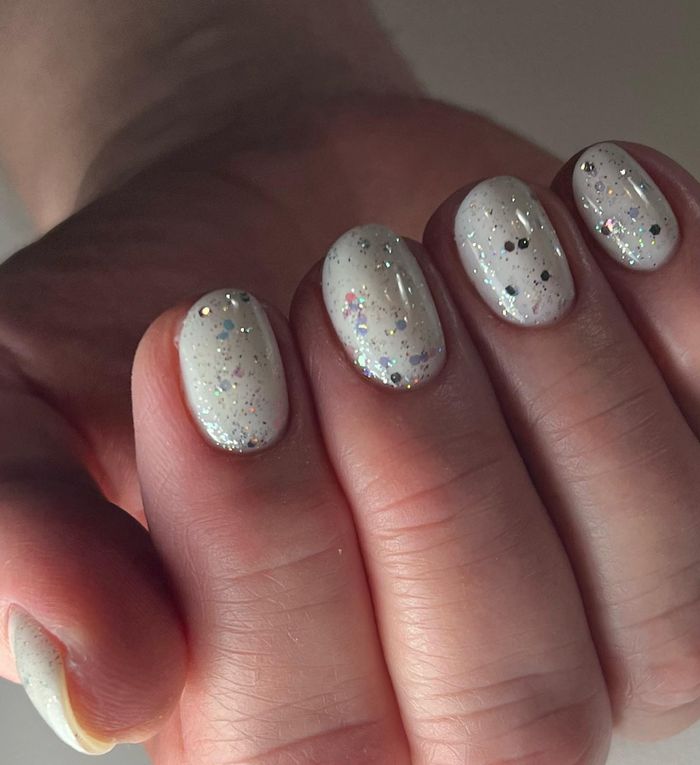 The best thing about topping off your nails with glitter polish is that you don't need to be a pro at it. Just swipe it on your base coat and you're all set!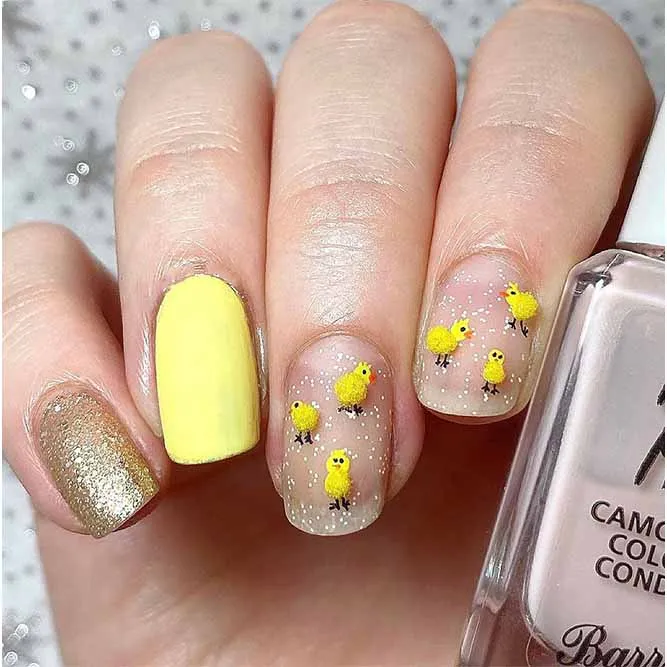 Take the upcoming Easter holiday as an opportunity to practice your nail art skills and draw on these cute chicks for your Easter manicure. Pair them with both matte and glittery nails for a more festive vibe.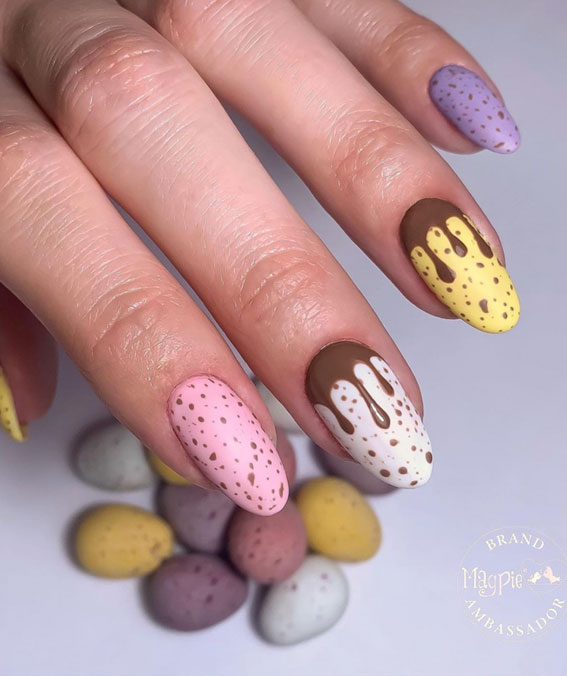 Speckled nails are gorgeous on their own but adding these brown sludges on the base of your nails reminds me of chocolate-covered Easter eggs. Yum!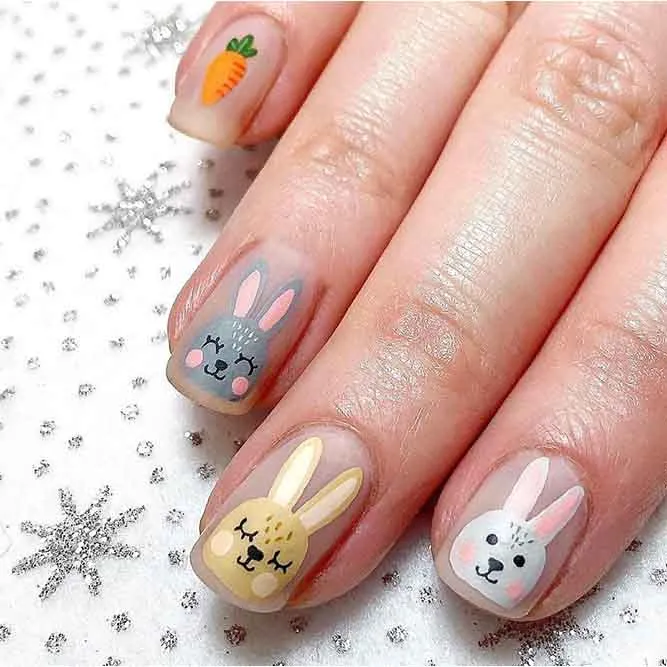 Paint different bunny faces and expressions on your nails this upcoming Easter for a festive manicure that will fit this happy holiday!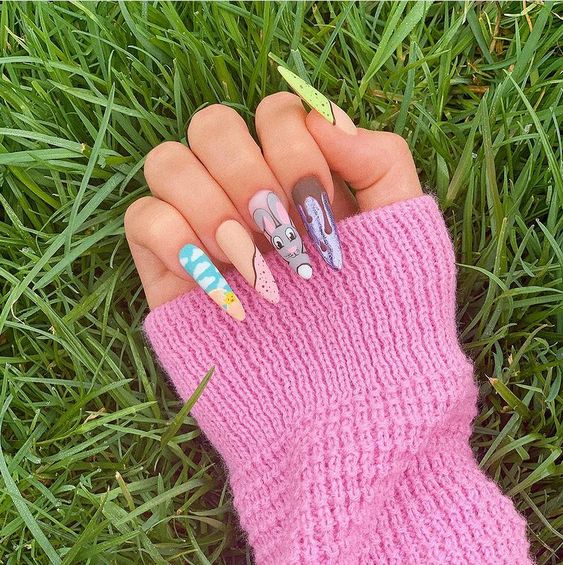 If you can't decide on a particular pattern or design for your Easter nails, why not mix and match different Easter-themed nail art altogether? This will give your nails a totally unique look! These Easter nail ideas are definitely the work of a talented nail artist!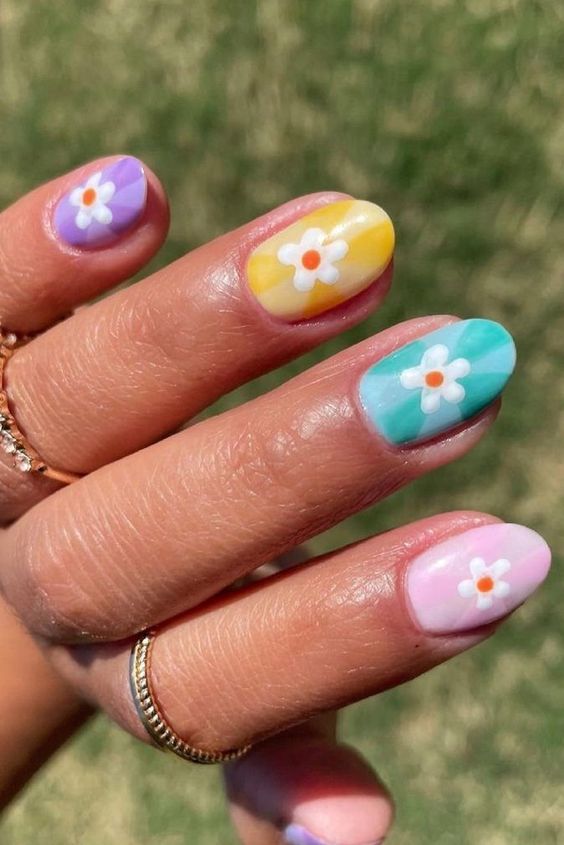 Make daisies the focal point of your pastel manicure for the ideal springtime nails! This would also suit any spring holiday like Easter. I personally love floral Easter nail designs because they work well after the holidays! And who doesn't love chic daisy nails?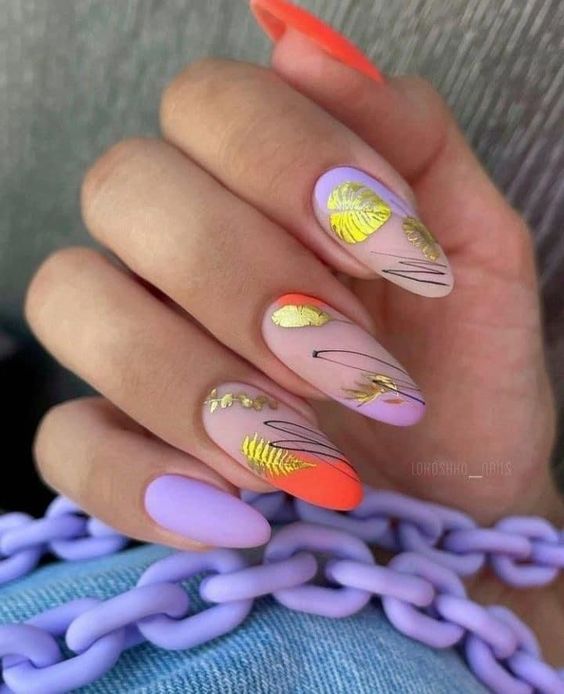 This abstract pastel manicure is so chic! What's even better is that you can wear these nails daily or on any occasion, not just Easter.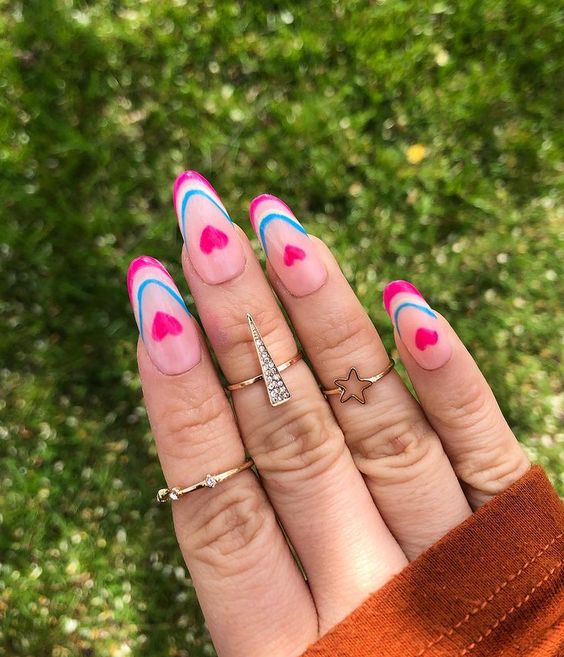 Valentine's Day may be over but that doesn't mean that you can't draw hearts on your nails anymore. Continue spreading the love this Easter with these gorgeous nails!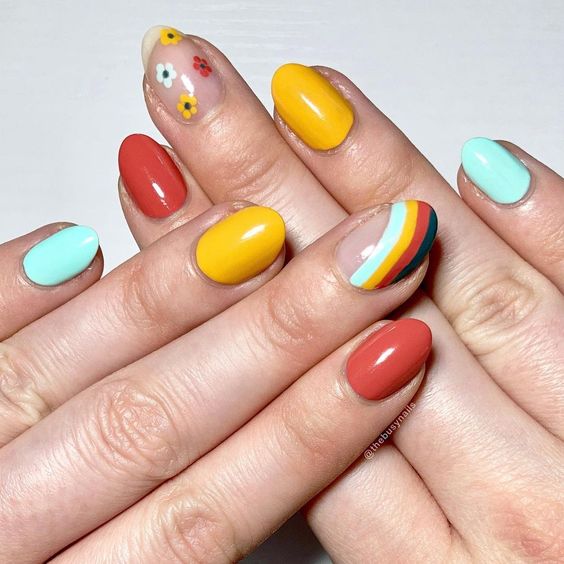 I am utterly in love with this particular color scheme on the nails. Not only that, but the accent nails look just as good too! Add your classic flowers to give it that springtime flare.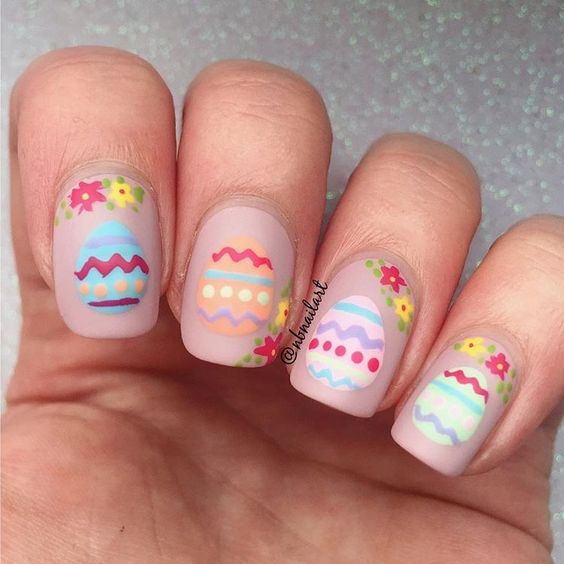 Looking for quintessentially Easter nail designs? You can't get any more festive this Easter than with this set of nails! I love the different variations of these Easter eggs on each nail. They look so cute!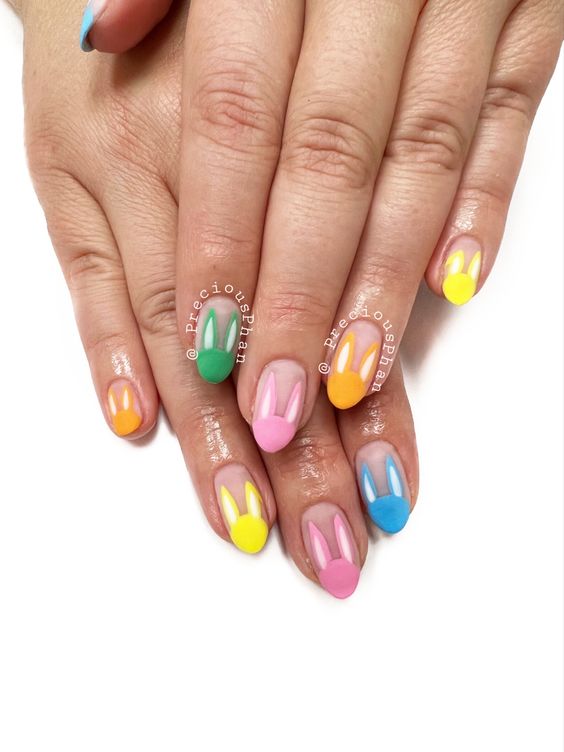 Ditch your usual French manicure and swap them with these bunny-themed tips for the ideal manicure this Easter.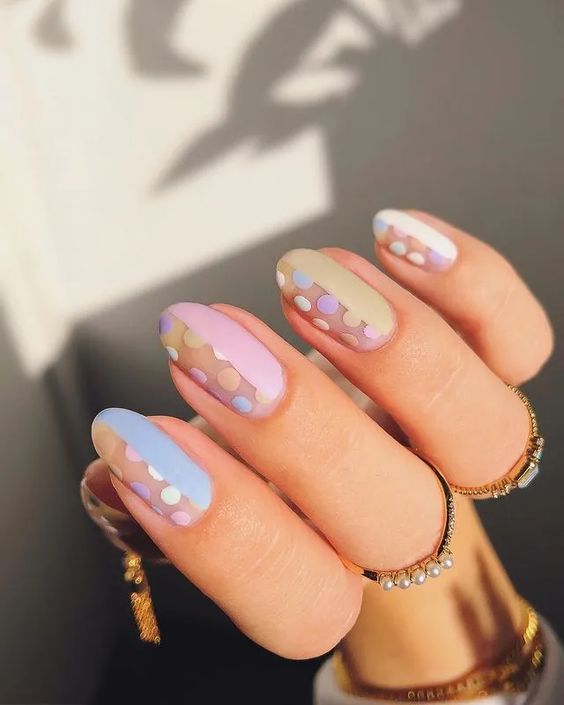 If you can't decide between a basic monochrome manicure and polka dots, then why not mix the two together? You'll get this chic half-and-half look for your nails. This is one of my favorite pastel Easter nail designs that will work for the whole spring season!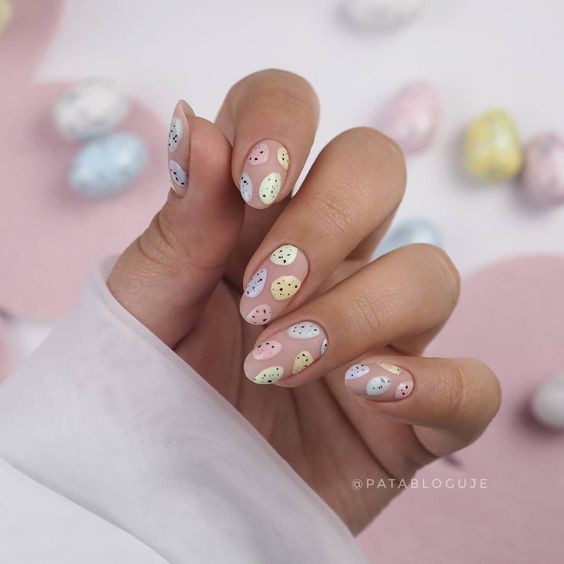 What better way to show your excitement for Easter than by drawing Easter eggs all over your nails, right? Honestly, I love how wearable and chic these Easter nails look!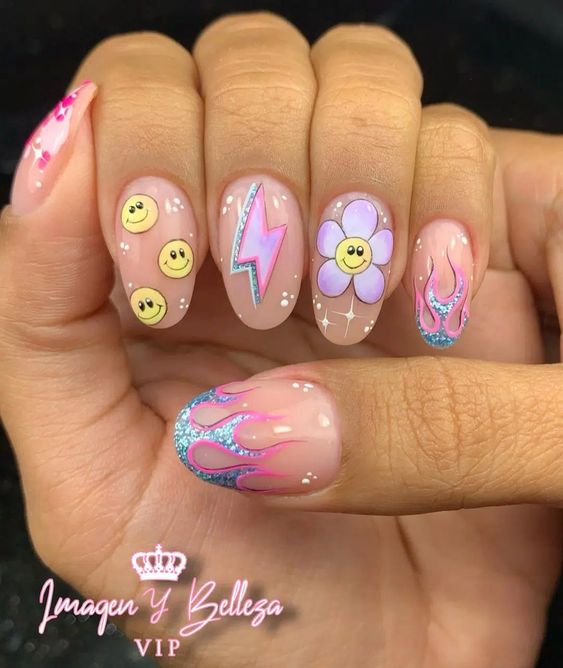 For something quirky and unique, try out these nails instead. If you don't feel confident yet with painting these patterns by yourself, you can always opt for nail stickers for a less fussy application.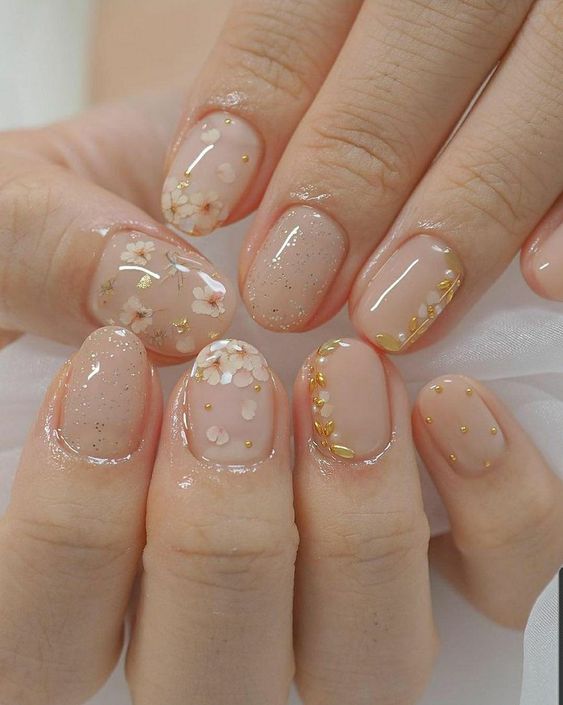 Here's another favorite of mine on this list. I mean, do I need to even explain? These dainty and minimalistic nails are utterly stunning!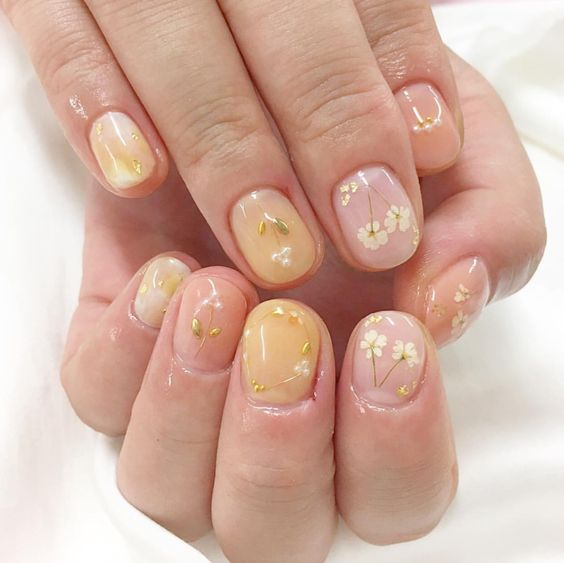 If you like a bit more color to your Easter nails but not too much, then this is definitely for you. I just love the look of pressed flowers on the nails. So dainty and vintage and undeniably pretty!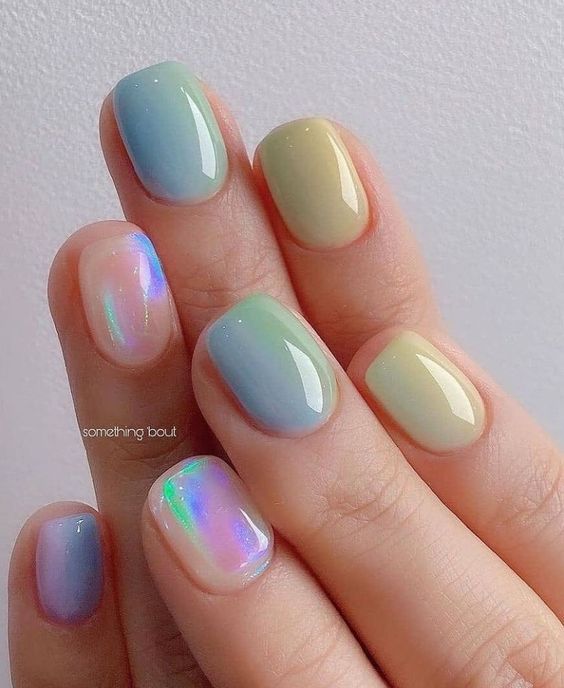 Gradient and iridescent nail art are definitely one of my favorite kinds of manicure to do with my own nails so I just couldn't help but include this one on the list. Whether it's Easter or a normal day, these nails won't fail you.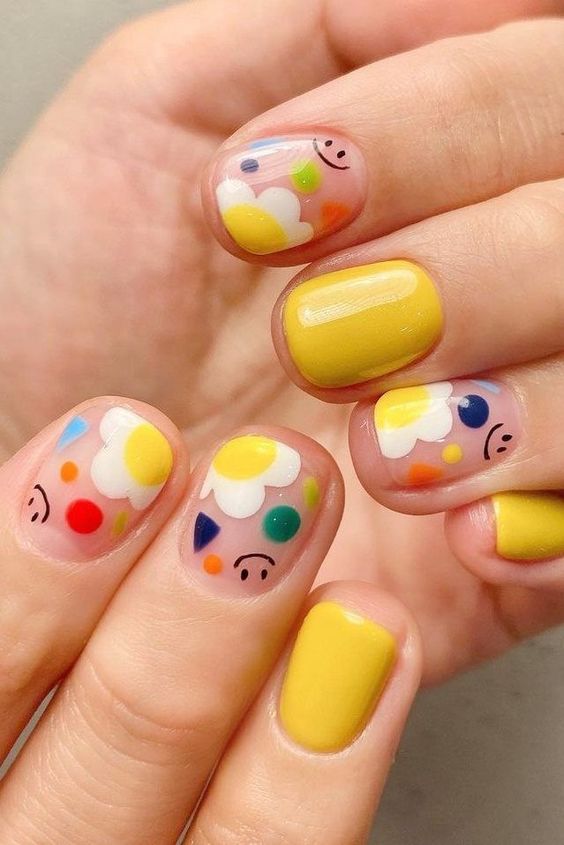 Looking for happy Easter nail ideas? Let your nails match your cheerful mood with these bright, quirky nails this Easter!
Hopefully, these Easter nail designs gave you lots of inspo for the upcoming holiday! Happy Easter!