Winter's out and spring's here. That means it's time to spruce up our manicures and find the best April nails of this spring!
With springtime upon us, it's time to put away those deep, moody winter nail polishes and replace them with manicures that is slightly more soft and vibrant.
Below, you'll find some of my favorite ways to wear the most gorgeous and trendiest new spring nail colors that are available this season. Many other methods to showcase your nails include florals, pastels, abstract patterns, modern variations on the French manicure, and so much more.
Let these trendy and vibrant spring nail designs serve as your inspiration. Whether you decide to DIY your manicure or go to your most trusted nail artist, these manicures are sure to bring life to your nails this spring season!
Aesthetic April Nails For Spring
Take note of these stunning and creative April nails for your next manicure appointment or session. I hope you enjoy looking through them as much as I had fun gathering them for you!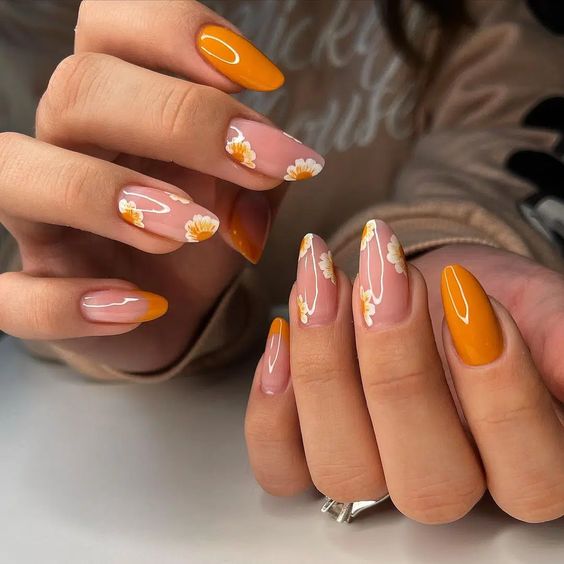 Florals are a true staple of the spring season and what better month to wear them on other than April, right? As winter ends, I cannot wait to wear these vibrant orange colors on my April nails!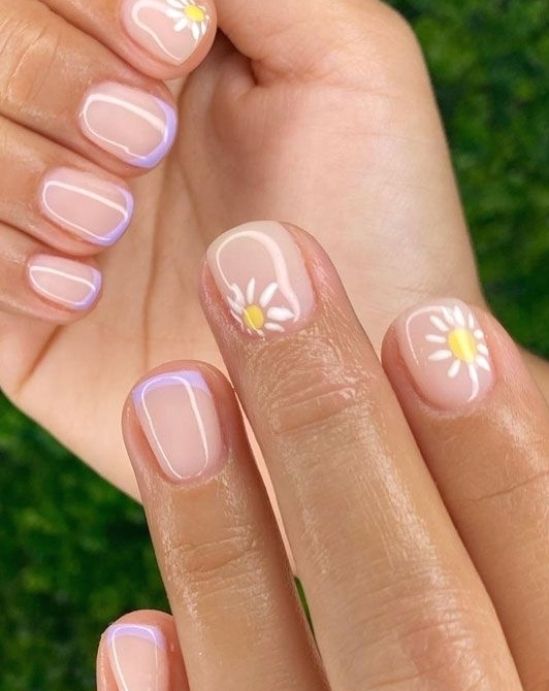 But if you're looking for something more understated, then you might love this kind of manicure instead. With soft, pastel purple lining your French tips and florals for your accent nails, you'd be ready for springtime!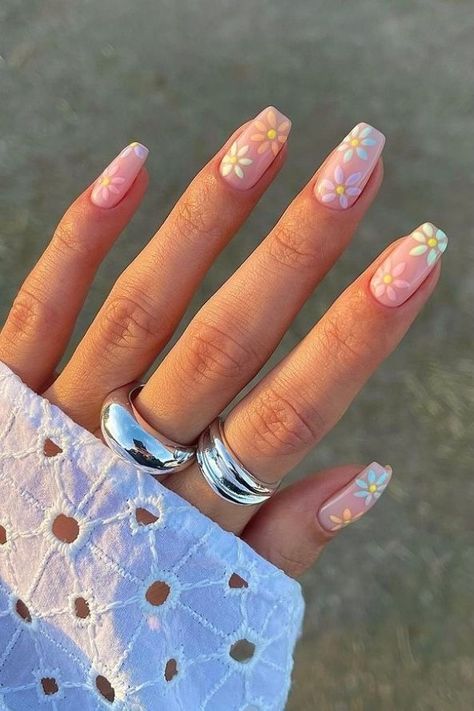 Don't like French tips? Don't worry! You can always just do the florals on your April nails this way. Use pastel colors to give it the perfect springtime vibe.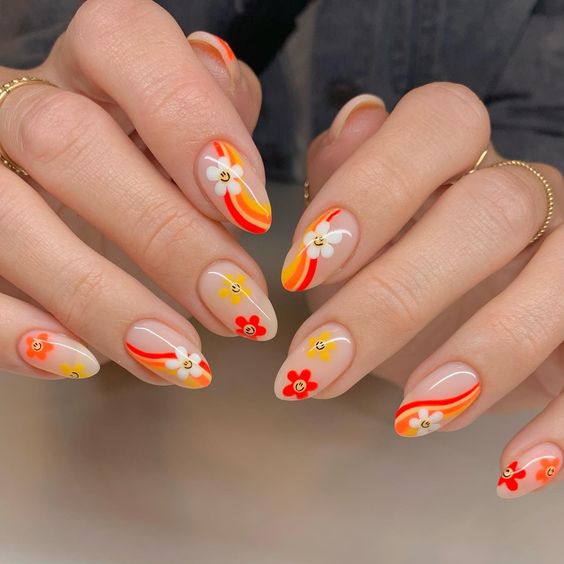 If you want something more vibrant for your April nail designs but don't want it to be overwhelming, then you'll love this combination of orange and yellow lines and flowers. The negative space on the April nails gives it a more understated and chic look.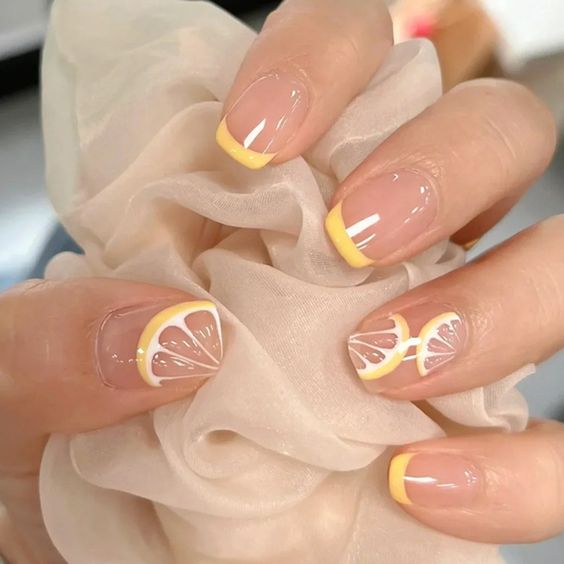 When life throws you lemons, ask for lemon-themed nail art on your next nail appointment! I totally adore this quirky April nail design and I can't wait to try it out for my own manicure.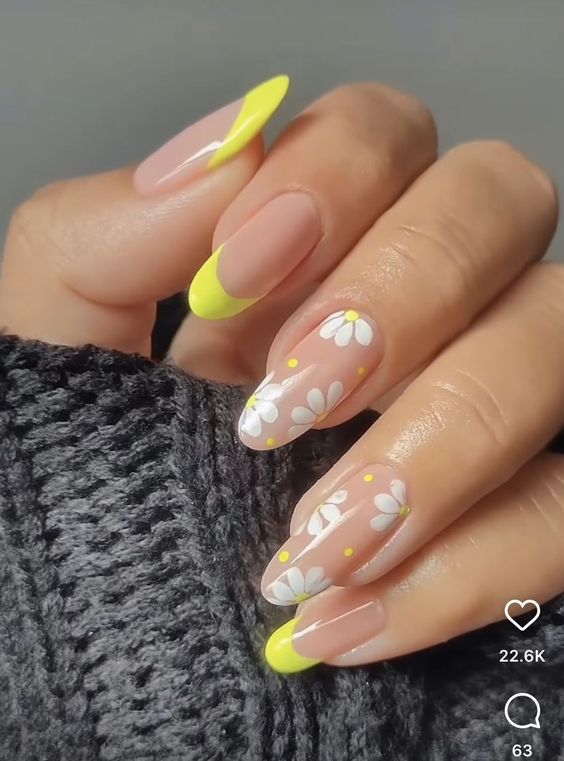 Yellow is definitely one of the best colors to wear on the nails during the warmer seasons. And they fit so perfectly with floral designs too!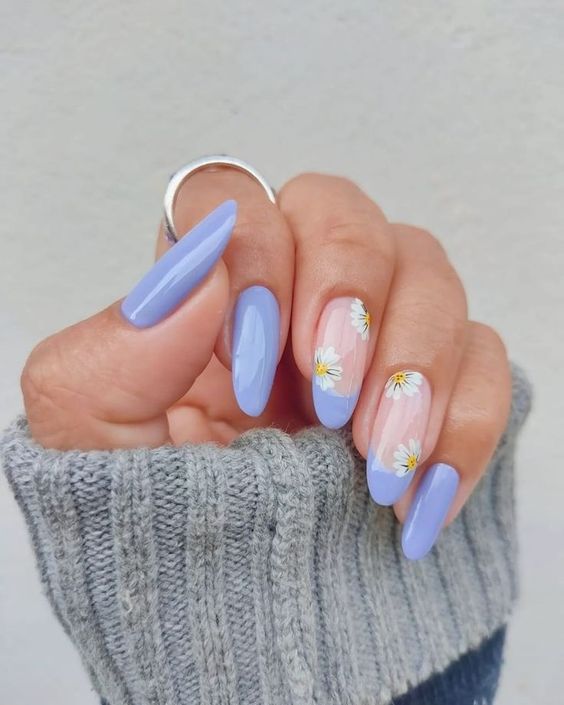 When it comes to spring, the perfect nail colors that come to my mind are pastel shades! I mean, just look how gorgeous these lilac French tips and florals are!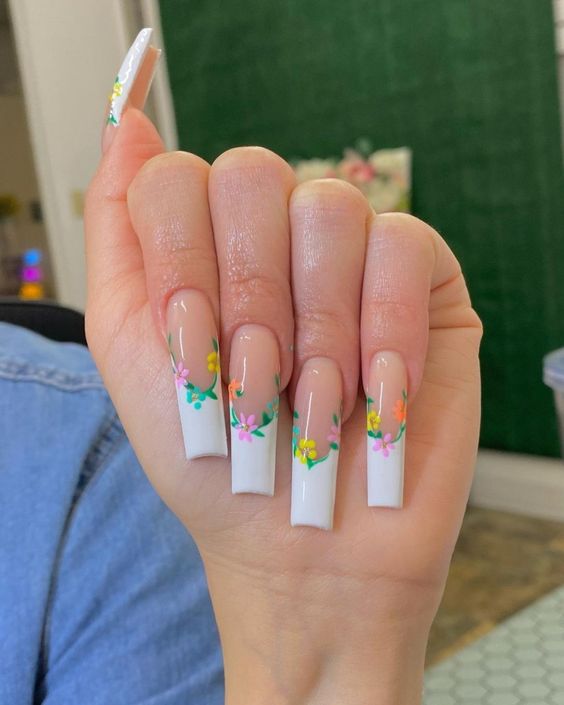 Put your own creative twist on the classic French nails by doing a similar design to this one! By using soft gel or acrylics, you can easily achieve these stunning long, square April nails. Add some floral accents to get that spring vibe!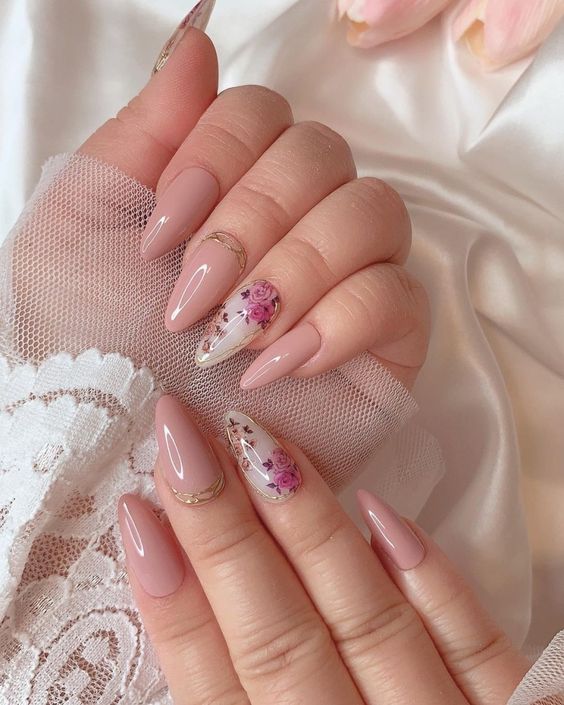 So dainty, feminine, and elegant, I'm honestly obsessed with this particular manicure! From the vintage floral accent nails to the dainty gold details on the base of the nails, what more could you ask for?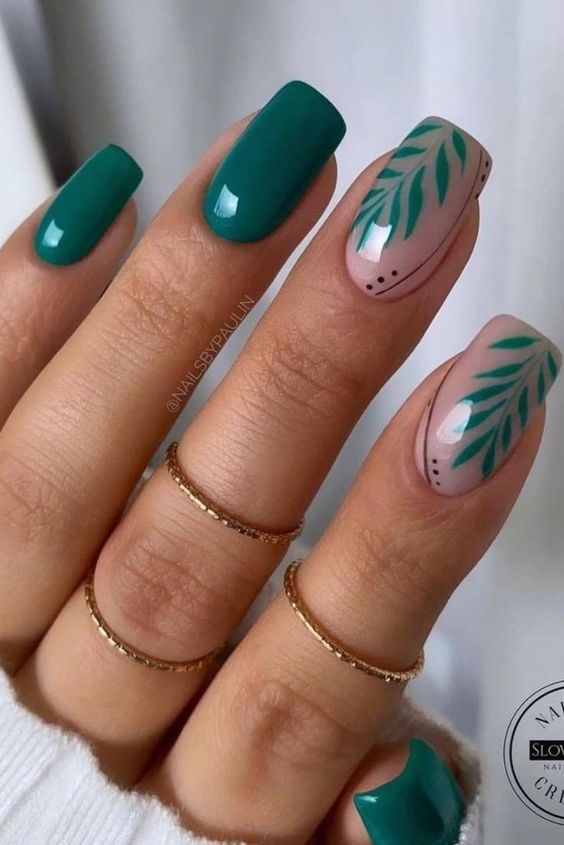 If you're looking for a stunning emerald-green manicure, then this one is definitely for you. This leafy-themed nail art perfectly suits the spring season and the summer season as well!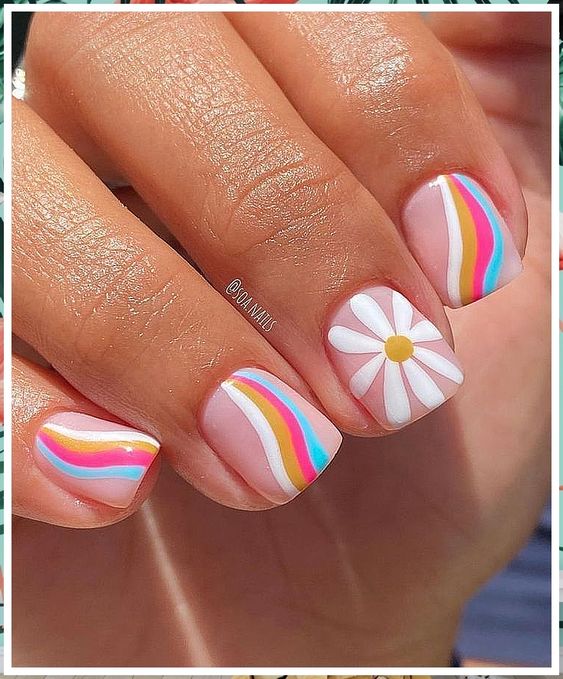 I just love the rainbow-like patterns on these April nail designs! So vibrant and colorful, this manicure will totally make you feel enthusiastic for spring! Add some floral design for the accent nail and you're good to go!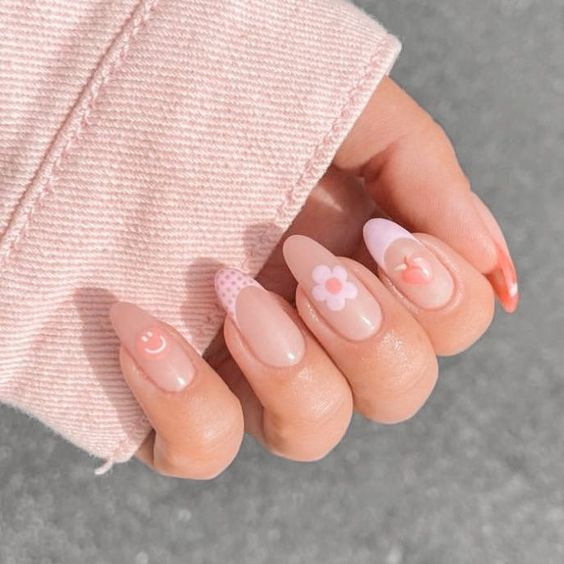 For a more subtle take on your spring nails, then you might want to check this one out! Using a nude base coat, you can opt to pair it with a soft pastel pink along with your favorite elements of spring to create this similar vibe.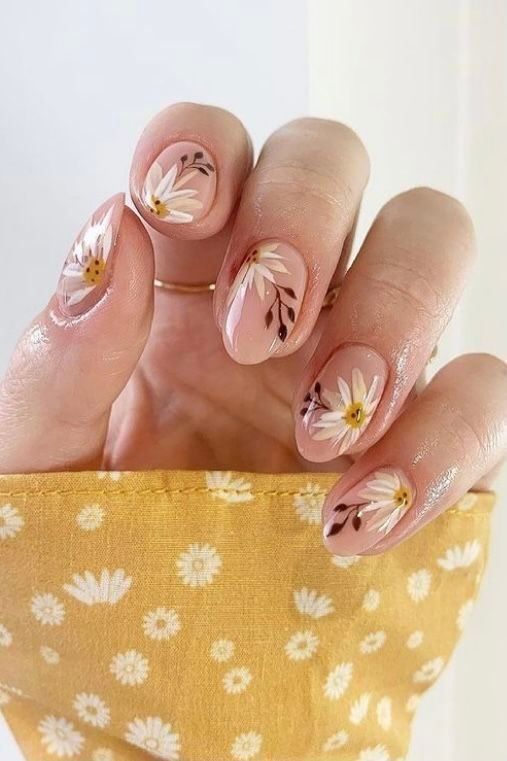 Intricate floral nail art patterns like this manicure are just absolutely to die for! They definitely take a lot of practice to perfect if you're just starting out with your nail art skills but every effort put into DIY-ing this will be so worth it!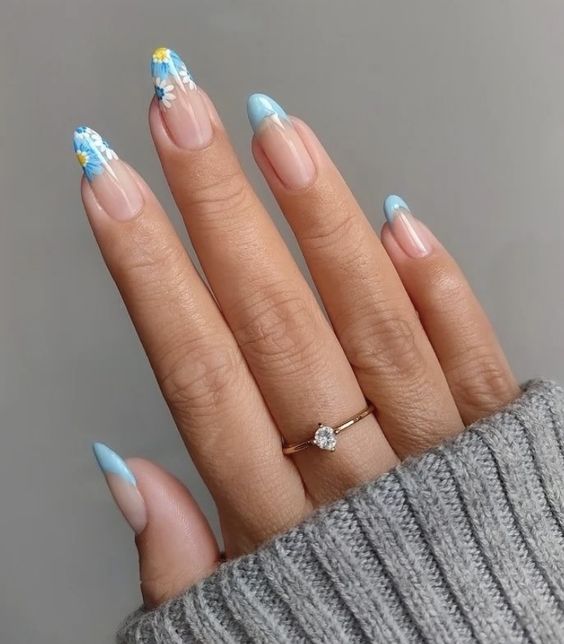 These sky-blue April nails are so pretty! Do something a little different with your classic French tips by drawing dainty floral patterns on the tips of your accent nails.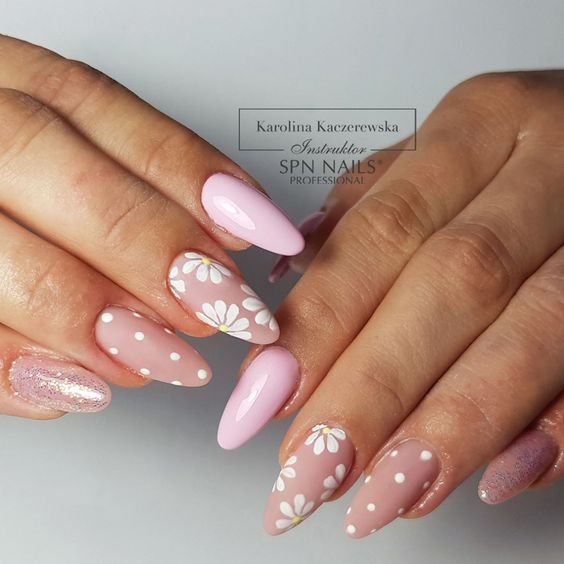 Can't decide what nail art pattern to go for your April nails this spring? Why not try a different finish and design for each nail? Mix and match florals, polka dots, and shimmers to create interesting dimensions with your manicure.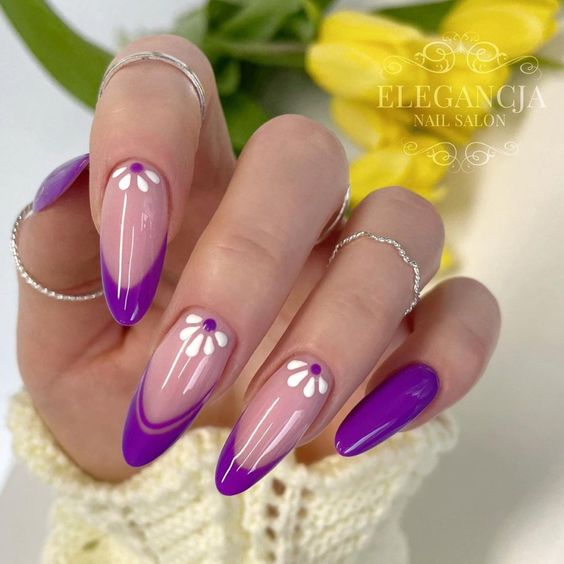 I love this shade of purple! It's so bold and vibrant and I'm just utterly obsessed with it! Elevate your usual French tips by adding floral designs on the base of your April nails.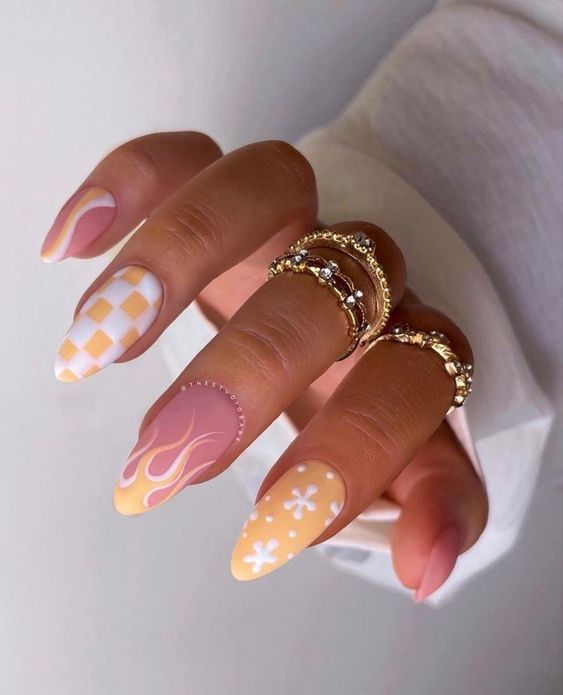 Don't you just love the varying patterns and designs on this vibrant yellow nail art? From the checkered design, and the flaming French tip, to the florals and wavy patterns, you're certainly spoilt for choice!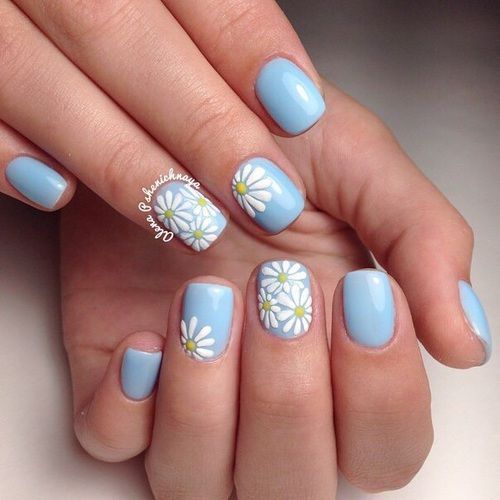 There's something about pastel blues that instantly give manicures a classier and more sophisticated appeal. The white daisies against the solid soft blue color just really give off a timeless and clean aesthetic to your April nails.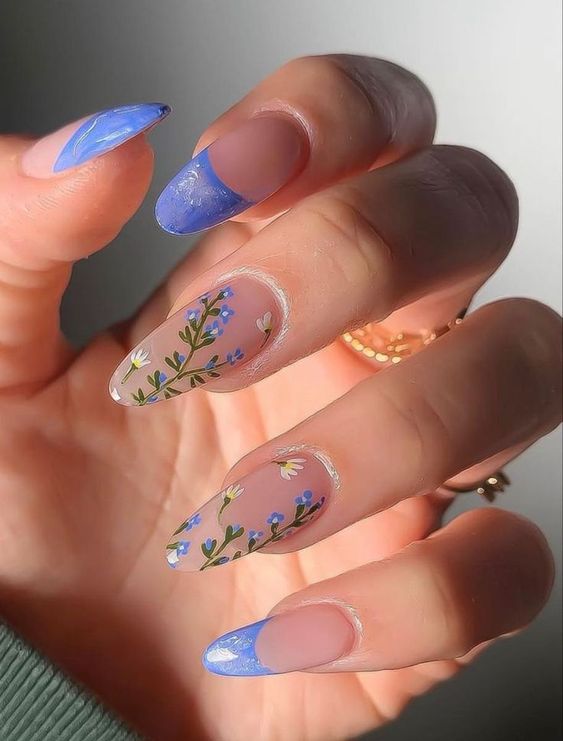 I'm totally loving this dainty floral nail art! The negative space and minimal aesthetic give these spring nails such a sophisticated touch!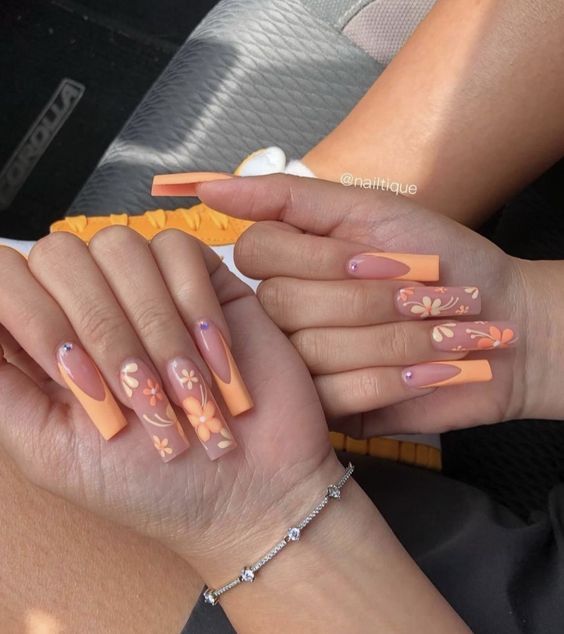 If you can't get enough of florals this upcoming spring season then you'll certainly adore this one as well! The vibrant yet soft orange hues make this manicure so perfect after long months of winter.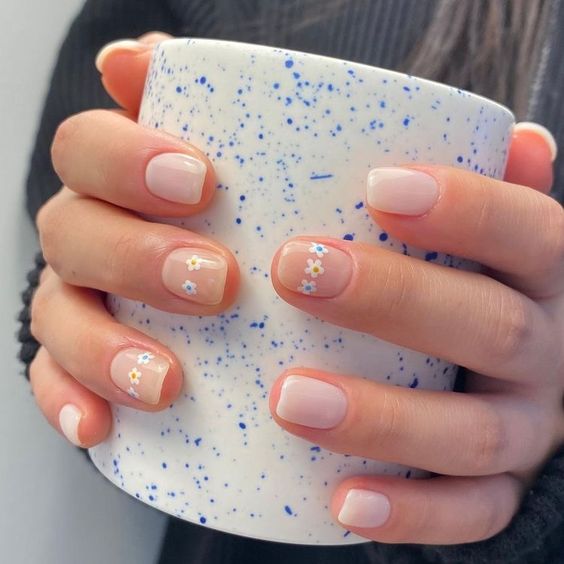 Here's a cute set of April nail designs just in time for spring! If you're looking for more minimalistic patterns and aesthetics, then you'll certainly want to try out this dainty, clean floral nail art!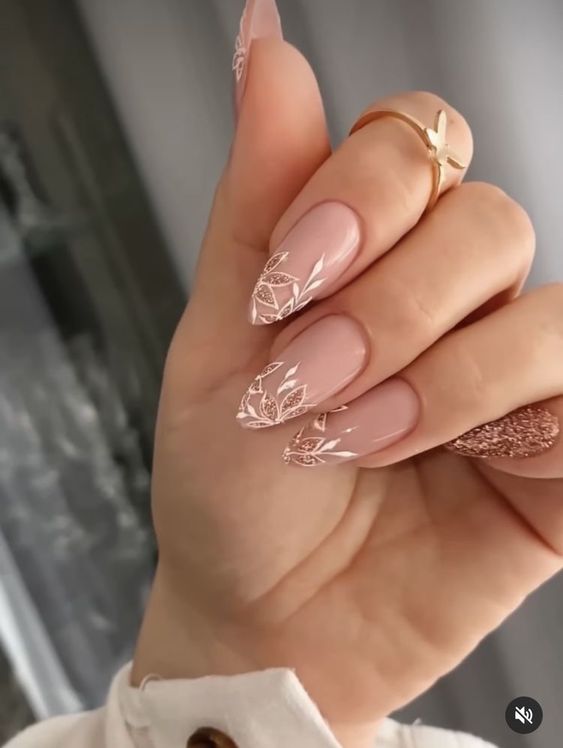 If you're looking for the ideal manicure that's perfect for transitioning from winter to spring, you might love this one! The shimmers and glitter on this nail art will give your manicure a frosty look that's reminiscent of snow!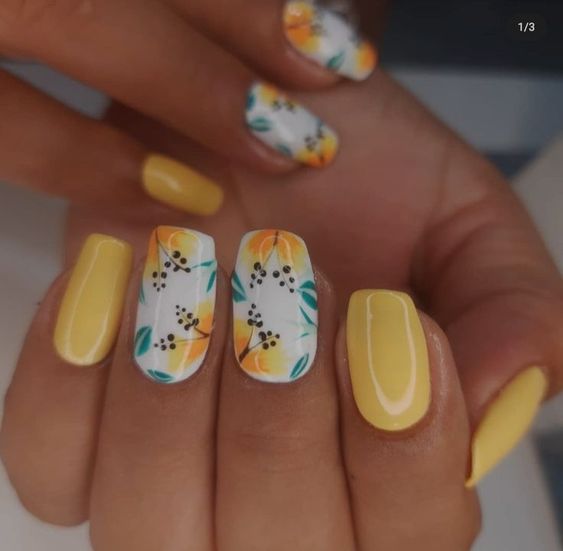 Something about this nail art reminds me of tropical themes and makes me excited for the summer already. But this is just as great for a springtime manicure as well.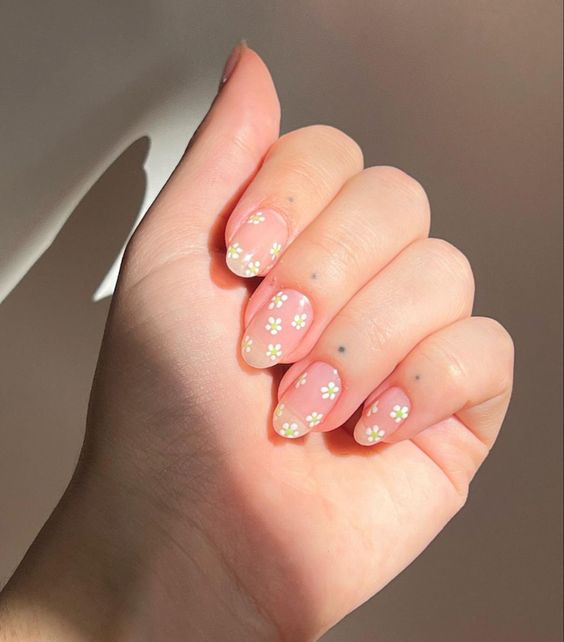 Here's a floral nail art that you can easily do and practice in the comfort of your own home! All you need is a metal dotter to achieve those dainty petals. You can also opt to use a transparent base coat to make those florals stand out!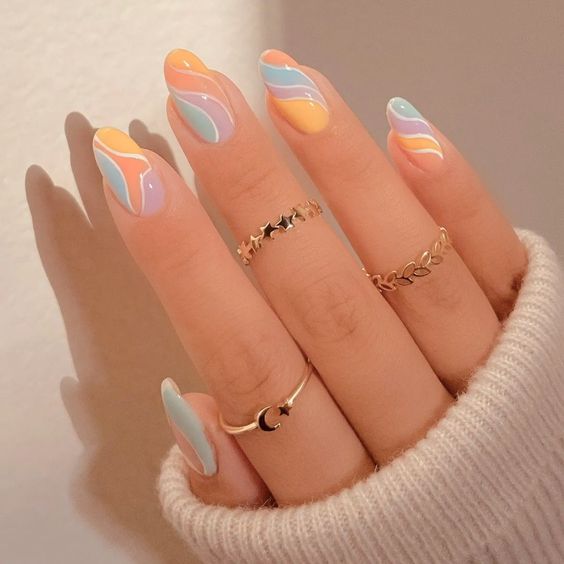 This rainbow pastel manicure is so quintessential spring! The abstract patterns will give your nails such a unique look!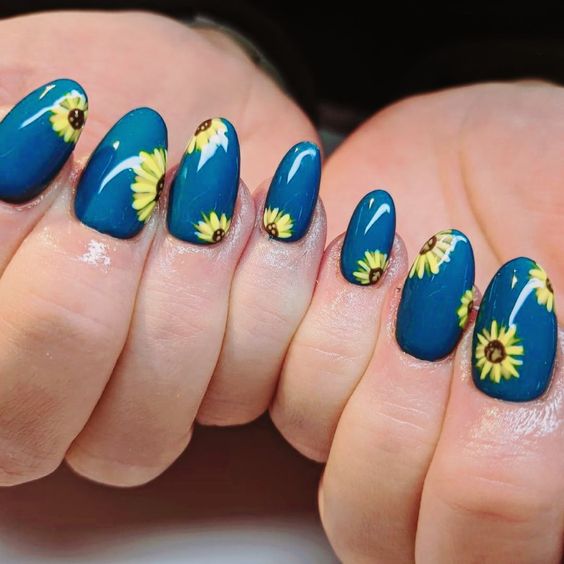 With the arrival of spring, comes the bloom of sunflowers. What better way to show your excitement for these stunning florals than by painting them on your nails?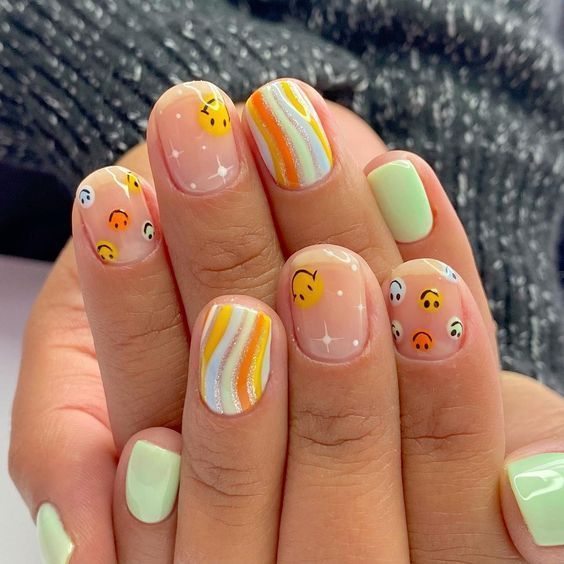 These smiley patterns are utterly adorable! They look like a lot of fun to wear on the nails along with wiggly and wavey patterns and a few sparkly accents.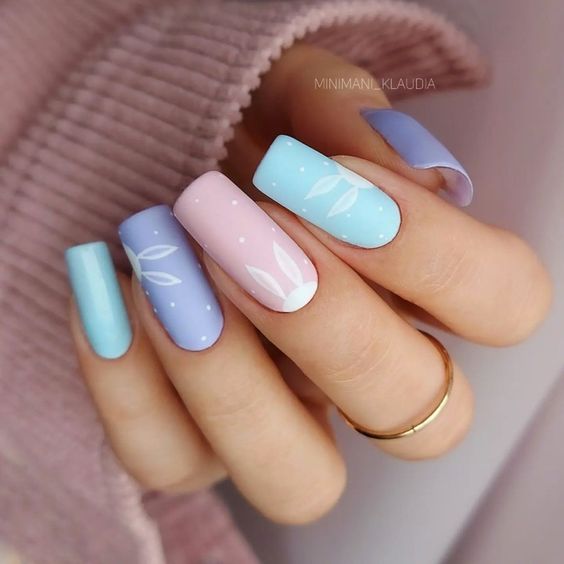 Looking for the perfect bunny manicure for Easter? This one is for you! I can totally see this set of nails being the center of attention during an Easter party with your loved ones.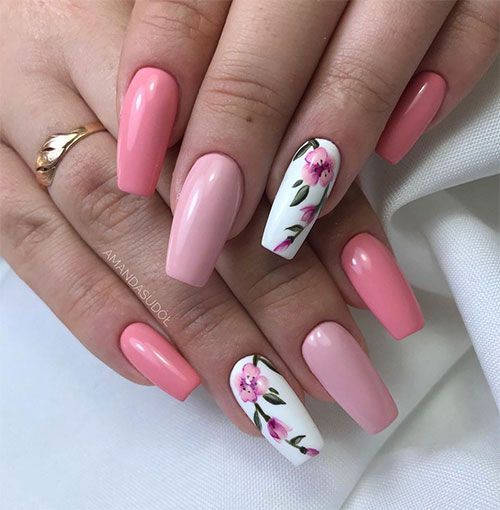 Mix and match different shades of pink on your next manicure session just in time for spring. Add some floral accents to really get that springtime vibe.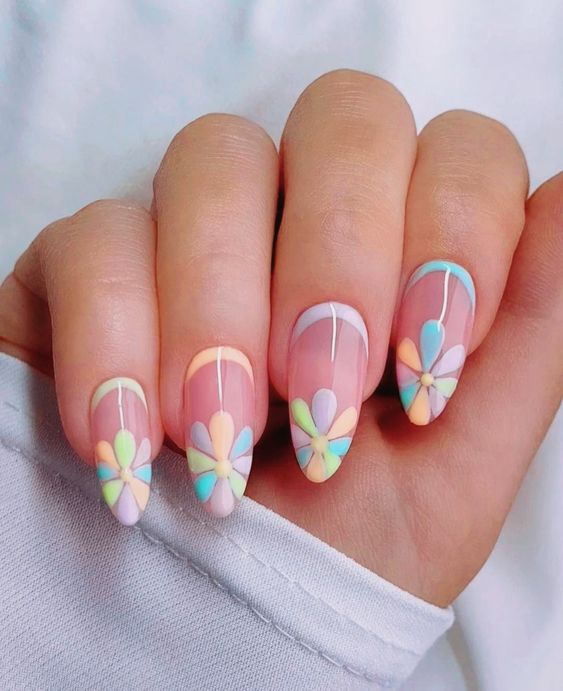 Forego the usual French tip and add some springtime touch to your manicure by using floral patterns to the tips of your nails. Use pastels for a softer look as well!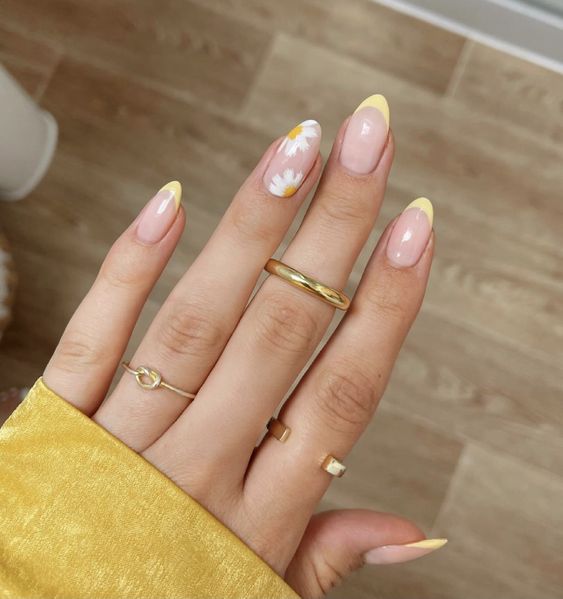 I love this delicate daisy-themed manicure for spring! They'd be the perfect April nail designs if you want something classy and rather minimalistic!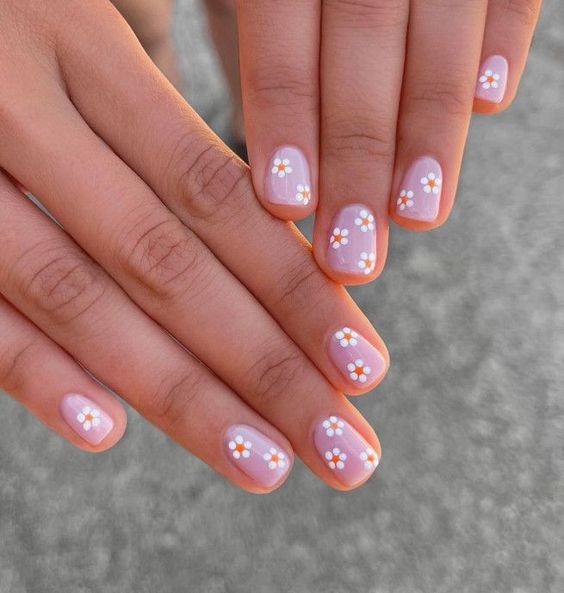 You won't believe that these daisy nails are so easy to achieve! With just a metal dotter, you can use any color for your base coat or opt for the pastel lilac shade before adding those daisies on top.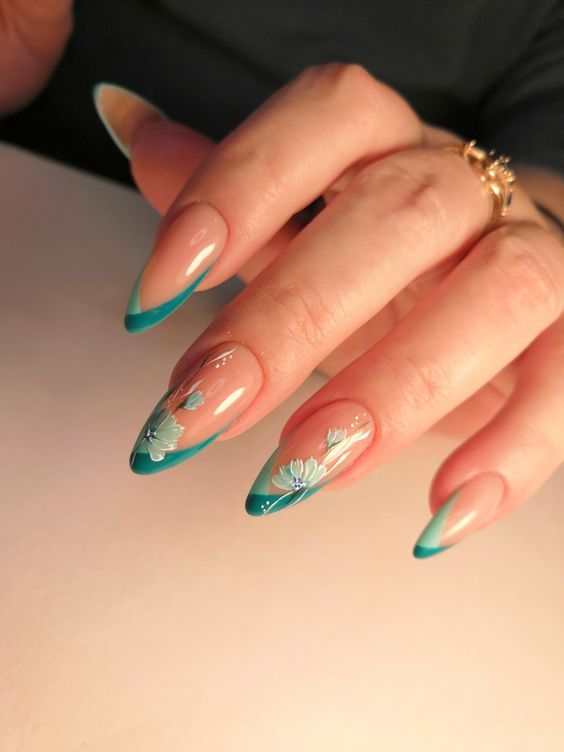 Turquoise is usually a color I would use for summer but you can also use it for the spring season! Add some florals to give it a tropical feel.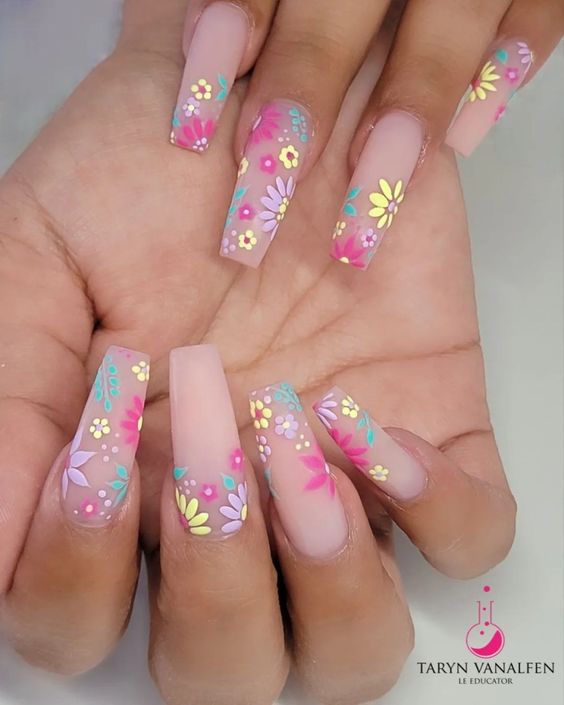 I love the soft matte finish on these floral nails! Whether you're using acrylics or soft gels, this kind of design is so perfect for the spring season!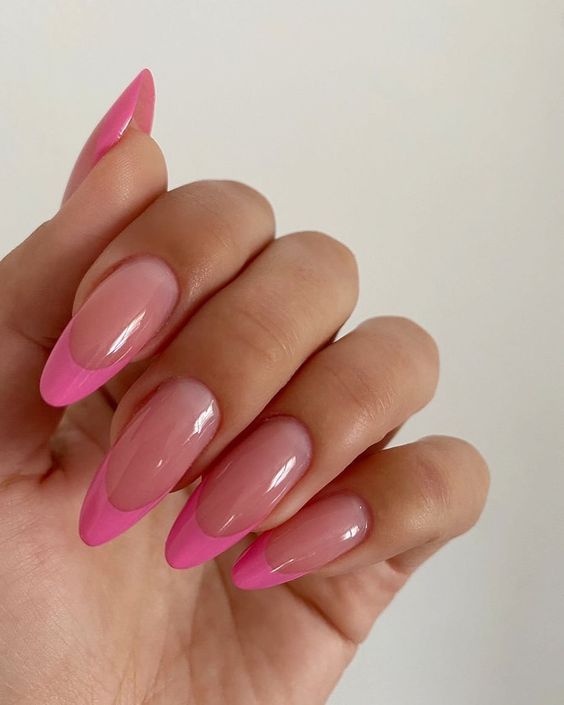 Aside from the classiness of the French tips, I also really like the subtle gradient hint on the nails. They give such a nice, jelly-like effect that's so trendy these days.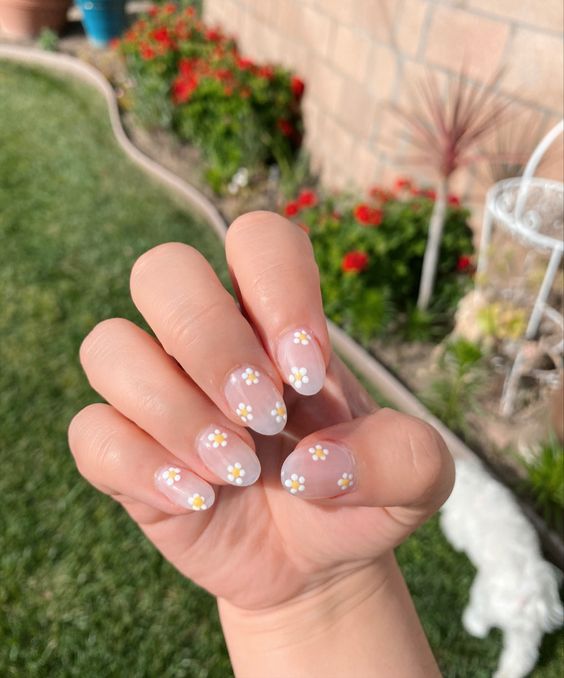 I'm loving this clean and minimalistic variation of springtime floral patterns on the nails! They look so dainty and soft and I'm just honestly obsessed.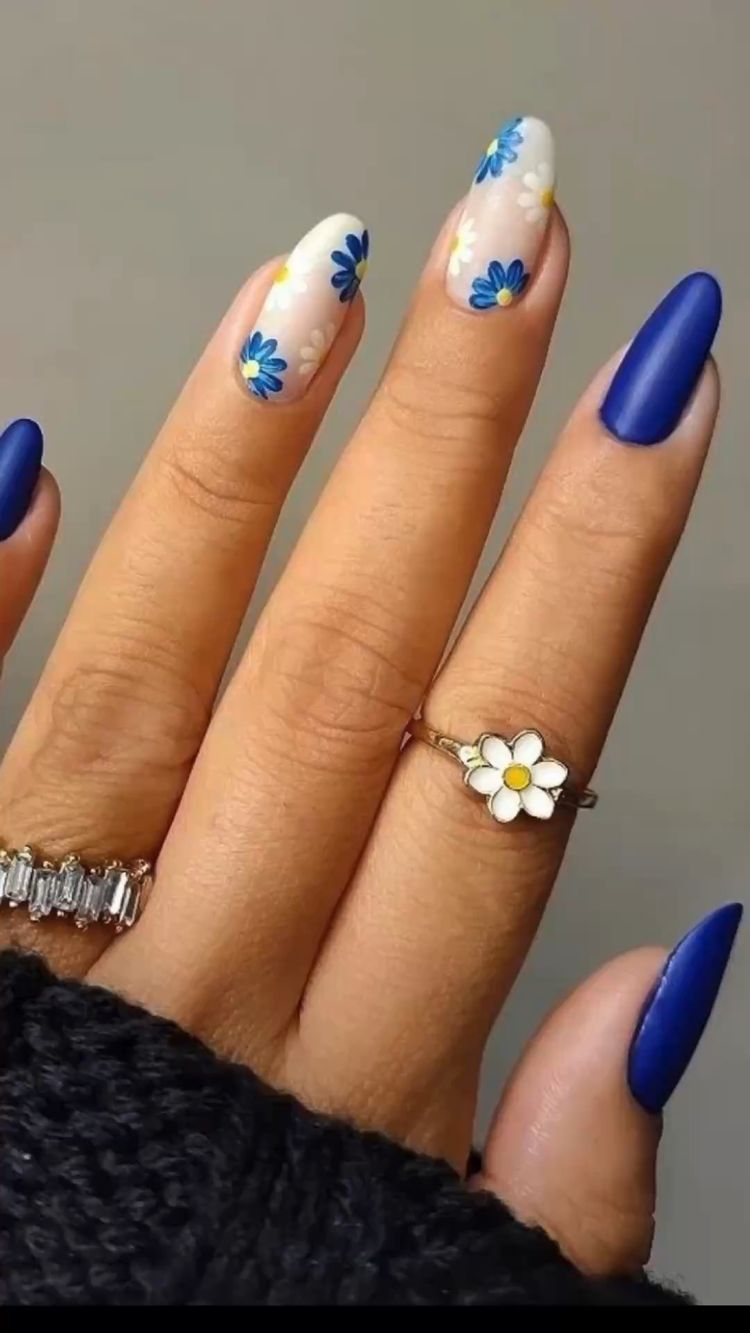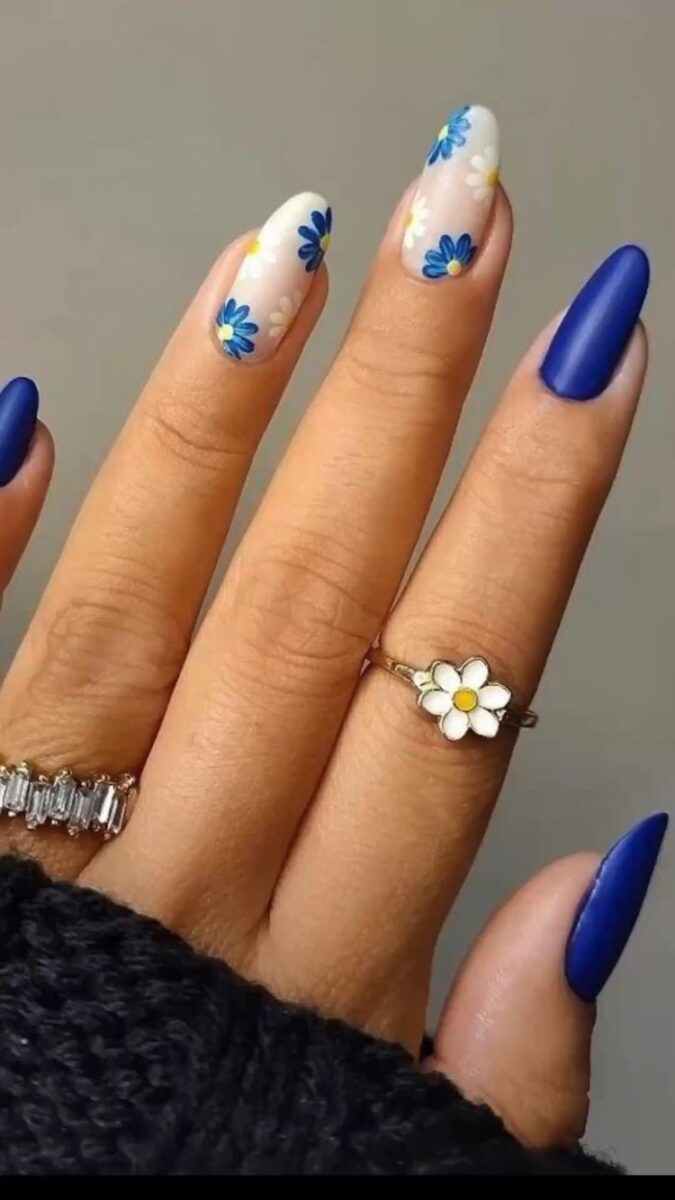 Don't you just adore the deep blue colors on this particular nail set? Leave a few of your nails transparent to create a pretty accent with some florals.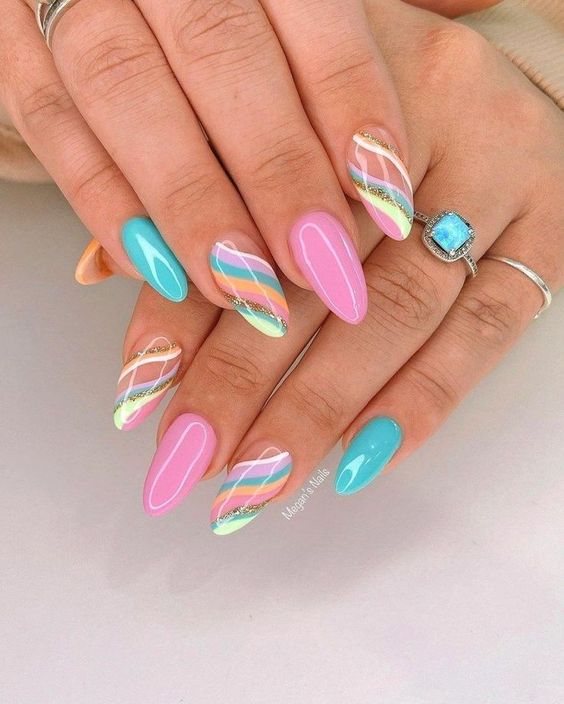 Is it just me or do these nails remind me of popsicles on a warm sunny day? I love the combination of different pastels and how vibrant they look!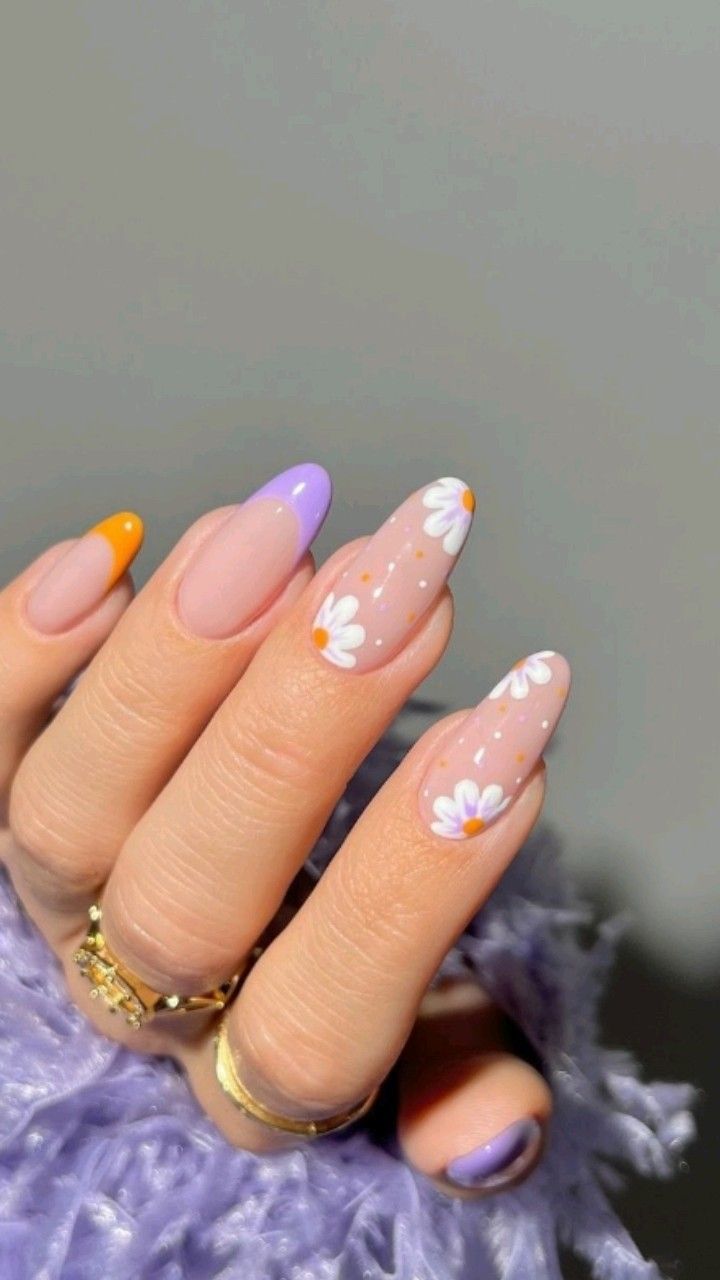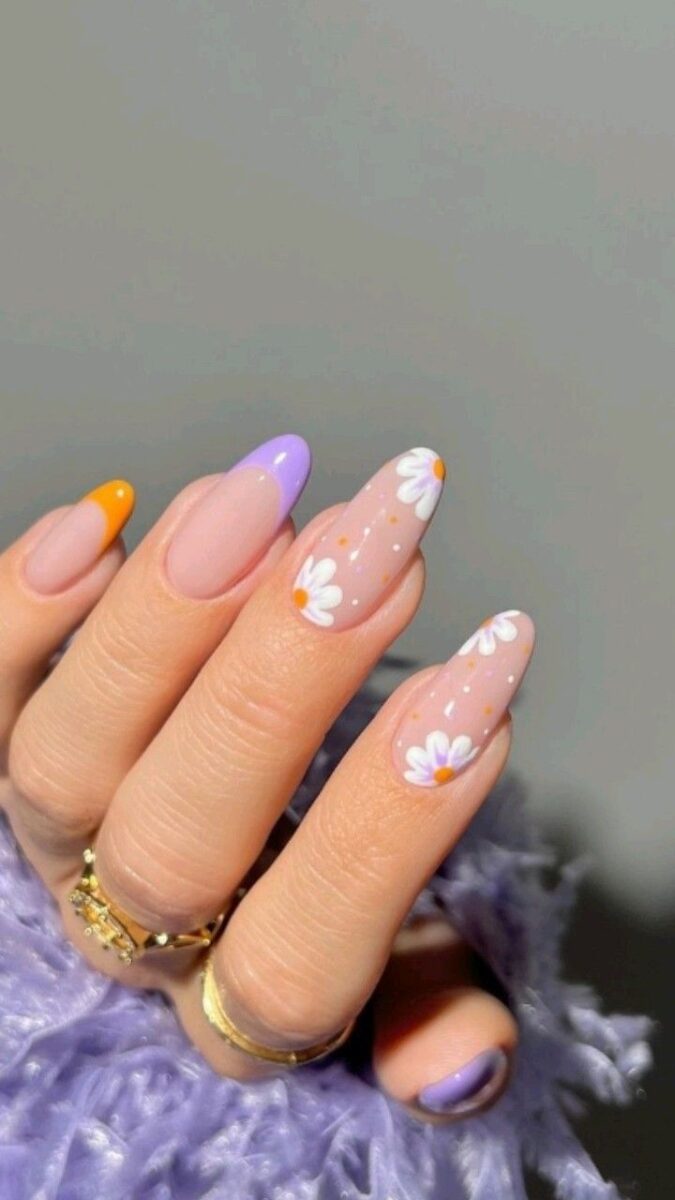 Who knew purple and orange would look so good together? The daisies on the accent nails just make this manicure even more suited for spring!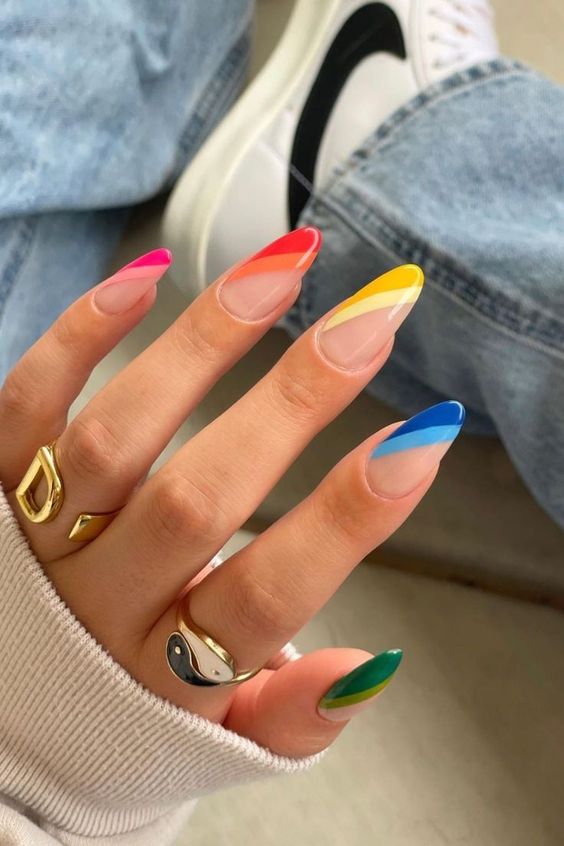 Can't decide on a particular color for your April nails? Why not choose a different color for each nail? You can opt to pick springtime colors to suit the current season!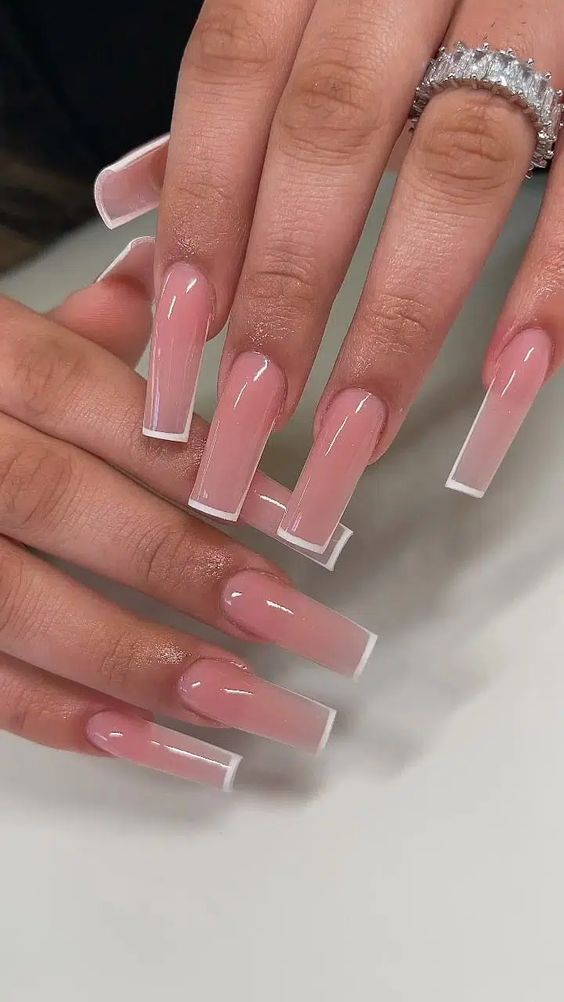 I love this super minimalistic version of the classic French tips! The elongated square cut on the nails give it a more sophisticated and feminine touch too!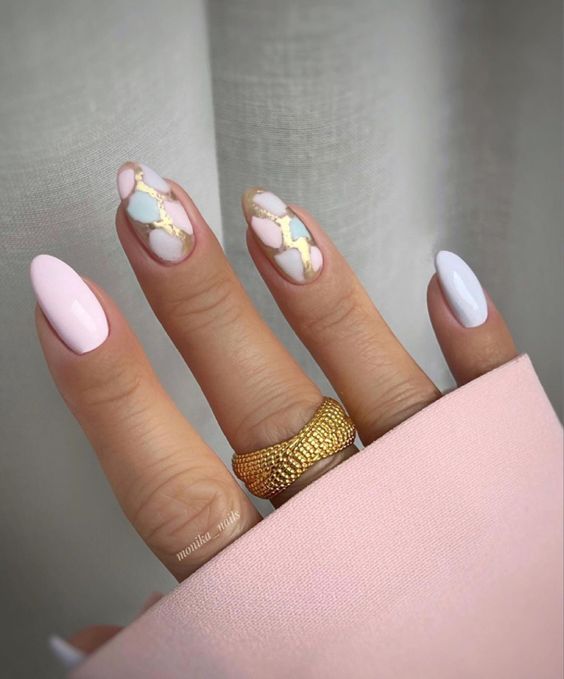 For some reason, this pattern reminds me of those Easter eggs I would paint with my family during that particular holiday. What a ton of fun to do and to look at!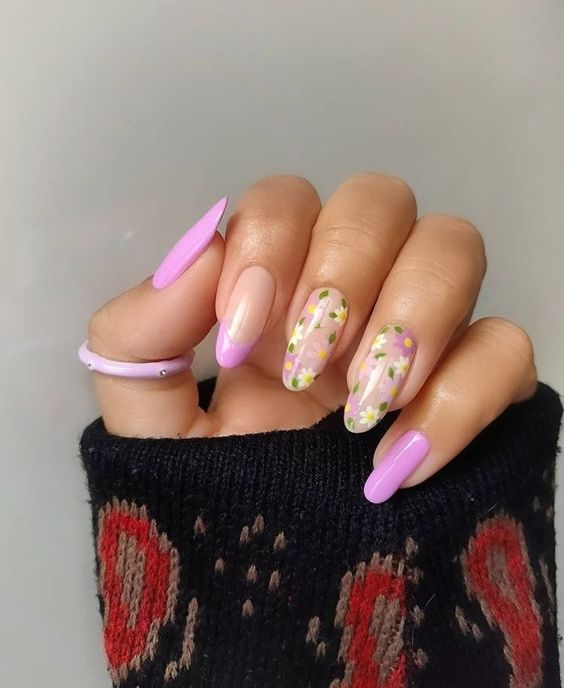 I'm loving these lavender floral nails! Not only are these pastel shades so ideal for the spring season, but the florals make them even look better!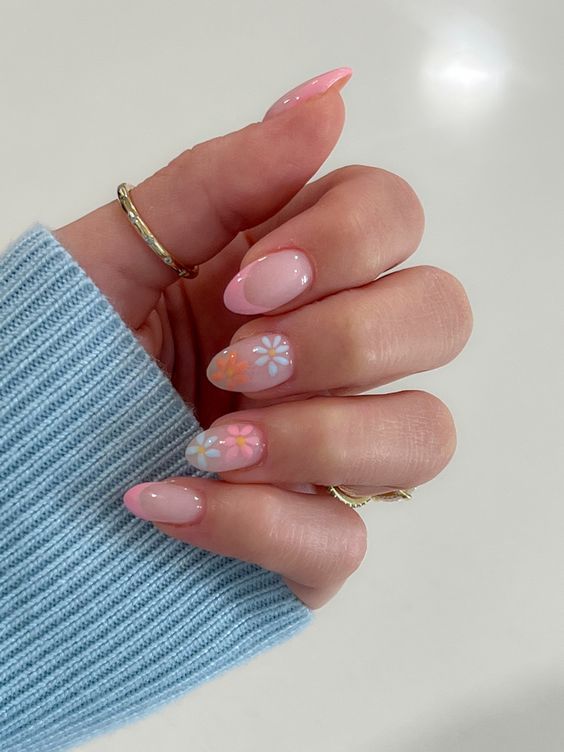 This floral and French tip combination would look so perfect throughout the spring season! Add a daisy or two to complement the pastel tips.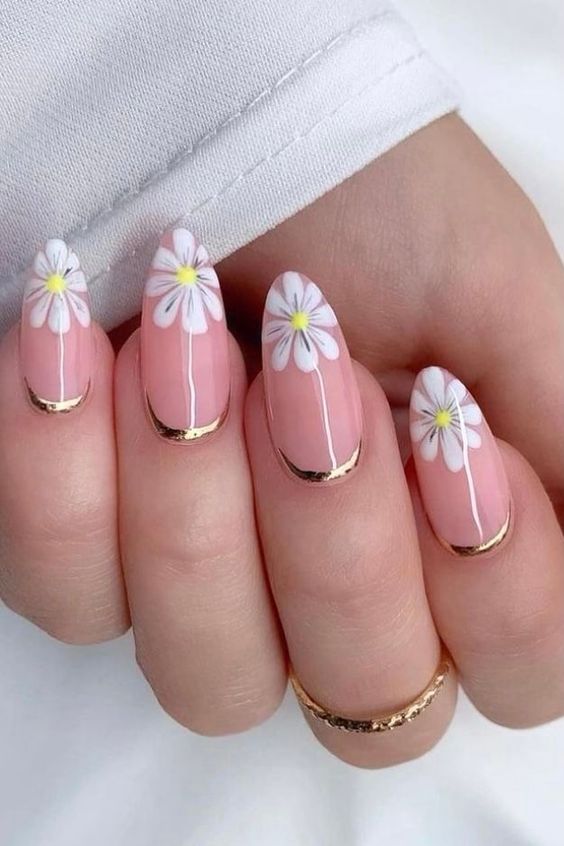 These daisy tips would make such a good alternative to the timeless and classic French tips we've seen many times. Add some gold foil linings on the base of your nails for a touch of sparkle.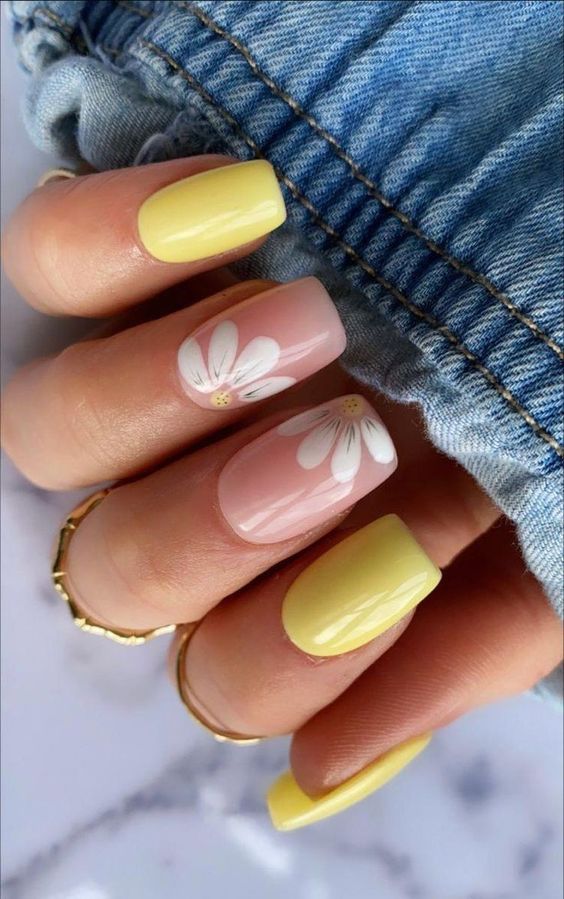 Put a springtime twist to your monochrome pastel nails by adding some floral accent nails to your manicure this April.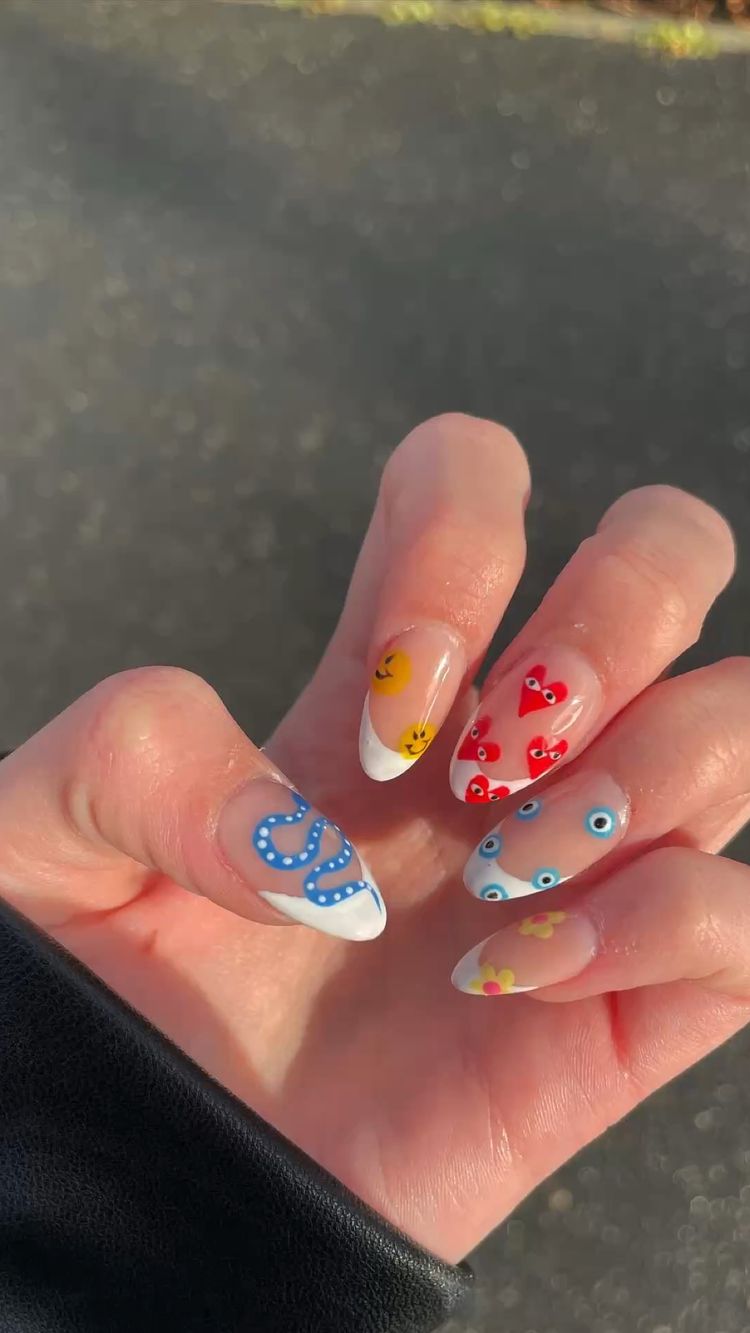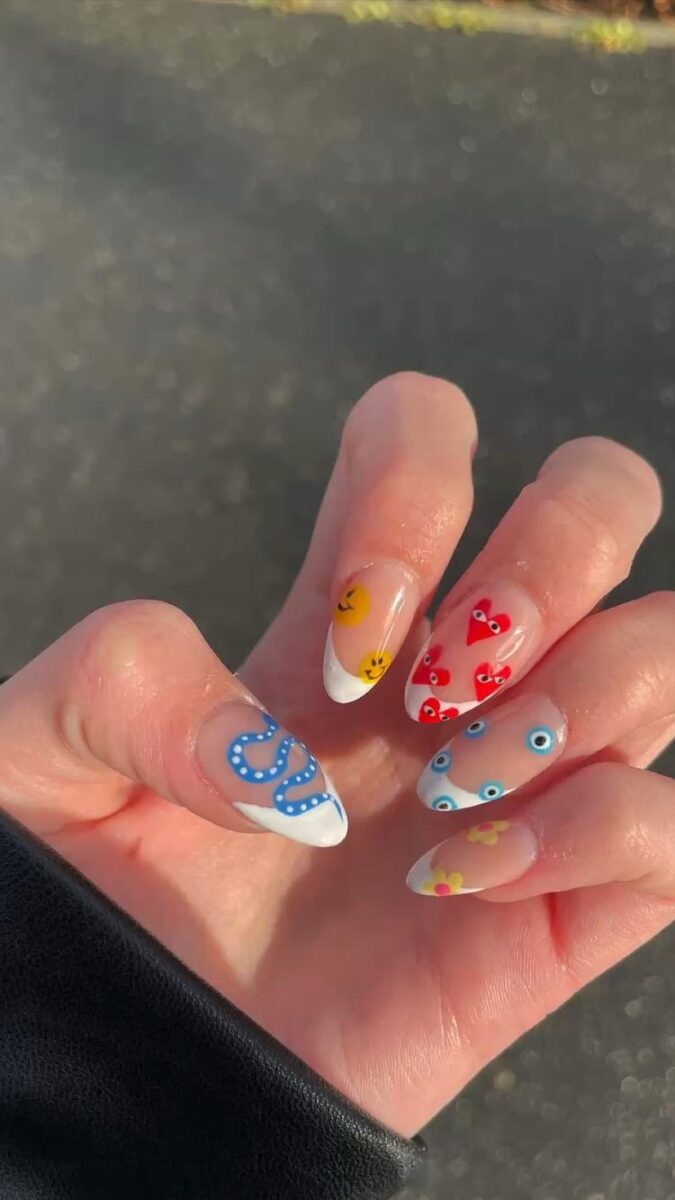 I am loving these springtime elements placed on top of the timeless French tips. They add such a fun, quirky, and unique touch to any manicure!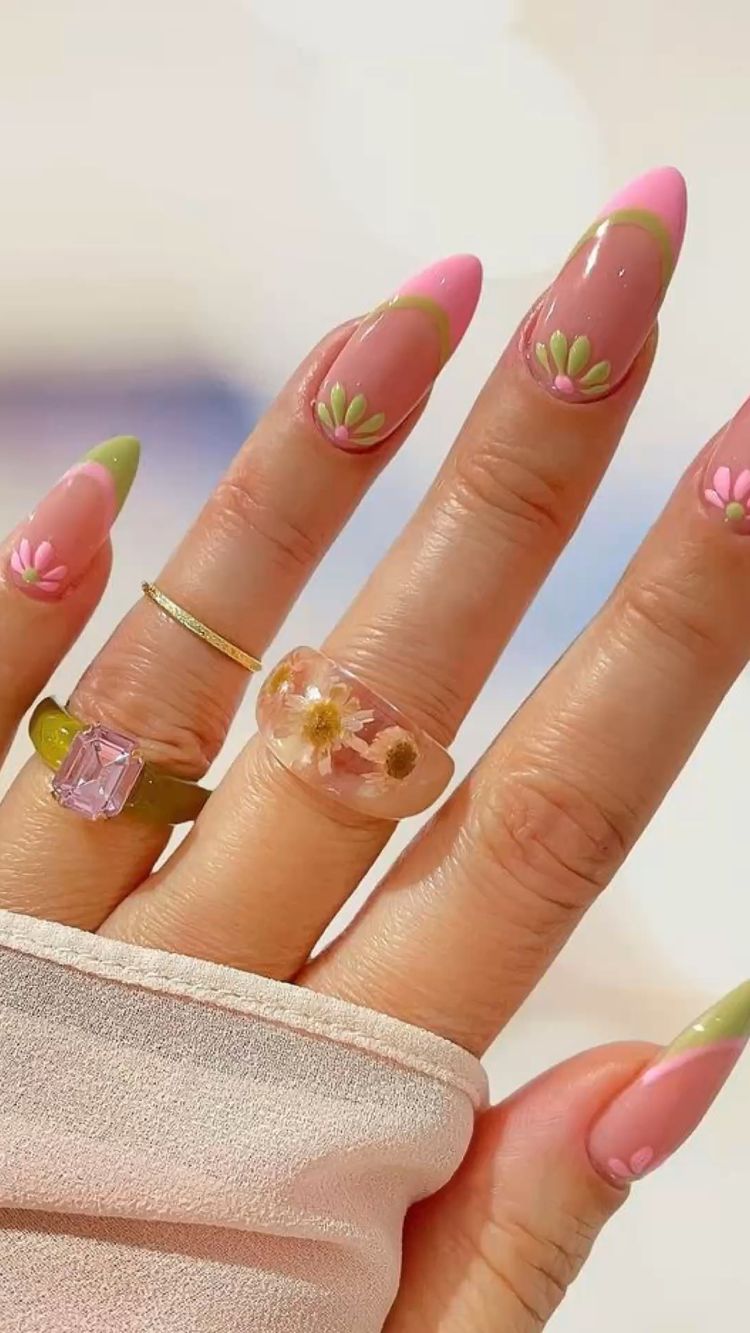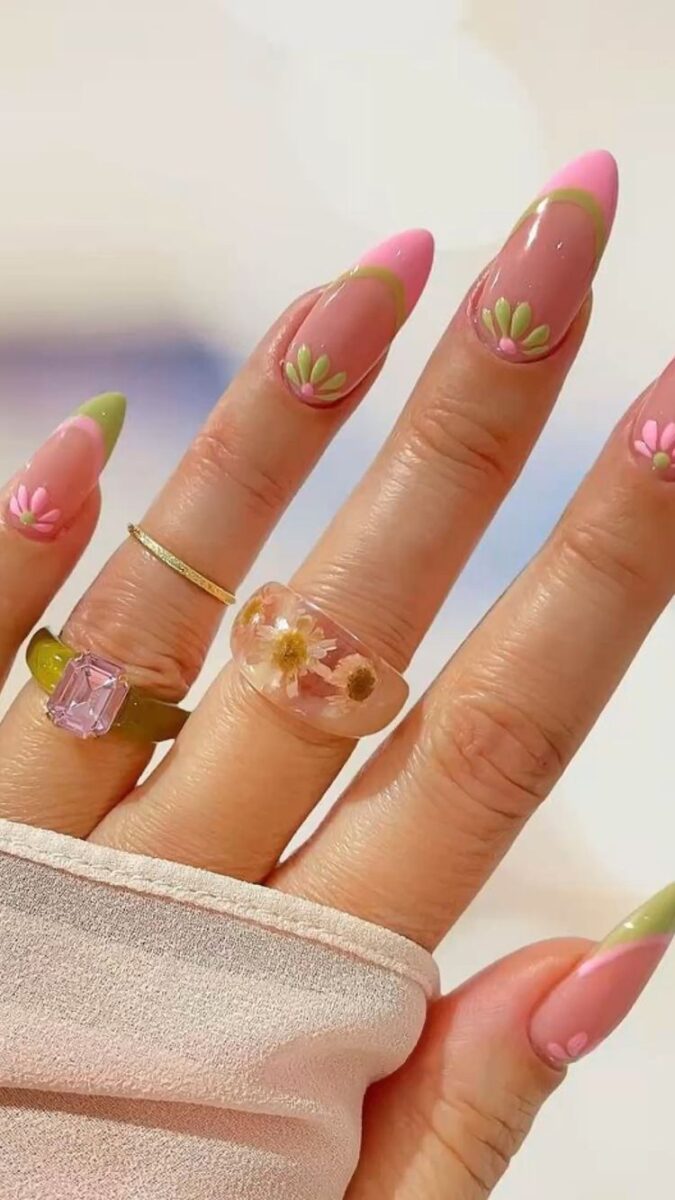 Pink and green are one of my favorite color combinations during the spring season. Add some florals on the base of your nails to really fit the vibe of this season!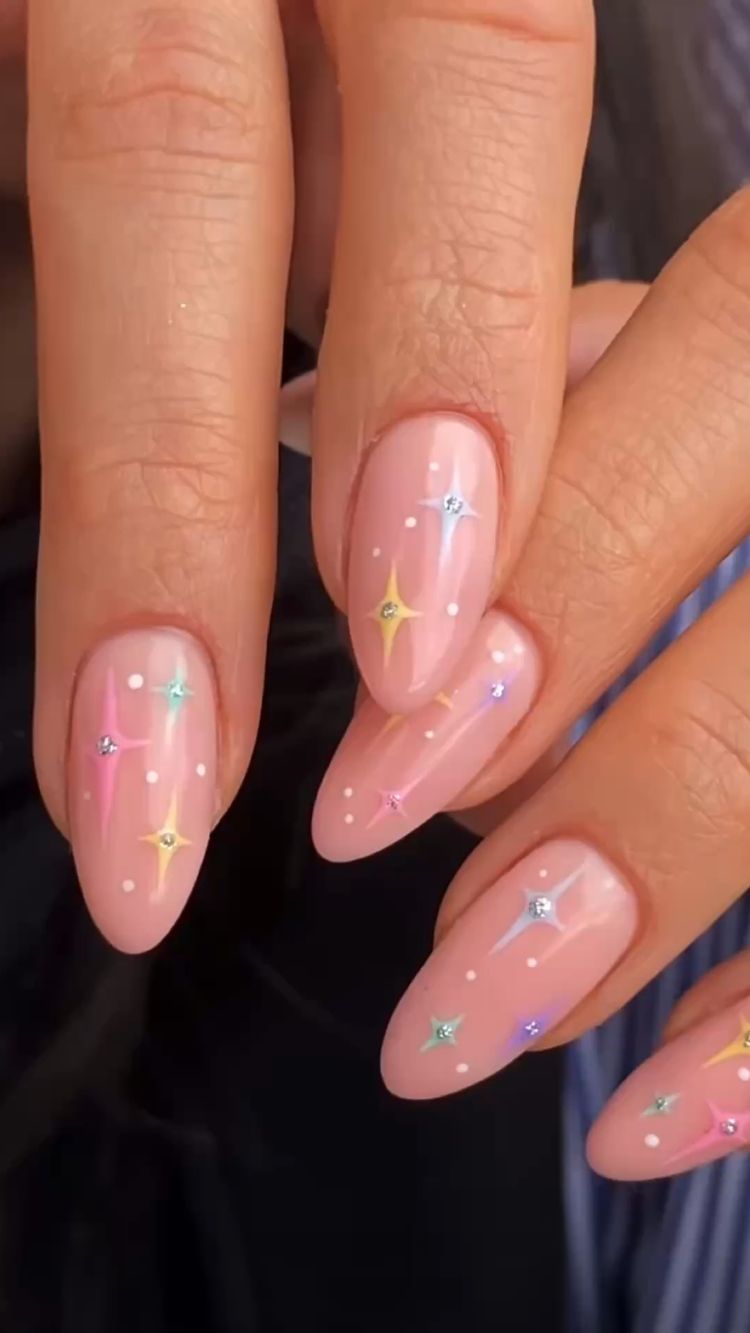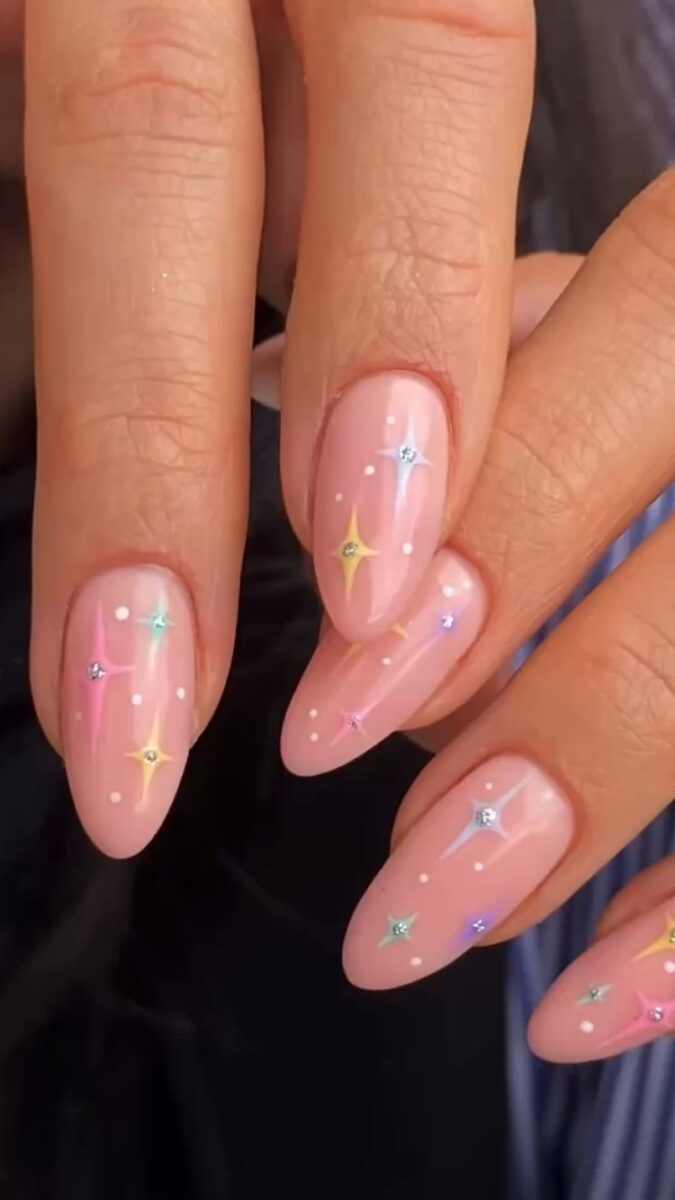 Add some sparkle to your manicure by recreating this subtle nail art. By topping it off with a few tiny rhinestones, you'll definitely get that sparkle you're looking for!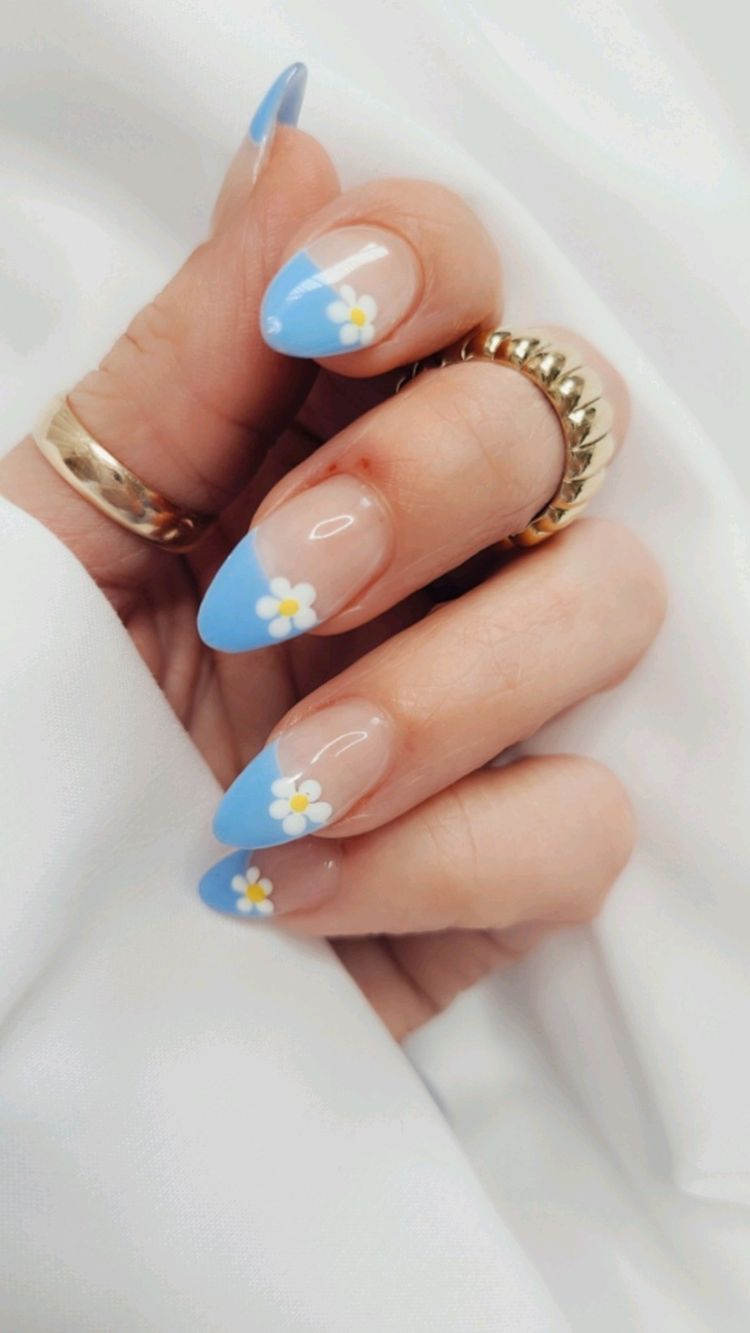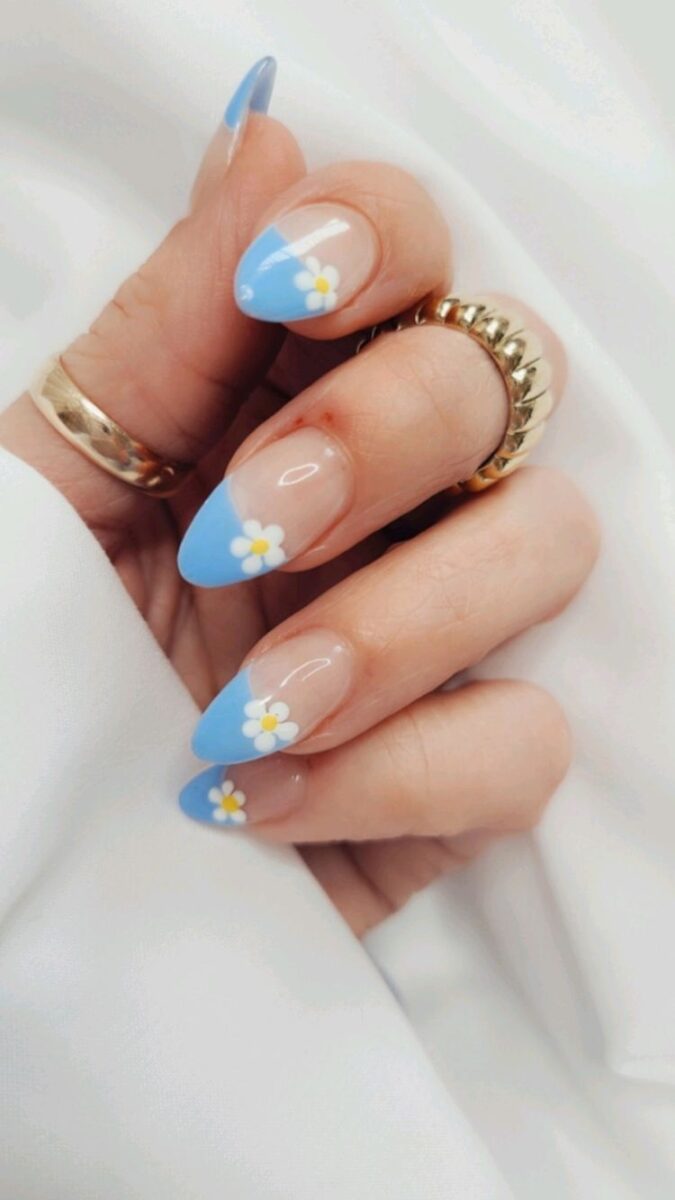 Add a springtime vibe to your sky-blue French tips by topping it off with some dainty daisies. Such an ideal manicure for your April nails this year.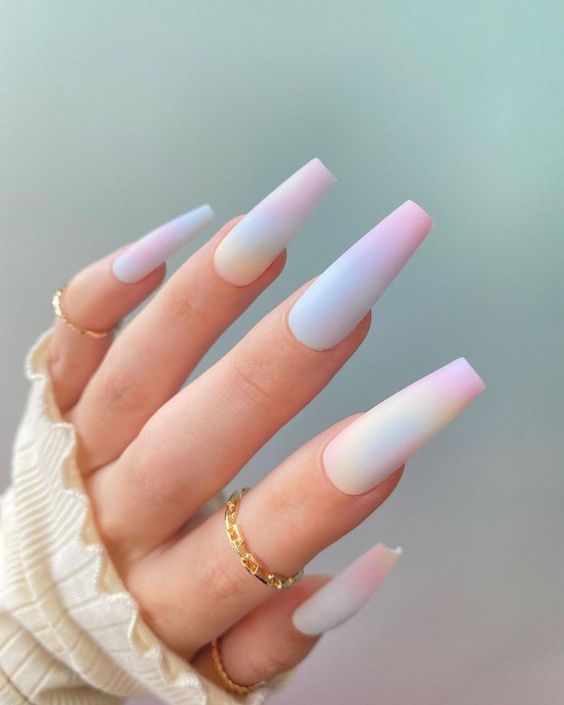 I'm honestly obsessed with these pastel gradient nails. Not only are these easy to achieve, but they suit any kind of nail shape there is! So even if you have shorter nails, it's totally fine!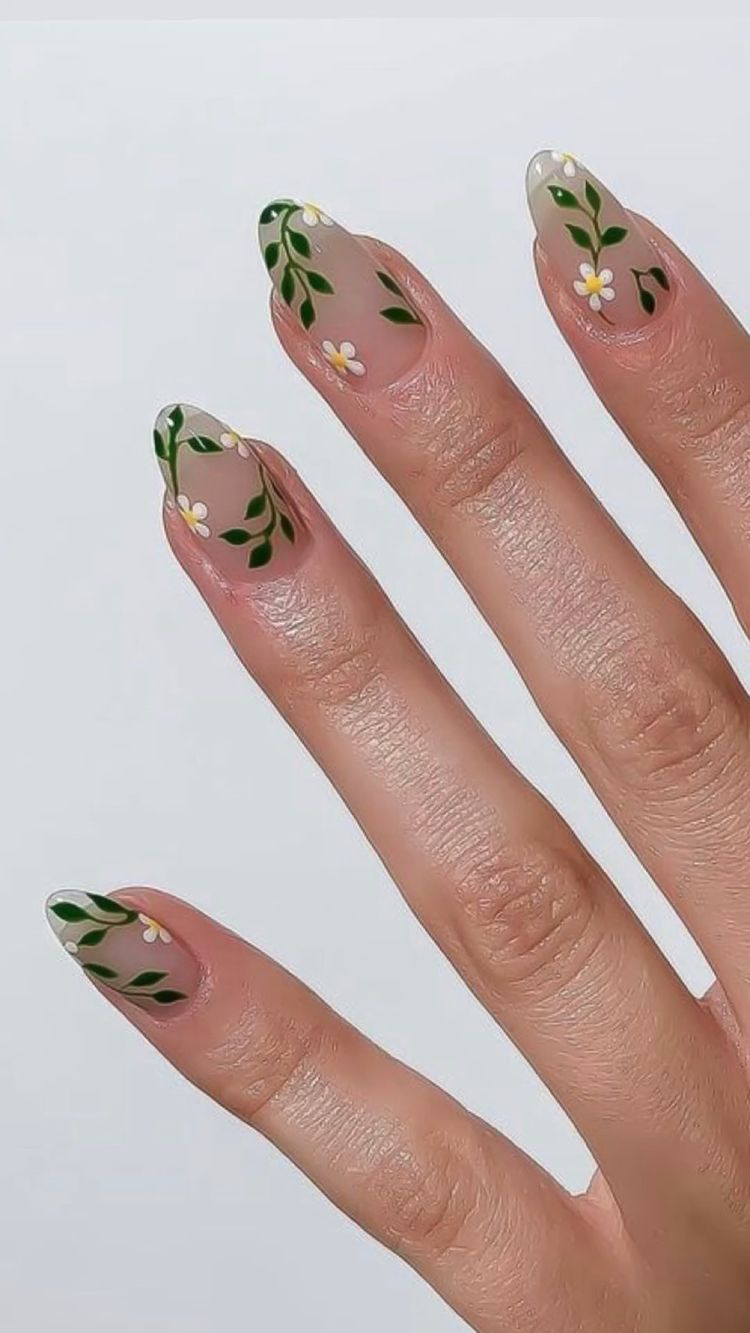 Don't forget to add some stunning greeneries to your dainty and delicate manicure this April. These kinds of patterns are utterly beautiful!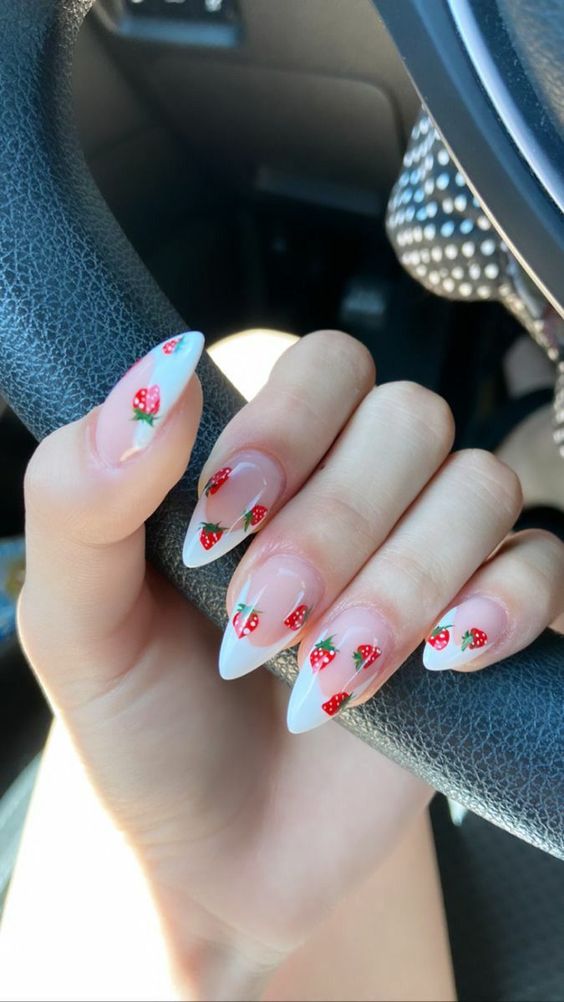 Tired of the usual florals this spring season? Why not opt to add your favorite springtime fruits for your April nails like strawberries this year?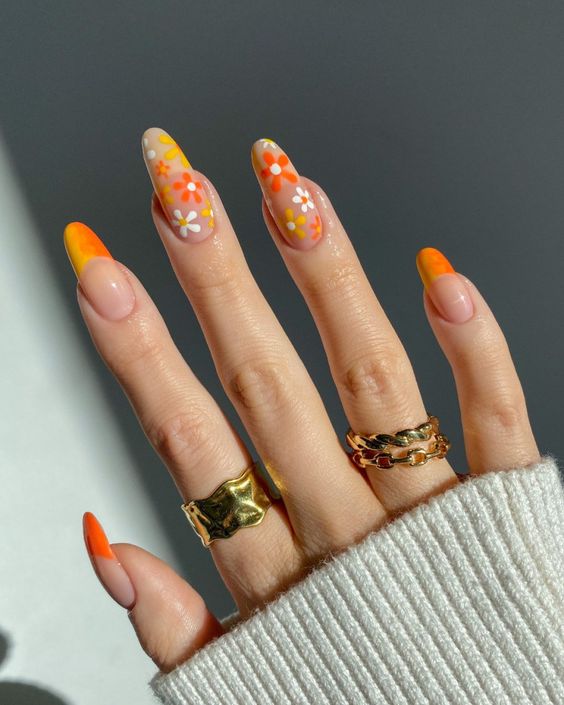 Yellow and orange will definitely be quite popular this spring season. They're so vibrant and bright, they will surely be getting a second look from anyone who sees your stunning nails!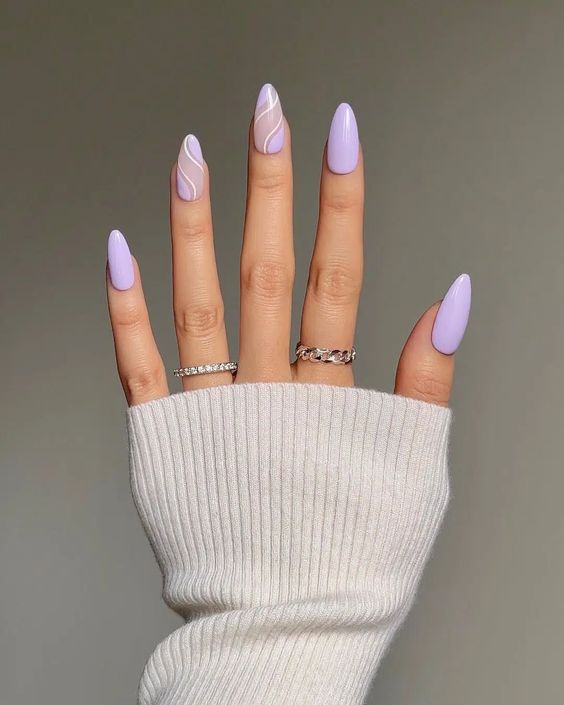 For a nail art that's chic and sophisticated, try out these wavy patterns using pastel shades to suit the springtime vibe.
These light, neon-green nails are utterly gorgeous! Use a nail dotter to recreate those dainty flowers on each accent nail.