Whether you have a kid or are just a kid at heart, these super-duper cute and easy Easter crafts will make your Easter holiday much more festive!
Easter is such a happy holiday for people of all ages. It's a chance to get together with loved ones and enjoy cherished customs like Easter egg hunts and delicious Easter feasts.
More than that, it's also a time to demonstrate creativity by making unique Easter crafts to adorn the home or present as gifts. Not to mention, decorating Easter eggs using fresh and inventive approaches. But Easter activities go beyond simply painting hard-boiled eggs for your annual Easter egg hunts.
That's why for today, I've compiled a list of Easter crafts for kids and adults alike. The whole family can have a fun-filled day doing all these fun Easter projects!
Regardless if you're a total pro in doing these Easter crafts or a noob like me, this list is long enough to have something for you. Everything from DIY Easter baskets and Easter wreaths to other homemade crafts, you'll find it all here! This list contains a ton of unique egg-decorating inspiration if you're looking for some too.
Easter Crafts For Kids & Adults
Show off your creativity with these easy Easter crafts that are sure to catch the attention of guests at your Easter party. Also, you don't need to be an expert crafter to start these crafts. You can create a variety of simple Easter craft projects regardless of your level of expertise. Some of these crafts on the list only need a few things that you might even already have at home.
All the sources for every Easter craft you'll find here are linked below each photo for your reference. The instructions and tutorials on these crafts should be found there too!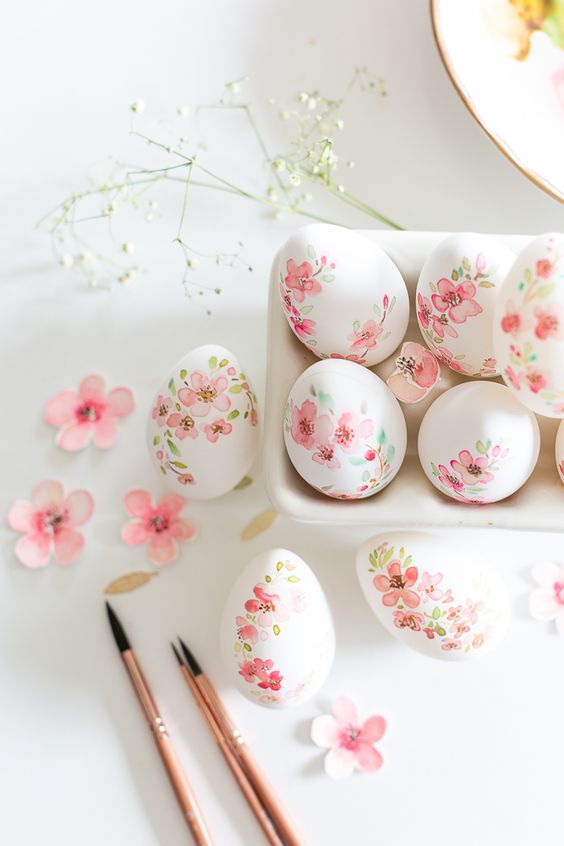 These watercolor-themed Easter eggs are utterly beautiful! Dainty, delicate, and creative, if you like painting using watercolors then you should definitely give this kind of design a try. Aside from florals, you can also do other kinds of patterns that you may like.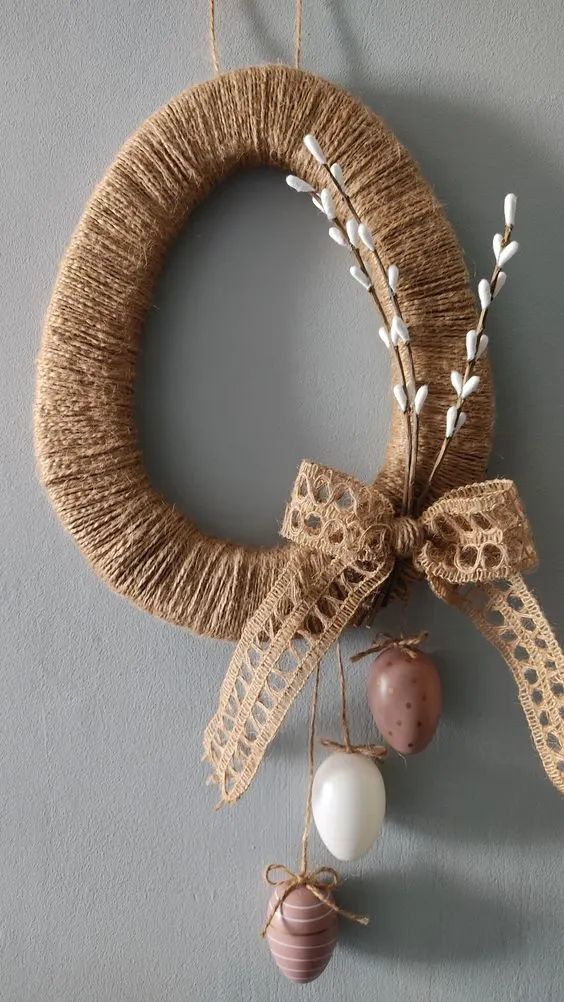 Using twine and large cardboard, you can easily recreate this gorgeous Easter egg-shaped wreath for your Easter decorations! All you need is a glue gun to put these all together. For a finishing touch, add a bow and other ornaments to make this even prettier!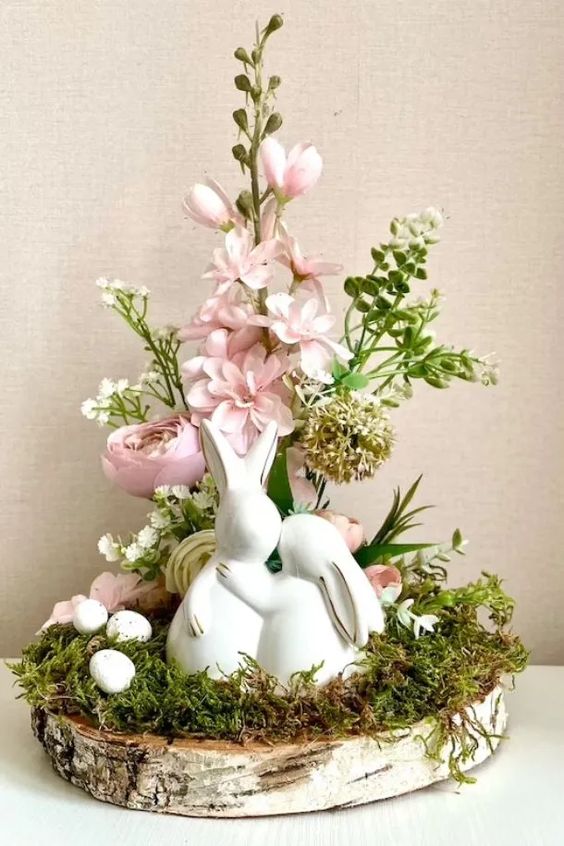 If you're looking for a centerpiece for your Easter lunch table or something to put atop your mantle, this cute farmhouse Easter rabbit display is the perfect thing for that spot. I love the woodland vibes this centerpiece gives.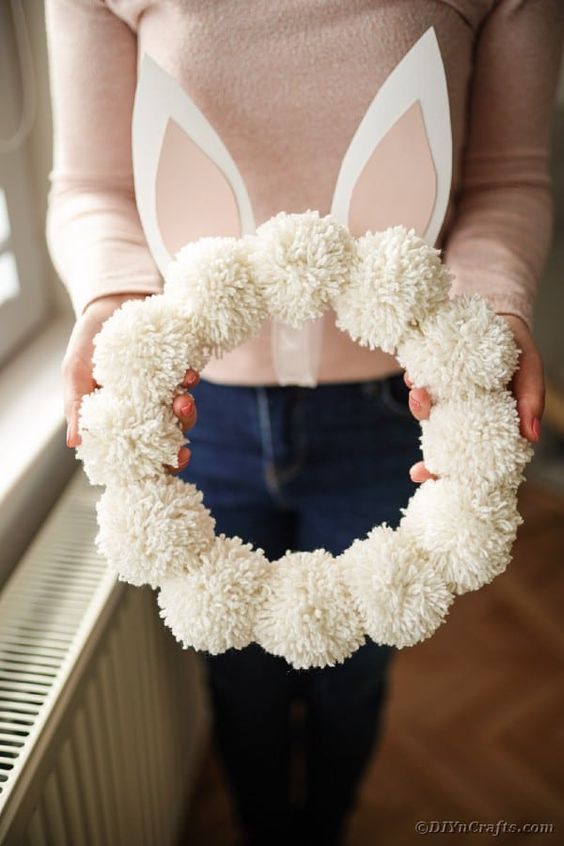 Isn't this pom Easter wreath just look so pretty? They're also pretty easy to make too so you could probably do a bunch of this to decorate your house with for your Easter party. The best part? The materials needed are very low cost and some are probably already items you'll find at your home.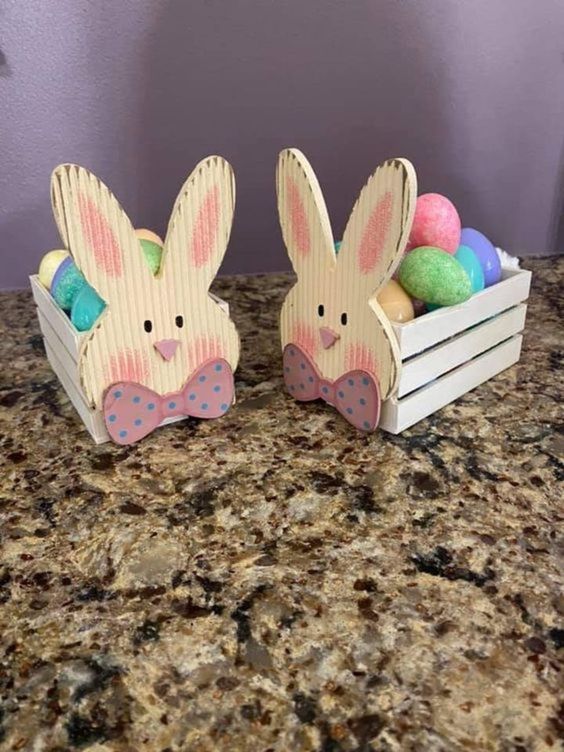 If you have any wooden trays or baskets lying around, try out this bunny-themed basket to put your Easter eggs in! These are sure to add an extra dash of cuteness to your overall Easter crafts and decorations.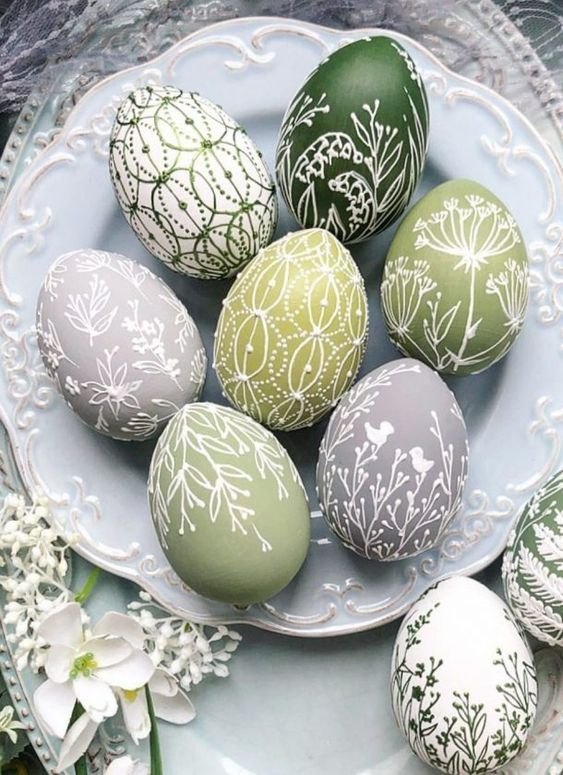 Just look how intricate and beautiful these Easter eggs are! If you're up for a challenge and want to try out something different for this year's Easter, then you should definitely give these intricate Easter egg designs a try.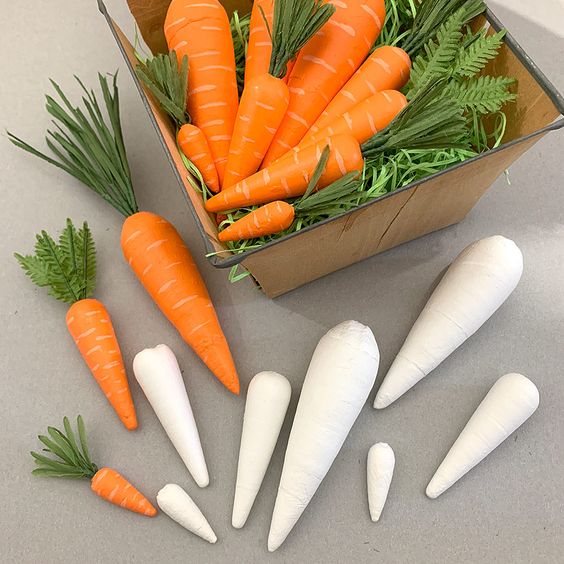 So you've done your Easter eggs and bunnies, and now you need some carrots to fill up your Easter baskets! These spun cotton carrots are such an ideal Easter craft to do this year. They're pretty simple to recreate and are so much fun. You can definitely do this with your friends and family.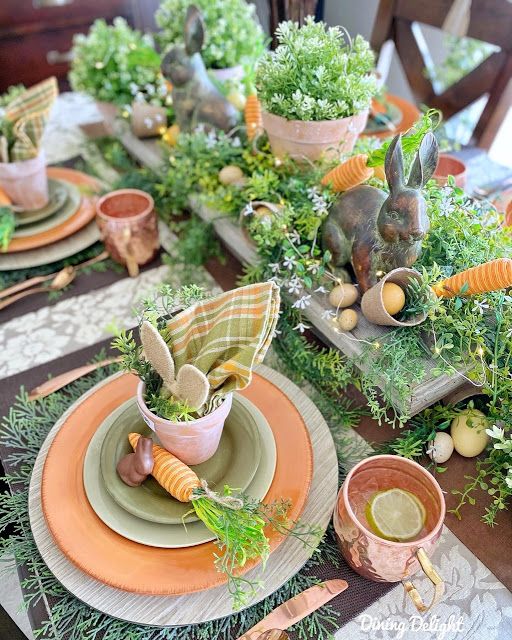 Hosting an Easter lunch or dinner? Then take this opportunity to spruce up your table settings for this particular holiday! This garden-themed spring tablescape is just so creative and ideal for Easter! It's filled with greeneries, carrots, bunnies, and everything that makes up Easter and the spring season.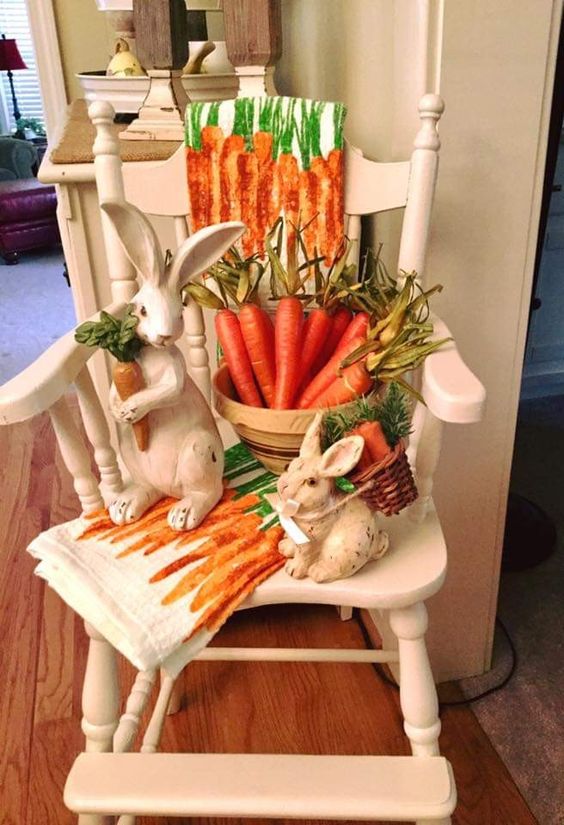 If you have any bunny figurines around the house, you can totally use those for your easy Easter crafts. Decorate a simple house item like a chair with bunnies and a basket of faux carrots to give your household the perfect Easter vibe.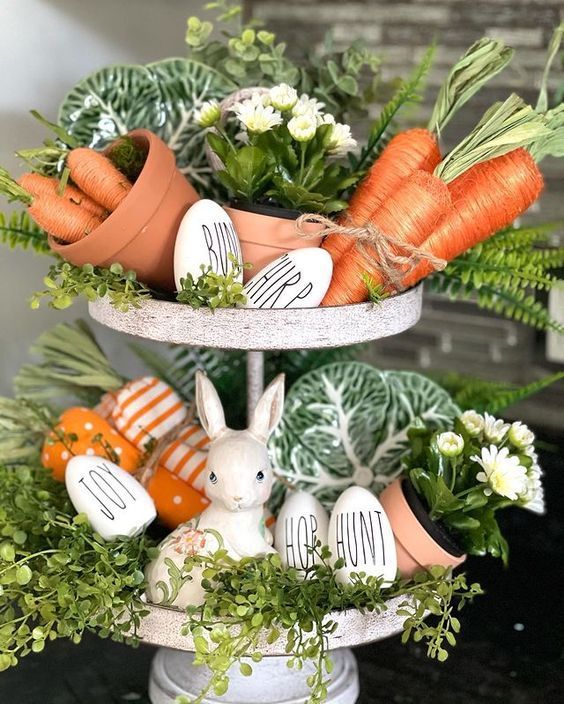 Here's another centerpiece that you might love. This has multiple layers so you can put in more easy Easter crafts and decorations. Because the more, the merrier, right?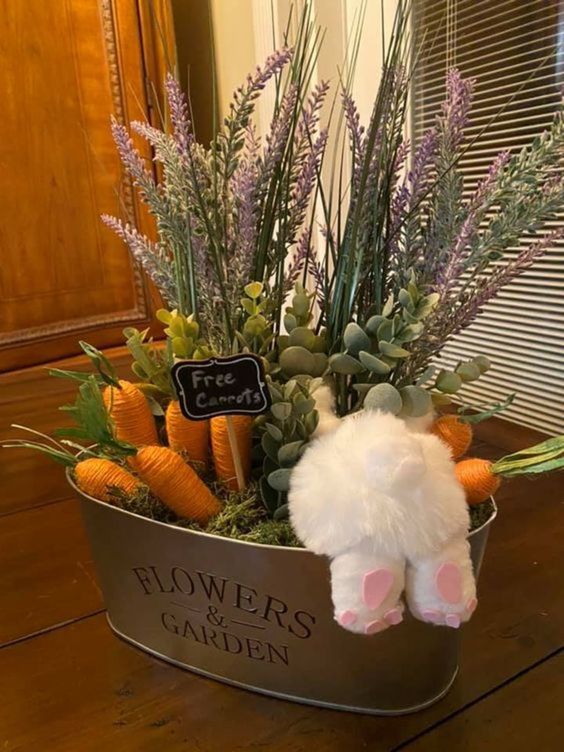 Isn't this bunny planter just so adorable? You can also use a spare bucket if you don't have a planter to use. Fill it up with carrots, greeneries, and a stuffed bunny to recreate this whole design. You can either decorate your garden with these adorable planters or put them around the house.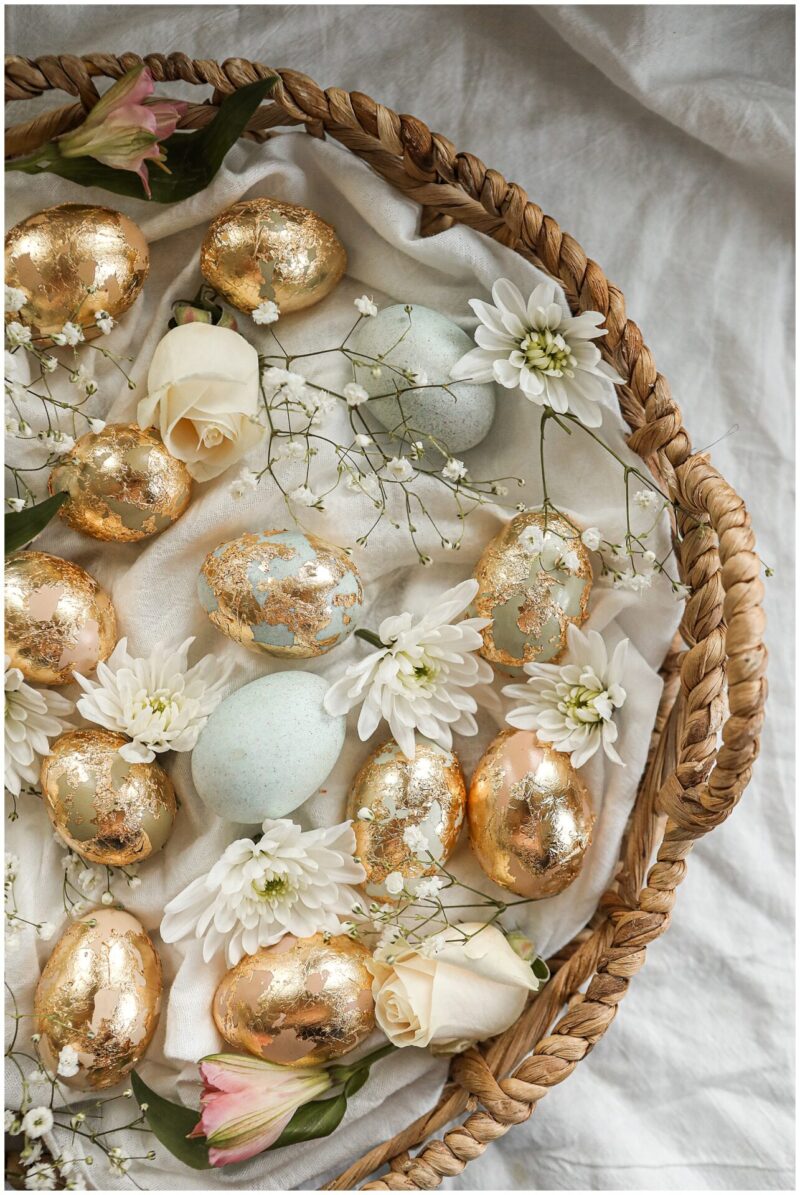 If you don't mind spending a lot of time doing your Easter crafts then you should definitely give these gold leaf Easter egg designs a try. Trust me, with how beautiful these are, the results and all that effort will be so worth it!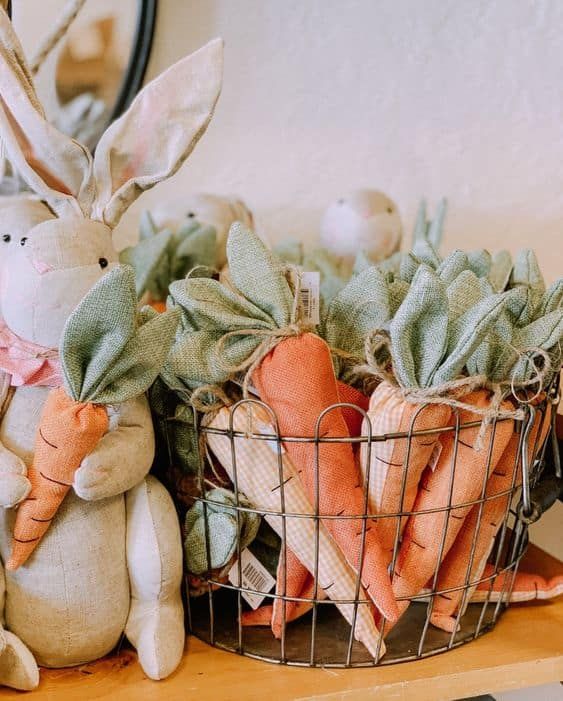 Got no time to sit down and create these crafts on your own? That's alright! You can also buy homemade crafts from small businesses and support them in your own way. These decorations are so cute and perfect for Easter.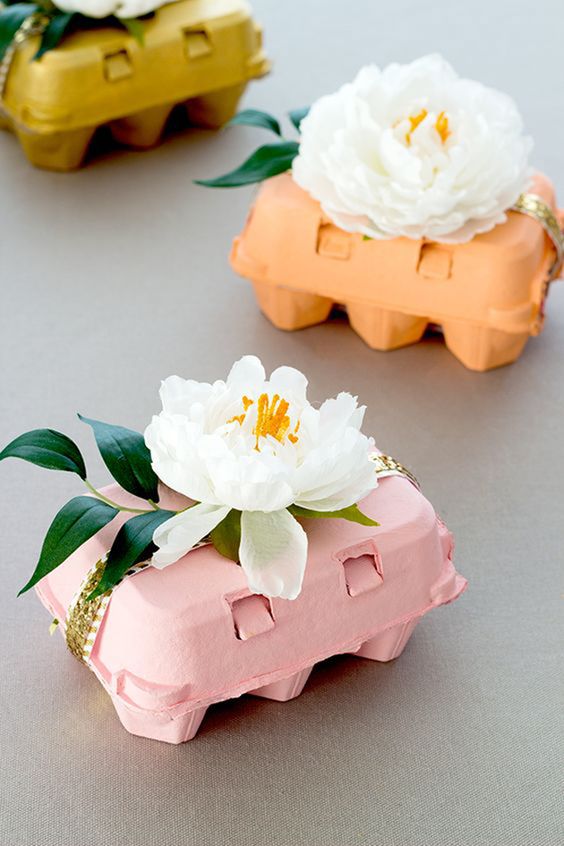 If you have any empty egg trays lying around after your last grocery trip, save them to do this particular Easter craft! Fill the trays with your favorite pastry or baked goods like a cupcake or a muffin for a tasty treat! You can either put these around your Easter tablescape as a snack for your guests or gift them to your loved ones this Easter.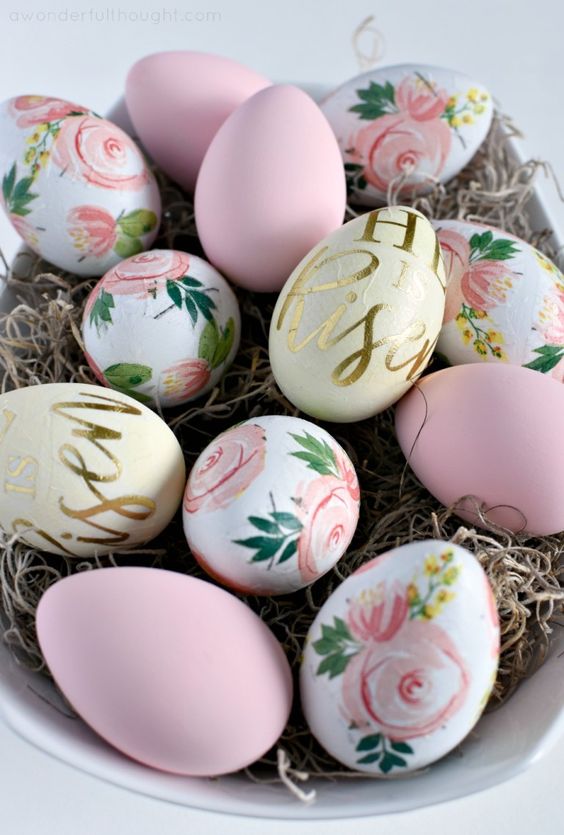 Use these easy Easter crafts for adults and kids as a way to spend time with your kids or family members. These decoupage Easter eggs are so easy to do and you can probably make a bunch of them all day long to decorate your house with. You can paint these eggs with solid colors or intricate patterns like florals and other designs.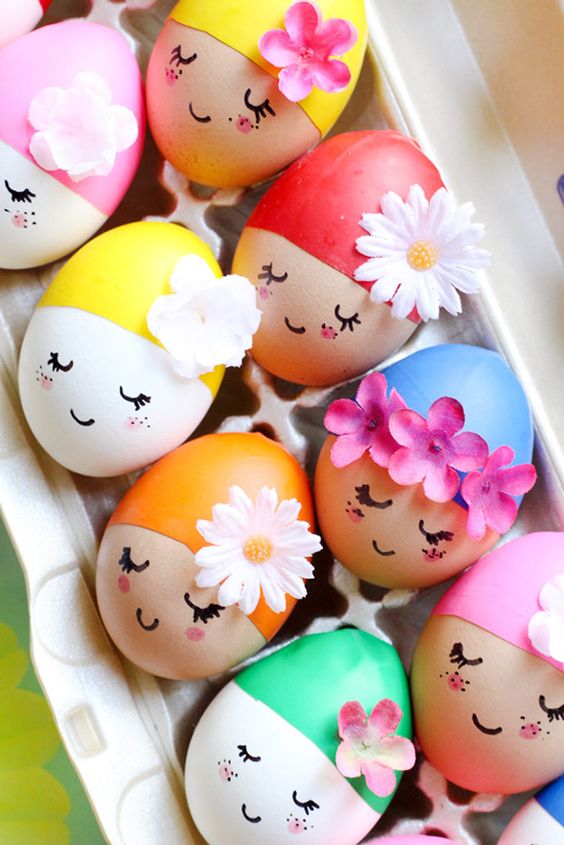 Aside from the usual patterns you use for your Easter eggs, you can also draw them with these cute faces! Glue some florals for that perfect spring touch. What's more, you don't need a lot of things to achieve this Easter craft. Almost all the items can be found right at your home.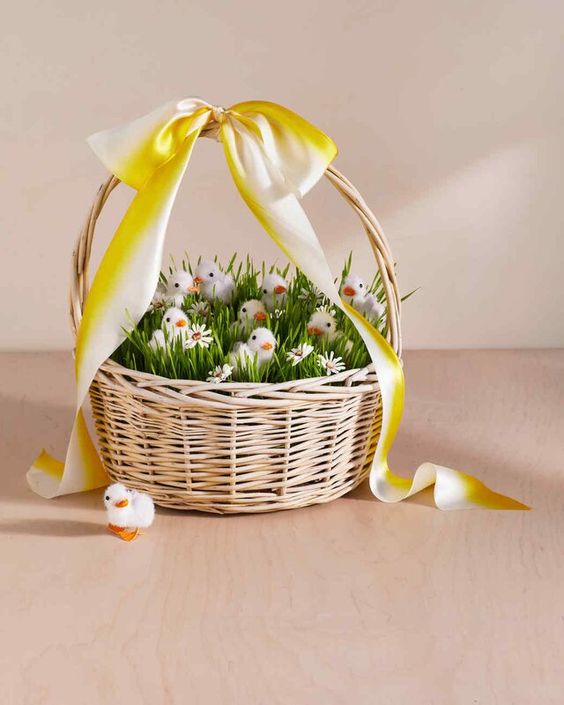 Include natural elements like wheatgrass in your easy Easter crafts for adults. It's pretty easy to plant but if you have no time to do it yourself, you can always buy a small flat or a large one, depending on how big your container is. After that, you can fill up your wheatgrass basket with Easter eggs or cute, little woodland animals.
I'm sure you've seen a lot of variations of Easter baskets, but this one has got to be one of the cutest on this list. No need for an actual basket. All you need are some paper plates. You can either get them already colored or paint them yourselves. Cut them into bunny shapes then fill them with your favorite candies or treats.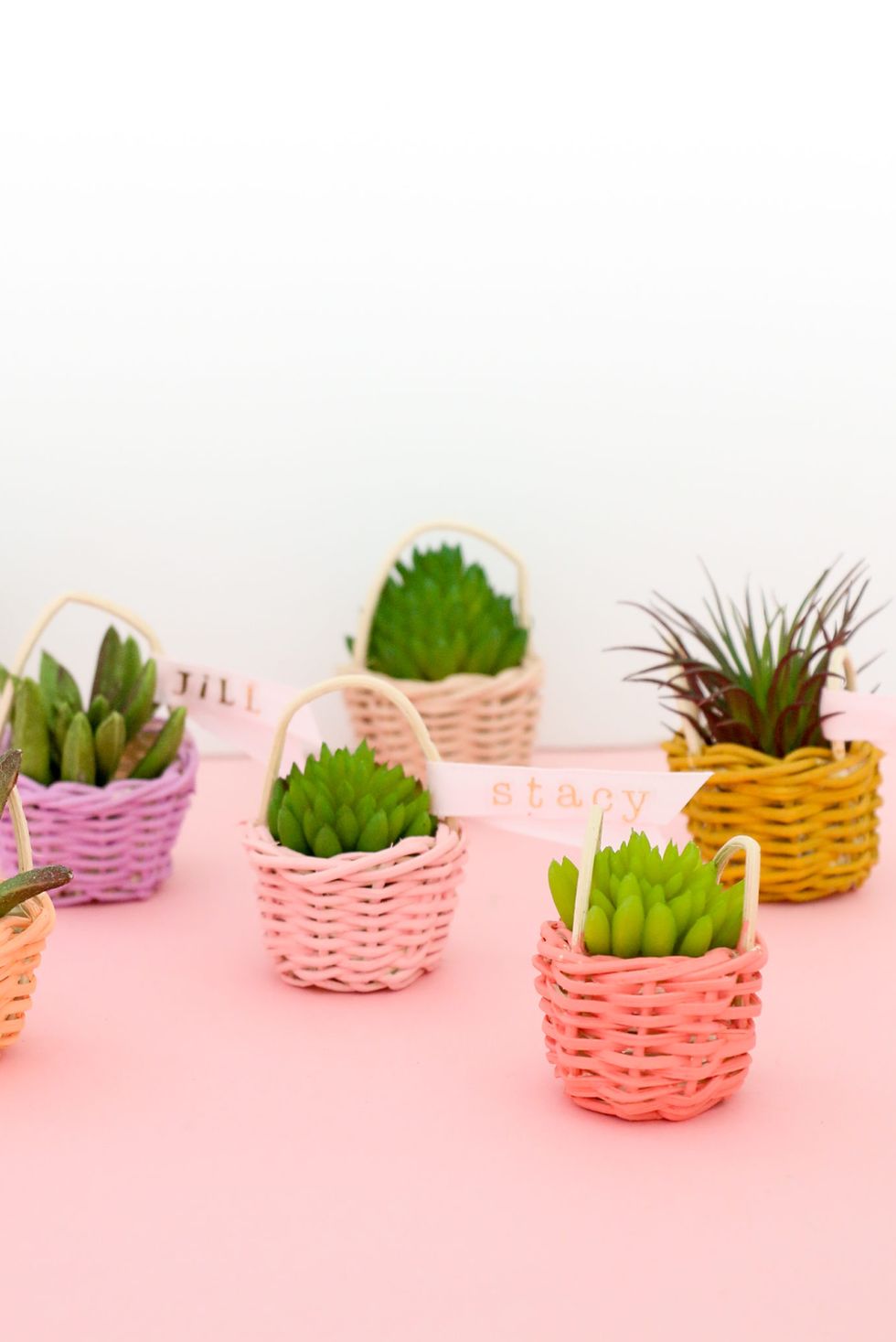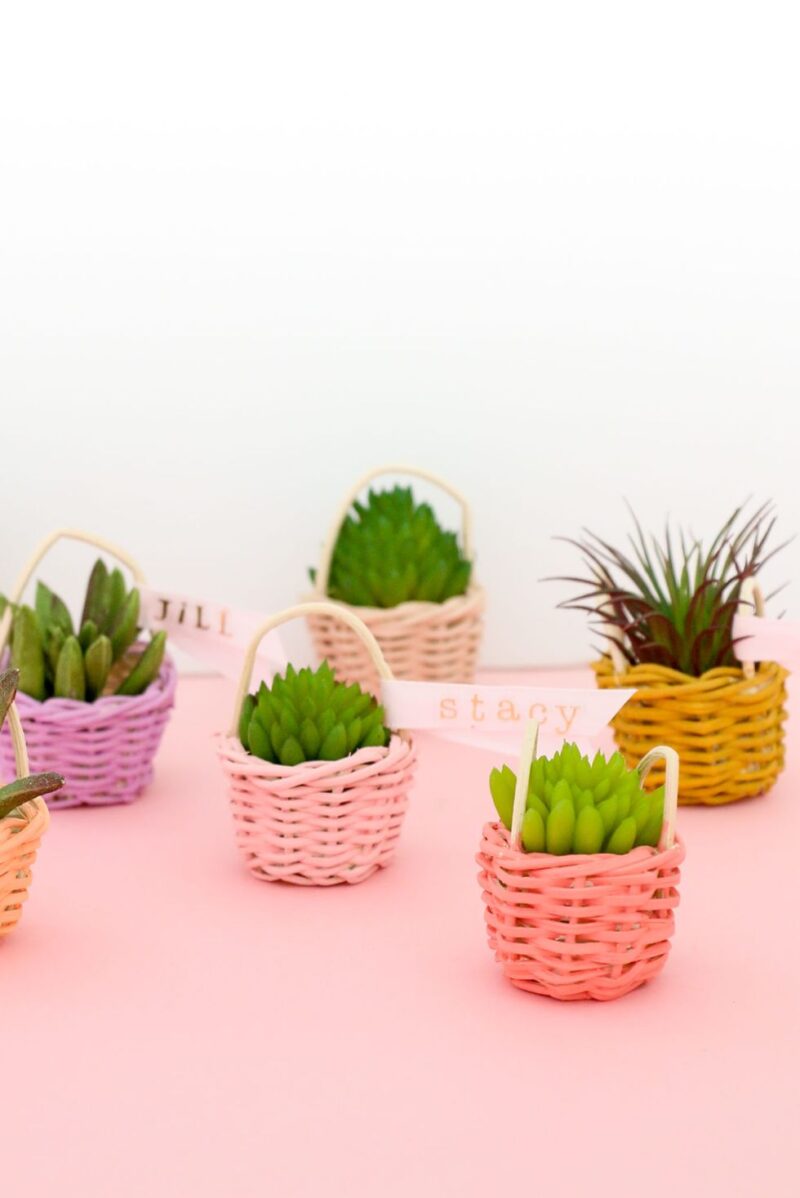 How adorable these mini succulent baskets are? Instead of giving your guests or family candy for Easter, gift them these cute succulent plants instead! They're very low maintenance and you can put them in these tiny baskets for an extra dash of cuteness!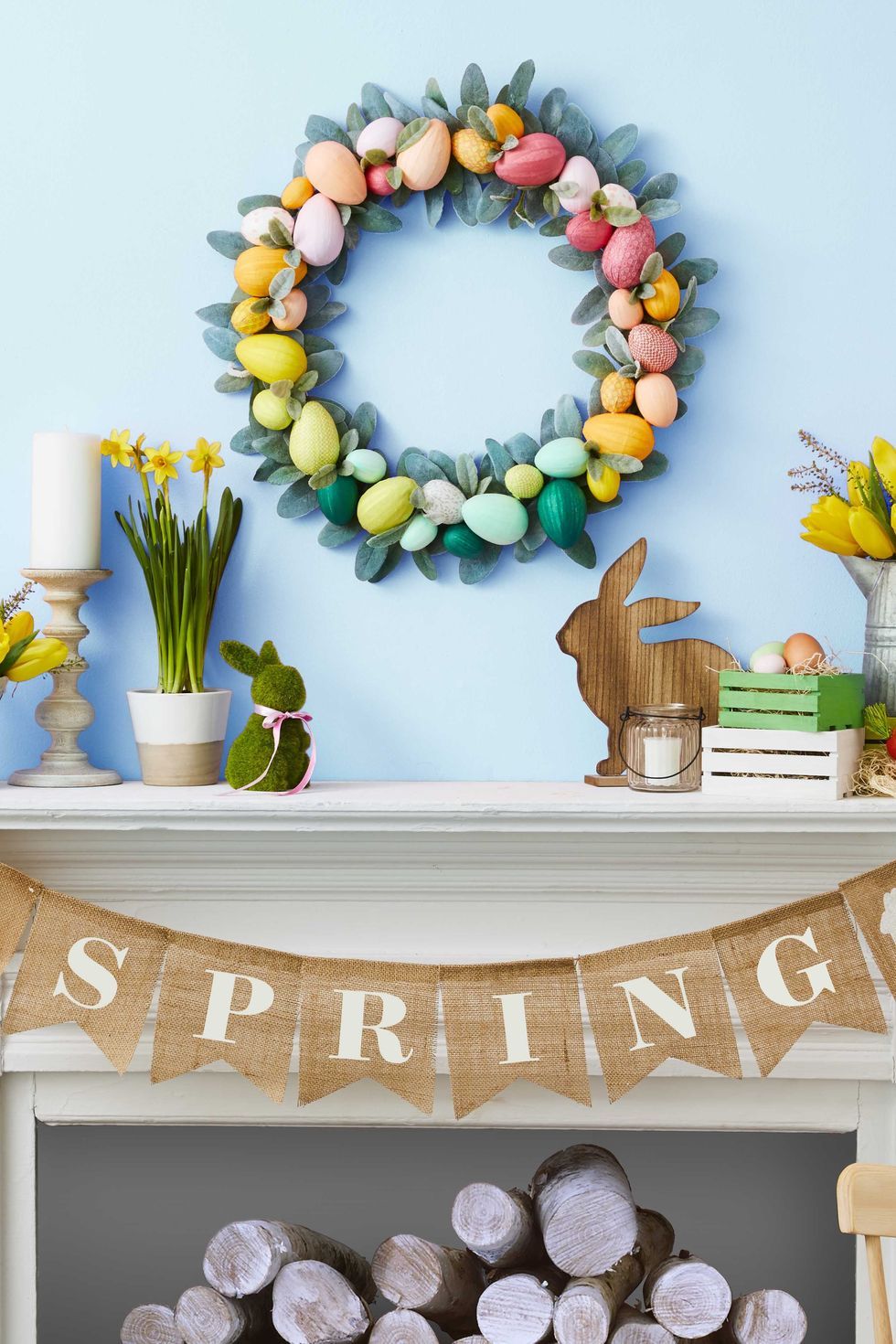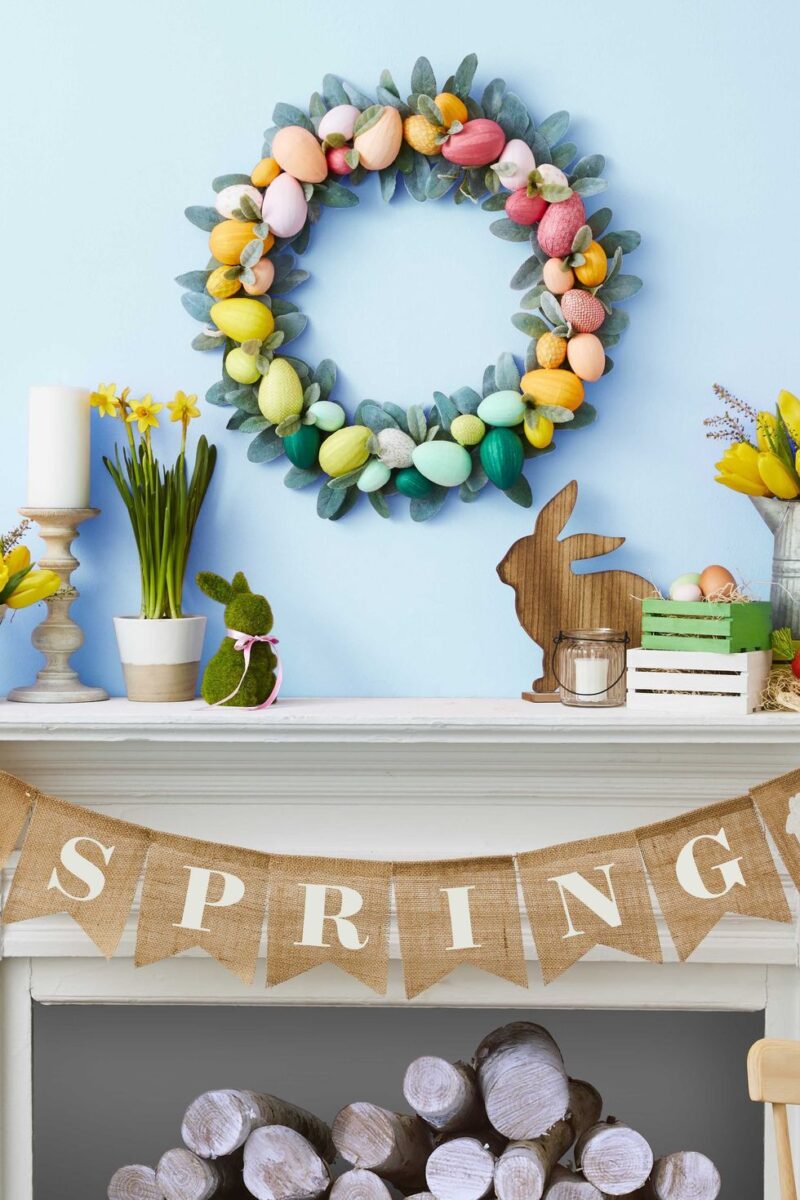 This Easter wreath is so quintessentially Easter. Because how else could you decorate your classic Easter wreath other than with rainbow-colored eggs? Put this right on your front door to delight your guests and put them in that festive Easter spirit!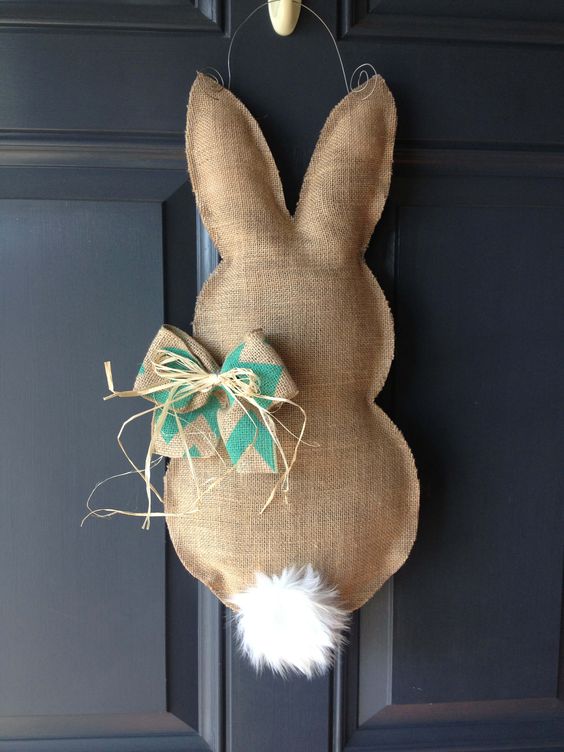 Here's another Easter craft you can put right on your front door. If you're not too fond of wreaths or simply want to try something entirely new, you can definitely try out this burlap bunny ornament. You won't believe how easy this is to make too! All you need is to cut two pieces of burlap in this bunny shape then glue them together to recreate this adorable decor.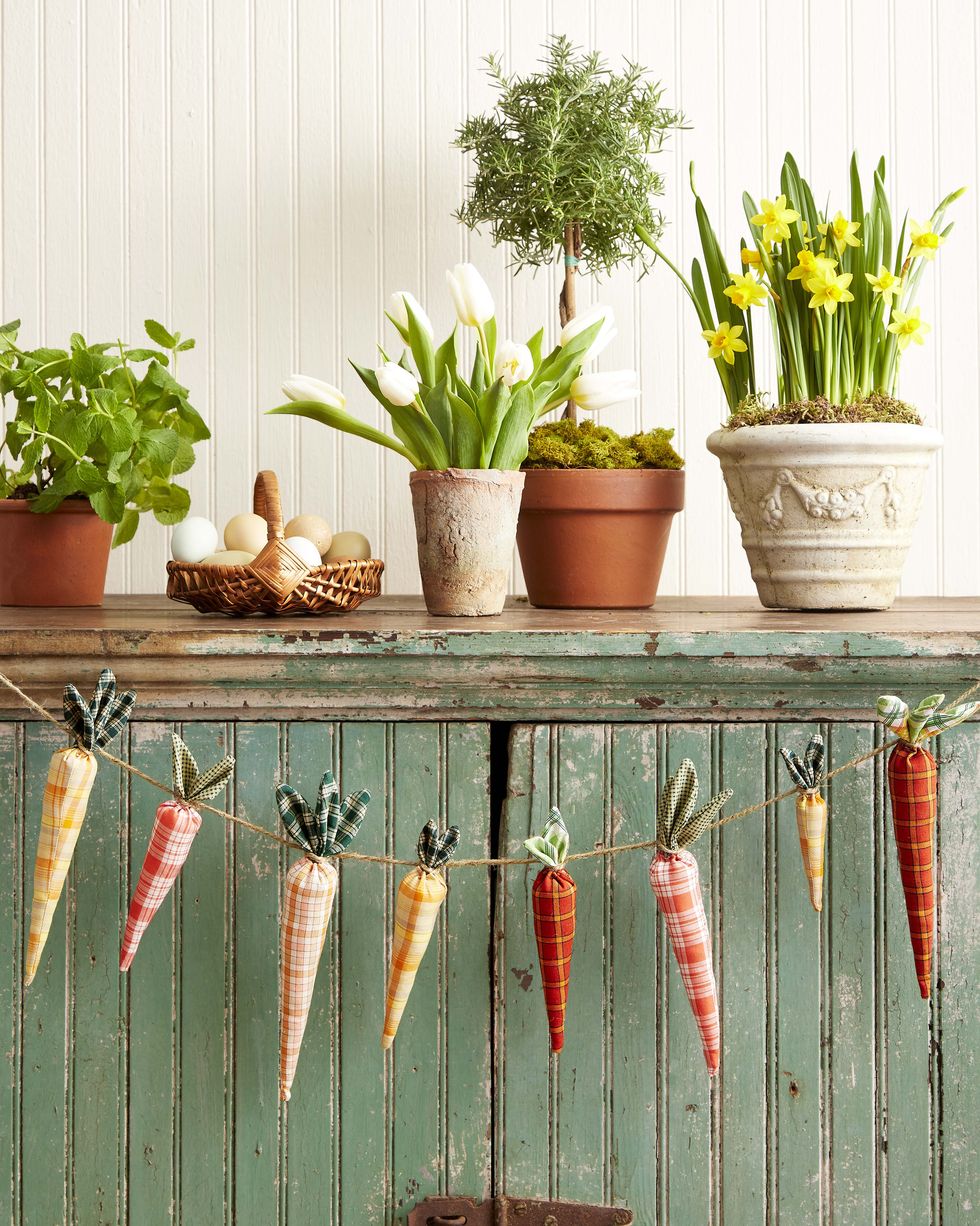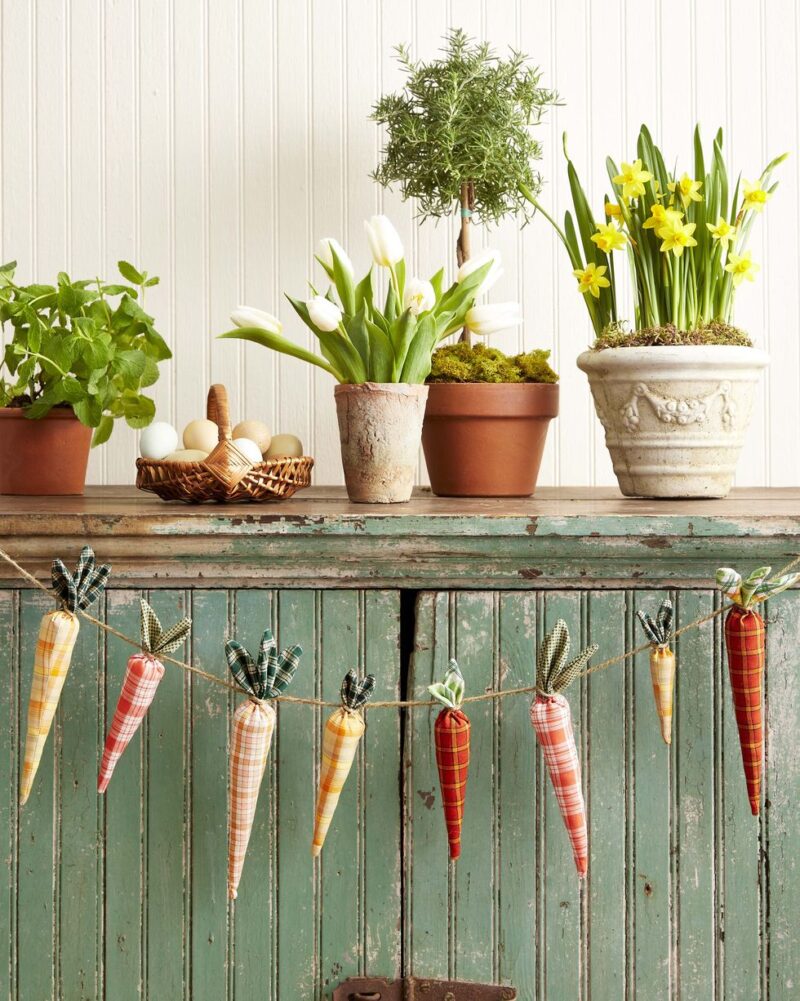 This carrot garland has got to be one of my favorite crafts to do on this list. All you need are some orange fabric scraps (or choose other colors you like) to create these cute carrots before stringing them up using a thin rope. If you have flannel shirts you don't wear anymore, you can use those too to achieve these carrots. To finish off, hang them over your mantel or against a wall at your next Easter gathering.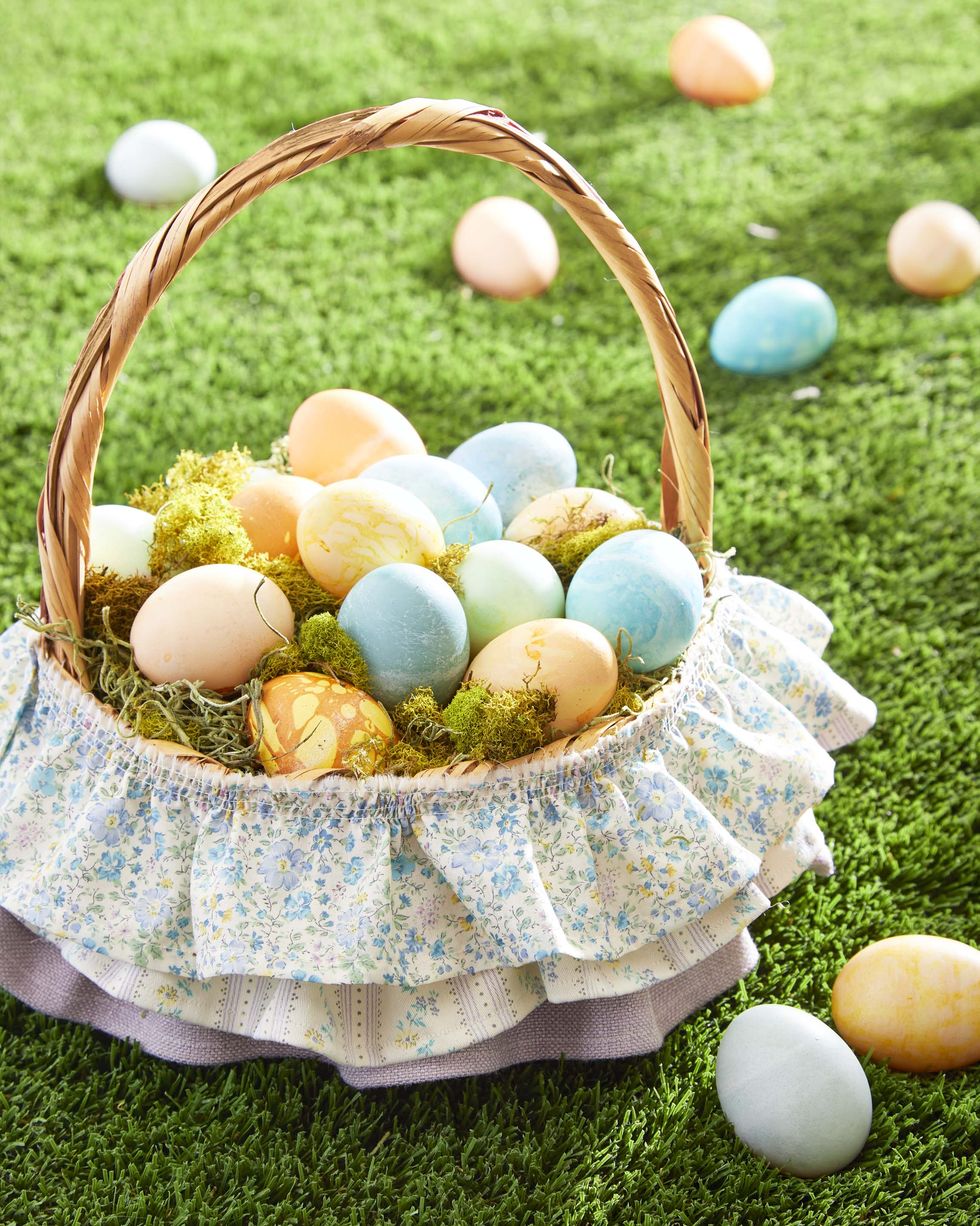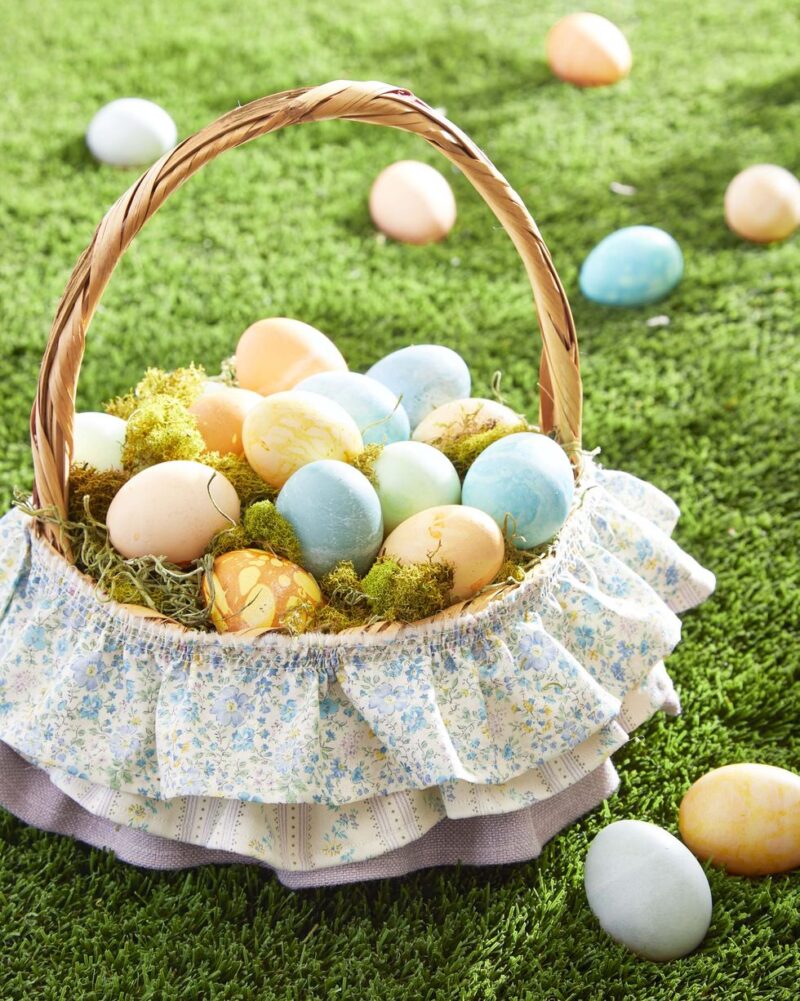 Is it just me or does this Easter basket look so perfect for a farmhouse and cottagecore vibe? Spruce up your traditional Easter basket by adding some fabric frills and ruffles to them. You can totally choose any kind of fabric you want but I highly suggest using one with florals, lace patterns, and light colors to match the current season.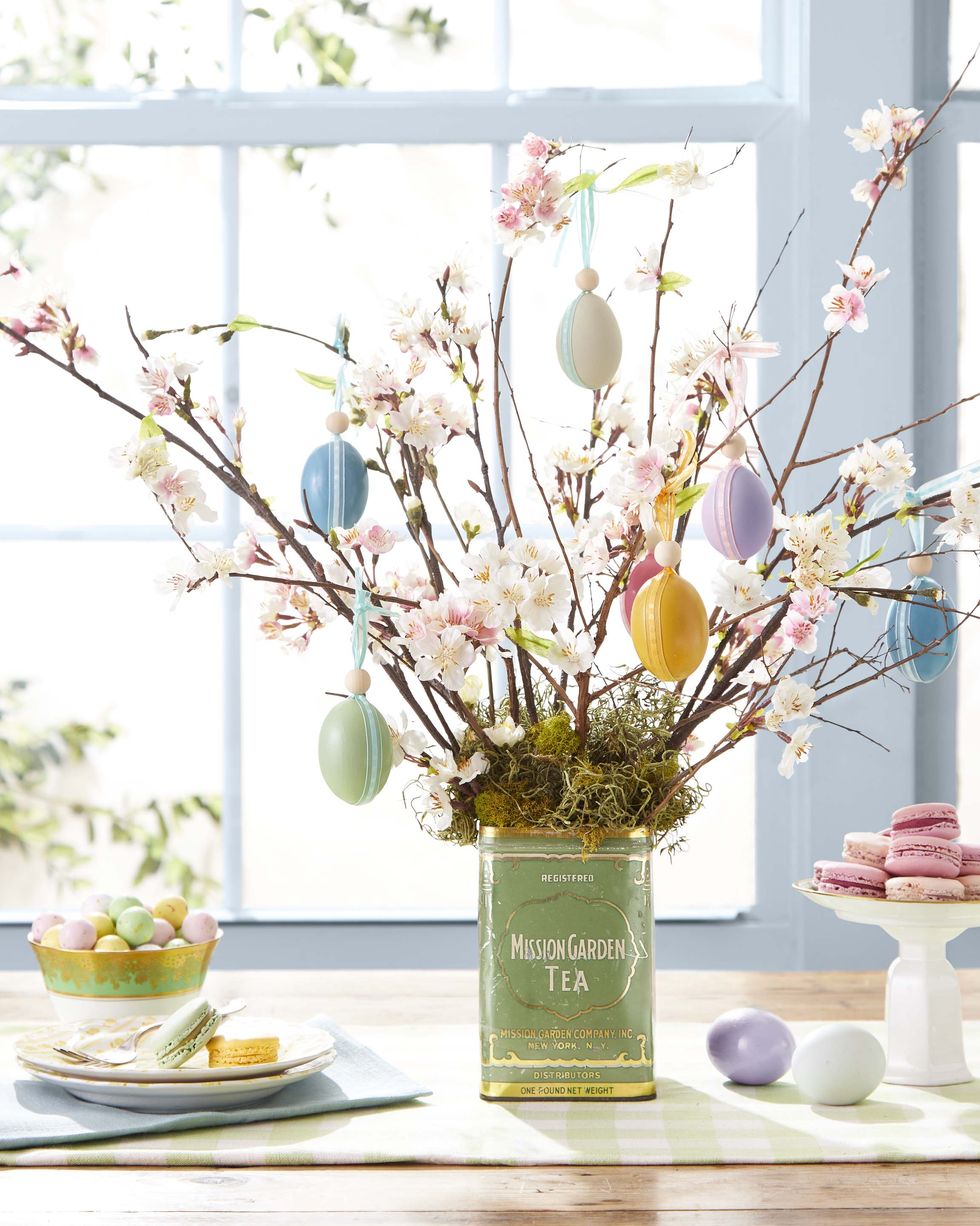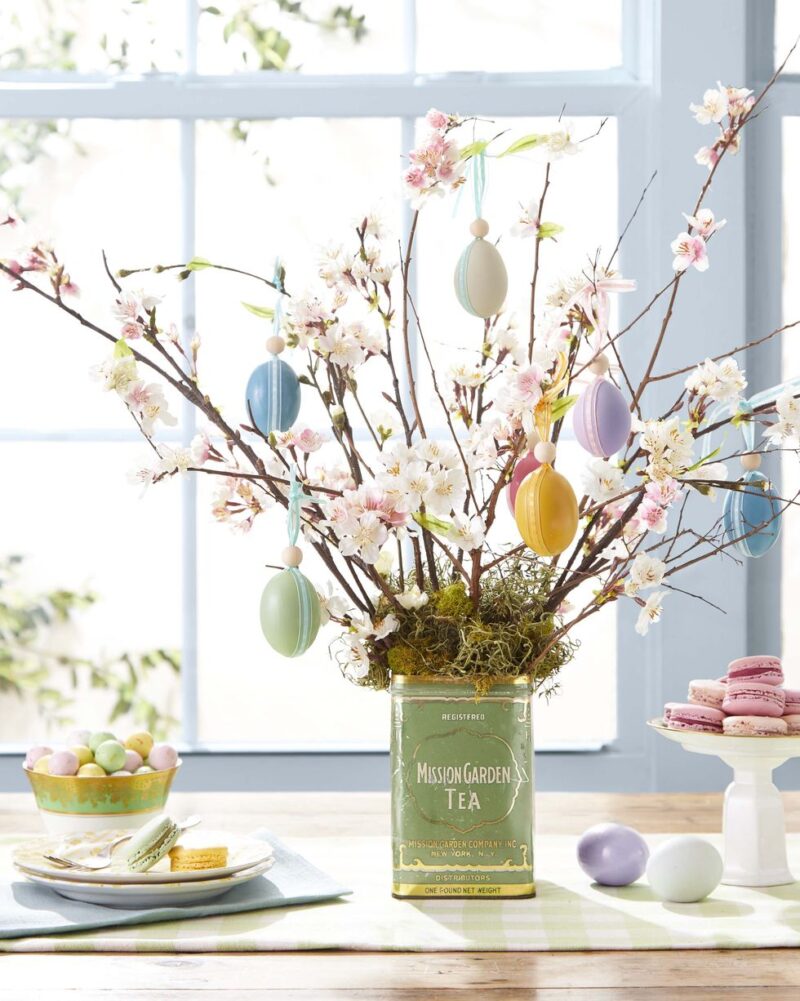 Decorate a small tree with these cute egg ornaments to match the upcoming Easter holiday. For the planter, you can use any basket, tin can, or even a bucket to put the tree in. Fill it up with greeneries and dogwood for the branches before hanging your painted Easter eggs.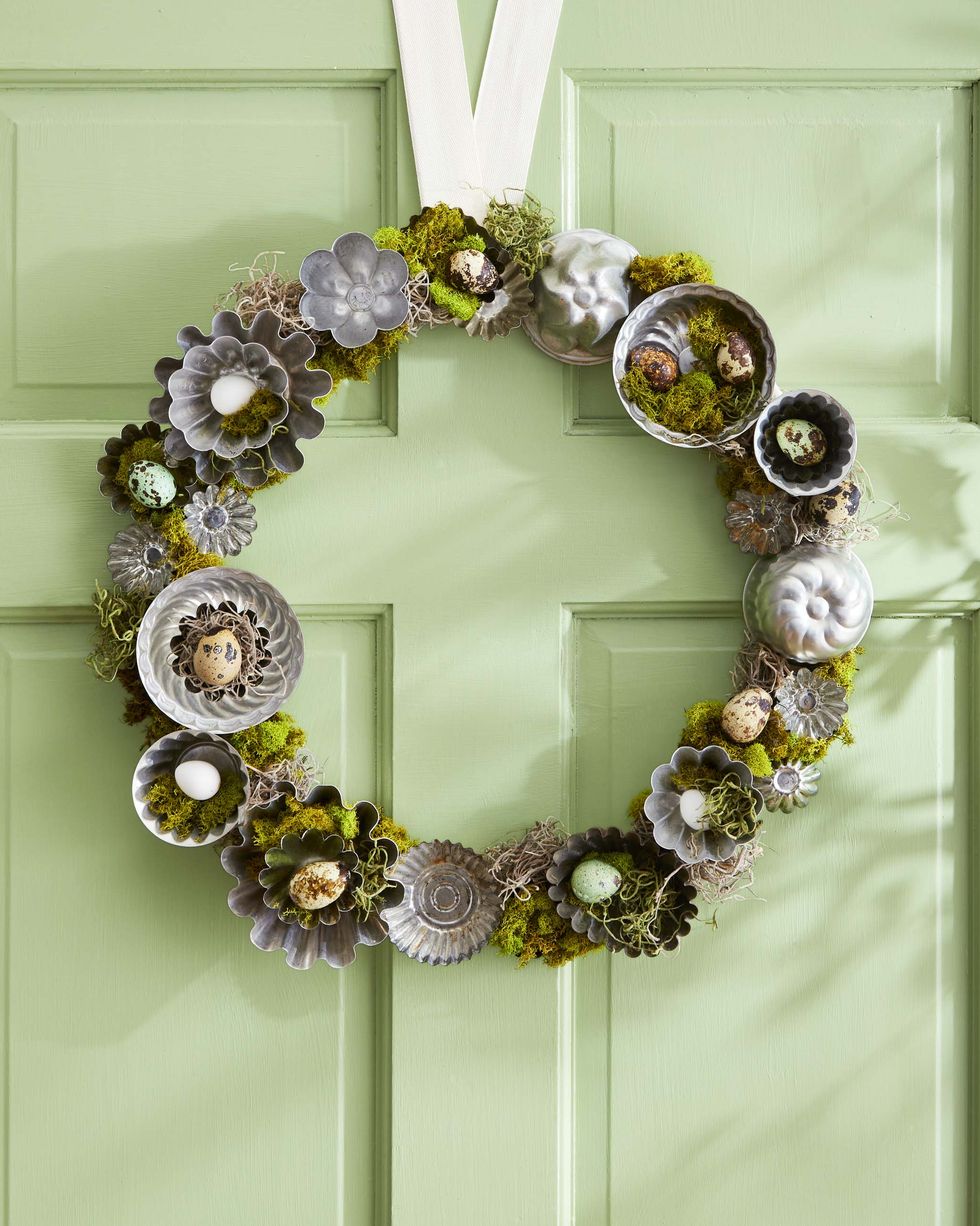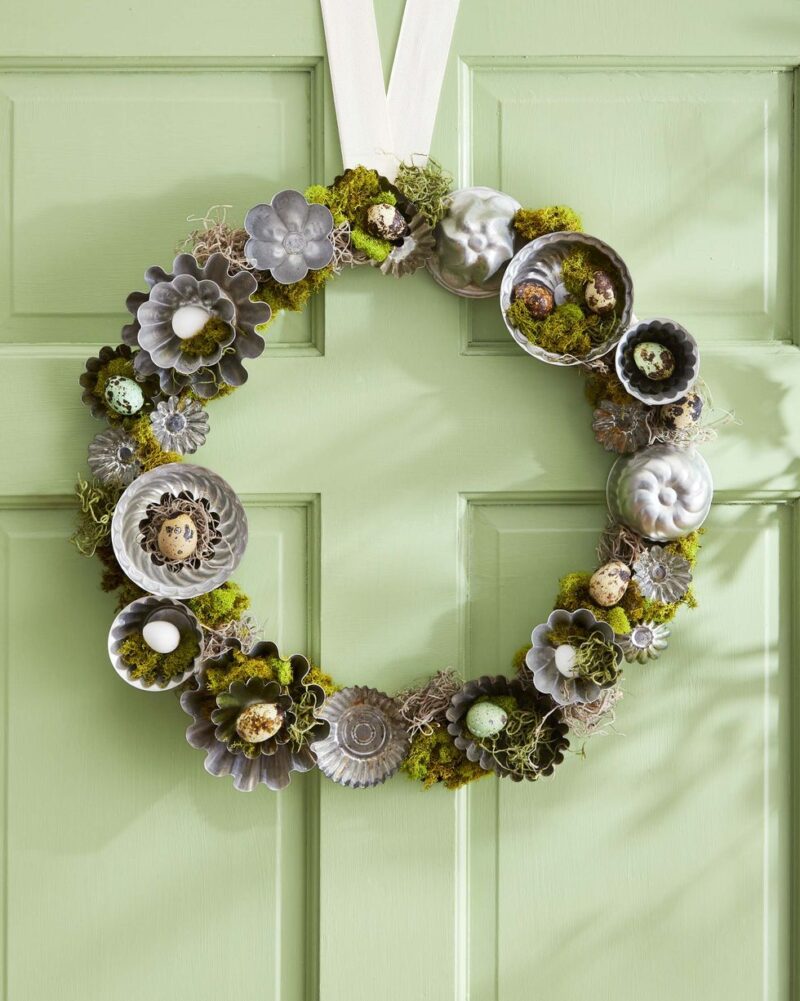 This is probably my favorite Easter wreath on this list. I just love the overall color scheme and the rustic vibe it has. Usually, when designing wreaths, you get bright colors and flowers that match the spring season. But green is such a beautiful color that should be appreciated as well! This mossy wreath also includes tart tins and quail eggs.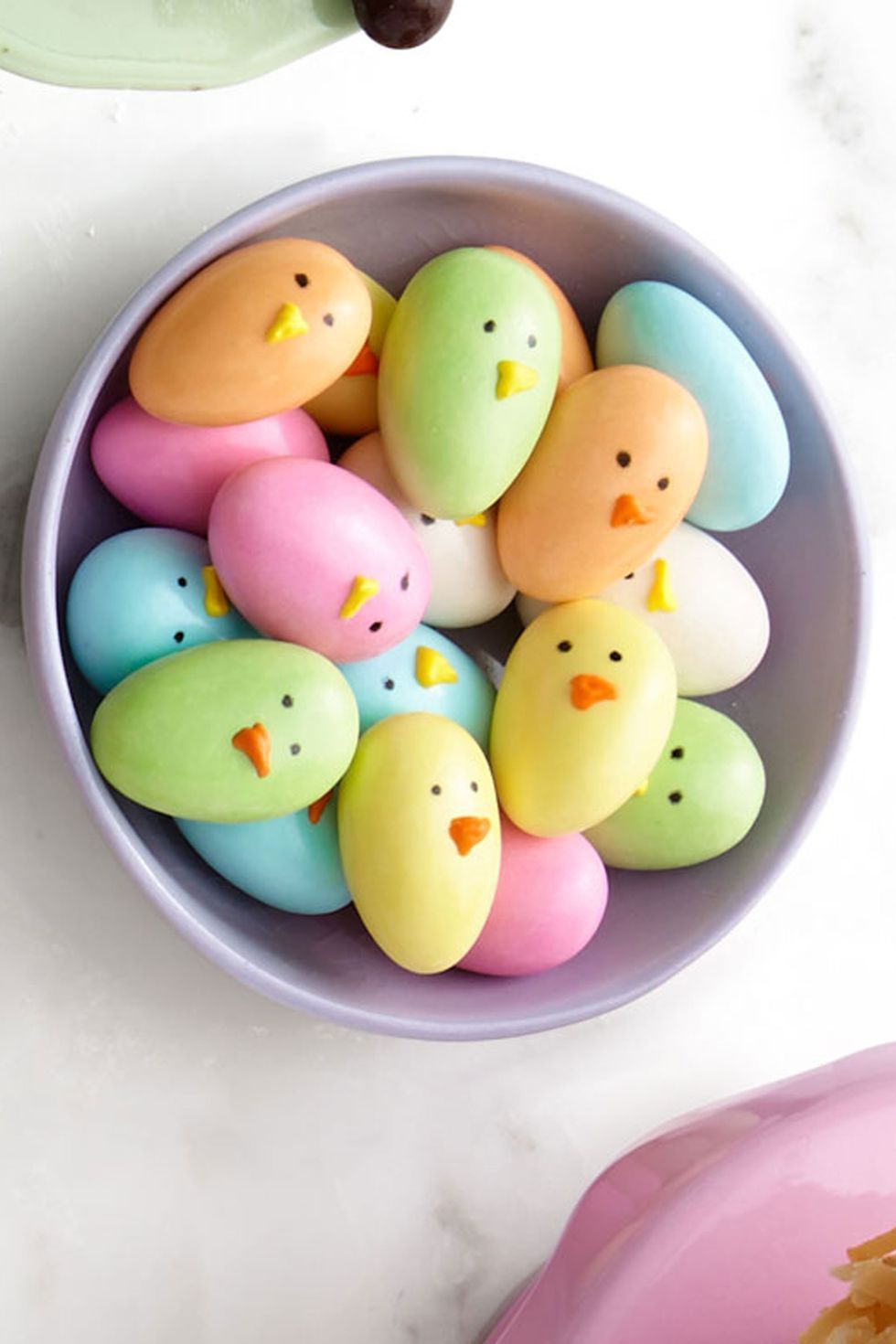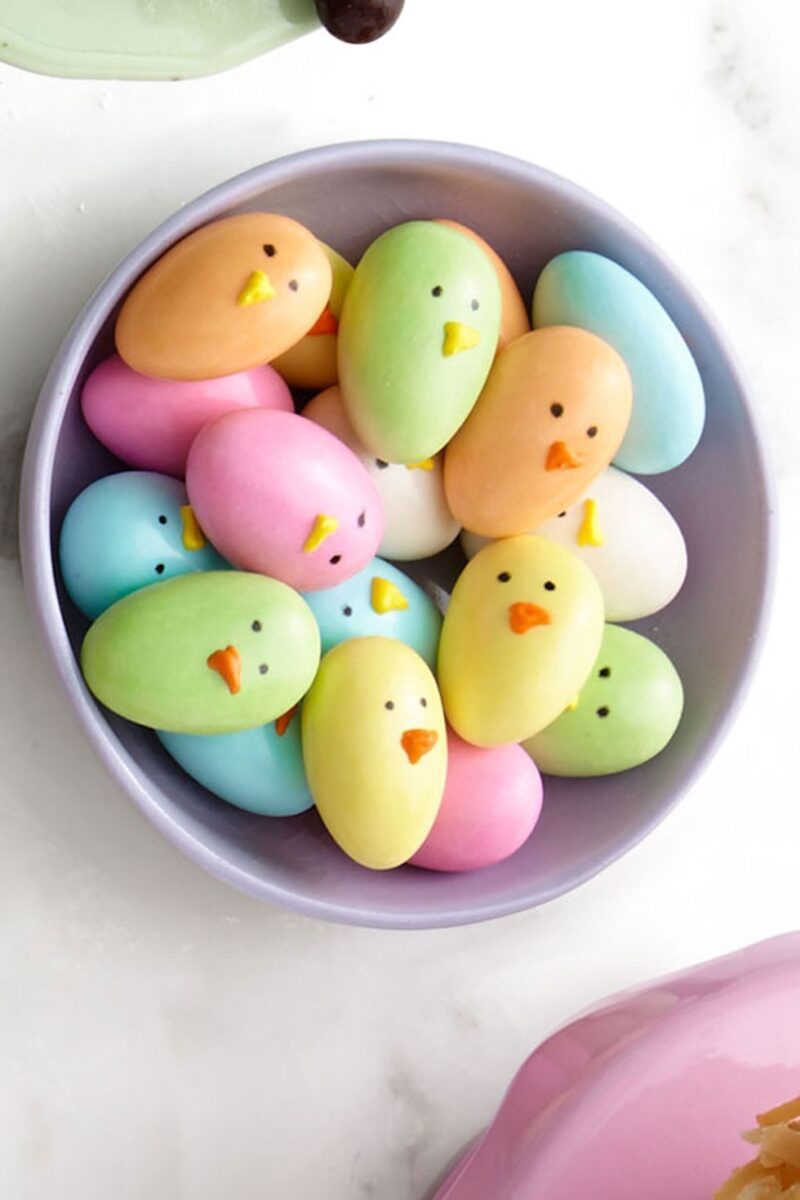 Instead of eggs, you can also opt to use Jordan almonds to make your Easter egg crafts. Paint them in all the colors of spring then draw on chick faces for each almond. You can use a marker for the eyes and some royal icing for the beaks. Put them in a bowl or a basket and you're all set for Easter!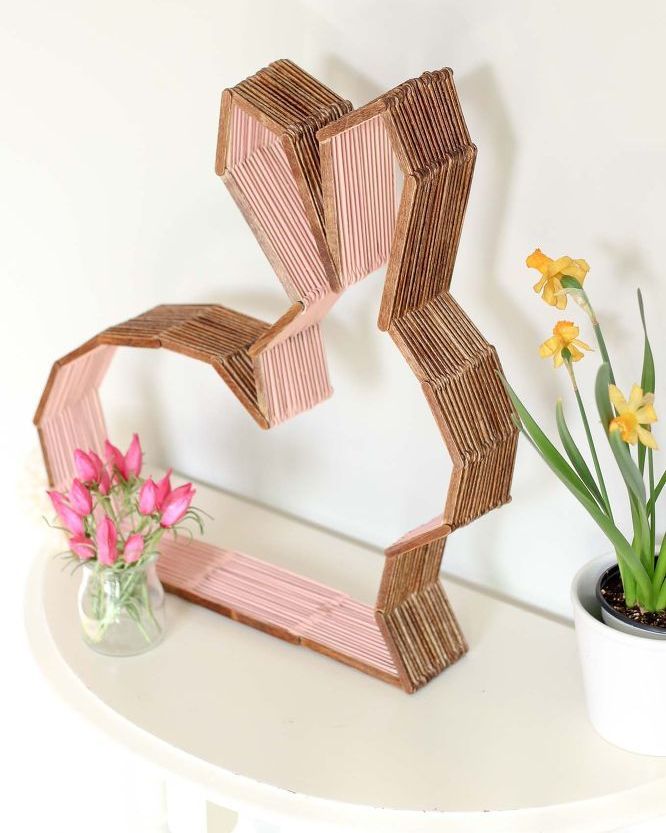 Would you believe me if I said that this bunny Easter craft is made entirely of popsicle sticks? Yes, popsicle sticks! Just look over the source link provided to learn how to achieve this neat Easter craft. What I love best about this particular decoration is that you can also use this all year round as home decor. Put it on a shelf for display or over your mantle.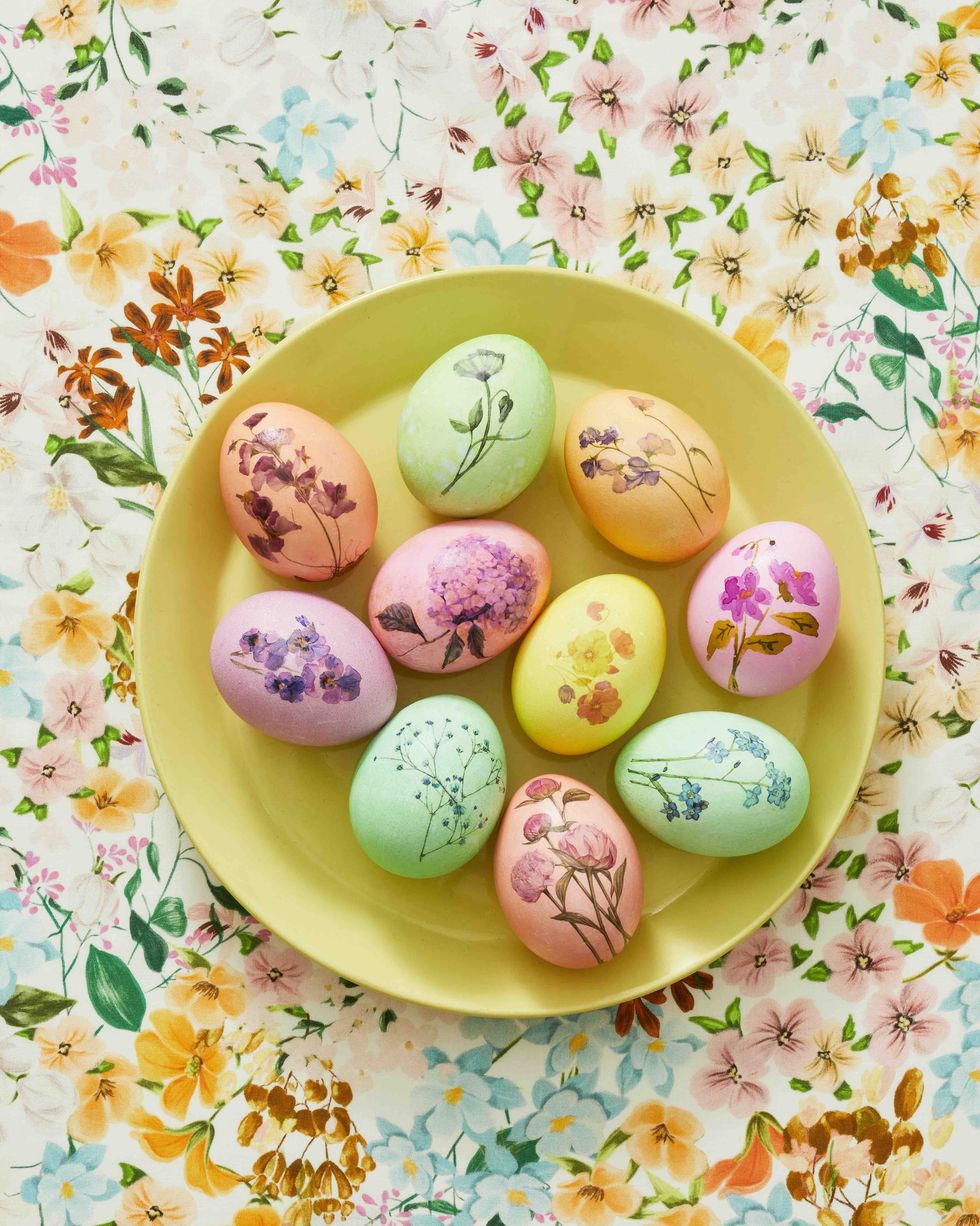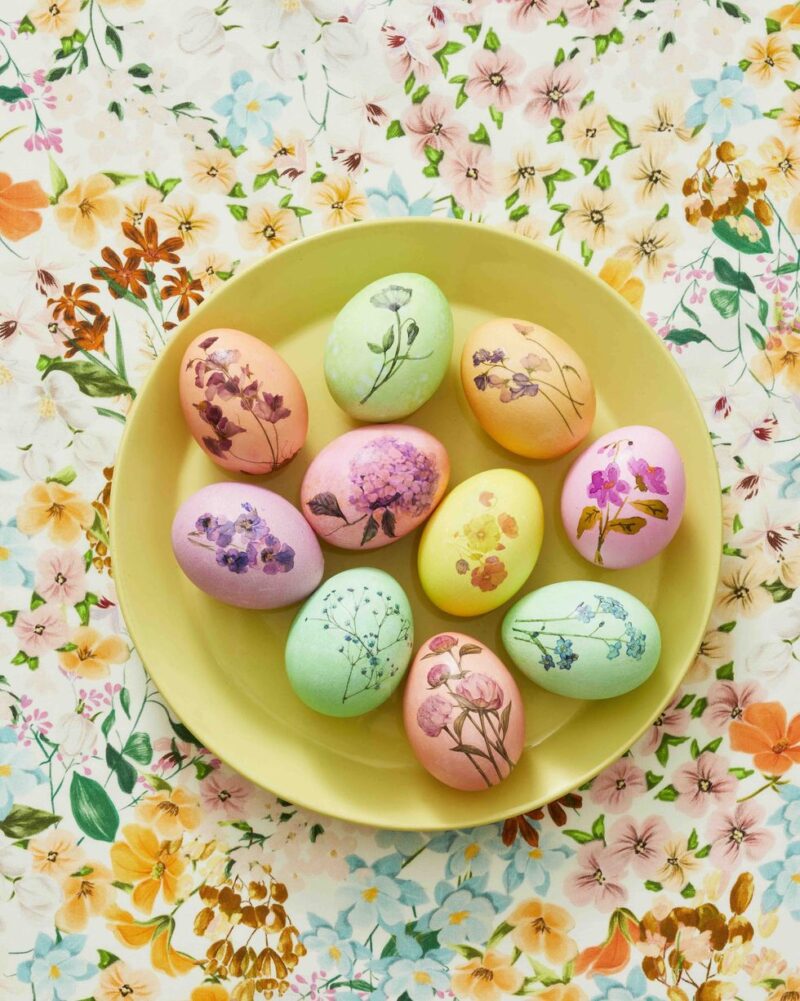 If you're not too confident about your painting or drawing skills to decorate your Easter eggs, you can always opt for stickers. Or better yet, use some temporary tattoos to get this naturally painted look. I suggest using dainty floral designs for the ideal spring aesthetic for Easter.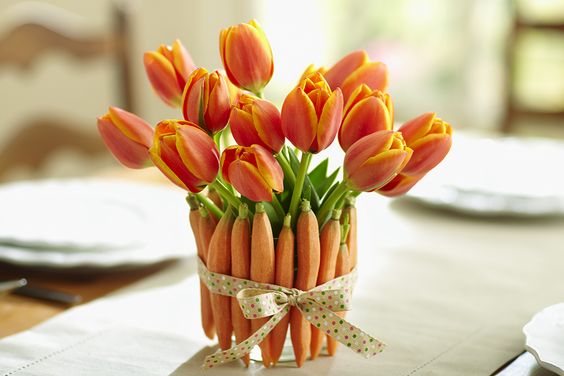 Your floral arrangements and tablescapes will go from lovely to stunning when you include seasonal fruits and veggies! Whether you're looking for a fine addition to your home decor or the perfect present for the veggie aficionado in your life, this Baby Vegetable Gift Box is utterly adorable and the ideal craft to make this Easter.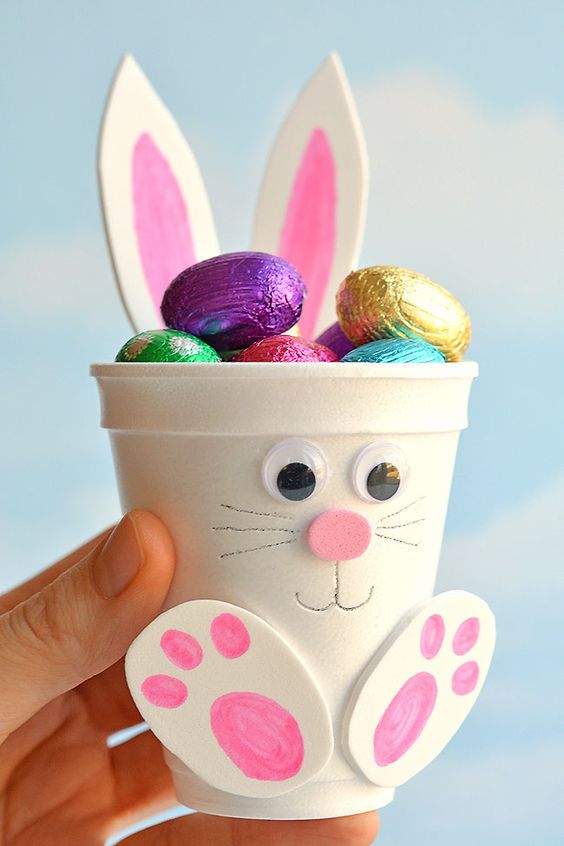 Make drinking with your friends and family a lot more delightful with these adorable bunny foam cups. You'll also be happy to know that creating these is very easy as well. Aside from foam, you can also a traditional paper cup. These can even be created using little white Dixie cups. But at the end of the day, whatever tools are most convenient for you will work just as fine.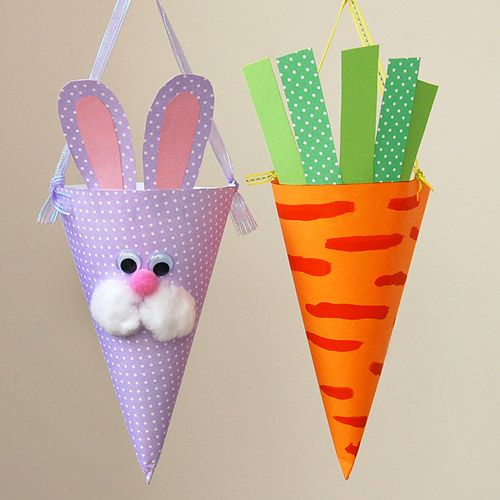 Pretty sure that you're going to need a candy holder for all the treats your kids will be gathering up on Easter Sunday. So why not make them these super adorable paper cones? They're pretty easy to make as well. You can design them with elements of Easter or spring. For the handle, you can use a ribbon or any material that's more convenient for you.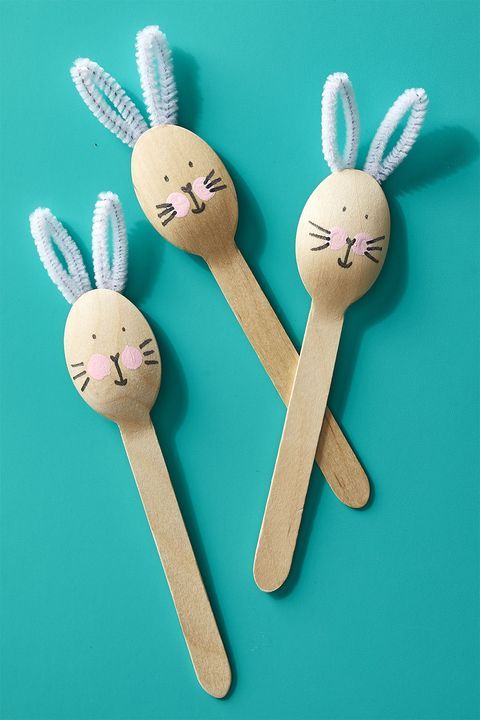 Just how adorable are these bunny spoons? They're not really for eating but they're surely such cute crafts to make with your family this Easter.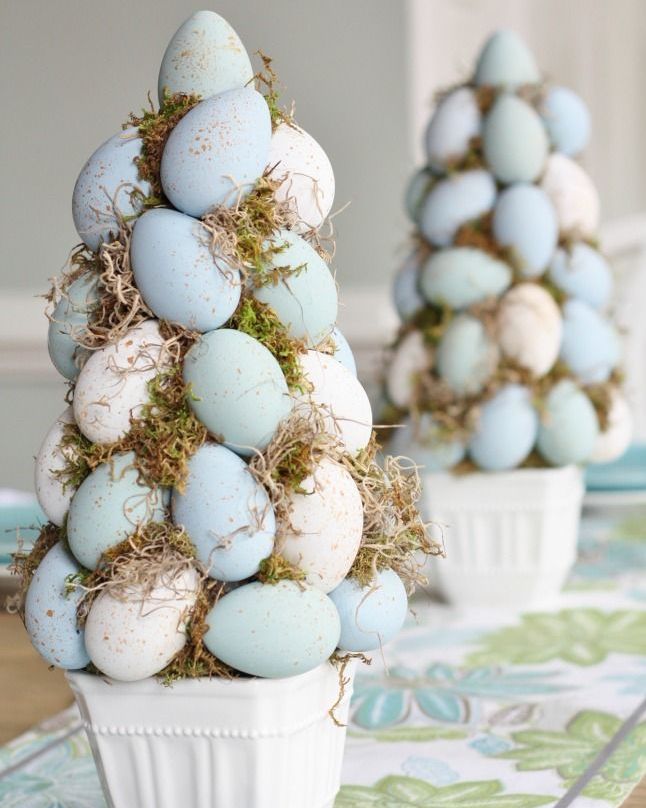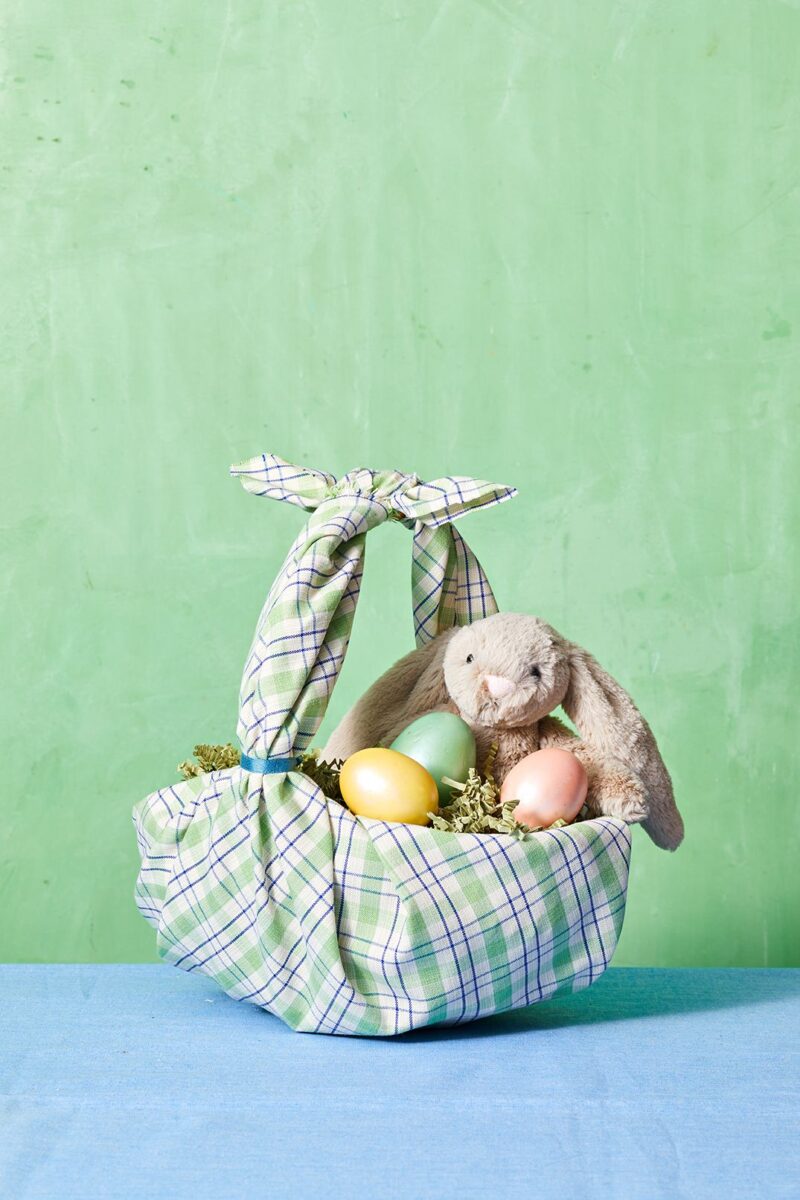 For a simple yet beautiful Easter craft, this is something for you. All you need is a table napkin or any piece of fabric that's large enough to cover your Easter basket to achieve this look. Tie it with a knot around the handle to tie the whole thing together!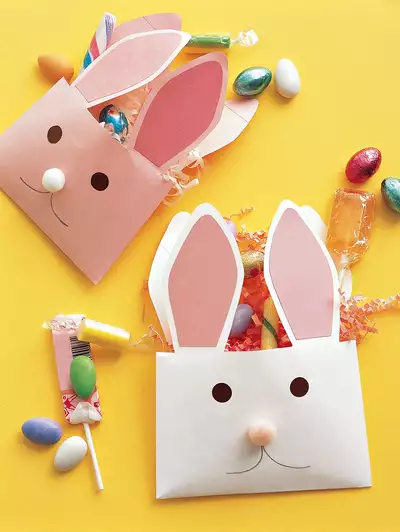 No time to create your own Easter basket from scratch? That's alright! You can always use bunny-themed paper envelopes such as this one as a cute alternative! These can hold candy just as well as a normal basket.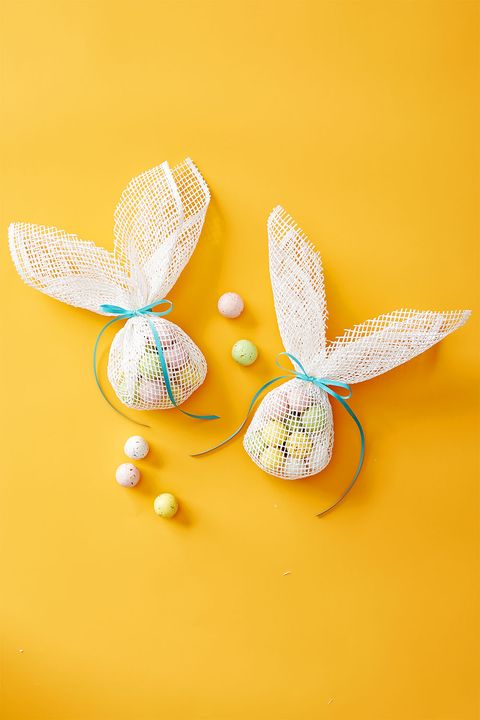 It's a little subtle but I honestly adore the bunny ears with this simple, little Easter craft! Fill it up with all kinds of candy and treats for your kids to enjoy.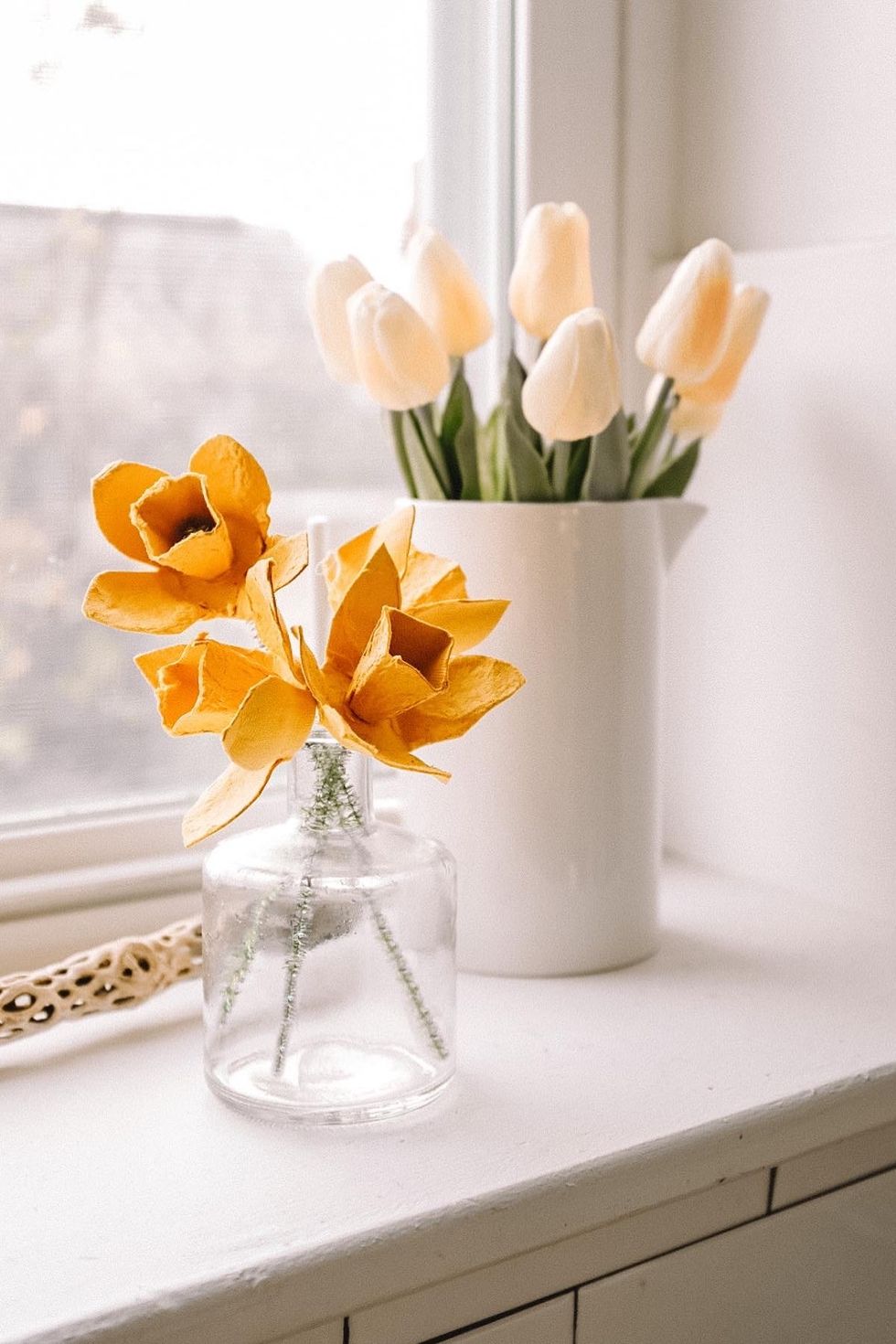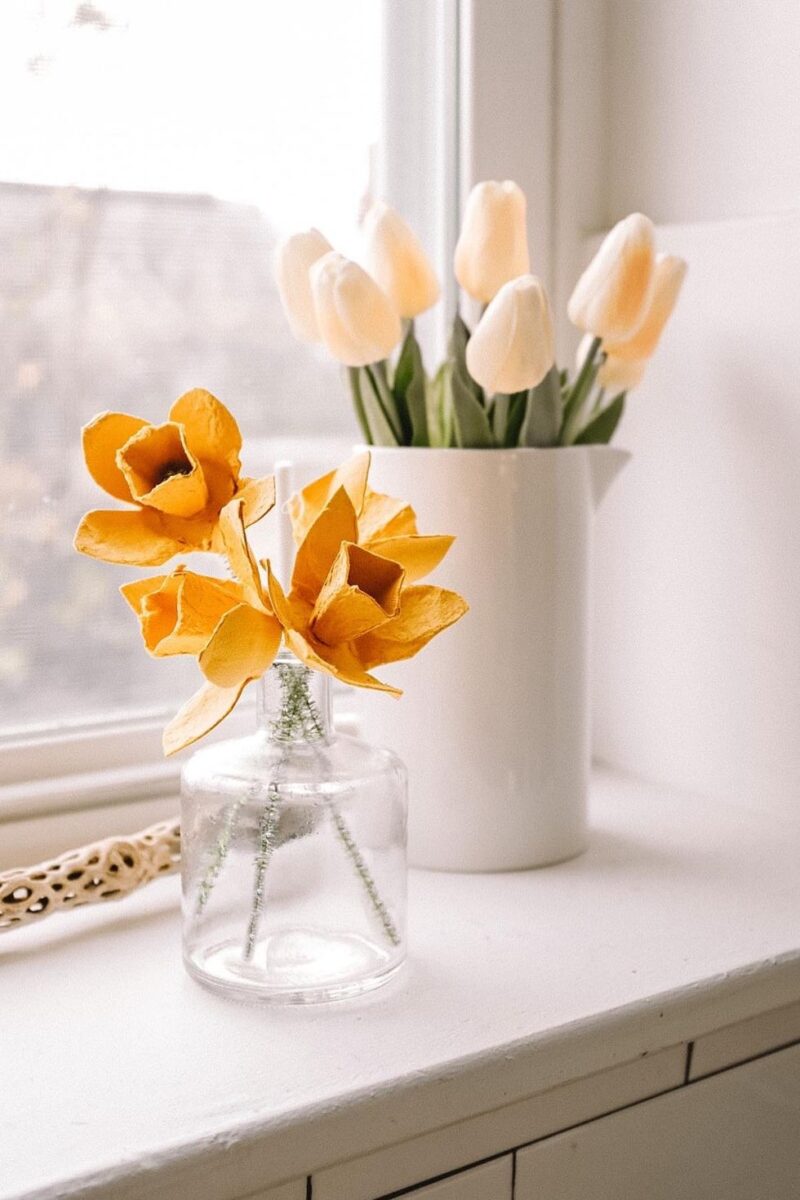 Here's another one of my favorite crafts on this list. Now you won't have to worry about your flowers wilting during the spring with these flowers made of egg cartons! What's more, you can keep them around all year and not just for the Easter holiday.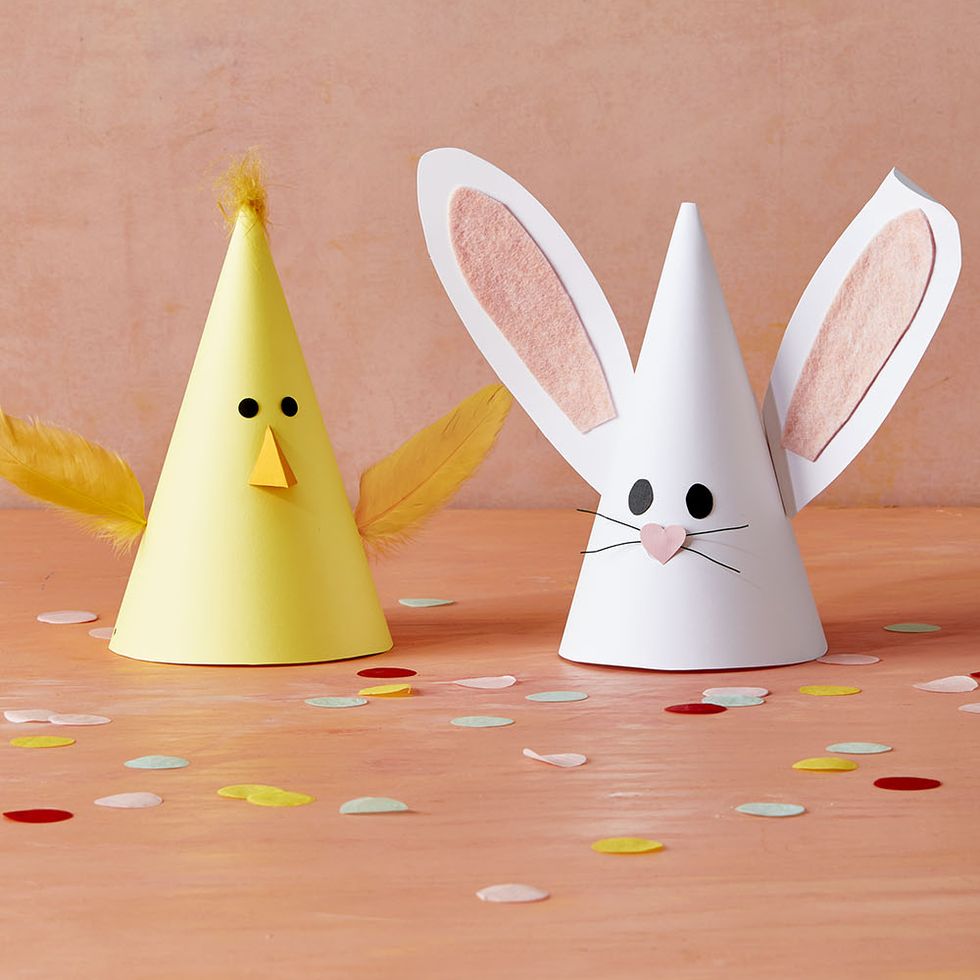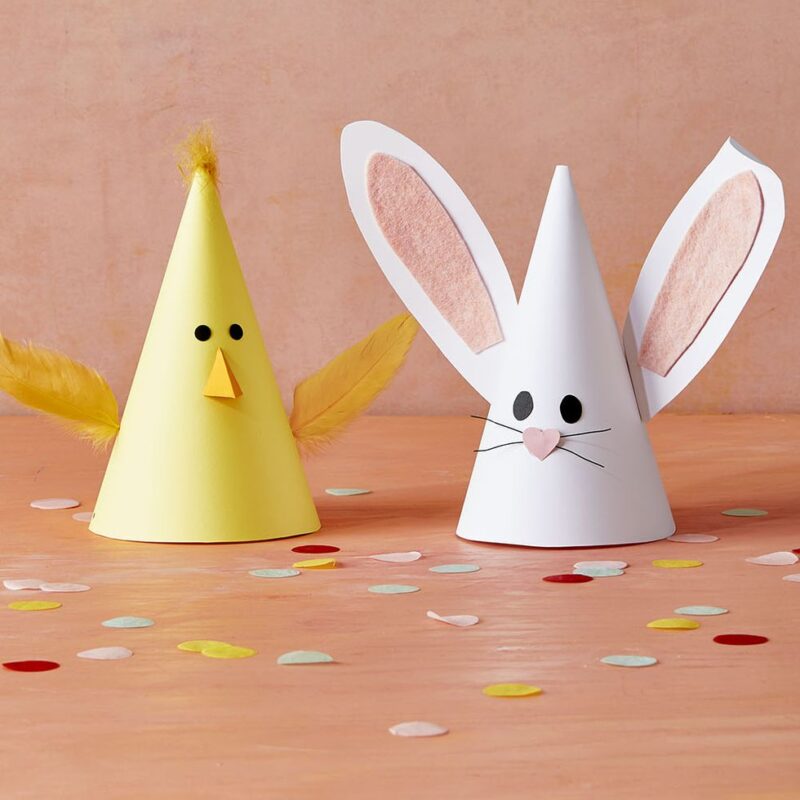 What Easter party could ever be complete without some party hats? These animal-themed hats are utterly adorable and your kids are surely going to enjoy wearing them all day long!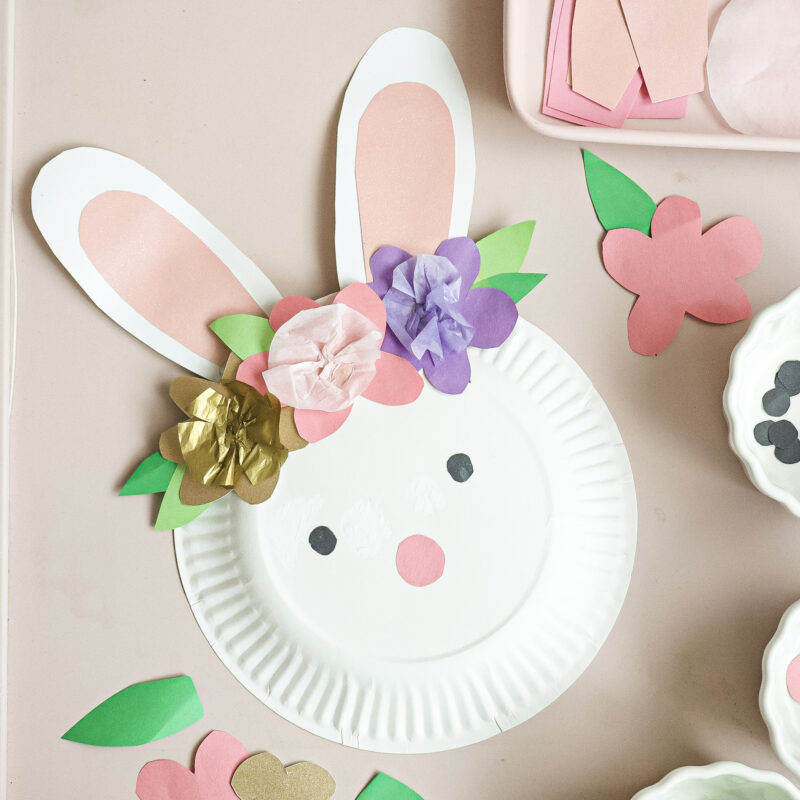 These paper plate bunnies are irresistibly cute! And they're easy Easter crafts for kids and adults alike too! So if you're looking to spend some fun-filled activities with your family this Easter, you should definitely try this one out.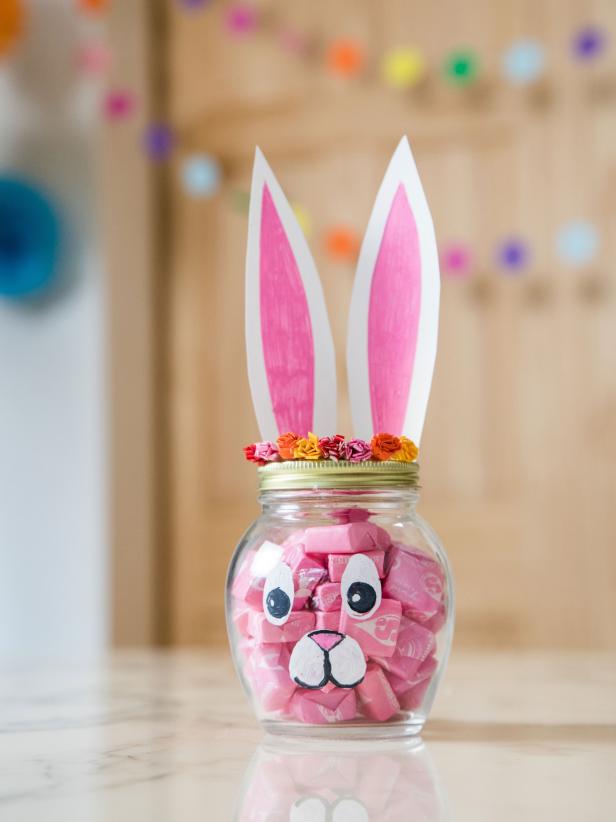 Easter baskets are great but these candy jars are just as adorable and just as fun to do this Easter holiday with your family. Fill it up with your favorite treats and I'm sure your kids will be sticking their hands in these all day.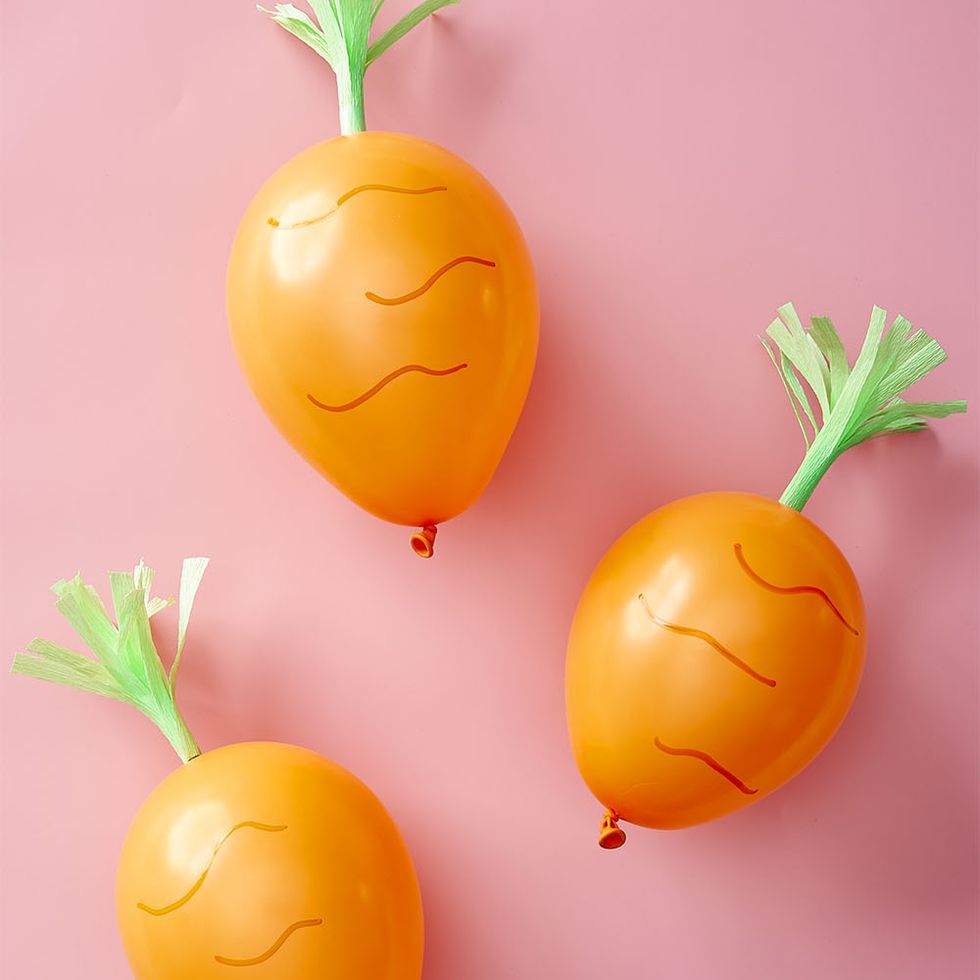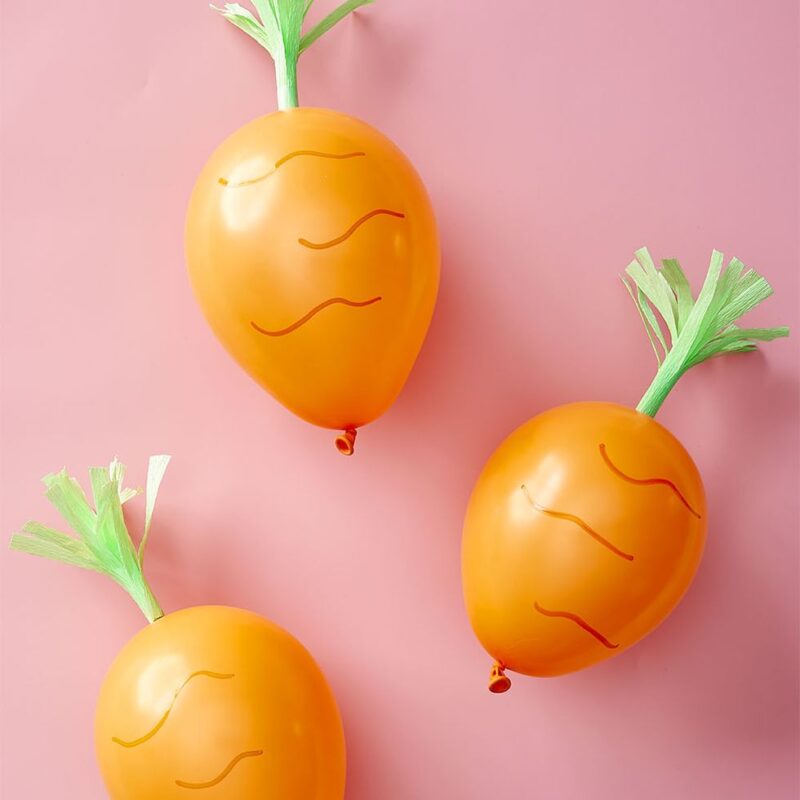 These carrot-themed balloons are so cute and easy to make! Just get yourself some orange balloons and stick them with some green paper for the leaves and draw on details to make them look like actual carrots.