We recently did the Miami to Key West drive back in early March. I went to college in Miami, so I have done this drive many times, but it never ceases to amaze me!
First of all, the actual drive is gorgeous. I have never been on a cooler road trip.
Plus, for those of you who don't love the car, it only takes a few hours to get to Key West. Most of it is laid back driving, so this is the perfect time to rent a convertible and jet out for a long weekend.
There are so many great stops to include in your Miami to Key West road trip itinerary. It was honestly hard to narrow them down for this post!
However, these are my absolute favorite stops along they Miami to Key West drive. They're all relatively affordable and really capture the vibe of the Keys.
The Distance From Miami To Key West:
You'll need to drive about 159 miles, depending on where you begin and stop exactly. There are plenty of gas stations along the way!
Nearly the entire drive is down Route 1. Sometimes the road is two lanes while other times it's a single lane on each side.
You can easily get stuck behind some super slow drivers, but we've always been on vacation time, so that's never really been an issue for us.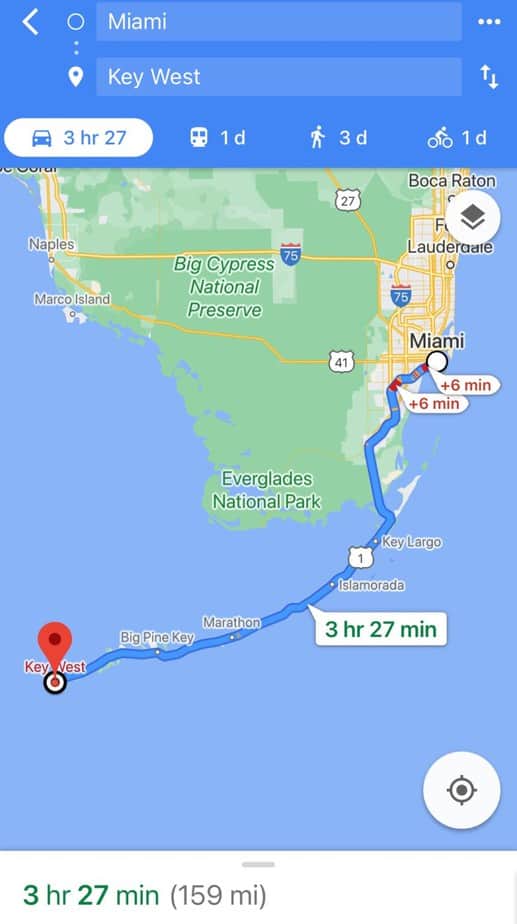 The drive actually isn't that far distance-wise. It only takes so long because you get down to one lane and some people drive really slow, but you also get to sightsee along the way!
How Long Does The Miami To Key West Drive Take?
The Miami to Key West drive takes about 3 and a half hours if you don't stop, although I definitely recommend stopping at least once or twice at a few key places!
This is such a great road trip because it isn't too long. You pass so many different areas so the time really flies by. This is one of my favorite vacations of all time, and I get car sick, so that's saying a lot (BTW, an open air convertible is a lifesaver!).
If you want to do a lot of activities then I recommend blocking out a full day for the Miami to Key West road trip. I know that some people even stay overnight around the halfway point so they can fit everything in.
I personally enjoy driving straight down in one day; I like to stop a few times for specific activities. I included a bunch of stopping points on this list that don't take long at all in case you want to get down there quickly, too.
It's really not ideal to do the Miami to Key West drive at night. Not only is it a little spooky (the roads are pretty deserted and you're practically in the middle of the ocean) but you miss out on some really amazing sightseeing.
Because the trip is so short, you can start at around 12pm and still make it to Key West with plenty of daylight, even during the winter months. No need to get up at the crack of dawn, unless that's your thing!
Why We Recommend Doing The Miami To Key West Drive:
You can fly straight into Key West (which we sometimes do) but if it's your first time visiting the Keys then I 100% recommend doing the full Miami to Key West road trip.
Even if you barely stop along the way, the views alone are incredible. Many of my favorite spots are visible from the car!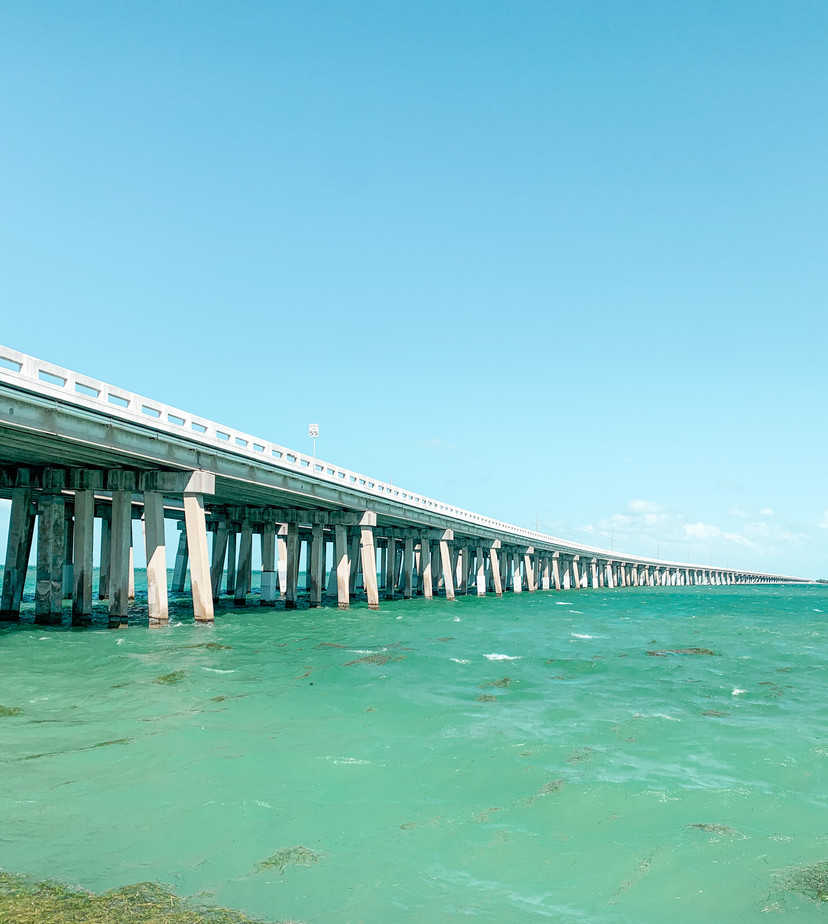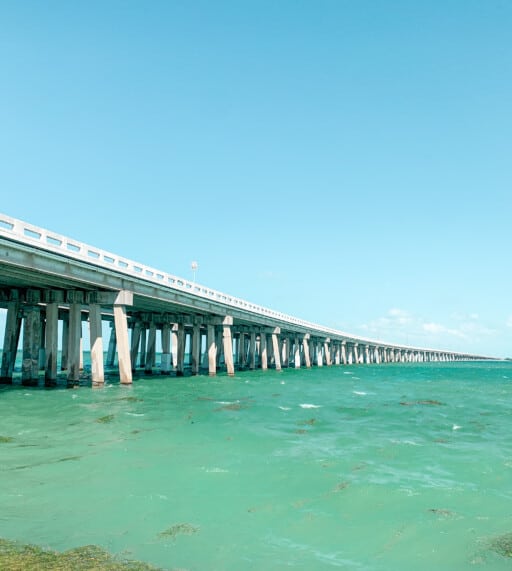 Each of the Keys are so different. You'll go through heavy-duty fishing territory, pass gorgeous beach resorts, and see some really incredible exclusive islands with massive beachfront homes.
If you want the feel of the Keys then you should definitely do the drive. Key West is my favorite island by far, but I wouldn't have known this if I hadn't done the Miami to Key West drive multiple times.
At the very least, I recommend doing the Miami to Key West road trip on the way down. It's much more fun to anticipate going on vacation than it is to drive back on your way to the airport.
If you can, rent a convertible or a Jeep with a removable top! We typically get a small convertible and get to really experience being outside.
We rented our last convertible at the Miami airport for only $75 a day. Economy cars were about $50 a day; getting a car with a removable top really doesn't have the break the bank.
I'm someone who typically doesn't like convertibles but a good car is so worth it for this drive! Plus, it's a really safe trip because there's only 1-2 lanes along the way.
The Best Time Of Year For A Miami To Key West Road Trip:
The absolute best time of year to do the Miami to Key West drive is late winter or early spring. We just went in early March and the weather was perfect.
It can get a little chilly in January and early February, but it's not anything we would be scared of up here in New England. Expect high 70's with temperatures sometimes getting into the low 80's.
I personally think it's way too hot to go to Key West in the summer. The temperatures easily get into the 100's and the humidity is just insane. If that doesn't bother you then go for it, but remember to pack sunblock!
Fall is best avoided if possible. Hurricane season is a real worry in Florida, but it's especially bad in the Keys since there isn't anywhere to escape to. I definitely wouldn't want to be stuck on one of these bridges during a hurricane.
Even though hurricanes can happen in November, it's much more rare. Most storms occur August through October. If you do want to go in the fall then November is your best bet.
The day of your drive is also important. If you want to make a lot of stops and do some sightseeing then you're better off driving down on a weekday.
Not only will the roads be slightly quieter (the traffic can get pretty bad on the weekends) but more tours along the Miami to Key West drive will be open, such as the turtle hospital or Theater Of The Sea.
Sunday is the worst day for traffic. Most of this traffic will be bad if you're going down to the Keys on Sunday (not heading back to Miami) because most rentals go from Sunday to Sunday.
We like to drive down on Friday, if possible. This way, we only need to take one day off of work, but we get the road practically to ourselves.
Miami To Key West Road Trip Stops:
There are so many stops on the Miami to Key West drive! It was honestly hard to narrow them down. We have tried so many little fried fish shacks that we loved.
For the purpose of this list, I'm including my absolute favorite stops. There's a wide variety here, so there should be something for everyone on this list.
Supposedly, Coral Castle is the most haunted place in Florida! The mystery lies in how it was created.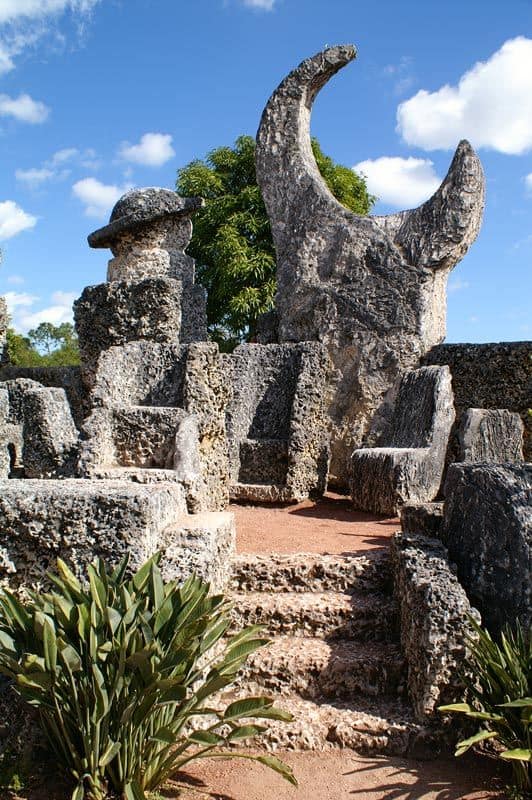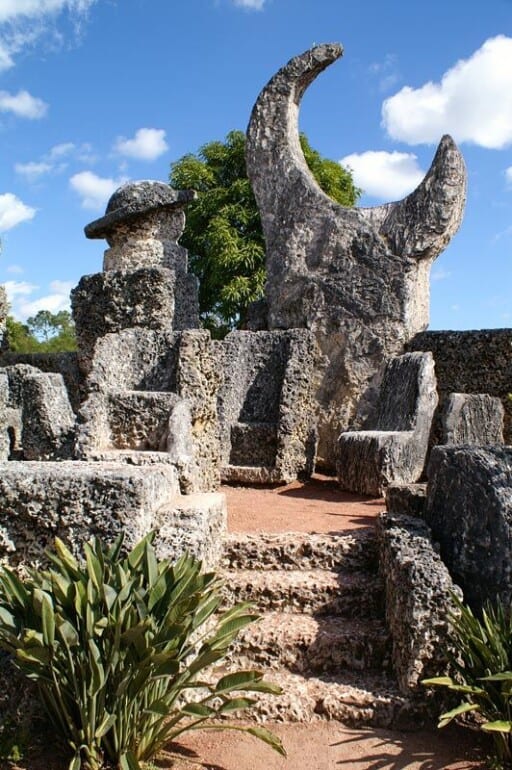 One man alone carried 1,100 tons of coral rock up to the structure and built it. No one knows exactly how. In fact, legend says that he possessed supernatural powers.
Today, you can rock in a chair made entirely of coral, check out the Polaris telescope, and go on a self-guided audio tour of the castle.
It is located just before you officially start the Miami to Key West road trip. If you're not in a hurry, Coral Castle is a fun spot to check out.
19. Robert Is Here Fruit Stand
The Robert Is Here fruit stand is a fun stop if you're digging the tropical weather and want to try some fresh fruit.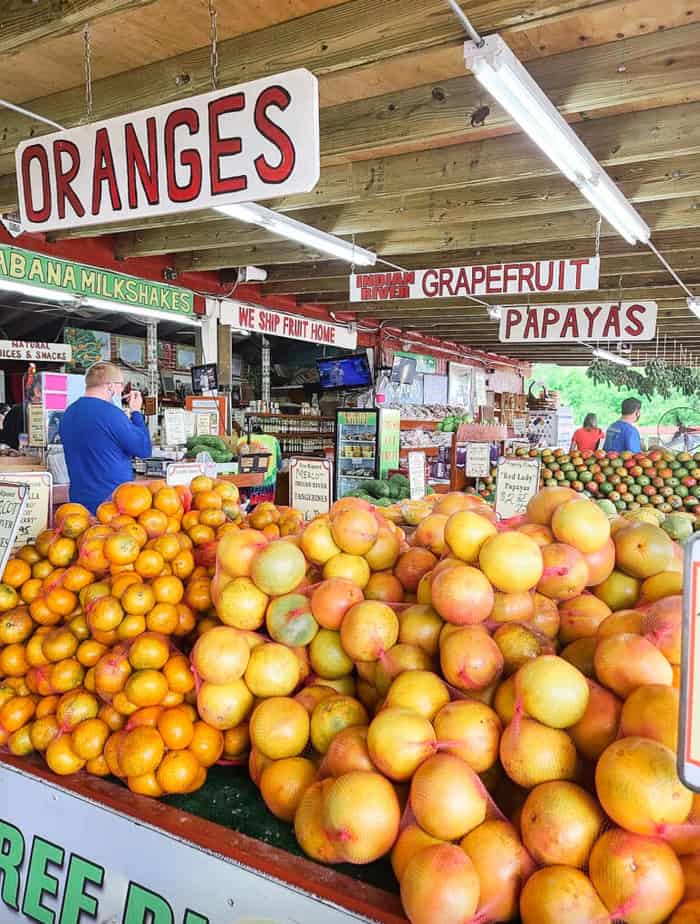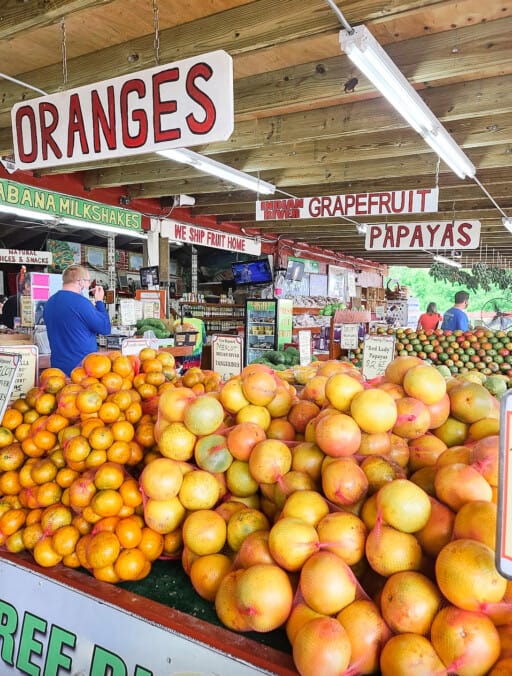 This stand carries hundreds of types of fruits, most of which are locally grown in Homestead, Florida.
Robert Is Here fruit stand is open from 9am-6pm every day and is located in Homestead; you basically pass right by it as you're getting on the Miami to Key West drive.
The Everglades are obviously super cool. You could spend days in the Everglades because there's just so much to do!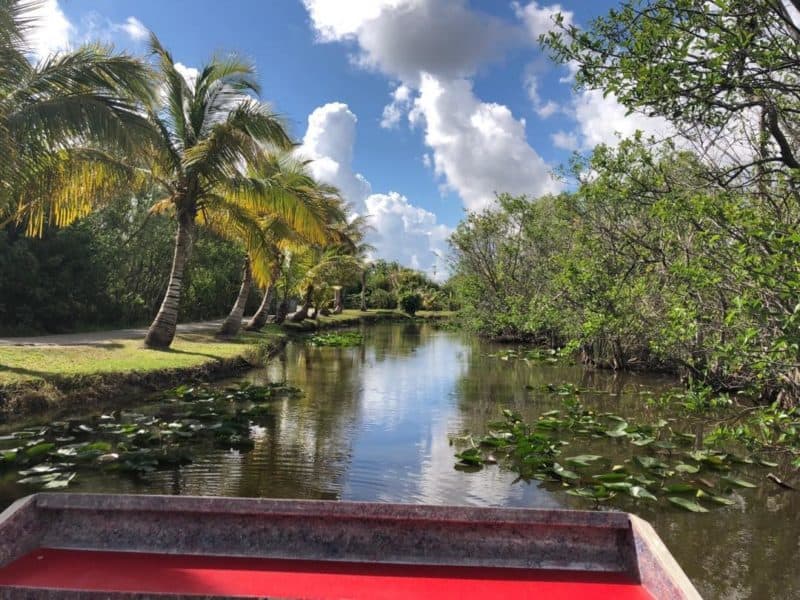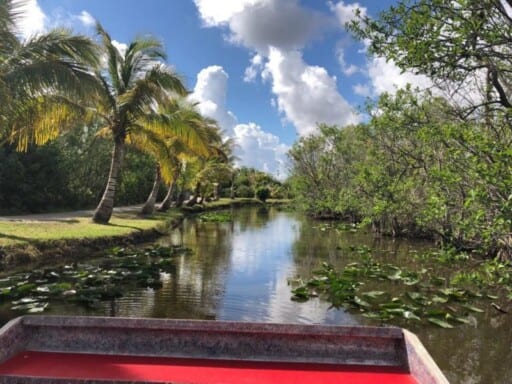 I definitely recommend that you check out the Everglades, at least for a few minutes, as part of your Miami to Key West road trip itinerary.
You can see everything from stunning orchid flowers to full-grown crocodiles. This is definitely an awesome stop for all ages!
Here are some fun things to do in the Everglades, including wildlife tours and activities.
17. Crocodile Lake National Wildlife Refuge
Located on Upper Key Largo, the Crocodile Lake National Wildlife Refuge is perfect for anyone who really loves animals or wildlife in general.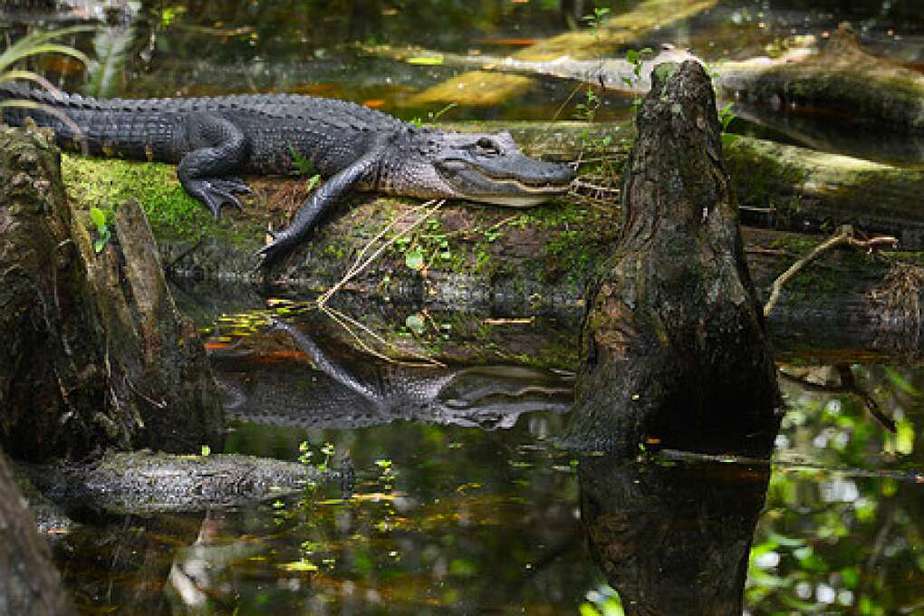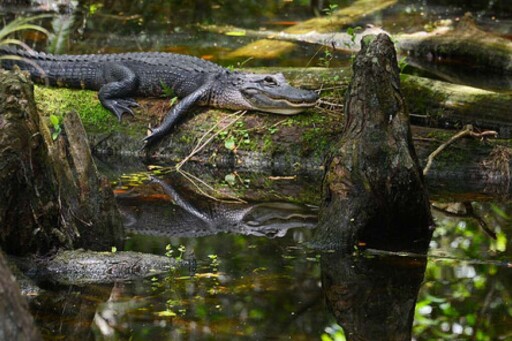 You can see a variety of pelicans, warbler birds, adult crocodiles, and even crocodile nests, depending on the time of year. Check out this guide to see the best months to visit, based on what you want to experience.
However, the refuge is massive, so expect a lot of walking. Plan to spend at least a few hours here, but a half or full day is a better option to really experience the refuge.
Did you know that this is the only living coral reef in the Continental US? Of course, this makes it a popular spot for both scuba divers and snorkelers.


You can dive, snorkel, rent a glass bottom boat, or head out on a kayak. The park closes overnight but does offer options for camping if you would rather experience the area for two full days.
Regardless, this has to be one of the prettiest snorkling spots in the U.S. Check out more info here.
15. Diving In Key Largo
If you're a diving enthusiast then Key Largo is the place for you!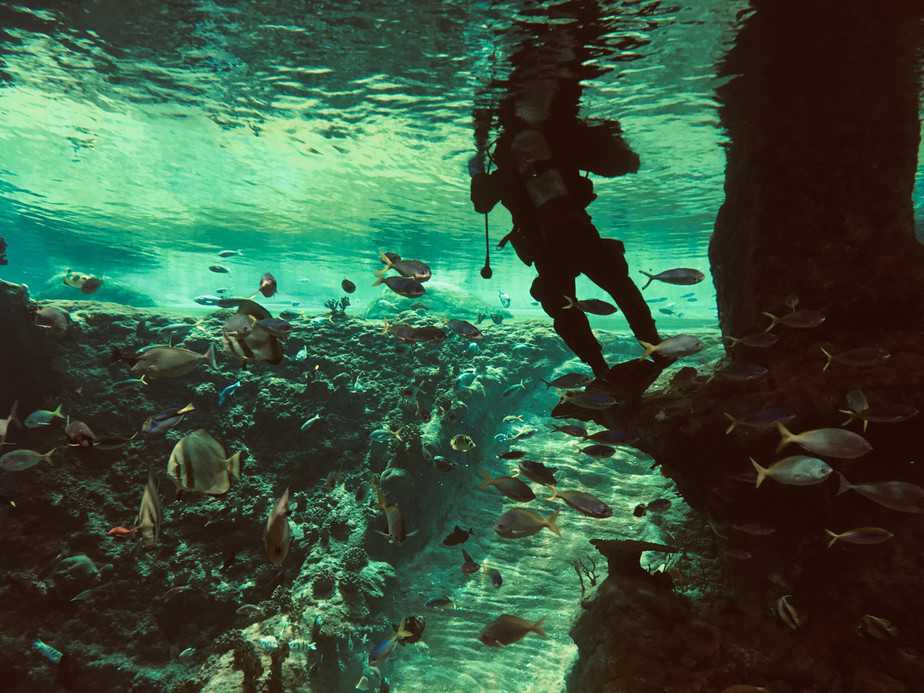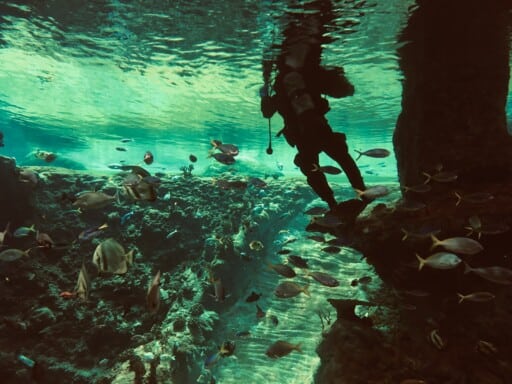 There are so many different diving experiences. You can go for a few hours or a full day; some are super affordable while others are quite expensive.
Pirate Cove Watersports is a really good diving experience that's super affordable.
This is a great Key Largo snorkling adventure if snorkling is more your style.
This walk-through tour is on a donation basis, so it's super affordable and educational. This is a great relaxing stop that doesn't take long!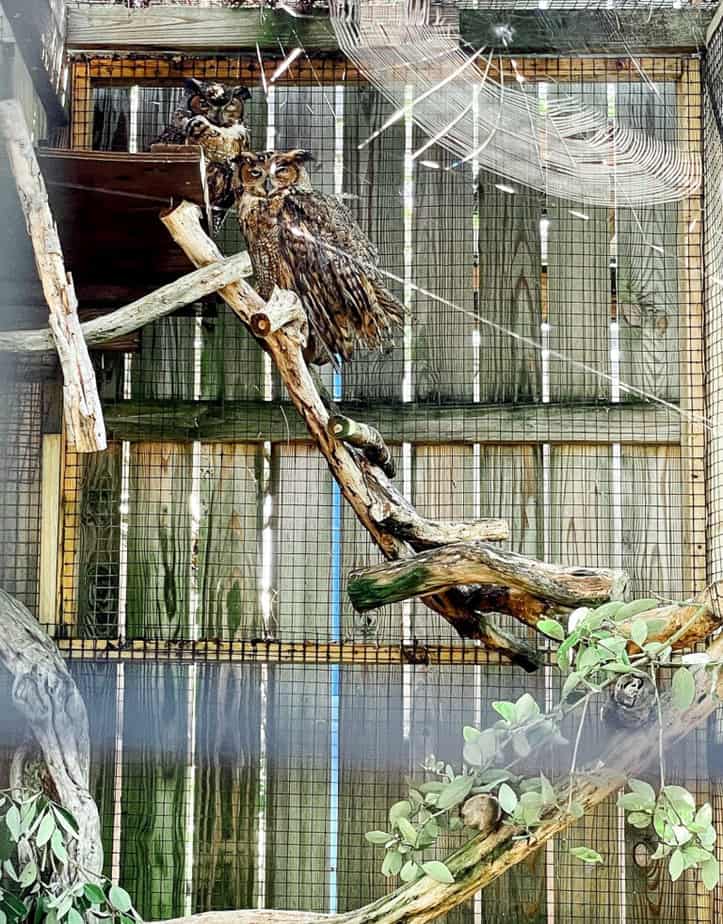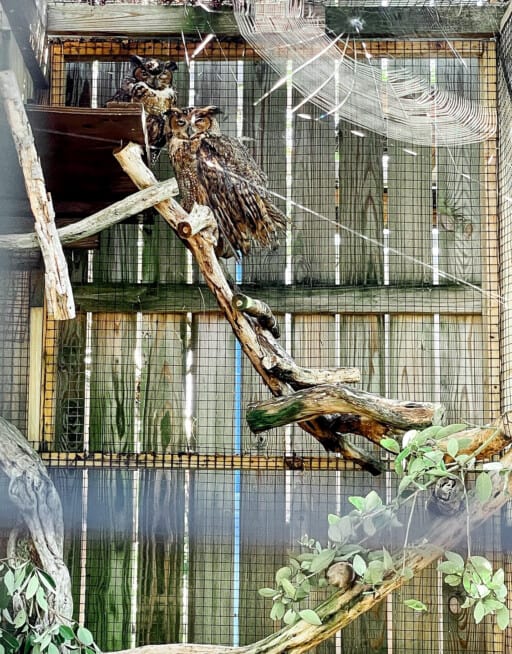 The Wild Bird Rehabilitation Center has a variety of bird species, including massive owls and hawks that you can view close up. All of the birds in the sanctuary are birds that can't currently be released due to injury.
This place is the real deal! I definitely recommend stopping here quickly if you're interested in wildlife at all.
13. The Tiki Bar
The Tiki Bar is actually the place where the "Rum Runner" was invented. As you can imagine, the drinks are refreshing and strong at this stop!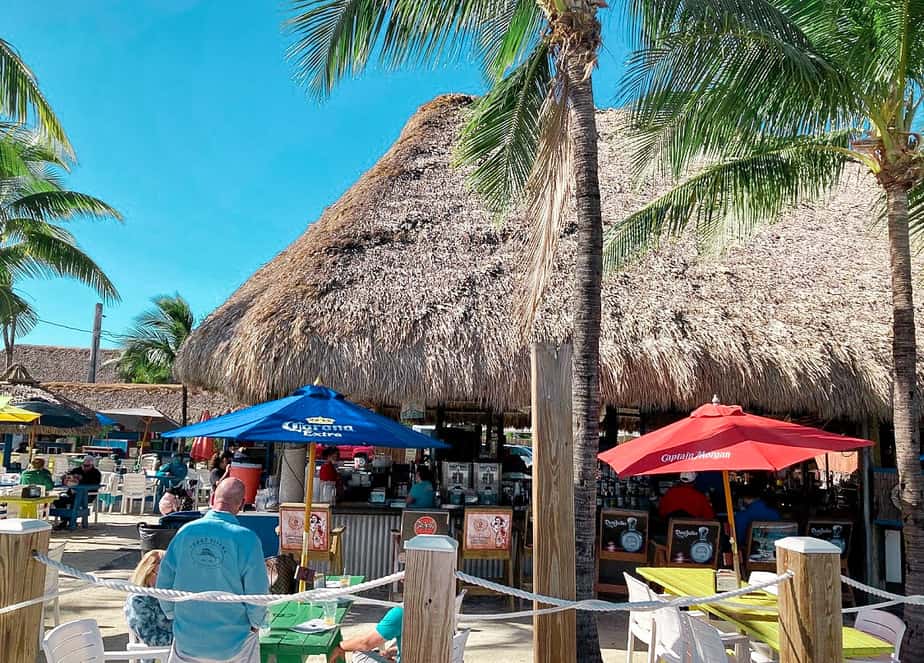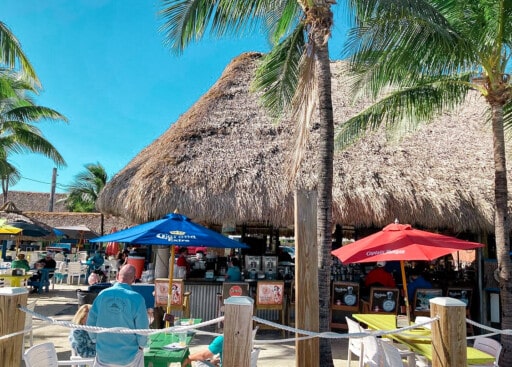 The Tiki Bar is located at the Postcard Inn in Islamorada. If you want a beachy place to stop that has the true Florida Keys vibe, there's no better spot than the Tiki Bar.
You can sip on a frozen cocktail while feeling the refreshing sea-breeze on your face. The views are incredible! You can also stroll down to the beach or walk along the boardwalk when you're done.
12. Fishing In Islamorada
If you want to go fishing somewhere along your Miami to Key West drive, Islamorada is probably the best place. It's the Key that is literally known for relaxation and fishing, so there are tons of reputable charter companies to choose from.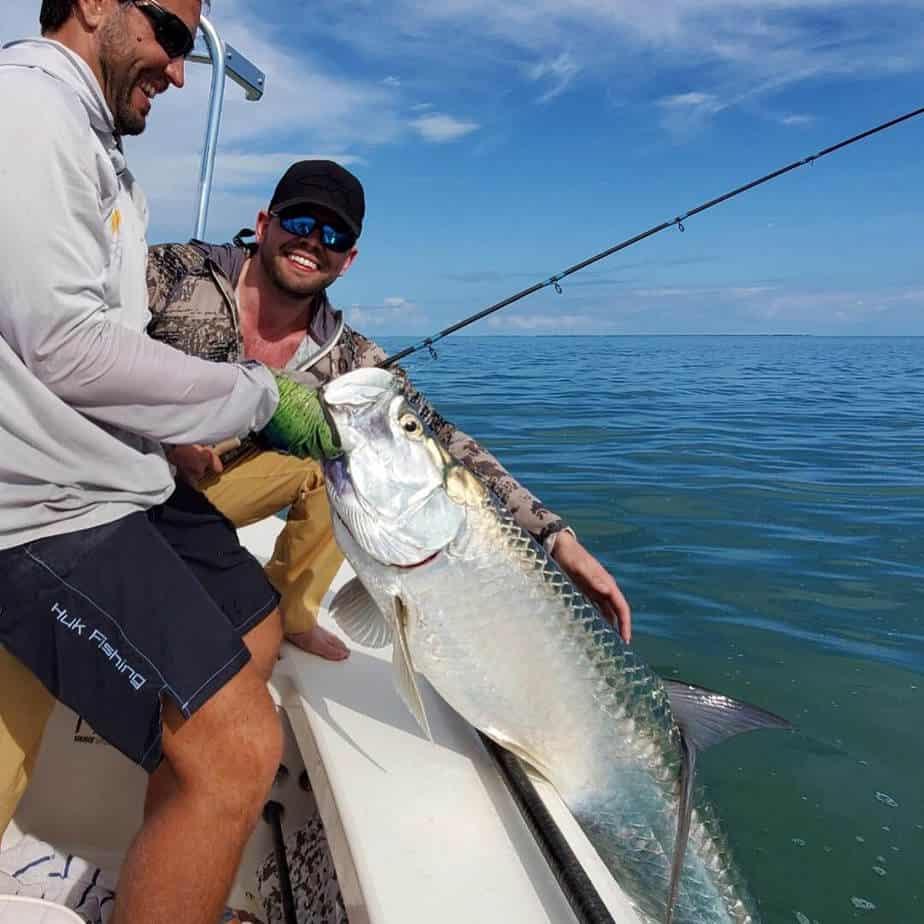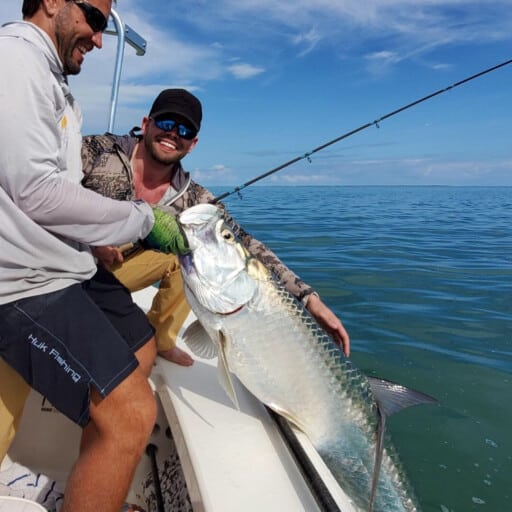 Here are some highly rated charter companies in Islamorada:
There are two different brewing companies is Islamorada but we love this one. It's also super highly rated by both tourists and locals.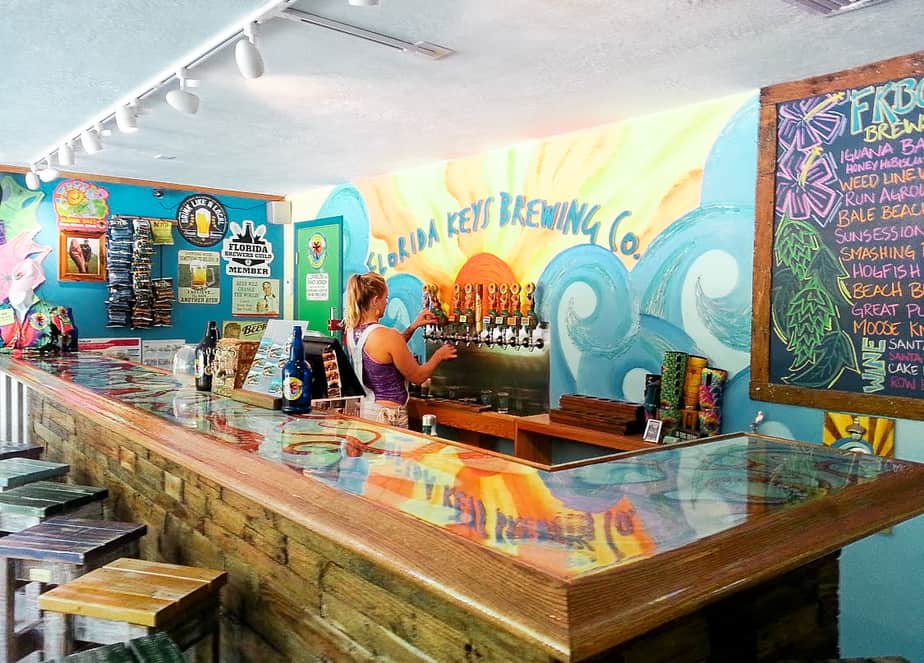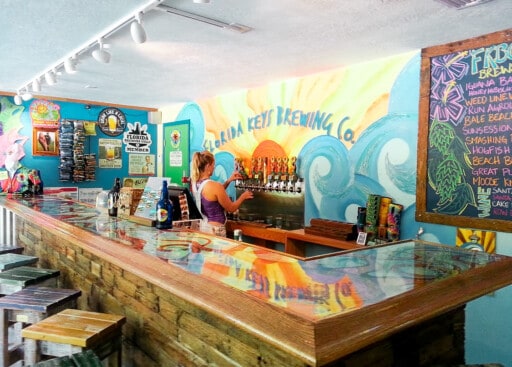 The Florida Keys Brewing Co. is open from 1pm-9pm and has a variety of rotating beers on tap. You can sit inside and sip on a brew or enjoy the outdoor beer garden.
Check out reviews on the Florida Keys Brewing Co. here.
The Theater Of The Sea offers more than just shows. You can browse the lush gardens and spot dolphins, sea lions, sea turtles, fish, sharks, stingrays, alligators, and many different species of birds.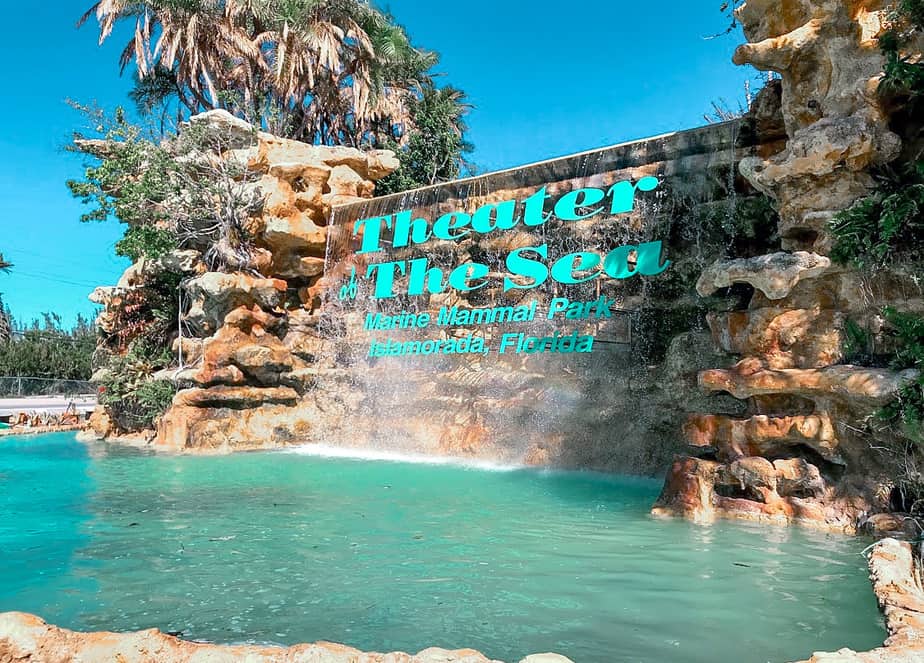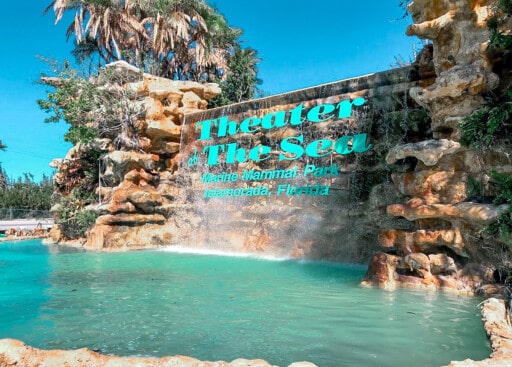 There are various personalized experiences (for extra charges) such as meeting or swimming with dolphins, swimming with the sea lions, meeting the giant turtles, swimming with sharks, and more. You can even encounter an alligator!
The Theater Of The Sea is an especially fun attraction for kids and attractions.
Admission tickets are typically around $43 per adult, but it depends on the day and time. Children 2 and under get free admission.
The last admission of the is at 3:30pm so plan ahead if you're doing the Miami to Key West drive during the afternoon!
Click here for the lowest priced Theater Of The Sea tickets. They're even lower than the prices on the actual site!
9. Morada Way Arts District
Morada Way is a super cool grassroots outdoor art district located in Islamorada.
There's a variety of local artwork, live music, fresh food, and yummy brews, including beer from local breweries.
Although you can check out the Morada Way Arts District at any time, it's especially fun when an event is going on. Check their calendar if you want to plan your trip around this!
8. Robbie's Marina (Mile Marker 77)
Even though you're well on your way to Key West from Miami, you might want to consider stopping at Robbie's.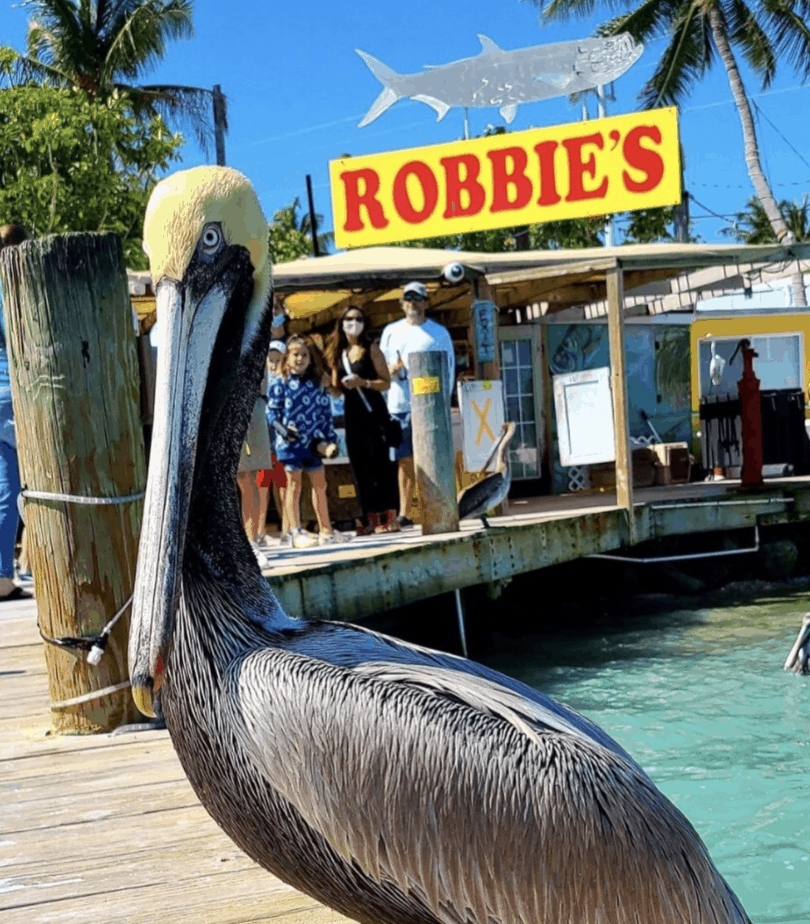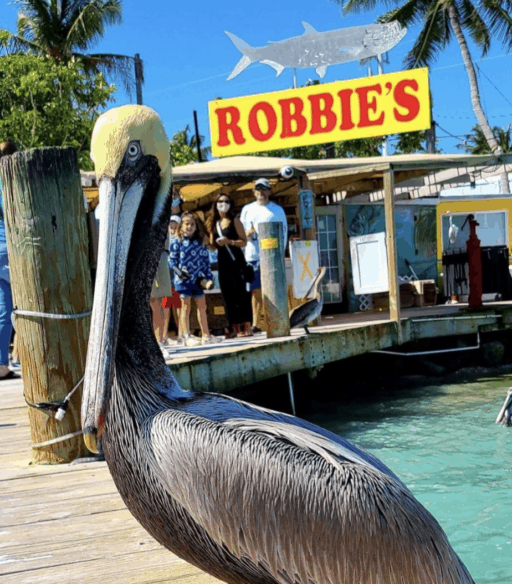 Robbie's is consistently voted the #1 place in the Keys that every tourist should visit. It's totally worth a quick stop!
First of all, the seafood is delicious and the Trailer Trash Bloody Mary is much better than it sounds. However, the coolest part of Robbie's is feeding the massive tarpon, which only costs $2.25 a person! I was a little nervous, but I'll literally never have that experience again; it was well worth it.
You can also do a variety of water sports or hop on a party boat from Robbie's, if you have more time.
Check out the activities and what other people have said here.
If you want an educational tour and a super cool encounter with dolphins then you'll love the Dolphin Research Center.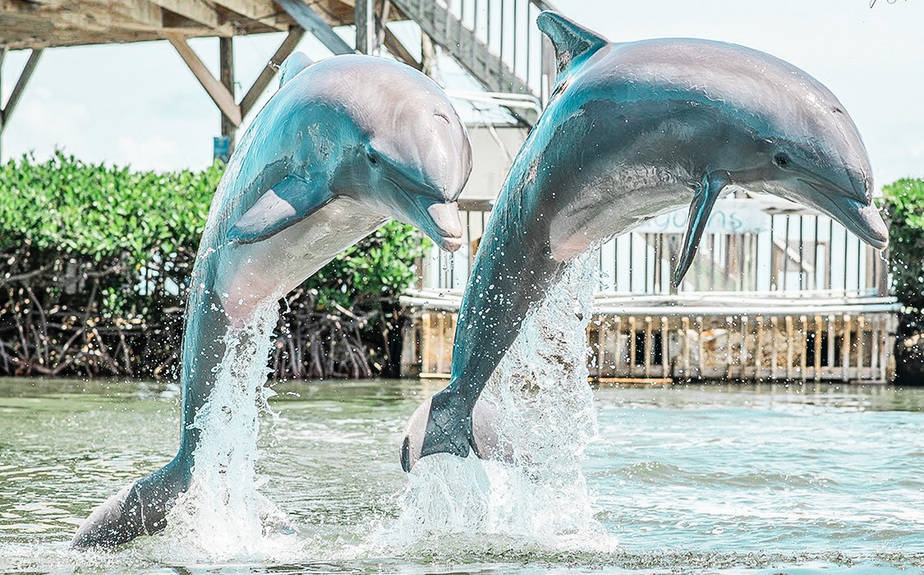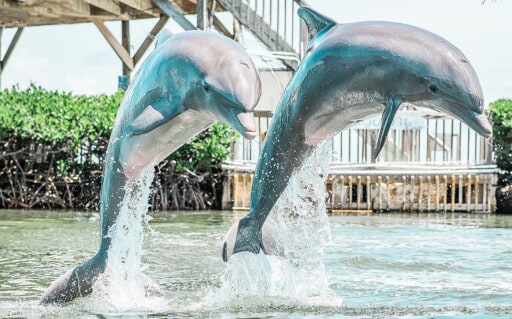 The Theater Of The Sea is better suited for kids or anyone who likes a flashy show, but the Dolphin Research Center is perfect for teens or adults who want the real deal.
You can walk around and check out the dolphins, sea lions, and exotic birds. You're able to watch the trainers interact with the dolphins, but you can also buy an interactive swim that's really incredible if you want to get to know the dolphins.
Check out the reviews and purchase deals here.
The Turtle Hospital is definitely one of the most popular attractions on the Miami to Key West road trip. It's a super cool attraction for adults, families, kids, or anyone who likes turtles!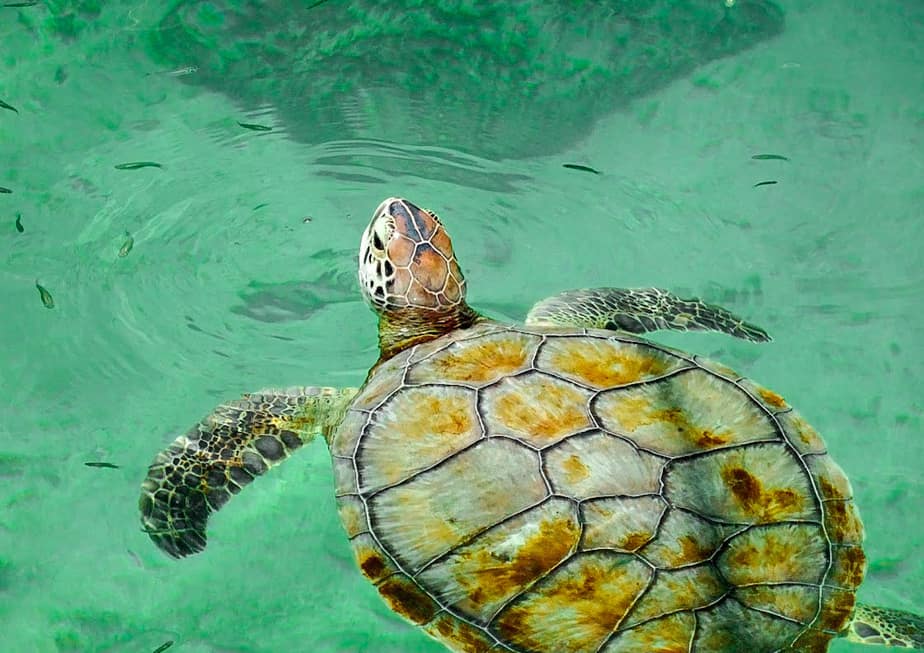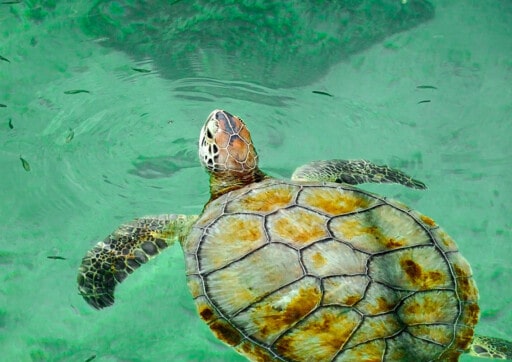 The tour itself is really educational but good for all ages. It takes about an hour. At the end of the tour, you get to feed the turtles up close.
I will say that this tour and whole experience is quite educational. Don't expect a super fancy excursion, but you will get the real deal and will see how the turtle hospital runs up close and personal.
Tickets are $27 for adults and $13 for children. Make sure to reserve a tour in advance.
Check out photos and reviews here.
5. Sunset Grille And Raw Bar
The Sunset Grille & Raw Bar is the best spot for outdoor seating and a stunning view of the seven mile bridge.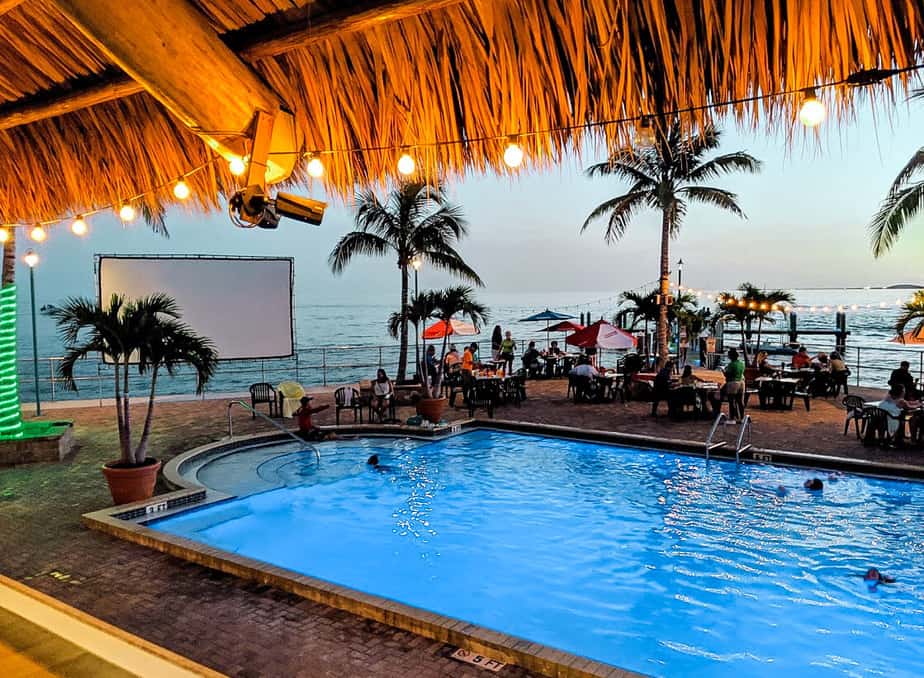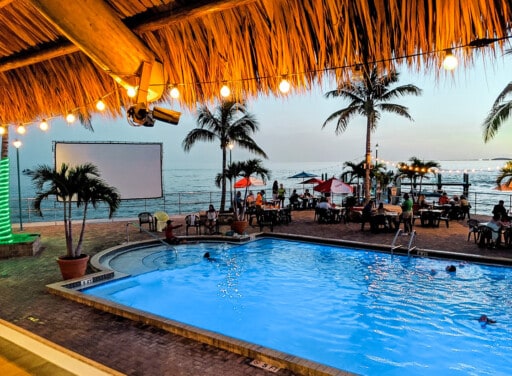 The grille is relatively close to Key West making it a great stopping point. If you go anywhere on your Miami to Key West road trip, I definitely recommend that you choose the Sunset Grille!
The grille has a pool if you make it early enough that you can swim in while sipping on a cocktail. They also have a poolside BBQ on Sundays that is supposedly a huge hit.
The breakfast menu is super yummy with lots of options, including a Bloody Mary Bar, or you can munch on sushi and fresh fried fish later in the day.
Whether you're looking to swim, drink, or take pictures in front of the sunset, you will absolutely love the Sunset Grille: I promise!
Click here to check out reviews of the Sunset Grille.
The Seven Mile Bridge is about 3/4 of the way through the Miami to Key West drive. It's one of my favorite parts of the drive!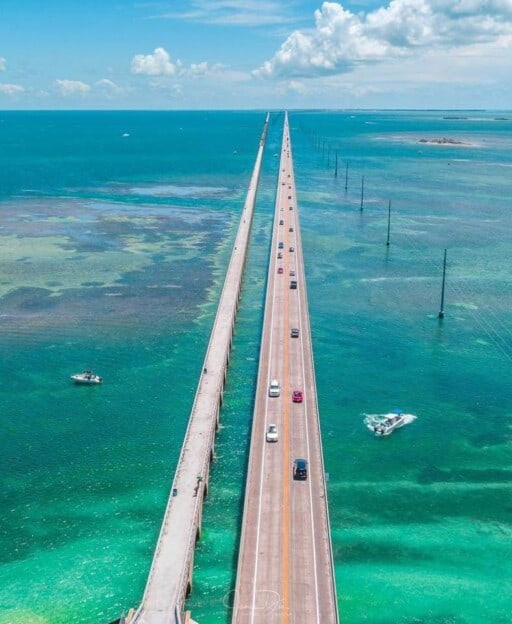 Even though the sunset is especially gorgeous on the bridge, you'll love the views of the clear, turquoise water any time of the day.
The modern bridge is what you actually drive over, while parts of the old bridge (situated next to the modern bridge) is walkable on certain parts.
If you have time to walk the bridge and aren't scared of heights then you can get some really beautiful pictures. However, you might want to steer clear if you're afraid of heights.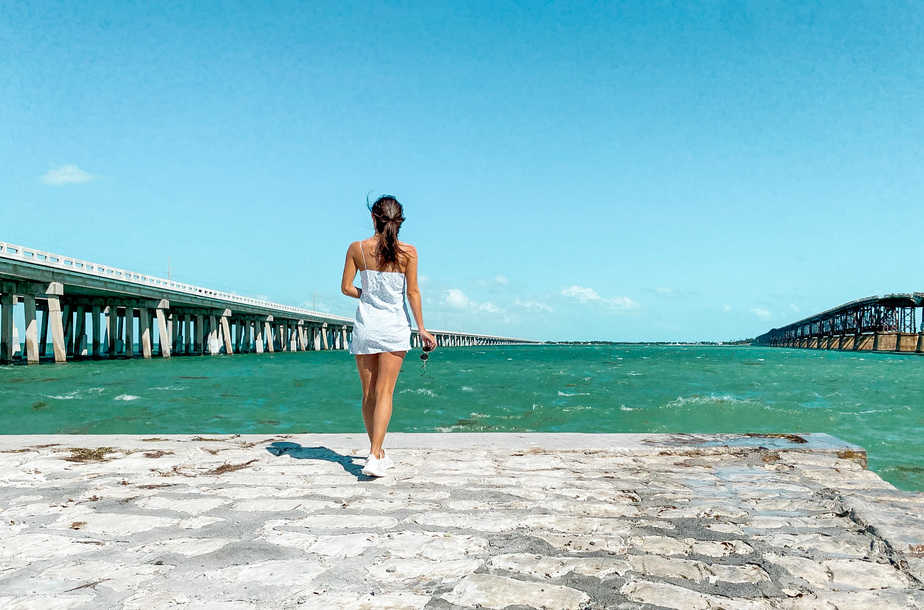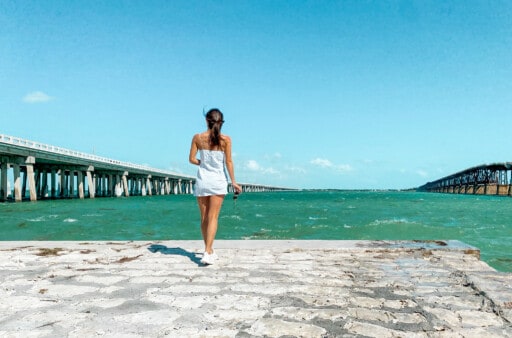 Luckily, you can't miss this bridge since it's the only way to get to Key West!
Key West isn't known for its beaches due to the coral reef, so you might want to stop at a beach on your Miami to Key West drive.
The best beaches to stop at are at the Bahia Honda State Park.
Sandspur Beach is my favorite. It's a mile long and has super fine, soft sand and turquoise blue, clear water.
If you want to see the cutest deer then you should definitely stop at the National Key Deer Refuge Nature Center.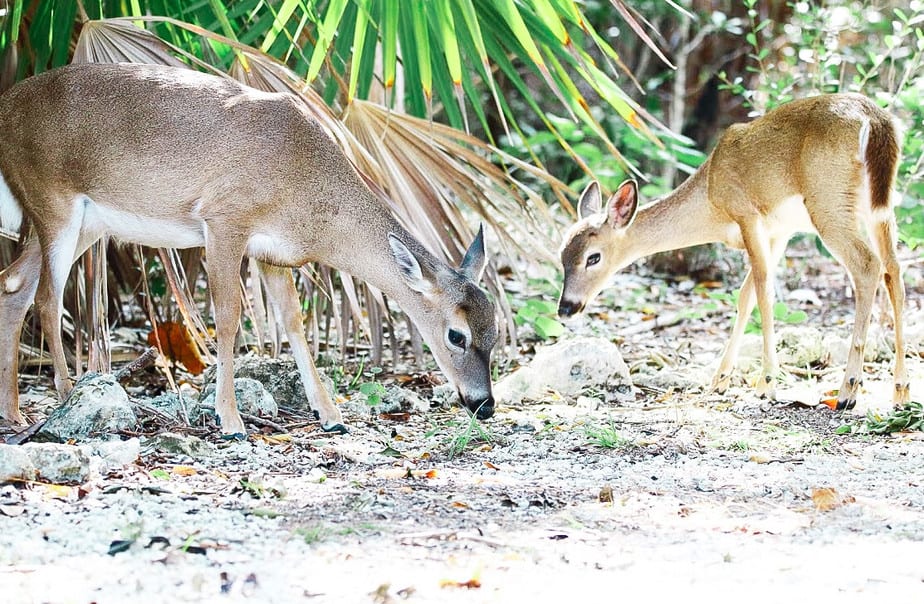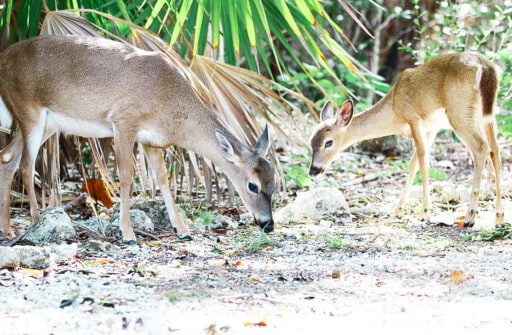 These mini deer are the size of dogs so they're really cool to see. Back in the 1960's, there were only a few dozen of these deer left!
They were then listed as an endangered species and have been slowly repopulating. Nevertheless, only a few hundred of these deer exist.
The center is 100% free and is open Monday to Saturday. Make sure to be quiet when you're touring the center; these little guys are just hanging out and chilling and like tourists who are on the quieter side.
When you reach the Southernmost Point, you have officially arrived in Key West!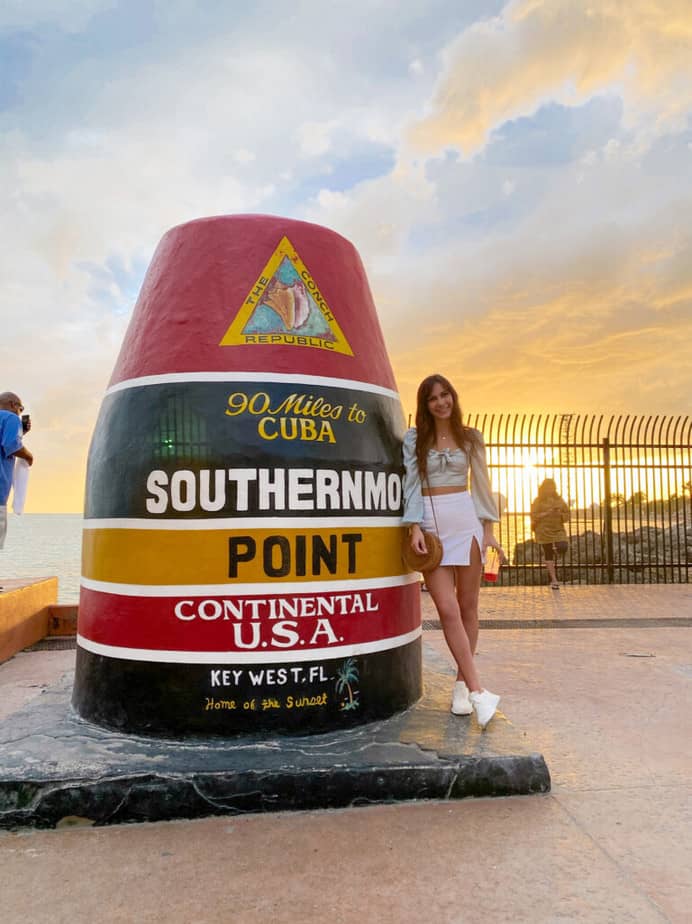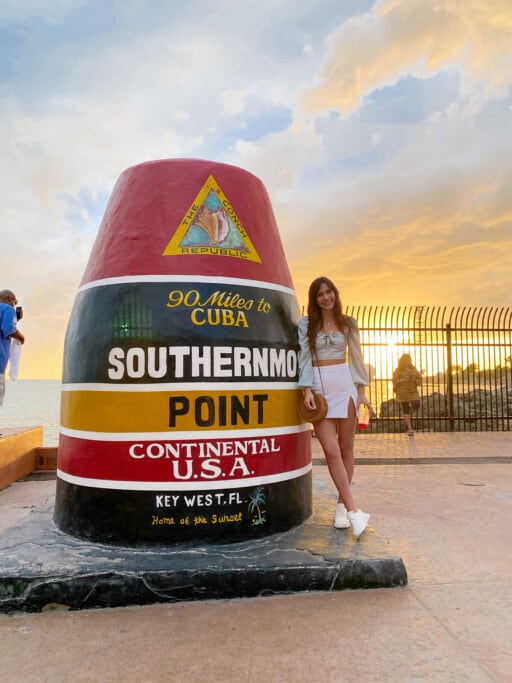 The iconic red, white, yellow, and black buoy marks the spot; you definitely can't miss it. From this marker, Cuba is only 90 miles away, which is far less than the Miami to Key West drive.
This spot has incredibly views any time of day, but we especially love taking photos at the Southernmost Point during sunset. The sun sets directly over the water and can be captured in pictures perfectly. However, be prepared to wait in line – there's always at least 30 people waiting around from sunup to sundown.
Check out photos and insider tips here.
Where To Stay Along The Miami to Key West Drive:
If you do want to stay somewhere along the Miami to Key West road trip then you will want to book in advance.
Many hotels in the Keys book up weeks ahead of time regardless of the season.
Here are some of my favorite hotels along the drive! I put them in order of the Keys (beginning with Key Largo and ending in Key West).
Key Largo:
If you start out the drive later in the day then you may want to stay in Key Largo. Here are some of the most highly rated hotels!
Islamorada:
Islamorada is a great halfway stopping point. It also has some of the most beautiful beaches so it makes a great one-night stay.
Marathon:
If you want to do some snorkling or fishing then you may want to stay in Marathon and get up early in the morning. There are some really gorgeous hotels in Marathon, too!
Key West:
If you're like me and head straight to Key West in one day then you'll just want to book directly in Key West.
These are my favorite tried and tested hotels! They're all super clean and right near Duval Street.