The brewery scene in New England is pretty intense right now. Breweries in Portland Maine are no exception; in fact, some people claim that Portland is the place to be if you're looking for really great breweries.
As an avid beer drinker, I hit up Portland ME breweries often (maybe too often). Portland has no limits on the kinds of beers that the city produces. In fact, every time I head up to Maine, I find a new beer I love even more!
Today I'm sharing my favorite breweries in Portland ME. Whether you're going on a brewery crawl (which is super easy in Portland since the breweries are all close together) or are planning to stick to one spot, you'll definitely love these options.
All of these breweries have a wide selection of beers brewed on site, unique flavors and styles, high quality ingredients and service, and an overall positive experience. These Portland Maine breweries also have super cool vibes.
Portland is a beer lover's paradise with many breweries to choose from and easy access. The Maine Beer Trail makes it easier than ever for you to find your next stop on the crawl, or hop aboard one of these brew buses if that sounds more up your alley!
12. Allagash
Allagash Brewing Company basically the craft beer movement in Maine. They also have one of the best tasting rooms I've ever been to – it's spacious, modern, and has a lot of seating.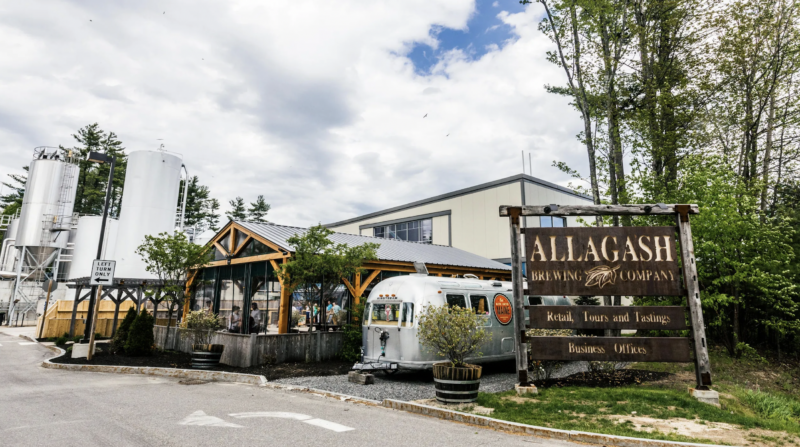 There's a reason why Allagash is one of Maine's most widely distributed beers – it tastes great! Most beer fans have probably heard about their signature brew, the Allagash White, but this Portland Maine brewery has many other options that you might not have tried.
The tasting room is located on Industrial Way and is definitely worth a stop. Most tours are only $5 per person and you get to see how the beer is made from beginning to end. You also get to try lots of different samples (my favorite part).
If you're into sour beers then definitely stop by their tasting room because they have plenty of them on tap! Each year they release a new interpretation of their famous St. Klippenstein which typically sells out within hours. While this beer isn't available at their brewery (I'm not complaining though), there are plenty of other yummy samples to check out.
We head to Allagash almost every time we visit the area. It's definitely one of my favorite breweries in Portland Maine and is a classic for a reason!
Even if you're on a brewery crawl, you can easily stop by Allagash. It's located in the "brewery district," right next to no less than four other Portland ME breweries. We like to start at Allagash then move on to more obscure breweries later in the day.
11. Shipyard Brewing Company
The Shipyard Brewing Company has been around for more than 20 years, and is known as a Maine staple. It's easy to see why – they have a wide variety of beers on offer at all times.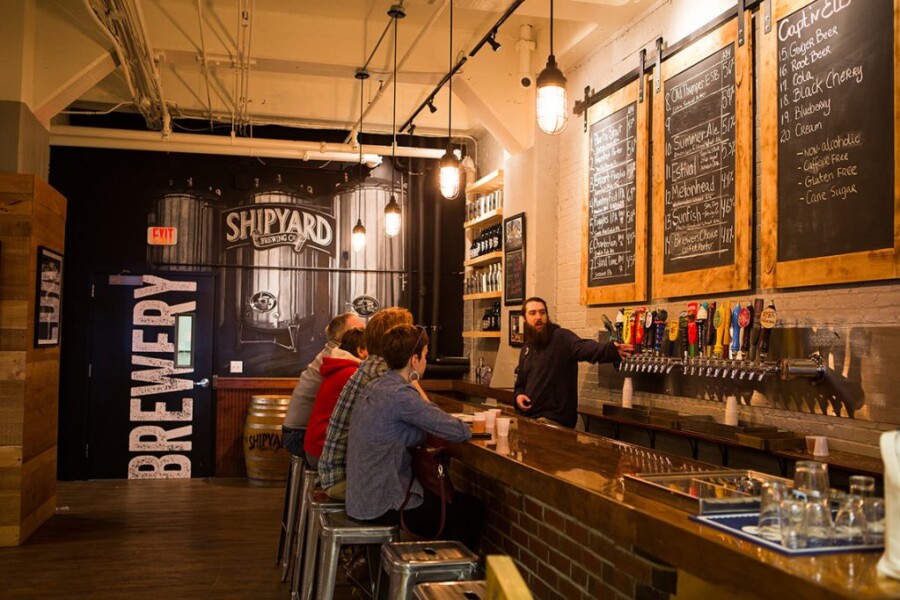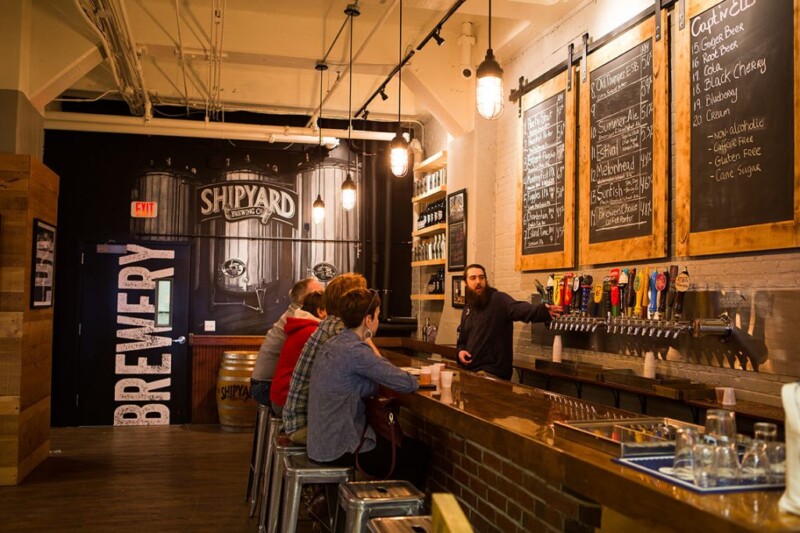 Don't be fooled by their name – they actually started out in Portland before moving operations up north to the new brewery location just outside of town. The good news is that you don't have to drive up there, as Shipyard puts out some pretty tasty beers right near downtown as well as some other spots!
If you find yourself in the Old Port area for any reason, make sure you stop by the Shipyard tasting room . You can order food from one of the neighboring restaurants or bring your own (it's never turned down in these parts!).
The Shipyard tasting room is located in the Old Port District of Portland. They offer tours on Saturday and Sunday, but these must be scheduled in advance.
Shipyard also has a tasting room right across from Portland's biggest attraction: The Maine Mall! It's definitely worth stopping by while you're visiting family and friends during Maine's peak shopping season.
If you've never tried Shipyard brews, this is a great place to start. They have so many different kinds of beer on tap, and their selection really is mind-boggling! I've never had a bad experience here and always feel welcome.
Shipyard has a special pumpkin beer during the fall, making this one of the best Portland ME breweries once the weather cools down. It's definitely a fun fall activity!
10. Lone Pine Brewing Company
If you're looking for a brewery that has great beer and an even greater view, the Lone Pine Brewing Company is your place. The brewery is located right at the water's edge in South Portland, so you can enjoy some casual ales with an ocean view!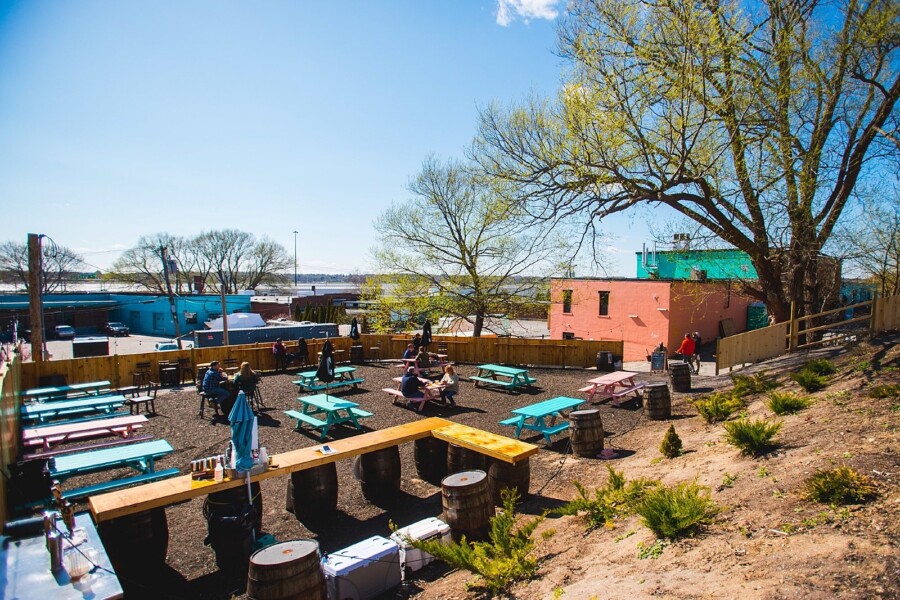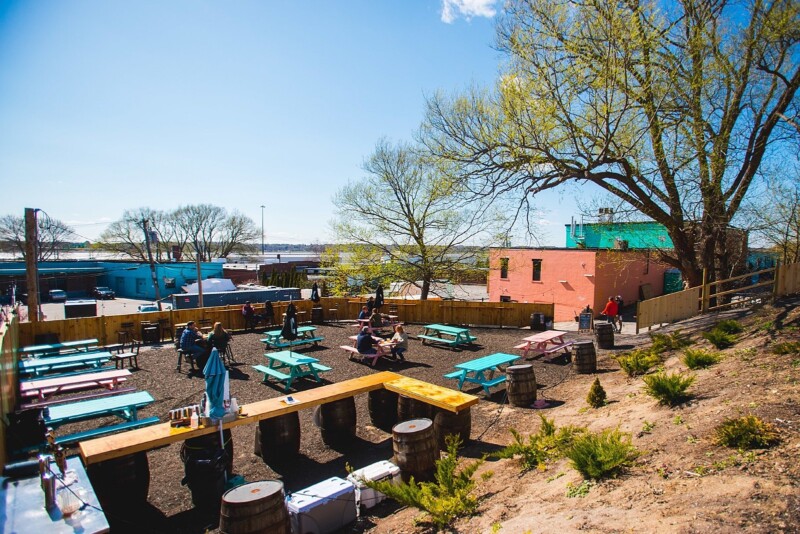 The easy-going atmosphere of this brewery (along with their great beers) draws people from all over to sit back and relax with friends.
This brewery doesn't offer food – instead, they allow you to bring in your own food or order something in from one of the many nearby restaurants.
However, the atmosphere is really cool because the patio is located right on the waterfront in South Portland. This is one of my favorite outdoor breweries in Portland ME, especially during the summer. The beer garden is awesome!
This brewery always has something new and different that you haven't heard of before. I've spoken with some people there that are huge fans of their year-round beers so it looks like their selection is growing right alongside their fan base. The offerings definitely have a "pine" theme to them…so much so that even the brews' names are tied into the theme.
If I'm ever in the mood for something different, I head to Lone Pine Brewing Company and try one of their new beers on offer. Their selection is really interesting and always has a unique twist (which I love)! This is probably one of the more adventurous breweries in Portland ME, so head to Lone Pine if you aren't afraid to try something new.
9. Definitive Brewing Company
Located in a rather hard-to-find spot on the peninsula, Definitive Brewing Company is definitely worth the visit if you're looking for something tasty. In addition to their own line of beers, they also feature a wide array of guest taps.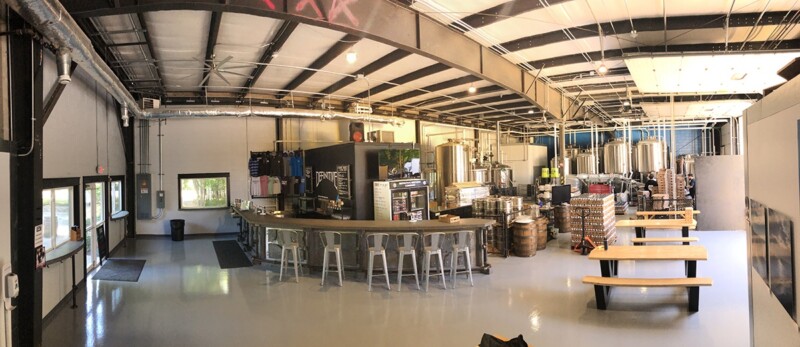 The main level feels like a cozy living room– with dog-friendly couches and chairs that are perfect for catching up with friends after a long week at work. The upper level has a more open bar area with an epic view of Casco Bay and picnic tables out front for when it's nice outside. We have enjoyed all three levels since moving to Maine! There's something here for everyone .
What I love about Definitive is that although they offer lots of different styles, each beer is done very well. I've never had a bad one, and they continue to make new, interesting beers constantly.
They also do beer classes every Monday at 7 pm! They're always entertaining, informative, and of course you get some free samples. This past class was all about sour/wild ales – my favorite kind of beer – so it really couldn't have been better for me!
8. Bissell Brothers Brewing Company
I first came into Bissell Brothers on an unassuming summer day when the taproom was nearly empty . Their hazy IPAs are not something to miss, especially if you love hops like I do. The cans fly off the shelves quickly because they're selling faster than they can brew them, so I suggest visiting the taproom or grabbing some cans if you're in the area.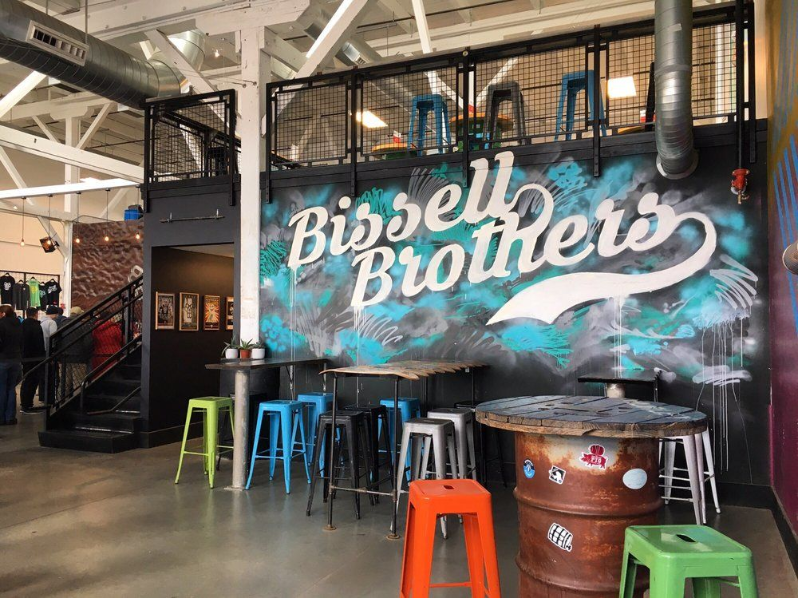 For me, Bissell is one of Maine's hidden gems and I had to include it here. While their beers do get a lot of hype for being hazy IPAs (a must-try style), they also offer a variety of other styles that are just as delicious and definitely worth checking out.
Larger breweries in Portland Maine have more variety overall, but Bissell Brothers has a special something that sets them apart. They are definitely worth checking out if you're in the area!
7. Austin Street Brewing
My fiance and I stumbled upon Austin Street Brewery during our first visit to Portland Maine– we were totally surprised! We were looking for something new to try around town when we walked by this obscure brewery on Congress street with no sign out front . It looked like someone's house, so we took a peek to see if anyone was around.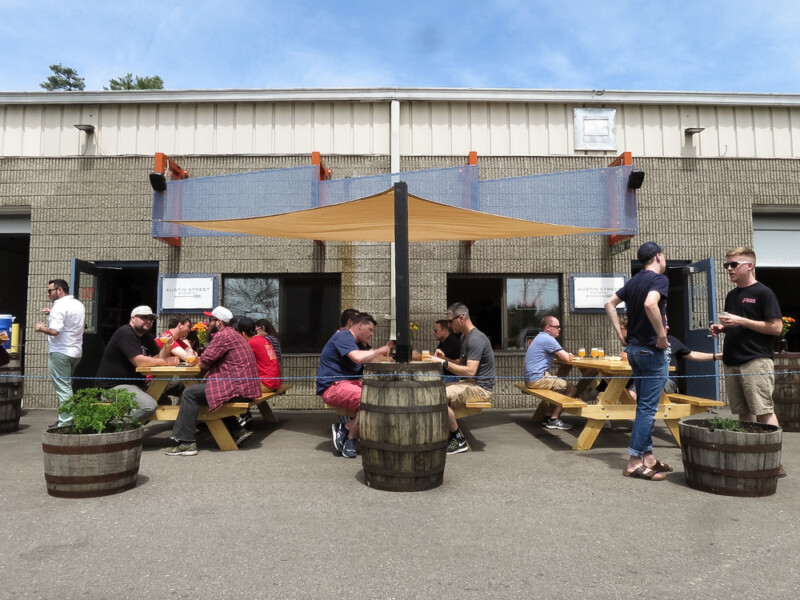 When someone came out and said the owner was inside, we were even more surprised! It turns out they have an awesome brewery right inside with a cozy taproom/living room area. We went back a few times after that first visit because it's one of our favorite breweries in Portland ME!
Austin Street Brewing is tucked down a small side street just off Congress– totally easy to miss if you're not looking for it. Just past Allagash on Industrial Way – take the next left onto Governor Pl and then your immediate right onto Emery St. There's also plenty of free parking behind the building too.
I love this place for its unassuming nature– it definitely has that neighborhood feel to it, which I think is really cool. I also love the beers! If you're looking for something more than just hazy IPAs or stouts , they offer a wide variety of styles.
The owners are super friendly and very knowledgeable about their own beer and the industry in general. The tap list changes frequently so there's always something new to try.
6. Maine Beer Company
Maine Beer Company is another one of the must-visit breweries in Portland Maine! To be totally accurate, this Portland brewery is actually in Freeport, but it's only 20 minutes away from Portland and is totally worth the drive.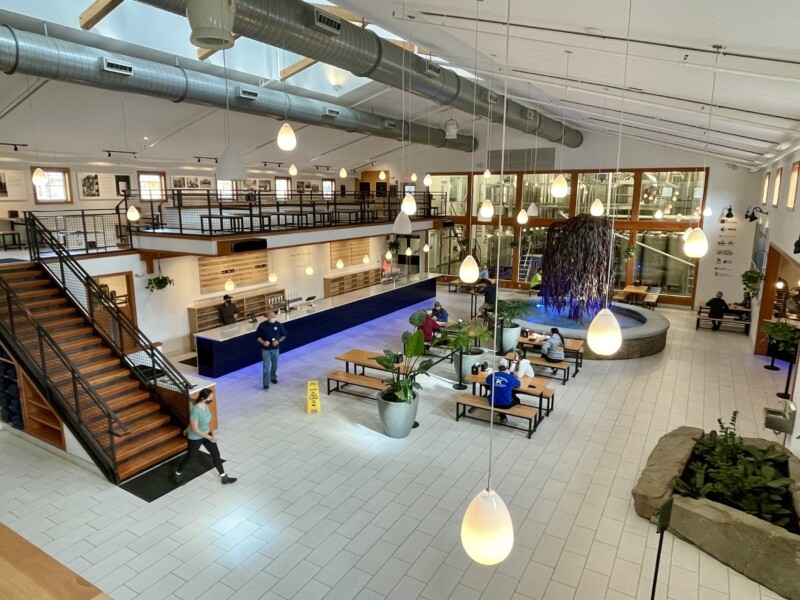 Expanding from the tiny outpost that started it all to a large, warehouse-style facility, Maine Beer Company continues to impress. The popular Lunch IPA and Dinner double IPA remain on tap and are always delicious but classic choices!
This tasting room at the facility is only a few years old, but has an industrial as far as decor – we love it.
The Maine Beer Company has several picnic tables outside if you prefer al fresco drinking (and they're dog friendly!) plus board games like Connect Four and Jenga. It's definitely a family-friendly spot too – kids are always welcome.
I think this is one of the best breweries in Portland Maine because it has a little bit of everything! It's a great spot to spend a full afternoon if you want to stay in one place.
The taproom is totally self-guided and you can see where all the magic happens. I recommend getting there early – it does get packed (a good sign!) so you'll want to plan accordingly.
Maine Beer Company is located just off the highway in Freeport, Maine. There's plenty of parking available in back or along the street in front.
5. Liquid Riot Bott
Liquid Riot Bottling is another one of the best breweries in Portland Maine. This one is a bit different than the others, though, because it's located inside an old distillery building!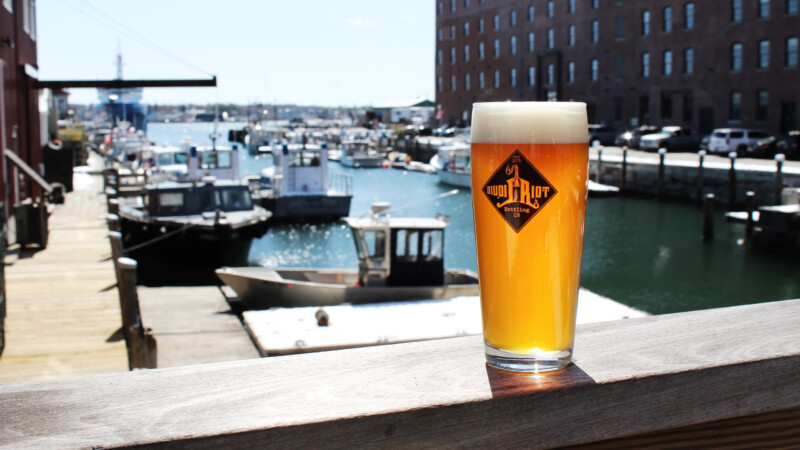 The tasting room has high ceilings with exposed wooden beams to match the rustic brickwork. There are large windows letting in lots of light and you can see all the shiny stainless steel tanks where they make their beer. The vibe is super trendy!
We love visiting Liquid Riot because it feels like you're hanging out at a friend's house – there are board games on every table, including Jenga, Connect Four, Monopoly, Yahtzee, and many more, all perfect for when you want to take a from drinking.
Their beers are all super creative and very high quality. They're one of the breweries in Portland Maine because there are so many options that you can try something different every time!
As far as food goes, Liquid Riot doesn't serve any but it's totally fine because they partner with several local restaurants that deliver right to your table! You can also bring in outside food which is great if you want to grab a slice from Pizzeria Magpie next door.
Liquid Riot is located at 250 Commercial Street (the same building as The Thirsty Pig). It does not have its own parking lot but there is plenty on the surrounding streets.
4. Urban Farm Fermentory
Pronounced "fer-mentory," Urban Farm Fermentory is one of the most unique breweries in Portland Maine. It's very small and only offers tours on Fridays but you'll definitely want to take that tour!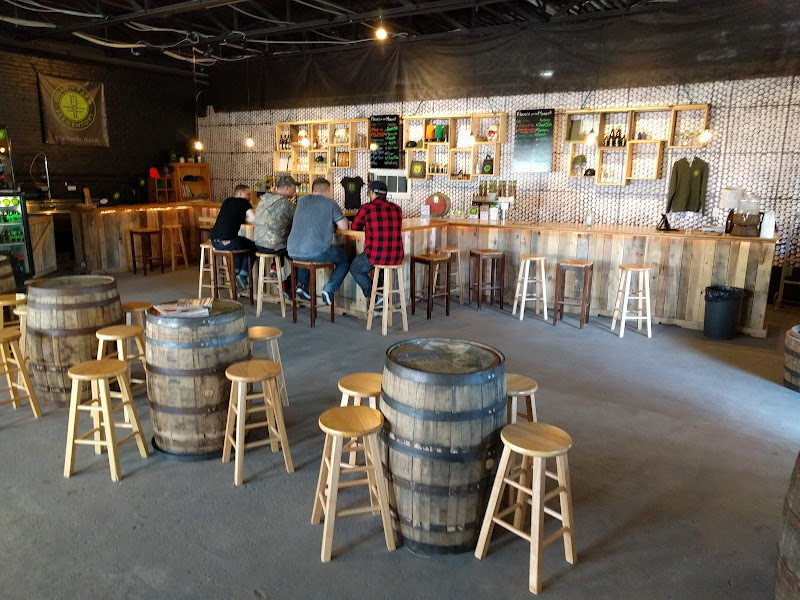 The entire space is open concept, with exposed beams overhead and other cool wooden accents that give it a rustic feel. Plus, there are plants everywhere, making it my kind of place. The decor alone makes this one of my favorite Portland Maine breweries.
Of course they serve their own meads (weird fact: mead is actually brewed like beer but gets its fermentable sugar from honey instead of malt), kombuchas, and other brews. They're known for trying out new things, too – if you go on the tour, they'll tell you all about fermenting with Maine-grown rosemary!
If you want to grab a quick bite before your tour, there are lots of food carts in the area to choose from. They don't serve any food at Urban Farm Fermentory but their tours are an excellent reason to get outside and explore Portland's vibrant food scene!
I recommend getting there early because it does fill up fast. It is located just off Congress Street so parking can be tough in that area during peak hours. The tasting room is open Fridays 4:30-7:30pm or 5:00-8:00pm.
3. Foulmouthed Brewing
Foulmouthed Brewing is a great place to go if you want good beer and don't mind a little bit of swearing… you see, there's a swear jar at the front where visitors are expected to contribute every time someone drops the F-bomb.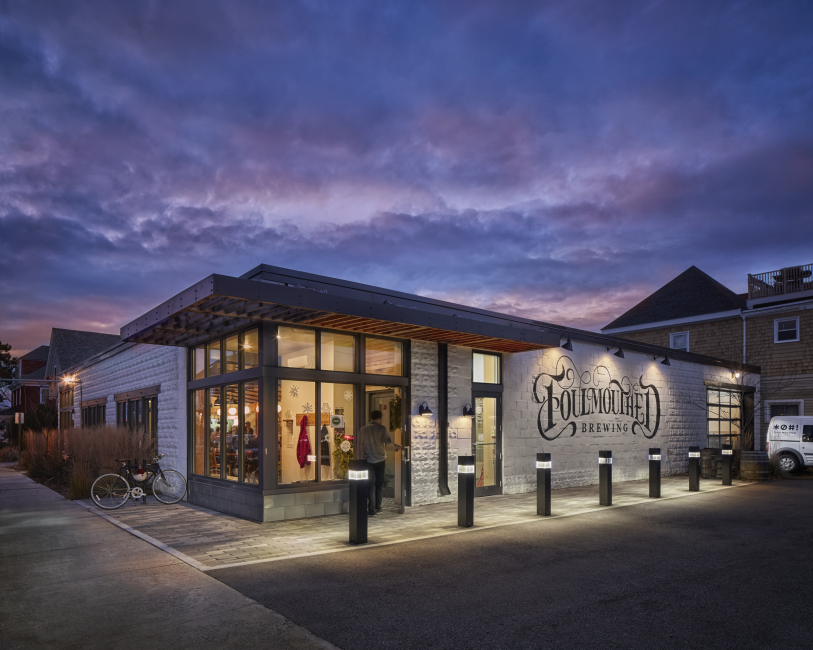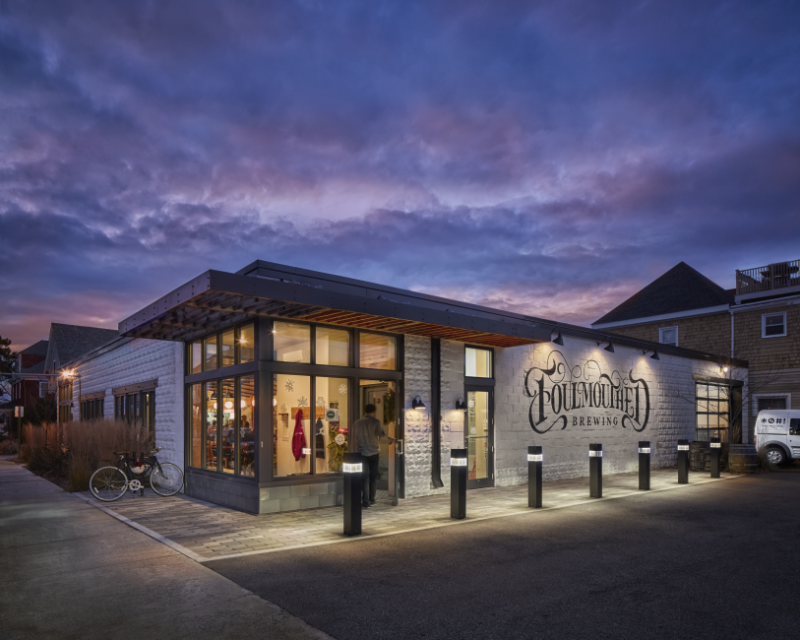 The interior has been totally renovated from its previous life as an old post office. It was transformed into this sleek pub style tasting room with plenty of seating and high ceilings with exposed beams. The vibe is very modern and clean but also cozy and welcoming – it's one of my favorite breweries in Portland Maine!
They offer 15 different beers on tap, all brewed right there in house. They're always coming up with new seasonal flavors so you can try something different every time you visit! The staff is super friendly and can recommend beers based on what you like.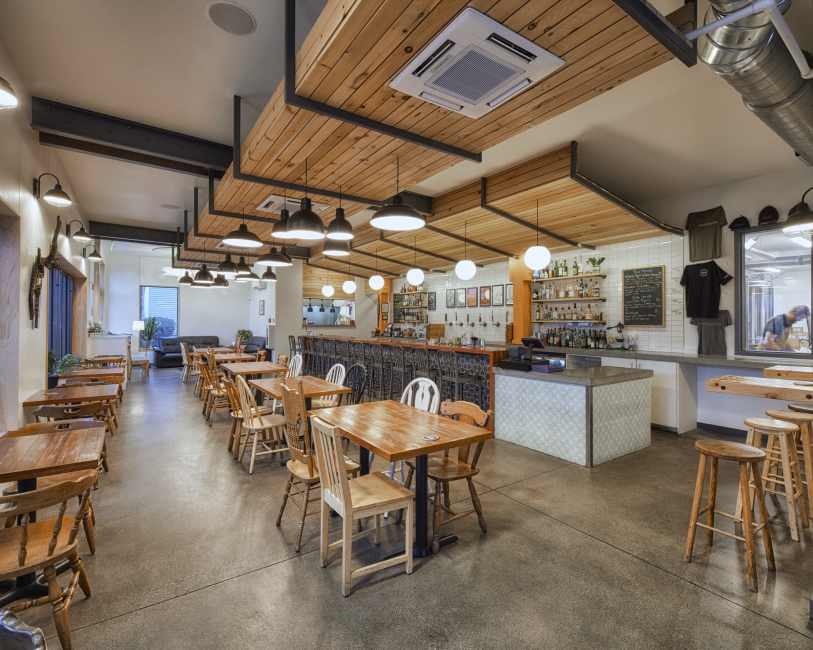 Foulmouthed Brewing is located at 86 Cape Elizabeth Street, Portland Maine. There's plenty of parking in the area around the brewery but it can be a bit tricky to find spots during peak hours. This brewery also doesn't serve food but you're welcome to bring your own or order delivery right to the table – there are lots of options nearby including India House, Mojo Pizza Napoletana, and J Dilla's Deli.
The tasting room is open 7 days a week from 11:30am-11pm (Friday-Saturday) or 12pm-10pm (Sunday). They don't offer tours but they do have a nice patio area where you can relax and enjoy your beer!
2. Oxbow Blending and Bottling
If you're a beer lover, chances are you've heard of Oxbow Brewing! This farm-based brewery is situated right on the outskirts of Portland Maine and specializes in small batches of delicious Belgian-style brews.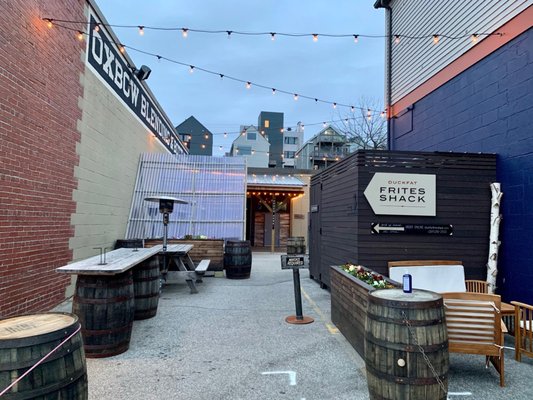 If you don't know much about beer but want to learn more, I recommend taking their free tour. Since the brewery is pretty small, they can only accommodate so many people at a time so try to get there early if possible.
The space is very open concept with high ceilings and lots of natural light. There are barrels stacked up against one wall which makes it feel like more of an intimate setting than you'd expect for how large it is!
The decor gives off major rustic vibes too – I love it. It's one of my favorite Portland ME breweries for the vibe alone.
Oxbow has a large tap room with 20 beers on draft at any given time. They also offer several quality wines for you to enjoy (including some that are brewed right there on site!), so it's a great place to go if someone in your group doesn't love beer.
If you're into big, hoppy beers then definitely check out their double IPA or Farmhouse Pale Ale – they're both very prominent in the community and for good reason.
This is one of the best Portland Maine breweries because they really try out new things like infusing beer with native plants and fruits native to New England.
The current seasonal is their wild blueberry ale – I tried it and it's delicious!
I classify this as one of the breweries in Portland ME, even though it's about 30 minutes outside of town. If you're willing to make the drive, I highly recommend checking out Oxbow Brewing Company, especially if you're doing a full day for Portland ME breweries.
The tasting room is open Friday-Sunday from noon-5pm or 5:30pm-8:30pm. They offer tours at 2:30pm every Friday-Saturday with free samples of three beers to go with the experience.
1. Mast Landing
I was first introduced to Maine Beer Company's second location, Mast Landing, by a friend who lives locally. It's definitely a place for locals but is totally worth a stop if you're doing all of the breweries in Portland Maine.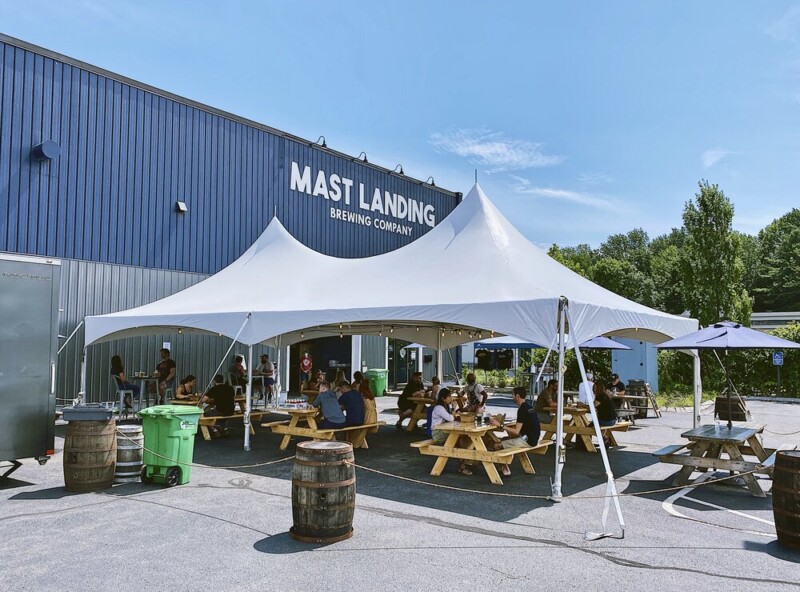 Mast Landing is located in Westbrook, Maine just off I-295 and is about half an hour from Portland. It has a great view over the water even though it's inside a fairly nondescript building. If you're heading towards Route 1 from 295, take exit 2A onto Harbor Dr and turn left at the beach– you'll see the brewery right next to the water!
The taproom features their entire lineup of beers but also adds rotating guest taps from other breweries – sometimes from as close as New England! I really appreciated this aspect because they allow their patrons to try new things without having to leave the brewery.
The tasting room is open 7 days a week from 5-8pm (Monday-Thursday), 4-9pm (Friday), 12-9pm (Saturday), and 12-6pm (Sunday). Tours are offered on Saturdays at 2, 3, 4, and 5 PM for $5 which includes samples of their special release beers. You can also get tour tickets in advance on their website.
If you like what you taste at Mast Landing, make sure to stop by Maine Beer Company's original Portland location too!
NEXT: The Best Affordable & Free Things To Do In Portland Maine