You probably don't think of New England when you think of wine, but there's a surprisingly great selection of wineries in this area.
New England is a home for notable wines that are distinguishable from other wine-growing states in the country. There are five states in New England including Maine, New Hampshire, Vermont, Massachusetts, Rhode Island, and Connecticut – each with its own distinctive wine culture and growing conditions.
With rocky soils and elevations as high as 1,000 feet above sea level, Connecticut makes an ideal location for growing Riesling and other popular varieties such as Cabernet Franc, Chardonnay, Pinot Noir, Seyval Blanc, and Vidal Blanc. The lands in this area also comprise a large percentage of ancient soil, leftovers from the formations of Pangea, which adds to the uniqueness of the wines that New England offers.
Rhode Island, another grape-growing part of New England, is famous for its wine trails and excursions. While it seems to occupy be a small area on the map, Rhode Island is known for producing delectable and likable wines brought by their location's moderate conditions.
Cape Cod, on the other hand, is known for growing low-alcohol wines that are made from fruits like sour cherries, plums, and apples.
The remaining states, Maine, New Hampshire, and Vermont, are known for amazing pubs, local craft wineries, and small vineyards that have atmospheres for every type of connoisseur.
Here are some of my favorite wineries in New England that you should definitely check out any time of year!
15. Cellardoor Winery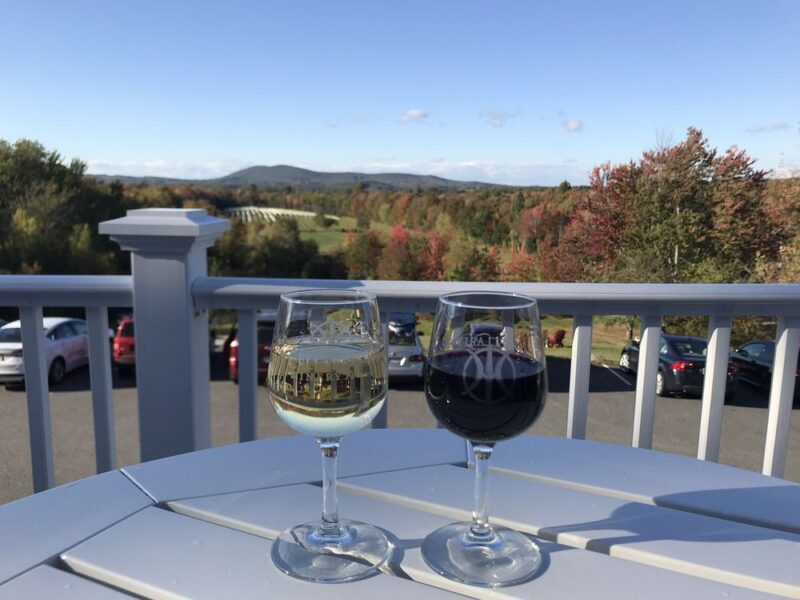 Cellardoor Winery is located in Lincolnville, Maine. The winery is known for its tastings, tours, food pairings, cooking classes, winemaker dinners, and alfresco events held in their relaxing vineyard area. They also have a gift shop where you can browse for novel items to bring home for loved ones.
What we like about this winery is the quality and price of their wine flight. For $15, you get to taste four different wines and bring home the glass. Their staff also explains the wines and the place's history in an interesting way that gets you hooked.
If you're here for the ambiance, worry not – their well-maintained vineyard and thoughtful winery can easily make your wine experience magical.
Location: 367 Youngtown Rd Lincolnville, ME 04849
14. Zorvino Vineyards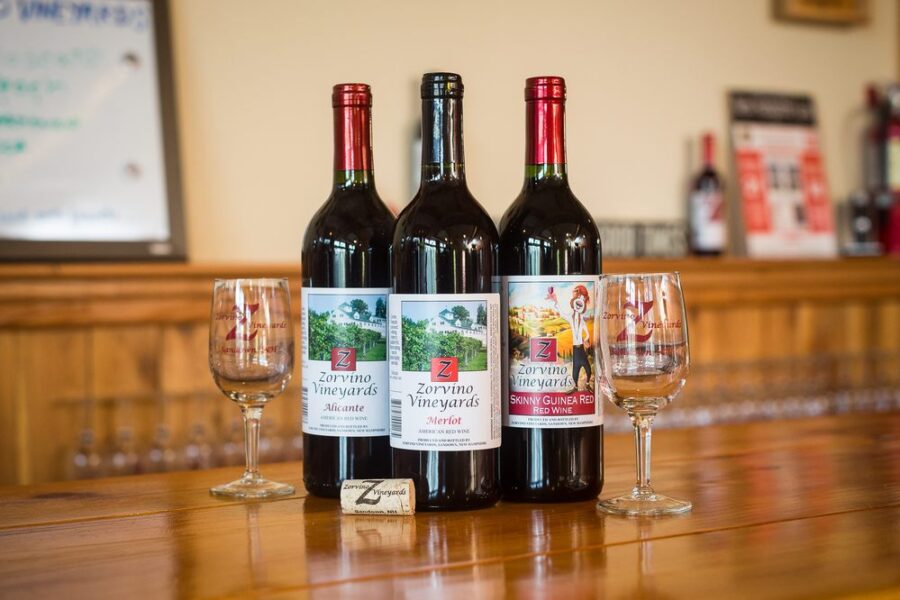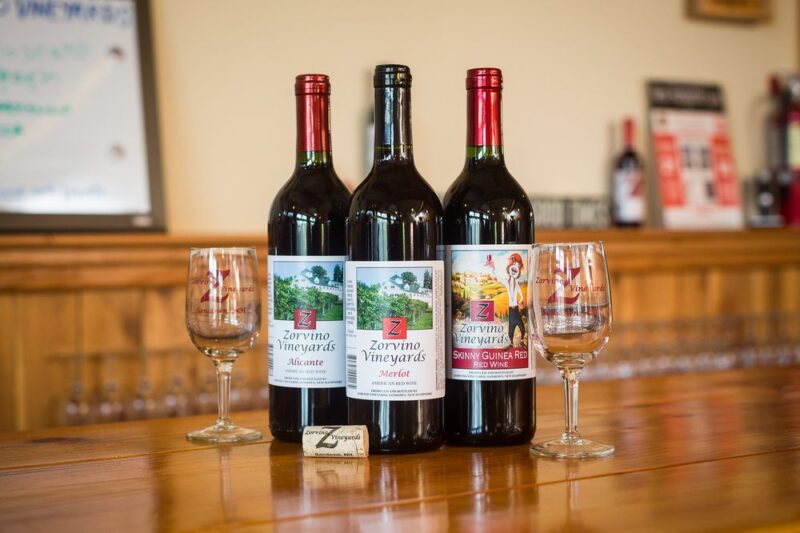 Zorvino Vineyards is a place for endless photoshoots! If you're staying in New Hampshire as a tourist, a quick visit to Zorvino can leave you with beautiful, Instagrammable pictures to cherish. For a picture-perfect shoot, look for their zen koi pond, waterscapes, vineyards, wine barrels, and signature red barn.
Zorvino offers a wide selection of wines including red, white, and fruit wines. If you're the classic type, ask for their Classico menu.
If you're feeling adventurous, order a glass of their in-house crafted fruit wine or go ahead and ask for their Zorvino menu. Add a plate of pasta or pizza to complete the experience. This is one of the best wineries in New England to spend a full afternoon!
Serves: 11:00 PM to 8:00 PM Daily
Location: 226 Main St Sandown, NH 03873
13. Boyden Valley Winery & Spirits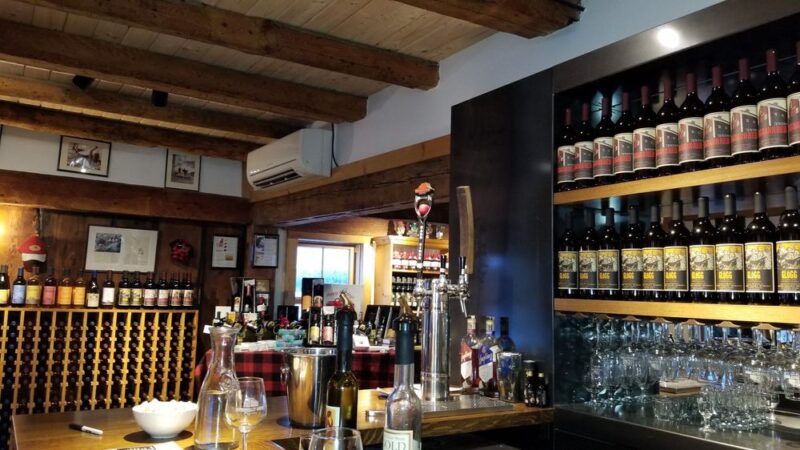 Boyden Valley Winery is located in the green mountains of Cambridge, Vermont. Their vineyard is an 800-acre farm that has been in the hands of the Boyden family for more than a century. Boyden Valley is known to be one of the pioneering licensed wineries in the state. The grapes they produce for their wine are grown alongside vegetables, sugarbush, and other farming kettles.
Enjoy and relax with a glass of Glogg, a Norwegian mulled wine, or a glass of Maple Cream Wine in their back patio overlooking the rolling greens and mountains. If the patio is occupied, you may also cozy up in their 1875 carriage house just around the area.
They did scale their hours back, so call them ahead to secure a spot!
Serves: 10:00 PM to 3:00 PM Thursdays
Location: 64 Vermont Rt 104 Cambridge, VT 05444
12. The Griswold Inn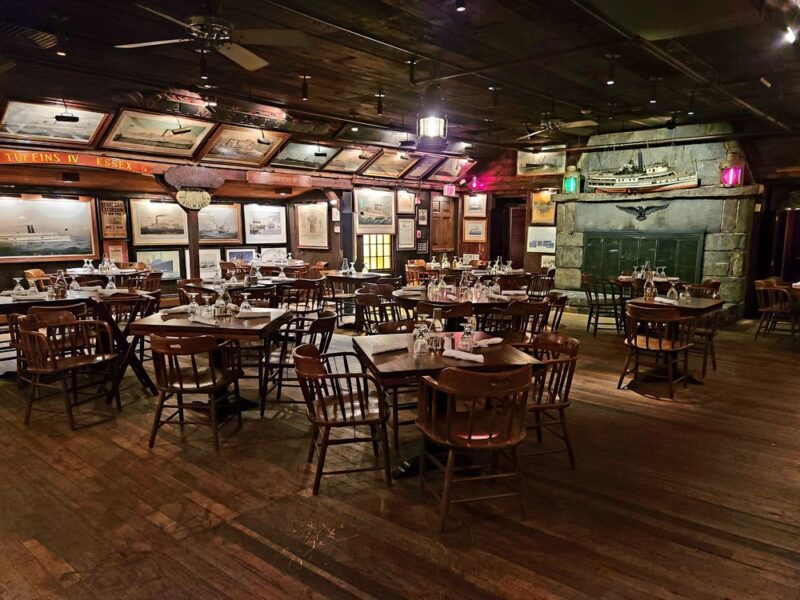 Griswold Inn is a historic location just near the Connecticut state wine trail. The inn opened for business in 1776, offering wine and spirits in an antique, old-fashioned dining room that brings you back in time. Not only is the inn super cool, but it's also one of the most interesting wineries in New England that definitely deserves a visit.
Enjoy a cocktail, a glass of wine, or a hearty meal in their dining area. Expect a big "Hunter's Breakfast" every Sunday if you're staying for the weekend.
Up for an adventure? Ask their staff to direct you to the wine trail to sample different wines and visit iconic wineries in the area, including Chamard Vineyards, Jonathan Edwards Winery, and Priam Vineyards.
The Griswold Inn does get a little cramped up because it's pretty popular, so making early reservations are ideal.
Serves: 10:00 PM – 6:00 PM Monday to Saturday, 10:00 PM – 5:00 PM Sundays
Location: 36 Main Street
Essex, CT, 06426
11. Newport Vineyards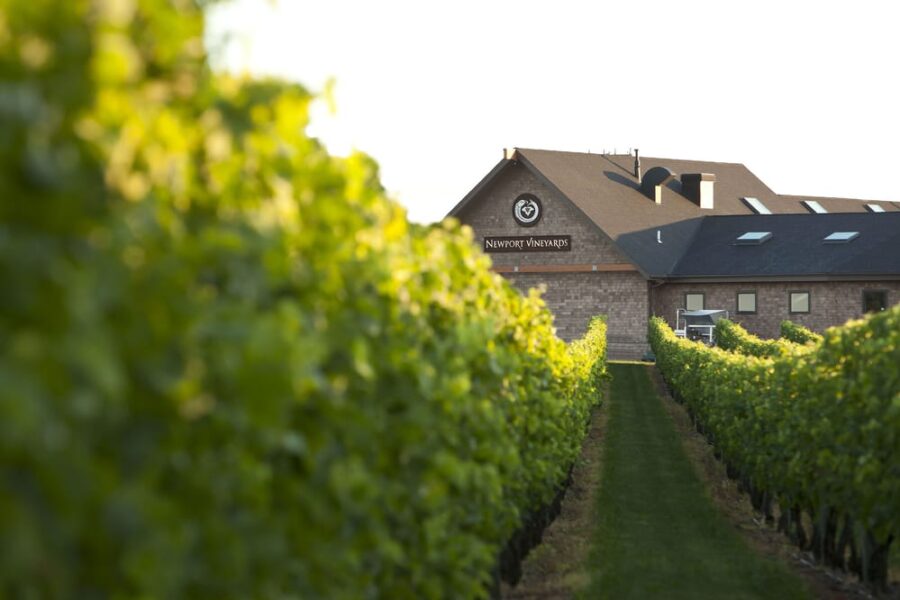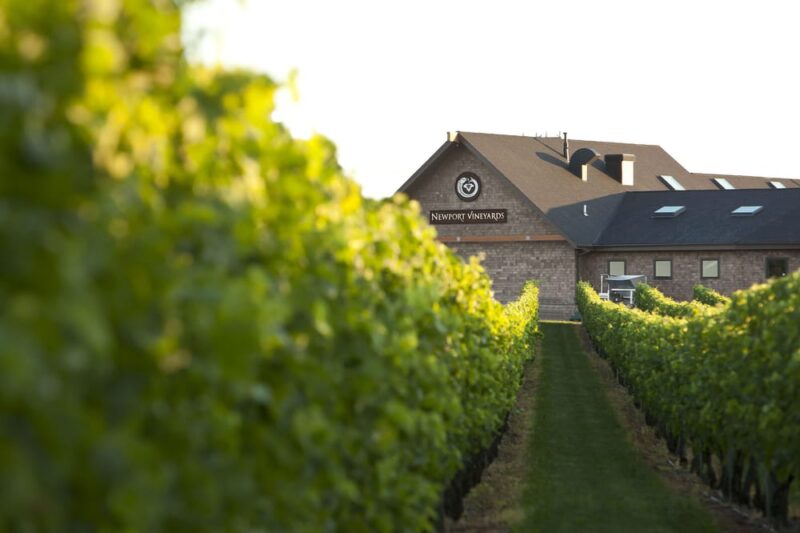 Nestled in the heart of Rhode Island, Newport Vineyards is a landmark destination of the county that offers enthusiasts a taste of local experience through daily excursions, tours, and tastings. The vineyard was established in 1995 and is run by the Nunes brothers who are knowledgeable and open about their experience.
Visit their Brix restaurant for farm-to-table dishes, their Vineyard Cafe for wine and other beverages, and their event grounds for spontaneous live events. For the real deal, get a taste of their $12 wine flight and join them for an in-depth tour.
If you're simply up for a glass, we recommend getting their Sauv Blanc and Dry Rose. For the classics, ask for their Merlot, Moscato, Pinot Noir, or Apple Cider.
The best time to witness the blooming vines in Newport Vineyards is during the warm seasons. This is one of my favorite wineries in New England because I'm just obsessed with Newport – I find that it's a really classy experience right here in New England!
Serves:
11:00 AM – 5:00 PM Monday to Saturday,

11:00 AM – 4:00 PM Sundays
Location: 909 E Main Rd Rte 138 Middletown, RI 02842
10. Seven Birches Winery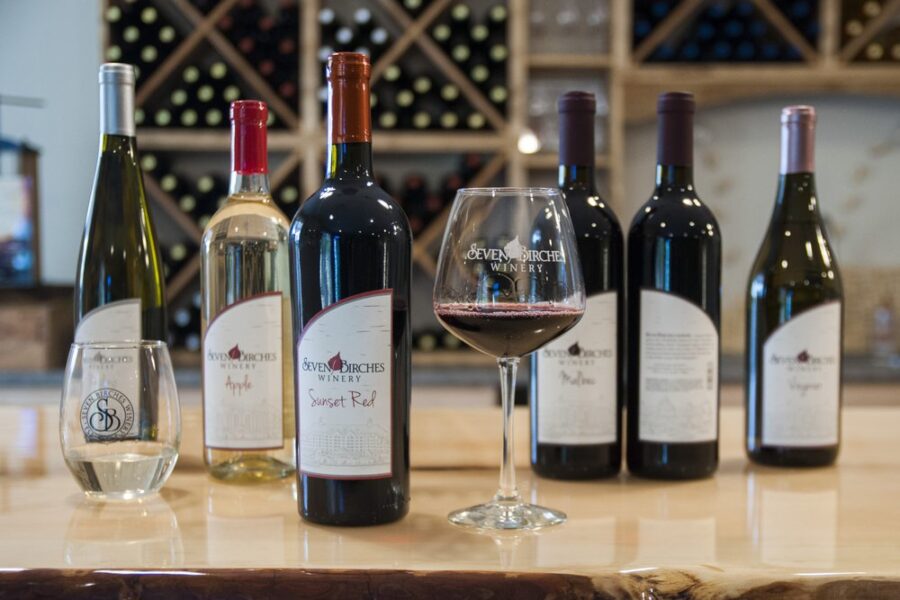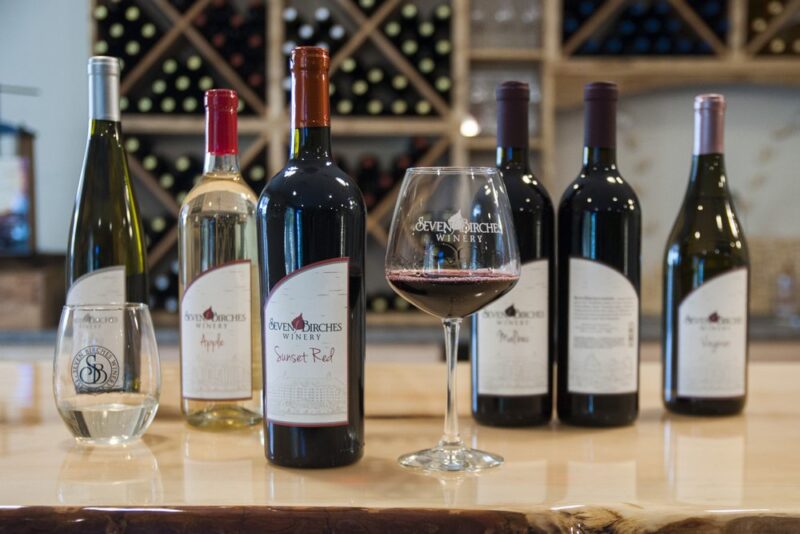 Seven Birches Winery is located within the Riverwalk Resort at Loon Mountain in New Hampshire. It's one of the best wineries in New England for year-round experiences.
The winery is like a museum for connoisseurs, offering a delightful array of wines, tours, and tasting excursions that are available daily. Their in-house wine is proudly 100% New Hampshire and locally made from classic European grape varietals and distinct fruits.
For their wine, ask for their two best-selling labels, "Riverwalk" and "Windy Ridge". Riverwalk is created from globally sourced grapes and Windy Ridge is the brand's in-house crafted wine made from locally sourced fruits.
If you're feeling overwhelmed, have their staff help you choose. They are normally very friendly and approachable, so don't hesitate to ask!
Serves: 1:00 PM – 6:00 PM Monday to Friday & Sunday, 1:00 PM – 7:00 PM Saturdays
Location:22 S Mountain Dr Lincoln, NH 03251
9. Gouveia Vineyards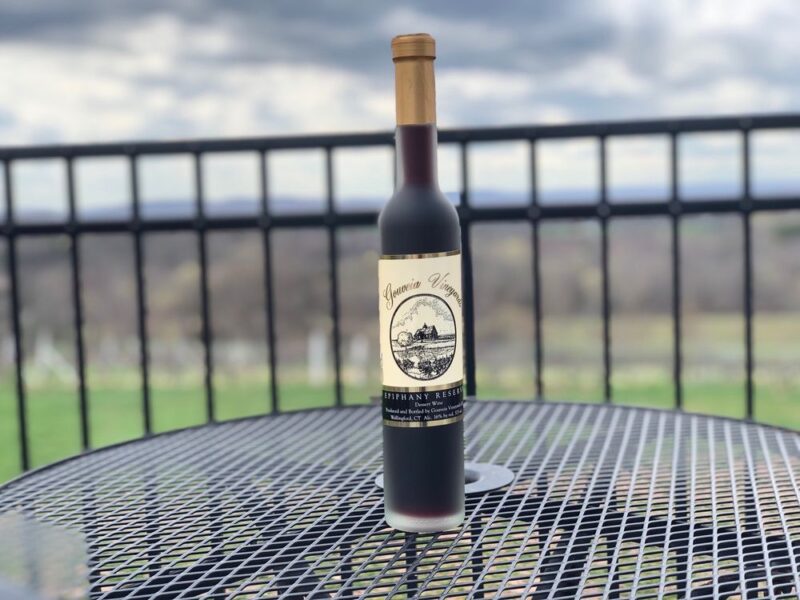 Gouveia Vineyards was only recently established in 2004 by a Portuguese family. The owner's goal was to bring their village's legacy to the United States where their family continued to pursue the American dream.
Gouveia Vineyards is one of the largest, well-maintained vineyards in Connecticut. Drinking wine on a fall day is like living in a romantic film. The seating is huge, so there are no problems with social distancing. They have large umbrellas for sunny days and fire pits for cold afternoons.
Get a taste of their Whirlwind Semi-Sweet Rose or Sunset Red. If you're indecisive, you can always ask for their tasting plan. For $15, you can select five wines and a souvenir glass to bring home.
Serves: 11:00 AM – 6:00 PM Monday to Thursday & Sundays, 11:00 AM – 8:00 PM Friday to Saturday
Location: 1339 Whirlwind Hill Rd Wallingford, CT 06492
8. Black Bear Vineyard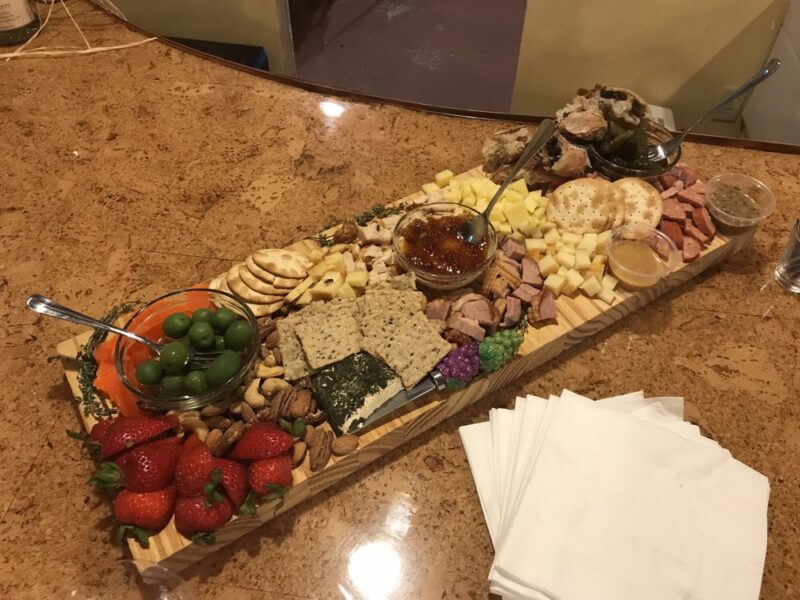 Black Bear Vineyard is located in Salisbury, New Hampshire, and is run by passionate owners with a credible background in winemaking. The expanding greenery and mountain view can also be seen from their patio, offering you to breathe in the fresh breeze while sipping from your glass of wine.
For their wine, ask for their La Crescent, Frontenac, and Vino Cappuccino on your next visit. If you are just starting your wine journey, do not hesitate to start a friendly conversation with the owners and staff. They are passionate, knowledgeable, and patient, so there's really nothing to regret in visiting this humble winery in Salisbury.
Serves: 11:00 AM – 6:00 PM Friday to Sunday
Location: Salisbury, New Hampshire
7. Maugle Sierra Vineyard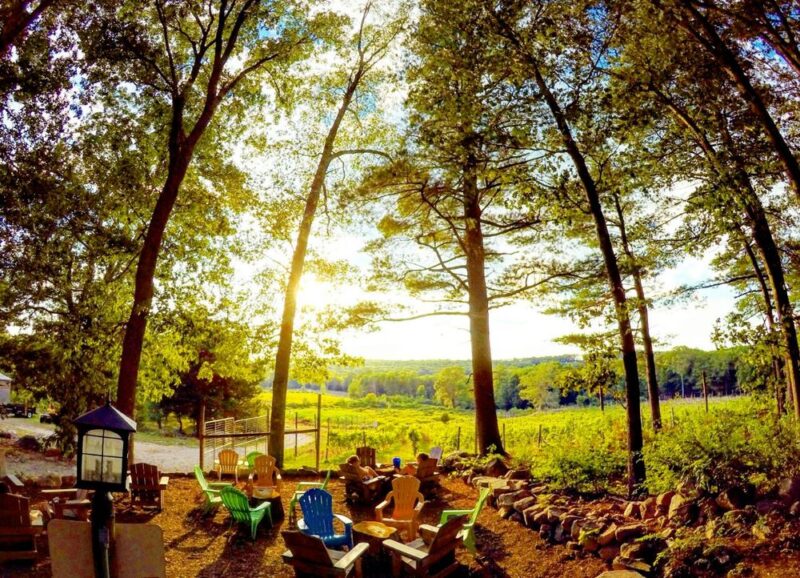 Maugle Sierra is a vineyard and winery located just a couple of minutes away from the Mystic Seaport in Connecticut. They offer wines made with grapes and fruits that are grown on-site. Have a taste of their beautifully named wines with a plate of anything sweet from their dessert menu. Ask for their Que, Sera, Syrah or Ledyard Sunset Red. They also allow packed food, so if you wish to have a picnic with their delectable wines and food from home, go for it!
Maugle Sierra's dining space is cozy and spacious which leaves an ample amount of space for social distancing. You may also hold medium to large-sized gatherings as long as you let them know ahead of time.
Whether you're coming with a large group or are here on a date night, Maugle Sierra's is one of the best wineries in New England because the wine is really top-notch.
Serves: 12:00 PM – 6:00 PM Fridays, 12:00 PM – 7:00 PM Saturday to Sunday
Location: 825 Colonel Ledyard Hwy Ledyard, CT 06339
6. Truro Vineyards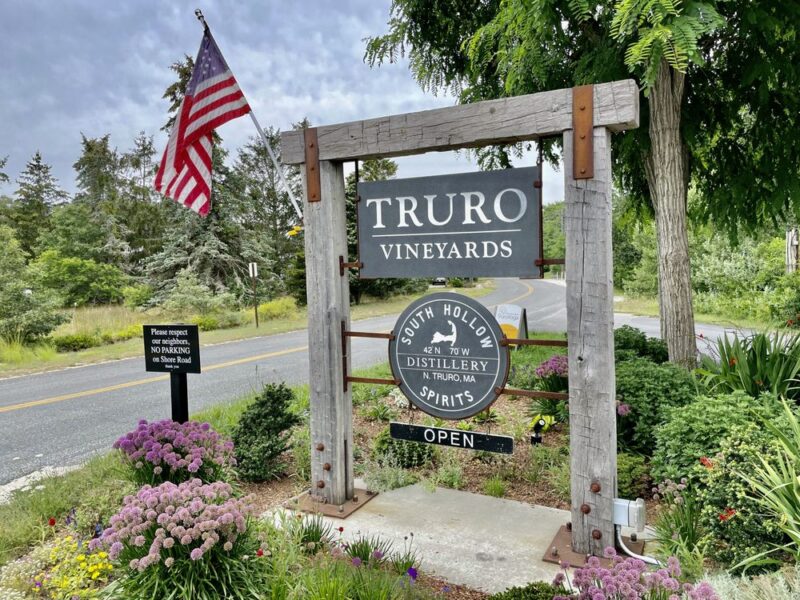 Truro Vineyards is located in Cape Cod and is one of the pioneering common grape vineyards in the region back when they started in 1991. Truro grows well-known wines from merlot, chardonnay, to cabernet franc wine grape varieties, picking each harvest by hand.
The sandy soil, warm breeze, and moderate climate also contribute to the wines' flavor and character, making each bottle distinct and intense compared to wines in neighboring states.
For $15, you get to experience an array of spirits from whites, reds, roses, and dessert wines. If you're looking for a fun drink, you can get a glass of their unique and strong blend of cocktails for $10. You can also pair your drink with munchies being sold from the food truck.
Serves: 11:00 AM – 5:00 PM (Thursday-Mondays)
Location: 11 Shore Rd Rte 6A North Truro, MA 02652
5. Flag Hill Distillery and Winery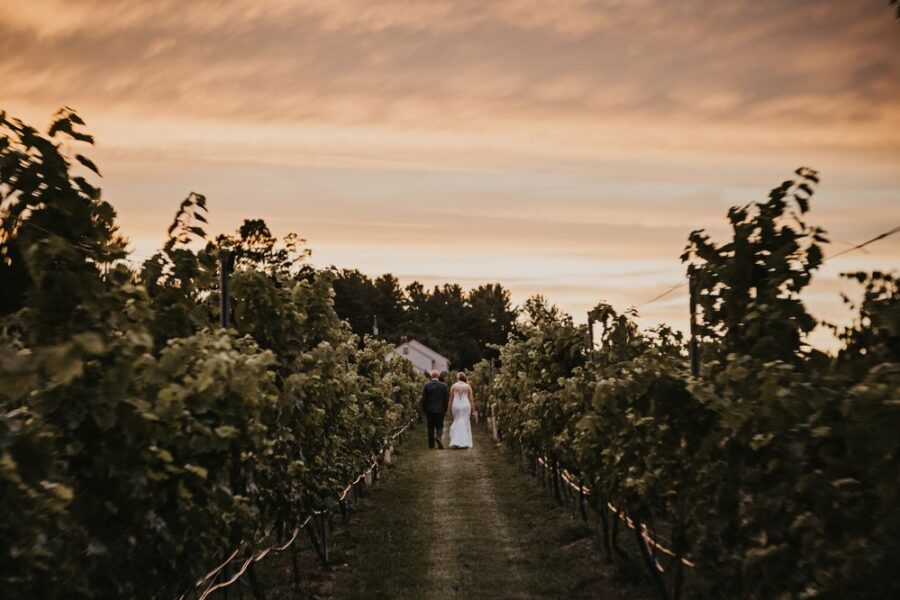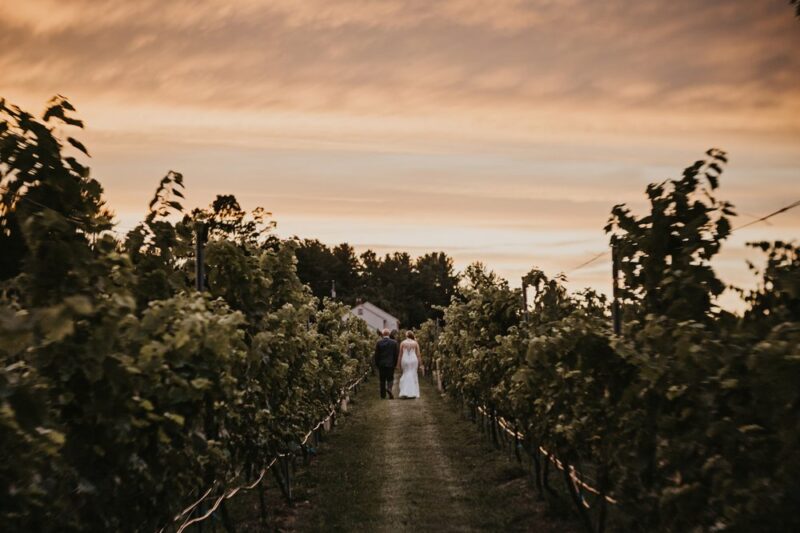 In Flag Hill Distillery And Winery, there is something for everyone. This is one of my favorite all-around awesome wineries in New England – we've been here too many times to count!
Find beers, spirits, wines, and four-course meals to indulge and dig in. Flag Hill is also one of the few wineries that offer brunch and dinner meals served with spirits of choice.
Flag Hill's wine-tasting flight is composed of 5 varieties of wine paired with a delicious variety of cheeses, savory crackers, and olives. They usually pick up French-American and Minnesota hybrid grapes to produce their white, red, fruit and sparkling wine. There are also curated drink blends for the adventurous type in your group.
The 17th-century barn-turned-winery really completed the authentic and old-fashioned atmosphere of this place. It speaks so much of history, legacy, and passion!
Serves: 11:00 AM – 5:00 PM Daily
Location: 297 N River Rd Lee, NH 03861
4. Nashoba Valley Winery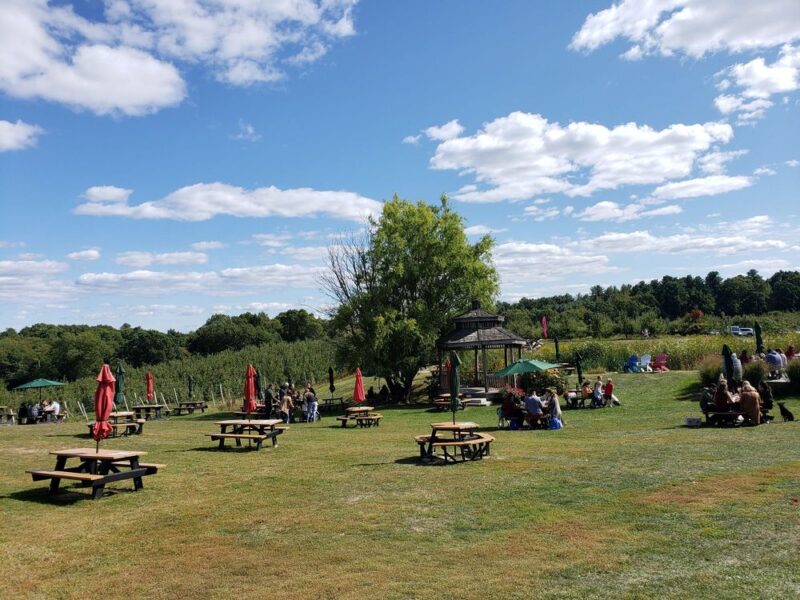 If you want the Napa Valley feel here in New England then you definitely need to check out this winery.
Nashoba Valley has been operating for over 30 years and is proud to produce unconventional wines. They are proud of their locally grown fruit-based wines from the farms of Massachusets. This was Jack Patridge, the owner's goal – to grow wines in a very unlikely location and offer locals a taste of their very own wine.
The tasting tour is a bit on the pricey side, but you get more than you usually expect. The wines are exceptional, the tour guide is very accomodating, and the winery is charming. Definitely try their fruit wines, especially their raspberry dessert wine for a unique experience. They have charcuterie boards, sandwiches, and cocktail food to pair with your drink as well.
They also have fun non-wine activities that you can set up to do with the kids or with a partner. Depending on the season's harvest, you can reserve a slot for apple or peach picking.
Tables tend to be packed, so call ahead to reserve a seat!
Serves 11:00 AM – 5:00 PM Monday to Wednesday & Sundays,
11:00 AM – 6:00 PM Thursday to Saturday
Location: 100 Wattaquadock Hill Rd Bolton, MA 01740
3. Cape Cod Winery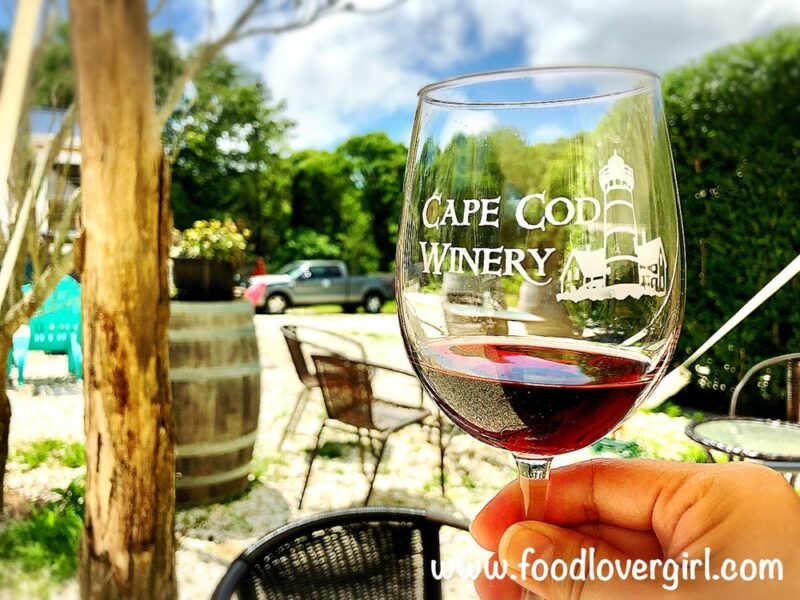 Cape Cod Winery is a notable winery located in Falmouth. The area where it is situated holds a rich agricultural history that dates back to the early 1900s. When you visit Cape Cod Winery, expect a lot of regulars, familiars, and locals greeting the owners Pete and Erika Orlandella.
Cape Cod Winery also hosts all kinds of events throughout the year – from live events to wine-and-yoga experiences. Through these events, you'll see how locals in New England really love coming together!
Their wine selection includes classic reds, whites, roses, and sparkling wine. They also offer basic comfort food but allow guests to bring their own packed food.
Serves: 12:00 PM – 6:00 PM (Friday-Sunday)
Location: 4 Ox Bow Rd Falmouth, MA 02536
2. 1620 Wine Bar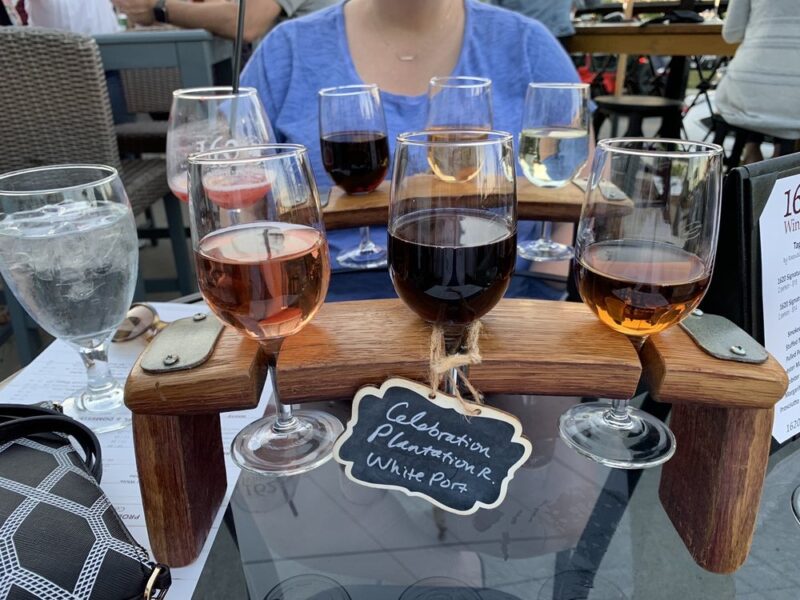 1620 Wine Bar is a trendy modern winery located in Plymouth, Massachusetts complete with a wide array of wine selections, a full tapas menu, live music, and wine tasting tours. Their tapas menu is to die for! Try their Caprese Salad, Garlic Shrimp, and Arugula Salad. Pairs well with a glass of 1620 Oaked Chardonnay!
What we loved about 1620 Wine Bar is also its prime and accessible location. If you're on a trip, you're in luck. Located in a plaza, this winery is close to local art and craft stores where you can browse novel items to bring home.
Serves: 4:00 PM – 10:00 PM Thursday-Friday, 12:00 PM – 11:00 PM Saturdays, 12:00 PM – 8:00 PM Sundays
Location: 170 Water St Ste 25 Plymouth, MA 02360
1. LaBelle Winery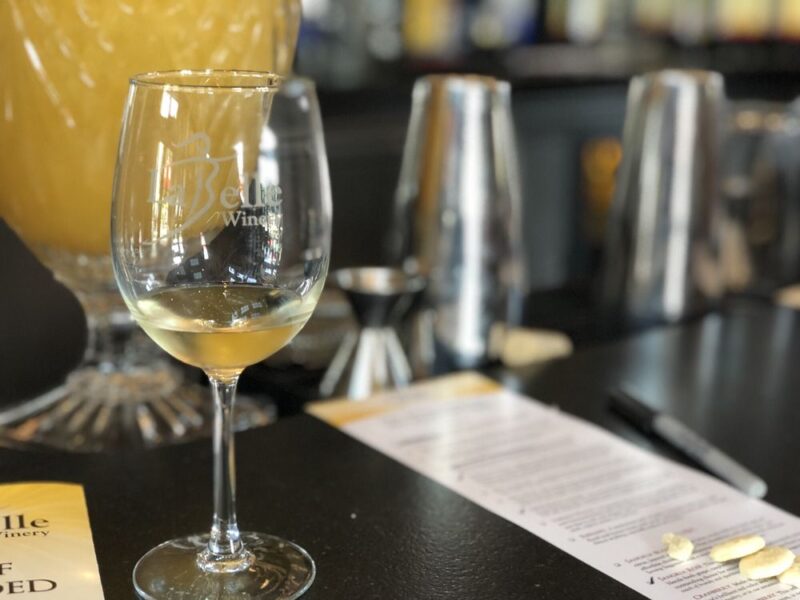 Labelle Winery is a young and trendy winery in New Hampshire with under 20 years of operation. Despite its pre-mature impression to the wine-making industry, LaBelle proved itself by producing classic Old-World style wines that captured both the hearts of veteran and new connoisseurs.
Locals' favorites include their well-balanced Chardonnay, intense and spicy Malbec, and fruity Seyval Blanc. Other classic Old-world style wines they produce include Chardonnay, Riesling, and Gewurztraminer.
If you're visiting, also look forward to LaBelle's trendy, fun-filled upcoming events. Activities may include live music, comedy nights, cooking demos, and art galleries. Perfect for bringing out your creative spirit while sipping a glass of wine!
Serves: 12:00 PM – 9:00 PM
Wednesday to Saturday, 10:00 AM – 5:00 PM Sundays
Location: 345 State Route101 Amherst, NH 03031