There are so many iconic lighthouses in the state of Maine that it's hard to pick. You can check out tiny little lighthouses filled with local history, but there's also the more impressive lighthouses that make for great Instagram opportunities.
We love checking out local lighthouses so today we're sharing our favorite lighthouses located specifically in Maine!
When you visit Maine's lighthouses and state parks during the summer, expect an abundance of wild blueberries to taste – they grow everywhere!
Aside from this delicious natural treat, don't forget to grab a few bottles of honey when you visit. Maine is known for its 52 species of honey bees that supply the state's local honey and beeswax production. In fact, the state is where Burt's Bees' famous beeswax-based products come from!
Maine is also known for its seafood restaurants and island-inspired cafes. If you're looking for something to fill up before a long day in town, don't hesitate to try lobster rolls in any of their restaurants!
But let's be real: just seeing some of these Maine lighthouses is treat enough.
Why Visit Maine Lighthouses?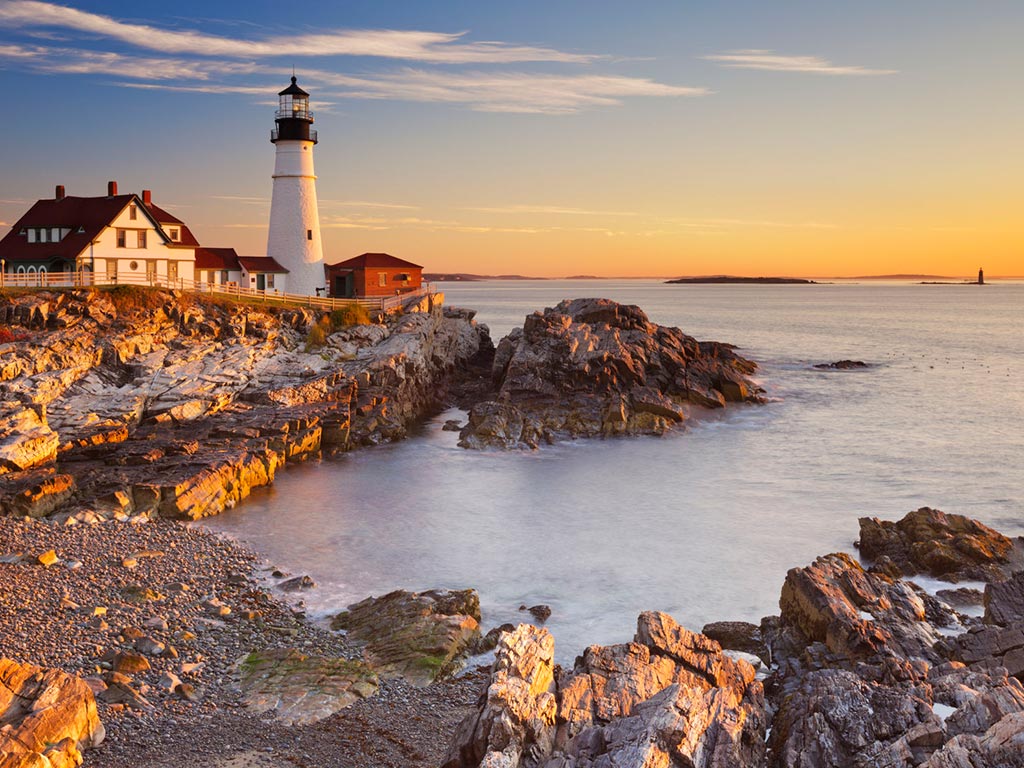 Maine's lighthouses are one of the big highlights of the state and are considered a living legacy. For two centuries, these lighthouses stood to serve as a marking point along the rocky coasts of the state.
Lighthouses in Maine have saved seafarers and boatmen along with their vessels. The rich history that each of them holds makes an impact on visitors and locals alike.
The shores on which these Maine lighthouses are situated also offer breathtaking views that change with the seasons. Some lighthouses also have nearby stores, food trucks, and cultural shops where you can immerse deeply in the state's culture.
Best Lighthouses In Maine To Check Out
Here are our favorite lighthouses in Maine to visit. You'll find all types of Maine lighthouses on this list, from ultra-historical to incredibly photogenic!
Bass Harbor Head Lighthouse: Bass Harbor, Maine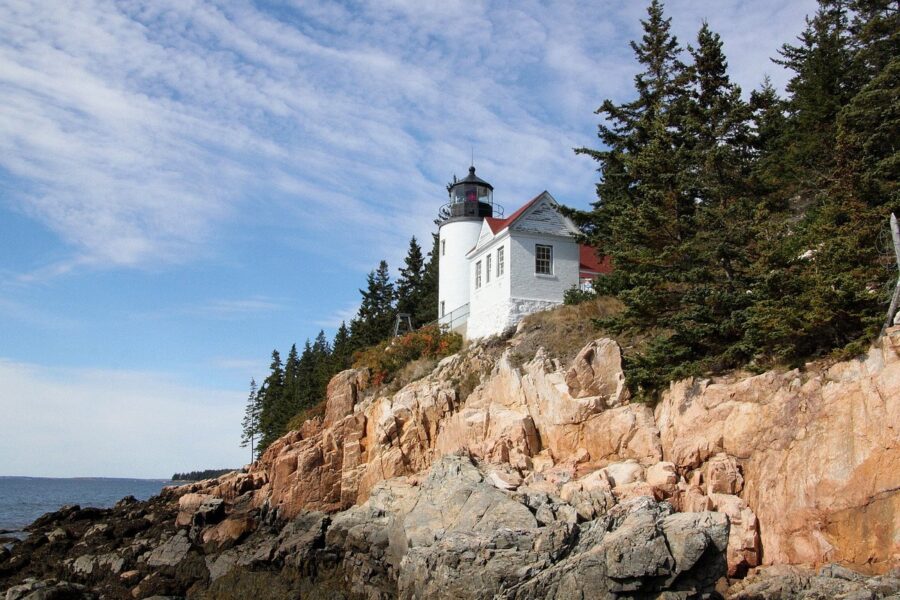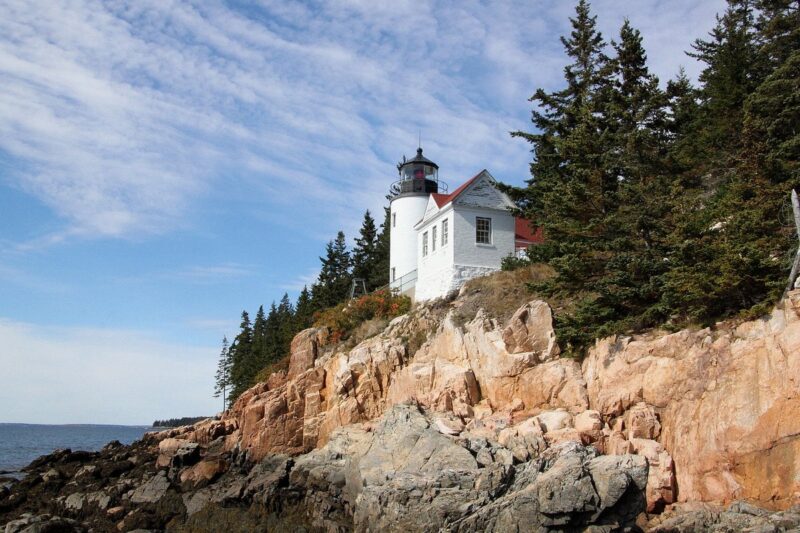 Bass Harbor Lighthouse is located in Acadia National Park in Bass Harbor, Maine. The lighthouse accompanies the rocky coast of Mt. Desert Island since 1858. The exhilarating position of the lighthouse makes a beautiful setting for sunset photos. It's what people go here for.
When you visit Bass Harbor to wait for the sunset, you won't need more than 30 minutes in the location. Check the time to match the sun's setting and go a bit early to secure a parking spot. It's usually the most challenging part of getting to Bass Harbor.
Visiting early in the morning is the most ideal – the crowd is minimal and there is less to no pressure at all. If you want fresh air, you can approach the staff for the park's complimentary Island Explorer shuttle.
Cape Elizabeth Light: Cape Elizabeth, Maine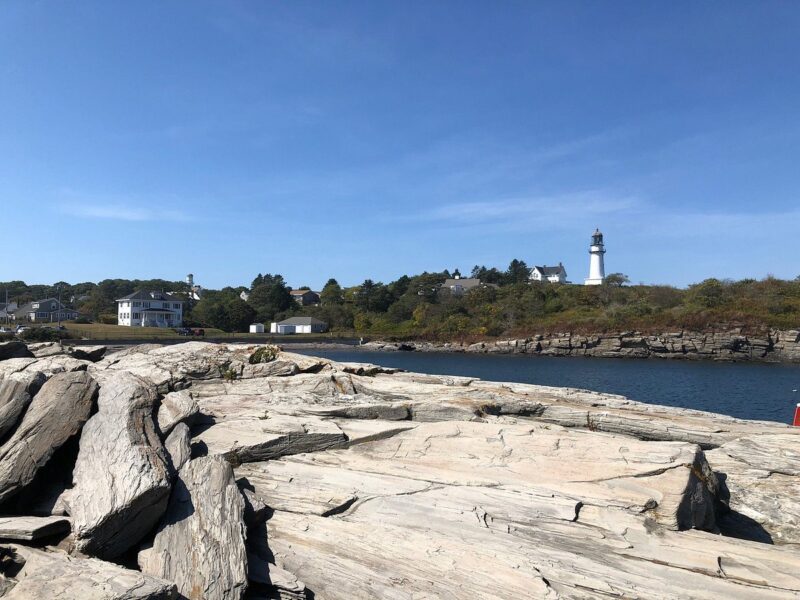 Cape Elizabeth in Maine is home to the state's first and famous twin lighthouses. Two Lights was built in 1828 and is known for the tragic and perilous occurrences between 1780 and 1990 that remain a mystery until today. Within those years, at least 98 ships sank or disappeared!
It is important to note that Two Lights cannot easily be seen from the designated state park. With a bit of a walk or a drive from the parking area to the grassy hill, you will be able to grasp the view of the island's rocky coast and one or two lighthouses from the distance.
If you want a bit of activity, Two Lights also have accessible hiking trails that take you to beautiful clearings of the Atlantic Ocean. The coastal rocks make a challenging terrain – so it's best to continue with caution.
Two Lights is also near other sites that you can visit for pleasure, food, or entertainment. When hunger strikes, grab a lobster roll at The Lobster Shack at Twin Lights or visit "Into The Lantern: A Lighthouse Experience" located at the Maine Maritime Museum in the town of Bath where the history of Two Lights is featured.
This is one of the most iconic Maine lighthouses for a reason! Not only are the views incredible, but it's a great Maine lighthouse to visit if you want to take really awesome photos.
Marshall Point Lighthouse: Port Clyde, Maine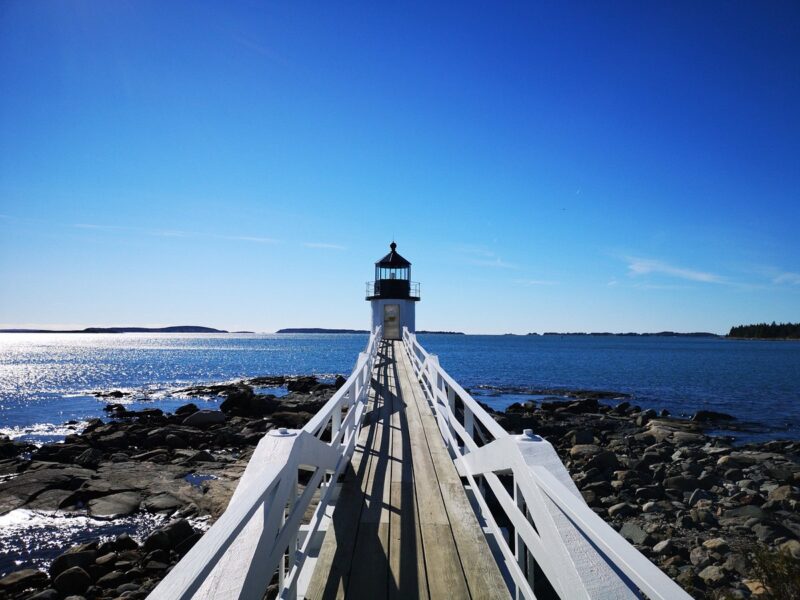 Marshall Point Lighthouse in Port Clyde, Maine is a historical 24-foot structure that was developed in 1858 along with the caretaker's house, museum, and garden. It is considered the most easily recognized and the most charming one in the state. Marshall Point Lighthouse can even be seen in the popular classic, Forrest Gump, where Tom Hanks appeared after running from a wooden runway during his cross-country trek.
Despite its popularity, Marshall remains under-publicized as far as the best Maine lighthouses go. It doesn't have an official office or information center in the area.
Regardless, this lighthouse is a great place for taking photos considering the variety of sites that you can see on-site. While in the area, you may also ask the staff to be directed to a short cruise on their Monhegan boat where you can see a clearer view of the lighthouses.
Cape Neddick Light (Nubble Light): York, Maine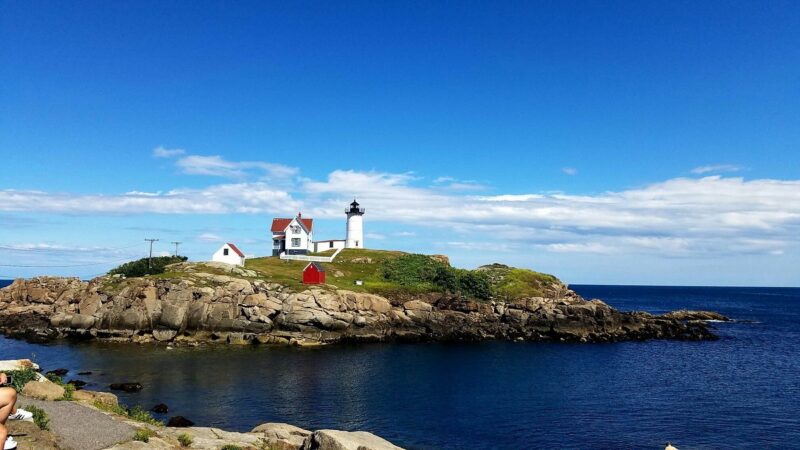 Cape Neddick Light or more commonly known as "Nubble Light'"is one of the most popular lighthouses in Maine.
The historical "Nubble Light" is situated on a little island just a couple hundred feet away from the rocky coast of York. Next to Marshall, this beacon is one of the "most photographed" lighthouses. Its picturesque views say it all!
To enjoy an afternoon within the site, drive to the Sohier Park to book a scenic and meditative cruise that overlooks the lighthouse, the rocky coast, and York's uniquely designed coastal residences. Witness the beauty of the water reflecting the sunset during the afternoon hours.
There are also extracurricular activities like scuba diving that you can ask the staff around for during the warmer months.
Owls Head Light: Rockland, Maine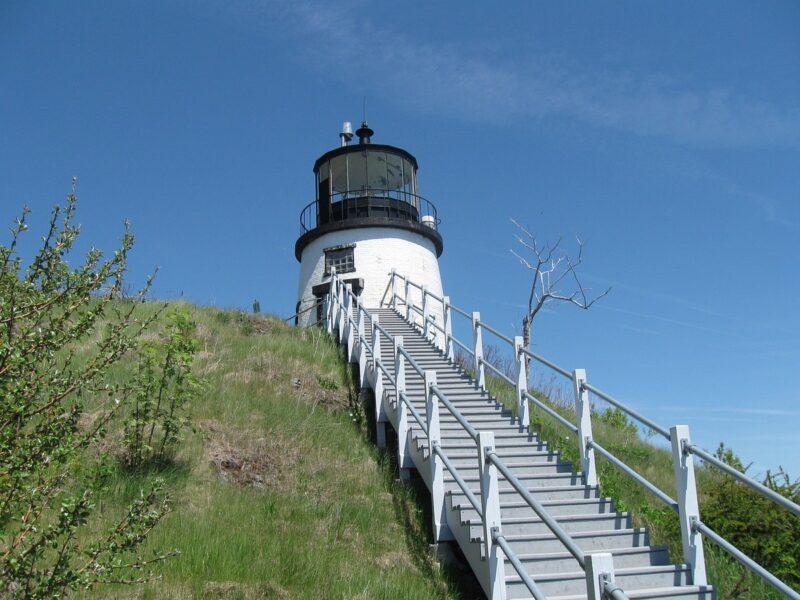 Owls Head Light in Rockland, Maine is the epitome of Maine lighthouses. Just right off the park, there is a beach and a couple of paths where you can stage your own little adventure.
People recommend Owls Head Light as a great dating spot too. The scenic view is romantic and is perfect for celebrating couples. I can definitely imagine a proposal at this lighthouse!
What makes it likable is also the park's easy accessibility to the lighthouse park's clearing. Seniors and adults with children can have a good time without pressure, no doubt. If you're also up for a relaxing walk in the park in exchange for a slightly tedious hike, Owls Head Light is your best bet. Plus, getting a parking spot is not a problem here at all!
Just take note that dogs are not allowed past the parking lot.
Pemaquid Point Lighthouse: Bristol, Maine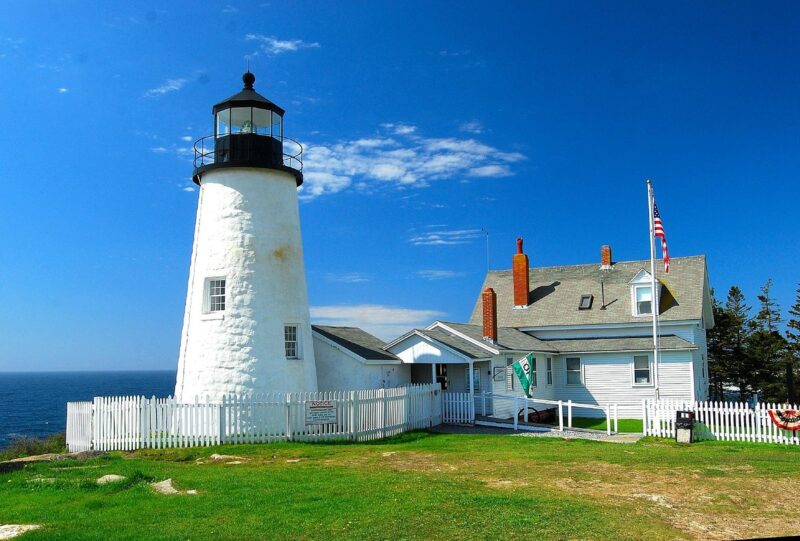 Pemaquid Point Lighthouse in Bristol, Maine was built in 1827 by the initiative of the 6th US President John Quincy Adams. Unlike other historical beacons, Pemaquid Point is an actively operating lighthouse that still serves as guidance to boatmen and seafarers.
The lighthouse is built next to the beautiful rocky coast that the state is well-known for. On-site, there is a keeper's home, a learning center, an art gallery, and an open field for picnic parties. It's one of the best lighthouses in Maine if you're looking to spend the whole afternoon and learn a bit of Maine history.
If you're looking for a place to ease your hunger, there is a quaint restaurant within the area that sells the best chowder in town.
Portland Head Light: Cape Elizabeth, Maine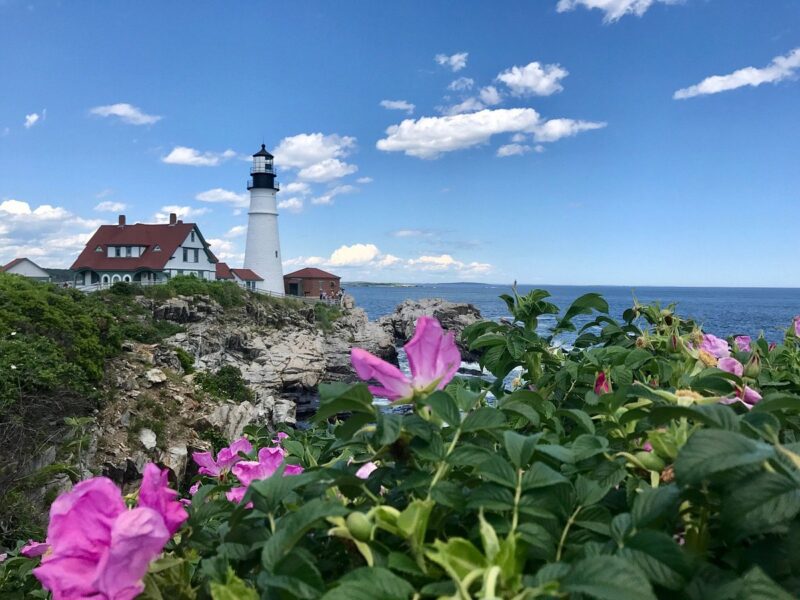 Portland Head Light is a really old lighthouse and is one of the most frequently featured lighthouses by professional photographers. Despite its rich history and its old age, the quality of the lighthouse's white-painted stone structure – making it stand out from the rocky clearing. This stunning beacon was first operated in the year 1791 by 16 whale oil lamps.
Portland Head Light is a must-have on your Maine lighthouse bucket list. The lighthouse itself is magnificent, breathtaking, and spectacular. The cliffs underneath form a grand structure that the waves hit so perfectly.
But here's the thing: you can't get inside the lighthouse. Luckily, there's is plenty of space in the area around the light to set up a lawn chair or a picnic. Also, depending on when you visit, there is a variety of food trucks on-site. This is definitely one of the best lighthouses in Maine during the warmer months.
Seguin Island Light Station: Bath, Maine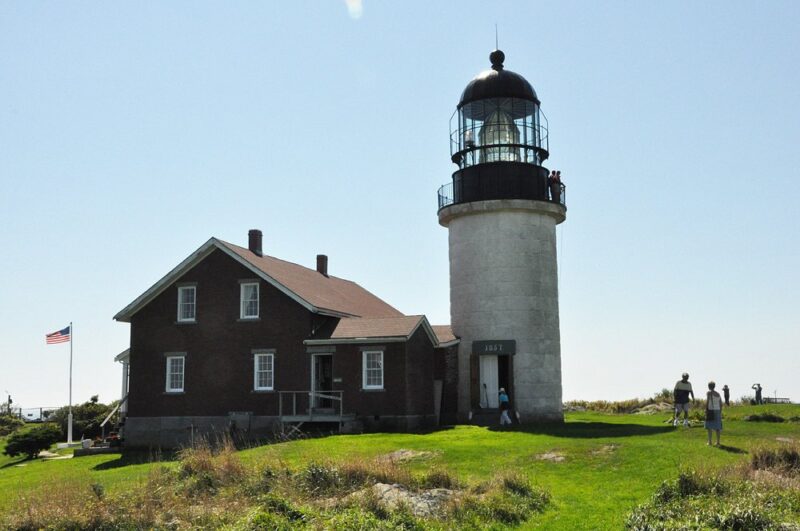 Built in 1795 on the order of George Washington, Seguin Island Light Station follows the completion of Portland Head Light's historical structure. From the site, you could get a stunning view of Popham Beach. For a much vivid perspective, bringing a set of binoculars can be of great help.
For the pictures, enjoy every setting there is on-site: a rustic-looking dock, a vintage fort, boat rides, and a sunset during afternoon hours. Have a taste of wild blackberries as well!
However, spontaneity is not a good thing if you're planning to visit this Maine lighthouse. Call a day ahead to secure a boat ride to the side as there are no paths to the lighthouse without a boat ride. The Seguin Island Ferry is located at Popham Beach where the lighthouse caretakers will orient you in your guided tour.
Spring Point Ledge Lighthouse: South Portland, Maine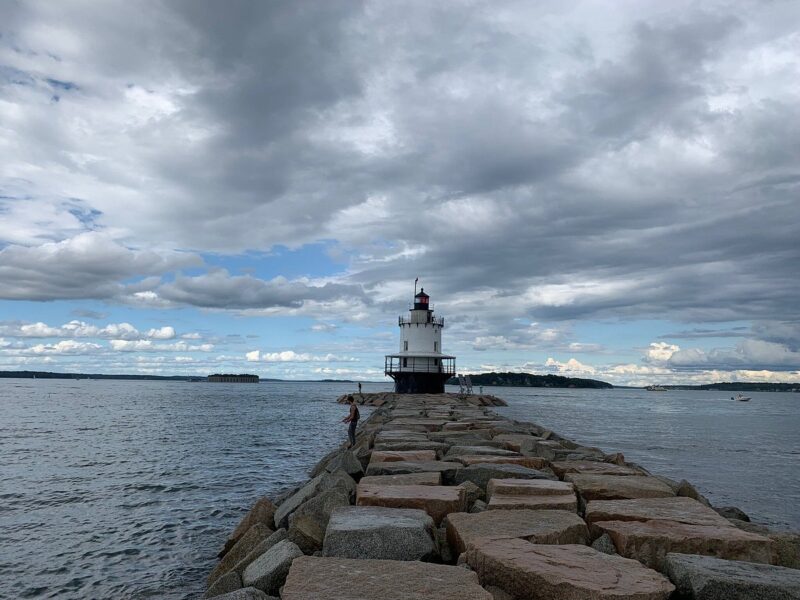 Spring Point Ledge Lighthouse plays a large role in keeping seafarers and incoming boatmen safe from the perilous waters approaching Portland Harbor. This beautiful Cassion-style tower is accessible yet memorable, considering where it's situated (Spring Point Ledge Lighthouse is located at the end of a 950 breakwater). This allows you to view the breathtaking clearing of the Portland Harbor and Casco Bay Islands from the distance.
Aside from that, there are two beaches to explore on-site. One is located by the parking lot and the other one on the side of the fort. The trek to the lighthouse can be a bit challenging, so make sure you practice on your balance before heading out!
After venturing the lighthouse, go ahead and check out the local museum called Cushing Point's House Museum in Bug Light Park to cap the day off.
West Quoddy Head Lighthouse: Lubec, Maine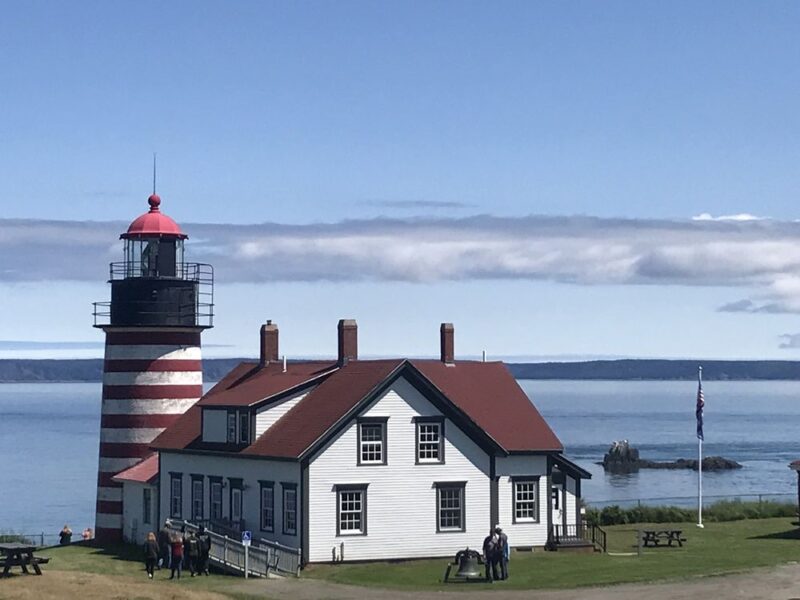 West Quoddy Head Lighthouse is a very easy lighthouse to recognize from a distance. This historical beacon is painted with nautical red and white stripes to guide the ships entering the borders that separate Maine from Canada.
What makes West Quody's location interesting is the fact that visiting the place enables you to stand in the easternmost part of the United States. You can even see New Brunswick, Canada's cliffs of Grand Manan!
Despite not having a lot of shops to roam around after venturing the lighthouse, there are some restaurants that you can dine in back at Lubec's main road.
Monhegan Island Light: Monhegan, Maine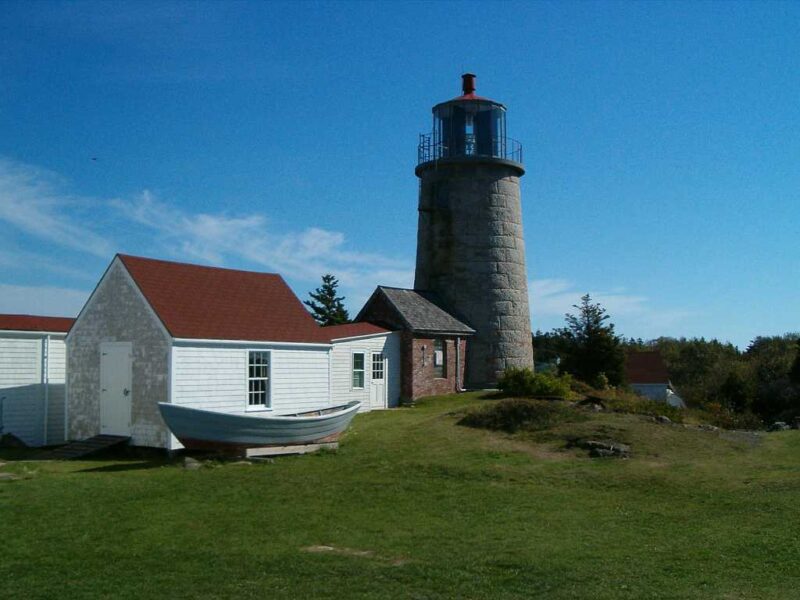 Monhegan Lighthouse was established in 1824 but rebuilt in 1850 with a much sturdier stone structure. The lighthouse became popular and significant because it was the last lighthouse preceded by Alexander Paris, the famous lighthouse engineer, and architect.
Monhegan Lighthouse is made of rough granite that looks almost like a princess' castle tower, in my opinion. It is one of the most beautiful and romantic rustic structures that I have come across. It almost feels like a time travel experience.
The path to the lighthouse is consecutively uphill, but the effort is all worth it! You can see the old Monhegan Cemetery and the waves crashing the coast from below.
Whaleback Lighthouse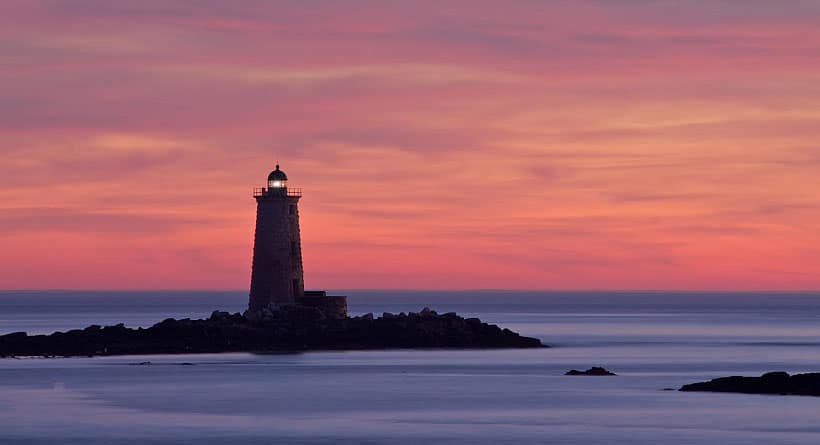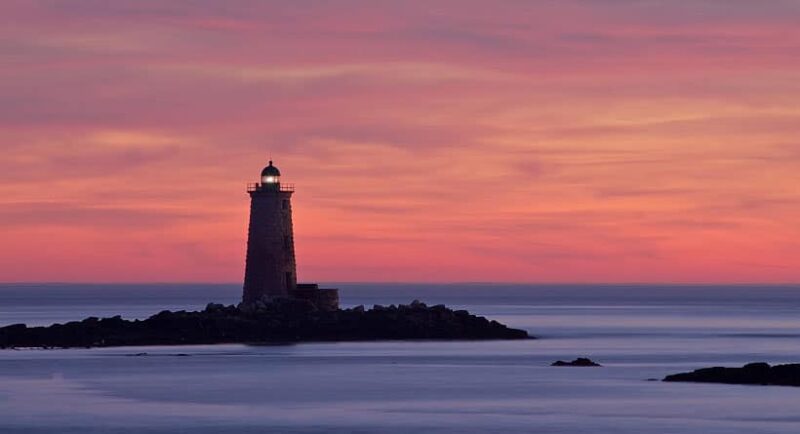 Whaleback Lighthouse is a stunning and unique lighthouse that is located on a tiny barren Boon Island off the coast of Maine. Next to Monhegan, Whaleback features a similarly rustic structure made of granite. The original lighthouse was built in the early 1800s but was washed away in a storm. It was soon rebuilt in 1855.
The lighthouse is not open to the public, but the sight of it from the shore of Long Sands Beach and Sohier Park in York is a precious sight to see. Coming from its name, the structure stands tall in between strong rushes of waves surrounding it. It is like watching a musical!
There are a few local accommodations like Anchorage Inn, Union Bluff Hotel, and Sea Latch Inn in Long Sands Beach where you can stay for more than a day. Great brunch spots within the area include Shear Water at Stage Necks Inn and Stones Throw within Long Beach Avenue.
Other Top-Rated Attractions In Maine:
If you've run out of Maine lighthouses to explore, we recommend checking out these awesome attractions all in the state of Maine.
Acadia National Park
Acadia National Park is a spectacular coastline surrounded by a series of inland lakes, streams, and forests. It also has a playground meant for locals and visitors who love adventures outdoors. If the lighthouse visit wasn't enough to feed your need for nature, Acadia National Park is a great addition to your itinerary. This park is family-friendly and ensures everyone has a great time.
The location where the park is situated offers a clearing of the Bass Harbor Head Lighthouse.
Marginal Way and Ogunquit Beaches
Marginal Way and Ogunquit Beaches are two popular family-friendly beaches in Maine. It has a paved walking path from the long sandy beach to the rocky coast where the waves crash beautifully. The sandy coves among the rocky cliffs make a good place to stay for a picnic or a meditative session.
It was originally a small fishing port – which will explain most of the boats present in the area. Besides that, the beaches are quite commercialized, which is evident in the restaurants and small shops present in the area. Both beaches operate busiest during the summer.
Old Orchard Beach
Old Orchard Beach is another beach resort in Maine known for something else: its full-scale amusement park on a beach. This fun, active tourist attraction is perfect for best friends, big groups, and families who are looking for a little break from day tours. It has everything that you expect an old-fashioned amusement park has: a Ferris wheel, a roller coaster, a classic carousel, bumper cars, and one-player game stalls. There are also food stands that sell kids' classic comfort food: burger, fries, soft-serve ice cream, taffy, and hotdogs.
Old Orchard is pretty much accessible to everyone. You can only reach the area directly by train.
Farnsworth Art Museum
This museum located in Rockland's historic downtown has all the collections of works made by artists in the state and has a center dedicated to three generations of Wyeths. Aside from the museum, you also get to witness the area's well-maintained 19th-century brick buildings.
If you just came down from Owl's Head Light, Farnsworth Art Museum is the best place to add to your itinerary, especially if you have a thing for art. Rockland is also a port for the Maine Windjammer fleet and a bunch of other sailing ships which you can see when you're in the area.
Coastal Maine Botanical Gardens and Boothbay Harbor
Coastal Maine Botanical Gardens is a haven for botanical lovers. It is a home for a 270-acre garden designed and pampered by devoted horticulturalists in Maine. The walking paths are gifted with native and exotic plants that thrive both inland, air, and water.
This garden is also a hit for both amateur and professional photographers. There is just so much to see and experiment with!
Apart from that, Coastal Maine Botanical Gardens have a large collection of creative sculptures made by regional artists that highlight the changing of the seasons.