Key West beaches don't tend to be the highlight of a vacation in the Keys. In fact, many people discourage tourists from hitting up any of the beaches in Key West.
This is because the Keys is more like a rocky coastline than a tropical beach area. However, there are still some really beautiful beach spots if you know where to visit.
I like to visit Key West because I like the beach and the other activities. You probably won't find a beach that you'll want to lay on for your entire vacation, but you can definitely spend a day or two by the ocean.
However, finding the best beaches in Key West isn't intuitive. You could spend a whole week in Key West and never encounter a beach!
Most Key West beaches tend to be hidden, so you really need to know where you're going. Some are tucked in near relics or state parks, while others are random patches of water with imported sand.
Today, I'm listing my favorite 11+ beaches in Key West along with a list of pros and cons for each. Hopefully by the end of this blog post, you'll know exactly where you want to go!
A quick note on the location of beaches in Key West:
Like any island, Key West beaches are spread along all sides. However, you'll find the most swimmable beaches on the south side (like Smathers Beach and Higgs Beach), though there are a few on the other side if you know where to go.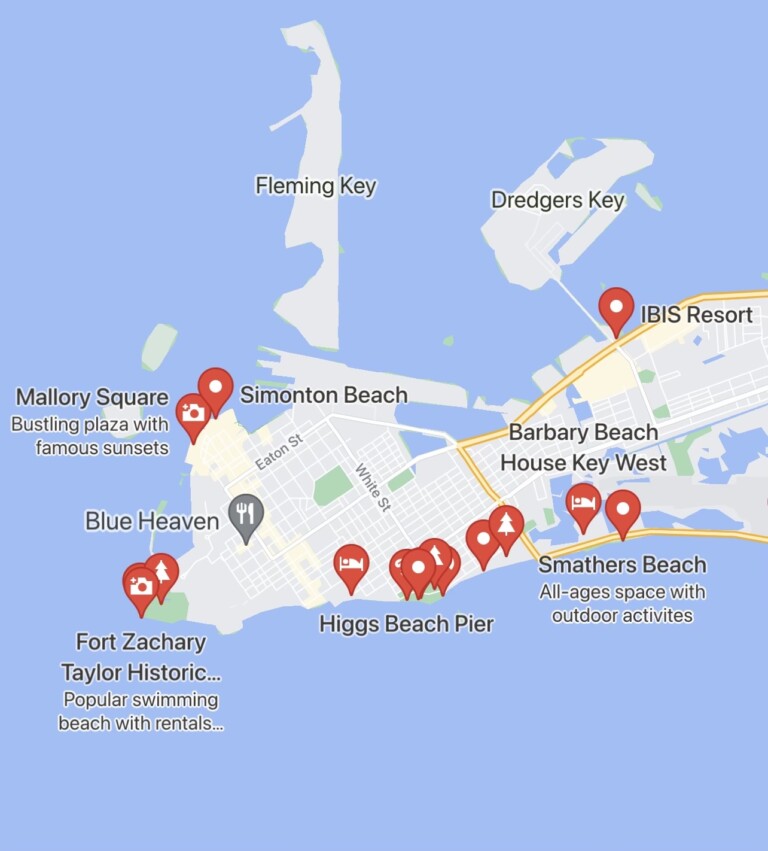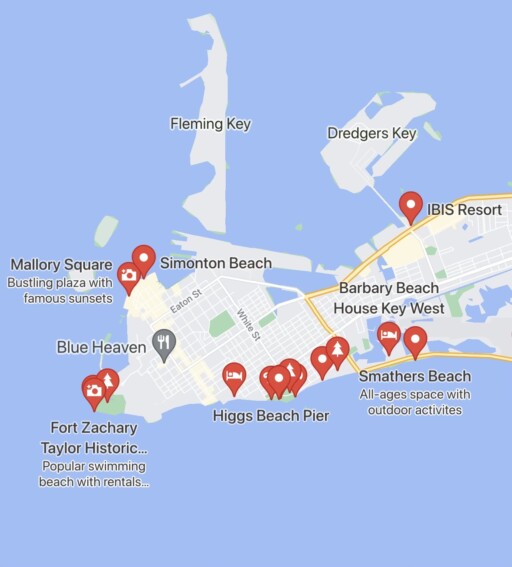 I recommend that you look at where you're staying and check out the beaches nearby. Most Key West beaches have rental stands for chair, umbrella, and water-sport rentals, so you shouldn't need to bring a lot of equipment with you.
11. Smathers Beach
For a whole bunch of reasons, Smathers Beach is one of the most famous beaches in Key West. It's located on the southern shore and is easily accessible by car or on foot.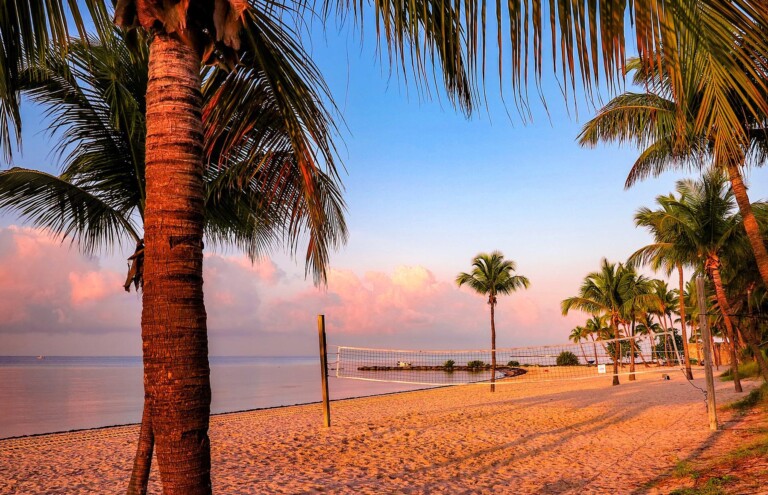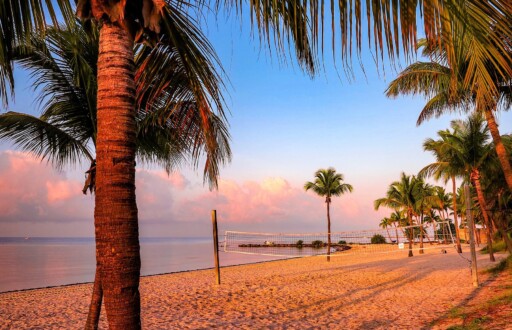 If you're looking for the classic sandy experience then you'll want to check out Smathers. It probably won't be the best beach you've ever been to, especially if you're an avid traveler of the Caribbean, but it's well-set up and enjoyable for Key West.
Smathers Beach is narrow but very long. It does tend to get crowded during the day, so it's best to arrive early, especially if you want a spot with shade under a tree.
I personally think Smathers is one of the best beaches in Key West because the water is pretty calm. The beach is manmade, so you can literally walk out 100 yards into the ocean and still touch the bottom. It's perfect for kids and anyone who likes nice calm beach days!
The sand is nice and soft, making Smathers an ideal beach in Key West for relaxation or swimming. However, it's probably not the best spot for someone who wants to snorkel or check out the reefs. This is 100% a beach in Key West made for swimming.
Smathers Beach has a gorgeous stretch of sand with volleyball courts and palm trees for shade. You can also rent chairs for super affordable prices.
This is one of the best free beaches in Key West and has a restroom that's typically open to 4pm, as well as showers, bike paths, picnic tables, and a snack bar.
Sunset Watersports is located right on Smathers, offering a variety of rentals including sailboats, windsurfers, paddle boards, kayaks, jetskis, and even parasailing experiences.
I will say that, like any of the beaches in Key West, seaweed can be an issue at Smathers. The beach tends to collect seaweed more during certain times of the year than others, so check online for updates before you go.
However, the water is almost always the perfect temperature for swimming and is super clear. The sand is clean and soft.
Not on is Smathers one of the best swimming beaches in Key West, but it's also a beautiful photo spot. You'll definitely see at least one wedding party during the weekends!
Sunset is an especially beautiful time to visit, though you'll need to get here early as the beach fills up quick, especially on Friday and Saturday nights.
Pros:
Clean water and sand
Calm water that's perfect for swimming
The best classically "tropical" beach in Key West
Palm trees for shade
Large strip
Nearby parking available
Cons:
Not great for scuba diving or snorkeling (flat sandy bottom)
Can get crowded
Seaweed sometimes collects on the sand
A bit further from downtown
Price: Free ($4/hour for nearby parking)
10. South Beach
If you walk all the way to the end of Duval Street, you'll find one of the smallest Key West beaches: South Beach. The sand is only 200 feet long and is bordered by the South Beach Pier and the Southernmost Beach Resort.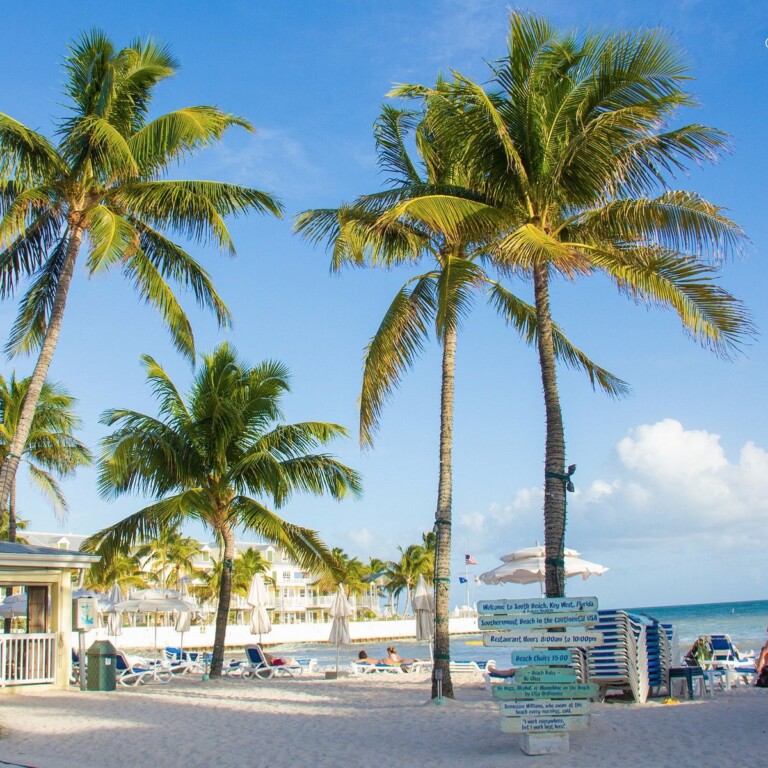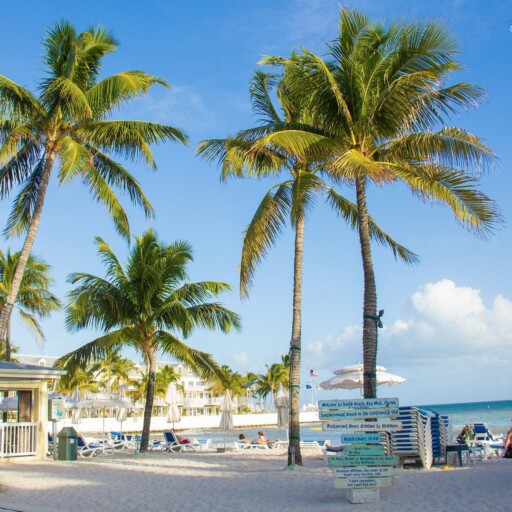 Though South Beach is small compared to many of the other beaches in Key West, it's a favorite with locals.
In fact, South Beach is a great place for a midday dip. The beach doesn't have public restrooms and coolers aren't allowed, so you probably won't want to spend the whole day here (unless you're staying at the resort), but it's perfect for a dip in the ocean while you're exploring the downtown area.
The Southernmost Cafe is right behind South Beach. You can eat breakfast, lunch, or dinner here, or you can just pop in and grab a drink while you take in the scenery.
Like many of the other Key West beaches, you can rent chairs for a small fee and hang out on the beach without eating if you'd prefer. Resort guests get free use of the chairs.
I personally head to South Beach when I want to eat/drink on the beach, or if I want to swim quickly during a hot day. If you do plan on swimming, be careful: the ocean floor can be a bit rocky, though it's great for snorkeling.
South Beach is much more quiet. If you're willing to brave the rocky bottom (just like many of the other Key West beaches) and don't want a full beach day on the sand then South Beach is the perfect spot for a dip.
However, it's also a great spot to watch sunrise or sunset, especially if you want to do so while staying downtown.
Almost all the other Key West beaches are a bit further, so I prefer South Beach when I'm spending time in Old Town and want to see the sunset. It's also a bit quieter and easy to find a spot to sit.
Sometimes, there are even local artists playing music right nearby, so you can enjoy the scenery and hear some tunes.
Pros:
Close to downtown
Never too crowded
Free
Beautiful sunrise/sunset views
Local spot
Southernmost Cafe is right behind South Beach (great for food/drinks on the beach)
Cons:
Very small
Coolers not allowed
No restrooms
No accessible parking
Rocky bottom
Price: Free, though parking isn't available (street parking is your best bet).
9. Higgs Beach
If you're looking for one of the most popular local beaches in Key West that's close to Old Town and Duval Street, Higgs Beach may be the spot.
Higg's Beach is located on the southern coast, adjacent to the Waldorf Astoria's Casa Marina Resort, and is a great spot for various activities.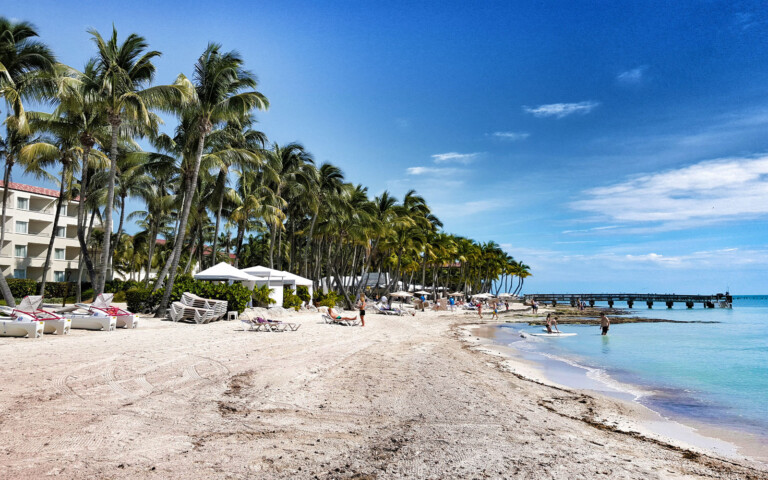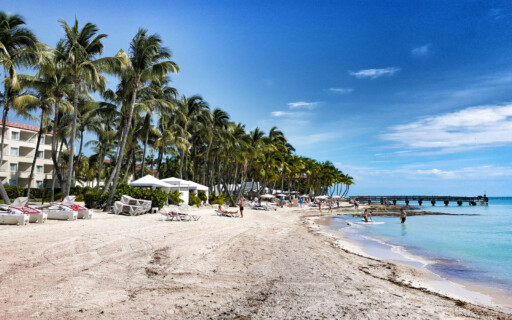 Higgs Beach is one of the best beaches in Key West for fine, white sand. It definitely has Caribbean beach vibes.
The water is super warm and clear, though the ocean bottom does have rocks that can be super slippery as well as coral patches. For those reasons, Higgs Beach tends to be a local spot. You need to know where to swim or you can really cut your feet up.
However, Higgs Beach is perfect for anyone who wants to explore marine life. Scuba diving and snorkeling are two very popular activities here.
I especially love the long pier that's at Higgs Beach. You can walk all the way out and get a great view of Key West as well as the ocean. The pier also has ladders that you can use to climb down into the ocean and swim.
In fact, the best spot to swim is right next to the pier, where it meets the beach. On the north side of the pier (the right if you're looking at it), there's about 20 feet of nice sandy bottom.
I personally love the views from the pier, but it's also a good spot to feed the fish. Just bring a loaf of bread and enjoy some Key West fish action up close for free!
Higgs Beach has tennis courts and volleyball courts as well as a playground and a gorgeous dog park. There's also a beach concessionaire that rents out beach chairs, umbrellas, paddle-boards, and kayaks for affordable prices.
Many tourists come to Higgs Beach to see the Key West AIDS Memorial, as well as the African Cemetery, which is the spot where many victims of the Transatlantic slave trade are buried.
Salute on the Beach is the main seaside bar that's located right on Higgs Beach. It's a really cute spot if you want to hang out near the ocean, and the fish is extremely fresh! Of course, the drinks are always strong and cold, just like everywhere else in Key West.
You can catch beautiful sunrise and sunset views at various Key West beaches, but I personally think Higgs is one of the best spots for both sunset and sunrise because of the pier. The views are really incredible! Plus, Higgs is never too crowded.
Pros:
Beautiful pier for pictures, views, or feeding the fish
Quieter beach
Stunning, soft sand
Calm waters
The Key West AIDS Memorial
The African Cemetery
Salute on the Beach (a seaside bar/restaurant)
Incredible sunrise and sunset views on the pier
Cons:
Treacherous ocean bottom with rocks and coral
A bit further out if you're staying downtown
Parking spots are gone early in the day
Price: Parking is free, though there are limited spots. The beach is free to access as well.
8. Simonton Beach
Out of all the beaches in Key West, I think that Simonton Beach is my favorite. It's a smaller, quieter beach that has nice swimming and boasts an awesome beach bar.
Mainly, I love Simonton because you can actually swim and the beach is super close to Old Town. It's right next to the Pier House Resort.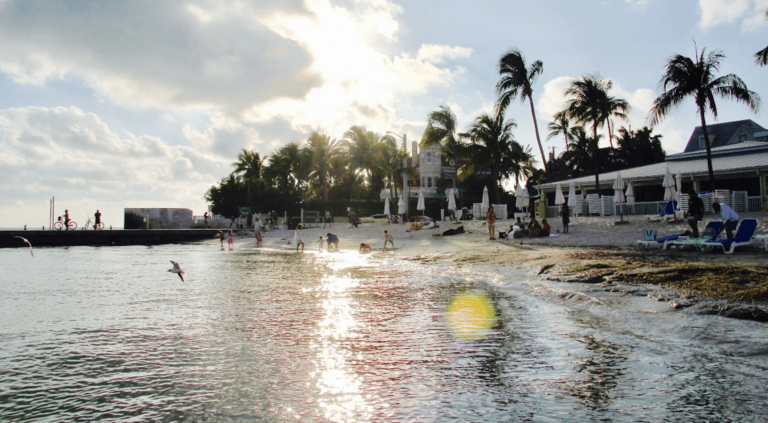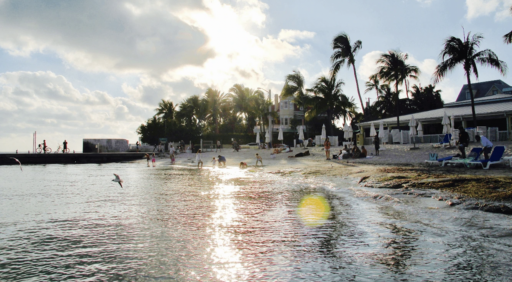 The sand is clean and the water is clear. Though this is one of the smaller Key West beaches in the area, the location more than makes up for this.
Simonton Beach does have a small pier that usually isn't too crowded. You can jump off the pier and swim over to the floating dock nearby, so this is a great spot for people who want to dive without anyone bothering them, which isn't easy to find at Key West beaches.
This Key West beach boasts great views of sunset from the pier, too. Though it isn't usually crowded, you will need to come early (for either a beach day or sunset) during peak season, on the weekends.
My favorite part of Simonton Beach is the Lagerhead Beach Bar. Not only do they serve incredibly fresh food and frozen drinks (that you can sip on right on the beach), but you can also rent out chairs and umbrellas for affordable prices.
Pros:
Super close to Old Town
Clean sand
Clear water
Decent swimming
Has a small pier and a floating dock
Lagerhead Beach Bar offers food, drinks, and chair rentals
Beautiful sunset views
Typically on the quiet side
Cons:
Small strip of beach
No parking
Swimming isn't as good as Smathers
Price: The beach is free to access. You'll need to find parking on the street and may want to rent chairs.
7. Fort Zachary Taylor Beach
If you're looking for a beach with Hawaii vibes, then Fort Zachary Taylor Beach is probably the best spot for you.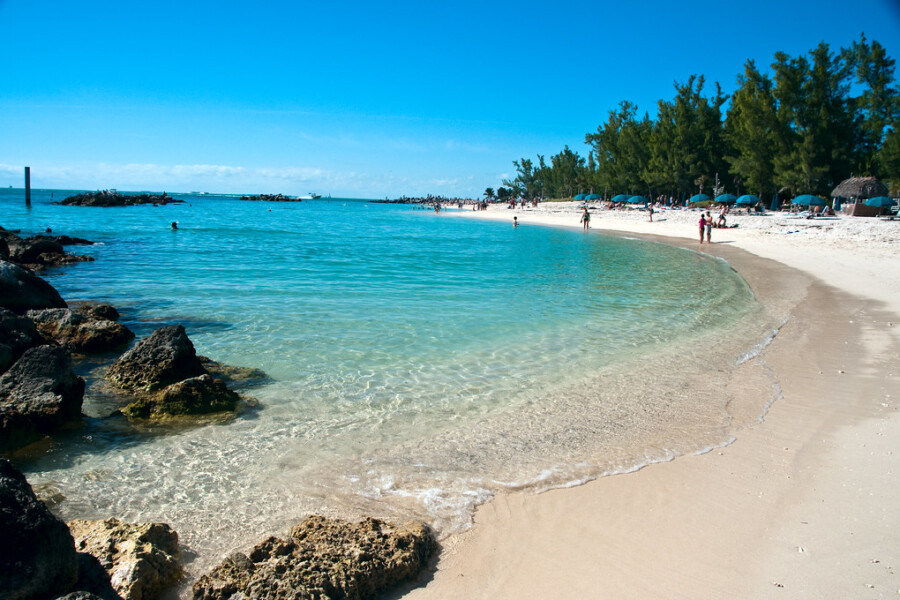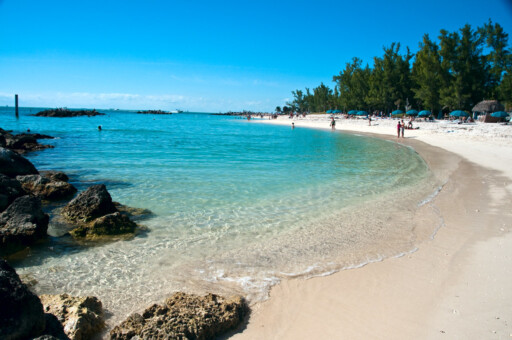 This is one of the largest Key West beaches with plenty of room to spread out, so it's an ideal spot to spend a full day.
However, the waves can be pretty intense at Fort Zachary. Sometimes, the beach has to close for swimming if the undertow is bad, and the drop off is steep and fast. It's totally fine if you're an experienced swimmer, but isn't the best spot for young kids.
The beach can also be a bit rocky, so it's a good idea to bring water-shoes if you plan to wade around. It's a great place to snorkel if you don't mind rougher water.
Fort Zachary Taylor was completed in 1866 and played a role in both the Civil War and the Spanish-American War. Visitors like to view the fort (the tour is self-guided) then spend a day at the beach.
In fact, this state park is massive and offers a whole host of activities, including nature trails, picnic tables, fishing spots, and a beachfront area with concessions, chair/umbrella rentals, and bathrooms.
I think that Fort Zachary Taylor is one of the best beaches in Key West for adventure, though it isn't super relaxing for a day at the beach.
Pros:
Large stretch of beach
Various state park activities, including the Fort itself
Plenty of parking
Cool rocky areas + reefs to explore
Cons:
Very rocky ocean bottom
Rough water with a steep drop-off
A bit further from downtown
Admission costs $
Price: Admission is $6 per vehicle or $2.50 per person, if you're walking/biking.
6. Bahia Honda State Park
The Bahia Honda State Park beach is definitely one of the best beaches in Key West. It's actually just before you get to Key West, so you'll have to drive to it if you're staying downtown, but it's one of the most beautiful beaches in the area that I still recommend the trip.
We like to stop at Bahia Honda on our way to/from Key West which is another great option!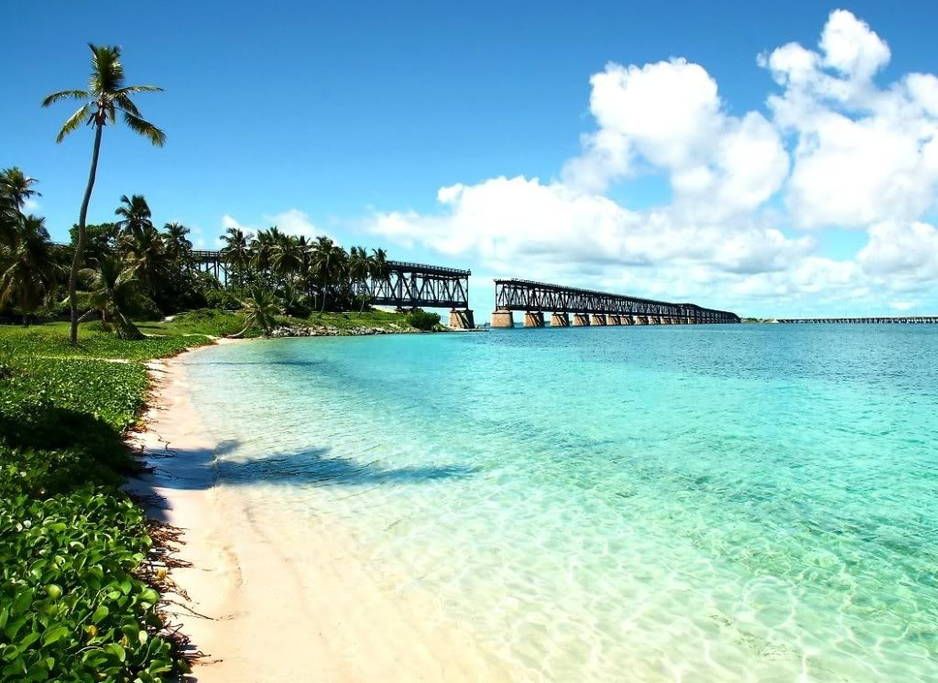 There are actually three beaches at Bahia Honda. They all have the gorgeous white sand that's hard to find in the Keys. For that reason alone, these are some of the best beaches in the Keys in general.
However, you can also experience amazing snorkeling (the reefs are incredible), check out the nature trails, camp, or check out the nearby railroad history.
I especially love bringing a floatie to Bahia Honda. The water is calm and shallow, so you can float along for hours and bask in the sun. This is especially fun at Sandspur Beach.
The gulf side is better for calm, shallow water, while the Atlantic side has better waves and a variety of gorgeous shells that you can collect.
Bahia Honda does have restrooms and picnic tables, though you may need to bring your own food and chairs, depending on the beach you choose.
Pros:
Beautiful sand and water
Awesome trails and history
Three beaches with different vibes
A good stop along the way to Key West
Cons:
Admission is on the higher side
No concessions and chair rentals
Far from Key West
Price: Entry fee is $9 for a standard vehicle.
5. Rest Beach
Rest Beach is one of the most serene Key West beaches if you want to catch the sunrise while you sip on your coffee. It's located right near Higg's Beach, so it isn't a far walk from downtown.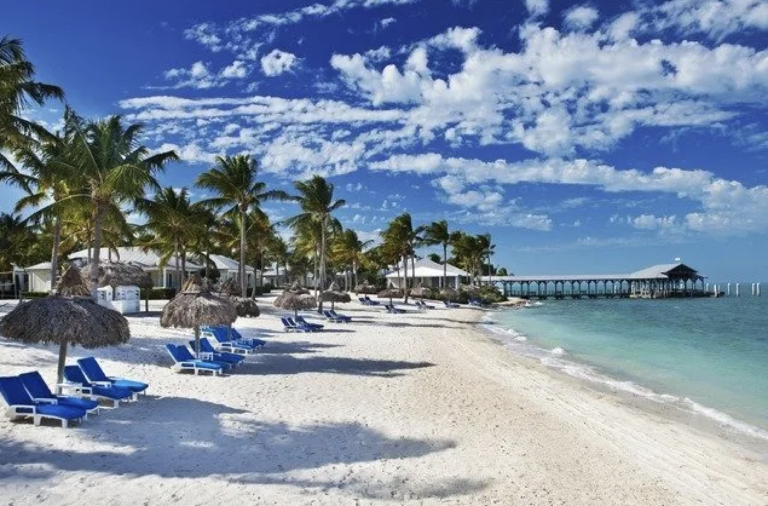 Typically, tourists and locals don't swim at Rest Beach. The beach itself is very narrow, and the ocean floor is rocky and filled with coral.
However, I think that Rest Beach is a great spot for a break if you want to sit by the ocean. We love bringing our breakfast here or having a midday picnic on the tables with take out.
The ocean colors at Rest Beach are really beautiful. There's a long pier that is great for photos (especially before heading to dinner) or sunrise/sunset views.
There's also chickens everywhere which makes this spot feel extra fun! This is one of the most restful beaches in Key West (hence the name) so you can hang out with the chickens or find the perfect spot to take a picture without being bothered by crowds.
I like Rest Beach as a little pitstop in Key West, though it isn't very good for swimming or sunbathing. There are a few parking spots if you need to bring a car.
Pros:
Peaceful and quiet
Great pier for pictures/views
The ocean colors are gorgeous
Chickens are everywhere
Free parking
Cons:
Super rocky beach (not good for swimming)
Very small
Price: Admission and parking is free to the public.
4. Casa Marina Resort Beach
The Casa Marina Resort Beach is a private beach for resort guests only. I won't go into too much detail, because you can't access the beach unless you're staying at the resort, but many people do choose this resort specifically for the beach!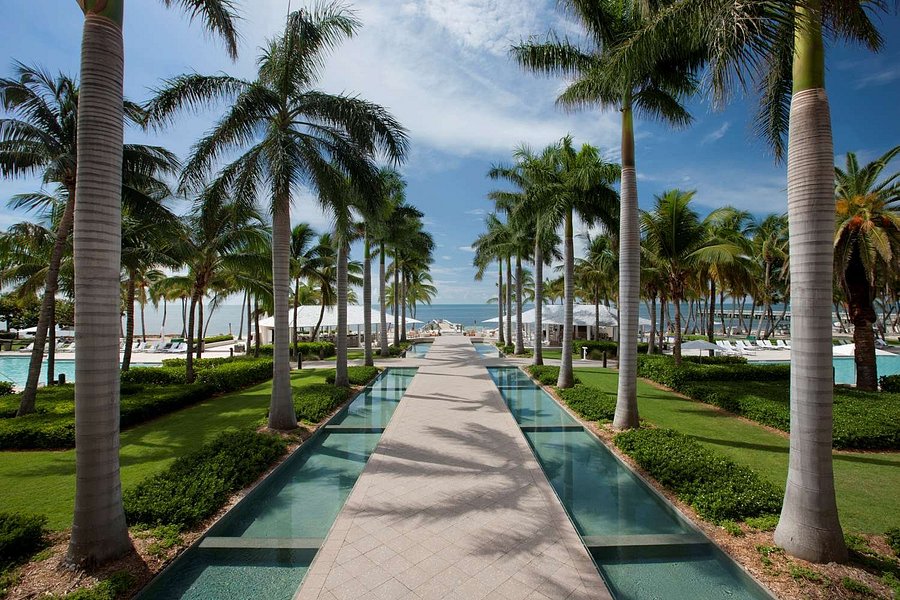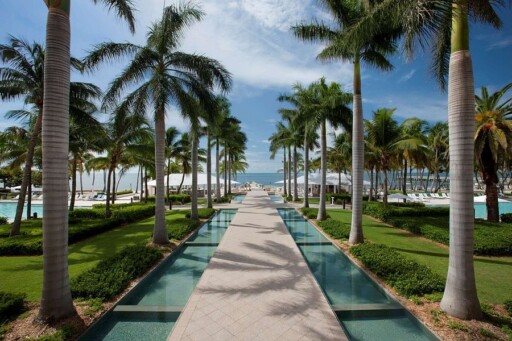 Even if you aren't a guest, you can still get a spa treatment by the beach, which is one of my favorite things to do here. You can also grab lunch at the restaurant on the water.
I think that Casa Marina Resort Beach has one of the best sunrises on the island. If you're looking to grab breakfast or lunch at a swanky hotel on the water, I definitely recommend this spot!
Pros:
Amazing spa treatments by the beach
Breakfast or lunch by the beach
Cons:
Private beach
Small & rocky
Price: This beach is for hotel guests only, unless you purchase lunch or a spa treatment.
3. Dog Beach
Though Dog Beach isn't one of the most famous Key West beaches, it's very popular with pup owners, and is really a gorgeous little spot.
Located near Higgs Beach, Dog Beach is relatively close to downtown, so you can definitely walk with your pup.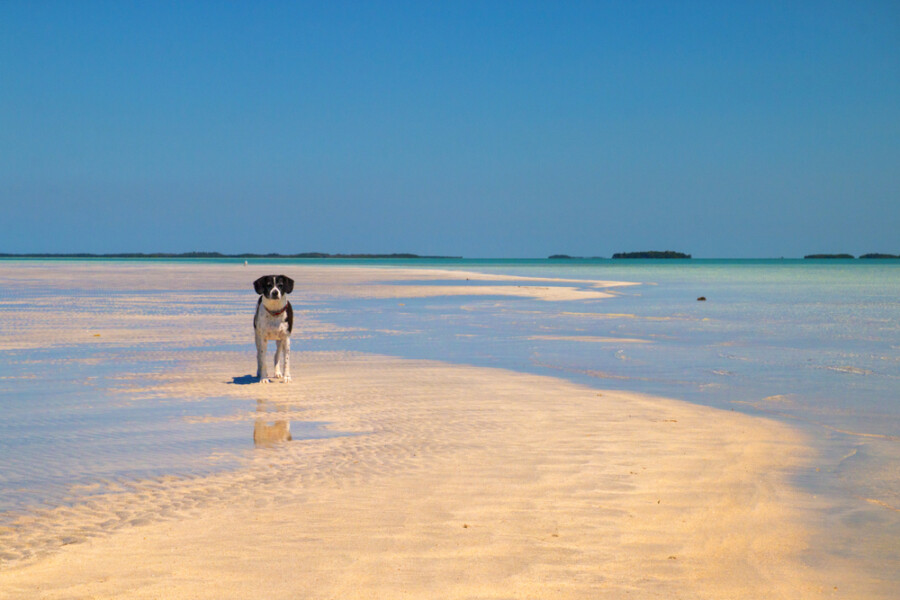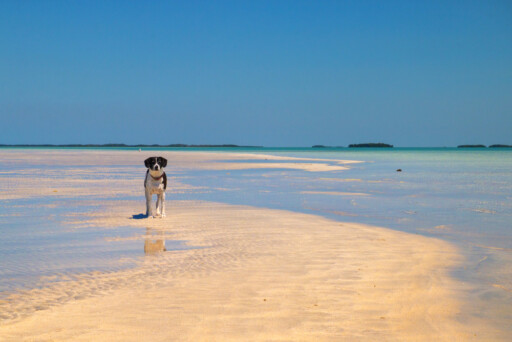 The swimming area is beautiful at Dog Beach. This is one of the few Key West beaches that has virtually no rocks; the sand is smooth and white, and the water is crystal clear.
In fact, this is one of the best spots for turquoise, tropical water. It's great for photo opps!
However, the beach itself is very small. If you come when it's quiet, you'll have the whole place to yourself and won't mind. It does tend to fill up on the weekends, so you may want to plan ahead.
I love going to Dog Beach for a few hours to lay in the sun even though I don't have a dog with me. There are also a bunch of palm trees that offer a lovely amount of shade for a midday nap.
The restaurant located adjacent to Dog Beach is pretty yummy, too. They serve a variety of fresh fish and drinks, and you can even sit out on the deck with your dog.
For a quick stop, I love Dog Beach and find that it's actually much more beautiful than tourists realize.
Pros:
Beautiful sand
Crystal clear, turquoise water
The only beach that allows dogs
Next to a restaurant/bar
Cons:
Very small area
No parking
Can get busy on the weekends
Price: The beach is free and open to the public but there isn't a parking lot – you'll need to find a street spot or walk.
2. Dry Tortugas Beach
Although the Dry Tortugas islands are about 70 miles off of Key West, they make for a very popular day trip because the beaches are far better than any you'll find on Key West.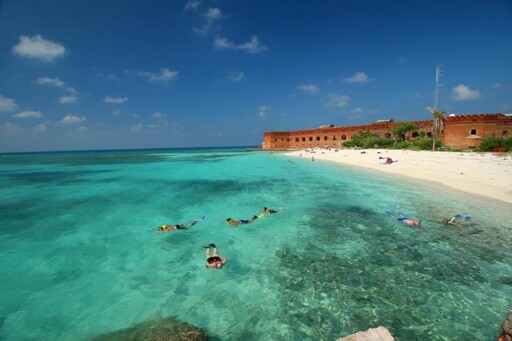 The Dry Tortugas have the most beautiful beach. The water is crystal clear and turquoise, and the waves are calm and serene.
Though the ocean floor is very sandy, there's also really awesome snorkeling ruins around the Fort. The marine life is truly incredible.
The sand itself is perfect for sunbathing, and there are amazing conch shells to be found all over the Dry Tortugas beach!
You can also visit the ruins of Fort Jefferson and learn about the Civil War prisoners that it held.
The Dry Tortugas is only accessible by seaplane (about $329 roundtrip per adult) or ferry ($175 per adult, including meals). The Yankee Freedom II is the only ferry that services the island. However, if you're feeling ambitious, you can even camp for a night or two.
I know that it's a bit of a trek to get to the Dry Tortugas, but I definitely recommend a day trip, especially if you're an avid swimmer and snorkeler.
Pros:
Gorgeous turquoise water
Fine, white sand
Coral reefs & ruins for snorkeling
The ruins of Fort Jefferson are cool
The photo opportunities
Cons:
The Dry Tortugas are 70 miles away from Key West
There are limited transportation options
Transportation options tend to be expensive
You need to plan ahead for a day trip
Price: The beach is free, but you need to pay for a ferry or a plane ticket to get to the Dry Tortugas.
1. Sunset Key Resort Beach
Though Sunset Key Resort Beach is a private beach, you can access it with a reservation at Latitudes.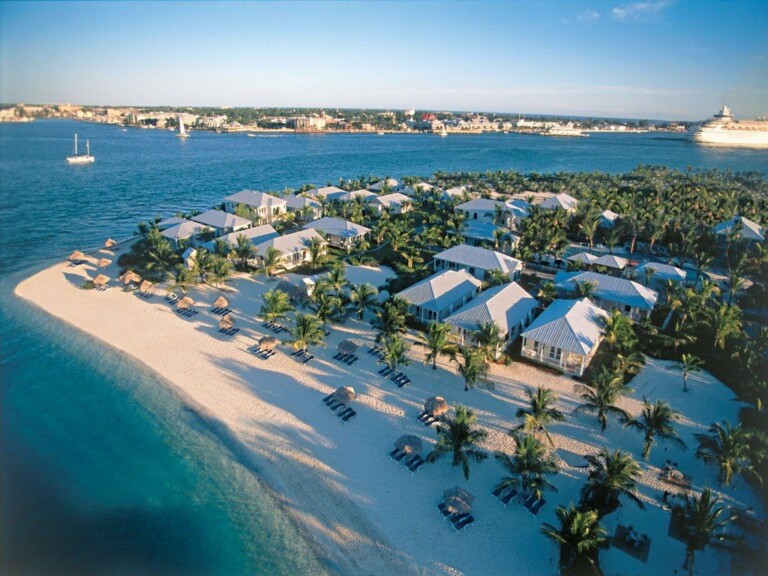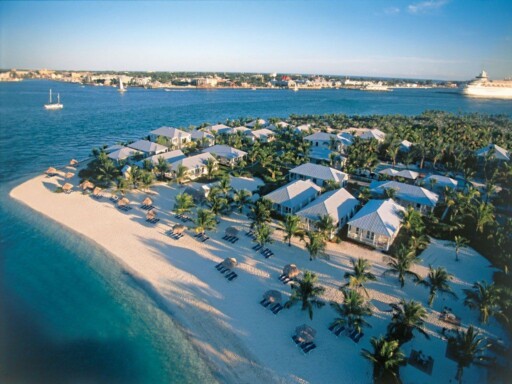 Sunset Key is actually about 500 yards across from Key West and is a private island. This island holds a resort, so the beach is reserved for guests, but you can take the ferry out and sit by the water if you're able to get a reservation at the restaurant.
Latitudes is a well-known restaurant that books up months in advance. It's a great place for an ultra-romantic evening.
If you have a chance to get a reservation here, go for it. Sunset Key has the best beaches for a romantic sunset!
Pros:
Beautiful island beach
Extremely romantic
A good beach for a special night
Cons:
You can only access the beach with a reservation
Not good for a day trip
Price: The beach is only available to guests who have a reservation at Latitudes Cafe.
Hopefully, this post gives you a clearer idea of the best beaches in Key West and helps you figure out where to go. Happy sunbathing!