So many 90's fashion trends are popular right now! As someone who was born during the 1990's, I honestly never thought we'd see some of these styles come back around. Yet here they are!
Luckily, it's pretty easy to find 90's clothing and outfit pieces because 90's style clothing is being sold just about everywhere right now.
However, you still need to know where to look. For that purpose, I'm sharing my favorite 15+ stores to shop for trendy, current, 90's style clothing today.
Current Trends From The 90's:
With a whole decade of looks, there are too many 90's style trends to count. However, there are a few specific 90's fashion looks that are especially trendy right now!
Overalls: Specifically, slightly messy overalls or overall shorts with cute t-shirts underneath.
Biker Shorts: these have been popular for a white and don't seem to be going anywhere! You can pair biker shorts with a hoodie testosterone propionato.biz, crop top, or even a blazer for 90's outfit vibes.
Patent Leather & Vinyl: These materials are staples of 90's styles, so I recommend incorporating them into your wardrobe, at least a bit.
Graphic Tees: From grungy, edgy band tees to soft, faded, pastel graphic tees, you'll see these types of tops just about everywhere.
Baggy Jeans: Mom jeans have only gotten baggier. Now, most stores sell specific 90's style jeans. You can pair these with a crop top, sneakers, and butterfly clips or a bucket hat for true 90's outfits.
Butterfly Clips: These are recently trending in the fashion world, but they're so easy to use, plus butterfly clips are just too cute for the warm weather!
Grunge: In general, 90's fashion was all about grunge style, so grunge is in big time right now.
Plaid Pants: If plaid doesn't give off 90's clothing vibes, then I don't know what does. Plaid pants are not only edgy and grungy, but they're also super comfortable.
Ankle Chains/Anklets With Sneakers: Anklets have been gaining popularity for some time now, but the look is specifically worn with sneakers.
Short Socks With Sneakers: For this look, you can opt for frilly ankle socks, or you can go for more masculine, bulky, sporty socks. Both looks are super cute!
Oversized Button-Up Shirts: The tiny crop top covered by an oversized button up, worn loose, is definitely in right now. You can choose from regular button-ups, corduroy tops, or flannels.
In general, plaid and corduroy fabrics are trendy, as are all shades of neutrals (especially brown) and faded pastel colors, as well as pops of vintage hues (think neon but in vintage shades).
The Best Places To Shop For 90's Clothing:
Here are my favorite 90's fashion stores! Most of these are super affordable sites, but I did put a price key below each store, as well as a list of my favorite types of items to buy, because not every single piece will be exactly what you're looking for.
I used to love Tilly's in high school, and this store is super popular again specifically for 90's style clothing!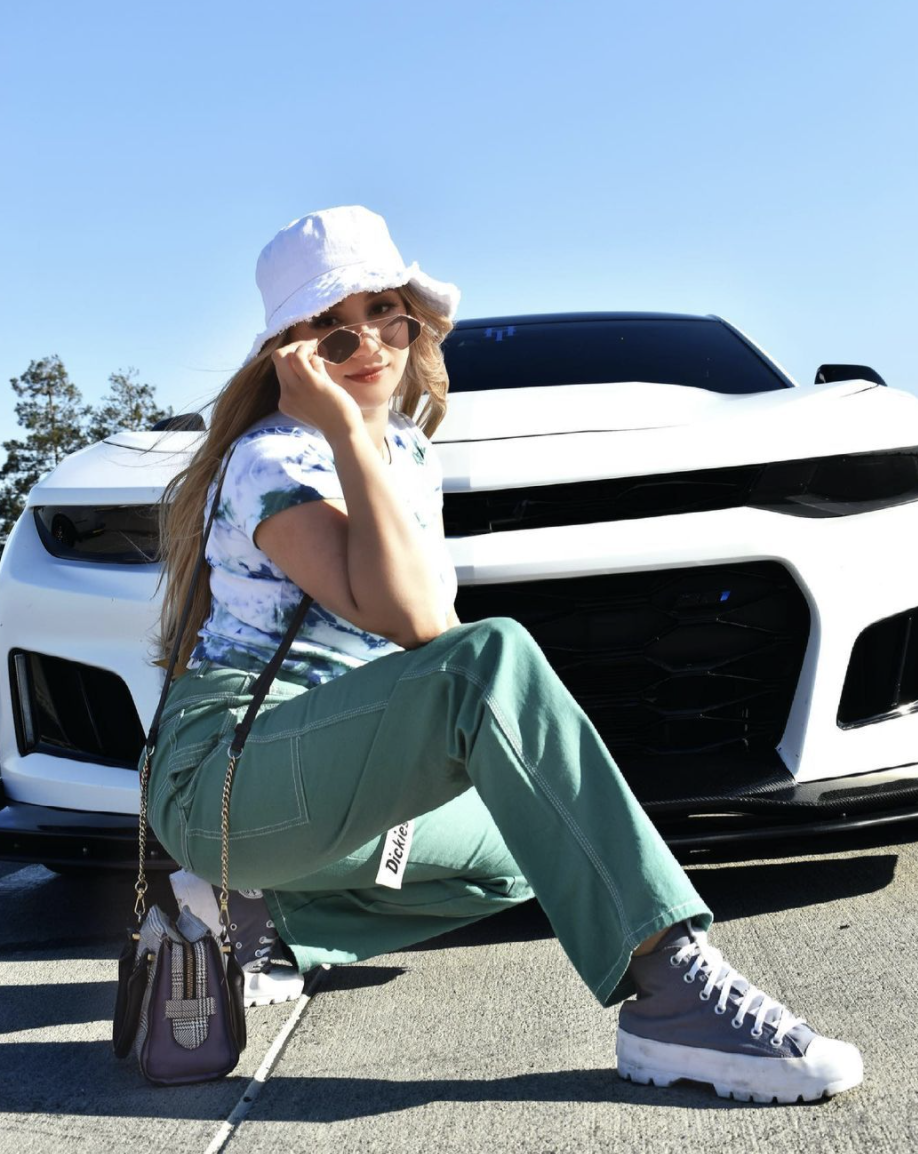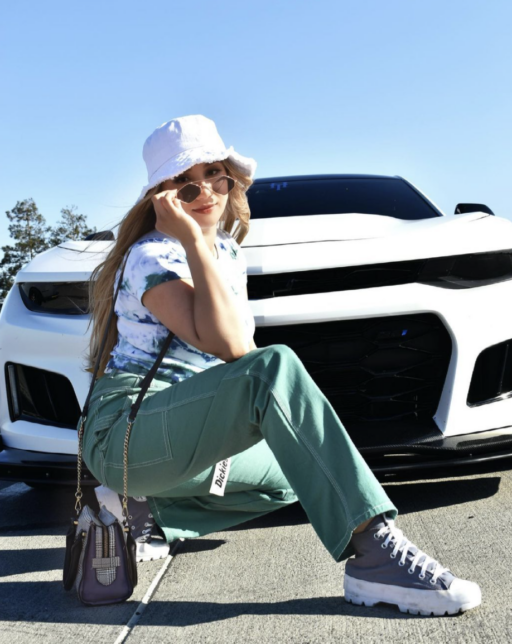 You can find just about every casual 90's fashion piece at Tilly's, all for reasonable prices. I especially love the cute selection of graphic tees, the edgy jeans (in a whole variety of colors),
The shoe section is also relatively large, with grungy combat boots, chunky sneakers, and Converse.
Tilly's also carries a bunch of cool 90's clothing accessories, such as backpacks, socks, belts, bucket hats, and more.
Price: The cost of 90's clothing at Tilly's is pretty low. You can get simple pieces, like a cropped tank top, for $9.99, while larger items, such as a jacket or a flannel, might be a bit over $50. Generally, this is a really cheap place to shop, especially if you want for sales.
Most of the time, for just about any fashion style, Shein is where I start. The prices are insane and the selection is massive.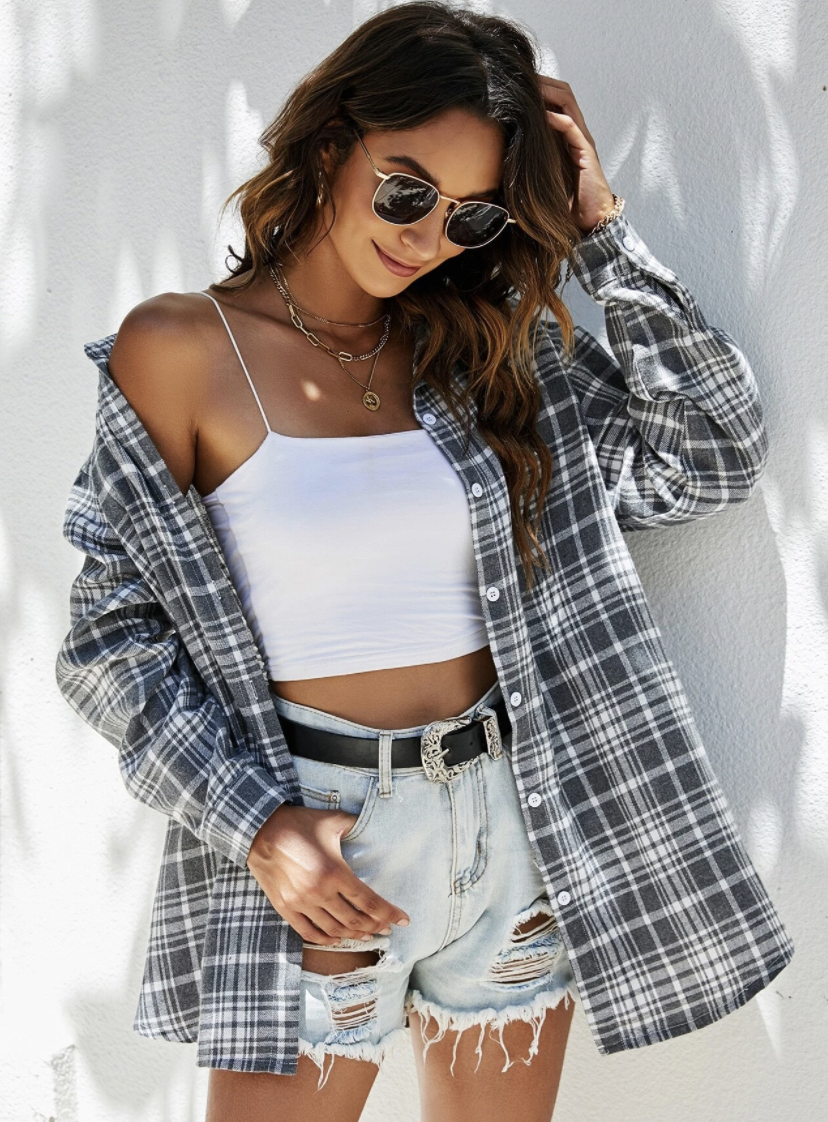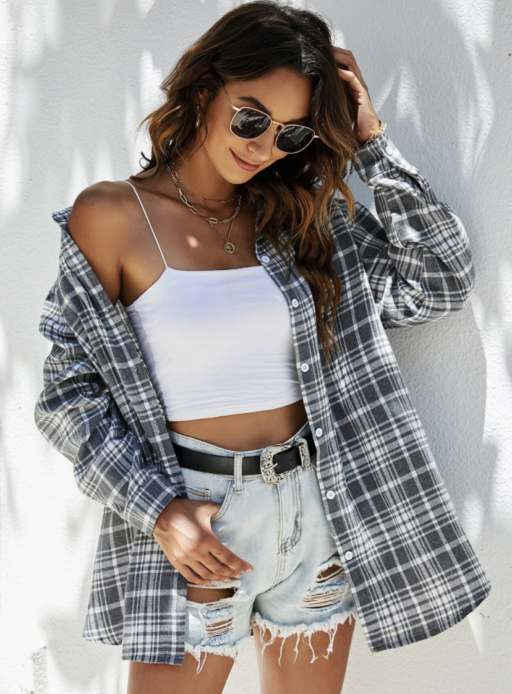 Shein carries just about every style that's trendy right now, including lots of 90's outfits and 90's clothing.
While I don't buy more intricate items at Shein (you'll want to steer clear of anything to frilly, as it usually looks a bit tacky), the basics are ultra-affordable and are generally quite good.
I especially like the jeans, surprisingly (this link will take you specifically to 90's style jeans), as well asthe plaid and collared tops, the graphic t-shirts, and the plaid/checked shorts.
If you're looking for 90's fashion accessories, Shein is also a good bet. They not only have great shoes (combat boots, sneakers, etc.) that are well under $50, but there's a large selection of edgy hair clips, belts, chains, and other accessories.
Price: Everything at Shein is ultra affordable. Most pieces are well under $20, but you can get great items (even shorts, blouses, jeans, and shoes) for under $15 or $10, too.
P.S. If you're still unsure about shopping at Shein (it really is a hit or miss) and want some tips, check out my full review here.
In the last year, Urban Outfitters has become one of the best places for 90's clothing. The prices have also gone down significantly!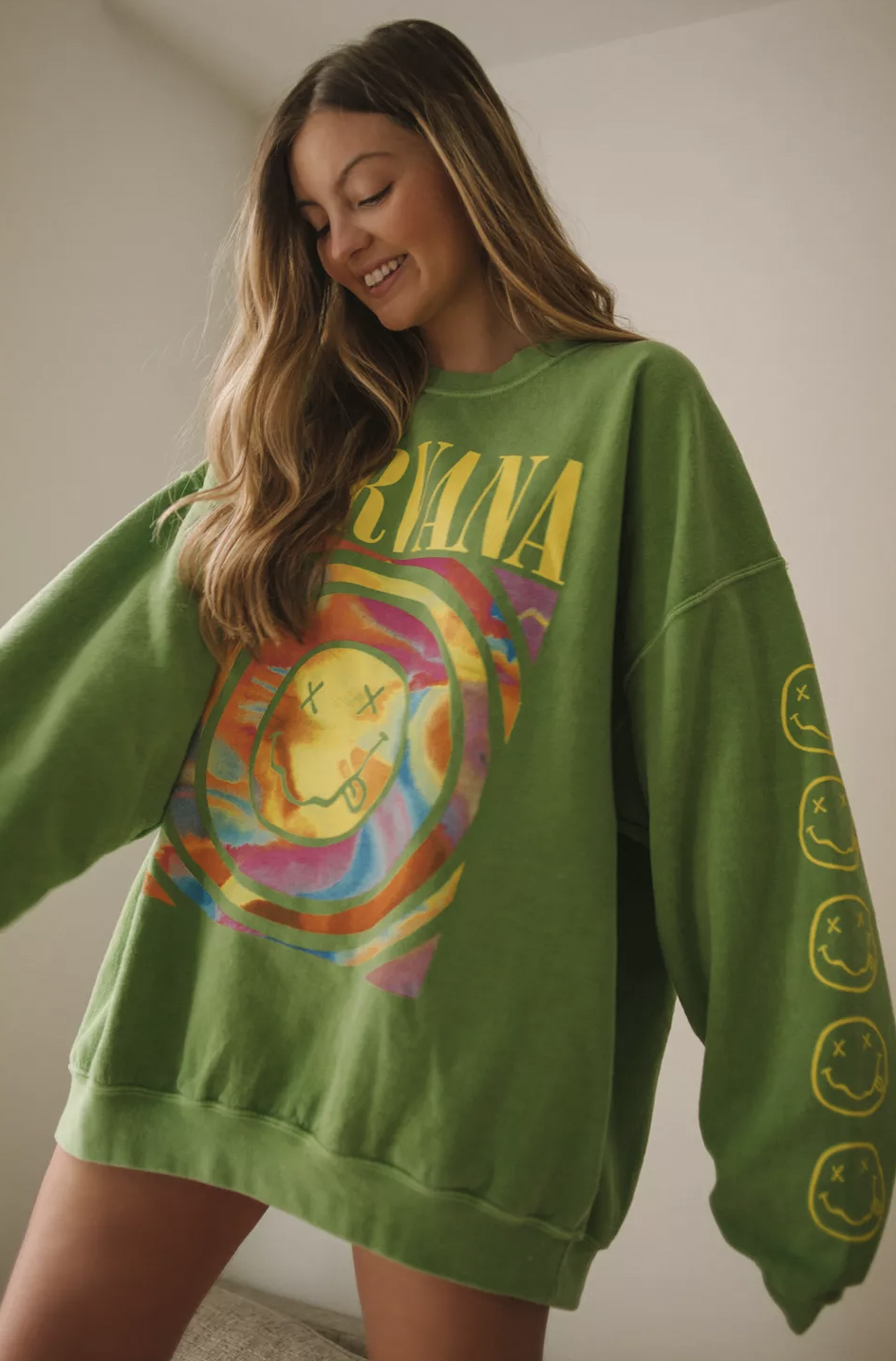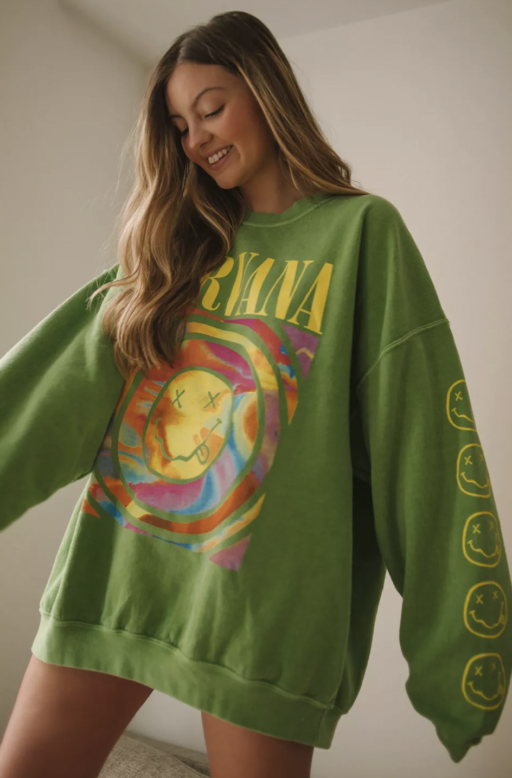 When I'm putting together 90's outfits, I specifically shop at Urban for baggy jeans, bucket hats, and graphic tees and sweatshirts.
However, there are always really interesting 90's style pieces on the site, so definitely browse through. The sale section often has a lot of great pieces, especially if you want to experiment with style and color.
Urban also has a cool vintage section right now with a lot of interesting pieces. I would say the style is more eclectic 90's fashion (think color, plaid, band tees, etc.) instead of ultra-dark grunge or goth.
Price: Over the years, Urban Outfitters has gotten significantly cheaper in price. I spend around $30 for a shirt or $50-$60 for anything else (like jeans, a sweatshirt, a jacket), though I sometimes get way cheaper pieces on the sales page.
This is one of my new favorite stores for basic pieces and 90's fashion. The nice cotton quality and super low prices don't hurt!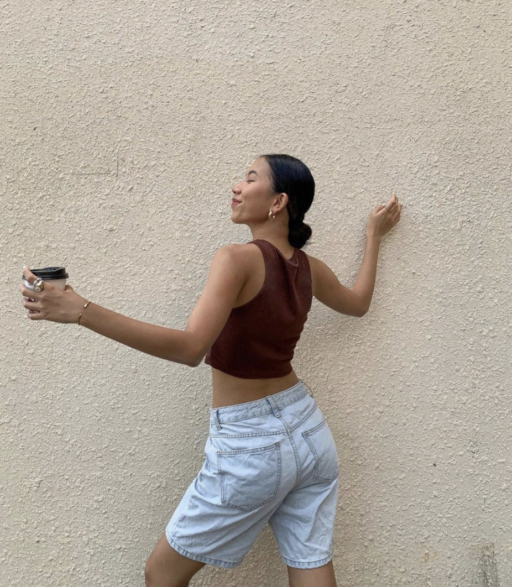 Basically everything on Cotton:On is traditional 90's style. From the high waisted 'mom' denim shorts to the faded graphic t-shirts, the crop tops and oversized button-ups, and the soft bucket hats (all of which are under $20), you really can't go wrong.
After I've shopped at Shein, I usually go to Cotton:On for the rest of my basics. They're high quality and last for a good amount of time.
Price: Most pieces are between $10 and $30, though more intricate items will be a bit more. I recommend spending enough to get free shipping, then returning anything that you don't like/items that don't fit.
As a pretty massive online store, ASOS carries a lot of styles. The site also has a good amount of 90's outfits (completely styled) and 90's fashion pieces, but you have to know what to look for.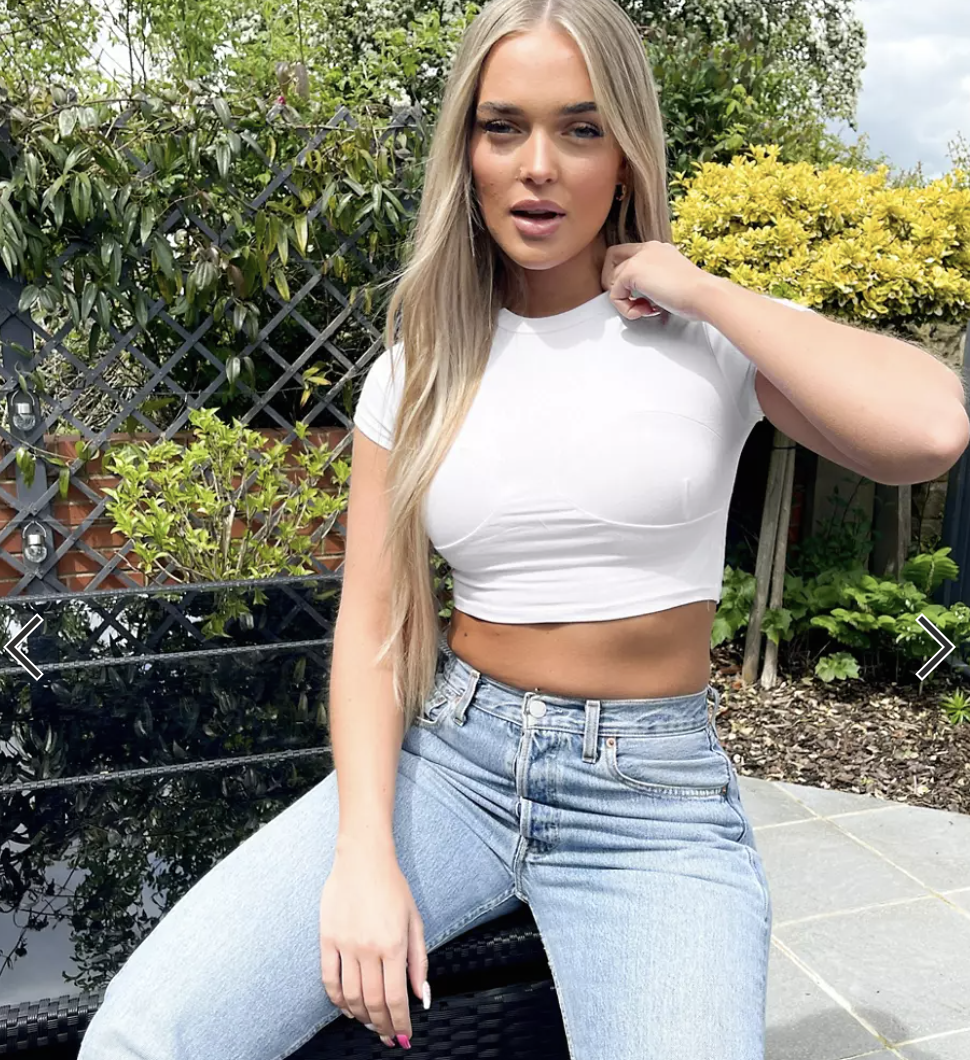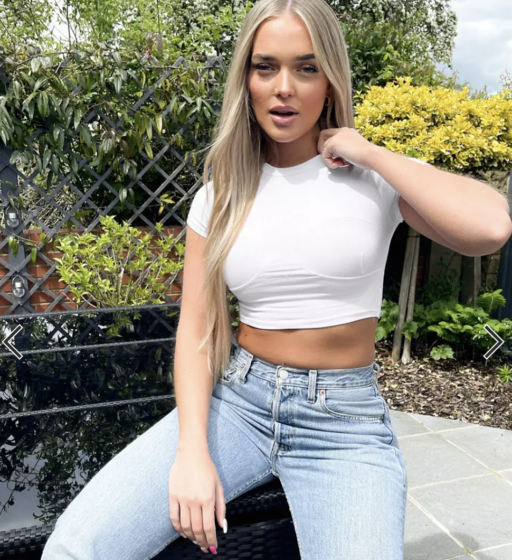 One pro about ASOS is the price. It's ultra-affordable and shipping is typically cheap or free, plus you can sometimes get free returns.
Unfortunately, there's really no easy way to sort through the items on ASOS.
Lately, I've been starting on the Topshop brand section (Topshop was recently bought out by ASOS and is now a part of the site) as they seem to carry a ton of cute 90's fashion pieces.
I also really like some of the jeans, the vintage hoodies/sweatshirts, and the edgier plaid or denim skirts.
However, ASOS does have a really great shoe section, including a whole variety of combat boots, Converse sneakers, other 90's style sneakers, and grungy sandals.
Price: ASOS has a wide range of pricing because the site offers so many different brands. However, I like to spend around $30 per item, unless I'm buying something like brand name shoes, which I'll splurge on.
Though I don't often shop on Revolve, I do find some really adorable 90's fashion pieces here.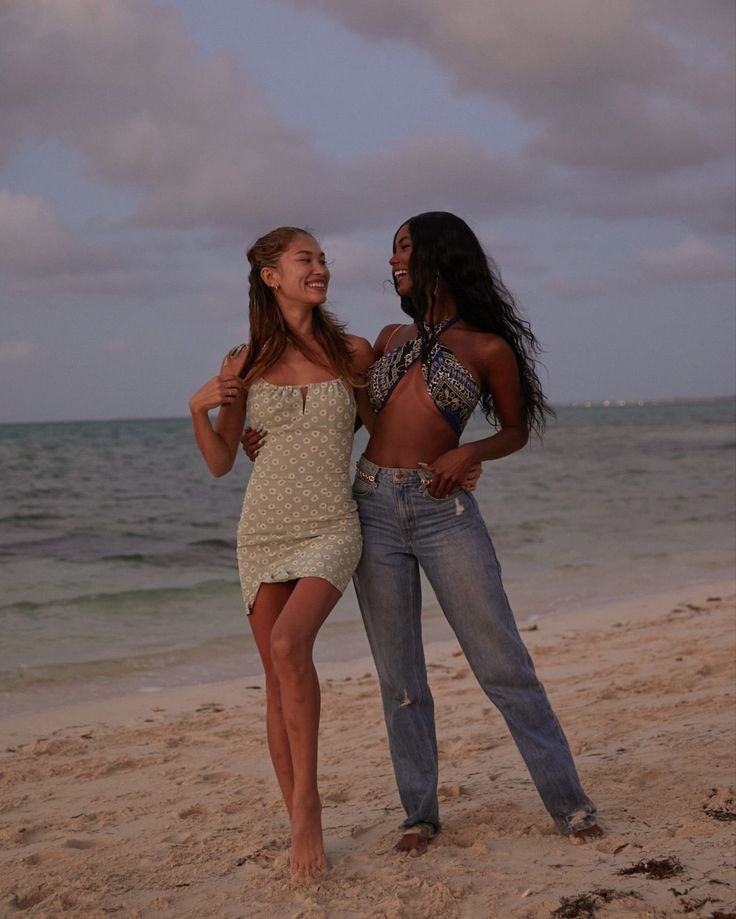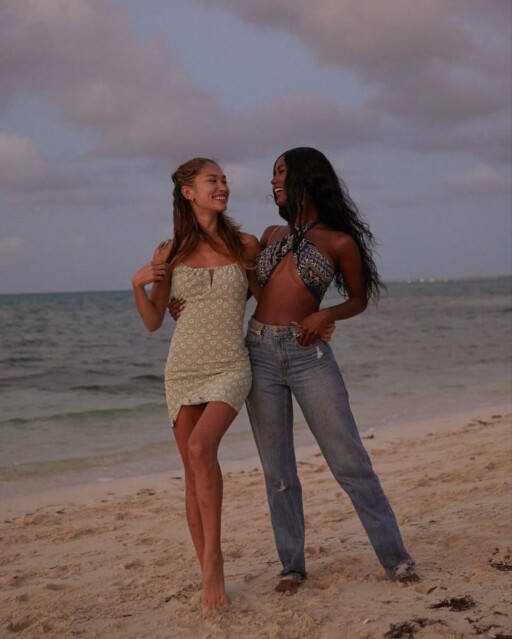 Specifically, I shop for baggy jeans on Revolve. They have some of the best styles that are really well-made and last for a while. All of the influencers are definitely wearing Revolve jeans for a reason.
Price: I will spend $100 or so on a pair of jeans that I really like, since I keep them for a long time. However, Revolve often has sales, so once you find a brand you like, keep your eyes peeled for deals.
Surprisingly, Amazon is a great place to shop for 90's fashion pieces. Here are some of my favorite 90's outfits and individual pieces:

You can simply use the search function to look for 90's fashion. However, clothing on Amazon can be pretty tricky to find.
I also like looking for flannels on Amazon, combat boots (you can find just about every style ever), sunglasses, and more.
Price: Most items on Amazon are super cheap. I love the free shipping and free returns! I typically spend under $25 per item unless I'm buying name brand shoes or something similar.
Surprisingly, Abercrombie is now a great place to find 90's fashion, though everything tends to be on the casual side.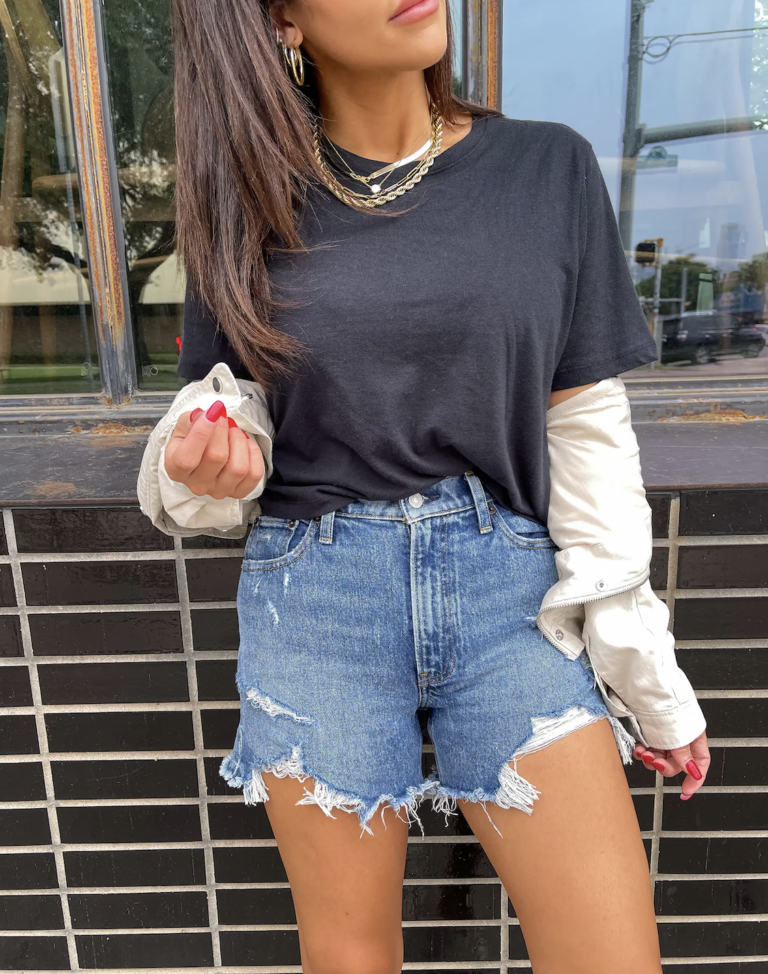 Right now, Abercrombie has a whole line of jeans and denim shorts made specifically in 90's fashion. In fact, the bottoms in general are all pretty great and always fit well.
However, I tend to find the best 90's fashion pieces when I use the search bar function (click here for the search).
Price: Abercrombie can be a bit more expensive than some of these other stores. I usually try to spend $35-$50 per item, unless I'm buying a coat or something bulkier. Sometimes, Abercrombie has really great sales (such as 50% off, jeans for $40, etc.) so I jump on those.
Are you really even dressed in 90's outfits if you don't include Converse sneakers once in a while?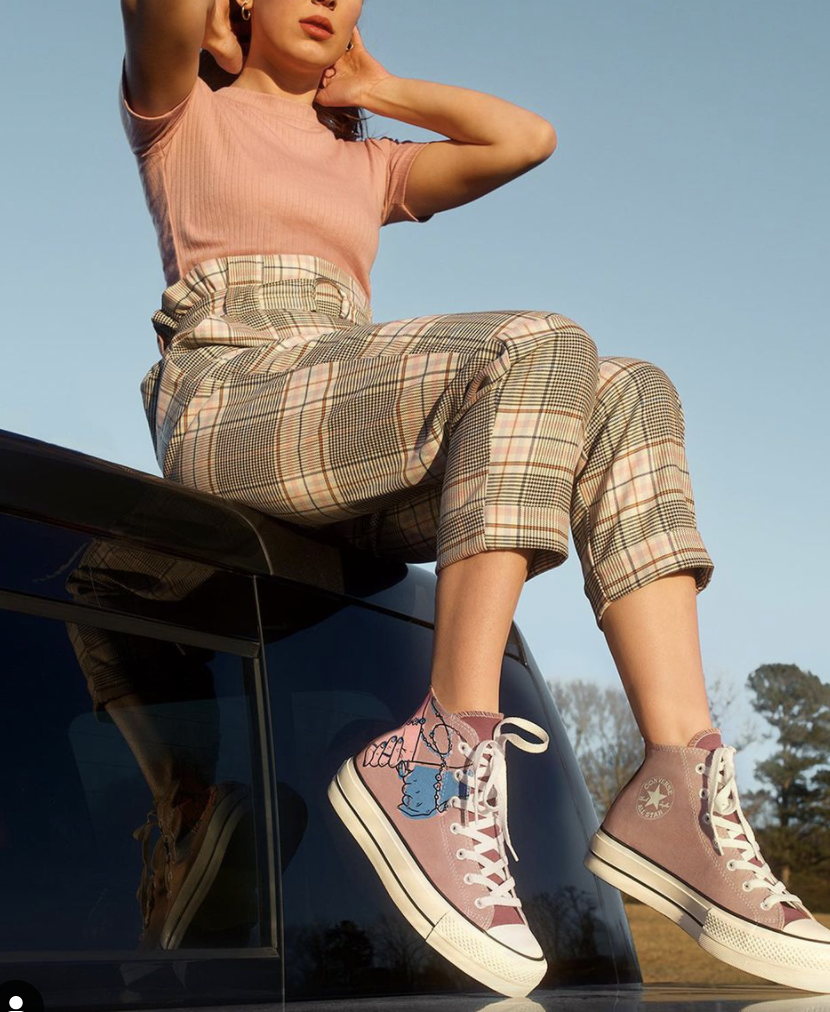 Converse is a staple of 90's fashion that has been coming back in popularity over the last few years.
If nothing else, I recommend investing in a single pair of Converse sneakers. They go with just about everything (from casual summer outfits to dinner looks with dresses) and are comfy, plus you can throw them in the washing machine when they get dirty.
Price: For the sake of price alone, I buy my Converse sneakers at Walmart and can usually get them for $50-$80 a pair. Some of the more intricate designs (like tie-dye) are a bit more expensive.
Though Glassons is a relatively new find for me, I'm really loving the pieces I've ordered so far.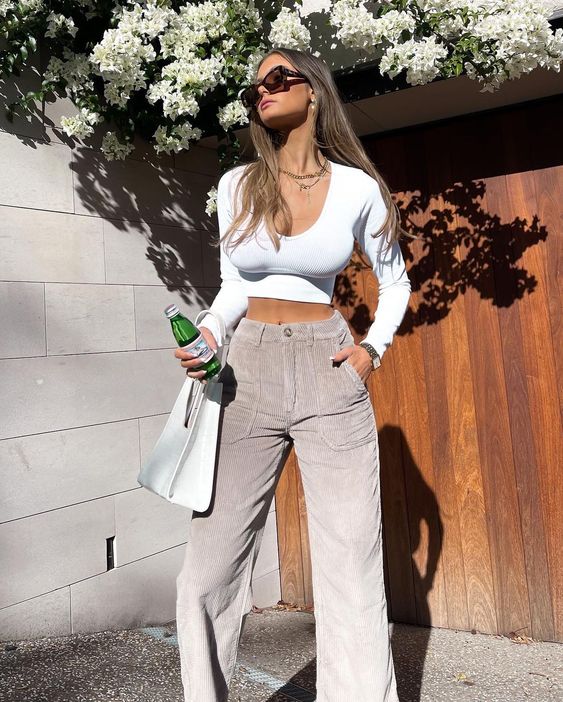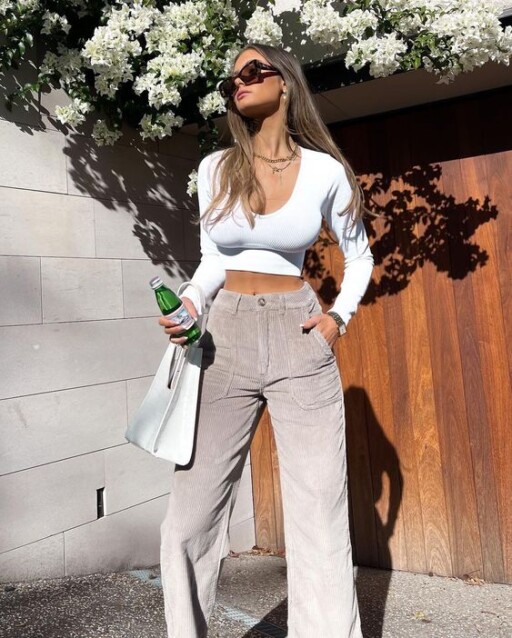 Glassons is an Australian store that is earth-conscious yet affordable. They also have tons of 90's style pieces!
Check out the corduroy section for a lot of 90's fashion inspiration. I also like the edgy and eclectic denim jackets and the fashion tops, which are great if you're looking for 90's outfits that are a bit fancier/better for nights out.
Price: Most pieces come out to about $40-$50 USD.
A well-known affordable British brand, Missguided is all over the 90's fashion trend.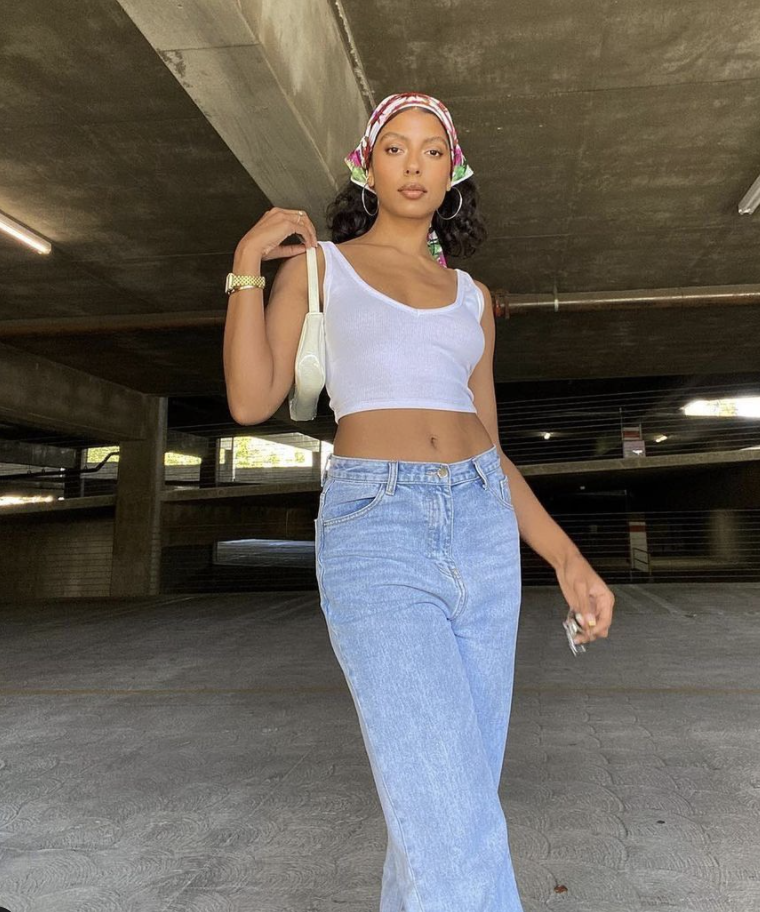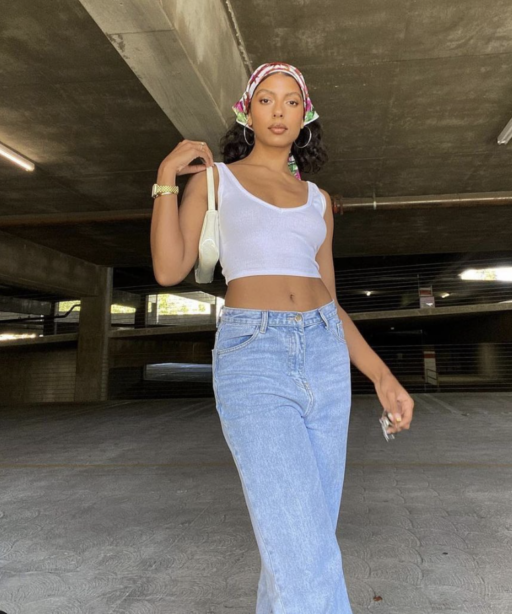 Luckily, Missguided now offers quick shipping and returns in the US, so it's feasible to shop for most of us regular people.
I specifically go to Missguided for baggy jeans that are classic 90's style. In fact, the entire denim section is pretty awesome, with some cute denim dresses, 90's outfits with jean shorts, and even denim rompers.
The sweat suits are also a lovely source of 90's fashion on the Missguided site. In general, the brand tends to have great loungewear that is casual and a little edgy yet chic.
Price: The pricing on Missguided is so affordable. I typically spend $20-$30 per item, though it ends up being less with coupon codes and sales. This is definitely the place to shop for super cheap 90's outfits!
Of course, PacSun is one of the classic skater stores for 90's style clothing.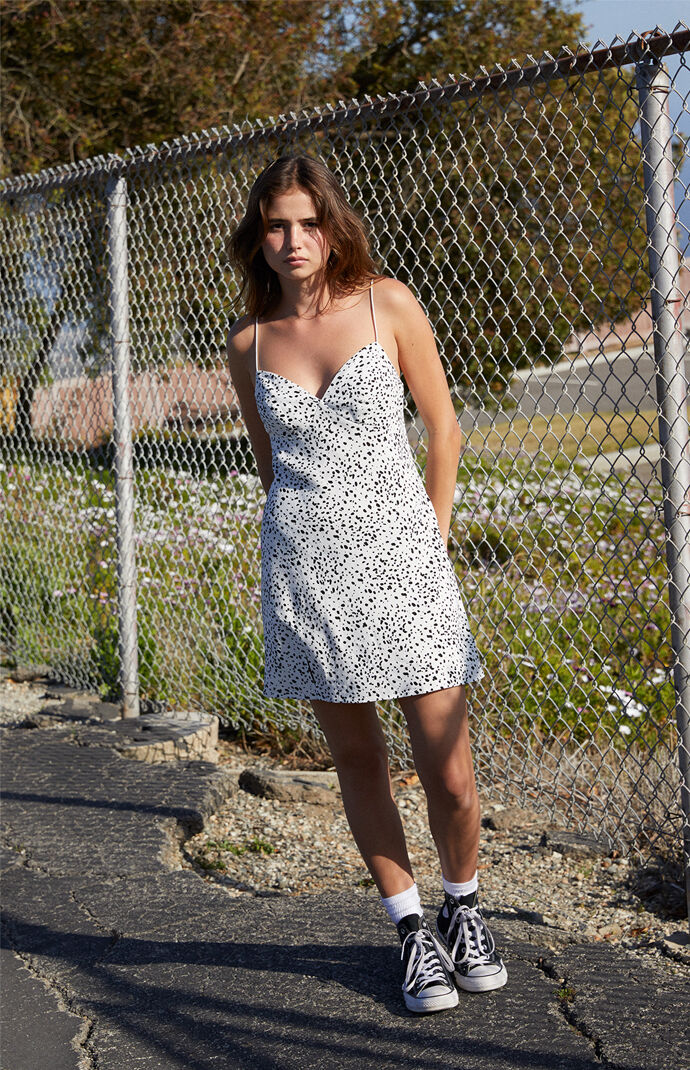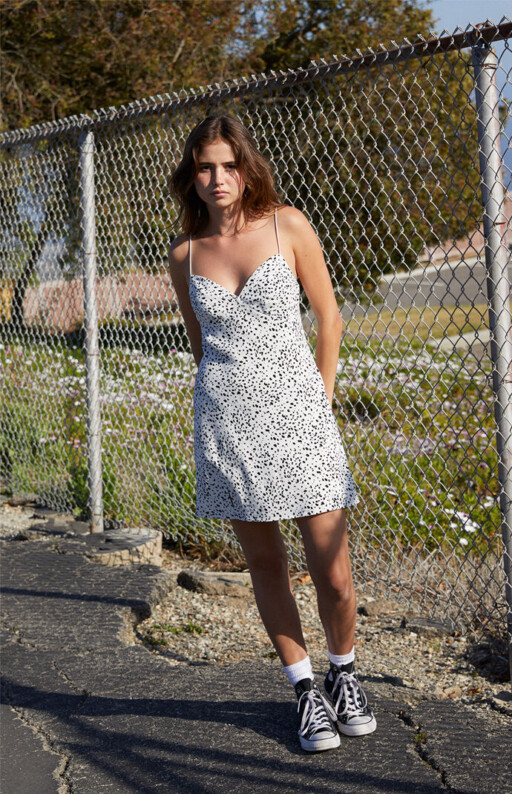 I don't even need to go into what to buy at PacSun for 90's outfits because literally everything on the site is reminiscent of the 90's. PacSun was doing it before it was popular!
Price: Most items at PacSun end up being around $50, though I try to find lower pricing with deals and coupon codes.
If you're looking for ultra-affordable and slightly trendy 90's outfits, then you should definitely check out Boohoo.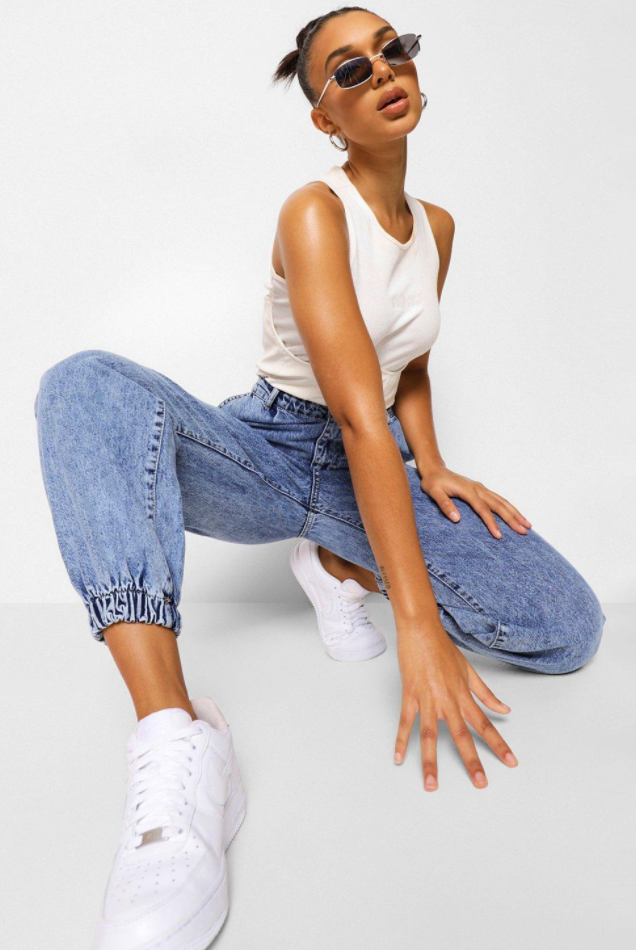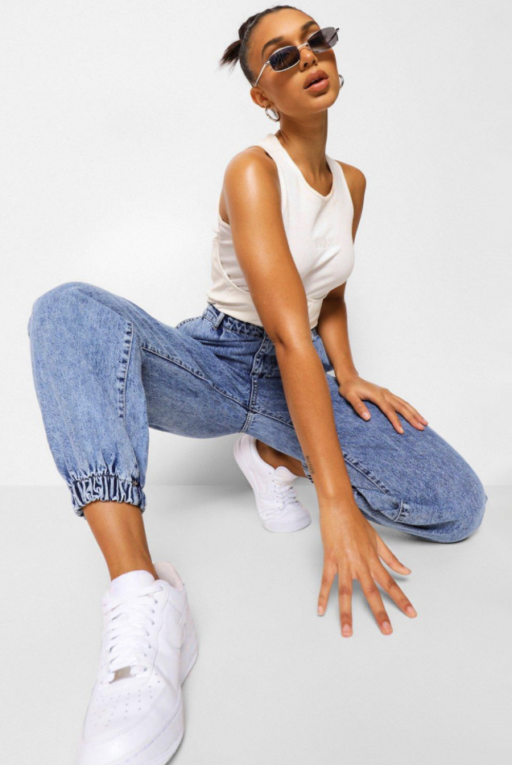 I usually start in the"new in" section, because Boohoo gets tons of new pieces daily and they sell out really quickly.
The denim section is also really great. You can find 90's style jeans, jean jackets, or denim dresses for under $20 per item.
Lastly, I tend to shop for sweatsuits and sweatpants quite a lot at Boohoo. The pieces are affordable and the selections are massive, plus they usually fit a bit better than the loungewear from Shein.
Price: Like I said, I almost never spend more than $20 an item. Often, I'll get a whole bunch of basics for $5 per piece.
In some ways, Zara was one of the pioneers of the 90's fashion trends that are popping up right now.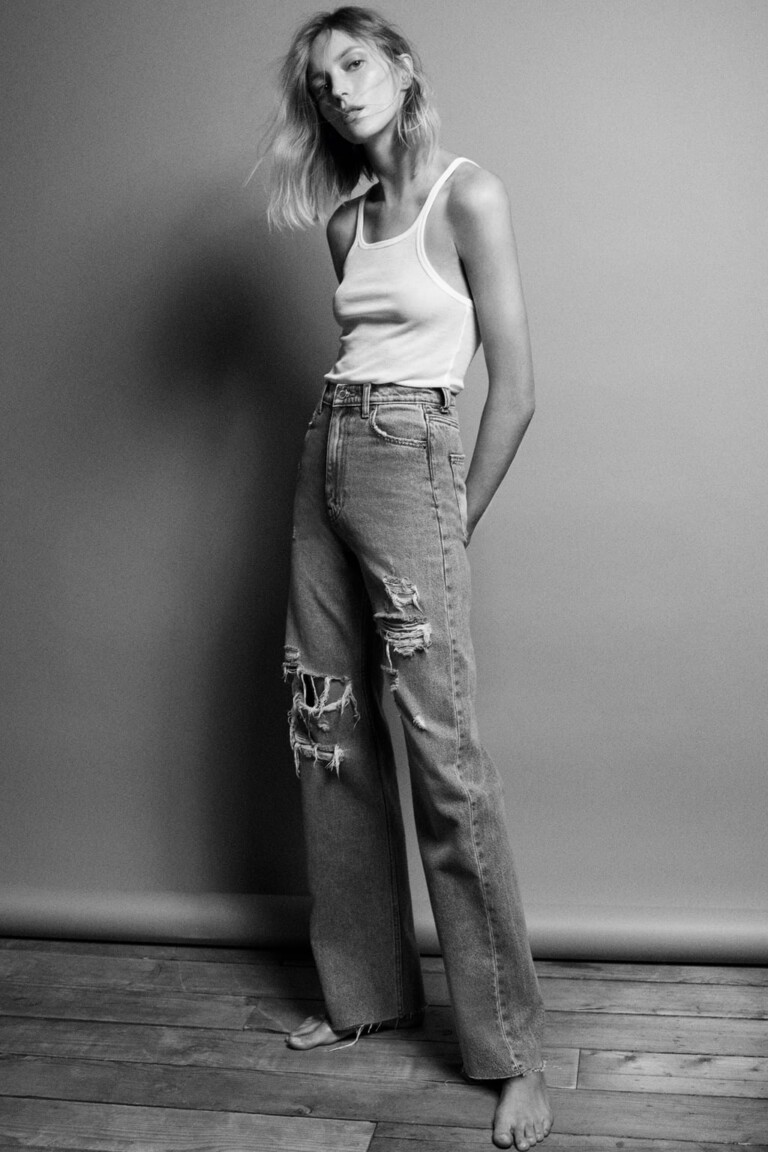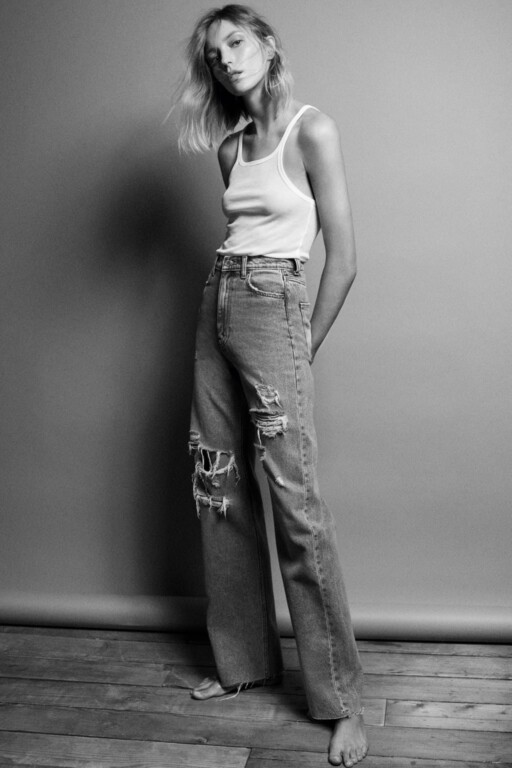 Just about everything at Zara reeks of 90's style! I especially love the baggy jeans and shorts (the fits are perfect) as well as the crop tops.
Price: I try to spend about $35-$50 per piece at Zara, on average.
I'll admit it: I wear Brandy Melville sometimes. I know this brand went out of style for a bit, but it's back in a big way, and this makes sense to me, because Brandy has a lot of really great pieces for affordable prices.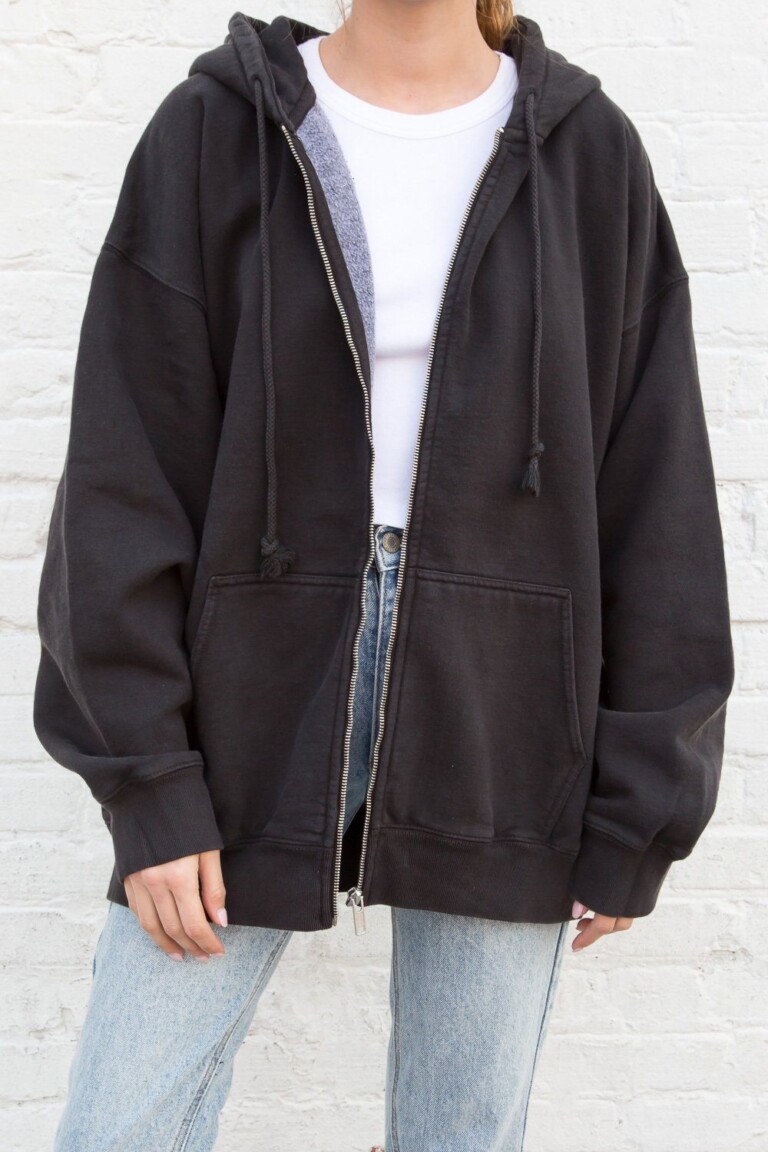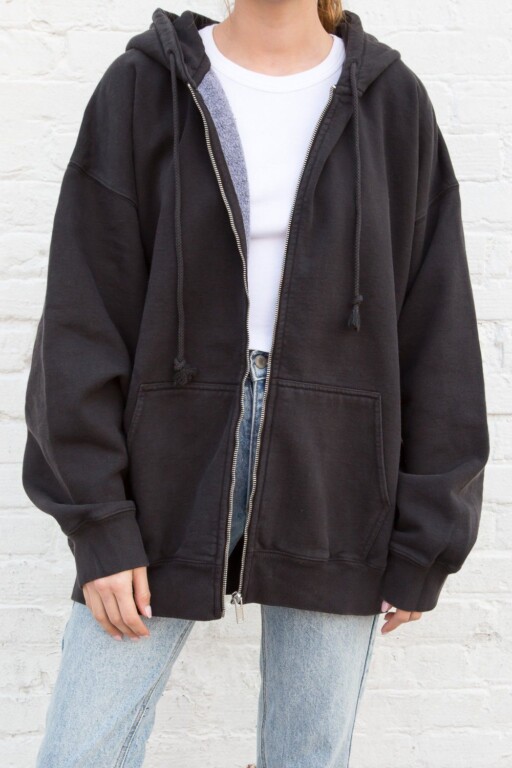 Right now, Brandy Melville is all over the 90's fashion trend. From oversized sweatshirts to baggy jeans, tennis skirts, bucket hats, oversized graphic t-shirts, and even 90's style sneakers, Brandy has just about everything you need.
Keep in mind that shipping almost always costs quite a bit and returns are on you (they don't send a return label), so you may want to keep your package on the smaller side.
Price: Most pieces are well under $30. I'll spend about $20 per top and dress or $30-$40 for a nice pair of jeans, especially those in classic 90's style.