If you're apple shaped and find it hard to style your charming figure, fear not! There are plenty of ways for someone with an apple body shape to style themselves.
Everyone wants to know how to dress for their body shape. What can be more frustrating than a closet full of clothes and not knowing what looks good on you?
Thankfully, there are some general guidelines that apply no matter your size or shape.
What Is The Apple Body Shape?
Women with Apple-shaped bodies are generally fuller in the middle, with full breasts and a less defined waist. Your hips are more slender, and your waist is a little thicker.
Your favorite features tend to be your hips and legs, but your tummy can leave you feeling a little self-conscious.
Keep in mind that you don't have to be curvy to be an apple shape. In fact, apple bodies can be extremely thin but still have the shape. Your body shape doesn't change depending on the weight that you gain or lose.
Generally, the apple body shape is characterized by the lack of a defined waistline. If you have this body shape, you may be rounder in general and struggle to separate the top half of your body from the bottom.
You Know You Have An Apple Body Shape If You Have:
The Apple body shape is characterized by shoulders and bust that are larger than the hips, with a waist not well defined. Apples often have short necks, narrow hips and great legs! This body type almost always wears at least one size bigger on top, which can be asymmetrical in silhouette or oversize to look more flattering.
An undefined waist
An average to big bust
A larger waist or upper back
Hips and shoulders that are roughly the same width
Round and full hips
Slender legs and arms compared to the rest of your body
With the apple body shape, you will gain weight around your stomach first, regardless of your current weight.
Sometimes, apple body shapes have flat bottoms, though this isn't always the case.
Obviously, that's a lot of information and you may be confused! It's much easier to figure out your body shape if you take actual measurements.
To determine your body shape, you need to measure the following parts of your body.
Shoulders: Measure around the very top of your shoulders, just above the shoulder blades.
Bust: Measure around the fullest part of the bust (not over your bra)
Waist: Measure around the smallest part of the waist. This is usually right above your naval or at the bottom of your ribs.
Hips: Measure around the fullest/widest part.
If you have an apple shape body, then your shoulder, bust, and waist measurements will be larger than the others. Sometimes, the hip measurements are the same size, though they're usually smaller unless the person is very small.
The apple body is very similar to the rectangle, but you'll know for sure that you're an apple body if you gain weight around your middle and struggle to find a waistline. The only time the apple body shape would have hips the same measurements as the bust is if someone is extremely thin.
Keep in mind that you can have elements of multiple body types. These are just general guidelines. For example, I'm an apple in some ways and a rectangle in others. I have figured out what works well with my body type for each of my parts.
If any of these characteristics fit you, then you may be more of another type.
If your hips are larger than your shoulders, then you may be a pear shape.
If your shoulders are larger than your hips, then you may be an inverted triangle.
If your waist remains defined even when you gain weight, you may lean towards an hourglass shape.
If your hips and bust are the same width regardless of your weight, you may lean towards a rectangle shape.
Keep in mind that your body shape won't really change when you gain weight, at least not if you've identified it correctly.
Guidelines For Dressing Your Apple Body Shape
Every body is a little different, so your apple body may be totally different from someone else's. Ultimately, you have to go with what looks good on you; we all have different assets.
However, there are a few guidelines that can help you accentuate the best parts of your apple shape.
Remember: the goal of dressing the apple body shape is to create the illusion of a waistline while showing off your other assets.
The apple body shape is very round, so you're basically trying to add structure by creating a clear waistline. This breaks up the two halves of your body and makes each half more aesthetically pleasing.
The rest of this article is basically devoted to different ways that you can accomplish this!
1. Invest In A Good Pushup Bra & Enhance Your Bust
Most apple body shapes have a larger sized bust, though not all do. Whether you are content with your bust size or not, I recommend investing in a decent push up bra, because your bust is now your friend.
You want to minimize the tummy area by drawing attention to other larger areas that are flattering. Wearing shirts that show off your bust is one of the easiest ways to do this!
2. Cinch Your Waist
Again, the goal of dressing the apple shape is to create the illusion of a waistline. This means that no matter the size of your body, you want to enhance your waist.
Choose clothing that cinches at the waist with more give in other areas. The waist should appear to be the smallest part of any outfit you choose.
You should also avoid excessive details around your waist area, such as patterns or light colors that highlight the waist.
3. Try Out A Crop Or Cut Top
If you're brave enough, a crop top with high-waisted pants, shorts, or a skirt can really accentuate your waist.
Make sure that the crop top sits just above your bottoms. You'll also want to choose a crop top that is flattering to your top half, not square.
4. Opt For Dark Colors Around The Waist
Since you want to create a waistline, you should choose colors that minimize the area. Black always looks great around the waist, but dark colors in general tend to be better.
Avoid anything light or excessively patterned, unless you're showing off your legs instead.
5. Throw In A Little Sex Appeal
If you look at Adele's outfits, you'll notice that she manages to accentuate her waist in a way that's classy and sexy. It can definitely enhance your figure to throw in a little sex appeal!
Consider adding pieces like over-the-knee boots, heels, fishnets, tights, a crop top, a corset top, or other sexy attributes.
I find that apple body shapes look best when they highlight either their bust or their legs in a way that's a tiny bit sexy. This doesn't have to be over the top. In fact, it can be so subtle that it's subliminal. Check out the inspiration photos at the bottom of this post to see what I mean.
6. Show Off Your Legs
Your legs are one of your best features, so show them off!
We'll talk about more ways to do this further down, but think about your body and what tends to look good on your legs.
The only time it's good to ignore your waistline as an apple shape is when you're focusing on your legs instead. For example, you could choose a short but bulky sweater dress, but highlight your legs with boots.
Showing off your legs helps take the attention away from your midsection and redirect it to your best parts.
To really bring attention to the legs, you can even add details on your hemline.
Clothing For Your Apple Shape
Different pieces of clothing will work differently on your apple body. Here are the most flattering pieces for your body shape!
Tops For The Apple Body Shape
Many apple body shaped woman choose flowy tops in order to conceal their midsection. However, if done wrong, this can actually call attention to your middle.
Instead, you want to find ways to create a waistline. Specifically, you want to make your waistline appear as though it's at the bottom part of your ribs, rather than drawing attention to your lower stomach.
This means that cinched tops or even tight tops (especially if they're ruched) will work well. You can also choose bodysuits and pair them with high-waisted jeans.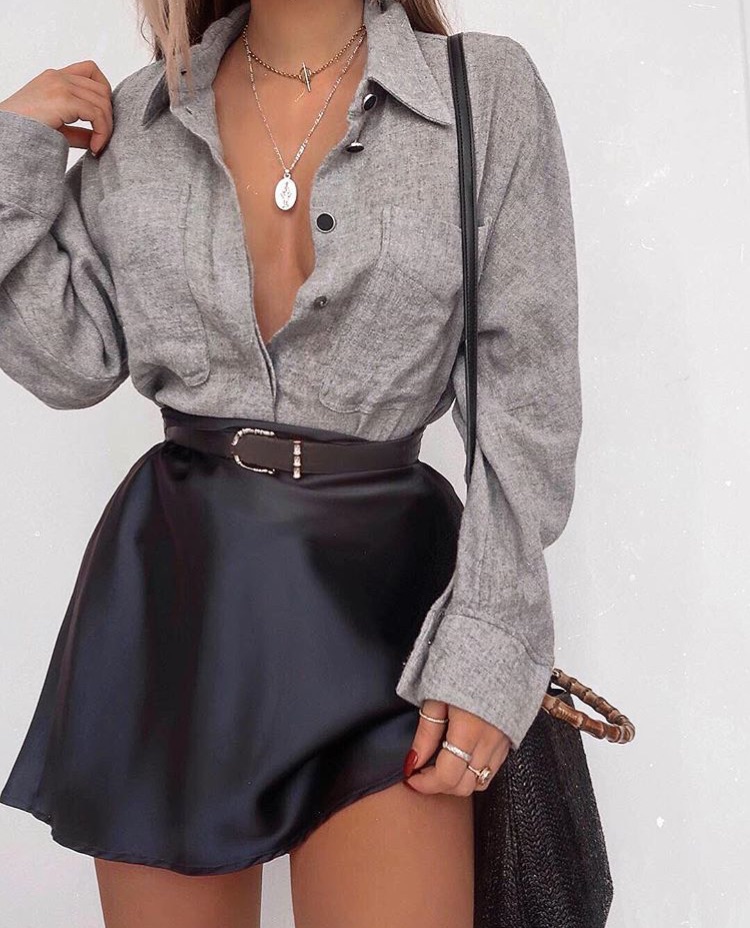 Basically, any top that you choose should have a clear waistline. Alternatively, you can get pants or a skirt that has this waistline and tuck your tops in.
If you really want to enhance your shape, then you can consider wearing a lower bust-line. This won't be necessary for every outfit, but it does help to draw the attention away from your waist.
For example, a v-neck or a-line silhouette often looks good on the apple body shape. Wrap tops can work as well.
You can wear sleeves or no sleeves with the apple body shape. This will depend on your exact body proportions and how you feel about your arms. Go with your gut here.
Blazers & Coats For The Apple Body Shape
Because I live in the Northeast, I'm a huge fan of blazers and coats. Believe it or not, your outwear can change the way your shape looks completely!
When it comes to outerwear, you want to avoid anything short or boxy as a general rule.
Look for blazers that are long and slimming with minimal adornments. Sometimes, an oversized blazer works well (especially when you're trying to show off your legs), while other times a slimming blazer will call attention to your waistline.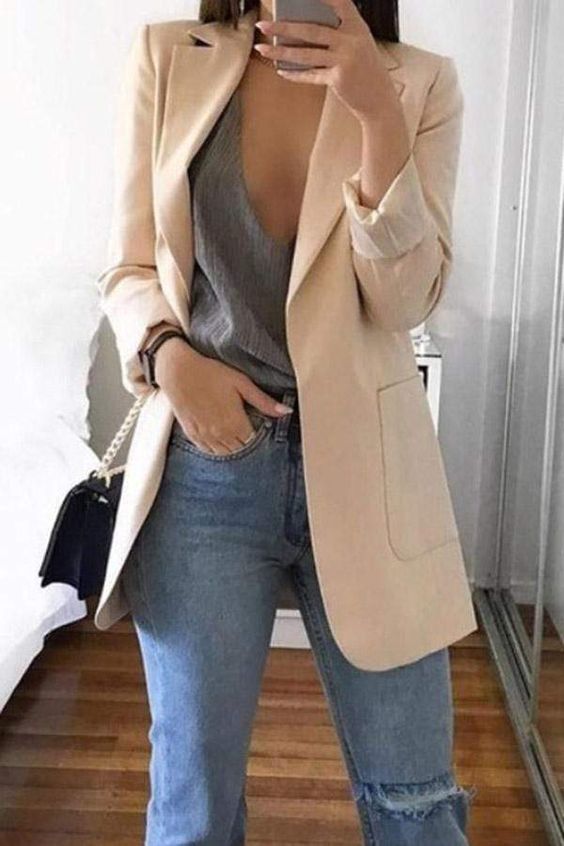 For coats, I really love the long peacoat or trench coat look. If your coat has a belt or waist strap that you can use to define your waist, even better!
You'll want to avoid puffer coats that are super short. I know these are trendy right now, but opt for a slightly longer puffer coat that is relatively slimming. Oversized is not your friend here; instead, you want just a bit of definition.
An oversized coat can work well if you're wearing an outfit underneath that calls attention to your waist. I really love the contrast of the layers!
Dresses For The Apple Body Shape
When you're choosing dresses, look for just about anything that accentuates the waist. I personally love dresses that are flowy or structured with a belt!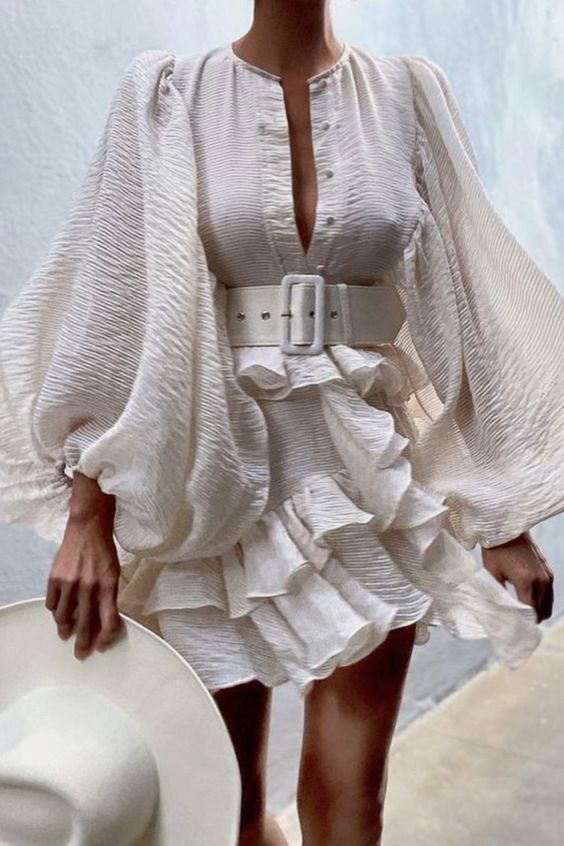 In fact, apple body shapes tend to look really great in flowy dresses, so consider making them a staple of your wardrobe.
Your apple body will also look good in any dress that shows off your bust. If you're going for a tighter fit, considering ruching to hide your tummy and a low-cut necklace to accentuate your bust-line.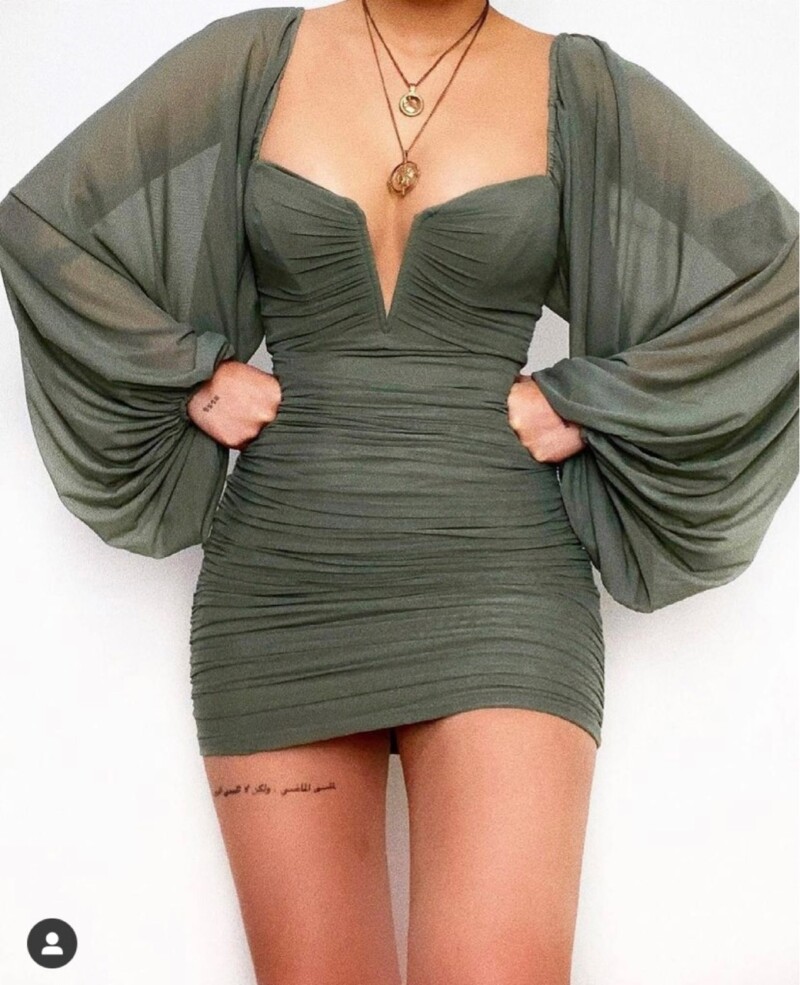 Just about any dress that shows off your waist will look really nice, from a maxi dress with a slit to a casual cinched sundress.
Jeans For The Apple Body Shape
Finding jeans can be tough for an apple body shape person. There are so many styles that it's almost impossible to choose!
You'll want to focus on proportions and try your jeans on in person, whether you shop in-store or by mail. Just because a pair of jeans look good online doesn't mean they'll work on your body.
When it comes to the apple shape, jeans can be tricky. A half inch difference makes the whole style look off!
Look for styles that draw attention to your legs. If you have a long torso, you may want to choose ultra-high waisted jeans.
Straight jeans often work well, though mom jeans can sometimes look good as long as they aren't too baggy. Skinny jeans will only work if your legs are long.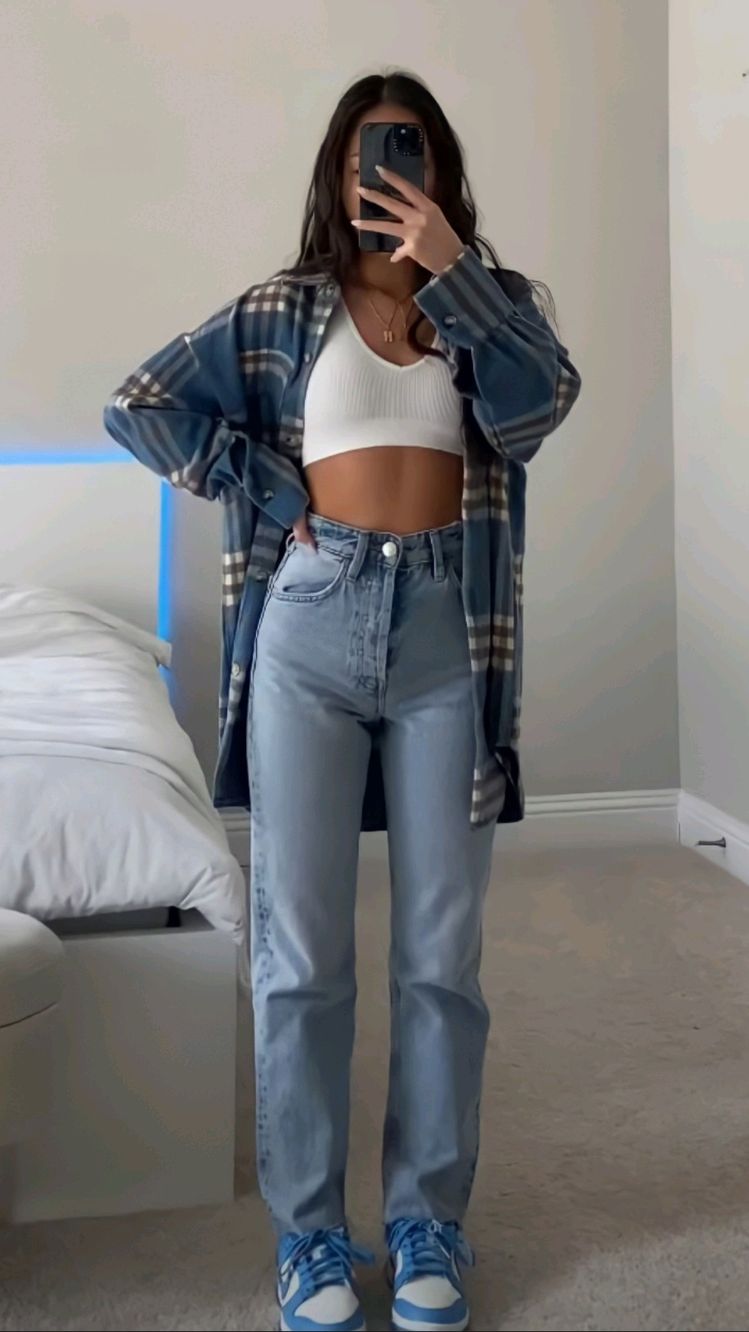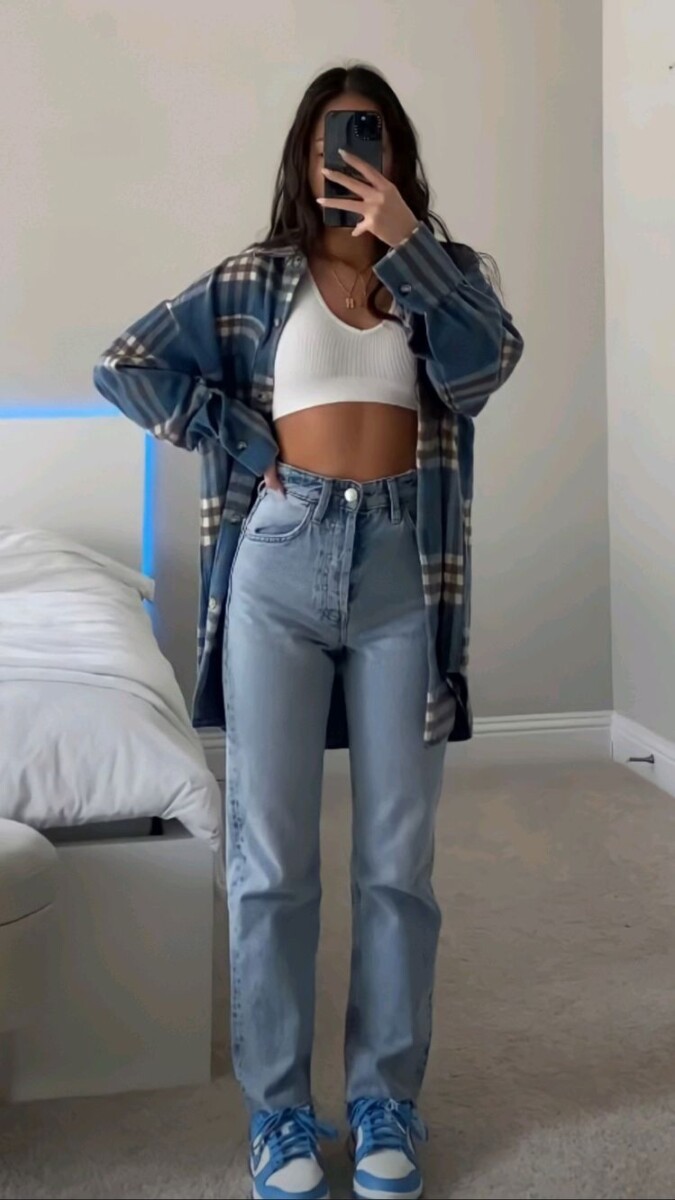 Make sure that you call attention to your legs and away from your tummy. However, high-waisted is always a good idea for an apple shape because it defines the upper waist. Other than that, work with your own proportions to figure out what looks good depending on your legs and torso.
Dark jeans tend to work best for the apple body, though this will again depend on your proportions and the specific outfit you're wearing.
Pants For The Apple Body Shape
If you haven't guessed by now, waist-defining pants will be best for any apple shape body. This means that higher waists tend to do well, especially if the waist is accentuated with a belt or tailoring.
You typically want the waistline to sit just above your love handles. Make sure that your waist looks smaller than your hips and upper body in a pair of pants. There are some great pants out there that really create this illusion!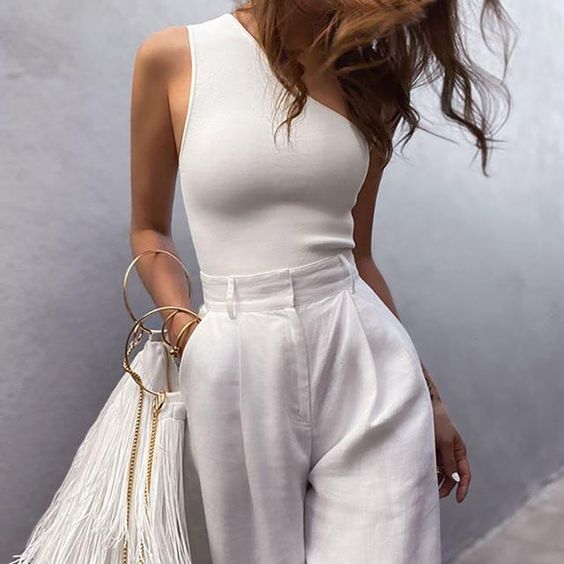 Sweatpants can also look great on the apple body because they're tight in the waist with lots of give around the hips. Try pairing sweatpants with a crop top or push-up workout bra for a cute and comfy look.
Other than the waistline, you really just want to pick pants that show off your legs and look good on your proportions.
Skirts For The Apple Body Shape
When choosing a skirt for your apple shape, you want to avoid calling attention to your lower midsection. Anything that appears too full in the upper portion of the skirt (such as a peplum skirt) probably won't work well for you.
Instead, look for sleek, tailored skirts such as pencil skirts. This may seem counter-intuitive because these skirts are often tight, but the idea is that the illusion of the pencil skirt smooths your tummy and elongates your legs, because you can't tell where the torso ends and the legs begin.
Ruching can be good when you're choosing a tighter skirt too since the material smooths over any excessive stomach curves.
However, a fuller skirt can look cute (especially short skirts) if you're able to find one that really defines your waistline, such as tennis skirt.
If you do choose a shorter skirt, I recommend going for a high-waisted skirt that cinches in the mid-section. You want to use your skirt to create an illusion of a high waistline, so the tighter on the waist (which is at the bottom of your ribs, not on your lower stomach) the better.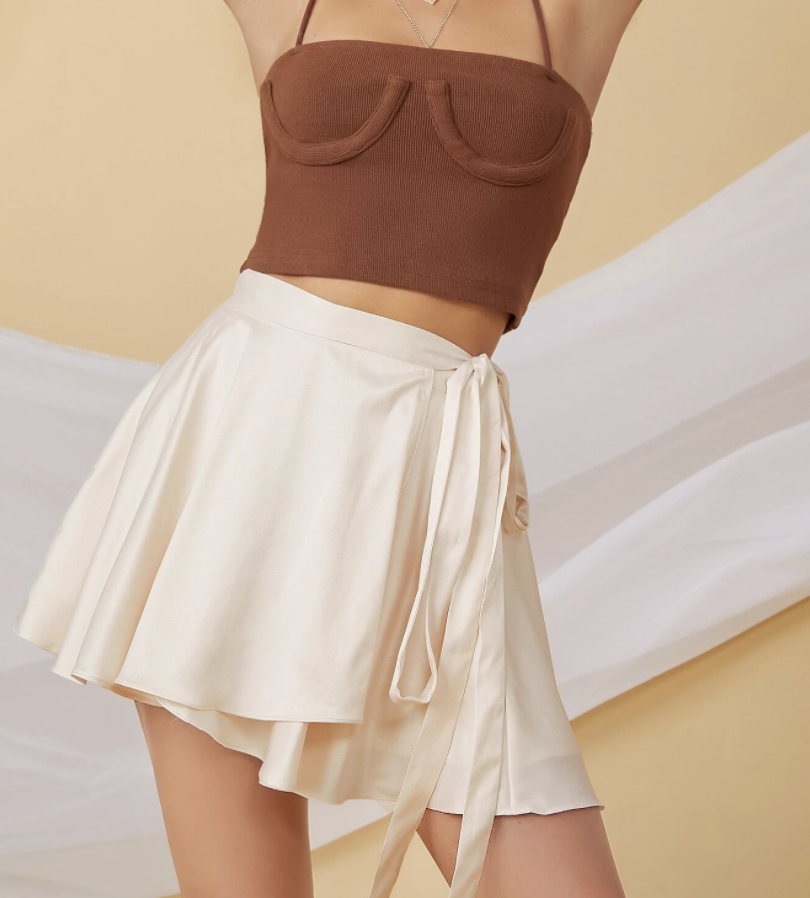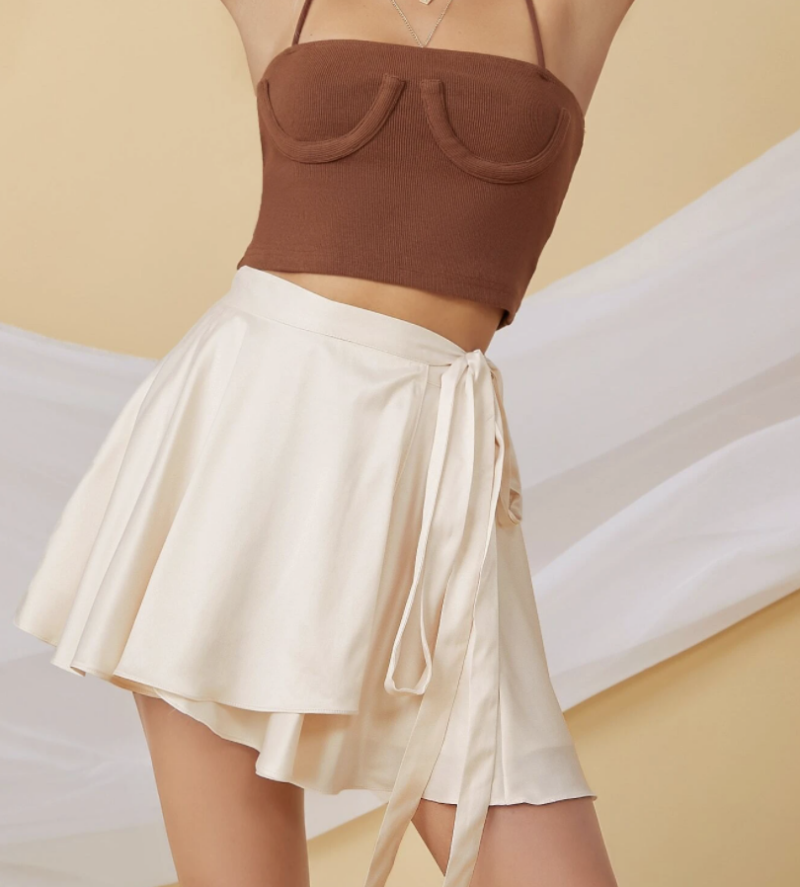 Maxi skirts can work if the skirt itself is quite loose but the waist is cinched and defining. I think apple shapes look great in maxi skirts that show off their legs!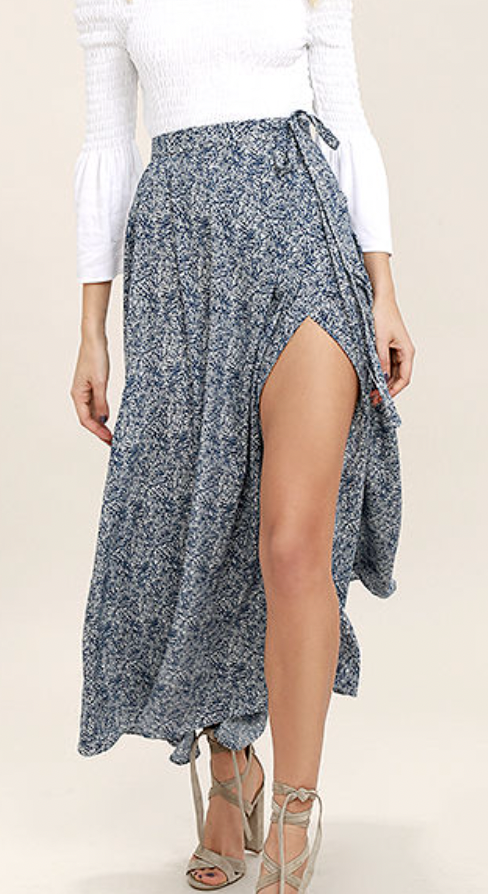 Accessories For The Apple Body Shape
You want to choose accessories that accentuate your figure. For jewelry, bigger is often better, since it calls attention up away from your midsection.
Many celebrities with apple body shapes look great in large hook earrings or long dangle earrings, since they're slimming. A long necklace can also help enhance your bust if you choose a low-cut shirt.
Make sure that, with any jewelry, you keep it long and delicate in order to draw the eye up and down your body instead of across.
The same goes for purses. In general, you'll want to choose accessories that flatter the outfit you've chosen instead of your body shape alone.
Shoes For The Apple Body Shape
Pointy toed heels often compliment any apple shape because they elongate the legs. However, other heels can work really well too. If you're proud of your legs or are trying to show them off then heels are your friend!
Pointy toed flats or loafers work well, too. However, be careful that flats don't shorten your legs and draw attention towards your midsection. You will need to choose your flats carefully.
Sneakers tend to work well for the apple shape and can be a fun way to tone down an outfit.
Many celebrities with apple body shapes also love high boots because they really show off the legs! If you can pull off boots, go for it.
Bathing Suits For The Apple Body Shape
The key for dressing for the apple body shape is to define the waistline and direct attention away from the hips and belly area.
When it comes to bathing suits, there are a few ways to do this. Firstly, I love wearing one-pieces that have a clearly defined waist, such as a belt or tie.
This is my favorite one-piece for this type of body shape from Shein. I tend to pull the mid-section a bit tighter and really find that it changes my whole look.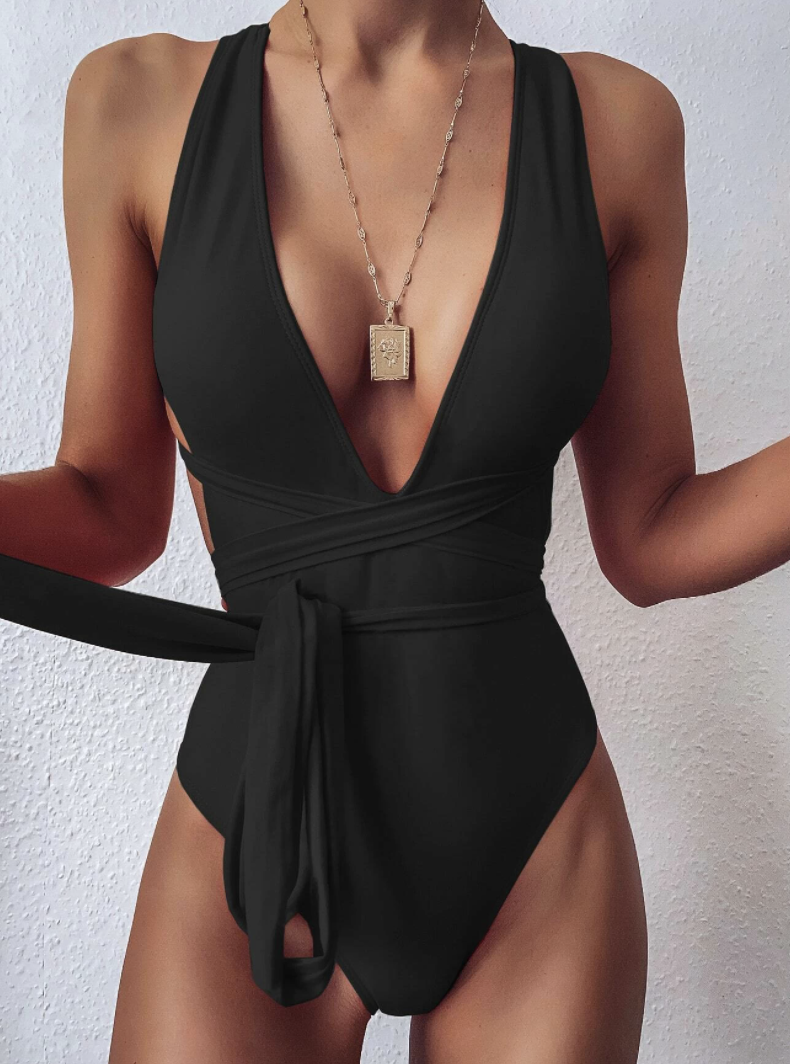 However, you may be a two-piece fan. In this case, you'll want to experiment with high-waisted bathing suits that elongate your figure while enhancing your cleavage.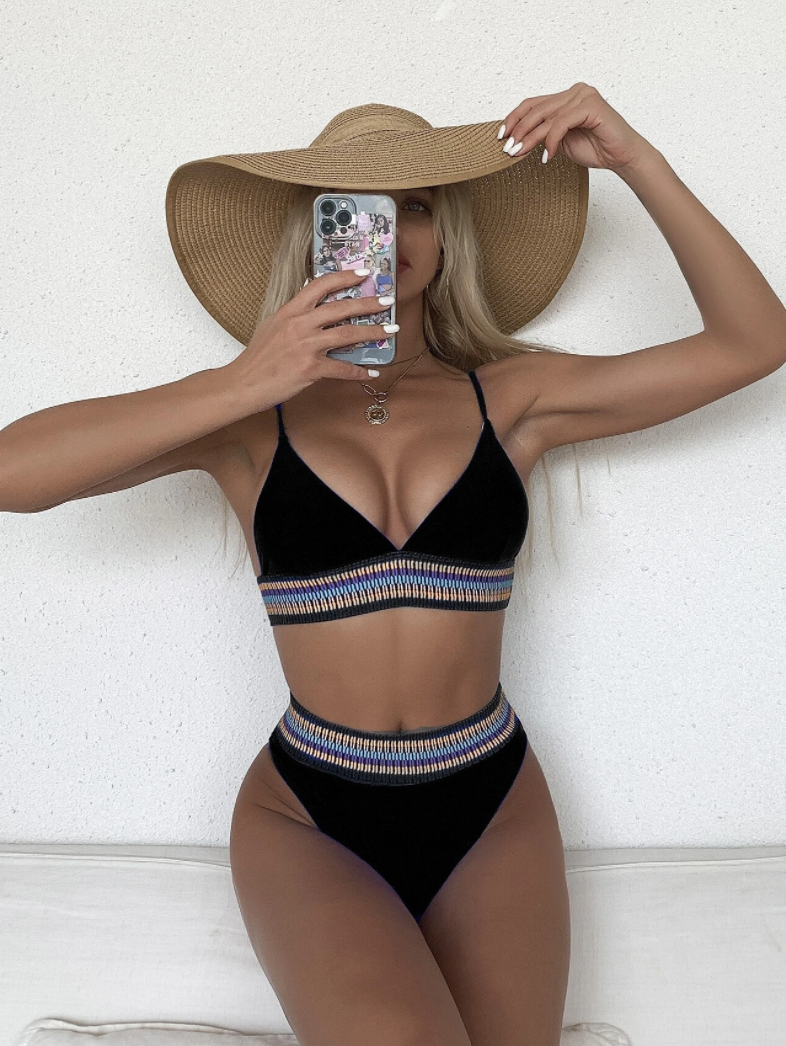 You can also choose bathing suits that show off your other assets, such as your legs.
Apple Body Shape Do Nots
OK, so you can of course wear anything that you like. Clothing is a personal choice!
However, there are a few things that tend to look not great on the apple body. Read through this list but take it with a grain of salt – there are always exceptions. If you notice that something looks good on you, trust your gut!
1. Horizontal Stripes. For most apple body types, horizontal stripes make their waistline appear larger, when the goal is to create the illusion of a small waistline.
2. Clothing That Draws Attention To The Stomach. The purpose of dressing the apple body shape is to enhance the stomach in a way that makes it look smaller, so avoid ruffles or any embellishments around the mid-section that do the opposite. Too-tight clothing can also make the stomach look larger.
Strengths And Weaknesses Of The Apple Body Type
Every body type has strengths and weaknesses. It can be helpful to figure out what yours are in order to present yourself in the best way possible!
The typical apple body shape has great arms and legs, as well as a nice bust. These are also the features you can enhance through your clothing as an apple shape.
Your curvy features all tend to be really great as long as you can add a little bit of structure.
Basically, since you probably have the bust and hips already, you want to create a waistline in order to look like an hourglass shape. If you're an apple shape, you're probably very close to the hourglass already!
However, the apple body has some weaknesses too, mainly the waistline. Regardless of your weight, you may struggle to make your waistline look defined. This makes it especially difficult when you gain weight because your belly is usually the first place weight goes.
Instead of starving yourself (which will never work because your body type is your type regardless of weight!), learn how to enhance your shape by defining your waistline and calling attention to your other assets.
Apple Body Shape Celebrities
Most people think that celebrities are thin and have a hard time dressing themselves, but this is not always the case. While most of them appear to be slender on screen or in person, some stars pack more pounds than others.
These women have just learned that if they dress to flatter their body, people will see them as more attractive. They take the time to learn from stylists about how
-to choose colors and patterns for clothing so they can show off what parts of themselves are most appealing while hiding other features which might make them feel less confident in public.
Drew Barrymore
There's just something magical about the beauty and energy that Drew Barrymore brings to my television screen every time she enters.
I often imagine us as friends – shopping for apple shaped clothes together!
When it comes to fashion, Drew has her ups and downs. Sometimes, she manages to pull off an outfit that accentuates her waistline, while other times it gets lost.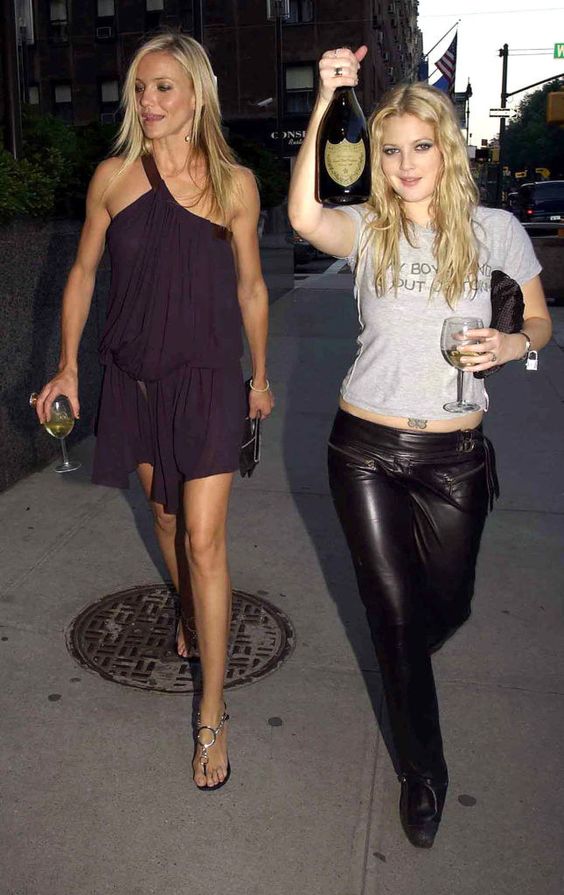 You can really tell she's an apple shape when she doesn't have a defined waistline.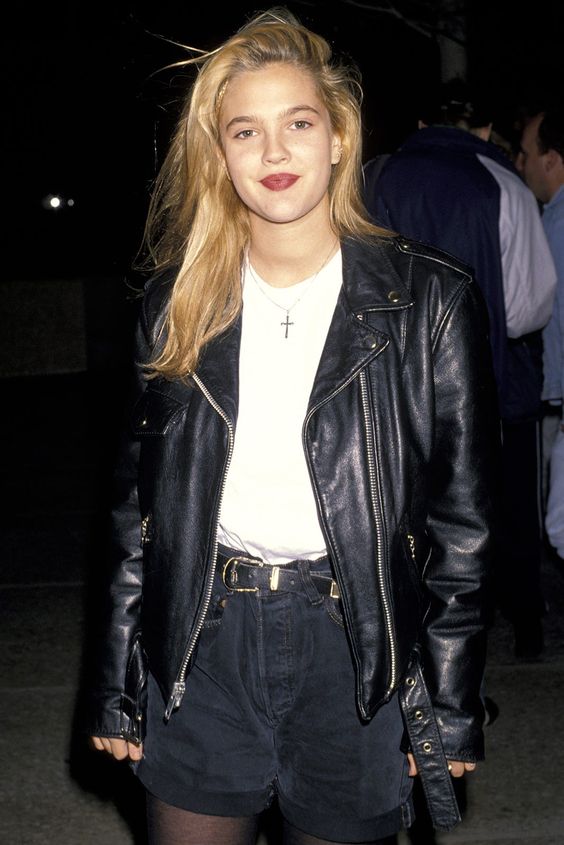 However, there are other times when she does a great job. The fashion of the 2000's wasn't great for apple shapes so I won't be too hard on her!
Angelina Jolie
The beautiful and slender Angelina Jolie is the perfect example of how all body shapes can be slim.
As someone who was born with an apple body shape, she demonstrates that it doesn't have to mean anything about your weight or waist size – you just have to know what clothes suit your shape well!
If you check out Angelina Jolie's fashion, you'll notice that she does a really great job of defining her waistline. Over and over, her outfits cinch on her high waistline yet show off her legs.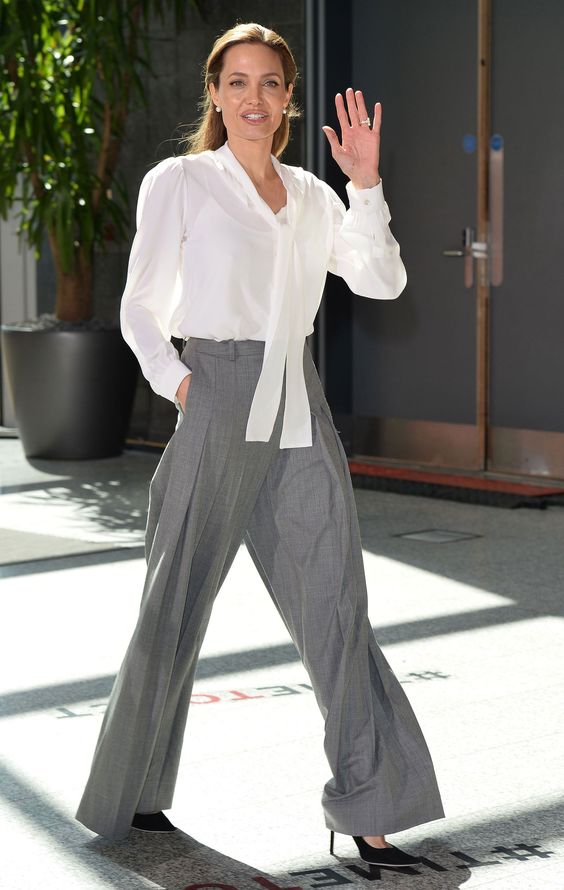 She is a really great example of someone who is in amazing shape but still needs that extra definition around the waist.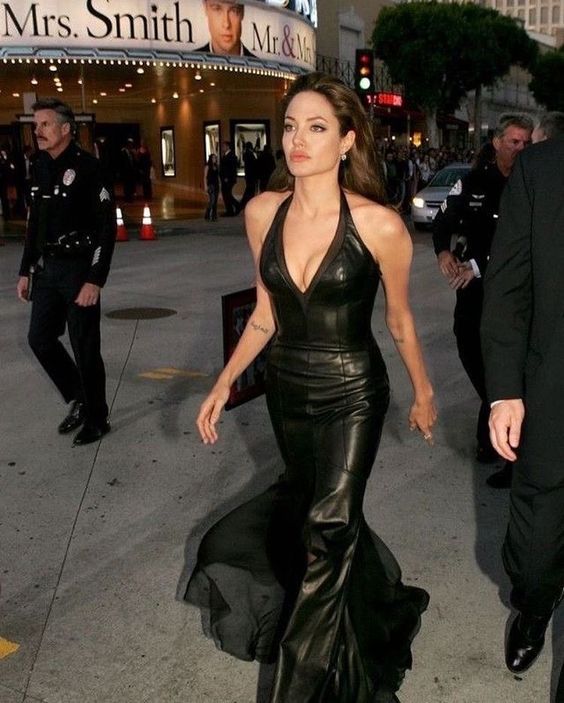 Angelina also does a marvelous job of accentuating her bust without going overboard. It simply balances her hips/belly area.
Jessica Simpson
As a woman with her fair share of body drama in the media, I sometimes feel really bad for Jessica Simpson. Literally every weight gain and loss is documented, which can't be easy.
However, you'll notice that she looks amazing regardless of her weight when she actually dresses for her apple shape!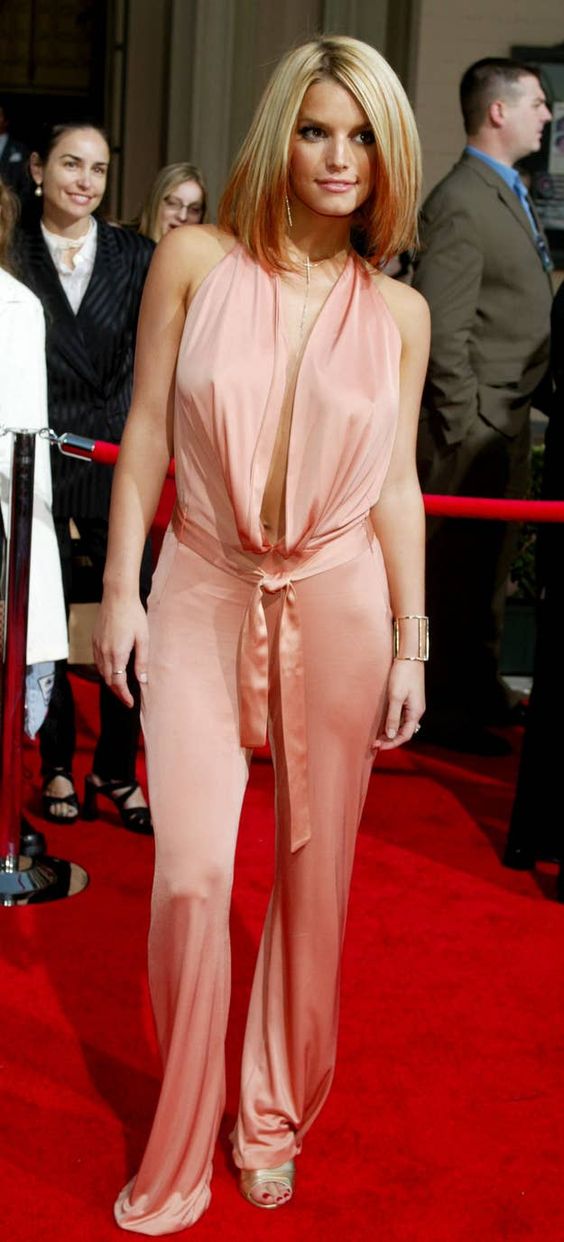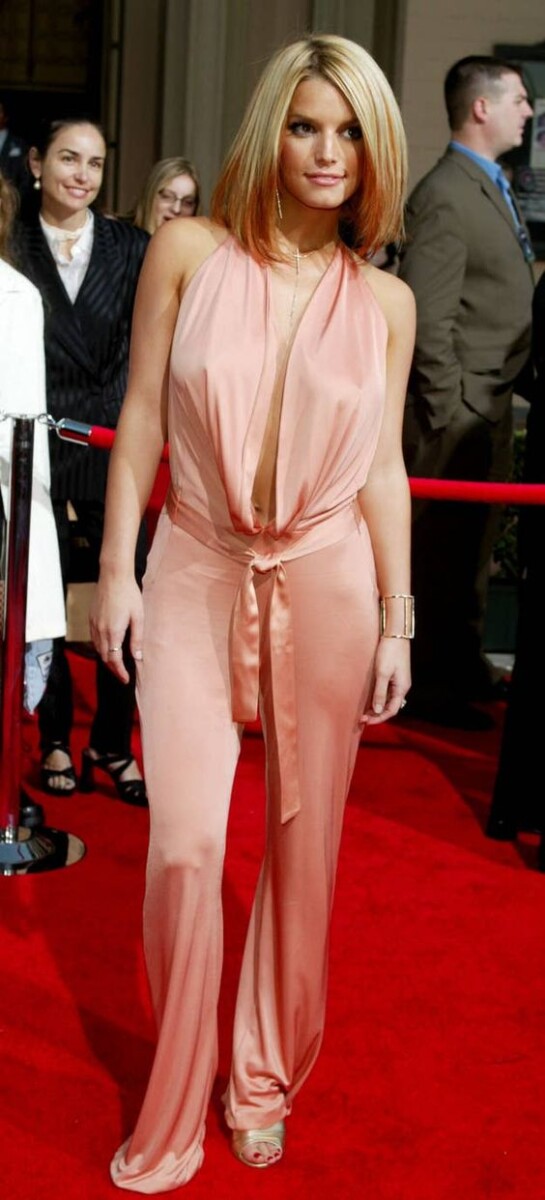 She can be a great source of inspiration for apple body shape fashion.
Adele
Unlike some of the other celebrities on this list, Adele does an amazing job of dressing for her apple body. She literally always has her waist cinched and often wears flowy dresses with a belt, creating a really gorgeous silhouette.

If you have a similar body type to Adele then I definitely recommend looking at her fashion for inspiration!
Khloe Kardashian
If you're looking for apple shape style inspiration, you really don't need to look any further than Khloe Kardashian. Regardless of her weight, she pulls off her apple body in a way that only a Kardashian can.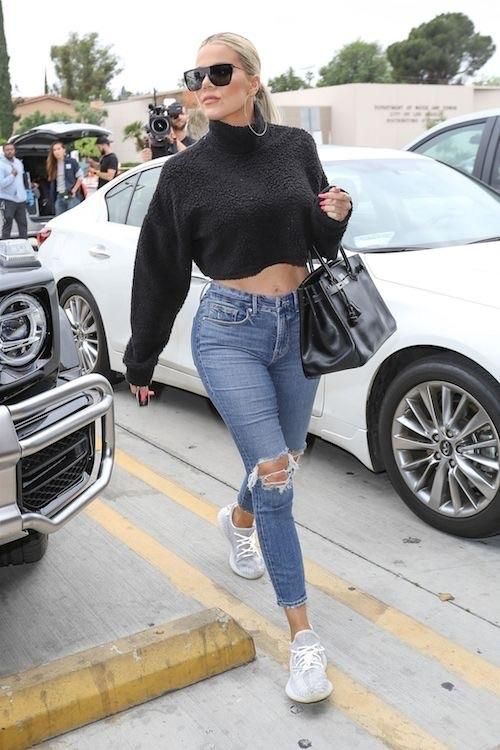 Khloe is a great source of inspiration for style that's super trendy but still wearable. I love her everyday looks!
Jennifer Hudson
Jennifer Hudson is an amazing example of someone with the apple body shape. She has managed to show off her shape during just about every point in her life.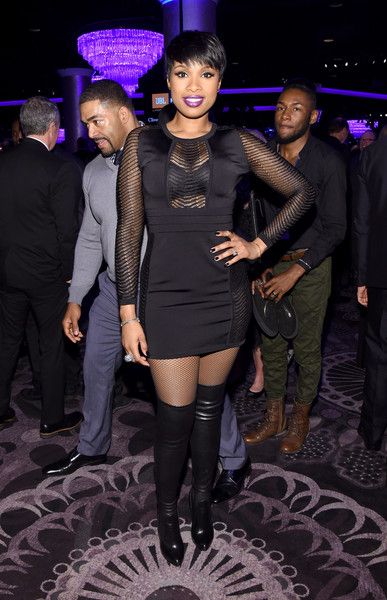 She is especially good at hiding her mid-section while showcasing her legs. I really love all of her outfits in boots!
Kate Winslet
Kate Winslet is a great example of someone who is really sexy and who pulls off the apple body shape flawlessly.
She tends to lean towards girly, cottagecore dress vibes, which work really well with the apple shape.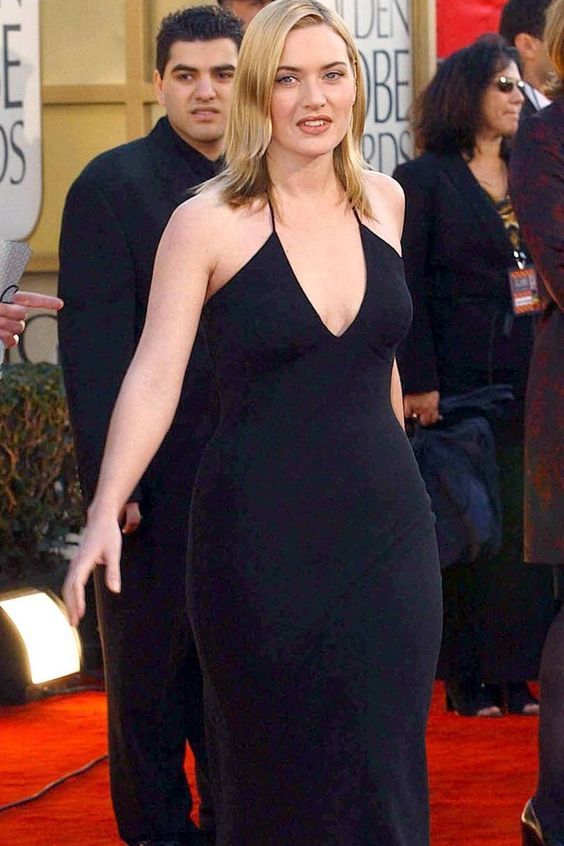 Kate is also very good at accentuating her bust to offset her hips.
Oprah Winfrey
Oprah does a great job of dressing for her shape without going overboard. She's a great example if you're looking for classy outfits – she wore one outfit a day while she was a talk show host!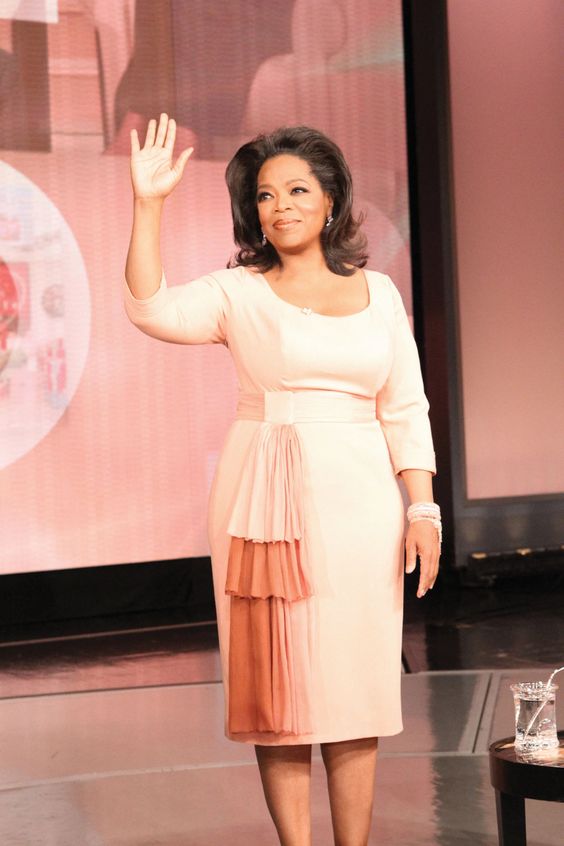 She's especially talented at cinching the waist without drawing attention to it. Many of her outfits look effortless and natural, mainly because Oprah incorporates a lot of layers.
Eva Longoria
Many people are so surprised that Eva Longoria has an apple body because she's so petite. However, she's a great example of the apple shape for petite woman.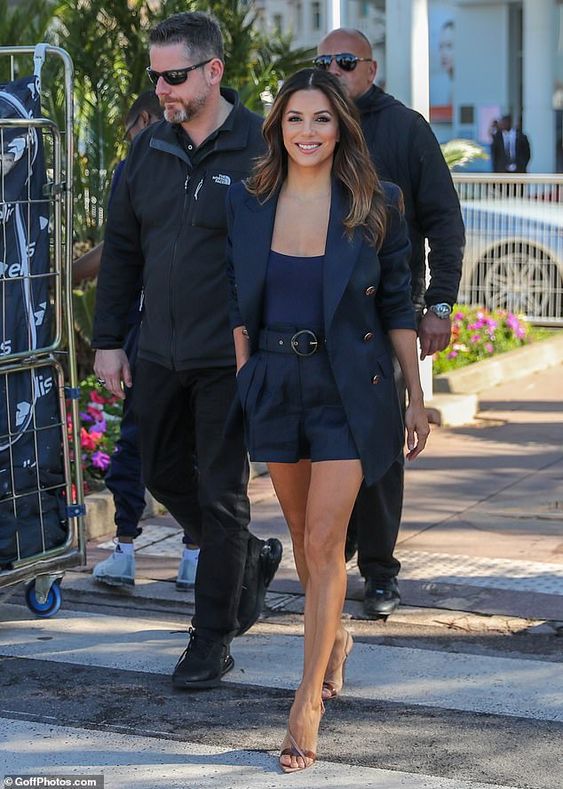 Eva is especially good at wearing layered outfits that still look trendy. Her fashion is ultra-chic but always flatters her body.
Other examples of celebrities with the apple shape include:
Liz Hurley
Catherine Zeta Jones
Lindsey Lohan
Lisa Rinna
Kate Upton
Reese Witherspoon
Meg Ryan
Apple Shape Outfit Inspiration
It's low key really hard to find good inspiration for an apple shape body. There's literally not much out there!
I rounded up some of my favorite outfits that would be great for the apple shape and am sharing them here for inspiration.
Notice that, while these outfits are all various styles and pieces and worn on different body types, they all call attention to the waistline in some way or highlight the legs while avoiding the more unflattering areas.
Obviously, some of these people are literal supermodels. I don't look like that and unless you're in the industry, you probably don't either. However, the outfits that they're wearing will look good on just about any apple body shape.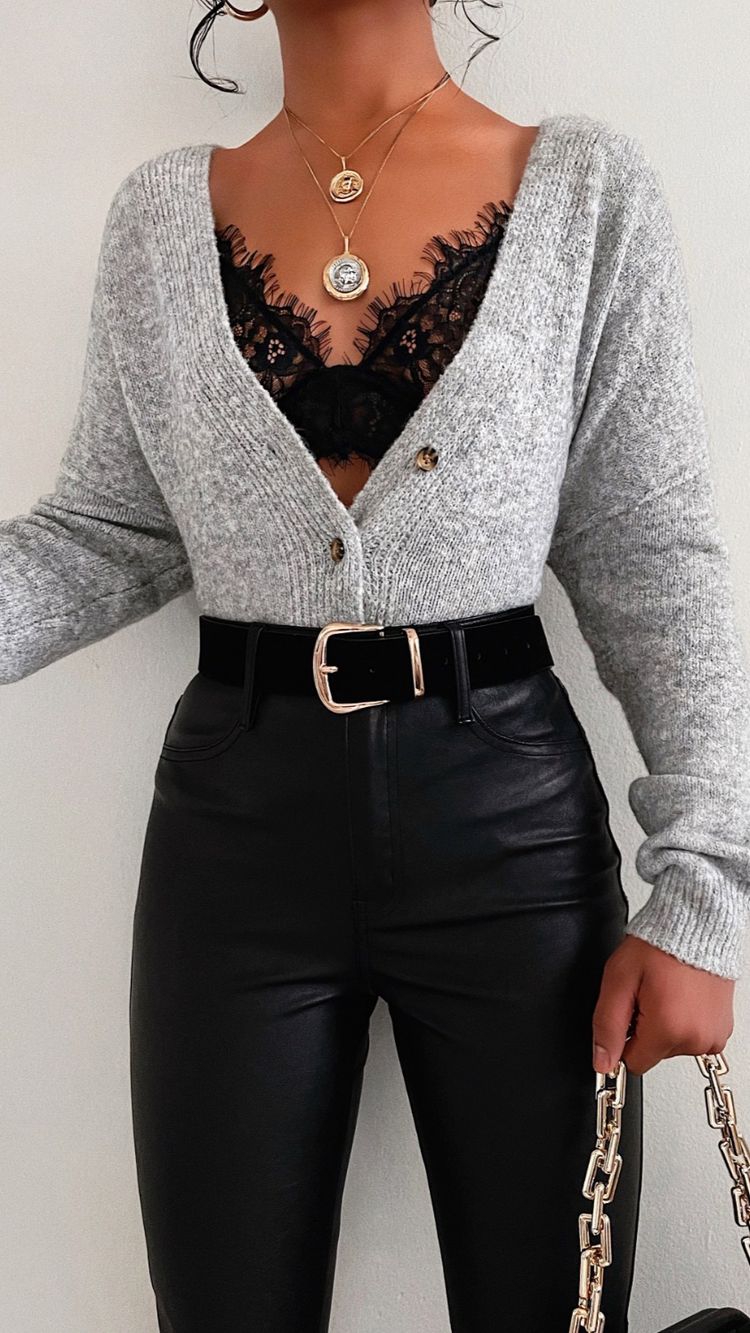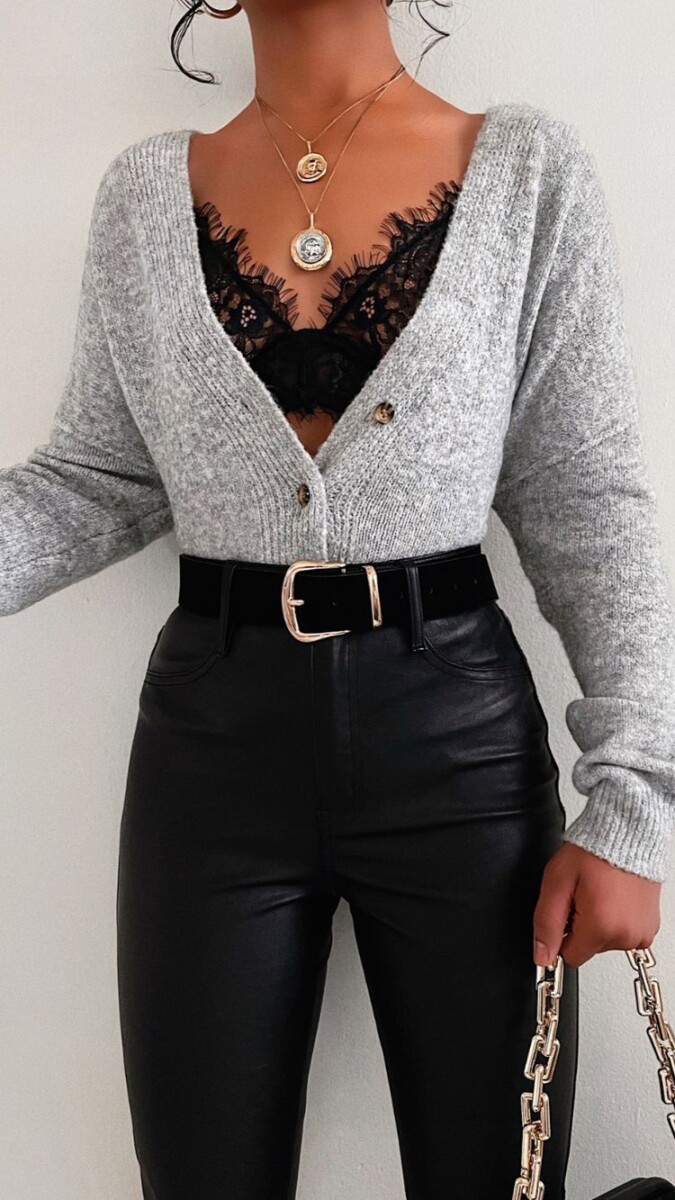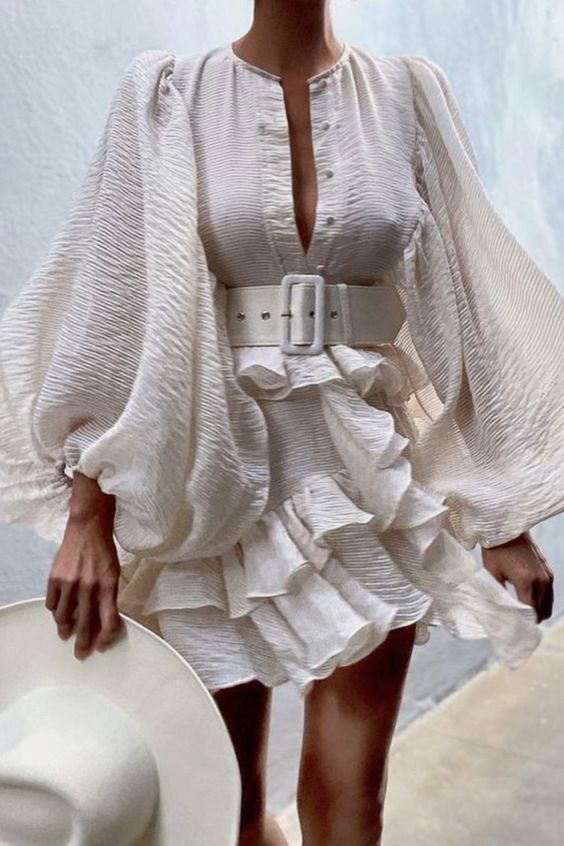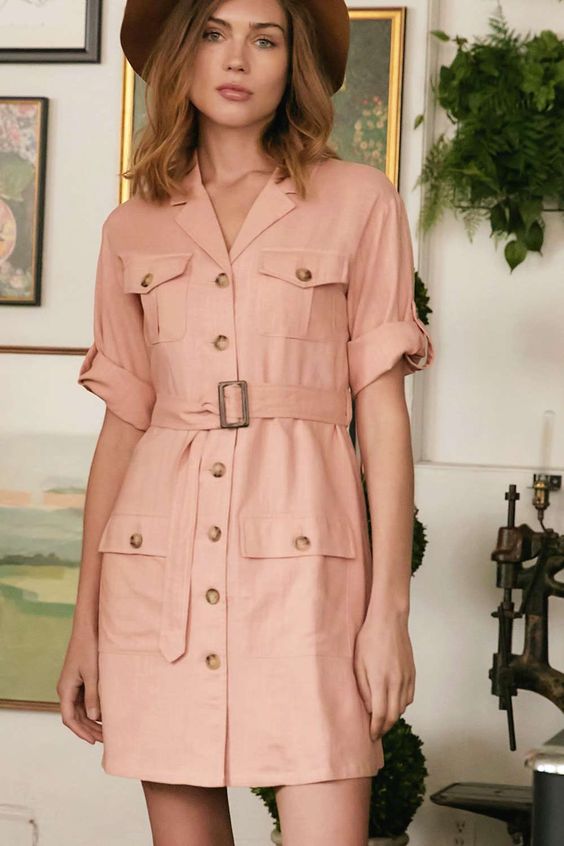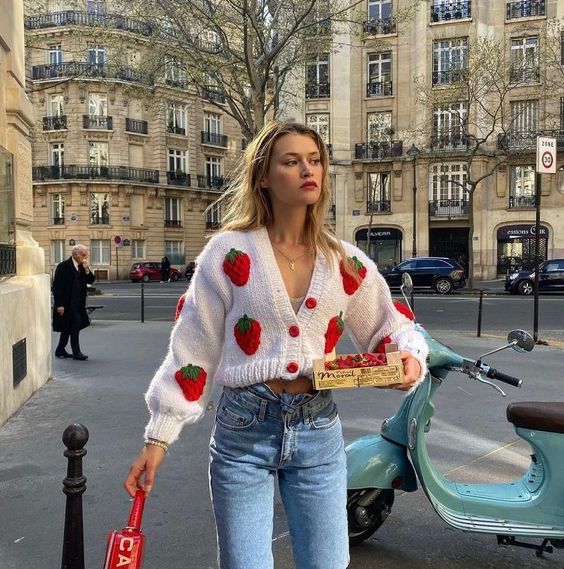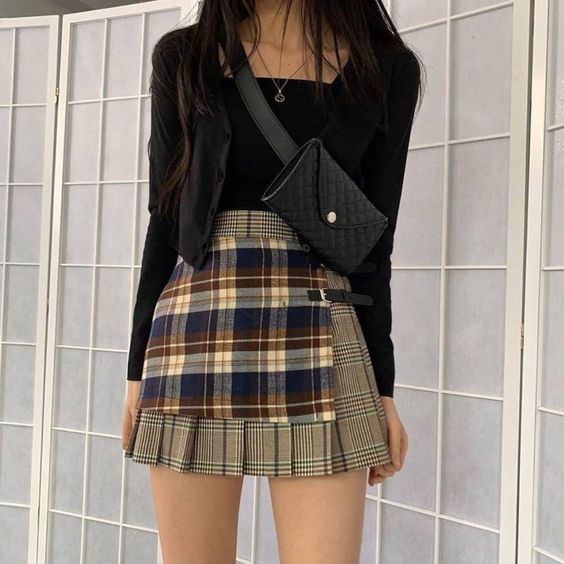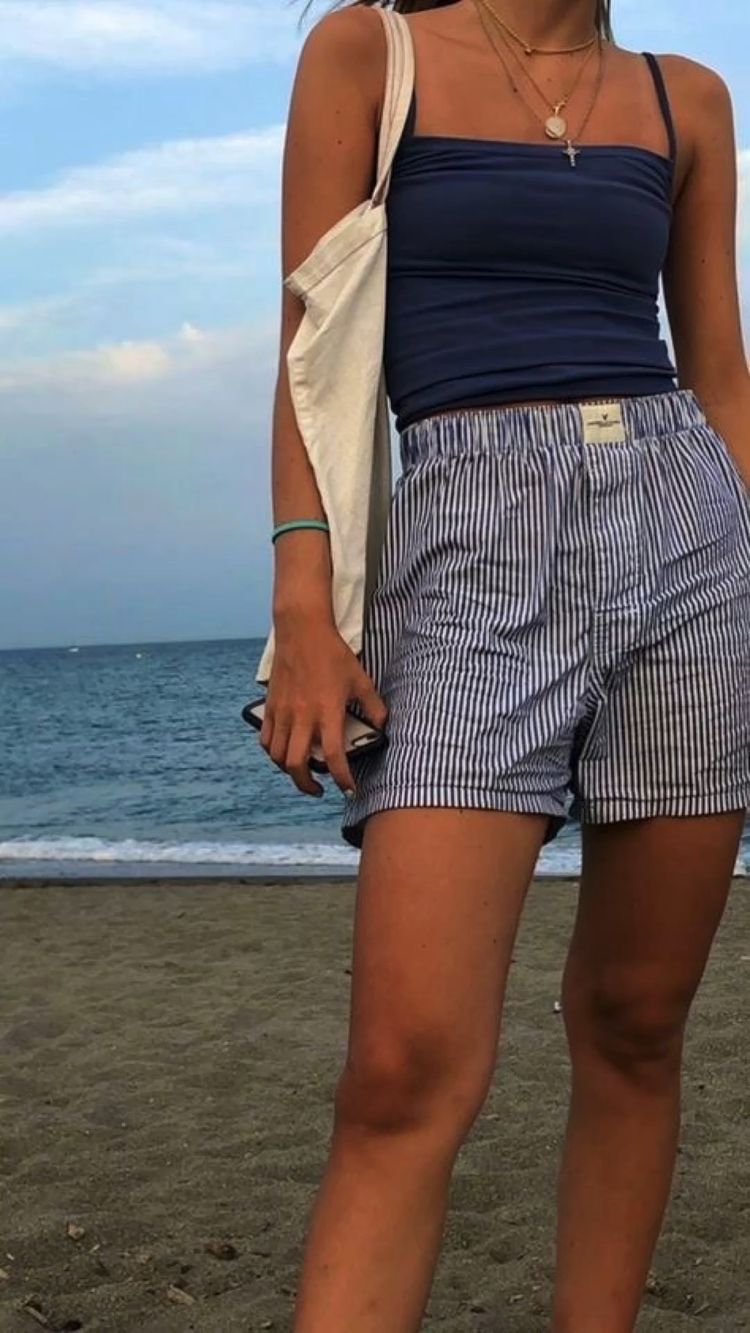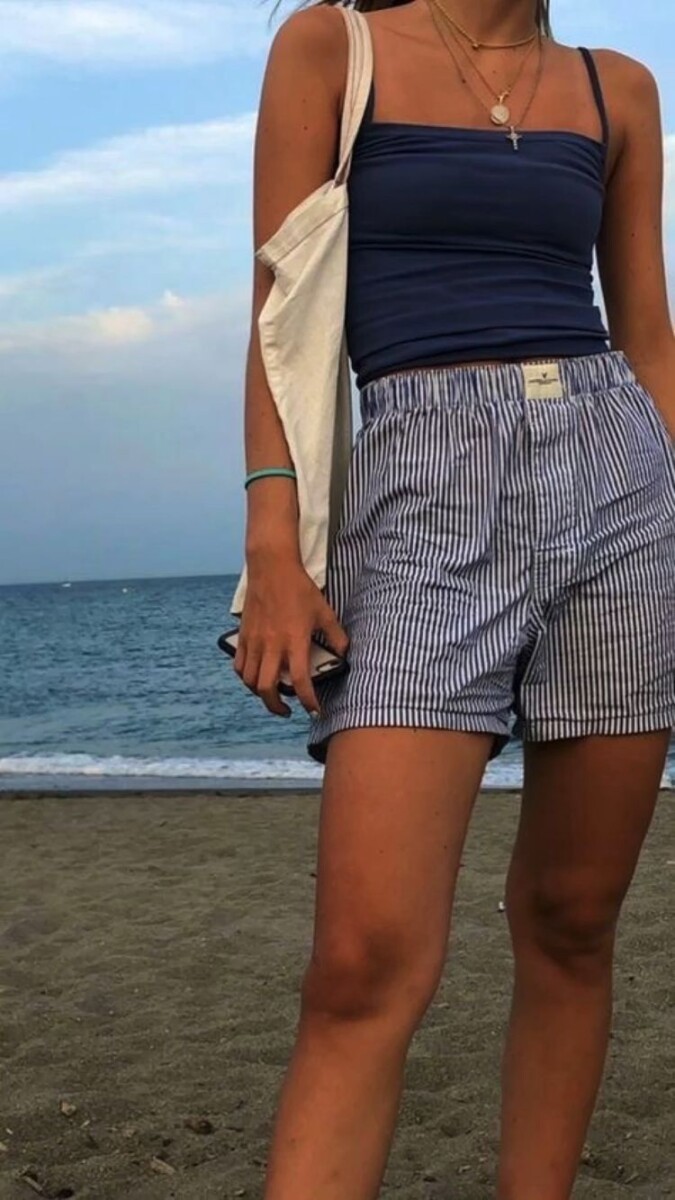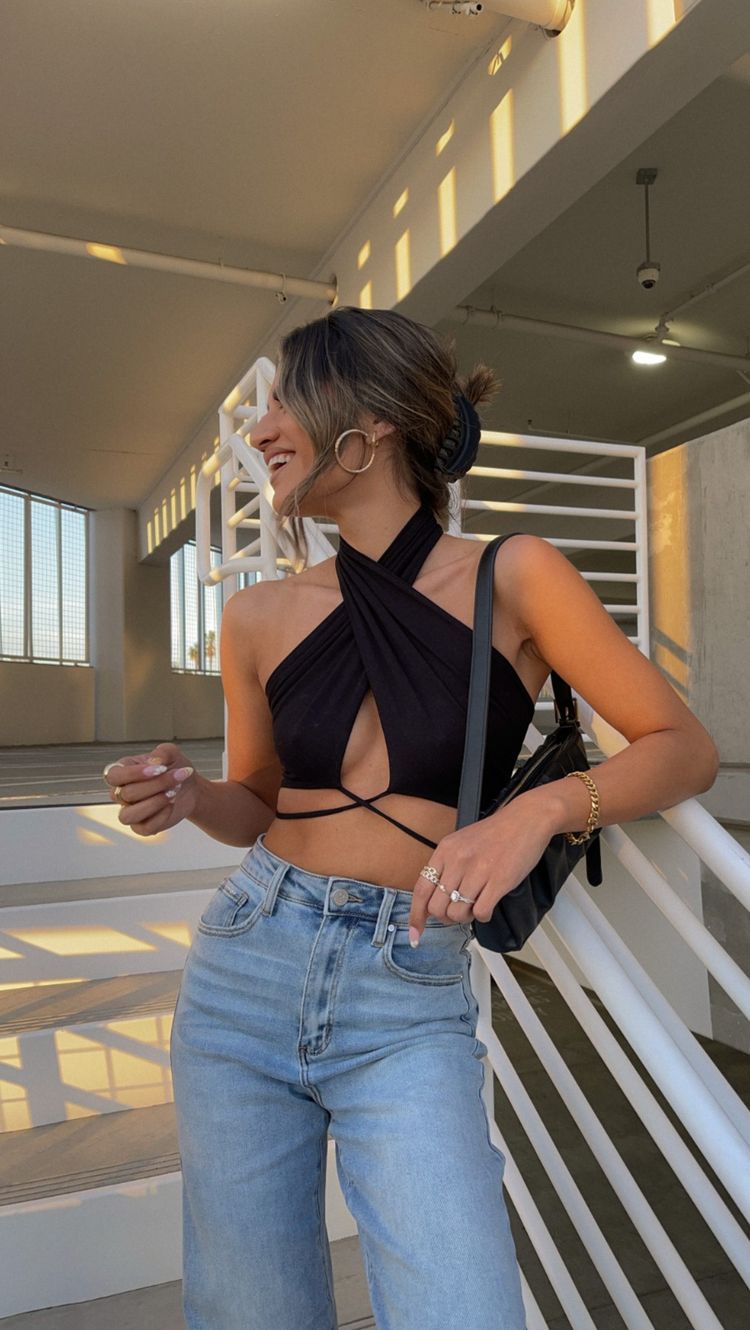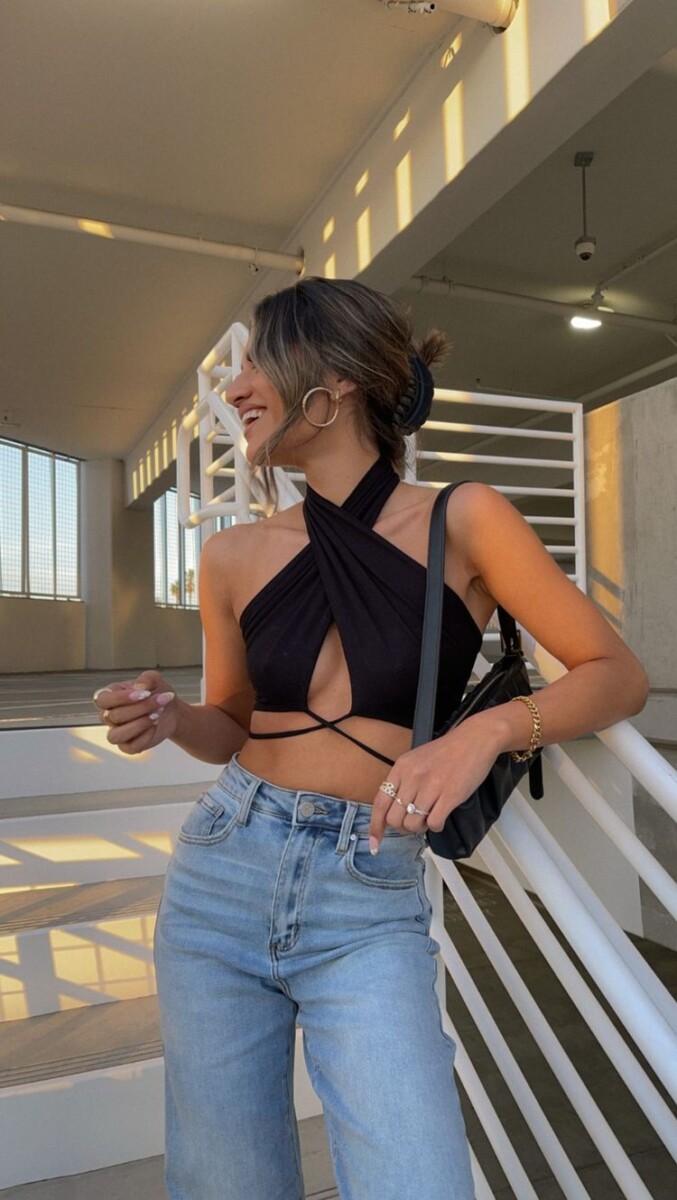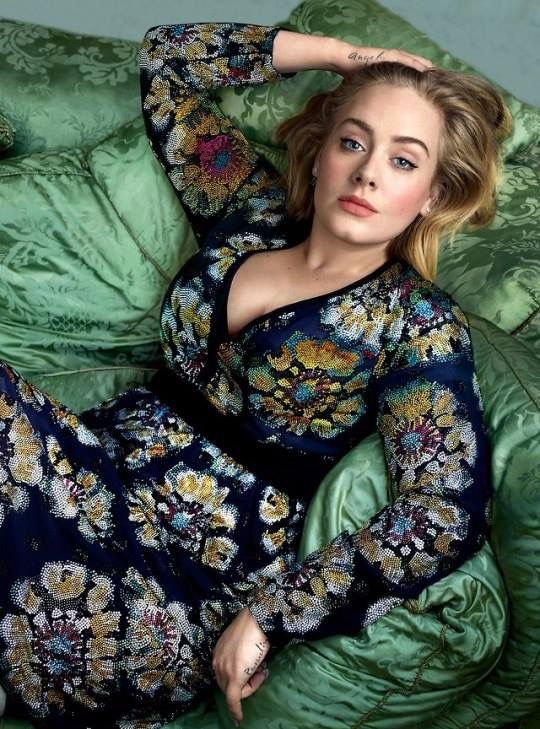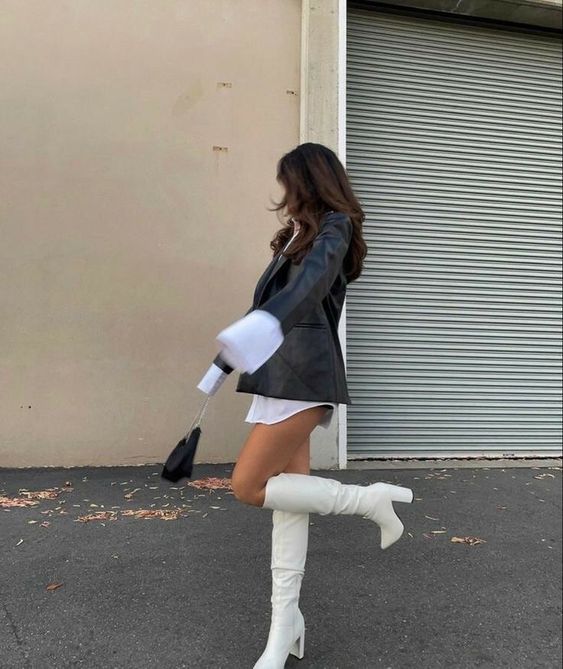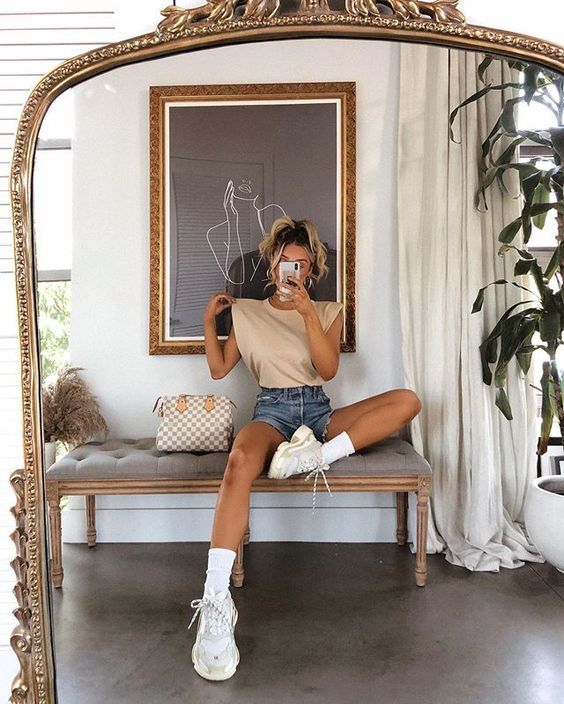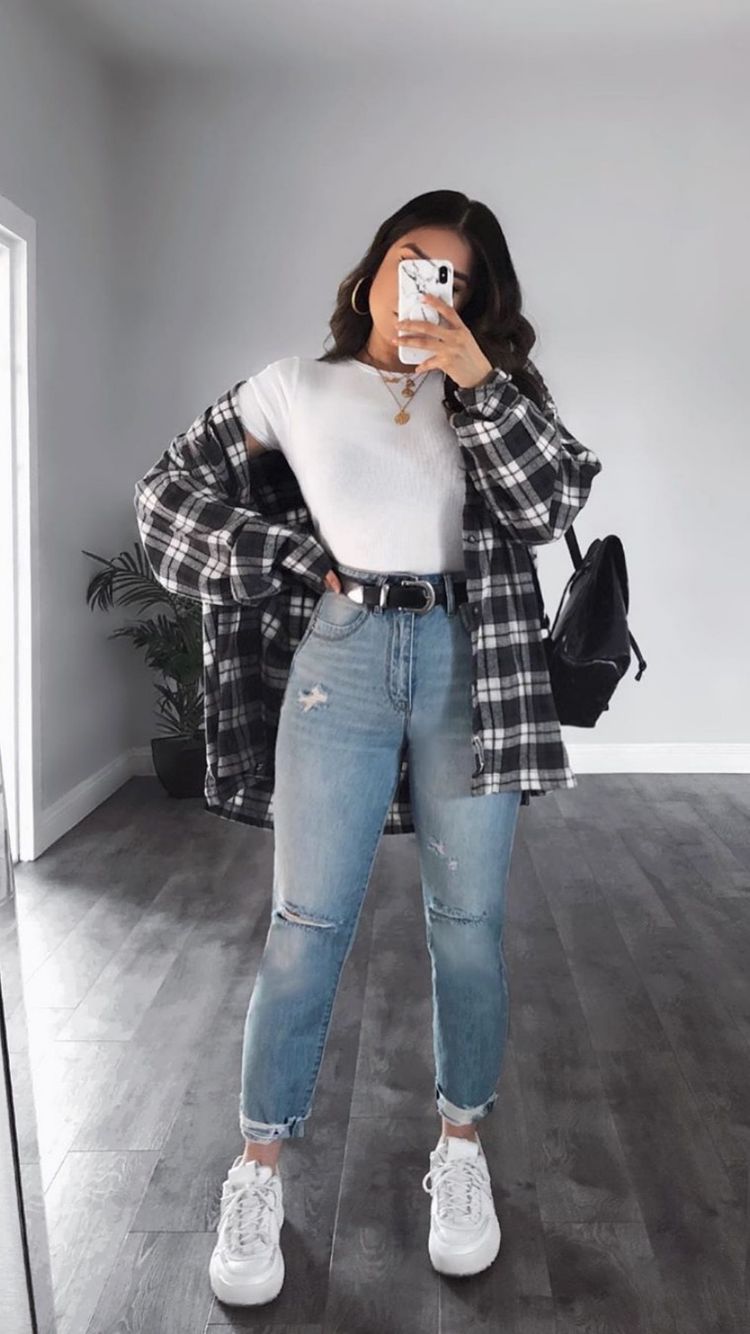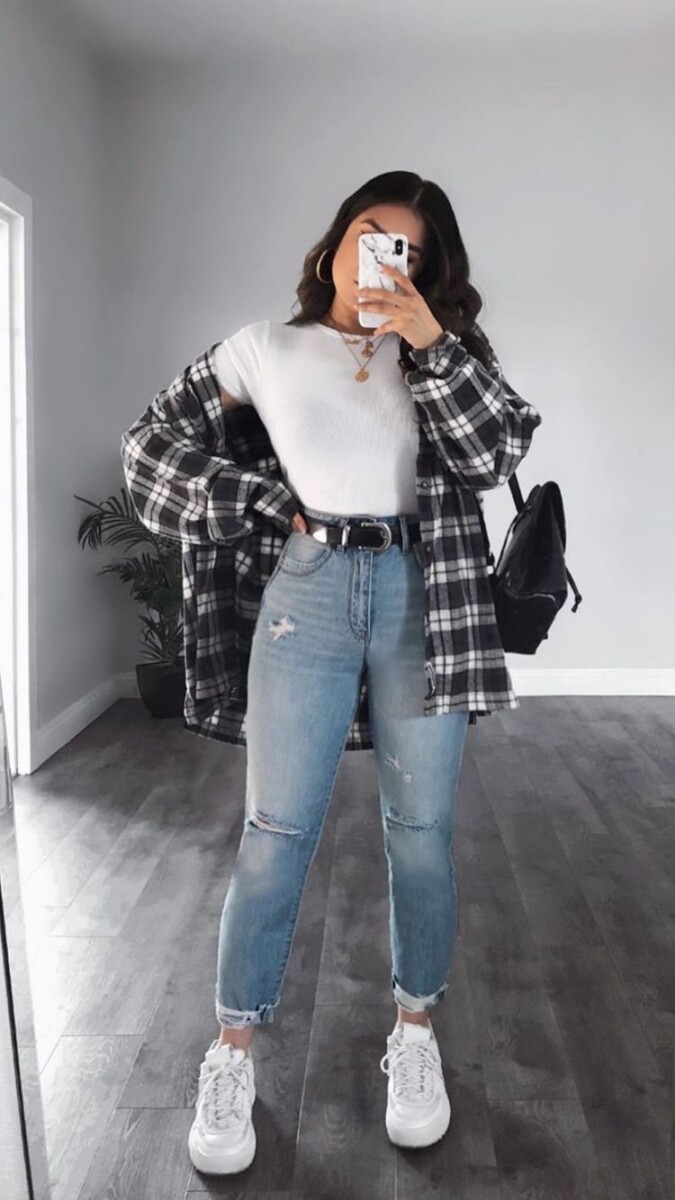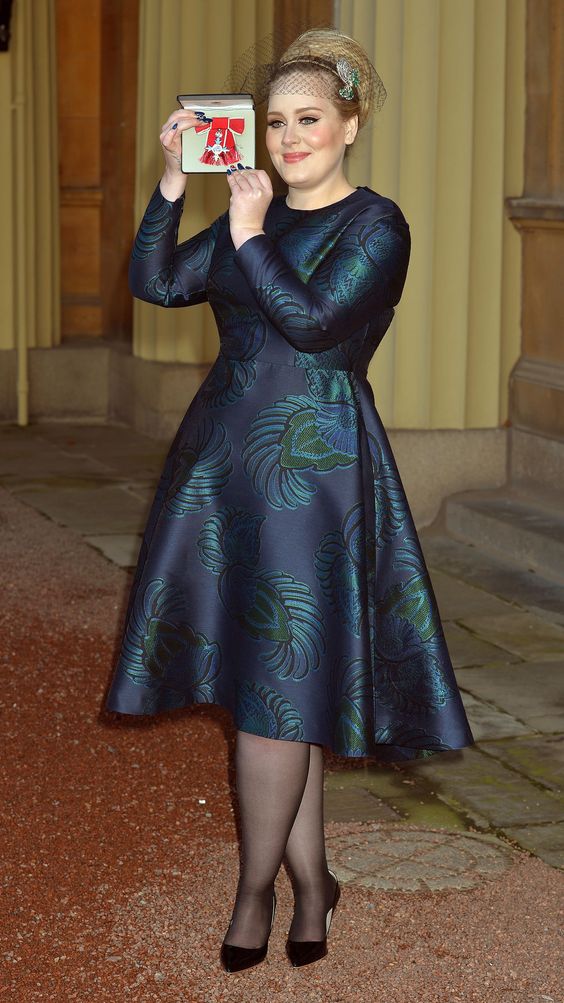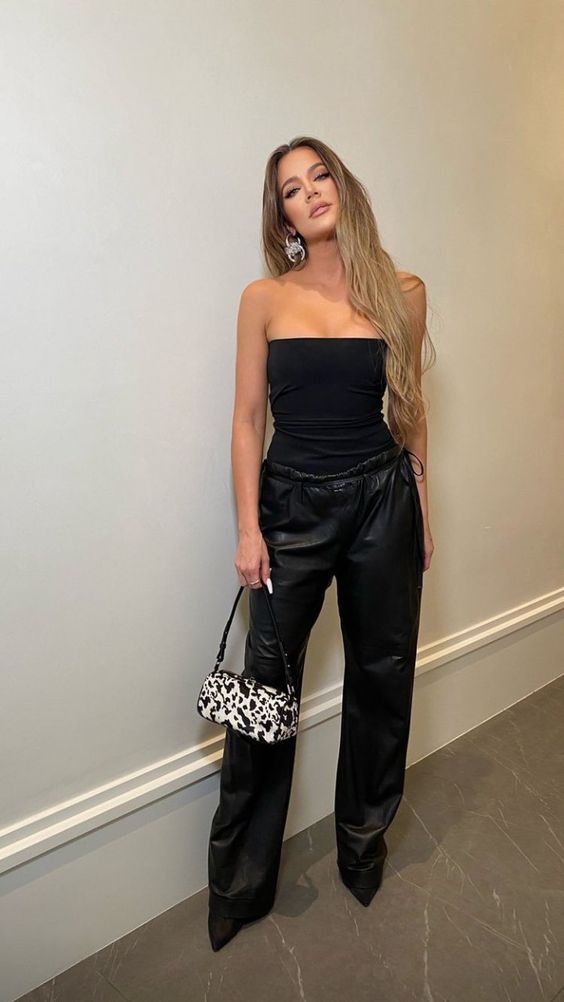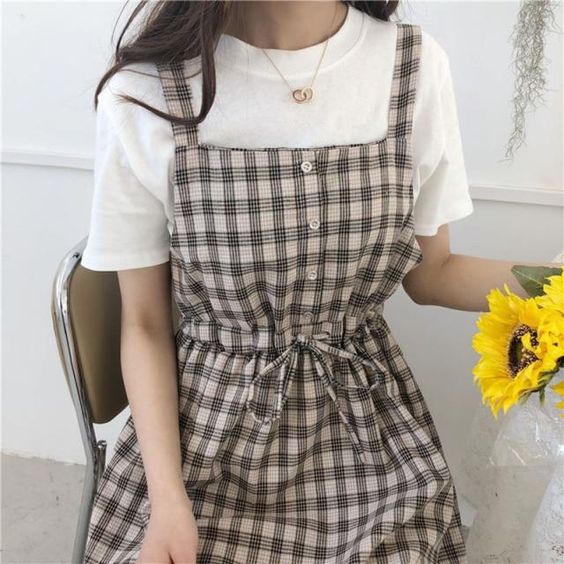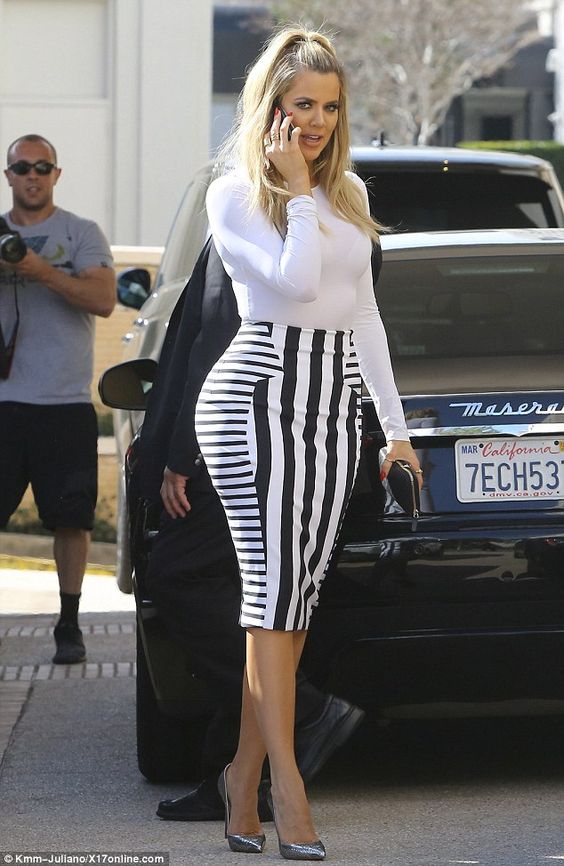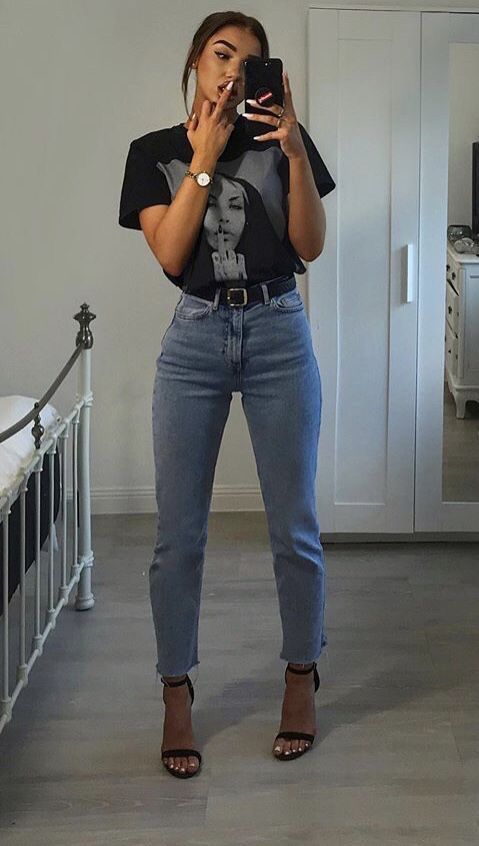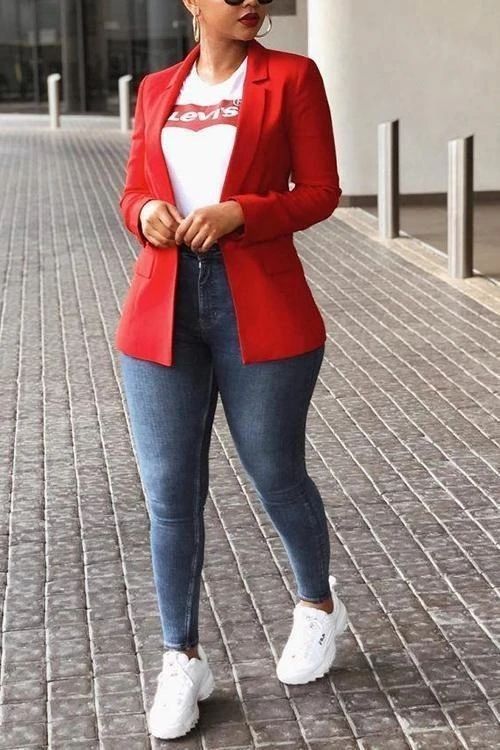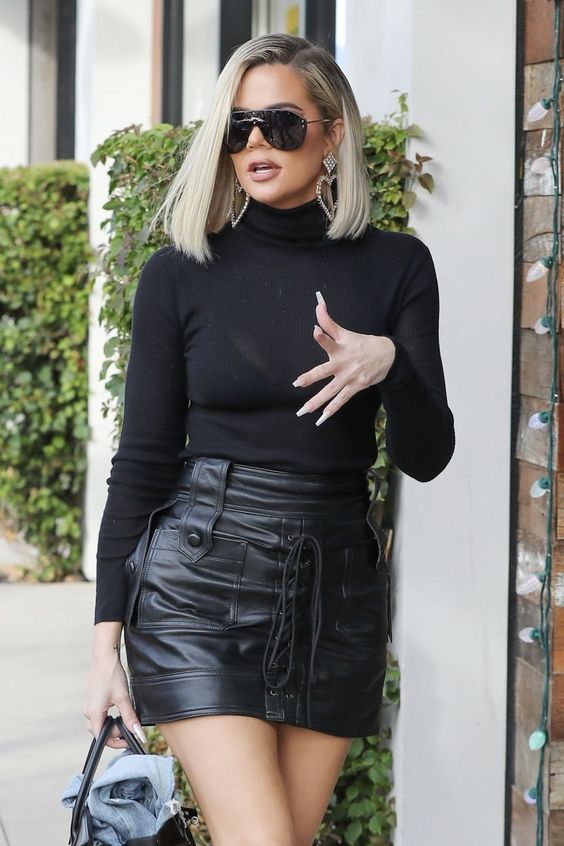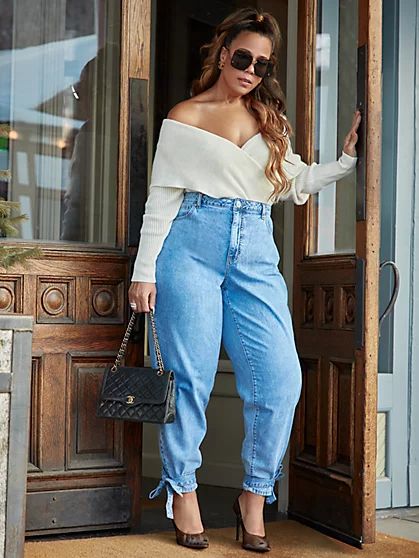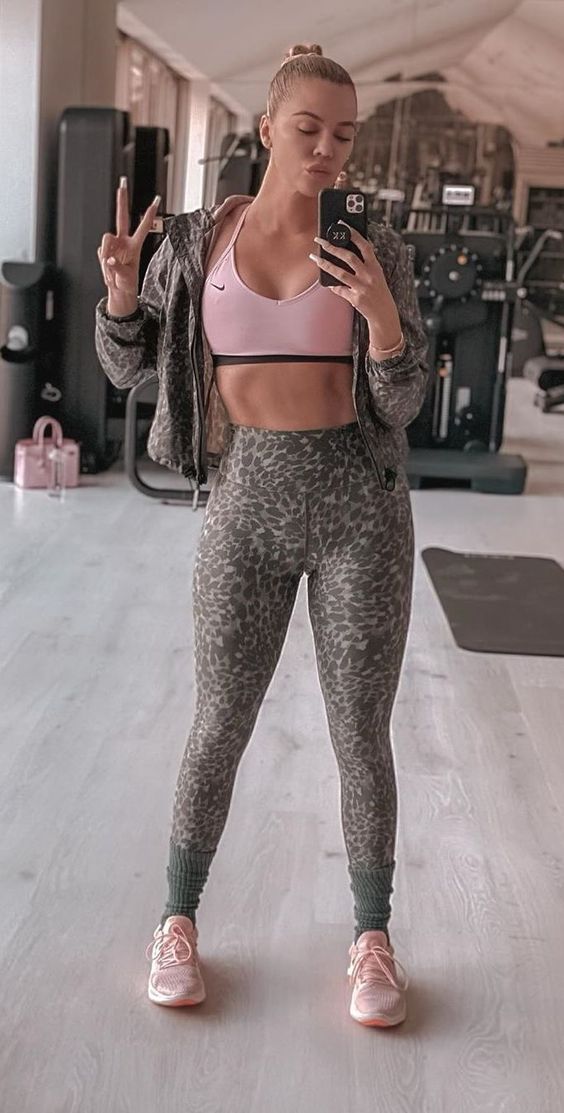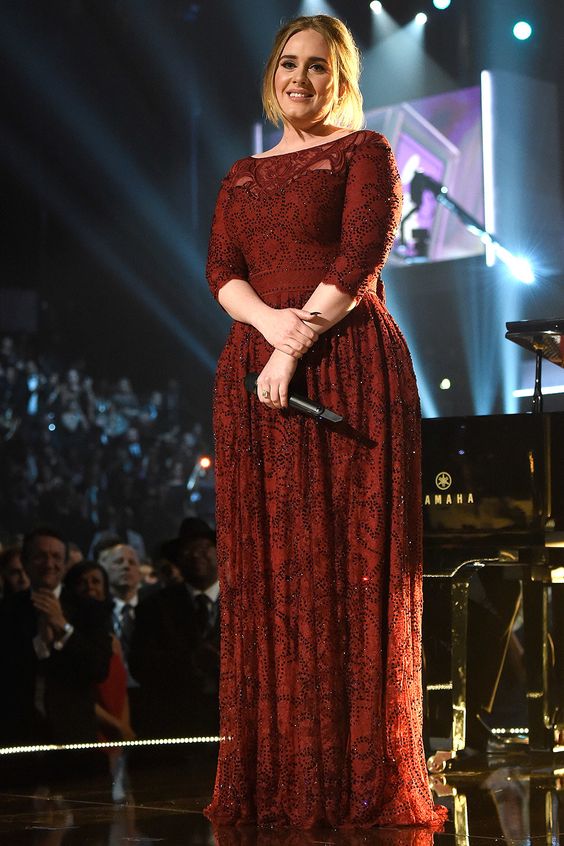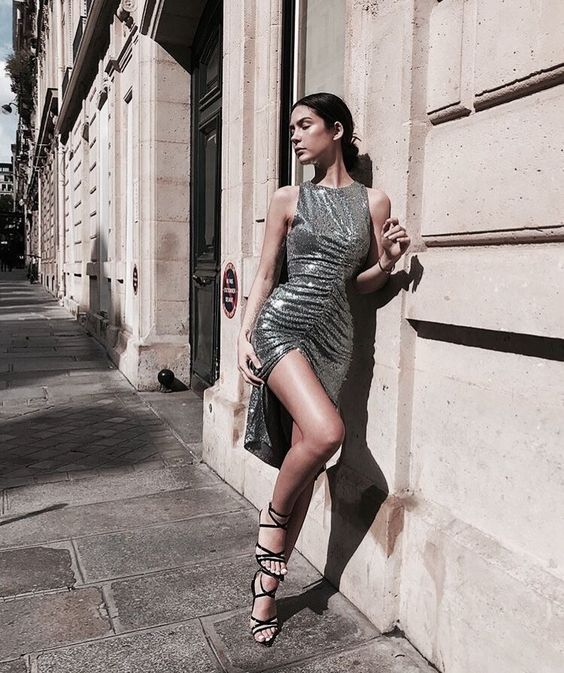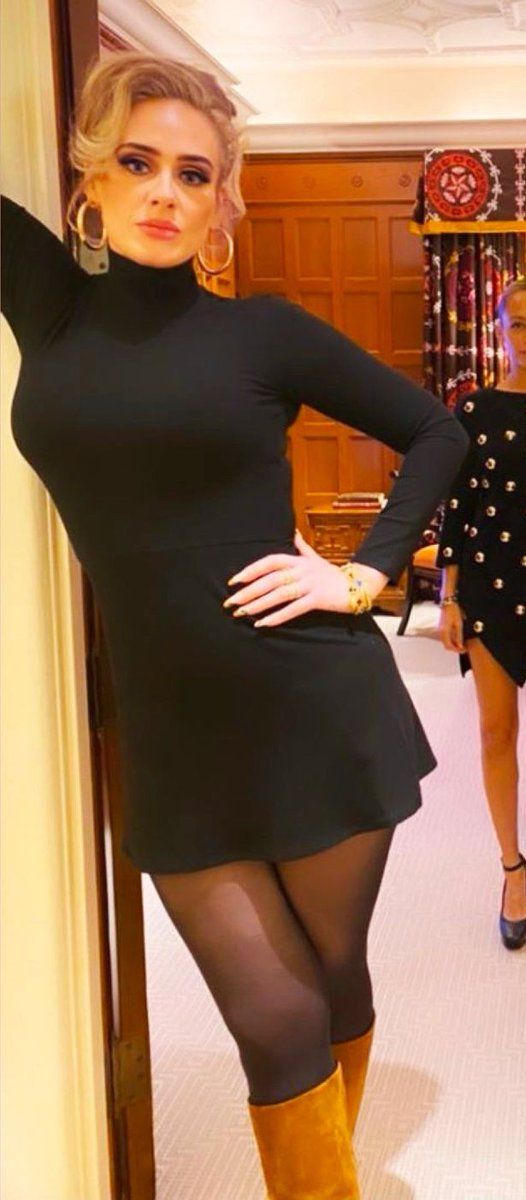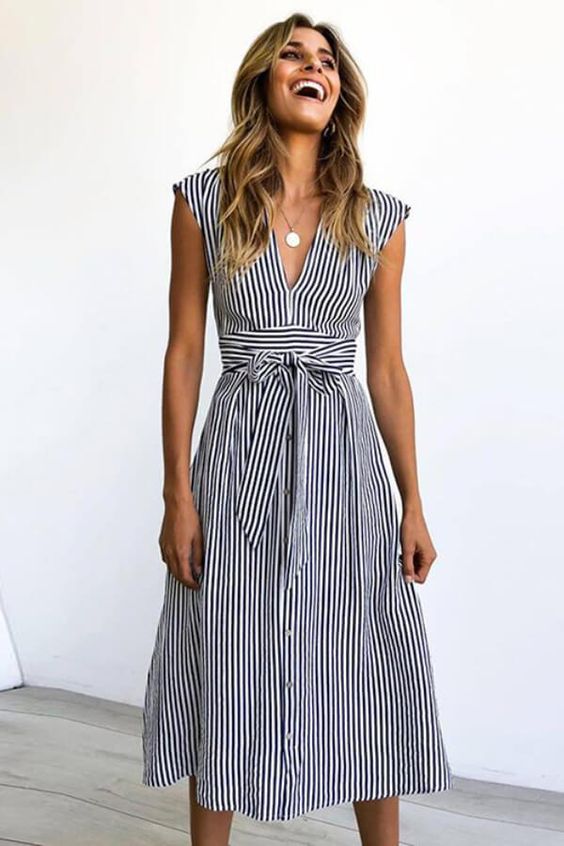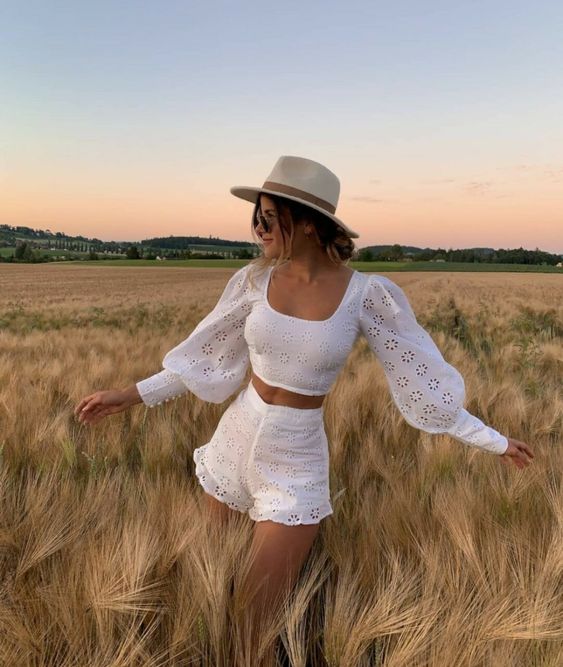 Source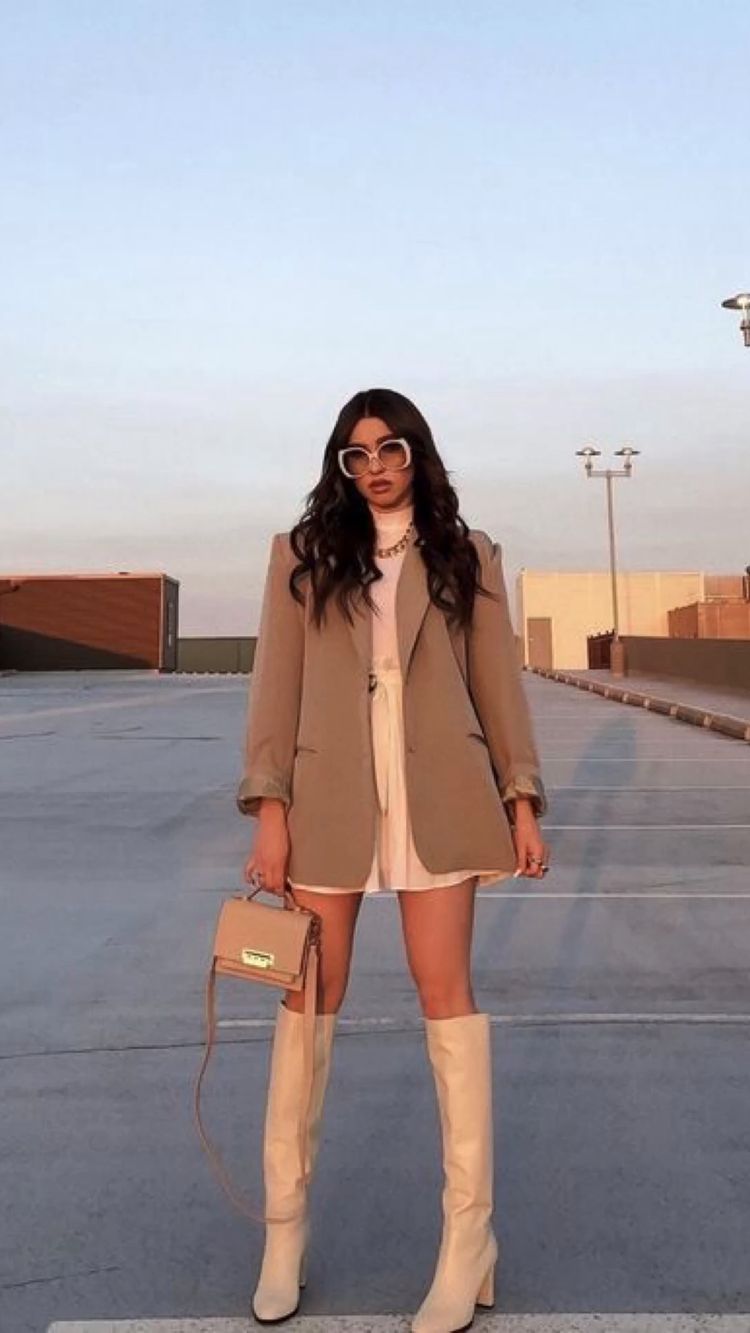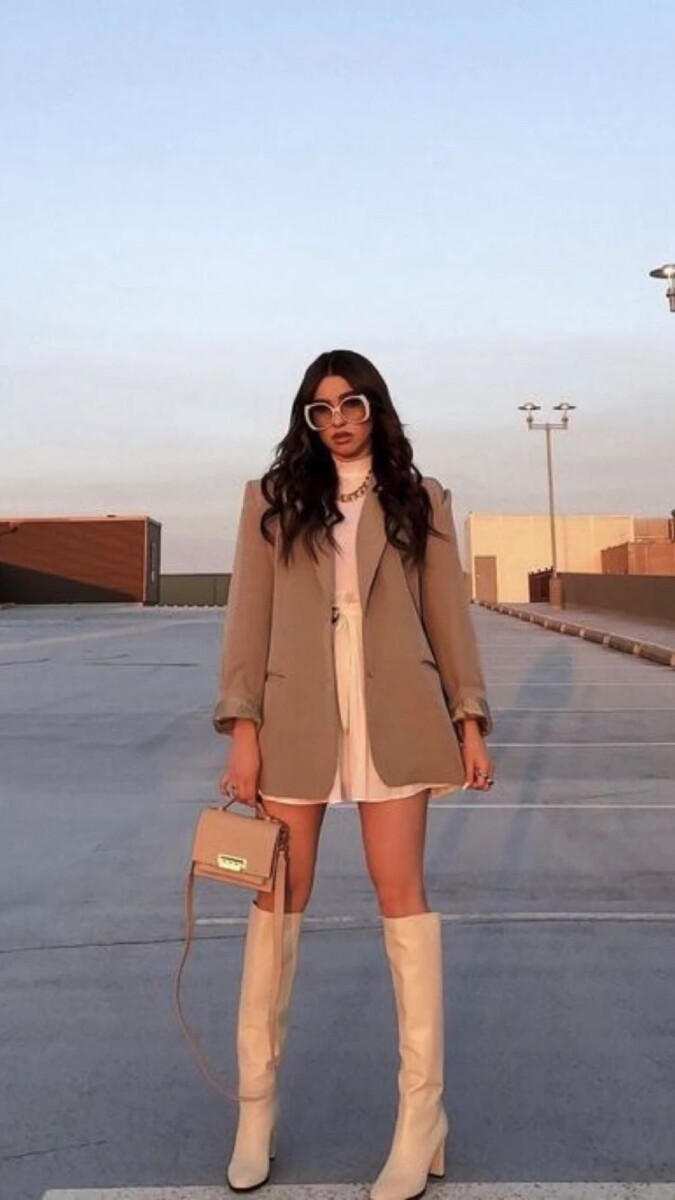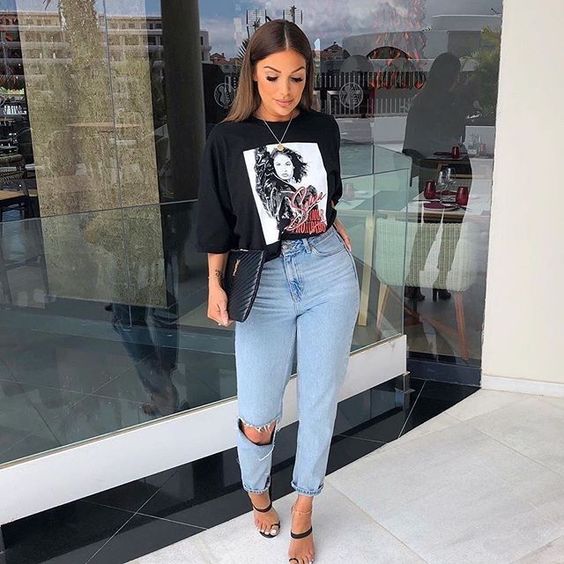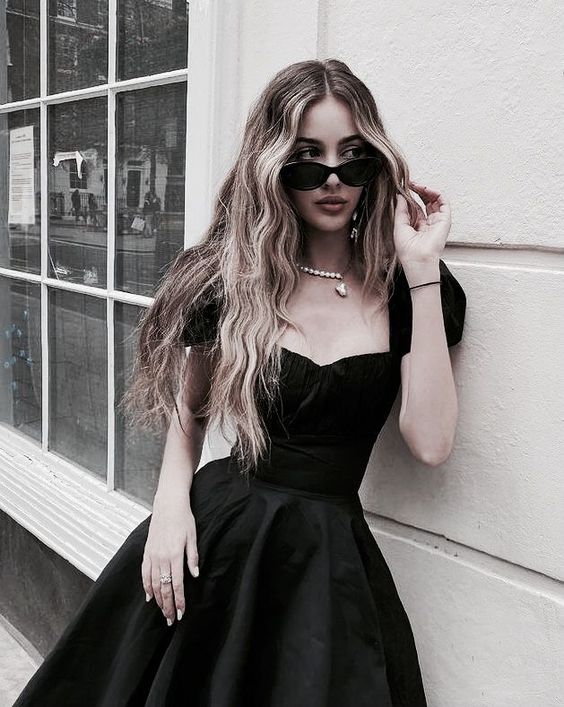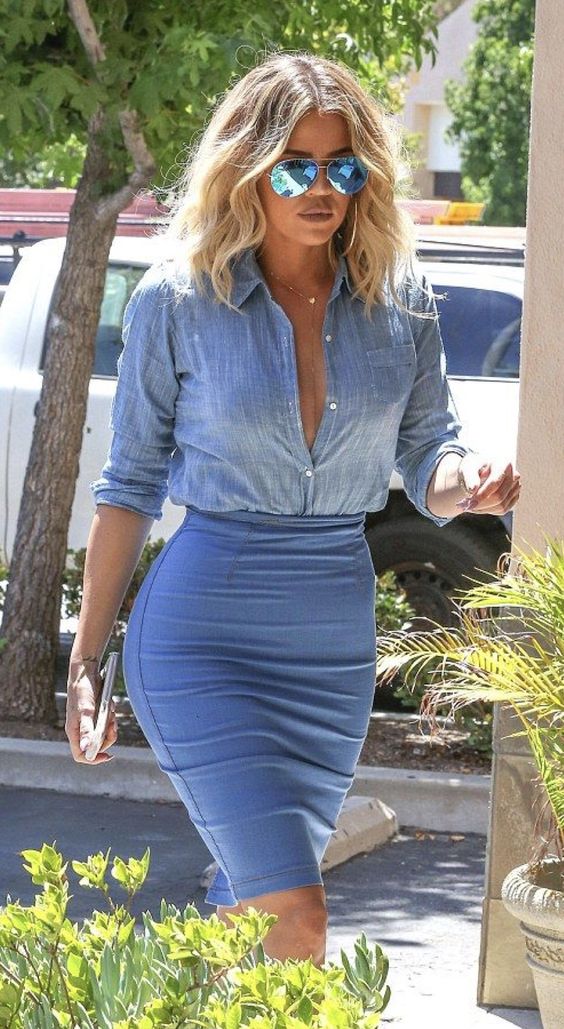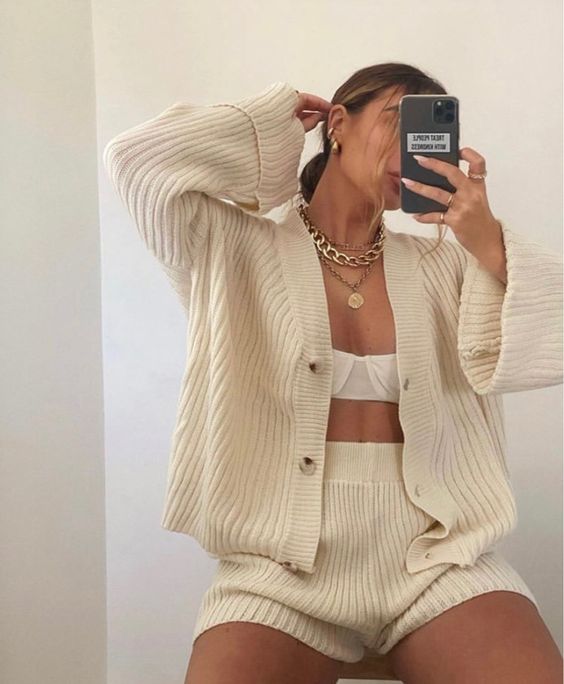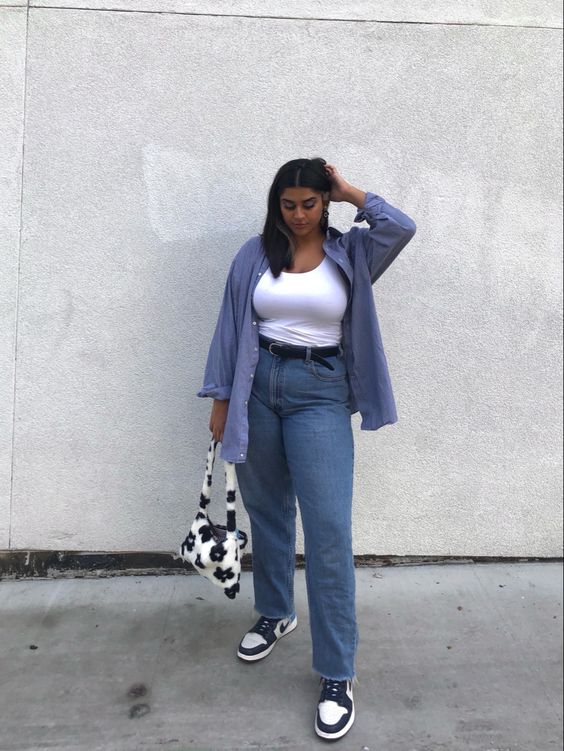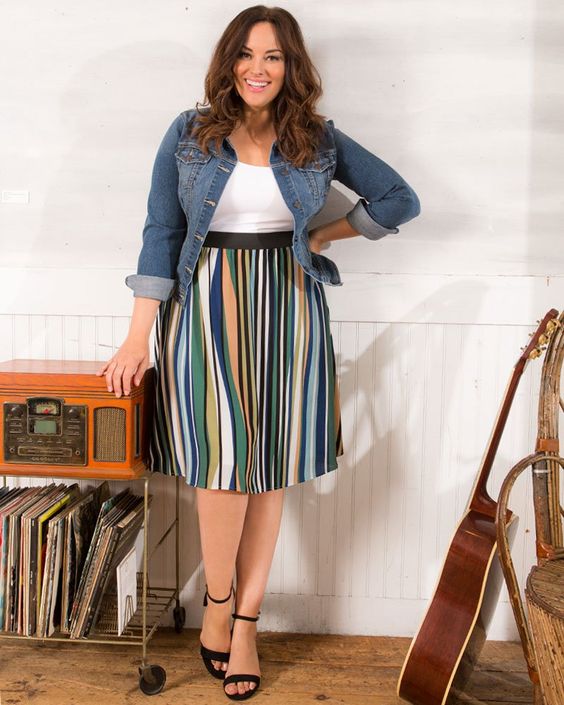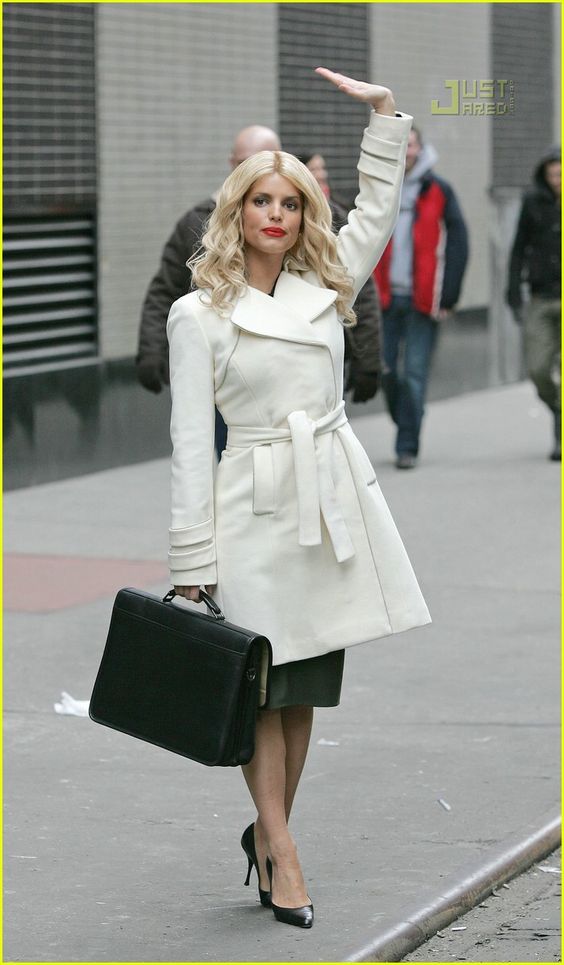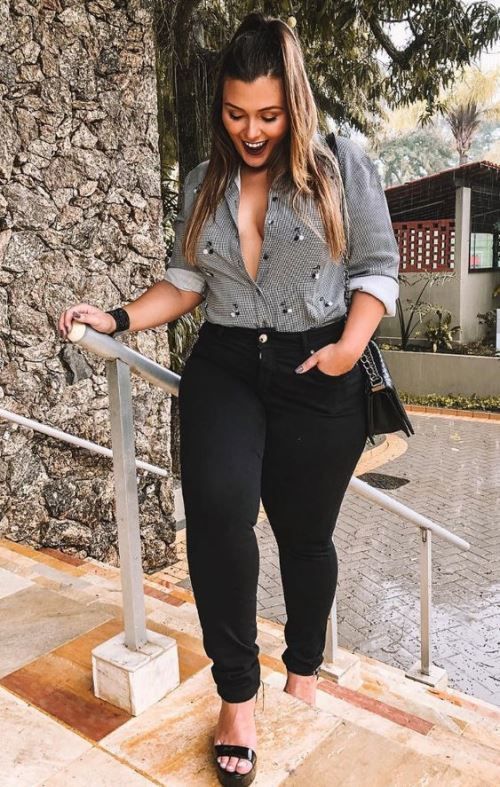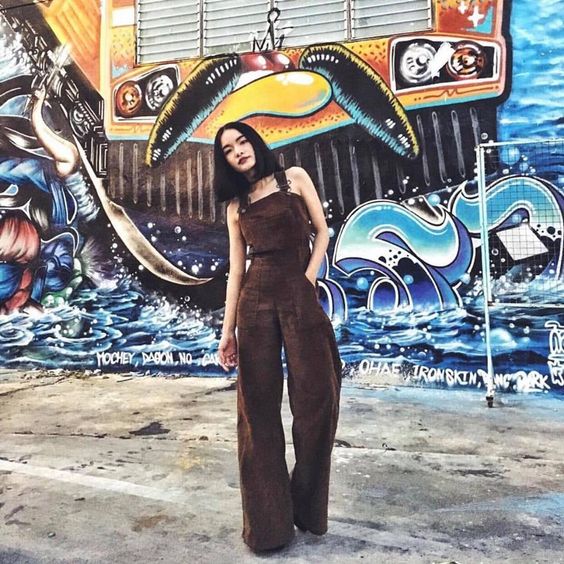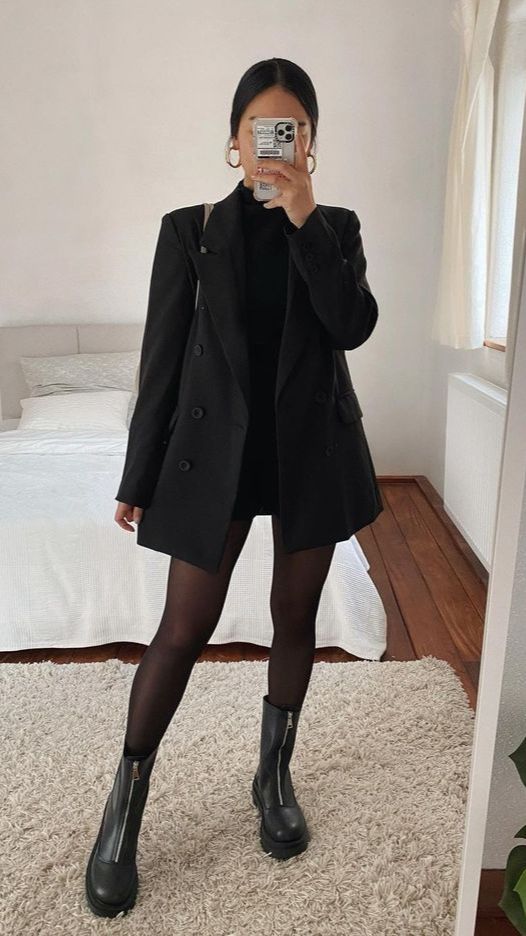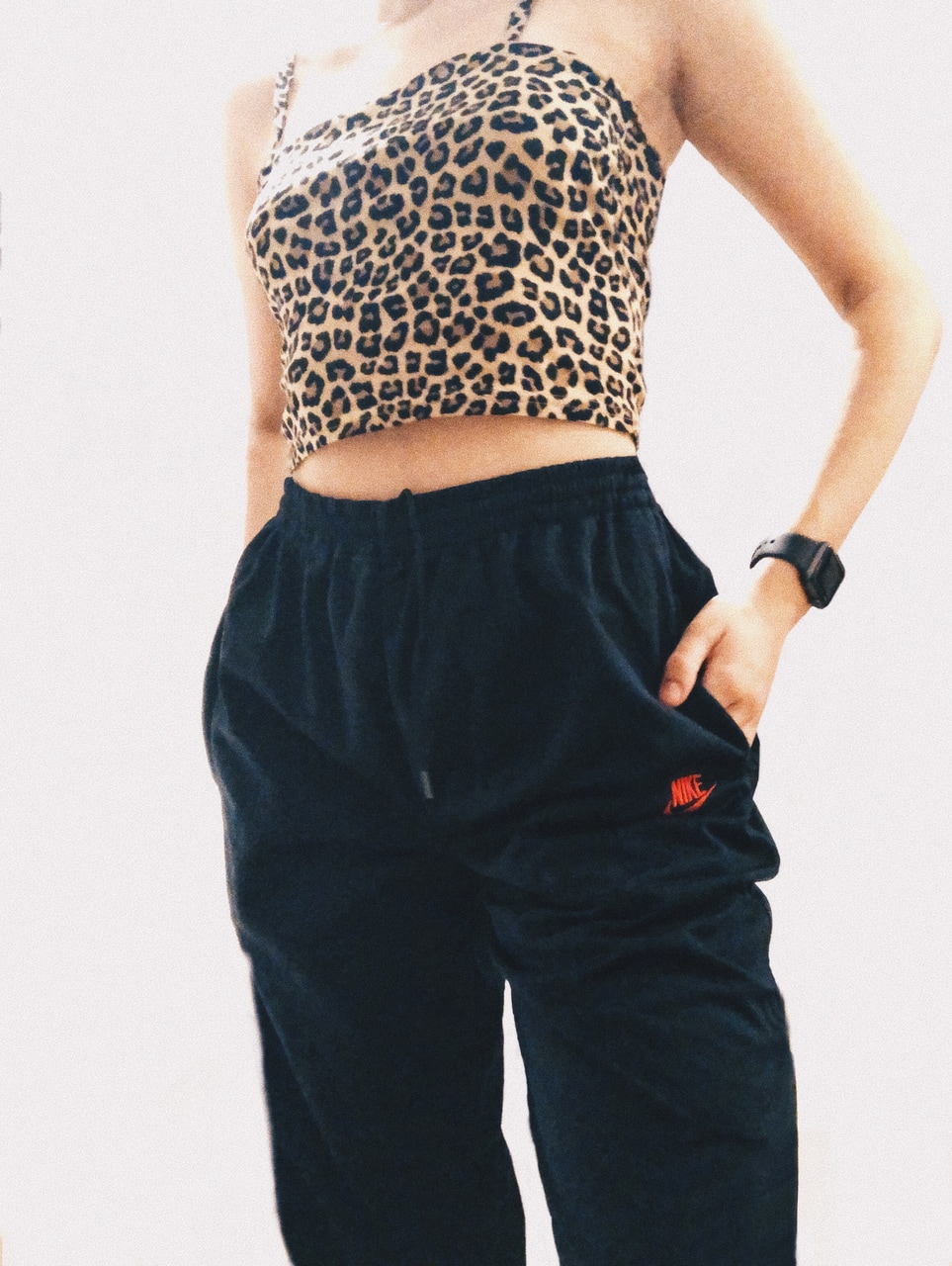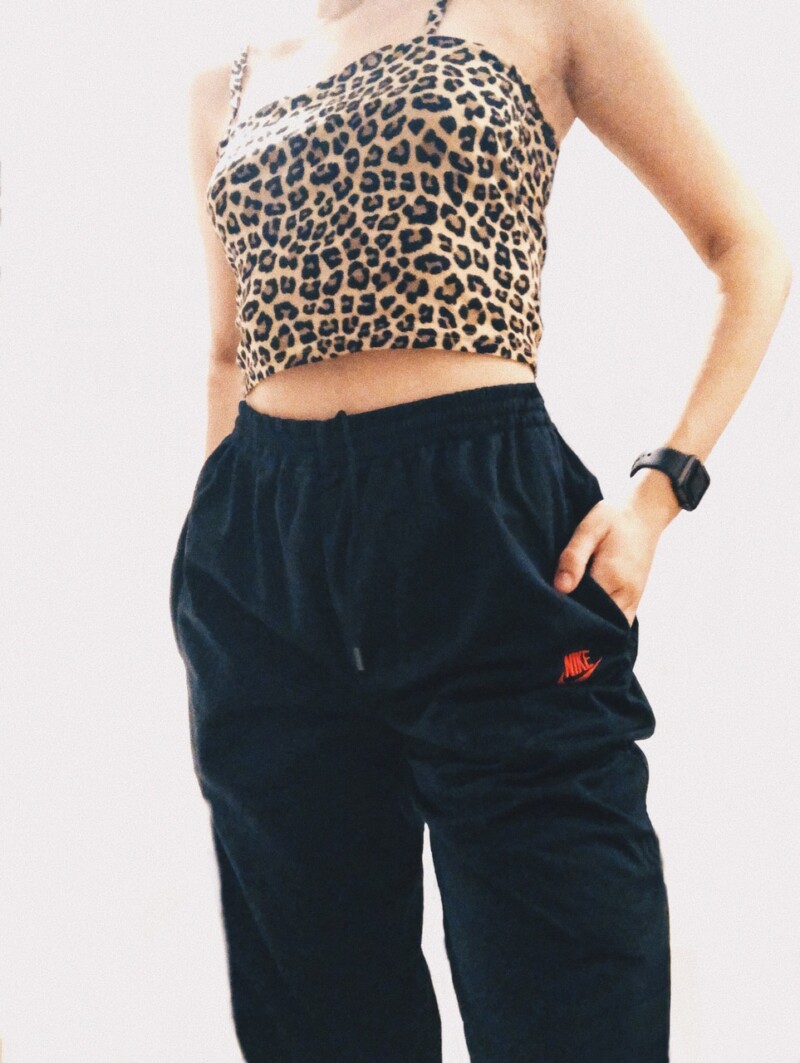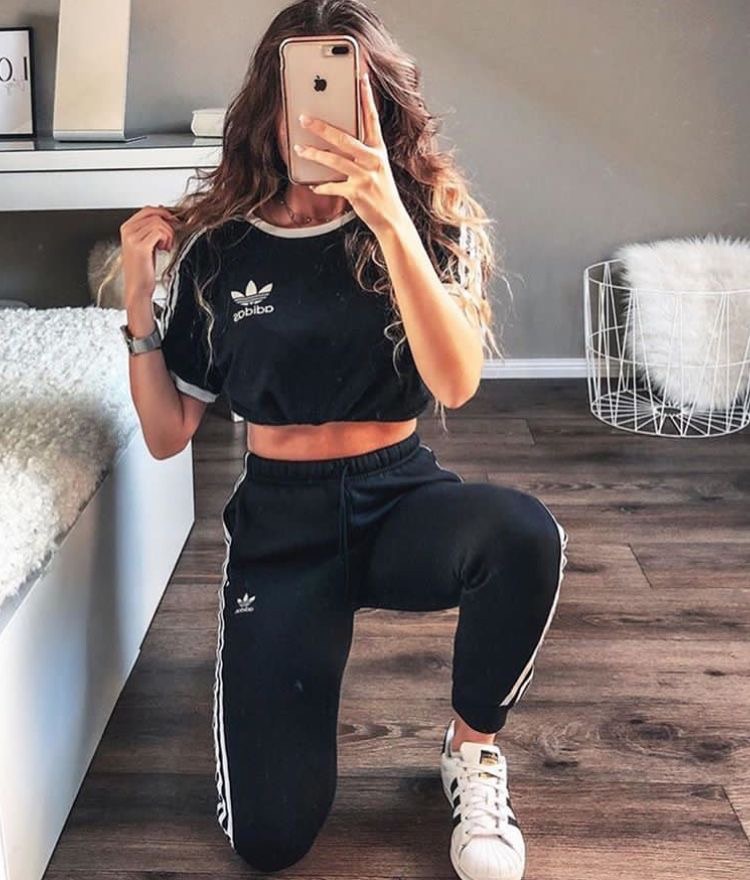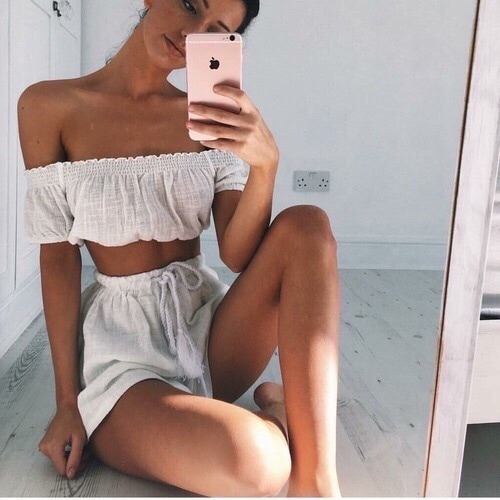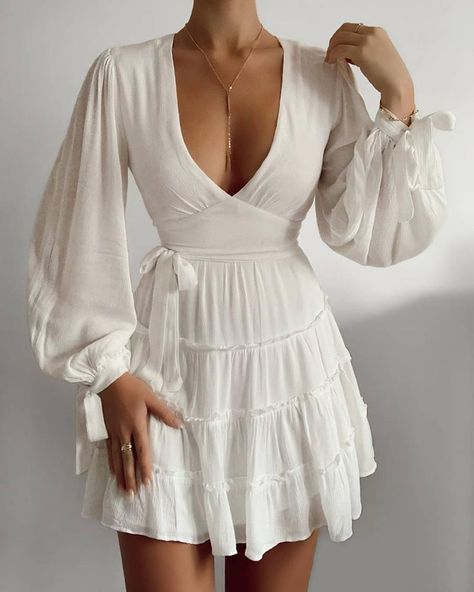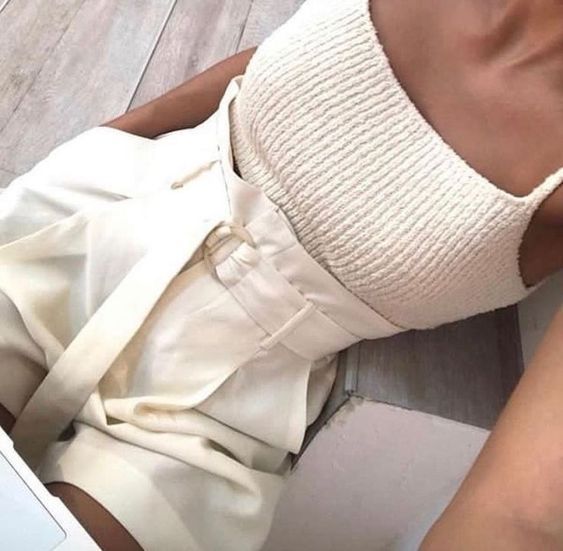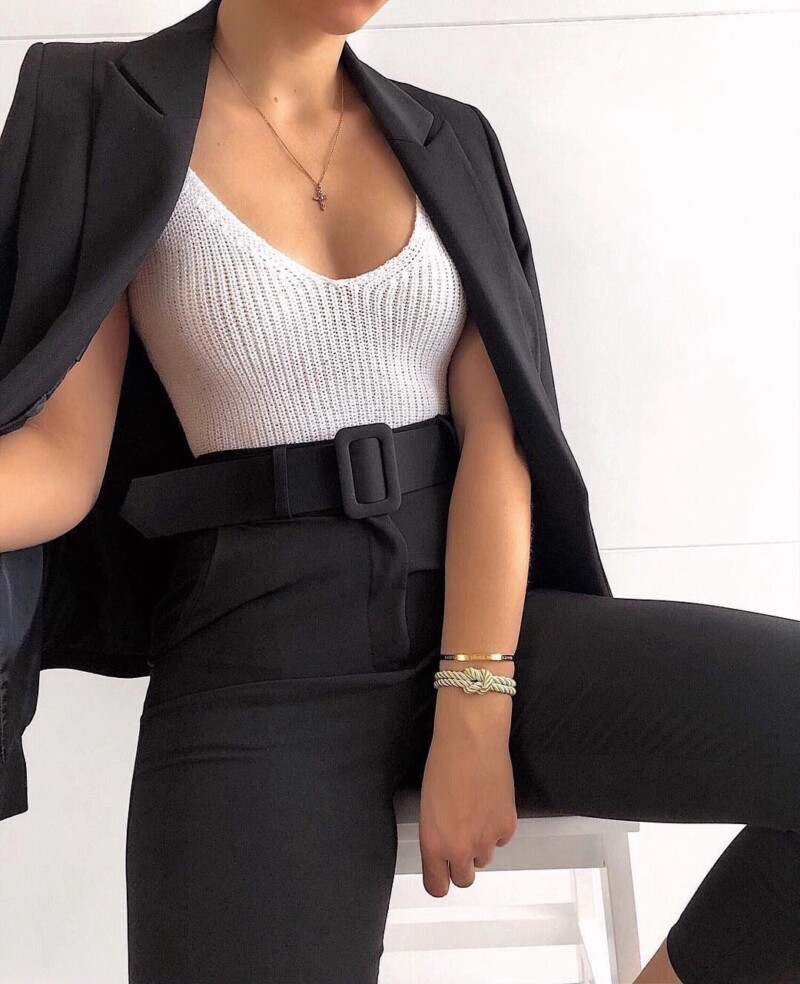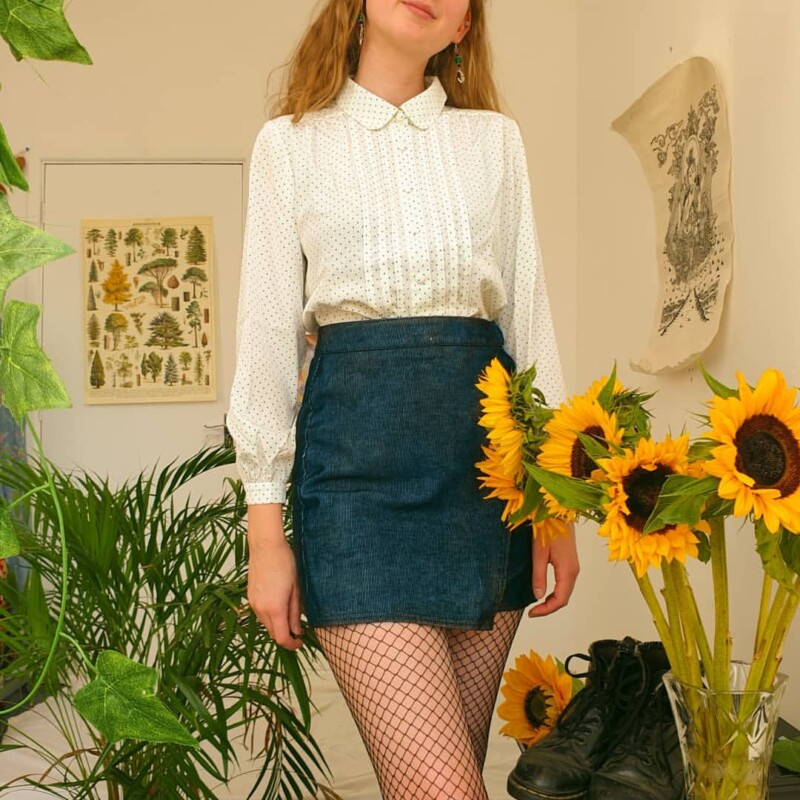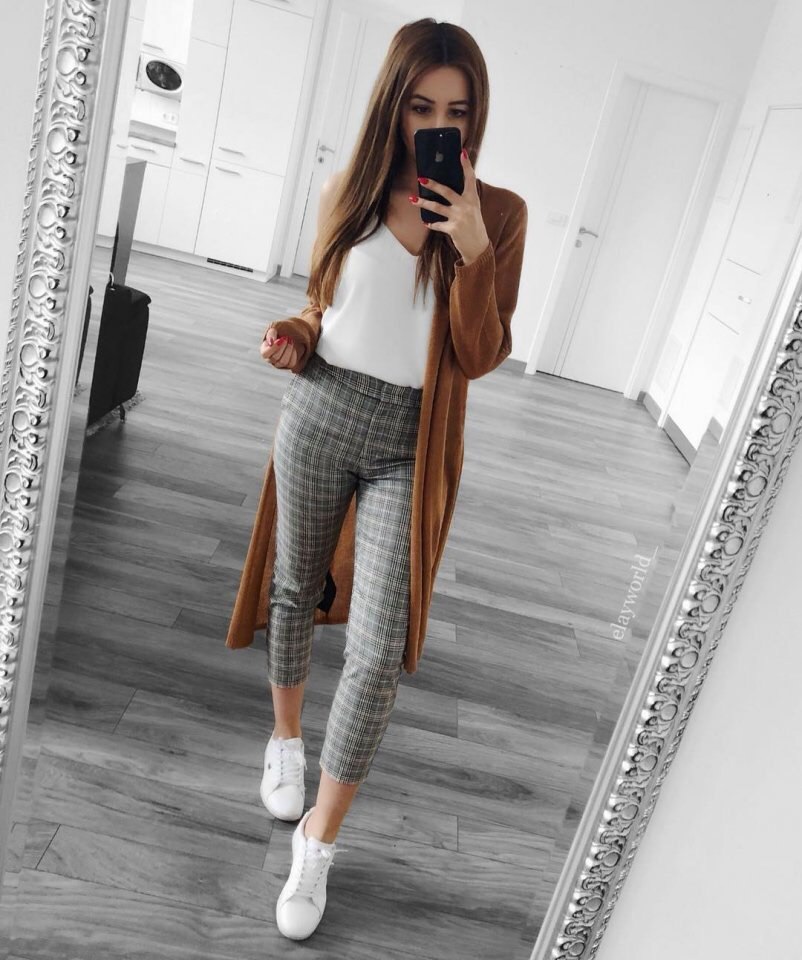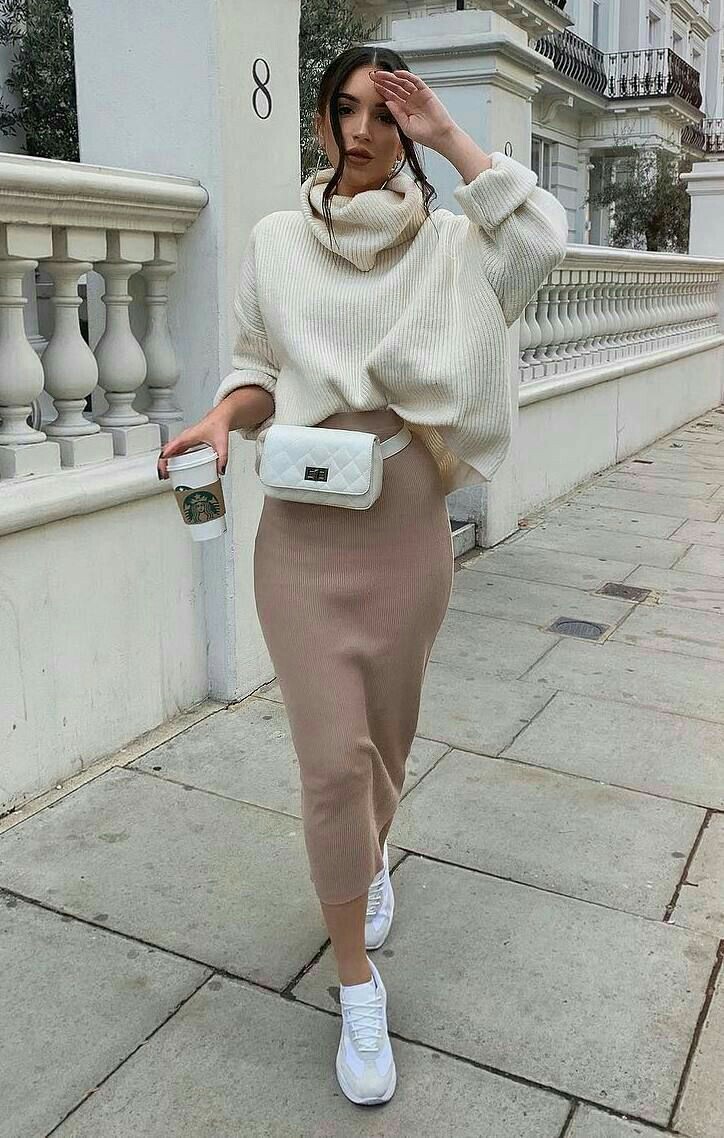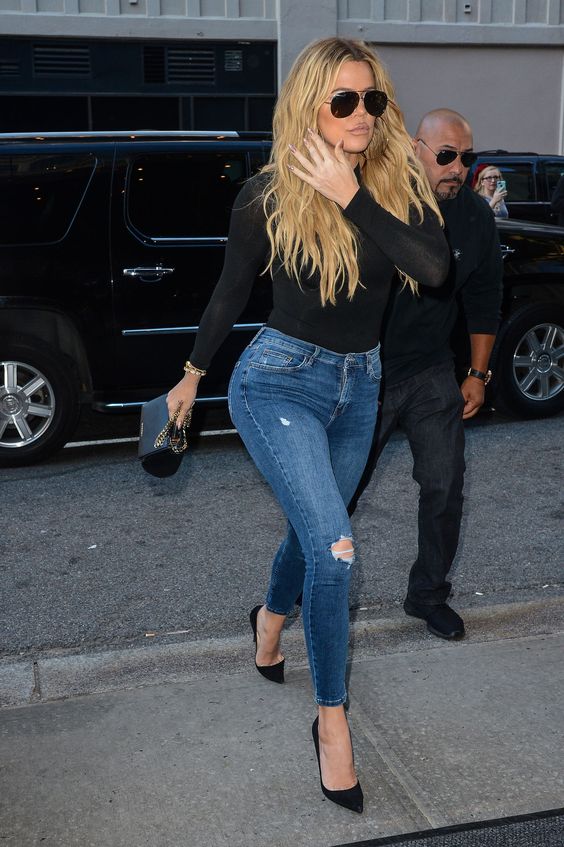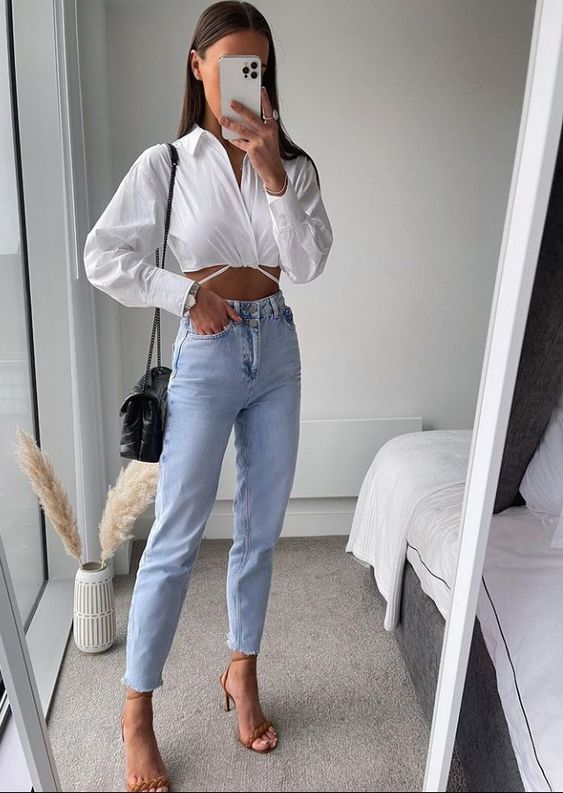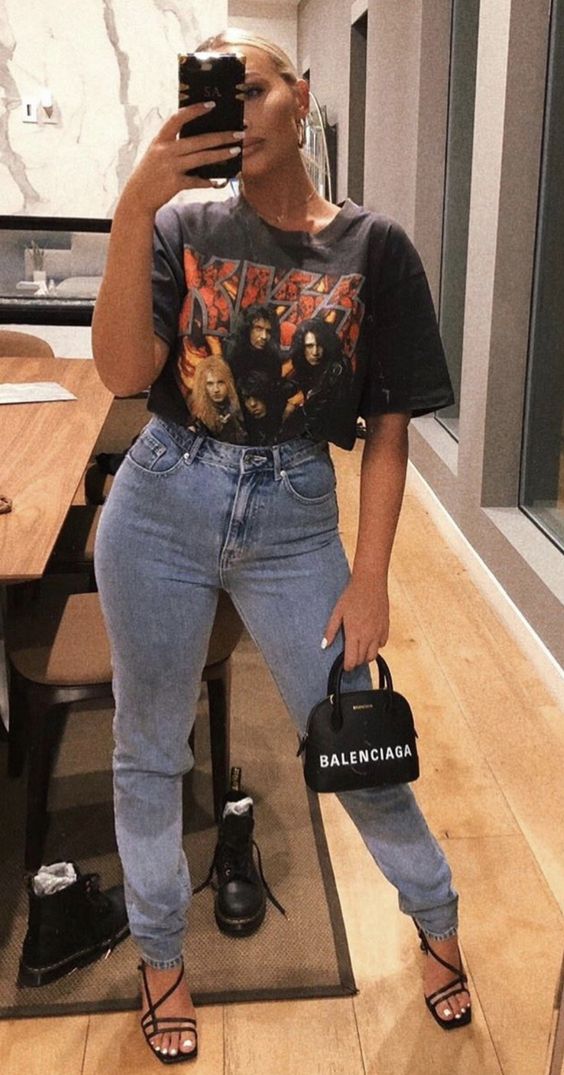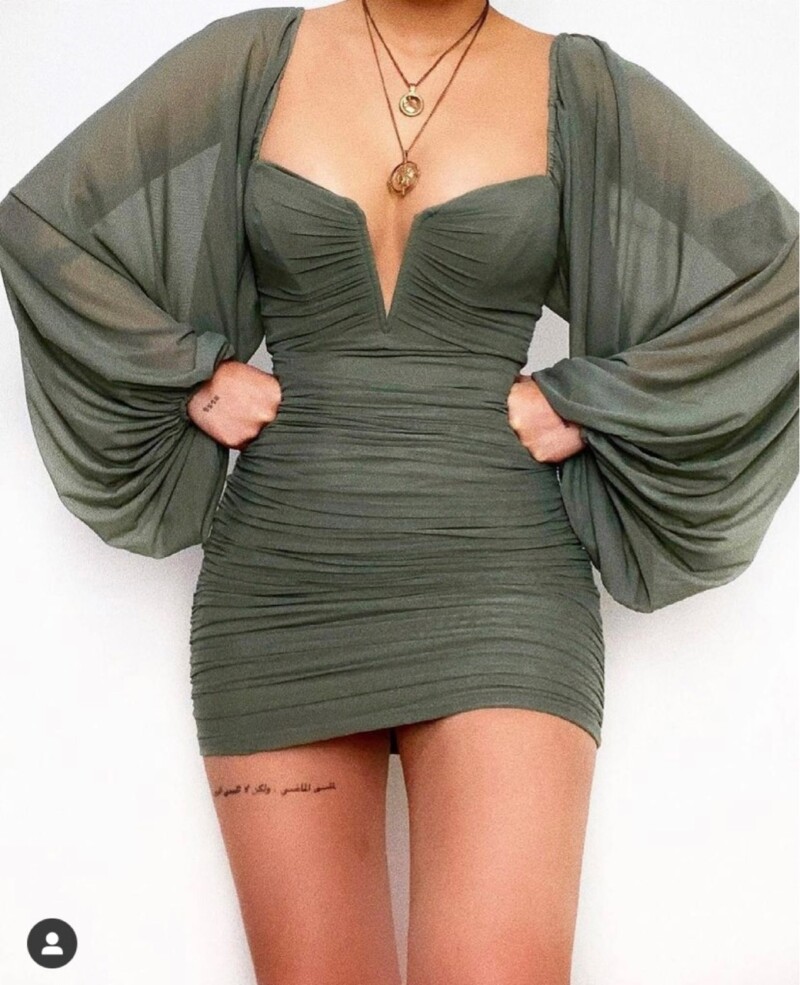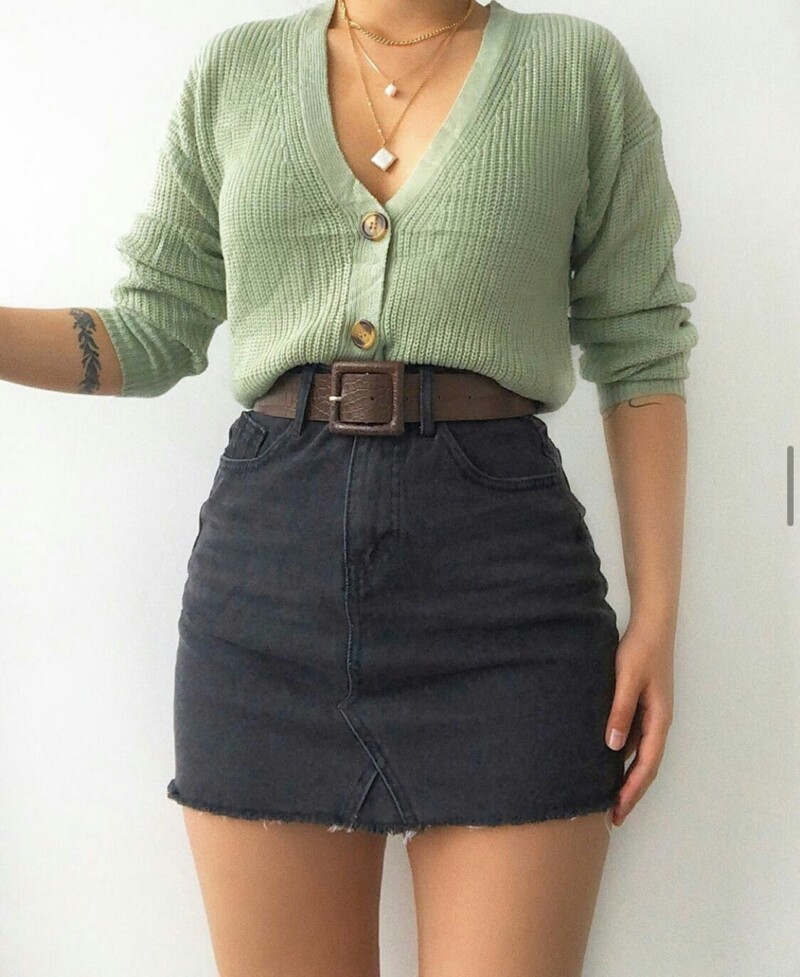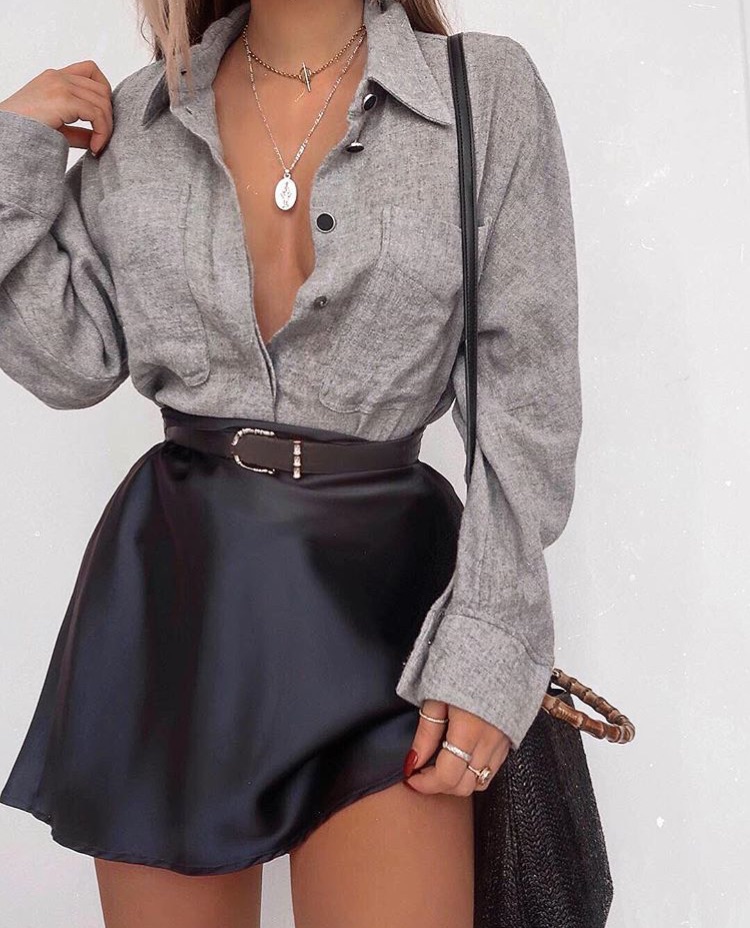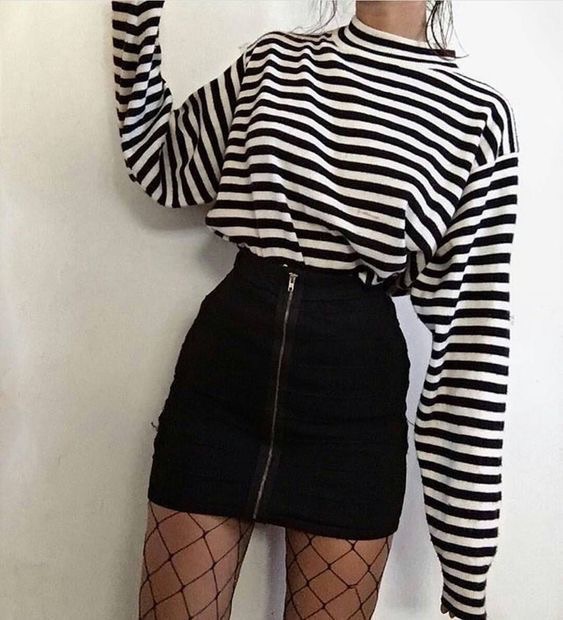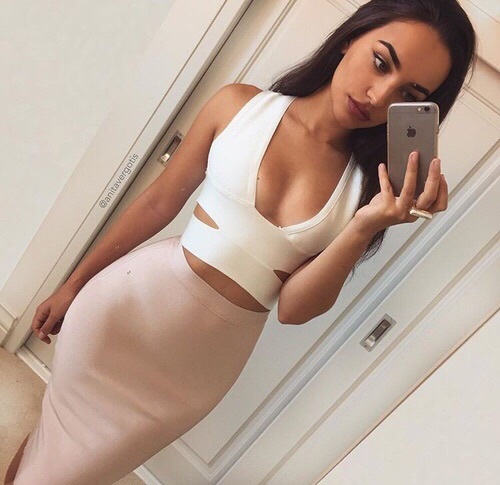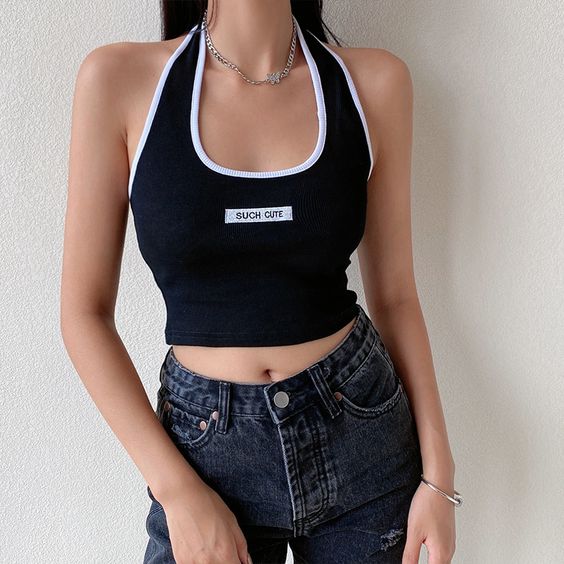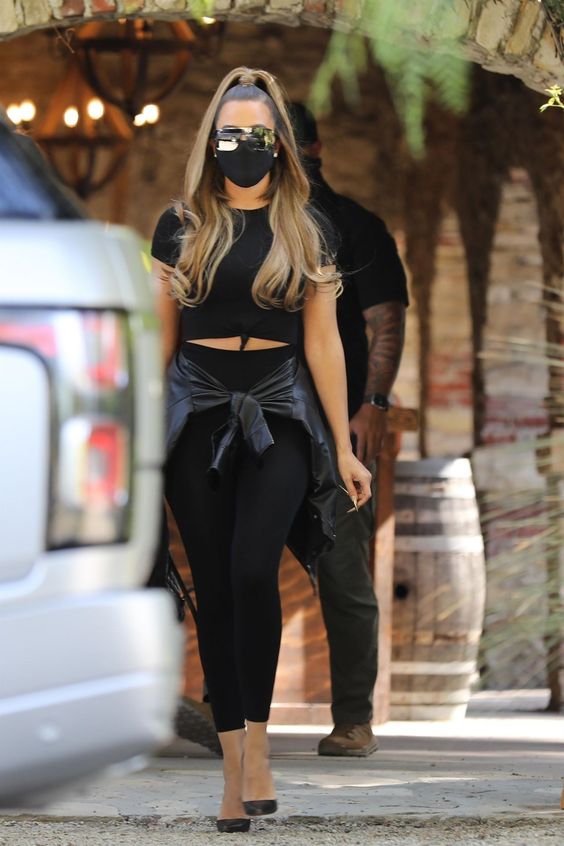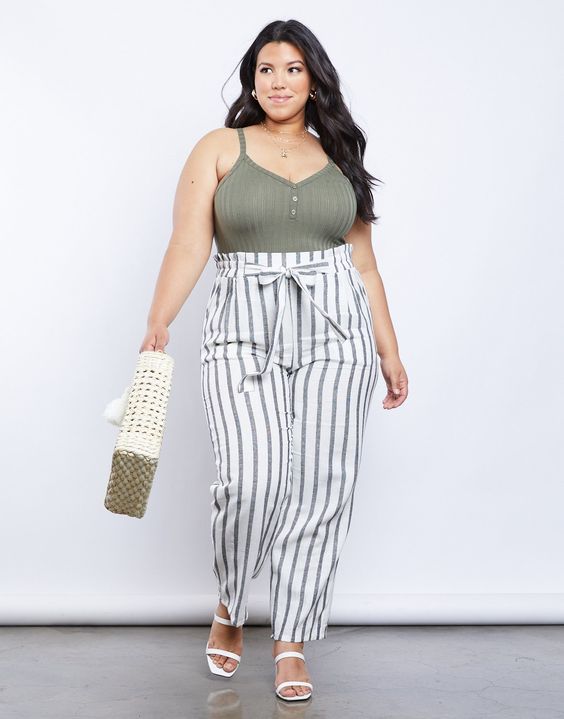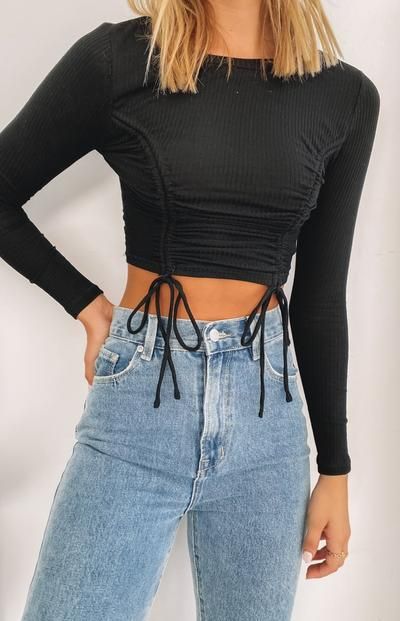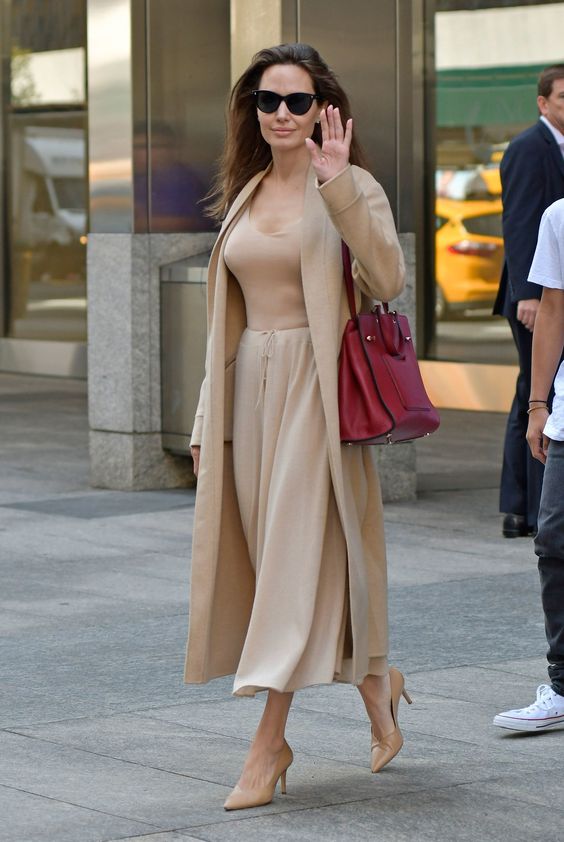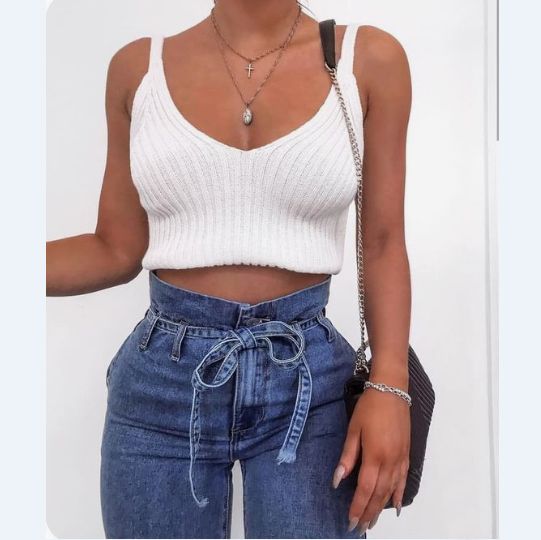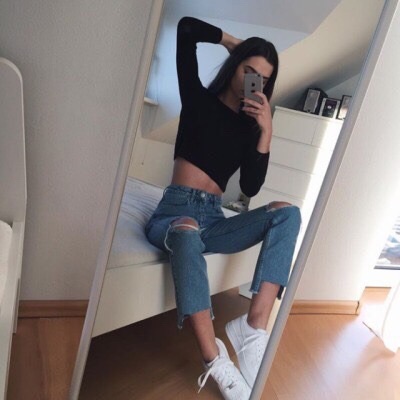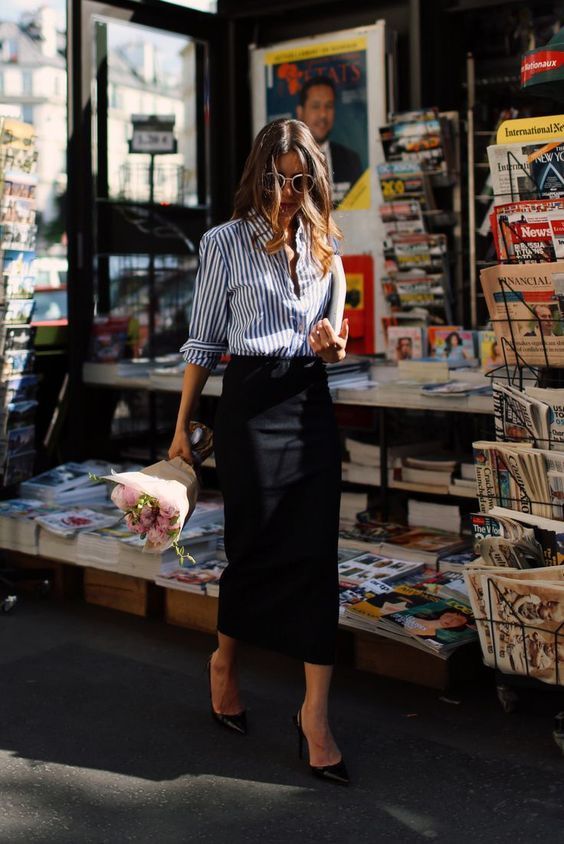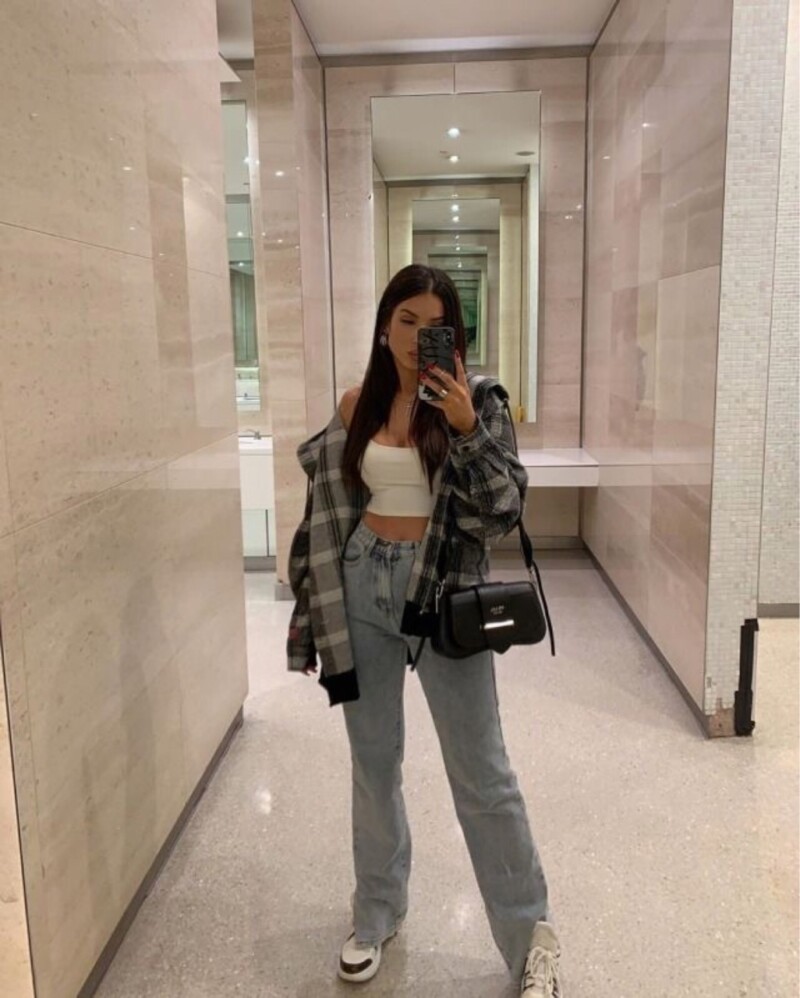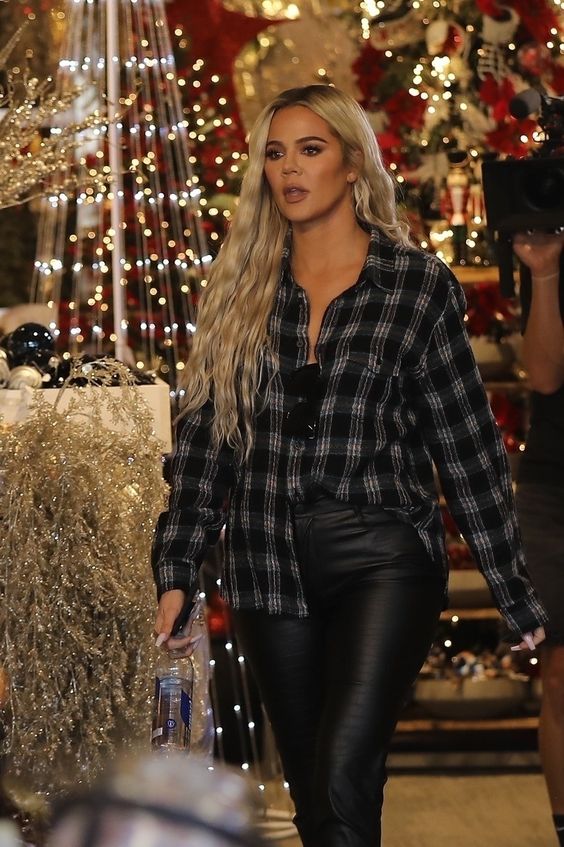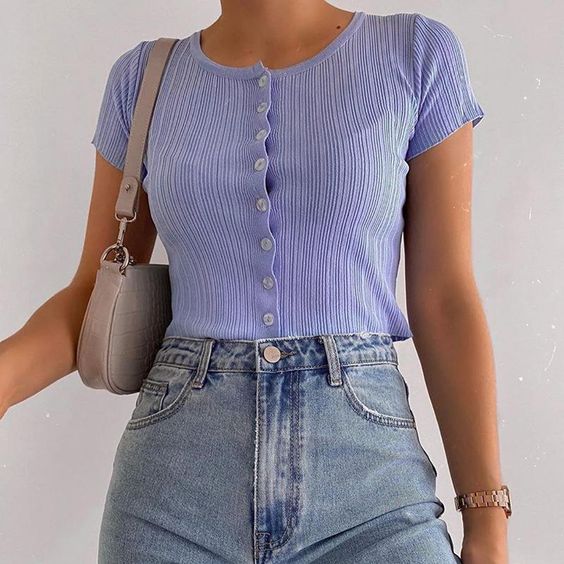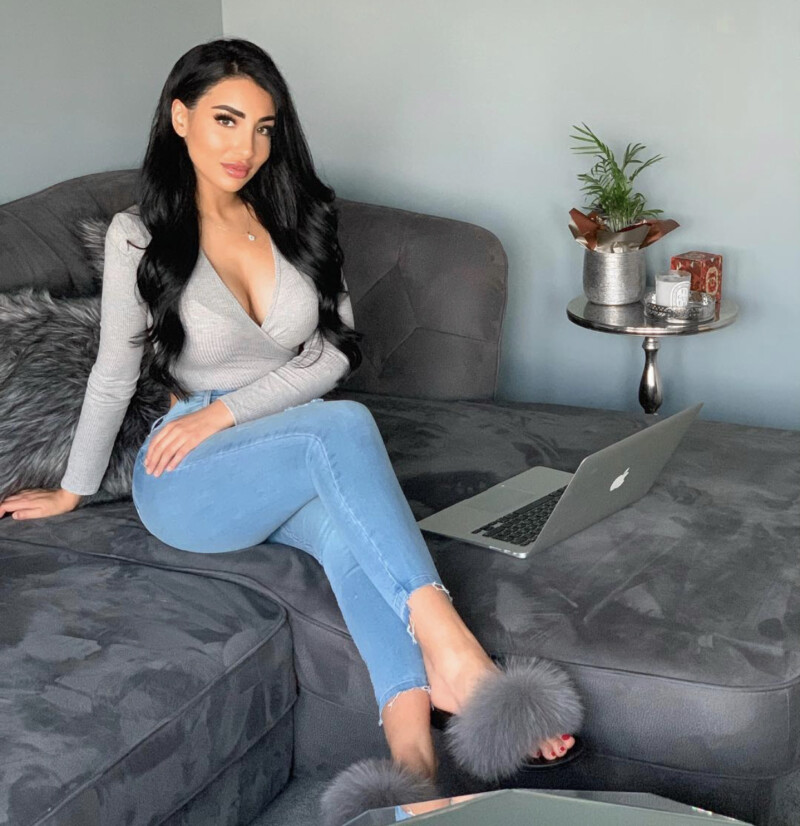 The apple body shape is a great shape for those who want to hide their tummy and look slimmer, but it can be difficult when you're not sure what styles work best.
This article has provided plenty of tips on how to dress your apple shaped figure in order to make the most out of it!
Don't forget that different types of clothing will suit certain occasions better than others. For example, if you're going for a formal event then choose an outfit with more structure so as not to give off too informal vibe.
If you have any questions or need some help don't hesitate to ask!