This shop has been compensated by Collective Bias, Inc. and its advertiser. All opinions are mine alone. This content is intended for readers who are 21 and over. #ShareBoen #BestLifeWithBoen #CollectiveBias​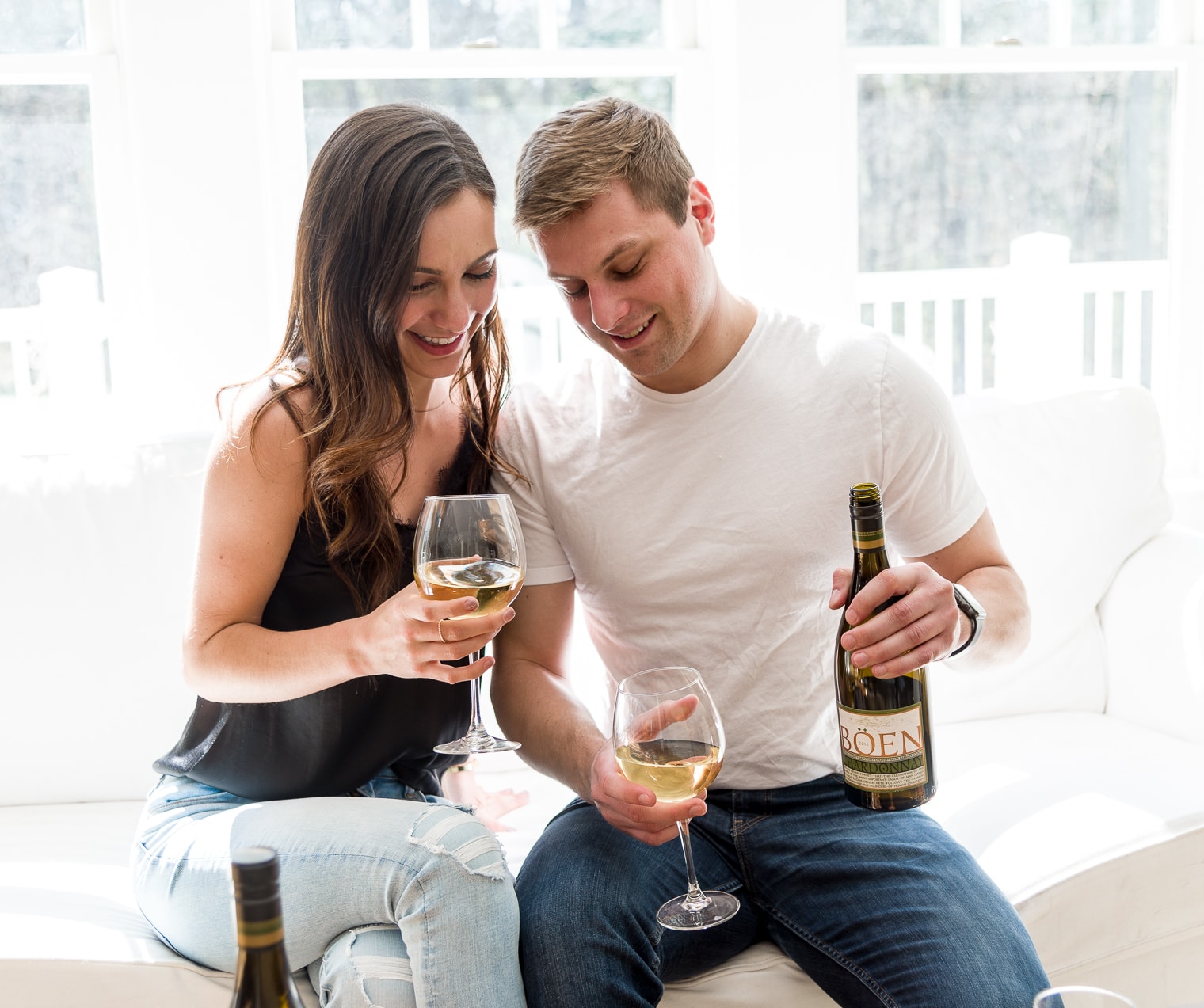 Wine parties are trendy right now for a great reason: they're so much fun to throw and to attend! My friends and family will tell me that I only think this because wine is my drink of choice (does anyone else typically order wine at a country beer bar like me?), but I think most people love a good wine night.
An in home wine tasting party can be especially fun because you get to control the timing, setup, and wine, and don't have a specific hour when the event will end.
1. Choose a Theme
When you're brainstorming wine party ideas, choosing a theme means one of two things:
What's your general decor style?
How will you source your wine?
Decor wise, there's literally millions of wine party ideas on Pinterest. For this party, I chose to keep things casual and indoors (it's still somewhat cold around here in April!), but depending on the time of year and the vibe that you want to create, there's many different ways you can go.
Pick out a few key pieces that will highlight your theme, such as a cutting board, table spread, centerpiece, wine bucket, or table + chairs. Your in home wine tasting party can still feel really well done!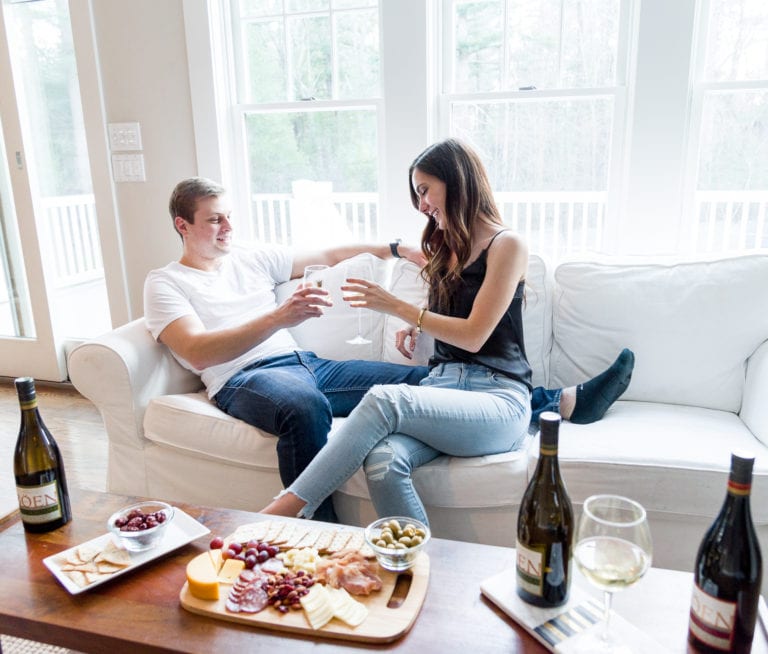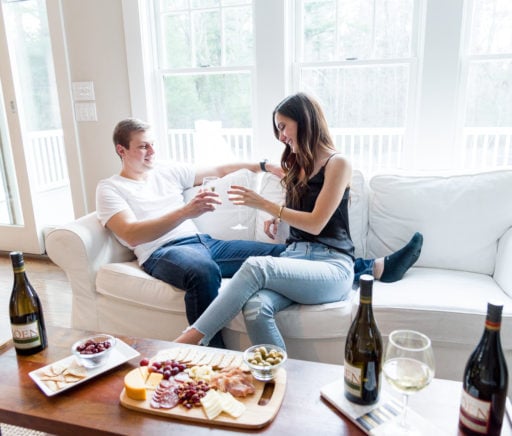 The most important question of the night is how you will source your wine. You could choose your bottles based on region (e.g. only purchasing wines from one country or area), by varietal (e.g. only drinking Chardonnay from different regions), by vintage (wine bottles all made in the same year), by brand or by price. You can also do a combination of any of these categories.
For this party, we chose to go by brand and we chose to feature Böen Chardonnay & Pinot Noir. Both are excellent wines for around $20. While we enjoyed tasting both, we especially loved the Böen Chardonnay!
The fruity & crisp taste offers a lot of opportunity for tastings and pairings. It paired especially well with our "farm to table" inspired food spread. The Böen Pinot Noir offered a perfect balance for our wine night- this medium-bodied Pinot Noir has rich & smooth flavors with a velvety aftertaste.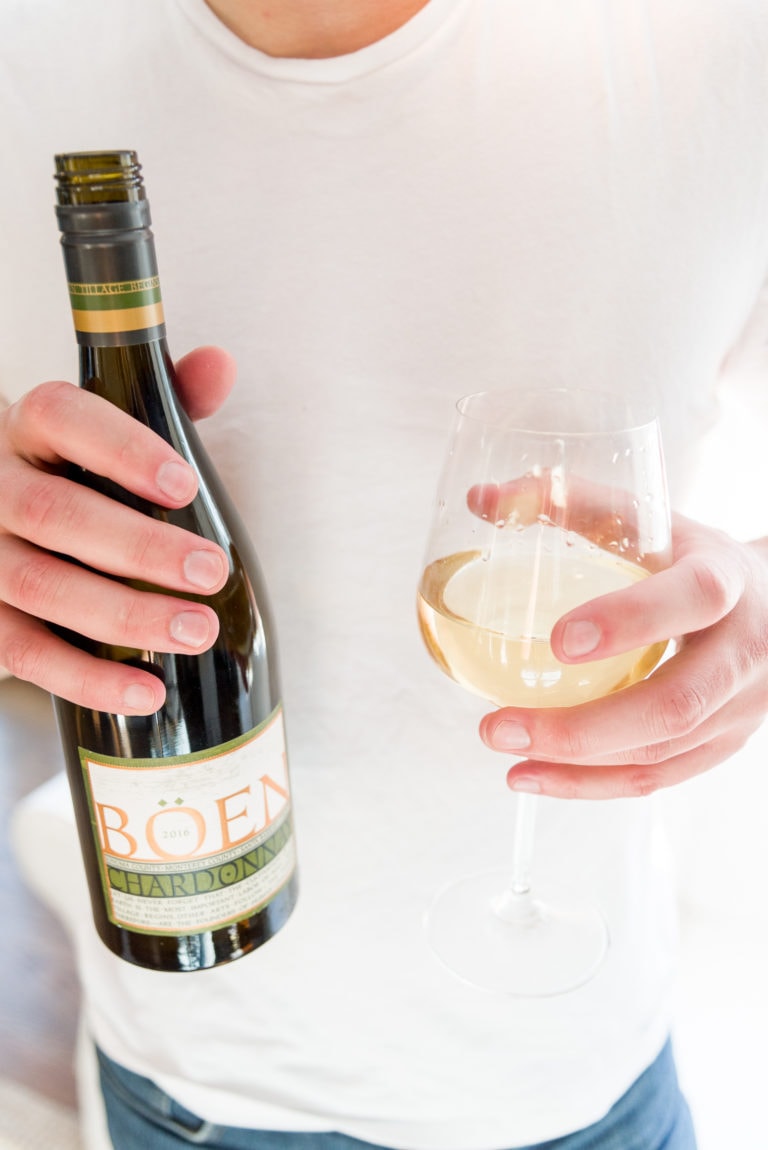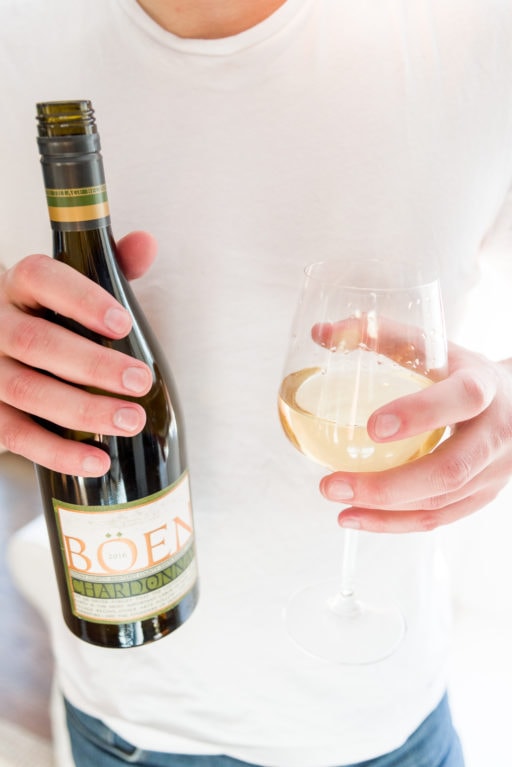 Böen wines are the purest expression of 5th generation winemaker, Joe Wagner's signature wine style. ​Wagner, says Böen is a translation of "The Farm." He said that he chose it: "as a reminder to myself that the wine I make is indivisible from the land it comes from that first and foremost, I am a farmer."
This completely encompassed what we were hoping to achieve for our night (with the farm-to-table vibe) and we were really pleased with how the wine tasted! Böen is located in California and sources from a number of carefully selected vineyards.
See here for Böen's store finder if you're looking for a great (reasonably priced!) brand for your in home wine tasting party.
2. Keep Your Party Small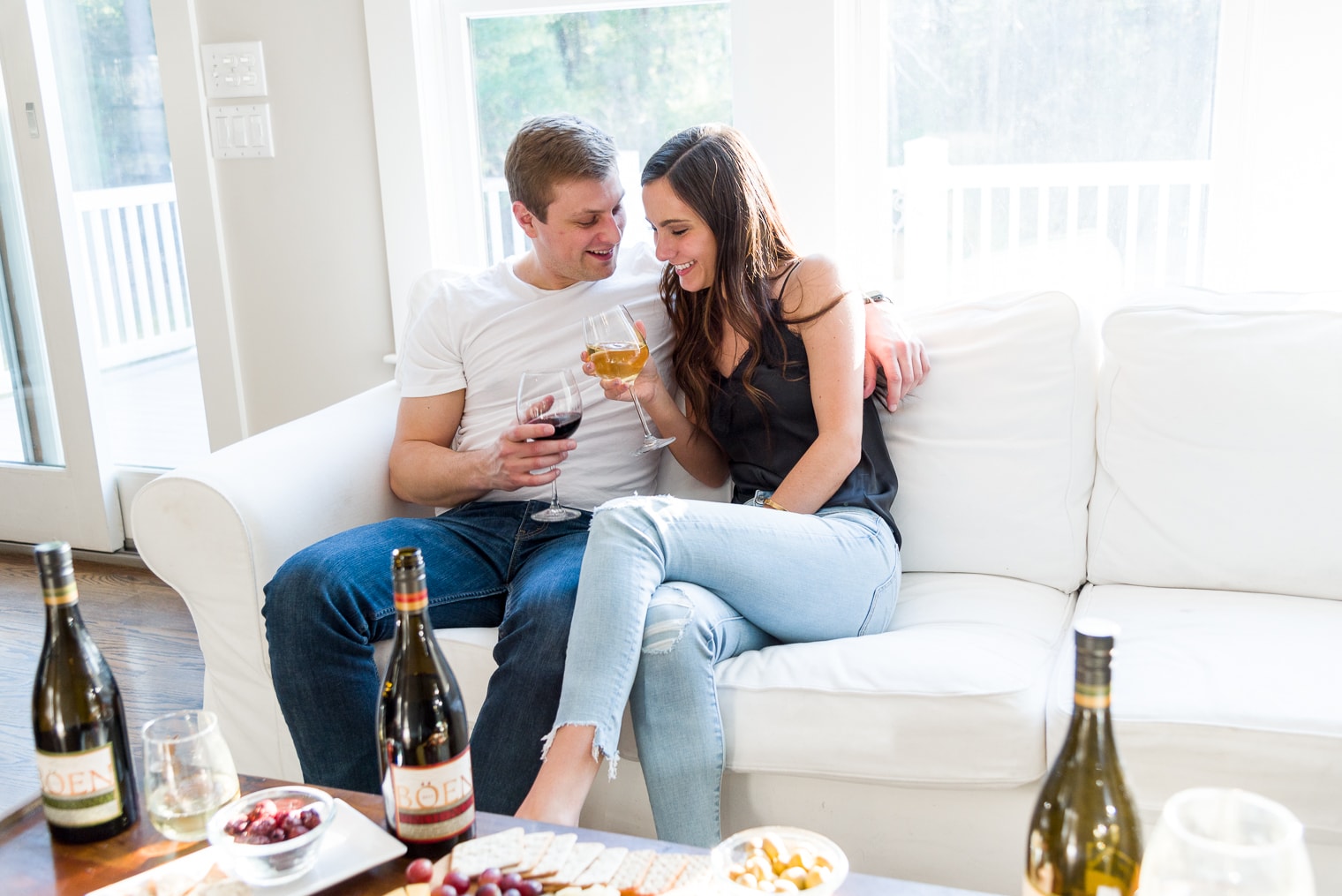 Unlike other events, a great wine party doesn't necessarily have the motto "the more the merrier." In my experience, anything over 6-8 people makes it tough to actually interact with each person and get through more than one taste-test.
Guests will get antsy if you don't keep the tasting going, and it can really easily turn into a free for all. While that's always fun, it's not necessarily the idea behind a wine tasting party in my opinion!
Some of my favorite wine nights have included only 4 or 6 people, whether we have two other couples over or I'm organizing a girls' night.
3. Have a Well-Planned Array of Food OR Pairings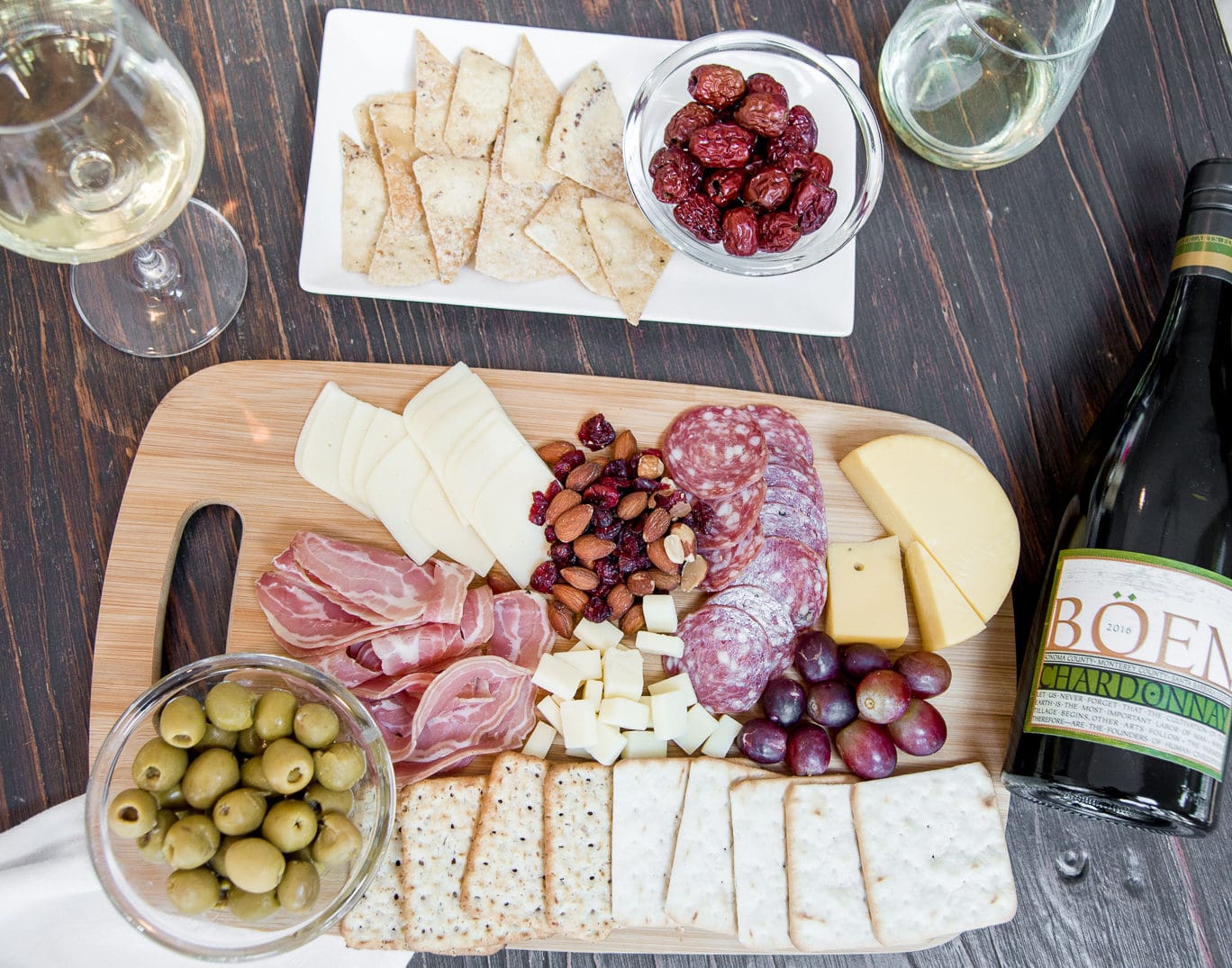 There's two ways you can go here. If you want to focus solely on the wine, then I recommend having cards to rate each bottle and creating a general array of food. That's what we did and it worked great!
I like to have a board filled with cheese, meats, bread, crackers, dips, fruit, olives, etc. This way, guests can pick throughout the night without worrying about any pairings (since it's clearly a general spread).
If you want to bump the party up a notch, then you can pair a specific type of food with each wine; the classic example is choosing a different cheese to go with each bottle.
Other fun wine party ideas including pairing foods like chocolates, donuts, nuts, pizza, desserts, fruit, and even full-on entrees (although you'd have to be ambitious to cook 5+ full meals!).
4. Set Up the Area (With Glassware) Properly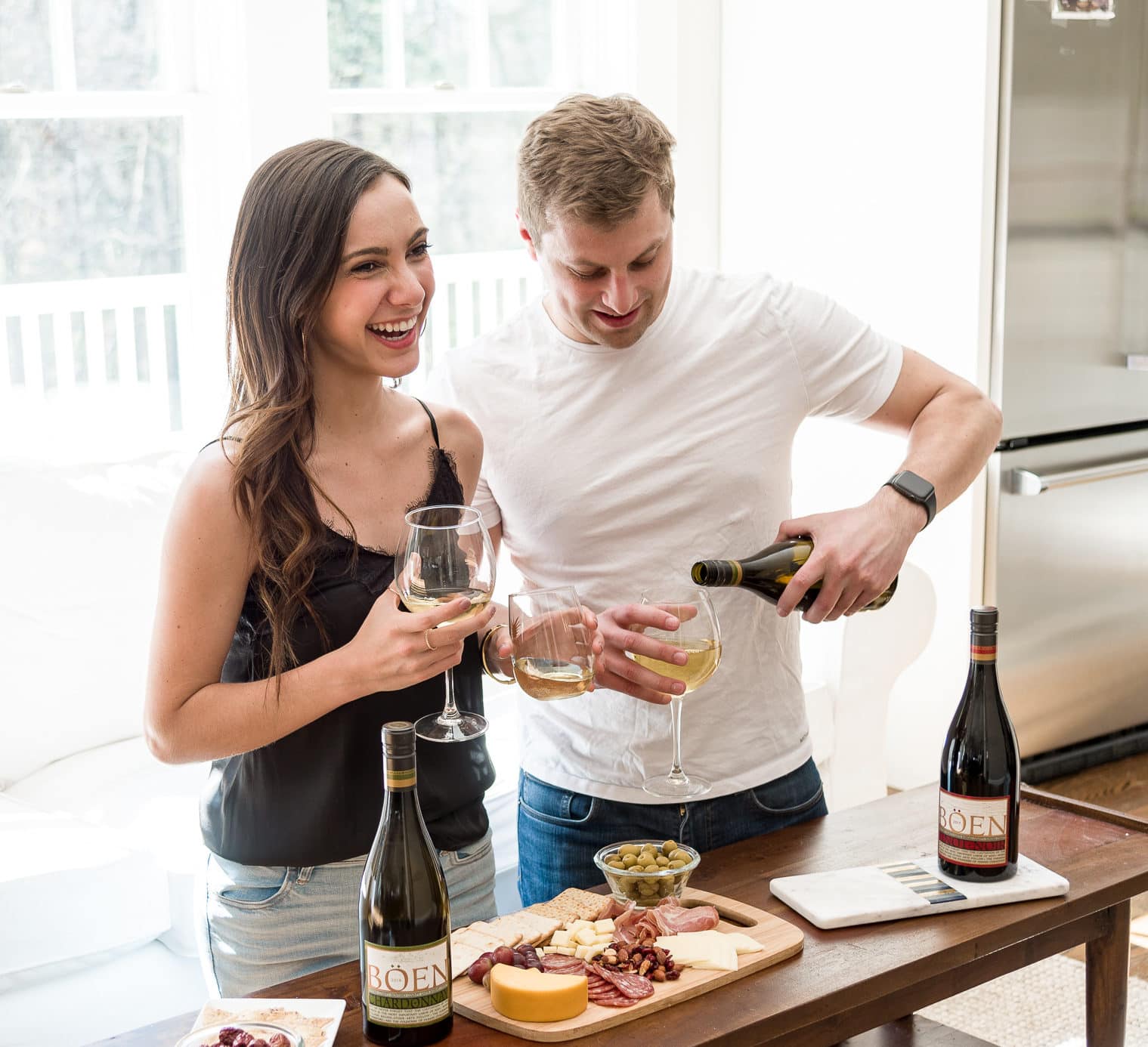 It's nice to have a cozy/casual area to hold your tasting. At the same time, you want it to feel festive. I like to set up a coffee table or bar cart as my glassware area. Having 2 glasses per person makes any transitions seamless and accounts for any accidents.
Spit buckets (it sounds odd but people who go to wine tastings often will actually use them!) are good to have on hand, as well as water. Ideally, find an area that has some sort of white background. We chose our white couch because (while risky) we were able to see the wine more clearly against the background, which is important during a tasting.
5. Serve The Wine In This Order
The order of the tasting depends somewhat on your theme, but generally wine should be served in this order:
Bubbles
Light Whites
Rich Whites
Rosés
Light Reds
Bold Reds
Dessert Wines
Bubbles should be served at the coldest temperature (40-45 degrees), whites somewhere in the middle( 45-50 degrees), and reds at a warmer temperature (60-65 degrees).
6. Have Printables and Extra Pens On Hand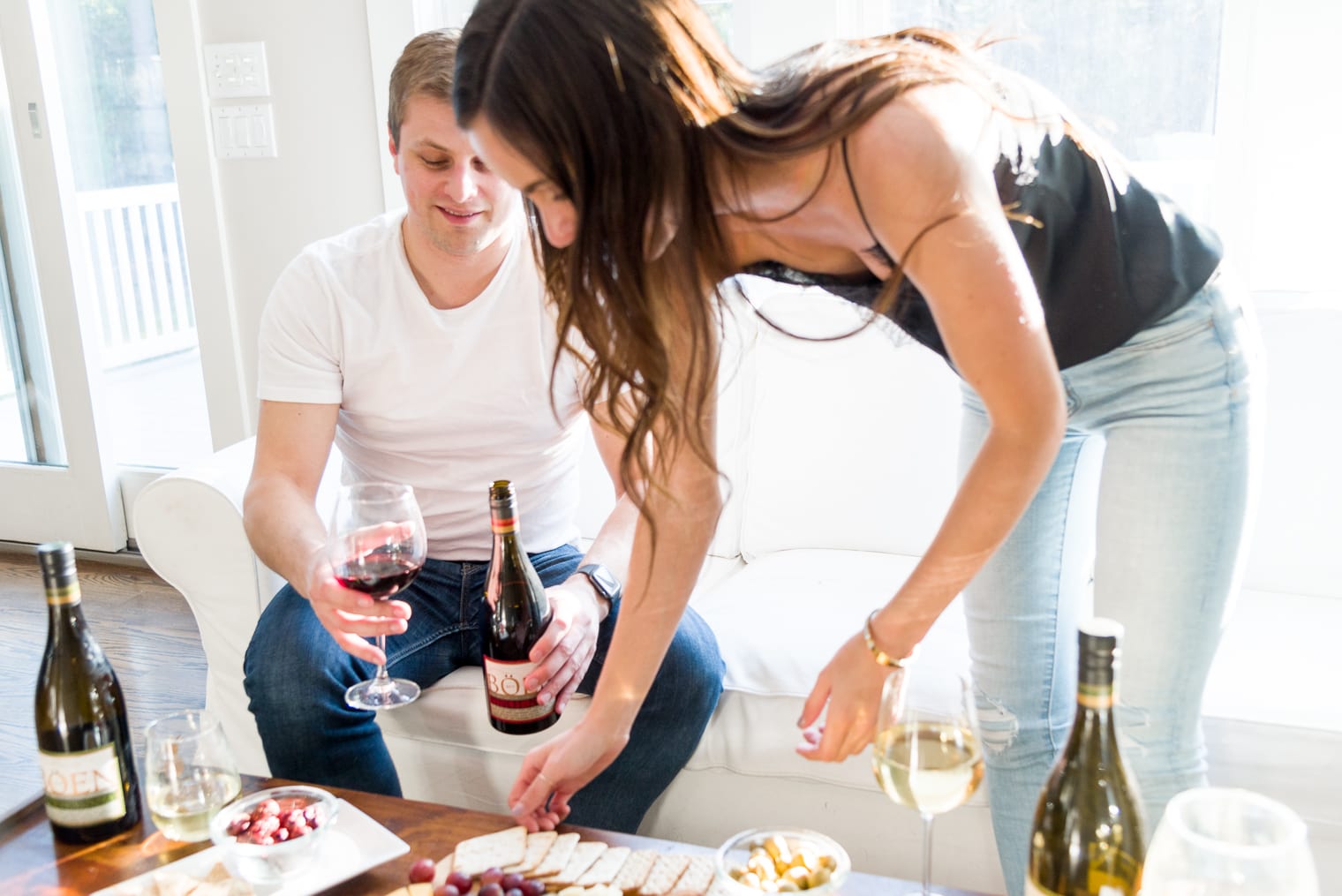 It's extra fun to hand out a printable to everyone. This will keep the party interactive and get guests chatting about their likes versus dislikes. We even do this when it's just the two of us at home because it's so much fun!
I like to print out a few extras just in case and have tons of pens on hand. It's also nice to have something for guests to write on. You may need to modify this printable a bit (for example, we mainly focused on Böen Chardonnay with Böen Pinot Noir accessible as well) but there's tons of others on Pinterest to fit virtually any theme.
7. Create a Great Playlist
A good playlist sets the mood for any party, and a wine tasting is no exception; this is one of the most essential wine party ideas. If your vibe is more upscale then you can go for something like a classical playlist. I'm generally a fan of the Farm-To-Table vibe, so I gravitate towards an upbeat acoustic mix.
Whatever you choose, make sure that it fits with your decor/theme and that you add upwards of 80 songs. Hopefully these tips will help you host a memorable wine night! Be sure to check out Böen​ wine for yourself and let me know what you think!