Looking for the best spooky Halloween nails to do in 2023? We've got you covered with 50+ super awesome natural and acrylic Halloween nails designs!
Halloween is just around the corner, and what better way to get into the spooky spirit than by giving yourself a festive manicure? Whether you're going for a subtle nod to the holiday or a full-on creepy design to match your DIY costume or Halloween makeup, there are endless possibilities for Halloween nail art.
From classic black and orange to intricate spider webs and ghostly figures, we've rounded up the 50+ best Halloween nails to inspire your next manicure.
So grab your favorite nail polish and get ready to spookify your nails!
Halloween Nails Inspiration:

I love this golden iteration of pumpkins for your Halloween nails. It gives a gorgeous, gilded look and a fun twist to the classic French tips.

For the girls who love creepy crawlies, these are the perfect set of nails for you! The cobweb and spider design is utterly spooky and beautiful at the same time! Add a sprinkle of gold sparkles to complete the look!

For something a little more minimalistic for your acrylic Halloween nails, this spider-themed manicure has a dainty yet creepy vibe that's perfect for a spooky season.

This Halloween season, get ready to see a lot of orange and black combinations for Halloween nail designs. It's the perfect way to add that pumpkin spice flare to your nails!

Keeping up with the black and spooky aesthetic for your acrylic Halloween nails, this might be something you like. It's chic yet still pretty simple to do! Just add some white accents to add those ghost and cobweb elements for a gorgeous contrast!

I am totally loving these melting pumpkin designs for the Halloween season! It really makes the whole look a lot creepier! You can also opt for nail stickers if you want to DIY this manicure but aren't too confident with your nail art skills yet.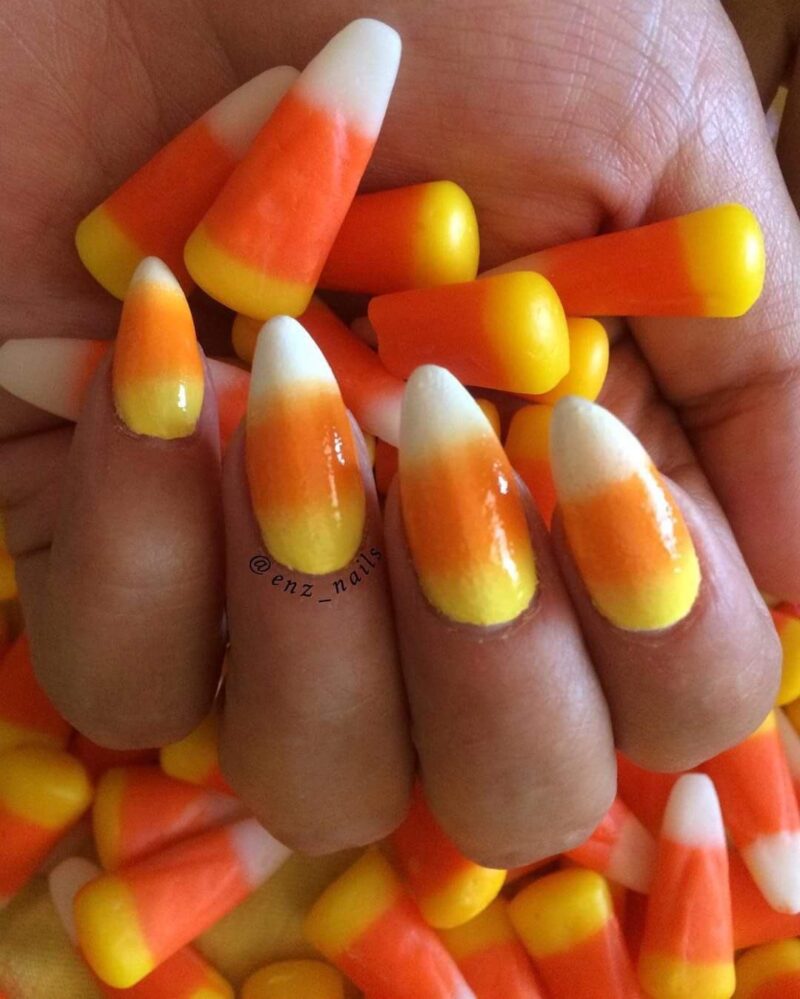 Imitate your favorite candies by making them your inspiration for your next Halloween nails! This is such a fun thing to do when you're going trick or treating!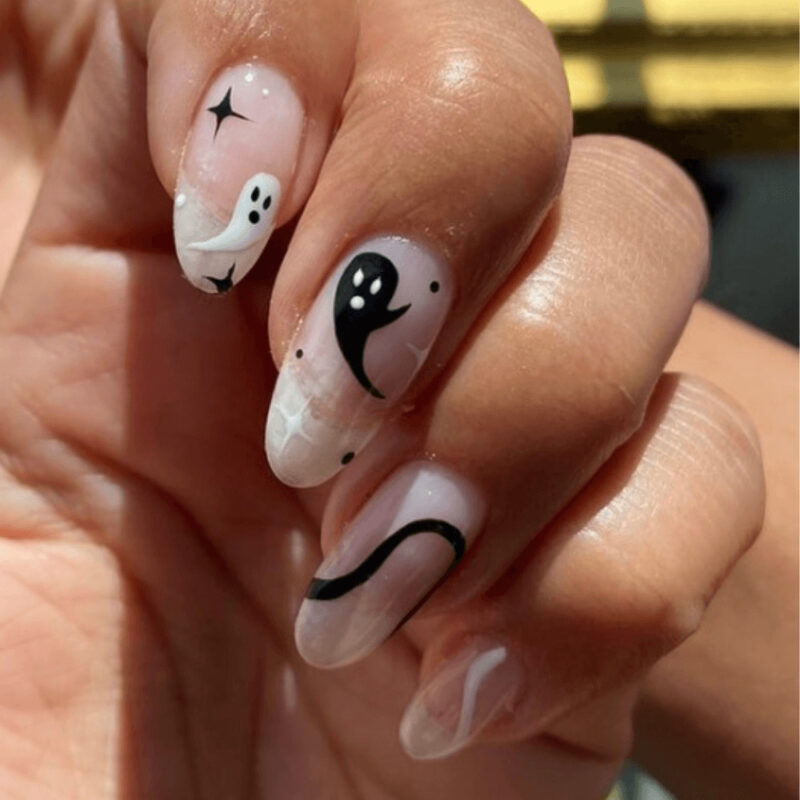 Sometimes, less is definitely more. If you don't want an overwhelming manicure for acrylic Halloween nails, take advantage of negative space designs and dainty spooky accents like this one!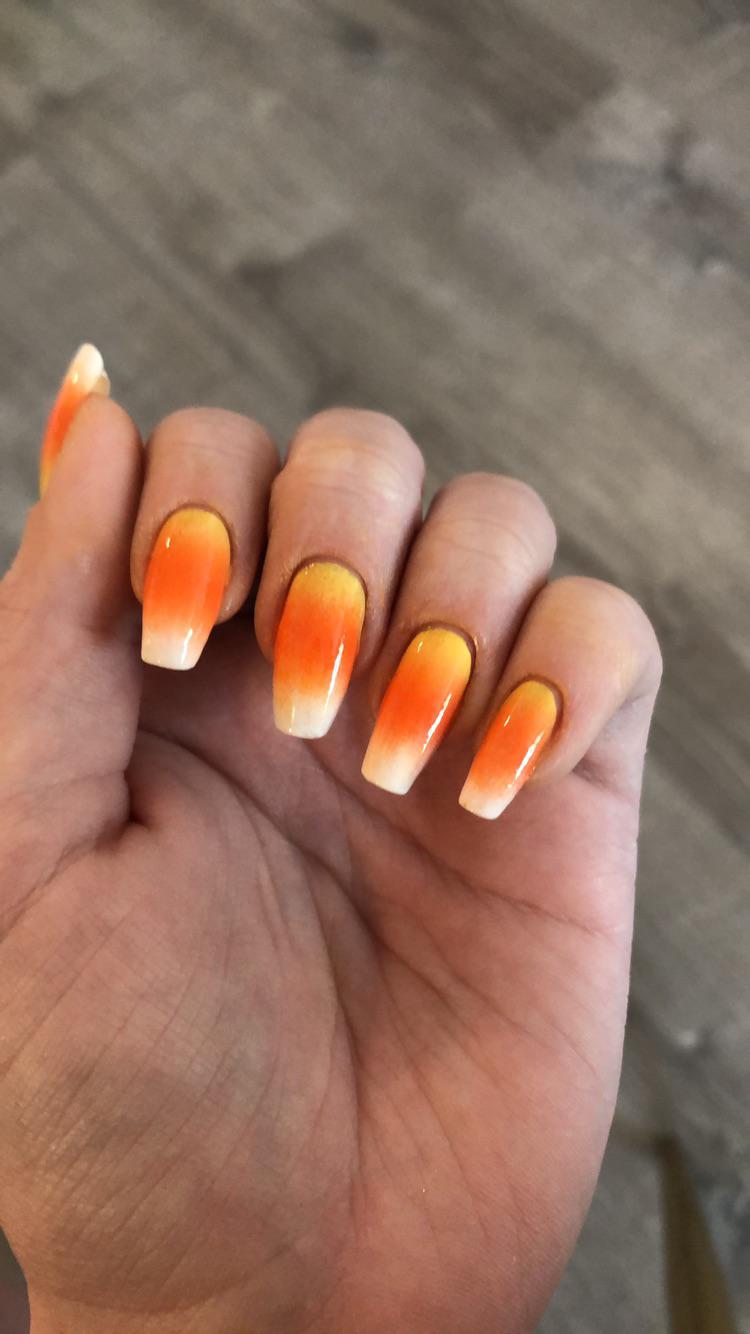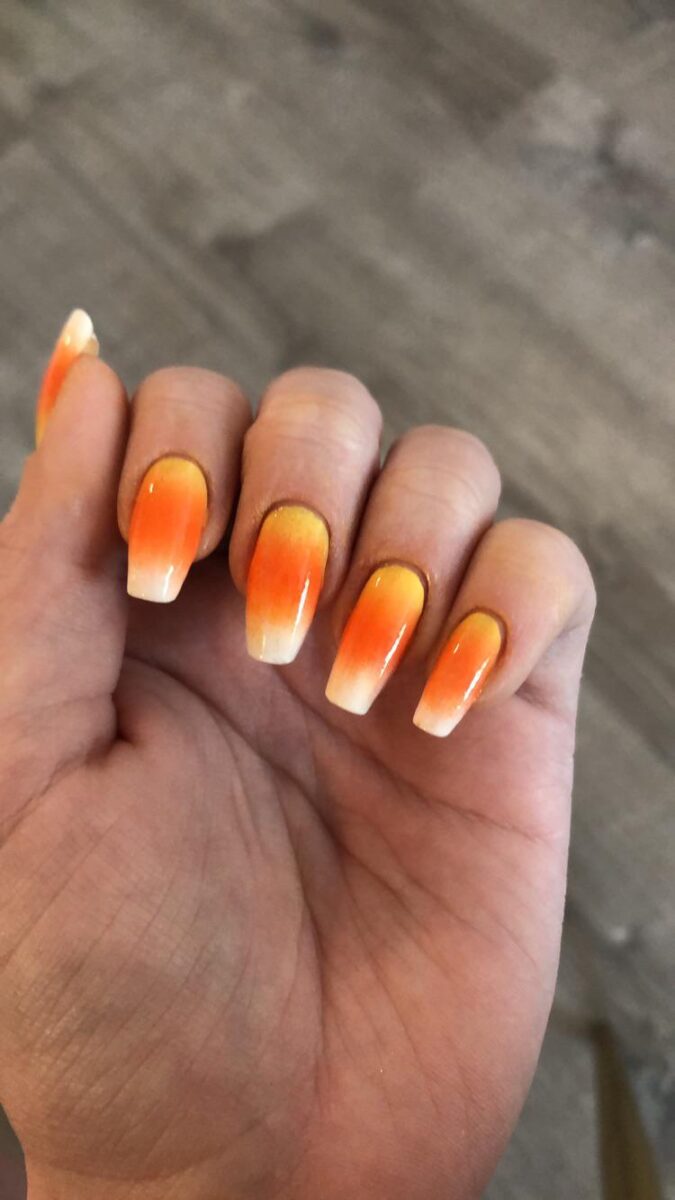 I'm loving these candy corn-inspired nails for Halloween! It's such a refreshing change from the spooky designs if you're not a fan of horror elements.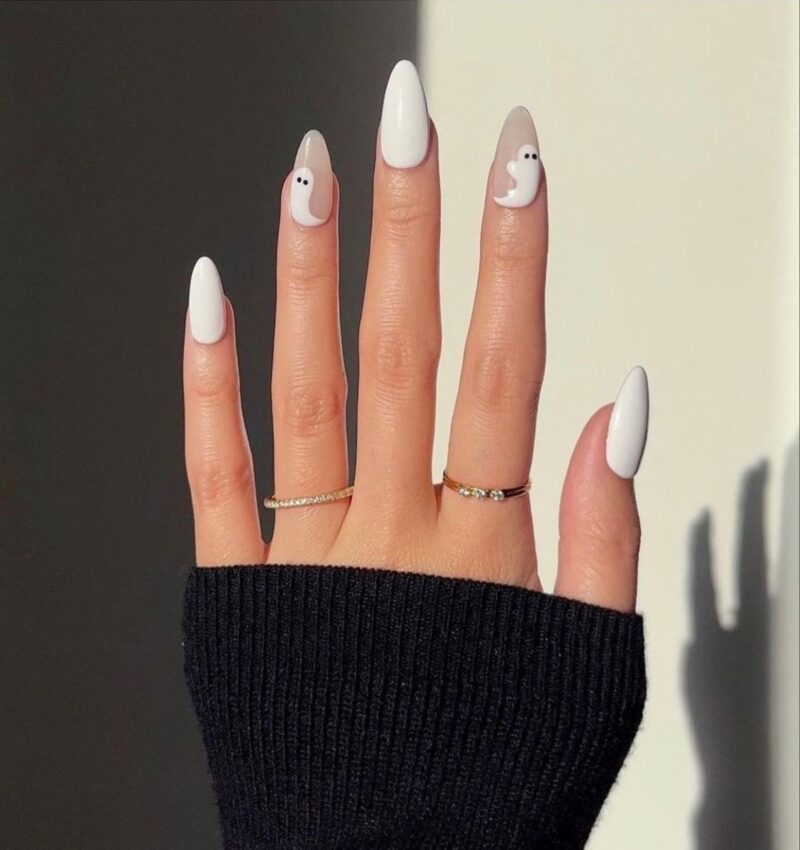 If you don't like spooky designs using dark colors, then you might want to try this monochrome white manicure instead!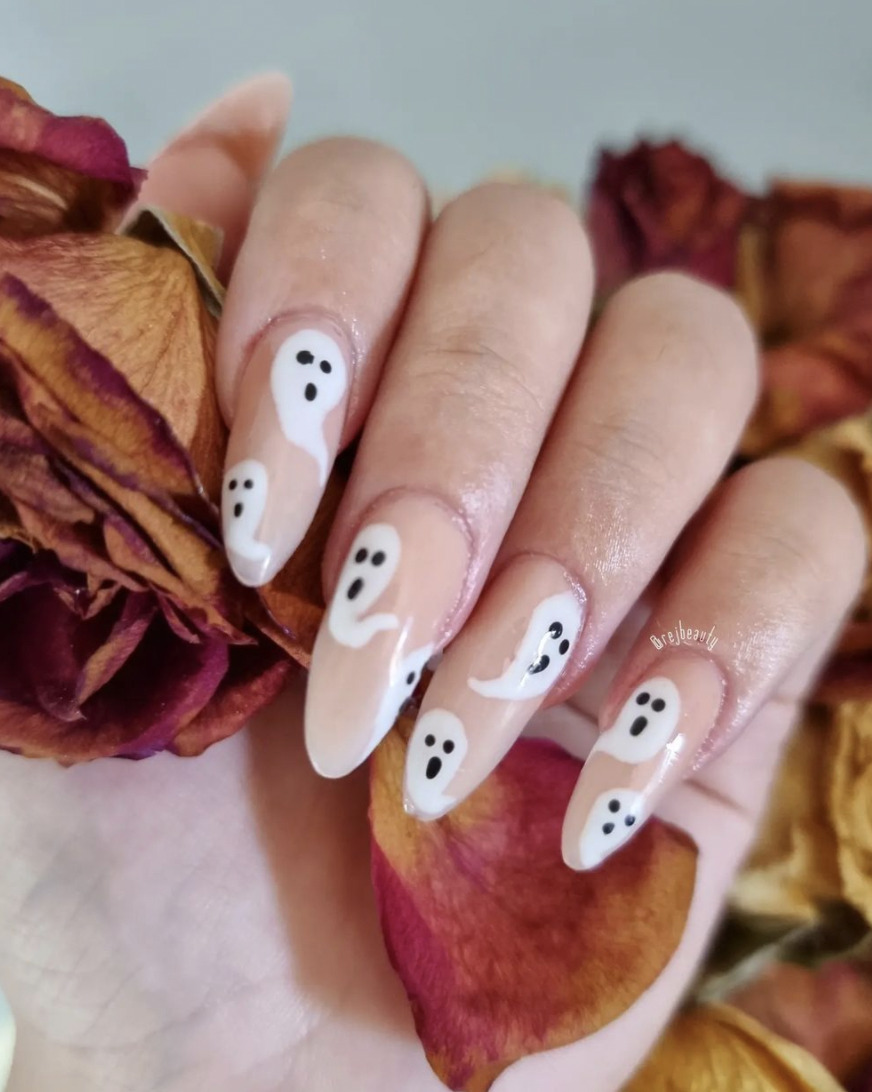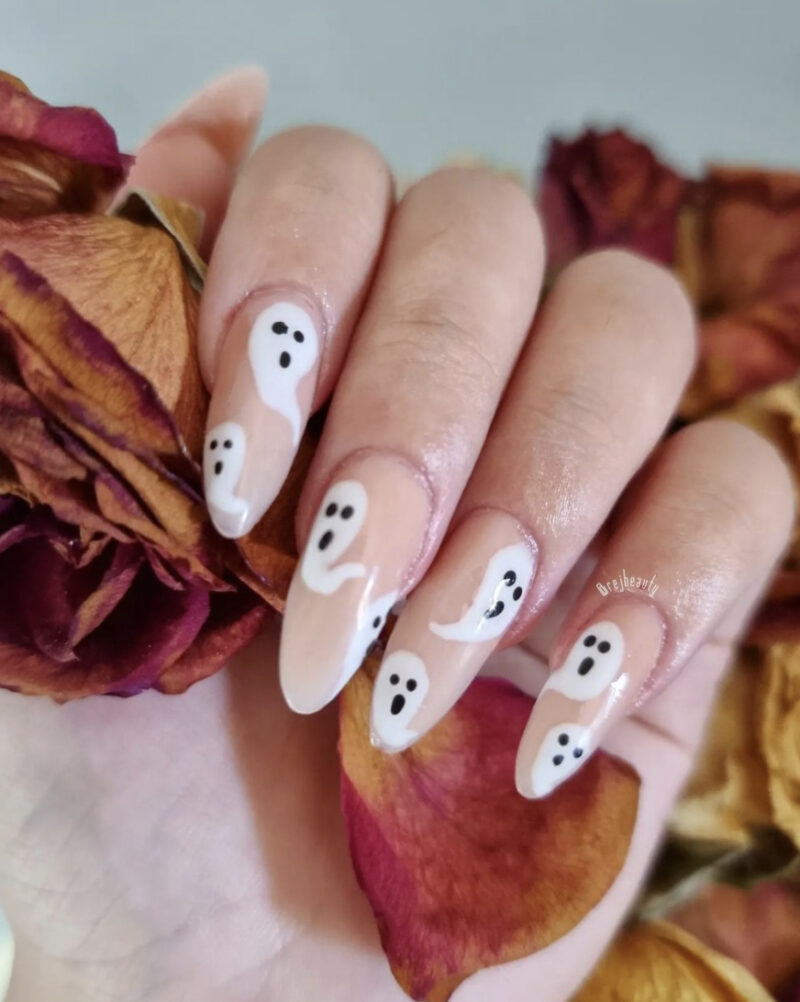 Here's another spooky ghost manicure you can try for the Halloween season. I love that it has a subtle, white and natural design that isn't too bold or loud.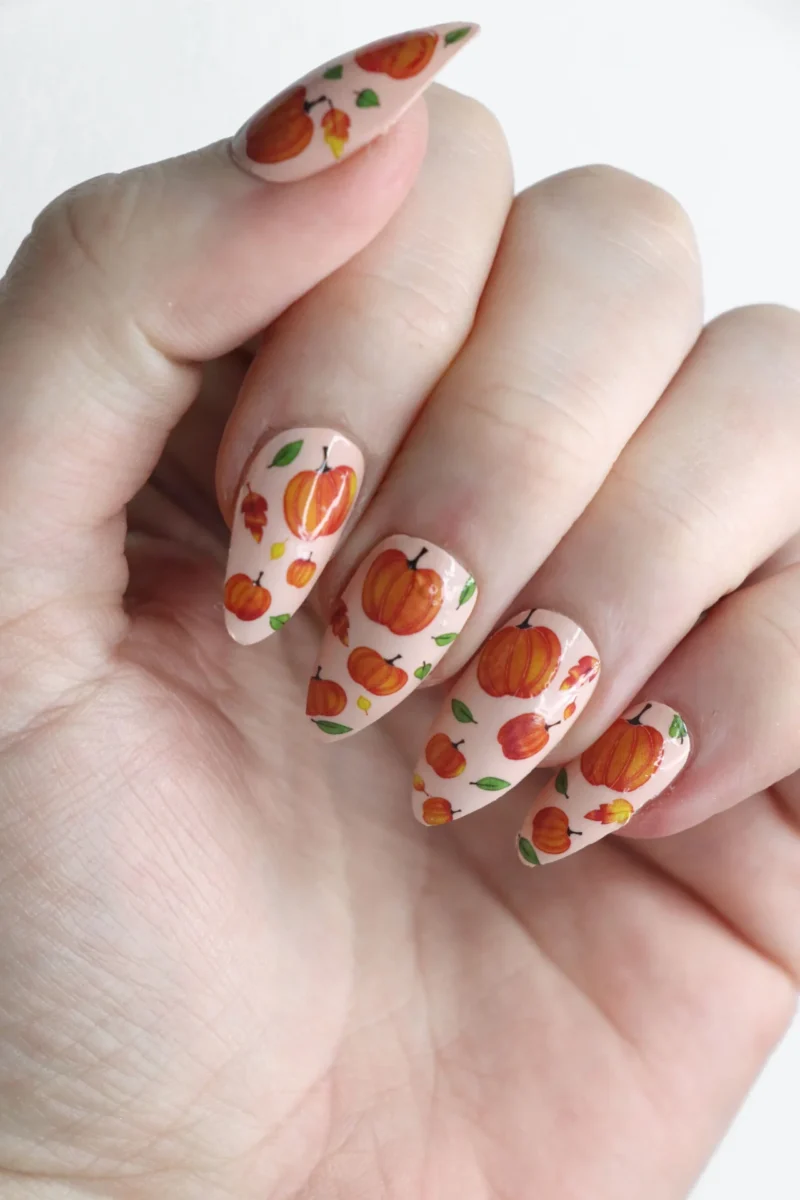 Looking for a Halloween-themed manicure that will suit the entire fall season? Then these pumpkins for your nails are a good option to consider!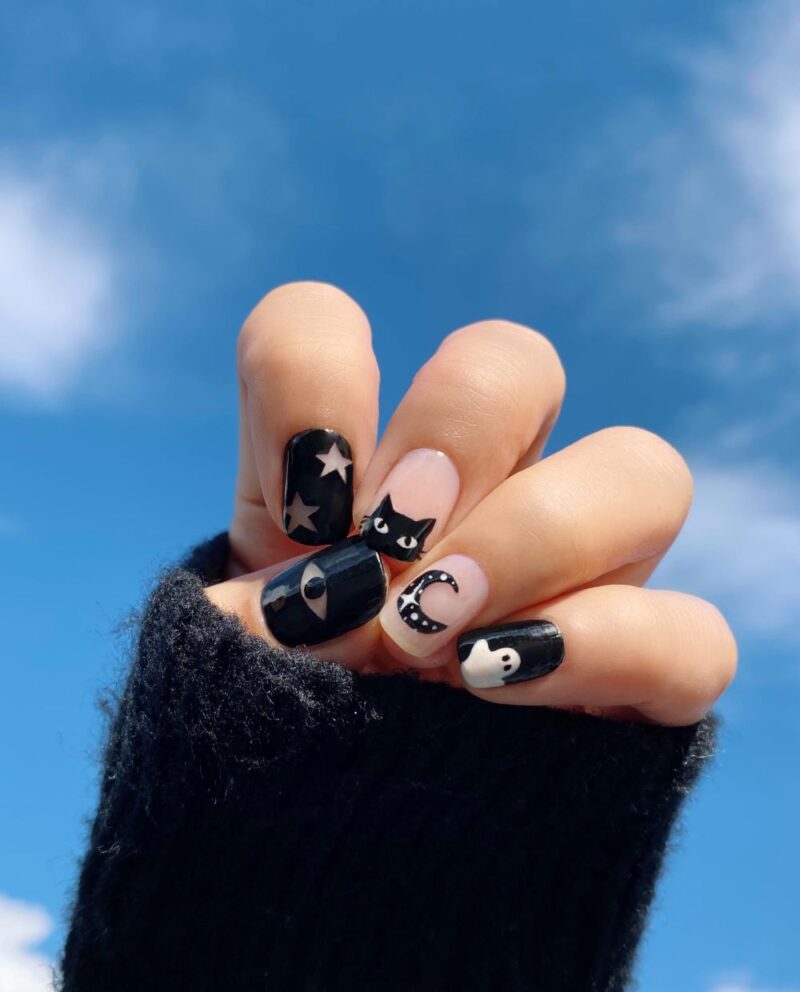 I love the use of negative space on these acrylic Halloween nails designs. It really makes the black polish and accents stand out so much along with those white-colored details.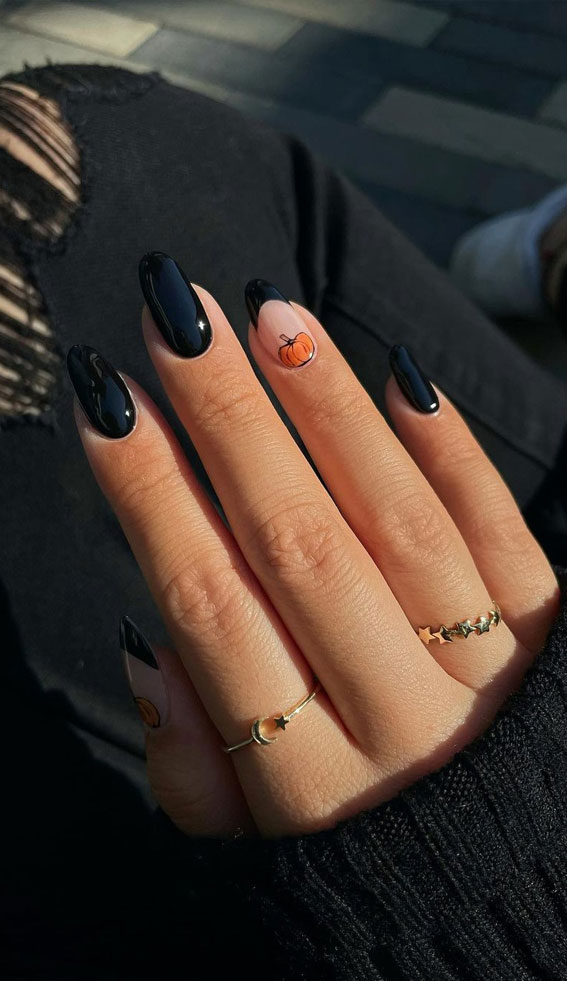 Add a twist to your regular black polish this spooky season by adding a cute, little Halloween twist to your manicure. A tiny pumpkin design would surely fit this theme!

These days, I'm honestly obsessing with dainty Halloween nail designs like this one! They're just so adorable and I love how they look both chic and spooky at the same time.

This frosty, mummified nail design is utterly perfection! It's elegant, it's chic, and it's a great way to mix the holidays and spooky season!

Pink and green are usually color combinations I see during the springtime, but they work just as well for Halloween too! Add some ghosty elements and you're all set!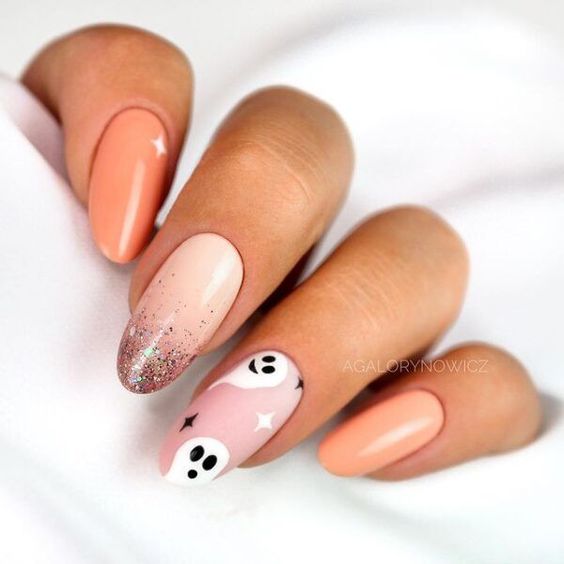 I'm loving these gradient pastels for Halloween. They're the perfect way to still keep in touch with your feminine side while matching the spooky season!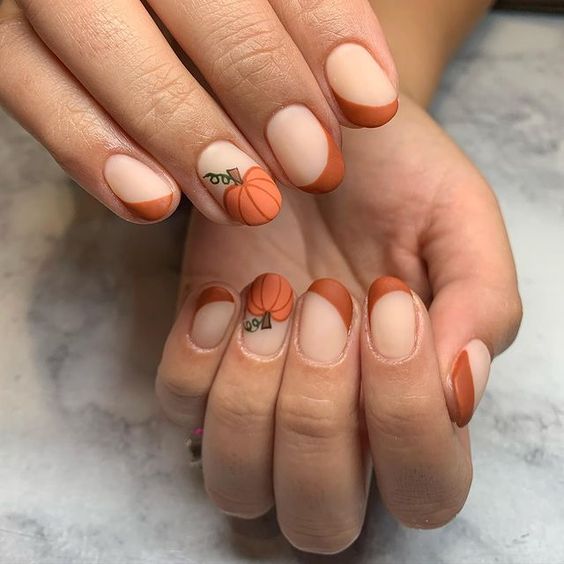 These pumpkin French tips are utterly adorable! I love the burnt, warm orange colors against the natural tones of this particular polish. Totally perfect for the spooky season as well as the upcoming holidays!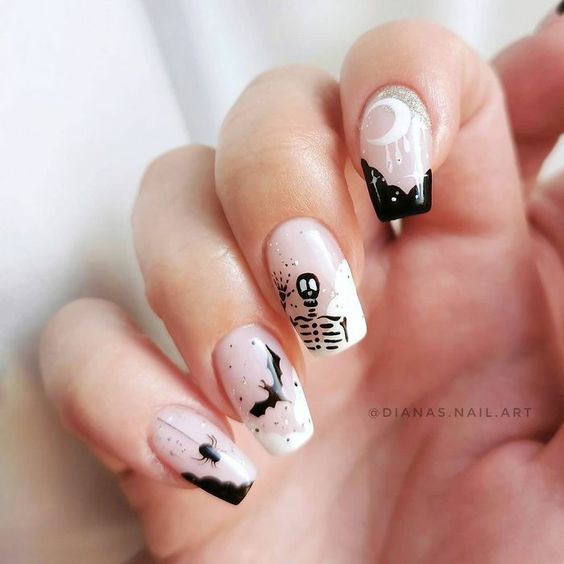 This particular nail design reminds me of Nightmare Before Christmas. The frosty, wintry look is so perfect for Christmas while the spooky accents are totally on theme for Halloween!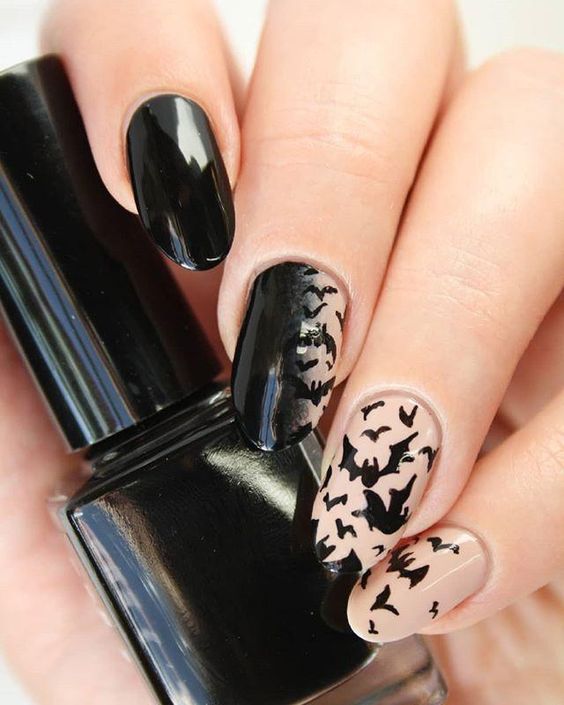 These bat-themed nails are utterly cute! Whether you're choosing nude base nails or something a little darker to mimic the night sky, it would fit really well!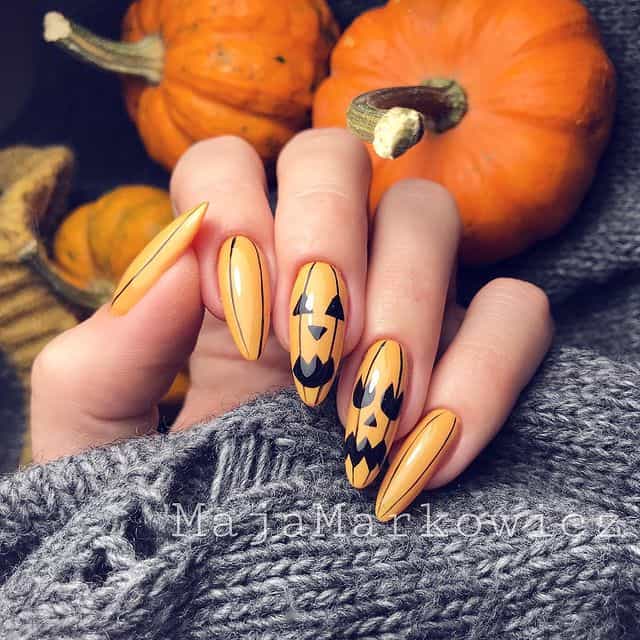 I love these carved pumpkin designs for Halloween nails designs! They're scary and so on point for the Halloween festivities. If you're looking for a quintessential Halloween manicure, this might just be it!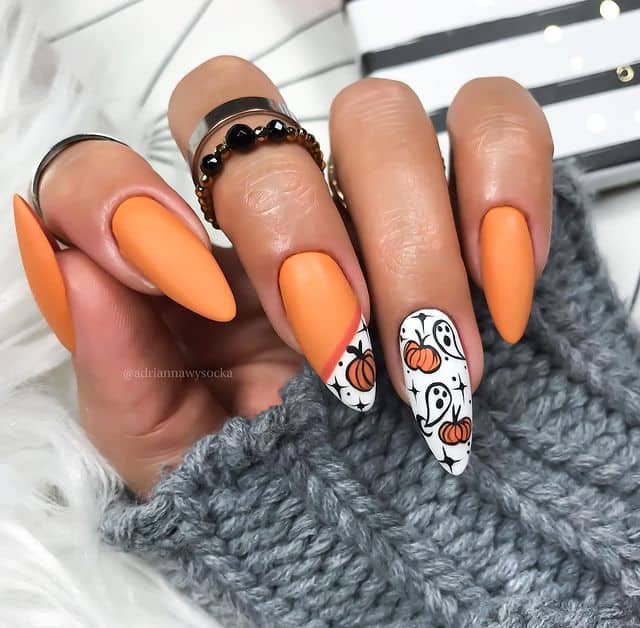 Here's another pumpkin design you'll surely love for the Halloween season. It also features ghosty elements you might want to add to your nails!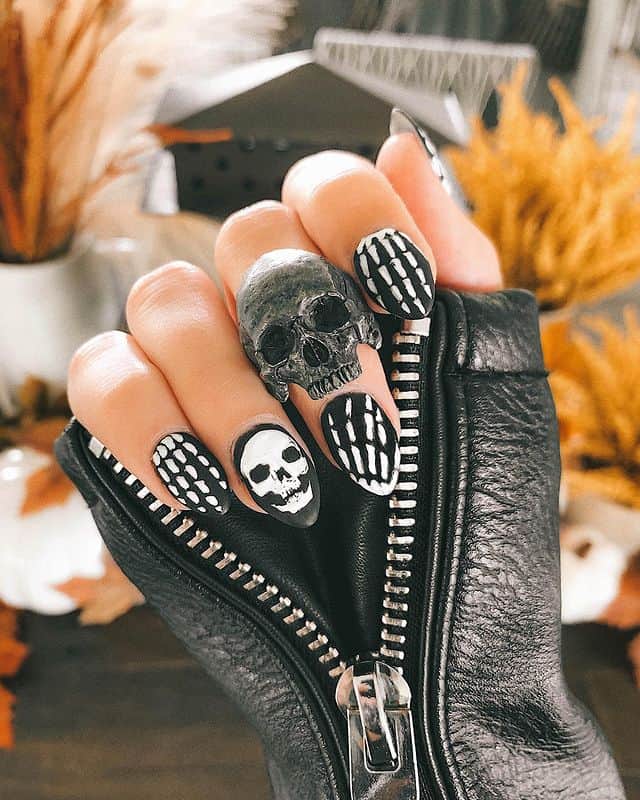 For an edgy, punk manicure this Halloween season, you can't get any better than these skeleton-themed nails! Whether you're doing this for Halloween or simply want to incorporate this into your aesthetic, it's a cool manicure to try out!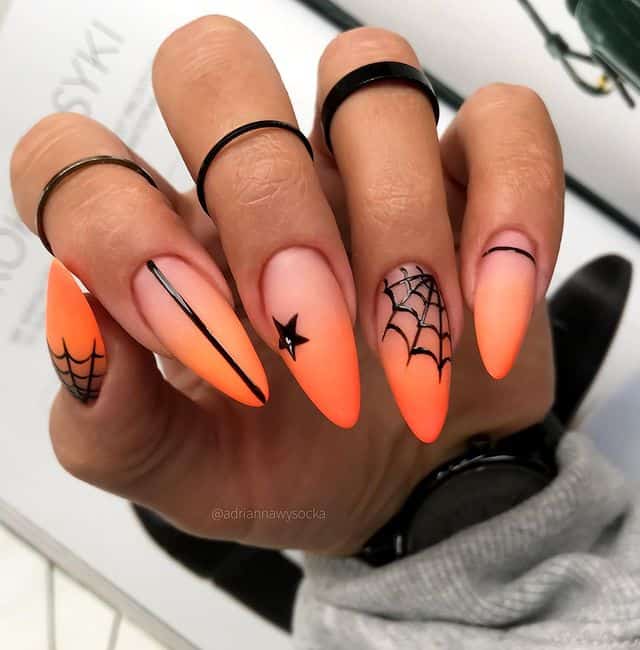 I'm loving the subtle orange gradient design on these Halloween nails designs! They're so bold without being too overwhelming to the eyes.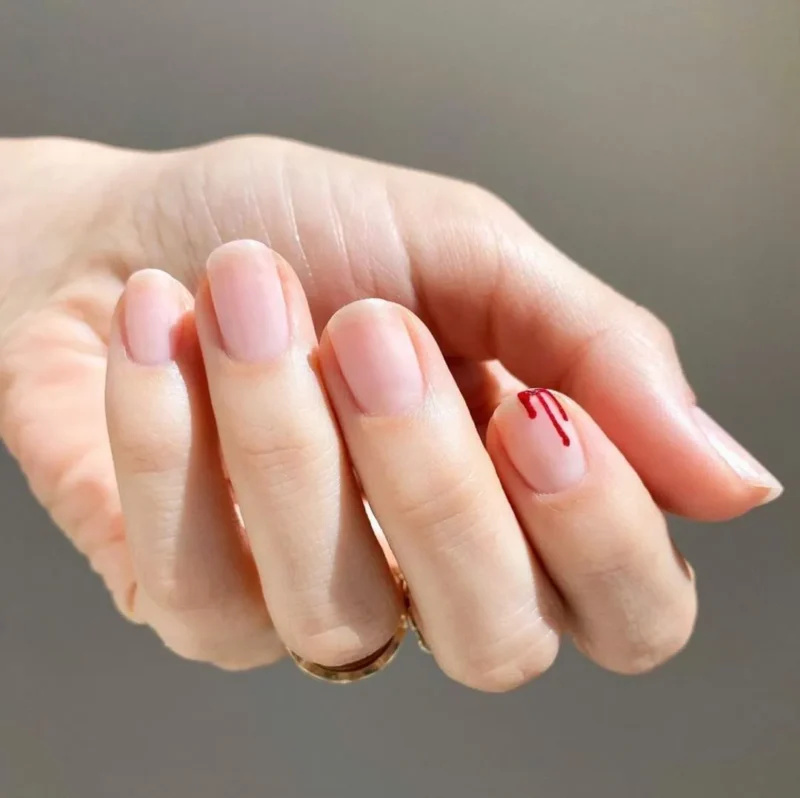 If you're looking for something truly subtle but with a bloody twist, these nails are perfect for your taste! Keep the rest of your nails bare or natural, then add the subtlest drip of blood onto the tips of your nails!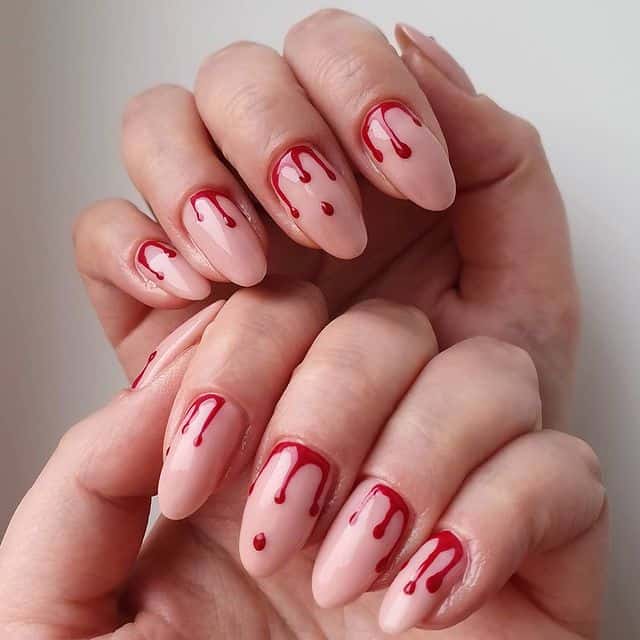 If you want the drops of blood to be a little more obvious, then you'll surely love trying out these blood nails! They're spooky and a little bit of gore will surely give your nails the perfect look!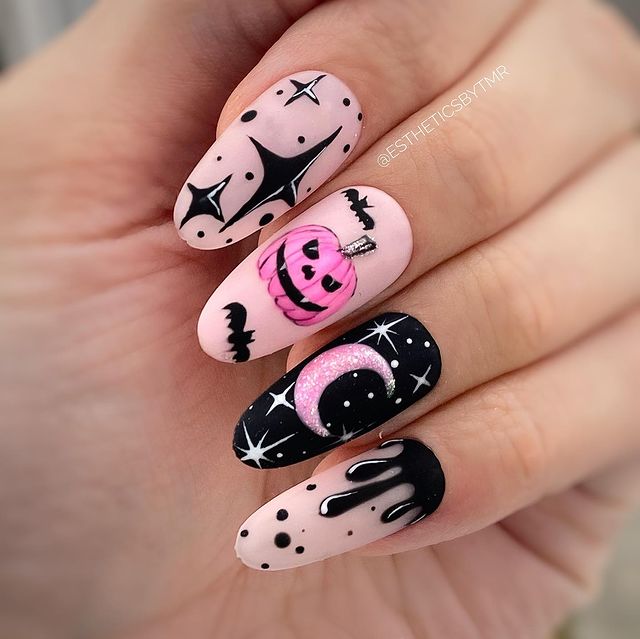 Whether you don't like a monochrome design or simply want to have a different nail art for each nail, this one might be perfect for you. Each nail has a spooky element you can incorporate into your manicure.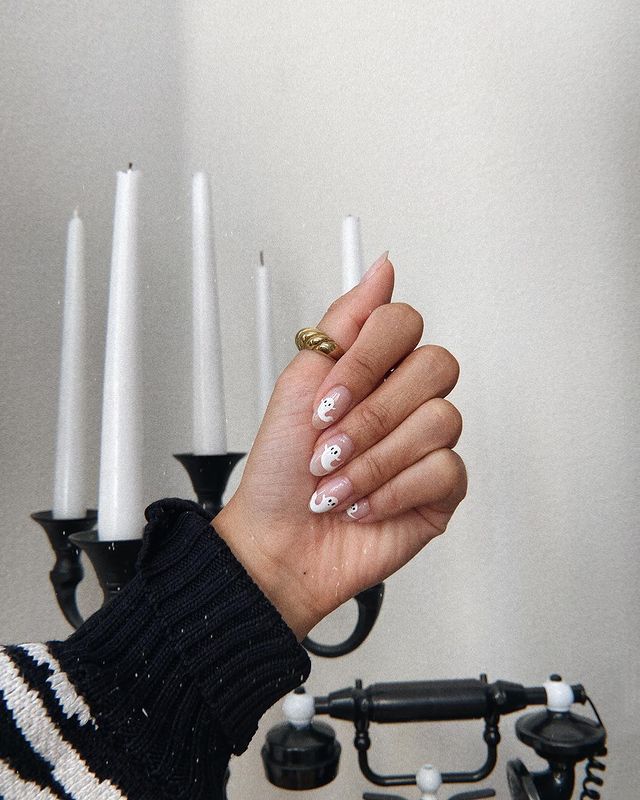 These subtle, minimalistic ghost nails are so gorgeous! If you're looking for something sophisticated and understated for your Halloween manicure, this is for you!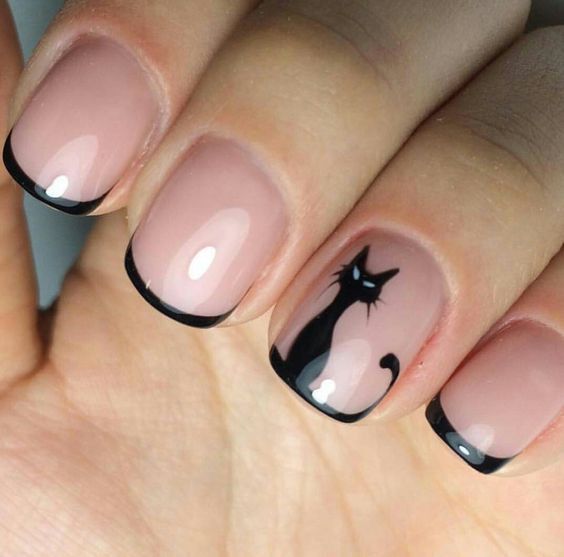 Here's another chic yet spooky twist to the classic French manicure. Plus points if you like black cats or just cats in general!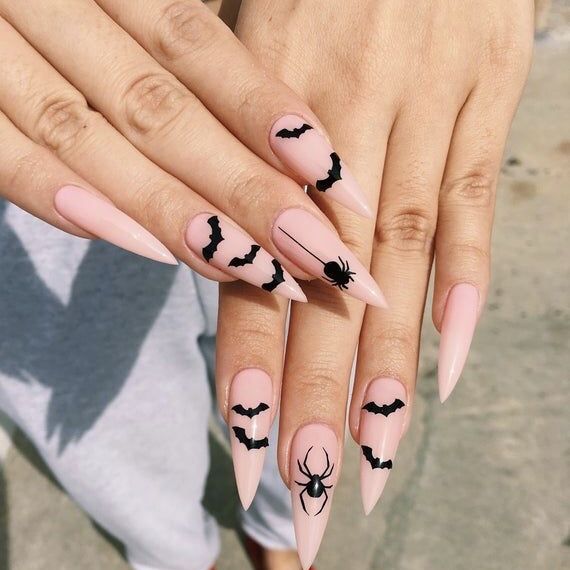 If you're a fan of bats and spiders, then these nails are for you! Opt for a natural base so your spooky designs would stand out a lot!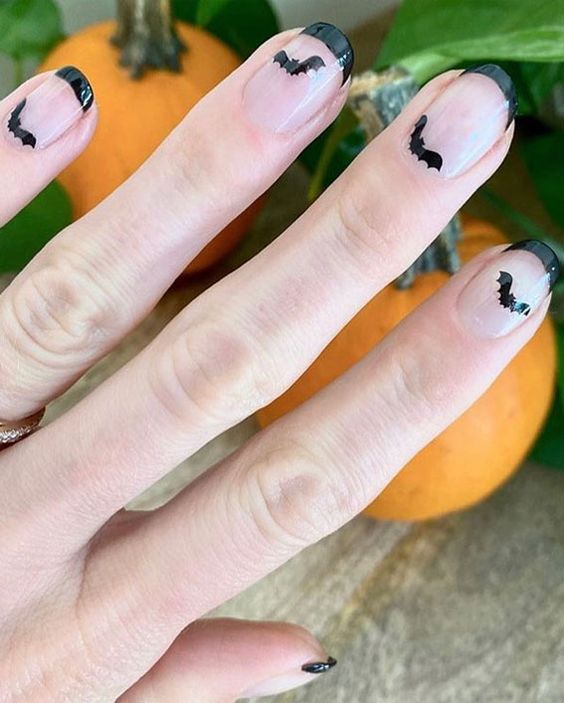 Here's another bat-themed nail design you'll surely love! Not to mention, I love how dainty this Halloween manicure is! If you want nails that would fit an office look or something more understated, these nails are worth a try!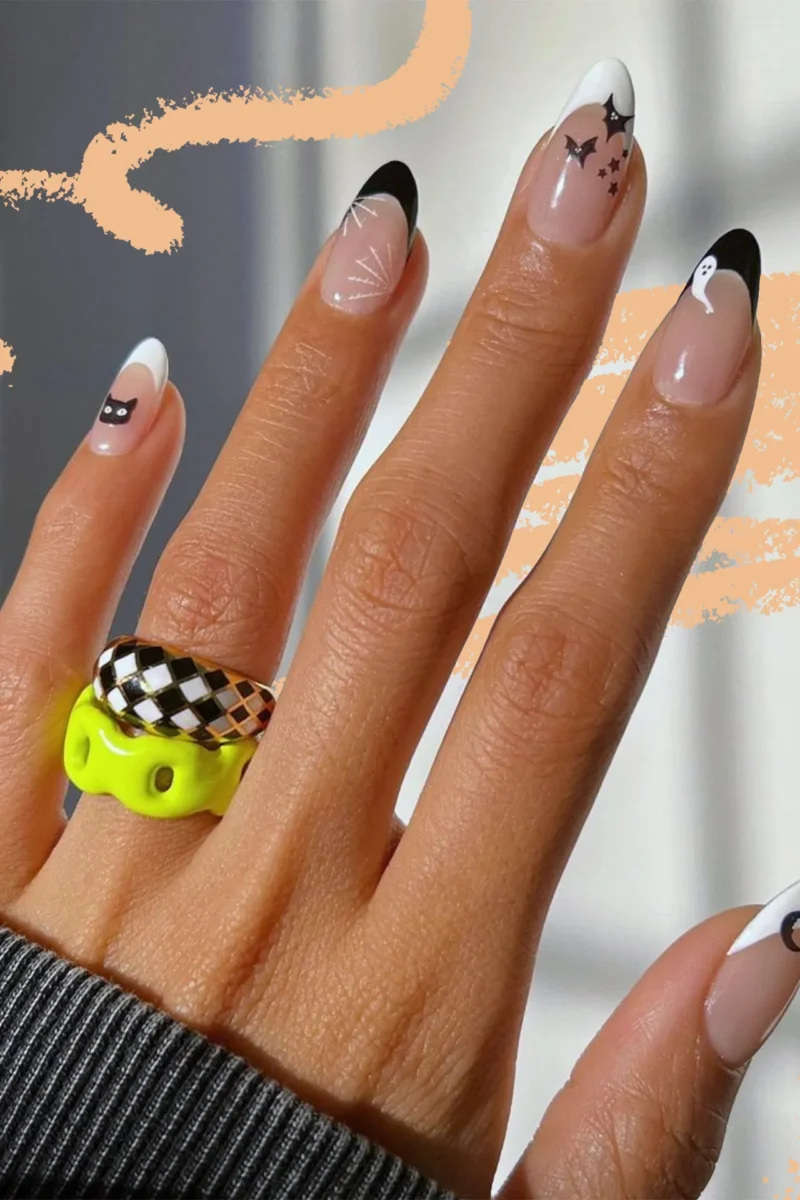 Here's another dainty French manicure with a spooky twist. Add some dainty bats, webs, or even cats for a cute yet spooky set of nails!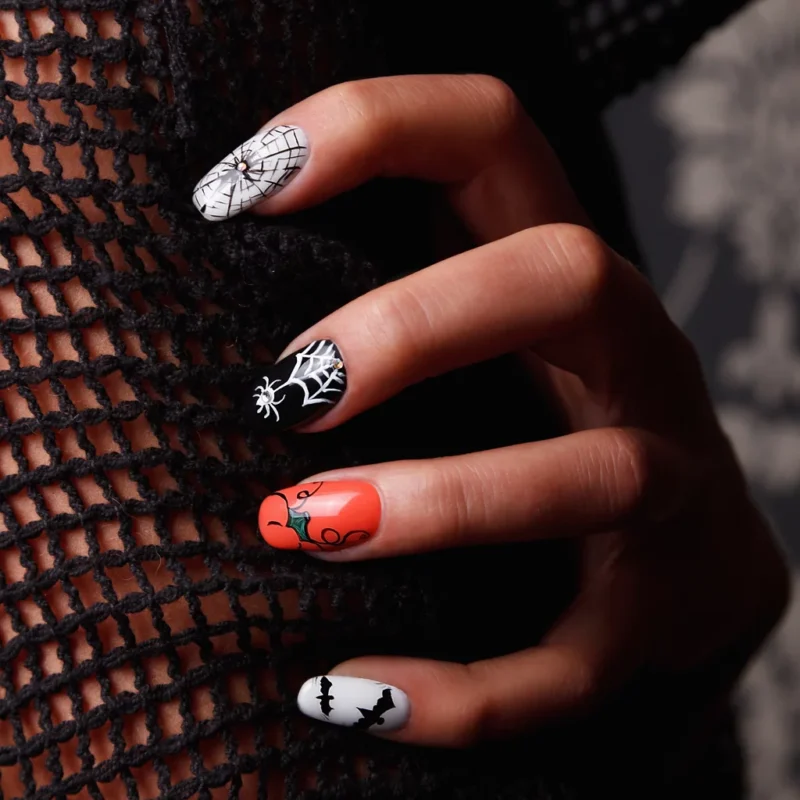 These bold colors really capture the essence of Halloween! If you like to make a statement with your nails, then opt for bright, vivid hues like oranges, whites, and blacks to create stunning spooky contrasts on your nails.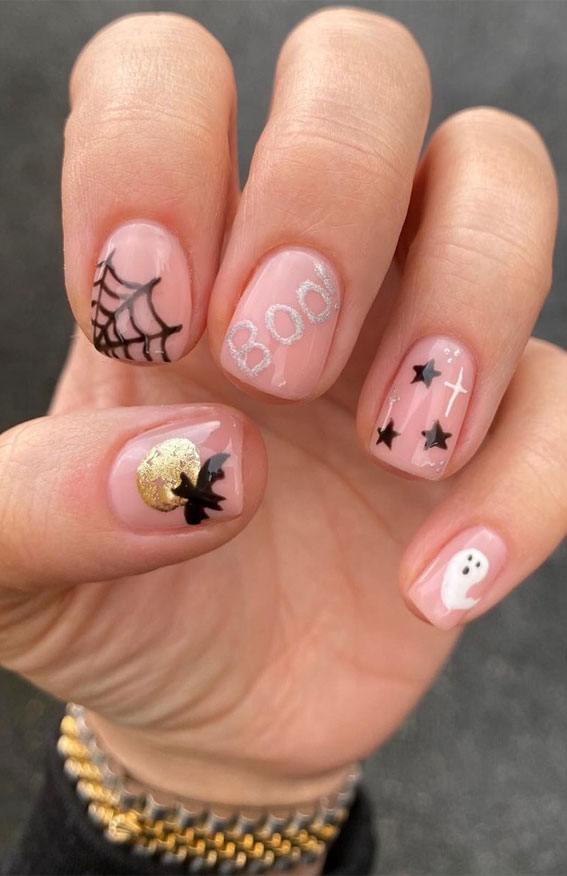 I really like the look of negative space on the nails. It gives them a dainty yet sophisticated touch. Add some minimalistic spooky elements and you're good to go!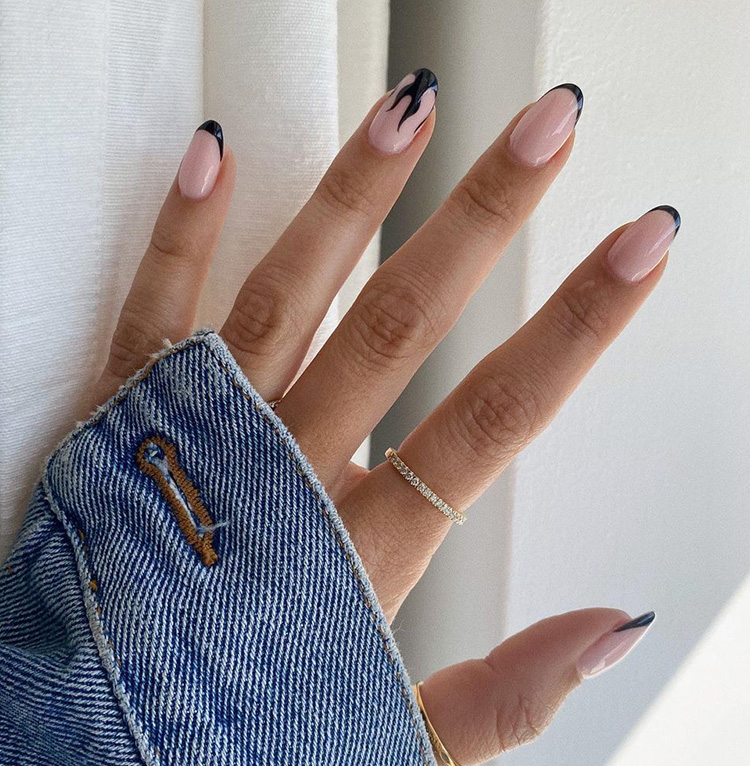 Subtle and understated, the little flame on this classic French manicure is so cute! It's perfect for girls who don't want to overdo it with their acrylic Halloween nails.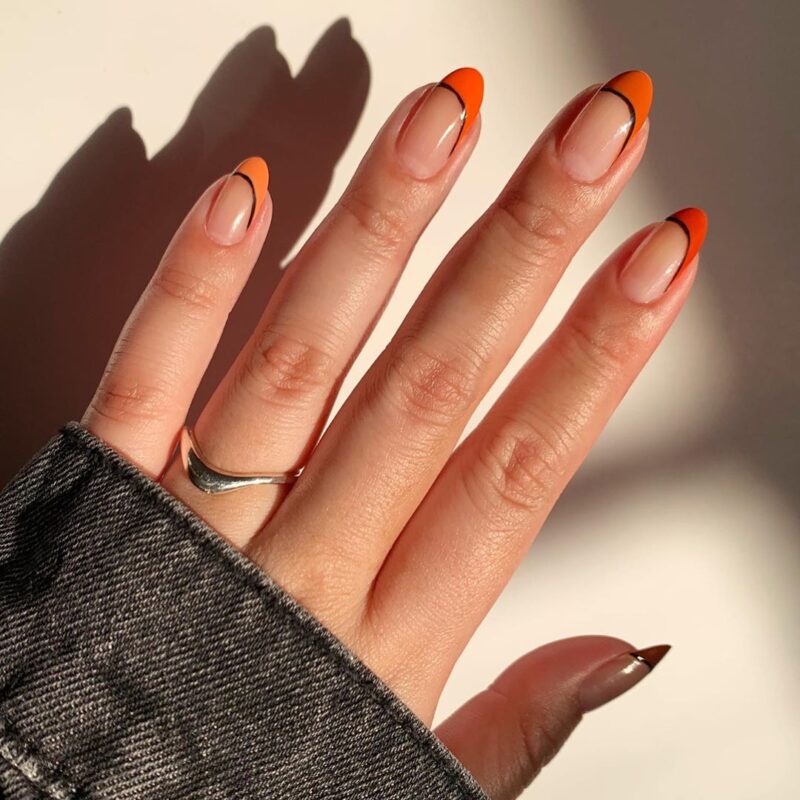 I love the bright, vivid orange colors on this Halloween manicure! If you're looking for nails that have an understated look and isn't too obvious for Halloween, this is for you.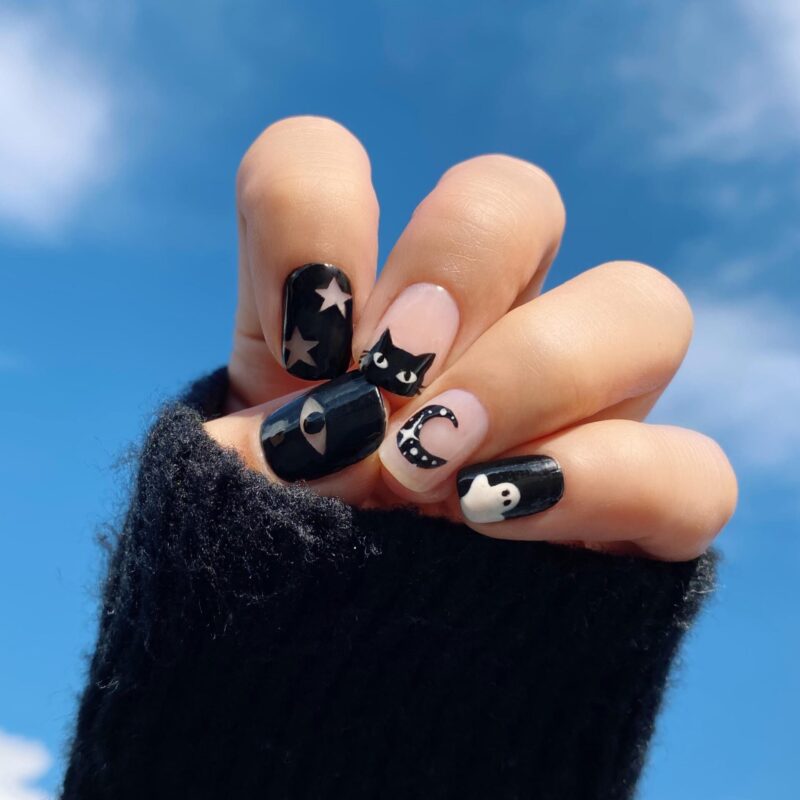 Not a fan of monochrome nail art? Then you'll love this quirky manicure! Each nail has a spooky element that's perfect for Halloween night!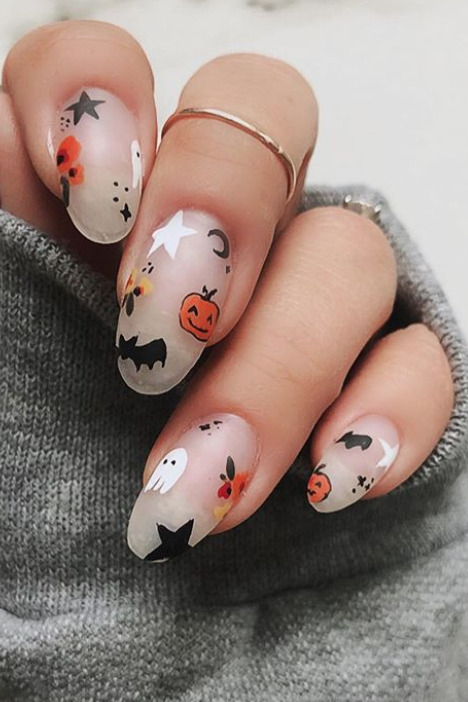 This Halloween nail art is utterly spooktastic! I love the incorporation of tiny Halloween accents against the natural base of the nails. Plus, you can include as many designs as you like!
One of my favorites on this list is these Frankenstein-themed nails. They're so cute and quirky while being just as spooky and perfect for the Halloween season!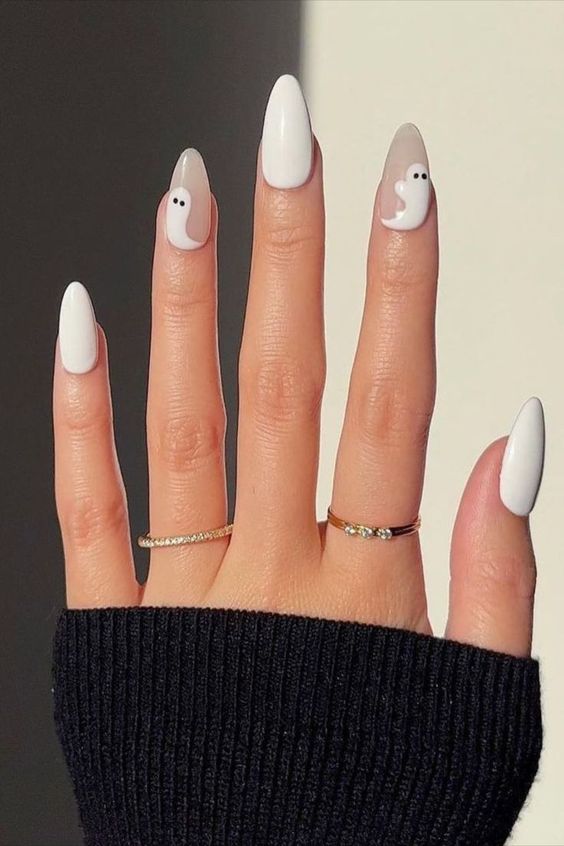 Do you love ghost-themed nails? Then this manicure might be something you want to try out for this year's Halloween. Pair it with your regular white polish to give it a more sophisticated look.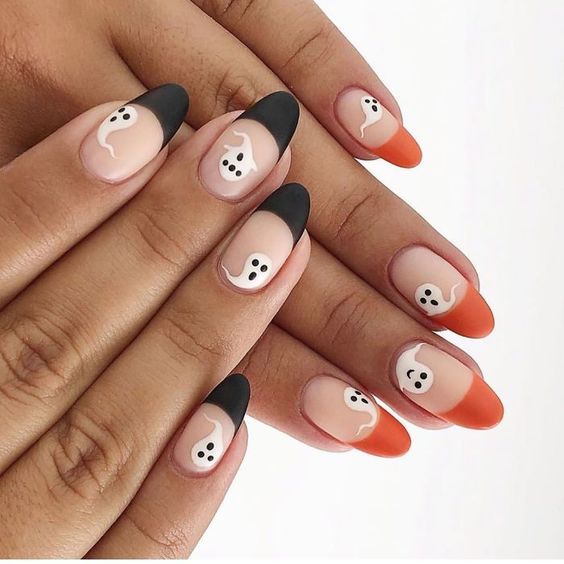 These multi-colored Halloween French tips are so cute and chic! Add some ghost accents to each nail and you'll have the perfect manicure for your Halloween parties!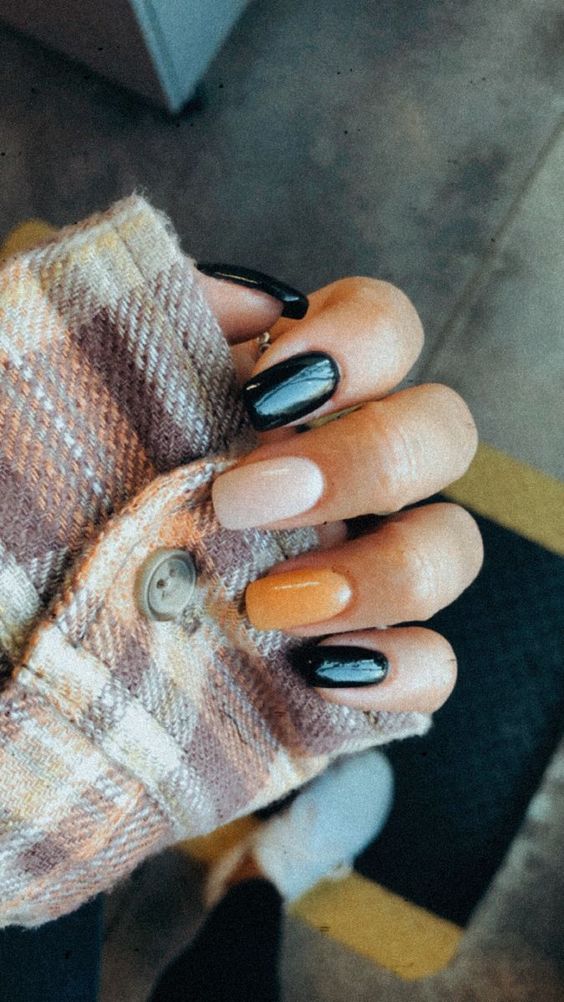 If you don't want to do intricate nail art this Halloween season or you're not too keen on bold Halloween designs, then why not opt for a regular manicure? You can simply use colors like blacks or oranges to suit the Halloween vibe.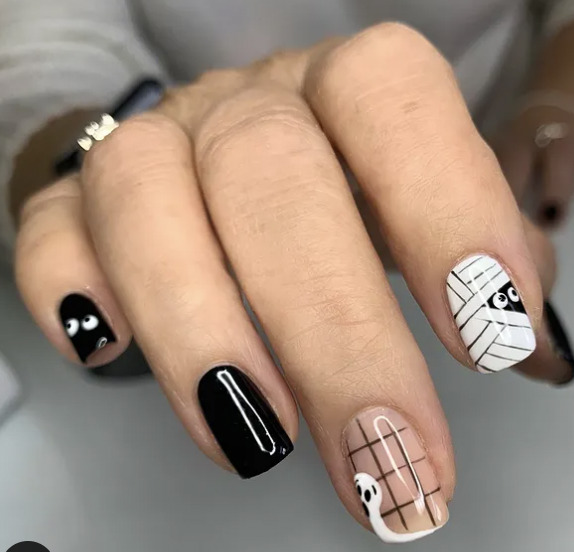 Add some dainty and gorgeous geometric designs to your acrylic Halloween nails like this manicure right here! You can even add some peeking eyes to get that creepy and eerie vibe around your fingertips.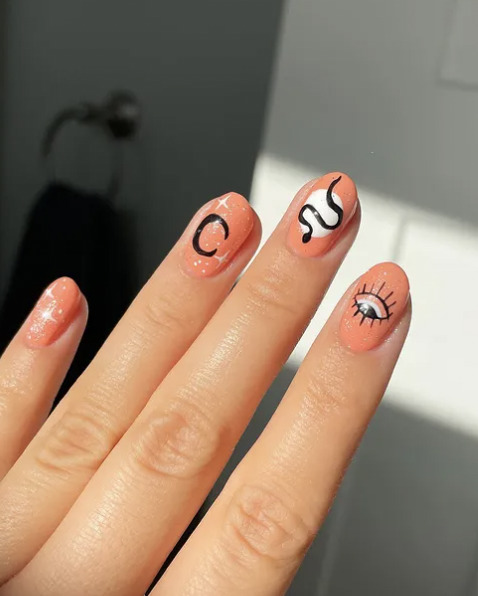 If you like something a little peachy for your Halloween nails designs, this manicure is a pretty option for you to try out! It has a subtle sparkle as well as some black and white accents that will pop against your pastel orange base!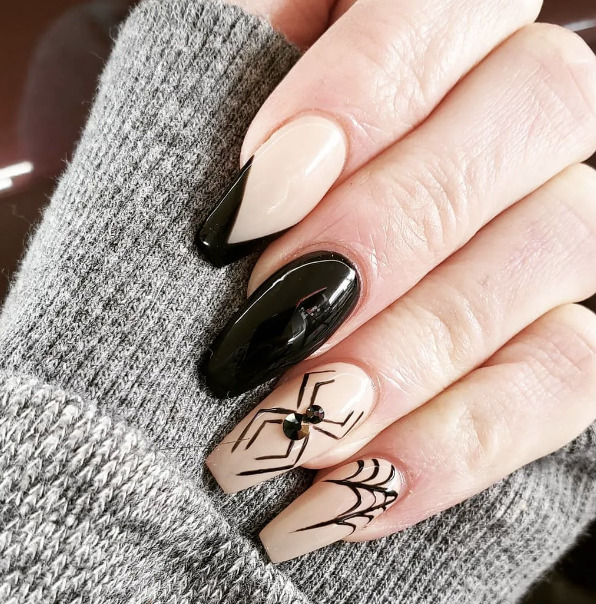 Here's a simple yet chic manicure you can try out this Halloween season! Even if you're not a pro at doing nail art, this is a design you can easily DIY at home! All you need is brush to create those dainty lines and some embellishments for a touch of sparkle.`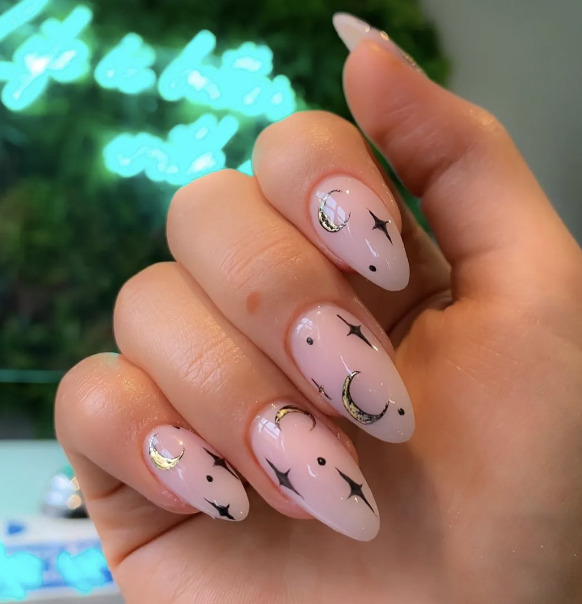 Another favorite of mine on this list is this moon-themed nail art! I love the sparkly accents and that gold sheen on each moon symbol.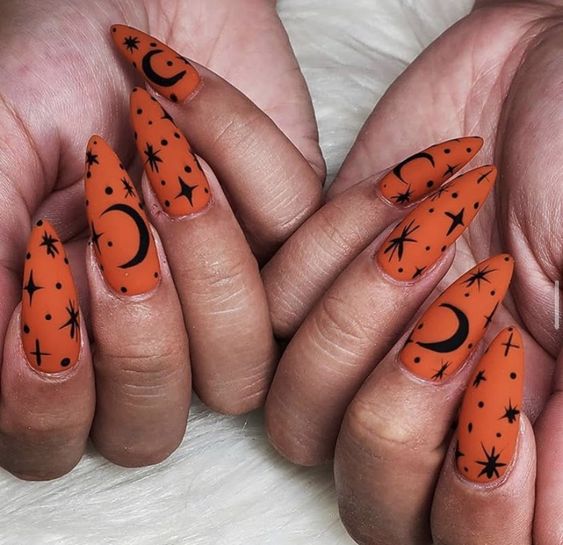 If you like to make a bold and witchy statement this Halloween season, I can't think of a more perfect nail art than this one! I love the orange tones against the black accents.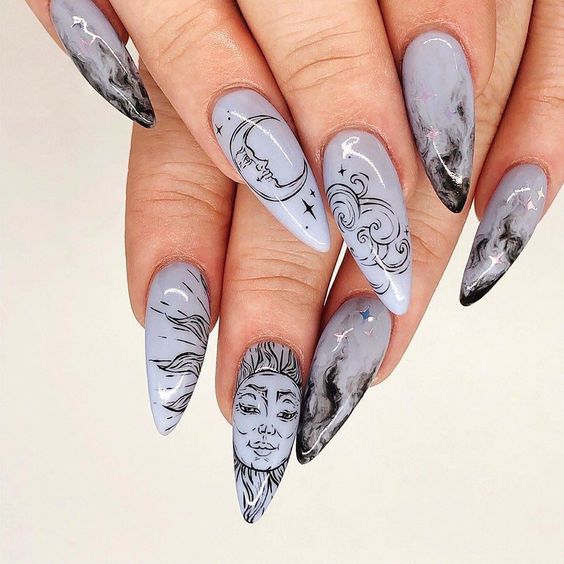 Here's a Halloween manicure I'm actually excited to try out this year. I love the cool grey hues against the dainty black design of the moon and the sun. Add some smoky accents and sparkles and it's perfect!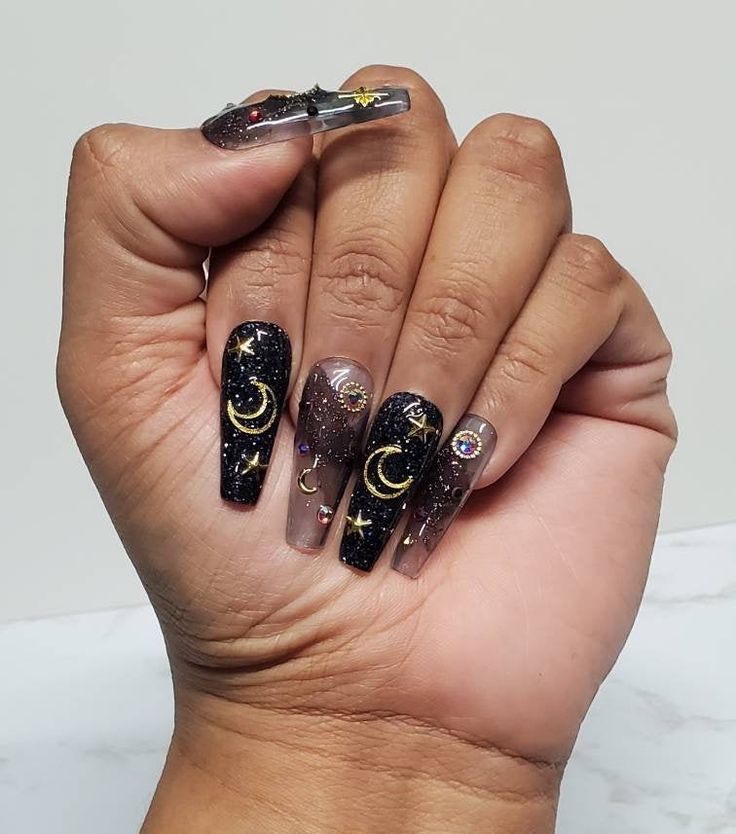 Here's another set of witchy nails that you might like for Halloween season, especially if you love the look of celestial bodies on your fingertips. Personally, I really love the black and gold accents on these nails!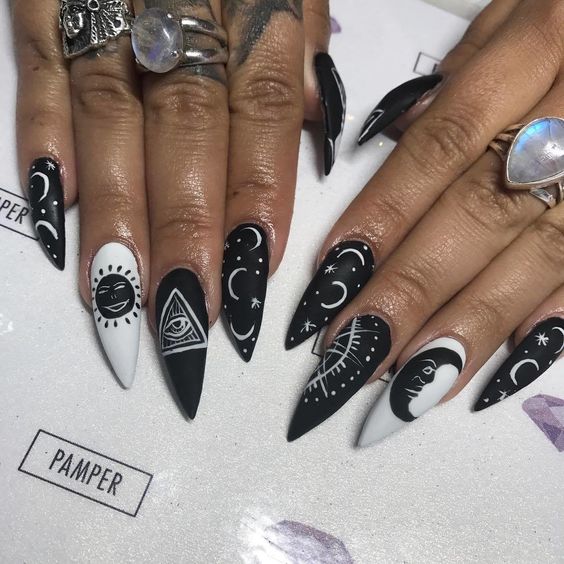 If you prefer a more monochrome scheme rather than a sparkly or colorful one, then these nails might just be for you! It has occult symbols and astrology themes that's ideal for Halloween.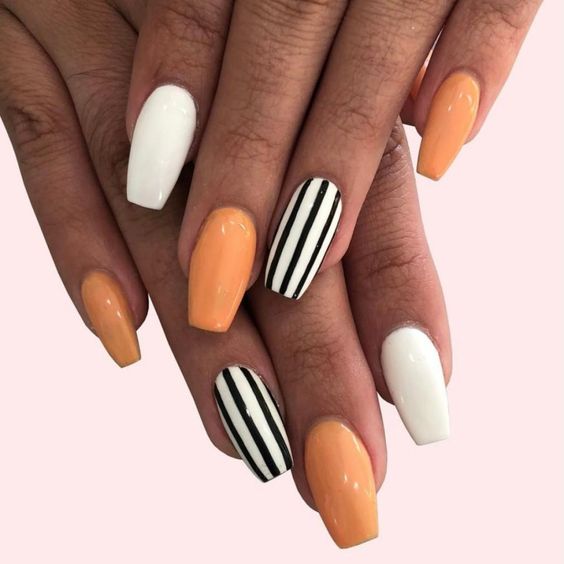 Add a pop of color to your nails by adding a bright orange to your black and white manicure. It's such a cute color combo that fits the Halloween theme!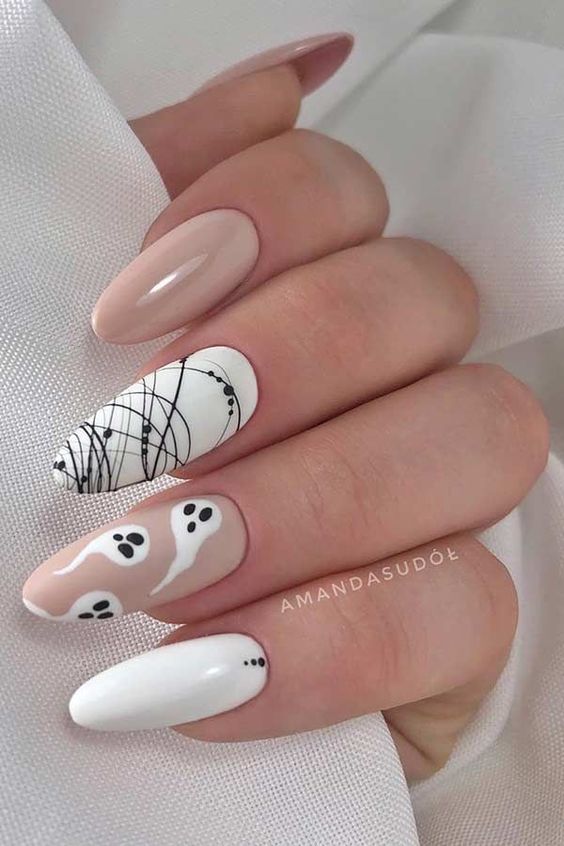 Halloween colors don't just mean dark colors all season long. You can still pick neutral shades if you want to keep a lighter aesthetic. Add some ghosts and other spooky elements to still fit the Halloween theme.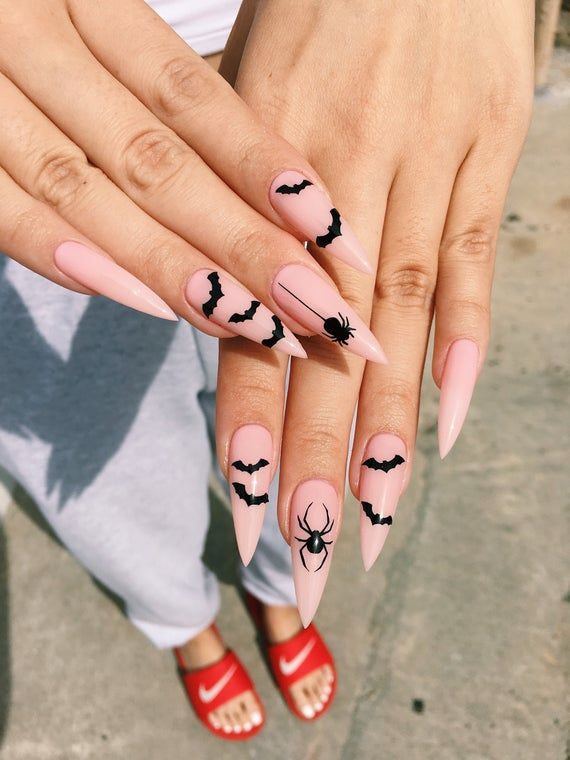 Black and pink are classic color combinations that I love using on my nails. And Halloween is another perfect season to do this combination. Add some black accents to do your spooky designs!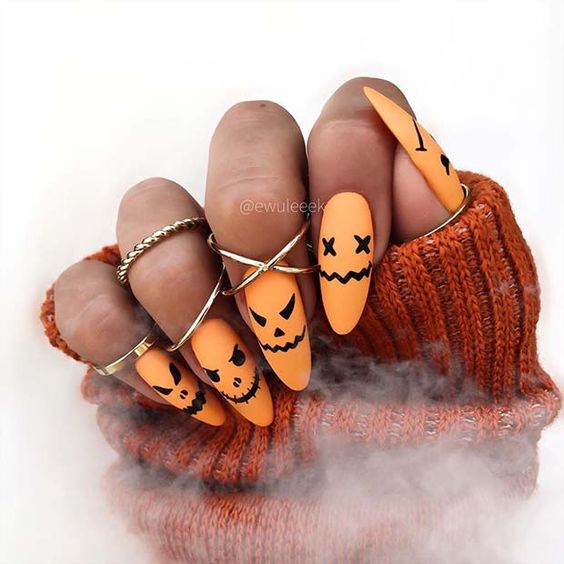 If you want your nails to be as spooky as the pumpkins you'll be carving this Halloween season, then you might want to check out this manicure! Each nail has a different carved pumpkin face for variety!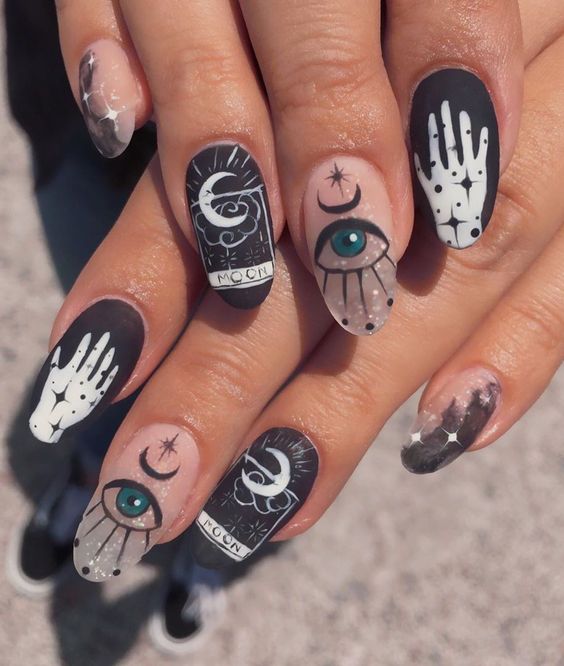 Here's another witchy set of nails you can try out this Halloween season! I love the black and white design and its gorgeous contrast.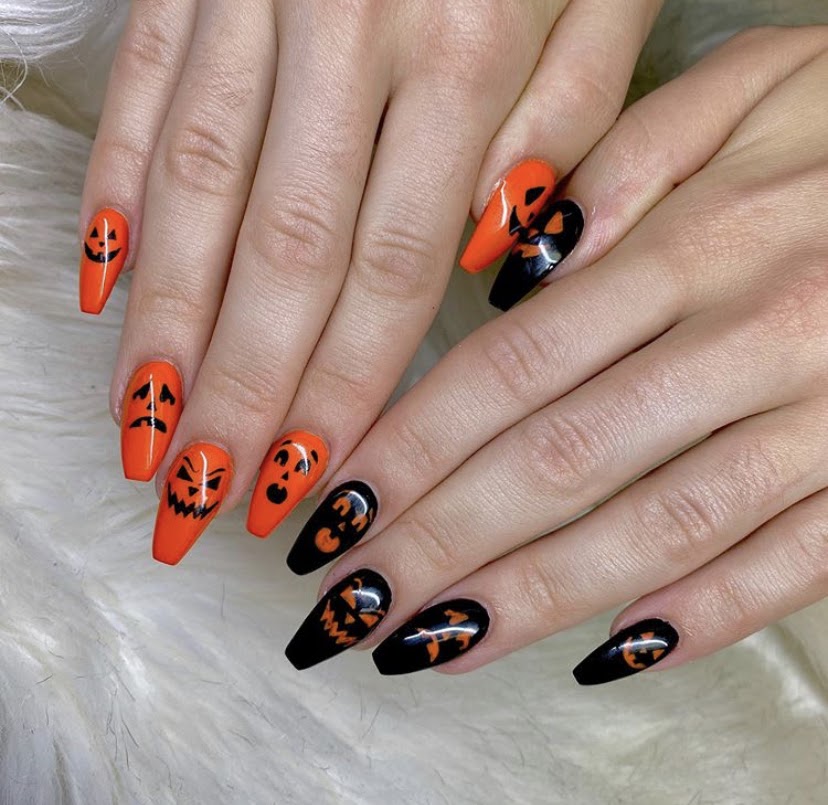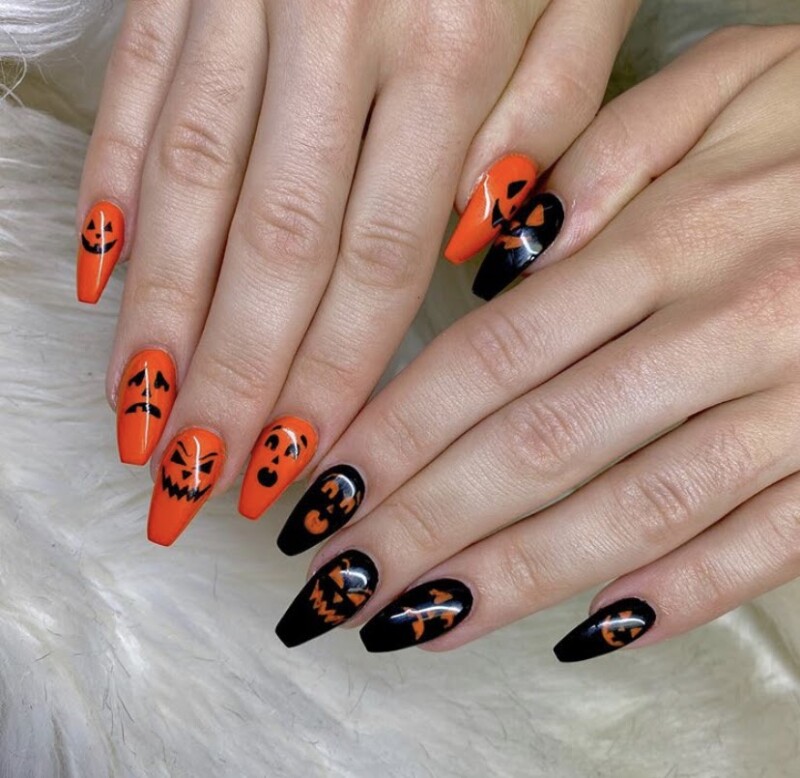 Make your nails bolder and louder with a multi-colored manicure this Halloween! Paint one hand with black polish and the other with a bright orange color. Then top them off with some carved pumpkin faces!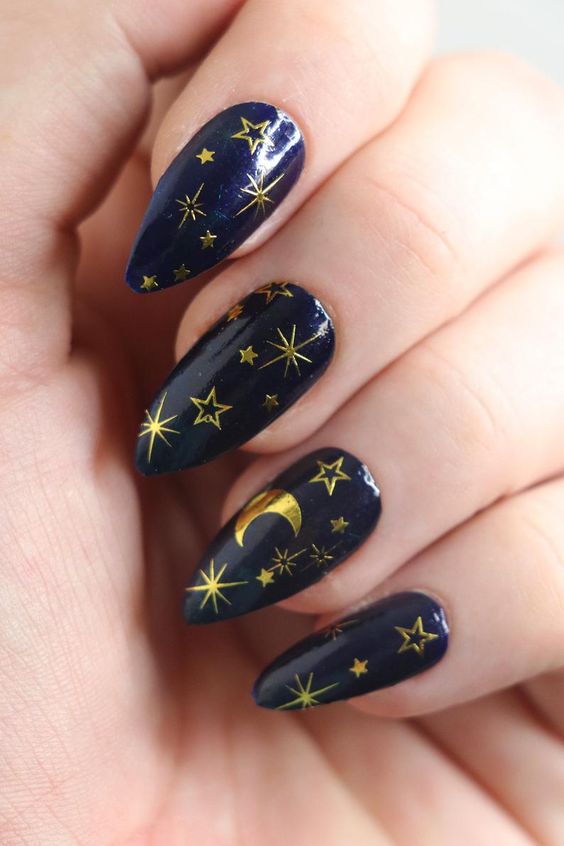 For a gilded aesthetic that'll suit Halloween perfectly, these celestial-themed nails are the way to go! I recommend using a deep base polish while using golden accents for your design.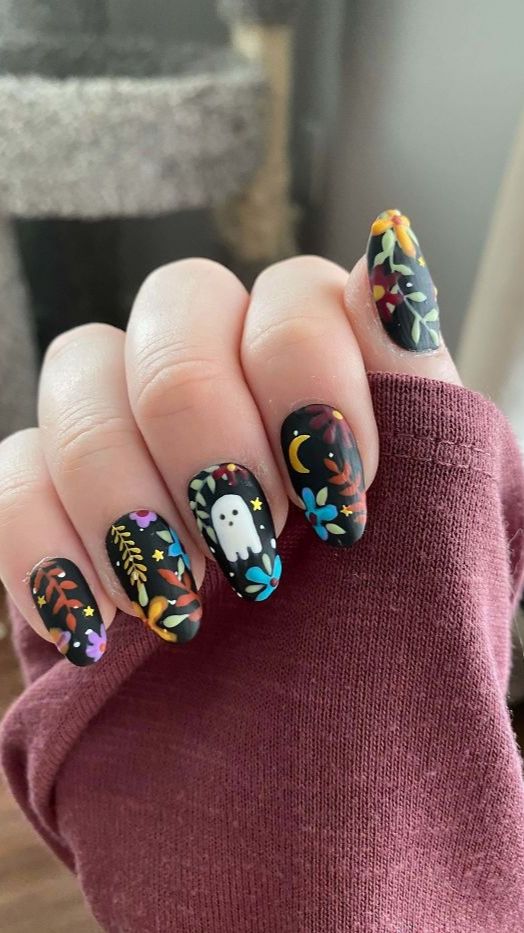 A black polish could be such a great base color for your colorful Halloween nails! The dark background will provide a stunning contrast against other colors you paint your nails with.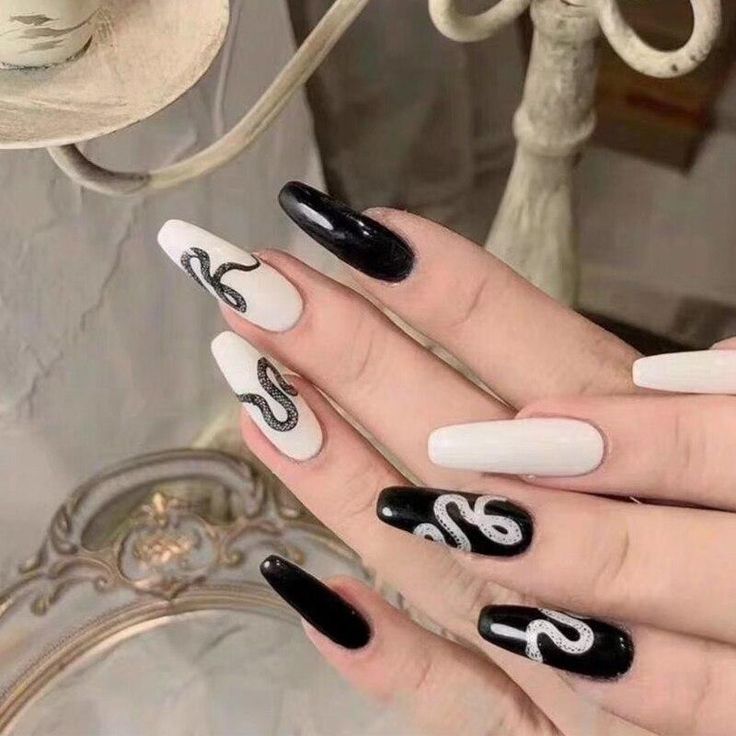 If you like snakes or simply like the look of them, you can opt for this particular design this Halloween! You can even mix and match black-and-white color schemes to recreate this sophisticated look!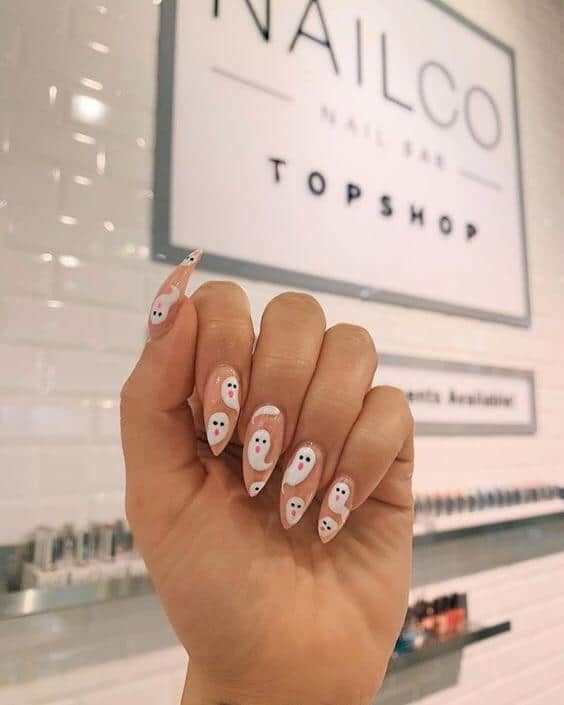 Adorably spooky, these ghost-themed nails are the perfect manicure for your next trick-or-treating adventure! If you want a bolder set, you can use a black polish for your base color instead of a natural beige shade.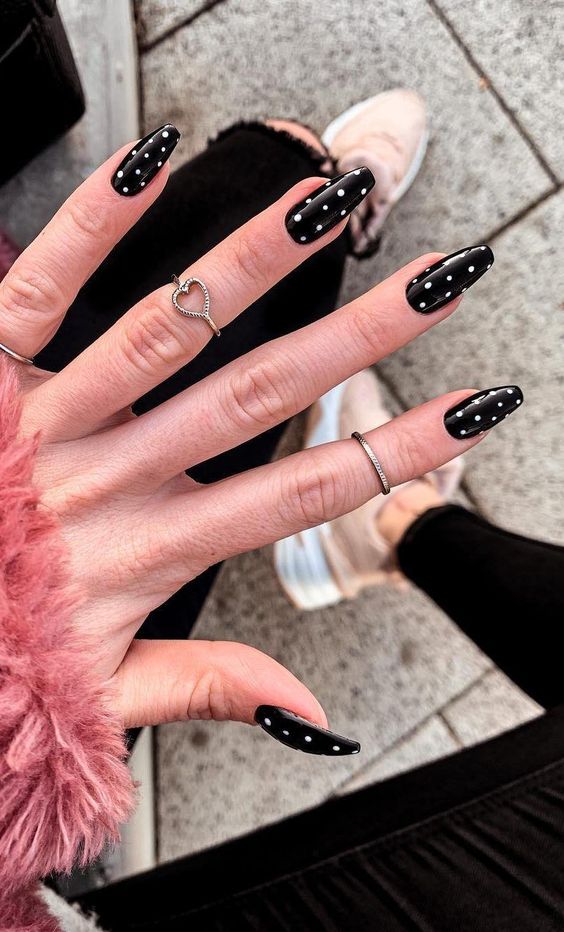 Don't feel like putting anything spooky on your nails this Halloween? That's alright! You can just simply do something simple and classy like these polka dot patterns!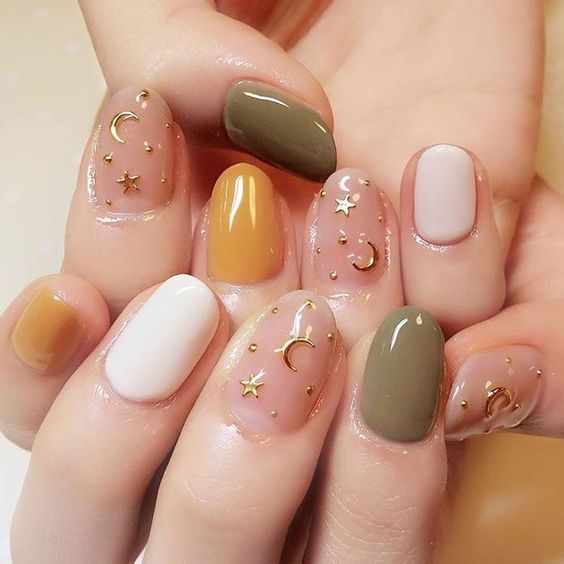 When it comes to celestial themes, these nails are my favorite! I just love the incorporation of fall colors onto each nail as well as those dainty celestial embellishments.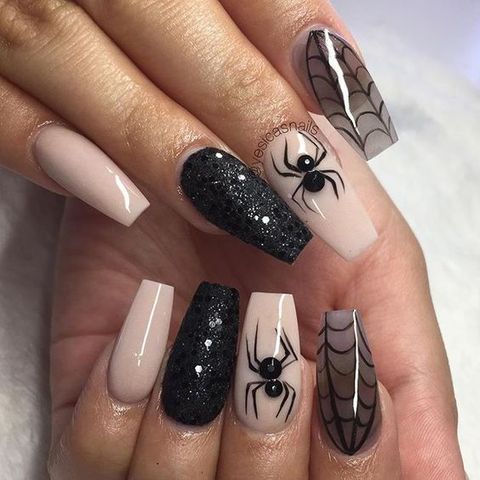 Who knew these creepy crawlies could look so glam when you pair them with glittery nail art? So even if you're attending a formal Halloween event, these nails would be perfect!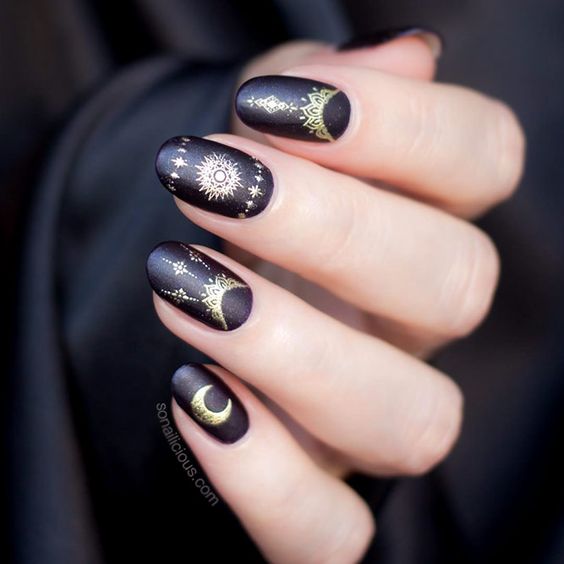 If you want to add a golden touch to your nails, these nails are perfect for you! The black base polish creates a stunning contrast too!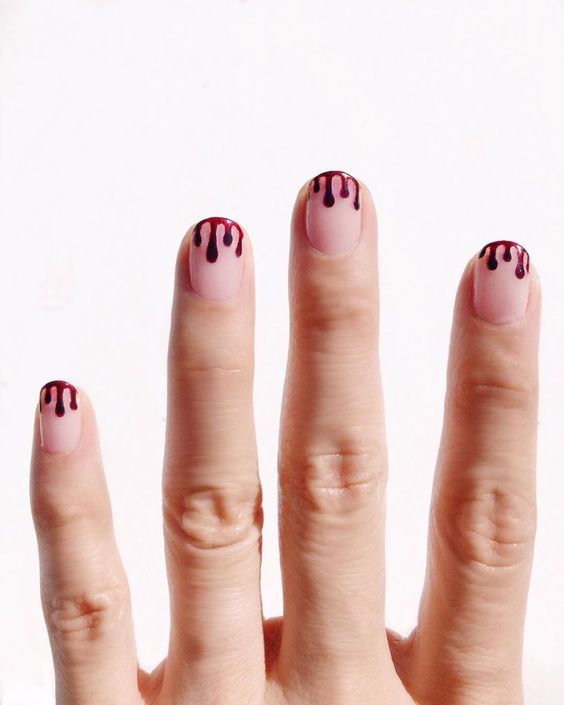 Add a blood twist to your classic French manicure this Halloween season. They're dainty and minimalistic, so you won't have go through a lot of fuss getting these done!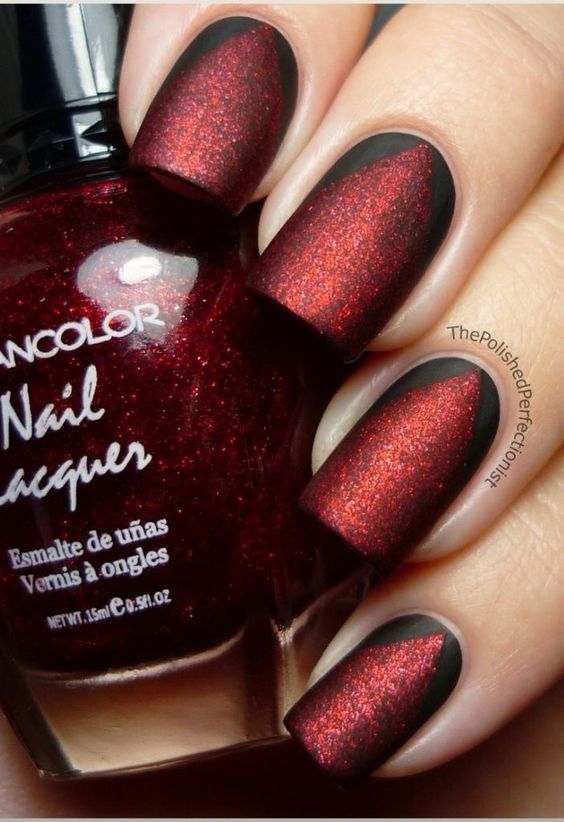 Going for a sultry, vampy set of nails? Then you might just love this one! It has a pretty, simple geometric pattern that's very easy to follow as well!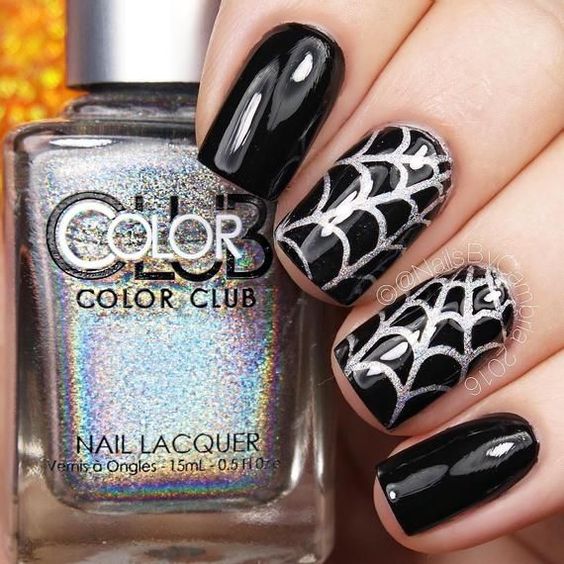 Add some glitters and shimmers to your Halloween nails designs by using glitter polish to outline those spooky cobwebs for your nail art!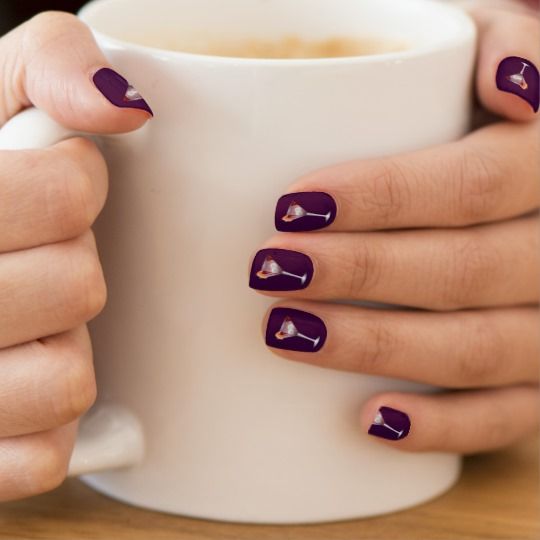 Planning to party all night during the Halloween season? Then why not show your enthusiasm by painting on wine glasses on your nails this fall!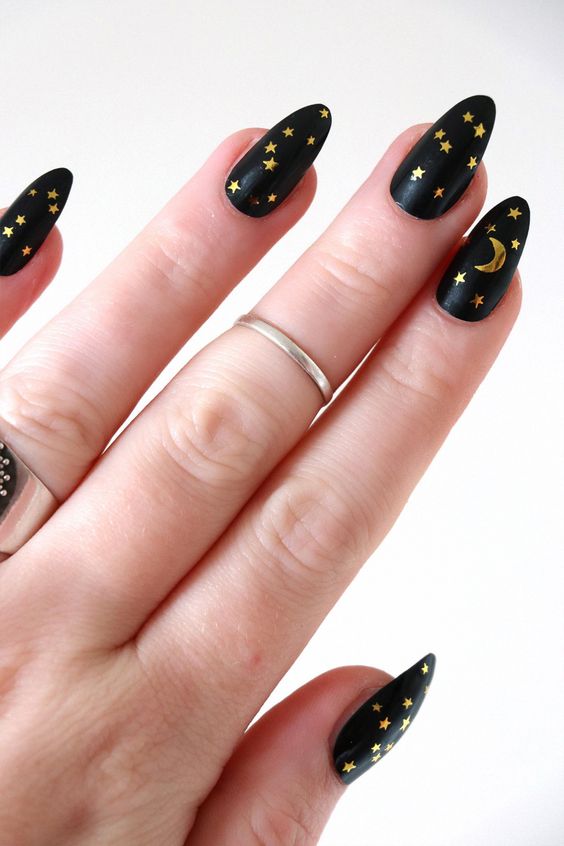 I love how mesmerizing celestial-themed nails are! What's more, you don't have to fuss over being a pro in nail art when it comes to doing these designs. All you need are some cute nail stickers to do the trick!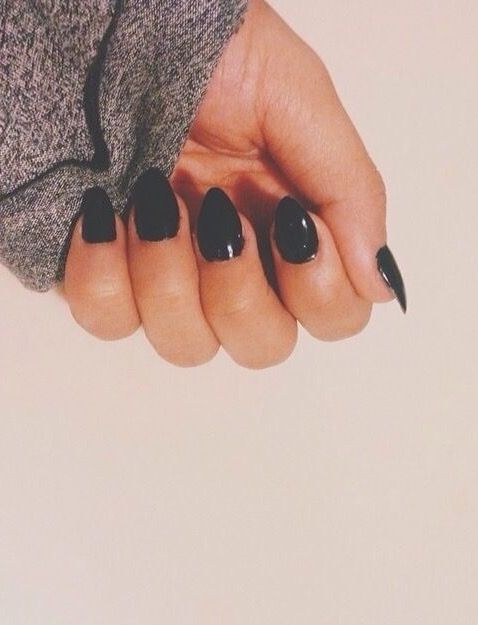 When in doubt, stick with the classics, right? Sometimes, all you really need are a classic black polish to give you that edgy Halloween manicure!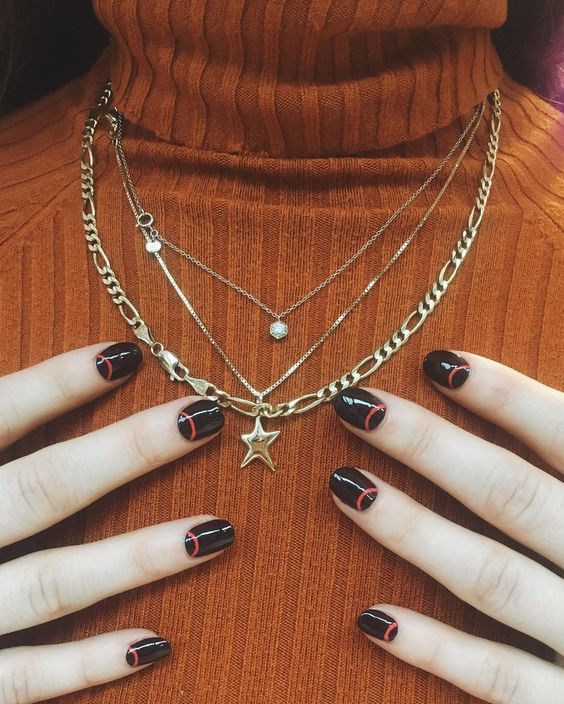 If you're looking for something really simple for your Halloween nails, look no further than this particular manicure! You only need to do a dainty, curved outline that has a contrasting color against your base polish.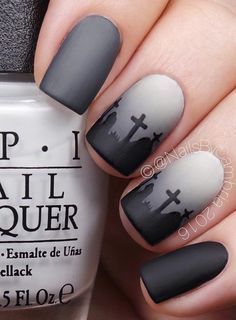 I'm loving this cemetery-themed nail art! It's spooky and utterly haunting! This is great Halloween nail art for anyone who loves the mysterious side of Halloween.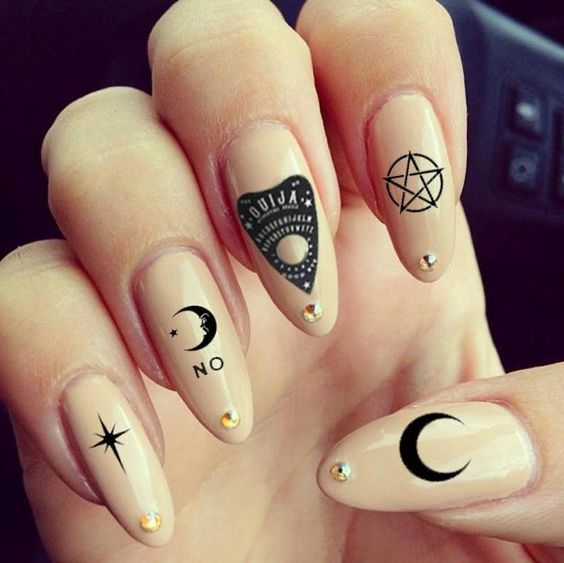 Want even more scary Halloween nails designs? Spook all your friends this Halloween season by doing ouija-themed Halloween nail art as well as occult designs to really make your nails look terrifying!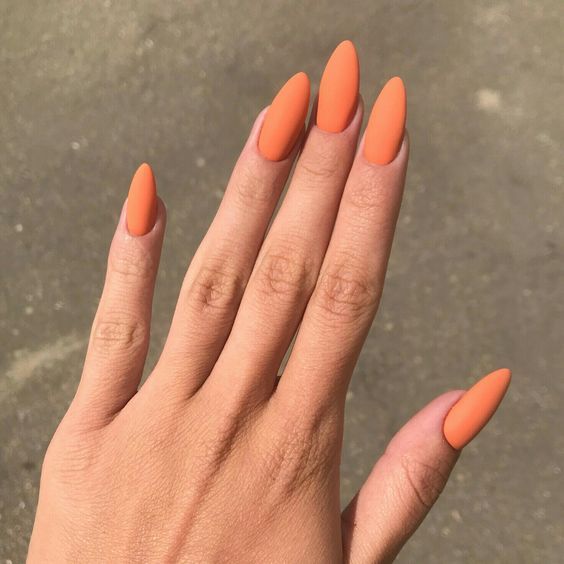 If you're not too keen on nail art, that's okay! You can always just opt for a bright orange color reminiscent of pumpkins to see you through Halloween night!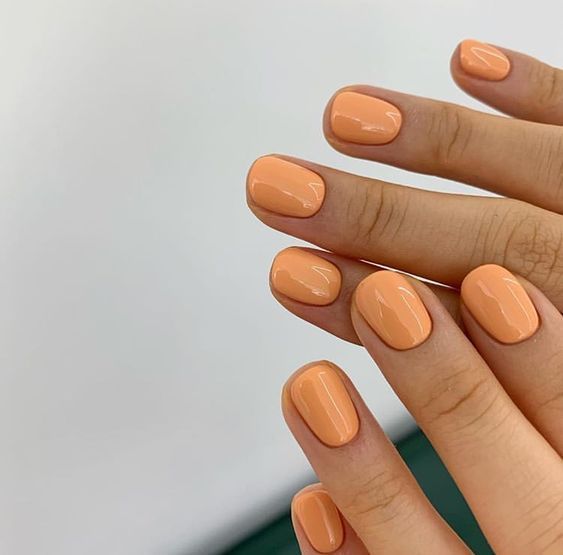 Here's another orange set of nails you can opt for this Halloween. This one has a glossier finish and a lighter tone.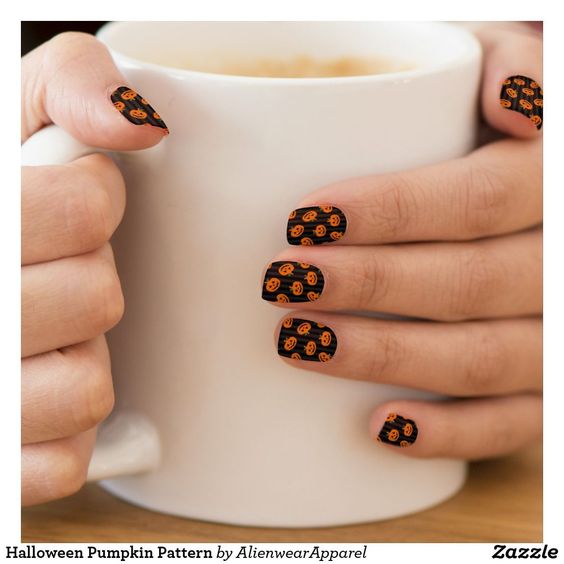 When it comes to nail art, I always see myself as a newbie. So a lot of the time, I opt for nail stickers like this one to give me the nails I need on every occasion.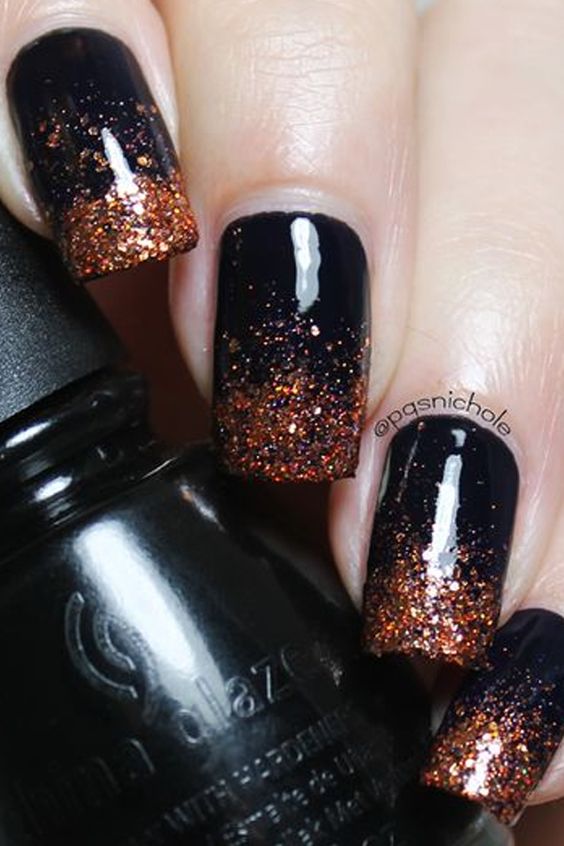 Make your Halloween look a glamorous one by adding some golden shimmers on the tips of your manicure!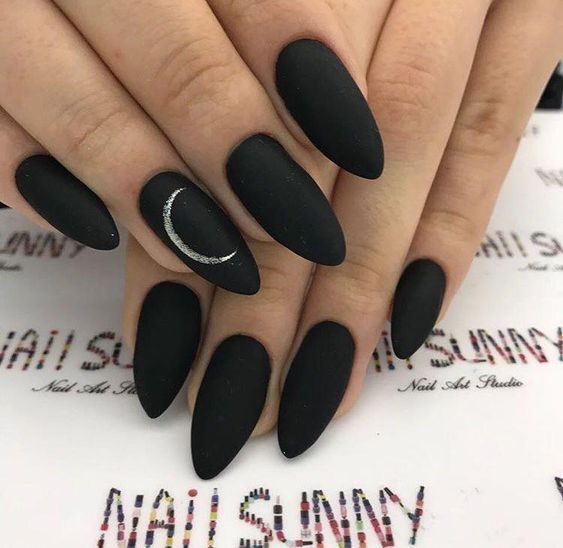 For a more minimalistic yet still bold look on your fingertips, this matte, black polish is your best bet. Add a dainty crescent moon as a finishing touch.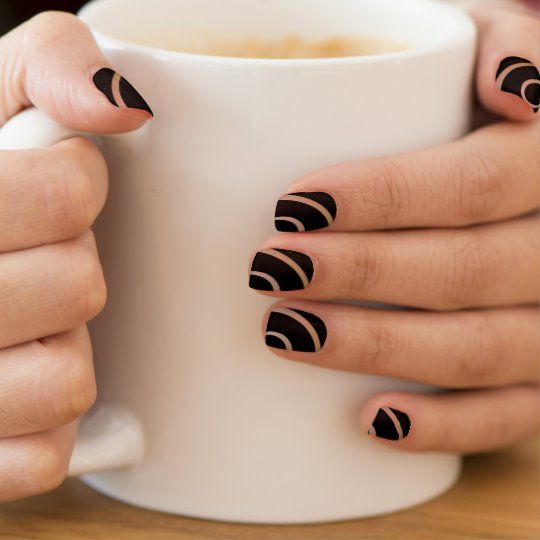 If you're not that confident yet with your linework, you can always take advantage of using negative space to do the work for you!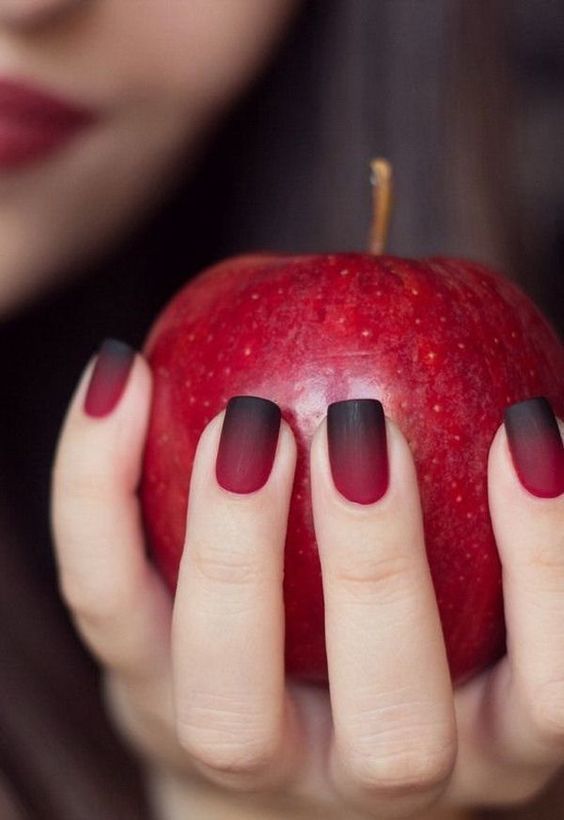 Recreate the poisoned apple look on your nails with a gradient nail design for Halloween night. All you need is a black or a darker red polish paired with a deep, brighter shade of red. This is the perfect Halloween nail art for fairytale lovers.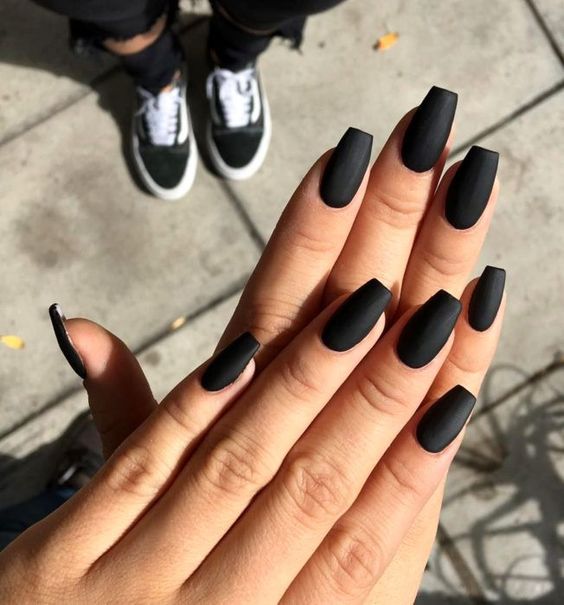 Don't underestimate the power of matte, black nails! They give off just the right amount of edginess and spookiness no matter your Halloween look!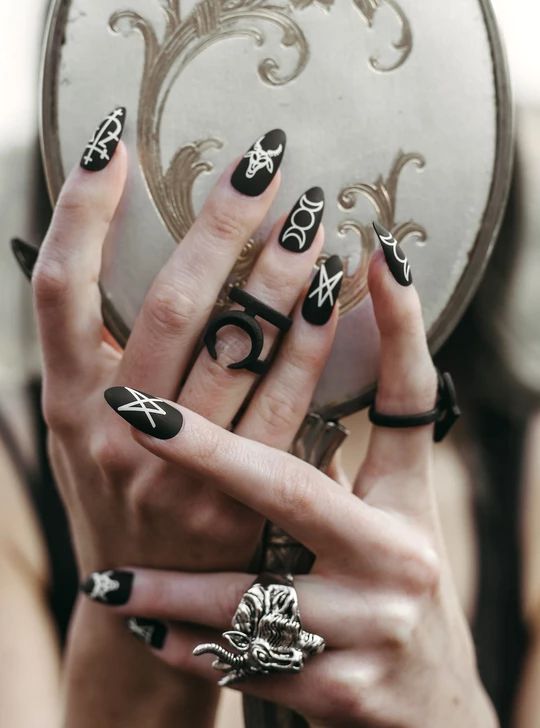 For a unique manicure that's spooky and creepy, why not draw runes on each of your nails? They will certainly elevate your witchy, gothic look to the next level!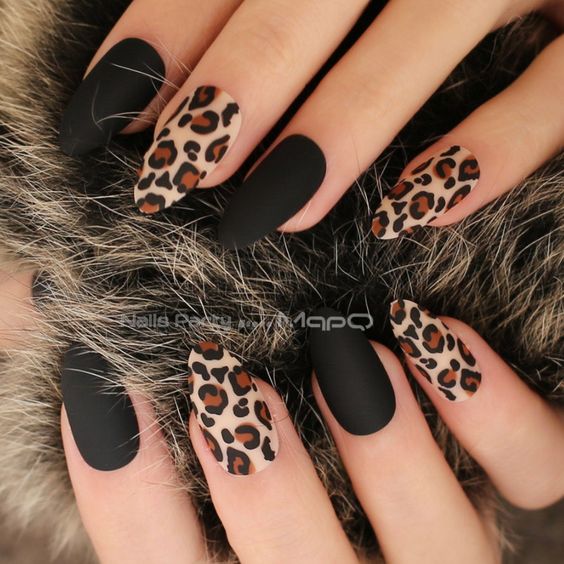 Looking for Halloween nail art that's a bit more subtle? Animal prints are always in style, no matter the season. So if you're going for an animal costume this Halloween, you can pair your nails with its fur or patterns!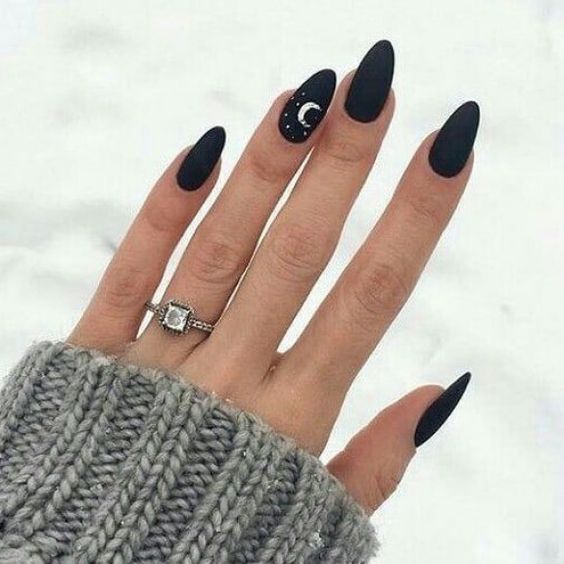 This minimalistic black look is both spooky and chic at the same time. Whether it's Halloween or you simply like this aesthetic, it would fit any season or occasion!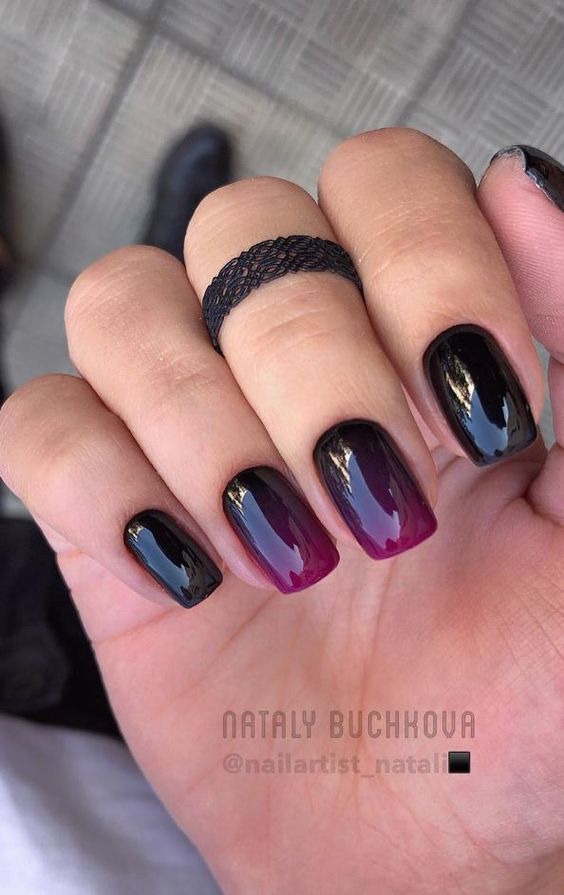 I'm obsessed with the wine undertones of these nails! They also have that jelly-like effect that's really trendy right now.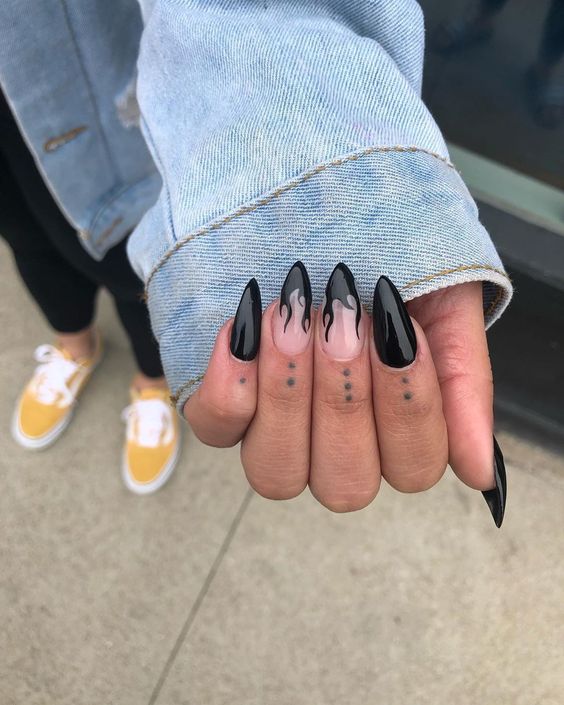 Add a fiery yet stylish touch to your Halloween manicure by recreating these black flames on your nails. It looks so edgy and punk!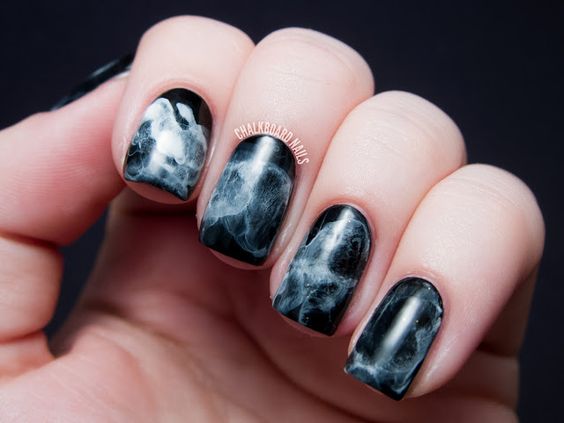 These smoky patterns really give off that haunting vibe that's perfect for Halloween!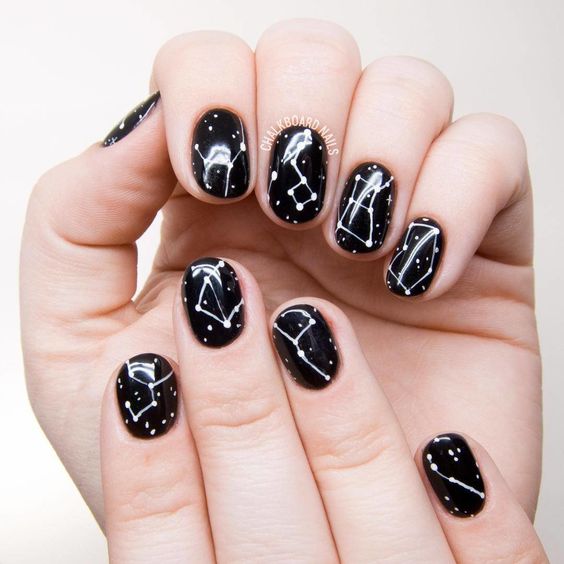 Looking for Halloween nail art with an astrology twist? Put the stars within your reach by painting on constellations on every fingernail you have. They look so gorgeous and ethereal to look at!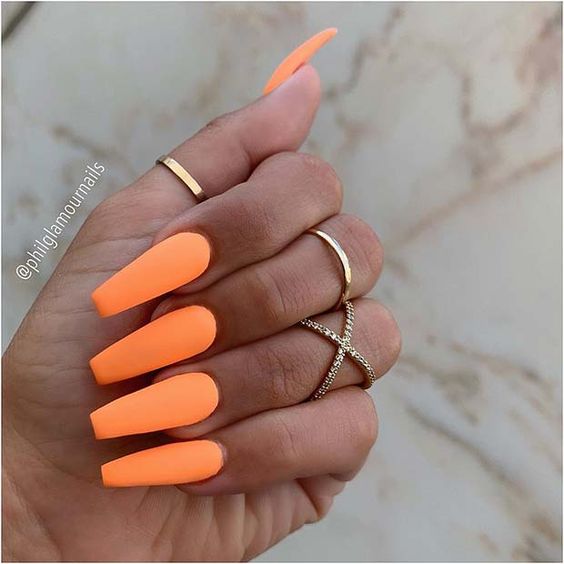 Even with just a simple, single polish, you can still slay Halloween night! These bright orange hues are sure to catch everyone's attention!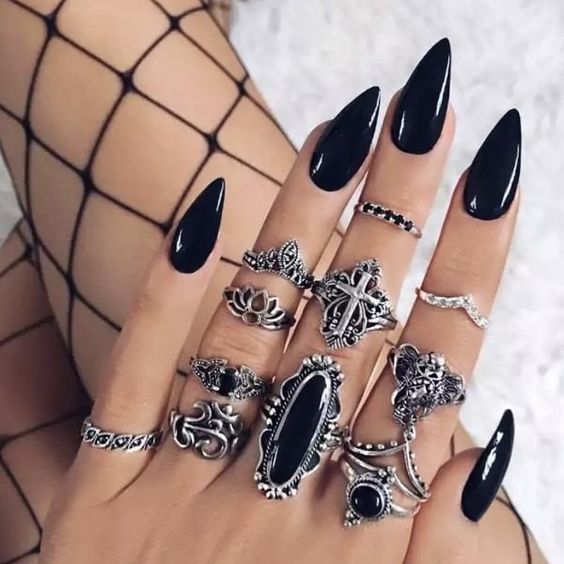 You can always accessorize your black nails with embellished, ornate rings to elevate your Halloween costume!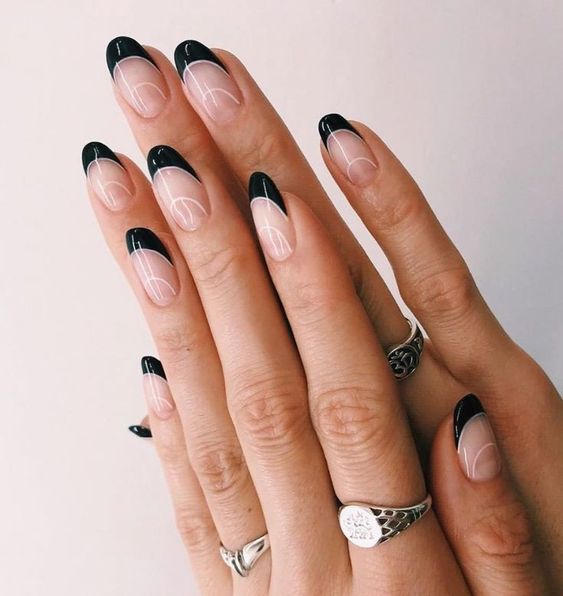 A black French manicure is such a classy look on anyone. If you're wanting to look sophisticated this Halloween season, you can't go wrong with this Halloween nail art.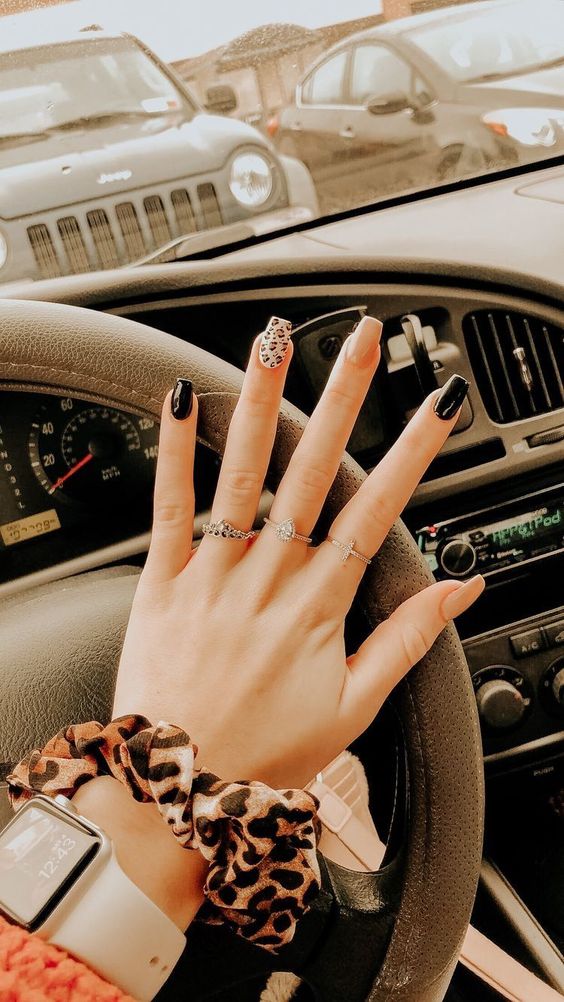 Can't decide on a single design for your Halloween nails? Then why not try out different designs on each fingertip?
Where To Buy Press-On Halloween Nails Designs:
Looking to get super cool Halloween nail art without a lot of trouble? Press on Halloween nails designs are the way to go.
If you're looking to buy press on Halloween nails, there are many options available both in-store and online. One of the most convenient places to find press on nails is at your local drugstore. Chains like CVS and Walgreens typically carry a variety of Halloween-themed press on nails, ranging from simple designs to more intricate styles. These stores often offer affordable prices and frequent sales, making them a great option for those on a budget.
If you prefer to shop online, marketplaces like Amazon and Etsy offer a huge selection of press on Halloween nails from a variety of sellers. These platforms allow you to browse through thousands of designs, read reviews from other customers, and compare prices to find the best deal. You can also find a wide selection of press on Halloween nails on the websites of specialty nail companies like Kiss and imPRESS, which offer high-quality products and a range of designs.
Halloween nail designs and Halloween nail art are a fun and creative way to celebrate the spooky season. Whether you prefer a subtle nod to the holiday or a bold and intricate design, there are endless possibilities for Halloween nails. With the 50+ best Halloween nails designs we've rounded up, you're sure to find inspiration for your next manicure. And with these top Halloween nails 2023 just around the corner, there's no better time to start planning your perfect spooky nails. So grab your favorite nail polish and let your creativity run wild!