Looking for gorgeous, scary, or easy Halloween makeup ideas? We're sharing the top Halloween makeup looks for 2022 that are super hot right now!
It's almost Halloween season! I love everything Halloween, from the candy to the costumes to the haunted houses. Kids and adults alike actually get to be someone else for Halloween, and it's literally so much fun. It's a great excuse for adults to use face paint and dress up, something we don't get to do the rest of the year.
There's no way around it: Halloween stresses me out. In the name of fabulous Halloween makeup, I feel pressured to at least decorate my face with glitter, paint, liner, or bedazzlers, which is what I did last year.
Halloween is the one time of year when wacky, wild, never-before-seen makeup looks can be achieved without anyone batting an eye. It's the one time of the year you can go totally wild with contact lenses, glitter, fake blood, and just about anything else. Seriously: when it comes to Halloween makeup, everything goes.
Halloween makeup is really trendy right now! Any cute or pretty costume will definitely incorporate some type of makeup, whether you want simple and easy Halloween makeup or are looking for more complicated Halloween makeup ideas.
Top Halloween Makeup Ideas:
Today, we're sharing our favorite easy Halloween makeup ideas that are trending in 2022! Browse through and see what you like.
Galaxy Makeup: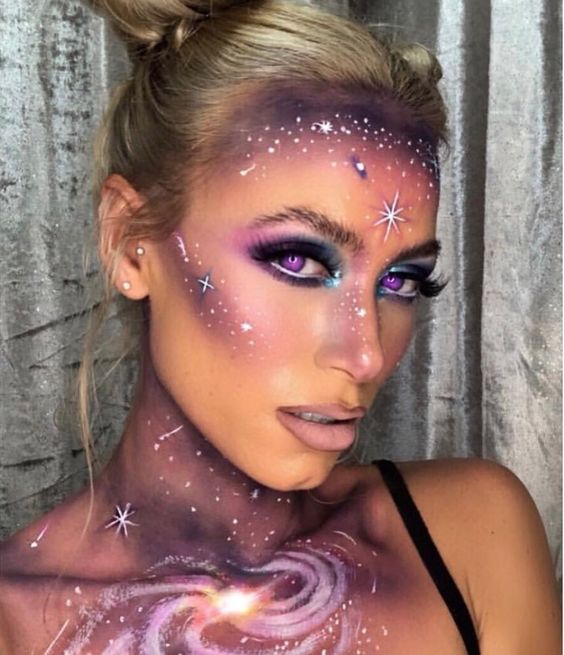 The galaxy costume is still super popular, but galaxy Halloween makeup is more complicated than ever this year.
Corpse Zombie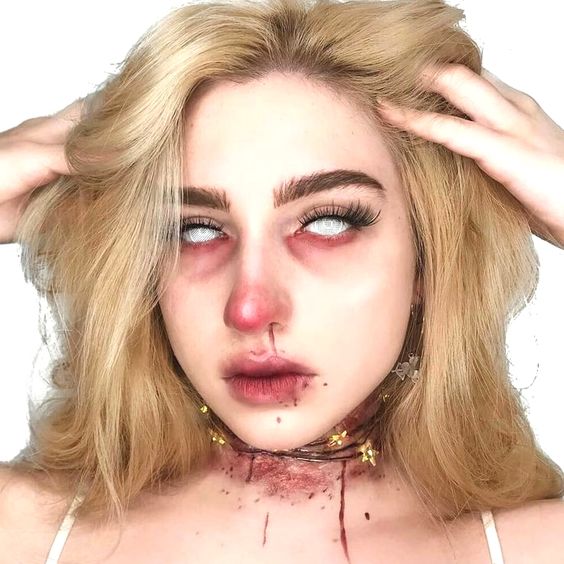 If you're looking for more realistic Halloween makeup ideas, this zombie might be right up your alley. Plus, it's super easy to accomplish.
Pagan Zombie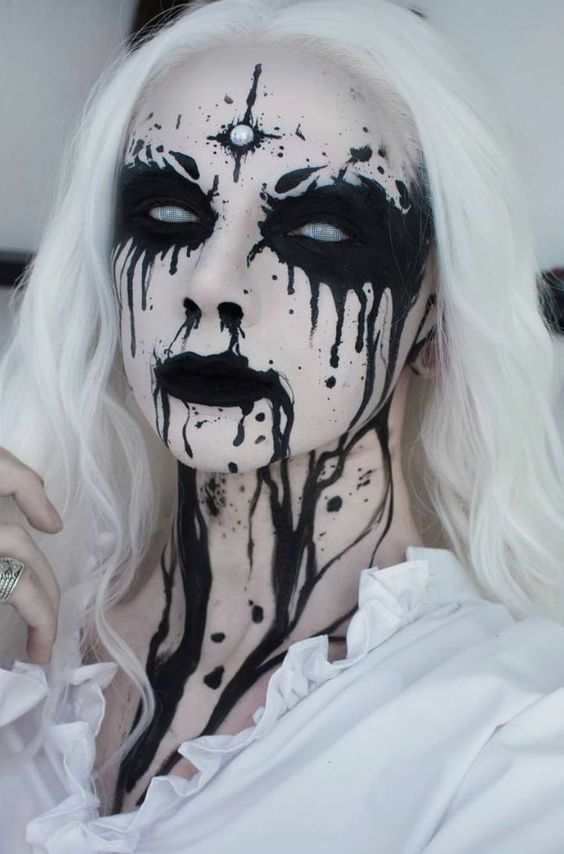 Want something a little scarier? This could be your drift. Make sure to practice this look ahead of time!
The Future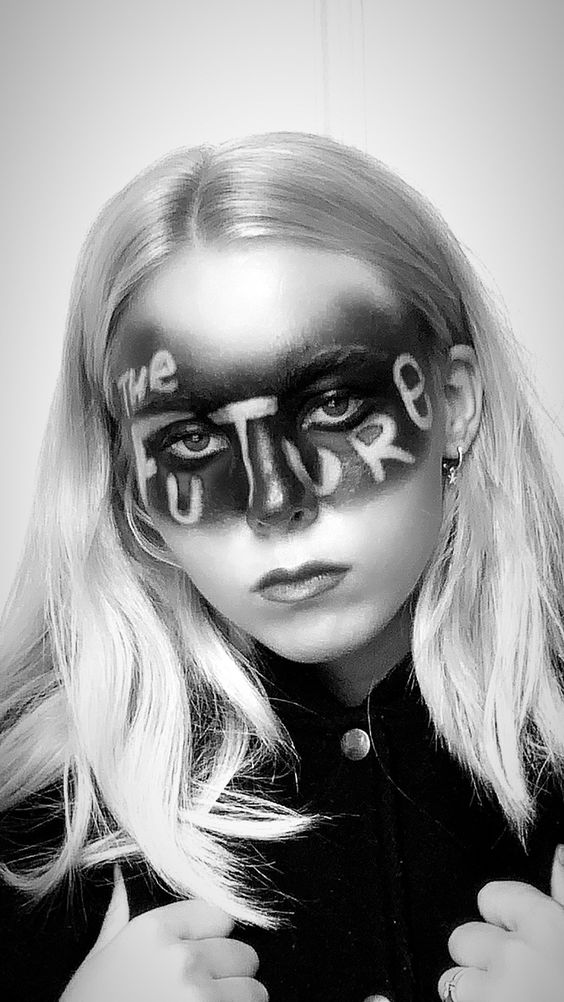 So we all know that the whole doomsday futuristic thing is popular right now, making this one of the trendiest and easy Halloween makeup ideas for 2022.
Devil Zombie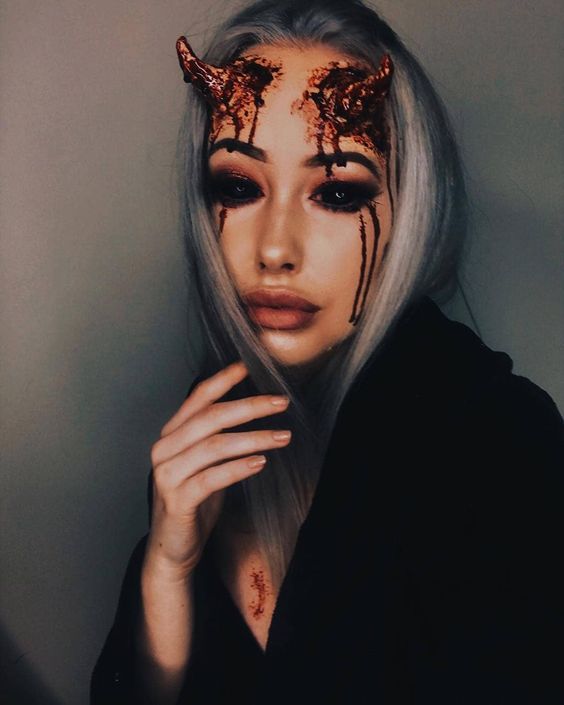 This is another one of our favorite scary and easy Halloween makeup ideas.
Scary Pumpkin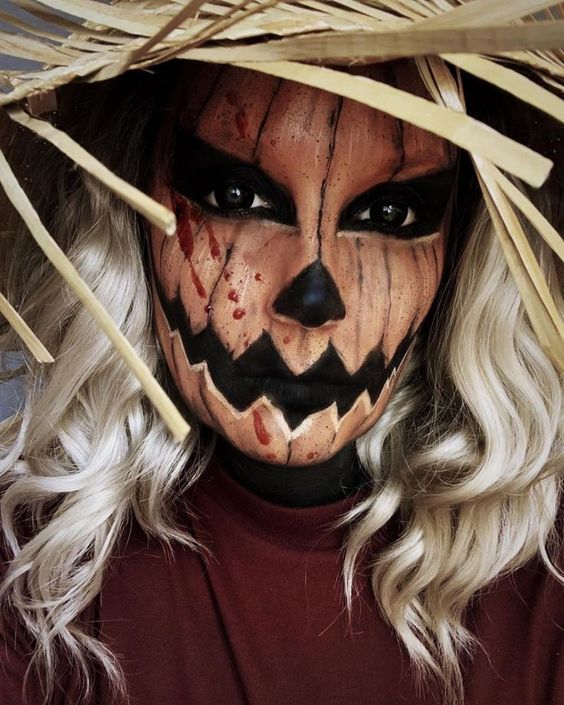 Want to go with a creative spin on a classic look? Try the Halloween pumpkin.
Ancient Witch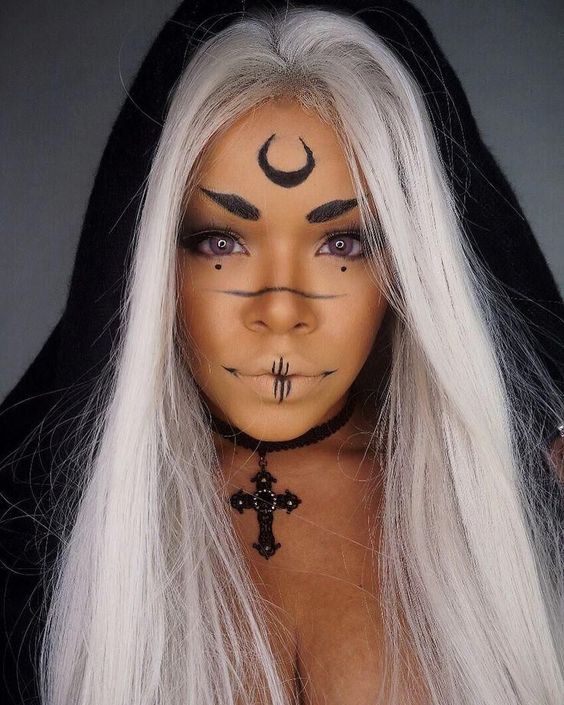 I'm really loving the more ancient, pagan witch Halloween makeup ideas and this is one of my favorites!
Little Red Riding Hood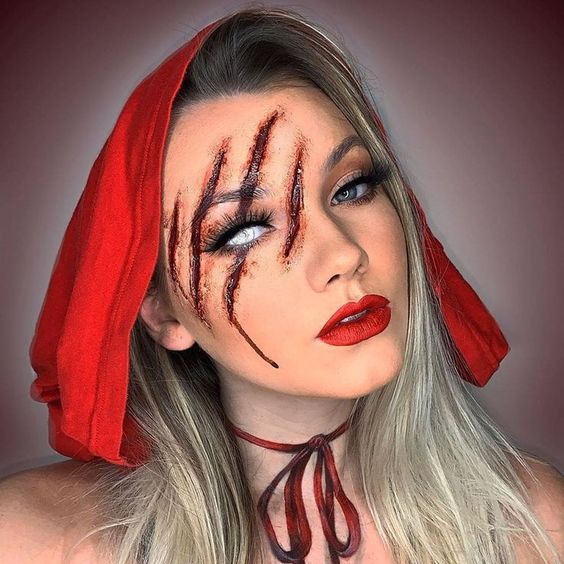 Go all out with the Little Red Riding costume complete with Halloween makeup.
Norse Viking Warrior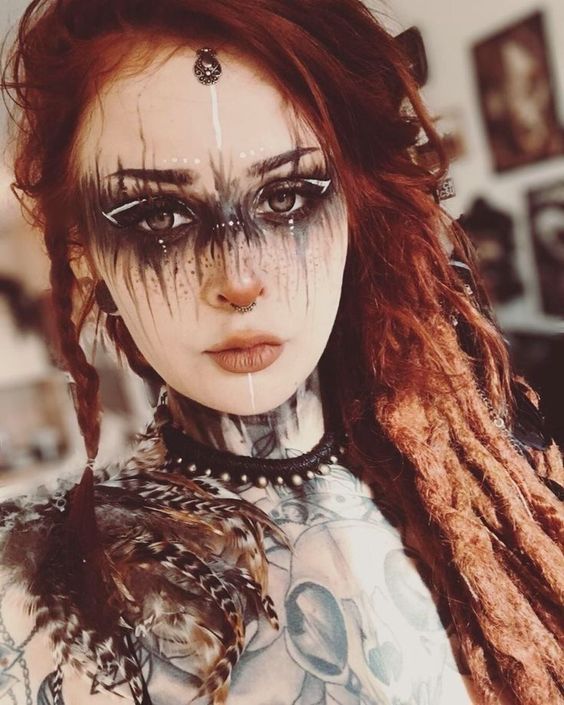 Norse Viking Warrior (2)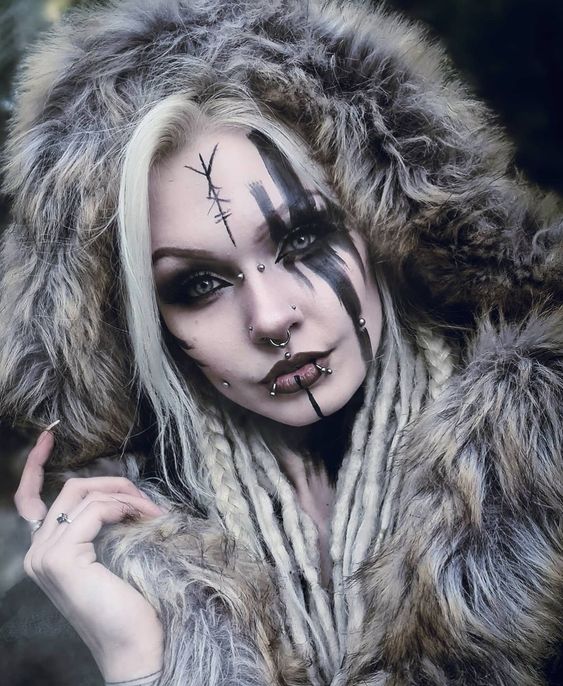 Dia de Los Muertos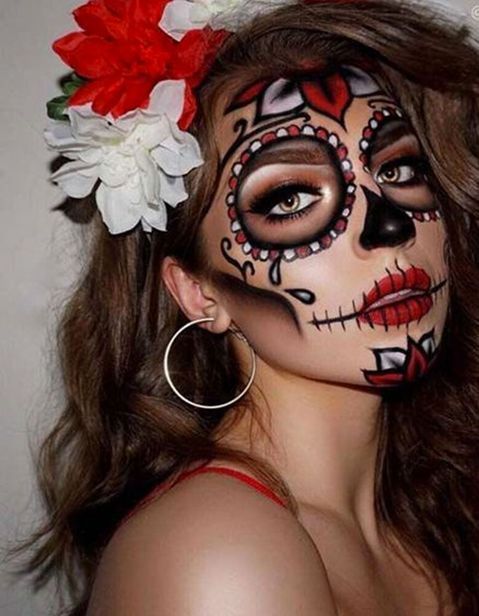 Voodoo Doll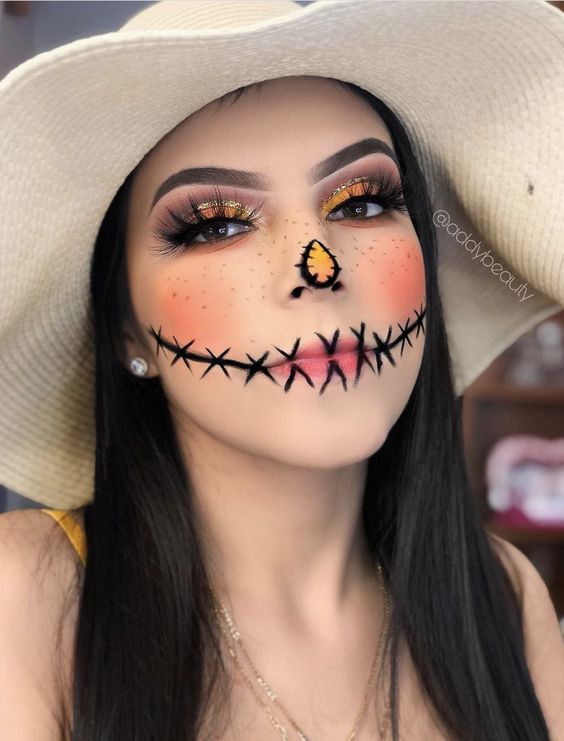 Cruella de Ville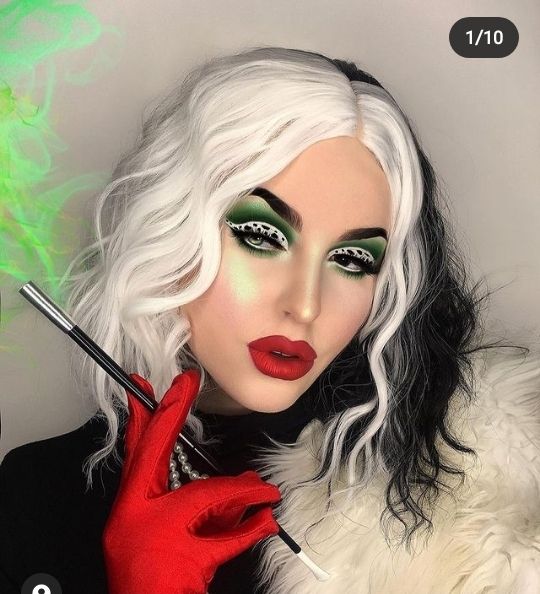 Two-Faced Clown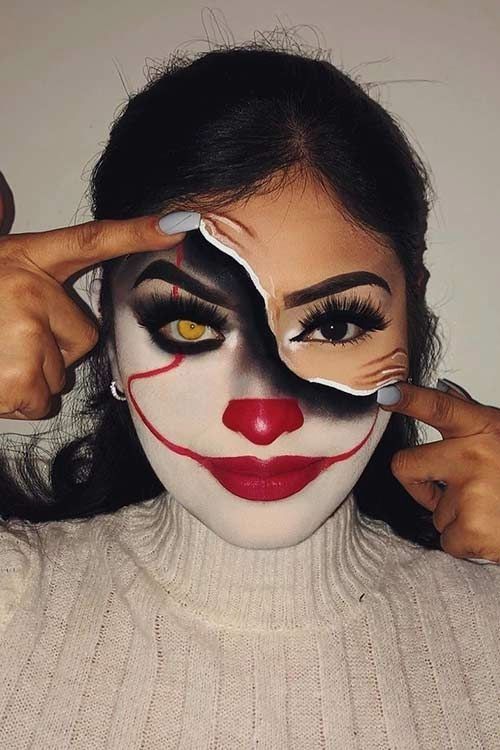 Scary Scarecrow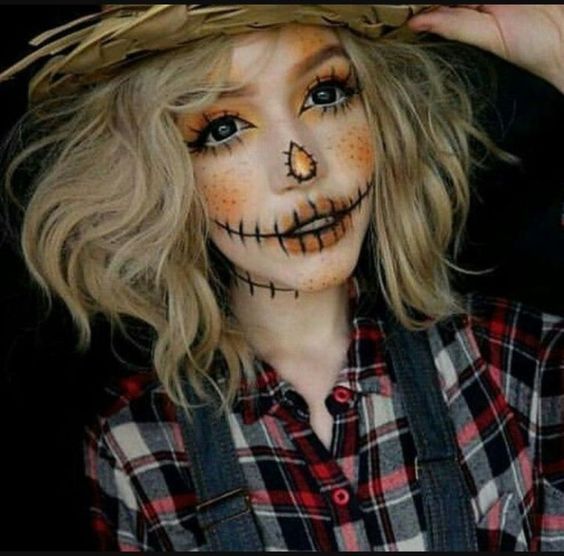 Pagan Being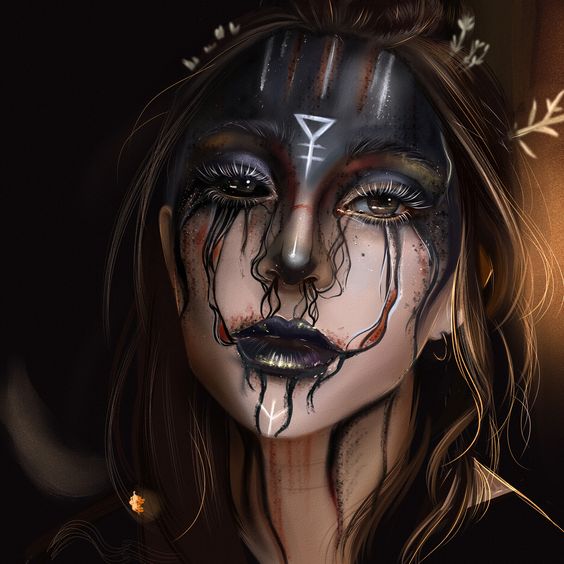 Demon From Hell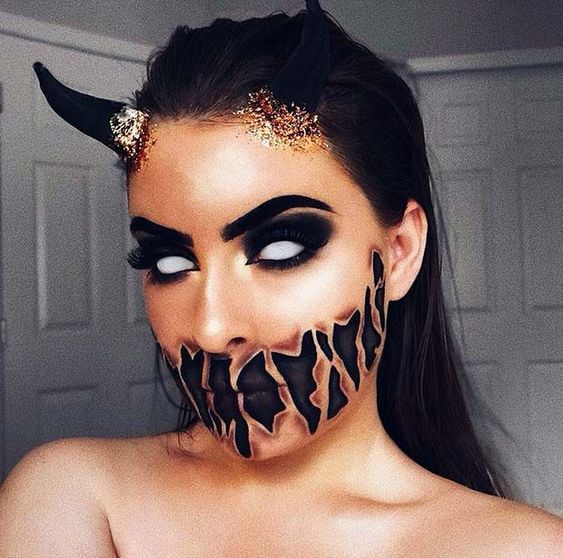 Sorceress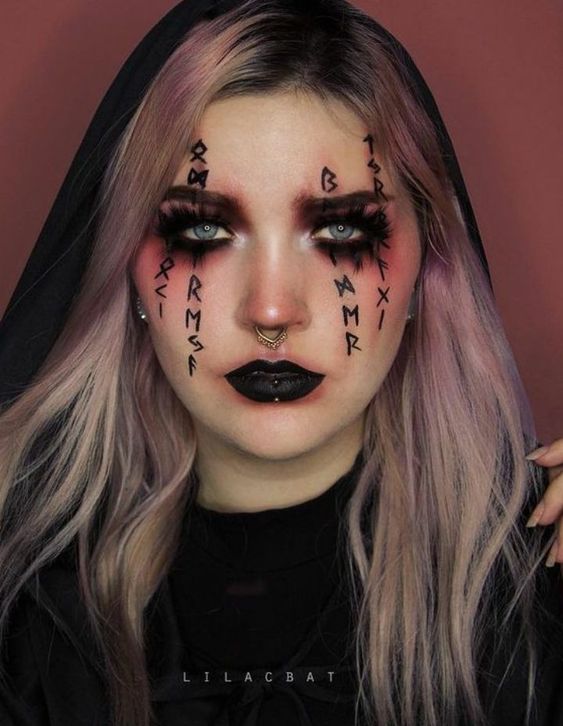 Butterfly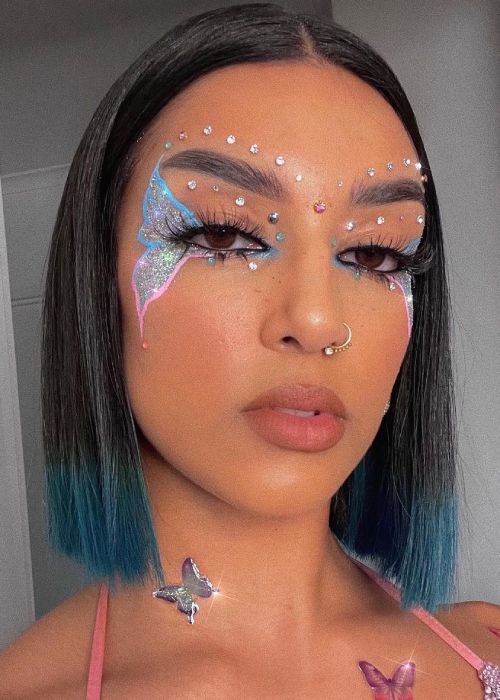 If you're looking for easy Halloween makeup then this could be for you. Plus, butterflies are so trendy in 2022 so we predict this will be a hot costume!
Undead Galaxy
Pagan Goddess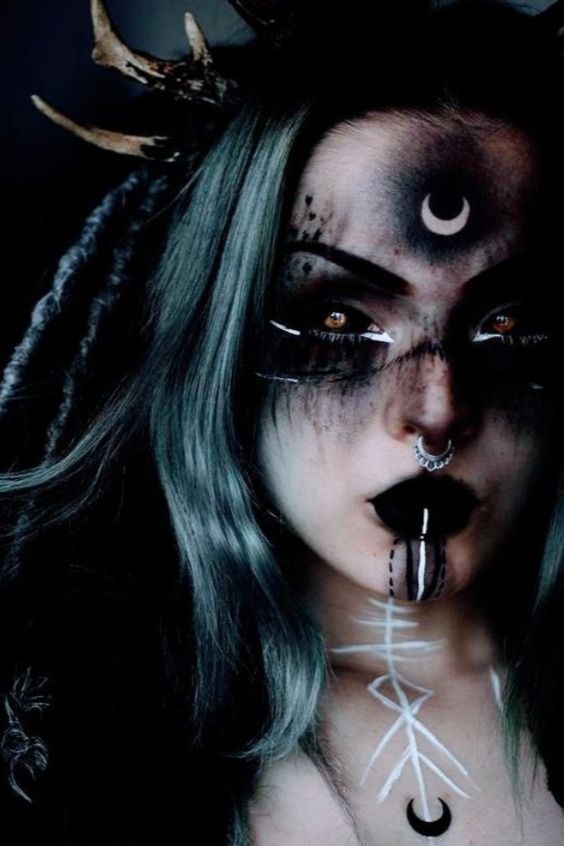 Zipper Girl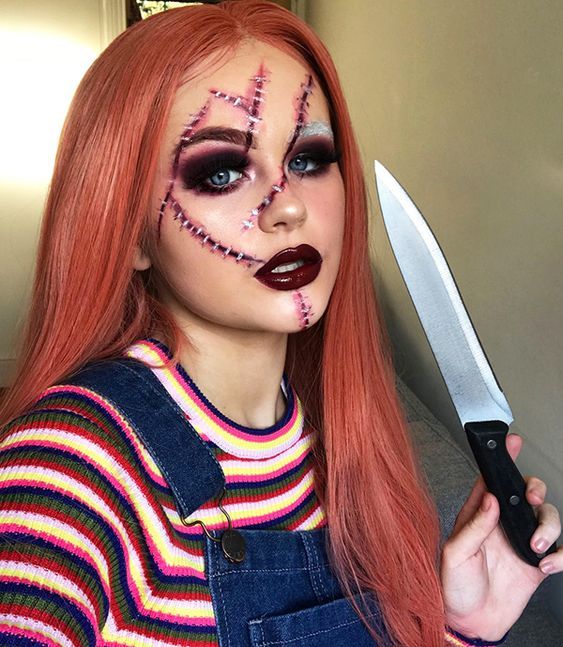 Ritual Sacrifice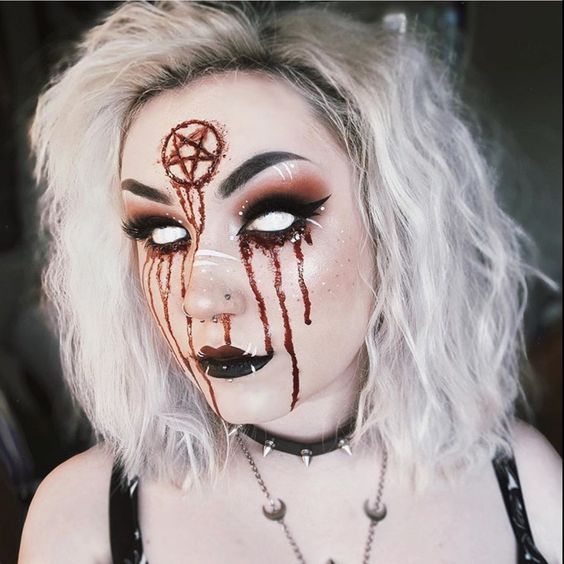 Gorgeous Zombie Mummy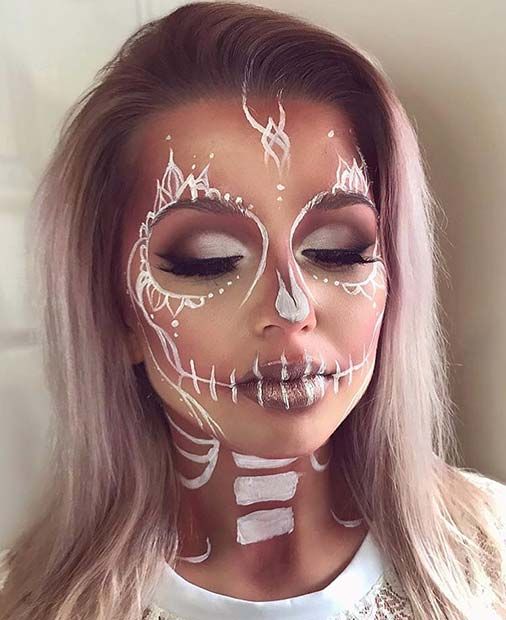 The Classic Undead Look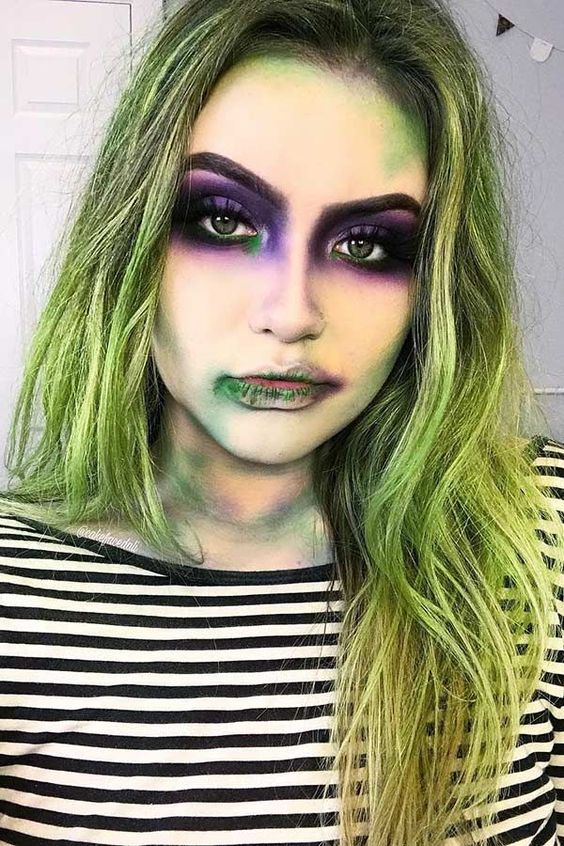 Gypsy Witch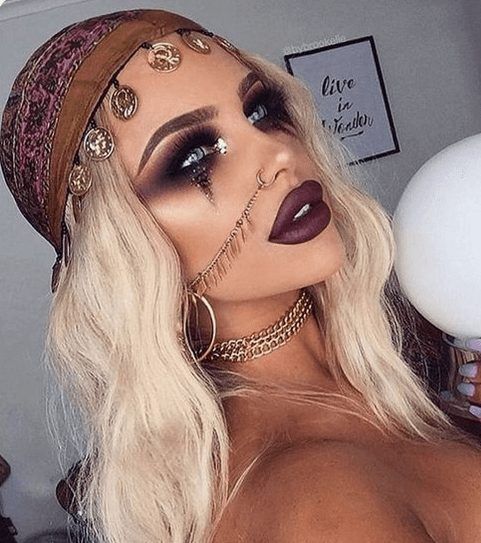 Broken Mirror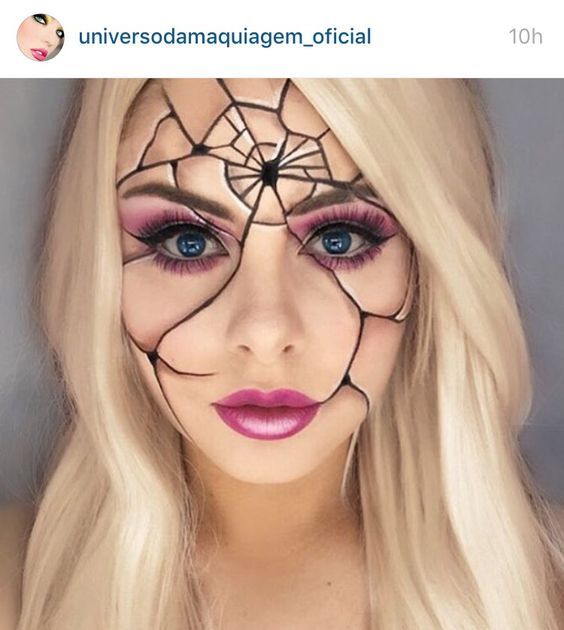 Cruella Dalmation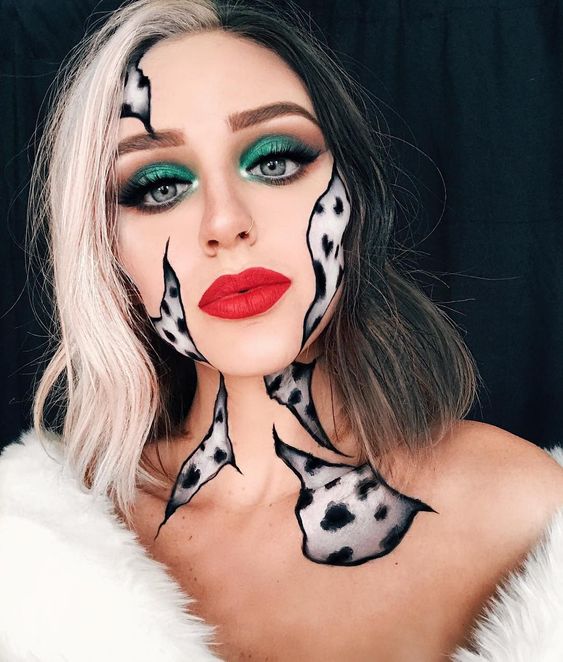 Frankenstein Girl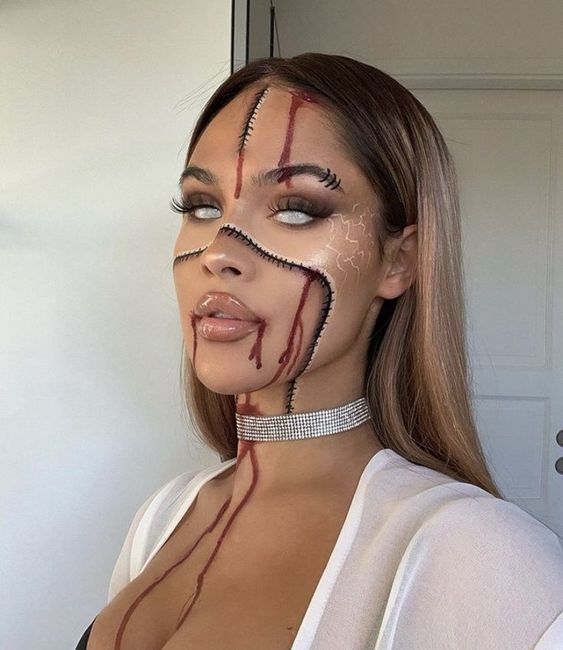 Medusa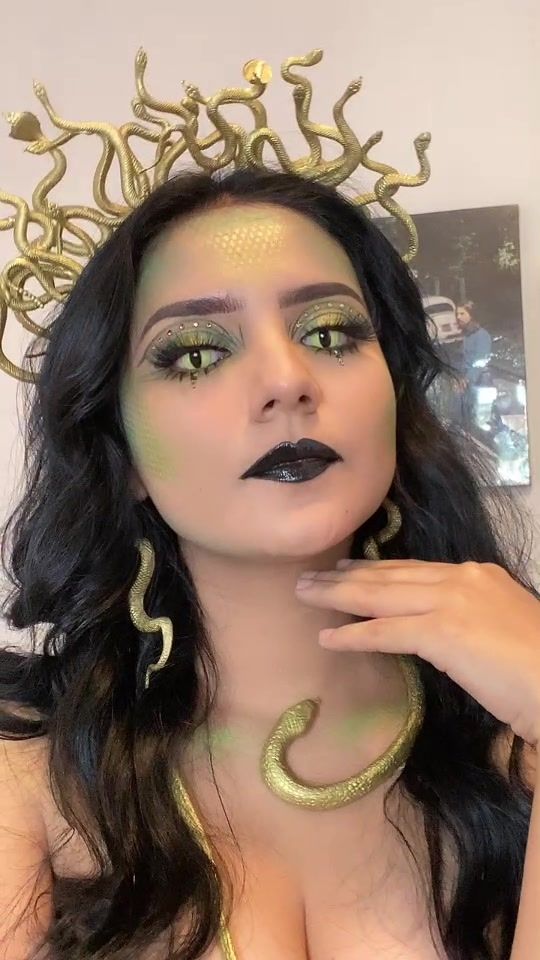 A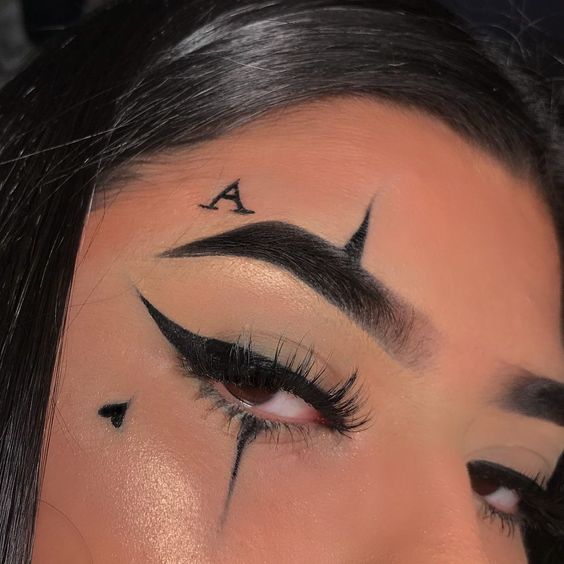 Frankenstein Girl (2)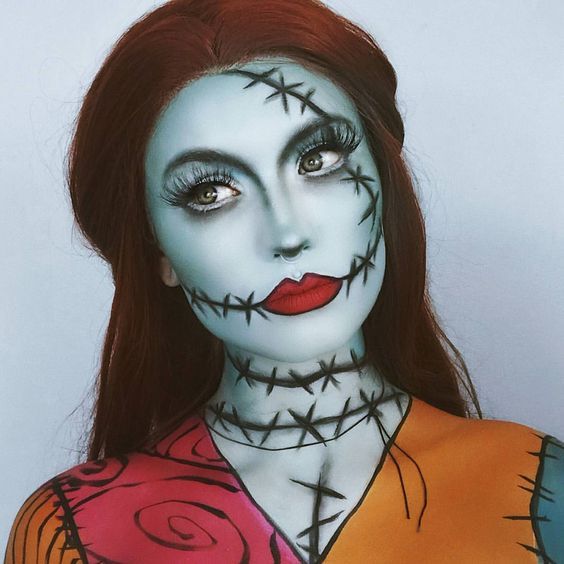 Skeleton Girl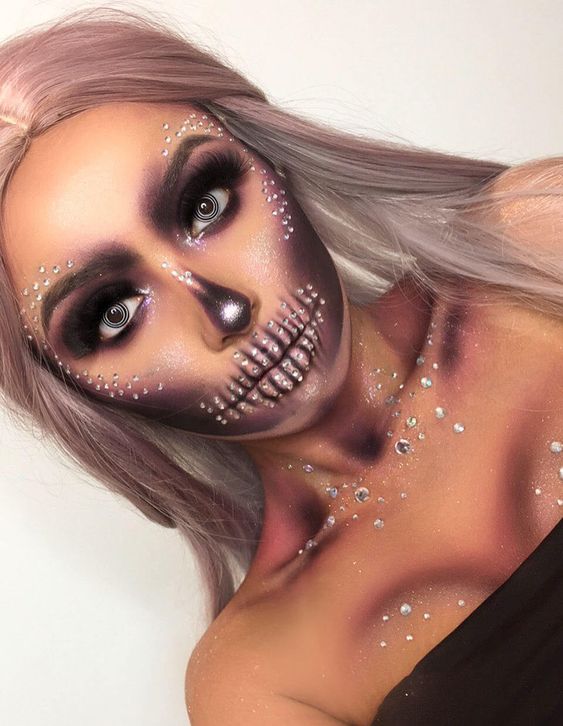 Creepy Doll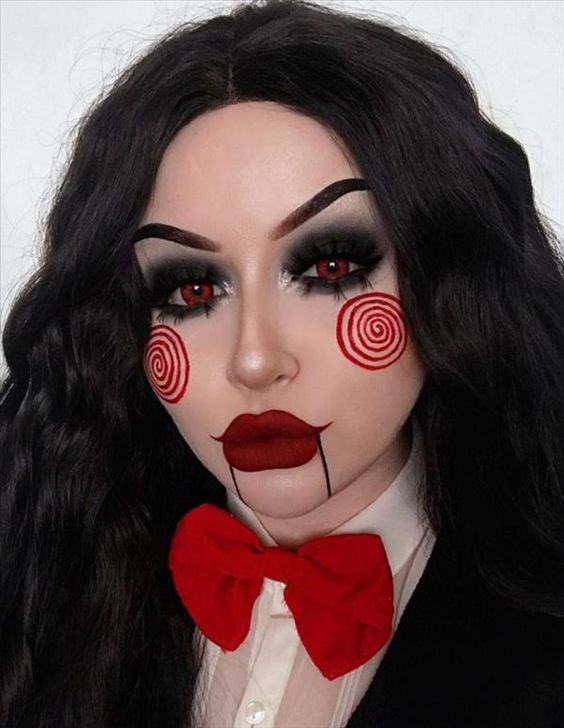 Half Dead Butterfly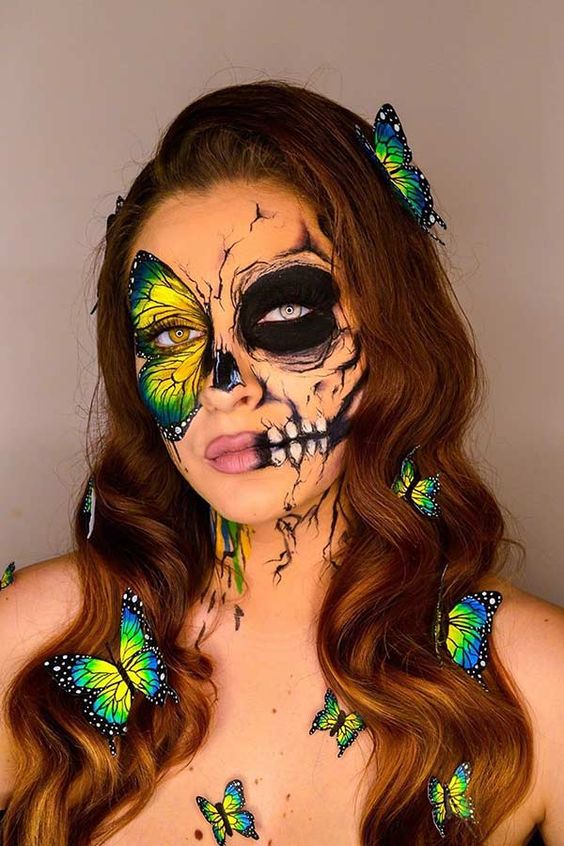 Space Girl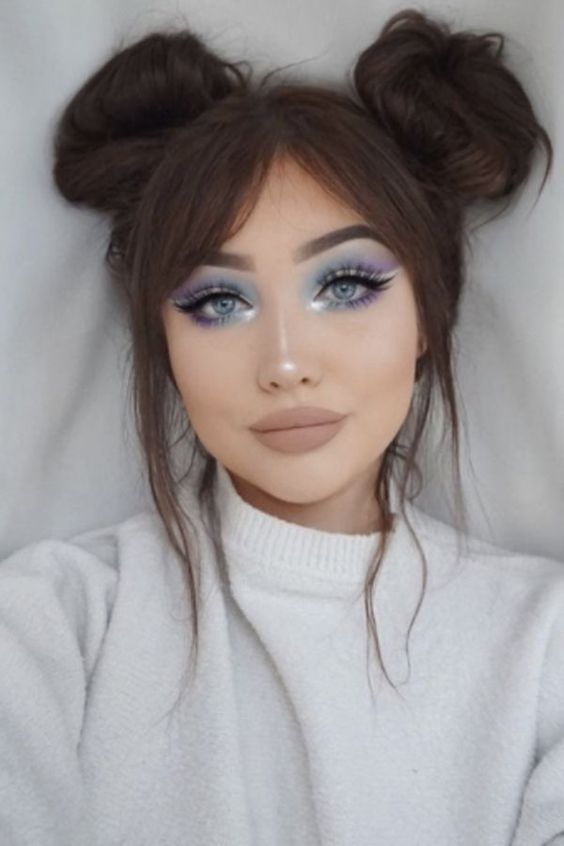 This look is so cute and easy! For any low-key Halloween party, you can easy throw on a cozy sweatshirt and be a simple alien.
You'll need to do two high buns (this Youtube tutorial is great) then do regular makeup (with heavy contouring) before trying these space-inspired eyes.
This space eye makeup kit is great to help you achieve it!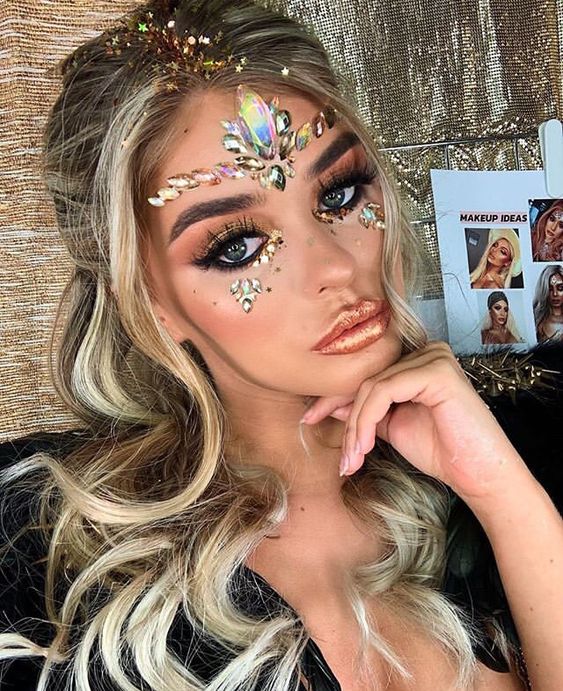 This is a really pretty look that could apply to a lot of costumes! It's also easy to do.
Start with a thick layer of nighttime makeup and gold, shimmery lips, then use body glue to apply these gems. There's some great options for body gems on Amazon.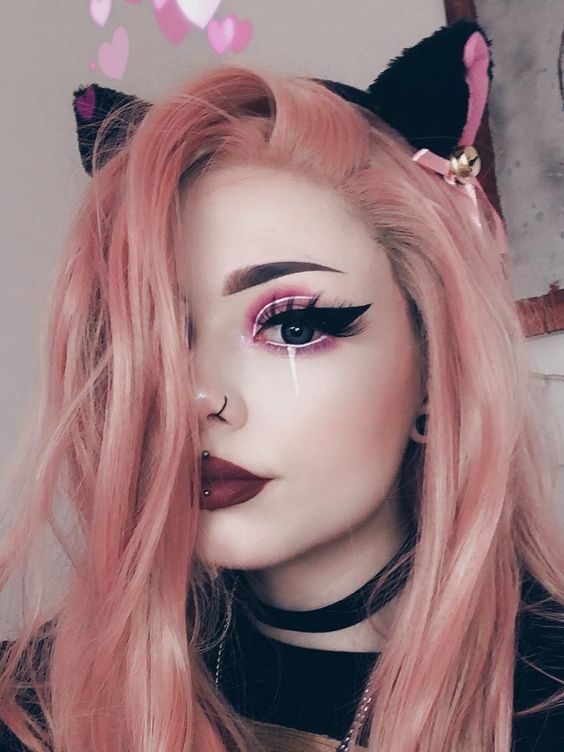 This look is super cute in a goth/emo type of way. It consists of a lot of super dramatic eye makeup (she definitely wears fake lashes) and some awesome pink hair.
You could either use temporary dye or don a pink wig for the night.
You'll also want to make your foundation super pale. There are lots of face paints for this is you can't achieve it with foundation alone.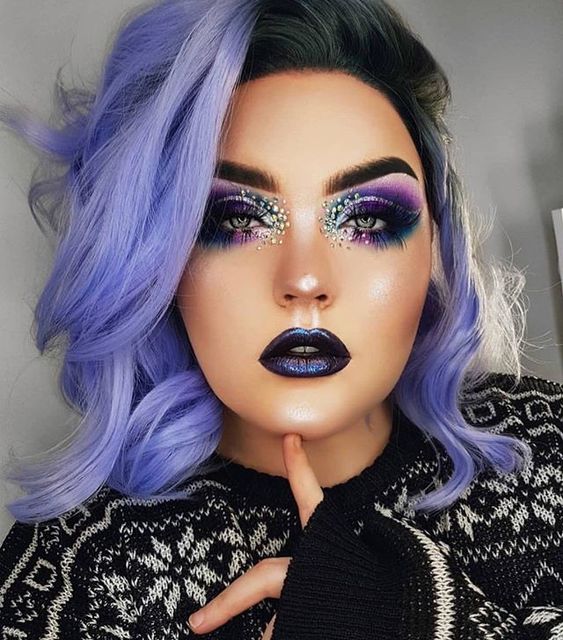 This is another colored hair look that's really gorgeous. It's easy to achieve with face gems (there's tons on Amazon) and bright eye makeup.
I love these general Halloween looks because you can pair them with simple clothes, or jeans, booties, and a cute top, and stay simple and comfortable for the night.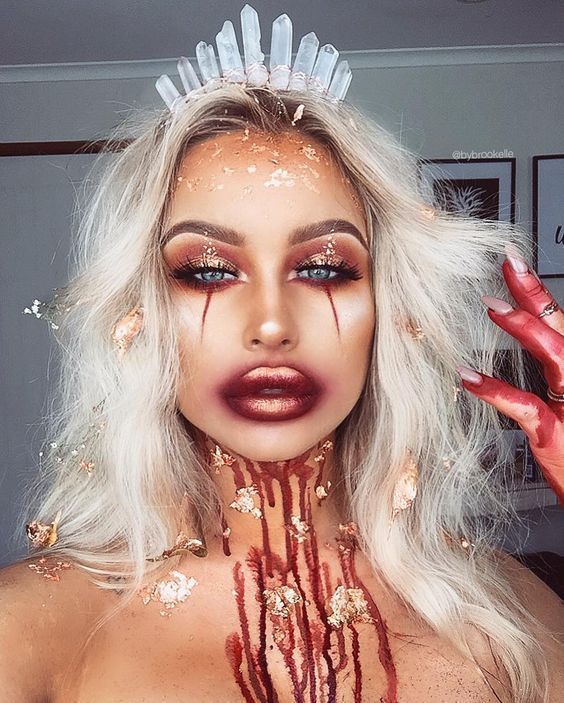 This look is a little more involved, and can go with a variety of outfits, from something simple/regular clothing to a zombie.
Two separate kits (this one and this one) are great places to start if you're trying to achieve this bloody look. I also recommend doing extreme makeup before applying costume makeup (with lots of contour).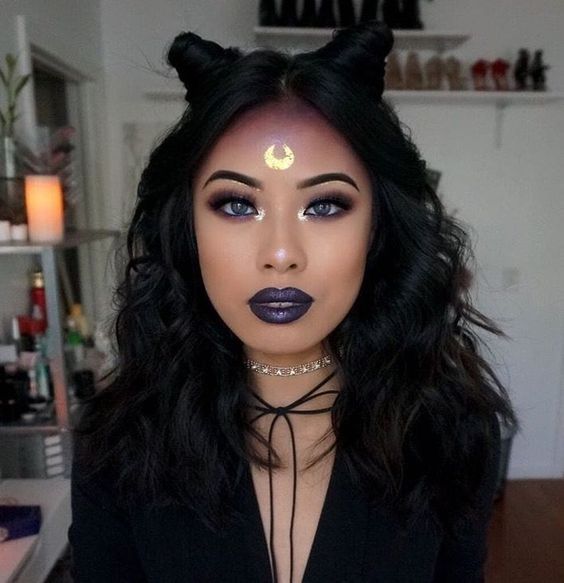 This look is awesome because it's witchy and very Halloween themed, but it can be paired with clothes you already own. A cute black top and jeans or a black dress will work well, especially if paired with a choker.
For makeup, apply typical foundation, heavy contour, dark purple and black eye makeup, and blue/black lipstick. You can also get some simple gold face paint or a stamp to apply the gold marking.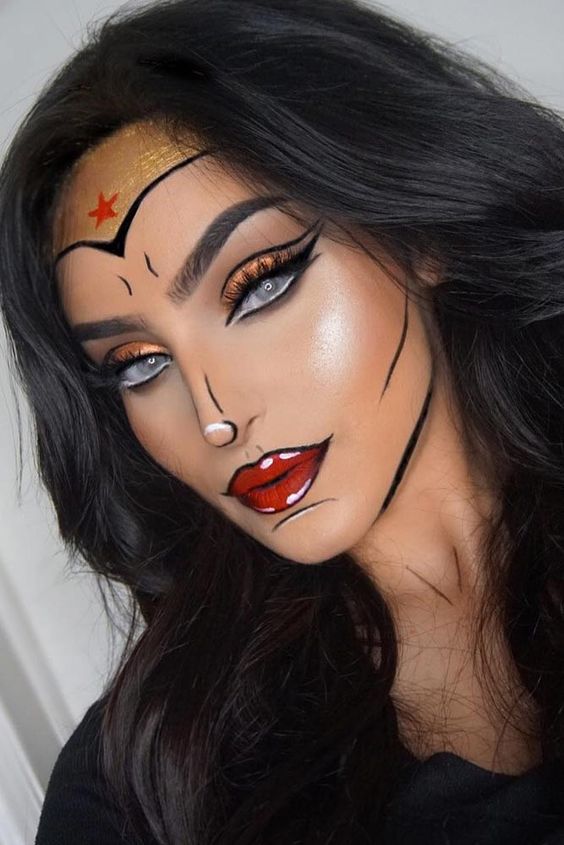 This makeup look is a bit more involved, but the end result is totally worth it. It can be paired with as many Wonder Woman outfit pieces (or as few) as you'd like!
This YouTube tutorial is definitely the best if you're wanting the cartoon look.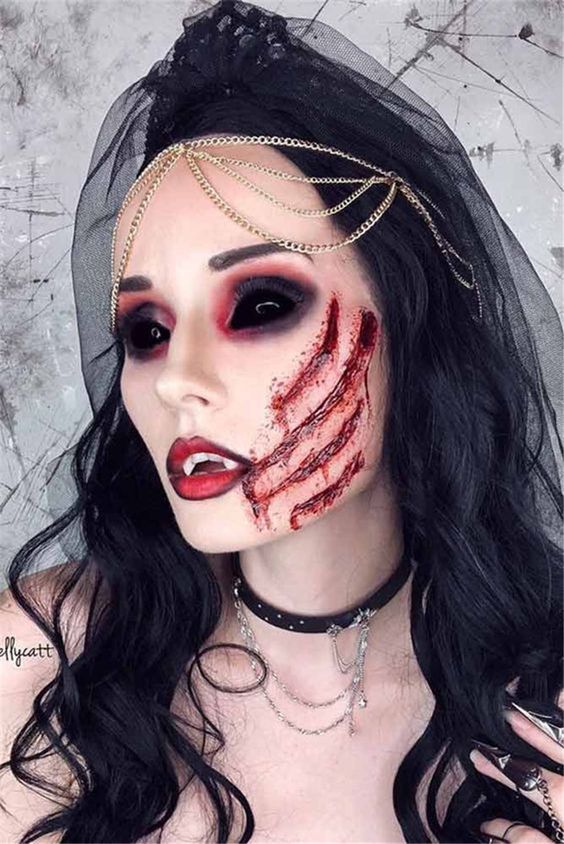 This is another costume that would work well with either kit (this one and this one). Heavy eye makeup is definitely the key here!
You could do this as a bride of death costume (a black wedding-themed outfit) or wear cotton shift dress with lots of bloody rips.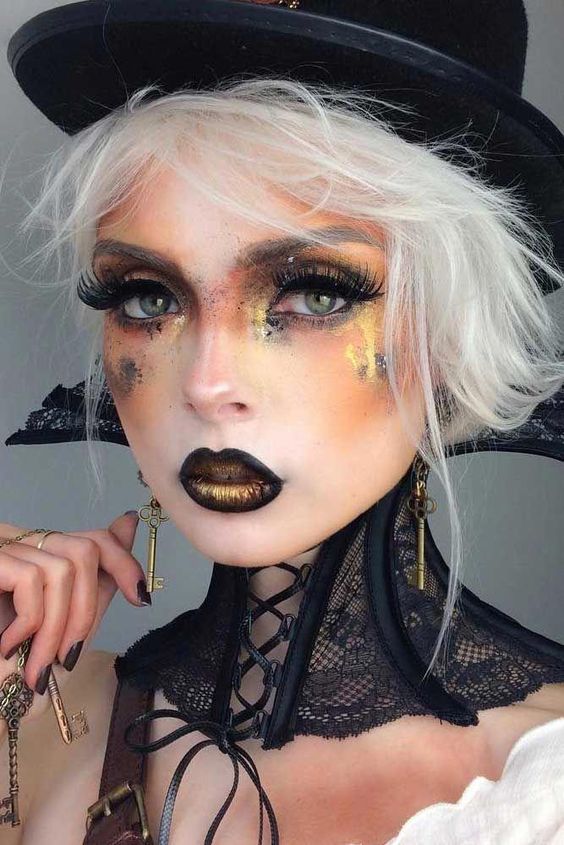 This look is cool and witchy in a unique way! It's very earthy and isn't overly scary.
The key is to mix lots of black tones and pieces with tarnished gold. You can do this with makeup you may own already, but gold costume makeup will make a bolder statement.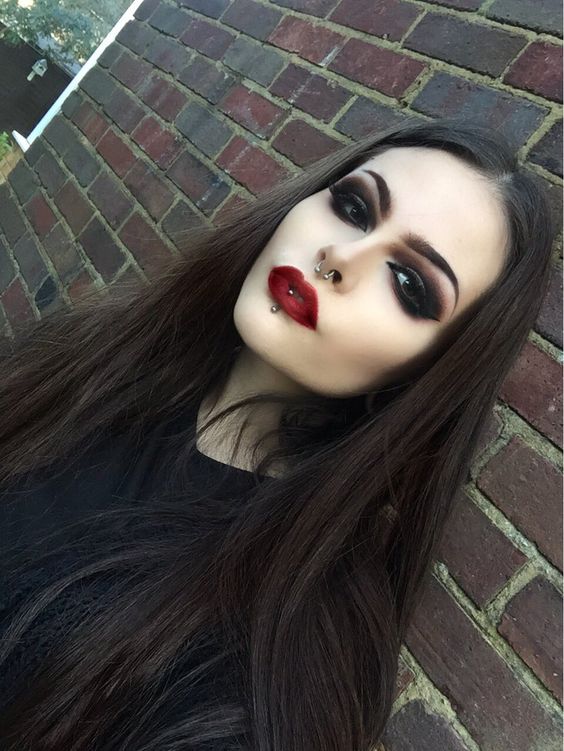 This look is beautiful, simple, and easy. You can pair it with an all black outfit and straight hair (spray it with texture spray after straightening to get this look).
The trick is really heavy eye makeup (this tutorial is great) and bold red lips. You'll also want super pale foundation or costume makeup.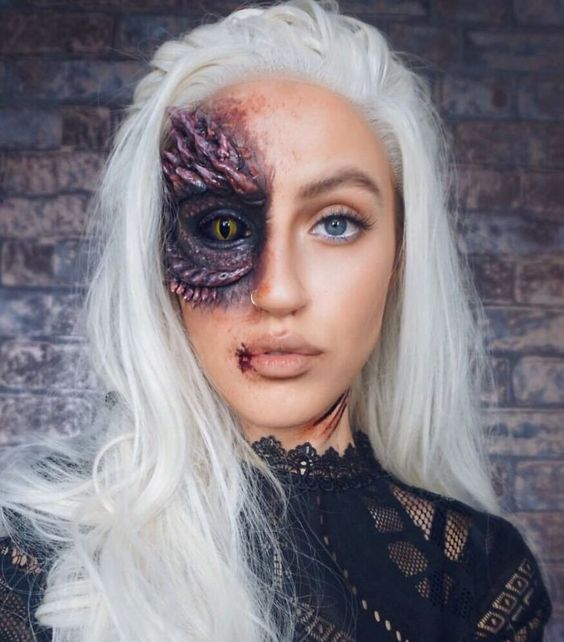 This is a really cool take on the typical Khaleesi costume. You can grab a cheap wig from Amazon to start it off and dress in draping black clothing.
This makeup tutorial is great to achieve this exact look!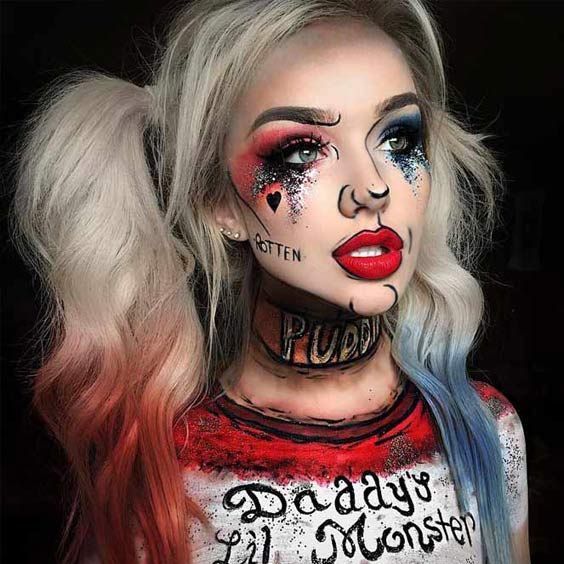 Harley Quinn has been popular for a while, and with good reason: this costume is scary yet super cute.
I've never been able to pull it off (I have short brown hair and it's honestly just not the same) but you could also purchase a wig.
There's tons of great tutorials on YouTube to achieve this look!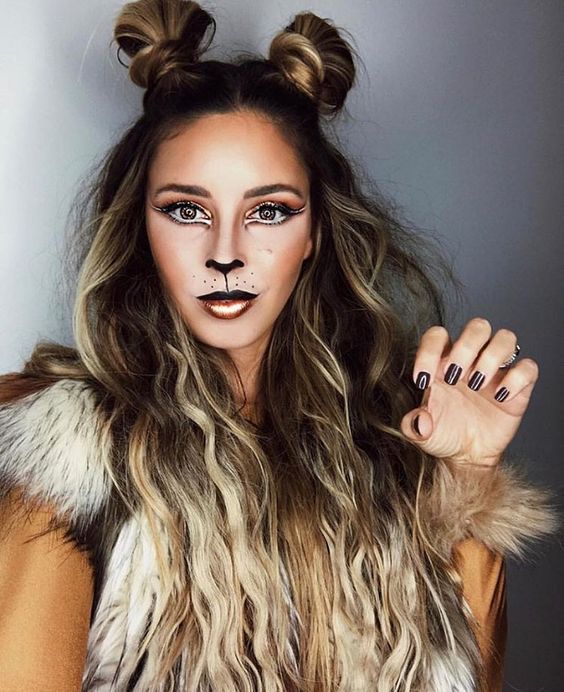 A classic lion look never goes out of style! From the black nails to the fur and face paint, she totally nails this look.
I recommend grabbing a cat makeup kit from Amazon and starting there. It works for body makeup as well.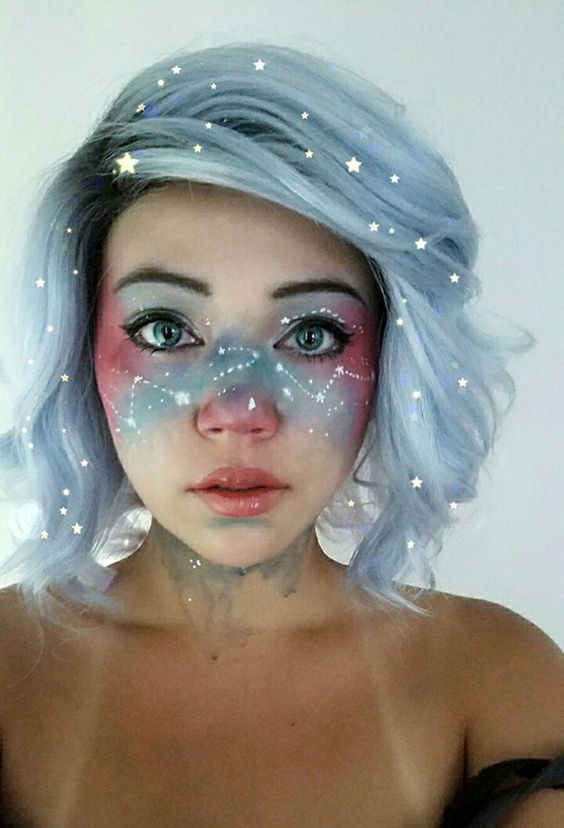 This space-inspired look is so stunning! A cosmetics palette with specific space colors will work well.
You could easily pair this outfit with a light blue dress or any type of simple black clothing. It's a great DIY costume that will work with what you have in your closet.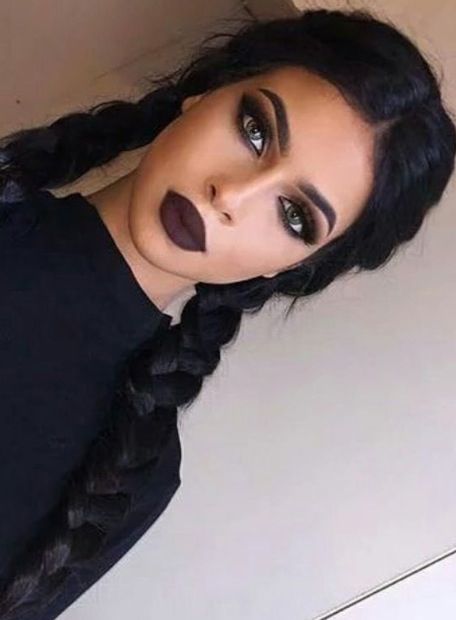 This is another simple look that will work with whatever you have. Regular braids or french braids both work here.
You'll want to use dark cherry black lipstick and do some seriously heavy makeup. I recommend looking up some nighttime makeup tutorials on YouTube.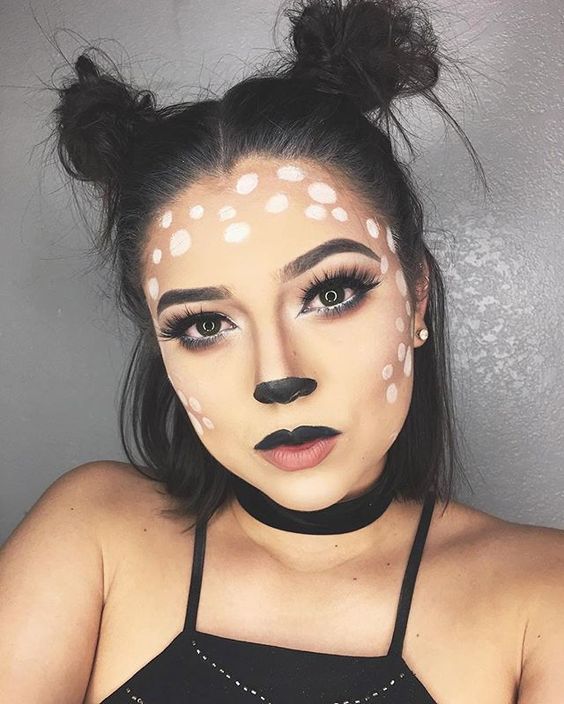 This is another cute cat look that is perfect to wear out. You can wear everyday clothes and look super trendy while technically being in costume.
It's really easy to create with a simple cat makeup kit.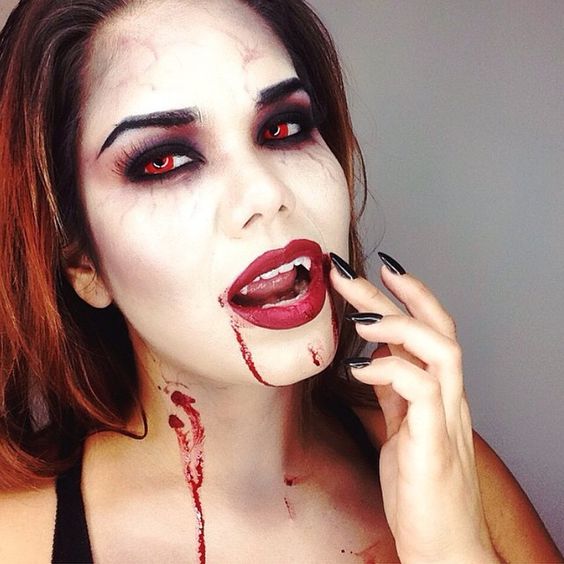 This vampire look is super cool and will easily go with a trendy black outfit. I'd wear a crop top, high waisted black jeans or leather pants, and super trendy high-heeled black booties. You could also throw on a leather jacket if it's chilly out.
I recommend searching on Amazon for vampire teeth, a Halloween blood makeup kit, pale face paint/foundation (costume makeup works well), and red contacts. The contacts really do make the costume!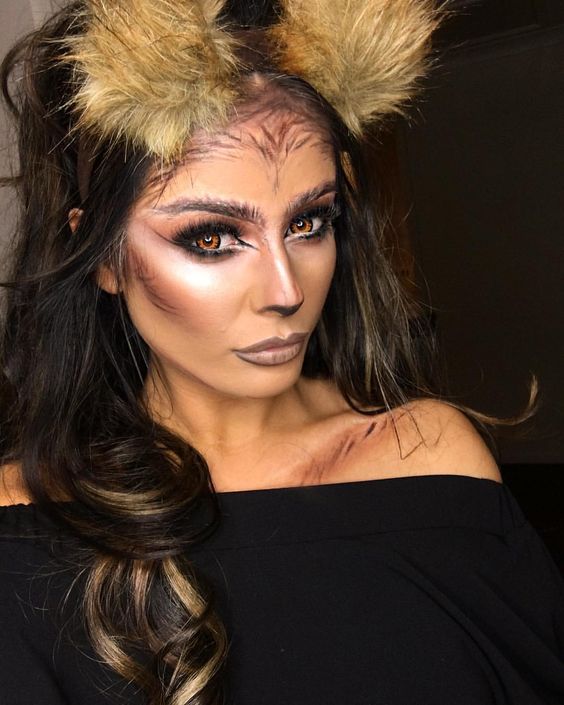 This is another look that's super cute. Check out the lion pic a few above for a great makeup kit!
This sultry look goes great with a lot of contour and highlighter. Hair extensions will work well here as well if your hair isn't long enough. I'd pair this look with trendy black clothing.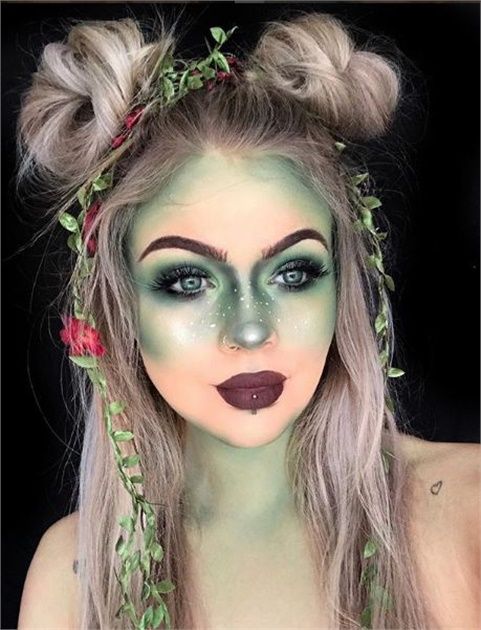 This makeup look is a crazy hybrid of an earth girl and an alien. You could go all out and wear it with a tutu and shimmery top, or go more simple with regular clothing.
It's pretty easy to do with light green face paint. You'll definitely need a beauty blender (and will do lots of shading), then you can add in the lipstick and white dots.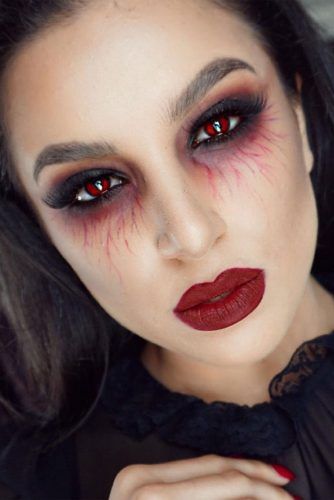 This is another vampire look that's easy and goes well with everyday black clothing. I always like to go a little trendier and more extreme (think more leather, higher heels, etc.)
Contacts will make this look as well! Colored contacts are generally pretty cheap and are totally worth it for the night.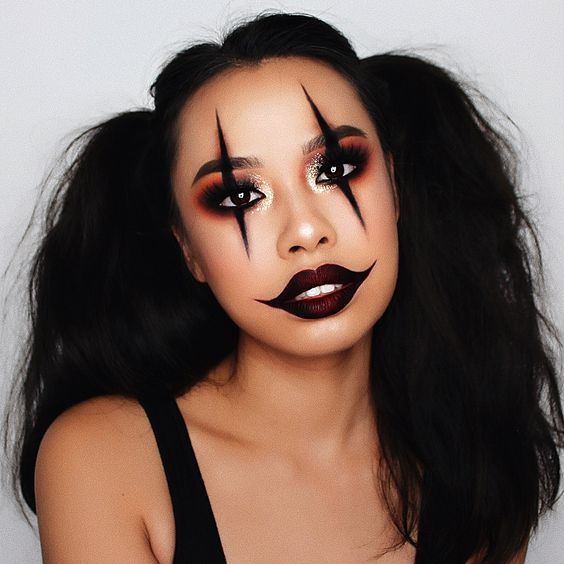 How pretty yet scary is this look? An easy costume makeup kit will help you achieve it.
I'd put my hair in two busy ponytails (lots of teasing and texture spray will help you achieve this) and use black lipstick or costume makeup for the look.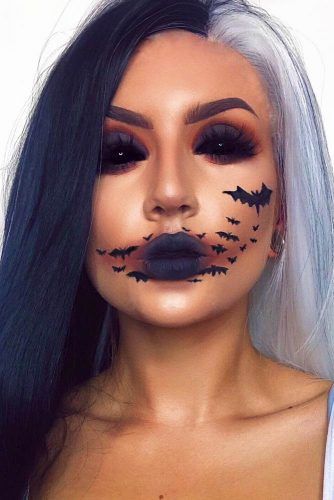 How cool is this look? To achieve it, I recommend checking out general tutorials on YouTube (this search seemed the closest) and combining a few of them.
You can also get a simple black and white wig off Amazon for a very inexpensive price.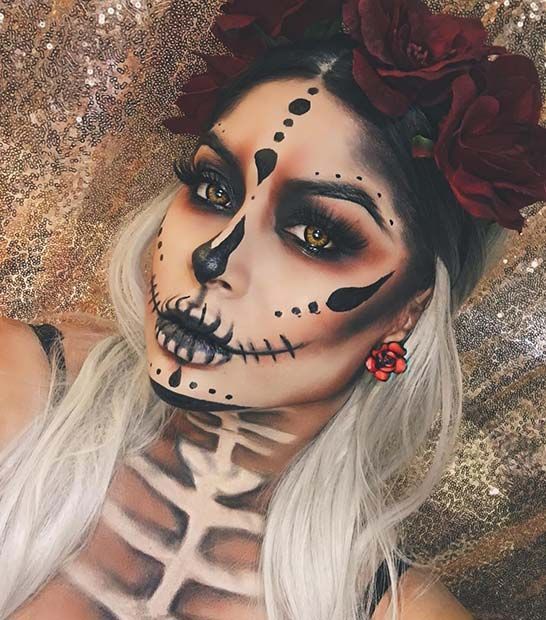 This Day of the Dead inspired makeup is simply gorgeous! If you don't mind putting a lot of work into your Halloween makeup, then this may be perfect for you.
There are lots of different tutorials on YouTube that can help you achieve this.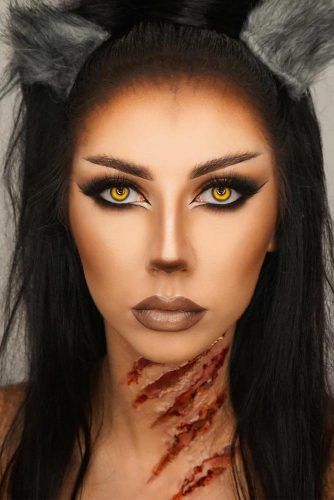 Lastly, this is yet another cat look (more along the lines of a tiger) that's super cute. I did this one last year and went as Tigger from Winnie the Pooh!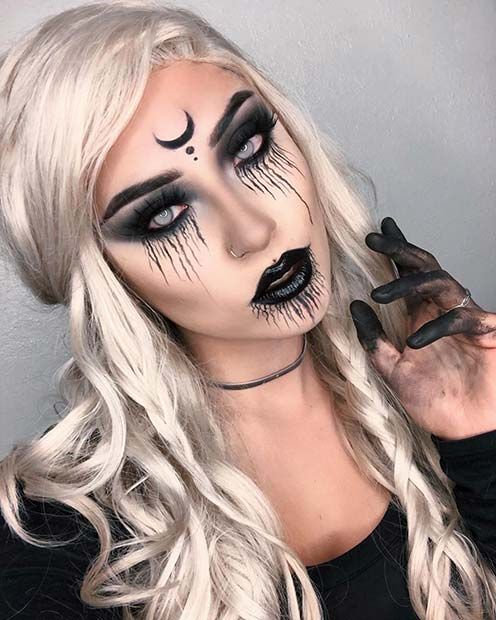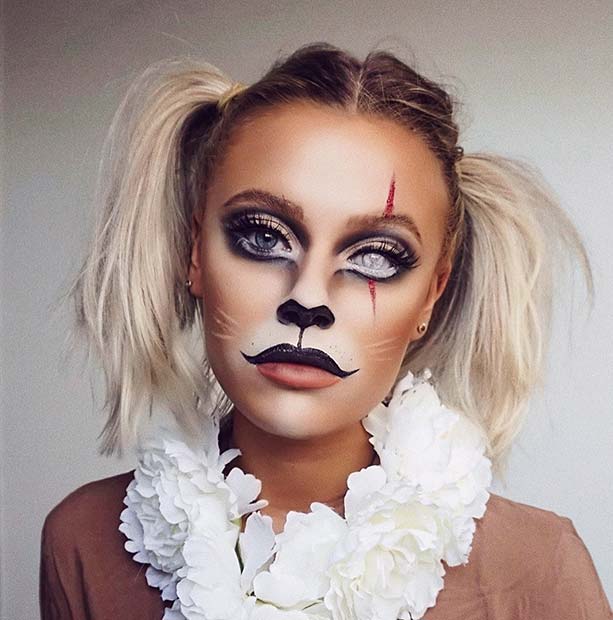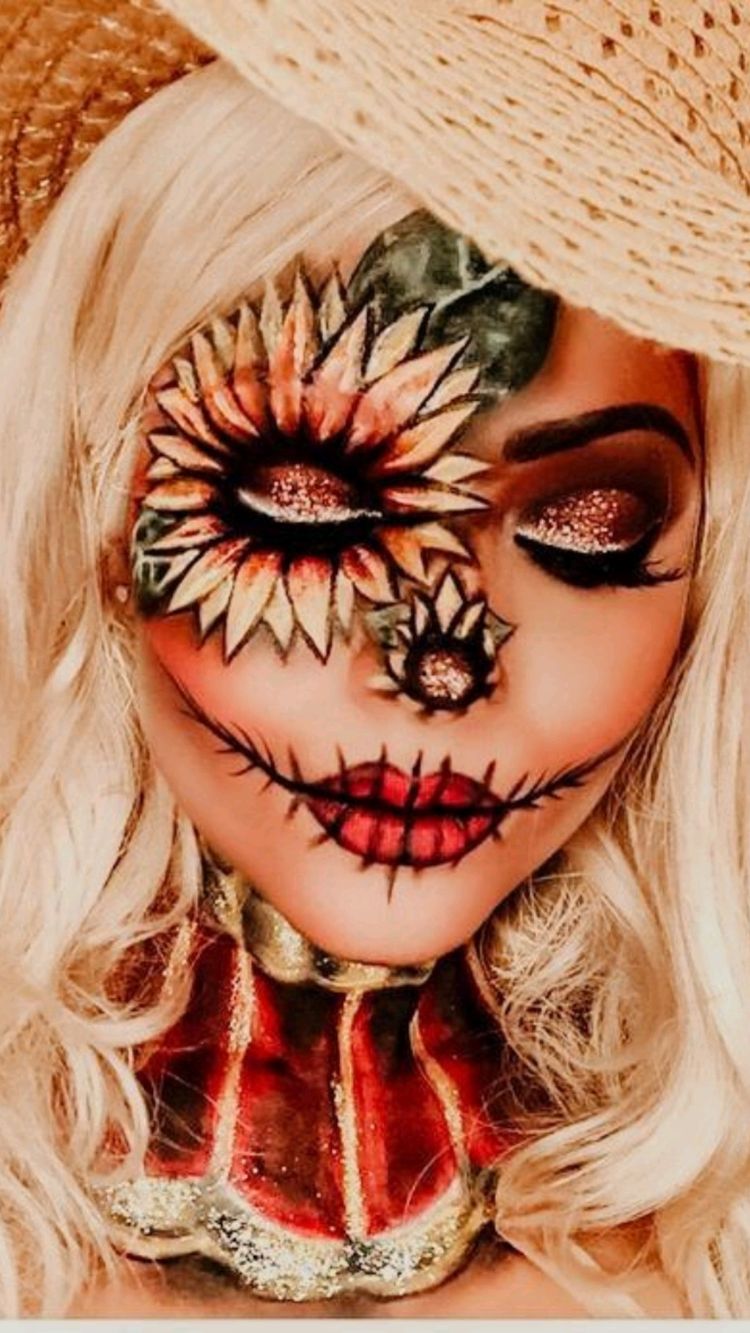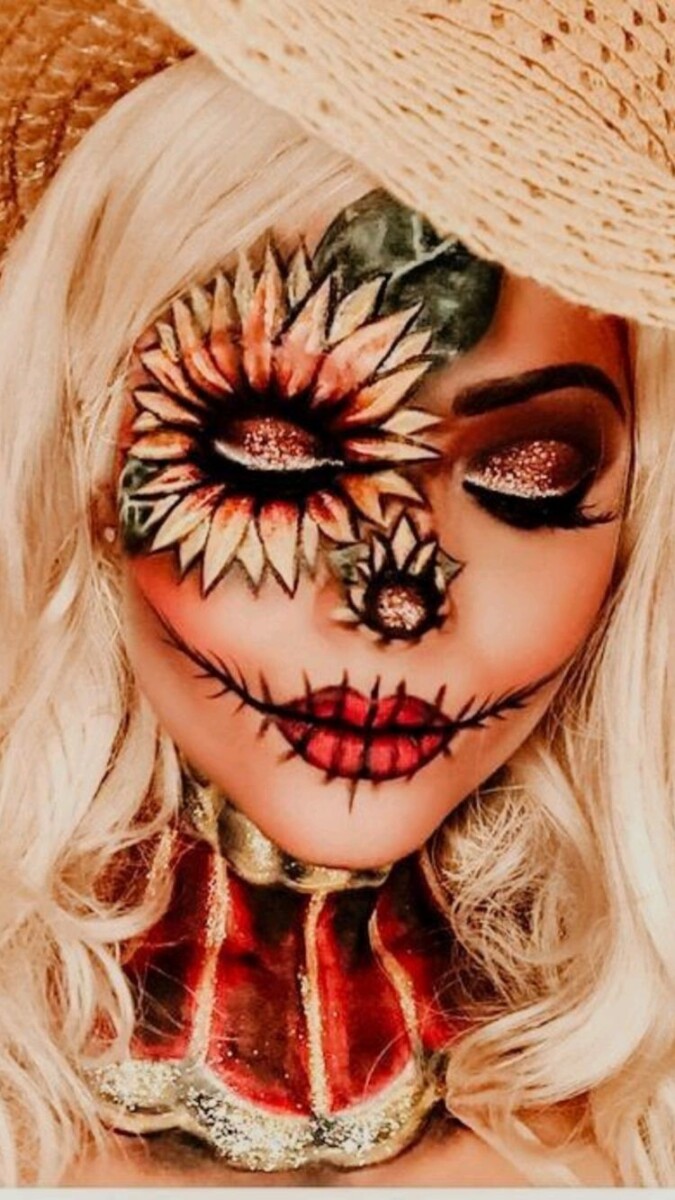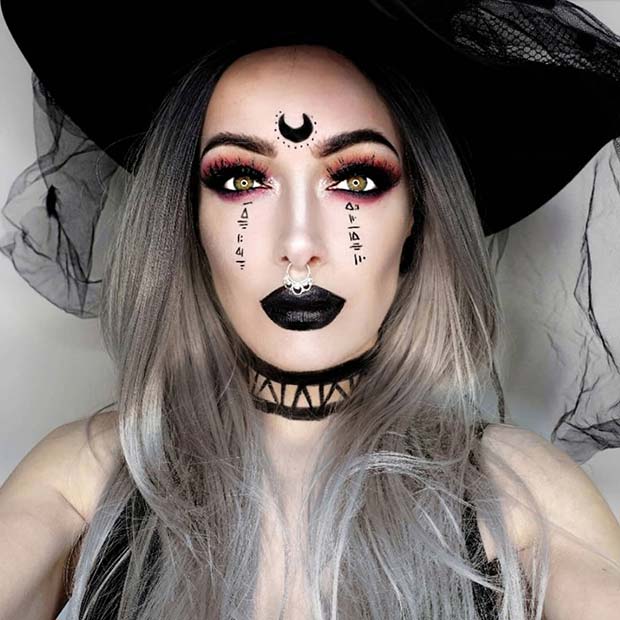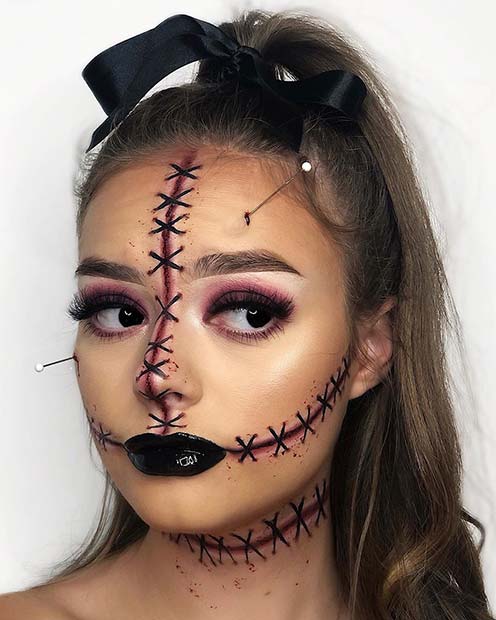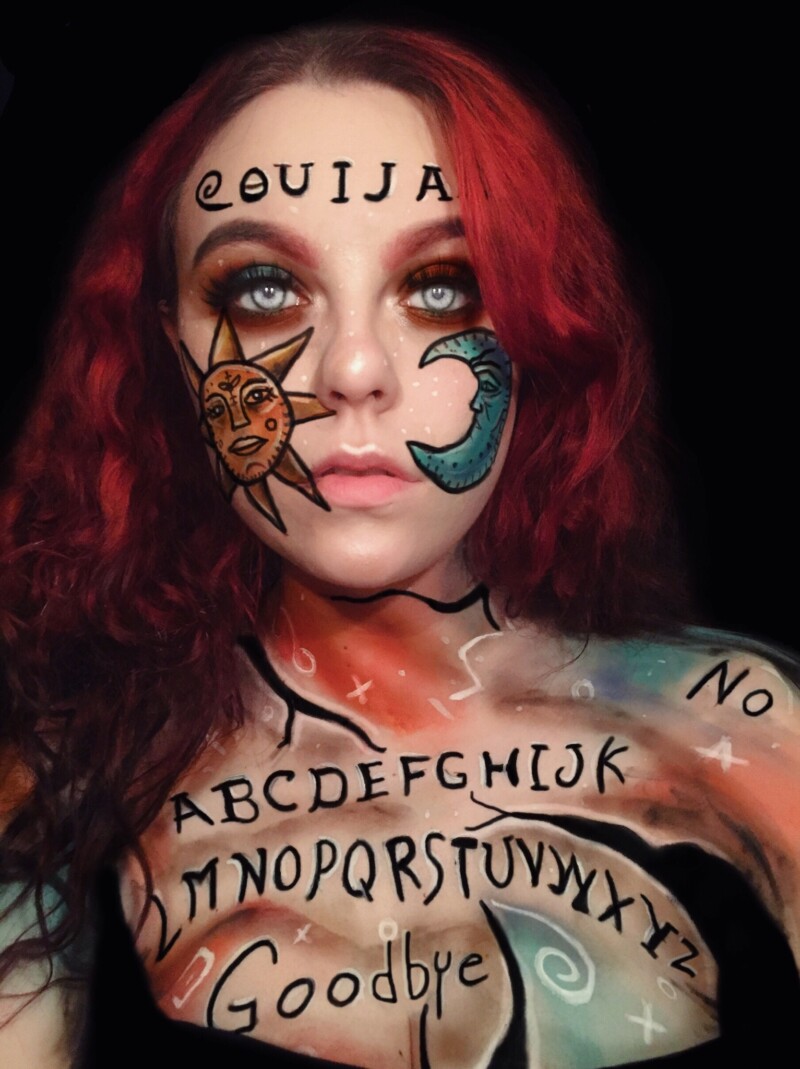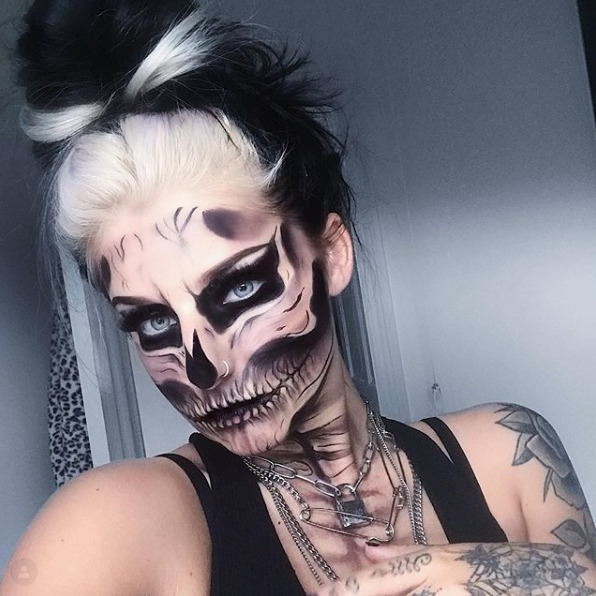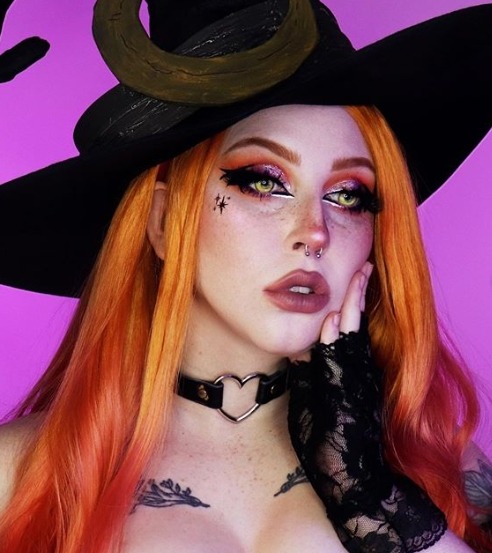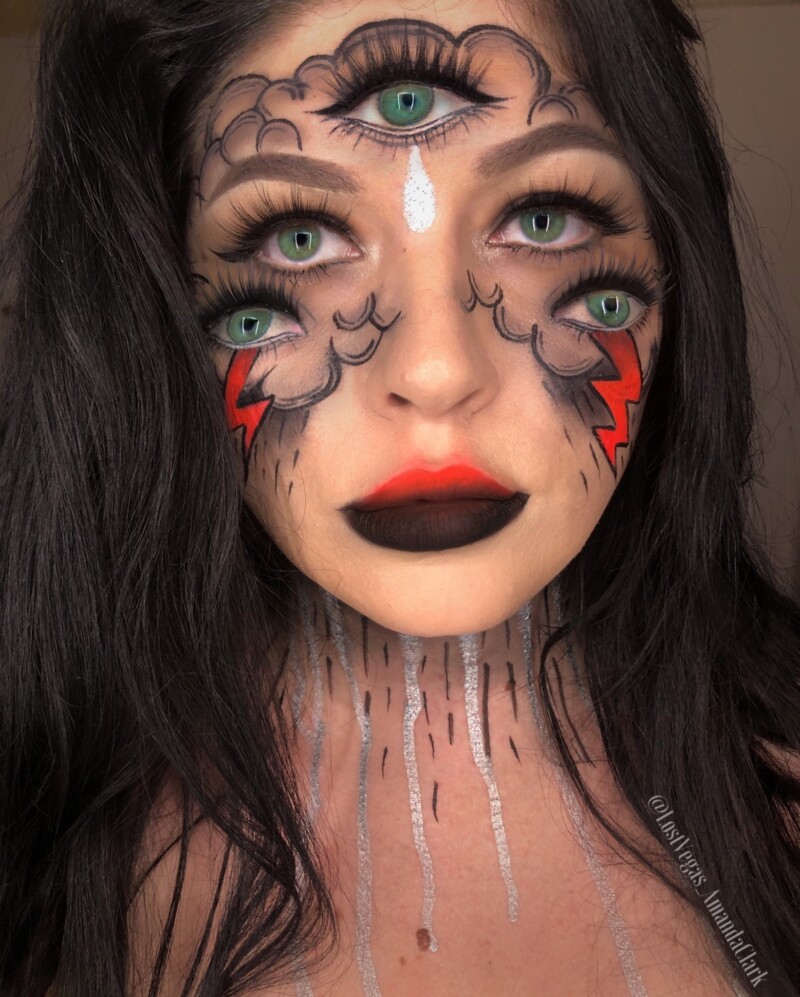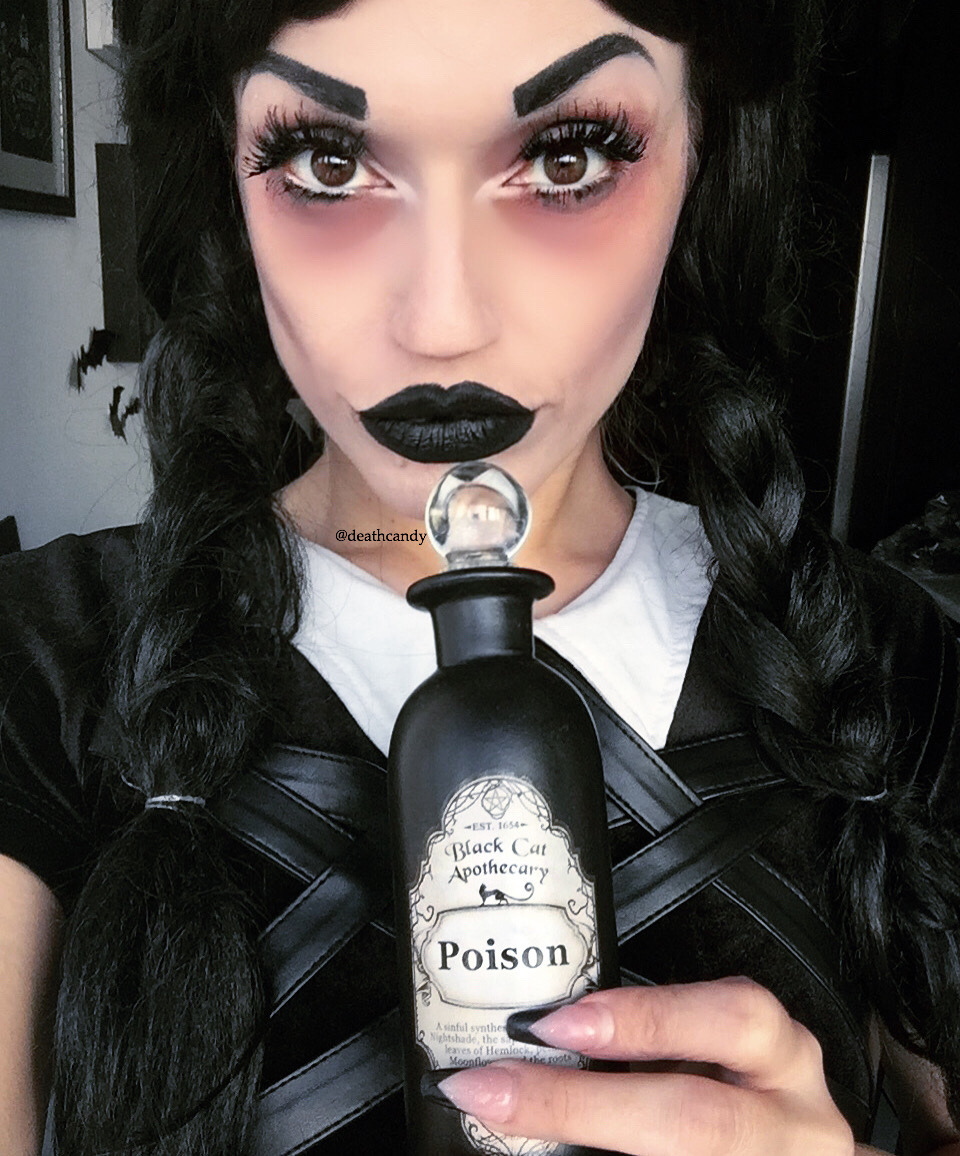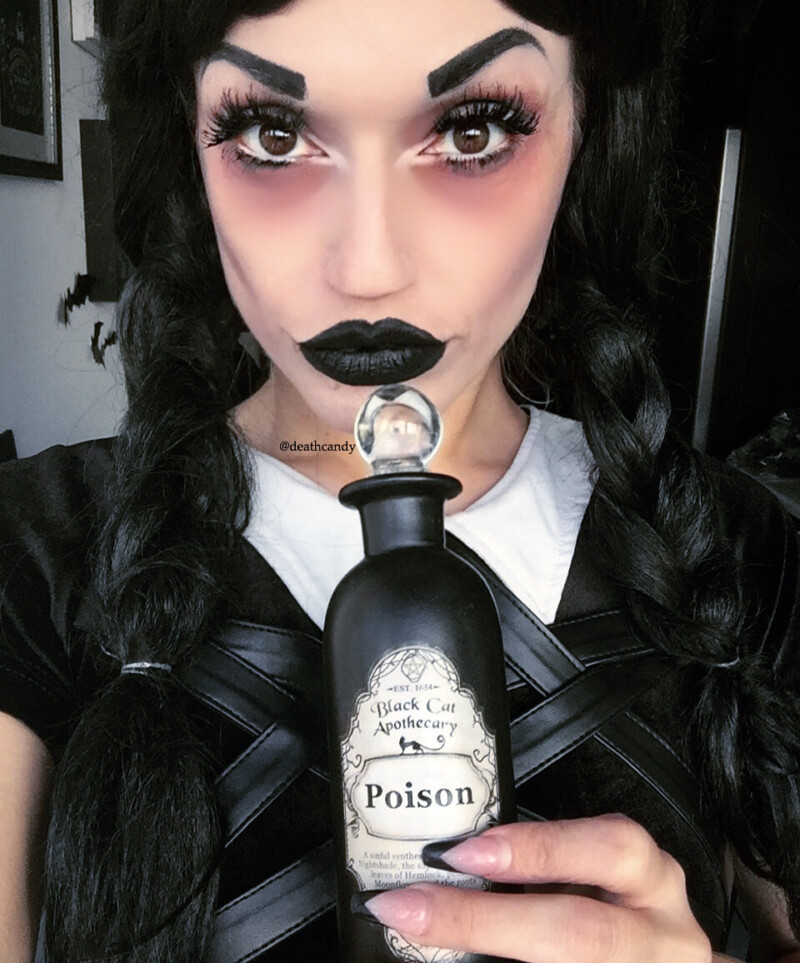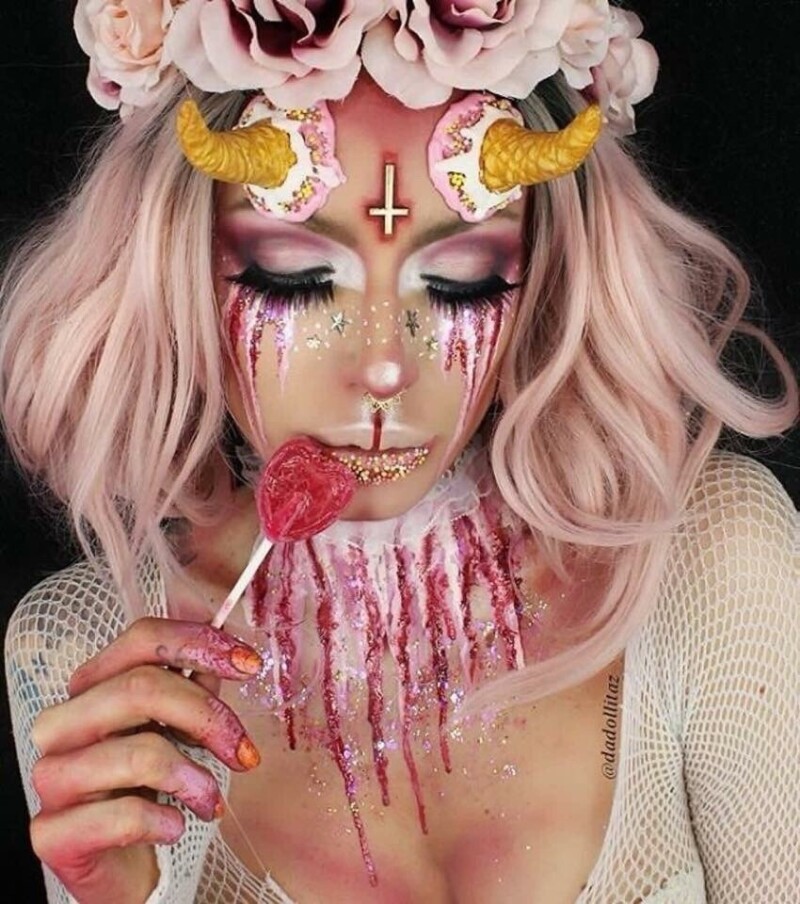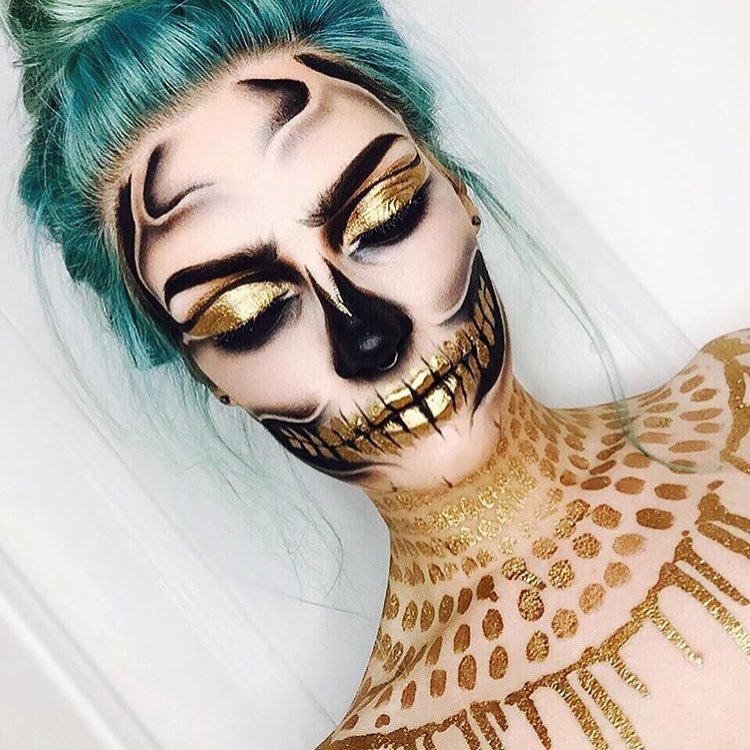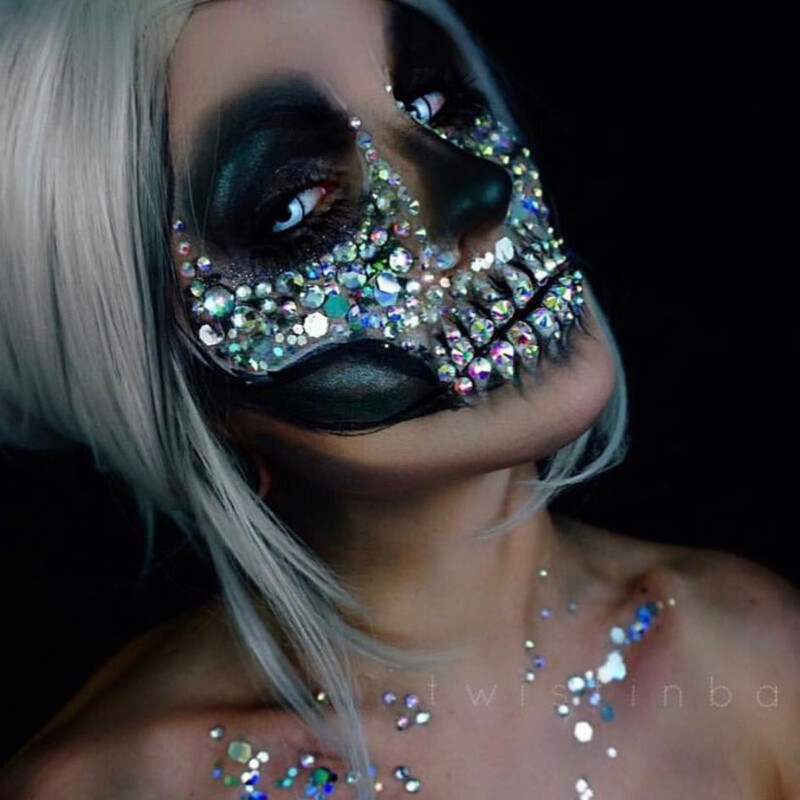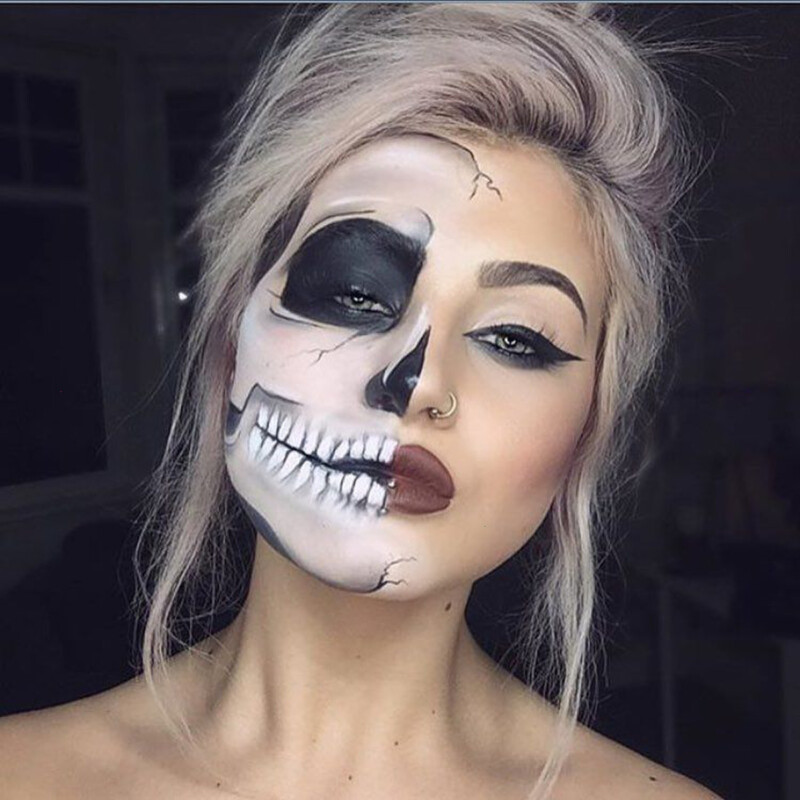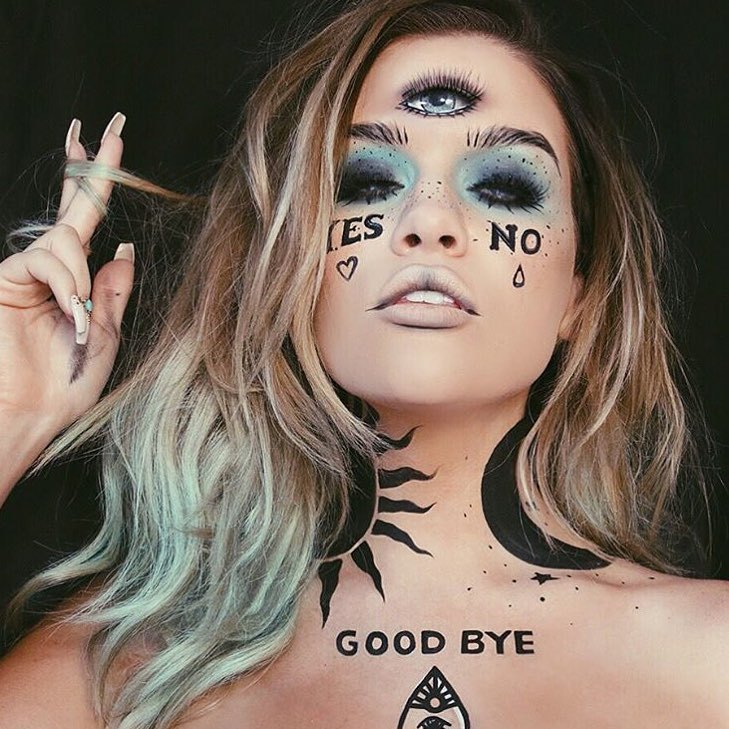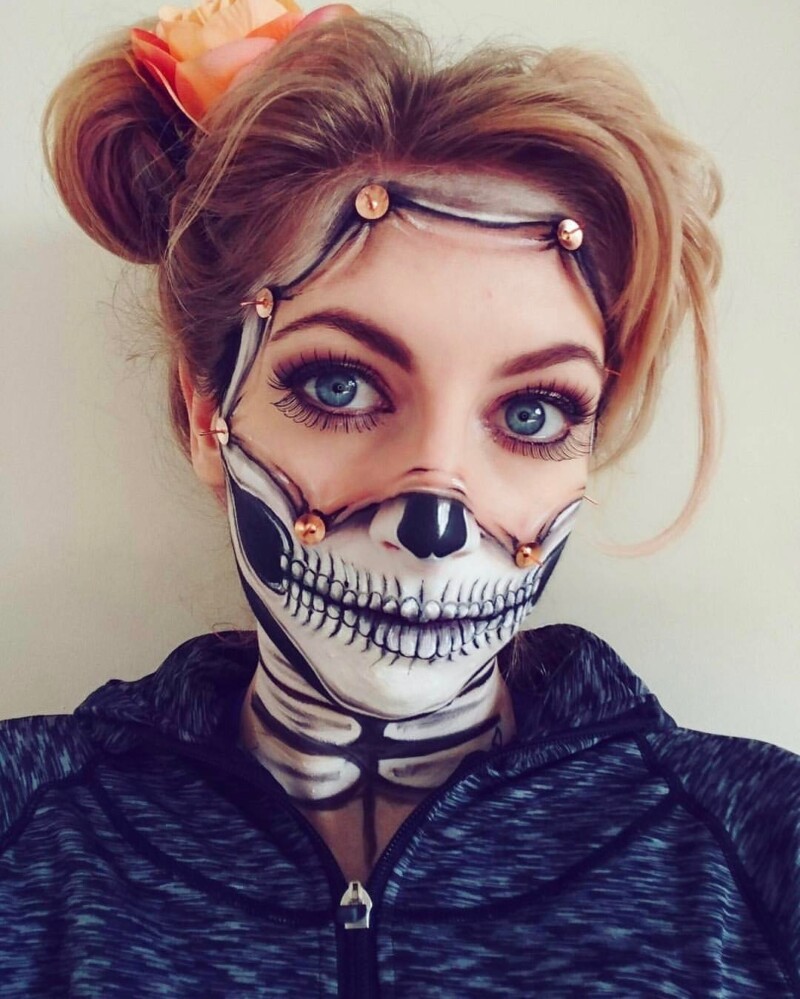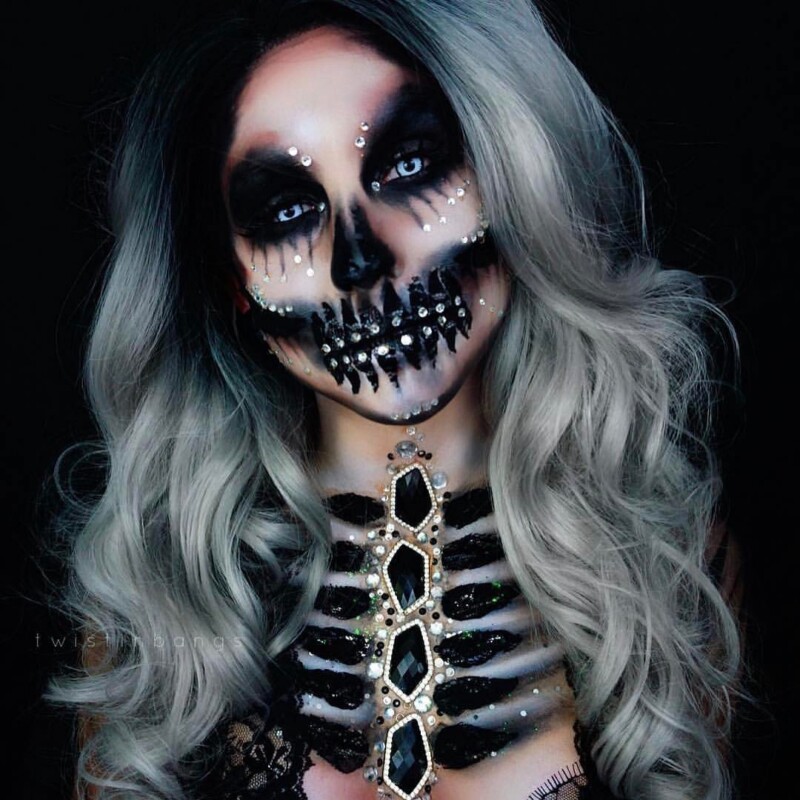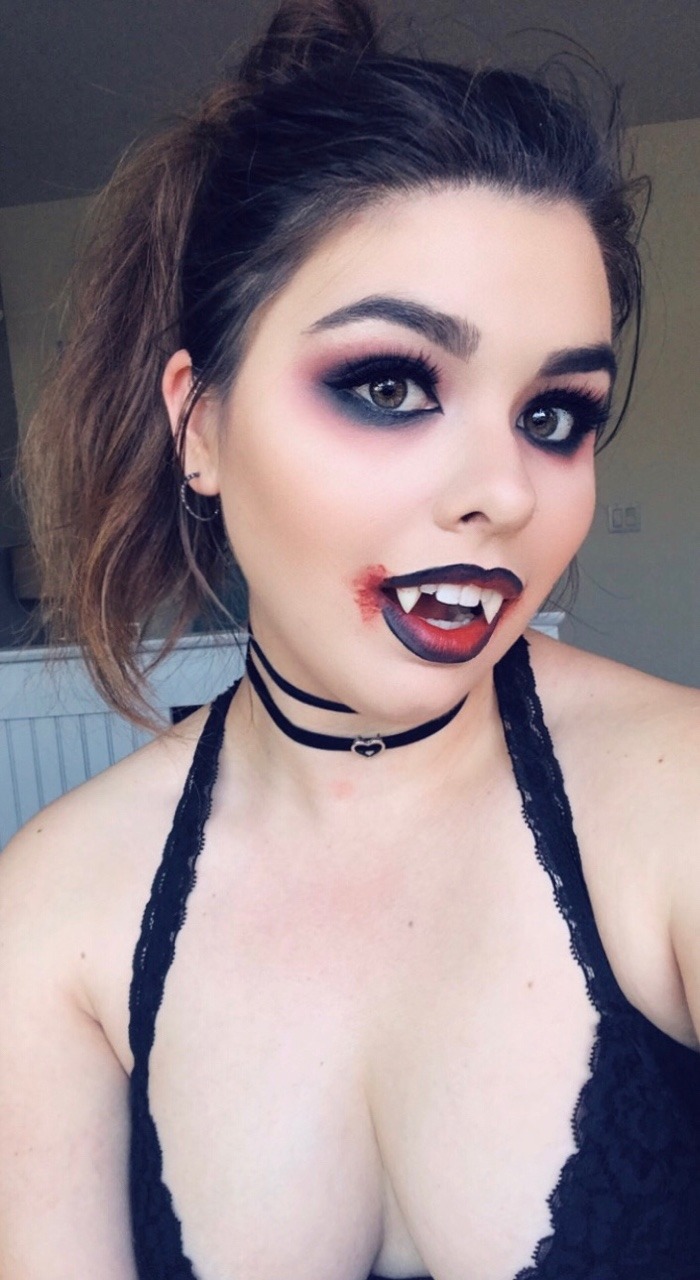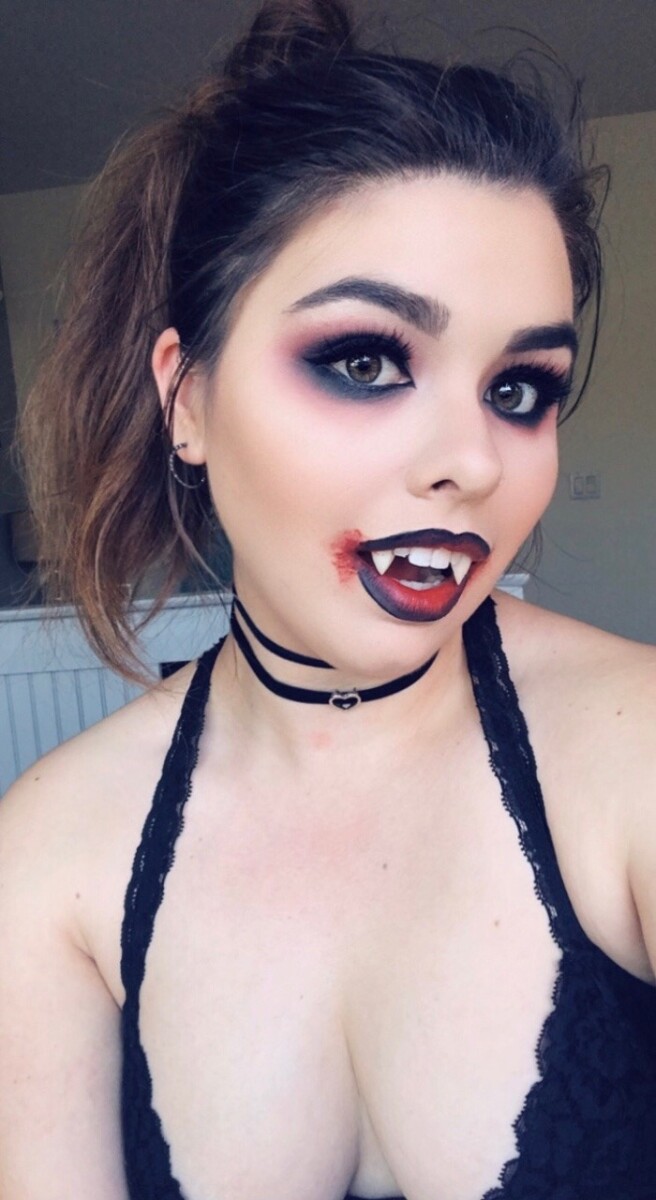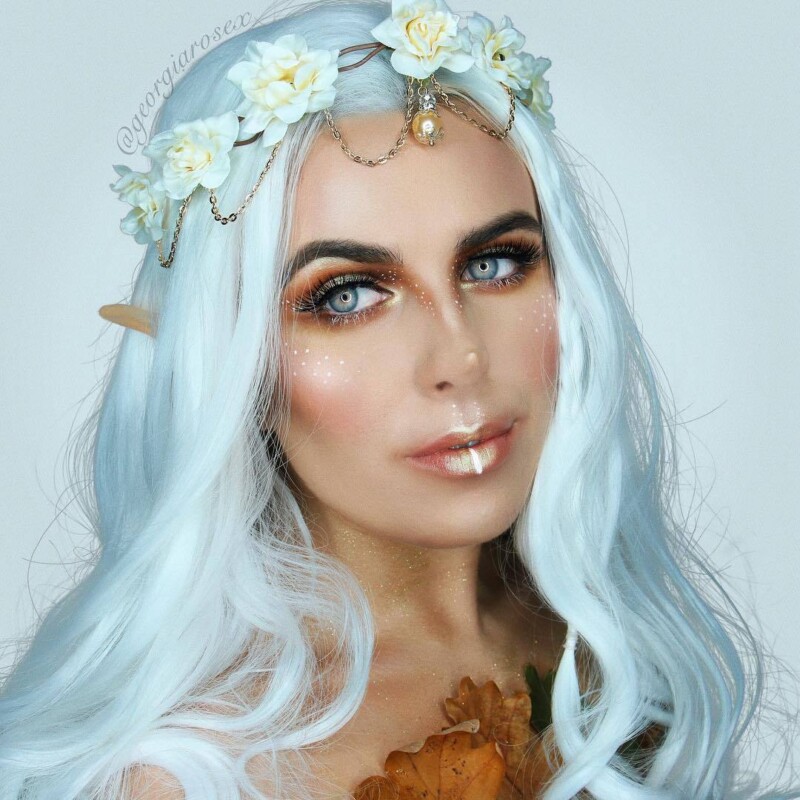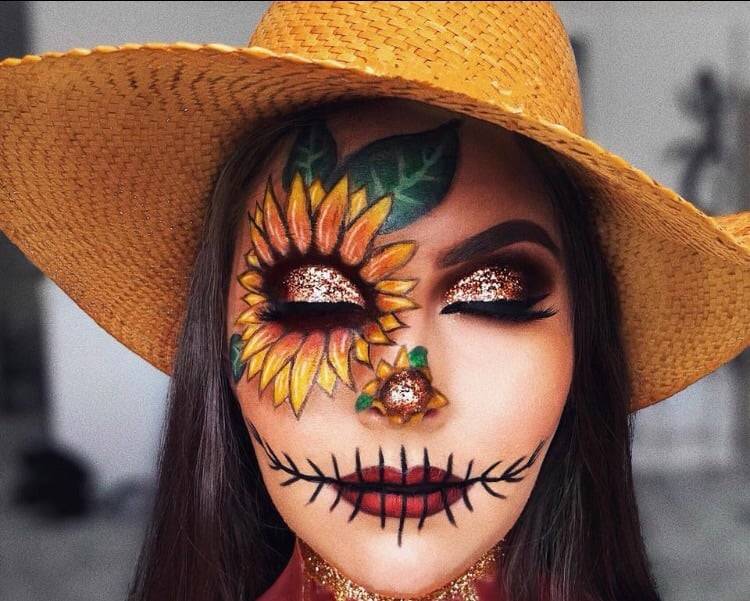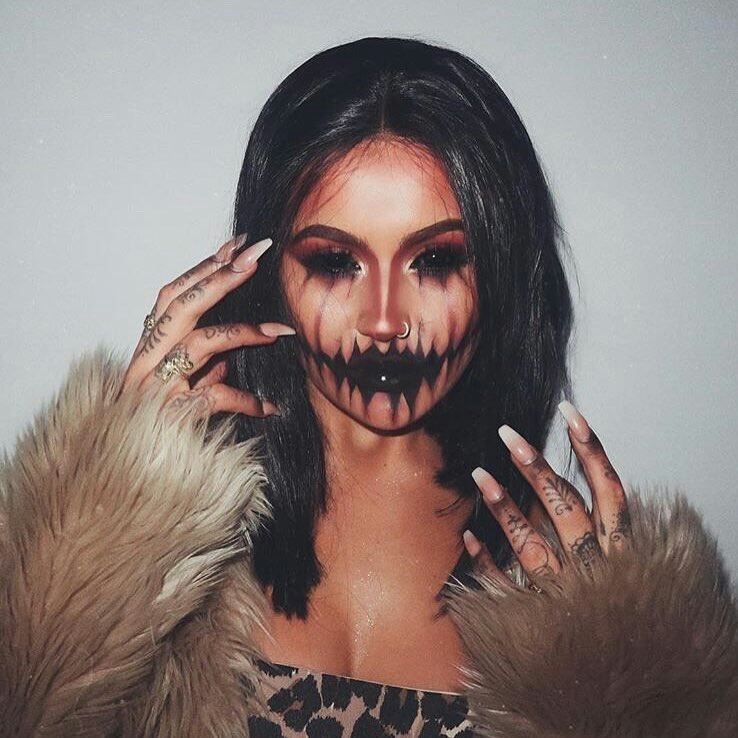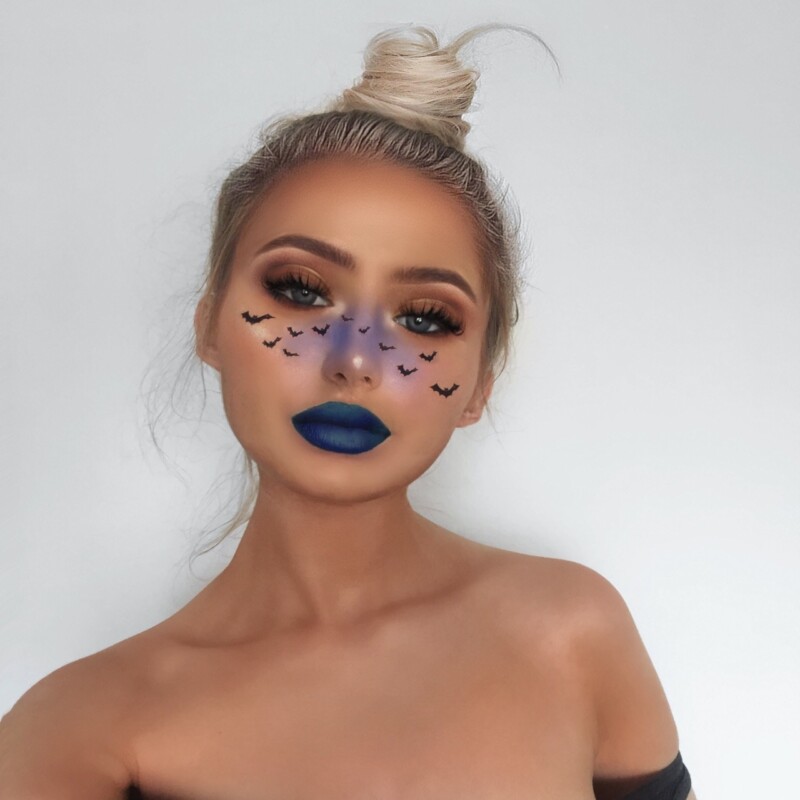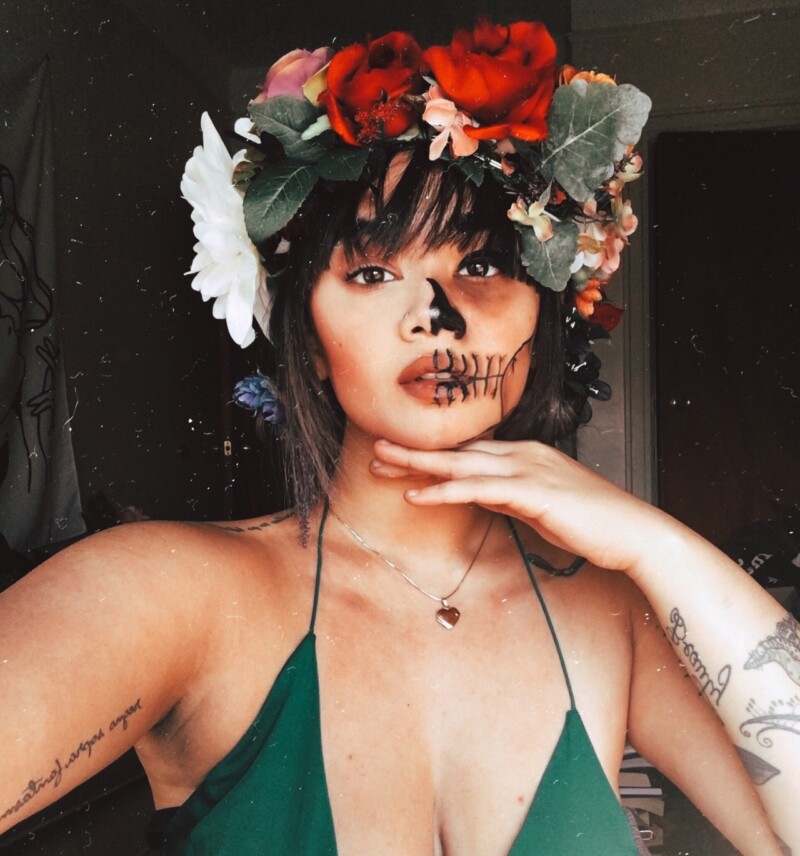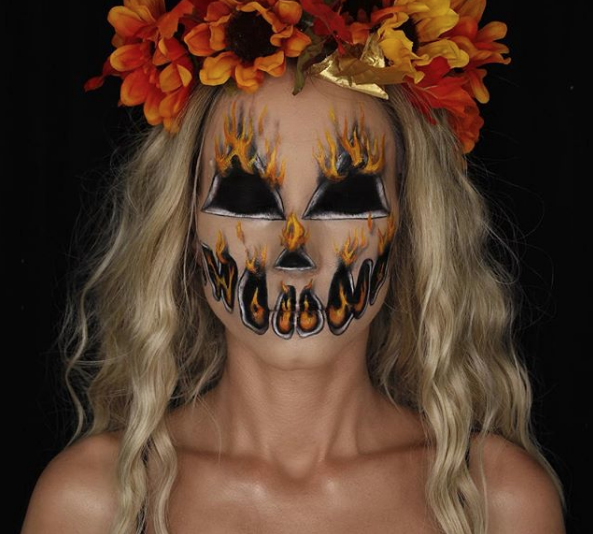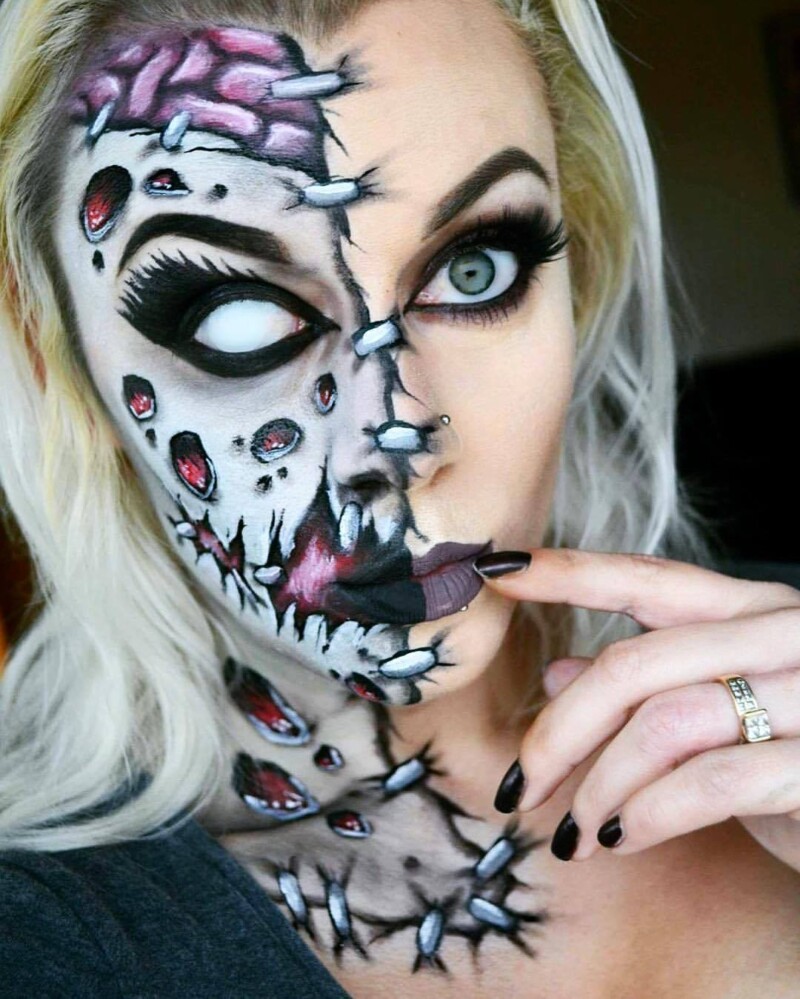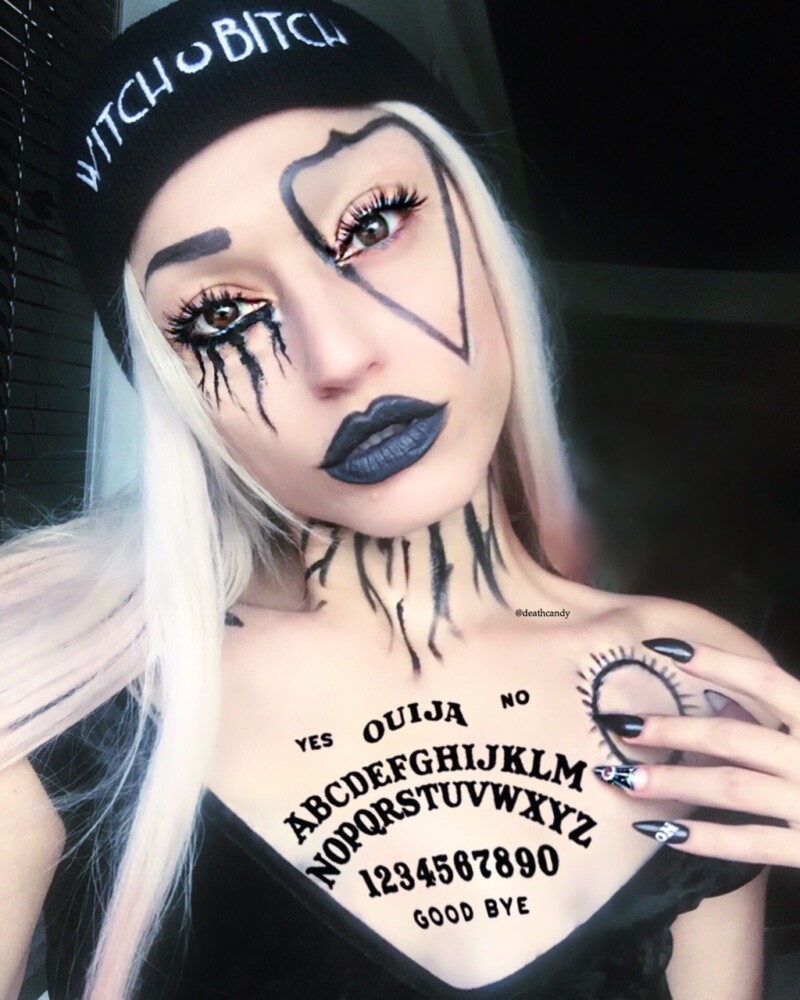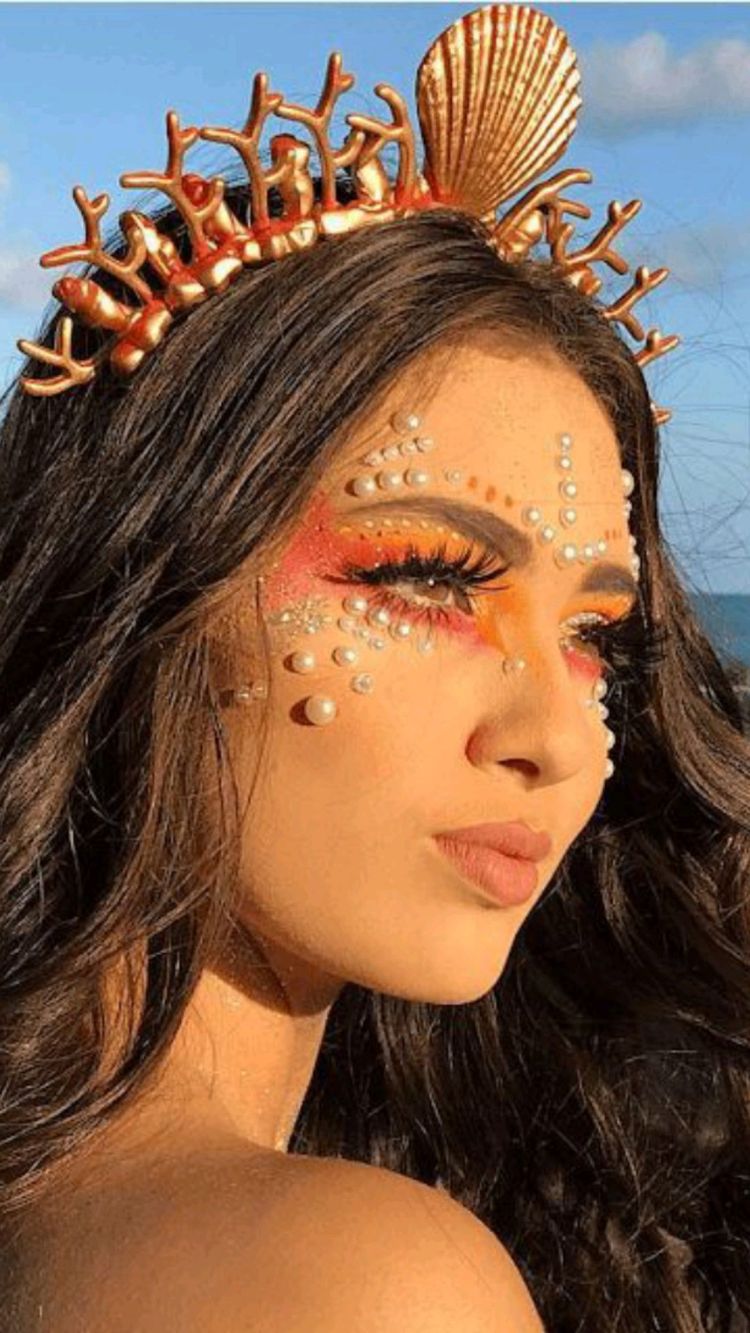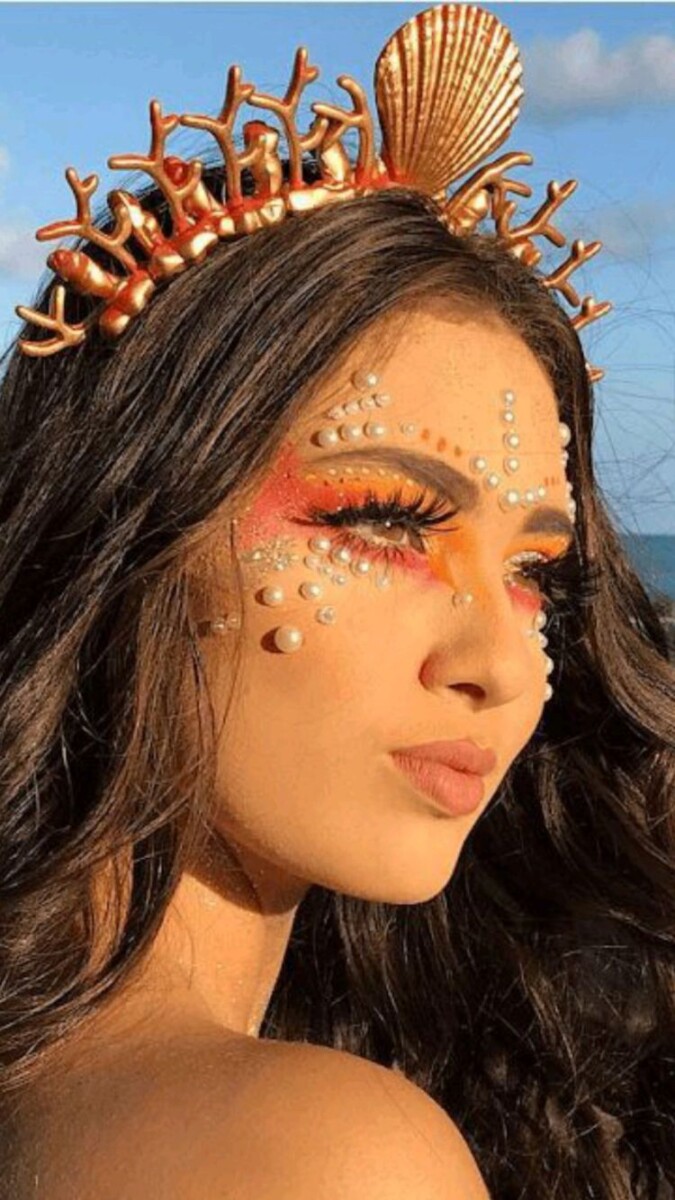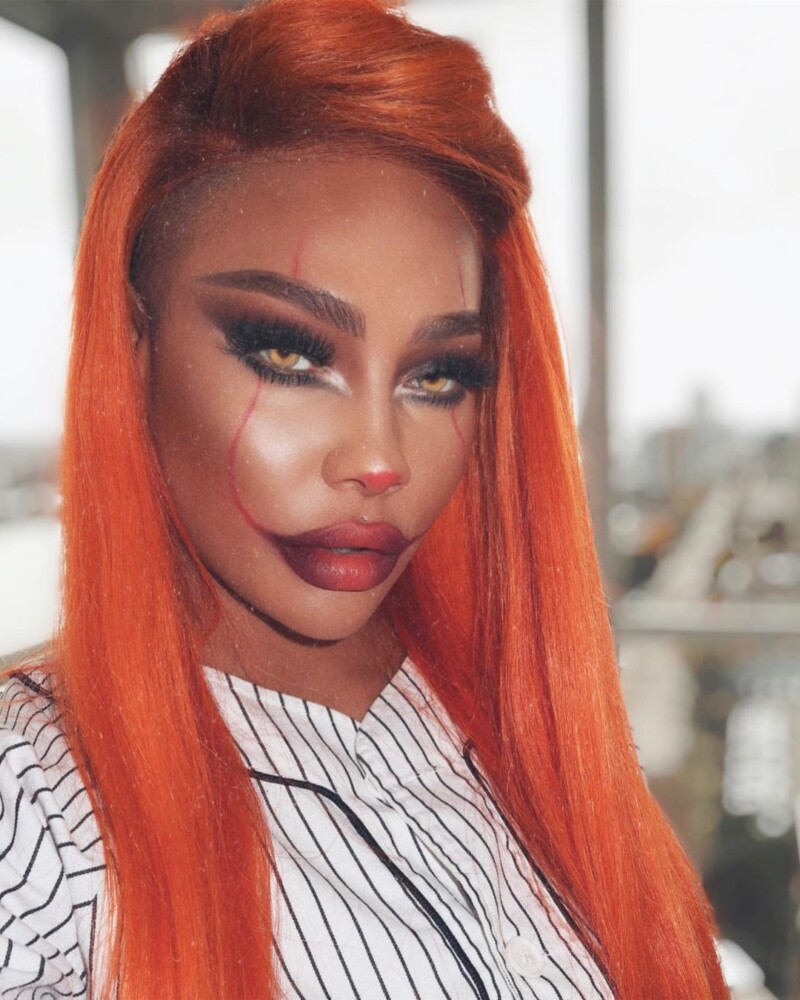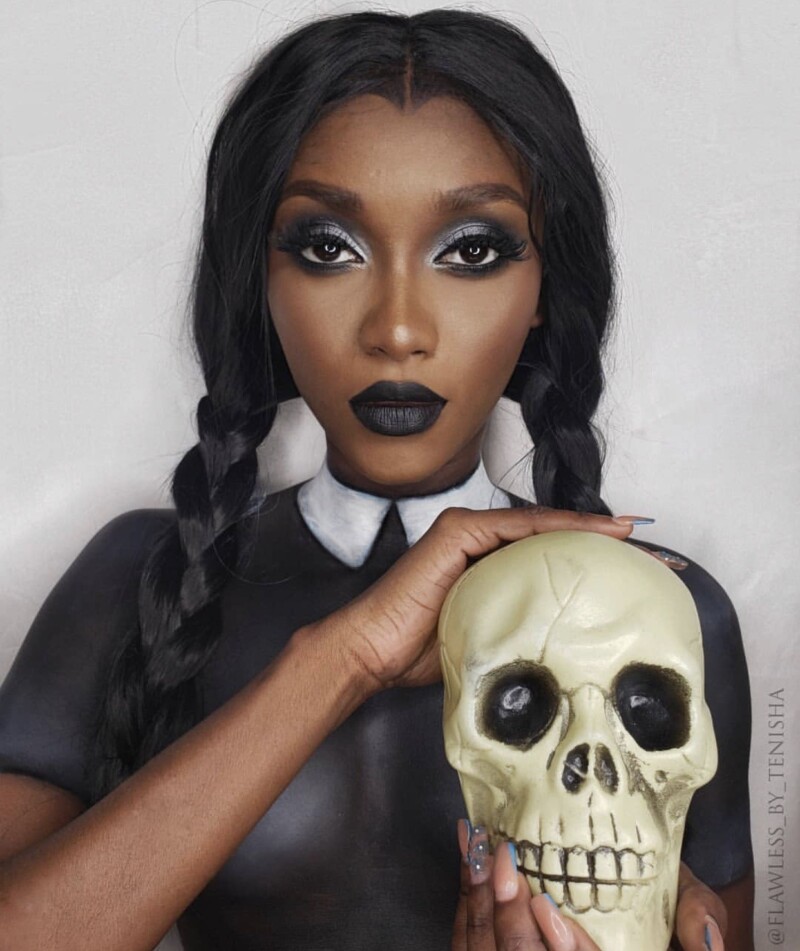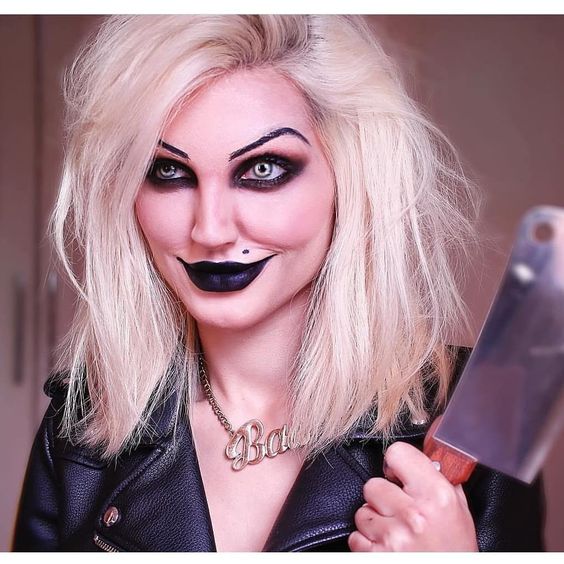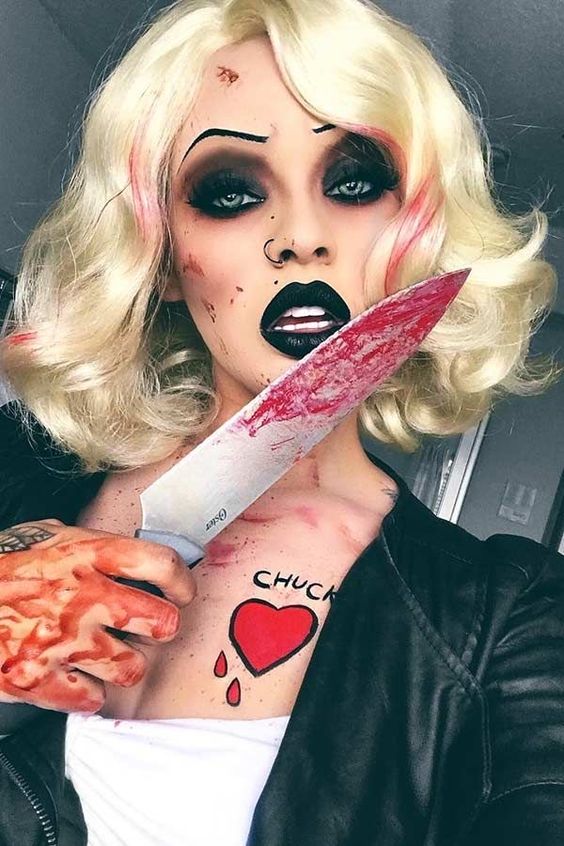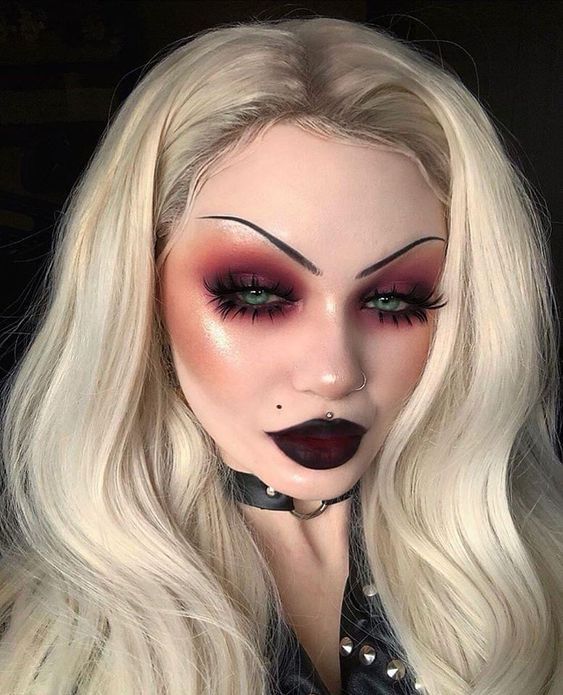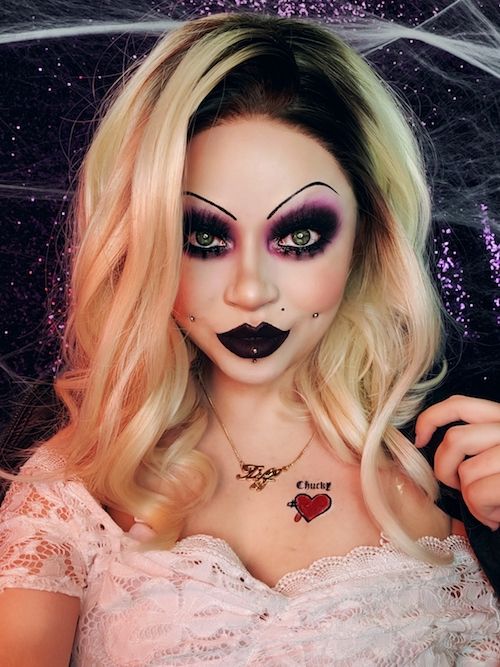 These last 4 looks are all Chucky's bride with different makeup variations.
I hope you love these looks as much as I do!
If you're need to purchase Halloween supplies, I highly recommend Amazon (Prime).
I also put together a Pinterest board with my favorite Halloween costumes for 2019. Feel free to check it out here!