Looking for a quick holiday getaway? New Hampshire is one of the best places in New England to explore the world of fine wine. Though a late-comer in the industry, there are over 25 growing wineries that grow French-American hybrids and American varietals that are loved all over the world.
When you visit a winery in New Hampshire, expect a one-of-a-kind tasting experience that goes beyond the usual deal. Some wineries offer samples, educational tours, accommodations, and unique events that make your visit memorable.
New Hampshire is also a home for beautiful scenic views. You can look forward to vast landscapes, well-maintained vineyards, and overlooking mountain views.
A lot of these New Hampshire wineries feature a collection of complex wines from red, white, and fruity dessert wines – allowing you to discover more about your preferences while unwinding with the scenic views they offer.
Today, we'll introduce you to ten of the best wineries in New Hampshire to serve as a guide for a fun-filled weekend with your friends or family.
"Living a fine life is an art form." – Robert Mondavi
10 Top Wineries in New Hampshire
Here are our favorite 10 wineries in New Hampshire complete with massive vineyards, stunning views, and of course, delicious wine varietals!
10. Walpole Mountain View Winery, Walpole, New Hampshire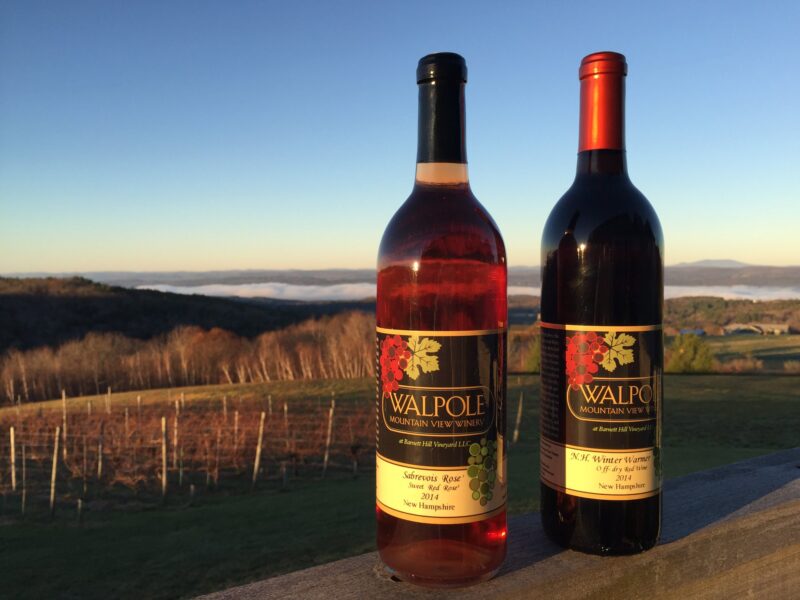 Walpole Mountain View Winery is one of the wineries in New Hampshire with a splendid, overlooking mountain view and uniquely processed wine.
The winery is known for developing conservative wines through a process that excludes "pushing" their grapes. This process allows the flavors of their wines to cater to people who are still starting their wine appreciation journey, so it's the perfect spot for wine-tasting beginners. Their offerings are also great for giving as gifts because you'll know they'll love it!
During grape harvest season, the winery offers educational and wine appreciation tours to level up your wine vocabulary. Regardless of whether you've just entered the sommelier's world or simply looking for a fine drink, Walpole Mountain View Winery is the best place to start your journey.
When you're visiting Walpole Mountain View in Walpole, NH, ask for their conservative and beginner-friendly selections such as the Marquette, Sabrevois, LaCrescent, and LaCrosse.
9. Seven Birches Winery – Lincoln, New Hampshire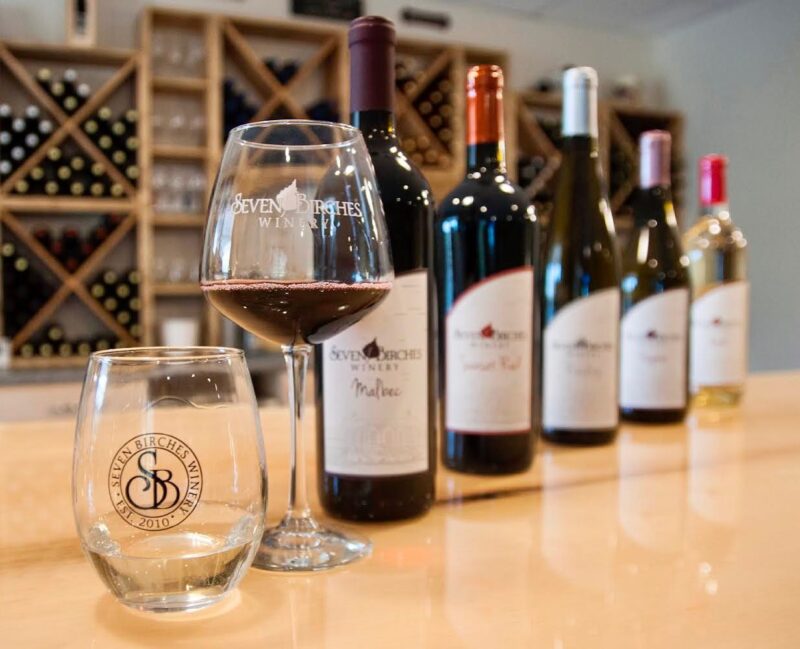 Seven Birches Winery is located within the grand new Riverwalk Resort at Loon Mountain. They are particularly known for hand-crafting classic European grape varietals and curating distinctly flavorful wines from 100% locally sourced fruits.
Their headquarters is like a museum for wine lovers, so if you're looking for a creatively visual venue, Seven Birches Winery is your best bet.
When you visit their winery, ask for their two labels, "Riverwalk" and "Windy Ridge." "Riverwalk" is created from high-quality, globally sourced grapes. "Windy Ridge" is the brand's pioneer wine made from a variety of fruits, pumpkin, blueberry, and apple – all grown in-house on their company farm in North Carolina.
If you're looking for accommodations in the area or a resort to visit with your family, there are a few establishments you can stay in. Some of the nearest ones in the area include the new Riverwalk Resort, Holiday Inn Express, The Village at Loon Mountain.
8. Zorvino Vineyards – Sandown, New Hampshire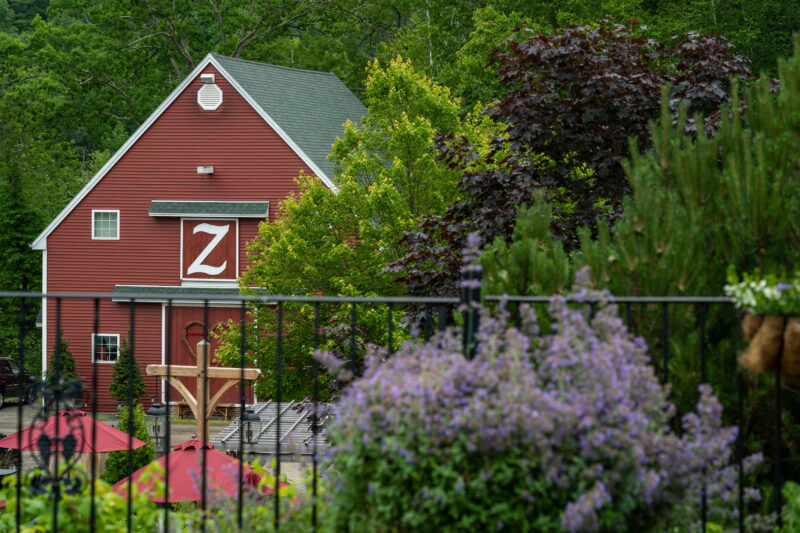 Zorvino Vineyards is a charming winery burrowed in the heart of Southern New Hampshire. Aside from their exceptional, award-winning fruit wines made with locally grown fruit, their place is a haven for photography lovers.
The property features endless corners for photo opportunities: their signature red barn, vintage bus, man-made koi pond, waterscapes, vine-lined archway, and wine barrels along a rolling green landscape.
Perfect for a romantic and memorable weekend, Zorvino Vineyards top off their world-class location with complex wines made with grapes originating from leading winemaking regions, including Tuscany, Chile, and Northern California.
Their winery consists of the Zorvino and Classico Menu, two of which cater to a variety of tastes. Ask their staff to give you a run-through of the menu if you're confused because there's a lot here!
If you are hosting an intimate event soon, Zorvino Vineyards is a great option to consider. Their romantic New England setting is perfect for weddings, birthdays, and anniversaries. In fact, their post and beam venue can accommodate up to 200 guests! Contact them to secure a slot for an event reservation as they are highly in demand.
Overall, Zorvino is one of my favorite New Hampshire wineries for the aesthetic alone.
7. Black Bear Vineyard – Salisbury, New Hampshire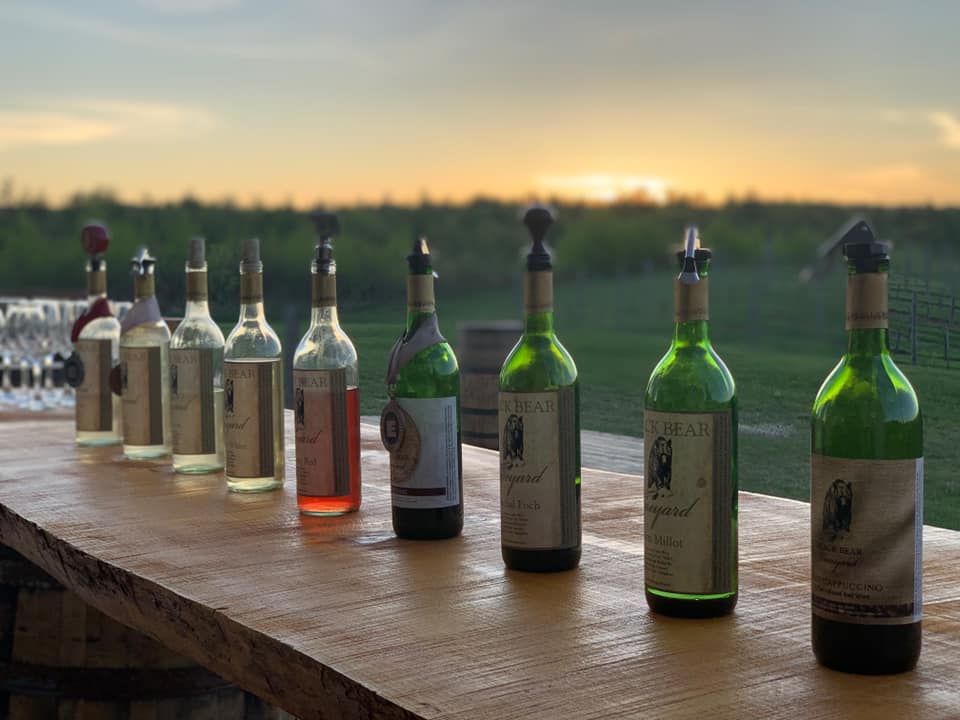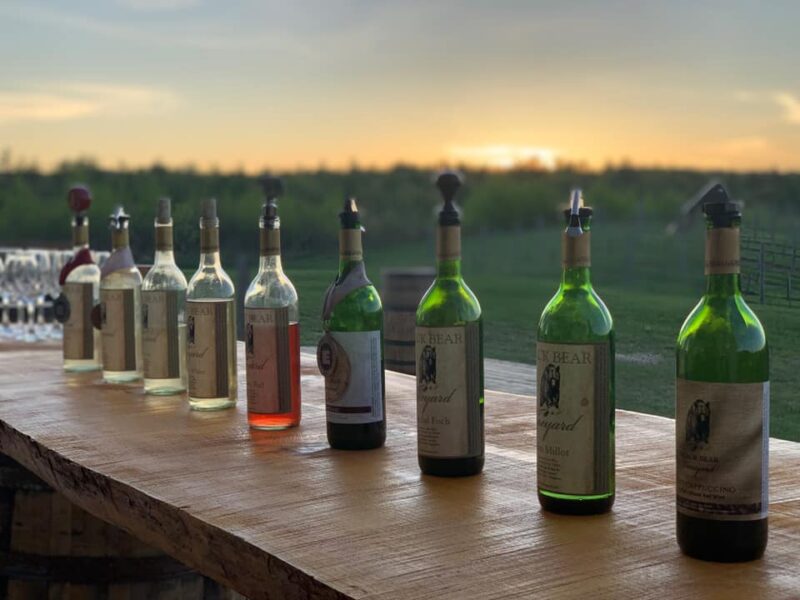 Black Bear Vineyard is one of the largest vineyards in New Hampshire with 18 acres of beautiful rolling hills in Salisbury.
The place is great for a wine-drinking session outside the patio because of the scenic expanding vineyard outside.
If you have a growing interest in winemaking, grape growing, and wine appreciation, the staff at Black Bear Vineyards can introduce you to a casual, educational conversation without the extra charge. The owners are knowledgeable and passionate about their wine, and you can see it in how they talk about it.
They don't serve food but Ted, the co-owner, can set you up for a picnic within their premises. Bring your own food and they'll provide the chairs for you.
If you wish to unwind with some jazzy tunes to complete the ambiance, their staff can also provide you with a boombox which is a cool touch.
The complexity and creativity of their handcrafted wines and secret pairings will surely blow your mind. Ask for their Crescent, Frontenac, and Vino Cappuccino on your next visit! If they have it available, you can also ask for Salisbury Red with frozen strawberries for a unique variation.
This is one of my favorite wineries in New Hampshire because it has a casual, homey vibe, so it's perfect for a low-key date night.
6. Candia Vineyards – Candia, New Hampshire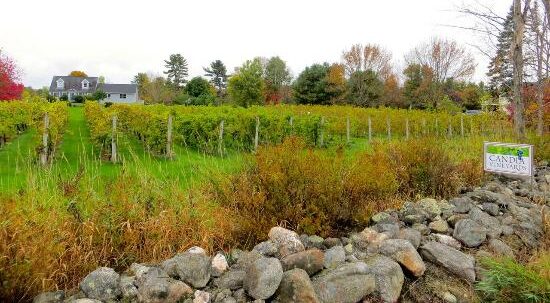 Candia Vineyards is a hidden gem nestled at 702 High Street in Candia, New Hampshire. Their small and humble location may not scream "Winery" but you will be satisfied with what you'll find.
Their headquarters is housed in a private home surrounded by a vineyard rather than the usual winery/restaurant setting. Despite their humble unassuming space, you'll find one of the top wines in the world. The owner is also knowledgeable and passionate about wine, so expect to leave Candia Vineyards with a lot of knowledge!
You can definitely expect a productive chat and a sweet, personal experience when you visit Candia Vineyards with a really homey touch.
Ask for their Moore's Diamond if you're into exploring old-aged wines and their La Crescent if you're into new ones.
Because Canadia is so small, I'd recommend that you call them when you're planning to visit to ensure the owner's availability. If you're looking for really personalized New Hampshire wineries, this is definitely the spot for you!
5. Haunting Whisper Vineyard – Danbury, New Hampshire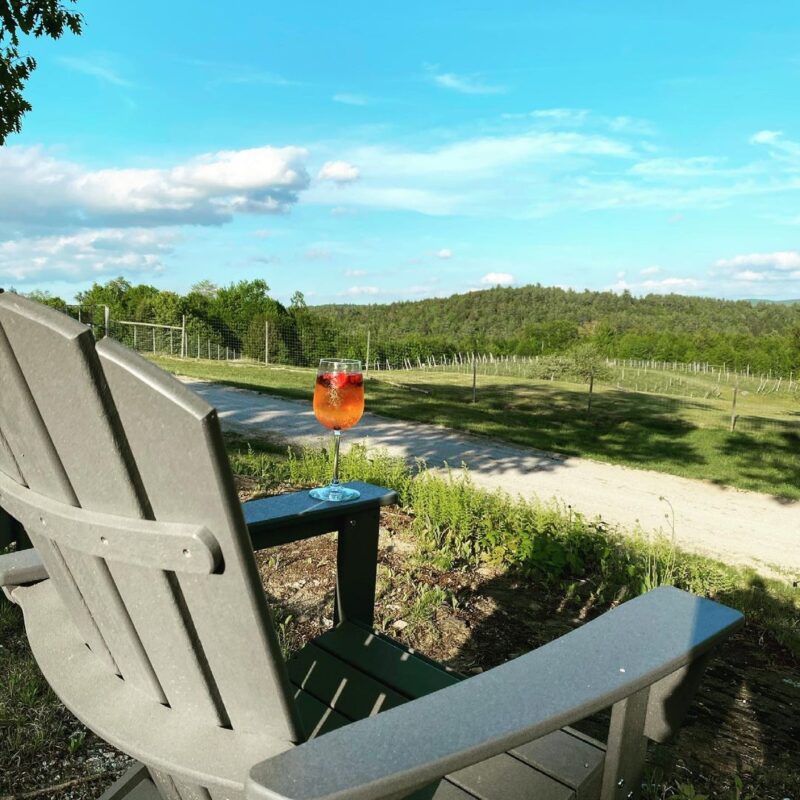 The Haunting Whisper Vineyard is located in Danbury, New Hampshire. This New Hampshire winery was established in 2005 and is owned by the couples Eric Wiswall and his wife Erin, who both found a sprouting interest in the complex art of making wine.
They stand out in the industry with their unique, slow fermentation process called "elongation." They firmly stick to this process to make wines that lean on natural flavors.
Rather than an oaky flavor, the French oaks present in their red wines produces a medium toasty flavor. The light-bodied quality found in their wines also highlights bright, fruity notes.
To see how they apply this technique, ask for their Haunting Whisper De Chaunac, a dry red with a modest cranberry character and smoky notes from French oak. Tastings are usually free, so don't be afraid to ask the owners if you get overwhelmed with the options!
4. Hermit Woods Winery & Deli – Meredith, New Hampshire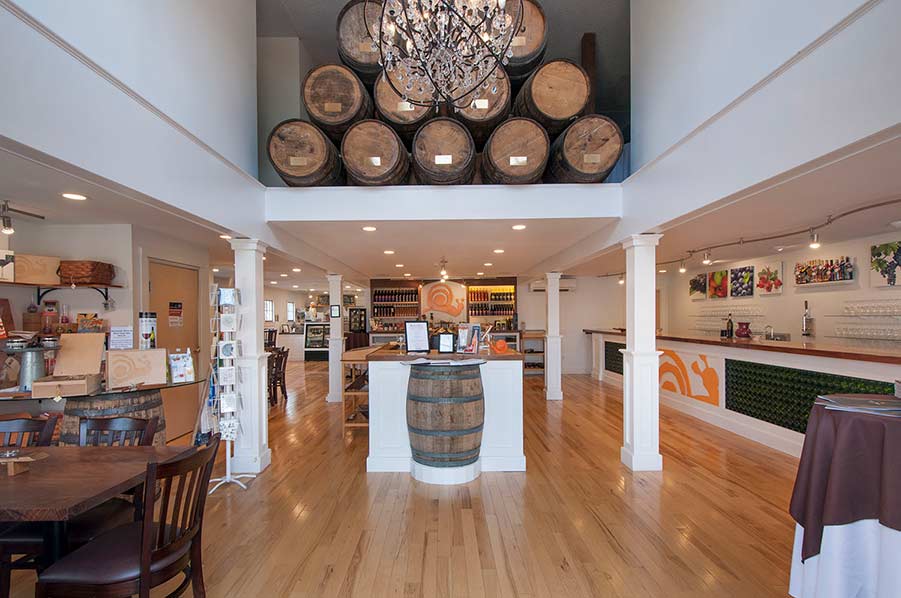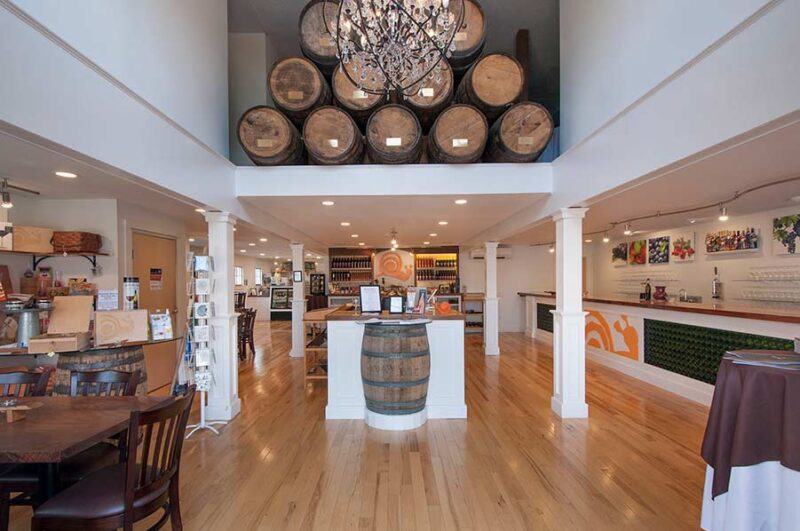 Hermit Woods Winery and Deli is one of the best wineries in Meredith, New Hampshire that offers both wine-and-dine experiences. In fact, they were awarded as one of the "500 Best Wineries in America" in 2017. This is one of the New Hampshire wineries that's totally worth a visit!
Their headquarters is a small winery boutique but their special venue can cater to up to 65 people for intimate events such as weddings, birthdays, and anniversaries. For small groups, you can inquire about their education wine and tasting tour which requires a special reservation.
What I love about this NH winery is their dreamy live piano performances on Fridays and Saturdays. It completes the "fine experience" that comes with drinking wine, eating good food, and conversing with the best people.
Ask for their tasting flight when you plan to visit Hermit Woods Winery. Their wines are made from raspberries, blueberries, apples, cranberry, strawberry, and rhubarb.
3. Fulchino Vineyard – Hollis, New Hampshire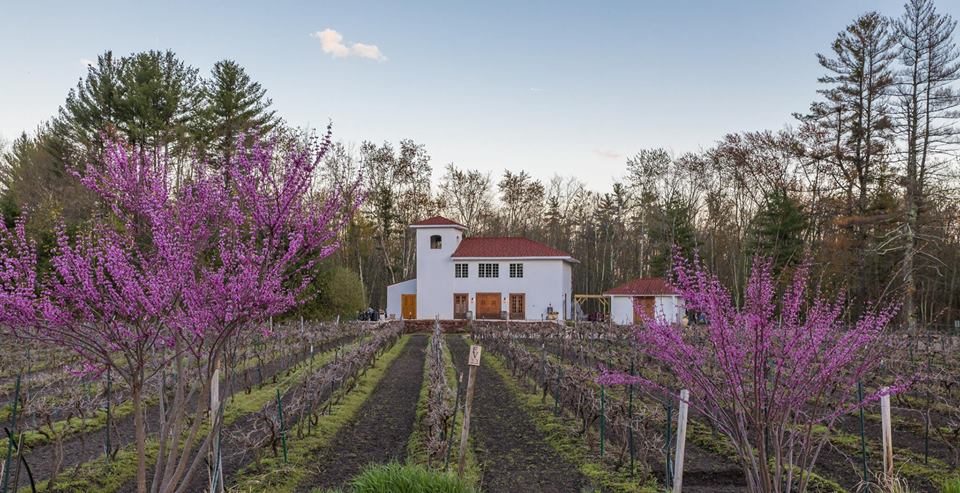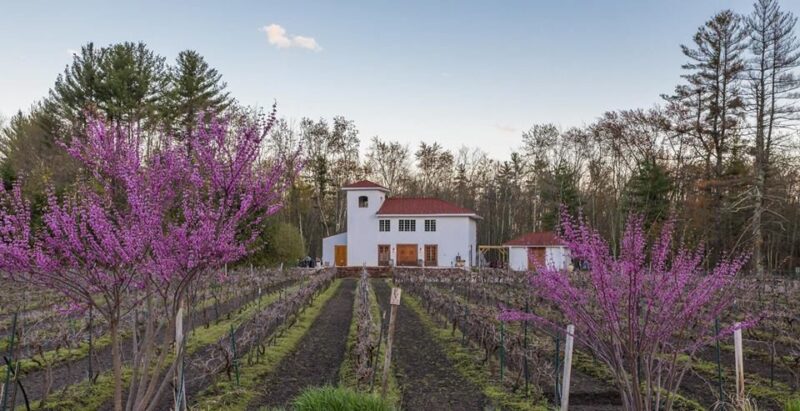 Can you believe that Tuscany can be found in New Hampshire? Fulchino Vineyard is an Italy-inspired winery nestled in the heart of Hollis, New Hampshire. Their well-maintained landscape and Italian-inspired, stucco-constructed tasting room can bring you to a romantic and memorable escapade – a great venue to hold intimate couple and family gatherings.
Fulchino Vineyard is known for its fruit and dessert wines. Ask for their Strawberry Wine for a refreshing, summer-like experience. Their strawberries are sourced from a local farm called Lavoie's Farm, which is also known for growing high-quality berries.
If you're looking for a flight experience, request their gold level tasting, which gives you 8 selections of wine each plus a choice of meat and cheese to enjoy during your tasting plus they offered bread and oil as well. This is my favorite way to spend an afternoon at a winery in NH!
If you're unable to drop by, their wines are also available in local independent markets and in Whole Foods.
2. LaBelle Winery – Amherst, New Hampshire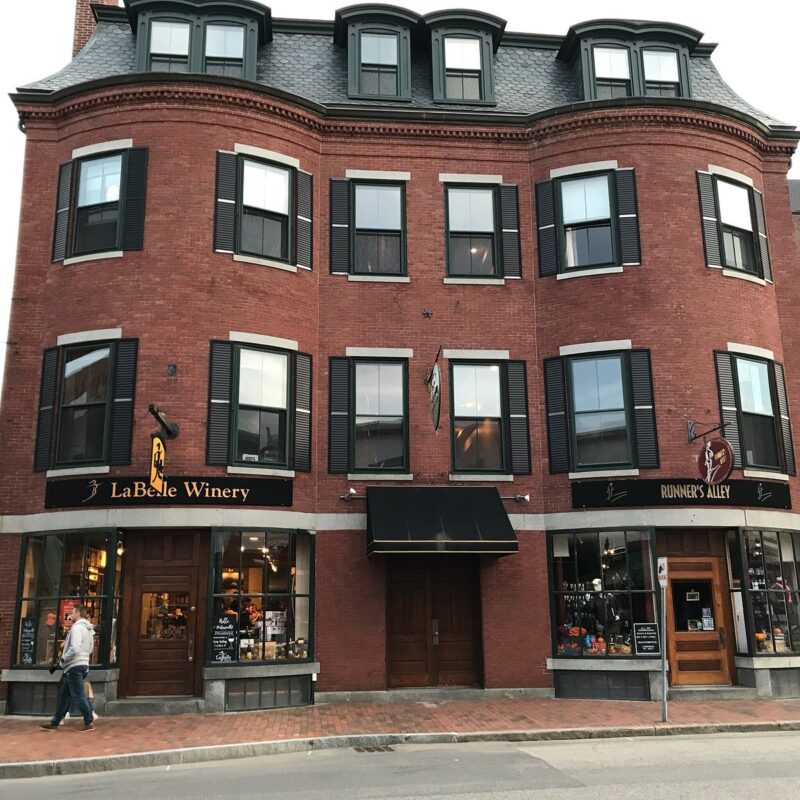 Labelle Winery is a winery that has a vast vineyard, with over 2,000 vines and 7 grape varieties. Despite the hefty production, Labelle Winery is still able to maintain the quality of its offerings.
Labelle Winery staff are also knowledgeable about their wine. With a minimum group of four, the staff can offer an educational tour that includes a thorough look into the history and the company's winemaking process.
Labelle Winery is relatively new to the wine industry in New Hampshire. Within 20 years, the wine company made a name for itself by producing fine classics such as Chardonnay, Riesling, and Gewurztraminer. They also have contemporary options for distinct preferences such as their blueberry port-style wine called the Blue Alchemy.
Aside from their great wine selection, they also host fun-filled events that make them stand out from traditional wineries. Events include live music, tribute acts, comedy nights, cooking demonstrations, and art galleries.
1. Flag Hill Distillery and Winery – Lee, New Hampshire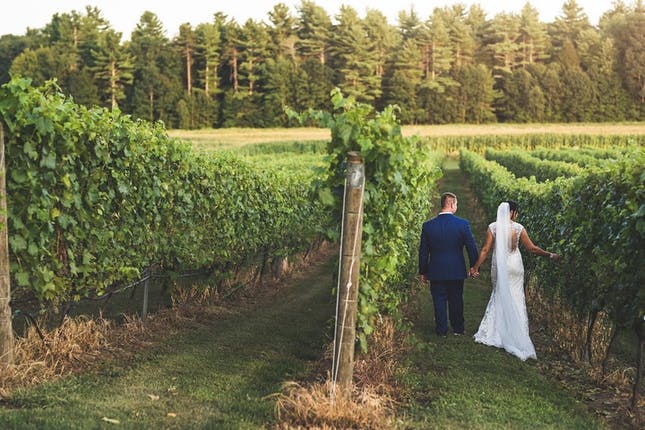 Flag Hill Distillery and Winery is a place for everyone. Their wide selection of wine, spirits, and curated blends caters to every preference. Impress your friends by inviting them over to Flag Hill!
Their place used to be a 17th-century barn for housing cattle and was refurbished into a majestic tasting room and gift store. Their iconic barn is also where most of their unique events are held. If you love events, then you will love their seasonal Chef's Table Dinner series, a delicious 4-course meal paired with one of the winery's wines or spirits.
Flag Hill Winery uses French-American and Minnesota Hybrid grapes to produce their selection of white, red, and sparkling wines. When you visit, ask for their wine-tasting flight with 5 varieties of wine paired with distinct cheeses, crackers, and olive.
I have to say that Flag Hill is my all-time favorite winery in New Hampshire. When we lived in Dover NH, we came here all the time, whether we were looking for a day out with friends or for an intimate date night experience. The grounds are just gorgeous and the wine is always yummy!