There is a common misconception that natural deodorants are not "strong enough" to combat odors or minimize sweating. But that's not entirely true. There are many reasons why I love using natural deodorants over regular ones!
While natural deodorants do not contain aluminum, the key ingredient in conventional deodorants that block sweat ducts and prevent armpits from sweating, it is replaced by natural ingredients like glycerin, baking soda, or magnesium.
These natural ingredients may not keep you fully dry, but that is only because they don't block the natural flow of sweat which can cause body odors to accumulate. There's no way to actually block your sweat ducts without using toxic chemicals.
However, natural deodorants are proven to eliminate body odors and improve your skin's overall health condition.
Here are some reasons why you need to switch to natural deodorant:
Natural deodorants allow you to sweat naturally. Sweating releases the toxins in the body and accumulating sweat by blocking them with aluminum-contained products can make matters worse. Long story short, sweating is actually good for you.
Traditional antiperspirants can make your body odors worse. Most conventional deodorants simply mask the funky smell – not eliminate it. They keep the toxins stuck inside your skin, so over time, your armpits will start to smell worse.
Conventional deodorants contain chemicals that darken the skin. Natural deodorants are ideal for sensitive skin or those who are vulnerable to hyperpigmentation.
24 Best Natural Deodorants That Actually Work
Quick PSA: Before switching to new deodorants, it's always safer to try the product on a small area of the skin to make sure it won't give you allergic reactions.
To get you started, we gathered the best natural deodorant in the market in this article. Read on to discover the best natural deodorants that work for your skin, your lifestyle, and your body!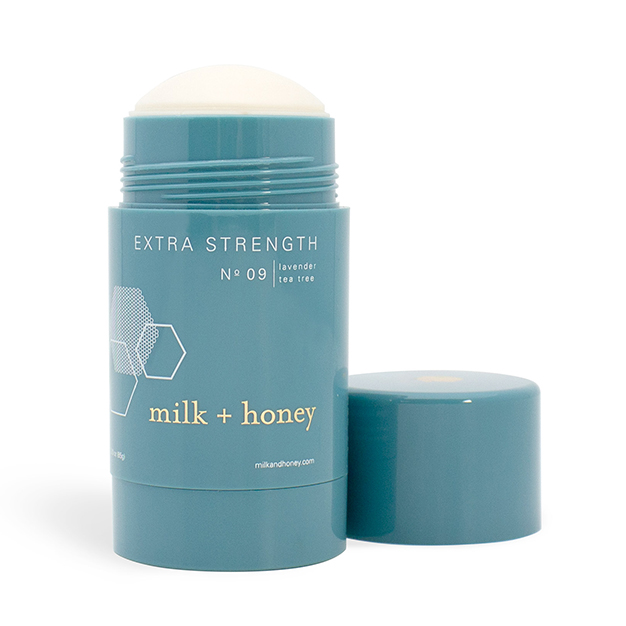 First on the list is Milk and Honey's Lavender Tea Tree Extra Strength Deodorant No. 09. Alissa Bayer launched the brand in Austin in the year 2006 with a goal to offer bath and body products with clean ingredients.
This product contains arrowroot powder and baking soda for extra sweat protection. Because it has coconut oil, it also keeps the skin healthy and protected from common stressors from daily activities; coconut oil also reduces irritation from baking soda.
Milk and Honey's Lavender Tea Tree Extra Strength Deodorant is hailed as a good buffer for those who just recently switched to natural alternatives because it mimics the strength of a traditional antiperspirant. This product is ideal for people working in the field and engaging in physical activities.
Its price is in the mid-level range and costs $16 in most retail stores, though I recommend buying directly from the site for the best quality.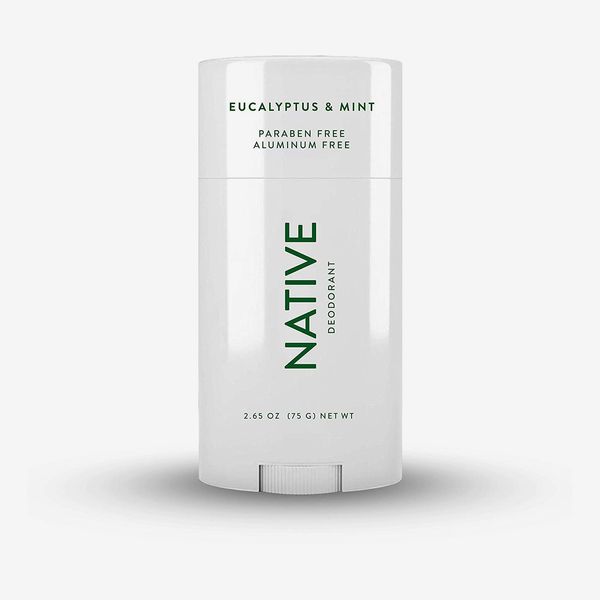 Native's Deodorant in Eucalyptus and Mint comes with shea butter and coconut oil which makes it less irritating.
Their product also comes in highly popular scents such as eucalyptus and mint, coconut and vanilla, coconut and turmeric, and cucumber and mint.
Reviews say that it is considered a strong deodorant for a natural product. According to users, their strongest variation is their coconut and turmeric blend.
Ideally, it is best to find out what scent is best for your body chemistry — especially if you are currently acidic.
The product's price is affordable for a natural deodorant, costing $12 apiece.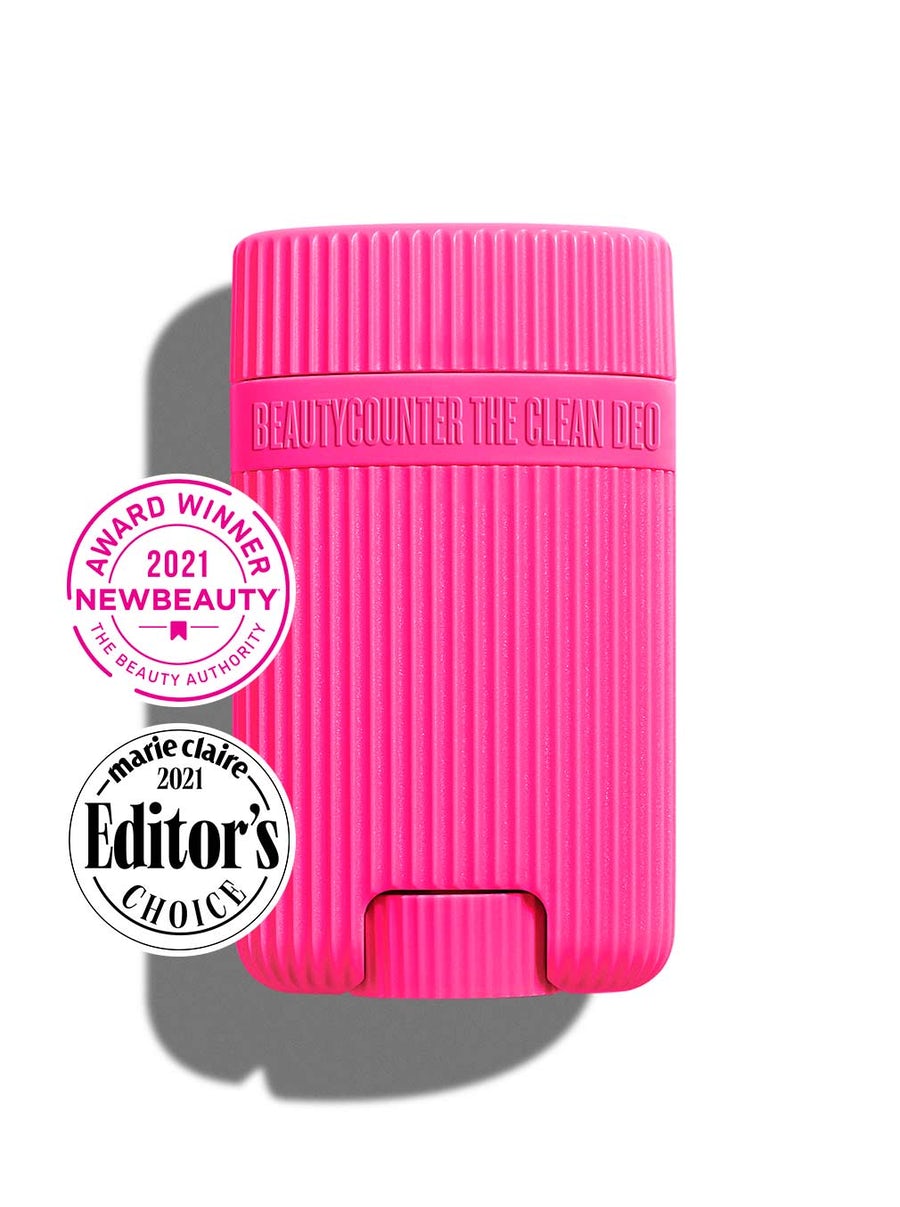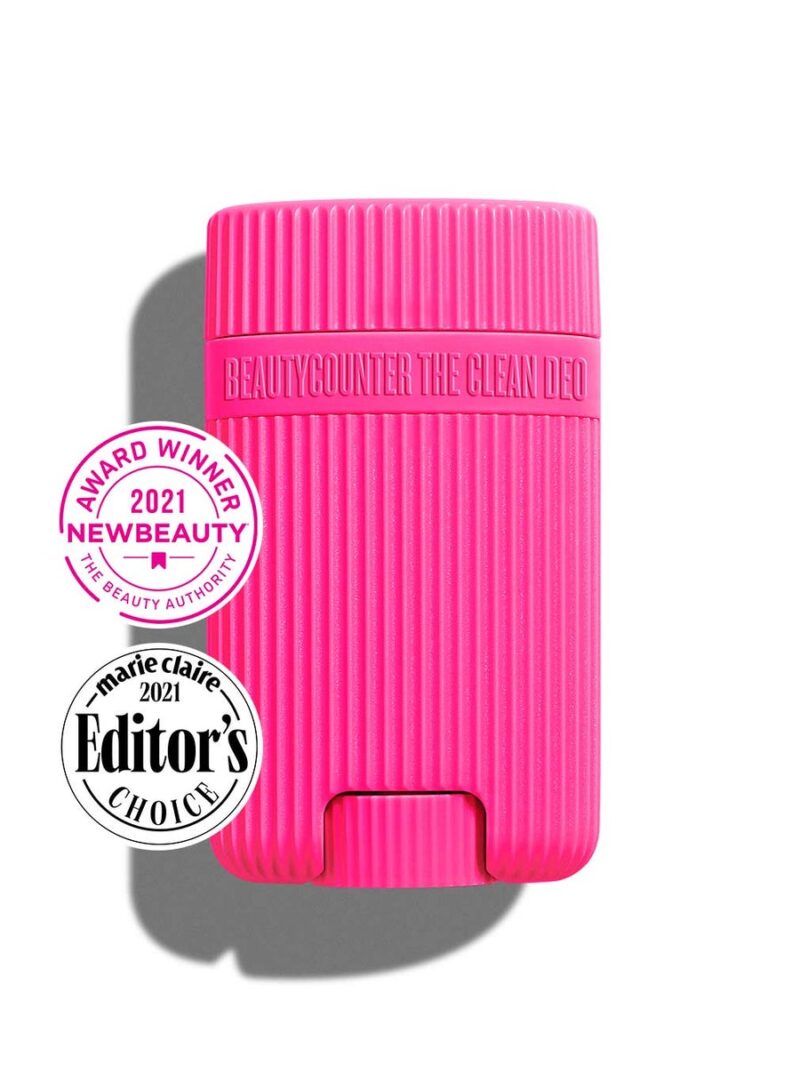 Beautycounter's The Clean Deo is an eco-friendly natural deodorant that comes in a reusable bright pink applicator. If you are trying to reduce waste, you can buy refills and use the same applicator, which I love!
This natural deodorant is composed of ingredients that do not stain clothes. Take note of allergens, as this contains small amounts of baking powder and cornstarch.
These additional ingredients also make up the moisture-absorbing capability of this natural deodorant which is a huge plus. This is one of the best natural deodorants if you tend to visibly sweat a lot and soak your shirts.
Other highlighted ingredients include baking soda that helps absorb wetness and neutralize body odor, coconut oil and shea butter that keeps skin smooth, and candelilla wax which helps keep the skin hydrated.
It is high in cost compared to other natural deodorants on this list, but its quality and effectiveness are worth it.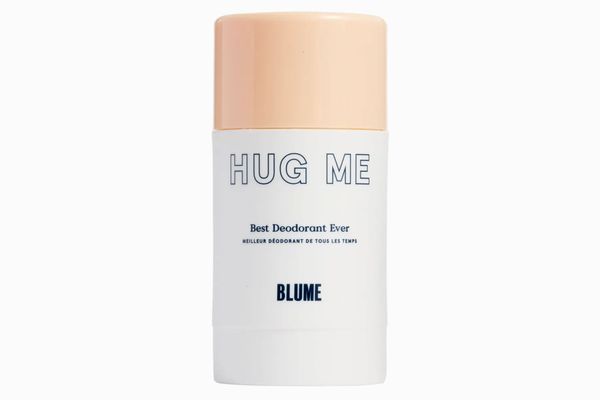 Blume's Hug Me Probiotic Deodorant is known as one of the best-unscented deodorants in the market.
This product contains probiotics that serve as its odor-eliminator. According to Blume, "This healthy mix of good bacteria keeps the bad bacteria (BO) out."
This unique, probiotic-based, natural deodorant neutralizes body odor and saves the skin from the effects of daily irritants. However, some studies claim that probiotic deodorants may not stay on longer, so you might have to put it around 2-3 times a day on average, depending on how you sweat.
It is pretty affordable for a natural deodorant, ranging from $11 to $14. You can get it at its cheapest price if you take advantage of their subscription promo.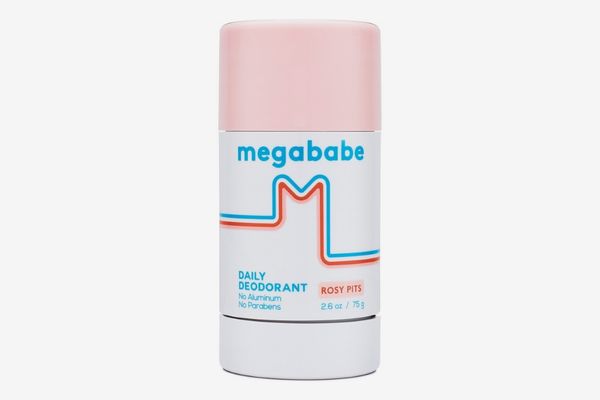 Megababe Rosy Pits is a natural deodorant that does not contain baking soda. Some people claim to have experienced allergic reactions after using baking soda on their bodies. If you're one of them, this product is a good option to consider and is definitely the best natural deodorant without baking soda.
According to Dermatologist Cybele Fishman, baking soda is highly alkaline, which may cause irritant dermatitis in sensitive armpits. You can identify an allergic reaction if you notice a rash after putting on a deodorant containing baking soda or trying it on a small area, like your arm.
This deodorant is made with a wholesome blend of natural ingredients, such as sage and green tea, that helps combat body odor. A bottle of this deodorant can also last a year — which is a great deal for $14.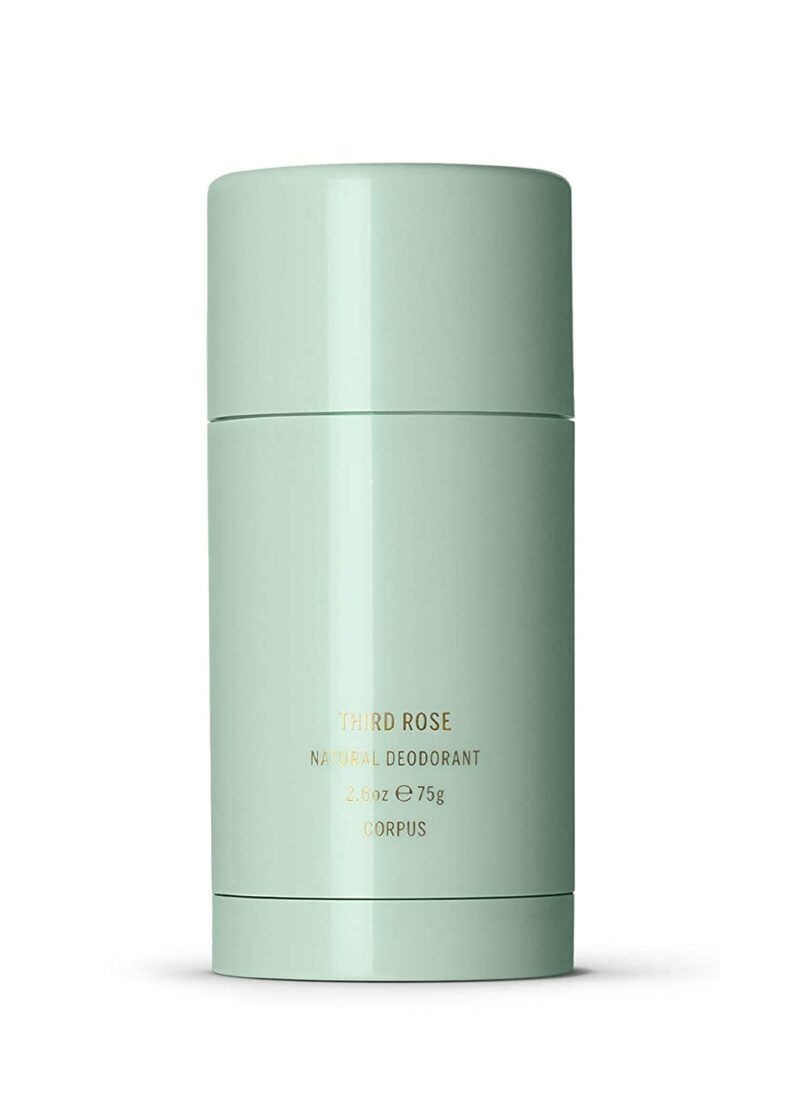 Corpus Third Rose Natural Deodorant is chic, sleek, and subtly elegant. It comes in elevated scent profiles and luxury blends without the use of generic fragrances or harmful chemicals. What makes this deodorant interesting is how the scents are curated like how high-quality perfumes are made.
Some of the scents include:
No. Green – Bergamot, Pink Lemon, Orange Blossom, Cardamom
Third Rose – Rose, Italian Mandarin, Violet, Cedar Root
California – Sea Salt, Bergamot, White Musk, Jasmine
Santalum – Sandalwood, Sandalwood Root, Texas Cedarwood, Amber
Cedar Flora – Cedar, White Musk, Jasmine, Guaiacwood
The Botanist – Petitgrain, Vetiver Root, Geranium Leaf, Citrus Rind
Neroli – Neroli, Orange Blossom, Bergamot, Ambrette Seed
This natural deodorant has a long-lasting water-based formula that has naturally derived enzymes and plant extracts like rose, mandarin, and cedar root to neutralize body odor. It is 100% vegan and cruelty-free.
Although it is quite expensive, the quality tops up its price. This is one of the best natural deodorant options if you like high-end, chic smells.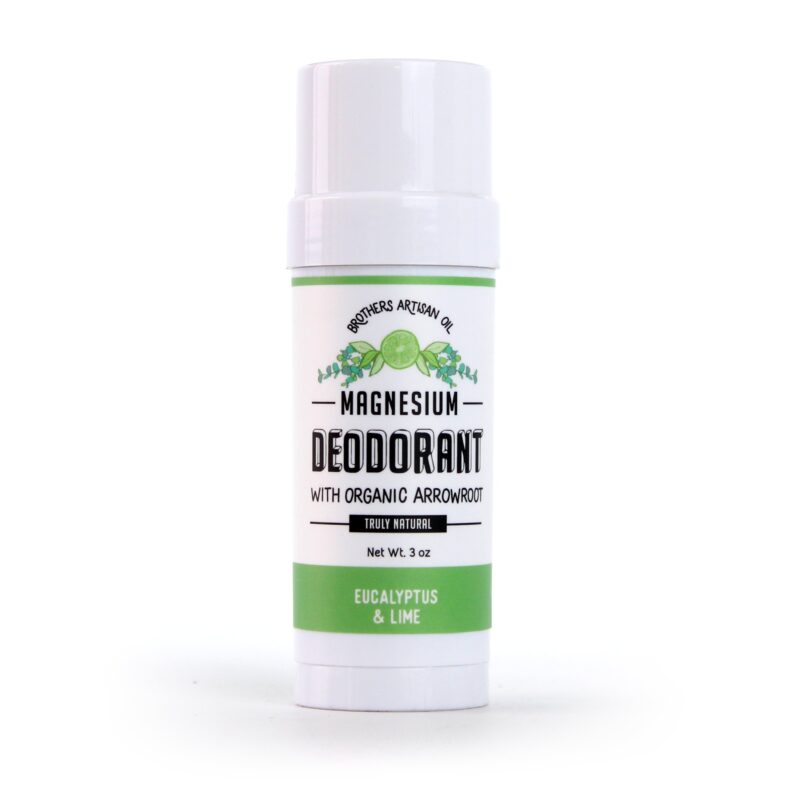 Brothers Artisan Oil Magnesium Deodorant is great for those looking for a gentler alternative to baking soda and is one of the best natural deodorants without baking soda.
Don't get me wrong – this deodorant's strength and long-lasting level are quite a surprise for a natural deodorant. No more shame in living and sweating your best moments!
This product is baking-soda-free, aluminum-free, fragrance oil-free, and cruelty-free. Aside from magnesium, this deodorant comes with arrowroot, an excellent addition for extra sweat protection.
It comes in 5 different scents: Eucalyptus and Lime, Tea tree and Lavender, Fri Needle and Cedar, Frankincense and Black Pepper Citrus, and The Purifying Deodorant.
This is one of the best natural deodorant for sensitive skin options.
Its price is in the middle range and costs $18 in most retail and online stores.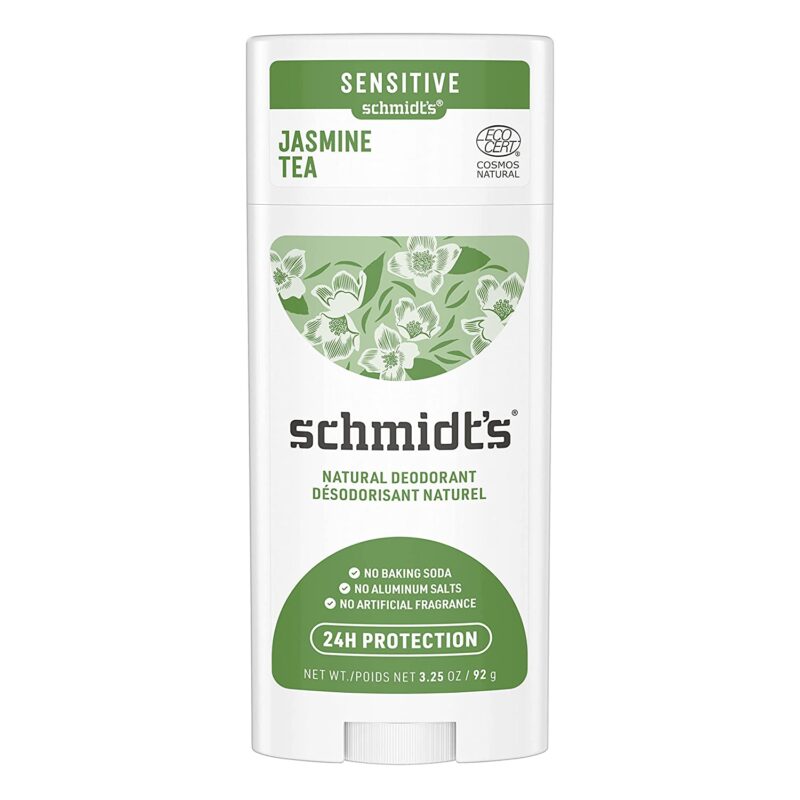 Schmidt's Jasmine Tea for Sensitive Skin is also one of the highly recommended magnesium-based deodorants. The magnesium is said to replace baking soda's odor-busting and moisture-absorbing elements for a gentler impact on the skin, making this one of the best natural deodorant options for sensitive skin.
Schmidt has also gained a reliable reputation in natural deodorants. Schmidt's Jasmine Tea Sensitive Skin Deodorant is even recommended by celebrities like Ana Gasteyer, who swears by its harmless ingredients and effectiveness.
This natural deodorant is vegan, baking soda-free, aluminum-free, and cruelty-free. Reviews say it is long-lasting — even in warmer months.
This natural deodorant is one of the best low-priced options, costing only $10 per product.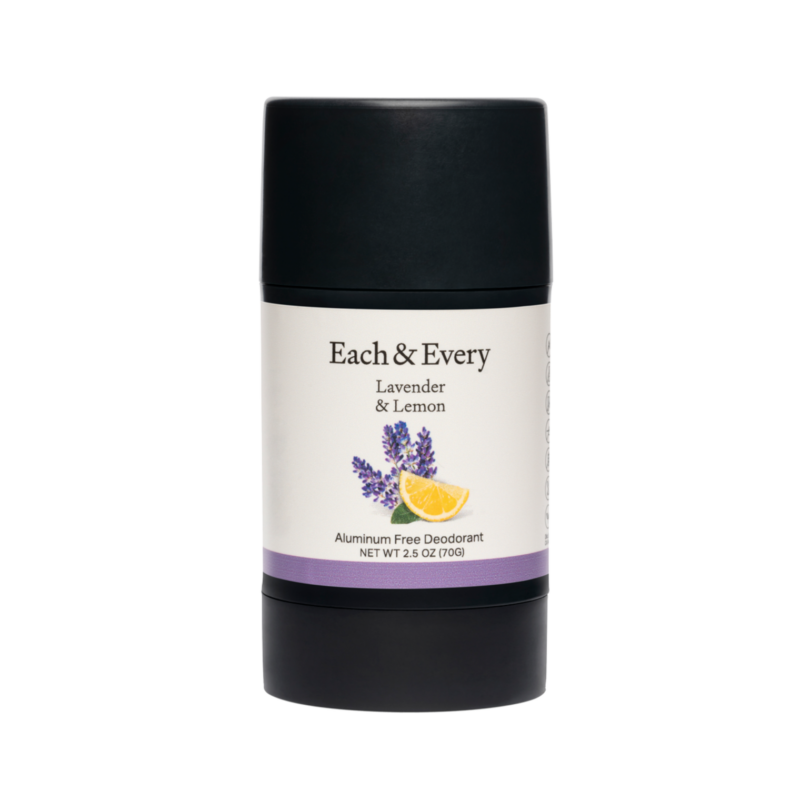 We absolutely love this deodorant's sleek and clean packaging which almost looks nothing like a conventional or natural deodorant!
Apart from Each & Every's All Natural Deodorant's outstanding look, it also contains unique ingredients which are mainly tapioca starch and sea salt. Other highlighted ingredients include coconut oil, lavender oil, earth wax, antioxidant salt, and lemon essential oil.
It has a long-lasting scent that rids you from smelling funky hours after using conventional deodorant.
Reviews say that this natural deodorant is even effective on men and those who are likely to sweat a lot. They have over 12 scents to choose from, so you don't have to worry about smelling too feminine or masculine for your taste.
It is regularly priced at $15 and $12.75 if you take advantage of their subscription.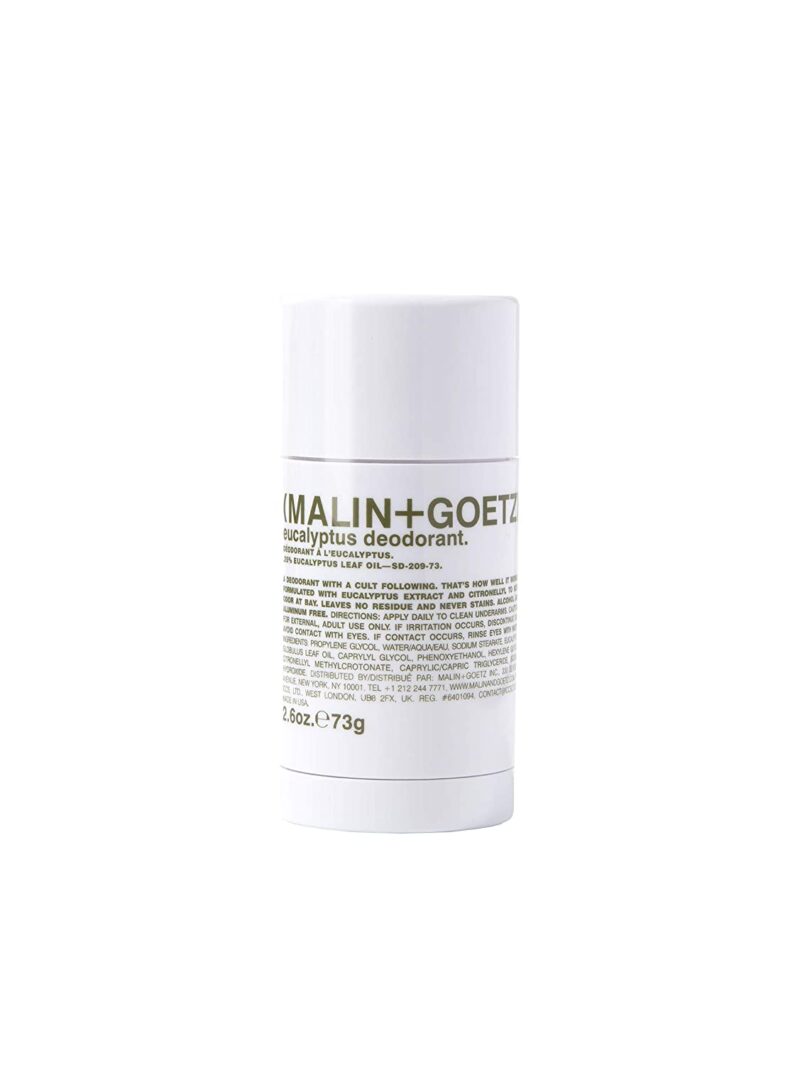 Malin and Goet's Deodorant in Eucalyptus is loved and adored by users because of its clean and fresh pigmented scent brought created by the eucalyptus oil. If you love clean, green, and organic fragrances, you'll surely love this!
Its natural ingredients and essential oils make it less stingy and less vulnerable to harsh irritants. Reviews say that this is the ideal deodorant to put on after doing hair removal such as shaving or waxing (deodorants must be used after 24 hours after waxing). It has a long-lasting scent and odor protection that can keep you smelling fresh even after going on a hiking trip or doing a session at the gym.
This natural deodorant's price is within the mid to high-level range, costing $22 in most retail and online stores.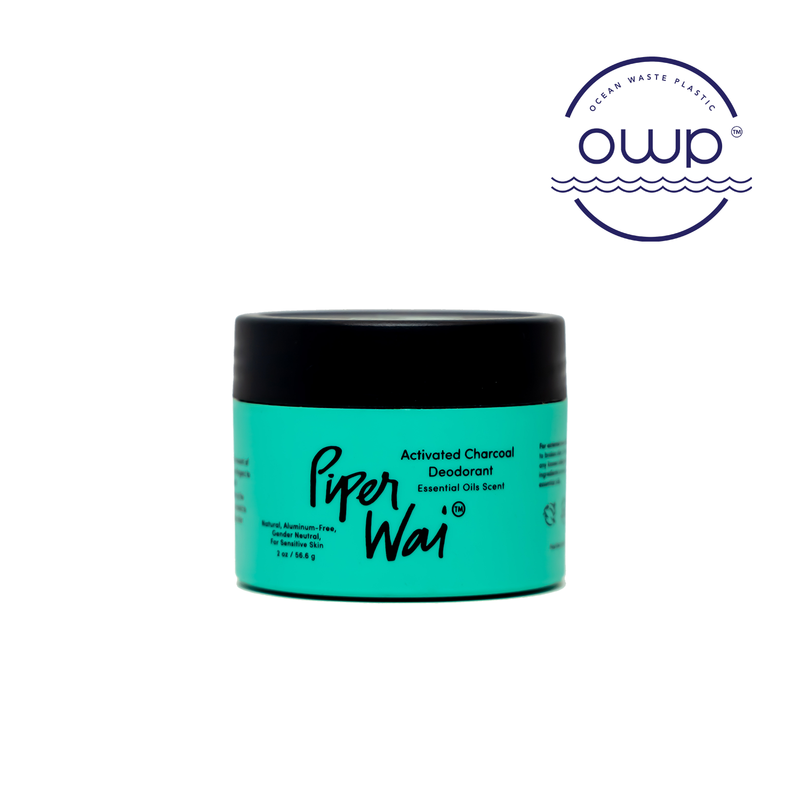 This natural deodorant stands out from other deodorants due to charcoal, its key ingredient. Charcoal is found to be the key odor eliminator in this deodorant because of its ability to pull bacterias and toxins to the surface of your pits.
Another featured ingredient is Tapioca starch, which serves as the moisture-absorption element that minimizes the wetness in your armpits without stopping the natural flow of sweat.
Piper Wai Natural Deodorant Cream is proven to be effective even in warm, humid months. Top reviews say that this product helped them get through a working day under the sun without smelling spicy.
This product can be used as an all-around deodorant, but you can always save a box on hand for the summer season. It is affordable and budget-friendly, costing only $13 a box.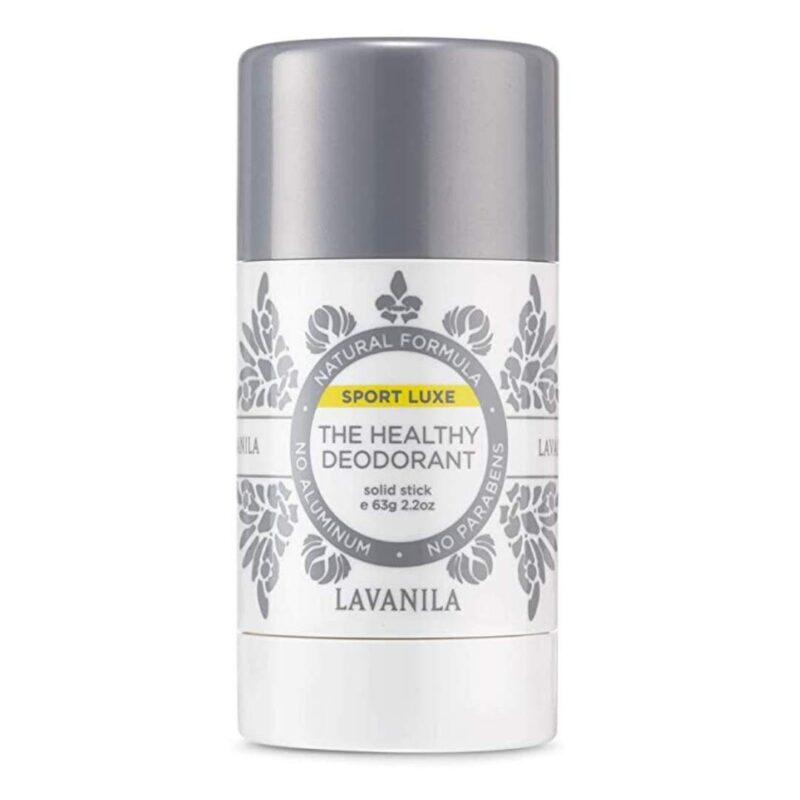 Lavanila is a popular sport deodorant among natural deodorant product users. It has an ultimate moisture-absorbing effect that you would not usually expect in a natural deodorant.
A bottle of Lavanila contains aloe, vegetable glycerin, and baking soda, which all contribute to minimizing wetness. If you sweat a lot, you can give Lavanila a try. Reviews say that it is considered to be a strong deodorant for eliminating odor as well.
It is ideal for people who engage in physical activity, sports, and outdoor work. It is affordable and costs only $14 a bottle.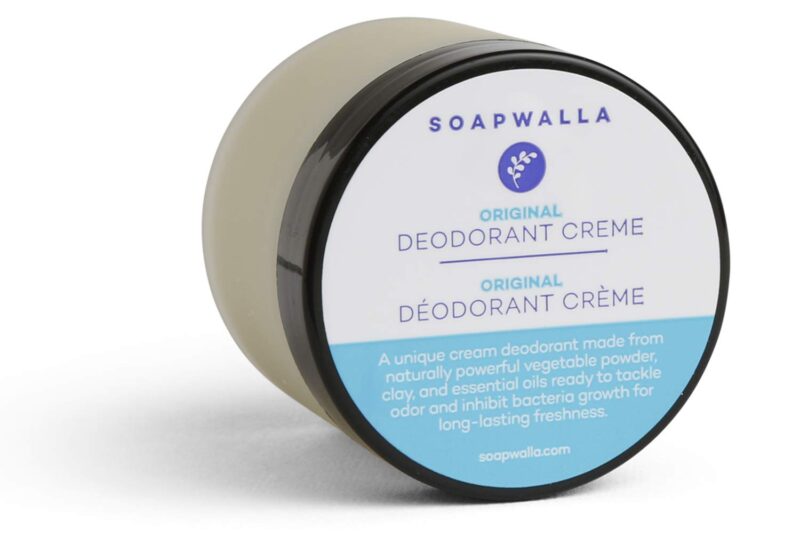 Soapwalla Deodorant Cream is one of the natural deodorant pioneers in the beauty and health industry with a reliable reputation.
This product is all-natural, utilizing superfine vegetable powders to maximize moisture-absorption and essential oils to minimize bacterial growth. The light, frosting-like consistency makes it easy to apply on your armpits.
Soapwalla is Aluminum-Free, Paraben-Free, Cruelty-Free, and vegan. Take note that this deodorant contains baking soda, so do your own homework and test a little amount of baking soda on your skin to make sure you are not allergic.
It is ideal to use in warm months and during sweaty sessions at the gym. It also works great on people who tend to sweat a lot on a daily basis.
Its price is in the mid to high-level range and costs $18 in retail stores.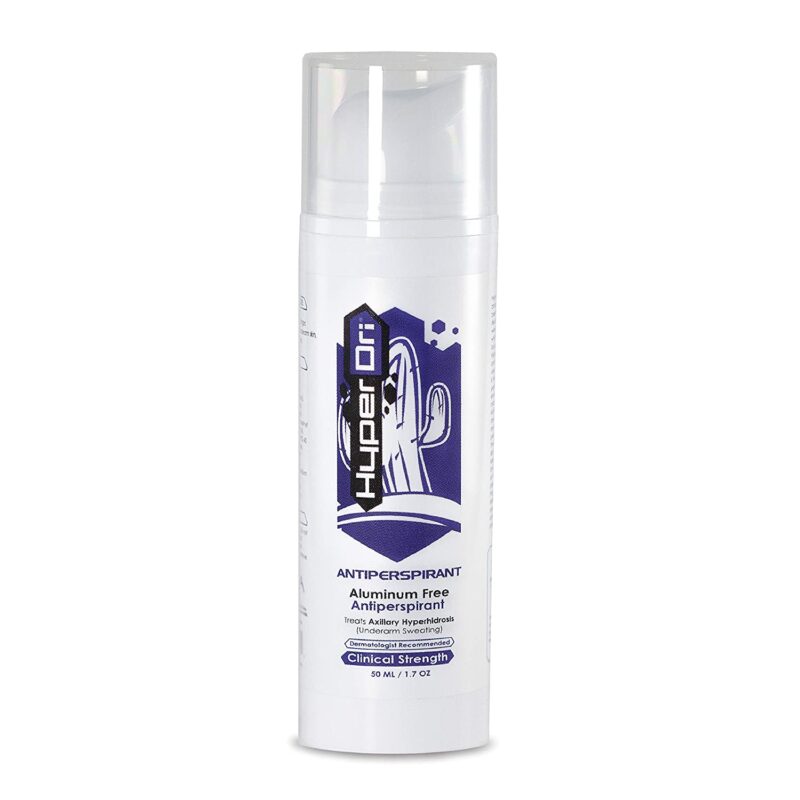 HyperDri Aluminum-Free Antiperspirant is the only deodorant with peptides in the market. The product uses peptides as its moisture-absorbing ingredient in the replacement of Aluminum and doesn't unnaturally block the flow of your sweat.
The peptides in a bottle of HyperDri are backed up with other natural ingredients including tea tree essential oil, lemon essential oil, and glycerin which calms irritated skin. These all work to combat both body odor and sweat issues.
HyperDri is recommended for people with Hyperhidrosis and/or people who often engage in physical activities. It is also great for both men and women because of its unisex scent.
It is quite expensive but worth the price for treating sweat issues, as reviews say. It costs $25 per bottle in retail stores.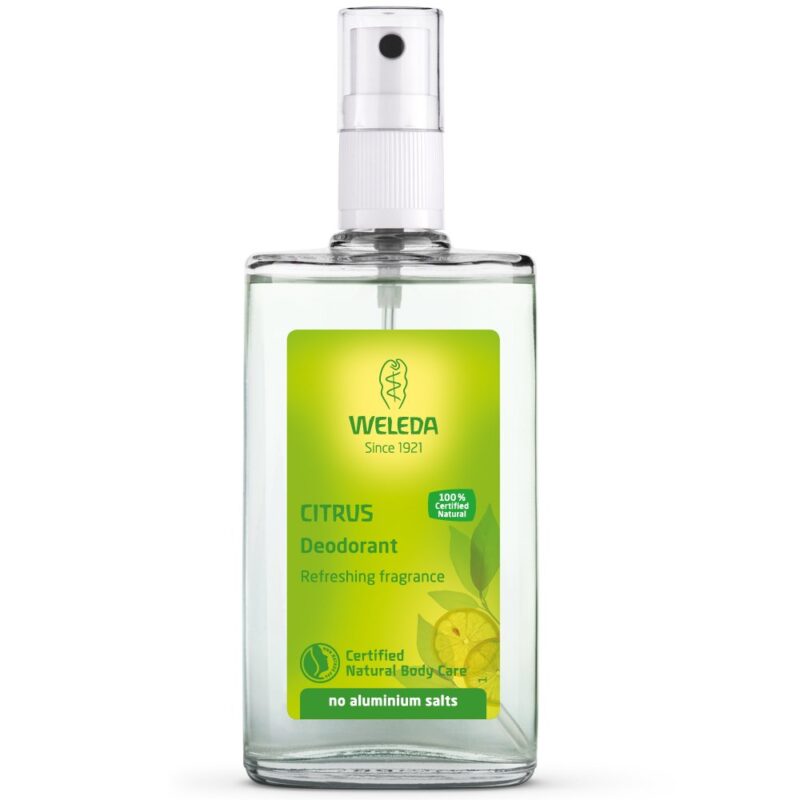 Weleda Citrus Deodorant is made of an alcohol and water base. It is mineral-free, artificial color-free, aluminum-free so don't worry about staining your clothing. It also comes in a spray bottle for easier use.
What we love about Weleda is its refreshing citrus scent that keeps the odor at bay. Some reviews say that they use it as a body spray because of its amazing smell. Its mild blend makes it a perfect option for daily use. Just take note not to put this on after shaving, as citrus oils can irritate skin with fresh, open pores.
It only costs $10 — great for those who are seeking a natural but affordable alternative.
9. Energy Balance Crystal Deodorant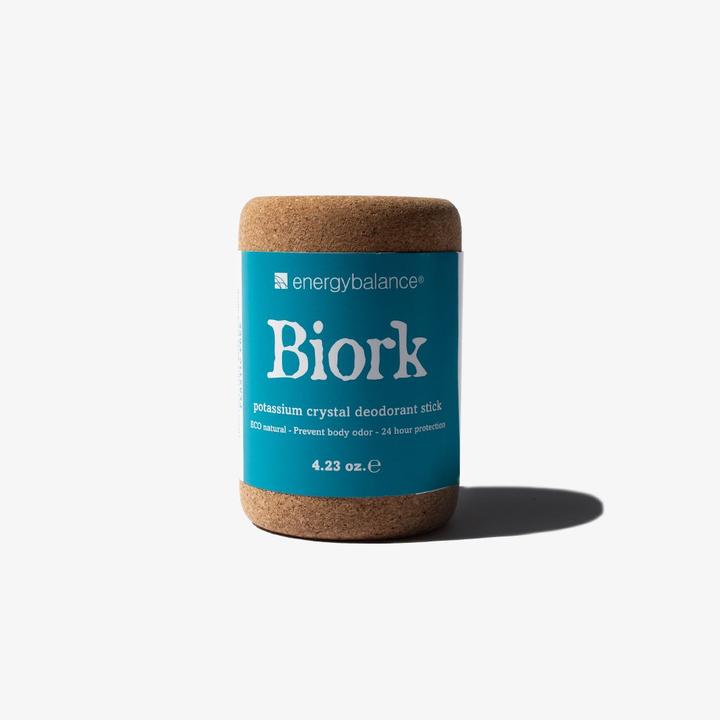 Energy Balance is a crystal deodorant with one ingredient – one! This product swears by potassium alum and its effectiveness in protecting the pits from strong odors. It may not combat sweating, but the good thing is the fact that it does not disrupt your natural sweat flow.
Potassium alum, the product's only ingredient, reduces the potential for negative skin reactions without compensating for its effectiveness. Just make sure to wet the surface before rubbing it on your skin to avoid friction-related issues.
Don't underestimate the power of this crystal. Energy Balance is effective as an all-around deodorant despite being fragrance-free.
For a $20 deodorant that lasts a year, it is a pretty good deal!
"Why not use what's good for your face, on your pits?"
Kosas Chemistry AHA Serum Deodorant uses similar ingredients that face products have, which is what makes this natural stand out in the market. It contains a blend of alpha-hydroxy acids (AHA) that is the same blend used to exfoliate and flush the toxins from the face. Kosas Chemistry AHA Serum Deodorant is also backed up with Hyaluronic acid and aloe vera juice to maintain the softness of the skin.
Numerous reviews mention the extra brightening effect that this deodorant offers. If your pits are likely to become hyperpigmented, this natural deodorant is your best bet.
It is one of the best duo deals you can get, only costing $15 for the brightening and odor-eliminating effect.
Ethique Rustic Solid Deodorant does not use any plastic or wasteful products for their packaging, making them a hundred percent natural product from inside out. It takes a while to switch from a stick to a bar, but the composition of this deo-bar makes it all worth it.
Instead of baking soda, it is made from magnesium hydroxide and bamboo components that are both sweat-absorbent. It also has zinc oxide that prevents bacterial generation of short-chain fatty acids with a bad smell. It is great for daily use but re-application twice a day is advised for heavy sweaters.
Ethique is decently priced at a budget-friendly range, costing only $12 a bar.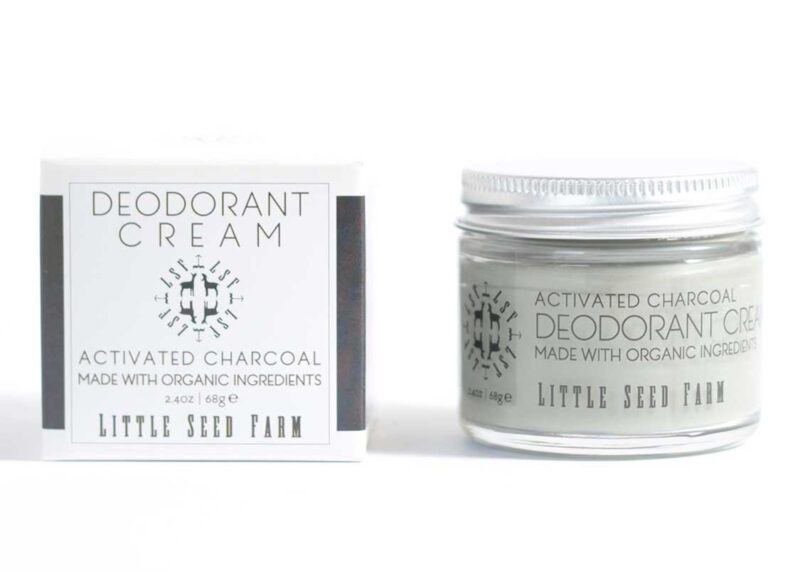 Little Seed Farm Deodorant Cream is cream-based and gentle on sensitive skin. It is formulated with 100% natural ingredients and activated charcoal with no gluten, parabens, or synthetic fragrances.
Armpits are prone to bacteria because they have hair follicles and sweat glands that provide a warm and rich environment for bacteria, allowing them to thrive under your arms. Charcoal helps unclog pores and release toxins from the body which is why they included this ingredient in their product.
Since you will be applying this cream-based deodorant with your fingers, switching can take a while to get used to. If you want to give Little Seed Farm without the fuss, you can get their bamboo applicator, which is sold separately on their website.
It is budget-friendly and affordable, costing only $12 (without the bamboo applicator) on their official online store.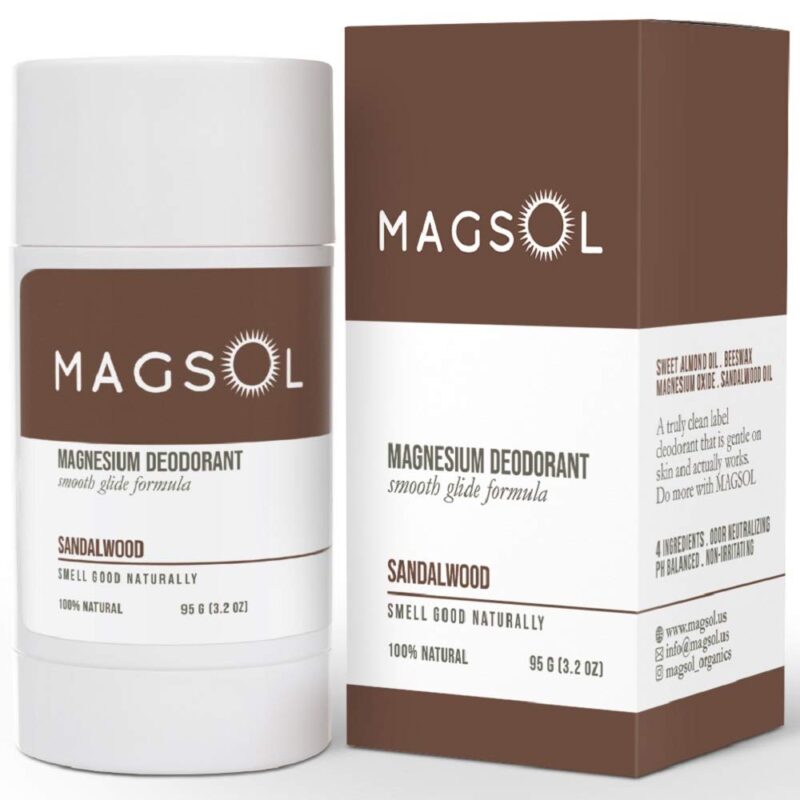 Magsol Magnesium Deodorant is a deodorant for heavy sweaters with sensitive skin. Commonly, natural deodorants contain moisture-absorbing ingredients like baking soda and arrowroot powder. While not everyone's skin reacts to these ingredients, a minimal percentage of natural deodorant users found rashes on their skin upon usage.
Magsol combats odor and sweat with just four ingredients — sweet almond, oil, beeswax, magnesium oxide, and essential oils. Magnesium is its key ingredient for wetness protection, almond oil for reducing skin hyperpigmentation, beeswax for stabilizing odor, and essential oils for softening the skin.
Its price is in the mid-level range and costs $16 per piece.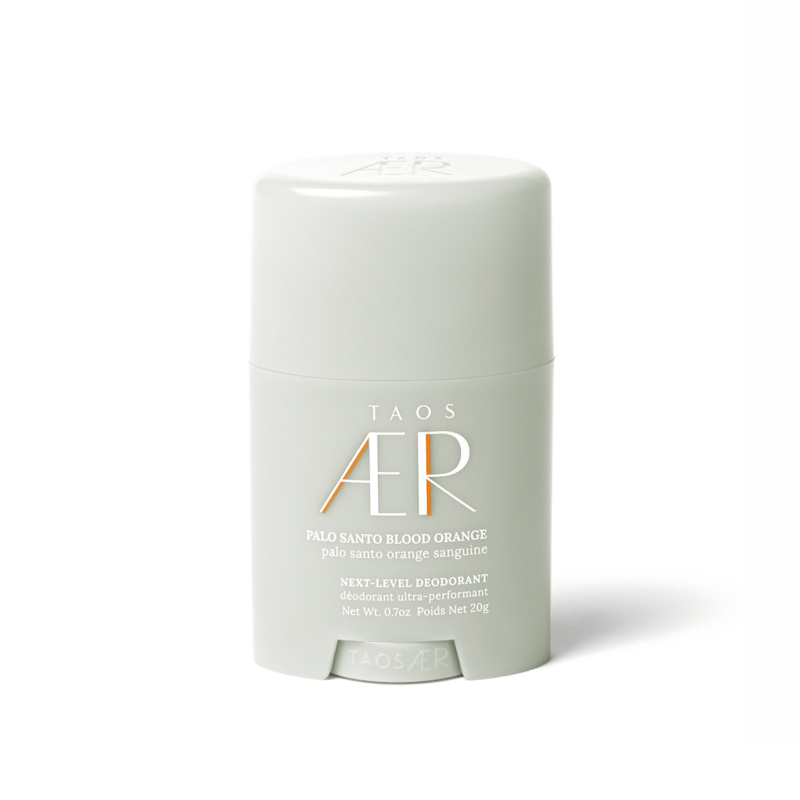 Taos AER's Next-Level Deodorant has a unique gel-to-powder texture that is hassle-free and mess-free. It has naturally-derived ingredients, such as tapioca starch, baking soda, and essential oils to keep your pits odor-free and healthy at the same time.
Reviews say that picking a scent matters. Taos has a variation of scents that you can choose depending on your body chemistry. With the right scent, this natural deodorant can work wonders. Other scents you can test out include Lavender Myrrh and Ginger Grapefruit.
It is budget-friendly and affordable, costing only $12 in most beauty retail stores.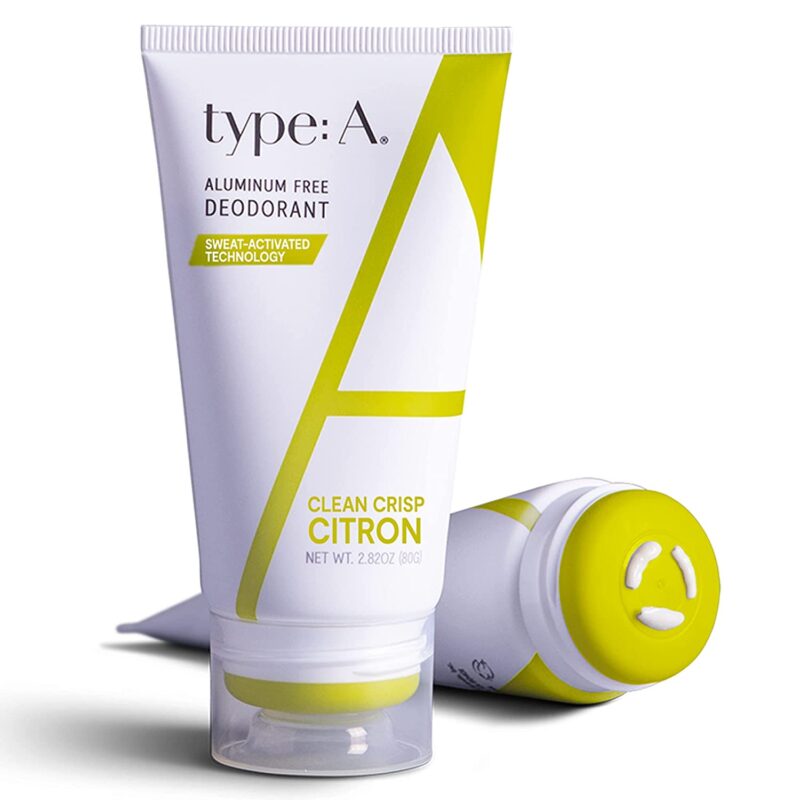 Type: A Deodorant is renowned for its "magic" because of its ability to eliminate body odors and mask it with a likable smell when you start sweating. Reviews say the deodorant's scent becomes stronger in the presence of wetness. "You're not going to smell it or notice it until you start sweating, then you're gonna smell the scent of the deodorant." says one reviewer.
Effective without antiperspirant, this deodorant also patented a sweat technology to combat sweat issues without aluminum. Works great as an all-around deodorant for daily use.
This product is the cheapest one on this list, only costing $9.70 per bottle.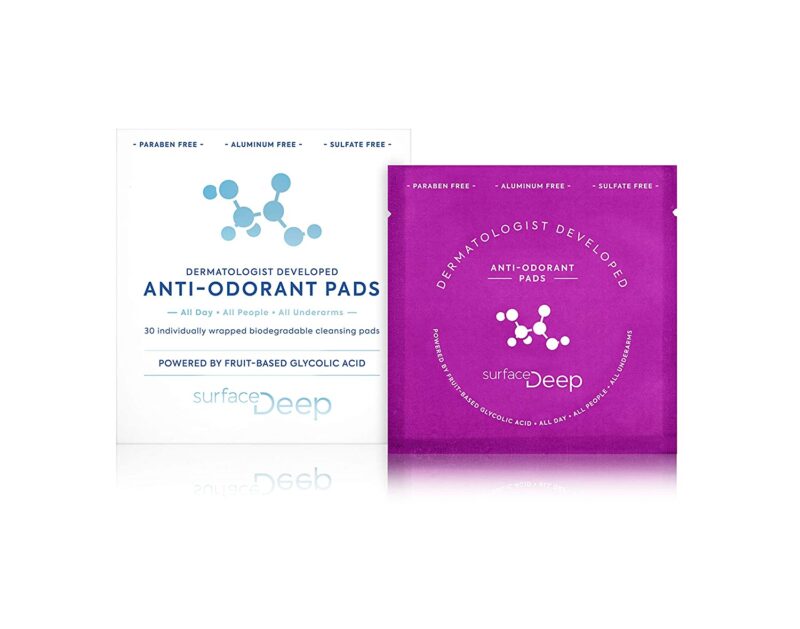 Surface Deep Anti-Odorant Pads is a unique alternative to the conventional deodorant stick or cream. Instead of applying the main product with a stick or an applicator, you swipe the product across your armpits with a round pad.
Because it fits in a standard clutch bag, this works fantastic as an emergency deo when going to formal events and/or parties. The best part? This unassuming deodorant pad can last up to 20 hours, even in warm summer months.
It may be a little costly for a box of 30 ($20), but if you ration, it is sure to last a while.

Real Purity is one of the natural deodorants that combats both body odor (BO) and sweat issues. Because of its glycerin content, it is able to absorb sweat without aluminum. Reviewers who used to sweat heavily (who held onto men's deodorants for years) said this was an effective alternative for them.
Real Purity contains glycerin and magnesium which are both key ingredients for eliminating odor and minimizing wetness. It also has a subtle amount of aloe vera for soothing the skin.
This natural deodorant works best for heavy sweaters, people who work in the field, and those who engage in highly physical activities.
It is a bit in the mid-range, costing $18.50 per bottle.