If you're looking for refreshing manicure ideas, look no further than these turquoise and teal nail designs.
It's that time of year again: we're ready to break out all of the nail colors that remind us of the beach! And what's more summery than turquoise and teal nails?
We're loving the teal and turquoise nail look this year. It's sleek and fun!
What's The Difference Between Turquoise & Teal?
Both turquoise nails and teal nails are in right now. But what's the actual difference between these two colors?
Like turquoise, teal is a color that is greenish-blue. The main difference between turquoise and teal is that teal lies in the medium/dark range of the color spectrum because it is one of the deeper shades of bluish green. Meanwhile, turquoise has a bit more yellow in it and is brighter in color, on the lighter end of the color spectrum.
Here's a photo to show you the visual difference: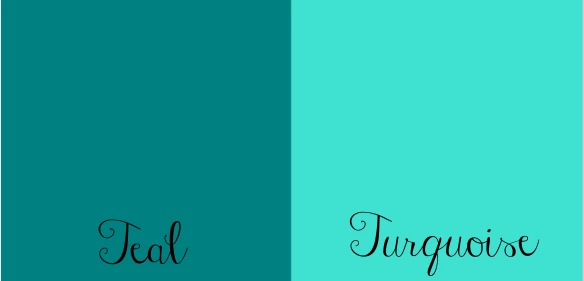 Teal & Turquoise Nail Trends:
You'll see that lots of different designs are trending right now based on the photos below. And the more eclectic, the better! Most nail artists are doing a slightly different design on each nail. Seriously: chaos is in.
Of course, the abstract swirly wave look is trendy this summer. However, there are also many other trends that work year-round, such as the marble look, ombre turquoise nails, slightly different shades of teal on each nail, and more.
And you can do just about any shape with turquoise and teal nails. You'll see square, oval, short nails, and more.
Browse the inspiration photos below to get a feel for turquoise and teal nail trends right now!
Teal & Turquoise Nails:
Here are 42+ of our favorite turquoise and teal nails for inspiration. Copy these designs at home, look for stick-on nails on Etsy, or show your nail technician these photos to copy the look.