Have you ever had the impulse to wear a cute outfit for a run? Perhaps it's something that makes it easier to get yourself in the habit or just something that makes you feel good.
Today I'm sharing some of our favorite running outfits for inspiration as well as some general guidelines to use when planning what to wear running.
The general rule when choosing clothes to wear running is to find materials that do not withhold or absorb moisture. Regardless of the weather or the temperature when you're planning to run, you will sweat. Although layers are important in retaining heat in cold temperatures, it is crucial to find breathable clothing. We'll discuss more on shopping for running clothes later on.
After you read this article, you'll surely have fewer excuses to get on your shoes. So let's get to it!
Shopping For Running Outfits:
Before you hit the stores, check out these materials when shopping for running clothes:
Moisture-wicking: Fabrics with moisture-wicking technology keep you dry by getting rid of accumulating moisture when running or when doing intense, sweat-breaking activities.
Quick-drying: Fabrics such as polyester, nylon, and merino wool also play a very important role in keeping moisture from accumulating by allowing the fabric to dry quickly. This works well if you sweat a lot or if a rain shower unexpectedly passes while running.
Sun protection: There are clothing items like windbreakers and long-sleeved buffer tops that have sufficient protection from UVA and UVB rays. This is particularly important if you're the "rain or shine" type of runner or if you run in off-road trails where there are less likely to have shaded areas.
Thumbholes: Thumbholes just don't look cute but are useful for cold days as well! Long-sleeved tops with thumbholes keep the sleeves in place while you run. This allows your body to maintain warmth. During the winter, you may add mittens or gloves to increase warmth.
Compression: With everything in place with a compressed and tight fit, you can feel lighter as you run. Compressed leggings, tights, and shirts are surely available in your favorite sports retail stores.
Packable (for travel): Packable items are easy to bring and transport from one place to another, especially if you still have to travel to a running trail. Packable clothes are usually lightweight, so they are easier to slip in your day bag in case you have time for a run after doing errands.
Insulated: Insulated clothes provide extra warmth when running during the cold seasons. Unlike thick cotton and fur, clothes with insulation are usually lightweight and easy to carry.
Chafe-free seams: Chafing can be very evident and uncomfortable when your body starts to sweat. The discomfort may also agitate your posture and stride while running. Opt for leggings and tops with chafe-free seams to avoid rubbing between the body's folds.
Mesh vents: Tops with mesh vents help release accumulated sweat and moisture in the body. Such technology supports other breathable materials in keeping high-heat areas like your underarms and back cool as you run.
Reflectivity: If you're a sunset or sunrise runner, you might want to wear clothes with reflective accents to avoid possible accidents in the dark. If you want to go all the way, you can go with a bright neon top.
Pockets: Built-in pockets are common in sports clothing. This can be spotted in most running shorts and leggings. Some tops have this feature as well. This can allow you to bring small important items like ID, card, phone, and keys without having to wear a bulky body bag.
Running With The Seasons:
Here's a guide for what to wear running during each of the seasons, since you'll be outside!
What To Wear Running During Spring
Spring is one of my favorite seasons for running. You can see the subtle changes from spring, snow slowly starting to melt into the void, and signs of life starting to reappear everywhere. It's like winter never happened!
Plus, spring has some of the best medium temperatures for running.
The only things that I am concerned about running during spring are the slippery roads and the windy days. In fact, most countries experience spring as the windiest time of the year. And the wind, as we all know, can easily reduce the heat stored in a runner's body.
If you're wondering what to wear running in the spring, investing in a high-quality windbreaker is your best bet. You may add it over a single base layer like a breathable shirt. If it is still extra cold, you can wear a neck gaiter and hat. To combat slippery roads, you may need to stick with trail runner shoes or anything you have worn running in winter.
Outfit Idea: Wind-Breaker Jacket + Breathable Shirt with Insulation + Neck Gaiter
What To Wear Running During Summer
Time to strip off those layers! Summer is both a runner's dream and worst nightmare. Temperatures are finally high and dry, but so are the sun's rays. Picking the wrong time to run can put you in a very dangerous spot depending on the temperatures outside.
When running during the summer, it's important to pick pieces that work well with sweat and moisture. Breathable and loose clothing is ideal, especially if you live in humid and warm areas. This can improve airflow, allow evaporation, and reduce possible sweat build-up.
For shoes, you might want to switch up to a pair with mesh material that can release heat and sweat from your feet while running. But feel free to shift to high-grip soles if you plan to run on a rainy day.
Extra tip: Opt for light colors for a cooler and fresher feeling
Outfit Idea: Light Colored Dri Fit Crop Top + Bicycle Shorts
What To Wear Running During Autumn
Autumn is one of the best times of the year to start running. It can keep your body warm during a time when it's popular to start slacking off on the couch while drinking hot chocolate. If you're the type to hibernate and stay at home in the winter, autumn is the best opportunity to collect dopamine and prepare yourself for the upcoming year.
When picking running outfits for autumn, you'd want something insulated and breathable but not too warm. You can add a buffer layer between your base shirt and your windbreaker to regulate your temperature. If the temperature is approaching winter, you can add headwear to keep your head warm as well. Overall, it's important to keep everything snug and fit.
You can stick with your summer shoes or move on to your pair for the winter. Shoes made with Gore-Tex waterproof material, insulation, and high-grip soles are the most ideal.
Outfit Idea: Dri-fit Tech Shirt (Fit) + Mid-Layer + Windbreaker + Neck Gaiter
What To Wear Running During Winter
Running during winter is about staying dry as much as possible. If you wore cotton clothes during some of the other seasons, it is quite forgivable (noted that you do not do this on a normal basis). But wearing cotton pieces and sweatpants in winter is the worst you can do. Although it can keep you warm for a while, cotton is moisture-absorbent, and having that type of clothing clinging to your body often means you'll stay wet the most during your run. Wet clothes and cold weather are the last things you want to combine, especially if you are prone to colds.
When layering during the winter, it's important not to go overboard with it. Too many layers can be uncomfortable and heavy and may slow you down in the process. Excessively sweating is also not advisable in low temperatures since this can actually lower your body heat.
When shopping for winter running outfits, pick pieces made of Merino wool as it both has quick-drying and temperature-regulating properties which are both very important when dealing with cold weather. Accessories like a thermal headband, gloves, neck gaiters, and tall socks can also help in protecting vulnerable areas in your body from going cold fast.
For shoes, the most ideal pair should have waterproof properties like Gore-Tex and high-grip soles that can keep you safe when stepping on hazardous slippery surfaces.
Outfit Idea: Thermal headband + Lightweight/Pocketable Down Jacket + Long-sleeved Base Layer + Neck Gaiter + Gloves
Temperature Matters: What To Wear Running By Temperature
Knowing the conditions better by temperature can help you accessorize smartly, especially with the fluctuating temperatures during the transitional period of the seasons.
Working with layers is important during the cold seasons, but it is also crucial not to go overboard with it because your body gets warm as you move it during your run. Too many layers can encourage faster heat loss in the body.
When looking for a running outfit, always remember to dress as if it is 10 degrees warmer than the actual temperature outside. You may feel a little colder as you walk out the door, but as you start your run, your body recovers easily.
What To Wear Running In 60° Weather
Well, you're in luck! If you're planning a workout within this temperature range, there is really not much to worry about. You only need one base layer and a bottom. A short-sleeved loose top or a sports bra underneath a light windbreaker paired with a pair of shorts or leggings is enough to cover you up.
What To Wear Running In
50° Weather
Not so warm, not so cold. Running in 50-degree weather is still considered ideal. On top of a base layer, like a Dri-fit shirt, all you need to add over it is a long-sleeved top like a lightweight windbreaker. Insulation is not that important unless the temperature drops. You may wear the insulated top as is, without adding any more layers in this type of weather.
What To Wear Running In
30° Weather
30-degree kinds of weather usually happen when summer transitions to autumn but is possible all year round depending on the hour of your run. All you need to wear is one base layer, a long-sleeved shirt on top of that, and a pair of capris or running tights. Add light gloves and a hat to protect your vulnerable points from the cold breeze.
What To Wear Running In
20° Weather
Believe it or not, it's not the time to go 100% overboard just yet. A pair of thermal pants and a lightweight long-sleeved top beneath a windbreaker are all you need to wear. Accessories like gloves/mittens, a hat, and thermal socks are essential as well. Depending on the wind movement, you can adjust your base layer or your jacket. Remember that the wind can make this weather feel a lot colder!
What To Wear Running In
10° Weather
A base layer, long-sleeved mid-layer, and a lightweight jacket to top it off are what you need in 10-degree weather. Since you will be working with 3-tier layers on the upper half of your body, it's important to keep everything snug and fit. This way, your body heat is preserved. Insulated fleece-lined tights, wool hat, neck gaiter, gloves, and long thermal socks are some of the accessories you might have to add in to your fit.
What To Wear Running B
elow 0°
Not everyone has the guts to run in very cold, frosty weather, but it is ironically a great technique to preserve heat and increase dopamine levels in the gloomy winter season. T
o enjoy a comfortable run below zero degrees, start with a snug-fit base layer, a long-sleeved mid-layer, a jacket, and a down vest is what you need.
For your bottoms, secure a pair of thermal pants and wear shoes that are waterproof. Like any other weather, try to avoid cotton. Because even though you are less likely to sweat profusely in winter, cotton can absorb surrounding moisture which avoids the use of layers.
For your accessories, you will be needing a buff or neck gaiter, hand warmers, and a thermal hat. As much as possible, minimize exposing skin to keep it from the cold.
Rain Or Shine: Running In The Rain
Running in the rain may be an unconventional practice, but it is in fact, a therapeutic experience for some people. According to Healthline, it is perfectly safe to run under light showers but thunderstorms and rains in weather below freezing are generally to be avoided.
Base Layer: Lightweight Shirt or Sports Bra
When you're running in the rain, you would like to wear something that can't weigh you down even when you're drenched with rain. The last thing you'd want to wear is something made out of cotton. While a knotted white shirt may look hot in the rain, you'll easily regret it as soon you get a bad cold. A lightweight sports shirt or a sports bra is enough for your base layer.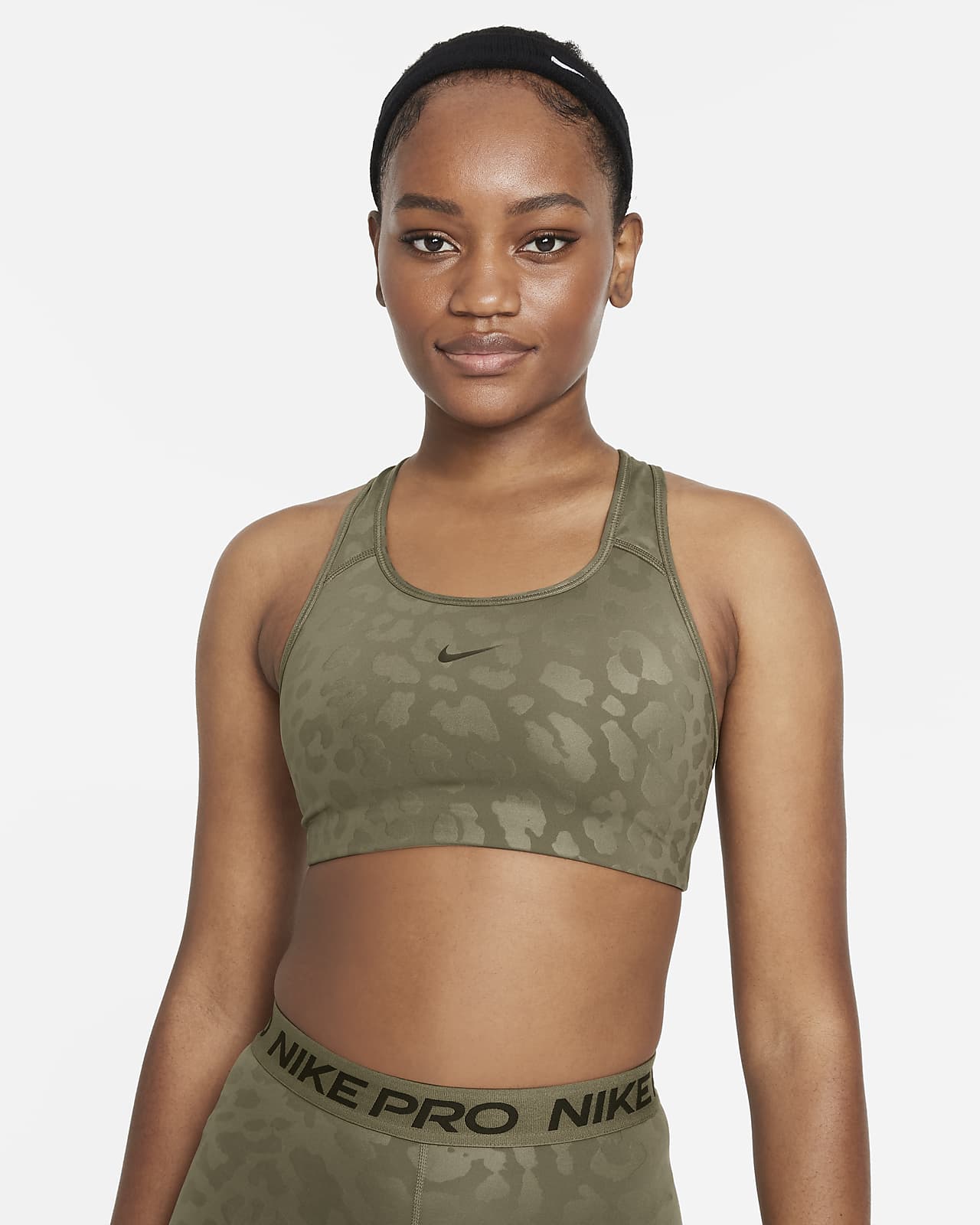 Second Layer: Waterproof Shell Jacket
It really depends on the weather or your preference, but if you like to cover up a bit (especially if you're only wearing a sports bra), a nice waterproof shell jacket is your best bet. Some people like to get entirely wet in the rain but if you're trying to stay dry as much as possible, you'll have to add a mid-layer. This can also provide protection from exterior elements. Alternatively, you can wear a hiker's rain jacket or a lightweight windbreaker if that is more accessible.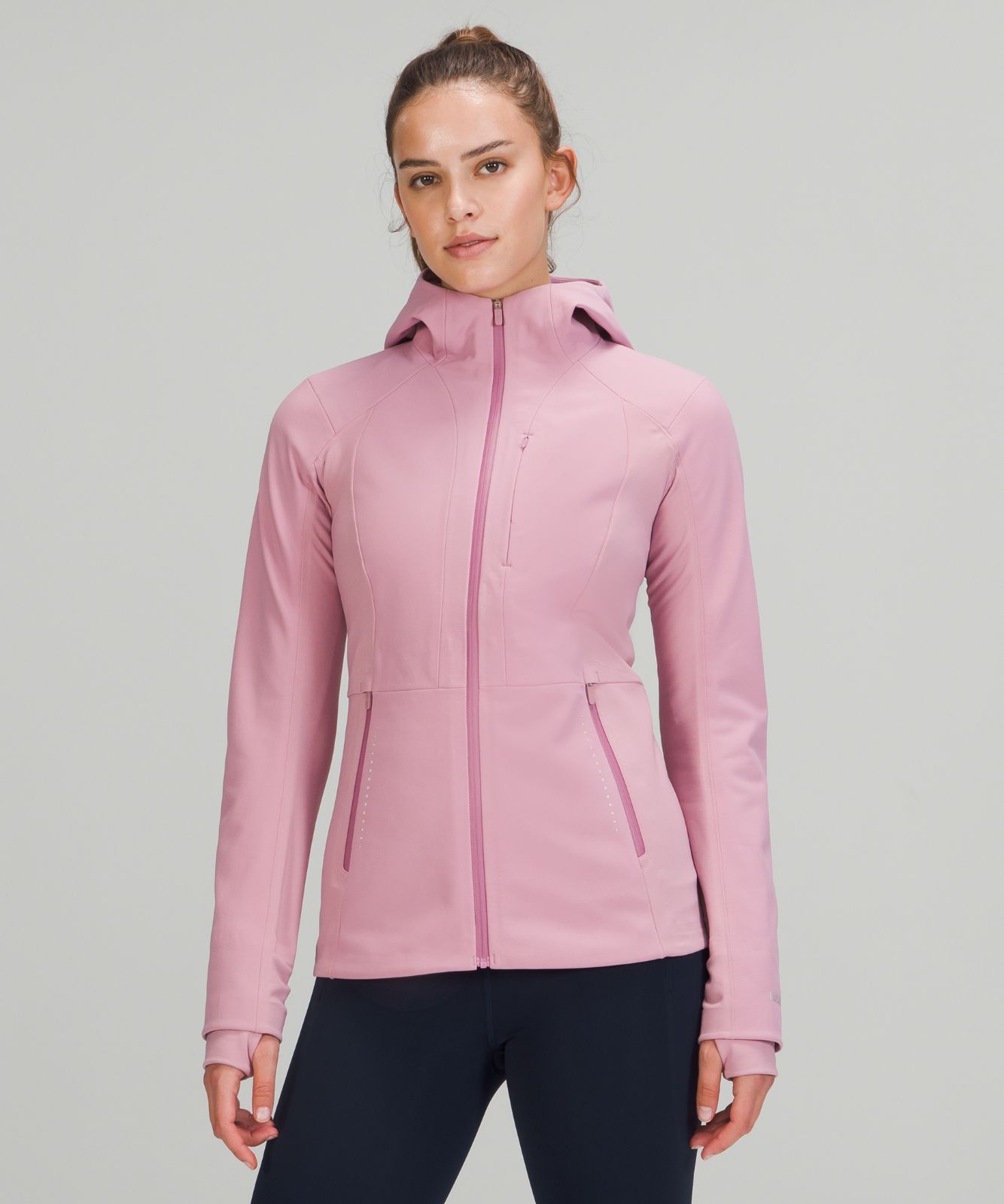 Lululemon Cross Chill Jacket RepelShell
Bottom: Quick Dry Shorts or Dri-Fit Tights
Avoid cotton blended tights and running sweat pants. What you should wear is something snug and fit so it doesn't drag you down once water sets in. Quick-dry material is also highly recommended. Some quick shorts have an inner lining that serves as underwear so it dries easily. If you're not comfortable wearing anything inside, opt for seamless underwear – ideally something like Uniqlo's Airism Women's Underwear or REI's Quick Dry Underwear.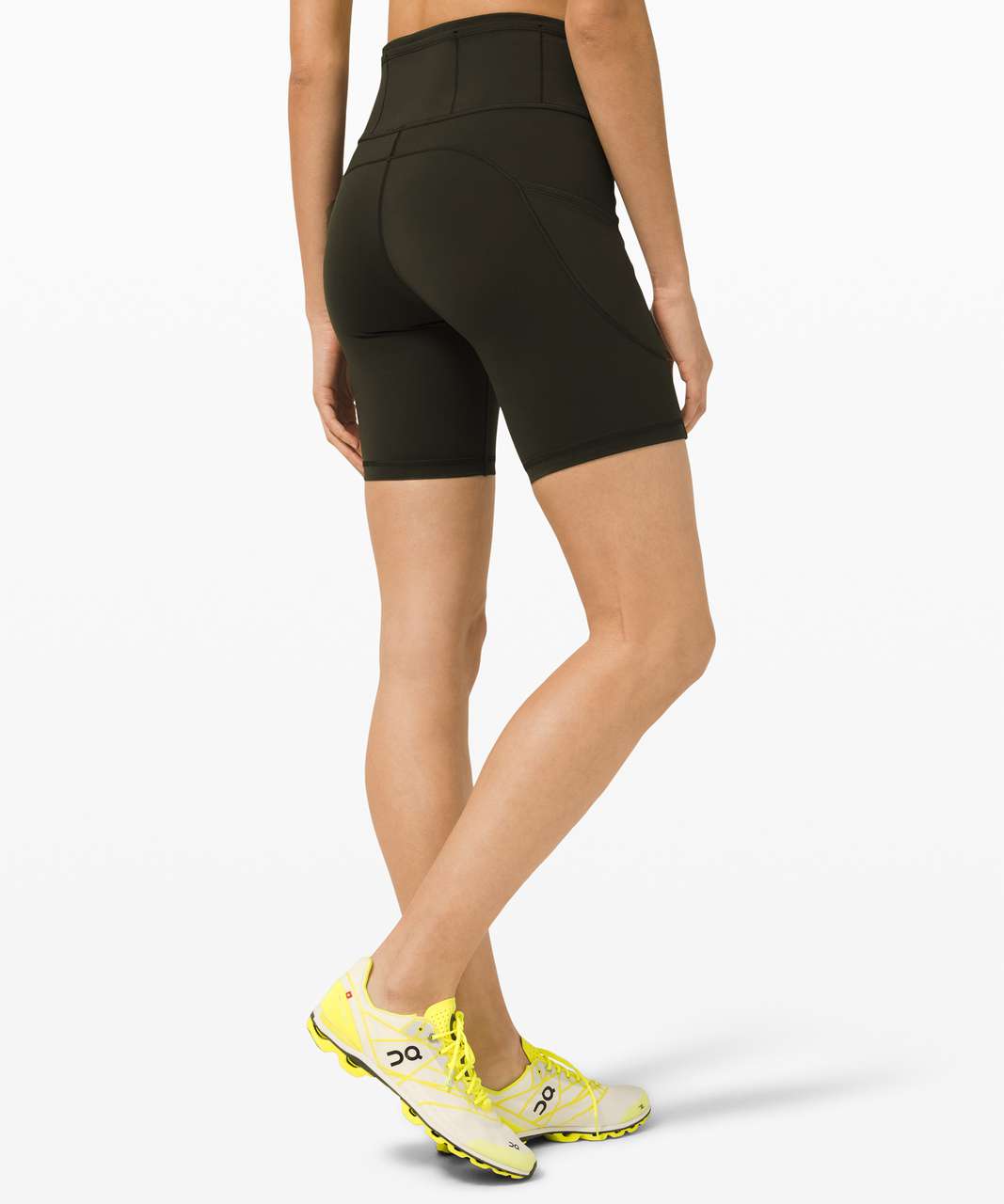 Lululemon Fast and Free Shorts
Headwear: Brimmed Hat
A brimmed hat keeps water away from hitting your eyes while it pours during your run. Quick-Dry run hat is most ideal. Just like any other items that you wear during a run, do avoid cotton – especially with hats. Letting a great amount of moisture dry off your head can give you bad colds which can disable you from doing your workout at all.
An additional protective accessory that you can wear is clear rain goggles or glasses. This can also be an alternative to a hat if you do not have one accessible.
Feet: Thin Socks
Socks made of polyester, nylon, and wool blend are your feet's best friend. Both quick-dry and lightweight, these types of socks can avoid your shoes from reeking of sweat and moisture from the rain.
Drymax Maximum Protection Run Mini Crew Socks
Shoes: GTX or Waterproof Running Shoes
If you're a rain or shine type of runner, investing in a variety of shoes is a must. Every weather condition has obstacles of its own. For a rainy day, you'll have to look out for slippery roads and possibly extreme wet downpours.
For your shoes, find something made with a Gore-Tex Upper and light-mesh sides. This keeps your feet dry from the rain but releases the built-up moisture due to sweat.
XA Wild GTX Trail-Running Shoes (Women's)
What To Wear Running: Outfit Inspo