Are you looking for the top modest fashion brands? There aren't many brands that sell modest clothing, but we dug deep and found 18+ STUNNING options for modest outfits!
Why is it so hard to shop for modest clothing? For one thing, there are little to no modest brands that offer 100% percent modest clothes. But it shouldn't be hard to dress stylish – regardless of faith, belief, and religion.
Fortunately, the incorrect notion that modest style dressers are not interested in upscale, chic fashion is slowly fading away. The modest fashion industry is currently valued at $270B! And that only includes religious dressers. Plenty of people dress modestly for religious reasons while others simply prefer the modest clothing look.
Popular brands are starting to incorporate modest styles in their line-ups – offering tons of variety for various modest outfits and styles. The previous lack of modest pieces in the industry also gave rise to independent shops and modest brands that provide 100% modest clothing from swimwear, office wear, daily wear, and formal wear.
By all means, modest style dressers should have the same opportunity to express themselves through fashion. To help you fill your wardrobe with pieces that suit your lifestyle and/or personal faith, I listed a few of my favorite modest brands and shops that offer stylish and appropriate clothing.
Ready to dress modestly and still look cute? Let's dive in!
Modest Fashion Brands To Check Out:
Here are our favorite modest clothing brands to shop for all styles and budgets.
Though Madewell is known for its feminine designs (printed cardigans, long-sleeved sundresses, and men & women's basics) the brand first started as a workwear company that sells bib overalls.
Madewell is not a hundred percent modest fashion brand, but they offer varieties of maxi dresses and bottoms fit for a sophisticated basic style. And these are all super high-quality pieces that will last you a long time! I recommend checking out Madewell for pieces that you can layer.
They also have tons of blazers, cardigans, and jackets in classic, neutral and pastel colors that a modest clothing dresser will love choosing from.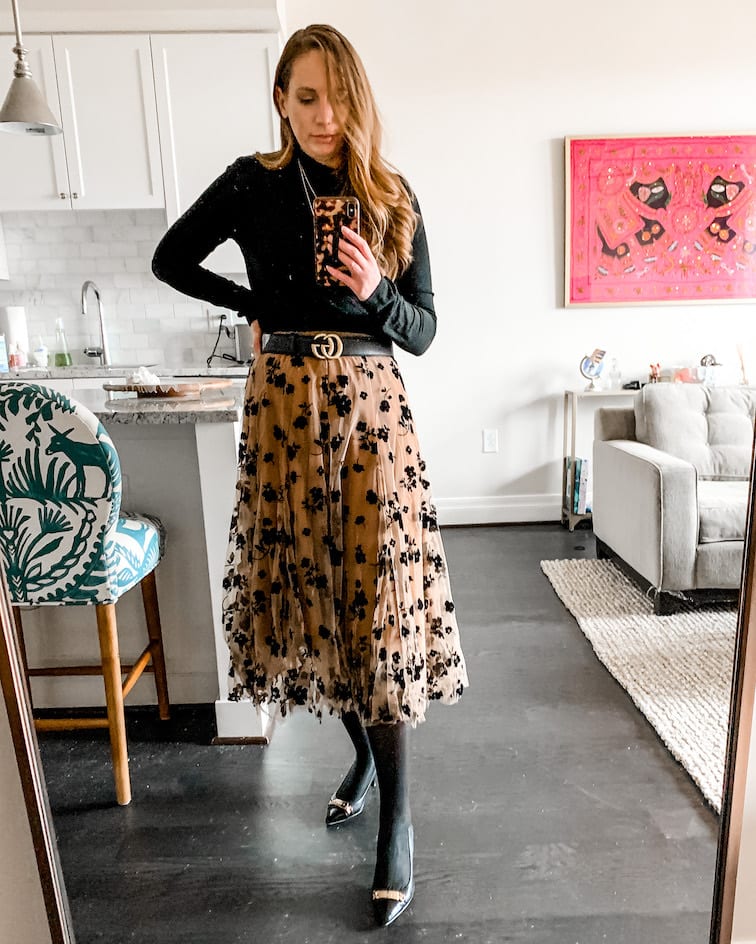 Who says modest fashion dressers can't follow trends? Chicwish offers a variety of long-sleeved dresses, cardigans, and blouses in peppy and romantic colors. I particularly adore their long-sleeved tie dresses that come in floral prints and soft colors. These provide ample coverage that are suitable for every modest style dresser.
Chicwish loves playing with fun and youthful colors like lilac, yellow, and lime green. If you're looking for a dress to wear for a baby shower or a birthday party, definitely consider Chicwish! Plus, there are just too many modest clothing pieces to count that still feel very stylish.
And, Chicwish is definitely more budget-friendly than some of the other modest clothing brands on this list. If you're on a budget but still want to dress modestly and feminine, check out Chicwish.
RELATED: A Totally Honest 2022 Chicwish Review + Haul: Is Chicwish Legit?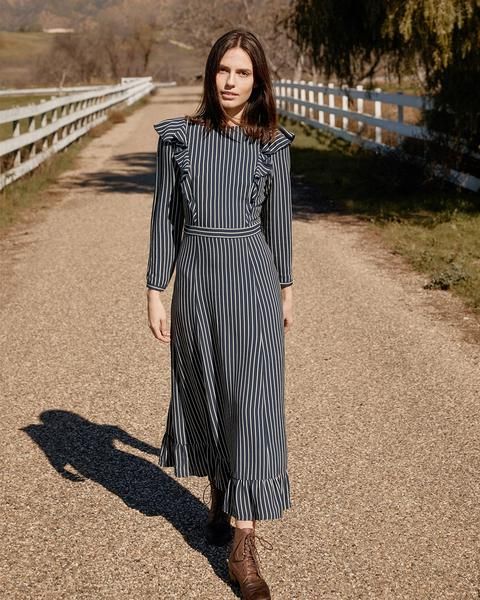 Think modest style vintage dresses, fairycore and farmcore. Christy Dawn is a brand created by a woman who found love in thrifting clothes in California, her hometown. She says her origin says a lot about her style and her mission to create a sustainable mark in the industry.
She creates designs made of deadstock fabrics that are usually thrown in landfills after being kept unwanted by the market. Christy Dawn is sustainable, ethical, modest, and gorgeous.
Simplicity is the hallmark of Christy Dawn's creations. Their clothing features elegant silhouettes, often with longer hemlines and delicate detailing. If you love vintage and modest clothing, then Christy Dawn will bring you back to a simpler time of outdoor living.
I specifically shop at Christy Dawn for modest dresses. These dresses are stunning are a bit expensive but are 100% worth the money.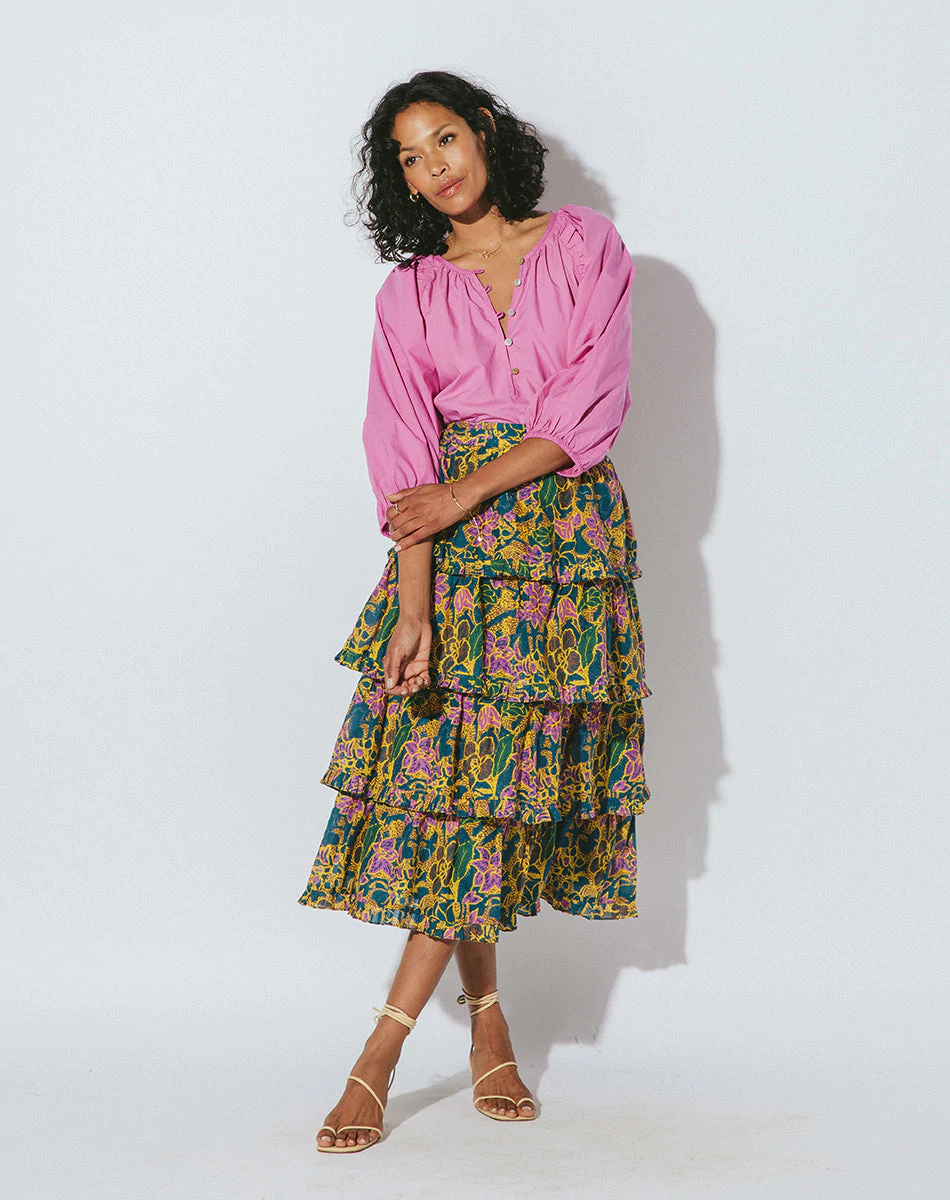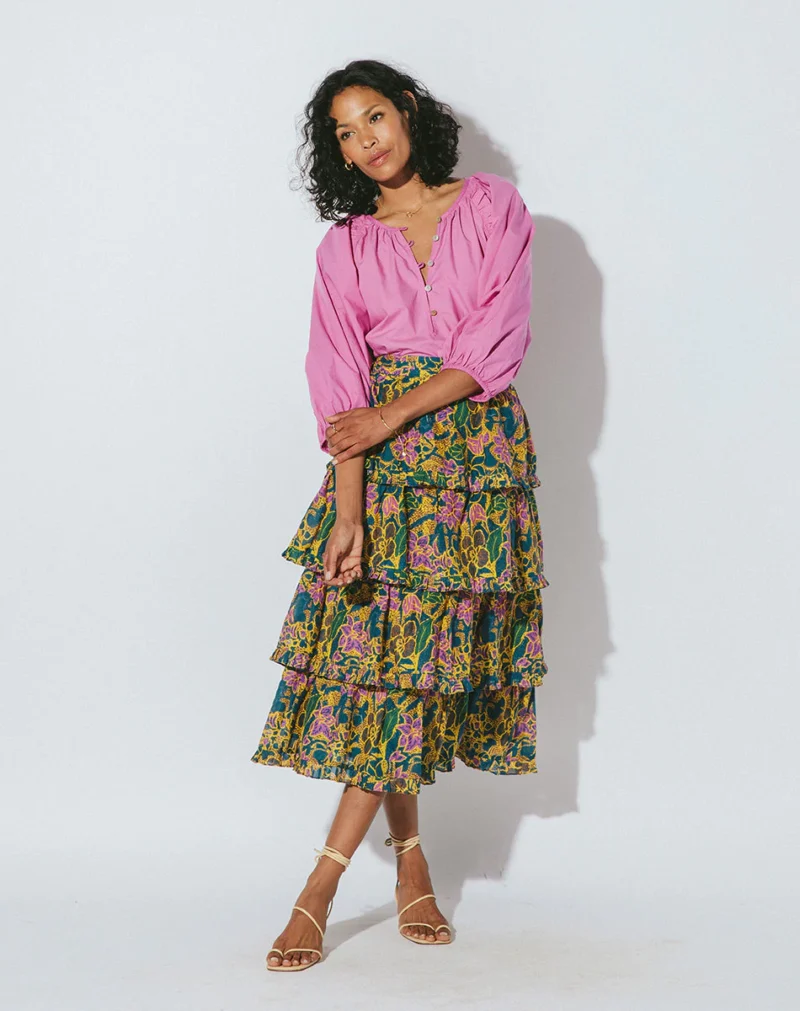 Cleobella is a female-owned brand pursued by a traveling artist, Angela, supported by her husband Jim. They enjoy getting inspirations from their travels which are evident in the artistry of their designs.
Because of their travels, they also understood cultures that bind and empower women. Their openness can also be seen in how they market their pieces, avoiding any sense of exclusivity in any form.
Cleobella definitely has a more boho vibe, with lots of printed, flowy dresses that give off a cottagecore style vibe. Luckily, these types of pieces also work really well for modest outfits.
Another great thing about Cleobella is their focus on artisanal craftsmanship. Many of their pieces feature intricate embroidery and handcrafted details, making them truly one-of-a-kind.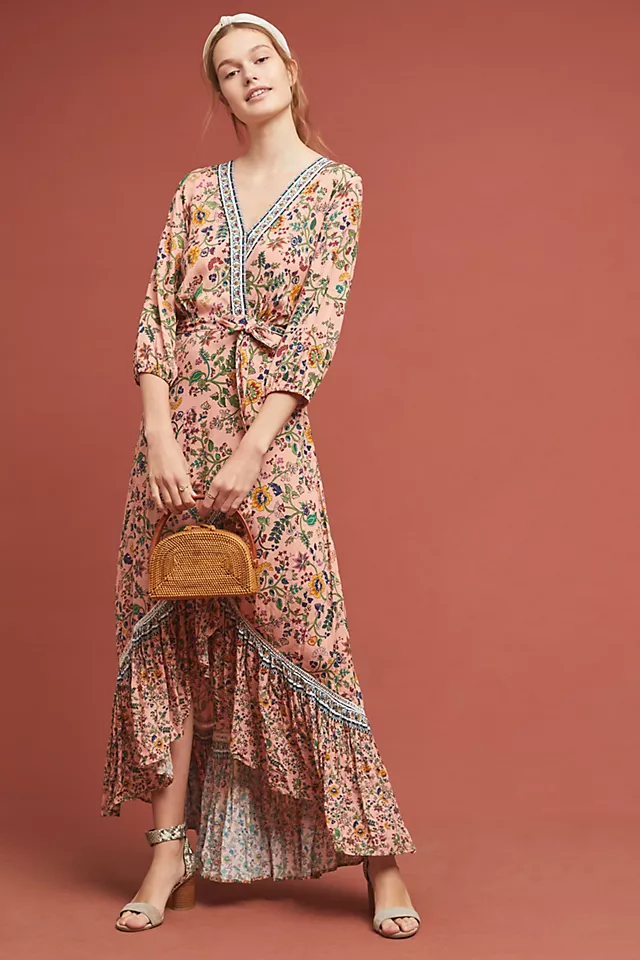 Anthropologie is part of the URBN, the brand that owns Urban Outfitters, Free People, BHLDN, and Terrain. Knowing the line up of these modest brands lean into hipster styles, there is no surprise that Anthropologie gives off the same vibe.
I love their kimonos, kaftans, cardigans and dresses. Anthropologie is not a 100% modest fashion brand, so you still have to double-check for hidden cut-outs and exposed areas when buying clothes from them. Regardless, they have a fairly nice selection for modest style dressers, and the clothes are very artsy and boho instead of strictly modest fashion, so you can still look super fashionable.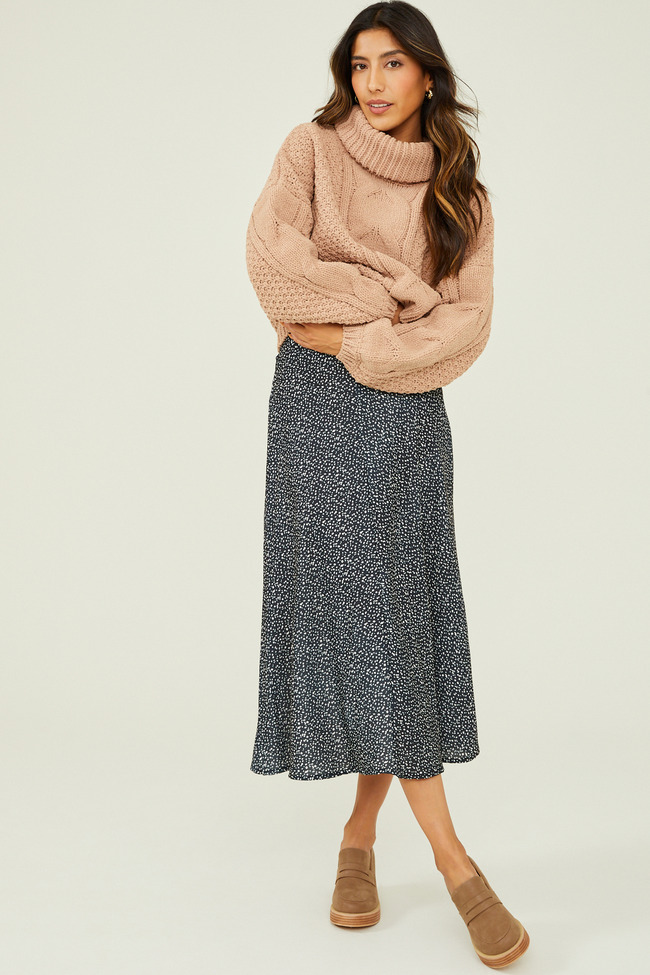 If you're on the lookout for fashion-forward yet modest attire, one brand that never fails to impress is Altar'd State. Based out of Tennessee, this fashion gem has been making waves with its diverse collection tailored for women, including an array of dresses, skirts, tops, and more.
What sets Altar'd State apart is their knack for offering clothing with longer hemlines and higher necklines, catering to individuals who appreciate a bit more coverage in their attire. No more worrying about constantly adjusting your outfit – Altar'd State has you covered, quite literally. Their commitment to providing chic yet modest fashion options is evident in the thoughtful design of their garments. And these modest fashion pieces are just so beautiful!
Unlike some modest brands that stick to a single aesthetic, Altar'd State offers a diverse range of styles and colors. This means you can effortlessly find something that resonates with your unique personal style.
About half of the pieces at Altar'd State quality as modest fashion, so you'll need to pick through. I especially recommend the feminine dresses/jumpsuits and the sweaters.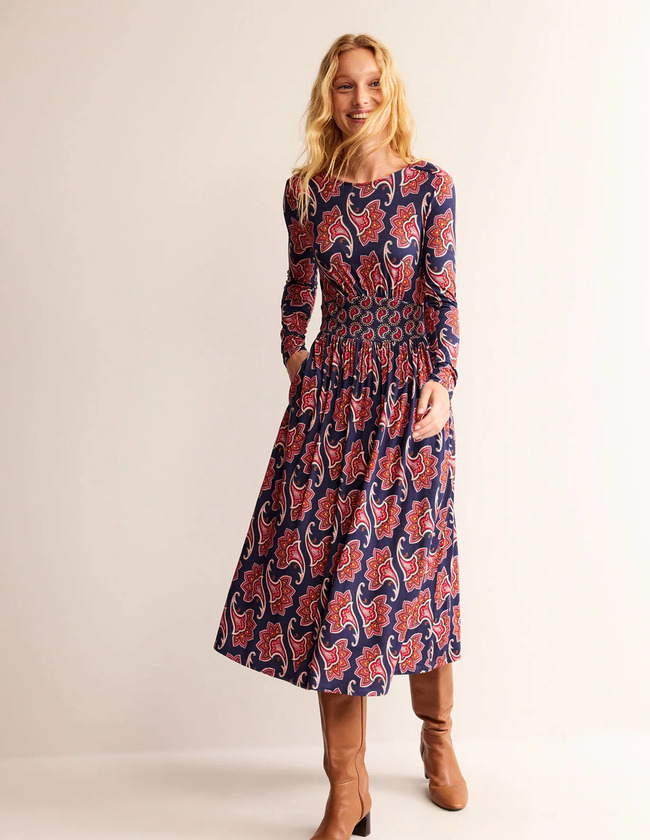 Boden is a British fashion brand that offers a range of stylish and modest clothing for women, men, and children. Their clothing is known for its colorful prints, classic silhouettes, and high-quality materials.
One of the things that sets Boden apart is their commitment to sustainability. They use eco-friendly materials like organic cotton and recycled polyester in their clothing, and they are committed to reducing their carbon footprint.
When it comes to modest fashion, Boden offers a range of pieces that are both stylish and modest. Their dresses, skirts, and tops often feature longer hemlines and higher necklines, making them perfect for those who prefer more coverage. But they also offer a range of styles and colors, so you can find something that fits your individual style.
Another great thing about Boden is their range of sizes. They offer clothing in a range of sizes, including petite and plus sizes, so you can find something that fits your body type.
Lulu's is a California-based fashion brand that offers a range of trendy and modest clothing for women. Their clothing is known for its feminine and romantic style, with a focus on flowy fabrics, delicate prints, and soft colors.
When it comes to modest fashion, Lulu's offers a range of pieces that are both stylish and modest. Their dresses, skirts, and tops often feature longer hemlines and higher necklines, making them perfect for those who prefer more coverage. But they also offer a range of styles and colors, so you can find something that fits your individual style.
I especially recommend checking out the midi and maxi dresses at Lulu's. There are SO many gorgeous options that are modest without sacrificing femininity.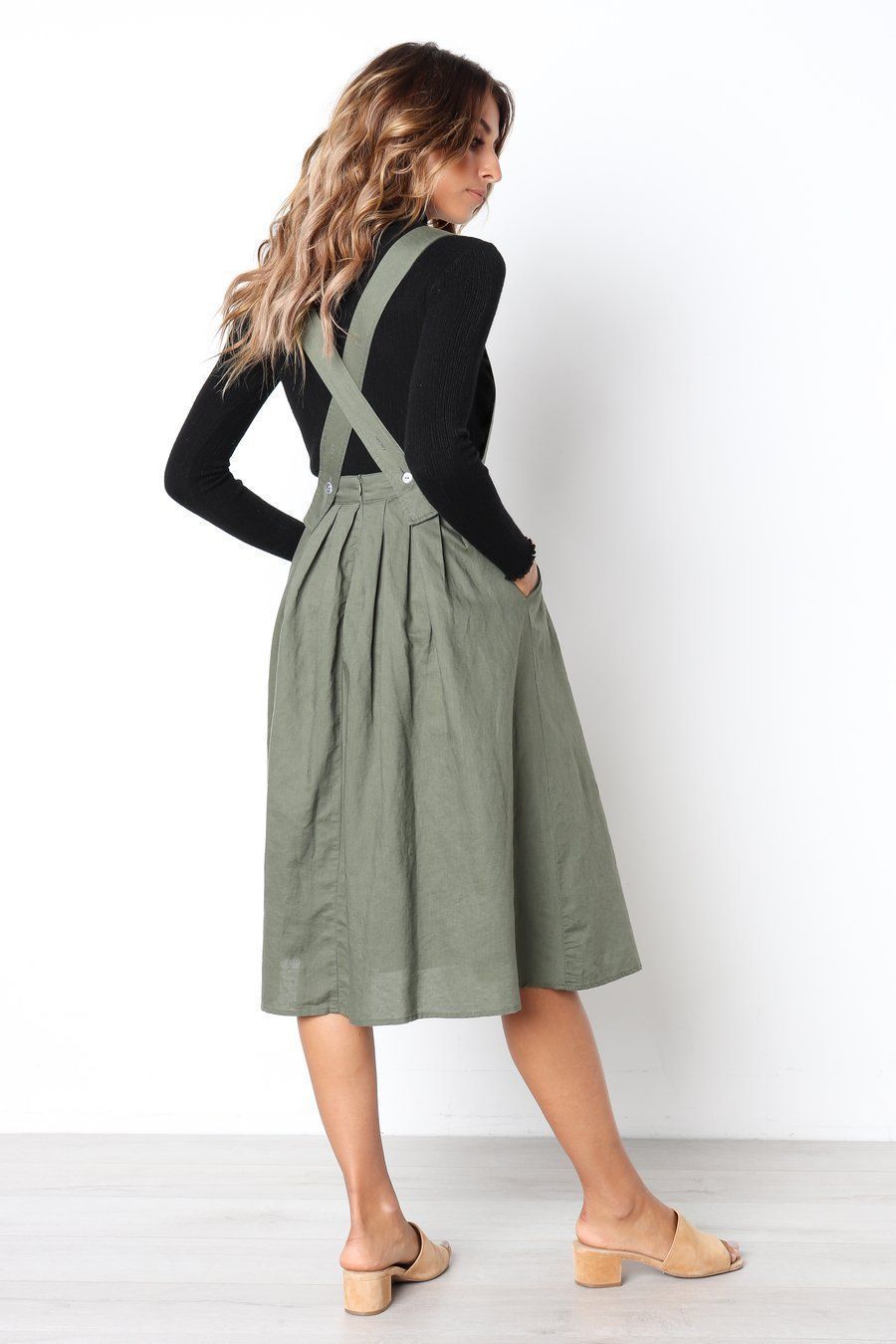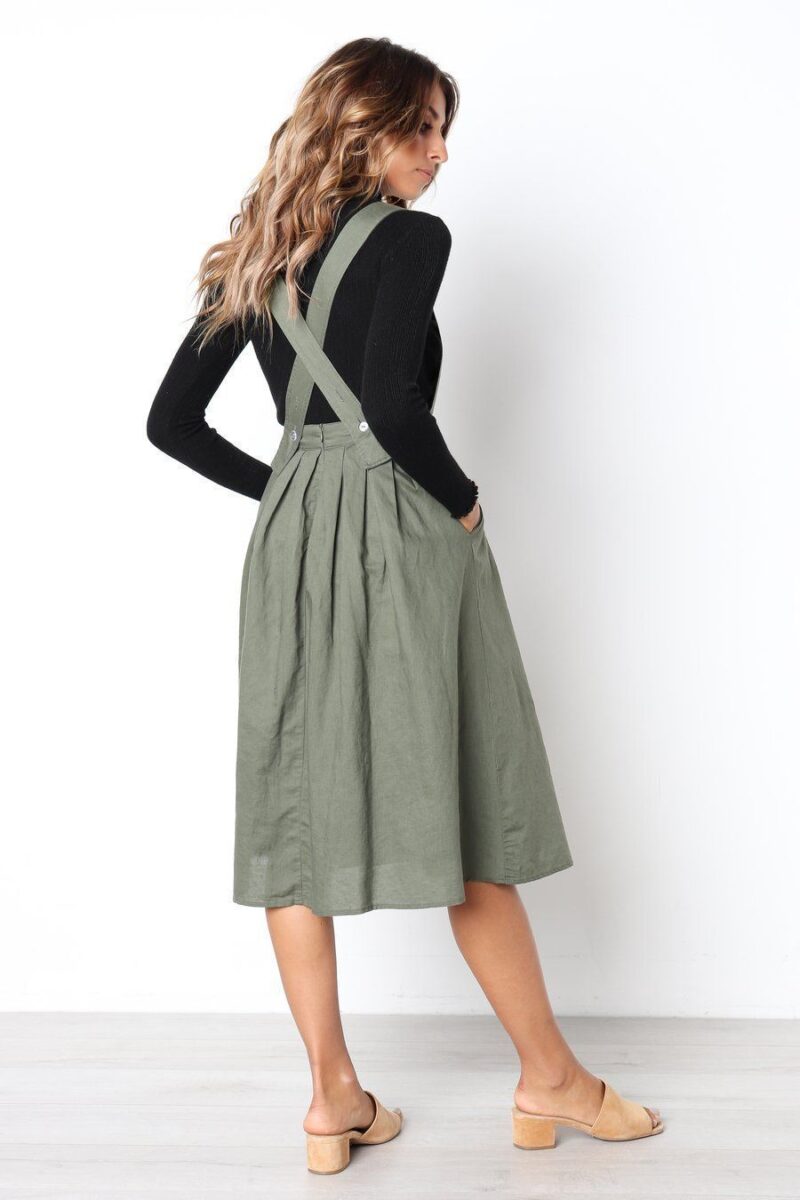 Petal and Pup may not be a hundred percent modest fashion brand, but they do have a lot of feminine and trendy designs that can elevate any modest dresser's wardrobe. Oversized puff sleeves, floral dresses, maxi dresses are some of my favorites from their line-ups. Classic pieces like tie-collar dresses are also readily available.
Petal and pup also has a similar taste with Princess Polly but even more modest with really high quality linens — perfect for those who seek for a reputable alternative.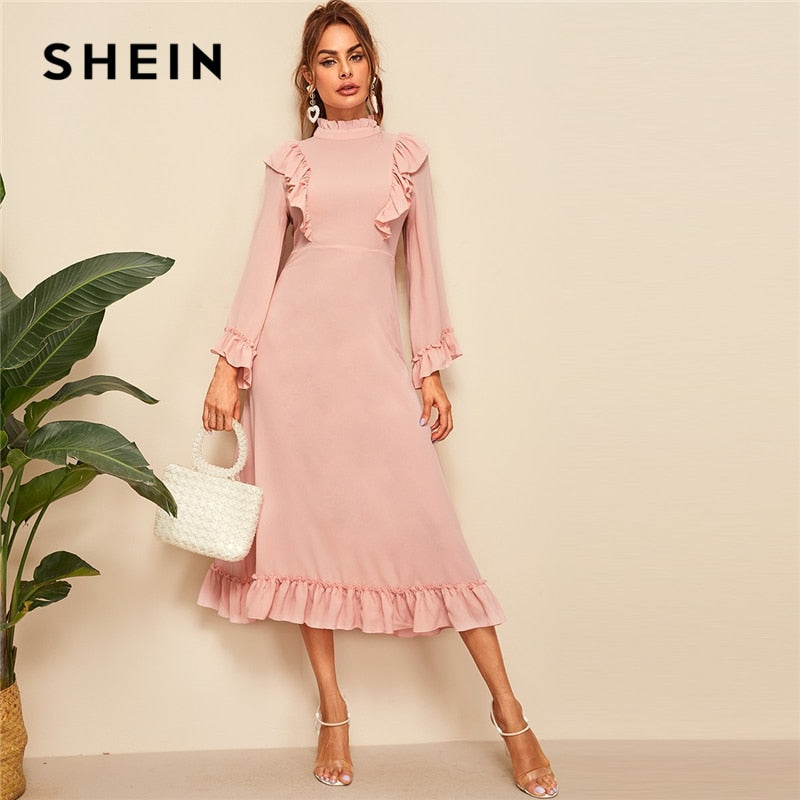 Surprisingly, this large trendy brand has a selection for modest dressers. The brand recently collaborated with Iman Troy to curate the most beautiful kaftans, abayas, and hijabs found in their accessible online platform. The brand highlighted feminine and relaxed silhouettes that are perfect for every modest dresser's wardrobe. Iman mentions how easier it was for her to mix and match outfits ever since the brand's big release of their modest pieces.
However, Shein also has lots of modest fashion pieces naturally, especially their maxi dresses, modest swimsuits, sweaters, blouses, and more. This site is massive so there are plenty of modest outfits to be found at a super cheap price!
If there are small modest fashion brands that you would like to support, Electric Bazaar should be one of them. Electric bazaar is small-scale and sustainable, benefiting artisans in low income communities. Think detailed embellishments, Balochi & Afghan embroidery, and rare antique patches.
Find beautiful kaftans and kimonos in their line-ups. They also offer a range of scarves in stamped and patterned designs which are perfect for every occasion.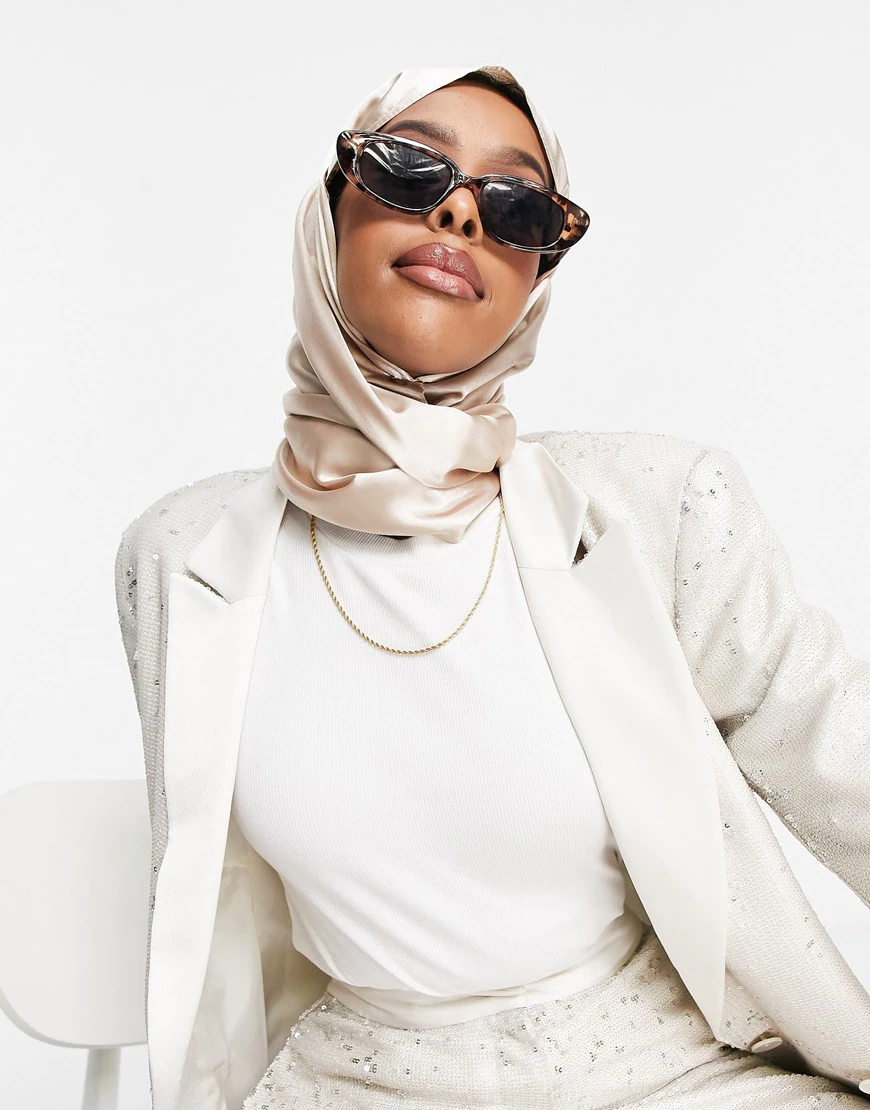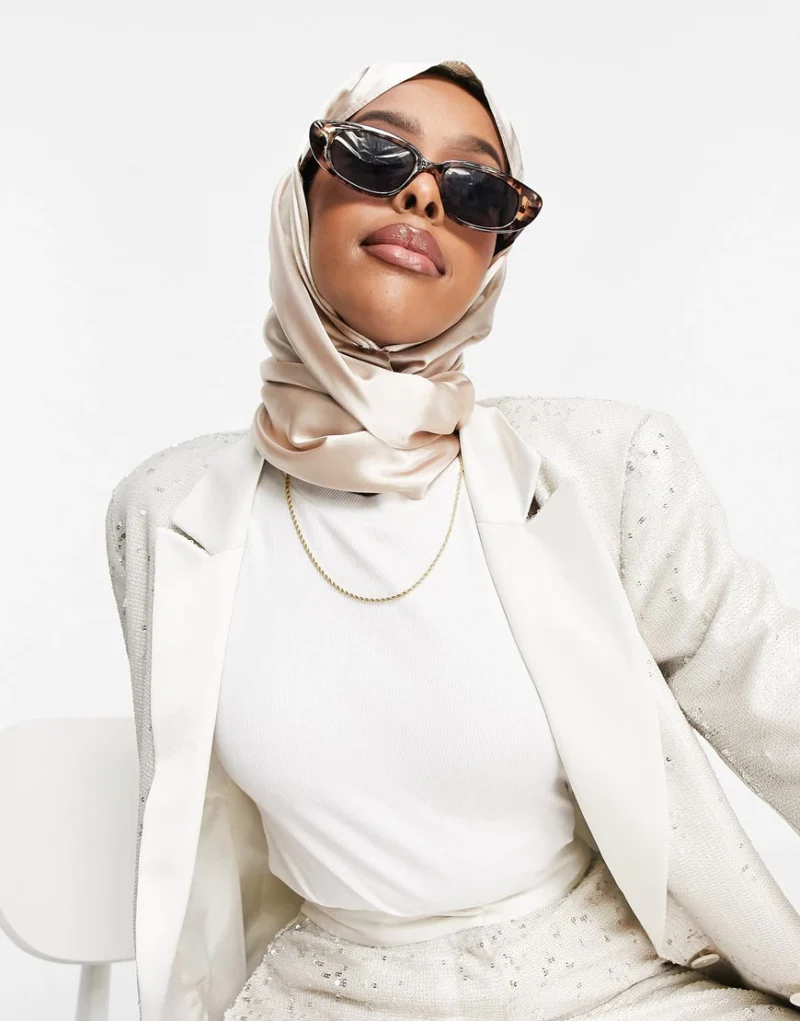 If you know what to find and how to find them, you'll see how easier it actually is to mix and match outfits. Asos houses a lot of modest brands — a lot of them non-modest but pretty much reputable for offering modest-friendly pieces.
Asos follows a lot of trends in a way that does not disregard timeless and classic pieces. That's why this brand holds a place in every fashionista's heart, modest outfit dresser or not.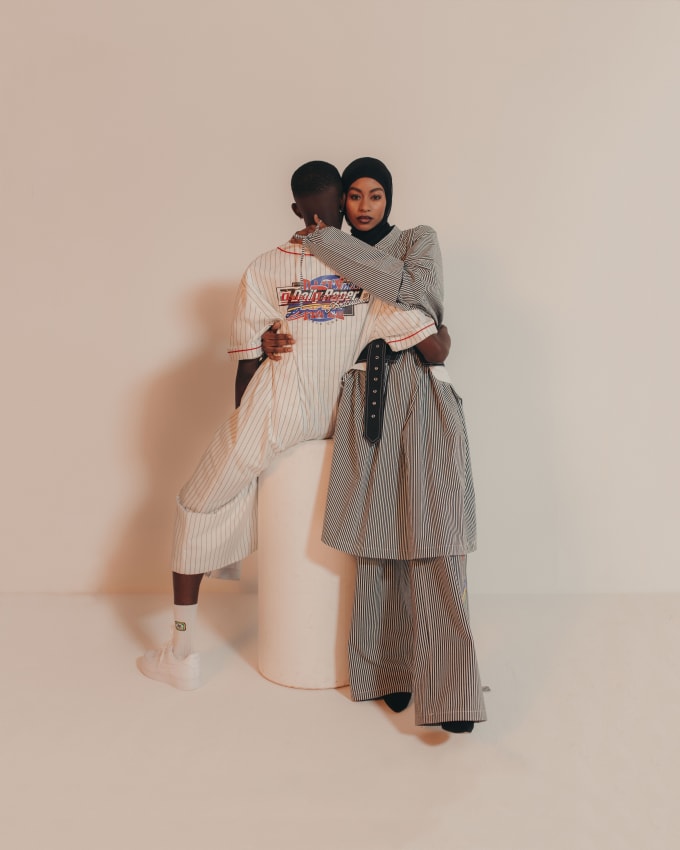 Daily Paper is for the edgy modest dresser. No brand can provide comfort and variety any more unique than Daily Paper. Daily Paper goes beyond the norm that modest dressers are only meant to wear feminine silhouettes. A safe space to express oneself — an outlet for the unconventional.
Daily Paper is an advocate for originality, which is why the brand stands out. A favorite piece of mine from the brand is their Black Loretta Sweater, a belted sweater in a nice kimono-like silhouette.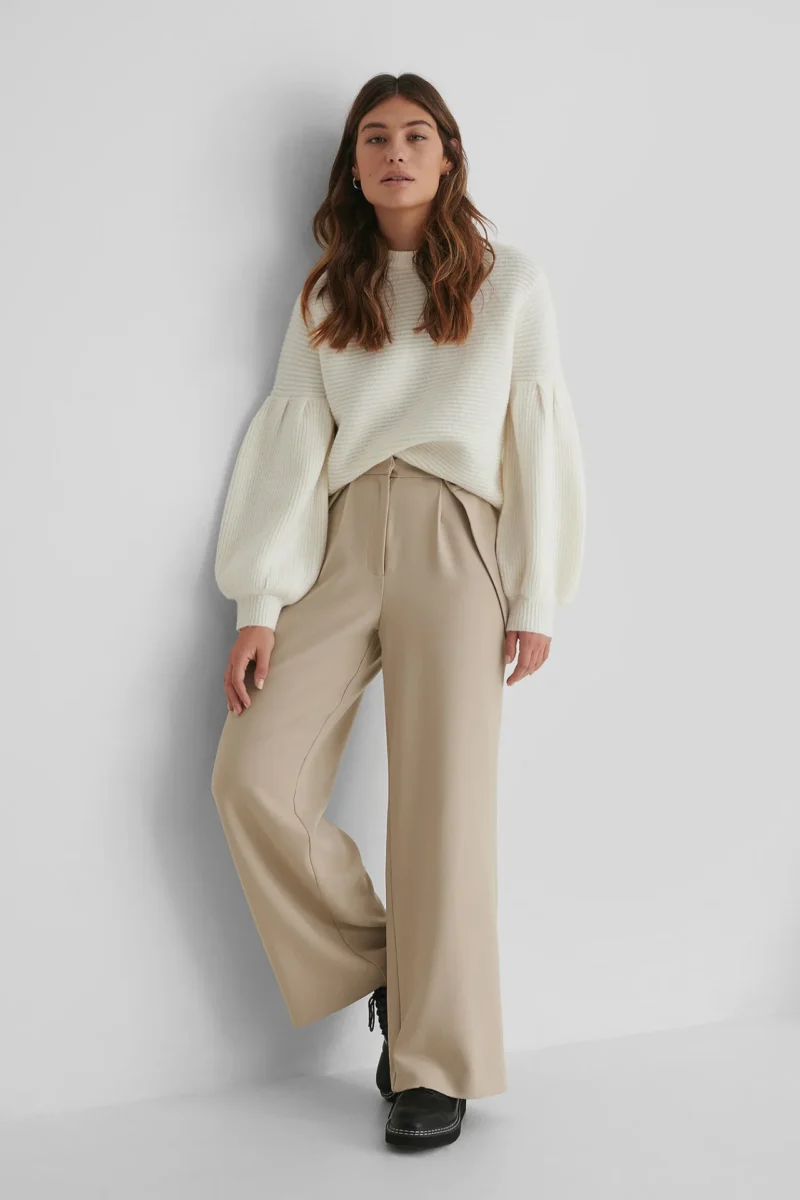 Na-kd may not be the first brand that comes to mind when thinking about modest fashion, but I could not deny how beautiful their structured dresses, basic fits, and wrap skirts are. Na-kd also loves playing around with texture and shape, often taking inspiration from influencers. Fresh, stylish, and chic is how I would describe their style.
When I hear about Na-kd, I think most about their skirt selection. If you're looking for a variety of skirts to elevate your wardrobe, I suggest looking into this brand.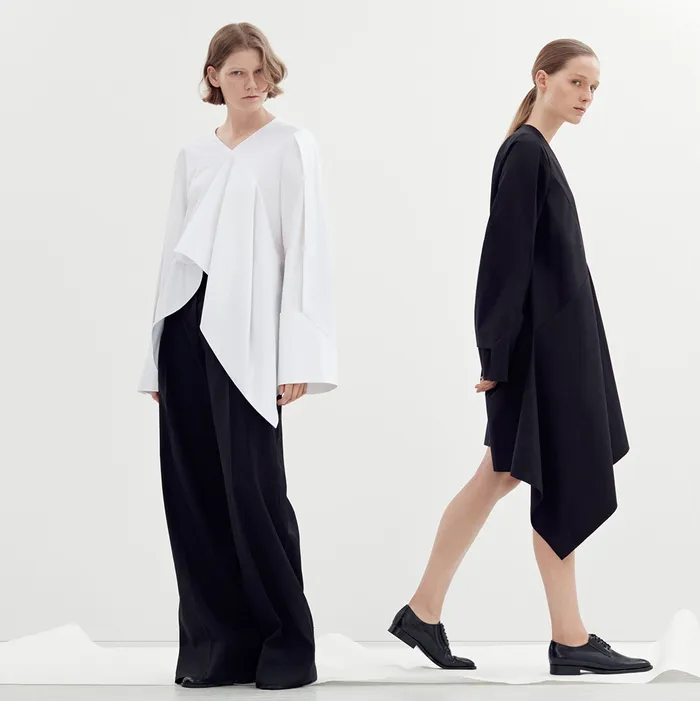 Classy, versatile, and elegant is COS' primary style. If you're looking for clean and crisp looks, COS is the shop to be. Among my favorite modest pieces from this brand is their shirt dress and a-line maxi dresses. Colors include black, olive green, and neutral colors.
They may not be a 100% modest fashion brand, but you'll see that most of their designs are conservative and smart.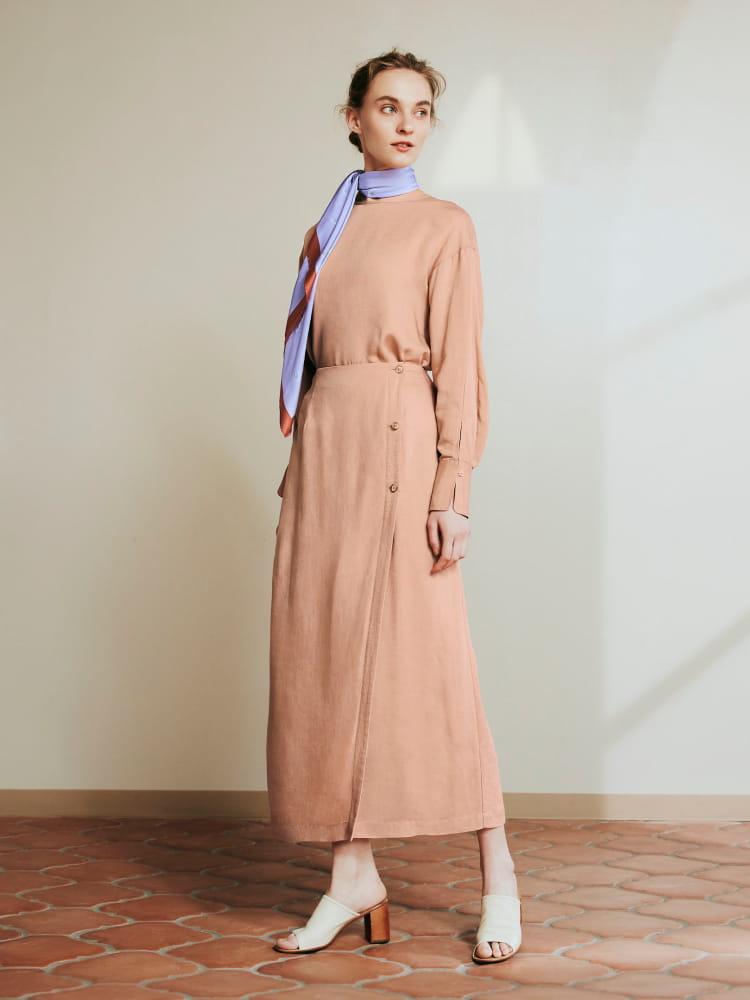 Next to COS, there is Uniqlo. Uniqlo garners a similar style with COS, focusing on basics and clean silhouettes. Unlike any other modest fashion brands, Uniqlo is backed up with Asian influence which is why their styles are naturally conservative.
Uniqlo is where you can get the best basic pieces from long-sleeved shirts, button-downs and quality trousers. They offer super cute dark academia pieces and really high-end modest clothing for an affordable price.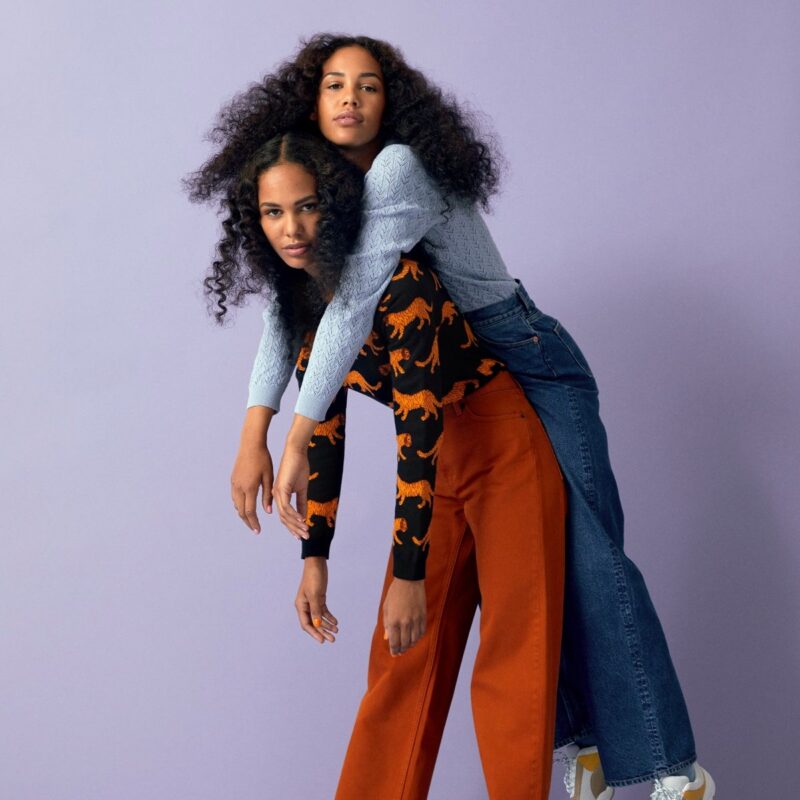 Monki isn't a 100% modest clothing brand, why is it on the list? Check their shop and you'll see why!
There are a whole range of black silhouettes, trousers, and jeans. Though they follow trends, they do not forget to add their own personal twists into their designs. Among of my favorite bottom pieces from the brand are the Nani Palazzo Pants, Mozik Blue Block Jeans, and Yulia Asymmetrical Jeans.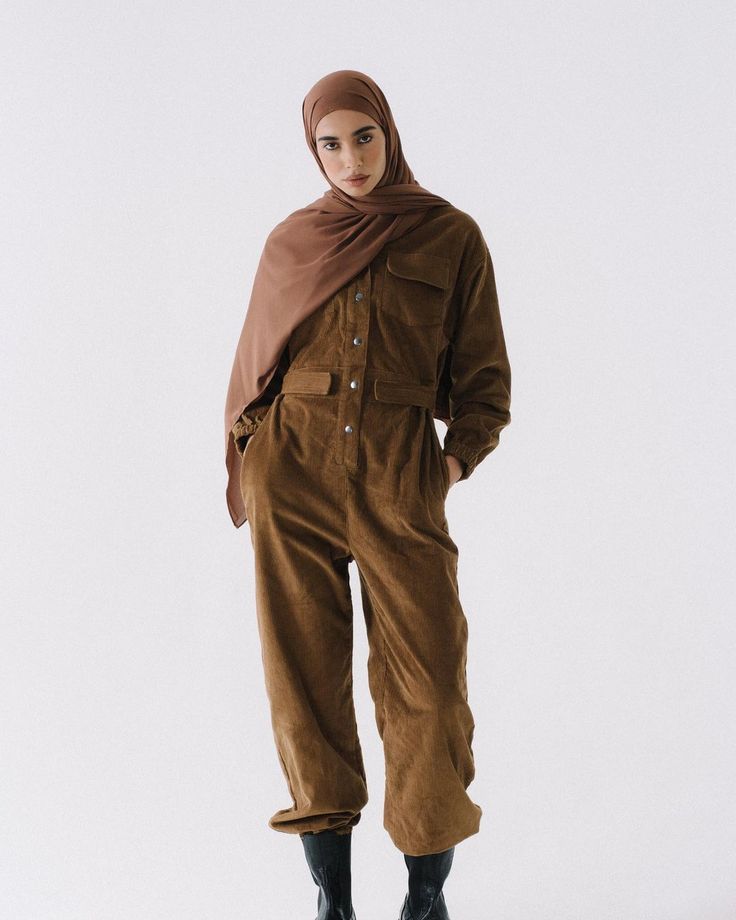 Want to elevate your hijab collection? Or, want to find a hijab for a special occasion? The Atelier Hijab offers a variety of hijabs in high-quality fabrics, including satin, silk, and chiffon to name a few.
As the name suggests, the brand offers a collection of head cover-ups, scarves, and hijabs fit for every modest dresser's wardrobe.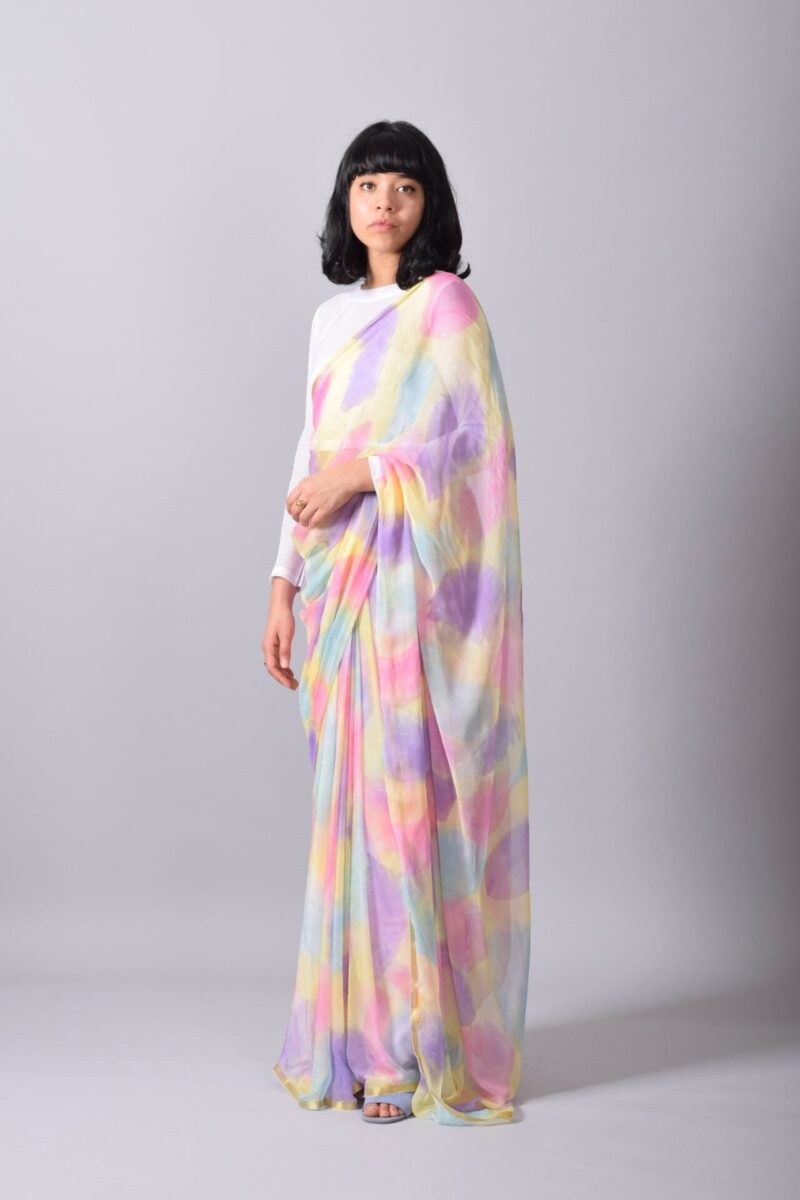 Nor Black Nor White was established by two Indian sisters Mriga Kapadiya and Amrit Kumar. Despite being raised in Toronto, they showed interest in their roots by exploring their home country, Bombay, in 2010.
In their personal discovery, they found and established the brand with designs inspired by traditional processes like the Bandhani or tie-dye.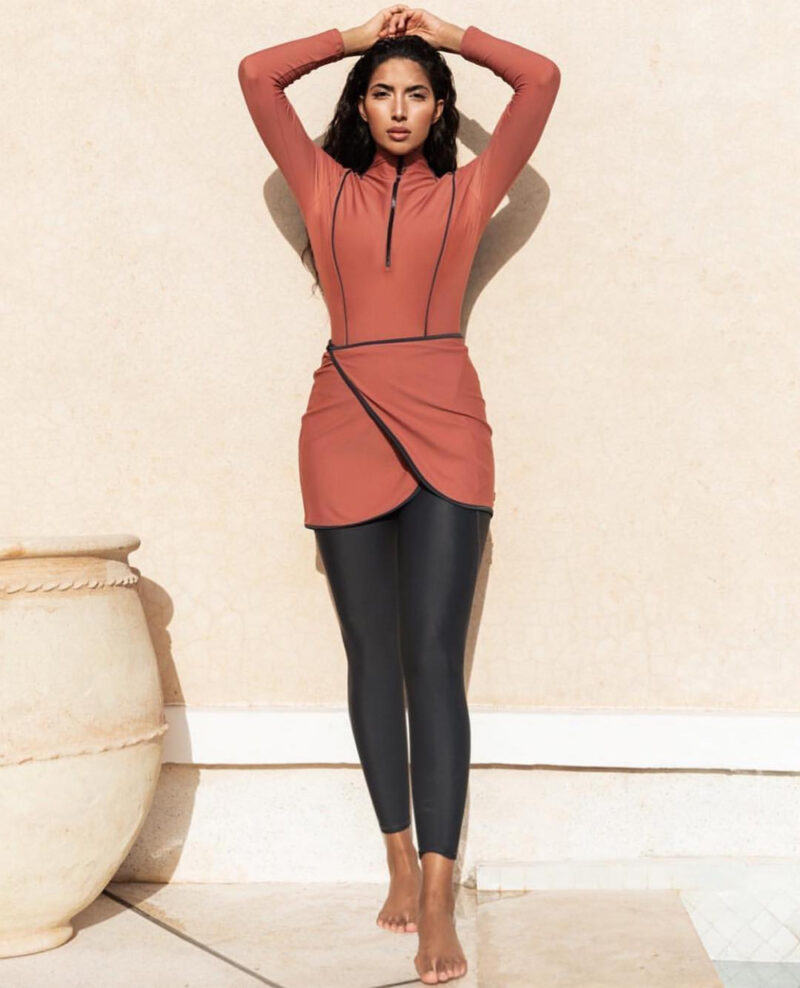 Lyra Swim is one of the innovative modest brands motivated by the lack of available swimwear for modest dressers. Nothing looks any more stylish than their iconic and chic burkini.
I love the quality of their fabrics and how body-complimenting their suits look regardless of body shape. It's easy to feel good when you look good! Lyra Swim offers a huge variety of burkinis in different colors, prints, and lengths.
Essential Pieces For A Modest Wardrobe
If you already have the basics (a black maxi skirt, plain tunic top, etc), then by all means keep them! Below are just a couple of other pieces that can add variety to your wardrobe no matter what your personal style is.
Knee Length Pencil Skirt
A knee-length pencil skirt is one of the best basic pieces that you can collect in your office wear wardrobe or anywhere you want to look more presentable. Its tailored and versatile design gives structure to any outfit.
Ideally, knee-length clothing is paired with opaque tights. This allows more coverage to the lower part of the body. During the cold months, you can wear a skirt with black ankle boots to balance the silhouette of the body.
Layering Dress
A favorite modest piece of mine is a long dress, perfect for layering. A layering dress can look inappropriate if worn alone. It may come in a plunging neckline and thin straps – not the type you'd think of picking up at all.
But hear me out: a dress like that can transform your outfits by using it as an exterior layer for a basic base. Pair it with a long-sleeved turtle neck underneath to make the dress stand out, and alternate turtlenecks, sweaters, and colors under the dress to make this piece super versatile.
Long Sleeve Layering Top
A long-sleeve layering top is the next one on the list! Modest dresser or not, a handy long-sleeve top can be used in the fall and winter months. You can use it as a base for a tunic or a dress to minimize any more exterior layers. Neutral colors like black, white, and beige are the best ones to have. I also recommend investing in a few good turtlenecks to use.
Denim Skirt
I love denim skirts! In fact, I would prefer one over denim jeans. A jean skirt is flowy, chic, and feminine – perfect for a trip out of town or a night out.
There are so many ways to style a denim skirt, but my favorite ensemble composes a white long-sleeve top and knee-high boots. During winter, I wear my favorite gloves to lengthen the silhouette of my upper body.
Even shorter denim skirts can be styled modestly, with knit tights and boots.
Tunic Top
A tunic top is loose and stylish which makes it a great alternative to a blouse top. A tunic top can be paired with black jeans or a matching tunic skirt. Incorporating prints and colors can elevate your look too. This top completes your outfit without much fuss!
Maxi Skirt
A maxi skirt for every occasion – that's what a modest dresser needs! Maxi skirts can come in different colors, fabrics, and textures, so don't be afraid to get three, five, eight, or even ten maxi skirts in one color! All kidding aside, a maxi skirt is versatile and appropriate for any event – religious or not.
Tailored Shirt
Everybody needs a tailored shirt or a tuxedo blouse in their closet – modest dresser or not. Having one makes everyday dressing easier, especially if you're in a rush. Don't know what to wear? Wear a tailored shirt with bootleg trousers and you're good to go. Too formal? Wear it with an A-line skirt. So many possibilities!
Tailored Jacket
A tailored jacket or a tuxedo is a chic addition to your wardrobe, whether you work corporate or not. The way I style a tailored jacket to make it look feminine is by doing it in Givenchy style. Grab a tailored jacket, a silk hijab, a nice thin belt, and an A-skirt and you'll look like you're on the way to a fashion show.
Modest Swimsuit
Modest swimsuits are fairly new to the market; that is why some of you may frown at this one. But in fact, it exists! The new and most fashionable one in the market today is made by Lyra Swim. More on that later!
Dri Fit Hijab
There are numerous fabric types for hijabs based on your beliefs and culture — crepe, linen, satin, cotton, all versatile but difficult to incorporate in strenuous and sweaty activities. Nike may not be the first to think about it, but they were among the first ones to publicly market the first activewear hijab. A Dri Fit hijab can be worn during workouts, at the gym, and on hot summer days.
Cardigan
A cardigan is a modest dresser's all-around lifesaver. When a top you like doesn't come in a modest style, you can simply style and wear it with a cardigan. It helps as a last resort but it can also be styled around with. Color blocking your outfit is one creative way to do it.
Kimono
A kimono top can be used as a unique cover-up or a blouse itself when dressing in modest clothing. It can also be an alternative to the typical cardigan. Its structured look can elevate any outfit, which is why I love recommending kimonos to everyone, modest style dresser or not. A kimono introduces new silhouettes and shapes to one's usual looks.
Silk Scarf
A silk scarf is not an essential but something good to have for modest clothing, especially on formal occasions. Silk scarves come in all prints, designs, and colors — all giving a classy and chic vibe to the wearer's look. A nice scarf, luxury or not, is something that a modest style dresser should consider adding to one's closet for special days.
Trench Coat
A trench coat is something you probably already have for modest style. If you haven't gotten one yet, the best and most versatile colors to have are black, khaki, and off-white. A trench coat can be worn over a shirt-and-jeans ensemble and over a tight-fitting pair of pants. It's a great piece for layering outfits that completes any modest style look.
Turtle Neck Top
A turtle neck top is as versatile as any modest shirt because it can be worn as is or as a layering base without fuss. It gives comfortable coverage which allows you to move freely without an exterior cover up. A turtle neck top also comes in handy during the cold months. This is one of my go-to pieces with all modest outfits.
Culottes
Culottes are like skirt pants for modest outfits. They're wide, flowy, and long. Having one in your closet gives you a whole range of outfit ideas — considering how flexible you can be in them. Personally, I love bringing culottes when traveling because it gives the vibe that skirts do but also does not restrict me from spontaneity which something you should have when on a trip.
Long-Sleeved Maxi Dress
A maxi dress is something that you can easily slip on without effort to create quick modest outfits. This piece of clothing is a lifesaver, especially during spontaneous moments when you get invited to a brunch out or a gala with friends. Maxi dresses come in different shapes and sizes, but my favorite would be a ¾ sleeved maxi dress with a cinched waist. Definitely a must have!
Peplum Top
A modest peplum top usually comes in long sleeves with a slightly longer tutu. This allows coverage around the buttocks area when wearing pencil skirts or slim-fit pants. A peplum top can also make it easy to look feminine and chic with its nice seamless flair.
Arm Sleeves
Arm sleeves are must-haves for a modest dresser who is into streetwear. It gives coverage for when wearing shirts and short-sleeved button downs. Arm sleeves can also provide thermal benefits to the wearer, which is a huge plus! It can be worn underneath a jacket to reduce interior layers during the cold months.
FAQs About Modest Style:
What is modest style, and why is it gaining popularity?
Modest fashion refers to clothing that offers more coverage while still maintaining style and elegance. It's gaining popularity as people seek fashion options that align with their personal values and comfort levels, offering an alternative to more revealing styles.
Are there sustainable options within these modest brands?
Yes, both Altar'd State and Christy Dawn offer sustainability-conscious choices. Altar'd State focuses on providing stylish yet modest options, while Christy Dawn uses deadstock and organic fabrics to reduce environmental impact, catering to those who prioritize eco-friendly fashion.
What modest fashion brands are best for special occasions?
Here are some of the best modest fashion brands for special occasions:
Christy Dawn: Known for their vintage-inspired dresses and timeless elegance, Christy Dawn offers a range of dresses that are perfect for special occasions. Their dresses often feature longer hemlines, delicate detailing, and romantic silhouettes, making them ideal choices for events like weddings, parties, and formal gatherings.
Cleobella: With a boho-chic vibe and intricate craftsmanship, Cleobella's collection includes dresses with artistic embroidery and flowing designs. These unique pieces can elevate your look for weddings, beach parties, and outdoor events.
Boden: This British brand offers a selection of stylish and sophisticated dresses suitable for special occasions. With their colorful prints, classic silhouettes, and high-quality materials, Boden's dresses can easily be dressed up for weddings, celebrations, and more.
Lulu's: Lulu's offers a variety of dresses that strike a balance between modesty and trendiness. Their maxi and midi dresses are often adorned with delicate details and flattering cuts, making them excellent choices for formal events, galas, and parties.
Anthropologie: While not exclusively a modest fashion brand, Anthropologie offers a variety of elegant dresses, kimonos, and cardigans that can be styled for special occasions. Their artsy and boho-inspired pieces can bring a unique flair to your look.
Chicwish: Chicwish's collection of long-sleeved dresses, cardigans, and blouses includes options that can be dressed up for special events. Their playful and romantic designs can be perfect for parties, dinners, and celebrations.
What are the best budget-friendly modest clothing brands?
Here are some of the best budget-friendly modest clothing brands:
Chicwish: Chicwish is known for its affordable and trendy pieces, making it a great choice for budget-conscious modest fashion enthusiasts. They offer a variety of long-sleeved dresses, cardigans, and blouses that provide coverage while staying stylish.
Shein: Shein is a popular online retailer that offers a wide range of fashion items at budget-friendly prices. While not exclusively a modest fashion brand, Shein has a selection of maxi dresses, modest swimsuits, sweaters, blouses, and more that cater to modest dressers.
Petal + Pup: Petal + Pup offers feminine and trendy designs that can elevate any modest dresser's wardrobe. They have oversized puff sleeves, floral dresses, maxi dresses, and other classic pieces that are budget-friendly modest clothing.
Uniqlo: Uniqlo is known for its quality basics and clean silhouettes. They offer long-sleeved shirts, button-downs, and quality trousers that can be easily incorporated into modest outfits. Uniqlo provides high-end modest clothing for an affordable price.
Disclaimer: This article is a general article about modest clothing. Modest fashion is tricky. Some modest clothing dressers and believers follow more strict requirements than others. Some require a full cover-up, and some are even required to avoid bright colors completely.
The most important thing is being clear about your intention and being firm about your boundaries. And of course, being creative so that your individual modest fashion style still shines through!