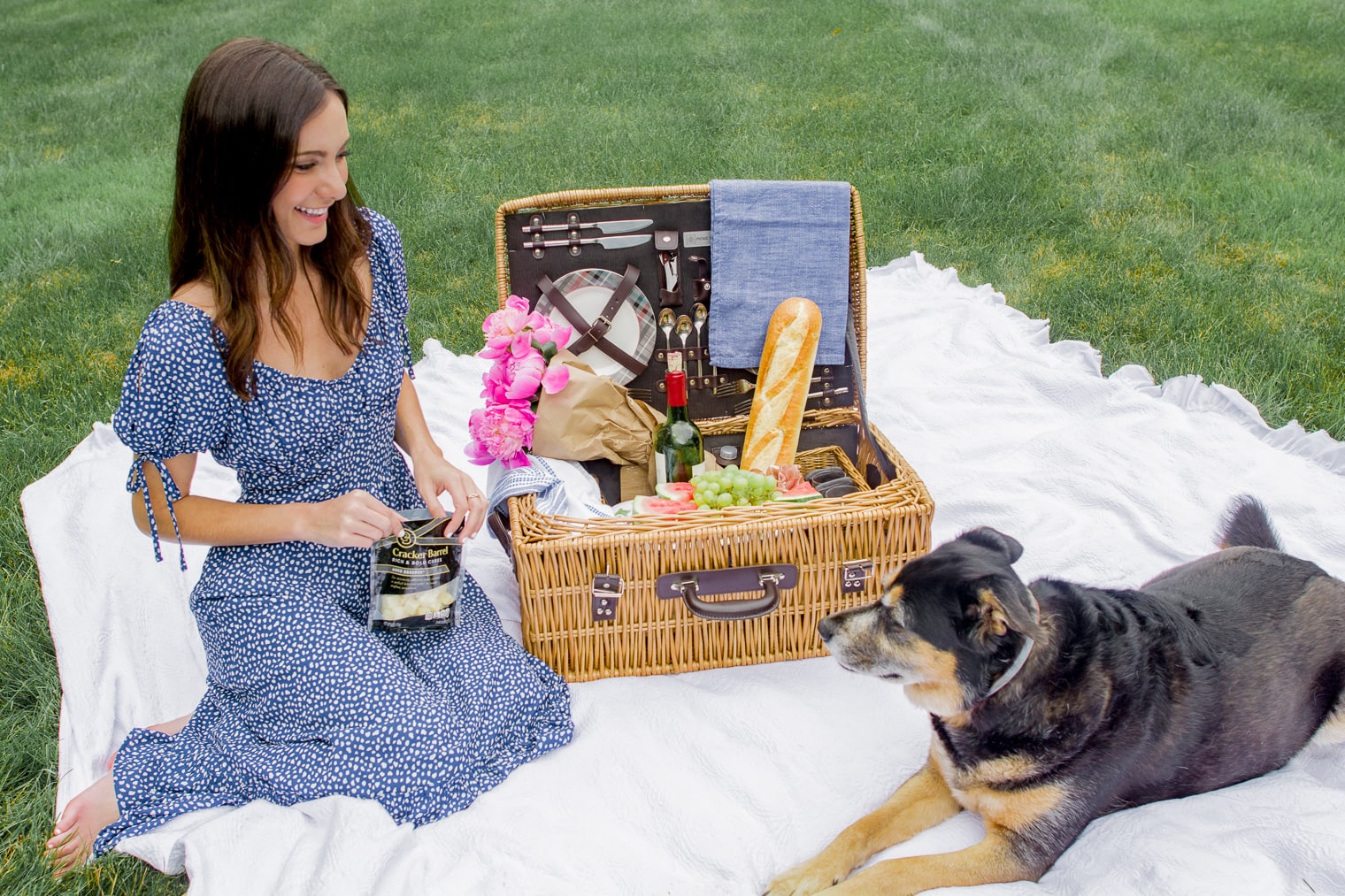 One of my favorite ways to pass the time is sitting outside on a beautiful day, sipping a glass of wine, and munching on meat, cheese, and bread. Throw in a blanket and a basket and around here, we call it a picnic.
The good weather is finally here and I haven't wasted any time picnicking. Because we live in an apartment and don't really have an outdoor area, we've found that this is one of the best ways to pass an afternoon outdoors without going to a restaurant.
We spent the last weekend checking out a new picnic spot on the grounds of an 18th century castle. It just so happens to have a full flower garden that overlooks the ocean. It was pretty last minute, so we ran to Shaws and grabbed a freshly baked loaf of French bread, Cracker Barrel cheese, prosciutto, and peach jam. Not too bad for a typical Saturday afternoon!
After one too many occasions of forgetting an important item for our picnic (we probably don't need a knife, right?), I felt pretty proud that we managed to make a list and actually pack everything on it.
This got me thinking about all of the times we've forgotten an essential item and had to leave early. This must happen to other people, too, right?
What if you're planning a picnic for your new boyfriend or girlfriend and don't know what to bring? What if it's an anniversary picnic that should be really special? How do you know what to bring for a picnic?
That's why I'm writing this post—so that you don't forget paper towels and have to sit on one edge of the blanket while the water you spilled on the rest of it slowly dries out. A good picnic packing list is essential.
I'm first going to talk about picnic food because let's be real, who doesn't love food? But I'll then make a full picnic packing list; scroll down if you're looking for more specific items.
Picnic Food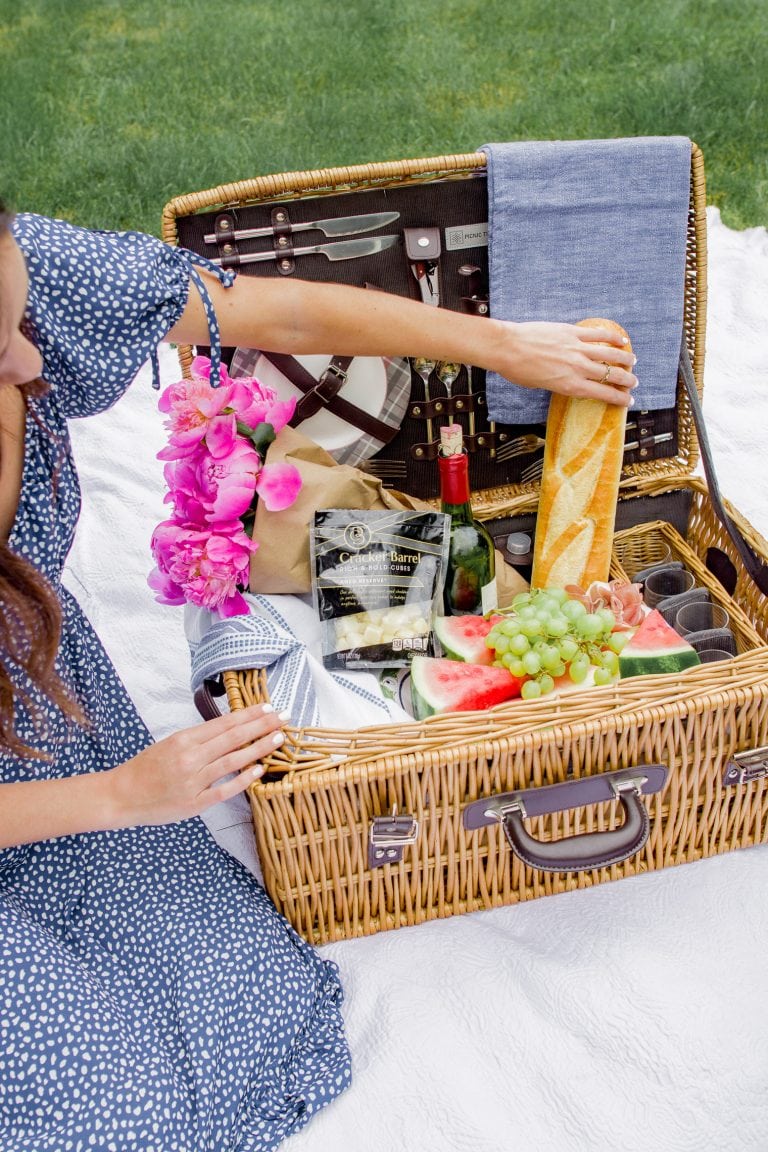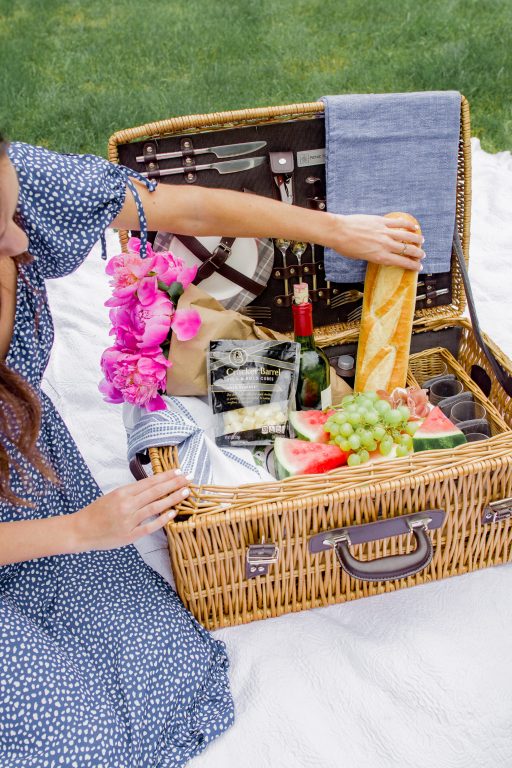 When planning a casual picnic, I like to put together a few platters of fresh, bite-sized picnic food.
Usually, I choose a few packages of French bread, prosciutto, and cheese for the main platter. I always choose Cracker Barrel cheese cubes because the flavors taste super rich and bold!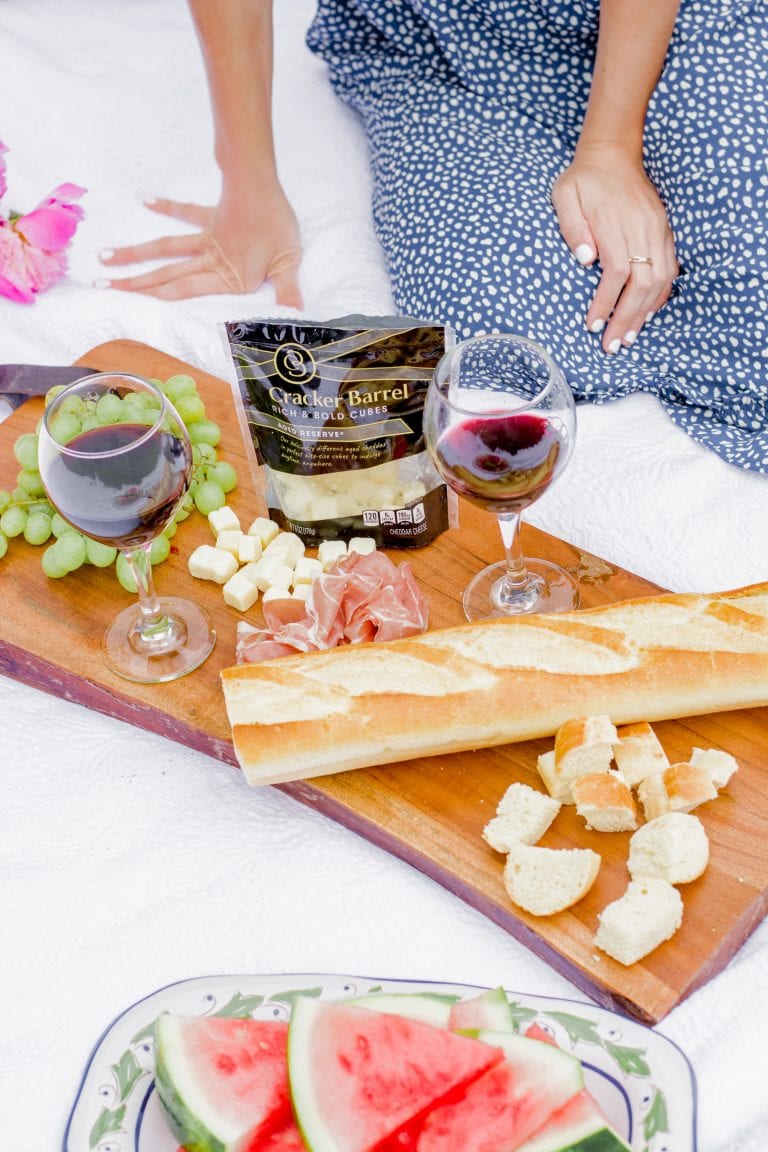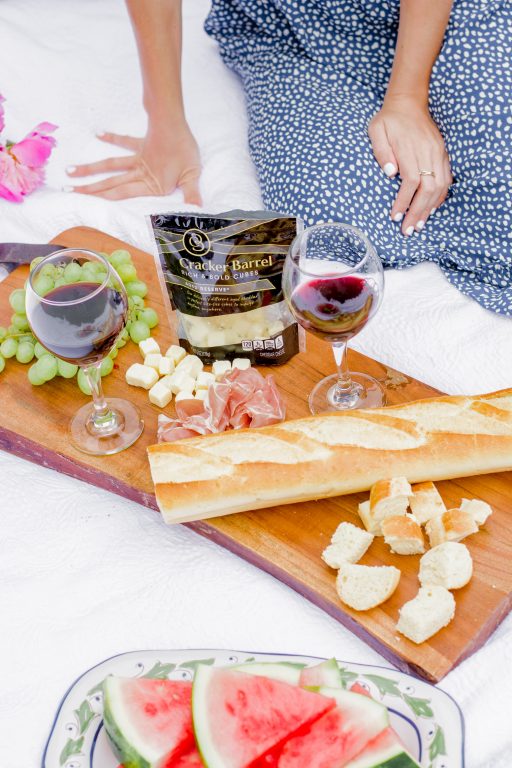 For picnic food, I generally head to Shaw's. Shaw's has a mobile app, making shopping there super convenient. Plus, they often have high end products to add to my picnic basket such as spreads and dips. Check out more details here and head to your local Shaw's to purchase today!
Cracker Barrel Aged Reserve Cheddar cheese tastes rich and bold, but it is conveniently packaged for travel in a picnic basket. It's made from Cracker Barrel's proprietary cheese cultures, and cheeses are selectively graded so only the finest cheese gets sold as Cracker Barrel.
Picnic food is essential for a fun time! When in doubt, go with easy finger food such as meat and cheese that can be picked at during the picnic.
Picnic Packing List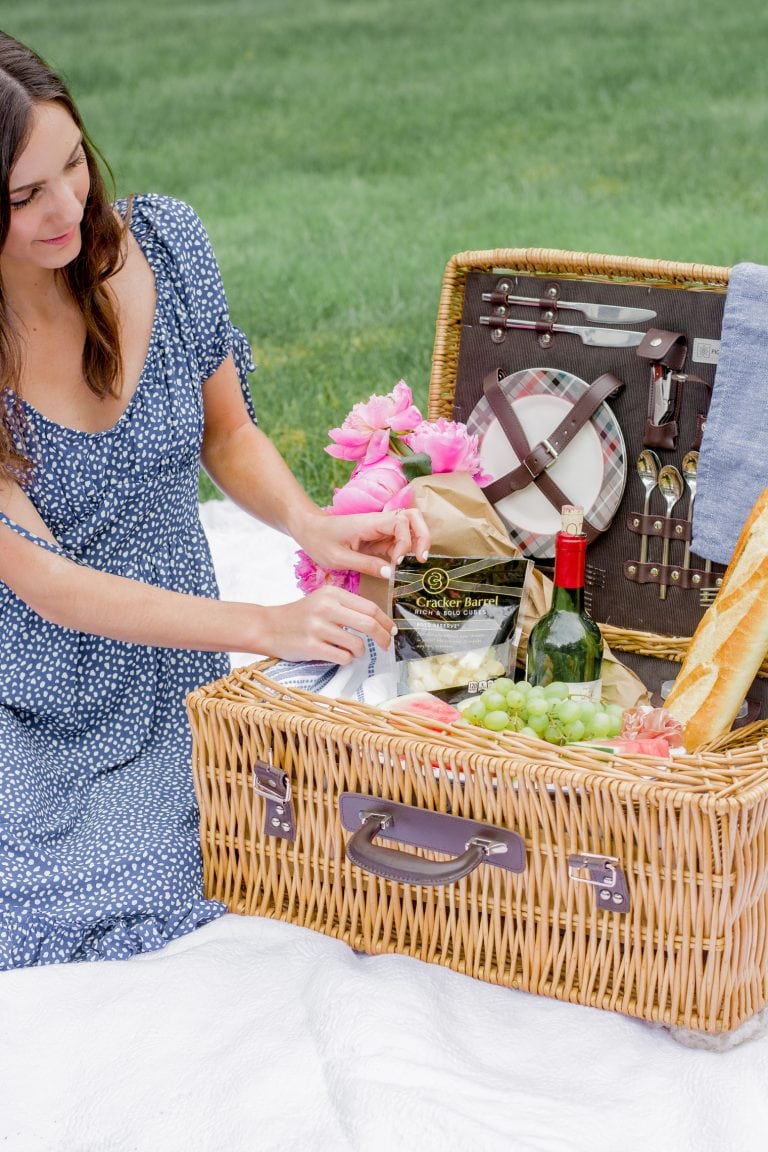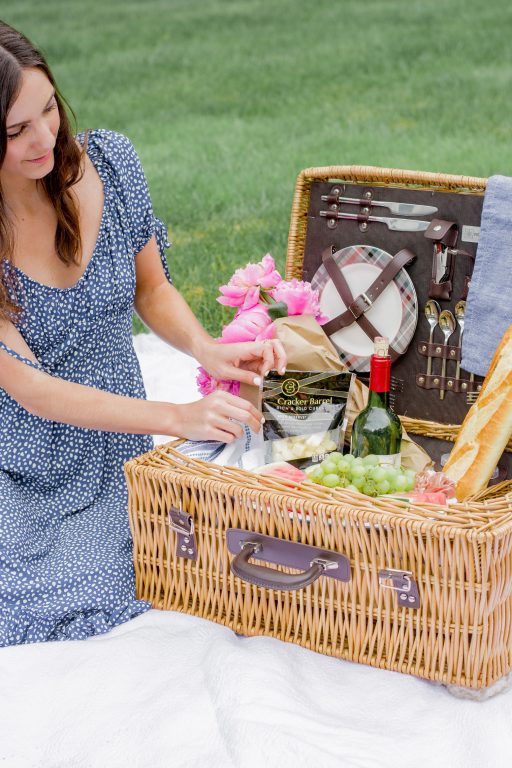 While picnic food is essential for a seamless afternoon, there are many other picnic items that you definitely won't want to forget. Here's my full list of what to bring on a picnic!
Picnic Blanket & Pillows
A comfy picnic blanket is essential if you want to have a good time and stay more than a half hour. I like to layer one on top of another for extra comfort. I also bring a few outdoor pillows. Make sure you can either bleach the blanket or don't care if it gets dirty.
Picnic Basket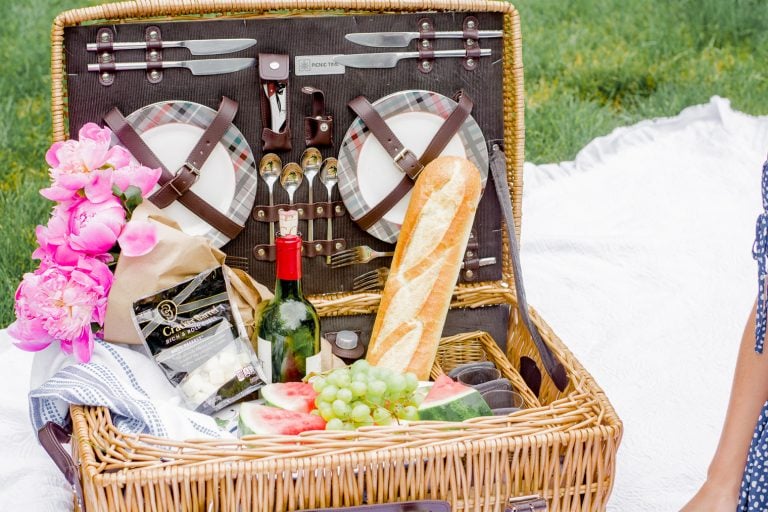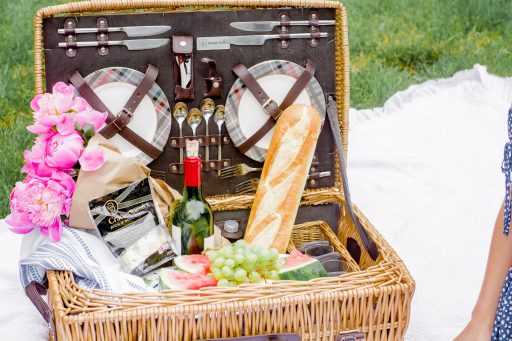 You can't have a picnic without a picnic basket. I picked mine up a long time ago brand new at a flea market and it's been with me since!
While you don't need to go overboard, just make sure that your picnic basket can fit the essentials for two people. I like to put everything we're bringing (minus the blanket and pillows) in the basket to keep it cold.
Salt and Pepper
I keep travel sized salt and pepper shakers in the picnic basket so I'm ready to go.
Bottled Drinks
As a wine lover, there isn't a more perfect time to break out a nice bottle of red than during a picnic. With that being said, there are so many pretty drinks (non-alcoholic as well as alcoholic) that go well with the picnic atmosphere.
Even a bottle of ice water with lemon can feel opulent if you put it in a pretty bottle and tie a ribbon around it.
Bottle Opener
If you do bring a beverage that's anything except a simple twist-off, don't forget a bottle opener!
Plates & Cutlery
Many picnic baskets come with plates, bowls, and utensils, but double check that everything is packed before you head out. These are definitely some of the essentials!
Small Cutting Board
If you're bringing a bunch of different items, then you have no idea how much a small cutting board will come in handy. You can find tiny, tiny cutting boards that are only 5 or so inches long. They won't take up a lot of space but will be very useful when you suddenly need to slice up fruit, meat, cheese, or bread!
Napkins
Probably the least overrated thing on the list, napkins are pretty essential. We might think that kids are super messy while eating but let's be real, adults are just as bad without a decent napkin.
My picnic basket also comes with napkins but if yours doesn't, you can find some pretty French country styled ones for a decent price and include those.
Ice Packs
Again, ice packs aren't something you'd think of right away but food gets warm quicker than you'd expect.
Even if you don't have cold food, ice packs are still great to keep meats, cheese, and grapes from turning hot and mushy.
Pocket Knife
There's a lot of times during a picnic when I've wished I had a pocket knife. I finally threw one in the basket permanently and we use it almost every time we picnic.
A Few Kitchen Towels
You know those dish towels you probably keep hanging on the oven door or around the kitchen? Those are super useful for a picnic, especially when you need to cover food for a bit and your paper towels blow away.
Paper Towels
And of course, paper towels are just as essential on a picnic as they are for basically everything else in life. What else will clean up a spill? You can purchase a mini roll of paper towels if you're short on room and still fit everything else you need in your basket.
A Trash Bag
Similar to the beach, you won't even think about a trash bag until you suddenly have a bunch of napkins that you need to throw out. If you're lucky, then there will be a trash can nearby, but for any unique picnic spot, that's probably not the case.
A plastic bag works just as well as a traditional trash bag. It's one of those things that you'll be super thankful you remembered.
Sunscreen
If it's a hot day out (or even if it's not), bring along some sunscreen. You can burn just as easily at a picnic (even when you're not planning on tanning) as you can at the beach. This is especially true if you're picnicking around the lunch hour.
Wipes
Some good old wipes always come in handy unless you're only eating bread. This is never the case for us (as we like to do our classic prosciutto, French bread, and Cracker Barrel Cheese layout), so we always use wipes. I bought a medium sized pack that stays in the basket and is there when we need it.
Bug Spray
Last but definitely not least on this list of what to bring on a picnic: bug spray.
A few summers ago, we decided to spend the night at the beach and set up an impromptu picnic. It was absolutely gorgeous out. The sun was setting, the temperature was high 70s, the breeze was warm and slight, and the beach wasn't too busy.
Within a few minutes of setting everything up and sitting down, hordes of bugs started attacking us. These bugs weren't even bad bite-wise (they were smaller than mosquitos, the kind you get at the beach) but definitely interrupted our picnic. We had to head out within 20 minutes.
We probably mentioned about 30 times each that we should have bought bug spray, but this exact scenario had to happen a few more times before I actually bought it and left it in the picnic basket. Moral of the story: bring bug spray.
Related Posts:
So, there's my full and complete list of what to bring on a picnic date. This picnic items list is just what I normally do, but it can of course be tailored depending on your location and style.
A good picnic packing list takes a little bit of preparation to throw together, but it's so worth it! If you know what to bring to a picnic, you can transform your time from a half hour stop to a really fun multi-hour long picnic.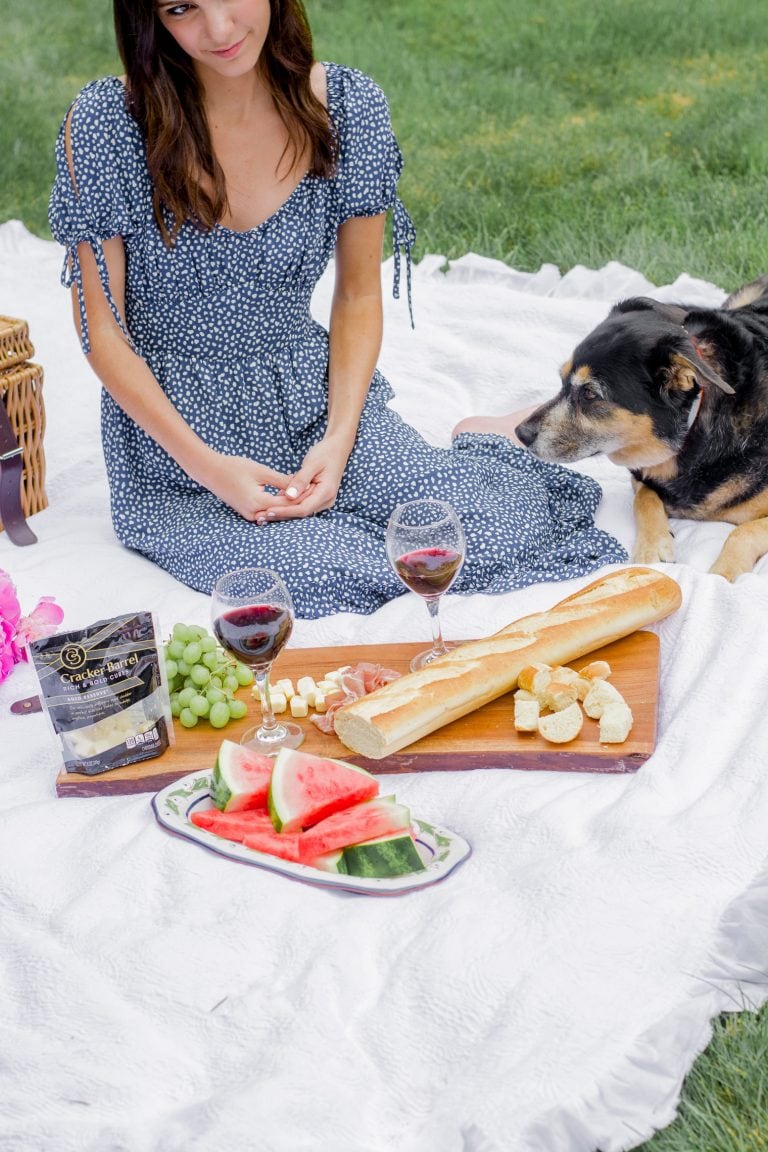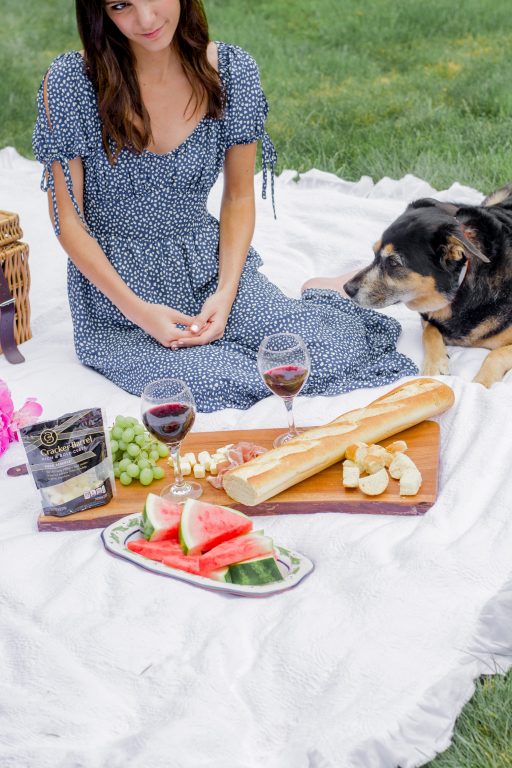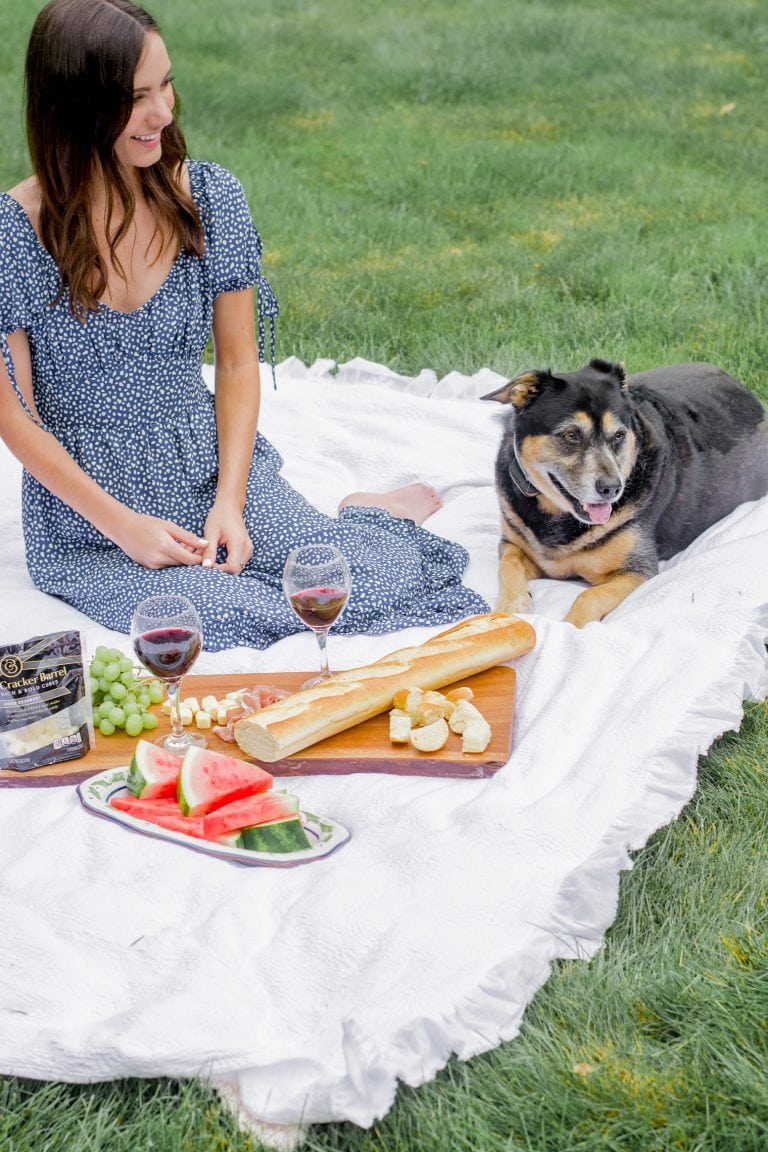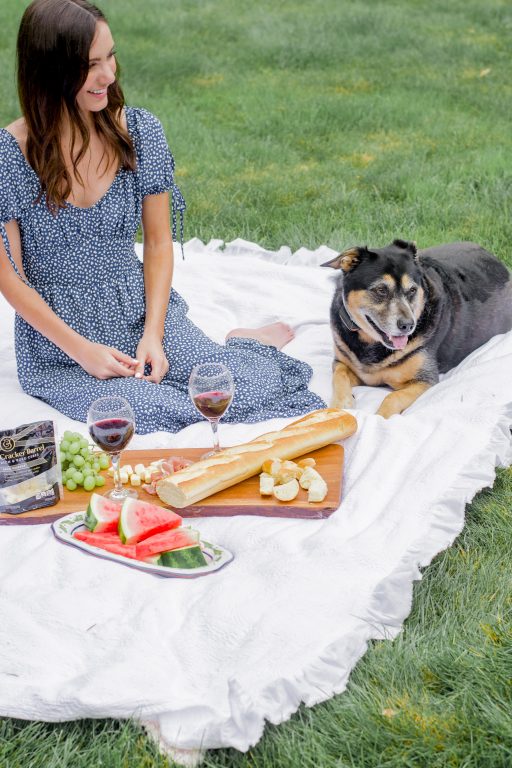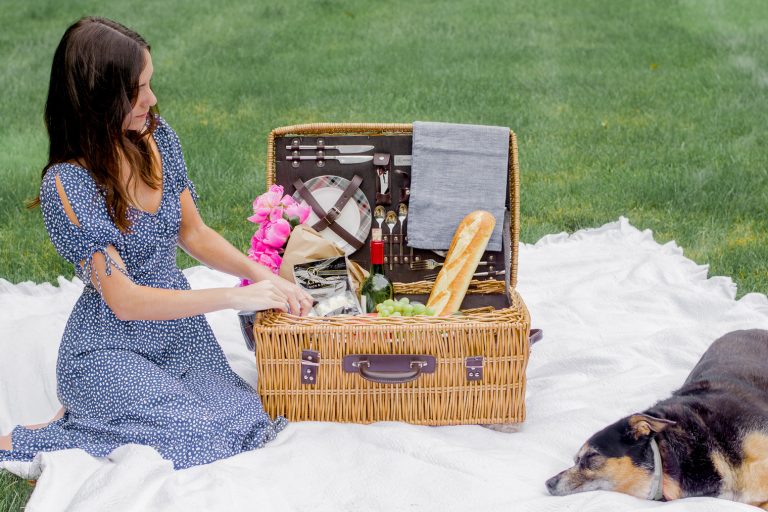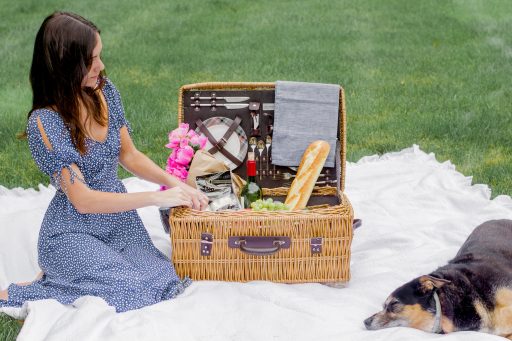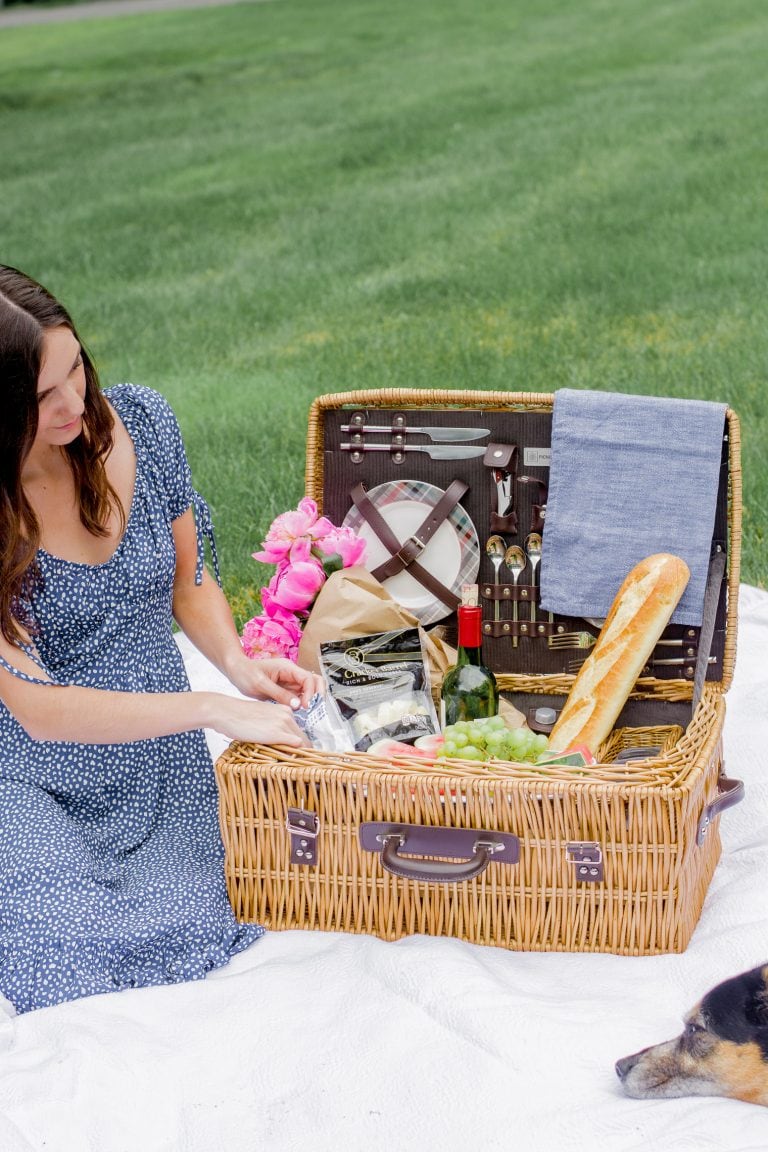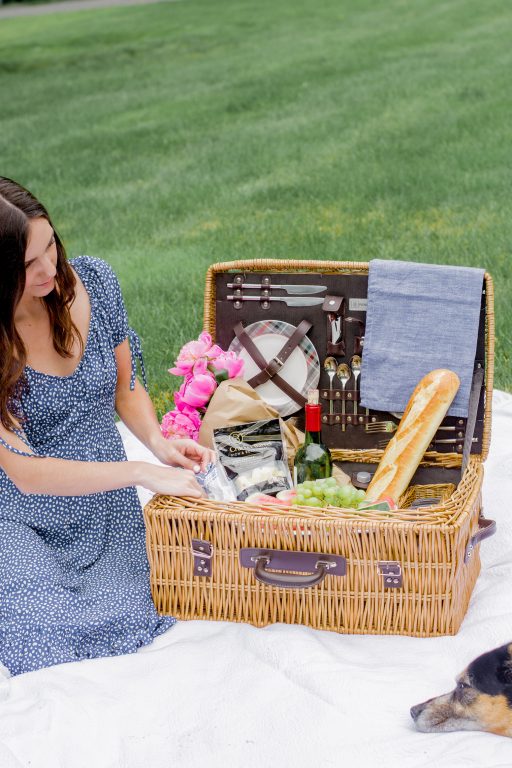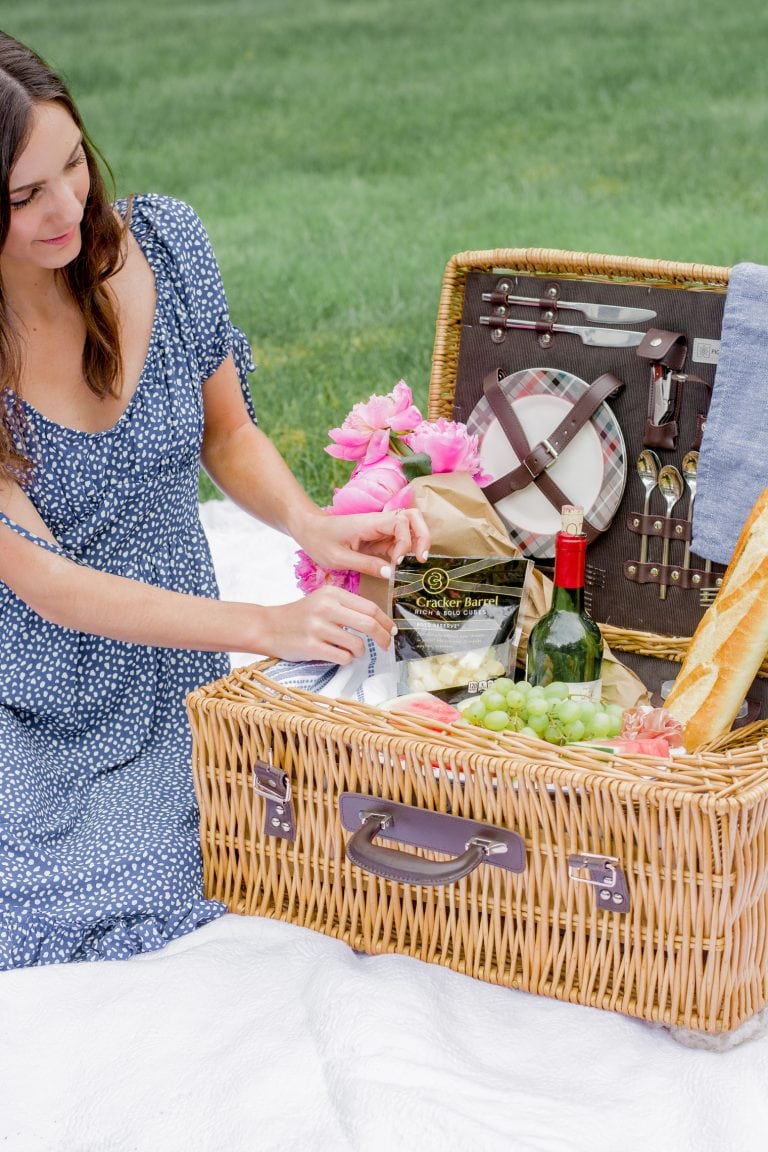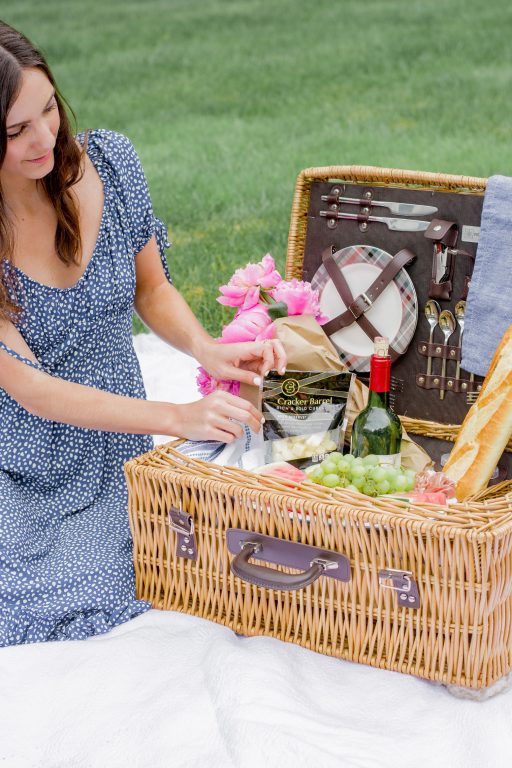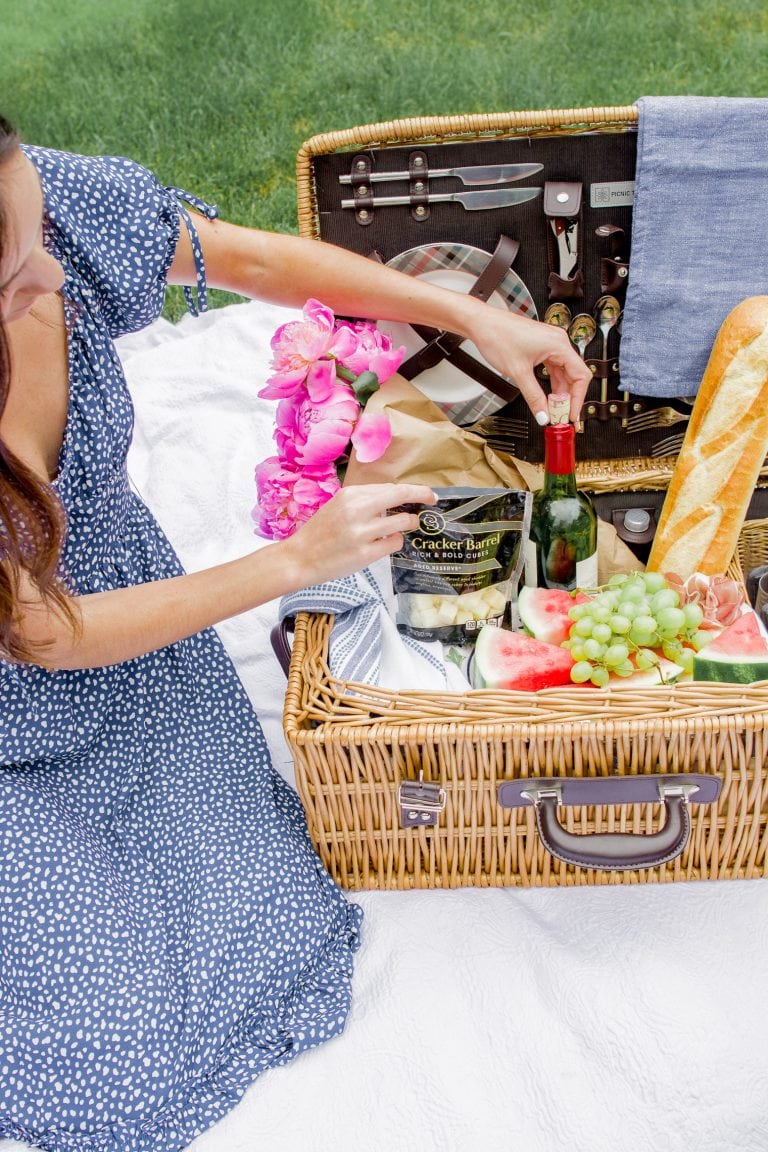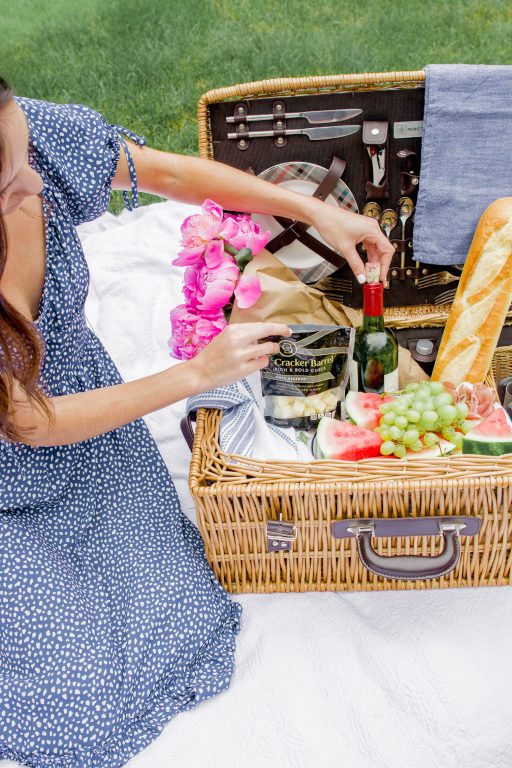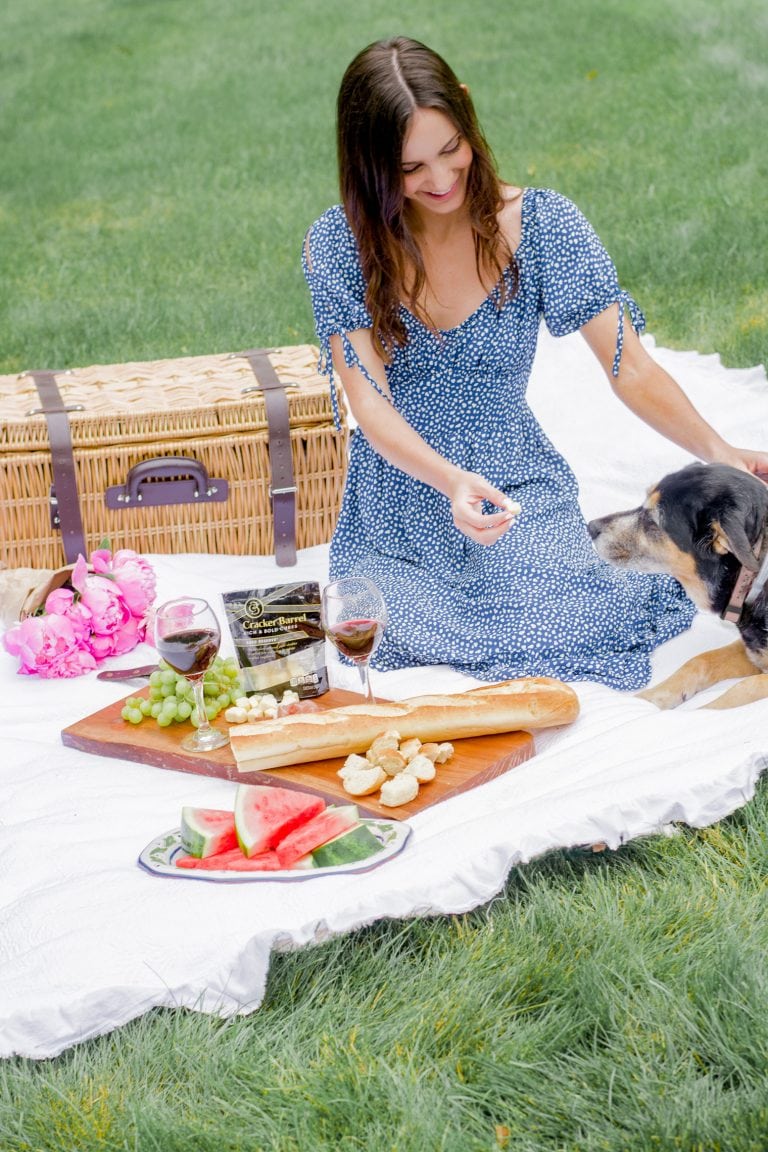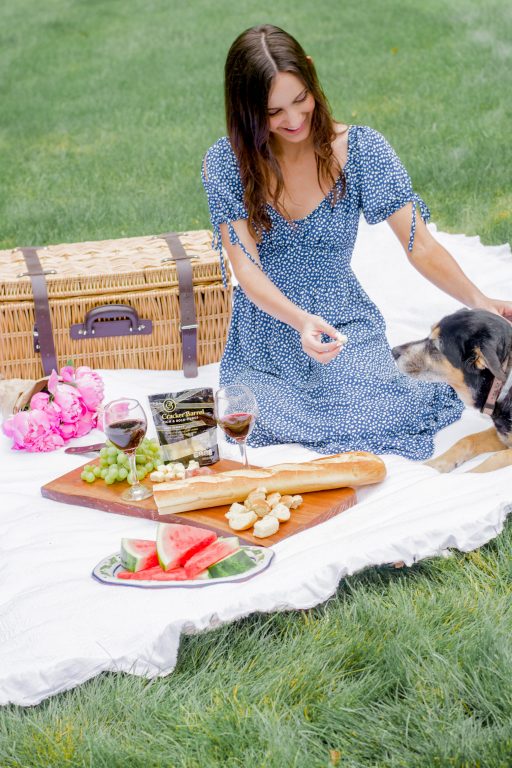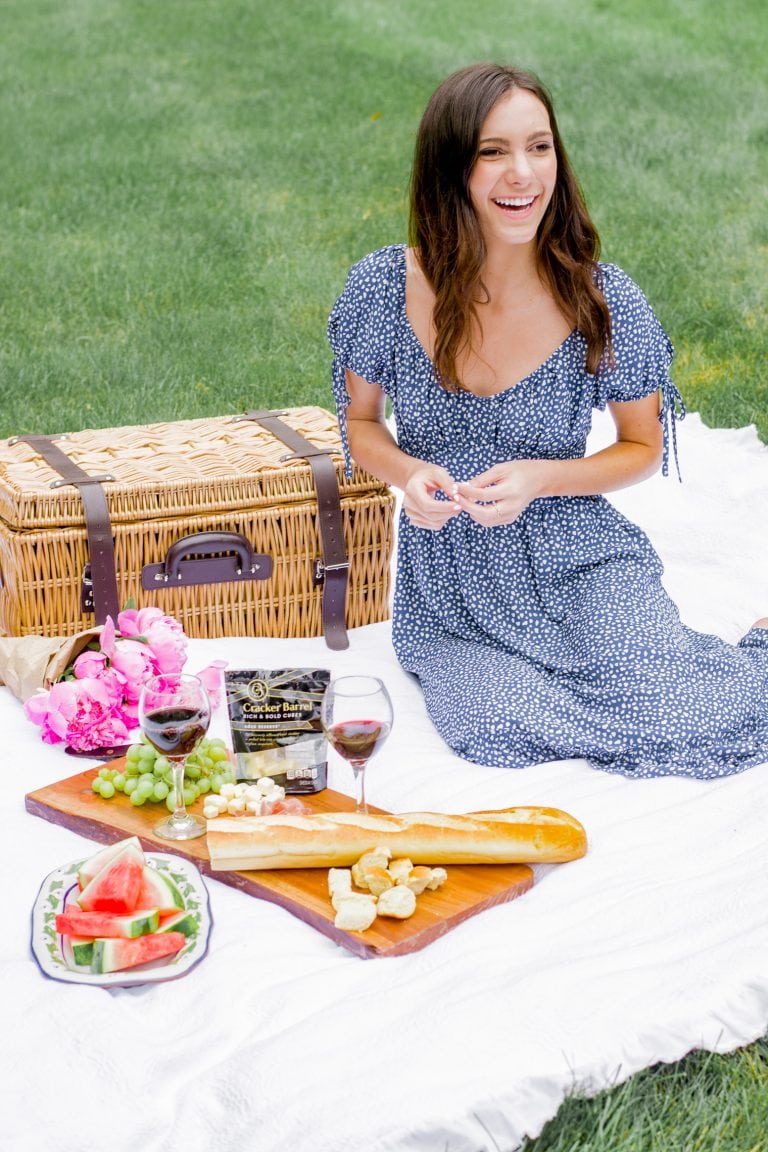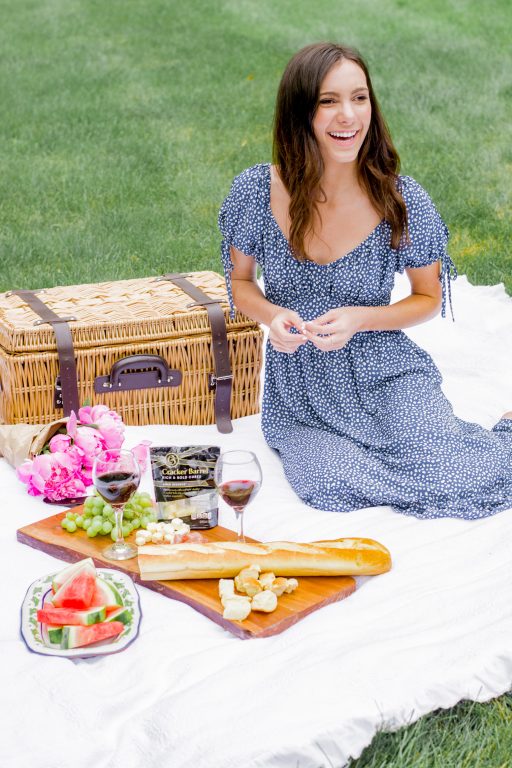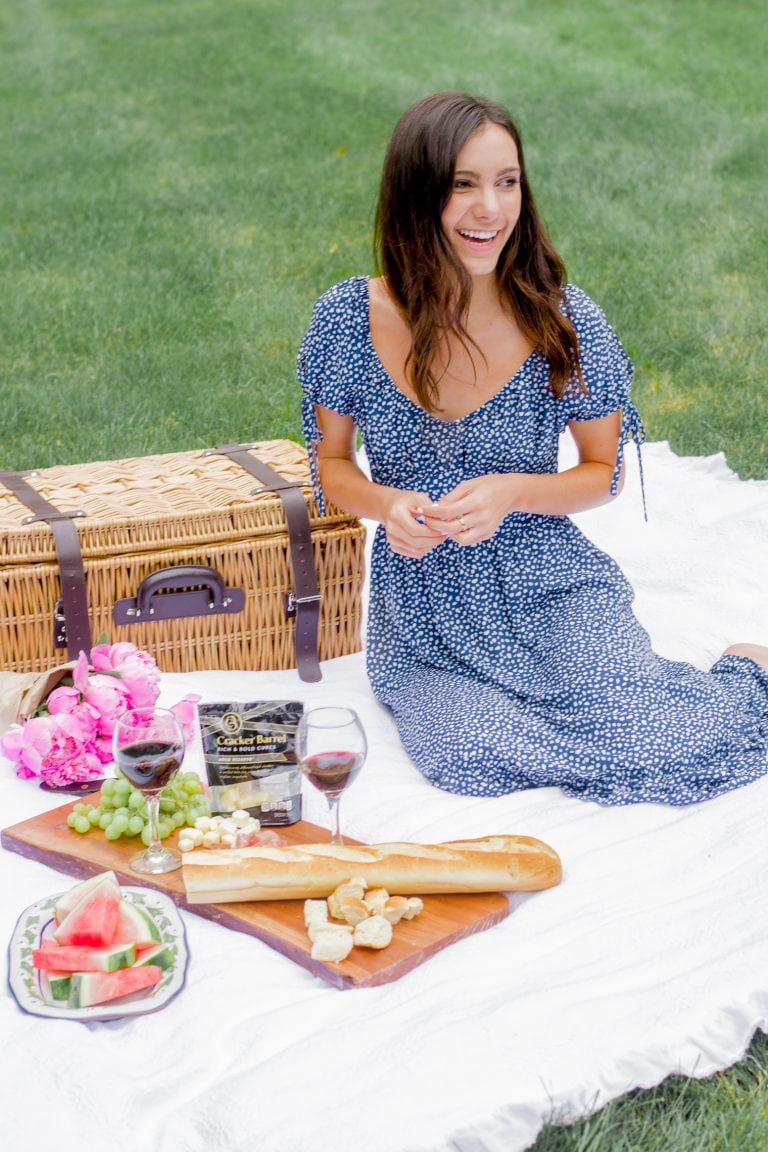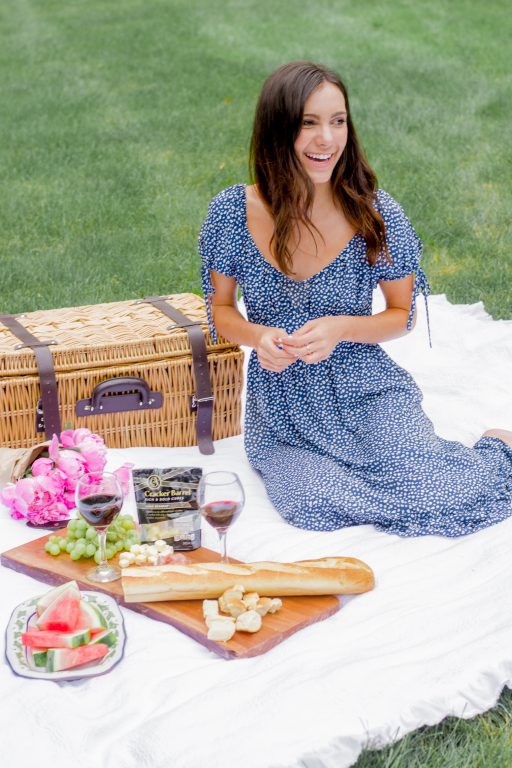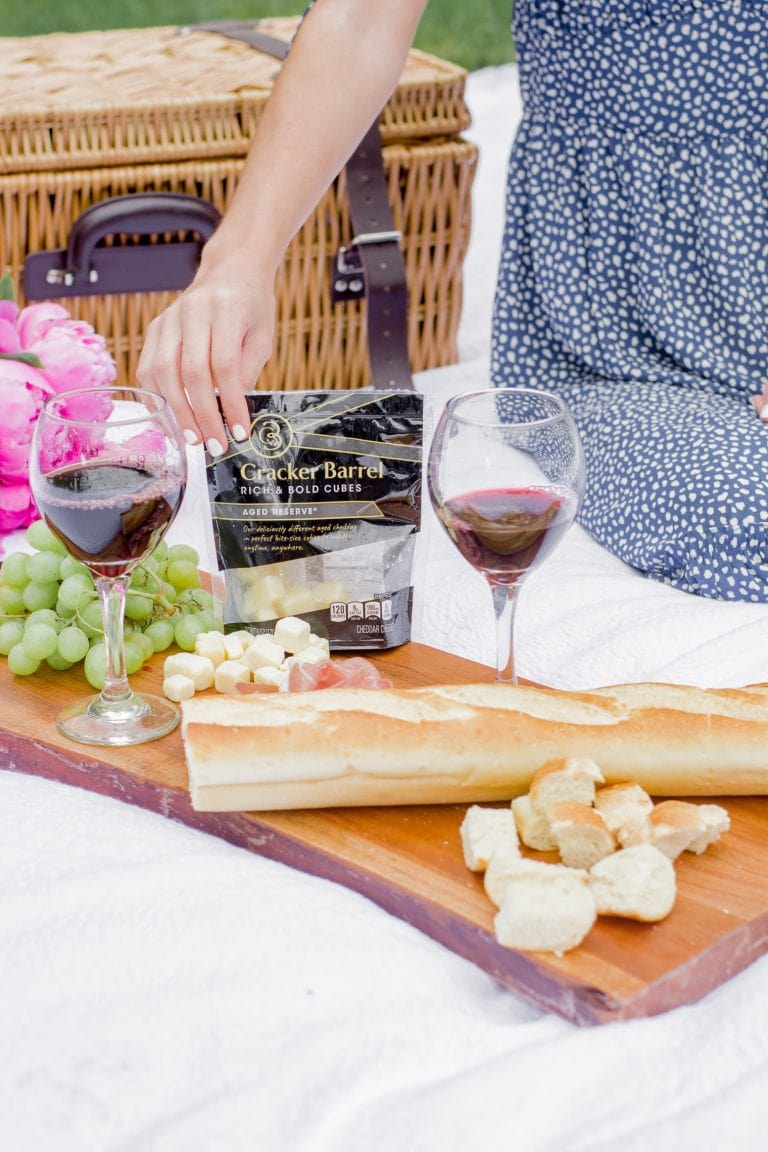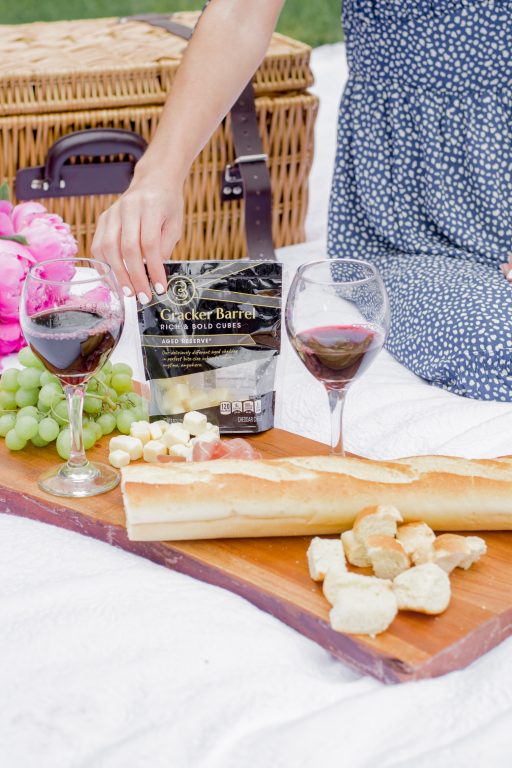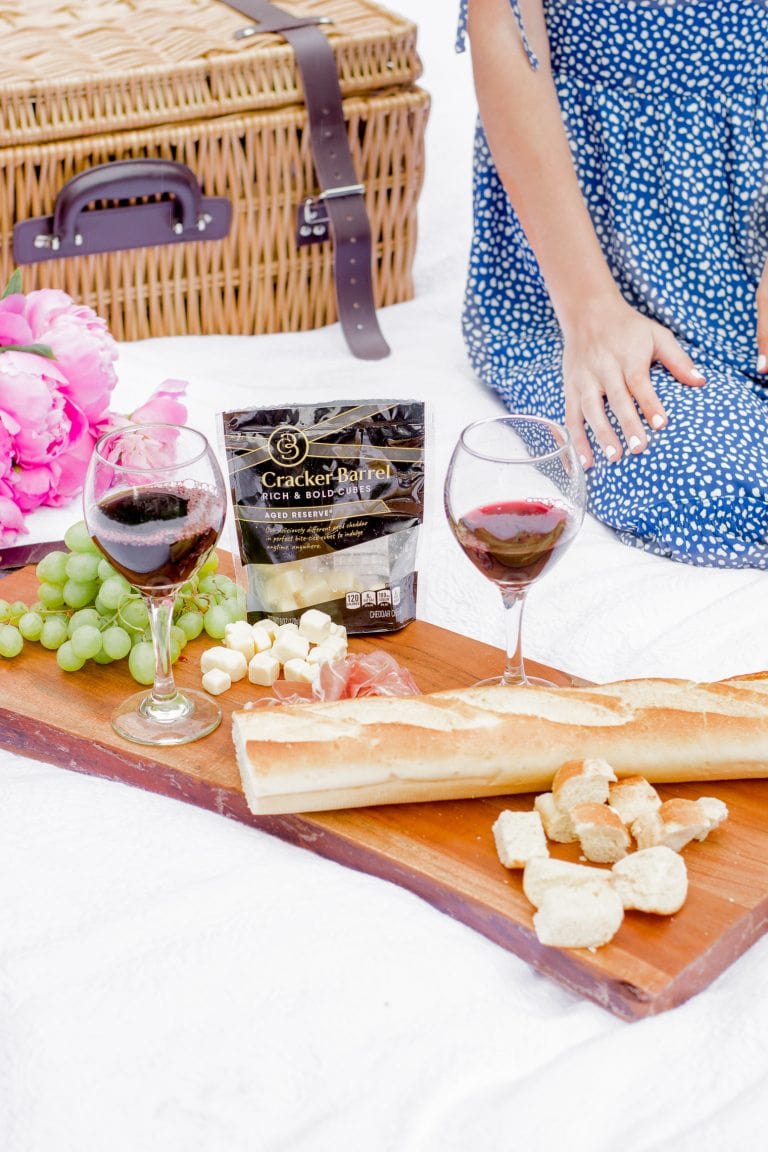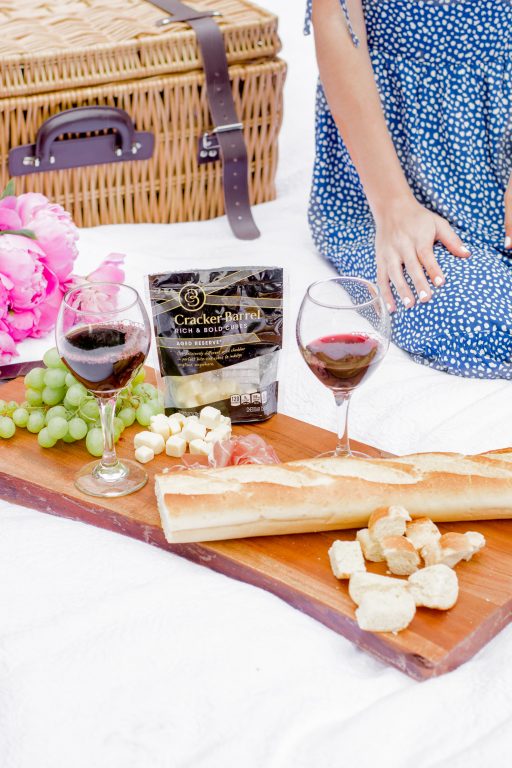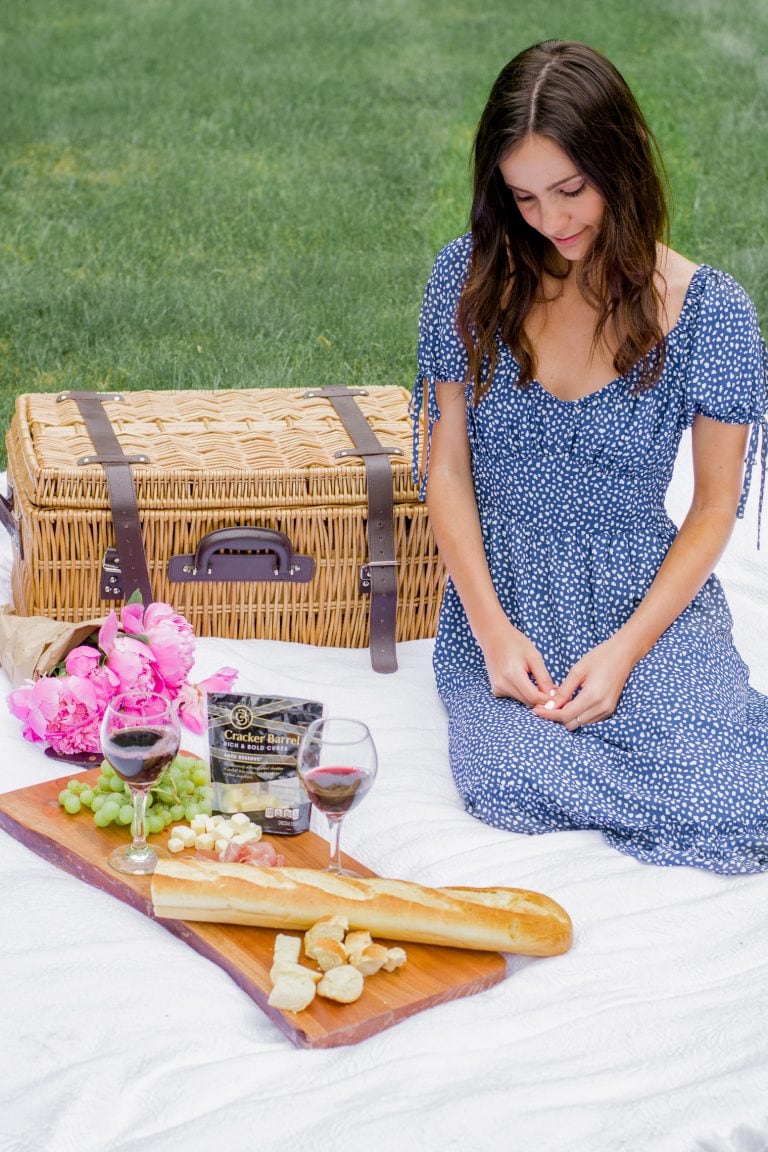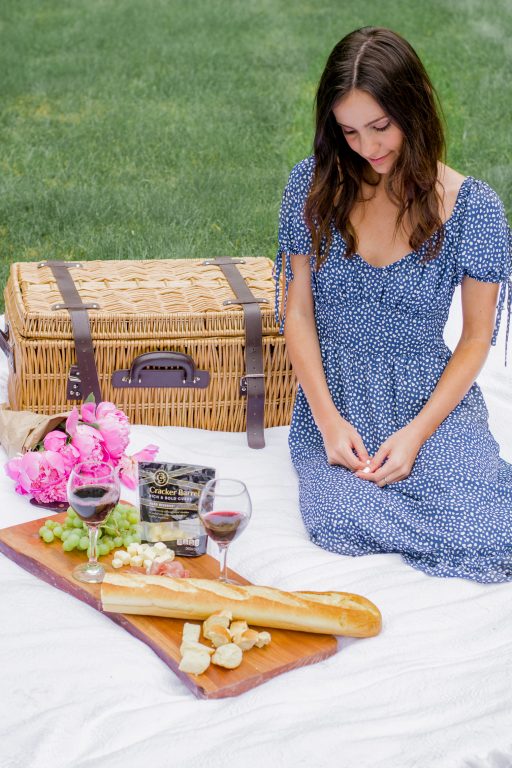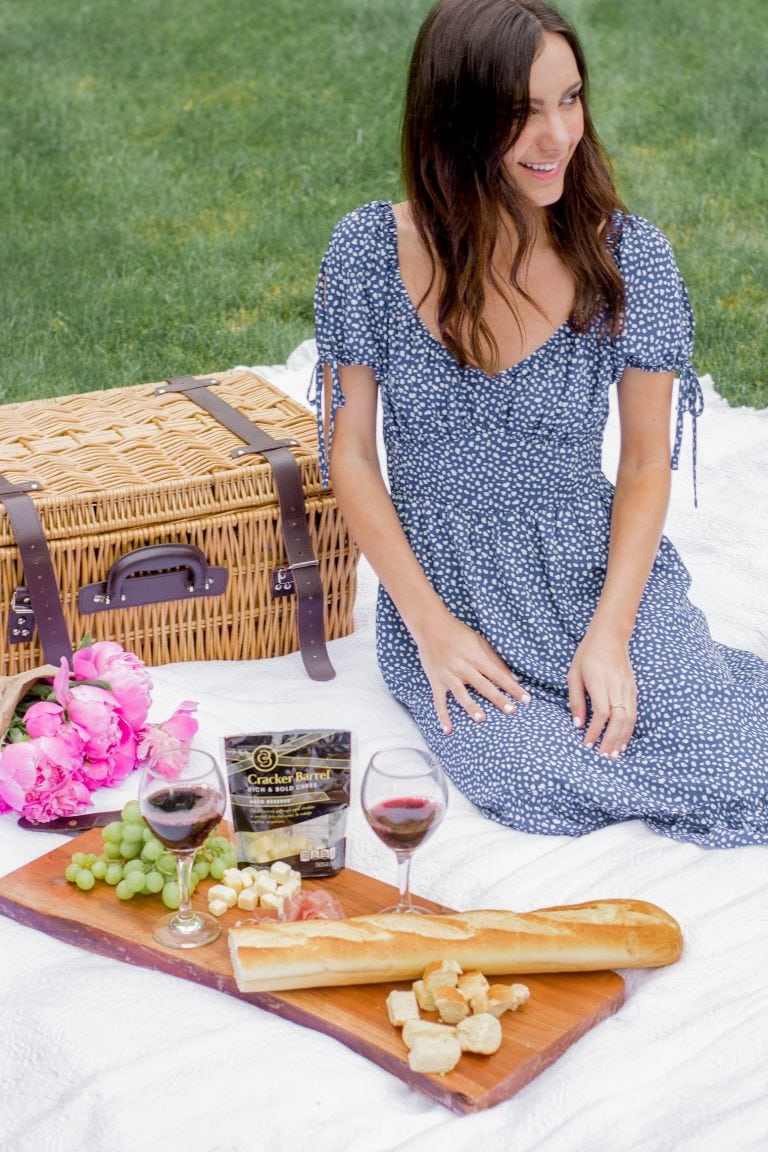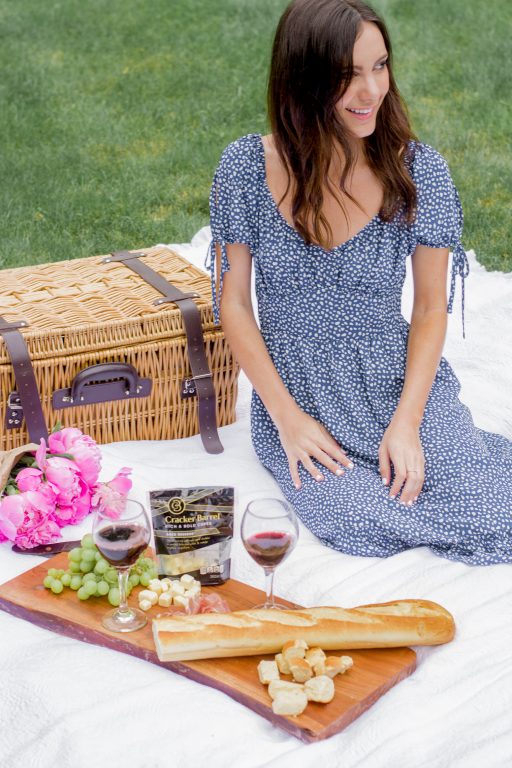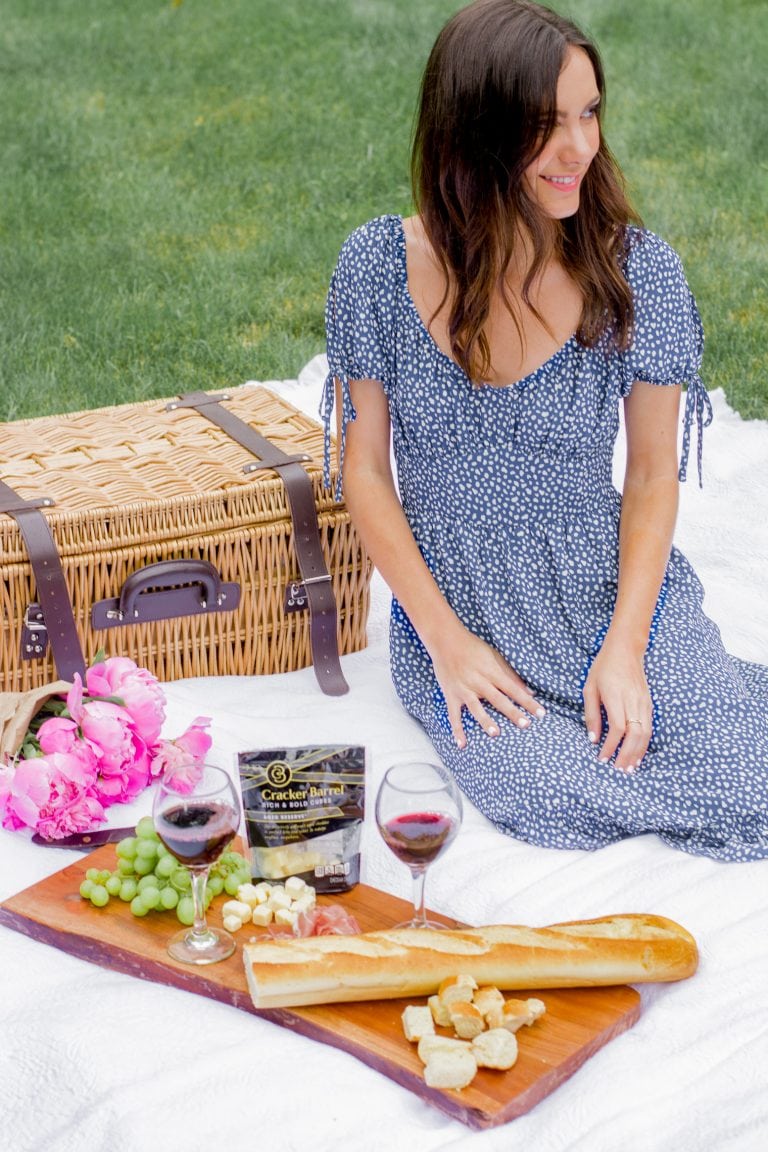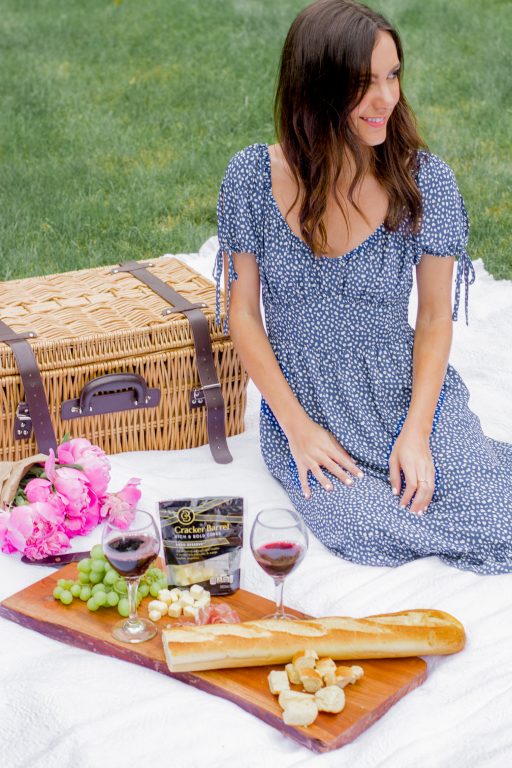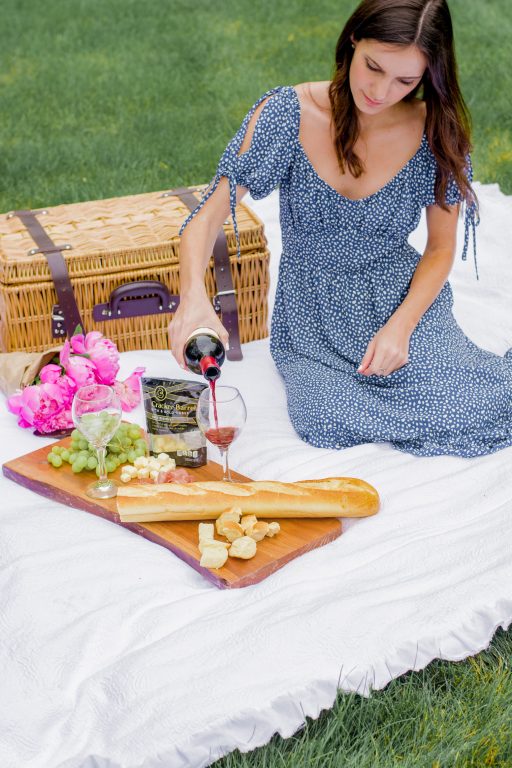 I hope this helped you figure out what to bring on a picnic! Think something is missing off this list? Let me know in the comments and I'll be sure to add it in!