A few weeks ago, we decided to get away for a weekend and chose to head out to Williamstown, MA. I had never been to the Berkshires before, but I knew that it would definitely give us the quiet that we were craving.
We decided to stay at The Guest House at Field Farm due to the insanely positive reviews the property has received online. Click here to check out the property on Trip Advisor – it has 5 stars!
The Guest House is a Trustees property, meaning that there's a big emphasis on history. I had never stayed at a Trustees property before, and while I assumed that the artwork and furniture would be well-kept, I was surprised by how efficiently the property is run as well.
I've included tons of details and pictures below, but my favorite part of the stay was truly the peace and quiet. Living in the city, that's something I didn't know I needed, but having the opportunity to reconnect with nature is what made this experience so special!
The Room
We stayed in the South Room, and I immediately loved it the second we walked in. The South Room is more of a suite, so there's a separate sitting room with a desk, a closet, an ironing board, a sofa, etc.
The bedroom was super cozy and the bed was really comfortable. We loved the views that we had from this room and were able to see out two different sides of the property. The stunning views of the mountain in the mornings were seriously insane!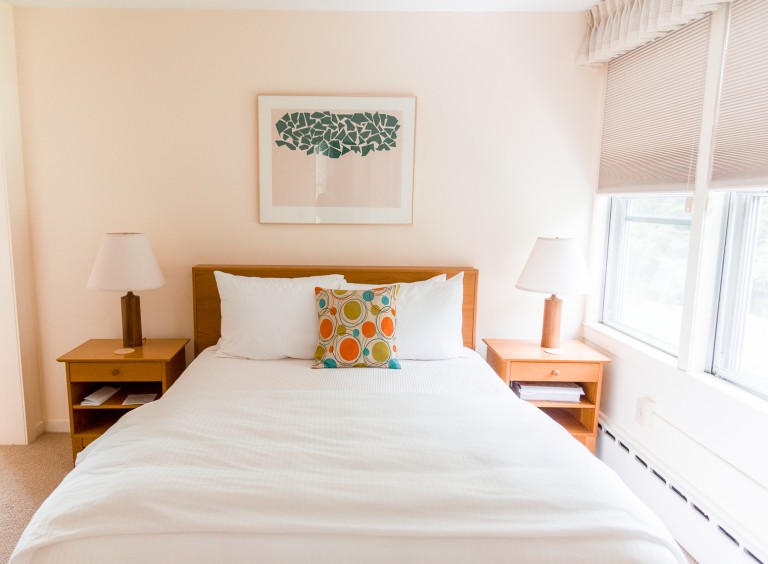 We were pleasantly surprised by how meticulously clean the room and bathroom were. I'm not even kidding – there wasn't a single spot of dust. Plus, the old-world charm of the decor to create such a unique experience!
I felt as though we were back in time. None of the appliances felt old (everything is maintained so well) and as a huge history enthusiast and someone who would love to time travel, this was right up my alley.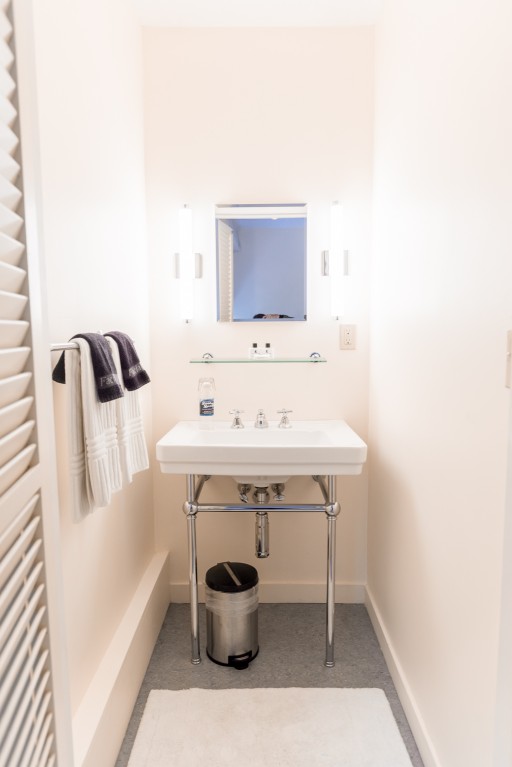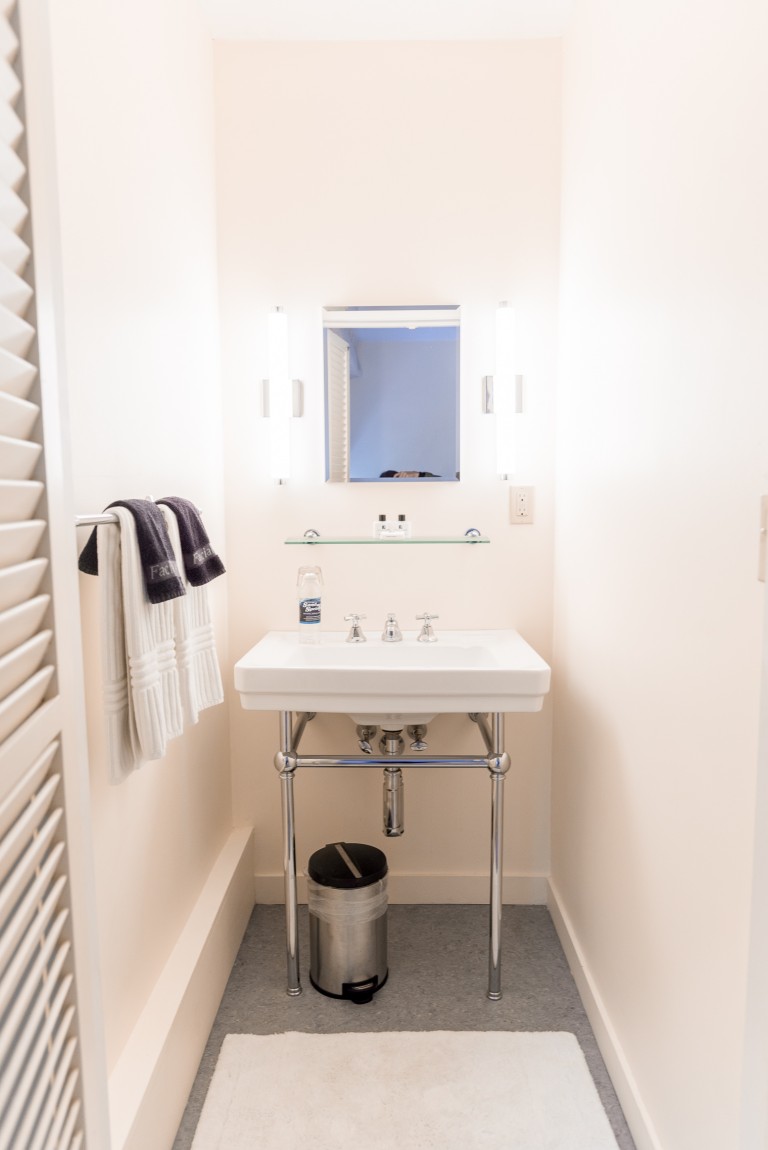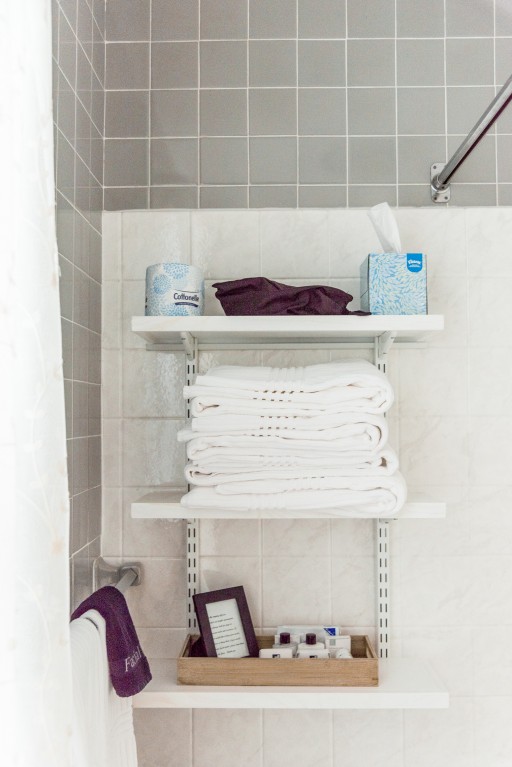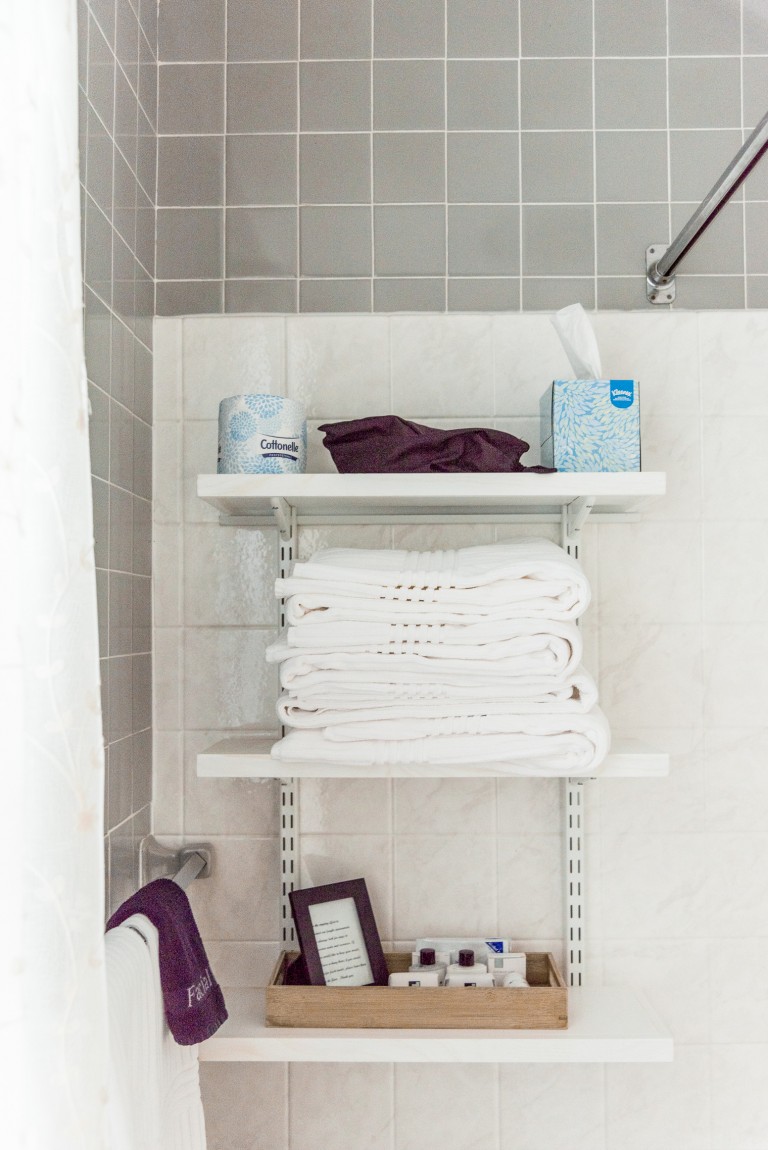 Each room is unique and has totally different features. They're also very separate from each other, so you won't have noisy neighbors disturbing your peace. Click here to check out the other rooms.
The Breakfast
The Guest House offers free breakfast for guests, and it's a unique experience each day. On morning 1, we we had cheesy scrambled eggs, fresh toast, and breakfast meat. The second morning, we tried delicious maple pancakes with breakfast meat. Everything is made to order and comes out hot!
There's always a buffet available with fresh-baked pastries/bread, juice, coffee, granola, and yogurt.
The breakfast experience is really pleasant! There's even cricket sounds being played in the area so that you feel like you're really eating in nature.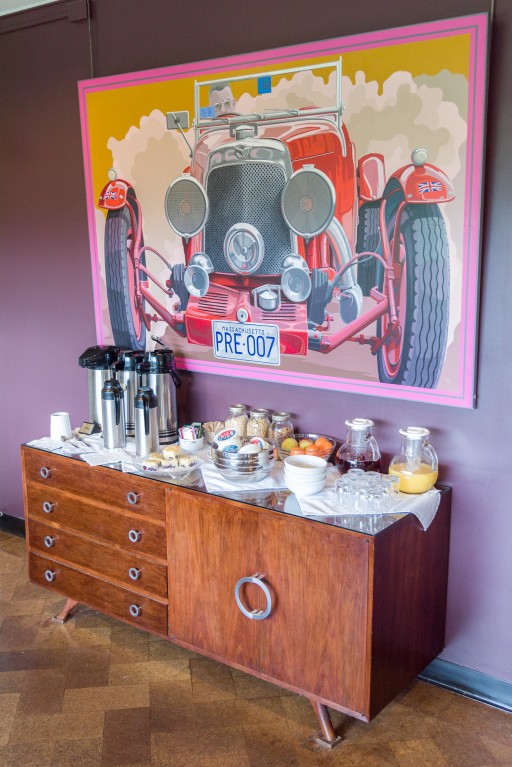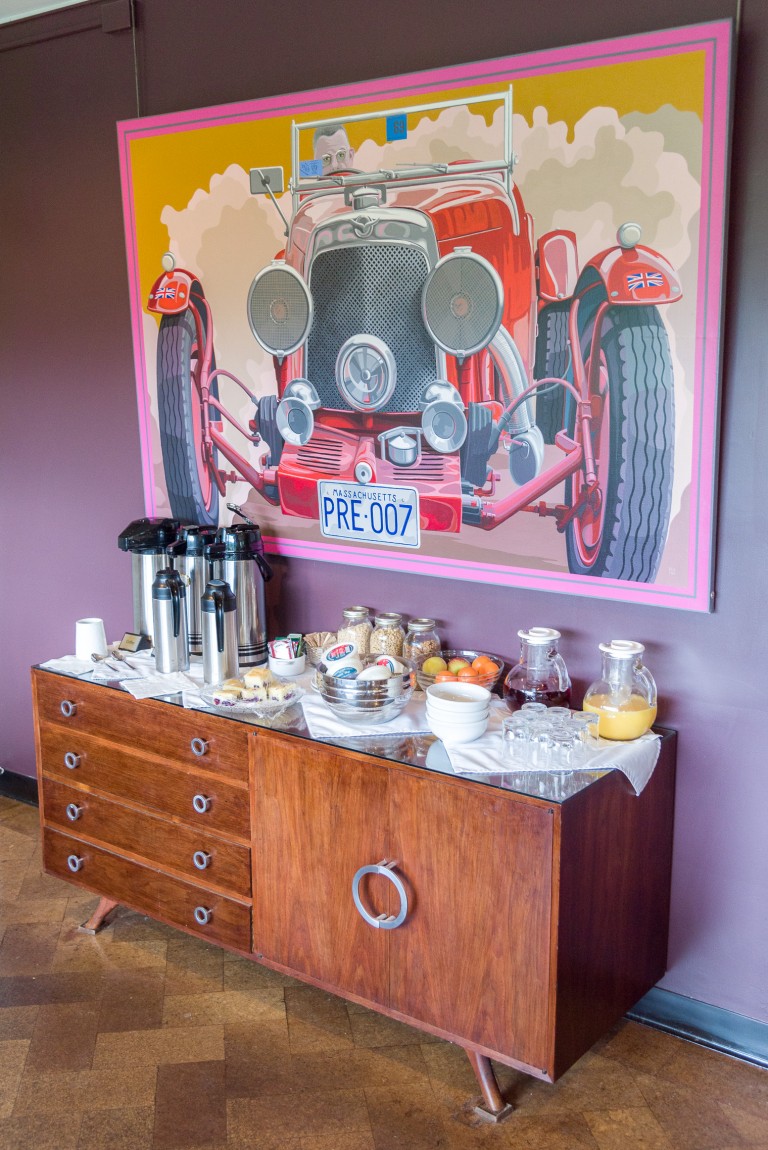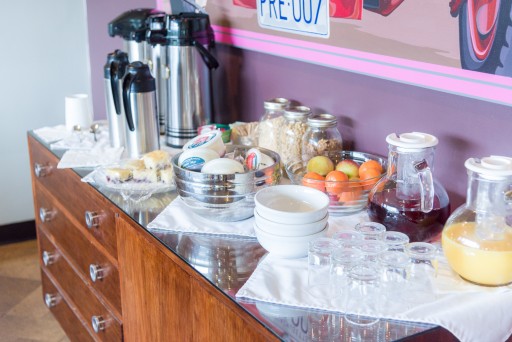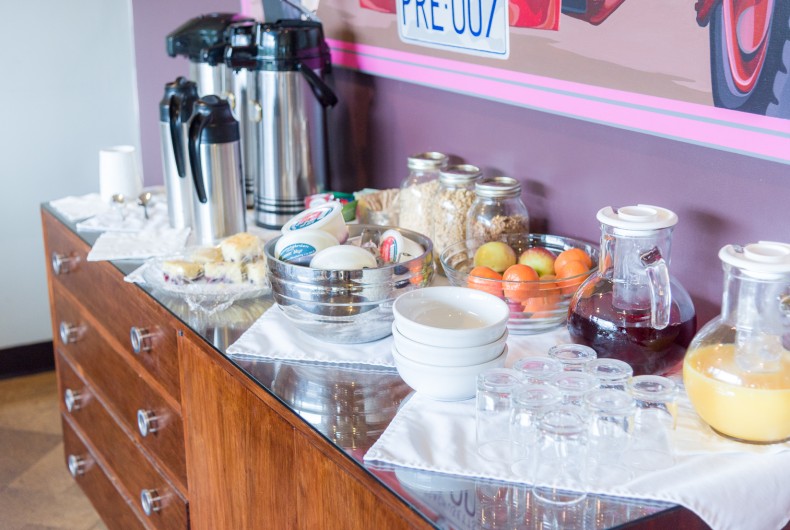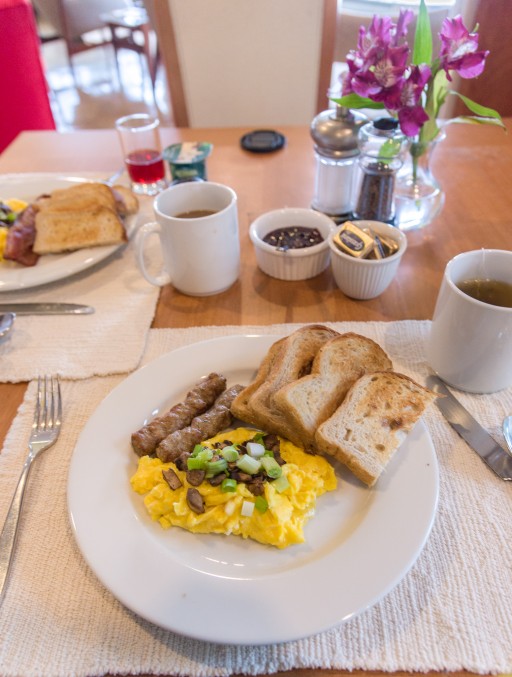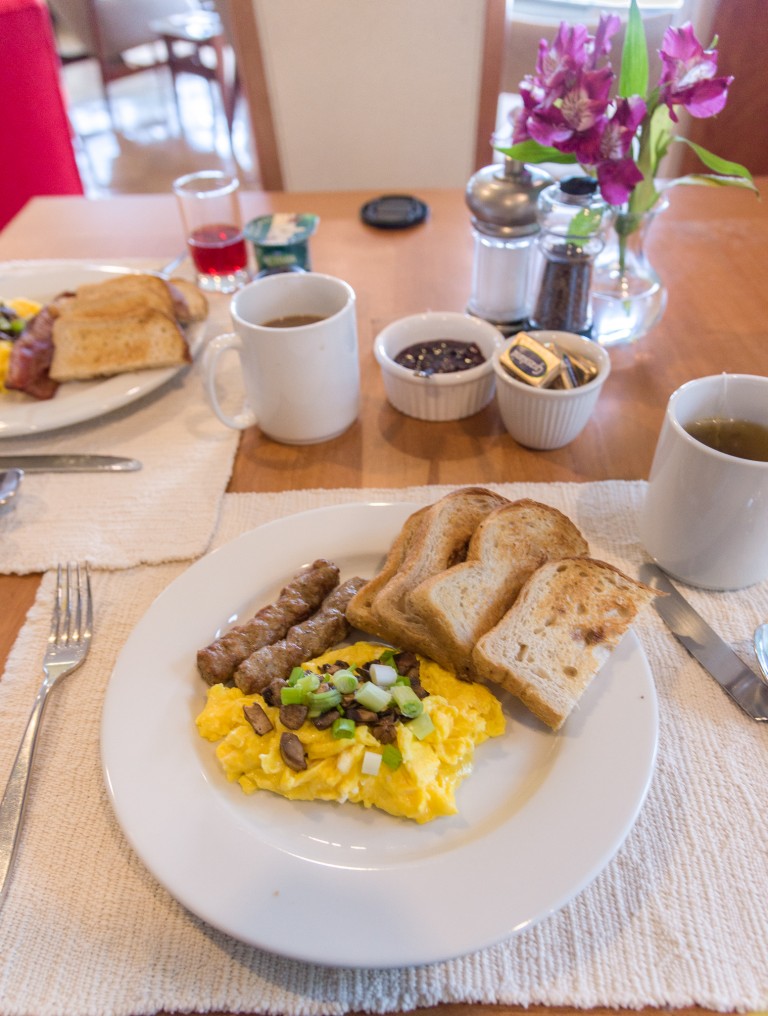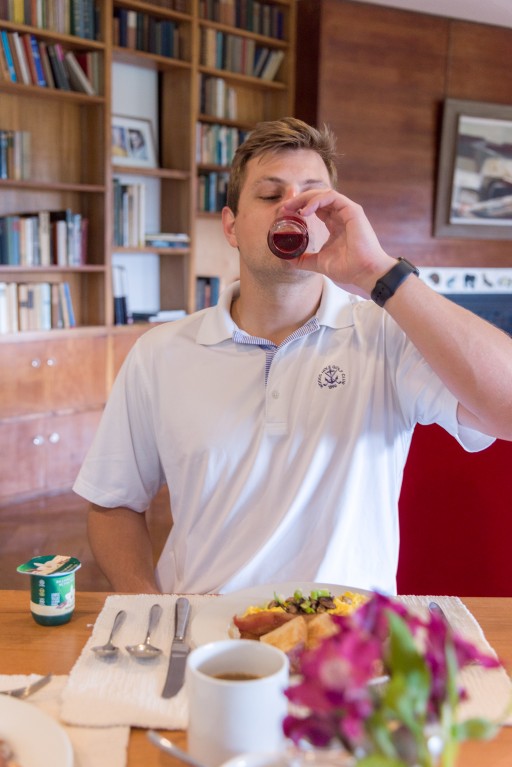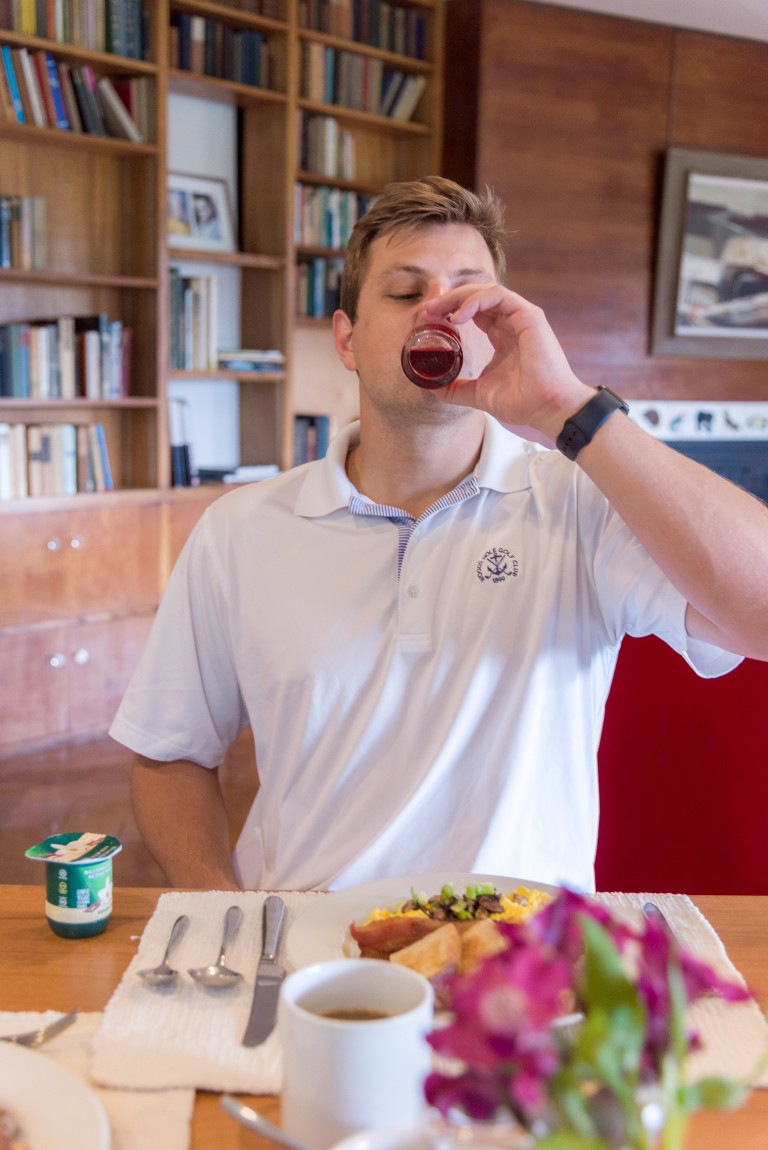 The Lobby Area
This area is connected to the breakfast area, so you hear the cricket sounds here as well. There's an awesome scope if you want to look for animals (we actually saw a Bald Eagle – how insane is that!!) and a variety of books as well as cozy areas to sit.
One of my favorite things about the common area is that there's never any music playing. At first I was kind of surprised; I'm used to walking into hotels with music and since I live in the city, I'm almost never in a place this silent. By the end of the trip, I absolutely loved it. You can hear yourself think in a good way and will automatically feel more peaceful after a few days here!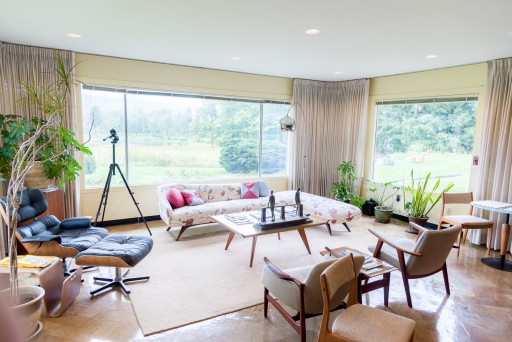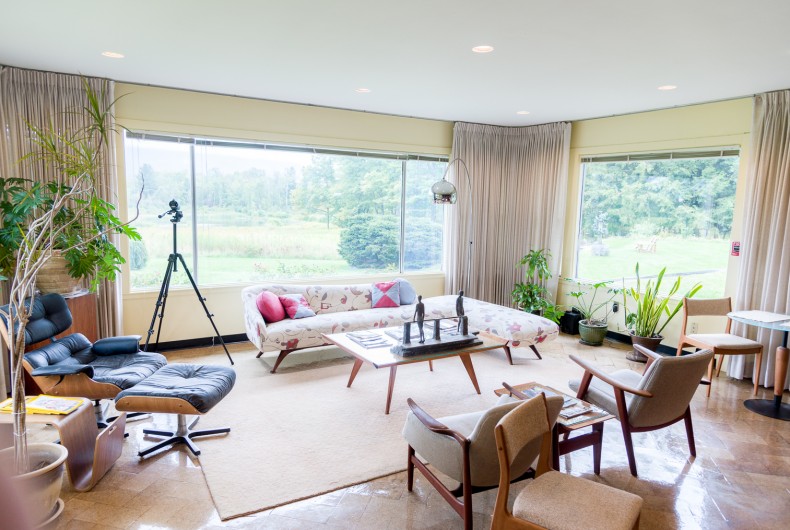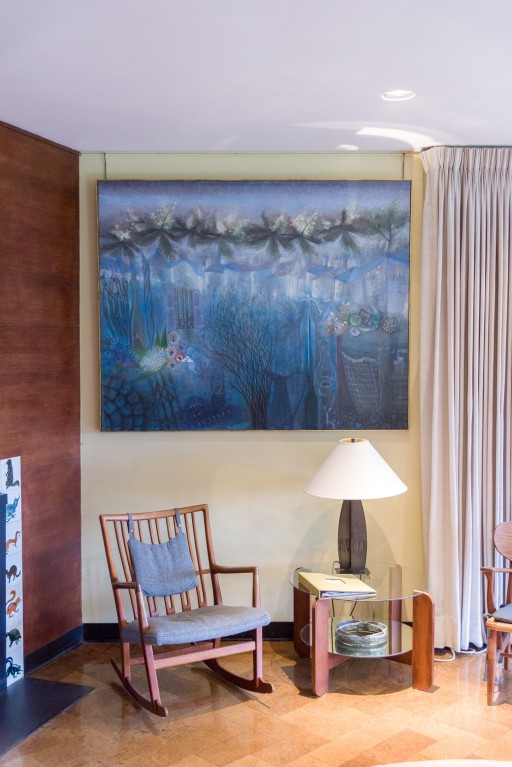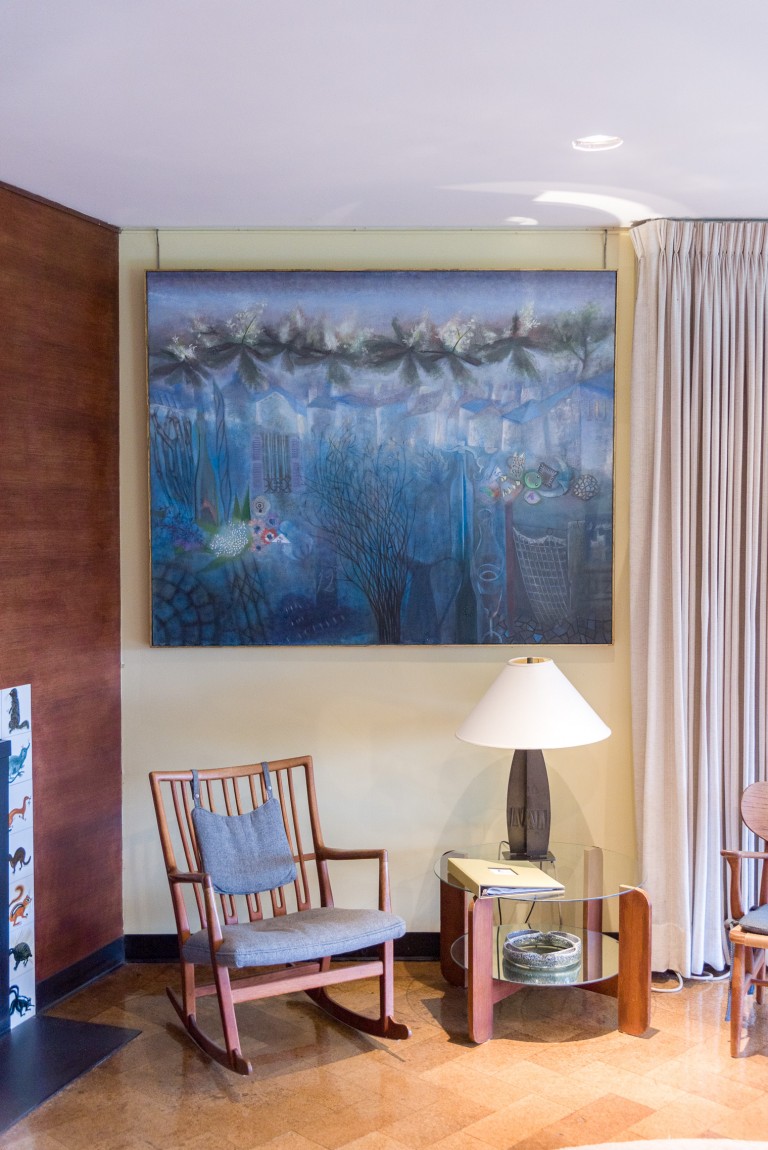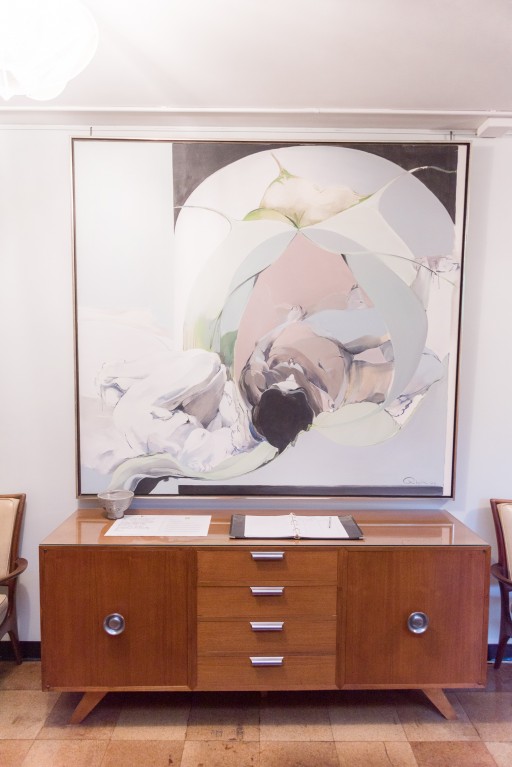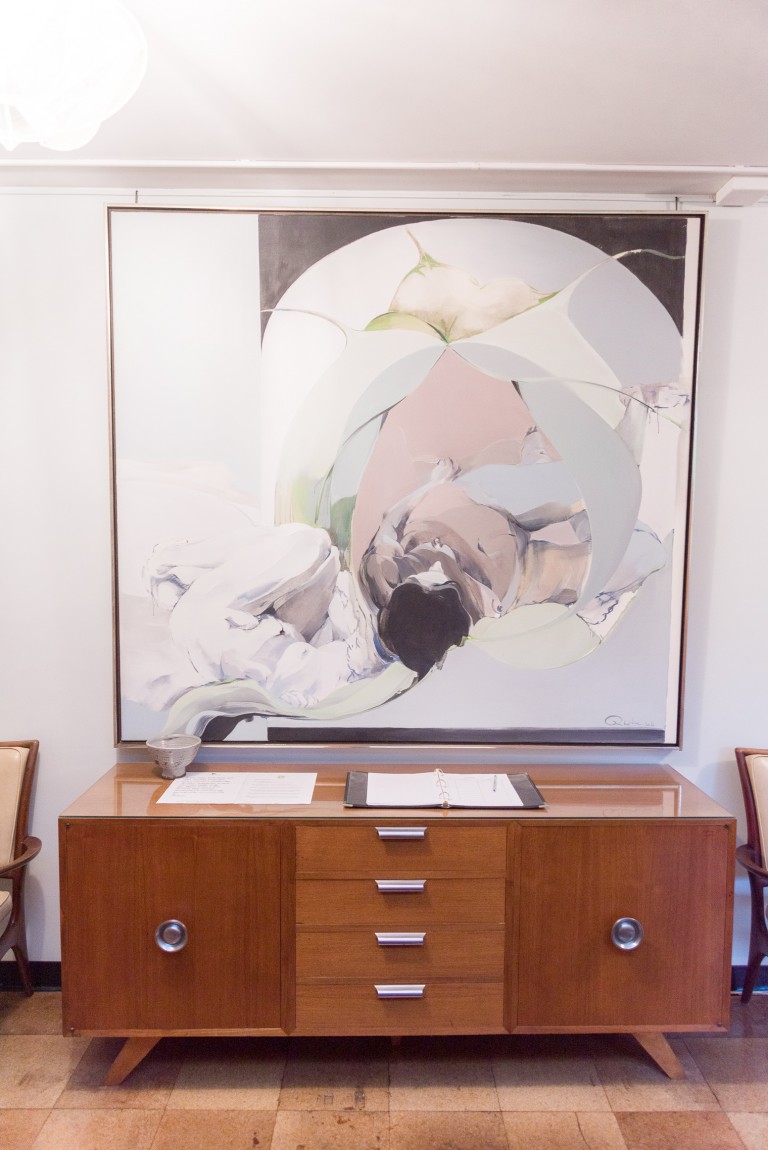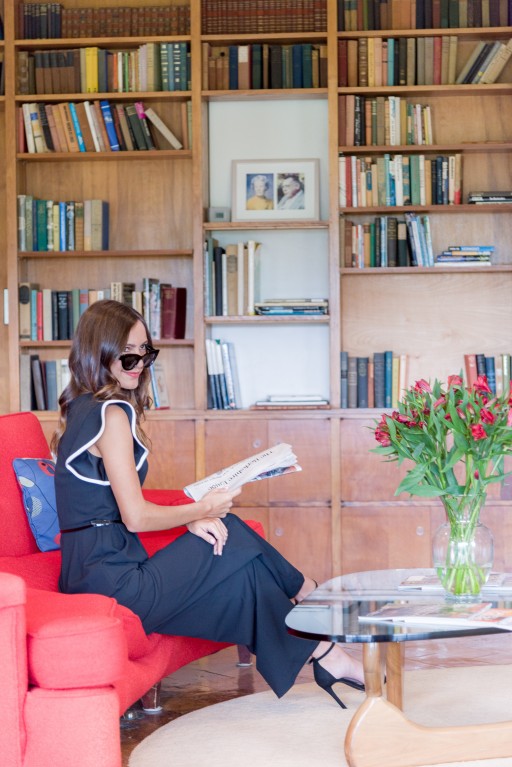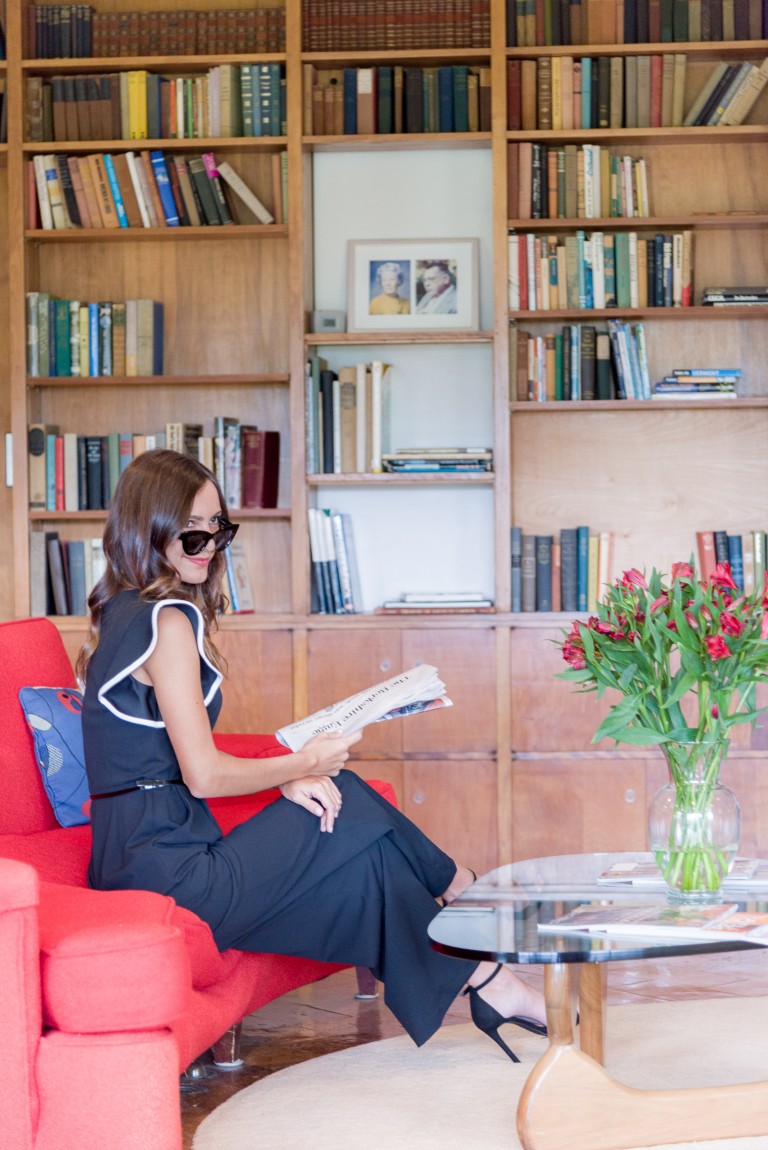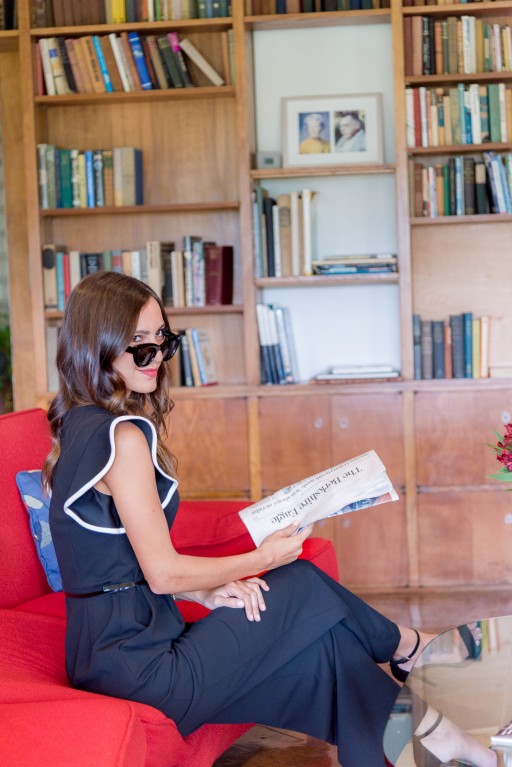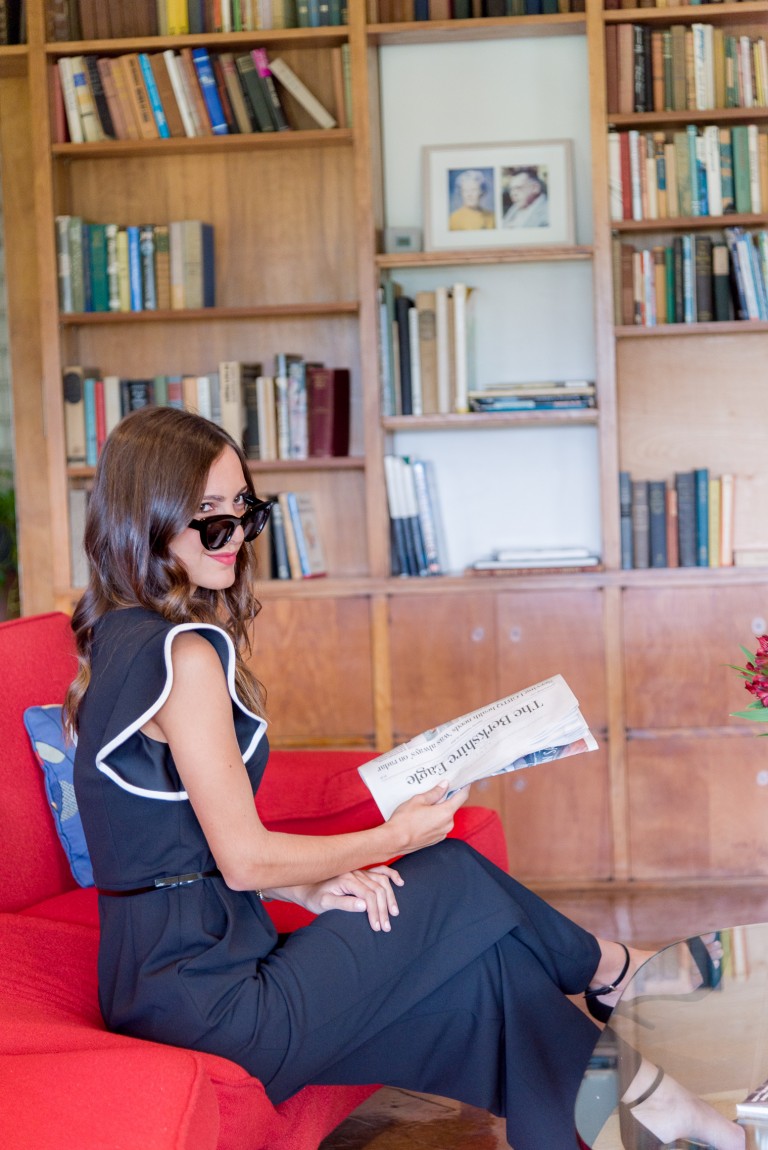 The Grounds
We went on a long nature walk after breakfast. Our path took us around a field of flowers and through the woods before popping out near the Guest House again.
The views are literally unparalleled. It was a cloudy day, and the contrast of the sky to the mountains was stunning.
Along our walk, we found an apple tree on the property! We also saw a variety of gorgeous flowers and plenty of wildlife, including a few deer and tons of different bird species.
I really do believe that nature is one of the best ways to reconnect with yourself. I was able to do that during my stay at the Guest House, and I think it's the perfect place for anyone who wants some real introspection.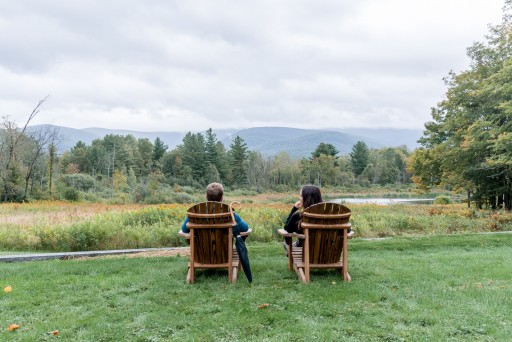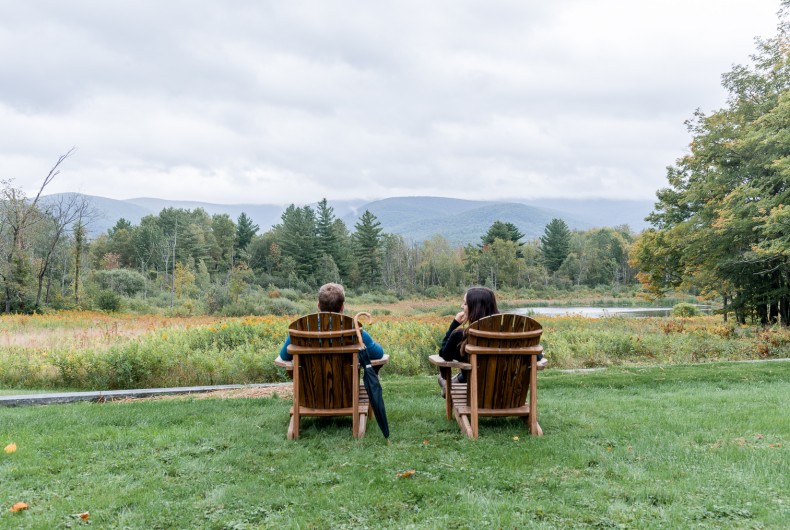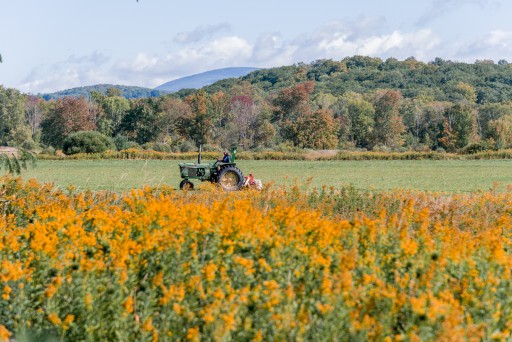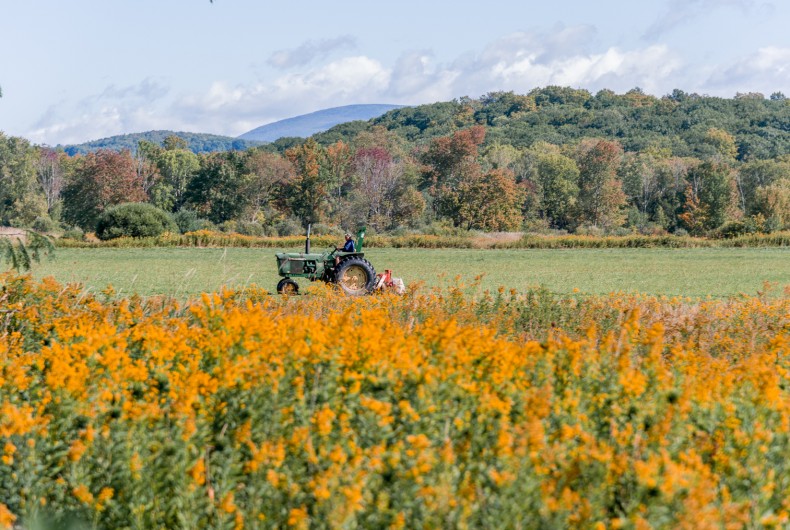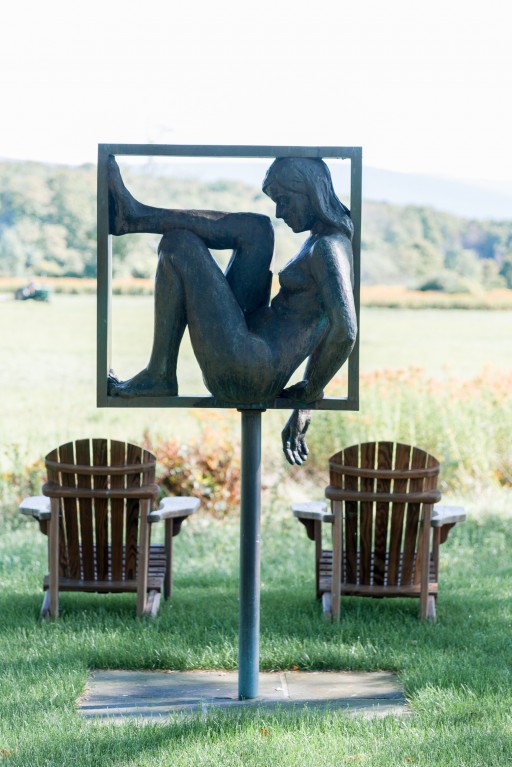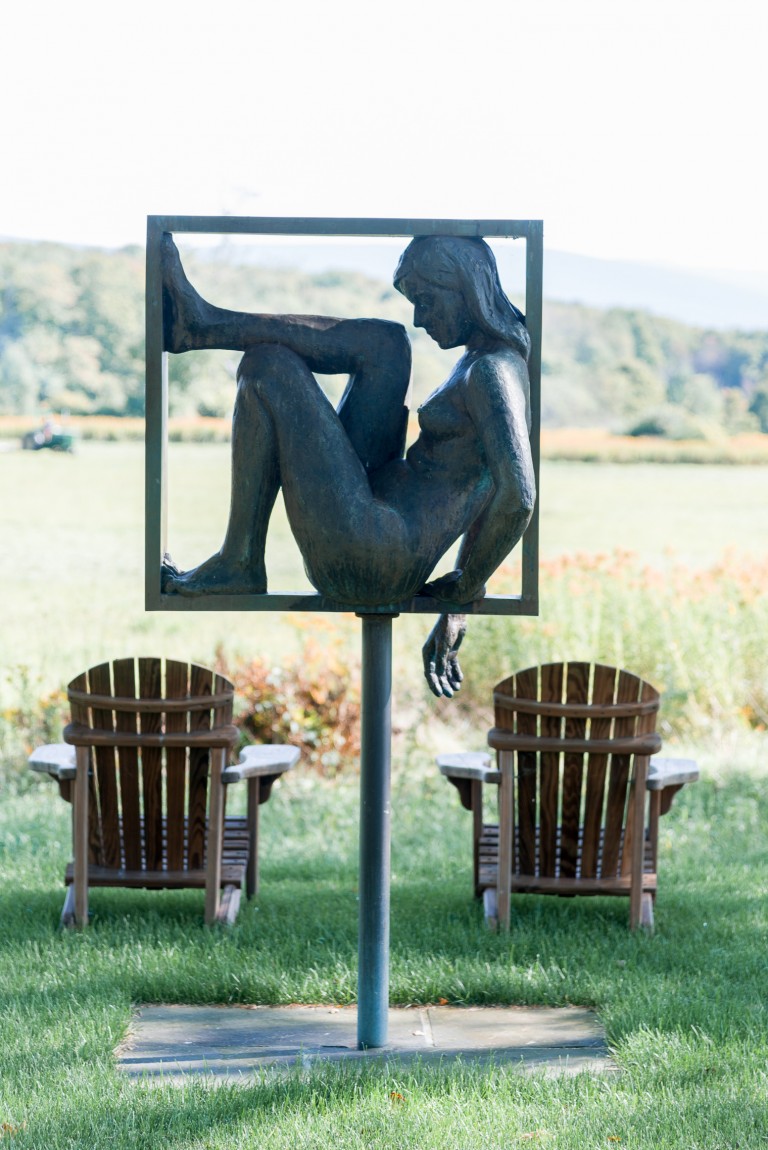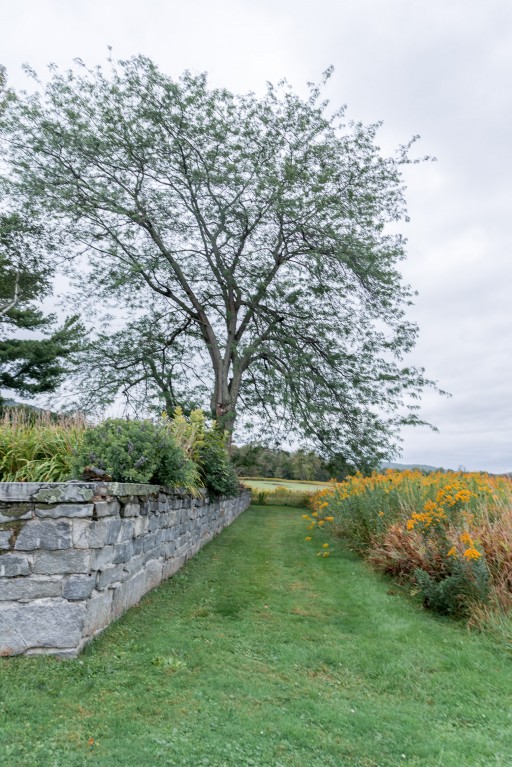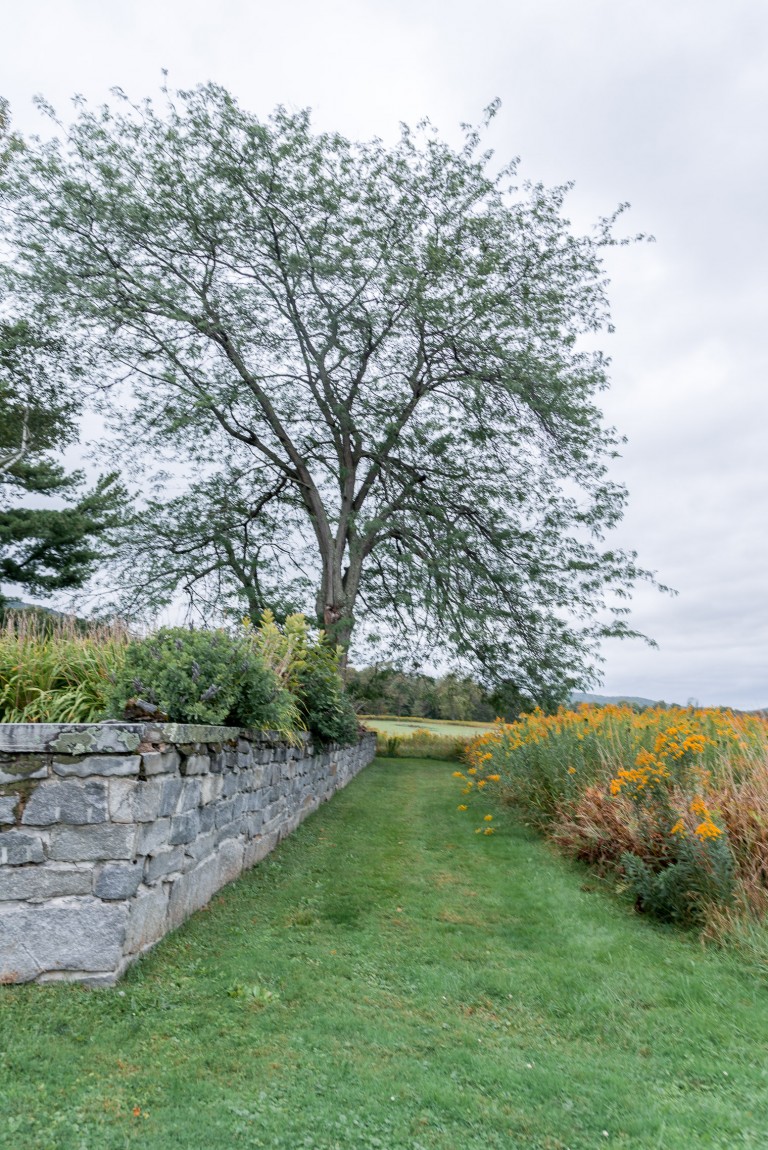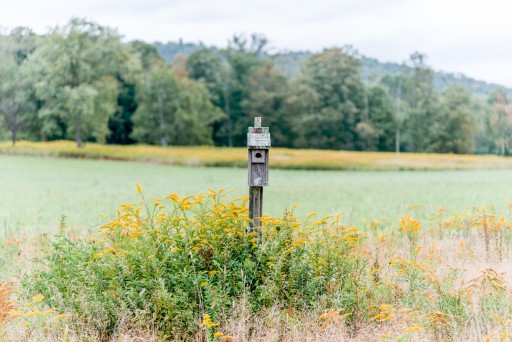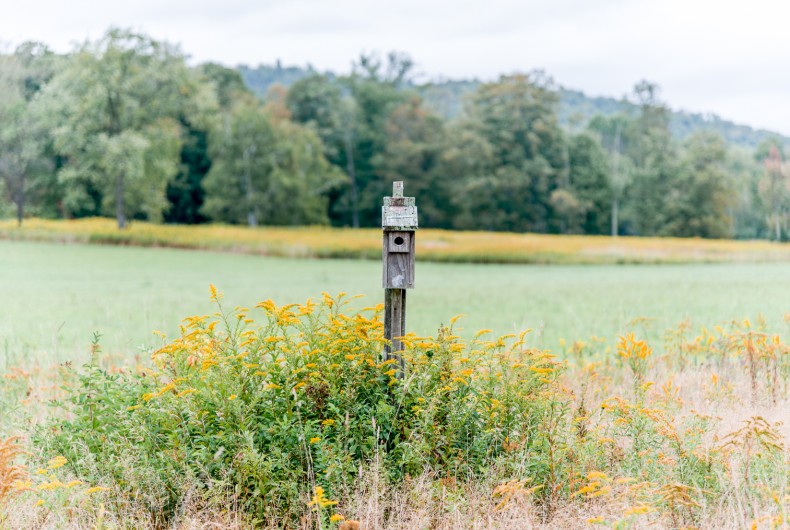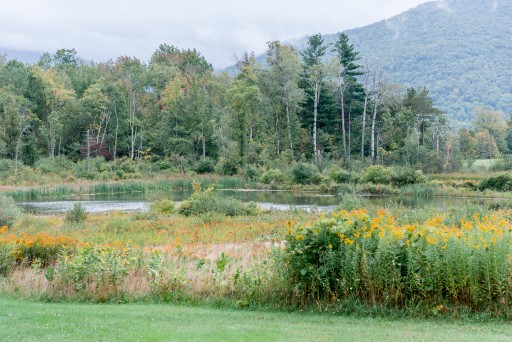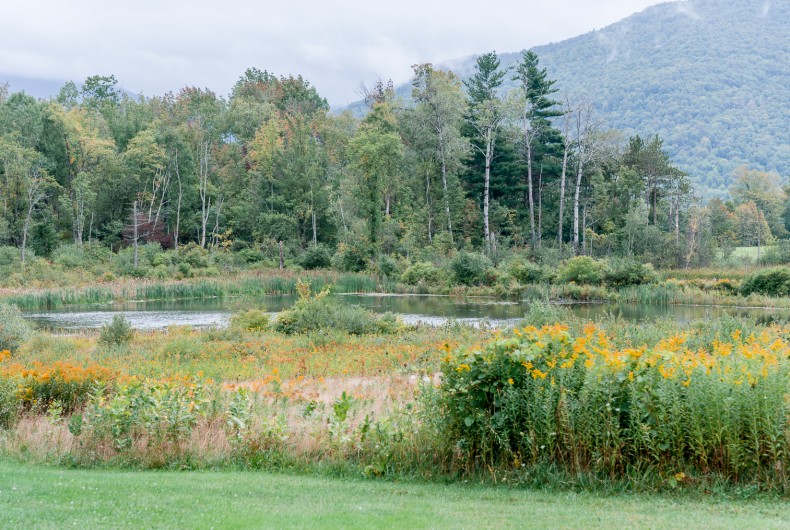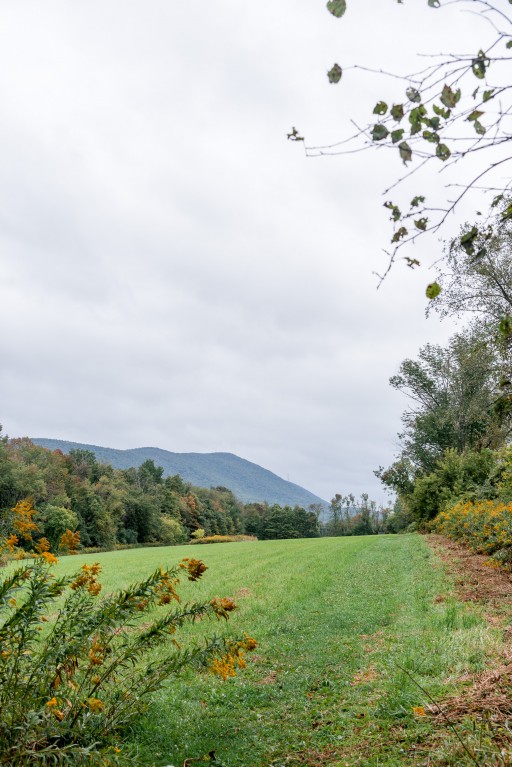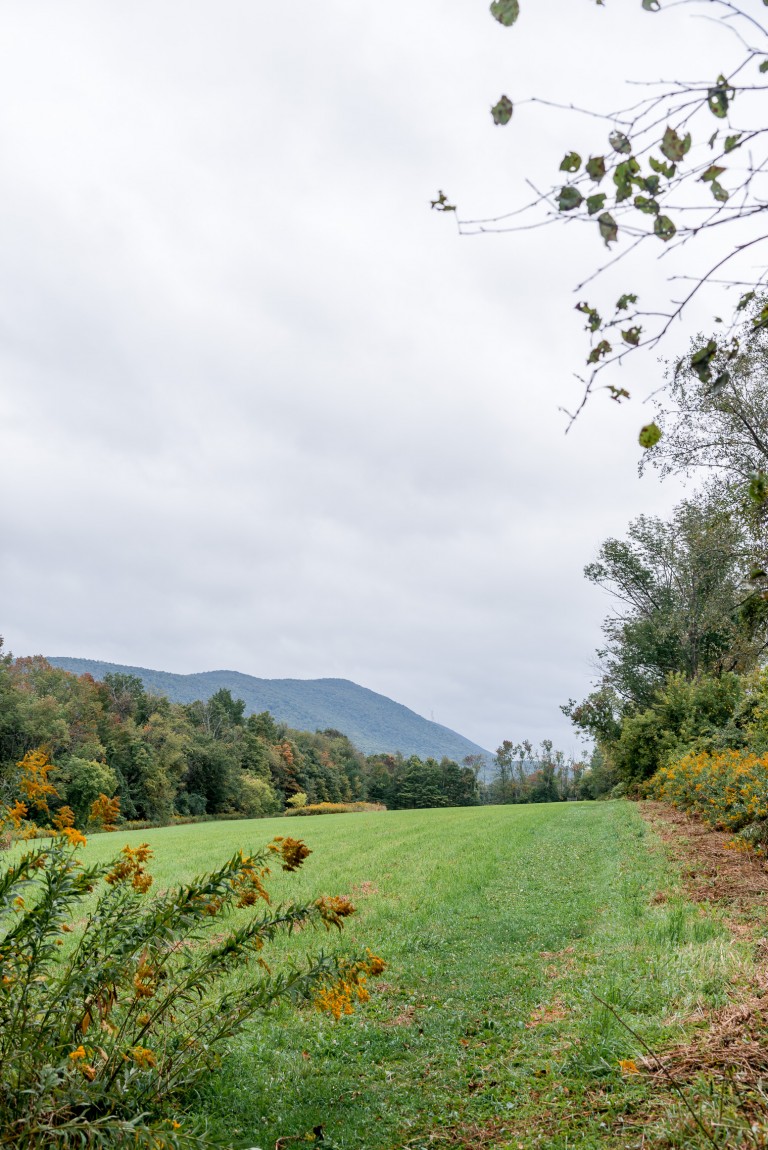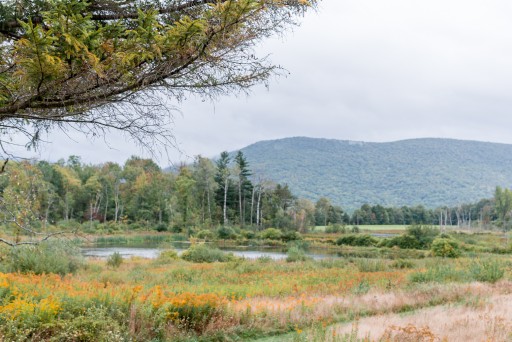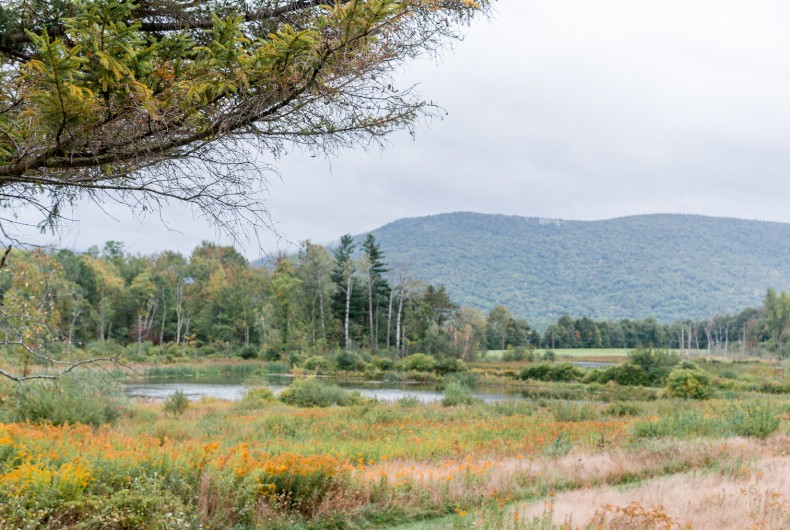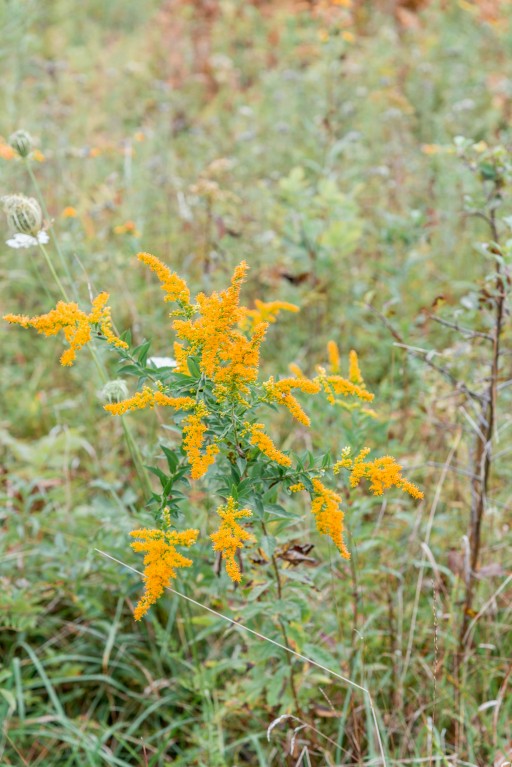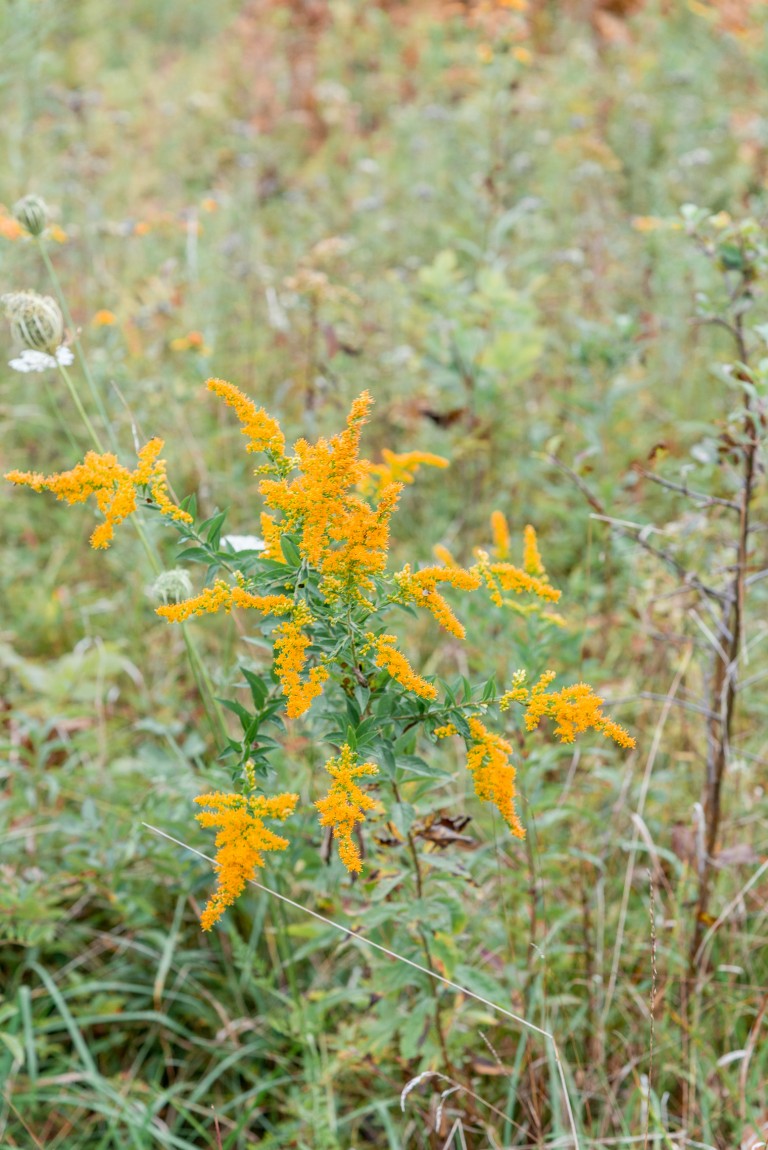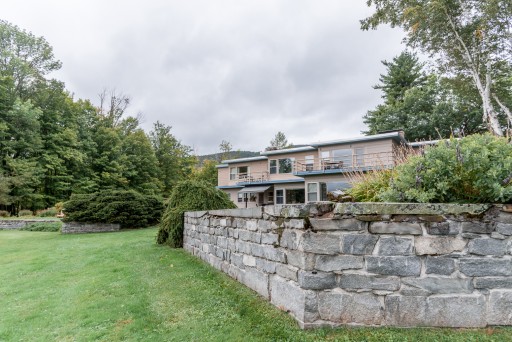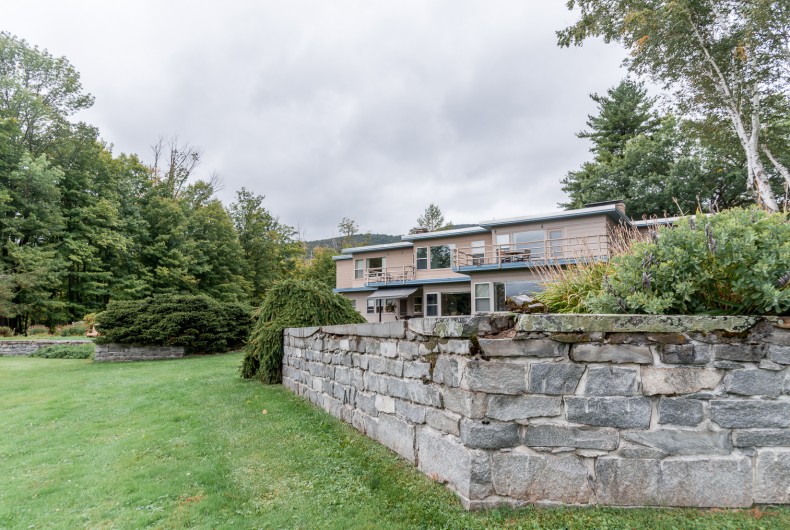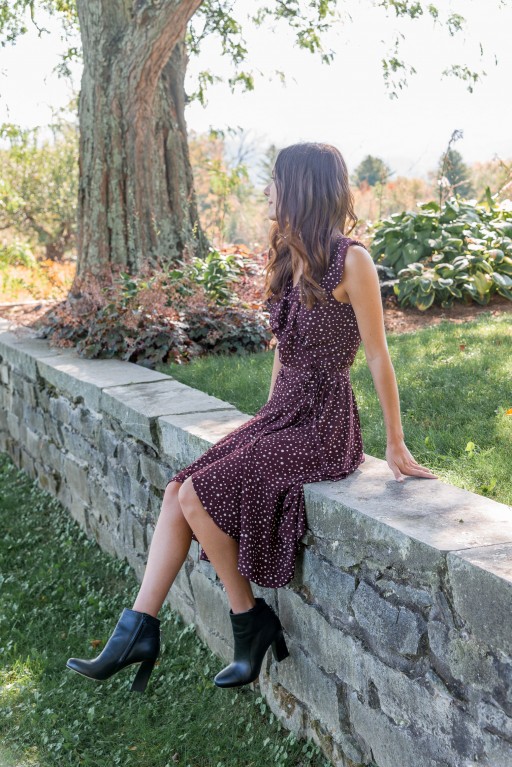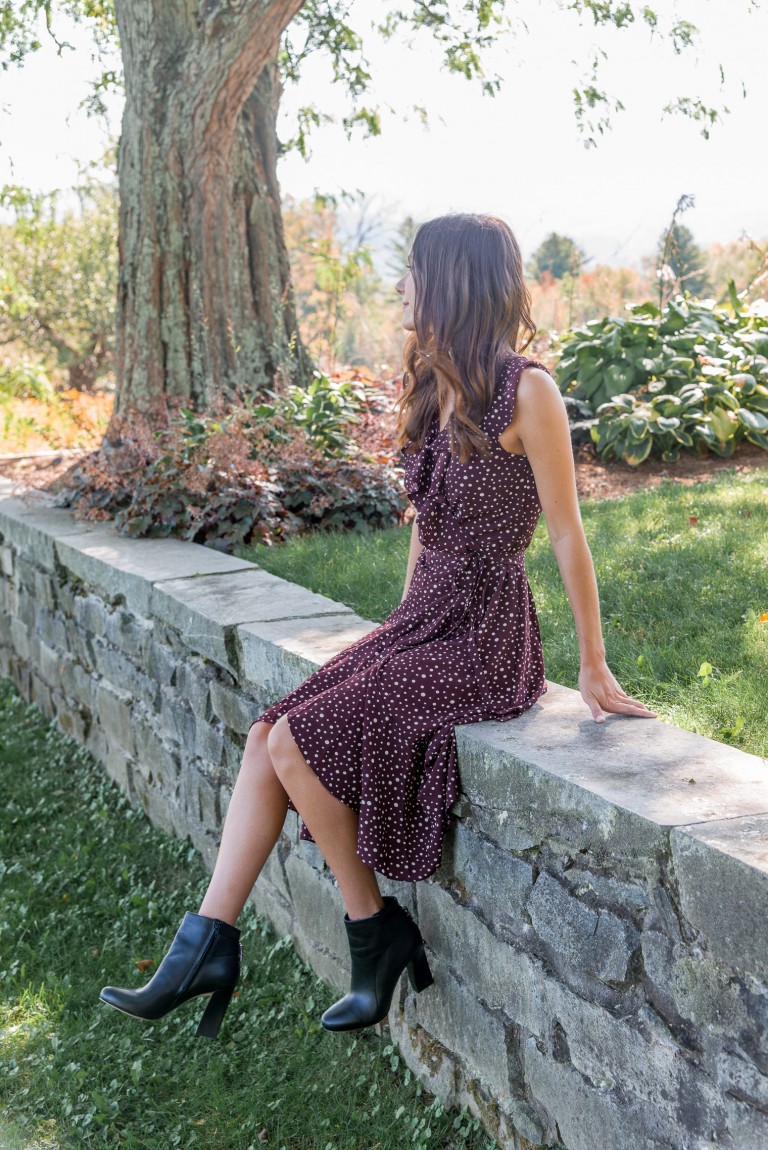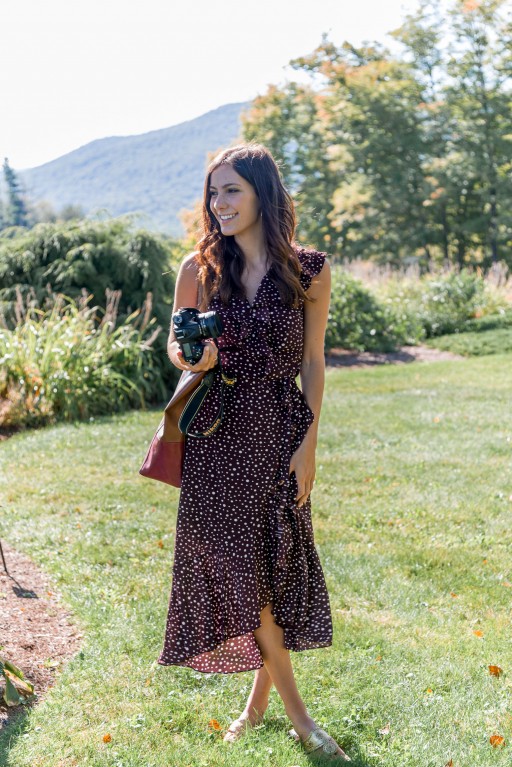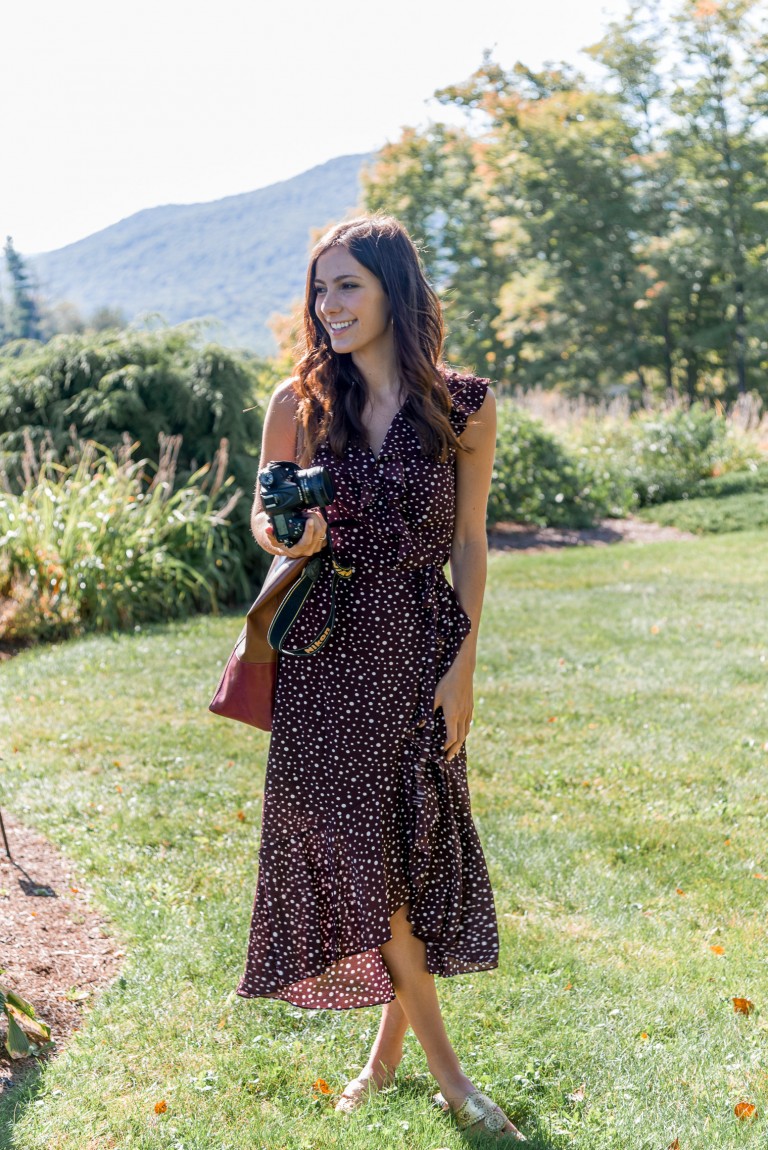 The Folly
The Folly is a really cool find on the property! It isn't a far walk from The Guest House and is definitely worth a visit. Designed in 1965, it is a pinwheel-shaped guest house built for parties and entertaining; it has three bedrooms.
The Folly overlooks the pond and has really cool surroundings, but I especially loved touring the inside. It's somehow designed to feel as though there's tons of light while having a lot of heavy wood furnishings. It's cozy yet airy, and packed with historical artwork and furniture. Each room is nothing like the one before it – you could easily spend a few hours checking it out.
If you're visiting during a weekend and are able to take a tour of the Folly, I can't recommend it enough!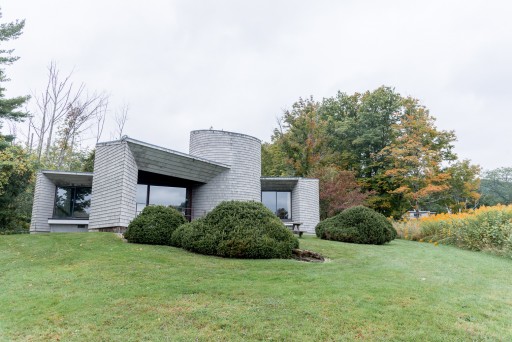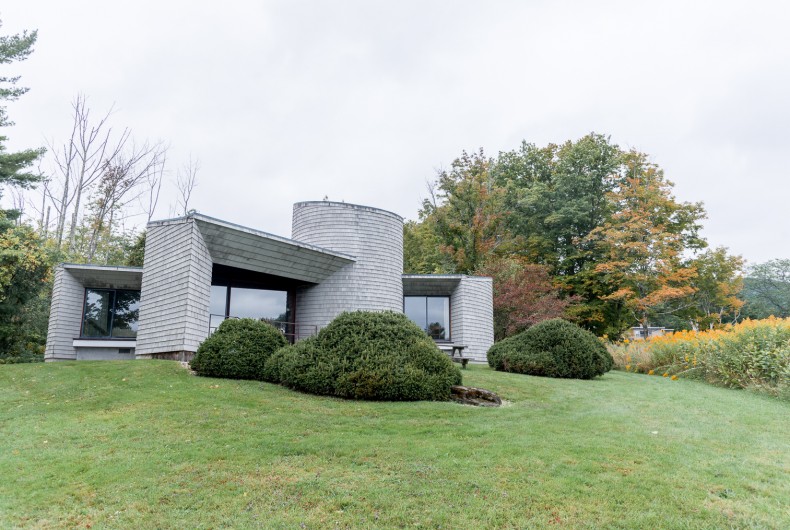 The History
In 1948, The Guest House was designed by Edwin Goodell, Jr. for Lawrence and Eleanor Bloedel. The couple loved collecting modern art and furniture, so this house became a type of museum.
A few decades later, the Folly was created as a guest house to throw parties in. While the architecture is a bit different, both properties have a huge amount of history.
The Guest House was later turned into a guest lodging facility, which worked well to keep the historical elements alive.
The Guest House really did make me feel like I was living in the 50's. None of the furniture felt old in any way, yet everything was very authentic.
Takeaways
While I had so much fun exploring every inch of this property, there are a few main perks that I want to highlight. They definitely describe the Guest House as a whole!
Quiet, peaceful, and super relaxing
Stunning views
Over 4 miles of nature walks with lots of wildlife sightings
Delicious, unique daily breakfast (free!)
A huge amount of historical artwork and furniture
Cleanliness!!
A super remote property
Over 300 miles of land on the Trustees property
How to Book
After spending time in Williamstown, I can 100% say that I recommend this property as my first choice. It's just barely outside of the downtown (a 5-10 minute drive, but Uber does exist here!) but is far enough away to offer a true remote "Berkshires" experience.
Click here to check out the rooms and book a trip, or click here to check out reviews on Trip Advisor.
I was provided a complimentary stay by The Trustees to write an honest review, but my opinions are always 100% my own.