Looking for truly stunning vegan designer bags? With some options even made out of recycled materials, these vegan leather designer bags can't be passed over!
Today, so many brands, both classic and upcoming, work to produce their goods in an ethical and ecological manner by using plant-based leather. This includes cacti, mushrooms, pineapples, apples, corn, deadstock textiles, recycled rubber and plastic bottles, and even fibers made from old sails and fishing nets.
In addition to being animal cruelty-free, vegan leather designer bags have other environmental advantages, such as a reduction in water and CO2 emissions. And the fact that many designs are created using organic materials means that the bags you eventually throw away will biodegrade.
More than ever, manufacturers and designers are introducing the most beautiful and innovative designs that are not just gorgeous, but also environmentally responsible. Without a doubt, sustainability is in fashion and vegan leather designer bags are in style.
Vegan Designer Bags
When it comes to looking for your new vegan leather designer bags, don't make the mistake of thinking of natural materials or faux leather for anything less than well-made.
Vegan designer bags come in a wide variety of styles and designs, so you're sure to find one that suits your personal taste. Additionally, many high-end fashion brands are now offering vegan leather options, so you don't have to sacrifice style for your values.
Here are our favorite 24 vegan designer bags to shop right now!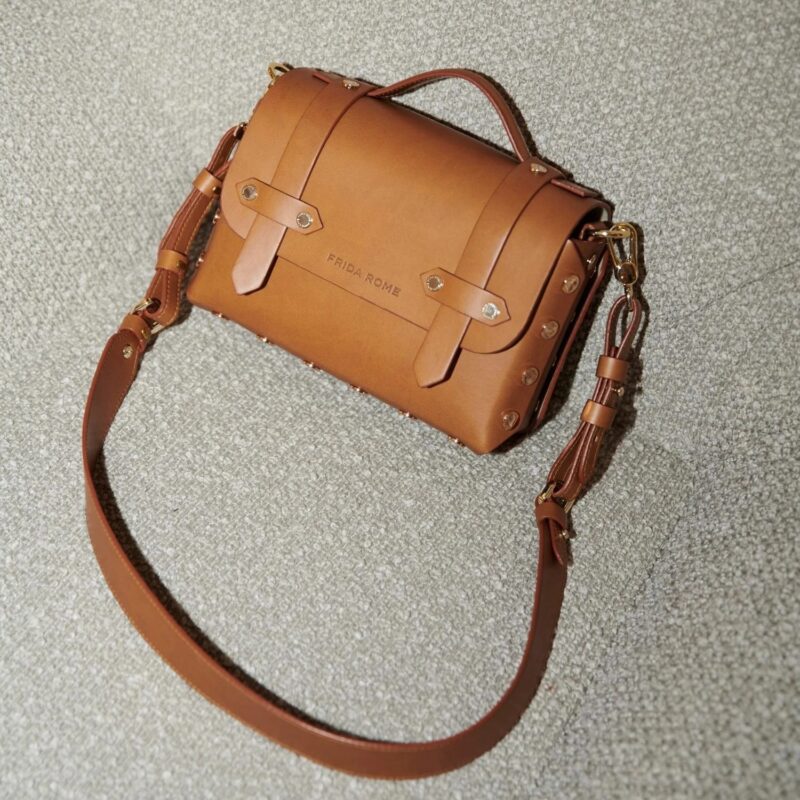 If you're looking for vegan designer bags that are completely deconstructible, you'd be happy to know that the WEEK/END stores flat in its custom protective dust bag for easy and minimal storage. You can easily change up the WEEK/END in different styles. One way is by adding a different panel that is held together by more than 30 light-gold press studs.
What's more, the tan color is a classic and neutral option that can be paired with a variety of outfits in your closet.
The traditional six-sided design is approached asymmetrically in the Earth Hexagon Satchel. Geometry is a frequent inspiration for the brand's designs. While the angular lines of the body and handles produce a loop back to it.
The bag can be equipped with a long shoulder strap for hands-free transport. And the zipper closing will protect the contents. The bag has a single internal pocket and a recycled plastic bottle interior lining. The exterior of the bag is made of vegan leather, which is renowned for its durability, scratch resistance, and lightweight feel.
And if you don't already know, Alkeme Atelier plants a tree for every bag sold!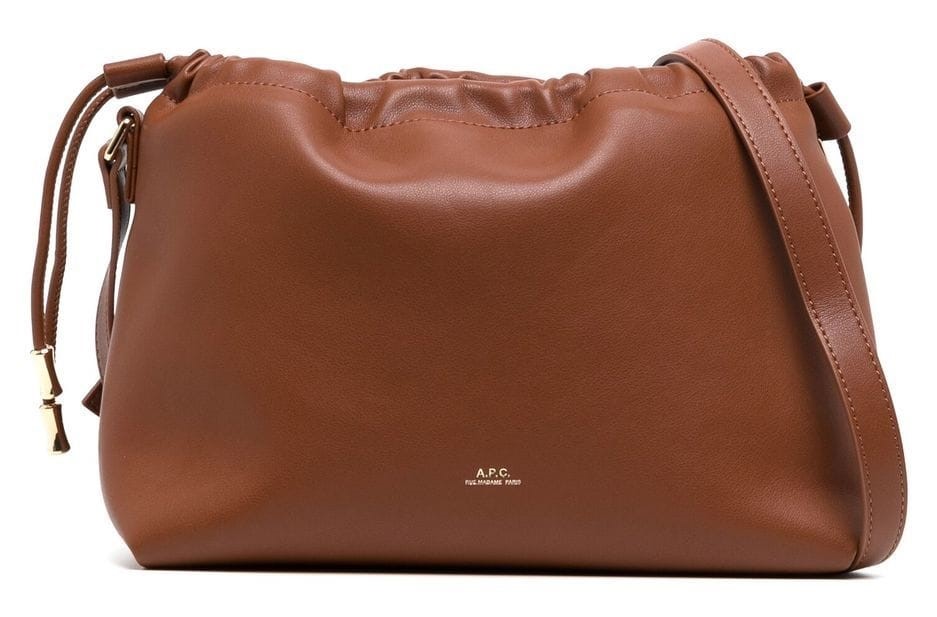 With its characteristic subtle design, A.P.C. creates durable pieces that are both timeless and contemporary. This bag, designed with a relaxed, slouchy form, has a useful drawstring closure and a spacious main compartment. All in all, the A.P.C. Ninon drawstring crossbody bag is a timeless and versatile accessory that can elevate any outfit. It is perfect for everyday use and can also be dressed up for more formal occasions.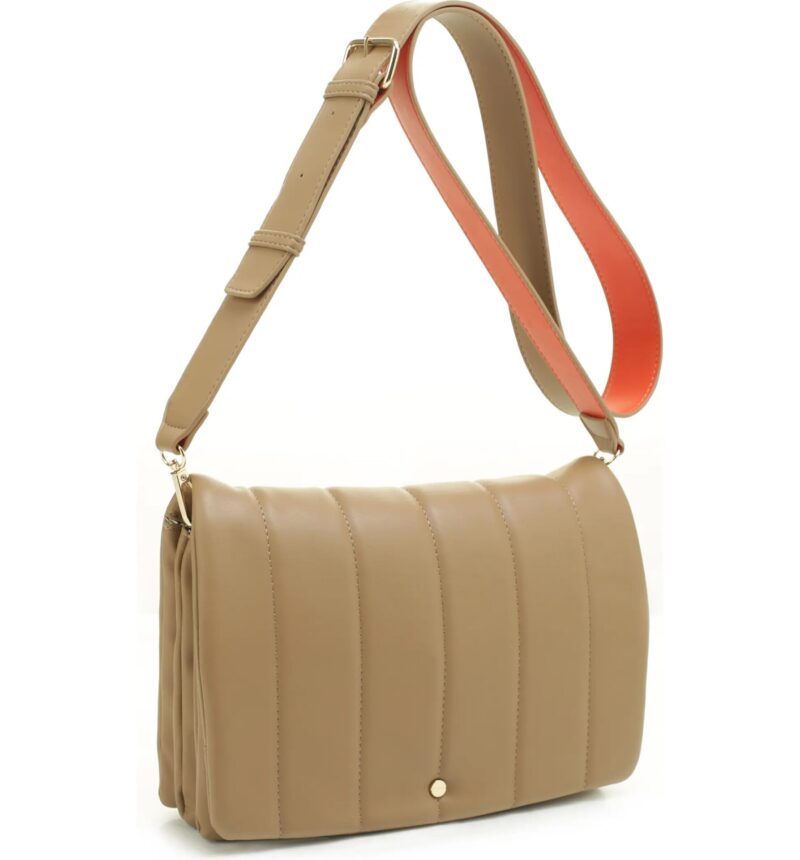 With leopard print lining, this gorgeous vegan leather crossbody bag from Mali + Lili Brinn is also PETA-certified vegan leather. The Brinn bag features a compact design with a top zip closure that keeps your belongings safe and secure. It has an adjustable crossbody strap that can be worn comfortably over the shoulder or across the body. This makes it a great hands-free option for when you're on the go.
Its durable and sustainable material makes it a great choice for those who are conscious of its environmental impact. What's more, its practical design makes it perfect for everyday use.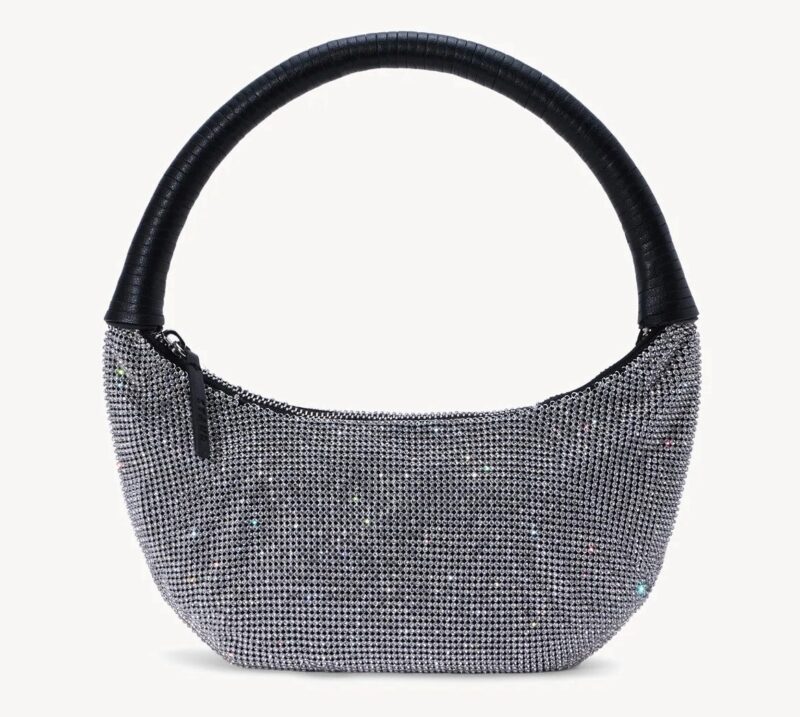 If you want your new arm candy to sparkle as you stroll around the city, the Staud Pepper Vegan Crystal Bag is one to keep your eye on. This bag features a boxy, structured silhouette made from clear PVC and adorned with shimmering crystals.
Not to mention, the Pepper bag is vegan and cruelty-free. This means that no animal products or byproducts are used in its production. The clear PVC material and crystal embellishments give the bag a modern and sophisticated look that is perfect for special occasions or for adding a touch of glam to any outfit.
Overall, the Staud Pepper Vegan Crystal Bag is a unique and stylish accessory that is perfect for those who want to make a bold fashion statement.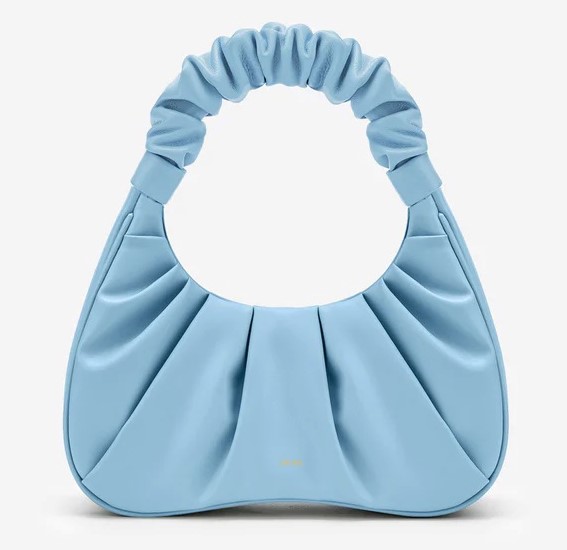 With its contemporary minimalist aesthetics created for sustainable style enthusiasts, JW PEI could be regarded as an accessible luxury designer vegan brand. All JW PEI purses and accessories are made of vegan leather, including certified fabric manufactured from recycled plastic bottles, high-quality canvas, and polyurethane.
Affordable and trendy, the JW Pei Gabbi Bag is one of my absolute favorite vegan leather bags on this list. It's cute and it comes in a variety of bright colors that are so perfect for the spring and summer seasons. Thanks to its versatility, the Gabbi bag is a practical accessory ideal for those who want a stylish and sustainable option for their everyday needs.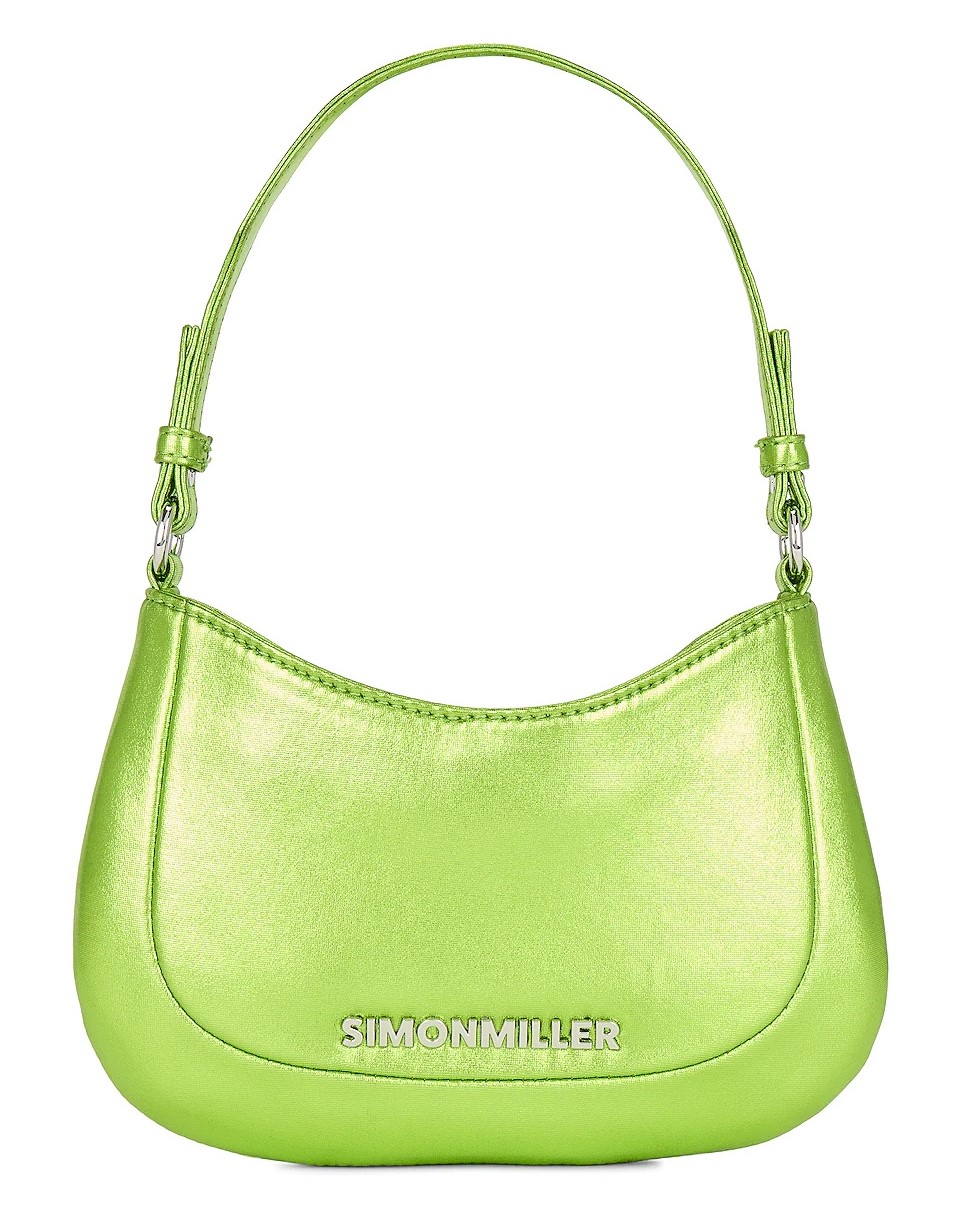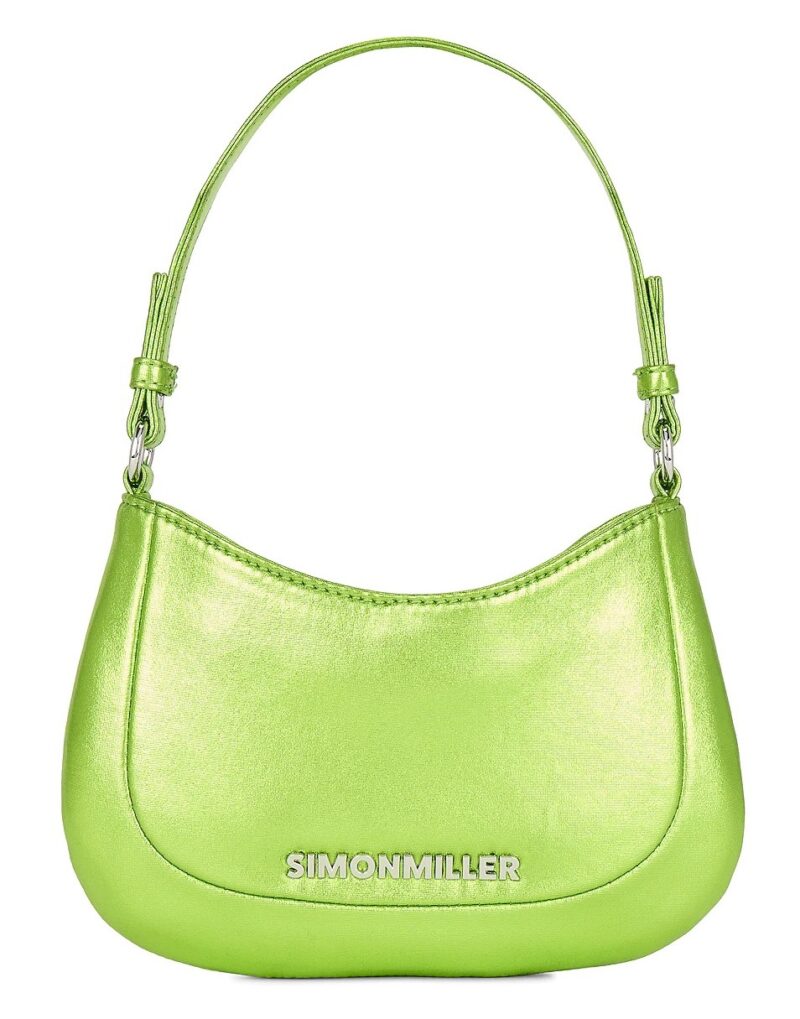 The glossy finish on this vegan leather bag makes it sparkle beautifully. If you don't already know, the Simon Miller Mini Sasi bag is one of the most sought-after bags this season. With a streamlined design and vintage accents, this bag features a compact and minimalist design that is perfect for those who want a sleek and sophisticated accessory.
The Mini Sasi Bag is made from high-quality faux leather, which is known for its durability and luxurious feel. The bag features a top handle that is comfortable to hold, as well as an adjustable shoulder strap that can be worn over the shoulder or across the body.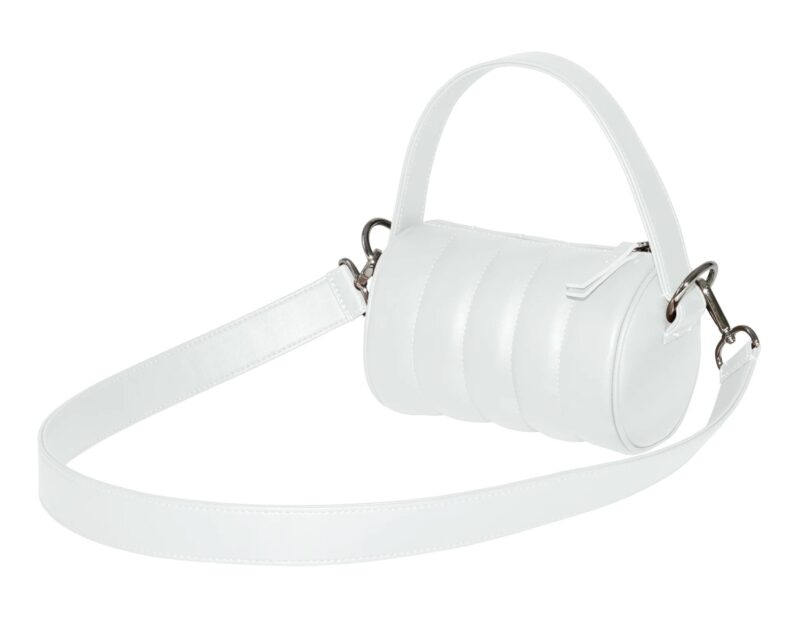 The Quilted Mini Duffle Bag is a stylish and sustainable accessory designed by the Los Angeles-based fashion brand, Hozen. This bag features a compact and practical design that is perfect for those who want a minimalist yet functional accessory.
The Quilted Mini Duffle Bag is made from high-quality, eco-friendly materials. This includes a durable and water-resistant recycled plastic lining and a soft and supple eco-friendly vegan leather exterior. The bag features a top zip closure and an adjustable and detachable shoulder strap, allowing you to wear it as a crossbody or carry it as a handbag.
One of the standout features of the Hozen Quilted Mini Duffle Bag is its unique quilted texture. It adds such a touch of sophistication to its overall design.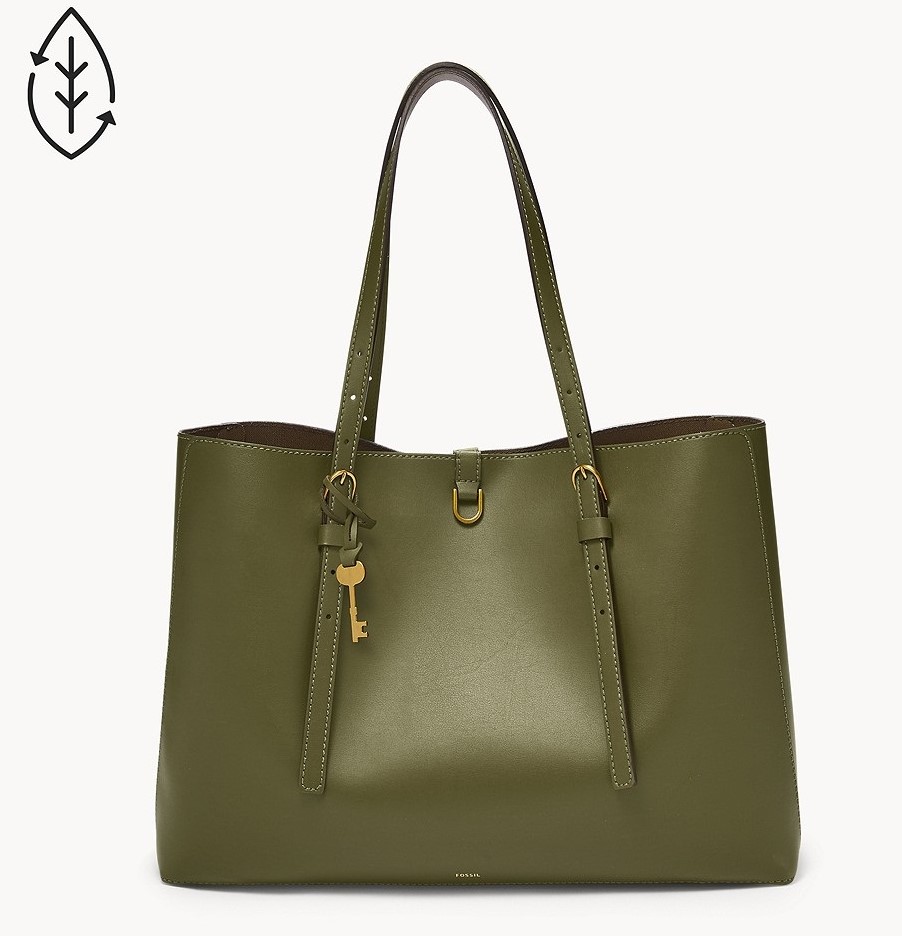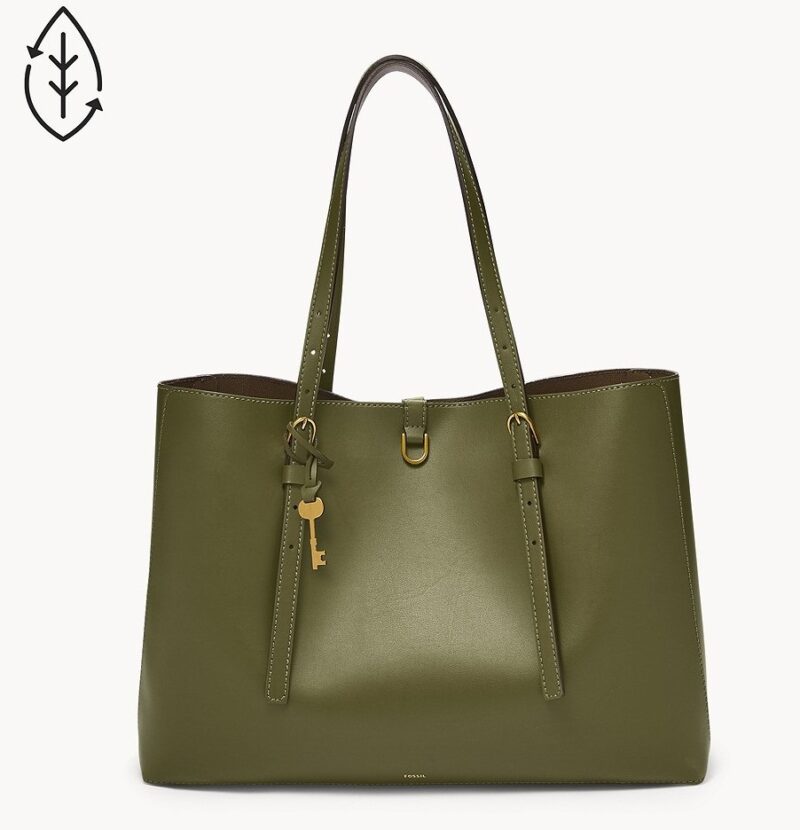 Fossil is one of my favorite brands to shop at. I just love their bags and accessories! And the Kier Cactus Leather Tote is no exception. Stylish and eco-friendly, this tote bag features a classic silhouette, sustainable materials, as well as a spacious design perfect for everyday use.
The Kier Cactus Leather Tote is made from high-quality leather that has been treated with an innovative tanning process. It uses natural plant-based materials, including cactus extract. This process reduces water consumption and chemical use, making it a sustainable and eco-friendly option. The bag features a top zip closure and double handles, making it easy to carry and access your belongings.
With a timeless design, the Kier Cactus is a versatile accessory that can be paired with a variety of outfits and styles.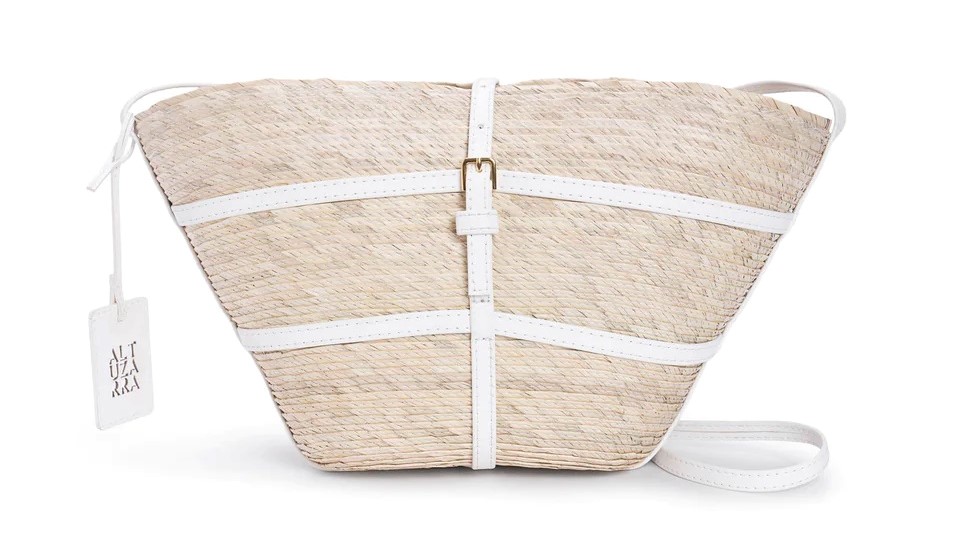 The Altuzarra Watermill Crossbody is a luxury vegan designer bag that features a stylish and sophisticated design perfect for those who want a high-quality and fashion-forward accessory.
The 'Watermill' crossbody reinvents its iconic namesake in a hands-free version that is made to be worn across the body or over the shoulder. This bag is made of genuine straw and has leather accents, such as a tie closure. So if you're tired of looking at faux leather bags, the Watermill crossbody is a nice break from all of that.
Overall, the Altuzarra Watermill Crossbody is a luxurious and stylish accessory that is ideal for those who want a high-quality and fashion-forward bag for their everyday needs. Its unique design, high-quality sustainable materials, and spacious interior make it a great choice for anyone who values both style and functionality.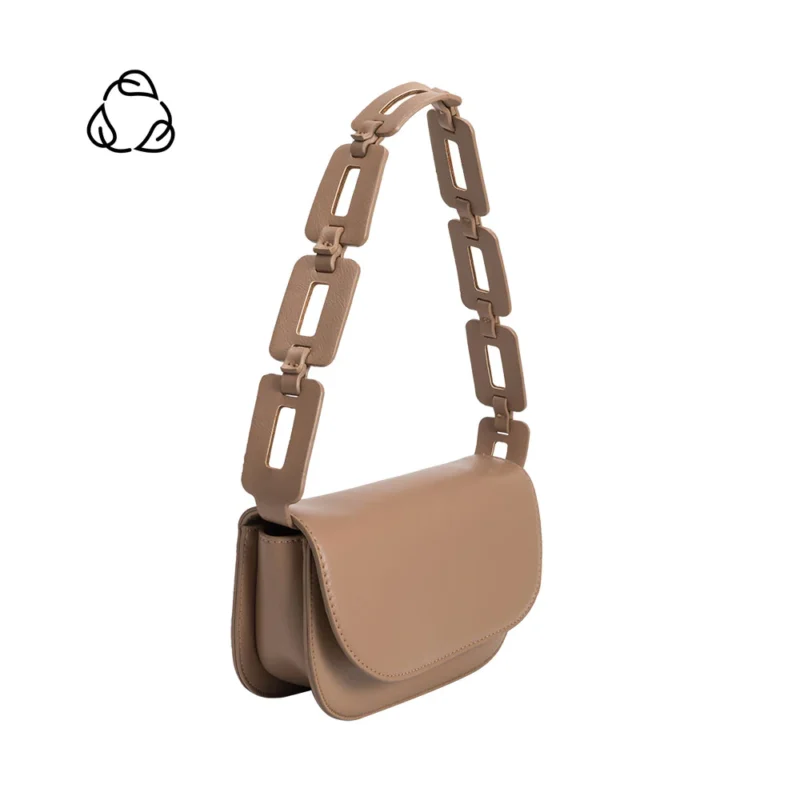 The Inez shoulder bag is likely to catch your eye with its scalloped strap design. Made from smooth vegan leather to mimic the feel of premium, natural leather. You can also swap the scalloped strap for a straightforward crossbody style. With a roomy interior, this bag can accommodate all your essentials such as your wallet, phone, keys, and even cosmetic items.
One of the best things about this bag is that it is environmentally friendly. Using recycled materials helps to reduce the amount of waste that ends up in landfills. Additionally, by choosing the Inez Vegan Shoulder Bag, you are making a conscious decision to avoid contributing to animal exploitation in the fashion industry.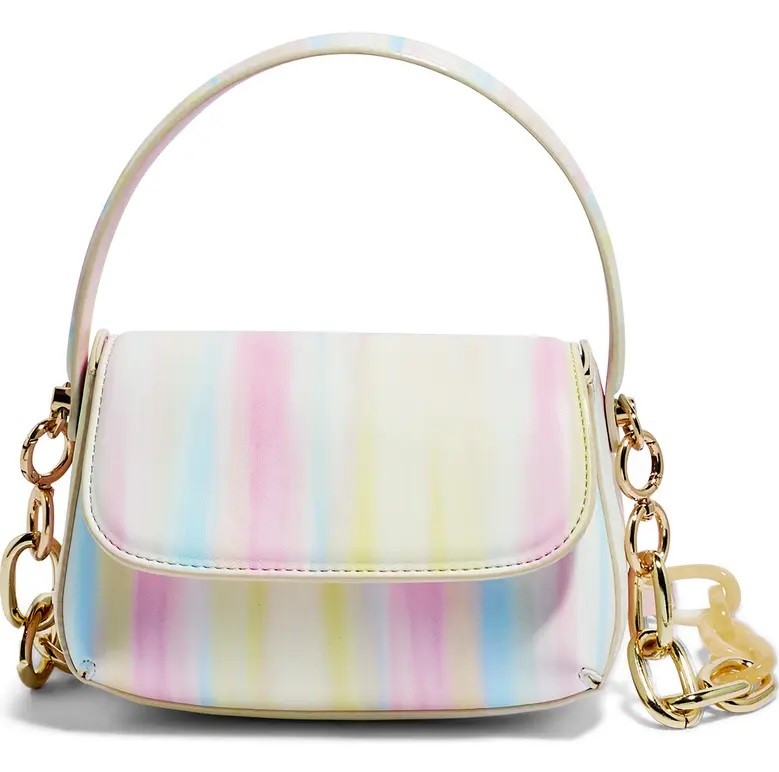 House Of Want was motivated by the confidence of chic, daring women driven to fashion and self-expression and wanted to create a brand to support and champion these pioneering ladies. Each of their fashion-forward designs is in vegan leather and has received PETA approval. Without a doubt, their pieces will enhance your wardrobe for years to come.
With that said, their stunning We Are Chic Vegan Leather Crossbody Bag reflects these ideals.
The bag features a compact, rectangular shape with flap closure and gold-tone turn-lock hardware that gives it a sophisticated look. The bag comes in a range of colors and patterns. This way, you can choose the one that best matches your style.
Matt & Nat is a brand that is committed to using sustainable and ethical materials in its products, and this bag is no exception. The Erika Vegan Crossbody Bag is a stylish and functional fashion accessory that is designed for women who want to look great while also being mindful of their environmental impact. It is made from high-quality vegan leather, free from any animal-derived materials.
The adjustable crossbody strap also lets you wear the bag at your desired length. This makes it comfortable and convenient to carry around all day long. And because the strap is detachable, it allows you to convert the bag into a clutch for a more formal occasion.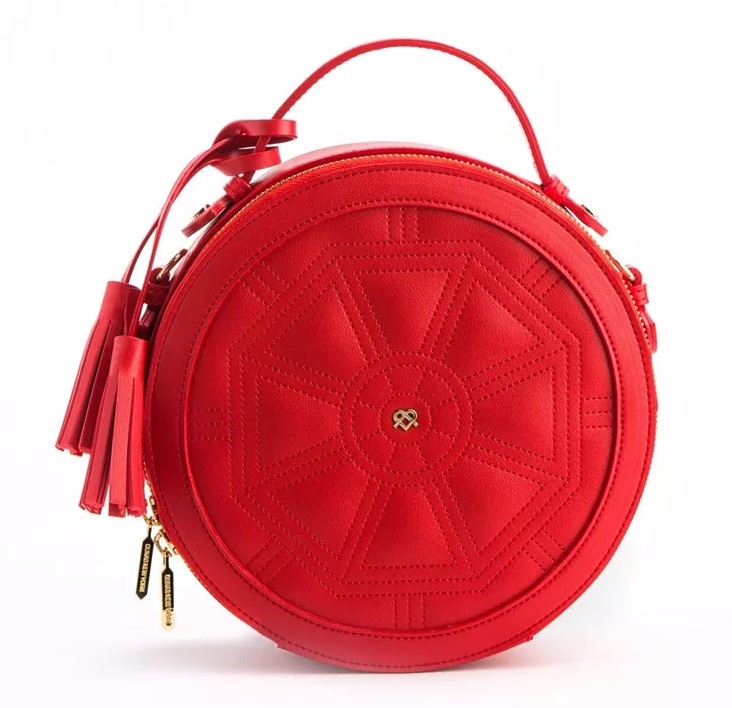 According to the Gunas website, numerous notable buildings and sites have domes that are spherical in shape. The "authority of nature and power of reason" is represented by this style of building. Because of this, the Rotunda Bag is a representation for Gunas of significant societal concerns like women's rights, equality for all, and animal rights.
The Gunas Rotunda Handbag is a great choice for anyone who wants to look great while also being environmentally conscious. Its unique circular design, high-quality materials, and eco-friendly construction make it a great investment for any fashion-forward individual who wants to make a positive impact on the planet.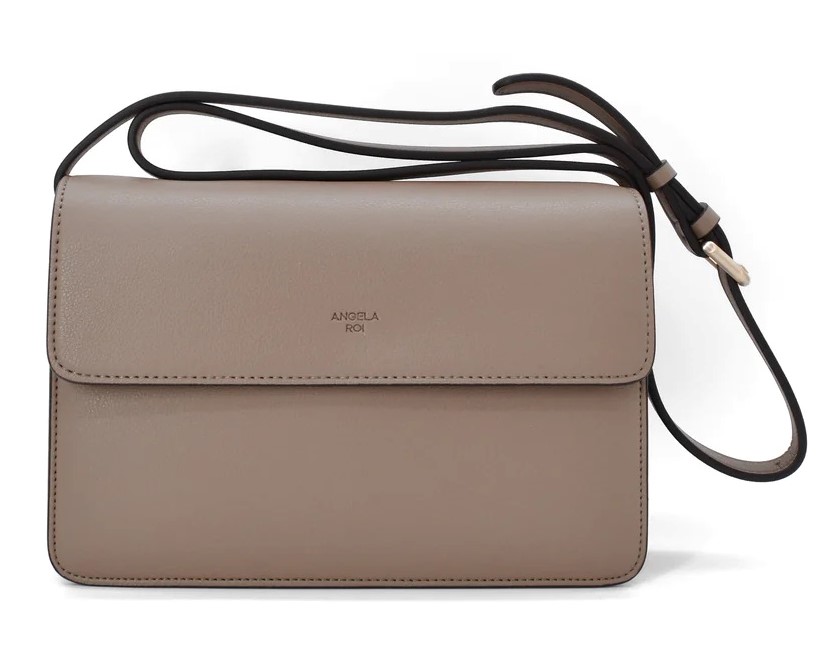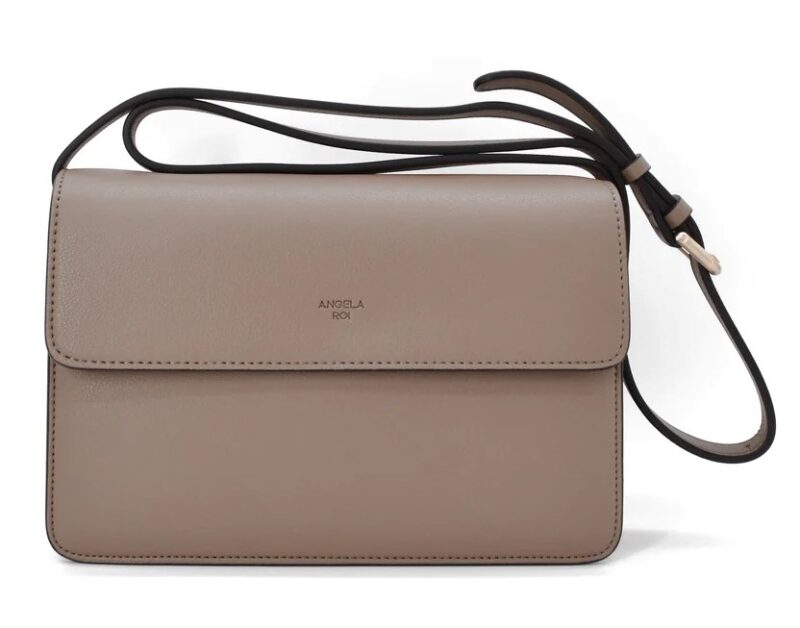 The Hamilton Crossbody is a rectangular-shaped bag with a simple, basic accordion structure. After years of looking, Angela Roi finally discovered this brand-new vegan micro-pebble leather. This combines structure and elasticity and strikes the ideal balance between toughness and tenderness. Upon launch, Angela named her first collection using this brand new material "Hamilton".
Hamilton Crossbody is complexity made easy. Margaret Hamilton created the ground-breaking in-flight software for the Apollo space mission.
The Red Signet, which is fastened under the front flap, is described by the company as a declaration of their principles and a tribute to their neighborhood. They commit to themselves as an influential group of rebels who share the qualities of poise, purpose, and craftsmanship.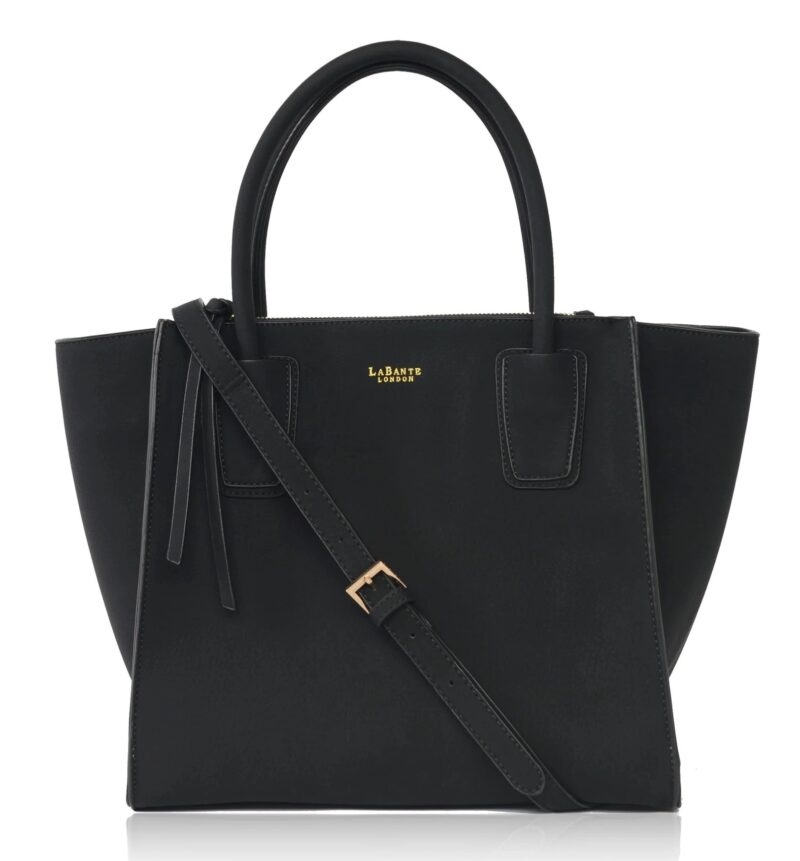 High-quality PU leather is used to create the Labante London Demi Vegan Tote Bag. It's a synthetic material that resembles real leather in appearance and feel but is less harmful to animals and more environmentally friendly. Additionally, the bag has adjustable shoulder straps for a comfortable fit along with hardware in gold tones.
The Labante London Demi Vegan Tote Bag's completely vegan and cruelty-free status is one of its best features. Labante is an excellent option for anyone who wants to keep their wardrobe environmentally friendly without compromising their style.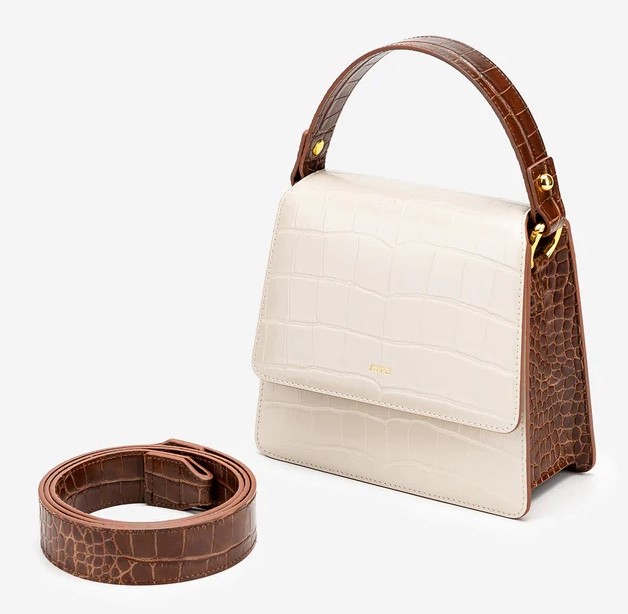 Who says you can't imitate the look of animal skin with cruelty-free materials? The JW PEI FAE Top-Handle Crossbody features exquisite hardware, croc-embossed vegan leather, and a detachable shoulder strap. This little bag doesn't use any animals at all. But the unusual material combination gives it a leather-like patina that gets better over time.
The A.P.C. Sac Ninon Medium Shoulder Bag is a stylish and versatile accessory perfect for everyday wear. It's a medium-sized shoulder bag made from high-quality materials and features a sleek and minimalist design.
Crafted from smooth vegetable-tanned leather, this vegan bag gives a luxurious and sophisticated look and feel. Additionally, it features a top zip closure and an adjustable shoulder strap. This allows you to wear it comfortably on your shoulder or crossbody.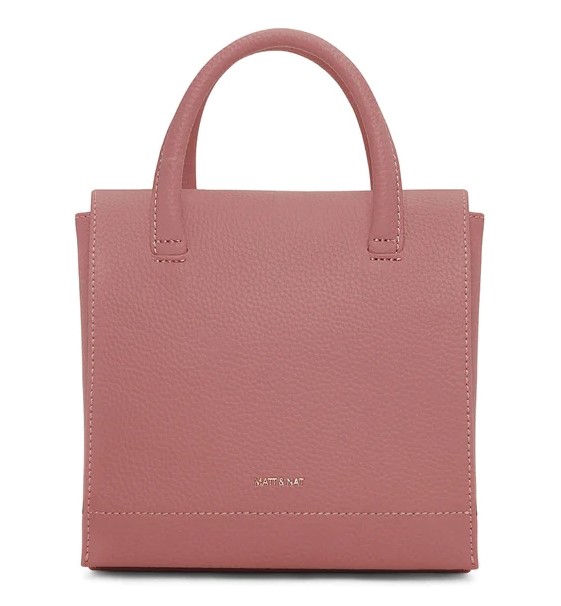 The Matt & Nat Adelsm Small Satchel is a stylish and practical accessory. It's designed for women who want to look great while also being environmentally conscious. The Adelsm is a high-quality vegan bag made from recycled materials that are free from any animal products. Moreover, the bag features a rectangular shape with a top zip closure and a spacious interior that can hold all of your essentials.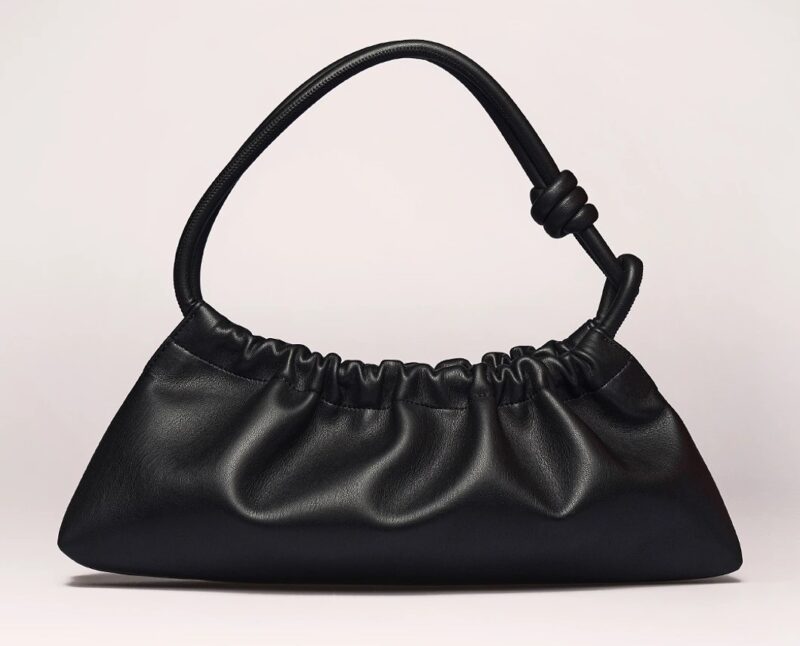 The Valerie bag has a soft ruching that softens its tiny, angular shape. The knotted top handle is the ideal length to wear on the shoulder or in the crook of the arm. It adds so much to its distinctive and chic style.
One of the standout features of the Nanushka Valerie Ruched Vegan Leather Shoulder Bag is its unique ruched design. The bag features a series of gathered folds that create a unique and eye-catching texture. Not to mention, this design element makes the bag stand out from other shoulder bags and adds an element of interest to any outfit.
Crafted from vegan leather, you won't have to sacrifice your ethics to be fashionable with this gorgeous bag!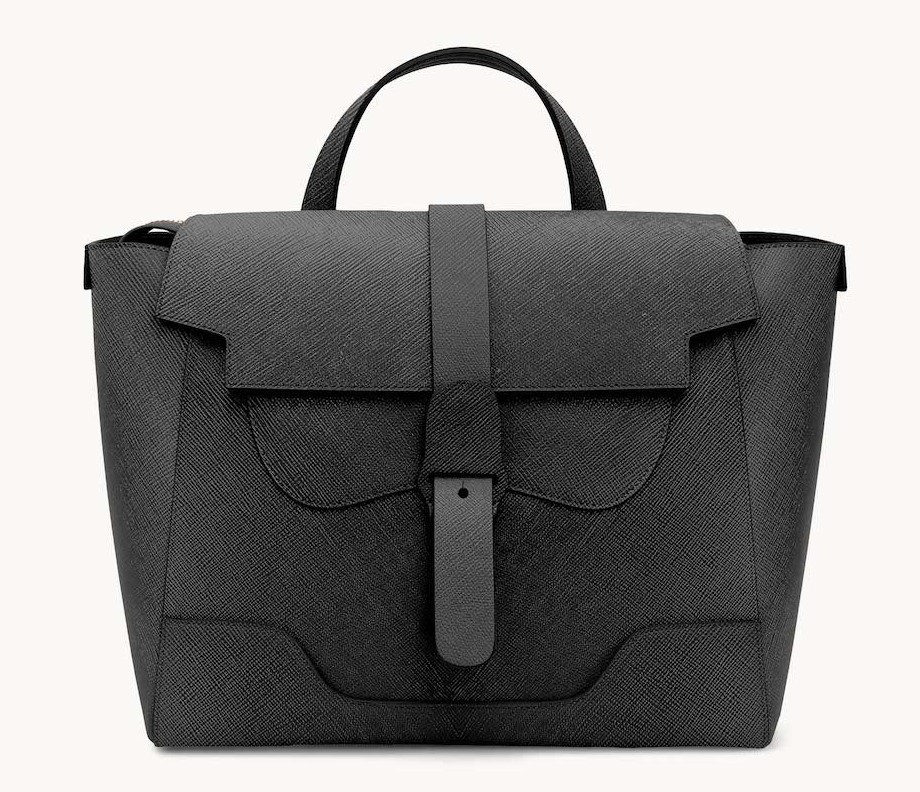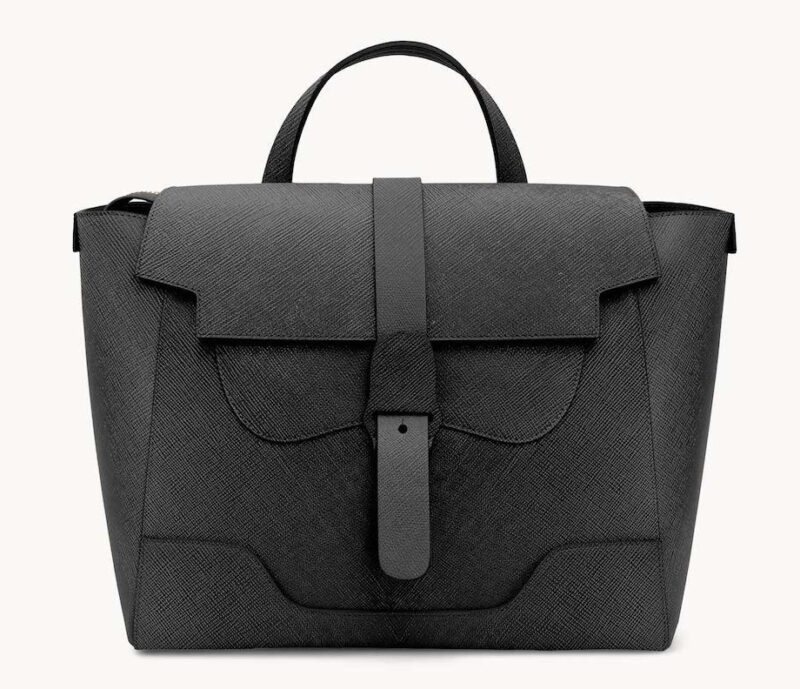 Senreve decided to make a vegan version of its iconic Maestra Bag more than a year ago as part of its commitment to sustainability. They intended to create a 100% vegan bag with a classic luxury craftsmanship approach, unlike other luxury businesses. This signifies that there are no animal products or byproducts in this bag.
The Vegan Maestra Bag, like their traditional Maestra, holds everything with 8 inside sections. It includes a padded sleeve that can fit up to a 13″ laptop, while the central compartment fits up to a 15″ laptop. You have options with this multi-purpose vegan leather handbag. It can be worn as a satchel, tote, crossbody, or backpack.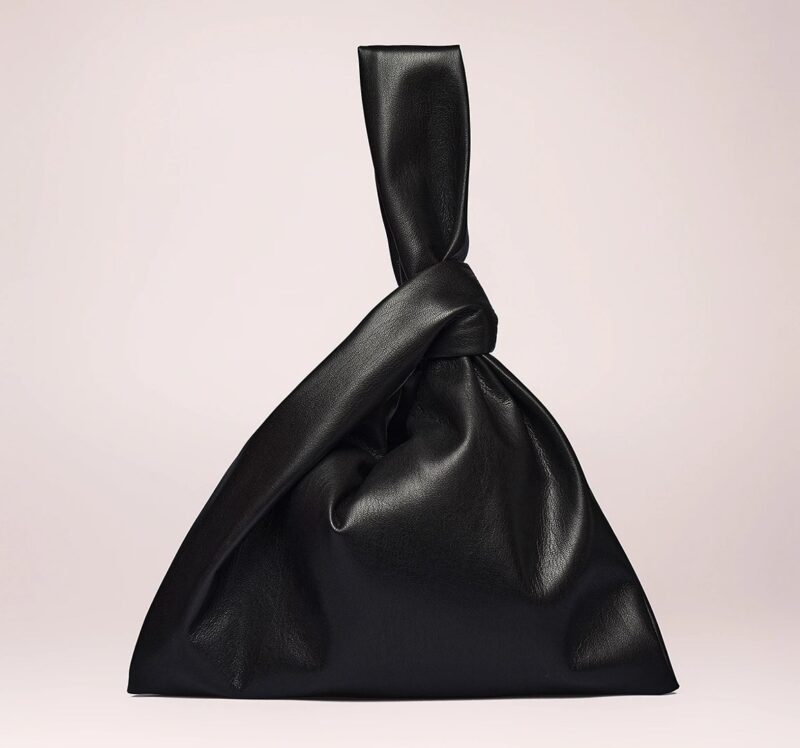 Women have always loved the Nanushka Jen Alt-leather Clutch Bag for its selection of vegan leather handbags ideal for day or nighttime wear. What's more, it comes in a variety of colors to choose from. But I highly suggest going for a classic black colorway. Edgy and classy, this is one of my favorite bags thanks to its exquisite soft construction and top-handle knot.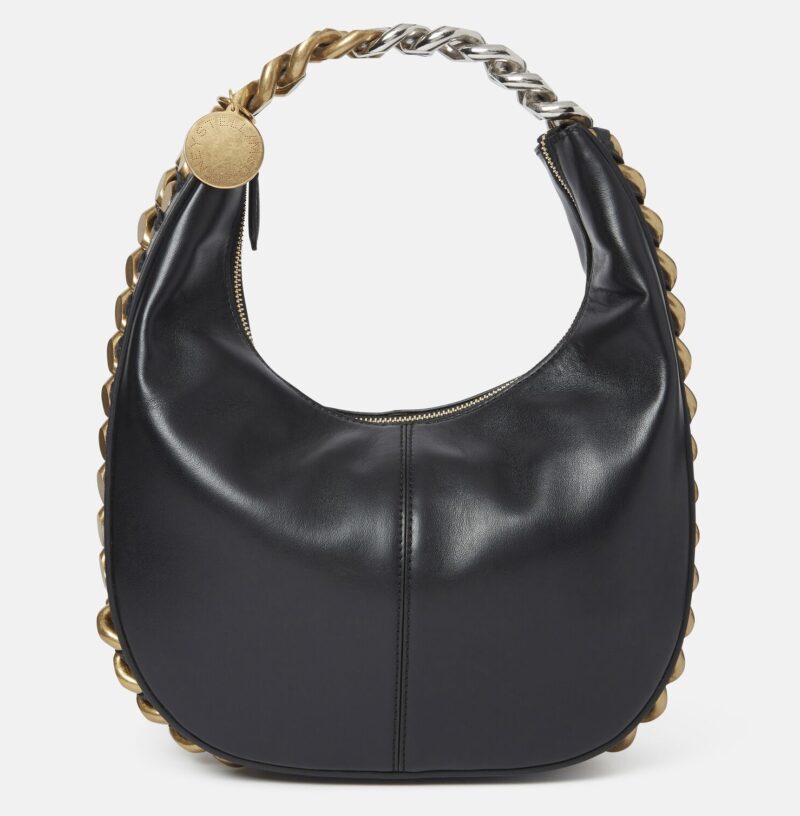 When it comes to luxury and sustainability, Stella McCartney is one of the pioneers of the fashion industry. With that said, the vegan Frayme bag is a daring new design that breathes new life into traditional Stella rules.
It expands on the iconic Falabella from the brand's first visual story. This zipped black shoulder bag, which is distinguished by a large diamond-cut chain that frames the bag and functions as a shoulder strap, adds a bold touch to any outfit.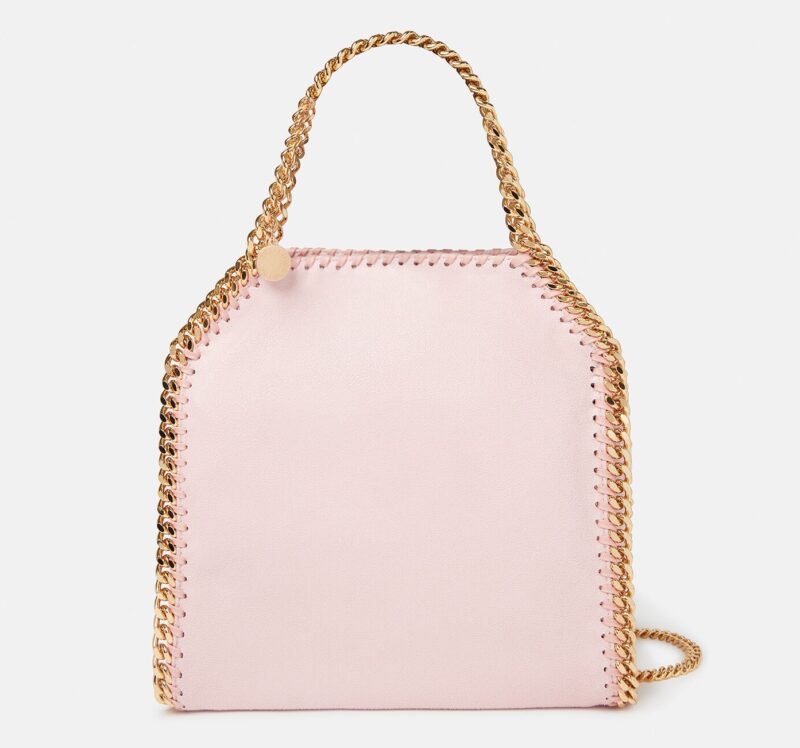 Here's another iconic piece from Stella McCartney. This light rose pink tote is purposefully made from their grained vegan Shaggy Deer fabric and hand-laced with GOTS-certified cotton lacing and their signature diamond-cut chain in gold.
How are vegan leather designer bags made?
Vegan leather designer bags are made in a way that's friendly to animals and the environment. Here's a simple explanation of the process:
Materials Selection: Instead of using animal hides, vegan leather is often made from materials like synthetic polymers (plastics), natural fibers (like cork or pineapple leaves), or recycled materials. These materials are chosen to mimic the look and feel of traditional leather.
Preparation: The chosen material is cleaned, treated, and processed to make it durable and ready for the next steps.
Coating: A special coating or layer is applied to the material. This can be a mixture of polyurethane (PU) or other similar substances. This coating gives the vegan leather its smooth texture and helps it resist water and wear.
Texture and Color: The surface of the vegan leather can be embossed or textured to resemble real leather. It's also dyed in various colors to match the designer's vision.
Cutting and Stitching: Just like with traditional leather, the vegan leather is cut into the desired shapes for the bag's components. Skilled artisans then stitch these pieces together using sewing machines or by hand.
Hardware and Details: Vegan designer bags often have fancy hardware, zippers, buttons, and other details. These are added to the bag at this stage.
Assembly: All the parts of the vegan designer bags are assembled together, and any additional features like pockets or compartments are added.
Quality Check: The vegan designer bags go through a thorough quality check to make sure everything looks great and is well put-together.
Finishing Touches: Any final touches, adjustments, or cleaning are done to make the bag look perfect.
Packaging and Distribution: The finished designer vegan leather bags are carefully packaged and sent out to stores or customers to enjoy.
So there you have it! Vegan leather designer bags are made by carefully choosing eco-friendly materials, coating them, giving them a stylish look, assembling all the parts, and adding those special touches that make them a fashionable accessory.
Are vegan designer bags actually sustainable?
Vegan designer bags aim to be more sustainable than traditional leather bags. They're created without using animal materials like leather, which helps protect animals and their habitats. By choosing alternative materials, vegan designer bags try to reduce the environmental impact associated with animal farming.
These bags often use materials like synthetic polymers, natural fibers, or recycled resources. These materials are selected for their lower impact on the planet compared to raising animals for leather.
However, it's important to note that not all vegan designer bags are equally sustainable. Some factors to consider include the type of materials used, the production process, and the overall durability of the bag.
Vegan designer bags can contribute to sustainability by reducing the demand for animal-based products and encouraging the use of innovative, eco-friendly materials. They can also help raise awareness about ethical and environmental issues in the fashion industry.
As with any product, it's a good idea to do some research and choose brands that prioritize sustainability throughout their entire production chain, from material sourcing to manufacturing and packaging. This way, you can enjoy stylish vegan designer bags that align with your values and contribute to a more sustainable fashion future. We tried to include the most sustainable brands in this list of vegan leather designer bags, but there are always new companies emerging!
The world of fashion is rapidly changing and more and more people are choosing to make ethical and sustainable choices when it comes to their wardrobe. Vegan designer bags are a great example of this trend, offering stylish and high-quality options that are cruelty-free and environmentally conscious. From classic to trendy, there are plenty of options to choose from that will fit any style and budget. By investing in one of these gorgeous vegan designer bags, you can feel good about your fashion choices and make a positive impact on the planet.
Hopefully, this list of vegan designer bags gave you a great place to start on your sustainability journey. Happy shopping!
Up next: 19 Best Designer Bags Under $1000