In a world where investments are composed of stocks, property, and bonds, something visually aesthetic like a designer handbag may not be the most popular way to diversify your portfolio.
Investing in luxury fashion isn't for everyone. But if you have an eye for a fashionable lifestyle, a deep passion for collecting handbags, an ample amount of space to properly store bags, and a flexible budget, then luxury bags might be for you.
People invest in bags for different reasons: for daily use, for reselling on a future date, or simply for special occasions. Other people keep a designer bag to pass on to their daughters and granddaughters later on.
Regardless of why people invest, designers are now a better investment than art. According to Art Market Research (AMR), an organization focused on analyzing investments and markets of art collectibles, "designers now outperform art, classic cars, and rare whiskies in terms of investment potential." The significant spike is evident in big luxury brands like Chanel, Hermès, and Louis Vuitton that grew an average of 83% in the past five to ten years!
No matter what reason brought you to invest in bags, the most important factor that you should consider when investing in a designer bag is how much joy it brings you. Next, check out the quality, beauty, and possible resale value before you make a final decision.
Not everyone wants to spend thousands on a designer bag. Luckily, there are tons of options that are under $1000!
If you want to spend a good chunk of change without completely breaking out the bank, check out our favorite top-rated designer bags under $1000 here.
This Balencia Leather-Trimmed Canvas Shoulder Bag completes any outfit that lacks depth, color, or vibrance.
Ever got into an outfit and felt like it doesn't give out the complete vibe you're trying to achieve? This bag makes it easy to solve that. Simply put on a one-print floral dress, a pair of espadrille wedges, and this Leather-Trimmed Canvas Shoulder Bag for a guaranteed head-turning look.
This bag has a thin, slim profile, but it has enough space to fit basic items and a couple of daily make-up/skin products. What makes this bag magical is the fact that it can adapt to both maximalist and minimalist wardrobes.
This is one of my favorite designer bags under $1000 because it's super upscale but can get really low price-wise! As I write this post, it's actually under $500. Keep checking on the prices because they fluctuate a lot!
Dimensions:
Height: 19 cm

Width: 28 cm
Depth: 5.5 cm
Balenciaga's Hourglass Nano Metallic Croc-Effect Leather Tote is an ultimate head-turner. This bag embodies the iconic sculptural silhouette that Balenciaga offers in their luxury clothing line — making it a unique and age-defining piece that you would want to keep in your collection for years.
Plus, this bag has a metallic croc-effect that makes it easy to pair with black evening dresses and Garonne-style blazers.
Dimensions:
Height: 8 cm

Width: 12 cm
Depth: 4 cm
Mulberry's Matte Croc Embossed Leather Tote is a variation of the brand's original iconic design of the Bayswater Leather Tote. This bag has both the structure and style that can add an accent to any outfit.
Compared to its classic design, this variation has a youthful persona and vibrant quality because of its leather pattern.
I also love the fact that this bag is recognizable without the logo. Its subtleness makes it a lot classy and timeless. If you're investing in this bag, the best choice to utilize it is by using it as your "main" everyday bag. This is definitely one of the best designer bags under $1000 if you're looking for an everyday tote since it'll hold up over time!
Dimensions:
Height: 25 cm

Width: 36 cm
Depth: 15 cm
16. Saint Laurent
Monogram Clutch in Quilted Grain De Poudre Embossed Leather ($725)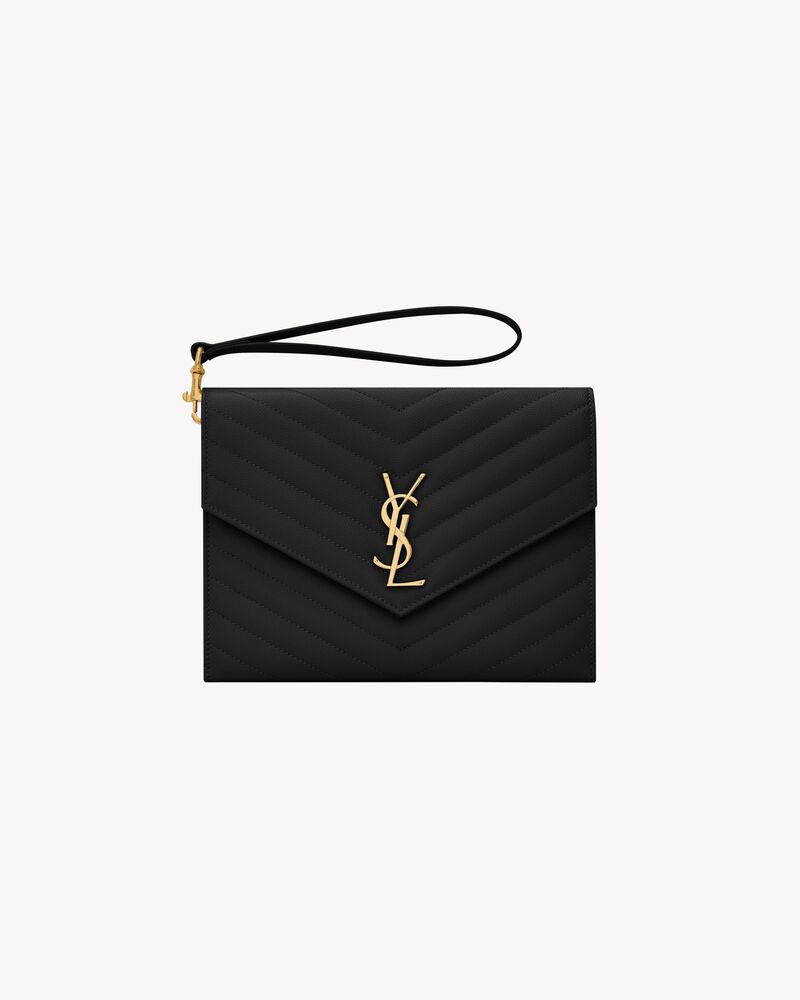 This Monogram Clutch from Saint Laurent is an eyecatcher. We love its chevron-quilted over stitching and the metal YSL logo just in front of the flap. It also comes with a detachable wrist strap and a top zip closure to secure your items.
We also love the durability of this clutch's flap. It doesn't open easily, so it secures your items even if the top isn't fully zipped.
The width of the bag is minimal but spacious. If you're putting a bulky wallet or phone, it's best to put it after smaller items, since the bottom part is thinner.
Dimensions:
Height: 24.5 cm

Width: 36 cm
Depth: 2.5 cm
Another cognac favorite from Valentino, the Florance Crossbody Bag is the perfect choice to wear with simple, timeless looks similar to the iconic style of Megan Markle. This bag is a bit toned down than Valentino's other variations since it has minimal gold-tone hardware, only showing the logo in front.
The Florance Leather Crossbody Bag has a bit more space for basics and other miscellaneous items which makes it a great carryall everyday bag.
Dimensions:
Height: 15.24 cm

Width: 26.67 cm
Depth: 5.08 cm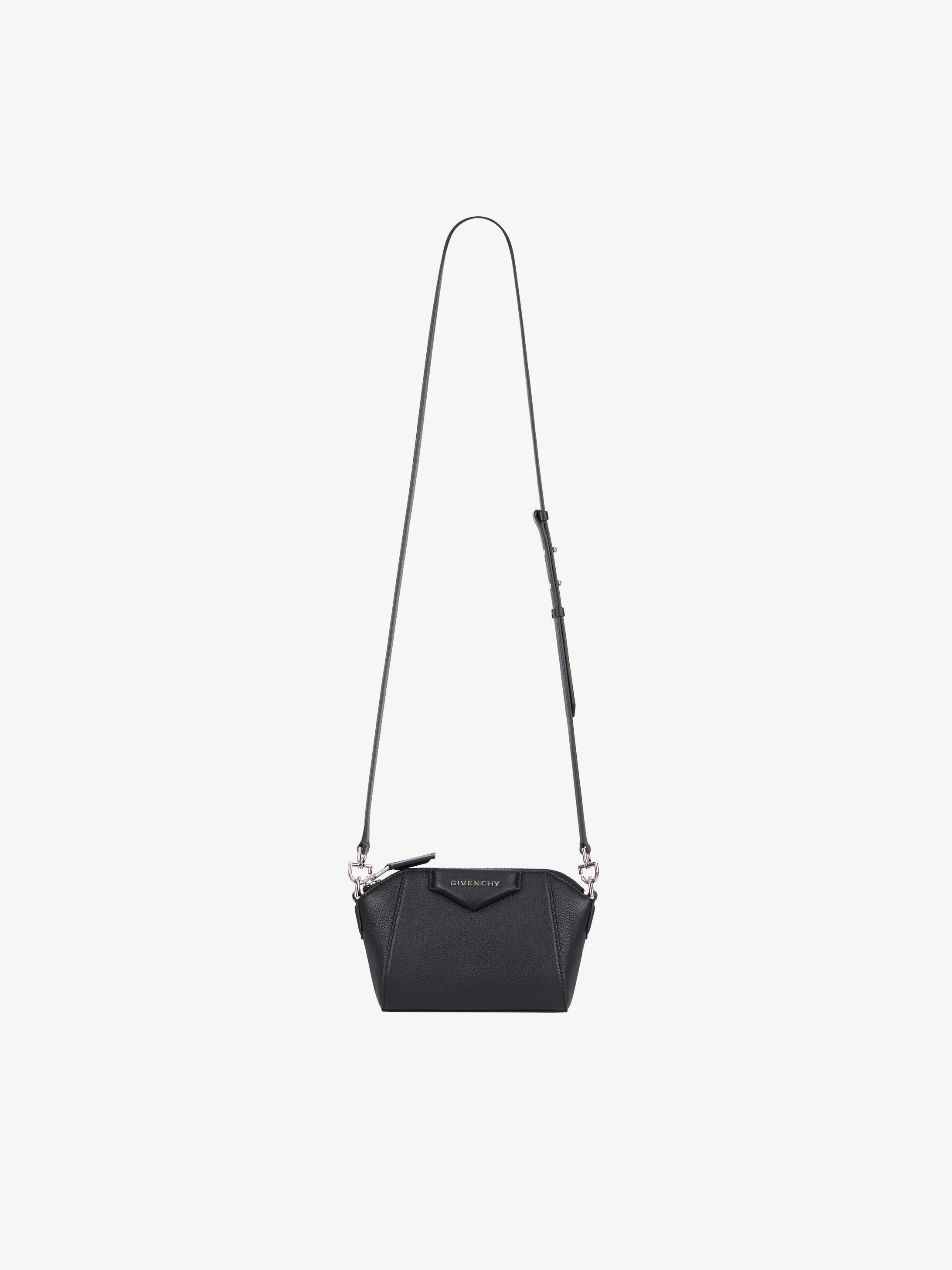 The Givenchy Nano Antigona Crossbody Bag has all that we need for a weekend with the girls. Perfect for brunch, dinner dates, and special me-time dates, this bag has a removable strap that you can adjust on your preference.
I particularly like the bottom of this bag which is wider than usual pocket bags. It is quite tiny, but it holds basic items very easily due to its shape. After putting your phone, wallet, earphones, and lipstick, there are a few gaps in the gap where you can insert a couple of lip products or a tube of hand cream.
Dimensions:
Height: 14.0 cm
Width: 16.5 cm
Depth: 4.0 cm
The Saint Laurent Lou Belt Bag can be compared to a camera bag designed in a rectangular shape. The edges are refined and slightly curved, just enough to break the formality. It can be worn belt-style or cross-body.
The metalware and the chain are in a nice gold tone that isn't too flashy but enough to give the bag an accent. If that isn't enough accented for you, the Lou Belt-Bag also comes with a detachable leather tassel that you can style however you want.
The interior is just enough for basic carry-ons like a phone, a small cardholder or wallet, a couple of make-up or skincare products, and earphones. The Lou Belt-Bag gives off a classy, on-the-go chic type of vibe. This is one of the best designer bags under $1000 (most of the time – the price fluctuates) if you want that really "branded" look.
Dimensions:
Height: 7.62 cm

Length: 10.16 cm
Width: 3.18 cm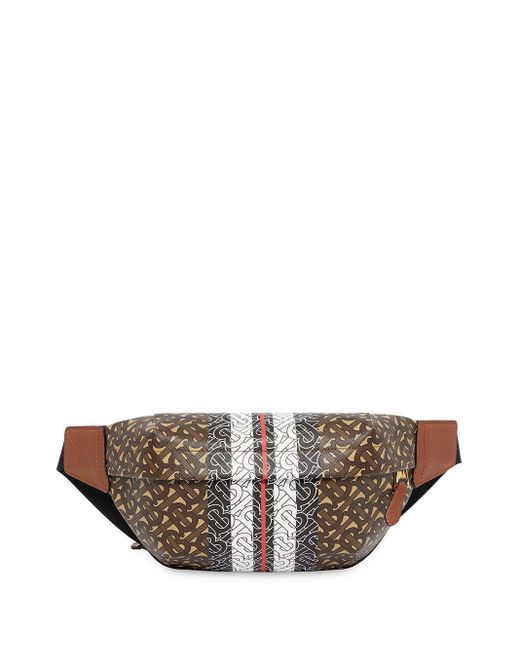 Burberry's Sonny Stripe E-Canvas Belt Bag is a '90s staple that you would want to revive into your wardrobe. It screams the turn of a fashion era and showcases a timeless look regardless of your personal style.
Rock this belt bag with classy neutral colors like navy blue, icy blue, moss green, gray, or black. It has an adjustable buckle, a top zipper, and a Burberry monogram accent that is a guaranteed eye-catcher.
Made with premium and durable leather and a spacious interior, this bum bag can carry quite a lot of miscellaneous items — making hand-free outfits look stylish and sophisticated.
Dimensions:
Height: 16 cm

Width: 29 cm
Depth: 7.8 cm
This Shopper Tote from Saint Laurent is the type of bag you would want to invest in for its practicality, use, and beauty. The exterior is smooth, sleek, and classic — perfect for the laid-back chick.
This bag can hold a couple of notebooks, a small book for your weekend cafè-ventures, and your work iPad. Subtle and discreet, the Saint Laurent Shopper Tote gives off a casual-sophisticated look.
YSL bags generally have a great resale value. If you plan to store this bag for reselling in the future, this is a good choice to consider. Just take note that everyday use can wear it, so it's safer to plan how you are going to utilize it early on.
The YSL shopper tote is sometimes one of the best designer bags under $1000, but don't quote me on that because the price fluctuates super often. It's usually around $1000, but you can definitely wait a few months and it'll dip under!
Dimensions:
Height: 28 cm

Length: 12 cm
Width: 44 cm
Loewe's Small Leather-Trimmed Woven Raffia Tote is the ultimate all-around vacation bag. Get in the mood to unwind and relax with this bag's airy straw bags. Released in Loewe's 2017 Spring/Summer Collection, this bag never left the limelight.
The bag's size is just enough to keep your holiday essentials: sunglasses, sunscreen, phone, a small camera, and a small/medium-sized wallet. This raffia bag doesn't only apply during vacations — it also makes a good staple to laid-back, spring-inspired city outfits.
At $400, you get more than you expect: durable straw material, embossed logo with the brand's iconic imprint, and a lovely cognac-colored leather handle. This is one of my favorite designer bags under $1000 for the summer months – I use it every year and it's held up super well!
Dimensions:
Height: 18 cm

Width: 36 cm
Depth: 12 cm
You have probably seen this bag all over Pinterest and Instagram. This age-defining piece is called the Jacquemes Le Chiquito Montagne Mini Leather Tote. Although it has a very trendy, fad-like reputation, it holds a mighty place in every era lovers collection.
Is it splurge-worthy? I think so. It is slightly bigger than "tiny" designer bags and can fit most basic items like your iPhone, sanitizer, a card wallet, and keys. The maximum size of a phone that can fit in a Le Chiquito Mini Tote is most probably an iPhone 11.
Dimensions:
Height: 9 cm

Width: 12 cm
This Valentino Rockstud Wallet-On-Chain is one of our favorite accent bags! It has signature platinum studs, a hook closure, and a pebbled leather material. It's not easily scratched and is very durable. The bag also comes with a studded handle and a detachable chain.
The Valentino Rockstud Wallet-On-Chain comes in classic black and lovely cognac color that you can pair with, basically, any outfit. It fits most basic items, including a phone, some lip products, car keys, and a small wallet.
There are a few different variations, and this bag often dips under $1,000 but usually sits right around that price.
Dimensions:
Height: 12 cm

Width: 19 cm
Depth: 4 cm
7. Prada Re-Edition 2000 Mini ($950)
Prada's Re-Edition 2000 Mini comes in vibrant colors like white, cornflower blue, desert beige, alabaster pink, wisteria, red, and black. This bag's silhouette resembles a very classic look that is very easy to love.
If you're looking for a sleek everyday bag, definitely go for the black one. For a spring-summer look, definitely go for the popping pastel variations. If you opt for the white one, make sure you have a storage keeper with good ventilation to avoid discoloration.
Cleaning It is also fuss-free as it is made of durable, recycled nylon. It fits a few lip products, a phone, a small-medium wallet, earphones, hair accessories, car keys, and a few more miscellaneous items.
Dimensions
Height: 17 cm

Length: 6 cm
Width: 22 cm
6. Prada Saffiano Crossbody Bag ($790)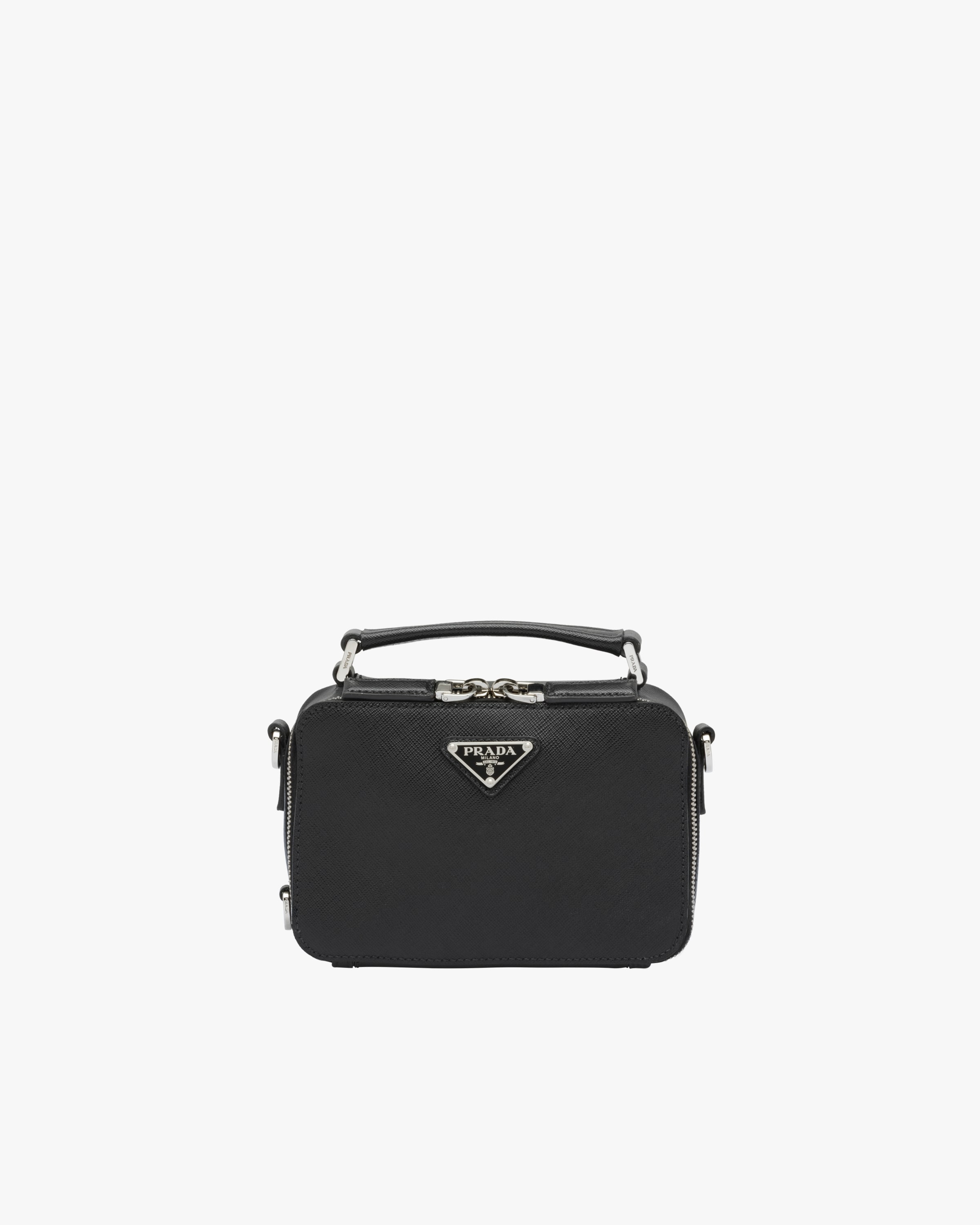 The Prada Saffiano Crossbody Bag is a compact bag you can use when you're out for brunch with the girls or a spontaneous me-time at the plaza. It doesn't really carry a lot of items like bulky wallets and make-up products, but it's good enough for a couple of important cards, a small wallet, a pack of mints, and earphones.
It does have a larger counterpart which is 22cm wide and 16cm high with a slightly higher price point compared to this variation's dimensions (18cm wide by 12cm high).
The Prada Saffiano Crossbody bag's grip handle makes it a great party bag. It also comes with a shoulder strap for casual use.
Dimensions
Height: 12 cm

Length: 5.5 cm
Width: 18 cm
5. Prada Diagramme Crossbody Bag ($990)
The Prada Diagramme Crossbody Bag comes with a sleek, classy leather pattern, a flap for the opening, and an adjustable and removable chain strap. What we love about this bag is the fact that the chain is removable and very easy to convert into a party pouch.
The bag is also quite spacious with the amount of everyday stuff you can keep in it: a phone, a few important cards, sunglasses, a small notebook, hand cream, and a couple of lip products. Despite the number of things you can get in this bag, the Prada Diagramme Crossbody Bag doesn't lose its structured shape or look puffy at all.
This bag can cost around $990 to $1050 depending on where or when you time your purchase.
Dimensions
Height: 14 cm

Length: 6 cm
Width: 24 cm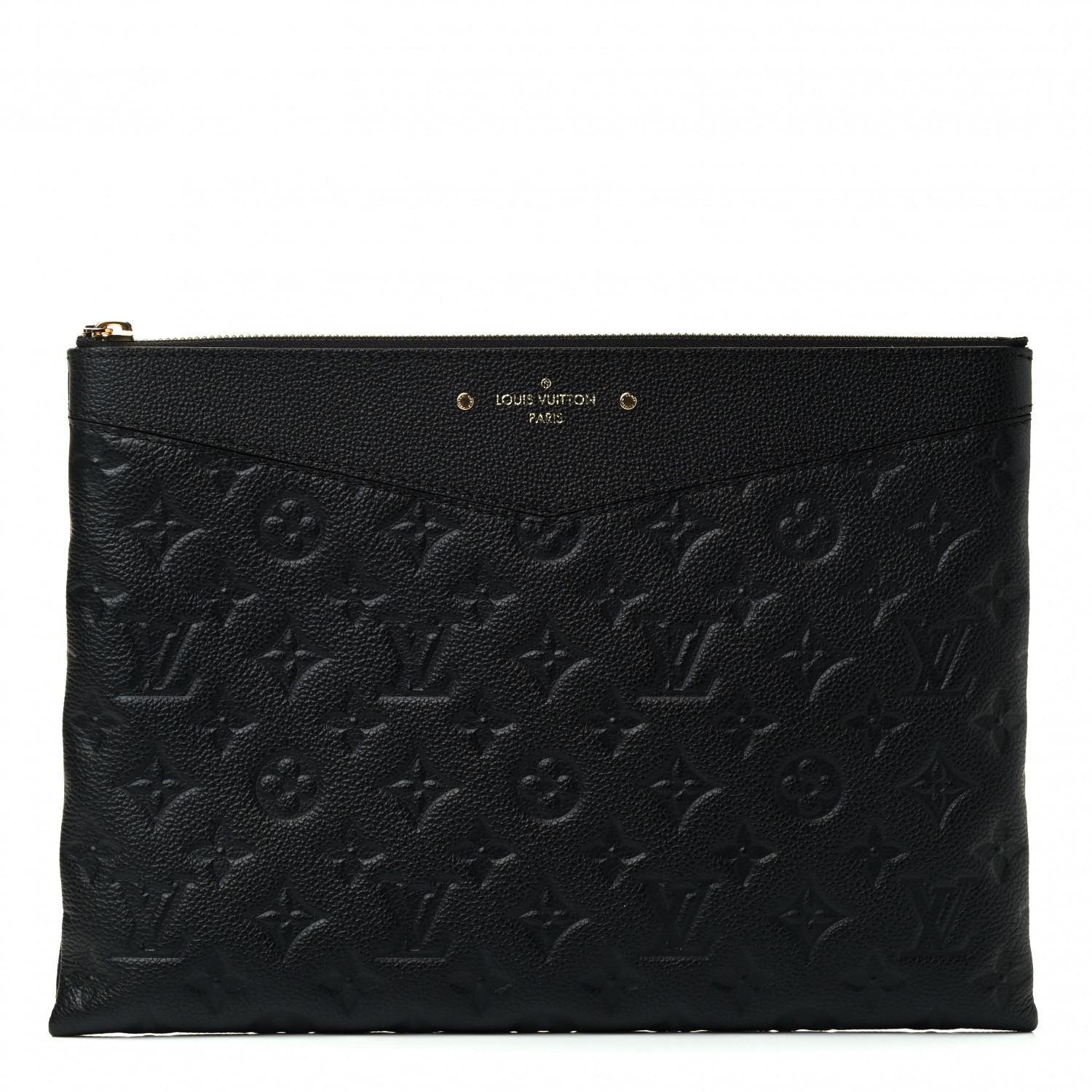 Looking for designer bags under $1000 that are super branded? This Louis Vuitton's Daily Pouch is one of the most sought for variations with very limited availability in selected stores.
Generally, there is quite a wide selection of daily pouches by Louis Vuitton, but this seems to be the subtlest yet most sophisticated of their designs yet. It comes with ingrained all-black Monogram Empreinte leather, minimal gold exterior metalware, and an embossed LV iconic monogram pattern.
This daily pouch can fit a tablet, a small notebook, and some important documents. When needed, this can fit in a larger bag. Best used for business meetings and evening dates.
While this pouch fluctuates just under and over $1,000 on the actual Louis Vuitton site, you can find it for much cheaper on Poshmark and Tradesy almost always because it's quite popular.
Dimensions:
Height: 21 cm

Width: 0.96 cm
Length: 29.48 cm
We have a big crush on this Darryl Leather Tote from Chloé. This tote bag is composed of semi-aniline pebbled leather that looks smooth and sleek that isn't easy to scratch or that is vulnerable to wear.
I consider this bag as everyday wear for work, business, or meetings. It has a roomy interior that can fit phones of all sizes, a couple of documents, a tablet, or a small notebook. It has everything that a woman on-the-go needs: style, class, and femininity.
The crafty details definitely give the bag an accent that is hard to find in most classic totes. It is also lightweight and easy to carry with its flat, lengthy handles.
Dimensions:
Height: 24 cm

Width: 30 cm
Depth: 12 cm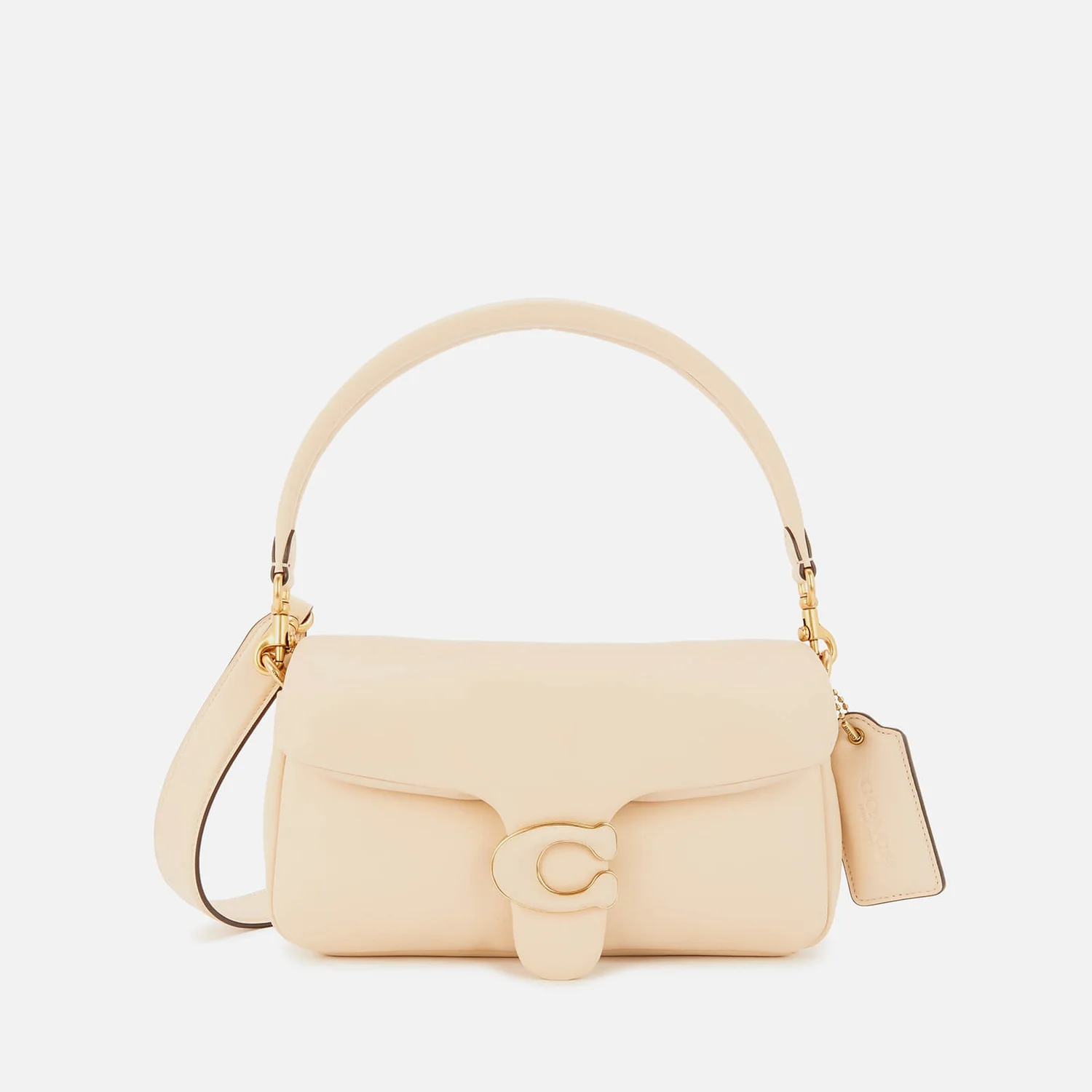 This Tabby 26 Leather Shoulder Bag from Coach reminds me of the vibrant Y2K fashion style. If you're a creative maximalist, this bag makes a great addition to your collection. The ultra-soft, pillowy Nappa leather that this Tabby Bag has resembles the visual softness of a marshmallow that you can add as an additional layer to a flat-looking outfit.
If this bag had a personality, it would be an extrovert. Along with its eye-catching silhouette, this Pillowy Tabby showcases the brand's logo in metalware identical to the bag's primary color. Wear this on a special occasion and you're sure to spark conversations.
Dimensions:
Height: 15 cm

Width: 26 cm
Depth: 7.5 cm
Want designer bags under $1000 that you can wear to brunch or out clubbing? This Fendi Continental Wallet On Chain is a sleek addition to your shopping or vacation trip outfit. This bag's fine chain shoulder strap also detaches easily, so you can transform it into an all-around wallet and cardholder once you're in the airport.
It comes with two flat pockets and several card slots. The minimal gold-finish iconic logo hardware finishes the whole look.
Dimensions:
Height: 19 cm

Width: 9 cm
Depth: 1 cm