Planning a trip and wondering what to wear in Cancun? Check out the best Cancun outfits you can wear on your trip plus tips on dressing and packing for Cancun!
Cancun is one of those locations on earth that seems to be able to make the most of its natural beauty. It's also one of Mexico's most popular tourist destinations thanks to its gorgeous scenery.
From the stunning, sandy white beaches, the Mayan Ruins, and luxury hotels, to thrilling amusement parks, you'll never have a boring day in this city! The number of activities you can do here is endless!
With that said, with every trip, it's important that you look just as good as the scenic locations you're visiting.
To help you better prepare for your exciting vacation, I am sharing with you today some style advice and the prettiest outfit suggestions for Cancun, Mexico from top bloggers all over the world!
What To Wear In Cancun
Aside from making sure that the Cancun outfits you bring are cute, stylish, and can be worn for long hours without being too uncomfortable, you also need to make sure that you bring the right amount of necessities to make your trip a whole lot more enjoyable.
So here are some items and outfit pieces to keep in mind as you pack your things:
Swimsuit or Bikinis. If you're going on a summer vacation in Cancun, a swimsuit is a must! You can't possibly go to Cancun without visiting the beach at least once!
Dresses. Opt for flowy dresses that will give you lots of movement when you go to Cancun. This will be a lot more comfortable for you once you're touring the city.
Light Shirts. Because of how humid the weather is in Cancun, you might want to opt to bring loose and flowy shirts that have light fabrics. This will keep you cool and less sweaty when you're under the sun. I recommend linen button-downs if possible.
Shorts and Skirts. Packing a pair of jeans or long pants might be tempting but I would suggest bringing more skirts or shorts with you rather than the former. It'll be much more comfortable to wear on the beach as well!
Sunglasses. Again, if you're going in the summer, keep your eyes protected by packing a few sunglasses just in case.
Sunscreen. No matter the season you're going in, you can never ever forget to bring your sunscreen!
Sun Hat. Just like sunscreen, don't forget to wear a sun hat especially if you're going in the summer months in Cancun!
Jewelry or Accessories. Bringing a few pieces of jewelry and other accessories wouldn't hurt but I would suggest opting for ones that are tarnish-free if you're planning to go to the beach.
Comfy Sandals and Shoes. When you have a whole day planned where you'll be exploring the city on foot, you'll need to make sure that you bring your most comfy footwear on your vacation so you won't have to worry about getting blisters or strains.
Sweaters, shawls, or scarves. Regardless of the season, don't forget to bring a light sweater, a shawl, or a scarf to your Cancun vacation. Even in the summer, the beaches get chilly during the nighttime.
Filter Water Bottle. As you may already know, you can't drink tap water in Mexico so it's best to stay on the safe side and get yourself a filter water bottle you can bring on your Cancun vacation.
A book or An E-Reader. Bringing a book or two isn't so bad when you're going on vacation. This will surely save you from boredom and you can always opt to bring it to you on the beach to read while you sunbathe. But if you have an e-reader, bring that one instead so you don't have to worry about the weight of books making your luggage heavier than usual.
What To Wear In Cancun At The Beach: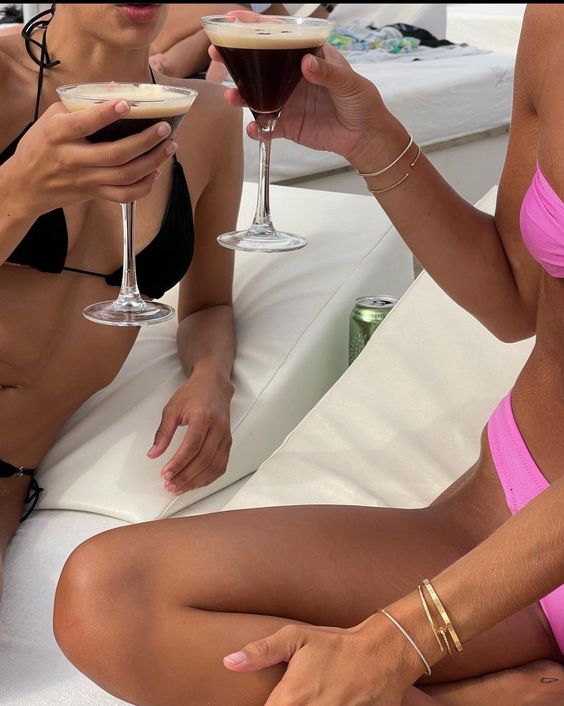 Cancun style at the beach is all about embracing a relaxed but chic vibe. The key is to feel comfortable and stylish while enjoying the sun, sand, and water. Here's how you can dress to fit in and rock that Cancun beach look:
Swimwear: Opt for trendy swimsuits. Bikinis, one-pieces, and trunks are all popular choices. One-color suits, chic patterns, and neutral colors with texture are all a hit. Avoid anything too preppy or boxy. Think city vibes, only at the beach. You can definitely go for bright colors, but make sure to mix those in with lots of chic accessories or a neutral, fishing net coverup.
Cover-Ups: A stylish cover-up is a must. Think breezy sarongs, flowy kaftans, or lightweight shirts. These can provide some sun protection and help you transition from the beach to a beachside bar effortlessly. Again, you want to opt for neutrals that are even a little sexy rather than boxy/preppy items.
Footwear: Keep it casual with flip-flops, sandals, or espadrilles (my personal favorite). Comfort is key, as you'll be strolling on the sand and taking dips in the water.
Hats and Sunglasses: Protect yourself from the sun with a wide-brimmed hat and chic sunglasses. They're functional and add a touch of glam to your beach look.
Beach Accessories: Consider adding some beachy accessories like shell necklaces, woven bracelets, or colorful headbands. These small touches can enhance your overall beach style.
You definitely want to dress very chic yet stylish. Look for resort-wear pieces (but don't go too pretty – go more Miami vibes) and keep the colors neutral.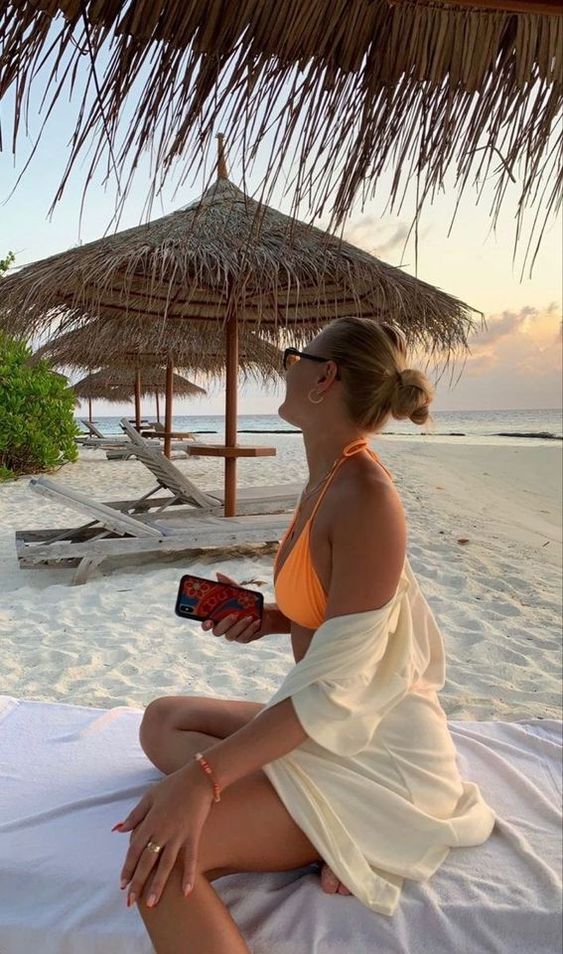 What To Wear In Cancun During The Day: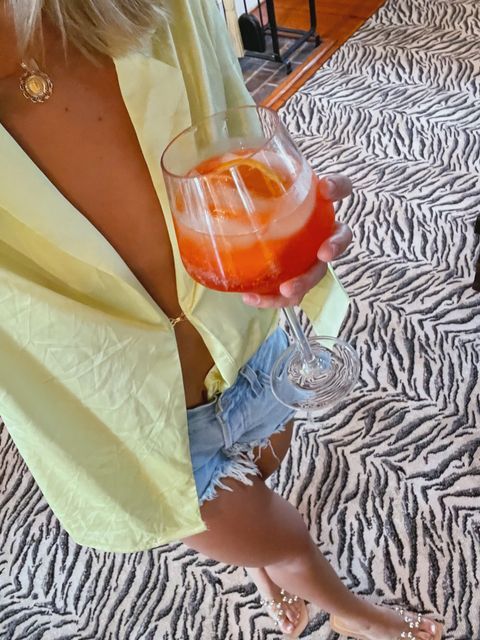 Cancun style during the day is all about being comfy, casual, and ready for fun. Most people dress like they're ready for the beach at all times, whether you're heading out on a boat or hanging by the beach bar. Here's how you can dress to blend in with the Cancun day vibe:
Light Clothing: Choose lightweight and breathable clothes. Think shorts, skirts, or flowy pants. Light colors are great to reflect the sun's heat.
T-shirts and Tank Tops: Opt for comfy t-shirts or tank tops with fun prints or beachy designs. These keep you cool and casual.
Sundresses: A cute sundress is a perfect choice. It's easy to wear and adds a touch of femininity to your look.
Footwear: Slip into comfortable sandals, flip-flops, or sneakers. You'll be doing a lot of walking, so prioritize comfort.
Hats and Sunglasses: Protect yourself from the sun with a stylish hat and sunglasses. They add flair to your outfit while keeping you cool.
Beach Accessories: Incorporate beach-inspired accessories like a beaded bracelet or a woven bag. These small touches add a vacation vibe.
What To Wear In Cancun Out To Dinner: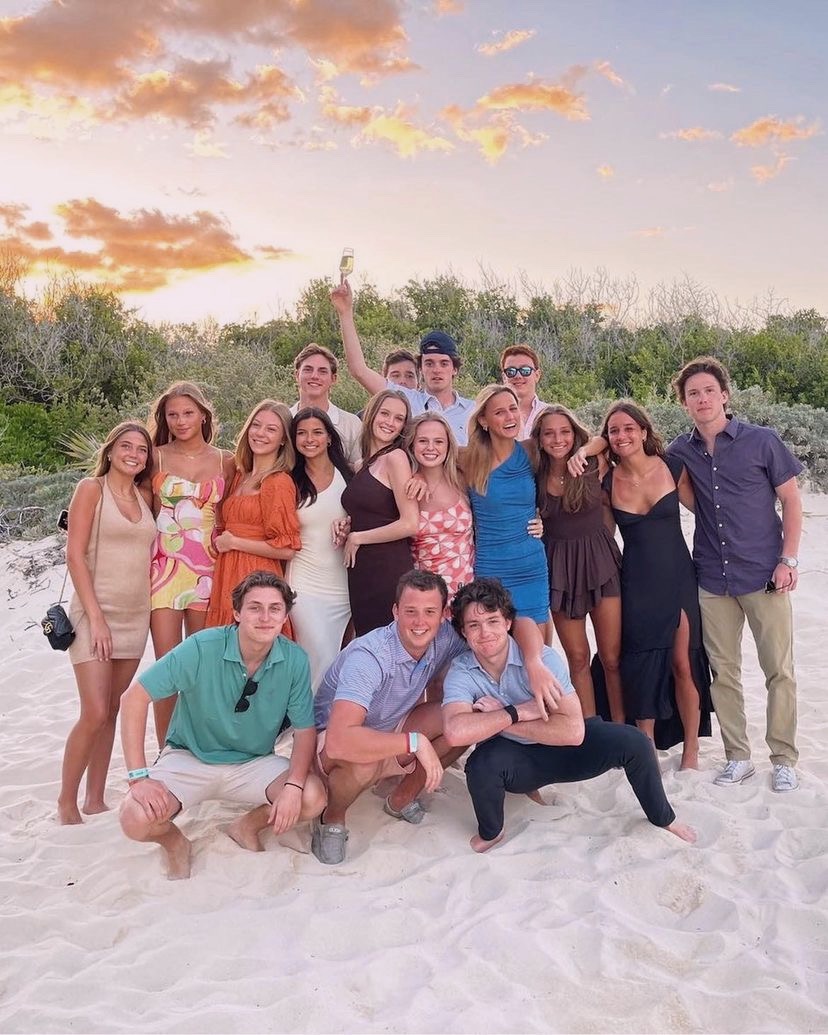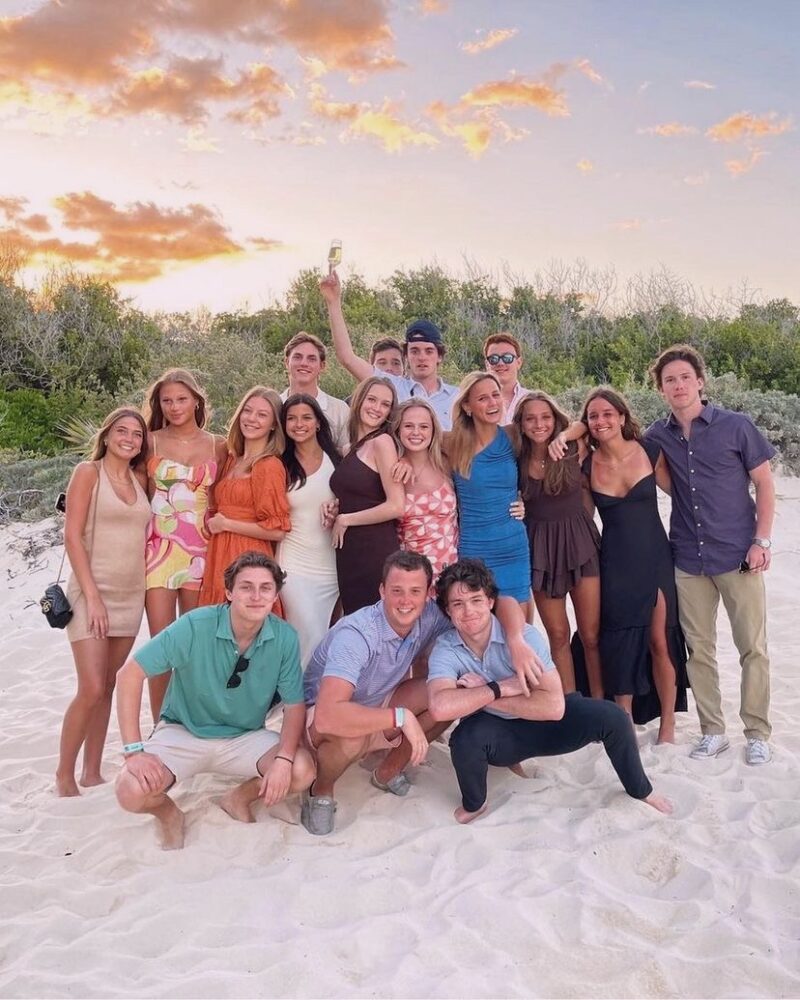 Cancun style for going out to dinner blends casual elegance with a touch of resort chic. Here's how you can dress to fit in and enjoy a stylish dinner in Cancun:
Resort Casual: Aim for a polished yet relaxed look. Think resort wear that's a step up from daytime attire.
Dresses: Opt for a sundress, a maxi dress, or a flowy skirt with a nice top. These choices exude a classy and comfortable vibe.
Button-Up Shirts: Men can choose a stylish button-up shirt, either short-sleeved or rolled up, paired with well-fitted trousers or nice shorts.
Light Layers: Bring a light cardigan, shawl, or a stylish jacket in case the evening gets breezy. I love a good linen shawl!
Accessories: Elevate your outfit with tasteful accessories like statement earrings, a stylish watch, or a delicate necklace.
Classy Sandals: Ladies can opt for elegant sandals or wedges, while men can choose clean and stylish footwear.
Grooming: Put a bit more effort into grooming – a tidy hairstyle and well-maintained appearance complement your dinner look. The sleeked back bun or ponytail look is in, but you can also go for natural beach curls (and you'll see plenty of those with the humidity).
Neat Jeans: Dark-colored, well-fitted jeans can work for a more relaxed dinner setting when paired with a nice top. This is a good option when the weather is cooler and you're going to a casual restaurant. However, you'll mostly see dresses or rompers on women.
Avoid Overdressing: While you want to look put-together, remember that Cancun's dining scene is often laid-back. Avoid overly formal attire. I would recommend changing after dinner if you're going out to clubs.
Reservation Attire: One exception: if you're dining at a fancier restaurant, check if there's a dress code and adhere to it. Most resorts have casual restaurants, but there's usually 1-2 that have a more formal attire dress code.
What To Wear In Cancun Night Out: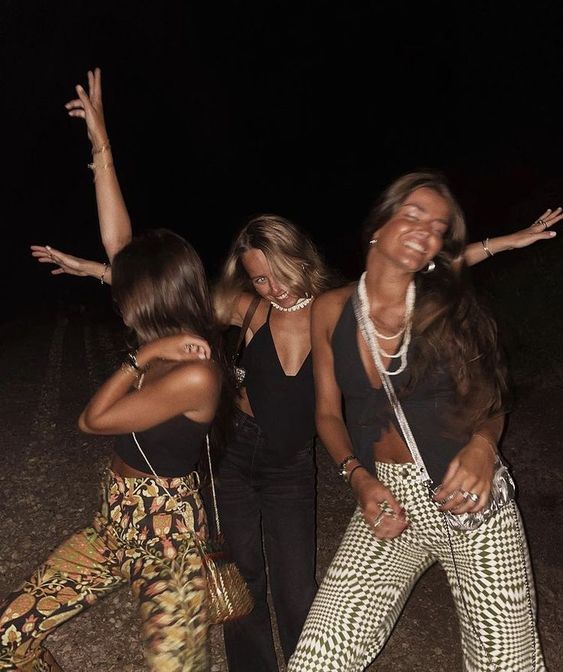 The Cancun clubbing scene is pretty similar to Miami. Dark colors are often typical and well-suited for the club scene in Cancun. Dark colors, such as blacks, deep blues, rich purples, and smoky grays, can create a stylish and sophisticated look that complements the energetic atmosphere of the clubs. These colors also tend to work well under the vibrant club lights, creating a striking visual effect.
You'll want to dress up, wearing lots of dark colors (think edgy dresses, jumpsuits, etc.) with your best heels. Go for the sleek city look. You can throw in a hint of tropical, but that's better suited for beach bars at night, not clubs.
Cancun Outfits For Inspiration:
Still wondering what to wear in Cancun? Sometimes, you just need some visual inspiration. I hope you love these Cancun outfits as much as I do!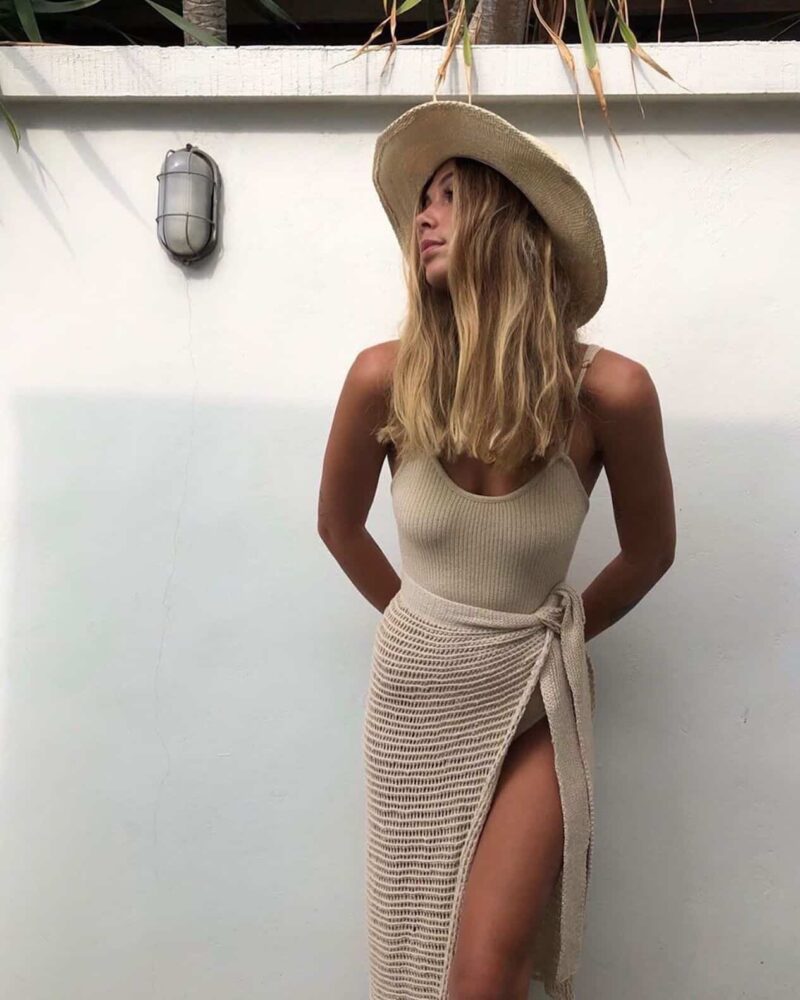 For a chic beachy look, wear an all-neutral bathing suit that could make you blend in with the gorgeous sandy beaches in Cancun.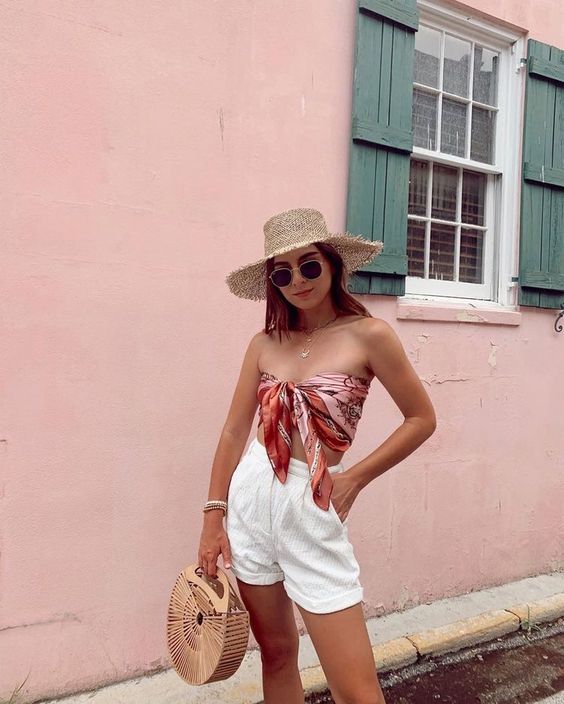 I love it when I see girls getting creative with how they use their scarves! This is such a cute way to get yourself a new outfit if you're running low on what to wear on your next trip around the city.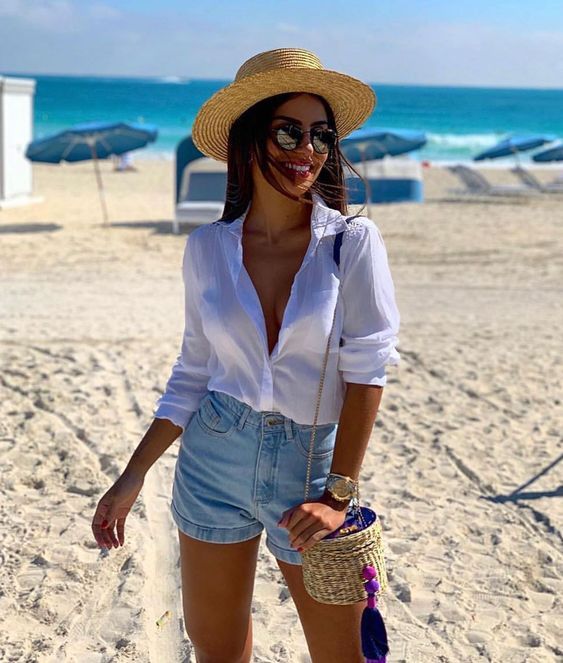 So simple yet so chic, you can never go wrong with a basic white shirt and a pair of denim shorts as you stroll around the city and the beaches of Cancun! Don't forget to wear your hat and sunglasses to accessorize!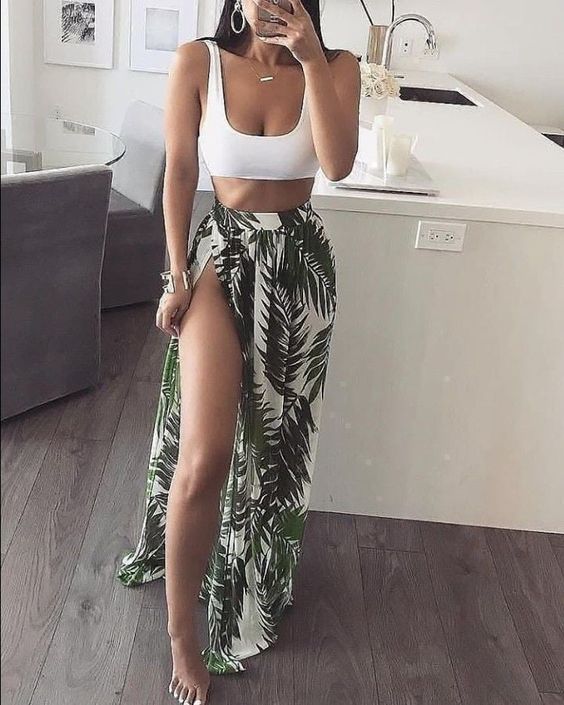 Make your printed maxi-skirt stand out by wearing a basic white, cropped cami. This whole outfit gives off such an amazing contrast between the white and the green!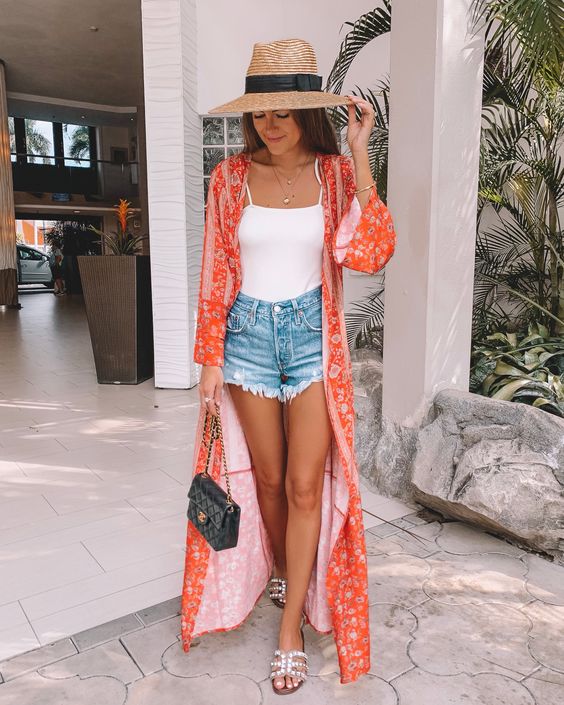 Stand out from the crowd when you go to Cancun by wearing vibrantly colored outerwear! I mean, just look how pretty this orange floral-printed beach coat is!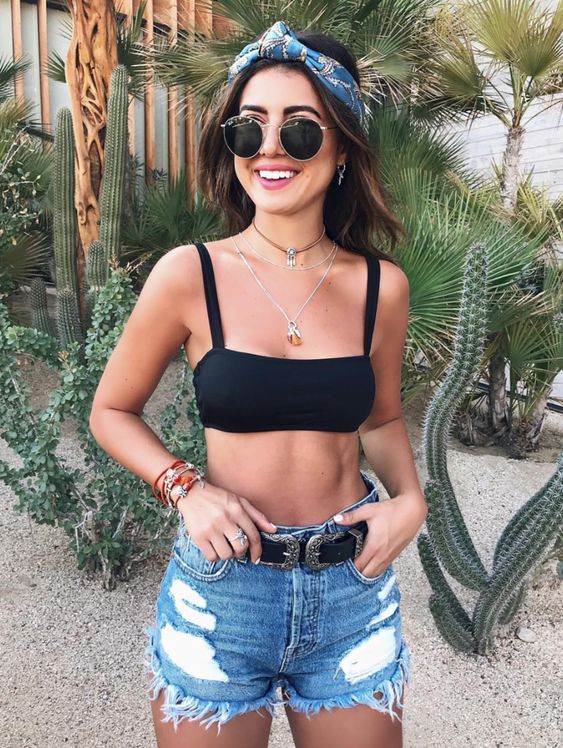 When in doubt, use your bikini top as your outfit for the whole along with some ripped denim shorts! It's time to show off that killer beach bod you've been hiding all winter long!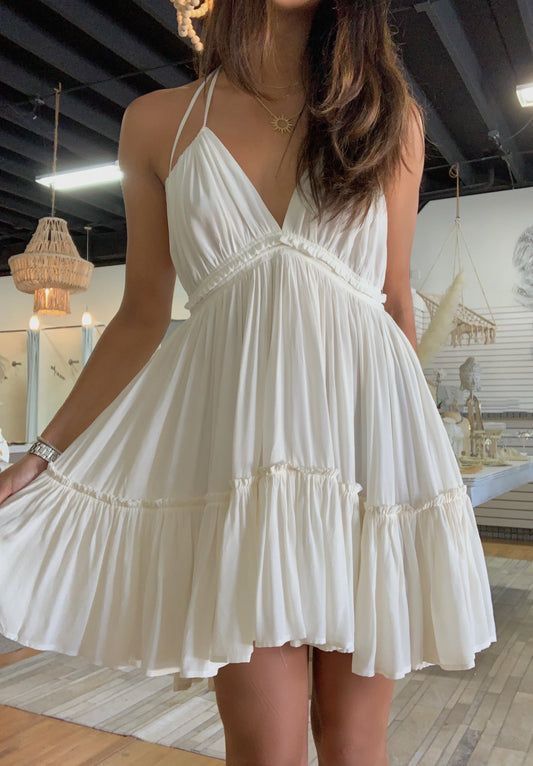 For a dainty and flirty look, this white sundress would be the perfect outfit! It's light and you can wear this if you're going out on a romantic date in Cancun, how dreamy!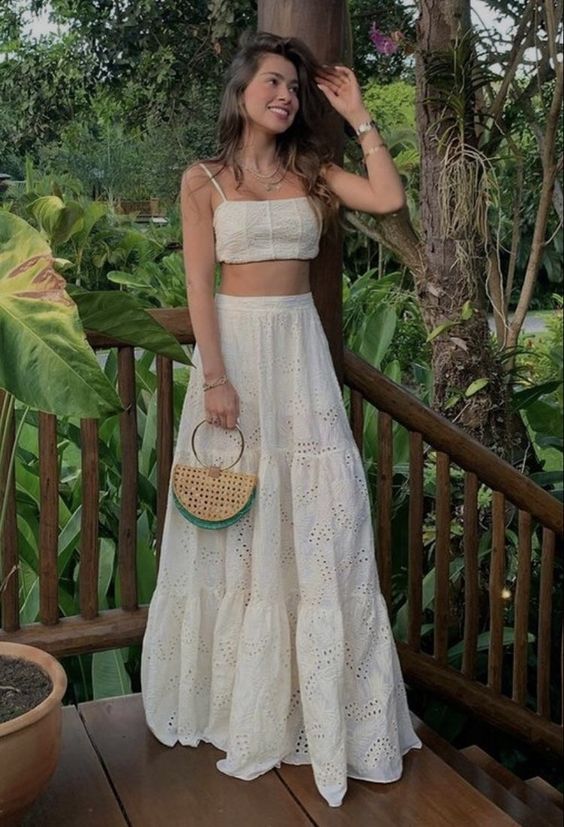 Here's another outfit to consider for dates and trips around the beautiful city of Cancun! This one shows off a longer skirt and cropped cami. Definitely a favorite of mine on this list!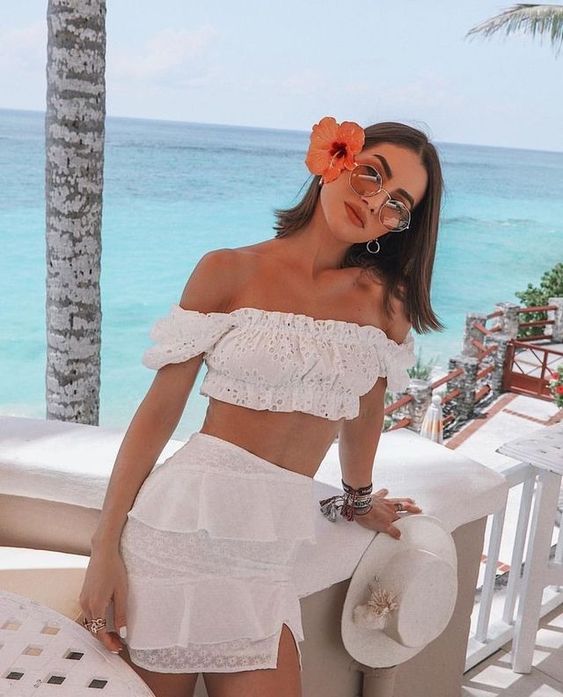 This outfit is so cute and has a fun and flirty vibe that's perfect for strolls around the beach! I love the cropped, off-shoulder top and how it shows off just enough skin. Then complete the whole outfit with a pretty flower over your ear!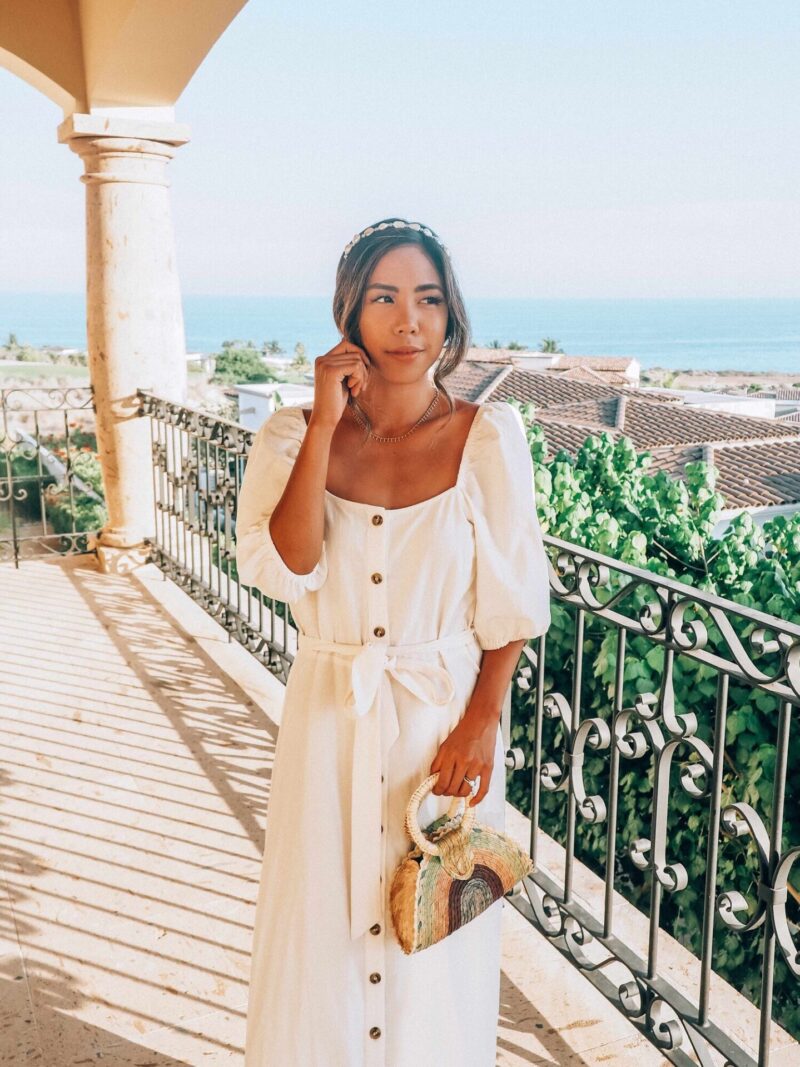 On days you want to cover up just a bit more, a maxi, casual dress like this one would be perfect in Cancun! It has a certain boho vibe without it being too heavy for the summer heat.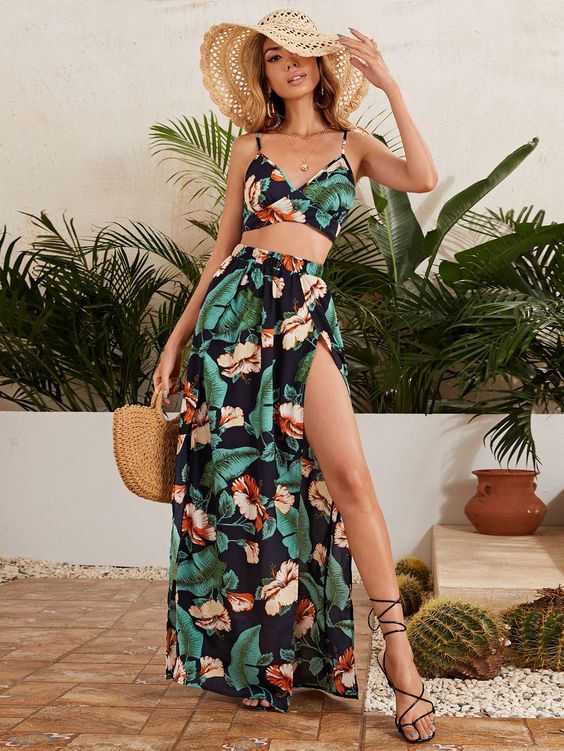 I am totally obsessed with this floral-printed matching outfit! It has such a tropical flare with a hint of sexiness. It's the perfect outfit to wear on your arrival in Cancun!
Get stylish and chic on the beach by wearing this gorgeous knit coverup for your bathing suit!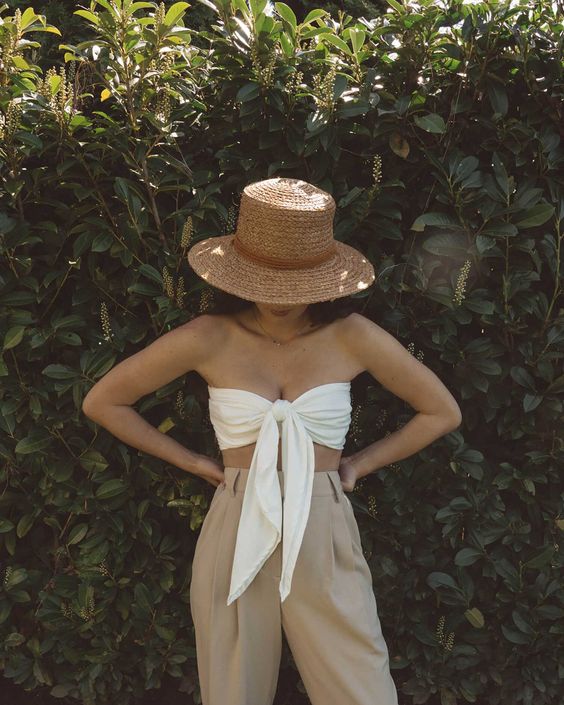 Here's another favorite outfit of mine. I'm so in love with this ribbon top! It's utterly gorgeous and chic, and it's so ideal for exploring Cancun!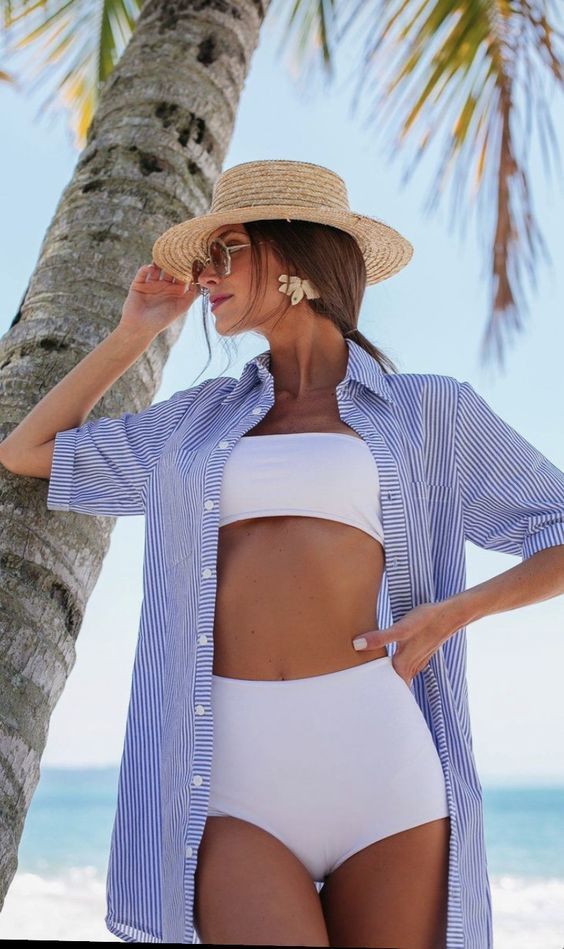 If you have a plain, all-white bathing suit that you'll be wearing on the beach or by the pool, make it stand out by wearing a striped coverup to create an interesting contrast.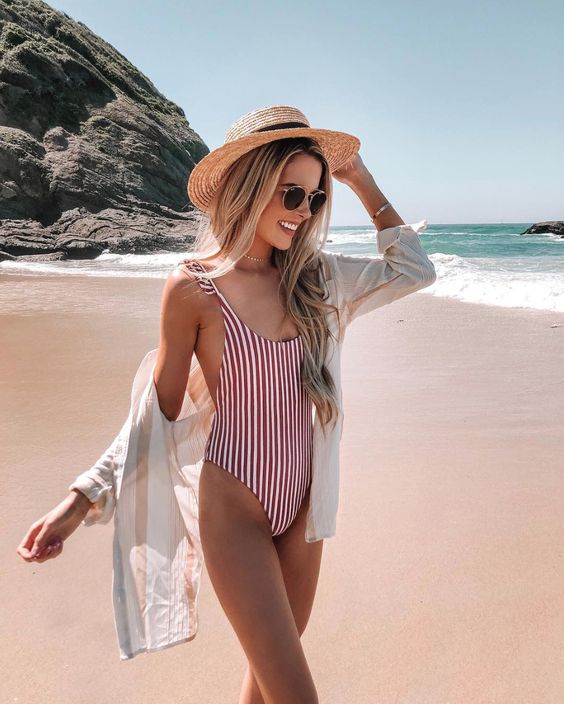 Or maybe if your bathing suit is patterned with strips, you can instead wear a plain white coverup to get an interesting contrast with your clothes.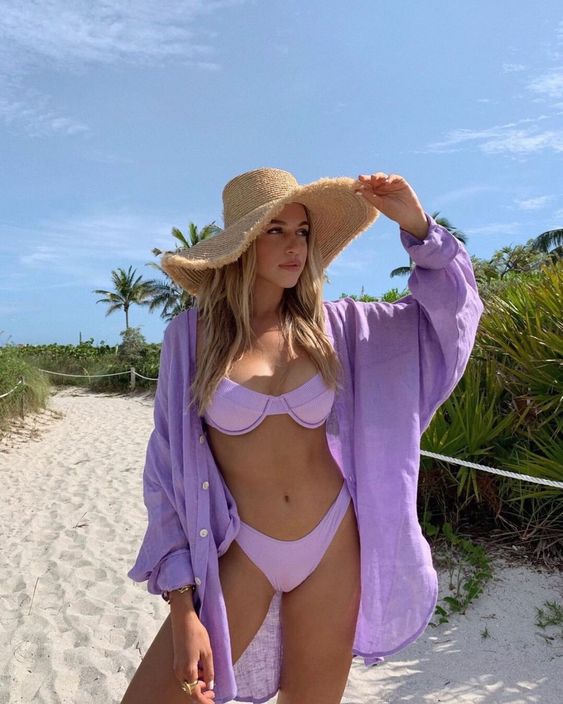 I am obsessed with this matching lilac bathing suit and coverup! Definitely my top 1 here for sure!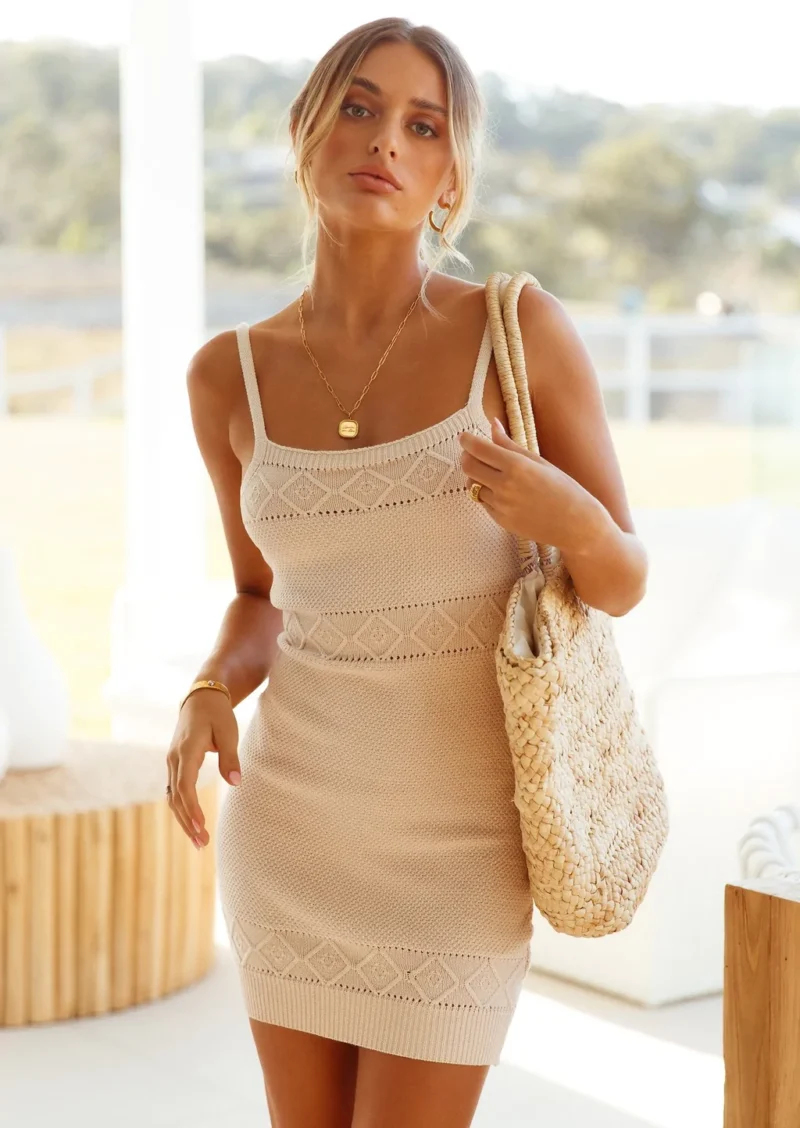 Beige is definitely one of my favorite Cancun outfits to wear on the beach. What better way to match the gorgeous sandy beaches of Cancun than this stunning mini, knit dress?
This white, midi dress is the perfect outfit to stroll around Cancun in the afternoon! Pair it with your most comfortable pair of sandals so you can go on for walks for long hours.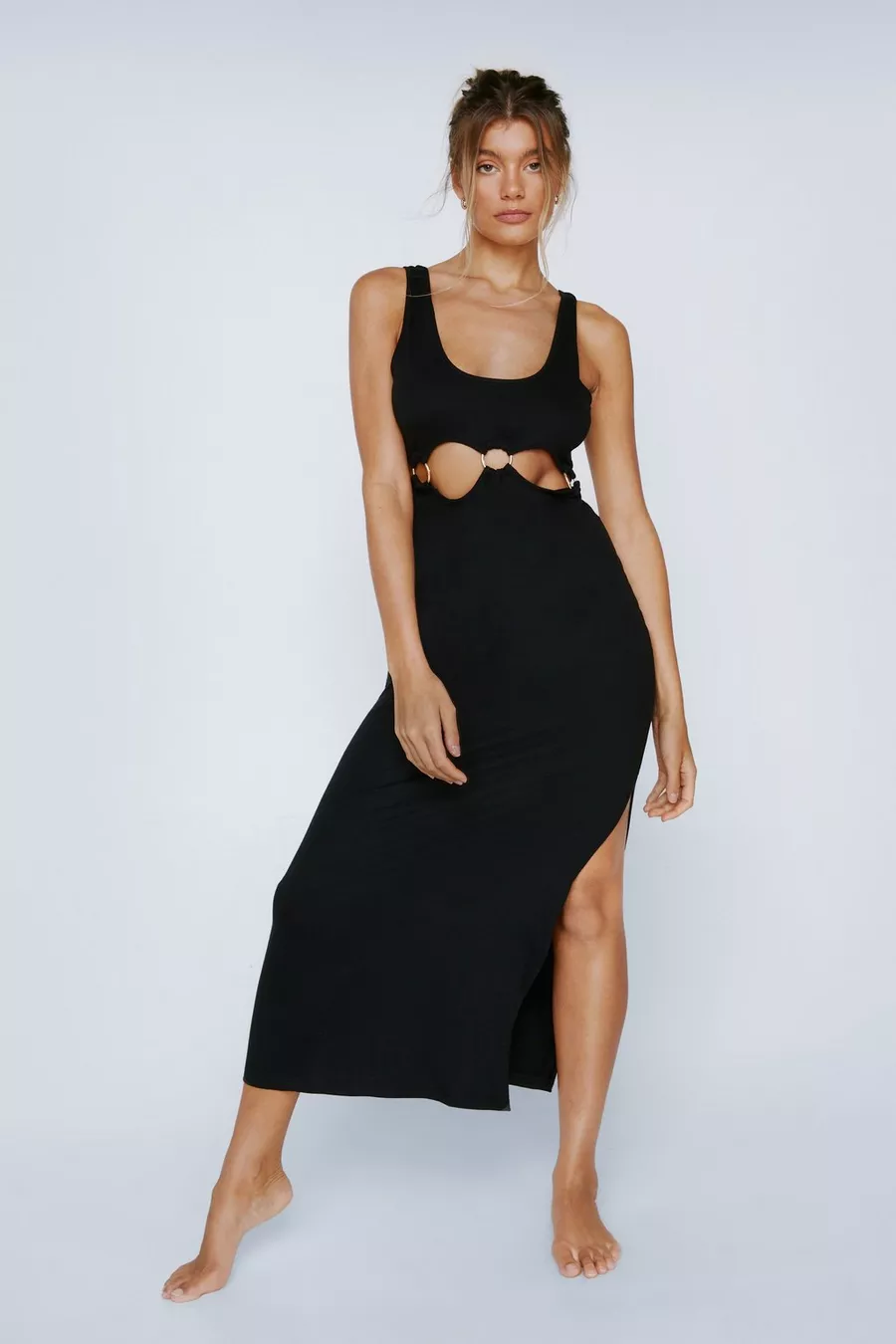 This sexy black dress is perfect if you're planning to hit the clubs in Cancun. You're sure to catch everyone's eye with this sexy ensemble!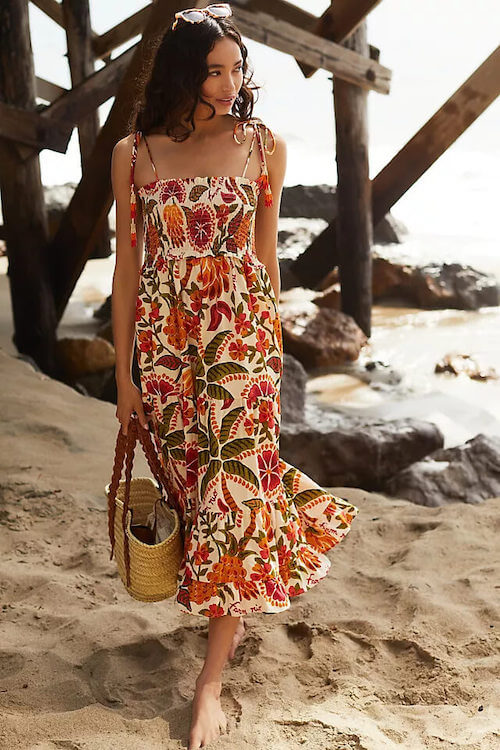 Just like in this picture, this tropical midi dress is perfect for a walk on the beach during the summer season in Cancun!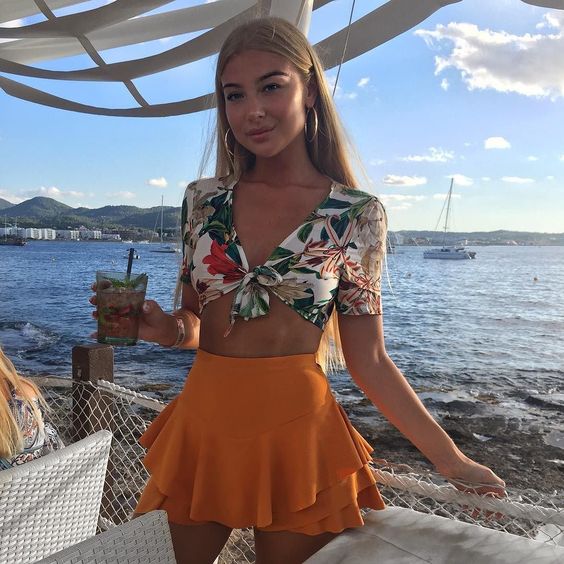 If you're looking for a fun and flirty outfit on your lunch trips around Cancun, this floral top and orange mini-skirt combo will do just the trick!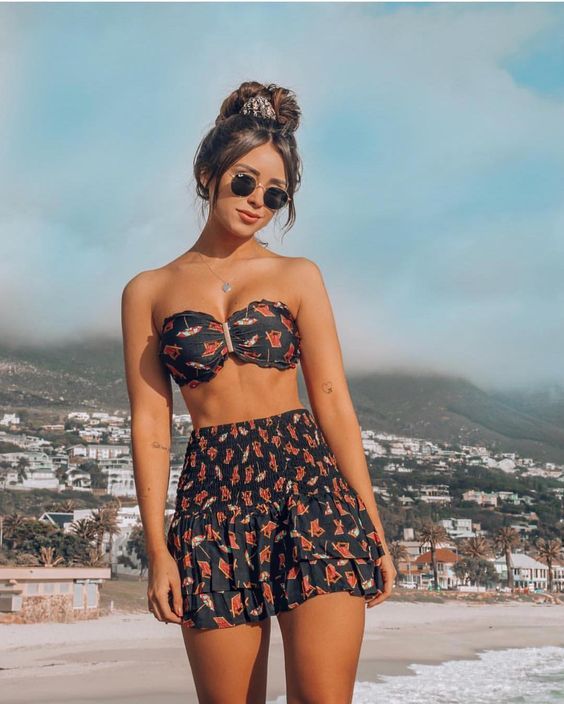 Here's another fun and flirty outfit you might love. It has such a unique pattern and it can also double as a swimsuit should you decide to go for a swim on the beach!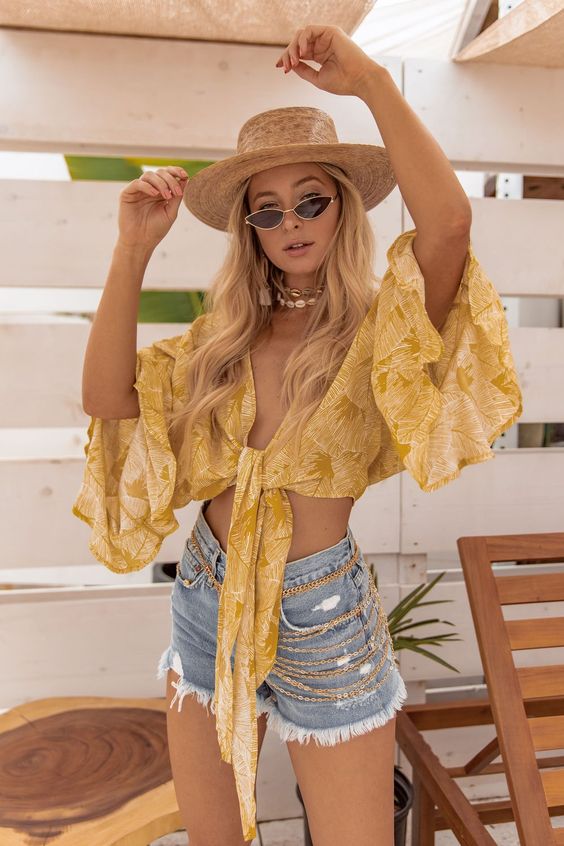 To match the summer season, wear something bright and yellow! This color is sure to complement your sunny vibe and sun-kissed skin as you step out off the beach.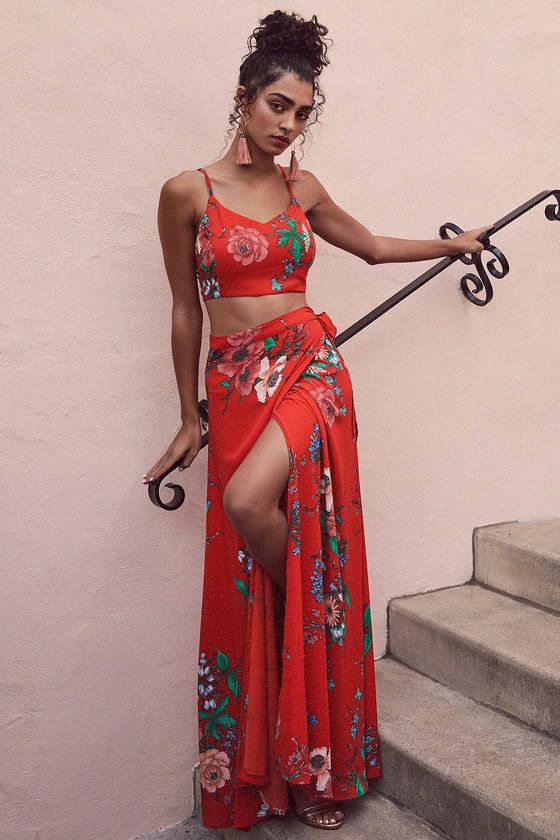 This red two-piece dress looks utterly sophisticated! I love the floral patterns and details, giving it such an elegant vibe.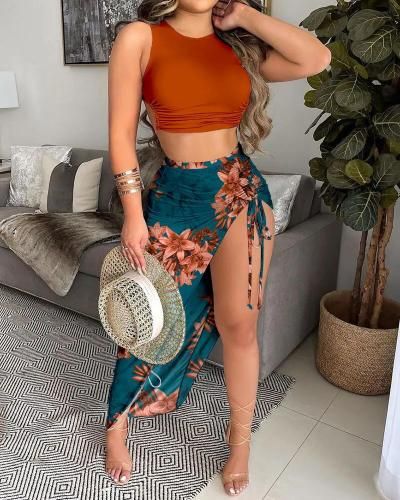 A color combination that's totally unique that you can wear on your vacation in Cancun is this orange and sea green outfit! It's so perfect for the beach or for exploring the city!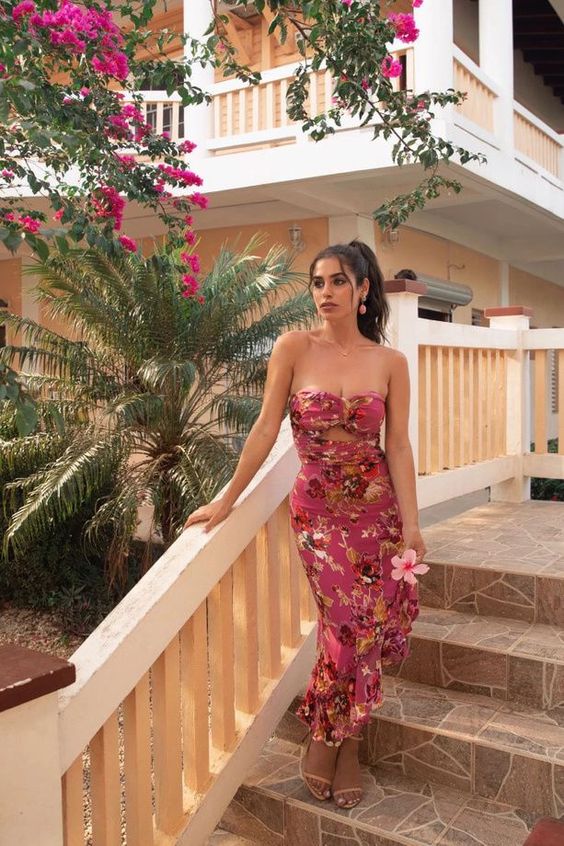 So romantic and feminine, this dress is just gorgeous! I can see this being worn on a dinner date by the beach or on a night out with friends. This is one of my favorite Cancun outfits for dinner!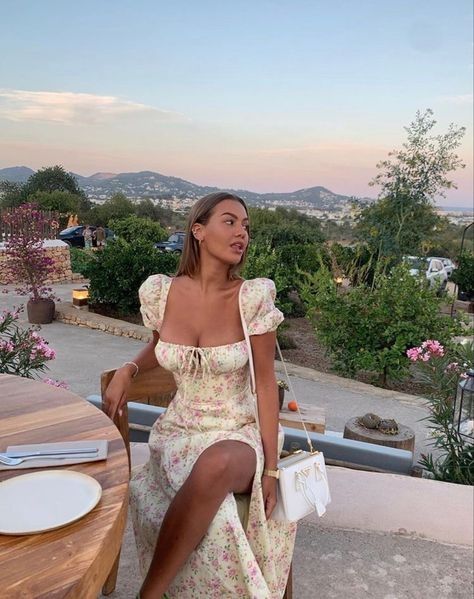 This maxi, floral dress is the perfect outfit on a summer day in Cancun. It's flowy so it's sure to not make you uncomfortable as you tour the city.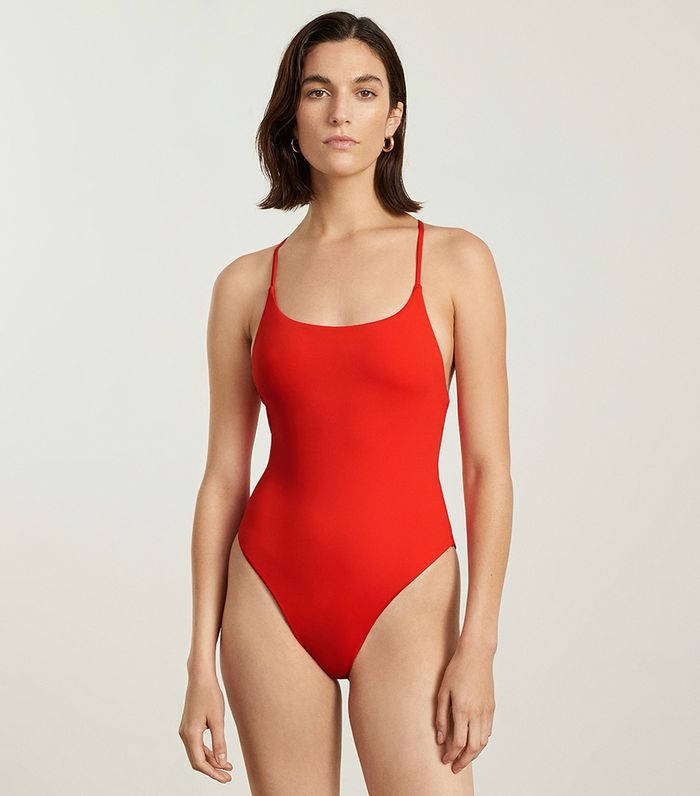 If you're looking for a basic swimsuit that you can wear daily, this vibrant red one-piece might be the perfect fit for you. The color alone will make you stand out from the beach crowd!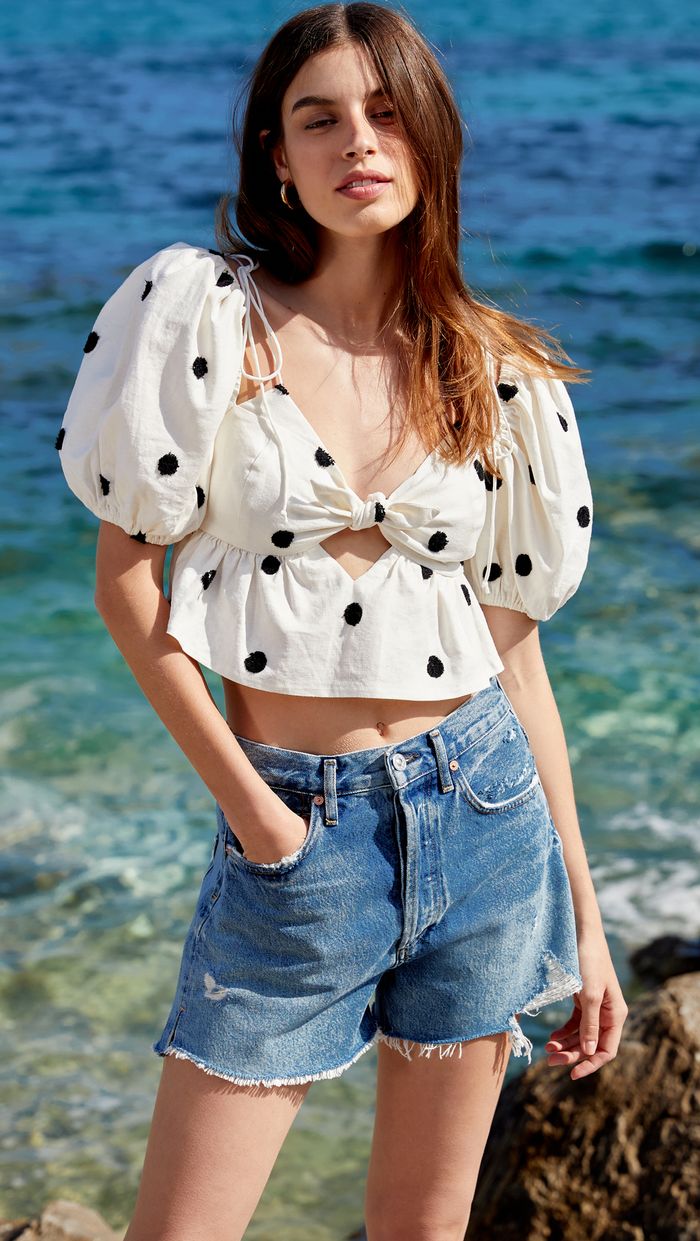 For something more modest and demure, you should definitely take inspo from this particular out. The polka dot is probably one of the cutest blouses I have seen here!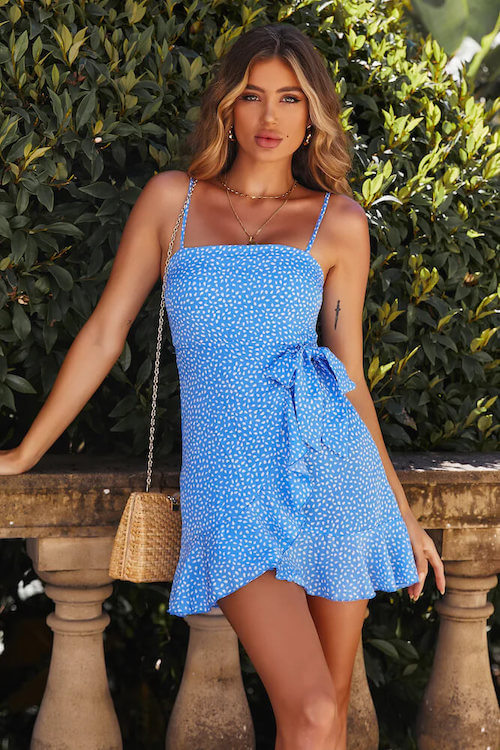 Here's another outfit with a polka-dot pattern that you might like! This one is a mini blue wrap dress that has some frills, adding a feminine touch to the overall look.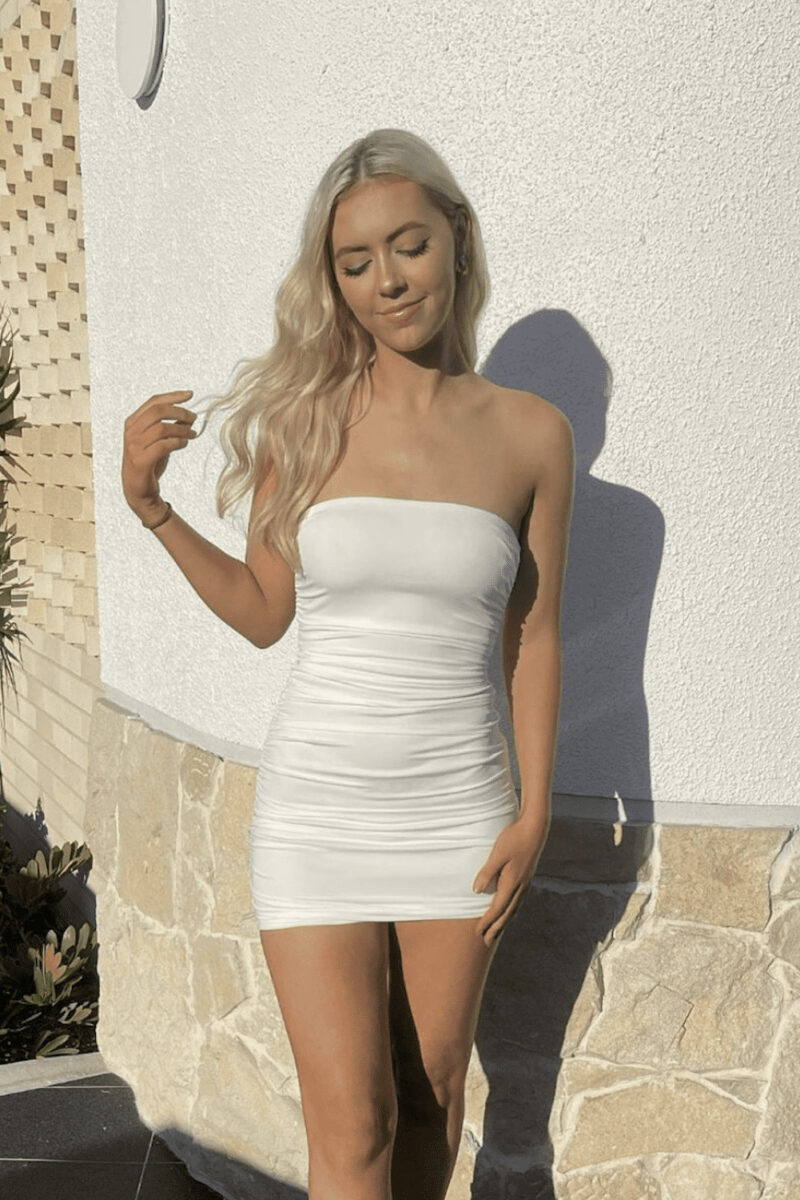 If you're planning to go clubbing in Cancun, you can never go wrong with a basic white mini-dress that hugs your curves in the right places!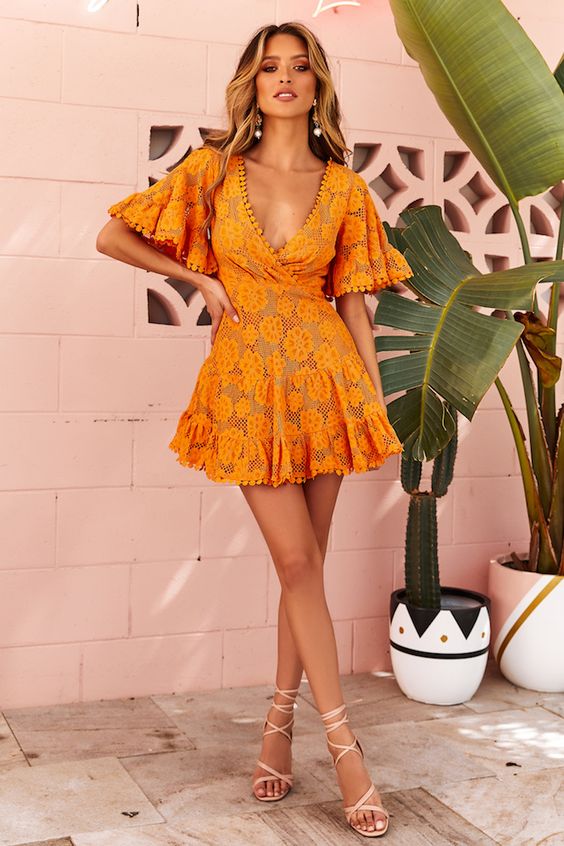 For something vibrant and fun, this orange floral dress will give you what you're looking for!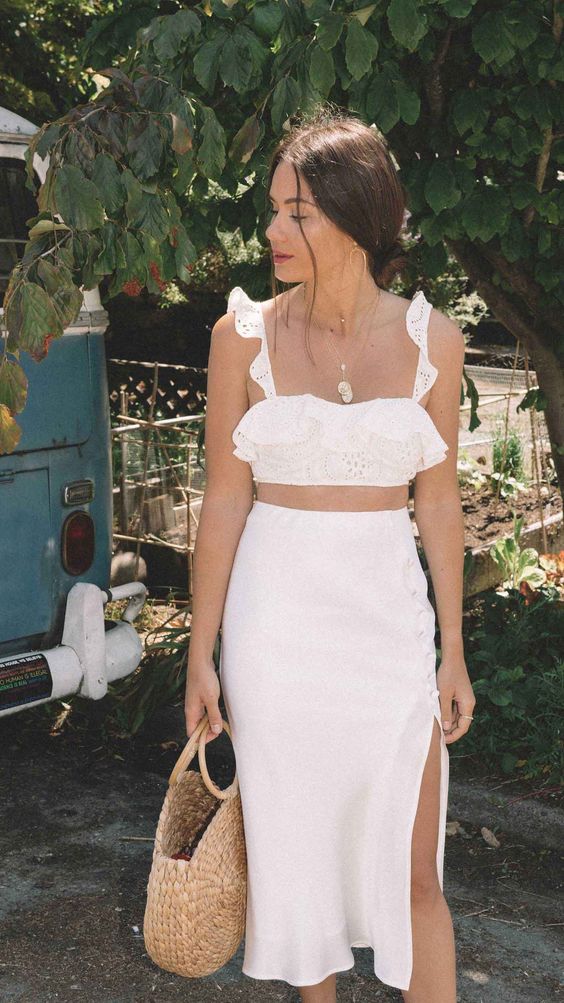 This outfit is another sure favorite of mine on this list. It looks so pretty and feminine as well as romantic. Perfect for a date on the beaches of Cancun.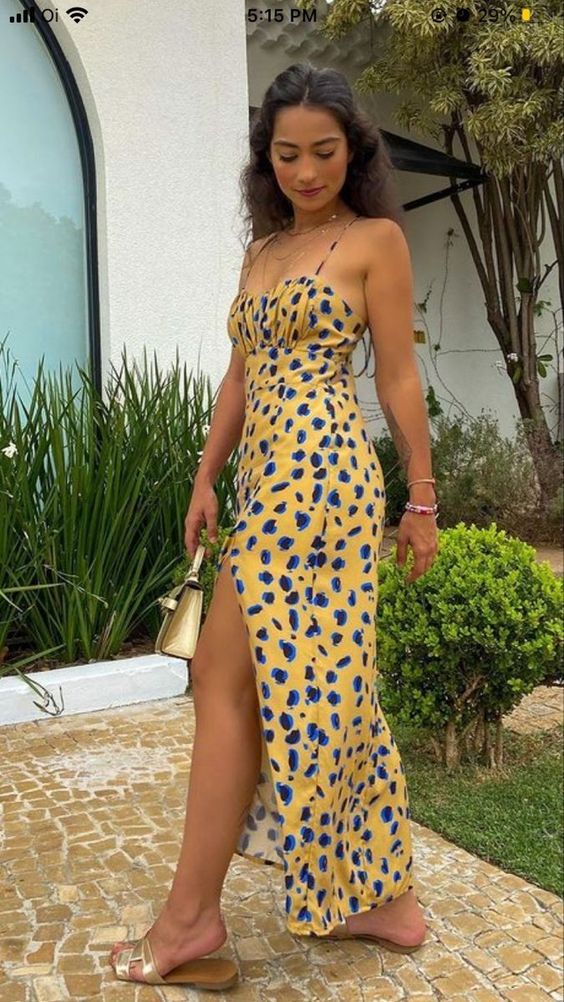 If you're looking for something casual but still want to look your best, this yellow and blue printed dress is the perfect daytime outfit for your vacation in Cancun! This is one of my favorite Cancun outfits for casual daytime activities.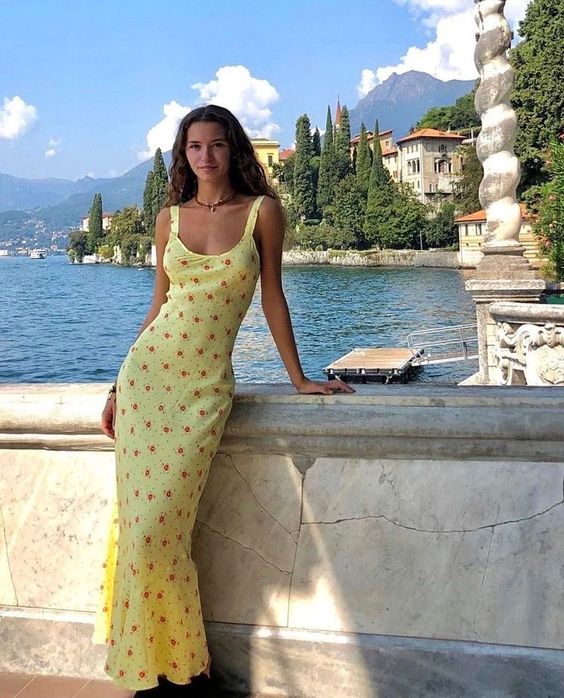 If you want something other than blue, here's a pink and yellow dress combination you might love instead.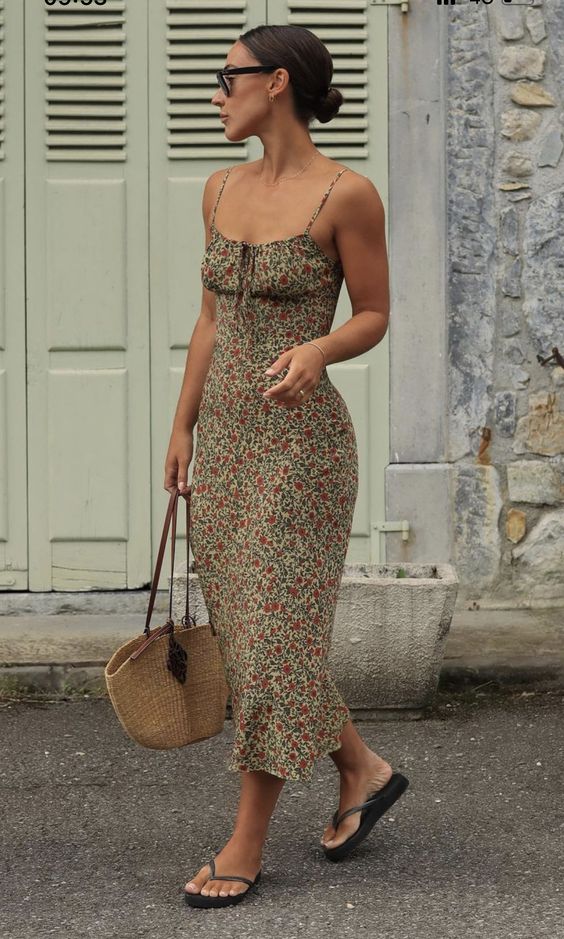 I honestly can't get enough of dresses like these! They're just so effortlessly pretty and they're not too uncomfortable to wear throughout the day.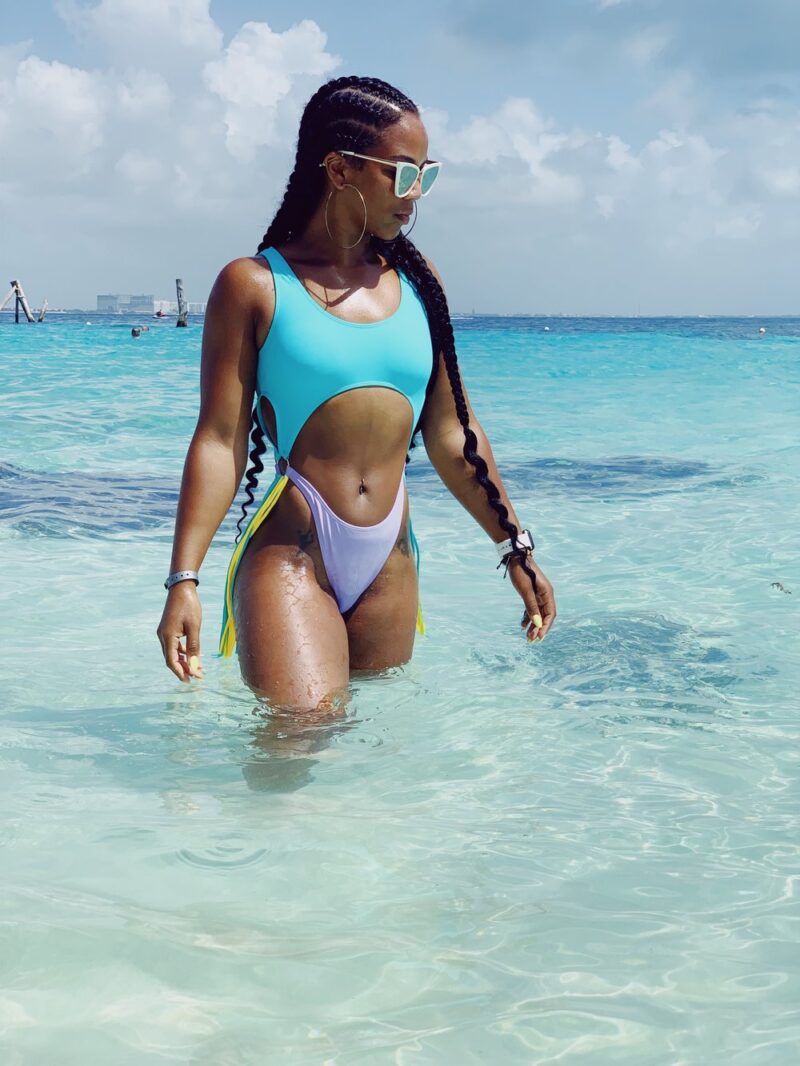 Here's a fun and quirky swimsuit with an awesome color-blocking design! I love how vibrant the colors are under the sun! If you want to stand out among the rest, this swimsuit will definitely make you the center of attention!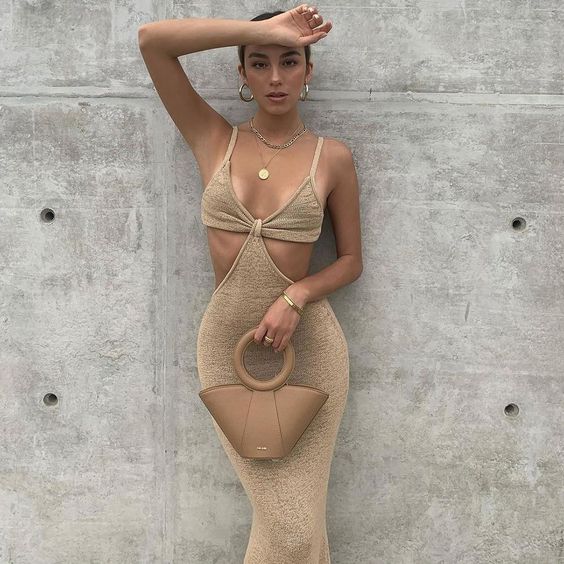 If you don't like wearing too much color on your Cancun outfits, then this nude beige dress is the one for you! This would look so good on a night out in Cancun.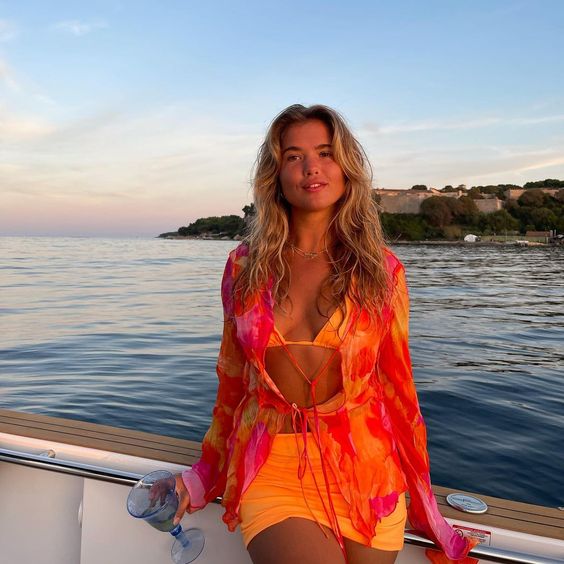 This certain swimsuit outfit reminds me so much of the stunning sunsets you see by the beach!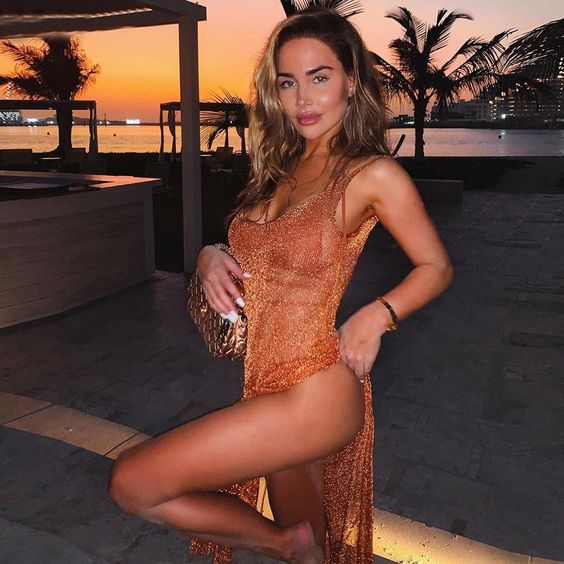 This is one of my favorite Cancun outfits for a night out by the beach. This shimmery, mesh coverup is absolutely stunning! I love the warm orange color and how it would be so perfect to wear on a night out in Cancun. You can easily switch up your swimsuit to a dress by just putting this over your outfit.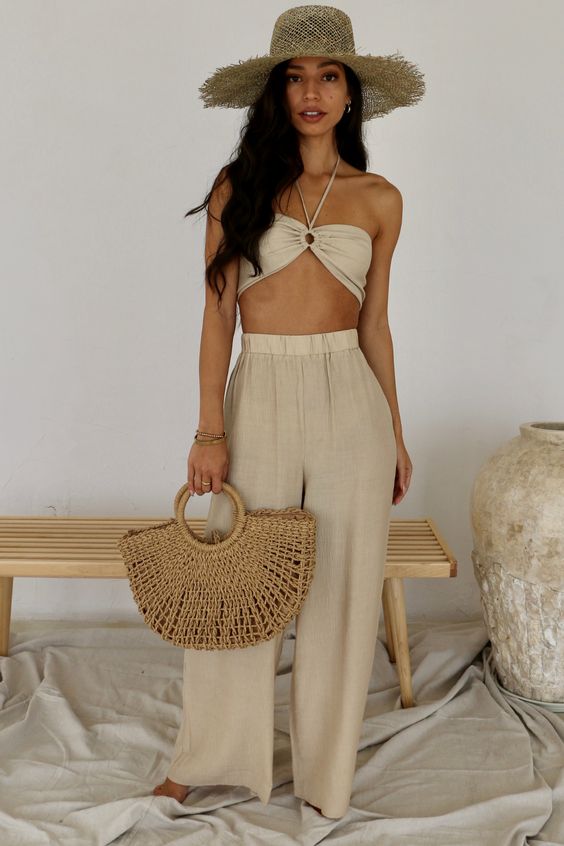 For a muted and understated look that's totally chic, this all-neutral outfit is all you need!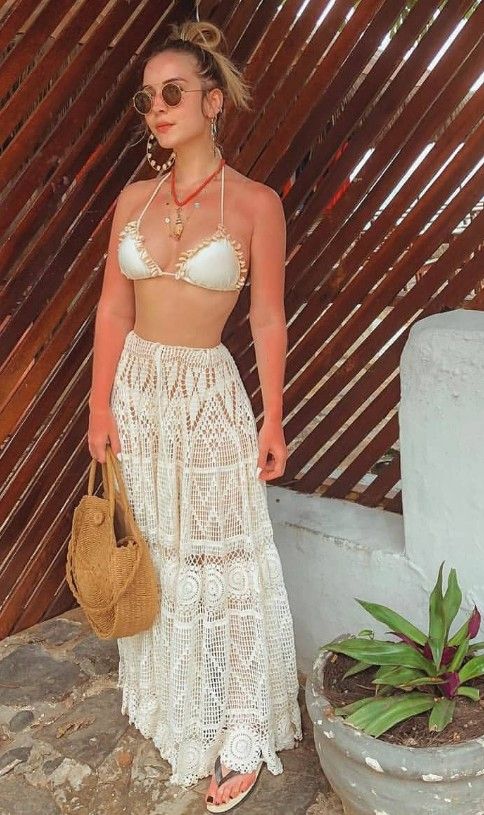 Take your basic swimsuit to the next level by wearing a sheer maxi skirt over it!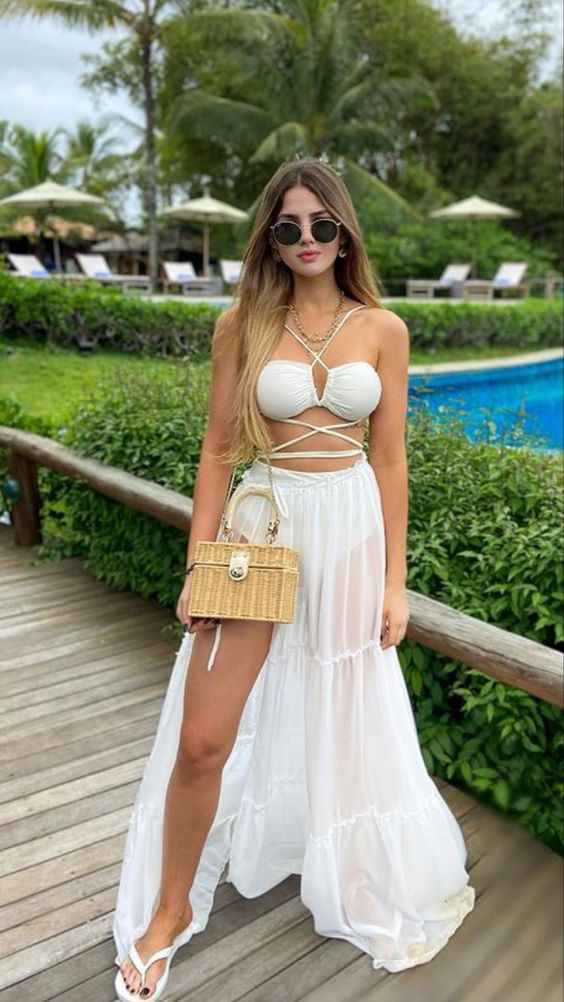 This is one of my favorite Cancun outfits for casual daytime activities. I can just imagine how gorgeous you'll look strolling down the beach as this maxi skirt flows and trails behind you. It would be so breathtaking!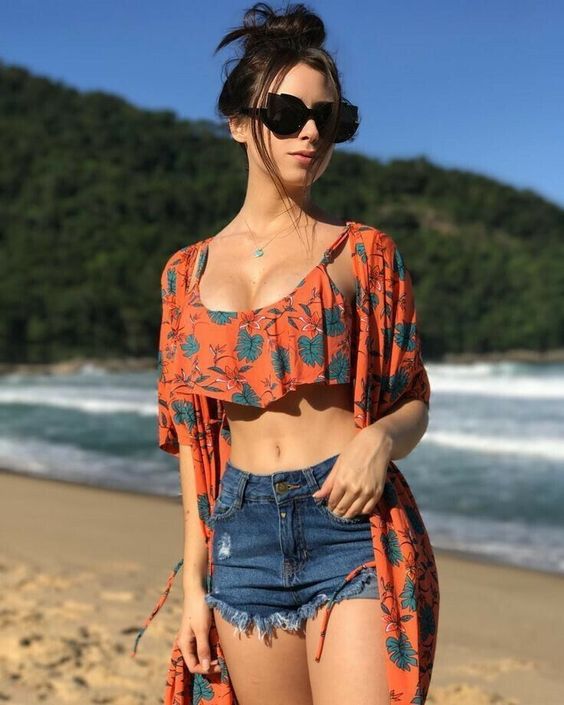 Get a vibrant, matching coverup and bikini if you're looking for a cohesive and chic outfit on your Cancun vacation!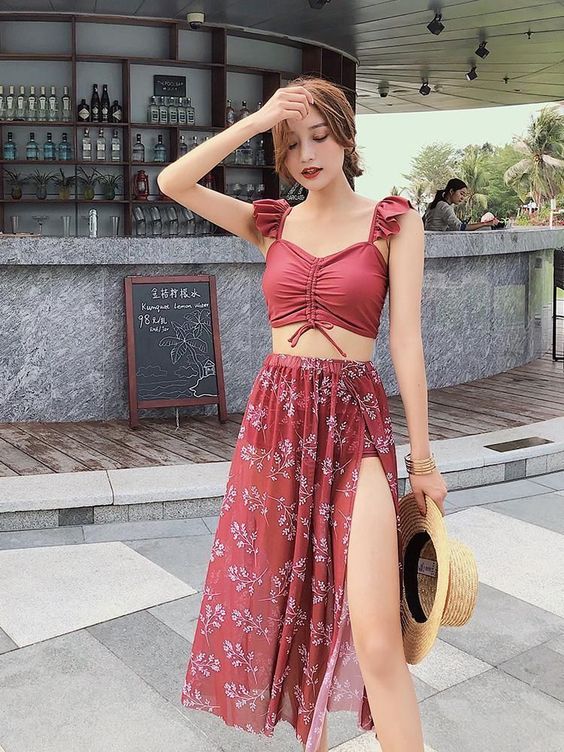 I love the deep red color on this matching outfit! It's not a summery color but this would look so good on a beach date in Cancun thanks to its romantic vibe.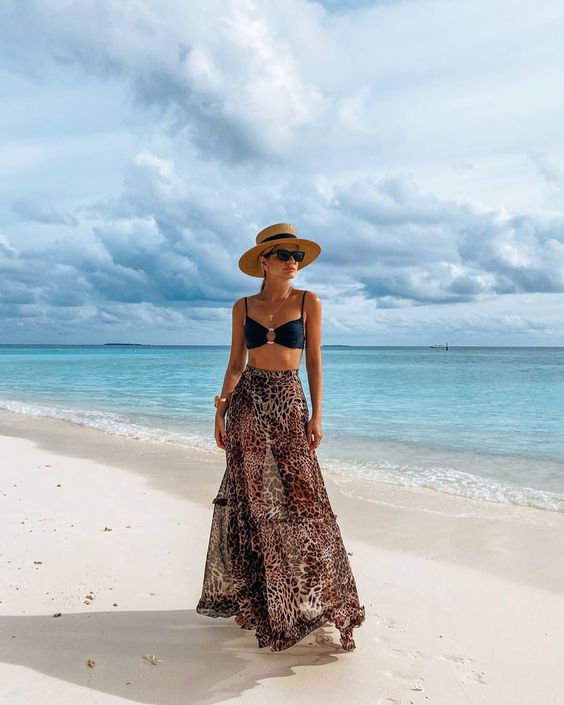 Pull out your favorite animal prints on your Cancun outfits as you plan for your Cancun vacation. This will give your whole attire a more chic and exotic vibe!
FAQs About What To Wear In Cancun:
What is the typical style for the Cancun beach?
The Cancun beach style is all about embracing a relaxed and tropical vibe. Think colorful swimsuits, cover-ups, flip-flops, wide-brimmed hats, and stylish sunglasses.
Can I wear flip-flops everywhere in Cancun during the day?
Flip-flops are a great choice for the beach and casual outings, but for exploring or walking longer distances, consider more supportive sandals or comfortable sneakers.
How should I dress during the day in Cancun?
For daytime activities, opt for lightweight and breathable clothing like shorts, tank tops, sundresses, and comfortable footwear. Don't forget sun protection and a beach bag for your essentials.
What's the recommended attire for going out to dinner in Cancun?
Dress for a mix of casual elegance with resort chic. Choose sundresses, stylish tops paired with skirts or trousers, comfortable heels or sandals, and tasteful accessories.
What's the ideal dress code for hitting the clubs in Cancun?
The Cancun club scene calls for trendy and energetic Cancun outfits. Think party dresses, well-fitted jeans with stylish tops, bold accessories, heeled shoes or fashionable sneakers, and a confident attitude.
Are dark colors typical for clubbing in Cancun?
Yes, dark colors such as black, deep blue, and smoky gray are often popular for clubbing in Cancun. They create a sleek and stylish look that works well under the vibrant club lights.
Can I incorporate bright colors or patterns for clubbing?
Absolutely! While dark colors are common, you can still add pops of vibrant colors, metallic accents, or bold patterns to infuse your club outfit with personality and energy.
What should I keep in mind when dressing for Cancun's nightlife?
Comfort is key, especially for dancing. Choose Cancun outfits that allow you to move freely. Pay attention to grooming, incorporate stylish accessories, and most importantly, carry yourself with confidence.
Are there any dress codes to be aware of when clubbing in Cancun?
Definitely!! Some clubs might have specific dress codes for Cancun outfits, so it's advisable to check their policies beforehand to ensure you're dressed appropriately for entry.
Are there any specific materials I should look for in beach cover-ups?
Opt for lightweight and breathable materials like cotton or linen for your beach cover-ups and daytime Cancun outfits. These fabrics help you stay cool while adding a touch of style. I also love the fishing net look for coverups!
What's a versatile accessory I can bring for both day and night outings?
A lightweight shawl or scarf can serve as a versatile accessory. It can provide warmth in the evening, add a stylish layer to your outfit, and even double as a beach cover-up.
Can I wear casual shorts to dinner in Cancun?
While casual shorts might work for some more relaxed dinner settings, consider slightly dressier options like flowy skirts, maxi dresses, or well-fitted pants for a polished dinner look.
Are there any fashion trends specific to Cancun that I should know about?
Cancun embraces a mix of tropical, bohemian, and resort styles, mixed with city chic. Incorporating beachy accessories like shell jewelry or woven bags can give your Cancun outfits an authentic Cancun touch.
Are there any specific swimwear trends that are popular in Cancun?
High-cut bikini bottoms, crochet detailing, and retro-inspired one-pieces are some of the swimwear trends you might spot on Cancun's beaches. These styles add a touch of fashion-forward flair to your beach look.
What should I wear to a wedding in Cancun?
Attending a wedding in Cancun requires a thoughtful blend of elegance, comfort, and tropical charm in your attire. You will of course want to follow the dress code (the most common wedding dress codes in Cancun seem to be formal and beach formal), but there are some general guidelines for attending a wedding in Cancun.
For women, a chic cocktail dress or a flowing maxi dress crafted from lightweight, breathable fabric is an excellent choice. Opt for vibrant colors or tropical prints to capture the essence of Cancun. Elegant sandals or stylish wedges not only complement your outfit but also suit the beach or tropical setting. Elevate your look with statement accessories like a necklace, earrings, or a clutch, and consider a wide-brimmed hat to both enhance your style and shield yourself from the sun. Keep your hair and makeup naturally sophisticated, embodying a beachy wave hairstyle and a sun-kissed makeup palette.
For men, a lightweight suit in shades like beige, light gray, or a tropical blue offers comfort and style. Depending on the event's formality, you might skip the jacket and opt for dress pants paired with a stylish dress shirt. Complement any of these Cancun outfits with coordinated footwear like dress shoes or loafers, which provide both refinement and comfort for walking on different surfaces, such as sand or grass. Accessories like a watch and a pocket square add the final polished touches to your ensemble.
Knowing what to wear in Cancun can make a big difference in your overall vacation experience. With the hot and humid climate, it's important to pack lightweight and breathable clothing, comfortable shoes, and sun protection accessories. At the beach, people tend to dress casually and comfortably, with swimsuits, cover-ups, and flip-flops being the norm for Cancun outfits. Whether you're lounging on the beach or exploring the city, the key is to dress for comfort while still being respectful of the local culture and customs. With these tips in mind, you'll be able to enjoy your Cancun vacation in style and comfort.