When I moved to New Hampshire last year, I did not see myself hiking during the summer and actually enjoying it. I definitely never thought I would hike Flume Gorge.
Surprisingly, I've come to appreciate the wildlife that exists around here. From luscious wooded areas to crystal clear mountain water, a good old New Hampshire hike is something you have to experience at least once.
It's even better if you can hike up to a gorgeous waterfall! This was my first time visiting the Flume Gorge in New Hampshire as a fully grown adult, and it honestly gets better every time I see it. There's something about a natural waterfall that just can't be recreated in a theme park.
This is one of my favorite waterfalls to visit in the North Conway area. It's easy to hike, but still feels like you're doing something cool and slightly dangerous (although it's extremely safe).
The Flume Gorge runs for 800 feet at the based of Mount Liberty in Lincoln, NH. There's actually tons of waterfalls within the Flume Gorge, so you can spend the whole day sightseeing if you want to.
I put together this travel guide after our last hike to give some detailed information that can't really be found online right now. I hope this helps you enjoy your trip and get the most out of visiting the absolutely stunning Flume Gorge!
Flume Gorge Arrival & Parking
The Flume is really easy to find (it's right off I-93). There's tons of parking available right outside the visitor center.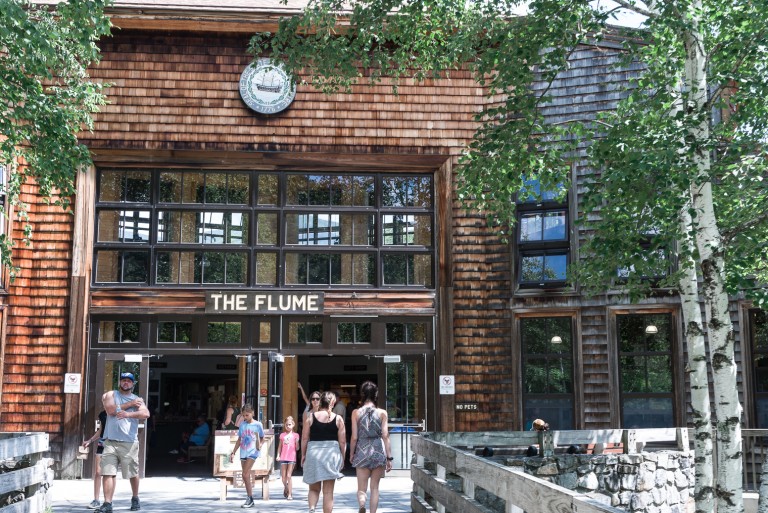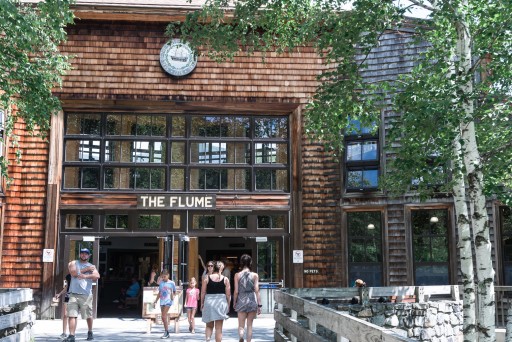 During the weekends, it'll definitely be a bit more crowded, so you'll want to go on the early or later end – 12pm is the worst time to try and park. Ticket lines can also be super long on the weekends, so plan to wait for a bit.
You'll need to go through the visitor center before beginning your hike. The Flume Gorge Visitor Center has a cafe that sells snacks and ice cream, a gift shop, an information center, and a variety of displays from the 1800's that are fun to check out.
There are also (super clean) bathrooms available that you'll need to hit before you actually go through the ticket line. Once you purchase tickets you're through the center, so do all of your sightseeing before joining the ticket line.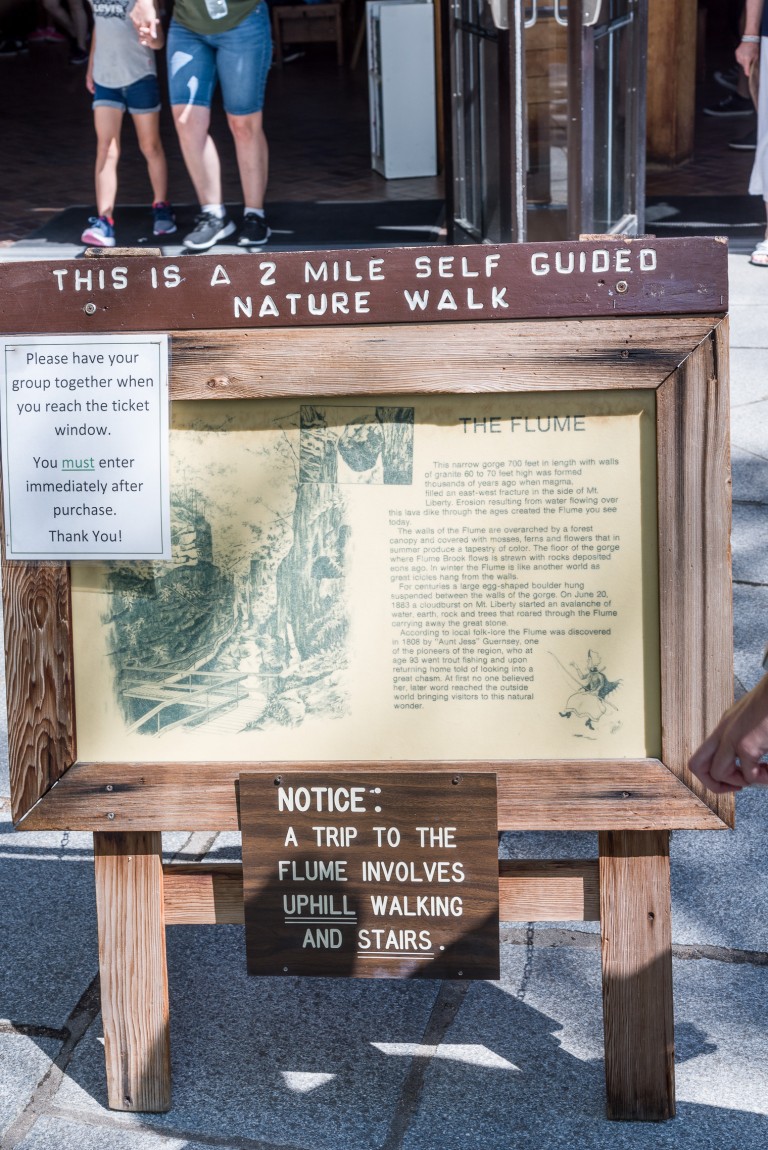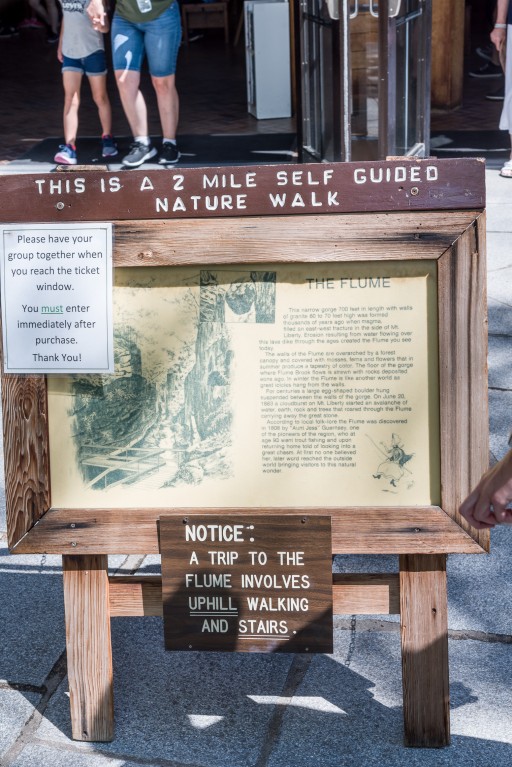 The Flume Gorge in New Hampshire does charge an admission price for the hike. I've listed more specific ticket prices below in the ticket/admissions section of this post.
The Hike On the Flume Trail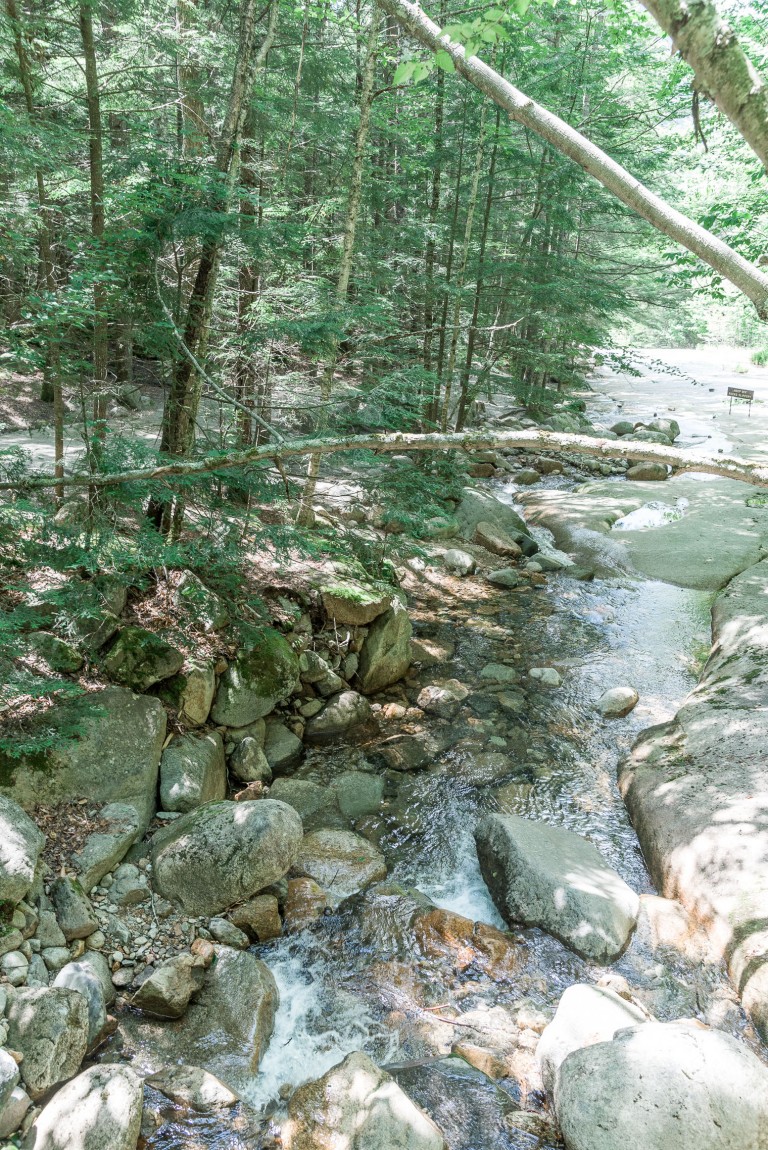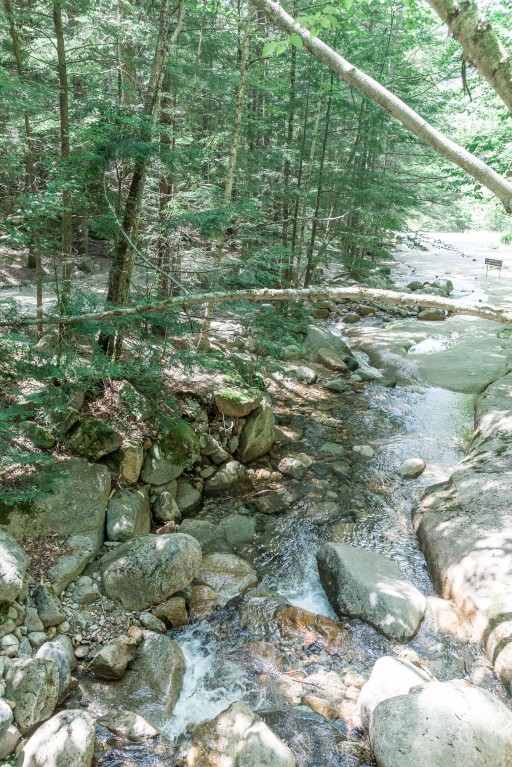 The walk to see the Flume Gorge NH is a loop that isn't really classified as a hike. You do have to walk about 2 miles total on the Flume trail and a large part of the trek is uphill, but it's not long enough to feel like a real workout.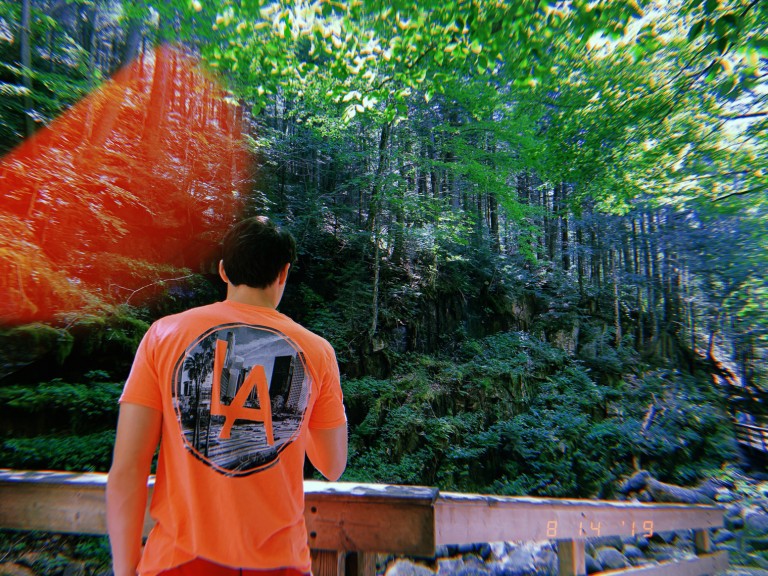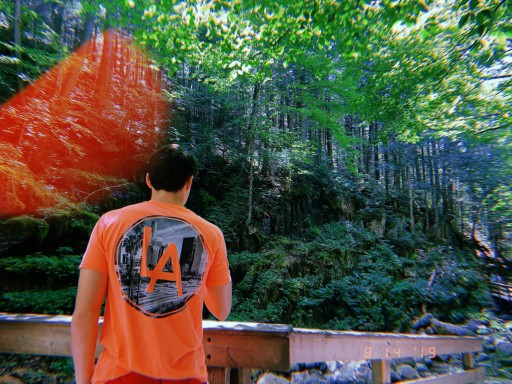 We passed plenty of young kids walking (not being carried) and they had no problem making the trip. It would be tough for anyone with a physical disability because the entire walk by the actual waterfall is wooden stairs; for this same reason the hike isn't stroller friendly.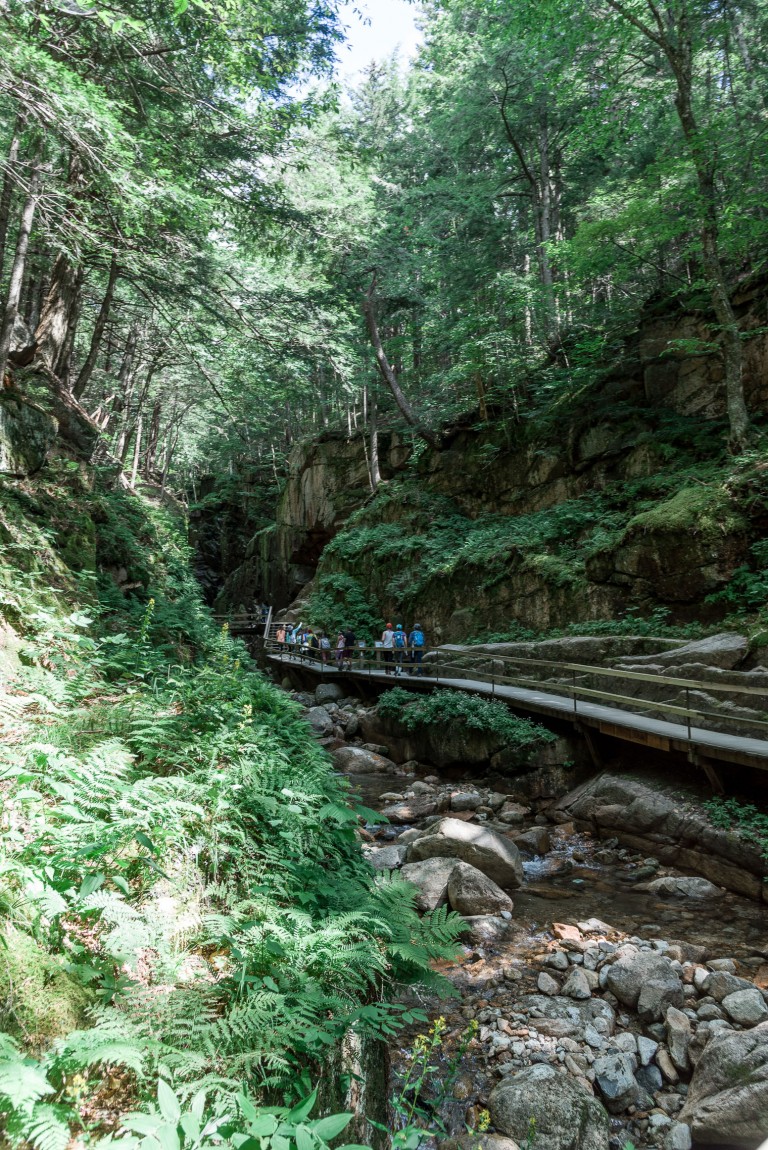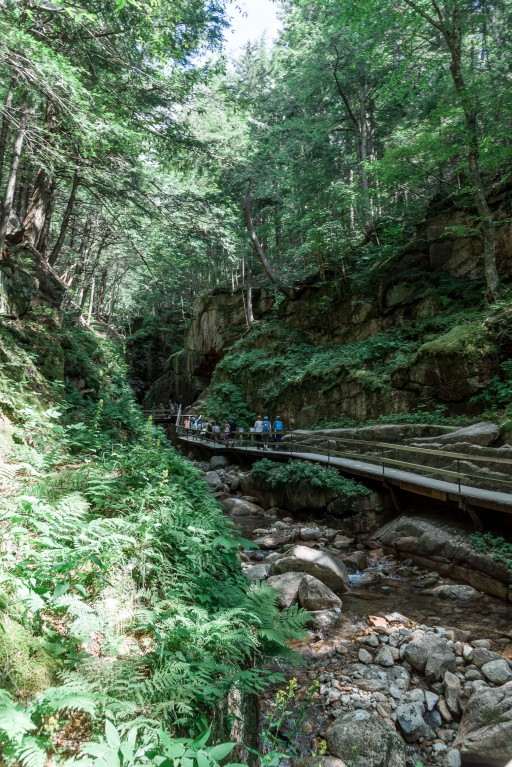 There are so many scenic photo spots along the way! You'll first hike uphill for a bit before coming to the falls. At this point, you'll start climbing up the wooden stairs, even though it's technically still part of the Flume trail.
Be careful – the stairs get really slippery! They're also over some insanely strong falls and rapids so I recommend treading lightly. If you're scared of heights, you might have some issues here, but I promise it's totally worth it. BTW, the boards are inspected yearly and look brand new – they're very safe to walk on.
The hike itself is really enjoyable. We saw lots of smaller critters (no bears luckily!) and it felt much more rural than other hikes in the area.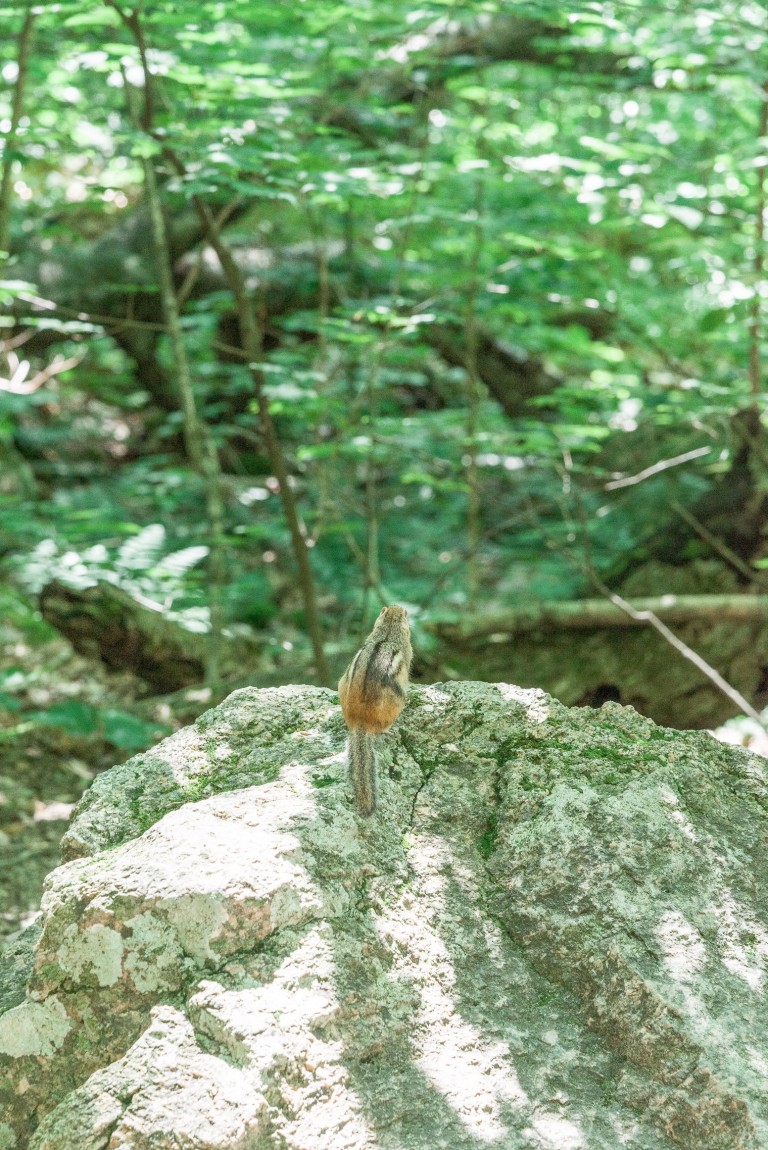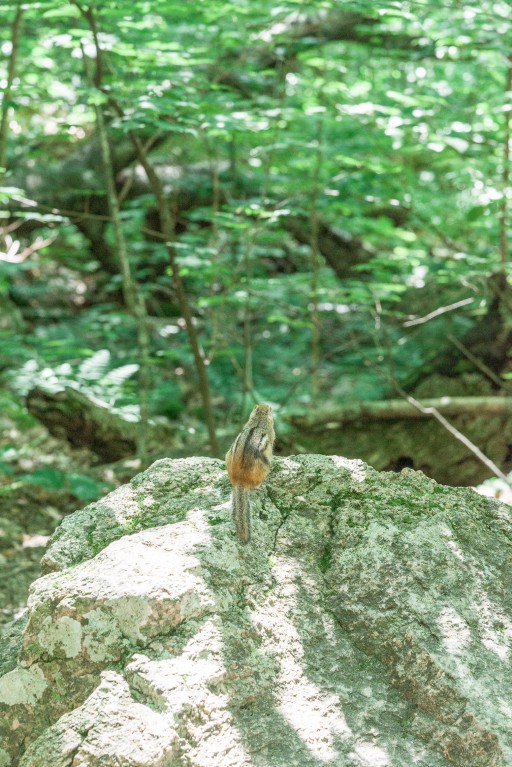 There is a bus available that brings visitors to the bottom of the Flume Gorge. It will only save you about 1/2 mile of walking on flat terrain, though. There is no way around the harder part of the climb, so you definitely need to be agile enough to make it up.
The Shuttle
There is a shuttle that will take you up part of the way to see the waterfall if you don't want to hike the Flume trail the whole way up. Keep in mind that you'll still have to climb the stairs – there's no way around that.
The shuttle allows you to skip the beginning and end of the hike if you need to. We didn't take it, but it would be a great idea for anyone who would have trouble with the distance or for families with young children.
The Flume Gorge New Hampshire Falls
Once you walk past Table Rock (a huge granite structure that actually comes from the last ice age) you'll start to see signs of the main event: the falls.
This comes after the first part of the brief hike, and the wall towers on either side of the narrowing path grow much taller. You'll start to feel mist almost right away. It was insanely cool during this part of the walk compared to the actual temperature outside near the lodge!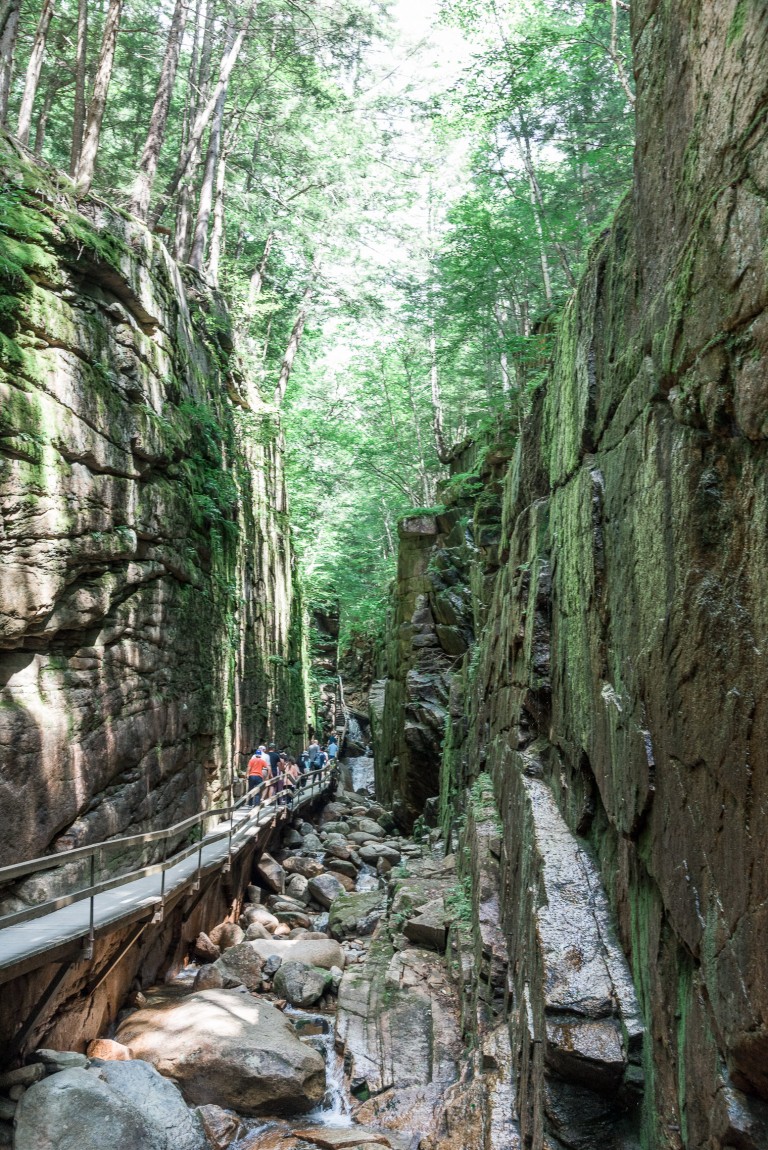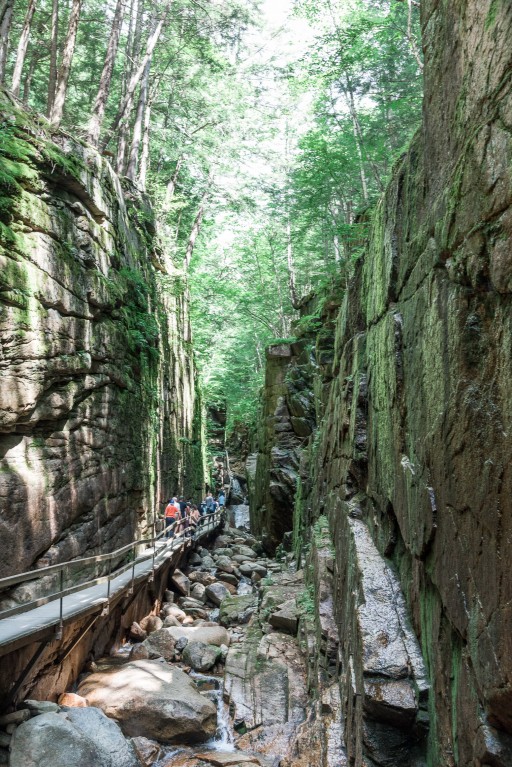 At some point, you'll start walking on boards instead of a path, then those boards will turn into stairs. You'll definitely need sneakers for this part!
My one huge piece of advice is if you want to take photos (which I certainly did), hold onto your phone! As someone who has lost her phone more places than I can count, this seemed like a terribly perfect opportunity, especially while leaning over the rail to take photos.
You'll see the biggest part of the Flume (Avalanche Falls is 45 feet!) while climbing the stairs. On the one hand, I wish I had more time to stop and see it, but it was also really cool to quite literally be a part of the falls while climbing the stairs.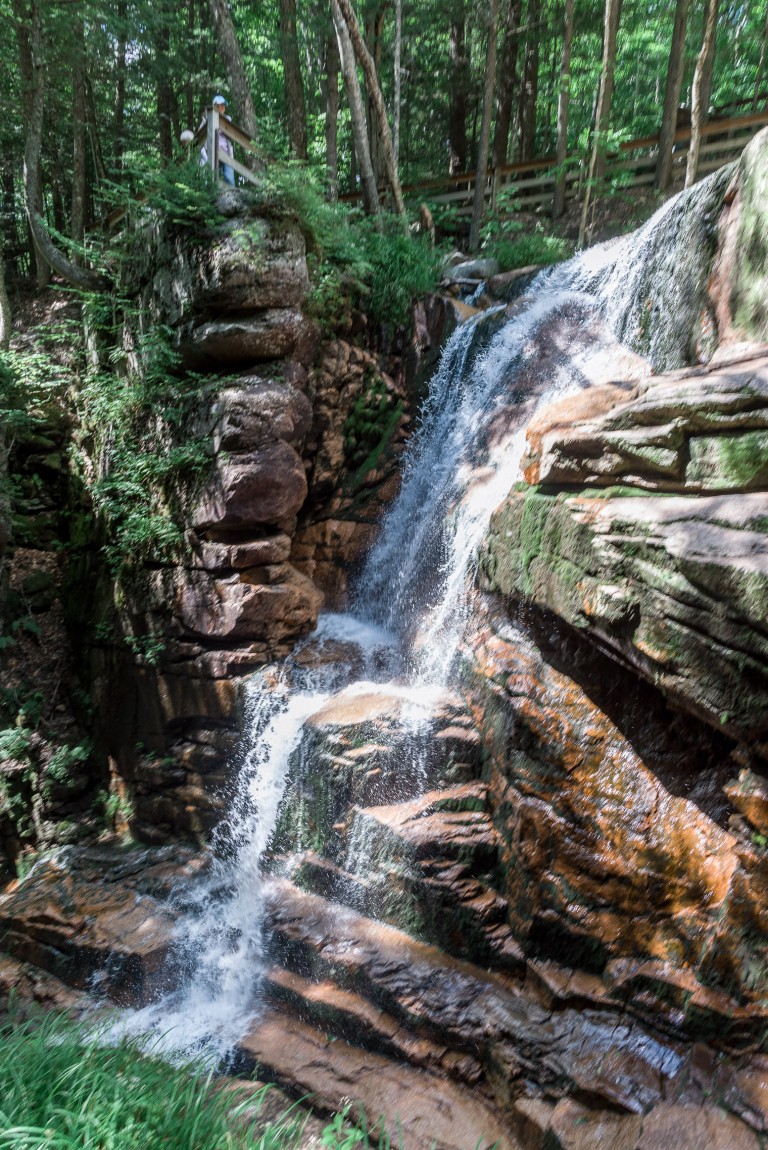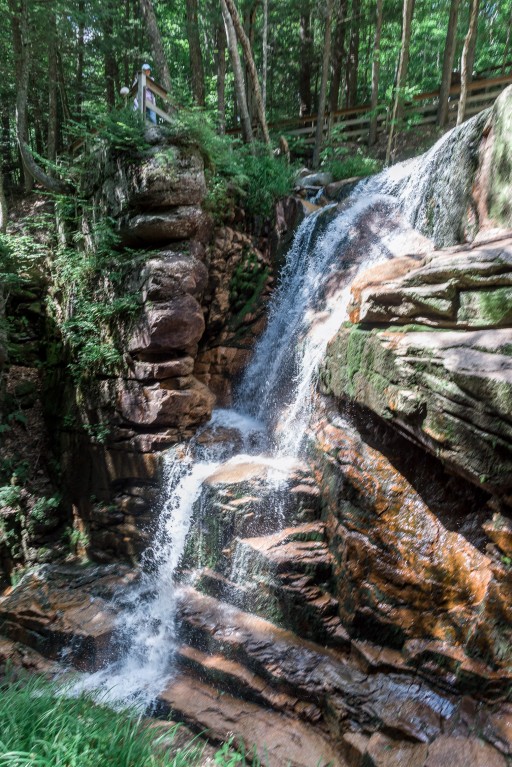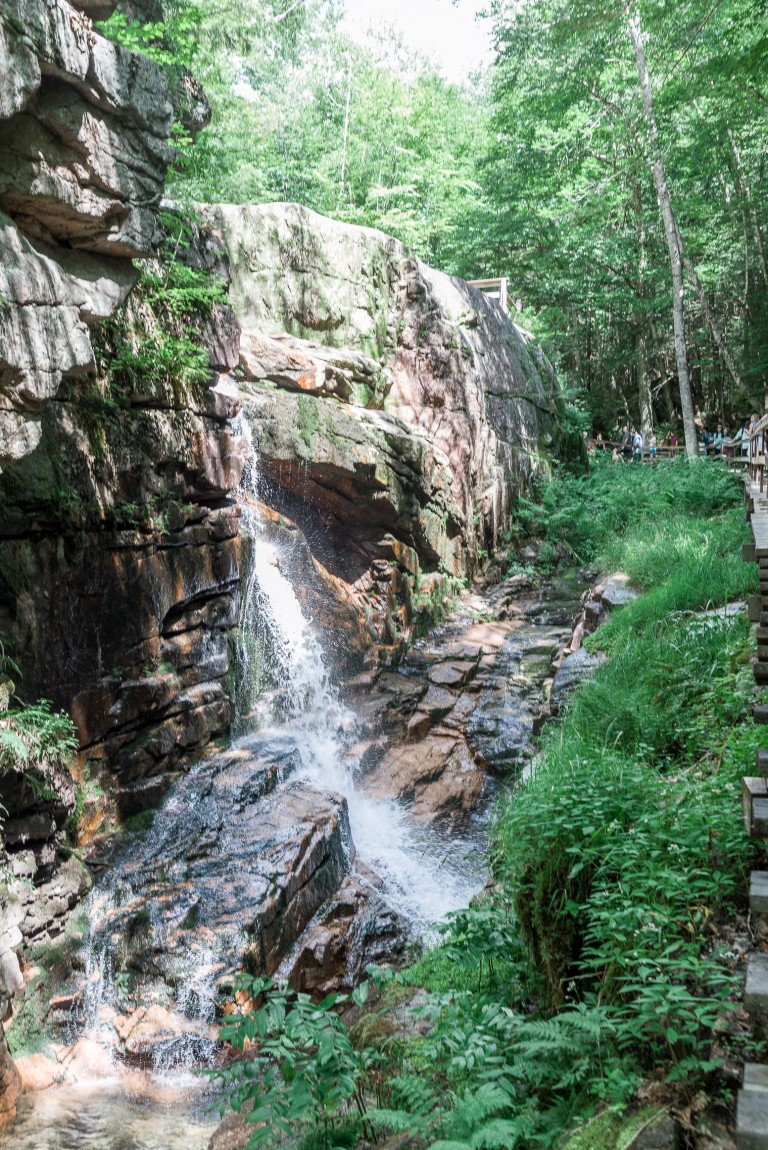 Once you get to the top and round the corner, you won't have as magnificent of a view, but you can check out some smaller streams and waterfalls for the next half a mile or so. There is an observation deck right after you round the corner, but (strangely enough) you can't actually see the falls from it, although you can hear the water.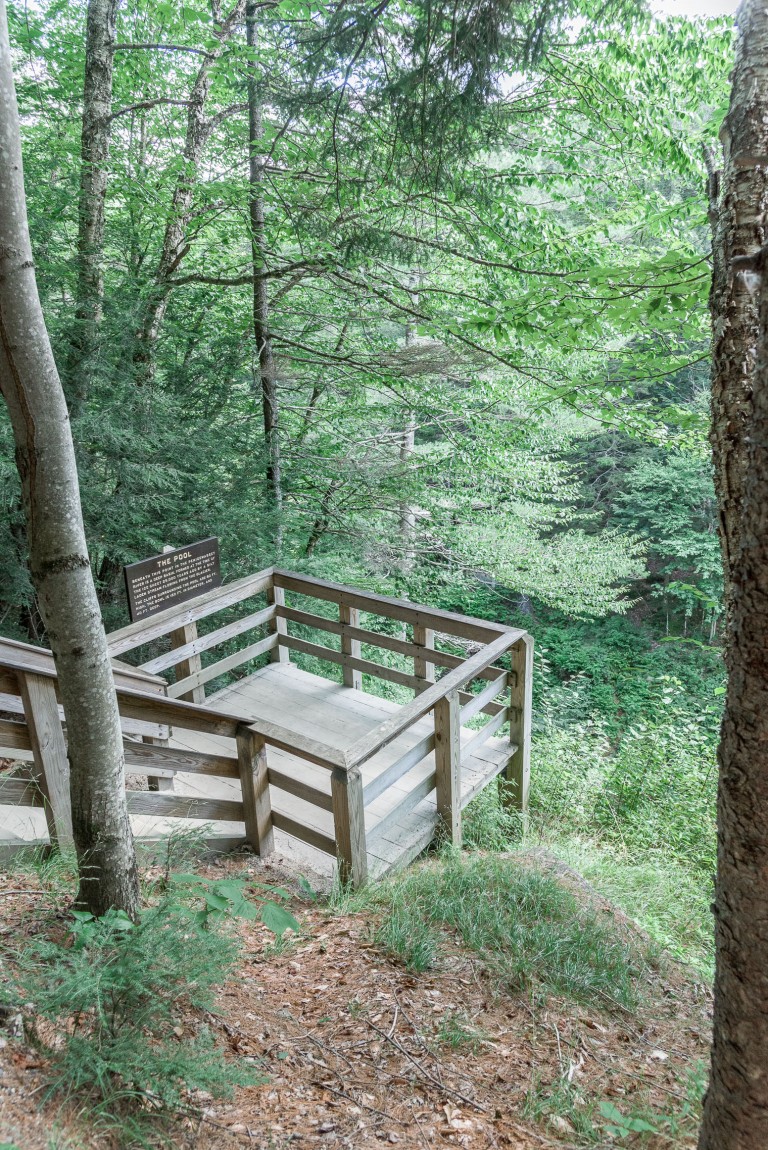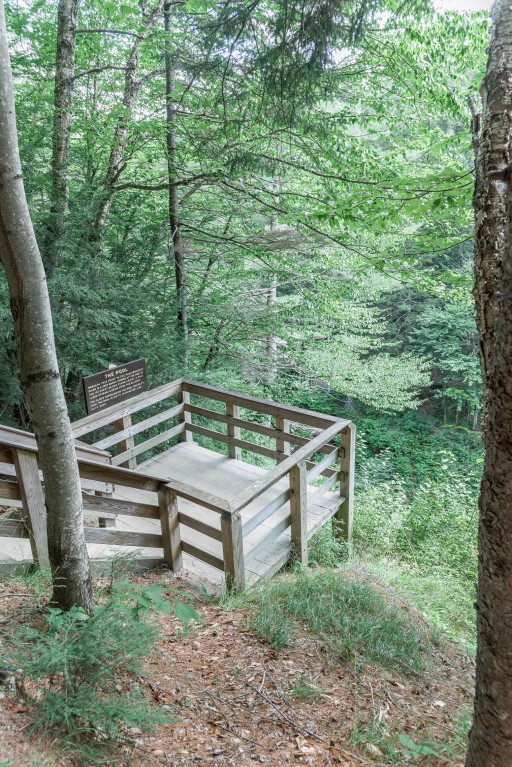 Once you start to walk back, you'll see the Liberty Gorge Cascade. These falls are smaller, but do offer the opportunity to sit and observe the water.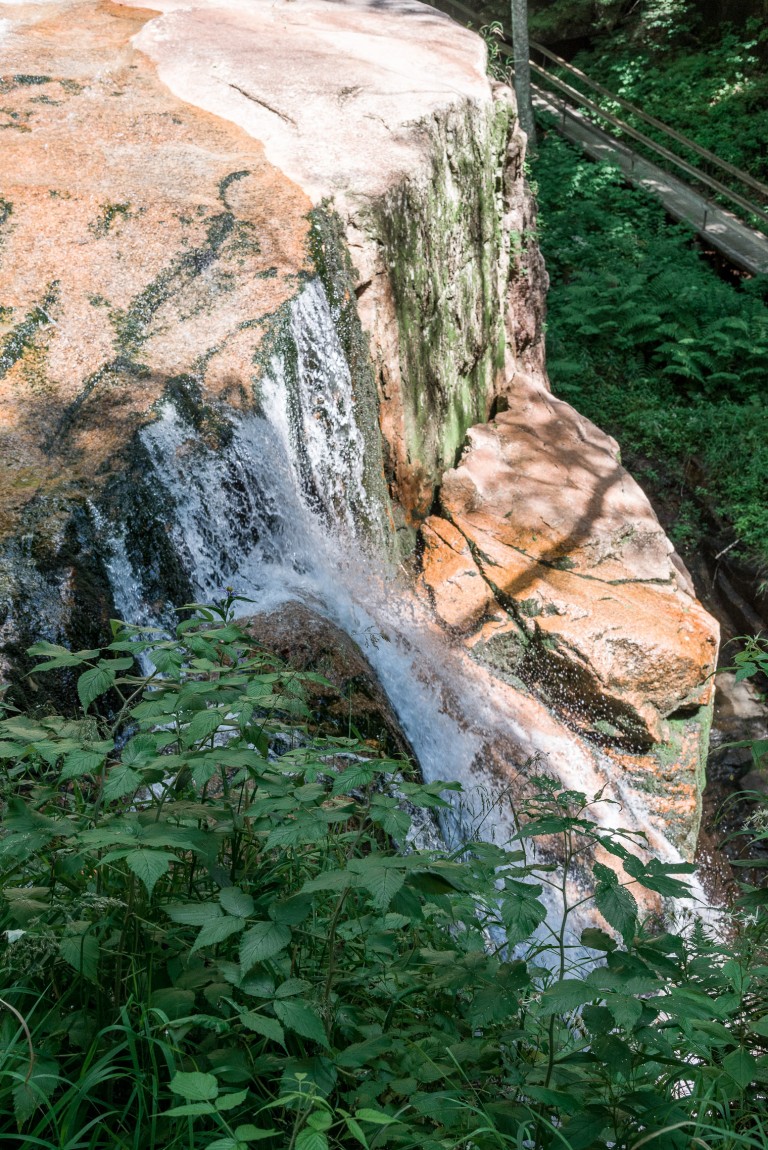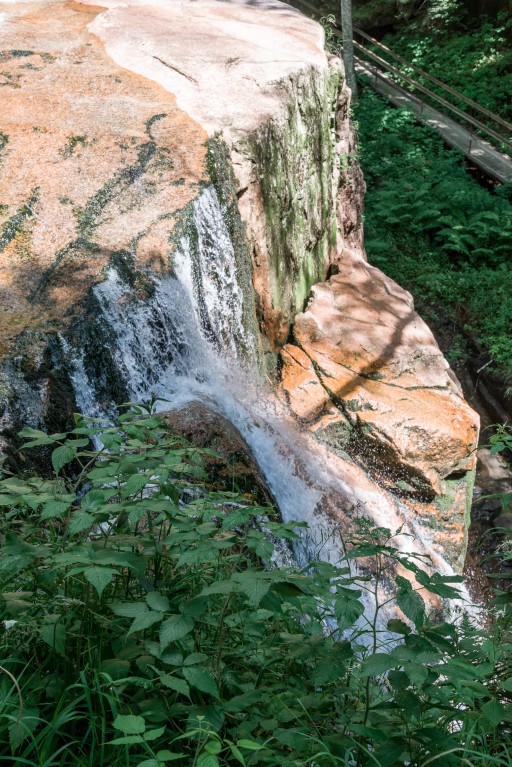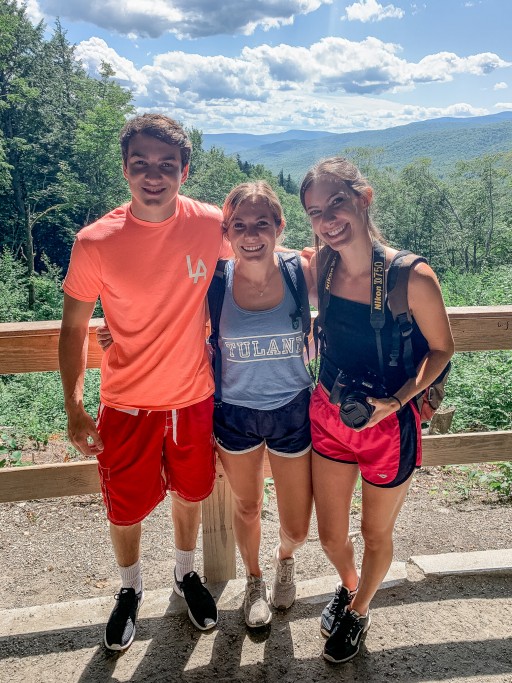 The Pool
After checking out the falls, you can see the pool from hundreds of feel above while still on the Flume trail.
The pool is surrounded by massive cliffs (that you'll be standing on) and is up to 40 feet deep in some parts! It was created during the Ice Age and is insanely cold (not that we swam in it).
This is a small area that has some cool views since you're so high up.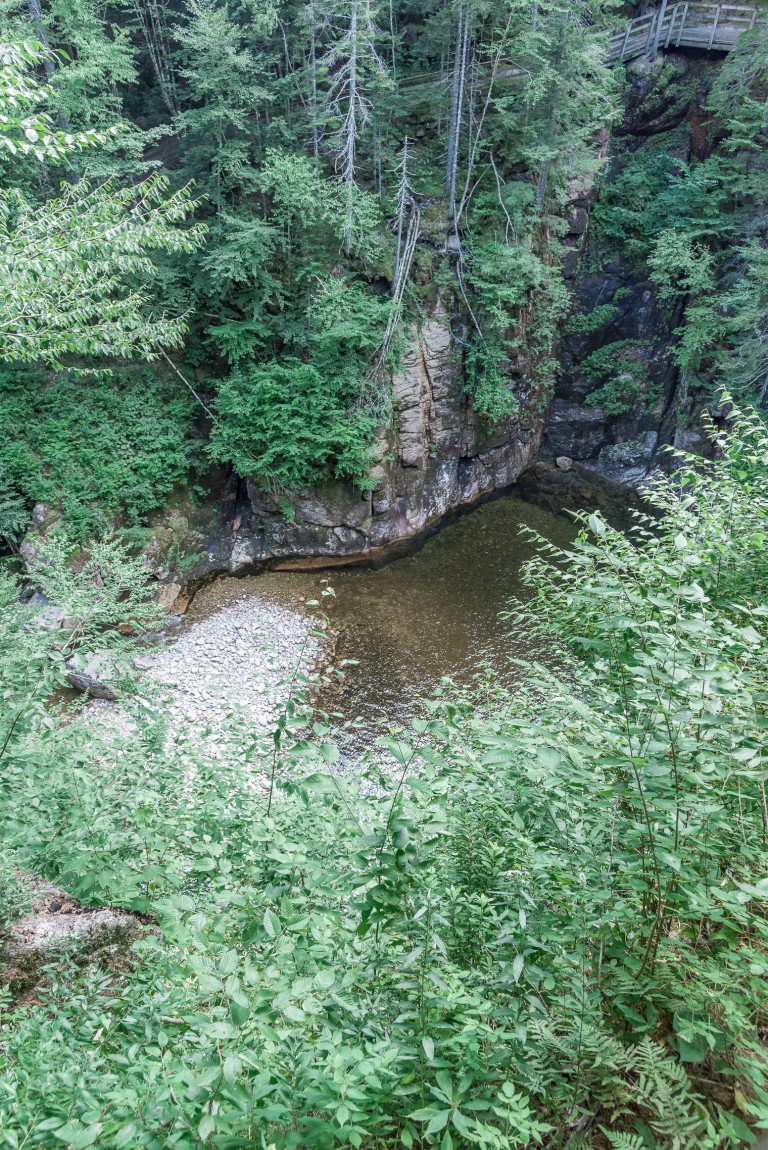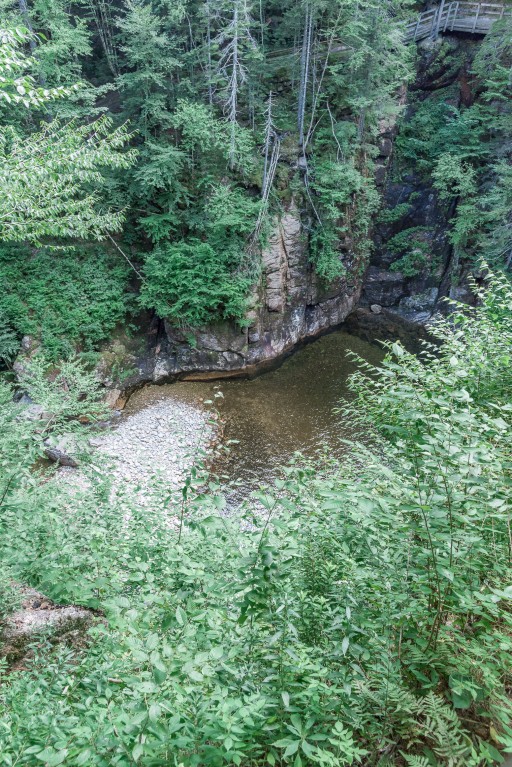 The Covered Bridge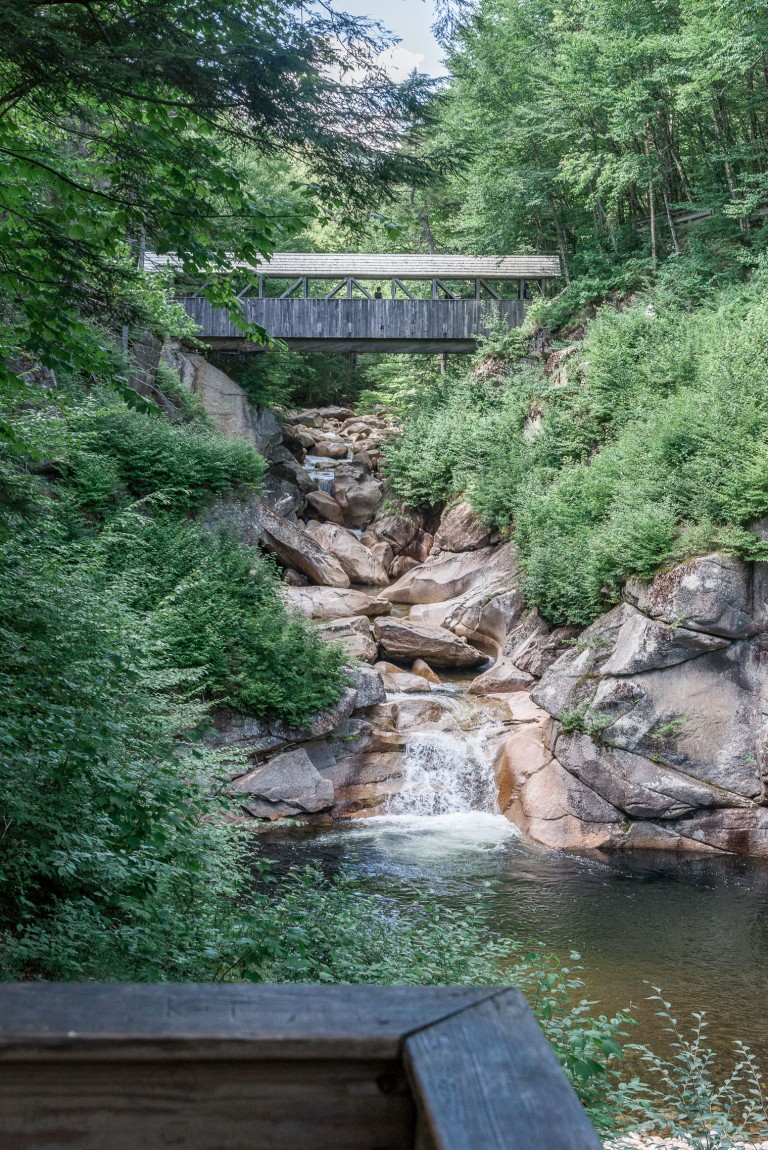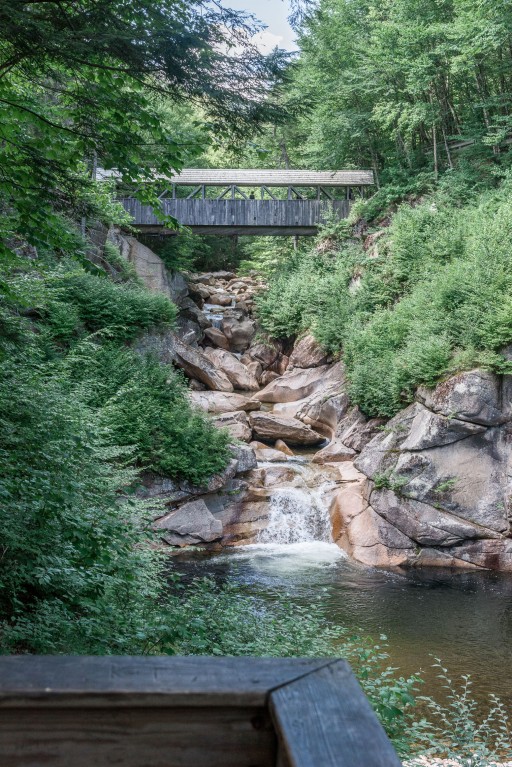 Who doesn't love a good old New England covered bridge? The Flume Gorge has multiple bridges of various sizes. The largest red bridge can even get big trucks and buses across it!
There's also a smaller covered bridge that we enjoyed seeing. You'll come across all of them during your loop!
The Wolf & Bear Dens
Right after you finish your climb on the stairs, you'll come across the bear den. It's actually pretty cool to check out if it's not too crowded, especially since you can hear the waterfall right behind you. Although this was a legit bear den at one point, it's more of a tourist spot now.
Later on during your hike (after crossing the covered bridge), you'll come across the wolf den. Checking it out is a little more involved. You can walk through most of it, but at some point you do have to crawl on your hands-and-knees to get inside.
If you don't like tight spaces and want to skip the wolf den, you can easily continue on the path around it to meet up with your group. I recommend checking it out if you're not claustrophobic: it was really cool!
Where to Swim
There's very strict rules about not swimming during the 2 mile loop, and for good reason: the rapids are insane! We really wanted to swim but totally understood why the signs were up because there isn't a good spot during the self-guided tour.
We ended up driving across the street to the Basin and found some amazing swimming spots literally right off the road. The parking is really simple (it's right off the highway) and you'll only have to walk about 20 yards to find a huge swimming hole.
Don't forget that the water is freezing! It's definitely not the kind of water you paddle around in for a while, but it is incredibly clean and worth a trip to take a quick dip on a hot day. It's also really good for your hair!
When To Visit/Hours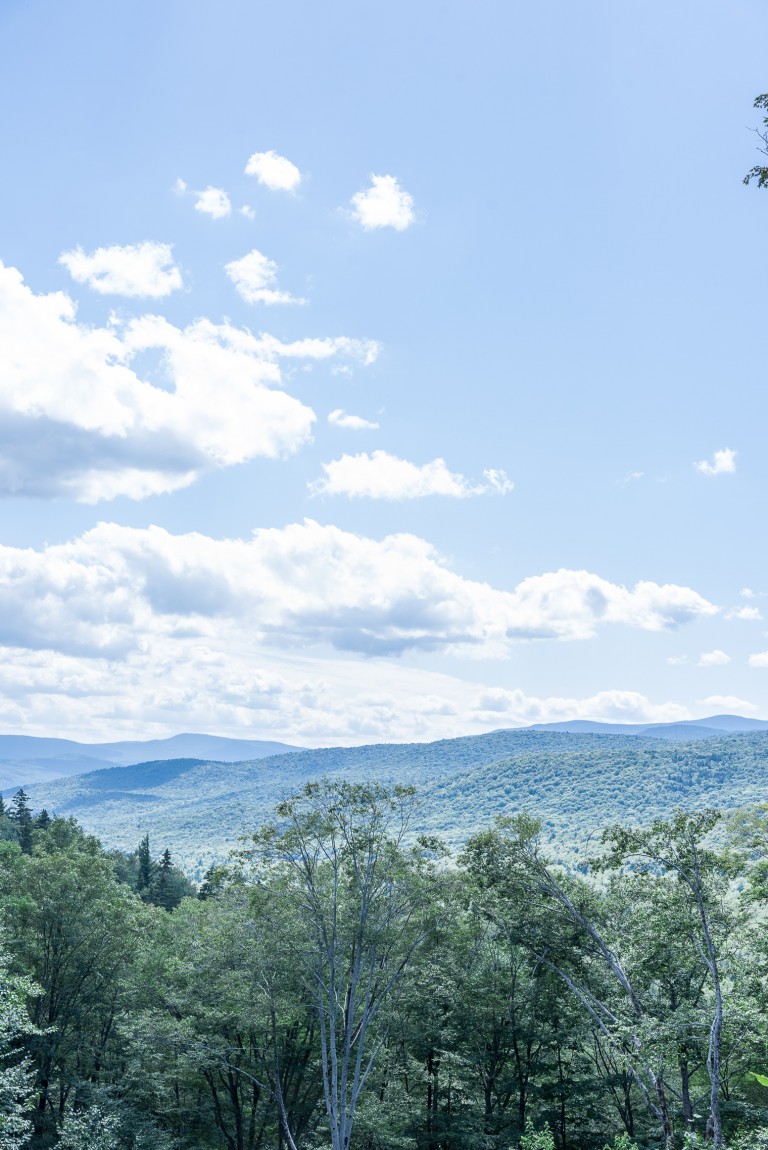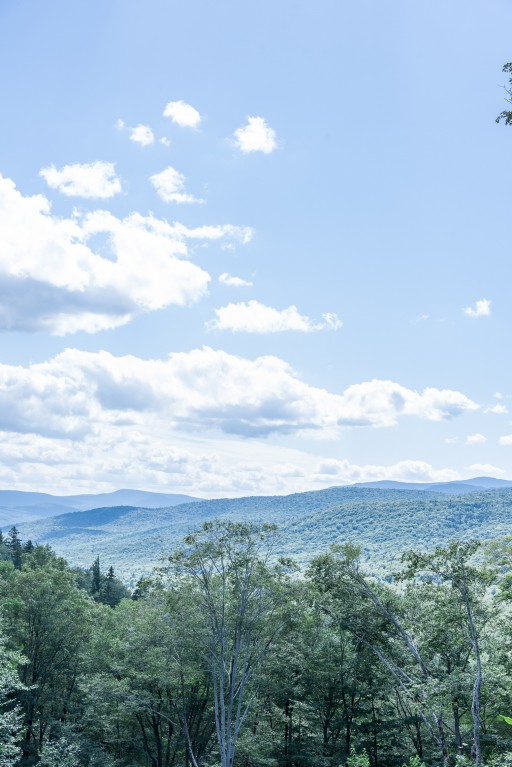 The flume gorge is open from May 10th to October 20th. You definitely wouldn't want to go in the winter anyways; those stairs would be insanely slippery.
5/10-6/30 8:30am-5pm
7/1-9/2 8:30am-5:30pm
9/3-10/20 8:30am-5pm
We got there around 1pm and that seemed like the perfect time. We also went on a slightly cooler day (it was high 70s) so the midday heat didn't bother us.
Tickets & Prices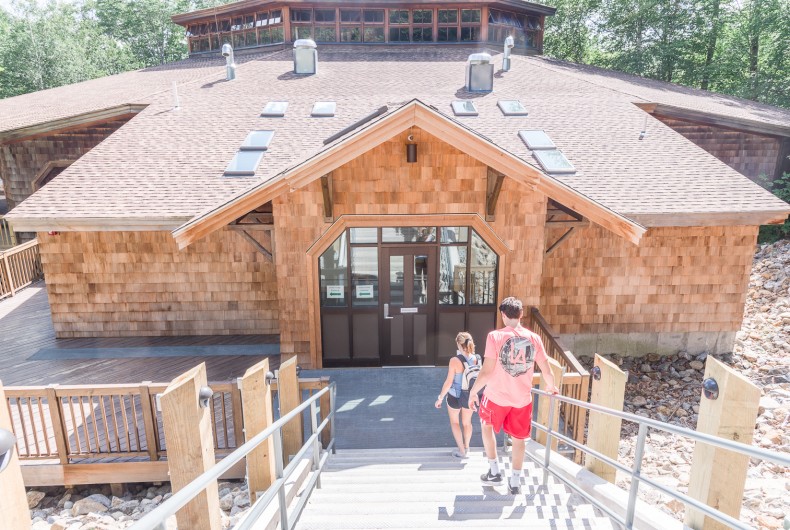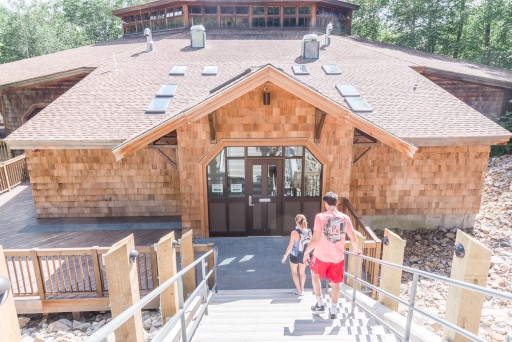 Ages 13+: $16
Ages 6-12: $14
5 & Under: FREE w/ paid adult.
* All rates and dates are subject to change.
BTW, pets aren't allowed in the Flume Gorge (past the ticket desk) but are allowed in nearby parks.
Click here for more information.
History of Flume Gorge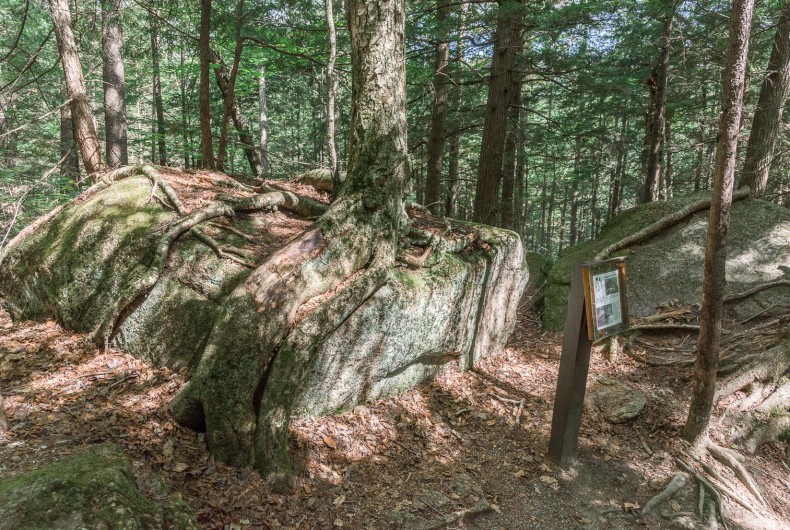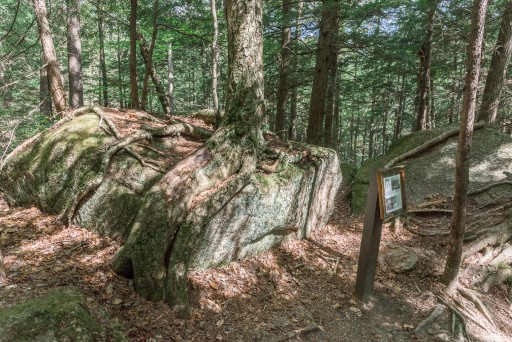 In 1808, the Flume Gorge was discovered by Aunt Jess Guernsey (apparently she was there with her nieces and nephews), but it was actually formed in Jurassic times, about 200 million years ago.
The rocks that make up the Gorge were forced upwards (they were liquid and molten at the time), but hardened and eroded over time to create the Gorge. As time passes even now, the Gorge continues to get deeper.
Surprisingly, the Ice Age did little to change the Gorge itself, although it did create the Pool and Table Rock.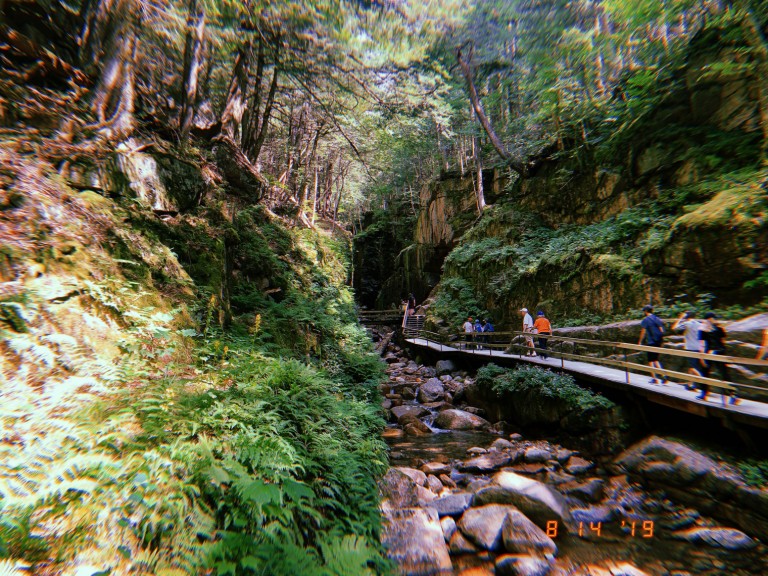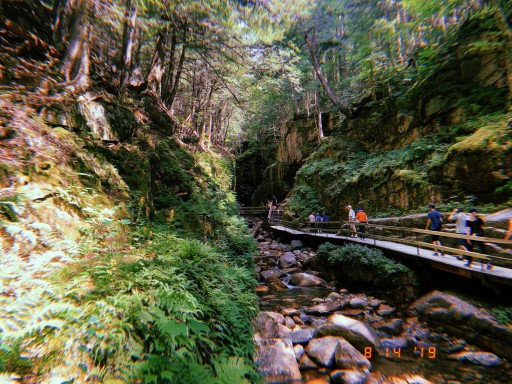 I hope that gave you a decent overview of what a day at the Flume Gorge would look like! Feel free to reach out with any questions!