Excited about the Super Bowl this year? I am, too! That's why for this article, I compiled a list of the most fun and creative Super Bowl decorations you can copy for your watch party!
By now, everyone is aware that a memorable Super Bowl party involves more than simply the game itself. Fun football celebrations are sure to keep everyone entertained, and of course, no Super Bowl viewing party is complete without some creative football décor around your house.
Truly, the Super Bowl weekend is one of the most exciting events of the first quarter of the year! Activities range from ranking the best commercials to indulging in the best Super Bowl party appetizers.
Whether you're thinking of doing DIY decorations or buying from local or online stores, these Super Bowl decorations and party-ready hacks will make your home appear as exciting as possible on game day!
What's more, regardless of your budget for your Super Bowl decorations, I made sure that these Super Bowl party decorations won't break the bank without comprising quality! These creative yet inexpensive decorations are sure to score with your friends!
Super Bowl Party Decorations
Here are some great ideas for your Super Bowl party decorations as we anticipate the big game in the coming weeks ahead!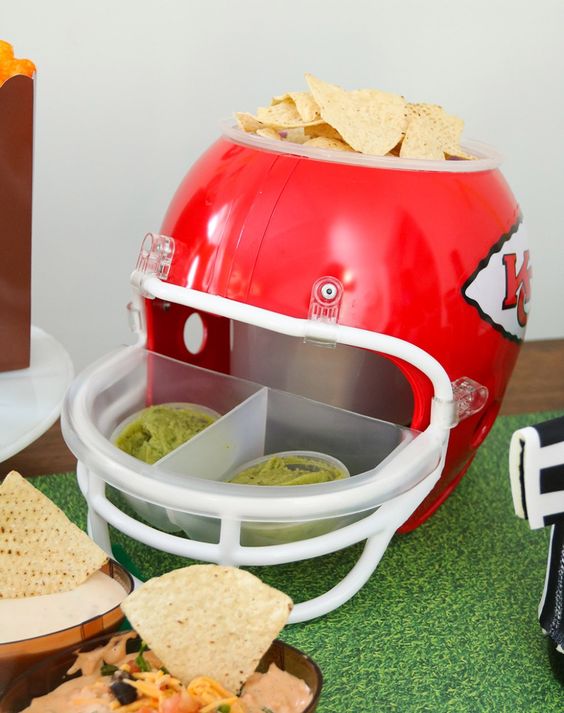 I love the creativity on this helmet decoration for your Super Bowl party. You can easily use it for your mini bowls so your guests can carry more snacks in one hand and get to try out more dishes as well!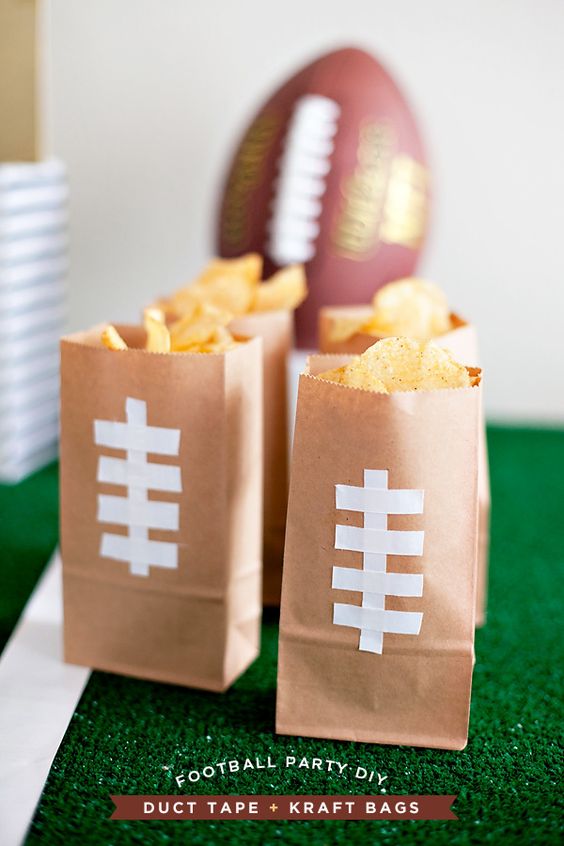 These football-themed treat bags are an absolute treat! Yes, pun intended. They're so easy to make with some white tape and it won't take you long to get these ready for the big game!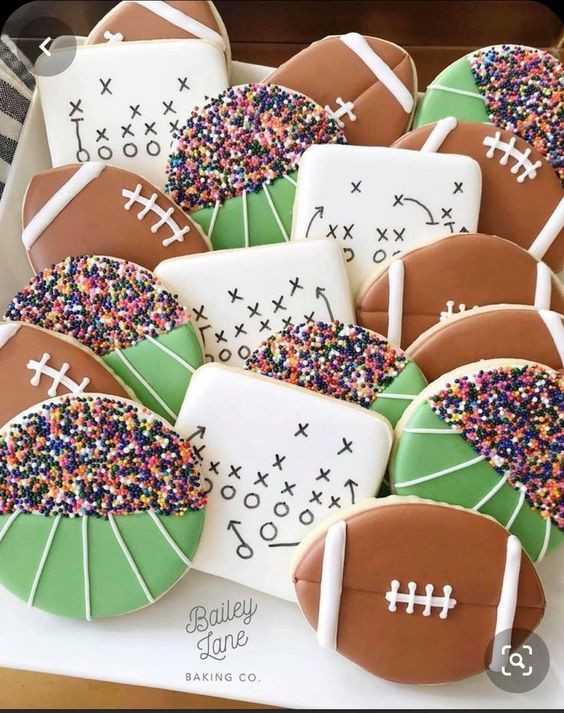 One of the best things you can do with your Super Bowl party decorations is by incorporating your snacks into them as well! Just look how cute and scrumptious these football cookies are.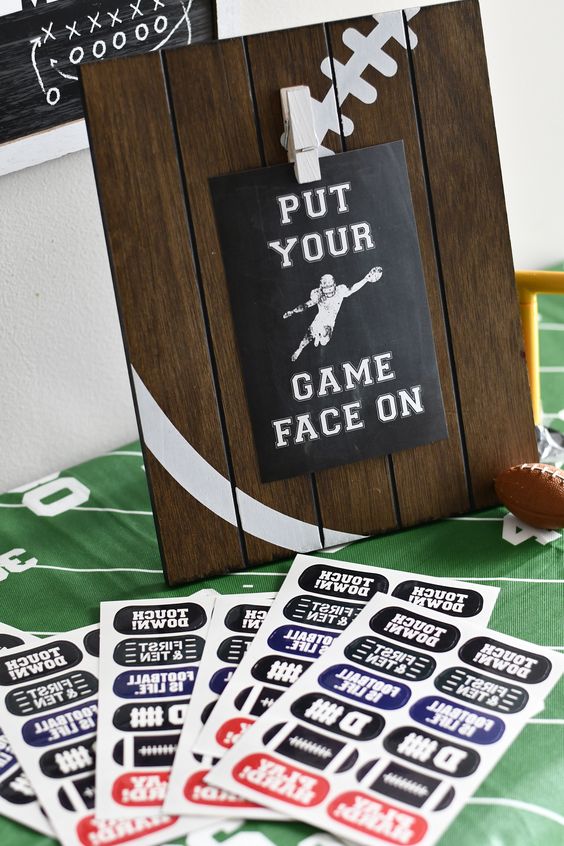 Aside from festive banners, you can also get these temporary tattoos for your guests! I mean, what better way to support your team than by wearing it on your skin, right? These would make for great photos once you have them on!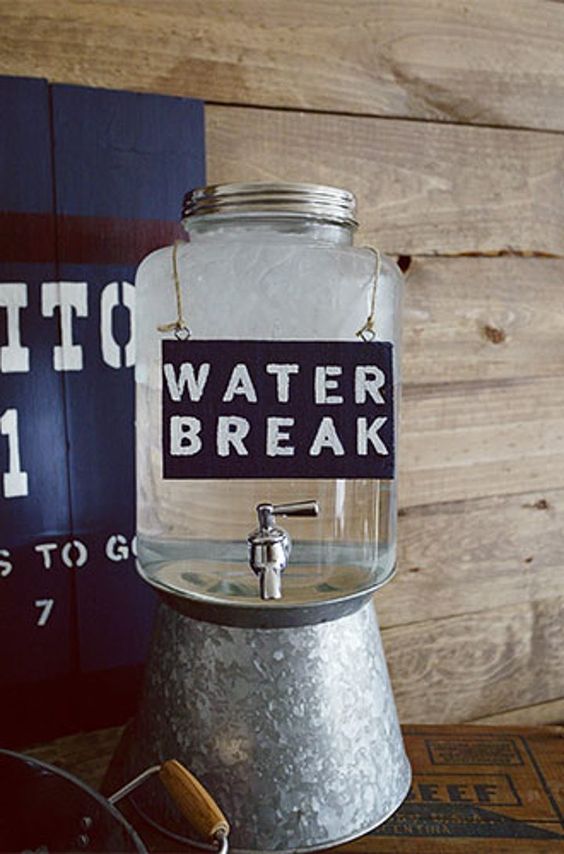 I love the creativity behind this water jug! It really makes you feel like you're in the game as well with your favorite team.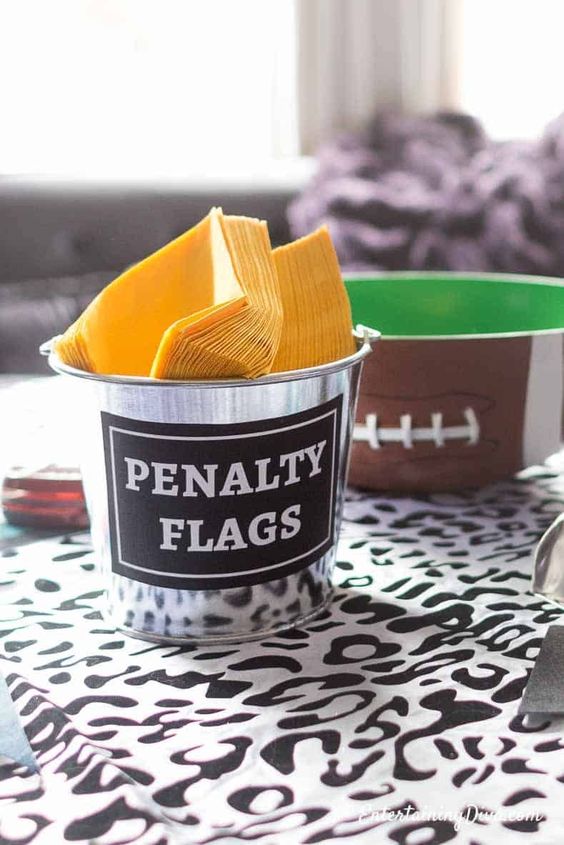 These penalty flag napkin holders are so cute! They would easily suit your Super Bowl watch party decorations and I'm sure your friends are going to love this idea.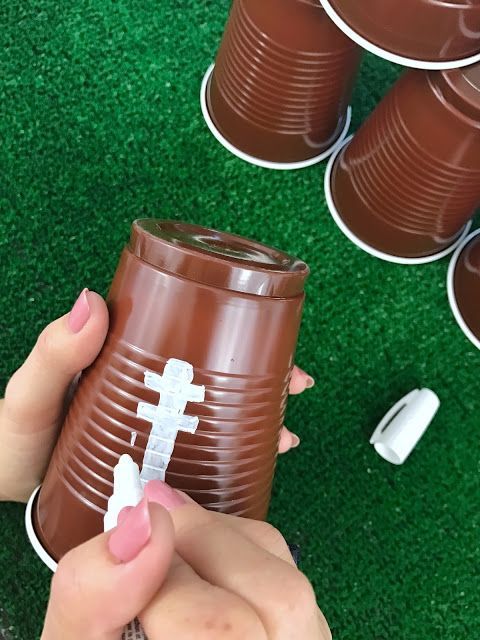 Draw football patterns on your beer cups to make your guests feel like they're holding actual footballs with every sip of their drink!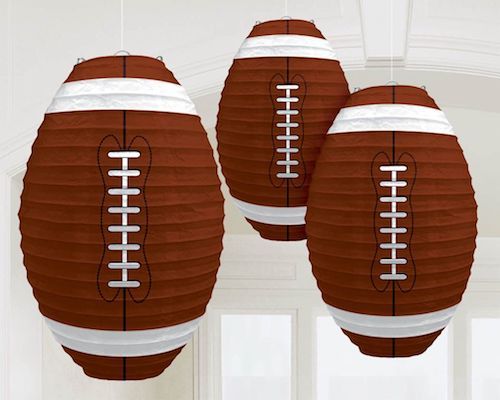 Putting on lanterns for your Super Bowl watch party might not be the first thing on your mind but look how good these are! It'll definitely make your party a lot more festive and on theme!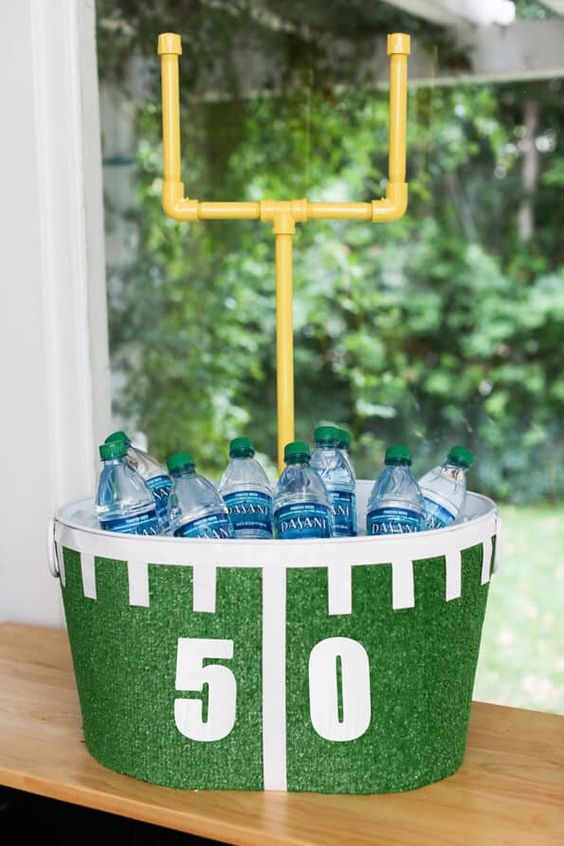 Build this highly creative and entertaining DIY beverage tub. Try to flick bottle caps between the goalposts to get your guests to play table football. Such a fun way to make things more exciting during the big game!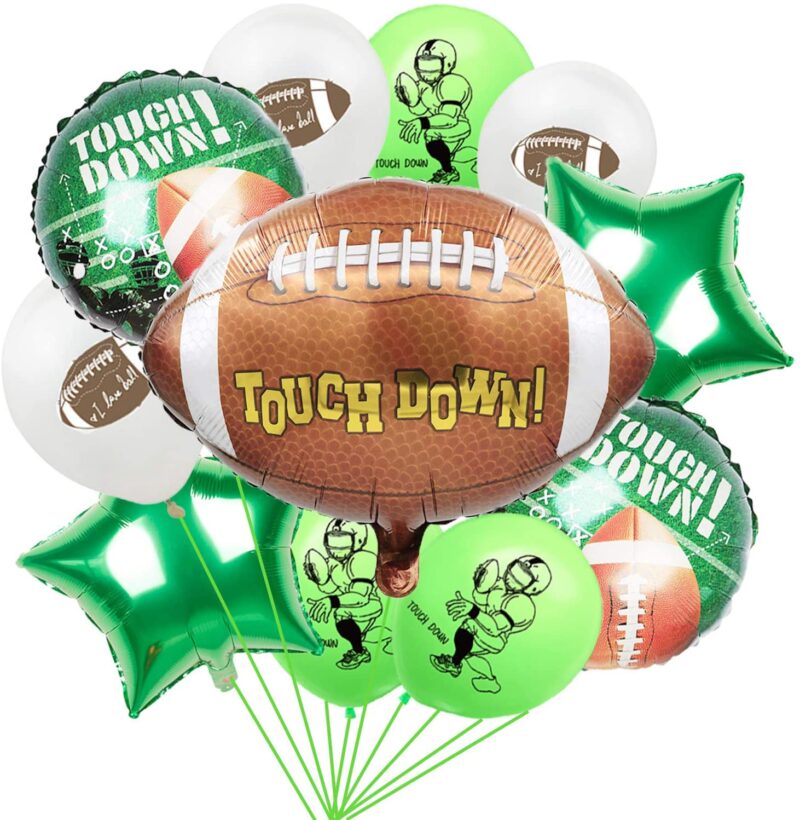 What party will ever be complete without balloons? They're a quick way to make things more vibrant, festive, and exciting for your guests! So why not get one of these football-themed balloons to add to your Super Bowl party decorations.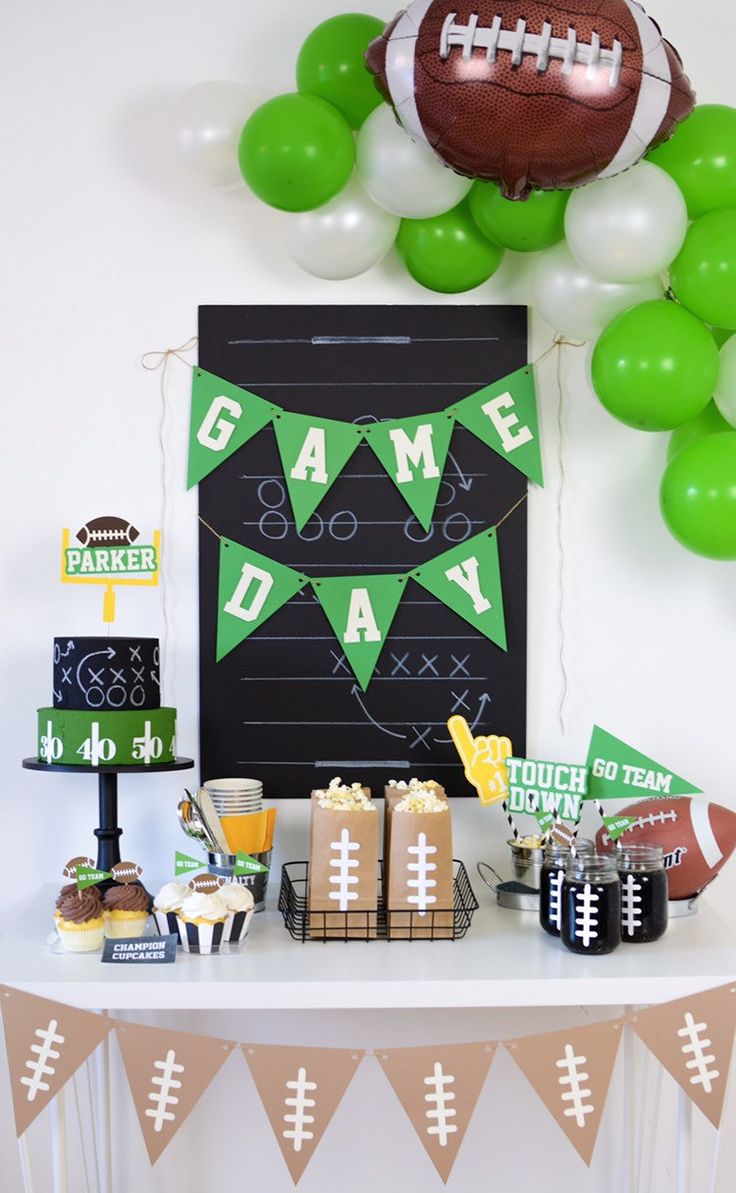 Aside from balloons, football-themed banners like these can also make your Super Bowl party a lot more festive! They're easy to make and you won't have to spend a lot to achieve this cool decoration!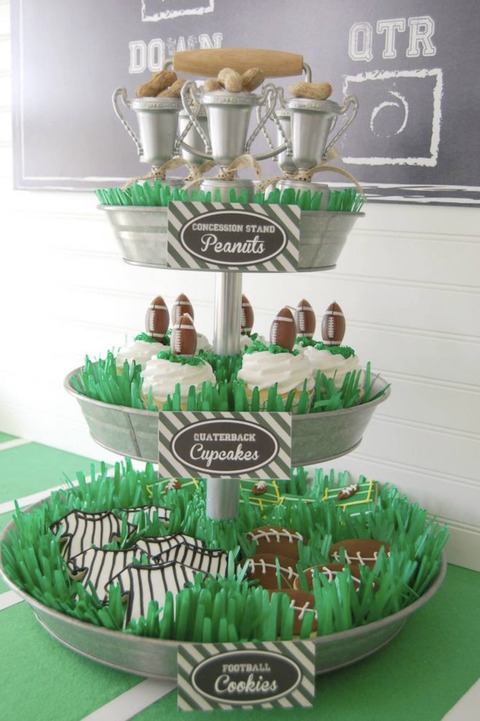 I love cupcakes and it's impossible not to be serving them as a Super Bowl treat for the big game. But you can take it a step further and decorate these sweet snacks with football-themed patterns and designs.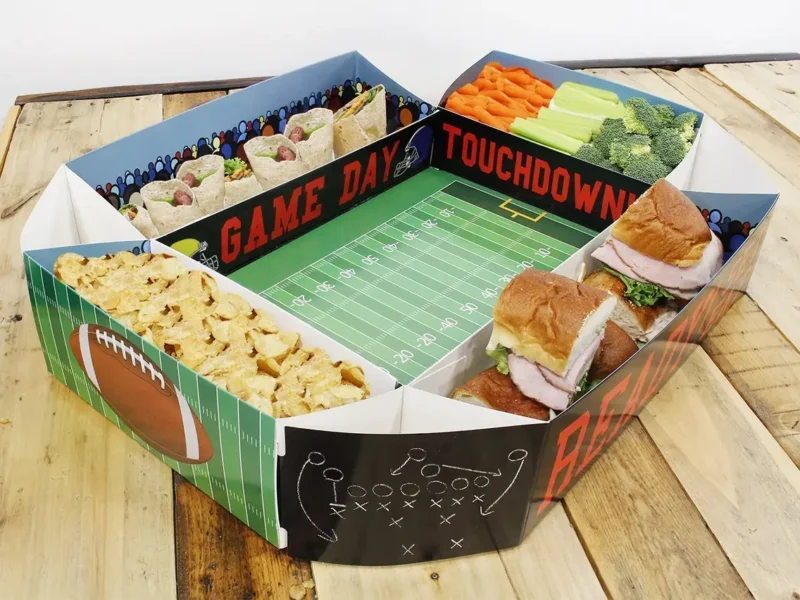 Make things a lot more exciting with how you are serving your Super Bowl dishes by recreating this super fun, mini-football stadium!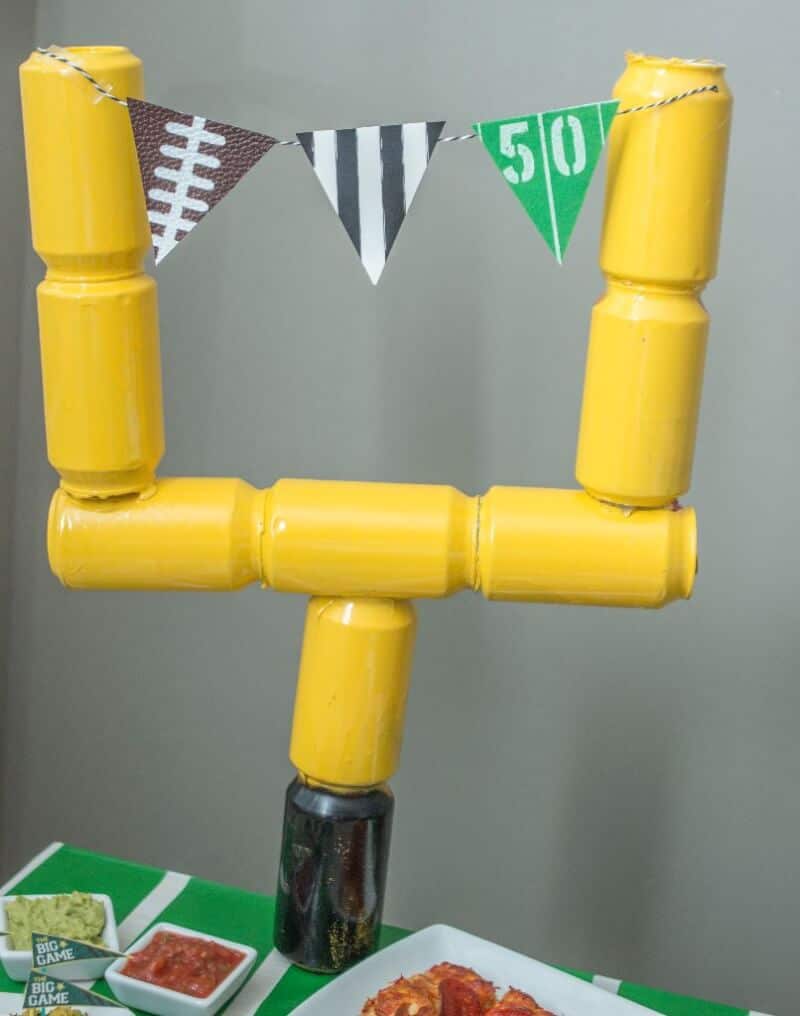 I can totally see your guests playing table football with this mini goalpost and having tons of fun as they gather around your super appetizing dishes!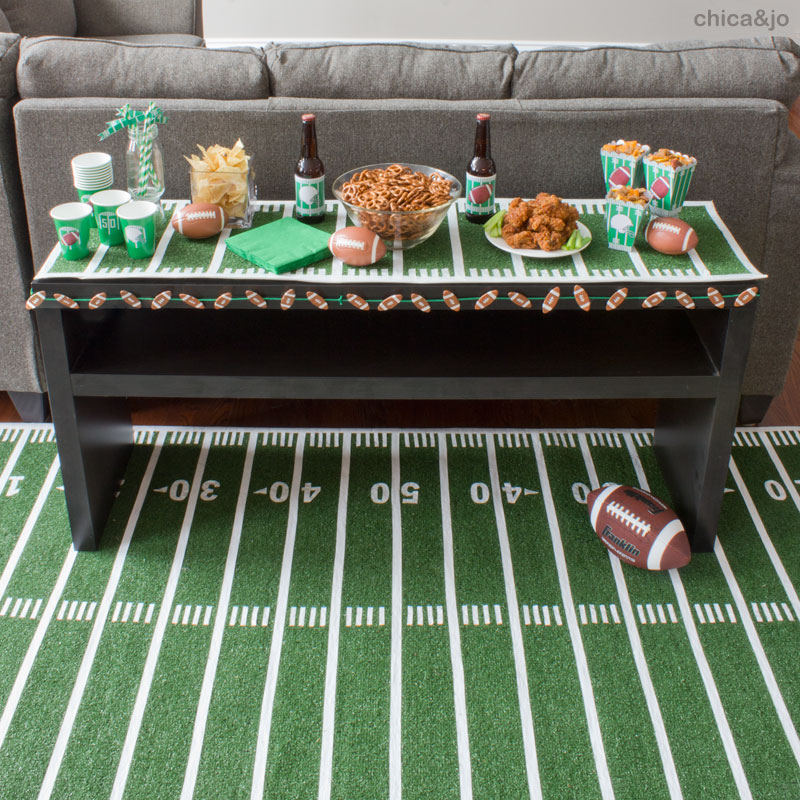 Make your home feel like an actual football field during the Super Bowl weekend by laying down this football-themed carpet! Just looking at it makes me so excited for game day this year!
Create wonderful and unforgettable memories at your Super Bowl watch party by taking lots of photos! You can make things more festive by using a corner or space of your home to decorate with colorful party fringes!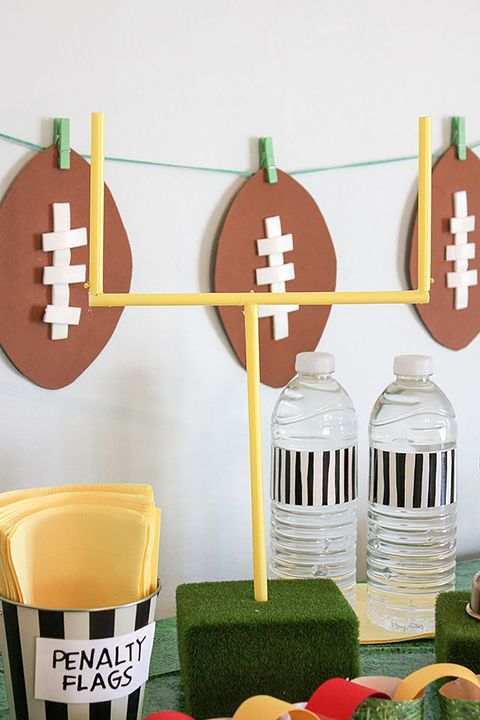 Here's another mini goal post you can add to your list of Super Bowl party decorations! Put it by the beverage section so your guests could play table football whenever they grab a drink.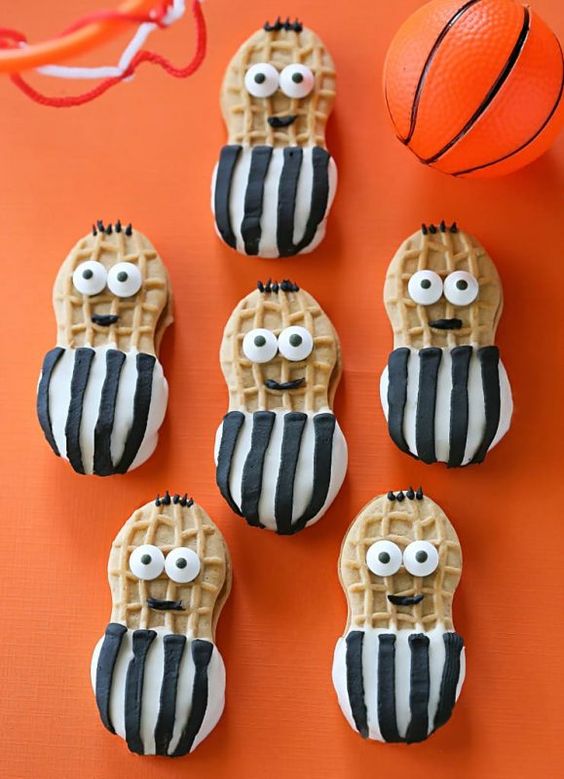 Create cute, little referees using these sweet treats as your base! I mean, just look how adorable these look! Makes you want to just bite off their heads (literally)!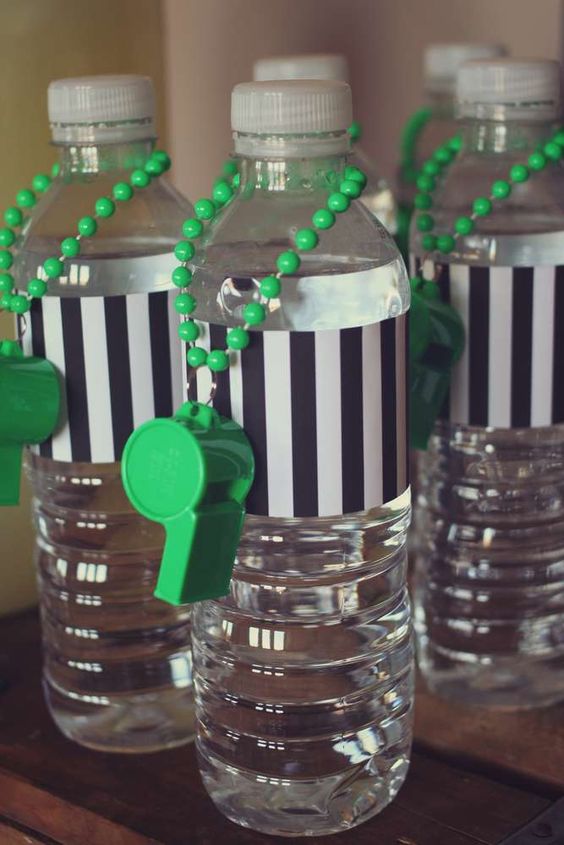 Here's another easy party decoration you can do for your Super Bowl party. Print out referee uniform patterns for your water bottles and add a little whistle to finish the whole look!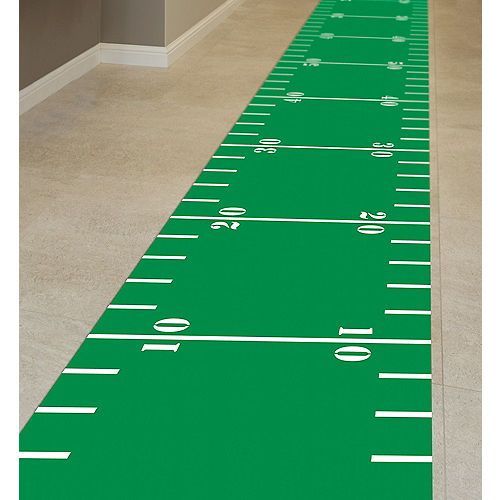 Instead of a red carpet, use this football field floor runner instead for your Super Bowl watch party and make your guests feel extra special once they arrive!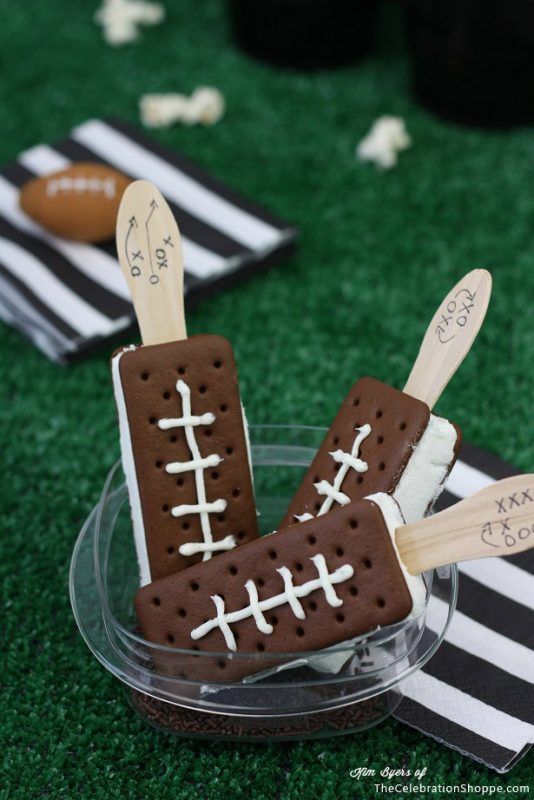 These football-themed ice cream sandwiches are not only so cute with their football patterns but they're also just as delectable!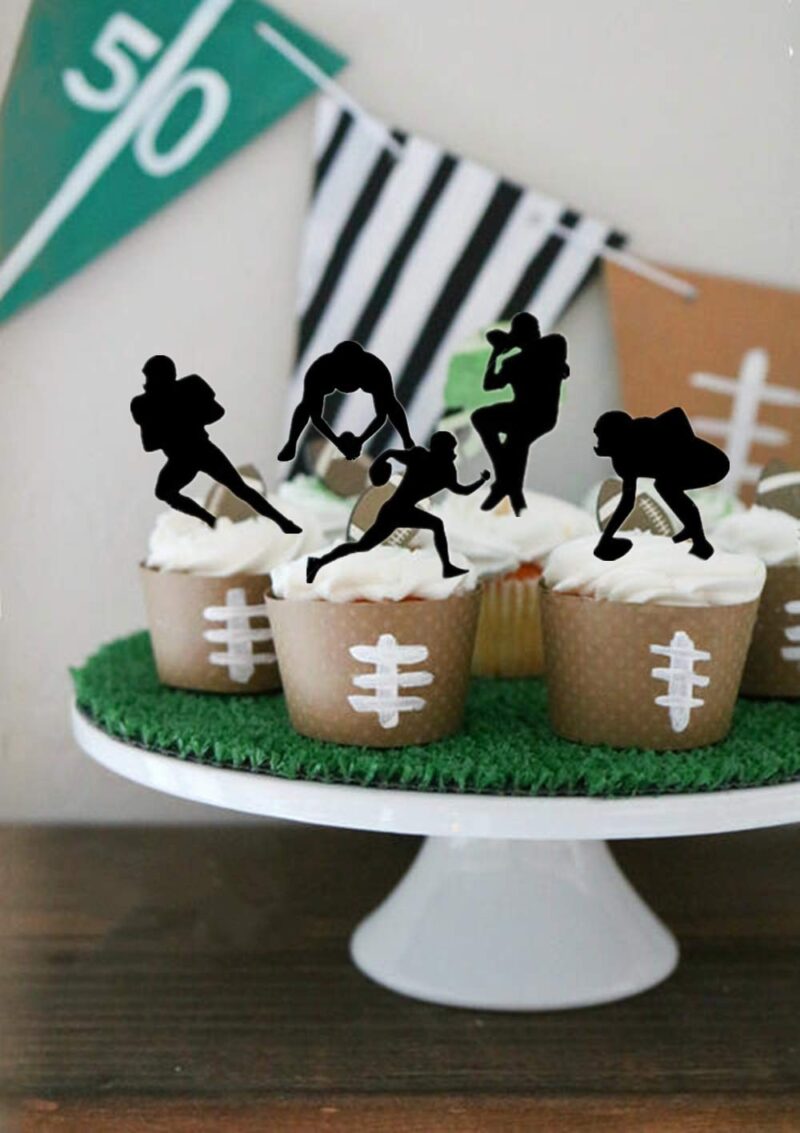 Here's another way to decorate your cupcakes on game day! If you don't have much skill with creating patterns with frosting, you can just top them off with these cute toppers!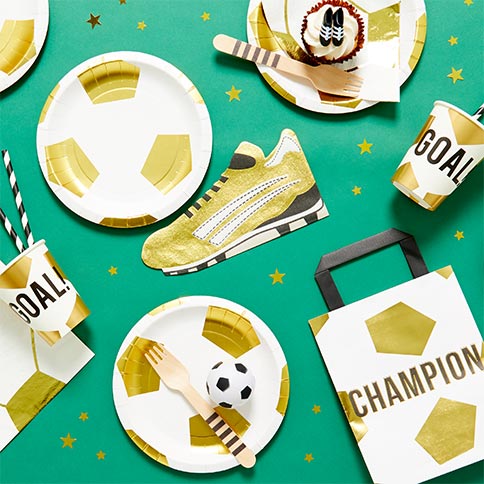 An easy way to really make your Super Bowl party festive is by getting some football-themed cutlery! You can even opt to get ones that support your favorite theme or get designs showcasing every team so your guests can pick sides!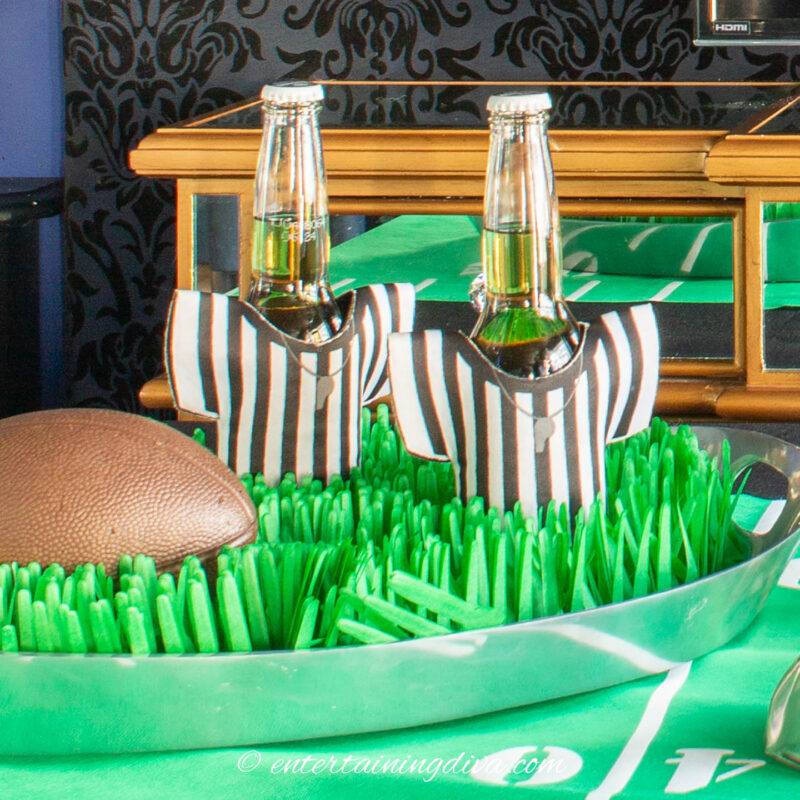 Dress up your snacks and beverages with Super Bowl themes like referee uniform patterns and football patterns to spread that festive and exciting atmosphere through your food!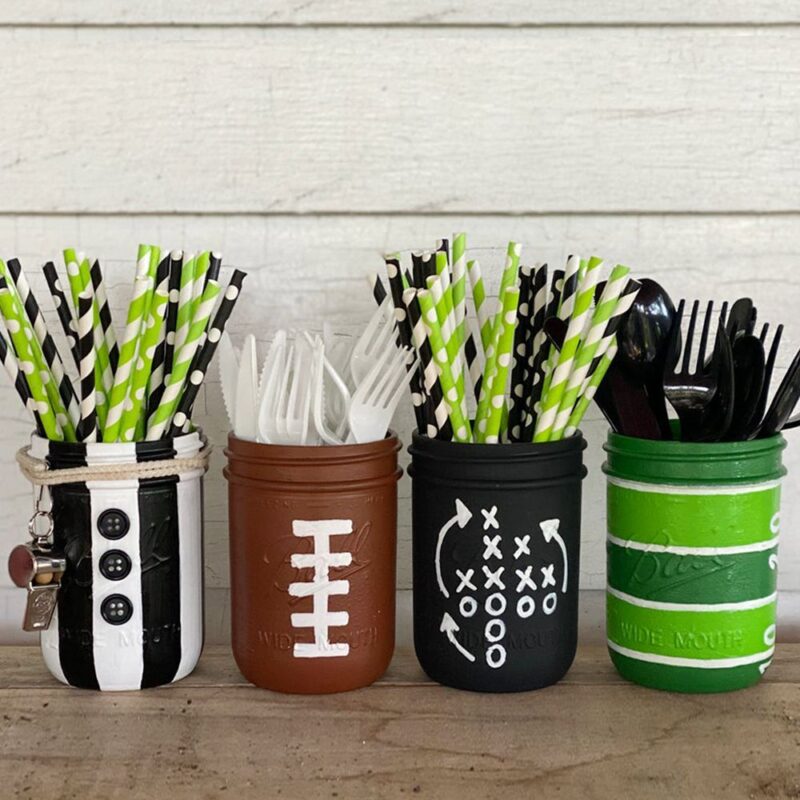 These football-themed mason jars are so adorable and they have a lot of uses for your upcoming Super Bowl watch party. Whether you want to use them to hold your cutlery or for your cocktails, you'll surely won't wanna miss out on these!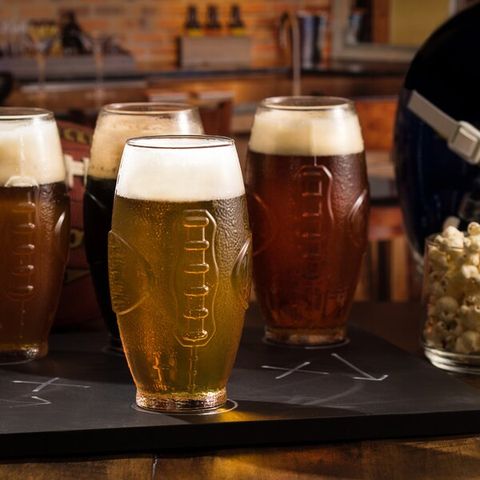 I love these football-shaped glasses! If you have a bit of a budget or you're not inviting too many guests, why not forego the plastic beer cups and go for these instead? They would surely add a rather classy feel to your watch party and would be so perfect for when you serve beer during the big game.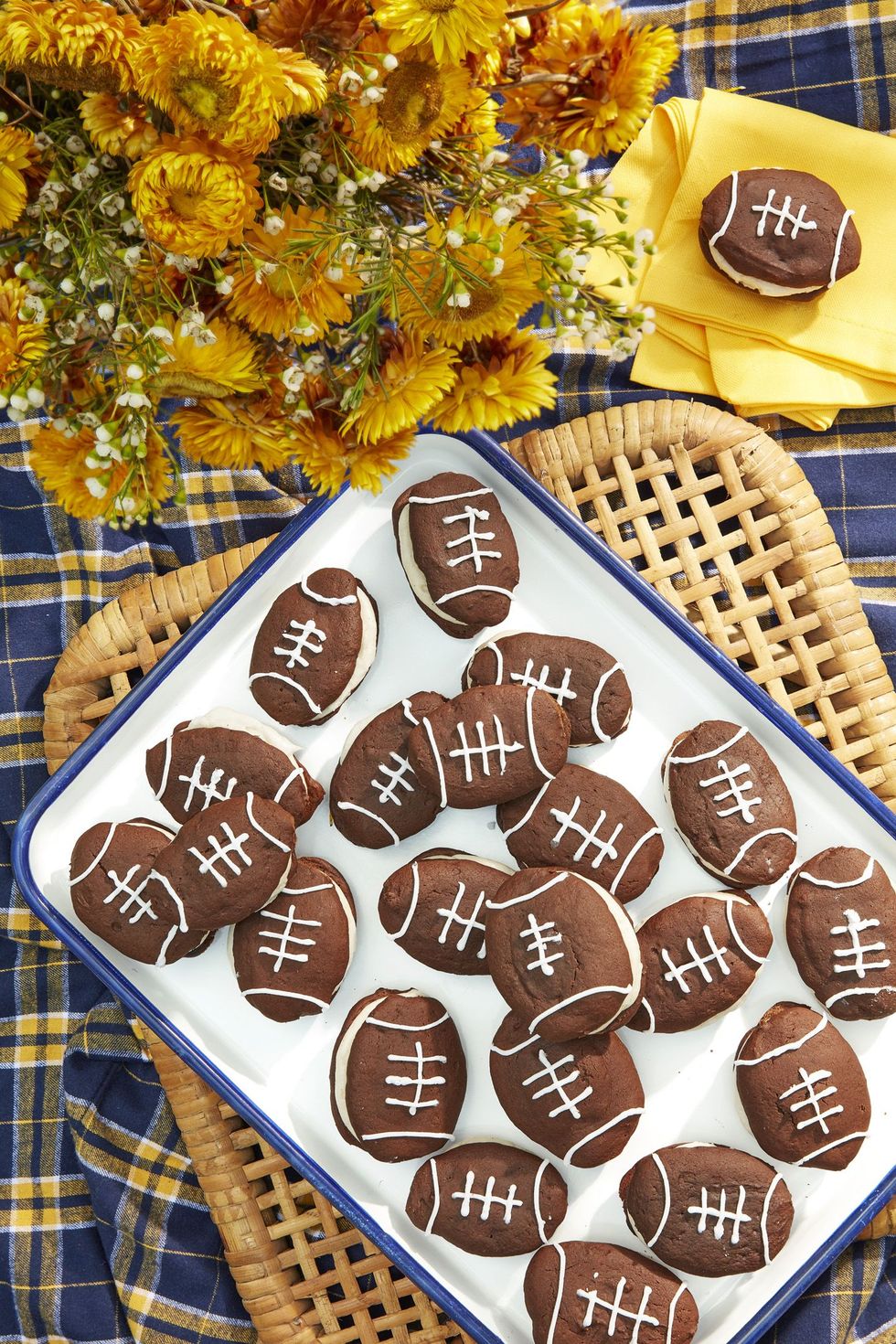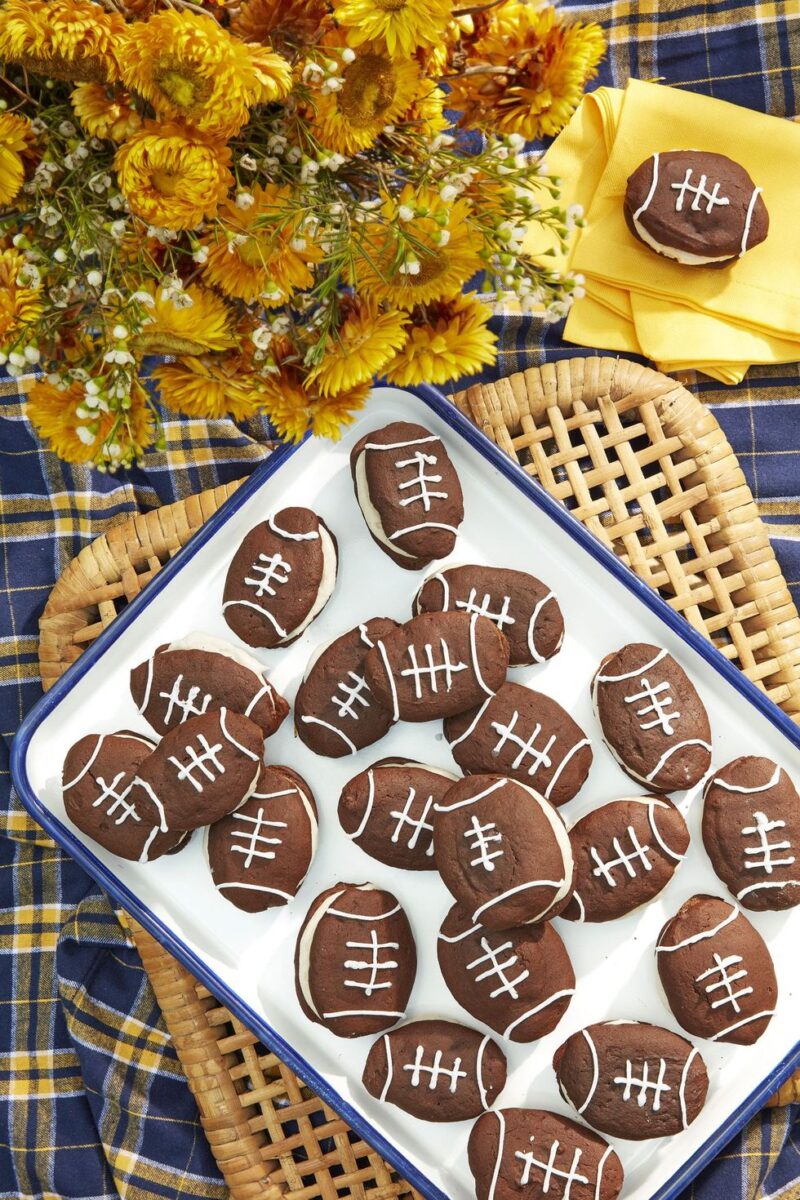 Just looking at these football-themed whoopie pies makes my mouth water! They look so scrumptious and I cannot wait to try my hand at making these for my own Super Bowl party!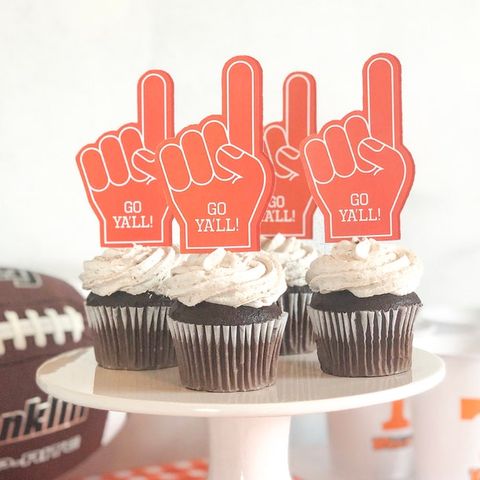 Support your favorite team all the way by topping off your cupcakes with these foam finger-shaped decorations! These are totally inexpensive and you can easily DIY them at your home!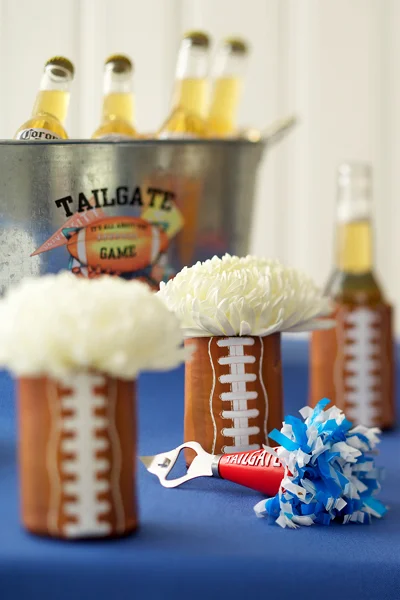 Looking for centerpiece ideas for your Super Bowl table? Try this out! When it comes to the Super Bowl watch parties, you don't want to get a centerpiece that's gonna take up a lot of space that blocks the view from your guests.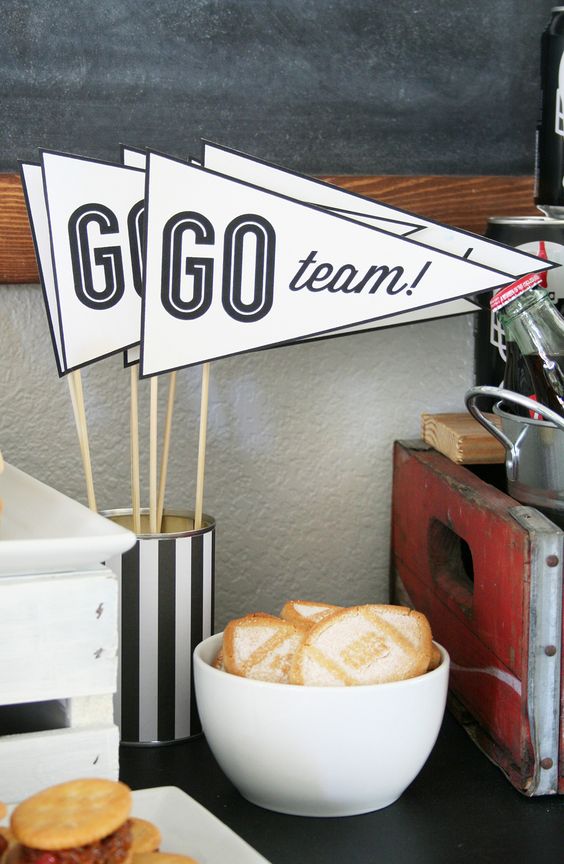 No need to go out to your local craft store to achieve these cute Super Bowl-themed banners. If you already have a printer at home, you can just print these out and tape them to a stick for quick and easy DIY banners.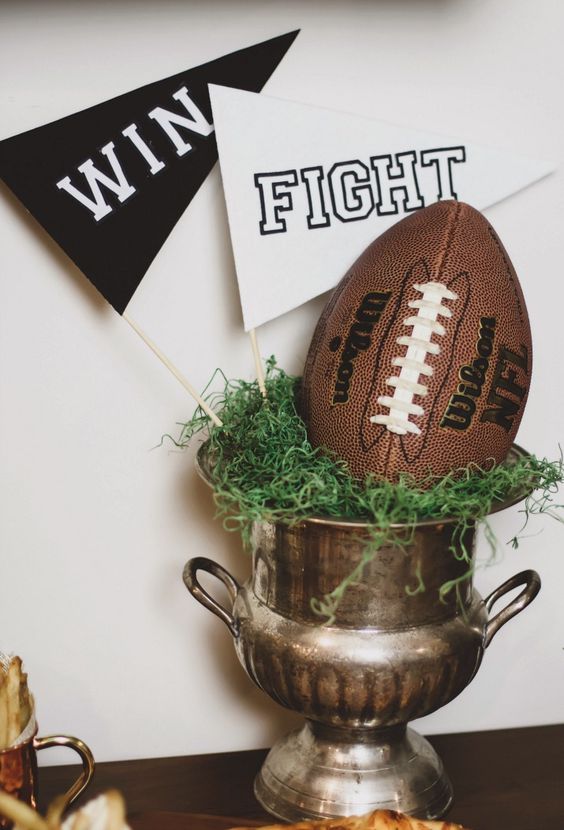 I love the look of this centerpiece! The way the football sits so perfectly atop this trophy just looks so classy and cool! It's a really nice way to commemorate this festive event!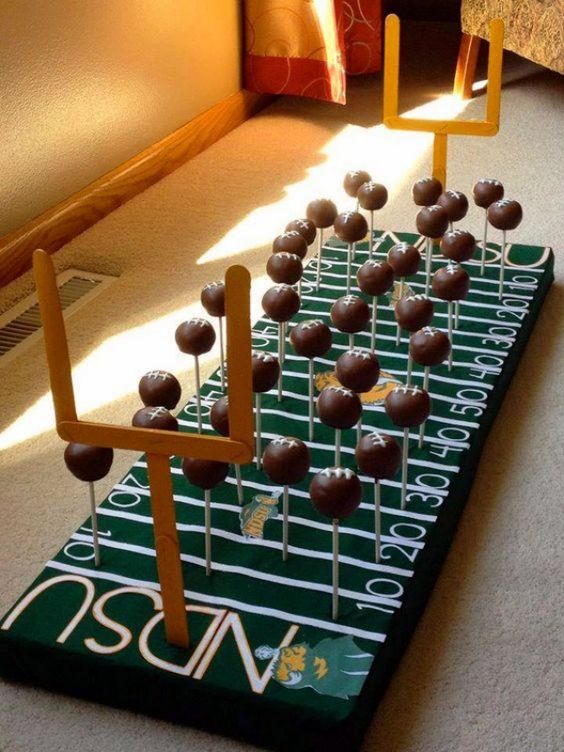 Get creative with how you serve your snacks like these sweet, little treats! This is sure to make your dishes a lot more fun to eat!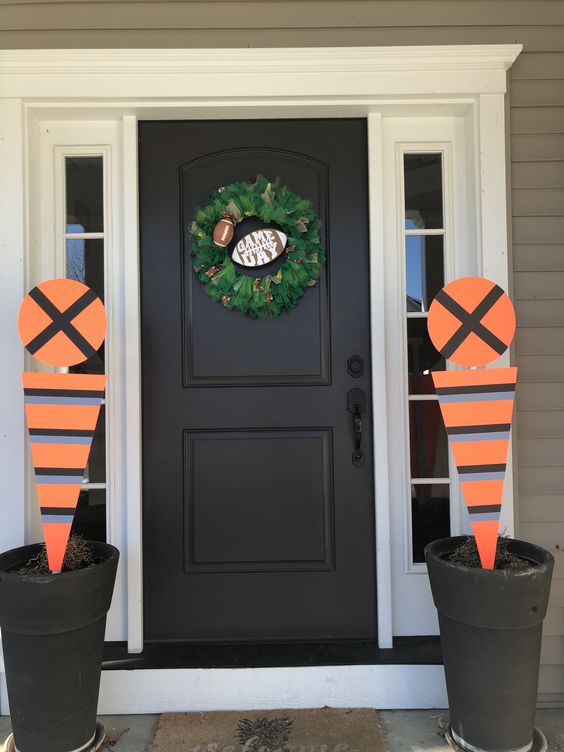 Get your guests excited before they even step into your home by decorating your door with these Super Bowl party decorations! This will surely bring so much hype for the big game!
Here's another centerpiece you can try out! It has a more rustic feel and I love the vibrant green decorations!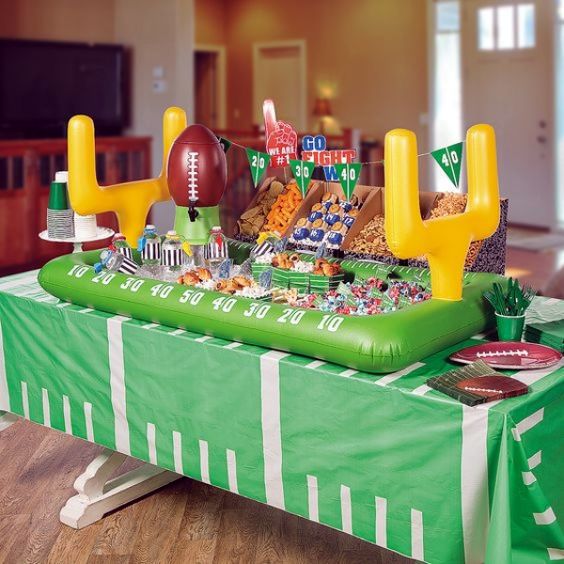 You know what they say, go big or go home! These super festive Super Bowl table decorations are just utterly awesome to look at! I can't imagine what else you could ask for once you roll this out to your guests.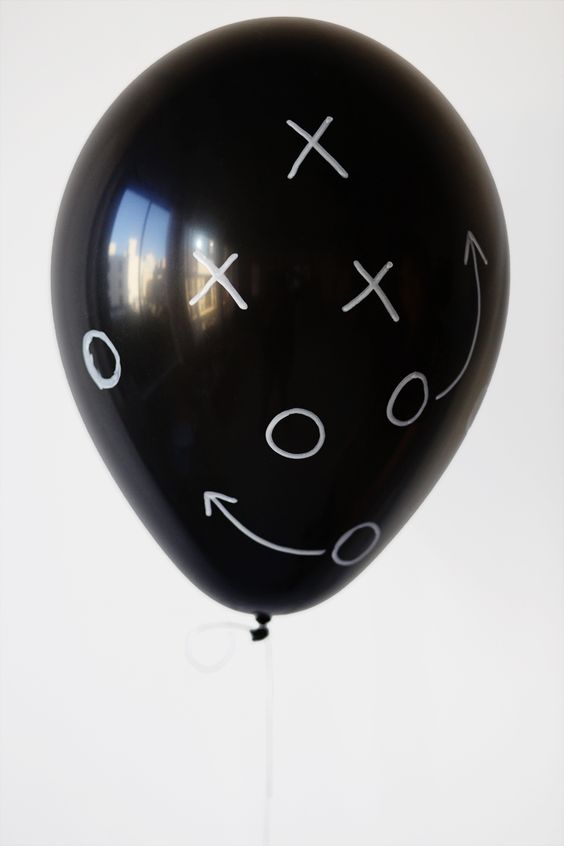 If you want to do subtle patterns for your Super Bowl-themed balloons, why not try this particular pattern out? It's not too in-your-face and the monochrome color scheme gives it a rather understated look.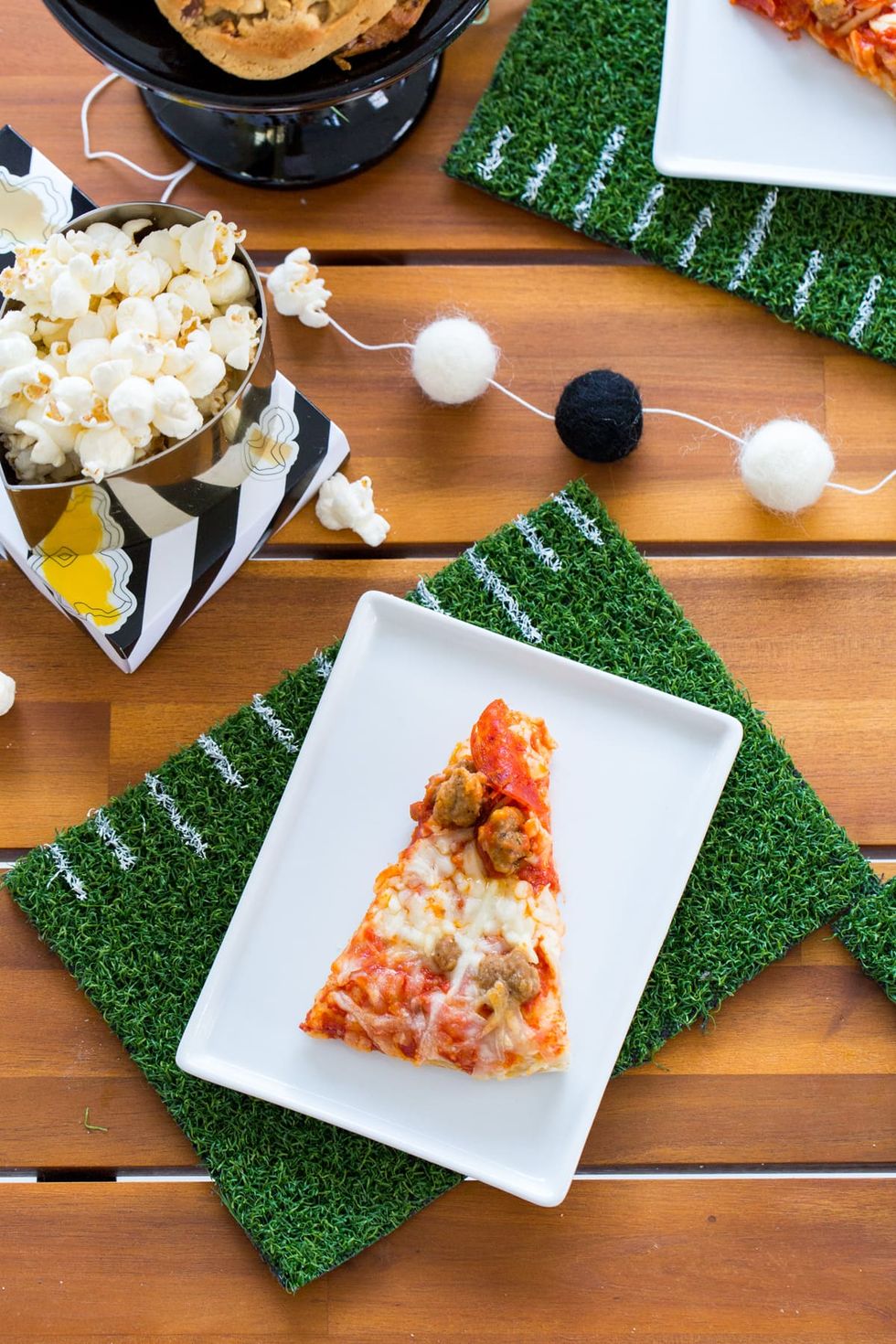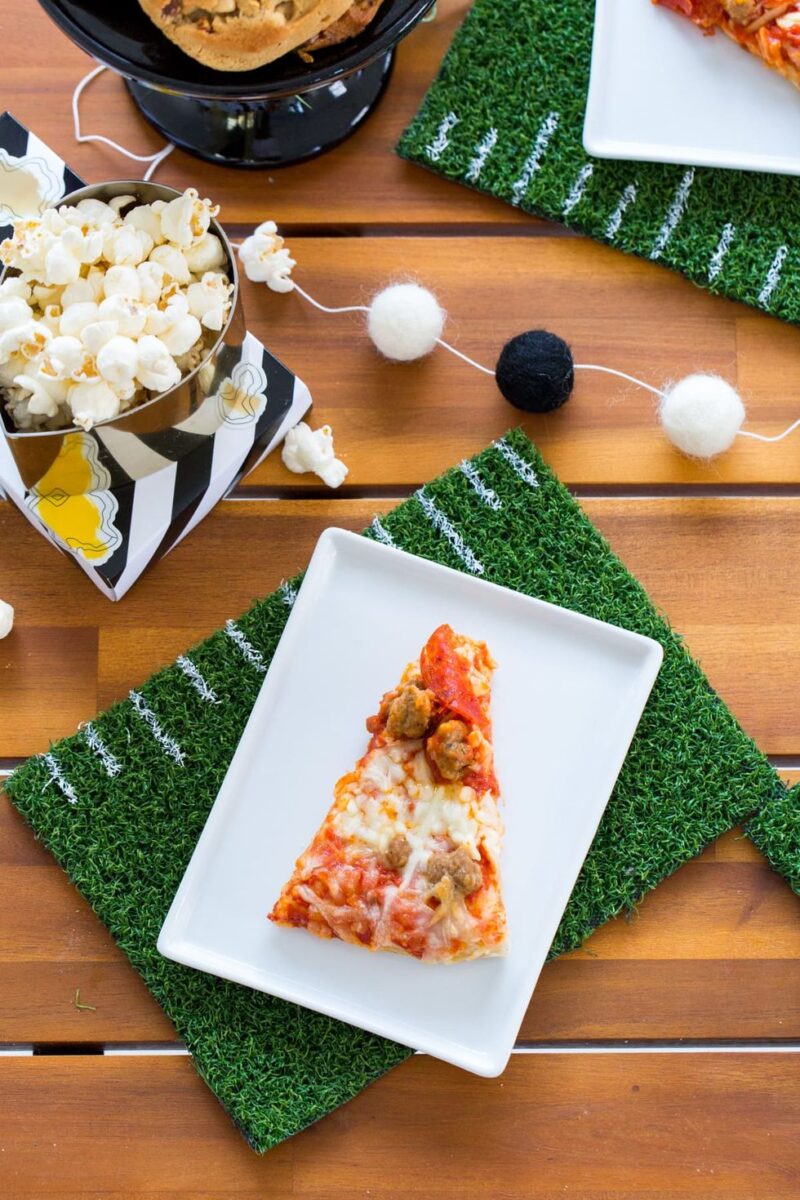 These football field placemats look so cute and so on-theme for the big game! I can't think of anything better to serve with your Super Bowl dishes!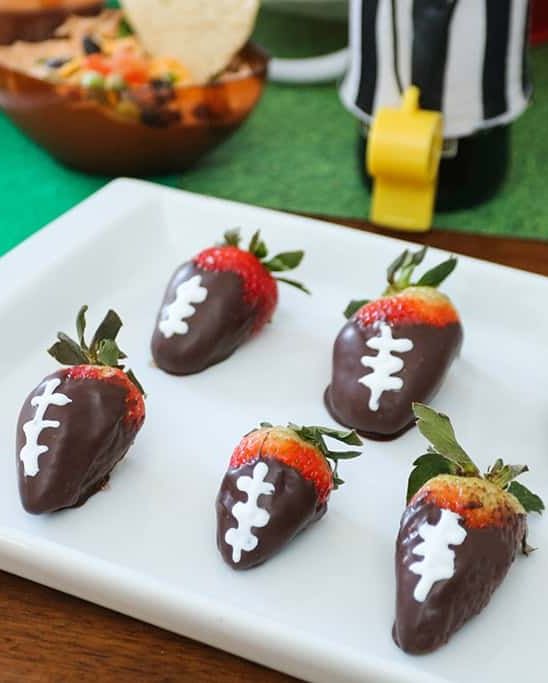 For a tasty treat that will leave a lasting impression on your guests, try making these chocolate-covered football strawberries!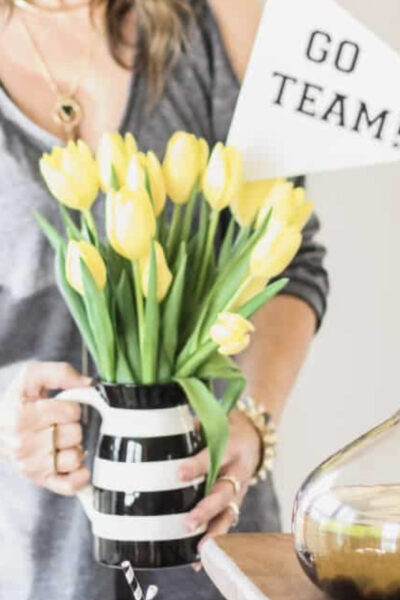 Add a feminine touch to your Super Bowl party decorations by putting some flowers on a referee-themed vase. This Super Bowl party decor is perfect if you want a girly touch!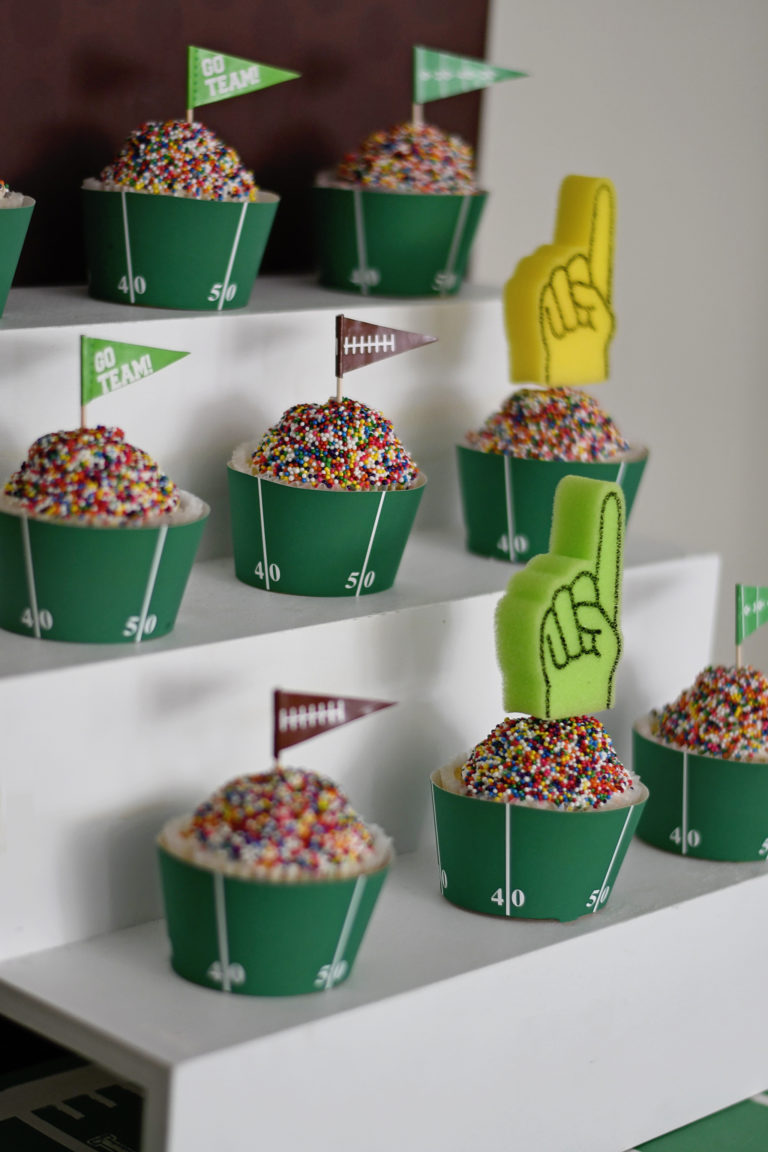 Nothing says "touchdown" than an array of yummy cupcakes topped with tiny finger foams!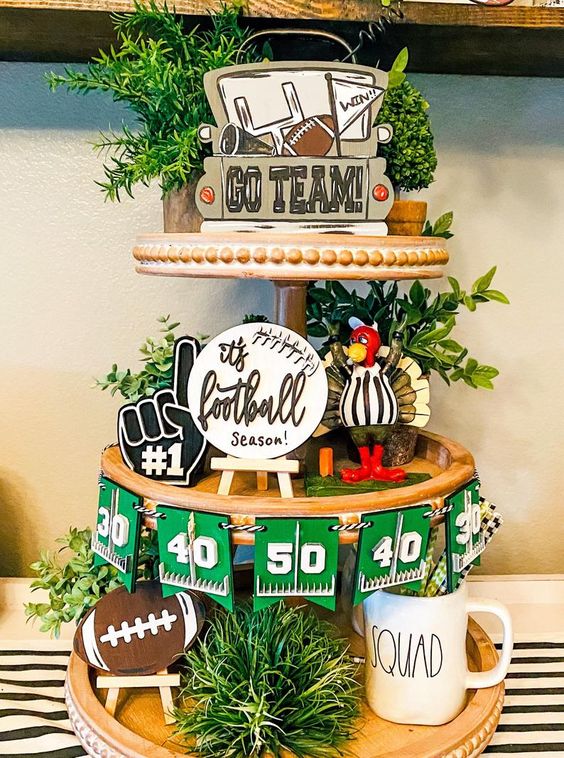 This football-themed tiered tray could make a great centerpiece for your snack table. What's great about it is that you can just buy it off Etsy and put it on display. It's perfect for those who don't have a lot of time to sit down and DIY.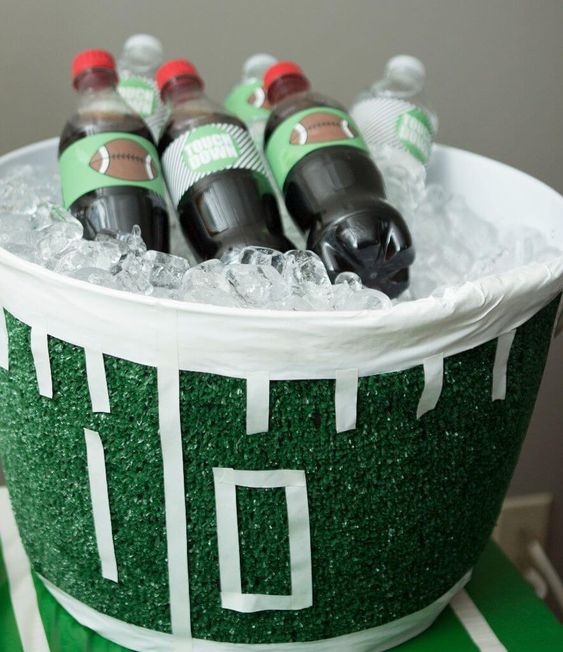 I love how cute this beverage bucket is! All you need is a football field-themed fabric to cover it up and you're all set!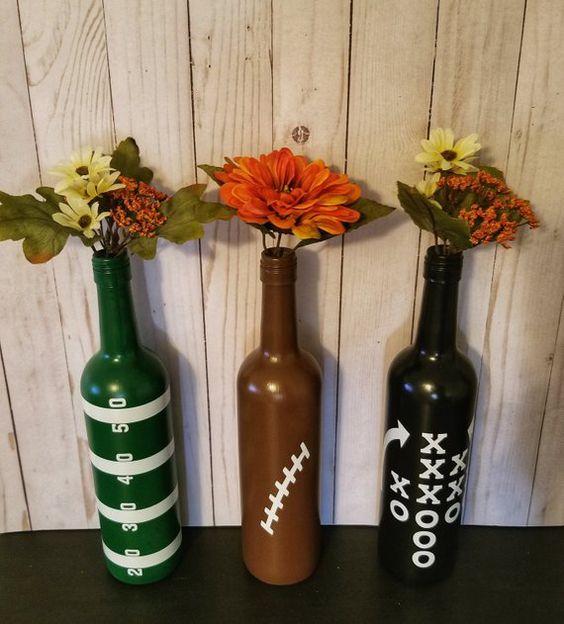 Throw in some flowers with your Super Bowl party decorations to achieve this beautiful display!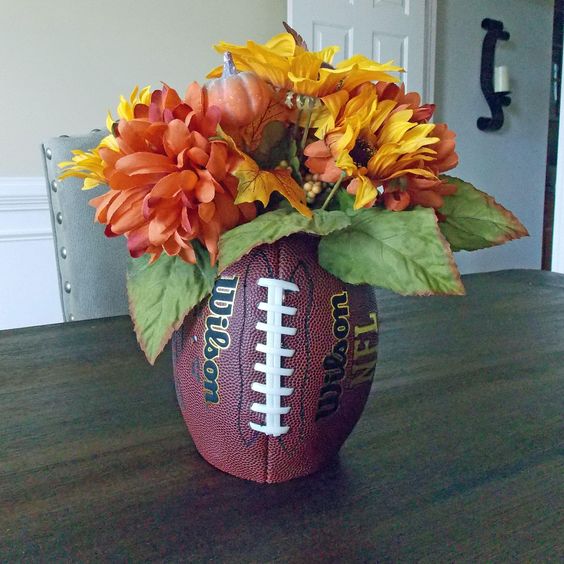 Here's another way you can add flowers to your Super Bowl party decorations. It can serve as a centerpiece and you can create a football-shaped flower vase to put them in!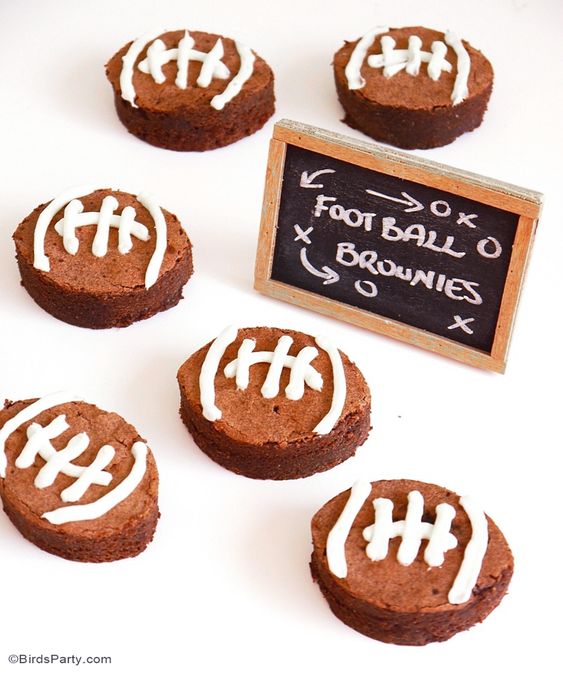 Who doesn't love brownies, right? I sure do! So if you're just like me and you're looking for ways to incorporate Super Bowl themes into your food, you should try these football-themed brownies out!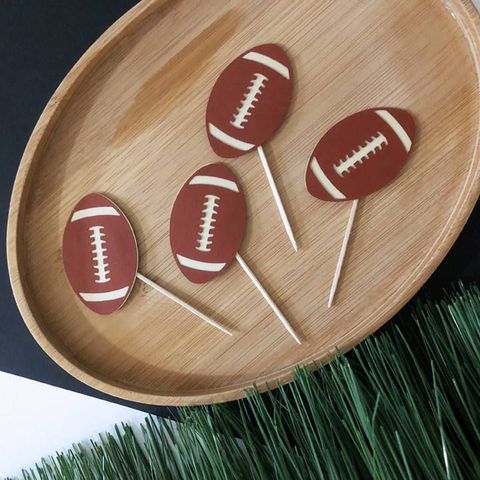 These little football-themed decorations would make sure good toppers for little treats like cupcakes and muffins!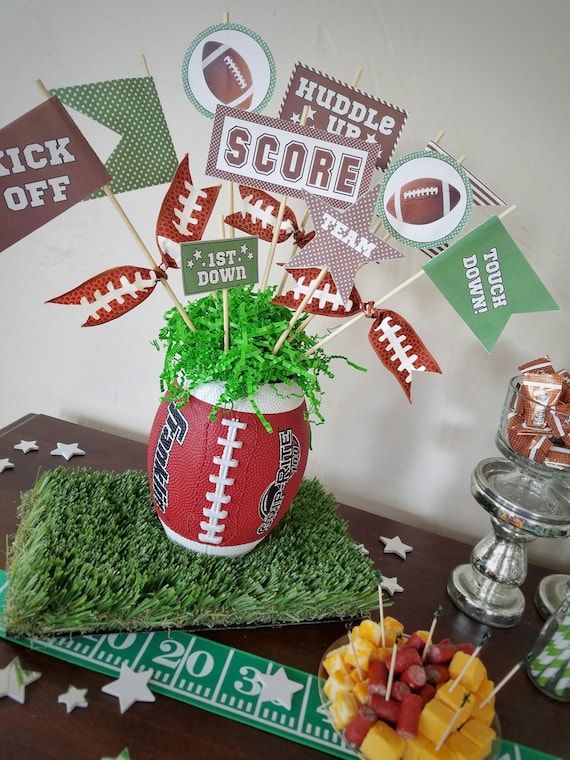 This centerpiece is sure to catch everyone's attention at your Super Bowl watch party!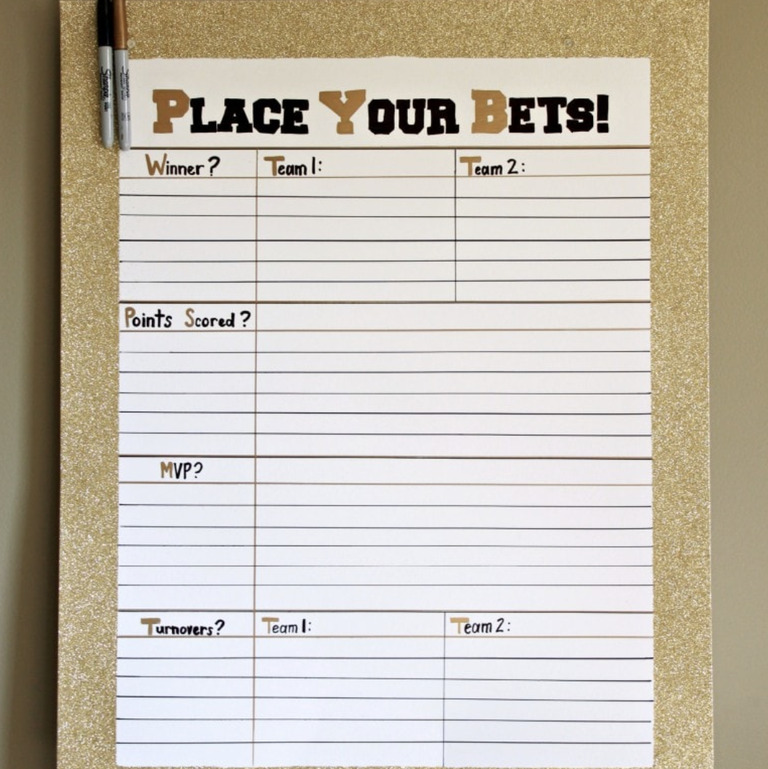 Placing bets during the big game can be so fun and exciting as you all cheer for your favorite teams to win!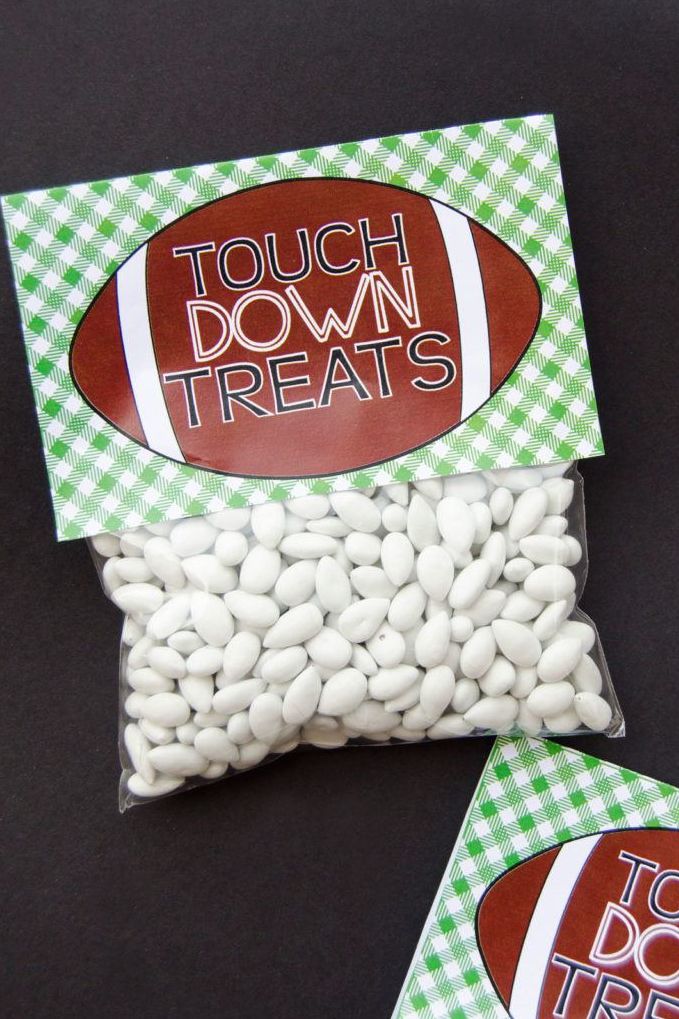 These sunflower seeds will make for nice, little treats during and after the game. They would go so well with beer and other drinks!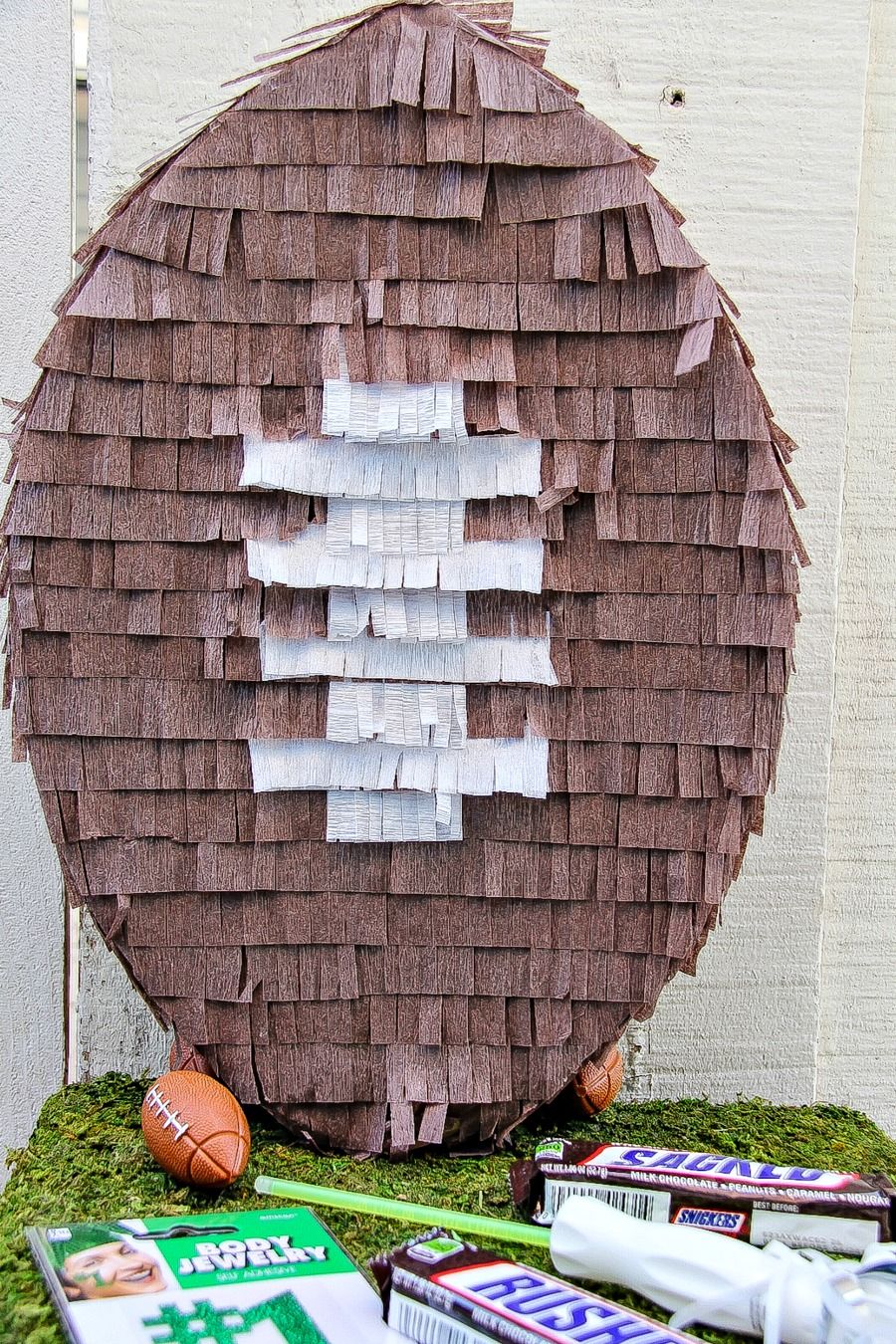 Feeling the rush and adrenaline from the big game? Prepare a football pinata for everyone to release that excitement and overflowing energy! This Super Bowl party decor is perfect if you're going all out.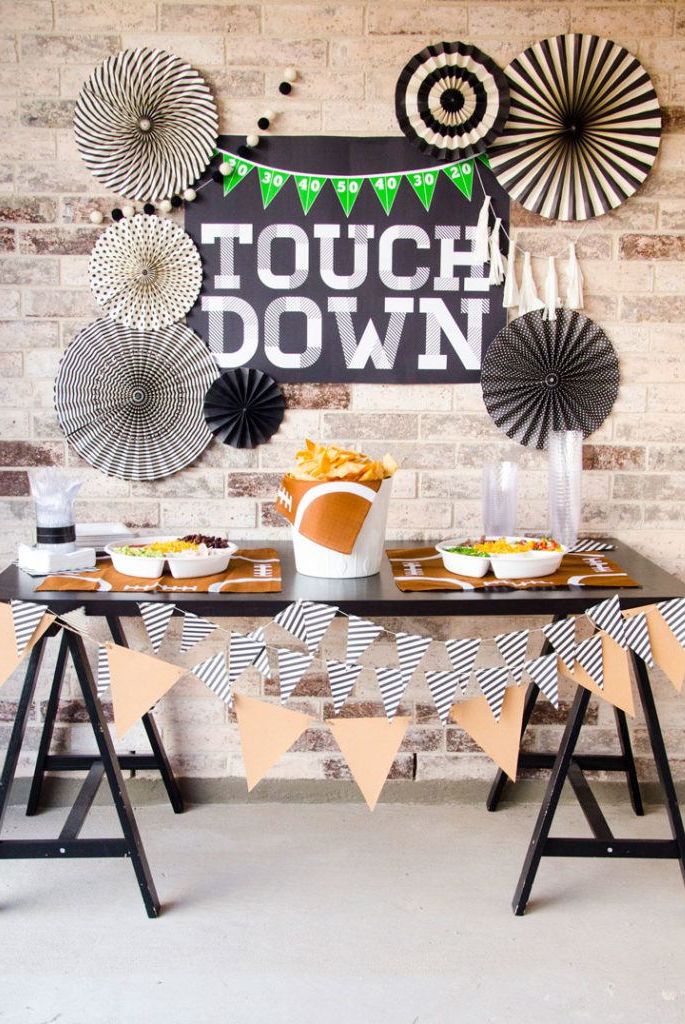 Simple and traditional, you can't go wrong with doing a Super Bowl-themed backdrop for your watch party.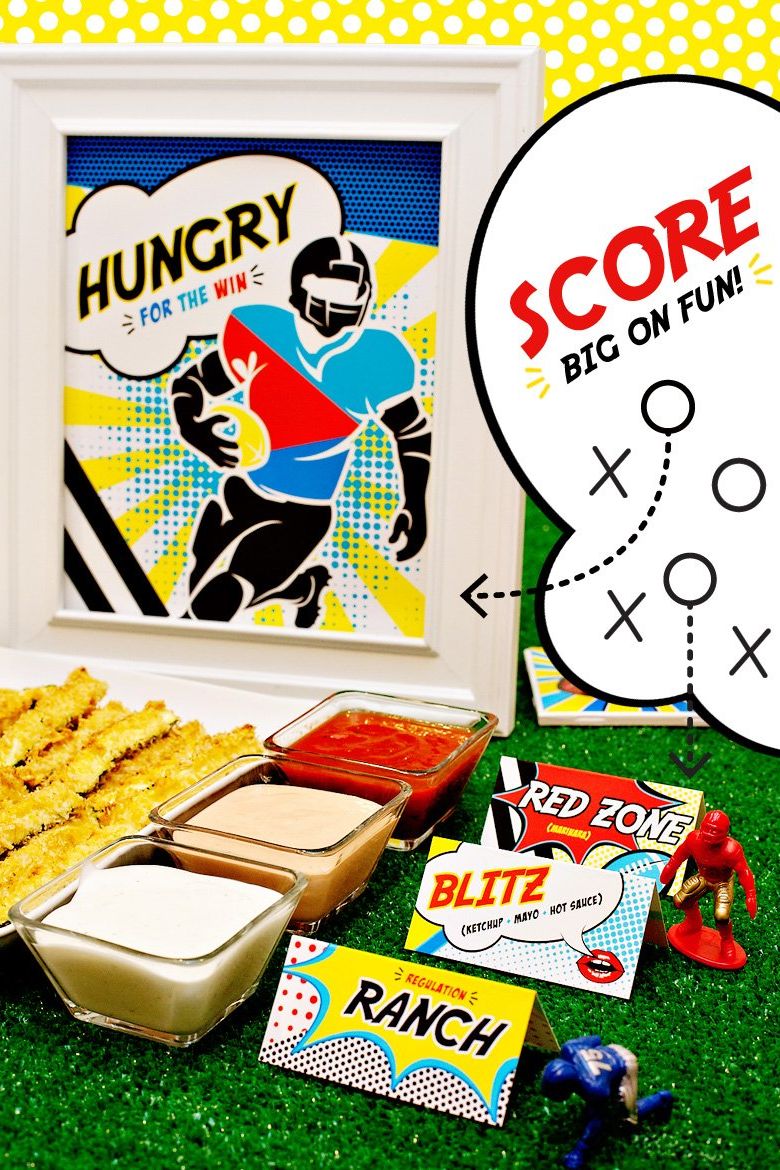 If you want to get a little artsy, why not add some cool art frames for your Super Bowl party table?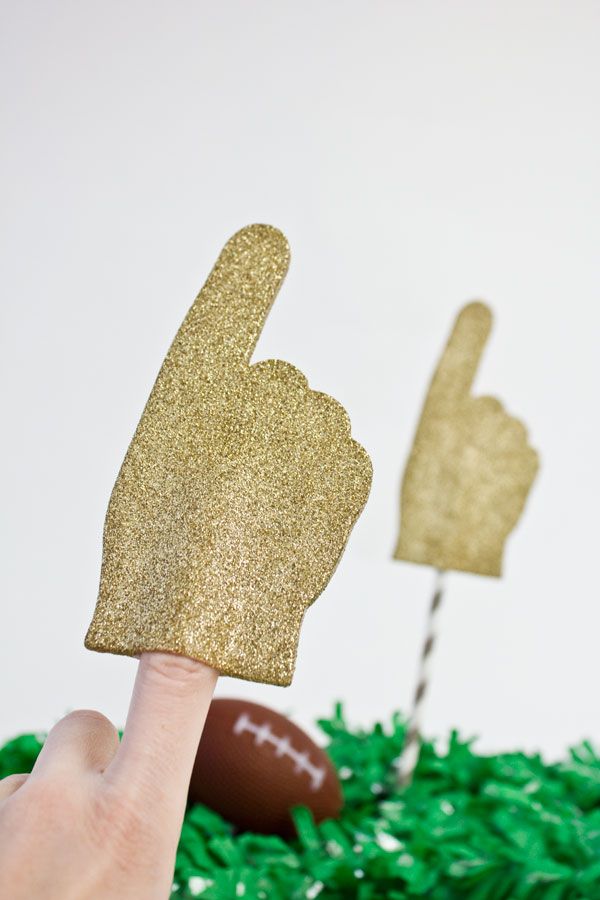 These shimmery, tiny finger foams will add a touch of glam to your Super Bowl watch party. This Super Bowl party decor is such an easy and fun addition!
For an easy way to make your table settings fit the Super Bowl theme, why not opt to decorate it with a football field table cover?