Looking for recipes for Super Bowl nachos? Don't worry, I've got you covered! An excellent nachos recipe is a staple if you're having guests over for the Super Bowl. But if you find yourself having difficulty where to start, my list of Super Bowl Nacho Recipes is here to help you out!
Super Bowl watch parties can be so exciting and thrilling, but one of the things I actually look forward to is the good food I'll be eating as I watch the game with my loved ones. Specifically, the Super Bowl nachos!
Nachos are a classic snack during Super Bowl season. But depending on how you prepare your nachos for your Super Bowl watch party, this could easily make or break your viewing party. Well, I don't think your guests will be that harsh but wouldn't we rather avoid disappointments altogether?
So to make sure that your nachos are perfect for game day, I've picked together a number of my favorite Super Bowl nacho recipes online that your Super Bowl party attendees will probably gobble up in a matter of minutes. Make sure you make an extra batch!
Super Bowl Nacho Recipes
While we like the classic combination of ground beef and nacho cheese as much as the next football fan, this particular party snack comes in many varieties and you'll find it all in this list! You can use pulled pork, black beans, creamy cheese sauce, guacamole, and so much more as you please.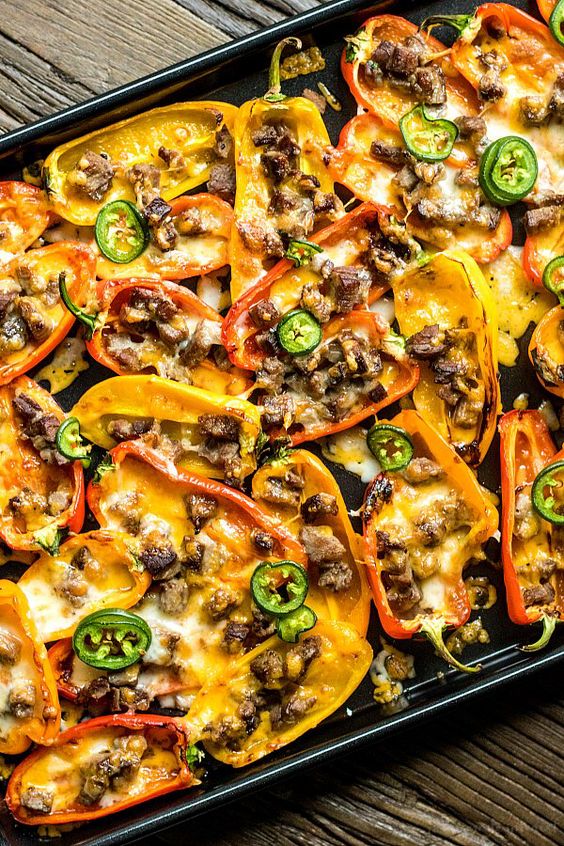 These Low Carb Super Bowl Nachos are a simple low-carb snack made of tiny peppers cooked with chopped sirloin, tons of melted cheese, and fresh jalapenos. On game day, it's the ideal low-carb snack for those who are watching their health or their weight!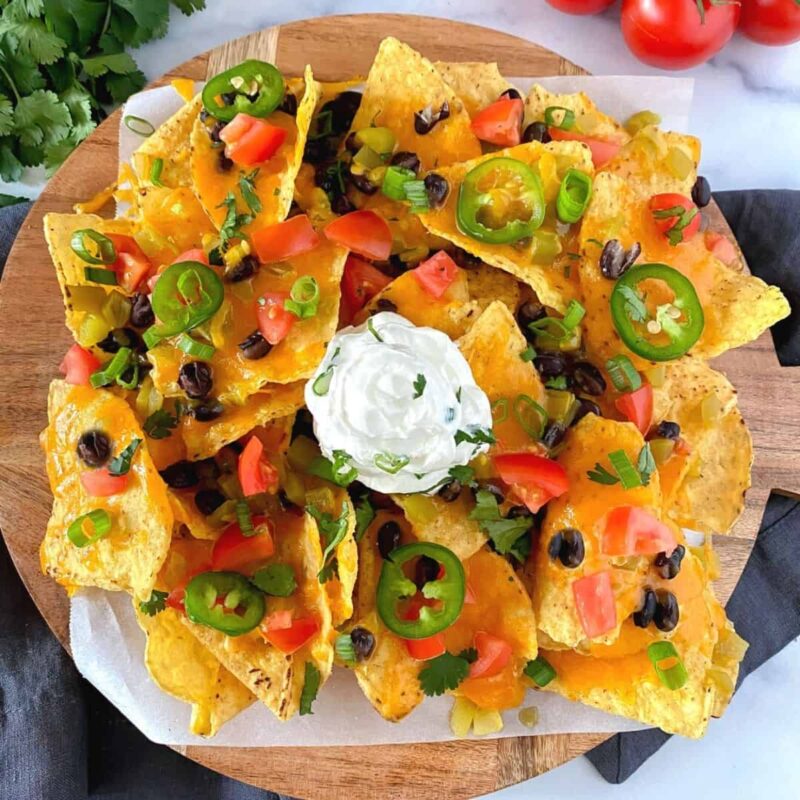 If you want nachos that are quick and easy to prepare under 10 minutes or less with an air fryer, then this is for you. Freshly grated cheddar cheese, black beans, diced tomatoes, green chilies, jalapenos, freshly chopped cilantro, and plenty of sour cream are all incorporated into these delicious nachos. Get this and add it to your list of Super Bowl nacho recipes now!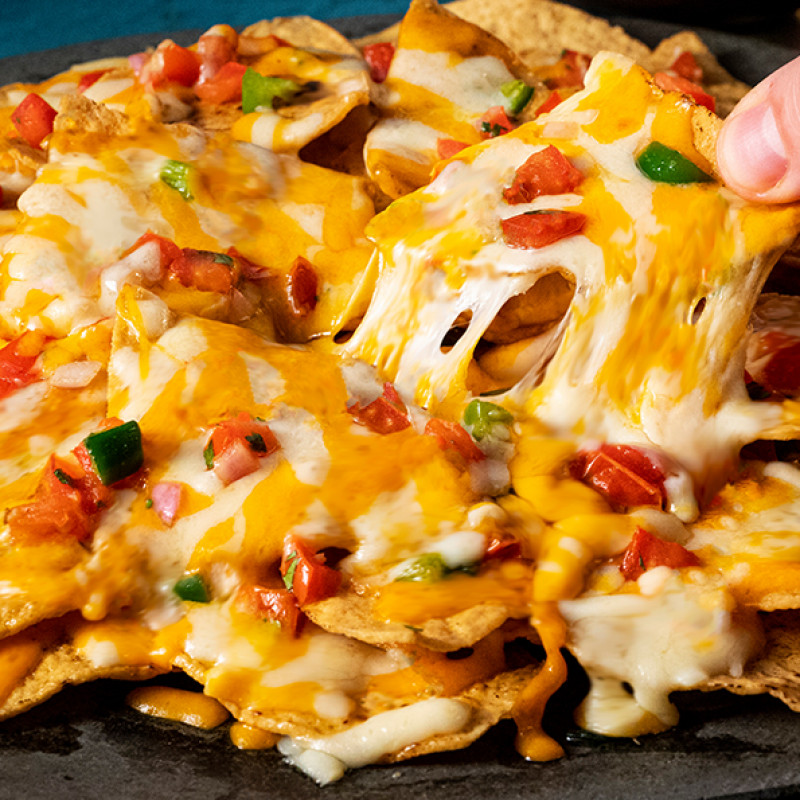 These very simple nachos can be made in less than 10 minutes by using just 3 ingredients. The result is one of the creamiest, cheesiest nachos you'll ever taste.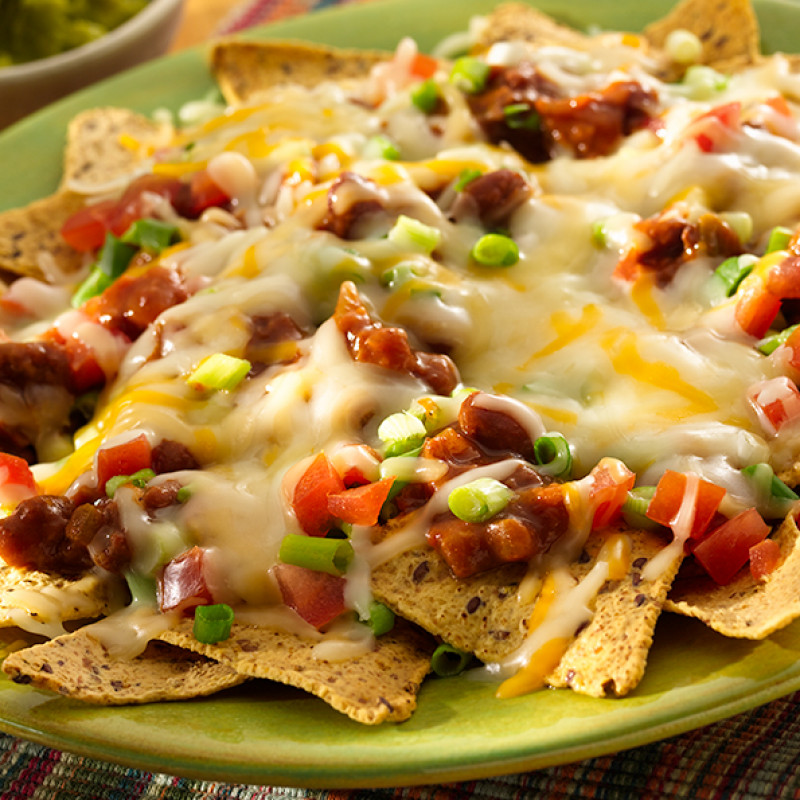 Once you bring out this hot platter of nachos covered with meaty chili seasoned with barbecue sauce and garnished with green onions, you and your guests will both gobble up this snack within seconds! One of the best chili seasoned Super Bowl nacho recipes!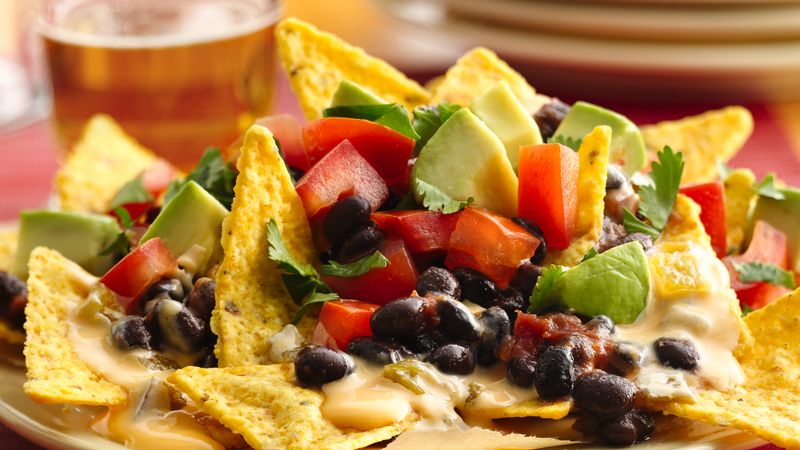 Your Super Bowl watch party will be a sure hit with these nachos topped with queso dip and beer. Remember to make an extra batch because I'm sure this will be gone within seconds!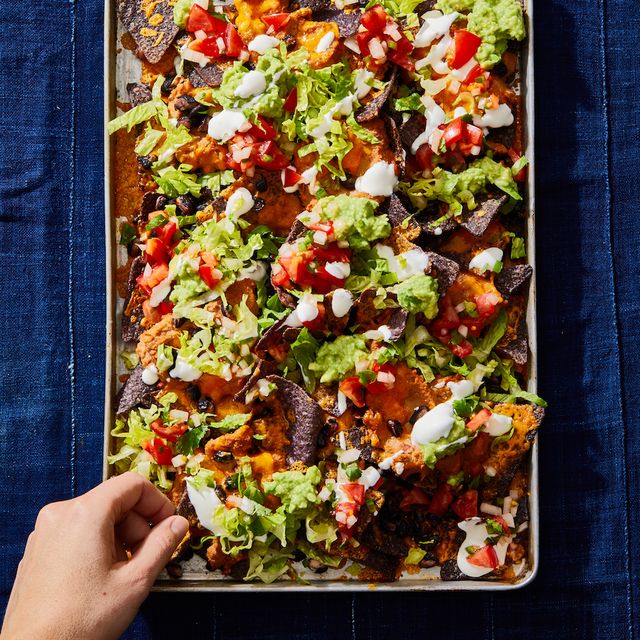 Cheddar, Muenster, and Monterey Jack cheeses are used in this particular nachos recipe. They provide that gooey melted goodness between the delectable toppings and the chips. If you still don't have this Super Bowl nachos recipe, add it now!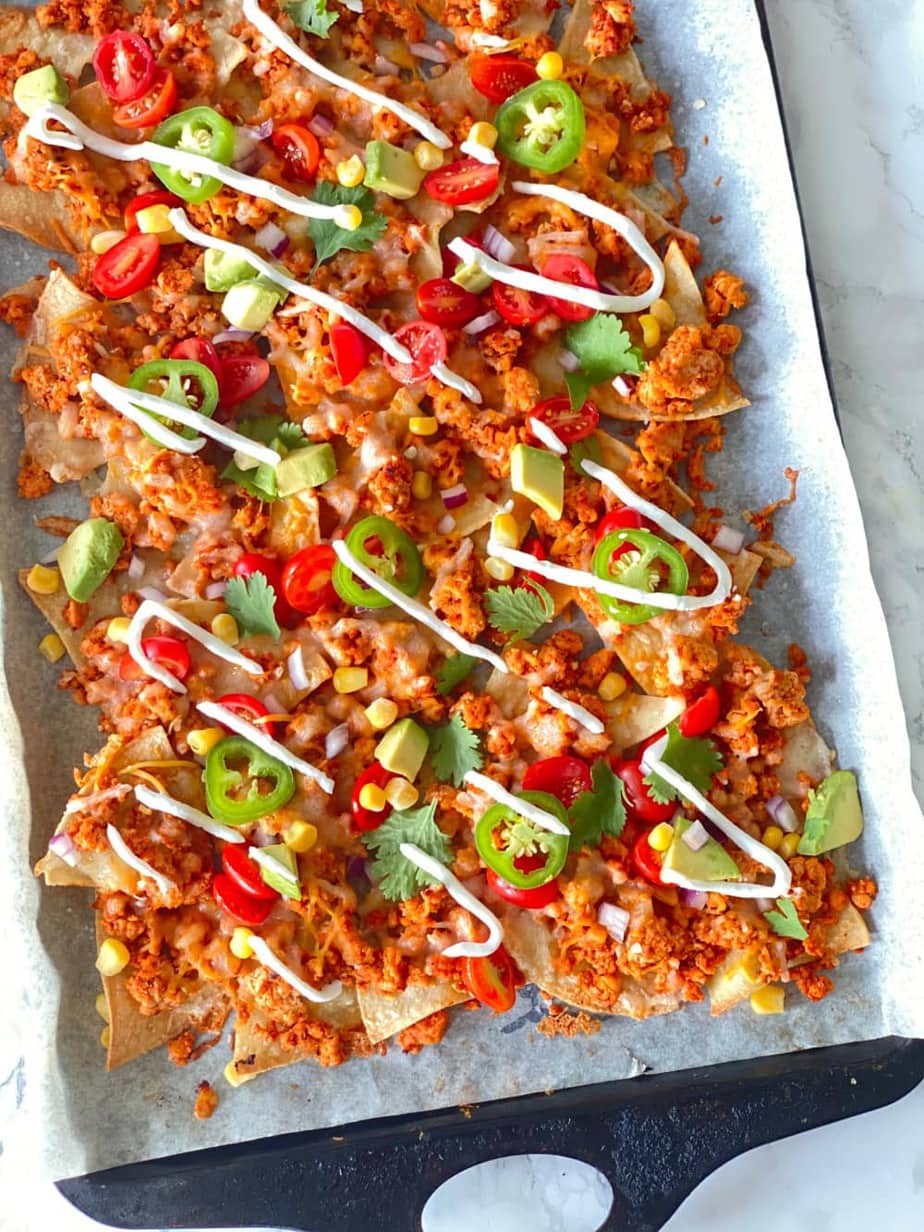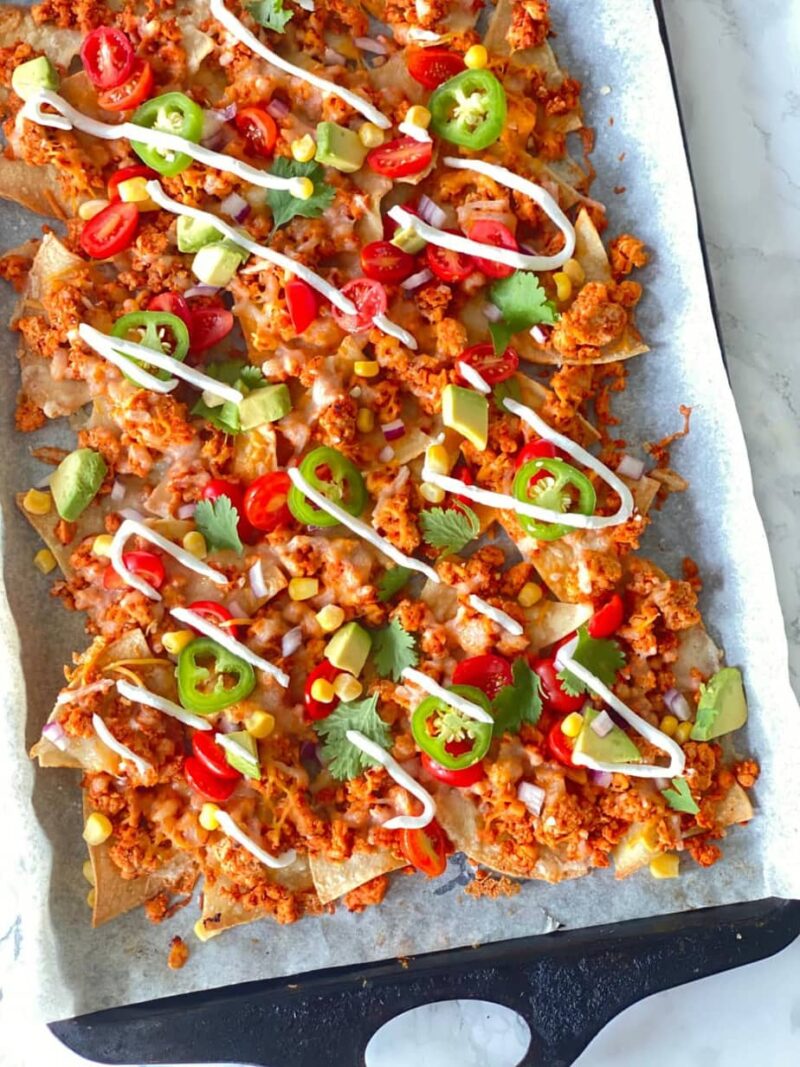 This recipe for sheet pan nachos couldn't be simpler, and it's an entirely healthy way to satisfy your nachos craving on game day. To prepare the healthiest homemade Super Bowl nachos ever for your guests, start by creating homemade tortilla chips, then stack them on your favorite nacho toppings!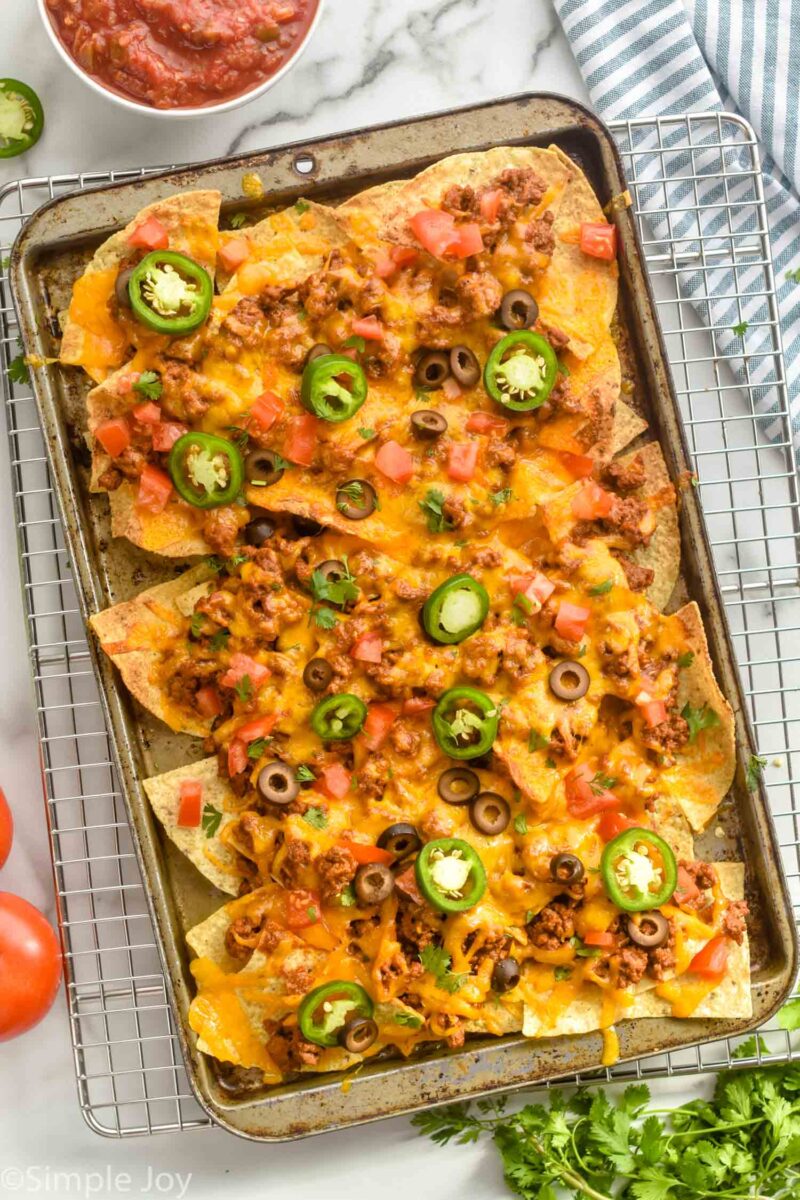 These nachos recipe is quite versatile and perfect for any occasion. Whether it's your Super Bowl watch party or a small get-together, you can never go wrong with this quick and easy recipe! Don't forget to add this easy-to-prepare recipe to your "Super Bowl nacho recipes" list!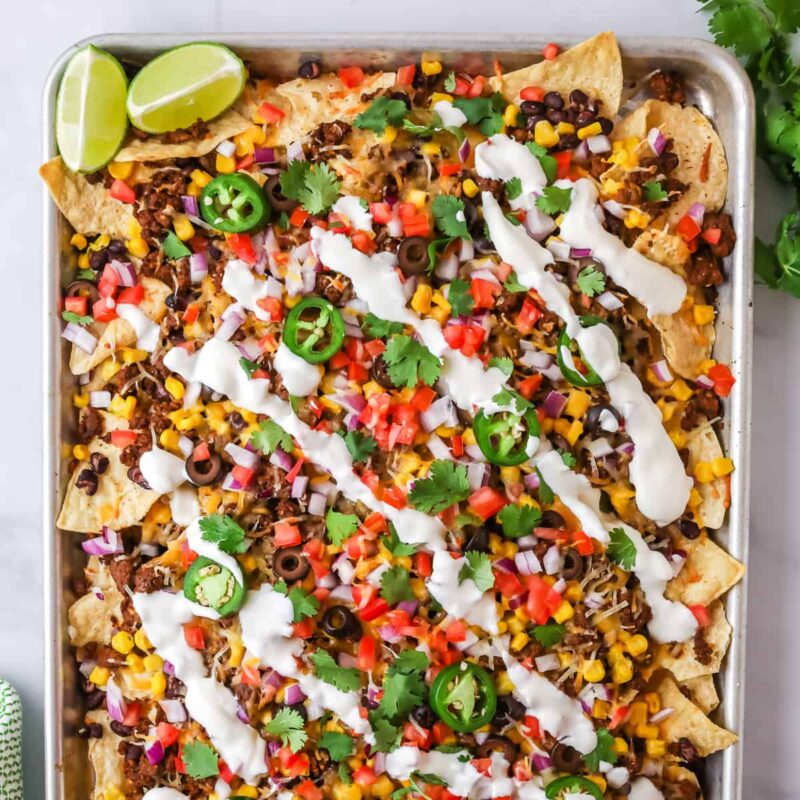 A quick and crowd-pleasing snack for your Super Bowl watch party is this sheet pan nacho dish. They are stuffed with the tastiest nacho toppings, along with cheese and meat! Who would not love these cheesy and meaty Super Bowl nachos, right?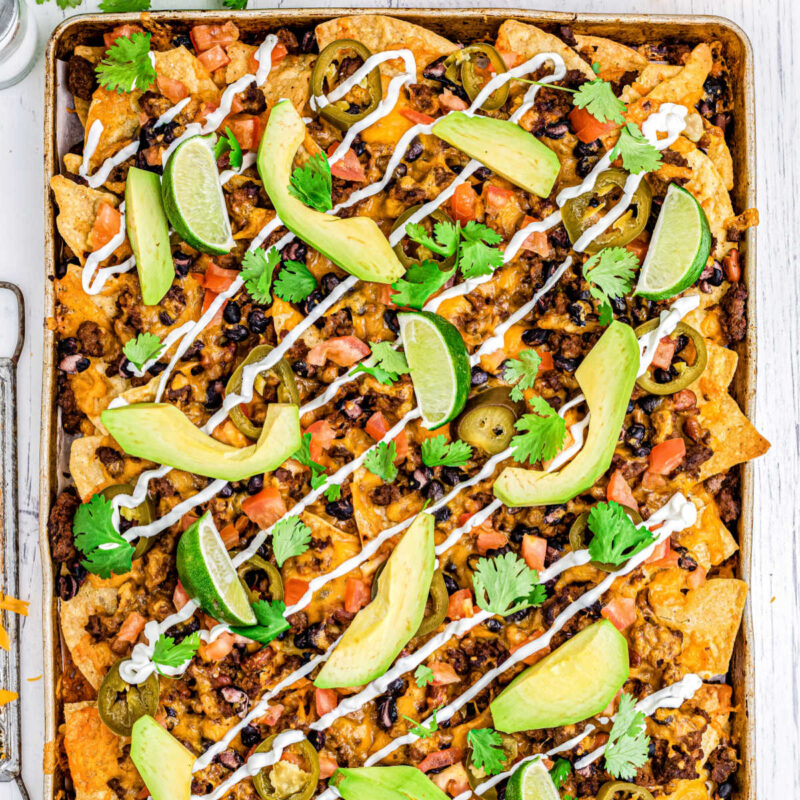 If you like to have fresh ingredients in your Super Bowl nachos, then this is the one for you. This recipe for the ultimate nachos is made with seasoned ground beef and a ton of fresh ingredients, including ranch beans, black beans, onions, garlic, sour cream, jalapenos, avocados, cilantro, and lime slices.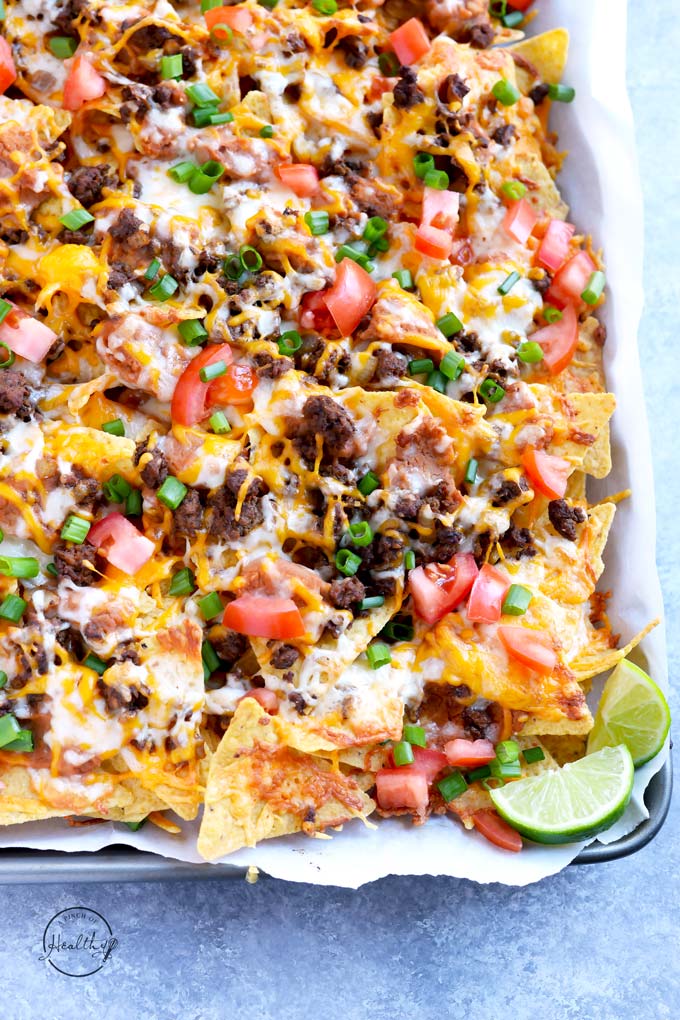 You definitely need to try out this incredible beef nachos recipe during your next Super Bowl watch party. It has the best ingredients you can put in your nachos, including seasoned ground beef, refried beans, cheese, tomatoes, and green onions. Don't skip this Super Bowl nachos recipe!
This particular nachos recipe takes on a classic Super Bowl treat and takes it to the next level. Additionally, you could customize the ingredients to this scrumptious appetizer as you desire. Definitely a must-have for your list of Super Bowl nacho recipes!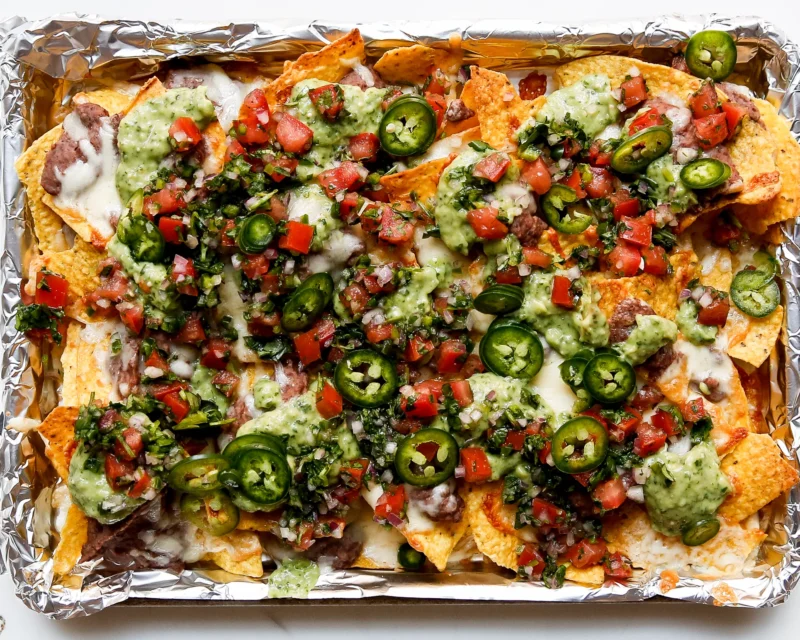 This Fully Loaded Black Bean Nachos with Red and Green Salsas recipe is utterly amazing. It's probably one of my favorites on this Super Bowl nacho recipes list, and I can't wait to try this out on game day!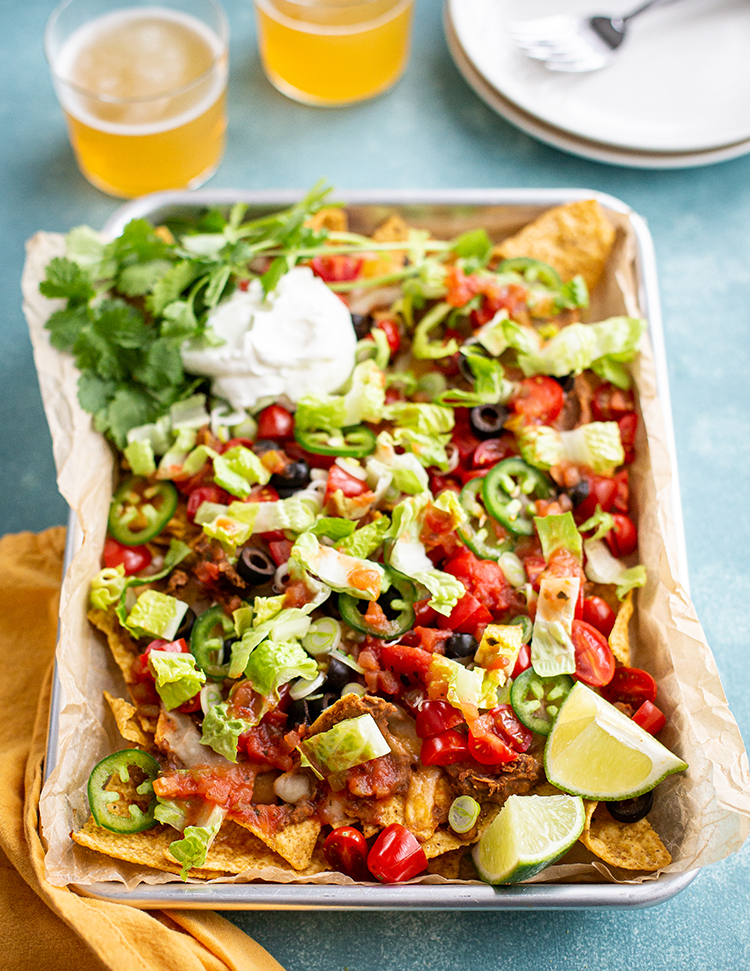 Easy-to-make Super Bowl nacho recipes? This is what you're looking for. These easy-baked nachos are super simple to make. Even if this might be a last-minute appetizer, you'll still have more time to interact with others, eat, and watch the game.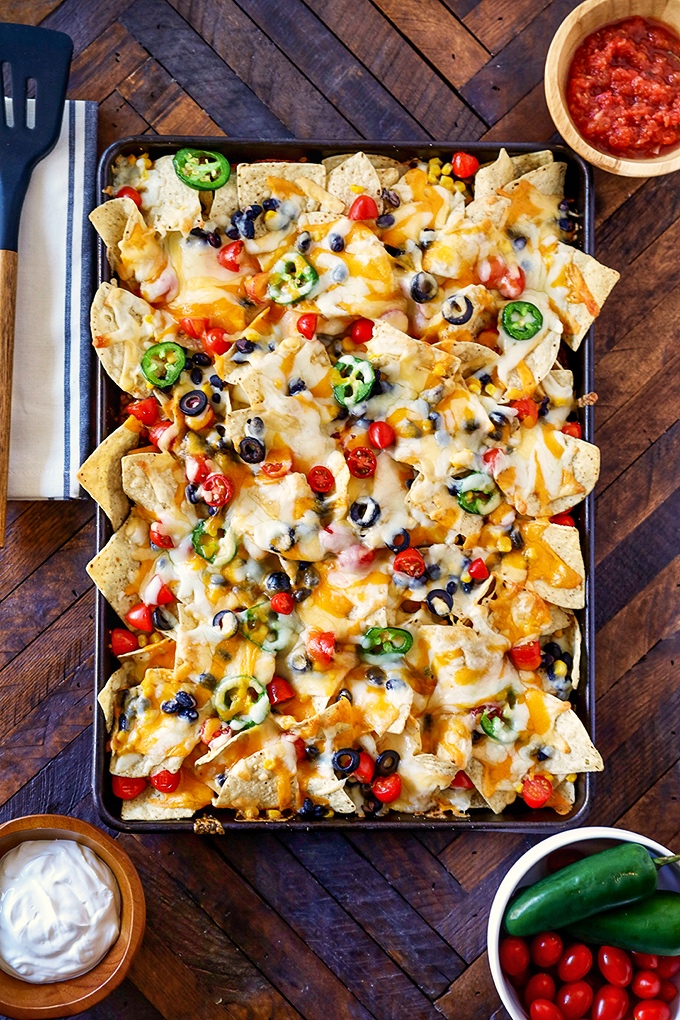 These nachos are likely to be an instant hit at your Super Bowl viewing party. They are packed with sweet corn and black beans. For an appetizer that the whole family will adore, you can also combine mix in some of your favorite nacho toppings. You could never go wrong with this Super Bowl nachos recipe!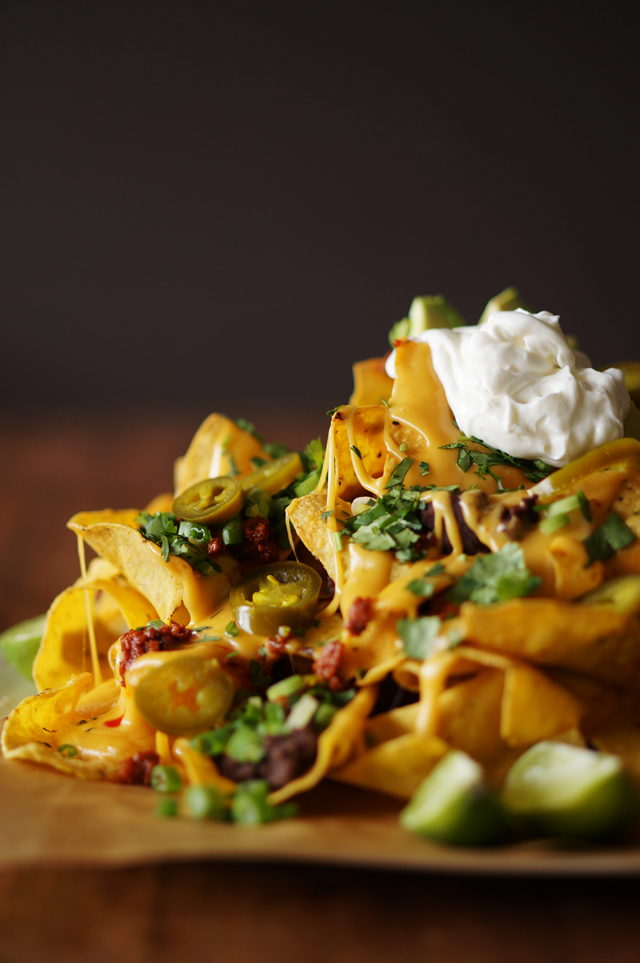 The oven-toasted nachos are the secret to getting the best chips, as suggested by this recipe. They create chips that are perfectly crispy and greasy. Just add your preferred toppings for the remaining ingredients. However, this recipe included sour cream, avocado, chorizo, and jalapenos.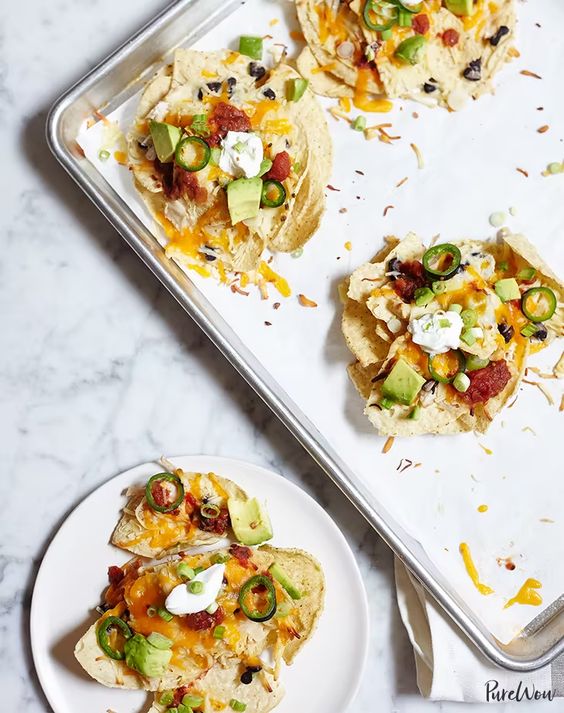 These mini nachos are bite-sized pieces of heaven. Your guests will surely be delighted with every bite!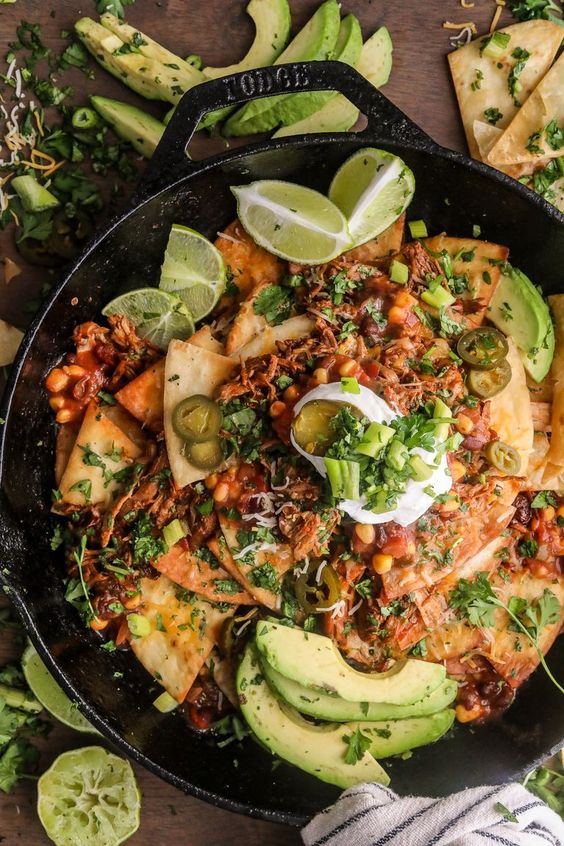 Another mouth-watering Super bowl nachos. A slow-braised pulled pork dish with chipotle peppers and delectable handmade tortilla chips will surely be your favorite way of making nachos once you're done with this recipe. Add cheese, salsa, and jalapenos as garnish!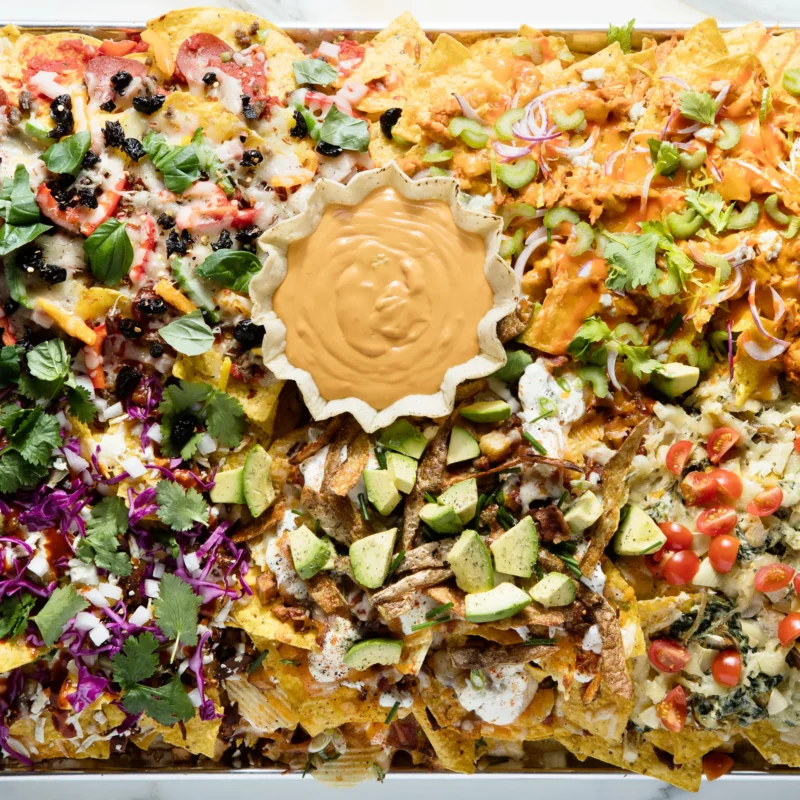 Everyone's favorite Super Bowl flavors are combined in this amazing 50-ingredient nachos recipe to create a total crowd-pleasing feast. This will be an instant hit to your Super Bowl watch party.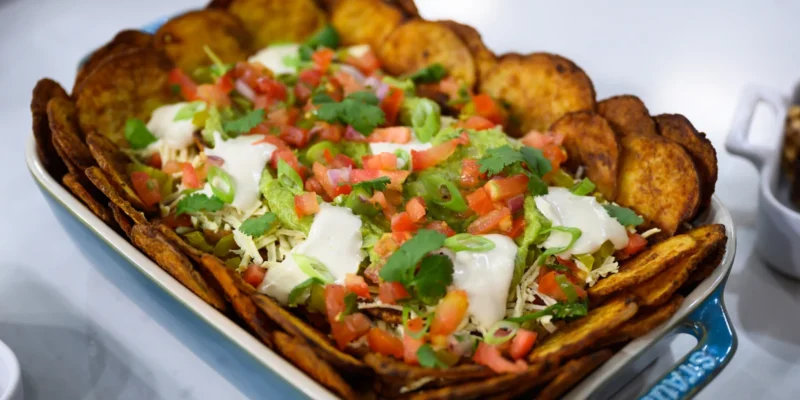 This is the ideal treat to have while watching the big game with your buddies. In addition, it's far healthier than your traditional nachos! You definitely should try this out if you're looking for a healthier alternative. Remember to leave the potato's peel on for added crunch and form preservation.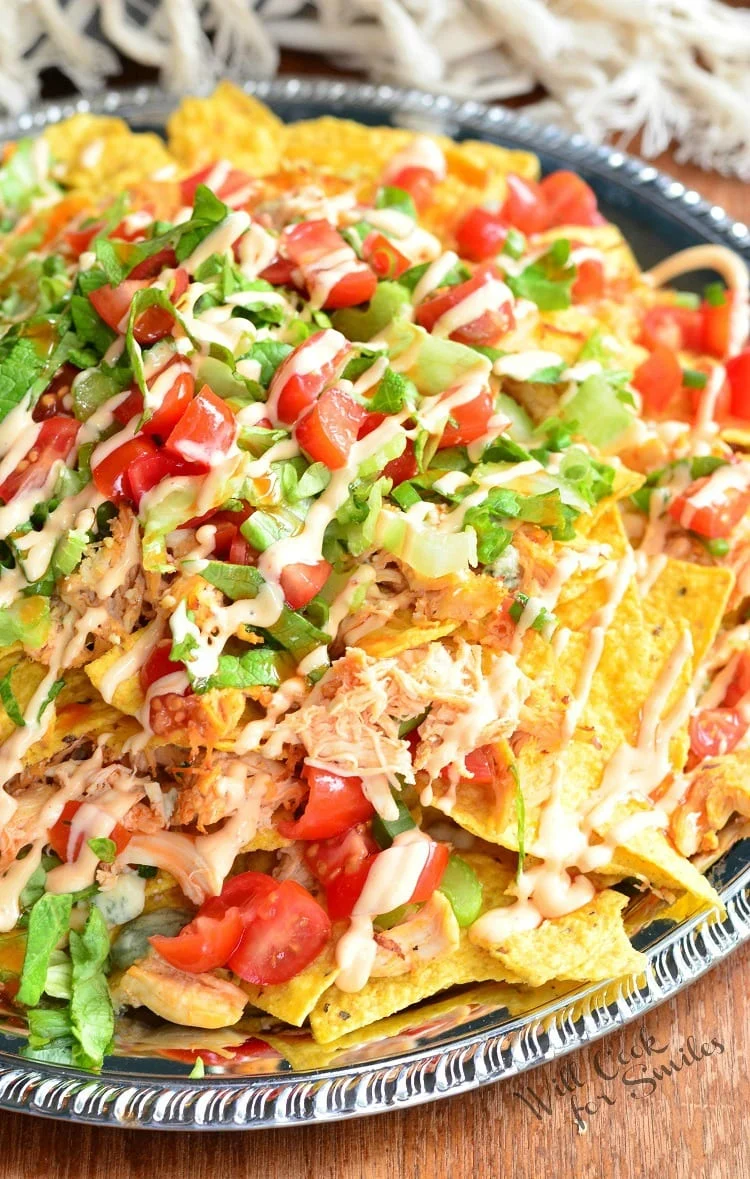 These buffalo chicken nachos are ridiculously delicious! They're made with crunchy tortilla chips, shredded chicken covered in hot buffalo sauce, blue cheese, vegetables, more cheese, then some buffalo ranch dressing.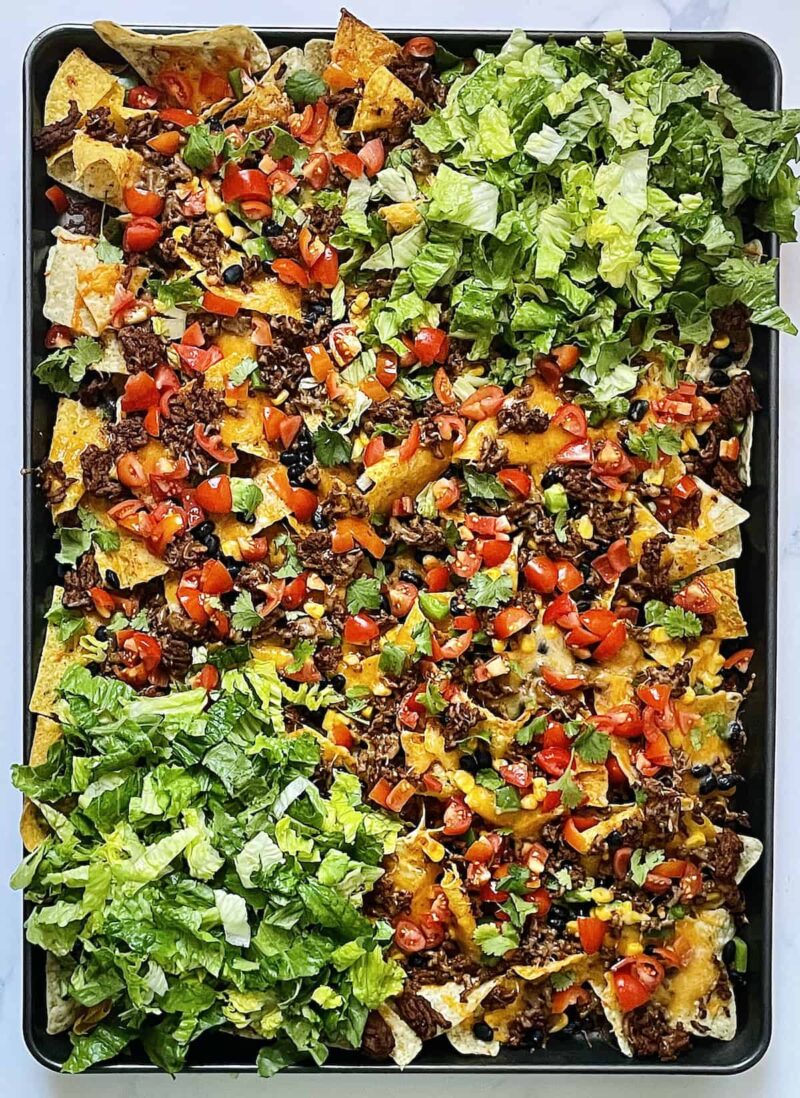 These sheet pan nachos are loaded with ingredients that are sure to satisfy you and your guests! Toppings, loads of cheese, and tortilla chips are arranged in layers on a baking pan. On the same pan, bake the dish, serve, then watch these chips disappear in seconds!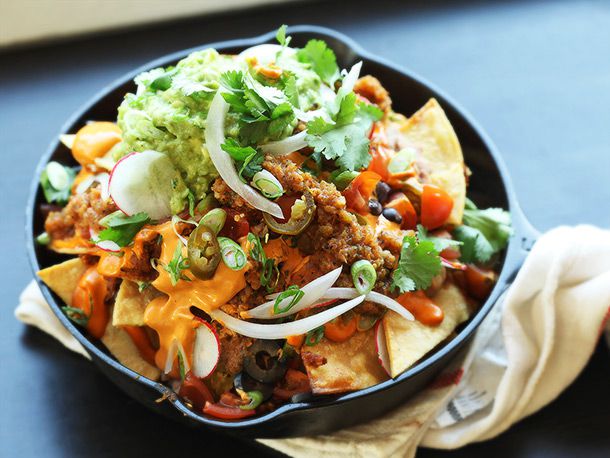 Looking for vegan Super Bowl nacho recipes? I've got you covered! This fully-loaded vegan nachos recipe includes guacamole, tomatoes, olives, onions, jalapenos, radishes, black beans, chili, and roasted tomato salsa.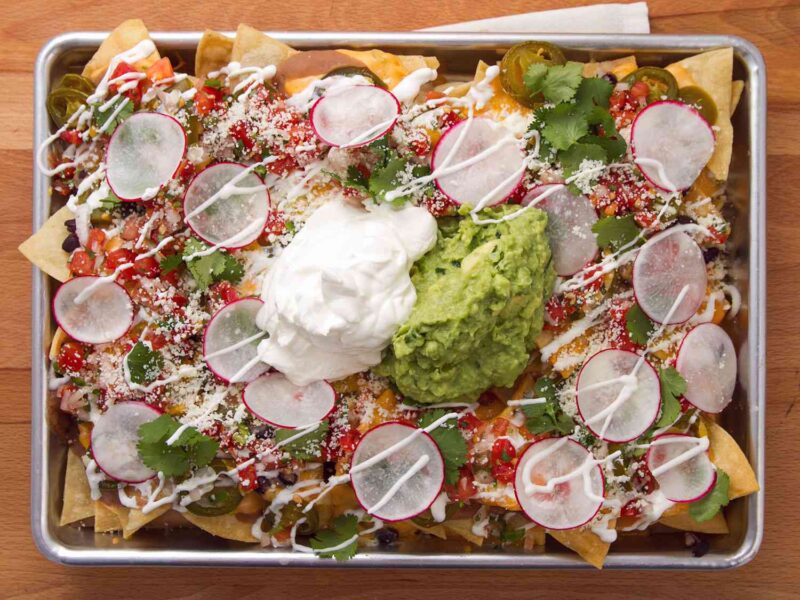 If you have a lot of time on your hands to prep before your Super Bowl watch party, you might want to try out this version of the fully-loaded nachos recipe! It might be a little fussy, but the results are definitely worth it!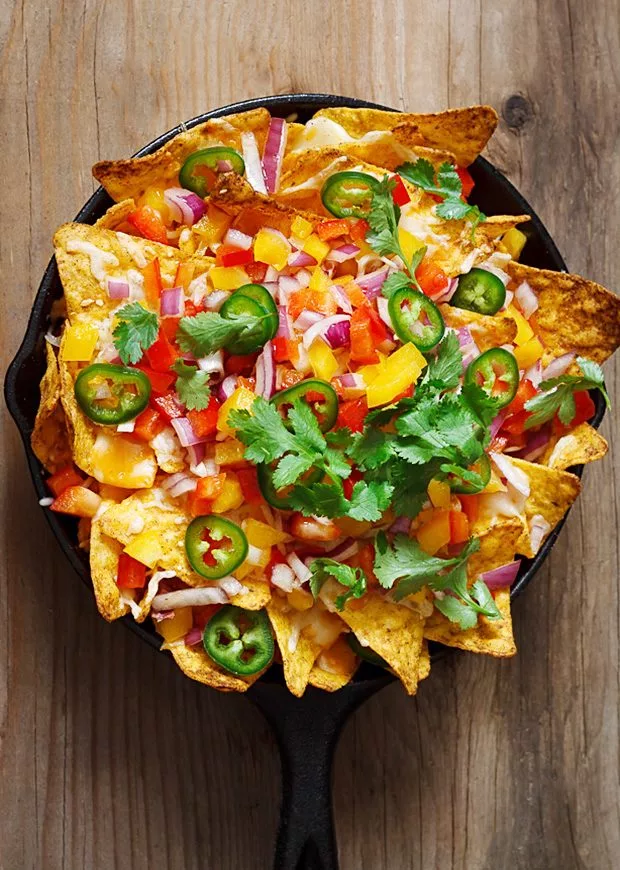 Looking for a healthier version of your Super Bowl nachos? Try out this recipe! These nachos are so stuffed with cheese, hot jalapenos, red onions, cilantro, and sweet peppers that you won't even realize they are entirely vegetarian.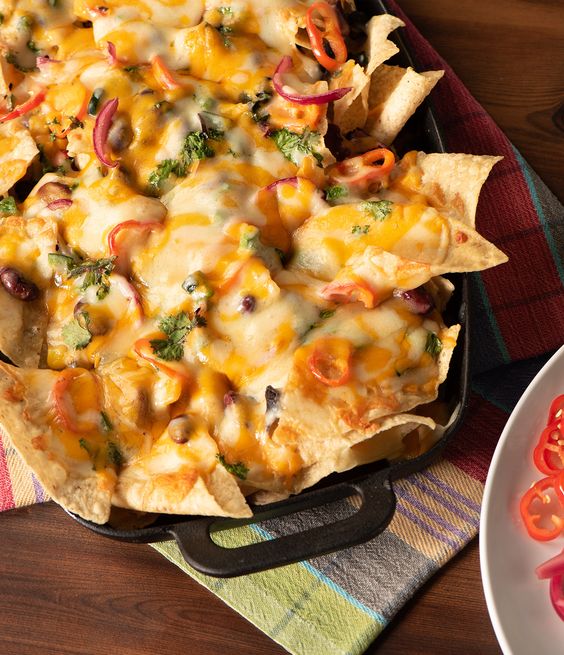 Try this recipe out if you're looking for cheesy Super Bowl nachos! This recipe calls for a large handful of organic tortilla chips topped with fresh avocado, organic black beans, organic green onions, and Organic Valley Mexican Blend Cheese.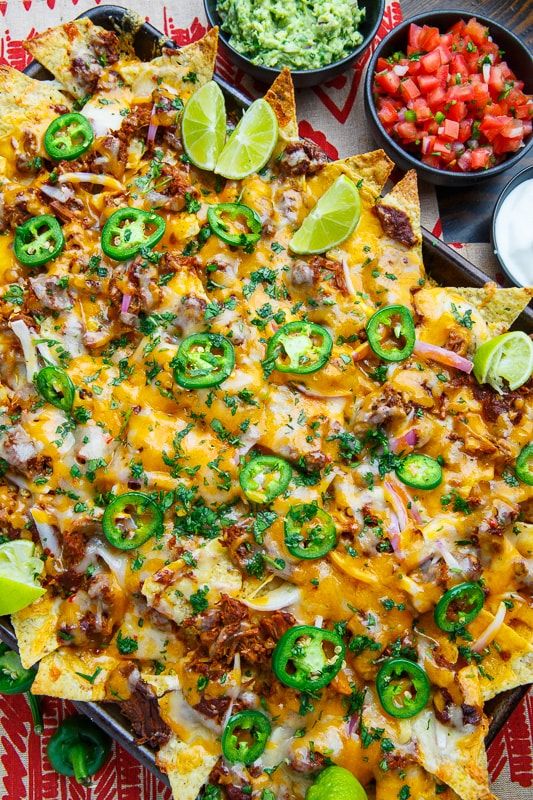 What could be a more delicious topping for a plate of loaded Mexican shredded beef nachos than fresh guacamole, salsa, and sour cream?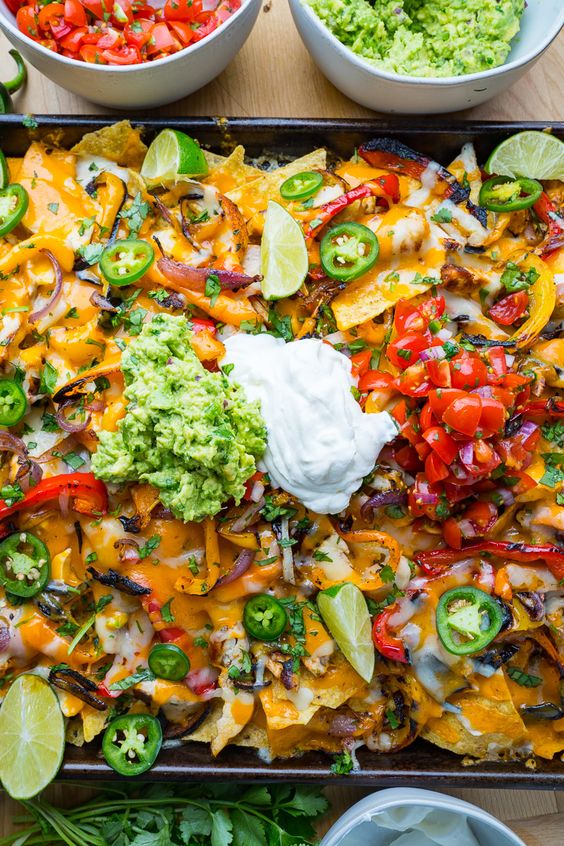 In this recipe, simple chicken fajitas are cooked on a single sheet, then topped with melted cheese and served like nachos over tortillas. It's utterly mouthwatering!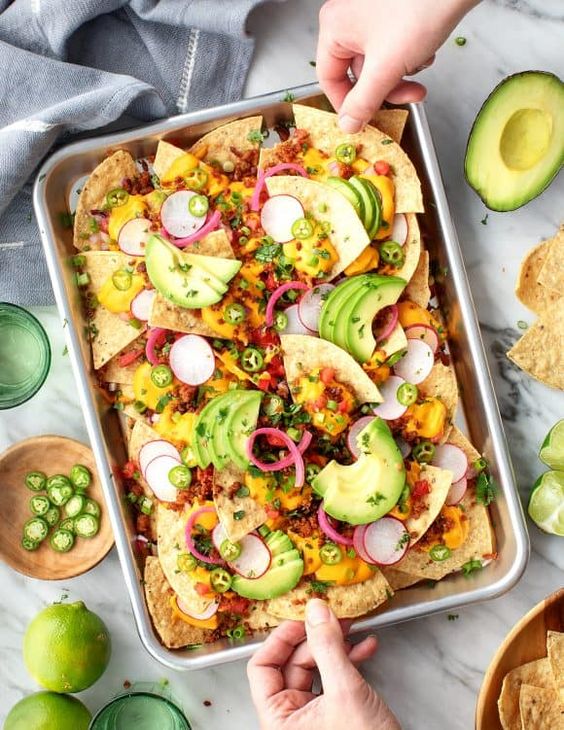 I love this recipe for loaded nachos. Each mouthful is the ideal balance of acidic, spicy tastes with crunchy, creamy textures. They'll be a huge hit if you serve them as an appetizer at your Super Bowl watch party!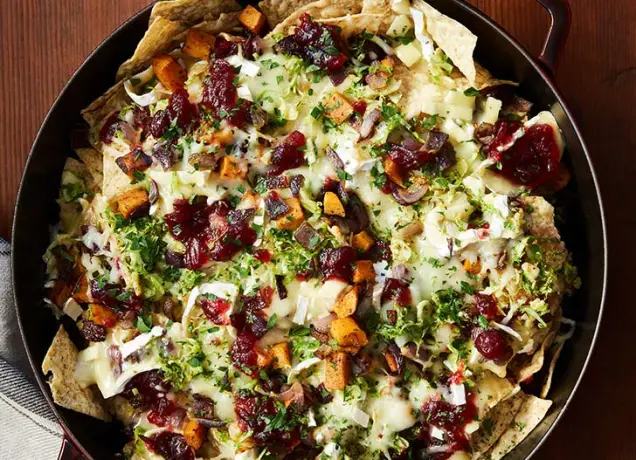 Though they might not be the first ingredients that come to mind when creating nachos, brussels sprouts and cranberries make for the most irresistible salty-sweet combo when combined with exceptionally melty Brie cheese and a little bit of sharp white cheddar.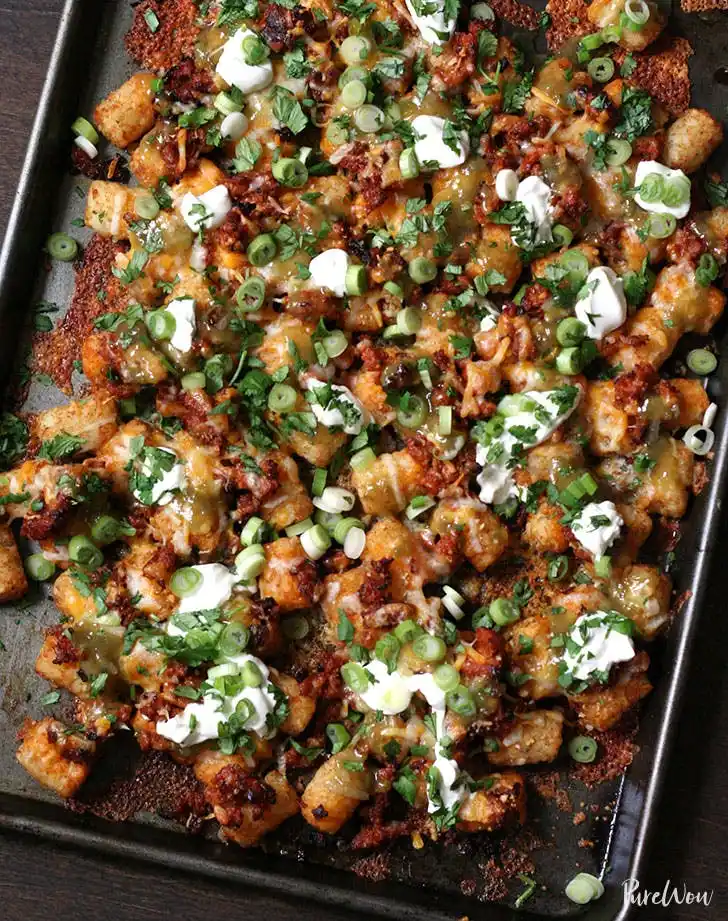 Why not try using tater tots as your nacho chips? They are crammed full of chorizo, onions, sour cream, salsa verde, and two kinds of cheese in this recipe.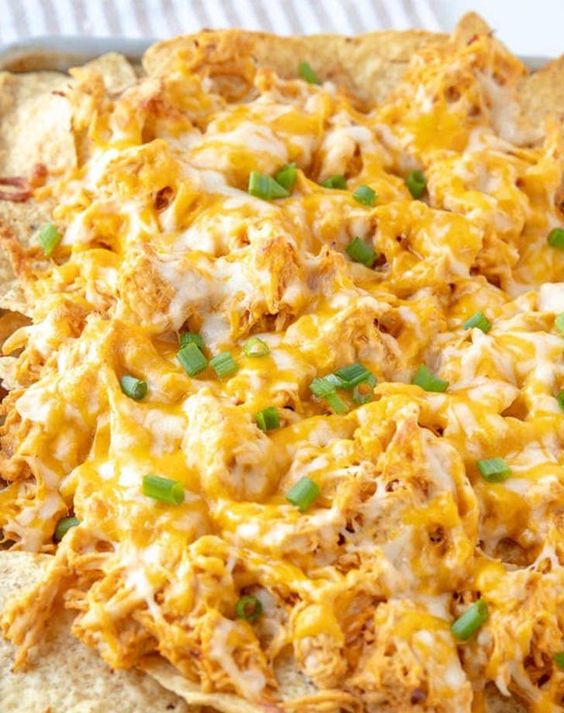 For the ideal game-day snack, combine these crispy tortilla chips with tender chicken, a fiery buffalo ranch sauce, and plenty of cheese.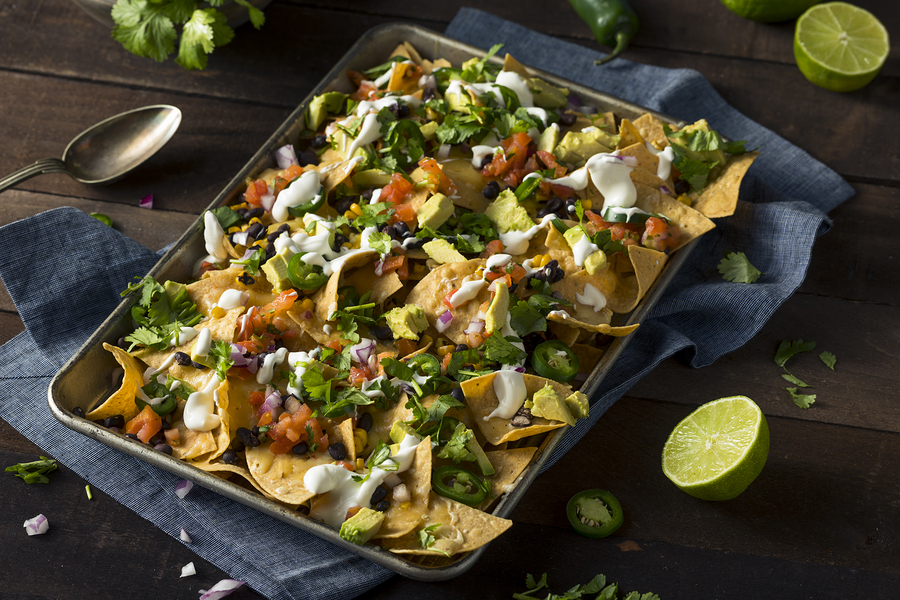 These loaded sheet pan nachos will have your guests gobbling these nachos up within seconds. They were made with premium ingredients like Old Europe Cheese.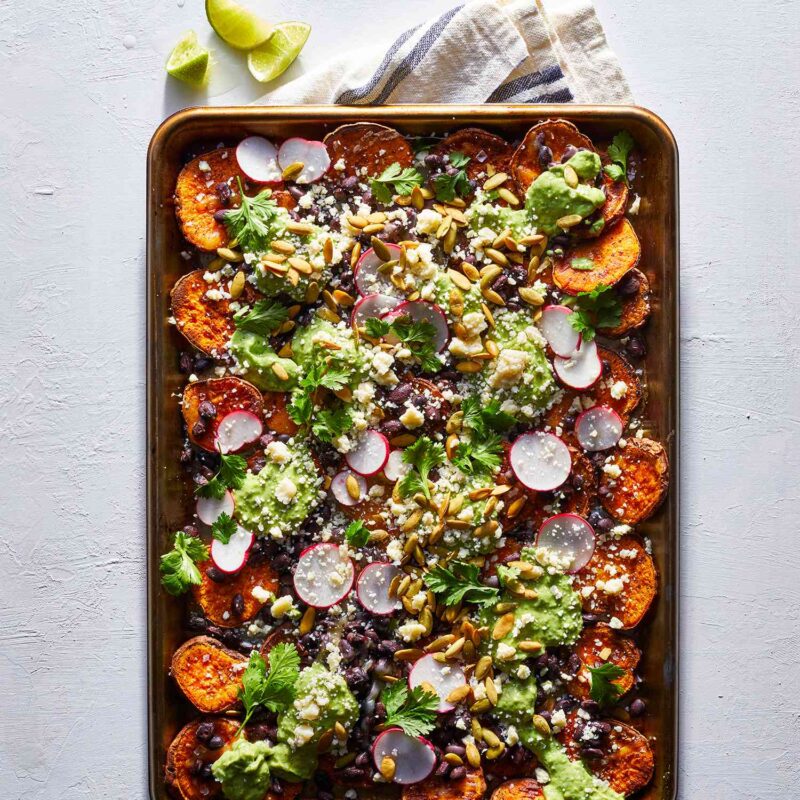 Vegetarians are sure to love this nachos recipe for game day. For a healthier alternative, swap out the tortilla chips for roasted, sliced sweet potatoes. This snack is utterly delectable thanks to the addition of black beans, roasted pumpkin seeds, and cotija cheese. Try this recipe out if you haven't tried it for your Super Bowl nachos!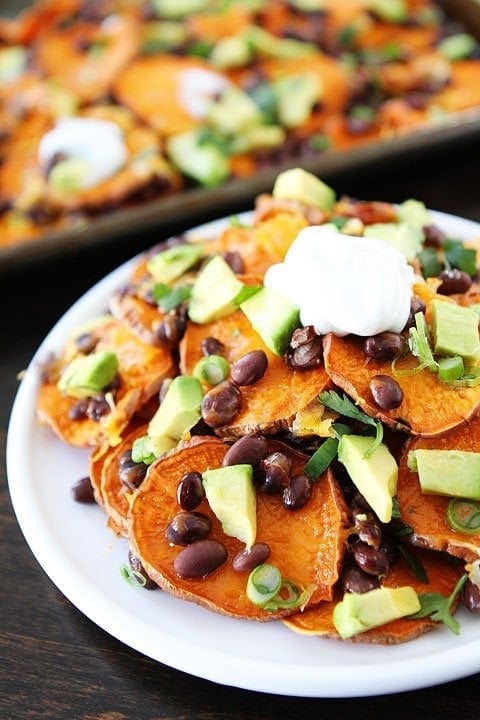 Looking for vegan Super Bowl nachos? Then this recipe is a must-try! Here's another variation of vegan nachos that your friends will love! They're so delicious they won't even notice the difference!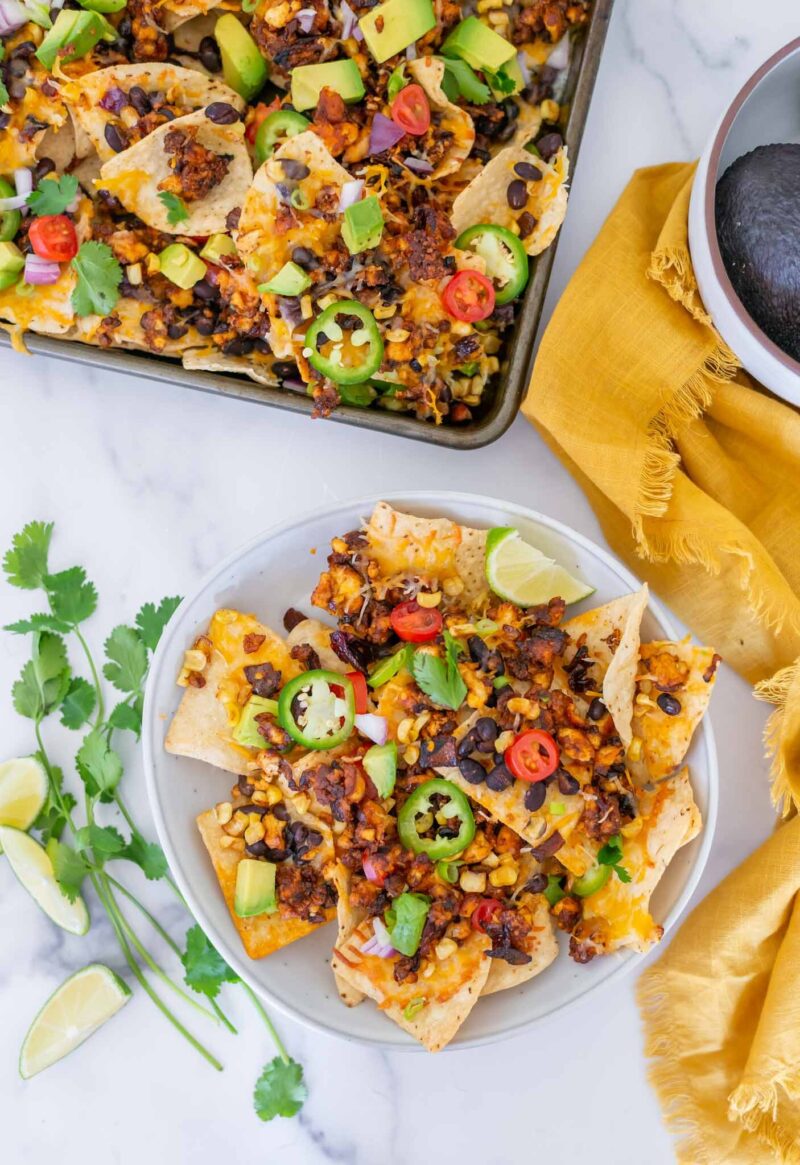 A secret ingredient in this nachos recipe gives them a meaty flavor that is nearly al pastor-like. The slightly smoked and deliciously salty "meat" chunks are filled with flavor from spices.