Thinking of getting an acrylic nail set for your next manicure? Let us help you get some inspiration from what we believe will be the trending acrylic nails ideas for 2023!
It's easy to overlook acrylic nails in a world where gel manicures are the more popular choice right now. But it's good to keep in mind that acrylic nails are a much longer-lasting option than the latter. Because of their extreme resilience and longevity, acrylic manicures are recognized for enabling some very unique and eye-catching nail art.
There are so many creative and exciting nail styles to choose from in the beautiful world of acrylic nails. One of my favorite things about acrylic nails is that they enable you to experiment with numerous lengths and unique designs.
Even though many photos of acrylics show you really long nail shapes, you can get any design you want! Whether you're looking for a short squared nail cut or a very pointy stiletto nail, you can achieve it quickly and easily with acrylic nails!
Not sure what to get other than your usual favorite color? Then keep scrolling! You'll find more than a few on my list that you'll want to keep an eye on for your manicure appointments or sessions in the upcoming weeks, months, and throughout the rest of 2023!
How Do Acrylic Nails Work?
Acrylics are made by combining a liquid (monomer) with a powder (polymer), which is typically transparent but can come in various colors, to produce a dough-like substance that can be formed and shaped. A skilled nail artist can then design anything your imagination can think up.
With that said, you should definitely keep in mind that since acrylic nails stay for a long time, you need to make sure that the pattern and nail art you're getting is something you really like. You also need to ensure that your nail artist is a real pro who can do the designs you want, or else you might end up with a bad manicure.
Trending Acrylic Nails
Although it seems like there are countless options for you and your acrylics, fret not! Here's a list of acrylic nail designs to find inspiration from for your next trip to your nail tech! These designs are all trending in 2023.
Note: I tried my best to link the source of these photos, but some are from really obscure places/I couldn't find the original photographer. Please contact me to add more specific credit or for immediate photo removal.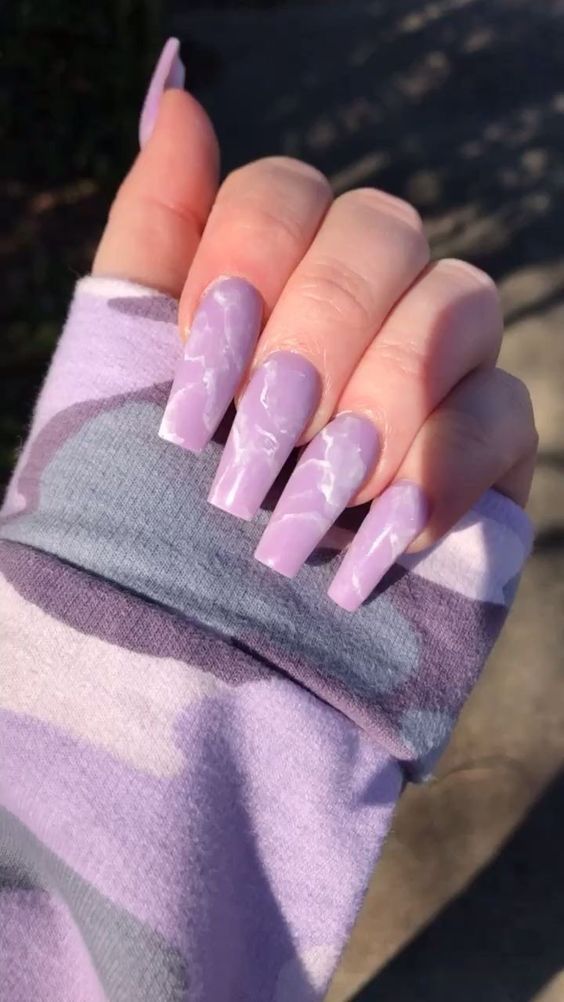 I love these lavender-marbled acrylic nails! Depending on how you look at it, they either look like marble patterns or lightning strikes against a soft purple sky.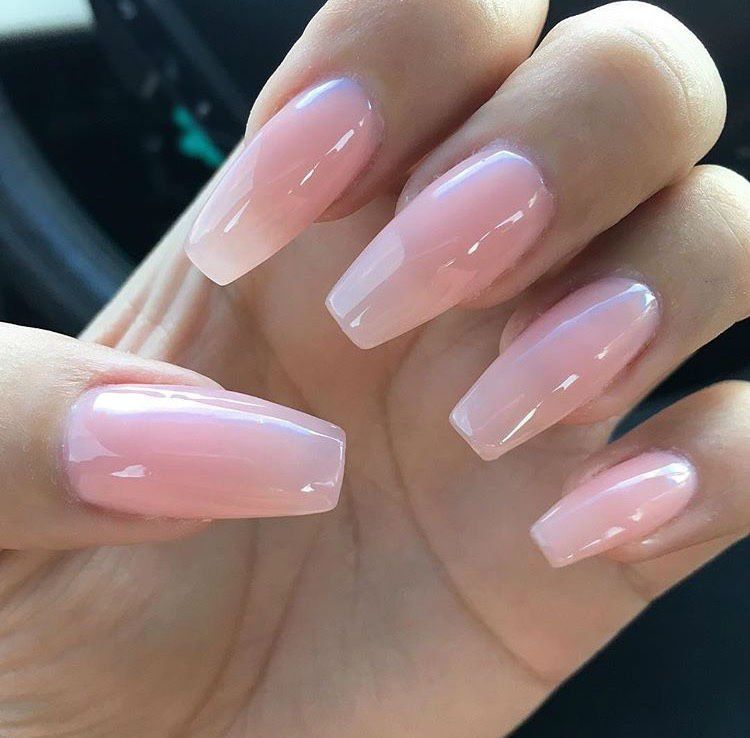 This manicure is for you for soft and natural-looking acrylic nail designs with a bit of length! Just look how gorgeous that jelly-like finish is!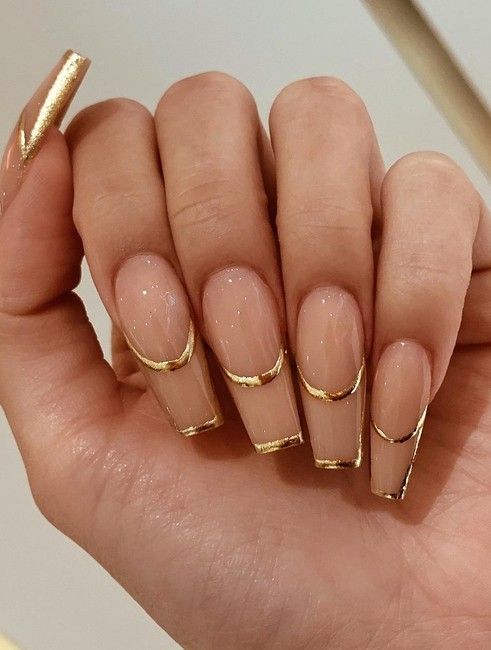 Here's a dainty manicure with gold accents around the nails. To make the details stand out, use a natural-toned base coat for your nails.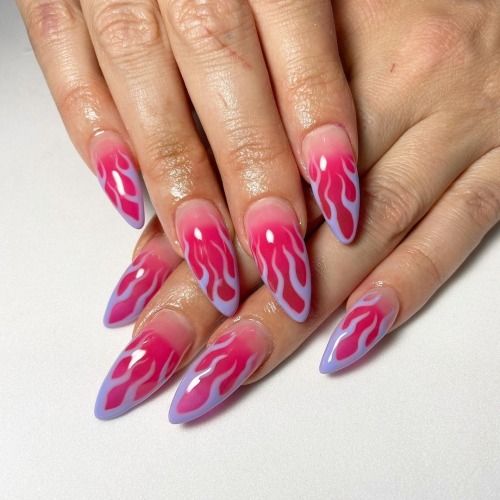 If you're looking for a fun and vibrant manicure that'll surely heat things up, this neon pink and purple fire-themed nail art will certainly set things ablaze!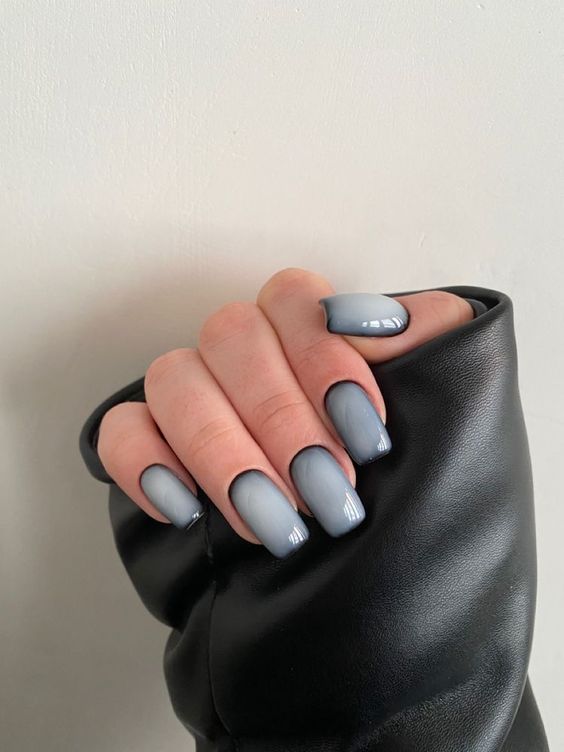 For an edgy manicure that looks chic during the winter, this gradient black and grey design are for you. It's probably one of my favorites on this list as well!
Accentuate your usual manicure by doing marble accents for a few of your nails. This will create a gorgeous contrast that still looks cohesive and put together.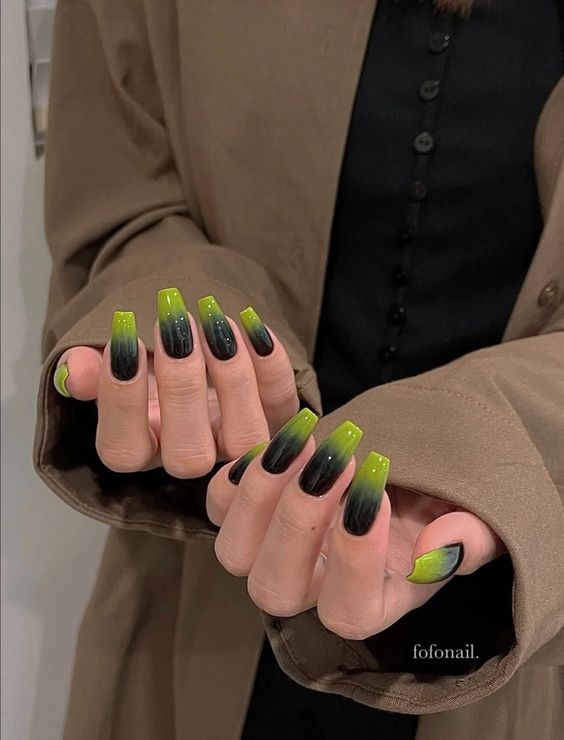 Try out something completely unique for 2023 and consider getting these cool green and black gradient acrylic nail designs. You're sure to look so edgy and chic!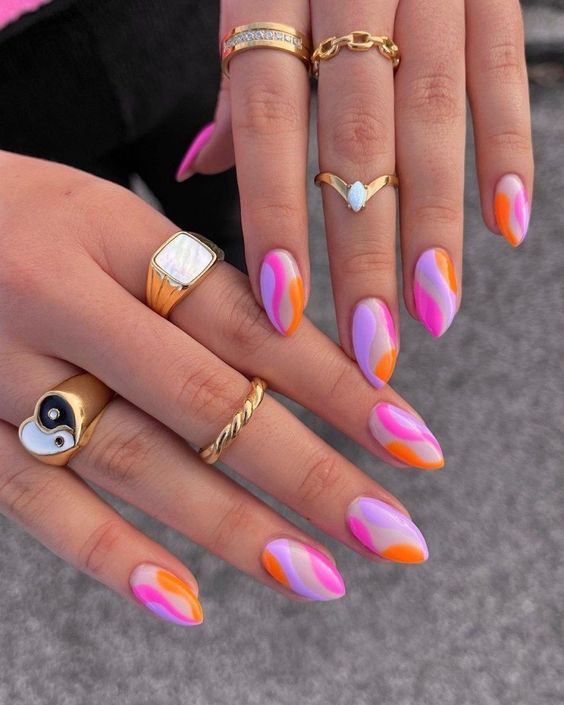 For something a little bit more whimsical and colorful, these abstract designs will make for cool acrylic nail designs.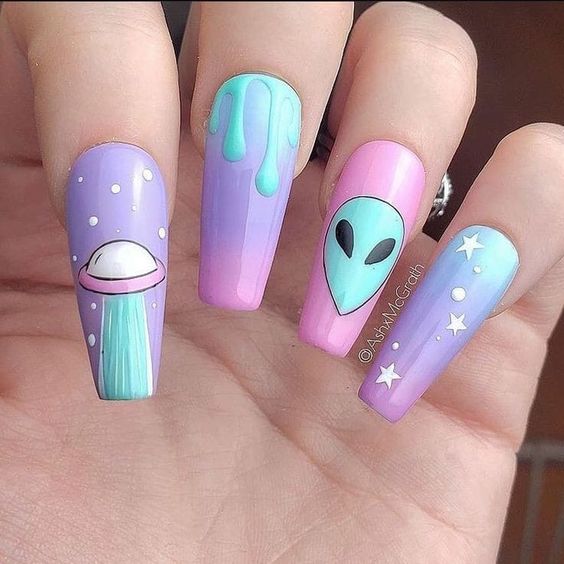 If you're looking for something out of this world, then these nail acrylics can't get any more literal! I love the otherworldly space alien theme and I love the color palette used as well! So unique!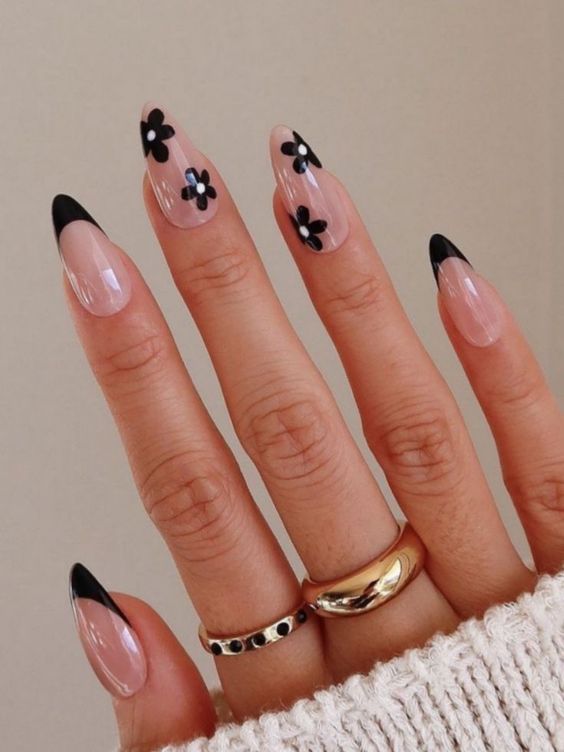 Just in time for when spring comes, this dainty floral design is certainly something to consider once the snow thaws. I love that instead of bright colors, a classy black shade is used.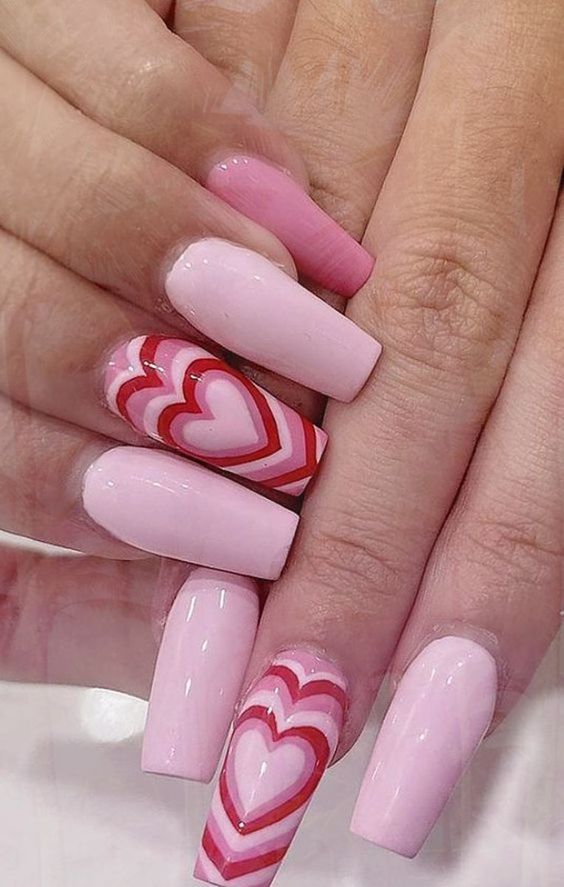 Looking for some nail inspiration for Valentine's Day? Then you might love these heart-themed acrylic nails! Red and pink are definitely the go-to colors this love season!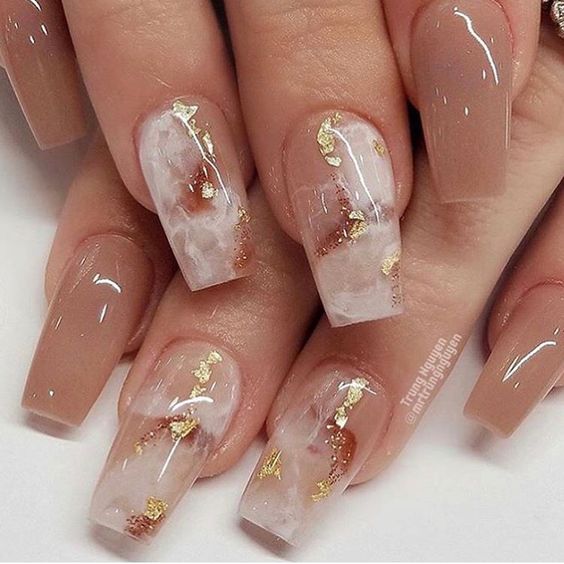 For a classic marbled nail that won't be too overwhelming on the eyes, opt for natural colors that are close to your skin tone and top it off with some gold flecks to add a touch of sparkle.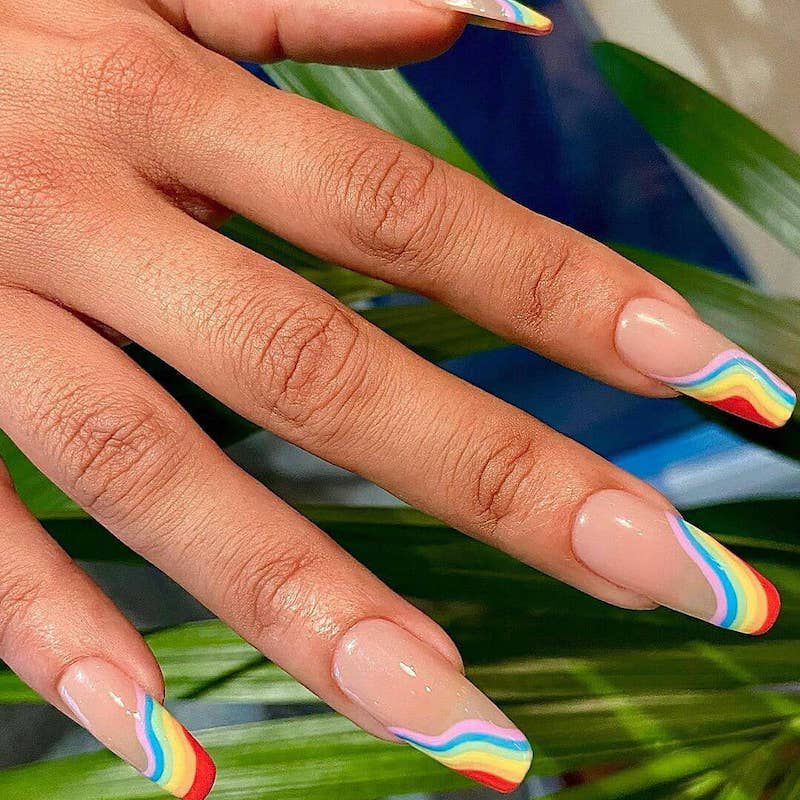 These acrylic nail designs would be so perfect for pride month! Whether you're part of the LGBTQ+ or a proud ally, show off your cool manicure and show your support as well!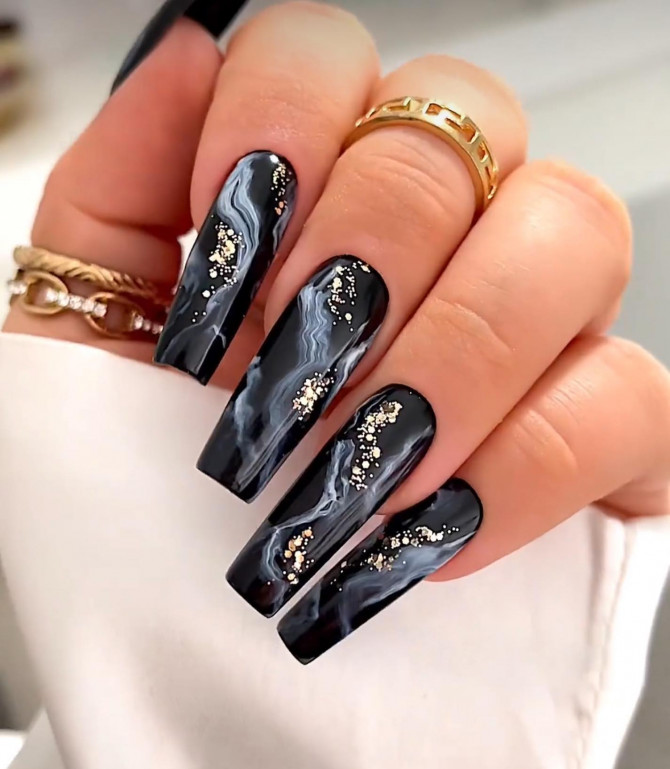 Something about the color black makes your acrylic nails instantly look so expensive and classy and glam. I love how the tiny gold flecks in these marbled acrylic nails stand out so much and add a bit of sparkle to the overall manicure!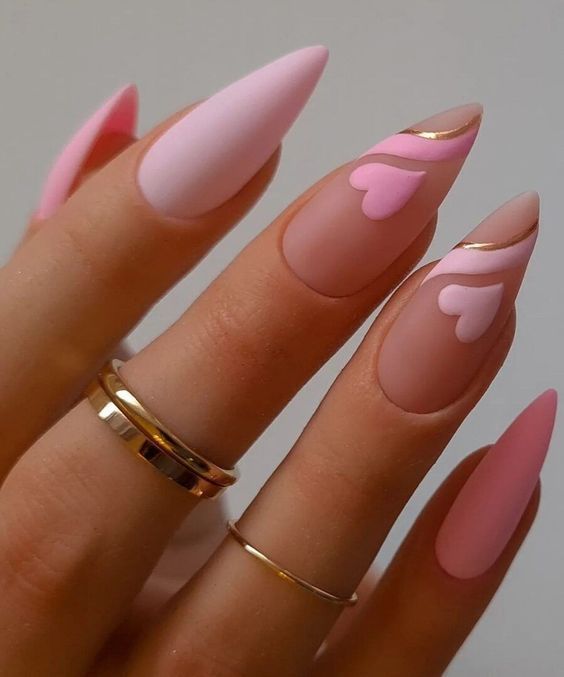 For a gorgeous contrast to your solid-colored acrylic nails, use negative space to create a subtle and minimalistic vibe on your accent nails.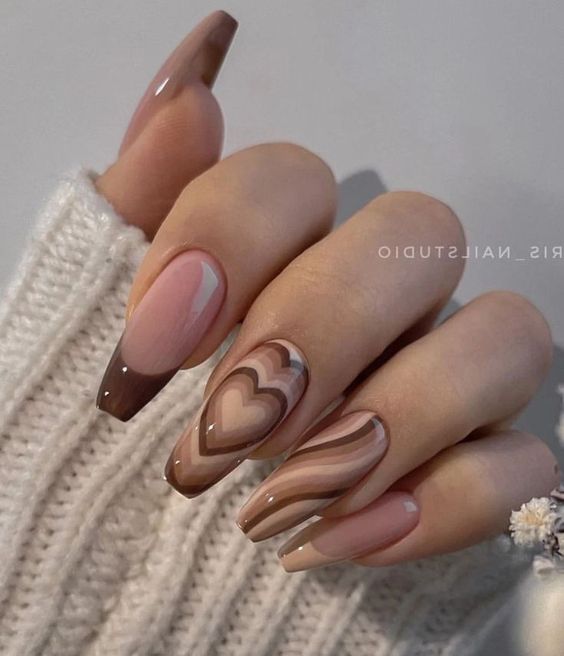 Tired of the usual reds and pinks for Valentine's Day? Use a unique color that will be least expected like earthy colors like brown and beige!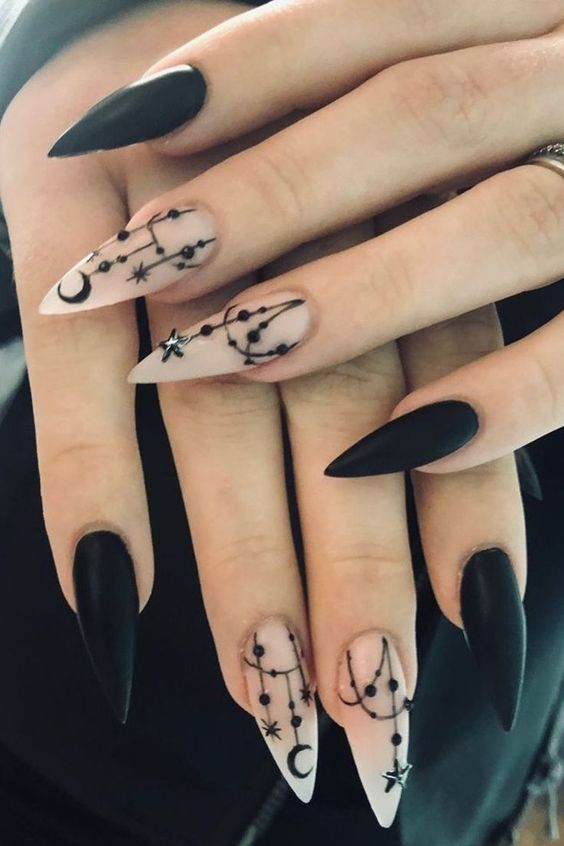 These acrylic nail ideas would be so perfect for the spooky season! I love the dainty artwork on the accent nails!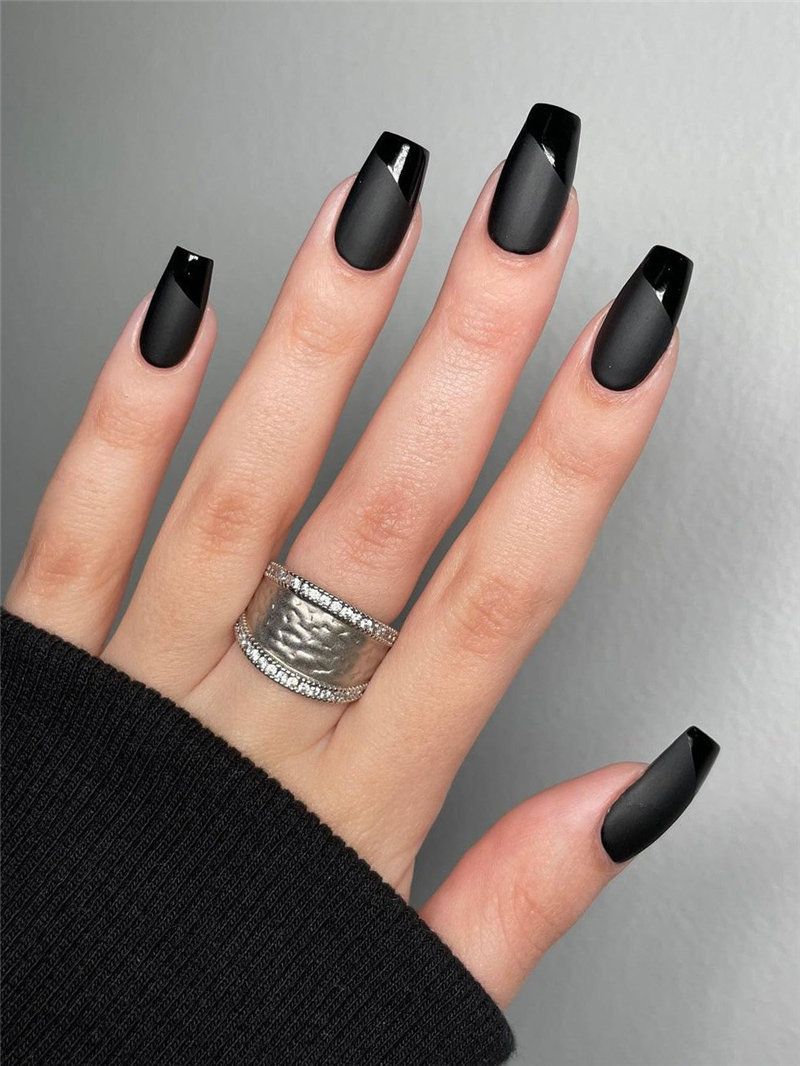 Create interesting textures on your next manicure by combining glossy and matte finishes on your all-black acrylic nails.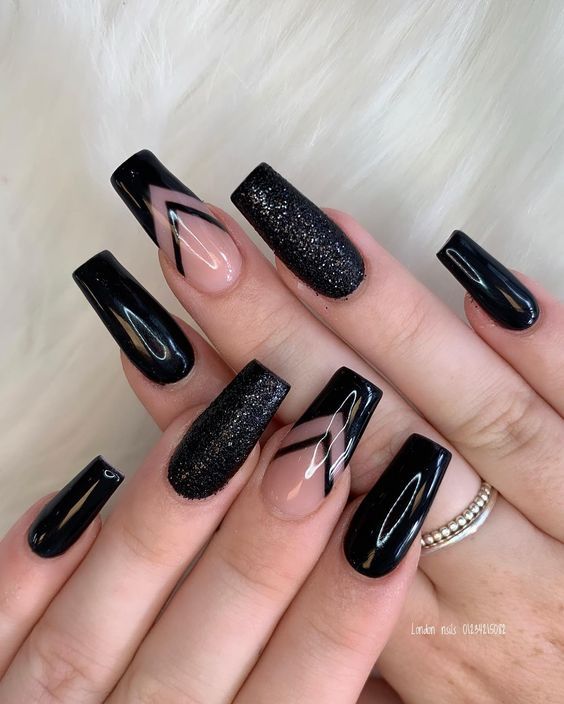 Aside from doing unique geometric patterns for your accent acrylic nails, toss in a shimmery nail as well to add more dimension to your all-black acrylic manicure!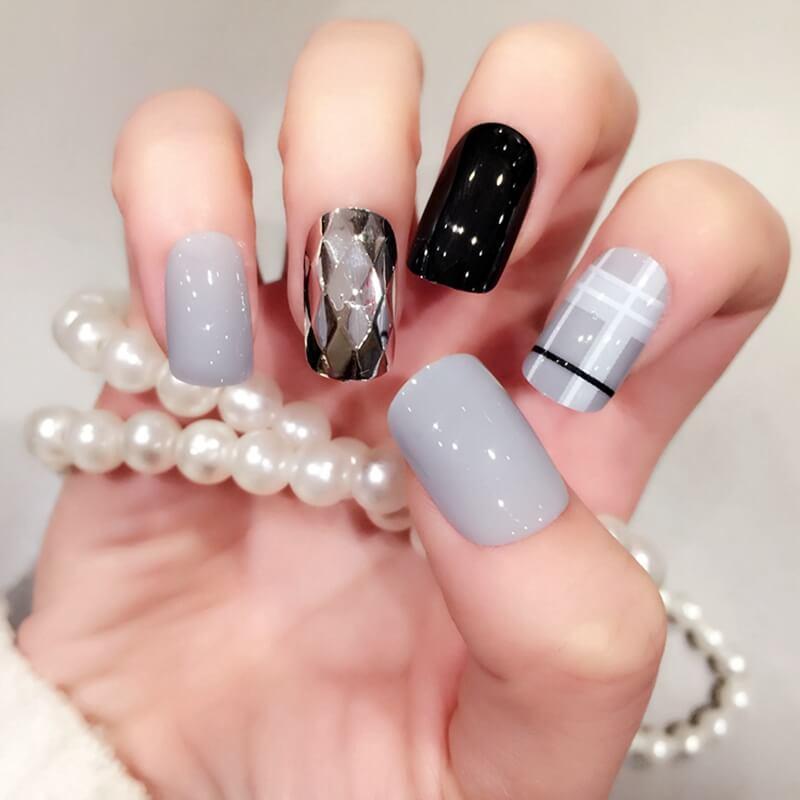 I love the icy undertone of this cool grey manicure! Not to mention, look how gorgeous those varying patterns on each nail are!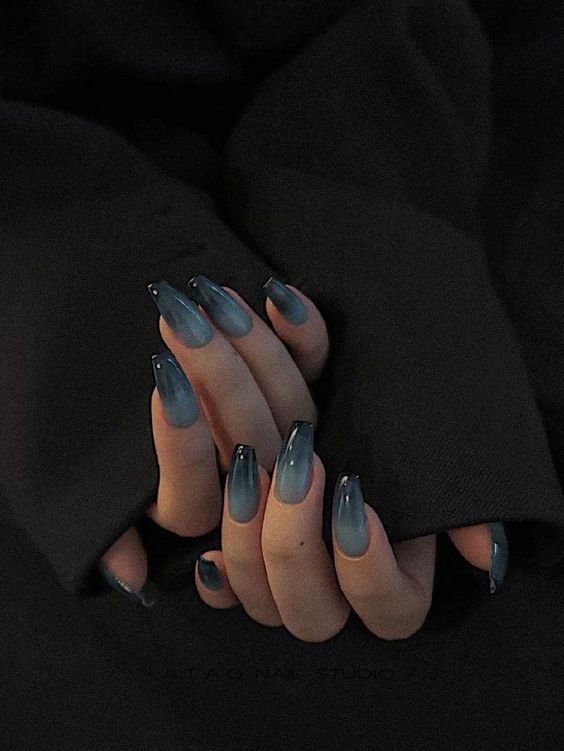 Try out this grey-to-black gradient manicure for a smoky effect on your acrylic nails! This would go so well if you're opting for longer-shaped acrylic nail designs.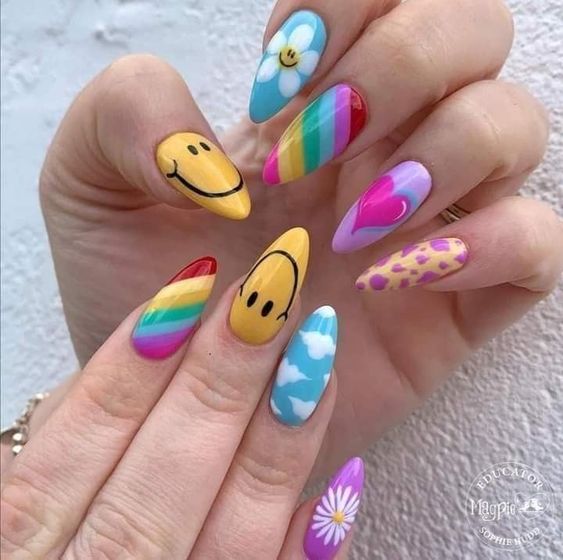 Here's a fun, quirky, and bold manicure that will surely look so good during the summer season! I love how each nail has a different vibe yet they all look so good together!
If you're wanting something classy and not too over-the-top, it's hard to go wrong with a classic French tip.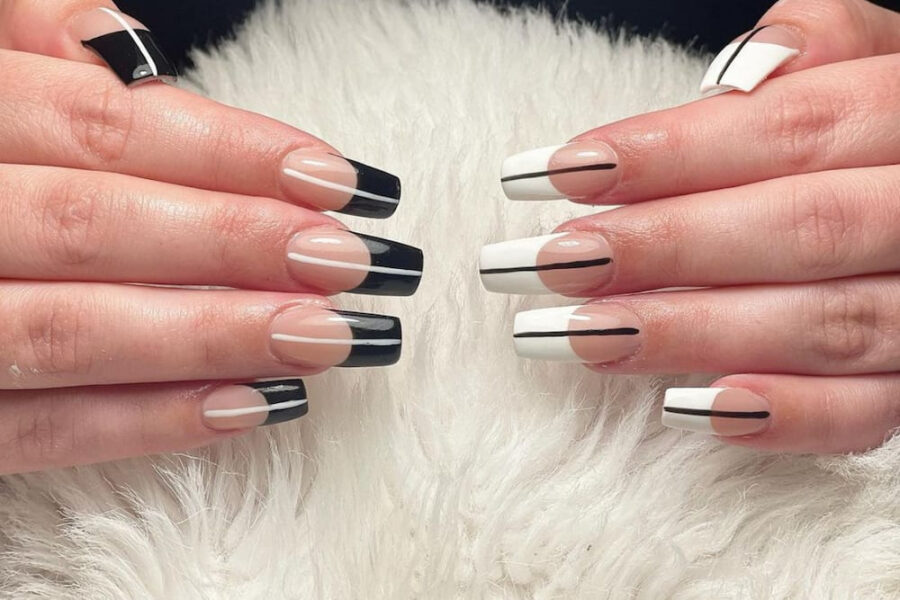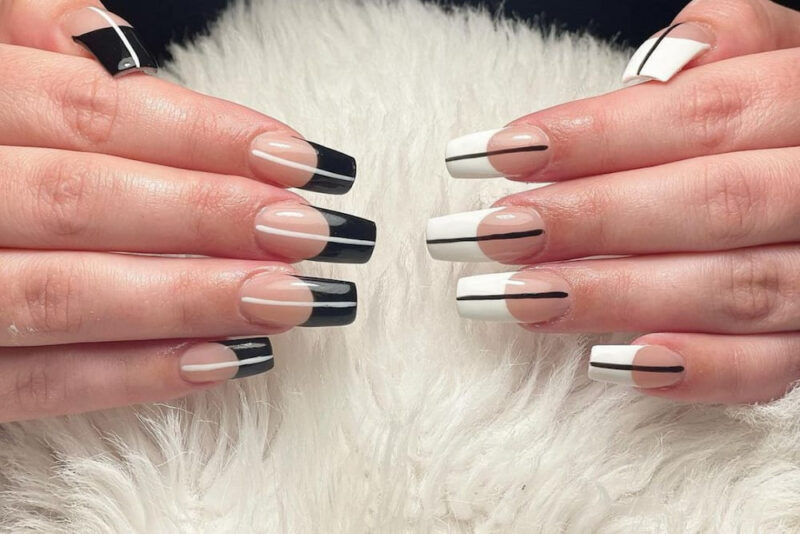 For a more modern aesthetic that will fit any occasion, this black-and-white pattern will certainly do the trick!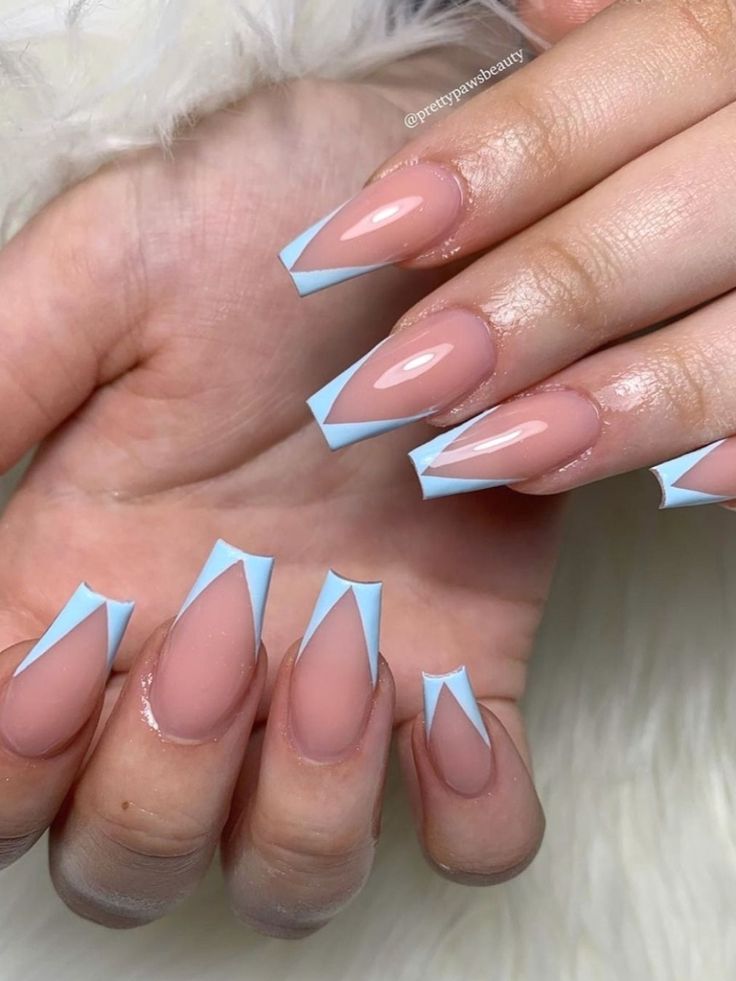 For an icy yet dainty twist on the usual French tips that a lot go for, why not try these blue tips instead that have a rather obscure geometric shape? It's definitely a way to try something unique this year.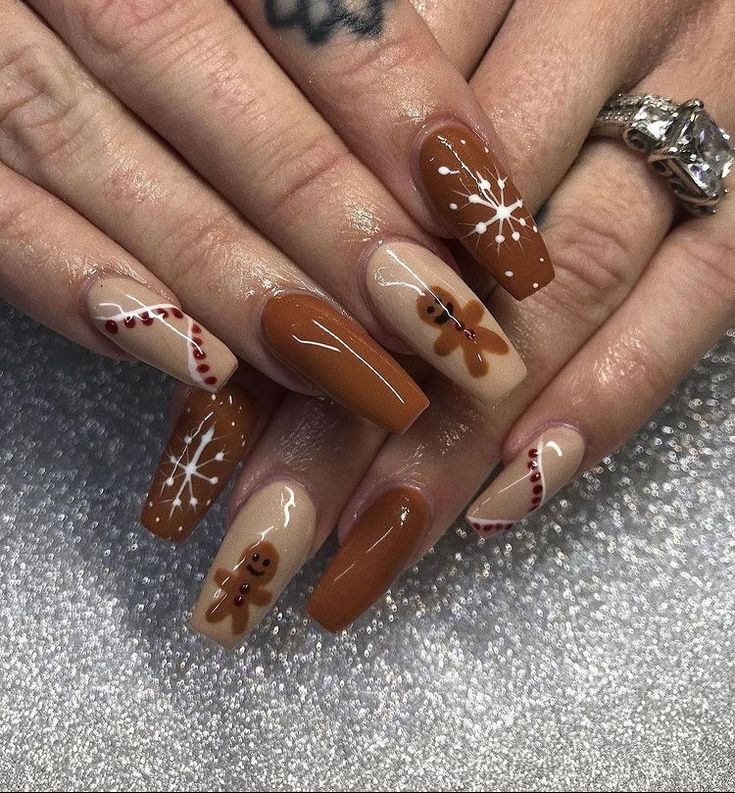 I know we just got out of the holiday season but it's never too early to plan out what manicure to get for next Christmas. These gingerbread acrylic nails look utterly scrumptious!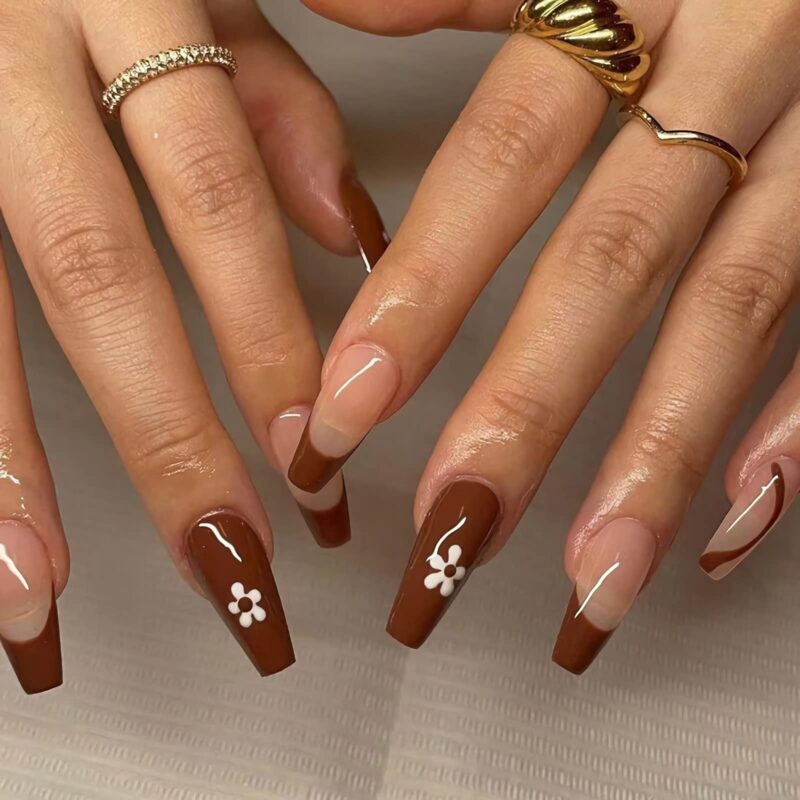 These earthy-toned florals on your nails would be the perfect crossover between spring and fall this year!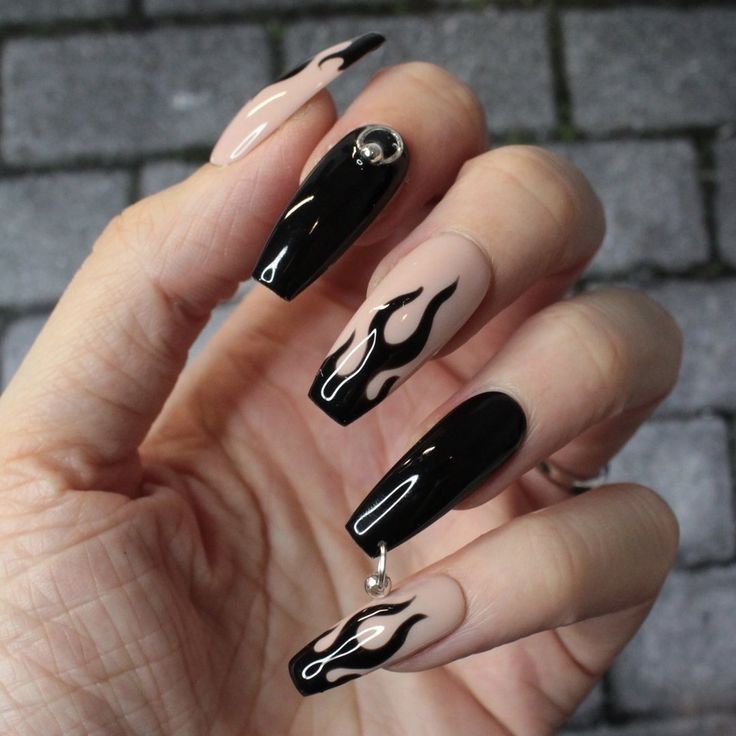 For an edgy manicure that would be perfect if you're going to a rock concert or it's simply just your personal style, these acrylic nails are something to consider!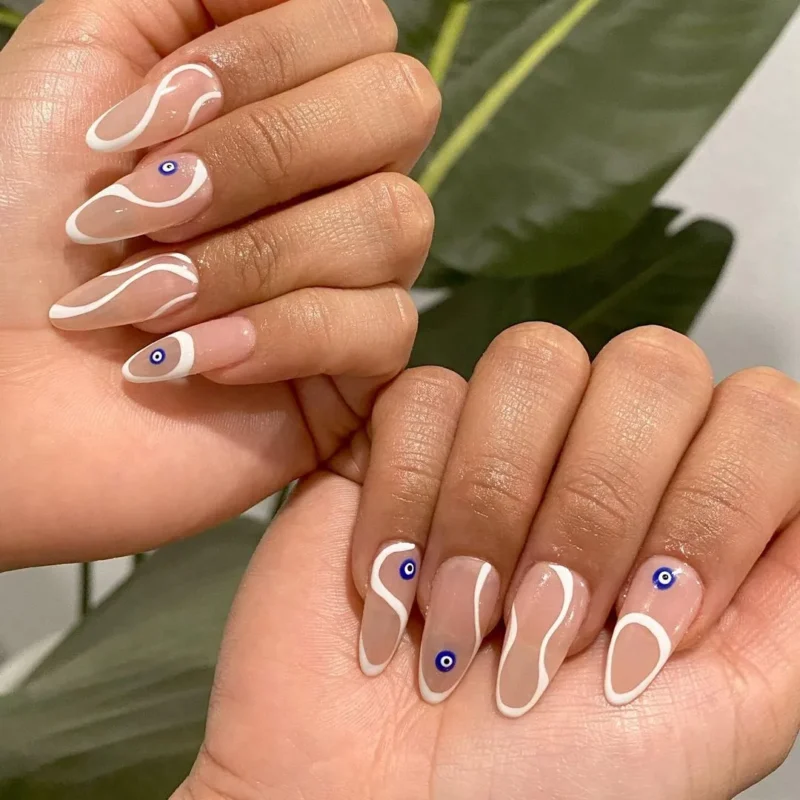 For a modern and abstract aesthetic this year, these acrylic nails will certainly give you that unique vibe!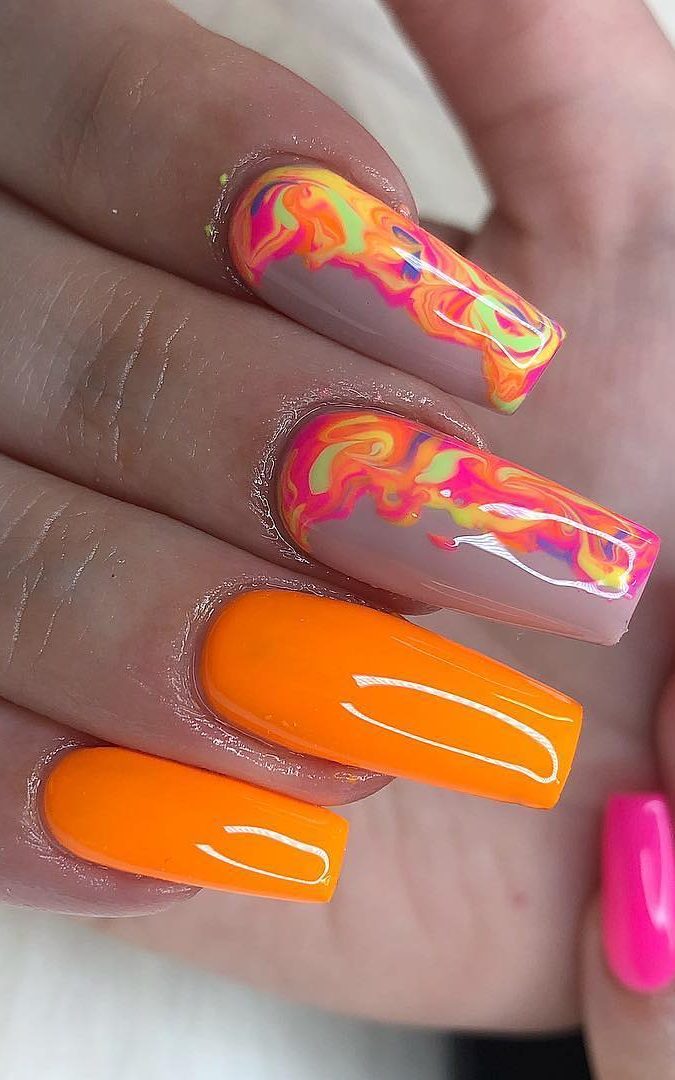 Perfect for summer, these bright and bold orange nails would look so good under the sun! And you can even add more splashes of color with your accent nails.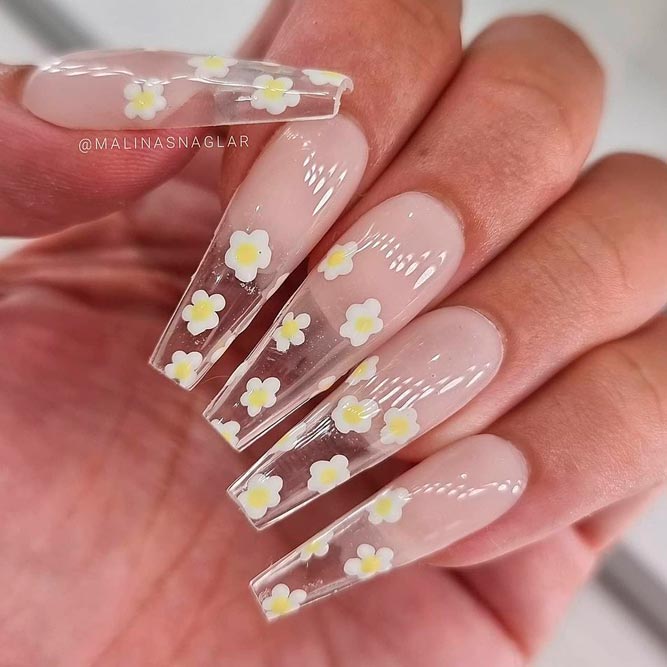 For a sheer and natural acrylic nail set, this daisy-themed manicure might be for you!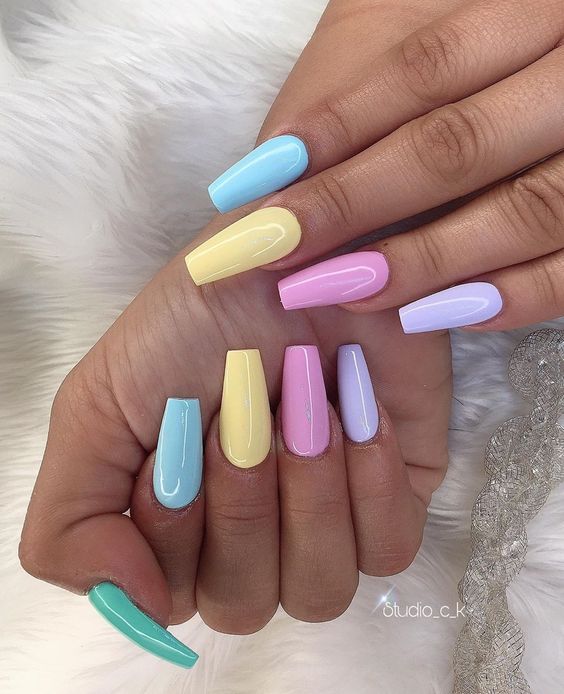 Can't decide which pastel color to go for this year? Why not try all of them? You can paint your nails a different color for each one.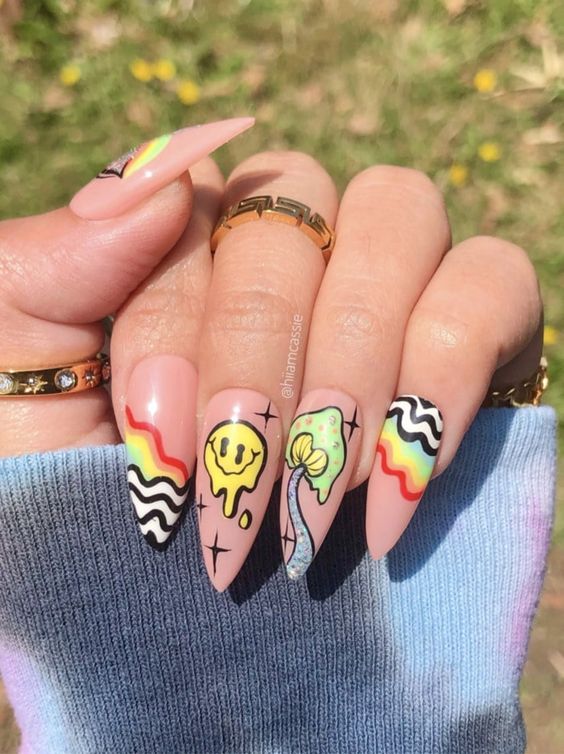 For a really unique and quirky acrylic nail art that feels like you're tripping, you might want to check this particular design out!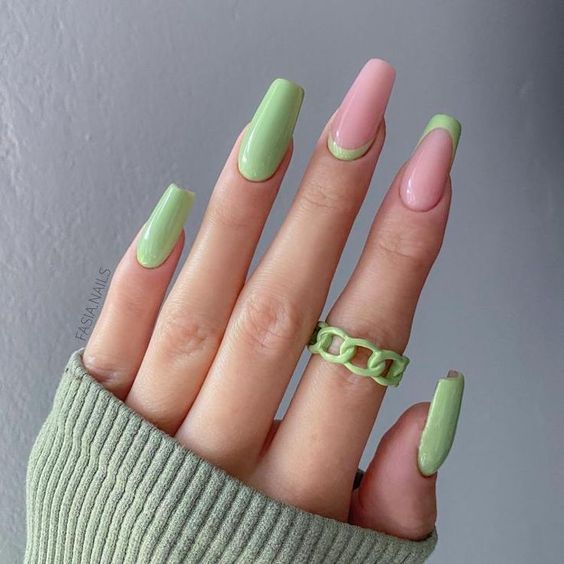 Acrylic nails don't always have to be bold and eye-catching, they can also be soft and feminine like this pink and green manicure.
Here's another example of a soft and feminine manicure you can do with your nails. I love the sheer pink base coat and the cloudy accents!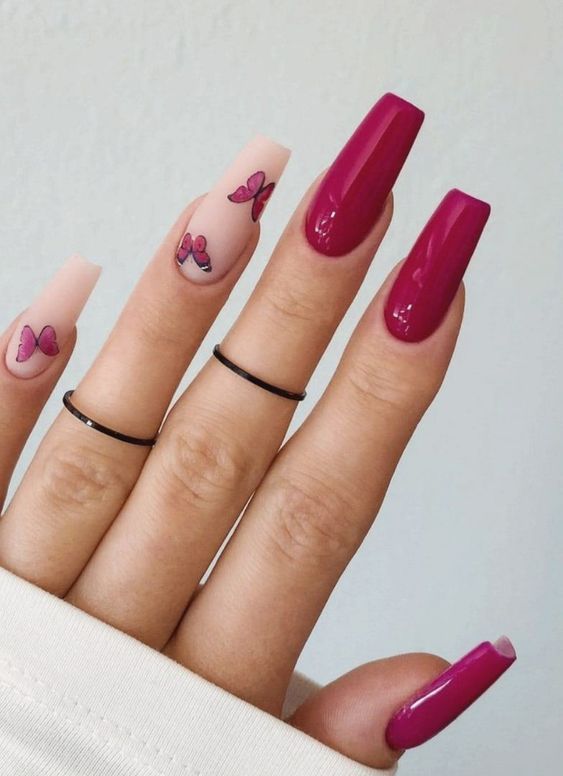 I love the unique color used for this base coat! It's such a vibrant magenta and it's perfect for the upcoming summer season! Leave your accent nails naked and top it off with some butterflies.
For a cool lavender manicure, this gradient effect is utterly stunning! It's another favorite of mine on this list.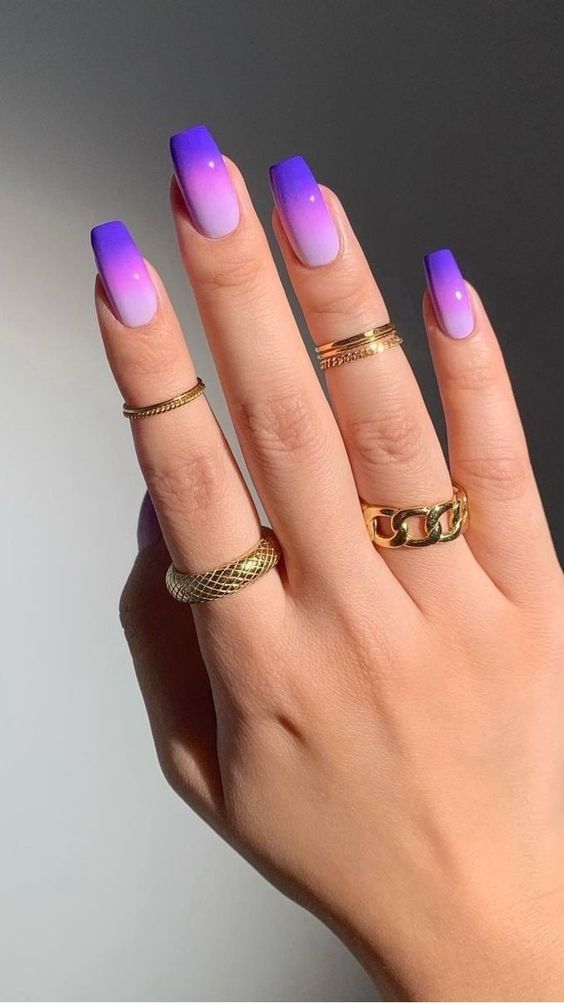 If you want to take your purple acrylic nails to the next level, ask for a gradient effect going from a lighter shade to a darker one for your manicure.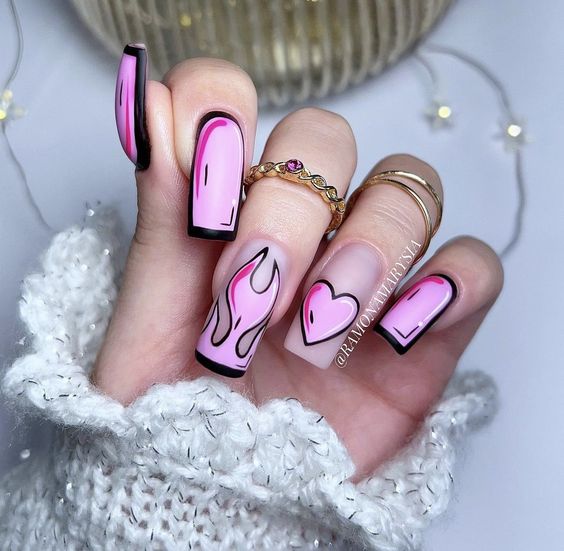 These cartoon acrylic nails look so cool! It almost reminds me of pop art and comic strips!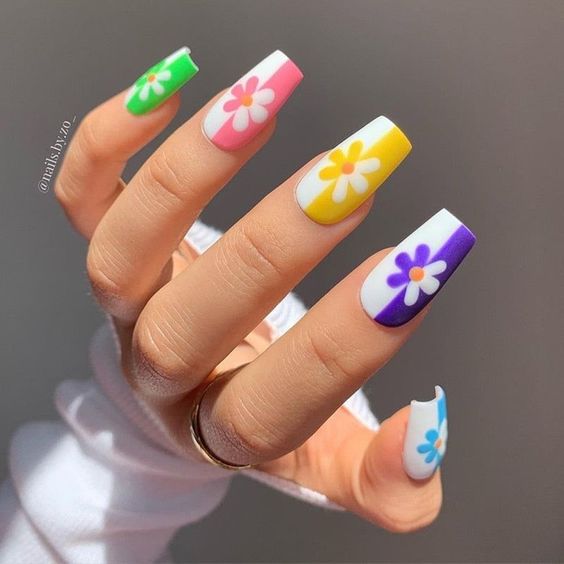 You can never go wrong with a pretty floral-themed manicure for your acrylic nails. From the vibrant colors and quirky design, these would be best for spring and summer!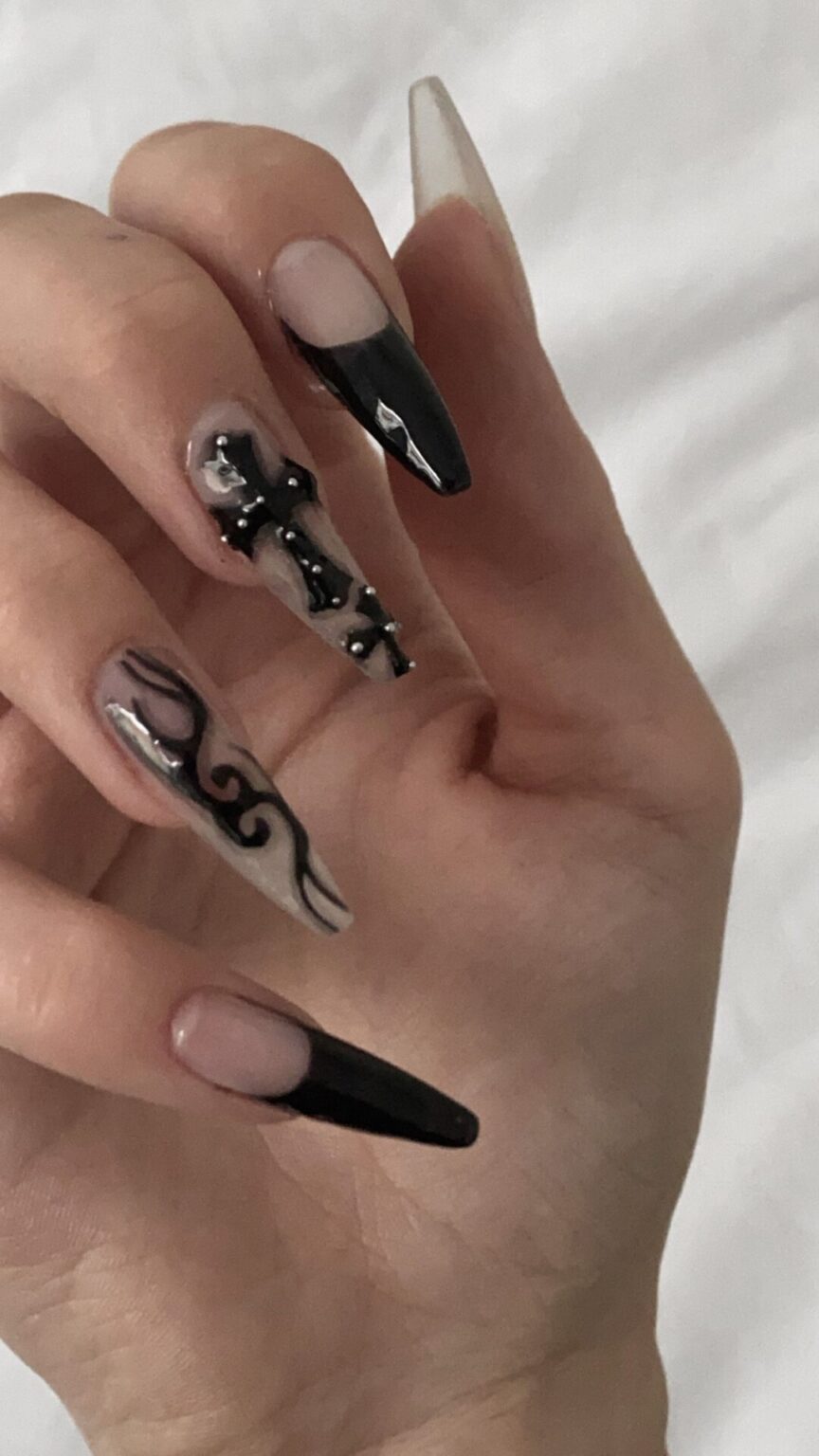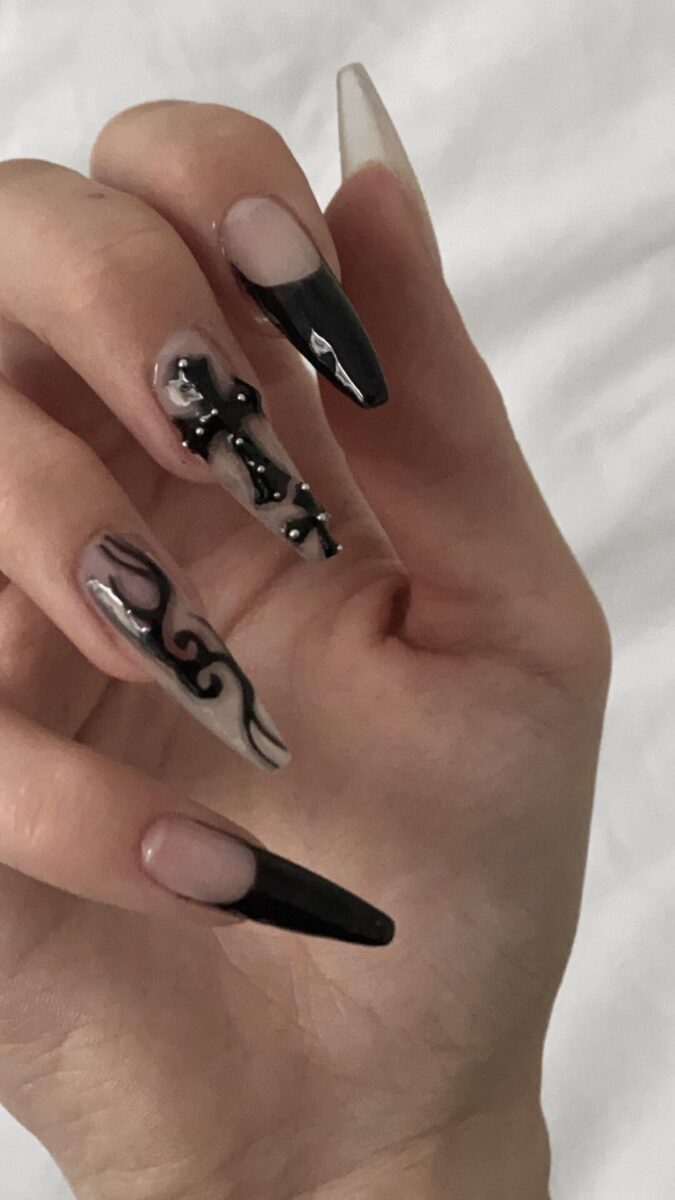 For an alternative aesthetic that's edgy and a bit goth, you might want to check out these acrylic nails!
These nails look both ethereal and elegant, reminding me of cloudy, starry skies thanks to the marble design and golden flecks.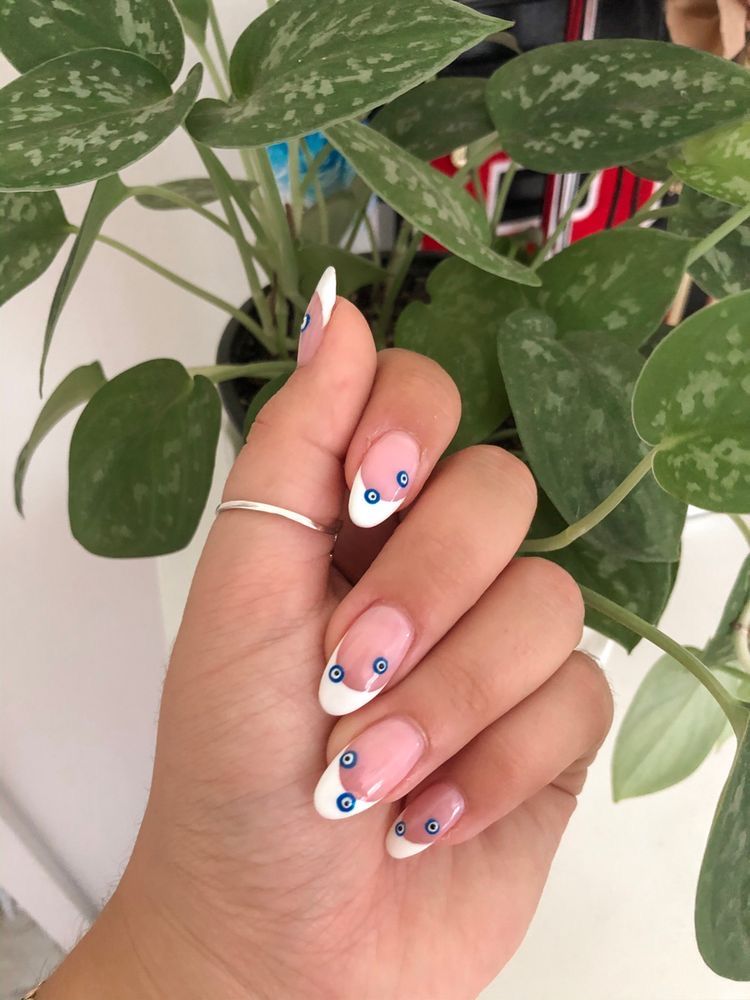 Put a creative twist to the classic French tips on your acrylic nails by drawing on the evil eye signs on them!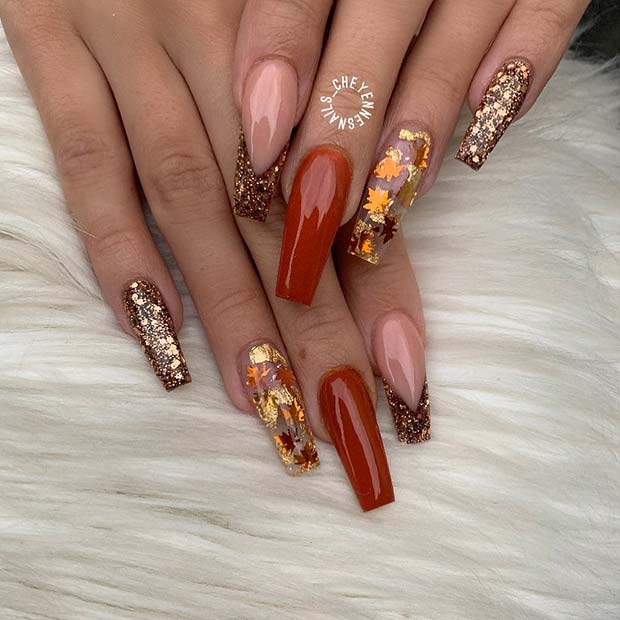 If there is a manicure out there that would remind you instantly of the fall season and thanksgiving, this is definitely it! I love how the gold foils are used to look like the colorful leaves you see during autumn!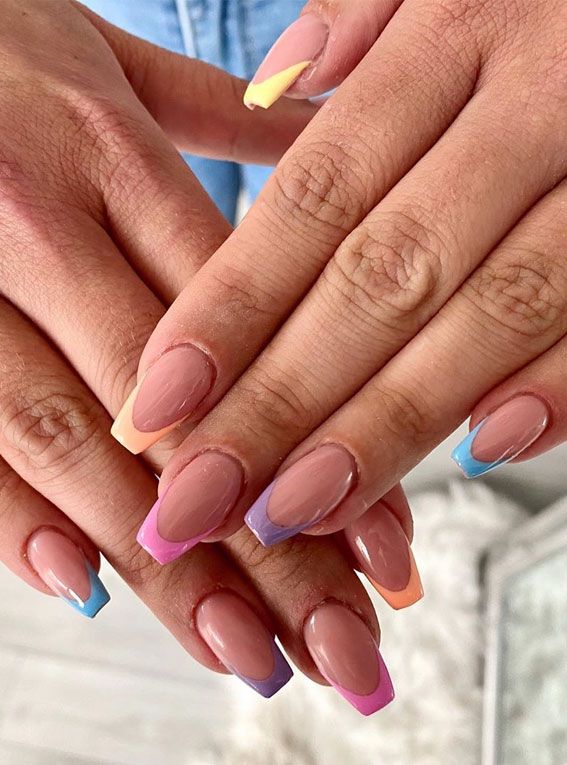 Forego the usual white tips for your French manicure and instead, use a different color for each tip! This would make a more suitable summer manicure!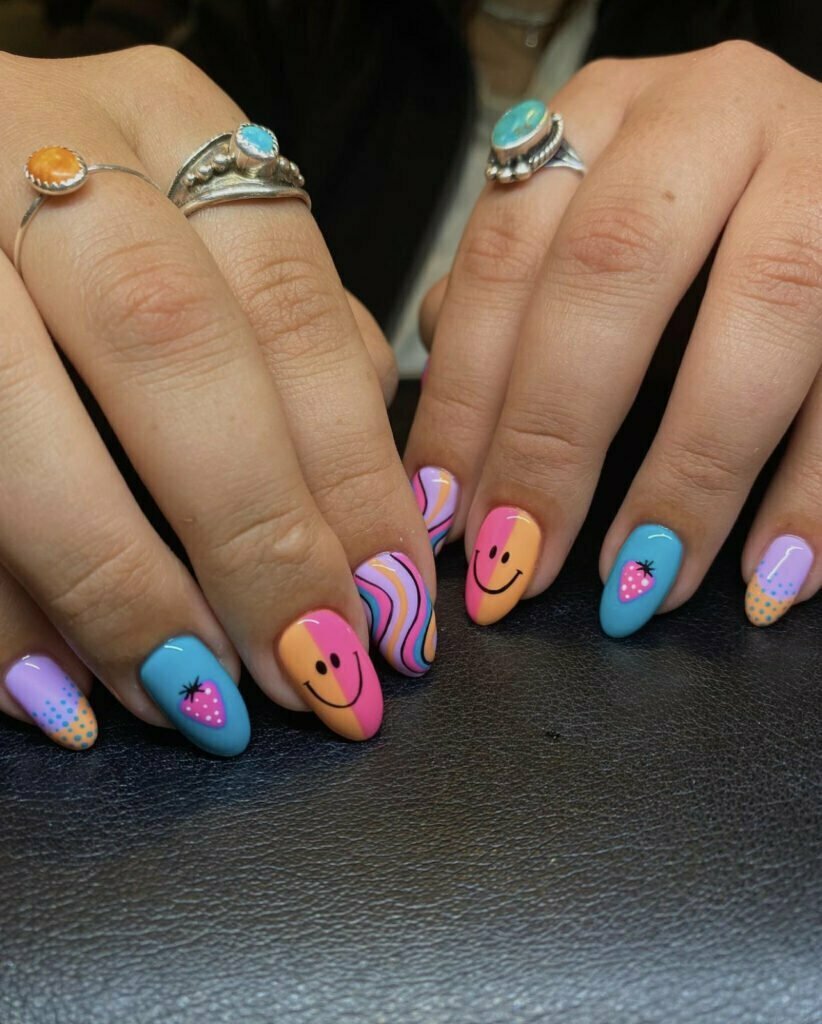 These quirky, vibrant acrylic nails are sure to put a smile on your face once you see how cute those smiley faces are!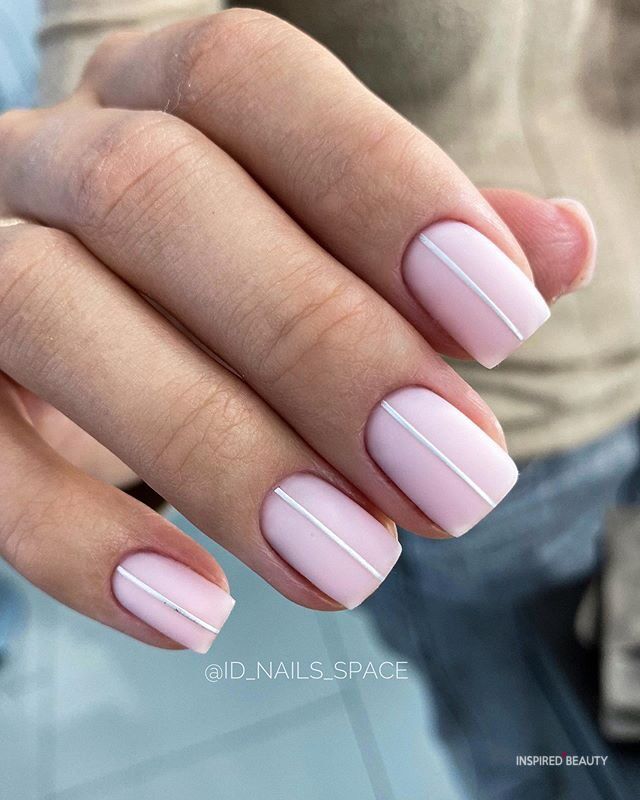 For a minimalistic acrylic nail design, you can just put a simple straight vertical line in the middle of your base coat.
Animal prints never go out of style and you're sure to still be on trend when you get these hot pink leopard print acrylic nails!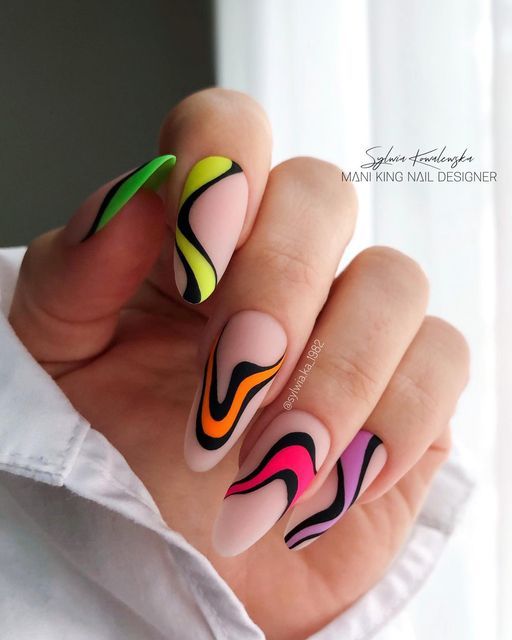 These abstract neon patterns are absolutely gorgeous! I love how bold and vibrant the colors are! Definitely another fave of mine and I'm looking forward to trying these out in the summer!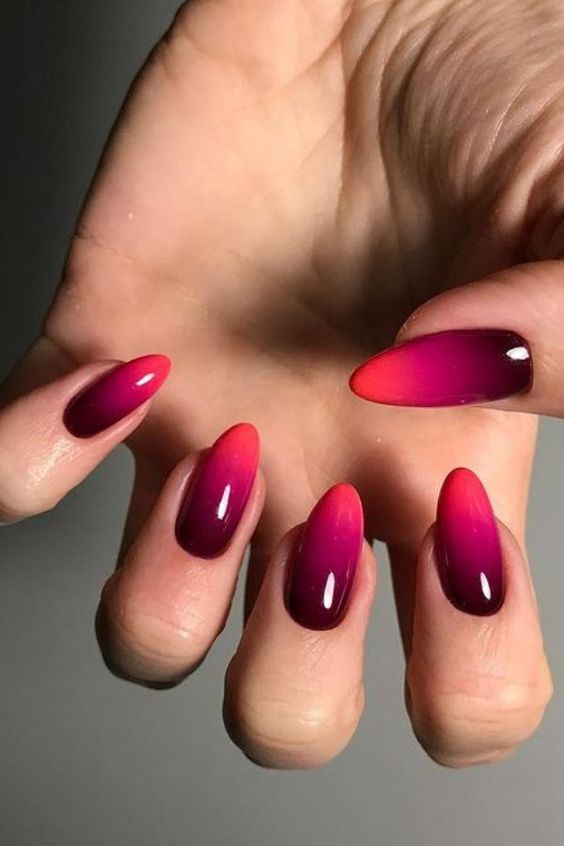 These gradient pink nails are utterly stunning! I love how the tips turned into a lovely coral-pink shade.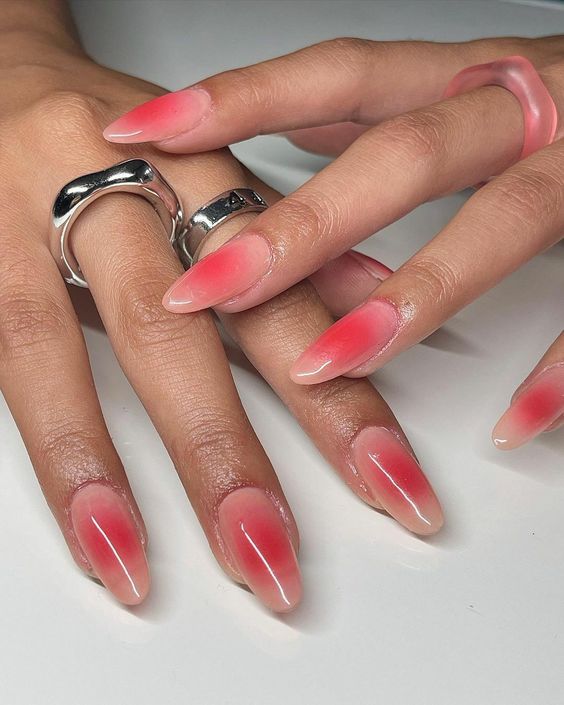 For an acrylic manicure that will make your nails look like they're blushing, then these trendy Korean-inspired nails are for you.
Here's another favorite acrylic nail design of mine from this list. I love the combination of the pinks and orangey reds on these nails!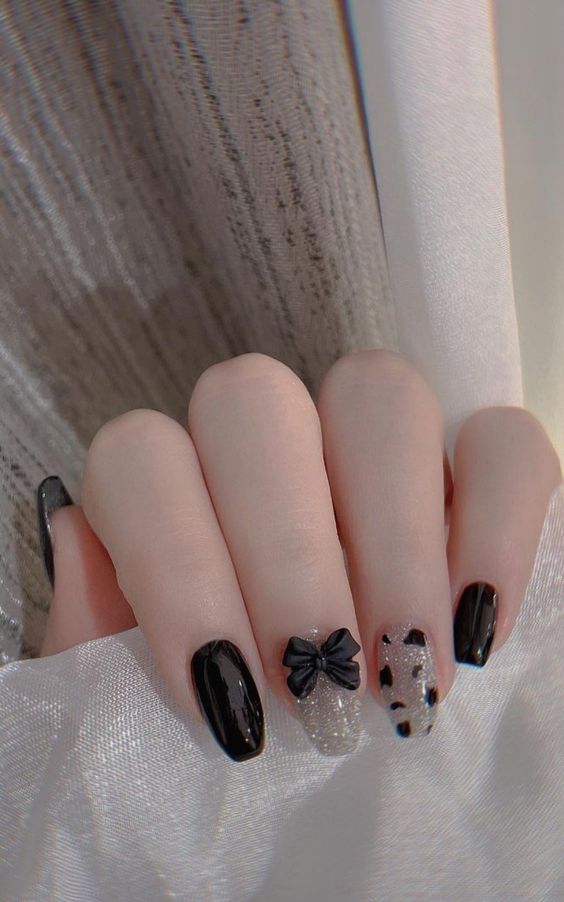 For a dainty and elegant acrylic manicure, try accessorizing your nails with a bow and some abstract and shimmery patterns.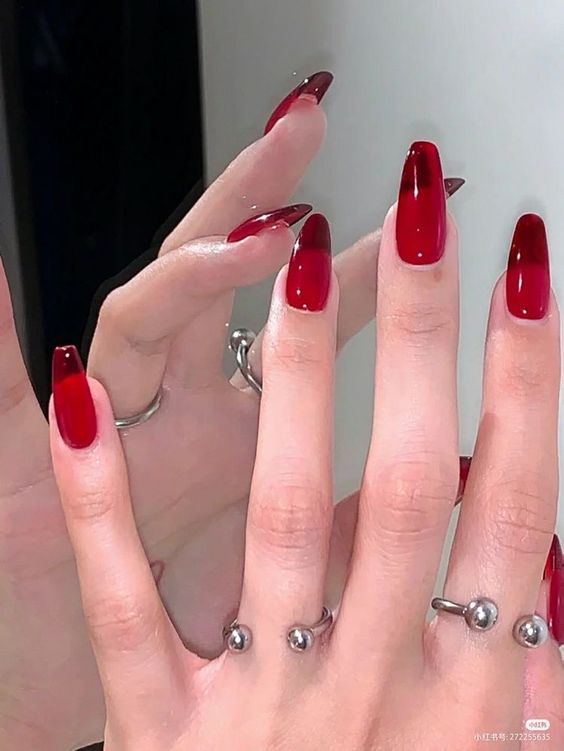 For those who don't want a lot of frills and fuss on their nails, this sheer red acrylic manicure might be perfect for you.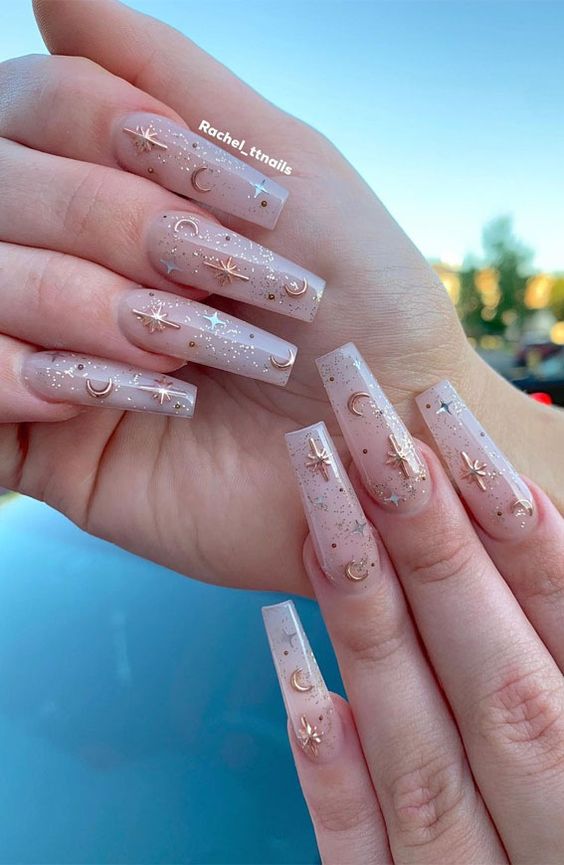 For a heavenly celestial-themed manicure, these acrylic nails are certainly something you should consider getting!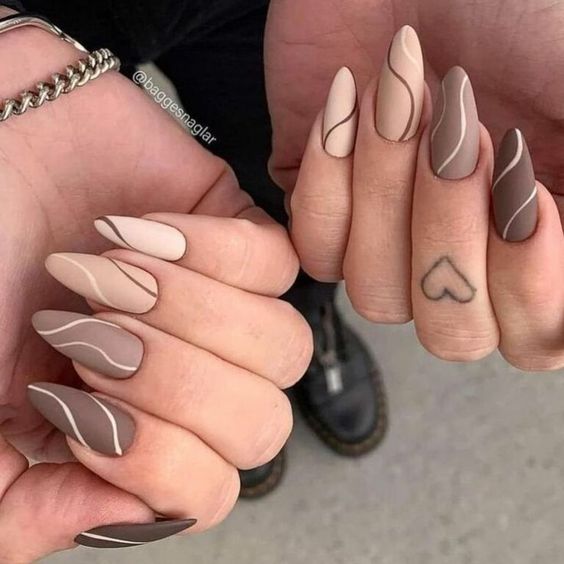 If you're not into vibrant or neon colors, this neutral manicure might be something you'll like to get on your next nail appointment.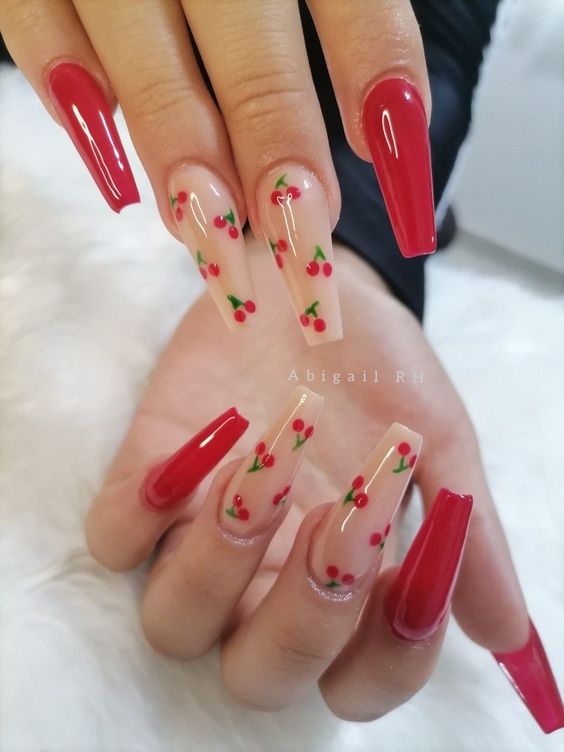 As we head into the new year, I honestly cannot wait for the summer season and try out this cherry-themed nail acrylics!