I'm a huge leggings person, any time of year. Today I'm sharing two summer outfits with leggings that can easily be modified depending on the weather.
Both looks are paired with a jean jacket but also look great without the jacket if it's hot out.
A Casual Tee
I think it can look odd to pair leggings with a fancy blouse. Leggings are inherently casual, so I like to wear them with pieces that are comfortable and trendy.
I chose basic crop top t-shirts for these outfits. Feel free to modify depending on what you have in your closet.
You can also cut a regular t-shirt to be slightly cropped; the proportions of a loose, crop top t-shirt tend to look best with leggings.
Choosing The Leggings
I'm a little biased here because I'm basically addicted to Lululemon leggings.
I go classic and wear the long Align leggings. They're just so comfortable and form fitting. They lose almost no elasticity throughout the day, which is really amazing compared to other leggings I've tried.
Lululemon leggings also look great when paired with daytime outfits instead of just athletic-wear. They're seamless on the outsides of the legs, so they give off a true outfit vibe rather than a gym vibe.
If you don't want to put out the money for Lululemon then Zella leggings are a good choice, although they do lose more elasticity throughout the day.
Zella leggings are very comfortable and will last for at least a few years.
Sneakers
I used two different pairs of sneakers for these outfits.
The first pair is traditionally athletic, but is still rather feminine because of the color and shape. Light beige sneakers continue to be trendy right now, especially for athleisure outfits.
The second pair is a bit edgier, with beige and white patches as well as snake print. These are sneakers you could just as easily wear with a dress, jeans, or a romper, so they're very versatile.
The shoes really do change the vibe of the outfit. The first outfit is more daytime athletic; it would be perfect for a daytime event during the week, outdoor philanthropy event, etc.
The second outfit with leggings is a bit more trendy. It's something I would wear to a daytime event or party on the weekends.
Summer Leggings Outfit: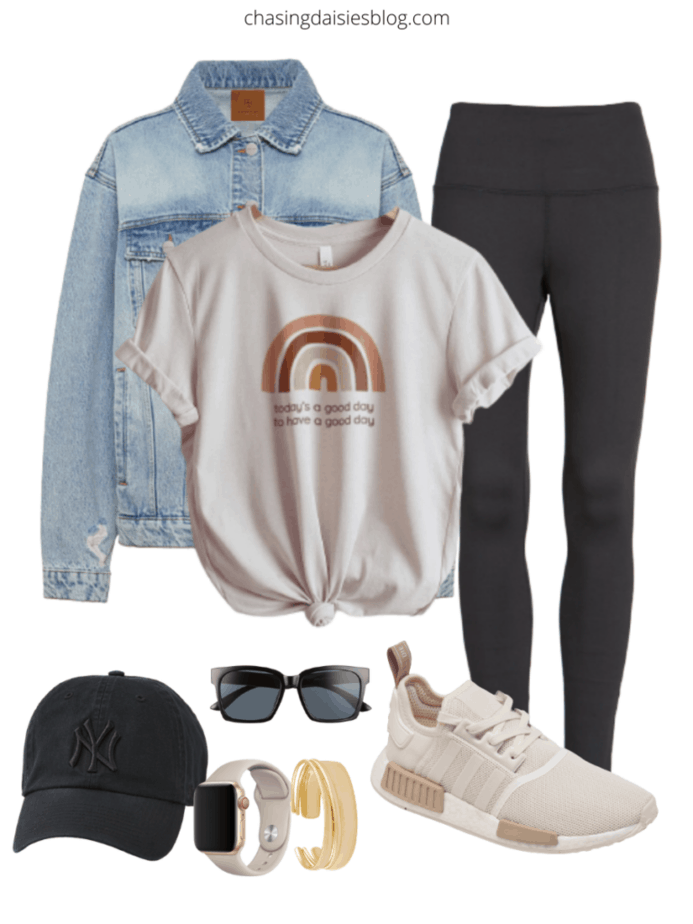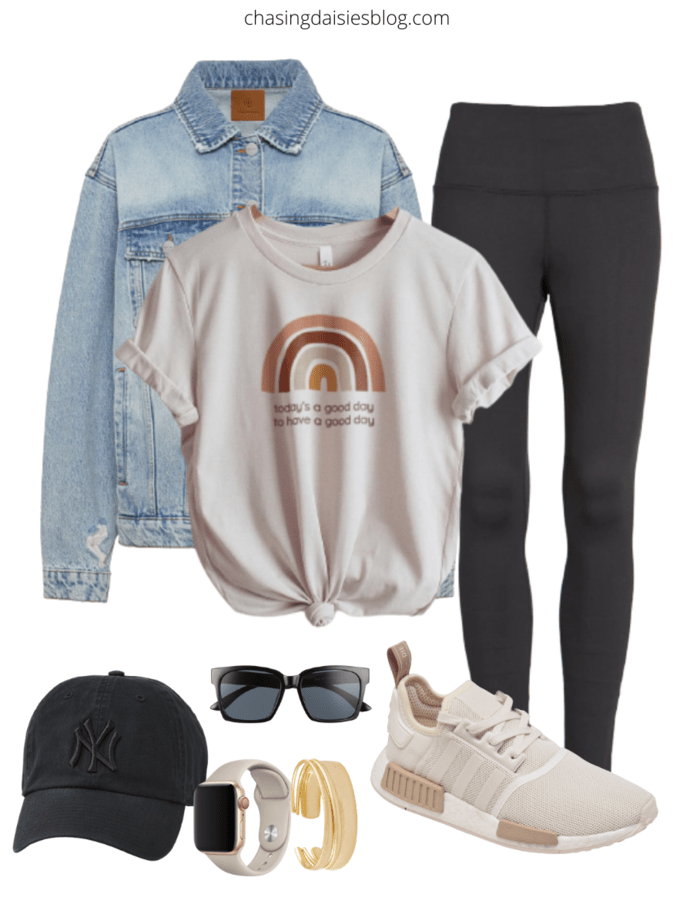 Shop The Look
Jean Jacket (cheaper option here)
Leggings (cheaper option here)
Sneakers (cheaper option here)
Bracelets (cheaper option here)
Summer Leggings Outfit: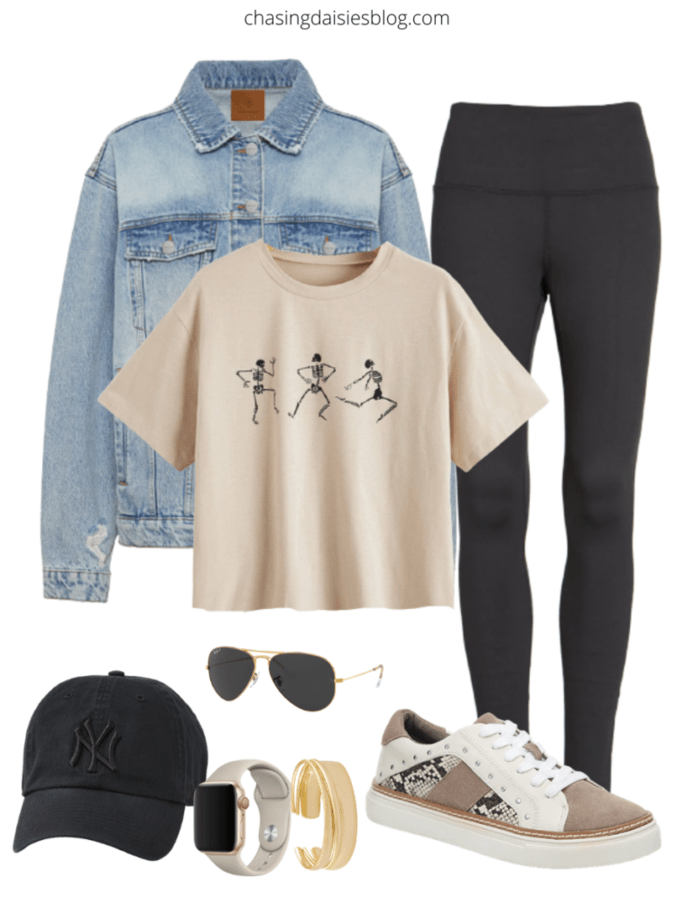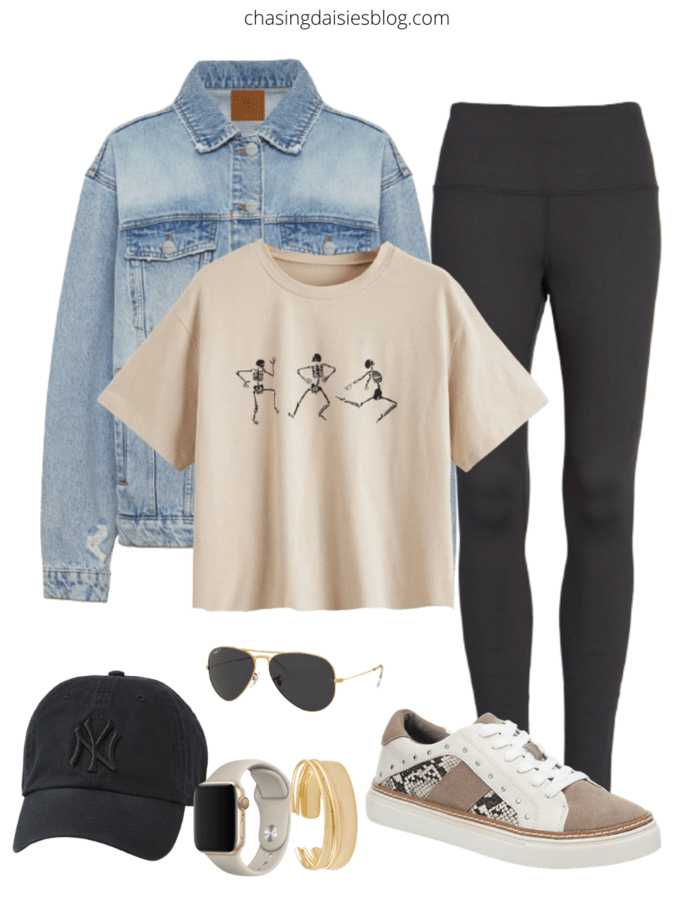 Shop The Look
Jean Jacket (cheaper option here)
Leggings (cheaper option here)
Sneakers (cheaper option here)
Bracelets (cheaper option here)
Sunglasses (cheaper option here)