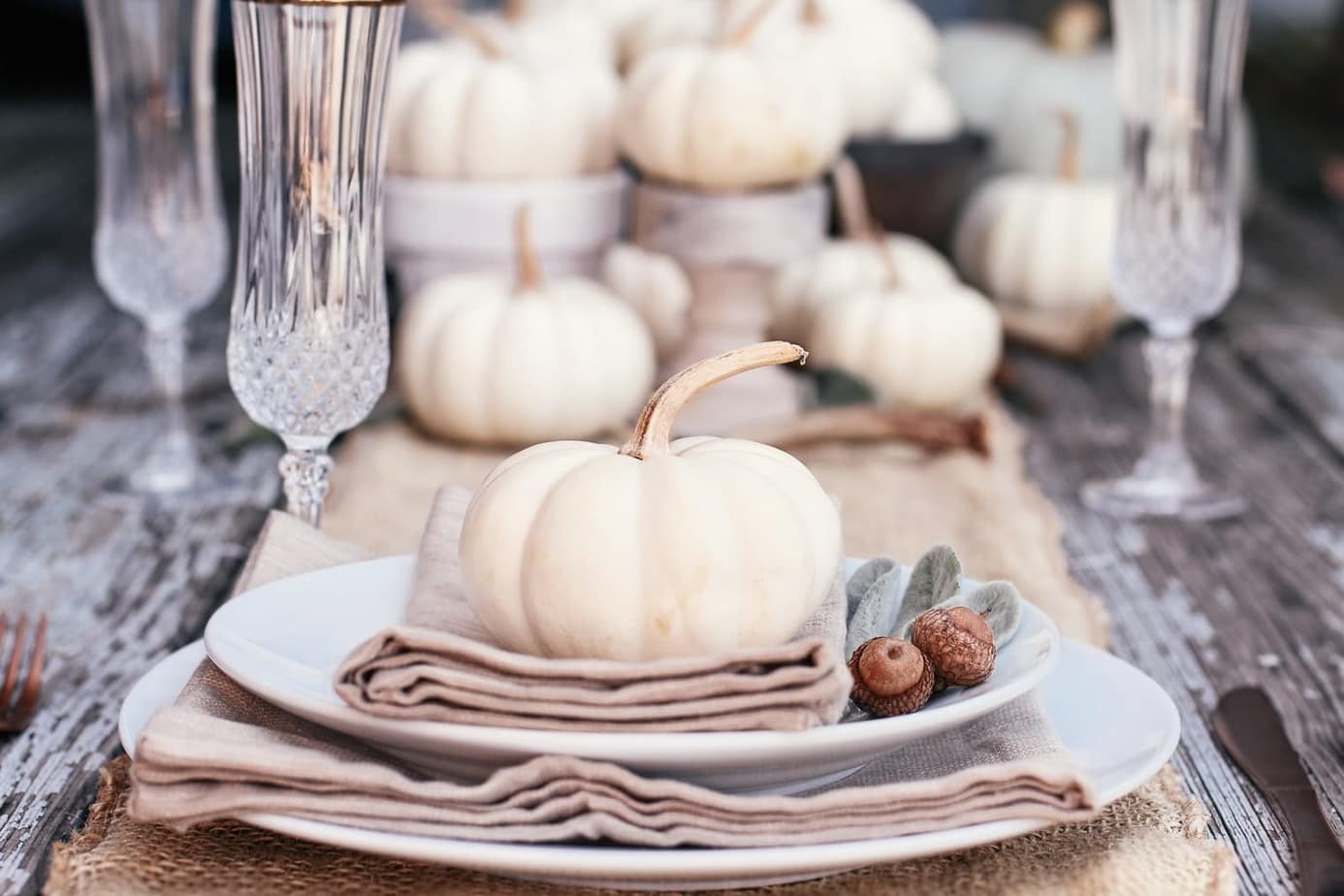 Happy fall! There's nothing I love more than opening my kitchen windows to let in the crisp autumn air while I decorate. Fall decor is so much fun – even a touch can make a home feel cozy and happy.
Fall tablescapes are especially fun for any autumn event (like Thanksgiving) or even just for a weekly dinner. You can make really easy centerpieces out of fall table decorations that are so simple and elegant but give that extra something.
I personally feel that less is more, especially with fall tablescapes. Neutral colors and simple designs are my preference – I'm not a huge pattern girl. However, that doesn't mean that you can't have a theme going. The art of subtly is so hard to achieve but so gorgeous if done right!
I 100% recommend going to HomeGoods, Marshalls, or TJMaxx to look for any of these items you might want. The prices are literally unbeatable and you can find some really cool pieces. These stores can have a lot of over the top items, so you do have to pick through, but you could literally find everything you need for a full tablescape at just one store.
If you don't find every single item to exactly match one of these fall tablescapes, I wouldn't worry – I often use less and find that my table looks just as beautiful, especially when there's food actually on it.
Simple Fall Tablescape Pieces

Fall Tablescape Inspiration
Here's my favorite simple & elegant tablescapes of the season, courtesy of some lovely home decor bloggers!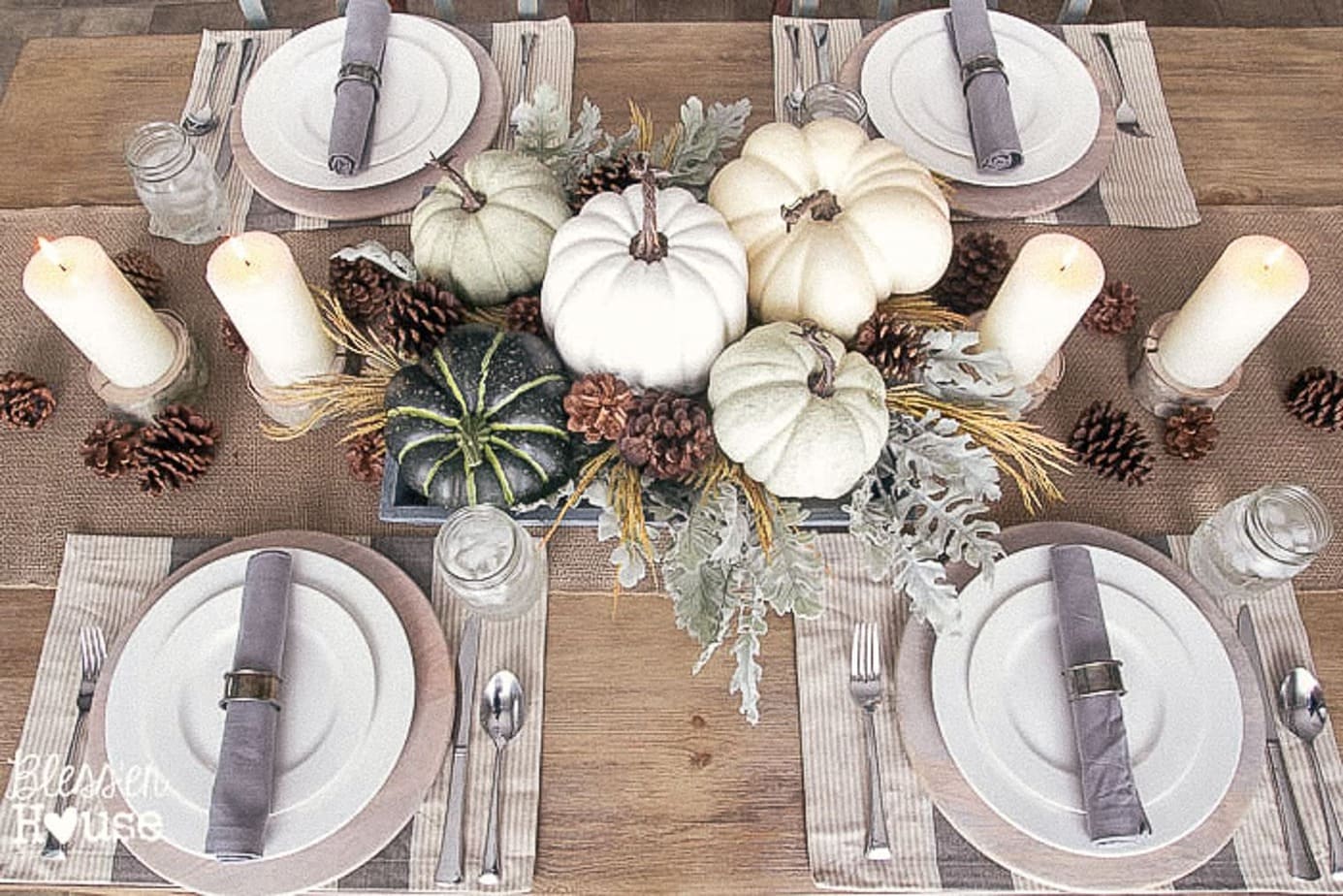 How pretty is this setup? I love that it has a slight touch of purple within the neutral colors. It's also super simple to put together with a few purchases and pinecones from your own yard. You can read the full post on Blesser House.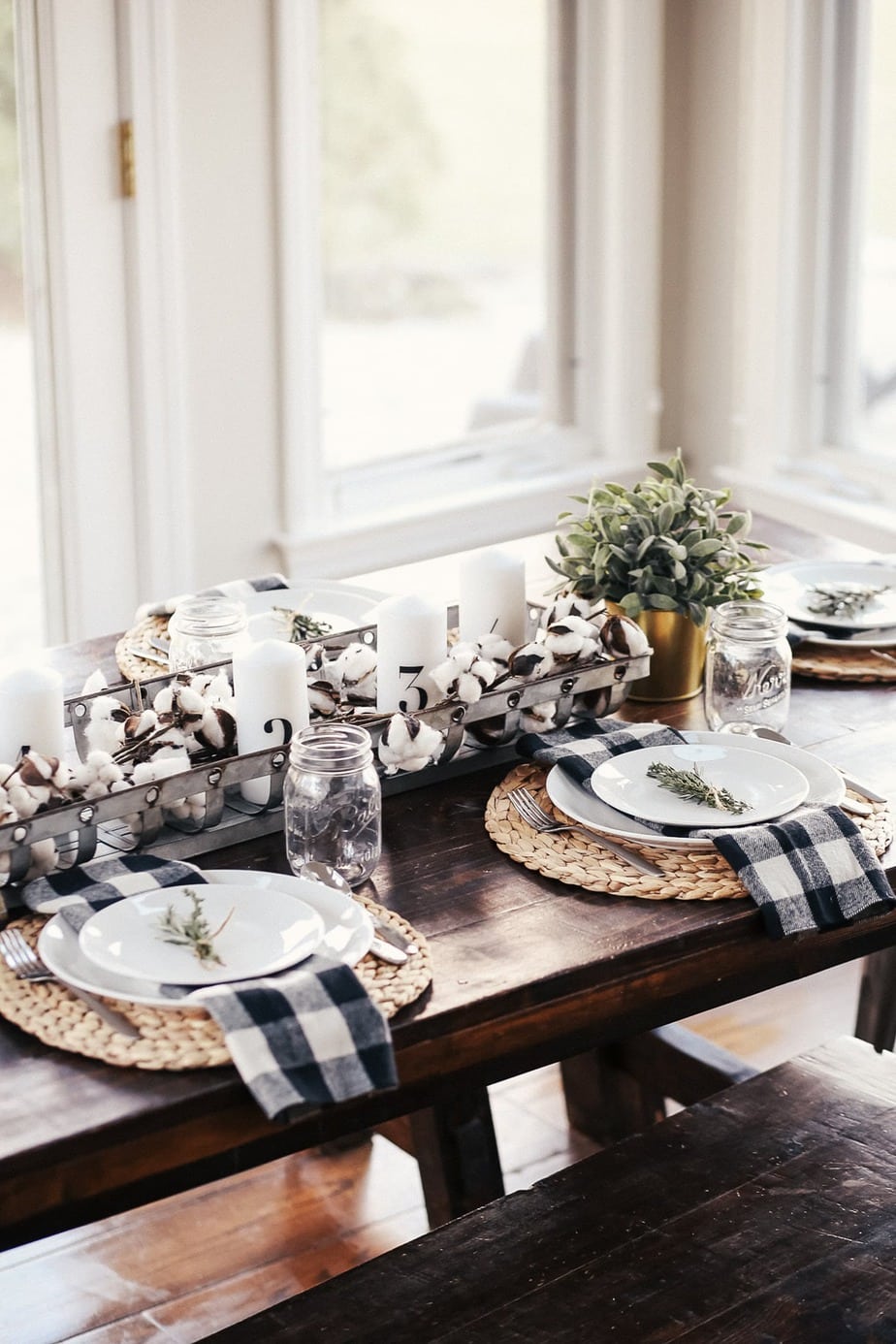 This tablescape from Dress Corilynn is gorgeous. I especially love the black and white buffalo check napkins. It's also really easy to do in bulk if you're having a large family gathering for Thanksgiving.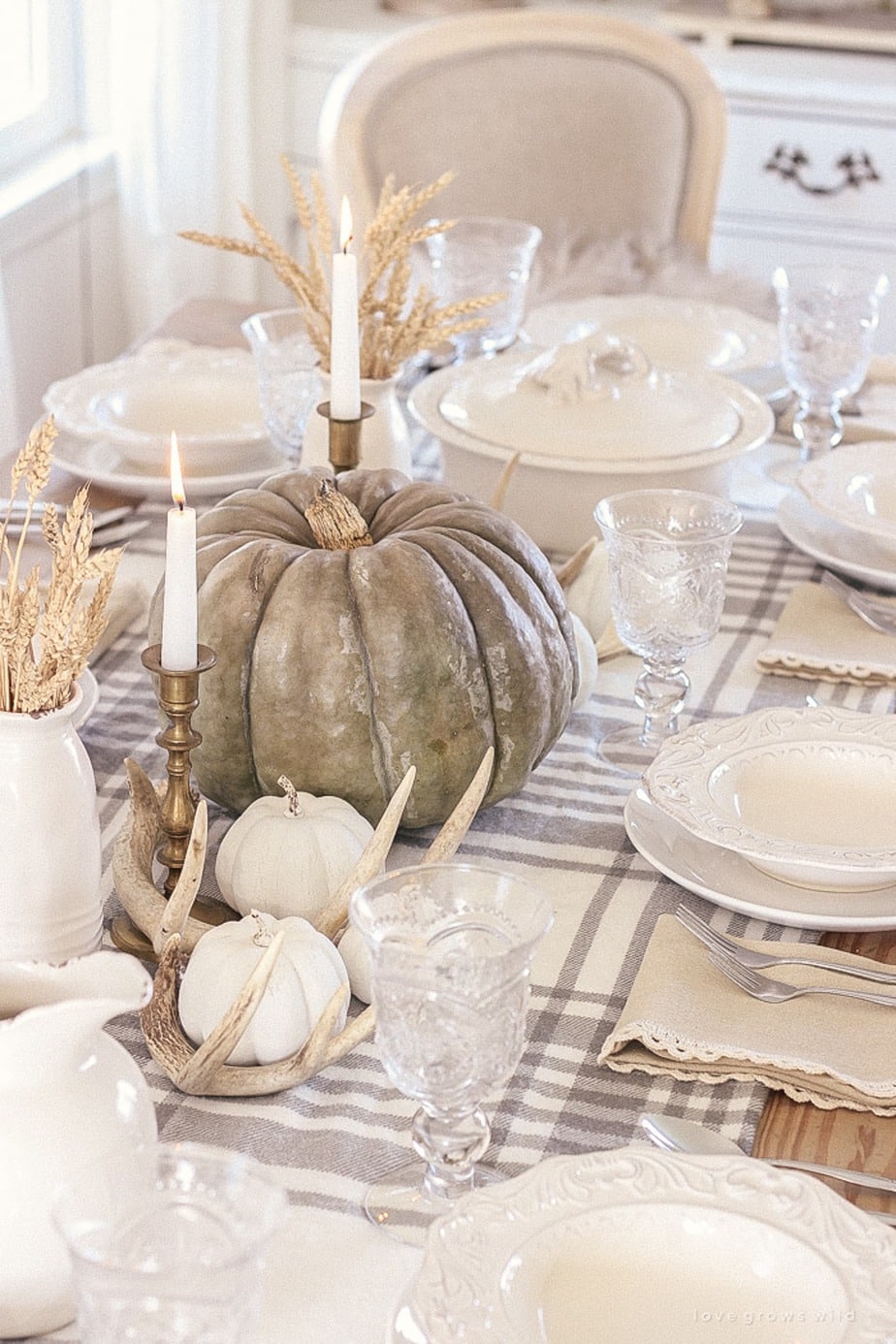 If you like a lot of light tans and whites, then Love Grows Wild is a great blog to pull inspiration from. To me, this is a very "pilgrim-inspired" tablescape that's still modern, classic, and beautifully neutral.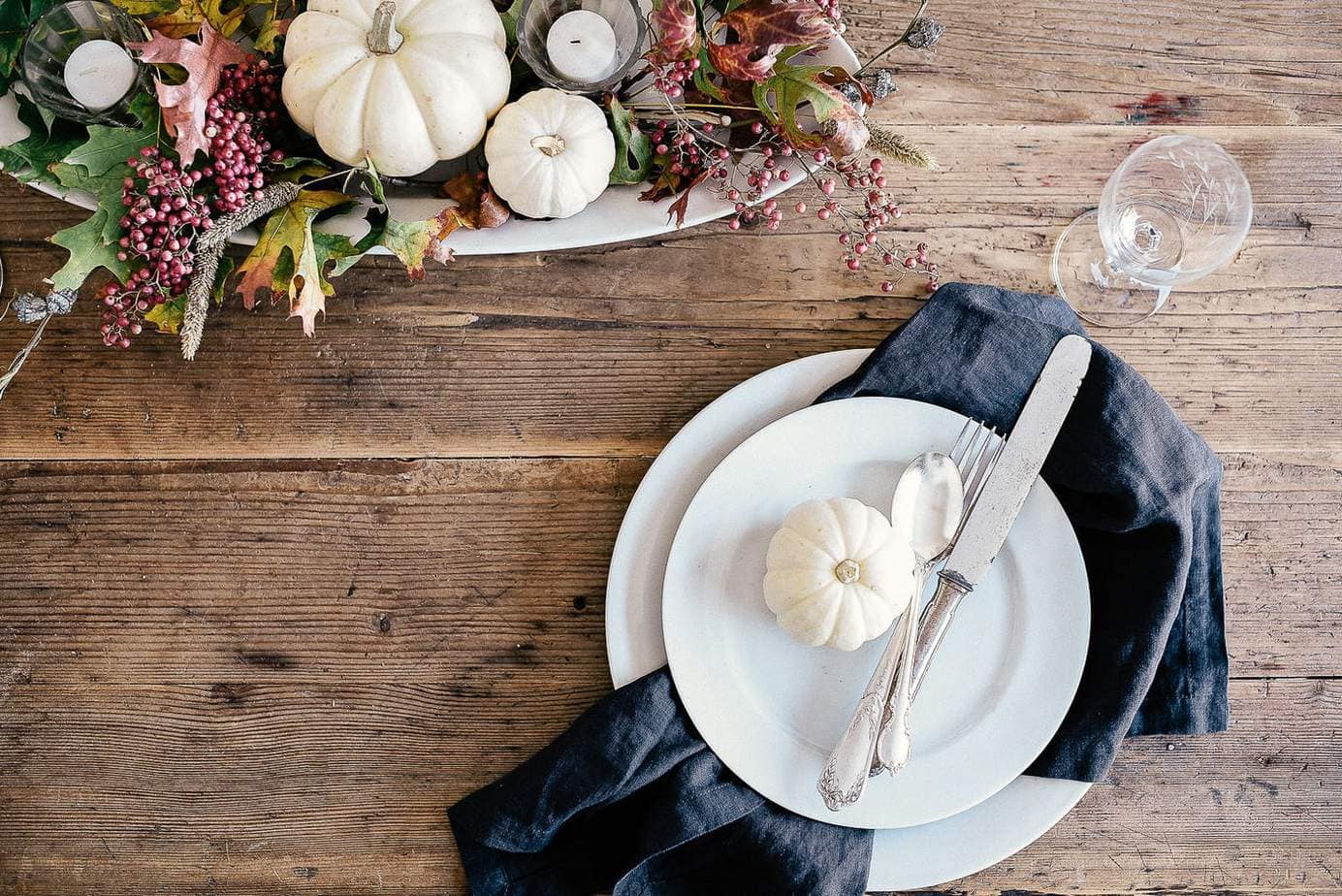 This tablescape from Boxwood Avenue is great because it can be for Halloween or Thanksgiving and is understated either way. The black napkin is a cool touch combined with some colorful leaves.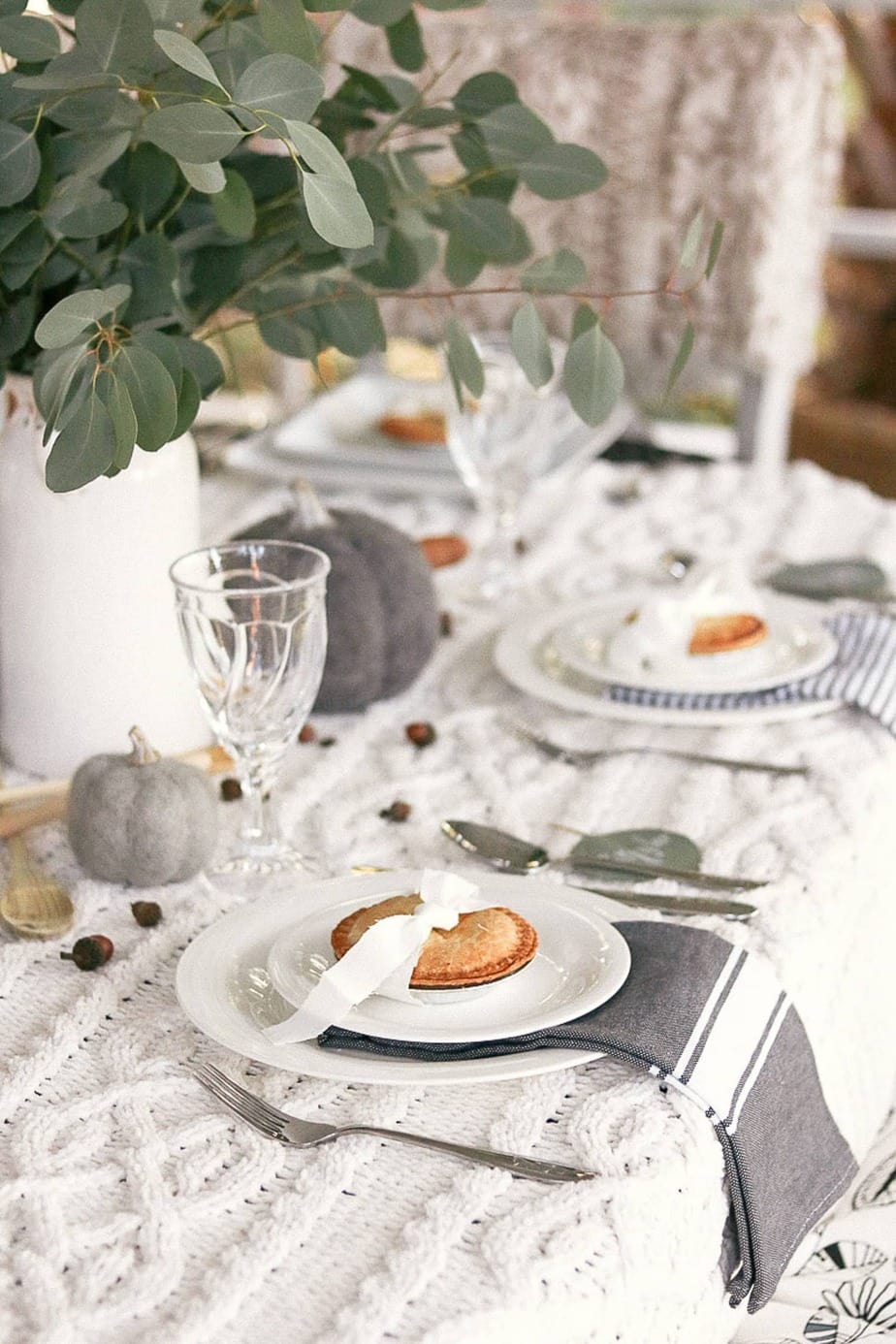 How pretty is this hygge inspired layout from Life On Summer Hill? I especially love the knit tablecloth. Apparently it's actually a sweater blanket, so as long as you have one the right size your table, that's an easy add.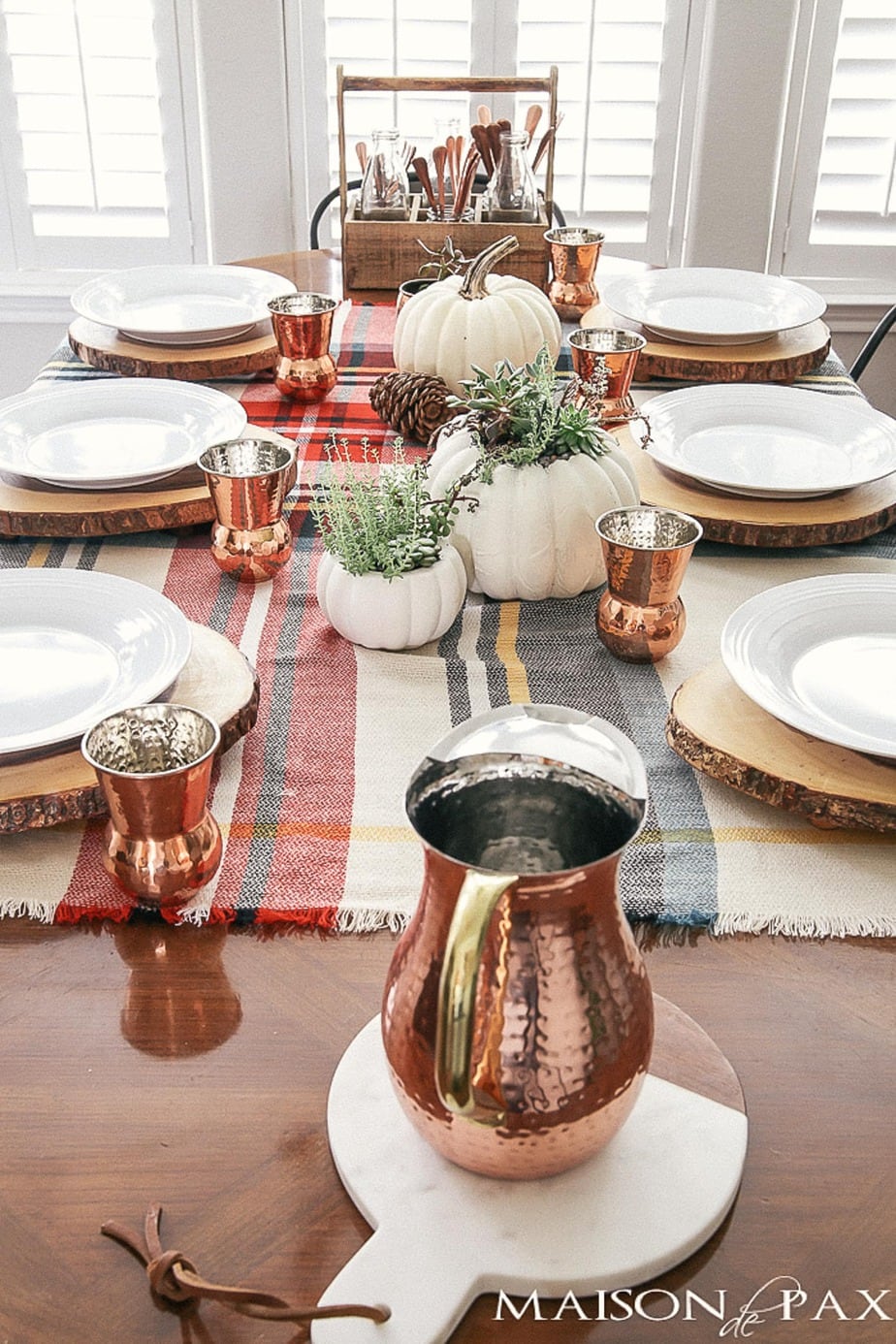 I LOVE Maison de Pax tablescapes. Seriously, if you're looking for a lot of fall inspo, the site is a one stop shop. This one is especially fun because it brings in the red plaid element while staying simple and classy.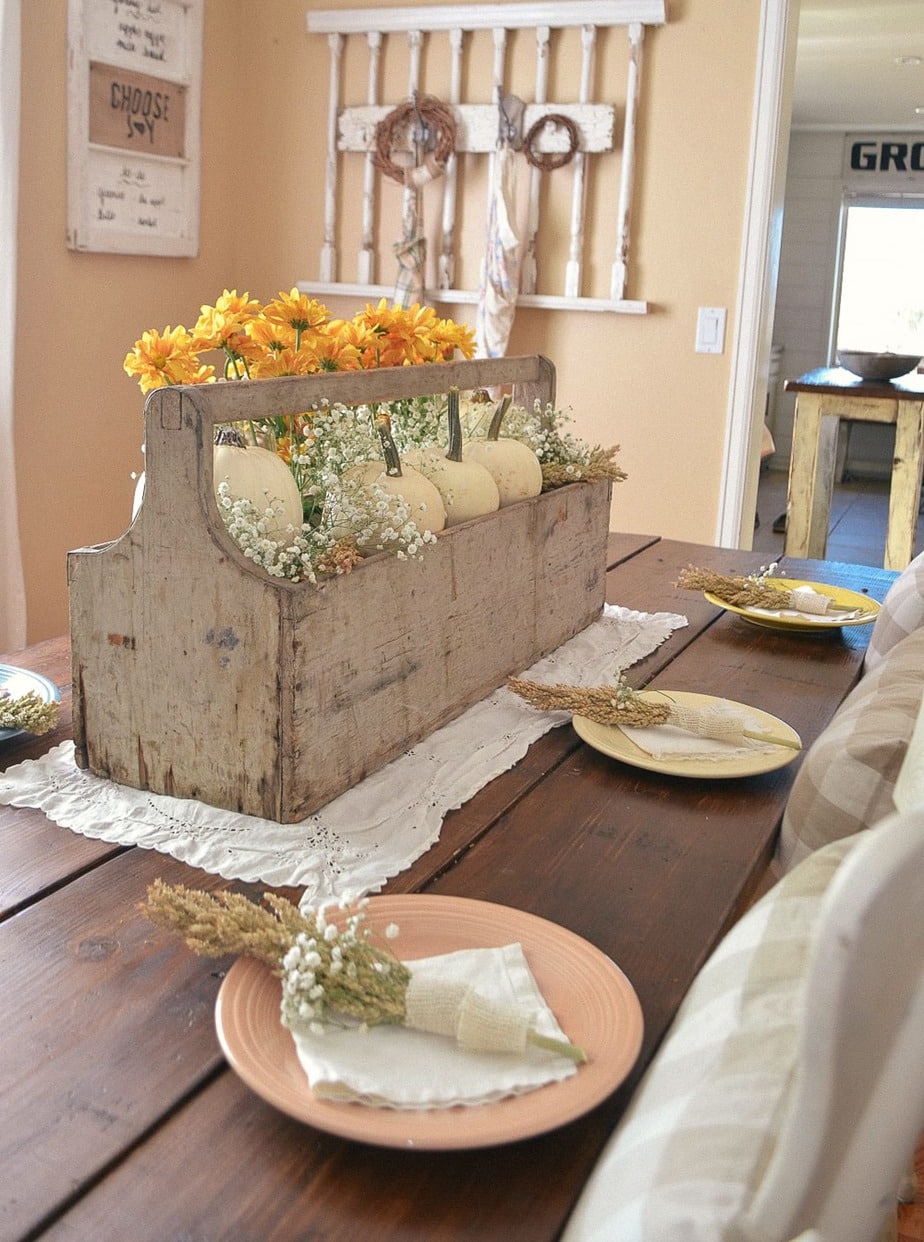 This vintage-inspired tablescape from Sarah Joy Blog is too darling. I love how the heaviness of the wood carton is offset by the delicate flowers. There's also not too much on the table, so the wood speaks for itself.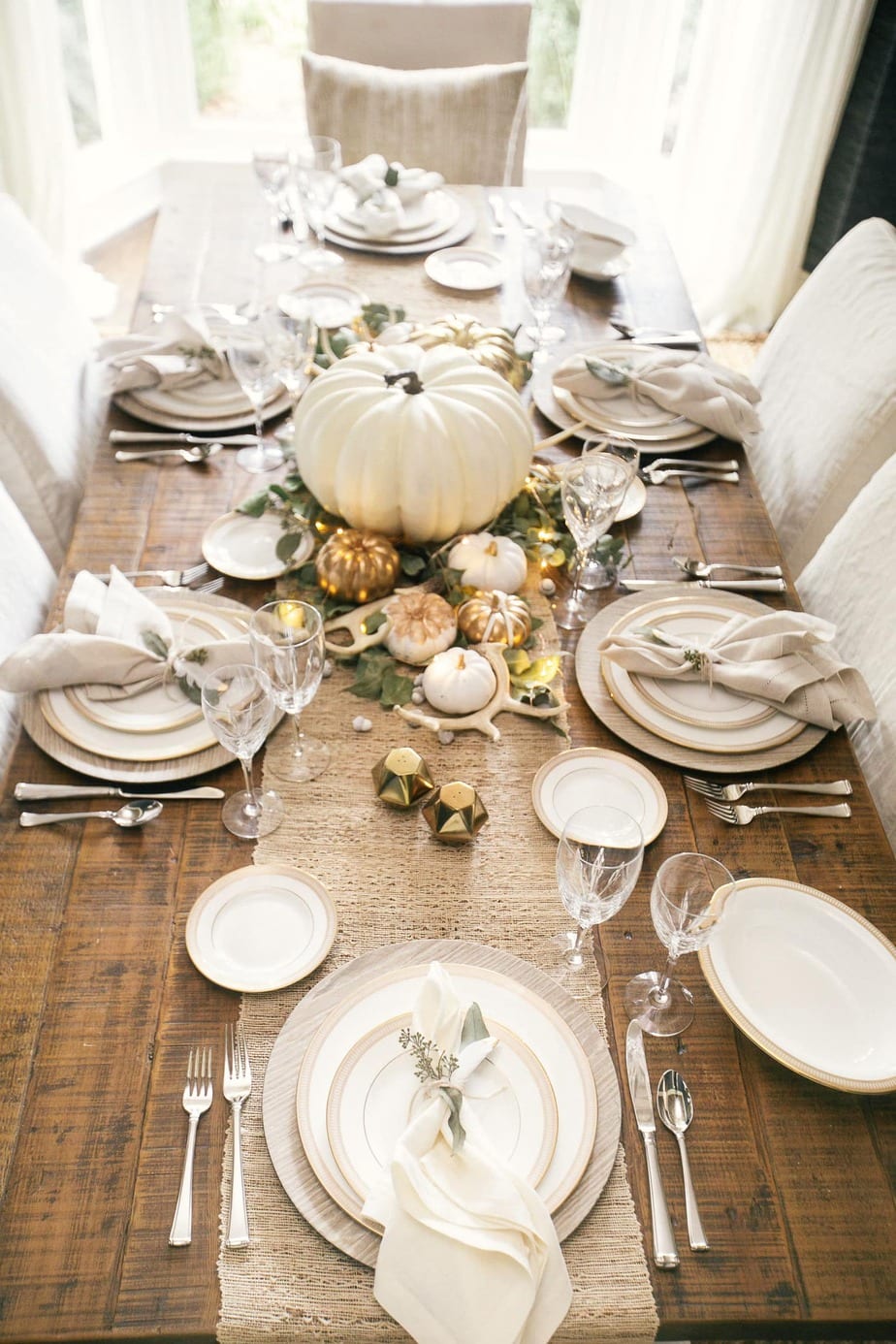 This theme is more chic but stays true to neutral colors and a farmhouse theme. It would be great for Thanksgiving or any fall dinner since it's very versatile. Check out all of the details at Living With Landyn. She has other great fall table decorations as well!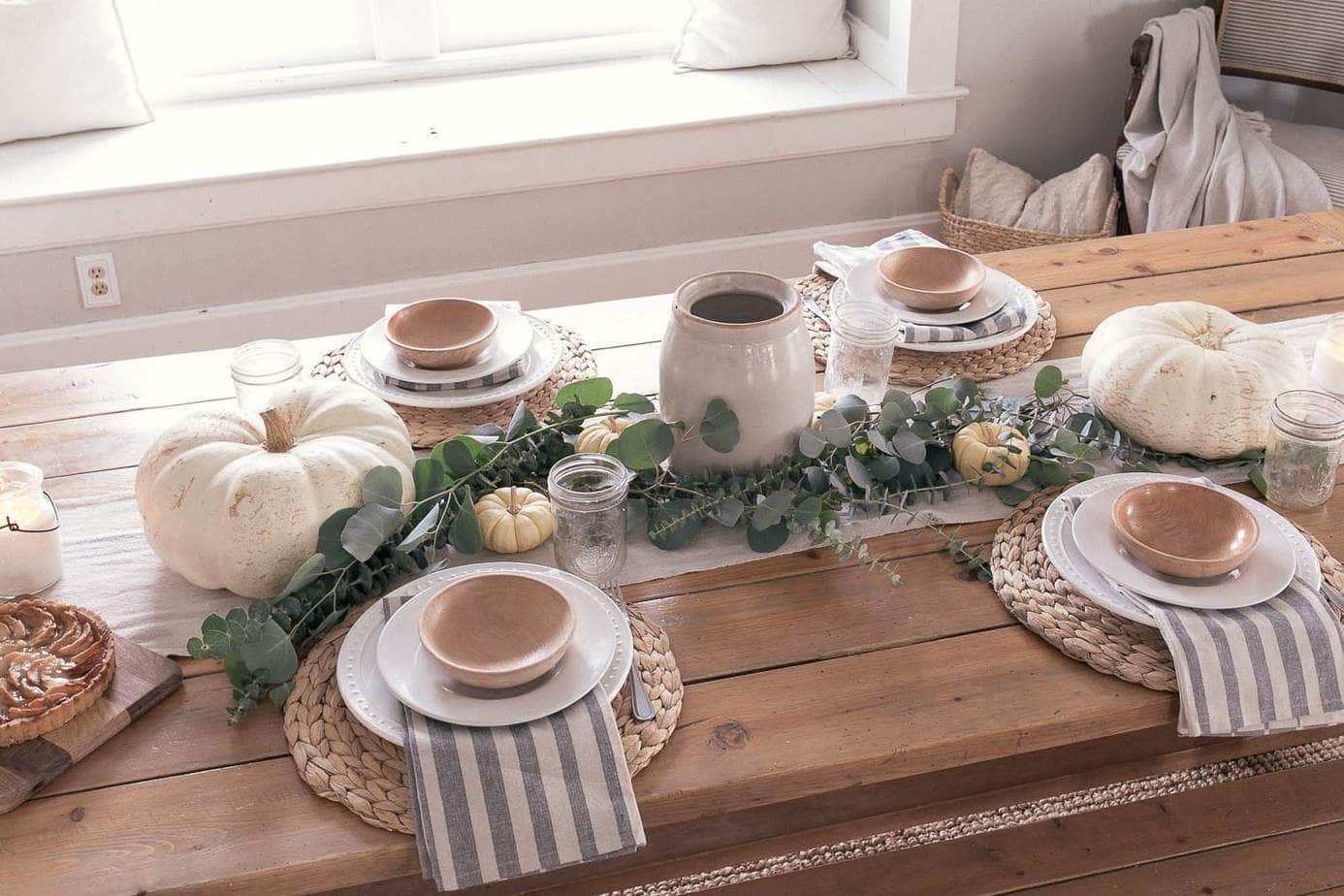 Farmhouse On Boone is always great for airy decor, and this tablescape is no exception. The hint of blue really brings all of the wood elements out, and the leaves add a great living element.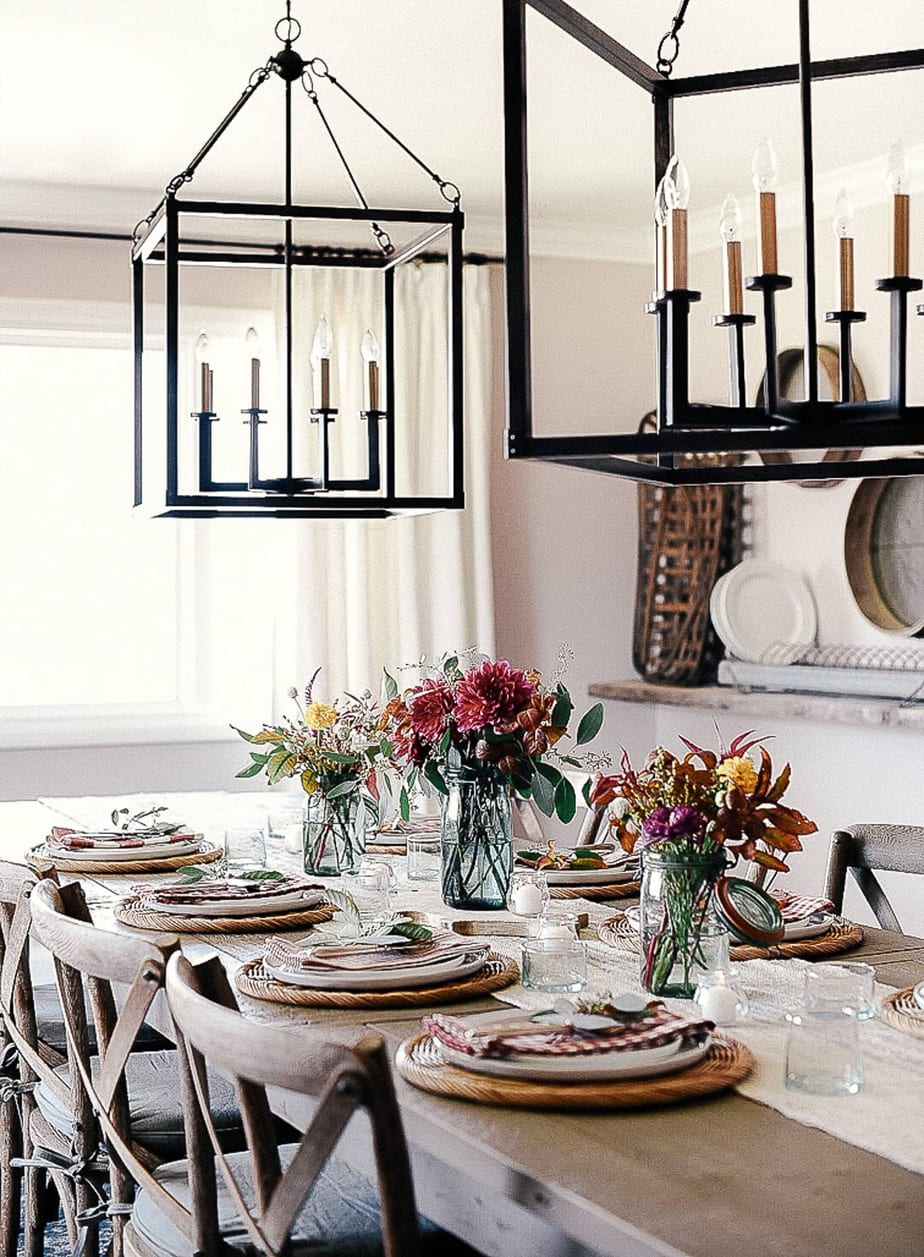 We're back to Boxwood Avenue, but I really love this fall tablescape so I had to include it. While it does have some nice heavy elements like the under-plates and the wood table and chairs, it's also lighter and would brighten up any Thanksgiving dinner.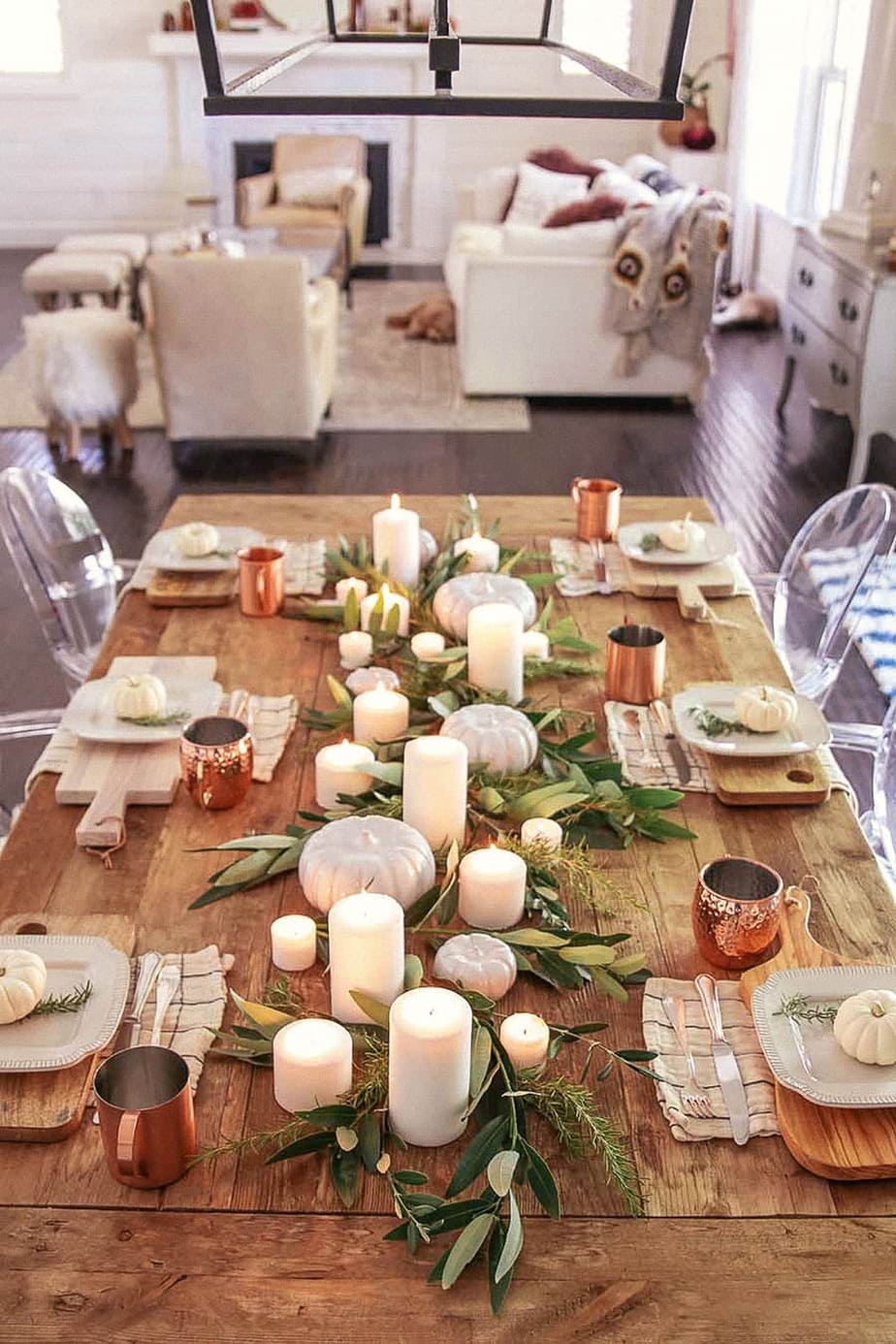 Modern Glam has a great neutral tablescape as well. It's super easy to make, but my absolute favorite part is the individual cutting boards. That's such a great touch that you can put together from whatever different cutting boards you have in the house.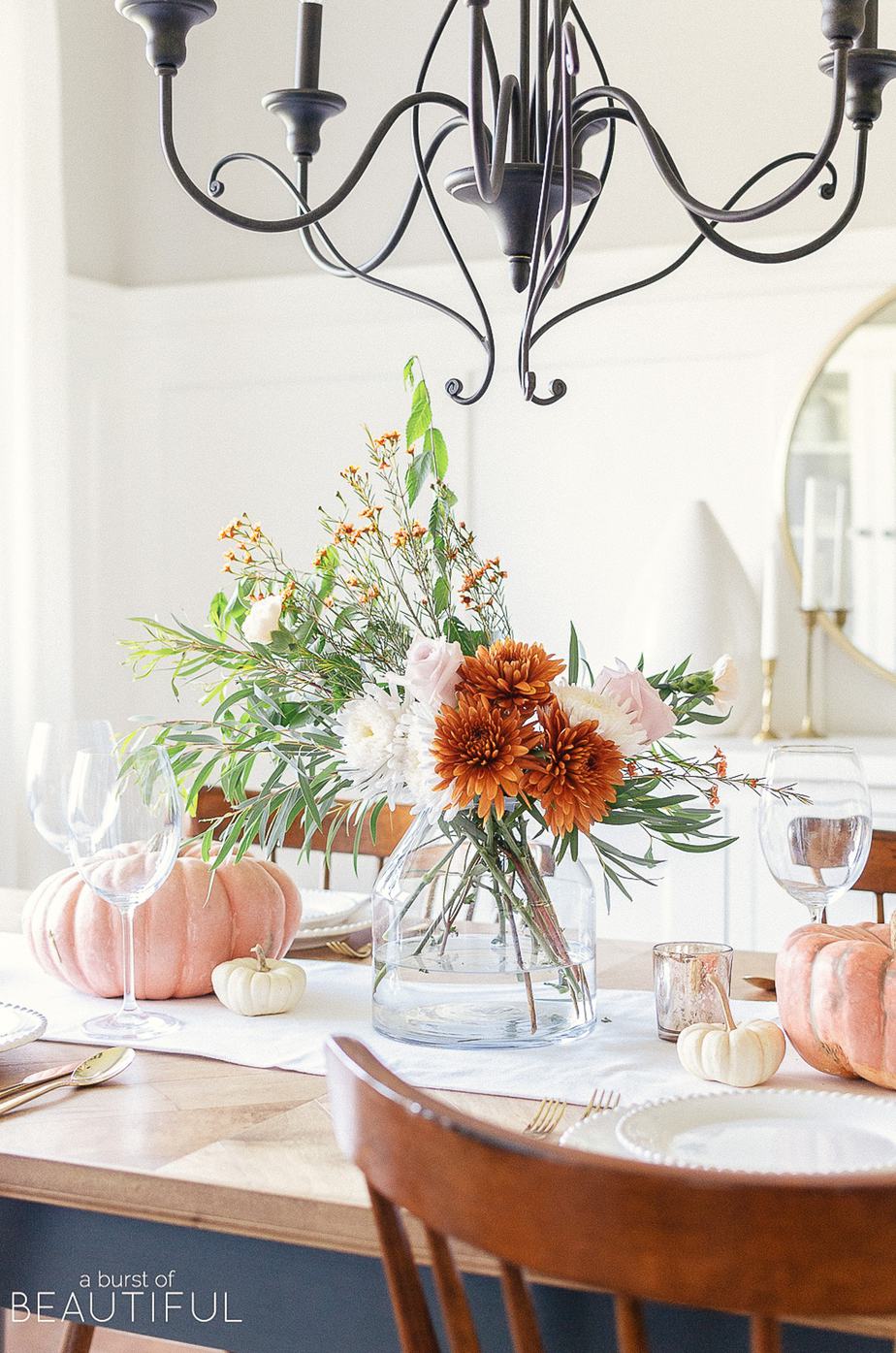 This is another one of my favorite light fall tablescapes from A Burst of Beautiful. You really only need the right pumpkins, a neutral runner, a large jar, and a bouquet. Flowers from Trader Joes are always nice this time of the year!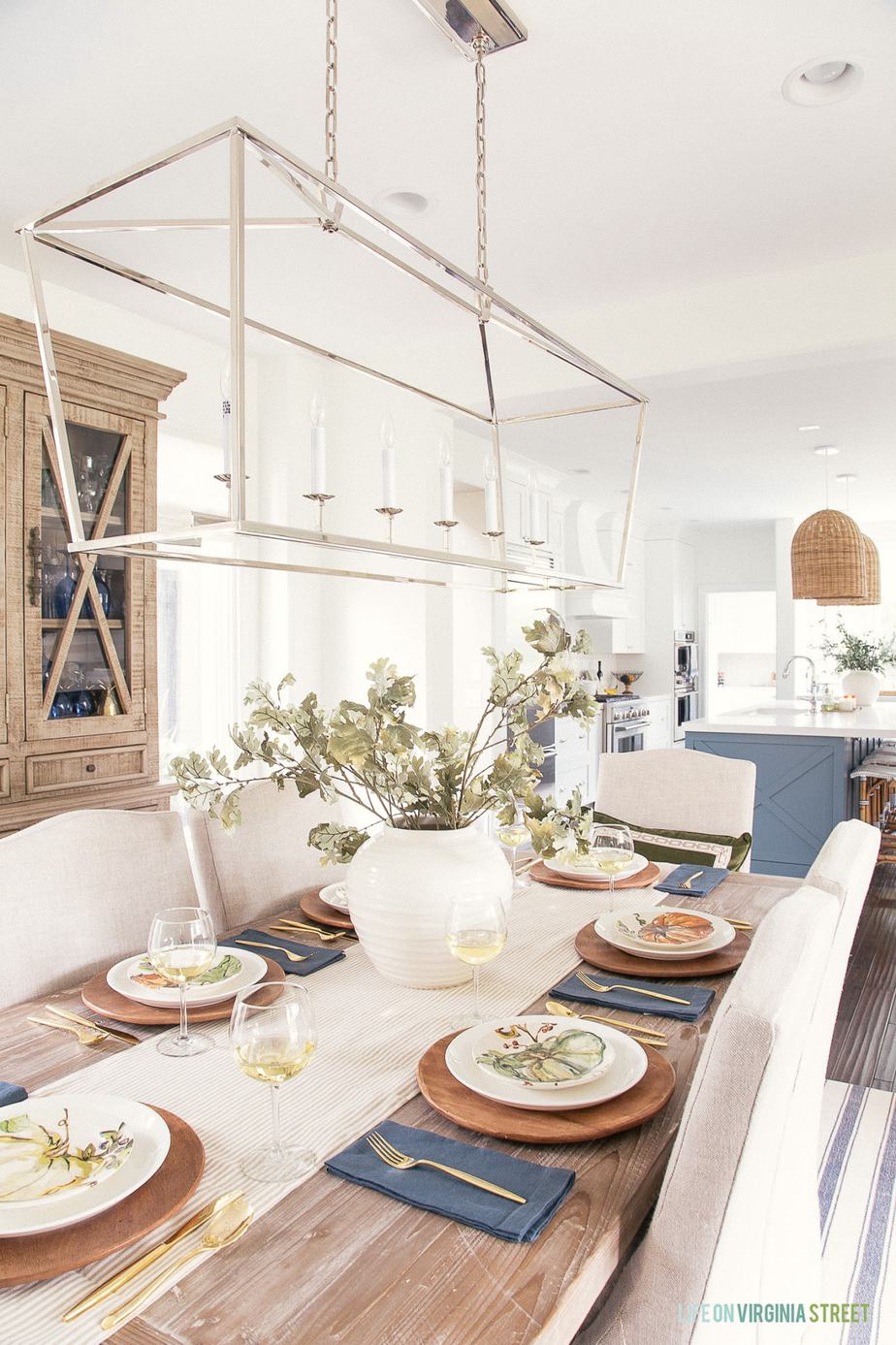 The simplicity of this tablescape from Life On Virginia Street makes it one of my favorite. Many of you probably have a similar white vase and if you don't, it's a great investment. This setup leaves plenty of room for the food but still delivers a happy vibe.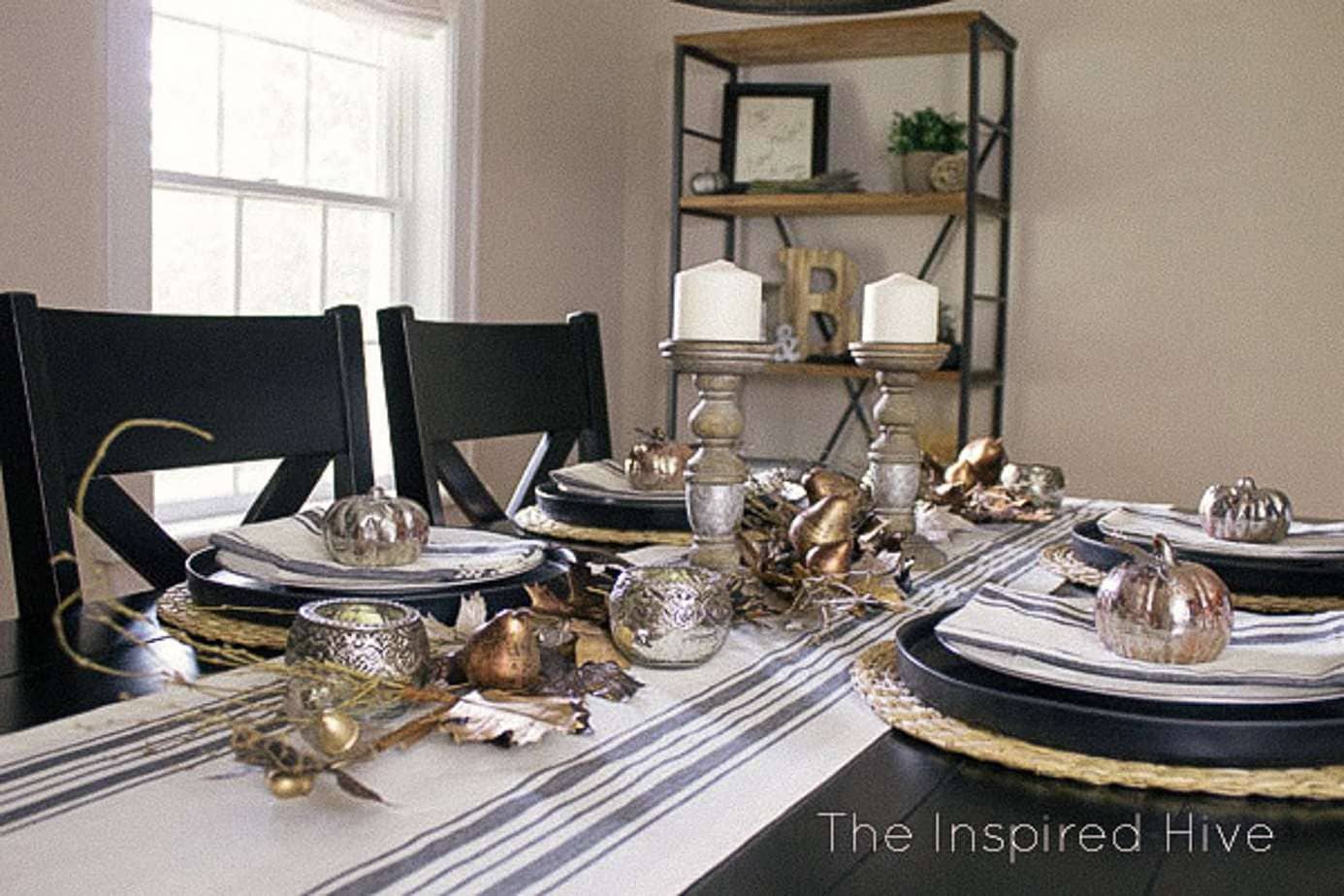 This is a great tablescape that still feels light if your table is black. Fall table decorations can be too heavy for black tables so I'd definitely use this picture for inspiration. It brings in the farmhouse elements in the runner and napkins while adding a feminine flair through the silver hues. Check out The Inspired Hive for all of the details.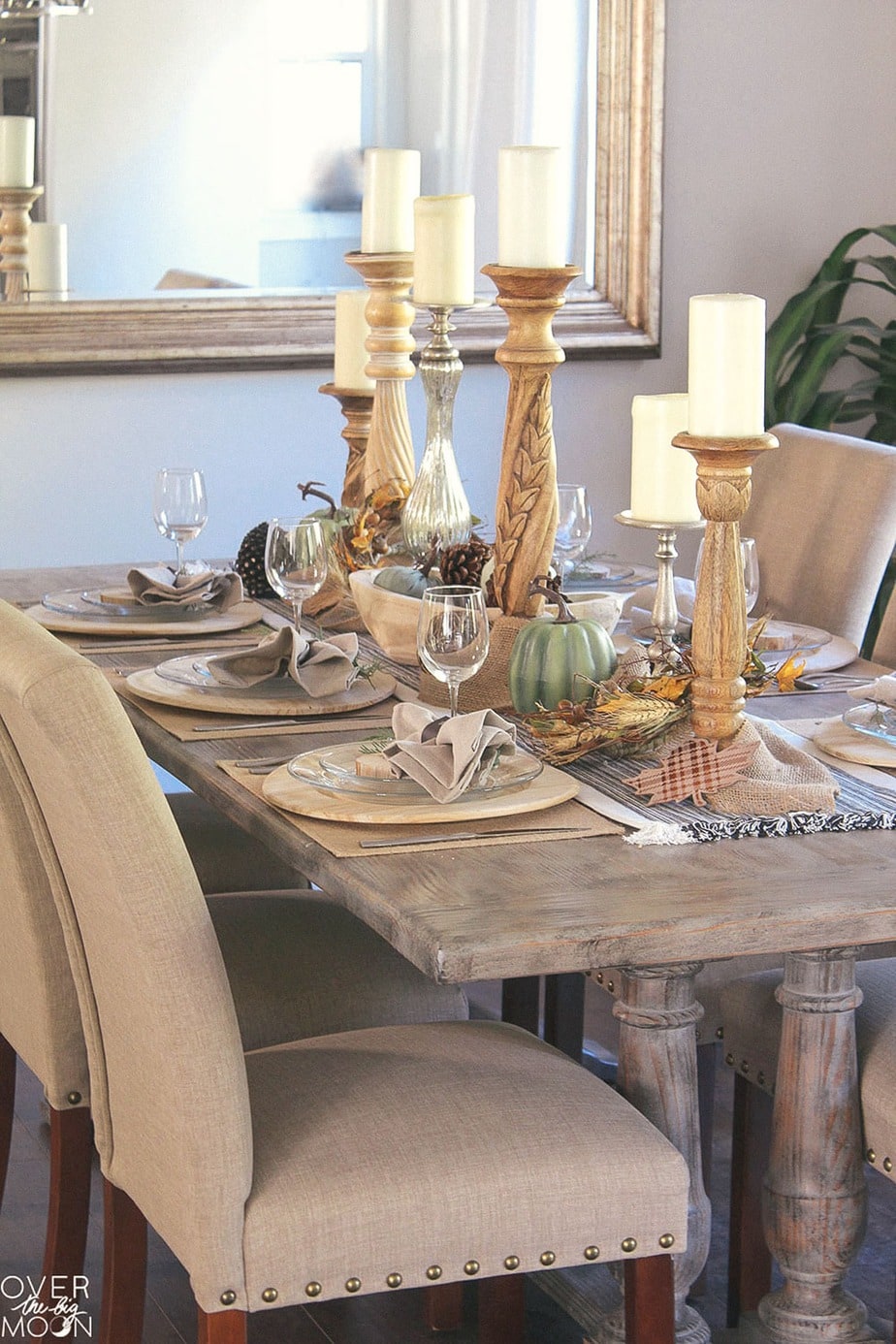 As if I didn't already love this table, the layout on it at Over the Big Moon enhances it even more. This is a perfect tablescape for Thanksgiving because it's so grounded in beige and has plenty of late fall table decorations on it.