This post has been sponsored by Palmer's. All thoughts and opinions are my own.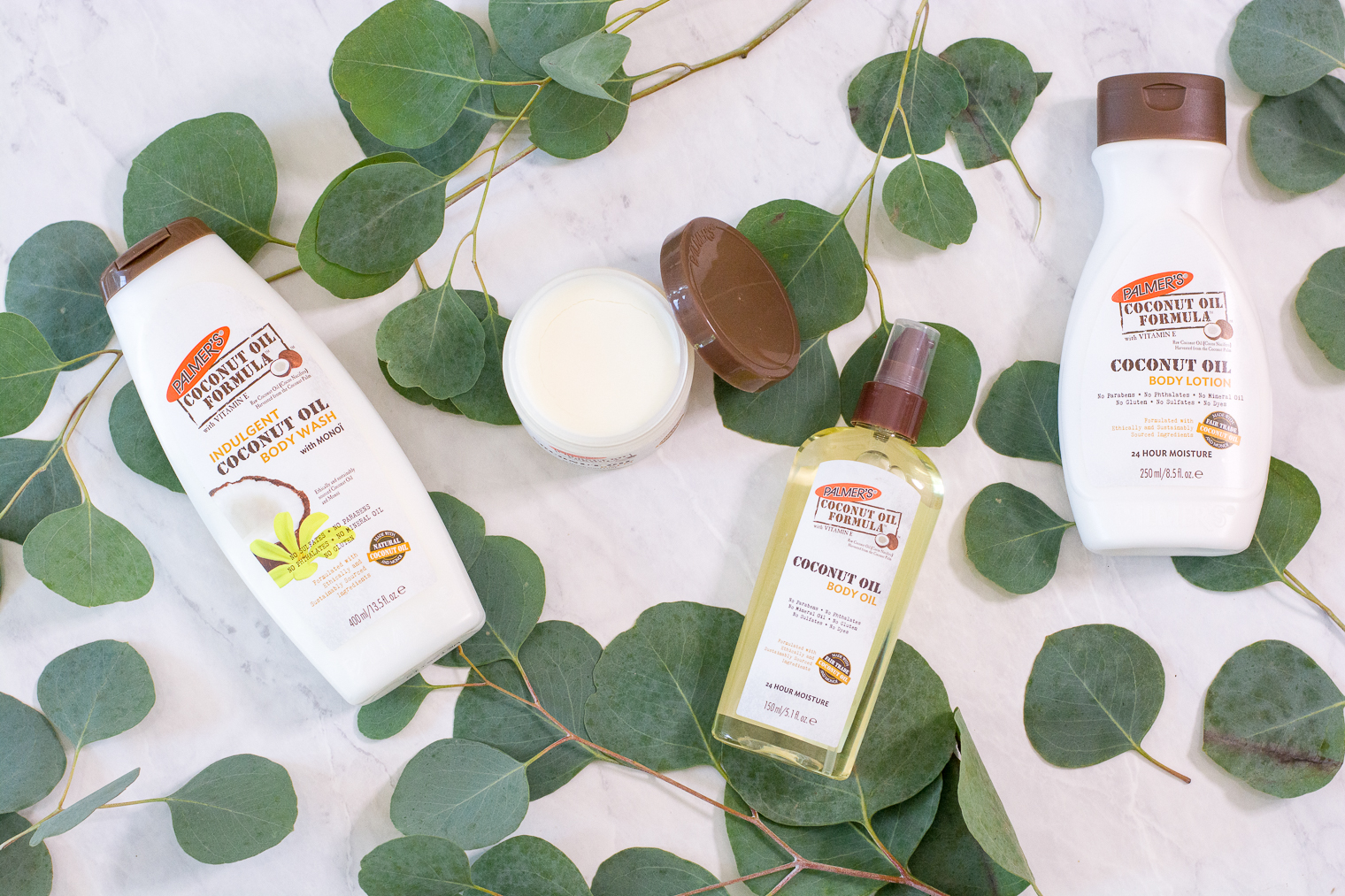 I recently began using more natural products on my skin and have seen nothing but amazing results. It makes sense that our skin would react better to ingredients actually found in nature vs. synthetic ingredients made in a lab but for some reason, it took me a while to get going. Once I did, I was hooked!
Coconut oil is one of my all-time favorite natural products to use on my skin. Not only do I love coconuts themselves, but I'm absolutely obsessed with the results I've seen. My skin is smoother, clearer, and brighter. Plus, my makeup goes on easier and stays on for the full day.
For most body purposes, I use Palmer's® Coconut Oil Formula Lotion, Palmer's® Coconut Oil Body Oil, and Palmer's® Coconut Oil Formula Body Balm. For food and hair purposes, I use a jar of organic coconut oil that I got at the grocery store (make sure it's solid). Coconut lotion is perfect for dry, dull, or thirsty skin. If you fit into any of those categories (I almost always do during the winter especially), then consider giving it a try. Palmer's is ethically and sustainably sourced in Southeast Asia and is dermatologist tested and hypoallergenic.
After using this on my skin for a while, I started experimenting with other uses for coconut oil and lotion. While I've tried around 30 different ways of using coconut products, here are my top favorite 15 that worked super well for me!
15. Under-Eye Bags
I was blessed with some dark genetic eye bags that get larger (and darker) when I don't get enough sleep, eat dairy, drink even a drop of alcohol, don't keep up with my water intake, etc. Basically, despite my best intentions, they sometimes show up exactly when I need them not to. Surprisingly, coconut oil is one of the best quick remedies I've found for dark circles and under-eye bags. I usually use Palmer's Body Oil or Body Balm and find that both work really well. The Body Balm doesn't melt or get messy in the heat, so it's a great choice to leave on all day and quickly get rid of those bags.
14. Body Scrub
I exfoliate a few times a week (more if I've gotten a spray tan) and especially like making my own! I combine my body lotion with large sea salt crystals (I especially like Himilayan salt) and mix it up before applying. Palmer's Coconut Oil Formula Lotion makes skin look glowy and luminous (especially if you're exfoliating at the same time!) and boosts hydration without leaving any greasy after-feel.
13. Smooth Skin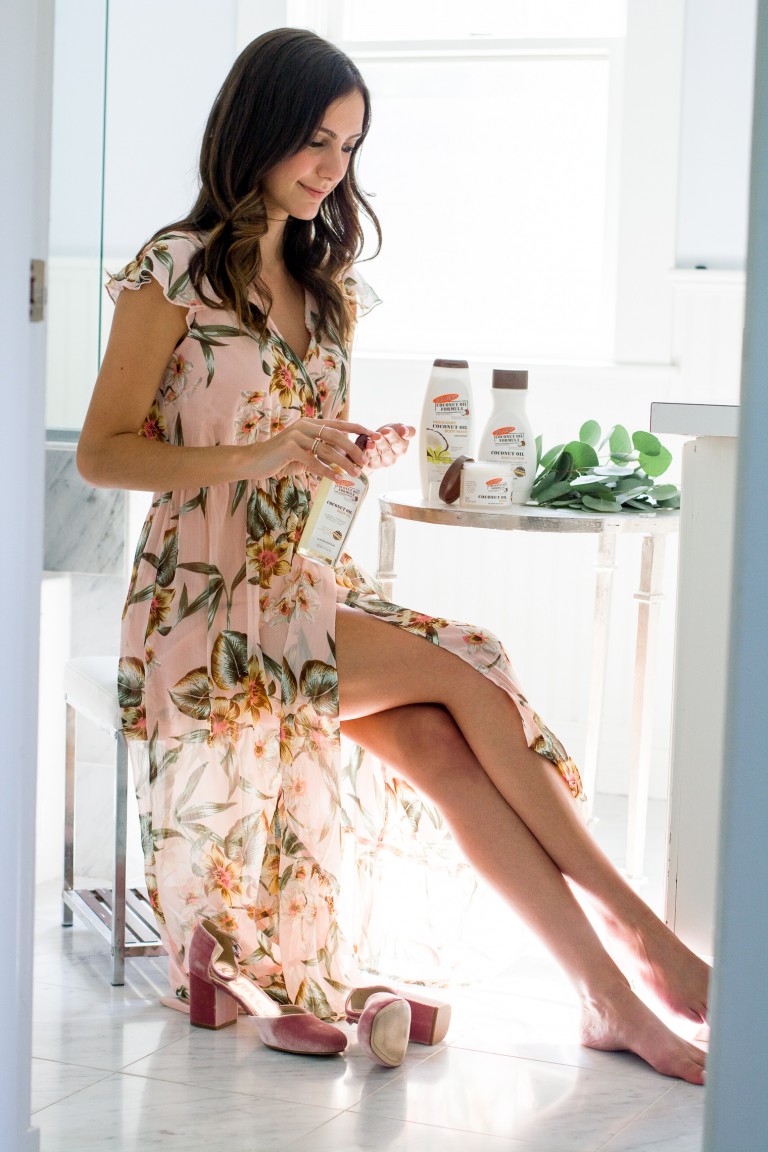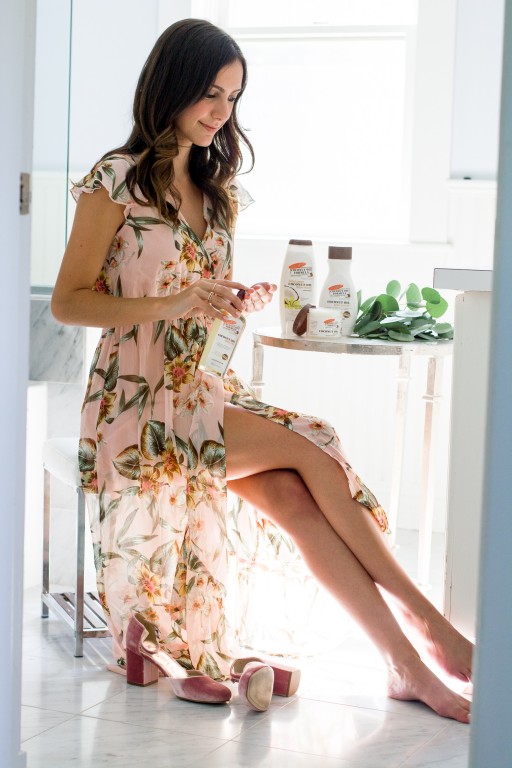 Smooth skin is a must for any look. You can really enhance any makeup routine, hairstyle, outfit, etc. by making sure you have smooth skin. I know that it takes years off my life in a good way! I use Palmer's coconut lotions because they are made with certified organic extra virgin, fair trade coconut oil, and I'm really into using all natural ingredients on my skin! The ingredients are also sustainably and ethically sourced.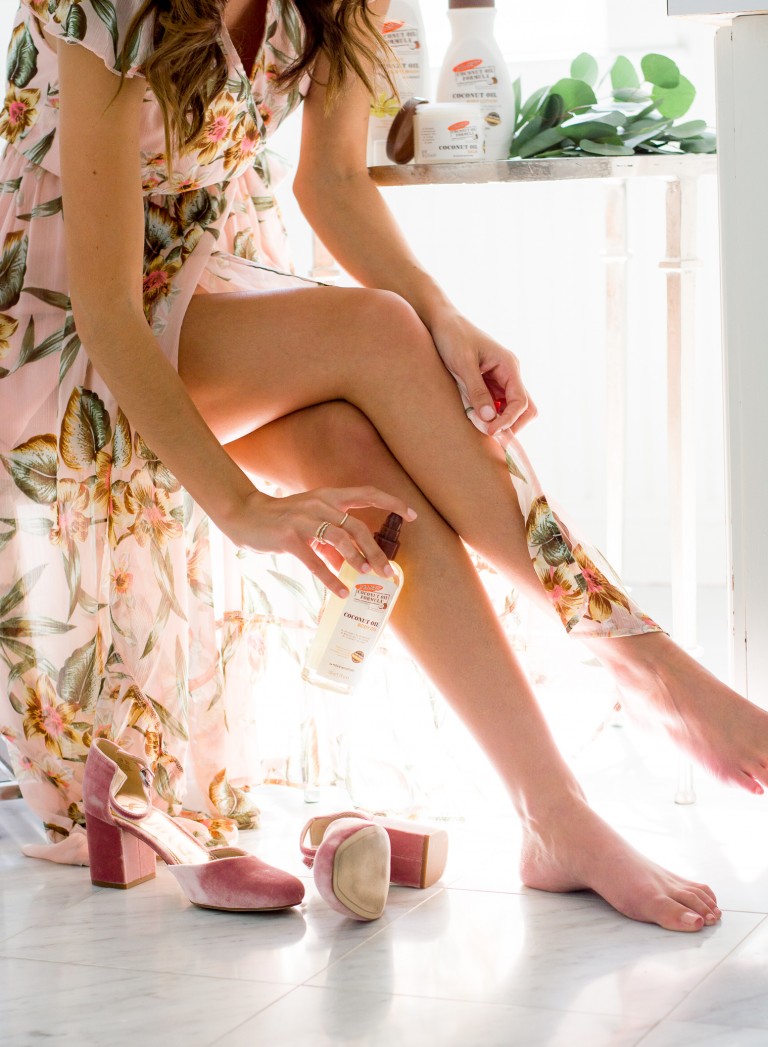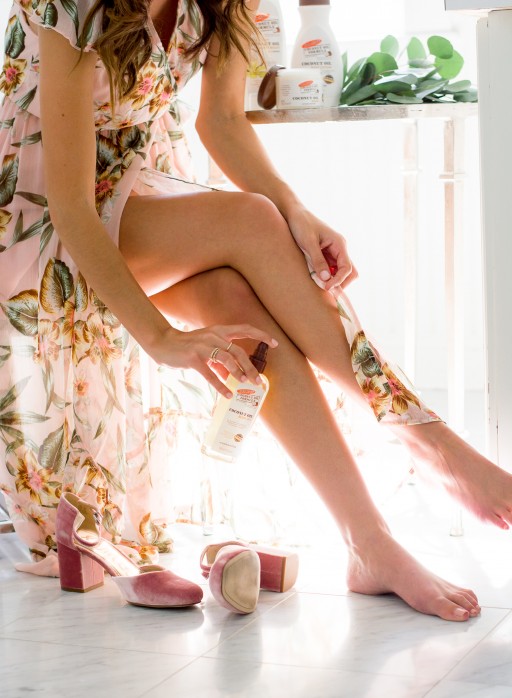 12. Remove Stains
If you get an awful spaghetti sauce stain on your newest white jeans or bedspread, take a small dab of coconut oil of the jar and apply it. You'll want to let it sit for a few minutes, then gently dab it away with a paper towel.
You can repeat if the coconut oil doesn't get the stain out immediately. I find that it works much better than most stain removers!
11. Eczema and Psoriasis
I don't personally have eczema or psoriasis, but one friend (who has eczema) swears by coconut oil. I did some research online and found many similar reviews for both skin conditions. Depending on your specific skin, regular coconut oil may work or the body oil or balm may work better.
10. Body Acne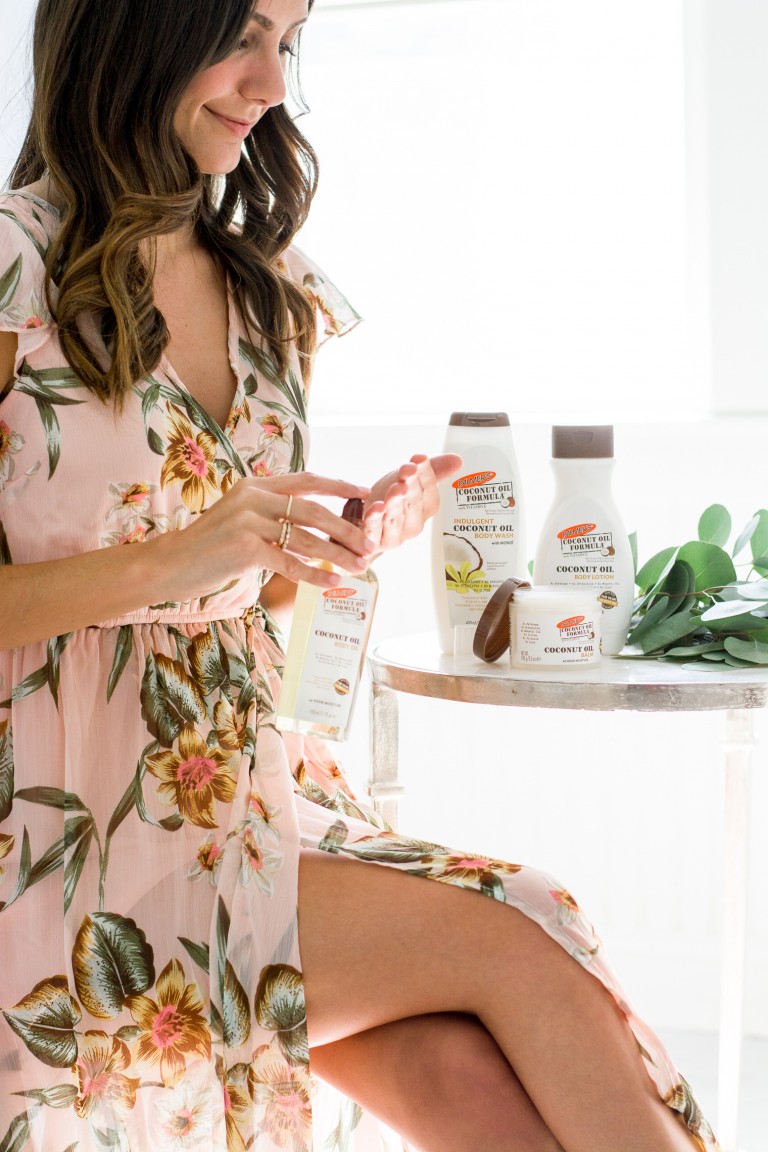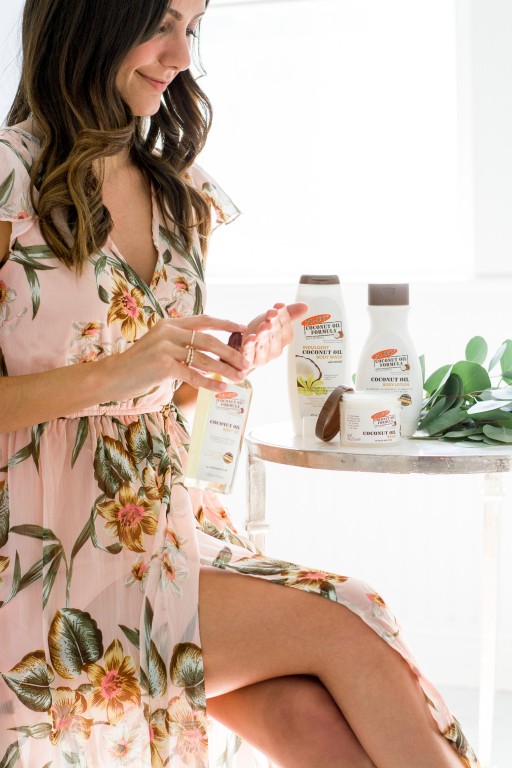 Body acne is the worst. Since I've started using this body oil, I've found that my skin produces less natural oil (I'm not sure how that works scientifically but if I can see results, I'll do it!) and I therefore have virtually no body acne.
Palmer's Body Oil drenches your skin with super intense hydration and creates a goddess-like glow. It's a blend of skin-healthy oils and is perfect for application after the bath.
The main ingredients in this body oil are fair trade extra virgin coconut oil, Tahitian monoi, saltflower oil, grapeseed oil, vitamin E, sweet almond oil, macadamia oil, Palmer's cocoa butter, rosehip oil, Argan oil, and soybean oil.
9. UV Ray Protection
Surprisingly, coconut oil can act as a mini-sunscreen! While I don't recommend going without a decent SPF, if you're only going outside for a bit, coconut oil can work well.
8. Cracked
Heels
Cracked heels not only hurt but look less than optimal. Coconut body balm instantly rehydrates heels and keeps them hydrated for well over 2 days!
I apply coconut balm to my heels a few times a week and find that I almost never have badly cracked heels, even in the winter.
7. Nontoxic Insect Repellant
Surprisingly, coconut oil acts as a nontoxic insect repellant. Apply a small amount all over your body before going outside and you won't have a problem with bugs!
6. Natural Deodorant
I'm a huge fan of natural deodorant these days (some ingredients in regular deodorant are so, so bad for you!) but I need it to actually work. Coconut oil does the trick.
5. Ragged Cuticles
Because I do my nails at home, I want to keep my cuticles in tip-top shape as much as possible.
Palmer's Body Balm is a raw coconut oil balm for multi-purpose hydration and skin repair. I find that it works perfectly on my cuticles.
It offers 48 hour moisture, so I apply once or twice a week in order to keep my cuticles moisturized. I also use it during my at-home manicures.
4. Dust Repellant For Furniture
Dust is SO hard to keep up with, but putting a really light layer of coconut oil on wood furniture is a lifesaver. I use a soft paper towel or wash cloth (a baby wash cloth is best if you're worried about damaging a furniture piece) and go around the house once a month to remove the old oil and apply a new coat.
You definitely won't have to dust weekly if you can keep up with this!
3. Chapped Lips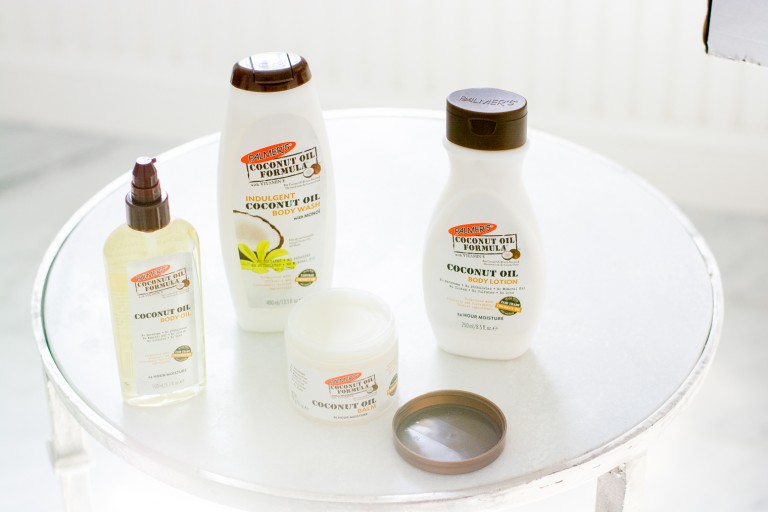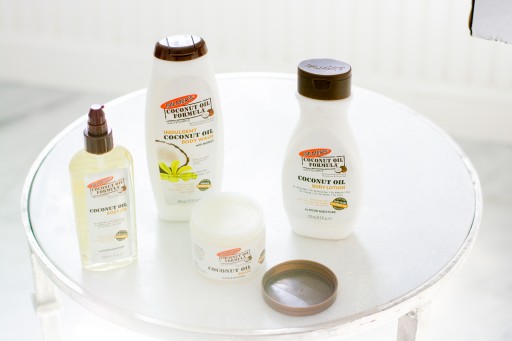 Here in New England, chapped lips are a recurring problem—but coconut oil works WAY better than most lip balms. I use it every morning to keep my lips soft.
2. De-Frizz and Grow Out Hair
I've found that not only does coconut oil keep my hair from frizzing in the summer, but it actually helped it grow. A typical coconut oil is a great heat protectant that will help you steer clear of split ends, keeping the bottom of your hair longer, but it will also stimulate hair growth if applied directly to your roots (I do a coconut oil mask once a week).
1. Remove Makeup
Traditional makeup remover wipes can be super harsh on your skin, especially if used daily. Coconut body oil or lotion is a great alternative to hydrate after removal!