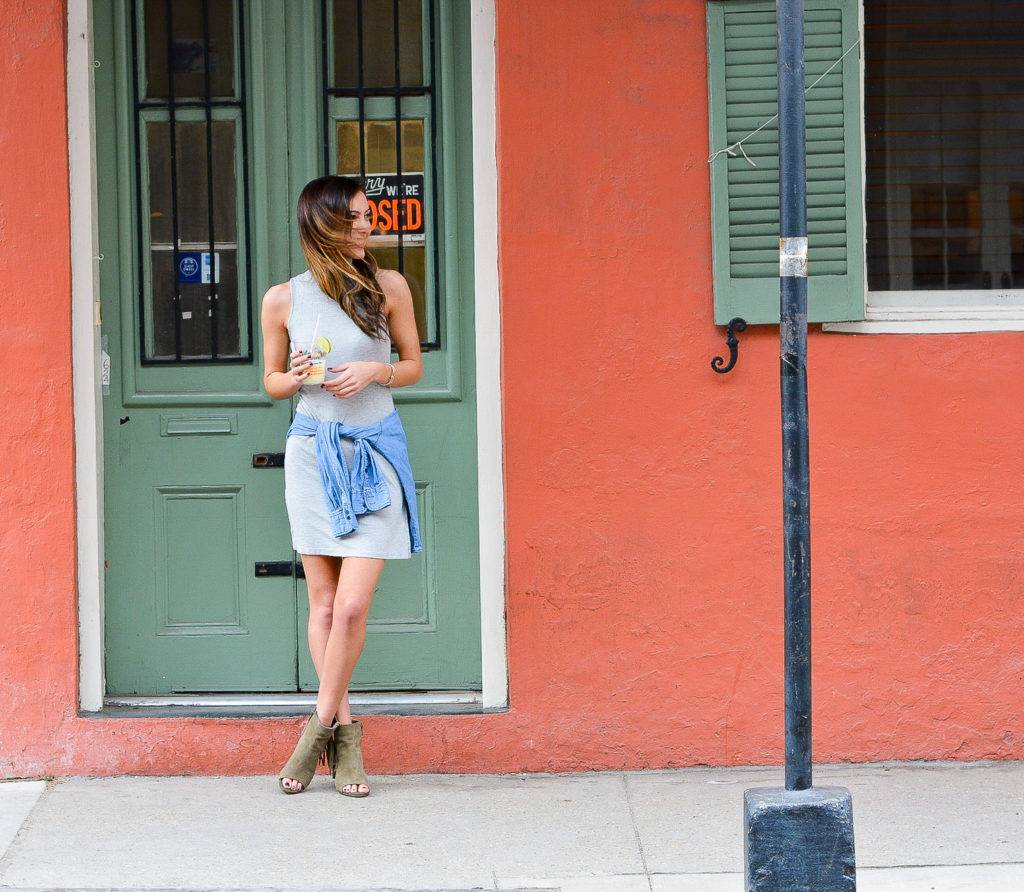 There's no other place in the United States like New Orleans. You can stand outside a magnificent historic Catholic Church while listening to a full ten player street jazz bad playing the familiar, "Oh when the Saints go marching in", take a seat at the table to the right where a fortune teller will read your cards and tell your future, or join in with all the many tourists and locals openly drinking hand grenades (one of the most dangerously alcoholic drinks in the world). There's so many budget or even free things to do in New Orleans that virtually anyone can enjoy it there.
At any random moment, a street will close down and there you'll be stuck in the middle of a parade. It could be an actual wedding, a celebration to honor a saint, or even a celebratory funeral. In NOLA there are actually more festivals than there are days of the year, and somehow each is completely unique. The things to see and do rival anything I have seen and I often think that New Orleans could be the one state to require a passport.
My New Orleans itinerary included visiting my sister, who is in her second year at Tulane University, which allowed me an inside perspective on how to make the most of a trip to this magical city! There's tons of neat spots; I've put together some of them to create my New Orleans itinerary guide. I especially love the French Quarter, the Garden District, and Magazine Street, but NOLA has so many areas that are really cool. If you're confused about how New Orleans is laid out, check out this guide for an overview of the city's really distinct sections.
There's so many free things to do in New Orleans that it really is a goldmine. You could spend your entire trip just walking around and observing. Food and drinks are incredibly cheap compared to almost anywhere else in the country, so New Orleans is a great destination for those on a budget. If you're more interested in free things to do in New Orleans, skip ahead to the activities section and check out my favorite picks.
Going to New Orleans: New Orleans Hotels
Looking for deals up to 40% off? Check out currently running sales here.
This gorgeous Southern inn is right near Jackson Square in the French Quarter. It has a beautiful courtyard and saltwater pool for an upscale but authentic New Orleans experience. It is a little pricey and can definitely be loud at night.
Right on Royale Street in the French Quarter, Hotel Monteleone is incredibly luxurious. The architecture is absolutely beautiful and the rooms are super comfortable; it's really pet friendly and has a rooftop pool. Tons of famous authors have stayed here over the years. The downsides are similar to Bienville: it gets really loud and has a steep rate. Even if you can't stay here, I recommend putting it on your New Orleans itinerary.
If you're looking for traditional Southern Charm while going to New Orleans, this boutique inn is totally the place to be. The B&B is really small with personalized room types and gorgeous surroundings (it's located in the Garden District which is a lot quieter and less touristy).
Located near the French Quarter and Canal Street, the Wyndham is easy to get to but far enough away to be quieter late at night. It's also a cheaper so its a nice, clean option for those on a budget. It's one of the easiest New Orleans hotels if you're looking for something streamlined.
Eating and Drinking: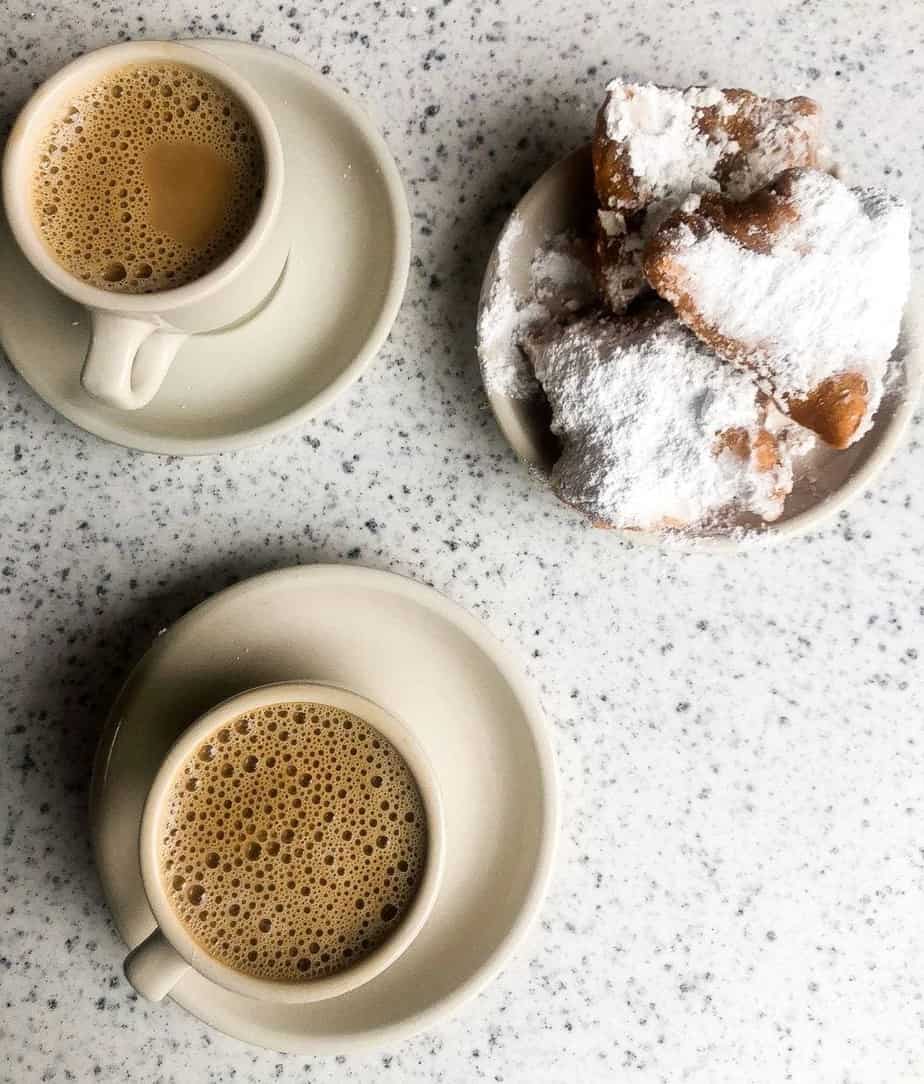 A super upscale mix of Creole and Cajan food, the Commander's Palace is a must-hit at least once. The architecture is really fancy yet Southern with white table clothes and insanely gorgeous chandeliers inside. Brunch is amazing (3 courses) but the lunch/dinner menu is super gourmet as well with .25 cent martinis for lunch!
If you're staying at one of the New Orleans hotels the Garden District, stop at Satsuma (on Maple Street) for a quick sandwich – I had the Turkey and it was amazing. They're also open for breakfast and have unusually awesome lemonade.
Located on Magazine Street, the food is Caribbean/Mexican cuisine with an upscale touch and and they have excellent strong margaritas with fresh lime juice. It's a cute place for pictures and to hangout for an extended happy hour!
Located downtown, brunch or lunch are both awesome here – it's a trendy but cute cafe with unique drinks (mine had an egg in it and was shadily great) and an option for counter service if you want a quicker bite. They're famous for the cookies and milk and trust me, they're definitely worth getting.
This is a must must must hit for beignets (something you can't leave New Orleans without trying) and coffee. The seating is partially outdoors right near the Mississippi. Because it's so popular, the line can be literally insane so budget enough time, especially on weekend days. For anyone going to New Orleans for the first time, this is classic.
If you're a hot dog fan, look for a Dat Dog: they're all over most of the sections of New Orleans and are perfect for late night eats.
Activities and Free Things To Do in New Orleans: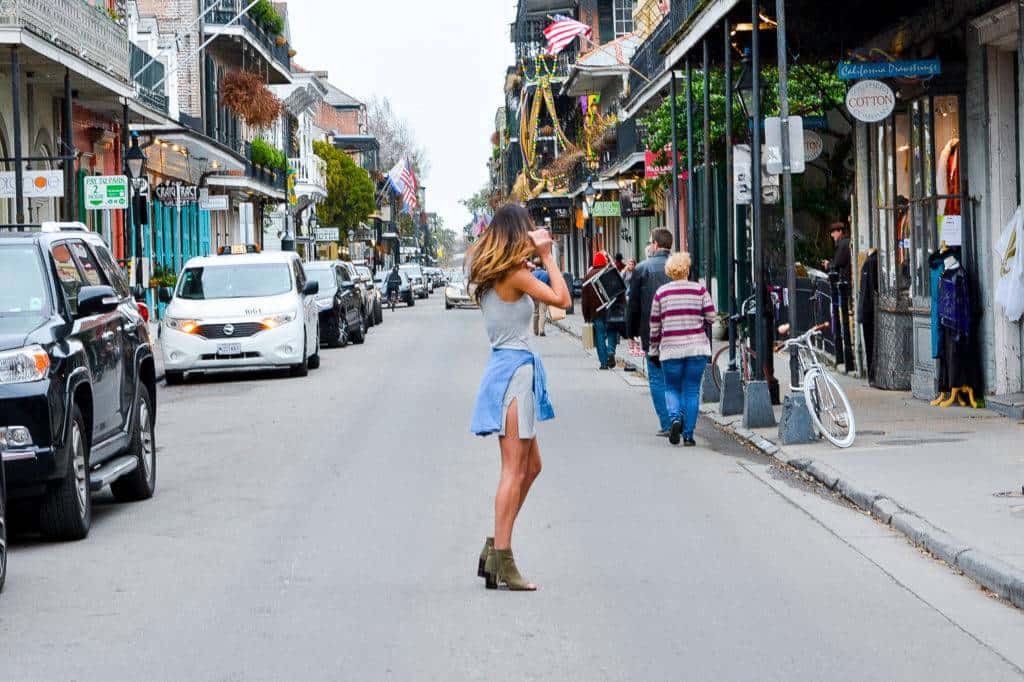 Definitely one of the most famous parts of New Orleans, Bourbon Street is where you'll see all the action. Stop by here to try the famous Hand Grenade (be careful but they're incredibly strong) or check out a parade (there's so many festivals that there's likely to be something happening while you're going to New Orleans). I also recommend strolling through the many side streets a few blocks away if you want a more authentic New Orleans experience. Don't forget your camera! For an added bonus: Be sure to try the Crawfish in the French Market.
Located in the French Quarter, Jackson Square is where the famous St. Louis Cathedral can be found. There's a lot of history behind this area (apparently the ghost of an old French Priest still roams the alley next to the church) but the common right in front of it is always really lively with all types of outdoor bands, vendors, street artists, and tarot readers.
I had a blast checking out the old Southern homes (you'll literally feel transported back in time). Even though I didn't include this in my original New Orleans activity, I recommend that you do (it's one of the best free things to do in New Orleans). The streetcar runs right by them which is fun to try, and Audubon Park is right in the area with gorgeous weeping willows, ponds with baby alligators, and the zoo (actually a really popular option and they allow patrons to bring along a cooler of beer). Audubon Park (if you're up for just walking through it) is one of the most beautiful free things to do in New Orleans.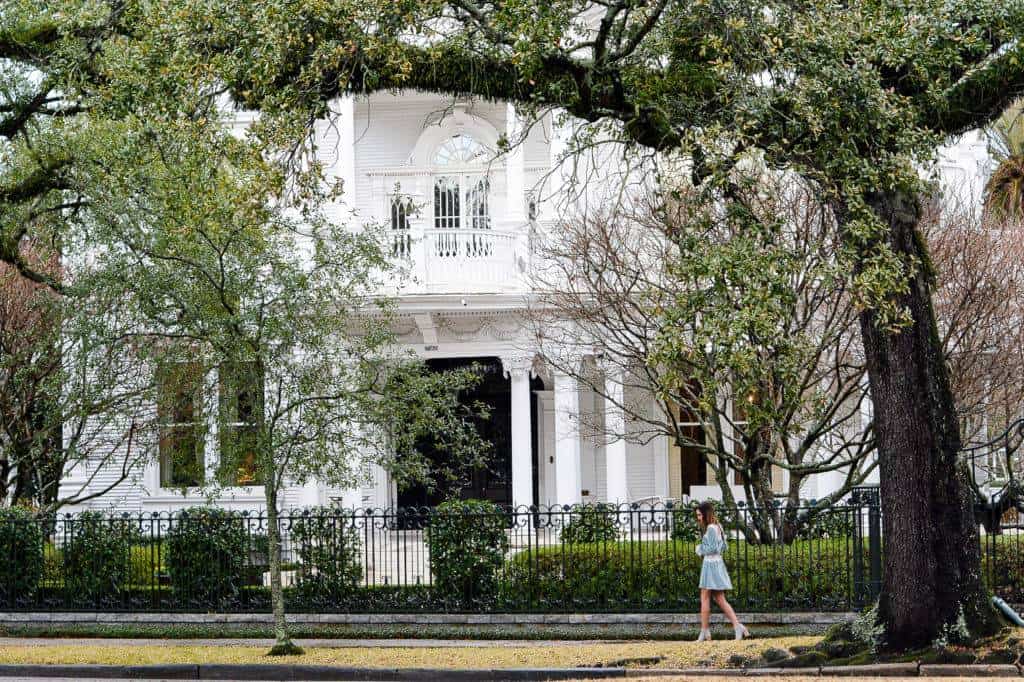 Shopping
The French Market is located downtown (in the French Quarter) and has dozens of outdoor vendors selling trinkets, souvenirs, clothes, and authentic New Orleans food. Royale street has some more upscale shopping, similar to Magazine Street, where you can also find some cute boutiques. Sure, shopping isn't one of the top free things to do in New Orleans, but you can easily window-shop or just browse and you'll be really amazed by some of the items that stores in the area carry.
Live Music
Music is literally in the DNA of New Orleans. If you're not sure what to do in New Orleans, this is a good place to start. Basically anywhere downtown will have live music, but Frenchman Street is known for its bars and restaurants featuring all types of entertainment (jazz is especially big). If you like music and are looking for free things to do in New Orleans, music is it.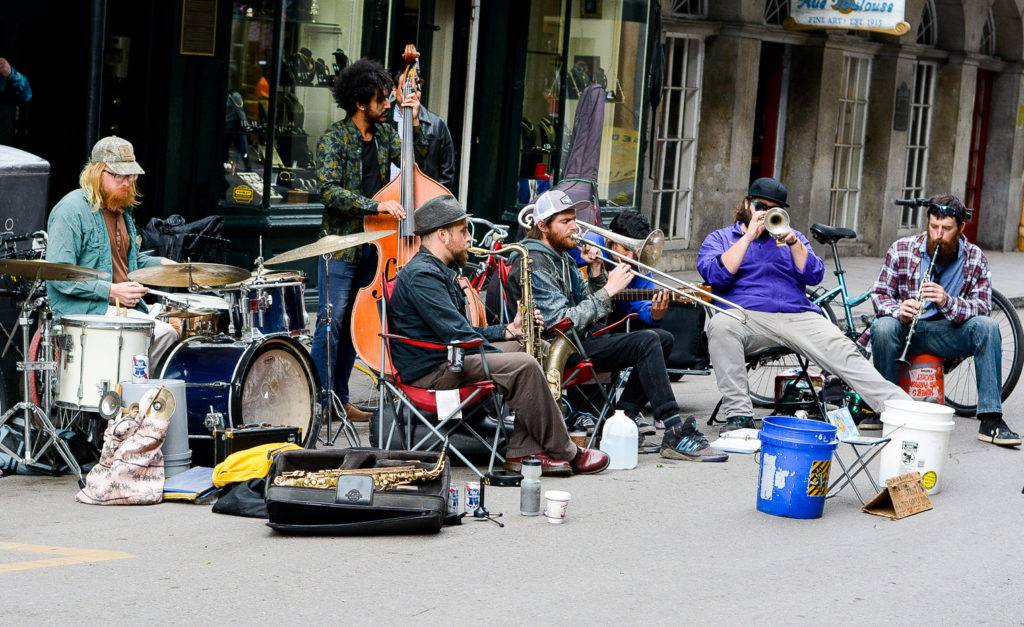 Voodoo
There's plenty of touristy voodoo shops around the French Quarter. Voodoo Authentica is more of a real experience – they sell spices and have a medium as well as a real life vampire (which is apparently a big practice in New Orleans – crazy right?).
There are many ghost and vampire tours which are actually really cool, and a bunch of different tombs/cemeteries to check out. Lafayette is the most famous – you'd recognize it if you watch shows like The Originals or NCIS New Orleans. If you're at all interested, voodoo is definitely an essential part of going to New Orleans.
I've never actually been able to check this out but you can't miss it, even just driving by. If you have extra time, depending on the season, see if you can catch a Pelicans or Saints game.
Nightlife:
Bourbon Street gets crazy at night, with tons of bars right off of it. It's touristy but definitely worth a try once, even just to people watch! Frenchman Street, a few blocks over from Bourbon, has more authentic live music, some clubs, and jazz bars. Drinks/covers are pretty cheap and there's tons of late night food along the road. For college kids, The Boot is the place to be (Uptown).
Festivals
While Mardi Gras is one of the most famous festivals in New Orleans, it's a new level of insanity that even Bourbon Street doesn't have year-round. It's actually held in the Garden District right where the streetcars usually run because that's the only street big enough to fit such an enormous crowd. Because it's right in the middle of the city, Mardi Gras is one of the best free things to do in New Orleans.
The entire city shuts down for 2 weeks and Mardi Gras is one long celebration, but each parade within it has its own flavor. The area is a weird mix of families who might be grilling hotdogs, over the top tourists dressed in literally the weirdest, (but definitely fun), outfits you can imagine, and college kids from all over the U.S. and abroad. Crazy costumes is the name of the game (my sister wore cow print leggings last year).
Around the end of April, a horse racing track in the middle of New Orleans turns into a massive festival that (plot twist) isn't just focused on jazz. Artists such as Aerosmith and Jimmy Buffett have performed, with two main stages and tons of smaller ones.
The crowd is more chill. It's normal to wear cowboy boots, the food is local New Orleans vendors, and eclectic shopping is mixed throughout the marketplace. Jazz Fest is traditionally a celebration of music and the culture of New Orleans, so try it out if you want more of a typical feel rather than the insanity of Mardi Gras.
Taking place during Halloween, Voodoo Fest is also traditional to New Orleans culture but in a very different sense. This festival is (again) held at a huge outdoor musical venue with multiple stages. Food vendors from all over the city post up and local shops buy space at a similar marketplace. Everyone goes all out with Halloween costumes, even a lot of the performing artists. Past acts have included Eminem, Calvin Harris, and The Weeknd (huge names so the ticket prices are definitely worth it).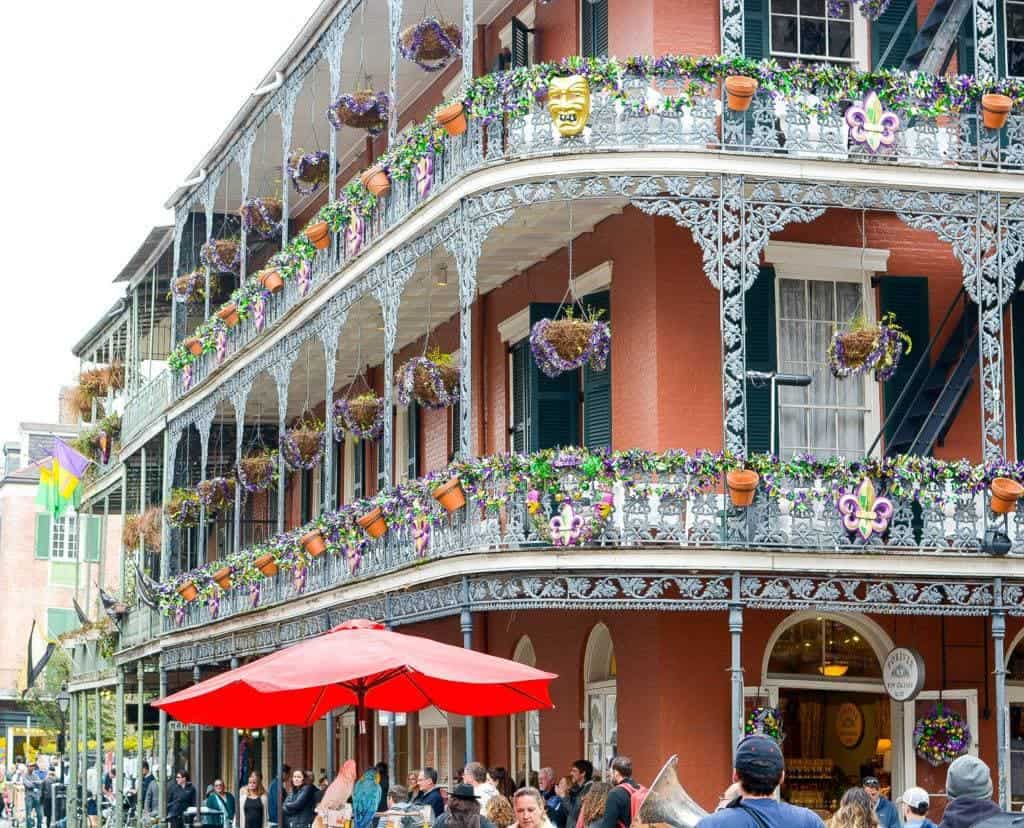 The French Quarter decorated for Mardi Gras! Sightseeing is only one of the many free things to do in New Orleans.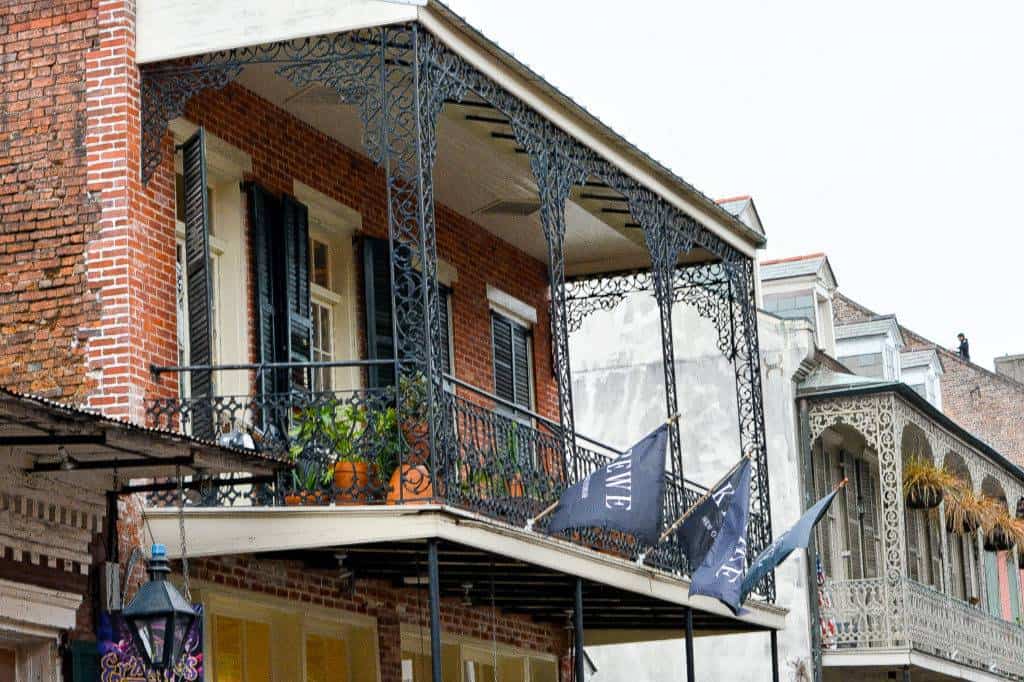 A balcony near Bourbon Street.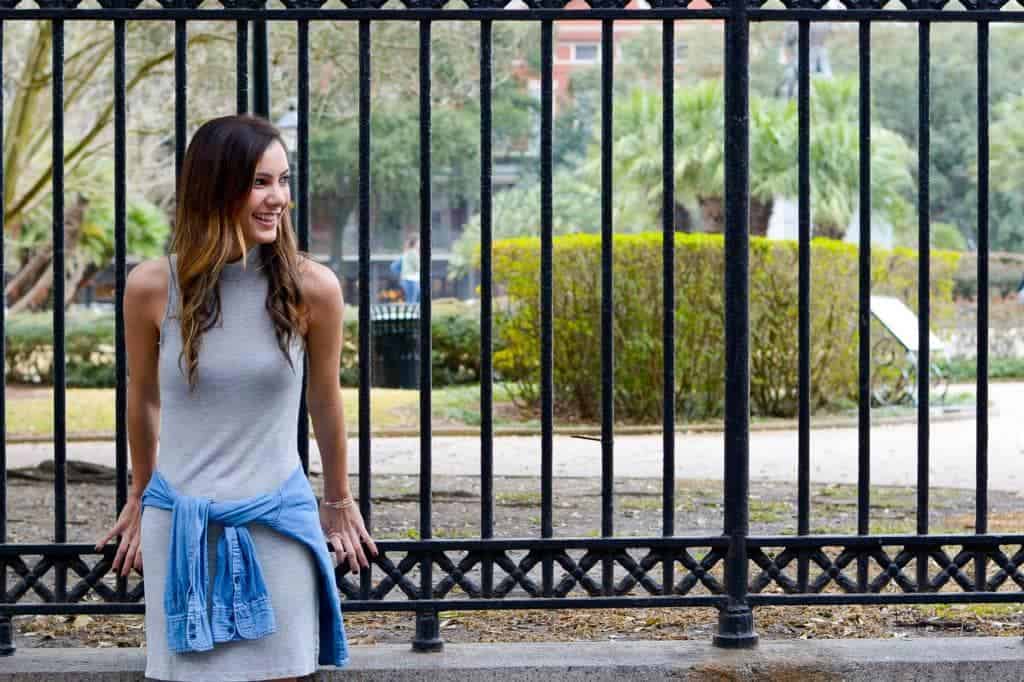 An adorable park near Jackson Square.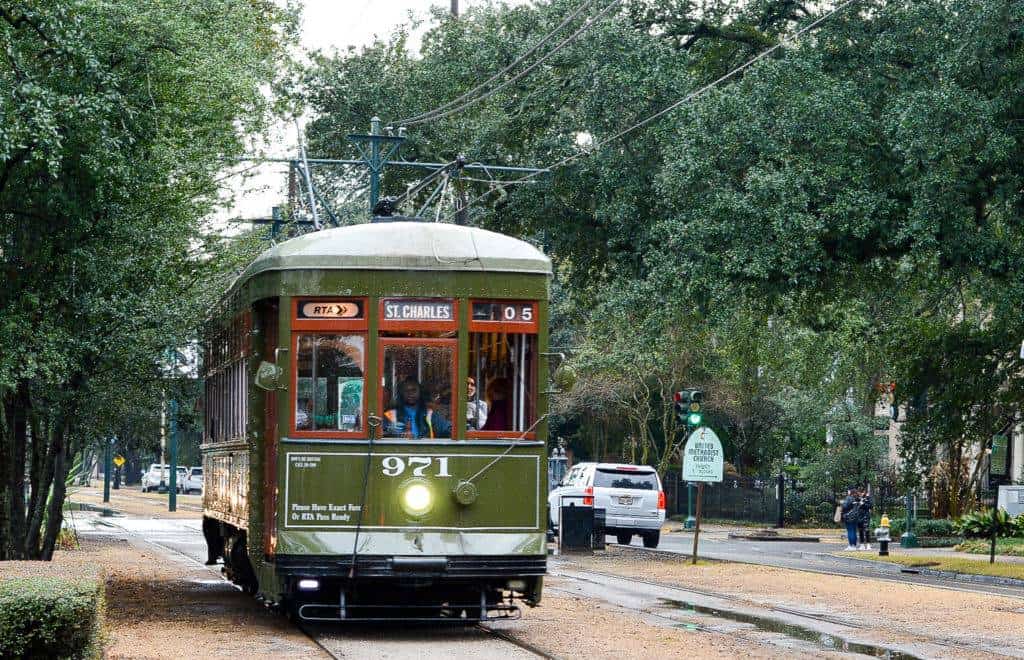 One of the Streetcars in the Garden District going to New Orleans!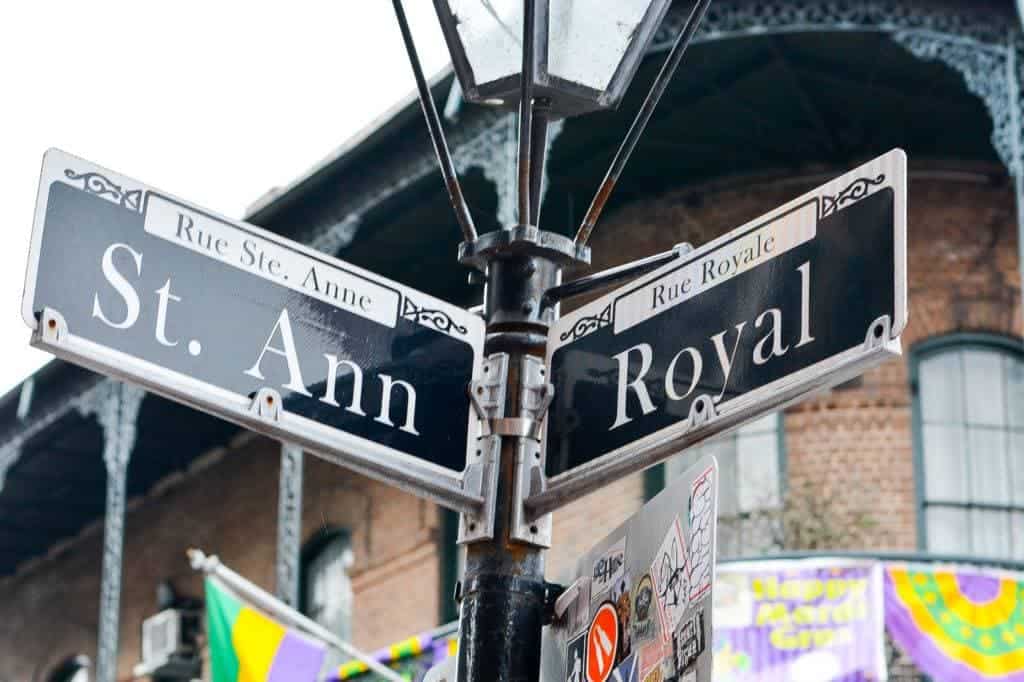 Royal Street.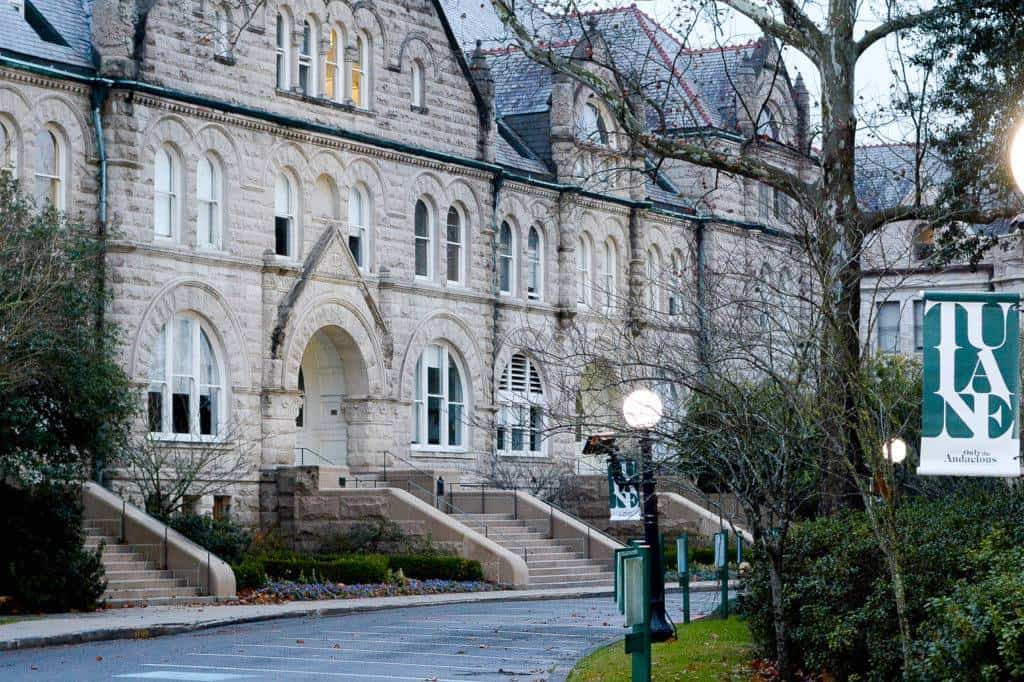 Tulane University – such a gorgeous campus! It's worth a visit if you're going to New Orleans.
I've done my best to give a sense of what going to New Orleans is really like, but honestly, no New Orleans travel guide will do it justice until you experience it for yourself! Figuring out what to do in New Orleans isn't hard because there's literally a million options. There's so much more to this city – luckily I get an opportunity to go back a few more times before my sister graduates. If any of you have been, I'd love to hear your favorite thing to do so I can be sure to add that to my list for the next time!