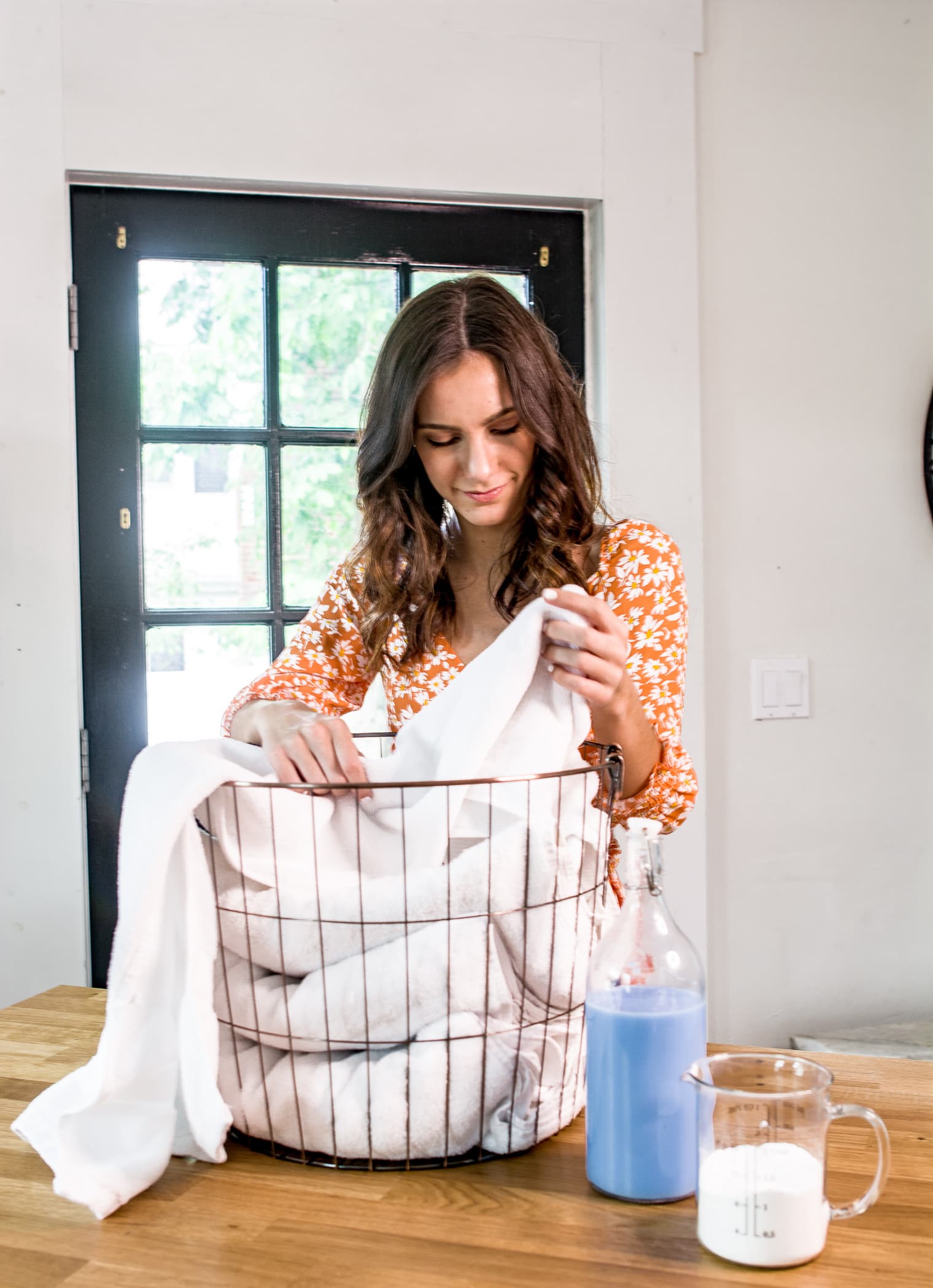 Last year at this time, we were drowning in laundry. I'm not exactly sure how that happened since there's only two of us, but there were piles of colors and whites everywhere; we definitely didn't have any type of laundry schedule whatsoever. Some of this might have been because our washer and dryer are in the basement, so doing laundry isn't the most convenient thing.
Laundry is one of those chores that always creeps up on you. If you don't have a set schedule that you get into the habit of actually following, I can guarantee that within a few weeks, you'll run out of something necessary, like socks and underwear.
If you're one of those people who really struggles to stay on top of laundry, then a schedule may be the perfect fix. I personally can't keep up with it unless I have my printable laundry schedule planned out and actually follow through.
A good laundry schedule that will work for you yourself is hard to find, but almost ridiculously easy to make. I do laundry three days a week and have come up with a schedule that works perfectly for me, but your schedule may need to be slightly different depending on:
How many people live in your household
What hours you work or are out of the home
How often you need to wash certain items (such as a team jersey for a child who wears it three times a week to practice)
How you like to divide your clothes (colors, whites, delicates, brights, etc.)
The types of materials that you wear the most often
You'll also want to consider who will do the laundry each day. Do you and your spouse have different schedules? If so, you can assign days depending on who is free when.
You might also have a child who is old enough to do a load here and there, or a housekeeper who comes only one day a week.
To make a laundry schedule printable that you'll actually stick to, you should sit down and think about what's realistic rather than what you'd ideally like to do.
I'm a huge fan of schedules, because being able to say that I'm 100% finished with something for the day makes me feel like I accomplished something. Cleaning is one of those things that can feel never ending, and that especially applies to laundry. You're literally wearing clothes that you'll have to wash while doing laundry, so it can start to feel like a thankless task.
A laundry schedule is a great way to not only stay on task but feel accomplished when you finish a load for the day.
How to Create a Laundry Schedule That Works
I'd love to get my laundry done every day of the week, but because I work from home 3x per week and am gone most other days including weekends, the three day a week schedule is what actually worked for me.
Finding pockets of time is what you'll want to do when creating your schedule. Laundry doesn't take a long time, but it does take 5 minutes of time over and over, so you need to clearly schedule in those bits of time when you're able to switch it over.
I like to schedule in when I'll switch my loads. For example, I throw in a load in the morning, switch it at lunch, bring it upstairs while dinner is cooking, and put it away after dinner before TV time.
Think about your day and when you might have a few moments free. Some of the most common times are before work or breakfast in the morning, after showering, during lunch, after school, right after work, while cooking dinner, during commercials, and before bed.
Ultimately, there's so many variables that your schedule will have to be personalized for it to actually work. To get you started, I've drawn up a few mock schedules that should help you formulate your own and included a free printable below for you to write it down.
A Laundry Schedule For 3x/Week
This is the schedule I currently use because we don't have a ton of loads and I work from home 3 days per week.
It's really easy to follow, as long as you have enough items to make it through a week! I only do colors once a week (which sometimes adds up to 2 or 3 loads) so we need enough socks, jeans, etc. to make it until the following color wash day.
I do colors right before the weekend so that we have nicer clothes ready. I do whites and sheets during the week, when I personally like to have fresh sheets and bedding. Again, this is all what works for you!
Day 1:
Towels & Whites
Day 3:
Sheets & Bedding
Day 5:
Colors
A Weekday Laundry Schedule
This is probably what I would do if I had more people in my household.
With only two of us, it's really feasible to keep our laundry schedule to three days a week, but during the summer when we stay for a few weeks with my whole family, this weekday laundry schedule works perfectly.
Some days will require a few loads, so you might want to schedule colors, for example, on a day when you have a bit more free time.
A weekday laundry schedule is great for the stay-at-home mom, anyone who works from home, or someone who likes to do one load before work and one load after work. If you need a daily schedule during the week, then this will work perfectly.
Monday:
Colors
Tuesday:
Whites
Wednesday:
Sheets, Bedding, & Towels
Thursday:
Colors
Friday:
A miscellaneous load of any color (on cold)
A Weekend Laundry Schedule
If your schedule is insanely crazy during the week, then you might choose to get the laundry done all in two days on the weekend.
You'll probably have 3-4 loads each day, but if you can be constantly switching out your laundry every hour or so, then you'll be really efficient and will have everything set for the week ahead.
If I don't manage to get my laundry done during the week for whatever reason (the 4th of July was during the week this year so that was one of those times), then I switch to a weekend schedule and get it all done in bulk. The one thing that is easier about this schedule is once you get into the rhythm, it's simple to keep going until it's all done.
Saturday:
Whites, Sheets, Bedding, & Towels
Sunday:
All Colors
A Daily Laundry Schedule
If you do better having a daily routine, then you'll want to do laundry every day of the week, including weekends.
This definitely wouldn't work for me since my weekend schedule is insanely different than my weekday routine, but if that's not the case for you, then this one load a day method might be perfect.
One benefit of doing a load every day is that it never feels too overwhelming, so you'll probably be able to find literally 5 minutes to switch out your laundry.
What I would do is toss the assigned load into the washer in the morning before work, then switch it to the dryer after work. If you're able to be home during the middle of the day, you can also switch it to the dryer then and fold the clothes after work.
Try to put any laundry for the day away before you go to bed. It's only one load so it shouldn't take you more than 5-10 minutes to fold and put away!
Monday:
Colors
Tuesday:
Whites
Wednesday:
Sheets & Bedding
Thursday:
Towels
Friday:
Colors
Saturday:
Whites
Sunday:
Miscellaneous Clothes (Swimsuits, Gym Clothes, etc.)
A Printable Laundry Schedule
I filled out this printable laundry schedule and stuck it on the fridge so that we can't ignore it.
For me, it worked to include not only what type of laundry we'll be doing on each day, but who will be doing it (both morning and night).
You can click on this PDF below to print it out and get started on your own schedule! If you need extra reminders, I recommend making a few copies (either by hand or by actually copying the document) and putting it up in a few places.
We typically plan out our schedules (for laundry as well as everything else) on Sunday night, so if things are shifted around then I'll print out a new laundry schedule and alter things as needed for the week, otherwise I'll use the our typical schedule that I keep.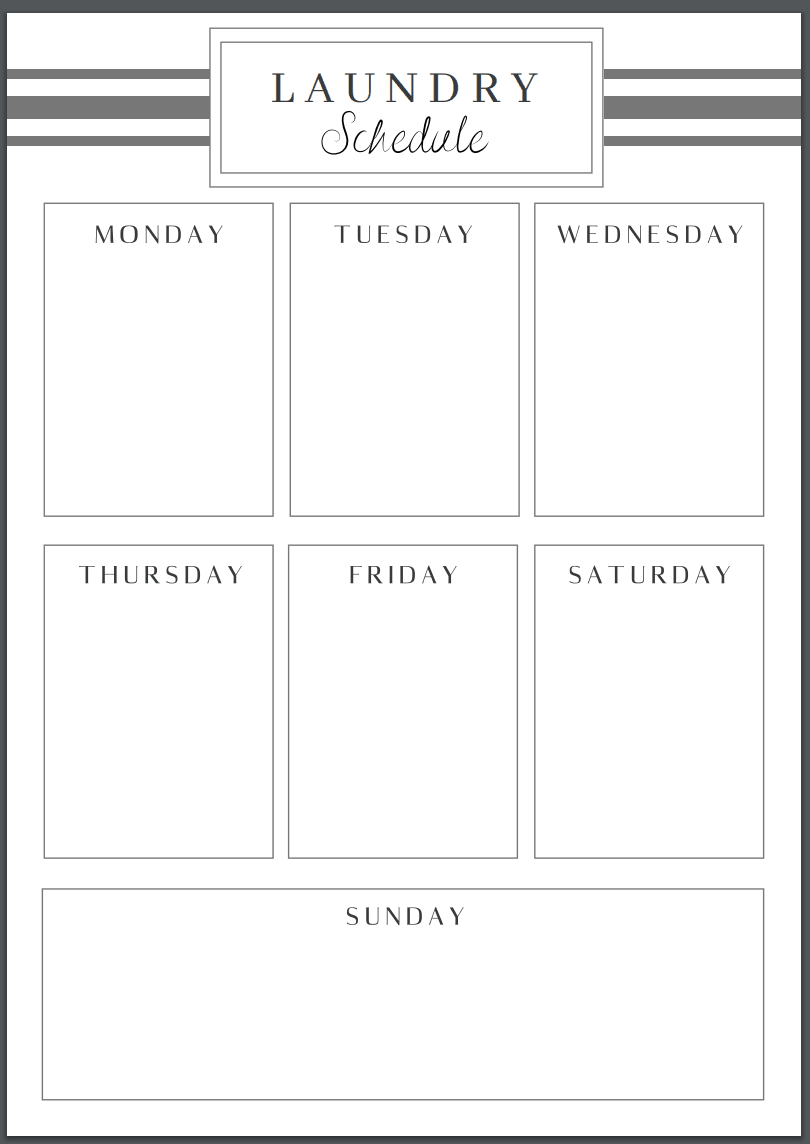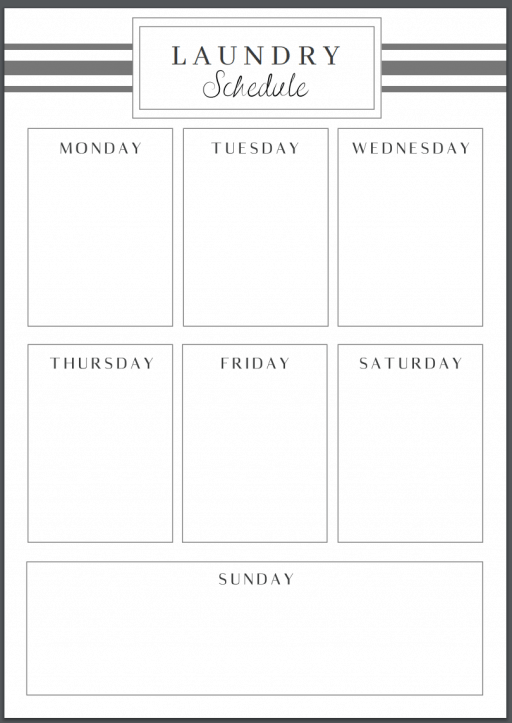 I seriously cannot stress enough how efficient this laundry schedule printable has made my week! Not having clean clothes is one of the worst feelings ever, and this almost never happens to me anymore. I highly recommend giving a laundry schedule printable a try.
Having a physical piece of paper seems to make a difference for us, which is why I wanted to offer a printable laundry schedule. What schedule typically works for you and why? Let me know in the comments!