I have to admit it: I'm obsessed with leggings. You won't find me without a leggings outfit most days of the week because I just love being comfy.
Luckily, leggings outfits are socially acceptable now, especially when you work from home.
There are so many cute leggings outfit ideas that it's hard to choose! However, you definitely need some inspiration in order to pull off these outfits.
That's why today, I'm sharing my favorite leggings outfits so that you can wear comfy pants everyday too and still look cute!
What Are Leggings?
Leggings are a type of garment typically worn as either underwear or outerwear. They were originally designed to be worn in conjunction with skirts and dresses that had narrow, tight fits around the legs and thighs.
Leggings come in different styles including slim-fit leggings which have no elastic waistband and instead rely on a snug fit around the hips for hold, flare leggings which extend from the hip to ankle without much taper, high-waist leggings which sit at or above natural waistline, full-length pants such as palazzo pants and harem pants.
A few years ago, skinny leggings were the only thing to wear. However, flare leggings (also known as yoga pants back in the day) are definitely making a comeback, so there's lots of options for different leggings, making it easy to switch your leggings outfits up.
My Favorite Leggings Outfit Pairings:
Just like any other piece of clothing, there's a right and wrong way to wear leggings. They're very versatile pieces so you should feel free to mix and match them. But I've outlined what I think is the best way to wear them below:
-Tight leggings with athletic tall socks, dad sneakers, and an oversized hoodie.
-Tight leggings with a cropped sweatshirt and chunky (white) sneakers
-Tight leggings with a hoodie, a leather jacket, and combat boots
-Flare leggings with a crew neck (sometimes with a turtleneck under it) and sneakers
-Tight leggings with athletic tall socks, dad sneakers, a crop top, and a puffer coat
-Tight leggings with a crop top, a shacket, and sneakers
Obviously, these are just some leggings outfit ideas, but these combinations are definitely hot right now!
I also love pairing my leggings over oversized sweaters, button-up shirts, or even an oversized blazer for an edgy feel.
Browse through the photos below to get more leggings outfit ideas!
Where To Shop For Good, Long-Lasting Leggings:
If you're a leggings fanatic like me, then you know that cheap leggings just don't last that long. It's sad but true. However, I've found a few good places to get quality leggings that will last you at least 6 months.
Obviously, no leggings in the world can beat Lululemon. Now that I have a bit more spending money, I tend to splurge on a few pairs a year, but I also take really good care of them. These leggings will last you forever as long as you wash them gently and air dry them!
If you're looking for budget-friendly leggings with cute colors and prints then you should definitely check out H&M.
They typically carry high-waist leggings that come in some super cute colors. The leggings are flexible but don't stretch out. They're also extremely comfortable and affordable!
Nordstrom Rack carries lots of great brands like Calia, Lululemon, and many more for great prices. You'll have to hit it right, but I've found a few pairs of designer leggings there that are still in good shape today.
Calia:
Calia leggings also make me feel like I'm having a good workout session even if I'm running an errand! They're super high waisted but still snug, making them ideal for any activity. They're a bit on the pricey side but they often have great deals during certain holidays and I've been able to get them for as low as $58.
Leggings Outfits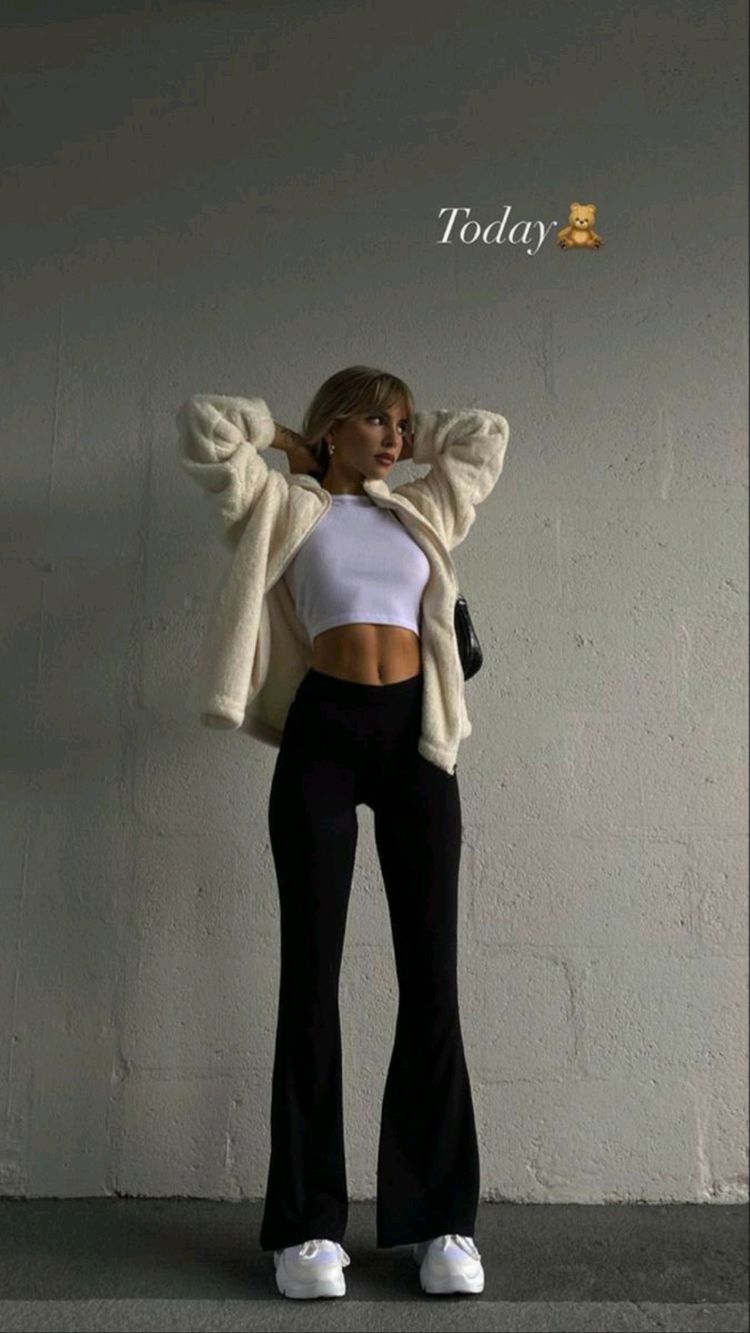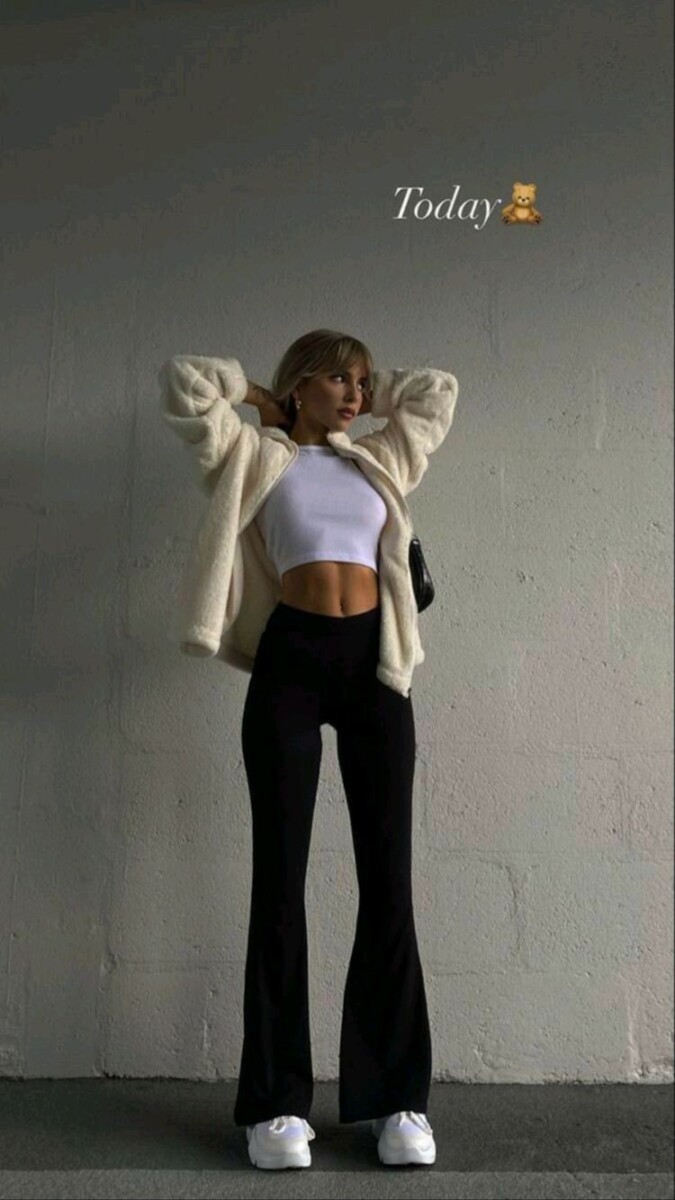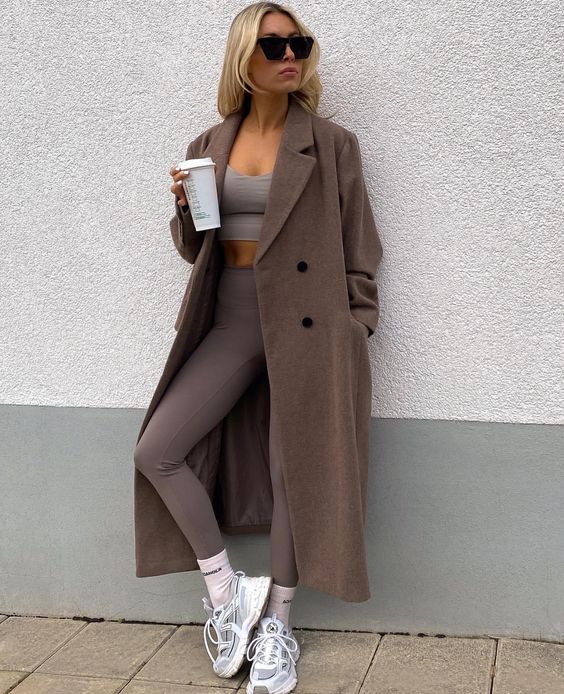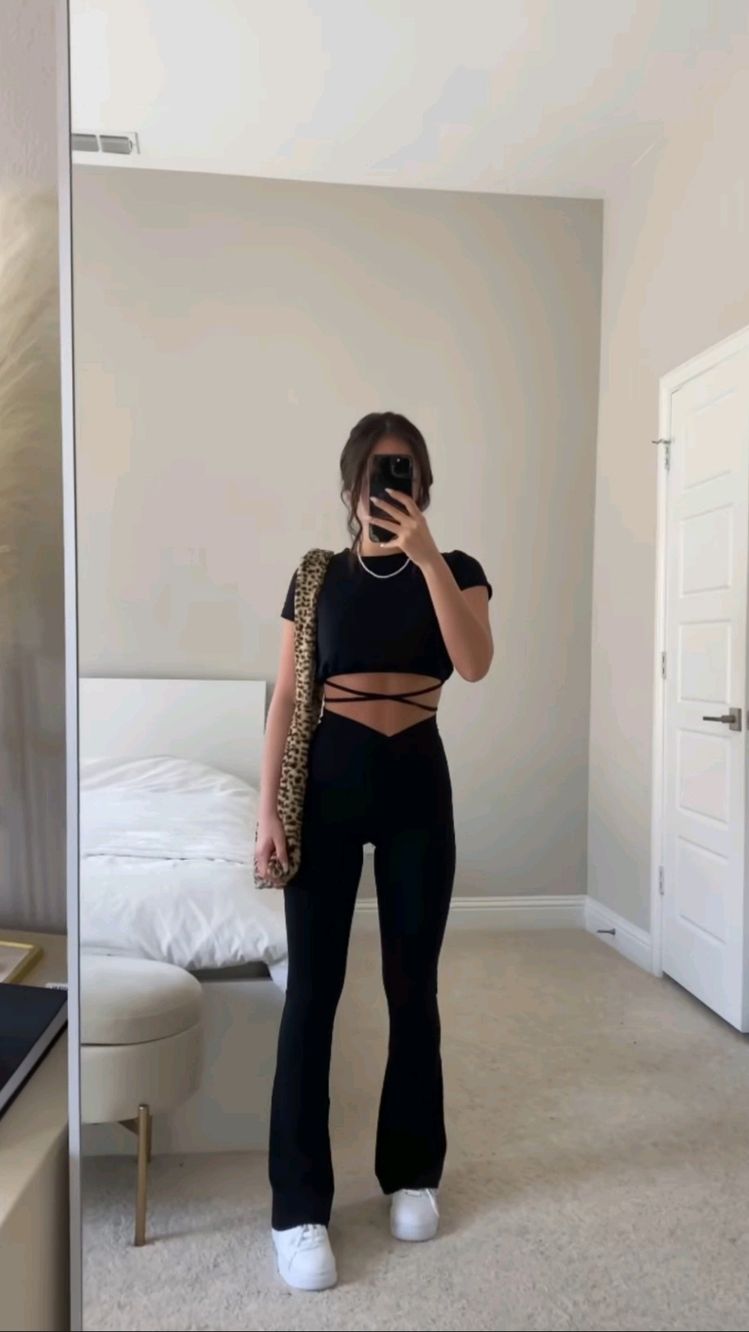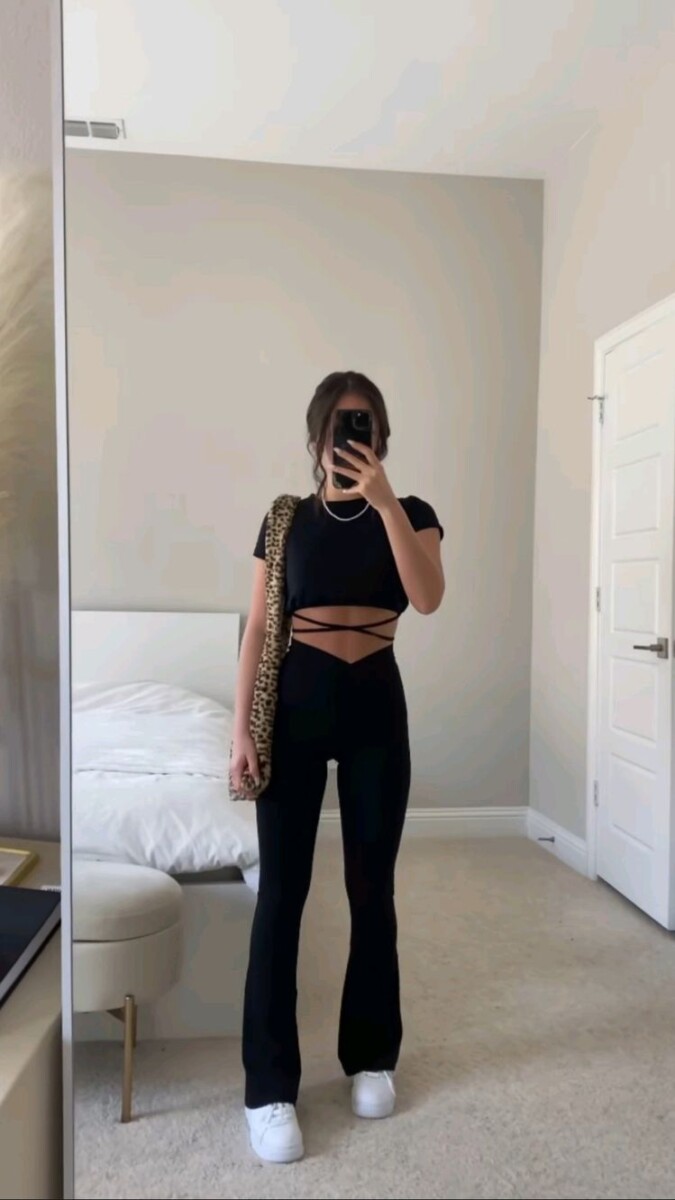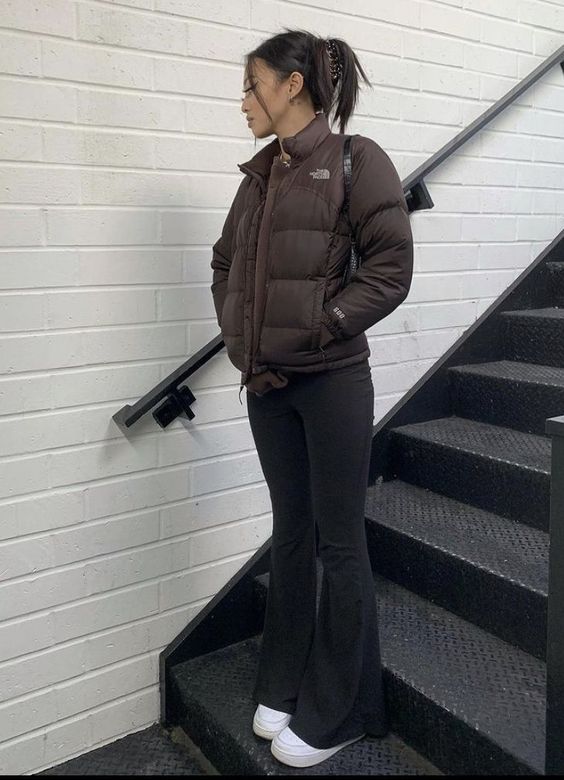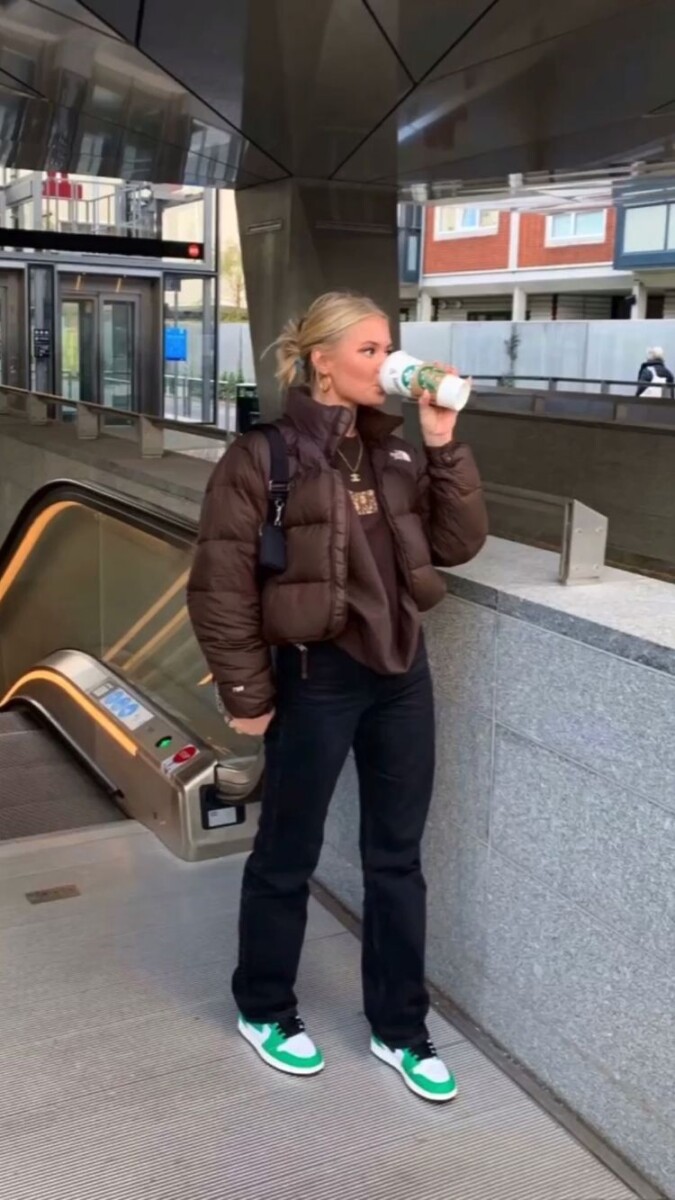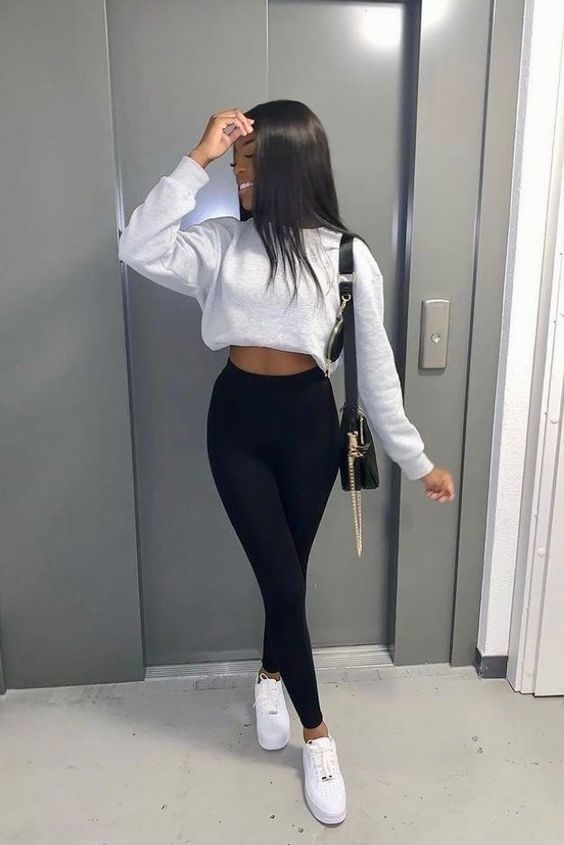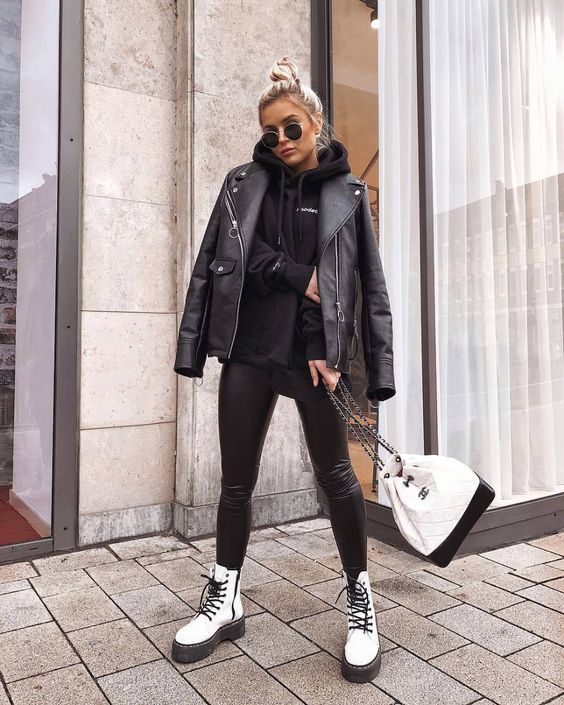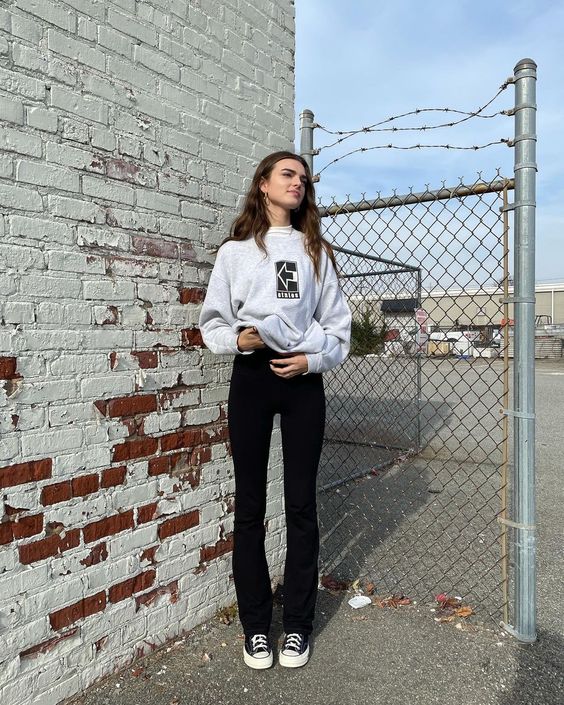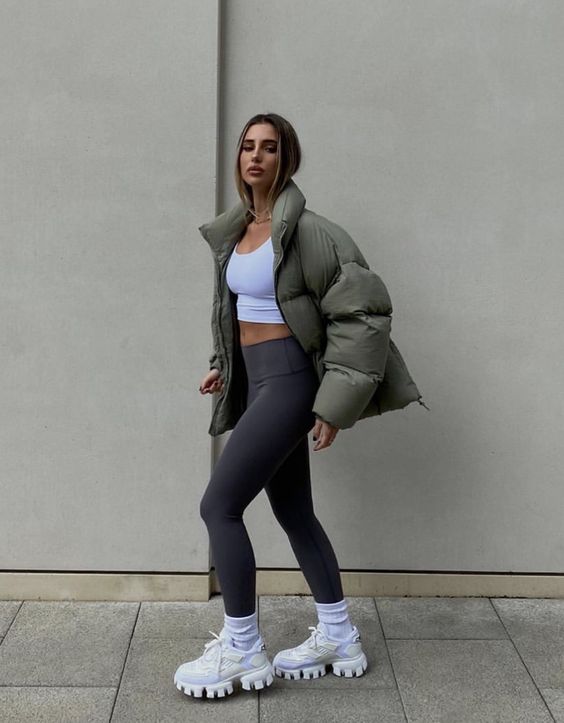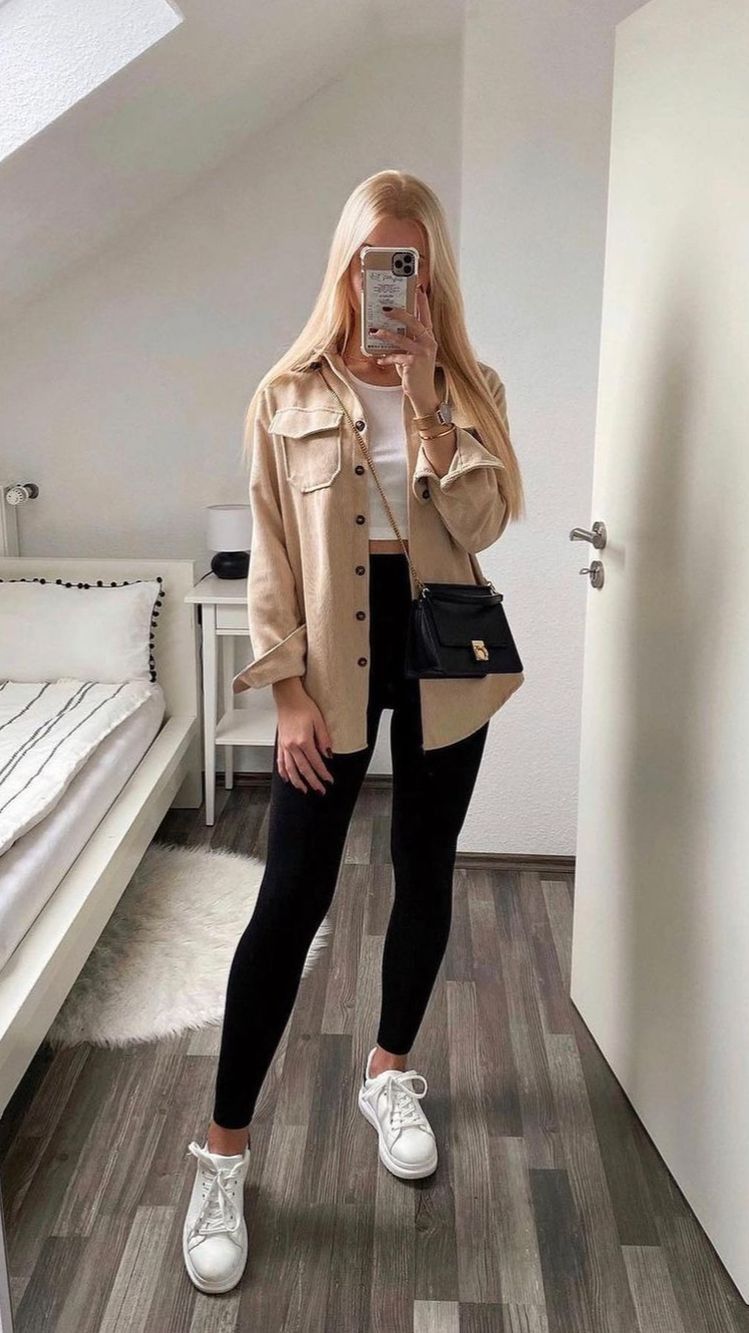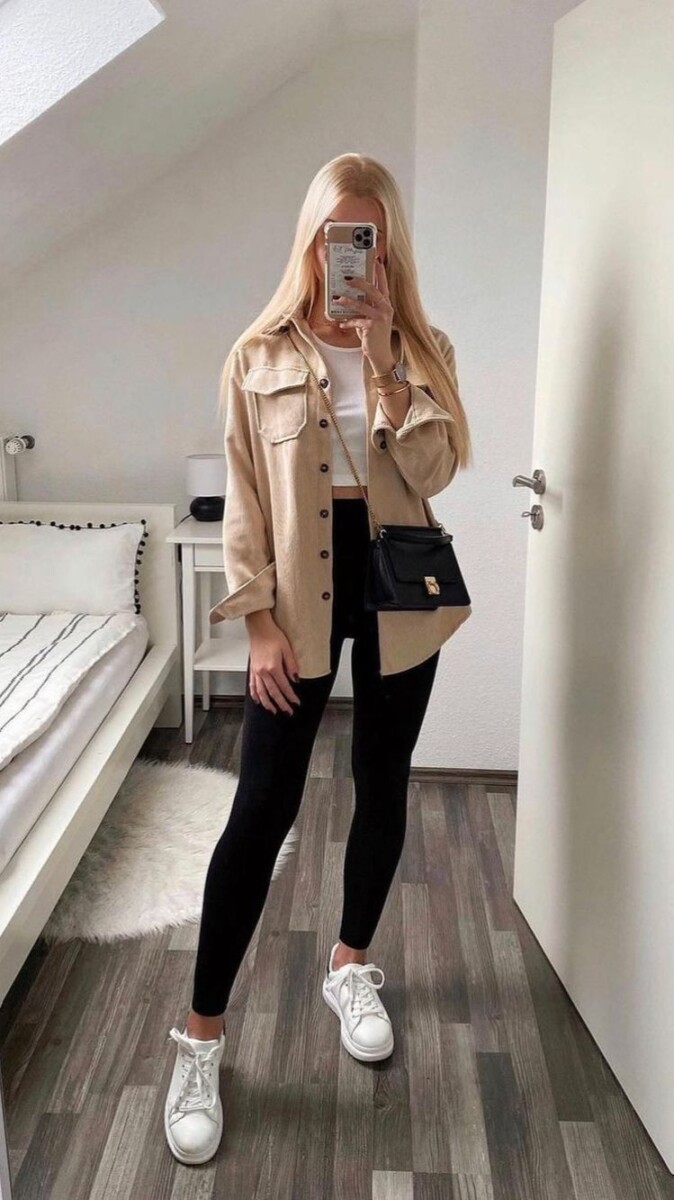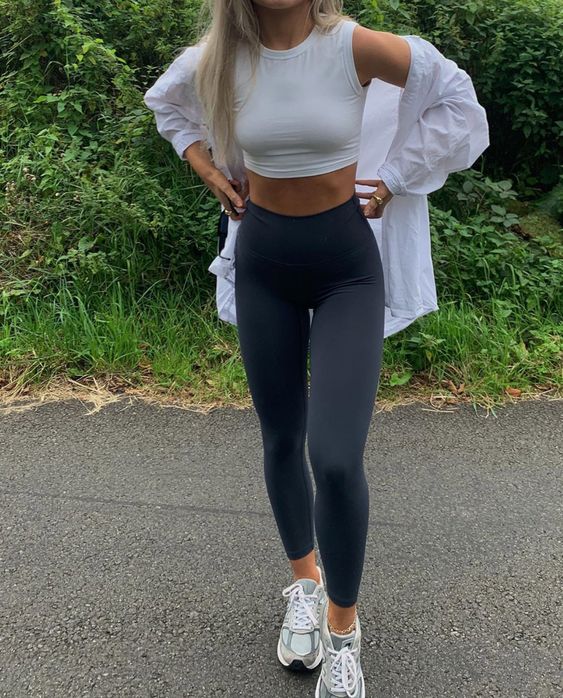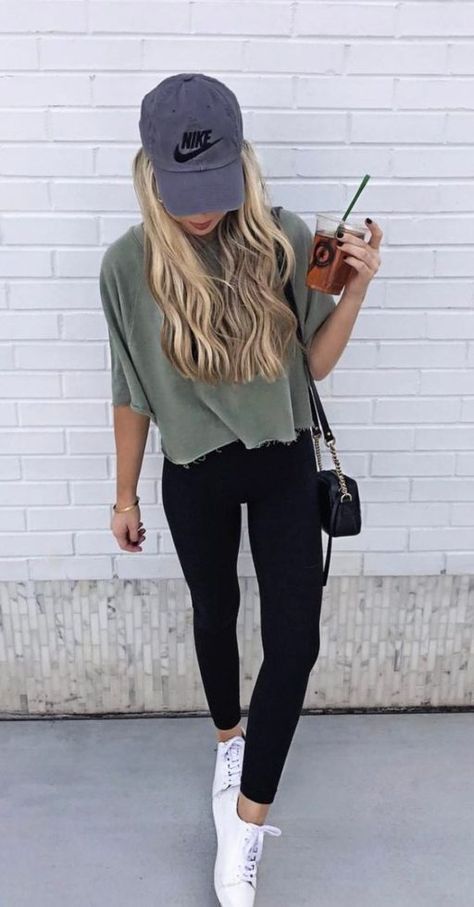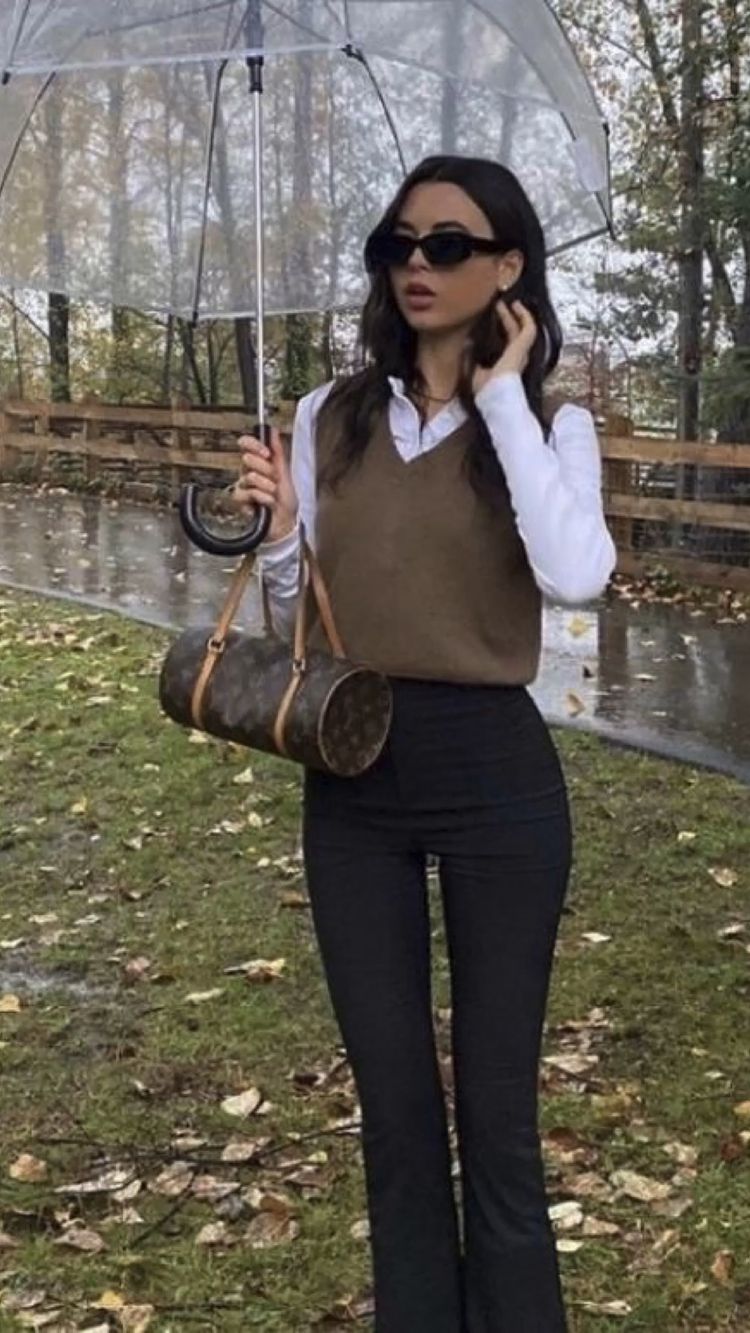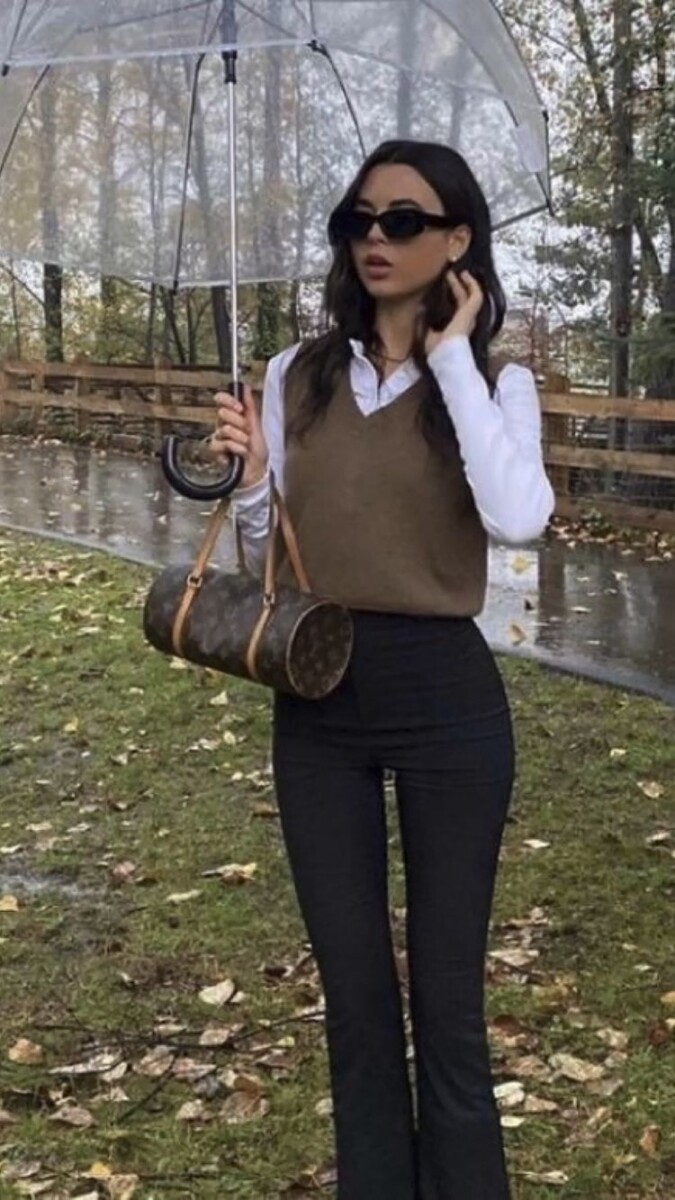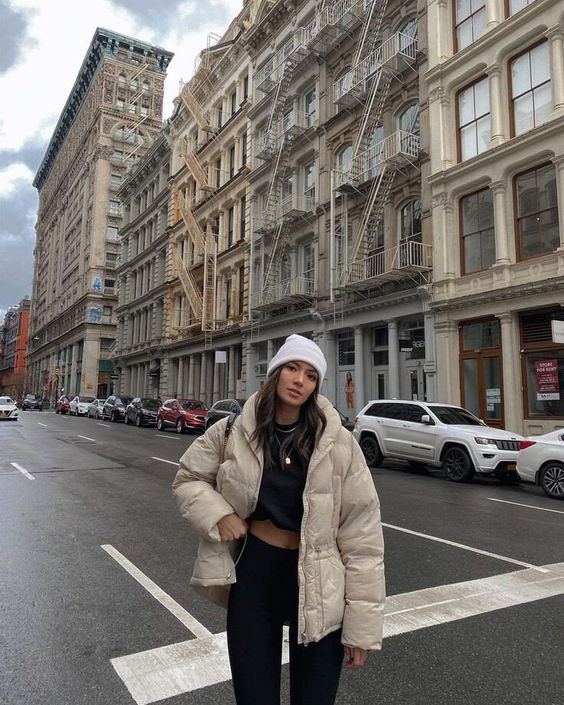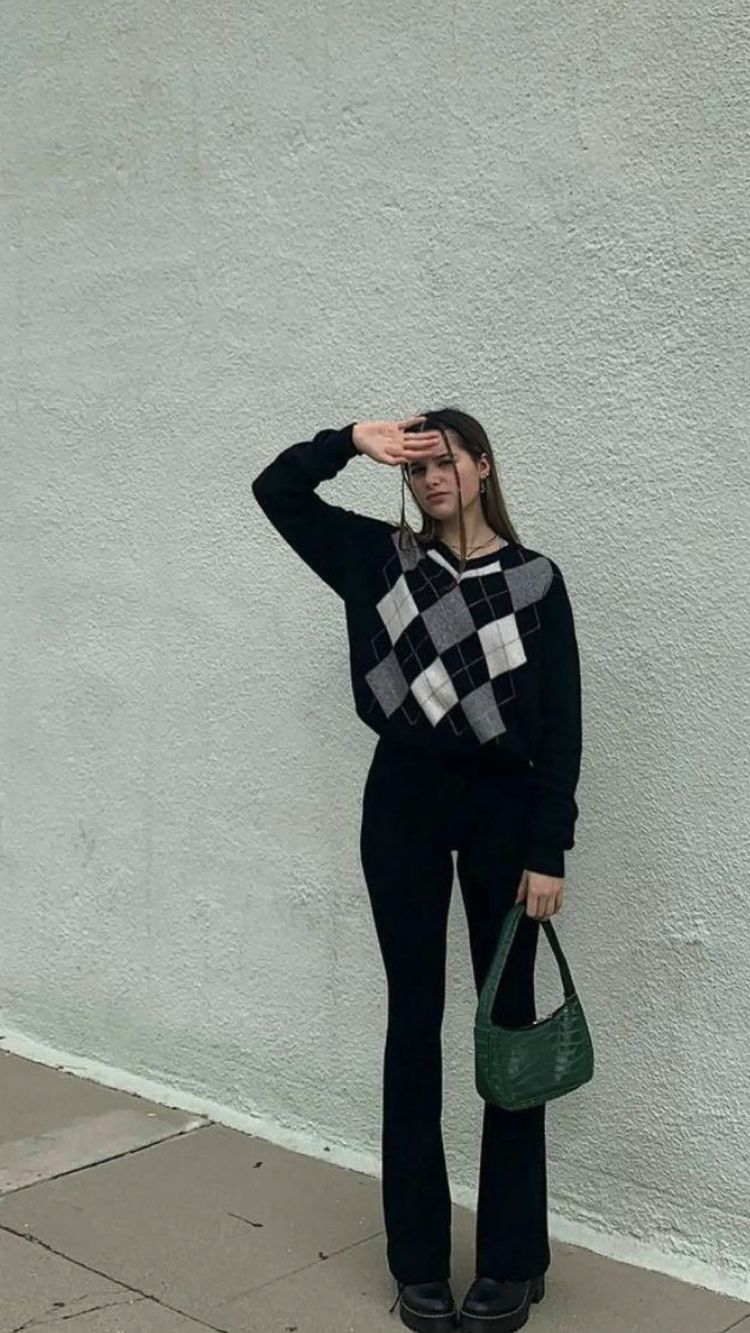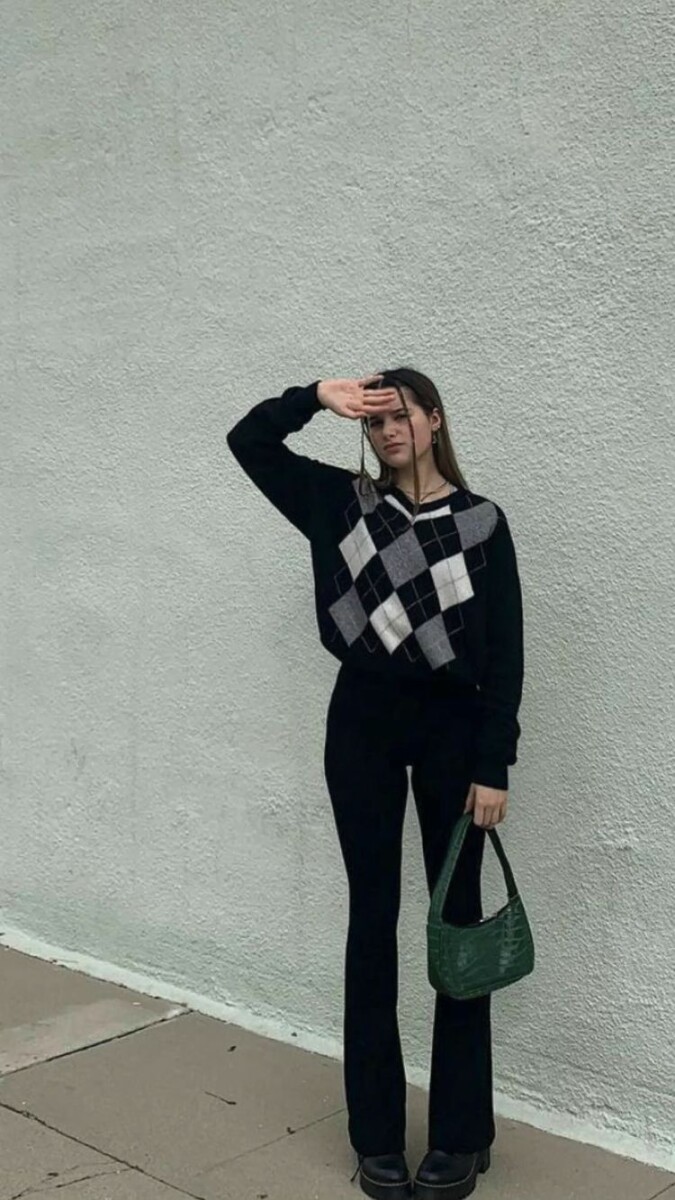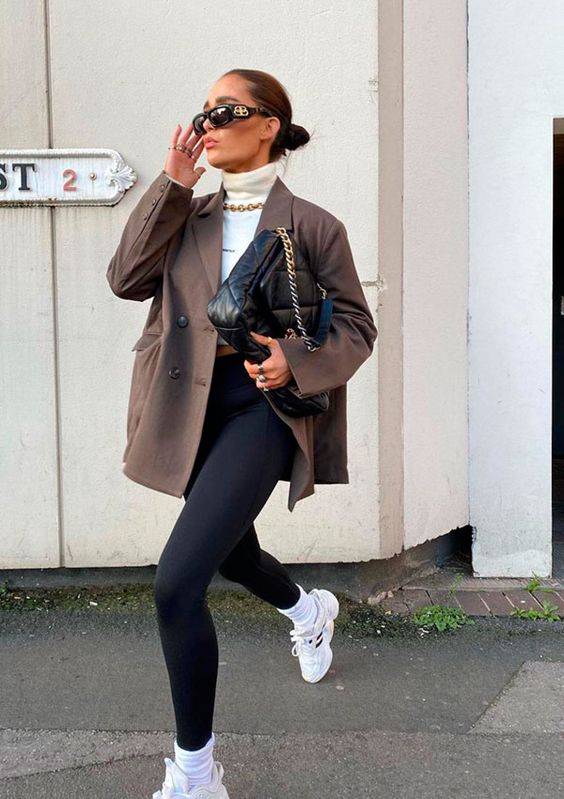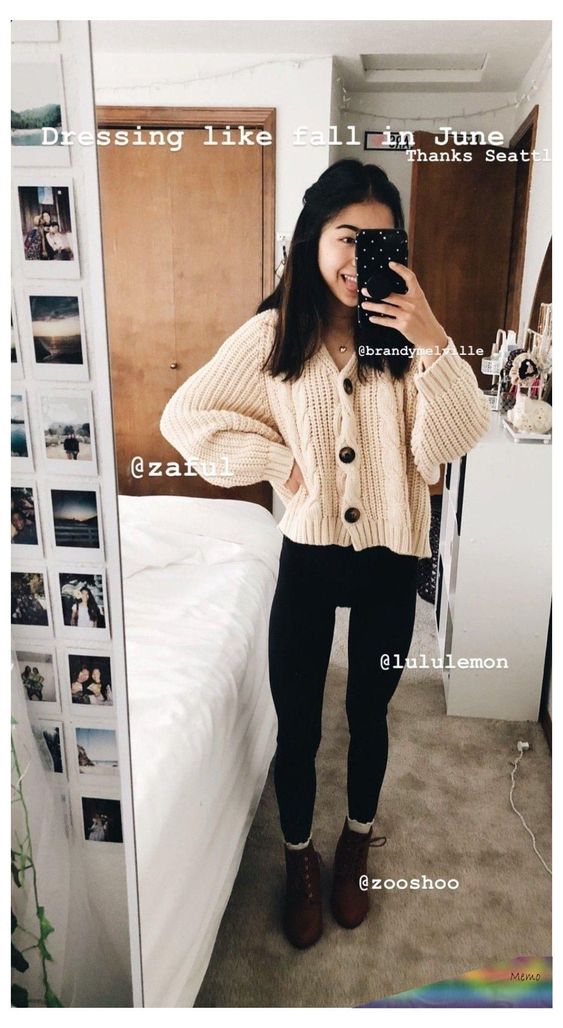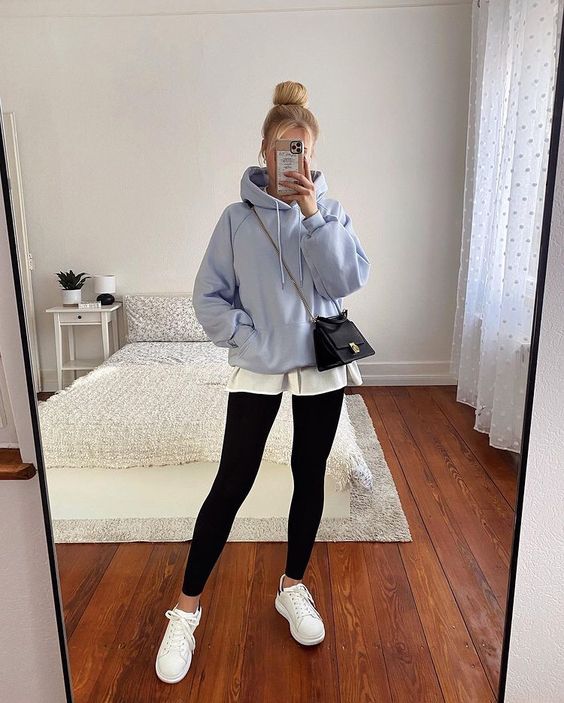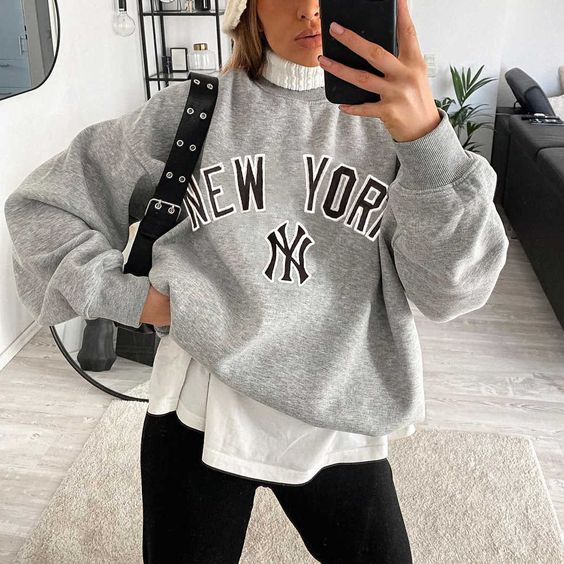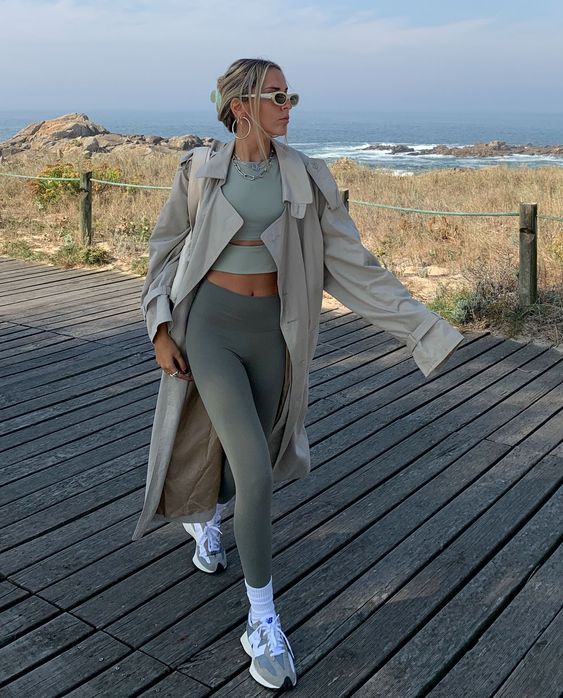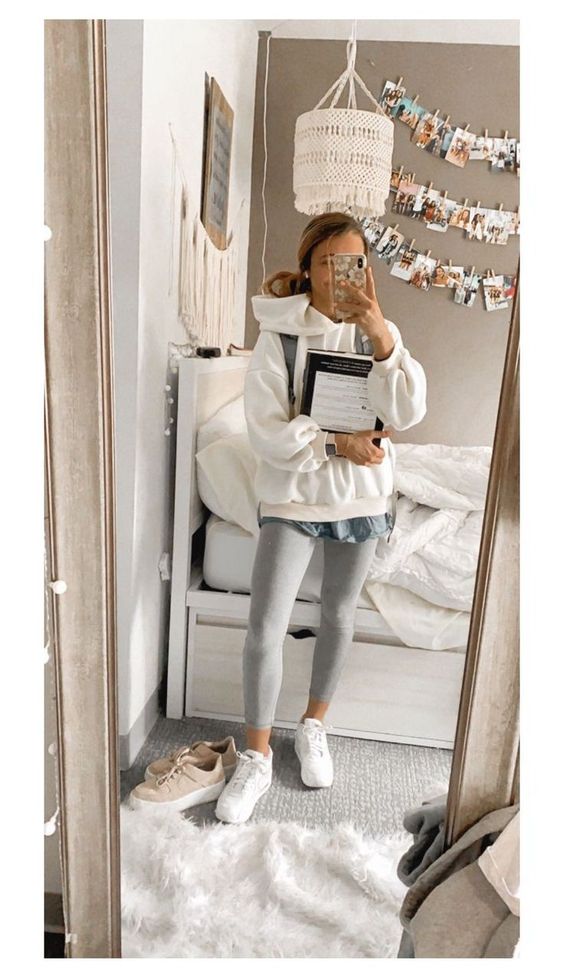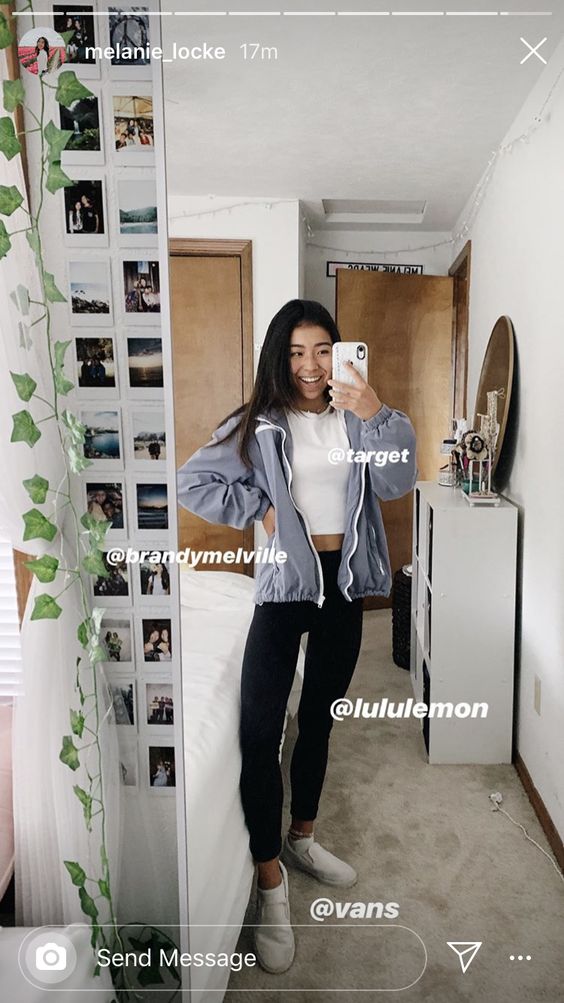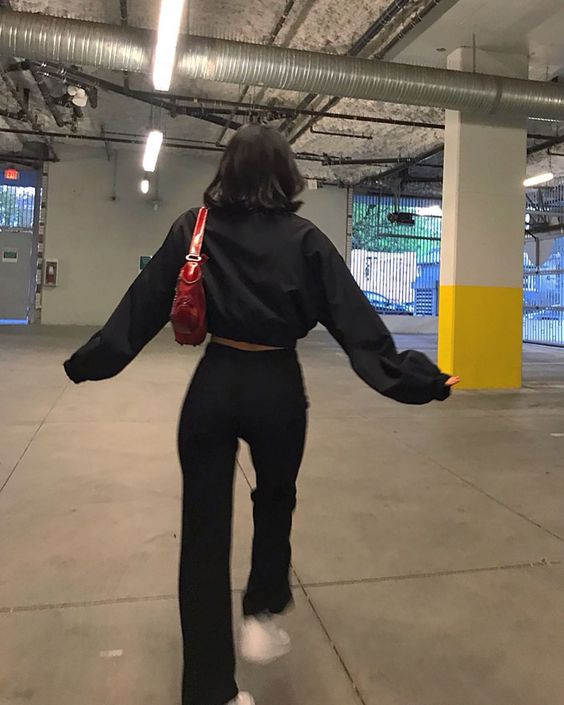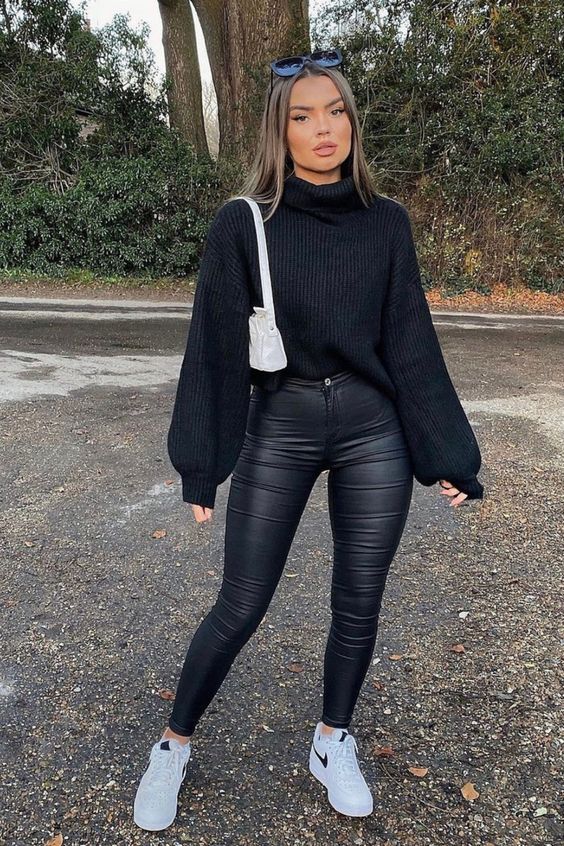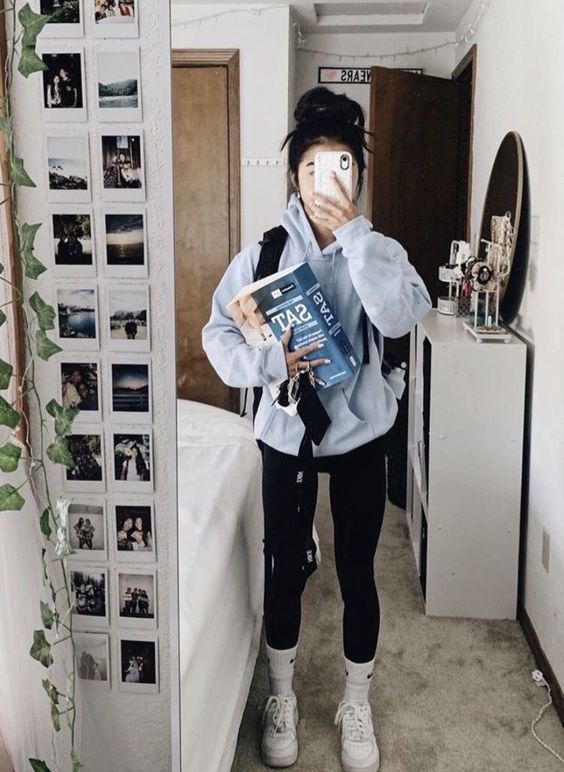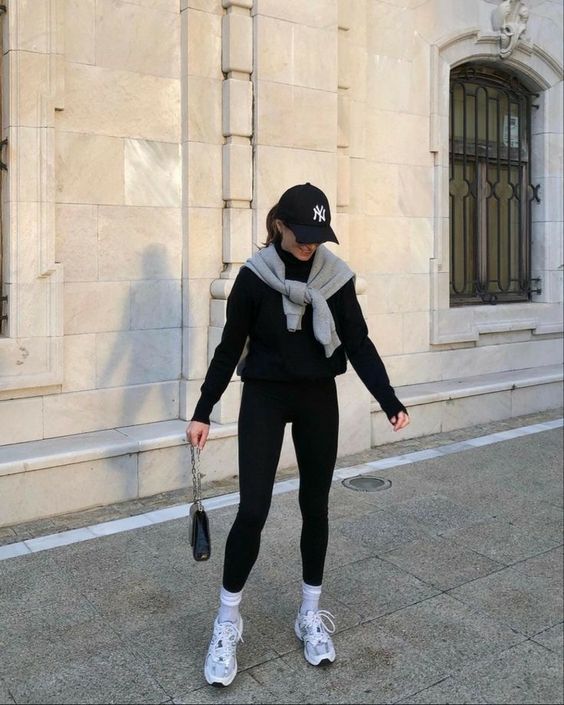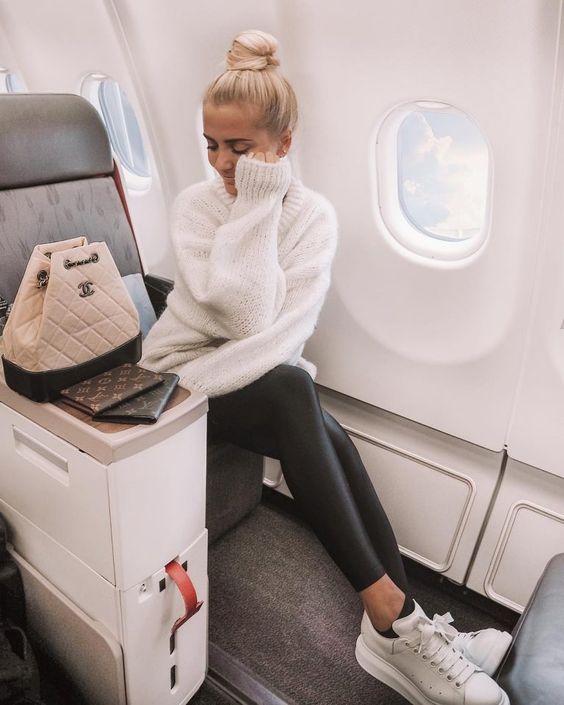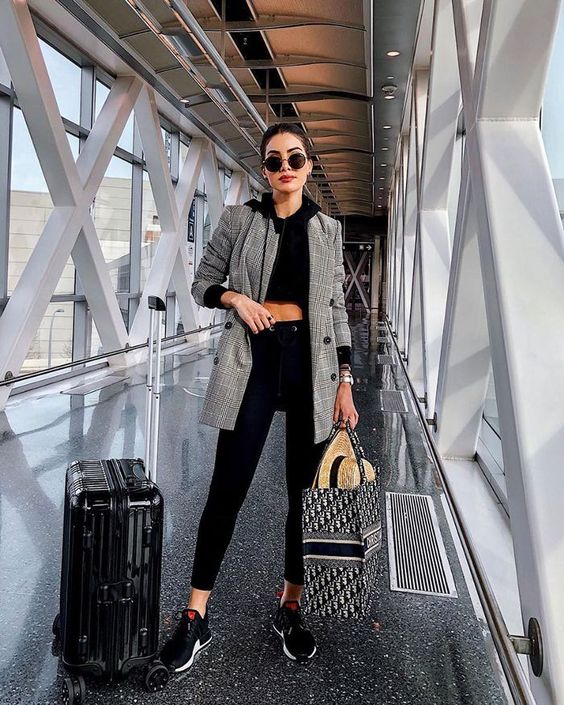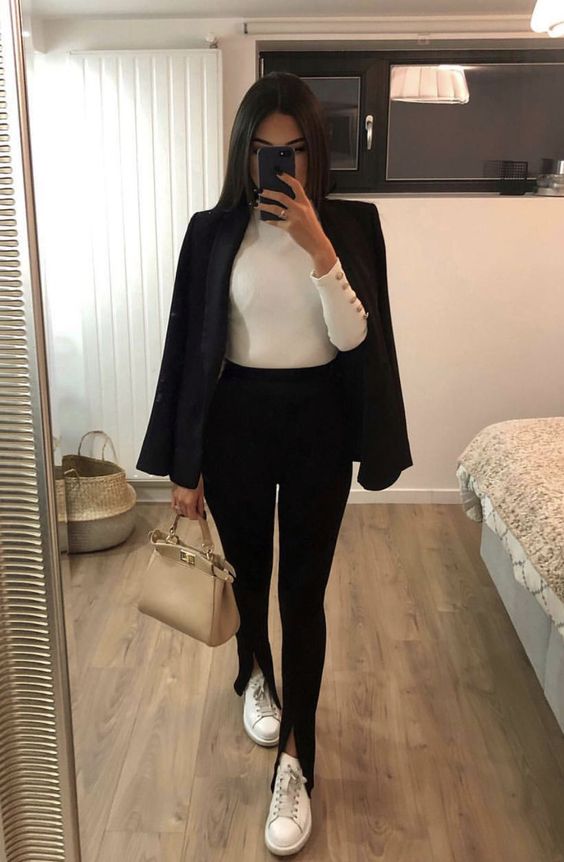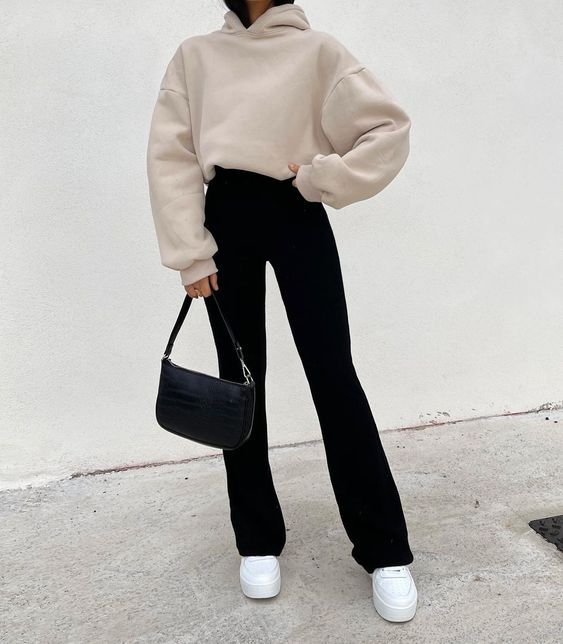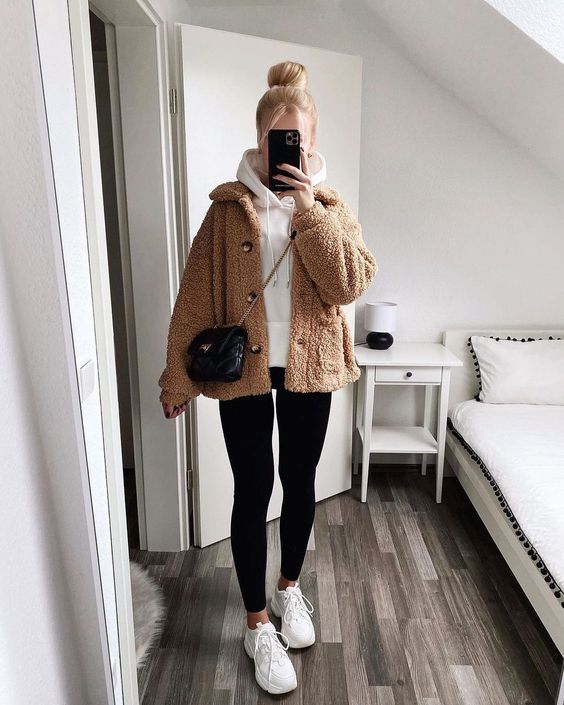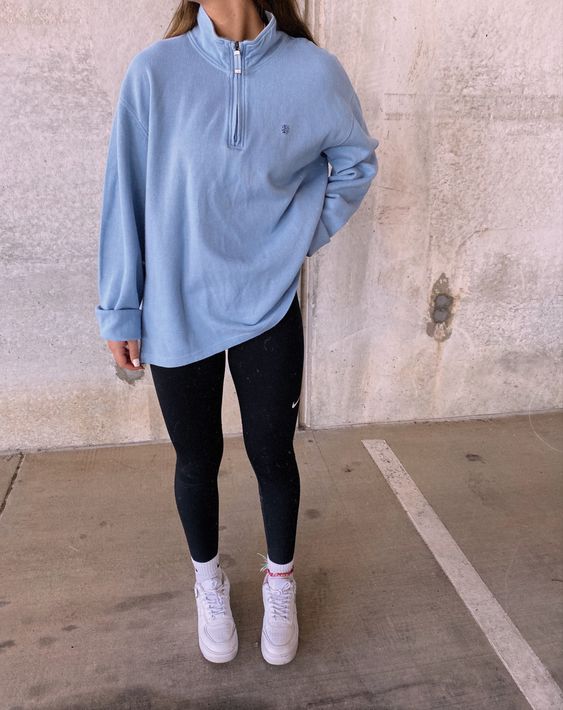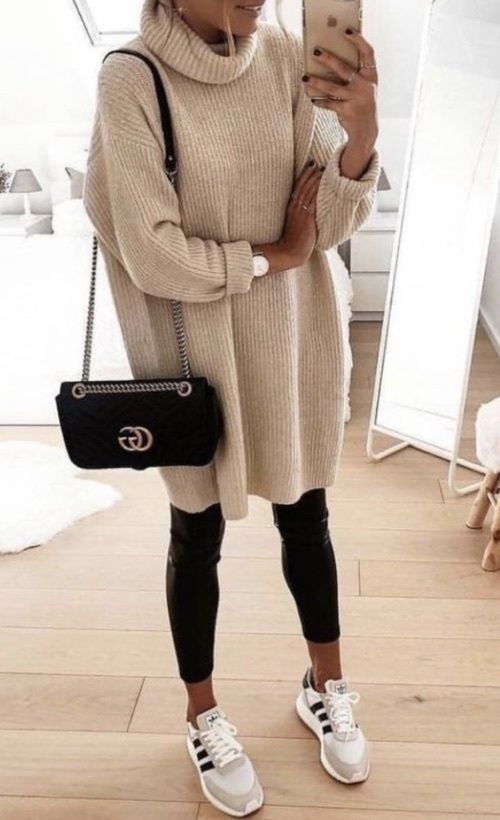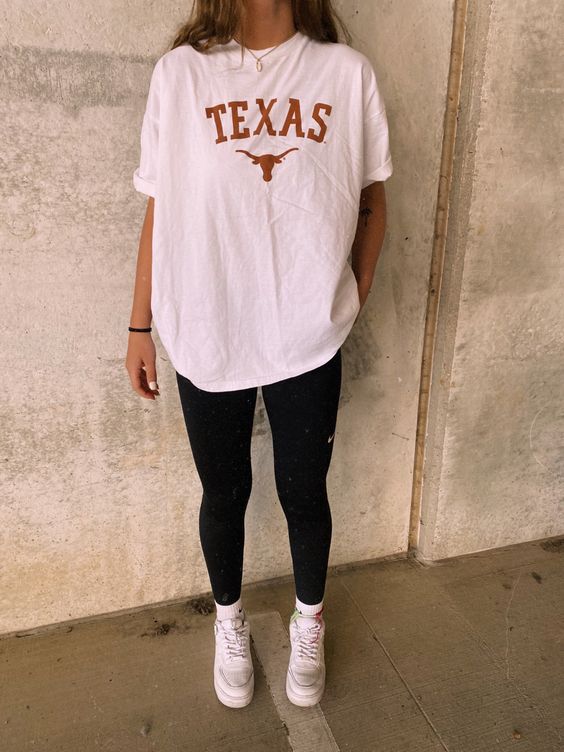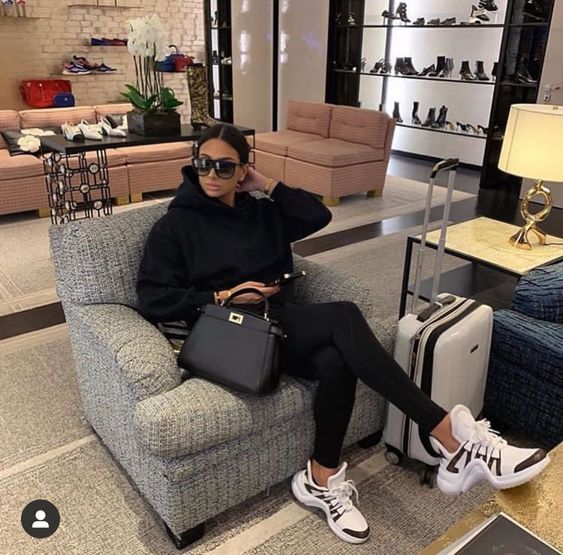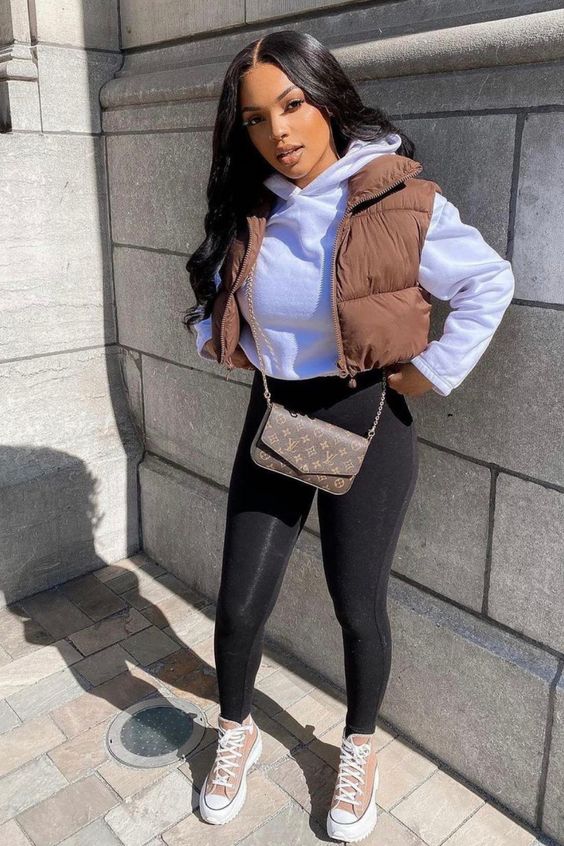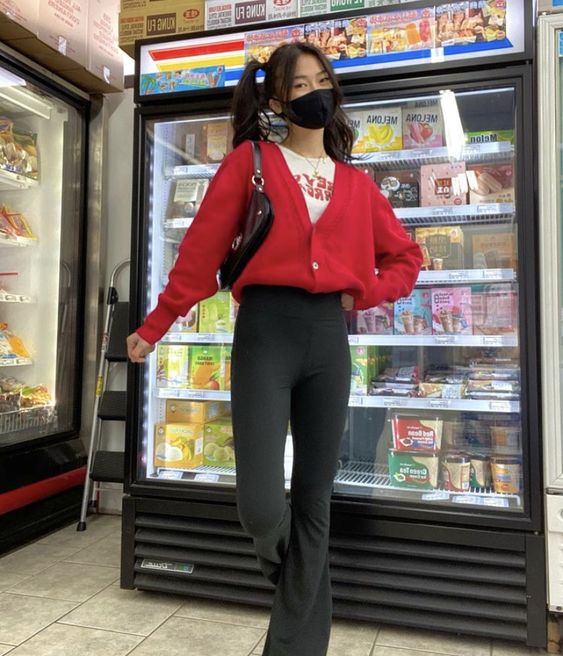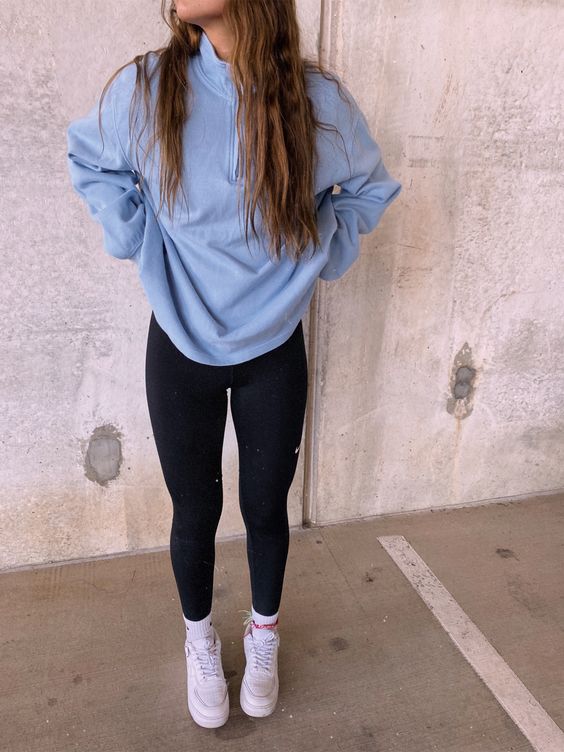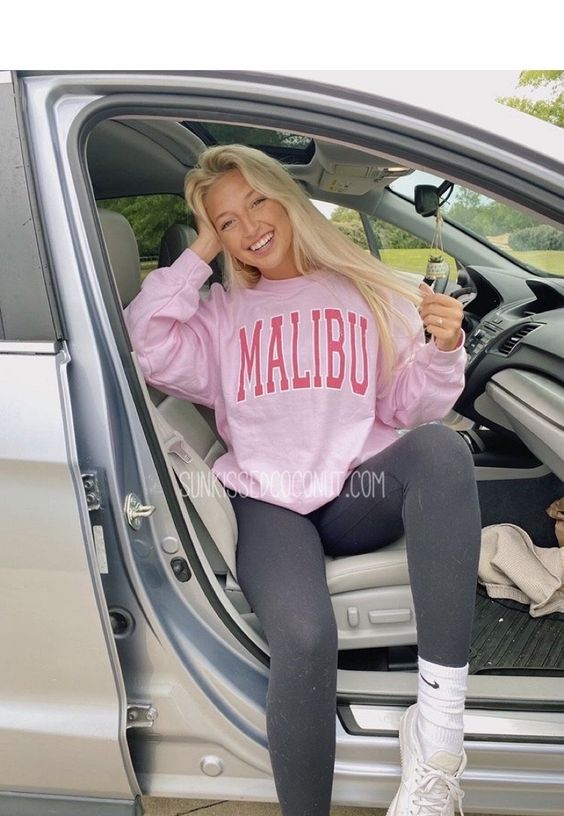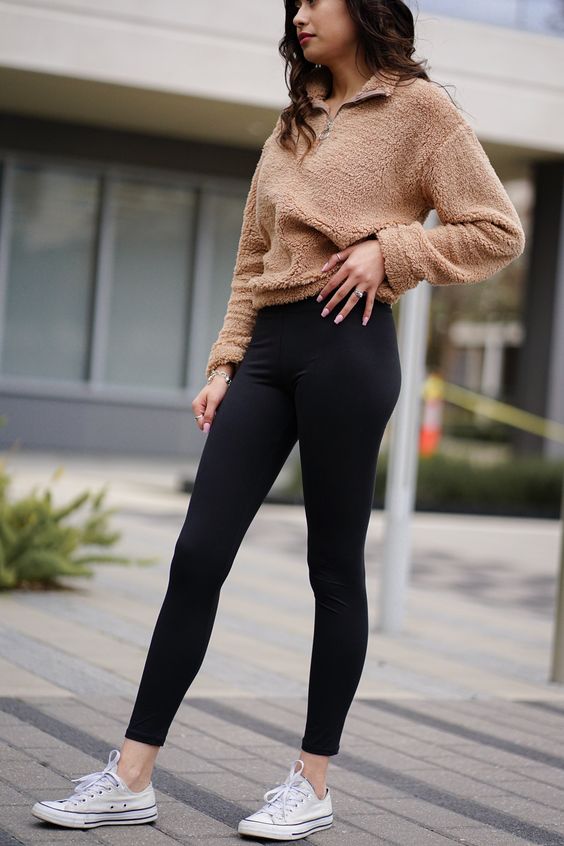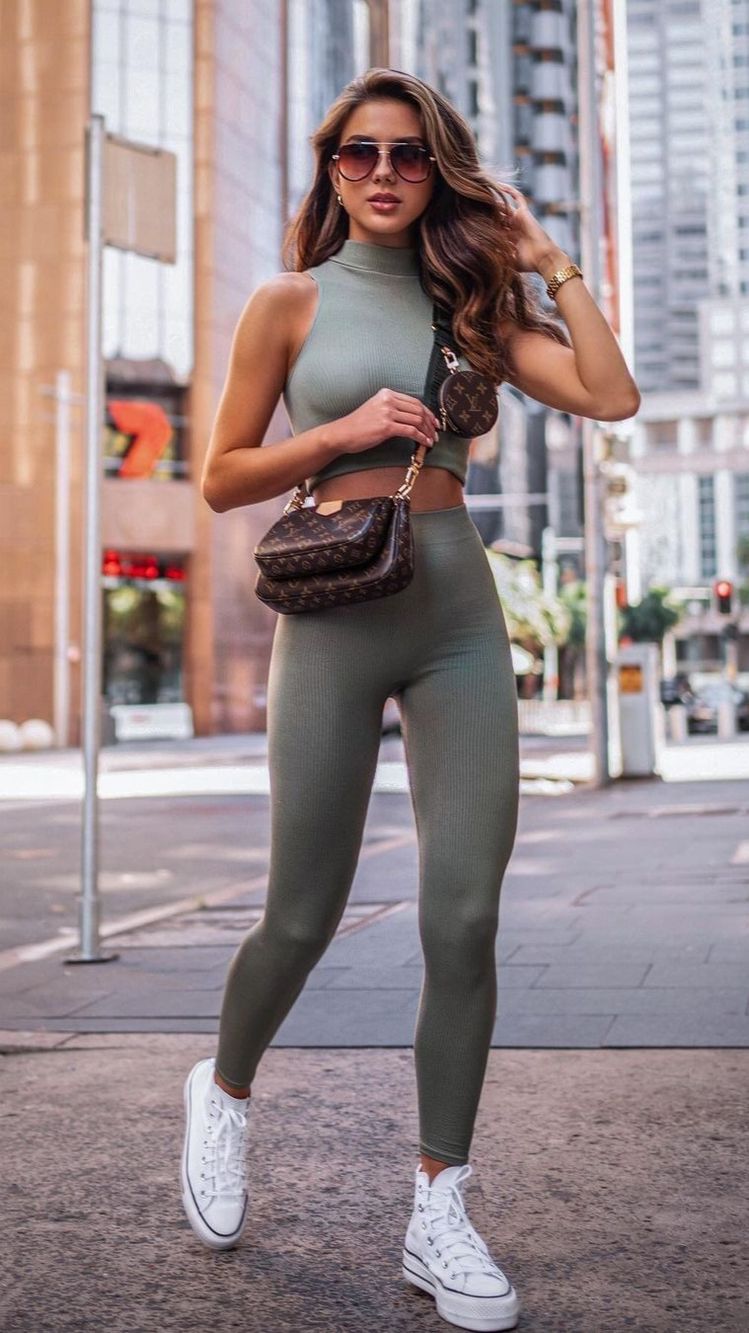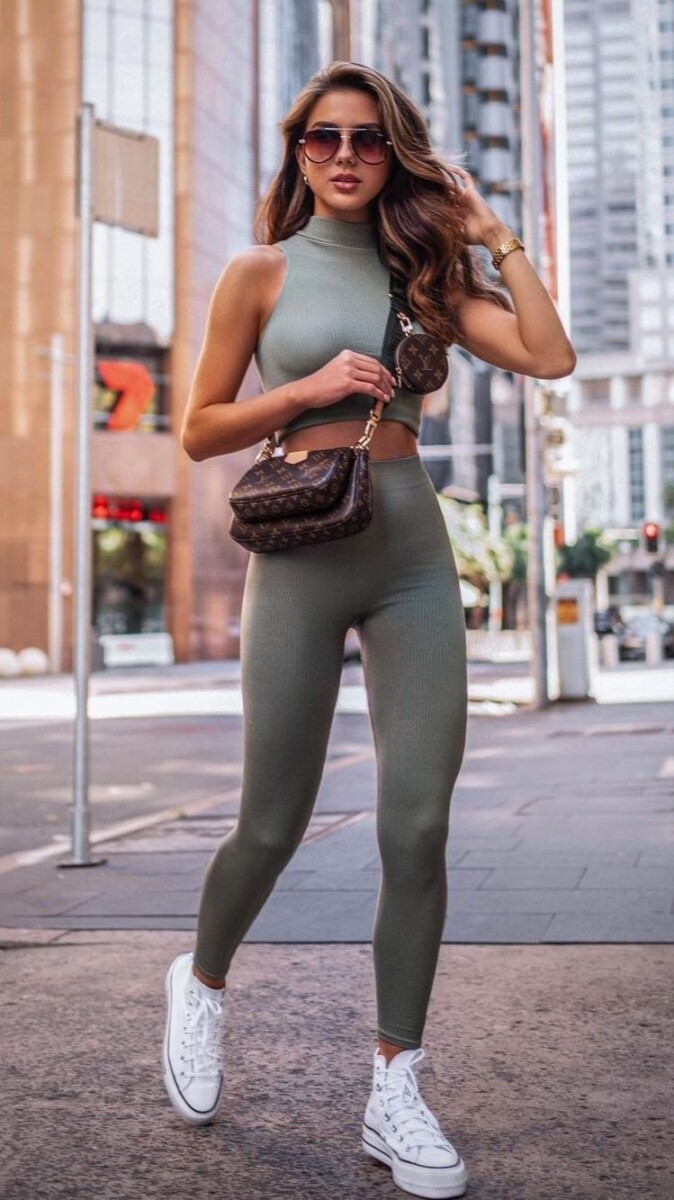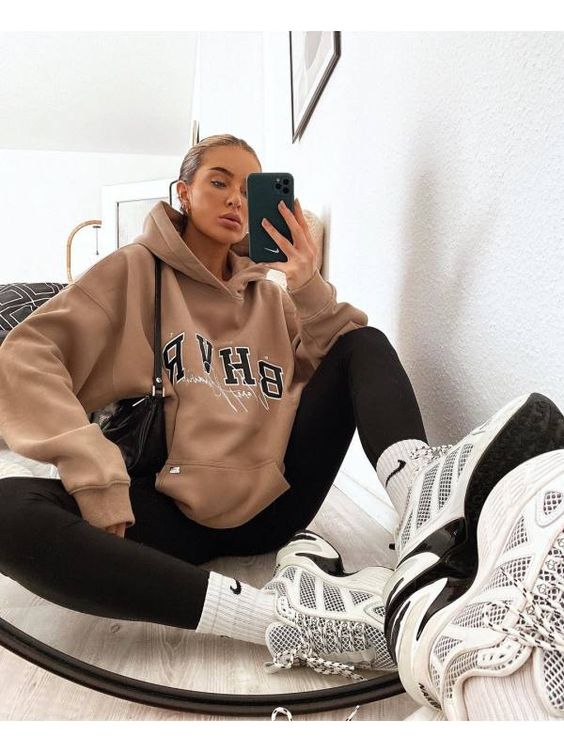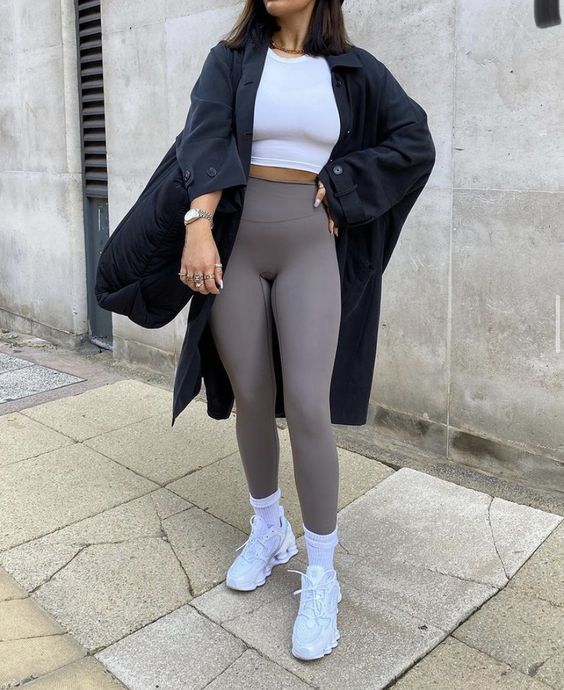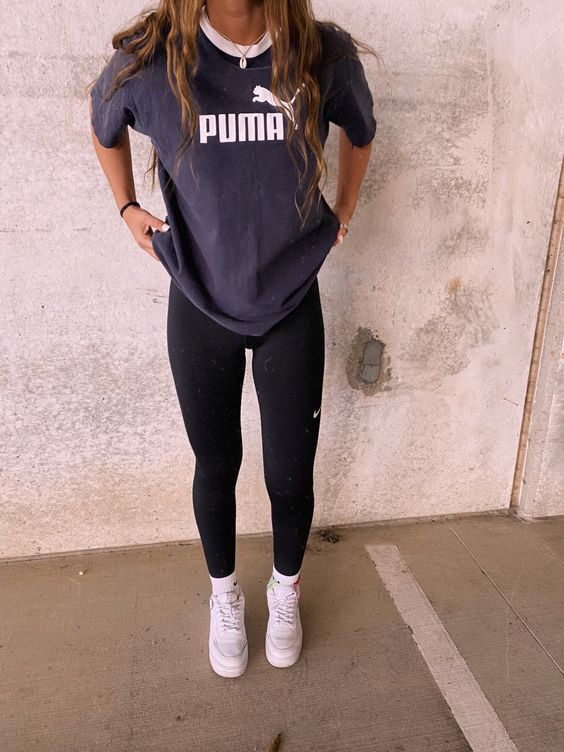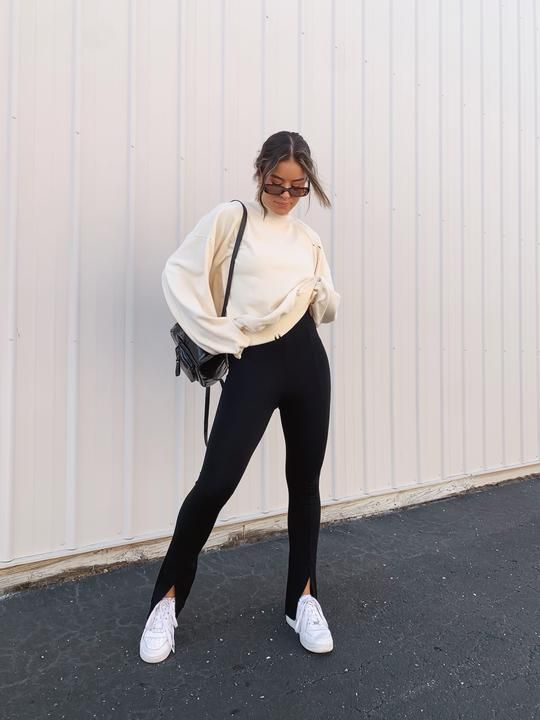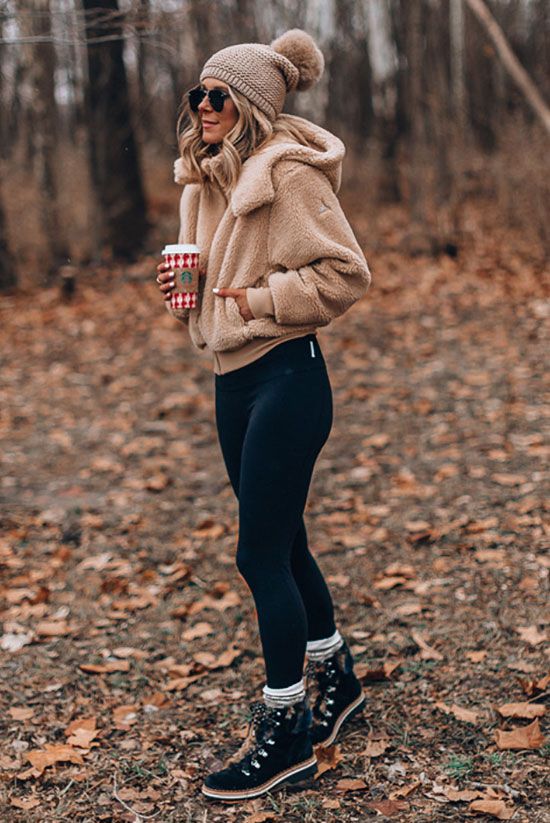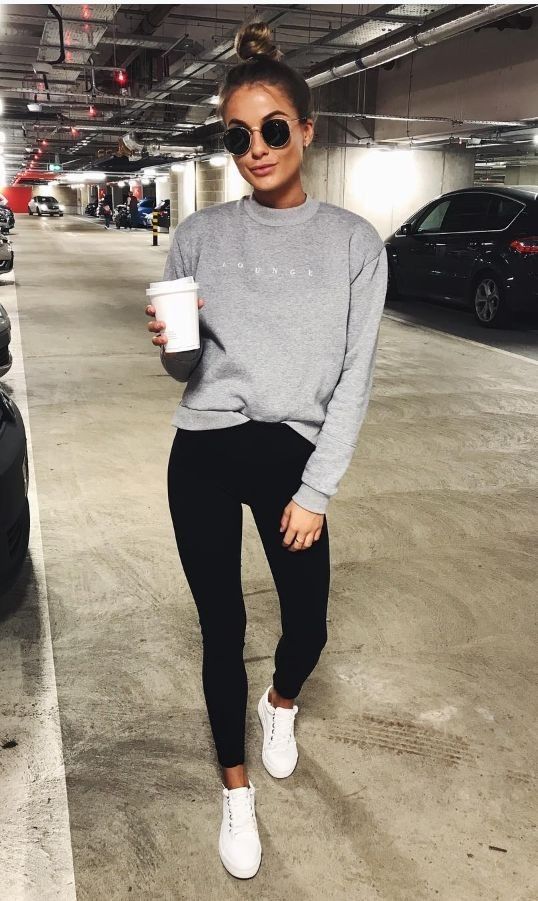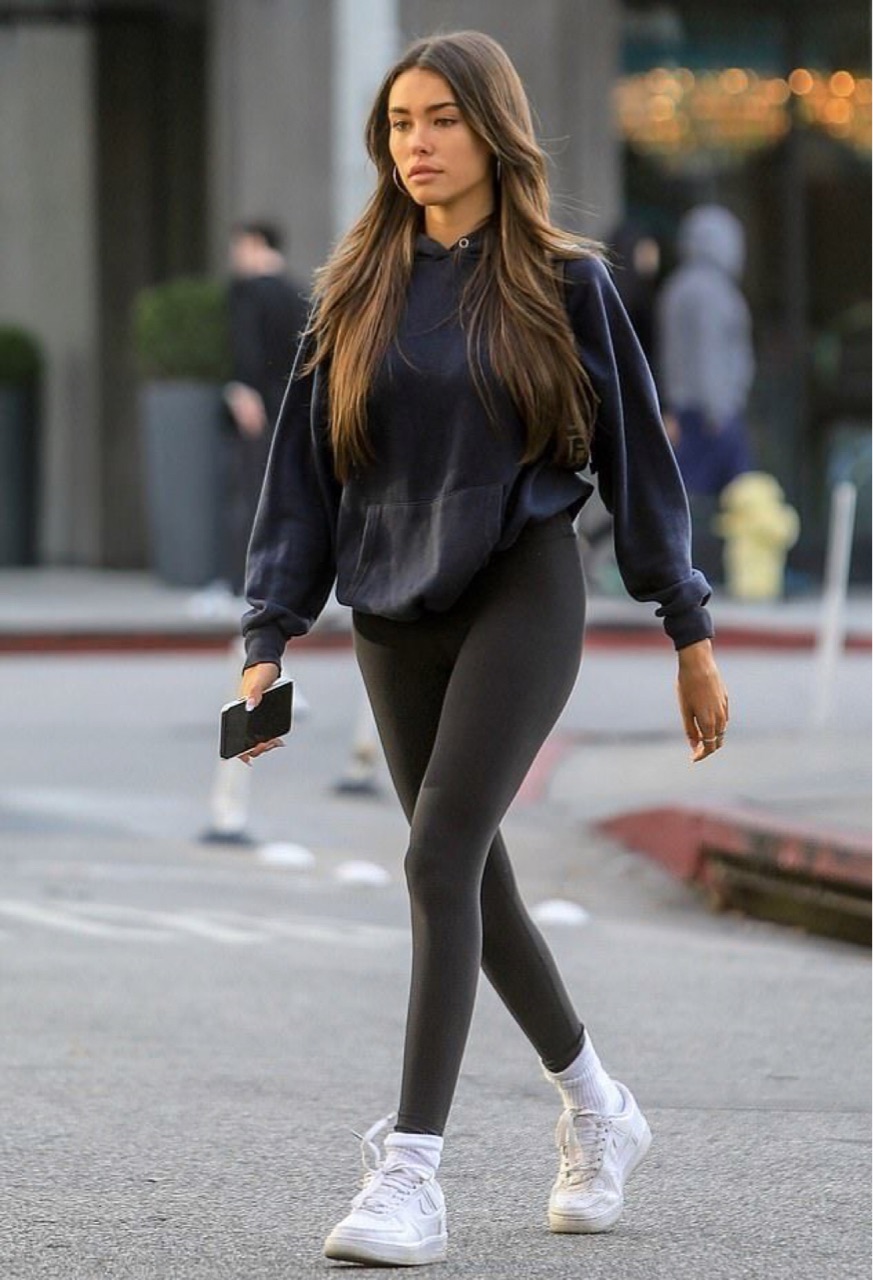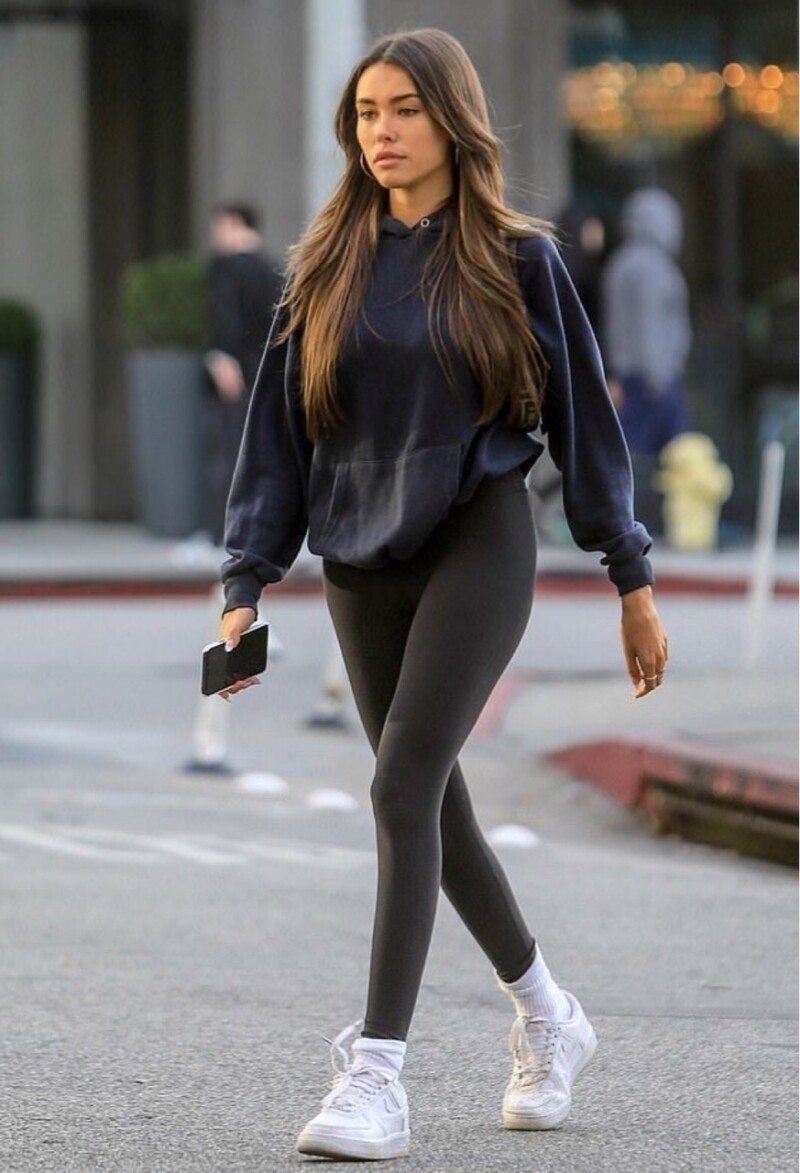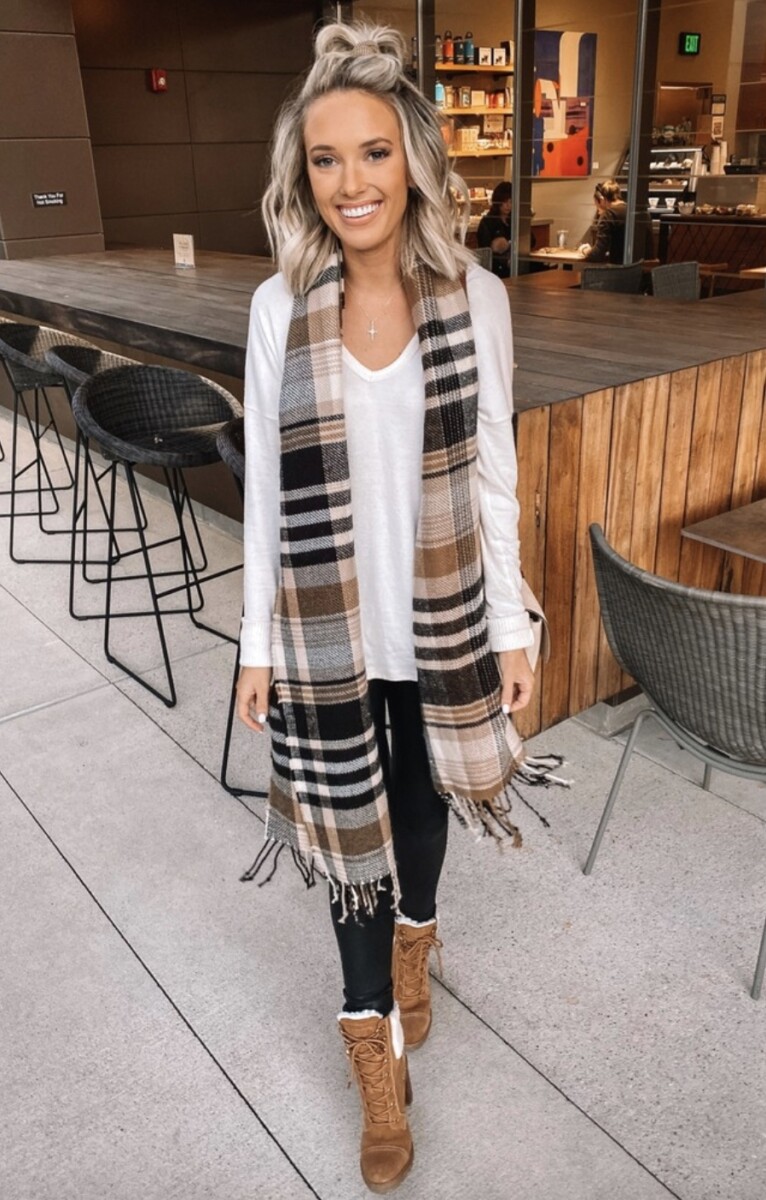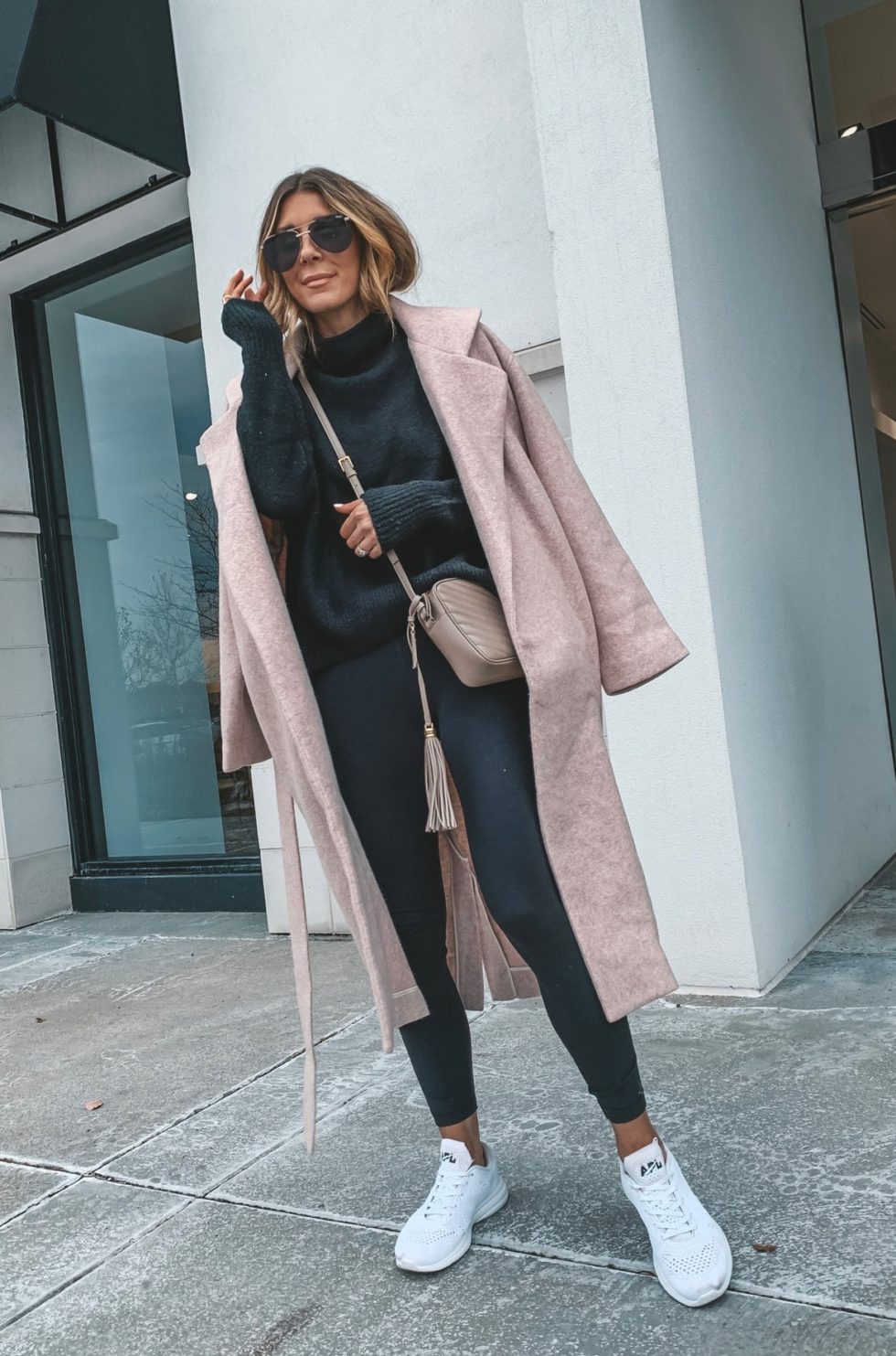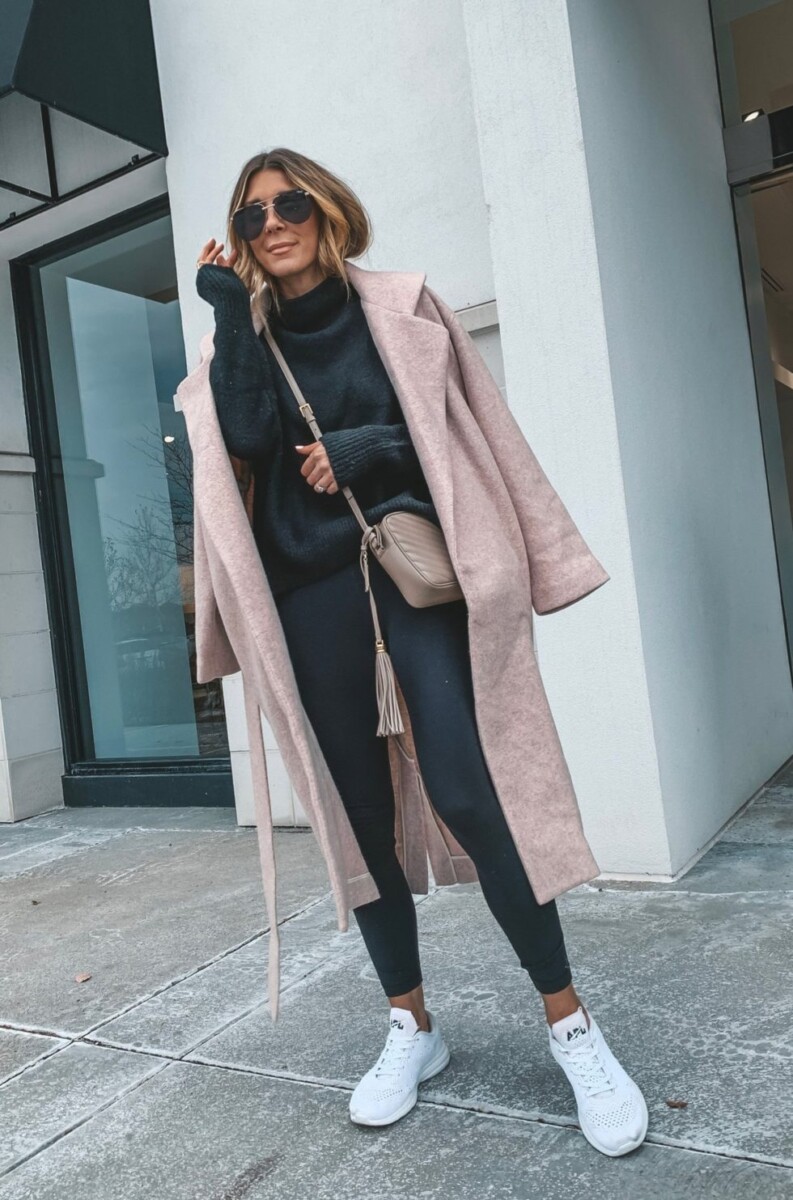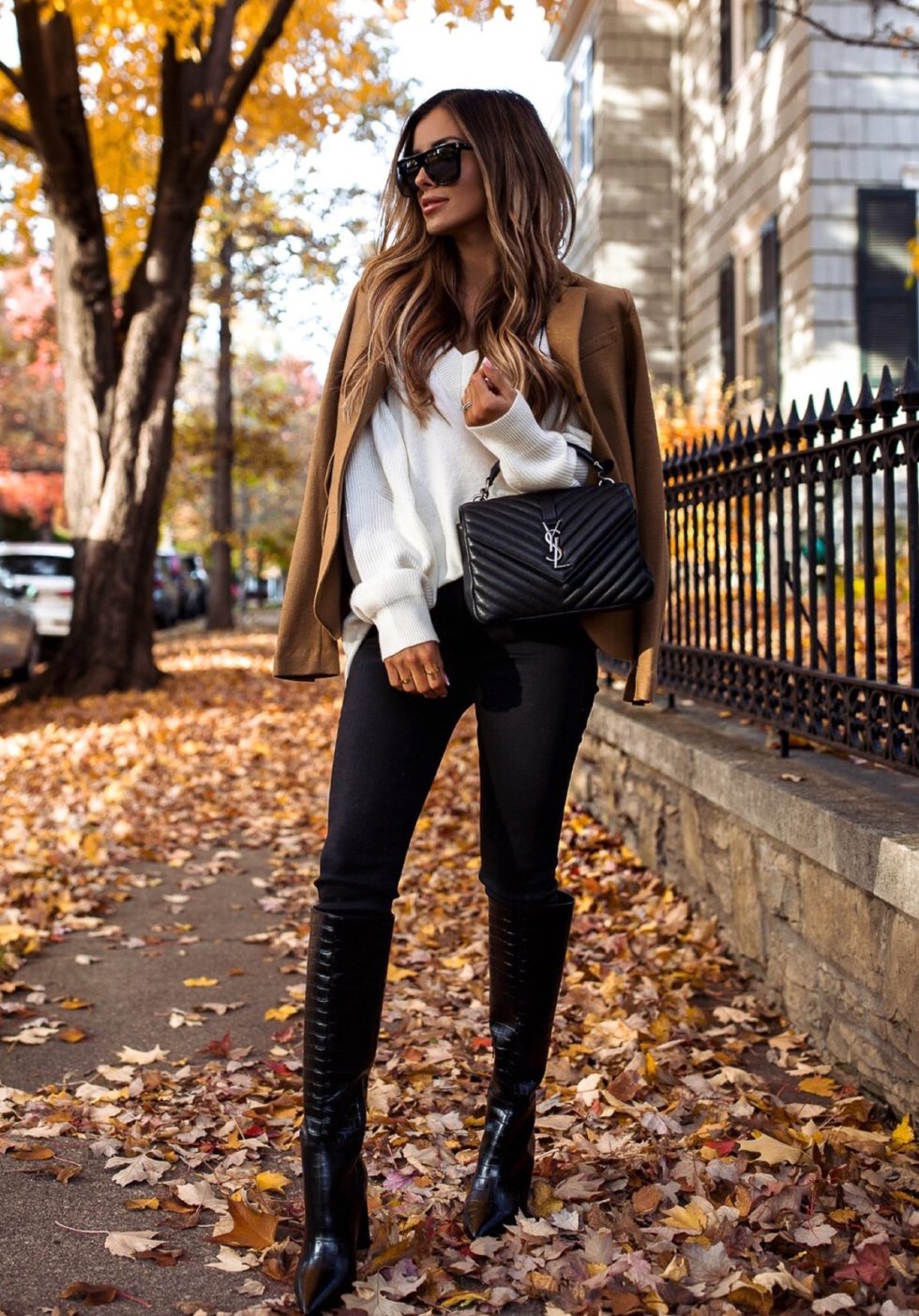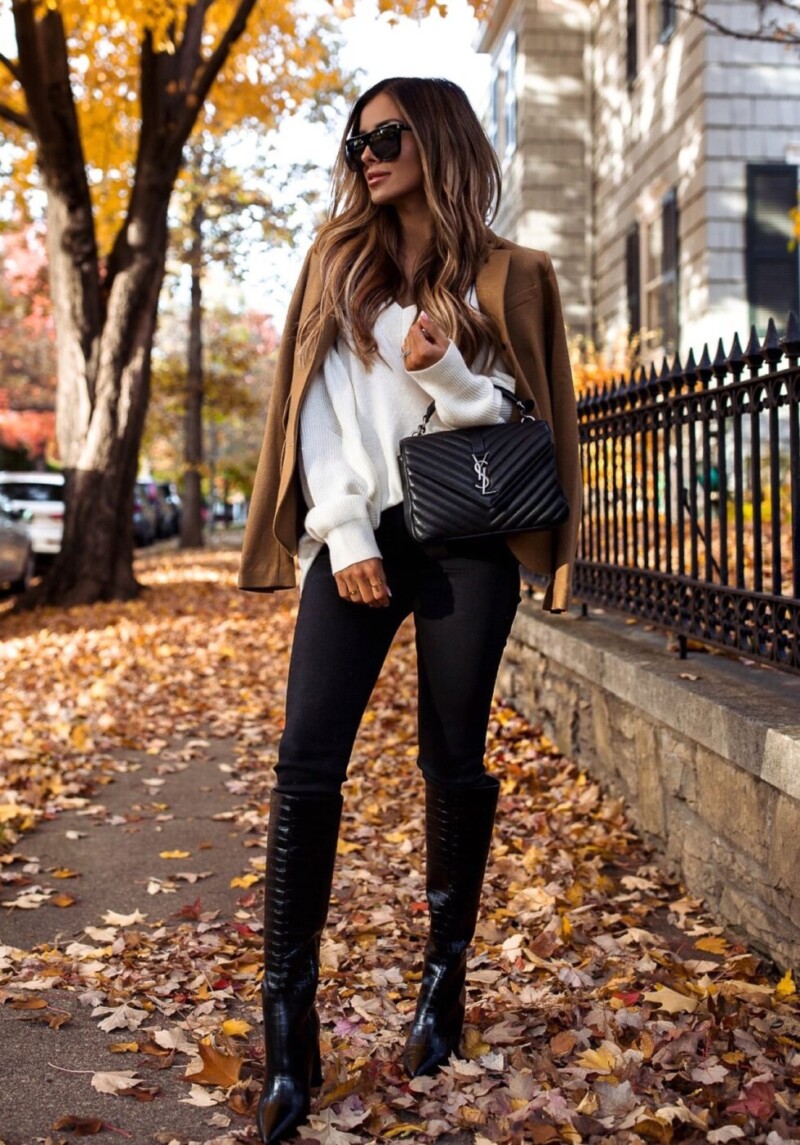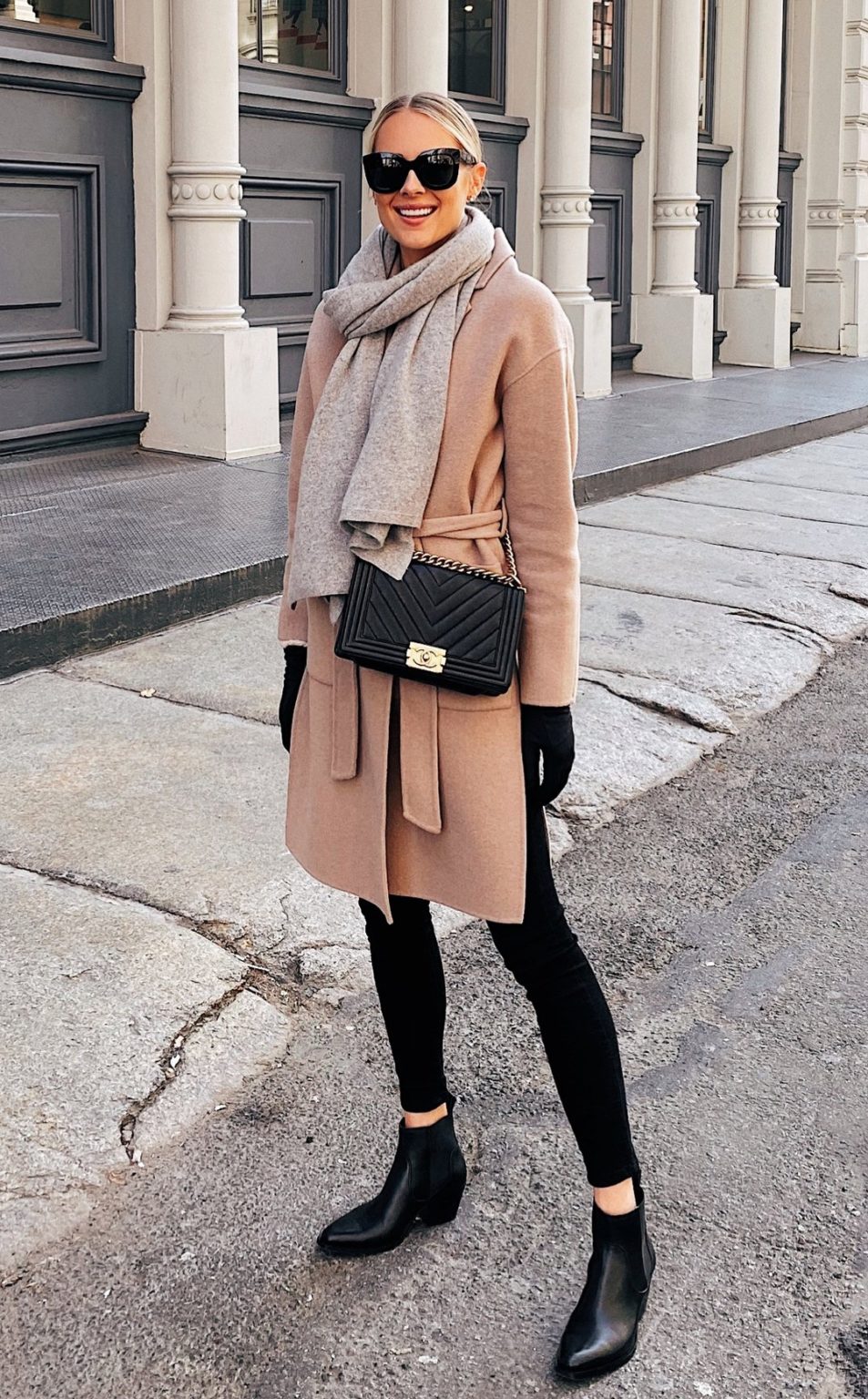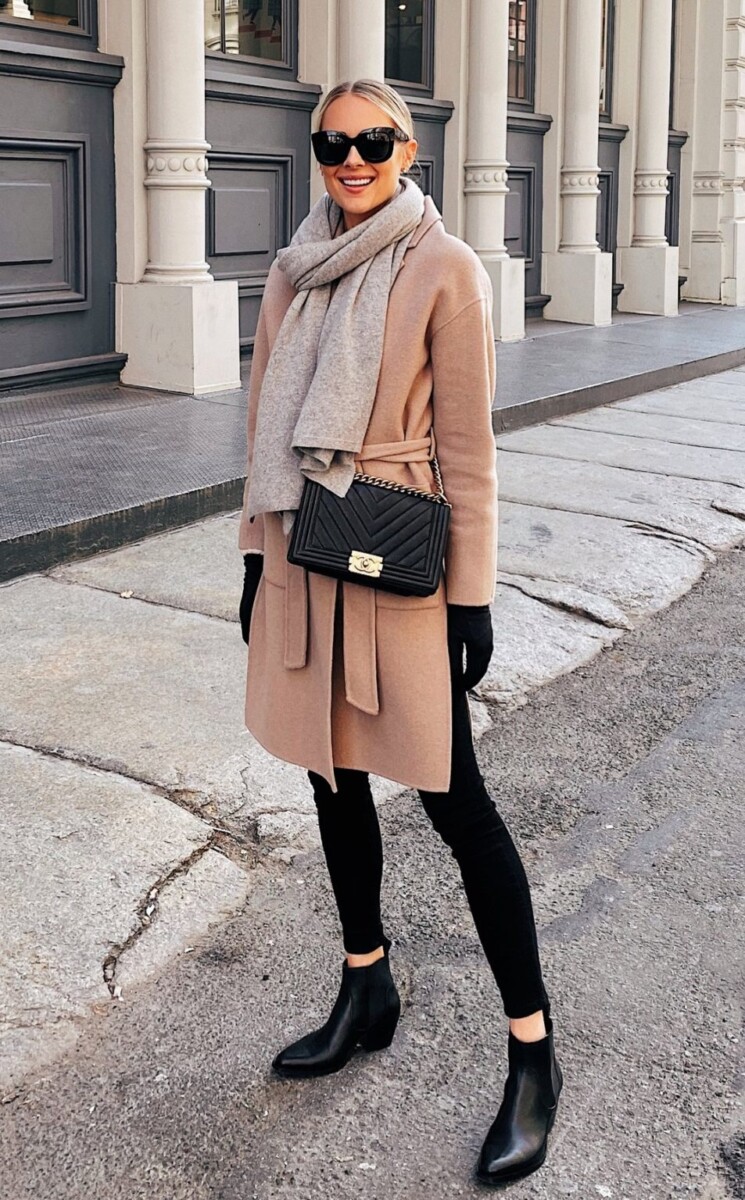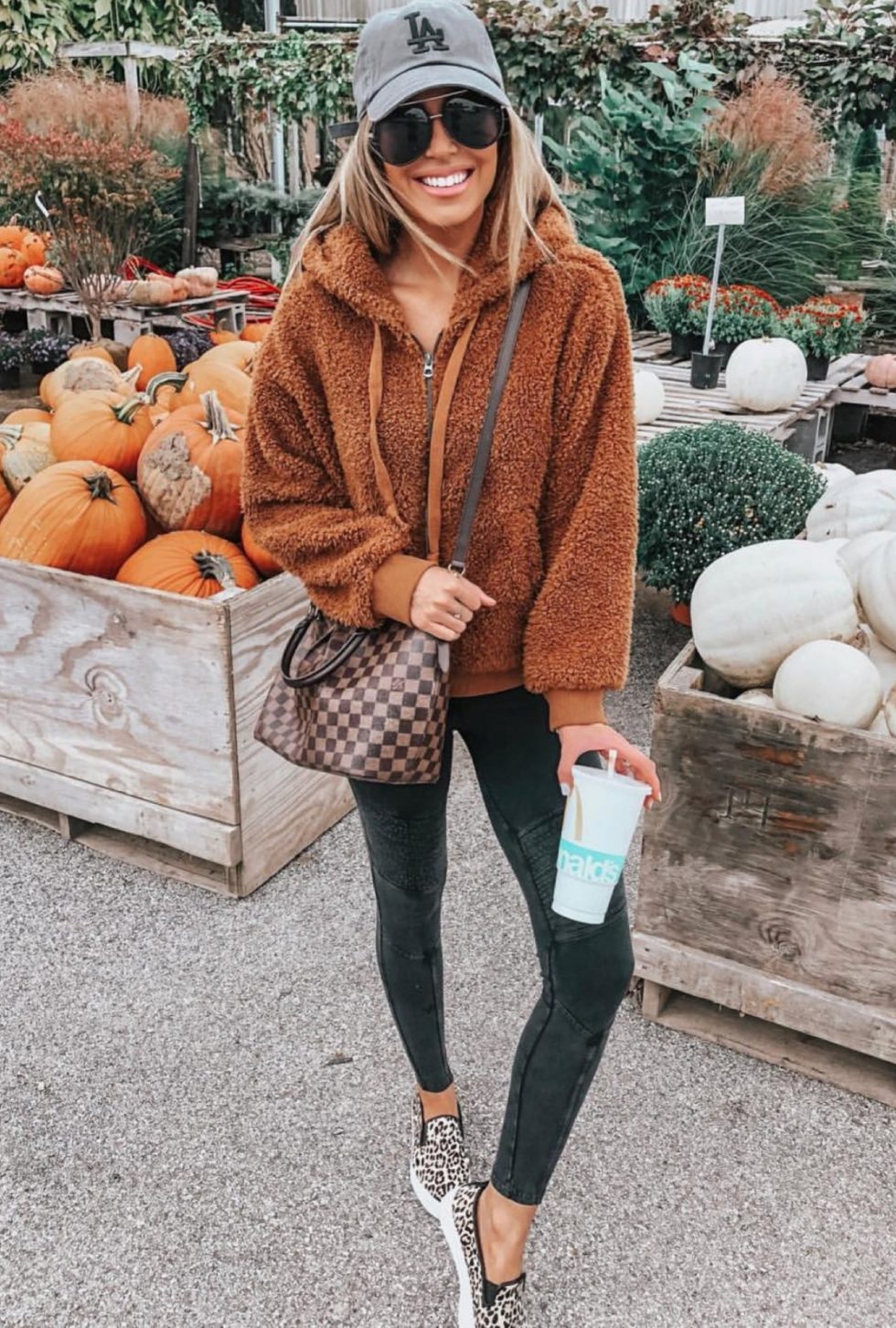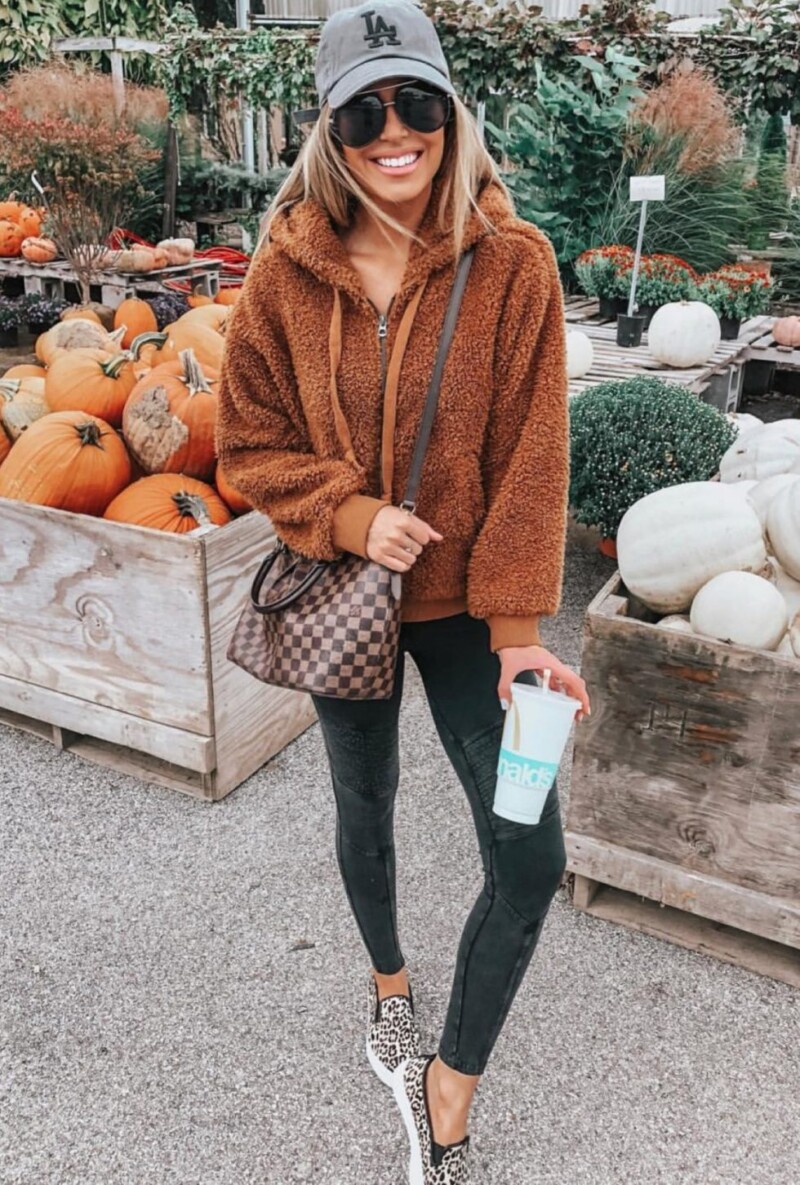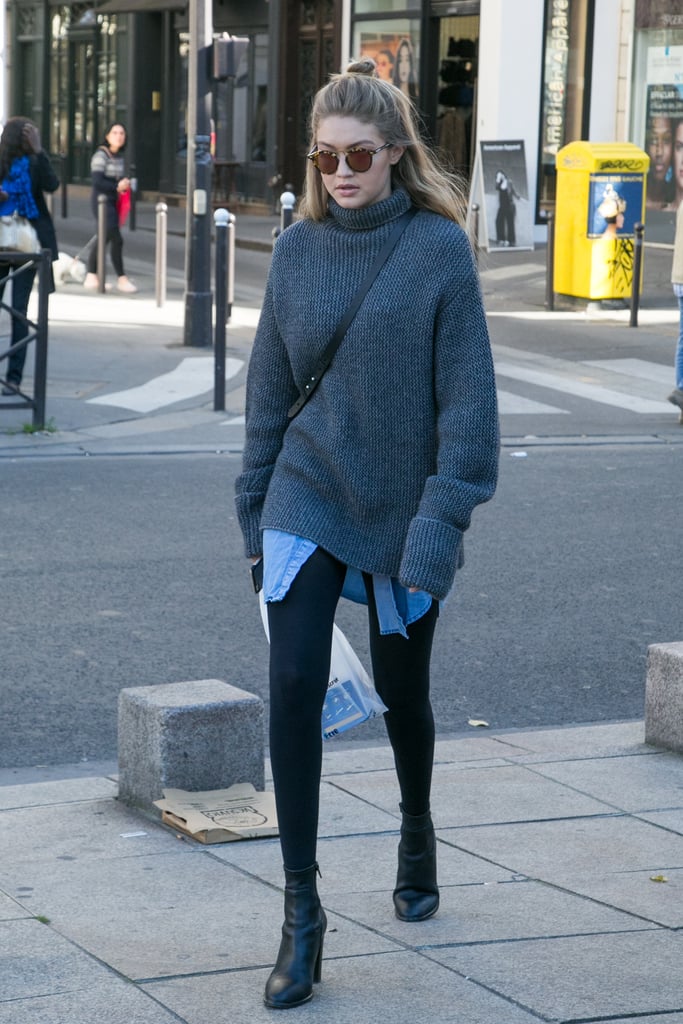 Source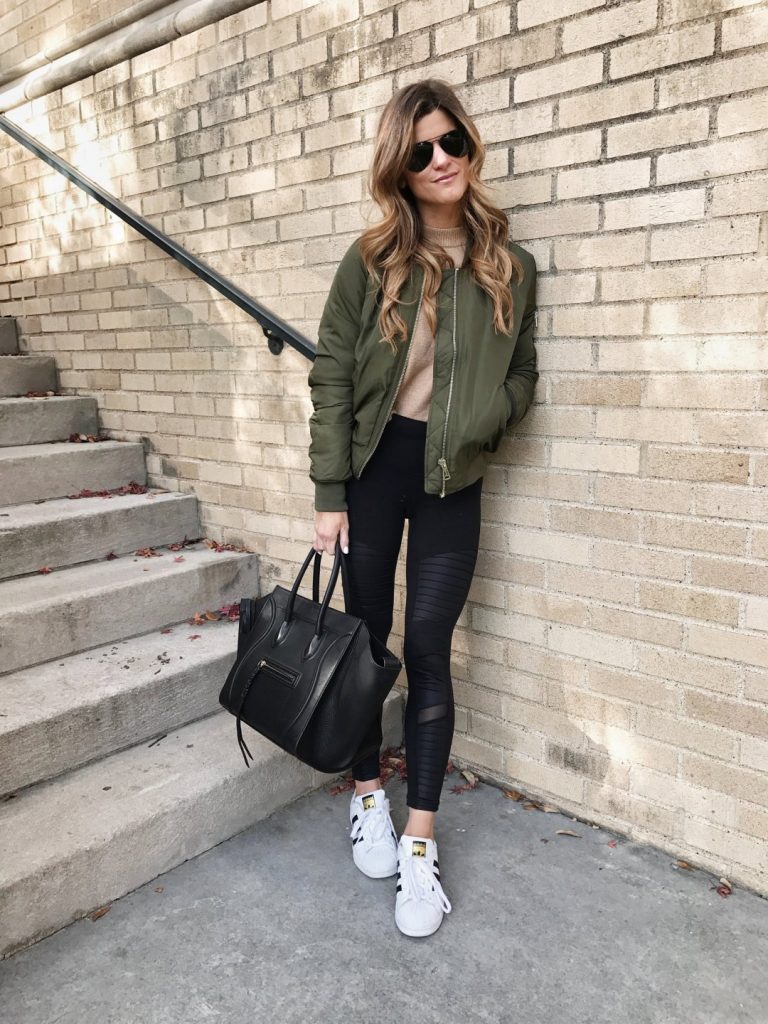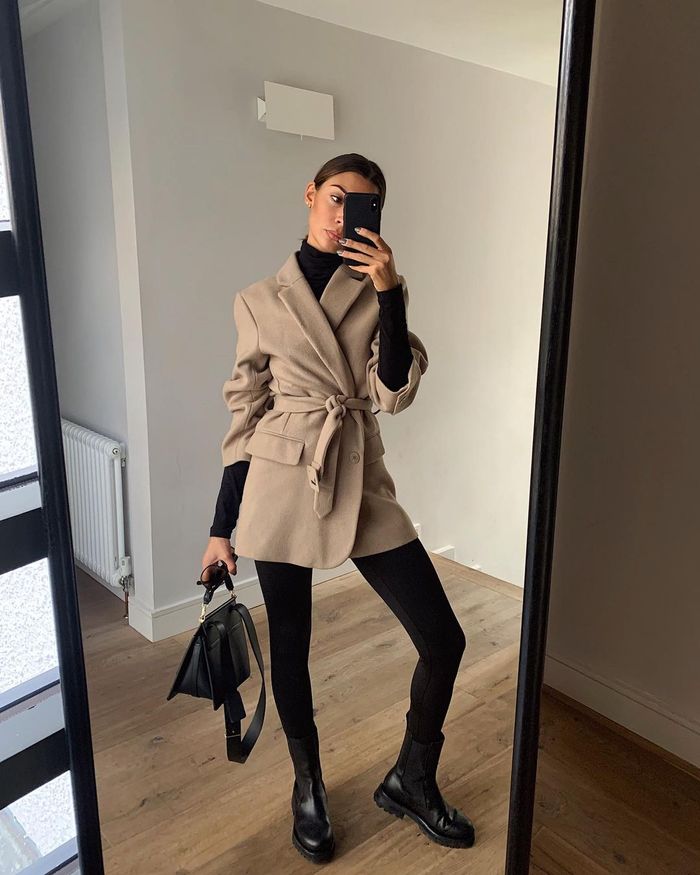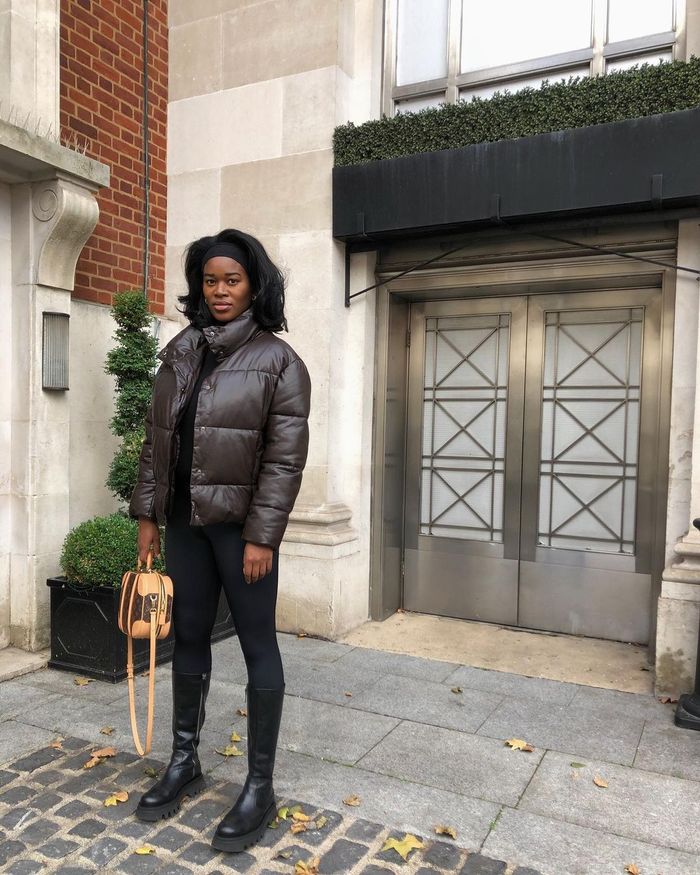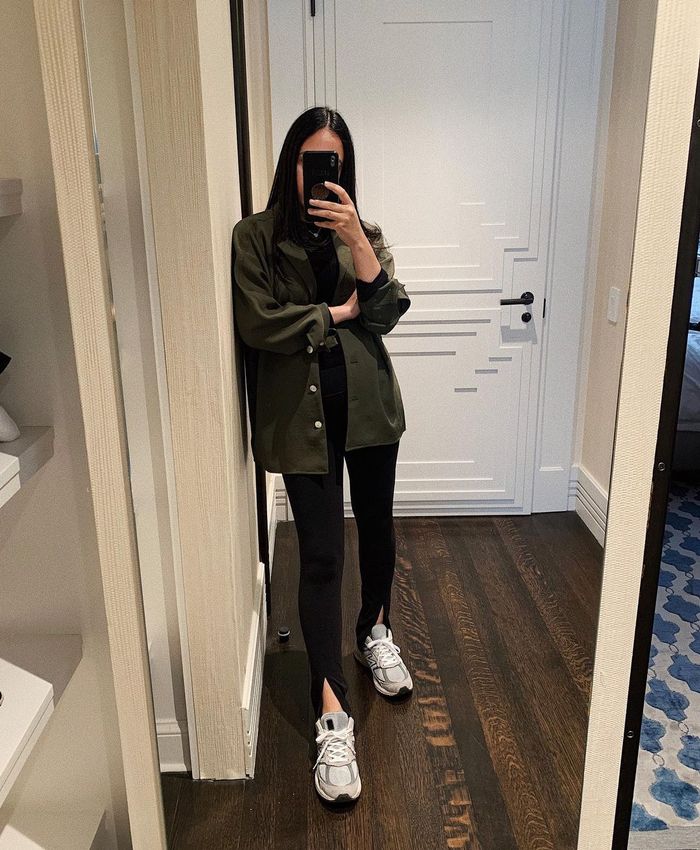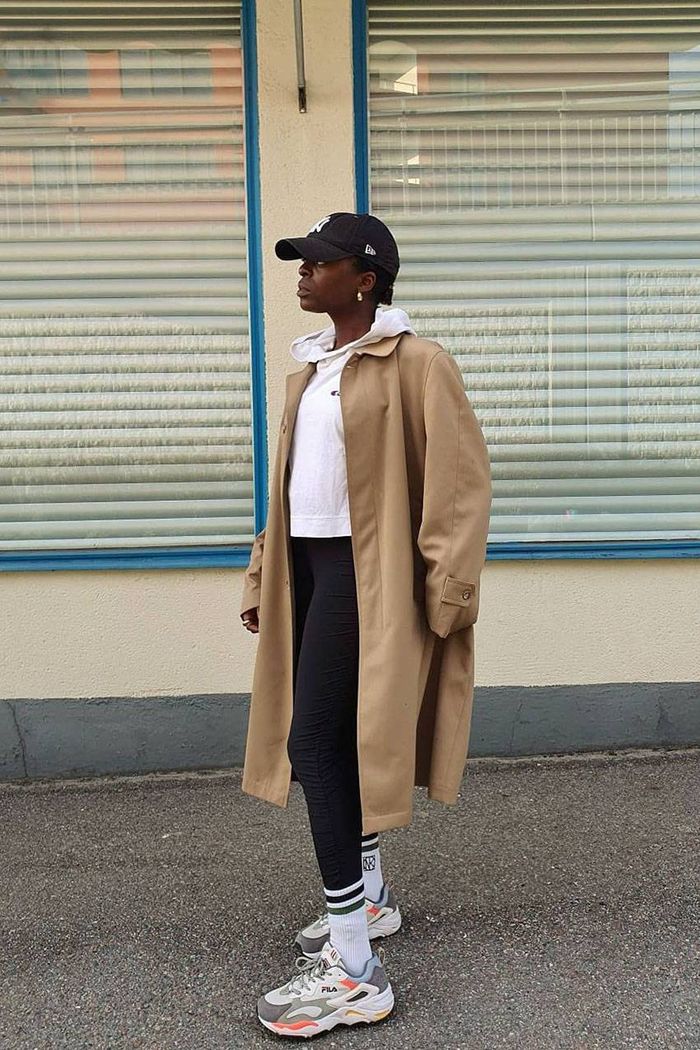 Source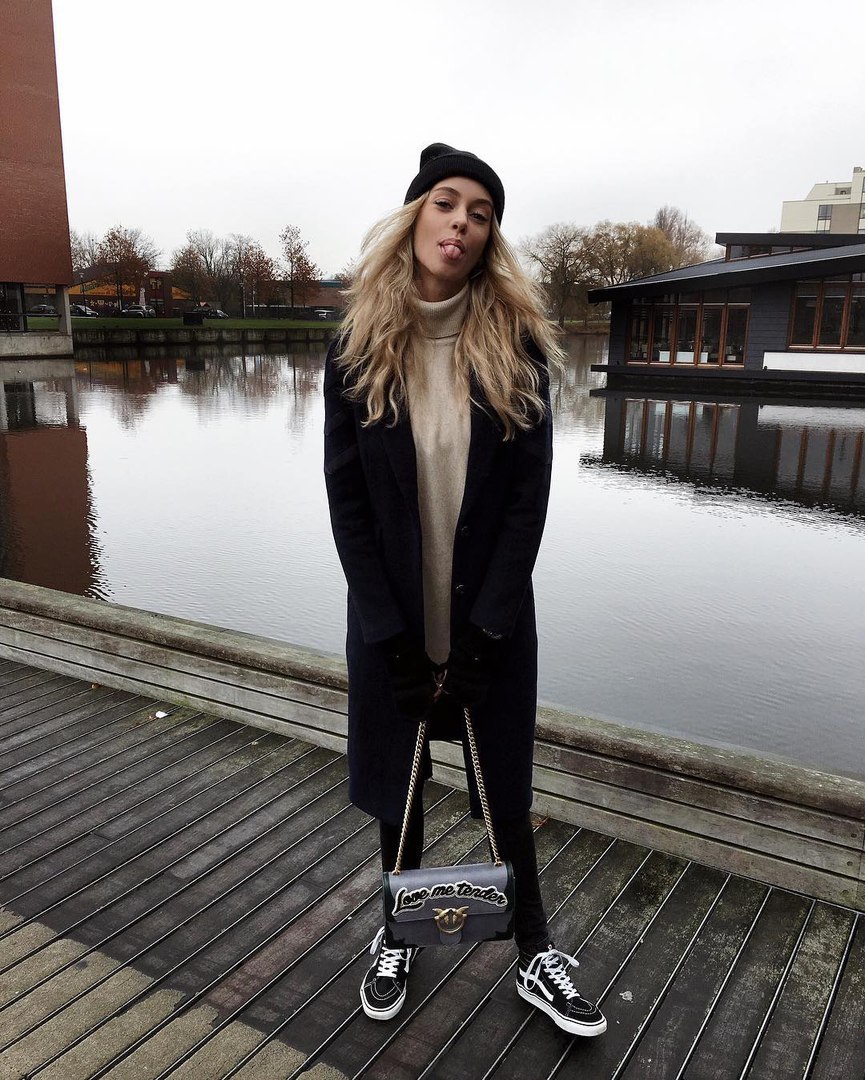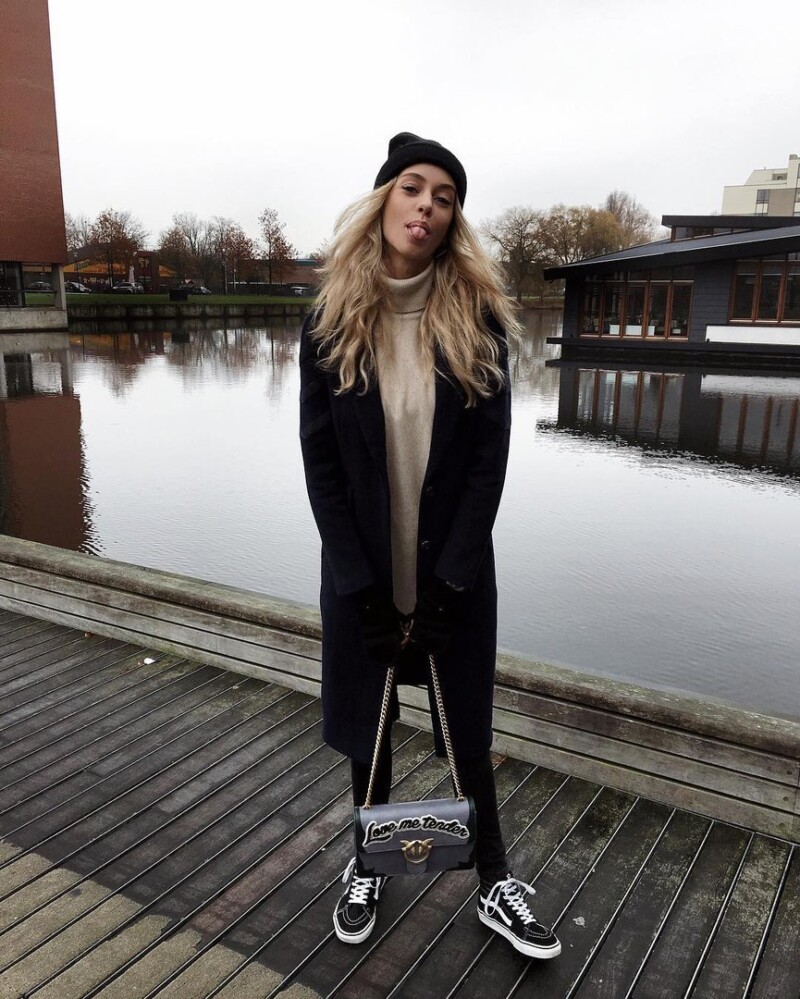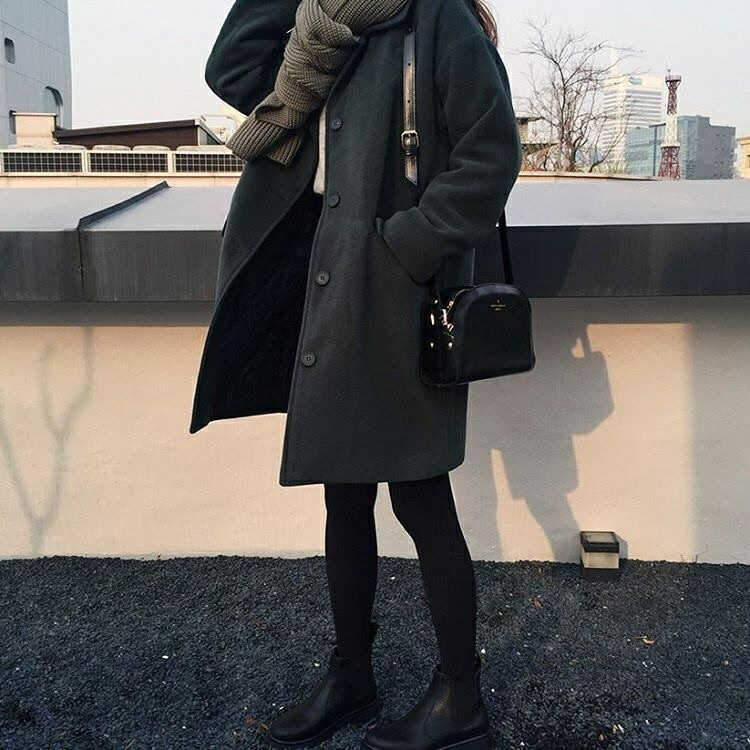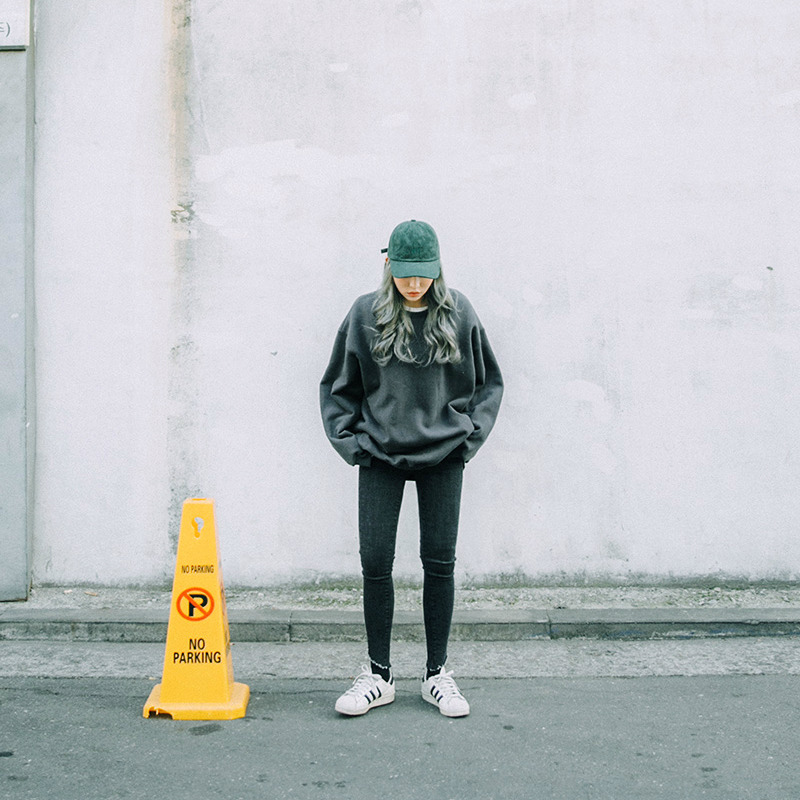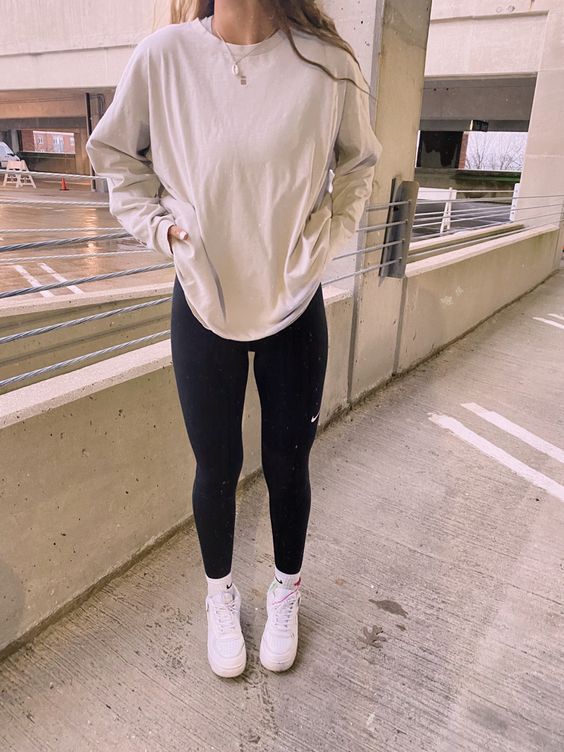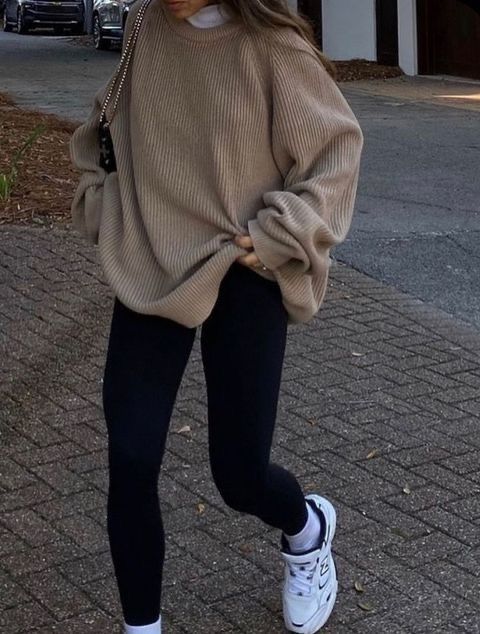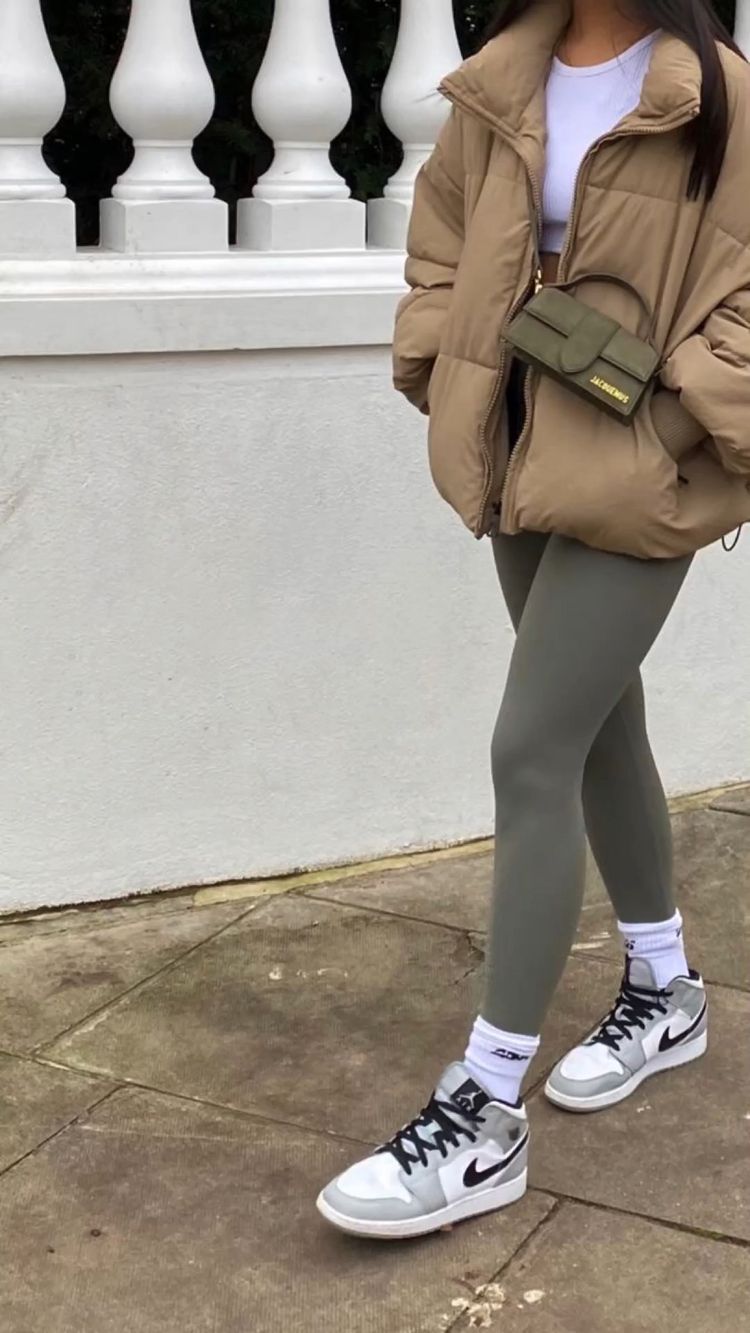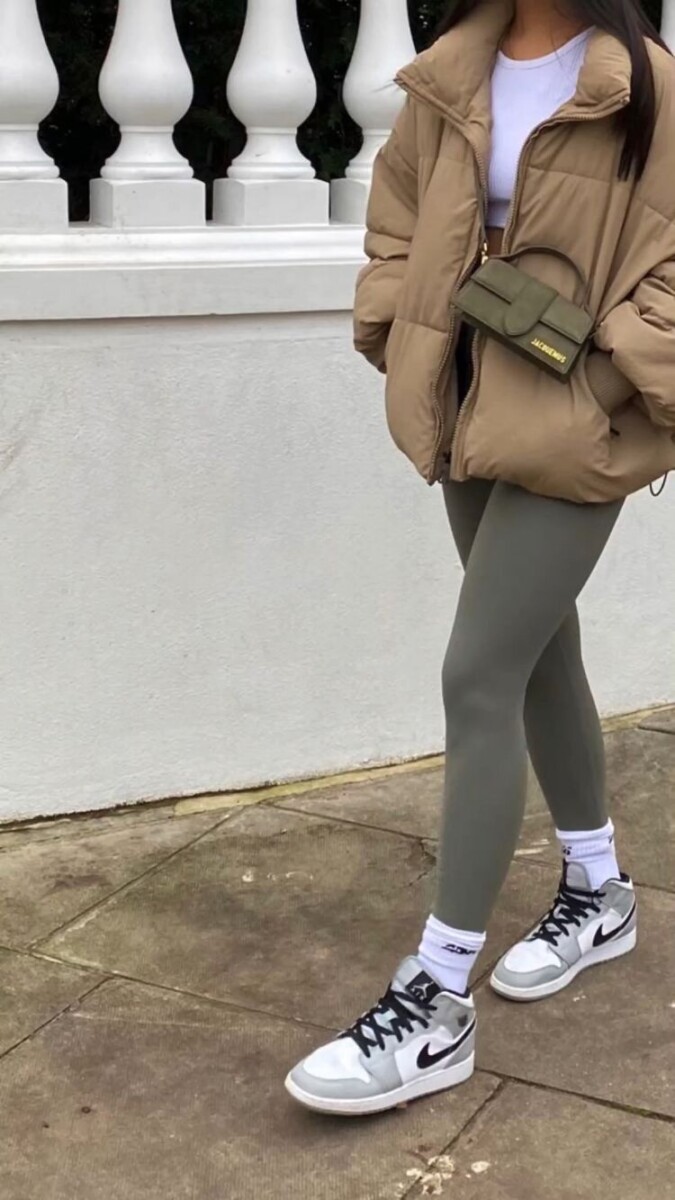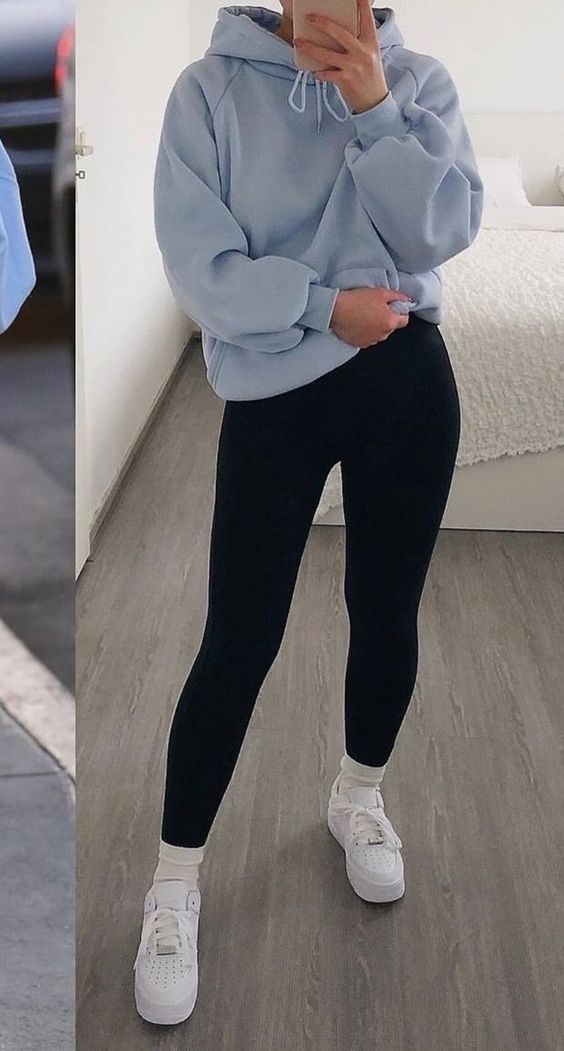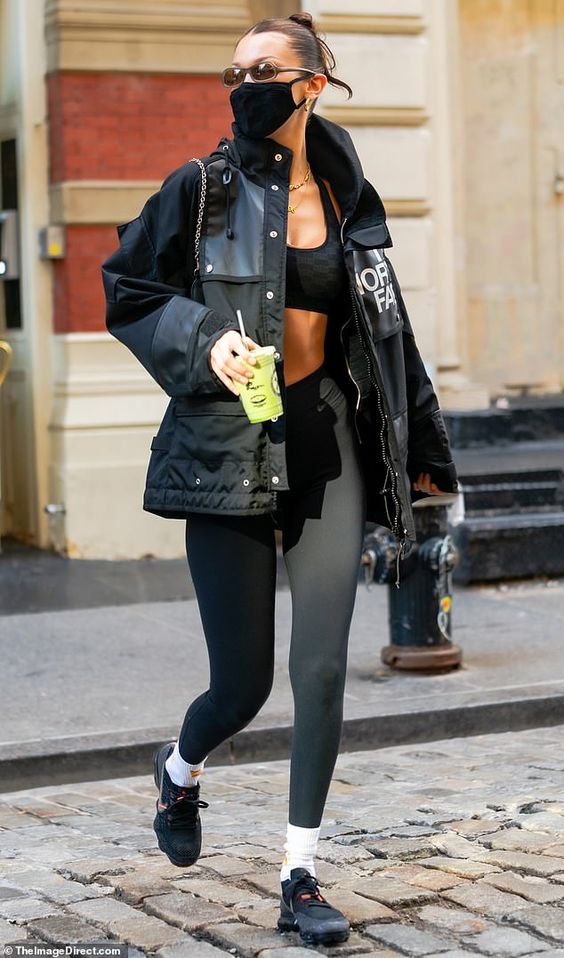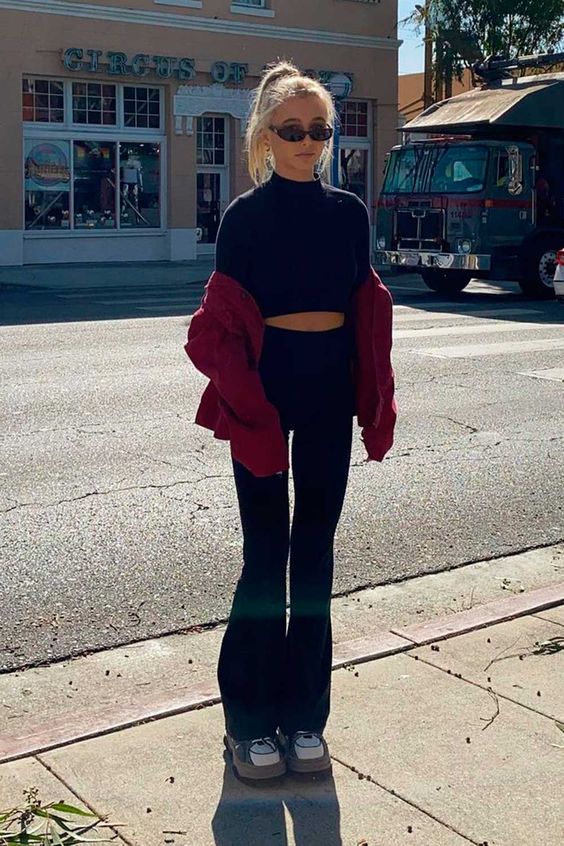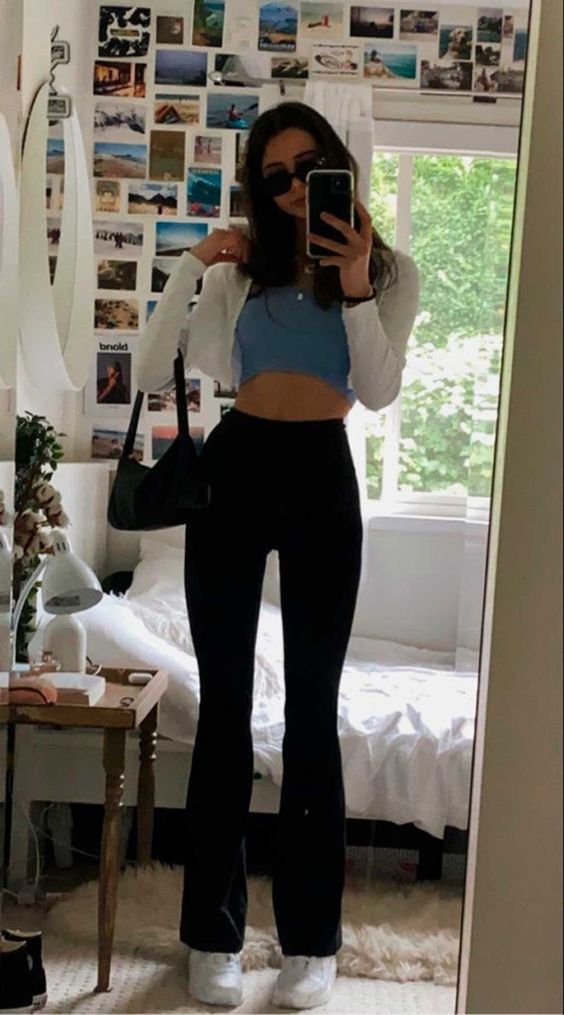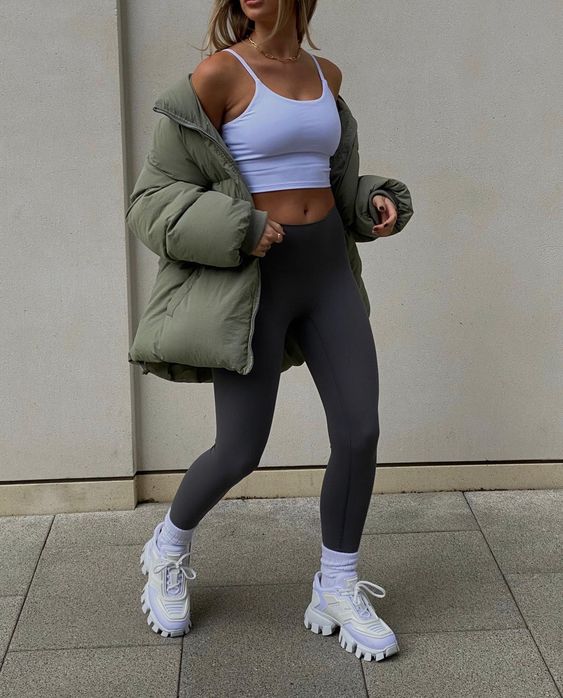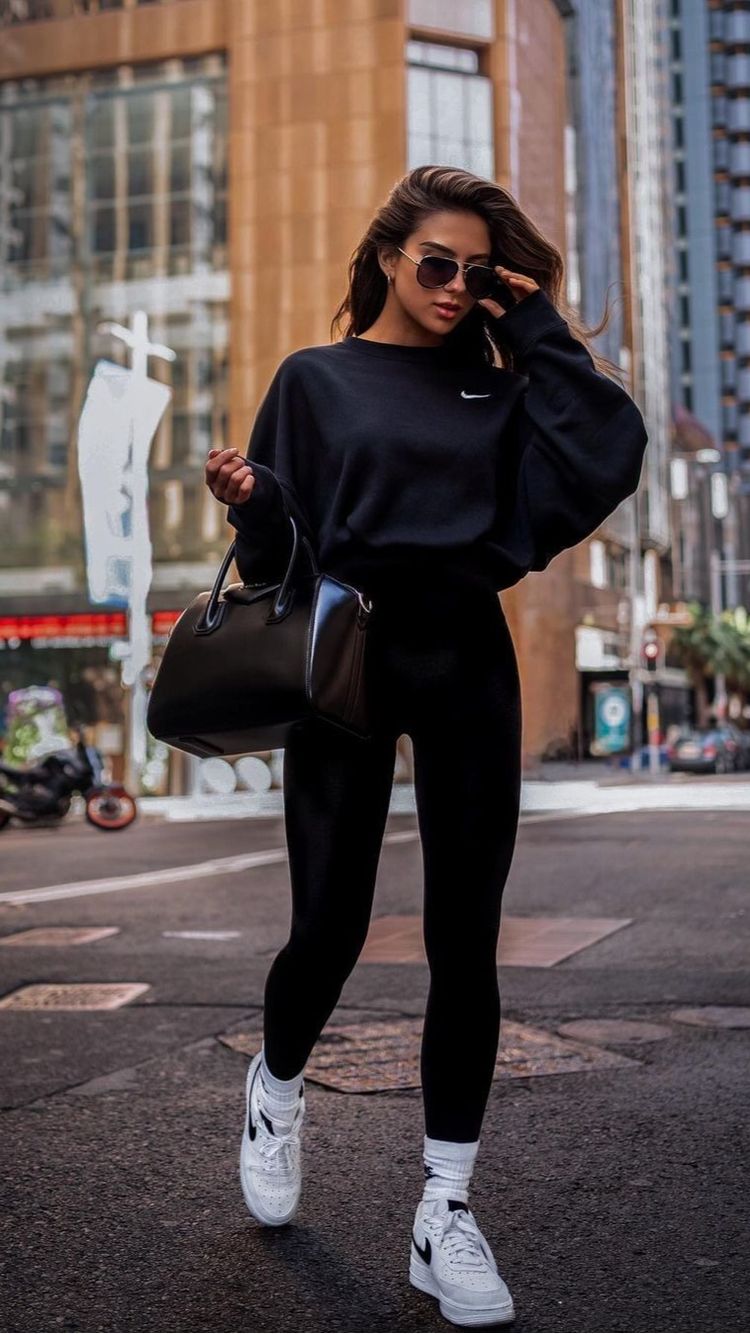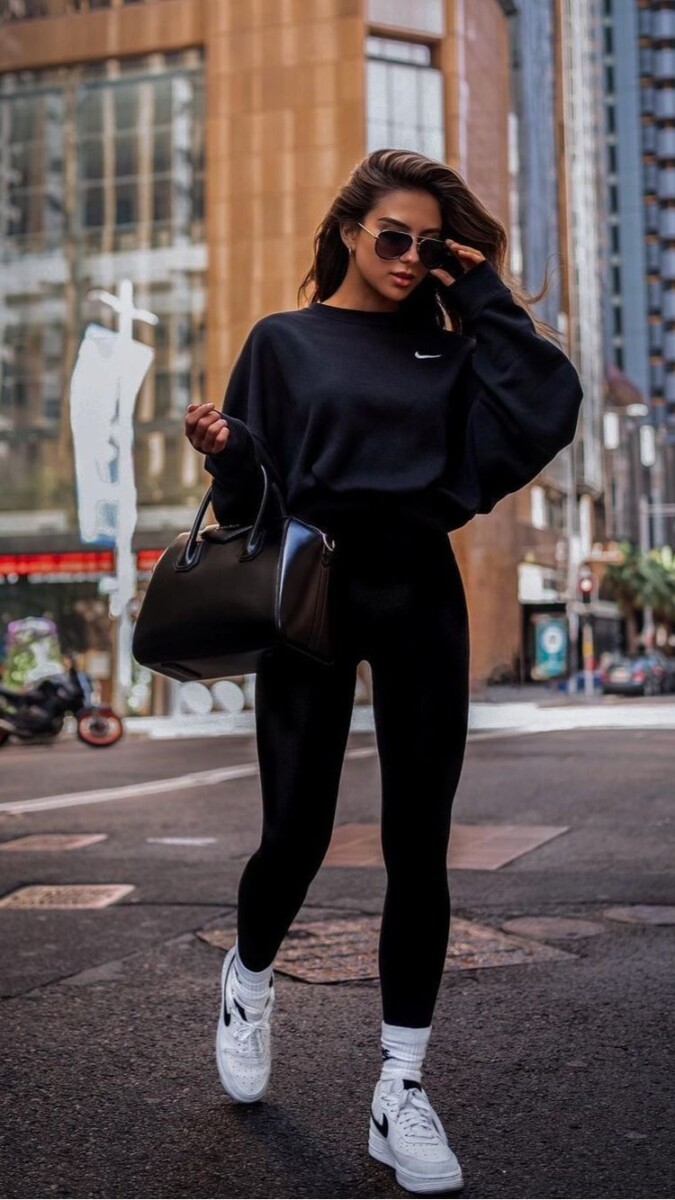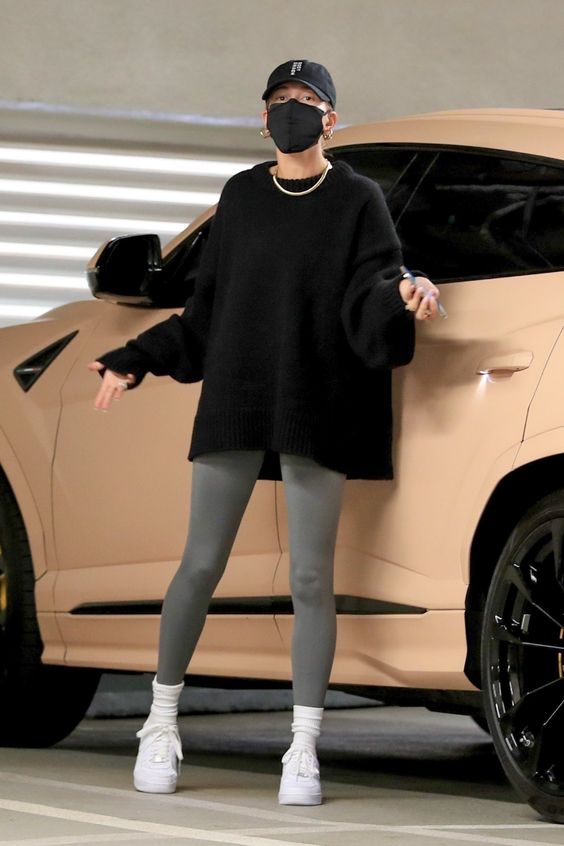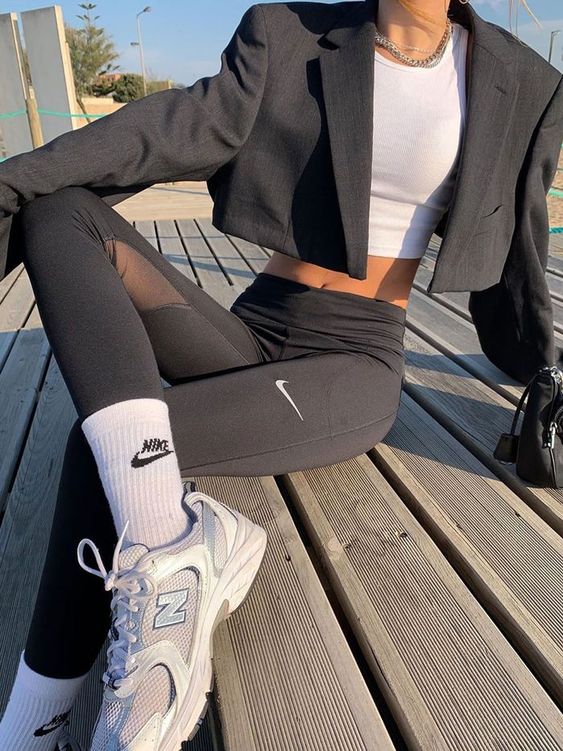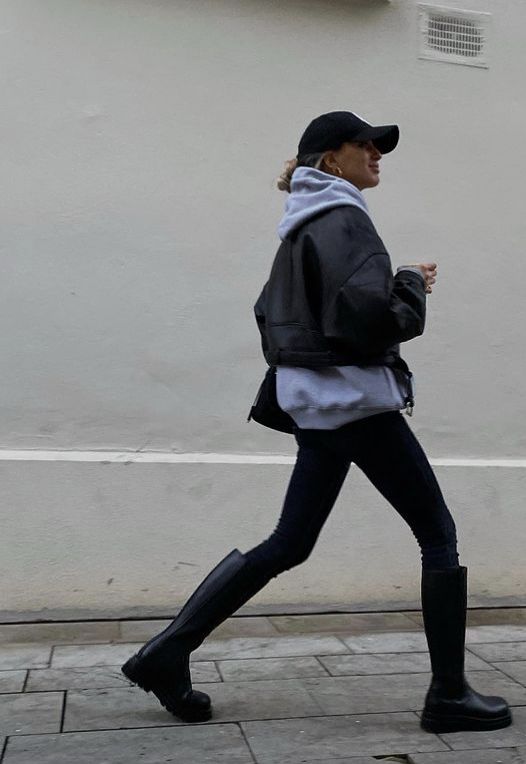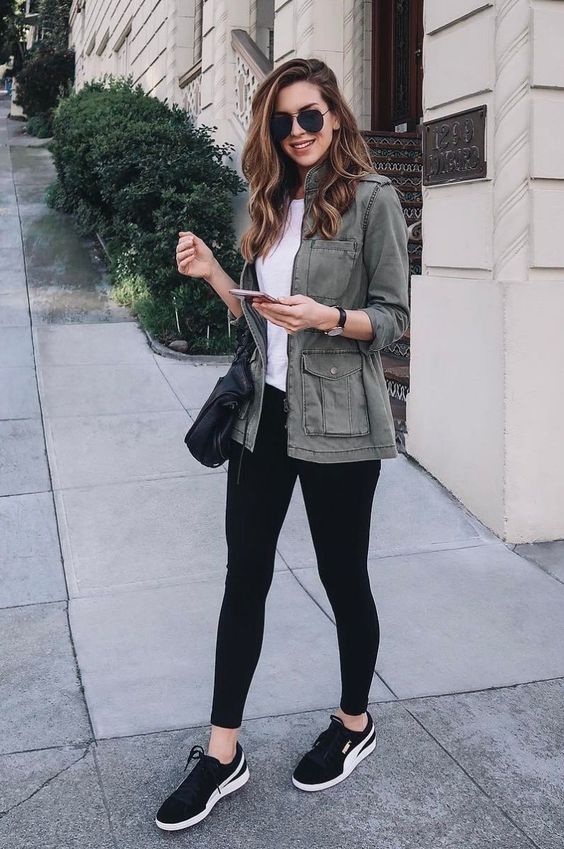 Other Tips For Leggings Outfits:
-Leggings aren't jeans. Be mindful that they're a lot more revealing no matter what you wear on top of them.
-Wear lots of layers with leggings outfits.
-Be careful not to overdo it with the colors. If you do choose colored leggings, neutral is usually best (unless the color really enhances your outfit).
-Leggings go better with shoes that have laces/are casual. Sneakers, dad sneakers, and converse sneakers work well, as do combat boots.
-Leggings should fit correctly. They should be tight enough to stay up, but loose enough so you can bend and move around without holding them up. Well-fitting leggings is the first step when you're planning your leggings outfits.
-Don't wear leggings to work or anywhere formal unless you specifically know that's OK for the dress code; even a trendy leggings outfit can come off wrong.
-Don't put your leggings in the dryer. In order to get the most use out of your leggings, hand wash them or dry clean them.
-Be mindful that underwear lines show really easily in leggings. You may want to invest in some seamless thong underwear for your leggings outfits.
-Leggings aren't just for the gym anymore– they're a great way to look great and feel comfortable at school, work, or anywhere else casual!
-Don't wear leggings as pants if they have an elastic waistband. This can create a bulge above the hem of whatever shirt/skirt you wear with it which is very unflattering! Shop around for cropped leggings with a wide band instead, which stay put better and will look more "chic".
-Don't wear leggings with shorts. This is an unflattering match. You're much better off wearing regular tights.
I hope you enjoy your leggings outfits as much as I do! These leggings outfit ideas will give you inspiration for every season. Feel free to save these pictures as needed!