This delicious Italian chicken and sausage gnocchi soup is packed with harvest vegetables, sausage, and of course, homemade gnocchi! It takes under 30 minutes to make and is sure to be loved by anyone and everyone.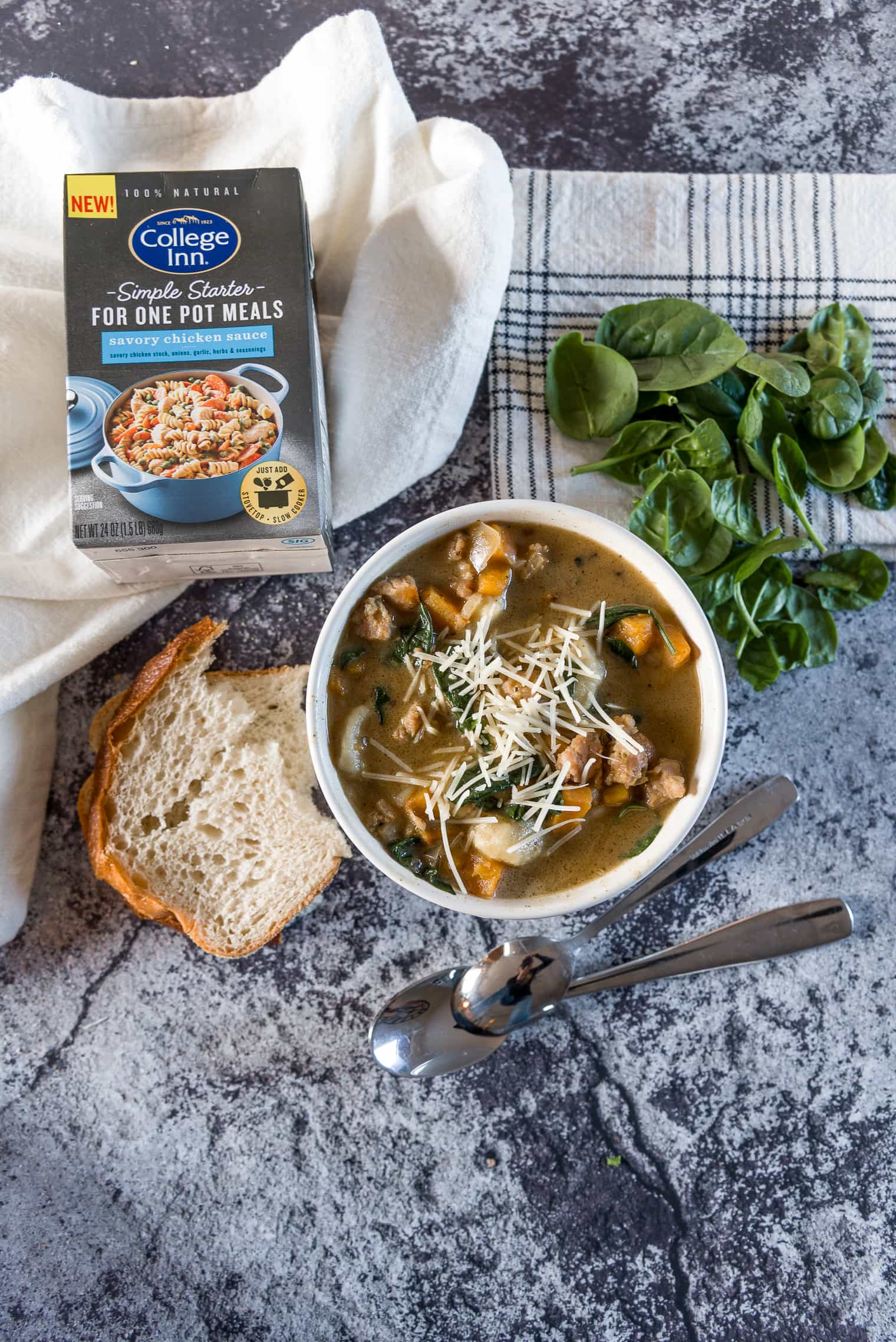 Right around this time of year, I always start making at least a few different soups a week. Not only is a good soup incredibly warming, it actually seems to fill me up quicker than other dishes and the leftovers can be frozen for another time.
I've been wanting to post about this Italian chicken and sausage gnocchi soup for a while! It's one of my favorite easy winter meals that's tasty and unique.
This recipe is perfect for anyone who: a) doesn't have a ton of time, especially on the weeknights or b) doesn't consider themselves a huge cook.
A simple soup is always a great place to start, and this one is straightforward, made in under 30 minutes, and tasty!
The recipe at the bottom is for 4 people, but you can easily double or triple it to make it for a group or to have extras for your freezer. This is my favorite sausage gnocchi soup to throw together last minute if you're having guests over, but it also holds up well.
Why Chicken And Sausage Gnocchi Soup?
Gnocchi is my favorite pasta—I wholeheartedly believe it can go in any dish. I grew up eating all kinds of Italian soup but for this dish, I wanted to try something a bit more hearty and well-suited for winter.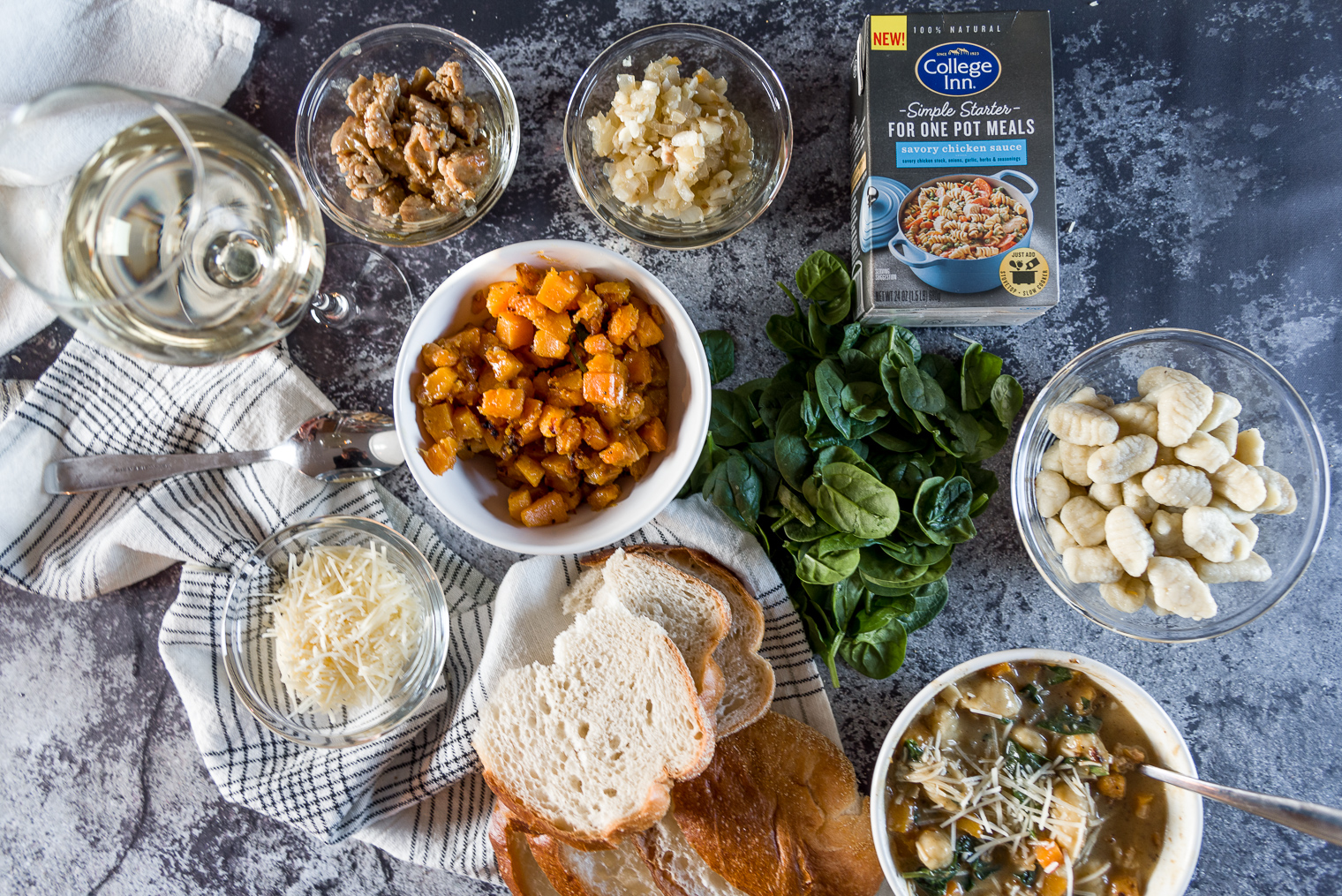 Not only are gnocchi perfect for the cold season (they're like little warming fluffs) but they work really well with this simple wine and chicken sauce.
This sausage gnocchi soup is hearty and chunky; it feels comfy and not too fancy. It's great comfort food!
To make this dish truly Italian, I had to turn it into a sausage gnocchi soup by adding a few links of fresh sausage. I like both chicken and sausage in this gnocchi soup, but you could easily choose just one or the other and get a similar yummy taste.
What is Gnocchi?
Gnocchi are a super popular Italian pasta that taste out of this world!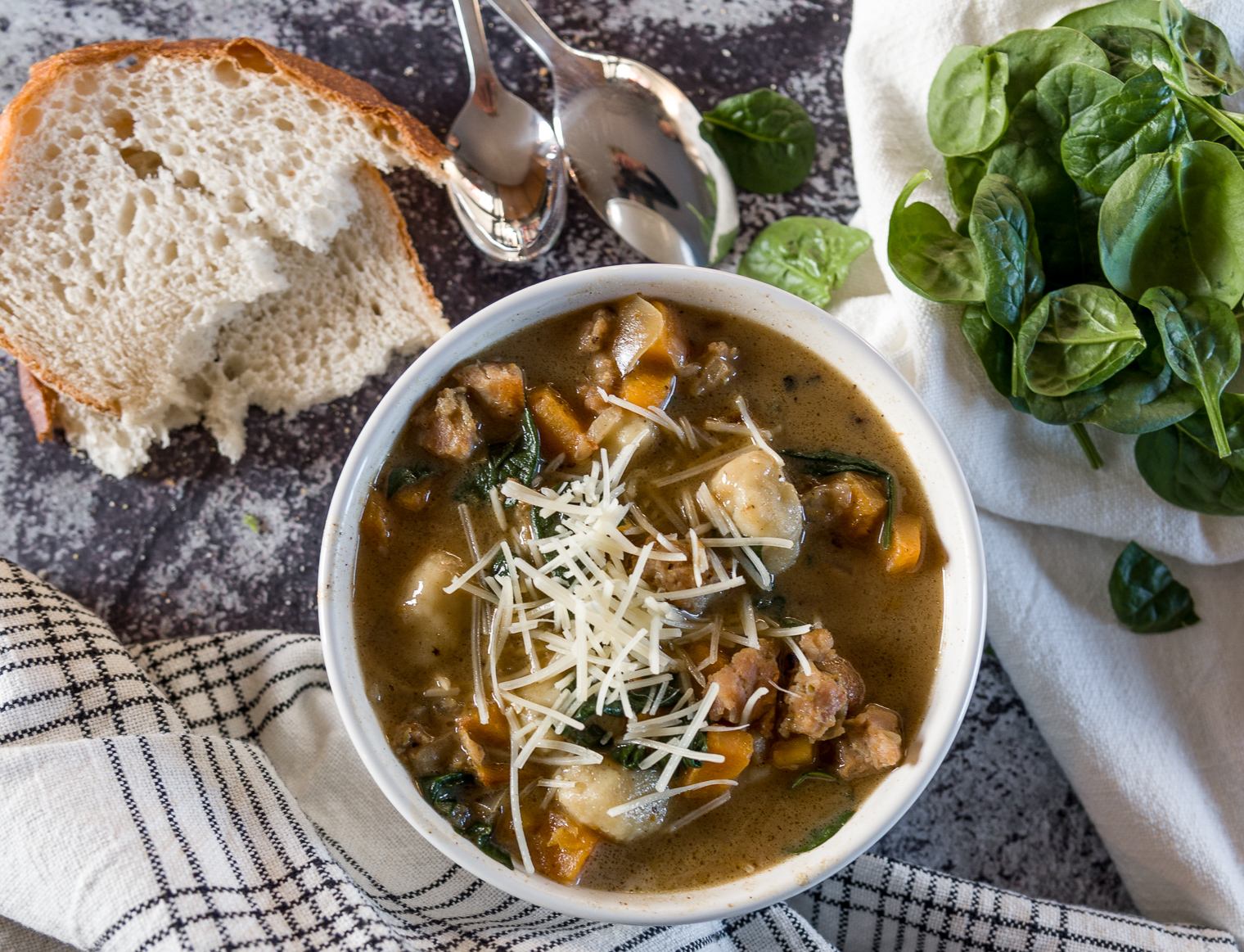 Well technically, gnocchi aren't pasta, but are actually a potato dumplings. Gnocchi are definitely some of the fluffiest dumplings I've ever tried!
Gnocchi are fully made from potato, flour, and eggs. They're perfect for any soup because they absorb the flavors super quickly.
You can certainly make your own gnocchi but it's a bit of a complicated process.
Homemade gnocchi are also available at most popular grocery stores like Stop & Shop or Market Basket. You will find them in the fresh packaged section (usually near the deli).
Homemade gnocchi for purchase will last about a week, but they taste better the quicker you make them. I'm pretty picky about my gnocchi and really love these fresh homemade gnocchi! They're very light and fluffy.
If you have a little Italian pasta shop near you, then you may want to try out their gnocchi as well. Every shop will make gnocchi slightly differently so experiment and see what you like.
Some gnocchi are a bit thicker and more chewy with hard lines in them while others are fluffier and less shapely. I personally like mine a bit fluffier, but I know some people enjoy a chewy texture.
The Sausage Gnocchi Soup Base
The actual sauce for this soup is super easy to make. I de-glazed the pan after sautéing the vegetables with white wine, then added a boxed chicken broth. That's all there is to it!
I use College Inn Savory Chicken Sauce for the chicken broth. It's on the thicker side, which is perfect for this rustic sausage gnocchi soup.
I find that this soup tastes better when it's a bit thicker, but this is up to you. If you prefer a thinner soup then try using a more watery chicken broth.
Alternatively, you can use your own homemade chicken broth for this sausage gnocchi soup. I make chicken soup every month or so and freeze it.
I find that using my own chicken broth makes the soup a bit thinner, but the taste is amazing, especially if the broth is fresh. Make sure that you add enough salt!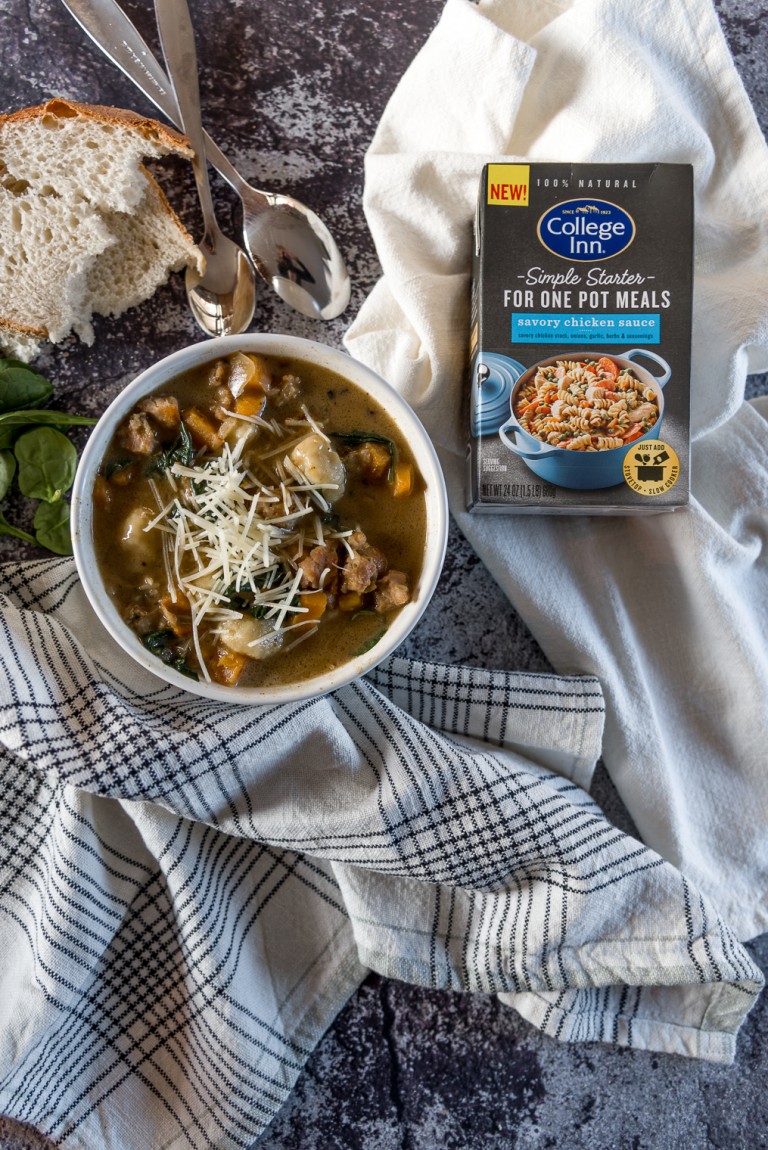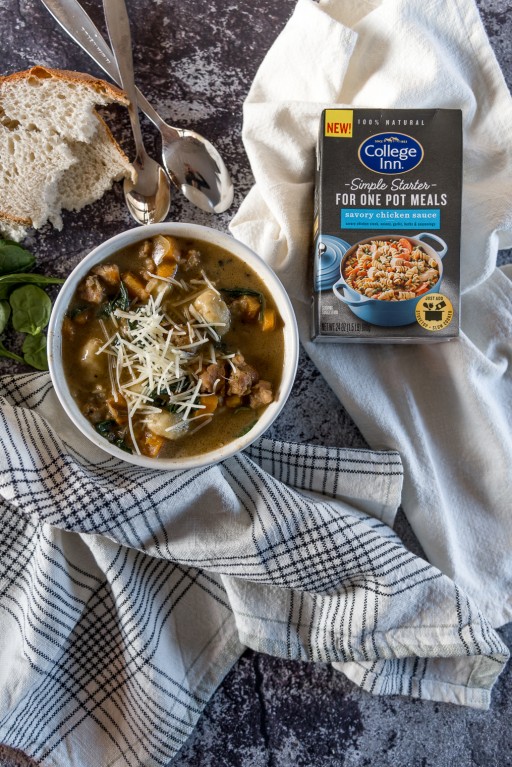 I do add a small splash of heavy cream at the very end (right into the individual bowl when serving), but this isn't at all necessary.
It makes the sauce slightly thicker and (of course) creamier, so it all comes down to personal preference. I think a dash of cream works well with a hearty meal like this sausage gnocchi soup.
The Vegetables
I've tried this soup a few different ways and various vegetable combinations, but I really love it with butternut squash as the main vegetable.
The sweetness of the squash perfectly complements the more savory aspects of the chicken broth, making the dish is perfectly balanced.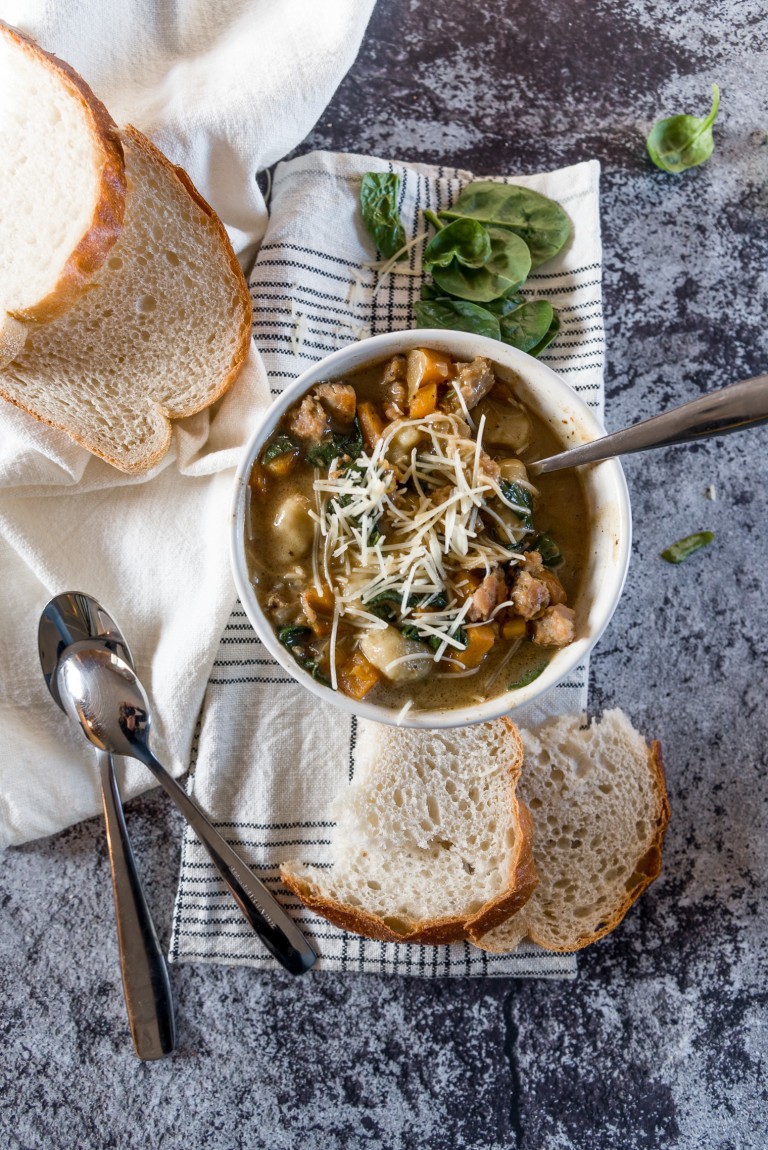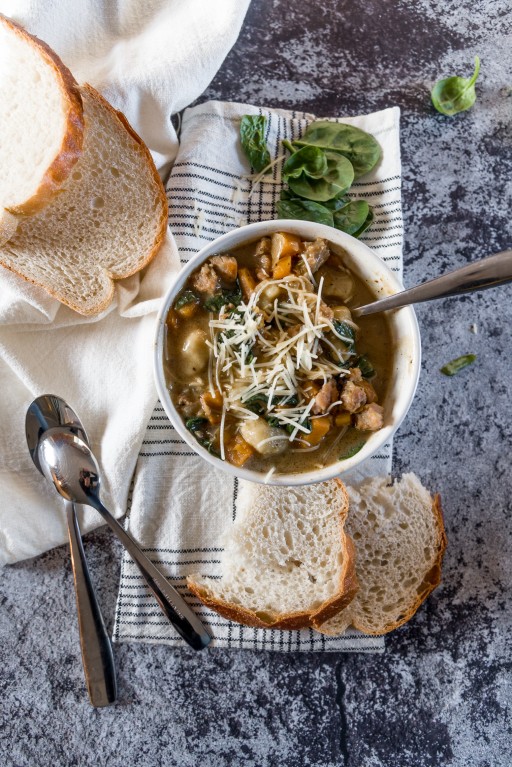 I also used one onion, four cloves of garlic, and spinach. If you prefer kale, you can easily swap the spinach out, but I find that most guests like spinach, so that's generally what I go with.
For this recipe I tend to use fresh spinach if possible. I like it to have a bit of crunch and find that it adds way more flavor to the broth.
However, this soup is also good with frozen spinach. If you only have frozen spinach, don't worry at all – it doesn't make that big of a difference.
Because this is a simple sausage gnocchi soup with relatively few vegetables, I like to use quite a bit of butternut squash and spinach.
Feel free to add or subtract vegetables as needed! Some people prefer their soups with just a touch of vegetables, in which case you might want to cut the quantity in half.
The Sausage
I used a mild Italian sausage, but this is just my own preference—any type of sausage that you prefer will work perfectly.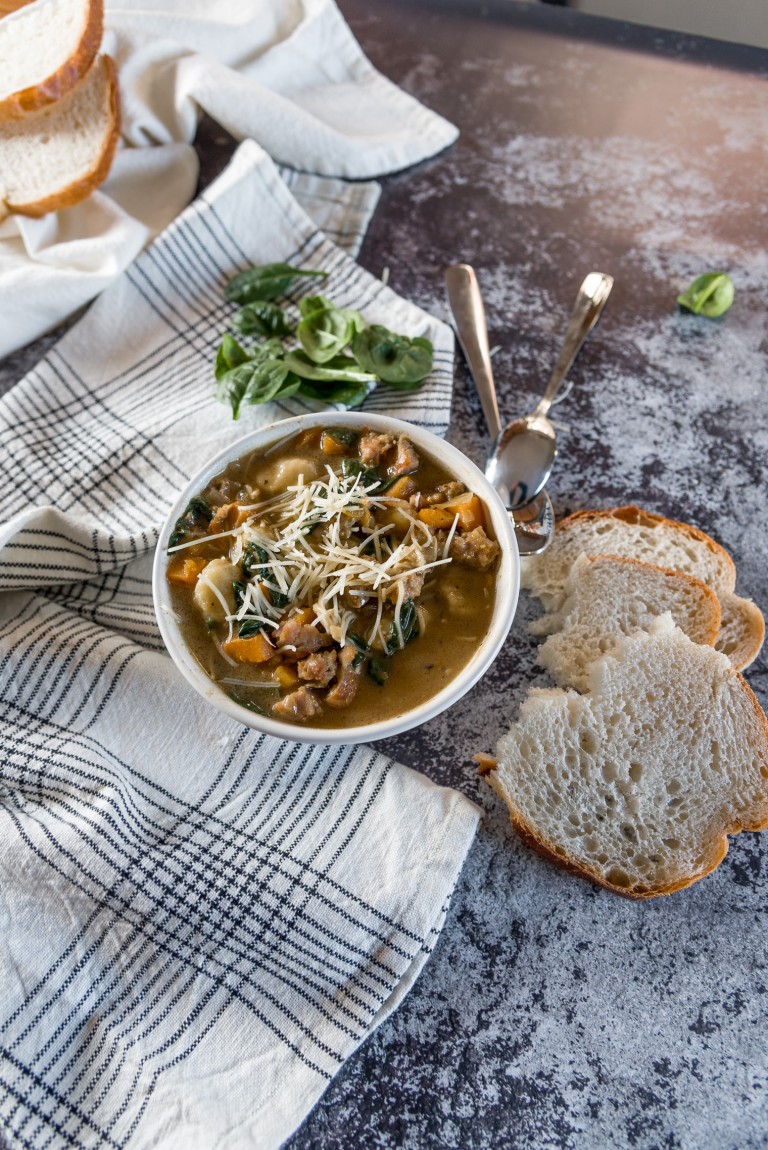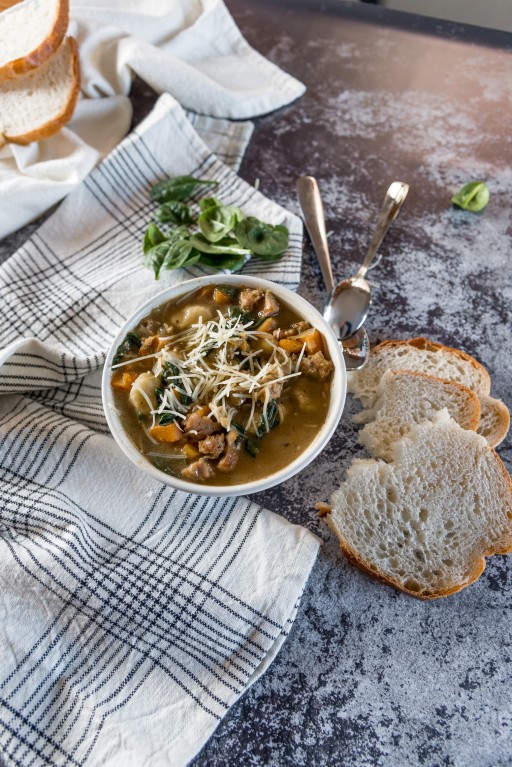 For this sausage gnocchi soup, I cooked the sausage, chopped it into relatively small pieces, sautéed it again, and then added it to the soup and let it simmer.
You can also make this dish without the sausage for those who aren't a fan. I was easily able to pick it out for anyone who didn't want that extra meat flavor.
If you don't love sausage gnocchi soup but do want chunks of meat, I suggest switching it up and making chicken gnocchi soup. The process is virtually the same, but you'll want to use chicken breasts instead.
I like this sausage gnocchi soup best with both gnocchi and chicken, but you can mix or match as desired.
If you're vegetarian or just aren't a fan of meat, feel free to leave it out entirely. You may want to work with 1.5 amount of vegetables and add an extra bit of cheese to get that full-body soup flavor.
The Gnocchi
I did not make my own gnocchi for this (so that this supposedly simple recipe wouldn't take hours and hours), but I did buy freshly packaged gnocchi from Shaw's instead of frozen.
Shaw's has really awesome fresh gnocchi that come out super soft and taste homemade. You can also find these types of gnocchi at Market Basket and Stop & Shop.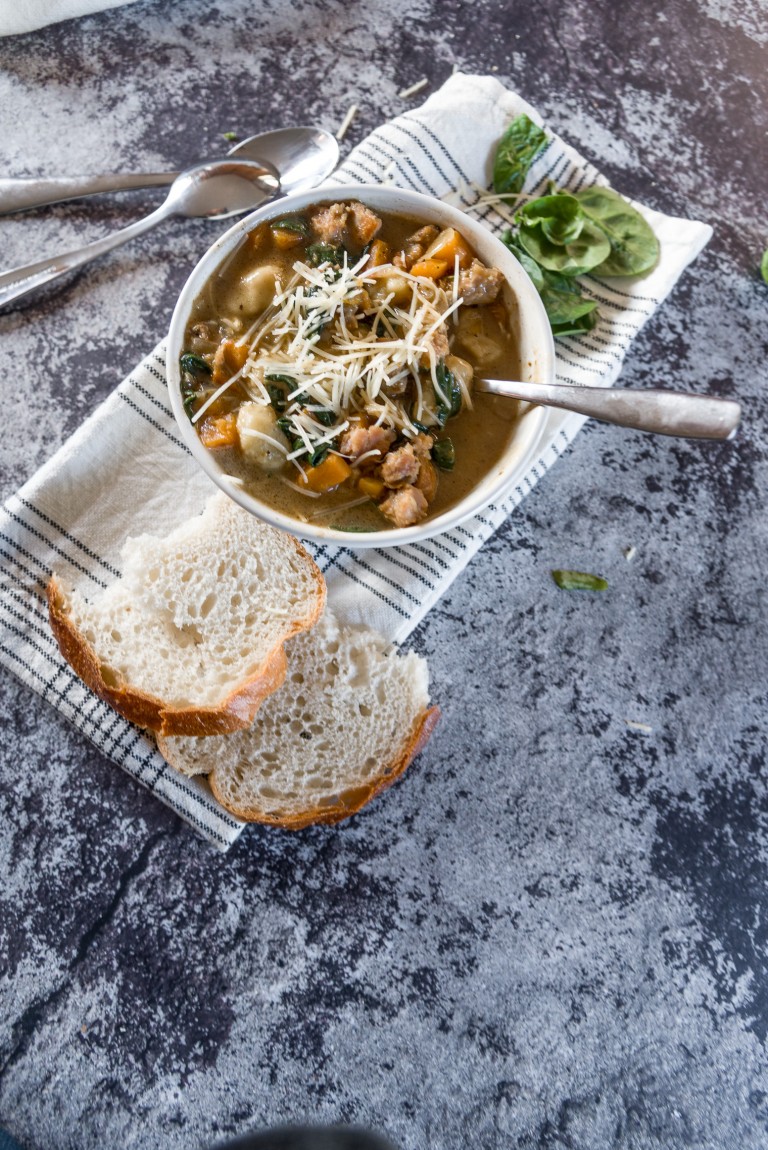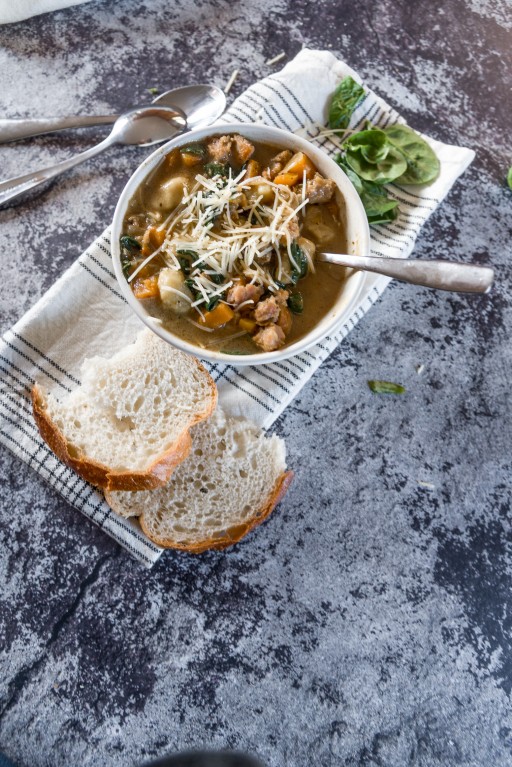 These specific ones come slightly sticky, so I roll them in a bit of flour before popping them in a pan of boiling water. They're so fresh that they only take about 2 minutes to cook!
Boiling these gnocchi while you're finishing up the soup works best; you want the gnocchi to be as fresh and warm as possible.
I do run cold water over them to stop the gnocchi from overcooking after straining, but then I throw them in the soup for a few seconds before serving to warm them back up again.
Freezing This Soup
A good soup can always be frozen and enjoyed later! This sausage gnocchi soup is no exception.
You won't need to do anything different before freezing this soup, except that you should avoid adding the heavy cream.
If you do prefer this dish with heavy cream, then plan to use it after the soup is thawed and heated up.
Otherwise, you can freeze this soup in one bowl.
If you prefer your gnocchi to taste super fresh, then just freeze the soup itself and cook and add the gnocchi right before serving. However, the gnocchi still taste super yummy if they're frozen then defrosted.
Where to Find the Ingredients
I shop for most of these ingredients at my local grocery store. The whole point of this sausage gnocchi soup is that it's easy to make any night of the week!
This is a typical peasant dish so you can theoretically use whatever you have laying around in your pantry. Feel free to add or adjust vegetables and meat as needed.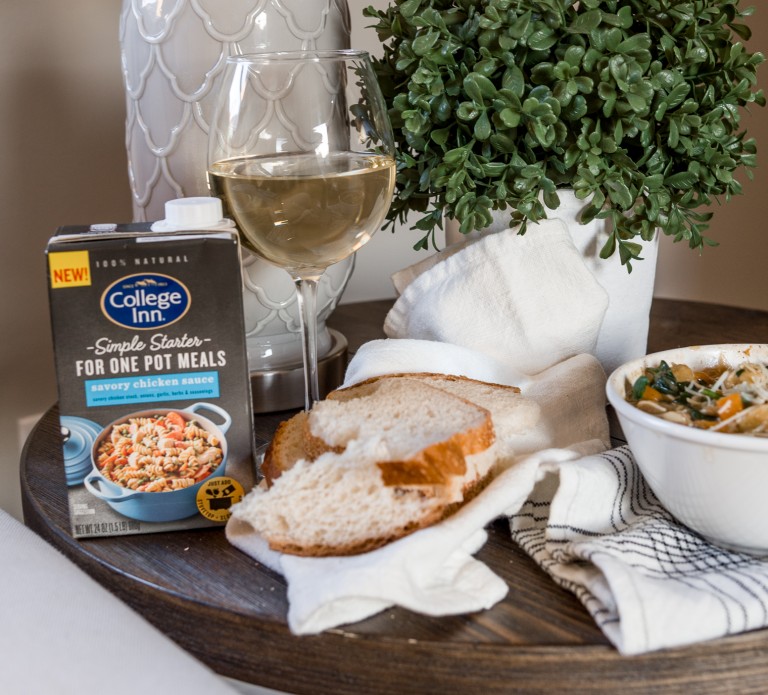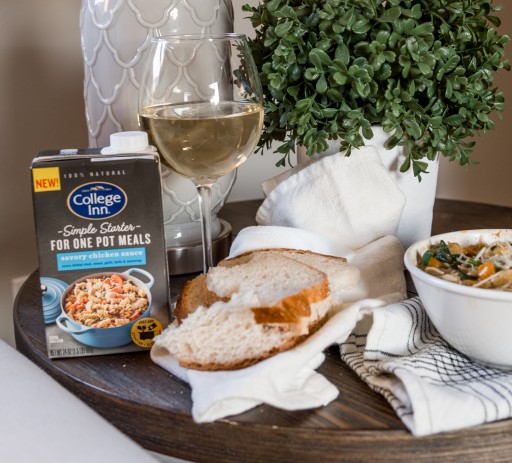 I tend to shop for most of my ingredients at Shaw's or Market Basket via Instacart (because I just can't get enough of the easy delivery), but you can also source your vegetables from a fresh, local shop or stand.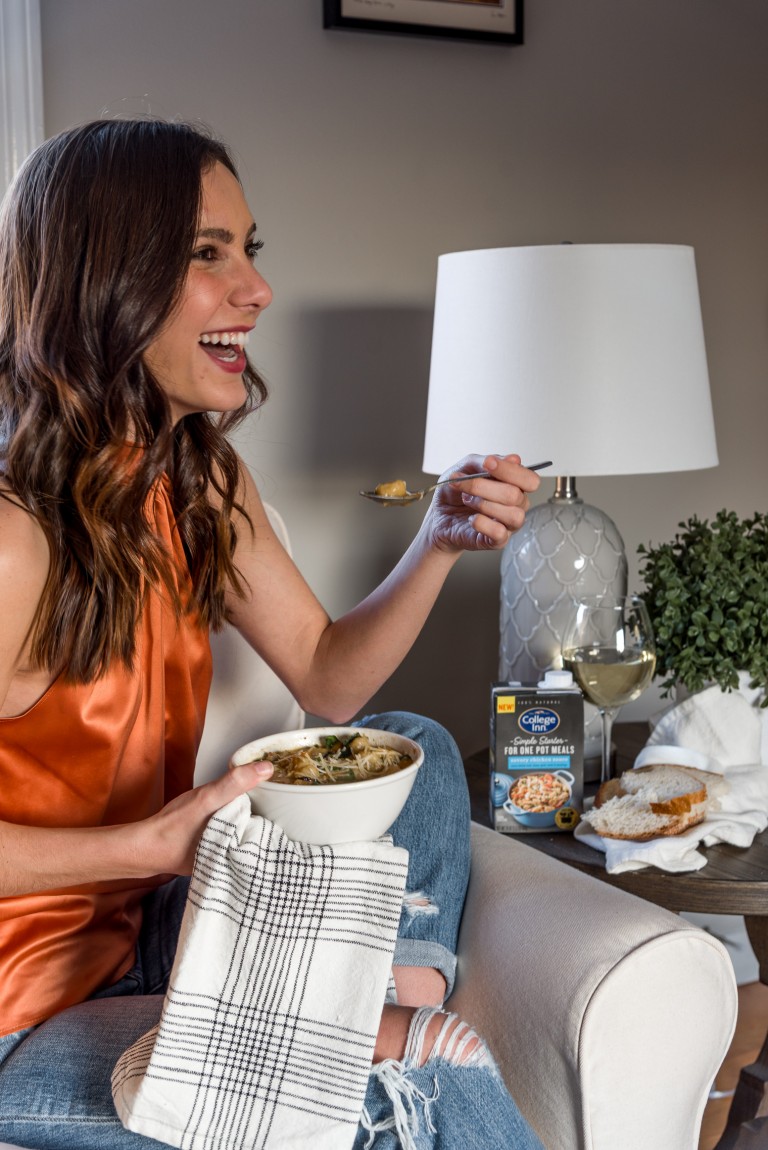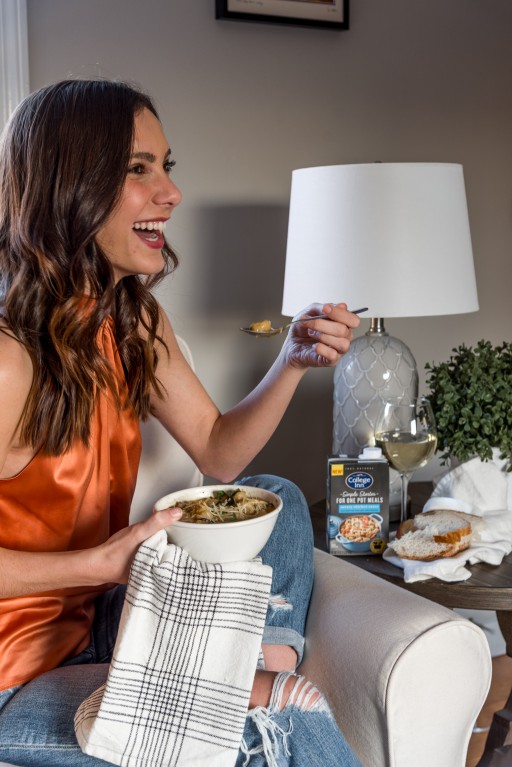 Fresh produce is always better, even for this soup! I bought easy bagged spinach and pre-chopped butternut squash. It really can't get more simple!
The Recipe
Yield: 4
Italian Chicken and Sausage Gnocchi Soup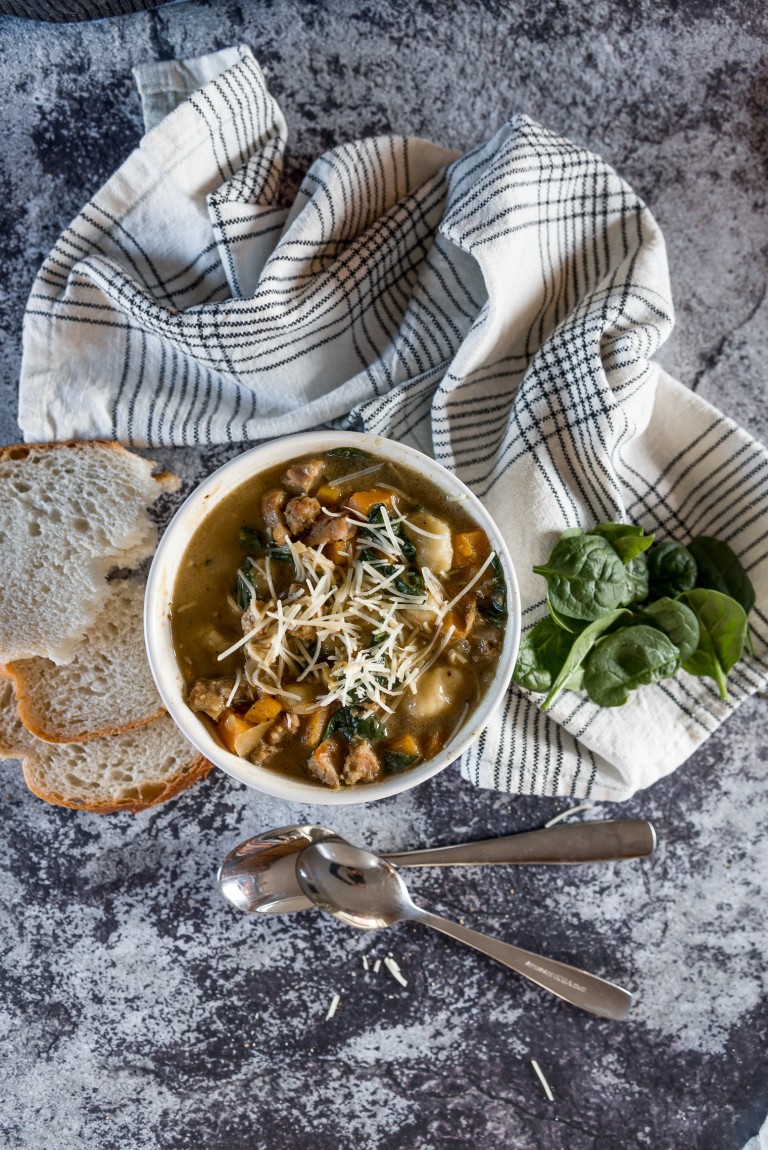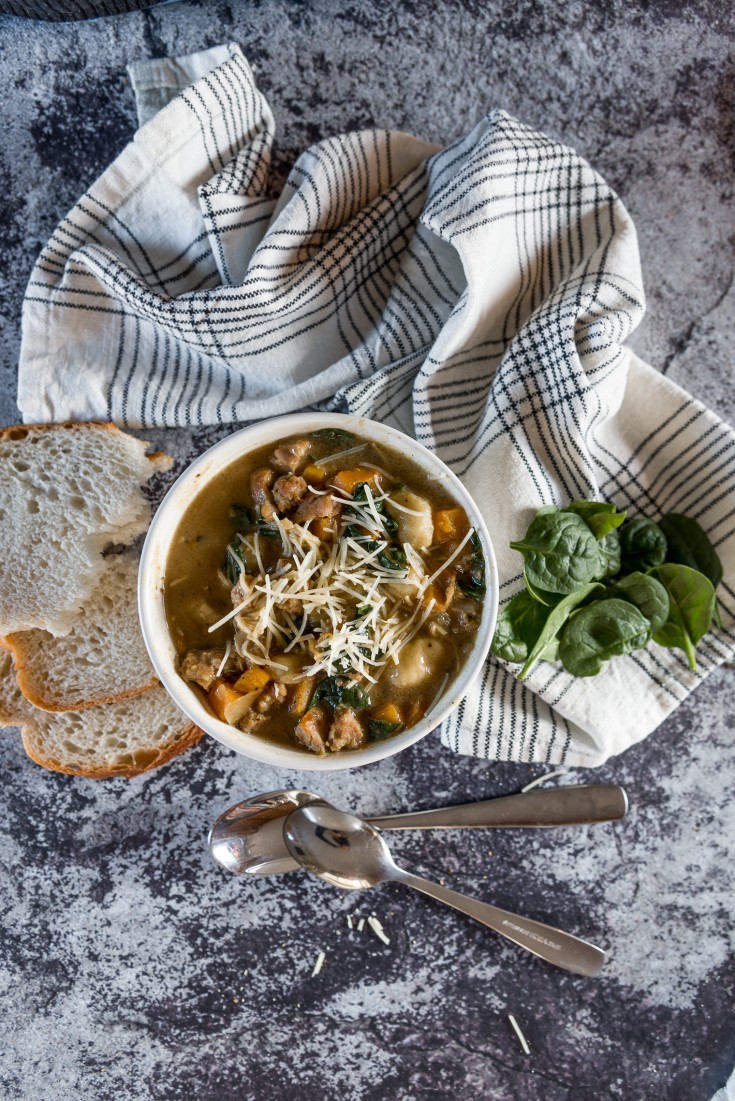 This delicious Italian Gnocchi soup is packed with harvest vegetables, chicken broth, sausage, and of course, homemade gnocchi! It takes under 30 minutes to make and is sure to be loved by anyone and everyone.
Ingredients
2 tablespoons olive oil
3 cups cubed butternut squash
1 chopped onion
4 cloves of minced garlic
2 large sausage links
2 cups of white wine (Sauvignon Blanc is what I use)
1-2 boxes of College Inn® Simple Starter Savory Chicken Sauce
2 10oz packages of homemade gnocchi
4 cups fresh spinach
1/2 cup heavy cream
Instructions
Sauté the cubed butternut squash in a frying pan with a dash of sea salt and olive oil. Once slightly mushy and browned, remove it and set it to the side.
Sauté the onion in the same pan with olive oil. When the onion is almost done, add in the garlic and finish together, then remove and set aside.
Brown the sausage in the same pan and set it aside.
At the same time, boil a pot of water and cook the gnocchi until slightly softened. Set aside.
Deglaze the pan with 1-2 cups of wine, depending on your taste. Fill the pan with 1-2 boxes of College Inn® Simple Starter Savory Chicken Sauce and add in the butternut squash, onion, garlic, sausage, and gnocchi. Let the soup simmer for 5-6 minutes.
Plate into individual bowls then add a dash of heavy cream to each serving. Enjoy!