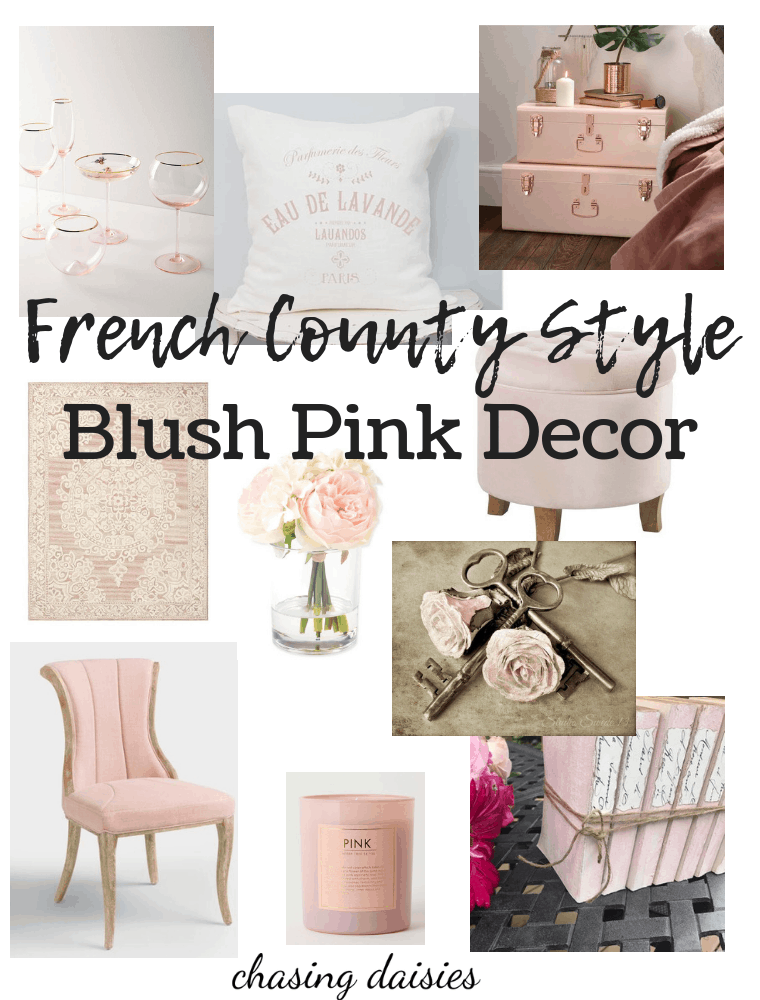 After the New Year, I always add in a few extra blush pieces to my home decor. Not only does it foreshadow Valentine's Day without being over the top, but it softens any room and makes it feel cozy for the winter months.
Blush pink is soft and feminine yet upscale, so it adds the perfect touch to traditionally wood-grounded French Country pieces. Because I like to mix Farmhouse and French Country decor, I think that blush pink adds that extra something that makes everything feel cohesive and a tiny bit girly.
How to Decorate With Blush Pink
The trick in my mind is to not overdo it – a few blush pieces strategically placed around a room to tie it together go a long way. If there's 30 things that are blush pink in a room, it can be a little overboard and remind me of a young girl's bedroom.
My favorite way to add in blush pink is to have one or two main accents (such as a chair, a rug, etc.), a few smaller pieces (a candle, books, a throw pillow) and some flowers. If you'd prefer white flowers, then a blush pink or gold vase always works well! Basically, for every blush pink piece you add in, offset it with quite a few neutral pieces.
Where to Add In Blush
I personally like to add blush in rooms that need a soothing effect. Basically, not the kitchen. It's also great to add elegance if you need that extra touch!
I've put touches of blush pink in the bedroom, my office, the living room, and the bathroom. I'd hold off on more active rooms, but sometimes you can even get away with a hint of it!
Complimentary Colors
I personally love pairing blush pink with creams, greys, and golds, but this pale color is pretty versatile with a lot of color schemes. For example, in my guest room, I'm planning to do a navy blue nautical theme with gold and touches of blush.
It also goes really well as the one accent color with an otherwise neutral palette.
My favorite colors to pair with blush are:
White
Gold or Silver
Grey (light or charcoal)
Navy or Indigo Blue
Misty Grey (bordering on silver)
Personally, I stay away from any super vibrant colors when I'm incorporating blush pink, but this is mainly because I like a softer French Country feel – there definitely isn't anything wrong with bright colors!
I 100% stay away from citrus colors when decorating with blush.
Related Posts:
Here are some of my favorite blush French Country pieces for the New Year! Click on an item to check the price and retailer.

Here's one of my Pinterest boards that showcases blush French Country looks if you need some inspiration!