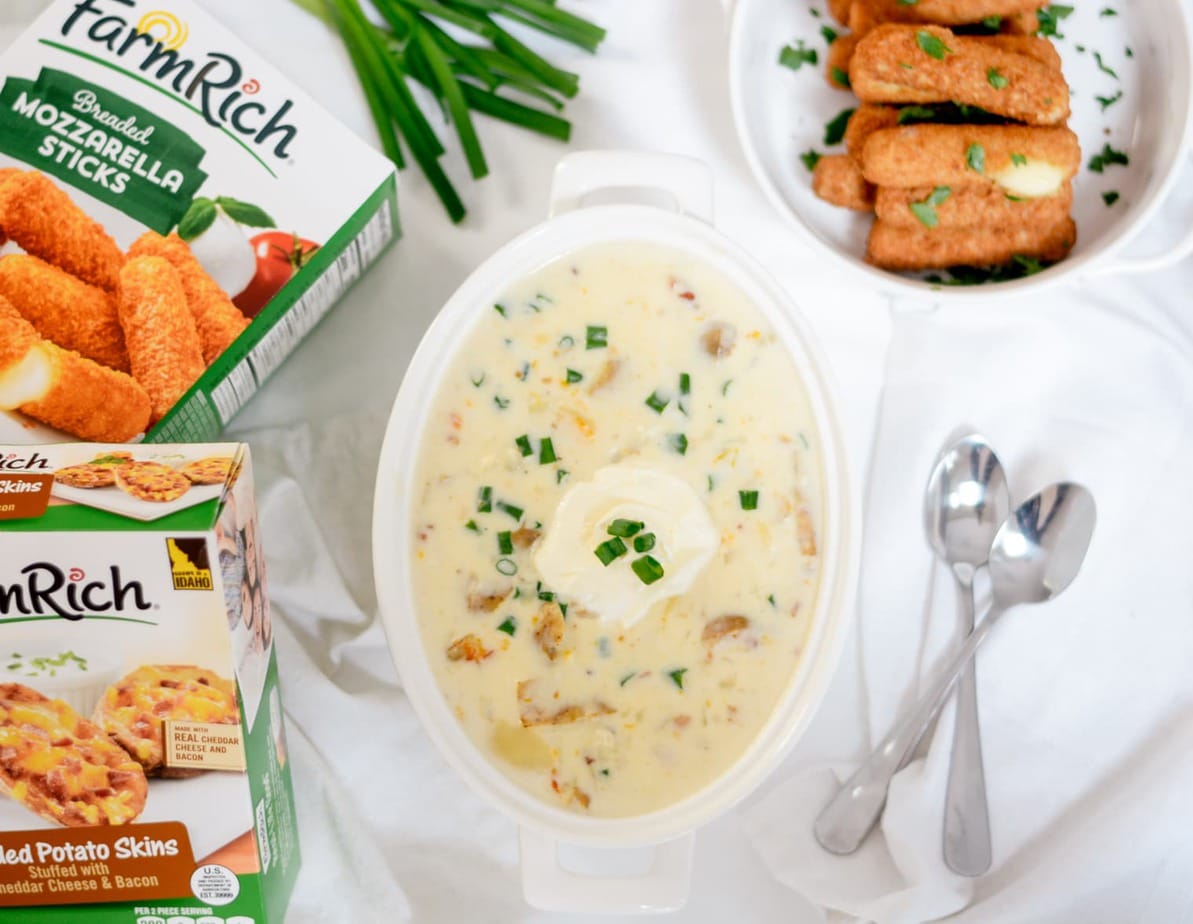 Every Sunday, my family has a long standing tradition of getting together to watch the football game (or often multiple, if my dad has anything to say about it). We were lucky enough to have my sister home from college on this past Sunday to make it really feel like old times. I brought a nice hearty Potato Soup made in collaboration with Farm Rich which I thought would be a perfect blog post considering that it's football season and the biggest football matchup of the year is almost here.
Some of my best memories growing up came from these Sundays. Sure, my dad might get a little over exuberant when our team inevitably lost, but we always had tons of food, a good excuse to lay around on the couch, and a lot of family bonding.
Now, we've turned these Sundays into "homegates," which is perfect since (while tailgating definitely seems fun) none of us are in love with the cold. Even though we stayed indoors, I wanted to bring something that was hearty and unique while still having the football/gameday vibe.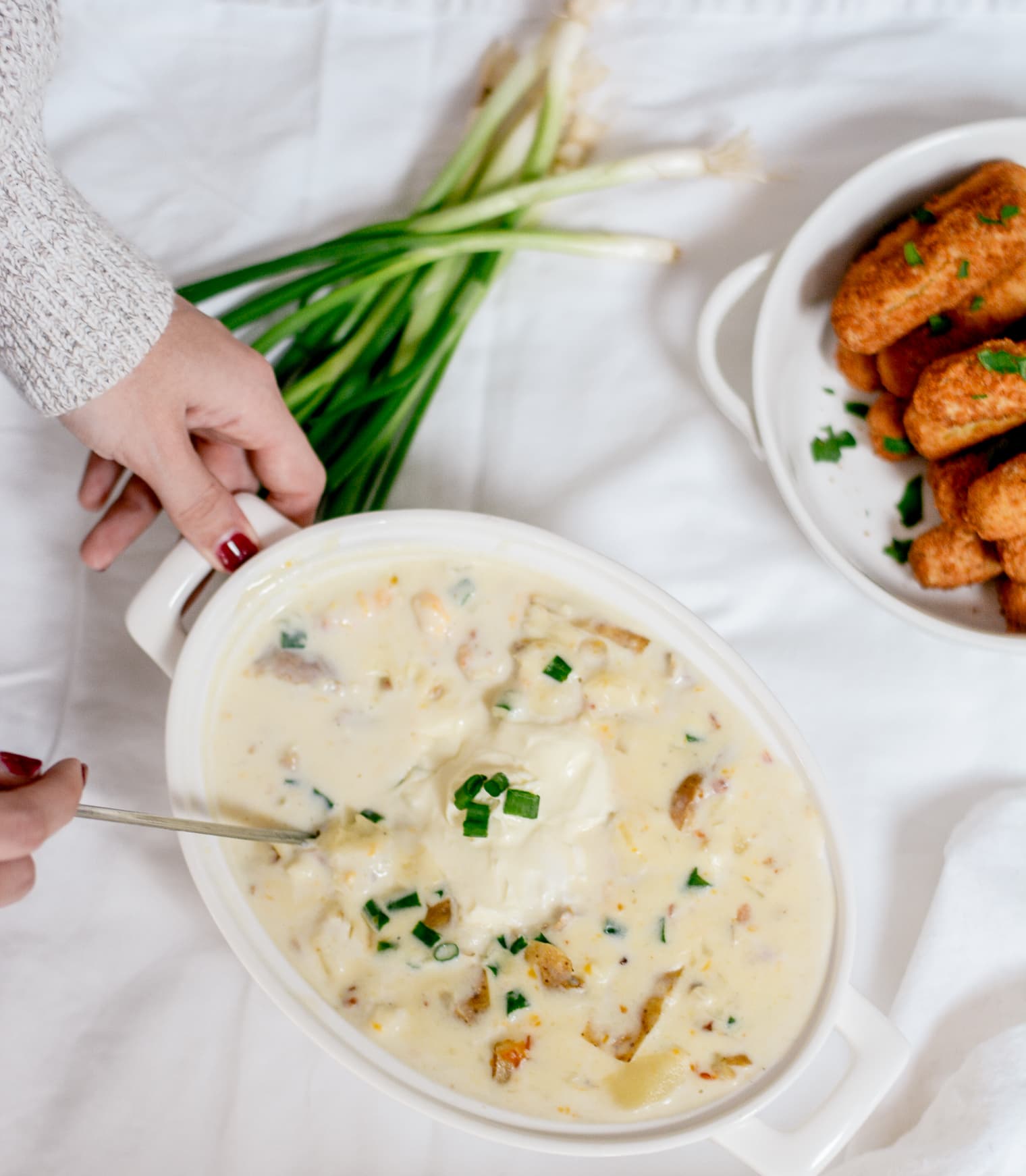 This potato soup did the trick! It's filling (there's lots of protein for the guys), creamy, and overall delicious. It's also a great dish even for picky eaters! I love pairing it with Farm Rich Mozzarella Sticks. They're great for dipping and are way easier and quicker to make than homemade bread sticks or anything similar. Who doesn't love mozzarella sticks?
Scroll down to the bottom for info about how to enter the Farm Rich Instagram giveaway!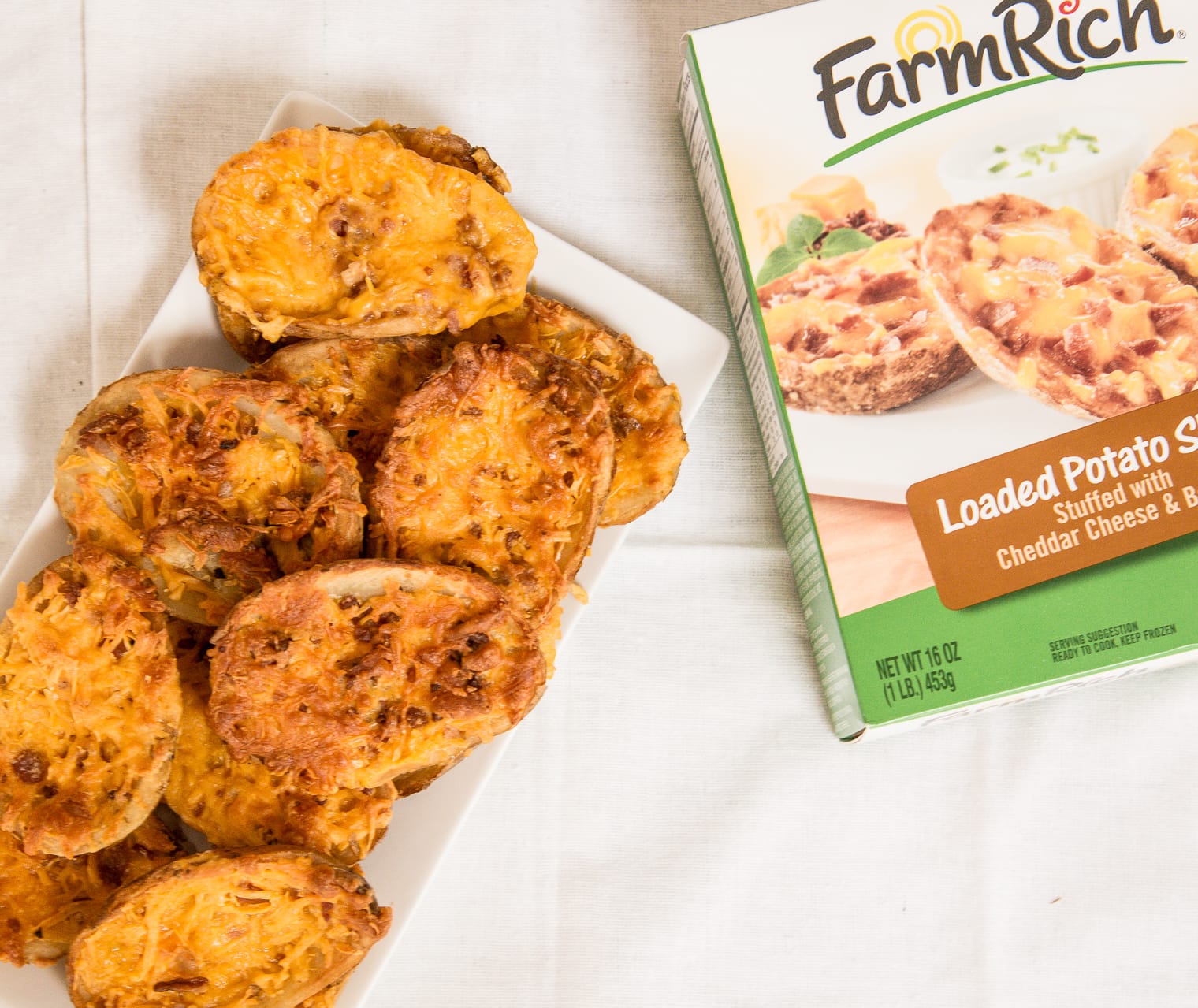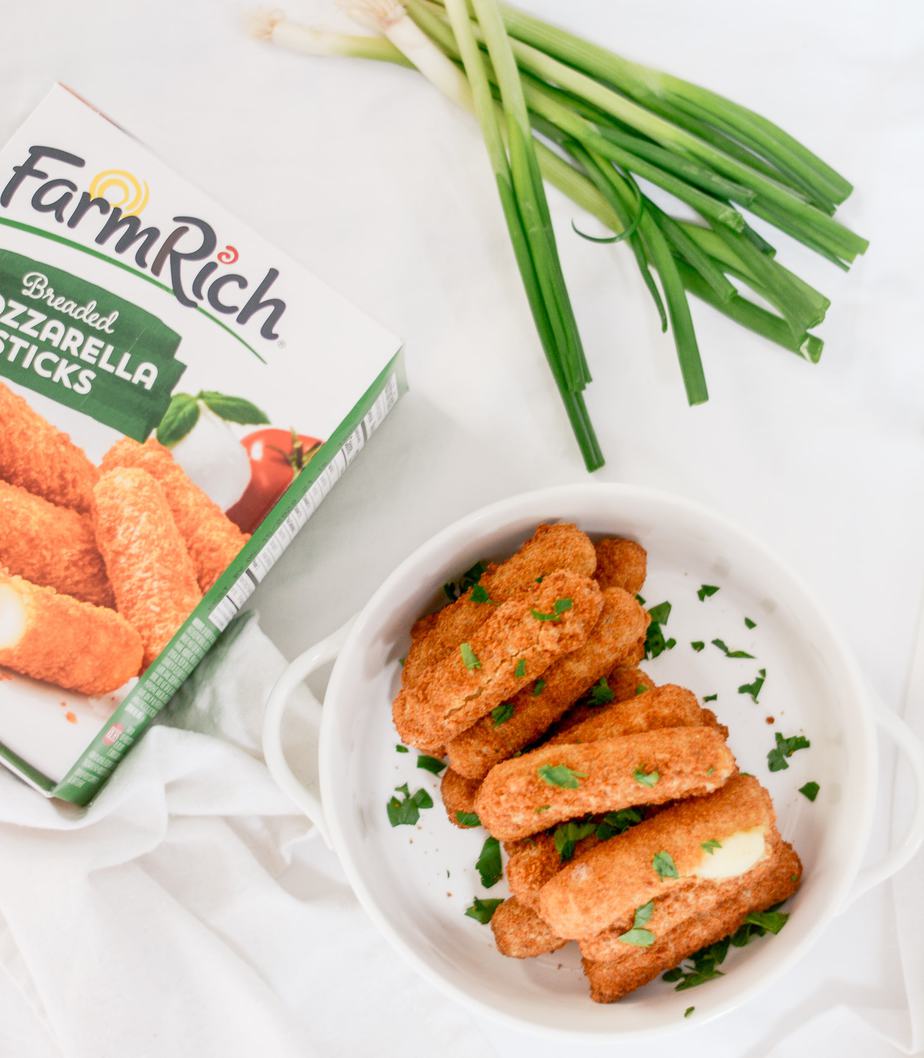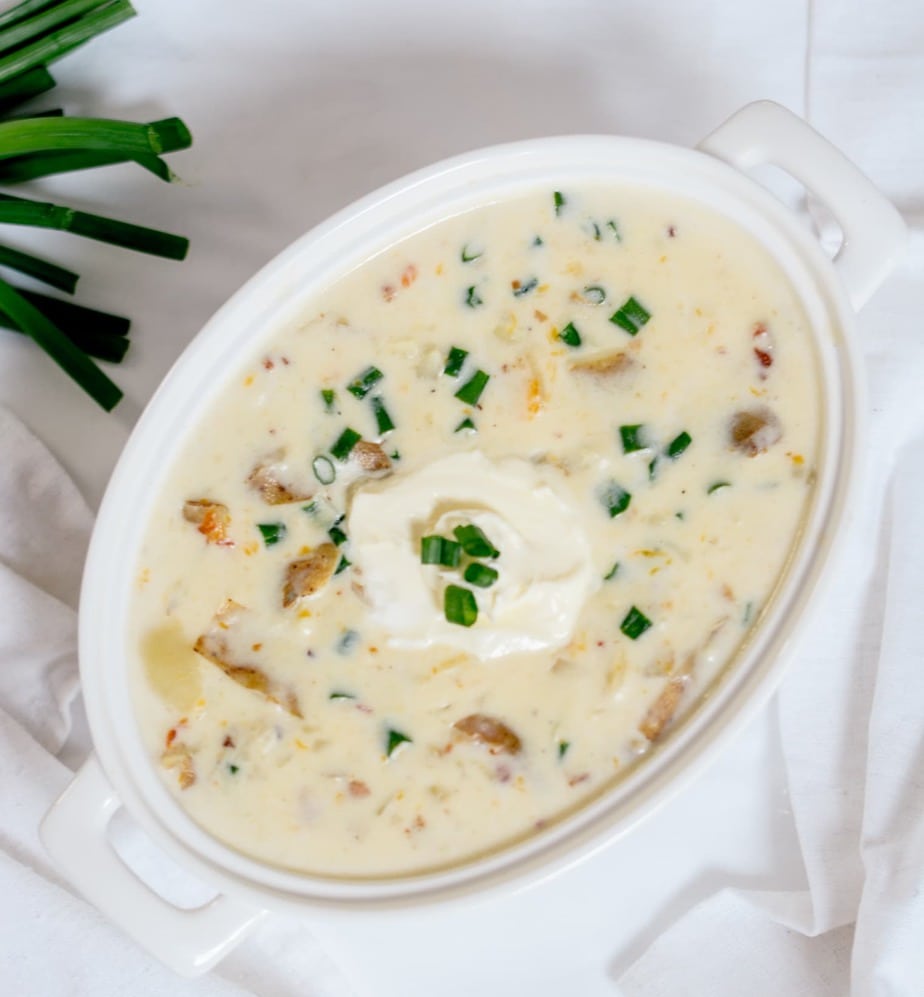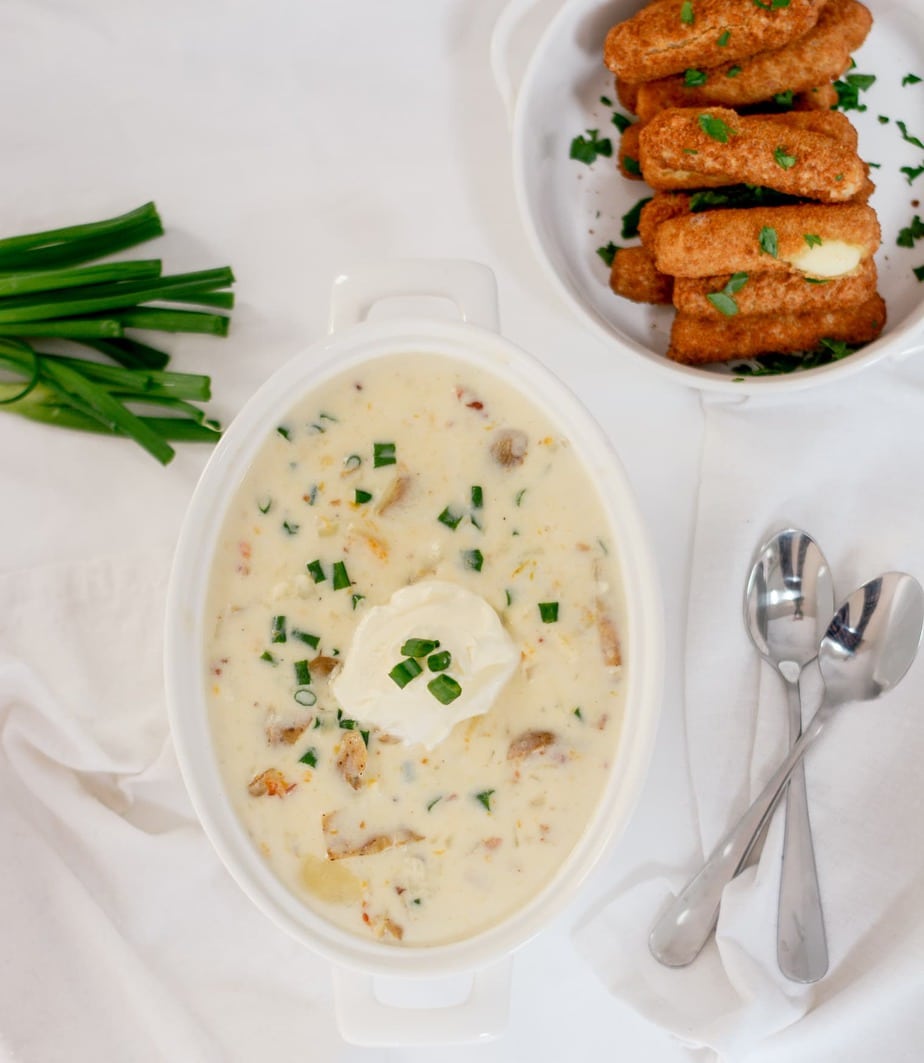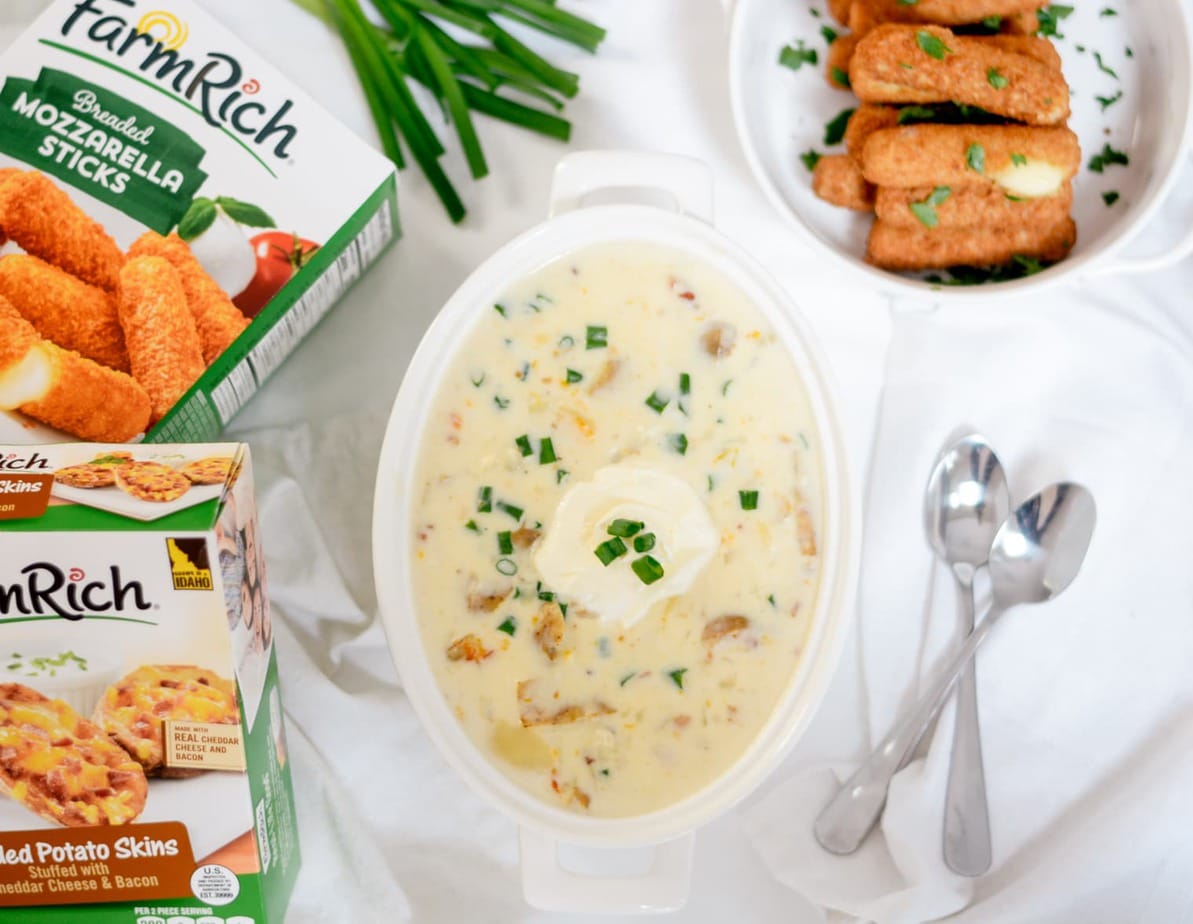 I used Farm Rich Loaded Potato Skins and cooked them according to the directions first to get that extra crispiness that you don't get using regular potatoes. I also love how they're already loaded with the bacon so that you don't have to deal with an extra 20 minutes of cooking that.
When I'm ready to add the potatoes in the soup, I cut them up using cooking shears (although you could easily use a knife as well). I like mine in pretty small chunks (I do half lengthwise and then four pieces across), but the nice thing about this is that you can go as big or as small as you'd like.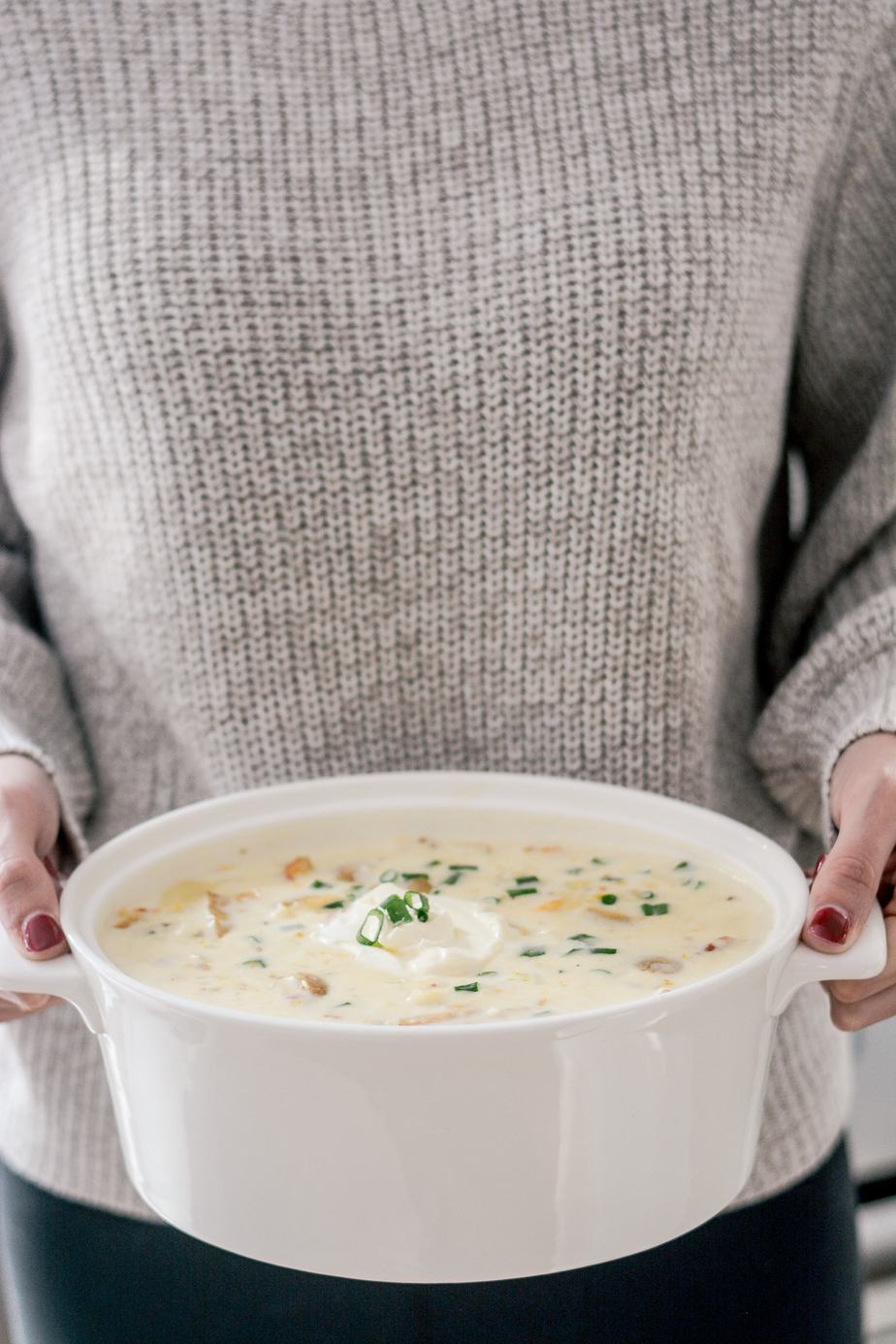 I love using Farm Rich items to make super easy appetizers! Many of the choices (my typical ones are Mozzarella Bites, NEW Grilled Cheese Sticks, Pulled Pork Sliders, Meatballs and Loaded Potato Skins) can be ready in a few minutes in the microwave and can then be used in really creative ways.
I picked up these Farm Rich Loaded Potato Skins and Mozzarella Sticks at my local Hannaford Supermarket. There's a really handy product locator tool on the website that will tell you exactly what product is available at any supermarket right now.
Loaded Potato Soup
3 tbsp butter
1 onion (chopped)
6 cloves garlic (minced)
1/4 cup flour
2 1/2 cups milk
1 1/2 cup heavy cream
2 boxes Farm Rich Loaded Potato Skins
1 cup shredded cheese
A handful green onions or chives
A dollop creme fraiche or sour cream
1 box Farm Rich Mozzarella Sticks
Cook the Farm Rich Loaded Potato Skins according to the instructions on the box.

Add the butter, onion, and garlic to the pan. Lightly cook until translucent.

Add in the flour and whisk until thickened and lightly browned.

Gradually whisk in the milk and heavy cream. Whisk until slightly thickened (2-3 minutes).

Stir in cut Farm Rich Loaded Potato Skins. Let blend for 1-2 minutes, then add in cheddar cheese. Simmer and watch closely (stirring occasionally) for 5-10 minutes.

While the soup is simmering, bake the Farm Rich Mozzarella Sticks according to the directions.

Add salt and pepper to taste. If the soup is too thin, stir in more cream; if it's too thick, add more milk.

Serve in a pot (with adjacent Farm Rich Mozzarella Sticks) and garnish with chives or green onions.
Check out the different Farm Rich appetizer products here, or more game day ideas here.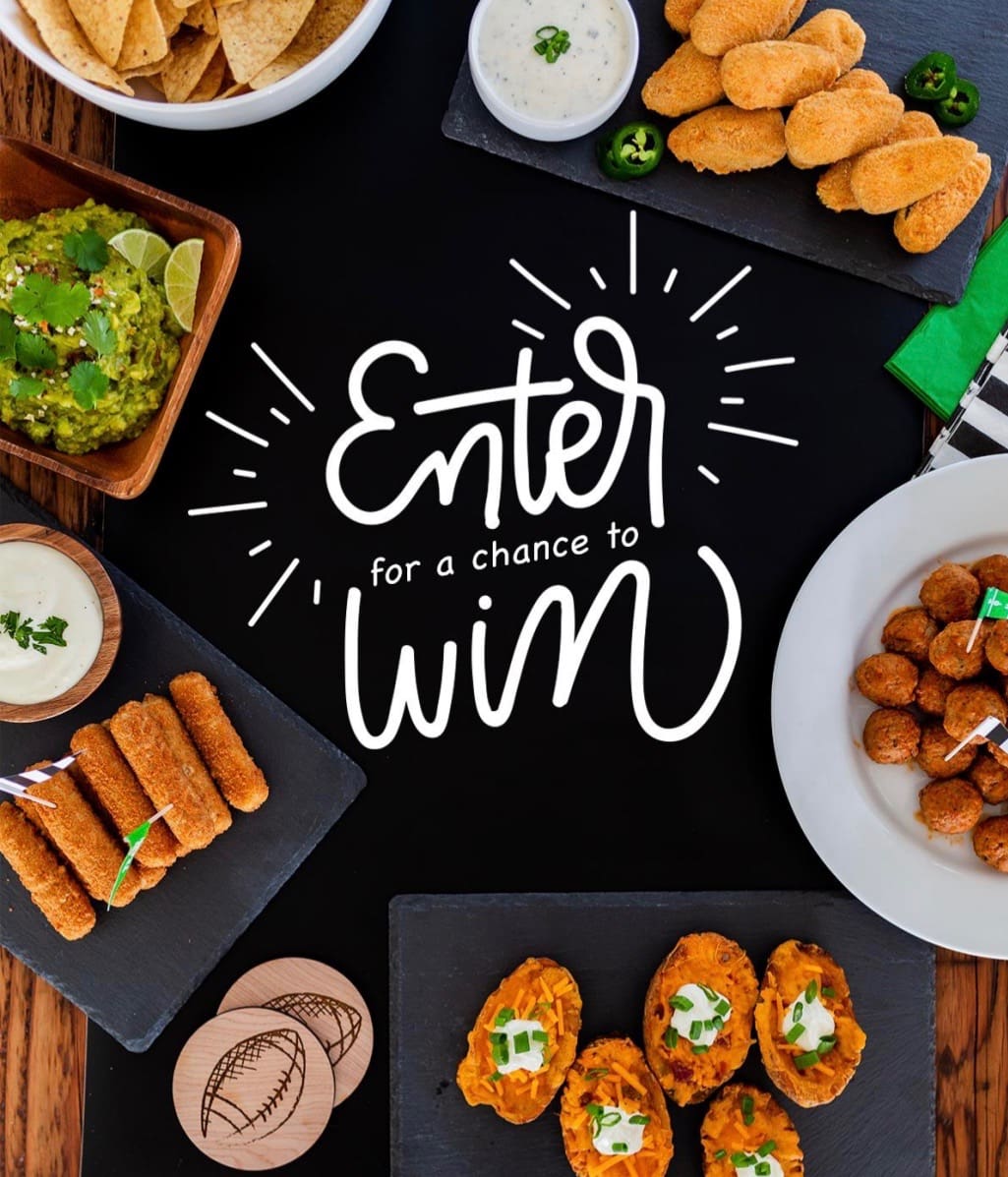 There's also an awesome Instagram giveaway that Farm Rich is hosting for the rest of the football season! Official rules HERE.
Thanks to Farm Rich for sponsoring this post. All opinions and ideas are always my own!