Today we're sharing the top fall nails of 2023! These fall nail designs will give you all the autumn feels.
Fall is undoubtedly the best time of the year to wear warm colors. Whether you're sporting an oversized beige sweater, walking around in brown booties, or showing off newly painted caramel fall nails, all of these yellow-based tones just feel extra cozy.
Although I love having my nails done to fit each season, there's something special about fall nail colors. They're clean yet cozy at the same time and can help to make a super comfy outfit feel upscale and on-trend.
So today, we're sharing our favorite designs for fall nails 2023!
Fall Nails 2023: Trend Alert
Almost every year, fall nails tend to be in warm, autumn colors (no surprise there). However, the actual trends and designs change quite a bit.
Here are the hottest fall nail trends of 2021.
1. Abstract Nails
Unsurprisingly, abstract art nails are still super popular this fall. Abstract nails can range from a few sparkly swipes on a regular nail base to various colored swirls.
If you scroll through the inspiration photos below, you'll see lots of abstract fall nails designs. I especially love fall nails with abstract designs in a mixture of brown tones.
2. Astrology/Witch Designs
Astrology is more "in" than ever, even on your nails! This fall, paint a black ombre and showcase the moon phases, or opt for witchy, cloudy nails that are a bit mysterious.
I especially love astrology prints over dark or black nails.
3. Dark Almond Fall Nails
Dark colors are definitely trendy this fall. The almost nail shape is here to stay, so one of the hottest looks is painting your almond nails in darker shades.
I personally like a rich brown, warm grey, or black.
4. Fall-Colored Tips
Reverse tips are still trendy, so switch up your colors for a fall manicure.
I especially love natural nails with brown tips. You can even through in an accent nail. I included plenty of example photos below!
5. Shades Of Orange
Just like any other autumn, orange fall nails are still super trendy. There are so many different orange fall nails ideas out there this year!
However, try out various orange shades on each nail for a layered manicure.
This look is especially cute in almond, coffin, or square shapes!
Trending Fall Nails Designs
If you're looking for fall nails ideas, we have 101+ different fall nails designs that suit any style! From gothic and dark options to subtle hues or patterns with leaves and flowers – there's something here to inspire everyone.
Here are my favorite designs for fall nails 2023. Feel free to browse through and use these photos as inspiration, or bring your favorites to your next nail appointment. Enjoy!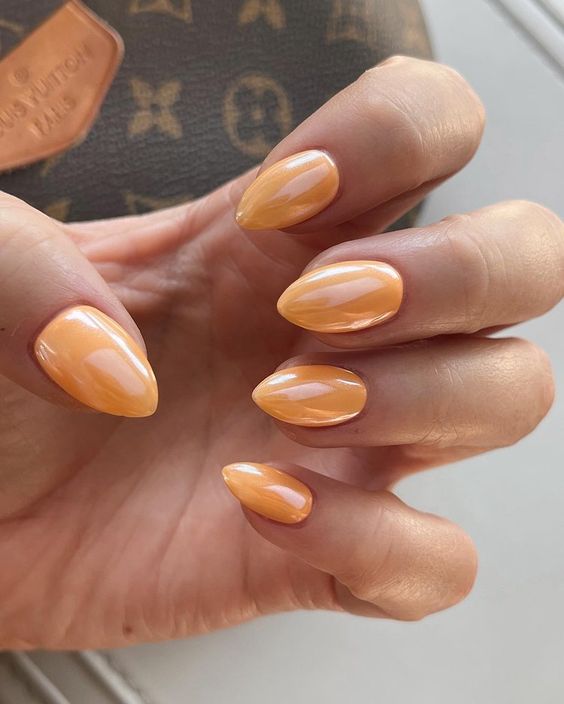 Getting started, why not opt for some safe but beautiful earthy colors like these gorgeous warm orange-yellow nails? They're very simple to do and you can't go wrong with a classic regular polish! So even if you're a bit of a noob when it comes to doing your nails, you can easily achieve this one!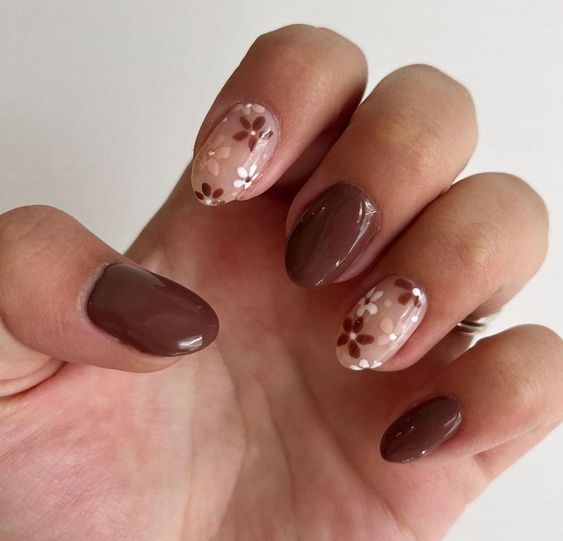 When it comes to sweet or cute fall nails, one of my favorite colors to do is brown. Especially the ones that kind of has a similar shade as my morning coffee. They just look so delightful to look at! You can even make something a bit different and do some dainty floral nail art with these colors.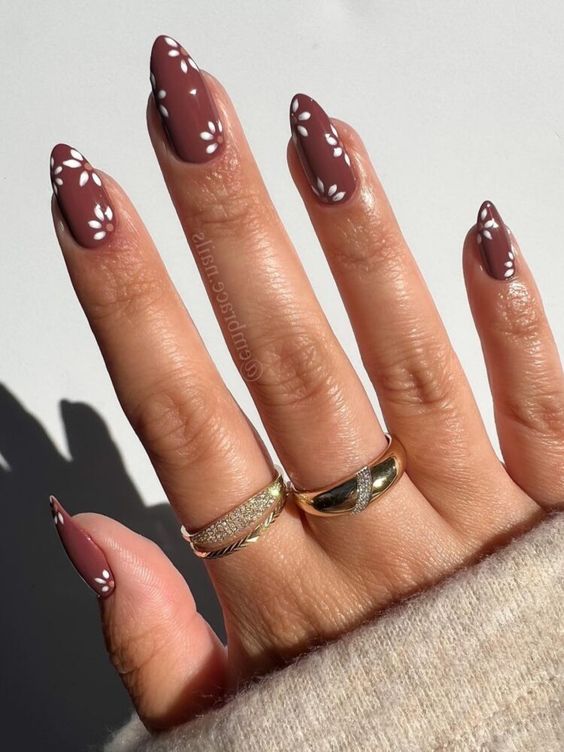 Here's another dainty floral nail you can do! This particular design is a little bit different from the previous one. It doesn't use negative space for the accent nails. Not to mention, you can easily achieve those little flowers with a nail dotter!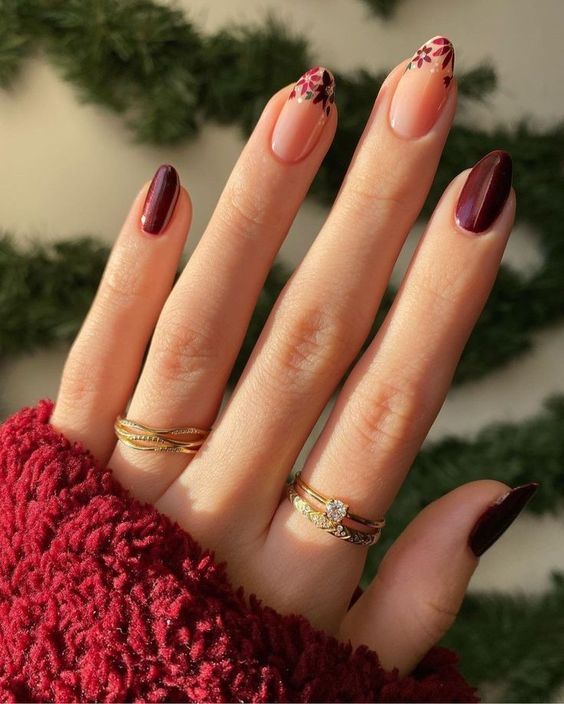 Another way to recreate your classic floral fall nails is by combining them with another classic design: the French nail! The use of the negative space makes this whole manicure look even a lot chicer!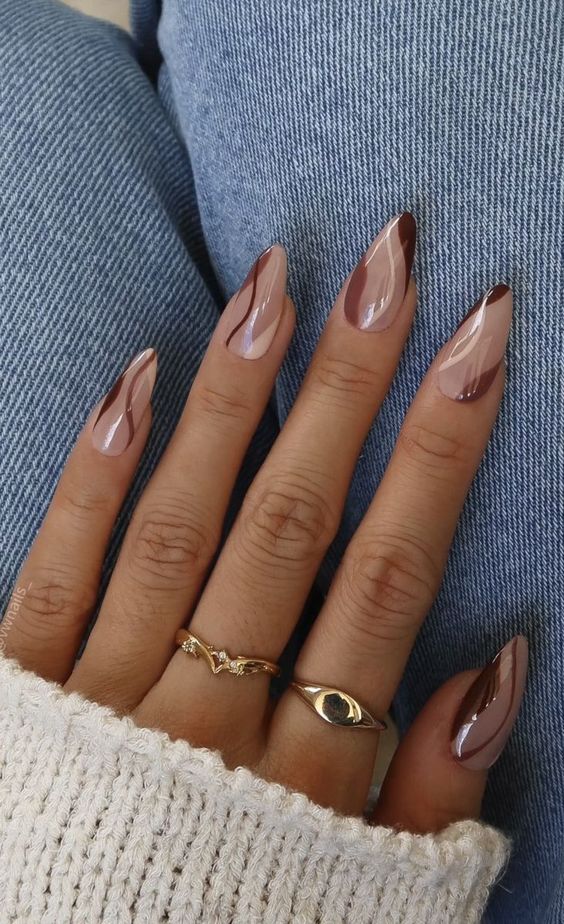 Swirly patterns have been very trendy these days. And I can totally understand why! These classy and elegant patterns are totally chic and gorgeous! You can even create your own unique and abstract design using your favorite fall colors.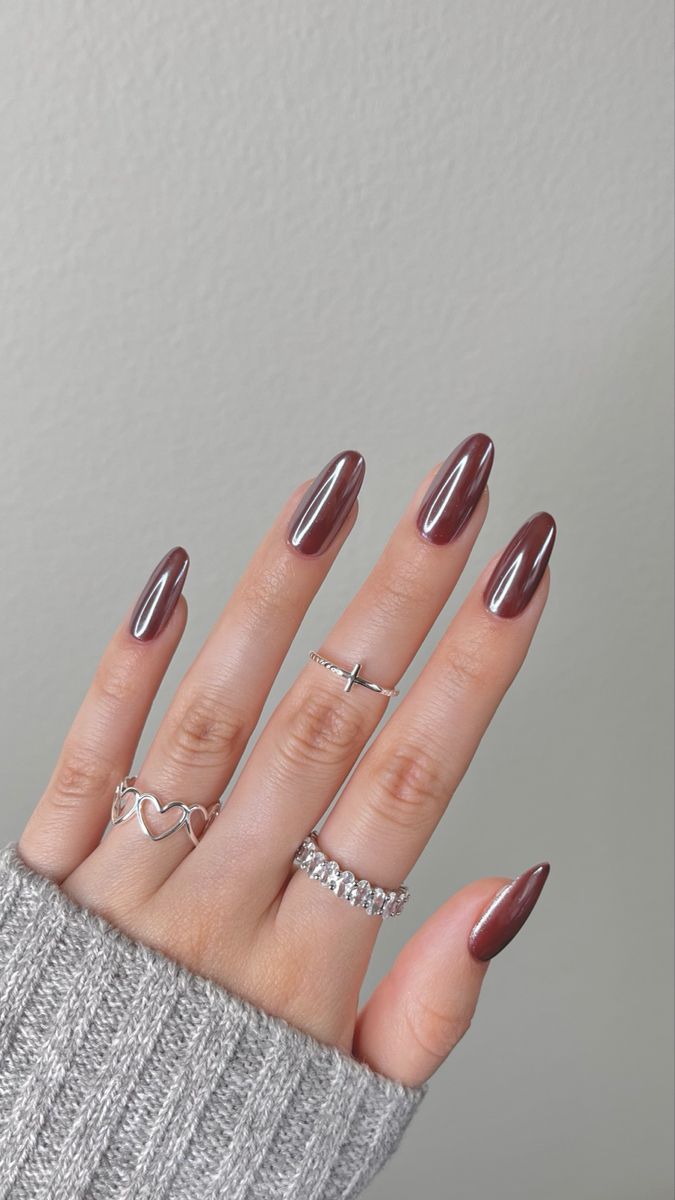 If you want something simple and foolproof for your fall nails that you can use for your everyday endeavors, this gorgeous espresso shade won't disappoint! Whether you're lounging in the comfort of your home or going to your office for work, these nails will suit any occasion or event!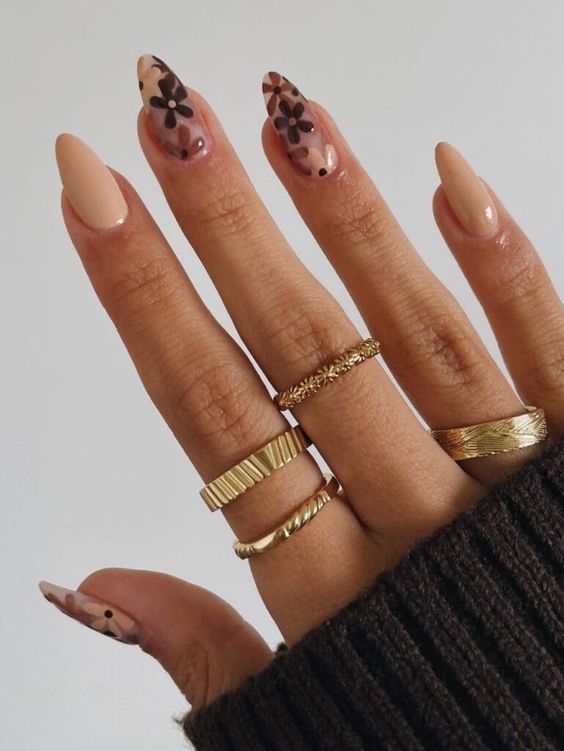 Looking for cute fall nails that still feel grounded? You already know my love for brown nails, but these ones have a lighter shade compared to the previous ones I've shown on this list. It almost reminds me of my morning coffee after putting too much milk into it.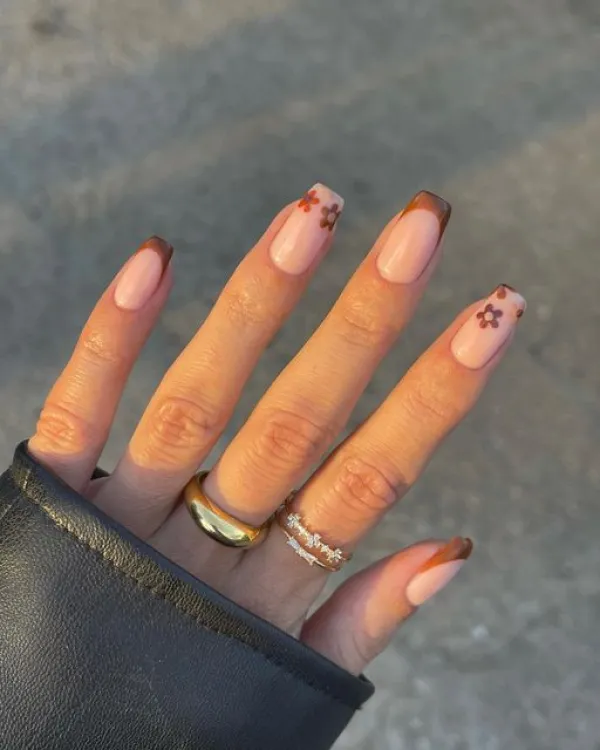 For a more minimalistic floral design, you can combine these dainty flowers with your French manicure. Plus points if you use earthy, brown colors to fit the fall mood!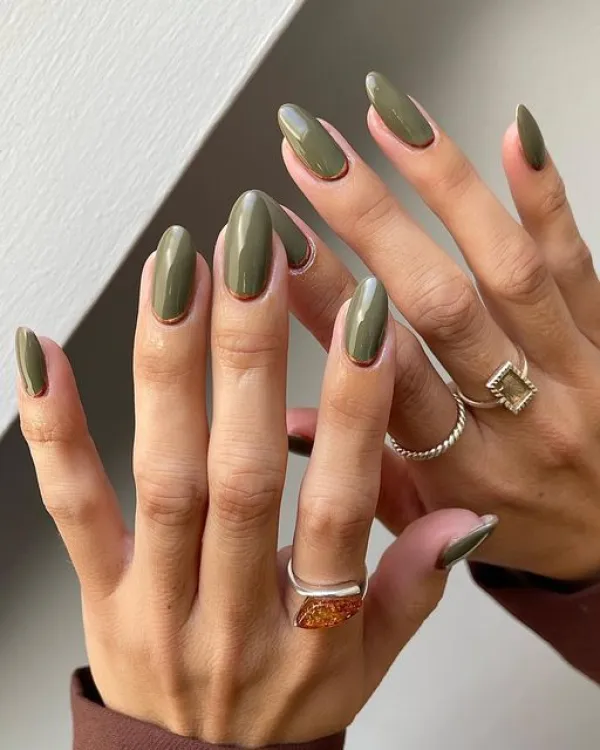 Aside from brown shades, my favorite color to use during the fall season is this gorgeous olive green. It reminds me of the leaves before they turn yellow and orange and start falling from their branches.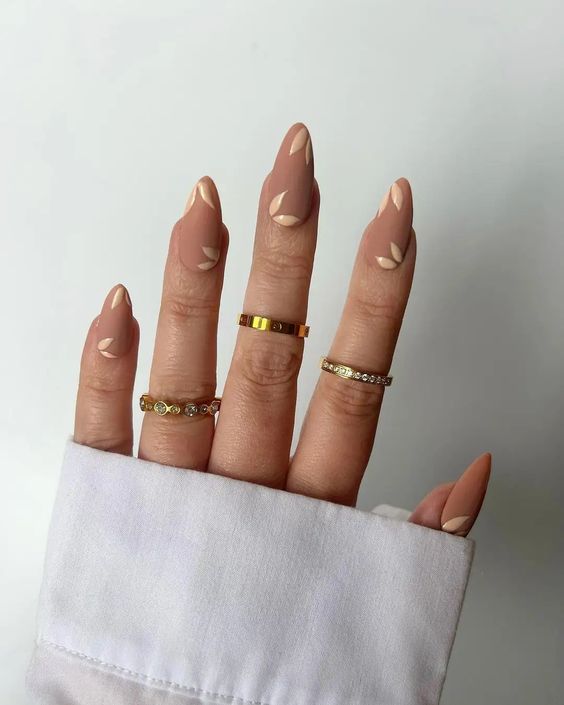 Mimic the beauty of the fall season by painting fall-themed leaves around your nails. You can even opt for a longer, almond shape for your nails to give it a more feminine and dainty look.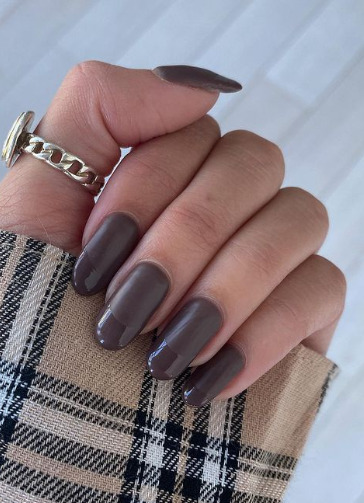 Give your fall-themed nails the most subtle French manicure by using different textures for your polish. One can be matte, and the other can be your regular glossy finish. The brown shade gives it a cool and sophisticated vibe too!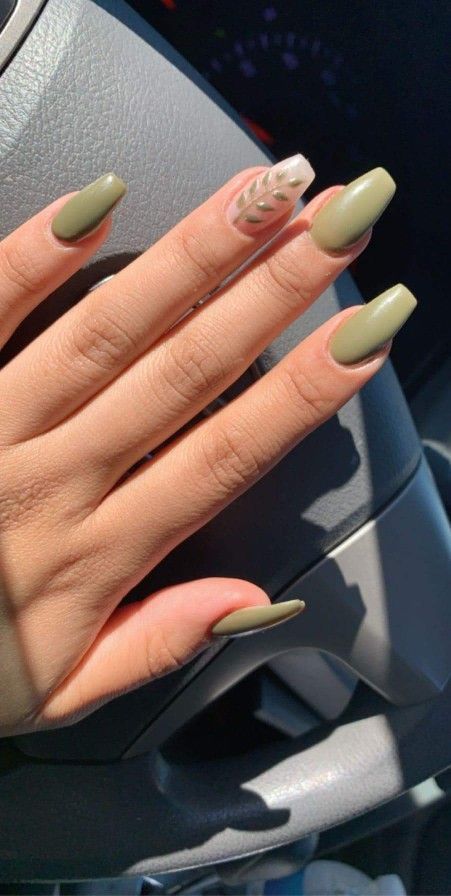 These sage green nails are utterly gorgeous! The dainty and minimalistic leaf motif for the accent nail makes it even more suited for the fall season. What's more, this is a versatile nail art you can use for any nail shape.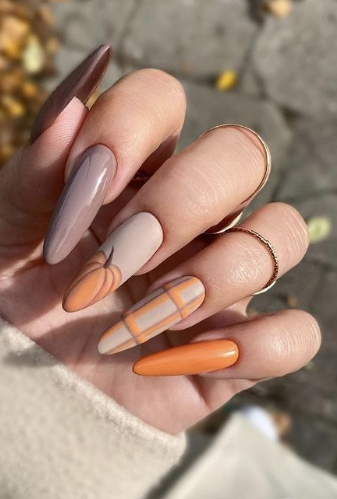 I'm loving these pumpkin patch nails! From the earthy, neutral tones to the gorgeous and quirky fall-themed patterns, you can't get any better than this! For the pumpkin spice latte lovers out there, this is the manicure for you.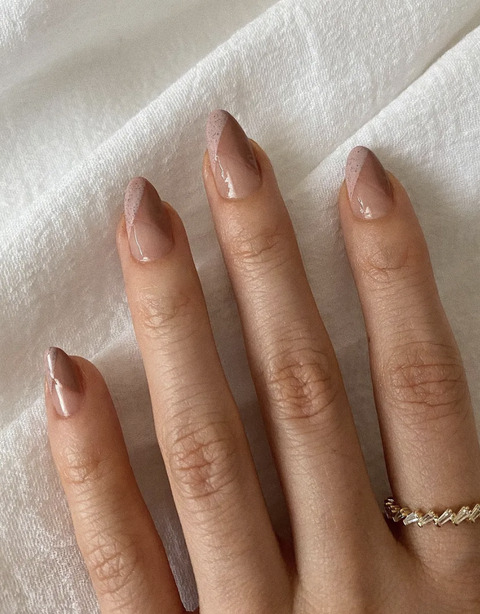 Geometric patterns like this one have a touch of elegance and sophistication. Especially when you pair it with neutral brown tones to fit the fall season. You can even accentuate it with a bit of subtle shimmer.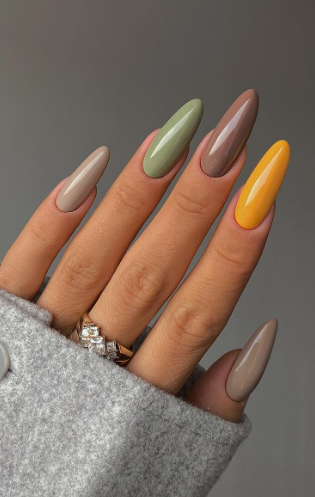 Can't settle on a single color for your nails? Why not opt for a different shade for each nail? Pick earthy tones so that they would perfectly fit the fall vibes of the season.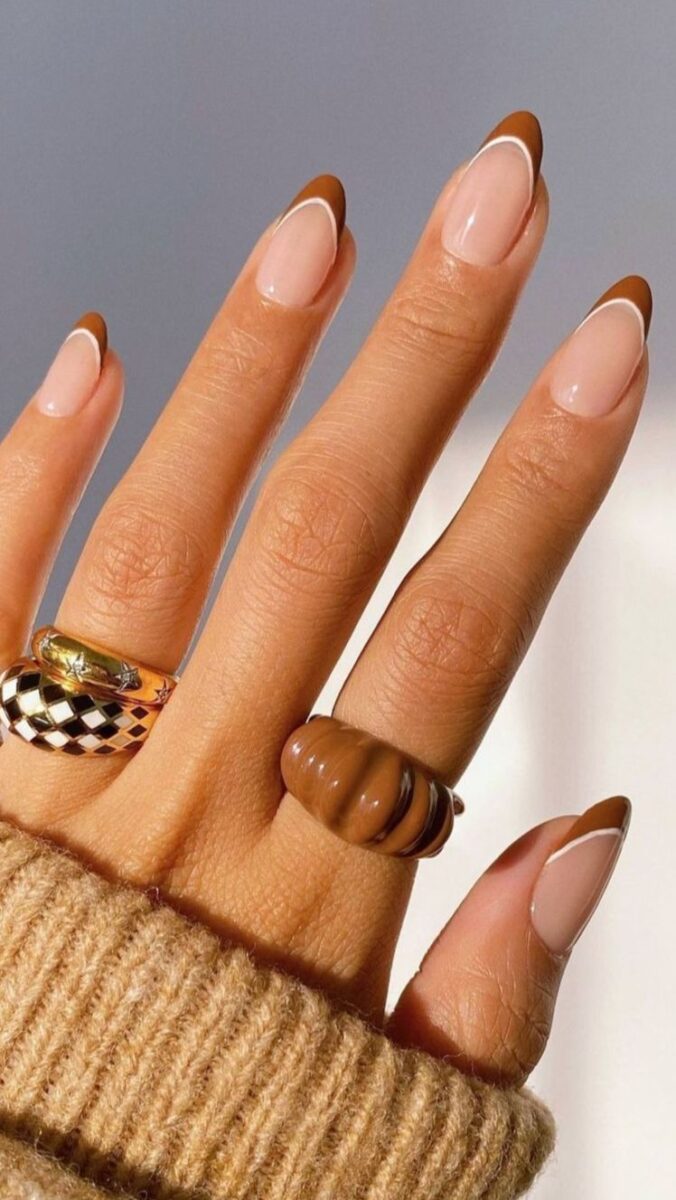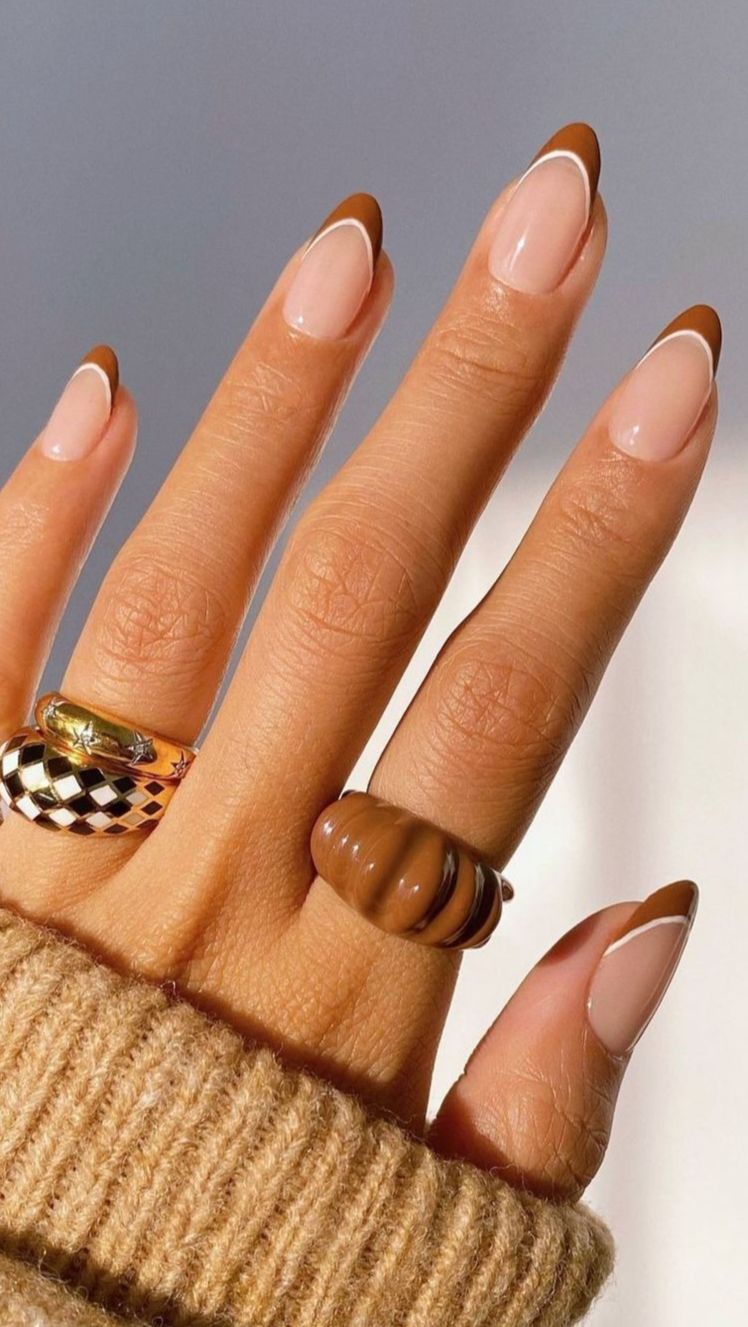 Forego the usual white French tips and go for a color that fits the fall mood. Perhaps, a coffee brown or a warm, deep yellow would be perfect?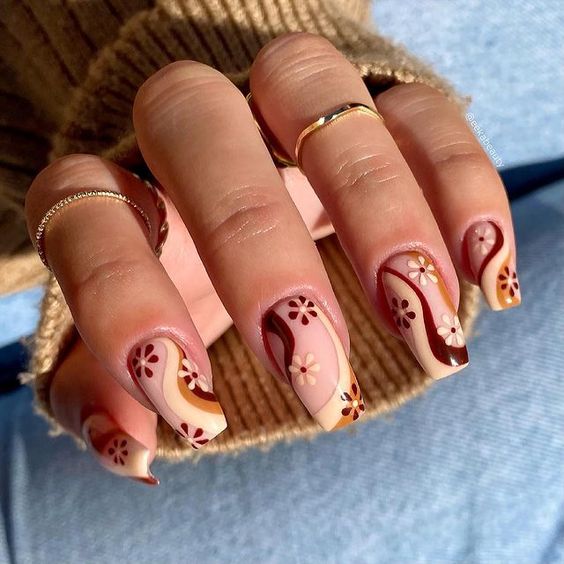 These groovy patterns remind me of the whimsy 70s! From the swirly lines to the dainty florals, it's utterly cute! The coffee-toned colors make it even more suited for the fall season.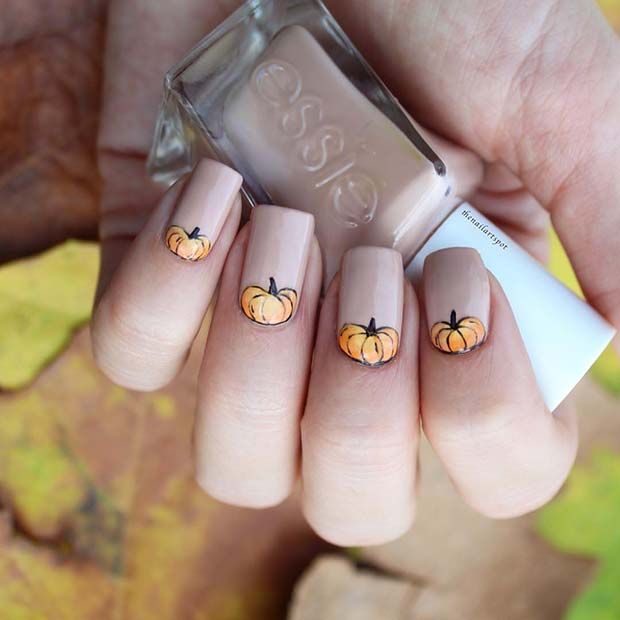 Here's another pumpkin-themed nail art for you to use during the fall season. This would look so cute when you go trick-or-treating or visit a pumpkin patch!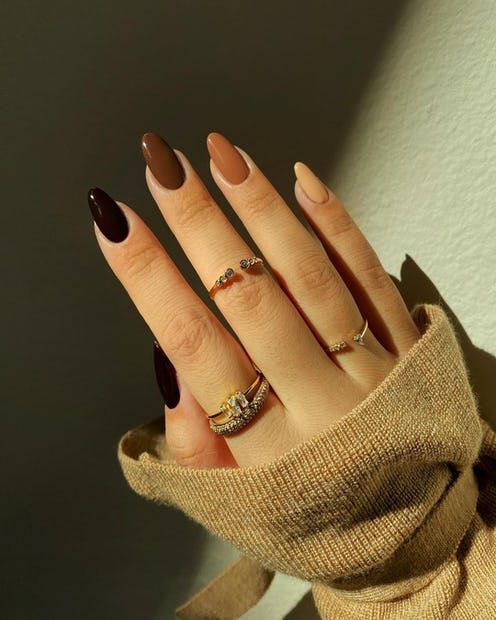 I love the varying shades of brown on these nails. They kind of remind me of different kinds of coffee depending on how much milk you put on them. So adorable!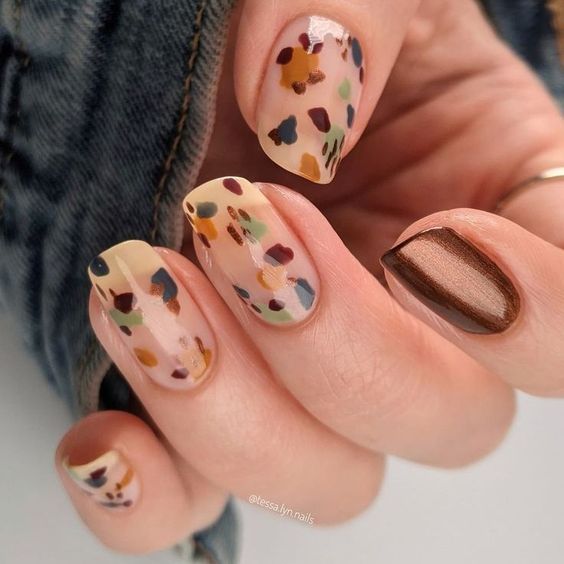 These speckled nails are so perfect for the fall season! It's also a great way to incorporate different warm, earthy colors if you find yourself having difficulty settling for just one. The best part? You can easily do it even if you're a total newbie with nail art.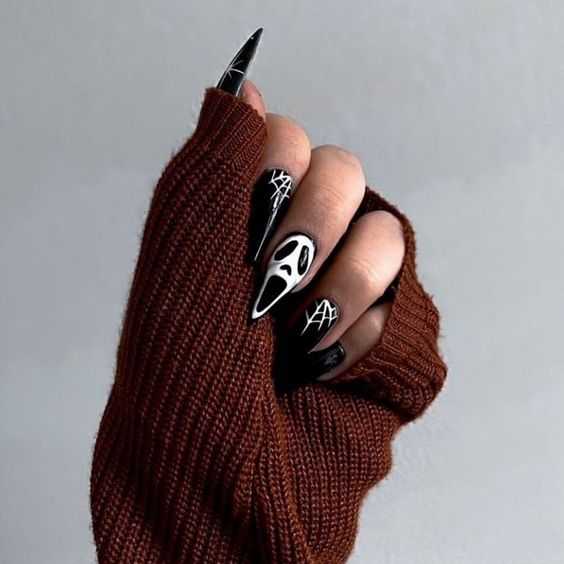 For something spooky to fit the Halloween season, why not use horror movie references for your next fall-themed manicure? This would look so cute as you go trick-or-treating!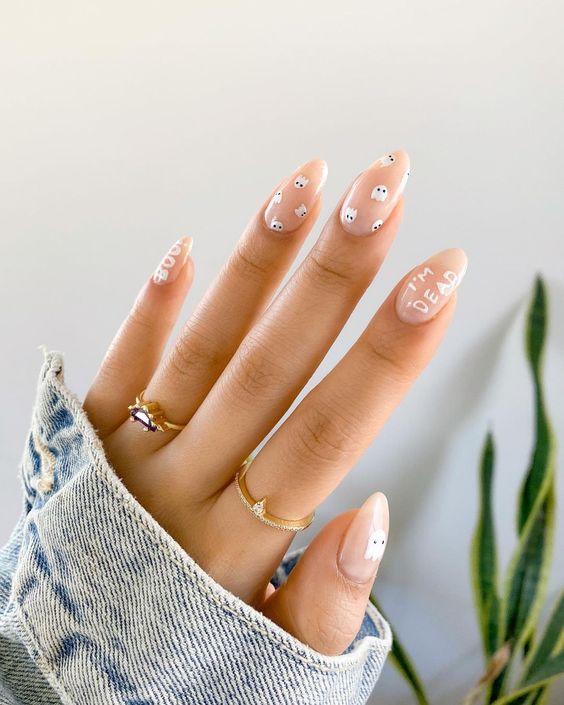 If you're not too fond of horror movies that much, why not try out these adorable yet still spooky nails instead? The design is also a lot more minimalistic and clean with the use of negative space.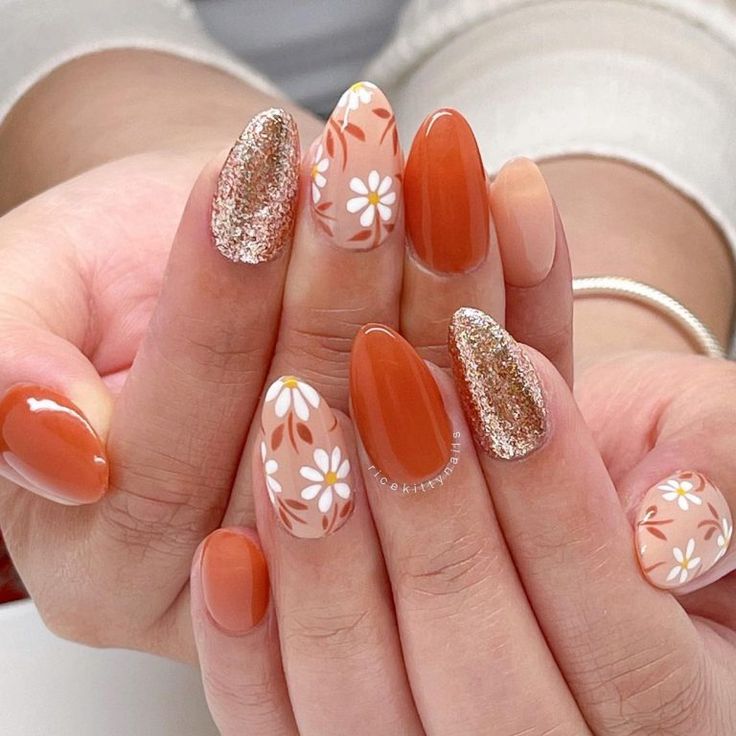 The fall season is one of the perfect times to use orange shades apart from the summer months. This gorgeous hue reminds me so much of falling leaves and pumpkins! You can also add in some floral fall nails designs or even a touch of glitter for something totally unique.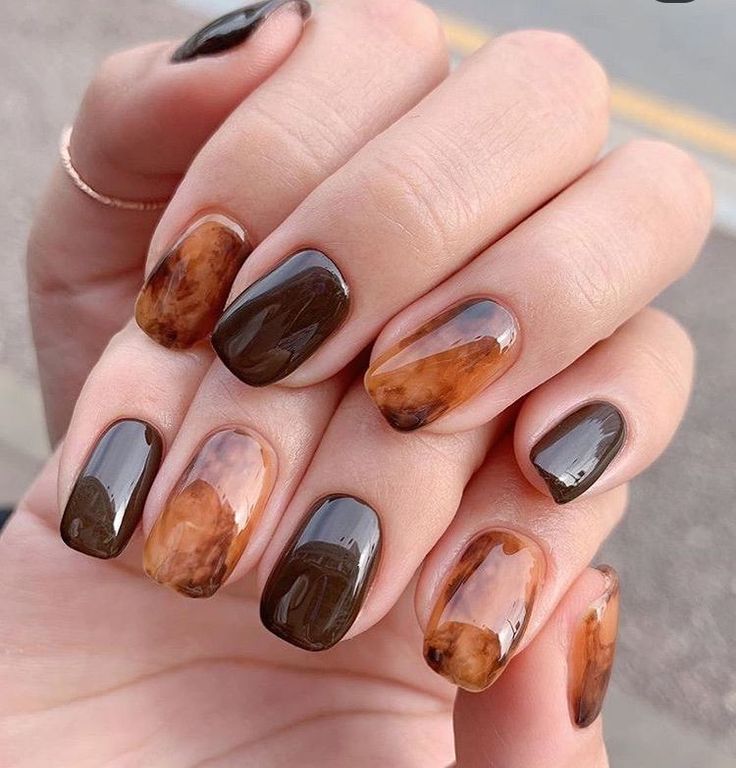 This coffee-themed nail art is, without a doubt, my favorite set of nails on this list. If you're someone who can't function without caffeine, you'll certainly love this cute manicure! They look so chic too!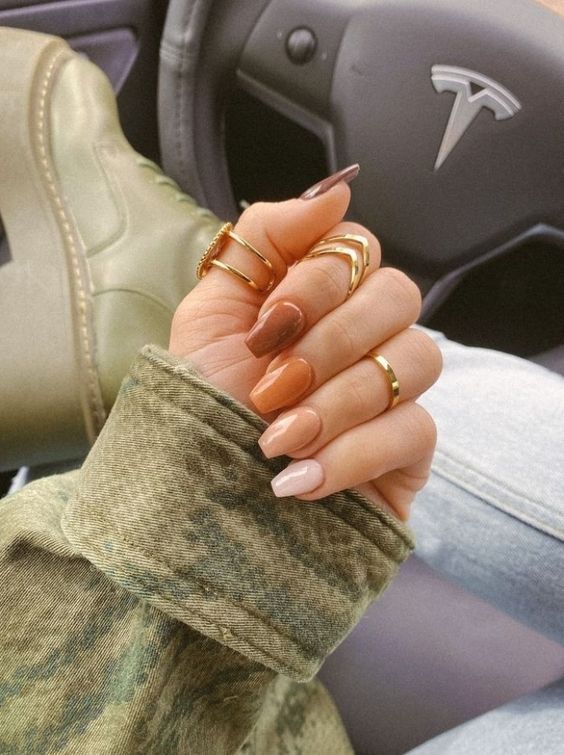 I'm loving how these varying fall season colors resemble a gorgeous gradient design. What's more, you can easily achieve this regardless of your nail shape!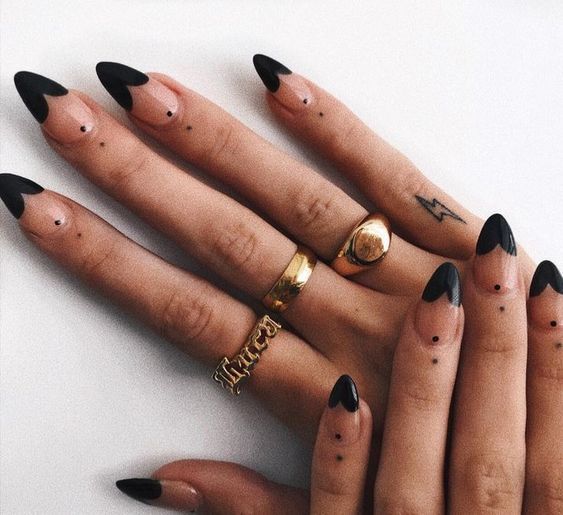 For something sleek, understated, and classy, these nails are perfect! If you're not a fan of using colors on your nails, you can always go black. It's such a timeless and classy color that would fit any occasion!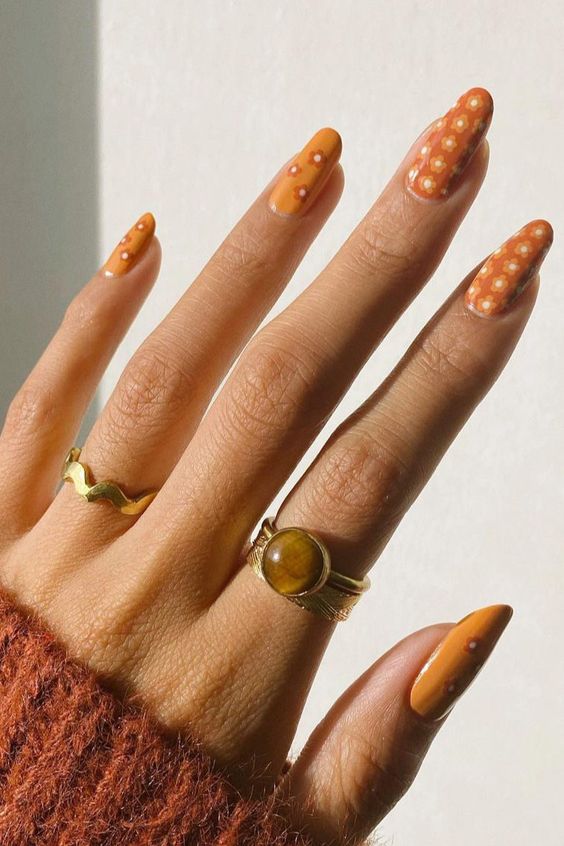 Can't get enough of floral nail art? Well, this manicure will surely satiate your need for these gorgeous patterns! With this particular nail art, less isn't more. So get that nail dotter and put on as many flowers as you can on your nails!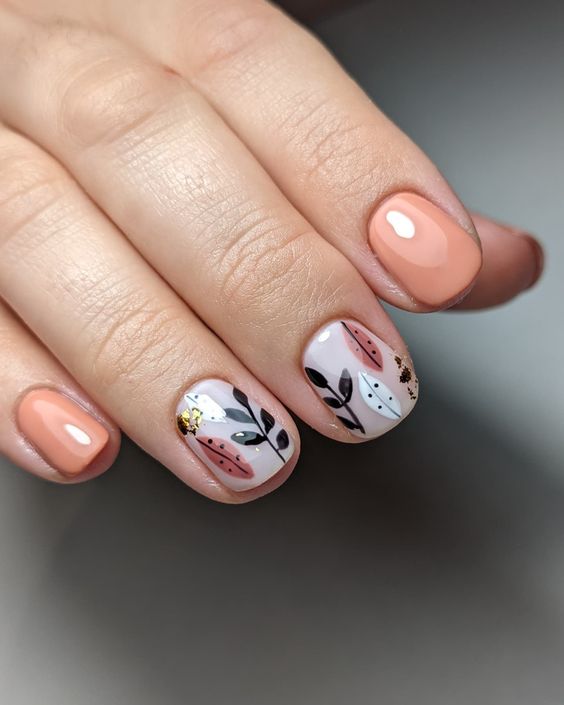 Get in touch with the beauty of nature by using it for your next nail inspo. You can play with the colors and use your favorite shades or mix and match something totally new!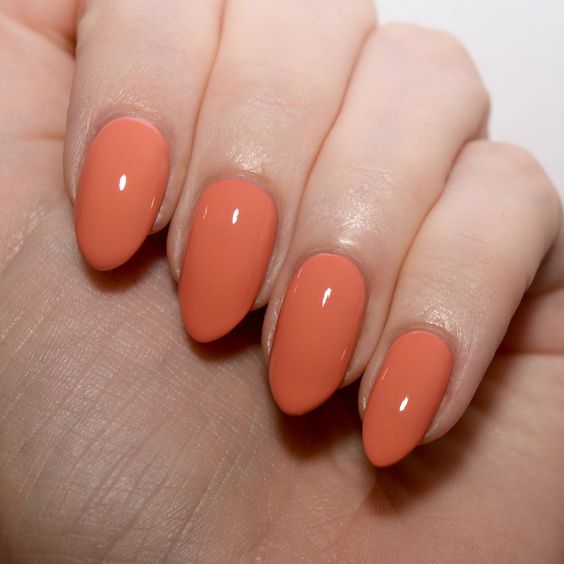 Simple yet classy, these nails are totally foolproof! If you're looking for a fall-themed manicure that you can use in the comfort of your home without getting too fussy, this is the perfect manicure to do!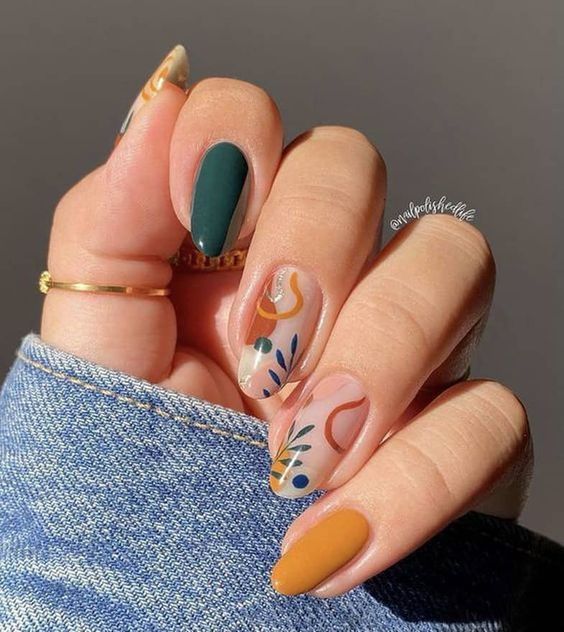 I love the combination of abstract art and leaves on this particular manicure! Plus, the colors are utterly gorgeous and perfect for the fall season.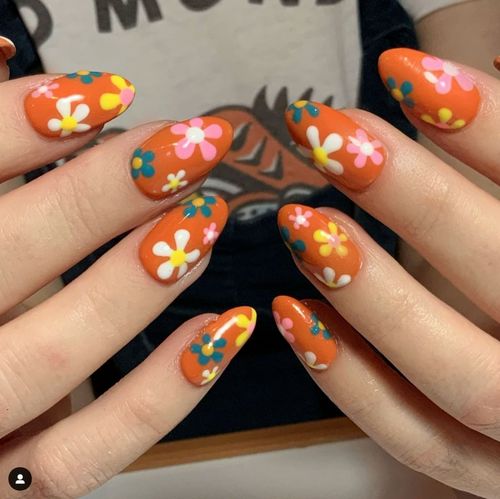 If you want to do something a bit more bold and vibrant, these orange floral nails are sure to capture anyone's attention! All eyes will be turning to your nails for sure!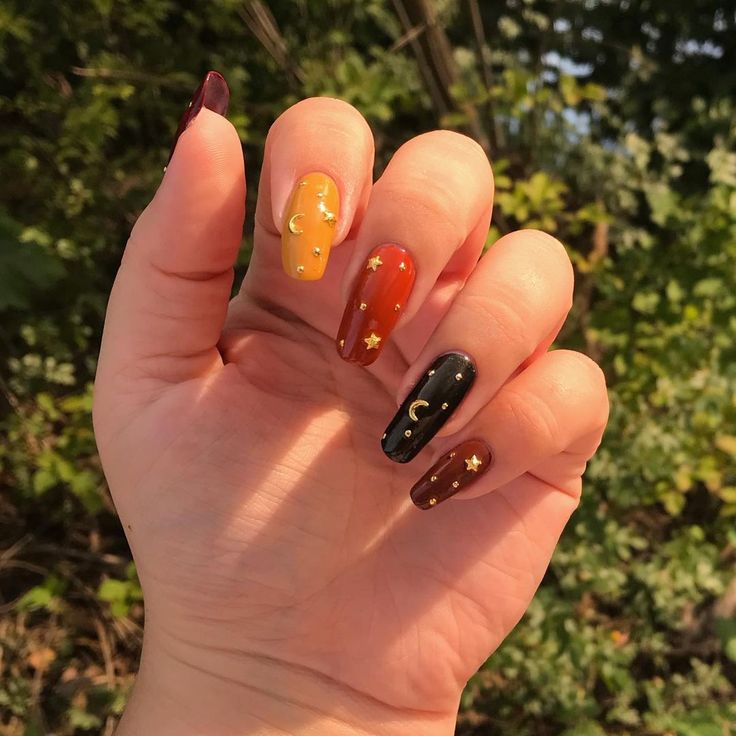 Looking for something other than floral nails? Then you might love this astrology-themed manicure! I'm totally loving the cute color combinations as well as the dainty gilded stars around each nail.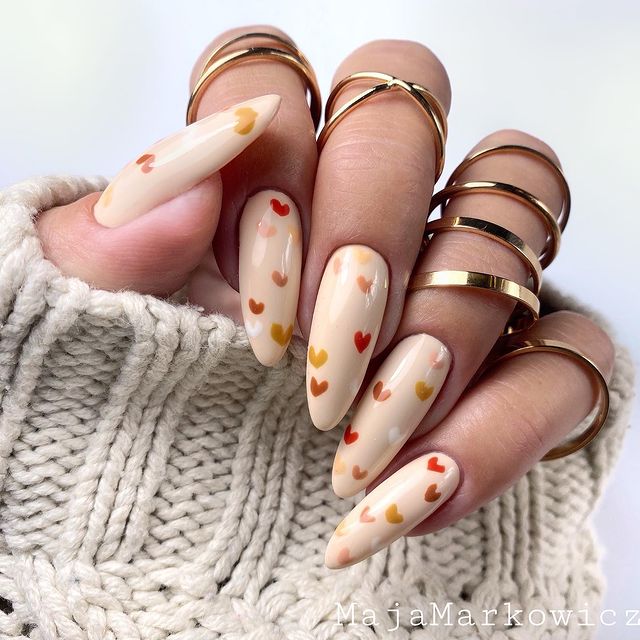 Even if love isn't in the air, there's nothing stopping you from doing these heart-themed nails! They're utterly adorable and they are very beginner-friendly as well! You can also mix and match your favorite colors or find color combos to fit the fall season.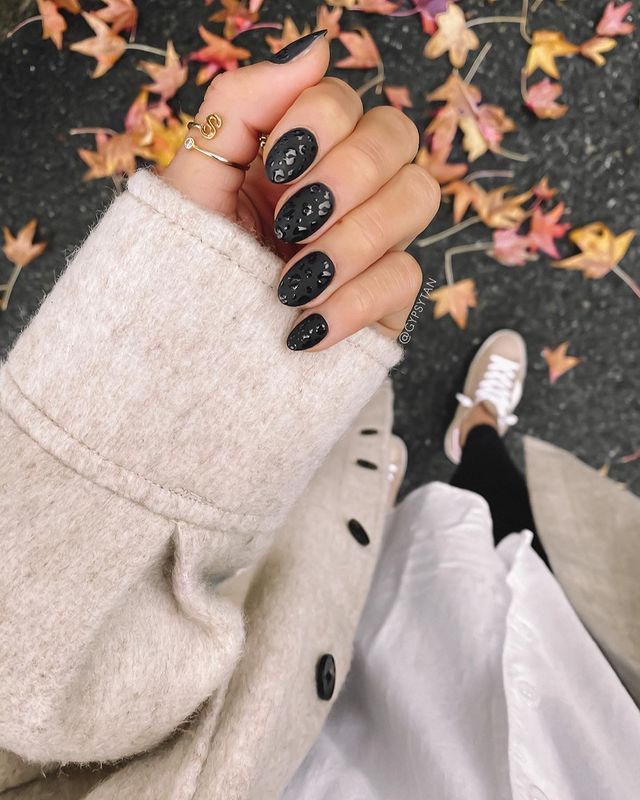 For some, black can be a bit too plain of a color. But one way to spruce up this timeless color is by using different finishes for your manicure. You can get one with a glossy finish and another one with a more matte texture. Then you can do a variety of patterns like these animal prints!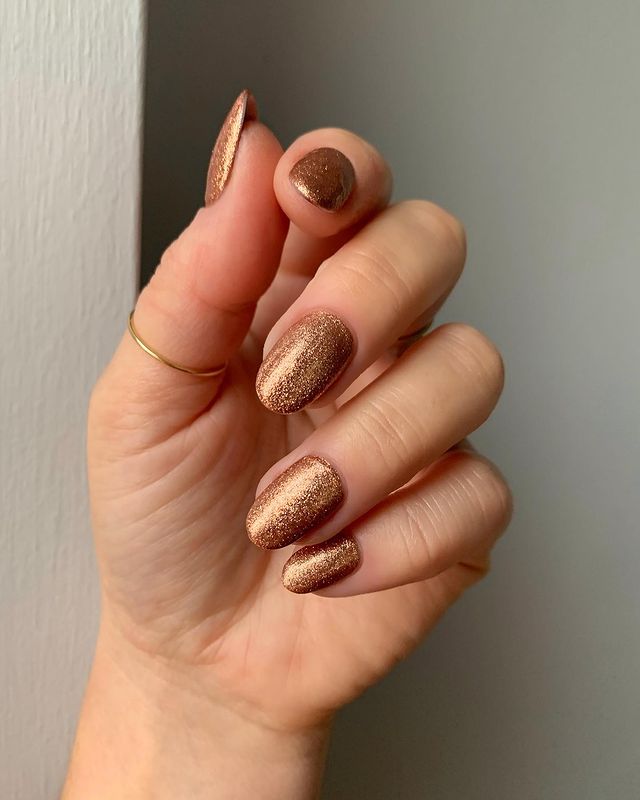 Who doesn't love a good, sparkly set of nails, right? This would be so perfect once the holidays come around like Thanksgiving. These nails are sure to make you shine and shimmer throughout your dinnertime with family and friends.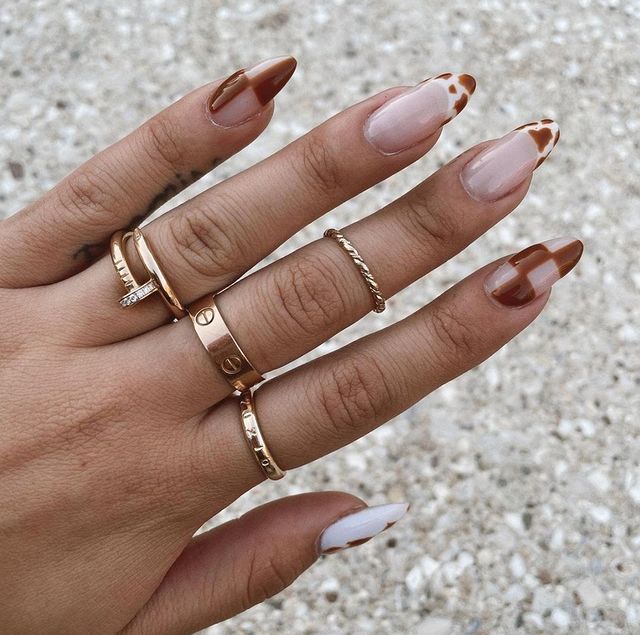 If you want to give your nails that modern and contemporary vibe, take advantage of negative spaces! They're so popular these days and they make your manicure look a lot more chic!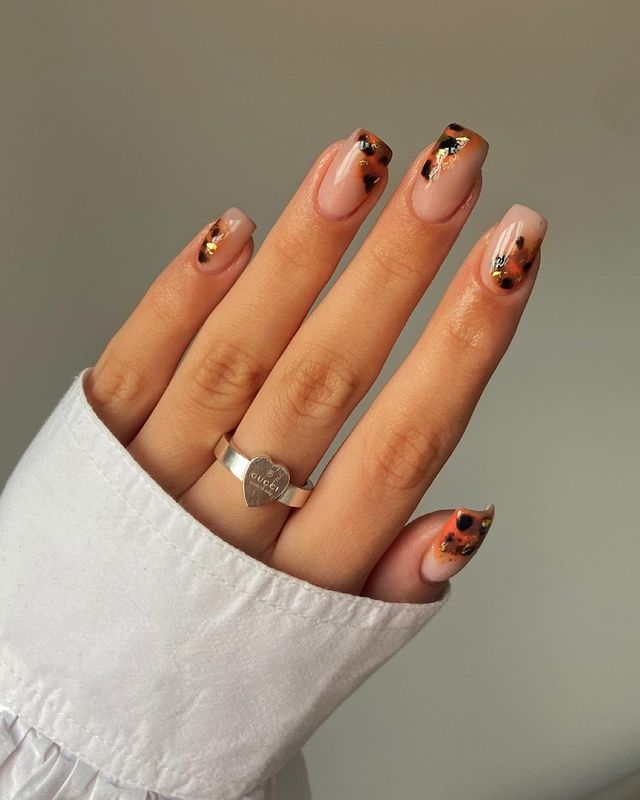 Here's a cute way to put a twist on the classic animal prints on your nails. Instead of putting it all over your nails, you can just put it on certain spots to get this chic aesthetic! Add some gold foils for a touch of sparkle.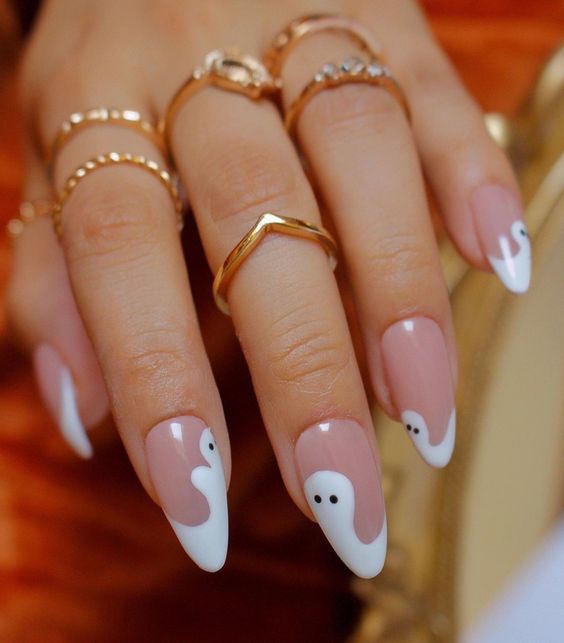 If you want a spooky set of nails without it being too "tacky" or over the top, here's a cute and minimalistic ghost design! It's utterly adorable and I can totally see myself wearing this all over Halloween season.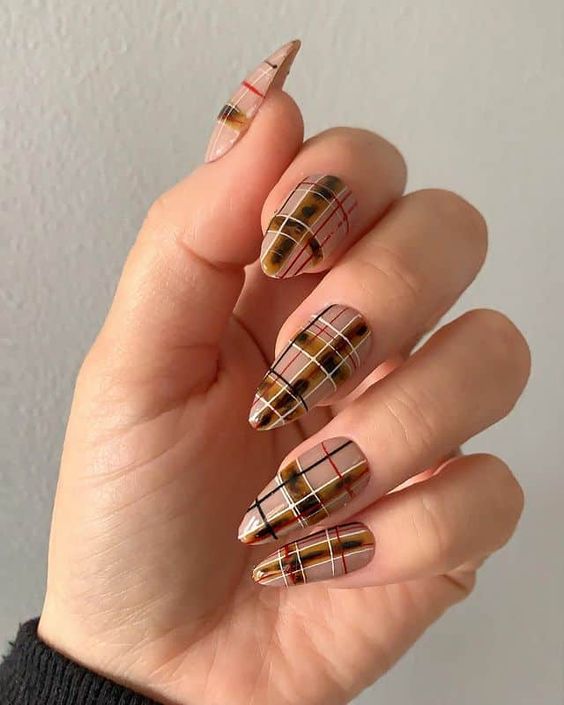 I just love the look of these plaid nails so much! They're so perfect once the fall season comes in and these would look so good along with your fall wardrobe. This is definitely one of the fall nails designs I'm excited to try out this year!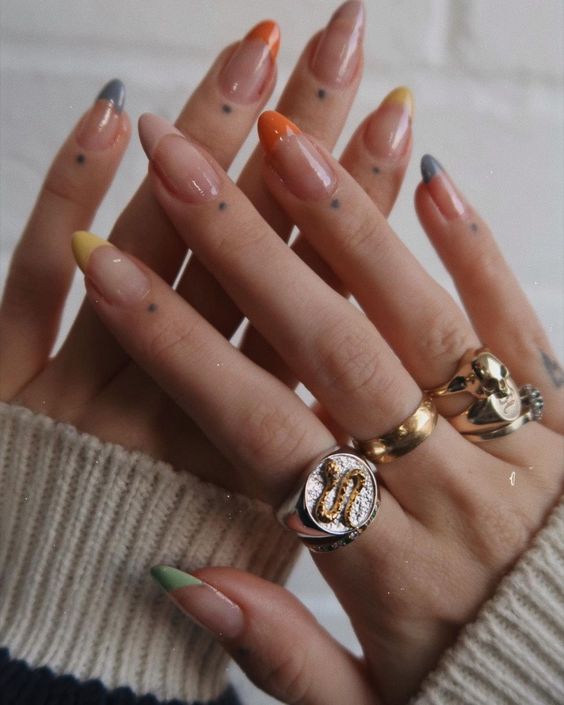 If you don't want a design that's too overwhelming or too fussy, you can always go back to the classics. But give your French manicure a fall twist by using warm, earthy tones for each tip.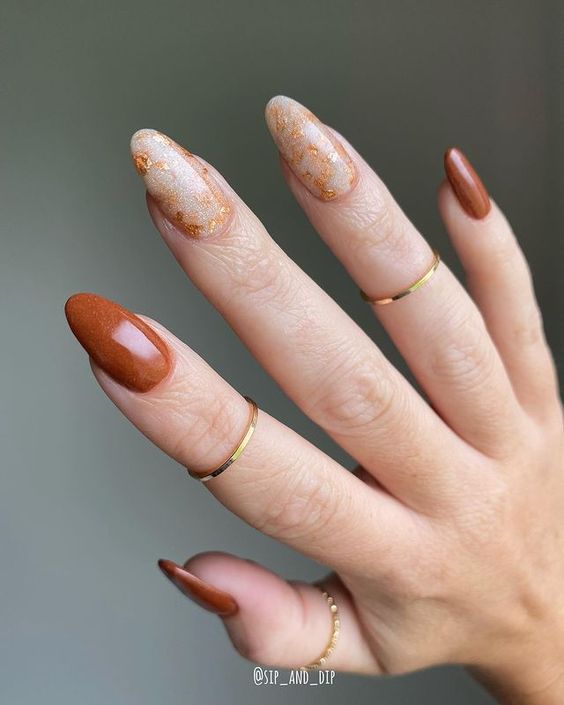 I am so in love with this shade of deep, burnt orange on the nails! It reminds me of pumpkin spice lattes and crisp autumn air. The specks of glitter and sparkle on the accent nails make this whole manicure even more sophisticated!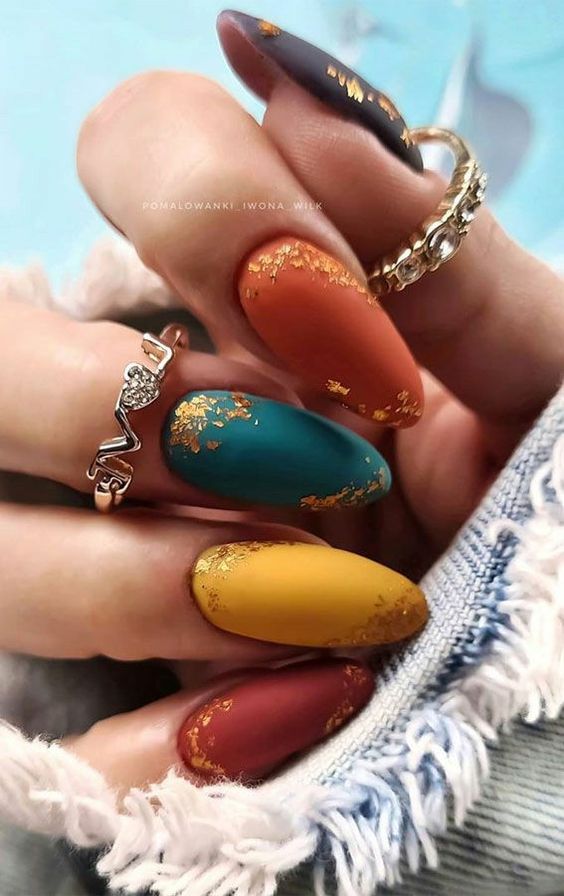 These deep, bold, vibrant colors are so gorgeous and well-suited for the fall season! I can also see this manicure as a good design for transitioning from summer to fall. I also love the addition of gold foils around the nails for a touch of sparkle.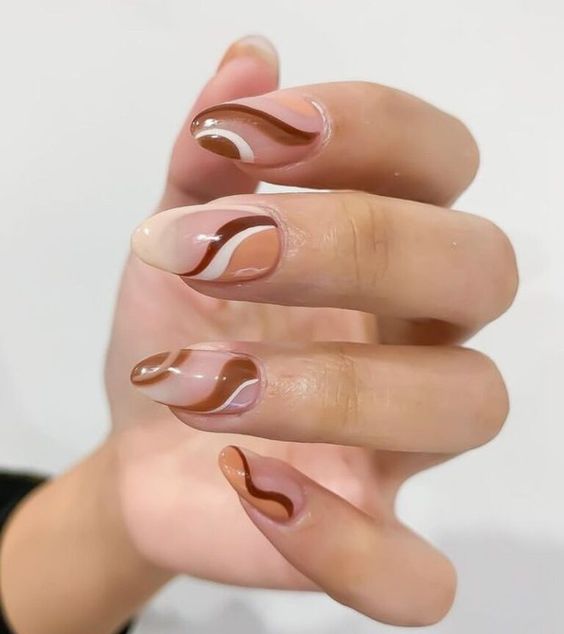 For a simple yet classy touch on your manicure, why not opt for these popular wavy fall nails designs? You can use different shades and tones of brown for a cool, understated, and chic manicure that will fit the fall season.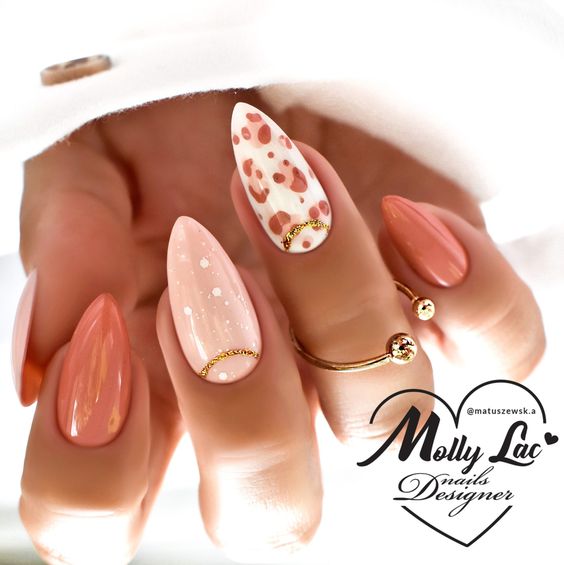 If you're not a huge fan of earthy colors or deep tones, you might want to go for this soft coral manicure! It's a lot more feminine and soft and utterly gorgeous! You can even balance the deeper shades with pastel hues for a balanced look.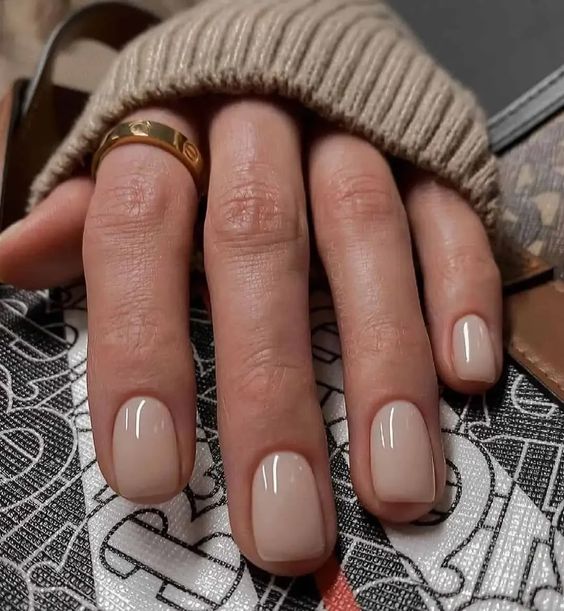 For a natural and understated manicure that'll give you that effortlessly "cool girl" look, these nails are utterly perfect! It's definitely another favorite of mine on this list. What's more, these nails would be ideal for any kind of day or occasion!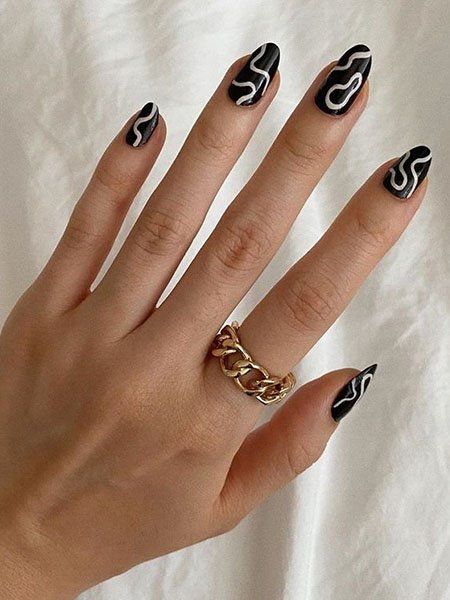 I'm loving the graphic patterns on these nails. The black and white gives such a gorgeous contrast of colors that's both classy and sophisticated. Not to mention, these fall nails designs are so beginner-friendly too! This is one of my favorite fall nails designs to do at home.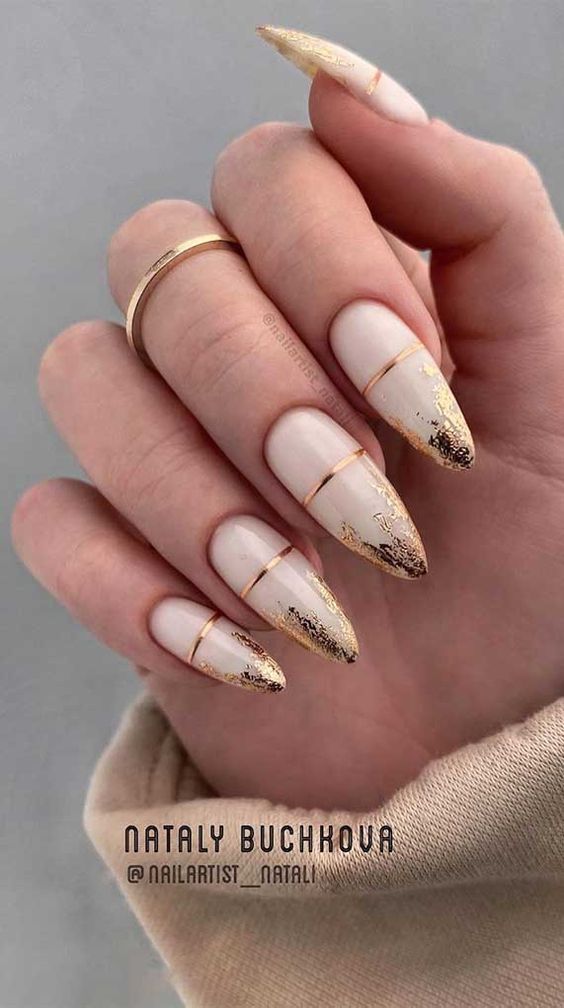 Put a sparkly twist to the classic French twist by adorning your tips with some sparkly or shimmery glitter polish. If you're unsure of this combination, you can opt for safe colors like a nude base and a gold shimmer. The result will be this stunning and sophisticated manicure for the fall season!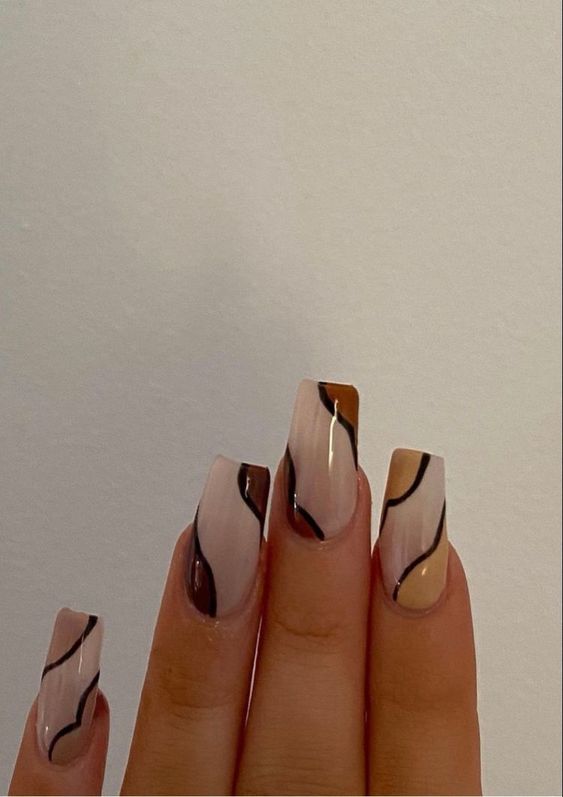 These bold and graphic patterns are so undeniably cute yet still so chic! The warm colors used make this a perfect fit for your next fall-themed manicure! Even if you're a total newbie with nail art, this is a cute design you can easily practice on.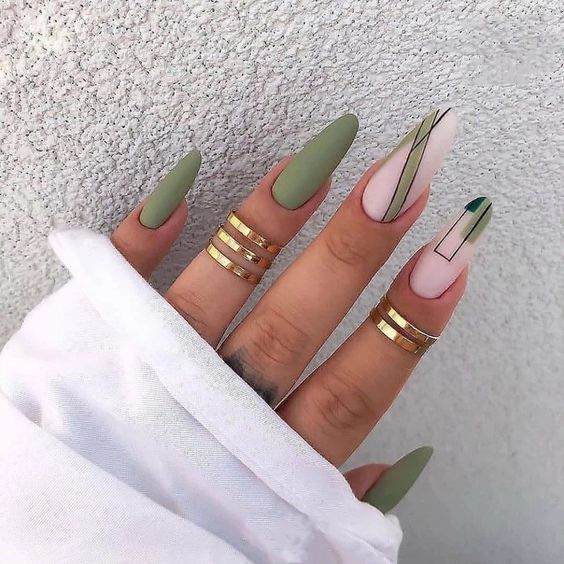 There's just something so stunning about these sage green nails. If you're looking for something sophisticated and glamorous, you'll certainly love this manicure! The subtle geometric patterns make these nails such a great look even for young female professionals working in the office!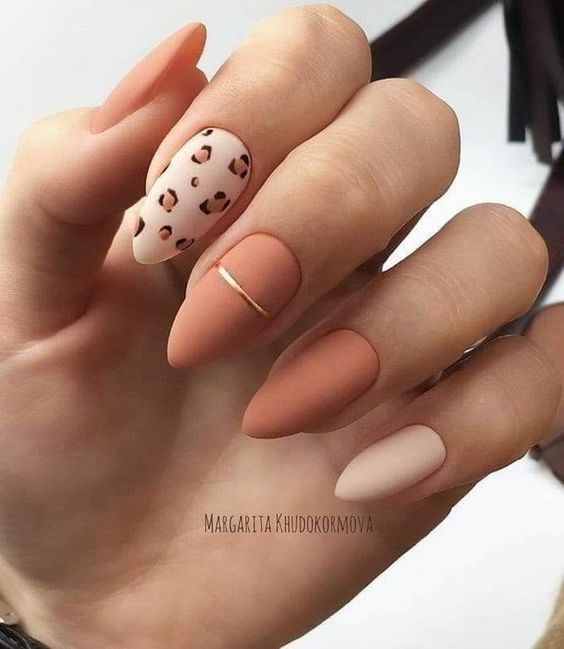 These soft coral nails are made even more gorgeous with minimalistic gold accents. You can also mix the coral tones with some warm beige hues to achieve this gorgeous manicure! Plus points if you add an animal print nail accent for a bold pop of personality!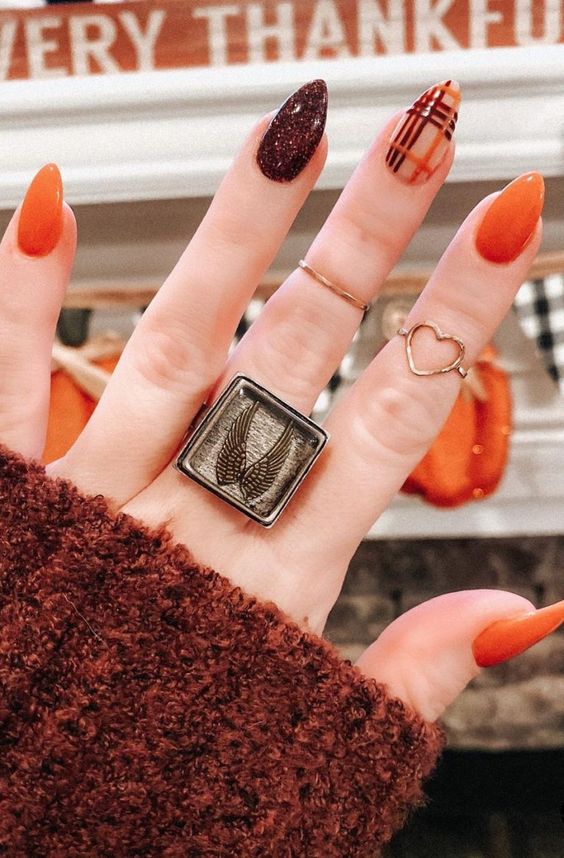 These bright orange nails are just so perfect for the Halloween season! If you're looking for a Halloween manicure that doesn't have any horror references, you'll certainly love this one!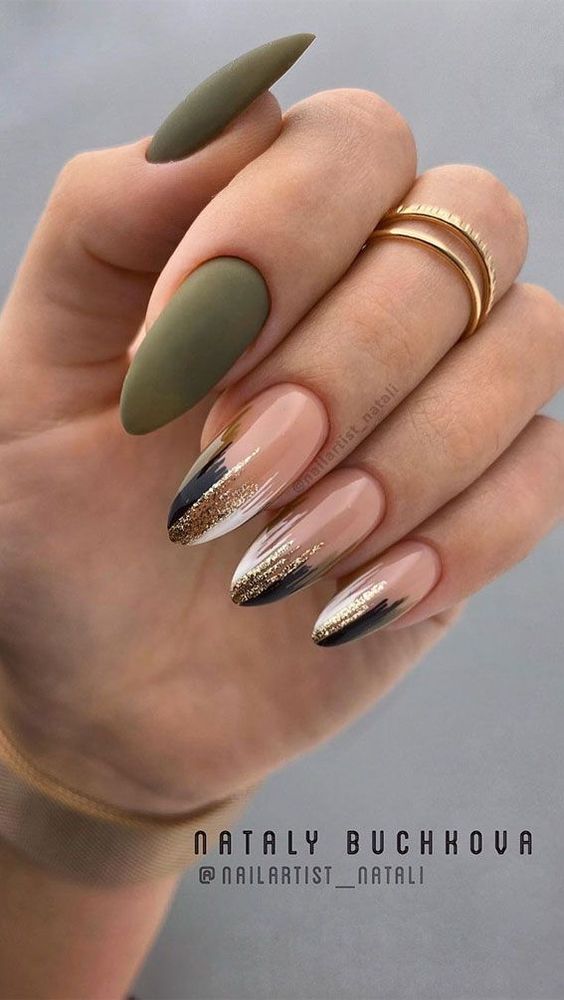 Add a pop of gorgeous green hue to your glam manicure to create interesting textures around your nails! These nails would be so cute for night outs and social events.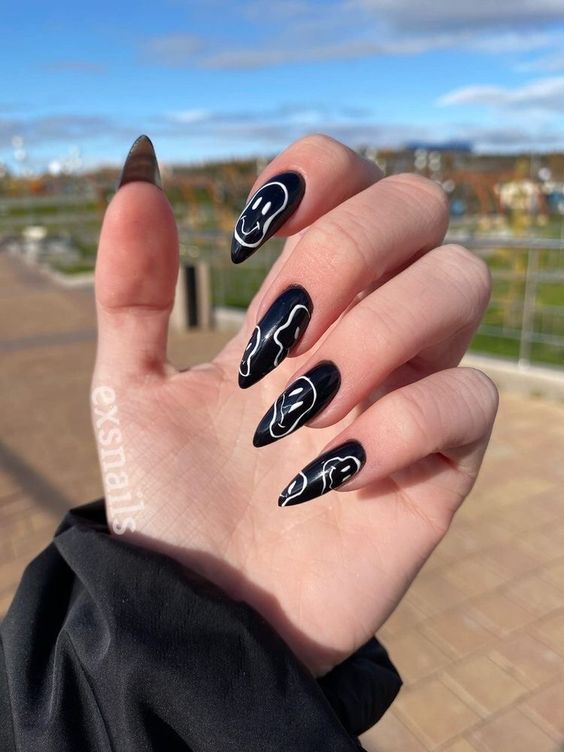 You really can't go wrong with a gorgeous contrast of colors like this manicure. There's just something so pretty about a classy black-and-white graphic design. If you're not too confident about recreating these patterns, you can always opt for nail stickers instead! This is one of my favorite fall nails designs for an edgy look.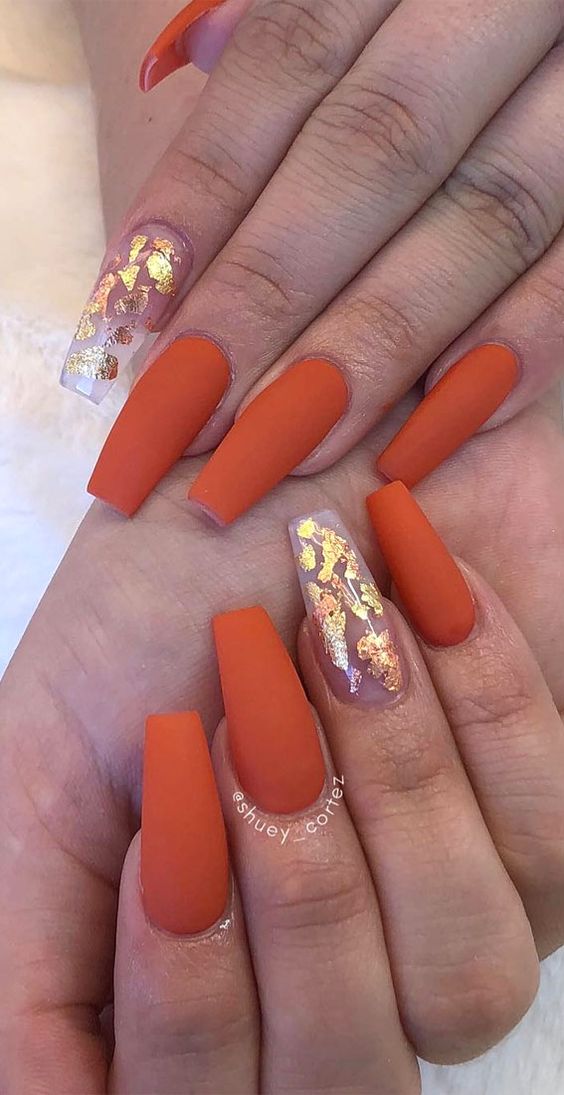 Ditch the neutrals this fall season and go for something a little bit bolder like these bright orange nails! You can make it even more on theme with the fall season by adding some gold foils on your accent nails to mimic the dry leaves.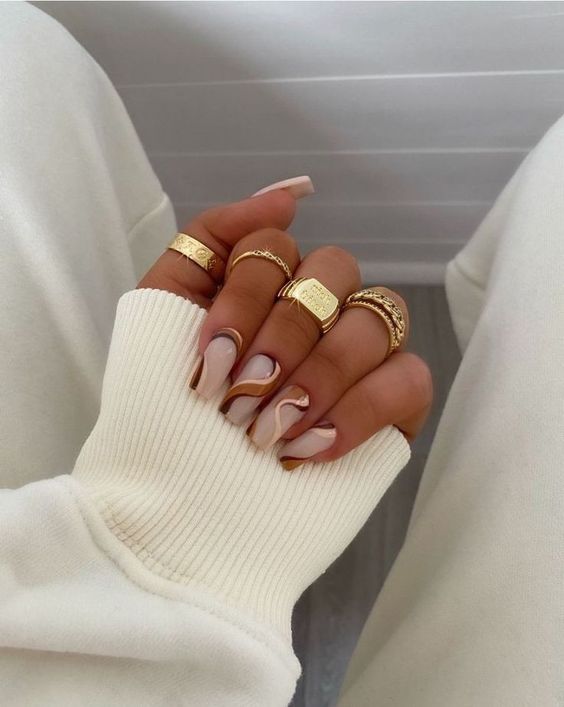 But if you can't seem to get out of the neutral craze, that's completely fine! These swirly patterns are the perfect nail art to do those classy hues.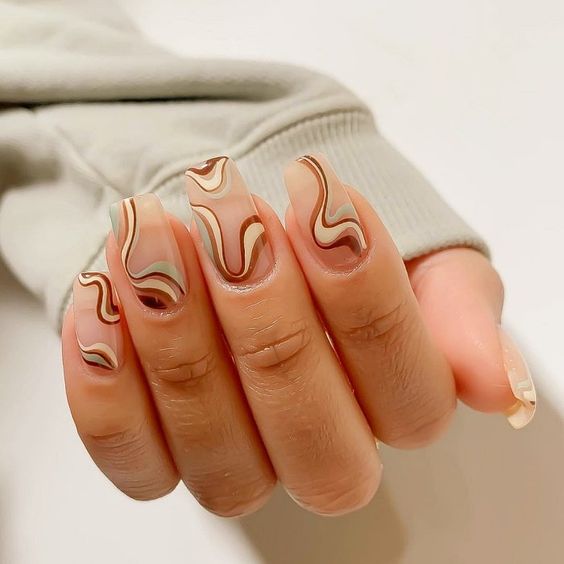 Make your brown neutrals stand out even further by adding a few pastel shades like a pretty, muted blue color to your nails. This is sure to make your fall manicure a lot more unique!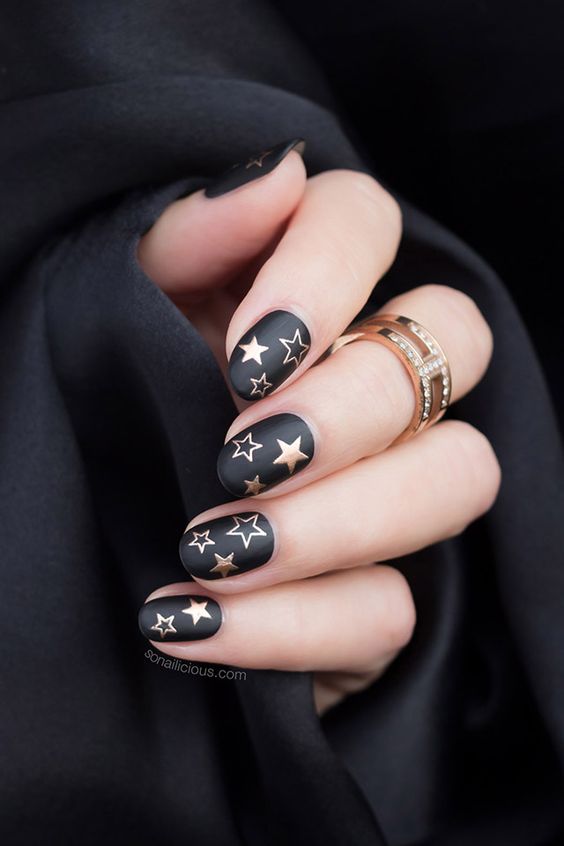 For a starry-themed manicure with an edgy touch, these silver stars atop a matte black base are something you should consider for the fall season! Don't worry about not being a pro in doing nail art as you can always opt for nail stickers for a fuss-free application.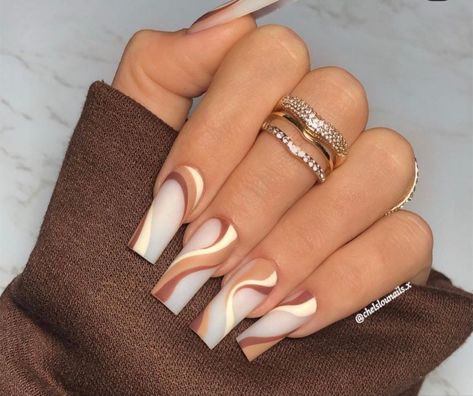 I'm sure you've already seen a bunch of these kinds of manicures on this list but this one features a soft, matte finish for those who aren't fond of doing the regular glossy texture.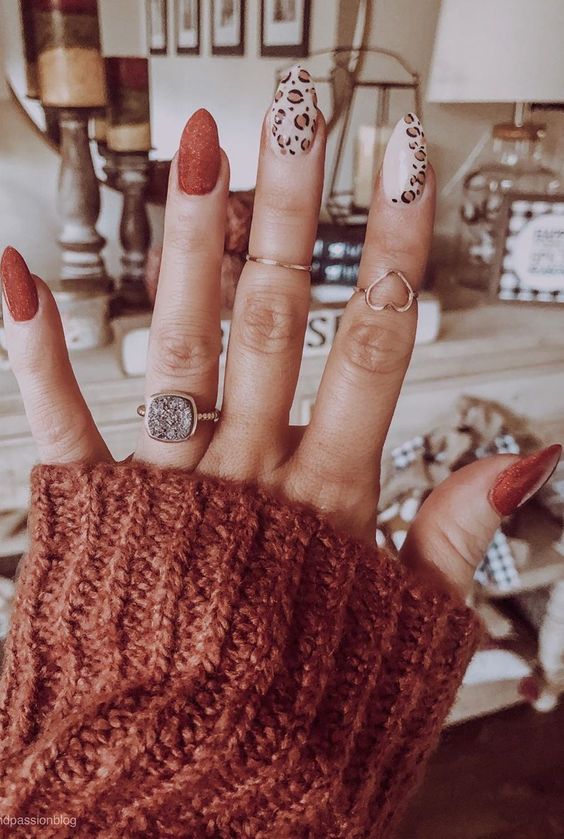 I just love the combination of shimmers and animal prints on these nails! It's showing off a glam yet still quirky manicure. Not to mention, the colors used are so perfect for the fall season!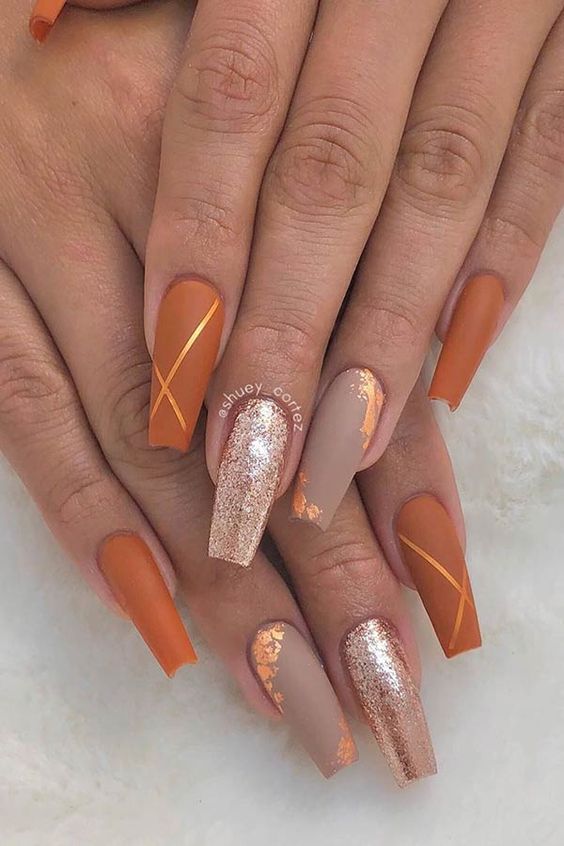 Can't get enough of shimmers and glitter? Well, here's another one you can take inspiration from this fall season! You can go for bright oranges or a more burnt shade, depending on your preference!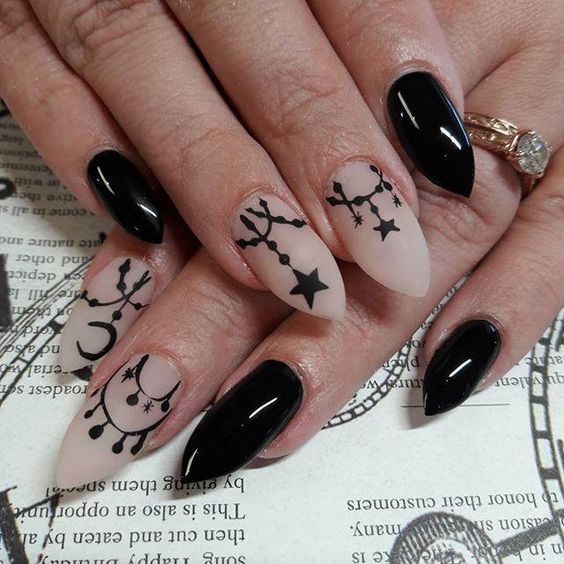 For something a little bit more gothic and spooky, you'll certainly adore this particular manicure! I love the use of negative space to make those blackwork patterns stand out. It's also a great design to practice those nail art skills!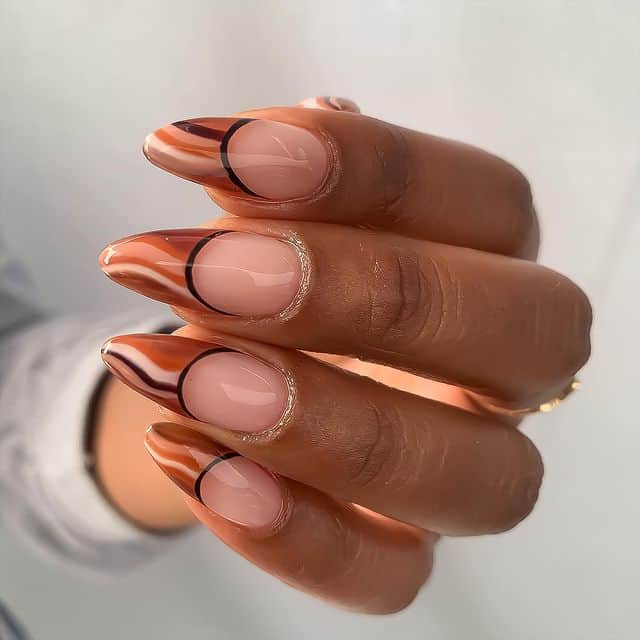 If you want to infuse some coffee themes into your nails, why not try out these brown-hued French tips? This is sure to give you that instant kick of energy every time you look at your fresh manicure. This is one of my favorite fall nails designs with reverse tips!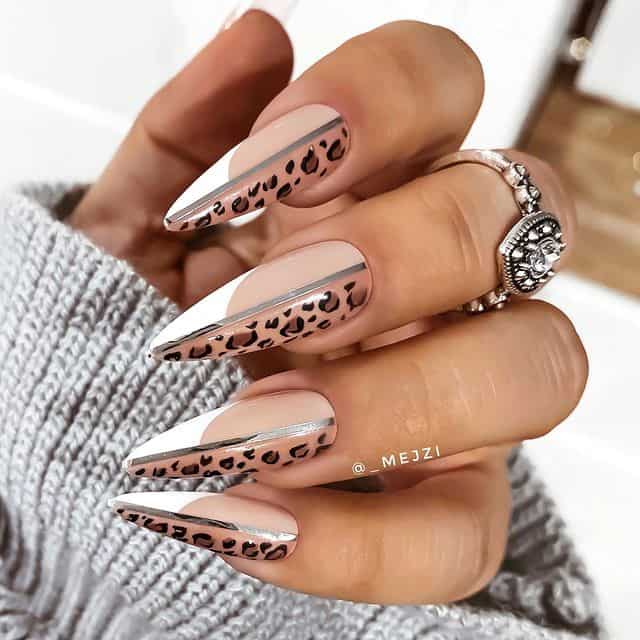 Can't decide on a single nail art or patter? Why not combine two of your favorites? Whether you're looking at animal prints or a classic French tip, this manicure has got you covered!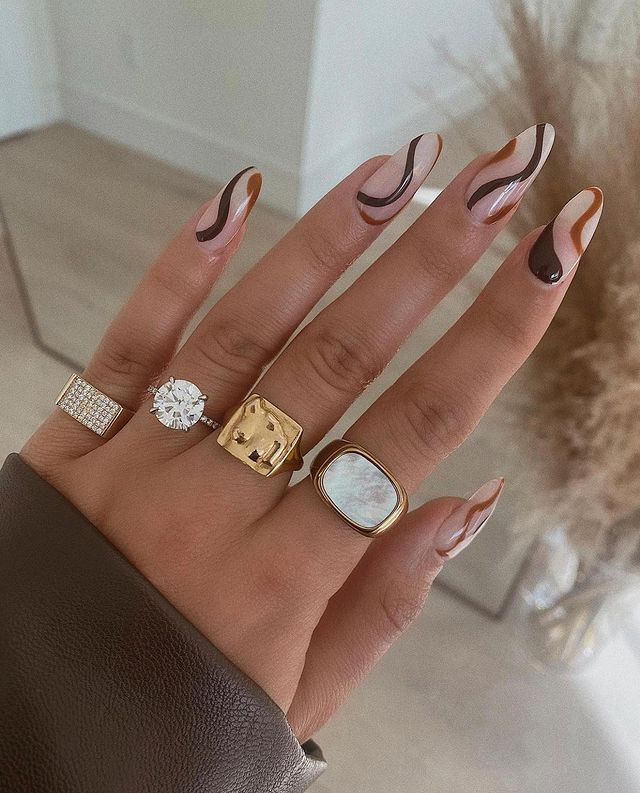 I honestly just can't get enough of these trendy wavy patterns for fall-themed manicures! During the summer, I've seen a lot of these but using bright summery shades. Now that the fall season is upon us, you can use your favorite neutrals instead!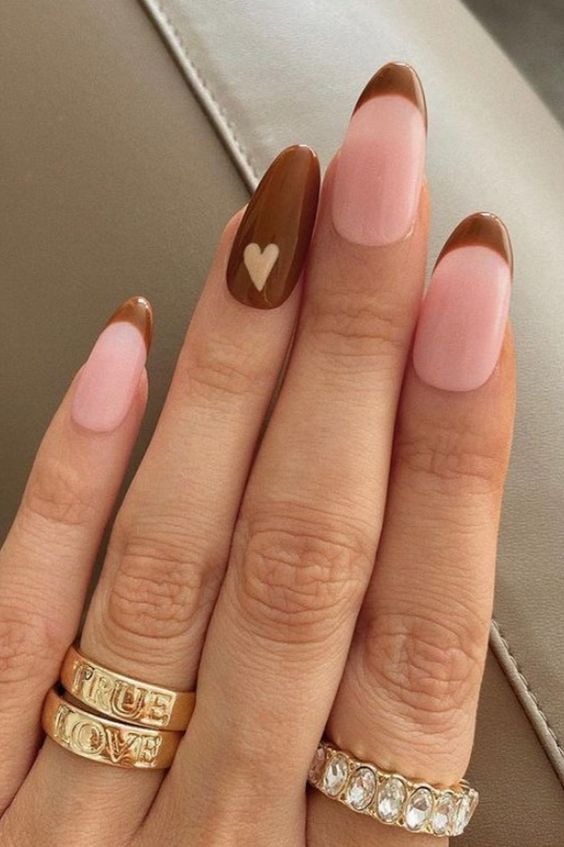 Who says French manicures are boring? Spice it up by adding accents or details, as well as cute patterns or shapes like hearts to make your nails stand out!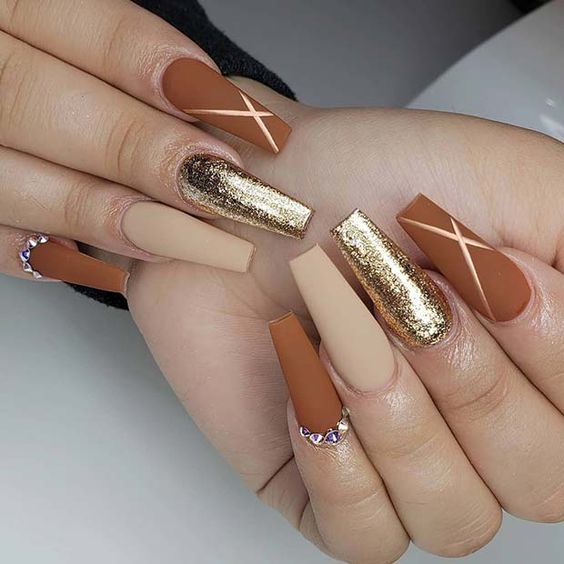 There's something just so gorgeous about seeing a fully matte manicure with a shimmery gold accent nail. It looks so luxurious and glam! I could totally see myself wearing these nails while I enjoy a class of champagne.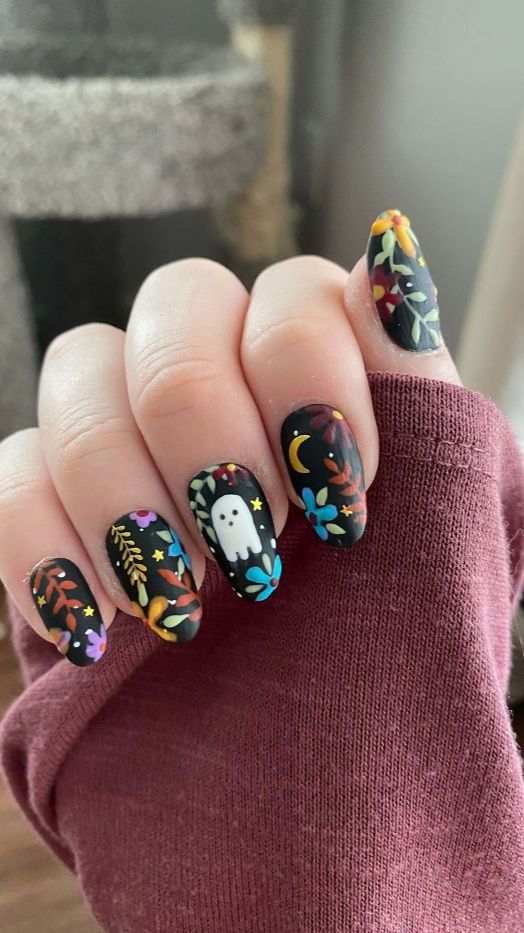 Get quirky and have fun with your next fall-themed manicure by incorporating a Halloween vibe into your nail art! I am obsessing over the colorful pops of color against the black base polish.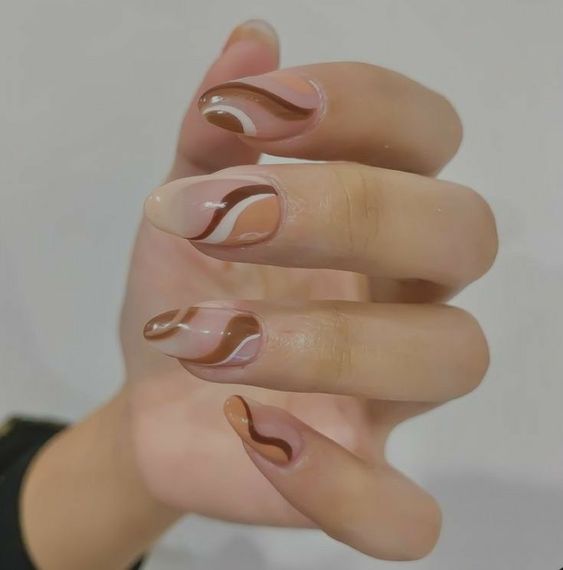 If you can't get enough of your neutrals this coming fall season, then you'll surely want to try out more of these swirly patterns this year! One of the best things about them is their versatility and how you can personalize them to your preferences. This is one of my favorite abstract fall nails designs right now.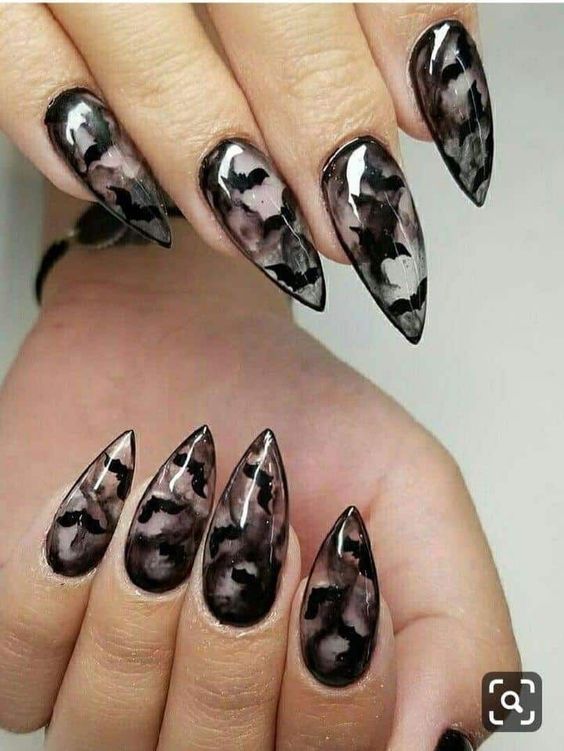 I'm loving the spooky vibes on these nails! They look so good and so classy too. I love how it looks like the night sky and with bats flying around every nail. Opt for a sharper nail shape or maybe even coffin nails to amp up the spook factor!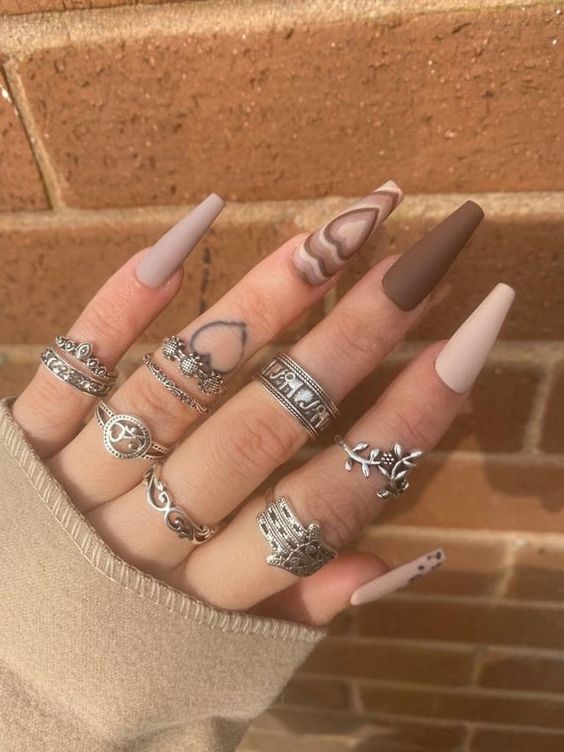 Not a fan of spooky themes? Then these neutral hearts might just capture yours! They're lots of fun to wear and you can even mix and match different patterns for each accent nail if you can't decide on just one!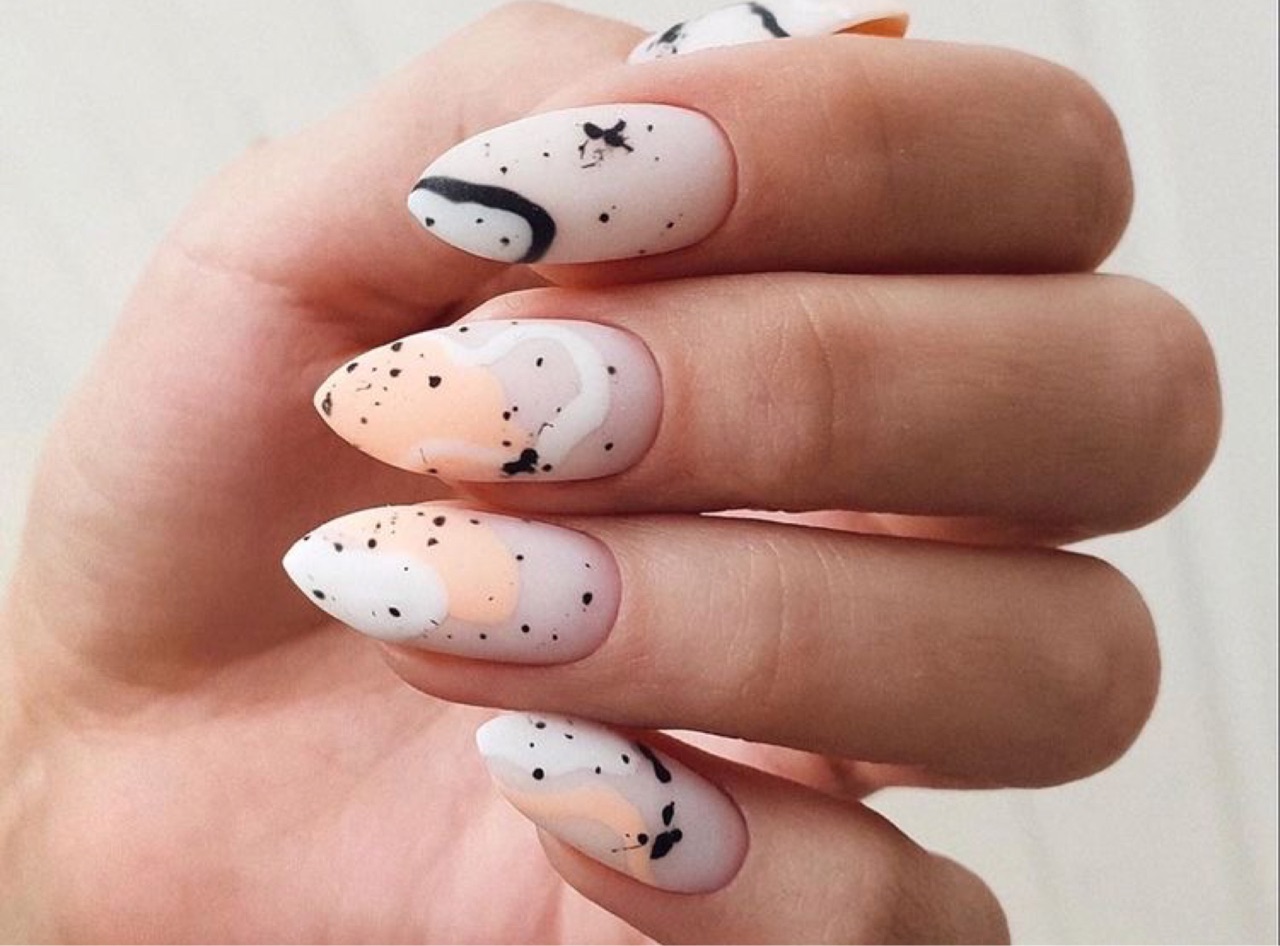 Is it just me or do these speckled abstract nail designs kind of remind me of Easter eggs? But if you're looking for a fall manicure that'll suit both spring and the autumn, this is for you!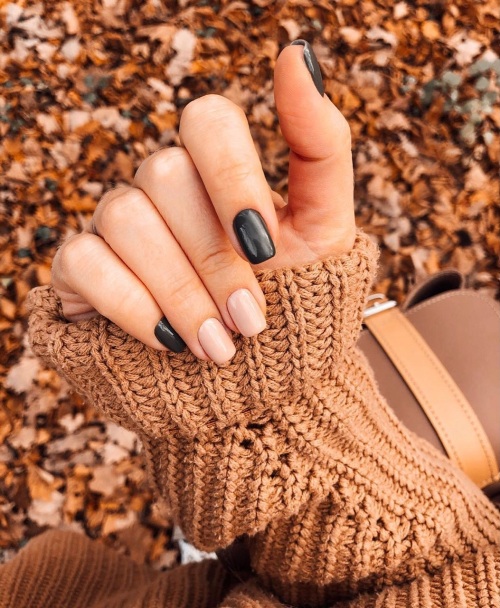 I'm loving the contrast of colors on these nails! You usually see blacks and whites together but a black shade along with light nude hues look just as amazing! Not to mention, it looks effortlessly sophisticated too.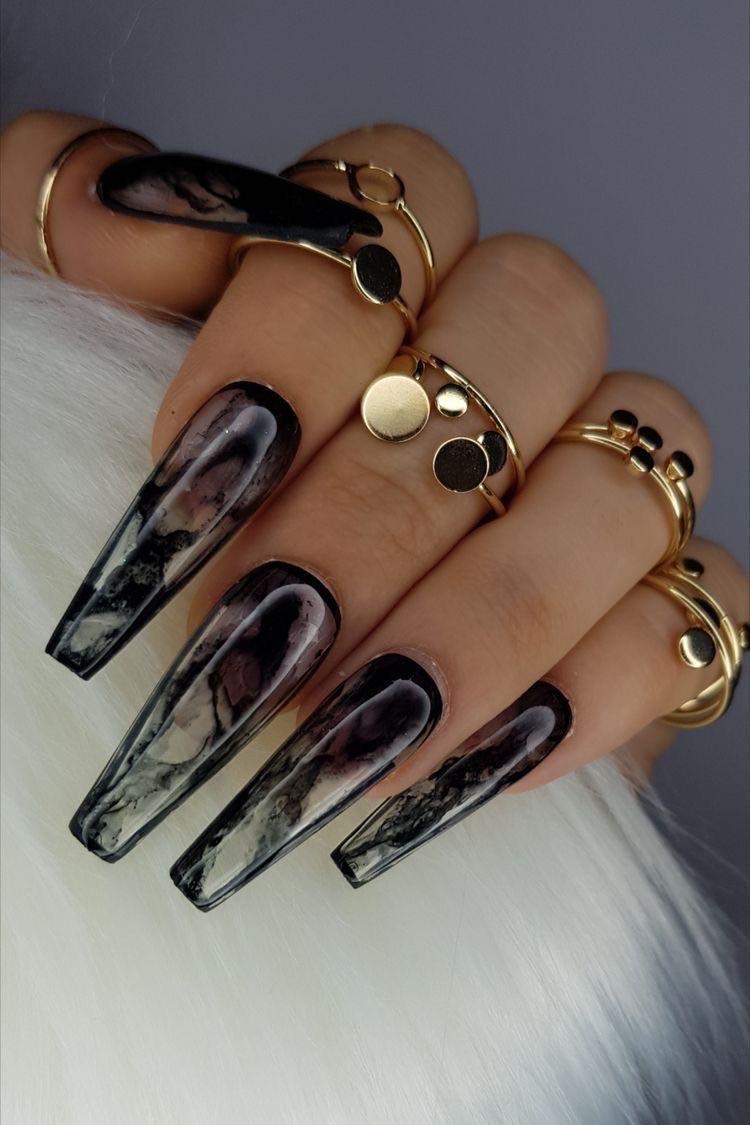 I'm loving the dark smoky vibe on these nails so much! The longer shape of the nails make this even more look suited for a femme fatale aesthetic too!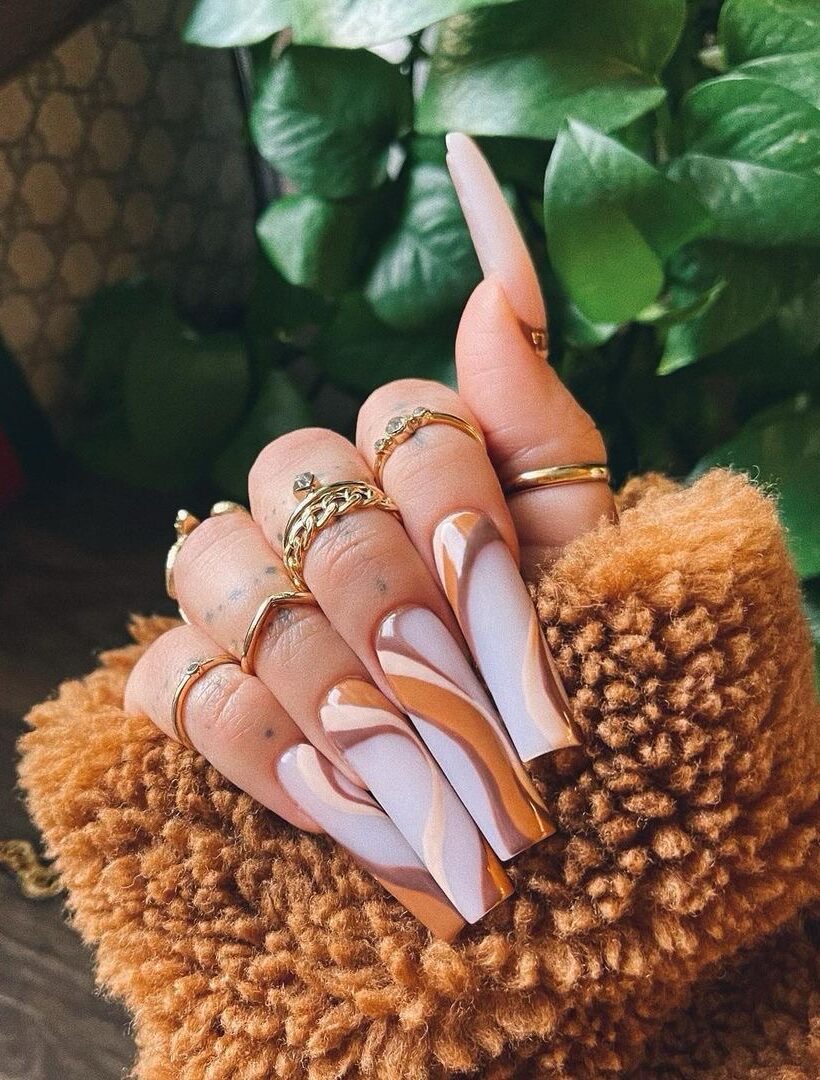 I'm loving how luxe and glam these swirly patterns look depending on how you style them! The designs get even more beautiful when used with longer nail shapes.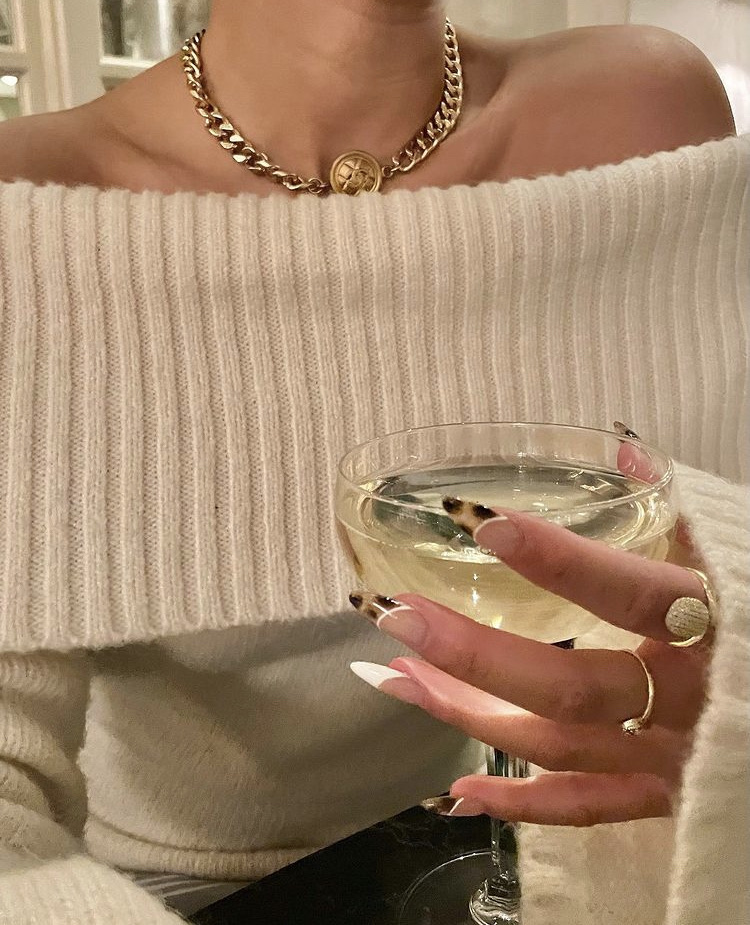 Ditch the plain French tips and use an animal print for your classic manicure instead! Just like in the photos, you'll look so good wearing these during parties, holding champagne glasses!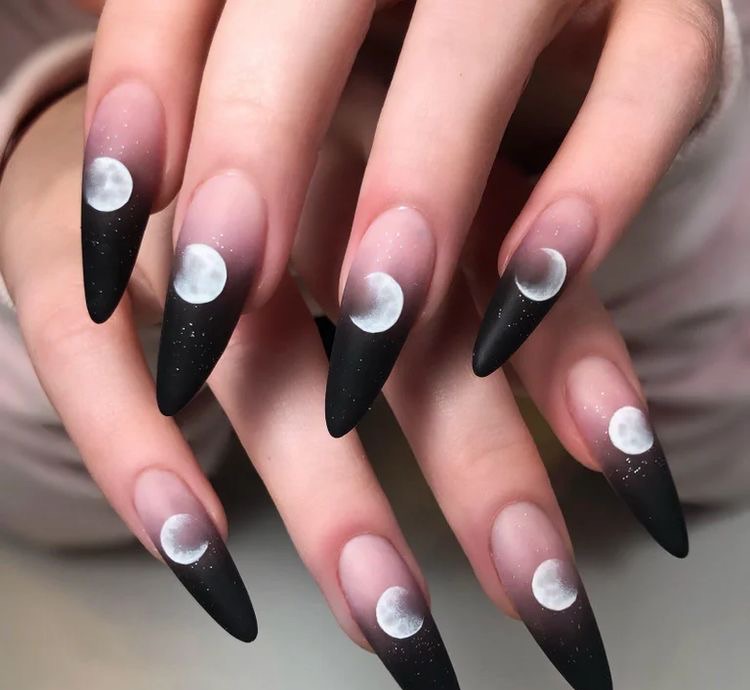 Get in touch with your love of the moon by adding this gorgeous celestial body onto your nails! These would look utterly amazing during the Halloween season too! I really love the gradient black tips as well!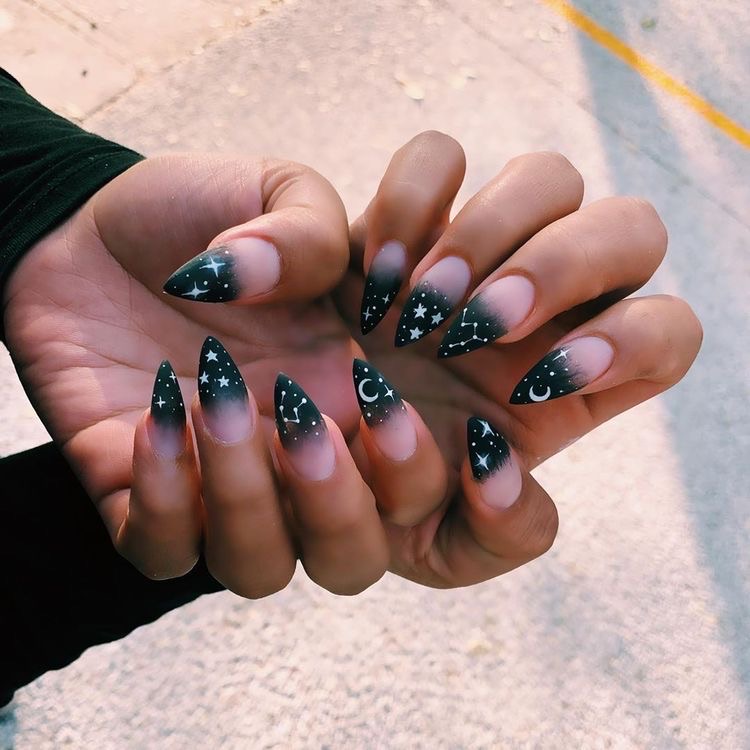 If the moon isn't enough, why not incorporate stars and constellations as well onto your nails? The gradient black design gives your manicure a really witchy vibe too!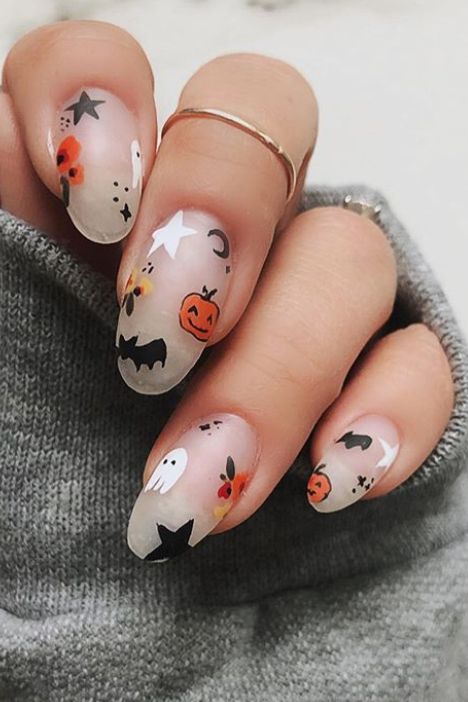 These halloween-themed patterns look so utterly cute against the negative space or bare-colored nails! If you're not too confident about painting the patterns yourself, you can always opt for nail stickers!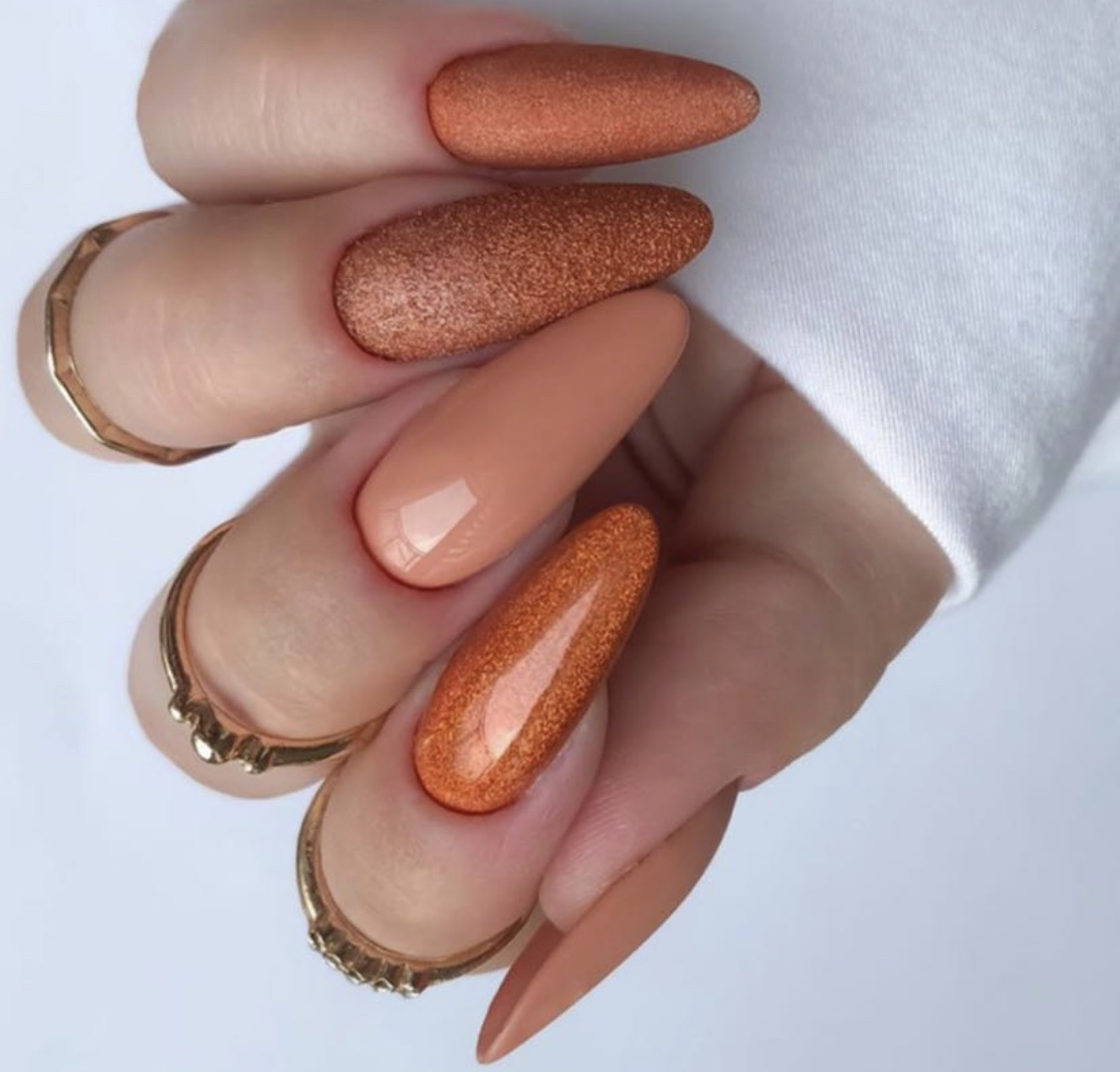 I love the pop of colors and shimmers in these coral nails! So perfect for the Halloween season and I can see this the perfect manicure to pick up your pumpkin spice lattes!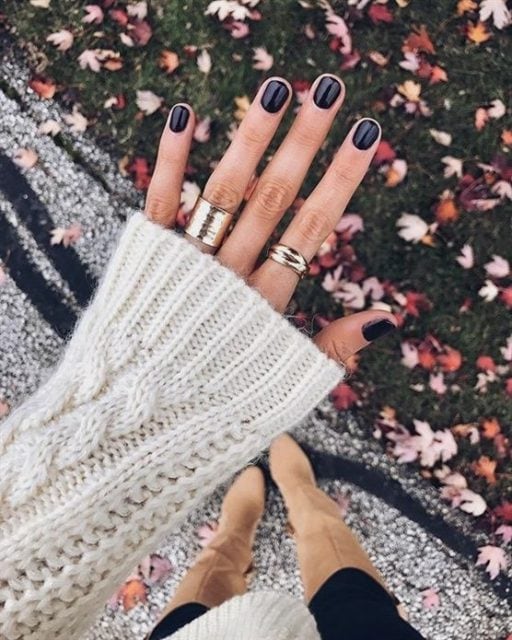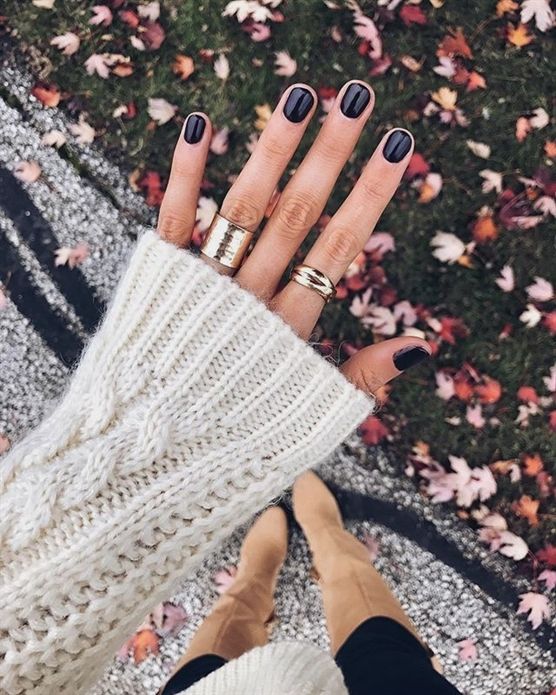 When in doubt, go for the classics and use your most trusted or favorite regular polish! Personally, whenever I can't seem to decide on a nail art for that day, I just reach for my black polish. It's a classic shade that fits any occasion!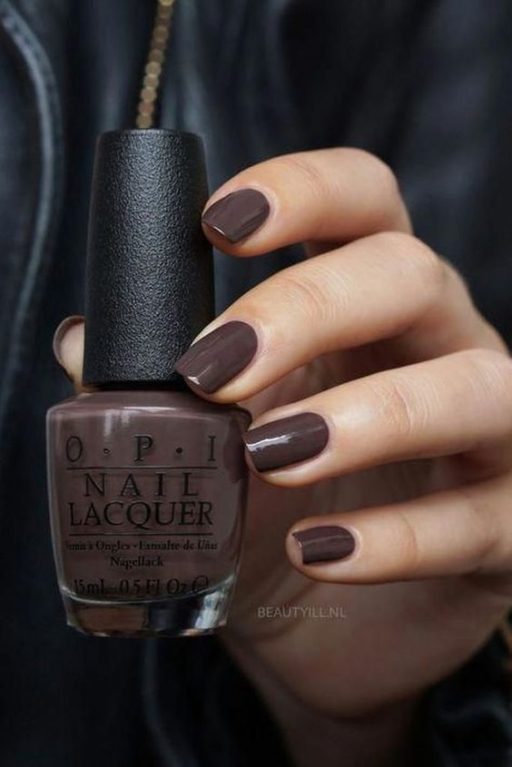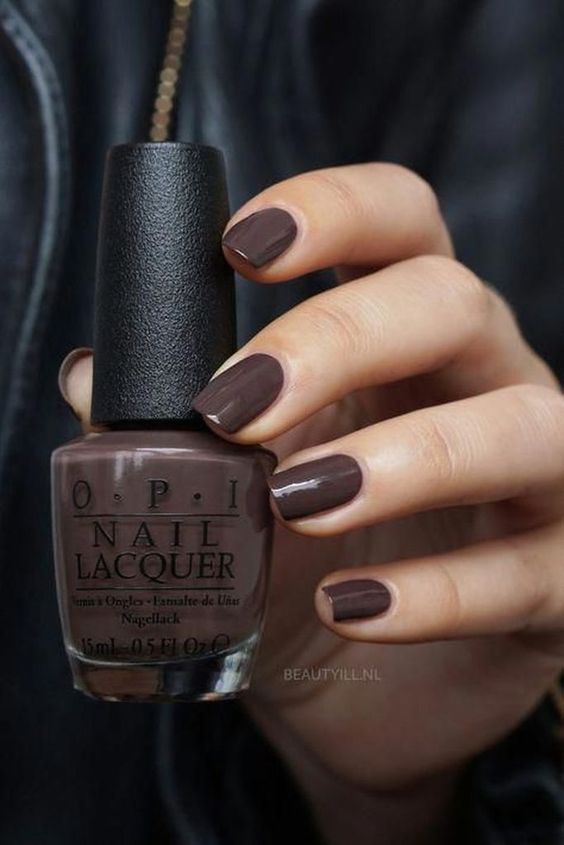 Here's another classic shade that I really love to use during lazy days. I just love a good deep chocolate brown, especially in the fall season!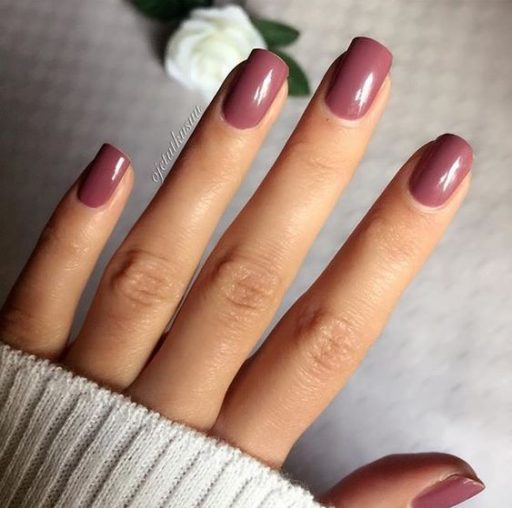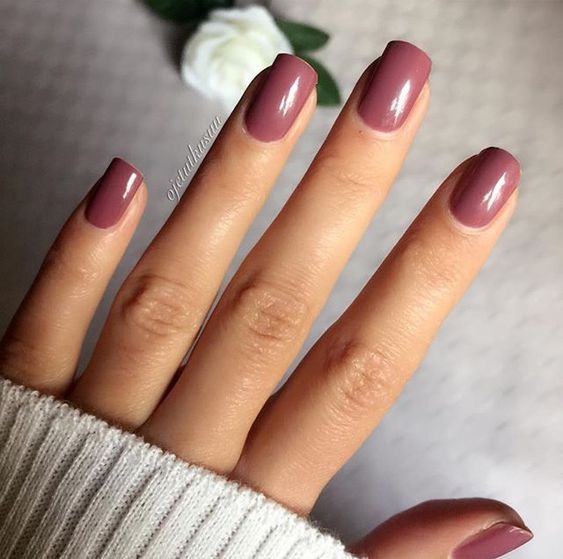 If you want something a little more feminine, you can't go wrong with this deep, muted plum! It's romantic and perfect for daytime events!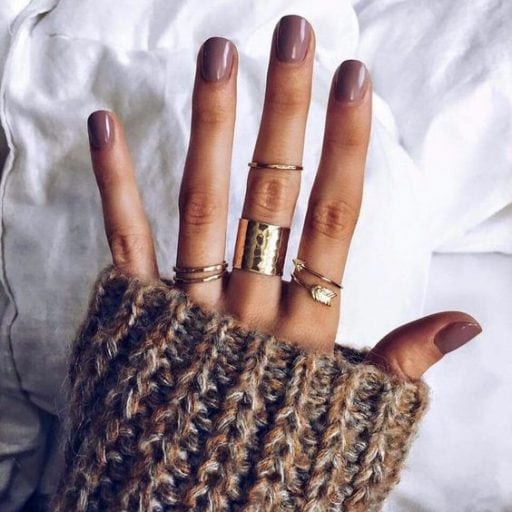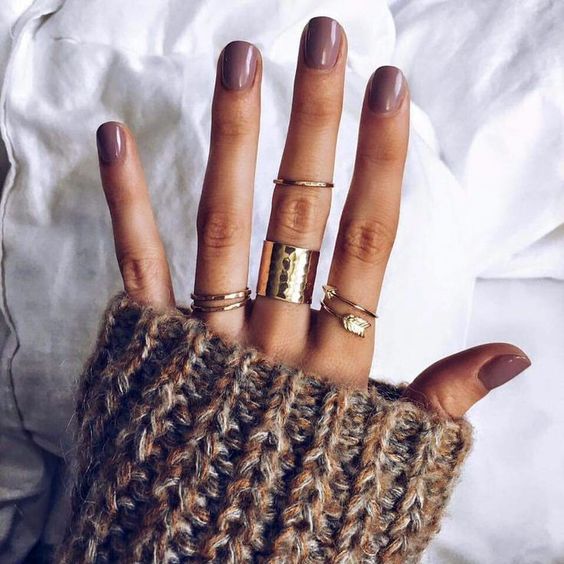 Here's another purple shade you might like. It has a deep, muted tone and has a more lilac color. This would look so good as a spring manicure as well!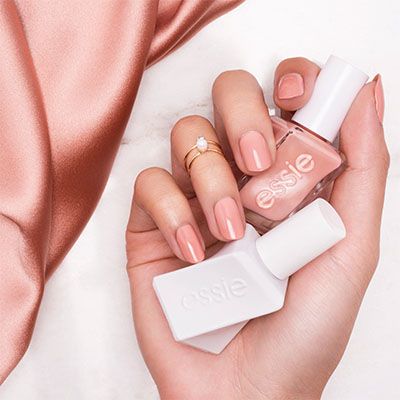 A nude shade can never really disappoint when it comes to picking nail polish colors. They're understated yet so sophisticated!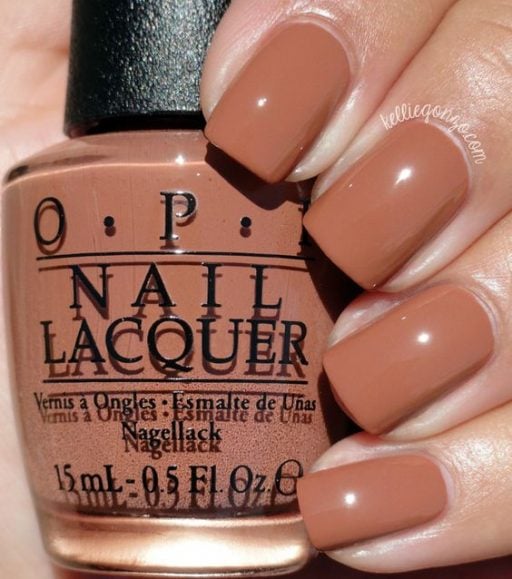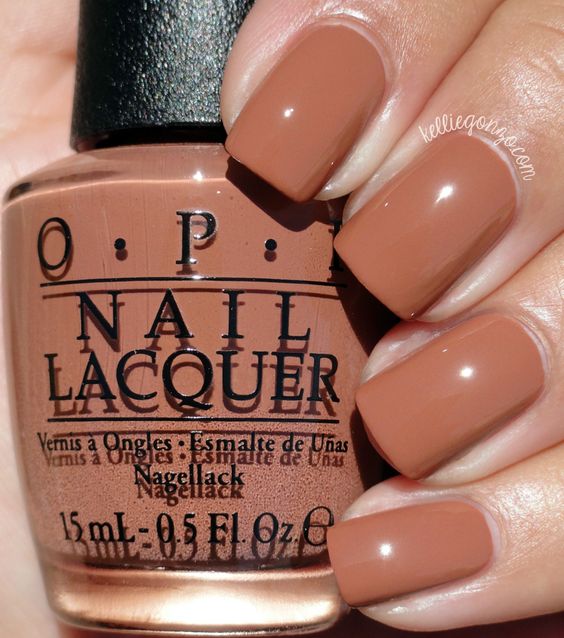 This tan brown shade is such a nice classic color! The warm undertone makes this so perfect for the fall season. Whether you're going for a stroll to enjoy the falling of the leaves or coming to get your favorite pumpkin spice latte, this is the ideal accessory.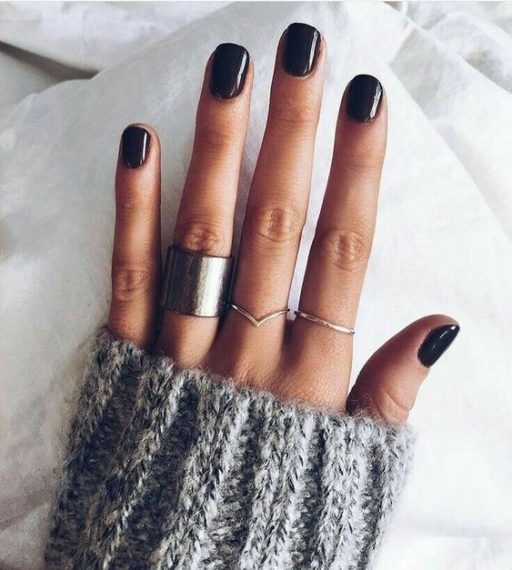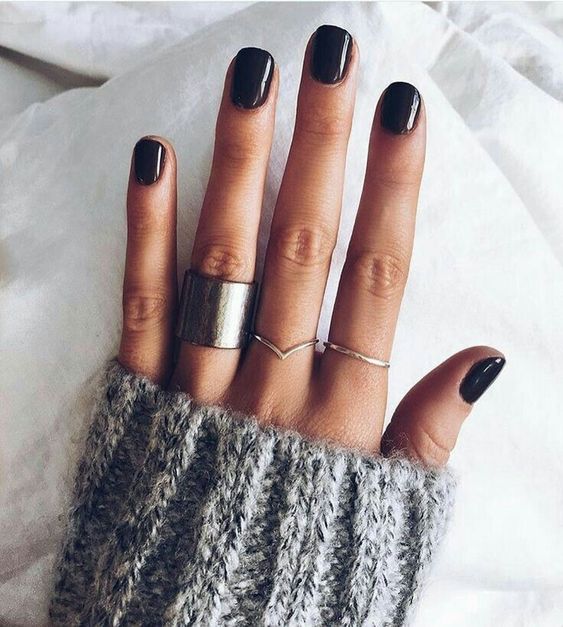 If you're looking for a nail shade that is sure to fit any outfit of yours, there's no color than a classic black polish.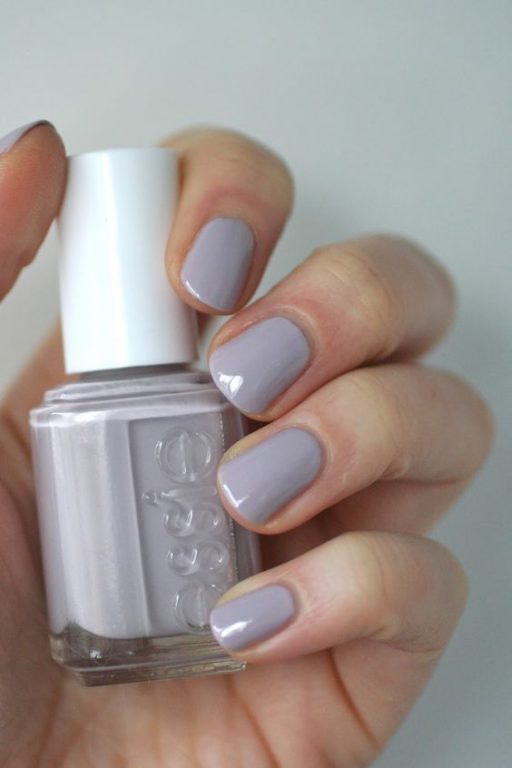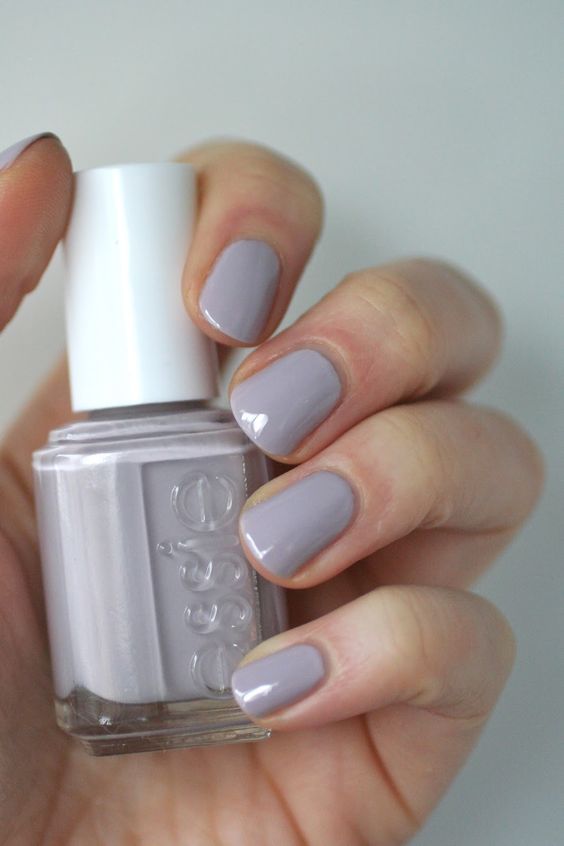 I am so obsessed with this cool grey polish! It's actually giving me more of a wintry vibe but as the fall season gets colder, this becomes an even more ideal shade to use!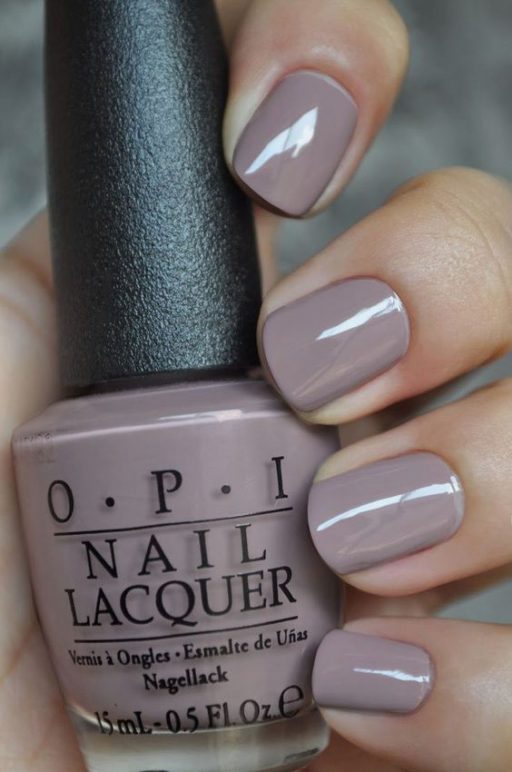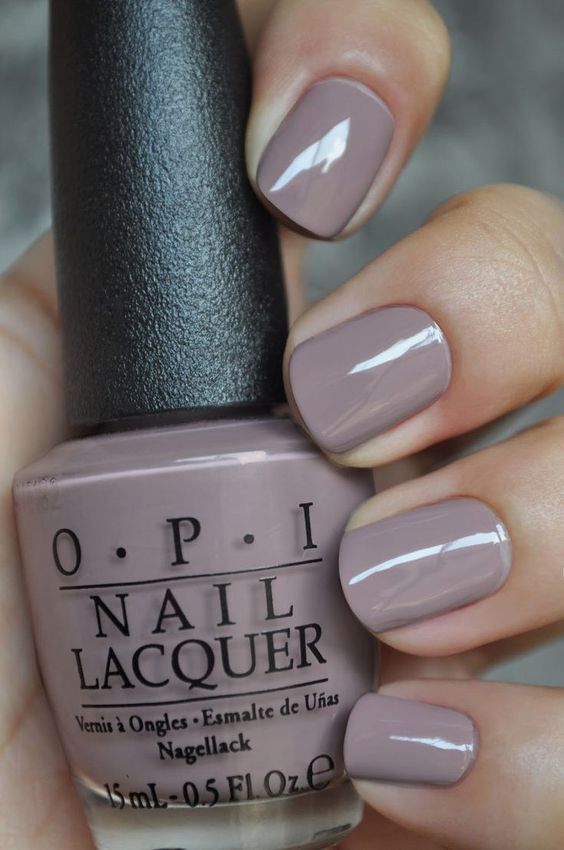 Can't get enough of cool tones on your nails? Then you might want to check out this particular cool light brown shade! It's such a nice, classy color perfect for any sophisticated event!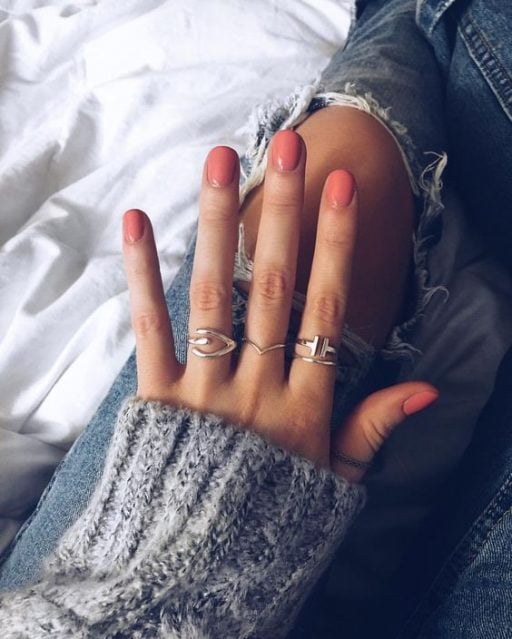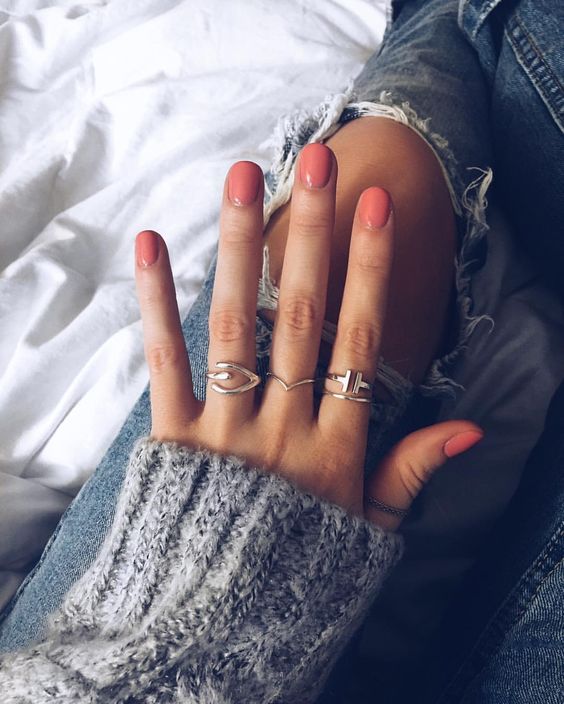 These warm corals are sure to be popular once the fall season comes along. It's such a gorgeous shade that you can wear anywhere you go!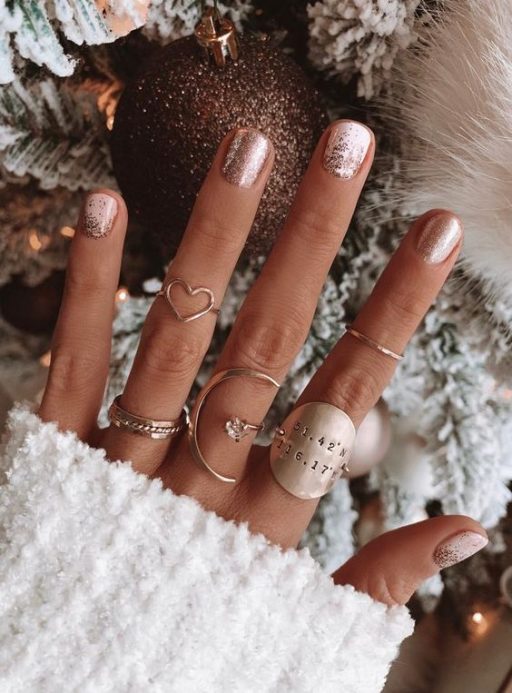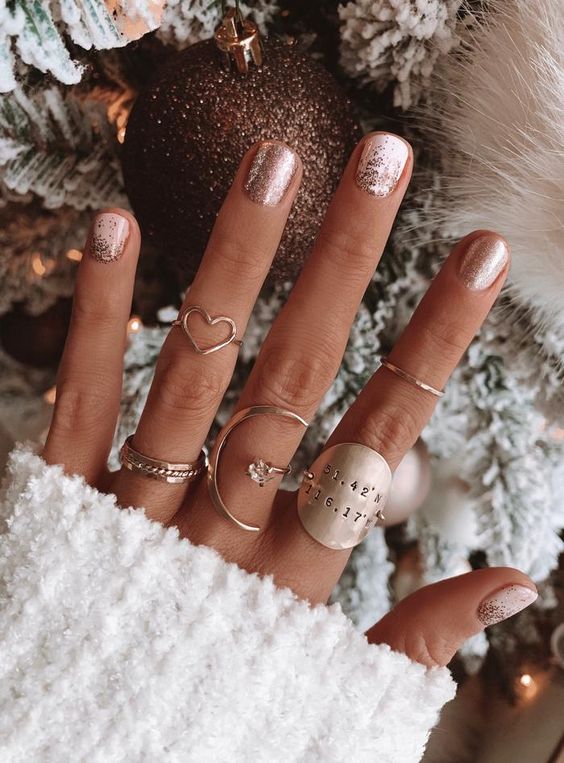 Who says you can't be a little too early for the holidays? A monochrome shimmery manicure is a sure way to make things even more festive!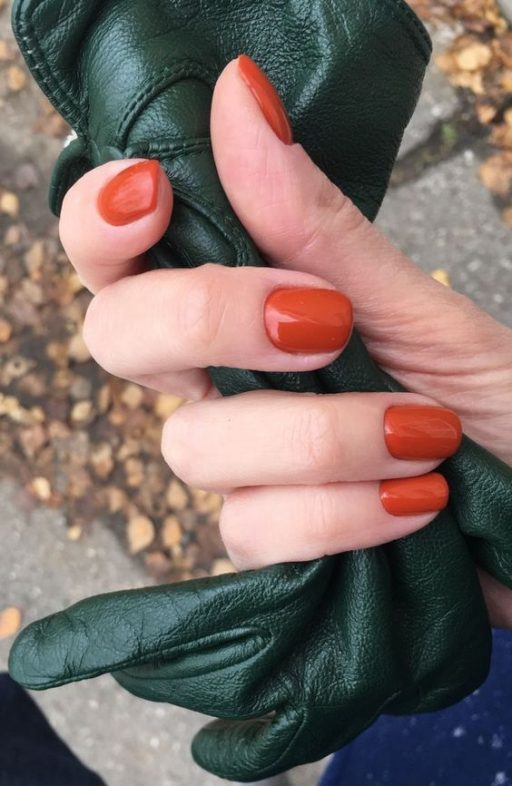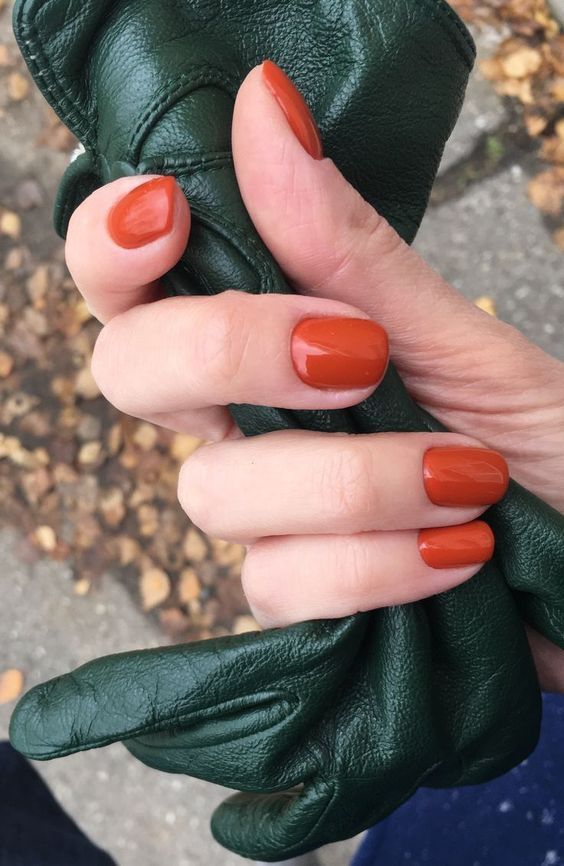 This has got to be one of my favorite shades of orange this fall season. It's an utterly gorgeous color that I might just wear all throughout autumn!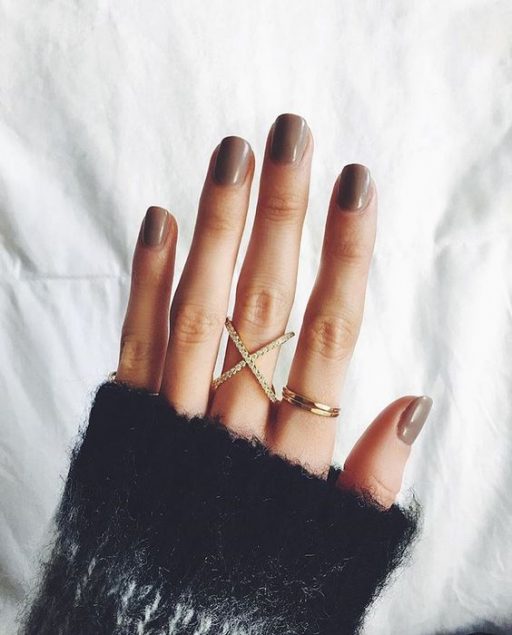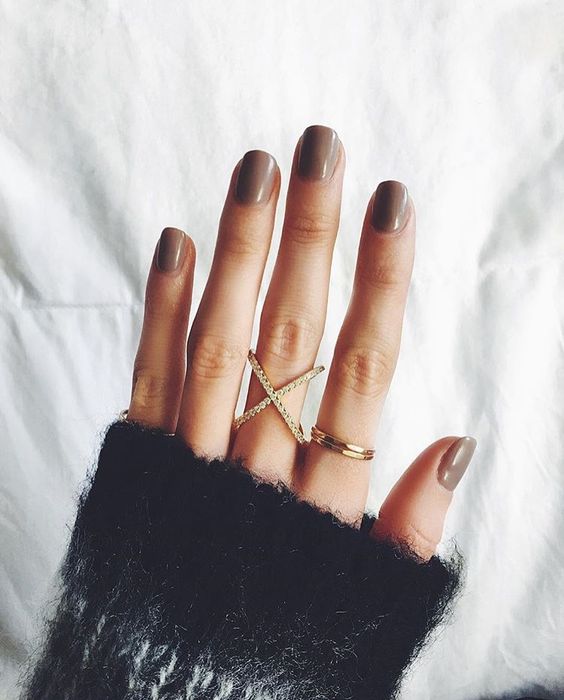 This taupey shade is pretty and elegant! If you're planning to wear a lot of cool and deep colors this fall season, then this is a manicure that will suit all your ensembles!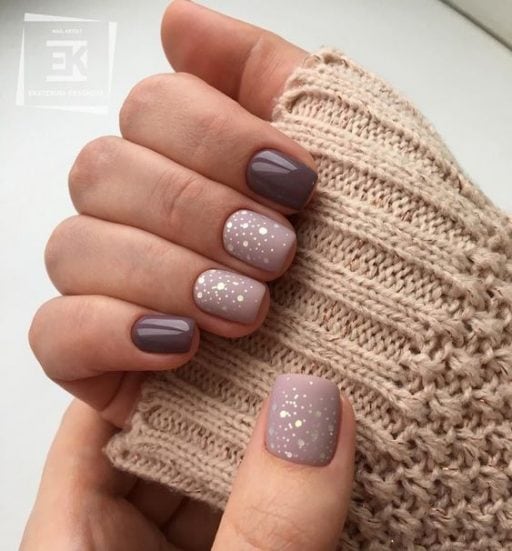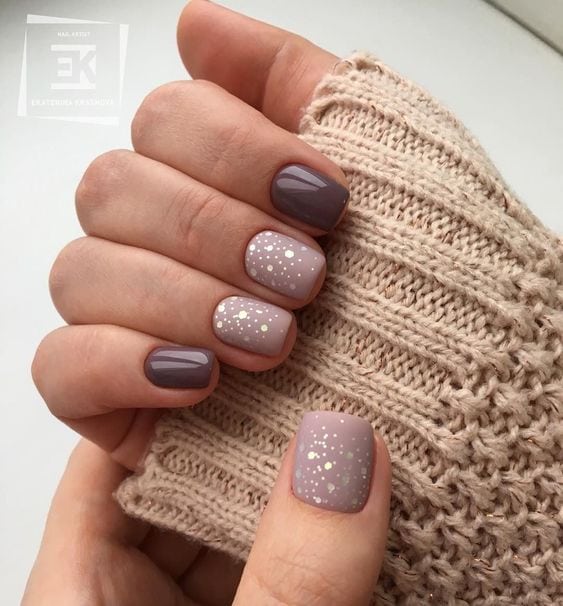 Is it just me or do the tiny speckles on these nails seem like snowflakes? If it happen to snow in your area around the fall season, this is a manicure to consider!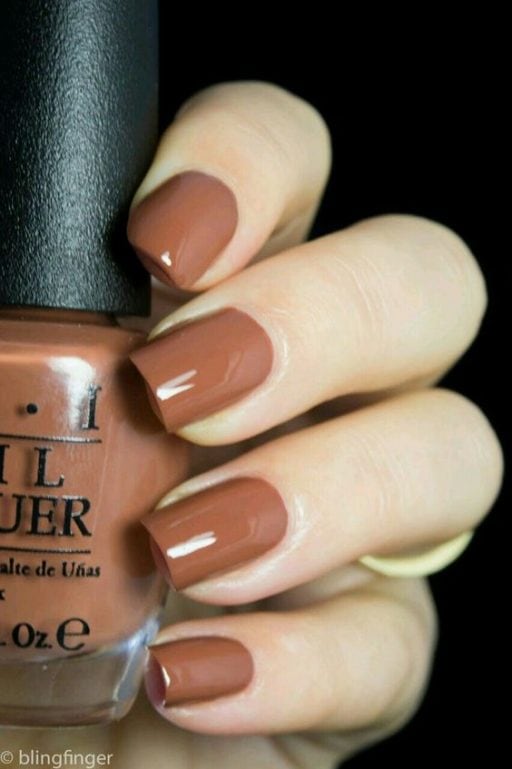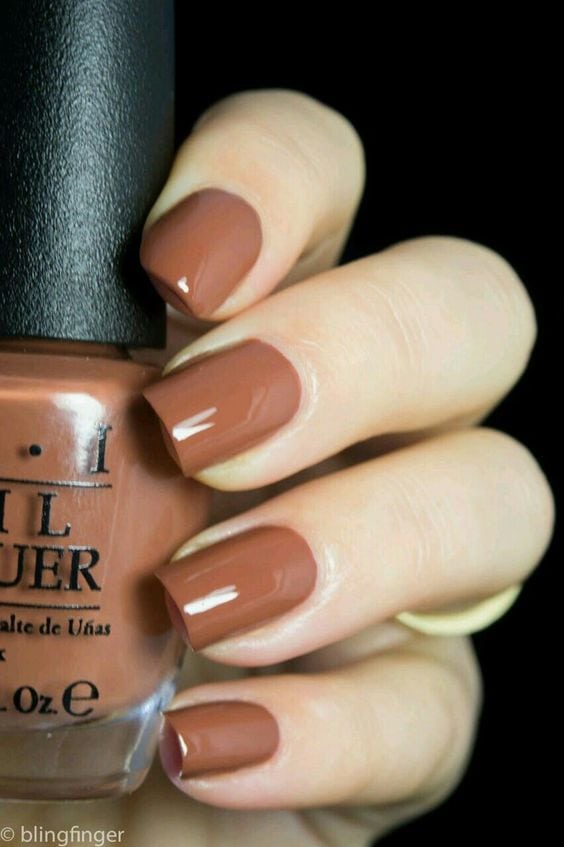 Enjoy your favorite brew or hot cup of chocolate while having this gorgeous tan brown shade on your nails. It's such an undoubtedly elegant color!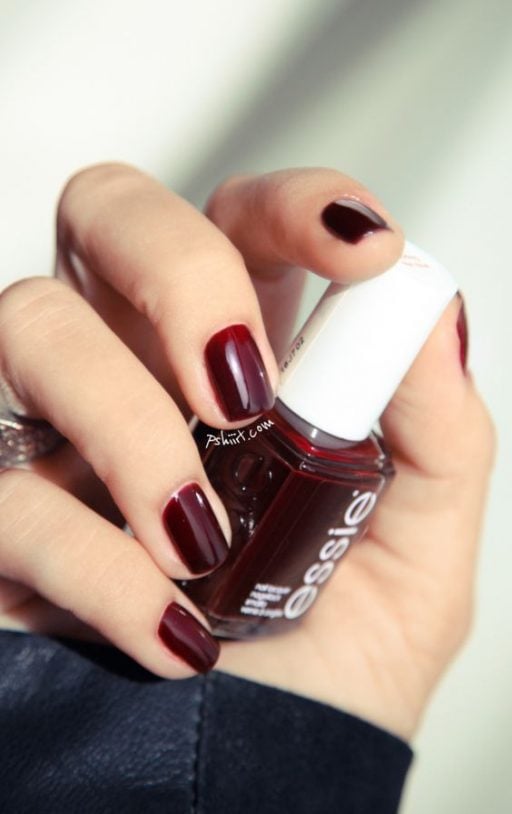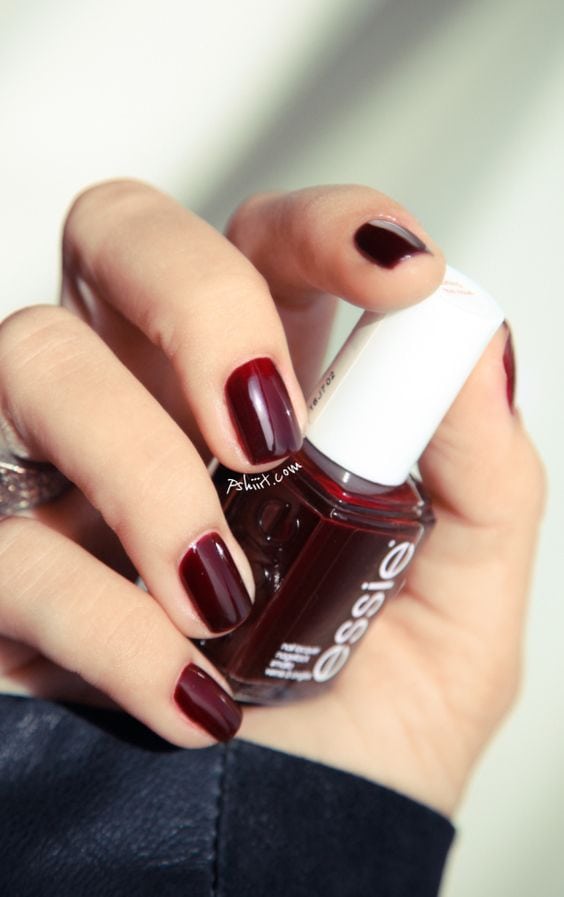 For something moodier and a bit more dramatic, you might want to set your eyes on an oxblood shade of red. It's seductive and has that sexy aesthetic!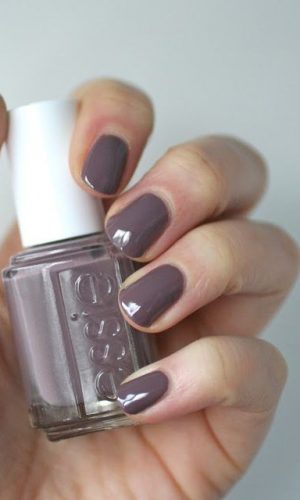 Autumn is a time when leaves change colors, the air turns crisp and becomes a bit chilly, and you can smell your mom's pumpkin pie from a mile away. A time for family get-togethers, festive Halloween costumes, apple cider drinking, hayrides in the nearby woods, and more fall festivities!
It will no doubt be a fabulous season if you're all about this autumnal vibe. So, of course, your nails need to go fall-appropriate too.
In case you still need some more fall nails ideas, I'm adding a few specific designs that I personally love here!
Fall Nails Ideas with Metallic Accents:
Metallic accents are a must in the fall season! They really make the look extra dark and gothic, which is just what we want for fall.
Gold or copper are classic choices so feel free to try both!
Fall Nails Ideas With Acrylic Paint:
Fall-inspired acrylic paint art design on your nails will be definitely in style this season. Use your imagination and add a leaf, flower, or any other pattern to the mix.
Nude and Gold Fall Mani:
If you want a subtle fall nail design with no sparkle whatsoever, go for this nude autumn nail art with gold accents. It's oh so classy!
Autumnal Nail Art Ideas:
Autumn floral leaves print on your nails is what you need for autumn. In order to do this, prepare some leaves and press them onto your nails several times with a clear topcoat in between.
Cool Gel Manicure for Autumn:
A classy, stylish look perfect for fall nails ideas . You can also do this with regular nail polishes, but gel is more durable and long-lasting.
Fall Nail Ideas With Flowers:
Leaves are very popular in fall nail art designs , but once in a while it's OK to go for flowers as well! This is an especially great way to perk up your nails if they're bare or too short. This fall flower nail art tutorial is super easy and pretty to boot!
Fall Nail Ideas With Pointed Accents:
Also known as stiletto nails , this design is for those who want something different, but not too crazy (as compared to other fall nail ideas ). You can do both the base color and pointed accents in the same color family or choose contrasting hues.
Fall Nail Art With Leaves:
Leaf print nails are a wonderful fall nail art idea because they're so easy to create! Just grab one of your leaf prints and press it lightly onto your nails multiple times (this works best with light, sheer colors). Voila, you have leaf print nails!
Autumn Nail Art with Acrylic Paint and a Scarf:
So this fall nail art is not only lovely, but also super creative. You create the scarf design by using any patterned paper you want (or even old book pages) – then you just tape it around your nails in the shape of a scarf! This is one of my favorite unique fall nails ideas.
Fall Nails With Cherry Blossoms:
A beautiful idea for fall nail art, cherry blossom nails are perfect if you want a sunny and bright look that's still appropriate for the season. Plus, they're very cute on long nails!
Fall Nail Ideas With Floral Accents:
This is an easy-to-do, classy fall nail design for short nails . Just paint your base color and add thin white lines over it with a striping or dotting tool.
Fall Nails Ideas With Geometric Accents:
A perfect choice if you want to stand out from the crowd this fall! Fall geometric accents are fun and oh so fashionable at the same time.
Fall Nails With Glitter and Studs:
An autumn nail art design that's both festive and glamorous! This one is a bit more advanced because it involves using glitters, studs, glue, and a lot of patience. But the end result is definitely worth it!
Fall Nail Ideas With Stars:
Who says fall nail art can't be fun and playful? If you prefer something less flashy, then go for this simple yet eye-catching fall nail design.
Fall Nail Art For Short Nails:
A classy look that's ideal for short nails . However, it will look just as lovely on long nails if you do a thinner line. You can also omit the top coat for a more natural look.
Fall Nails With Stripes:
A playful fall nail idea that's easy to do! Just paint your nails in any color, and then add stripes with a contrasting hue using thin tape as guides. When you remove the tape, you'll have beautiful autumnal nails!
Fall Nails With Water Marble Accents:
Water marbling is a fun way to create unique designs on your nails for fall. For this one, you'll need water marbling polish and marbling tools (or toothpicks) so that the design doesn't get messed up when you're done with it.
Fall Nail Ideas With Glitter Accents:
Glitter is back in fashion this fall, and it's definitely a top choice for nail art. If you don't want to go too over the top, then just add glitter accents! No need to paint your entire nails with glitters… that's way too much sparkle!
Fall Nail Art With Red Accents:
This fall nail design is gorgeous and sophisticated – and it's also very simple to do. Just paint your base with a red hue, and then add thin white lines over it using a striping or dotting tool.
Q&As About Fall Nails 2023:
What nail colors are dominating the fall nail design trends in 2023?
Rich jewel tones like emerald green, sapphire blue, and deep burgundy are stealing the spotlight this season. Neutral shades with warm undertones, such as terracotta and mustard, are also incredibly popular for a cozy autumn vibe.
Are there any specific patterns or textures that are in vogue this fall?
Absolutely! Geometric patterns, abstract designs, and negative space nail art are making waves. Textures like velvet finishes, metallic accents, and matte designs are being incorporated for added depth and interest.
How can I incorporate the essence of autumn leaves into my nail designs?
Fall foliage-inspired nail art is a hit this year. Try hand-painting intricate leaf patterns using shades of orange, red, and gold. Alternatively, use foil or stamping plates to recreate the textures of leaves on your nails.
What nail shape is best suited for showcasing these fall designs?
Coffin and almond shapes continue to be popular choices for showcasing intricate fall designs. However, square nails with rounded edges are also gaining attention for their versatility and modern appeal.
Are there any specific nail accessories that can elevate my fall nail look?
Yes! Miniature metal charms like leaves, acorns, and pumpkins are adorable additions. Additionally, tiny rhinestones and studs can provide a touch of glamour to your autumn-inspired nails.
Can I mix and match different trends for a unique fall nail look?
Absolutely! In fact, mixing trends is a creative way to personalize your nail art. Experiment with combining jewel tones, negative space, and metallic accents to create a one-of-a-kind design that truly represents your style.
How can I maintain the longevity of my fall nail design?
To make your fall nail design last, apply a quality base coat before painting your nails and seal the design with a durable top coat. Avoid excessive exposure to water and use gloves when doing household chores to prevent chipping and fading.
Any tips for those who prefer a more minimalistic fall nail look?
Embrace the "less is more" approach by opting for subtle fall accents. A single feature nail with a delicate leaf motif, a gradient of autumnal shades, or a simple metallic stripe can convey the essence of fall while maintaining a minimalist vibe.
Are there any celebrity-inspired fall nail trends we should watch out for?
Celebrities are gravitating towards earthy tones and elegant yet understated designs this fall. Look out for muted metallics, soft gradients, and minimalist nail art showcased by your favorite stars.
How can I add a touch of coziness to my fall nail designs?
Consider incorporating knitted patterns, plaid designs, or sweater-like textures onto your nails. You can achieve this look through stamping plates, freehand designs, or even using actual fabric.
What nail art techniques are gaining popularity this fall?
Gradient nails, ombre effects, and watercolor-inspired designs are all the rage this season. These techniques allow you to blend multiple fall colors seamlessly for a captivating and harmonious look.
Can I experiment with unconventional nail shapes for fall designs?
Absolutely! Oval and stiletto nails are making a comeback this fall, offering a unique canvas to showcase your autumn-inspired nail art. These shapes can add a touch of drama and sophistication to your overall look.
How can I incorporate seasonal motifs like pumpkins and apples into my nail art?
Use small stencils, decals, or even nail art pens to create charming pumpkin, apple, or harvest-themed designs. Alternatively, you can go for a minimalist approach by painting tiny pumpkins on an accent nail.
Are metallic accents still in style for fall nail designs?
Yes, metallic accents remain popular this fall. Consider using gold, bronze, or copper accents to add a touch of glamour to your nail art. You can incorporate these accents as borders, geometric shapes, or even in a delicate ombré effect.
Are there any innovative products that can enhance my fall nail designs?
Nail wraps with intricate fall patterns are gaining traction. They provide a quick and fuss-free way to achieve complex designs without intricate brushwork. Additionally, gel nail extensions are being used to create longer canvases for stunning nail art.
How can I incorporate autumn-inspired textures into my nail designs?
Experiment with textures like tweed, suede, and even crushed velvet. Use specialized powders or flocking powder to achieve these tactile effects, adding a unique and playful dimension to your nails.
What's the secret to achieving a flawless fall manicure at home?
Proper preparation is key. Ensure your nails are clean, trimmed, and filed. Use a good quality base coat to protect your natural nails and prevent staining. Take your time with each layer of polish for a smooth, streak-free finish.
Are there any nail art challenges or contests related to fall designs?
Yes, many online communities and social media platforms host fall-themed nail art challenges and contests. Participating can not only be fun but also a great way to showcase your creativity and connect with fellow nail art enthusiasts.
Can I adapt these fall nail trends for shorter nails?
Absolutely! Shorter nails can still rock fall trends by focusing on smaller details, like delicate leaf patterns, minimalistic metallic accents, or gradient effects that elongate the nails. The key is to adapt the designs to suit the canvas you have.
Any tips for maintaining healthy nails while trying these trendy designs?
Keeping your nails moisturized with cuticle oil, avoiding excessive filing, and giving your nails breaks between manicures can help maintain their health. Also, opt for nail polishes with nourishing ingredients to minimize damage.
Whether you're looking to embrace the bold and vibrant or prefer a more subtle and cozy aesthetic, these fall nail design trends for 2023 offer a myriad of options to suit every style. Experiment, have fun, and let your nails be your canvas for showcasing the beauty of the autumn season.
For a lot of people, fall is the best time to invest in new nail polish. If you're looking for some ideas on how to update your manicure this season and still stay within budget, we've got just the thing!
We hope that these fall nails ideas inspire you to try something new or give yourself an excuse to purchase a few more bottles of color. Remember – if all else fails, there's always stick-on nails!