Spice up your wardrobe with some of these super cute and casual teacher outfits!
Every woman wants to look her best on any occasion or event, especially when they're going to their workplace. Teachers are no different in this aspect.
Most of the time, teachers need to dress appropriately depending on the institution they're working at. But that doesn't mean confining your personal style or limiting your personal options to suits and slacks whenever you walk into a classroom.
So say goodbye to the usual formal attire and try out clothes that are more comfortable, laid-back, and reflect your personal style while still looking professional. Whatever that may be, these cute and casual teacher outfit ideas will surely have something for you!
Cute Teacher Outfits For Inspiration:
Here are our favorite teacher outfit ideas to use as inspiration for all four seasons. Enjoy!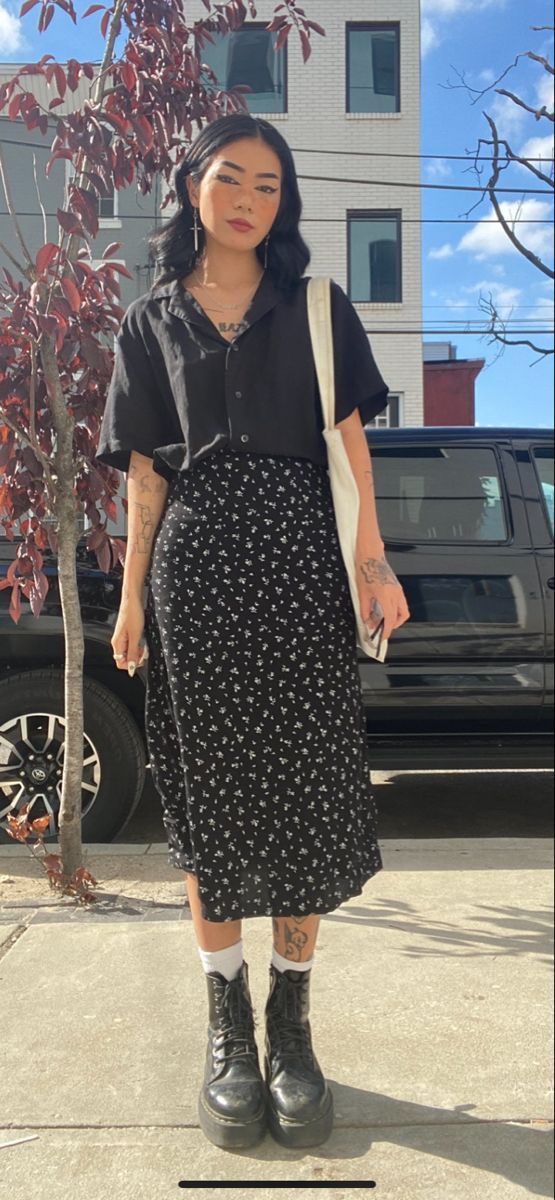 Long skirts aren't foreign to working women and that includes teachers. But why not try something different than the usual formal skirts and wear something that's more fun like this maxi floral skirt? Maxi and midi skirts are super trendy right now so this is one of the perfect pieces to incorporate into your teacher outfits!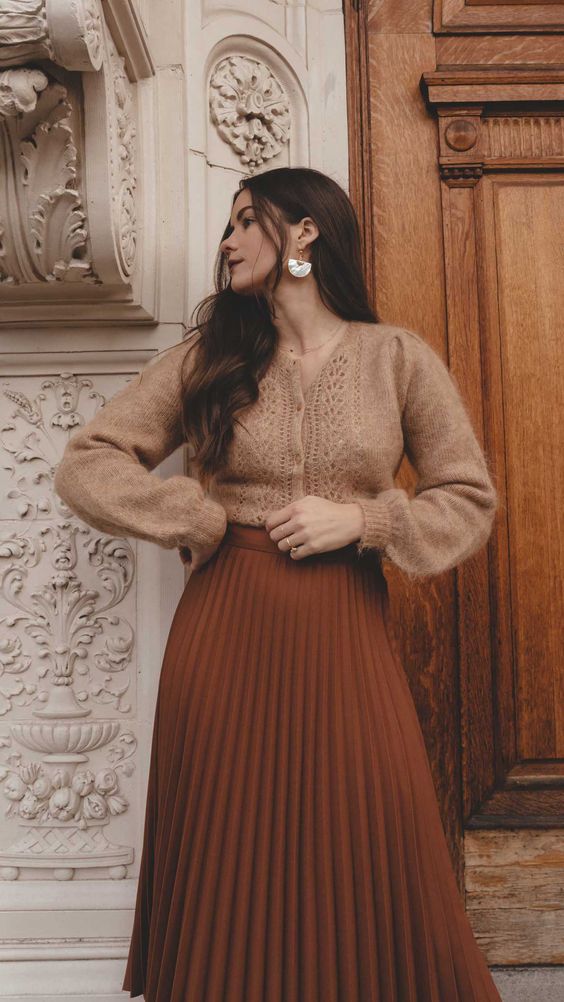 These earthy tones are just absolutely beautiful and perfect for the fall season! This is one of my favorite teacher outfit ideas if you're looking for something a little vintage.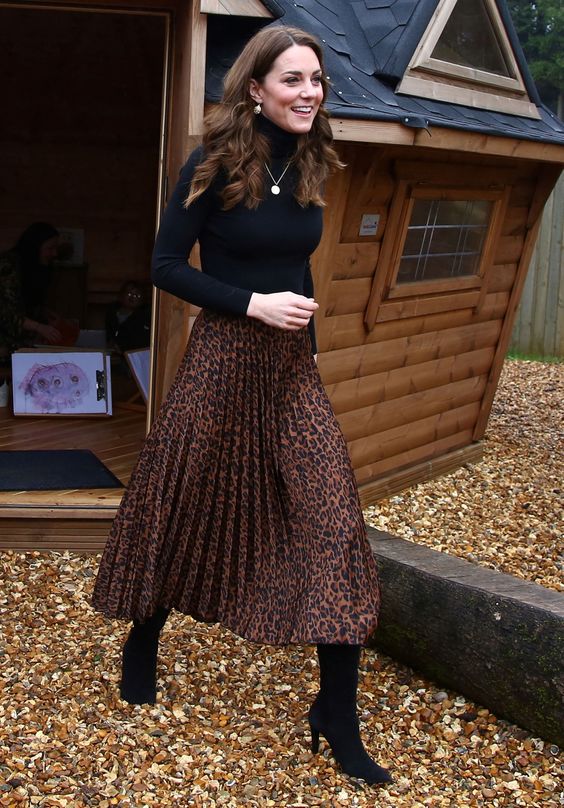 When it comes to smart casual looks, there are a few style icons I can think of and Kate Middleton is definitely one of them! She's just so elegant and classy. This is one of my favorite teacher outfits if you're looking for something appropriate and warm while remaining classy.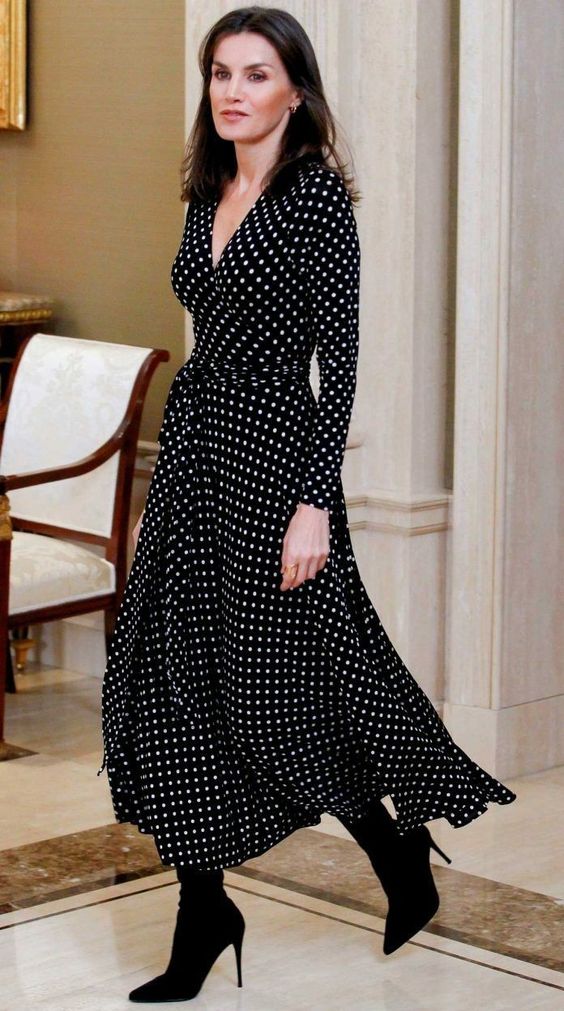 Another powerful woman who dresses the part is Queen Letizia of Spain! You will surely get your classroom's attention with this maxi polka dot dress!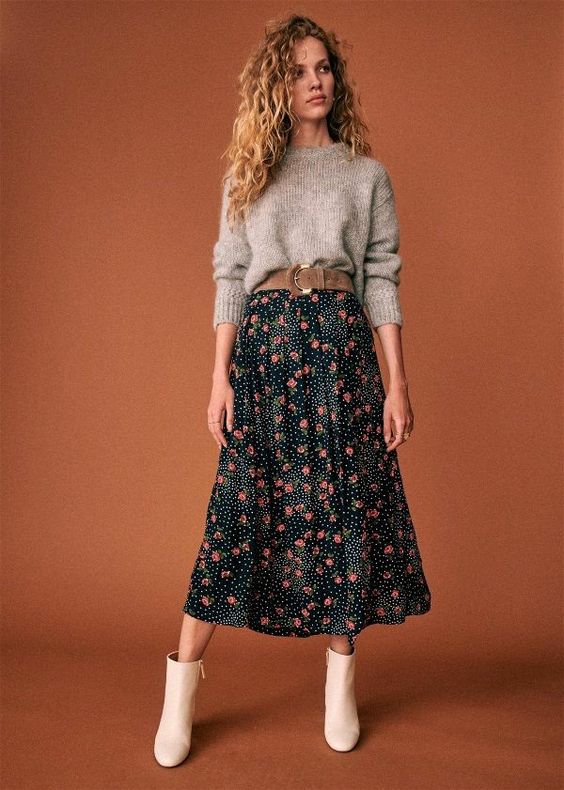 Chunky knit sweaters are some of the comfiest yet versatile pieces of clothing a teacher can wear, especially during the colder months!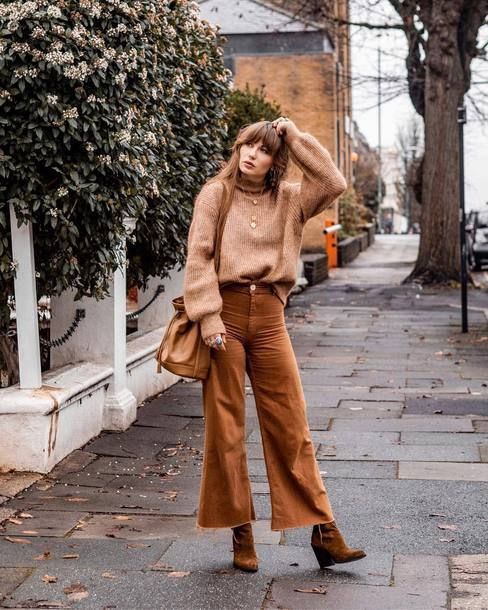 If you're not a fan of skirts or simply want to take a break from wearing them, why not try wearing wide-leg pants like these? This is one of my favorite dark academia teacher outfit ideas. To get this dark academia look, try adding hints of corduroy and warm but dark colors.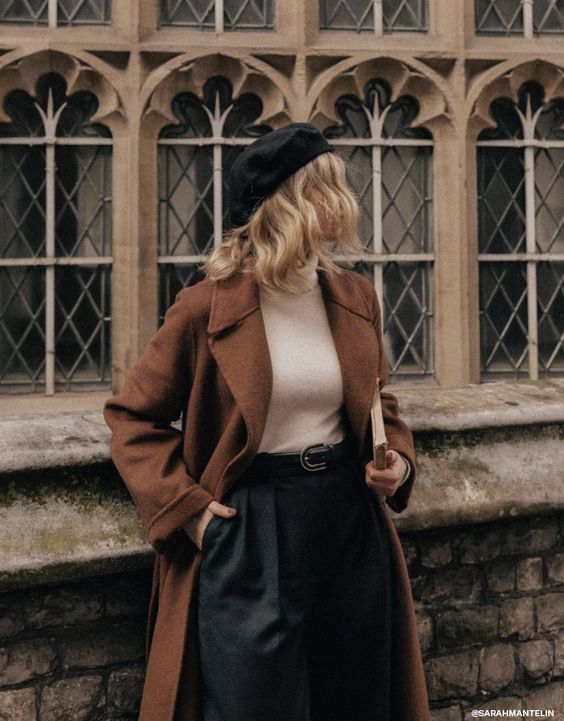 Look smart and chic by wearing a long, brown coat to pair up with your slacks and turtle-neck blouse.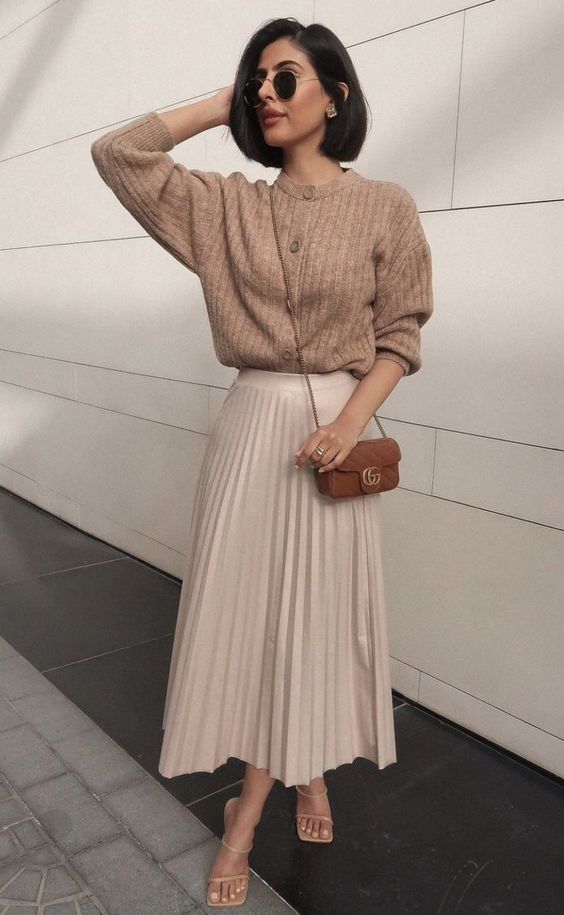 Having neutral colors in your wardrobe is always a good thing as they're easy to pair with any other color, but they also add a layer of classiness to any outfit!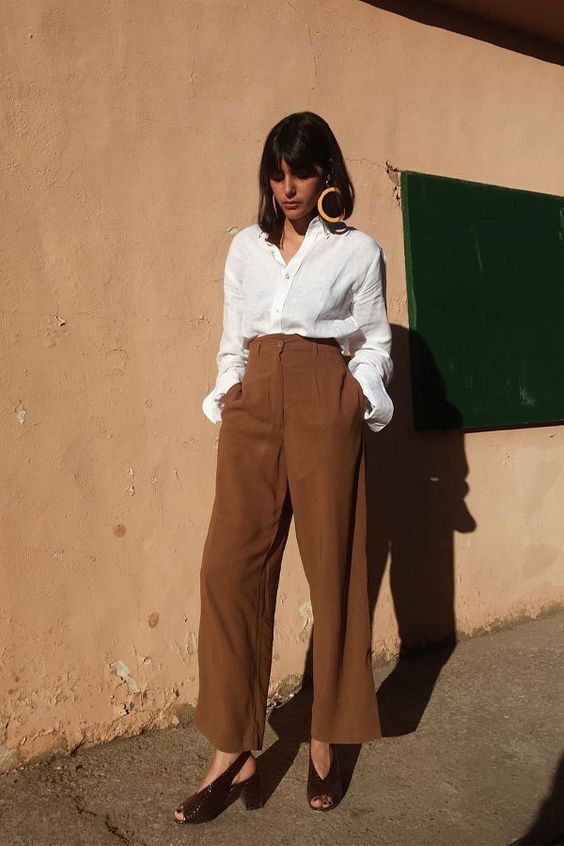 I absolutely love wide-leg pants and they look so good in brown like this one! This is one of my favorite teacher outfit ideas with trousers because it's really comfortable and sharp.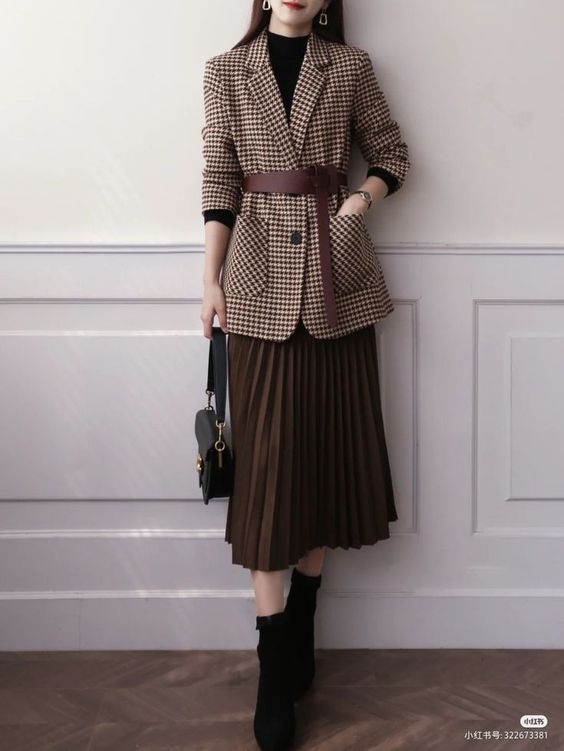 If you still want to retain some formality in your teacher outfits, wearing a midi skirt underneath a blazer and sealing them with a belt can give you a look that's chic, confident, and smart!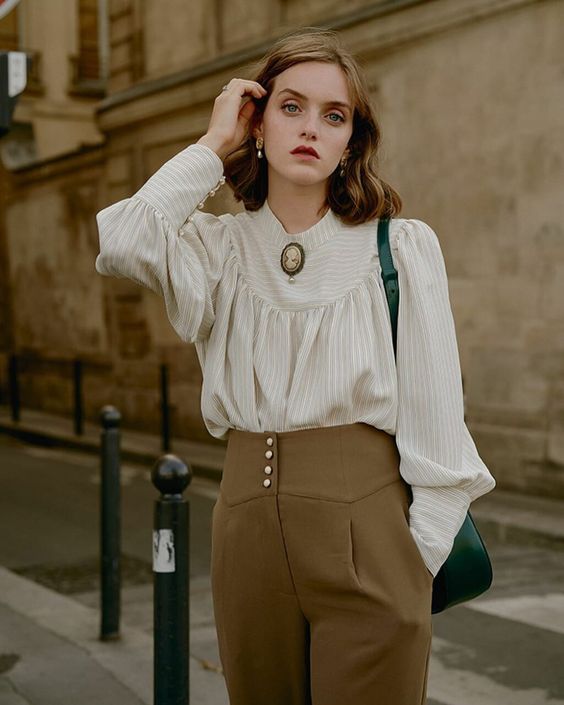 Poet shirts just have such a way of making you look instantly classy. It's even more perfect if you teach something about literature or history. They're also easy to pair with any type of pants or skirt!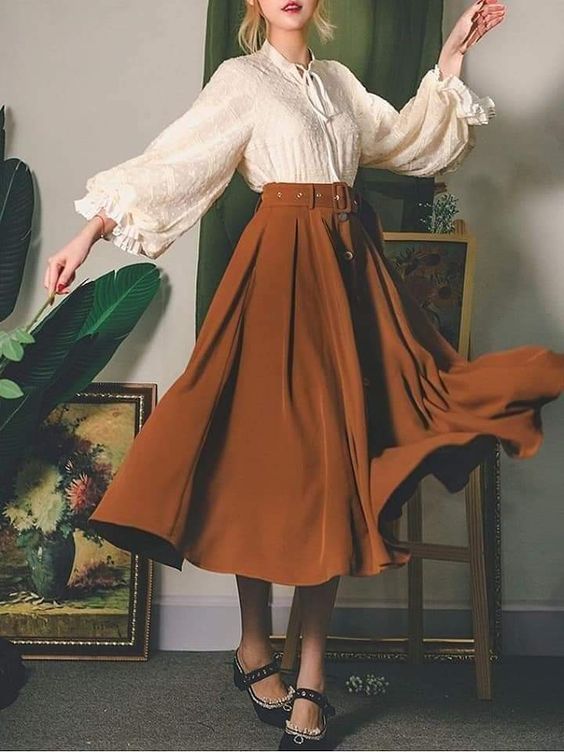 Blouses with loose sleeves just look so gorgeous on anyone. They have a certain appeal to them that makes you look elegant and well-dressed.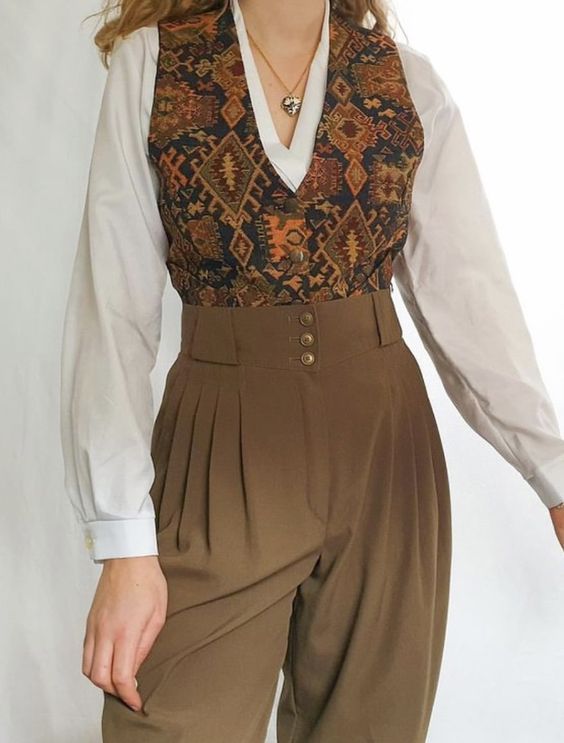 Looking for teacher outfits with a British fashion vibe? You can also spice up your current outfit by wearing a printed vest to really tie in the look together!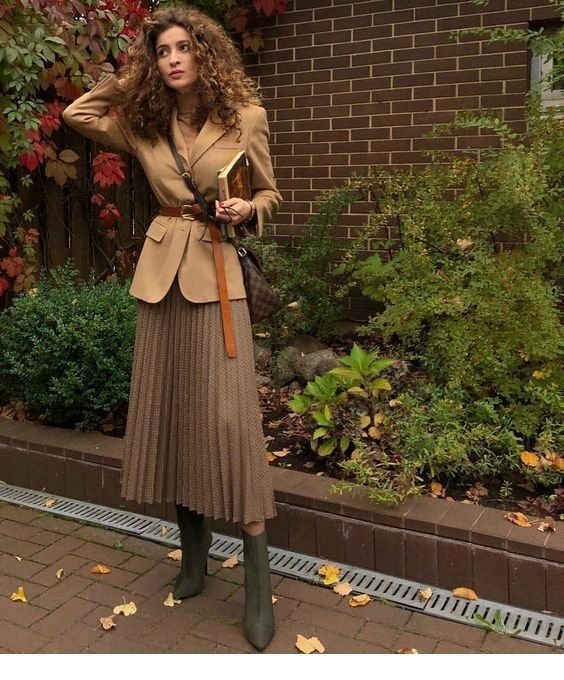 If you usually go for deep brown, earthy tones, these warm, lighter shades of brown are just an absolute must-try!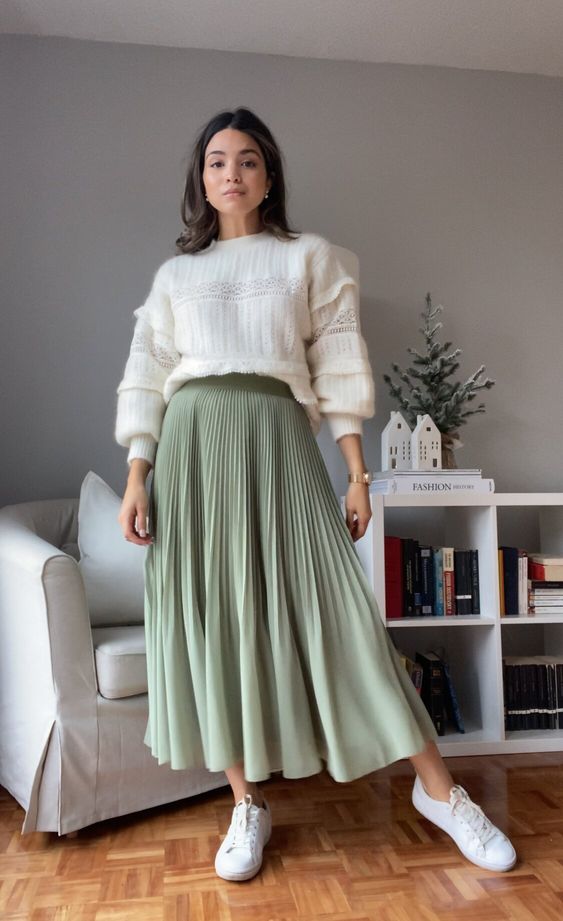 Looking for teacher outfit ideas that work for the spring? While I do love my fair share of earthy colors, you can also opt for something brighter like this white and green combo!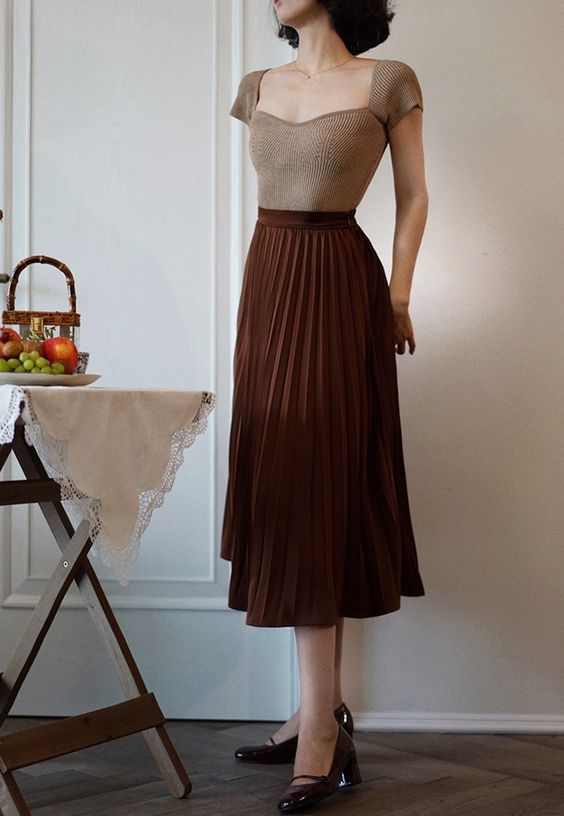 This nude, ribbed top is just so sexy without being revealing. It's perfect for when the weather gets warmer and you can pair it up with a midi skirt and some sensible heels!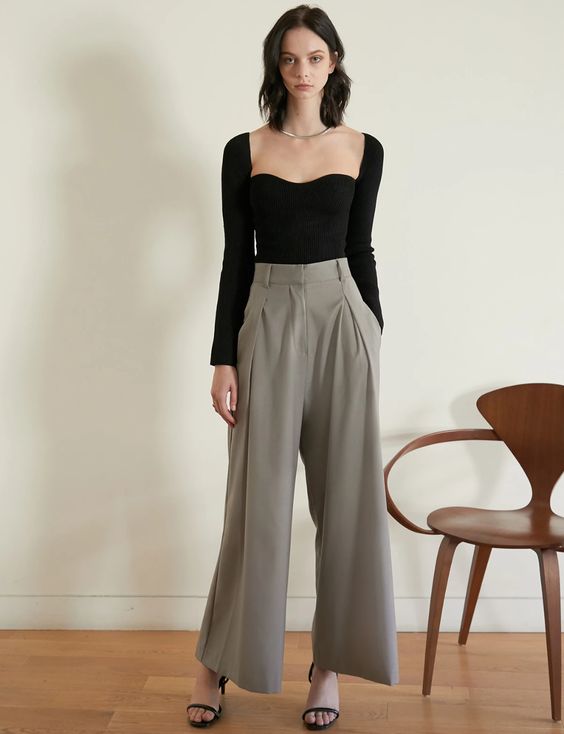 A tight black top and a pair of wide-leg grey pants may be a common combination in any style, but it's definitely a classic for a reason!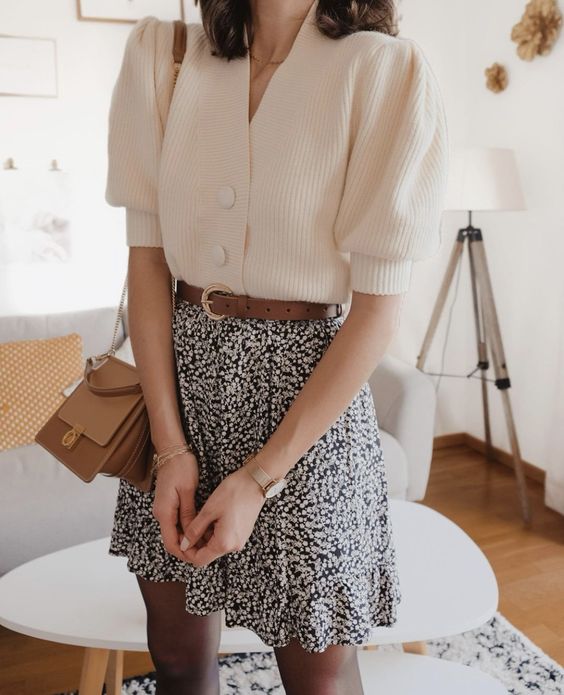 Depending on the school, I think you can also get away with wearing a shorter skirt as long as it's still an appropriate length. You can choose to style it with stockings and a cute blouse! This is one of my favorite casual teacher outfits that reminds me so much of Jessica Day on New Girl. I love it!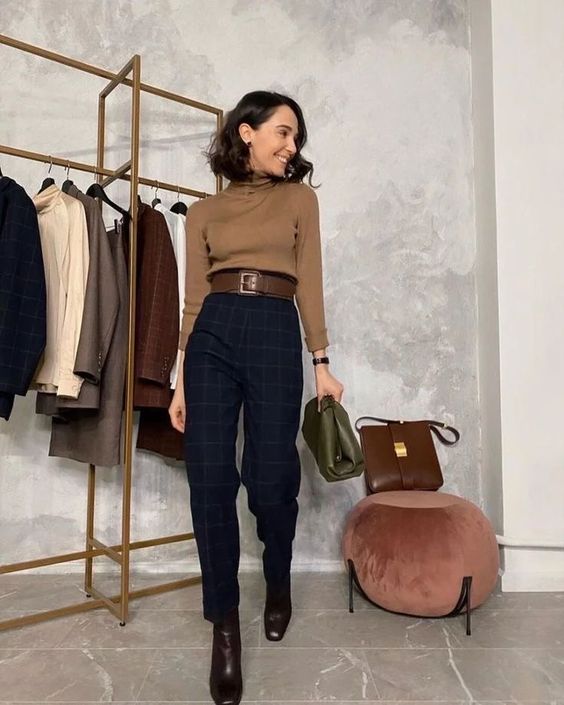 Looking for teacher outfit ideas that will keep you warm? Navy, checkered pants are also cute when combined with neutral colors. There's something about them that just makes you look smart!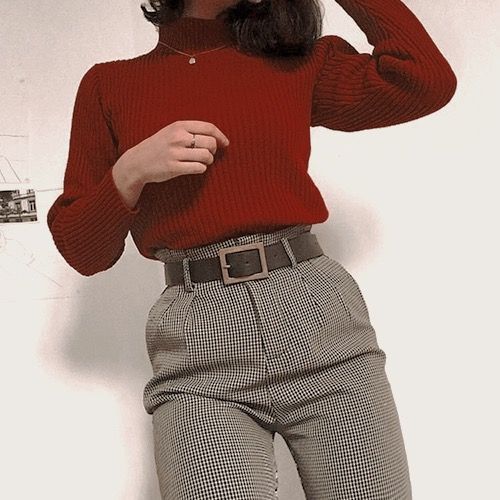 Don't be afraid to try bold colors every now and then like this red sweater! If you feel it could be a bit intimidating or loud, you can pair it up with neutral colors to balance it out.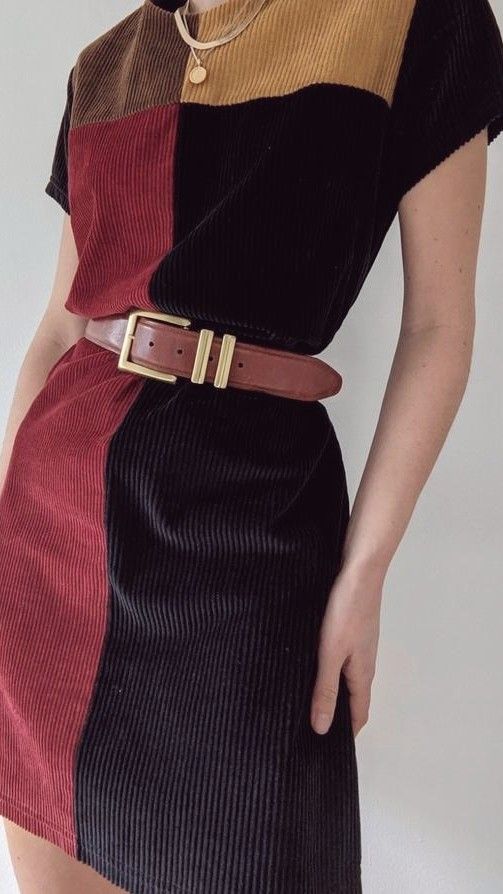 I am honestly obsessed with this chic color-blocking dress! It's simple but so beautiful at the same time! Your students will surely see you as the best-dressed teacher with this outfit!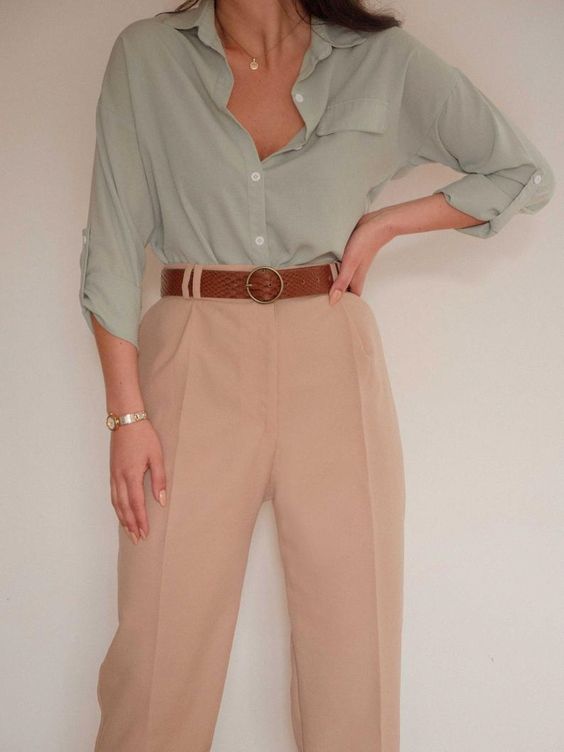 Still keeping it formal yet stylish, this sage blouse and khaki pants just look so good together!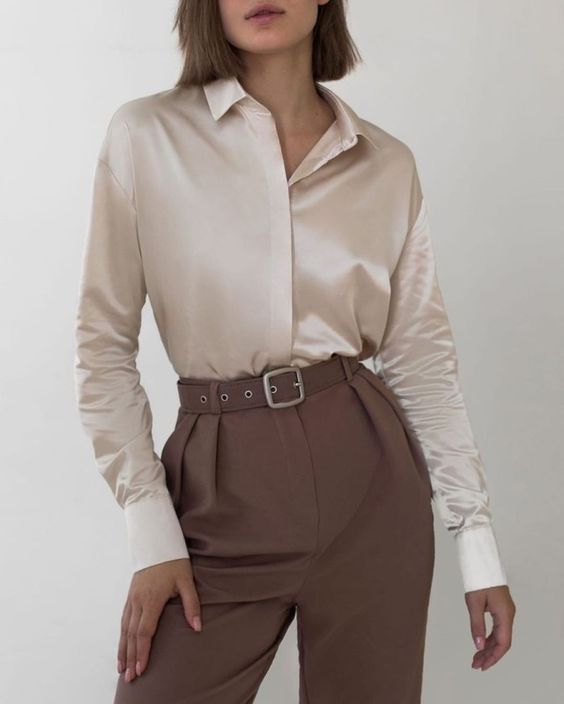 If you want to keep things formal, you can still make subtle changes or choose unique pieces like this satin blouse to put your own creative spin into your teacher outfits!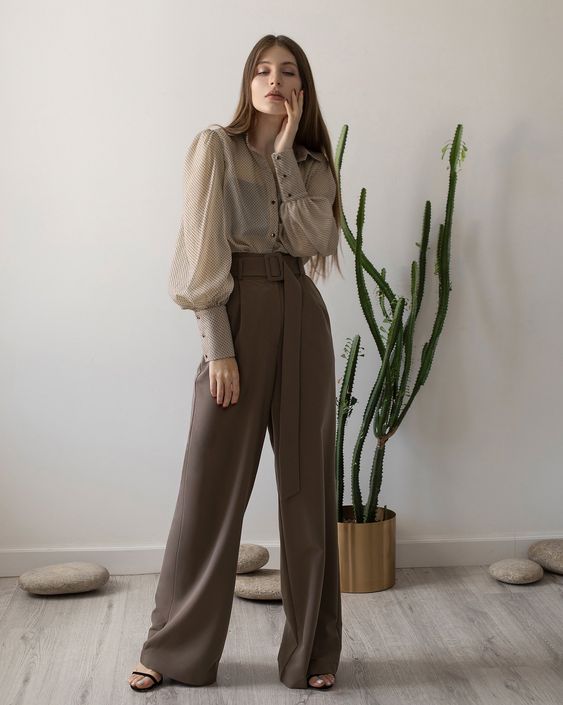 This sheer blouse with these loose, puffy sleeves just looks so ethereal and chic!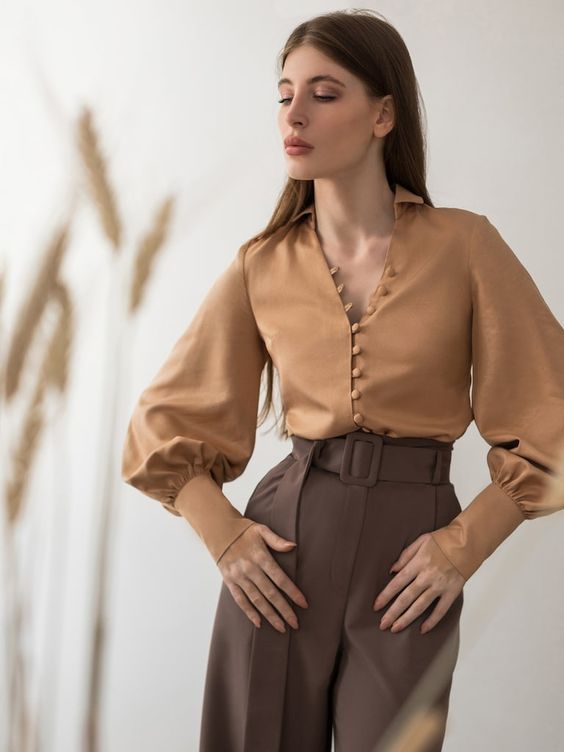 You can tell by now that I'm quite getting obsessed with these balloon sleeves and they're so perfect for the classroom! You can wear a belt to cinch your waist and accentuate your figure then balance it out with some wide-leg pants!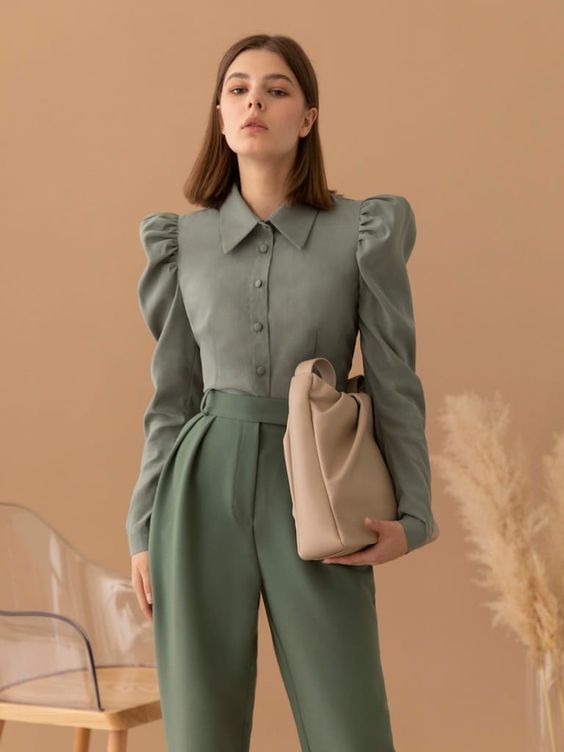 Can't get enough of puffy sleeves? This green blouse is sure to give you a fresh and sophisticated look as you walk down the halls of your school.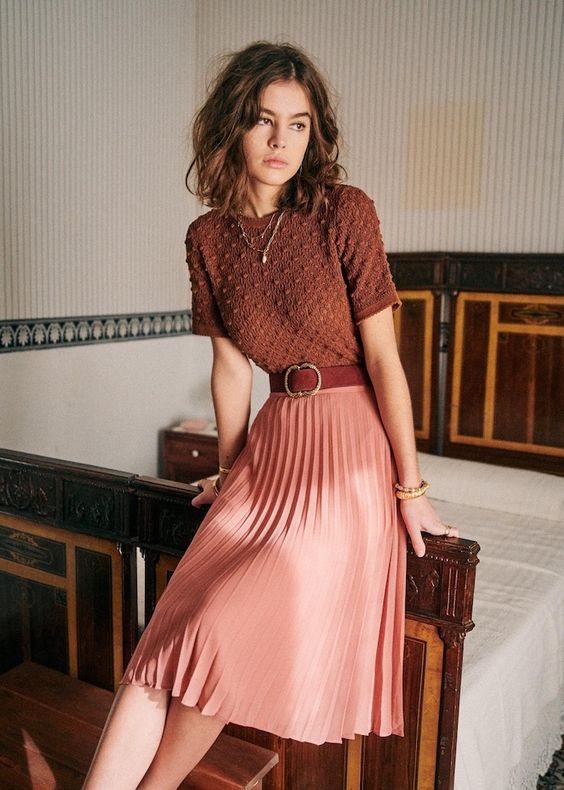 Rosy colors on an outfit are perfect for any season and they give an effortlessly soft and feminine vibe!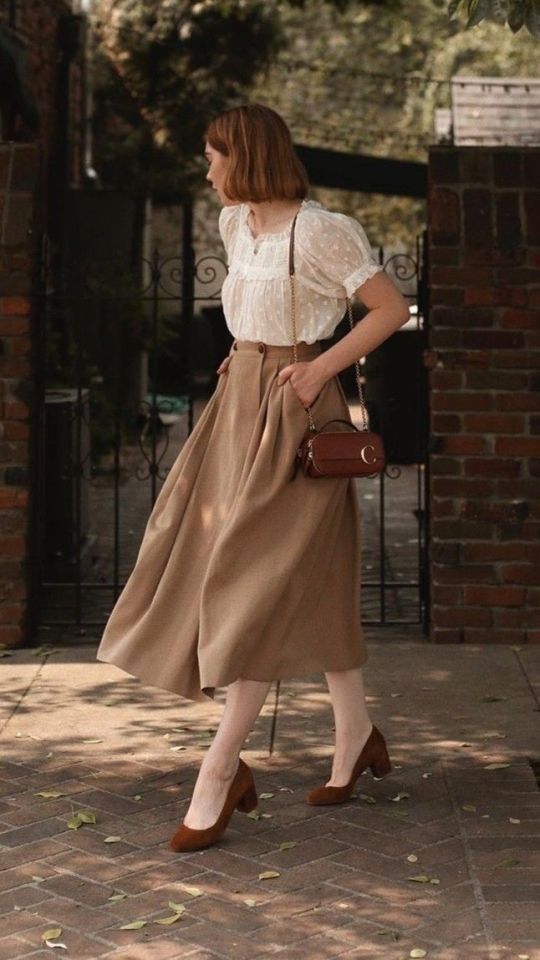 Look classy and elegant with this sheer, white blouse and maxi, brown skirt!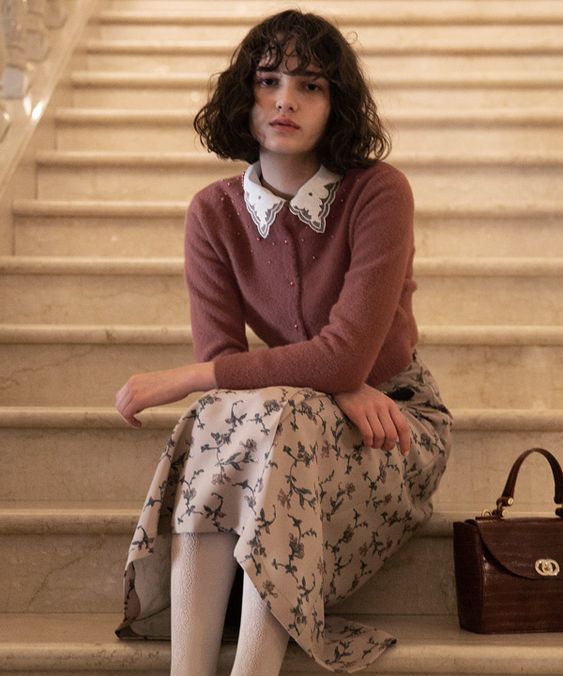 This cute, plum sweater and floral skirt just look so perfect together! This is one of the more classic and vintage yet casual teacher outfits on this list. It's definitely a go-to!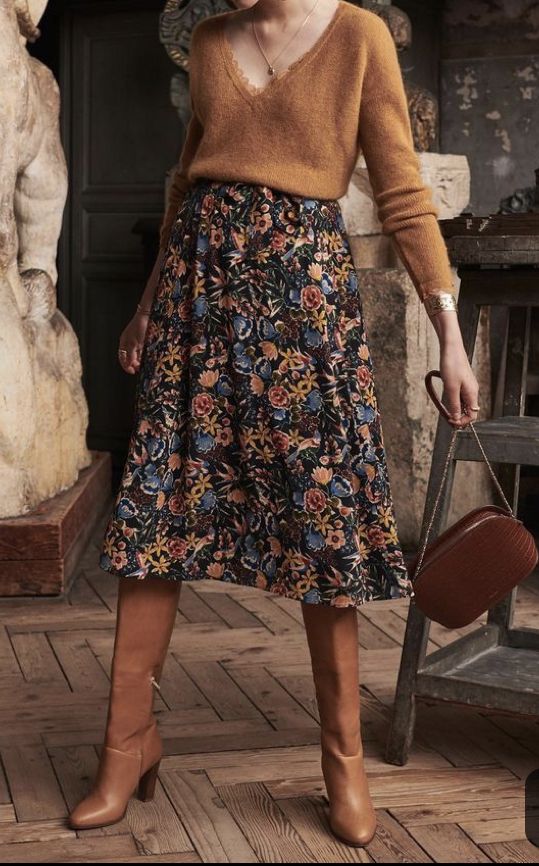 I just love floral skirts like these. They're flowy and comfortable to wear for hours and hours. They also look so good paired with knee-high boots!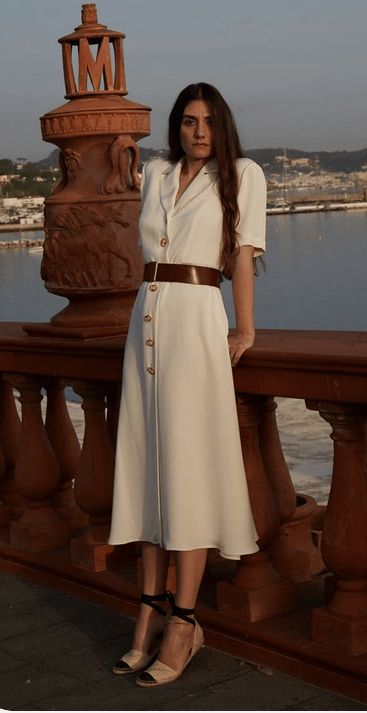 Looking for casual teacher outfits that work well during the warmer months? Perfect for the summer season, this white shirt dress ticks the boxes in what you might be looking for in a teacher outfit idea.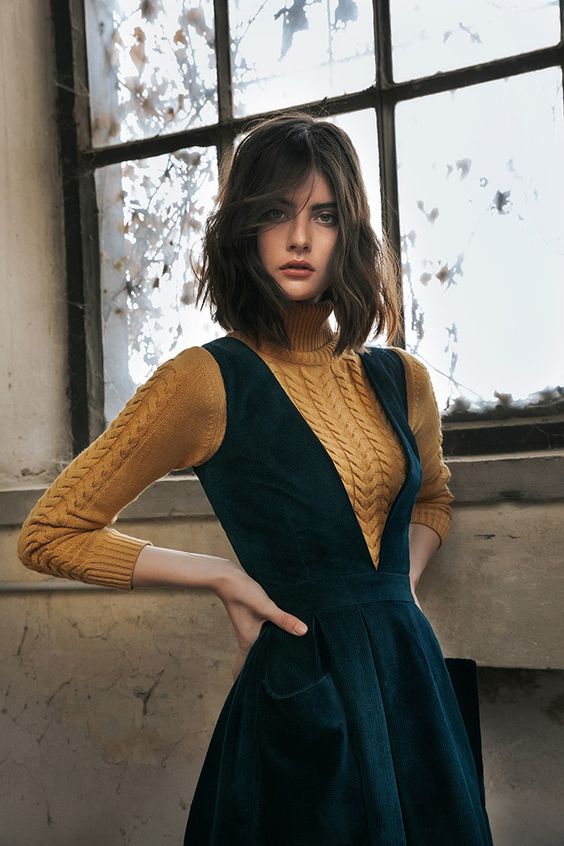 Play with different colors like this yellow and navy outfit when it comes to planning your teacher wardrobe! Sometimes you'll discover unique color combinations that you haven't tried before and this can instantly give you a whole new outfit and look!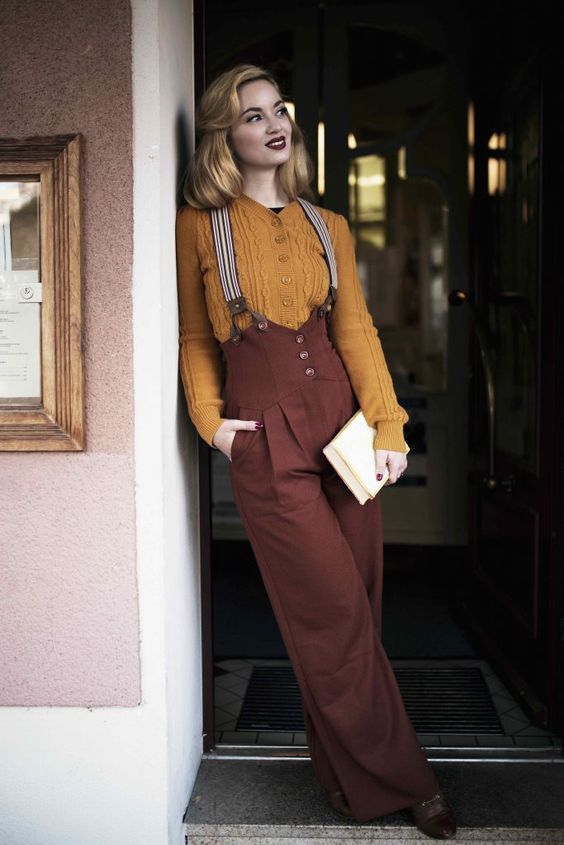 Your students will definitely see you as the fashionista that you are when you pair up suspenders like this!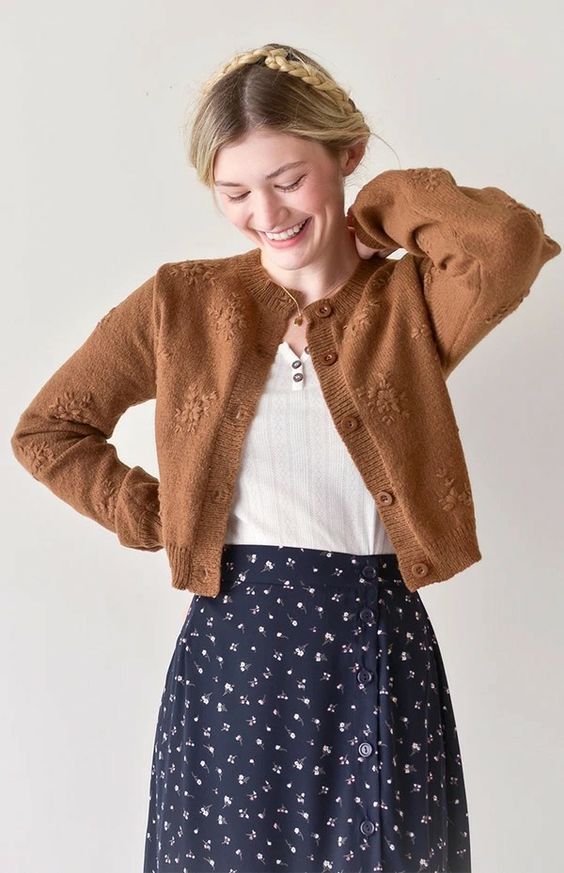 I absolutely adore this brown sweater and the cute, little floral details it has!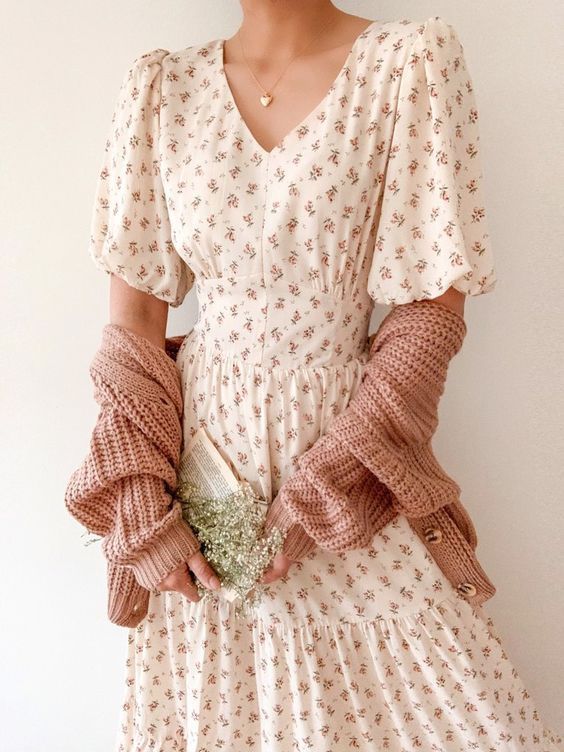 Show off your cottagecore aesthetics whenever you step into your classroom with this pretty floral dress and knitted cardigan!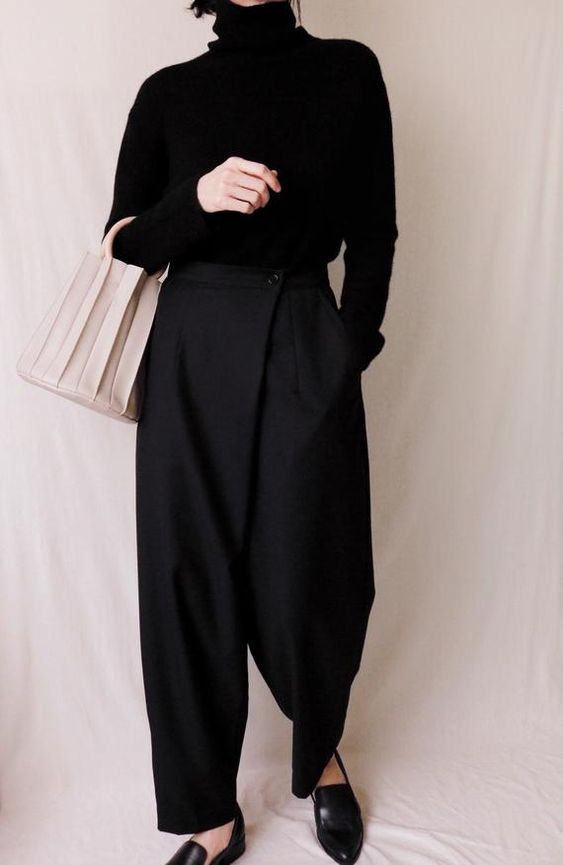 To me, an all-black outfit is perfect for any kind of day. It instantly gives off a sophisticated and chic vibe effortlessly!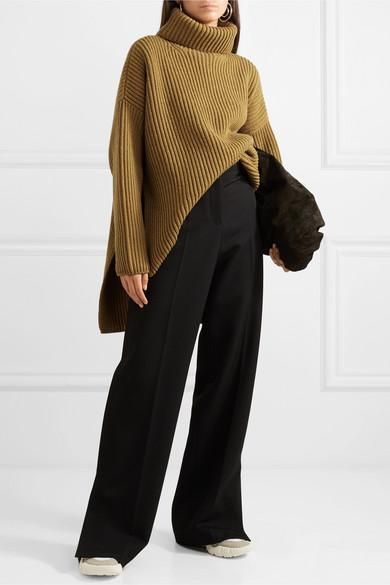 This oversized turtle neck is just gorgeous. It's sophisticated and perfect for a cozy day in class. This is definitely one of my favorite casual teacher outfits because it's so cozy.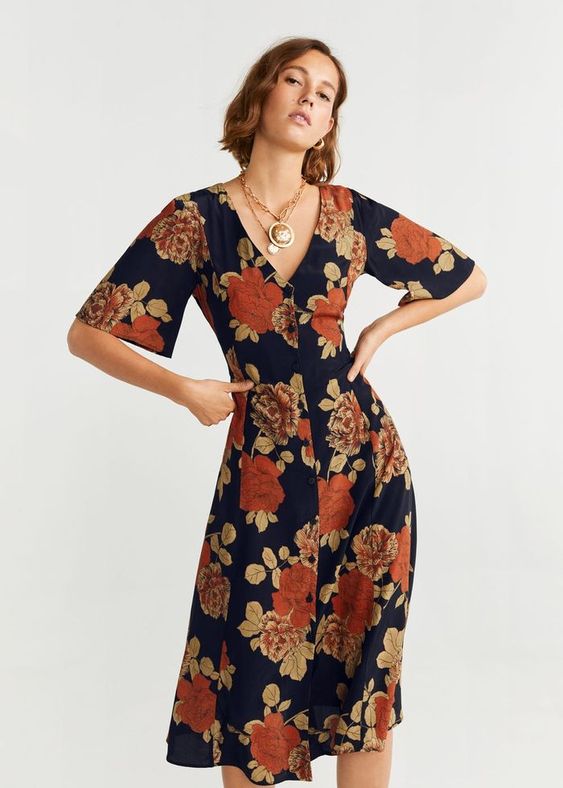 Look how cute this floral dress is! It's so perfect for both a casual and formal setting.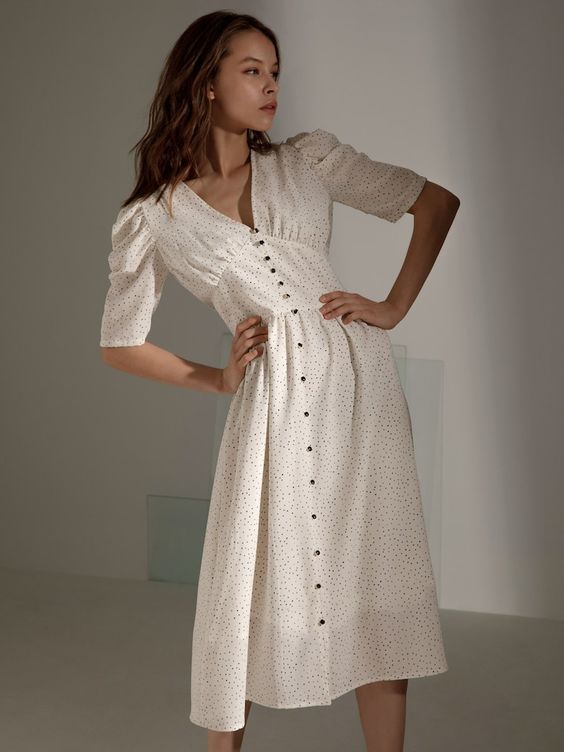 This white polka-dot dress looks absolutely pretty and you can style it with some heels or even a pair of ankle boots!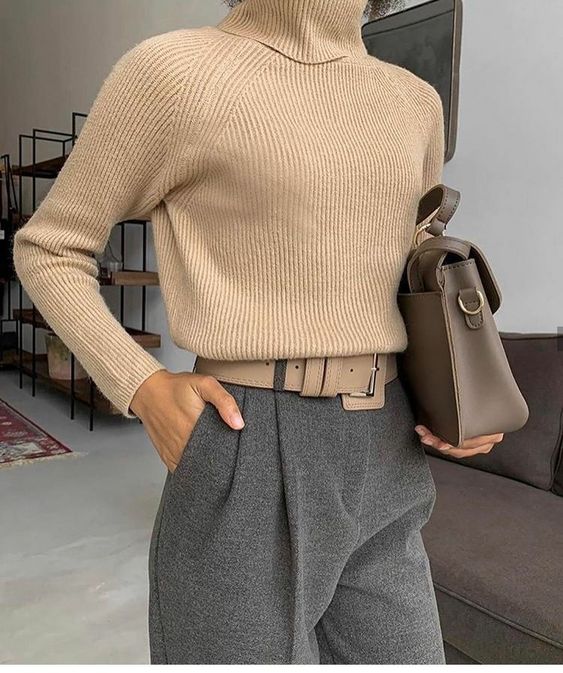 Looking for cute teacher outfits that you can keep in rotation? Neutral colors are always highly recommended when building any kind of wardrobe. While they might be basic colors, they're easy to style up and elevates your look into something chic.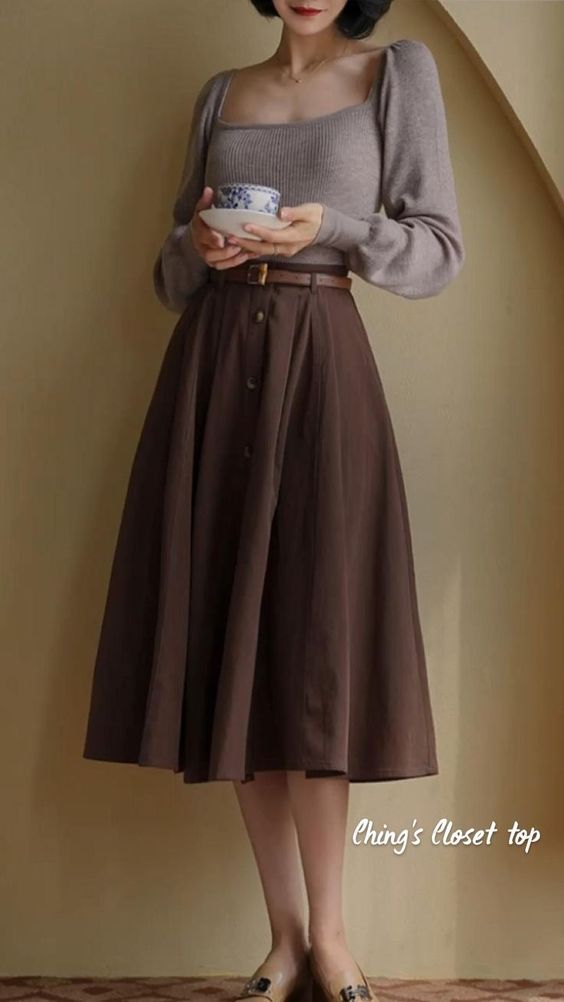 Get in touch with your feminine side with this grey ribbed top and chocolate-colored maxi skirt!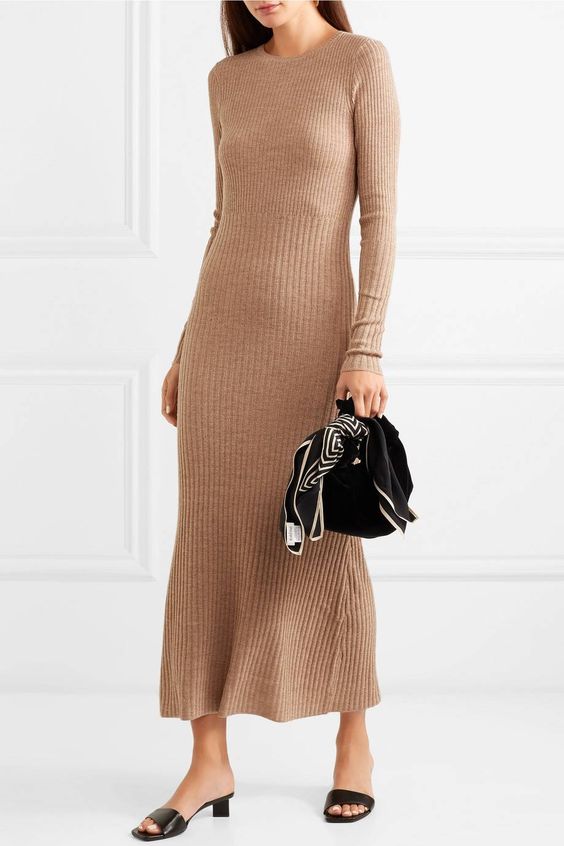 This long-sleeve knit dress is not only trendy but can also be worn anywhere. Yes, that includes the school and the classrooms you're teaching in!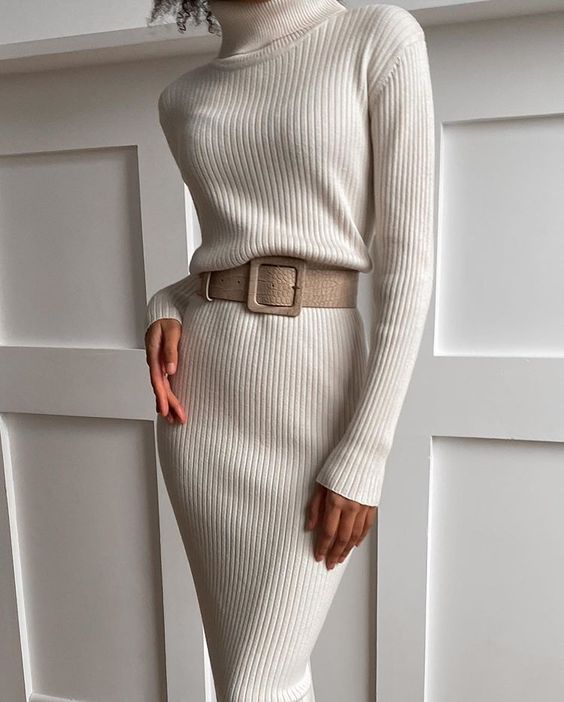 As I've mentioned, ribbed dresses are quite trendy these days. They have a way of accentuating your figure while looking chic and sophisticated at the same time.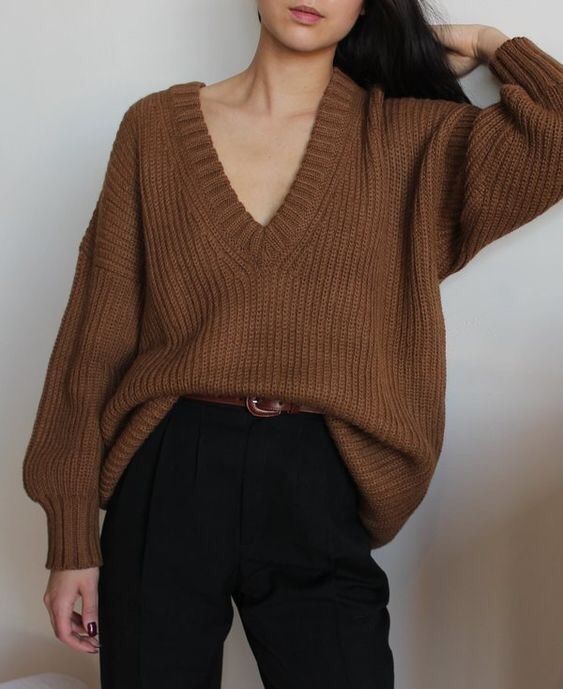 Oversized sweaters never go out of style. They're cozy and comfortable to wear especially when it gets cold! If you're given a more casual dress code then this is one of the cute teacher outfits you can keep in rotation that has a dark academia style.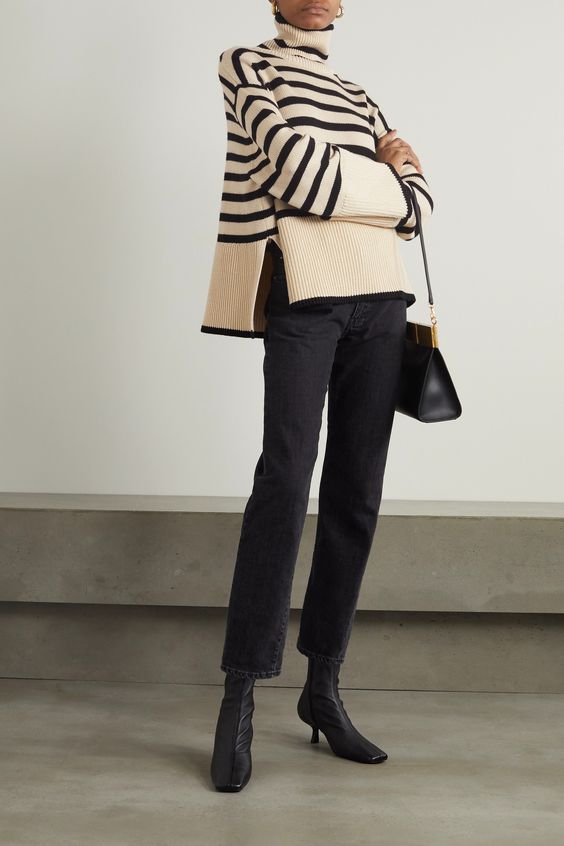 You'll surely look sophisticated and confident with this beige-striped wool turtleneck blouse!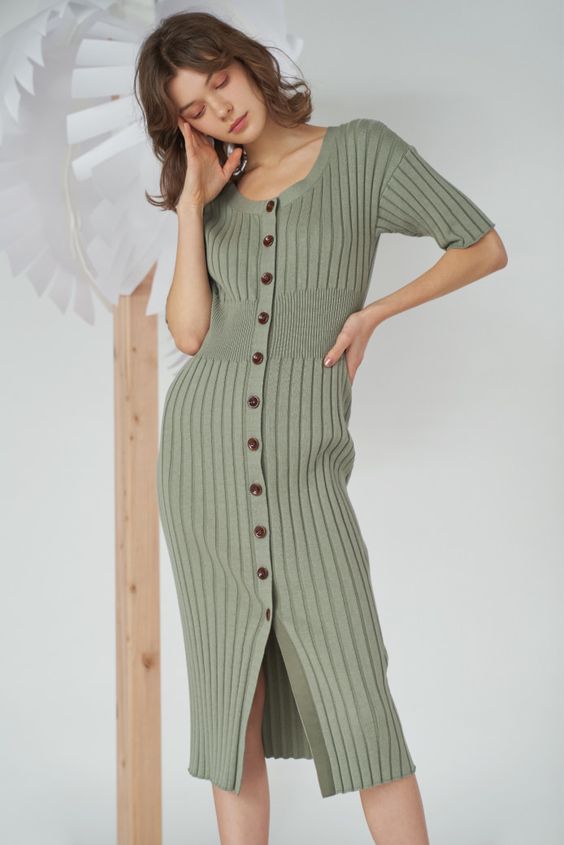 I just love these ribbed dresses. They're just so effortlessly chic and pretty without making you look overdressed or underdressed!