This shop has been compensated by Collective Bias, Inc. and its advertiser. All opinions are mine alone. #TryNatureBoxBeauty #NatureBoxBeauty #CollectiveBias

Winter can start to feel a little less than feminine (thick sweaters and boots anyone?), and while I love being cozy, I also like to feel just a little bit girly. I've realized that I really do need more self-care during the winter, even if it's just adding that extra pop of pink.
One of my most important New Year's Resolutions this year was to add in an extra 15 minutes of sweet, pink-themed self-care time every week. So far I've been loving it! It really is crazy how a few small touches can make a difference for days. Here are some of my favorite ways to feel a little more girly this winter!​
1. Feminine Curls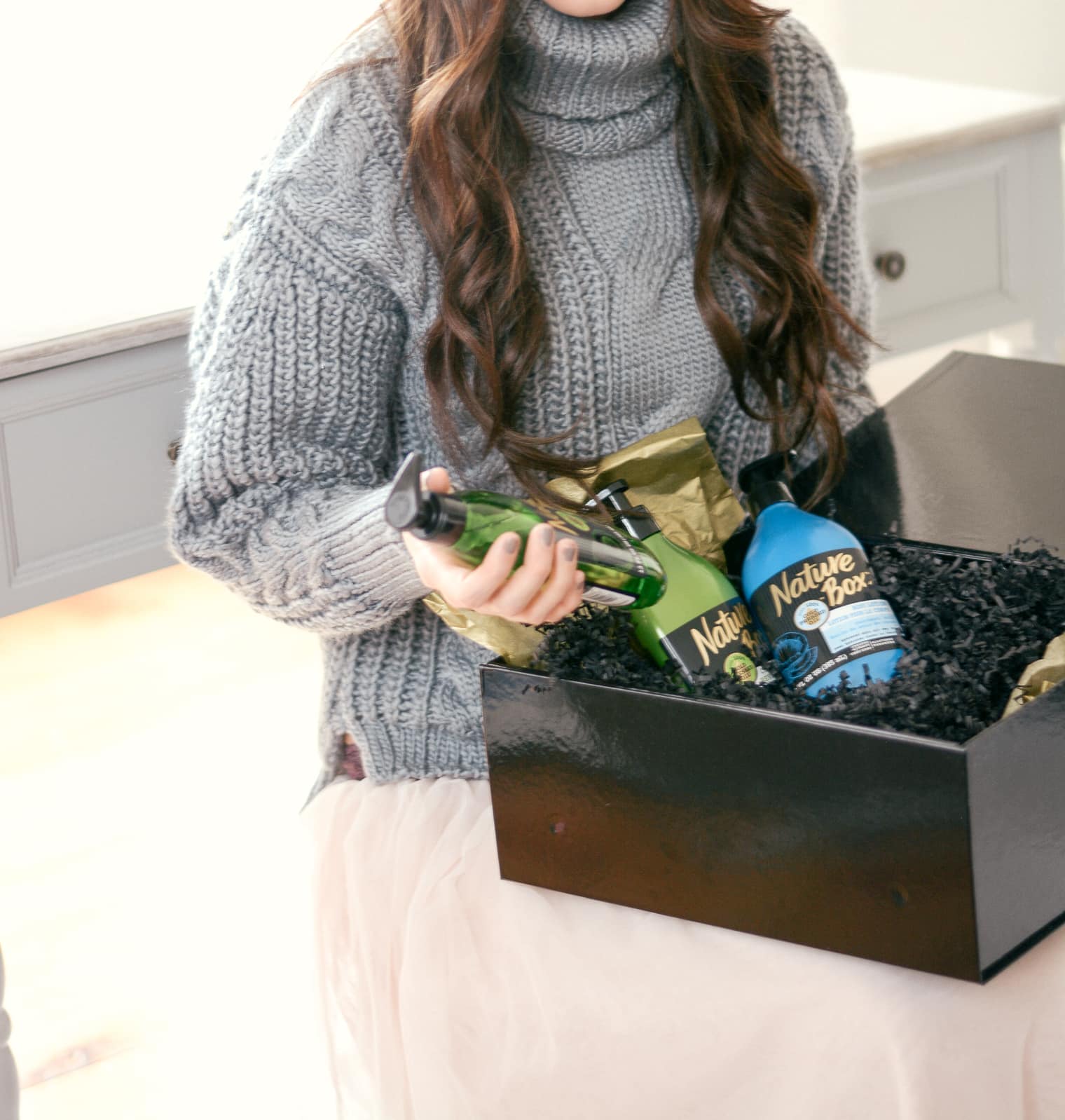 I love love love my curls. I find that gently curled hair makes me feel a little bit more feminine no matter what I'm doing.
To keep my curls extra moisturized during the winter, I use the new Nature Box™ 100% Cold Pressed Avocado Oil Shampoo and Conditioner. It deeply repairs and restores my hair to keep it healthy during the dry months. It has actually helped my hair to recover from being super dry with a lot of split ends too. Curls look best when they're super moisturized, so this is my #1 go-to product.
The first time I used Nature Box™ 100% Cold Pressed Avocado Oil Shampoo and Conditioner in the shower, I was pleasantly surprised by how soft my hair felt without any additional products.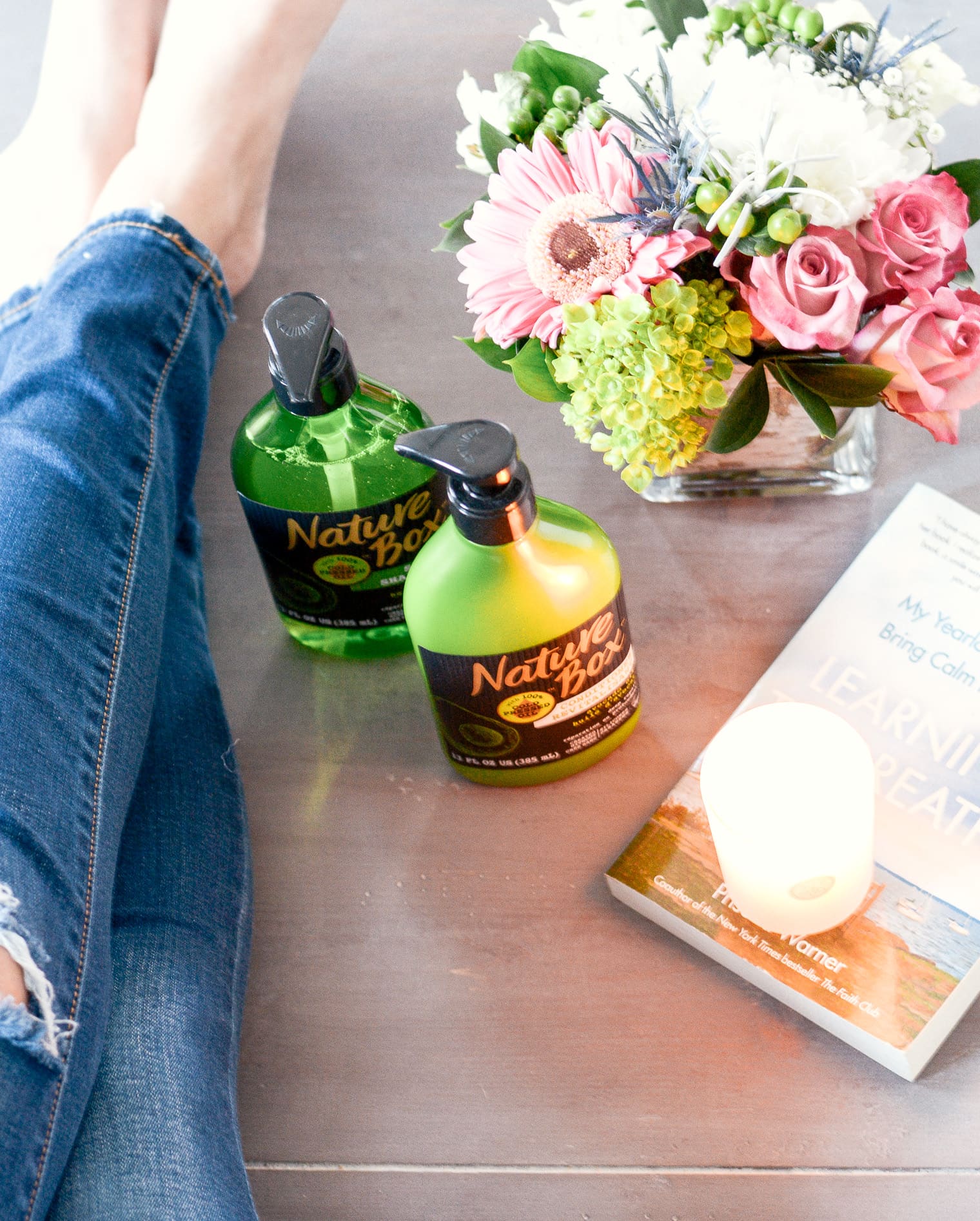 These products are made with 100% cold pressed oils. This means that the oils are extracted from the hearts of fruits and nuts by cold pressing, which exerts pressure without heat. The cold pressed oils in Nature Box™ products are neither refined nor processed. Nature Box™ products are made with 100% cold pressed oil from coconuts, avocados, apricots, almonds, and macadamia nuts.
After using these products, I dry my hair and curl it with a 1.5″ curling iron. I curl the front two pieces away from my face and then go in the opposite direction for each curl as I move back. What's great about this style is that it can fall out a little and ends up looking even better.​​
2. Wearing Blush Pink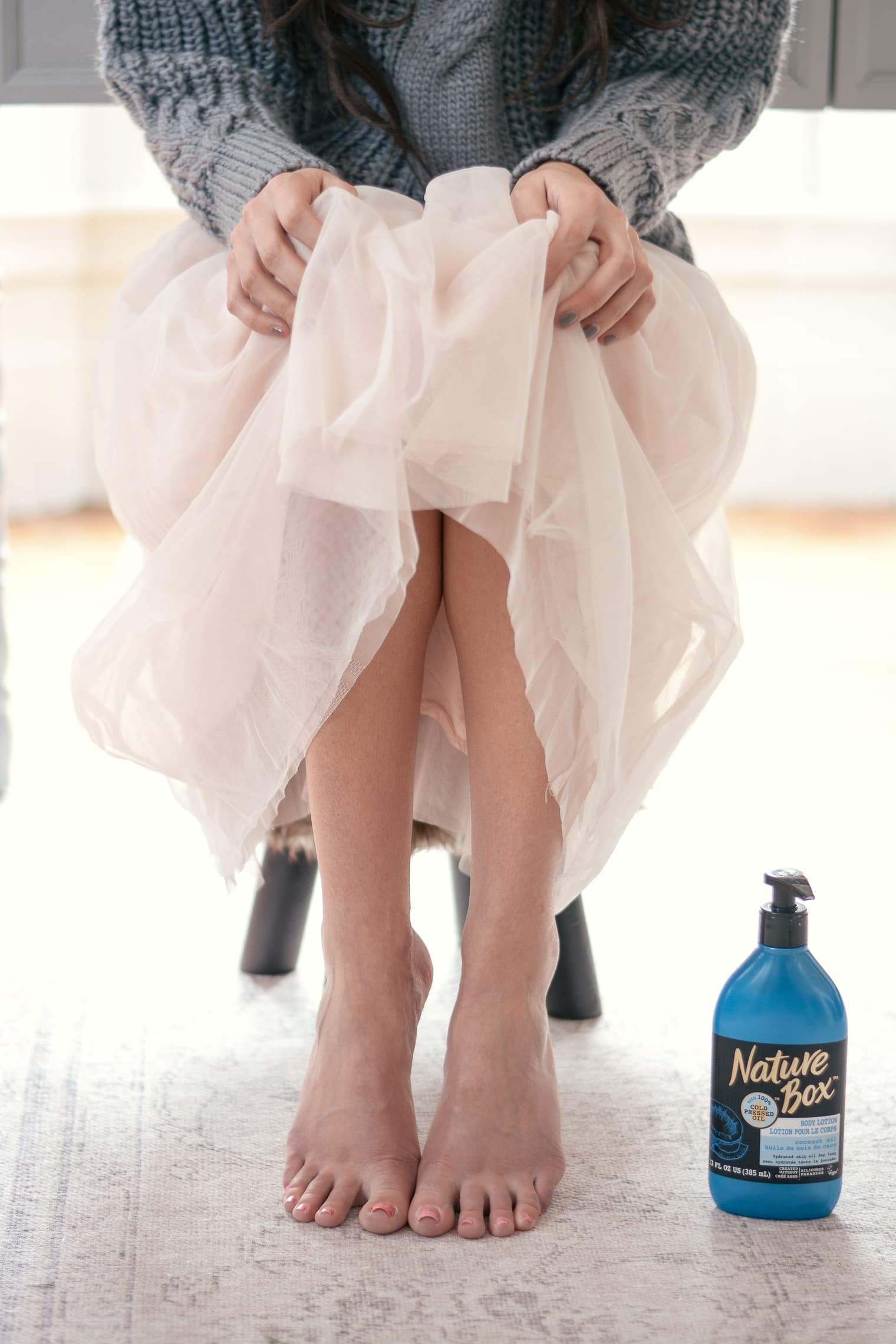 I might be a little too obsessed with blush pink, but I find it to be the perfect color for the cold and dark winter months. I especially love pairing it with colors that don't feel as feminine (like this dark grey sweater) because it makes the outfit so girly.
Even a touch of blush pink in an outfit (or even in a room as a home decor item) can make a huge difference!​
3. A Sweet Vanity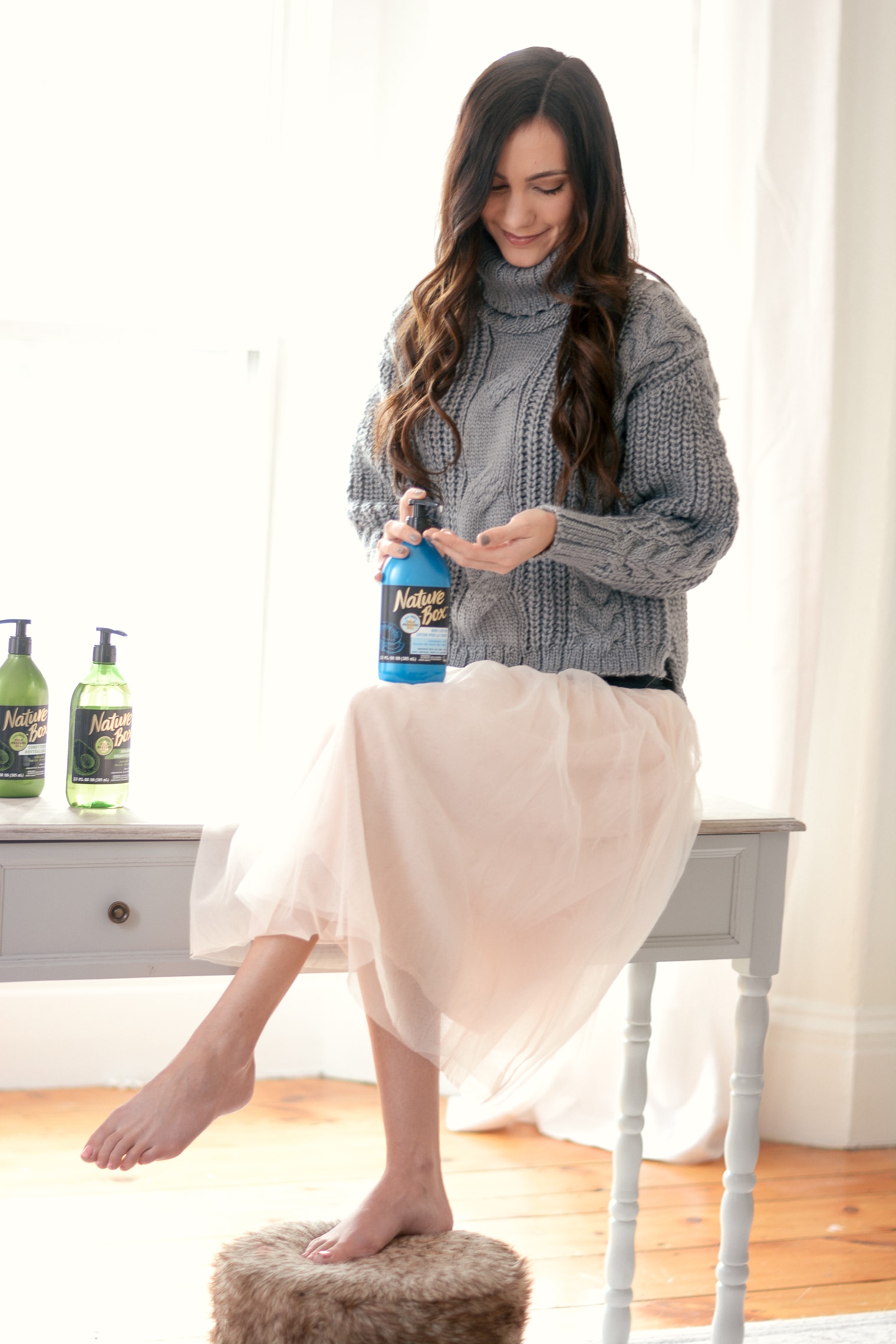 Having a pretty spot to get ready is so important to me! I personally love anything that feels slightly French Country without going overboard. Taking that extra 5 minutes to sit down and make yourself feel good is so important, and it just isn't as fun without a pretty vanity area.
Setting up an area that you enjoy doesn't have to be expensive. With a few hours of work, you'll have a spot you can use literally every day.​
4. Silky Smooth Skin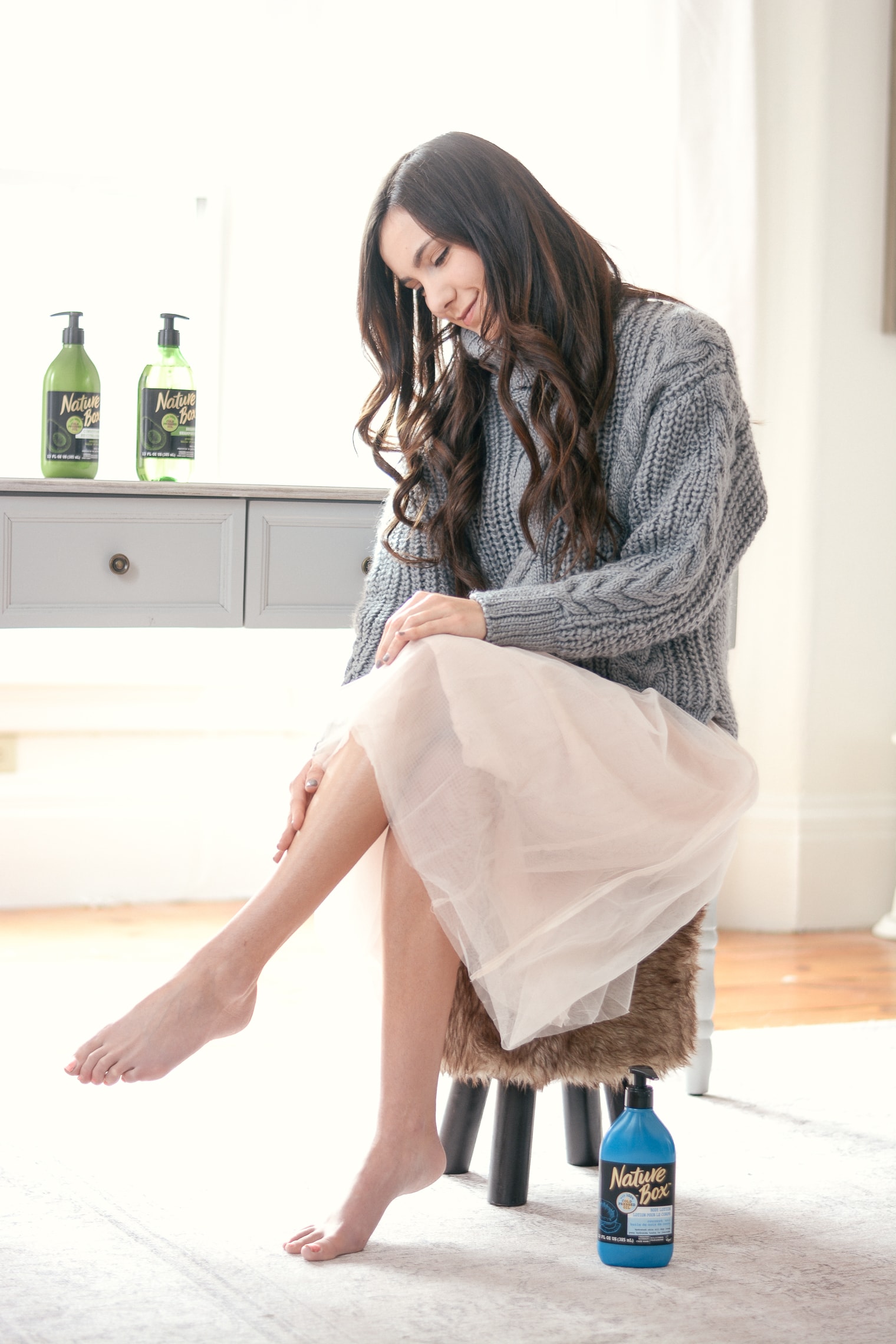 My skin gets so dry in the winter, so I have to use lotion every single day. Maybe that's just living in New England, but having extra moisturized skin is something that's really important to me! I don't feel finished (or all girly) without it.
I use Nature Box™ 100% Cold Pressed Coconut Oil Body Lotion on my skin and have had really great results. I'm always a fan of coconut oil (I try to eat dairy free most of the time so believe me, I know about coconut oil and milk) and continue to be astonished by how many amazing properties it has.
You can use coconut oil for almost anything (on your face, your hair, in your food, as a cleaner, etc.) but I've only recently started using it on my skin. Coconut oil lotion is moisturizing without having a sticky residue. It feels like it helps to naturally replace the skin oils that you lose during the winter. This lotion definitely hydrates my skin and keeps it smooth all day long!
Nature Box™ products are super sustainable too. When it comes to packaging, Nature Box™ encourages consumer recycling. All Nature Box™ packages include a How2Recycle® label, to provide consistent and transparent on-package recycling information to the public. Also, for the majority of the Nature Box™ line, 25% of packaging is made from post-consumer recycled plastic. ​​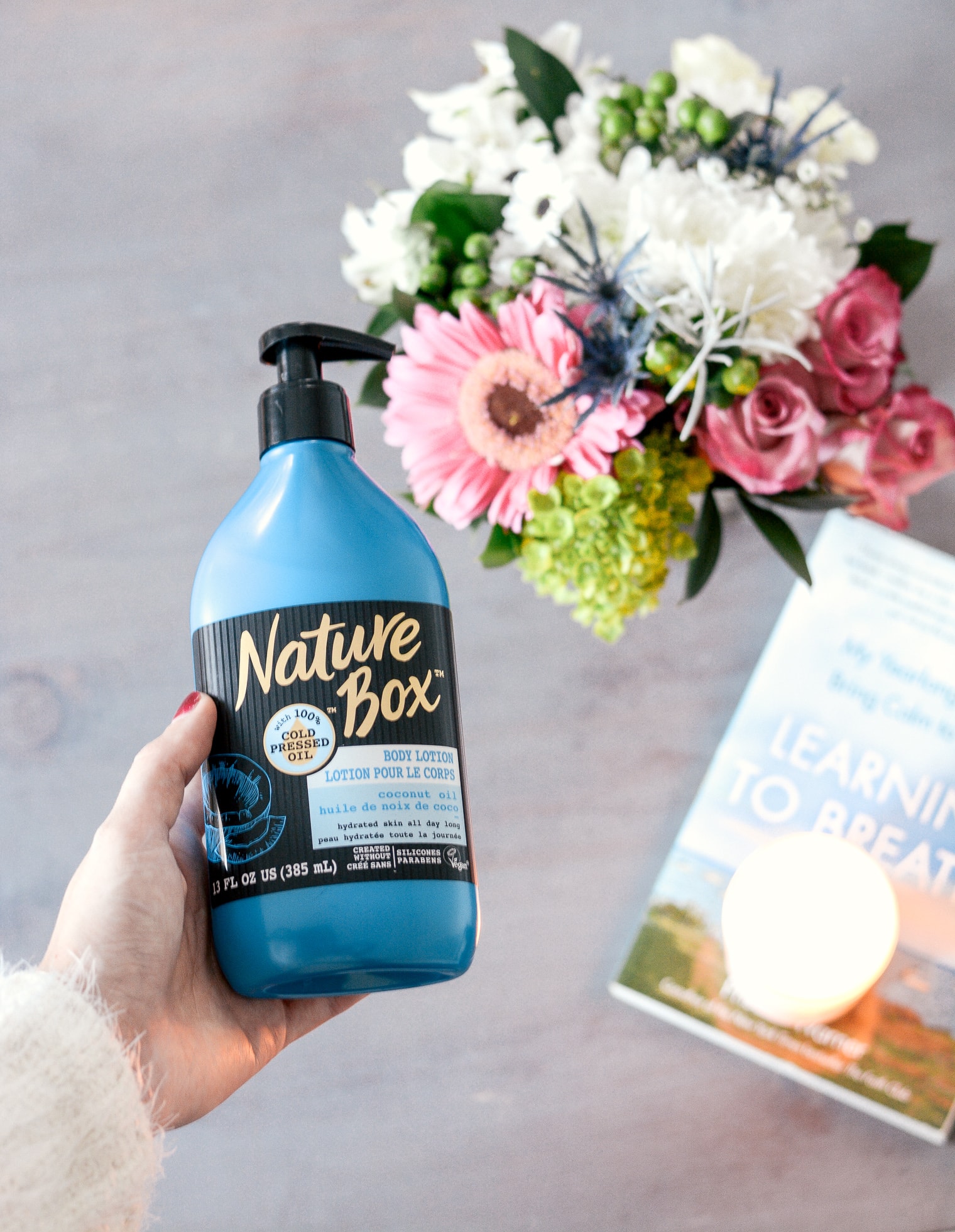 5. A Cup of Tea
Lastly, what's more relaxing than a cup of tea? I love making a tea that makes me feel girly. Whether I add in honey, sugar, or just drink it cozied up under a nice blanket, I can't help but feel rejuvenated.
Taking time for self-care is so important to me! I've especially loved incorporating girly aspects into my self-care routine. While I'm a true girly girl, I personally feel that a lot of people could benefit from staying in touch with their feminine sides. Just as much as I enjoy a hardcore workout, I like to nurture my softer side as well.
I purchased myNature Box™ products at Rite Aid. They're also available on Amazon. Head to the Rite Aid store or online to check them out!