Whether you're an avid nail art enthusiast or someone looking to dip their toes into the exciting world of toe nail colors and designs, you've come to the right place.
In this article, we'll dive headfirst into the hottest trends and most adorable toe nail designs set to take 2023 by storm.
Gone are the days when toe nails were merely an afterthought to our manicured hands. With a surge in popularity and the growing desire for complete style coordination, toe nail designs have become essential to our overall fashion statement, especially during the warm weather months!
From playful and whimsical patterns to elegant and sophisticated designs, there are toe nail ideas to match every personality, occasion, and outfit. When it comes to toe nail colors, 2023 is all about celebrating individuality and embracing a rainbow of possibilities.
While classic shades like bold reds and soft pinks will always have their place, this year's palette expands to include a variety of vibrant hues and daring combinations.
Think dazzling metallics, eye-catching neons, and unexpected color contrasts that will make your toes pop with personality.
This year brings forth an array of unique and captivating patterns that are guaranteed to make your toes the talk of the town. Whether you prefer intricate and detailed designs or minimalistic and chic nail art, there's something here for everyone.
Toe Nail Ideas For Your Next Pedicure Appointment
Can't decide on what nail designs to put on your toes? Look no further! Here are some toe nail ideas and themes you can share with your nail technician for your next appointment.
1. Florals. Embrace the beauty of nature with delicately painted flowers, leaves, and petals that create a garden on your toes. From dainty roses to tropical blooms, this trend adds a touch of femininity and elegance to your overall look.
2. Geometric Glam. Take your toe nail art to the next level with mesmerizing geometric patterns. Think triangles, chevrons, and stripes that bring a contemporary and edgy vibe to your nails. Combine different shapes and colors for a truly captivating effect.
3. Whimsical Wonderland. Let your imagination run wild with playful and whimsical toe nail designs. Think cute animals, emojis, cartoon characters, and fairytale motifs that transport you to a magical world. These designs are perfect for adding a touch of fun to your overall style.
4. Abstract. Release your inner artist and experiment with abstract toe nail designs. Drips, splatters, and bold brushstrokes in unexpected color combinations create a modern and avant-garde look that is sure to turn heads.
5. Minimalistic. For those who prefer a more understated look, minimalistic toe nail designs are here to stay. Clean lines, negative space, and subtle accents create a sophisticated and timeless appeal that complements any outfit.
Cute Toe Nails Designs To Look Out For In 2023
In this exciting era of nail art, your toes are the perfect canvas to showcase your creativity and personal style. So get ready to rock those sandals with confidence and elevate your fashion game to new heights with this collection of super cute toe nail designs!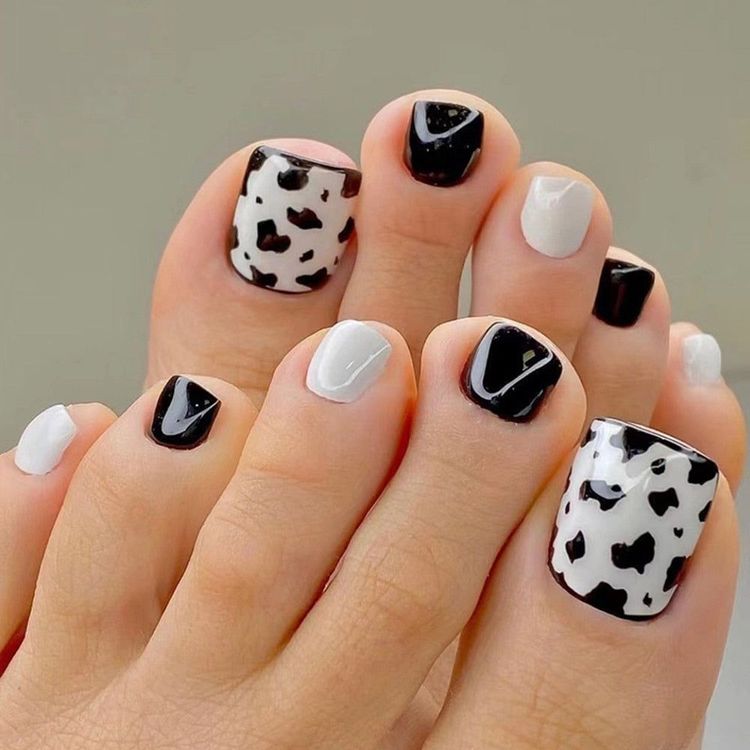 If you're looking to do something chic with your black and white nail polishes, you should definitely give this toe nail design a try! You won't have to worry about perfecting your nail art skills too, you can take liberties doing the cow patterns around your toe.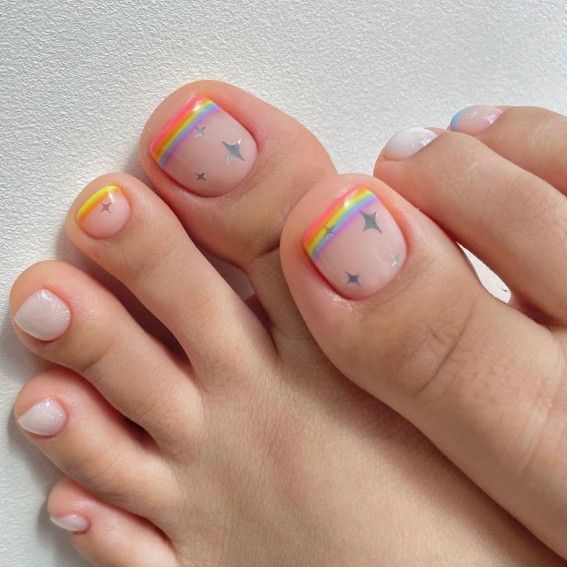 For something a bit more minimalistic with a summery vibe, these dainty rainbow patterns and sparkles on your toes would certainly do the trick!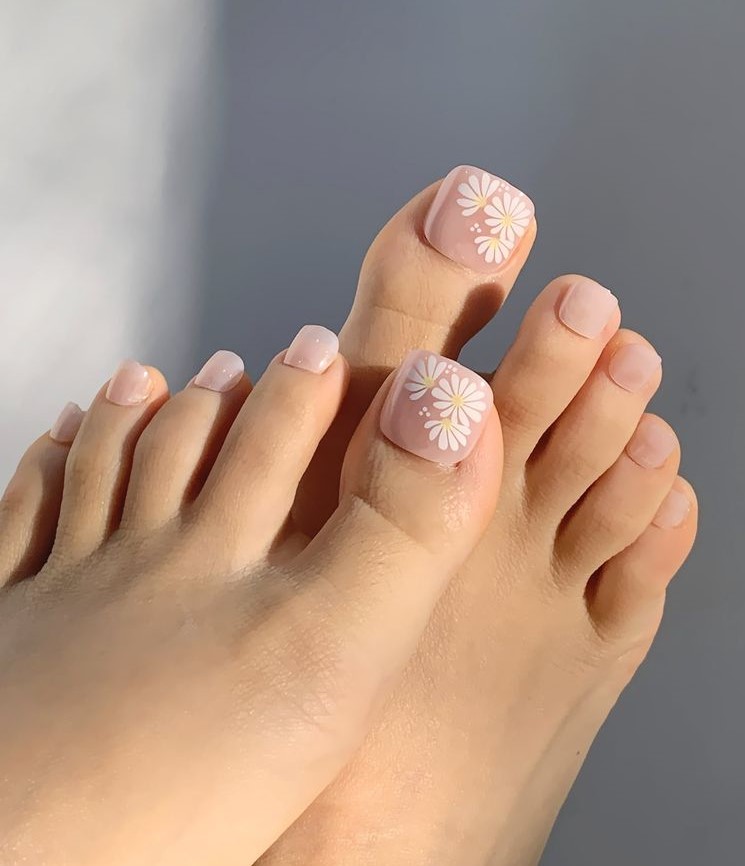 Don't you just love floral designs? They're fool-proof toe nail designs that won't let you down, regardless of what the season may be. What's more, you can use nail stickers if you're not too confident with your nail art skills for a fuss-free application.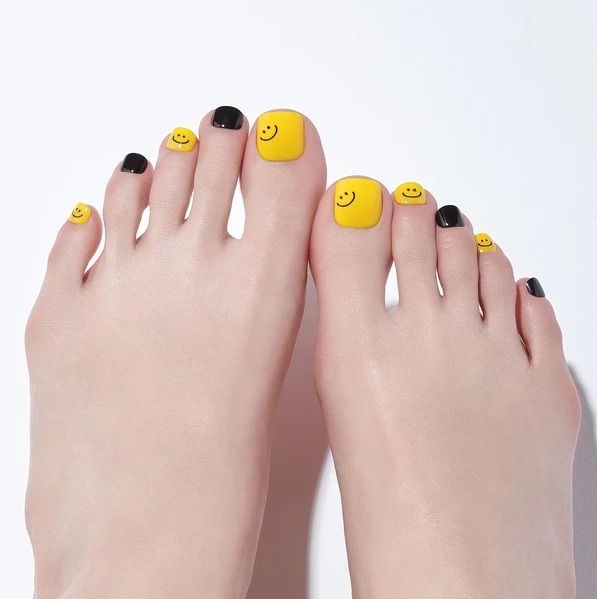 I love the cute contrast between the black and yellow colors on these toes! The smiley faces just bring a touch of joy to your nails.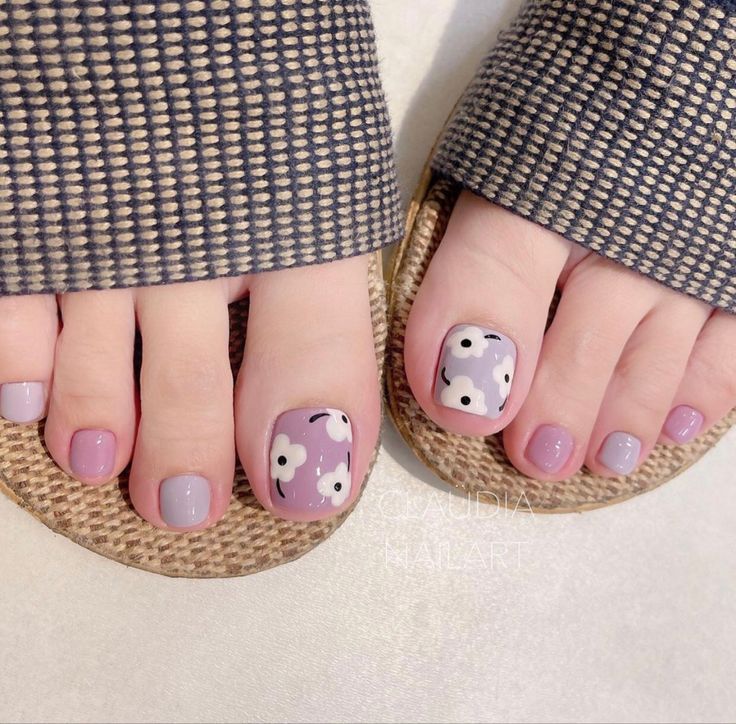 So whimsical and cute, these different shades of purple are utterly adorable on the toes! Top it all off with these fluffy floral patterns for a toe nail idea that's perfect for both spring and summer!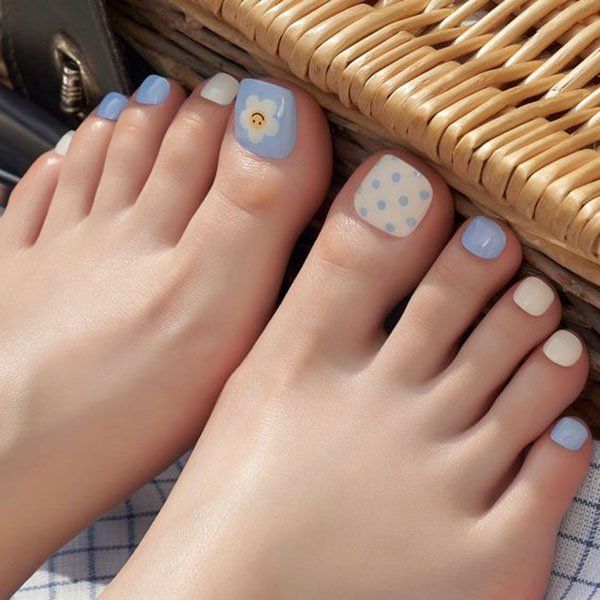 You can't get more summery than these white and sky-blue toes! You can also opt to mix and match different patterns like adorable polka dots and florals with smiley faces.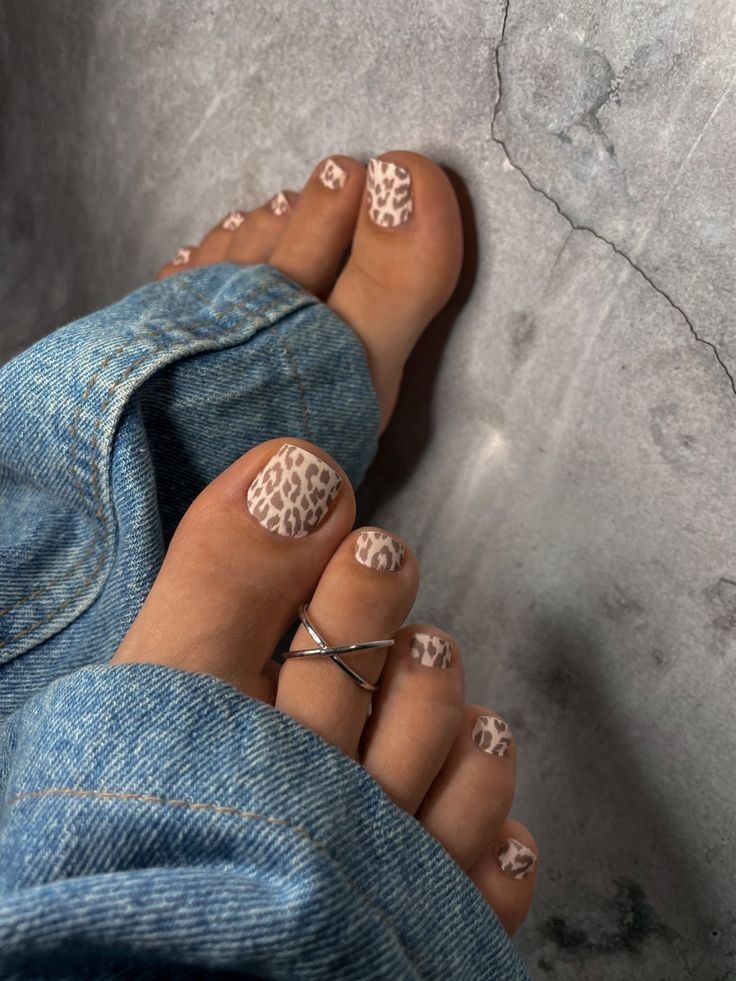 When it comes to doing toe nail patterns or any patterns in general, one style that never goes out of trend is animal patterns. So for a trendy, chic toe nail design, these leopard prints would surely make everyone take a second look. This is one of my favorite neutral toe nail ideas!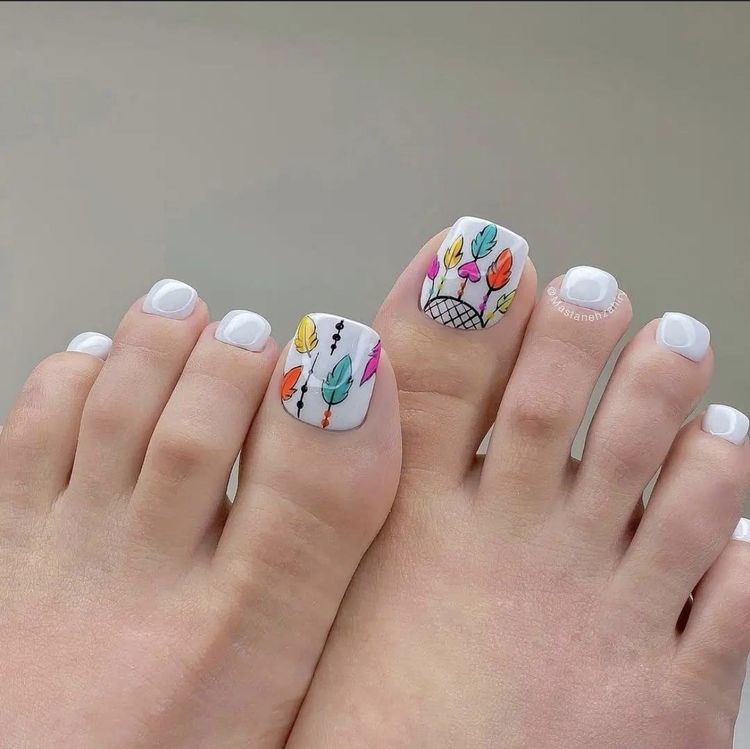 If you want your toe nail designs to stand out, using a white base for your toenails is a sure way to do it. You can get as creative as you want or recreate these cute feather patterns.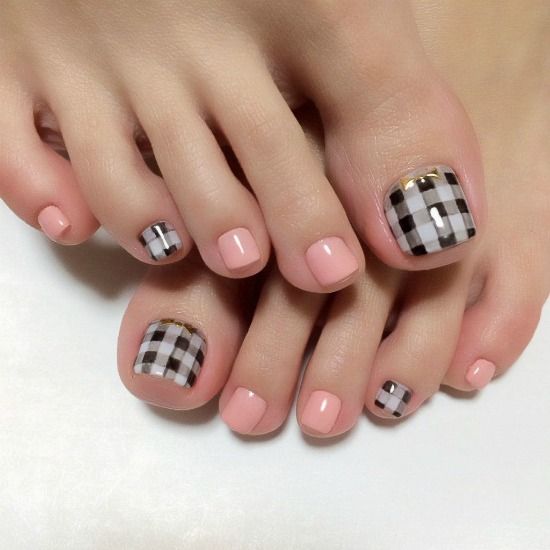 Who knew gingham patterns would look just as good on the toes as they do on clothes? You can also pair them with natural-tone polish if you don't want the whole pedicure to look too overwhelming.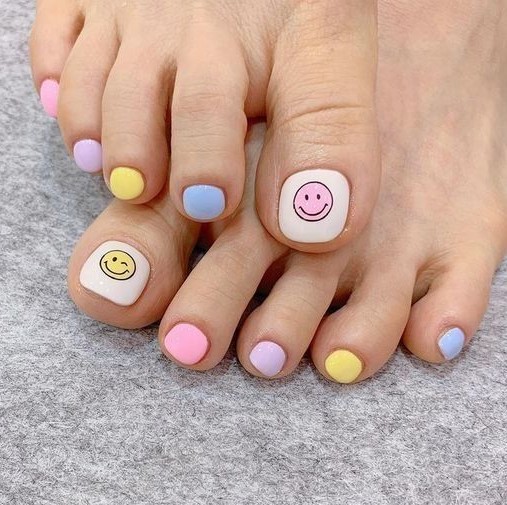 Looking for eye-catching toe nail colors? Multi-color nails look so good when you use pastel hues. They just look like the epitome of summer nails! You can also add some quirky patterns like a smiley face for a more unique look.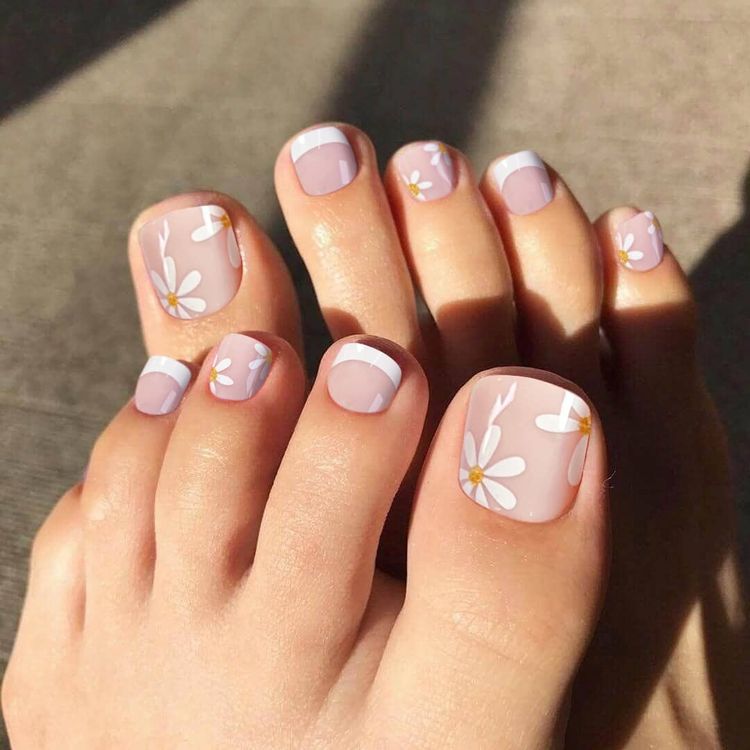 A French manicure looks just as classy on pedicures as they do on manicures. Couple it up with some dainty flowers and you got yourself the cutest pedicure ready for any sandal. This is one of my favorite toe nail ideas for events.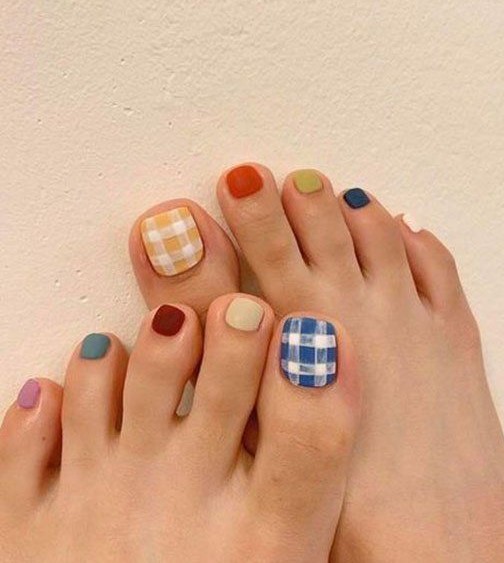 Can't decide on one color to put on your toes? Then this multi-color pedicure might just be the solution to your dilemma. You can also opt to paint some gingham patterns on your accent nails for a summery touch.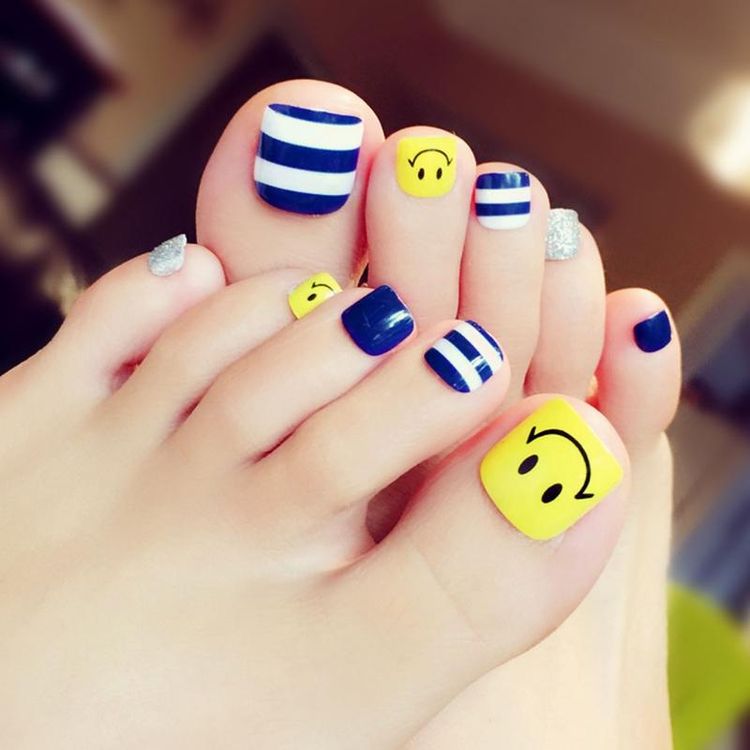 Looking for happy toe nail ideas? For a nautical design on your toes this summer season, then you'll surely love this one!
The navy blue against the white and yellow smiley face accents look so cute too! But why stop there? You can also add some silvery glitter nails to create more interesting dimensions on your pedicure.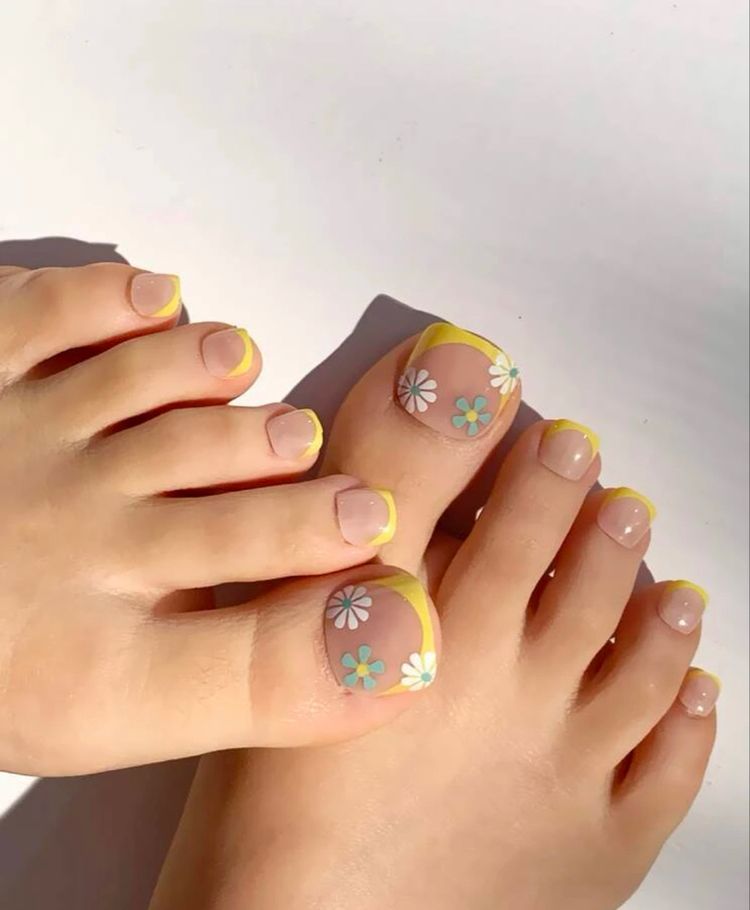 Here's another set of dainty florals. But these ones feature summery colors that are perfect for your next getaway.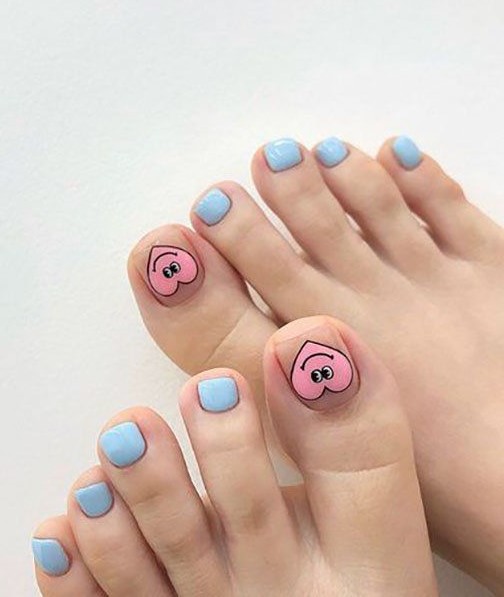 I love how cute and whimsical this set of toe nail designs is! The pink and blue pair so well together. And the heart-shaped face stands out even more against the blue monochrome nails.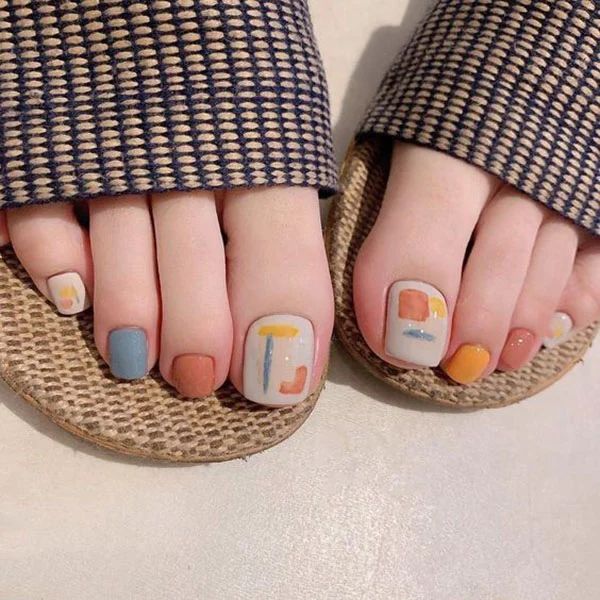 For something abstract and totally unique, these nails are for you! You can even opt to use warm, earthy tones that would be perfect for summer or fall.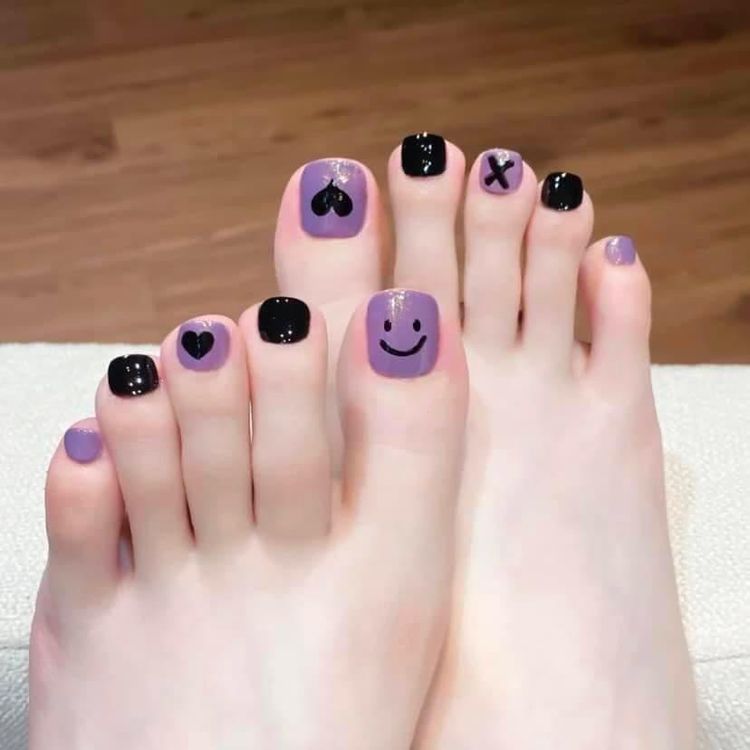 Here's one of my favorite nail designs on this list! It combines both of my favorite colors: purple and black. The best part? You don't have to be a pro to recreate those cute designs on each nail.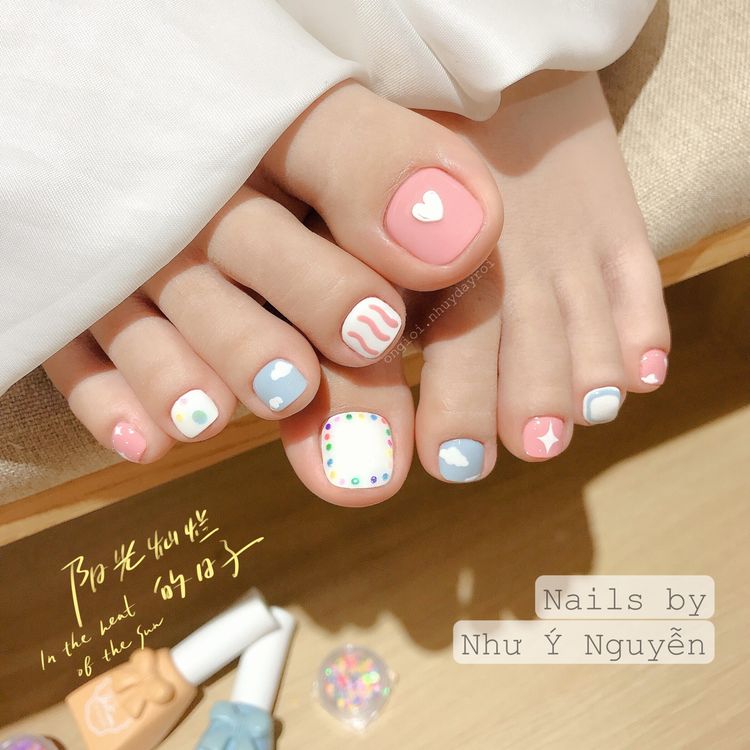 For something feminine and soft, these dainty nails are for you! I love the combination of pink, blue, and white! Not to mention, the patterns fit so perfectly together too.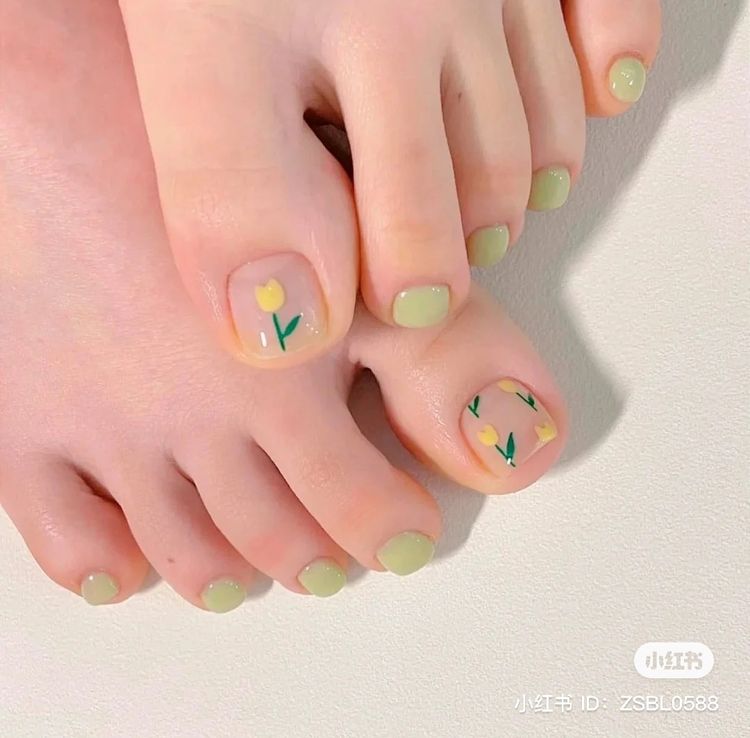 For a dainty, floral pattern, this is the perfect design for your toes! Apart from the cute, jelly finish, you can also easily recreate these tiny tulip designs in the comfort of your home. It would be a great way to practice your nail art skills too!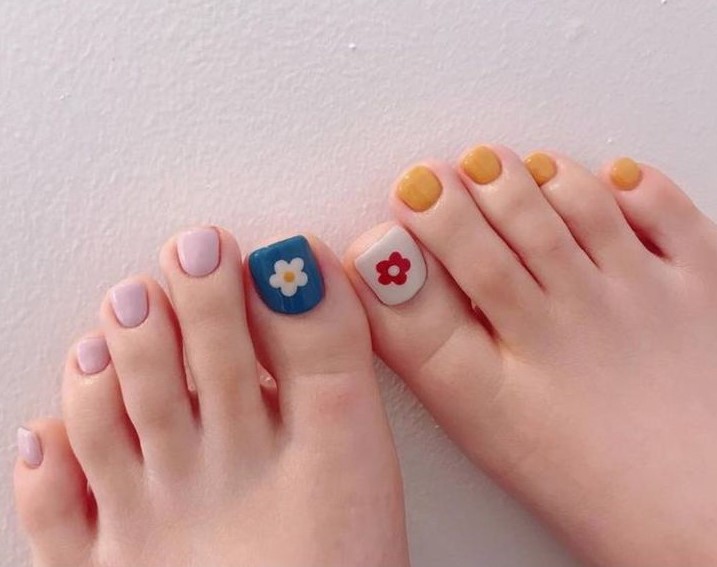 I love the gorgeous contrast of colors on these toe nails! From pastel hues to deeper shades, this will definitely be on my list of pedicures to copy this year. They're so cute and effortlessly eye-catching.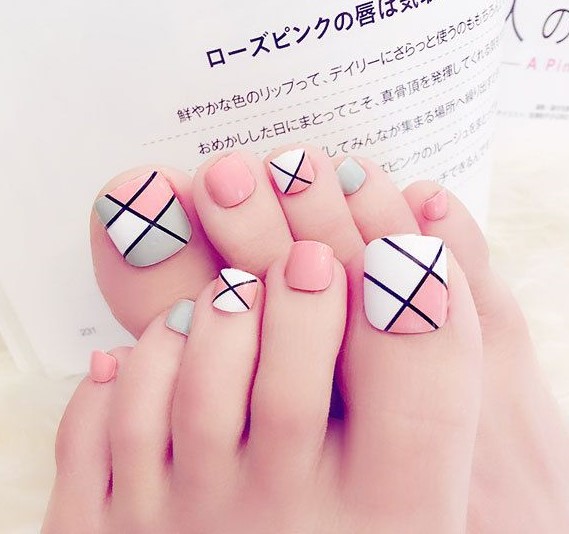 For some interesting geometric designs, you might love this particular pedicure! It's also a good way to practice doing intricate linework on your nails if you want to go on the DIY route.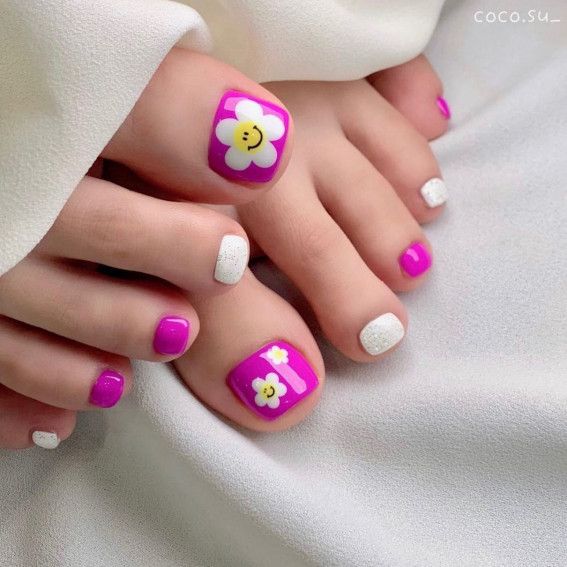 Looking for ultra poppy toe nail colors? I love how bold and bright these nails are! There's just something about the incoming summer season that makes me want to use a hot pink or vibrant shade of magenta on my toenails.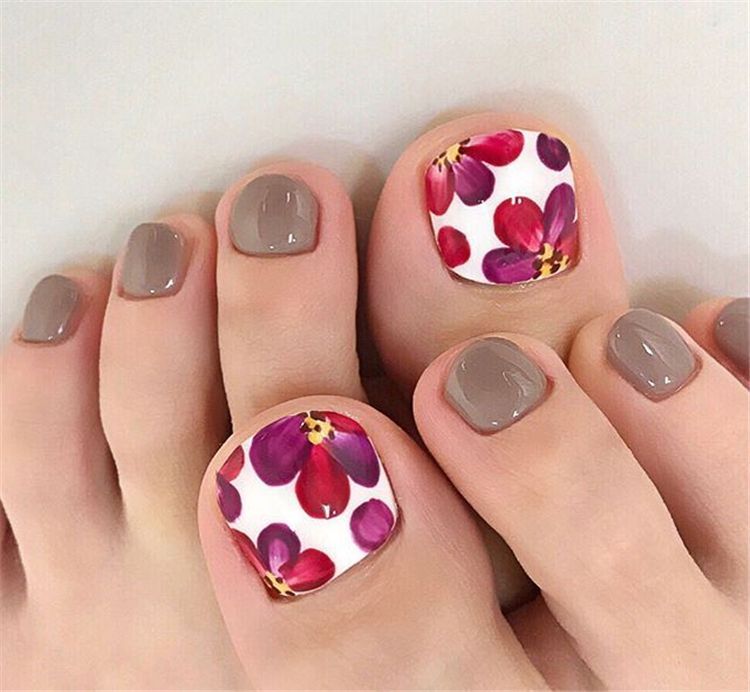 A neutral color scheme on the nails will forever remain classy. But for a touch of something more unique, you can always add some pop of colors with your accent nails to create interesting contrasts.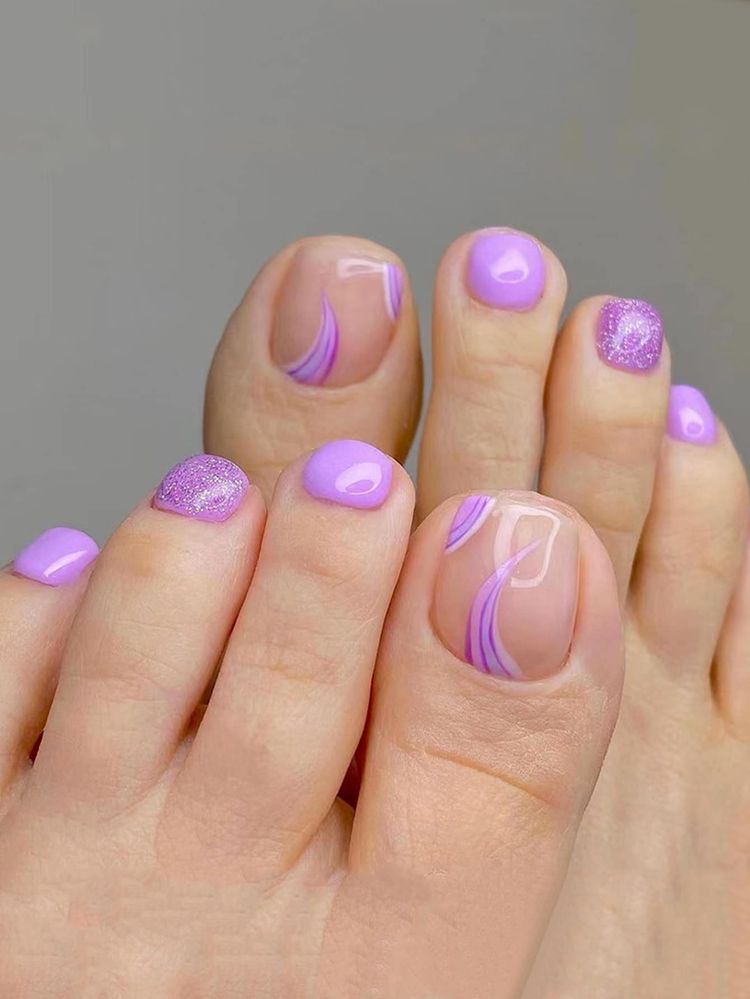 Using negative space can easily elevate your whole pedicure to something chic and classy. Just take a look at how gorgeous this particular pedicure is!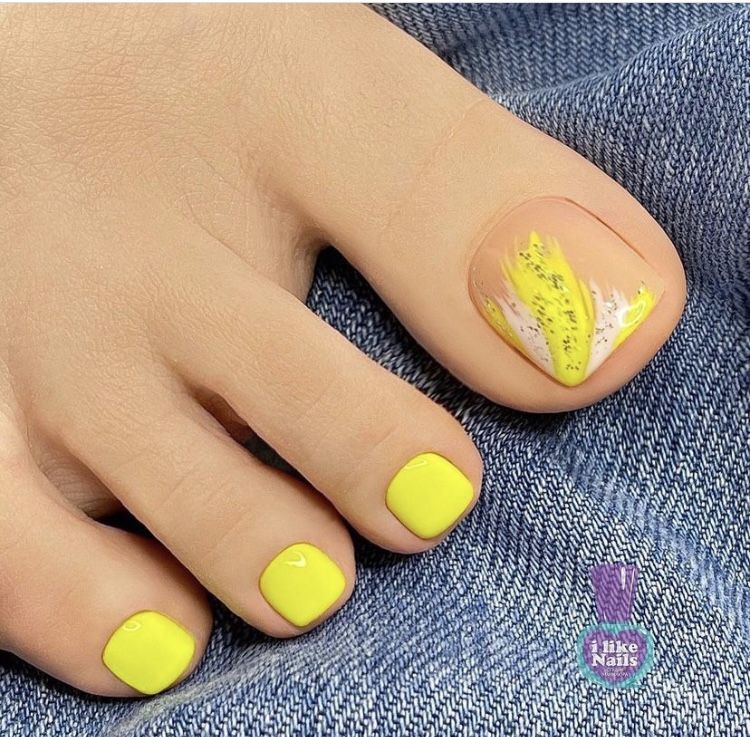 Don't you just love how bright this shade of yellow looks? This is one of my favorite toe nail colors this year. It's utterly gorgeous and something about it makes me excited for the summer season.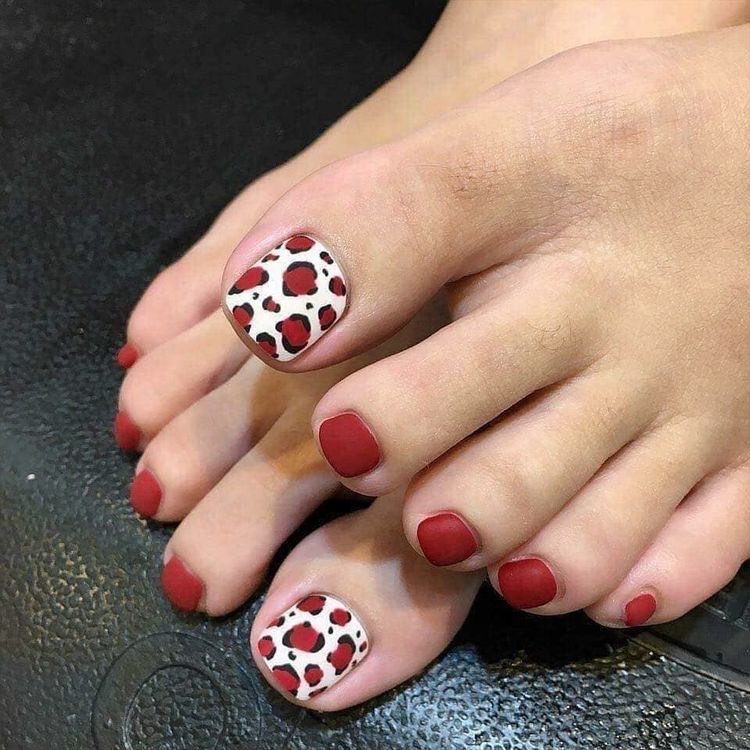 I'm a sucker for a classic red polish. But this one is so cute and quirky with its animal print and matte finish.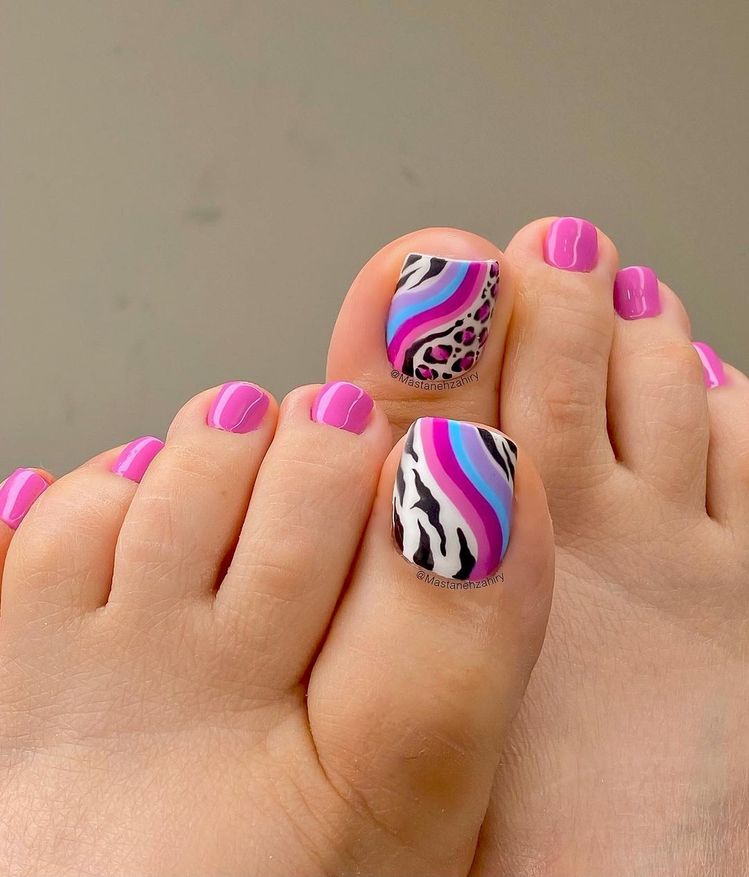 Along with the vibrant shades of purple, pink, and blue, you can also include some cute animal patterns to create more interesting dimensions on your toes.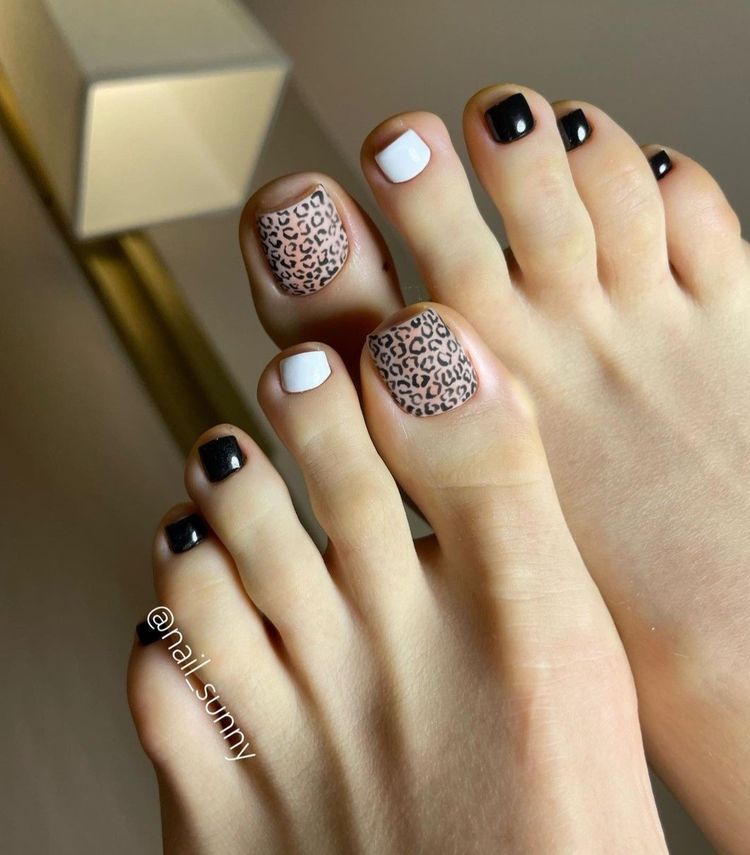 Here's another set of animal prints you can do for your toes on your next nail appointment! Though this one is only applied on the accent nails while the rest remain a monochrome black and white.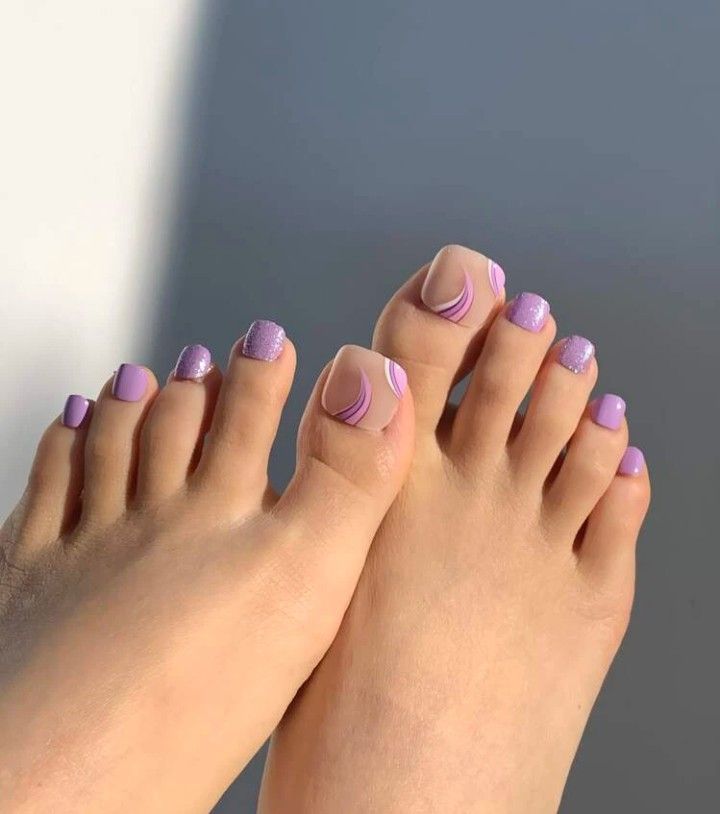 I love these lilac toes! The negative space on the design lends a classy touch to the overall look as well.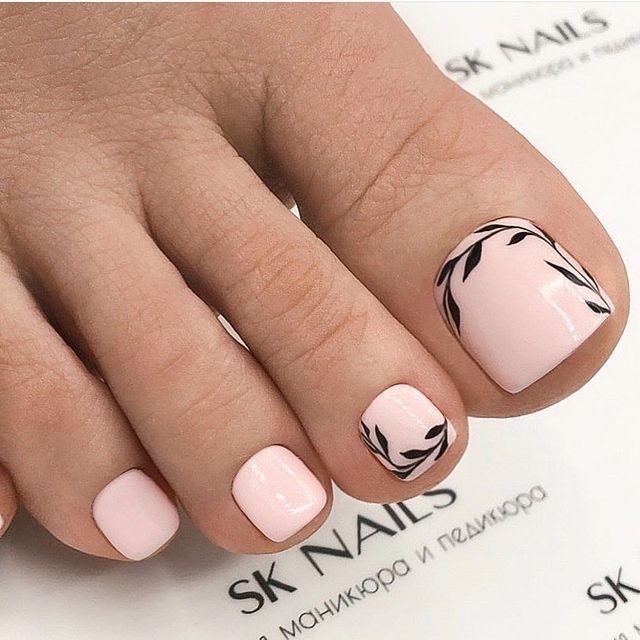 Looking for toe nail colors that are a bit more muted? Dainty and minimalistic, these nails are perfect for those who don't want to do anything too fussy on their toes. The black leafy design stands out so elegantly against the pale pink base.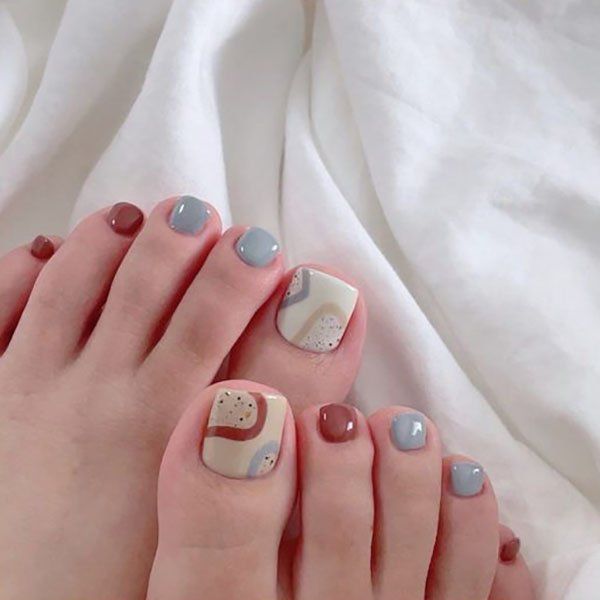 This colorful, abstract set of nails is utterly pretty! It's unique and it's so much fun to look at.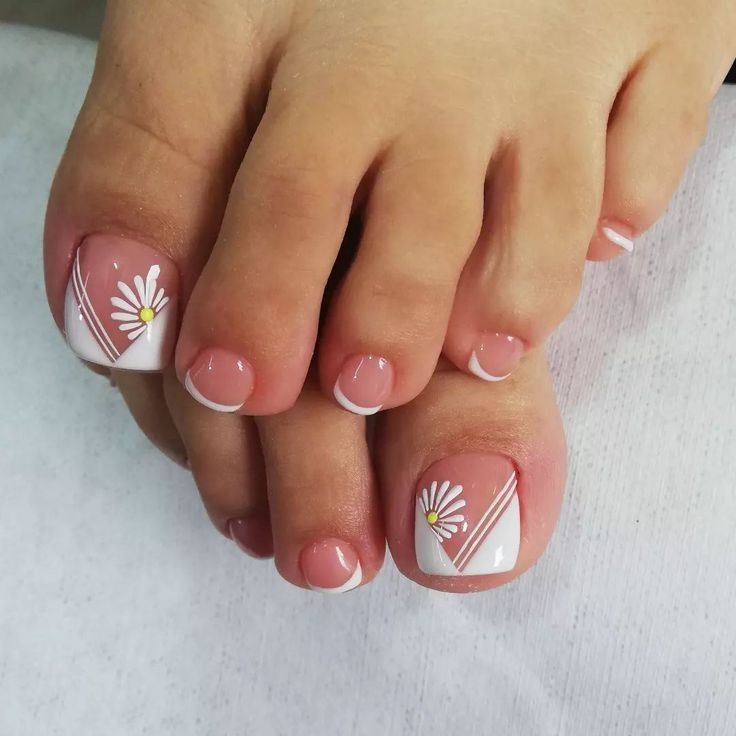 One of the best ways to create a unique pedicure design for your toes is by combining two opposite themes. For example, a mixture of geometric patterns and florals.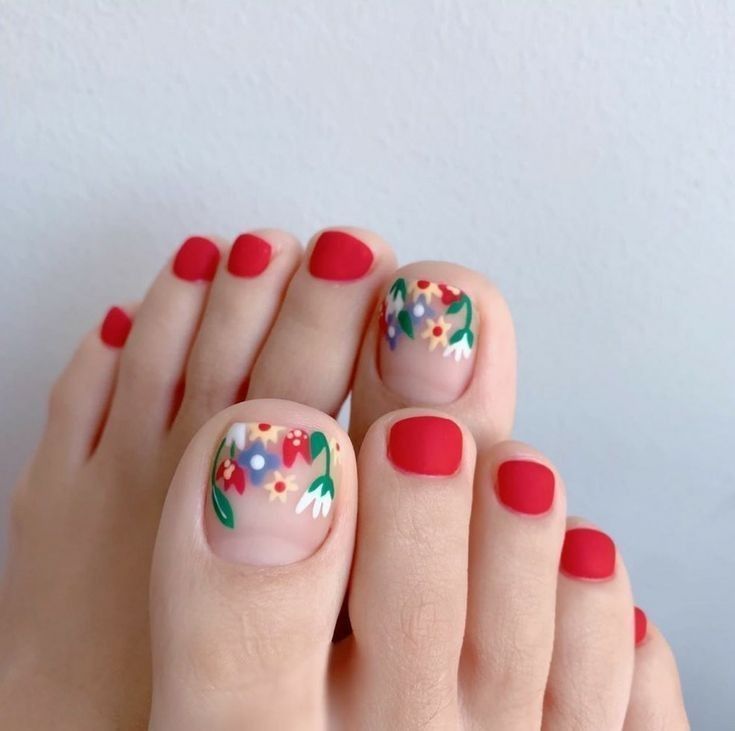 I love how bright these floral toe nail designs are! Forego the usual French tips and use flower-themed tips instead for your accent nails. Then to make sure the colors pop, use a bright red polish for the rest of your nails.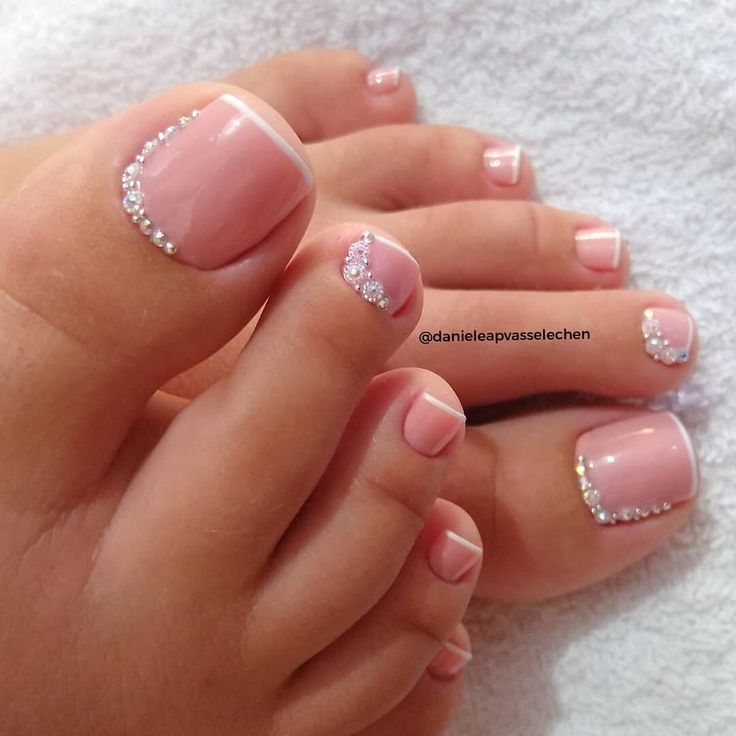 If you're looking for a dainty pedicure that's sure to sparkle with each step you do, this is the toe nail idea for you! You can also add a thin French tip to complete the whole look.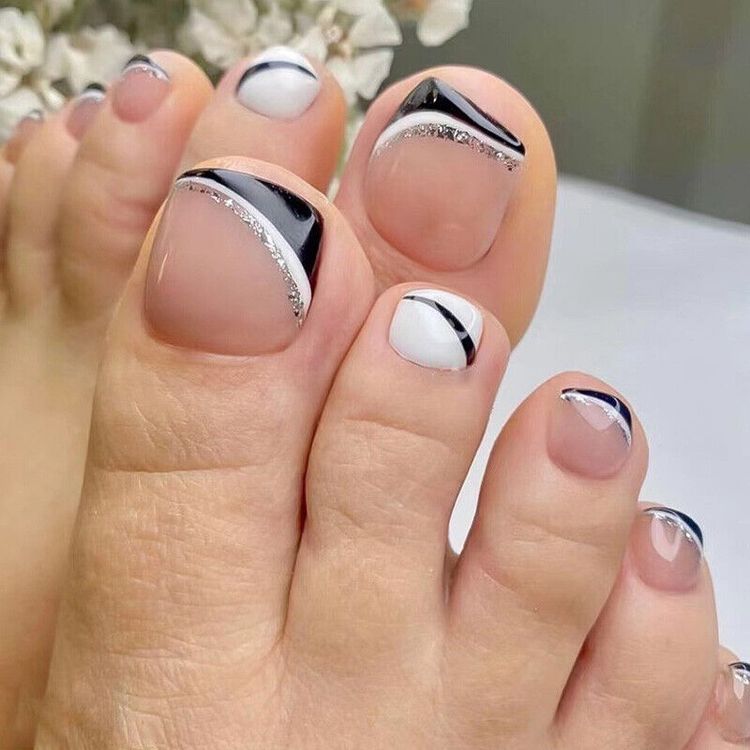 These asymmetrical French tips are so gorgeous! You can accentuate them with glittery, silver linings that will make your toes stand out whenever you wear sandals or peep-toe heels.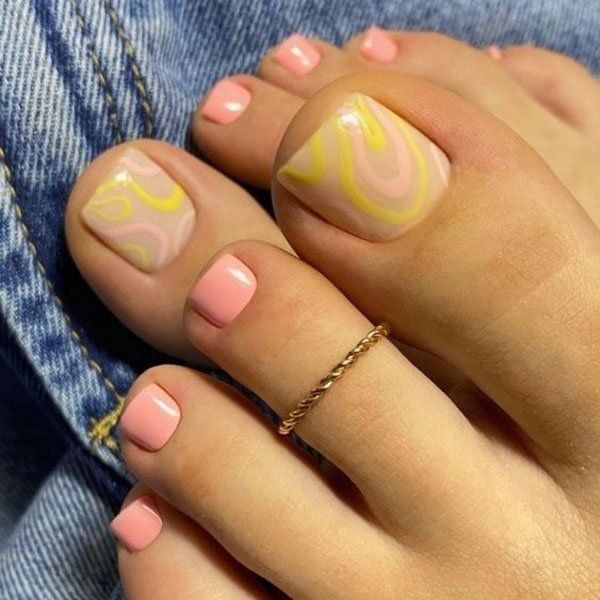 I love the whimsical patterns on these toenails! Pink and green make such a cute yet unique color combination.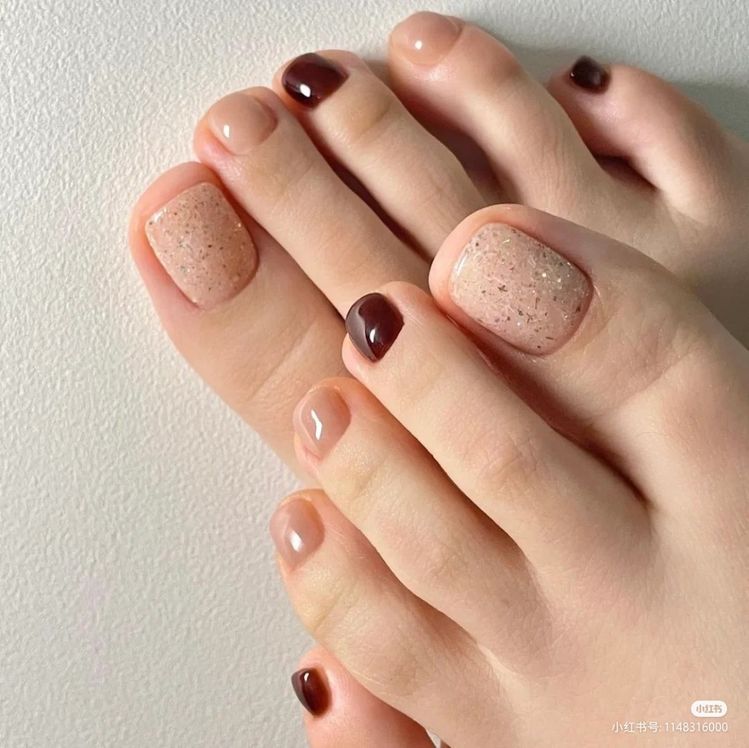 Is it just me or does this particular toe nail design remind me of coffee? Regardless of how you like your coffee, you might want to try out this cool pedicure idea!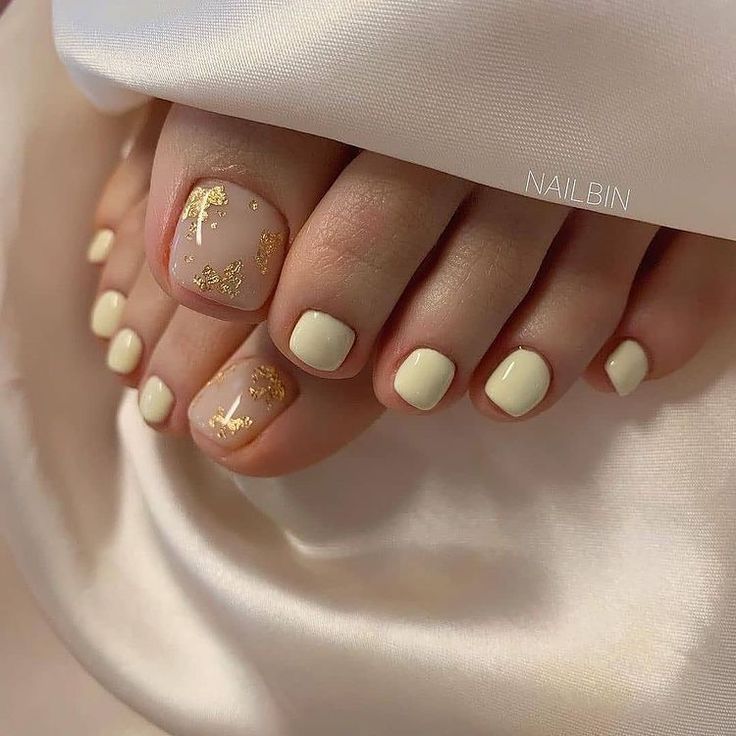 There's just something about gold foils that instantly elevates the look of your nails to something ethereal. Without a doubt, these gorgeous yellow nails are another fave of mine on this list.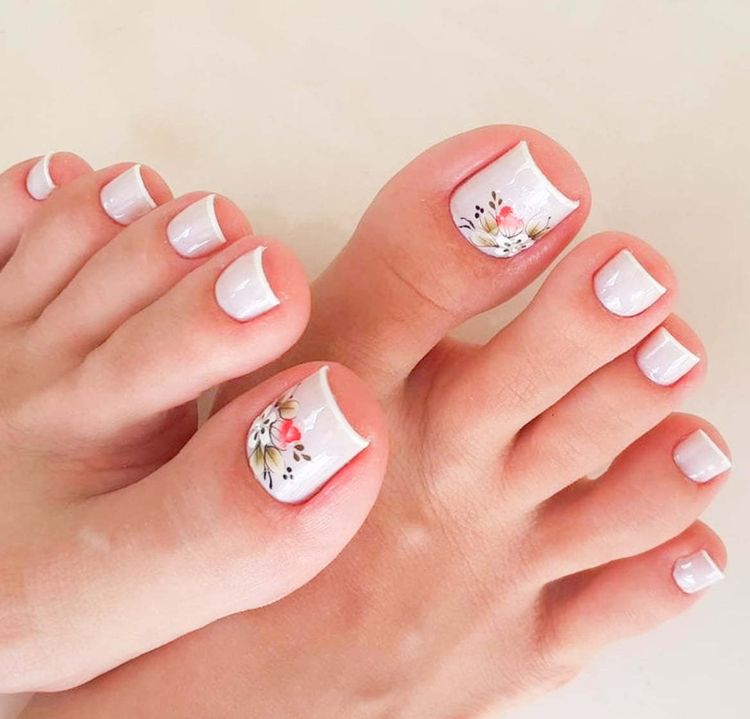 Make your usual white polish a lot more interesting by adding some intricate floral patterns on your accent nails. The more colorful it is, the better!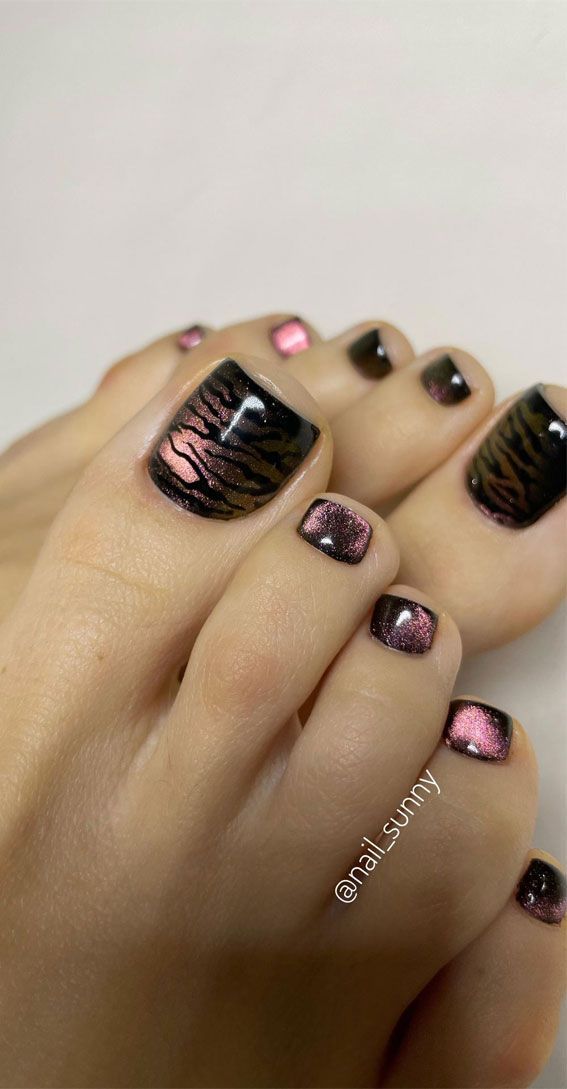 Cat's eye nails are so trendy these days. So why not try it out on your toes on your next appointment?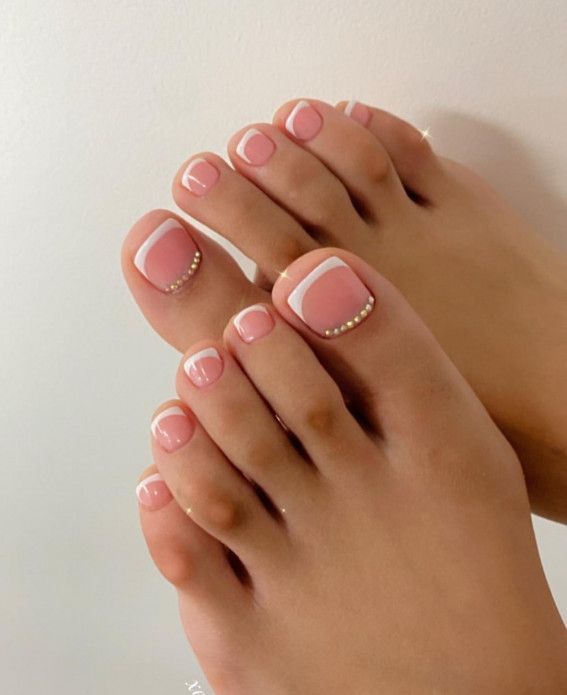 Looking for a classy way to elevate your traditional French manicure? Add some pearl embellishments for a dainty sparkle!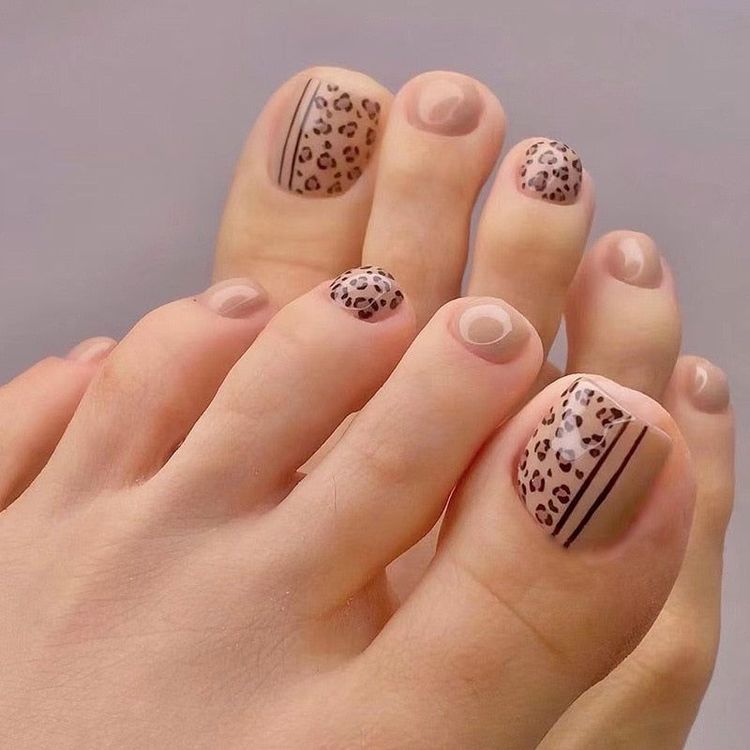 Here's an animal print nail art that looks utterly classy and sophisticated! I can totally see myself wearing this with my power suits and high heels around the city.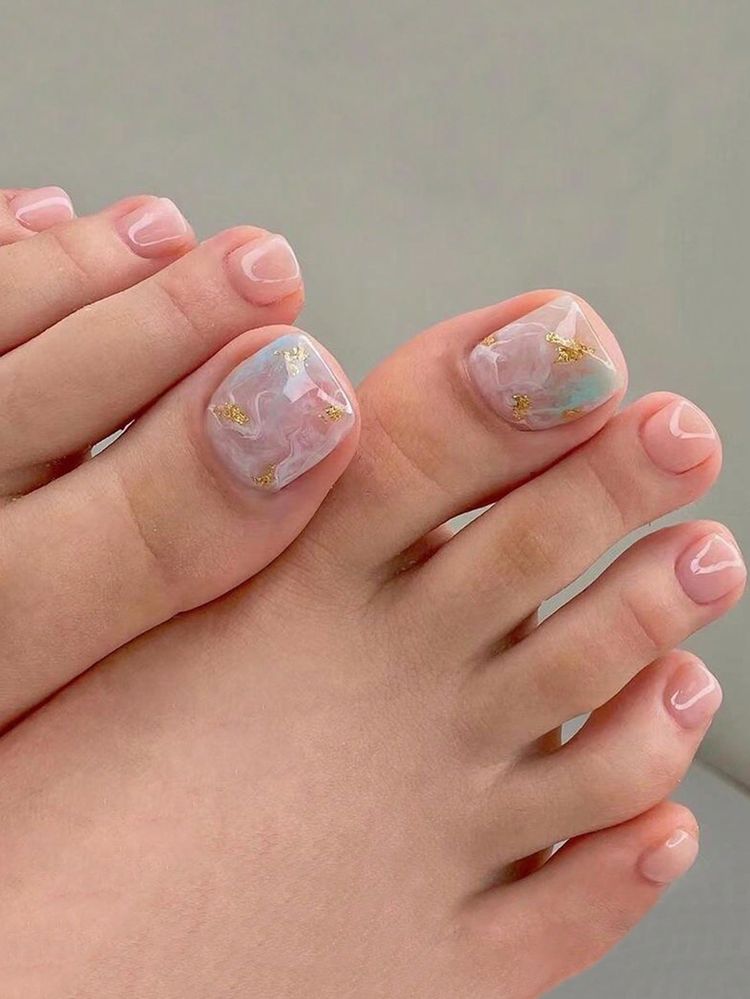 Looking for something ethereal to wear on your toes? Then this pedicure is the perfect match for you.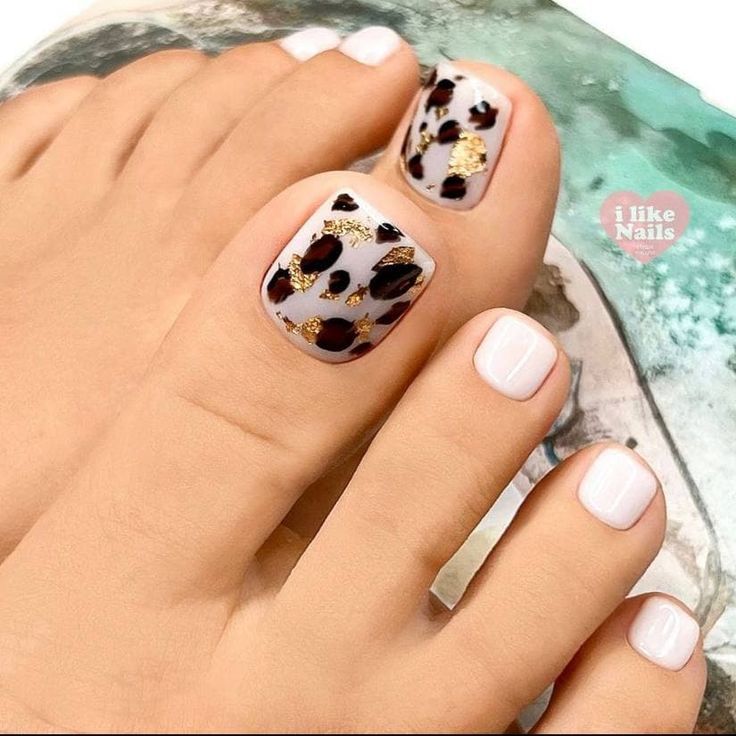 Add a touch of sparkle to your animal print pedicure by topping it off with some gold foils. It's certainly one way to glam up your toes!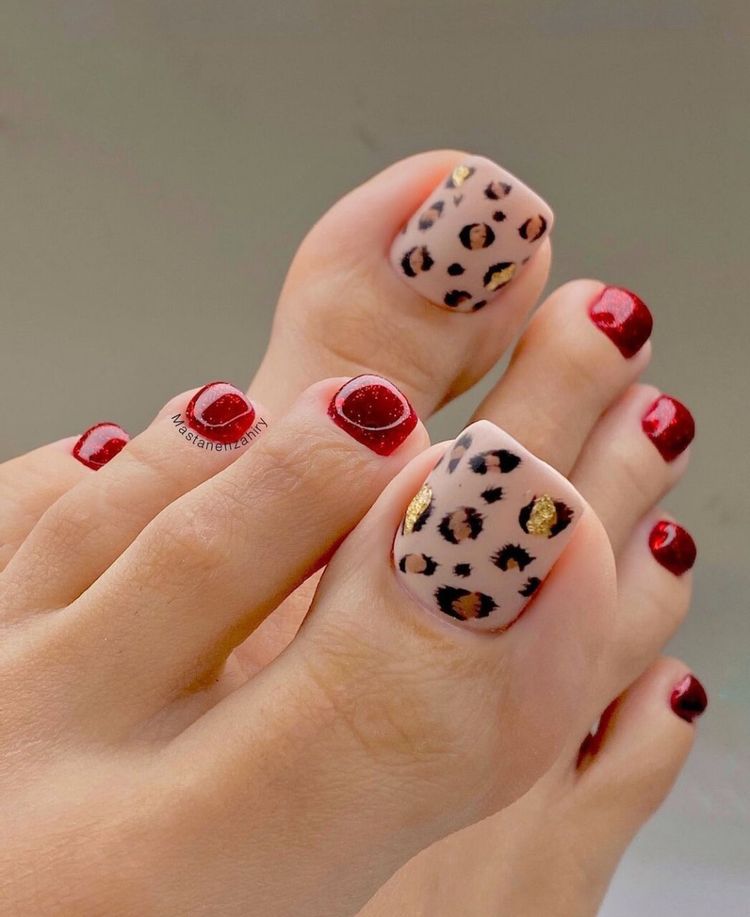 I could totally imagine wearing this particular pedicure during the holiday season. The red nails just effortlessly make your toes look so beautiful!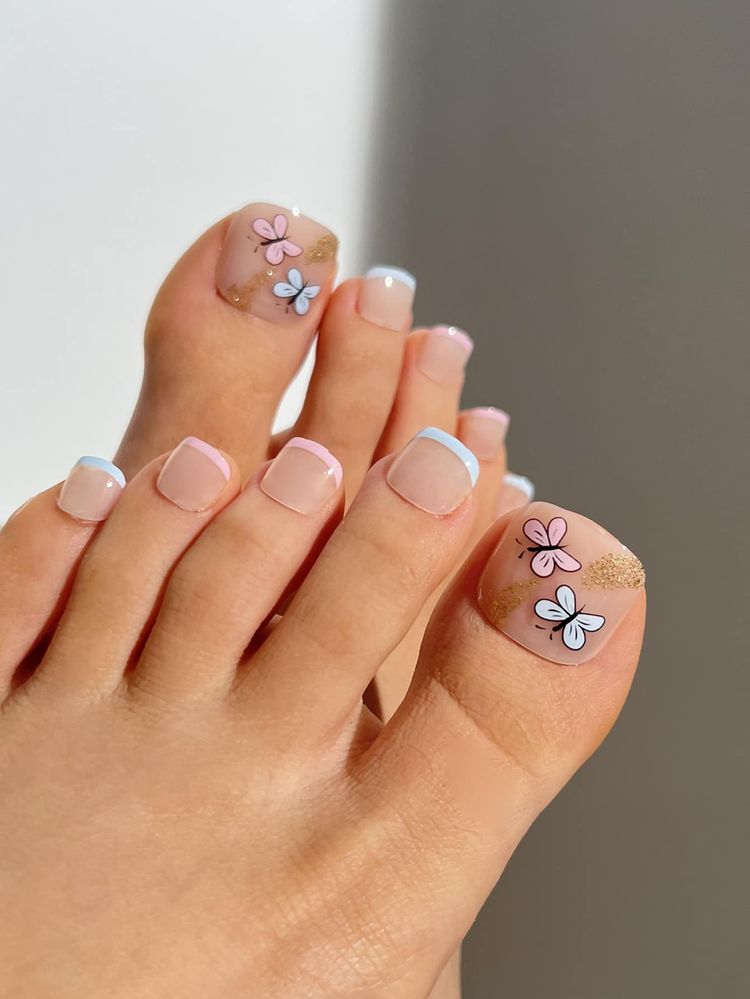 These toes give me huge fairytale vibes. Partly because of the whimsical style of the butterfly patterns.
For an elegant and glamorous design on your toes, this might just be the pedicure you're looking for. This would be perfect for parties and events.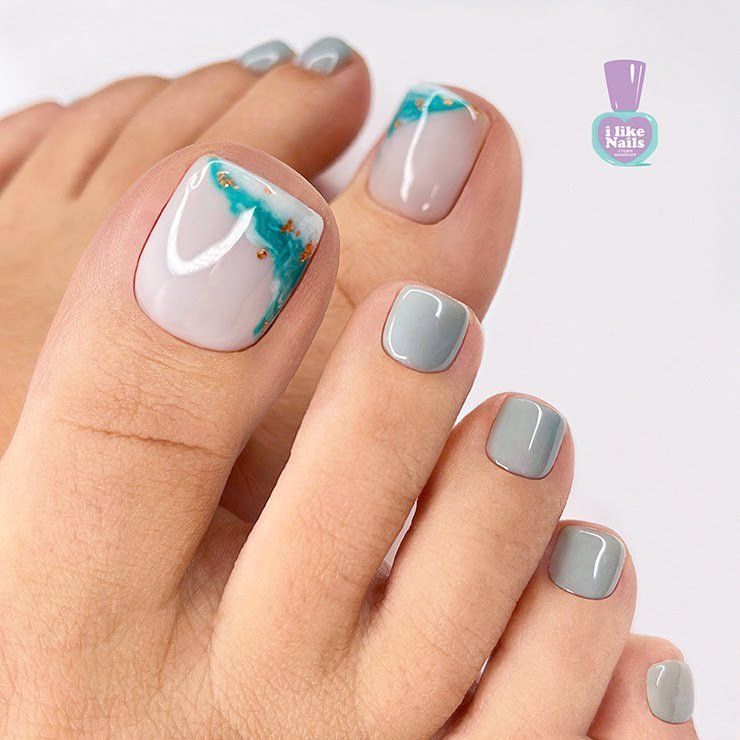 The accent toe nail on this pedicure somewhat reminds me of seashores. If you're looking for a toe nail design that'll get you excited for your upcoming beach trip, this is it!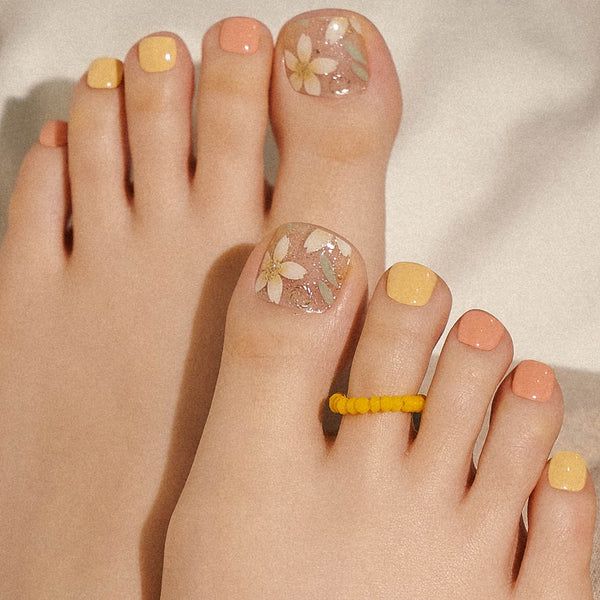 These toes would be so perfect for a cottagecore-themed pedicure. The warm colors and glittery florals are utterly beautiful!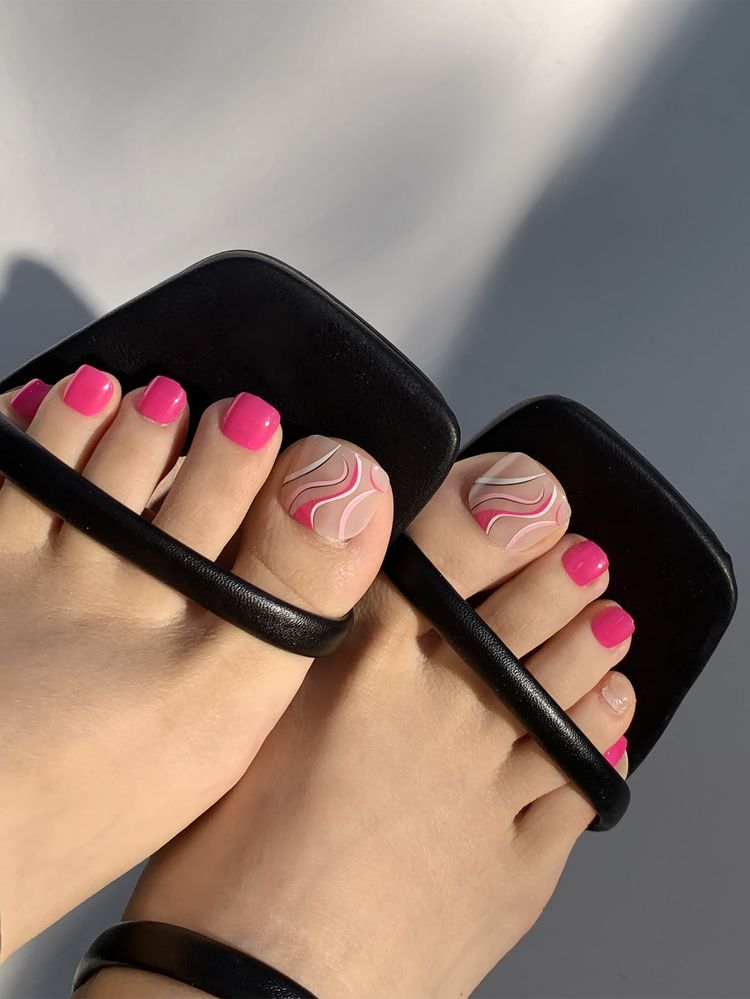 Hot pinks would be such a cute color to wear on the toes during the summer season. But you can make this color look classier by using negative space and some intricate linework.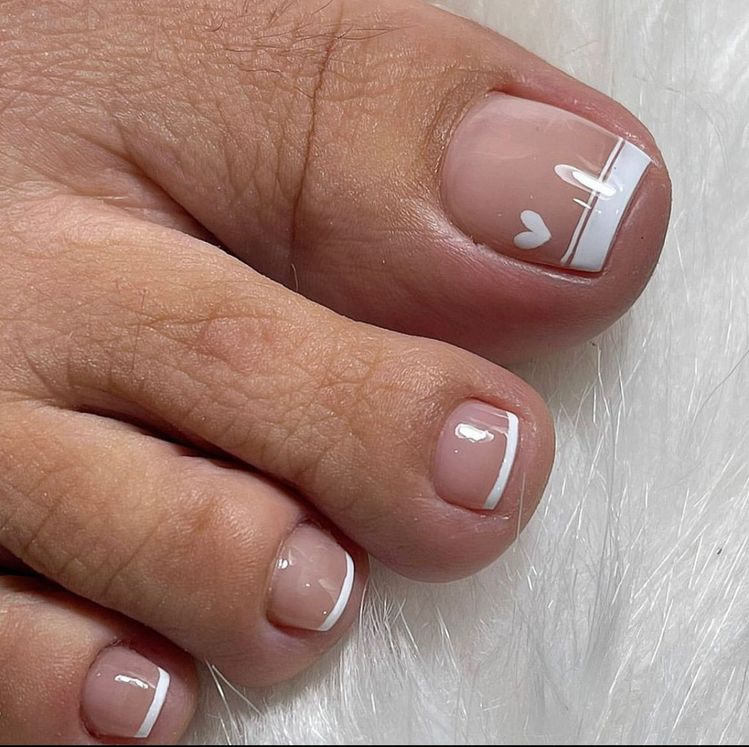 One way to elevate your basic French tips is by adding some cute, little shapes to make your pedicure look a lot more interesting. For example, some dainty hearts will do the trick!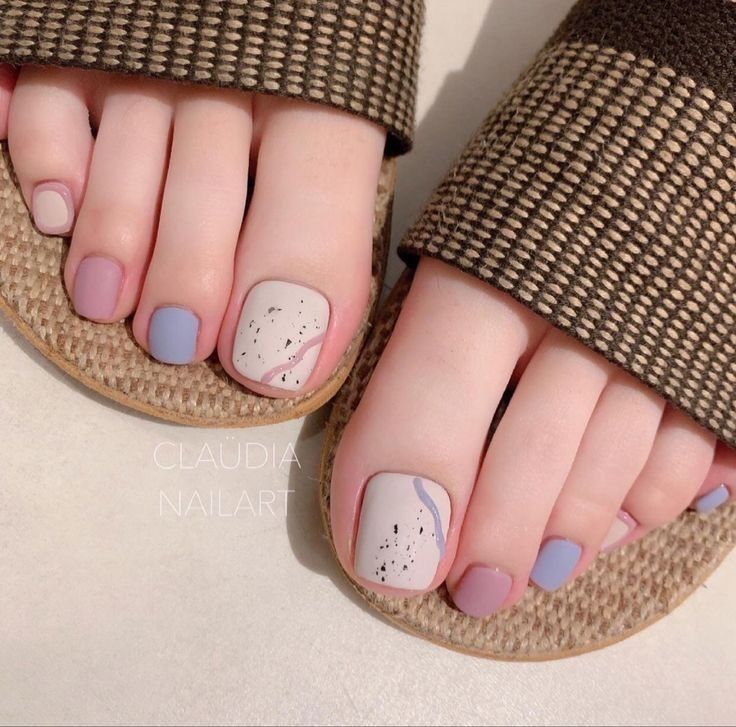 With these nails, you might just be walking on eggshells. Except it's your toes and you have an adorable pedicure you can wear all summer long.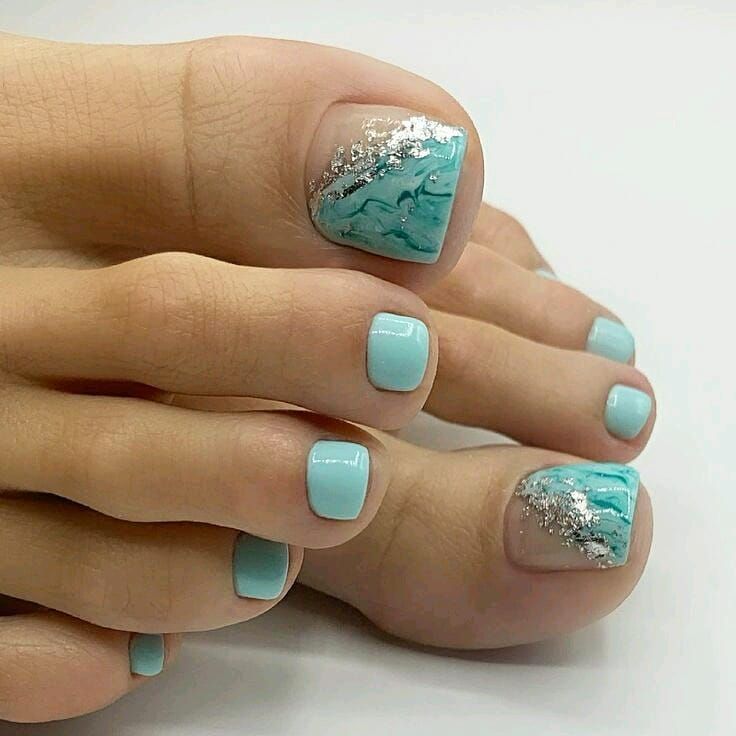 For an ocean-themed pedicure, this is what I envision. It looks cool and fresh!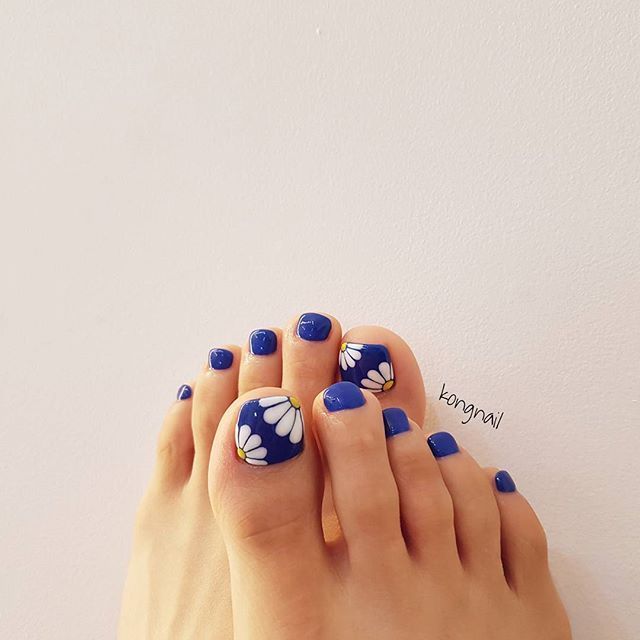 I love the vibrant contrast of deep blue hues against white flower patterns. It's perfect for the summer season!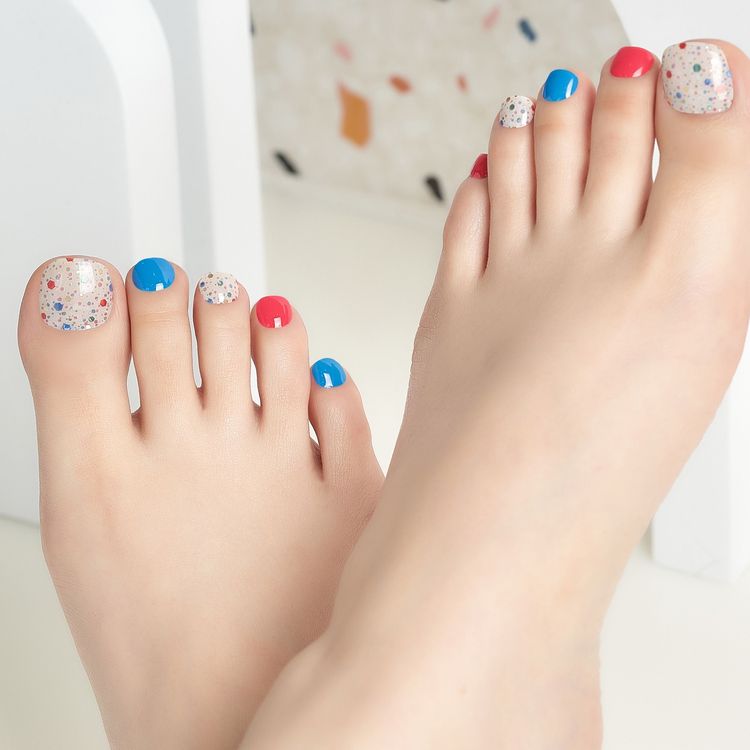 Add some sparkle into your step by finishing off your pedicure with some glitter polish! It's a quick way to make your nails shine.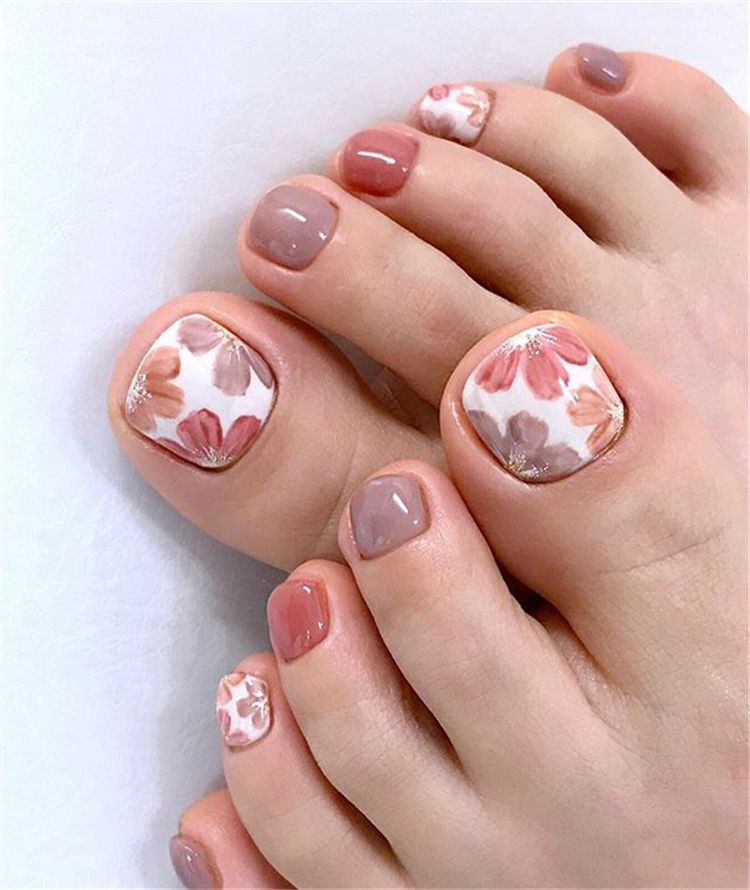 This neutral-toned floral pedicure is utterly gorgeous! I also love the vintage look on these nails!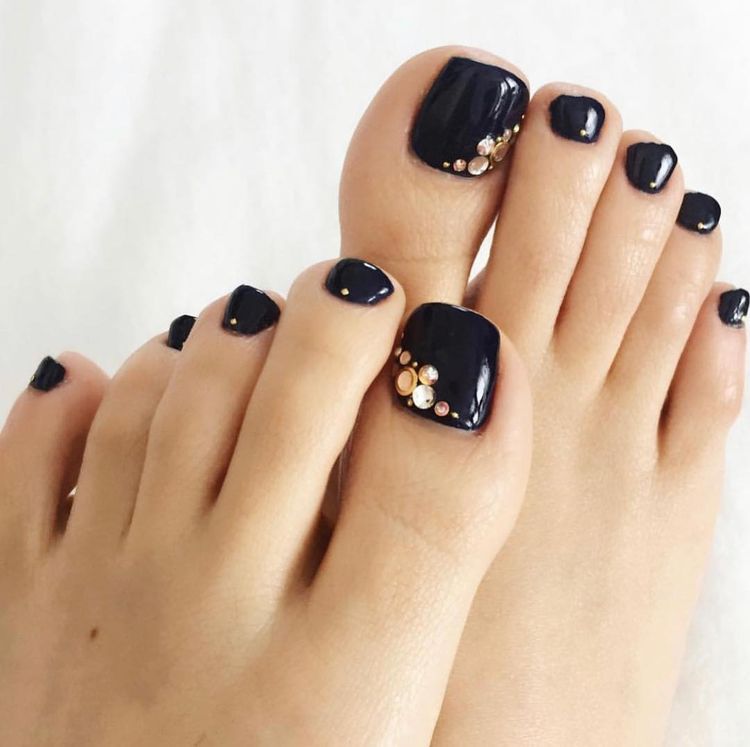 Add some sparkly embellishments to contrast your monochrome black polish. Your nails are sure to look classy and edgy.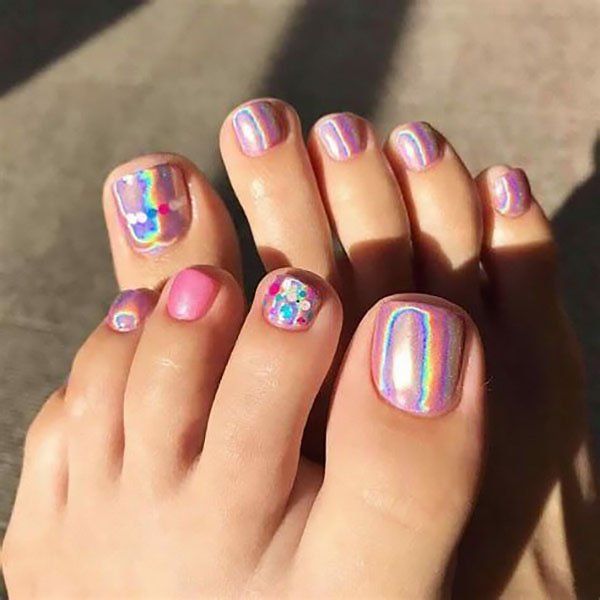 For an eye-catching pedicure this summer, you can't go wrong with these iridescent toe nail designs! You can even top it off with some shiny embellishments for an added sparkle.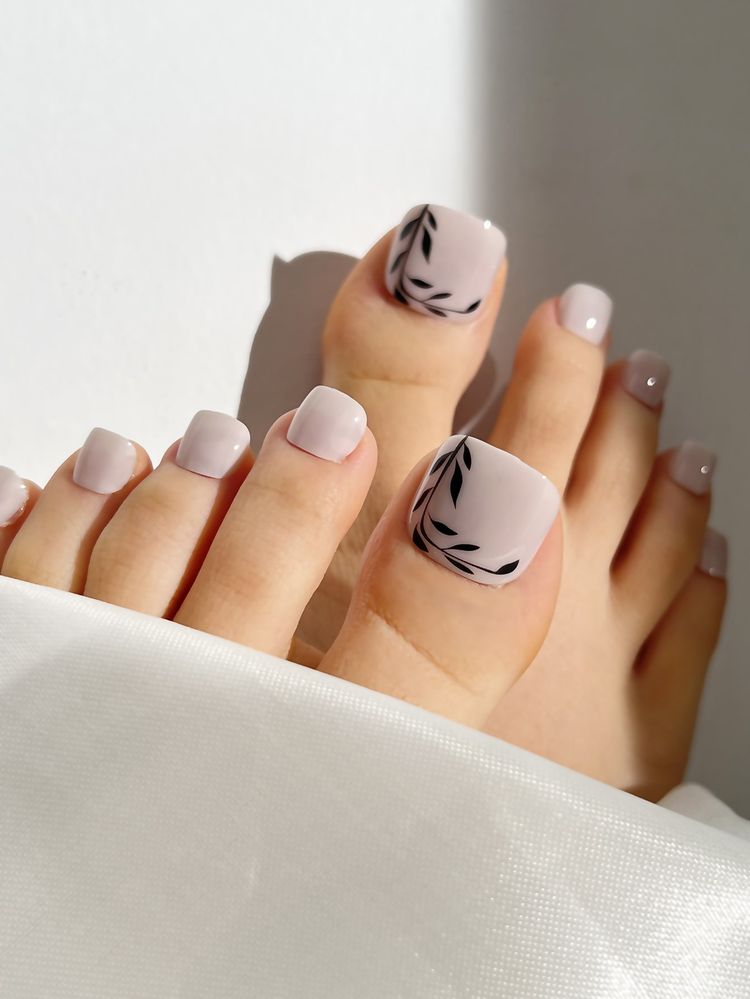 These leaf patterns on the toes are effortlessly chic and stylish. They're such a classy way to elevate your regular neutral-toned pedicure.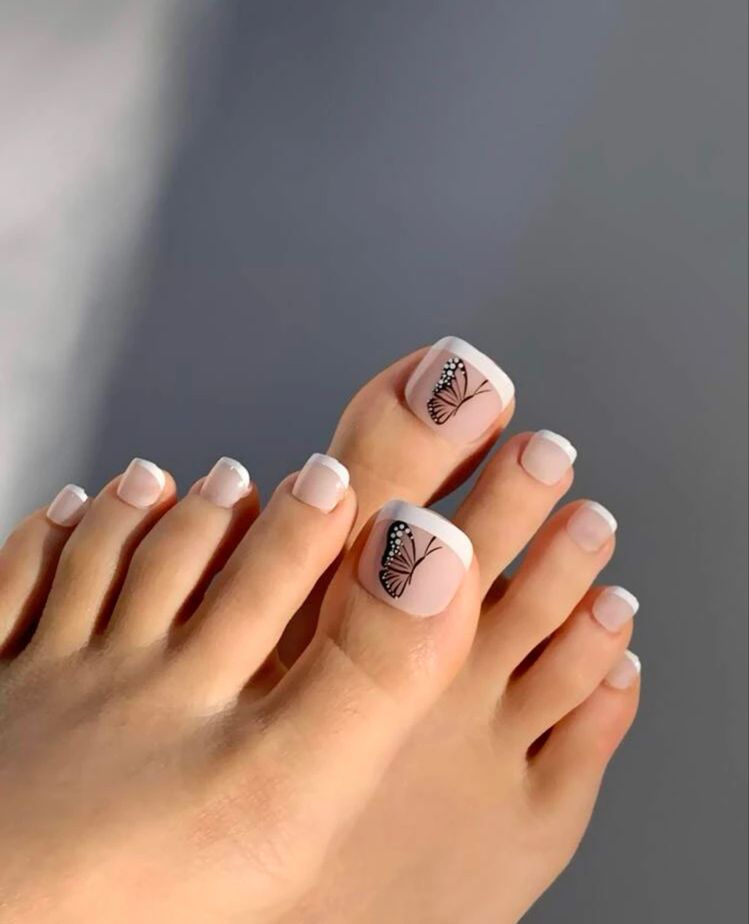 For a minimalistic and dainty aesthetic, you'll love the intricate linework of the butterfly nail art on these toes!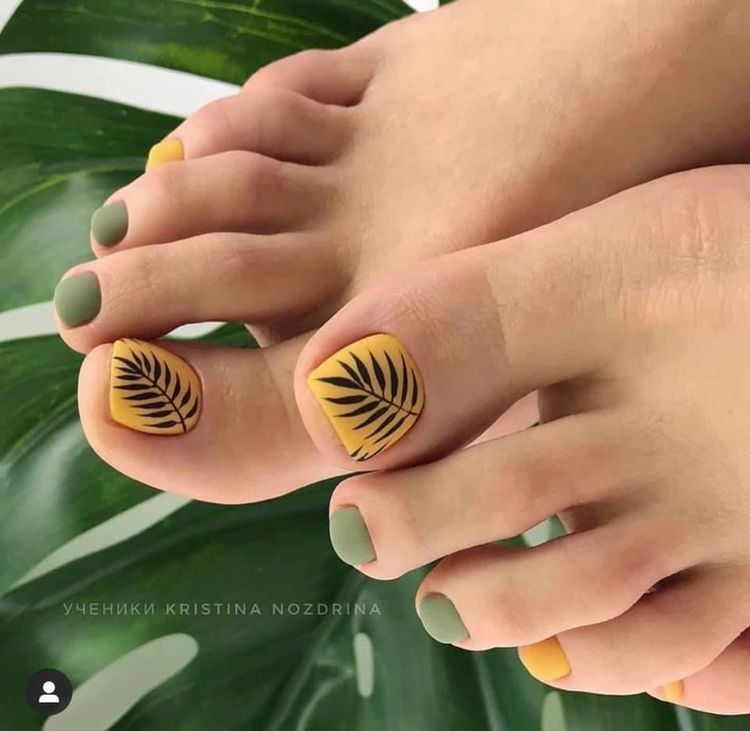 This toe nail design is utterly perfect for the beach! I could totally imagine wearing these with my flip-flops as I stroll around sandy shores.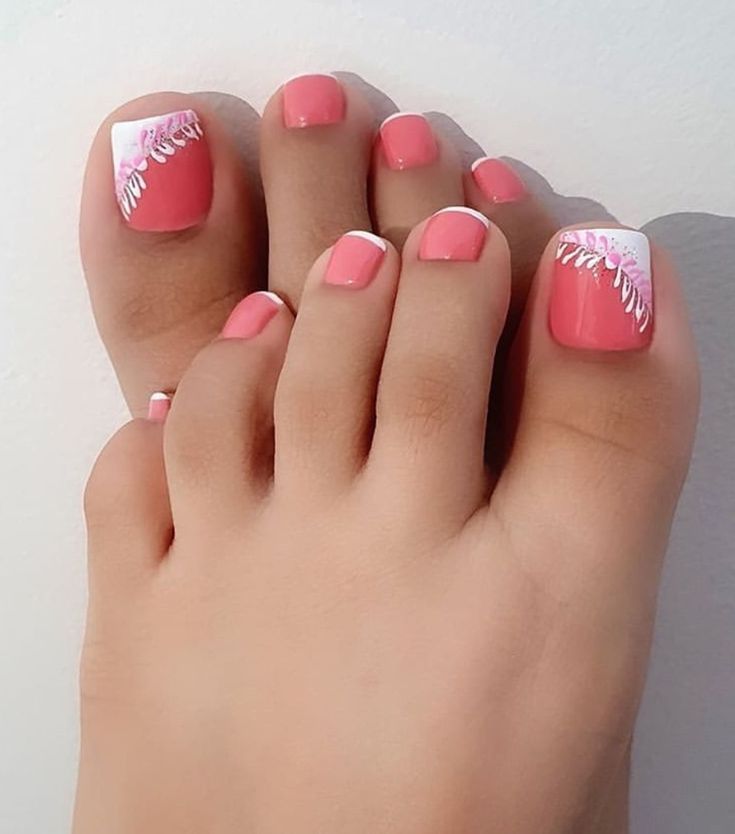 Who doesn't love a cute set of coral toenails for the summer? Accentuate these with some white-colored patterns and you got yourself a pretty pedicure!