Looking for the most gorgeous February nails designs for this year? We've got you covered with the hottest February nail trends!
Happy February! Even though it feels like Valentine's Day is the only big thing this month, I personally love February for fashion and beauty.
It's a trendy winter month that doesn't revolve around a holiday, and it's the perfect excuse to wear super warm winter clothes with lots of layers and still look fashionable.
Today, I'm sharing my 50+ favorite super trendy nails for this February! If you're looking for February nails (not just Valentine's but February nails in general) then you're in the right place.
Dark nude tones are in this year, as are colors that bridge the gap from winter to spring.
I'm also seeing a huge rise in multi-colored nails (one color on each finger) as well as various patterns on nude or pink fingernails. Marble February nails are in, as well as reverse tips (the color on the tip of the nail; basically the reverse of a French manicure).
Shape-wise, both almond and square are in, but they shouldn't be too long or too short. If you have trouble growing your nails out, I recommend starting with gel tips and a dip manicure over them. Acrylic nails are always good, too, if you're willing to go for fake nails.
February Nails For Inspiration:
Here are my favorite February nails for this year. Feel free to save any of these photos to your phone to show your nail technician.
To save a photo, just press down and then click save to camera roll. Have fun!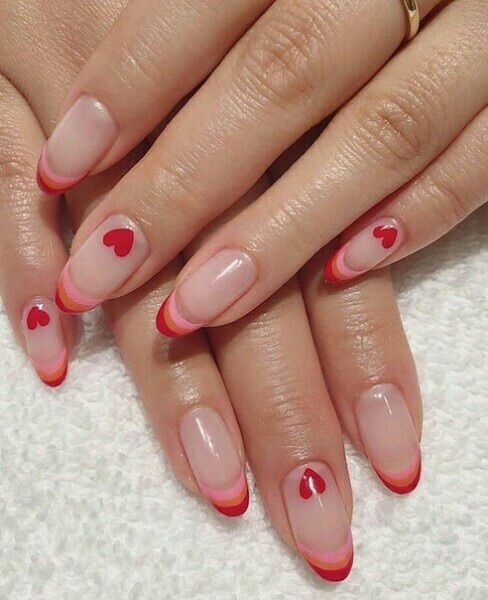 Here's a cute yet very minimalistic February nail design! I love the pink and red twist on the classic French tip as well as the dainty hearts placed on each accent nail.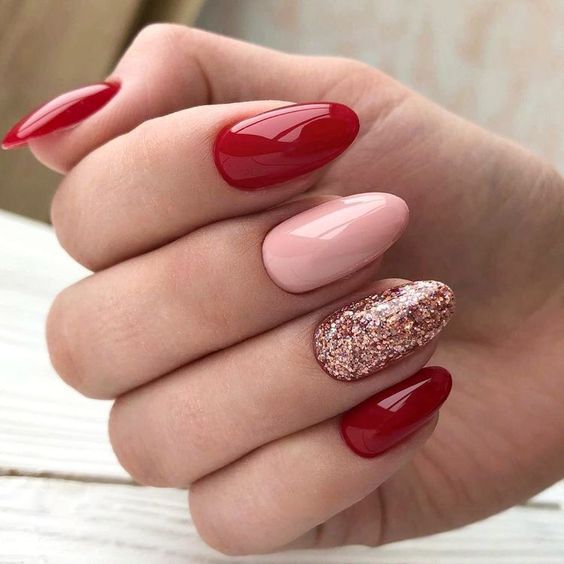 While this article isn't necessarily revolved around Valentine's you're sure to find some nail designs here that you can also wear on a big date. Like this one! I love the combination of the pink and red nails and the shimmery rose gold accent nail. It's utterly romantic!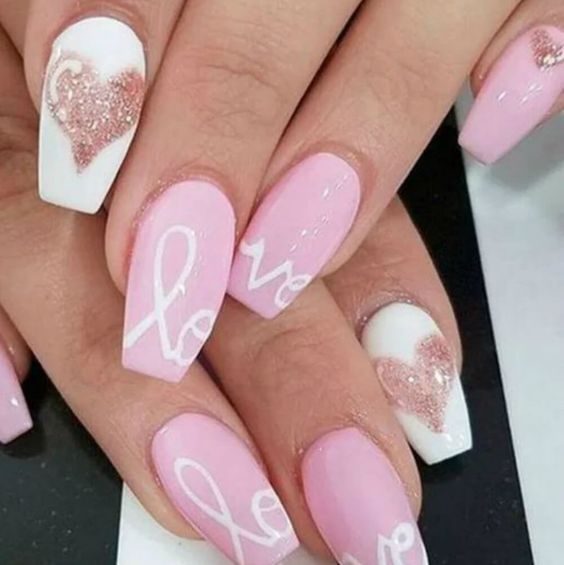 For many people, February is the month of love! So if you want to get in with the love fest this month, this nail design can be your next February nails inspo!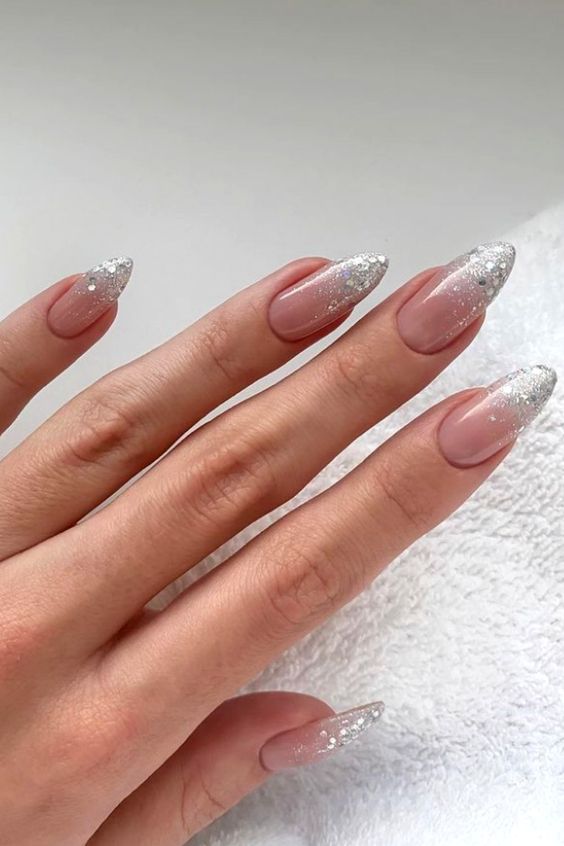 You might love this nail design for a romantic, wintry manicure this February! I love how a natural base coat is used and topped off with glittery tips that make your February nails look frosted and ethereal.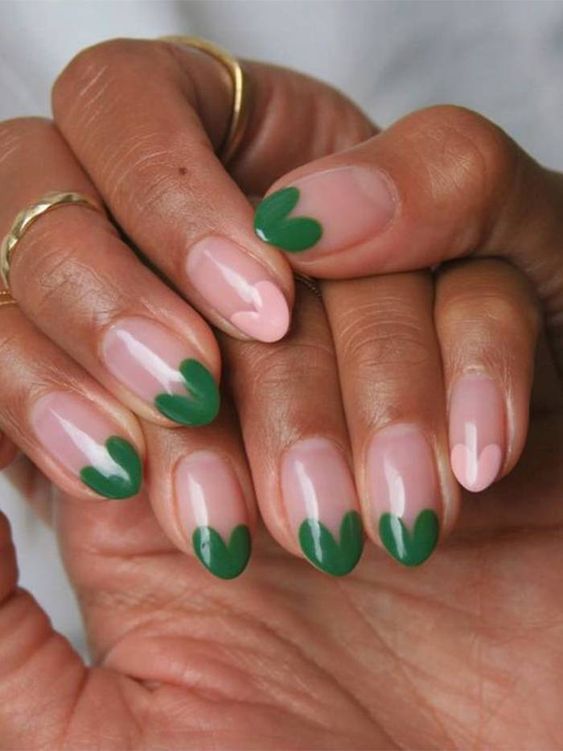 If you're tired of seeing the usual reds and pinks this month, why not go for green and pink February nail designs? It's a stunning and quirky color combo that's totally unique! You can even opt to get these heart-shaped French tips for a rather romantic look.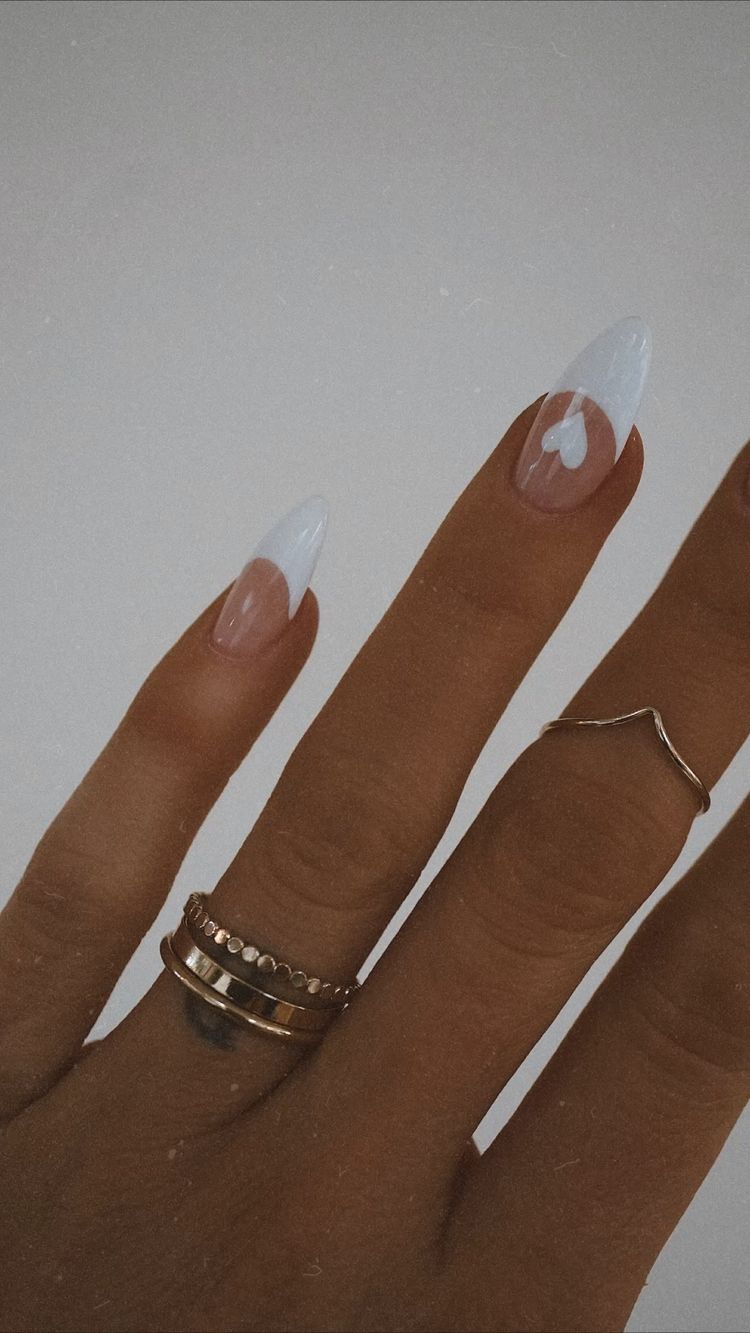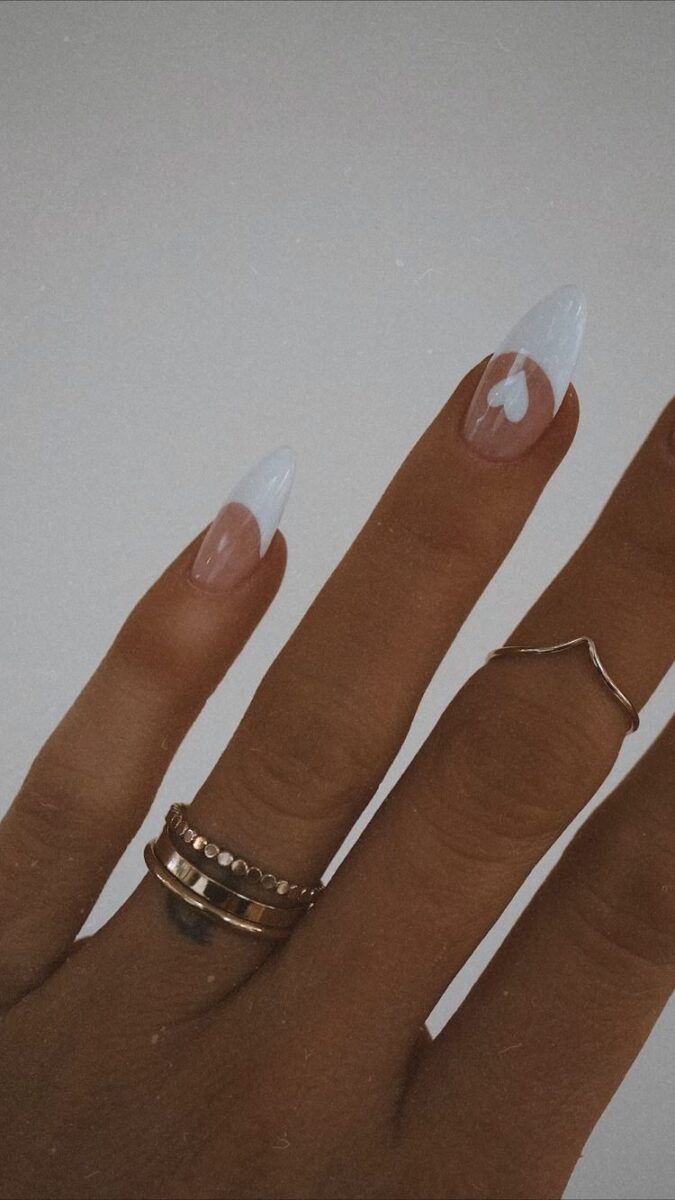 To get a classy look on your February nails, opting for a white manicure is perfect! You can even ask for a classic French tip and a longer cut on your nails for an even more feminine look. For your accent nails, you can draw tiny hearts.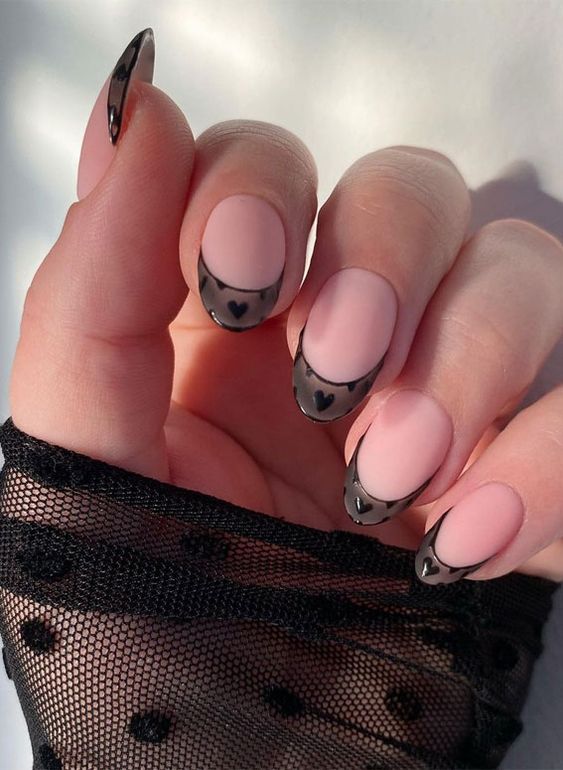 For an edgy and unique look this February, why not opt for a black French tip like this particular one? What makes it unique isn't just the color scheme but the way the tips aren't a solid black. Instead, it's a little transparent with dainty hearts drawn all over them.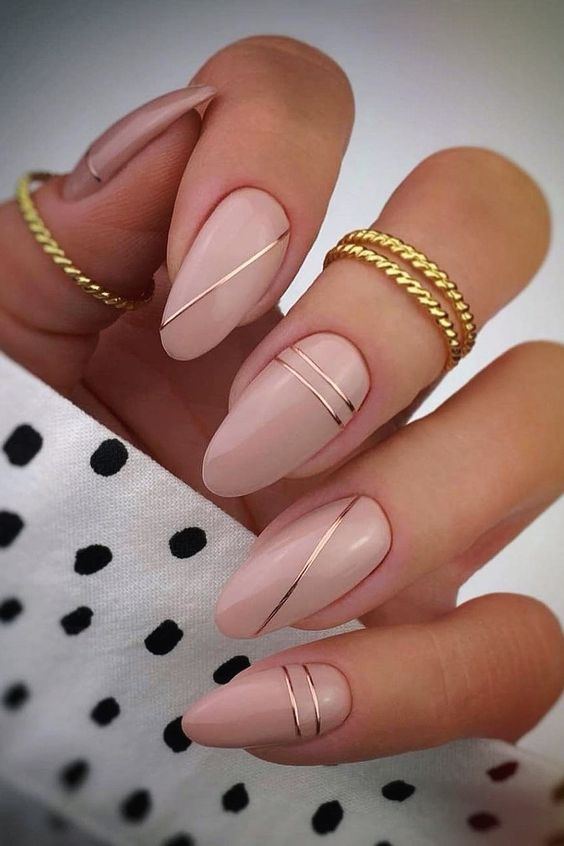 This manicure is utterly elegant and stunning! The rose gold linework adds a classy vibe to the soft pink base coat used on these February nail designs. This would be so perfect on date night with your beau!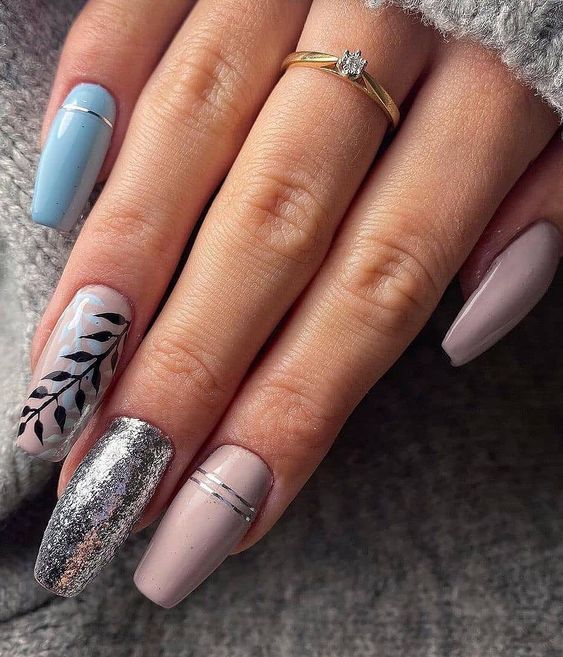 Here's another manicure that's perfect for the winter season this February! I love the frosty and unique color scheme used on these February nails, especially the silver glitter nail and linework against the pink and blue base coat.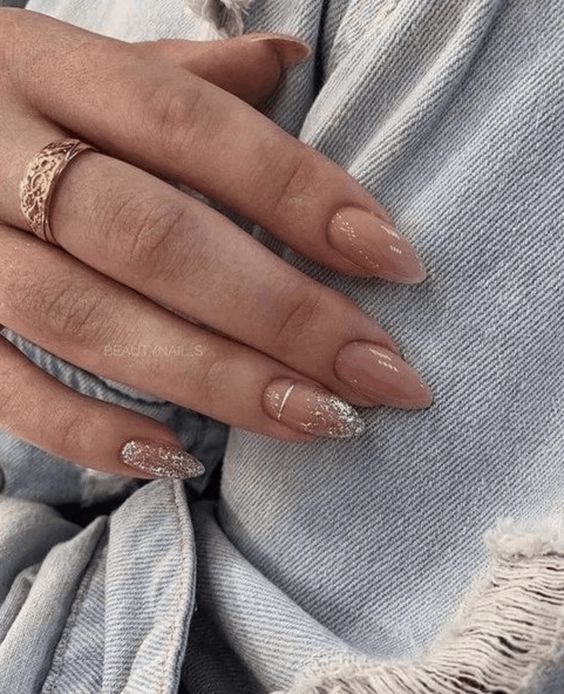 If you want that beautiful frosted look on your February nails, this is for you! Just look how shimmery and sparkly those glitters are! They remind me of freshly fallen snow on a beautiful winter day.
For a more natural-looking manicure, you might love this one! This will be perfect for any season and totally wearable for every day. It's literally your nails but better!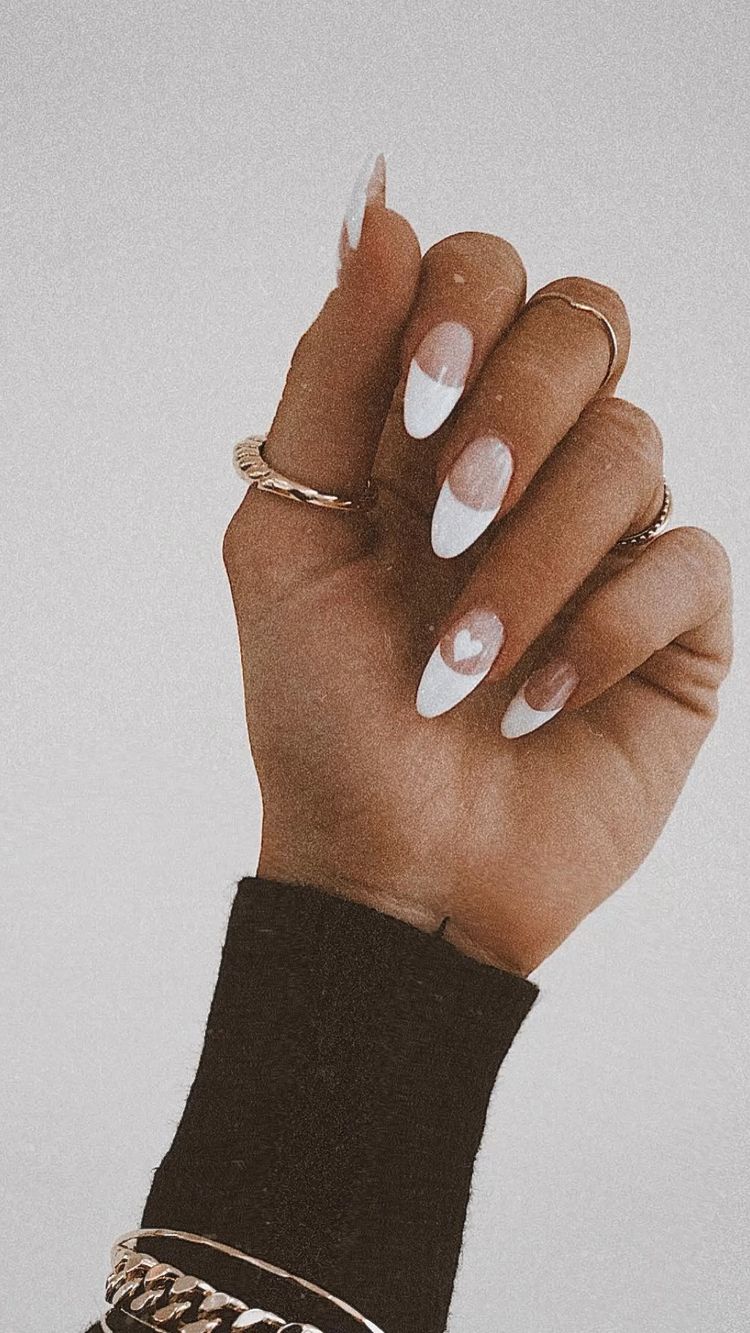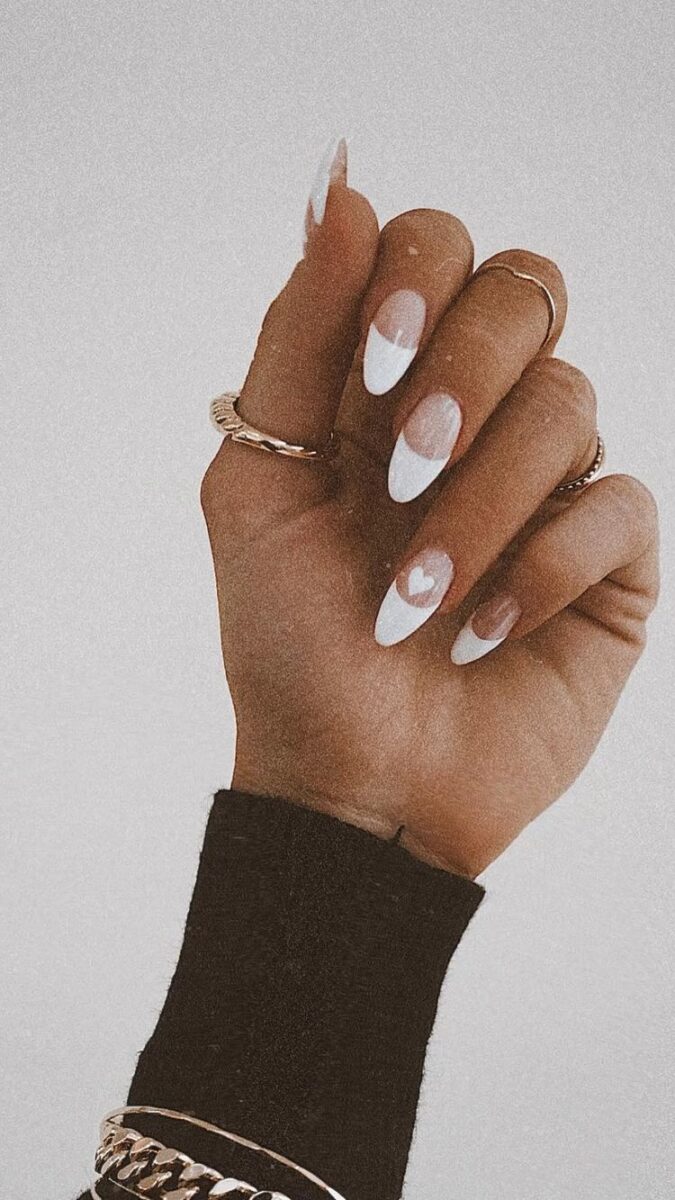 So clean, classy, and minimalistic, this gorgeous white manicure uses a classic French tip for your long February nail designs. You can add tiny hearts for every accent nail if you want to give it a more Valentine's theme.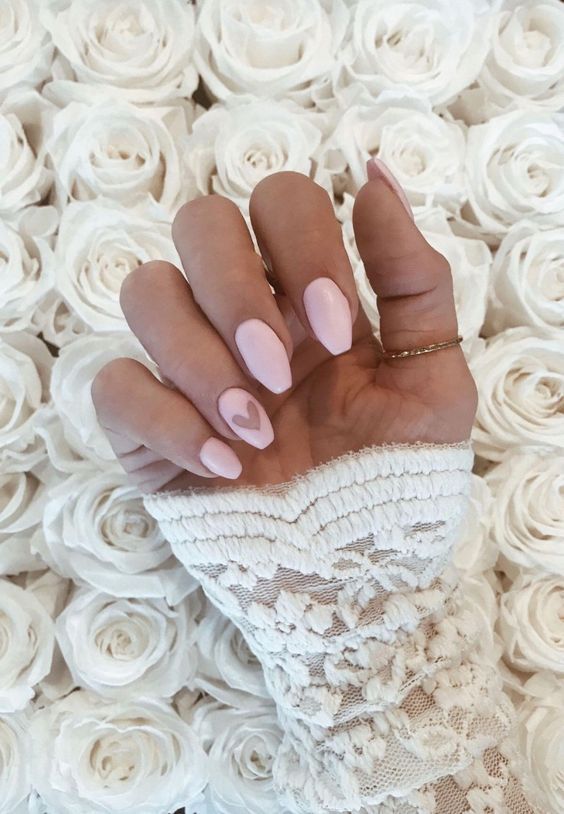 So feminine and romantic, these soft pink February nails are absolutely gorgeous! I love the nude heart on the accent nail. It stands out against the pink base color.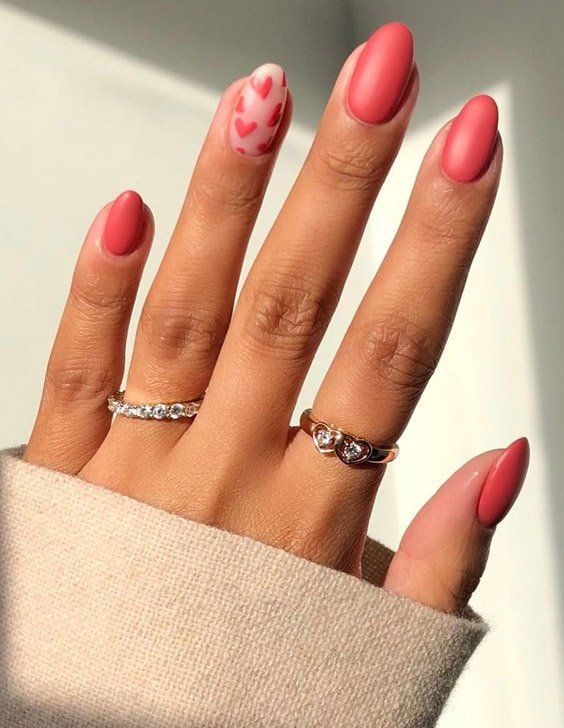 If you can't get enough hearts this Valentine's season, then here's another manicure you might love! It's simple and not too over-the-top that it looks tacky. You can opt to paint tiny hearts over your accent nail and use negative space to make it stand out against the rest of your nails.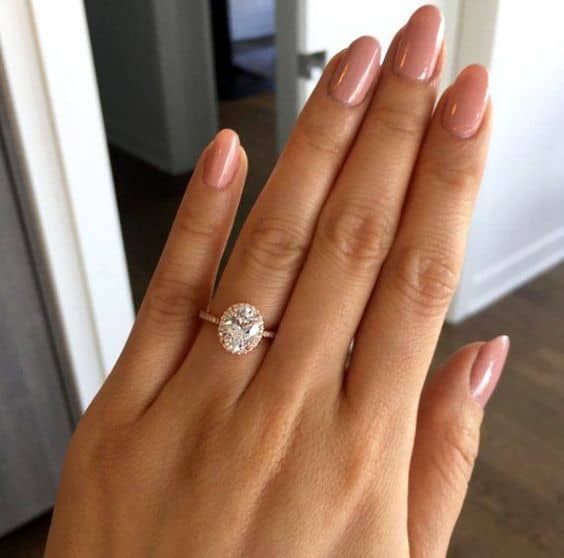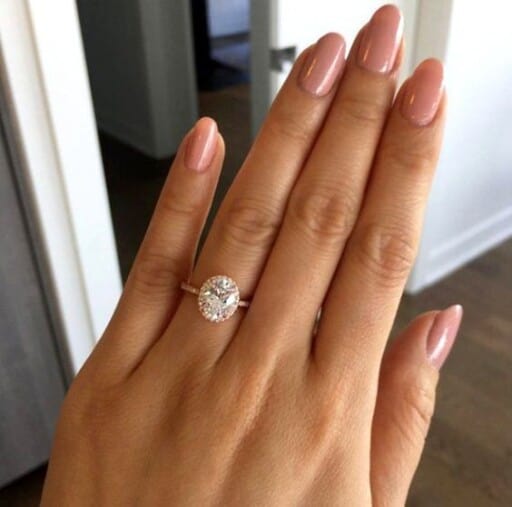 For a plain manicure but still keeping it rather romantic and feminine, these muted pink nails are perfect for that kind of theme!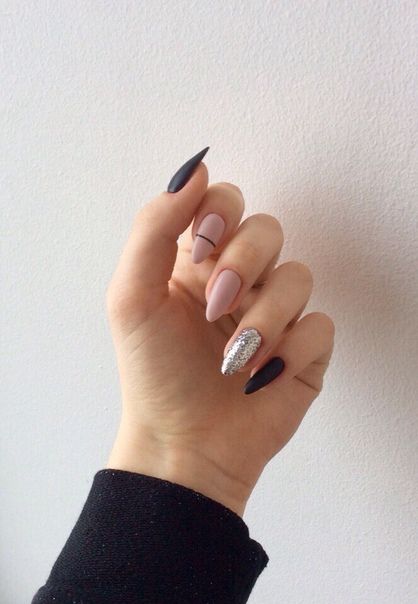 Add an edgy flare to your nails by putting on some black and silver accent nails to your manicure! The combination of pink and darker colors will provide an amazing contrast to your nail polish.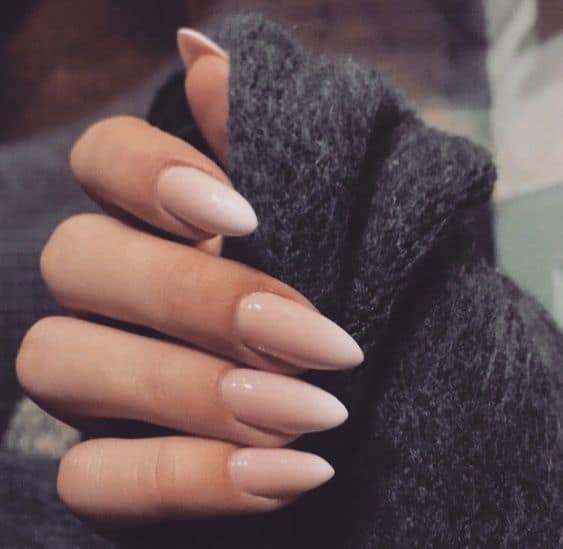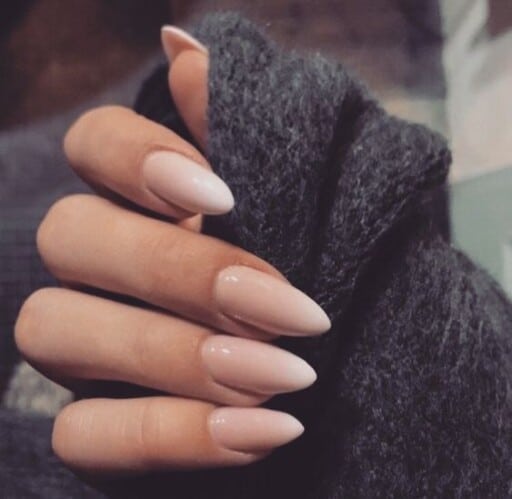 French tips are great but for a subtle and unique twist to the classic manicure, you might love this blurred effect! The gradient detail gives off a feminine vibe to this design that is perfect for daily wear.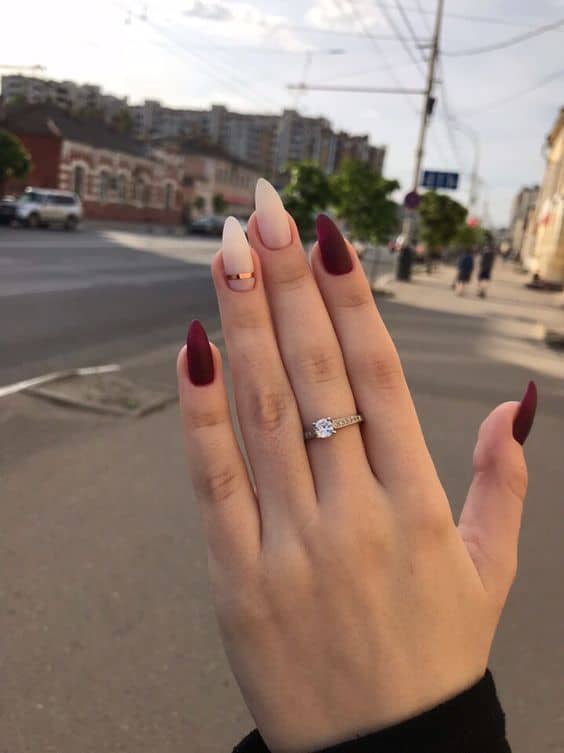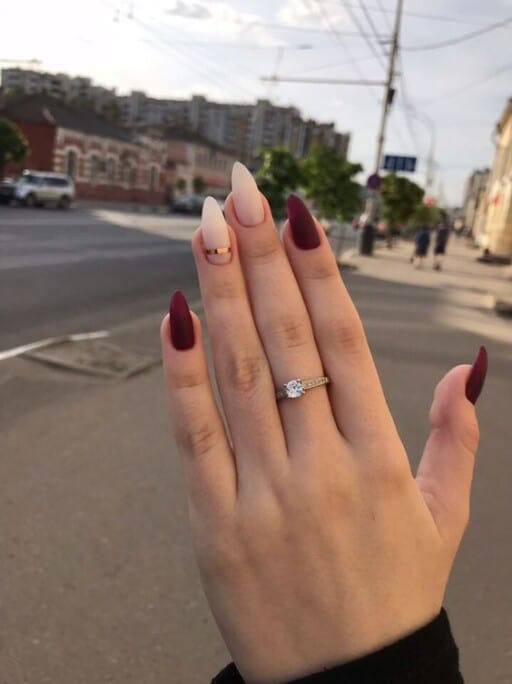 February is still in winter and using dark, moody colors is still pretty much in season! Personally, I love using deep, rich colors like burgundy. They're gorgeous and have a natural sexiness to them. If you find the color a bit intimidating, you can always use nude-colored accent nails to soften the look a bit.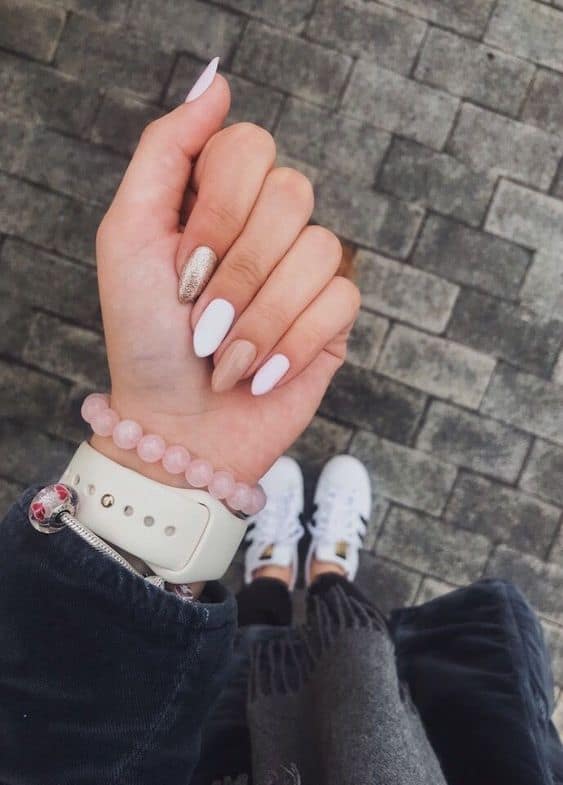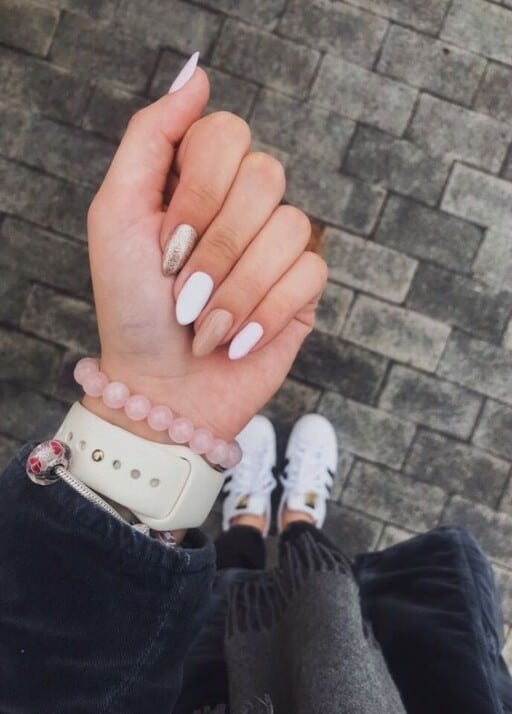 If dark colors aren't your thing, that's still completely alright! Lighter colors still suit the colder season and can even give your nails a naturally frosty look.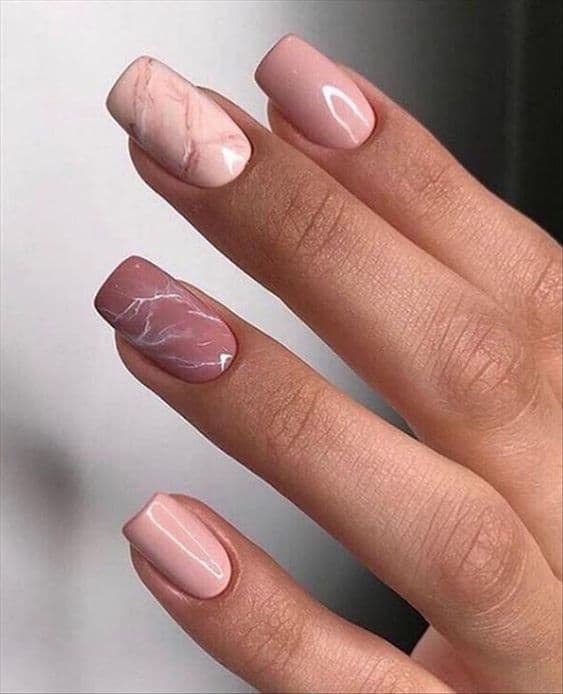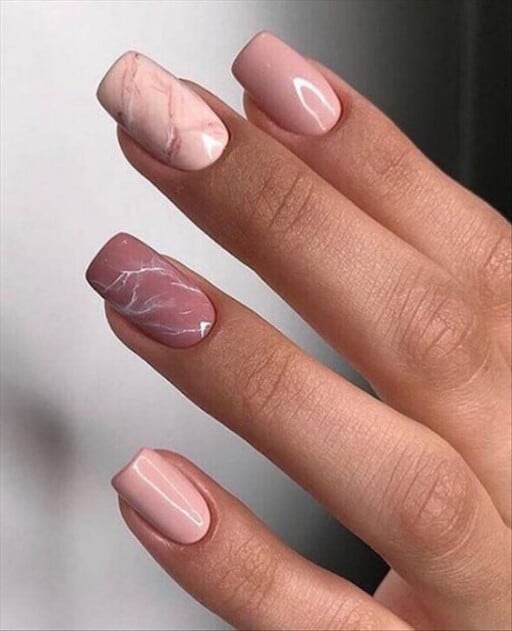 If you're looking for something a bit different than your regular manicures, try asking your nail tech or doing a marbled nail yourself! I mean, just look how sophisticated these nails look!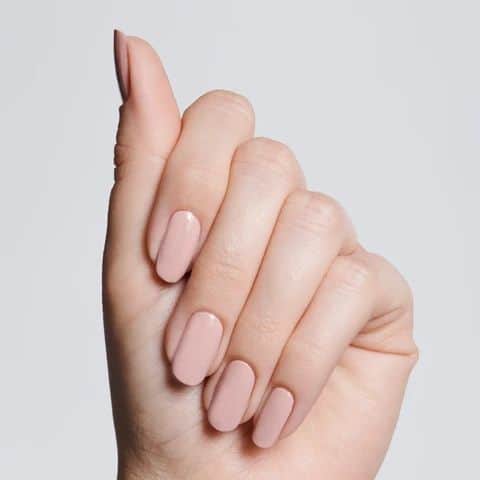 You can never go wrong with a classic, regular manicure. For a more romantic vibe, you can choose a soft, almost muted pink that can also give you a natural effect.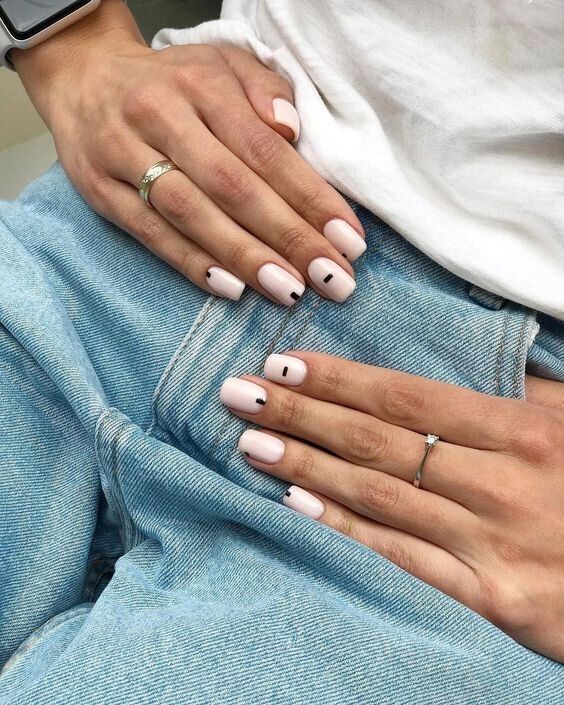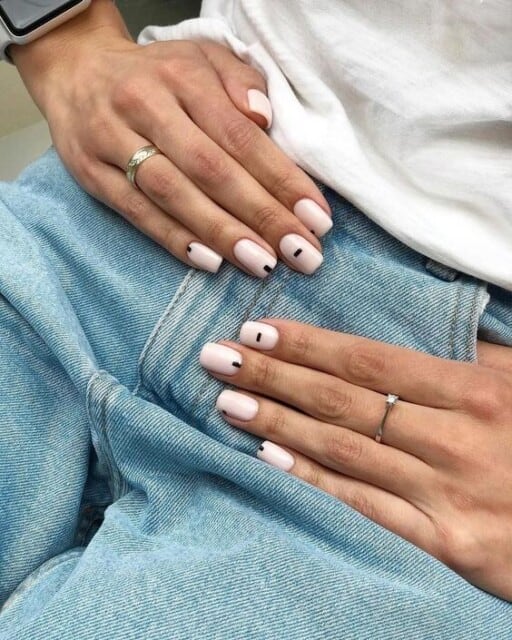 Here's a totally unique nail art design you might want to try out this February! Using a light-colored base coat, you can draw abstract lines using dark-colored nail polish or even nail stickers for a modern look.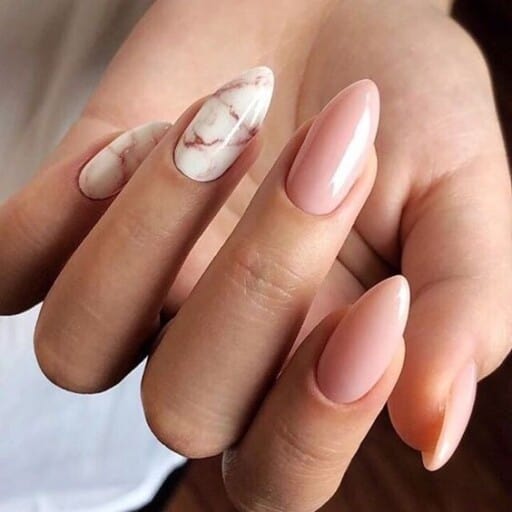 If you want to try out marbled nails but don't want to fully commit to a fully marbled manicure, then you can always opt to just get them as your accent nails.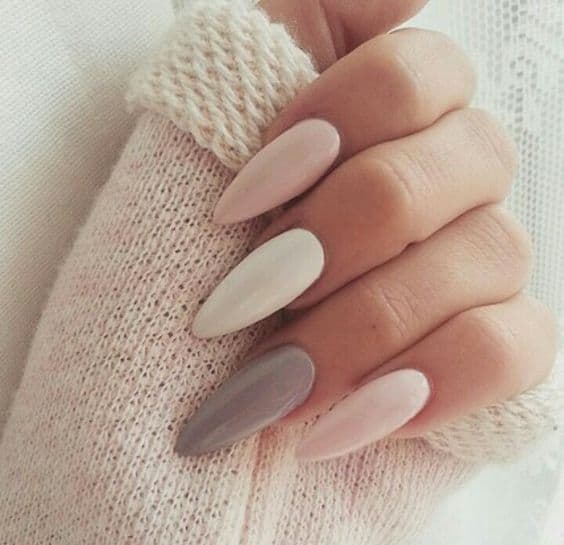 Can't decide what color to get for your next nail appointment? Why not choose a different color for each nail? You can pick ones that are in a similar shade range to still get a cohesive finish.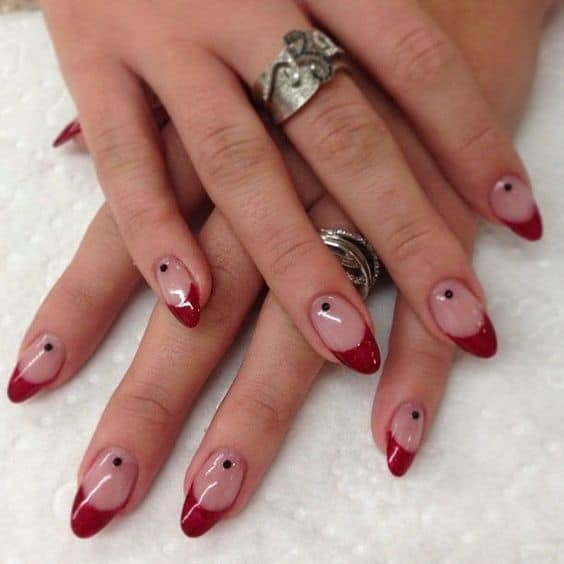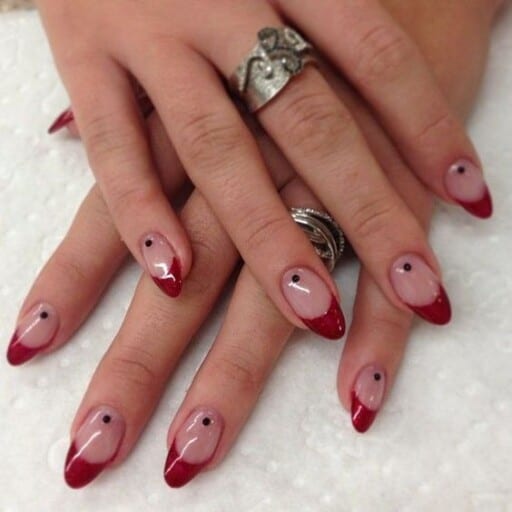 Perfect for Valentine's are these red French tips! They add such a romantic vibe to your nails and those black dots accentuate them even more!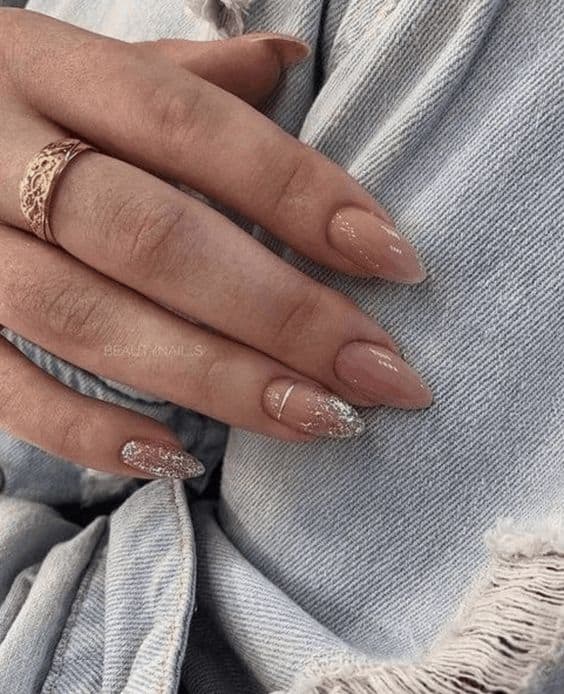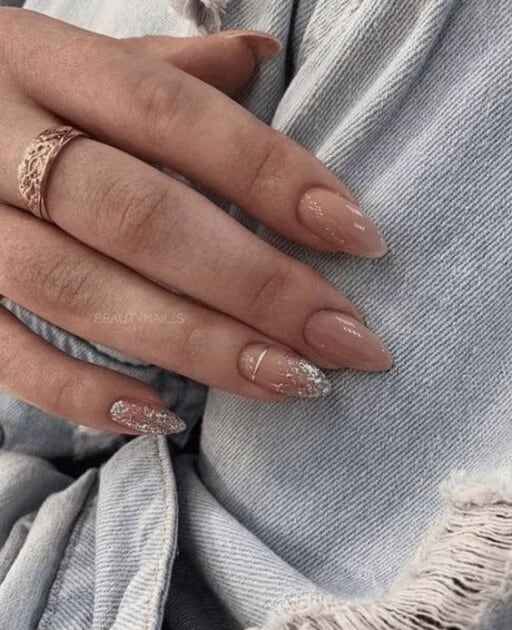 If you're looking for a frosty manicure that'll give you those winter wonderland vibes, this is perfect for you! It's not too much and just has the right amount of sparkle.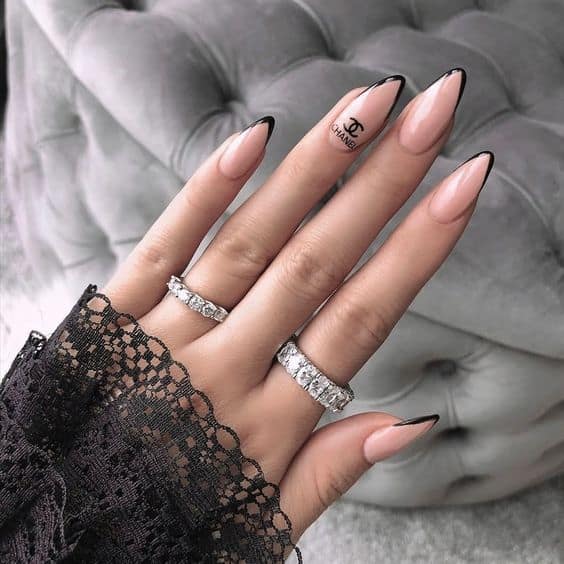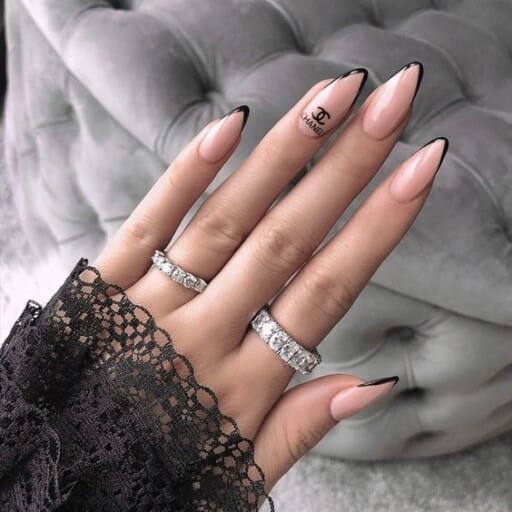 For a classy and luxurious vibe for your nails, why not try getting a Chanel-themed manicure? You can use black accents to make it even classier.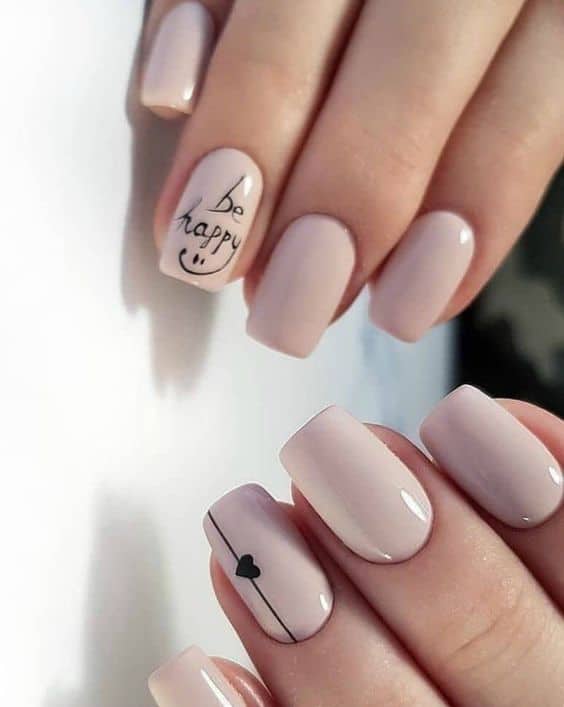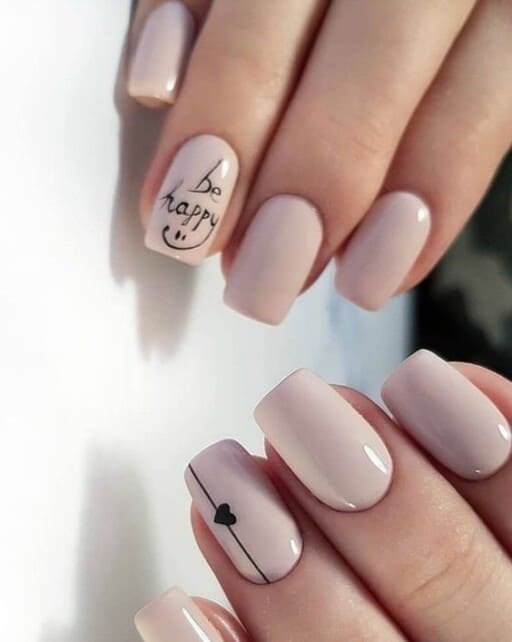 Some words of encouragement on your nails might just be what you need for tough days ahead. You can opt for a minimalist finish like this one or you can get something with more accents or words of affirmation.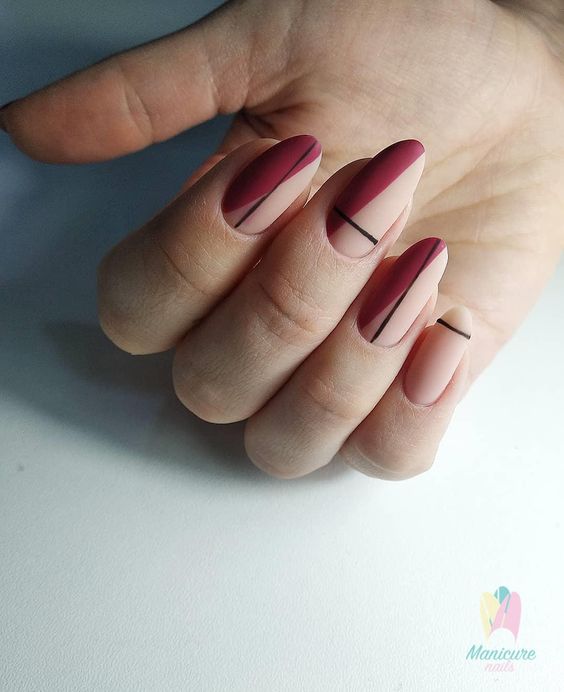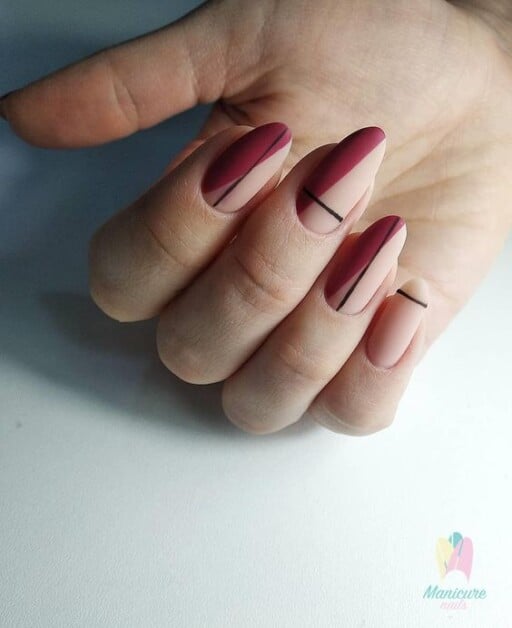 Here's a modern and abstract nail art that you might love if you're looking for something that's unique yet wearable for daily things and office days.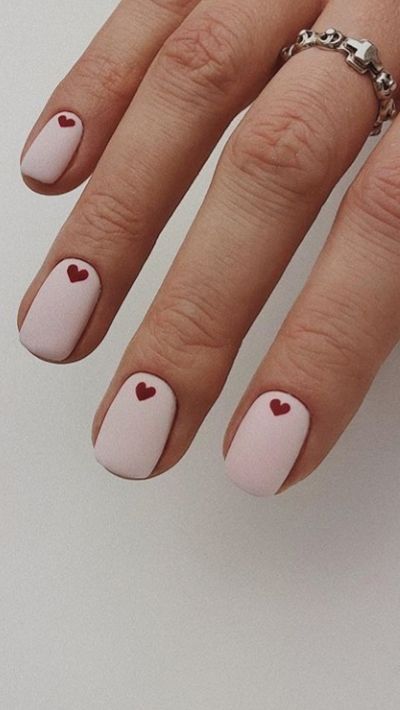 This is such a dainty and girly nail art that you might love if you want a minimalistic nail design that you can wear on Valentine's Day.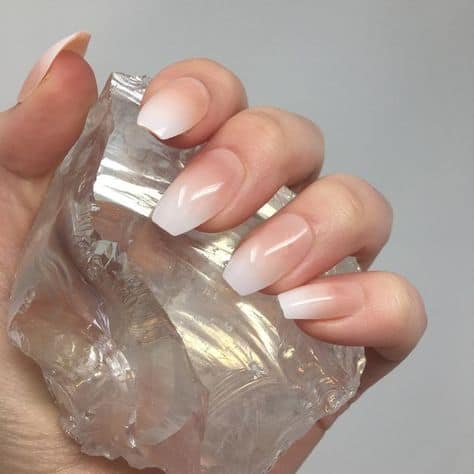 I am totally in love with these nails! I love how the gradient effect gives the nails a natural flush of color.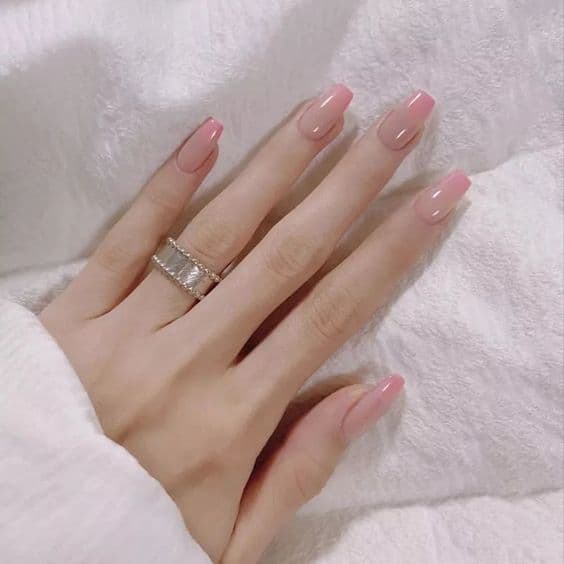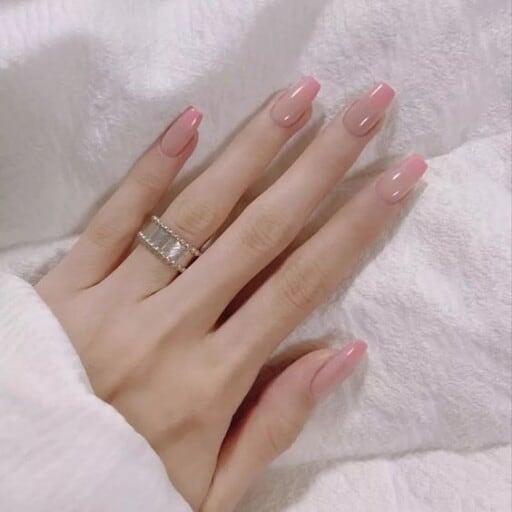 Here's another set of gradient nails you might love. But instead of white tips, you get pink ones. It still gives a nice natural finish though!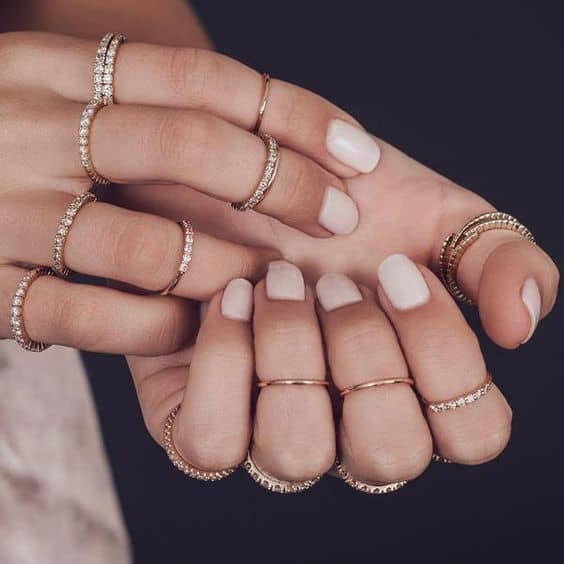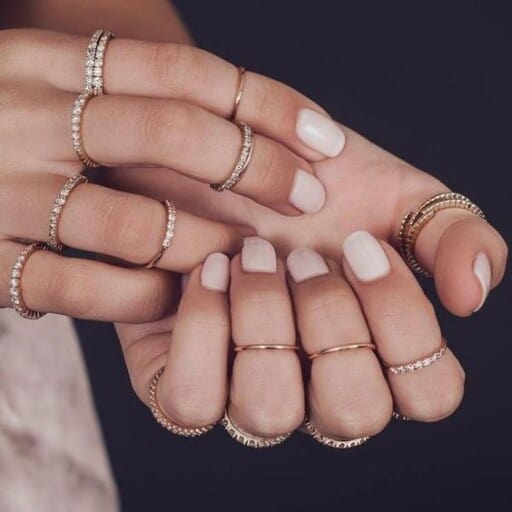 A completely all-white manicure is amazing but it can be a little intimidating too. For a softer look, try using an off-white ivory color.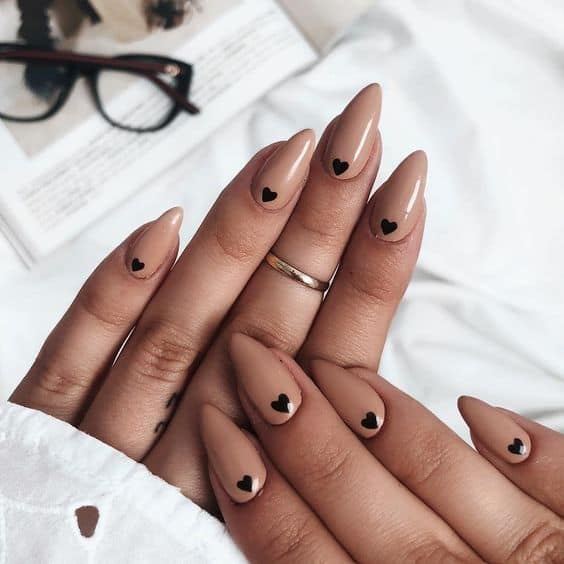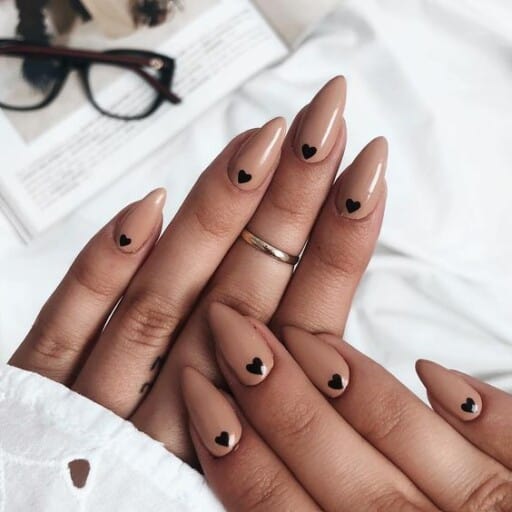 Pair your regular nude polish with some tiny black hearts for a romantic and sophisticated look this February!`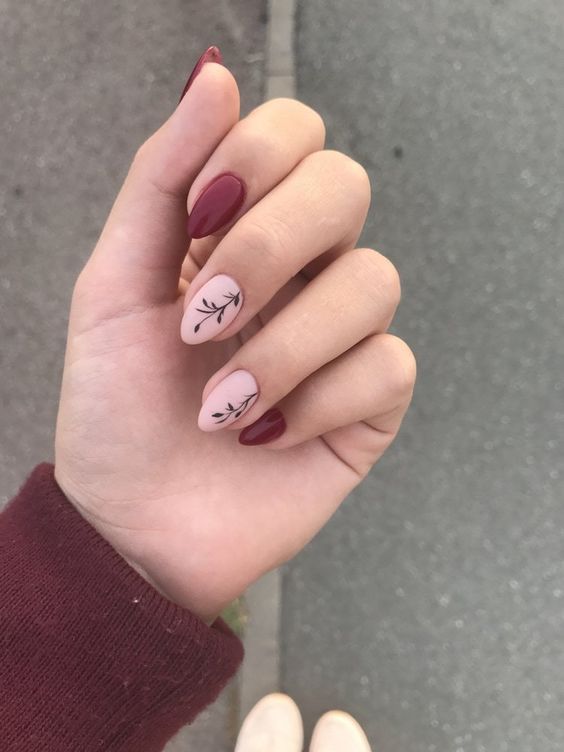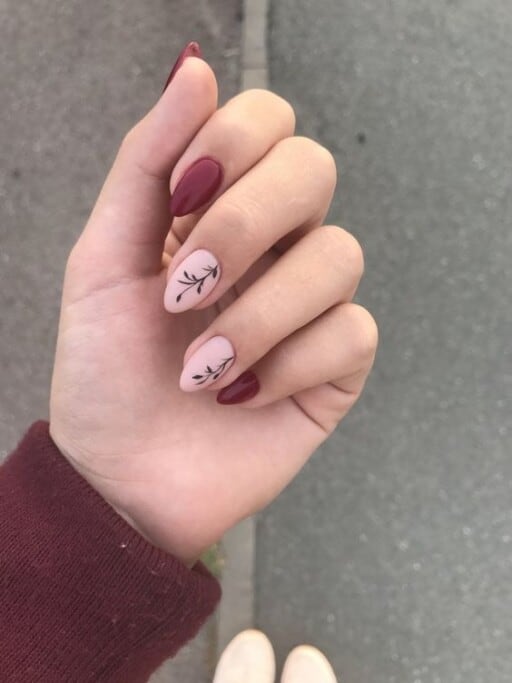 Leafy nail art is trendy these days, and if you want to use this kind of design for February, you can definitely go for it!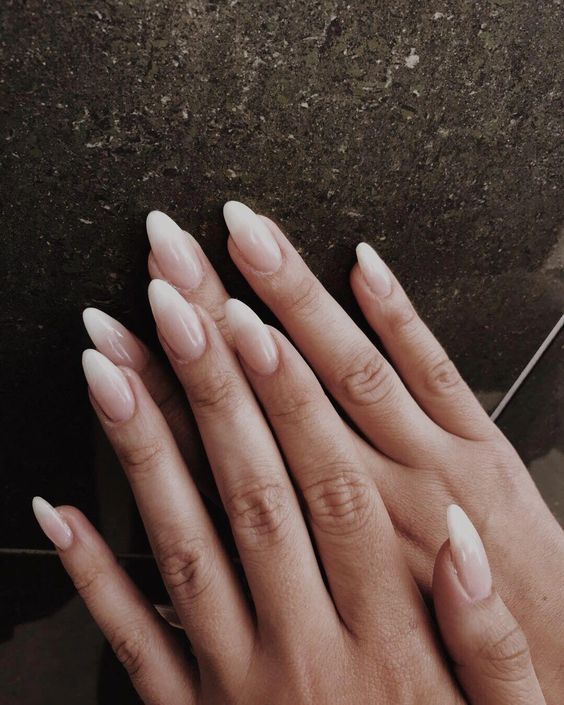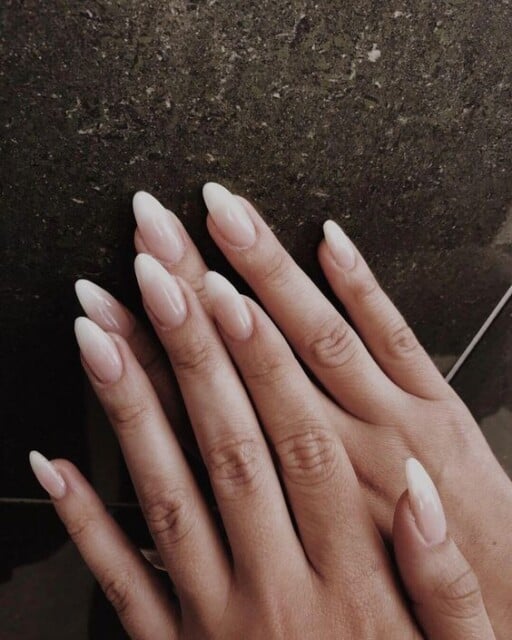 I love the natural look of these nails! They instantly make you look put together so effortlessly!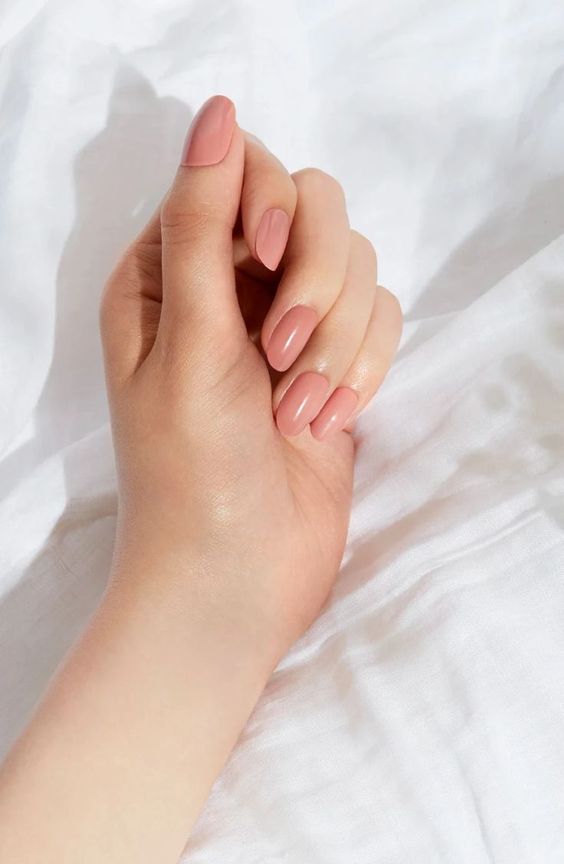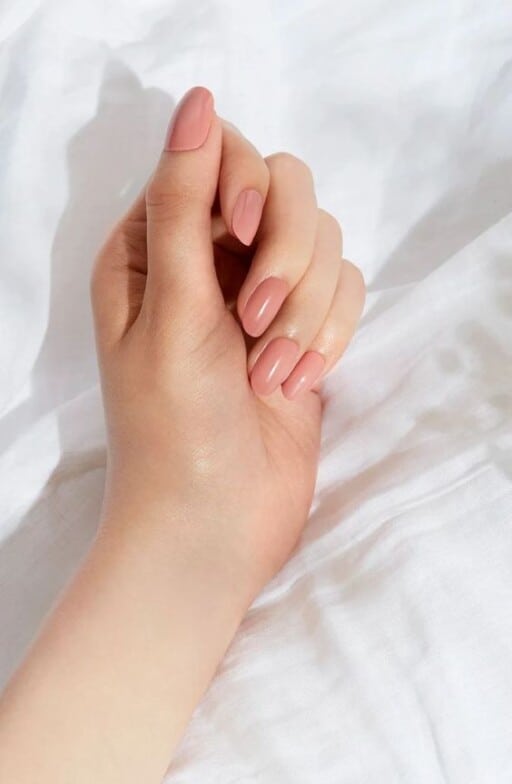 These salmon-pink nails are utterly gorgeous! I love how feminine they look on the nails!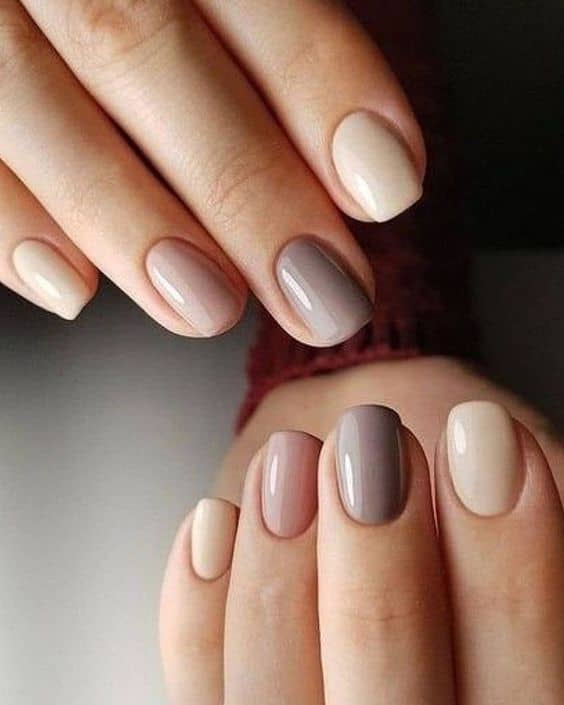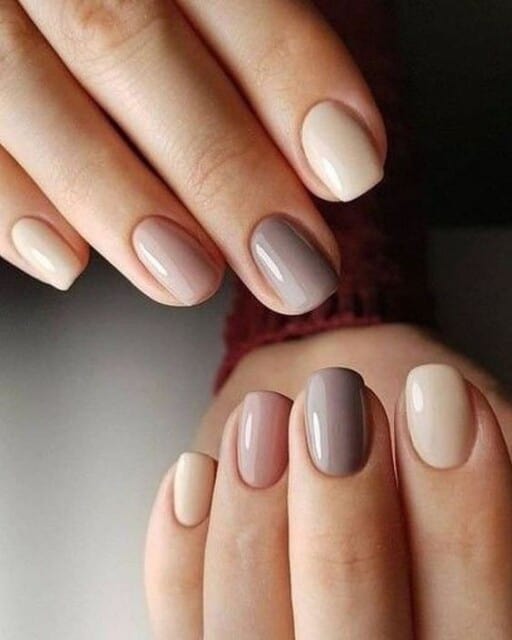 I love nude and muted nail polish shades and sometimes it's hard to pick just one for my next nail appointment. So to make things easier, I just pick a different nude shade for each nail.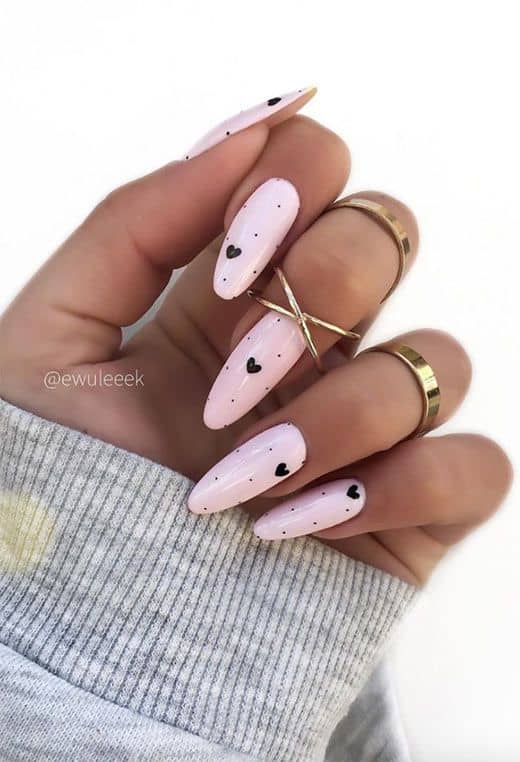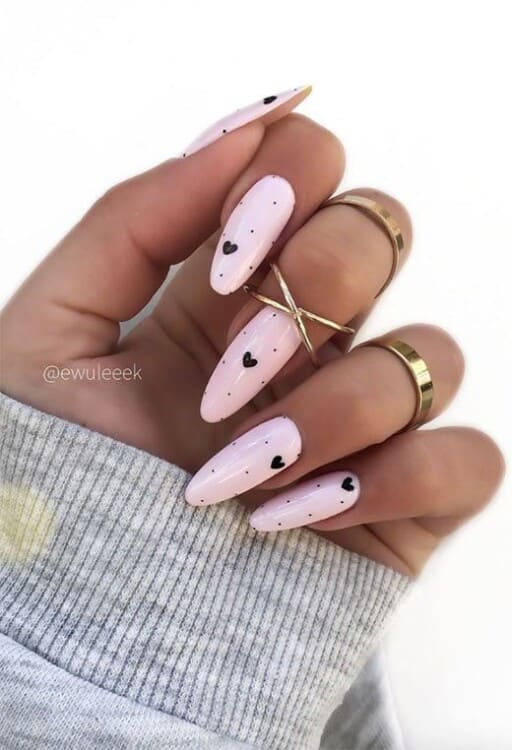 So cute and romantic, these tiny polka dots and hearts on the nail give such a youthful vibe to this manicure!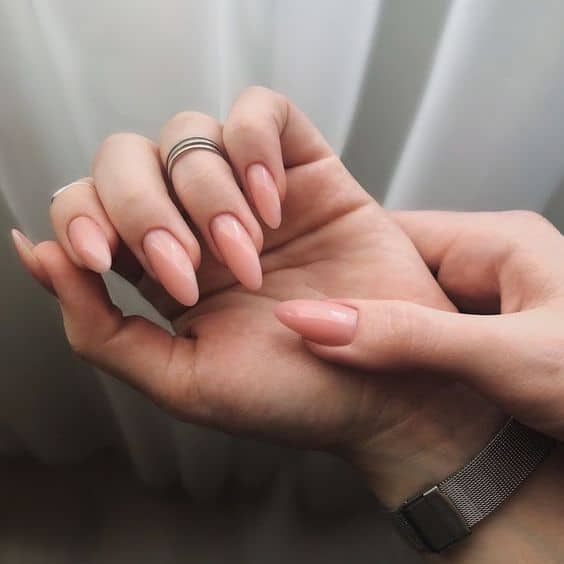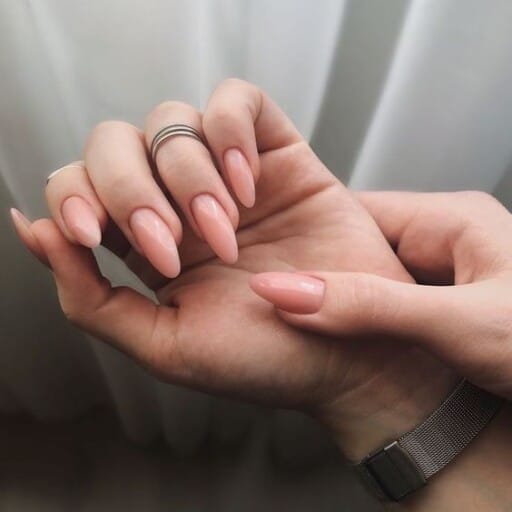 Jelly nails are everywhere these days and I can totally see why! They give your nails this stunning jelly-like effect that's so glowy and healthy.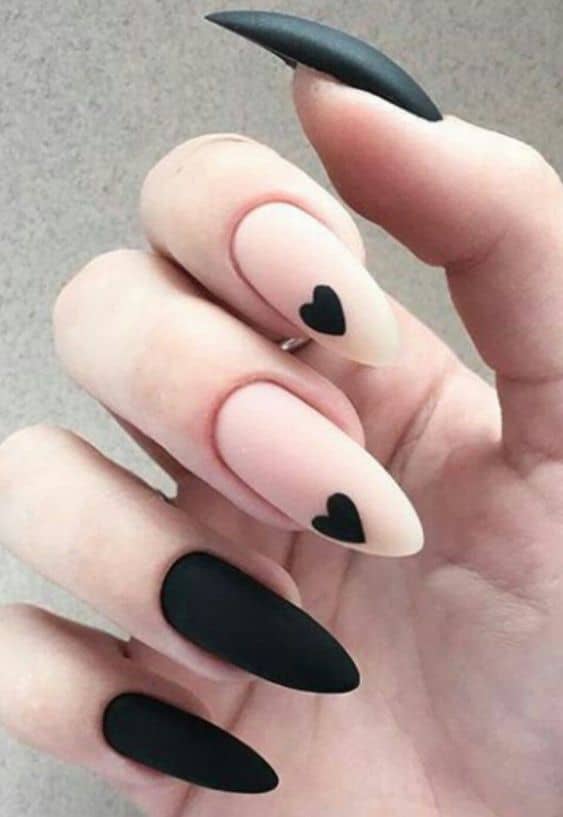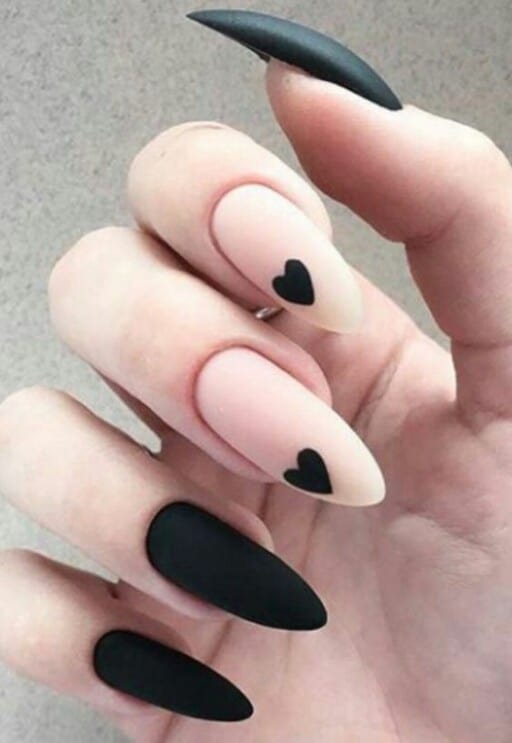 These black and nude nails are so moody and edgy, but also so romantic and sophisticated at the same time. I just love the color combination on this manicure and the stunning contrast.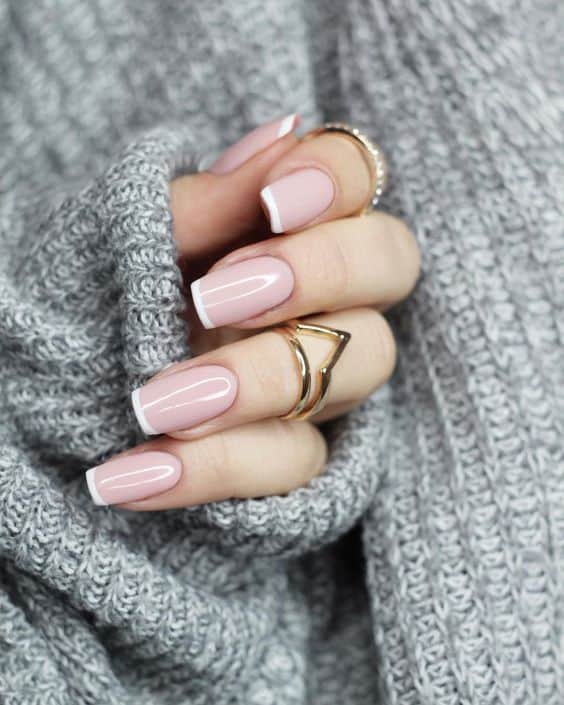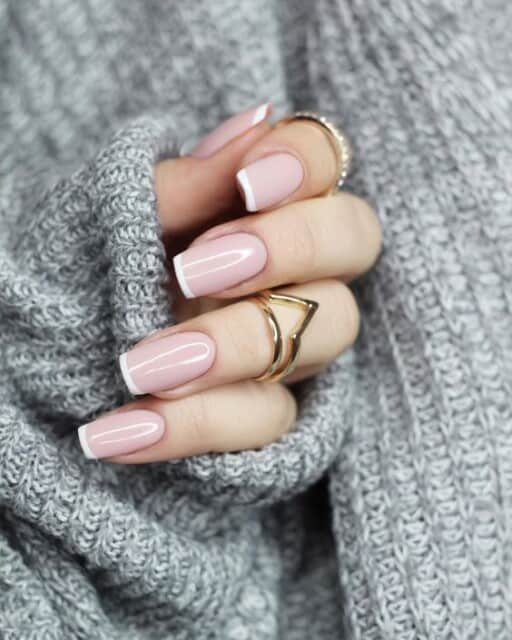 It might have been done before a lot of times but you can never go wrong with a classic French manicure.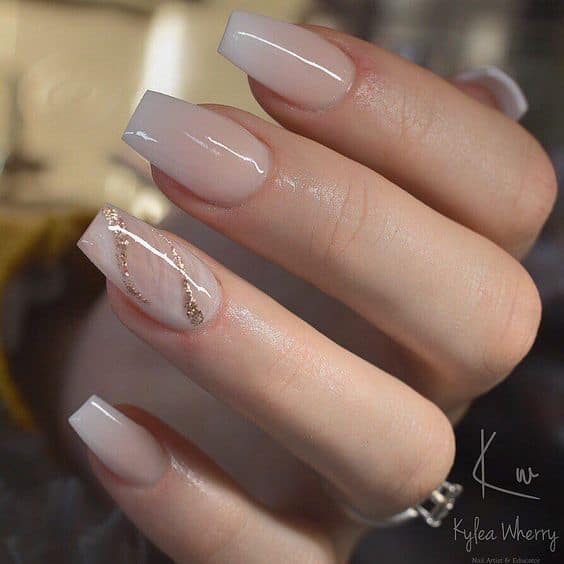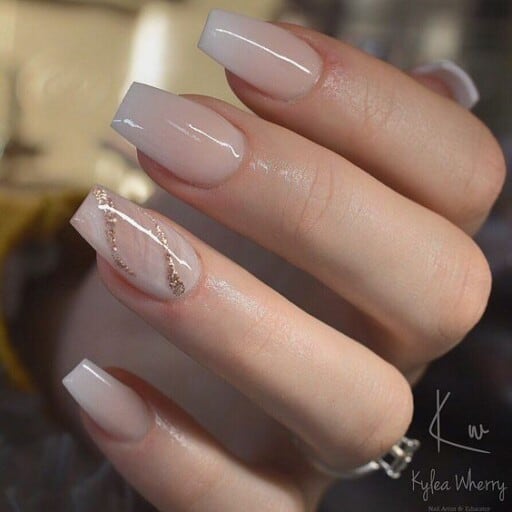 I love the milky sheen on these nails! They look so effortlessly ethereal along with the marbled accent nail.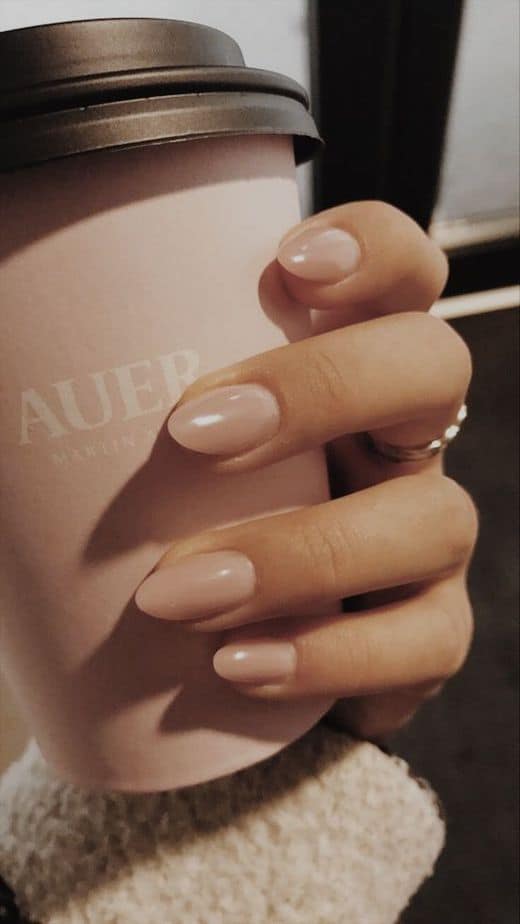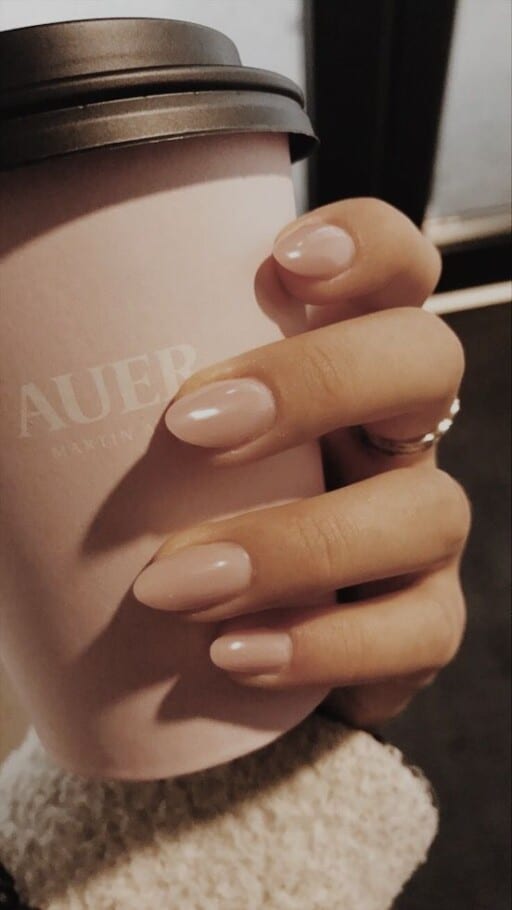 Here's another manicure with a natural finish that you might love to do this February if you want something low-maintenance and easy to do at home.
Create gorgeous contrasts with your manicure by pairing dark colors like black with softer colors like pink.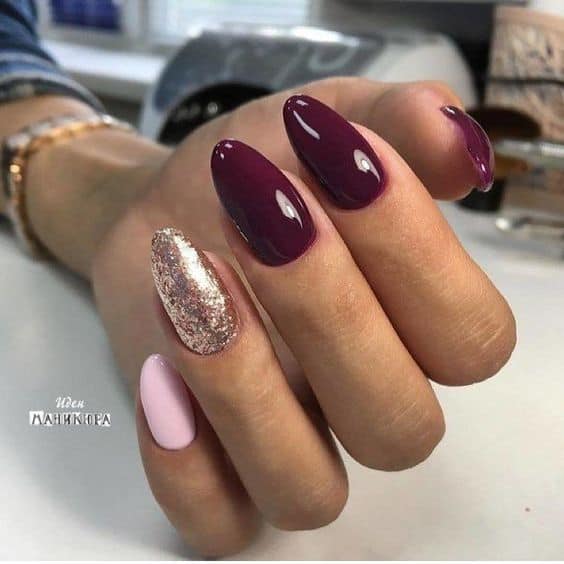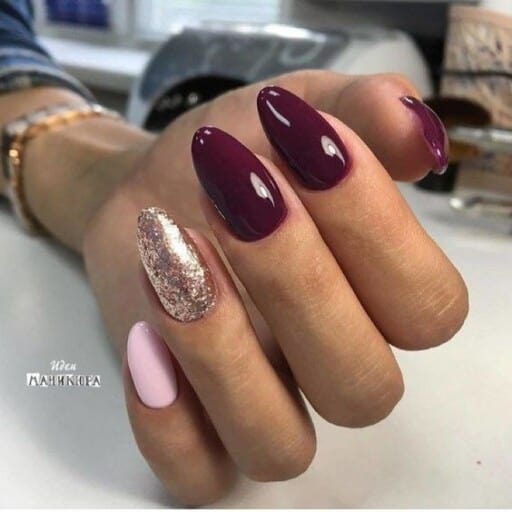 These plum nails are just absolutely beautiful! I love how deep and rich this color is! And to give it a softer look, you can pair it with a light pink shade and a shimmer accent nail.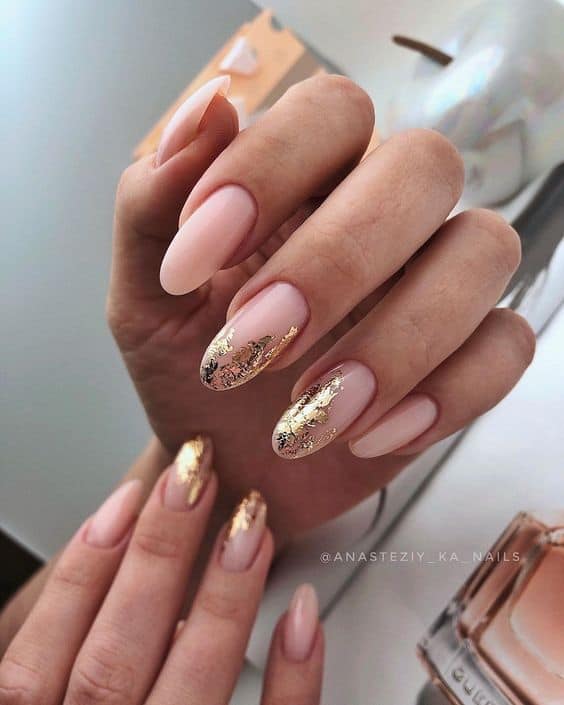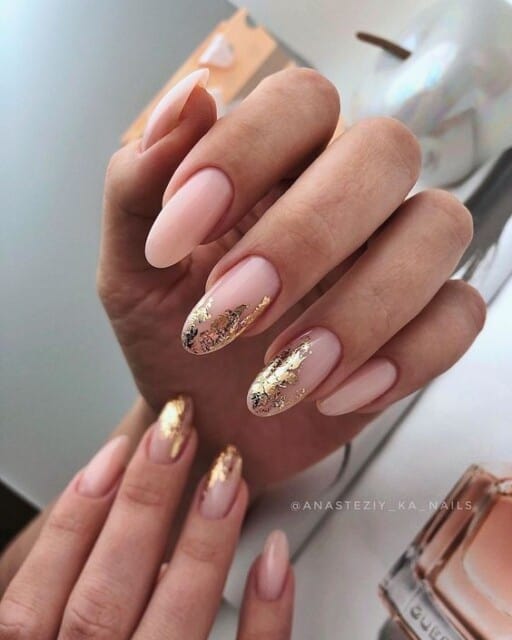 Add some gold flecks to your manicure for a gorgeous, gilded sparkle.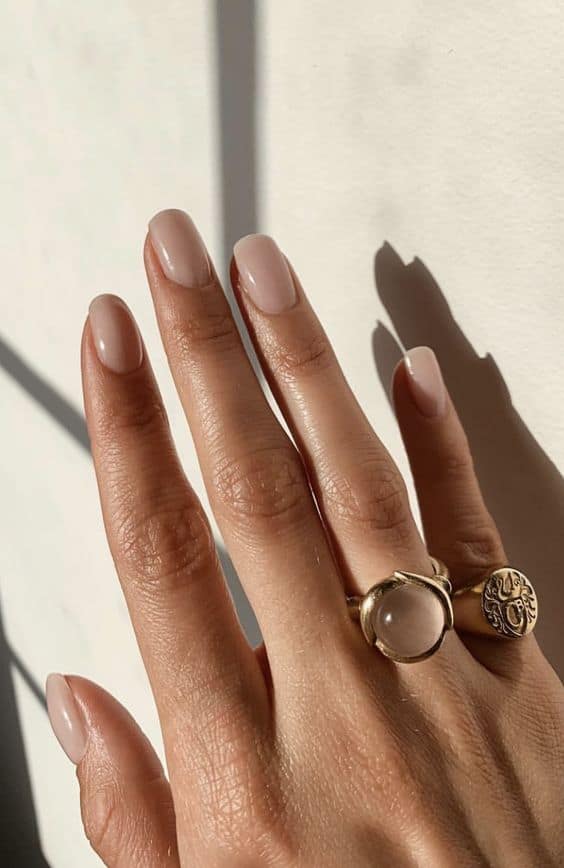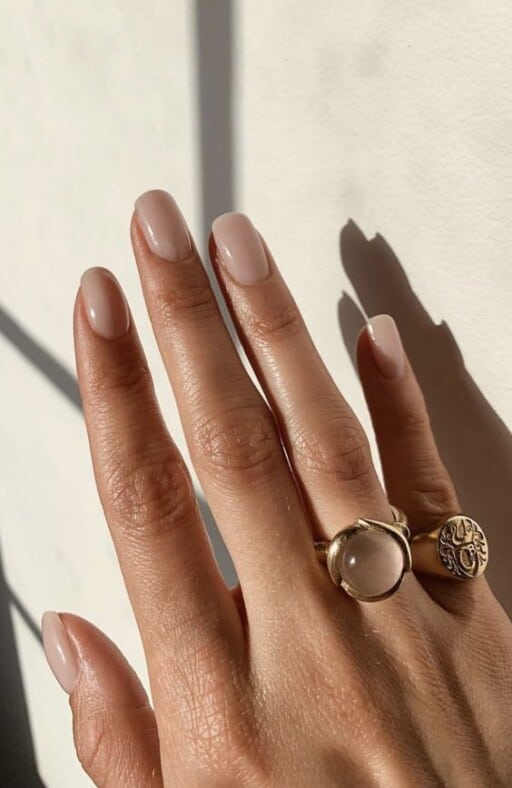 If you want a purely clean and minimalistic manicure, this one is perfect for you!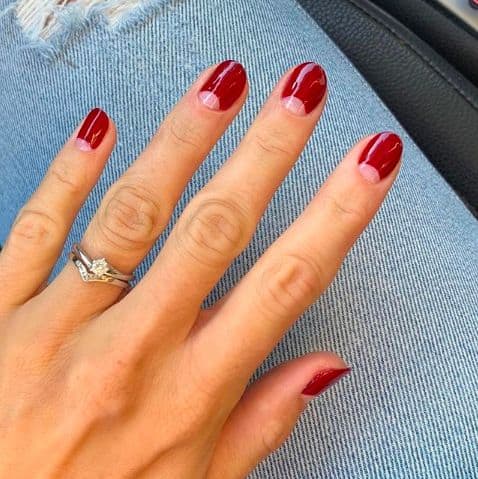 Ever heard of an upside-down French tip? These nails give a quirky yet sophisticated twist to the classic manicure. I love how this one used a gorgeous red shade for the base coat too!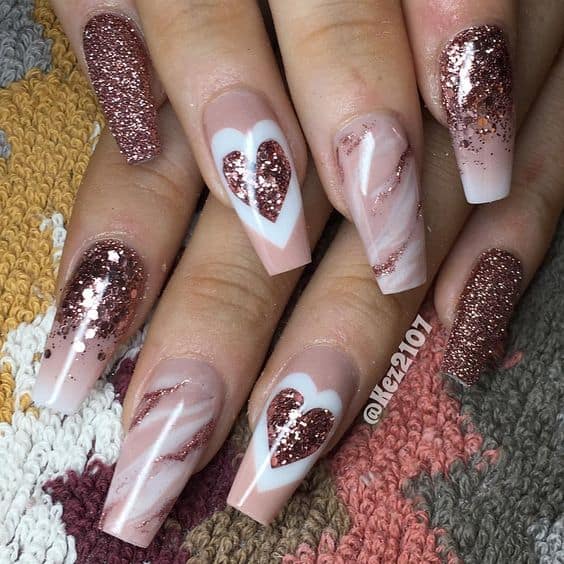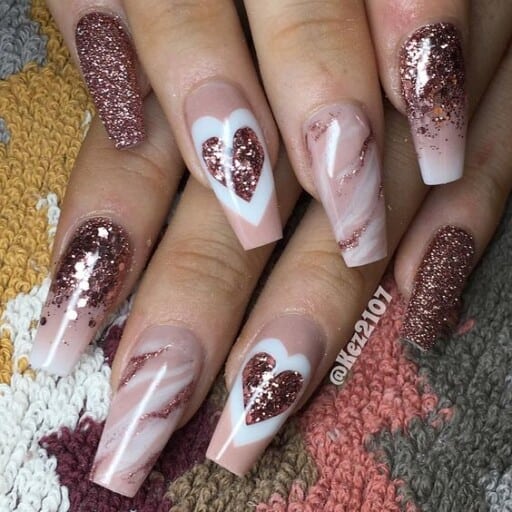 Add some glitz and glamour to your nails this February! You can even add some hearts to suit Valentine's day.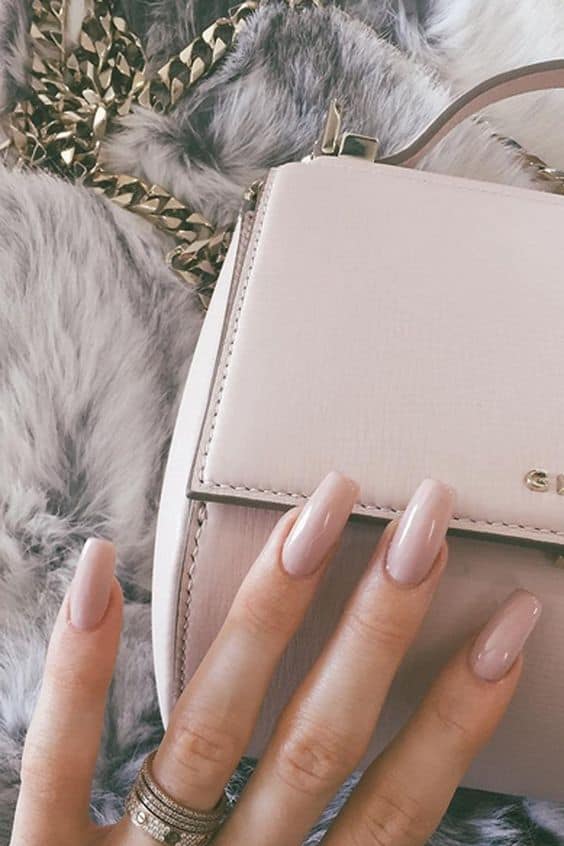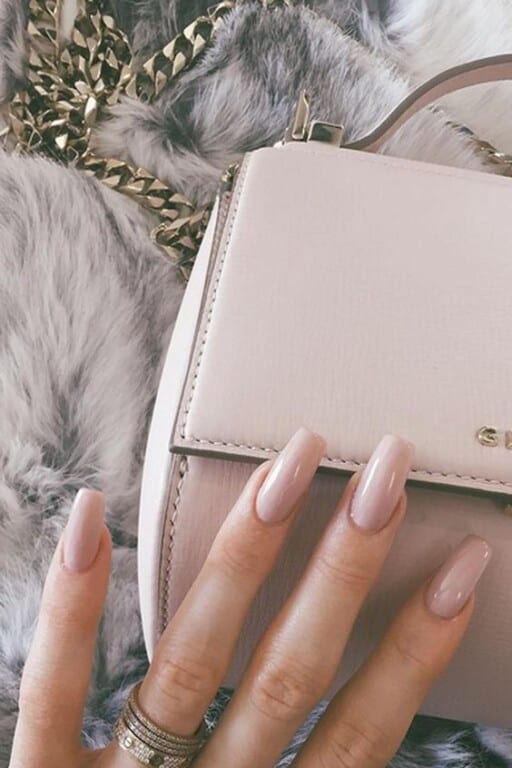 This muted pink polish will give your nails a natural flush of color that will make your nails effortlessly classy.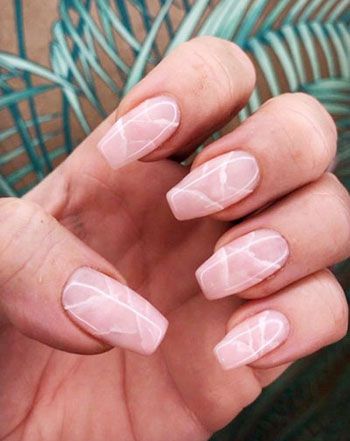 These pink, marbled nails look so romantic and sophisticated! I'm totally obsessed with them!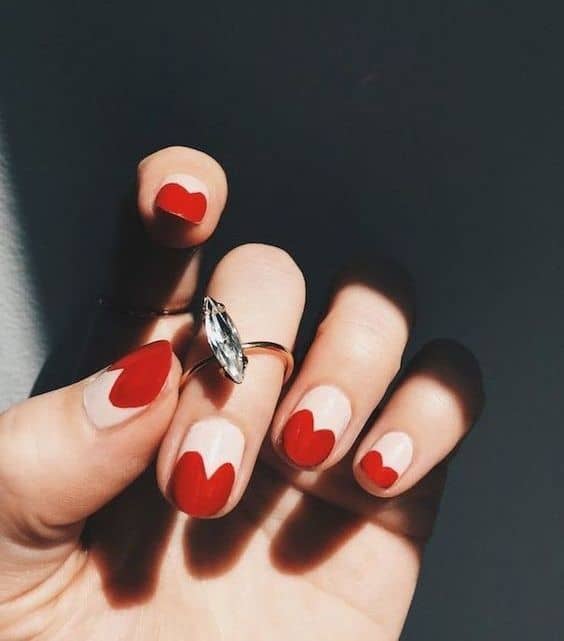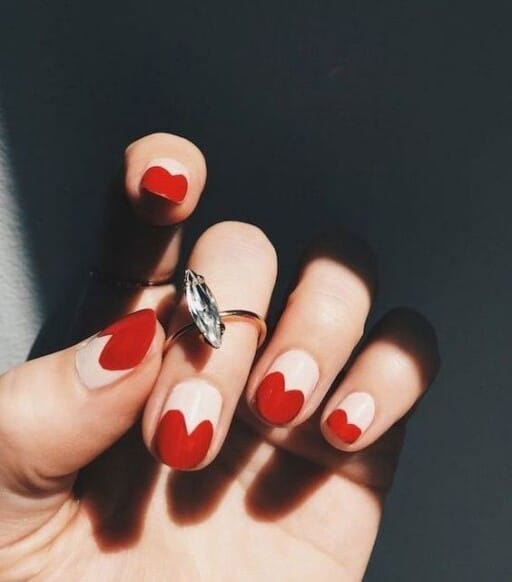 Instead of the usual white French manicure, add a creative twist to your nails by making heart-shaped tips instead!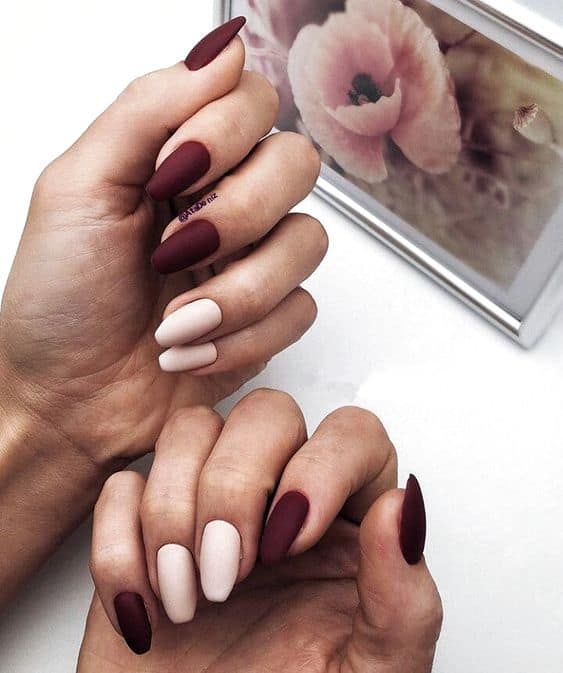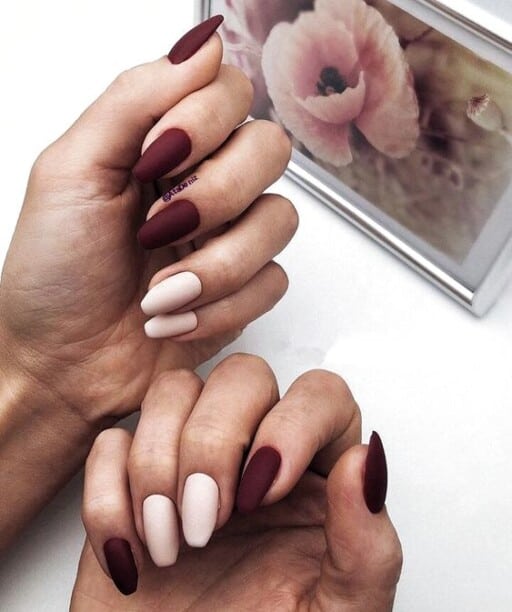 These nails will totally suit the moody atmosphere the winter brings! Just look how gorgeous those plummy shades are against the light pink colors.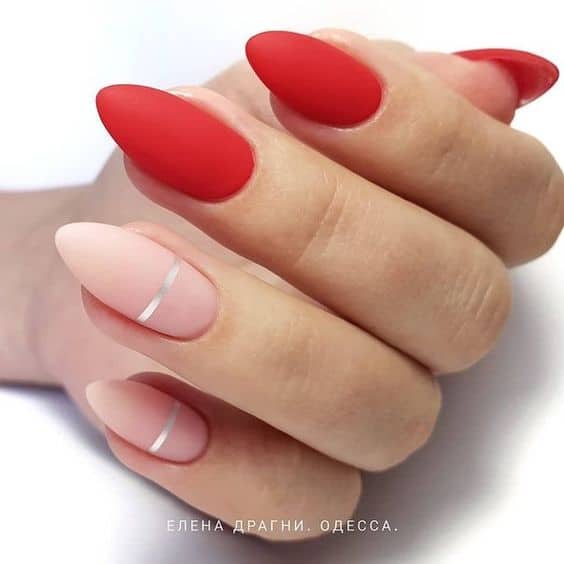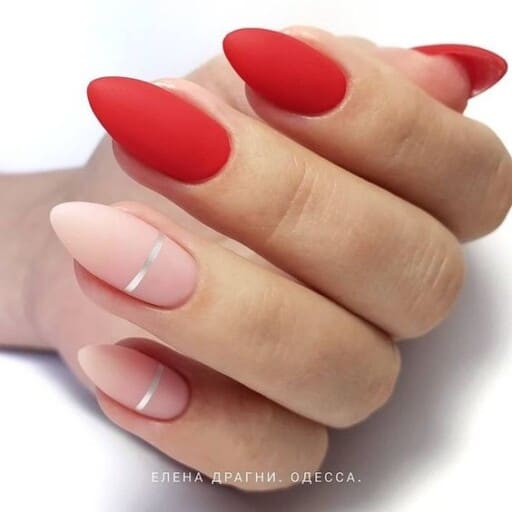 For a vibrant pop of color, you might love this nail set for your Valentine's date night!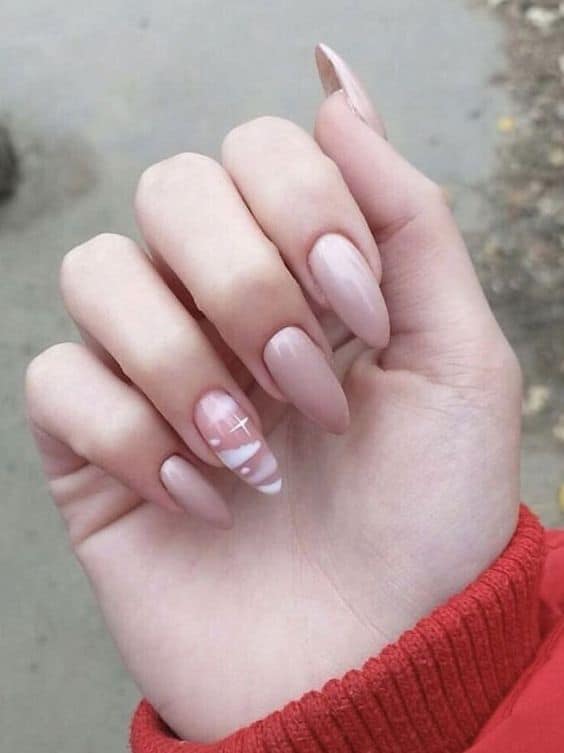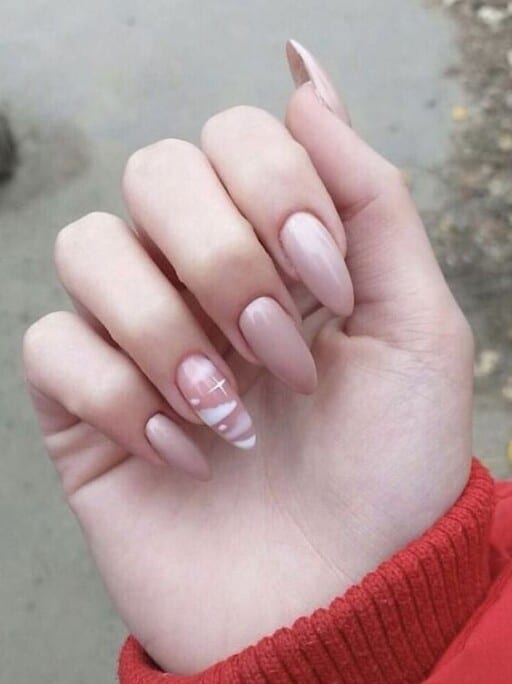 I just love pastel colors. They look so soft and ethereal on their own. But you can still add a cloudy and starry accent nail for a heavenly finish!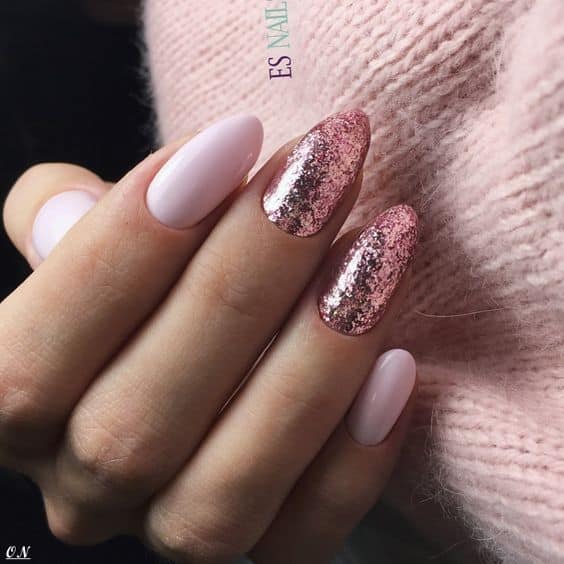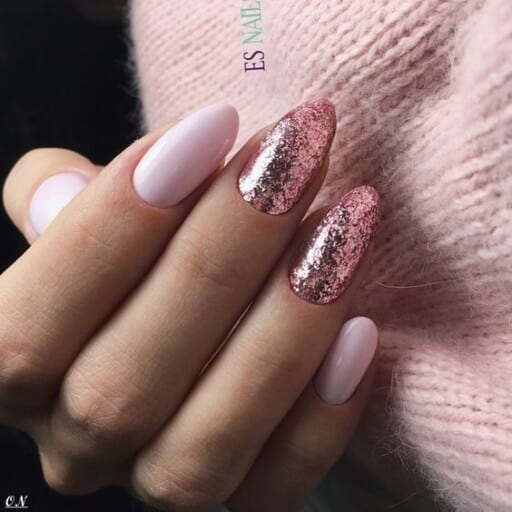 There's no such thing as too much sparkle! These glittery nails are stunning and perfect for February.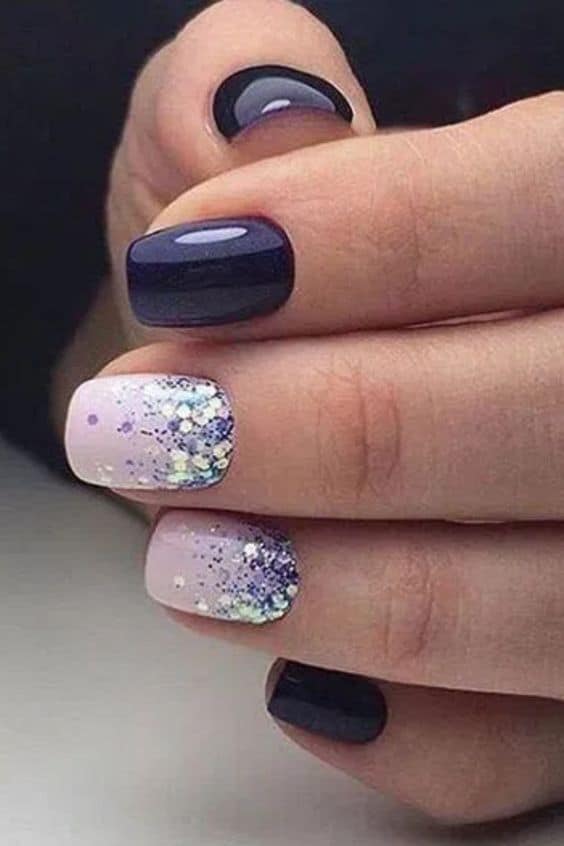 Purple is one of my favorite colors so it's hard to resist not including this on the list. I love the added sparkle on the accent nails and the contrast it gives against the darker nails.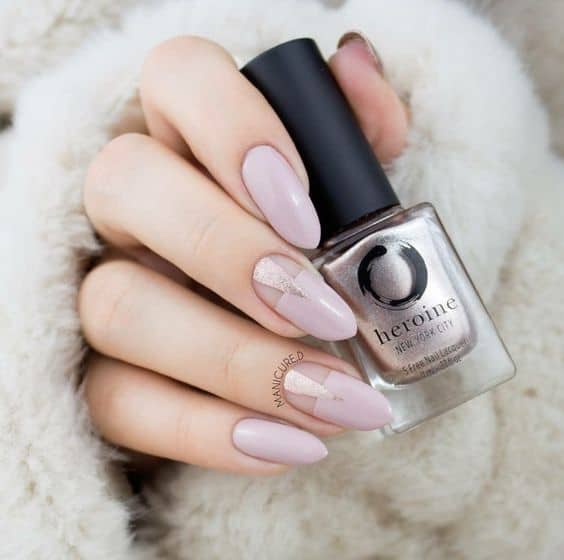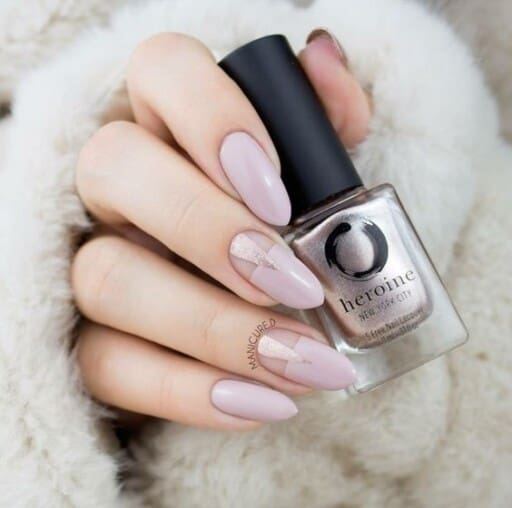 This is a soft lilac shade that's effortlessly feminine and classy. Perfect for any occasion!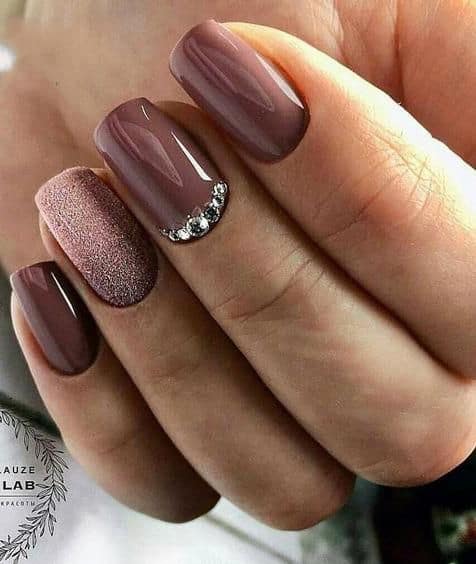 You can never have too much shimmer in your manicure! I mean, just look how stunning this nail design is! I love the added rhinestones to give your nail more accents.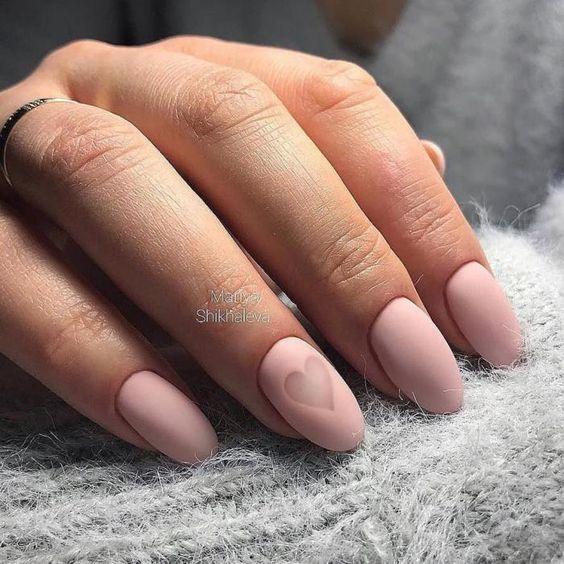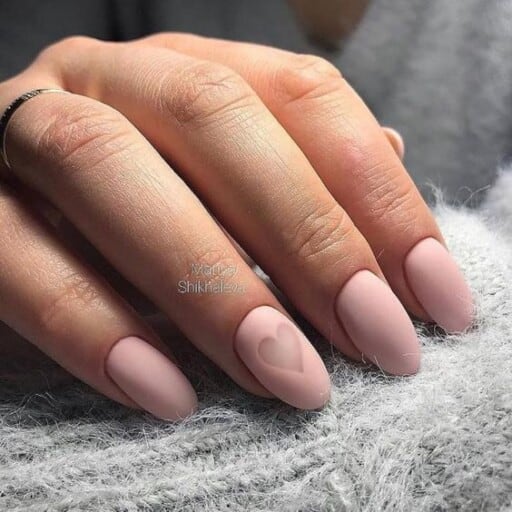 Not everyone is into glossy or shimmery nails and that's totally okay! If you're not too fond of it either, you can always go for a soft, matte finish like this one!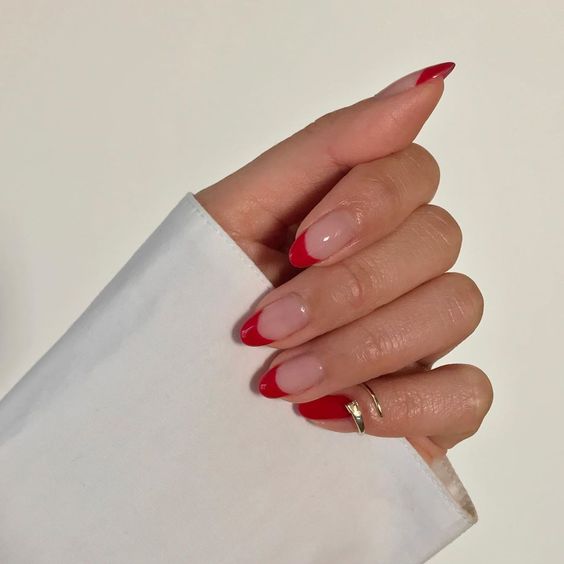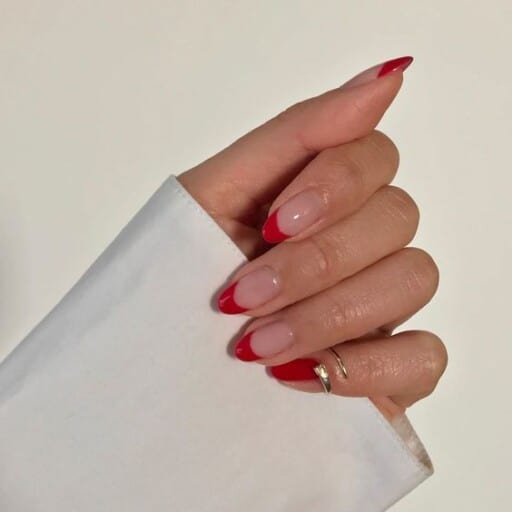 Here's a red French manicure that'll be so perfect for your date night out on Valentine's Day.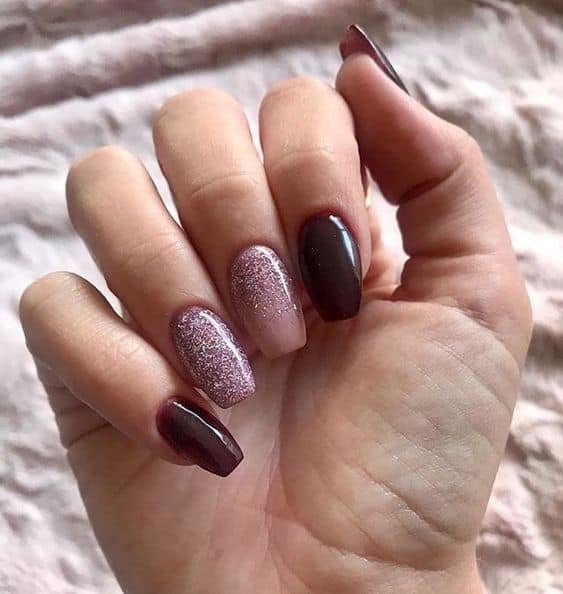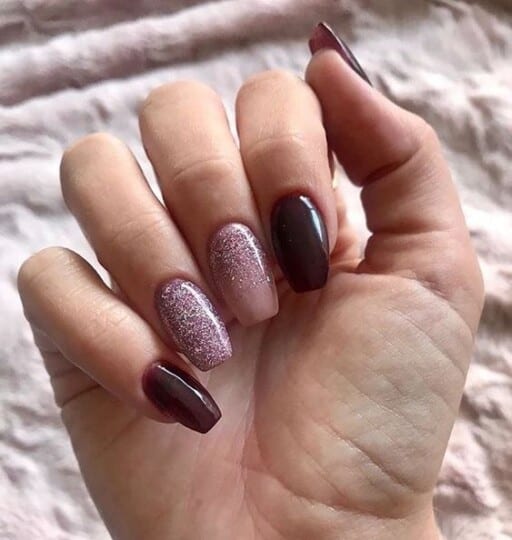 A deep purple is truly perfect for the wintry atmosphere during February. It has such a beautiful moody vibe!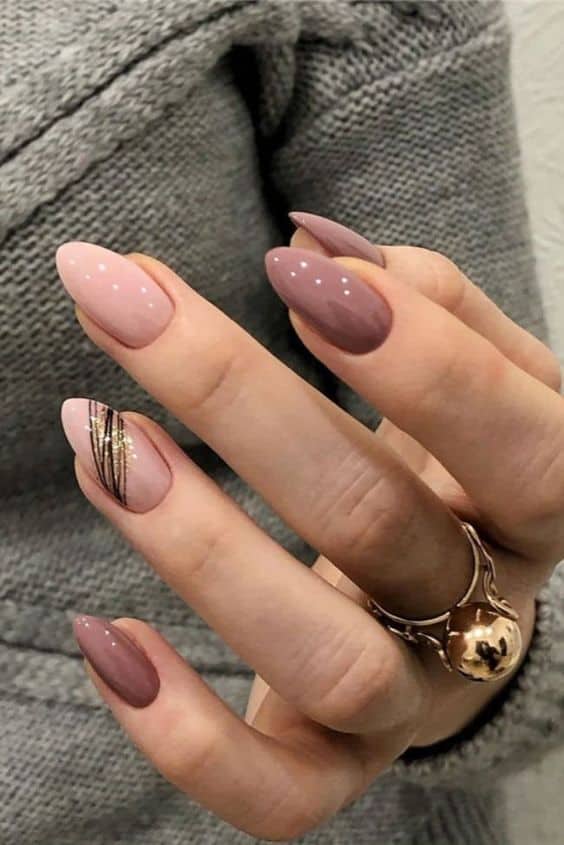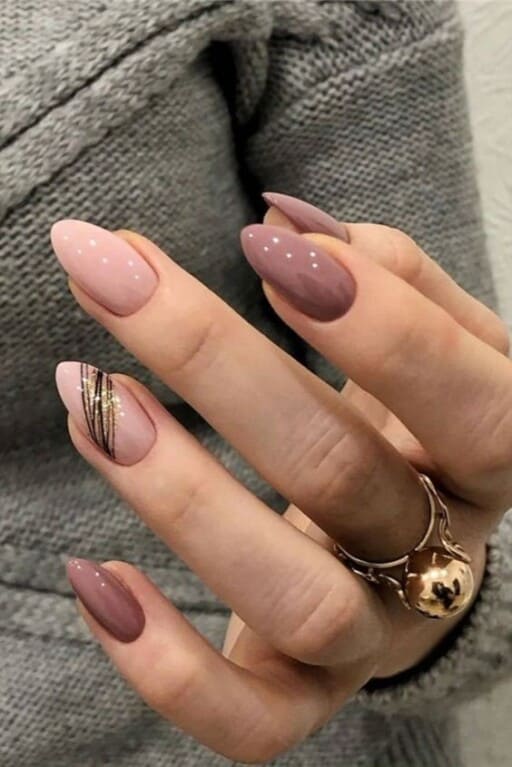 If a deep purple is too intimidating, you can also opt for a softer shade like mauve. It's more muted and has a more natural finish. This is one of my favorite February nail designs because it's simple yet unique.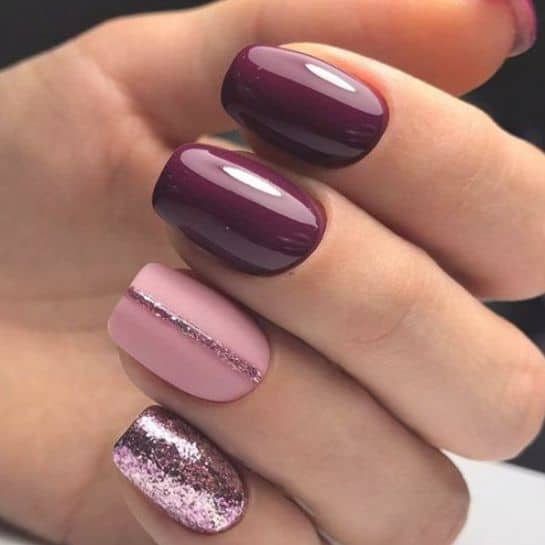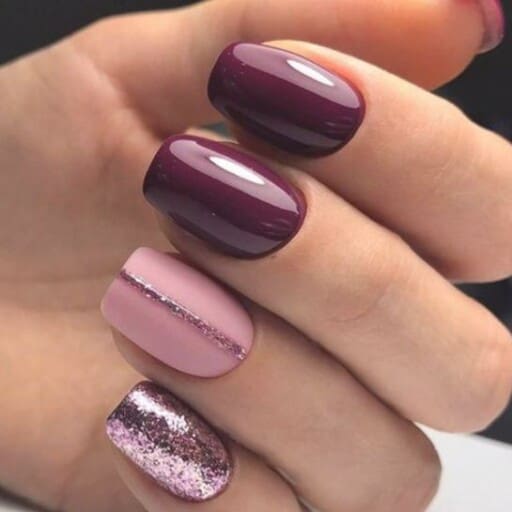 Add some sparkle to your regular manicure to give it an instant elegance!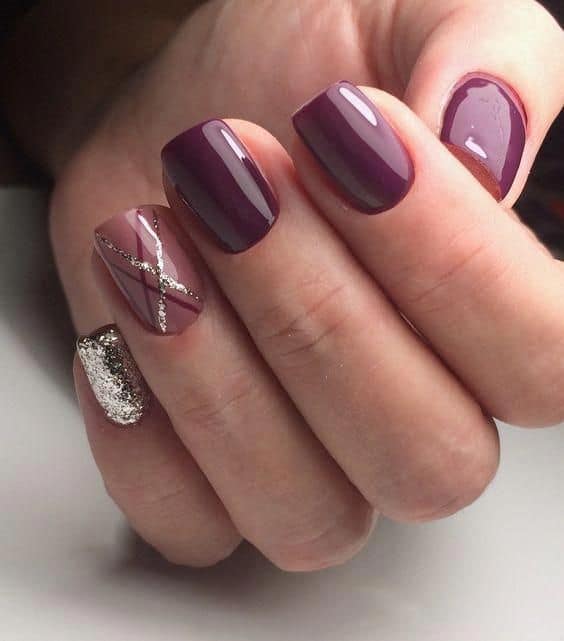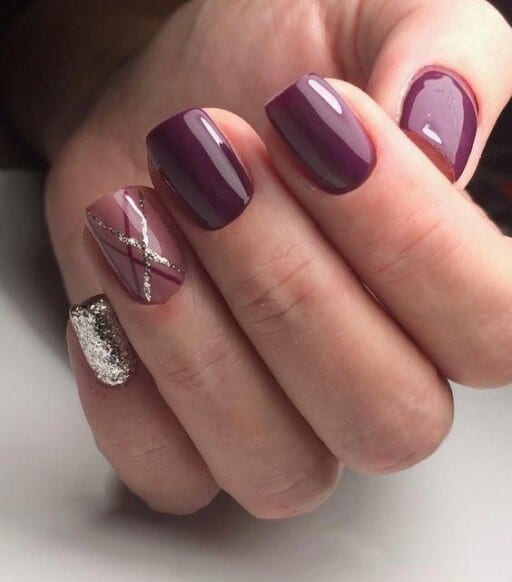 I honestly just can't get enough of these gorgeous plum manicures! They're absolutely just so beautiful!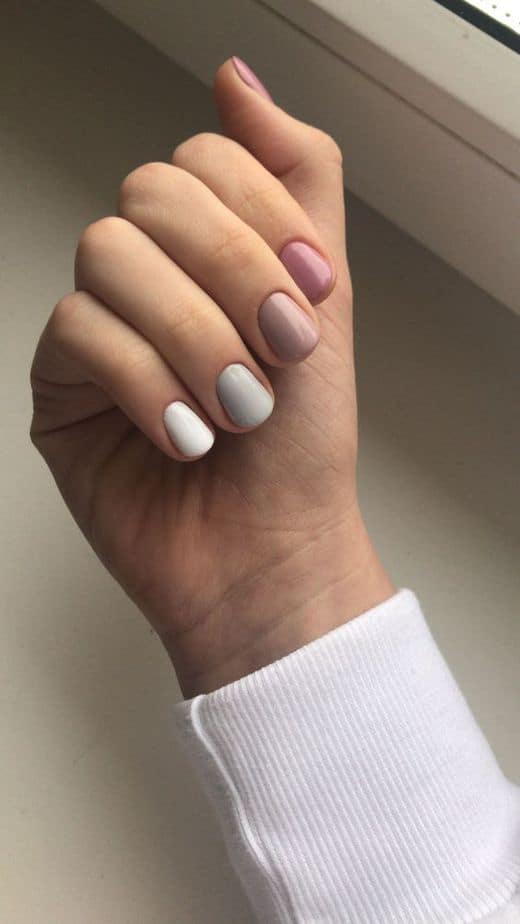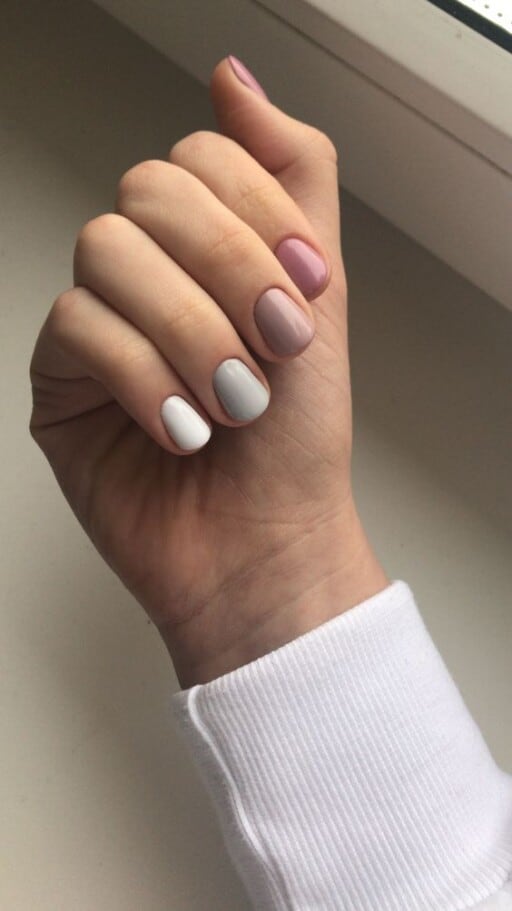 Can't decide which pastel color to choose for your February nail ideas? Get a different color for each nail so you can enjoy all your favorite colors!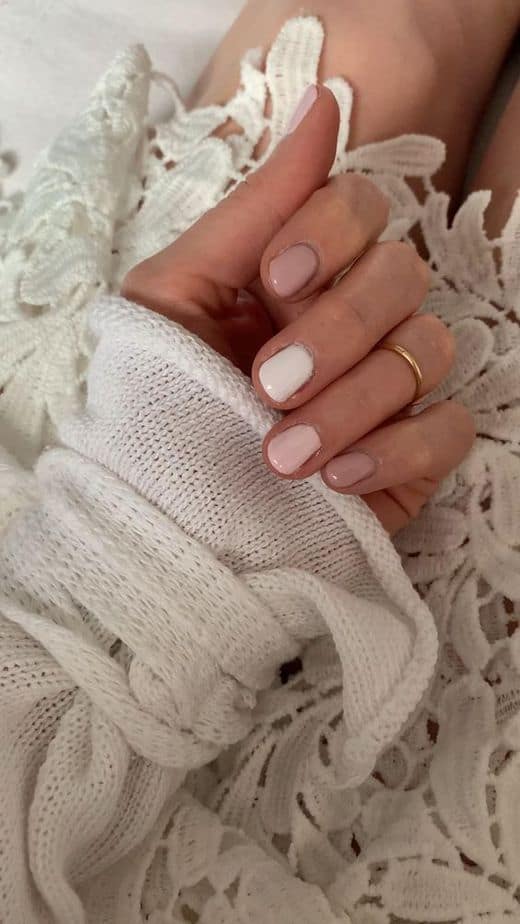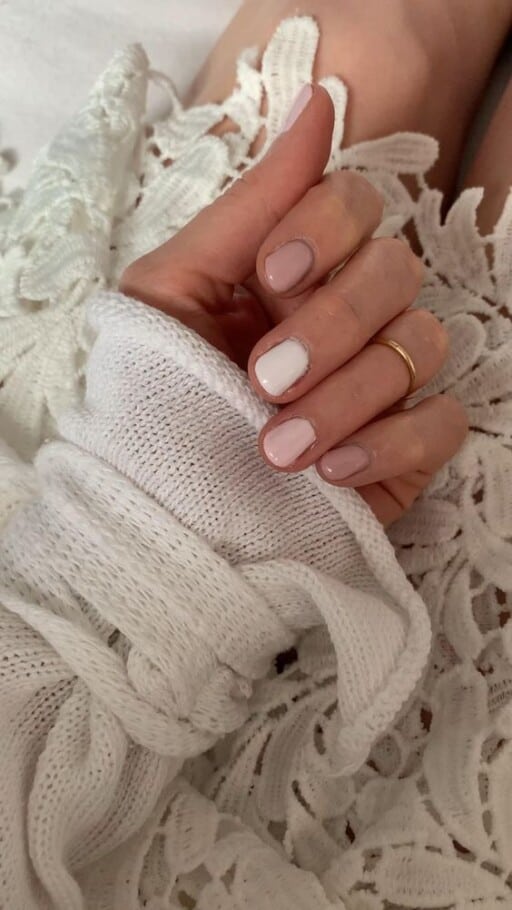 Here's another alternating nail color manicure that you might love if you're into using different shades of pink! This is definitely one of the simpler February nail ideas that you can do at home.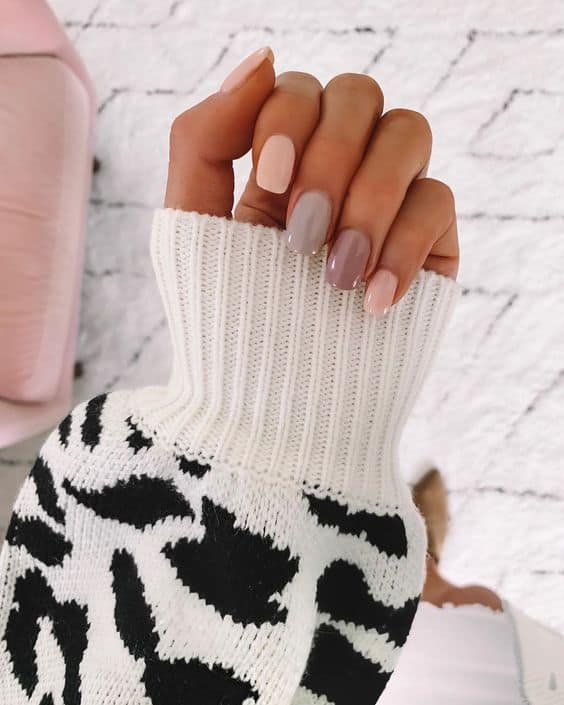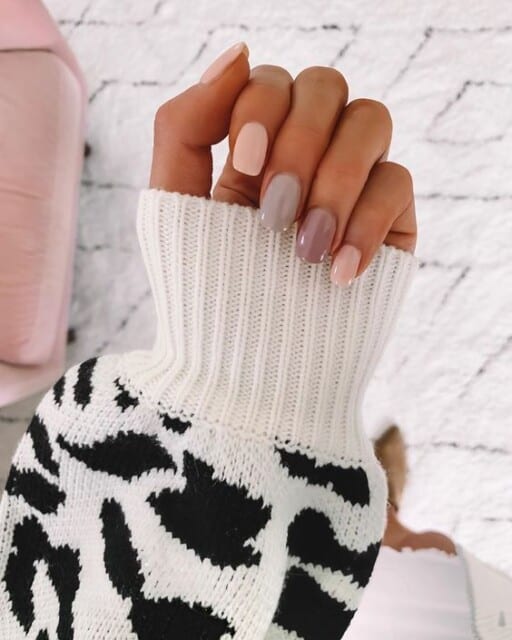 Who knew greys and mauves would go so well with a bright, light pink color? These nails are so pretty!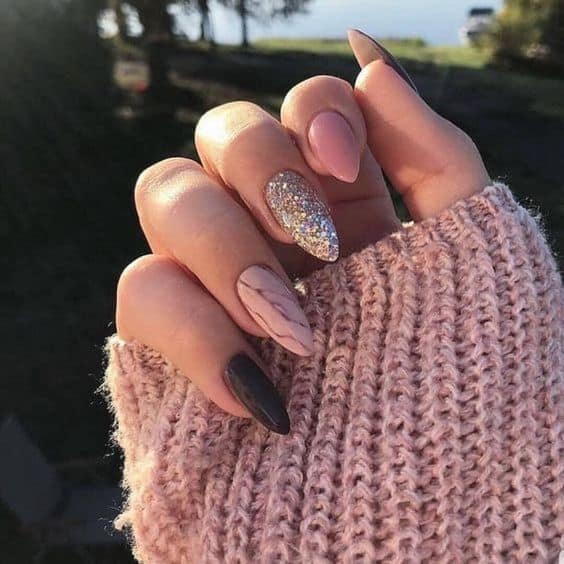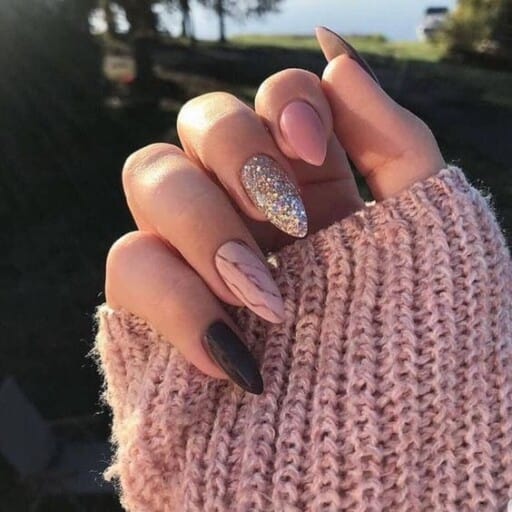 Pair up different nail art designs for an interesting finish on your next manicure!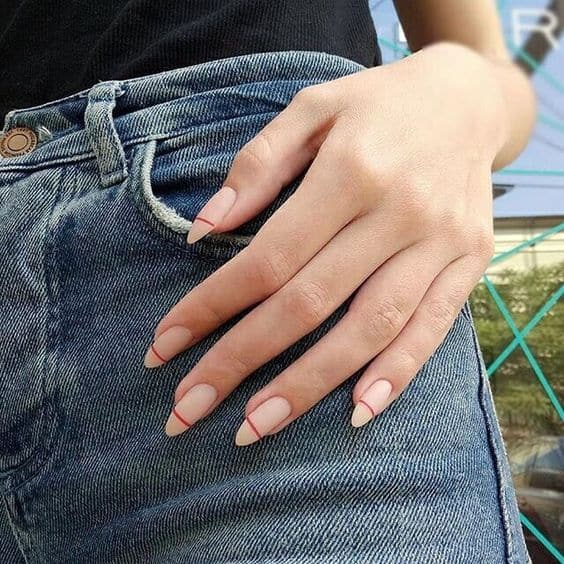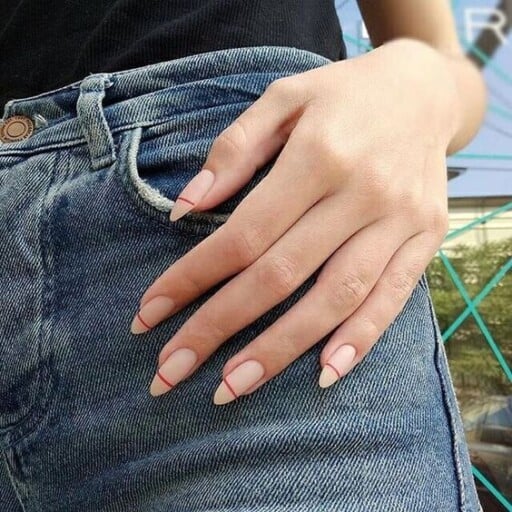 Looking for February nail ideas that are a little edgy? I love the minimalistic linework on these nails! They're so abstract and modern looking.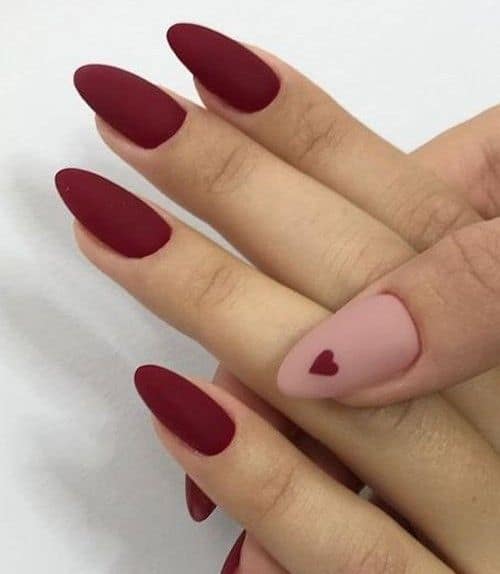 To get a romantic vibe on your February nails, mix and match red and pink shades on your nails and add some hearts for a flirty effect!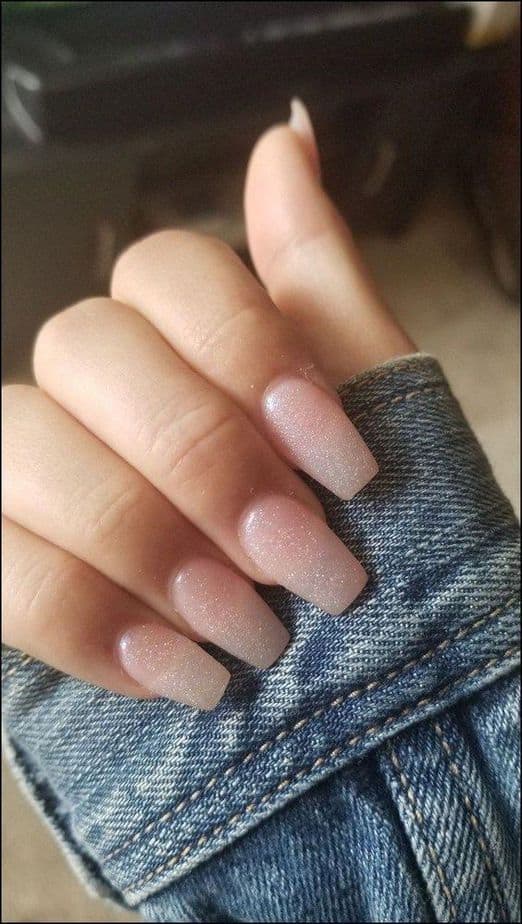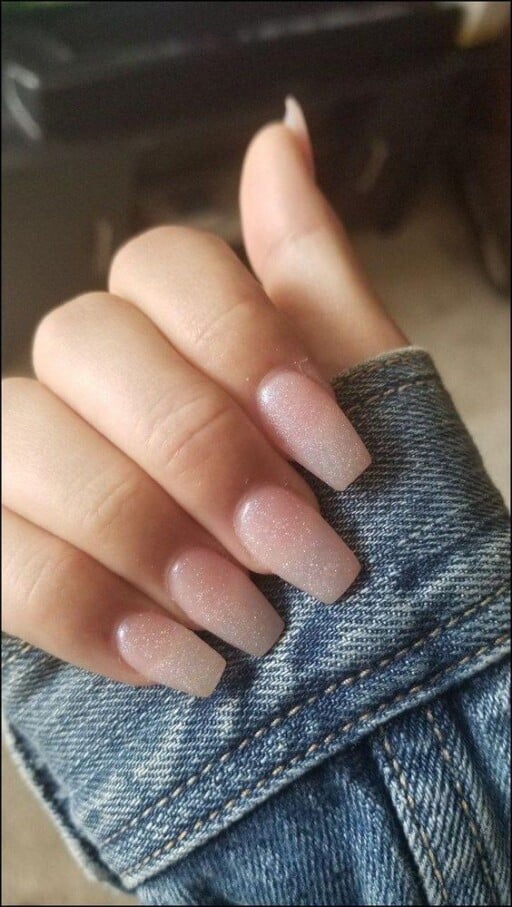 This kind of manicure is going to give you a rather natural finish with some added shimmer to make your nails just a little more sparkly!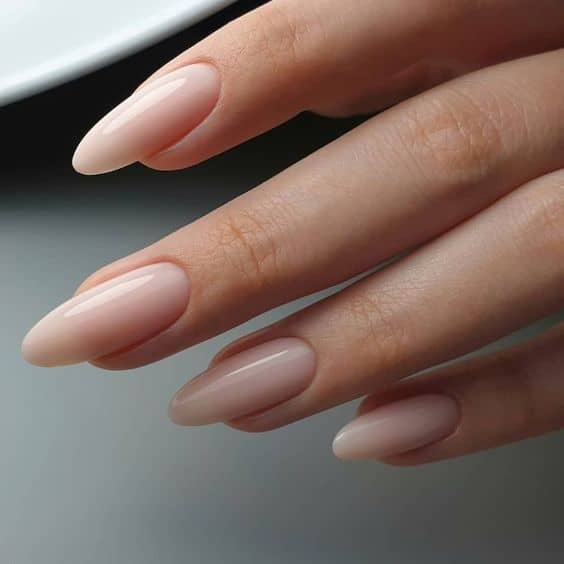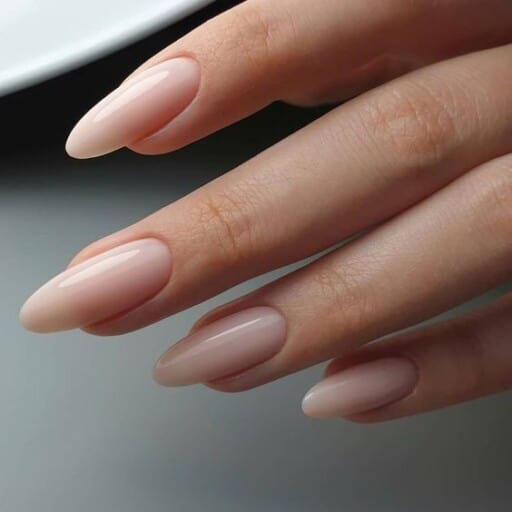 But if shimmers and glitters aren't your thing, then a simple and natural manicure might just be for you. This is one of my favorite February nail designs because it just feels like winter!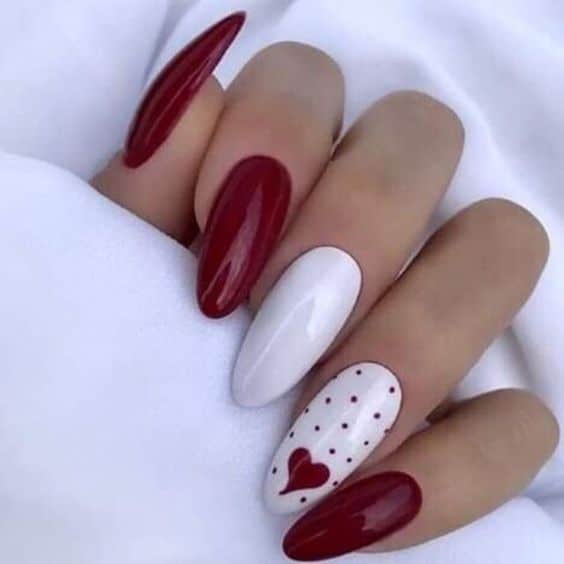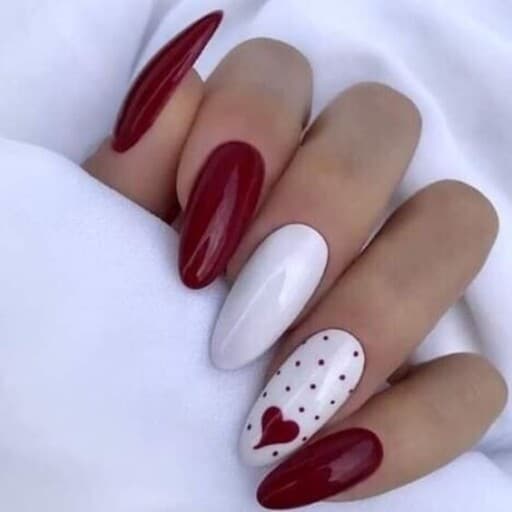 Red and white look so gorgeous together! I love the contrast between these colors and how they give off such a quirky color scheme.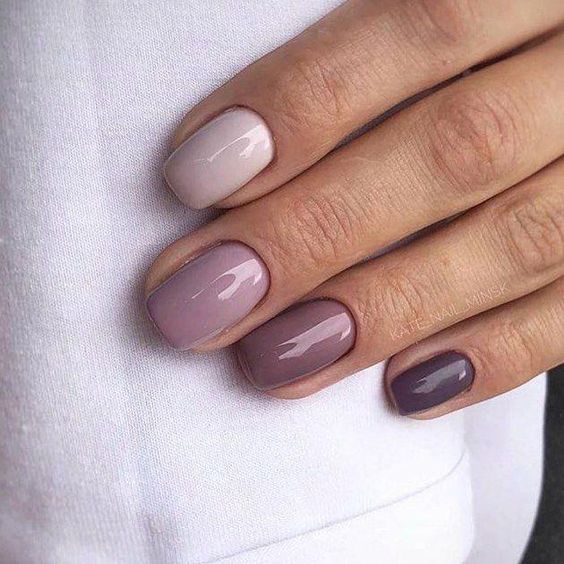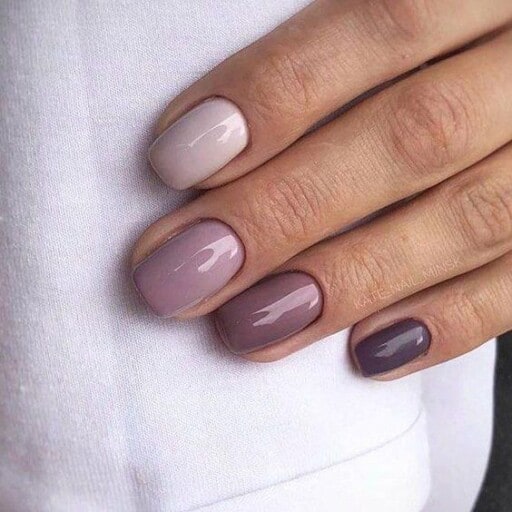 Create a gorgeous gradient effect with your next manicure by using different shades of purple!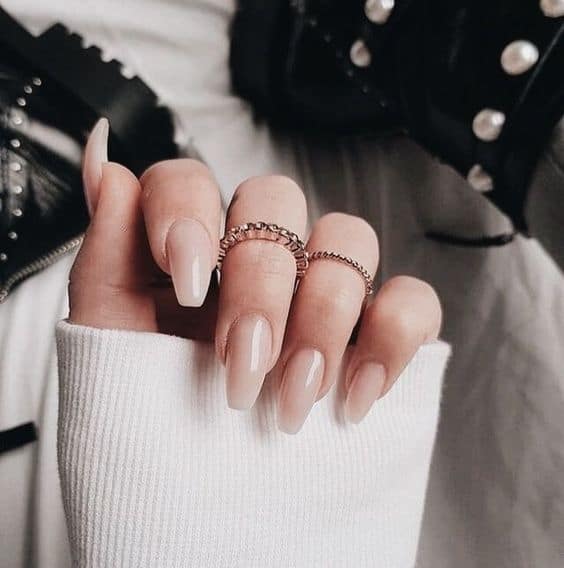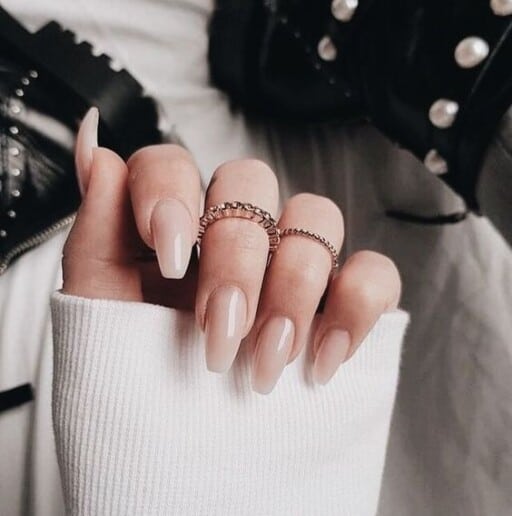 Jelly nails with a nude base color are absolutely stunning! They go well with any outfit and are suitable for any kind of occasion. This is one of the more subtle February nail ideas that can really work for March, too, if it's the end of February.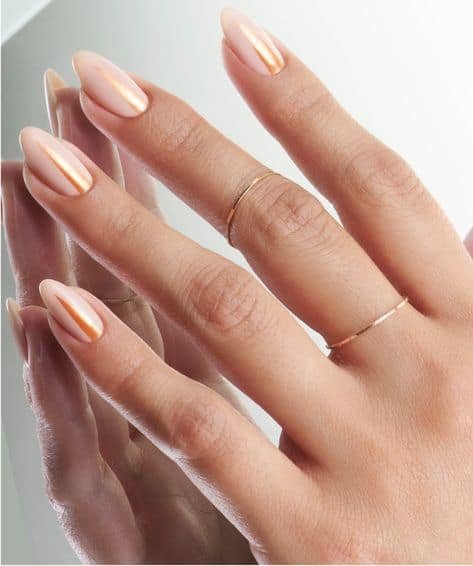 I love the subtle golden sheen on these pink nails! It gives off such a classy and sophisticated flare to your manicure.