Here are some of the best Valentine's Day Sugar cookie recipes to make just in time for the month of love!
When thinking of Valentine's Day gifts, homemade treats are one of the best things you can give someone. Homemade treats show the effort you have put into making them, allowing the receiver to appreciate and enjoy them even more.
Understandably, not everyone is a kitchen pro or has the necessary baking skills. But don't worry! As always, I've got your back.
Although there are many wonderful treats for Valentine's Day to select from, sugar cookies are one of the most straightforward and most reliable treats you can make without creating a mess in your kitchen.
They're not only easy to prepare even for the most inexperienced bakers, but they also make a portable and non-fussy gift to your friends and loved ones. So instead of choosing an excessively complex Valentine's gift this year, try some of these handmade Valentine's Day sugar cookie recipes.
Valentine's Day Sugar Cookie Recipes
Now to get started, feel free to choose a recipe from the list I've curated here. I have also included some vegan and gluten-free alternatives!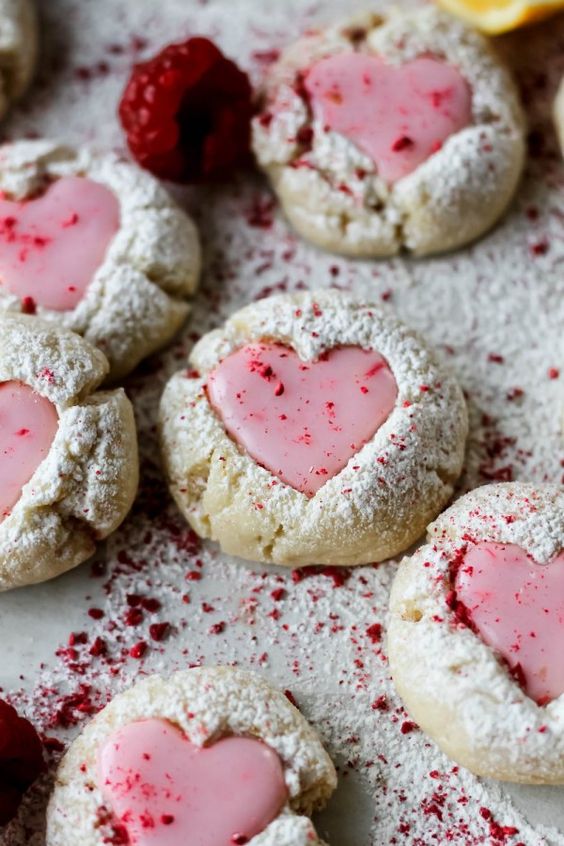 These thumbprint Valentine's Day sugar cookies are not only beautifully cut and colored, but they also have an unexpectedly soft and delicate inside. The flavor of these might even remind you of little lemon tarts. These are definitely some of my favorite Valentine's sugar cookie recipes for the aesthetic alone!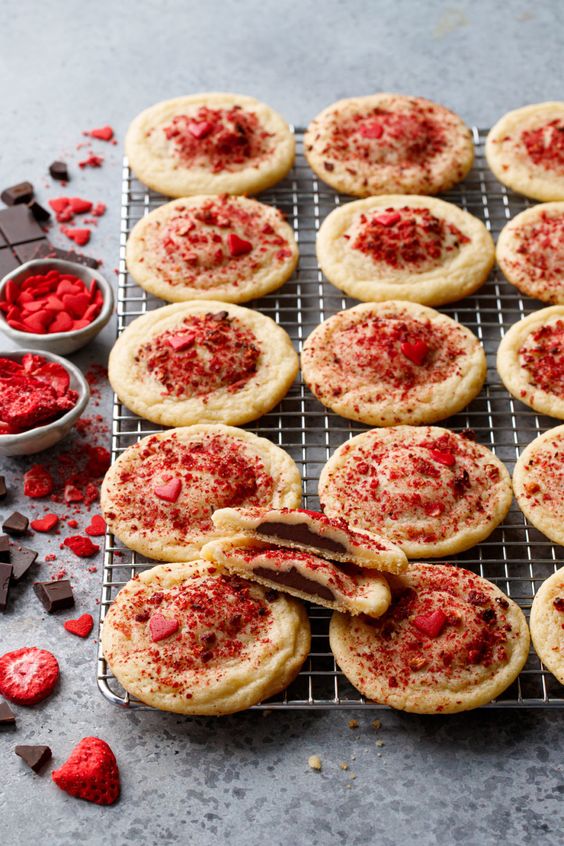 These soft, chewy Valentine's Day sugar cookies with a dark chocolate ganache filling and a burst of freeze-dried strawberries on top are utterly decadent! I can't wait to try my hand at this recipe!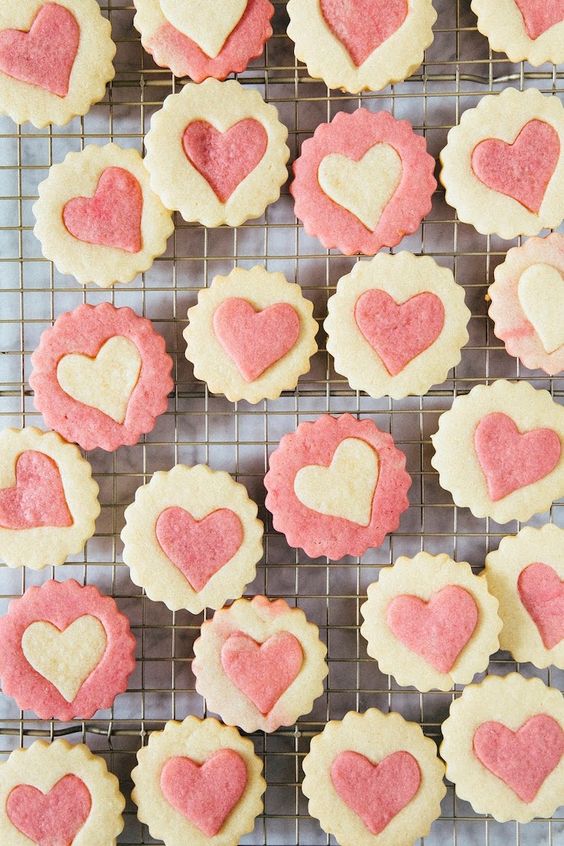 For soft, buttery, and chewy sugar cookies this Valentine's Day, try this recipe of strawberry malt sugar cookies! Your friends and loved ones will surely enjoy munching on these!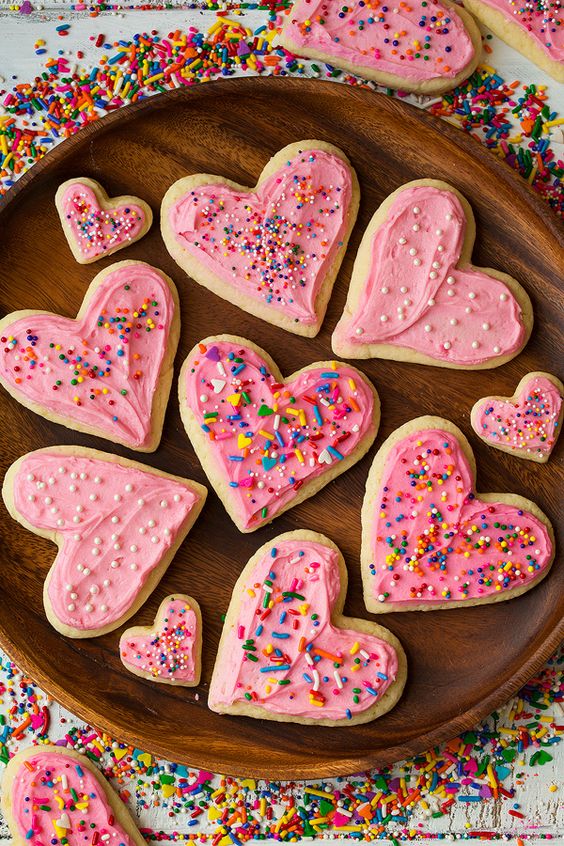 One of my all-time favorite Valentine's Day sugar cookie recipes is a batch of these soft frosted Valentine's Day sugar cookies! They have a satisfyingly sweet flavor and a delightful melt-in-your-mouth texture.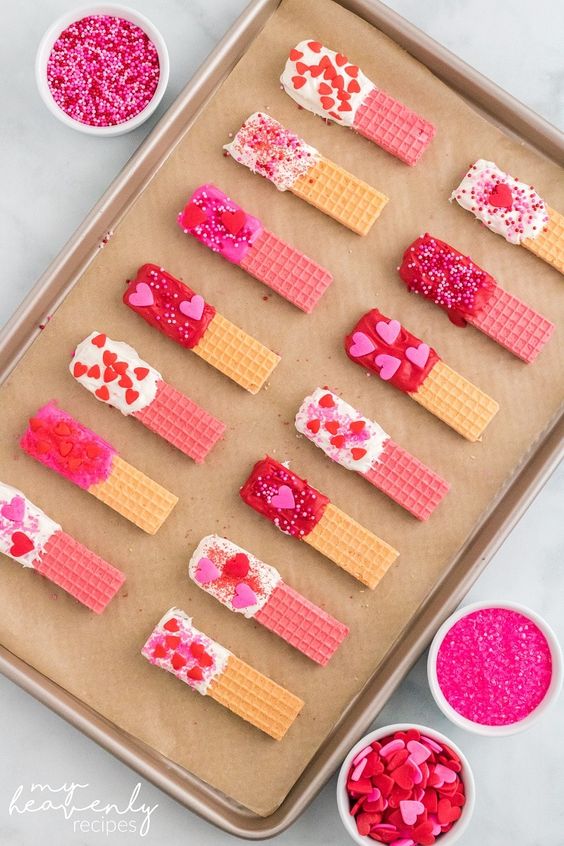 If you're not a fan of cookies in general, maybe these sugar wafers might sway you to create these sweet treats instead? Dipped in melted candy and topped with sprinkles, these desserts are the perfect finger food for your loved ones!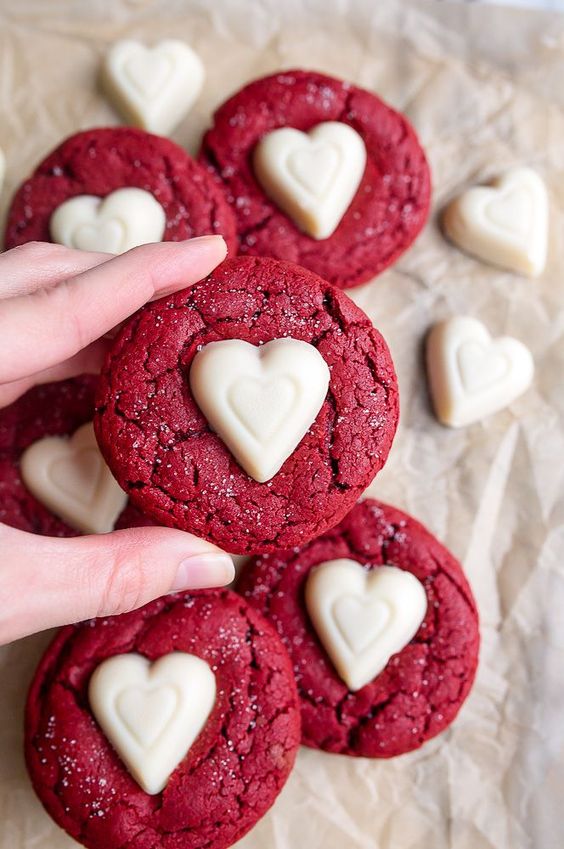 Red velvet is one of my favorite flavors of cookies in the entire world, so I can't obviously go and write a list of the best Valentine's Day sugar cookies without including these! The red coating makes it so ideal for Valentine's Day, adding a romantic touch to your desserts!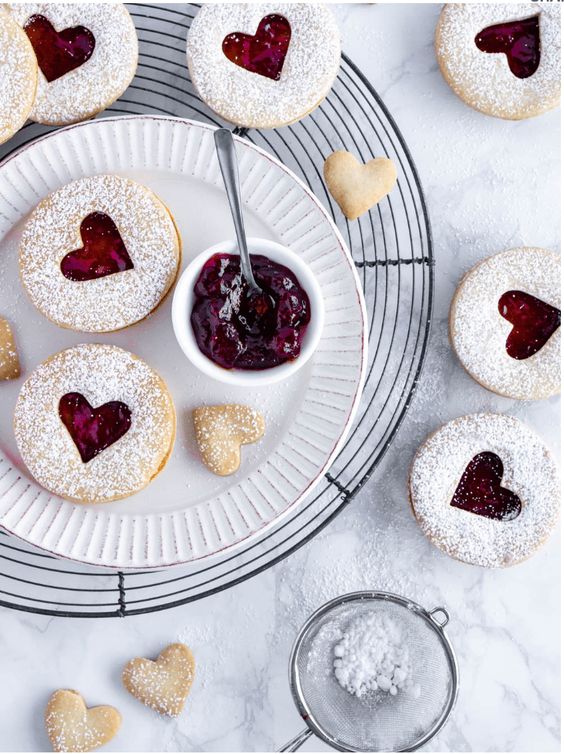 Lovely strawberry jam is sandwiched between two cookies in these strawberry jam biscuits, which are made of a delicious shortbread batter. The best thing about these Valentine's sugar cookies is that you can prepare them in advance and serve them once Valentine's Day is here!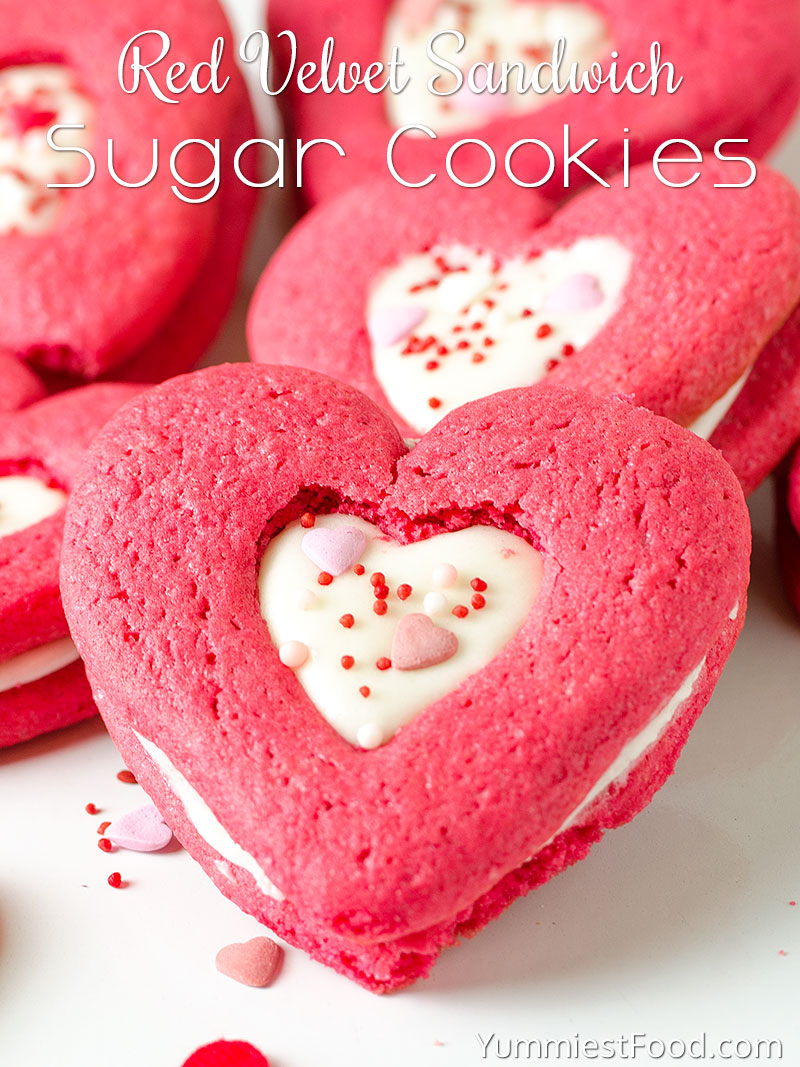 Looking for Valentine's Day sugar cookie recipes that just scream love? Filled with cream cheese and topped with sprinkles, these heart-shaped sugar cookies are not only ideal for Valentine's Day but they are also very easy to bake in the comfort of your home!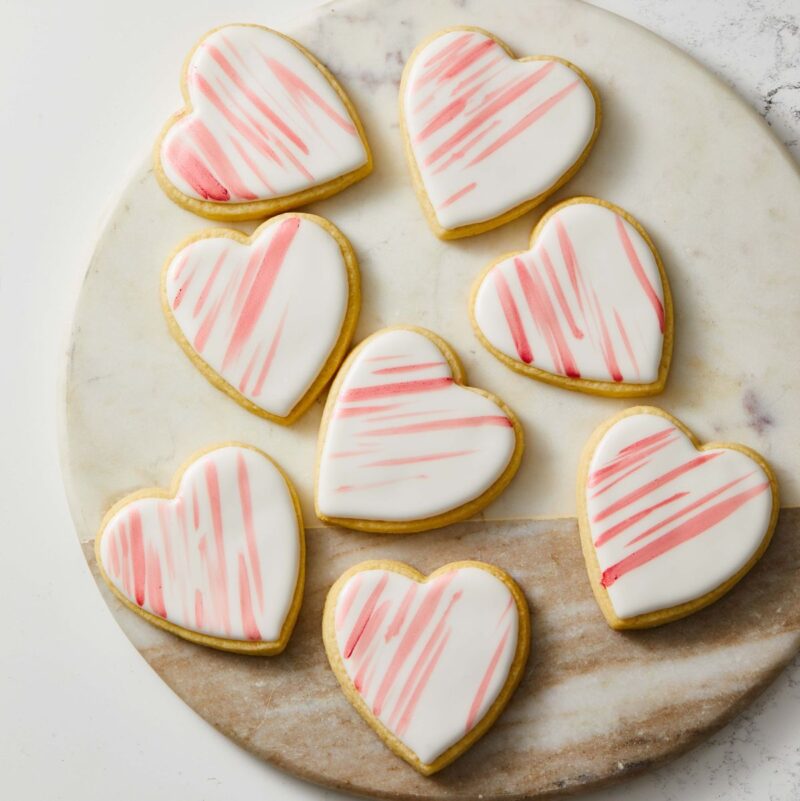 Who needs Valentine's Day gifts when handmade heart-shaped cookies can convey the message "I love you" just as well? Simply cut heart-shaped sugar cookies, bake them, and then decorate them with royal icing. Use luster dust and a little bit of vodka to make them even more extraordinary!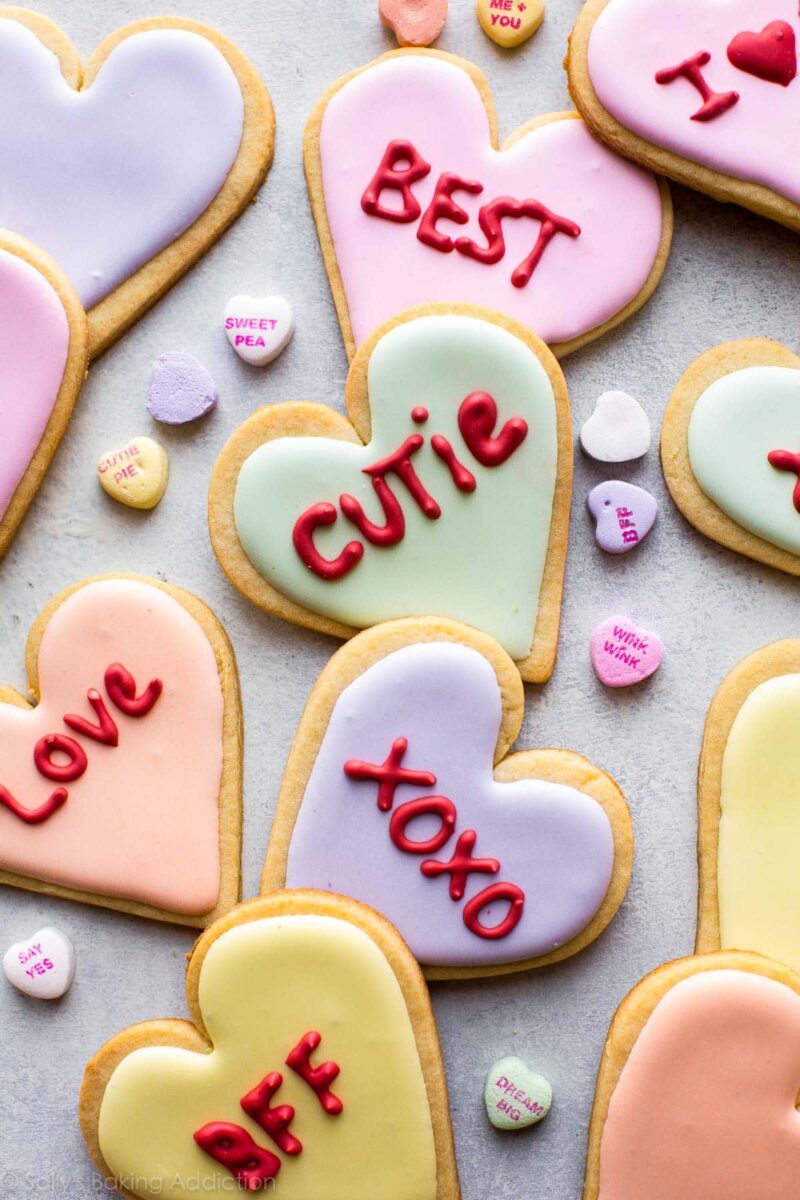 You can't make Valentine's Day heart sugar cookies without topping them off with cute, little sayings and phrases! Regardless of your skills in pipe writing, these delectable, little cookies are going to be the delight of your friends and family this Valentine's Day!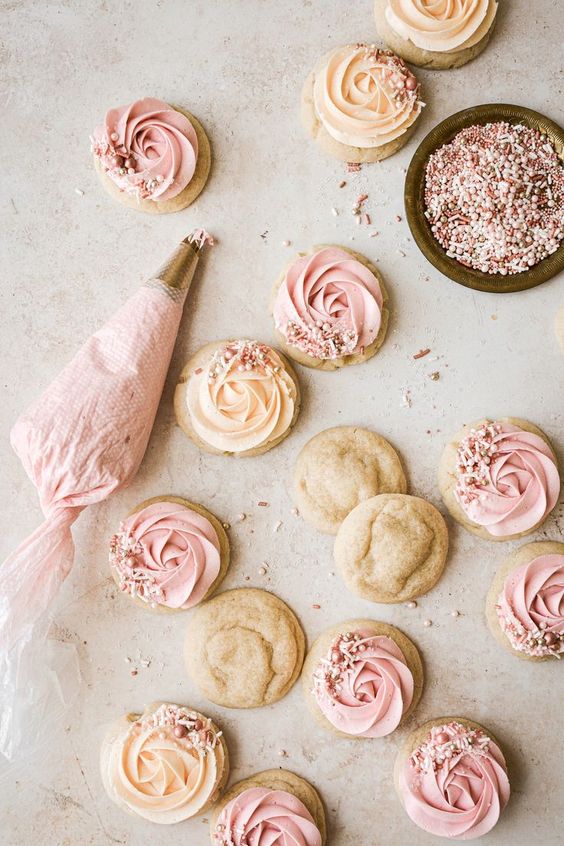 If you enjoy soft sugar cookies with icing on top, this recipe is perfect for you. This is a simple recipe for soft, fluffy sugar cookies that are flavored with vanilla and cardamom and topped with a swirl of buttercream and vibrant sprinkles.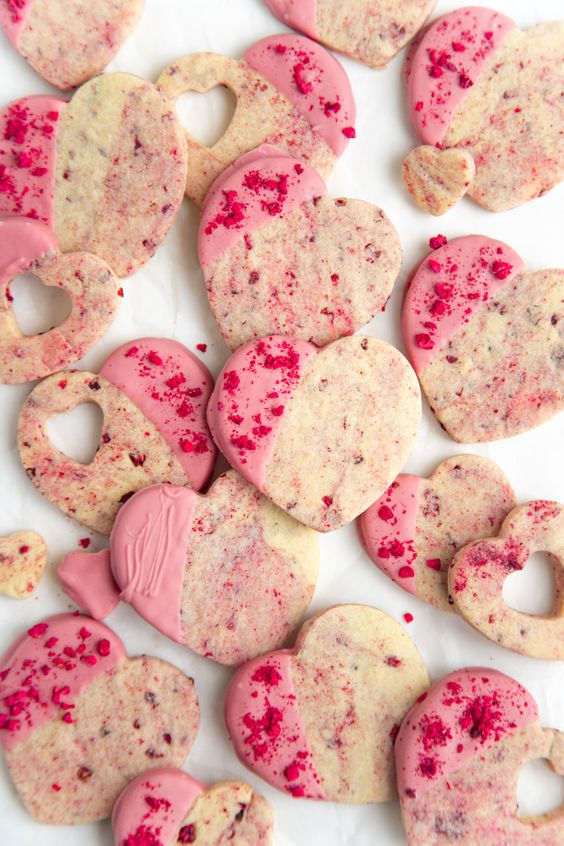 The basic butter biscuit in these raspberry shortbread cookies is given a lovely tart and delicious flavor by the addition of freeze-dried raspberries. These raspberry sugar cookies are also elevated by the velvety, creamy, and subtly tart red chocolate icing. These are definitely some of the most delicious Valentine's sugar cookies I've ever tried!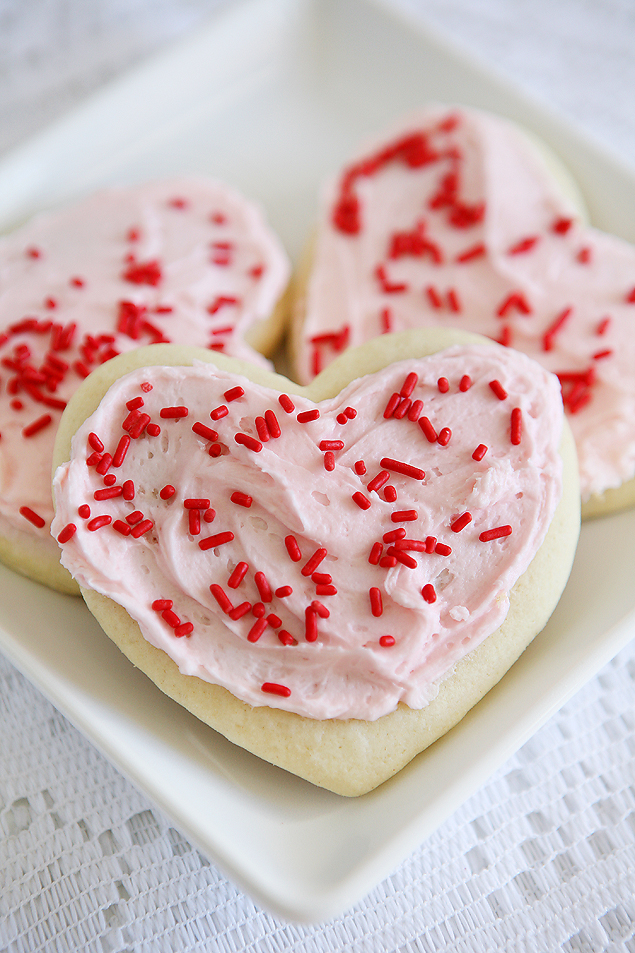 If you haven't decided on what to bake for Valentine's Day yet, then this easy sugar cookie recipe is a must-try! These cookies have a subtle flavor of almond while being light and fluffy.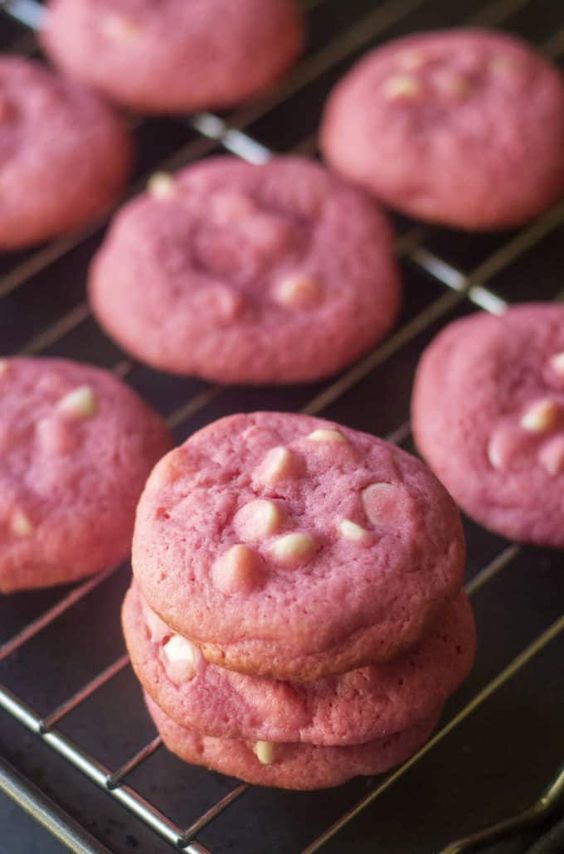 If you're looking for easy Valentine's Day sugar cookies recipes, then you should definitely try this one out! The ideal pink cookies for Valentine's Day are these chewy and delectable sugar cookies. They're crisp on the outside and utterly soft on the inside. Mix them with white chocolate chips for an extra touch of decadence.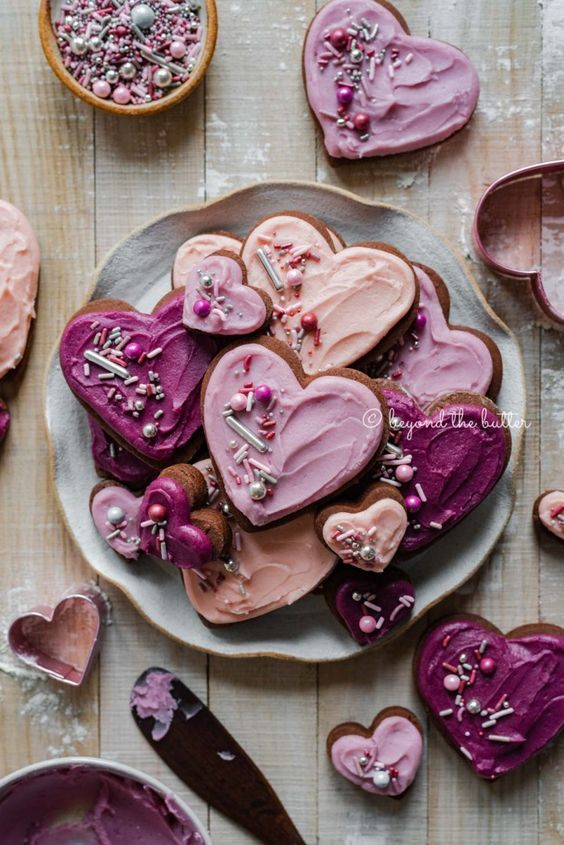 The traditional treat we all know and love gets a playful makeover with these heart-shaped chocolate sugar cookies! What's great about these is that they maintain their form beautifully and are very buttery and chocolaty. Decorate this yummy dessert to express your affection using colorful sanding sugars or a simple buttercream frosting and sprinkles. This is one of the best Valentine's Day sugar cookie recipes for purple-lovers!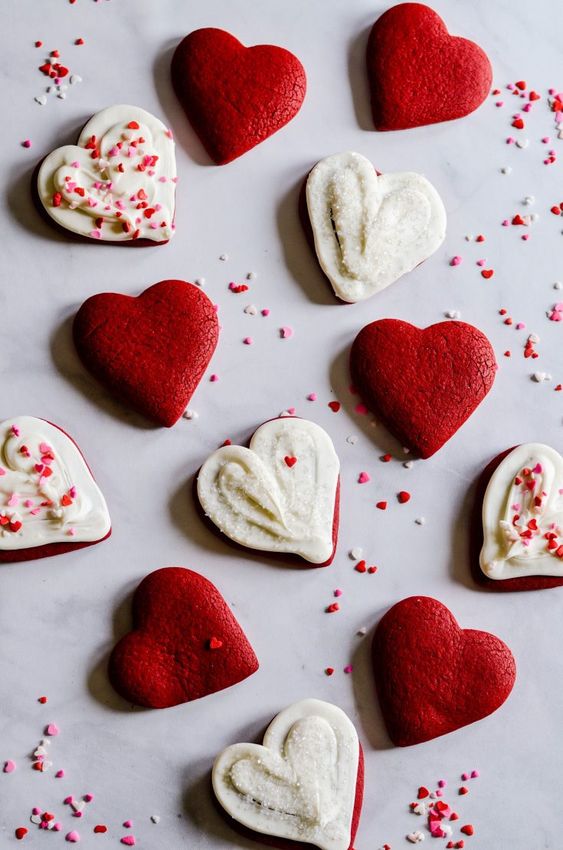 For Valentine's Day, these Red Velvet Cut Out Sugar Cookies are utterly exquisite. They're also easier to bake than they look! All you need is a cake mix and you'll get these bold, heart-shaped red sugar cookies that are ideal for some cream cheese frosting!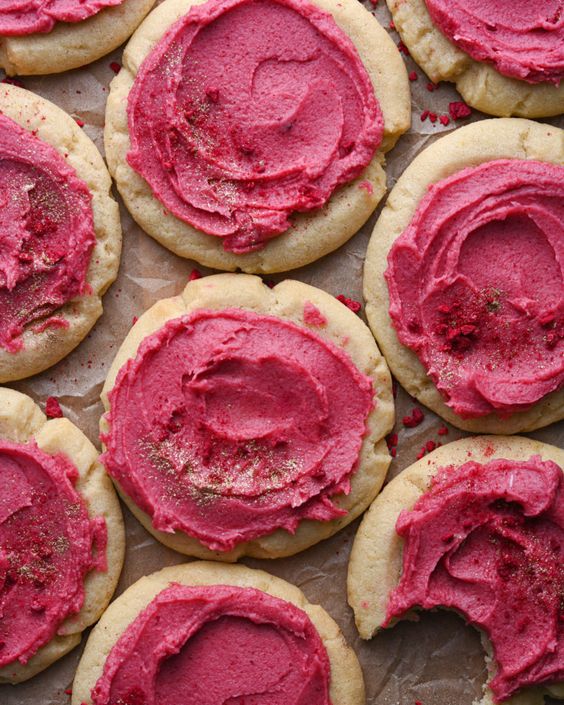 These sugar cookies have a chewy center and zesty, buttery lemon flavor. They are covered with silky, tangy raspberry buttercream.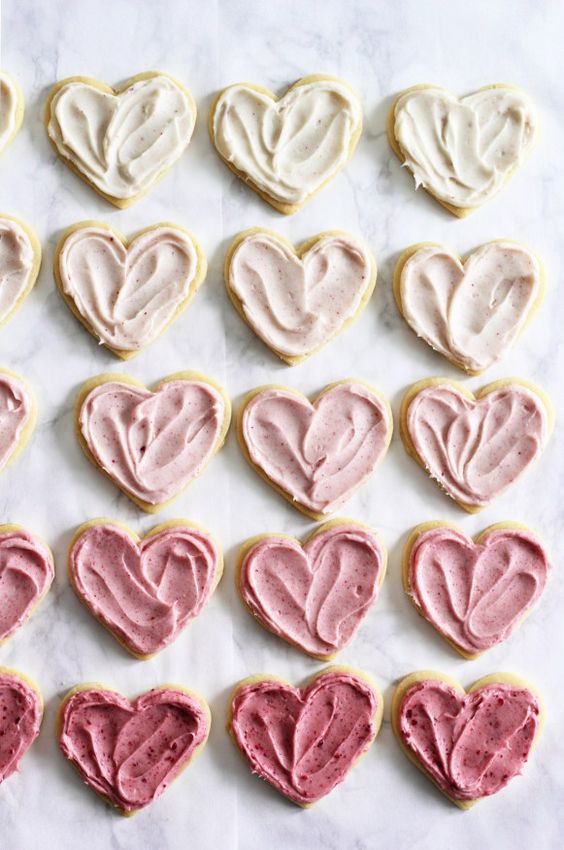 Not only do these cookies look so good with their gradient aesthetic, but the tangy raspberry flavor is perfect with the lemony sugar cookies, making this flavor combo one of my favorites on this list!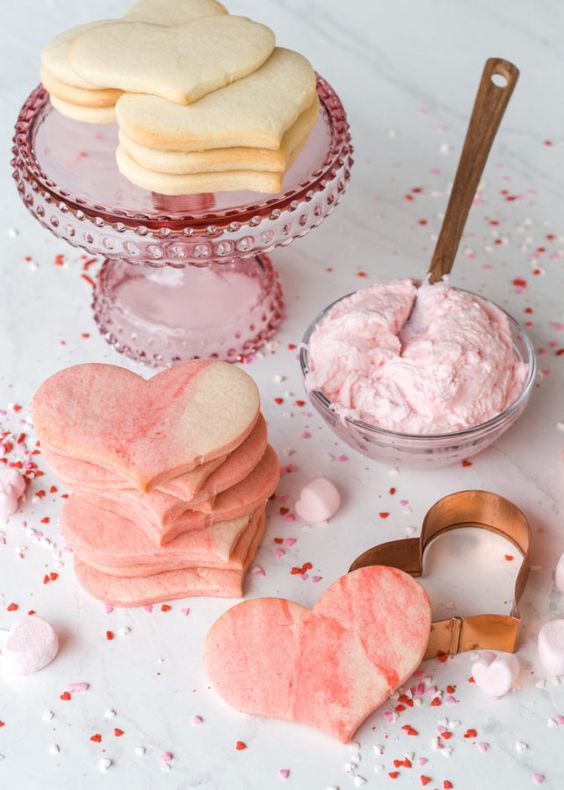 Recreate these gorgeous marbled sugar cookies by following this easy recipe! They have such a soft and buttery texture that you'll surely love them!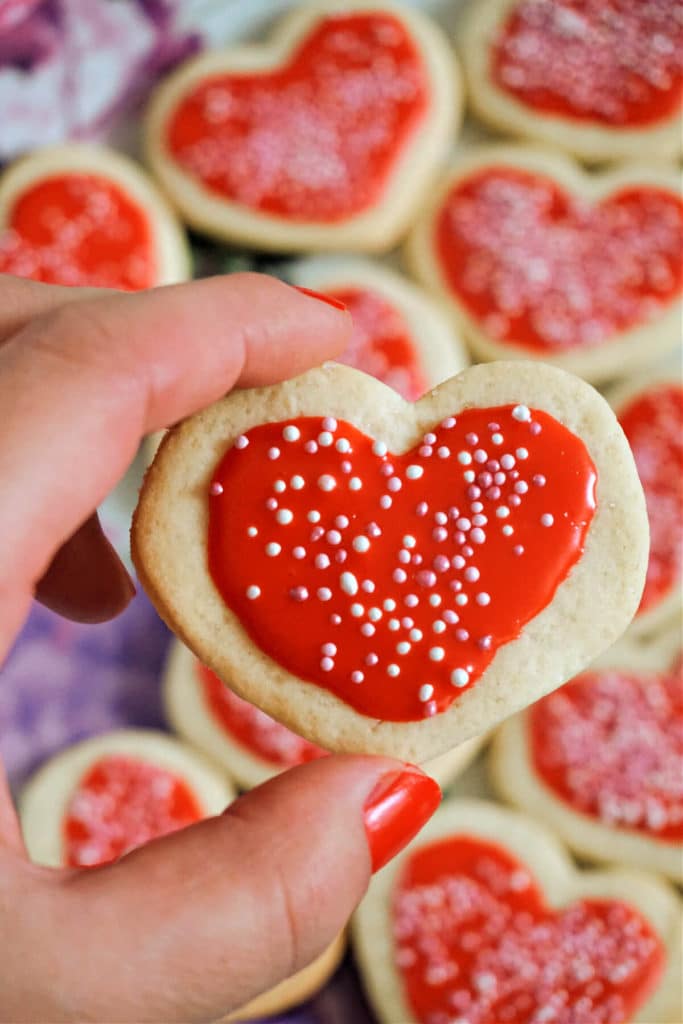 These sugar cookies for Valentine's Day with frosting and sprinkles are a delectable treat that's ideal for the month of love. With only a few basic ingredients, they are quick and simple to prepare and can be kept for days in an airtight container.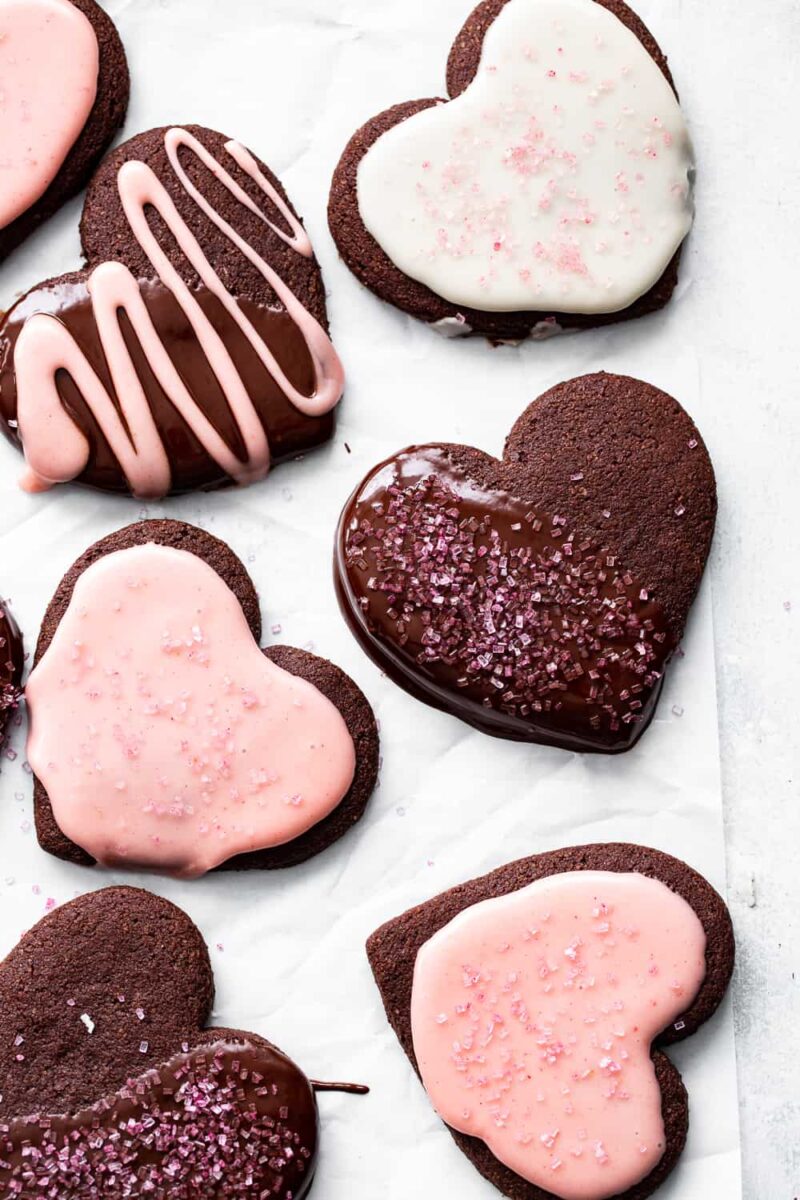 These Paleo Chocolate Sugar Cookies have crisp borders and somewhat mushy centers. They are loaded with rich chocolate flavor. If you have a special someone who prefers a healthy alternative to cookies, these are your best bet!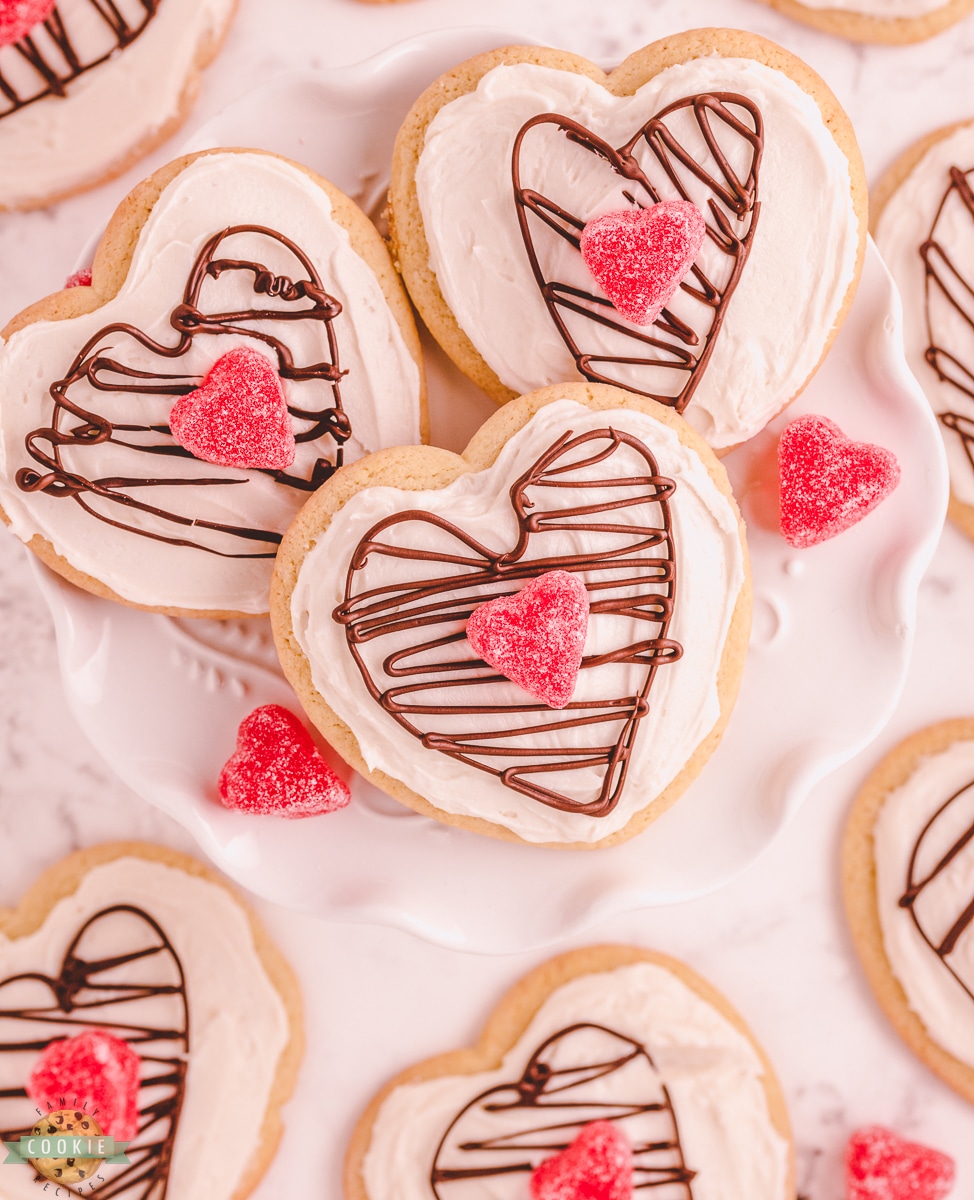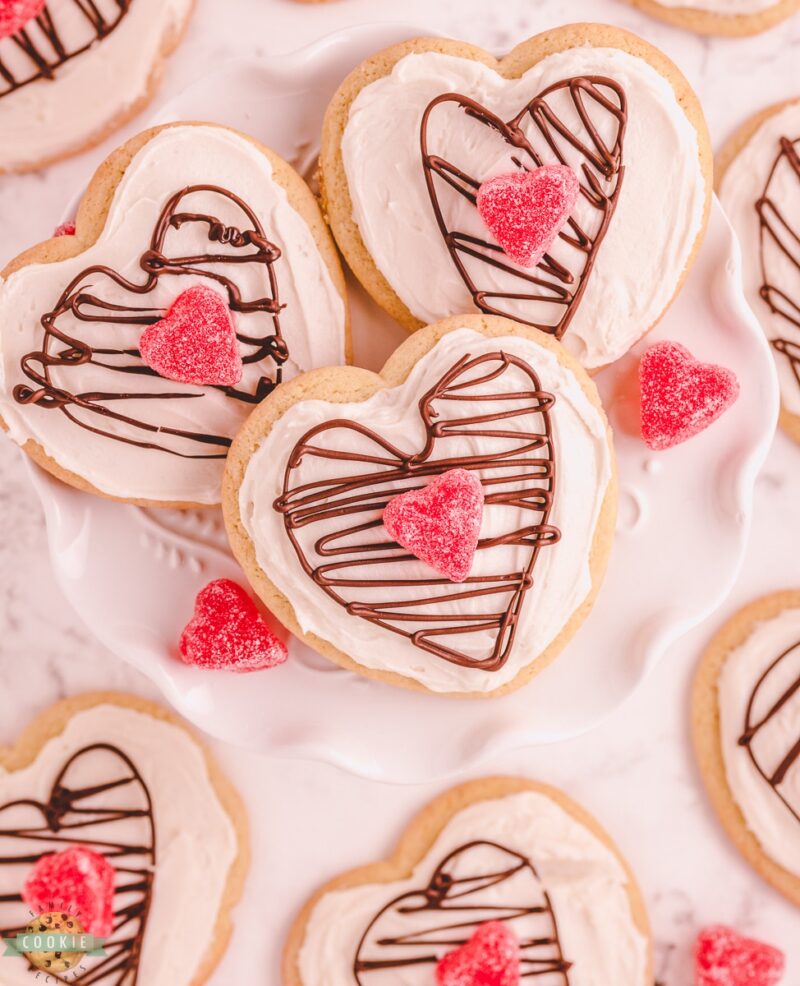 If you want Valentine's sugar cookies that only require basic ingredients, check this recipe out! These Valentine's Day sugar cookies are delicious, savory, and oh, so gorgeous!
If you're tired of the usual buttery, melt-in-your-mouth cookies, then try this recipe out! These Valentine's Day sugar cookies have the perfect balance of crunchiness and softness with every bite.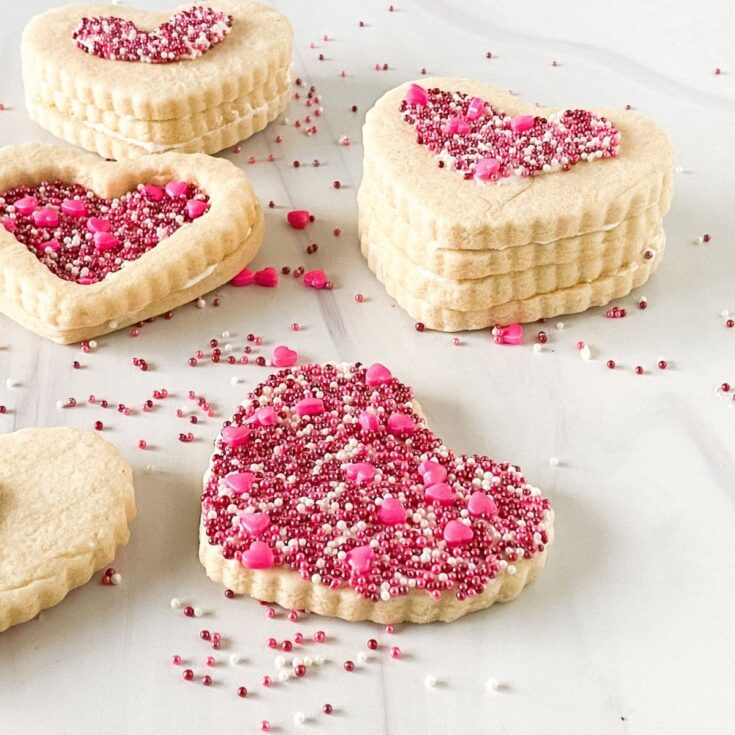 These Valentine's Day sugar cookie recipes are the cutest little treat ever! This is such a simple way to spruce up a basic cookie and is great for sharing with friends or giving as gifts!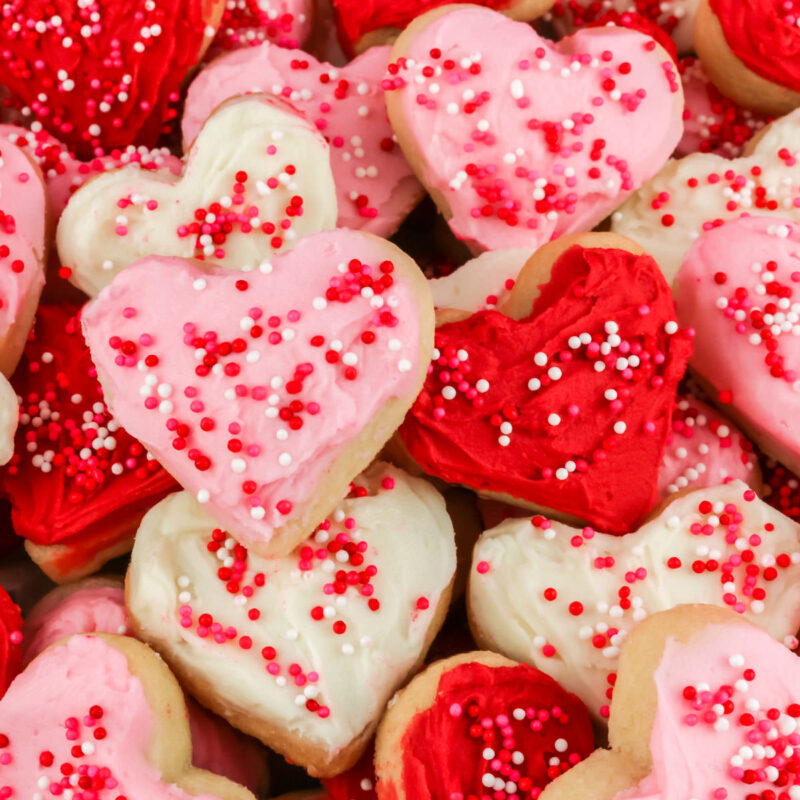 If you want the ideal bite-sized treats for Valentine's Day, these "mini" Valentine's Frosted Sugar Cookies are a must-try! They're incredibly simple to create and are made of delectable sugar cookies and rich buttercream icing.
Looking for a gluten-free recipe for your Valentine's Day sugar cookies? Try out this recipe! These cookies roll out easily and achieve the perfect buttery softness, allowing you to create heart-shaped cutouts!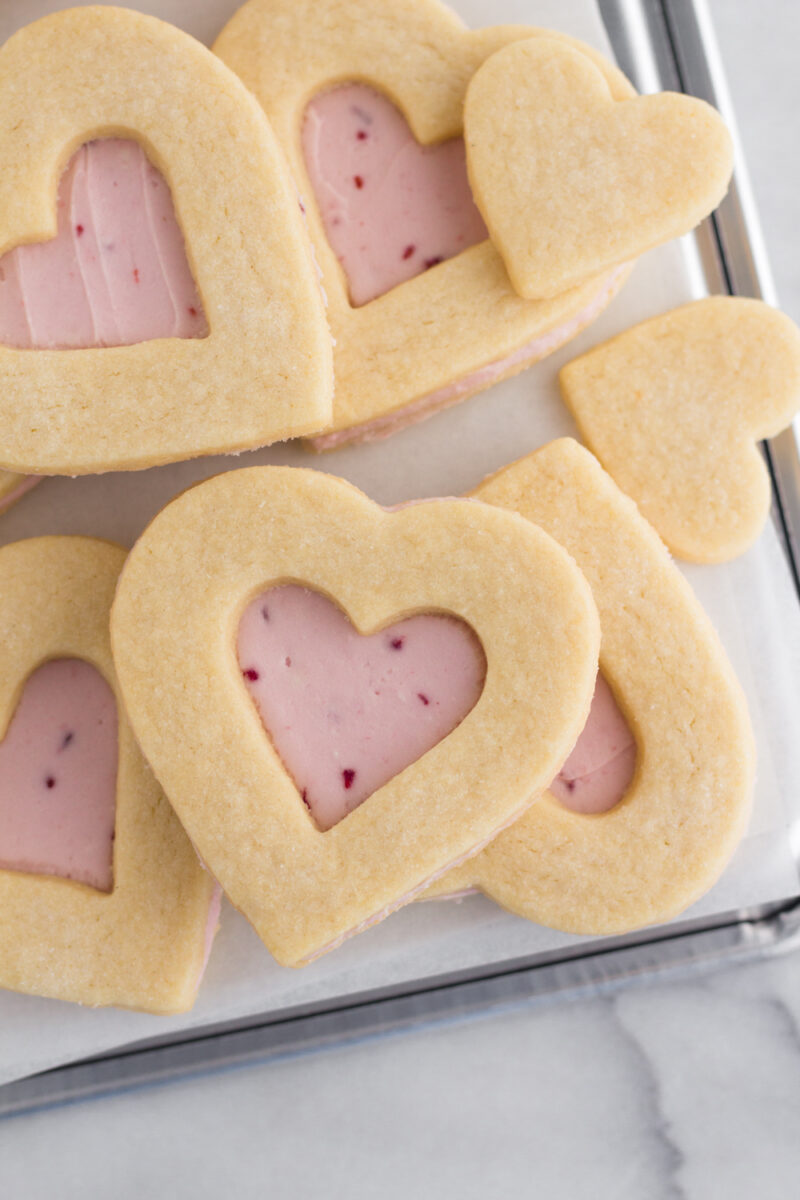 Pink raspberry buttercream frosting layered between silky, heart-shaped sugar cookies is the ideal Valentine's Day gift for your friends and family! These Valentine's sugar cookies are created using no-chill, no-spread cookie dough, which is ideal for decorating cookie cutouts.
These lovely Heart Sugar Cookies are simple to prepare and the ideal Valentine's Day treat! They're buttery soft and not excessively sweet, with a creamy cream cheese frosting and lovely sprinkles on top.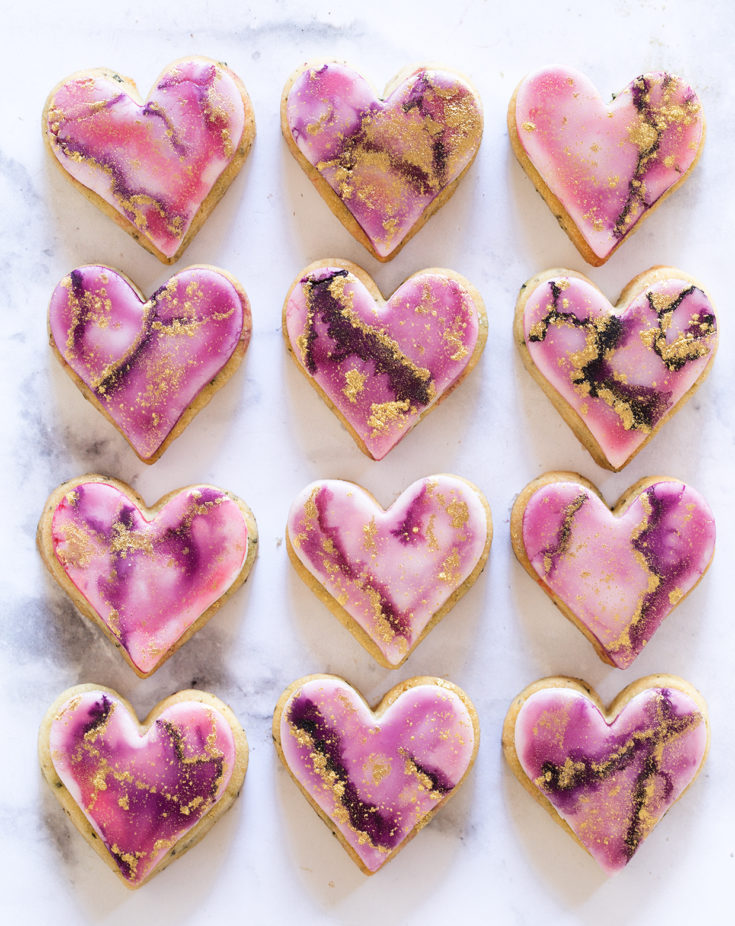 For a creative Valentine's cookie theme, this recipe asks for a no-spread sugar cookie covered with a 2-ingredient marshmallow fondant and completed with some watercolor painting.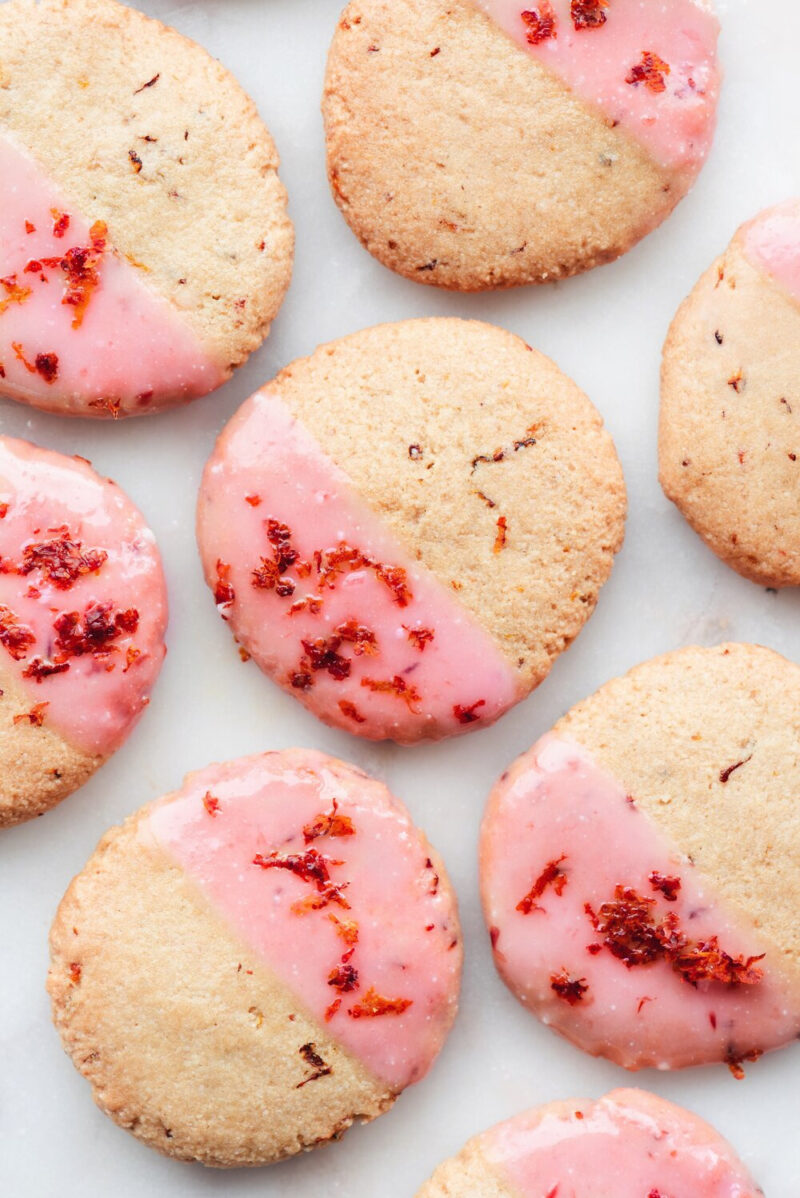 If you want to try some unique ingredients for your Valentine's Day sugar cookies recipes, this is a recipe you shouldn't miss out on! These blood orange sugar cookies are going to give you the perfect blend of sweetness and zest!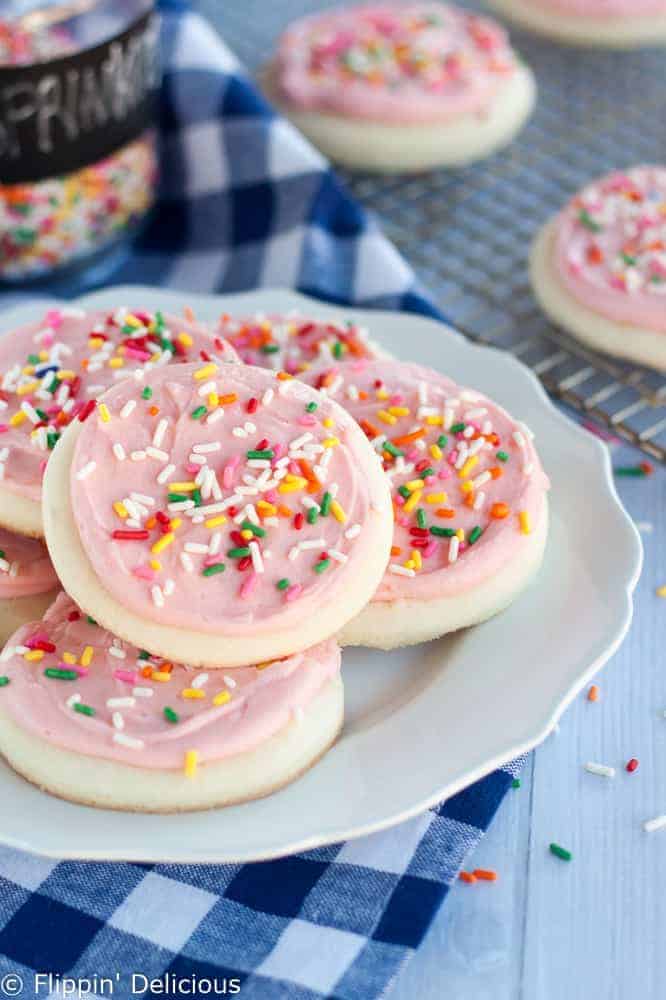 If you're looking for a recipe to recreate Lofthouse cookies, then this is for you! Topped with frosted icing and sprinkles, these sugar cookies are utterly buttery, soft, and the perfect treat for your loved ones on Valentine's Day! Not to mention, they're gluten-free too!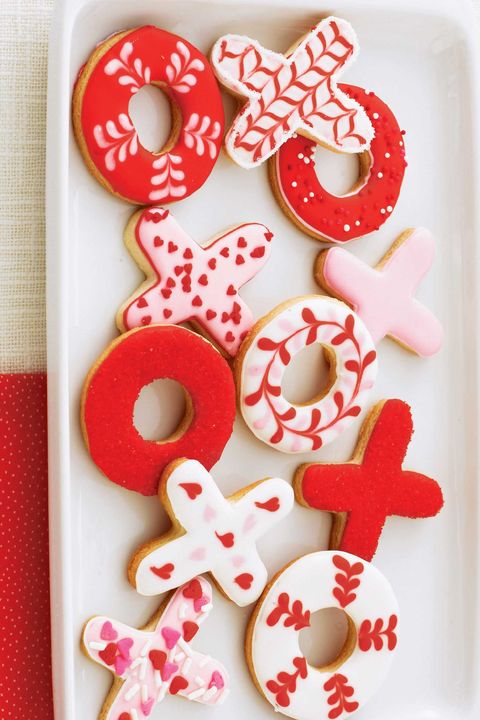 Instead of going for the usual heart-shaped cutouts, try doing some Xs and Os to show your affection with these delectable sugar cookies!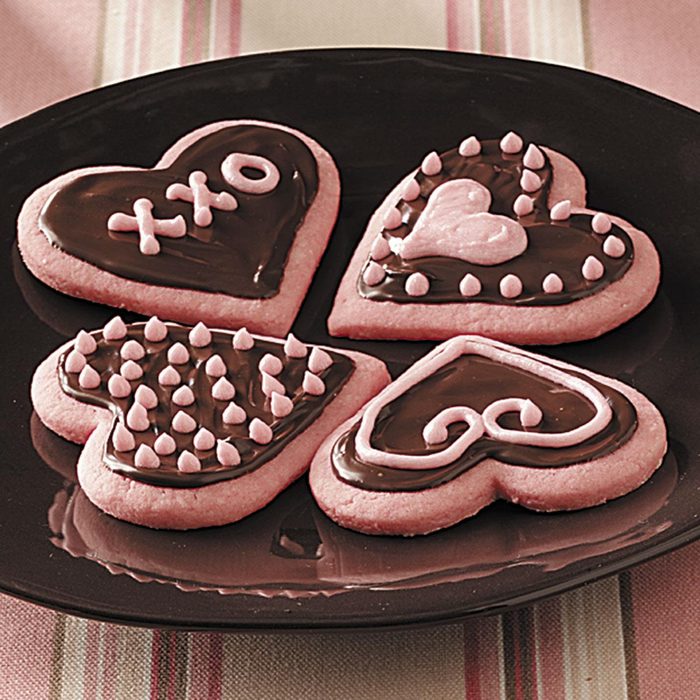 These gorgeous, quirky sweets are sure to become your new Valentine's Day favorite. The delicious strawberry taste complements the chocolate coating so well that you'll be wanting to bake a whole new batch!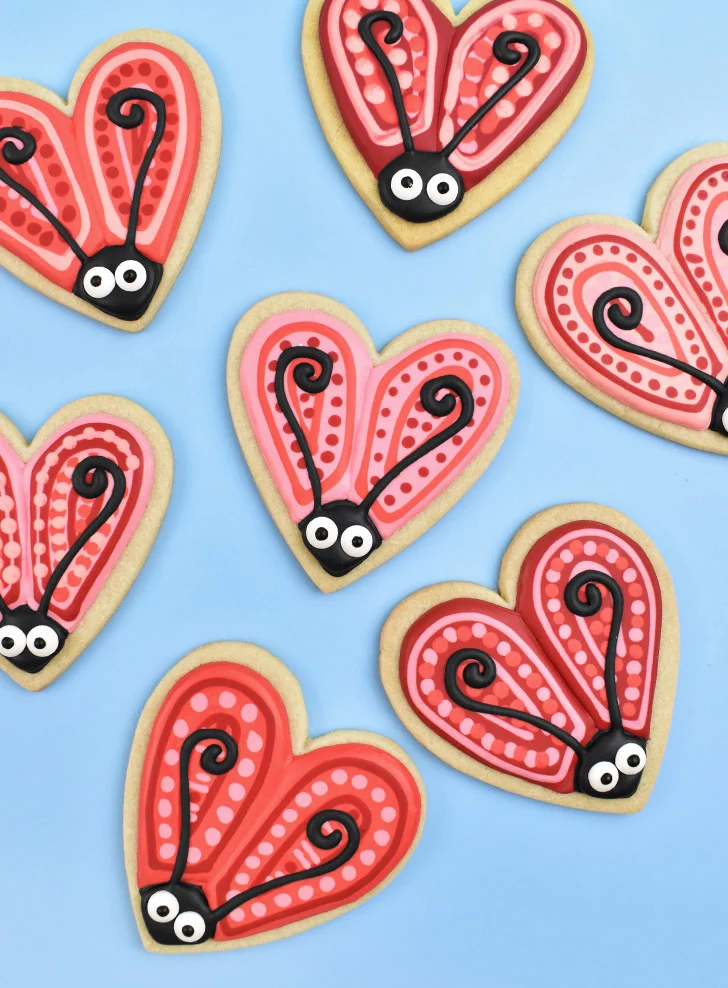 Let your creativity shine by recreating these lovebug-themed cookies this Valentine's Day! The delightful humor behind this treat is sure to be appreciated by your loved ones!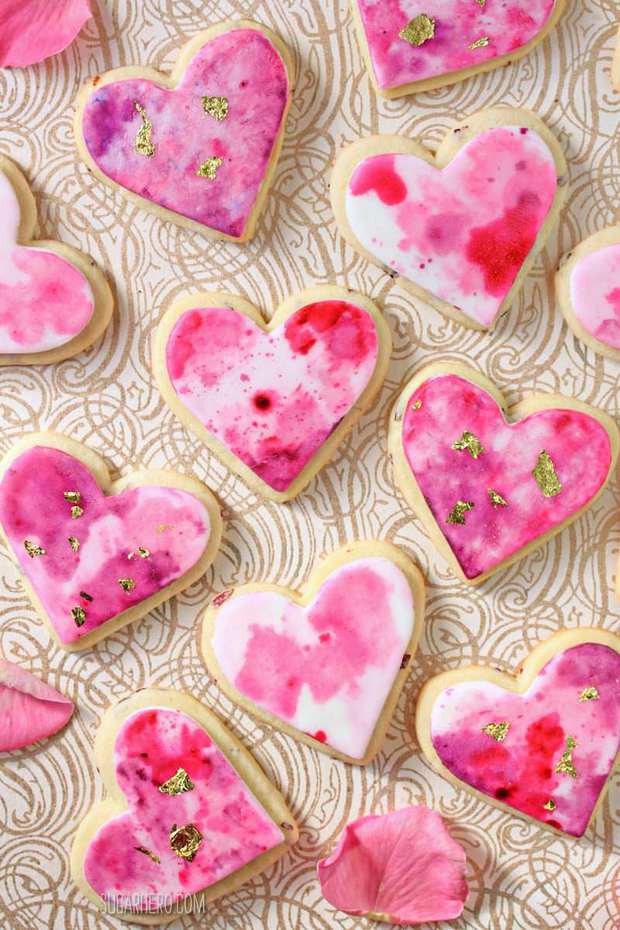 Put a creative twist to your cream cheese frosting by adding a stunning marbled pattern to make your sugar cookies a lot more delectable!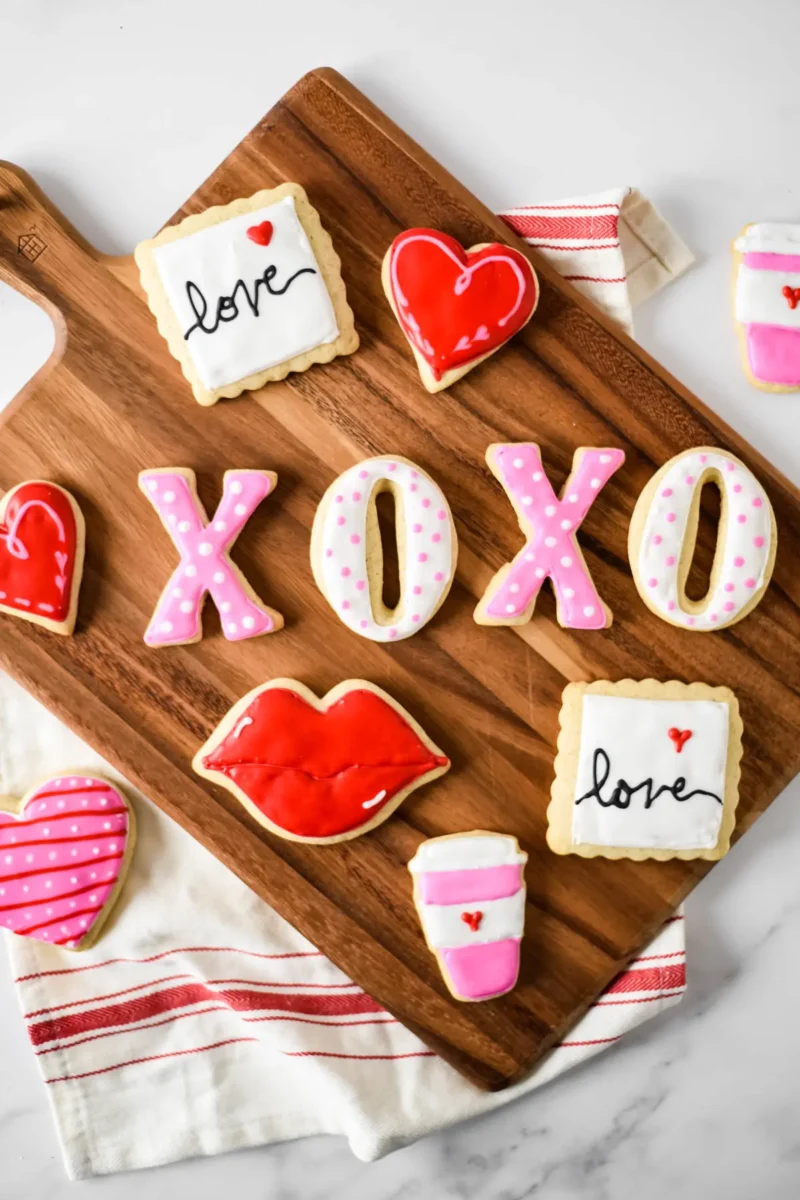 These Valentine's Day sugar cookies are easy to make, ideal for cutouts and decorating, and do not require chilling before baking. They're soft and have a good bite to them!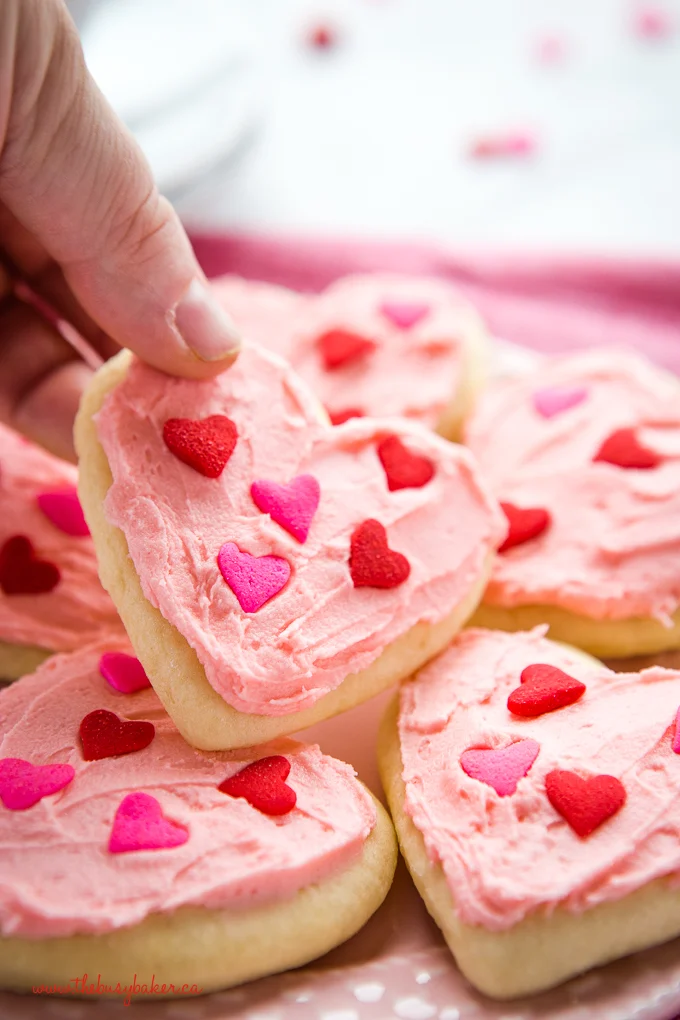 These Homemade Sour Cream Valentine's Day Sugar Cookies are the ideal Valentine's Day treat! This is an easy-to-make recipe with clear instructions for consistently soft and chewy sugar cookies!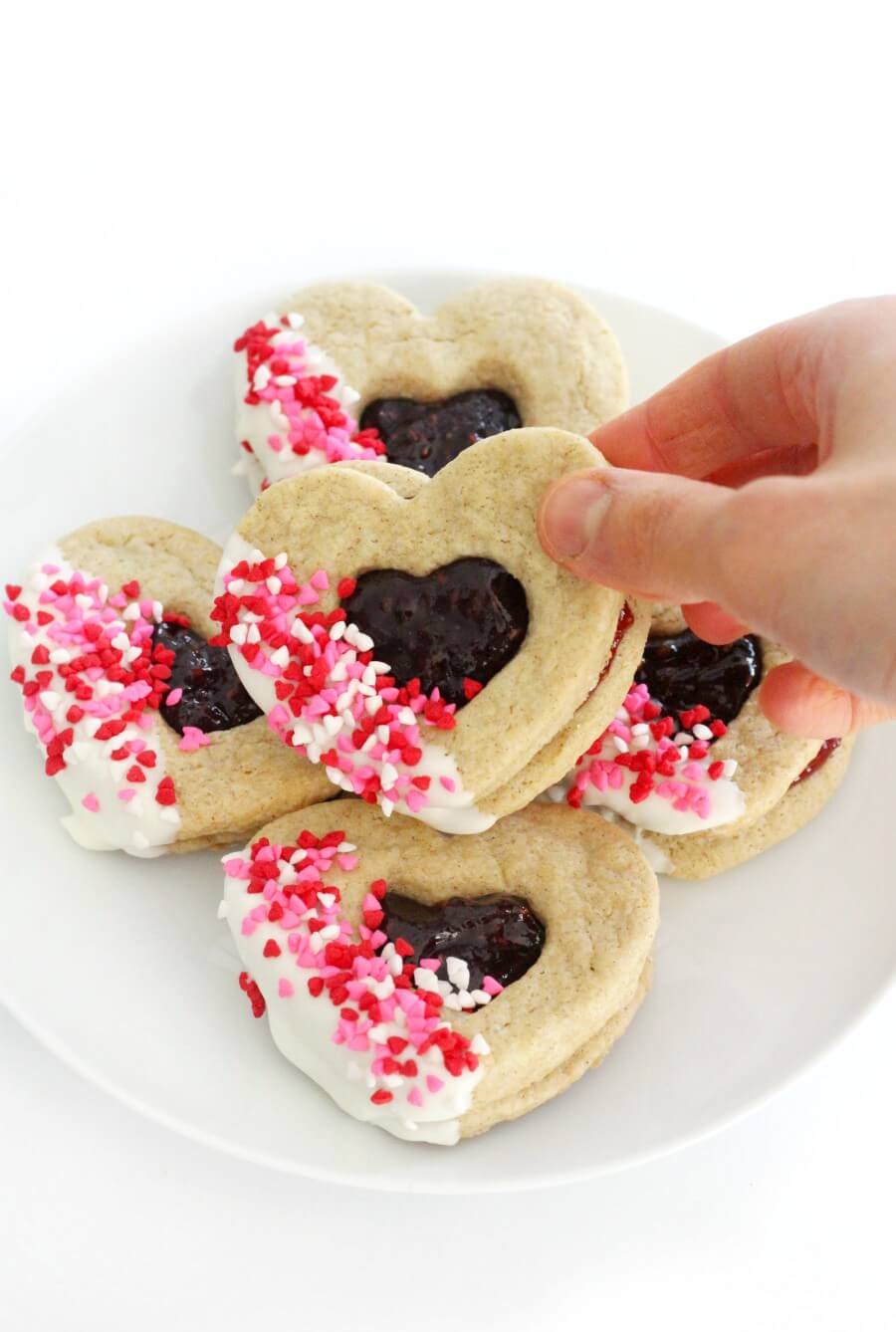 These delectable raspberry sugar cookies are prepared with cut-out sugar cookie dough, raspberry jam, with dairy-free white chocolate and sprinkles! What's more, is that they're completely gluten-free for everyone to enjoy!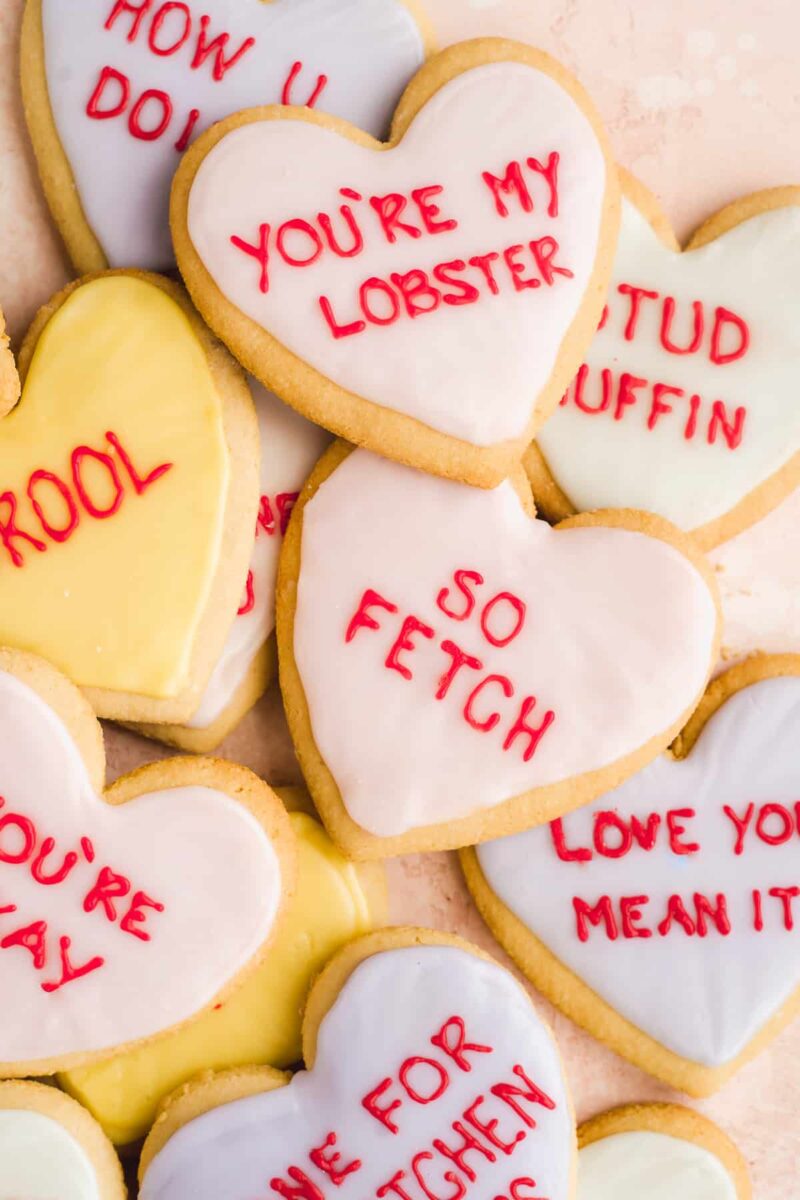 Spending Valentine's with your friends? Surprise them with these funny and quirky sugar cookies that are topped pop culture references and quotes! These Valentine's Day sugar cookies are some of my favorites because they're so easy to personalize.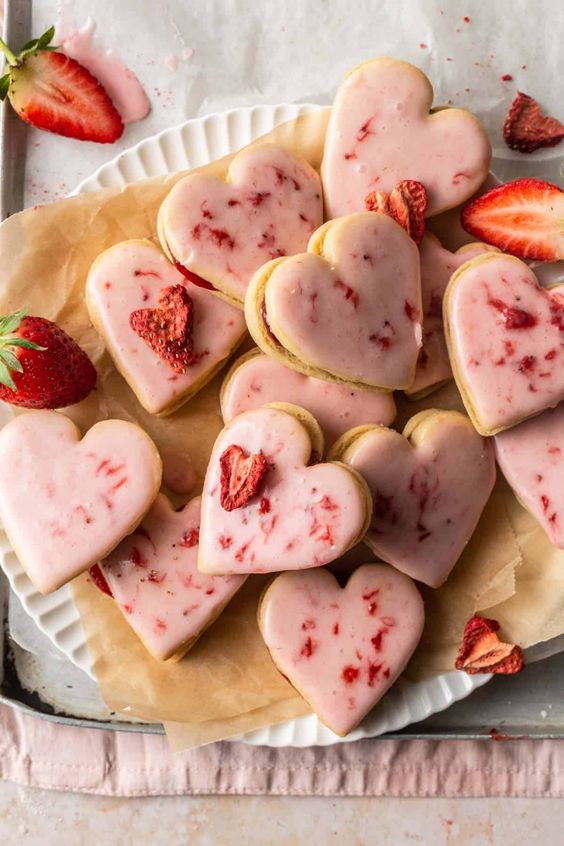 Strawberry Shortbread Cookies in the shape of gorgeous hearts are the ideal Valentine's Day present for your loved ones. This delectable treat features a buttery shortbread sandwich biscuit topped with a fresh strawberry glaze and filled with delicious strawberry jam.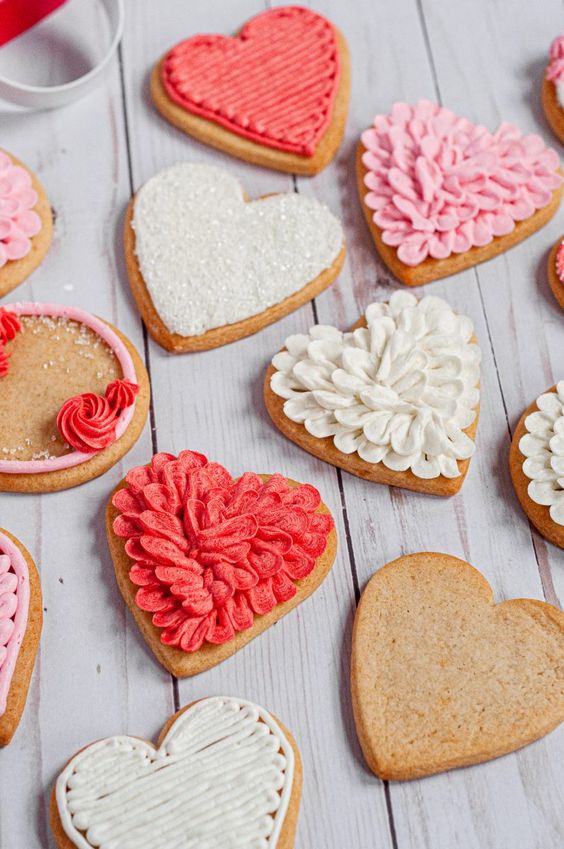 Looking for Valentine's Day sugar cookies that are a bit more unique? This particular recipe is sure to give you honey sugar cookies that have been cooked to a bright golden brown perfection and topped with whipped honey buttercream icing. These no-spread roll-out sugar cookies are ideal for Valentine's Day!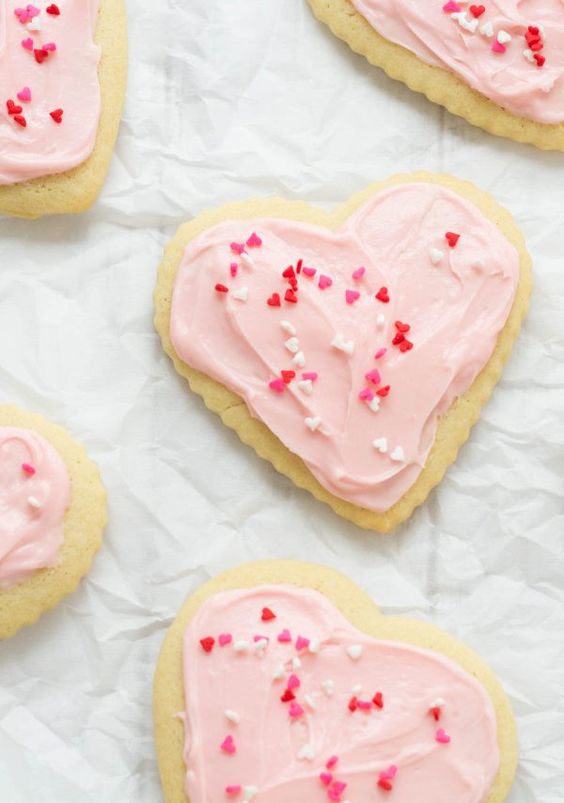 You can never go wrong with pairing sugar cookies with cream cheese frosting. This recipe will give you fool-proof results that are sure to be a certain hit with your loved ones this Valentine's Day!